Sorrento is one of the best places to stay if you have plans to visit Pompeii, Capri, and the Amalfi Coast. From this town, you can easily get to each of these places, since Sorrento is a hub for public transportation. And with its marinas, beach clubs, shopping streets, and long list of great restaurants, you'll want to make sure you have some time in your itinerary to spend some time in Sorrento. In this guide, we cover the best things to do in Sorrento with helpful tips for your visit.
Interesting Facts about Sorrento
Sorrento is a small city that is located on the Sorrentine peninsula. This city overlooks the Bay of Naples and on a clear day, you can see Mount Vesuvius off in the distance.
Sorrento is built on a line of cliffs. It lacks the sandy beaches that you find in some Amalfi Coast towns, but there are beach clubs that sit on long concrete or wooden docks with lounge chairs and umbrellas. These docks form coves that make great swimming spots.
In Sorrento, you will see lots of limoncello shops, gelaterias, stores selling handmade sandals and ceramics, and outdoor cafes and bars. This is a fun place to visit, and even on the fastest of itineraries, it is worth spending an afternoon in town, to visit the highlights and have dinner.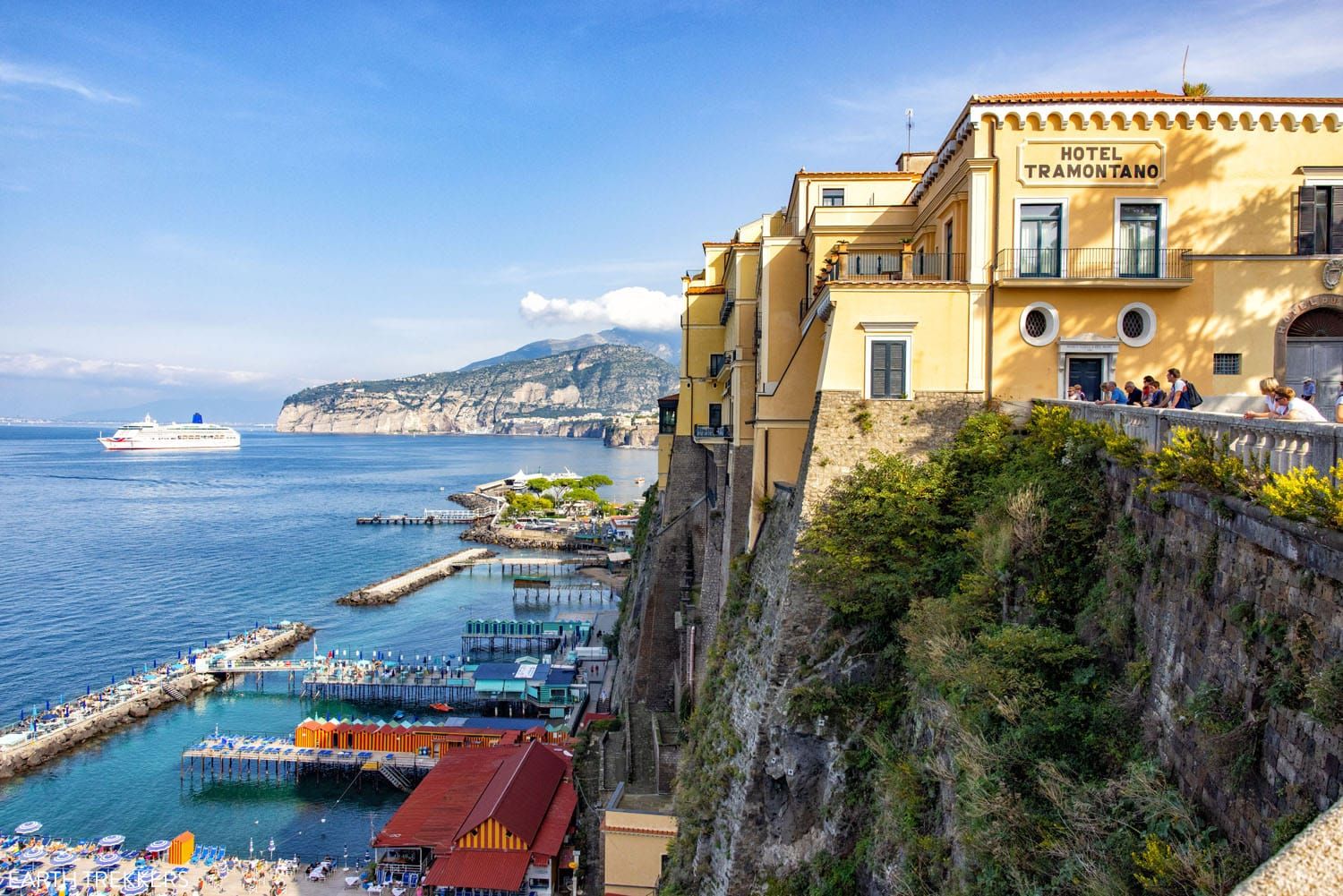 Sorrento, Italy
Best Things to Do in Sorrento
1. Enjoy the view from Piazza della Vittoria
For one of the best views of Sorrento, be sure to visit Piazza della Vittoria. This terrace overlooks Marina Piccola, the beach clubs, and from here, you can look down the long line of cliffs to the hotels and restaurants that overlook the Bay of Naples. On a clear day, you will be able to see Mount Vesuvius on the opposite side of the Bay of Naples.
Sitting next to Piazza della Vittoria is the Bellevue Syrene, one of the most luxurious 5-star hotels in Sorrento. Stroll through the shaded entranceway and have a drink or dinner on the outdoor terrace. This is a beautiful spot to watch the sunset and you don't have to be a hotel guest to dine here.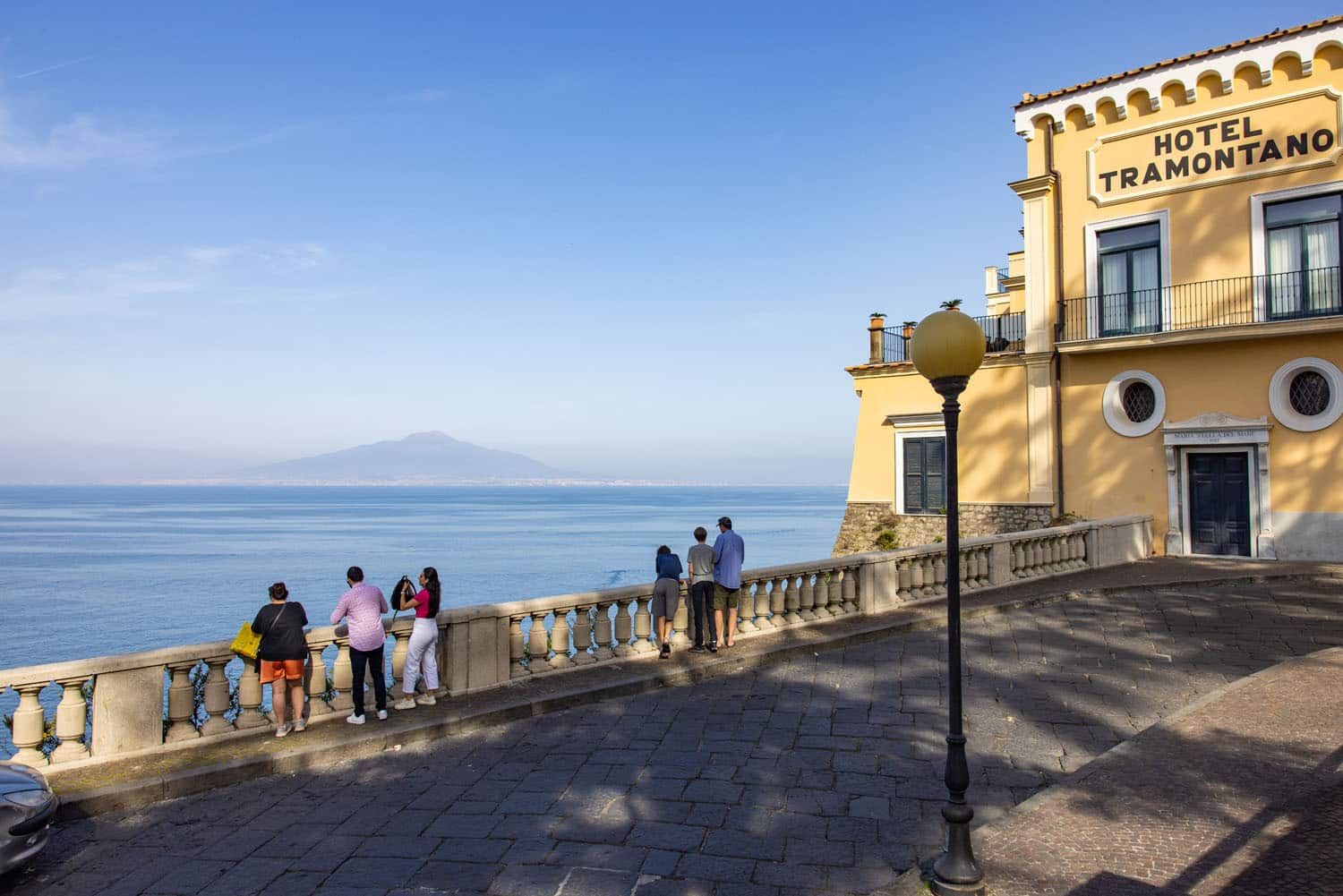 Piazza della Vittoria | Best Things to Do in Sorrento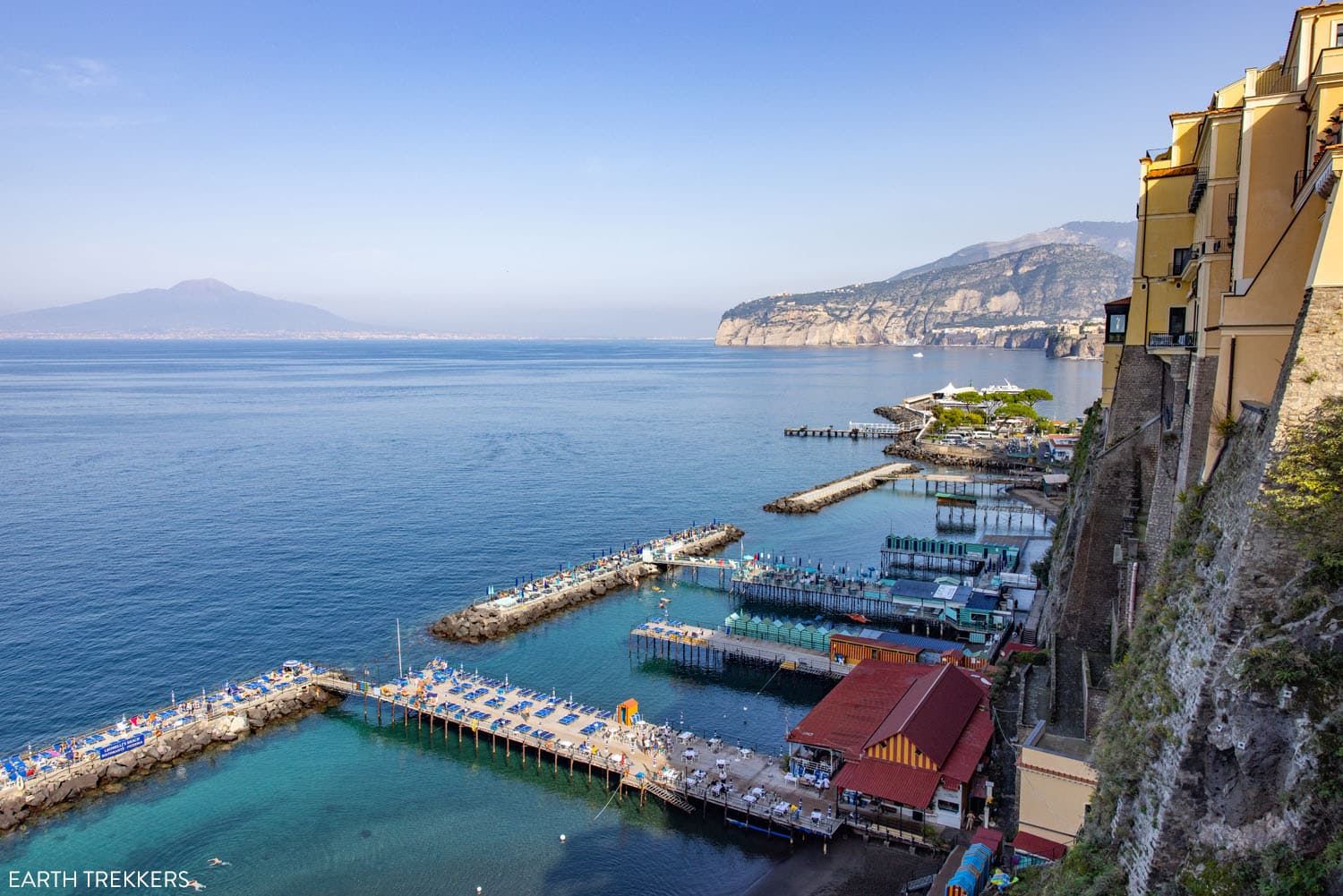 The view from Piazza della Vittoria
2. Villa Comunale di Sorrento
This is another spectacular viewpoint from Sorrento. The view is similar to Piazza della Vittoria, but here you can have a drink at one of the outdoor cafes.
From this viewpoint, a winding path makes it way down to the beach clubs, but there is also an elevator which will save you a lot of steps.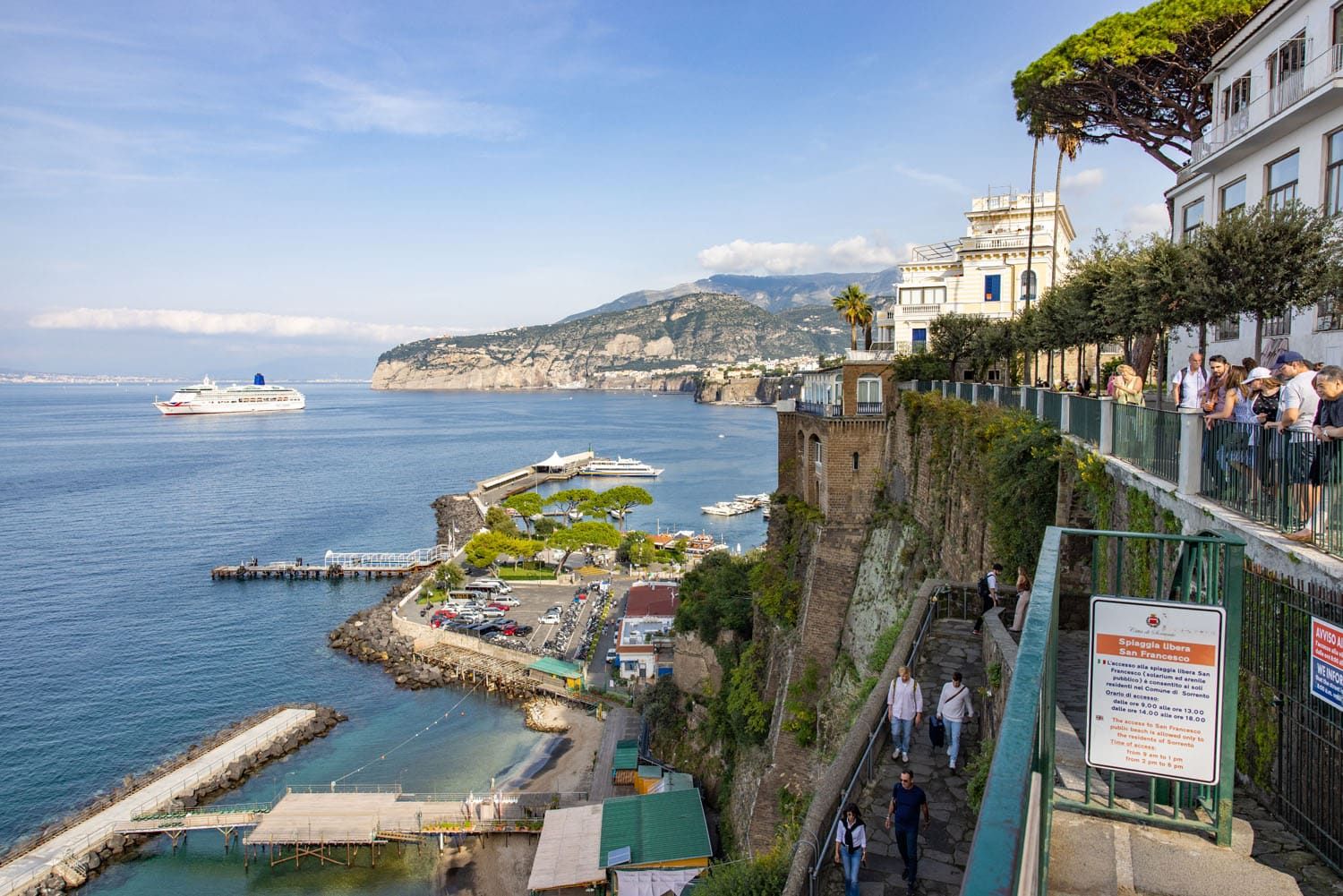 The view from Villa Comunale di Sorrento
3. Visit a Beach Club
The "beaches" in Sorrento are not made of sand. Instead, they are wooden or concrete docks that are lined with lounge chairs and umbrellas. These docks form sheltered coves which are perfect for swimming.
Leonelli's Beach, Marameo Beach Club, and Peter's Beach are all located next to each other, just below Villa Comunale di Sorrento. Each club offers some combination of sun loungers, changing cabins, food, drinks, and toilets. Expect to pay a fee for the use of their facilities and of course anything you order to eat and drink.
To get here, take the lift from Villa Comunale di Sorrento (small fee) or the path down (free).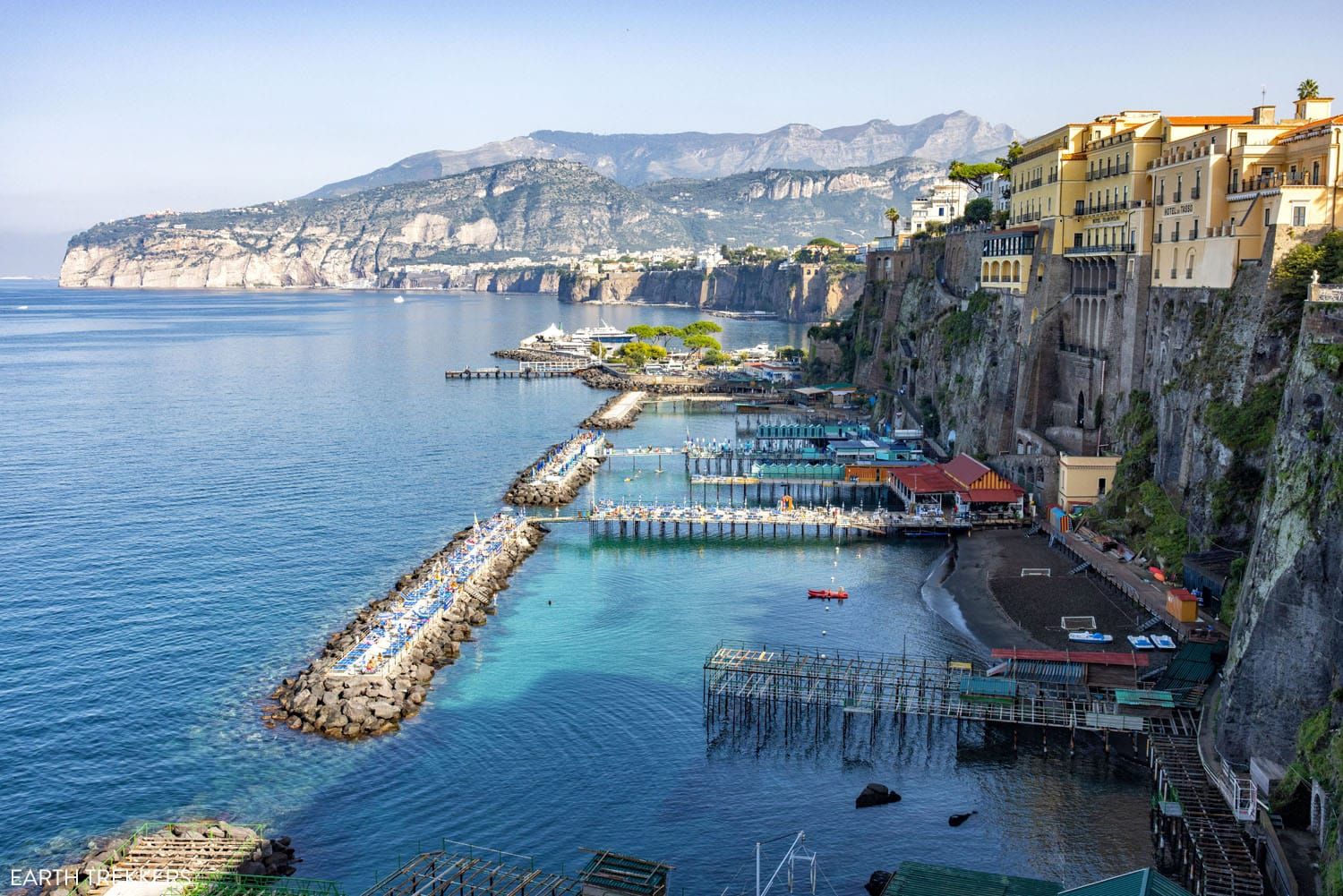 A view of the Sorrento Beach Clubs
4. Marina Grande
Marina Grande is a charming marina with colorful buildings, piers, small fishing boats, and numerous seafood restaurants. It is a little out of the way from the heart of Sorrento but it is a special side of Sorrento to experience.
To get here, it is a 10-15 minute walk from Villa Comunale di Sorrento. It will be a mostly downhill walk to get to the marina and then an uphill walk on the return.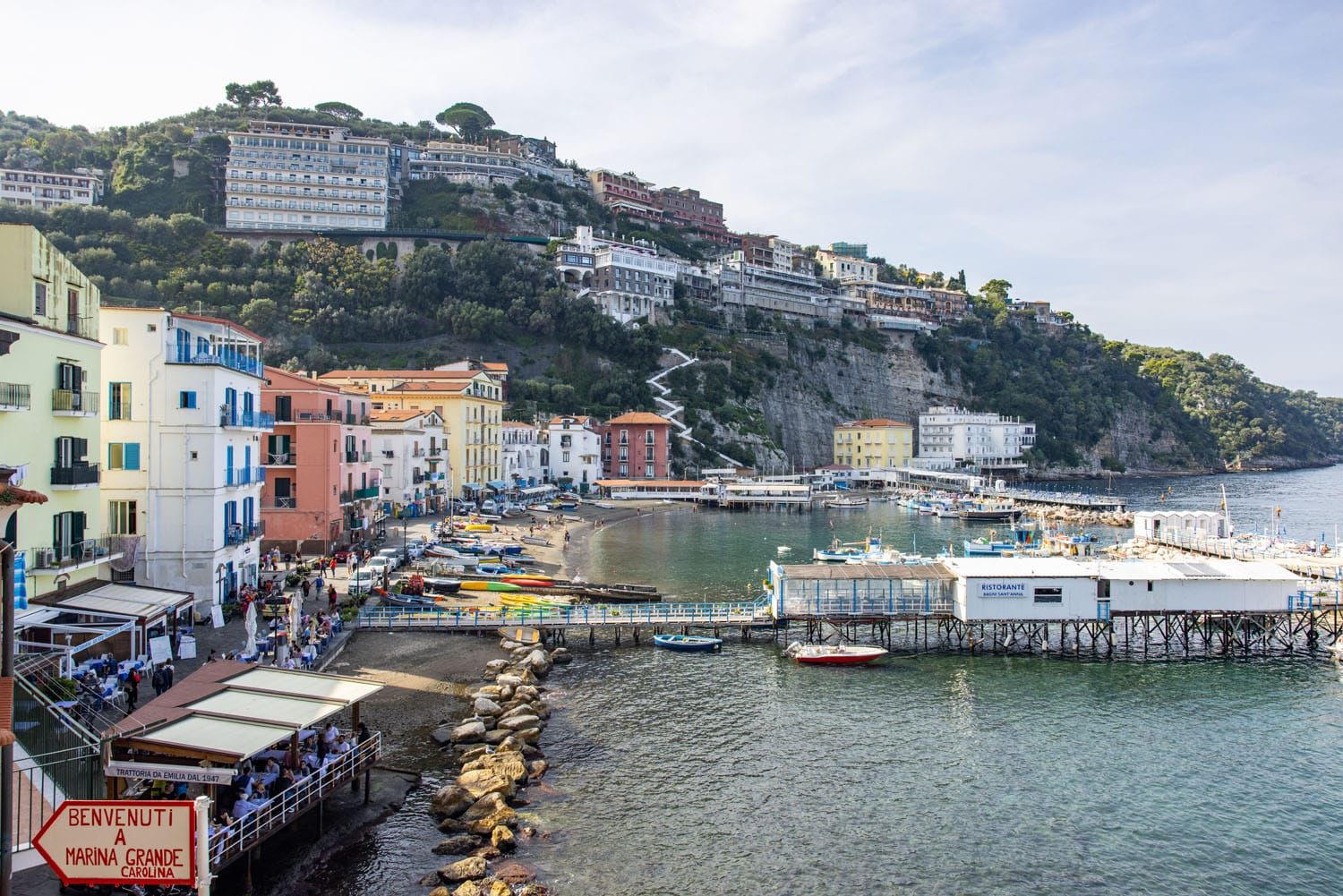 Marina Grande | Best Things to Do in Sorrento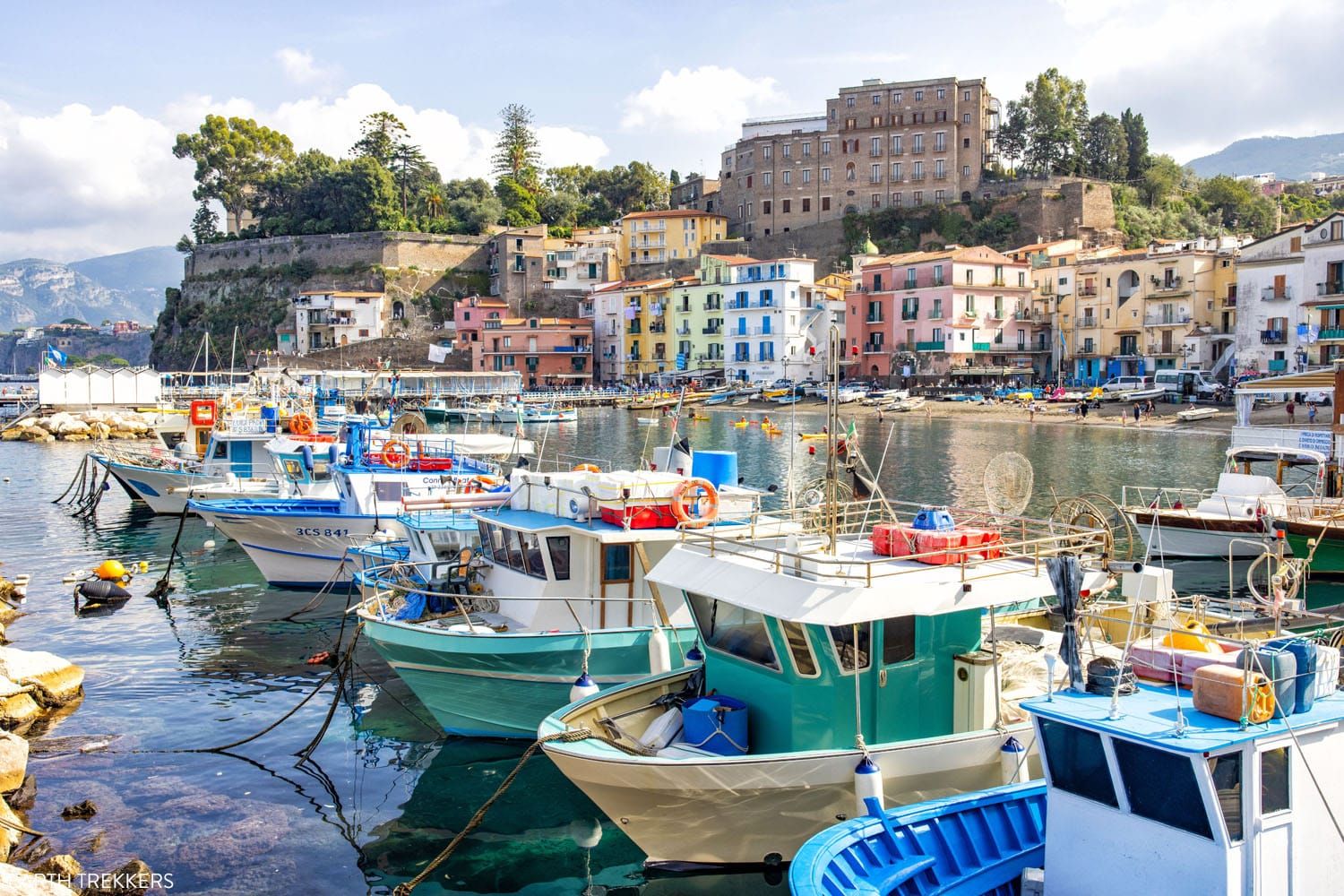 Marina Grande | Best Things to Do in Sorrento
There are two restaurants here that we recommend.
We ate lunch at Ristorante Bagni Delfino. This restaurant has a gorgeous setting on a dock with views of both Mount Vesuvius and Marina Grande. We had the Risotto Delfino, risotto with various seafood mixed in like octopus, mussels, shrimp, and more, and it was amazing as was the service.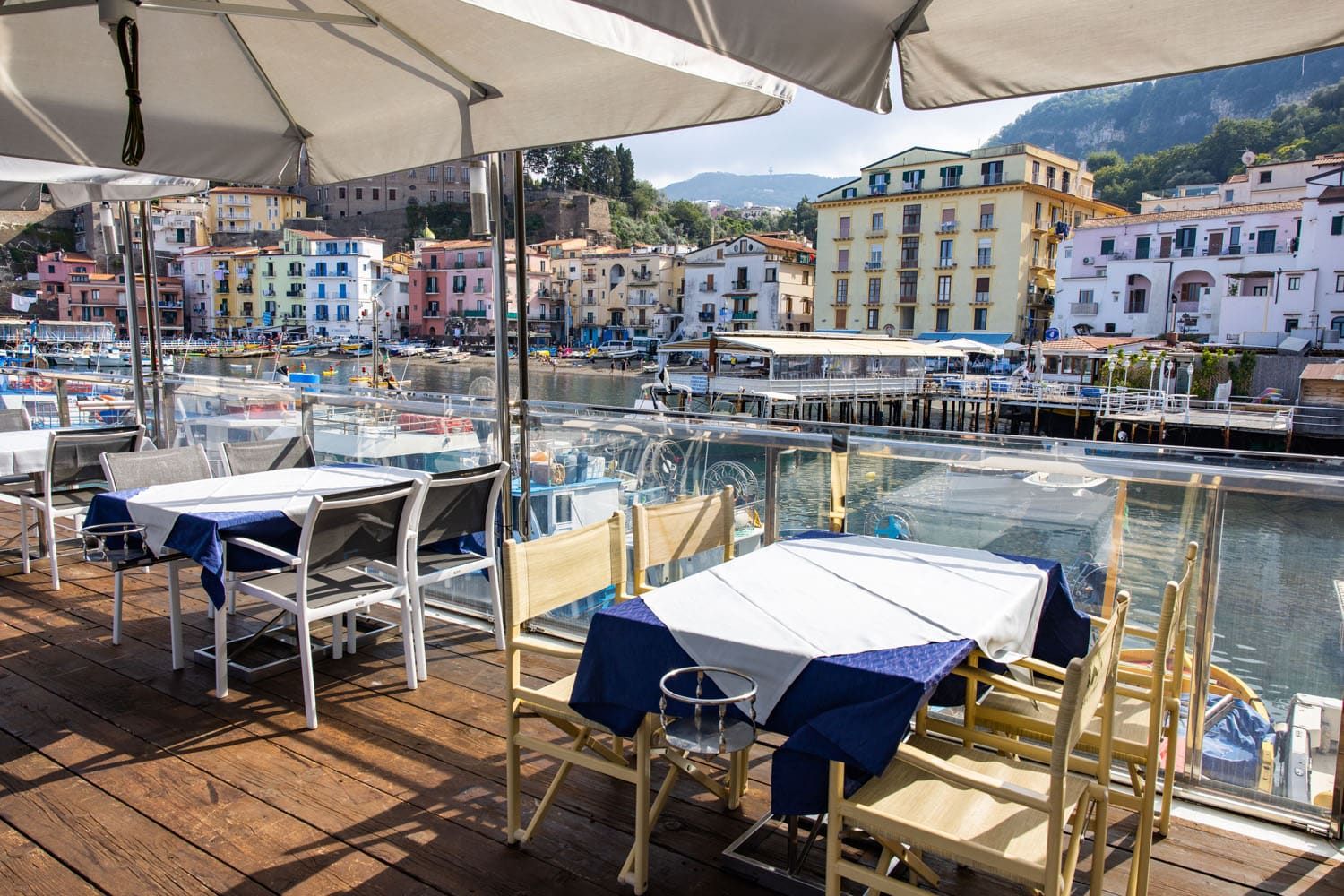 Ristorante Bagni Delfino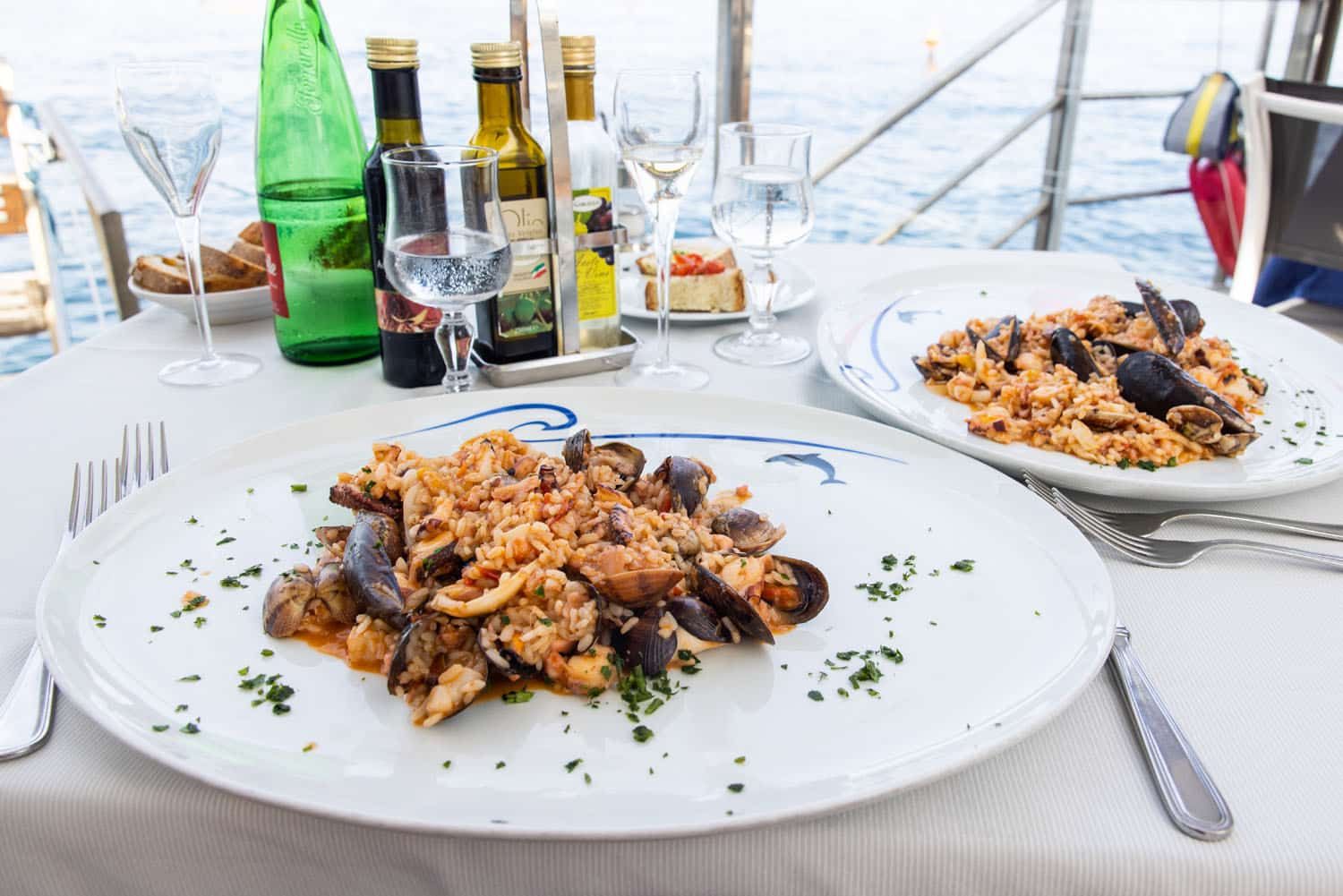 Seafood risotto
Porta Marina Seafood is also highly rated. This busy restaurant is open for lunch and dinner. It doesn't have the same picturesque setting as Bagni Delfino but it is one of the highest rated restaurants in Sorrento and the prices are very reasonable.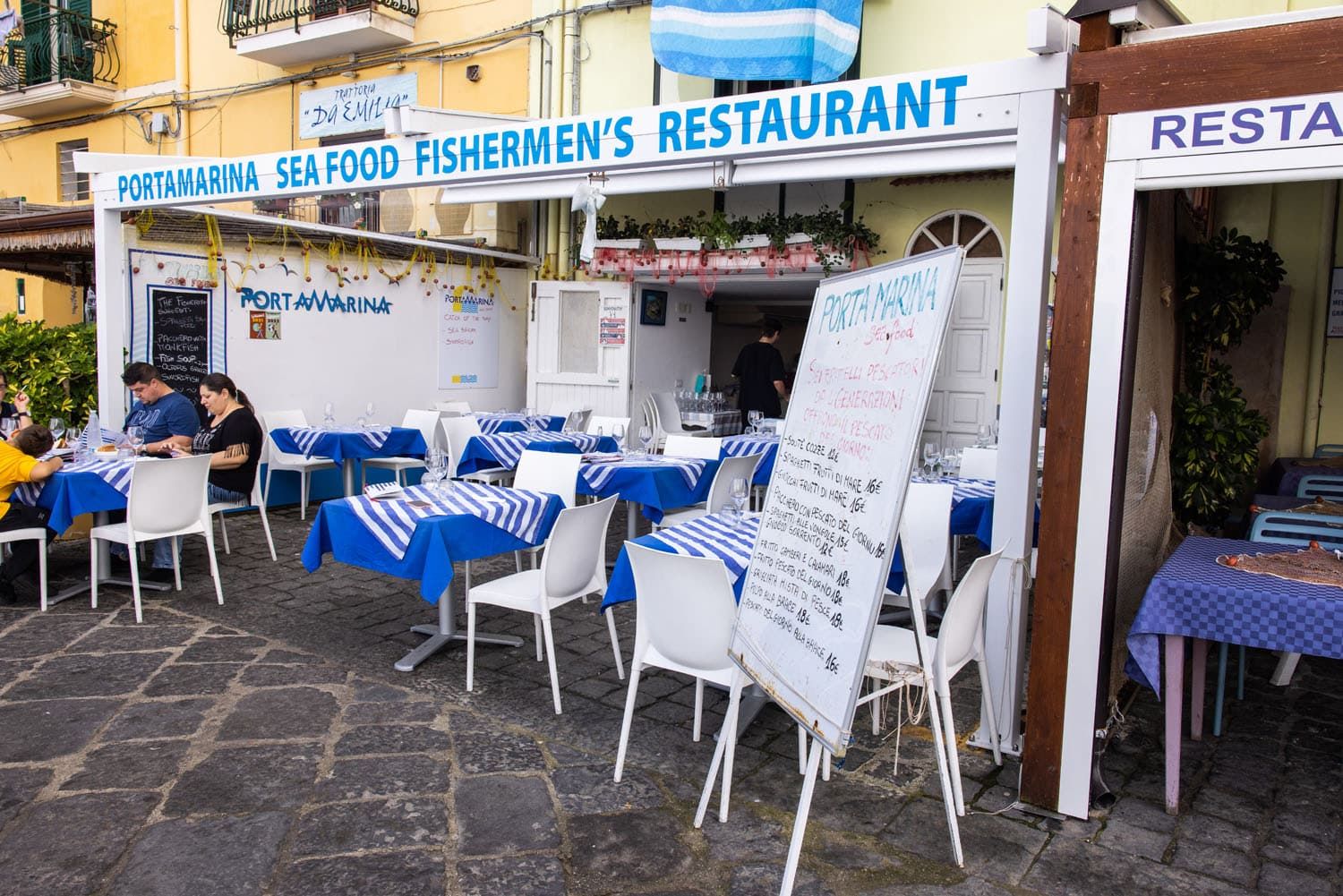 Porta Marina Seafood Restaurant
5. Marina Piccola
Marina Piccola is the ferry port in Sorrento. This is where you will go to take a ferry to Capri, Naples, or the Amalfi Coast.
Other than to catch a ferry, there is no need to put Marina Piccola on your Sorrento to-do list, we are simply mentioning it here so you know what it is.
6. Piazza Tasso
Piazza Tasso is the main piazza in Sorrento. This square is lined with bars and restaurants. Two popular shopping streets, Corso Italia and Via S. Cesareo, start on the west end of the square.
At night, this place is hopping. The buildings around the piazza are beautifully illuminated, the restaurants are packed, and sometimes you can catch live entertainment in the square.
We really enjoyed dinner at Bar Fauno. It's a bit touristy, but the service was fast and friendly and the Gnocchi alla Sorrentina was the best I had in Sorrento (we tried it at several restaurants).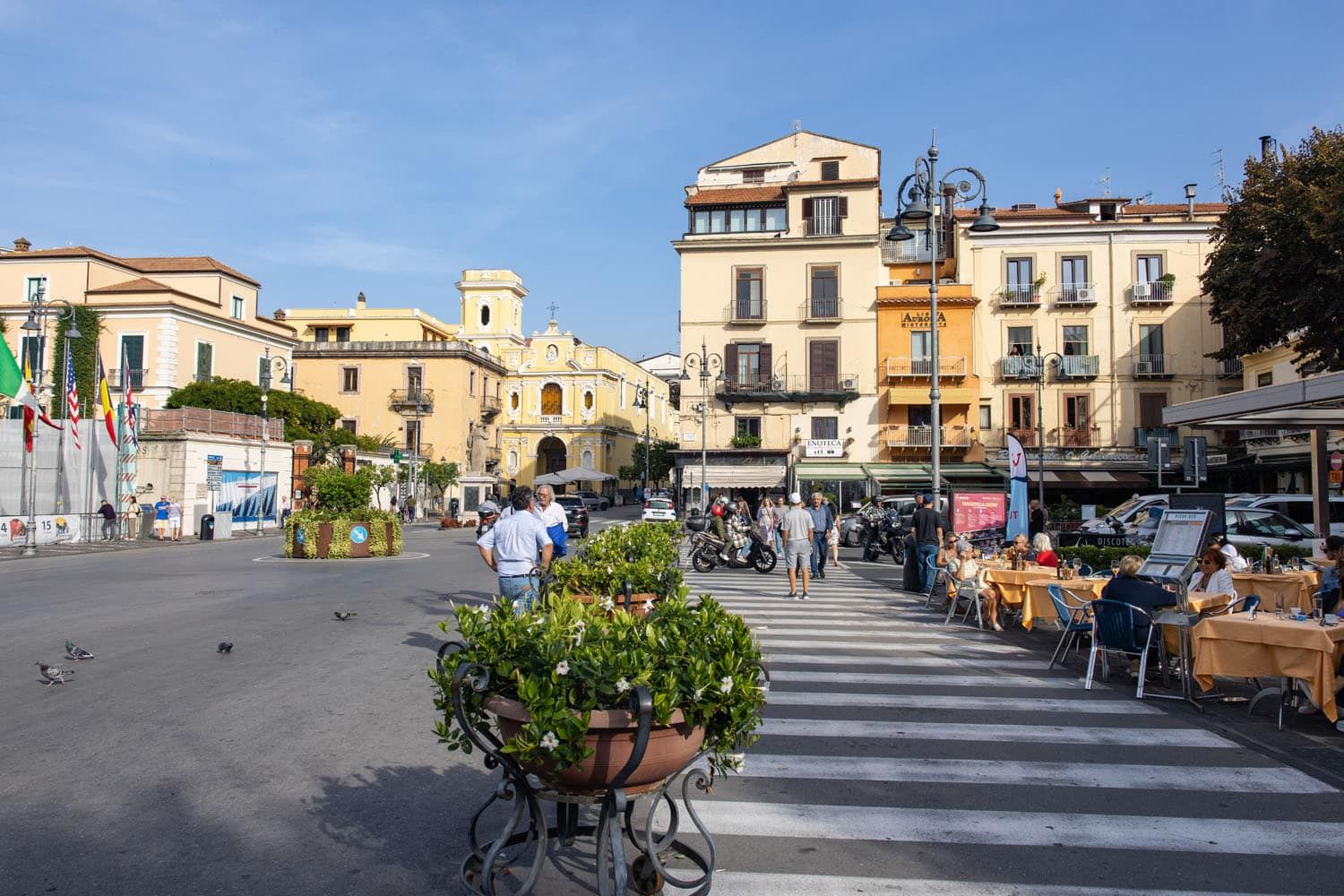 Piazza Tasso | Best Things to Do in Sorrento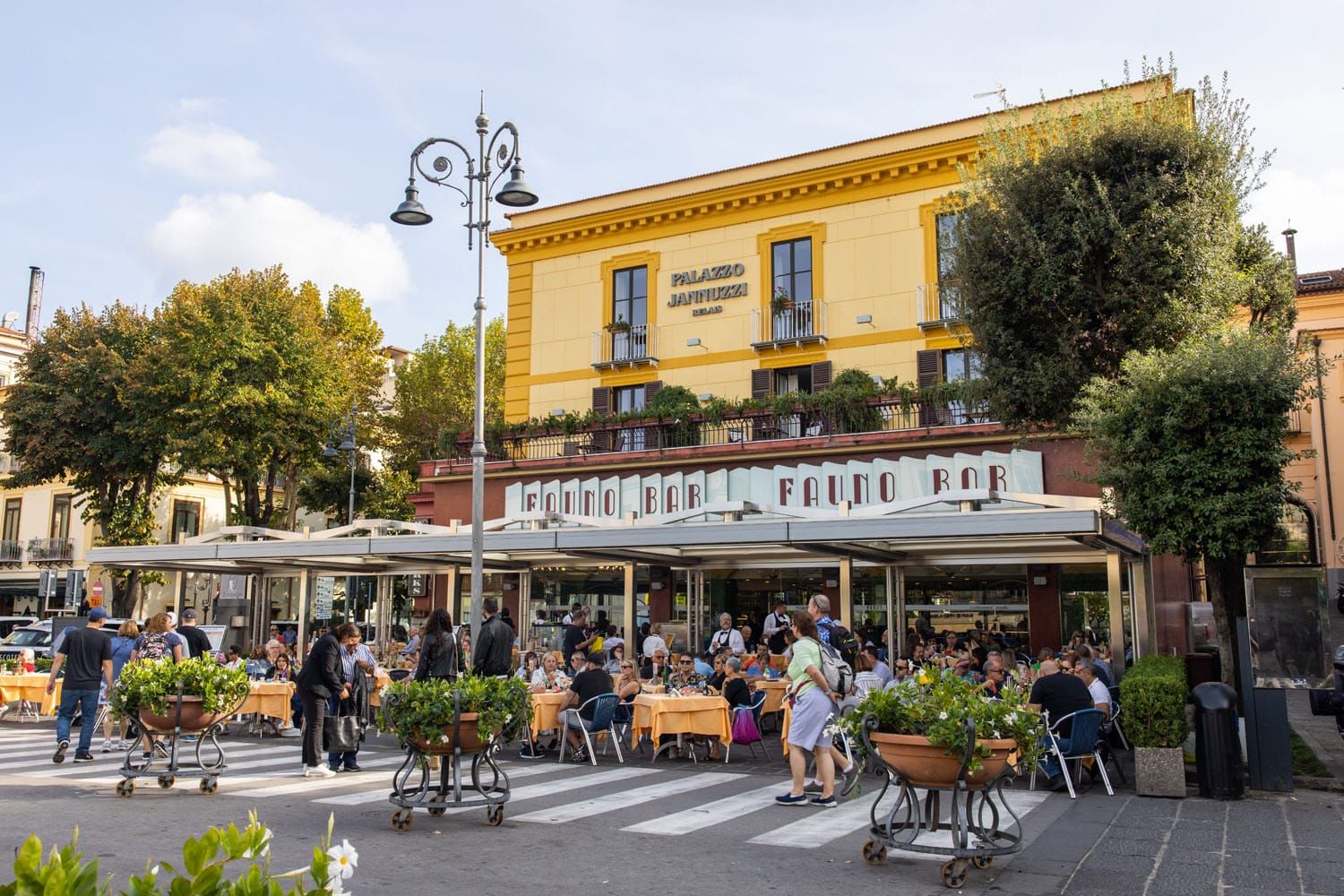 Fauno Bar
7. Visit Vallone dei Mulini
Just a quick walk from Piazza Tasso is Vallone dei Mulini, aka the Valley of the Mills.
From street level, you look down into a crevasse that contains old mills (sawmills, flour mills, and pasta mills), that took advantage of the stream that flows through the valley. These mills have been abandoned and are now being swallowed up by green vegetation.
It's free to take a glimpse down into the valley, making this one of the best off-the-beaten-path things to do in Sorrento.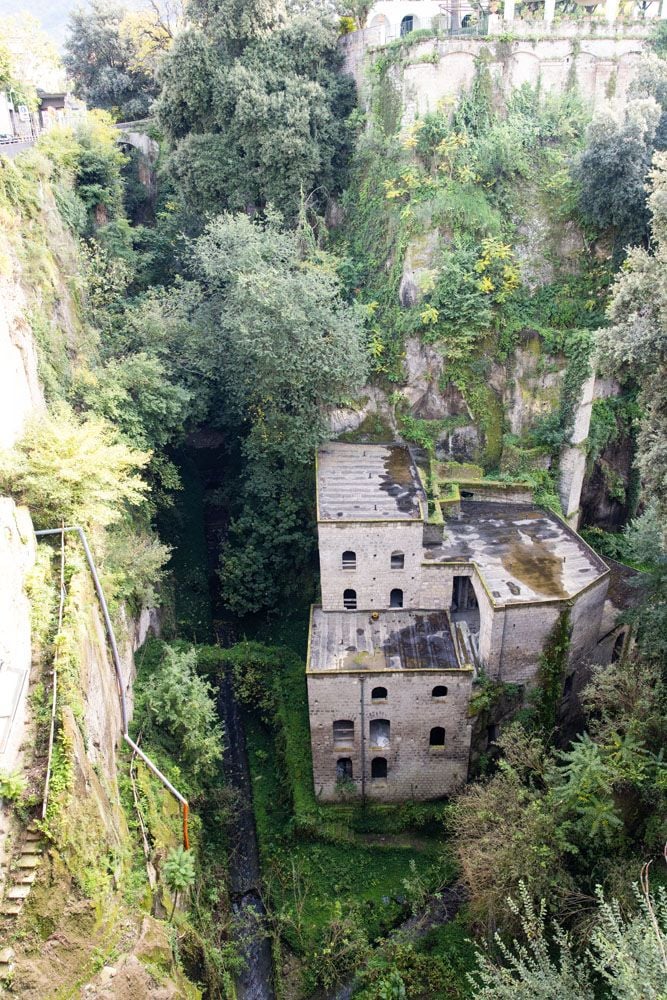 Vallone dei Mulini | Best Things to Do in Sorrento
8. Visit Bagni Regina Giovanna
A short drive from Sorrento is Bagni Regina Giovanna. Sitting on the rocky coastline of the Sorrentine peninsula is a natural pool that is surrounded by the ruins of a Roman villa that dates back to the 1st century BC.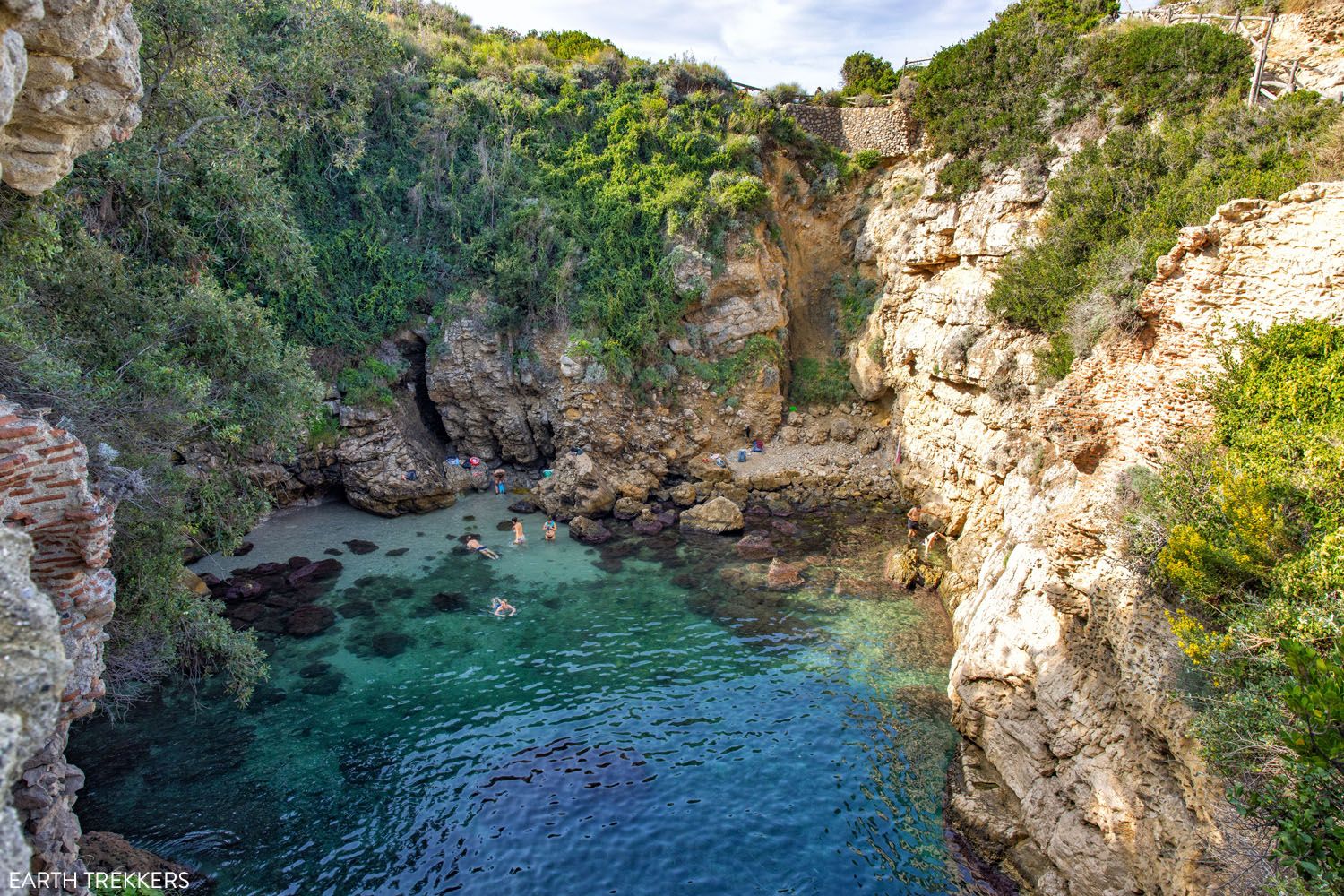 Bagni Regina Giovanna | Best Things to Do in Sorrento
To get here, it is a 20-minute drive from Sorrento. We had a rental car but you can also get here by bus 5070. If you have a car, we parked at at Parcheggio Regina Giovanna. From here, it is a 1 km walk (about 10 to 15 minutes) on a small cobblestone road and dirt trail to get to the swimming hole and coast.
Once here, you can hike the trails that loop around the swimming hole, visit the viewpoints on the end of the point, see the ruins, and go sunbathing.
You can also kayak to Bagni Regina Giovanna from Sorrento. This takes out the hassle of driving here and using public transportation. Plus, you will get beautiful views of the coastline and the Bay of Naples from the kayak.
9. Go Shopping
Two shopping streets run parallel to one another in Sorrento. Both start on the west end of Piazza Tasso.
Via S. Cesareo is narrower and busier and it is filled with shops selling leather, sandals, ceramics, souvenirs, jewelry, gelato, and limoncello.
Corso Italia is a wider street that is lined with clothing stores and restaurants. Of the two streets, Via S. Cesareo is more interesting, but it's easy to walk down one and back up the other, forming a loop.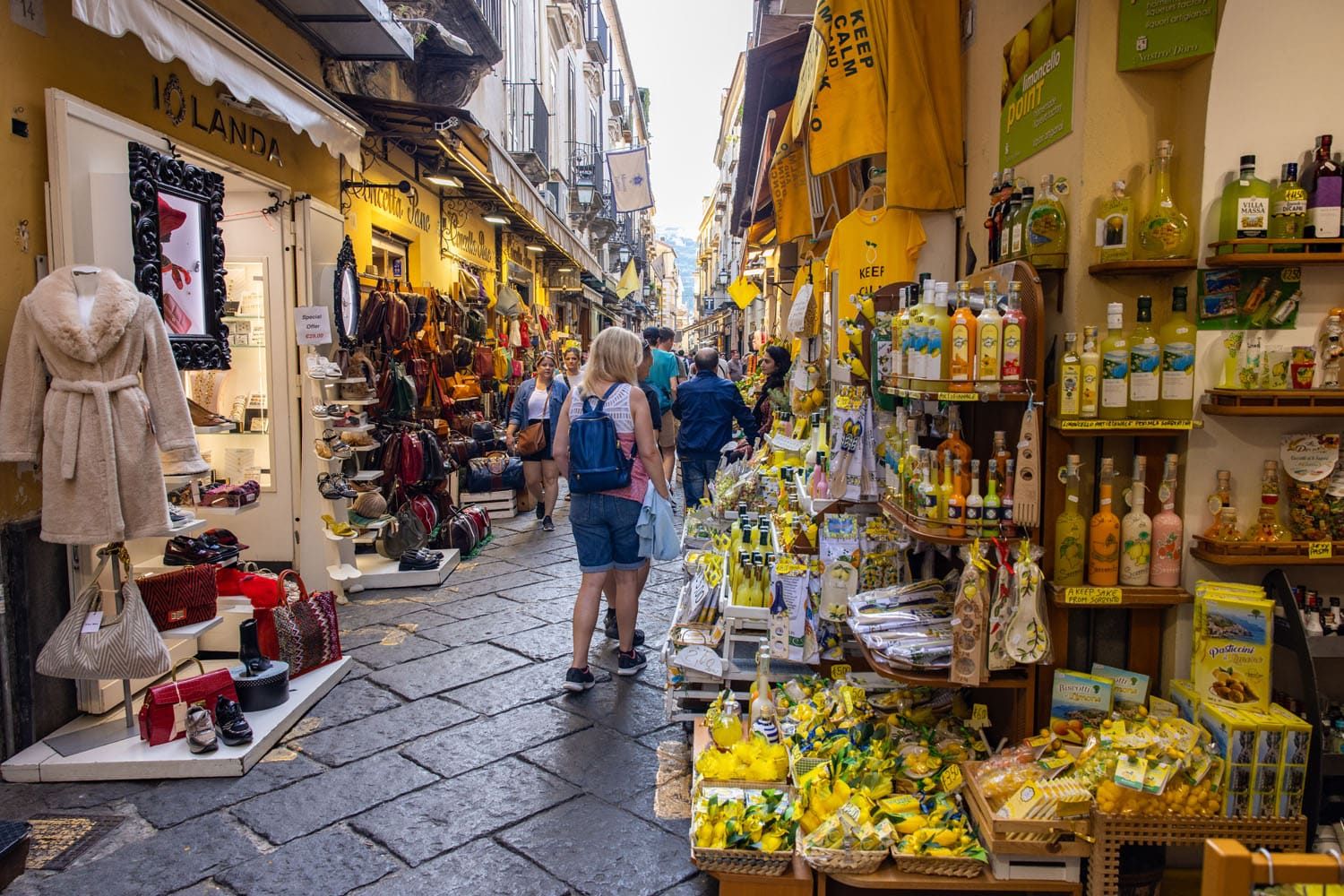 Via S. Cesareo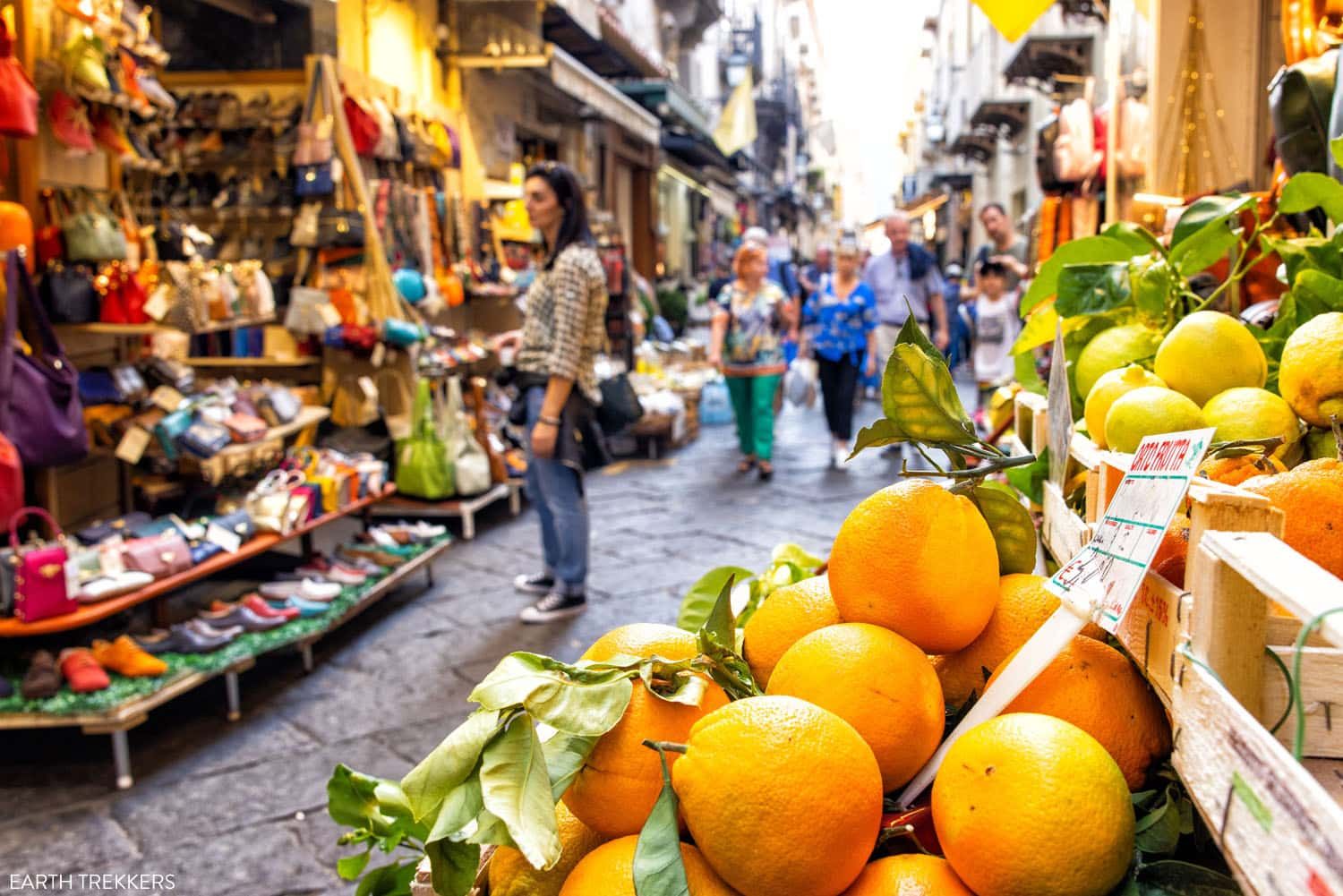 10. Taste Limoncello
One of the best things to do in Sorrento is to taste limoncello and you have a few options.
Limonoro is the most popular limoncello shop in Sorrento. They bottle their limoncello right in the store and they also sell an assortment of chocolates. Stop in for a free sample but be warned, it's hard to walk out of there with only a free sample.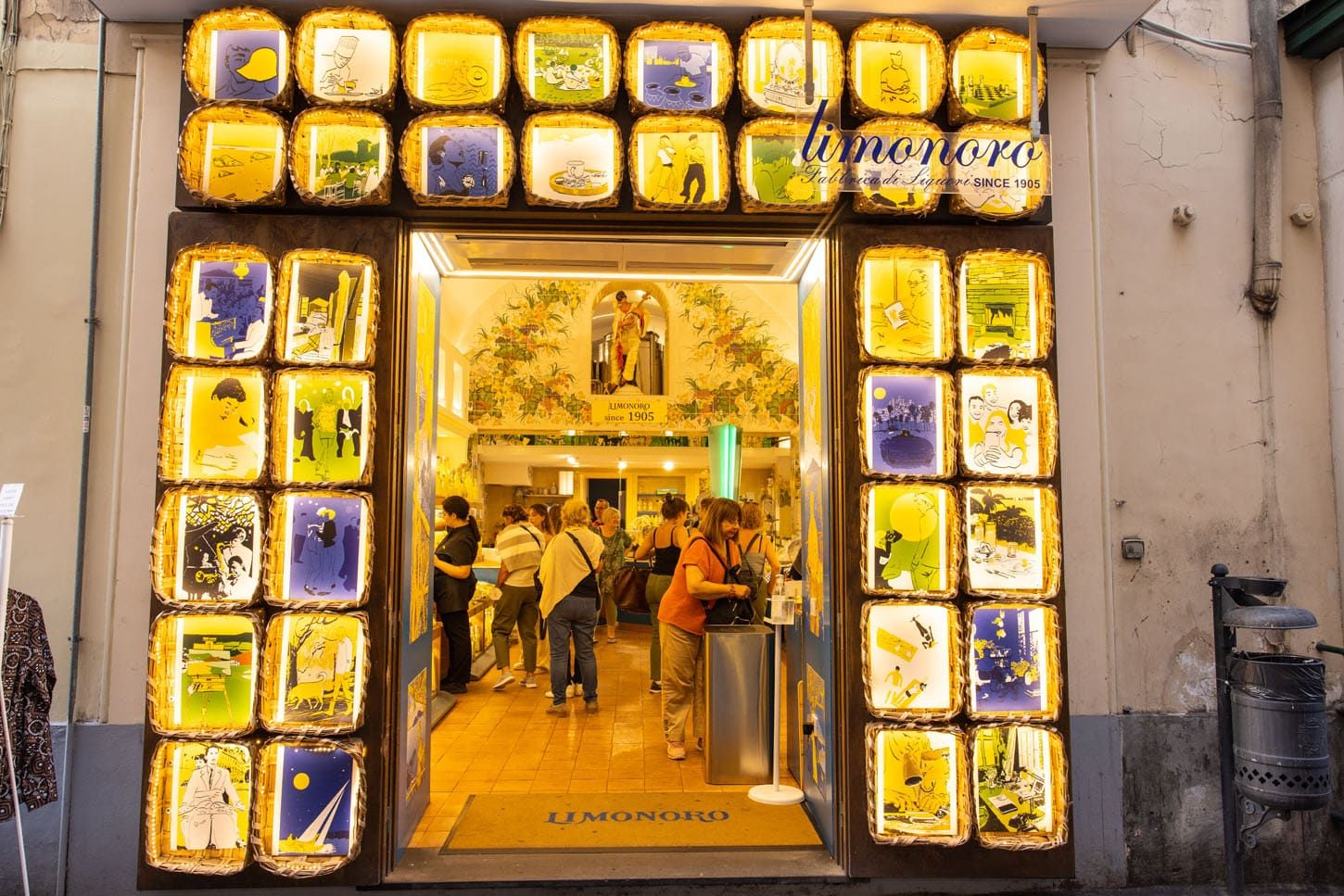 Limonoro | Best Things to Do in Sorrento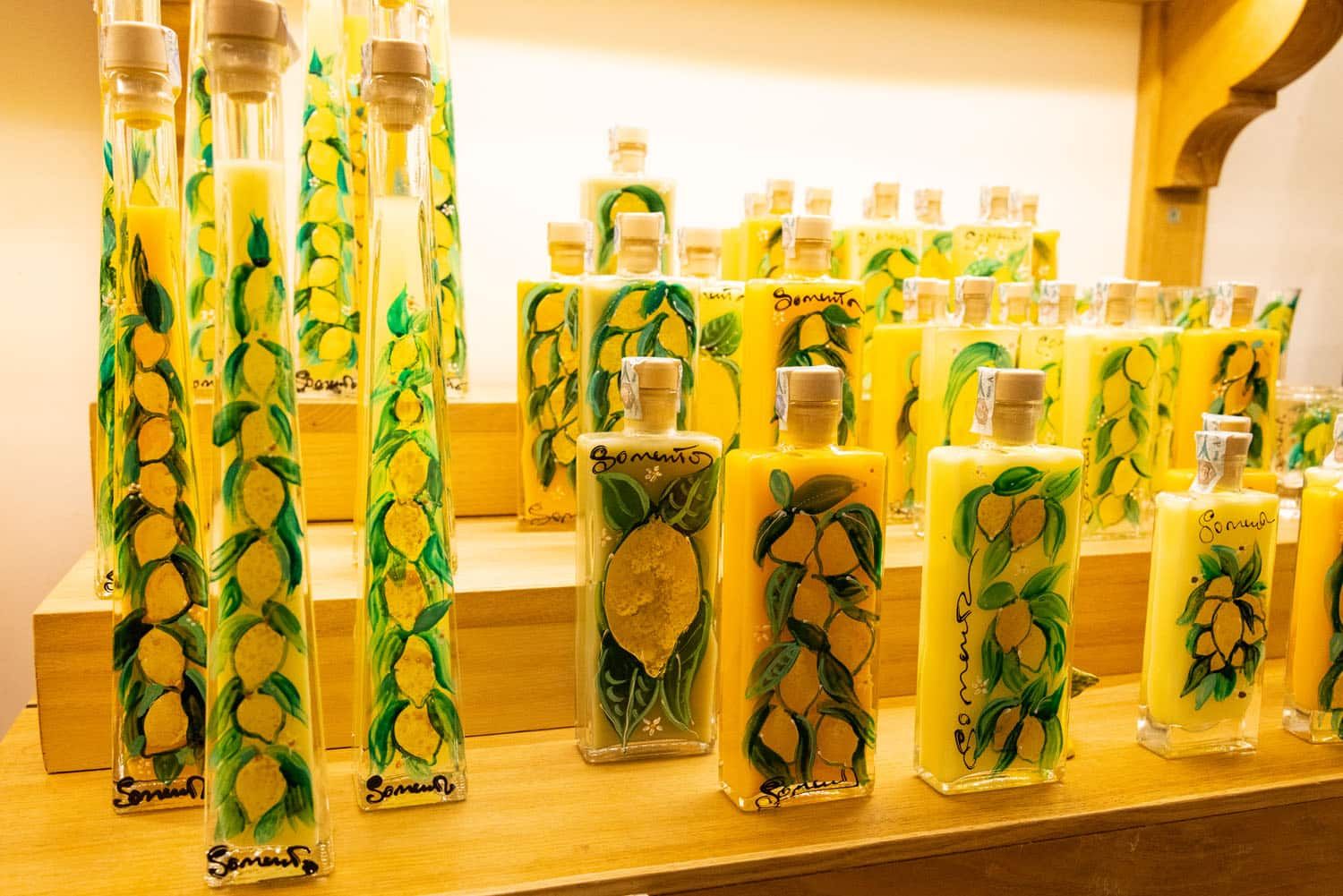 Limoncello at Limonoro
I Giardini di Cataldo is located farther away from the city center but it is a better overall experience. You are transported into a lemon grove where you can sit and relax, sample their limoncello, or have an apertif. It's worth the walk to get here…many people state that they make the best limoncello in Sorrento.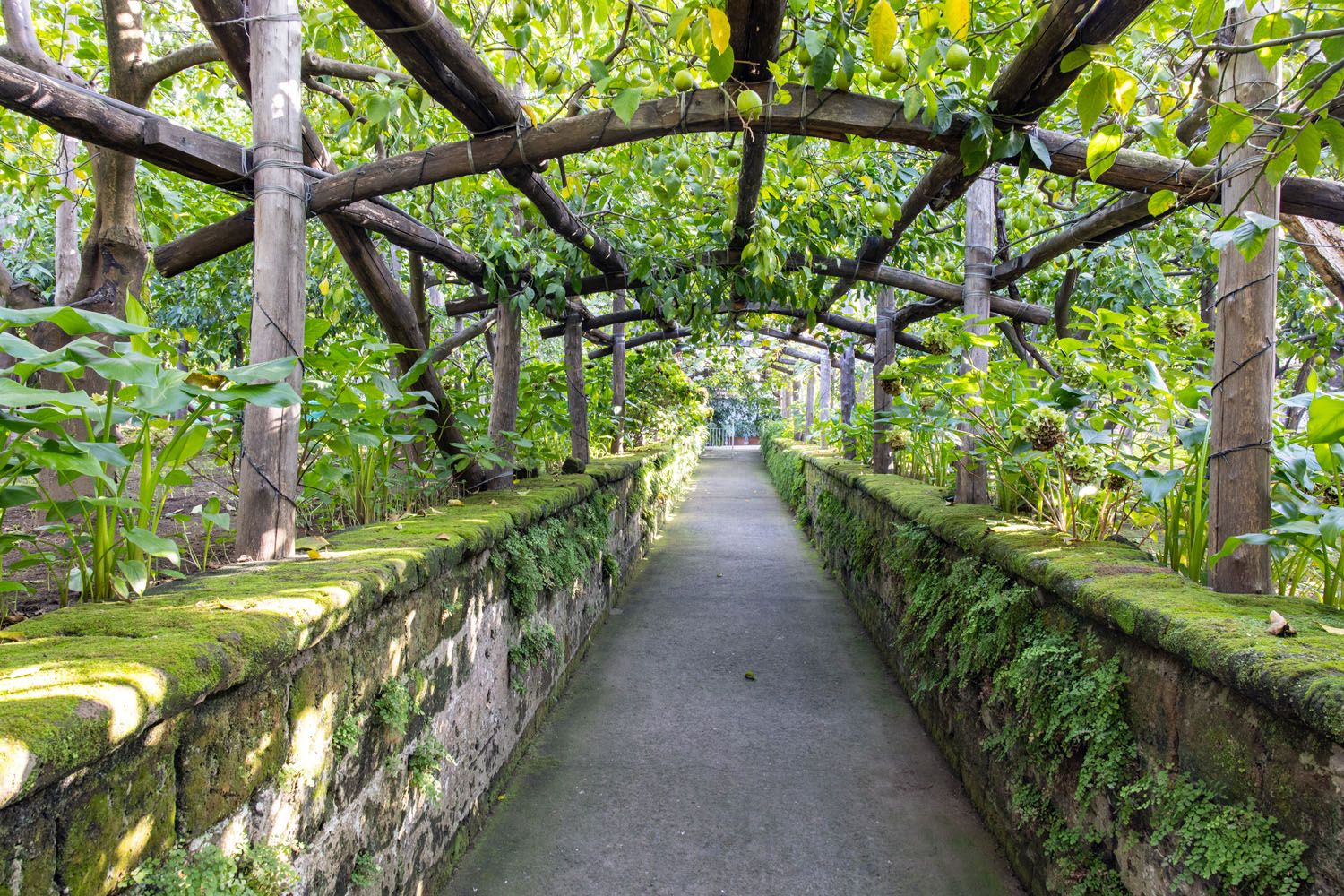 I Giardini di Cataldo | Best Things to Do in Sorrento
11. There's Always Room for Gelato
Gelato shops, or gelaterias, can be found throughout most Italian cities and Sorrento is no different. We have two places to recommend.
Amorino is a gelato shop that can be found throughout the world. They promote that they use organic agriculture. Amorino is located right on Via S. Cesareo so they are perfectly located for those looking for a treat while shopping or exploring the things to do in this guide.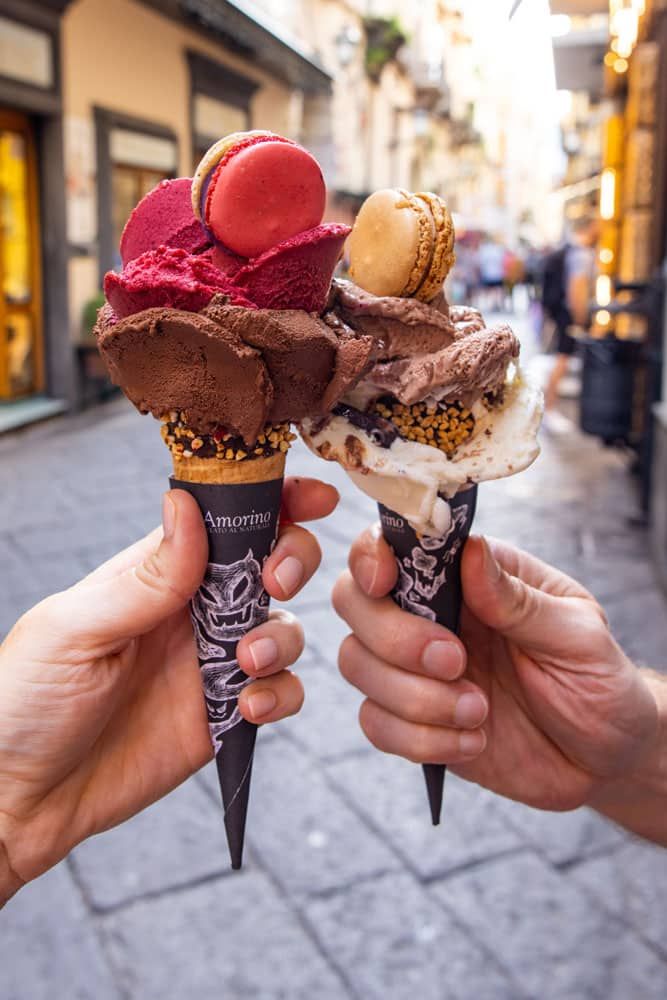 Gelato at Amorino
The second place to try is Gelateria David, a local gelateria that consistently gets rave reviews. Gelateria David is located near Sorrento's Circumvesuviana station, so they are conveniently located if you will be riding the Circumvesuviana train.
We thought the gelato at Gelateria David was notably better than Amorino, so it is worth going out of your way to try it.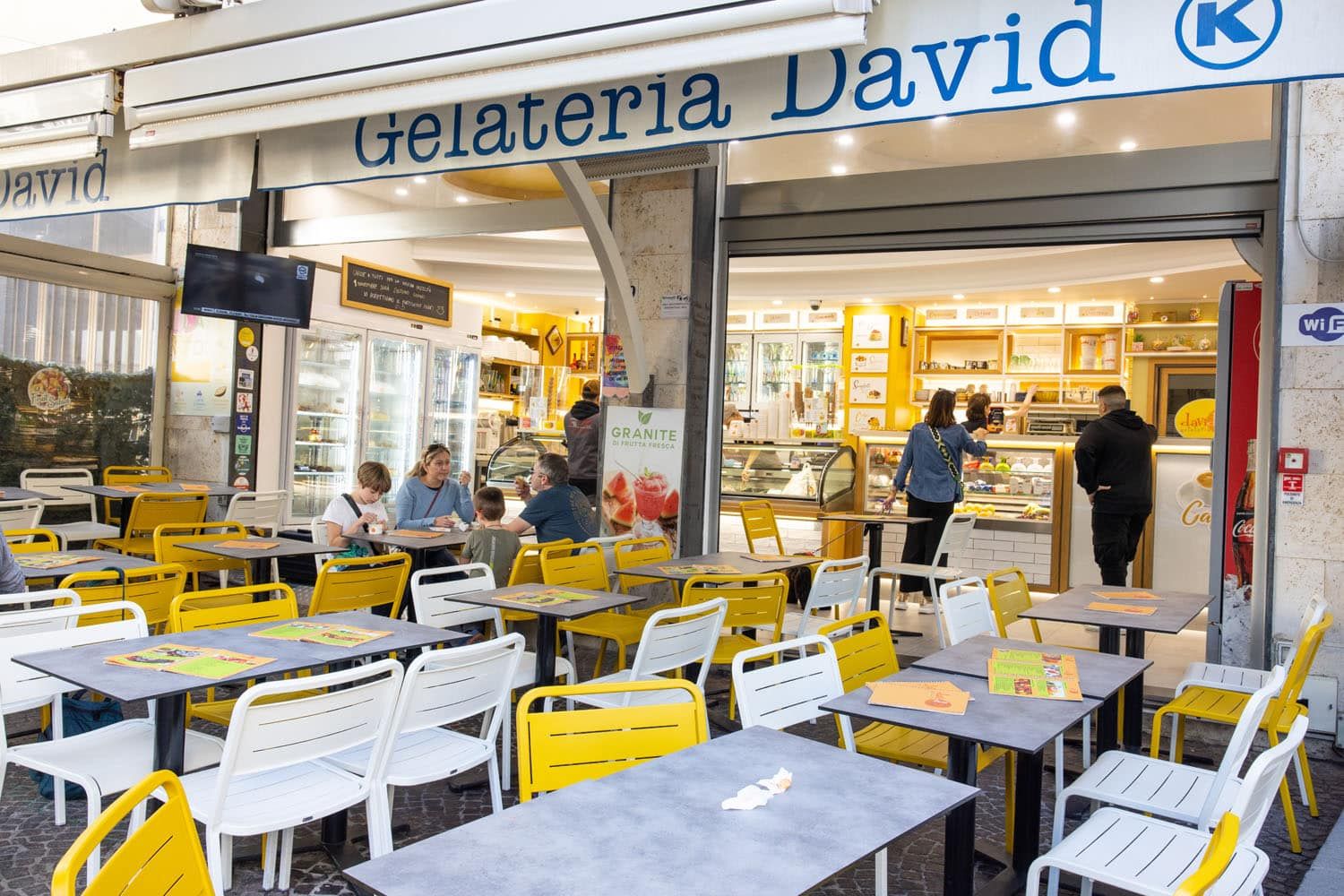 Gelateria David
12. Cattedrale dei Santi Filippo e Giacomo
The Cathedral of Saints Philip and James was the first cathedral in Sorrento. Since it was first built in the 11th century, it has undergone quite a few changes. In 1573, it was rebuilt in a Baroque style after invasion by the Turks. And then in 1924, the façade was completely renovated, this time in a neo-Gothic style.
Cattedrale dei Santi Filippo e Giacomo | Best Things to Do in Sorrento
13. Chiostro di San Francesco
This 14th century cloister sits next to Villa Comunale Park. It is free to visit.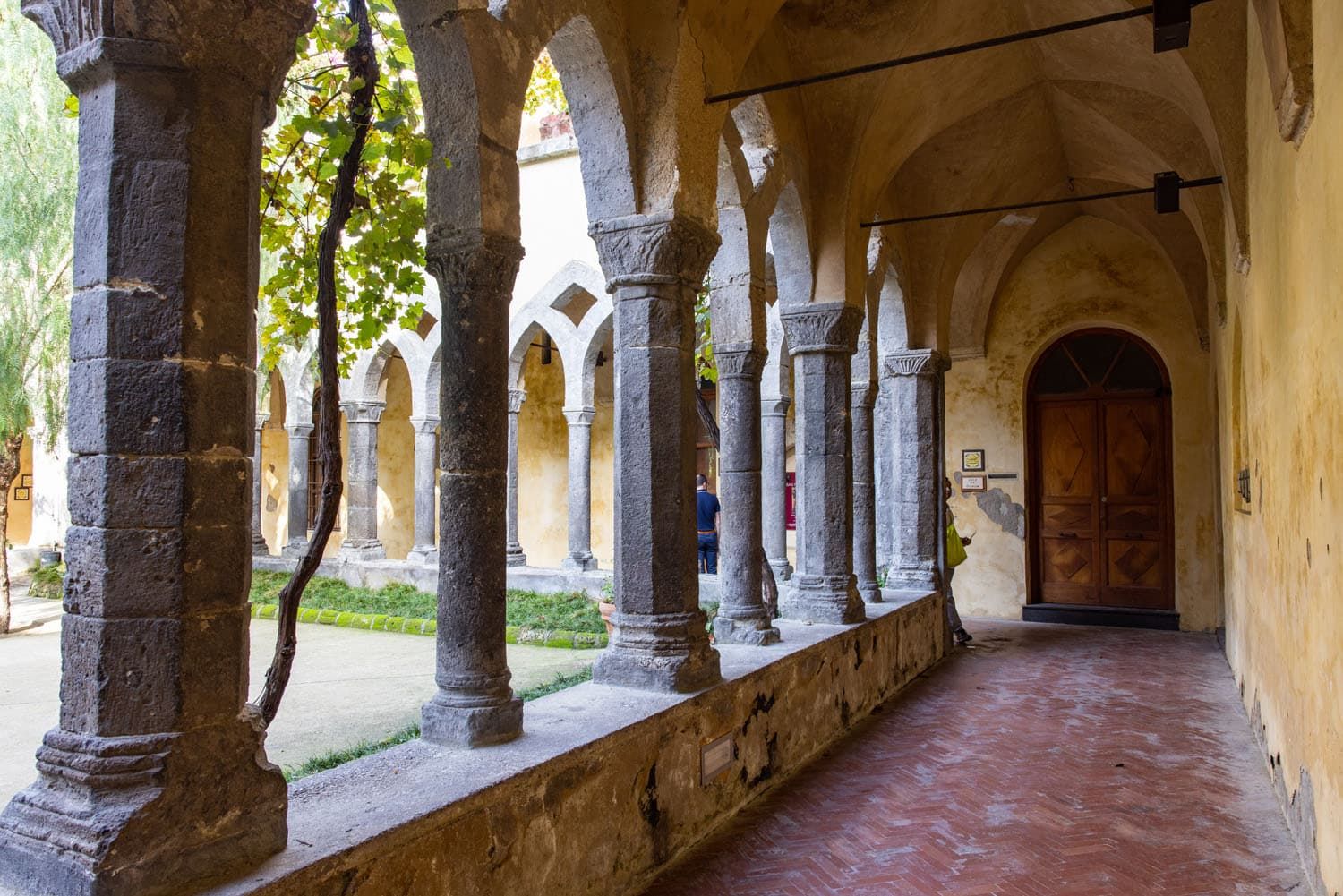 Chiostro di San Francesco | Best Things to Do in Sorrento
14. Visit a Museum
There are two notable museums worth mentioning in Sorrento. The Museo della Tarsia Lignea is an inlaid wood museum and Museo Correale di Terranova contains archaeological finds, paintings, and artifacts made of porcelain.
15. Day Trip to Capri
One of the best things to do in Sorrento is to take a day trip to Capri.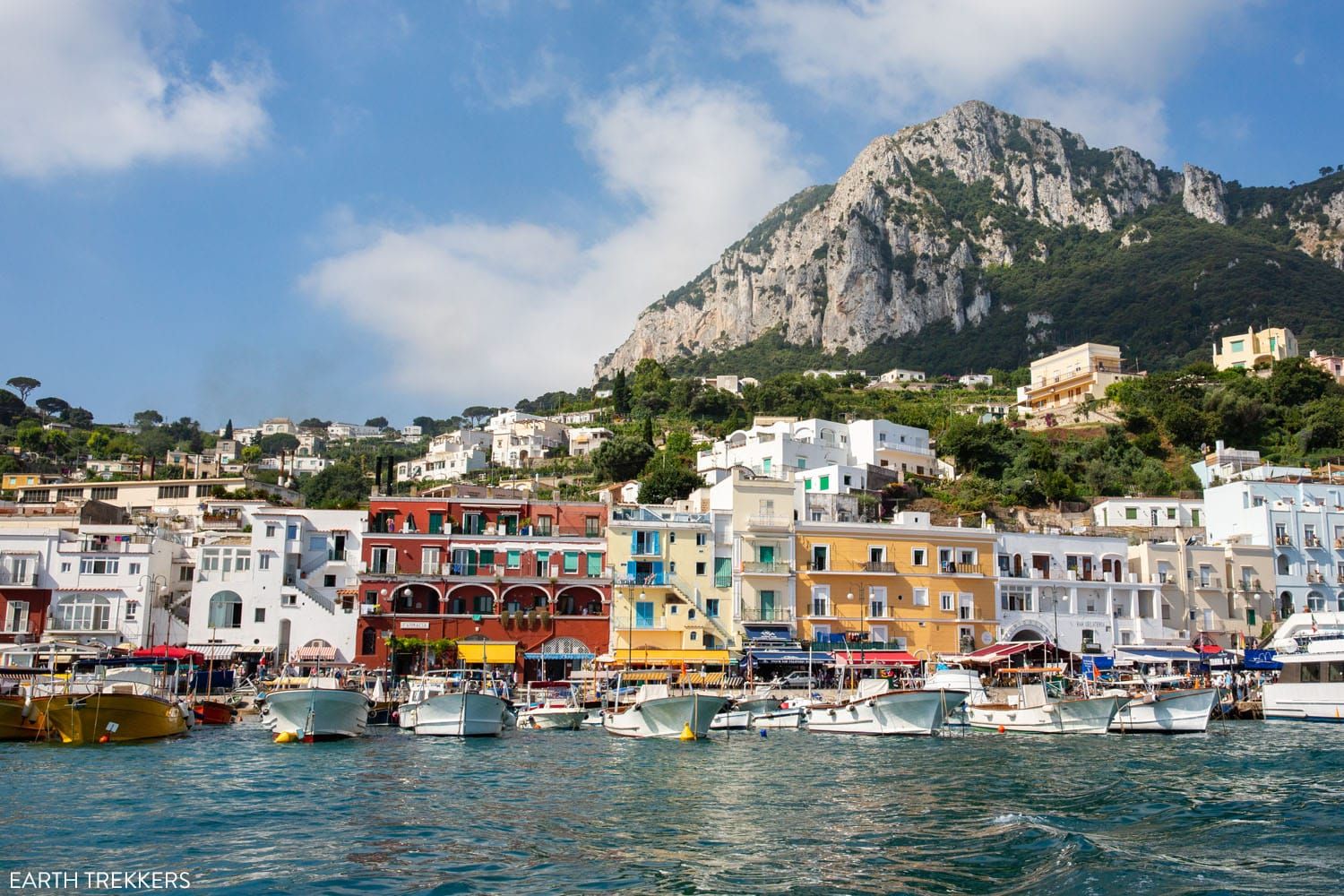 Marina Grande, Capri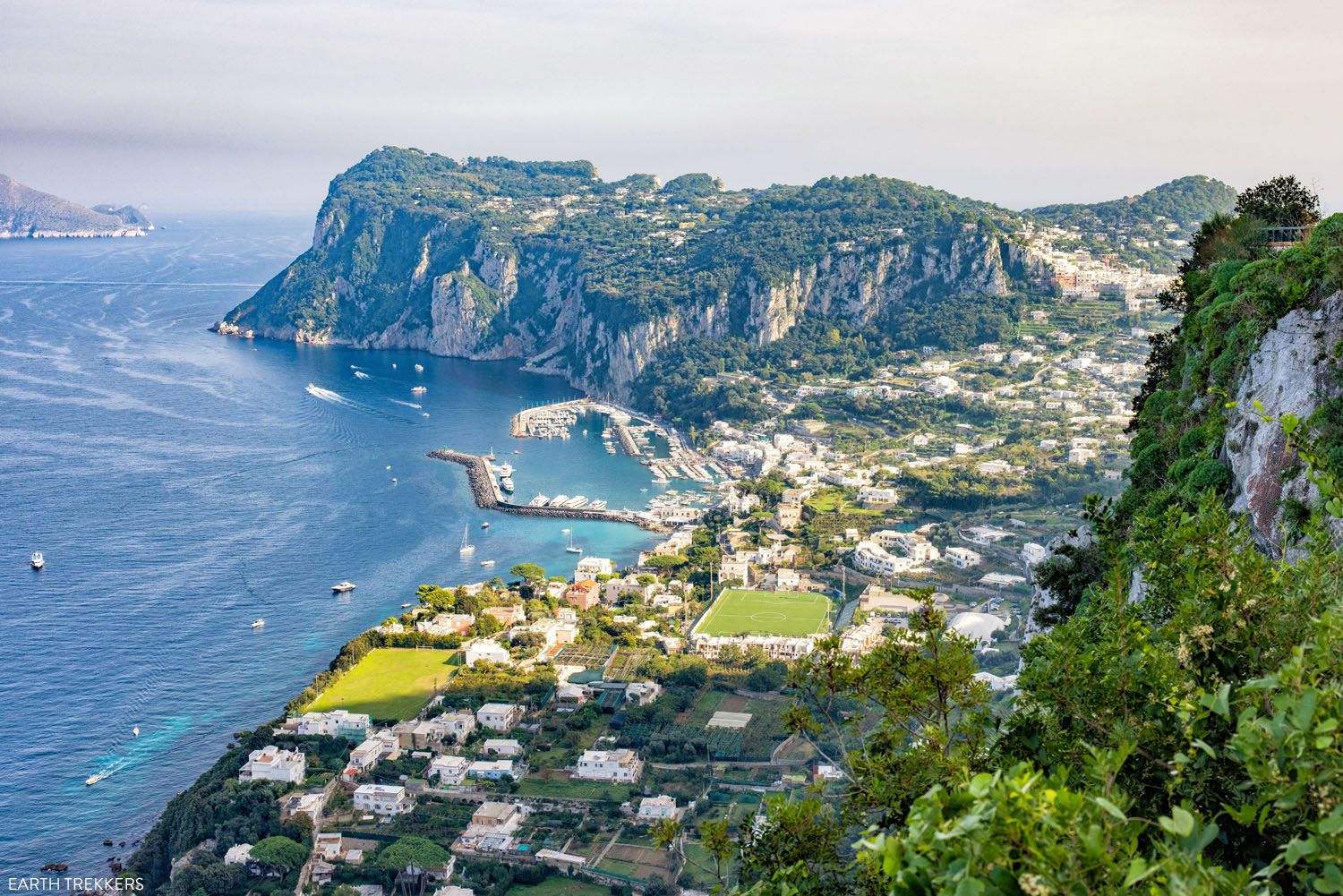 Capri, Italy
On the to-do list in Capri are a boat tour of the island, a visit to the Blue Grotto, a ride on the chairlift to Monte Solaro for panoramic views, and a bit of shopping in lovely Capri town.
To day trip to Capri from Sorrento, you can either take the ferry, join a tour, or hire a private boat. Learn how to do this in our guide How to Spend One Perfect Day in Capri.
16. Day Trip to the Amalfi Coast
Visiting the Amalfi Coast just may be the #1 item on your Sorrento to-do list. Many people travel to Sorrento just to visit the Amalfi Coast.
There are numerous ways to day trip to the Amalfi Coast from Sorrento. You can join a tour, hire a driver to take you to a few towns, cruise along the Amalfi Coast by ferry or private boat, or use the bus to hop from town to town.
For budget travelers, the bus is the most economical option. But you need to have patience, as buses rarely run on schedule, are often crowded, and get stuck in traffic jams along Amalfi Drive. It's better to take the ferry. You'll spend a little more money, but you'll avoid the traffic and get to see the Amalfi Coast from the sea, which is beautiful.
Hiring a driver for the day is another popular way to visit the Amalfi Coast. This has the advantages of being able to travel on your own schedule and visit the places you want to go. However, you still run the risk of getting stuck in traffic jams on Amalfi Drive, particularly the months of July and August.
The most expensive way to day trip to the Amalfi Coast is to hire a private boat. However, it is an awesome experience. Not only do you get to avoid the traffic on the roads, but you can also relax on the boat, sip on prosecco, enjoy the views, and zip up and down the Amalfi Coast faster than any car, bus, or ferry. We rented a private boat for the day during our stay in Positano and it is one of our favorite experiences in Italy.
For more information on all of these modes of transportation, take a look at our article How to Get Around the Amalfi Coast.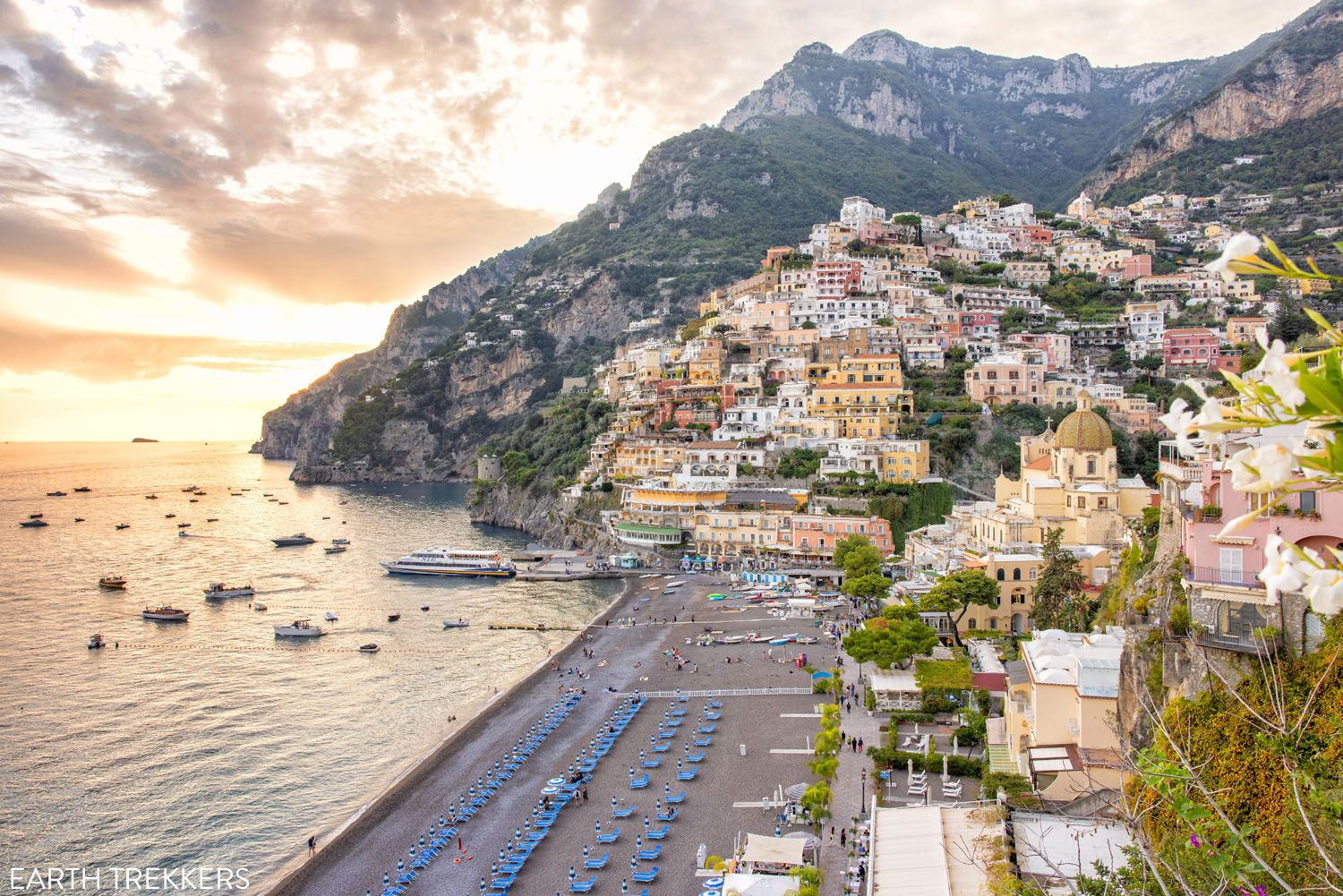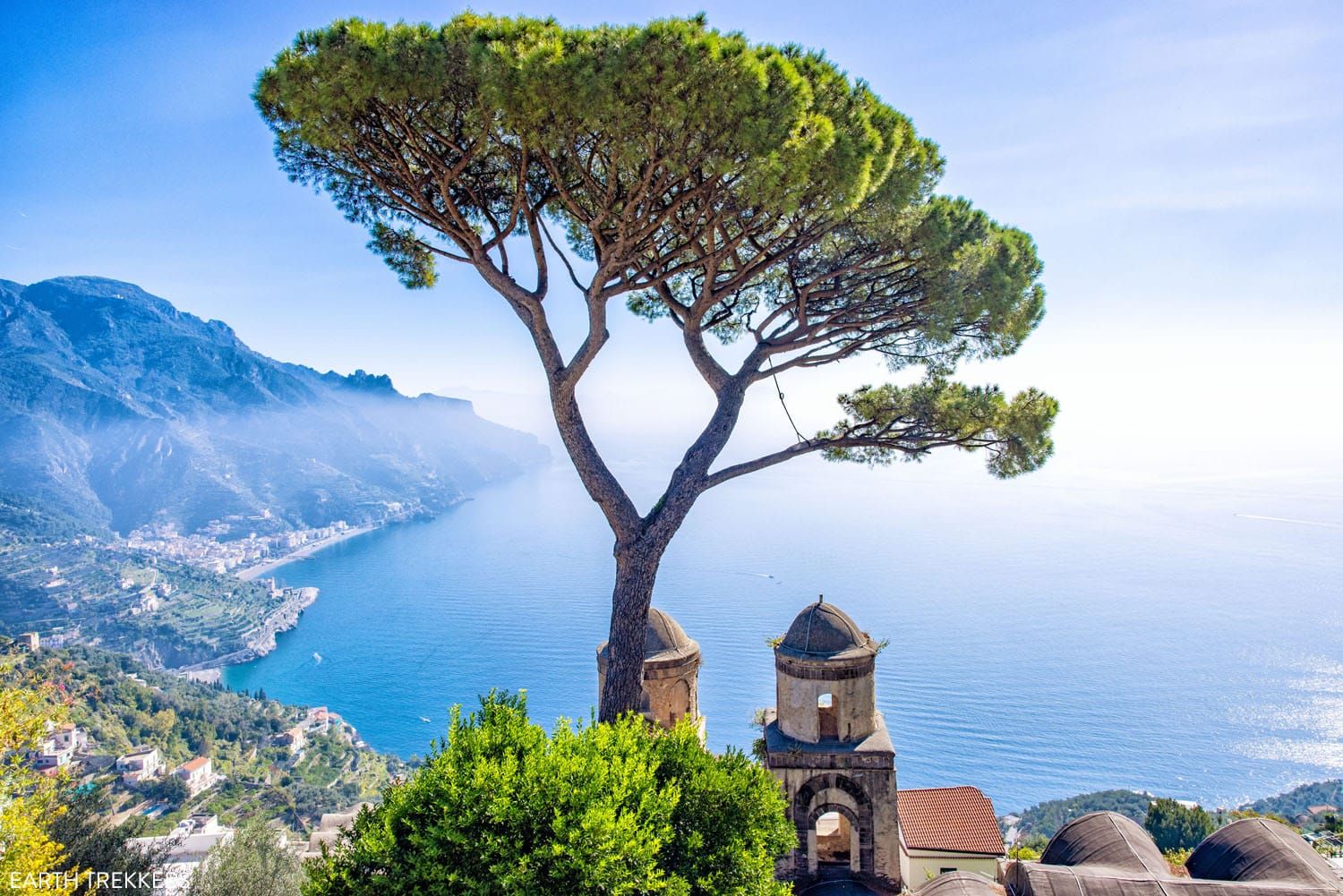 Finally, taking a tour is another popular way to day trip to the Amalfi Coast. These range from small group boat tours to tours that include both a drive on the Amalfi Coast and a quick boat ride. Joining a tour takes out the hassle of arranging transportation and deciding where to go.
And where should you go on a day trip to the Amalfi Coast? We recommend Positano, Amalfi, and Ravello, three of the most beautiful towns on the Amalfi Coast. These can all be visited in one day by private driver or by bus.
For more information on what to do, read our article Best Things to Do on the Amalfi Coast.
17. Day Trip to Pompeii, Mount Vesuvius, and Herculaneum
From Sorrento, it is easy to get to Pompeii, Mount Vesuvius, and Herculaneum. These three sites can be visited in one busy day trip or you can simply combine Pompeii and Mount Vesuvius.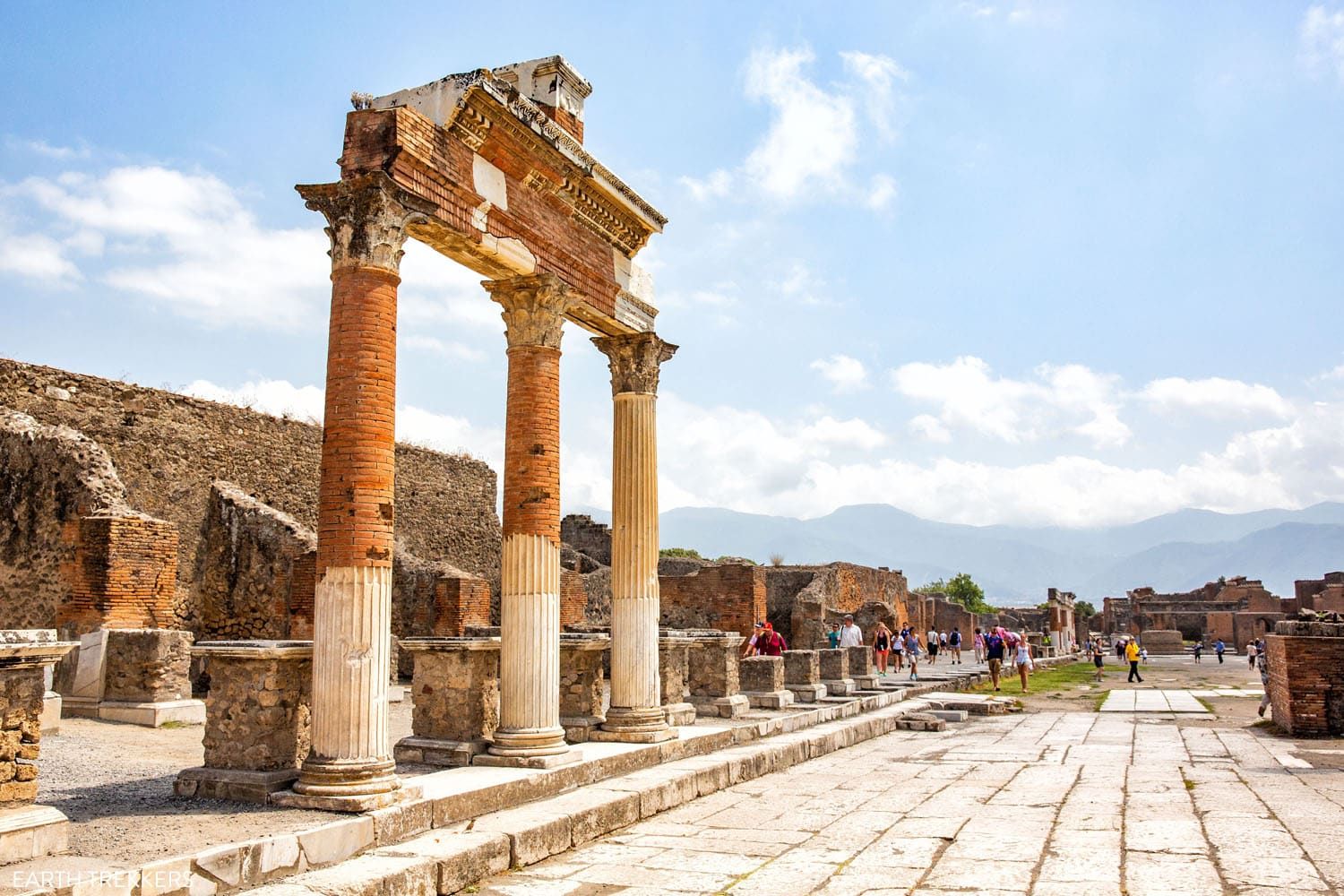 Pompeii, Italy
Pompeii
To day trip to Pompeii, from Sorrento ride the Campania Express train or the Circumvesuviana. The Campania Express is a tourist train that gets to Pompeii a little faster, since it doesn't have as many stops, plus it is air conditioned and you can have a guaranteed seat (the Circumvesuviana is hot, crowded, and slower).
You can also visit Pompeii on a guided tour from Sorrento, such as this highly rated tour.
Mount Vesuvius
Mount Vesuvius is an active volcano on the mainland of Italy. It last erupted in 1944. In 79 AD, the eruption destroyed Pompeii, Herculaneaum, Stabiae, and Oplontis.
A visit to Mount Vesuvius can be combined with Pompeii. From the train station in Pompeii, you can take a bus or a shuttle to Mount Vesuvius and then you can walk the Great Cono trail around the crater.
To visit Mount Vesuvius, purchase your ticket online in advance (and if you will have a car, purchase your parking pass online in advance). Tickets cannot be purchased upon arrival and the cell service on Vesuvius isn't reliable enough to purchase tickets online upon arrival. Furthermore, they only sell 50 tickets for each 10-minute time slot. While this might sound like a lot, they do sell out.
The official website provides opening times, costs, the link to purchase your entry ticket, the link to purchase your parking pass, directions to the parking areas, how to get there via a combination of train + taxi or train + bus, etc.
When you purchase a parking pass you are assigned a specific lot and space number and you have a 4-hour window to use that space, starting at the time selected. When you purchase an entry ticket you have a two-hour window to enter through the entry gate (from 30 minutes before your selected time to 1.5 hours after your selected time). This is an entry time window only so there is some flexibility for when you enter. Check the above website for any updates to these policies.
One of the parking lots is not at the entry gate, but there is a bus that will take you from that parking area to the entry gate, which costs 1 euro per person each way. Alternatively, you can walk from the parking lot and it is 1.8 km (1.1 miles) each way with 200 meters (650 feet) of elevation change. Either way, make sure you get to the entry gate before your entry time window expires.
Once on Mount Vesuvius, hike the Great Cono Trail (trail number 5) around the crater. It is an out and back hike that is 3.4 km (2.1 miles) roundtrip with 175 meters (575 feet) of total ascent.
To eliminate the hassle of public transportation, and to visit Pompeii with a knowledgeable guide, here is a highly rated tour of Pompeii and Mount Vesuvius from Sorrento.
Herculaneum
Like Pompeii, Herculaneum is a town that was covered in ash from the eruption of Mount Vesuvius in 79 AD. Herculaneum was the seaside retreat for wealthy Romans. The ash preserved much of the town and things to see here are the boat houses and the Villa of the Papyri.
The best way to get to Herculaneum from Sorrento is the Campania Express. Other options include the Circumvesuviana or a private driver.
You can also take a guided tour of Herculaneum from Sorrento.
Where to Eat in Sorrento
Before we get into where to eat, it is good to know what to eat in Sorrento.
Gnocchi alla Sorrentina: gnocchi baked in a tomato and mozzarella sauce

Limoncello Spritz:

similar to an Aperol Spritz but made with limoncello instead of Aperol (so it is limoncello, prosecco, and soda water)

Delizia al Limone: (Lemon Delight)

: This small, cream filled cake is topped with a thick, delectable layer of icing

Caprese Almond Cake:

A flourless chocolate cake make with almonds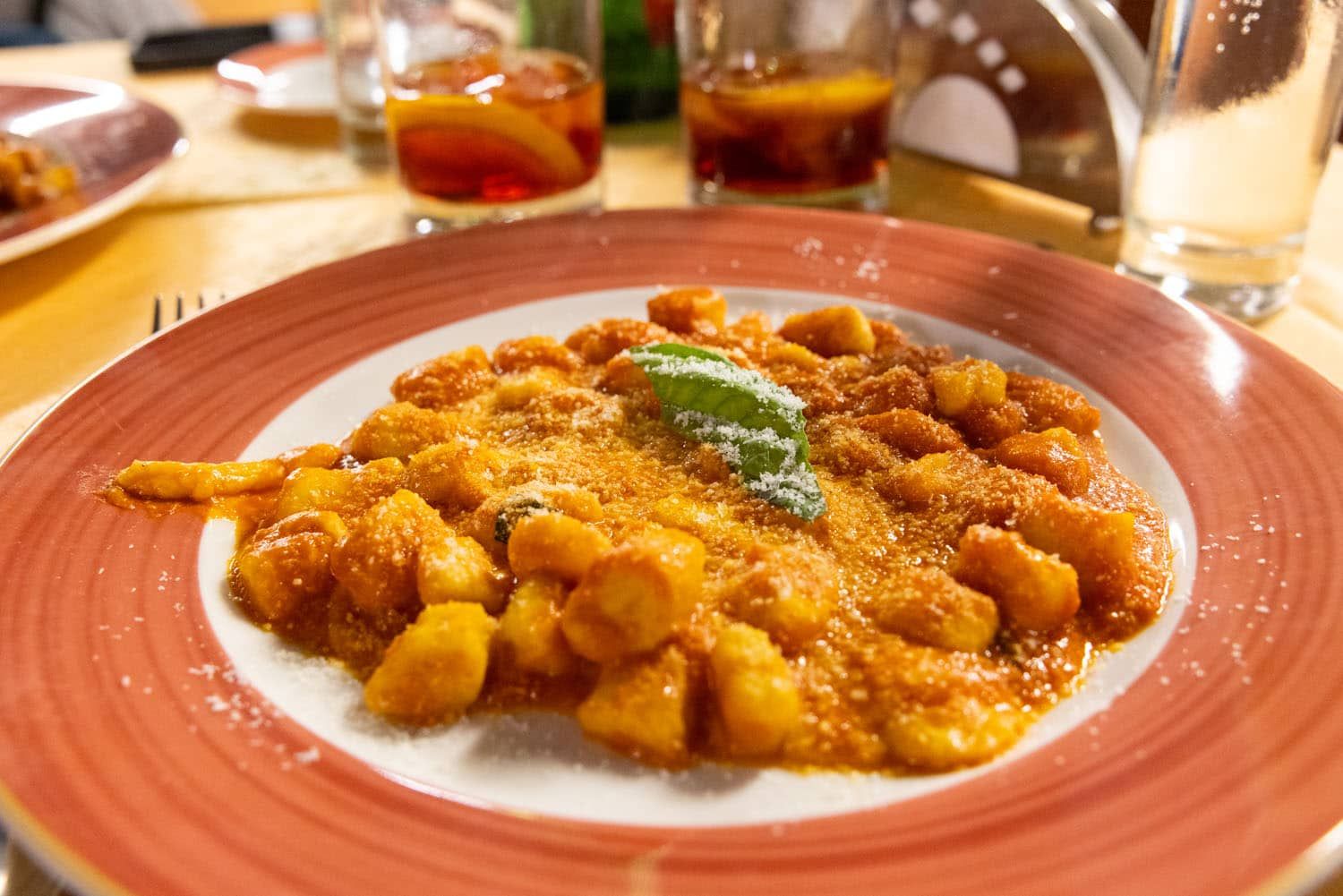 Gnocchi alla Sorrentina at Fauno Bar
Here are our favorite restaurants and bars in Sorrento.
Ristorante Lorelei is a Michelin-starred fine-dining restaurant. We liked this restaurant so much that we ate here twice. Ristorante Lorelei has outdoor seating with views of Sorrento, making this a great restaurant to have dinner outside and watch the sunset. If you have an indoor seat, you can watch the chefs work their magic through the huge glass windows. The attentive and friendly staff, the setting, and the food were all phenomenal. And picking out your olive oil from the olive oil menu is nice touch.
Fauno Bar is a casual dining experience located right on Piazza Tasso. This popular restaurant serves great Gnocchi alla Sorrentina, our favorite in Sorrento.
Enjoy Restaurant (aka Enjoy The Little Things Bistrot) is a casual dining experience and one of the highest rated restaurants in Sorrento. It is located on Via S. Cesareo. They have a few tables inside and a few more on the street. It is first come, first serve and due to their rave reviews, it is not uncommon to see people waiting in line to eat here. The cannelloni that Tim had was awesome but we like the Gnocchi alla Sorrentina at Fauno Bar more.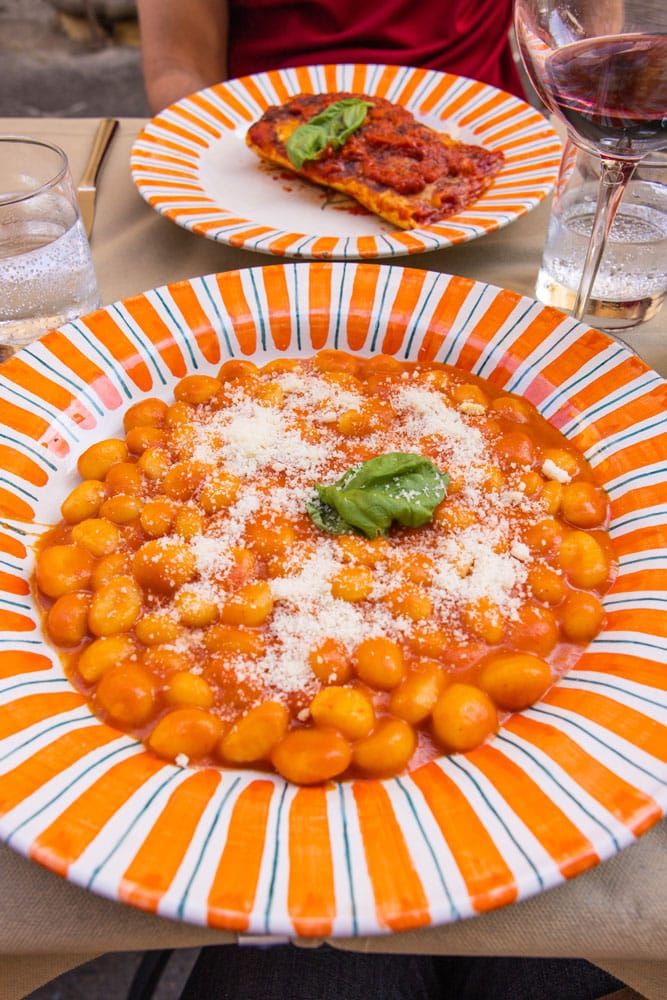 Lunch at Enjoy Restaurant
At Hotel Vittoria, there is a garden bar that is a beautiful, quiet spot to have a cocktail. This is associated with a luxury hotel so it is not casual and the drinks will cost more than at a place like Fauno Bar.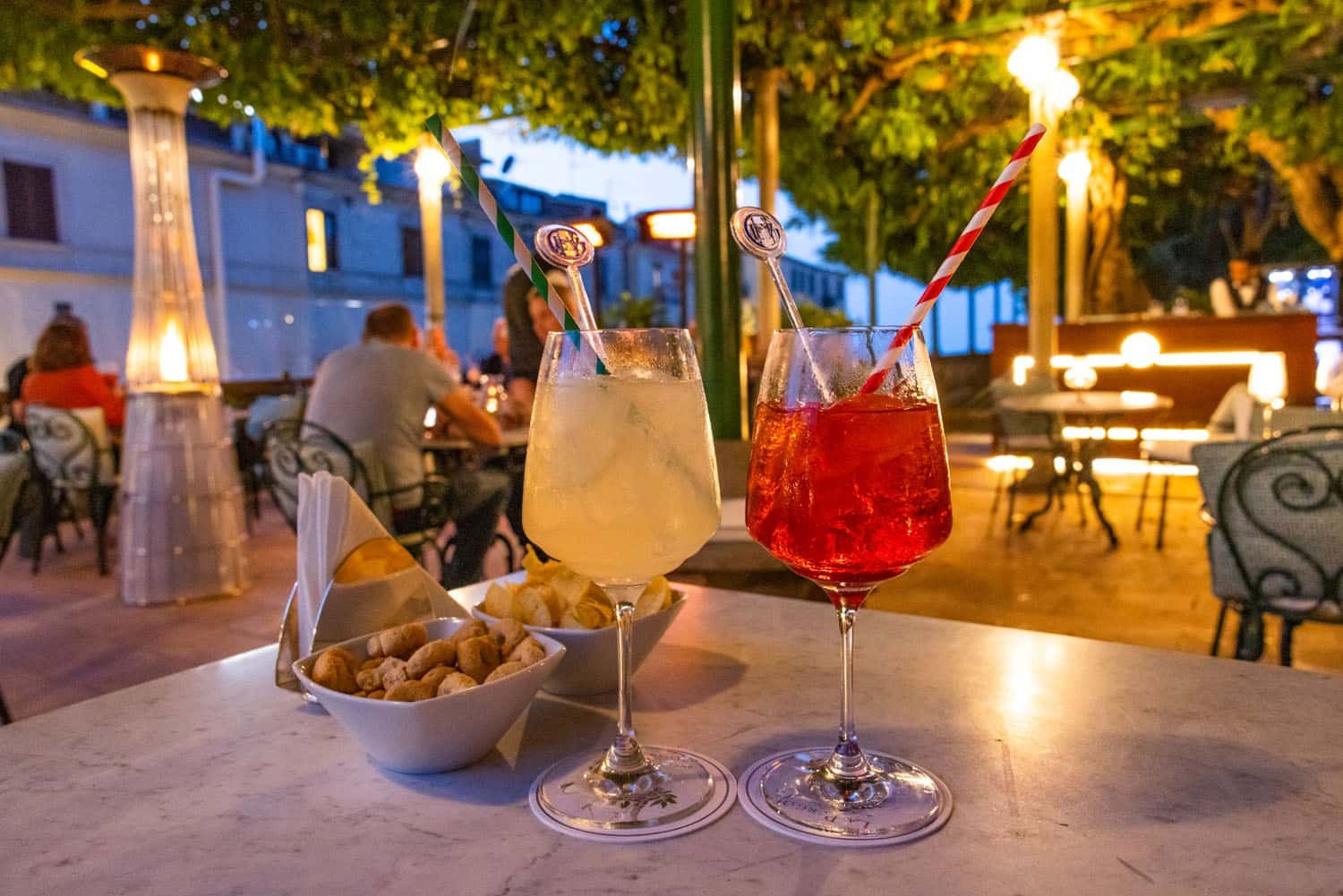 Drinks at Hotel Vittoria
Bellevue Syrene Terrace is a fine dining experience at the Bellevue Syrene hotel. This outdoor terrace has beautiful views of Sorrento and the best time to have dinner here is right at sunset.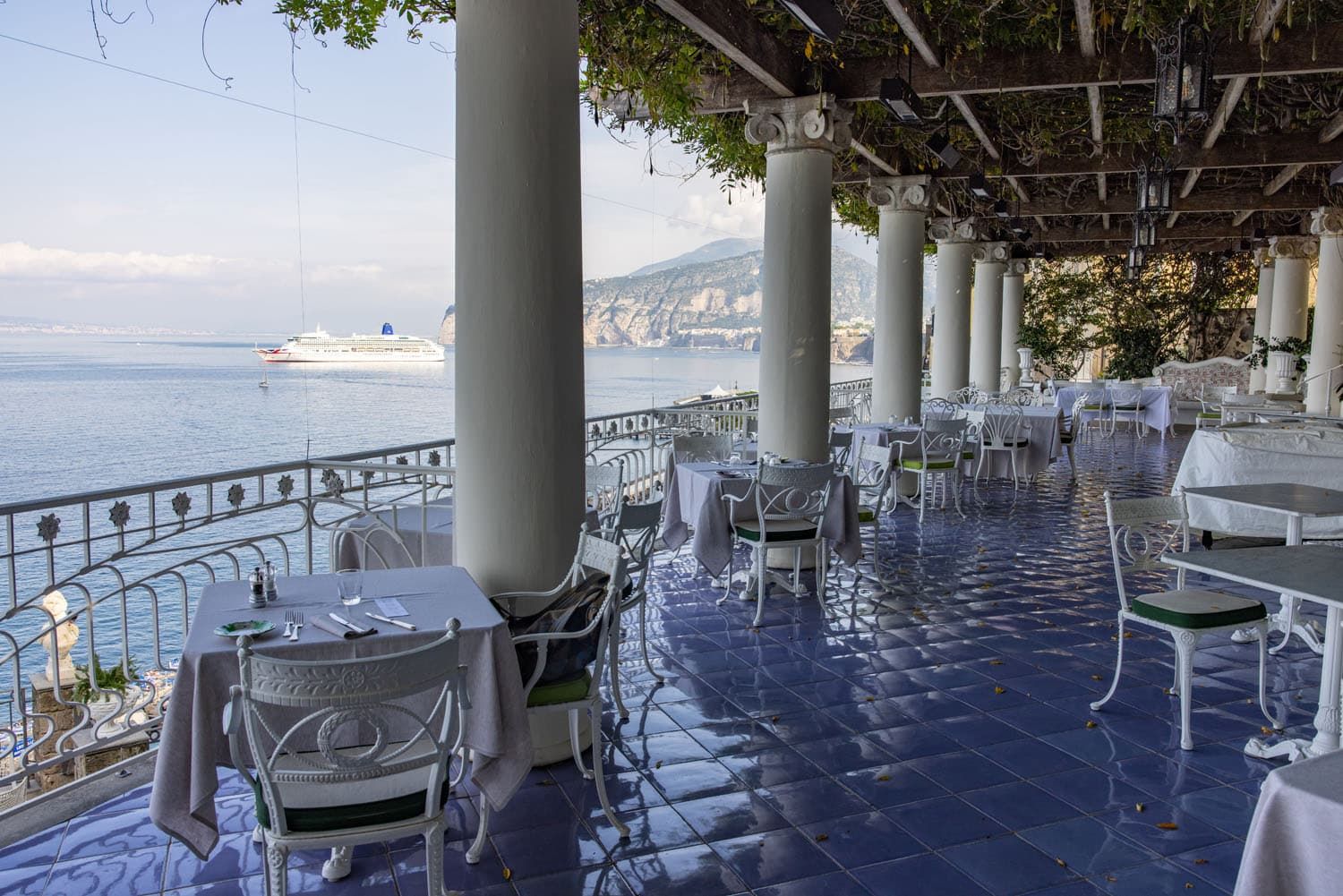 Bellevue Syrene
Note: We do not have sunset photos since our visit was at the end of October. The sun set at 6:15, which was before many restaurants opened, which is typically 7:30 pm. If you are here from May through September, plan your dinner to coincide with sunset for the best experience.
Best Things to Do in Sorrento: On a Map
How to Use This Map: Click the icons on the map to get more information about each point of interest. Click the star next to the title of the map to add this map to your Google Maps account. To view it on your phone or computer, open Google Maps, click the menu button, go to "Your Places," click Maps, and you will see this map on your list.
Best Time to Visit Sorrento
From May through October, everything is open and the ferries to Capri and the Amalfi Coast are running at full schedule.
From June through September, expect big crowds on Sorrento. This is the busiest, most expensive time to visit the area and if you will be here at this time, make your reservations for dinner, tours, and the ferries in advance.
For lighter crowds, plan your visit for mid-April into May and the month of October. Most places will be open (not only in Sorrento but also Capri and the Amalfi Coast), the weather will be pleasant, and you will have fewer crowds to deal with.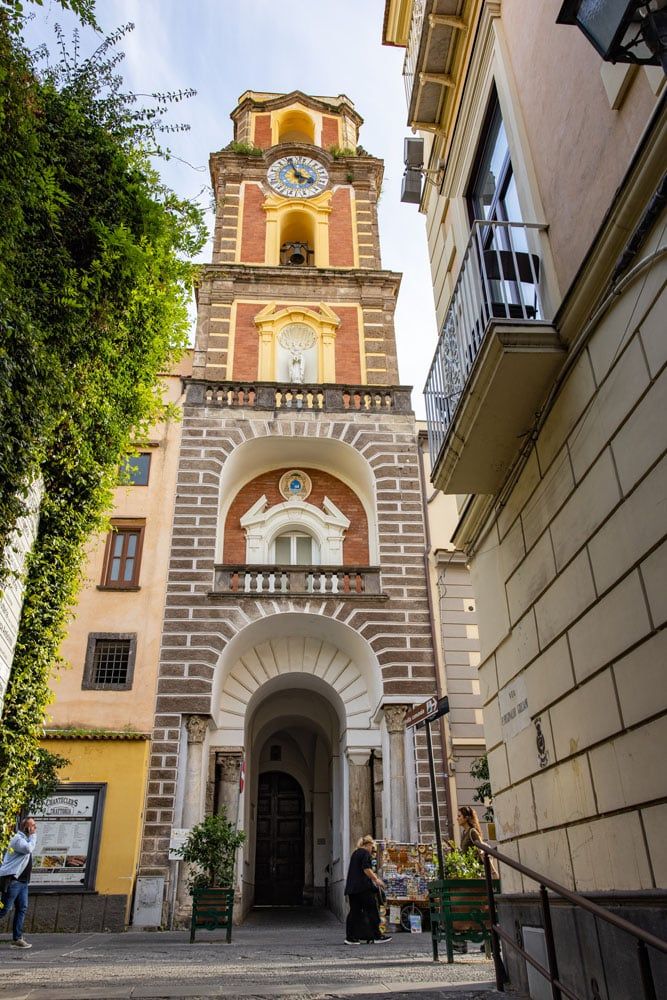 Torre dell'Orologio | Best Things to Do in Sorrento
Where to Stay in Sorrento
For recommendations on where to stay in Sorrento, take a look at our guide on Where to Stay in Sorrento and the Amalfi Coast.
Frequently Asked Questions
How do you get to Sorrento?
To get to Sorrento from Rome using public transportation, you will first have to take a train to Naples. From Naples, you can take a ferry or the Campania Express train to get to Sorrento. It is also possible to hire a driver to travel from Naples to Sorrento.
Which is better, Sorrento or Positano?
Sorrento is larger than Positano and easier to get to, since it sits and the end of the Circumvesuviana and Campania Express train lines. There are also frequent ferries connecting Sorrento and Naples. If you have limited time in the area, Sorrento is a better choice, since it takes less time to get here and it is very easy to day trip to Capri and the Amalfi Coast.
However, Positano is a beautiful town on the Amalfi Coast, but you will spend more money and time to get here. Staying in Positano is best for those with at least 3 days in the area, those with more money to spend, and for those celebrating something special. Positano is a wonderful place to spend your honeymoon, a big life event, or to just simply relax and unwind.
We have stayed in both Sorrento and Positano. Sorrento is cheaper, easier to get to, and has a more convenient location, particularly on a quick visit to this part of Italy. But Positano has a better vibe, better beaches, and it is one of the most beautiful towns on the Amalfi Coast, but it takes more time to get here and can be more expensive.
How much time do you need in Sorrento?
To simply visit the main sights in town, a half to a full day is all that you need. However, Sorrento makes a great home base for exploring this area, so add on a day for Capri and at least one day to visit the Amalfi Coast. That brings the total up to 3 days in Sorrento, but that is the minimum that we recommend. You can also day trip to Pompeii or spend more time on the Amalfi Coast, if you add more days.
More Information for Your Trip to Sorrento
SORRENTO & CAPRI: Learn how to spend 3 days in Sorrento, get a list of the best things to do in Capri, learn how to plan your day trip to Capri, and find out whether or not the Blue Grotto is worth it.
GETTING AROUND: Learn how to travel from Rome to Sorrento, Capri, and the Amalfi Coast and how to visit Pompeii when traveling between Rome and Sorrento. We also have a guide to the Best Way to Get around the Amalfi Coast and what it is like to drive the Amalfi Coast.
AMALFI COAST TOWNS: For an overview of where to go, check out our article 17 Beautiful Towns to Visit on the Amalfi Coast. We also have detailed guides about the Best Things to Do on the Amalfi Coast and how to visit Positano and Ravello. Learn how to plan your time with our Amalfi Coast Itinerary.
PATH OF THE GODS: The Path of the Gods is a gorgeous hike on the Amalfi Coast.
---
If you have any questions about the best things to do in Sorrento, or if you want to share your experience, let us know in the comment section below.
More Information for Your Trip to Italy
ITALY ITINERARY: On this 10 day southern Italy itinerary, visit the Amalfi Coast, Castelmezzano, Matera, Alberobello, and more towns in Puglia.
PUGLIA: Read about 15 beautiful places to visit in Puglia and the best things to do in Alberobello. We also have a guide to the best things to do on the Gargano Peninsula, how to spend one day in Vieste, and about how to take a boat tour to visit the Gargano sea caves.
MATERA: Matera is one of the most beautiful places to visit in Italy. Here is a list of the best things to do in Matera and the best viewpoints of Matera.
BEST OF ITALY: In our guide to the Best Places to Visit in Italy, we list 25 beautiful destinations to consider for your next trip to Italy.
ROME: For a list of the top experiences in Rome, read our article Best Things to Do in Rome. Learn how to put these together in our 2 Day Rome Itinerary, where to eat in our Rome Restaurant Guide, how to visit the Colosseum, and where to stay in our Rome Hotel Guide. And don't miss our guide to the Best Rooftop Bars in Rome.
We have TONS more information about Italy in our Italy Travel Guide, including Rome, Florence, Venice, Tuscany, the Dolomites, the Amalfi Coast, the Cinque Terre, Basilicata, and Puglia.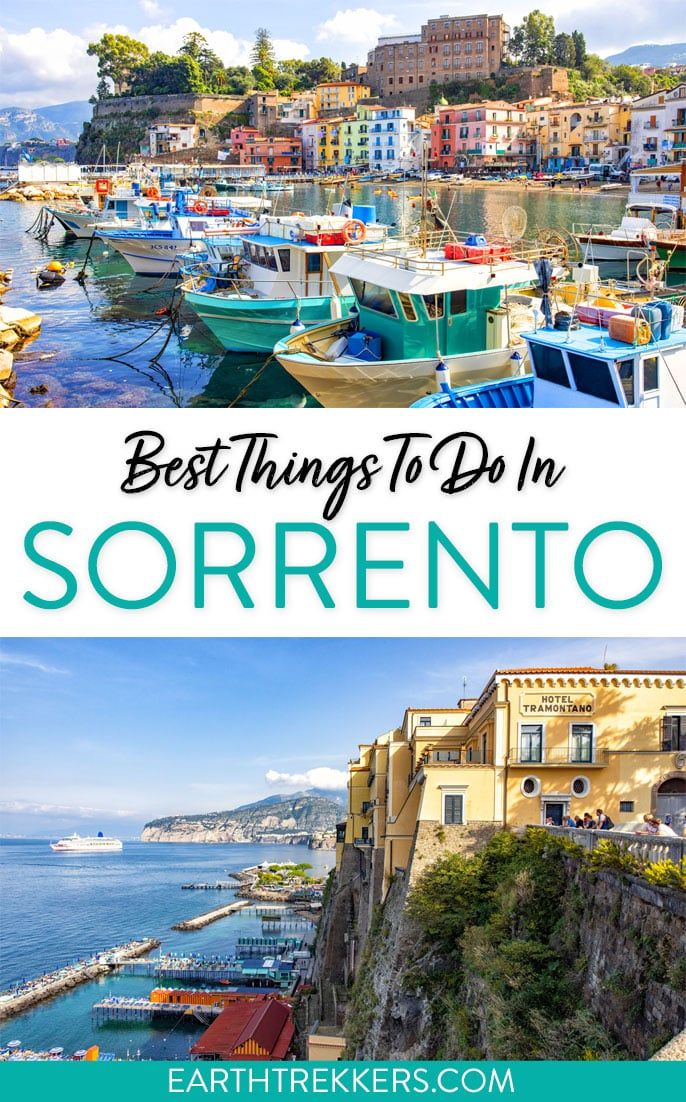 Note: This post contains affiliate links. When you make a purchase using one of these affiliate links, we get paid a small commission at no extra cost to you.
All rights reserved © Earth Trekkers. Republishing this article and/or any of its contents (text, photography, etc.), in whole or in part, is strictly prohibited.