Driving the Amalfi Coast is popular bucket list experience. To drive this winding road, past dramatic coastal cliffs, some of the most beautiful towns in Italy, and famous beaches, it sounds like a wonderful thing to do.
But does driving the Amalfi Coast live up to the hype?
We drove the entire length of Amalfi Drive in October 2022. We have lots of practical information to share with you and we'll give you our opinion if driving the Amalfi Coast is worth adding to your Italy to-do list.
What is Amalfi Drive?
Amalfi Drive, also called strada statale 163 Amalfitana, or SS163, is the main road that runs along the Amalfi Coast. It is roughly 50 km long and without stops or traffic, it takes about two hours to drive the entire length of this road.
With its views of dramatic cliffs plunging into the aquamarine sea, dotted by colorful coastal towns, this drive has been labeled as one of the most beautiful in the world.
Due to its immense popularity, it is also one of the most congested roads in the world, particularly between the months of June through September.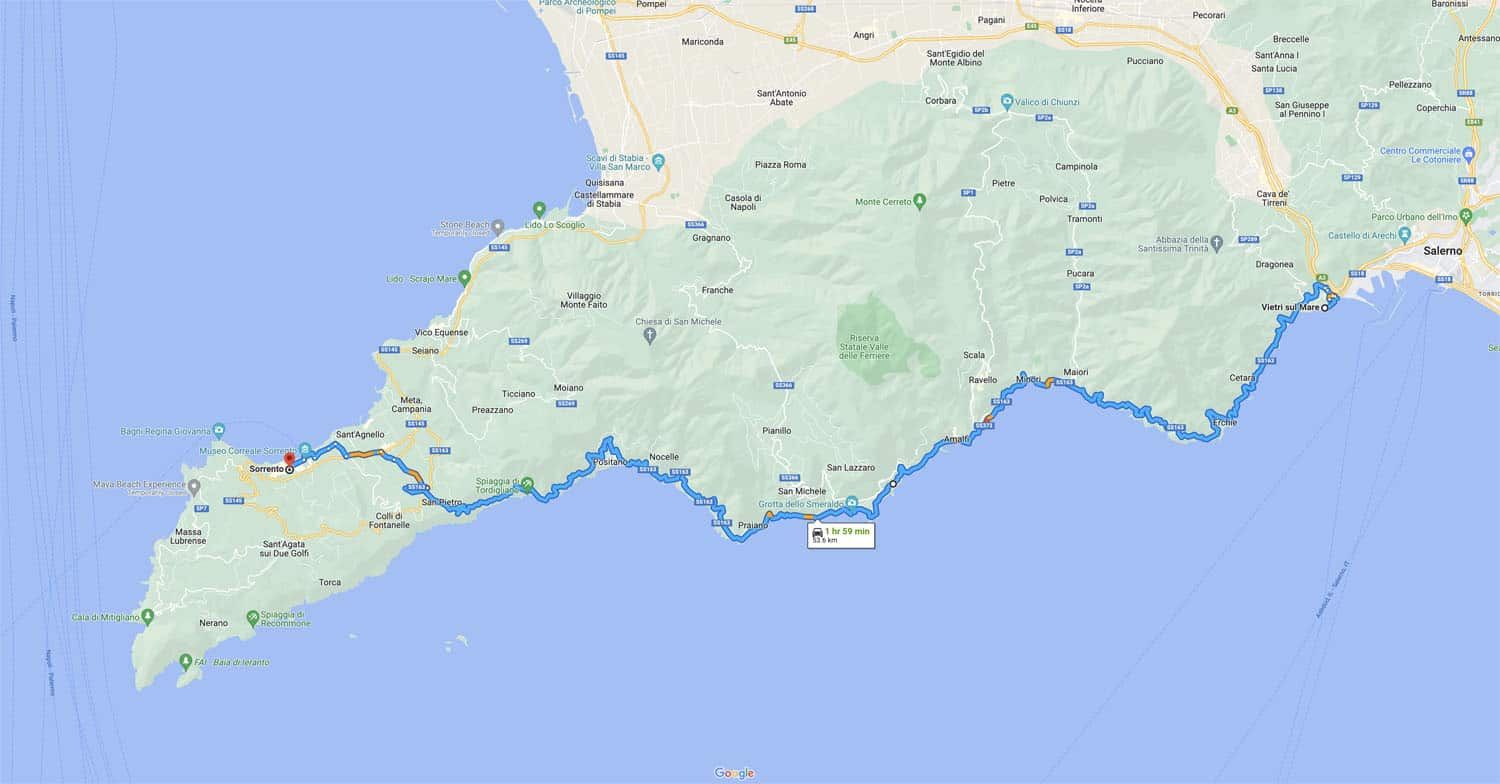 About Our Experience
Driving the Amalfi Coast has long been on our bucket list…ever since planning our honeymoon several decades ago, when our travel agent painted a glorious picture of a memorable scenic drive along one of the most beautiful coastlines in the world. We honeymooned in Hawaii by the way, not Italy.
We didn't make it to Italy until 2014 and our visit was in July. We heard horror stories of parking issues in the summer, so we chose to get around by public bus, since we were traveling on a budget.
In 2022, we planned our visit for the end of October, as the Amalfi Coast heads into the off season and traffic is much lighter. On this trip, we drove the entire length of Amalfi Drive, finally crossing it off of our bucket list.
Having done this drive, and using other modes of transportation, we learned that there are much better ways to get around the Amalfi Coast than renting a car and driving it yourself. For more details, check out our guide on How to Get Around the Amalfi Coast.
However, I totally get it if it is something you want to do. Just so you are prepared, here is what to expect if you plan to drive the Amalfi Coast.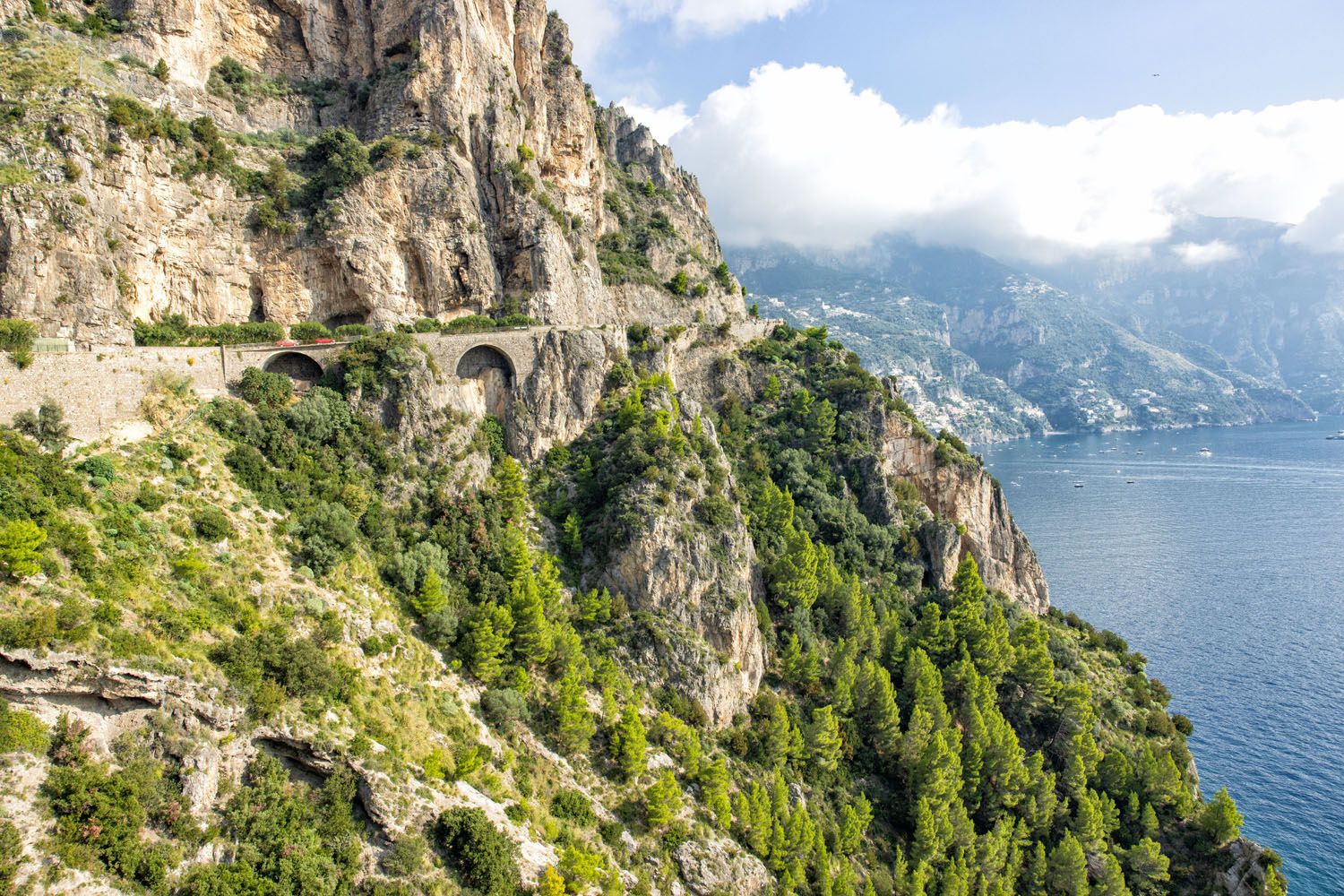 The Amalfi Coast
What to Expect Driving the Amalfi Coast
Driving the Amalfi Coast can be described a lot of different ways, depending on the source.
Some people call it one of the most beautiful drives in the world. Others describe it as a white-knuckle drive or one of the most dangerous drives in the world.
The reality is that driving the Amalfi Coast is frustrating, a bit stressful, and not all it is cracked up to be. Yes, there are gorgeous views along the way, but don't expect a beautiful, stress-free drive where you can relax and enjoy the views.
There is hardly a straight stretch of road on the entire drive. With numerous blind turns, you run the risk of hitting an oncoming vehicle that crosses the center line. And since Amalfi Drive has so many twists and turns, this can be a nauseating ride for those prone to motion sickness.
Amalfi Drive is just wide enough for two cars. At many places along Amalfi Drive, long lines of cars are parked on the shoulder, shrinking this already narrow road.
On the drive, you'll meet oncoming cars that cross into your lane, giant buses that take up some serious real estate on the road, and hundreds of drivers on motorcycles and scooters weaving in and out of traffic.
And then you have tourists and people walking along the roads, taking photos, and sometimes they are completely oblivious to what is going on around them.
It feels as if you are constantly dodging cars, buses, people, cyclists, and motorcycles. And we did this in October, when traffic was relatively light.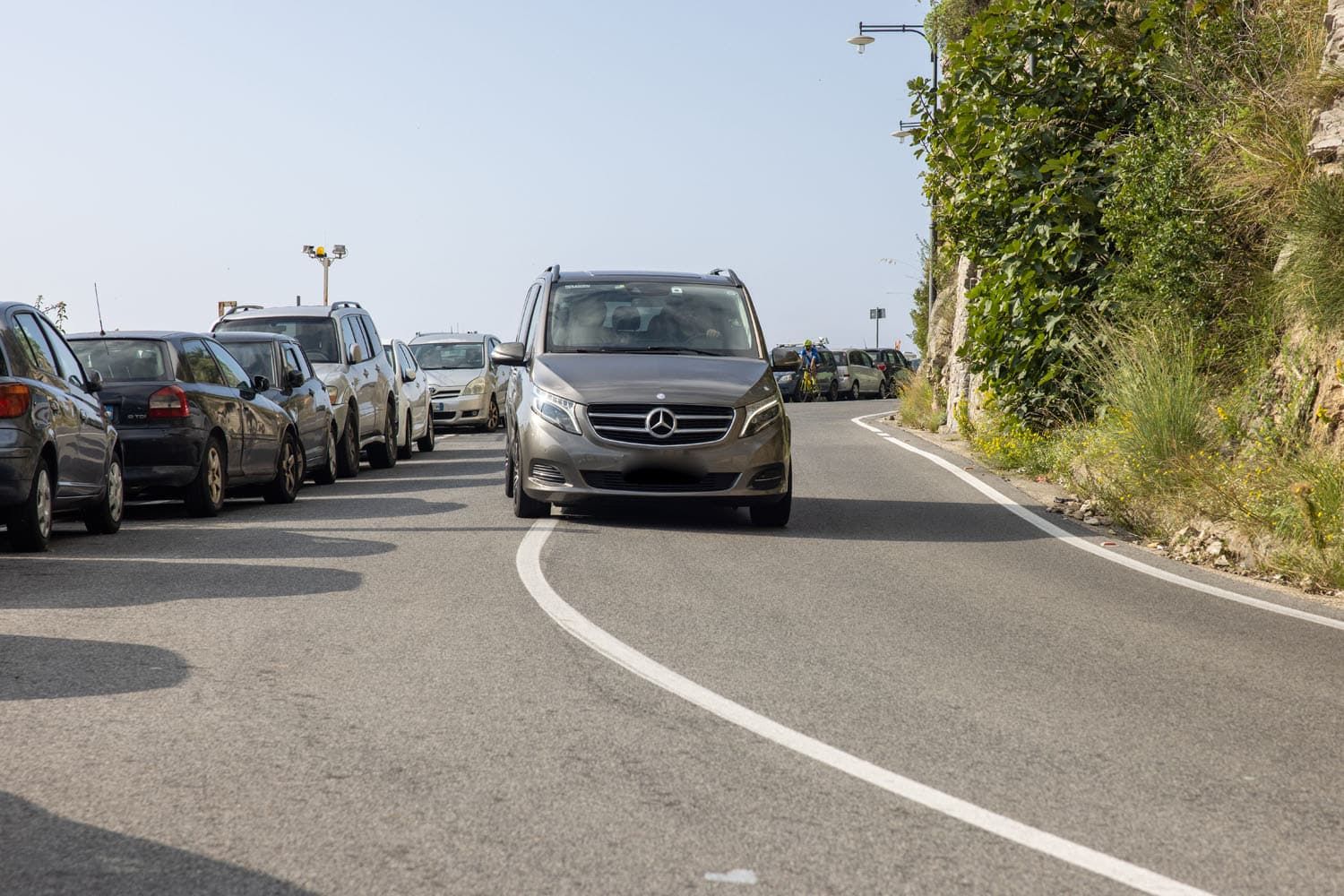 We saw a lot of this…cars parked along the road and partially blocking one lane of traffic, and cars frequently crossing the center line just before a curve in the road.
One thing to be aware of is that a thick barrier, either made of concrete, rock, or metal railings, runs along the length of Amalfi Drive. Driving off the road and plunging into the sea is not something to worry about on this drive. But you do need to be prepared to dodge all of the moving obstacles along the road.
During the summer months, when visitation on the Amalfi Coast skyrockets, long traffic backups on Amalfi Drive are a daily occurrence, causing travel headaches and huge delays getting around the Amalfi Coast. At times, these backups can be up to 6 km long!
Now, during the summer, an alternating license plate system has been instituted for rental cars, to limit traffic.
PRO TRAVEL TIP: You can avoid some of these hassles by taking the bus or hiring a private driver. But the buses and private drivers will still have to sit through these backups. Consider traveling by boat or ferry in the summer.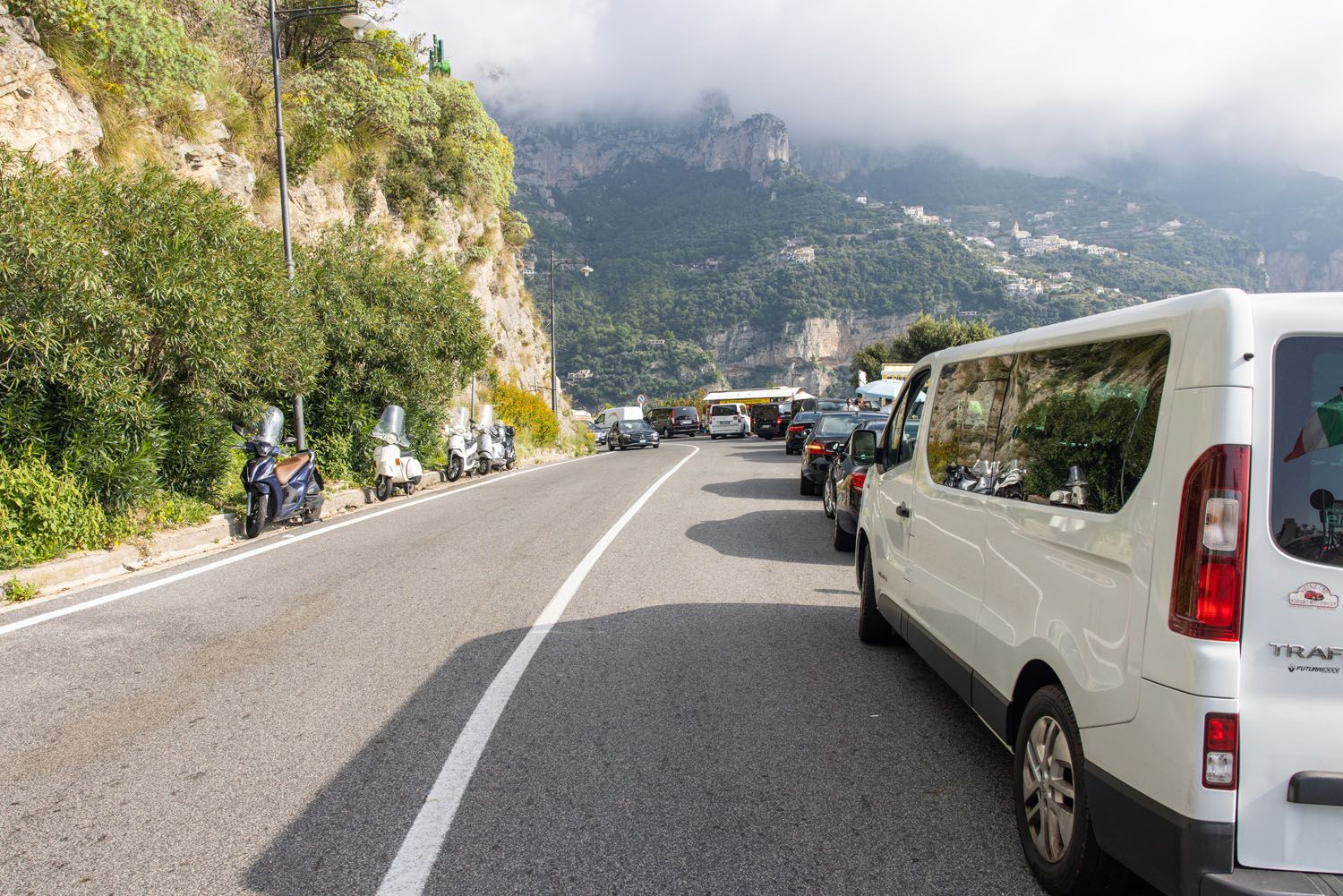 Cars and motorbikes parked along Amalfi Coast Drive.
Parking on the Amalfi Coast
Driving Amalfi Drive can be slow going and stressful. And then to actually do anything (go to the beach in Positano, go shopping in Amalfi, visit the villas in Ravello), you have to find a place to park your car.
Parking is extremely limited in the towns. Even in the second half of October, parking lots in some towns were completely full, so we had to park in a nearby town and then walk a kilometer or two to get to our desired destination.
In the summer, good luck! Scoring a parking space in Amalfi or Positano is like hitting the jackpot. Most likely, you have to park well outside of town and then walk 1 to 2 km along the busy road to get into town.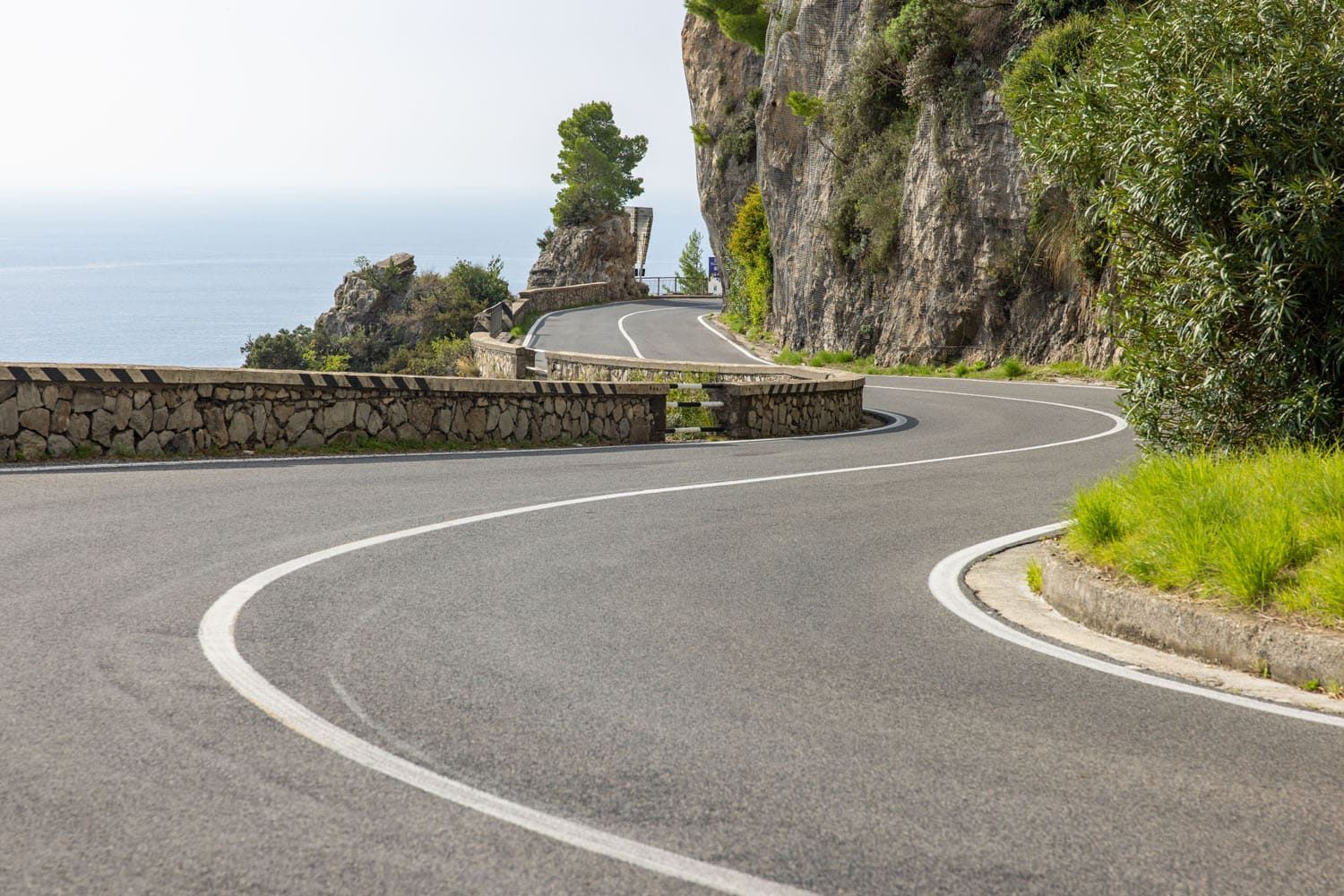 The Amalfi Coast is one of the windiest roads we have driven.
So, Is it Worth Driving the Amalfi Coast?
I know I just painted a dismal picture of what it is like to drive the Amalfi Coast. But it is best to have the right expectations rather than being completely surprised once here, and not know about the license plate system or the limited parking in towns.
We only recommend driving the Amalfi Coast if you will be visiting from mid-October through the end of April. During this time, it is the low season. Traffic is relatively light, so it is a lot easier to get around. But you could still have issues parking. The next best option is to hire a driver during this time and let them handle the stress of driving and finding a parking space.
Alternating License Plate System
In 2022, an alternating license plate system was instituted on Amalfi Drive. These details are for 2022 and I imagine this will continue for 2023 but it is yet to be seen if the restrictions will change.
Here are the rules:
These rules apply to rental cars. Cars belonging to locals, taxis, and buses are exempt.
Rental cars with a license plate ending in an odd number can drive Amalfi Drive on odd numbered days. Rental cars with a license plate ending in an even number can drive Amalfi Drive on even numbered days.
The rule is in effect from 10 am to 6 pm for the entire month of August and for weekends from June 15 to September 30. Some holidays, such as Easter, are also included.
The alternating license plate system is in effect for the 22 km stretch of road between Positano and Vietri sul Mare.
In addition to the license plate system, any vehicle that is longer than 10.36 meters (34 feet), including vehicles pulling trailers, are banned from 6:30 am to midnight all year.
From what I have read online, if you will be staying in a hotel on the Amalfi Coast, you can arrive to your hotel on your planned date, even if your license plate does not align with the dates. Let's face it, you won't know the number of your license plate until you pick up your rental car, so it's impossible to plan I advance which days to drive the Amalfi Coast. I recommend confirming this rule with your hotel before your visit.
How Hard is It to Drive the Amalfi Coast?
It doesn't take any special skills to drive Amalfi Drive. You need a good deal of patience and you need to stay alert, since it is a chaotic drive.
If this is something you plan to do, rent a smaller vehicle, which makes it a lot easier to navigate the turns and the tight spaces as you squeeze past buses and other vehicles.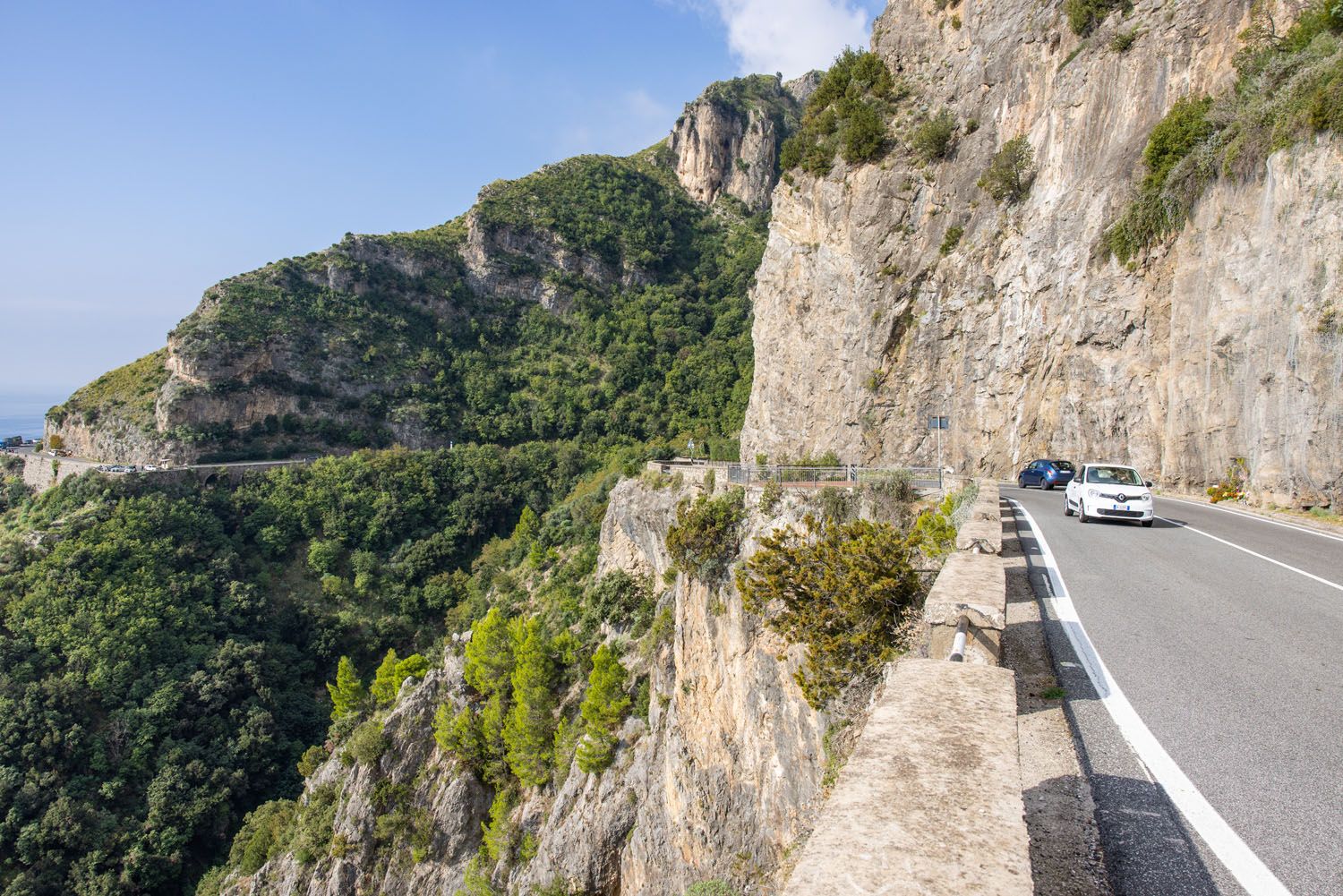 Amalfi Coast Drive
Other Ways to Get Around the Amalfi Coast
There are plenty of other ways to get around the Amalfi Coast and we have done them all. Get more information in our guide How to Get Around the Amalfi Coast.
During the summer months, consider getting around by boat. This could be on a ferry (the most economical), small group tour, or private boat. If you are looking for a splurge, we highly recommend hiring a private boat. You can travel up and down the coast at your leisure, visit hidden caves and private beaches, and travel faster along the coast than you can by car or bus.
Getting around by bus is the cheapest way to travel along the Amalfi Coast. But lines to get on the buses can be long and the buses will get stuck in the traffic jams, so keep that in mind. A private driver is another way to go. It's more expensive but it is a more convenient way to get around the Amalfi Coast.
There are no trains that run along the Amalfi Coast. You can get to Sorrento and Salerno by train, but from these cities, you will then have to take a bus, car, taxi, ferry, or boat to get around.
Europe Travel Advice
If you are new to renting a car in Europe, make sure you read our article 12 Things to Know When Renting a Car in Europe.
And if you are planning your first trip to Europe, don't miss our article 7 Things to Know When Planning Your First Trip to Europe.
More Information for Your Trip to the Amalfi Coast
AMALFI COAST TOWNS: For an overview of where to go, check out our article 17 Beautiful Towns to Visit on the Amalfi Coast. We also have detailed guides about the Best Things to Do on the Amalfi Coast and how to visit Positano and Ravello. Learn how to plan your time with our Amalfi Coast Itinerary.
GETTING AROUND: Learn how to travel from Rome to Sorrento, Capri, and the Amalfi Coast and how to visit Pompeii when traveling between Rome and Sorrento. We also have a guide to the Best Way to Get around the Amalfi Coast.
ITALY ITINERARY: On this 10 day southern Italy itinerary, visit the Amalfi Coast, Castelmezzano, Matera, Alberobello, and more towns in Puglia.
PATH OF THE GODS: The Path of the Gods is a gorgeous hike on the Amalfi Coast.
SORRENTO & CAPRI: Learn about the best things to do in Sorrento, how to spend 3 days in Sorrento, learn how to plan your day trip to Capri, and find out whether or not the Blue Grotto is worth it.
VISITING IN OCTOBER: Learn what it is like to visit Sorrento and the Amalfi Coast in October and November.
WHERE TO STAY: For recommendations of where to stay, including Sorrento, Positano, Amalfi, and Ravello, take a look at our Amalfi Coast Hotel Guide.
---
If you have any questions about what it is like driving the Amalfi Coast, or if you would like to share your experience, let us know in the comment section below.
More Information for Your Trip to Italy
ROME: For a list of the top experiences in Rome, read our article Best Things to Do in Rome. Learn how to put these together in our 2 Day Rome Itinerary, where to eat in our Rome Restaurant Guide, how to visit the Colosseum, and where to stay in our Rome Hotel Guide. And don't miss our guide to the Best Rooftop Bars in Rome.
FLORENCE & TUSCANY: If this is your first visit to Florence, read our guide to the Best Things to Do in Florence and the best rooftop bars in Florence. If you plan to visit Tuscany, learn how to spend one day in Siena, things to do in Montepulciano, and the best things to do in San Gimignano.
VENICE: We cover the top experiences in Venice in our Venice Bucket List. Learn where to get the best views of Venice in our article 12 Beautiful Views of Venice. And to help you plan your time, take a look at our one day in Venice itinerary and two days in Venice itinerary.
ITALY ITINERARY: If you have two weeks in Italy, check out our 14 day Italy itinerary, which covers the highlights (Rome, Florence, Venice, the Amalfi Coast, and the Cinque Terre).
SAN MARINO: San Marino is a tiny country located entirely within Italy. It is gorgeous to explore and one of the most underrated places to visit in Europe.
We have TONS more information about Italy in our Italy Travel Guide, including Rome, Florence, Venice, Tuscany, the Dolomites, the Amalfi Coast, the Cinque Terre, and Puglia.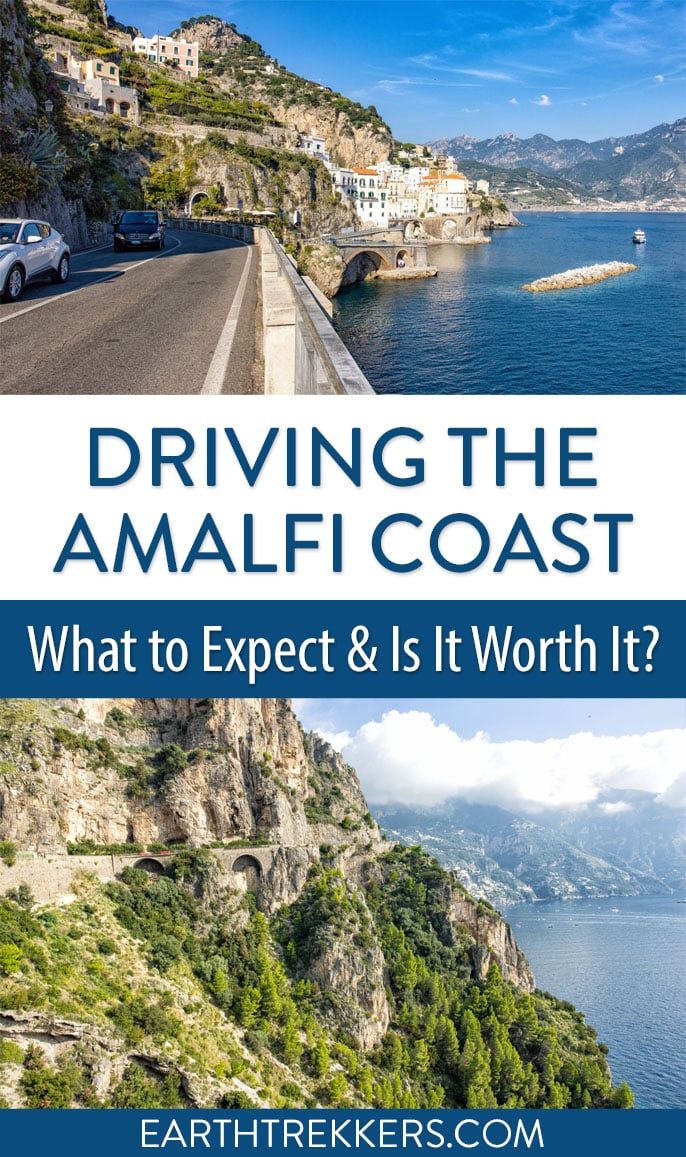 All rights reserved © Earth Trekkers. Republishing this article and/or any of its contents (text, photography, etc.), in whole or in part, is strictly prohibited.