A visit to Pompeii is one of Italy's most fascinating history lessons. Pompeii can be visited as a day trip from Rome, Sorrento, Naples, and the Amalfi Coast. For those in transit between any of these cities, Pompeii makes a nice, quick side trip. Here's how to do it.
Traveling from Rome to Pompeii to Sorrento
If you are traveling from Rome to Sorrento, Pompeii makes a nice stop in between. It's relatively easy to do and it makes sense to see Pompeii on the way to Sorrento since you pass right by it.
Rome to Naples
From Rome, take the train to Naples. This journey takes between 70 minutes and two hours, depending on the train you choose (the high-speed Trentalia trains and the Italo trains are faster, the Trenitalia Inter City trains are slower but cheaper).
Plan on taking an early train to Naples. Leaving Rome at 8 am gets you into Naples at 9:15 am.
Important!: When booking your train tickets, make sure you arrive at the main train station in Naples (Napoli Centrale). The train to Pompeii leaves from this station.
Naples to Pompeii
From Naples, take the Campania Express train or the Circumvesuviana train to Pompeii. It takes 36 minutes to travel from Naples to Pompeii.
The Campania Express is a special tourist train that runs along the same route as the Circumvesuviana but makes fewer local stops. It costs a little bit more (€15 one-way and €25 round trip) but travel times are slightly reduced and there is guaranteed seating (if you purchase your ticket in advance), air conditioning, and luggage storage. It runs from April through October. Outside of these season, you will have to ride the Circumvesuviana.
For the Campania Express, we recommend booking your tickets in advance.
The Circumvesuviana is a local train, similar to a New York City subway train, that makes many stops between Naples and Sorrento. There is no A/C, it tends to be hot, crowded, and late, and pickpocketing is common. Sometimes it can be standing room only.
We rode the Circumvesuviana, since the Campania Express did not exist when we made this trip. We highly recommend taking the Campania Express over the Circumvesuviana.
The Circumvesuviana is much cheaper (€3.60 one-way). There is no need to book this ticket in advance. You can purchase tickets at the ticket office located next to the platform or at the newspaper/tobacco shops in the train station.
Make sure you validate your ticket before getting on the train.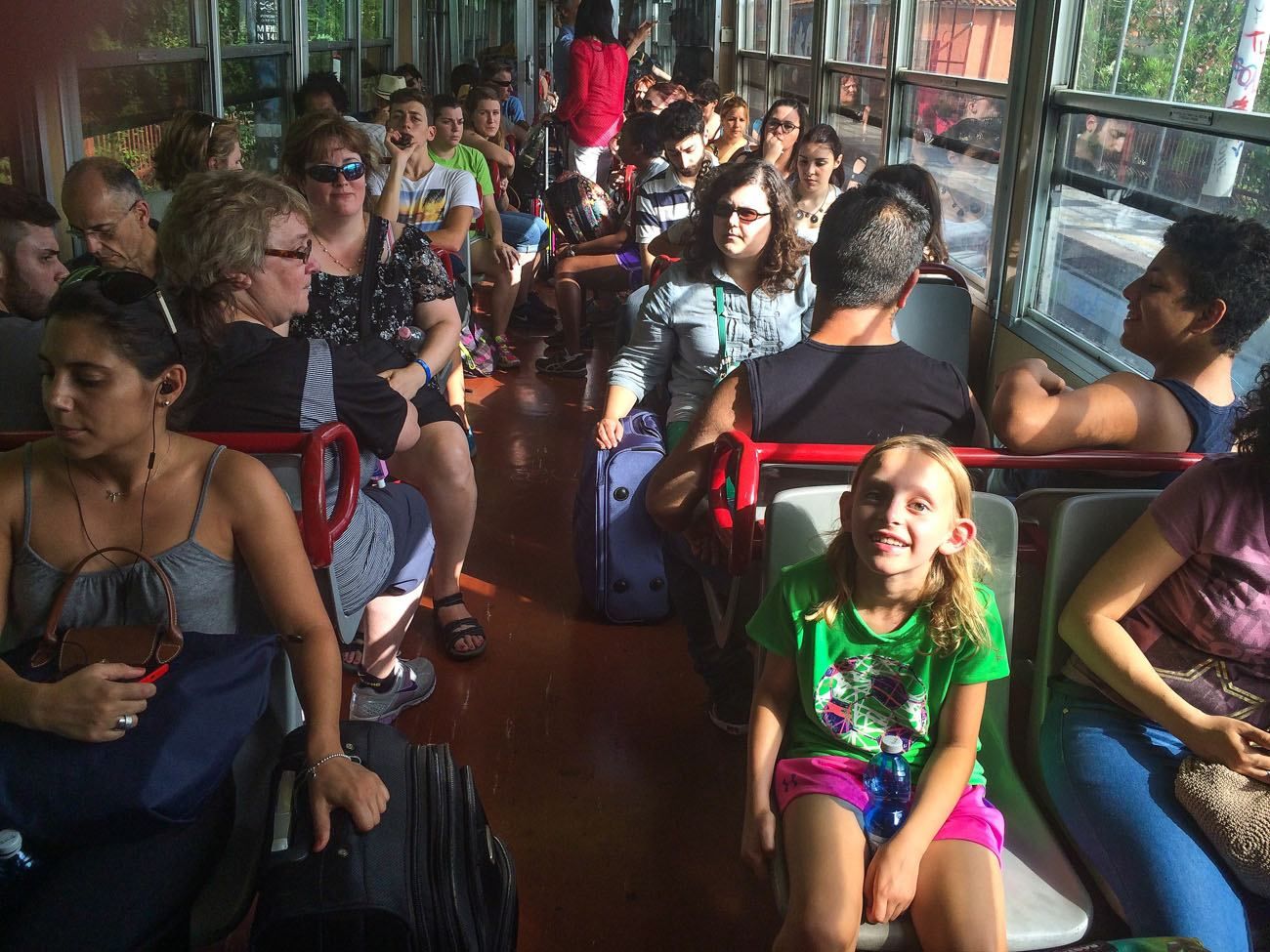 On the Circumvesuviana
So why travel the Circumvesuviana train? Because it is convenient and very budget friendly.
PRO TRAVEL TIP #1: If you are traveling with luggage, it's best to put it in the overhead luggage racks or stand with your luggage in the standing areas near the doors. If you put your luggage between you and the wall, this will help deter pickpockets.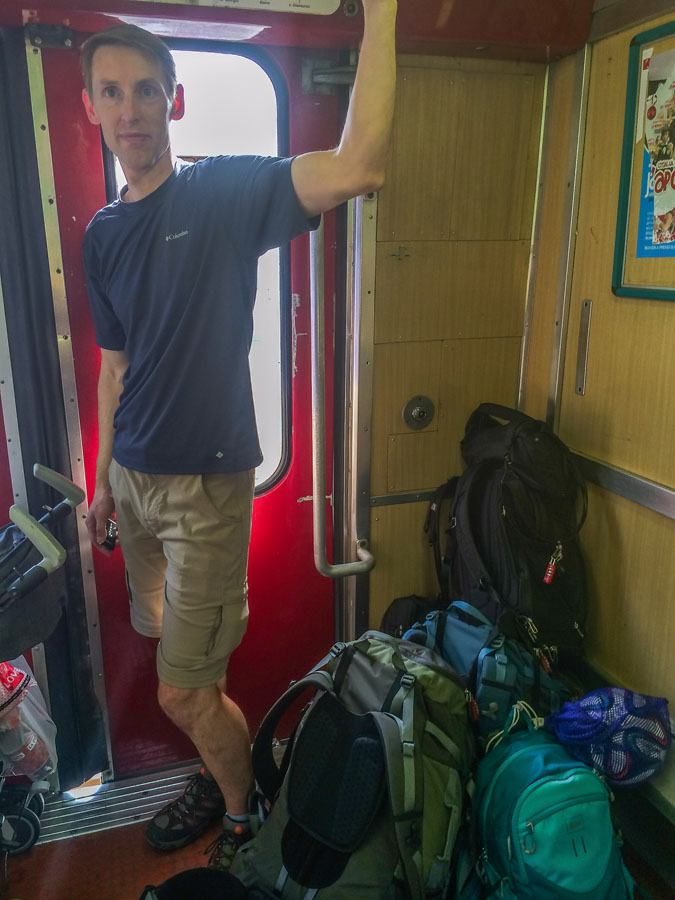 PRO TRAVEL TIP #2: Napoli Garibaldi station is the name of the Circumvesuviana platform located inside of Napoli Centrale, the main train station in Naples. This is stop #2 on the Circumvesuviana route and Campania Express route. Most people board the train at this stop so it can be very difficult to get a seat. If you don't mind walking, you can exit Napoli Centrale and walk 8 minutes to the Porta Nolana station, which is the first station on the Circumvesuviana line. Doing this will almost guarantee you a seat and an overhead luggage spot.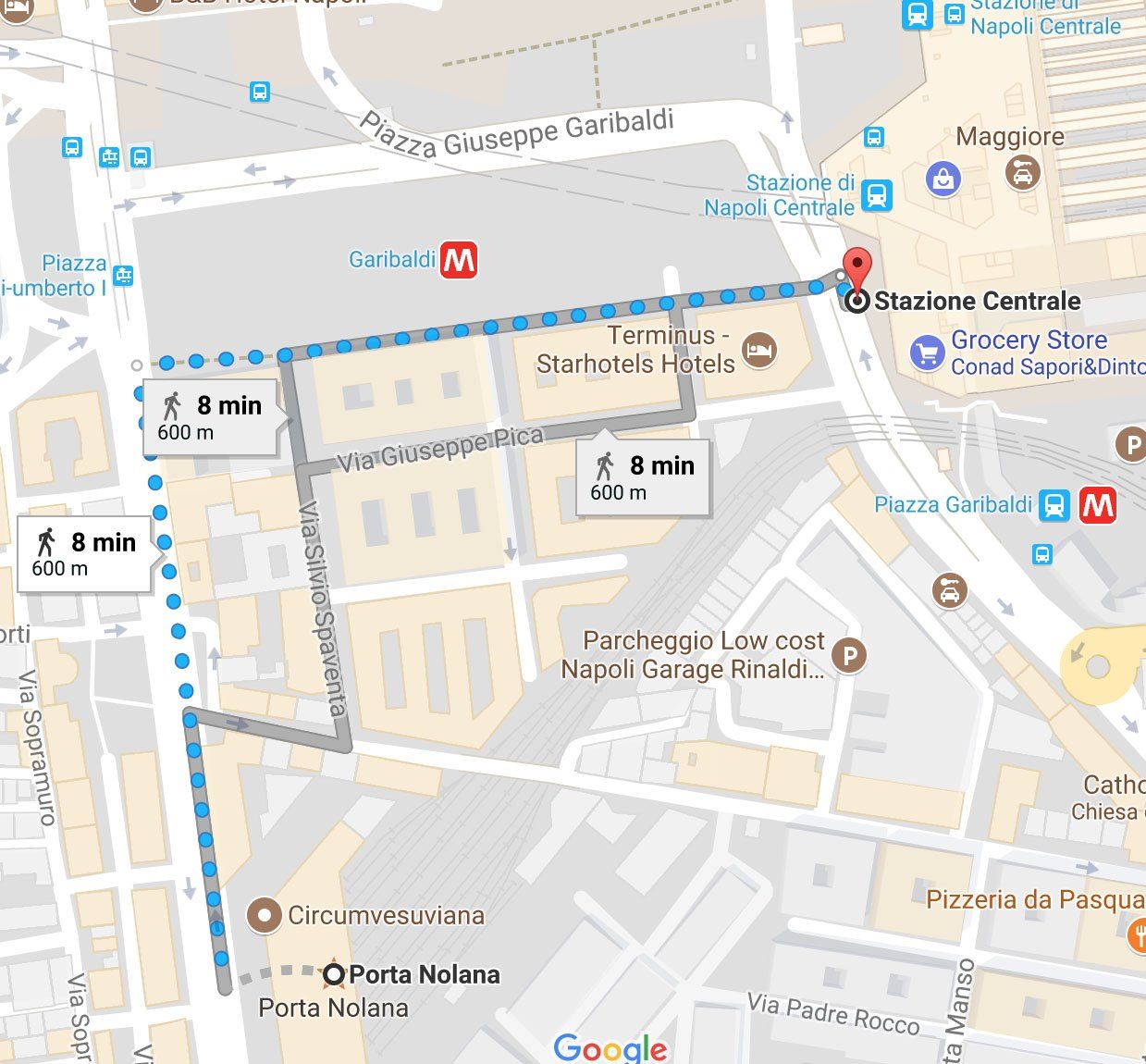 Visiting Pompeii
Luggage Storage
Luggage is not allowed inside of Pompeii (no bags larger than 30 x 30 x 15 cm). If you are traveling with luggage, you can store your luggage in the luggage storage facility (deposito bagagli) in the upper level of the Pompeii Scavi station. The cost is €8 per bag.
There is a free cloakroom at the Pompeii site where you can leave your luggage. However, the Pompeii website warns that they frequently run out of space. If you arrive mid morning or later, there may not be available space to store your bags. Therefore, you may be better off storing your luggage at the train station. We used the luggage storage facilities at several occasions in Italy without any problems.
Visiting Pompeii
From the Pompeii Scavi station, it is a five-minute walk to the entrance of Pompeii.
You can purchase your tickets at the Pompeii entrance. It costs €18 per person, cash only. Lines can be long, especially midday. To avoid the lines, you can purchase your tickets online in advance.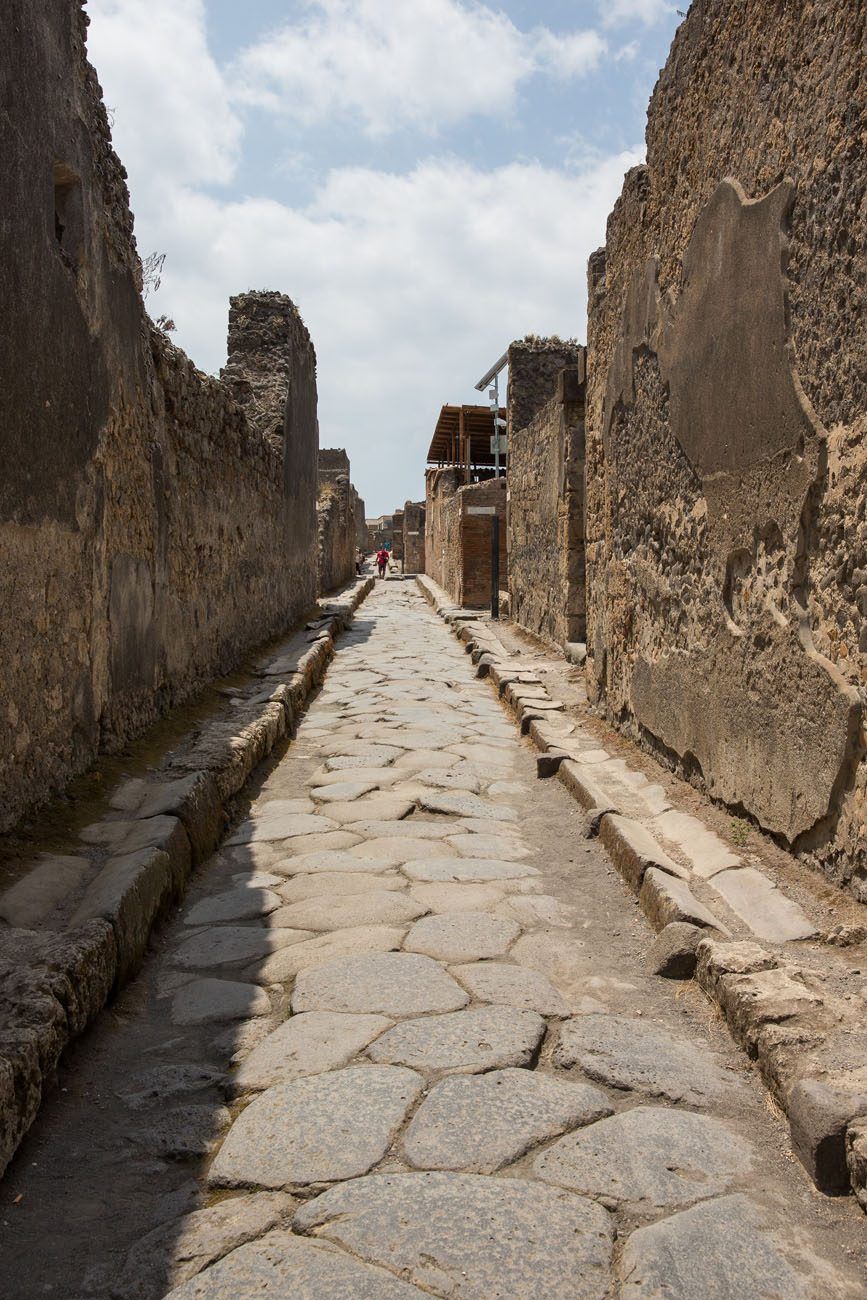 You can spend as little as an hour or two visiting Pompeii, although for most people, it takes at least half a day to see it all. We wandered through Pompeii using Rick Steves' tour in his guidebook. This is a good way to get an overview of Pompeii at a cheap price.
Audioguides are available for €8.
However, if you want to learn more, consider hiring a guide. Guides linger around the entrance to Pompeii (roughly €12 per person for two hours for a group tour, roughly €200 for a private tour). Or, you can join one of these group tours.
Hours of Operation:
April to October: 9 am – 7 pm
November to March: 9 am – 5 pm
Last entrance is 1.5 hours before closing
Closed January 1, May 1, and December 25
Get updated hours here.
Pompeii to Sorrento
After your tour of Pompeii, walk back to the Pompeii Scavi station, retrieve your luggage, and purchase a ticket for the Circumvesuviana line or Campania Express to Sorrento.
From my research, it is not possible to purchase one ticket from Naples to Sorrento, getting off a Pompeii, and then using that same ticket to travel onward to Sorrento. The daily ticket was eliminated several years ago.
When you buy a ticket from Naples to Sorrento, it is only valid for 180 minutes. It takes 70 minutes to travel between Naples and Sorrento, so you would literally have to run through Pompeii in order to get away with using only one train ticket. The savings would be minimal and not worth the stress of rushing around.
Pompeii to the Amalfi Coast
To get from Pompeii to one of the towns on the Amalfi Coast, you have several options. Using public transportation, you can take the Campania Express Train or the Circumvesuviana train to Sorrento. From Sorrento you can take a ferry, a private driver, or the SITA bus to Positano or Amalfi.
The only direct way to get from Pompeii to the Amalfi Coast is by taxi or by hiring a driver. This is much more convenient than making multiple transfers, but it will cost more money.
---
For more information about getting to Sorrento and the Amalfi Coast, read:
How to Travel from Rome to Sorrento, Capri & the Amalfi Coast
---
About Booking Train Tickets
There are two competing companies in Italy, Trenitalia and Italo. Italo is the newer of the two, first opening for business in 2012. They offer slightly cheaper fares than Trenitalia if you book your tickets in advance.
Purchasing tickets in advance is not necessary but it does have advantages. The main advantage is getting a cheaper fare. As more seats are sold in advance, ticket prices go up. The best time to buy your tickets is right after the seats are made available. Tickets are available for purchase 60 days in advance with Trenitalia and 4 months in advance for Italo. Also, making an early reservation guarantees you a seat on the high speed trains.
It is recommended that you also book your tickets on the Campania Express in advance. You cannot purchase tickets for the Circumvesuviana line in advance.
To purchase your tickets online:
Trenitalia: italiarail.com
Italo: italotreno.it
To book tickets on Trenitalia, we recommend the ItaliaRail website. It's a little easier to use than the official Trenitalia website, you can enter in city names in English, and they do offer some upgraded seats at discount prices.
More Information for Your Trip to the Amalfi Coast
AMALFI COAST TOWNS: For an overview of where to go, check out our article 17 Beautiful Towns to Visit on the Amalfi Coast. We also have detailed guides about the Best Things to Do on the Amalfi Coast and how to visit Positano and Ravello. Learn how to plan your time with our Amalfi Coast Itinerary.
GETTING AROUND: Learn how to travel from Rome to Sorrento, Capri, and the Amalfi Coast. We also have a guide to the Best Way to Get around the Amalfi Coast and what it is like to drive the Amalfi Coast.
PATH OF THE GODS: The Path of the Gods is a gorgeous hike on the Amalfi Coast.
SORRENTO & CAPRI: Learn about the best things to do in Sorrento, how to spend 3 days in Sorrento, learn how to plan your day trip to Capri, and find out whether or not the Blue Grotto is worth it.
WHERE TO STAY: For recommendations of where to stay, including Sorrento, Positano, Amalfi, and Ravello, take a look at our Amalfi Coast Hotel Guide.
ITALY ITINERARY: On this 10 day southern Italy itinerary, visit the Amalfi Coast, Castelmezzano, Matera, Alberobello, and more towns in Puglia.
PAESTUM: Don't miss our guide to Paestum, one of the best places to see Greek ruins in Italy.
---
Are you going to Pompeii? Comment below if you have any questions or any advice for our readers.
More Information for Your Trip to Italy
BEST OF ITALY: In our guide to the Best Places to Visit in Italy, we list 25 beautiful destinations to consider for your next trip to Italy.
MILAN & LAKE COMO: Learn how to visit Milan on a day trip or while traveling between the Cinque Terre, Florence and Venice. Lake Como and Bellagio are two more beautiful places in Italy that are great day trip destinations.
ASSISI: In our article Best Things to Do in Assisi, we cover the top experiences to have, plus where to eat and where to stay. In our One Day in Assisi Itinerary, we have a detailed walking tour of the historic city center.
BEST OF VENICE: Get the full list of top experiences in our article Best Things to Do in Venice.
ROME: For a list of the top experiences in Rome, read our article Best Things to Do in Rome. Learn how to put these together in our 2 Day Rome Itinerary, where to eat in our Rome Restaurant Guide, how to visit Vatican City, and where to stay in our Rome Hotel Guide. And don't miss our guide to the Best Rooftop Bars in Rome.
We have TONS more information about Italy in our Italy Travel Guide, including Rome, Florence, Venice, Tuscany, the Dolomites, the Amalfi Coast, the Cinque Terre, and Puglia.
All rights reserved © Earth Trekkers. Republishing this article and/or any of its contents (text, photography, etc.), in whole or in part, is strictly prohibited.