Rovinj is a city that tops the favorite list of many travelers to the Istrian Peninsula and we were no different. Why is this town so beloved? Rovinj is romantic, historic, and looks and feels more Italian than Croatian. With twisting city streets, a bustling, photogenic harbor, and some of the best seafood restaurants in Croatia, this is a town that is not to be missed.
We spent one day here in July and we all fell in love with Rovinj. I have to say that Dubrovnik is still our favorite Croatian city (and Tyler is a big fan of Split) but Rovinj is right up there at the top of our list.
The Istrian Peninsula does not get the same astonishing numbers of visitors during the summer months as the Dalmatian coast, so this is a great place to visit if you want to avoid the crowds. Rovinj still gets a lot of visitors, but it doesn't feel mobbed like Dubrovnik or Hvar can be in the summer.
For the most part, we spent the day wandering the old town, enjoying the view from the cathedral, and sampling a few restaurants. Rovinj is one of those places that is perfect for exploring without an itinerary or to-do list. Even so, there are a few spots well worth your time while in Rovinj. Here they are.
Best Things To Do in Rovinj
1. Stroll along the Harbor
The small harbor of Rovinj is packed with fishing boats, small ferries, and batana boats (flat-bottomed boats used by the local fishermen). Plus, this is a nice spot to take a photo of the old town.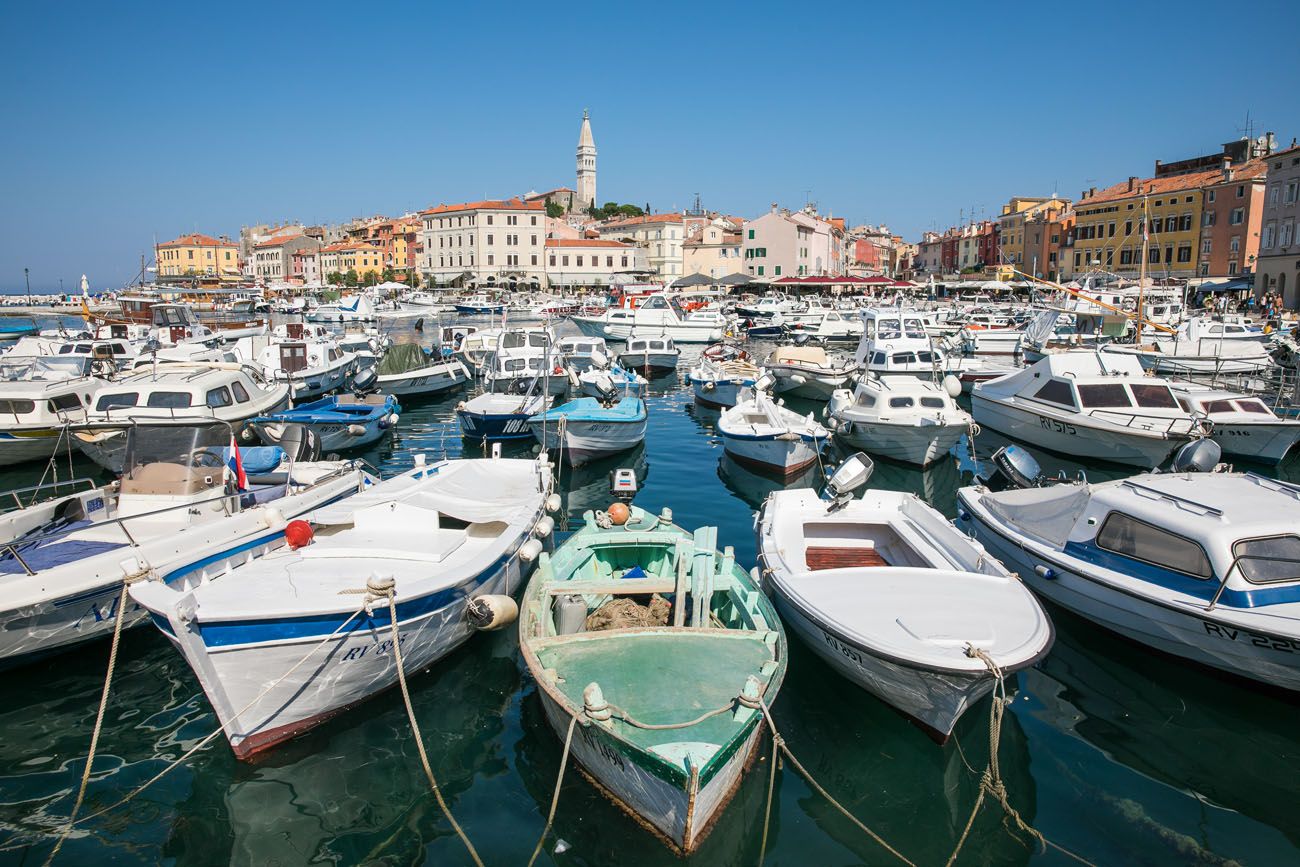 2. Wander the Old Town
In my opinion, this is the best thing to do in Rovinj. These narrow, winding streets are fun to stroll and a blast to photograph. Along the way, go shopping at the small boutiques, have a coffee or a drink in one of the cafes, and search for hidden alleyways and steps down to the water's edge.
Next to the harbor is Tito Square (Trg Marsala Tita). It's hard to not notice the Italian touches in Rovinj and you can really get a feel for that right in this spot. In fact, it felt like we were standing in the Cinque Terre, not Croatia.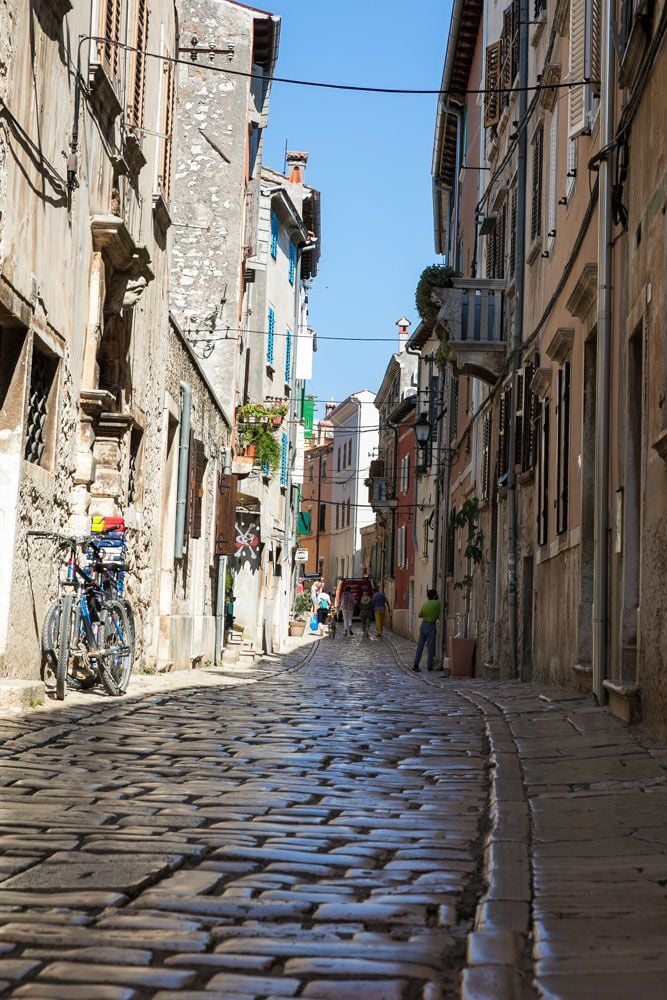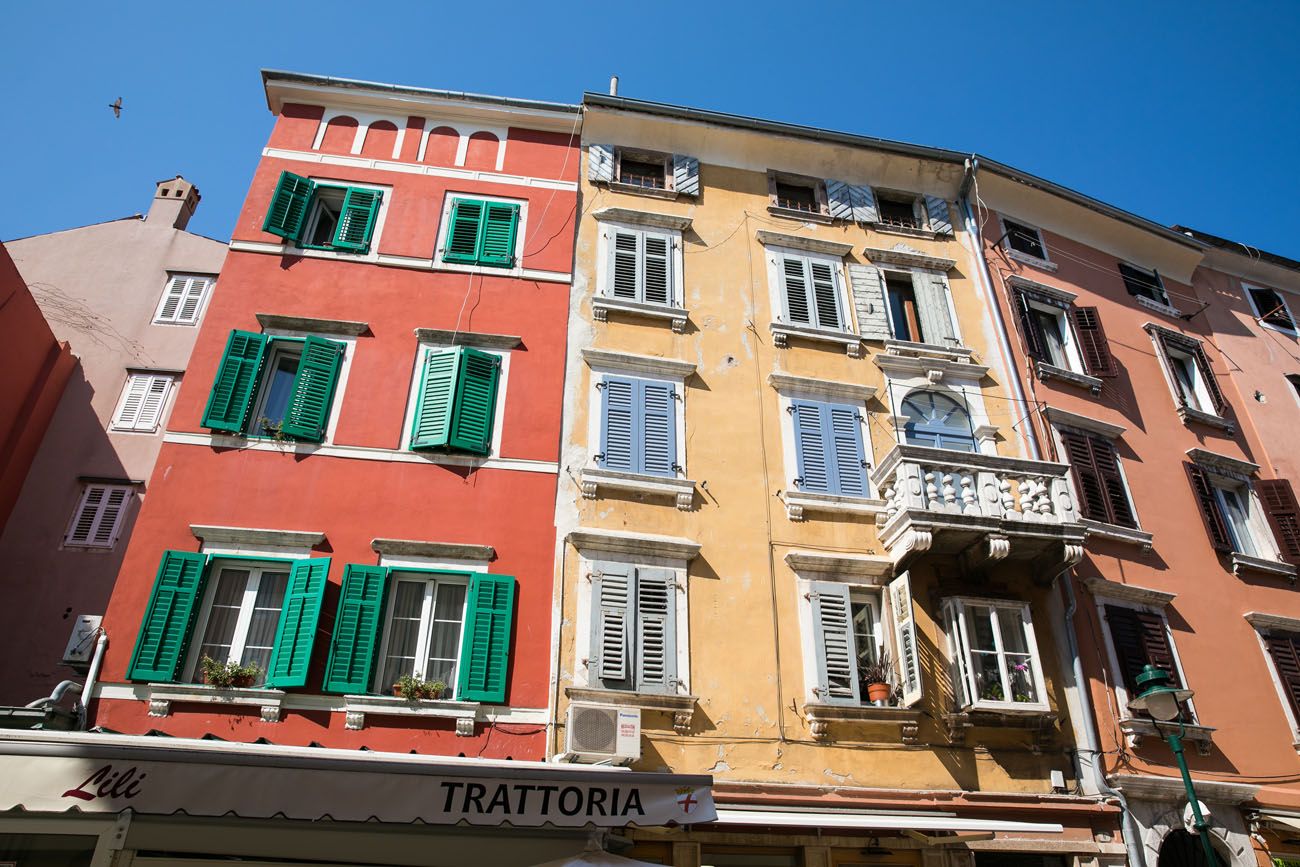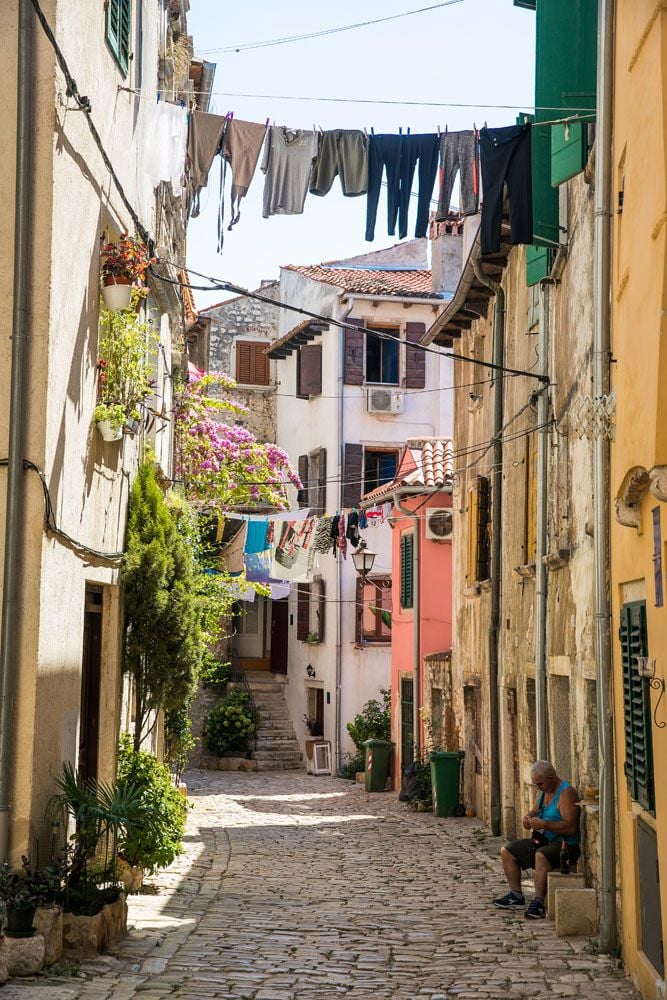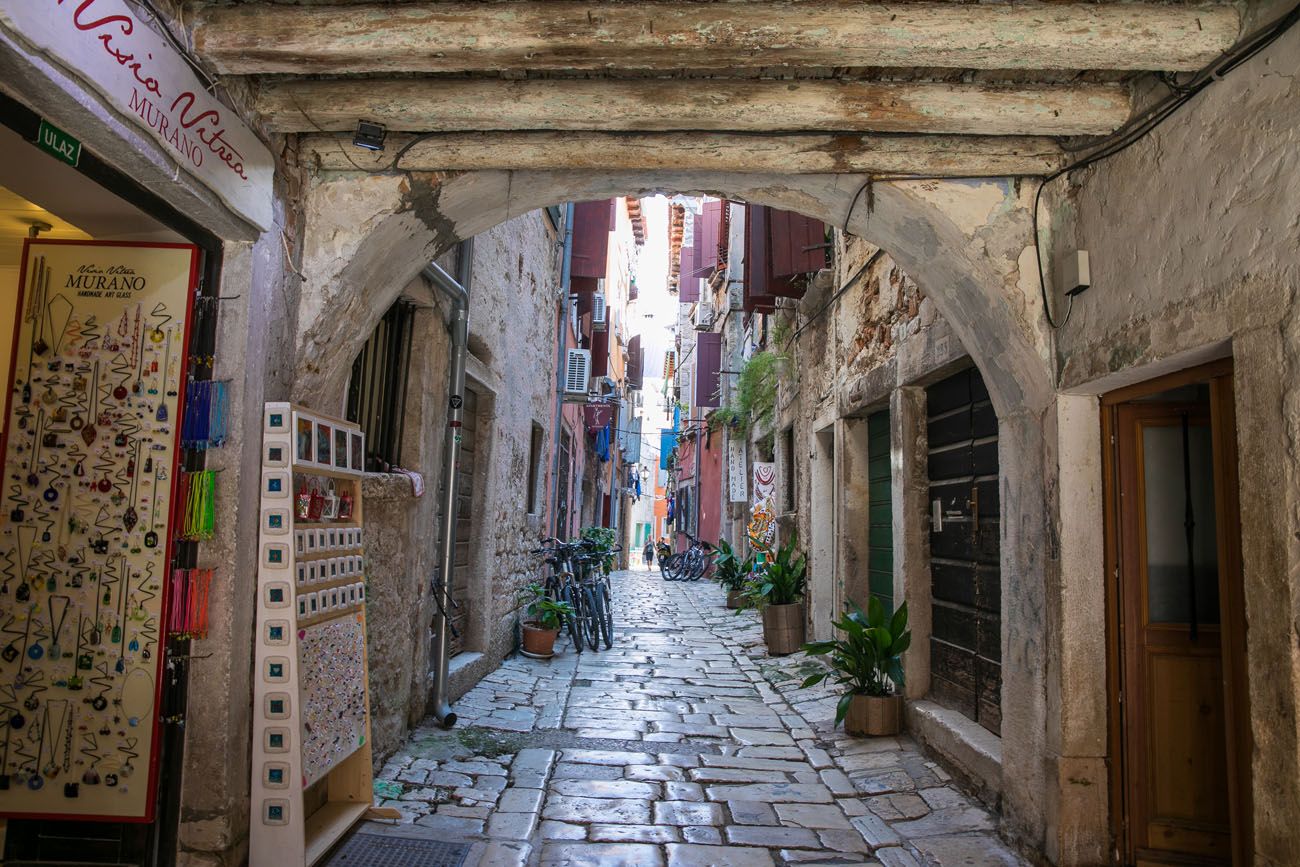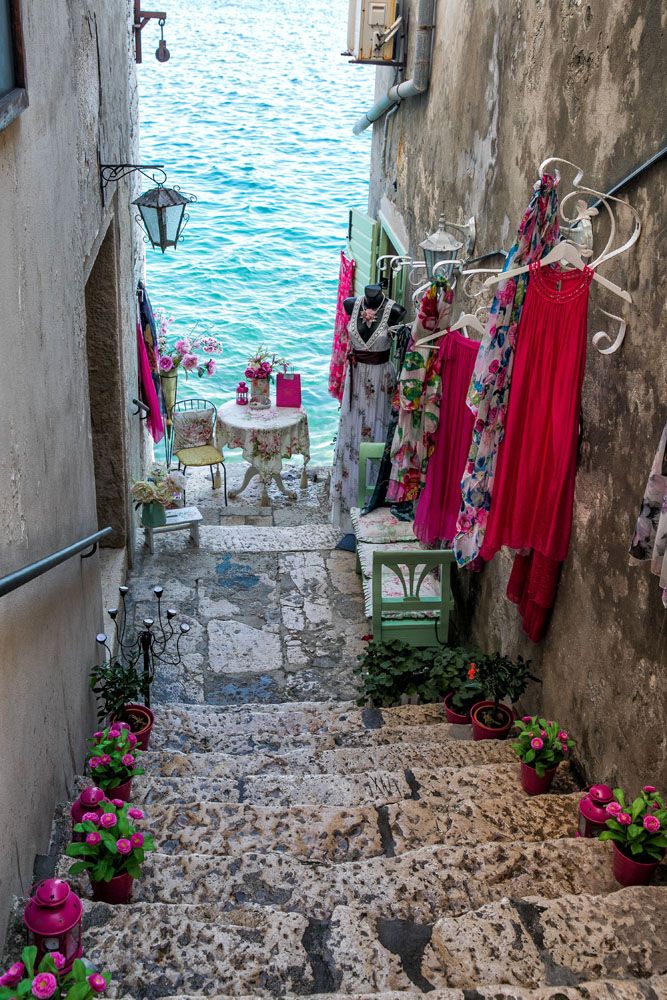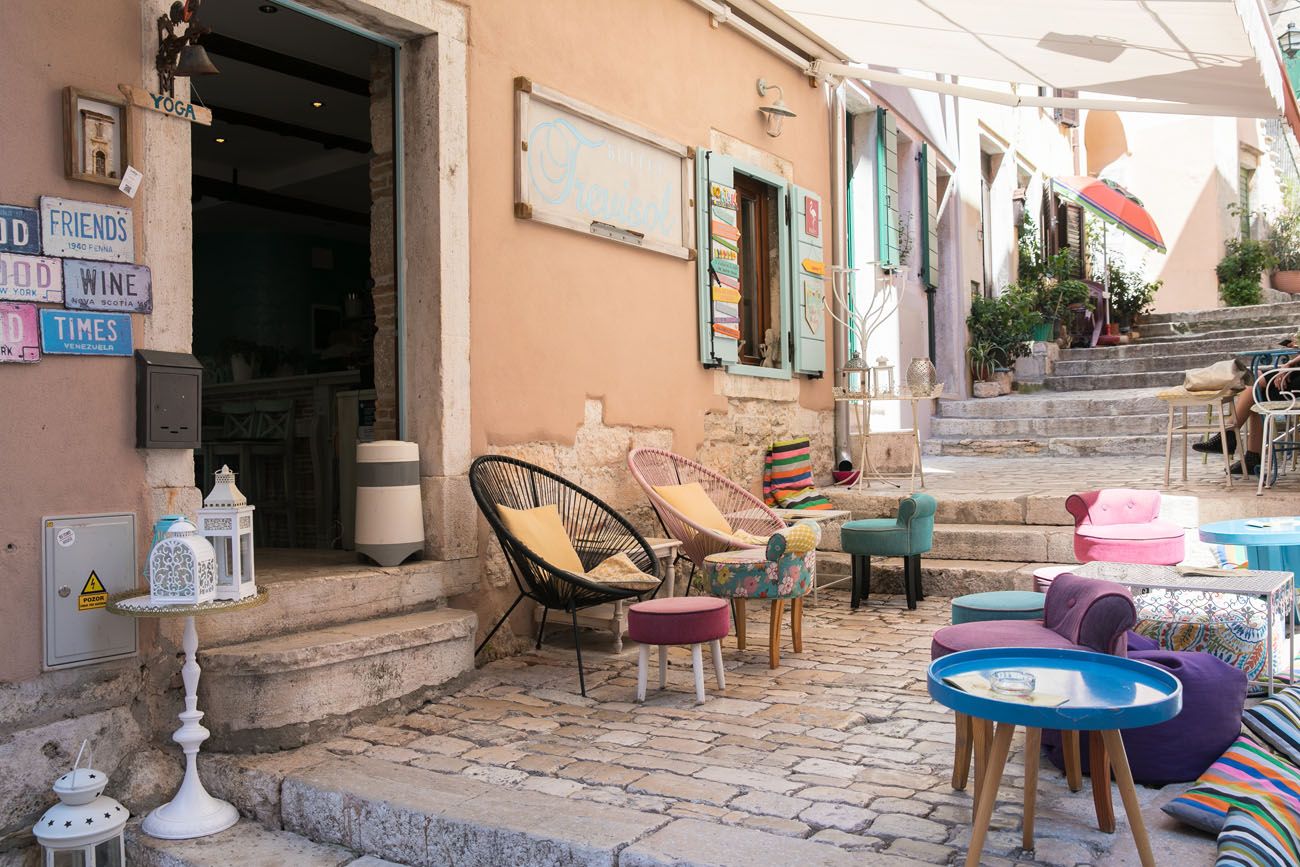 3. Shop at the Farmer's Market
Worth a quick look, this small market has vendors selling truffles, fresh fruits and vegetables, and even some souvenirs. This is the perfect place for a cheap, healthy snack to keep you fueled up as you tour Rovinj.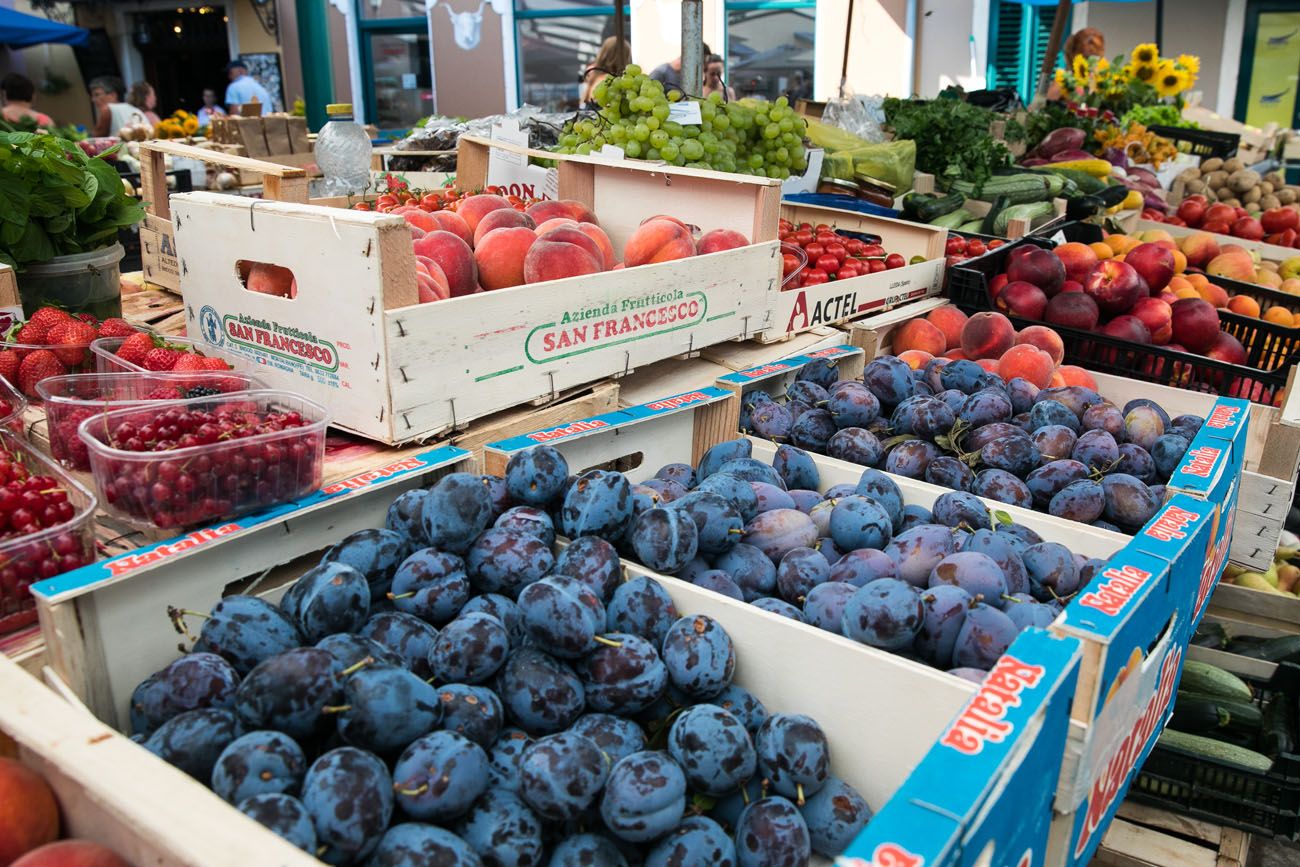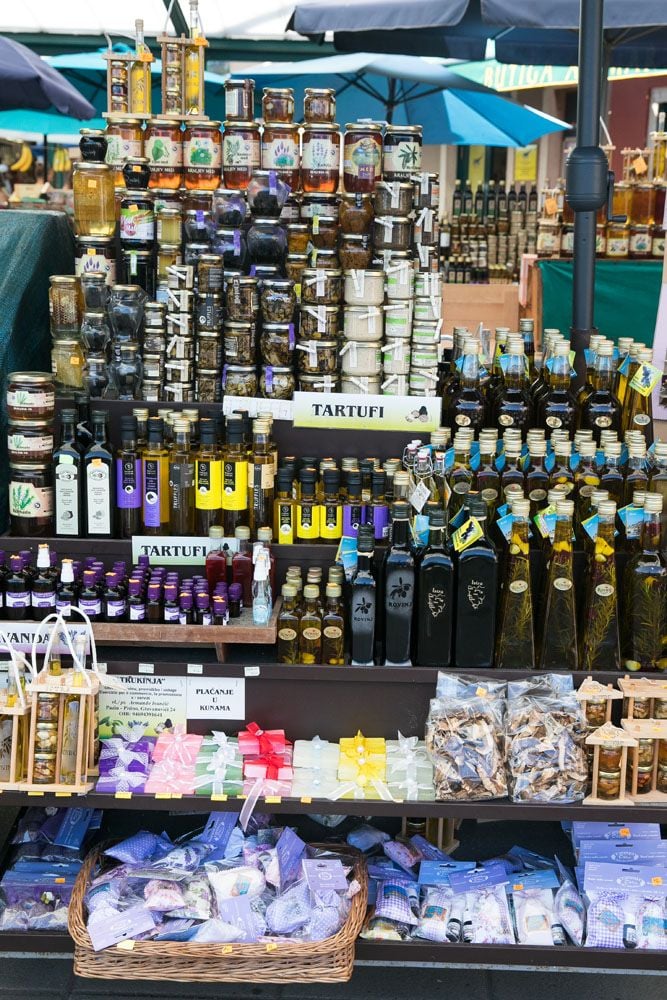 4. Climb the Bell Tower at the Church of St. Euphemia
For the best view over Rovinj and the coast, climb the bell tower. First, it's an uphill walk just to get to the Church of St. Euphemia, which can be very hot in the summer months. Then, it is a climb up 192 creaky steps to the top of the bell tower. But it's worth it for this view. Plus, the breeze feels amazing and it's so much cooler here than down on the city streets.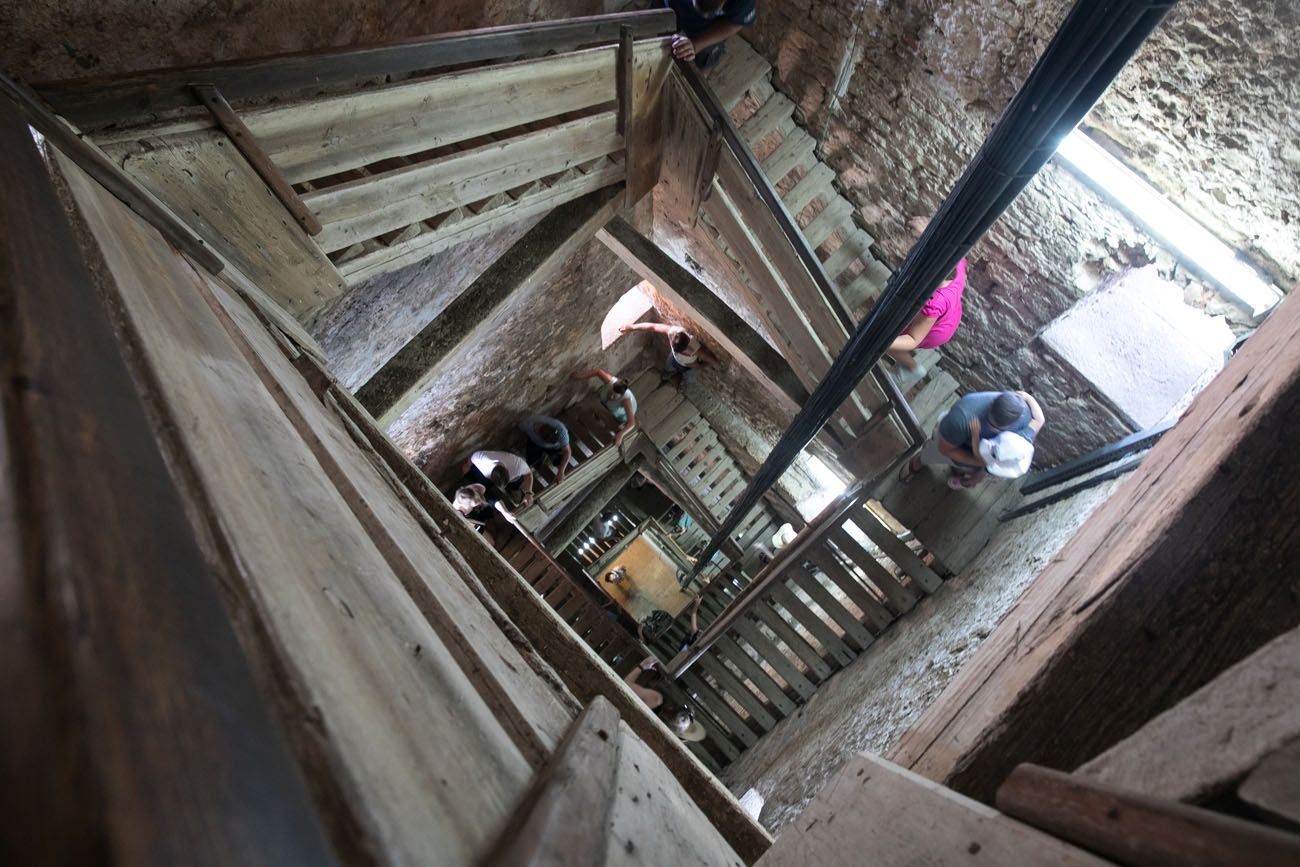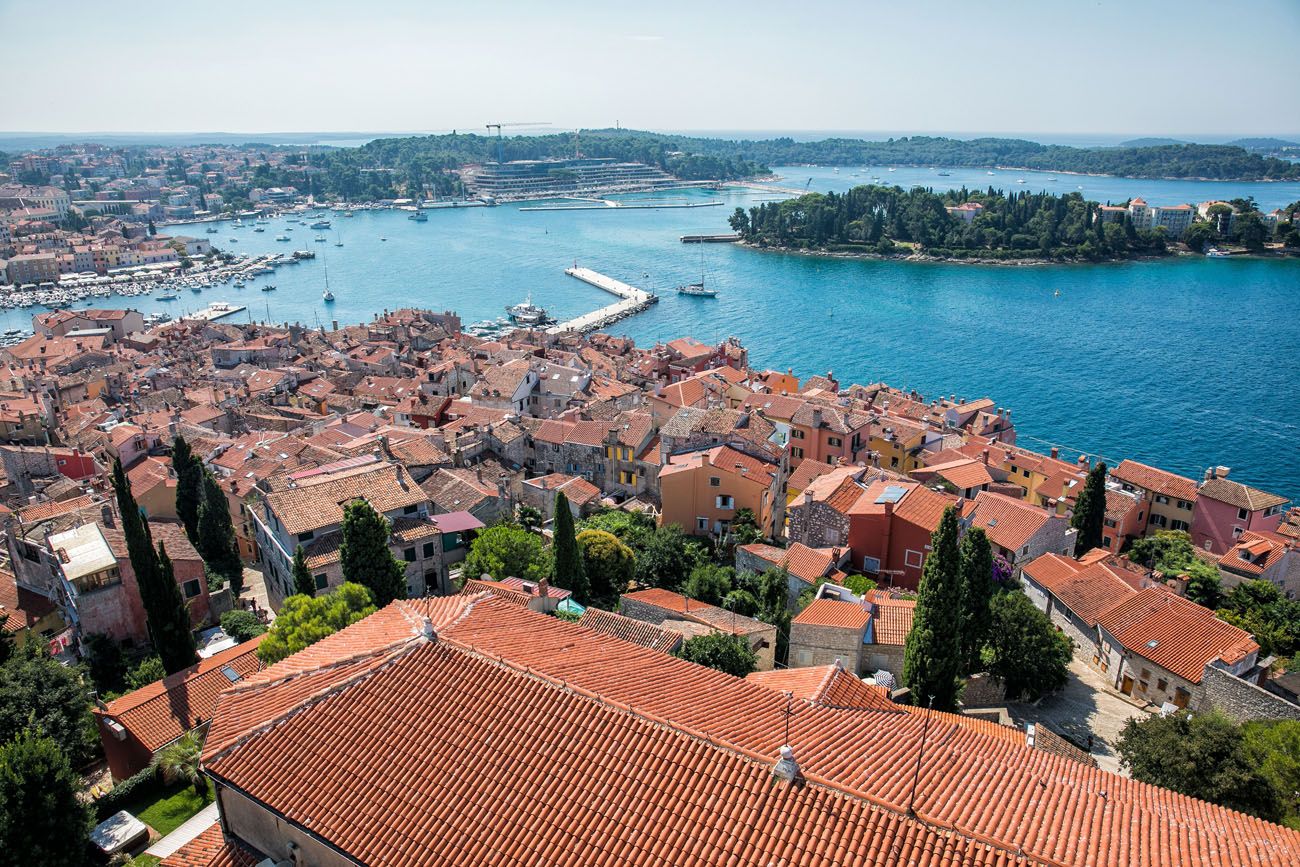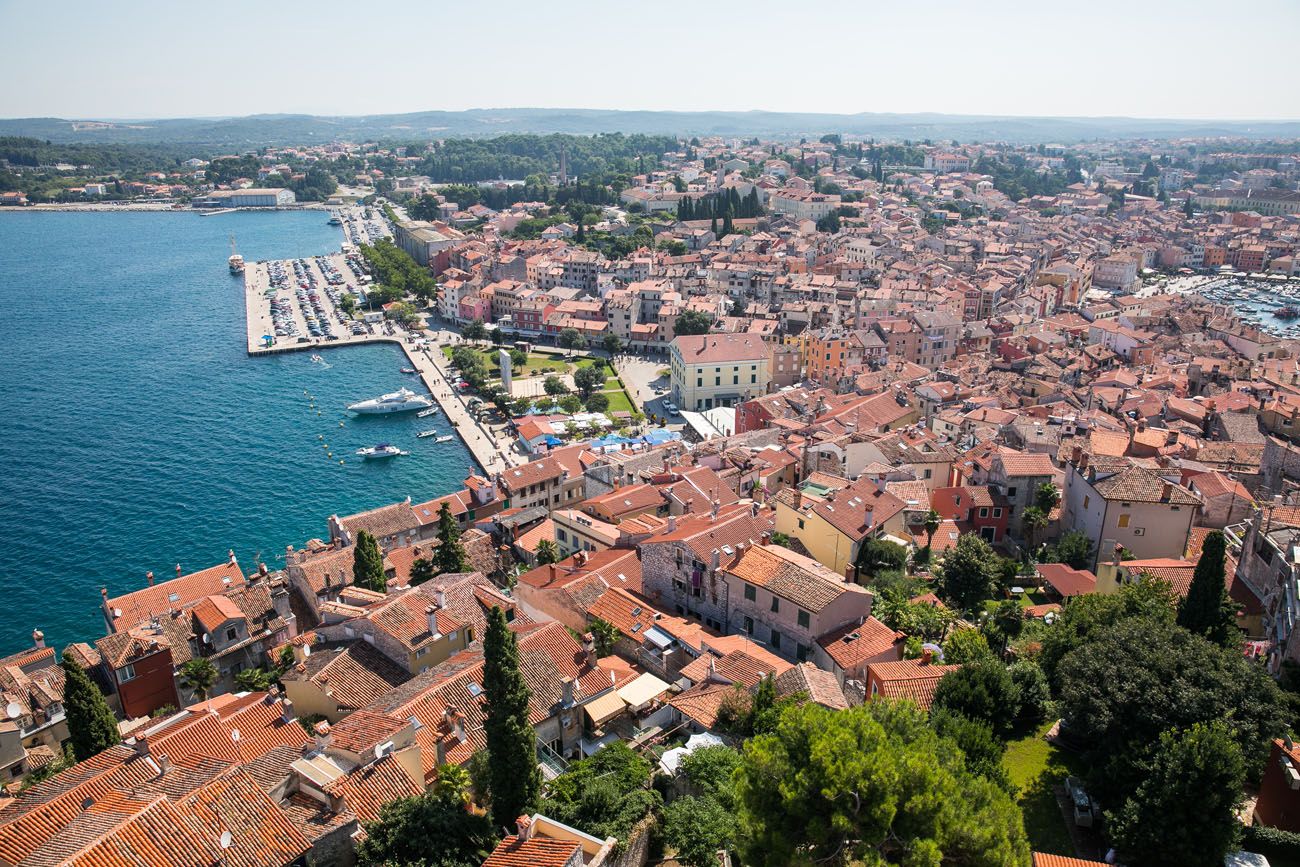 5. Have a Drink (and maybe a swim) at the Mediterraneo Bar
This is the coolest spot we found in Rovinj. This small bar sits right on the water's edge with views out to St. Catherine's Island and the harbor.
Colorful tables, chairs, and comfy beanbag chairs are arranged along the water's edge, forming the perfect Croatian bar. I could have sat here all day.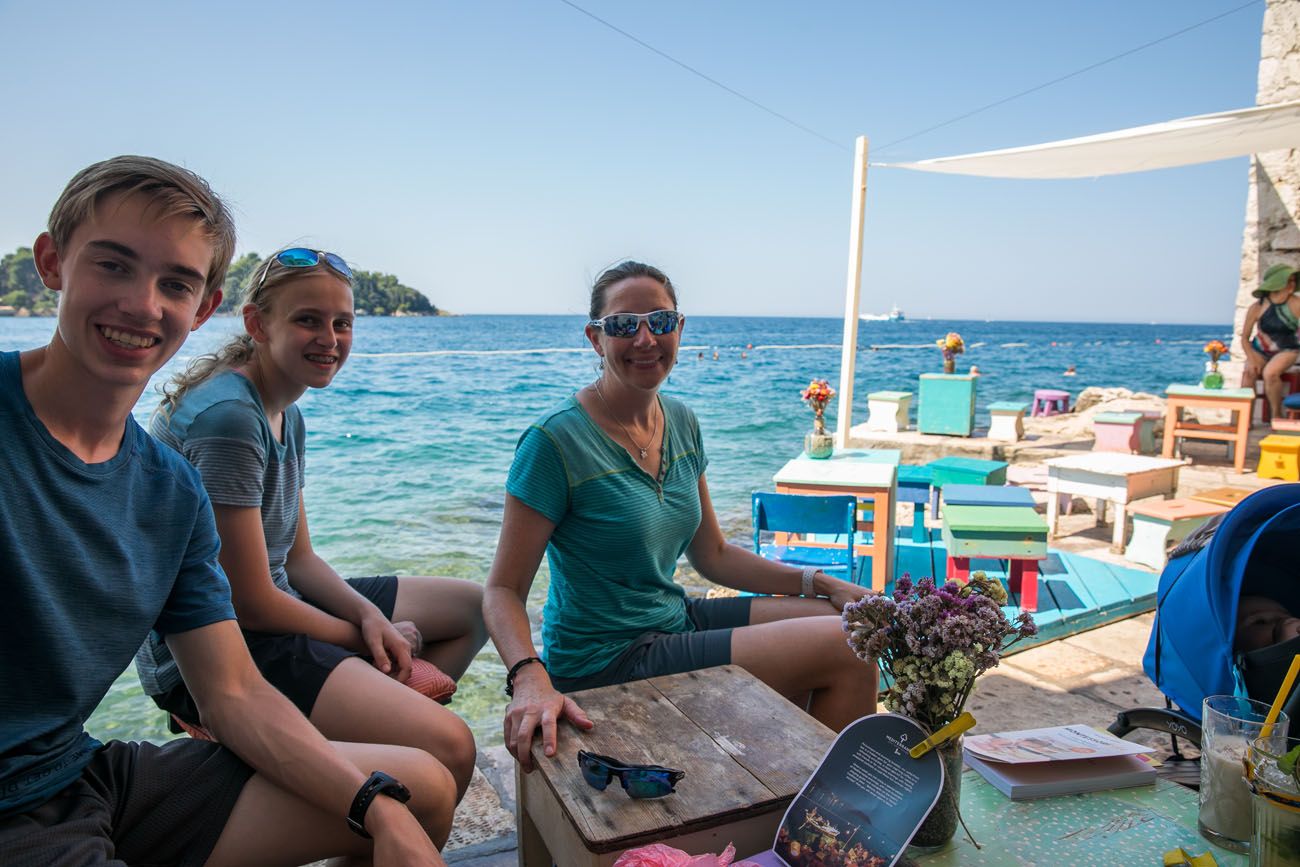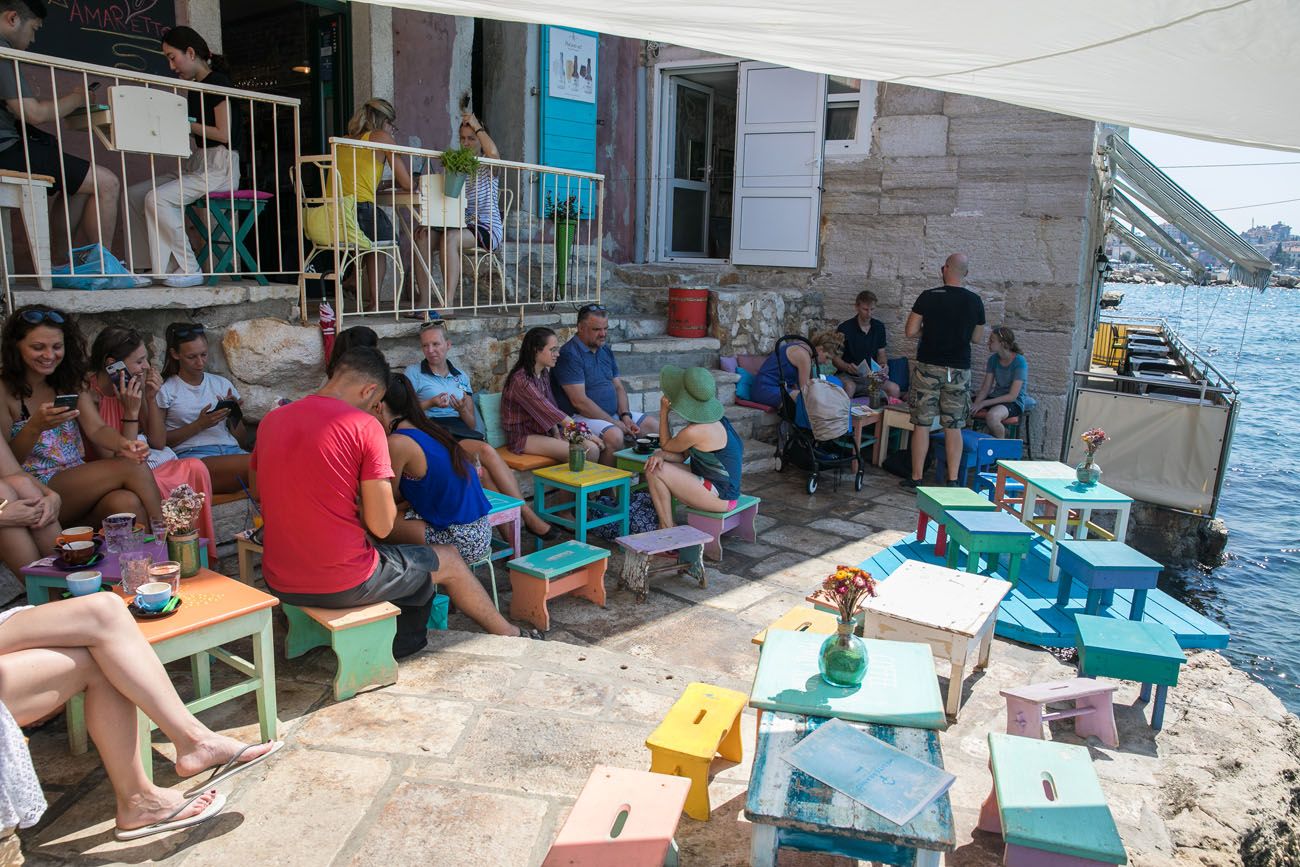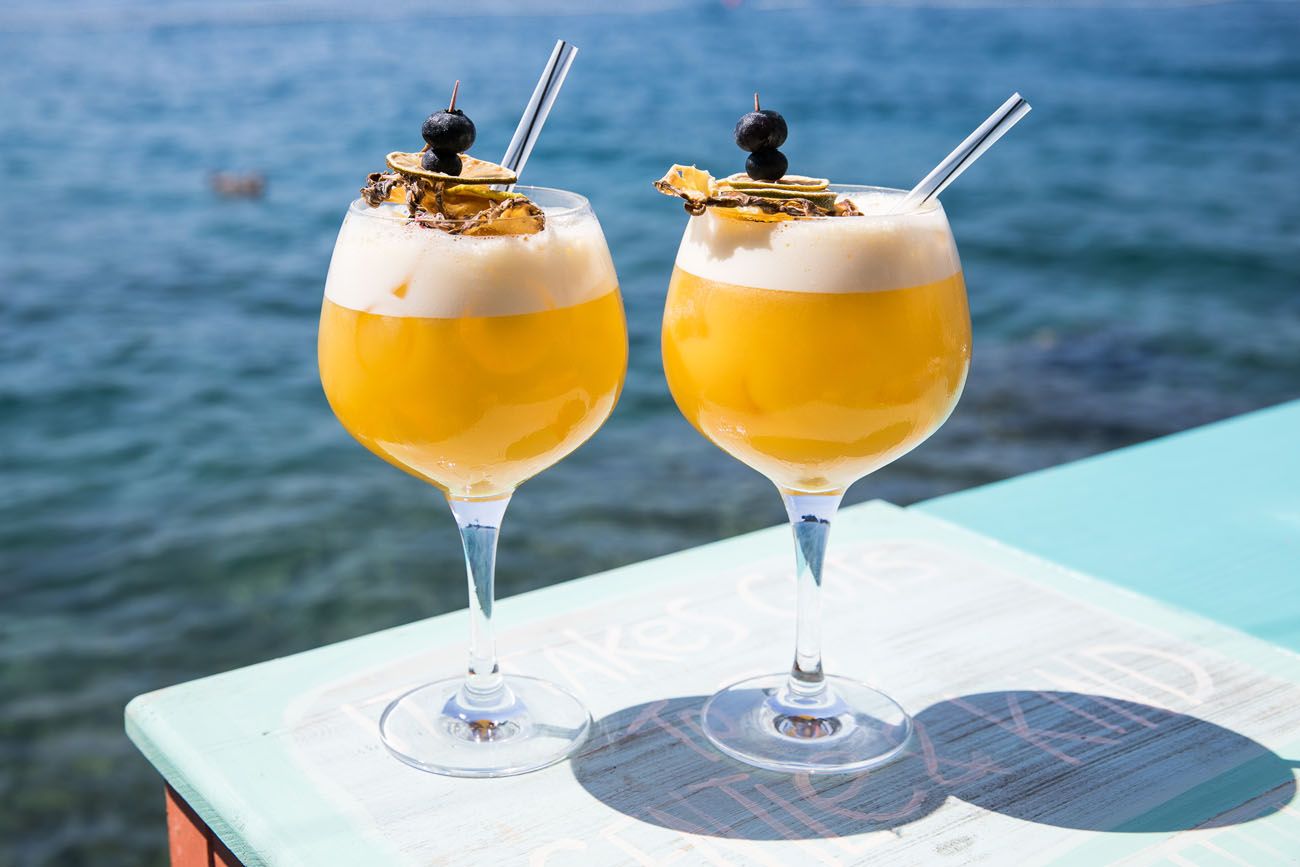 Tyler and Kara debated going back to our car to get their swimsuits, because yes, you can go swimming right from this spot. The clear, bright blue water looked so inviting on this hot summer day.
6. Take a Cruise from Rovinj
We did not do this but I wish we had. There are a number of companies that offer cruises out into the sea, where you can get scenic views of the old town and the nearby small islands.
Another popular thing to do is to cruise to St. Catherine's Island and the Red Island.
7. Go to the Beach
There are a few places in Rovinj to lounge in the sun. Balota Beach is a popular spot right on the old town peninsula. This rocky outcropping is filled with sunbathers during the summer months. You can also go to the Golden Cape (Zlatni Rt) or Valdaliso Beach, a short drive from the old town.
Planning Your Trip to Rovinj
How Much Time Do You Need?
One full day is plenty of time to explore Rovinj, go on a short cruise, and even spend some time at the beach. Or, just plop yourself down at the Mediterraneo Bar, go for a quick swim, and enjoy the view. Do you get the sense that I really liked this place?
How to Get Here
The best way to get around the Istrian Peninsula is by car. You can't park in the old town, but there are parking lots located just outside of the old town. The closest lots are labeled "Velika Valdibora" and "Mala Valdibora" on Google Maps.
Driving Distances from Nearby Towns:
Pula:

42 km, 45 minutes

Porec:

36 km, 45 minutes

Motovun:

47 km, 55 minutes

Piran:

80 km, 1 hour 15 minutes (plus a border crossing)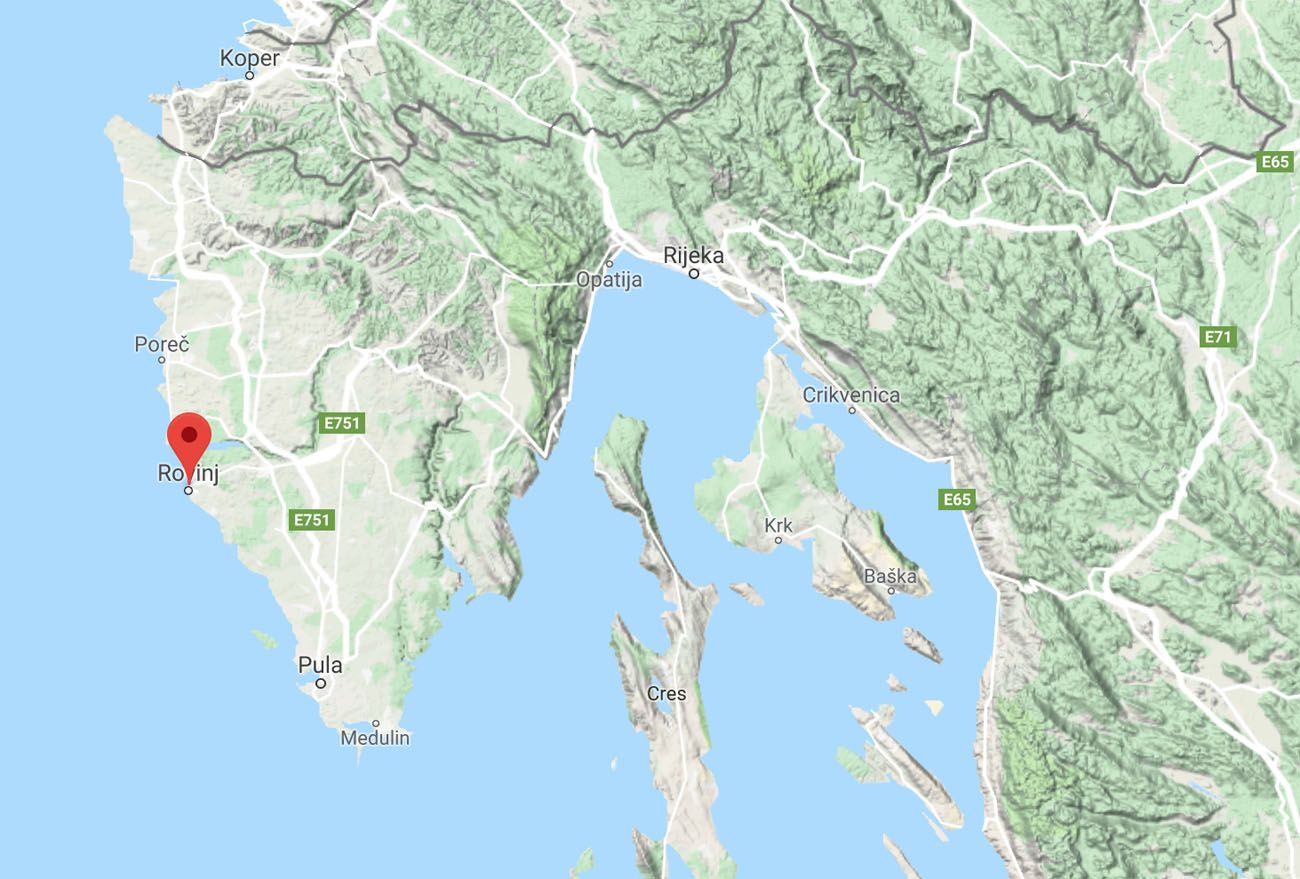 Where To Eat
The food is amazing on the Istrian Peninsula. Seafood with an Italian twist is on the menu of most restaurants in Rovinj. Here are some of the best spots to eat in town:
Monte. This restaurant is not only "the best" restaurant in Rovinj, many people who dine here state that it is also the best restaurant in Croatia. Expect excellent food, excellent wine, and superb service here. Definitely make your reservation in advance.
Balbi. Tucked away on a quiet street in the old town, Balbi serves seafood and pasta. They don't take reservations but you can have a glass of wine at their wine bar while you wait for a table to open up.
Pizzeria da Sergio. Don't want to spend a lot of money on lunch or dinner? Have the best pizza in town at this budget friendly restaurant.
Where to Stay
We did not stay in Rovinj. We stayed just outside of Porec at the Aparthotel Adeo. This hotel was great, since it offered a pool, plenty of parking, and a great location to explore the Istrian Peninsula. However, on a return trip to Istria, Tim and I would love to stay in Rovinj.
Here are a few hotels that get rave reviews.
LUXURY: Hotel Monte Mulini. This 5-star hotel is located just outside of the old town (about a 20-minute walk). Take a swim in one of several pools, sunbathe on the beach, enjoy the gorgeous coastal views, and dine at their fine dining restaurant. The rooms are large, clean, and beautifully decorated. If you want to be near Rovinj but have a resort-like experience, this is the place to go.
LUXURY: Hotel Lone. Normally I do not list two luxury hotels in one article but Hotel Lone is another amazing property and deserves to be mentioned. Like Hotel Monte Mulini, this is resort offers multiple pools, beach access, a restaurant, spa, and even a nightclub. Located in Golden Cape National Park, it takes about 15 minutes to walk to the old town of Rovinj.
UPSCALE: Spirito Santo Palazzo Storico Hotel. This is a gorgeous property that just opened in 2017. Located in the old town, this hotel has one of the best locations in Rovinj, if you like the idea of staying in the city center. Some rooms offer views of the Church of St. Euphemia.
MIDRANGE: La Fondiaria. This property offers double rooms (perfect for two travelers) and one-bedroom apartments (perfect for up to four people). It is located near the harbor and it is just a short walk to get to the heart of the old town.
BUDGET: Apartments Knezovic. This property offers studio apartments and a two-bedroom apartment that can accommodate up to six people. It's located just outside of the old town but even so you are easily within walking distance of the harbor and the main sights. Since you are not staying right in the old town, parking your car and transferring your luggage will be less of a hassle.
When to go to Rovinj
Rovinj can be visited year round. The most popular time to visit is during the summer months from June through September. Expect larger crowds and make your hotel reservations and dinner reservations in advance.
It can also be very hot during the summer. We were here in July and the temperatures were about 35°C (95°F) with a heat index up over 38°C (100°F).
You can visit Rovinj year round, however, some restaurants and hotels will be closed during the low season (November to April).
---
Are you planning a trip to the Istrian Peninsula? If you have any questions, let us know in the comment section below!
More Information about Croatia
You Might Also Like: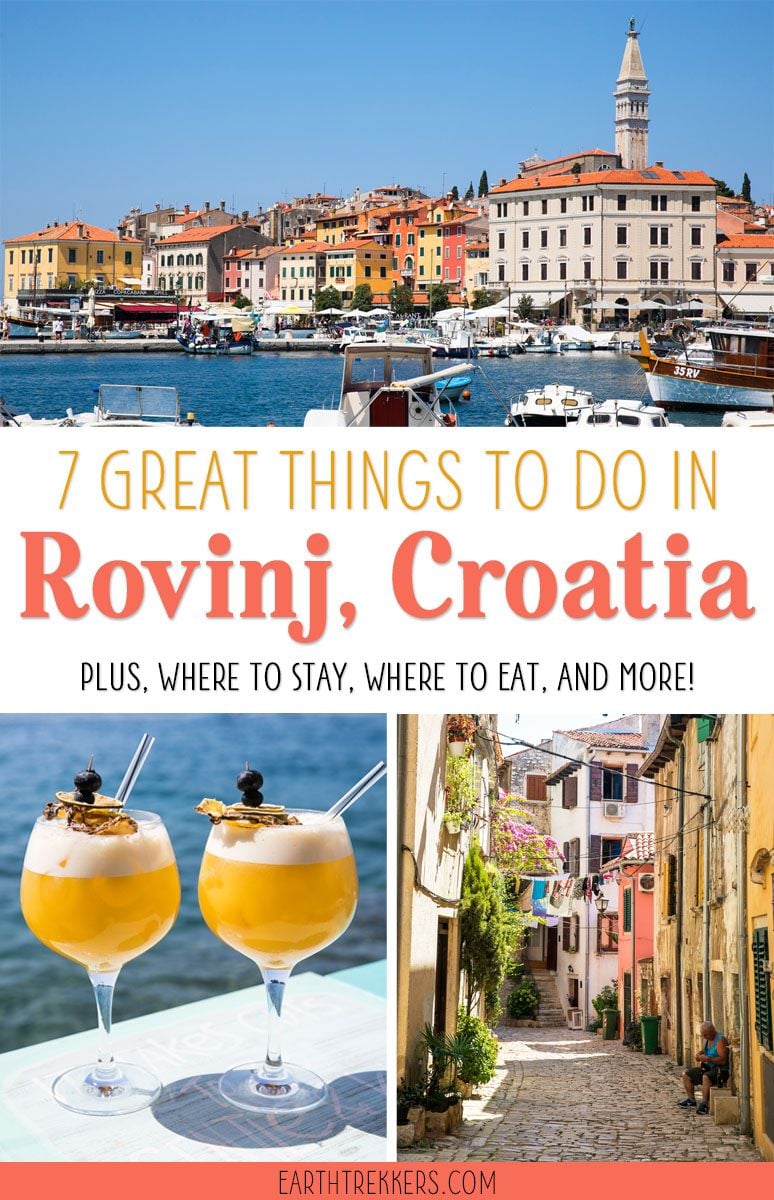 Note: This post contains affiliate links. When you make a purchase using one of these affiliate links, we get paid a small commission at no extra cost to you.
All rights reserved © Earth Trekkers. Republishing this article and/or any of its contents (text, photography, etc.), in whole or in part, is strictly prohibited.