I think we fell in love with Dubrovnik even before setting foot in Croatia. An ancient, walled medieval city on the Adriatic Sea, filled with world class restaurants and narrow cobblestoned lanes to explore…what's not to love?
One day is all you need to see the best of Dubrovnik, although we recommend spending more time here if it works in your itinerary. Dubrovnik has a way of grabbing ahold of you, making you want to stay longer than you planned.
Whether you plan on being in town for a day or more, here are the best things to do in Dubrovnik.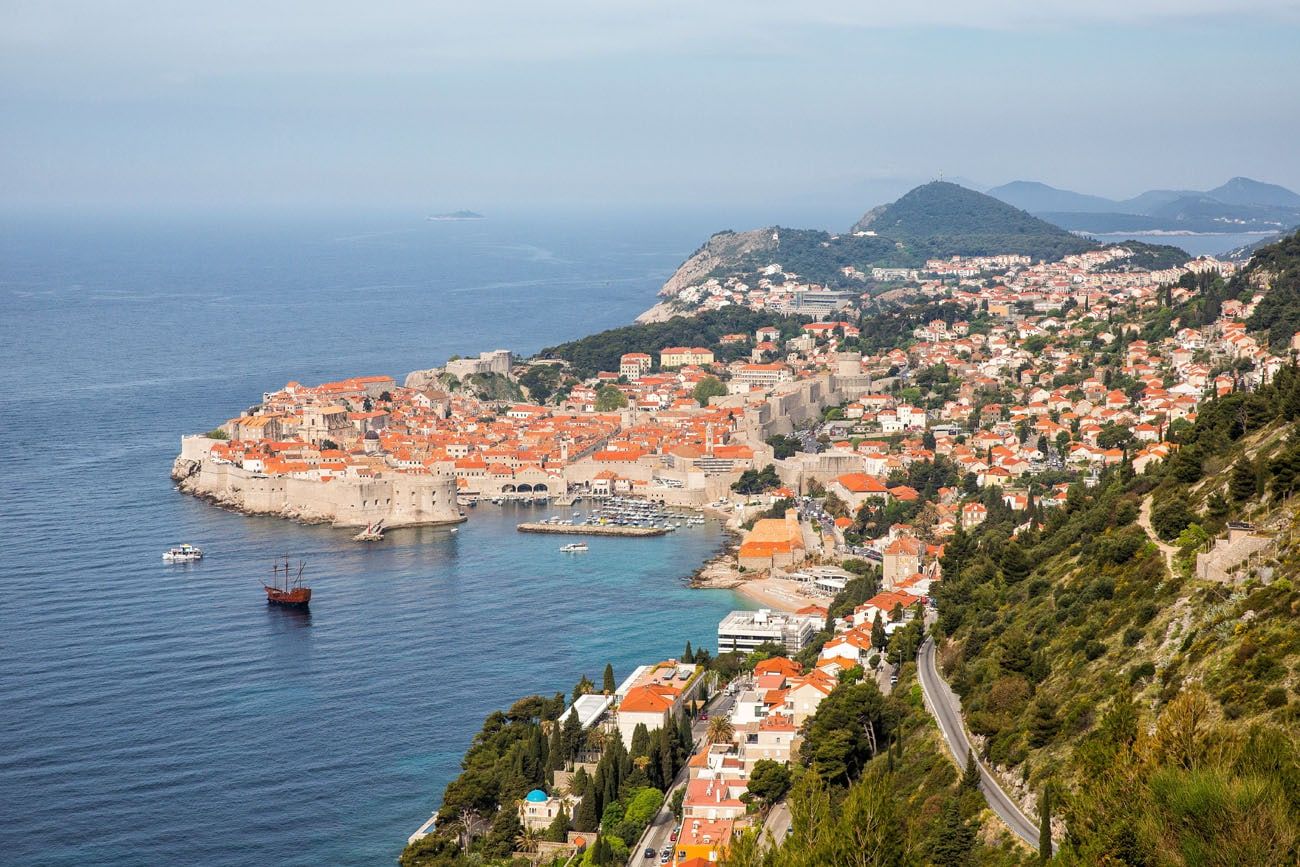 Dubrovnik seen from highway D8
Best Things to Do in Dubrovnik
1. Walk the Dubrovnik Walls
If you only do one thing, you must walk the Dubrovnik Walls. There is no better way to experience Dubrovnik than to see it from the medieval walls.
It takes approximately two hours to walk the entire loop around the city. The views are spectacular the entire way. Highlights include climbing the Minceta Tower and views over the Old Town. Be prepared to take tons of photos!!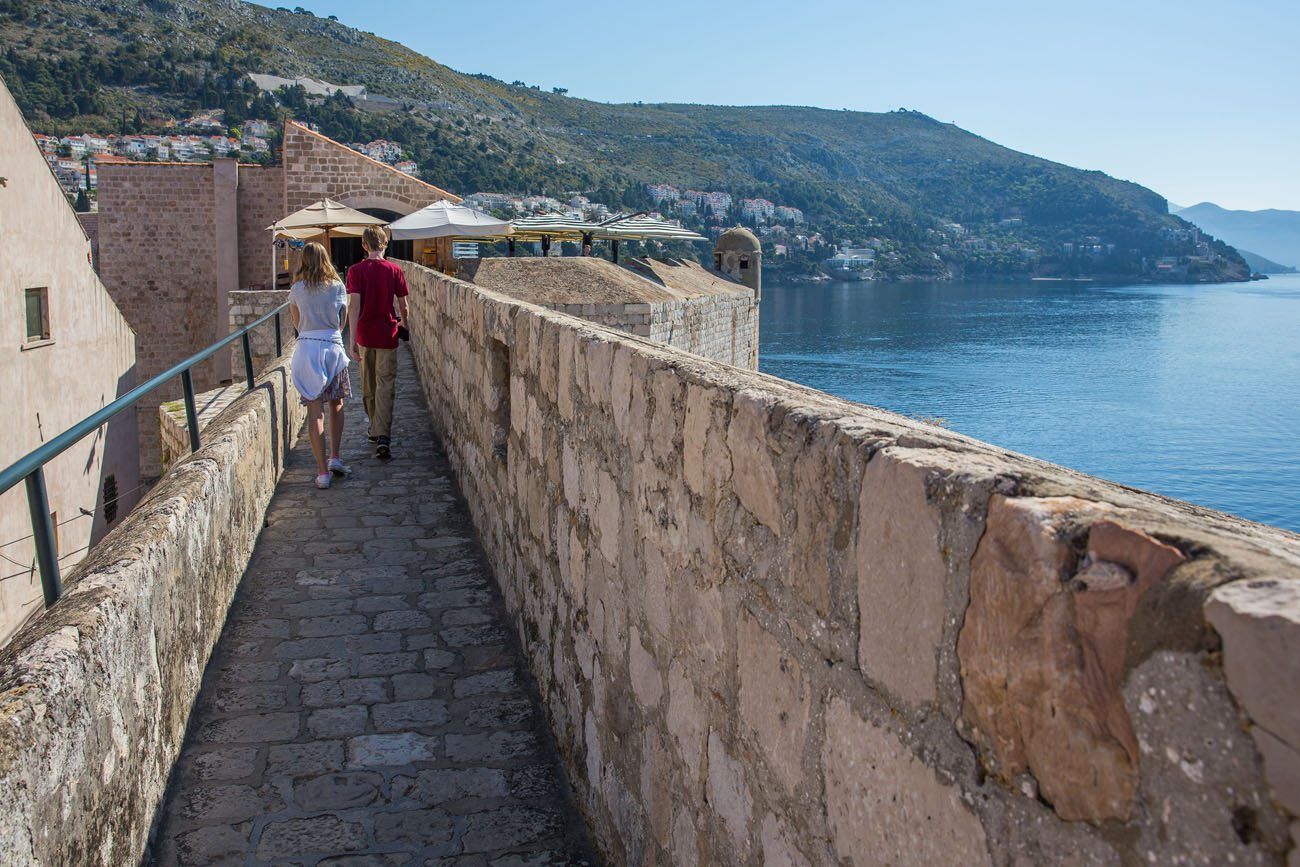 The Dubrovnik Walls | Best things to do in Dubrovnik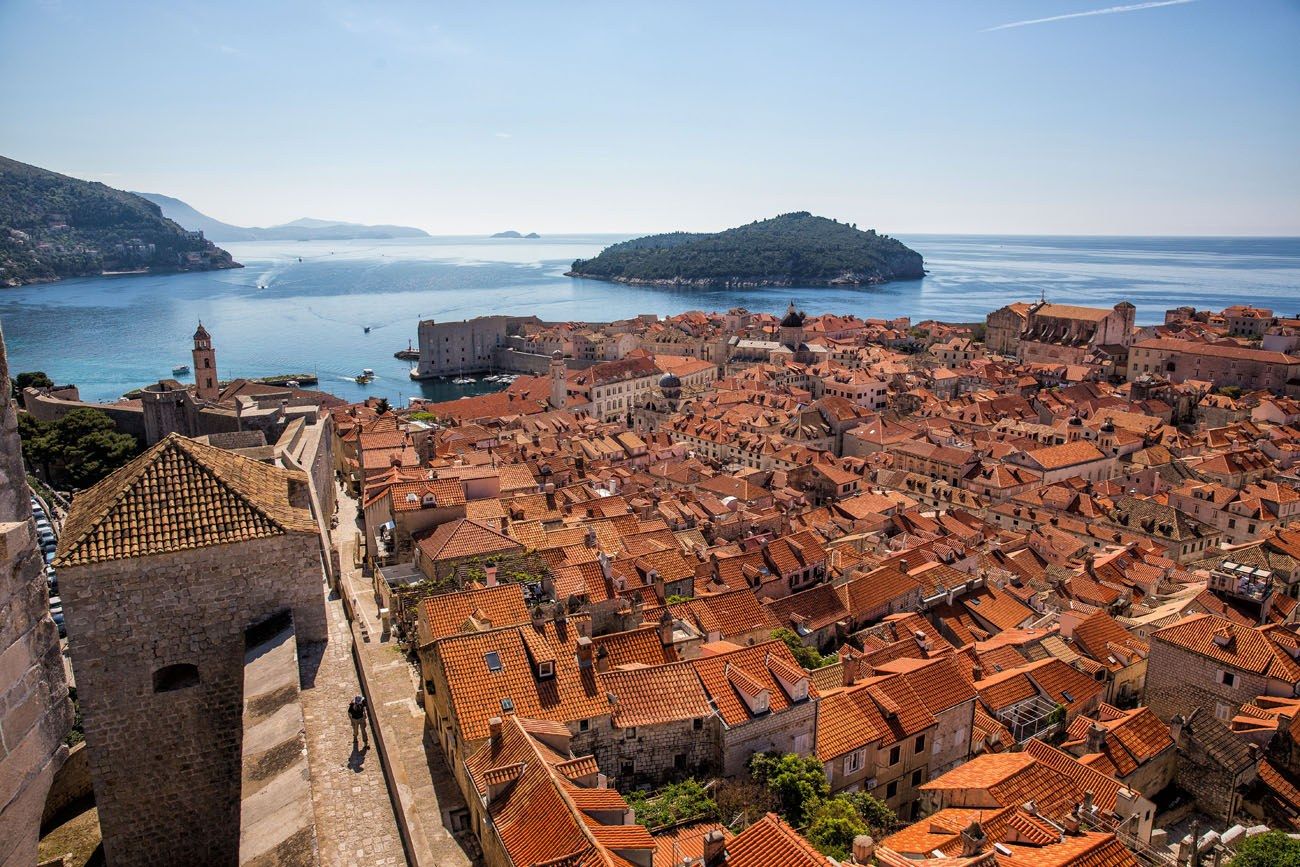 View from the Dubrovnik Walls | Best things to do in Dubrovnik
For more information (and lots more photos), read our Guide to the Dubrovnik Walls.
WALKING TOUR OF THE DUBROVNIK WALLS: On this two-hour walking tour, visit the Dubrovnik walls with an experienced guide. This tour is timed so that you get to watch sunset from the walls.
2. Wander the Old Town of Dubrovnik
After your tour on the medieval walls, it is time to wander the streets of the Old Town. The main part of Dubrovnik is compact and easy to walk. The narrow streets are filled with restaurants and small shops, perfect places for pit stops on a leisurely stroll through the city.
This old town walking tour is one of the best experiences in the city. Learn about Dubrovnik's fascinating history and visit historical landmarks with a local guide who is licensed by the Croatian Ministry of Tourism.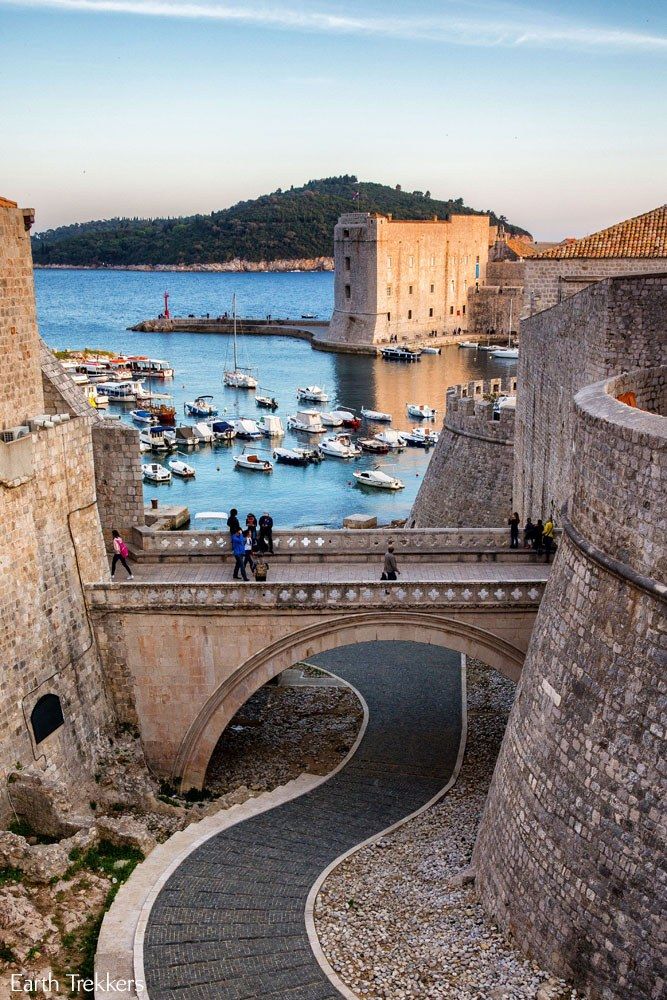 Ploce Gate | Best things to do in Dubrovnik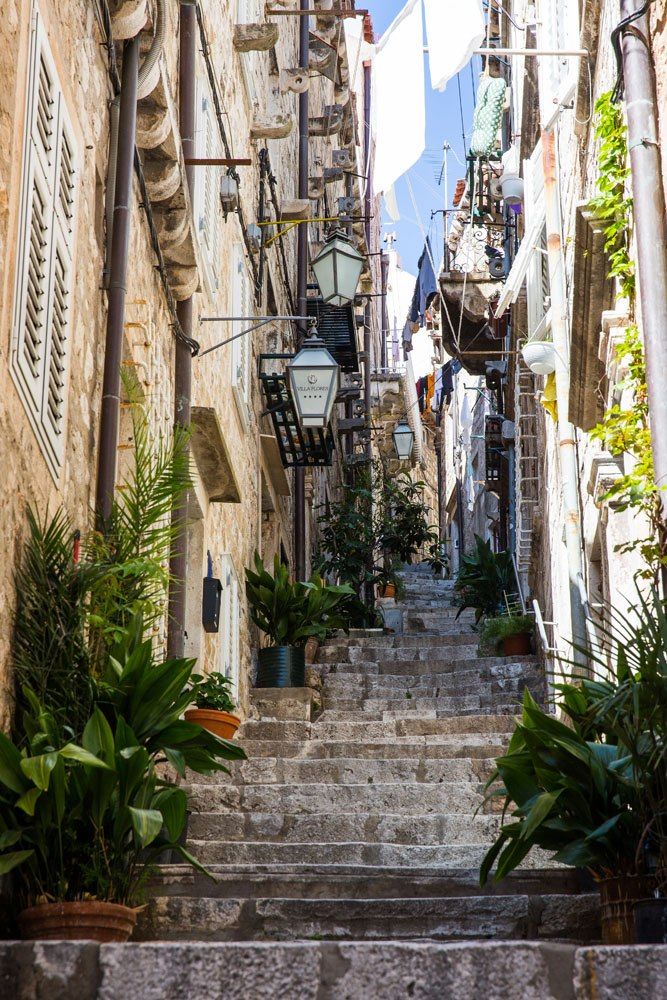 3. Walk Along the Stradun
The Stradun is the main thoroughfare through the Old Town. It is also a filming location for Star Wars Episode VIII.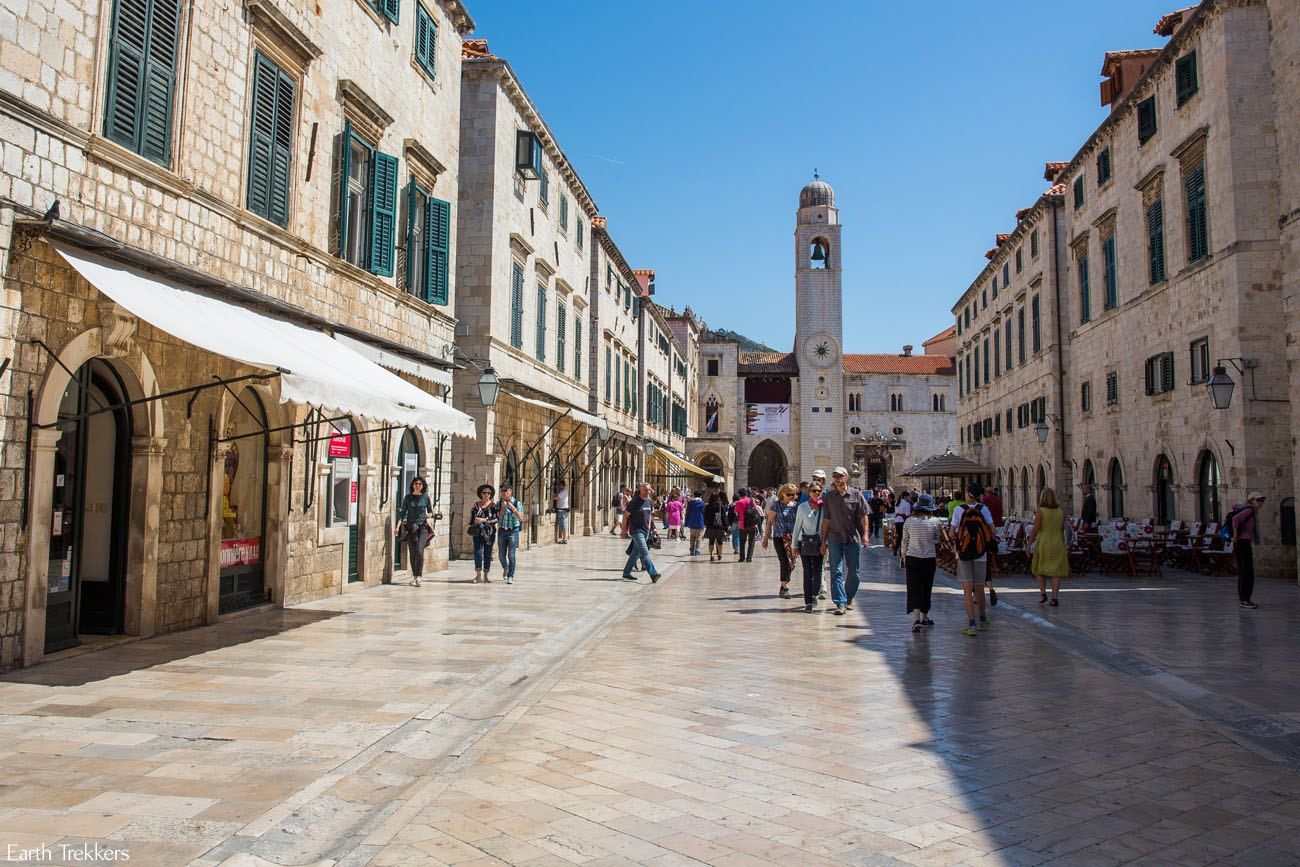 The Stradun | Best things to do in Dubrovnik
4. Get a Bird's Eye View of Dubrovnik
Taking a ride on the cable car is a must-do if you want an aerial view over Dubrovnik. The views of the city and the Adriatic Coast are spectacular from up here.
We also recommend dining at the Panorama Restaurant. If you want a table with a view of the city, call ahead for a reservation. Dinner here at sunset would be amazing.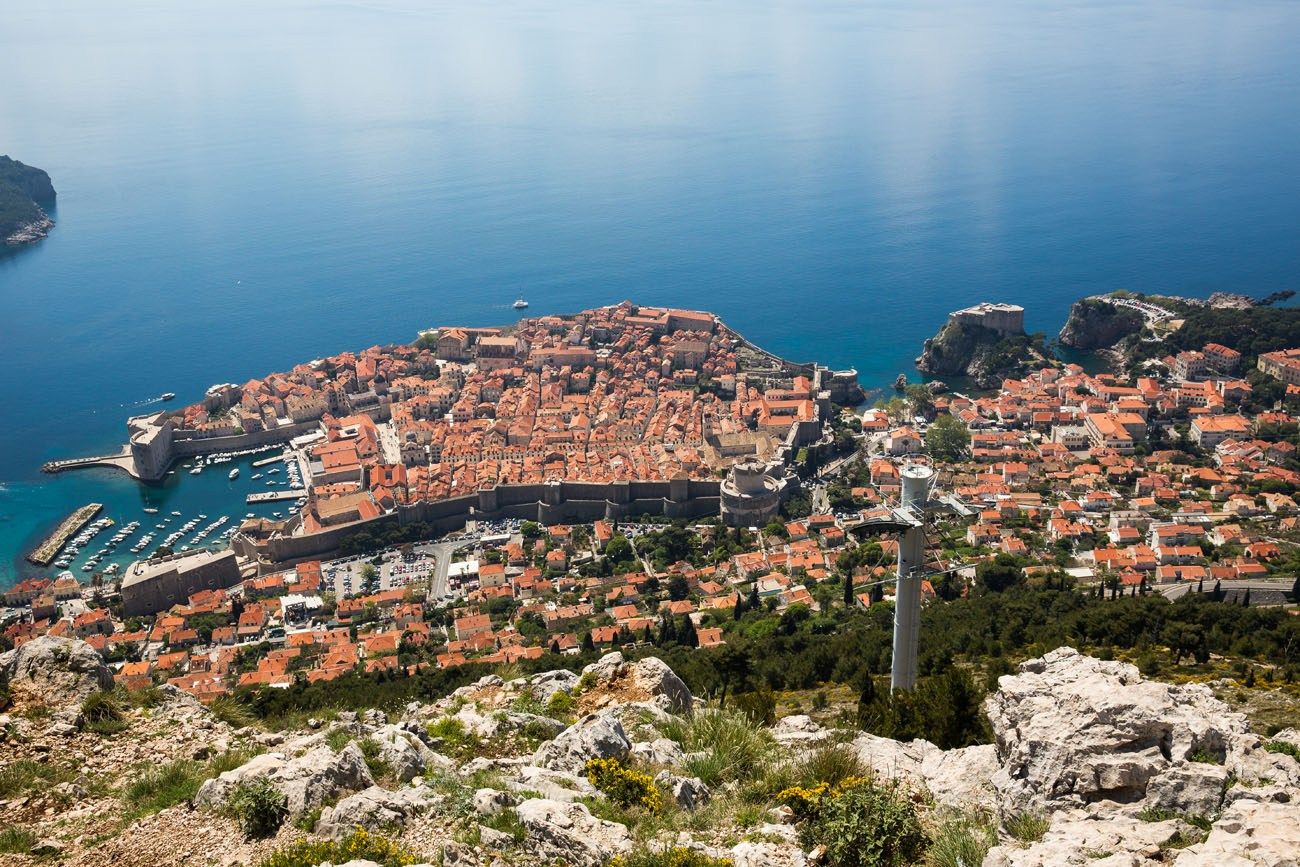 View from the Panorama Restaurant | Best things to do in Dubrovnik
Website: For ticket prices and hours of operation, visit the Cable Car website.
5. Visit Fort Lovrijenac
This ancient fortress is worth a visit for two reasons. Number one, the view of Dubrovnik from here is stunning. And number two, this is a Game of Thrones filming site. Lovrijenac Fortress is where the tournament was held on King Joffrey's name day.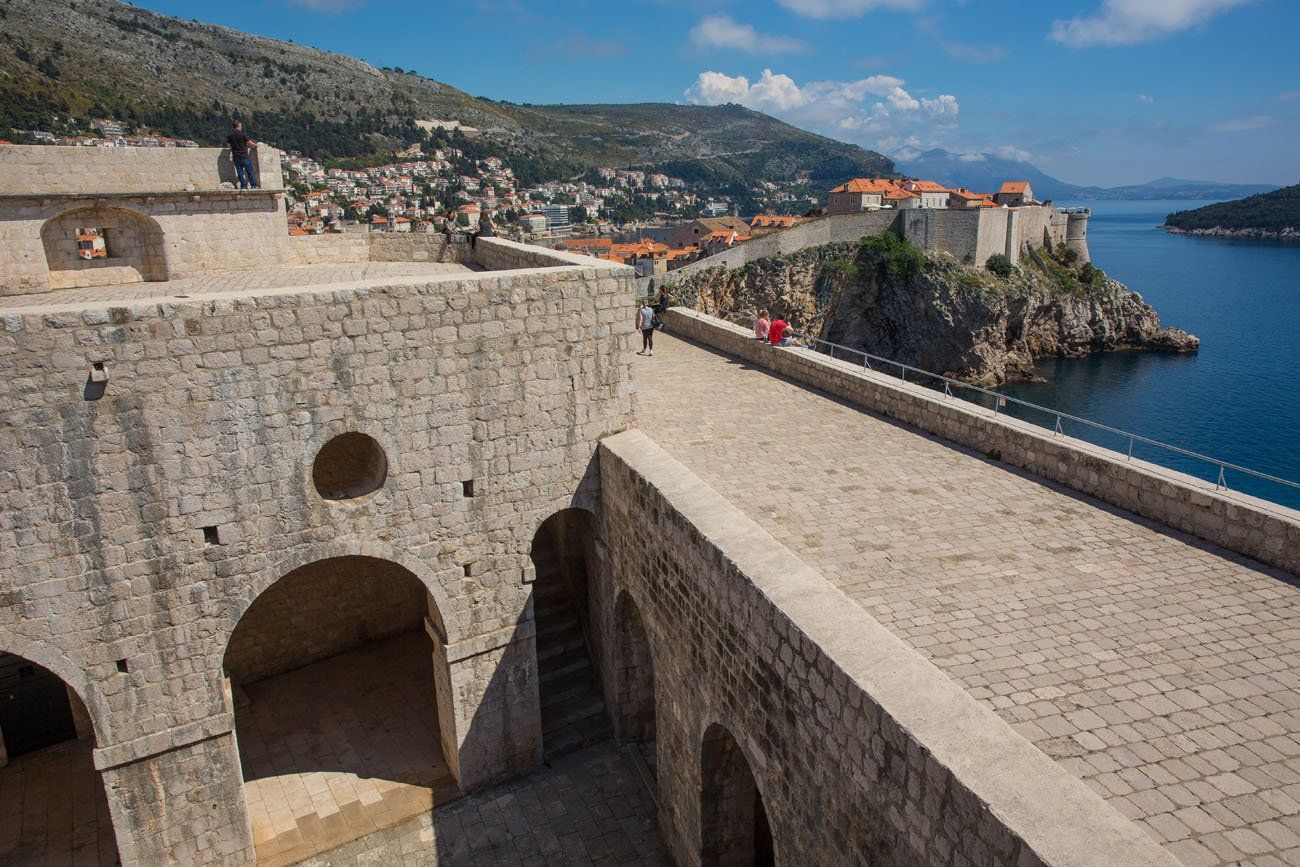 Fort Lovrijenac | Best things to do in Dubrovnik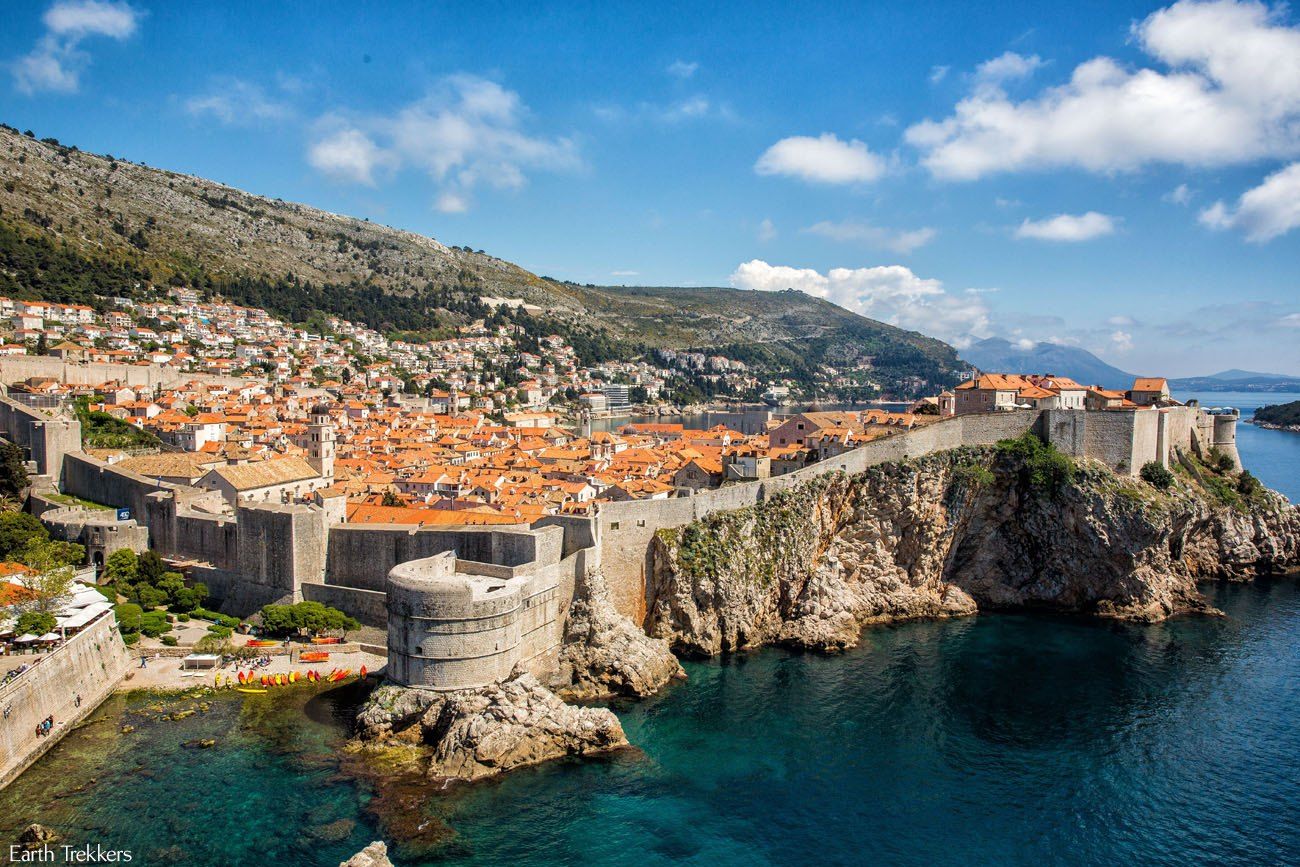 View of Dubrovnik from Fort Lovrijenac | Best things to do in Dubrovnik
6. Take a Tour of King's Landing
If you are a Game of Thrones fan, rejoice. Dubrovnik is King's Landing. This city is one of the best Game of Thrones filming locations you can visit since so much of the city was featured in the show.
St. Dominika Street is where Cersei made her walk of shame. Minceta Tower is used as the House of the Undying and this is where Daenerys recovers her dragons that were stolen from her. Pile Bay is Blackwater Bay, used multiple times in the Game of Thrones.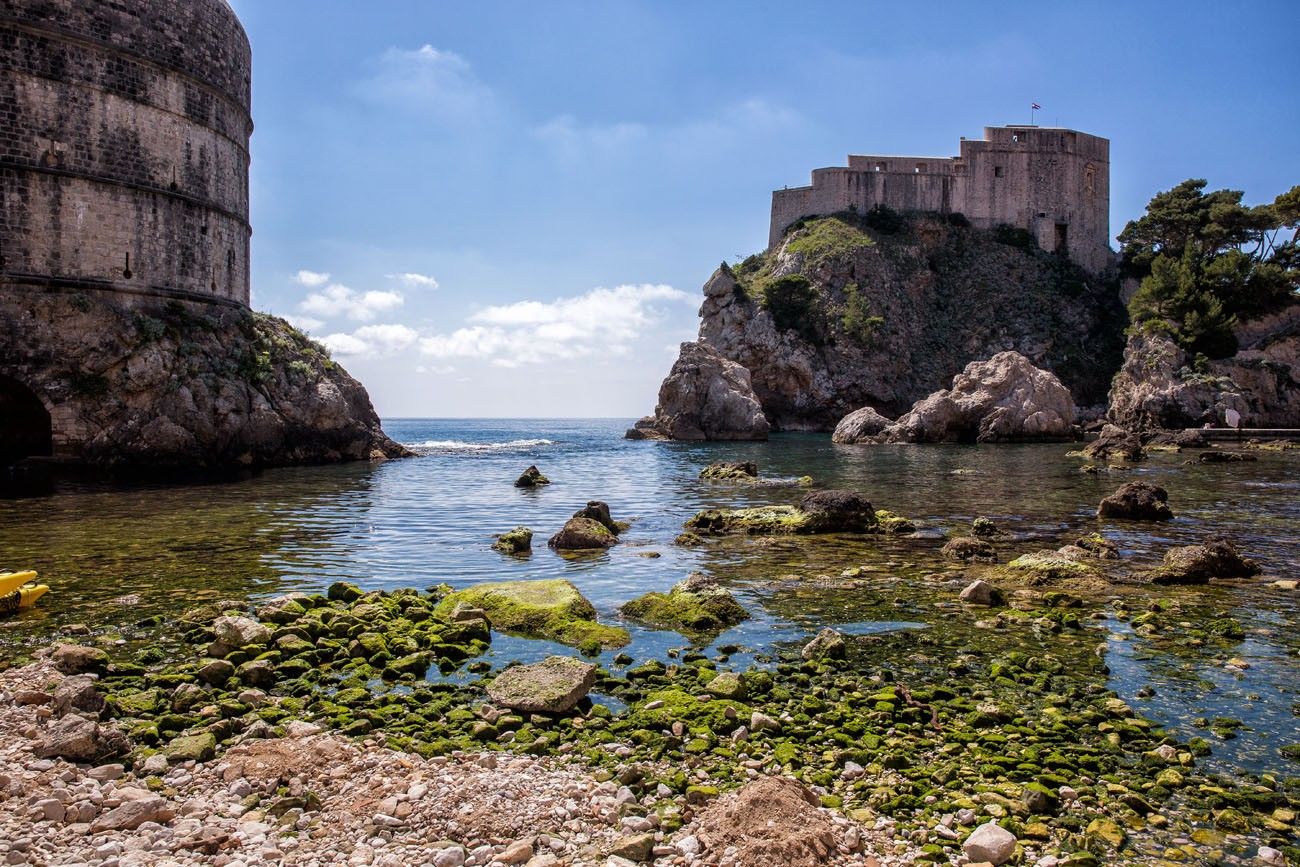 Pile Bay and Lovrijenac Fortress | Best things to do in Dubrovnik
Game of Thrones Tours in Dubrovnik
If you are a Game of Thrones fan, one of the best things to do in Dubrovnik is to take a Game of Thrones tour, and there are a lot to choose from.
On GetYourGuide, the Epic Game of Thrones Walking Tour gets 5-star reviews. On this 3-hour tour, visit the main filming locations and even sit on the Iron Throne.
Or, you can take a 2-hour Game of Thrones tour that includes a short walking tour, a cruise around Dubrovnik, and a Game of Thrones cocktail.
Finally, this 5-hour tour includes filming sites both in the old town of Dubrovnik and those outside of the city. On this tour, you get to see the filming location of the Red Keep and aerial views over Dubrovnik.
7. Gornji Ugao Tower
For a Dubrovnik history lesson, visit the Gornji Ugao Tower. This is an interesting look at the history of the city as you tour the excavated foundry.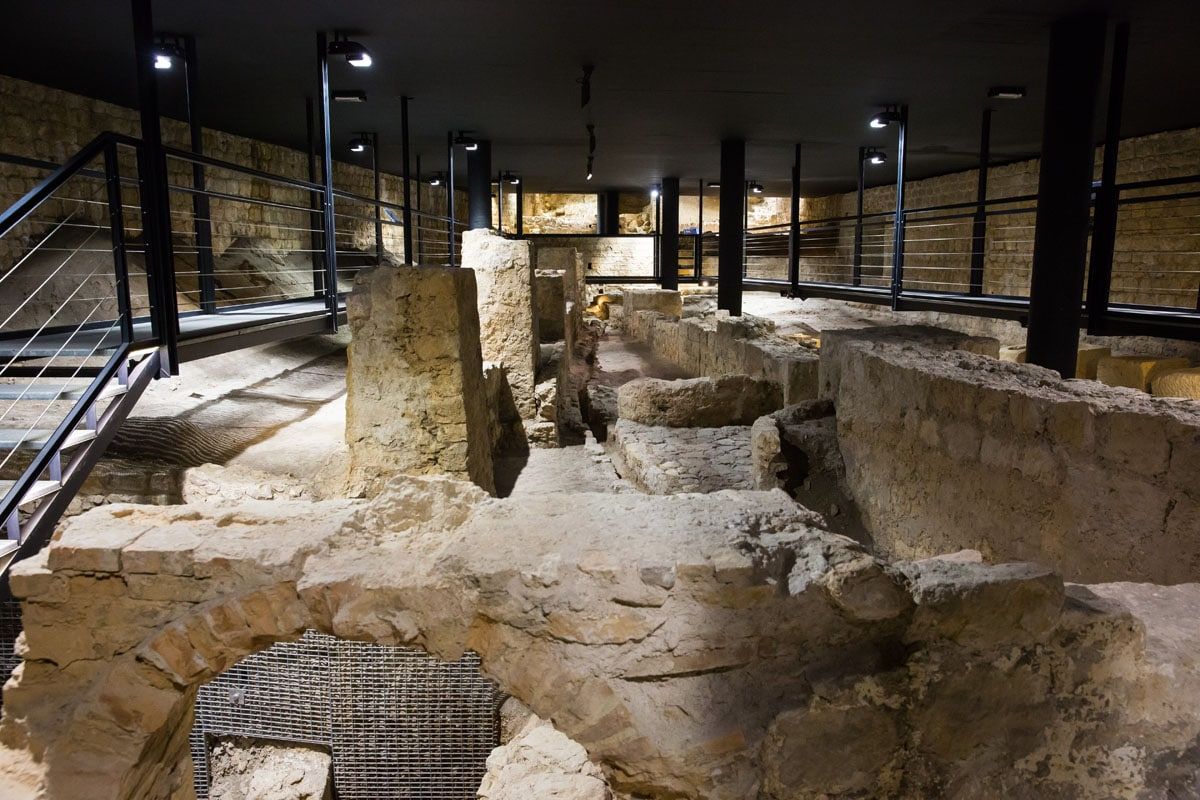 Gornji Ugao Tower | Best things to do in Dubrovnik
8. Visit Lokrum Island
This is one of the most popular excursions to take while visiting Dubrovnik. A short ferry ride connects the Dubrovnik harbor to this island. Visit Lokrum Island if you want a break from "city life" by spending the day at the beach or wandering the gardens. Peacocks and large rabbits roam the island.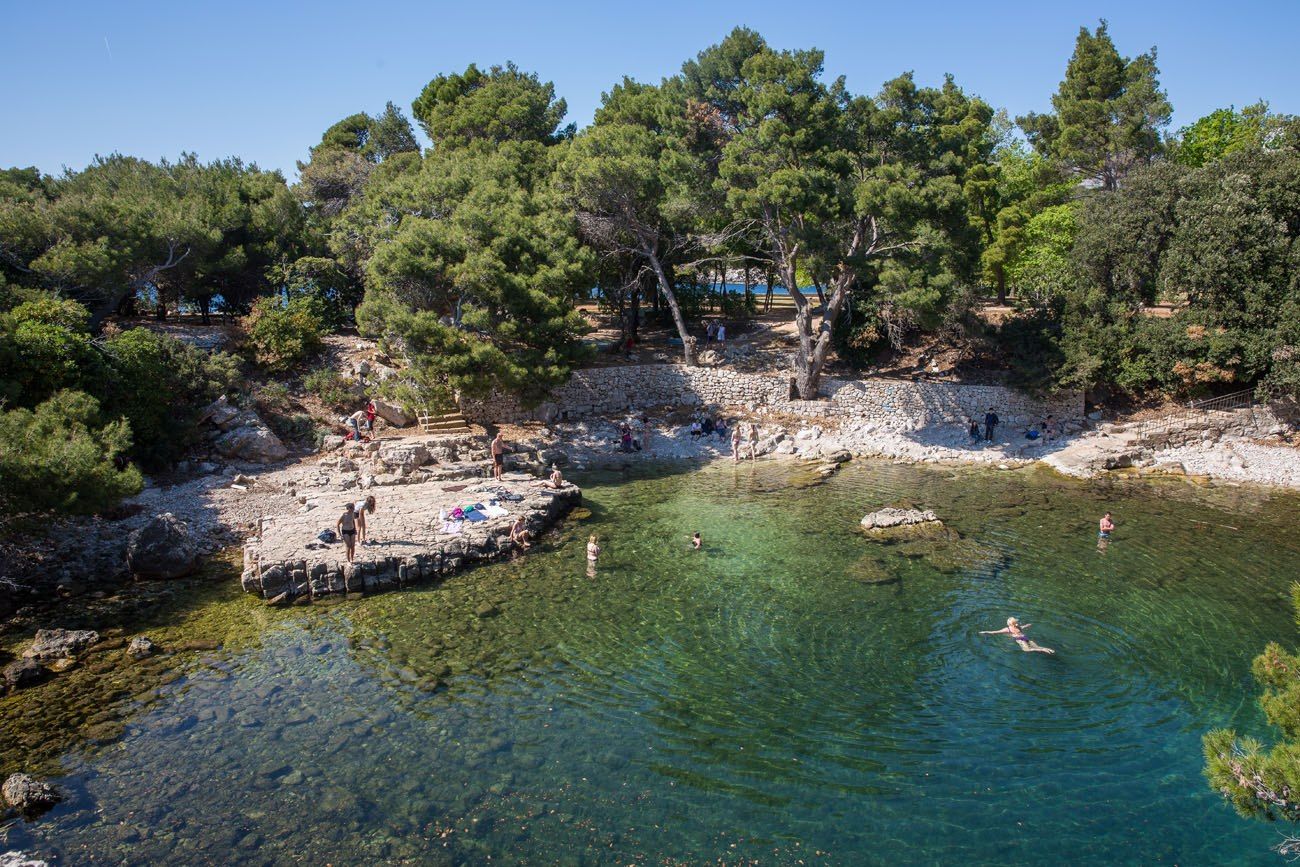 Lokrum Island | Best things to do in Dubrovnik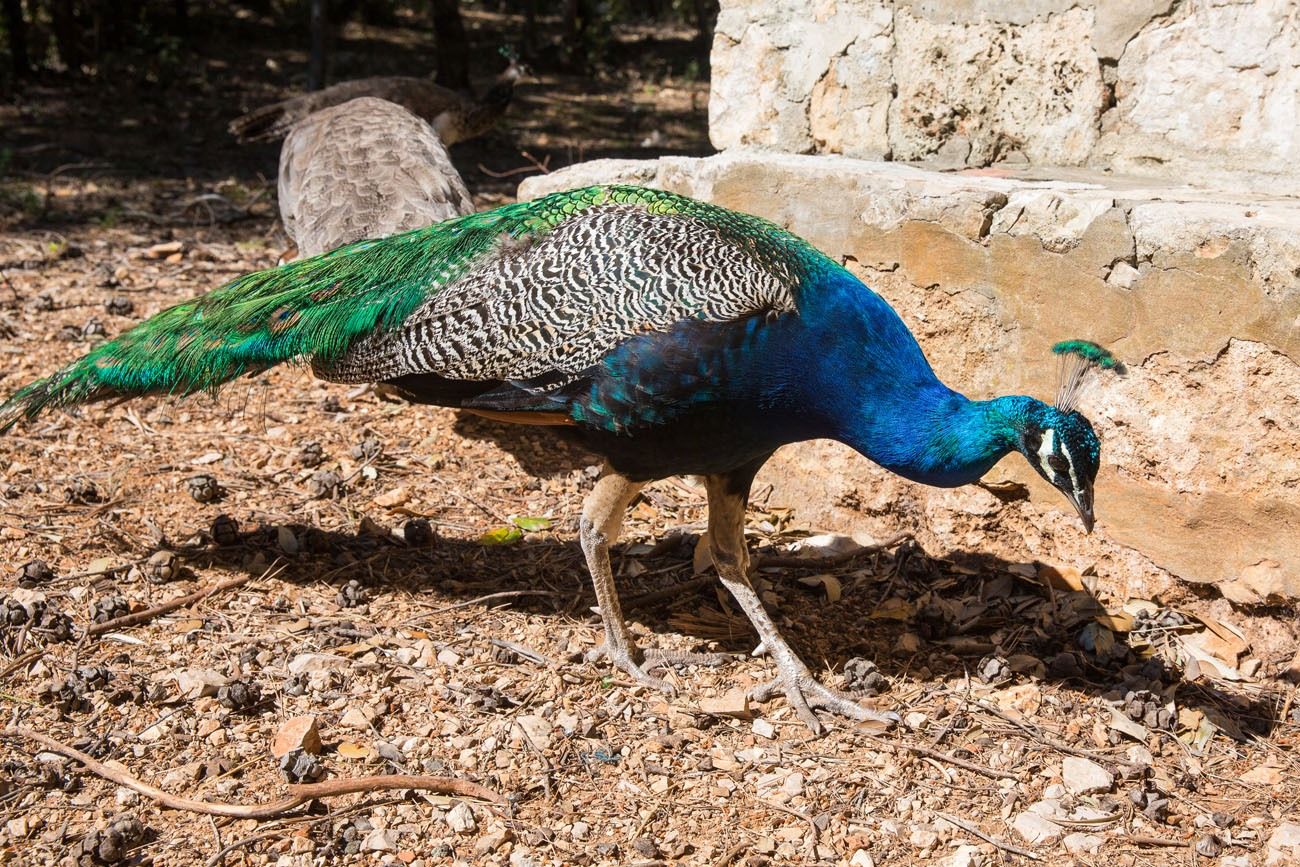 For Game of Thrones fans, here is your chance to sit on the Iron Throne and visit another filming site at the Benedictine Monastery. This Game of Thrones tour sounds awesome…hear insights and facts from guides who participated in the production of the TV series and visit the filming sites in both the old town and on Lokrum Island.
9. Go Wine Tasting
Did you know that Croatia produces awesome wine? To sample Croatian and Montenegrin wine, don't miss D'Vino Wine Bar. Take a wine flight and try the meat and cheese platters…delicious!! This was one of our favorite experiences and we visited D'Vino on two of our three nights here.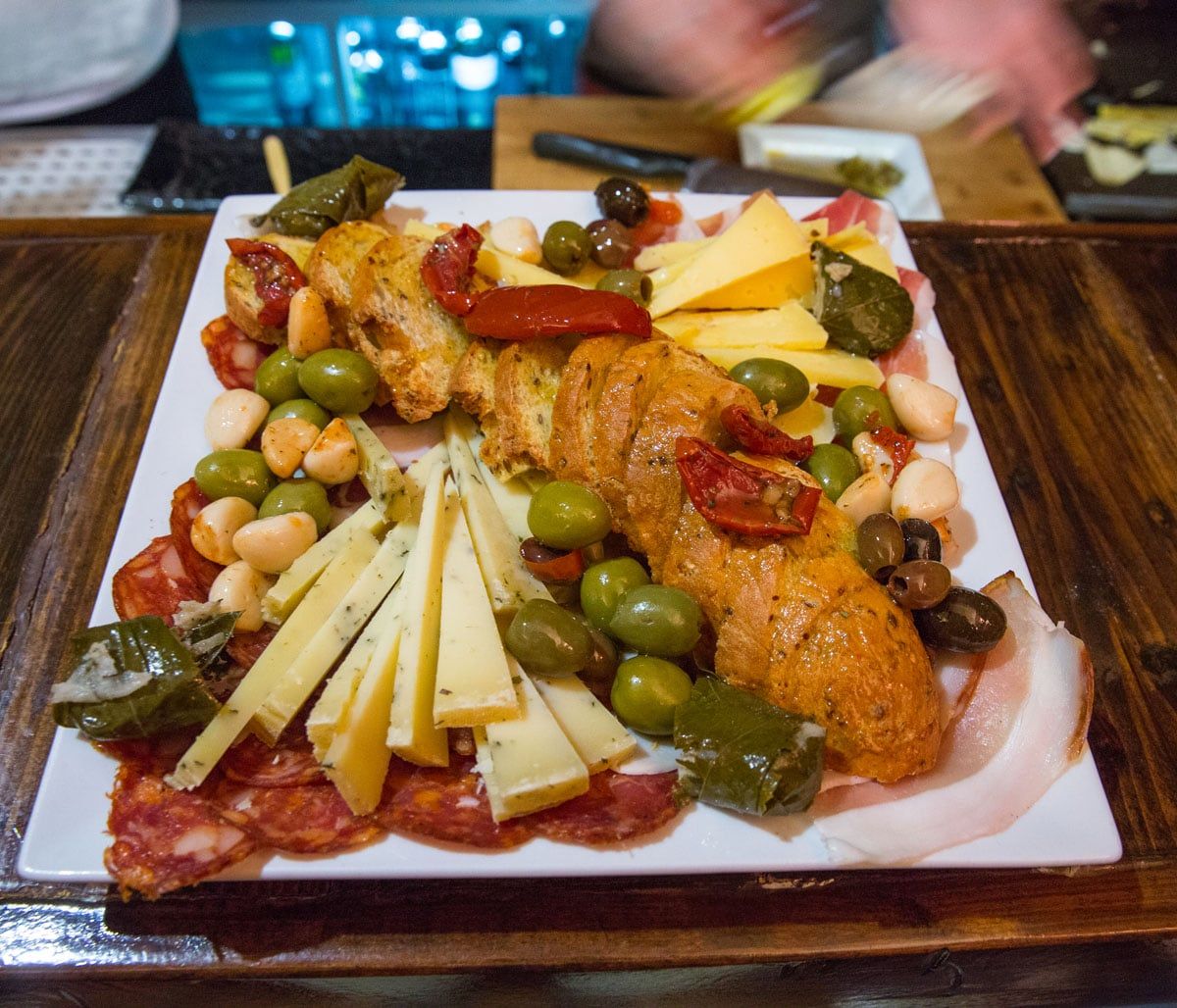 PRO TRAVEL TIP: Call ahead for a reservation, especially during the busier summer months. This is a small place with only a handful of tables. Visit their website here.
10. Eat Your Way through Dubrovnik
With a location on the sea, many restaurants serve fresh fish and seafood. But you can also find Italian, Vegan, Japanese, and Bosnian restaurants in town. We would visit Dubrovnik again just for the food.
This city also makes the perfect location for a food and wine tour. On this 3-hour tour, sample local wines and food as you stroll through the old town of Dubrovnik.
11. Take a Day Trip
It's hard to leave Dubrovnik, but this city makes a great home base if you want to take day trips to explore the surrounding towns.
Korčula. This gorgeous, medieval city located on the Adriatic Sea is the birthplace of Marco Polo. You can also combine a visit to Korčula with Ston and the peninsula Pelješac.
Kotor, Montenegro. If you want a quick visit to Montenegro, consider taking a day trip to Kotor. Montenegro, with its Bay of Kotor and medieval towns, is amazing. We recommend spending two days or more in Montenegro, but if all you have time for is a day trip to Kotor, it will still be time well spent. On this day tour from Dubrovnik, visit Kotor, Perast and take a cruise on the Bay of Kotor.
Mostar, Bosnia & Herzegovina. Mostar is a town in Bosnia & Herzegovina with a charming old town and a bridge that looks like it belongs in a fairytale. On this day tour from Dubrovnik, visit Mostar and Kravica waterfall.
When to Go to Dubrovnik
Visiting in June, July, or August. The summer months are peak season in Dubrovnik. Expect large crowds and hot weather. There could be long queues to get onto the medieval walls. Plan on making reservations at restaurants and booking your accommodations in advance.
Dubrovnik in April. We toured Croatia during the month of April. I was concerned about being here in the off-season, but it was awesome!! Crowds were low, restaurants were open, temperatures were 70°F (21°C), and evenings were a little chilly. It's not ideal weather to go to the beach, however, it was wonderful not having to deal with large crowds of people.
May and September are great months to visit Dubrovnik if you want to avoid the crowds and have warm weather.
Where We Stayed
We stayed at the Villa Ani Apartments, just a 5 minute walk from Pile Gate. This place is awesome, especially for families. We had a penthouse apartment (apartment Ariel) with two bedrooms, one bathroom, a full kitchen and living area. From our windows we could look out over the Dubrovnik Walls and Lovrijenac Fortress. This place was perfect and without a doubt we would stay here again.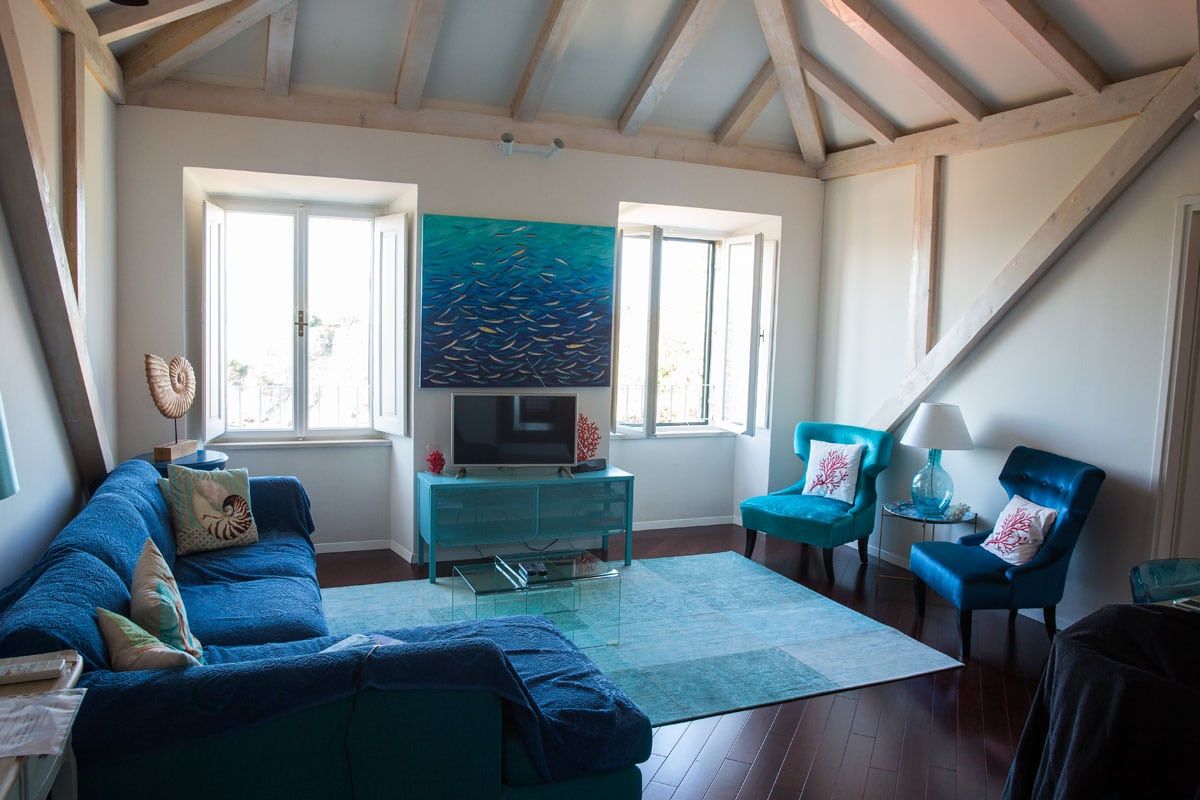 A Few More Ideas of How to Spend Your Time in Dubrovnik
---
If you have any questions about the best things to do in Dubrovnik, let us know in the comment section below.
More Information about Croatia
DUBROVNIK: In addition to this article about the best things to do in Dubrovnik, we also have a guide on Where to Eat in Dubrovnik and an article about how to walk the Dubrovnik Walls.
BALKAN PENINSULA ITINERARY: Learn how to combine Croatia, Montenegro, and Bosnia & Herzegovina into one epic road trip in our 11 Day Balkan Peninsula Itinerary.
PLACES TO GO IN CROATIA: Along the Dalmatian Coast, the towns of Split and Trogir are wonderful coastal towns to add to your Croatia itinerary. We also have information about how to visit the island of Brac, how to explore the amazing Plitvice Lakes, and how to visit the Istrian Peninsula.
ISTRIAN PENINSULA: With 3 days, you can go on a whirlwind tour of the Istrian Peninsula of Croatia. Learn how to visit Pula, Cape Kamenjak, and Rovinj.
NEARBY DESTINATIONS: If your visit to Dubrovnik, Croatia is part of a bigger trip through Europe, don't miss our travel guides for Italy, Slovenia, Montenegro, and Bosnia & Herzegovina.
EUROPE TRAVEL INSPIRATION: Get more travel ideas in our article 10 Days in Europe itinerary, which has 10 itineraries for your next trip to Europe. If you have less time, we also have an article that lists 25 different ways to spend one week in Europe.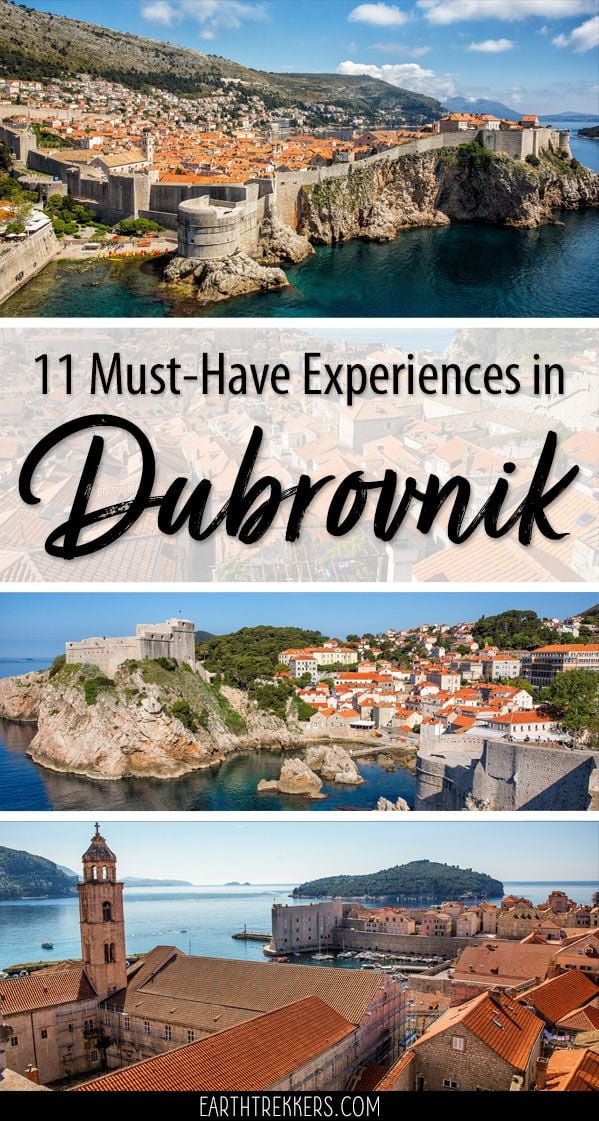 Note: This post contains affiliate links. When you make a purchase using one of these affiliate links, we get paid a small commission at no extra cost to you.
All rights reserved © Earth Trekkers. Republishing this article and/or any of its contents (text, photography, etc.), in whole or in part, is strictly prohibited.