This Balkan Peninsula itinerary is perfect for those who want to explore this gorgeous corner of Europe. Tour three countries, visit coastal, medieval towns, cruise the Adriatic Sea, lounge on some of Europe's most unique beaches, dine on fresh seafood, and climb the highest mountain in the Adriatic Sea, if you desire. Croatia is a joy to explore, Montenegro is full of surprises, and Bosnia & Herzegovina is a beautiful country with a story to tell.
This Balkan Peninsula itinerary is designed as a road trip. You will need to rent a car to tour these countries. By starting and ending in Sarajevo, you can avoid extra drop charges that would come with a point-to-point itinerary. Plus, we found that it was much cheaper to fly into and out of Sarajevo than other cities in the area, such as Split, Dubrovnik, and Kotor.
Why 11 days? We prefer 10-day itineraries, since 10 days is the perfect amount of time for a vacation without taking too much time off of work. However, there is so much to do in this part of the world that the extra day lets you experience more without being too rushed. We did this exact itinerary in April when Tyler and Kara had off of school for Spring Break.
Balkan Peninsula Itinerary: Day 1
Arrive in Sarajevo
Your tour of the Balkan Peninsula begins in Sarajevo, Bosnia & Herzegovina. Depending upon where you are arriving from, you may have limited time and energy today.
Check into your hotel and take a quick nap if you need it. Spend the afternoon exploring Sarajevo. A good place to start is the old town, located in the city center. There are numerous museums and historical sites worth visiting within walking distance of the old town.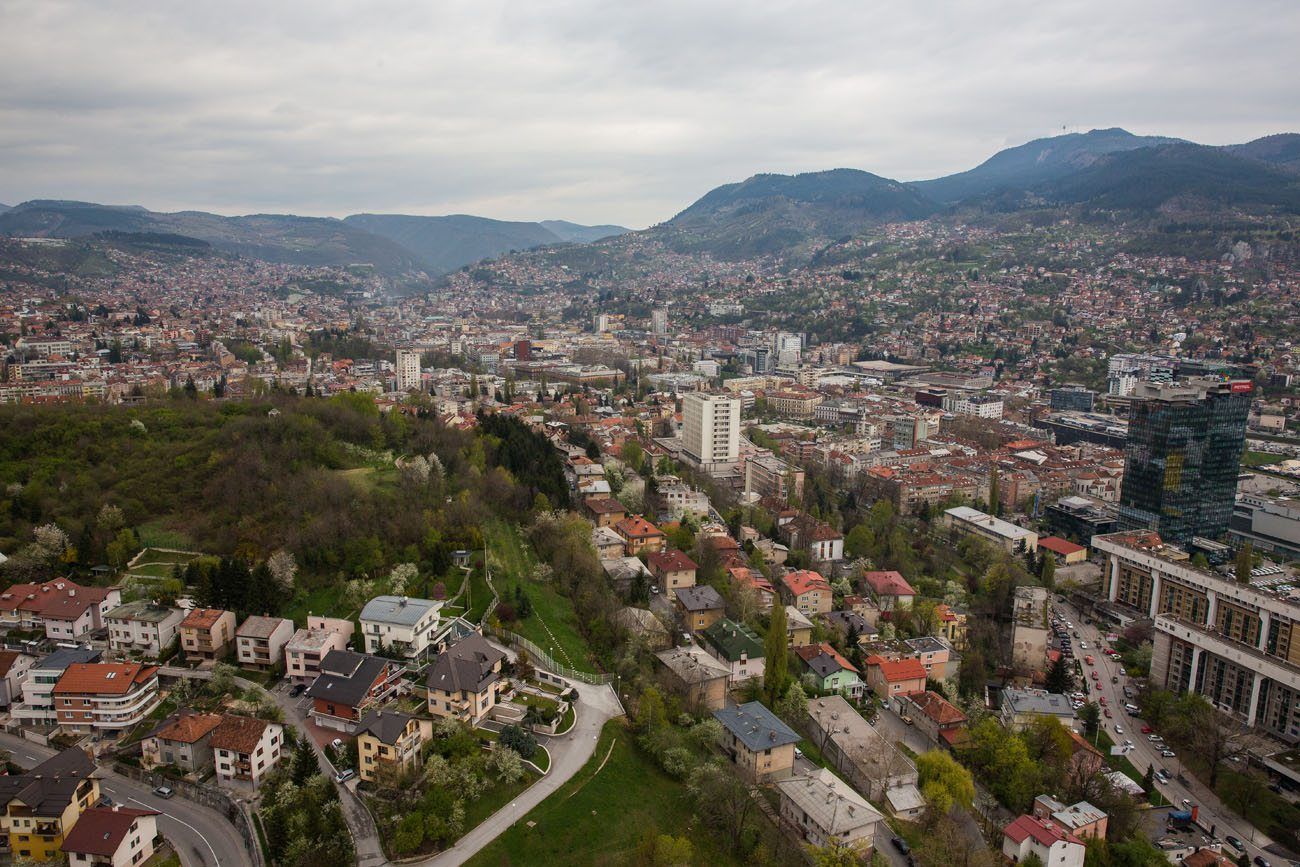 Don't try to see everything today. You will be back to Sarajevo again at the end of this trip.
Where We Stayed: We stayed at the Courtyard by Marriott in Sarajevo. This is a great Marriott property. It is centrally located in town and we could walk to the Old Town in just a few minutes. The hotel was clean, quiet, and the staff were amazing. From the Sky Bar you can have a great view over the city.
Balkan Peninsula Itinerary: Day 2
Drive to Split, Croatia
This morning, after breakfast in town or at your hotel, drive to Croatia. To drive from Sarajevo to Split, it takes between 4 and 4.5 hours. There are several routes you can take. We took E73 almost all of the way to Croatia, driving past Mostar. Just before the Croatian border, we took M6 to A1 to the border. Crossing the border was fast and easy, taking us less than 5 minutes. Once in Croatia, we drove on E65, a wide highway, all of the way to Split.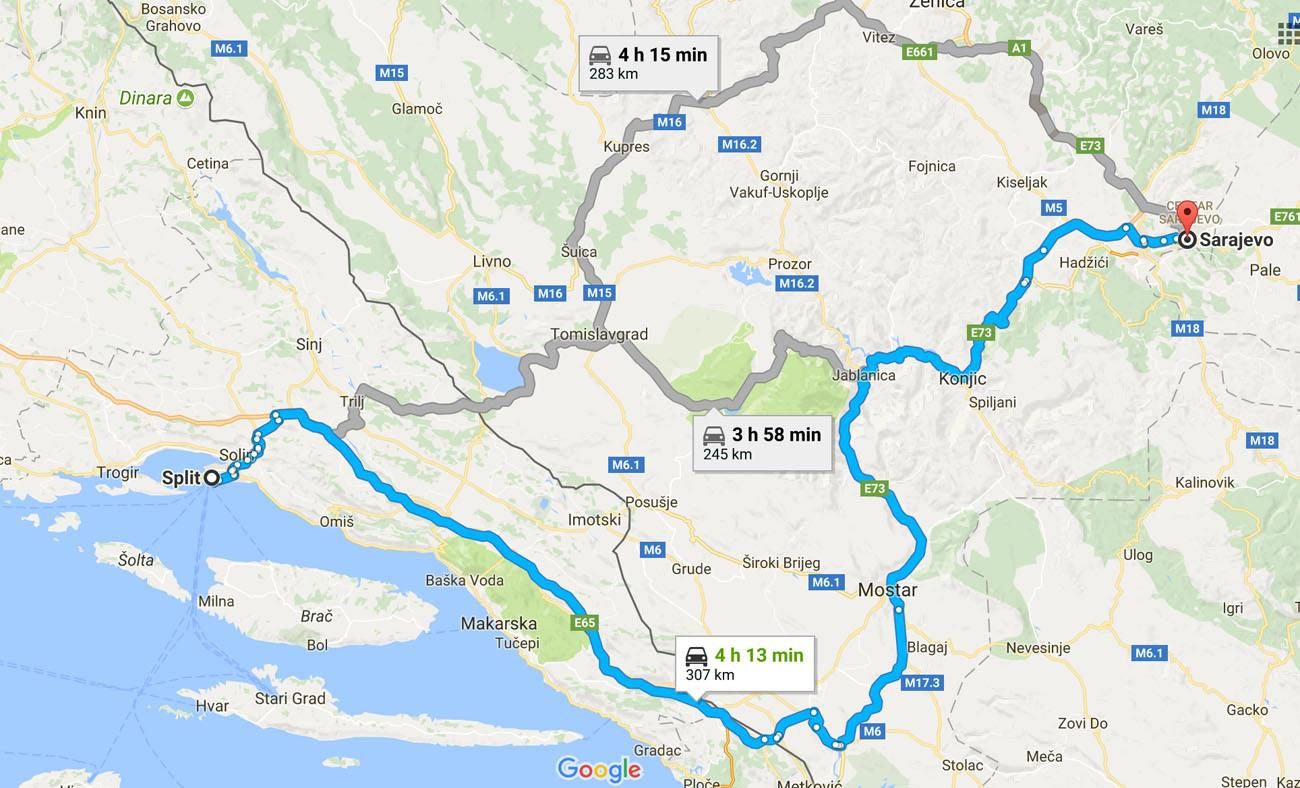 If you look on Google Maps, there is an alternative route. At Jablanica, in Bosnia & Herzegovina, you can take a series of smaller roads on a more northern route to Split. This route is shorter in distance and Google says it is 15 minutes quicker. We chose the longer route through Mostar because that is what our hotel staff recommended and we couldn't resist a quick peek of Mostar on the way to Croatia.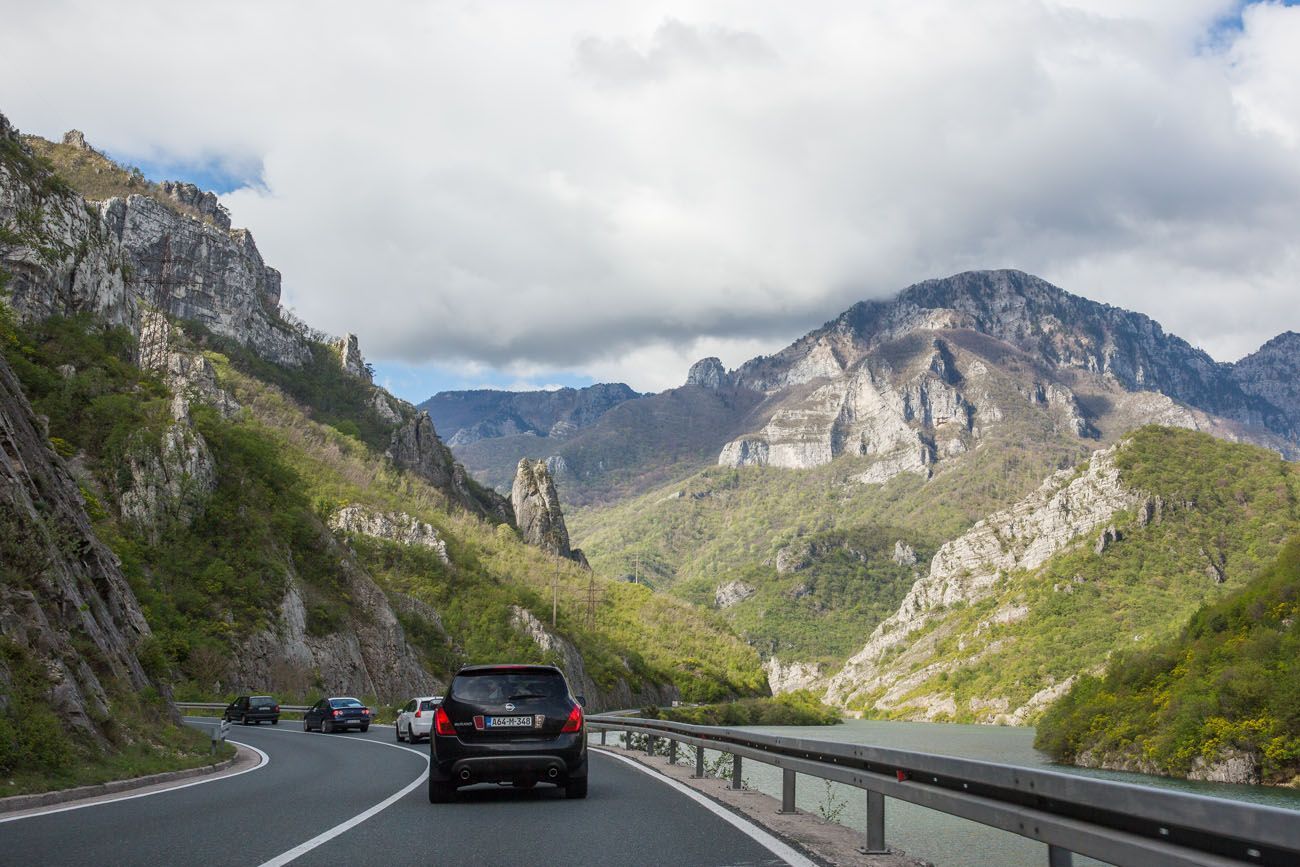 Driving in Bosnia, between Sarajevo and Mostar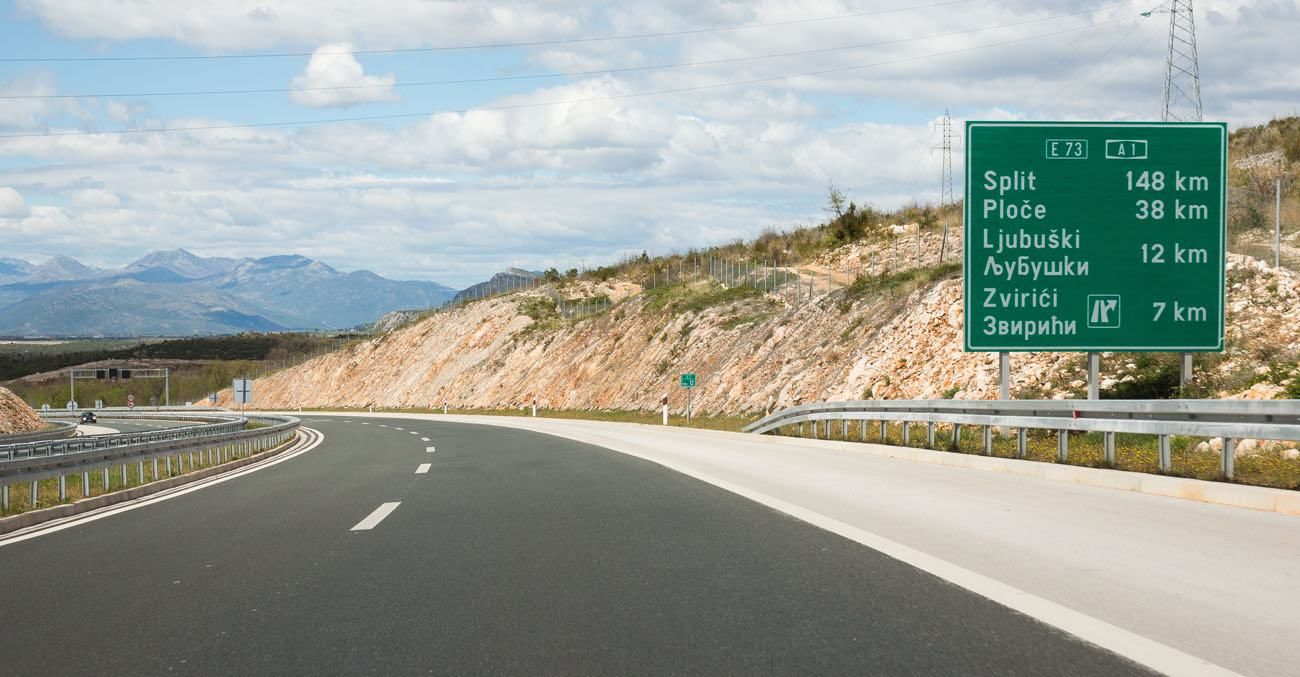 Before driving into Split, there are two optional destinations to consider. If you are staying in the old town of Split, getting into and out of this area by car is almost impossible and a big hassle. It helps to see these two sites now while you are still conveniently in your rental car.
Klis Fortress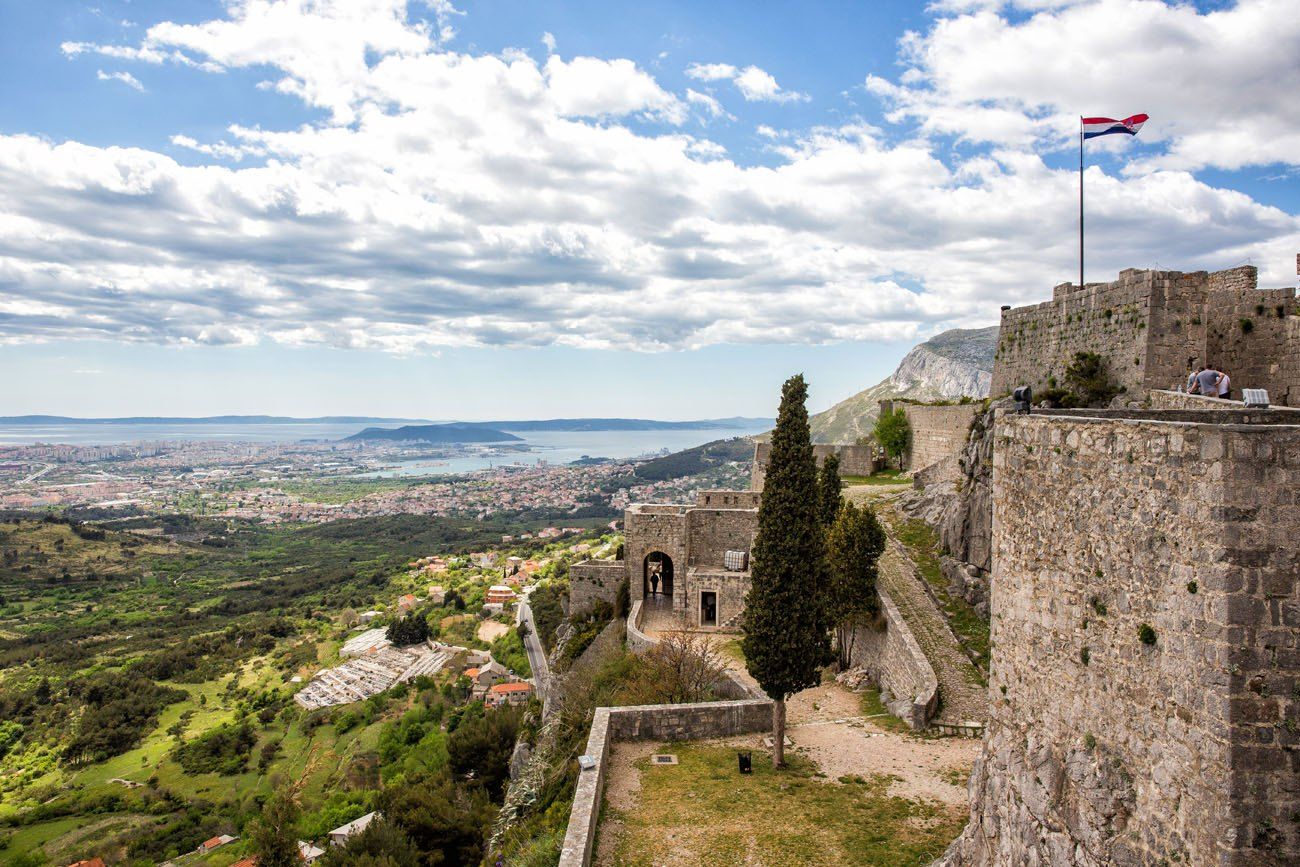 Just outside of Split is Klis Fortress. This ancient fortress has a long history, being the site of multiple battles with the Knights Templar, Ottomans, and the Mongols, just to name a few. From Klis Fortress, enjoy panoramic views of Split and the Dalmatian Coast. This is also the Game of Thrones filming location for Meereen. A visit here lasts about an hour.
Trogir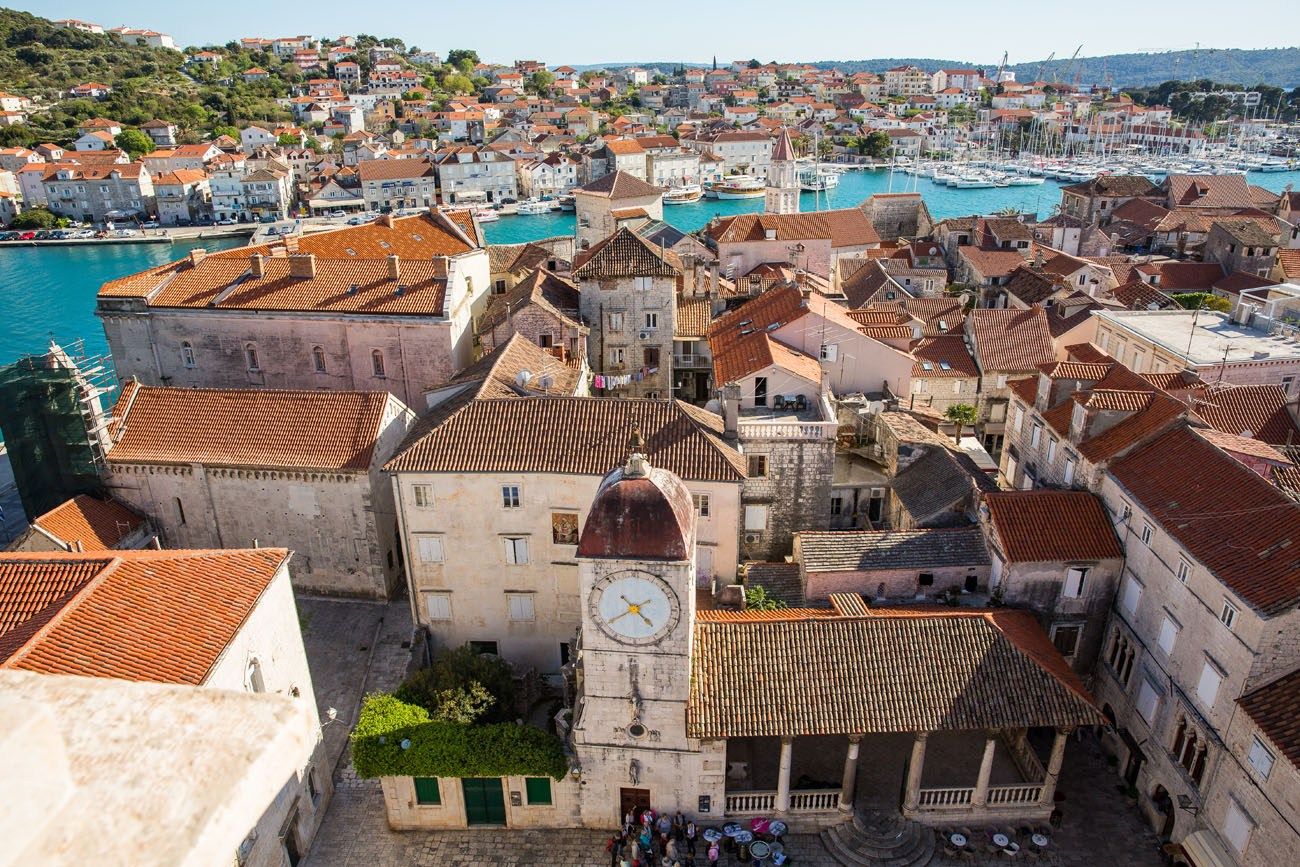 Trogir is a separate coastal city just 35 minutes away by car or bus and one hour by ferry. This is a gorgeous, tiny town to visit. The entire Old Town is located on an island. You can tour Trogir in just an hour or two, if you move super fast, but a half-day or longer is ideal.
Drive back to Split and check into your hotel. Spend the evening walking the streets of Diocletian's Palace and have dinner in town.
Where We Stayed: We stayed at the Palace Judita Heritage Hotel. This four-star hotel is a bit of a spurge for us, but with its unbeatable location and fabulous customer service, it was worth it. Palace Judita is located on Narodni Trg, the main square in the Old Town. We had a rental car, which we had to park just outside of the Old Town. Hotel staff met us at our car, picking us up in a golf cart and driving the four of us and our luggage to the hotel. For one night we had had two rooms, with one of the rooms looking out over the main square. If you are looking for an upscale hotel in the center of town, consider Palace Judita.
Balkan Peninsula Itinerary: Day 3
Split and a Croatian Island of Your Choice
Most of today will be spent exploring Split. Explore Diocletian's Palace, enjoy the view from the bell tower of St. Domnius Cathedral, stroll the Riva Promenade, and sample some Croatian food.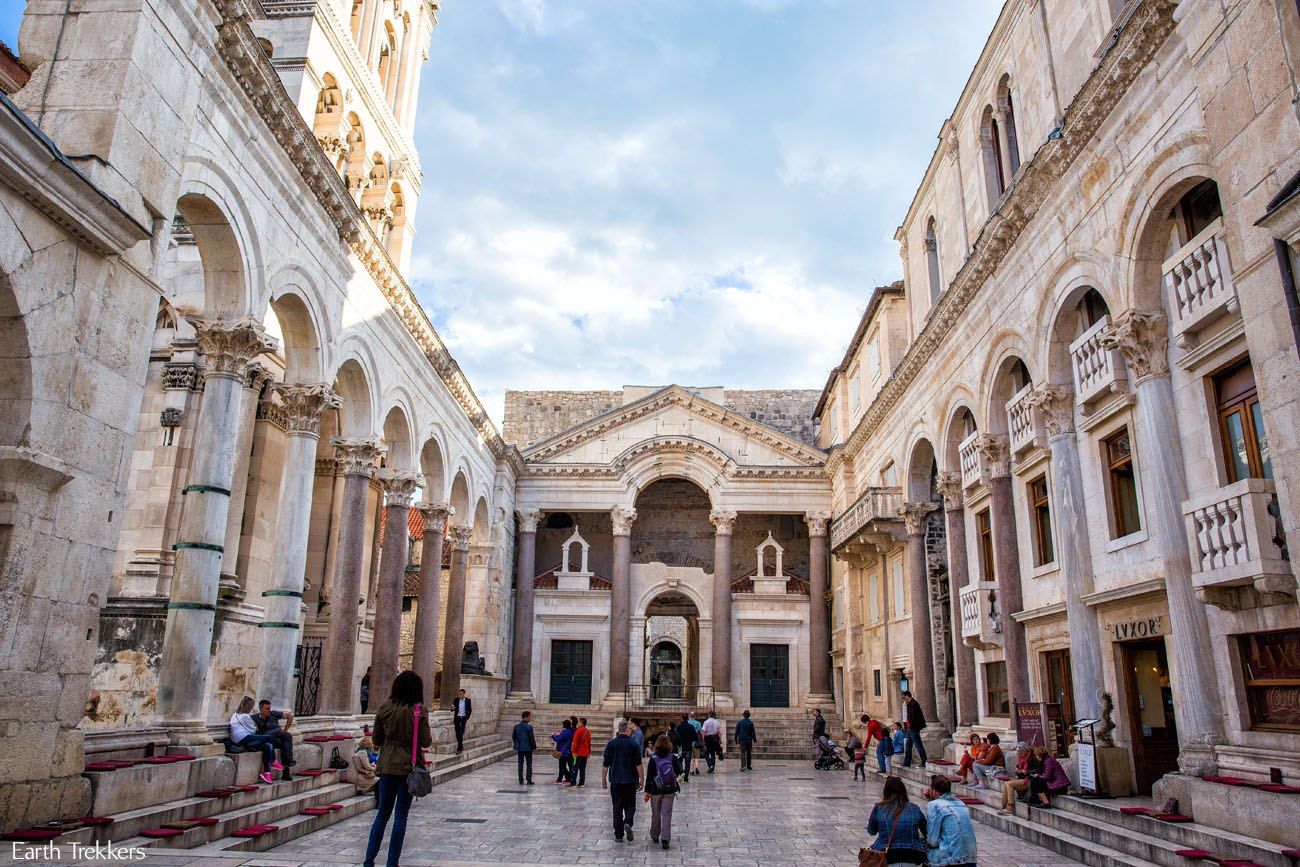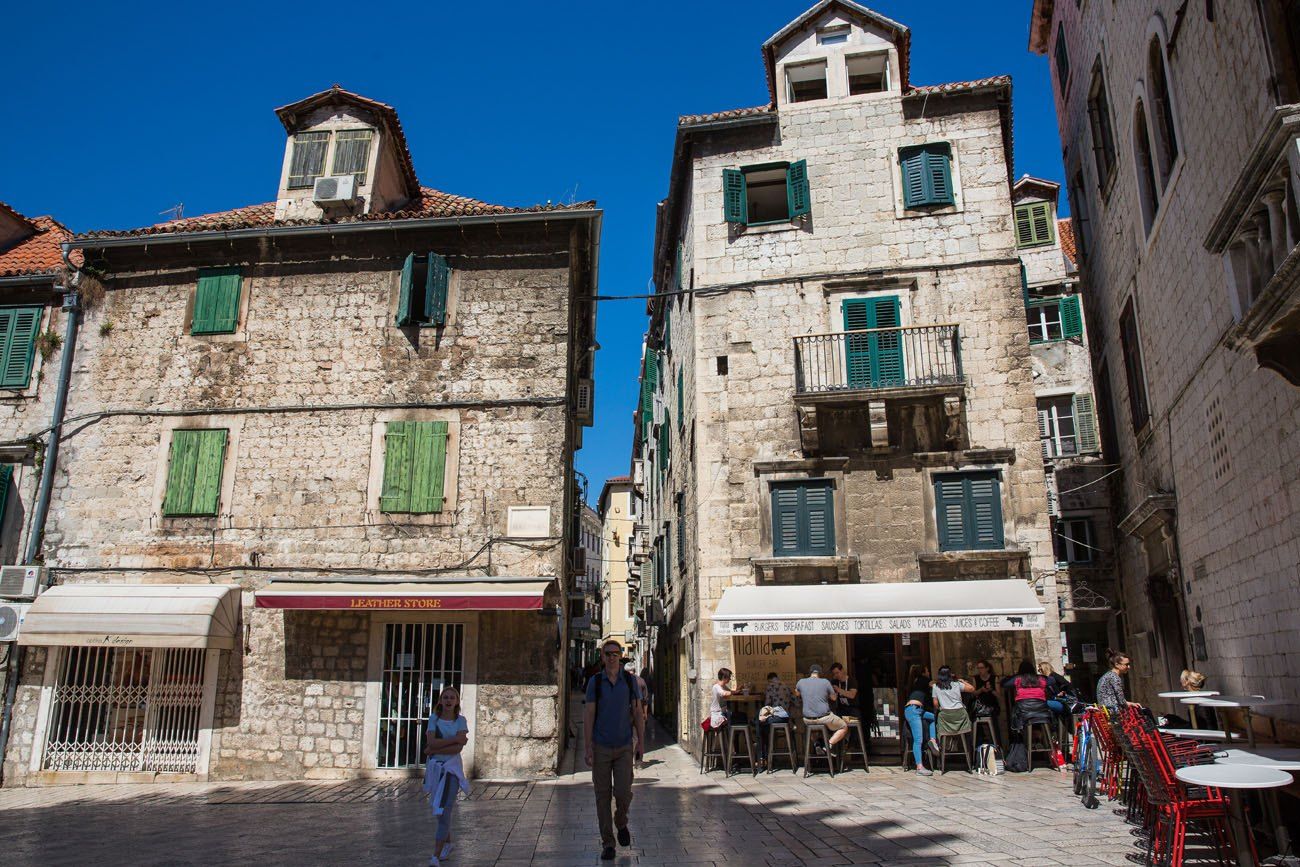 While in Croatia, you should take the time to visit at least one island. From Split, you have the option to cruise to one of several islands on the Adriatic Sea. Hvar is a popular pick, a glitzy destination known for its party-like atmosphere and scenic harbor. Vis is less known and a bit out of the way, but this is the place to leave the tourists behind.
We chose Brac because we wanted to hike Vidova Gora, the highest point in the Adriatic Sea. Brac is also home to Zlatni Rat, a thin sliver of beach that is one of the icons of Croatia.
This afternoon, sail to the island of your choice and spend the evening exploring.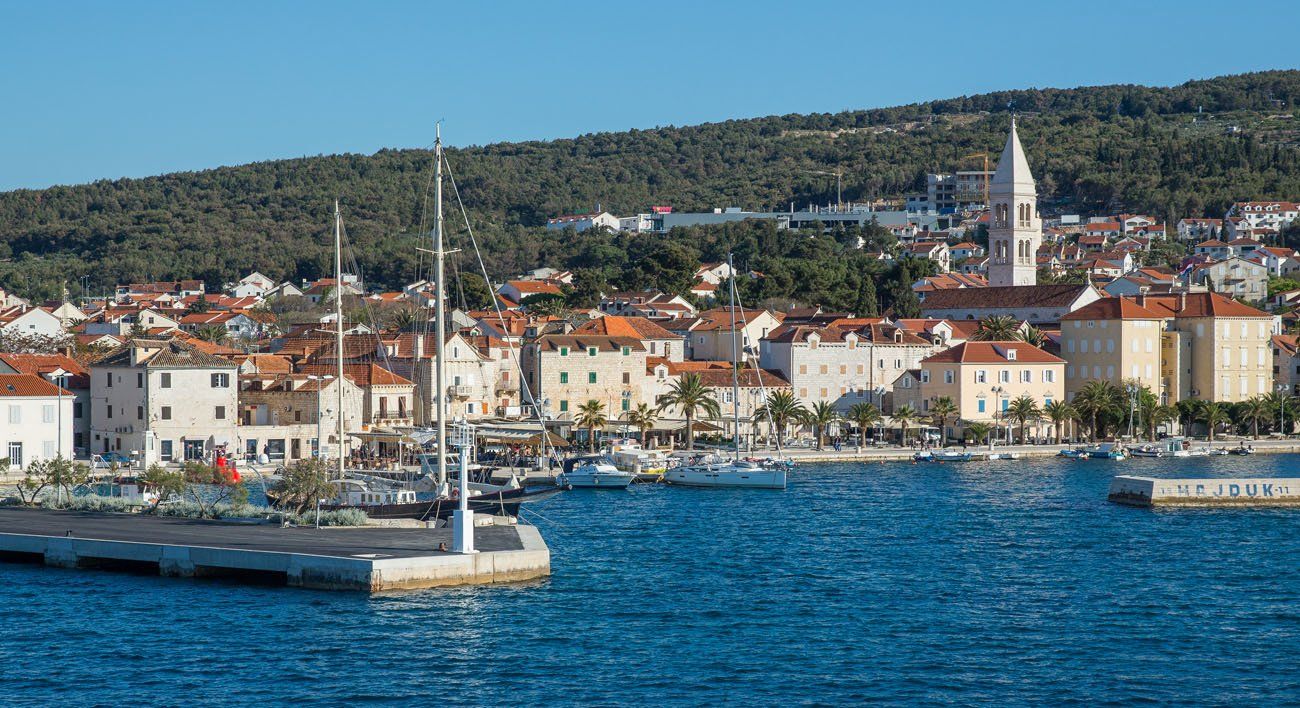 Arriving in Supetar, Brac
How to Use the Ferry in Croatia
To get from Split to these islands you will take a ferry. These ferries run once to several times per day, depending on your destination. Many more ferries run during peak season, the summer months, than at other times of the year. When searching for a ferry, make sure you put in the correct dates. Also, since you have a rental car, make sure you choose a ferry that allows cars. Plan on booking your ferry a few days to a few weeks in advance.
Even if you book a specific time slot, it is still first in line, first on the ferry. If you get to the ferry too late, you may not get a spot, even if you have a ticket for that time slot. During the summer months, you should have your car in line up to 2 to 3 hours before the ferry is scheduled to depart. You can put your car in line, go off and do something else, then return to your car 30 minutes before departure.
To see timetables and book your tickets, visit the Croatia Ferries website.
Balkan Peninsula Itinerary: Day 4
Drive to Dubrovnik
Spend the first part of the day exploring the island of your choice. We used this time to hike up Vidova Gora and visit Zlatni Rat.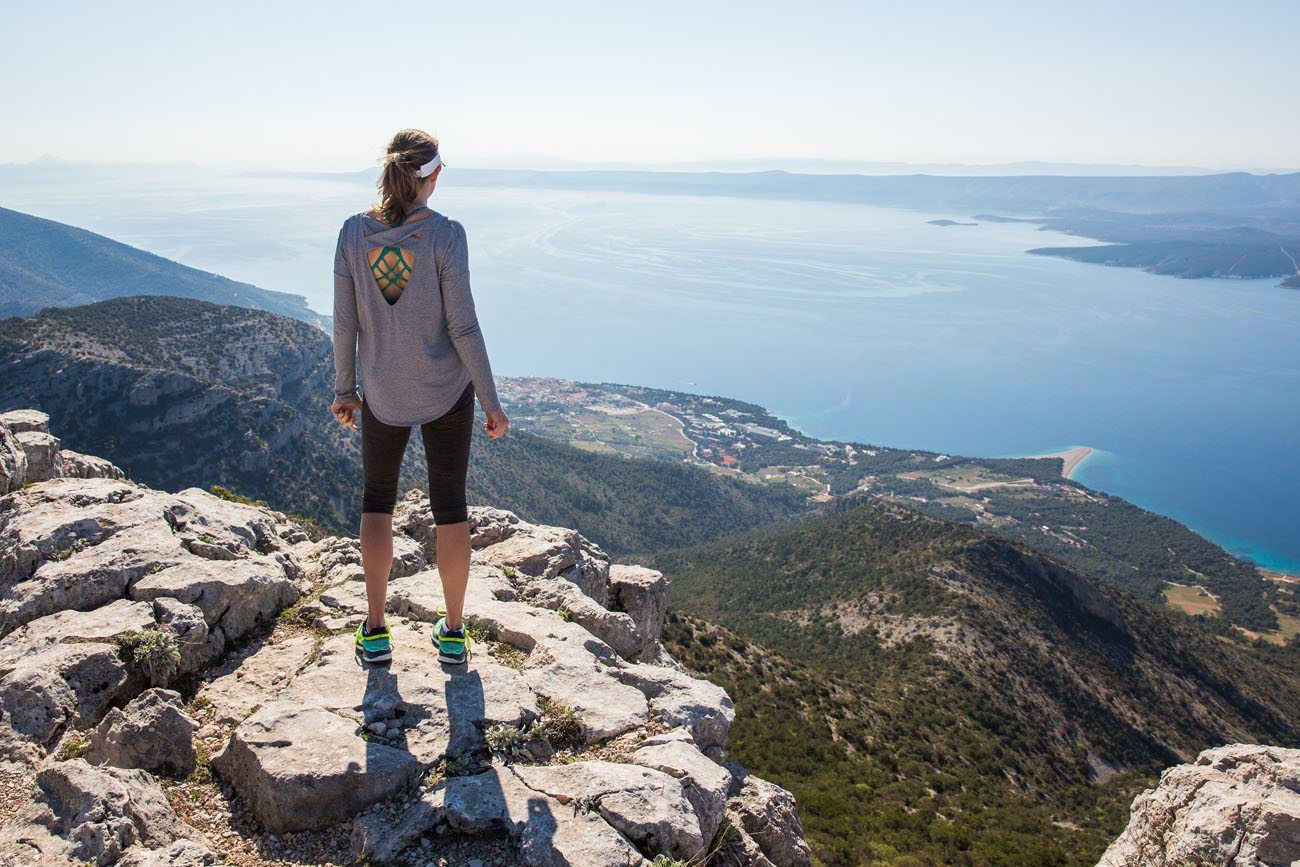 The view from Vidova Gora.
In the early afternoon, we took a ferry from Brac to Makarska on the mainland. In Makarska, we ate a very early dinner, walked along the beach, and then drove south to Dubrovnik. From Makarska, it is a 2.5 hour drive. On this drive, you will have to cross the border again, since there is a small sliver of Bosnia & Herzegovina that splits Croatia into two pieces. During our visit, this border crossing was quick and painless, but it was also 7 pm.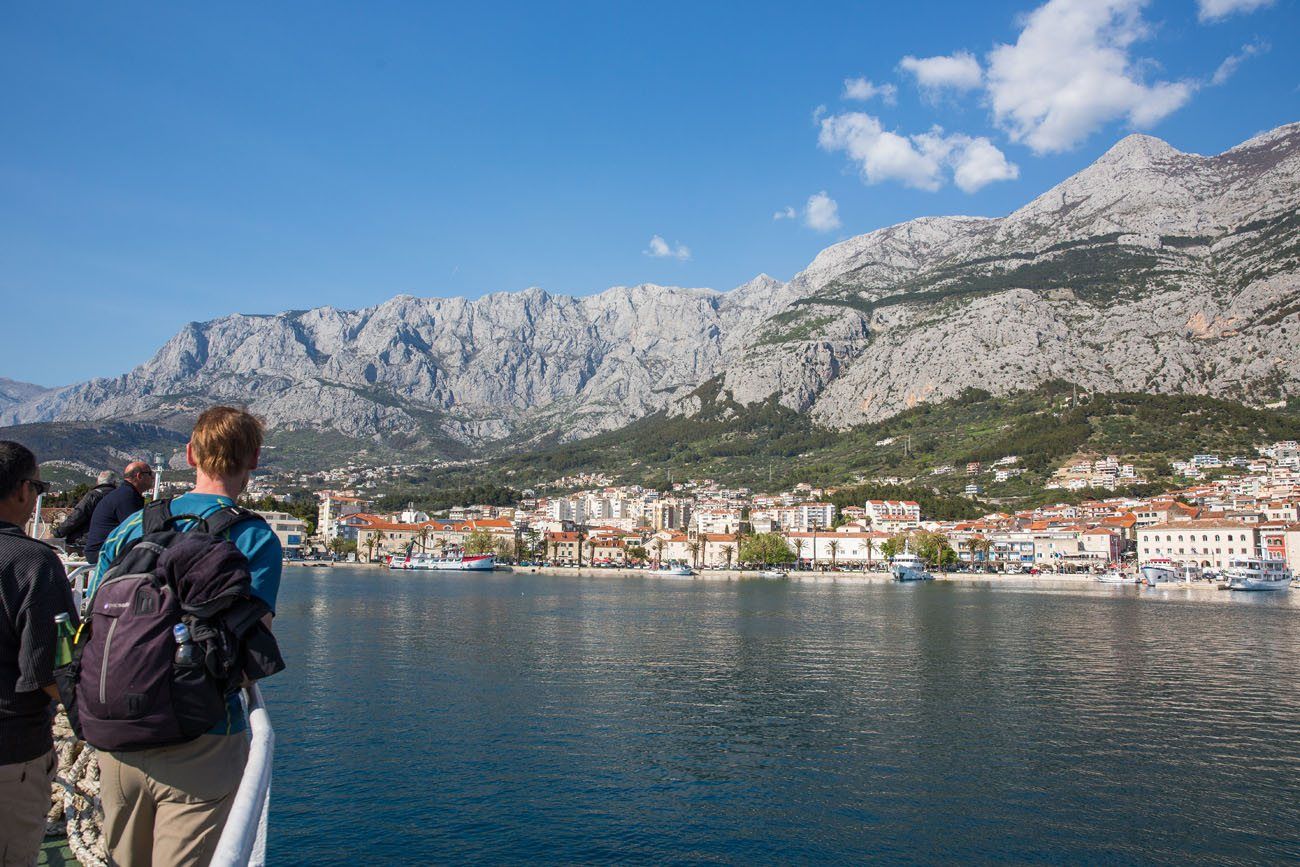 On the ferry to Makarska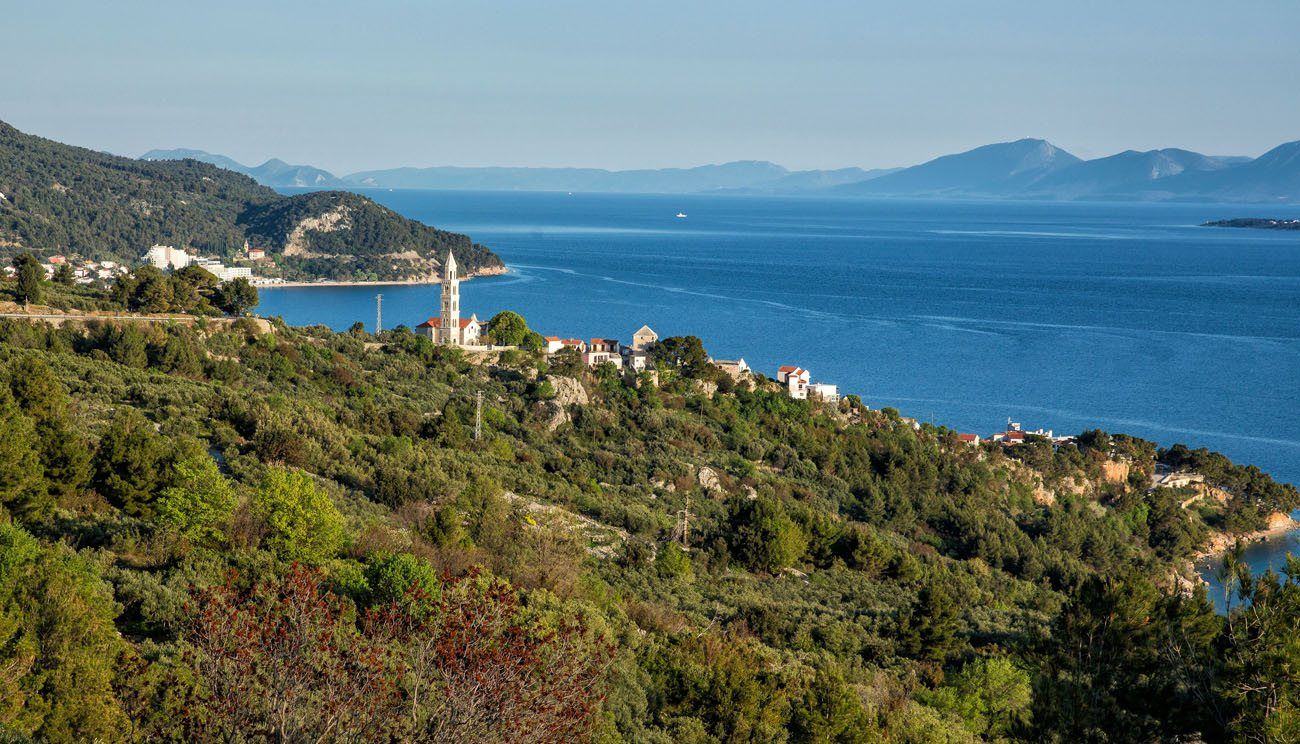 Driving down the Dalmatian Coast
Arrive in Dubrovnik and get settled into your hotel.
Where We Stayed in Dubrovnik: We stayed at the Villa Ani Apartments, just a 5 minute walk from Pile Gate. This place is awesome, especially for families. We had a penthouse apartment (apartment Ariel) with two bedrooms, one bathroom, a full kitchen and living area. From our windows we could look out over the Dubrovnik Walls and Lovrijenac Fortress.
Balkan Peninsula Itinerary: Day 5
Dubrovnik
Today you will explore the awesome city of Dubrovnik. For some people, this just may be the highlight of this entire Balkan Peninsula itinerary. It is also nice to take a break from driving and from getting on and off the ferry.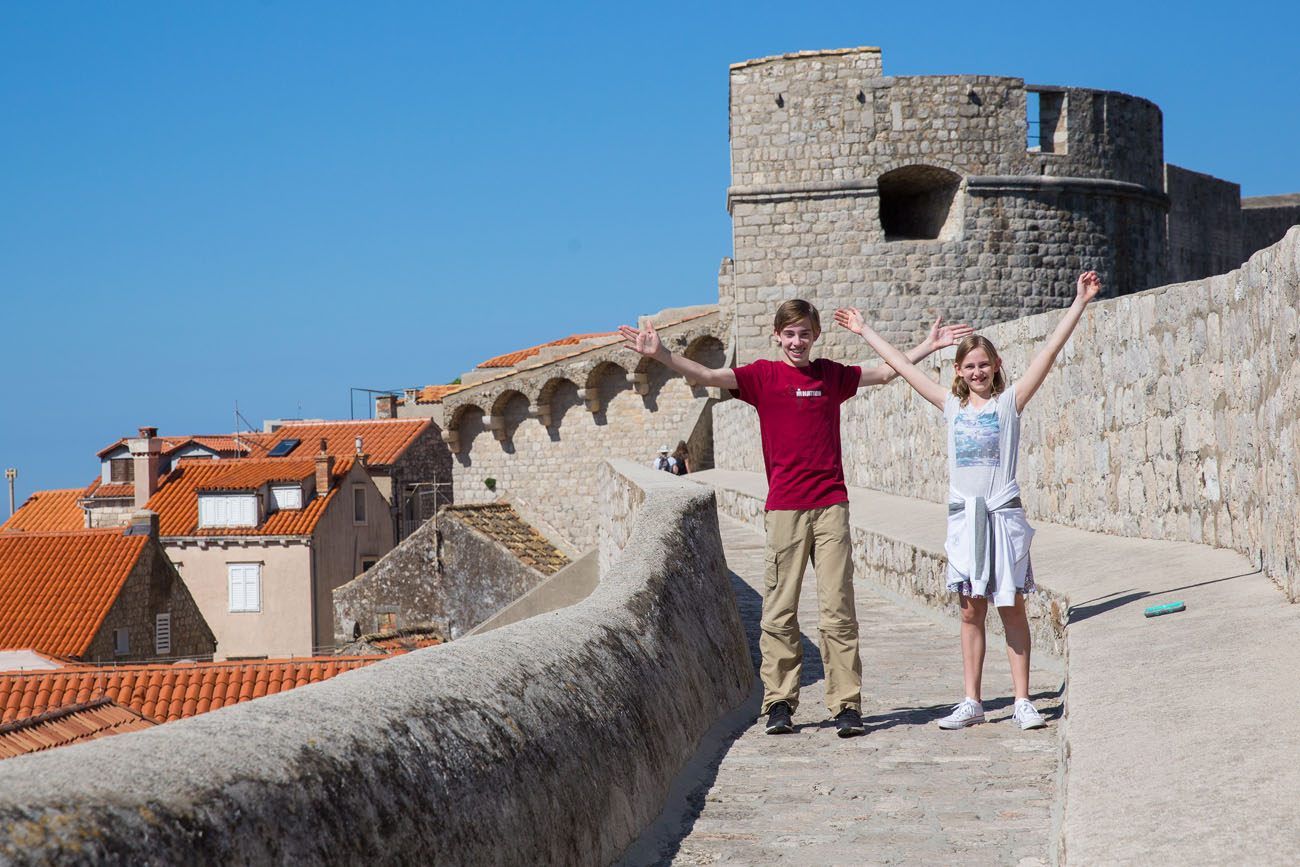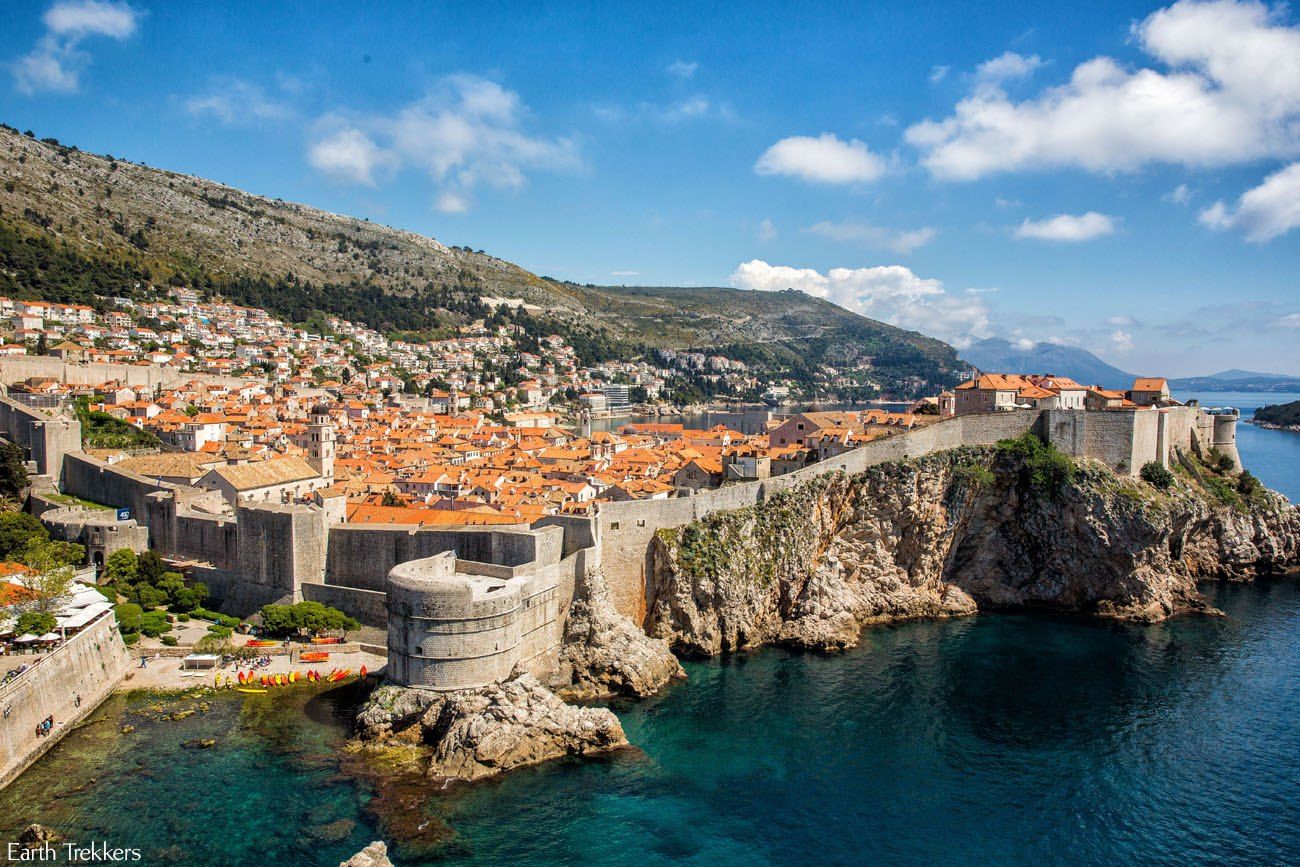 If you see Dubrovnik's must-see sights today, that gives you the option to take a day trip out of the city tomorrow. Don't miss walking the medieval walls, the view from the cable car, wandering the old town, and visiting Fort Lovrijenac.
Dubrovnik is filled with wonderful restaurants. If you are visiting during the summer months, make your dinner reservations in advance.
Balkan Peninsula Itinerary: Day 6
Dubrovnik or Take a Day Trip
There is plenty to do in Dubrovnik to justify spending a second day here. Or maybe, if you are like us, you will fall in love with Dubrovnik and find it hard to leave. We spent our second day in Dubrovnik wandering the old town some more, dining at as many restaurants as possible, and just enjoying this very cool, very interesting city.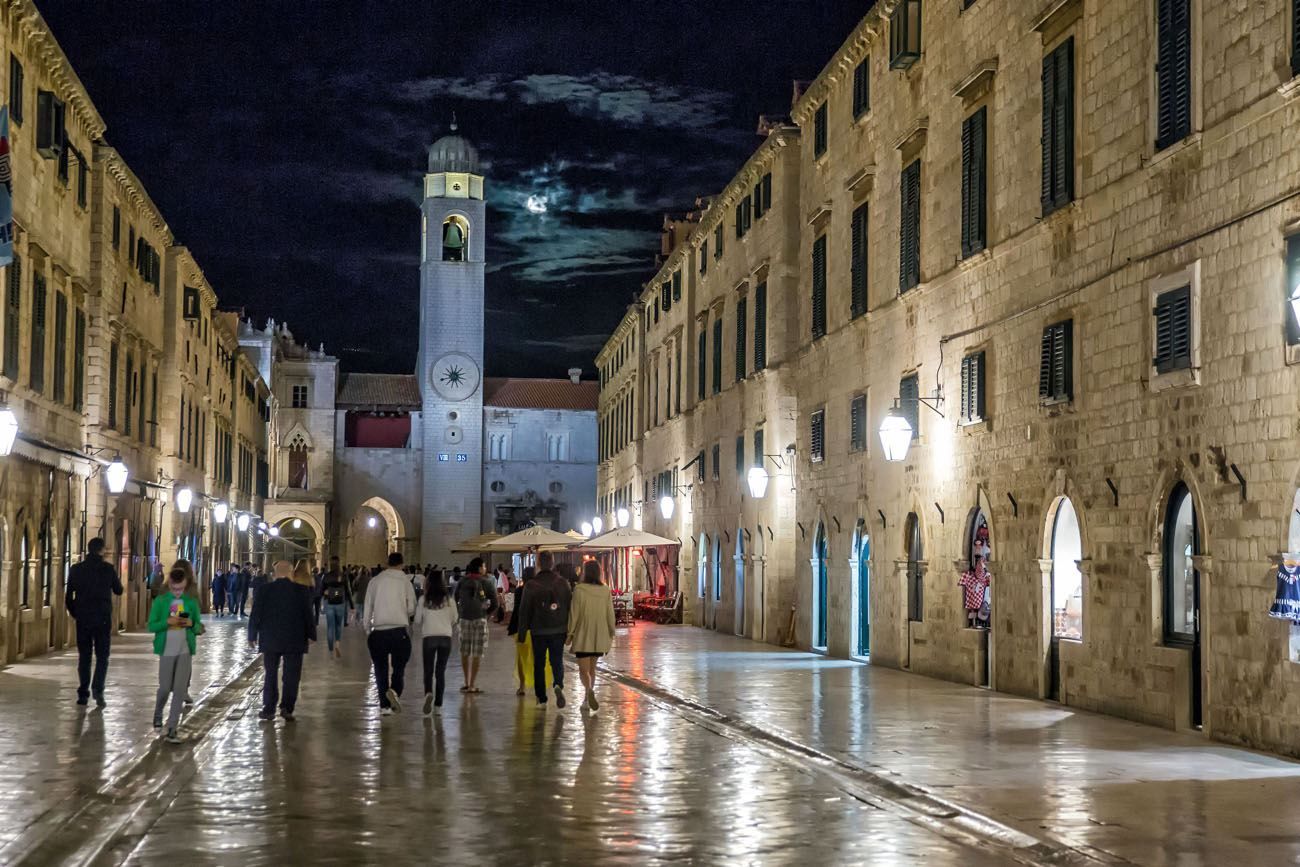 Dubrovnik at night
However, if you do want to explore more, Korcula makes an excellent day trip from Dubrovnik. It's a bit inconvenient to get there, but that keeps crowds low and makes it a quieter, more tranquil experience than Split or Dubrovnik.
During the summer months, these two cities are linked by a ferry several days of the week (click here to see the timetables). The journey by ferry takes approximately 2 hours. Or, you can drive from Dubrovnik to Orebic (2 hours) and take a ferry from Orebic to Korcula (15 minutes, multiple ferries per day).
Balkan Peninsula Itinerary: Day 7
Montenegro
I know, it's sad. It's time to say goodbye to Croatia. It probably still feels like you just got here. But don't worry, Montenegro is just as amazing as Croatia and it is so much fun to explore.
After breakfast, check out of your hotel and drive south to Montenegro. We stopped at Cavtat, in Croatia, along the way, but did not have the best experience. The roads were torn up for construction, causing delays and traffic jams. Once we finally got down to the harbor we were not impressed, not after Dubrovnik and Brac Island. Unless you are really curious about what Cavtat is all about, I'd skip it. Better towns are waiting to be explored in Montenegro.
From Dubrovnik it takes 45 minutes to drive to the Montenegro border. You will need your passport and green card (for the rental car) to cross the border.
Once in Montenegro, it is a short drive to Herceg Novi. This cute town is worth at least an hour or two of your time. Stroll through the old town, climb the Kanli-Kula Fortress for a beautiful view of the town and the Bay of Kotor, and visit the Savina Monastery, if you desire. We ate an early lunch at Portofino, located in the main square of the old town.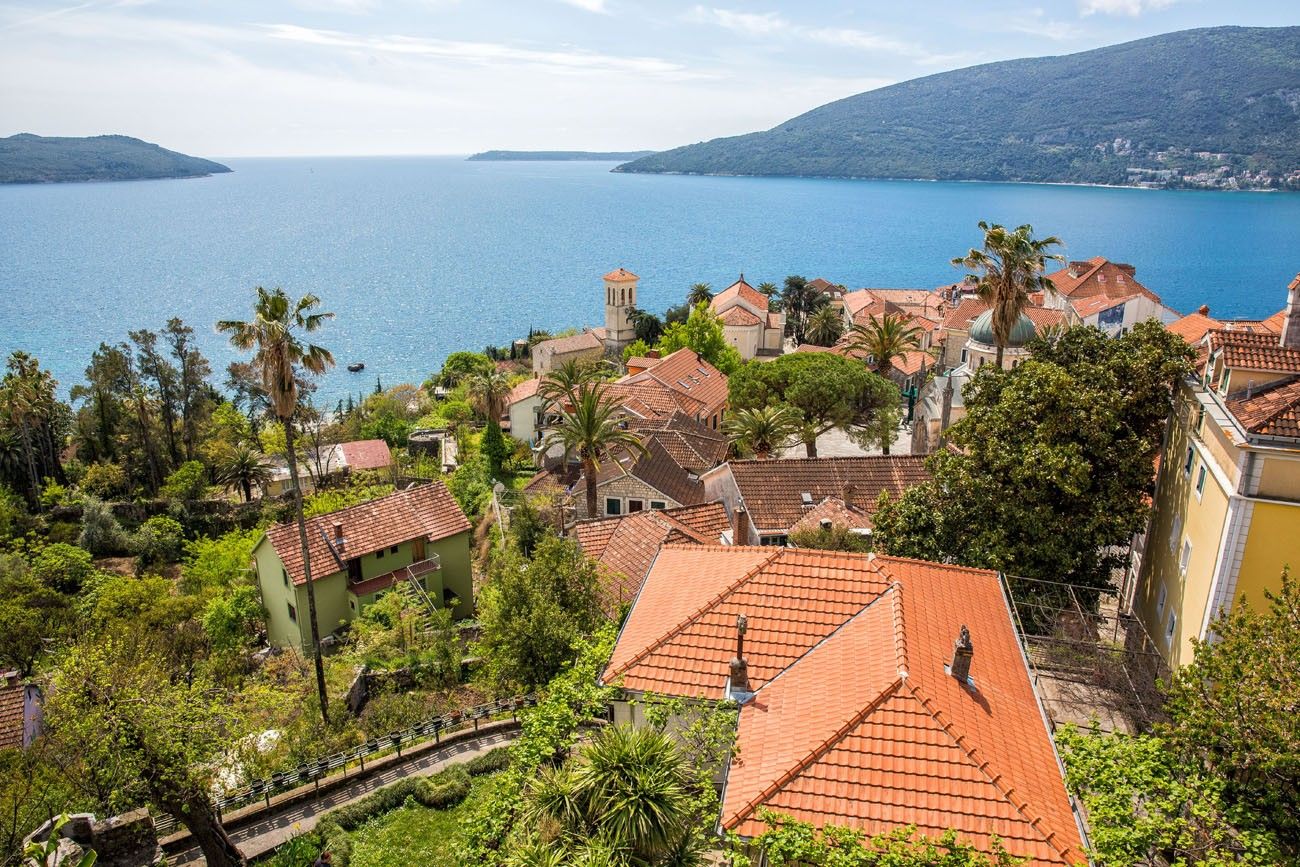 View from Kanli-Kula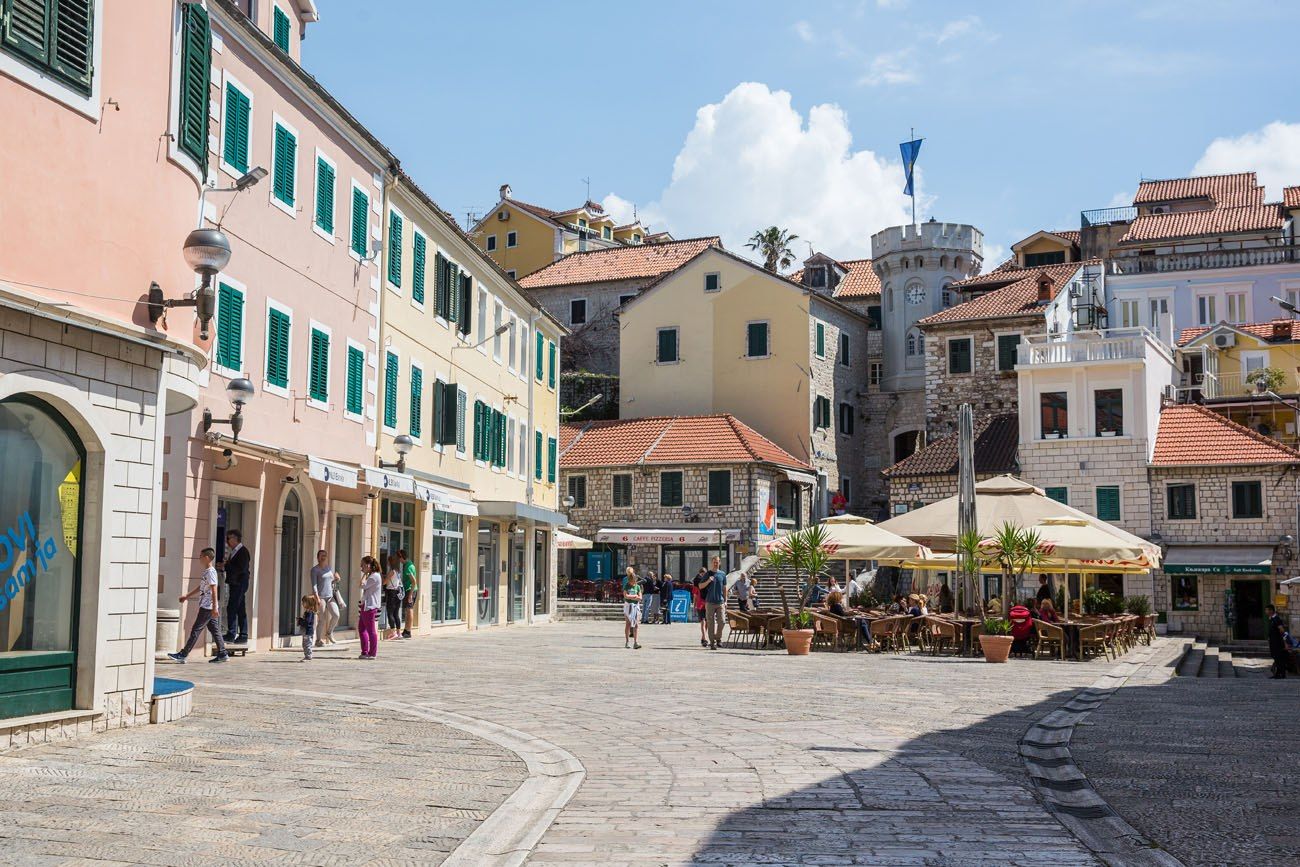 The Old Town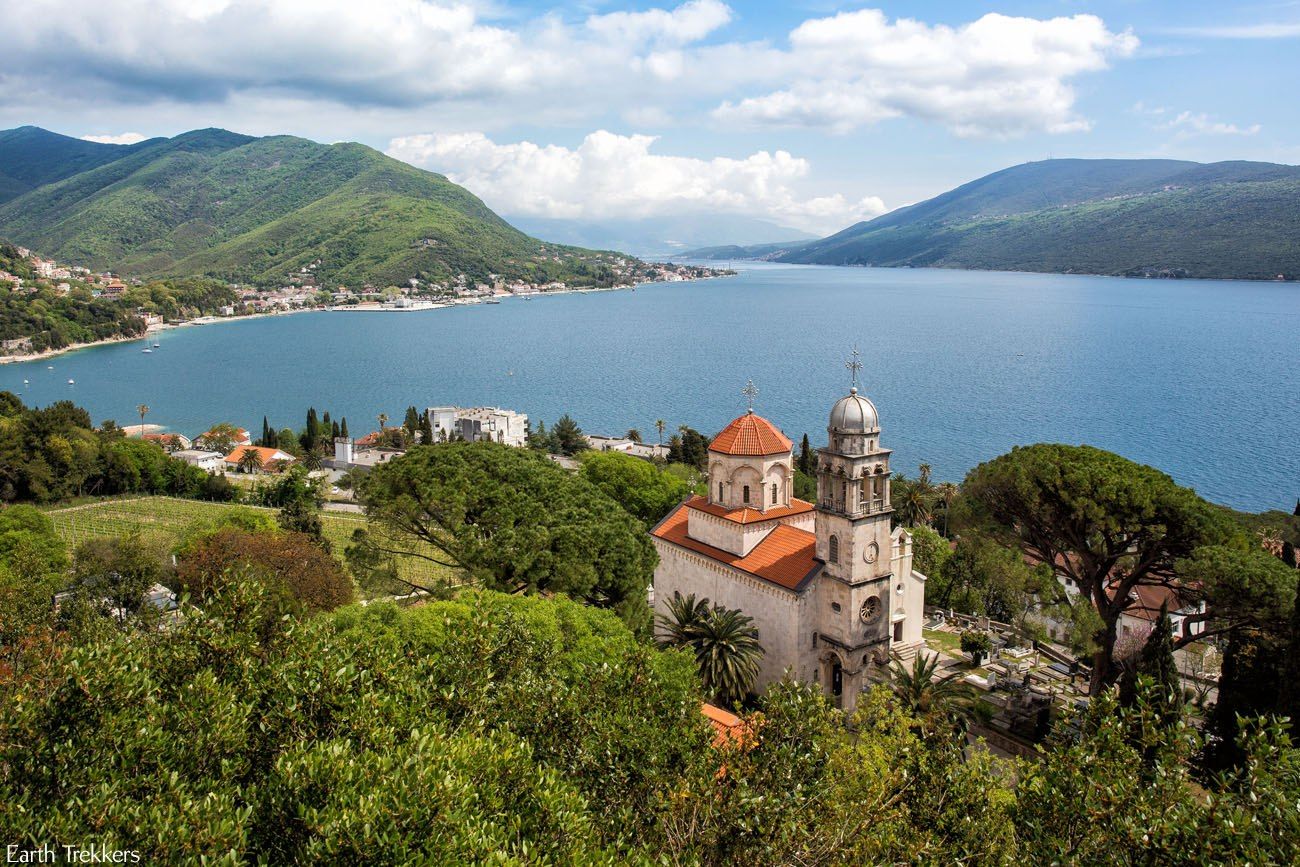 Savina Monastery
From Herceg Novi, drive clockwise around the Bay of Kotor. It takes about 45 minutes to get to Perast, the next stop of the day. This is a beautiful town to visit, but the best thing to do here is to hire a boat to Our Lady of the Rocks. This excursion takes about one hour.
Perast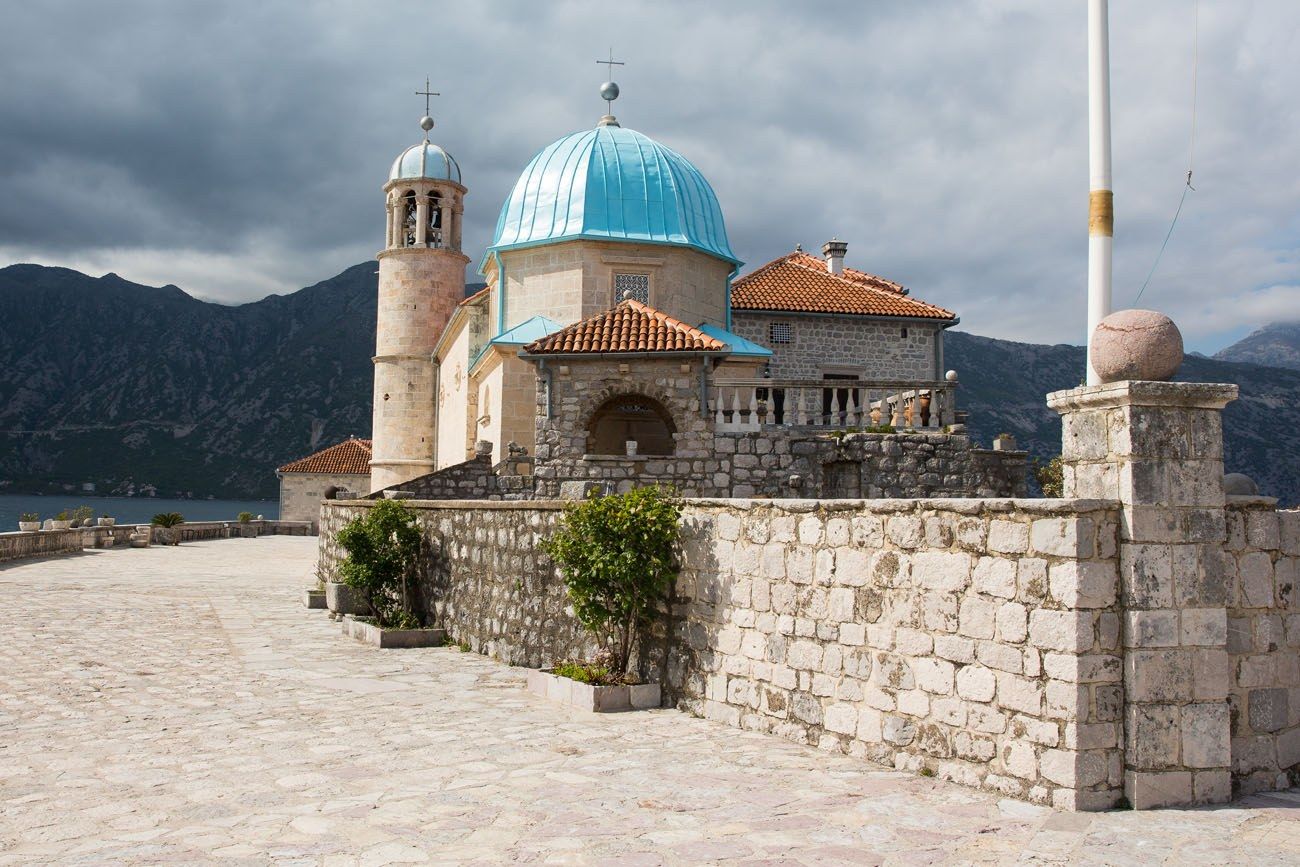 Our Lady of the Rocks
Today's road trip ends in Kotor. Get settled into your hotel and then spend the rest of the day exploring the town.Kotor is a small medieval town. You can walk the entire town in an hour or less. But the thing you must do while you are here is to climb the city walls. This is an awesome experience, similar to walking the walls in Dubrovnik. It's a strenuous climb on uneven steps and cobblestone trails, but a visit to Kotor would not be complete without getting this view.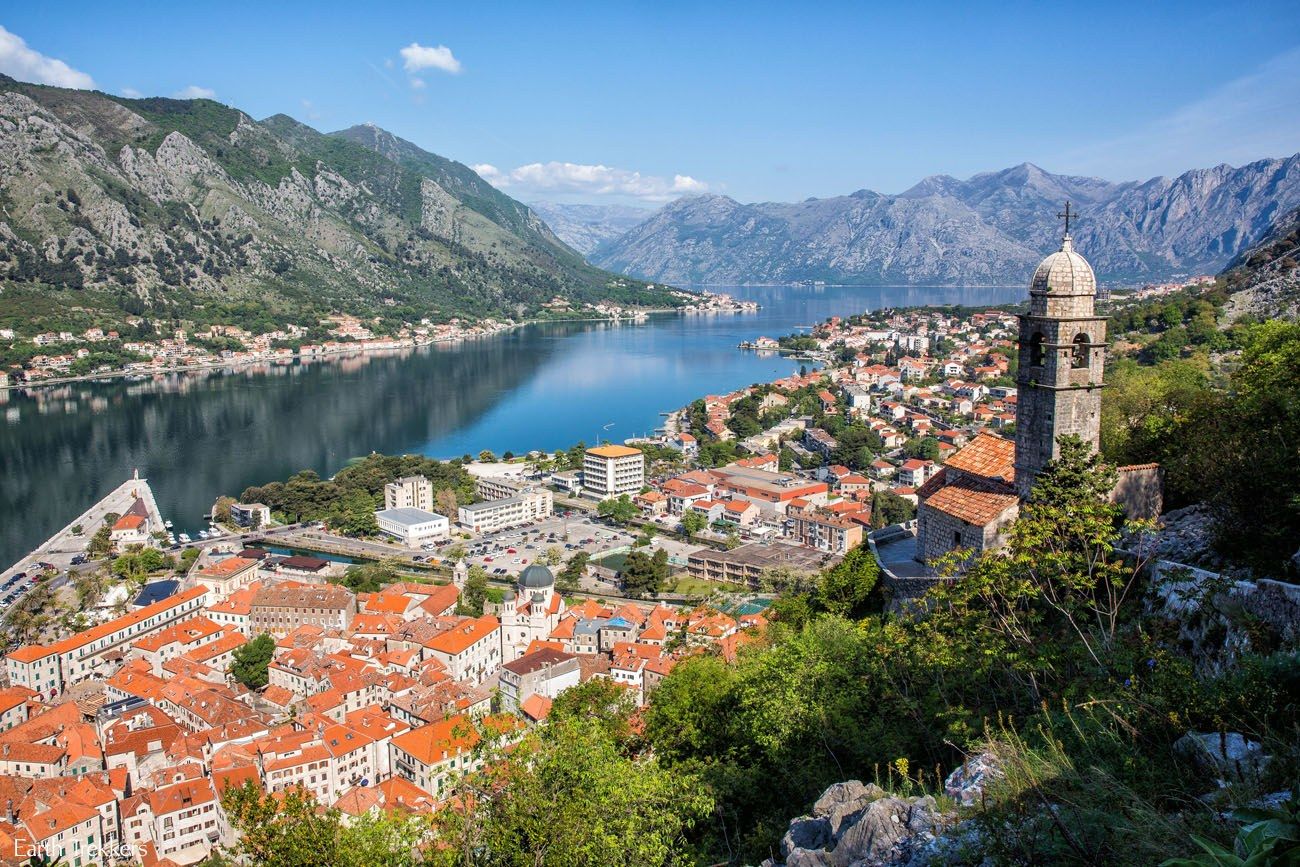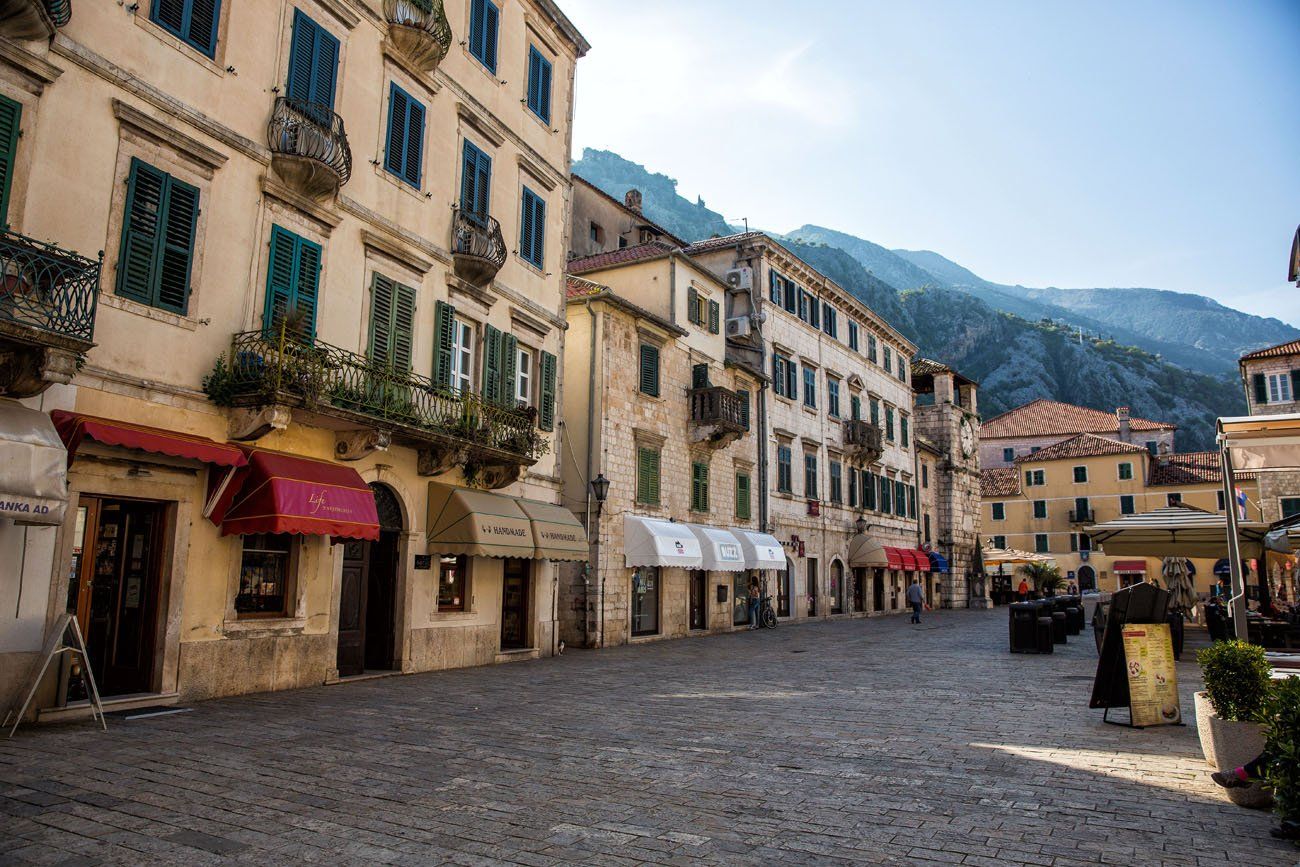 If you are here early enough in the day (and want to go hiking), consider hiking the Ladder of Kotor. This is a strenuous 6 to 8 mile hike with a stunning view over the Bay of Kotor. This hike ends with a walk down the Kotor city walls.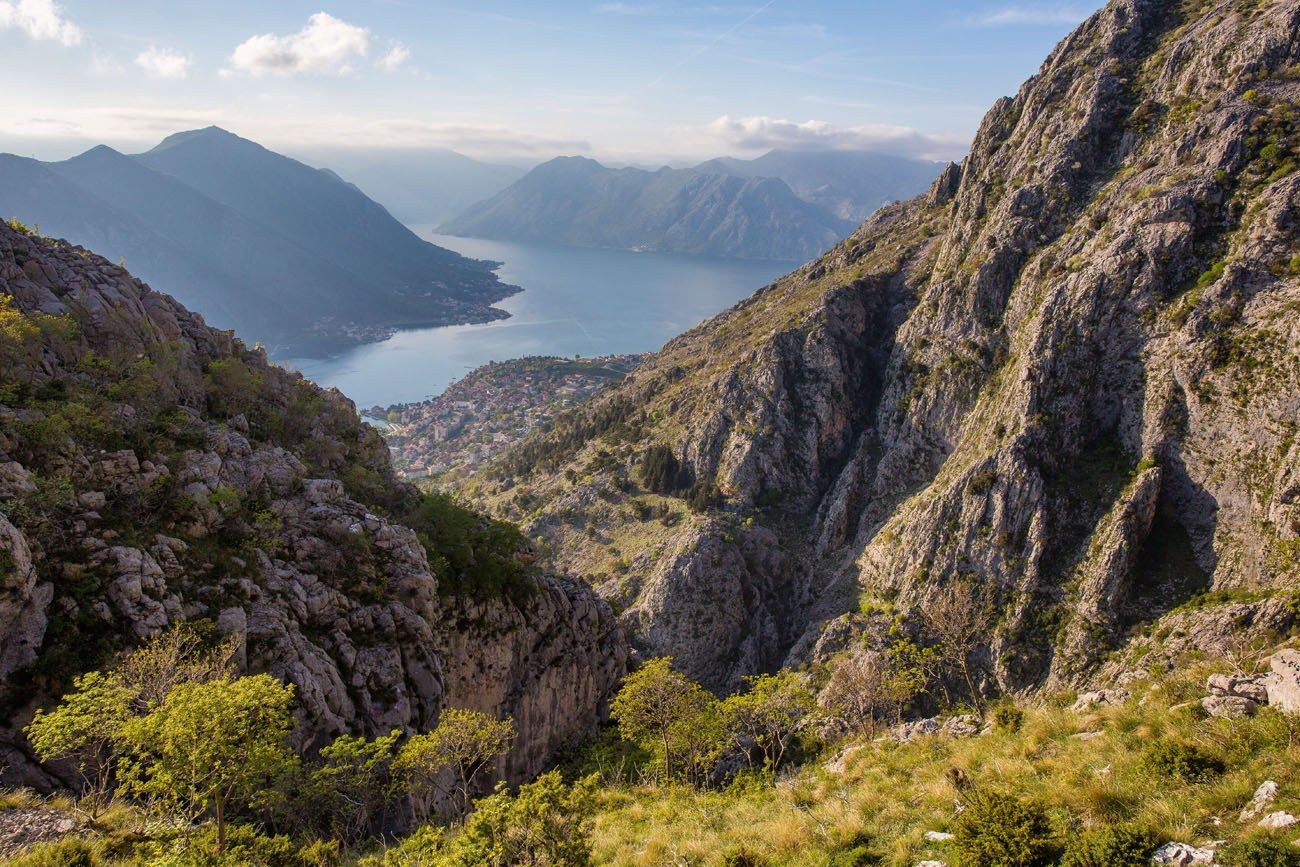 View from the Ladder of Kotor hike
Where We Stayed in Kotor: We stayed in Kotor at Residence Portofino. We had the penthouse suite, a three bedroom, three bathroom apartment with kitchen and living room. From our balcony we had awesome views of the Bay of Kotor. This place is a great value for the money…clean, quiet, spacious, and modern.
Balkan Peninsula Itinerary: Day 8
Montenegro
Today is filled with scenic drives, mountain views, and unique coastal towns.
From Kotor, head south out of town on P22 and turn left on P1 for a winding, climbing road that takes you high into the mountains behind Kotor. After a series of tight switchbacks you will have a stunning view over the Bay of Kotor.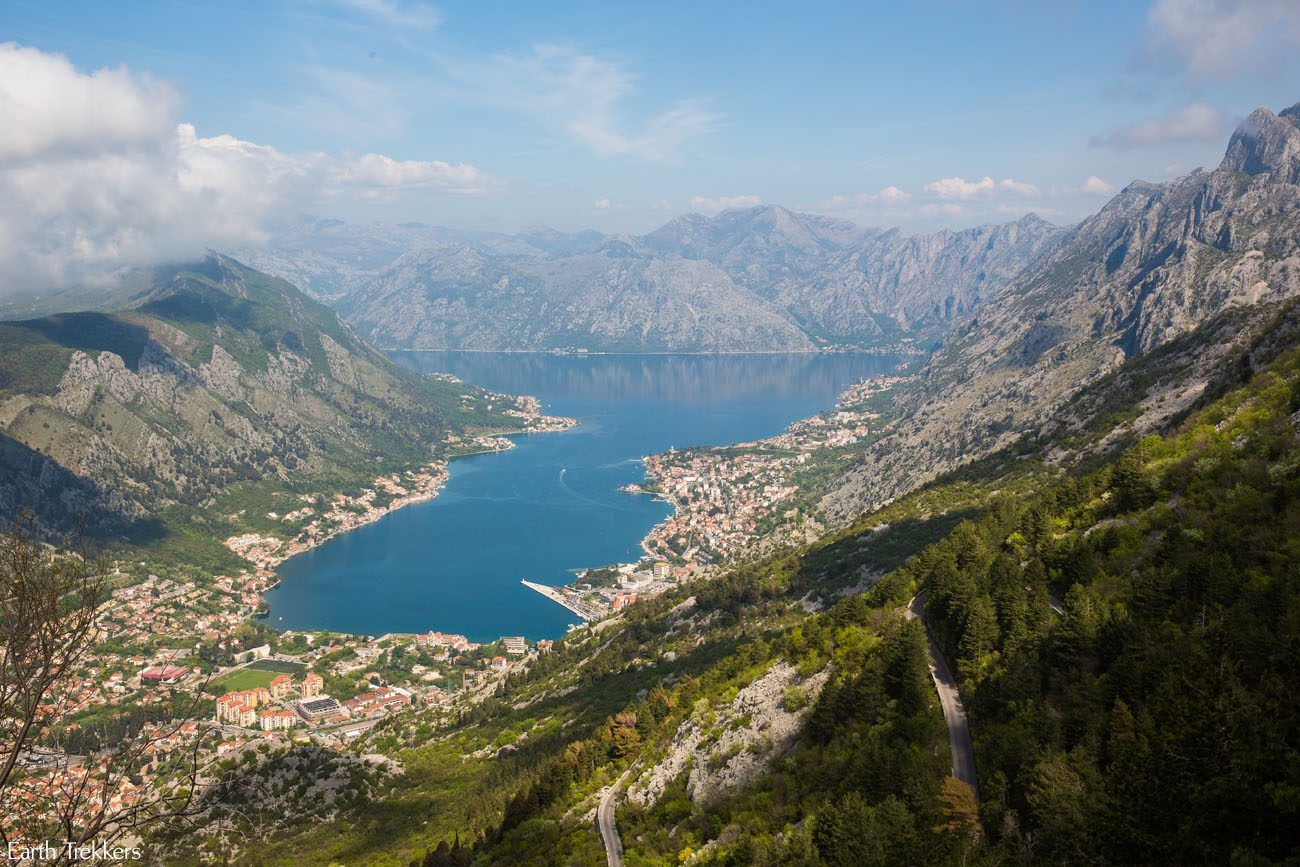 Continue the drive to Lovcen National Park. Mount Lovcen is one of the highest peaks in Montenegro and the views from up here are breathtaking.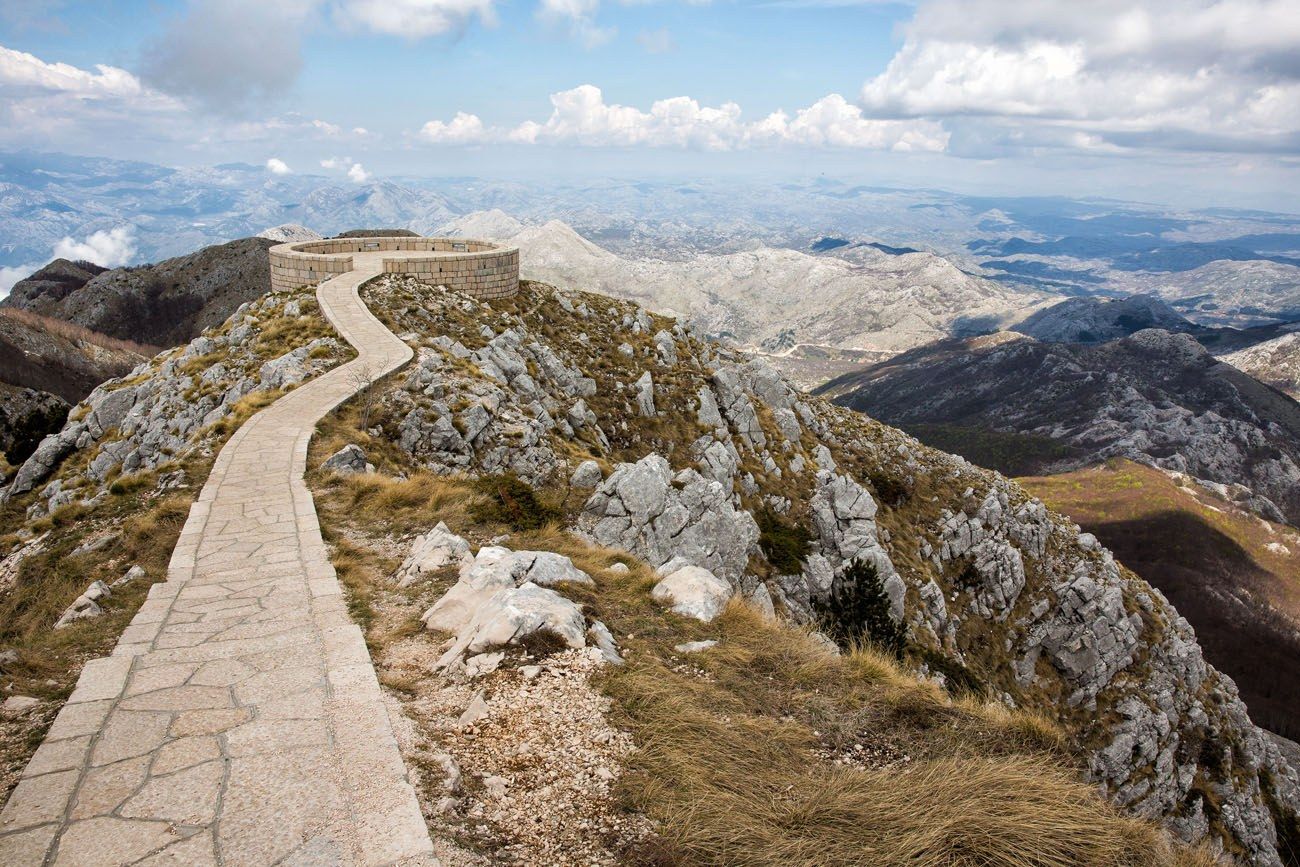 Next, you have the option to take a detour out to Lake Skadar National Park. This drive takes you to a viewpoint where you see the wetlands of Montenegro, as well as this greener version of Horseshoe Bend in the USA.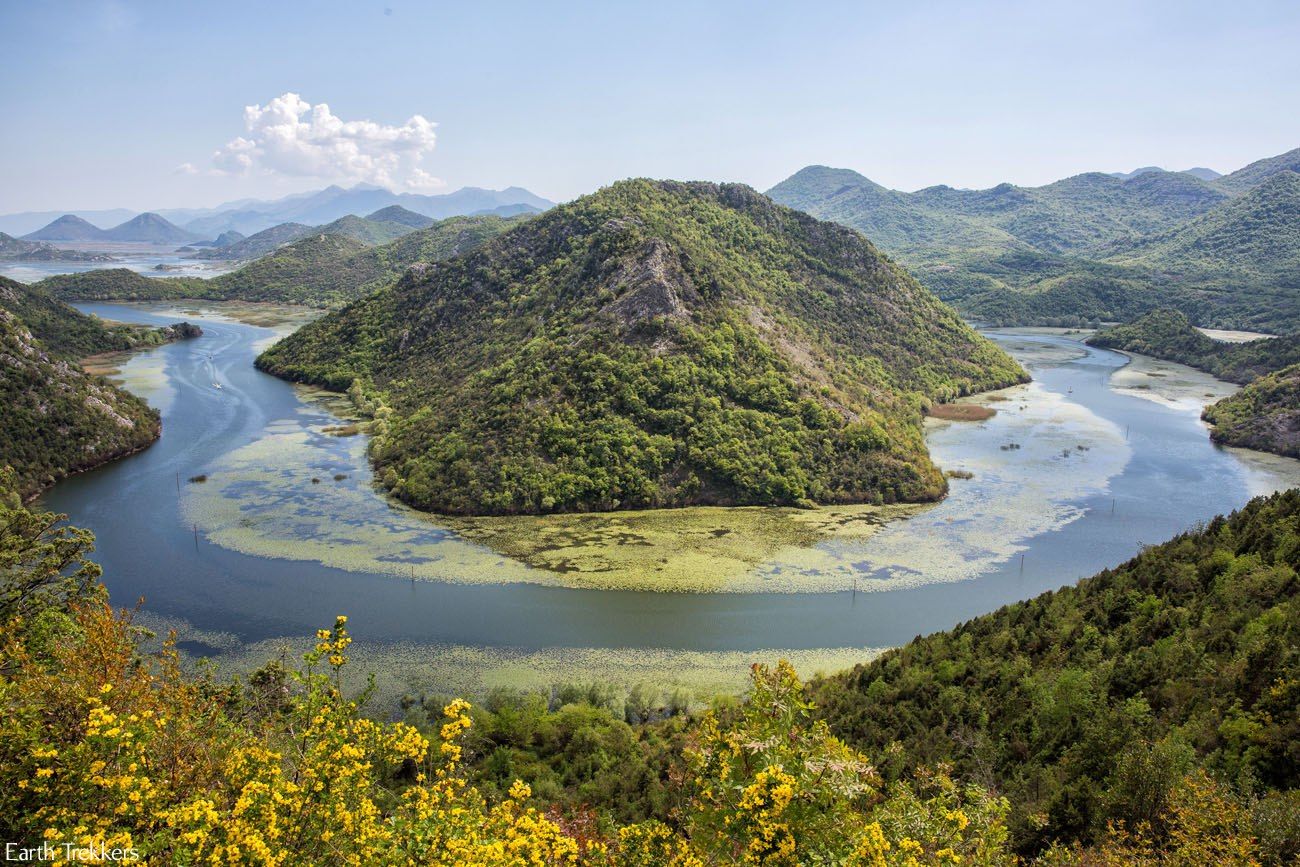 The afternoon is spent exploring the coast, also called the Budva Riviera. Sveti Stefan is a medieval town built on a small island, connected to the mainland by an isthmus of sand. This is now a luxury resort and only those with a reservation are permitted in the town.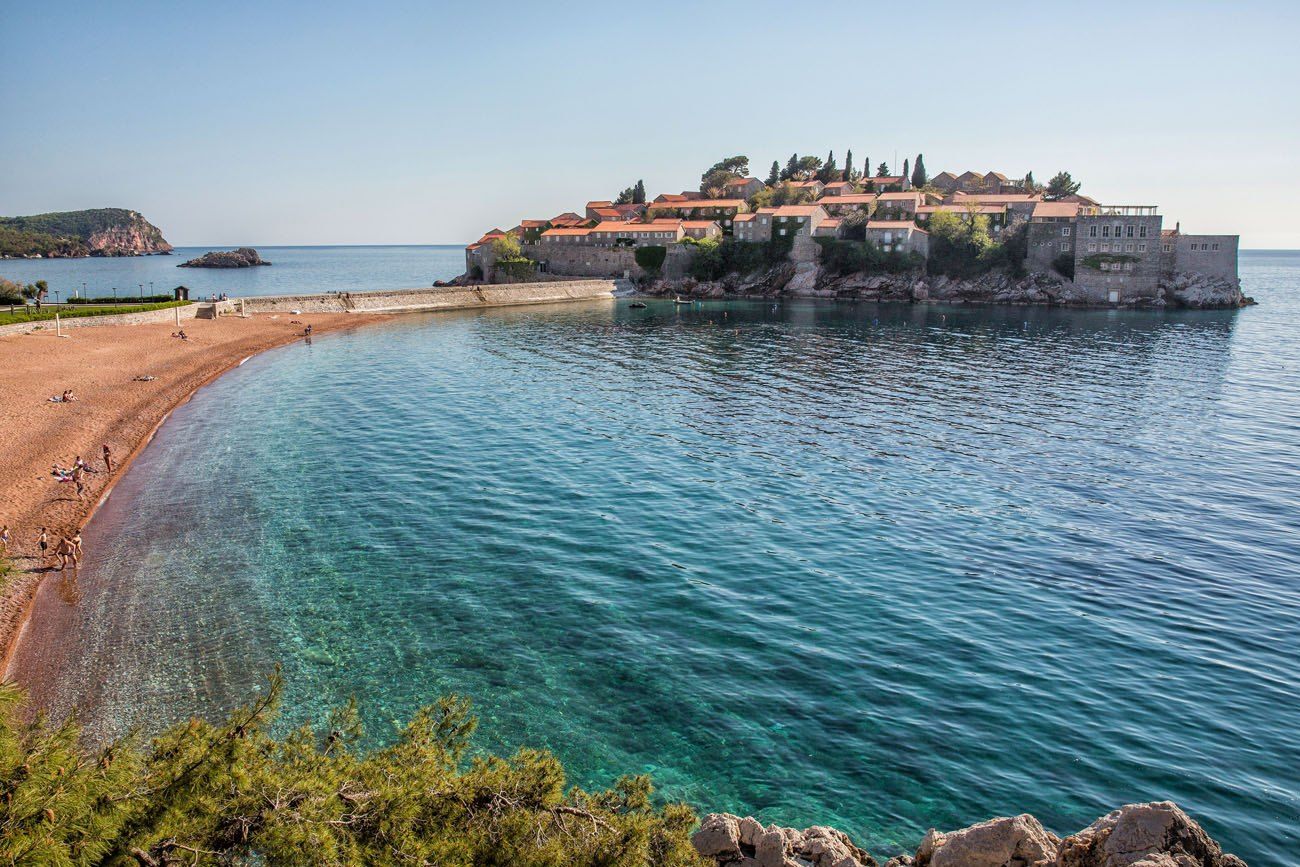 Within walking distance is Milocer Beach, the perfect spot the lounge the rest of the day away, if you desire.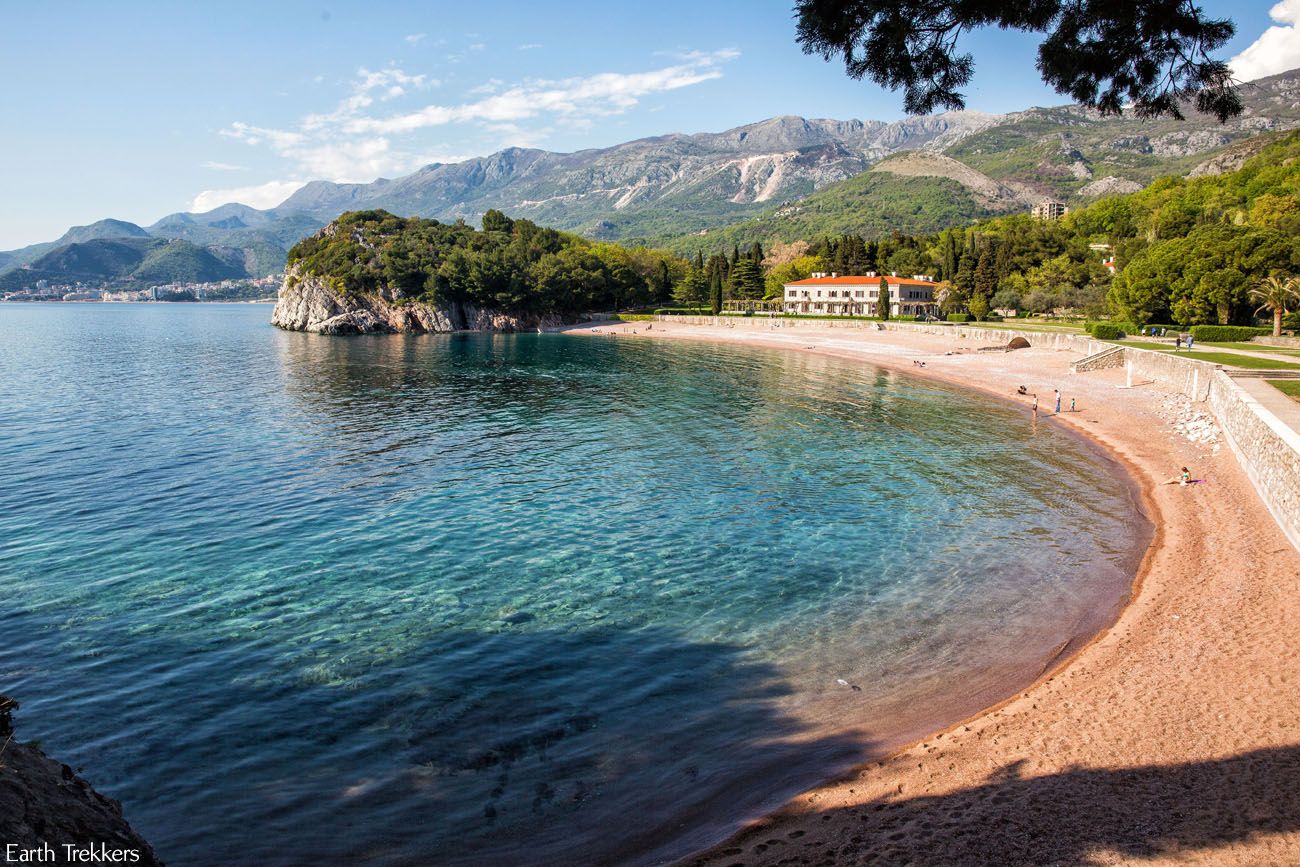 Drive north to Budva, another popular beach destination but even better known for its nightlife. This is a good spot for dinner and drinks and a night out on the town.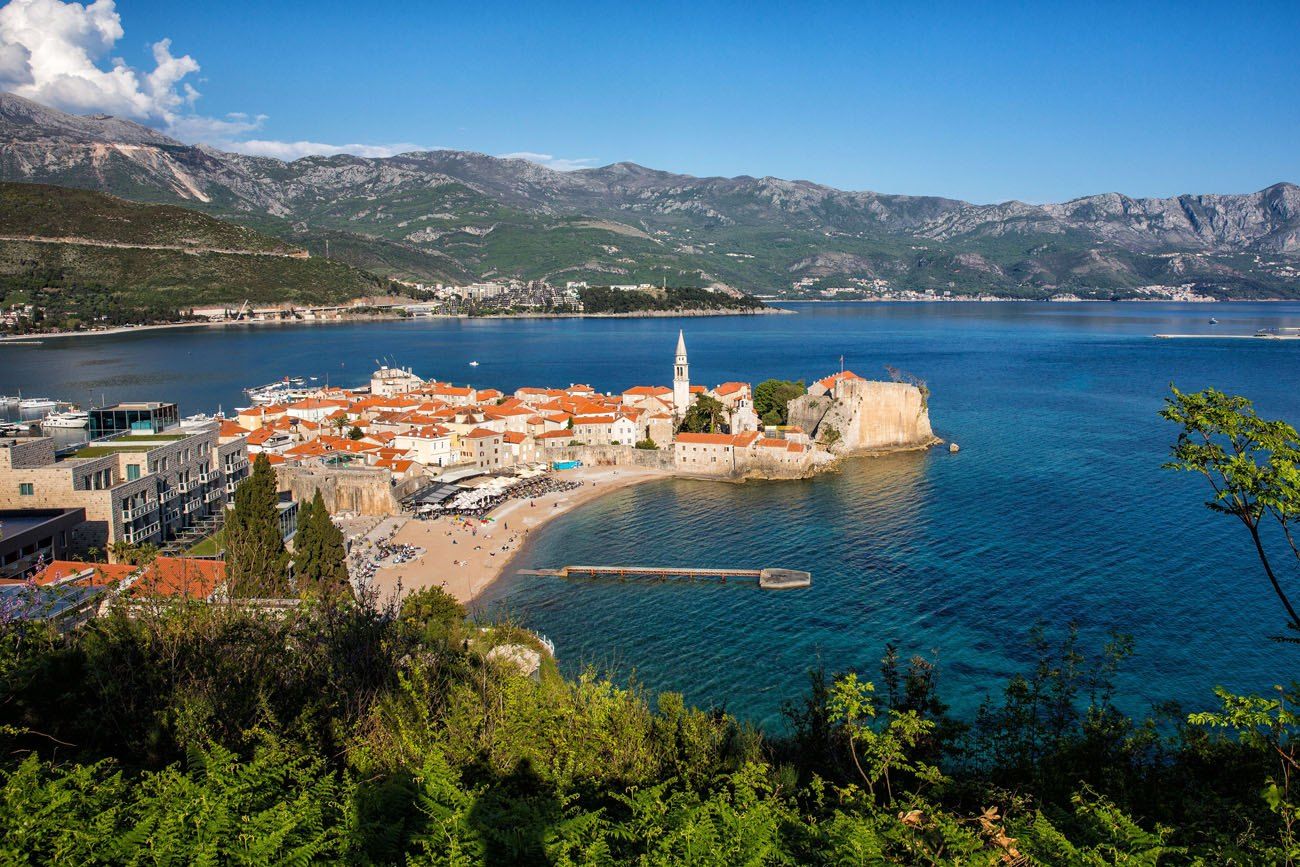 From Budva, it is just a 30-minute drive to Kotor.
Balkan Peninsula Itinerary: Day 9
Mostar
It takes just over three hours to drive from Kotor to Mostar. It's an interesting drive. Once you leave the Bay of Kotor, you will be driving on deserted, rural roads. Then you will cross the border into the Republic of Srpska, an autonomous, legal entity within the country of Bosnia & Herzegovina. At the border crossing, we were waved through without even showing our passports when they learned we were American.
The drive to Mostar is on mainly winding, mountainous roads in a very rural area.
In Mostar, spend the rest of the day enjoying the view of Stari Most, the old bridge, and wandering the old, cobblestoned lanes.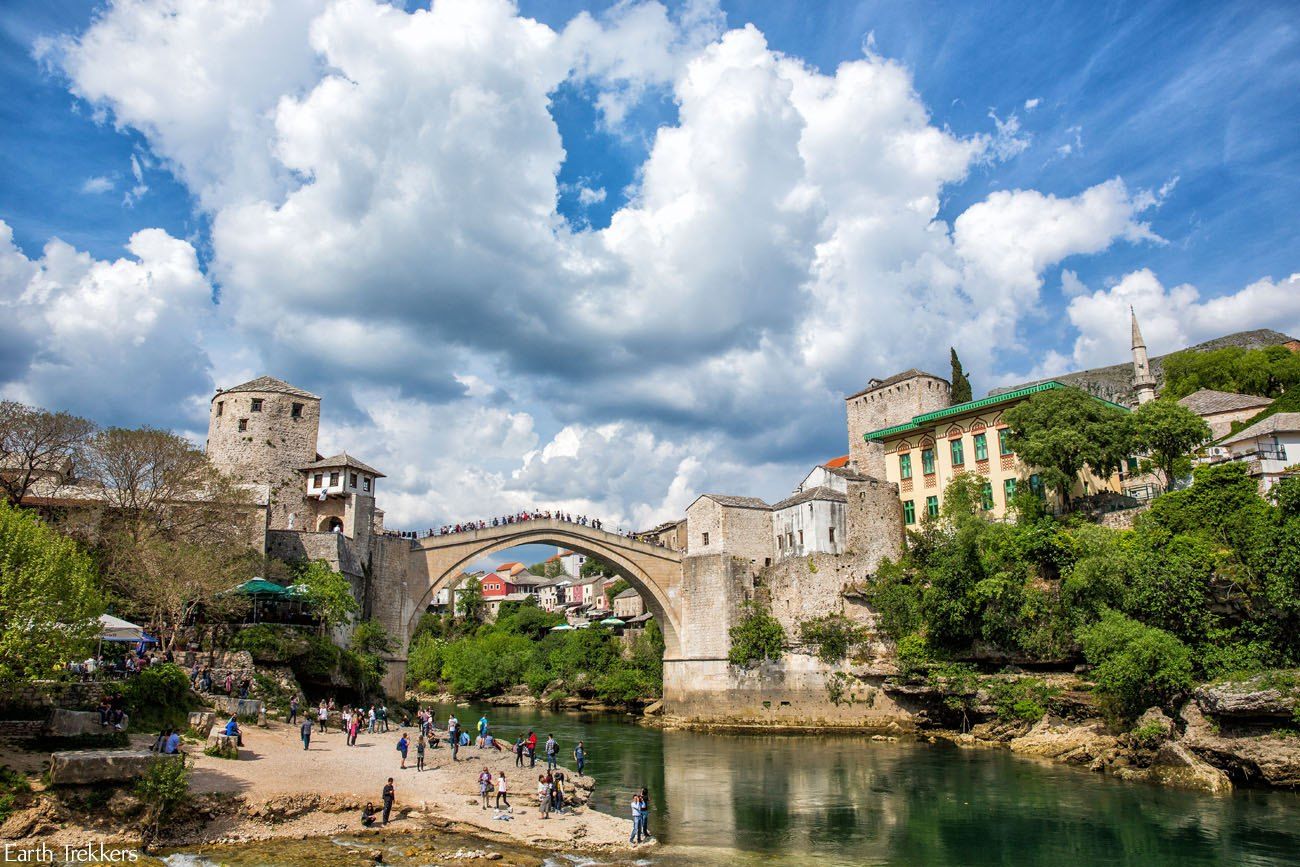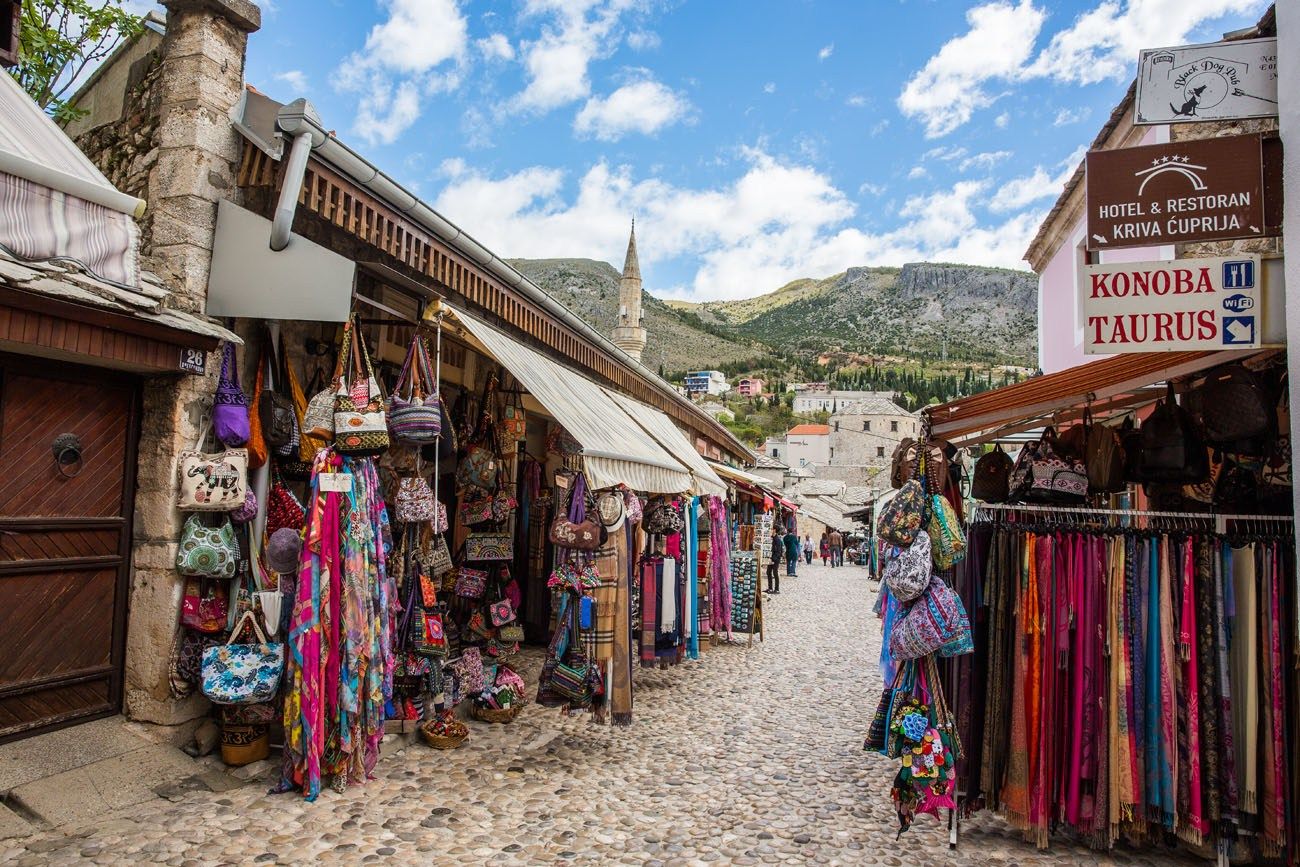 Where We Stayed in Mostar: We stayed at Hotel-Restaurant Kriva-Cuprija. Located in the Old Town just 5 minutes from the Old Bridge, this three-star hotel gets its name because it sits right next to the Crooked Bridge. It's a beautiful hotel with an awesome location.
Balkan Peninsula Itinerary: Day 10
Sarajevo
From Mostar, it is a 2-hour drive to Sarajevo. If you want to make a quick stop along the way, check out the beautiful bridge in the town center of Konjic.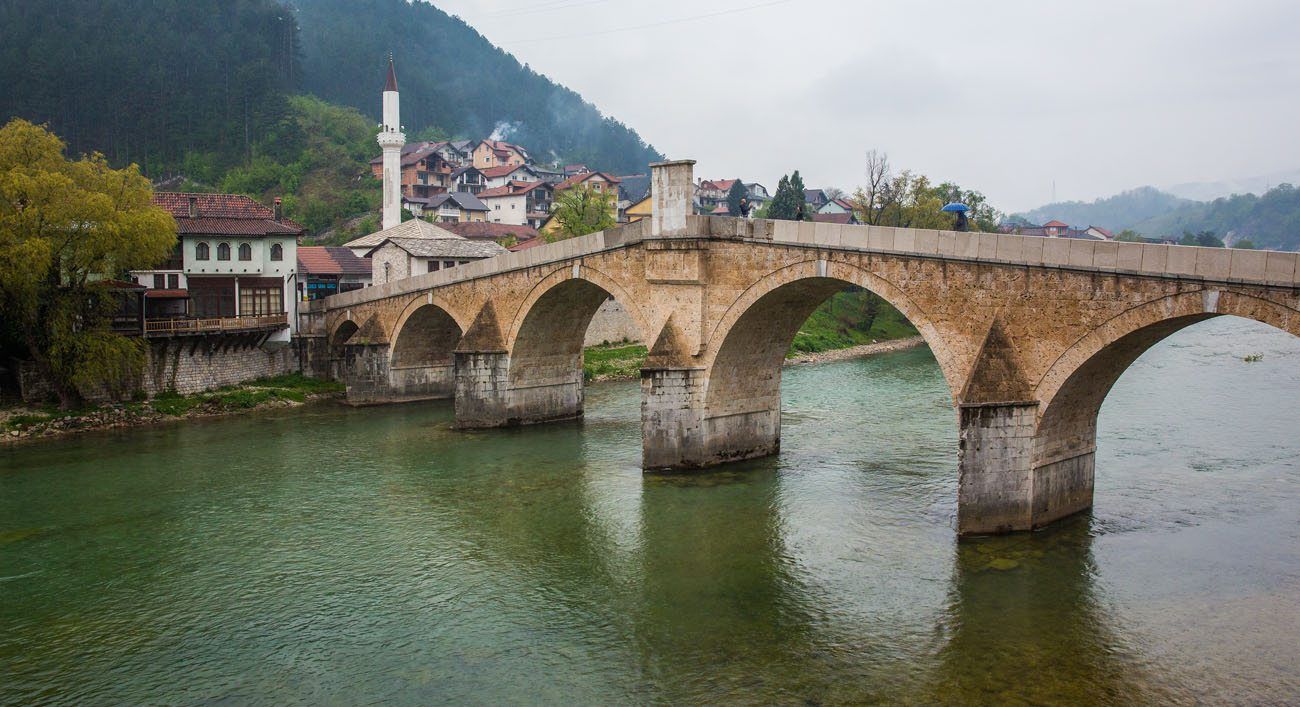 Spend the remainder of the day visiting the sights in and around Sarajevo. Seeing the Olympic Bobsleigh Track was our favorite experience in the city.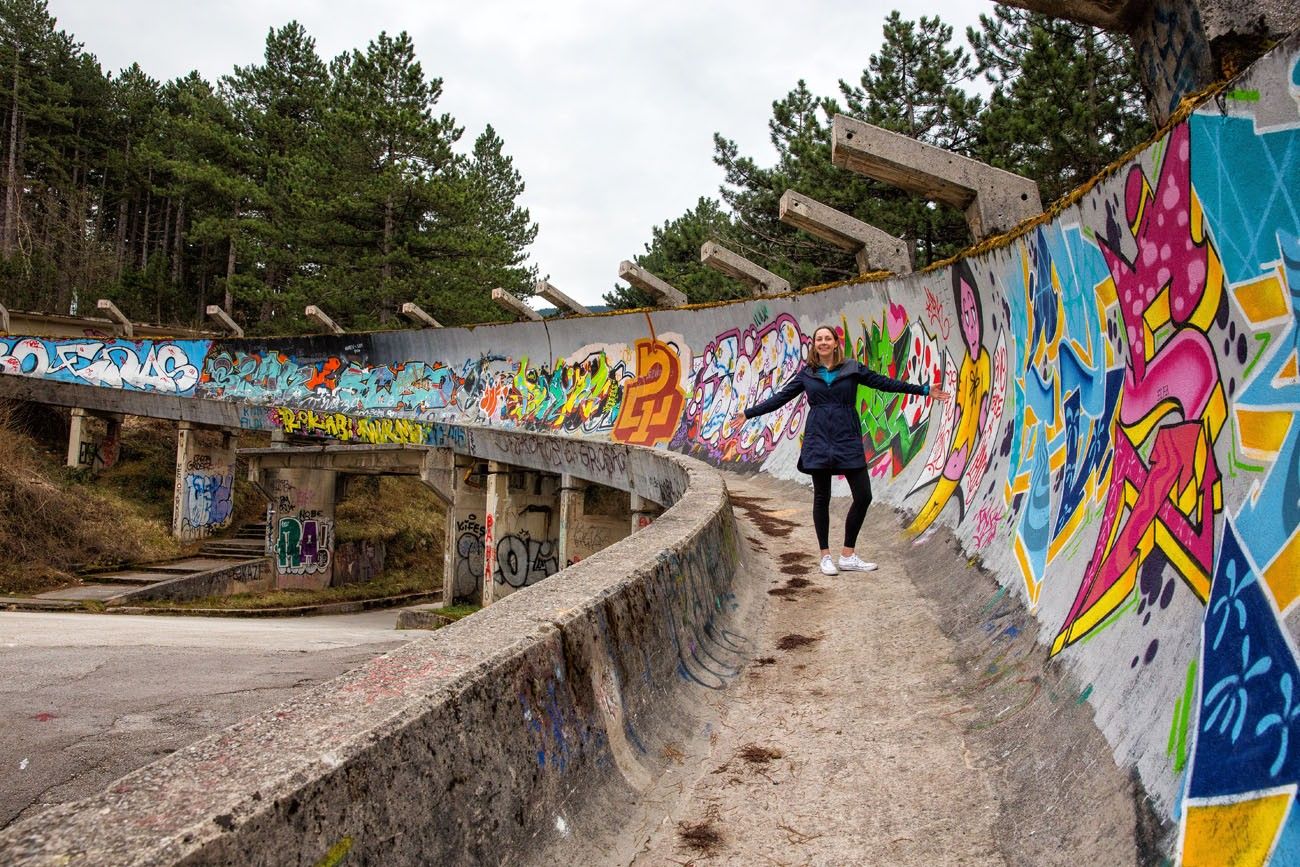 Balkan Peninsula Itinerary: Day 11
Fly home
Begin your travels home. Or, for those with more time, continue on to your next destination.
With More Time
Here are several destinations to add to this Balkan Peninsula itinerary if you have more time.
Northern Croatia
With more time, add in Plitvice Lakes, Zagreb, and the Istrian Peninsula in Croatia. To do this, you would need to add at least four more days to this Balkan Peninsula itinerary.
If you plan to do this, it makes more sense to start in Zagreb, see the Istrian Peninsula and Plitvice Lakes, and then drive south to Dubrovnik and Montenegro. From Dubrovnik, you can visit Mostar as a day trip. Since you are renting a car, return to Dubrovnik after visiting Montenegro. By doing this, you are picking up and dropping off your rental car in the same country.
Add in One or More Croatian Islands
There are a lot of islands to explore in Croatia. If you have more time, you can hop from island to island via the network of Croatian ferries.
Durmitor National Park
Located in northwestern Montenegro, Durmitor National Park is a UNESCO World Heritage Site. This is the place to go for white water rafting, hiking, camping, and numerous other outdoor activities.
Spend More Time in Your Favorite Spot
Places where adding more time would be beneficial are Kotor, Split, Dubrovnik, or Sarajevo.
Best Time to Go to the Balkan Peninsula
Spring, summer, and fall are the best seasons for this Balkan Peninsula itinerary. Summer is peak season, so expect large crowds of people and hot temperatures.
To avoid most of the tourists, late spring and early fall are your best bets.
If You Rent a Car, You Will Need a Green Card
If you rent a car and drive in Bosnia & Herzegovina, Montenegro, Albania, or several other countries in Europe, you will need to have a green card. A green card is a cross-border insurance card that proves that your car has at least minimum level of insurance required. We obtained the green card through Europcar, paying $2.34 USD per day (in 2017).
---
Do you have any questions about this Balkan Peninsula itinerary? If you have any questions, comment below!
More Information for Your Trip to the Balkans
BALKAN ITINERARY: For a recap of our experience in the Balkans, read our post 10 Days in the Balkans.
PLACES TO GO ON THE BALKAN PENINSULA: Spend a few days exploring Dubrovnik, stroll the streets of the fairytale town of Mostar, explore Plitvice Lakes, spend a few days in Montenegro, and hike to the highest point on the Adriatic Sea, Vidova Gora.
BEST OF MONTENEGRO: On the quickest of visits, 2 days is all you need to see the highlights of Montenegro. Hike the Ladder of Kotor, and visit Lake Skadar National Park. For more inspiration, journey through Montenegro in 22 beautiful photos.
DUBROVNIK: For a list of the top experiences in Dubrovnik, read our article Best Things to Do in Dubrovnik. We also have a guide on Where to Eat in Dubrovnik and an article about how to walk the Dubrovnik Walls.
DRIVING IN EUROPE: If you have plans to rent a car in Europe, read our article Things to Know Before Renting a Car in Europe for lots of helpful tips.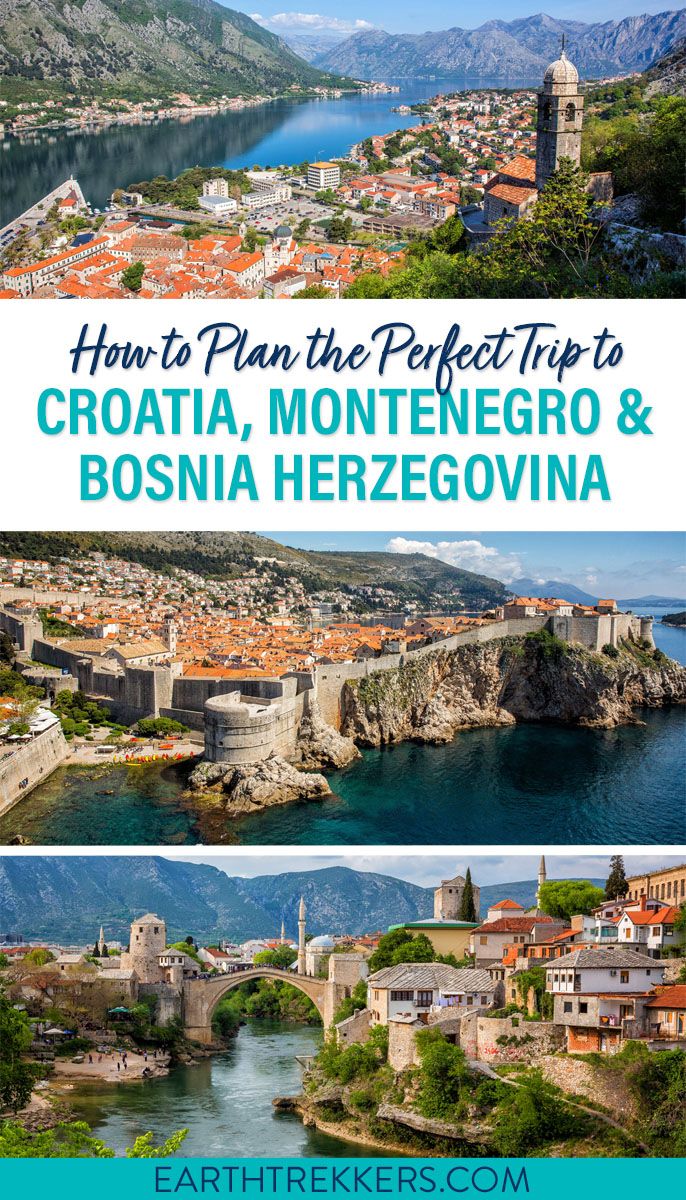 Note: This post contains affiliate links. When you make a purchase using one of these affiliate links, we get paid a small commission at no extra cost to you.
All rights reserved © Earth Trekkers. Republishing this article and/or any of its contents (text, photography, etc.), in whole or in part, is strictly prohibited.