The Appian Way is one of Rome's ancient roads, connecting Rome to the Adriatic Port of Brindisi. This road was a marvel of Roman engineering at the time it was constructed, 2000 years ago. Today it is a place for biking, viewing ancient Roman ruins, touring the catacombs, and taking a break from the hustle and bustle and crowds of tourists in Rome.
We visited the Appian Way on our first trip to Rome, in 2014. For Tyler and Kara, who were 9 and 11 at the time, this was their favorite experience in Rome.
The Appian Way
To get to the Appian Way, we used public transportation (a metro and bus combo), arriving near the Tomb of Cecilia Metella. How different it was here, just a short ways from the center of Rome! It was quiet, smelled like honeysuckle, and we felt like we had the place to ourselves. I don't know where all of the other tourists were, but we weren't complaining. It felt great to be on our own.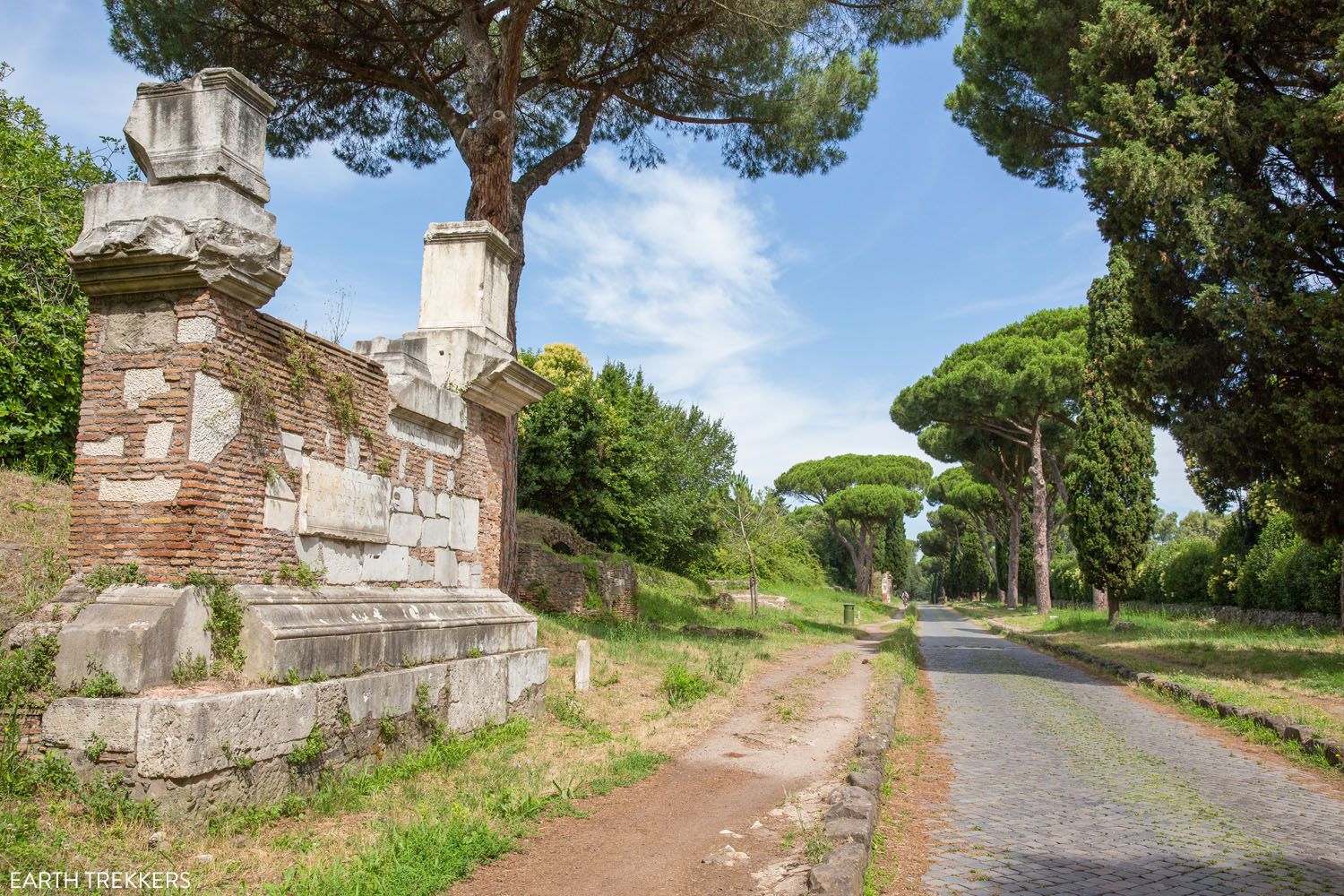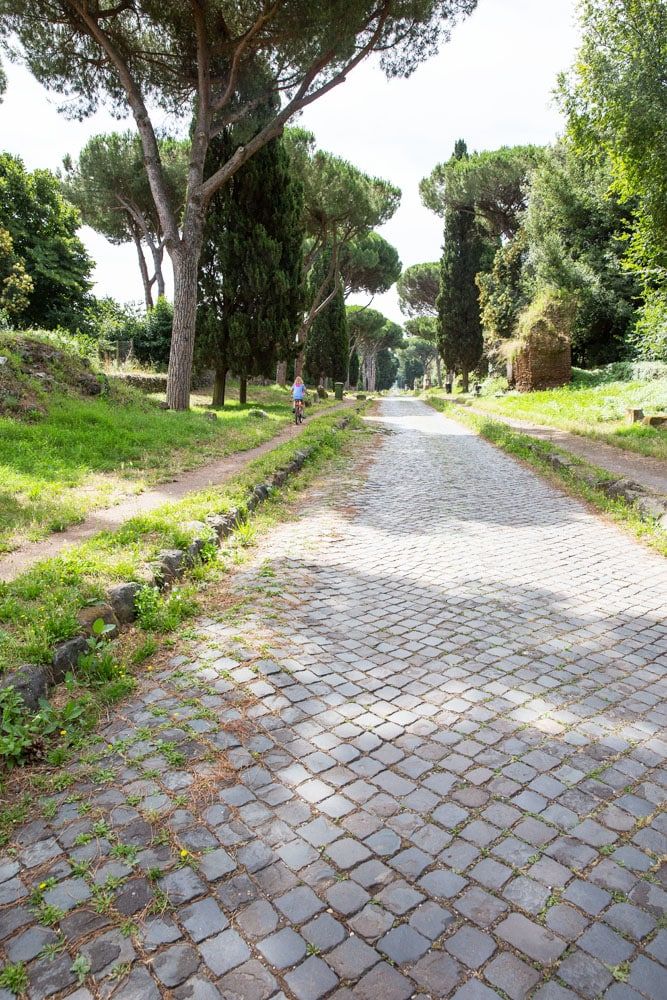 The Appia Antica Café was just opening for the day. We rented bikes here, and they had smaller bikes available for Tyler and Kara. Before we knew it, our adventure began.
This turned out to be a little more difficult than I was expecting. The original sections of the Appian Way are made of large stones, which are not the flattest surface to bike on. To say the ride was bumpy would be an understatement. Tyler quickly got a handle on it but Kara had a little trouble. After a couple of falls and close calls with the stone walls along the side of the road, she got better at navigating the difficult terrain.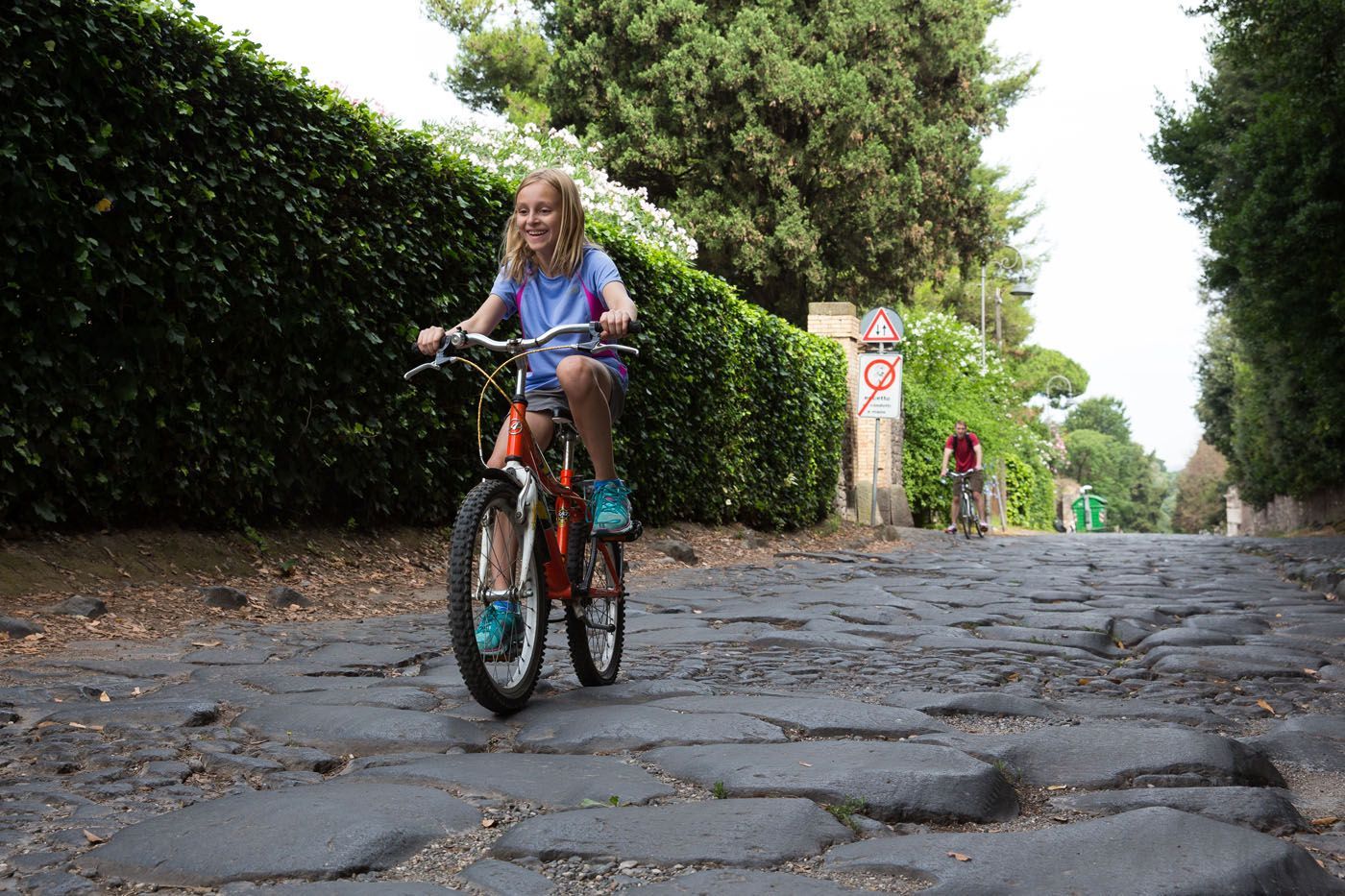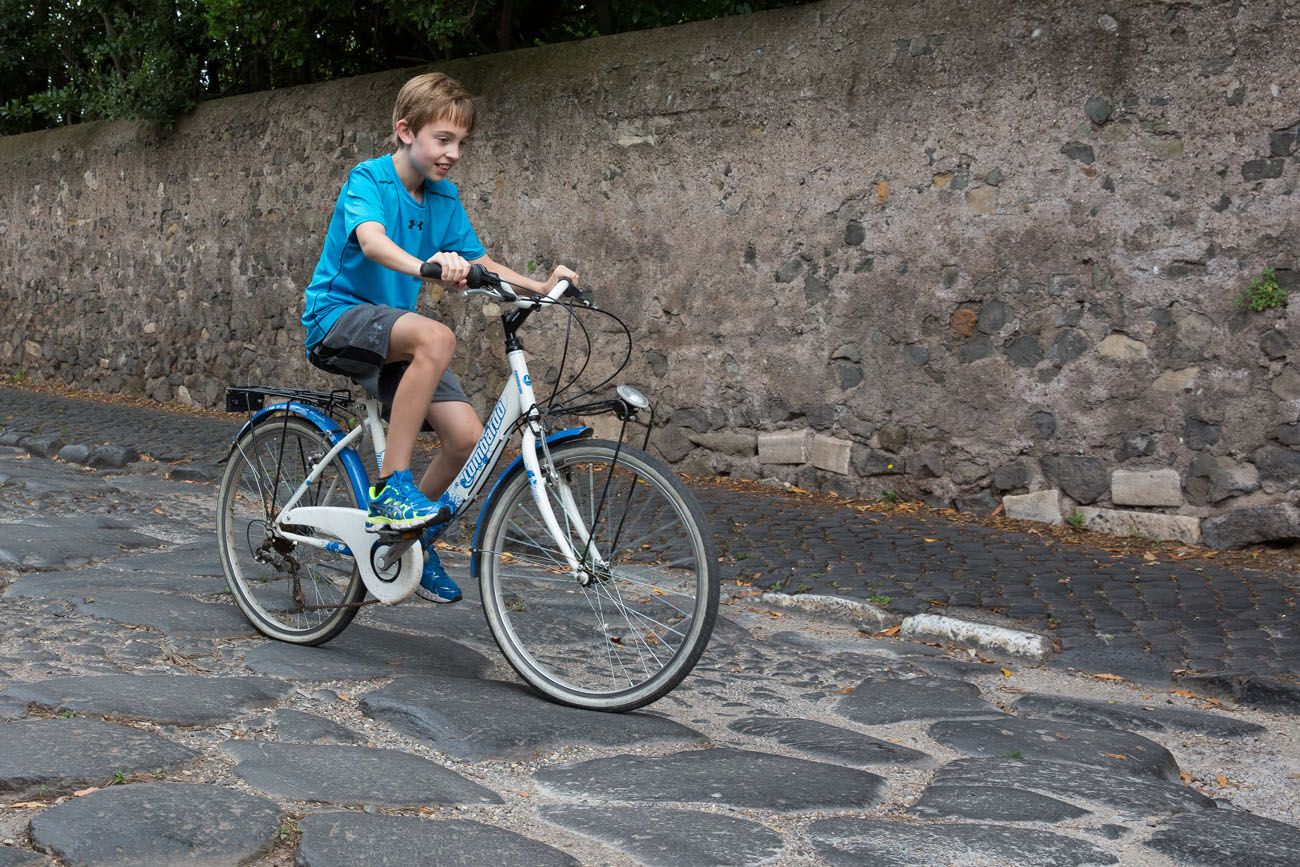 There were a lot of sections of cobblestoned road mixed in with the ancient sections of road. These were by no means smooth but did offer a break from bouncing over a road made from boulders.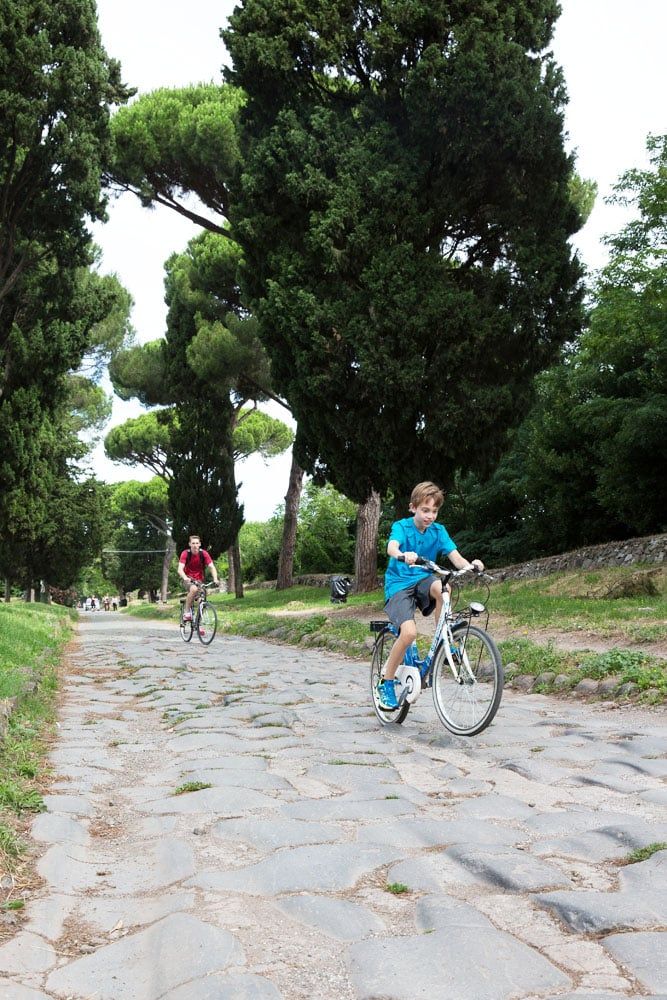 Tim and Tyler had an awesome time zooming down the Appian Way. Tim, who was trying to bike as fast as possible while shooting video with our point and shoot camera, lost control of his bike, wiping out. He emerged unscathed from his accident and got very interesting video footage in the process. I am thankful for my family who always keeps things interesting while we travel. If we can manage to get through this around the world trip without any major injuries it will be a miracle.
The stretch of road available to bike upon is not very long, only about 4 miles total. We spent an hour biking this length of the Appian Way, with occasional stops for photos.
Tyler and Kara really enjoyed their time here. It was a great break from the noise, heat, and crowds of Rome. For anyone with a little extra time while visiting Rome this should definitely make the list.
We returned safe and sound to the Appia Antica Café, returned our bikes, and enjoyed an early lunch.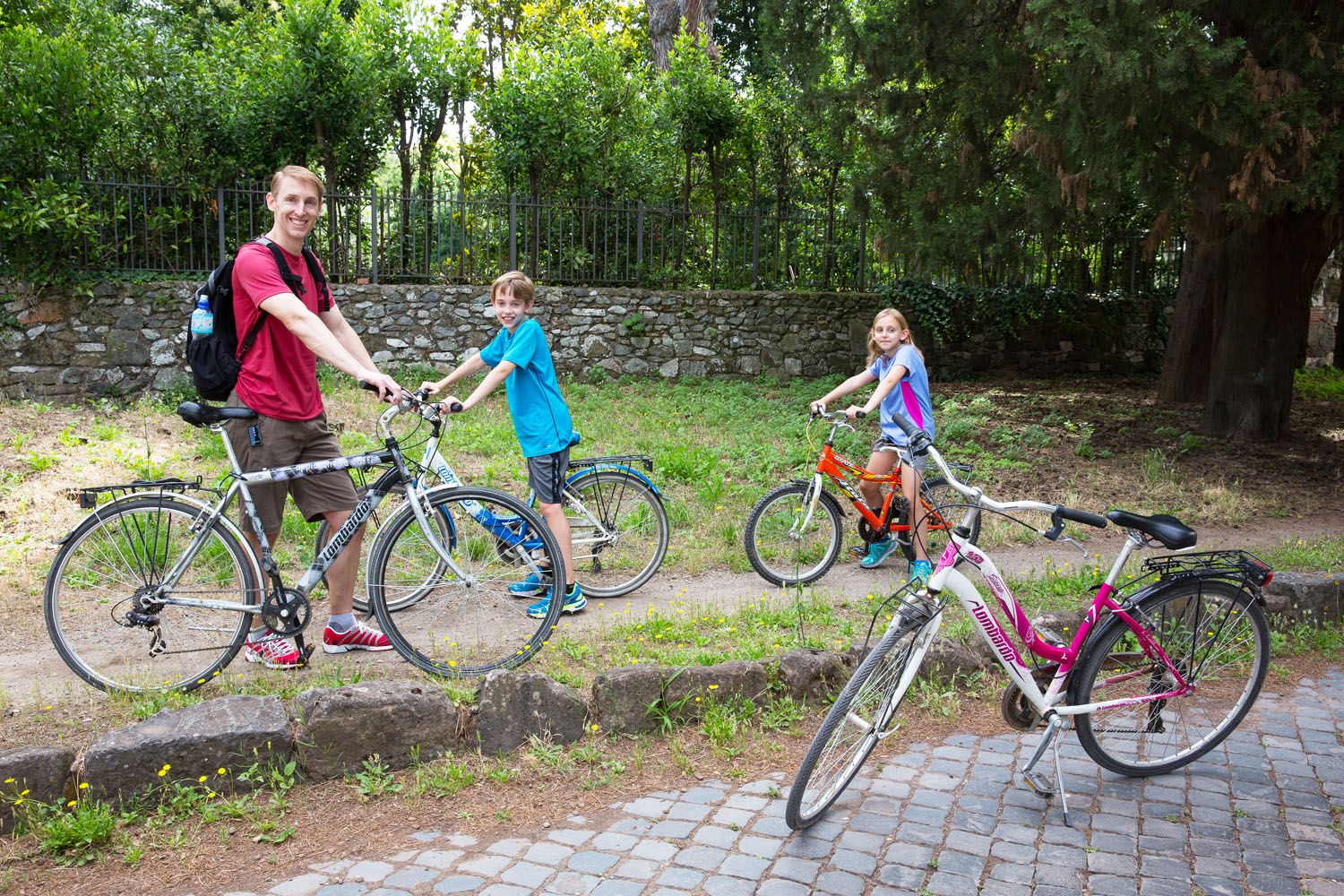 San Sebastian Catacombs
Before taking a bus back to Rome we toured the San Sebastian Catacombs, which we heard are Rome's best catacombs.
Tim and I were expecting to go wandering through underground tunnels lined with ancient bones like the catacombs in Paris, but instead we got a 35 minute tour through underground tunnels (sans bones) and a history lesson. The history of this place is fascinating, dating back 2000 years, but we were hoping for something a little more morbid and creepy. We like that kind of stuff.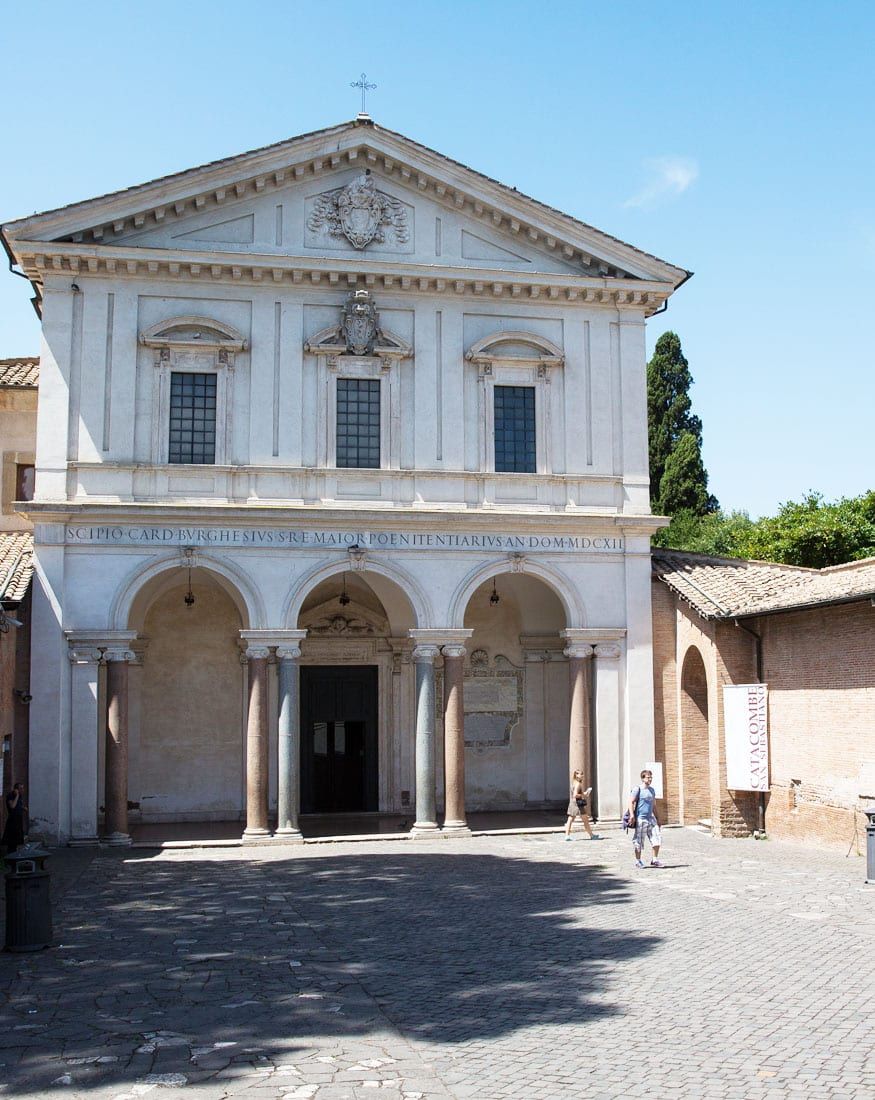 Entrance into the San Sebastian Catacombs
After our tour of the catacombs we took a relatively quick bus ride back to Rome's city center.
Important Things to Know about the Appian Way
The Appian Way is open all day everyday. The best day to visit the Appian Way is on Sundays, when the road is closed to vehicular traffic. Monday through Saturday, the Appian Way is open to cars. We visited the Appian Way on a Thursday in July. Vehicle traffic was light and there were very few people and bikers on the road.
San Callisto Catacombs
In addition to the San Sebastian Catacombs, you can also visit the San Callisto Catacombs, which are just a few hundred meters further down the Appian Way. The San Callisto Catacombs tend to be more crowded and some people say they are better than San Sebastian. We only went to the San Sebastian Catacombs so we cannot comment on whether or not San Callisto is worthwhile. It is important to know that both Catacombs close at lunchtime. Also, the San Sebastian Catacombs are closed on Sundays and the San Callisto Catacombs are closed on Wednesdays.
Getting To and From the Appian Way
To get to the Appian Way and Appia Antica Cafe: take metro line A to the Colli Albani station, and from here take bus 660 for a 20 minute ride to the Cecilia Metella bus stop. The Appia Antica Café will be on your right. This is the best way to get to the Appian Way if you are planning on renting bikes, because bus 660 gets you the closest to the Appia Antica Cafe.
To get to the Appian Way Visitor Center: Take bus 118 from the Piramide or Circo Massimo metro stops. Take the bus away from the city center and get off at Appia Antica/Travicella for the visitor center. Stay on this bus to travel further up the Appian Way to the catacombs. Here is a list of the bus stops: Domine Quo Vadis Church, Appia Antica/Cafarella, Catacombs of San Callisto, and the Basilica San Sebastian.
To get back to Rome: you can do the above in reverse. Or, from the San Sebastian Catacombs, turn left on the Appian Way, make the first left onto Via delle Sette Chiese, walk 400 meters, and catch bus 218 to the San Giovanni metro station (line A). This is a good chance to see the Basilica di San Giovanni in Laterano, one of Rome's most important churches.
Renting bikes on the Appian Way
The Appia Antica Café rents bikes and sells an assortment of sandwiches and fruit for lunch. They are open from 9 to sunset and their prices for bike rental are a few euros per hour. To bike the length of the Appian Way it took us exactly one hour, including time to stop for photos.
From the Appia Antica Cafe, you can bike in either direction. We found that the roads were less bumpy going south, away from Rome and the Catacombs.
For more information about the Appia Antica Cafe, click here.
You can also rent bikes at the visitor center for the Appian Way.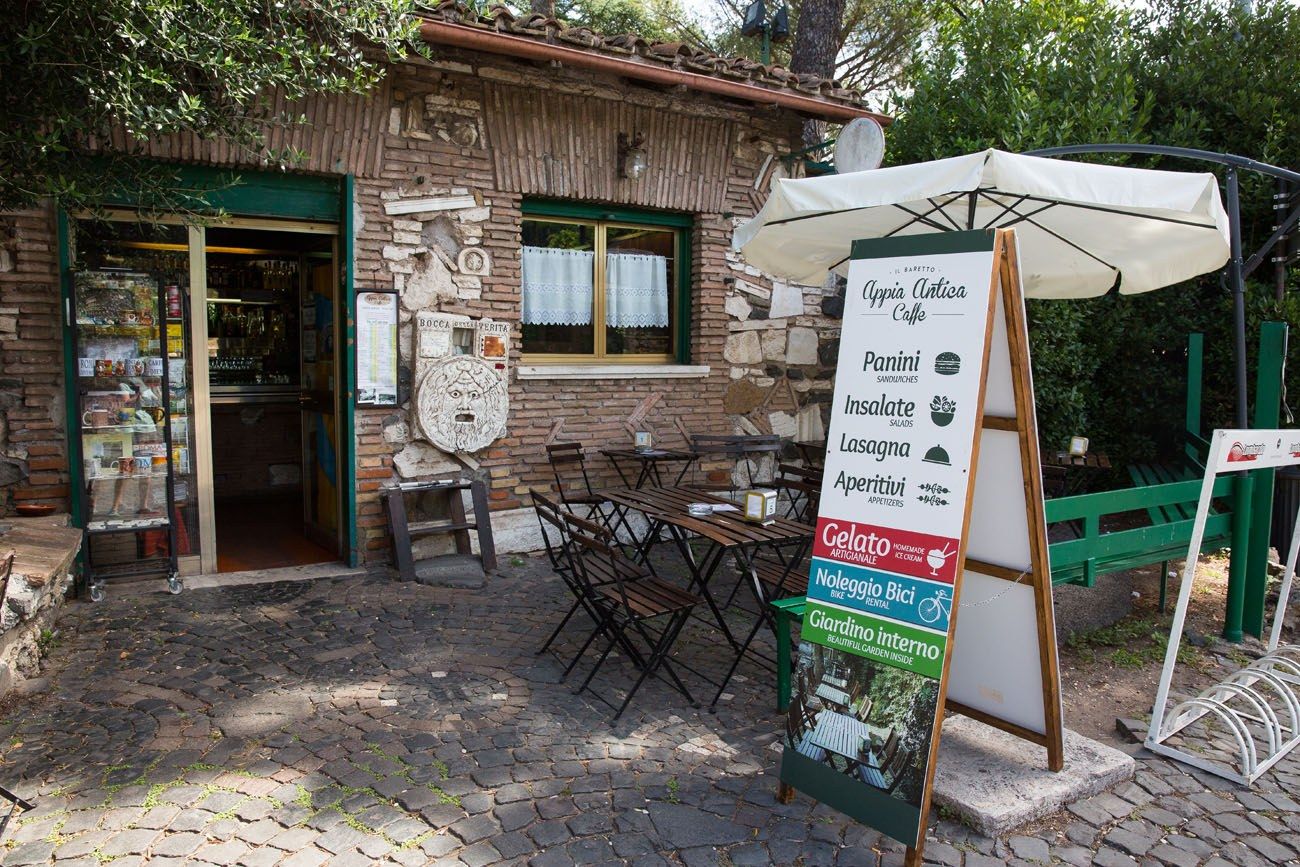 Tours of the Appian Way
Taking a tour eliminates the hassle of arranging your transportation to get to the Appian Way and logistics of renting a bicycle. Many tours also included guided visits of the catacombs. This 6-hour tour is one of the best tours of the Appian Way and also includes the Aqueduct and Catacombs.
---
If you have any questions about biking the Appian Way, or if you want to share your experience, let us know in the comment section below.
More Information for Your Trip to Italy
ROME: For a list of the top experiences in Rome, read our article Best Things to Do in Rome. Learn how to put these together in our 2 Day Rome Itinerary, where to eat in our Rome Restaurant Guide, how to visit the Colosseum, and where to stay in our Rome Hotel Guide. And don't miss our guide to the Best Rooftop Bars in Rome.
FLORENCE & TUSCANY: If this is your first visit to Florence, read our guide to the Best Things to Do in Florence and the best rooftop bars in Florence. If you plan to visit Tuscany, learn how to spend one day in Siena, things to do in Montepulciano, and the best things to do in San Gimignano.
NORTHERN ITALY: Verona is a beautiful city to add to your Italy itinerary and we also have a detailed guides on Lake Garda and how to day trip to Lake Como and Bellagio. In our Northern Italy Itinerary, visit Venice, the Dolomites, Verona, Milan, and Lake Como.
SAN MARINO: San Marino is a tiny country located entirely within Italy. It is gorgeous to explore and one of the most underrated places to visit in Europe.
CINQUE TERRE: One of the best experiences in the Cinque Terre is to hike between all five towns. If you are traveling on a budget, get our money saving tips for the Cinque Terre.
We have TONS more information about Italy in our Italy Travel Guide, including Rome, Florence, Venice, Tuscany, the Dolomites, the Amalfi Coast, the Cinque Terre, and Puglia.

Note: This post contains affiliate links. When you make a purchase using one of these affiliate links, we get paid a small commission at no extra cost to you.
All rights reserved © Earth Trekkers. Republishing this article and/or any of its contents (text, photography, etc.), in whole or in part, is strictly prohibited.