How to travel from Rome to Sorrento and the Amalfi Coast can be a little confusing. You can't simply hop on a train in Rome and ride it all of the way to Sorrento or Positano. In this post, we explain your different options for getting around this region.
Rome to Naples
By Train
Whether your final destination is Sorrento, Capri, Positano, or Amalfi, you will first have to travel to Naples. The best way to do this is by train.
This journey takes between 60 minutes to three hours, depending on the train you choose.
Trenitalia
Trenitalia, Italy's national rail service, has three classes of trains. The frecce trains (frecciarossa, frecciargento, and freccebianca) are the fastest, with travel times of around one hour or slightly longer. These are the most expensive Trenitalia trains. These trains need to be booked in advance.
Intercity trains take about 2 hours and reservations are recommended.
Regionale trains take about 3 hours and do not have seat reservations.
How to book your Trenitalia tickets online:
Trenitalia.com is the main website. The website is offered in English but you will have to input city names with their Italian spelling (Roma for Rome and Napoli for Naples).
Italiarail.com is easier to use than Trenitalia (no Italian names necessary) but there is small booking fee ($5 USD) for using this website.
Italo
Italo is a private company that operates high-speed trains in Italy. Travel times and prices are similar to Trenitalia's frecciarossa trains. From Rome to Naples, it takes 1 hour and 15 minutes and there are many trains throughout the day.
Book your tickets on the Italo here.
About the Train Stations in Rome
Roma Termini is the main train station in Rome. Most trains will leave from this station. However, there are two more stations in Rome, Roma Ostiense and Roma Tiburtina. These are located farther from the city center.
When booking your train, it is very important that you note the departure station in Rome. Both Trenitalia and Italiarail list the names of the stations when you are choosing your tickets. Roma Termini is the ideal station to leave from because it is centrally located in Rome and easy to get to with public transportation.
Most, but not all, trains from Rome will arrive in the Napoli Centrale station in Naples.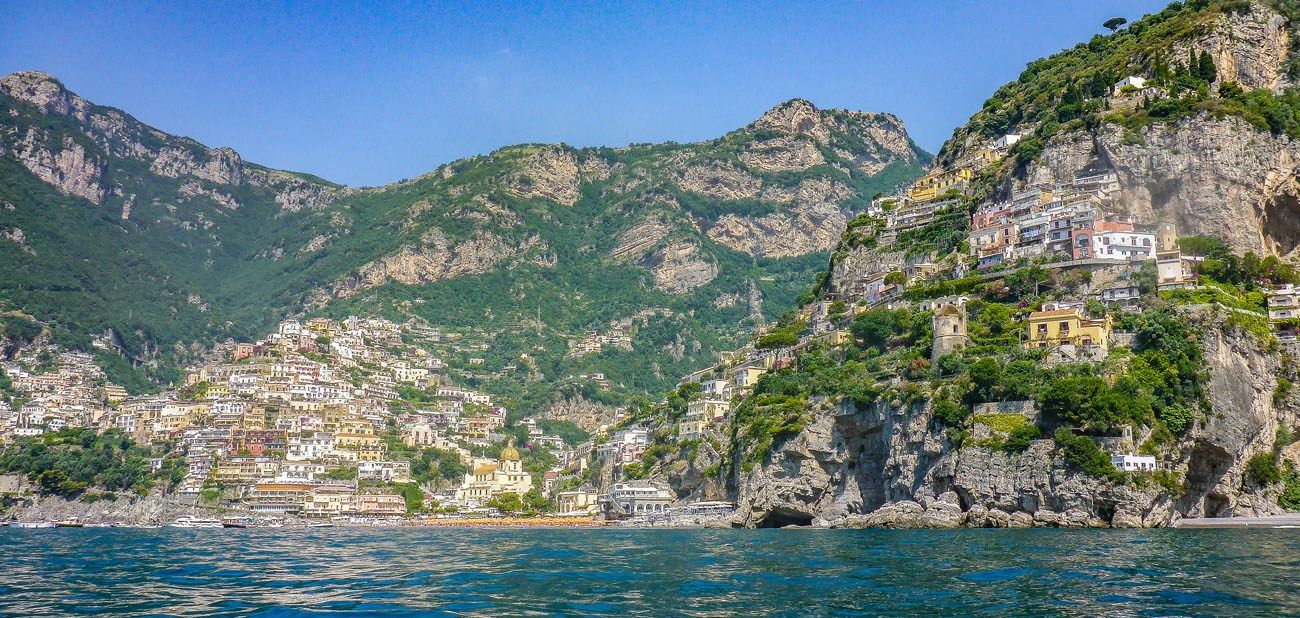 Positano
By Car
It takes approximately 2.5 to 3 hours to drive from Rome to Naples.
By Plane
Yes, you can fly from Rome to Naples. Don't expect it to save you time over the train. You have to factor in transport to and from two airports and airport security time. It can take between 3 to 4 hours to travel between these two cities by plane.
It only makes sense to fly to Naples if you are already at the Rome airport (for example, you just landed in Rome and are traveling to Naples).
---
Naples to Sorrento
By Train
From Naples, take the Circumvesuviana train or the Campania Express train to Sorrento.
The Campania Express is a special tourist train that runs along the same route as the Circumvesuviana but makes fewer local stops. It costs a little bit more (€15 one-way and €25 round trip) but travel times are slightly reduced and there is guaranteed seating (if you purchase your ticket in advance), air conditioning, and luggage storage. It runs from April through October. Outside of these season, you will have to ride the Circumvesuviana.
For the Campania Express, we recommend booking your tickets in advance.
The Circumvesuviana is a local train, similar to a New York City subway train, that makes many stops between Naples and Sorrento. There is no A/C, it tends to be hot, crowded, and late, and pickpocketing is common. Sometimes it can be standing room only.
We rode the Circumvesuviana, since the Campania Express did not exist when we made this trip. We highly recommend taking the Campania Express over the Circumvesuviana.
The Circumvesuviana is much cheaper (€3.60 one-way). There is no need to book this ticket in advance. You can purchase tickets at the ticket office located next to the platform or at the newspaper/tobacco shops in the train station.
Make sure you validate your ticket before getting on the train.
It takes about an hour and 10 minutes to travel between Naples and Sorrento.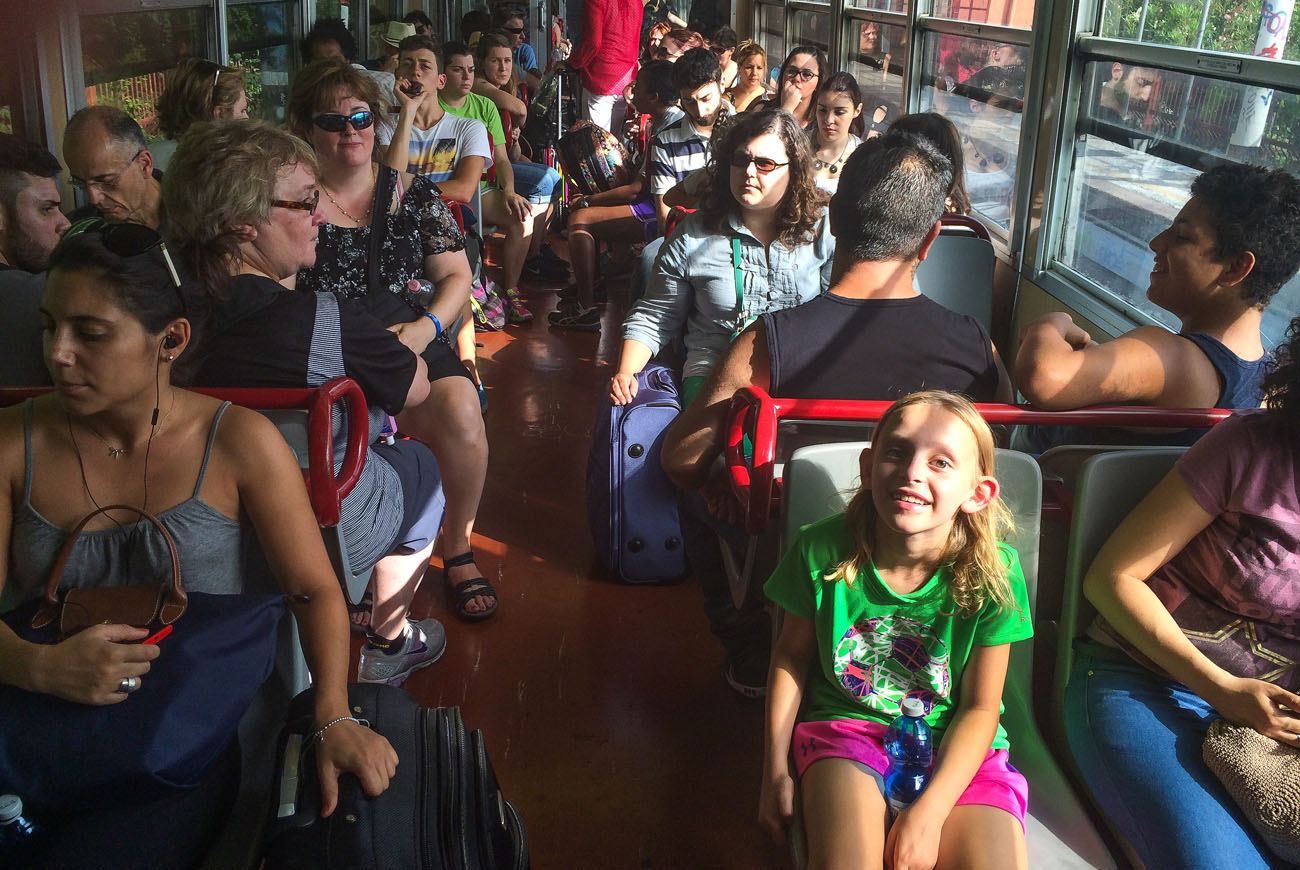 On the Circumvesuviana
TRAVEL TIP #1: If you are traveling with luggage on the Circumvesuviana, it's best to put it in the overhead luggage racks or stand with your luggage in the standing areas near the doors. If you put your luggage between you and the wall, this will help deter pickpockets.
TRAVEL TIP #2: Napoli Garibaldi station is the name of the Circumvesuviana platform located inside of Napoli Centrale, the main train station in Naples. This is stop #2 on the Circumvesuviana route and Campania Express route. Most people board the train at this stop so it can be very difficult to get a seat. If you don't mind walking, you can exit Napoli Centrale and walk 8 minutes to the Porta Nolana station, which is the first station on the Circumvesuviana line and Campania Express line. Doing this will almost guarantee you a seat and an overhead luggage spot.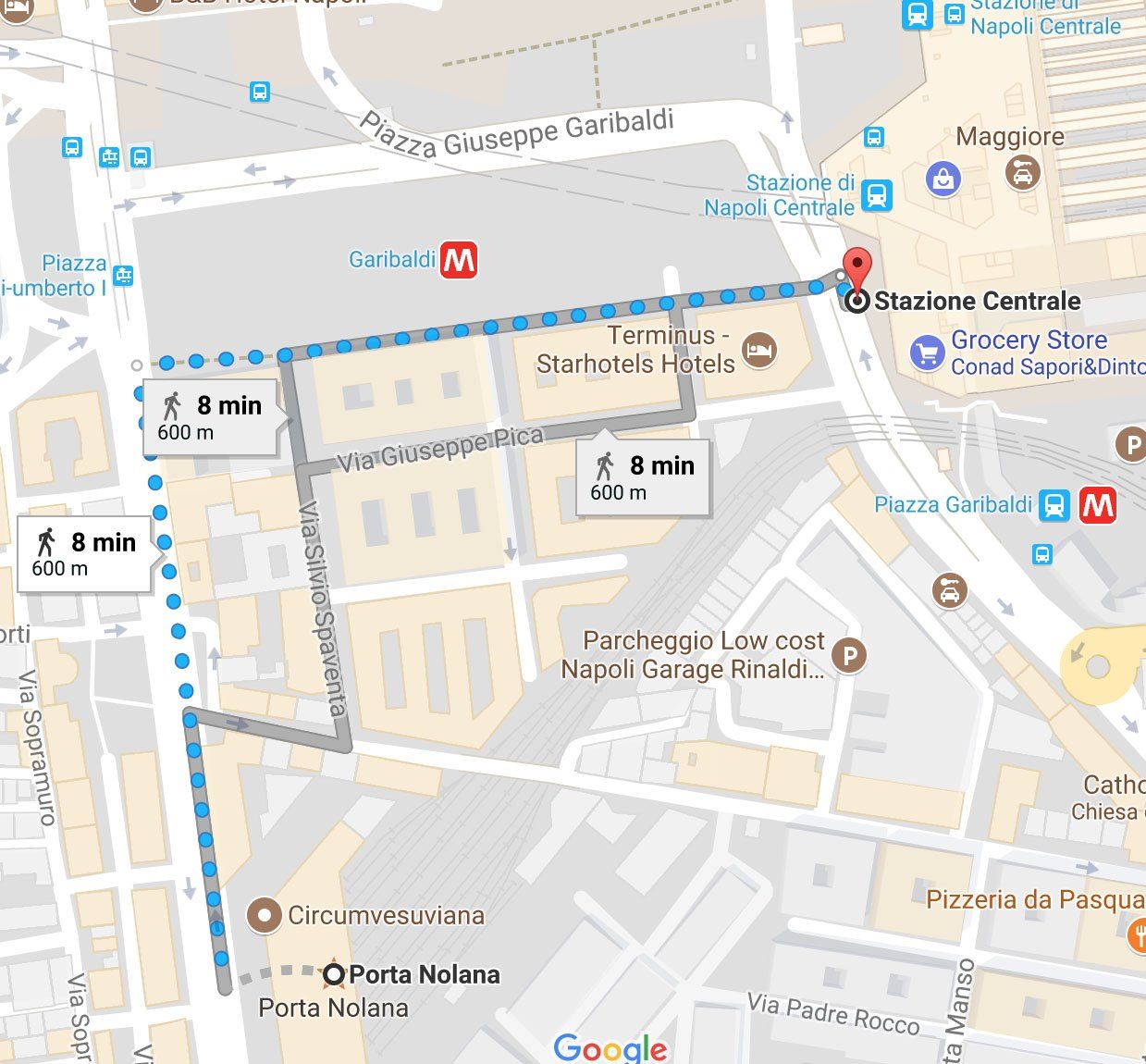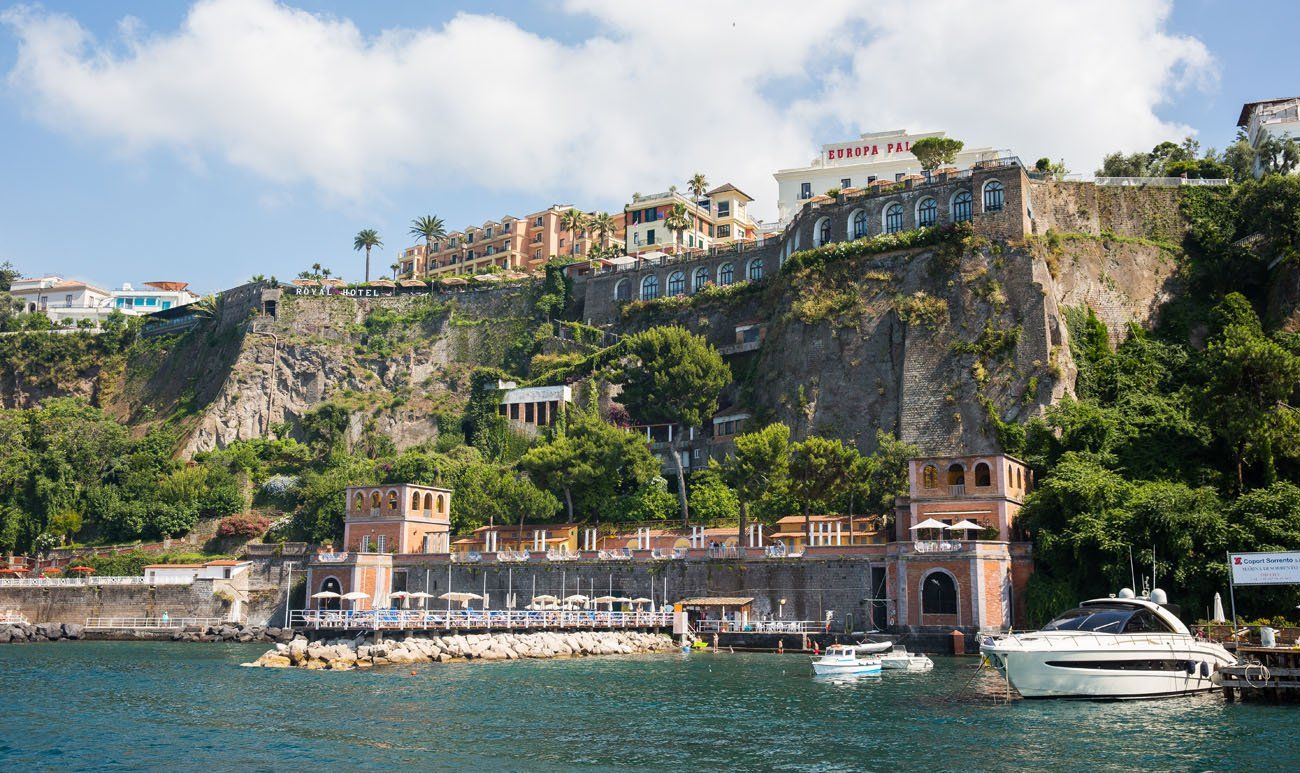 Sorrento
By Car
If you have your own car, it takes one hour to drive between Naples and Sorrento. On the way you will pass Mt. Vesuvius and Pompeii. Consider spending several hours here.
If you don't like the idea of taking the Circumvesuviana and don't have a rental car, consider hiring a private driver. This costs much more than the train, but it is a more comfortable way to travel and you do not have to worry about standing over your luggage during the one hour journey on the Circumvesuviana.
Here are several transfer options from Naples to Sorrento.
By Ferry
You can take a direct ferry from Naples to Sorrento. This takes 35 to 45 minutes but daily departures are limited. Click here to learn more.
---
Naples to the Amalfi Coast
There is no train to take you directly from Naples to the Amalfi Coast towns, including Positano, Amalfi, Ravello, and Atrani, just to name a few.
To get here, you need to rent a car, hire a driver, take the bus, or travel by ferry. You also have the option to take a train to Salerno or Sorrento and then use public transportation to get to the Amalfi Coast towns.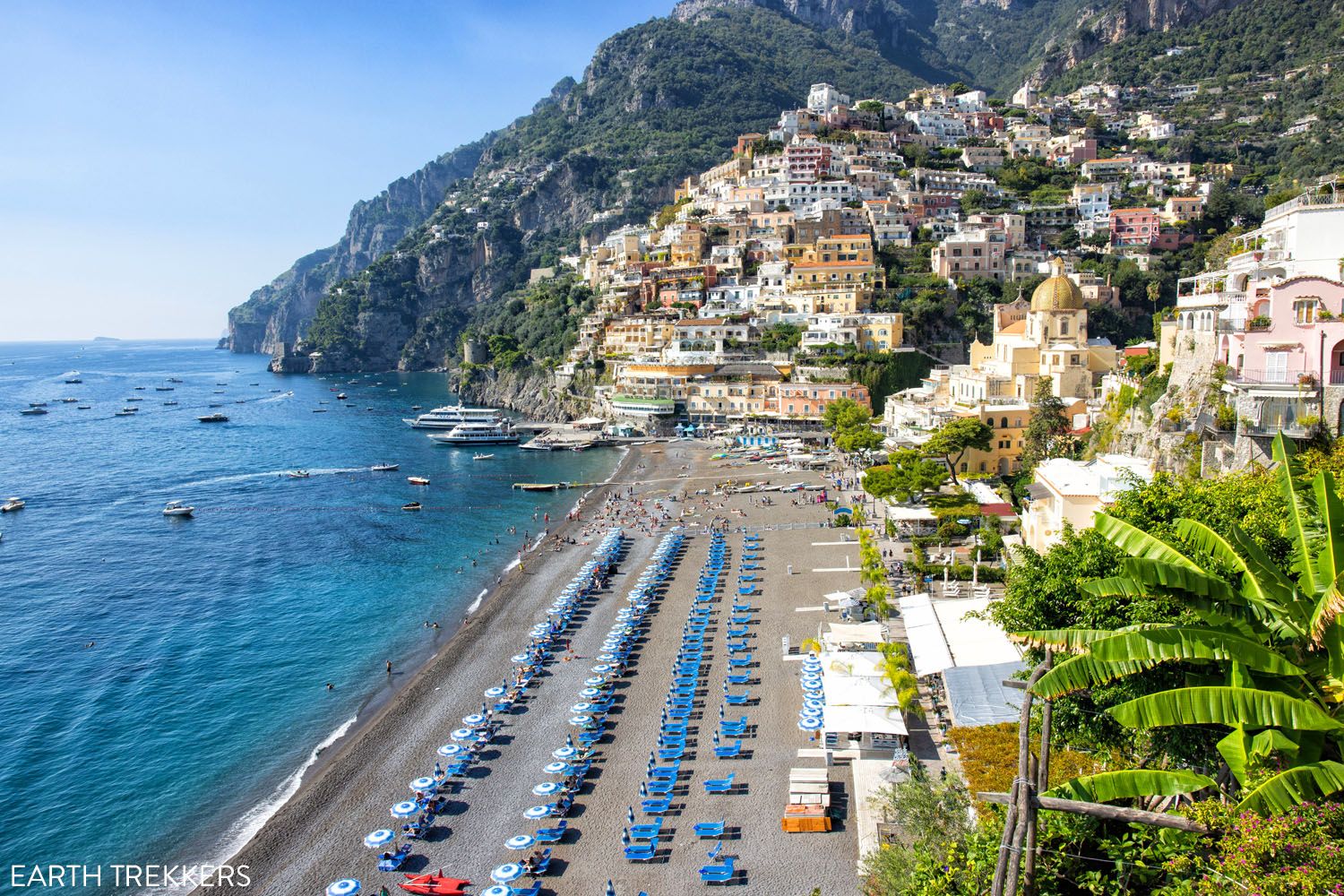 Positano
Hire a Private Driver
This is the easiest way to travel around the Amalfi Coast. The road can be difficult to drive, with hairpin turns and distracting but gorgeous views along the coast. Add in the traffic of tour buses and many other cars, especially during the summer months, and this drive begins to feel more like work than a fun road trip. And you haven't even tried to park your car yet (the closest spots you may find are a mile or farther from town).
A private driver is the most expensive option but it's also the one we recommend the most. If you plan on enjoying your experience here at the Amalfi Coast, hire a private driver.
Sorrento Silver Star has private drivers and you can use this transfer service from Naples airport to Positano.
By Ferry
There are no direct ferries from Naples to the Amalfi Coast. From Naples, you will first have to take the ferry to Sorrento and then travel to Positano and Amalfi. Ferries operate this route from April through October.
Visit ferryhopper.com for more information.
By Bus
You can take a SITA bus from Sorrento to the Amalfi Coast, including the towns of Positano, Praiano, and Amalfi. This is the most economical way to get around the region.
We did this in July 2014. It was a nightmare. Catching the first bus from Sorrento to Positano was great, no problems. After touring Positano, our plan was to catch a SITA bus to take us to the next town of Praiano. We waited and waited at the bus stop. After 45 minutes, no bus had arrived, and now a huge number of people were also waiting along with us. A private company offering a hop-on-hop-off bus tour arrived. We paid a hefty fee to take this to Amalfi, but it was better than waiting in the hot sun.
Later, the exact scenario repeated itself in Amalfi. Buses failed to show up and once one finally did, it was almost a pushing match to get a spot on the bus because so many of us were in the same situation. This is not a pleasant way to spend your vacation and this tainted our experience of visiting the Amalfi Coast.
Maybe things are better now. But I recommend hiring a driver or getting around by ferry.
By Tour
If you plan to stay in Naples, there are several day trips to the Amalfi Coast that get great reviews. On this full day tour, travel by bus, van or car, depending on the group size you choose, and visit Positano, Amalfi, and Ravello.
---
Naples to Capri
The most economical way to get from Naples to Capri is by ferry (you can travel by helicopter if you have money to burn and want to arrive in style).
Ferries take between 40 to 80 minutes, depending upon the speed of the ferry and whether or not it stops at Sorrento en route to Capri.
Ferry routes and prices change frequently. Check out this post on Capri.net that explains all of your options.
If you plan to stay in Naples, you can visit Capri on a day trip. On this full day tour from Naples, cruise across the Gulf of Naples and take in the view of Mount Vesuvius. Once at Capri, you can make an optional swimming stop at the Faraglioni Rocks. Spend 4 hours on Capri before traveling back to Naples.
For information on how to plan your visit to Capri, read our article Best Things to Do in Capri.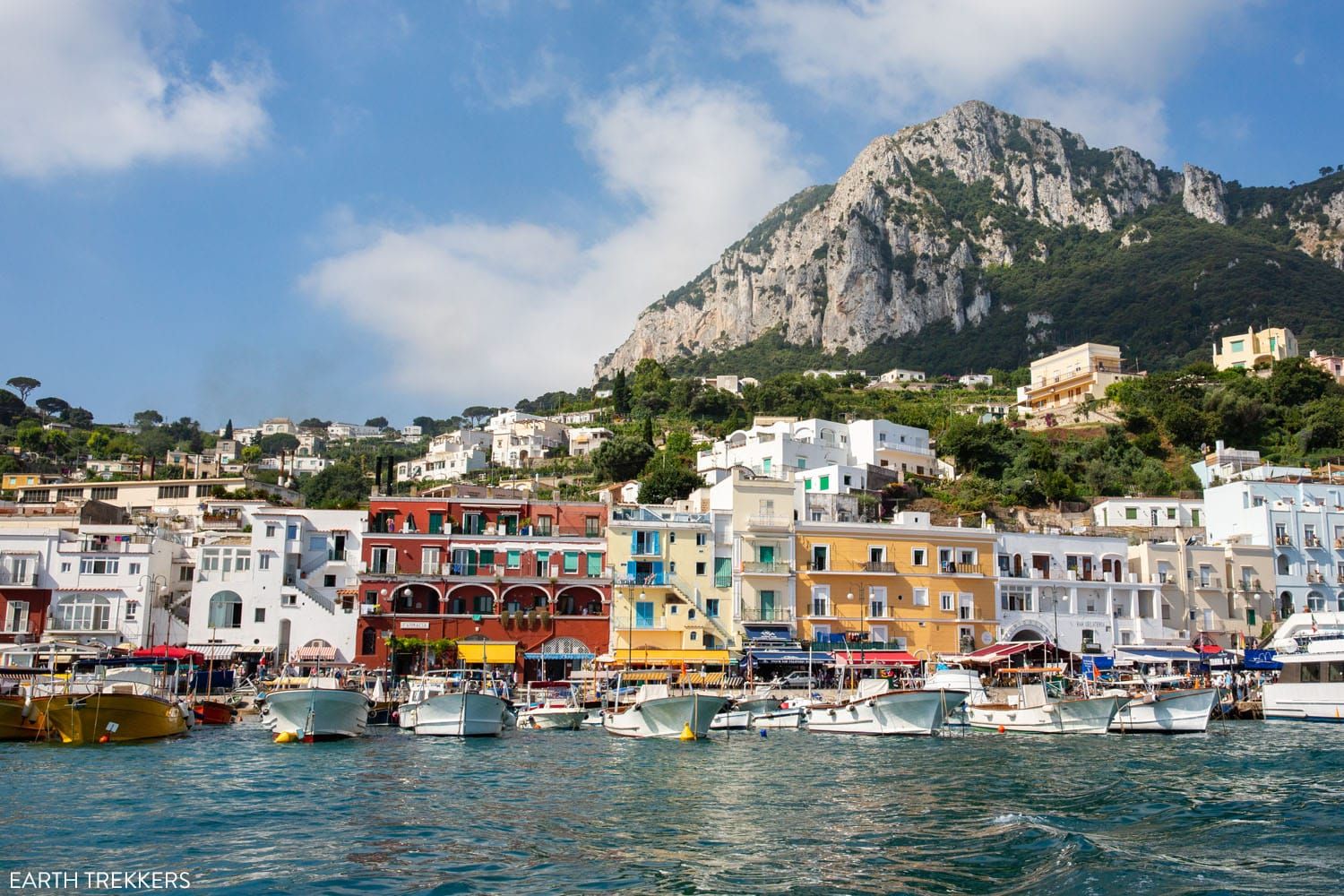 Capri
---
Putting it All Together
I've explained all of your options, but what really is the best way to travel in this region? Here is what we recommend:
Rome to Sorrento: High speed train to Naples, private driver to Sorrento (comfortable and convenient) or Campania Express or Circumvesuviana (for budget travelers)
Rome to Capri: High speed train to Naples, ferry to Capri (but that helicopter sure sounds nice, doesn't it?)
Rome to Amalfi Coast: High speed train to Naples, private driver to the Amalfi Coast
Getting to Sorrento, Capri, and the Amalfi Coast can be a hassle. However, it's worth it. With picturesque towns perched on the cliffs overlooking the Mediterranean Sea, the chance to visit the historical site of Pompeii, and one of the most beautiful drives in the world, it's easy to see why this is one of the most popular destinations in Italy.
If you have any questions about planning a trip to Italy, comment below!
---
More Information about Italy
SORRENTO & CAPRI: Learn how to spend 3 days in Sorrento, get a list of the best things to do in Capri and whether or not the Blue Grotto is worth it.
AMALFI COAST: Pick out which towns you want to visit in our article about the best towns to visit on the Amalfi Coast or take a look at our guide to Ravello. If you are active and adventurous, one of the best things to do on the Amalfi Coast is hike the Path of the Gods. We also have information on what it is like to drive the Amalfi Coast and the best way to get around the Amalfi Coast.
ROME: In Rome, we cover the best places to stay in our Rome Hotel Guide. We also have a detailed 2 day Rome itinerary that covers the best things to do in Rome.
FLORENCE & TUSCANY: If this is your first visit to Florence, read our guide to the Best Things to Do in Florence. If you are planning a visit to Tuscany, learn how to spend one day in Siena, how to visit Pienza, and the best things to do in San Gimignano.
CINQUE TERRE: One of the best experiences in the Cinque Terre is to hike between all five towns. If you are traveling on a budget, get our money saving tips for the Cinque Terre.
ITALY ITINERARY: If you have two weeks in Italy, check out our 14 day Italy itinerary, which covers the highlights (Rome, Florence, Venice, the Amalfi Coast, and the Cinque Terre).
We have TONS more information about Italy in our Italy Travel Guide, including Rome, Florence, Venice, Tuscany, the Dolomites, the Amalfi Coast, the Cinque Terre, and Puglia.
Note: This post contains affiliate links. When you make a purchase using one of these affiliate links, we get paid a small commission at no extra cost to you.
All rights reserved © Earth Trekkers. Republishing this article and/or any of its contents (text, photography, etc.), in whole or in part, is strictly prohibited.