While visiting Victoria Falls in Zimbabwe, we walked across the Victoria Falls Bridge into Zambia. This sounds easy enough to do, but while planning our trip there was a lot of conflicting information about what visas and vaccinations are necessary in order to do this. If you have the same questions, here is some information to help you plan your visit.
Crossing the Victoria Falls Bridge
We visited Victoria Falls in August 2014. We made this trip as a day trip from Kasane, Botswana, hiring a driver for the day. We chose not to drive into Zimbabwe from Botswana, as we read from countless sources that taking a rental car into Zimbabwe is a hassle that is just not worth it.
Kazungula Border Post
Our family of six left Kasane at 8 am. The Kazungula border post is located just ten minutes from Kasane. This is the border crossing to travel to Victoria Falls from Kasane.
The first step is to clear customs and immigration on the Botswana side, which is very quick and straightforward. This requires a quick visit into the border control office to get your passport stamped. From here you get back into your car, drive thirty seconds across the border, then clear customs and immigration on the Zimbabwe side. Here is where things slow down. In the morning there are usually large groups of tourists heading to Victoria Falls, so be prepared to wait a half hour or longer to get through this part. It took us one hour to clear customs in both countries.
Getting your Zimbabwe Visa
Zimbabwe has different visa requirements depending upon your nationality. Many countries fall into Category B, the Visa on Arrival category (including the USA, Canada, Australia, New Zealand, the UK, most European countries, Japan, and more). For the full listing and to find out which category you fall in (and for updated pricing), click here.
In order to enter Zimbabwe, a visa will have to be purchased, and there is the option of a single entry or double entry visa. If you are planning on only walking across the Victoria Falls Bridge into Zambia without entering Livingstone, Zambia, only the single entry visa is necessary. If you plan on entering Livingstone, Zambia (going through customs in Zambia) and later re-entering Zimbabwe, then a double entry visa is necessary.
We purchased the double entry visa just so we were covered, at a price of $45 USD per person. A single entry visa costs $30 USD. As it would turn out, only a single entry visa was necessary for what we wanted to do.
From the Botswana-Zimbabwe border it is a one hour drive to Victoria Falls.
Victoria Falls Bridge
The Victoria Falls Bridge is located outside of Victoria Falls National Park. To walk across the bridge, park in the lot across from the main entrance to the park, make a right out of the parking lot, and walk ten minutes down the road toward the bridge.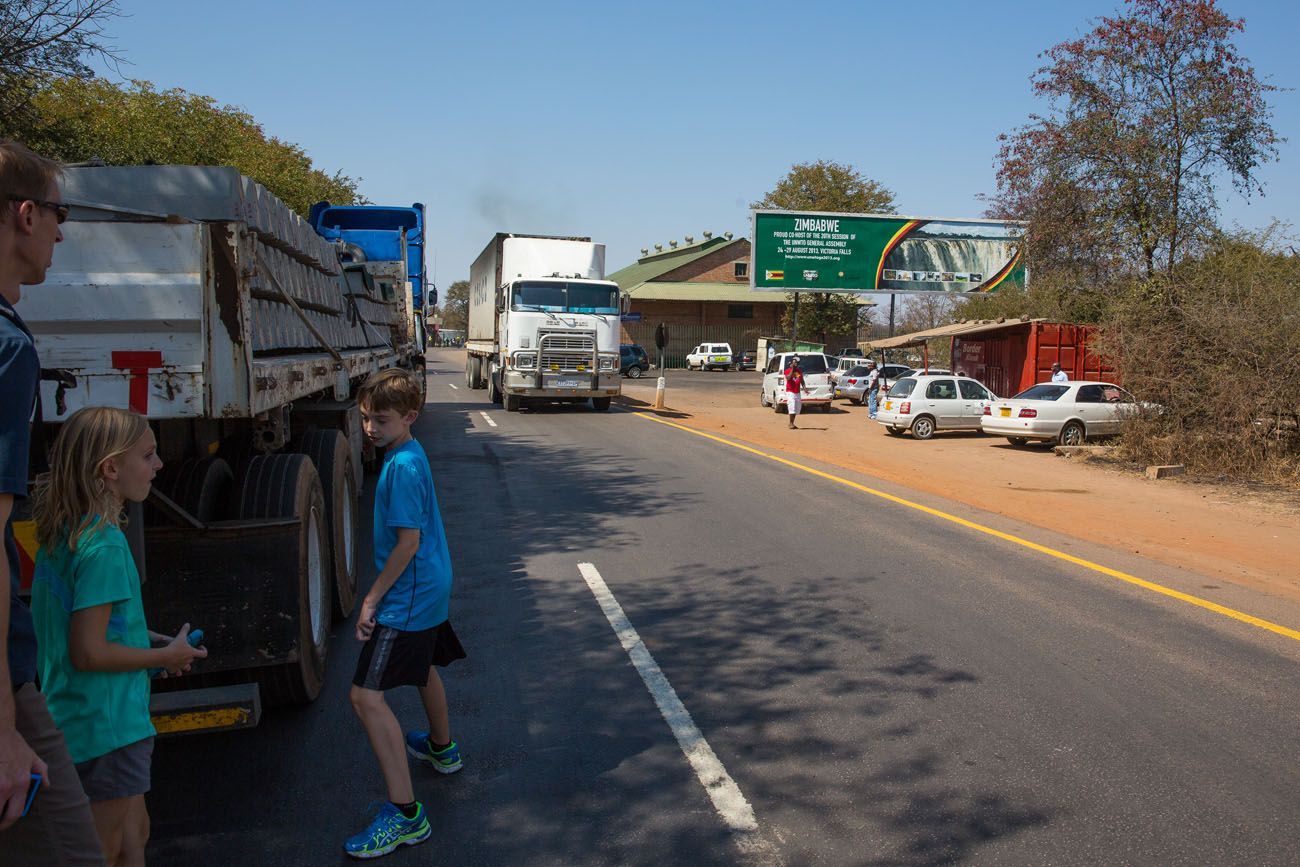 Before being allowed to walk onto the bridge it is necessary to clear customs on the Zimbabwe side, since technically you will be entering Zambia halfway across the bridge. You will be given a piece of paper stamped with the Zimbabwe stamp. Keep this piece of paper because this gets you back into Zimbabwe.
From here, walk across the bridge, enjoy views of Victoria Falls and go bungy jumping if your heart desires. Halfway across the bridge is the Zambia border. It is a ten minute walk from the bridge into Zambia to reach their border post.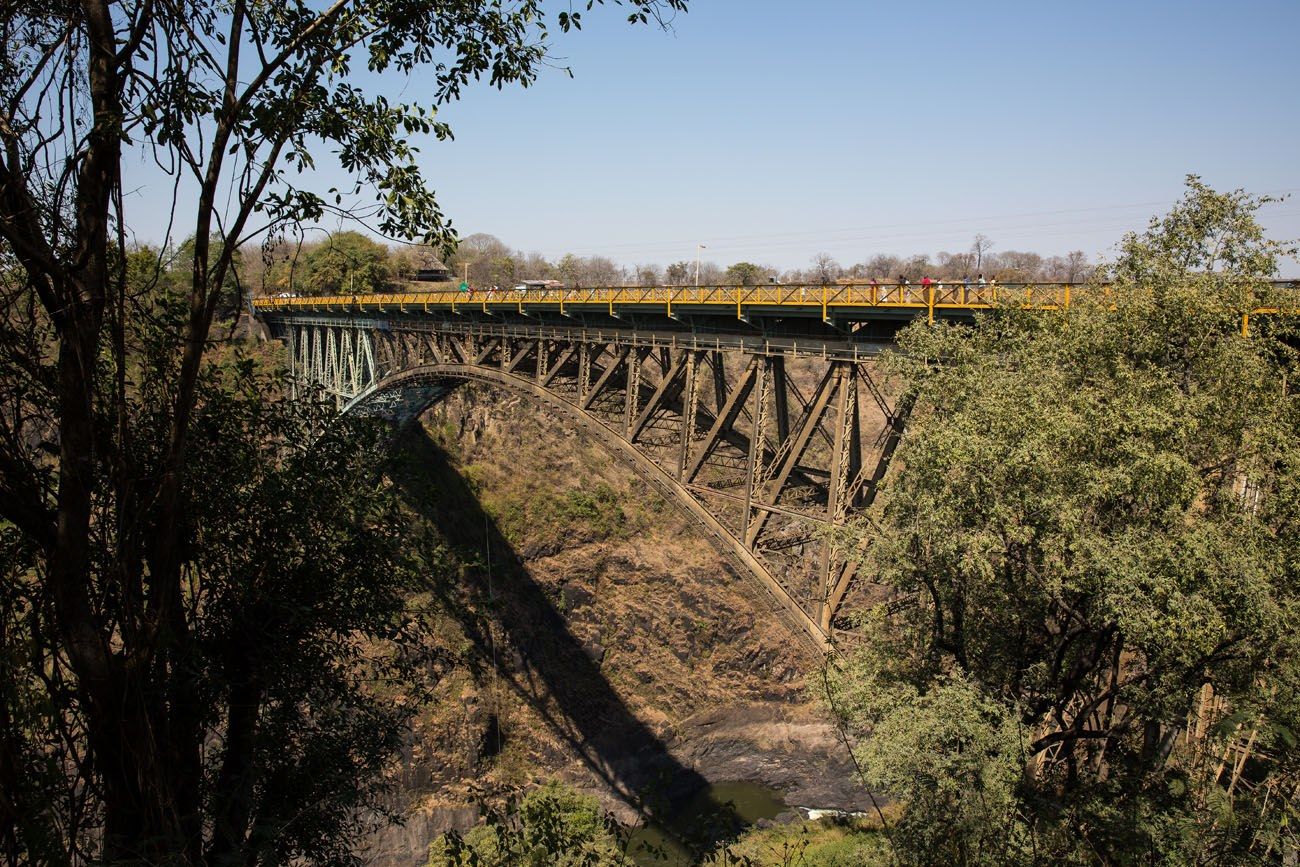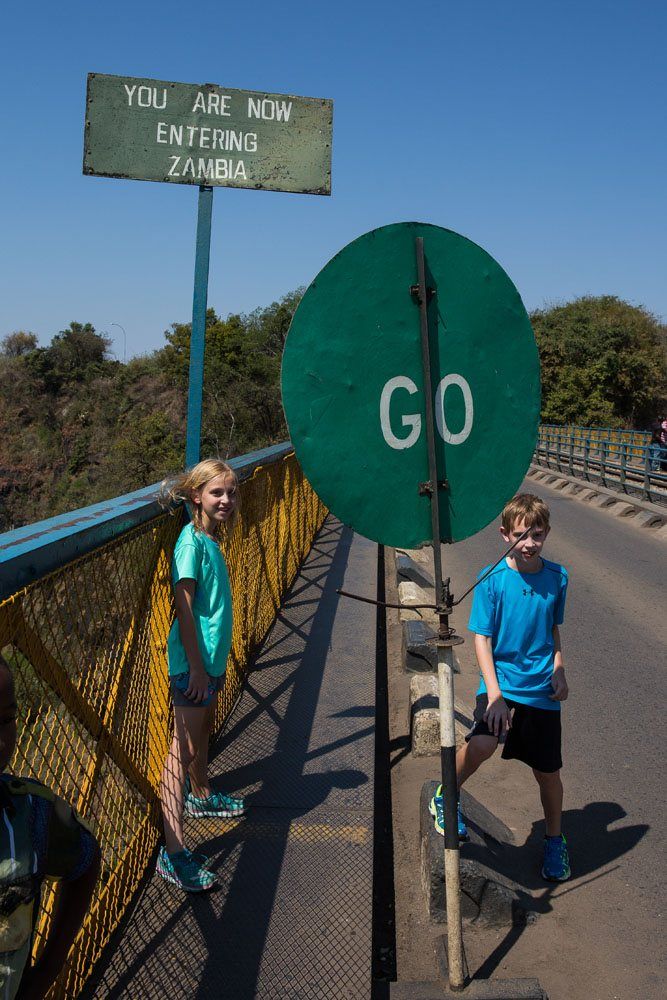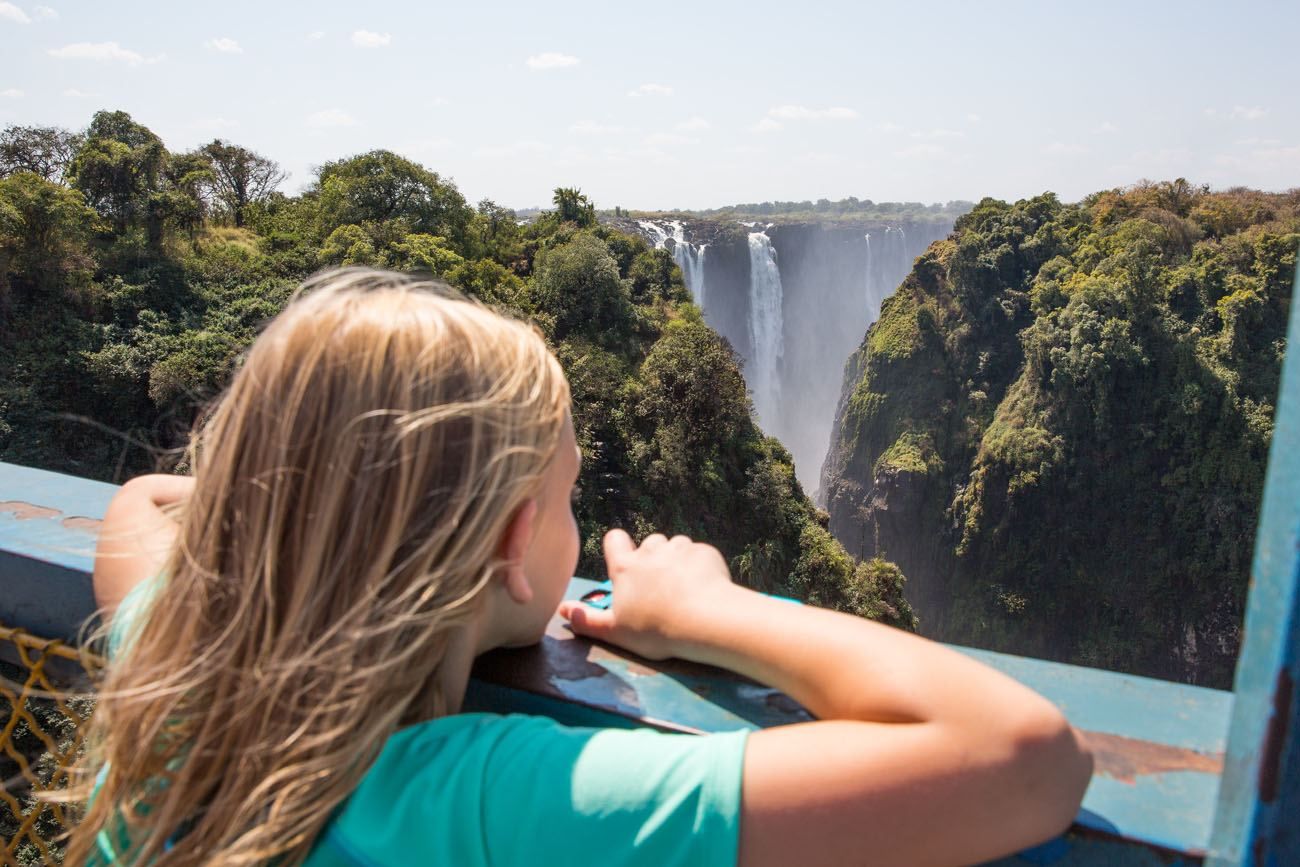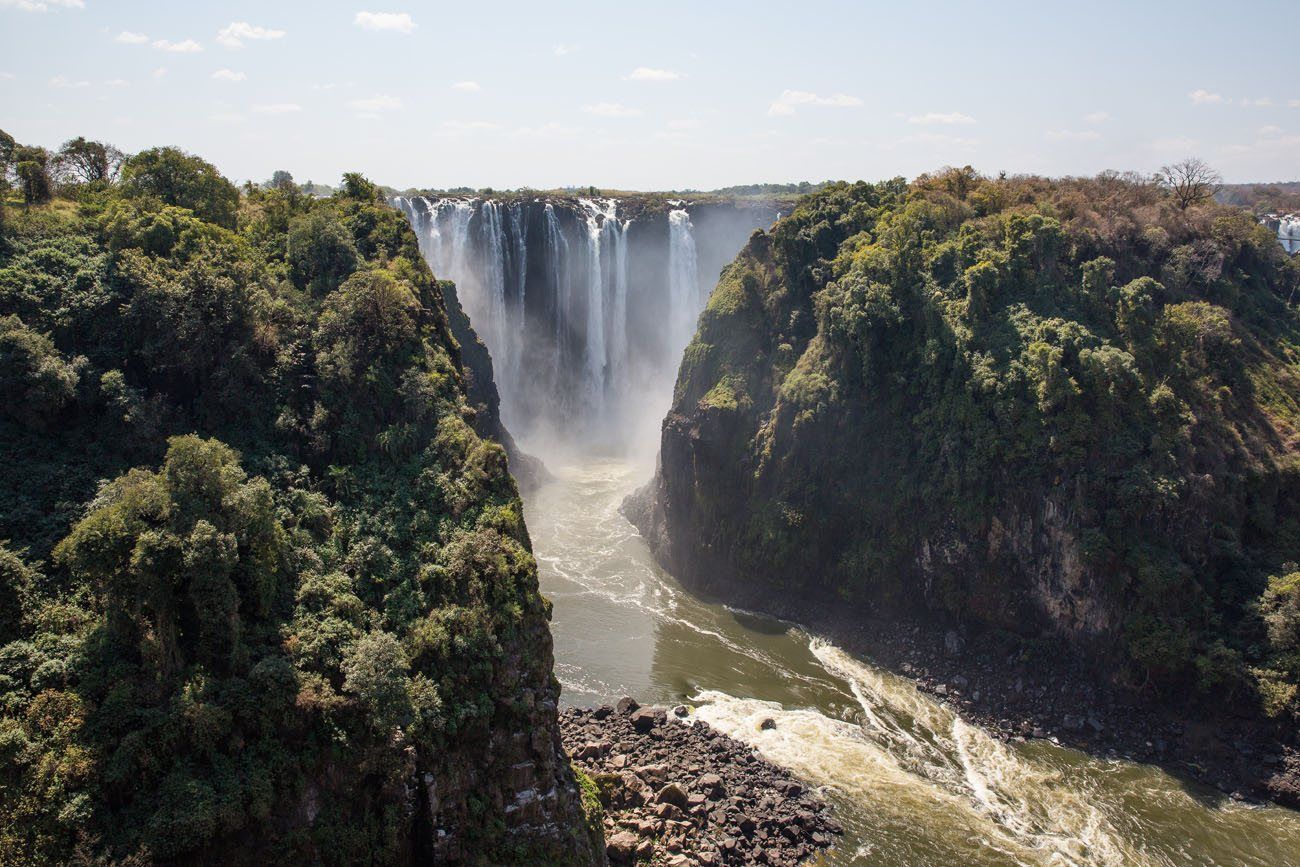 Once you are finished visiting the bridge, present the stamped piece of paper at border control to re-enter Zimbabwe and you are on your way.
In summary, to just stand on the Victoria Falls Bridge, only a single entry Zimbabwe visa ($30 USD) is necessary. Once at the Victoria Falls border post you will be given a piece of paper with a stamp on it that will get you back into Zimbabwe from the Victoria Falls Bridge.
Some words about getting your passport stamped in Zambia:
If you choose to pass through border control in Zambia and later want to re-enter Zimbabwe, you must purchase a double entry visa ($45 USD) for Zimbabwe.
Do You Need a Yellow Fever Vaccination?
When we visited Zimbabwe and Zambia in 2014, South Africa had a requirement that any visitors to Zambia must have a Yellow Fever vaccination in order to enter South Africa. In February 2015, this requirement was lifted. For more information, read this. So no, you do not need a Yellow Fever vaccination to enter South Africa after visiting Zambia.
---
You Might Also Like: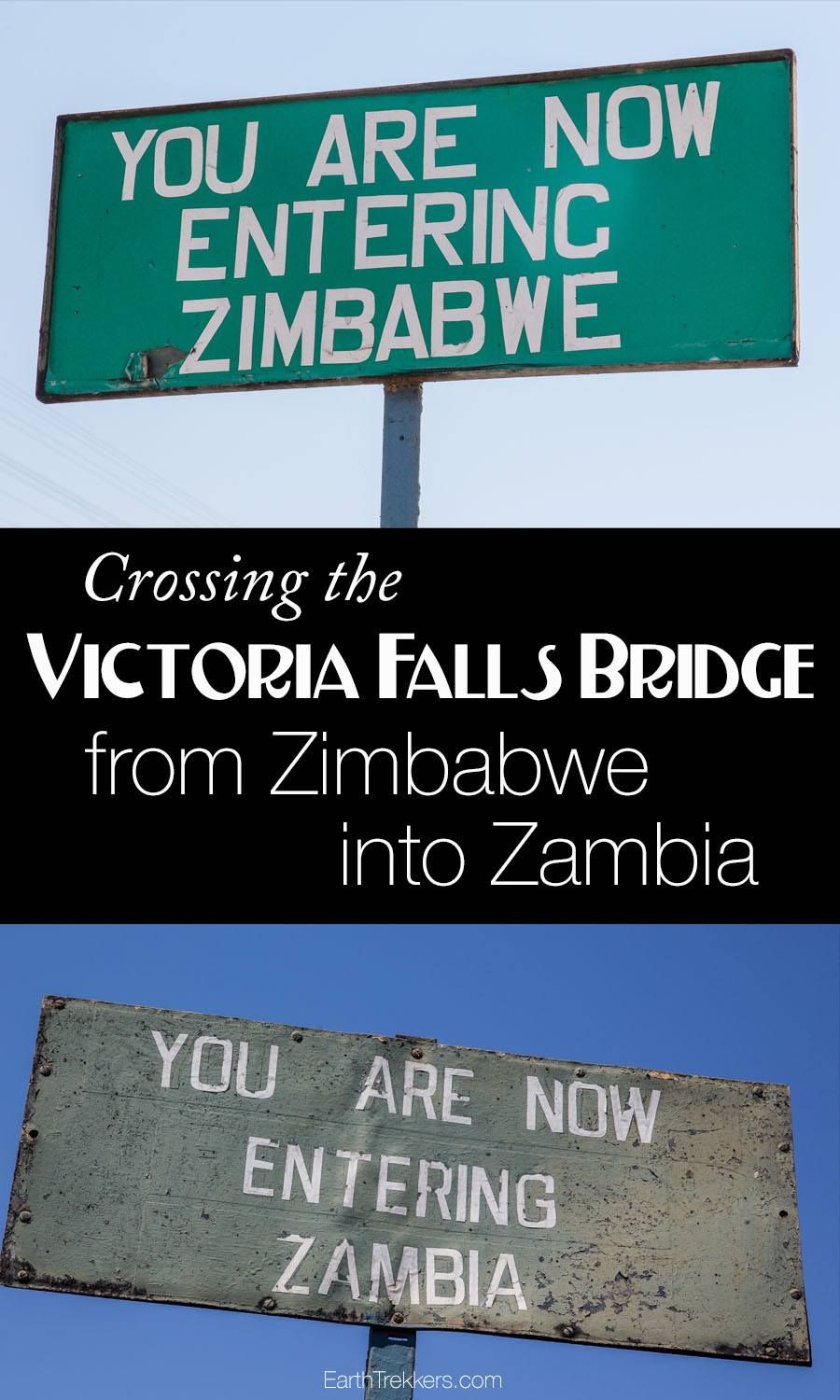 All rights reserved © Earth Trekkers. Republishing this article and/or any of its contents (text, photography, etc.), in whole or in part, is strictly prohibited.