The Diamond Head Summit Trail in Oahu is one of Hawaii's most popular hikes. This short, steep trail takes hikers up to a spectacular viewpoint of Waikiki Beach.
We have hiked a lot of trails around the world and this was the most crowded, congested trail we have seen yet. If you are looking for a quiet, secluded trail in Hawaii, this is not the one.
However, it is short and not overly difficult, and with its stunning 360° views from the summit, this hike is well worth it. Just be prepared for long stair climbs and many other hikers.
Diamond Head Summit Trail Hiking Stats
Distance: 1.7 miles out-and-back
Difficulty: Moderate
Total Ascent: 515 feet
Starting Elevation: 275 feet
Highest Elevation (summit): 775 feet
Time: 1 to 2 hours

Diamond Head Summit Trail
Step-By-Step Trail Guide
History of the Trail
The Diamond Head (Le'ahi) Summit Trail is located in Diamond Head State Monument, a state park that preserves the volcanic crater and the historical sites located here.
This hiking trail climbs up part of the rim of a volcanic crater that was formed 300,000 years ago.
The trail was constructed in 1908 as part of Oahu's defense system. On the summit are bunkers and a lighthouse that were used to direct artillery fire from batteries in Waikiki and Fort Ruger.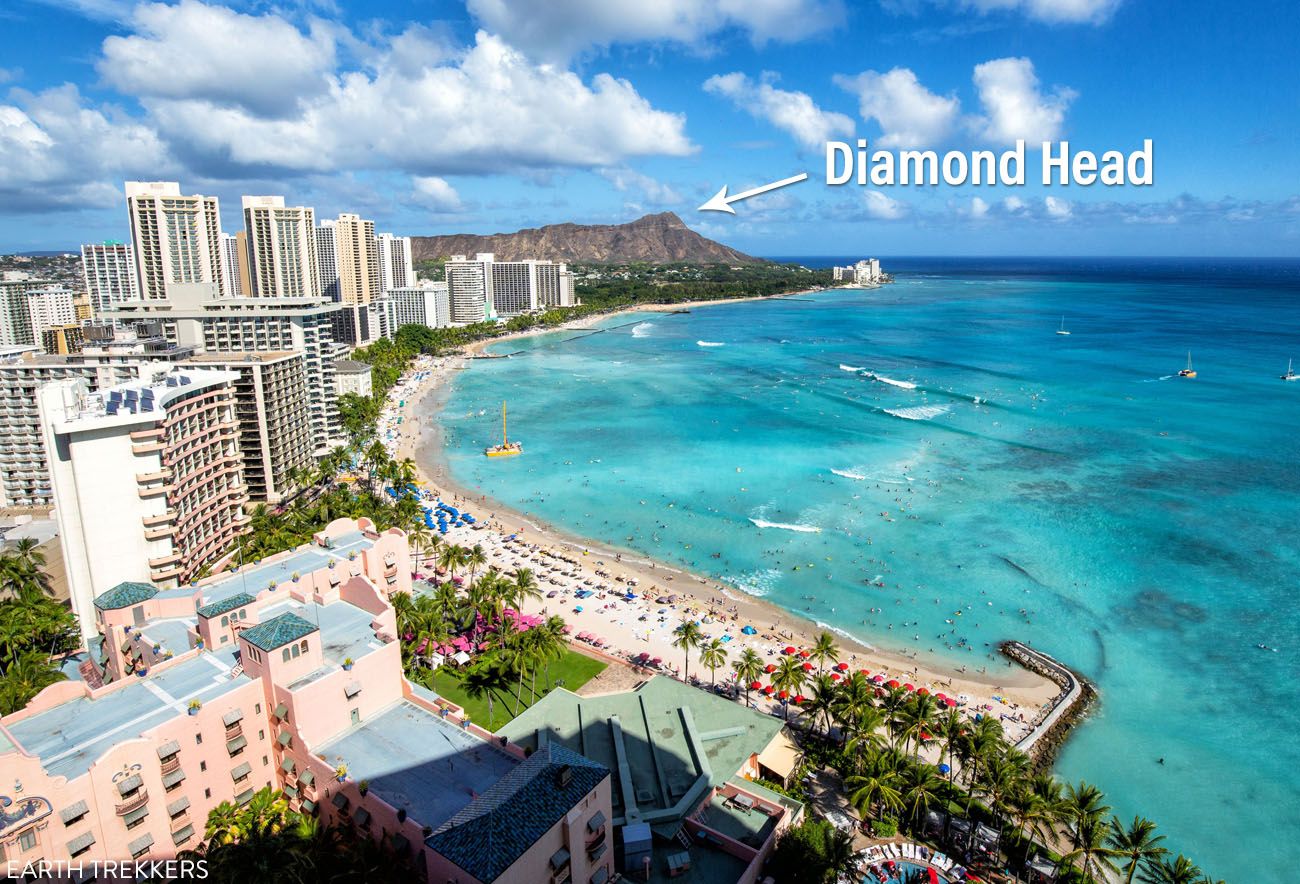 View of Diamond Head and Waikiki Beach. This photo was taken from our hotel, the Sheraton Waikiki.
Entrance into Diamond Head State Monument
Diamond Head State Monument is open daily from 6 am to 6 pm. Last entry is at 4 pm. This park is gated and the gates close at 6 pm, so make sure you exit the park before this time.
Entrance Fees
Entrance Fee: Hawaii residents are free. Non-residents pay $5 per person and children under 3 are free. Credit card only.
Parking Fee: No charge for Hawaii residents. Non-residents pay $10 per non-commercial vehicle and $25 to $90 for commercial vehicles. Credit card only.
Getting Here
By Car: Use Google Maps for driving directions to Diamond Head State Monument. To get into the park, you will drive through the Kahala Tunnel (also called the Diamond Head Tunnel). Parking is limited, so if the lot is full, you will either have to pull over and wait for a space to open or you might get turned away. We got lucky and got a parking space, but right after that, cars were forced to exit the park and finding a space elsewhere.
If you cannot get a space inside the park, you will have to park along Diamond Head Road (outside of the park) and walk up the road to the trailhead.
By Bus: Take number 23 bus to the Diamond Head State Monument bus station and walk up the road and through the tunnel.
You can also get here on the Waikiki Trolley or by using a rideshare app like Uber or Lyft.
It is roughly a half mile walk one-way from the entrance into Diamond Head State Monument to the trailhead.
Hiking the Diamond Head Summit Trail
The trailhead starts next to the parking lot. There are restrooms here as well as a few food and souvenir stands.
Before starting the hike, you will pay your entrance fee at one of the kiosks located next to the trailhead.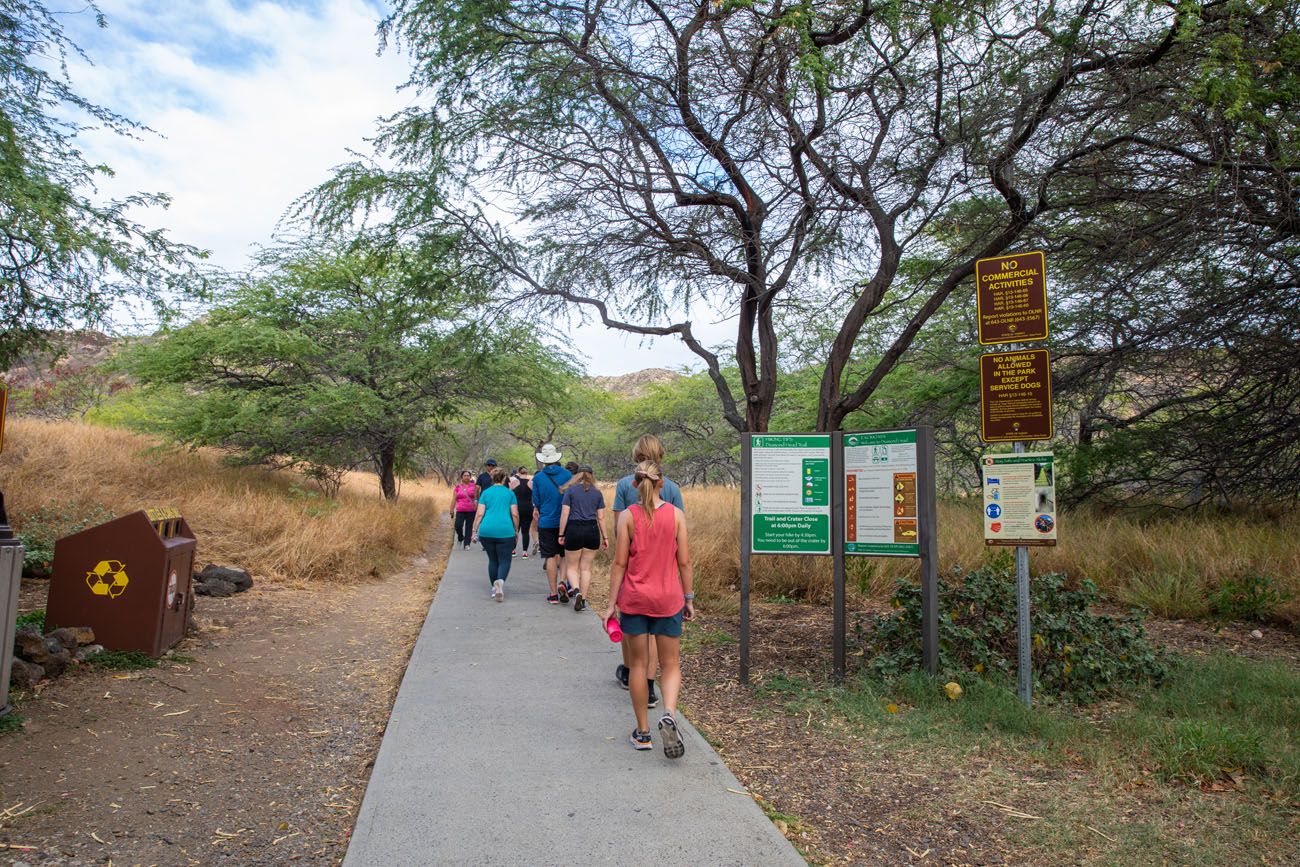 The trailhead
This hike really is not so much of a hike as it is a stair climb. Most of the path is paved and there will be several staircases along the way, one of them which is quite long.
The trail starts off very easy. It's a slightly uphill walk on a sidewalk. In front of you, you will get your first view of rim of the crater and if you look closely, you can see the bunkers, and the people, on the summit.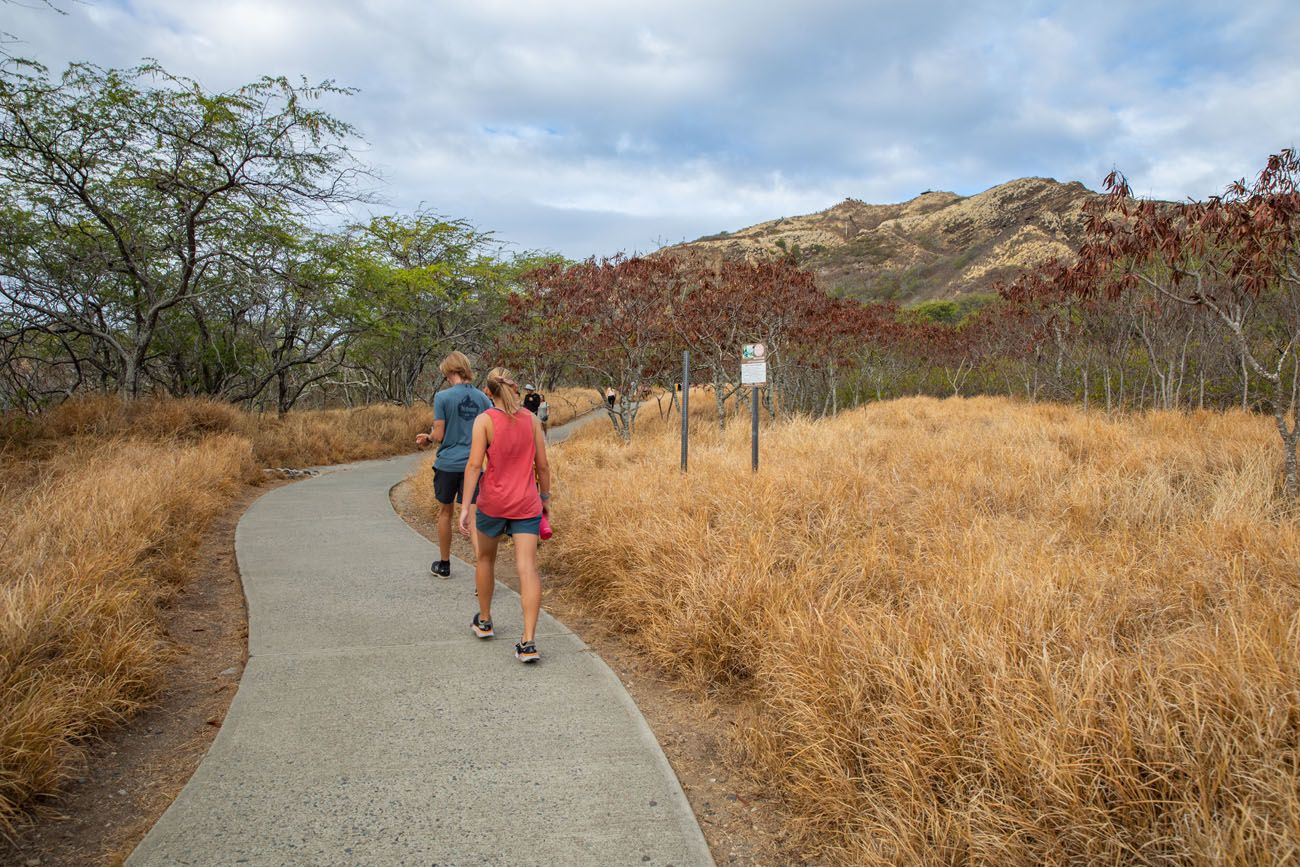 About a quarter mile into the hike, the trail changes. Now it begins to gain elevation. The terrain also gets rougher. It becomes a mix of a paved and dirt path and it's a lot rougher than the sidewalk. There are also railings along this part of the trail.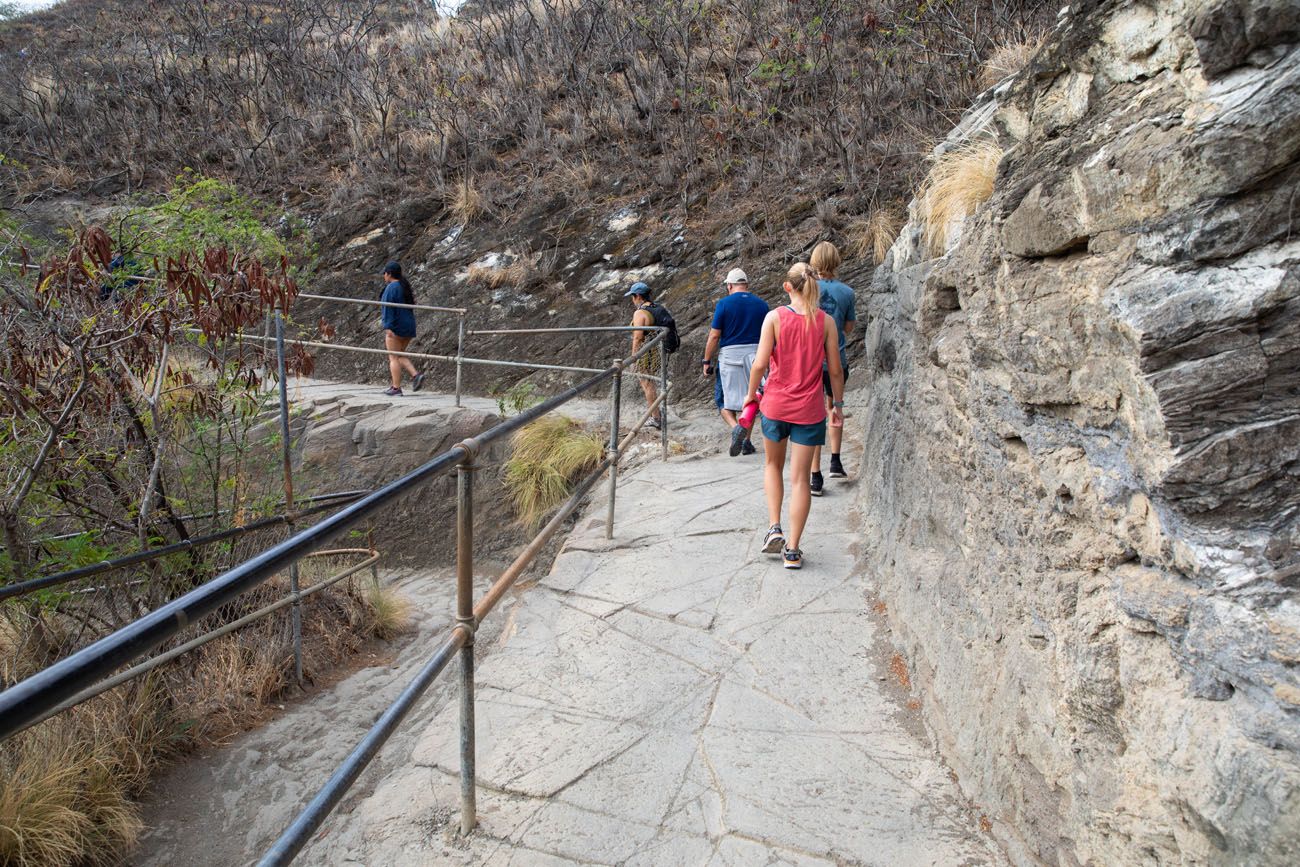 In the photo below, you can see the trail as it switchbacks up the crater rim.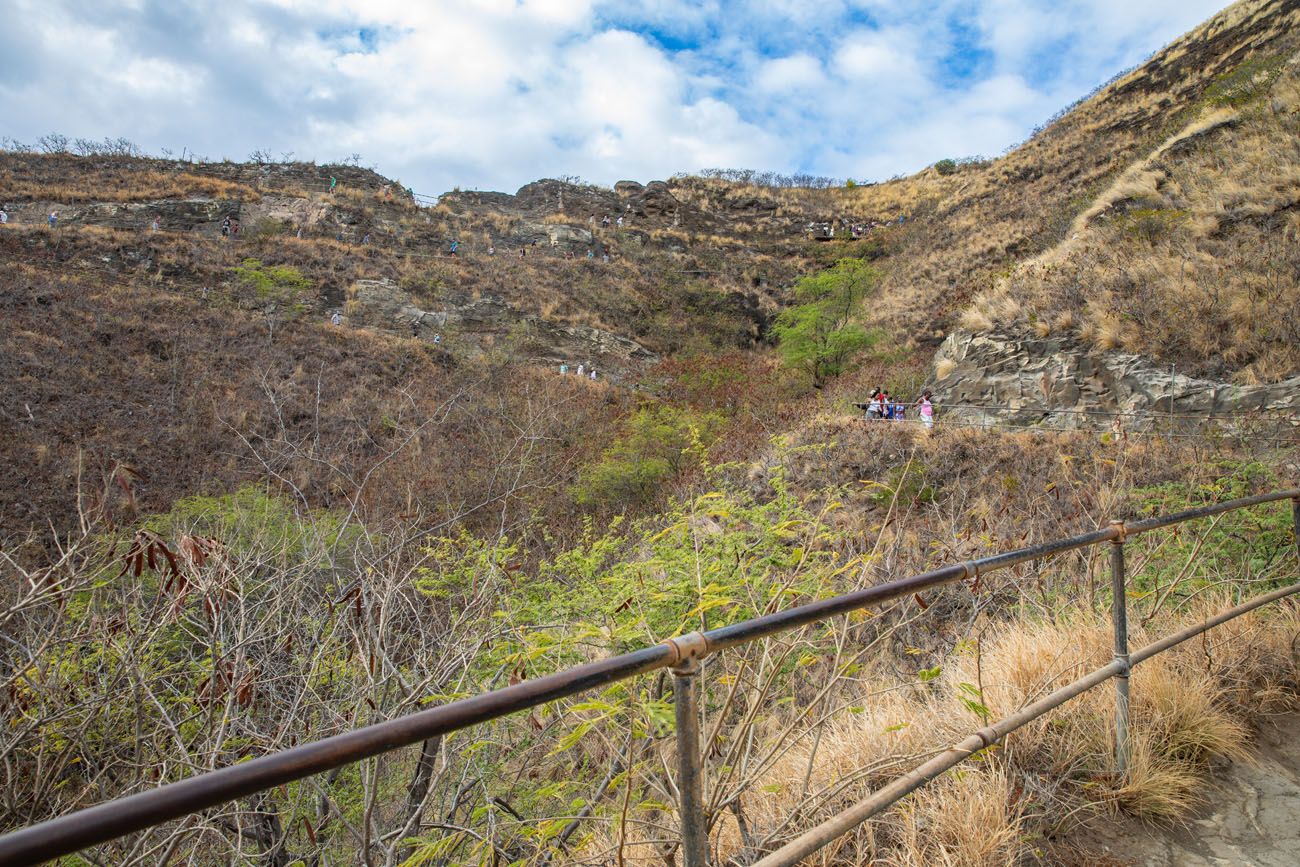 Next you come to the first staircase. With only 76 steps, this is a good warm up for what is about to come. The staircase ends at a long, narrow tunnel. But the tunnel is flat so it's a good place to catch your breath.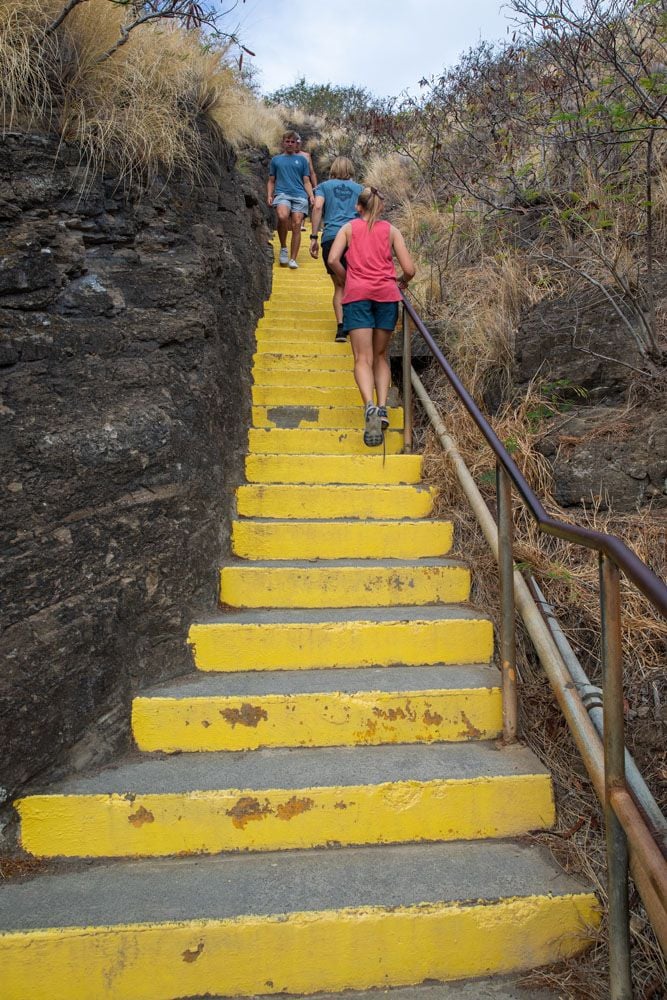 At the end of the tunnel the path forks. Go right to take the fastest way up to the summit (lots more stairs!). Go left and you can walk up a combination of paved paths and shorter staircases to reach the summit. If you go left, there is also a small seating area. You can sit and wait here for the rest of your party to finish the hike if you find this hike to be too challenging.
If you choose to go right at the fork, below is the photo of the long staircase. I read that it is 99 steps in total.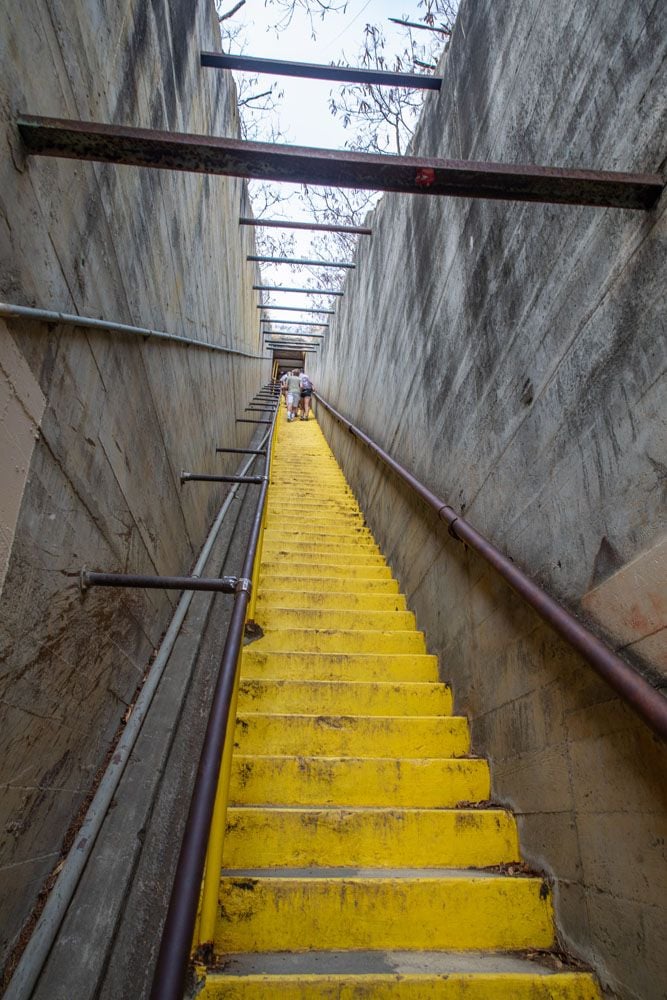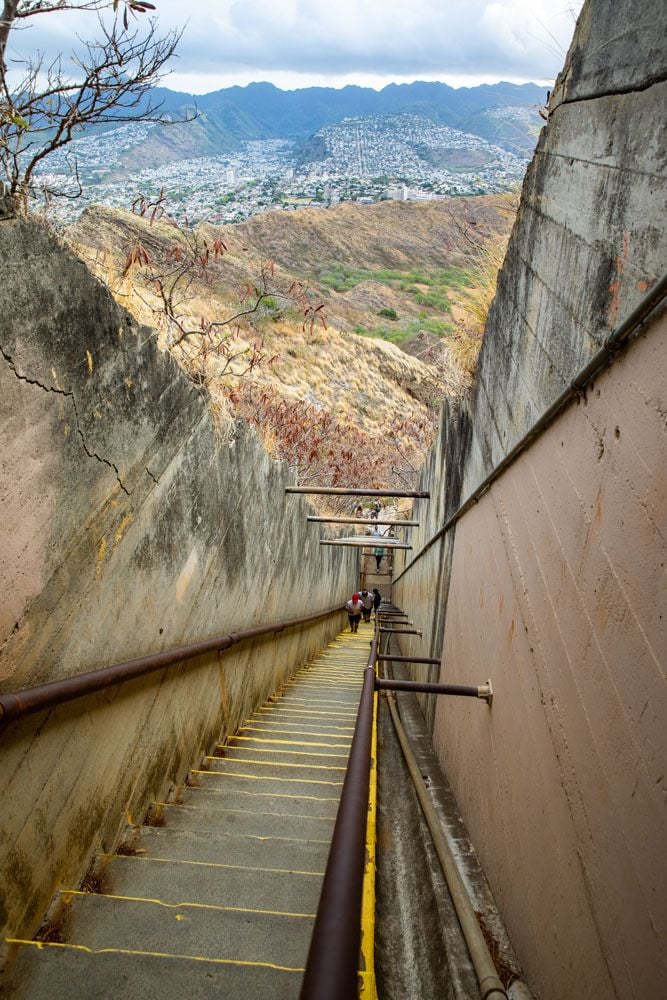 View down the stairs
Once at the top of that staircase, the fun continues. Now you get to climb a metal, spiral staircase. This ends inside of a bunker and then it is just a short walk to the viewpoints.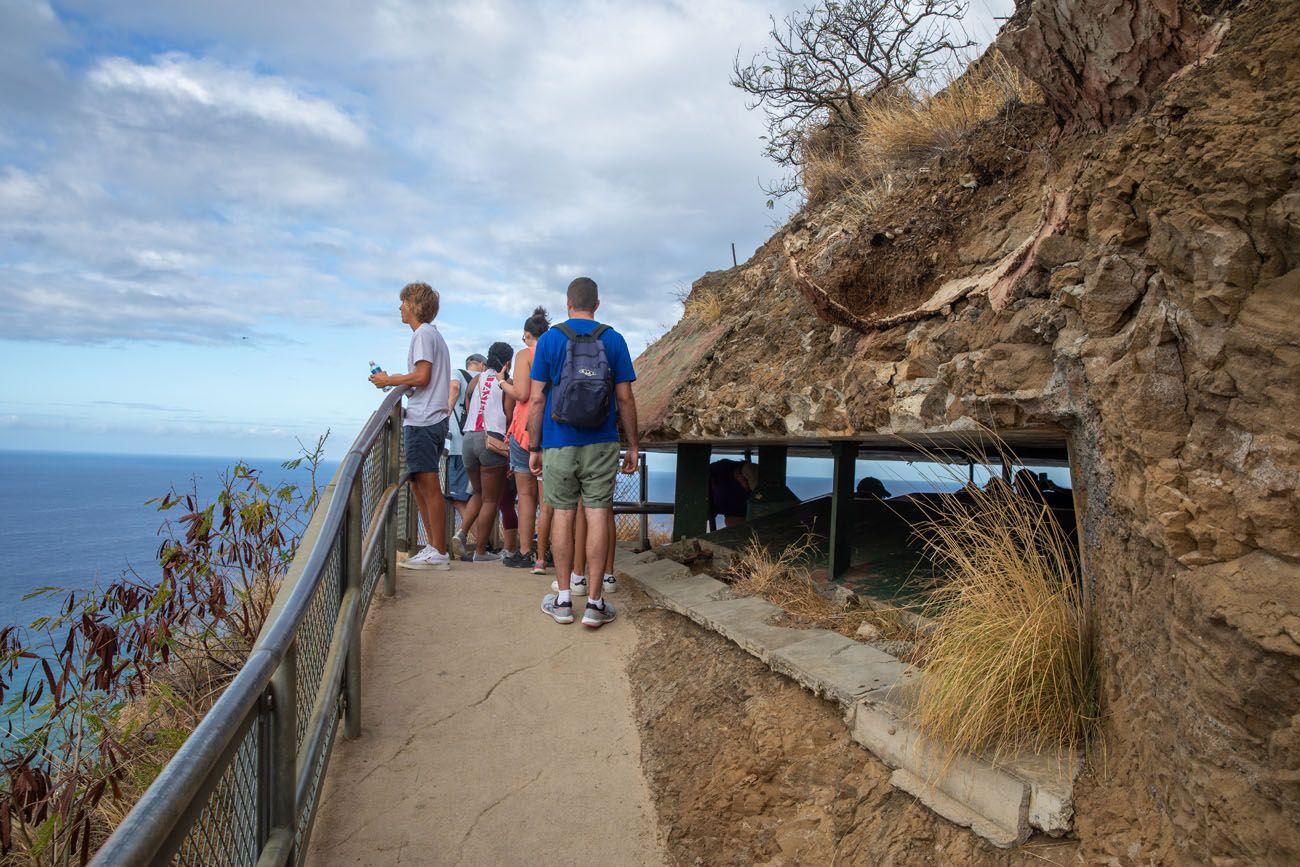 On the Diamond Head Summit
Once on the summit, there are few viewpoints to visit. To get to the highest viewpoint, it is one last stair climb.
This area was extremely crowded during our visit. But the 360° views across Oahu and Waikiki Beach are amazing.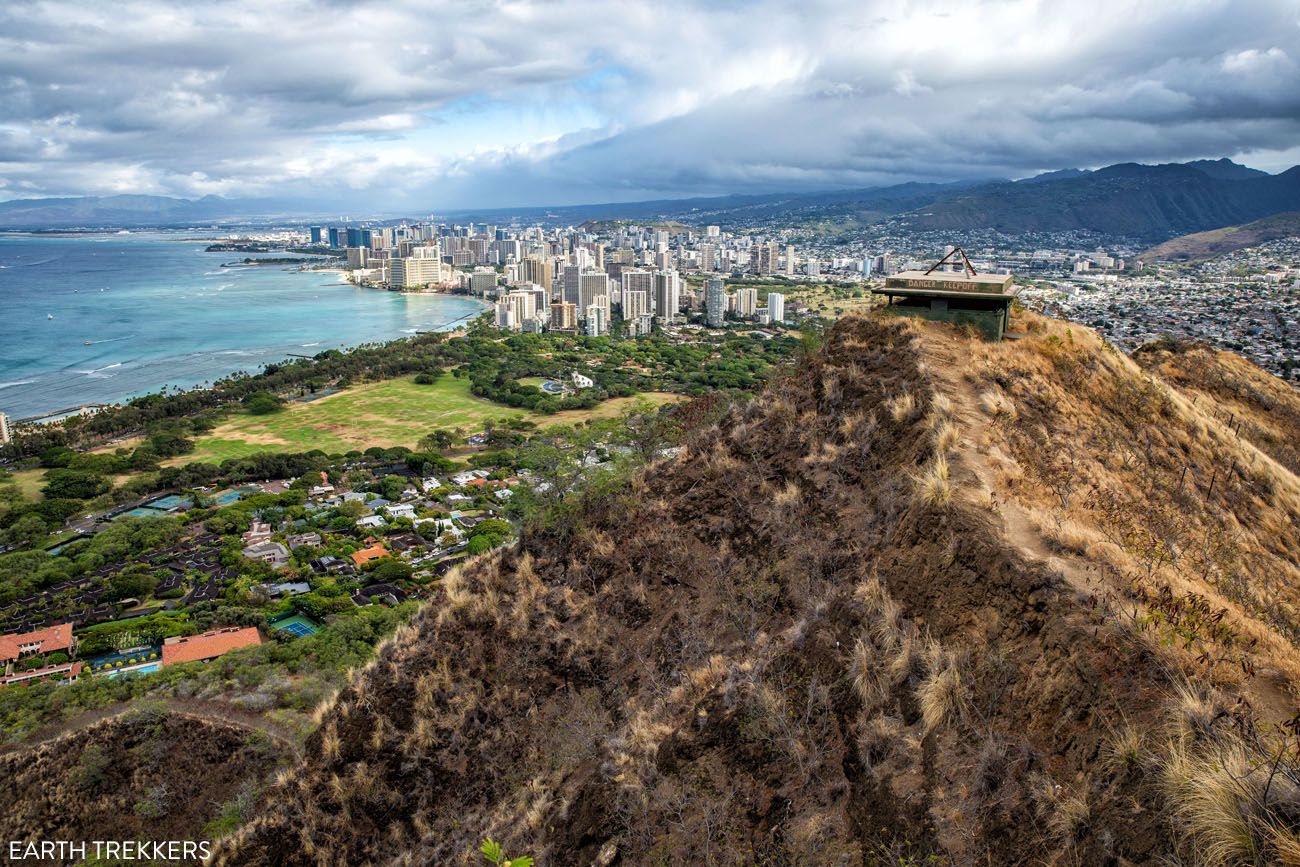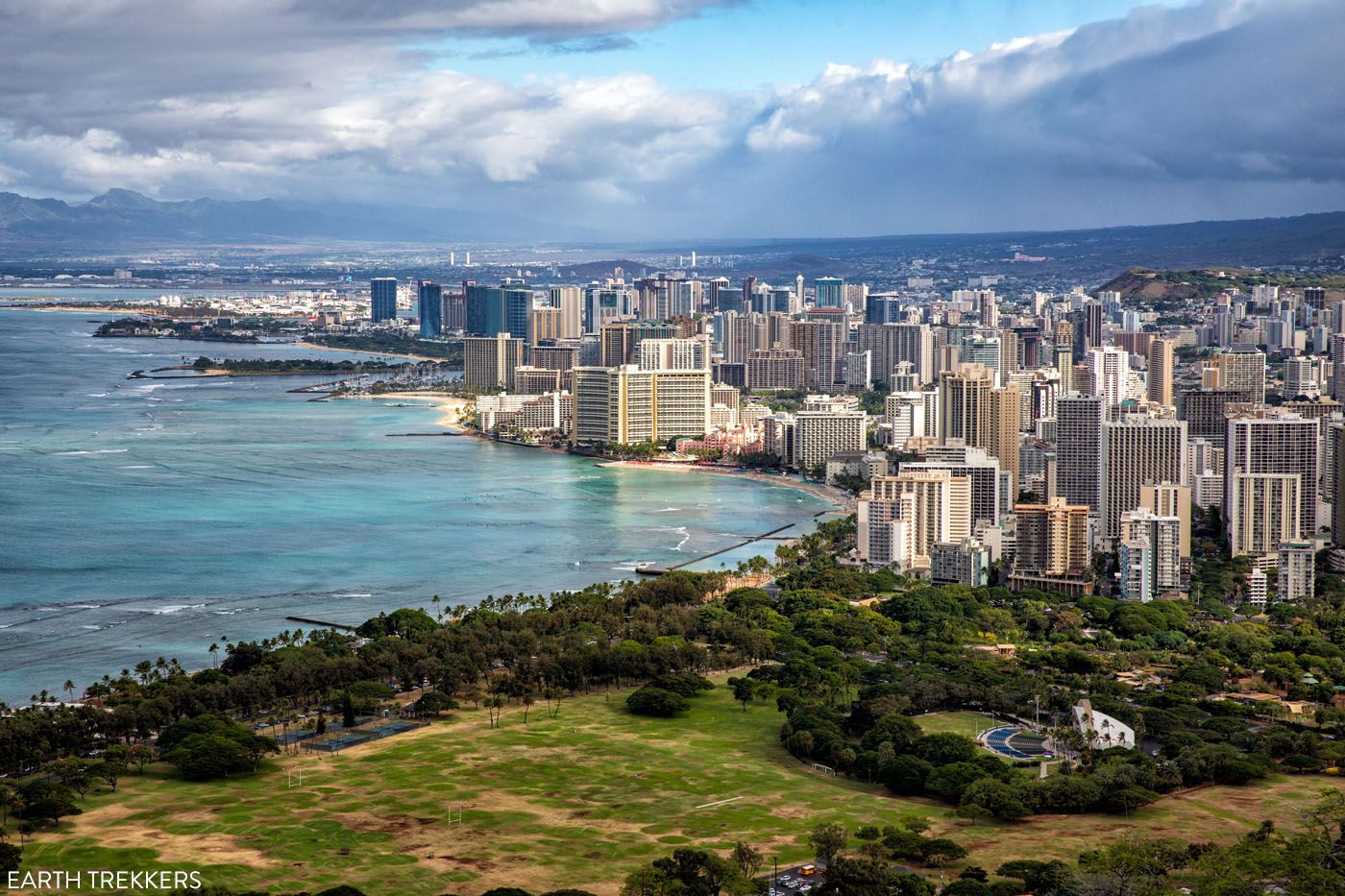 Finishing the Hike
To exit the summit, take the alternate trail down, forming a loop. There are several staircases and a paved trail that leads back to main hiking trail. Going this way avoids the descent on the metal staircase and the 99 steps. Then, retrace your steps on the main trail until you get back to the parking lot.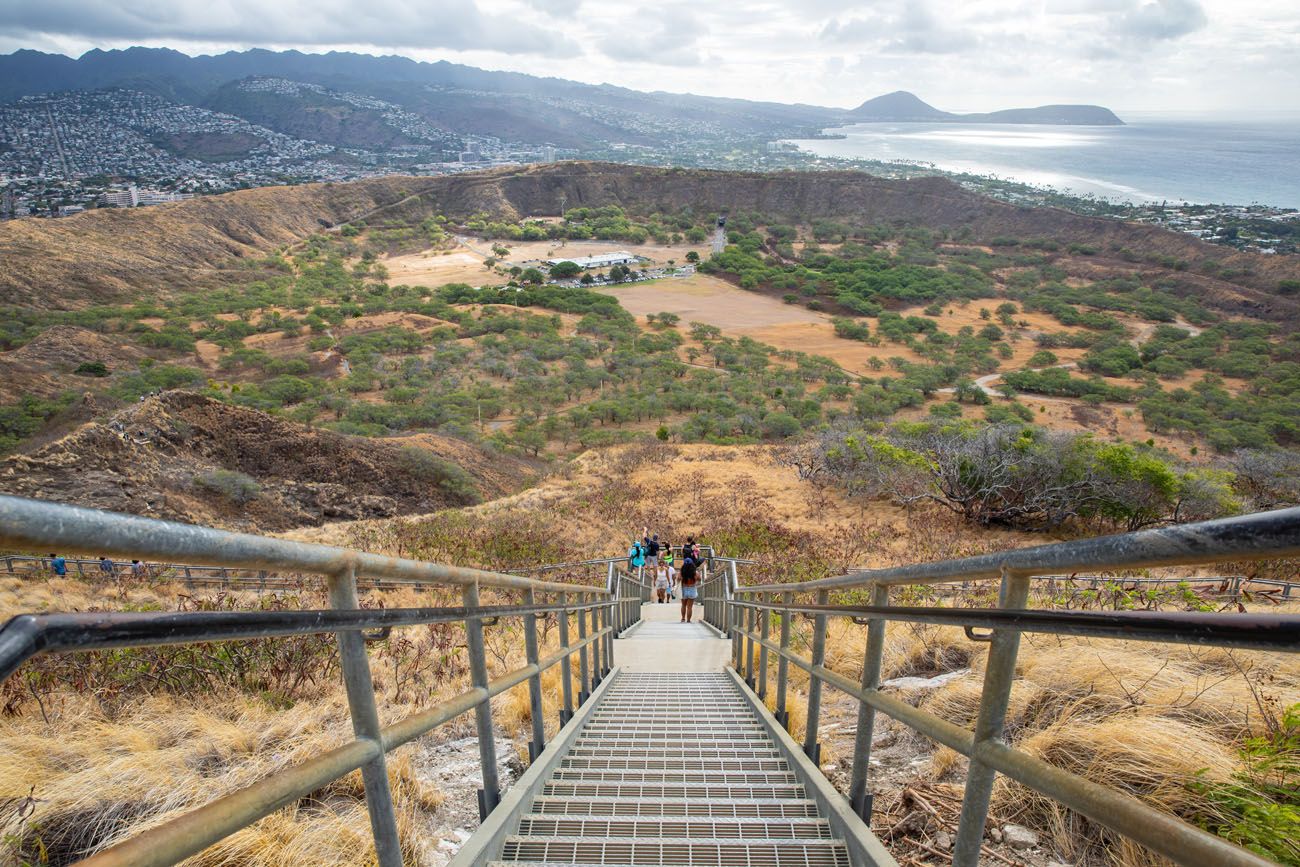 This is a great time to buy a Diamond Head hiking souvenir or treat yourself to shaved ice, pineapple whip, or fruit smoothie.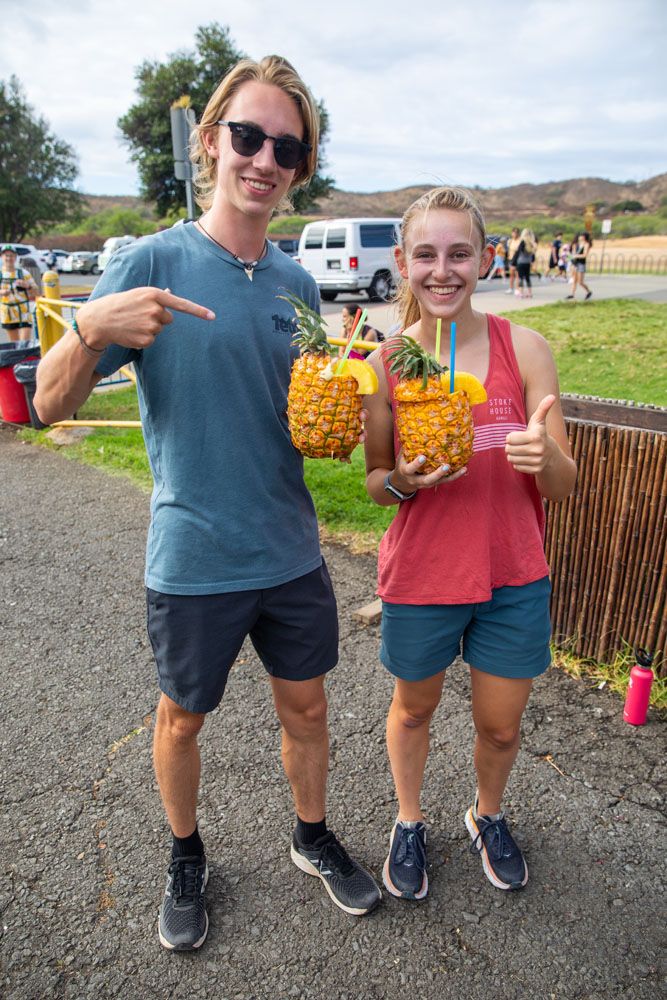 Things to Know Before You Go
Because of COVID, masks are required on this hike when in enclosures (the tunnels and bunker) and at the lookouts.
The Diamond Head summit is a popular sunrise viewing spot in Oahu. Expect the biggest crowds at this time, but visitation stays high all morning long.
We got here at 7:30 am, thinking that this was early enough in the day to beat the crowds, but we couldn't have been more wrong. It was extremely crowded at this time.
From what I have read from other posts and forums is that this is a busy trail all morning. Crowds might be lighter midday and late in the day, but this will be a hot hike as there is very little shade along the trail.
Most of this trail is paved and the toughest parts are the long stair climbs. If you are an avid hiker, this won't seem like much of a hike. But the Diamond Head Summit Trail attracts people of all ages and ability levels and everyone moves at slightly different speeds. If you are of average fitness, you should have no problems hiking this trail.
Even though the trail is mostly paved, I recommend wearing a sturdy pair of walking shoes or hiking shoes, to make it easier on the section of trail that is rough and uneven.
While hiking this trail, please practice the principles of Leave No Trace: stay on the trail, do not remove anything from the trail, properly dispose of waste, and be considerate to other hikers.
---
If you have any questions about how to hike the Diamond Head Summit Trail, or if you want to share your experience, let us know in the comment section below.
More Information about Hawaii
OAHU: Don't miss our guide on how to visit to Pearl Harbor.
MAUI: In Maui, visit Haleakala National Park, drive the Road to Hana, go surfing and snorkeling, and visit the beaches. Get the full list in our article Best Things to Do in Maui.
KAUAI: Plan your visit to Kauai with our guide to the Best Things to Do in Kauai. Learn about how to take a doors off helicopter ride, how to hike the Maha'ulepu Heritage Trail, and how to hike the Nu'alolo and Awa'awapuhi Trails in Kokee State Park.
NATIONAL PARKS IN HAWAII: There are two national parks in Hawaii. Haleakala National Park is located on Maui and Volcanoes National Park is located on the Big Island of Hawai'i.
GREAT HIKES FROM AROUND THE WORLD: For more great hikes, check out our article listing the 20 Best Day Hikes in the World. See our full list in our Hiking Guide.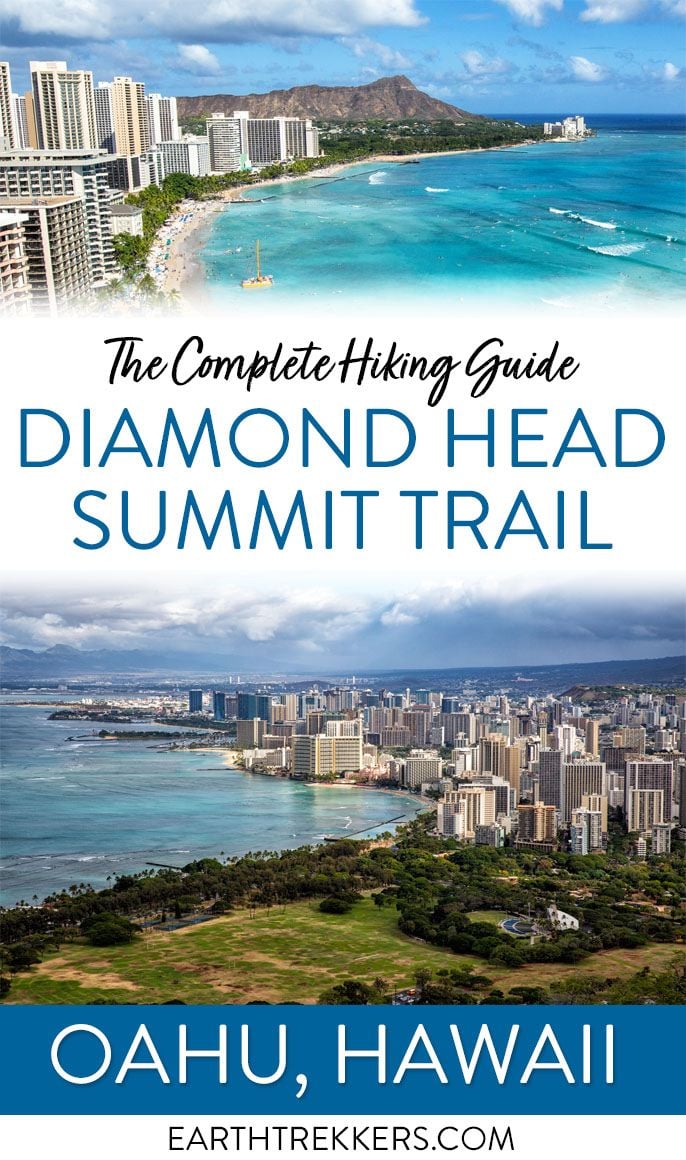 Note: This post contains affiliate links. When you make a purchase using one of these affiliate links, we get paid a small commission at no extra cost to you.
All rights reserved © Earth Trekkers. Republishing this article and/or any of its contents (text, photography, etc.), in whole or in part, is strictly prohibited.