A doors off helicopter tour of Kauai is a thrilling experience. To see this gorgeous island from the sky is one of the best experiences to have in Kauai, if not all of Hawaii.
On a helicopter tour of Kauai, you will fly over countless waterfalls, peer down at beaches and small towns on the island, soar over Waimea Canyon, and the best part, fly along the stunning Na Pali Coast. It is a thrilling, breathtaking ride…one that you will be talking about for weeks after your trip.
We have done two helicopter tours of Kauai: a doors on tour in 1999 and a doors off tour on our most recent trip to Hawaii. There are some big differences between a doors on and doors off tour, which we discuss in this guide. It's an expensive excursion, especially paying for four people, but like all of our travels, we book and pay for everything on our own, so we can offer an unbiased opinion. This experience is no different.
In this guide, we cover everything you need to know about a doors off helicopter tour in Kauai…which companies offer the tour, how much it costs, what to expect, recommended photography gear, if it is worth it, and more.
Companies that Offer Doors Off Tours of Kauai
There are two companies that offer Doors Off Helicopter Tours of Kauai: Jack Harter and Mauna Loa Helicopter Tours.
Jack Harter
With over 50 years of service, Jack Harter has been running tours of Kauai longer than any other company. Jack Harter ran the first ever doors off helicopter tour of Kauai in 2005.
The doors off helicopters that Jack Harter uses, MD 500s, can hold four passengers and the pilot.
We used Jack Harter for two reasons: they can accommodate four passengers and their safety record is outstanding.
Seating on Jack Harter Helicopters
Front Row: The pilot sits up front in the left seat. There are two more seats in the front row for passengers. The person in the middle does not get the "doors off experience," since they are sitting in between two people. But the visibility out of the front windows is excellent.
Back Row: The other two passengers sit in the back row. The back row is a bit roomier but you don't get the visibility of looking out of the front of the helicopter.
So, three out of four passengers get the true doors off experience.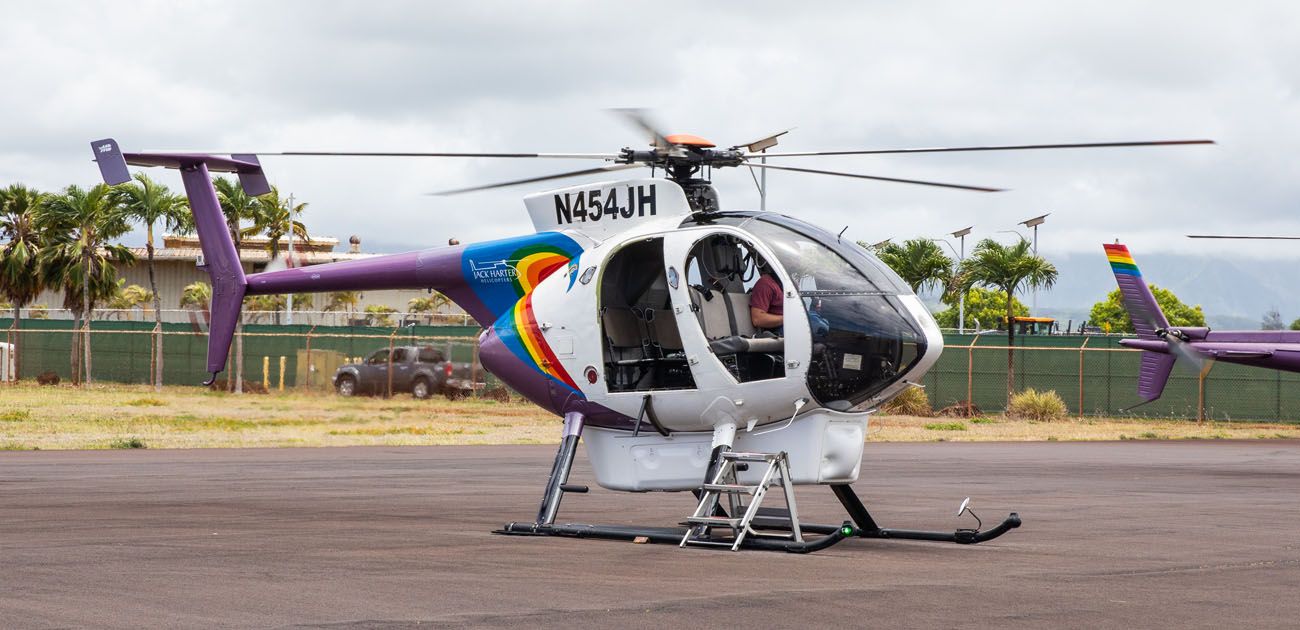 Jack Harter helicopter. There are three seats in the front and two in the back.
In my opinion, the best seat is the front right seat. Maybe I'm biased, because that was the seat that I had, but I loved being able to look out the front and the side of the helicopter.
How are seats selected? The seat assignments are assigned by pilot, and from what we learned talking to the staff, passengers cannot request a certain seat. Your spot is determined by your weight.

In our case, Kara was assigned the middle front seat, and she is the smallest of the four of us. But that doesn't mean the smallest person always gets stuck in the middle seat. In fact, I have heard the complete opposite. It all has to do with balancing the weight inside of the helicopter and this is done at the discretion of the pilot.
Mauna Loa Helicopter Tours
This is the second company that offers a doors off helicopter tour of Kauai. Mauna Loa has been in business for over 20 years. Their helicopters only hold 3 passengers and one pilot. So, each passenger gets a window seat (one in the front and two in the back).
Note: Both companies have passenger weight limits. You will be weighed when you arrive at the office. With Jack Harter, our weight included anything we would be bringing onto the helicopter (cameras, phones, jackets, etc). Jack Harter's weight limits are 250 lbs per person and 400 lbs for a couple. Mauna Loa's weight limits are 275 lbs per person and 600 lbs for the entire group.
How Much Does a Doors Off Helicopter Tour Cost?
Jack Harter: $359 per person, 60 – 65 minute tour
Mauna Loa: $359 per person for their Kauai Experience Tour (1 hour); $399 per person for their Pro Photography Flight (1 hour)
What is the Best Time of Day for a Helicopter Tour?
This was one of the biggest questions that we had when booking our tour. What is the best time of day for a helicopter flight of Kauai?
The weather in Kauai can be unpredictable. Rain and cloudy weather are very common, regardless of the time of year and the time of day.
Tim spoke to several of Jack Harter's staff members as we made our plans. As far as lighting goes, the Jack Harter staff recommended a midday flight. The sun is high in the sky, so there are very little shadows in Waimea Canyon and along the Na Pali Coast.
Our tour was at 1 pm. We had some rain and clouds over the interior of Kauai but beautiful weather along the Na Pali Coast. The lighting was fantastic, as you will see in our photos below.
Tim and I took a doors on helicopter tour of Kauai in 1999. It was in the morning, and comparing my photos from both tours, there is a big difference in lighting. My morning photos had lots of shadows and the views along the Na Pali Coast were nowhere near as beautiful as what we saw on the tour we took midday.
So, based on our two experiences, and the advice from the Jack Harter staff, midday is a great time of day to book your tour.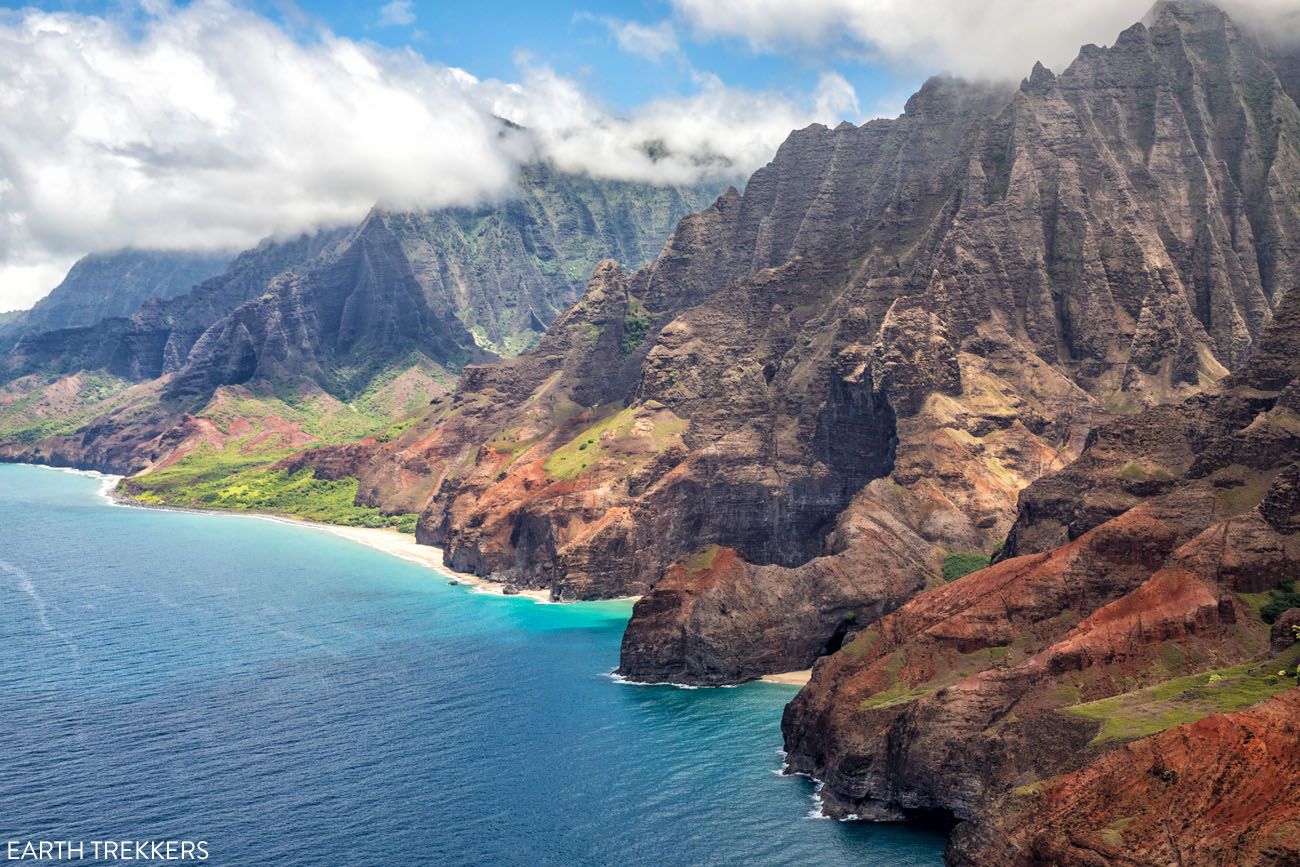 What is the Best Time of Year for a Helicopter Tour?
The weather is driest in Kauai from April through November, making this the best time to take a helicopter tour, since it is less likely to get cancelled due to bad weather. However, summer is the hurricane season, so there is the possibility that there could be a tropical storm.
Doors Off Helicopter Tour of Kauai: The Experience
Here is what to expect on a doors off helicopter tour of Kauai, from start to finish. Since we used Jack Harter, some of the check-in and seating procedures will be specific to this company.
Below is a map of the route. My camera adds GPS data to our photos and I used these GPS points to create this map. The route starts and ends at the Lihue Airport and goes in a clockwise direction around the island.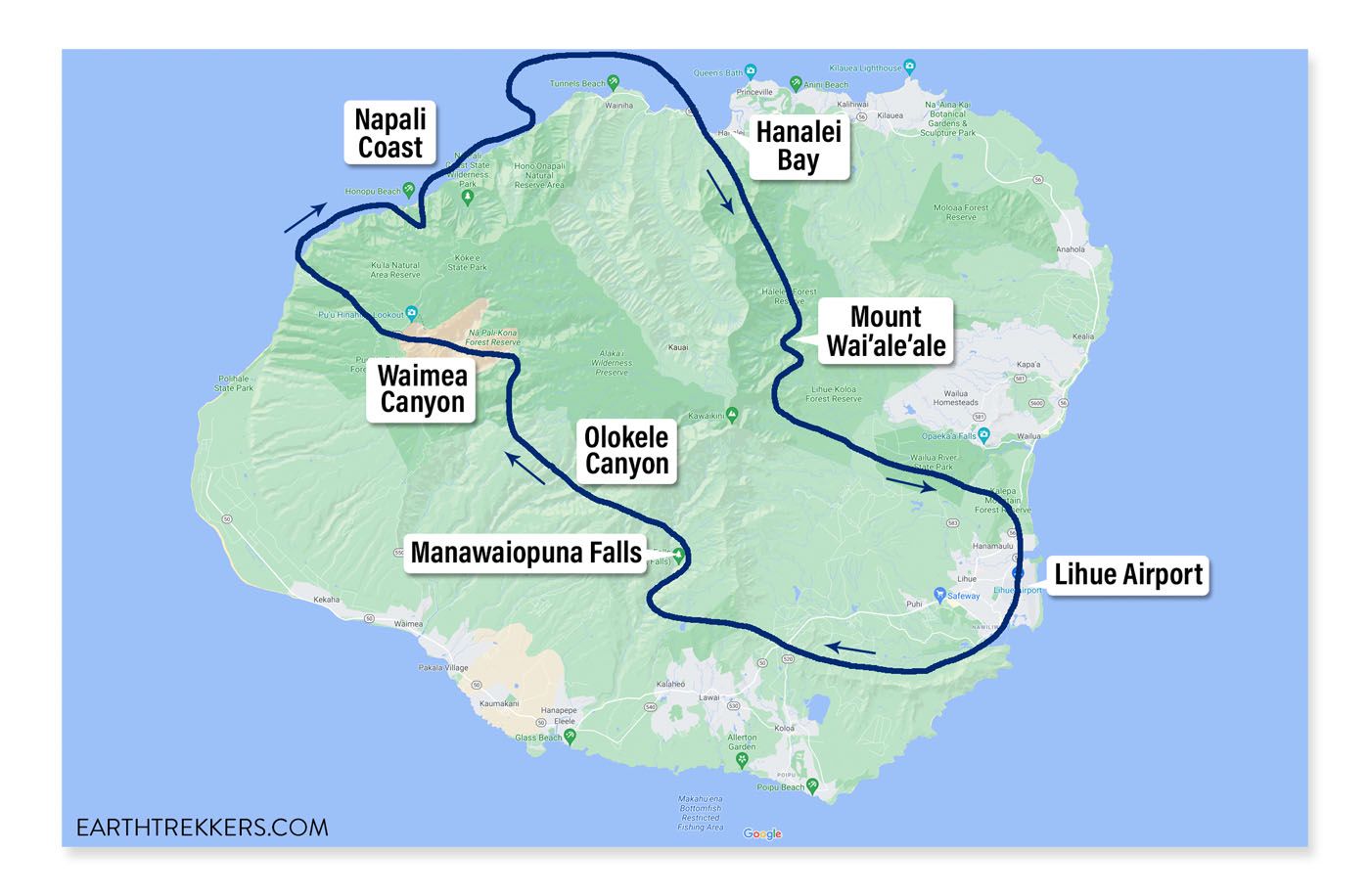 Checking In
About 30 minutes before our scheduled flight time, we arrived at the Jack Harter office.
Inside the office, each person gets weighed. Your weight includes anything you will be taking onto the plane: cameras, jackets, shoes, etc. and this determines your seat on the helicopter, which will be assigned by your pilot. The weight inside the helicopter needs to be properly balanced, so you cannot request a different seat if you don't like your seat assignment.
Following weigh-in, we had a safety briefing.
A shuttle van drove us from the Jack Harter office to Lihue Airport, which took about 5 minutes. At the airport, there is an outdoor covered seating area. This is where you wait while they inspect and refuel the helicopters. There is water and a toilet here if you need one.
Getting Seated in the Helicopter
Once our helicopter was ready, a golf cart drove us the very short distance from the waiting area to the helicopter.
We met our pilot and he directed us to our assigned seats. Kara climbed in first, since she had the middle front seat. Then Tim, Tyler and I climbed in and a staff member helped us with our harnesses.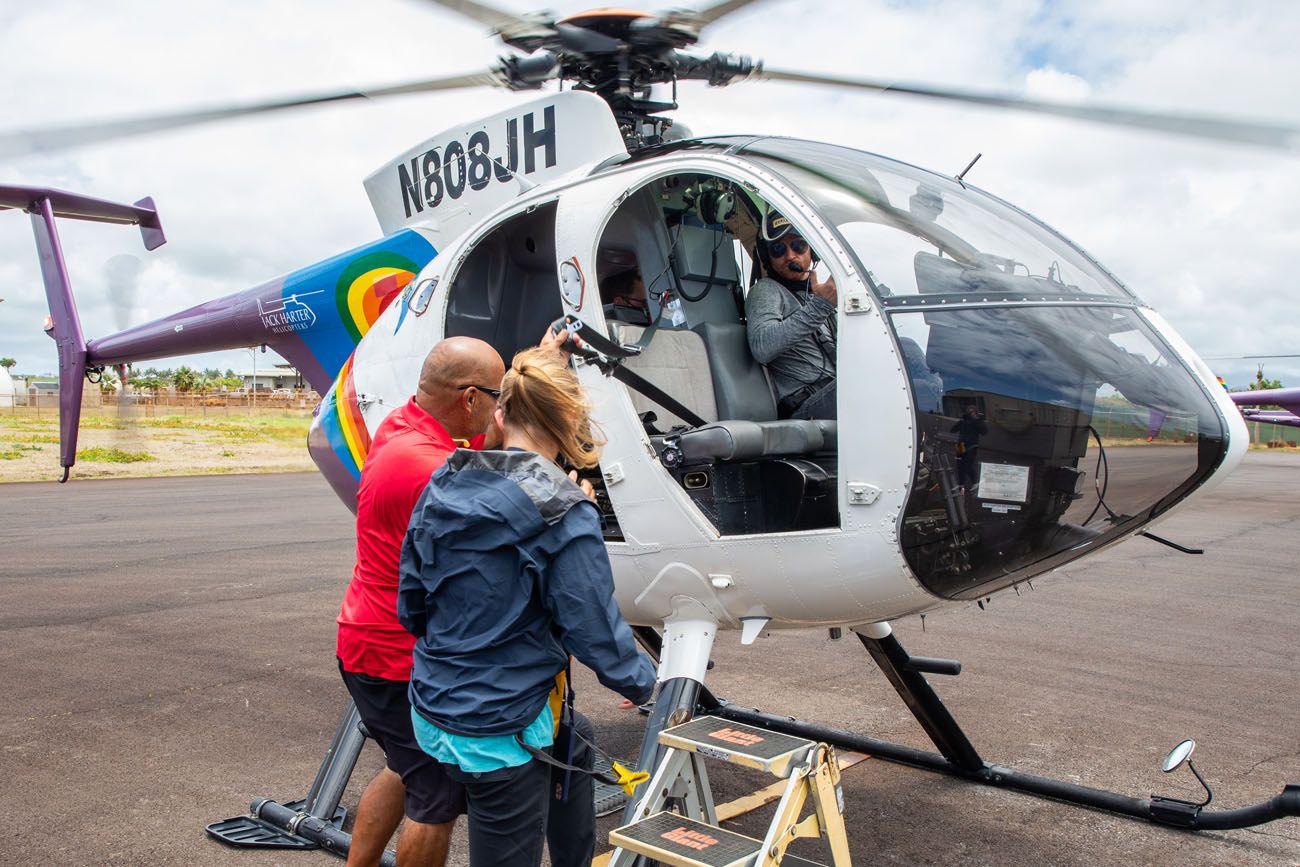 Kara is climbing up into the helicopter, into the front middle seat.
We were given noise-cancelling headphones that could also be used to communicate with the pilot and each other.
Take Off
Take-off is awesome! It's so smooth and so fast…before you know it, you are looking down at Lihue and east coast of Kauai.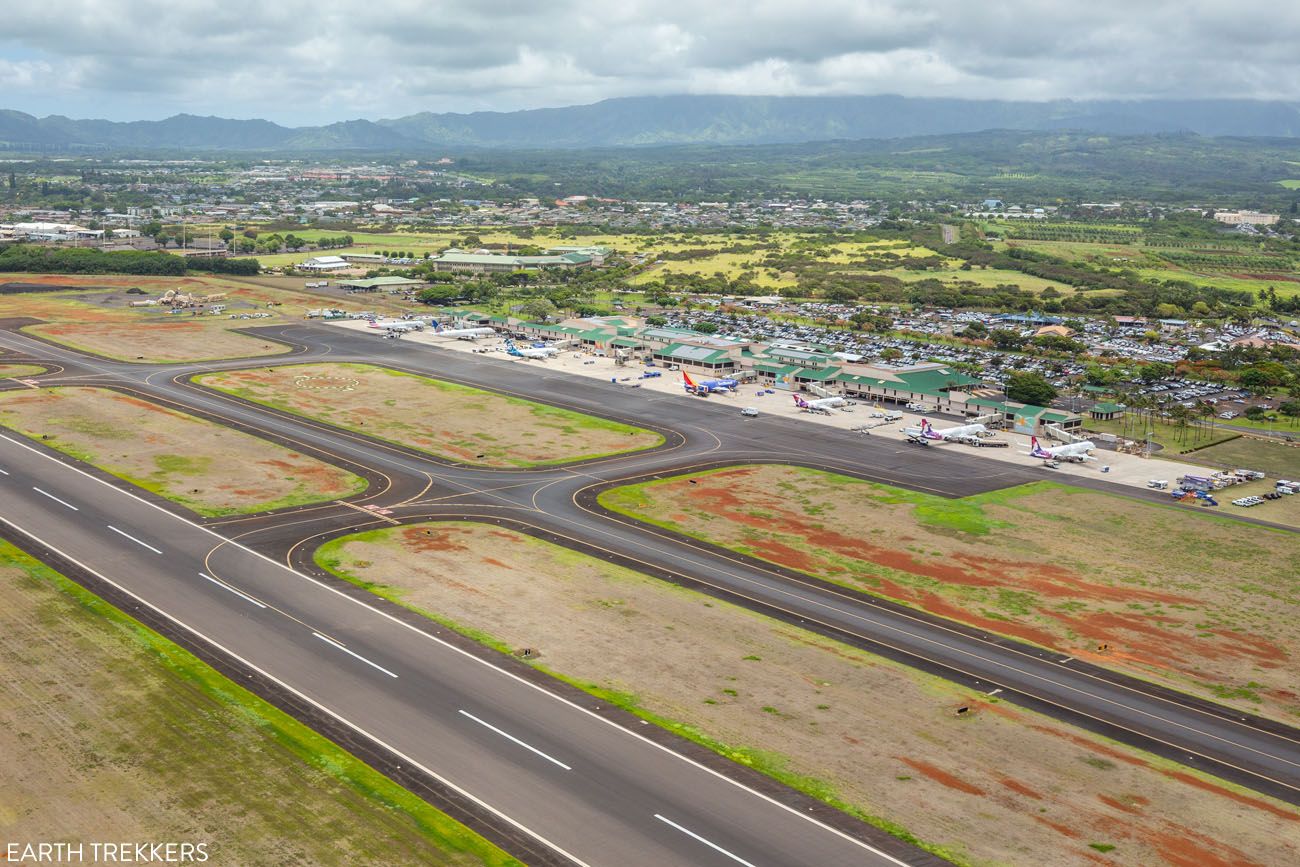 Lihue Airport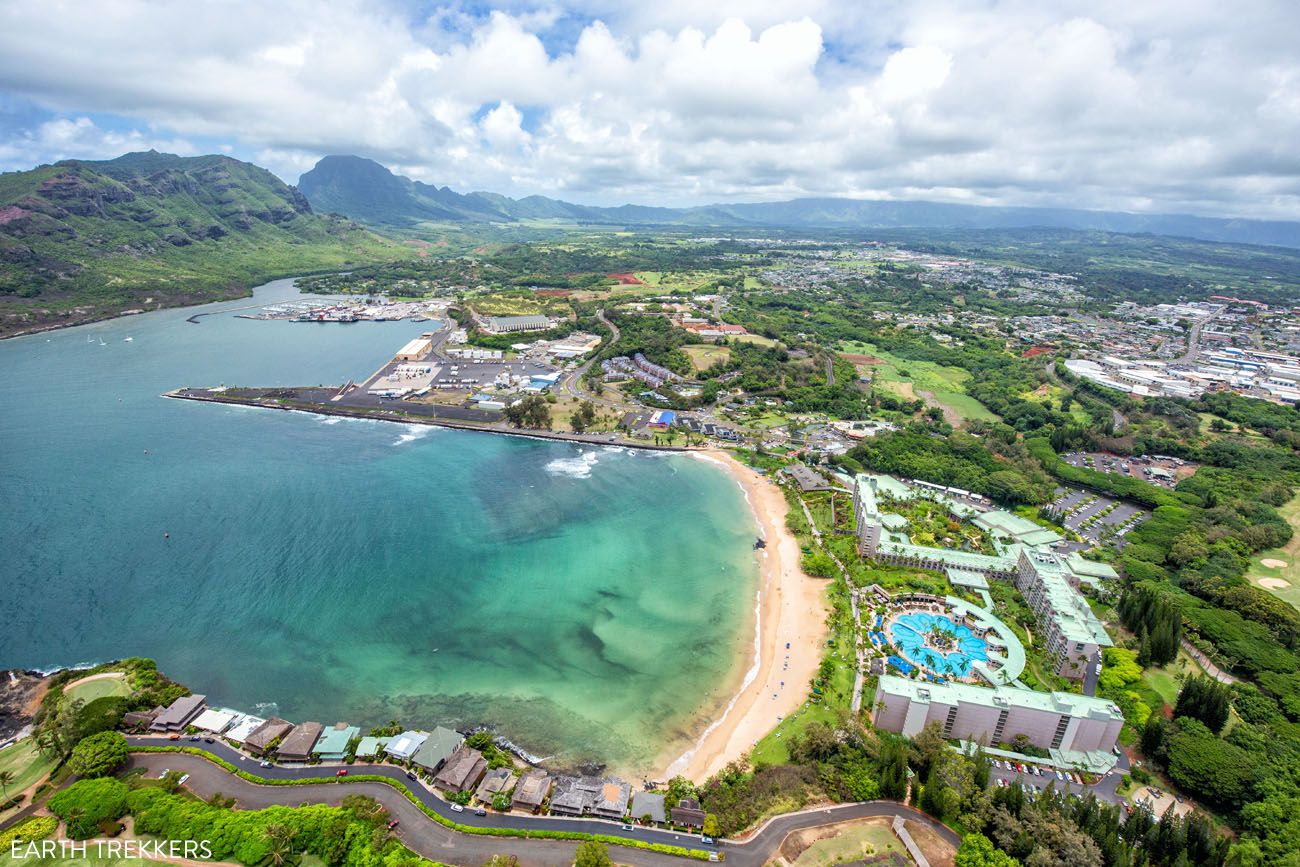 The biggest thrill was being able to look straight down at the ground. Without the door in the way, it is so much easier to look under the helicopter. The visibility is better…not only can you see more, without the door in the way, but it's better for photography, since you are not shooting through glass.
If you are afraid of heights or if you are worried about flying so high above the ground without the added safety of a door, it can take a few minutes to adjust to the doors off ride. Even though you are safely attached to the helicopter by a harness, it can be a little unnerving to be flying so high in such an open aircraft. But that is part of the thrill.
Manawaiopuna Falls
The first highlight of the tour is Manawaiopuna Falls, aka, Jurassic Park Falls. Located in Hanapepe Valley, the only way to see this waterfall is from the air.
Our pilot did a great job of circling around the waterfall twice, so we could all get a good view of it.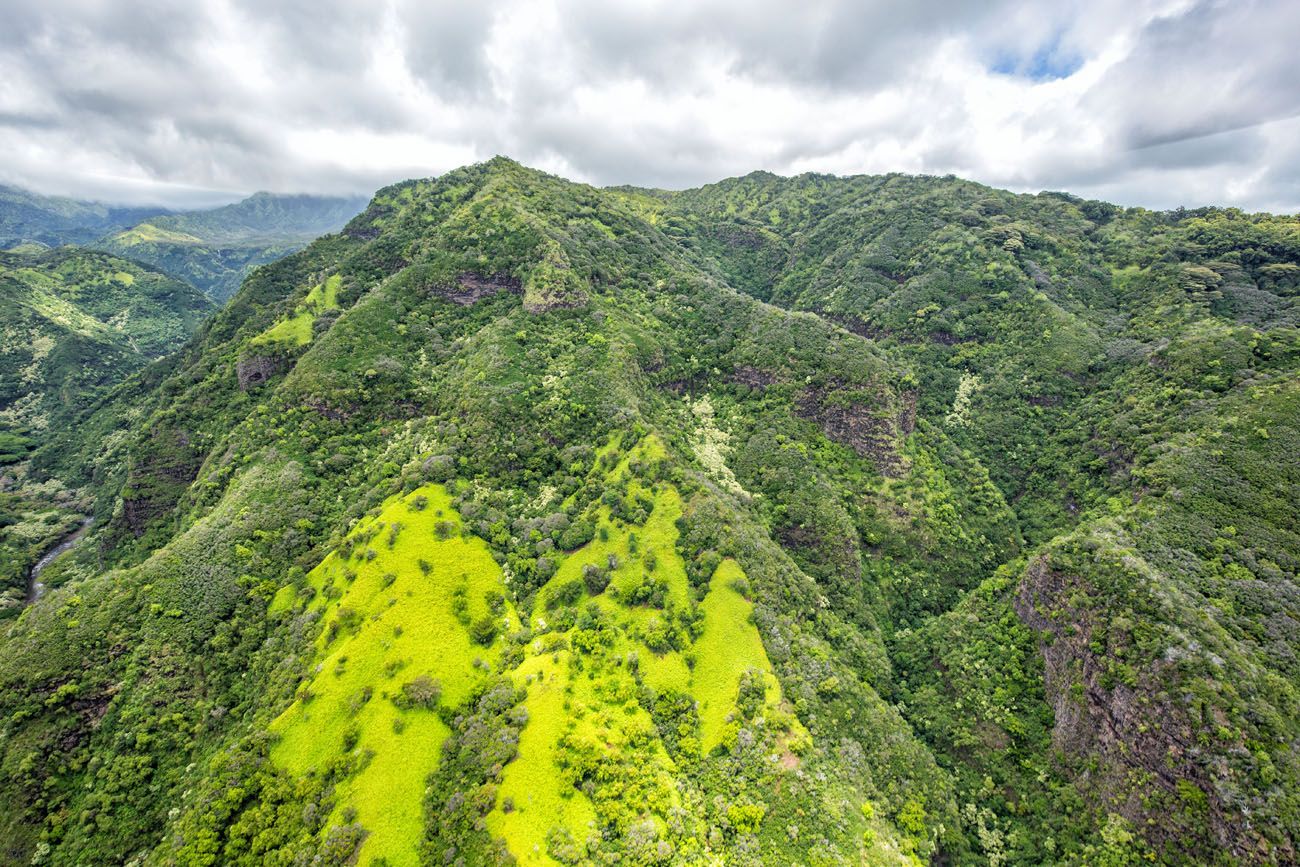 First view of the lush, forested mountains in Kauai.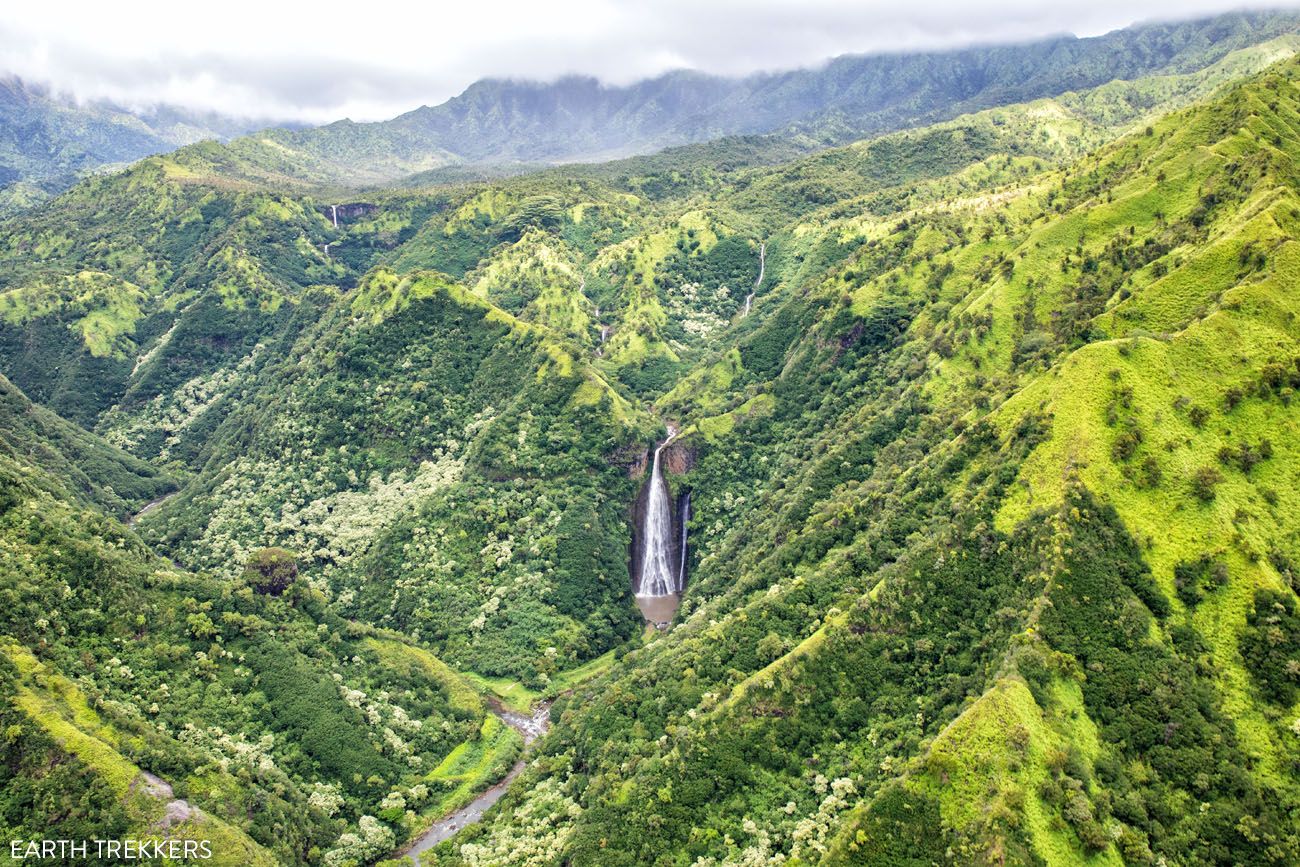 Manawaiopuna Falls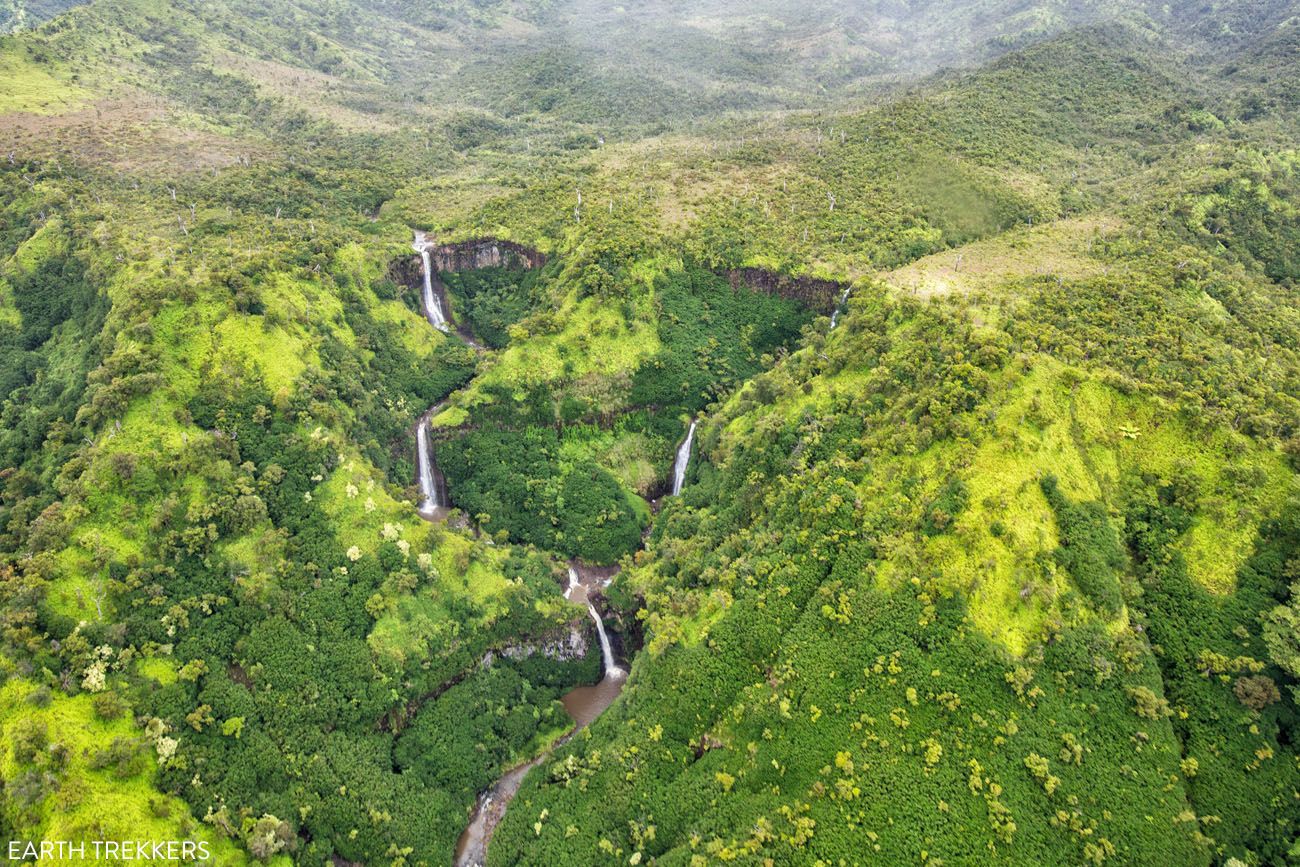 Kahili Falls, also called the Five Sisters.
What if if Rains During the Flight? We had some rain during our flight, at Manawaiopuna Falls and later, at Mt. Wai'ale'ale. Even with the doors off, we stayed almost completely dry. There were just a few instances when the pilot turned the helicopter that we got a little bit wet.
Olokele Canyon
From Manawaiopuna Falls we headed west. The cloudy skies cleared up as we were now entering the drier area of Kauai. With its canyons, waterfalls, and red cliffs, Olokele Canyon looks a lot like Waimea Canyon.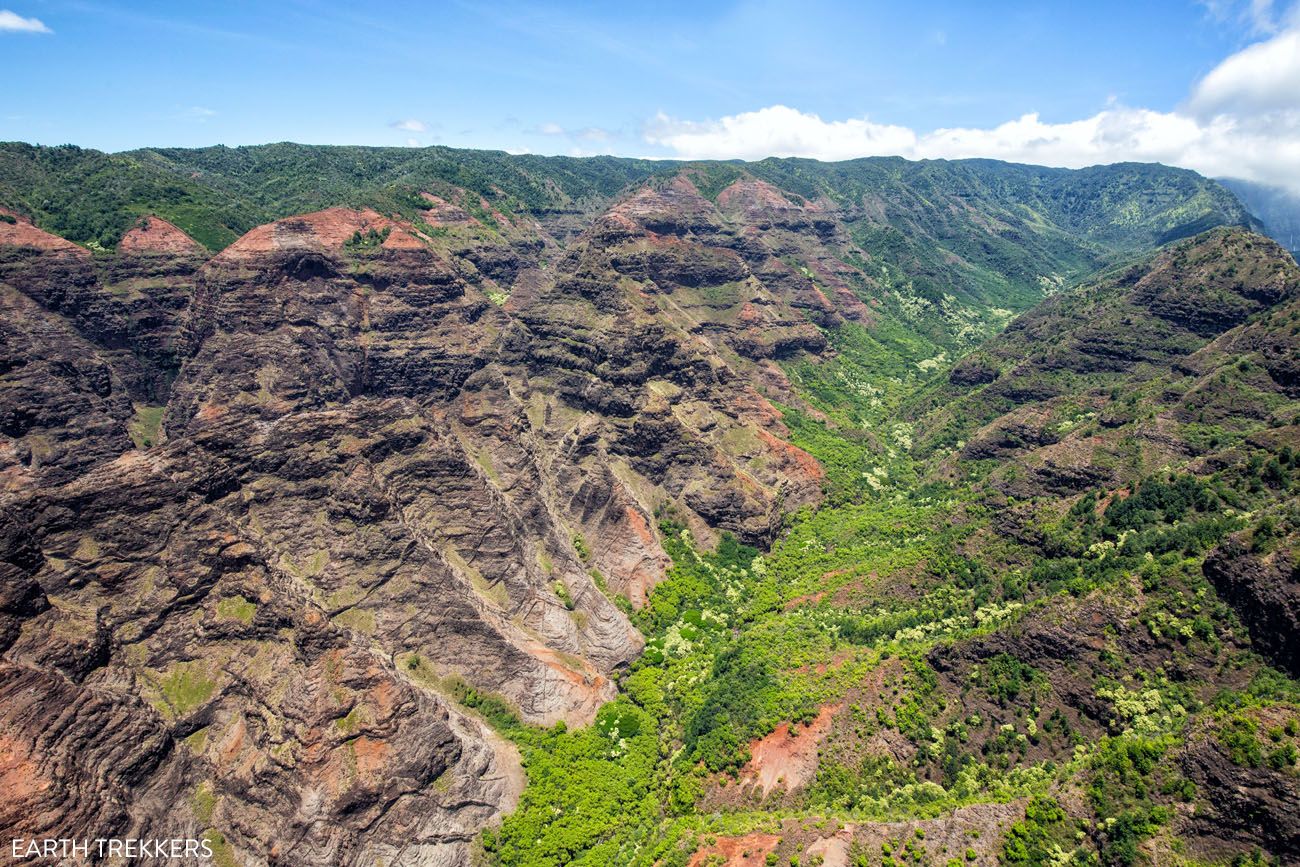 Olokele Canyon
Another view of Olokele Canyon
Waimea Canyon
Waimea Canyon, also known as the Grand Canyon of the Pacific, is a 14-mile long canyon that was carved out by the Waimea River. With its scenic drive to viewpoints of the canyon and numerous hiking trails, visiting Waimea Canyon is one of the best things to do in Kauai.
Seeing it from the sky is pretty sweet, too. The helicopter can fly in close to some of the waterfalls, for views that you won't get from the overlooks and hiking trails.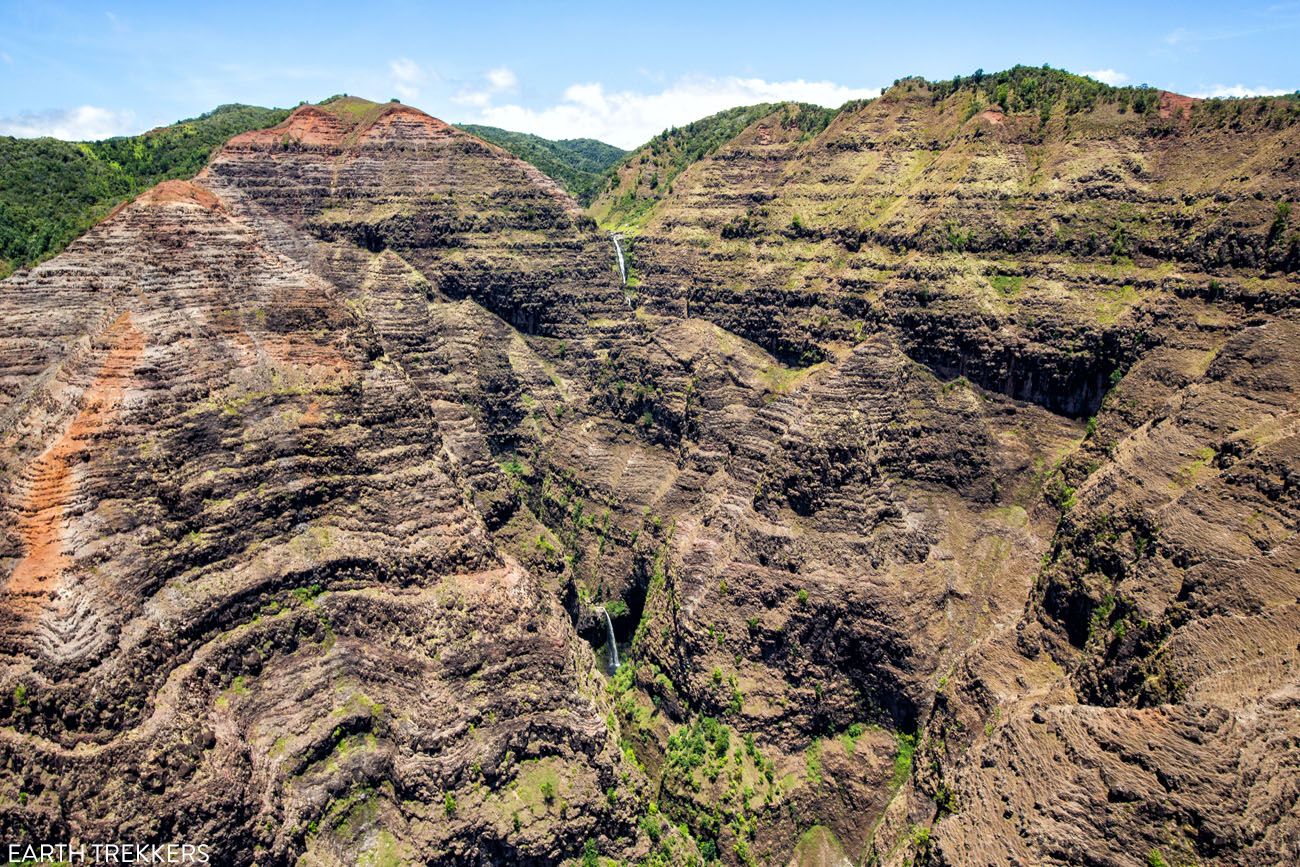 Waimea Canyon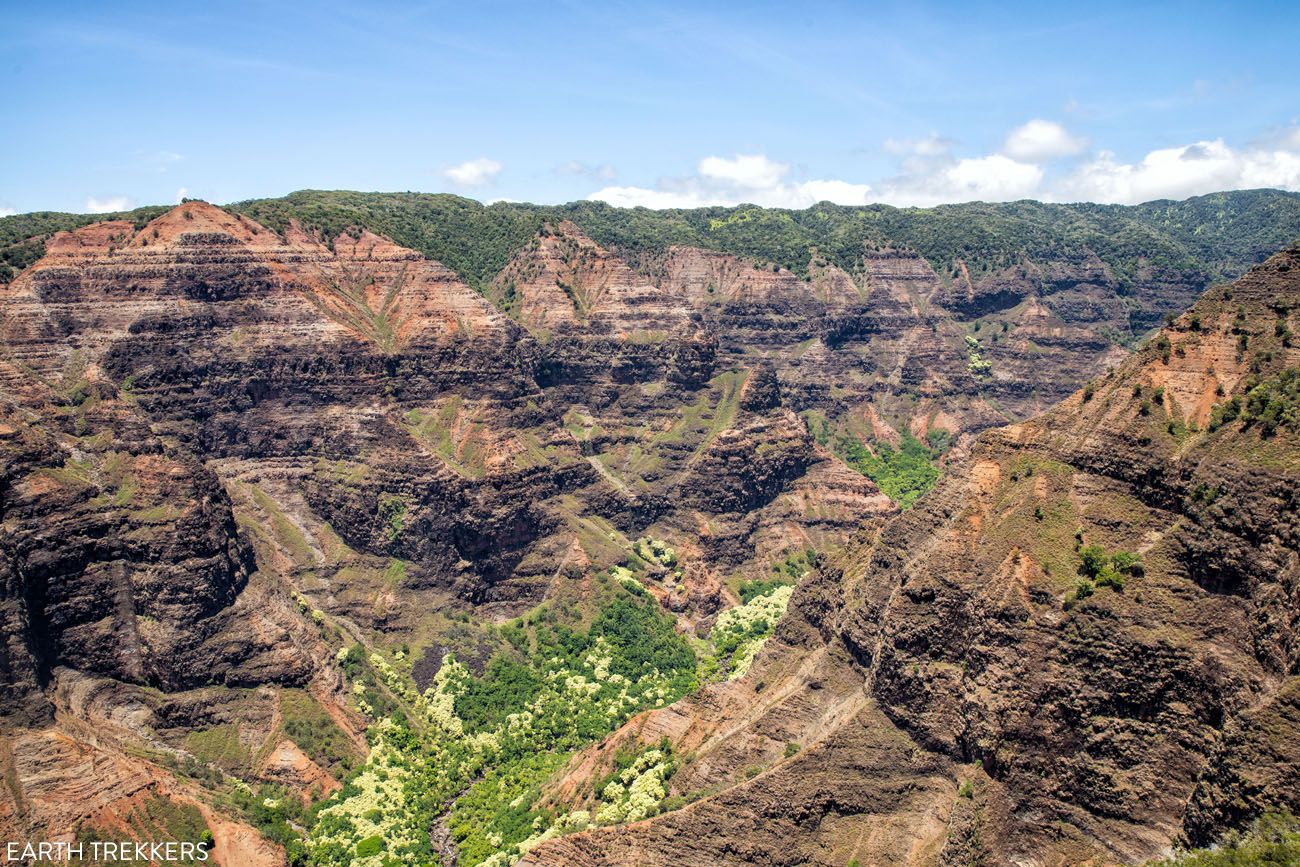 Waimea Canyon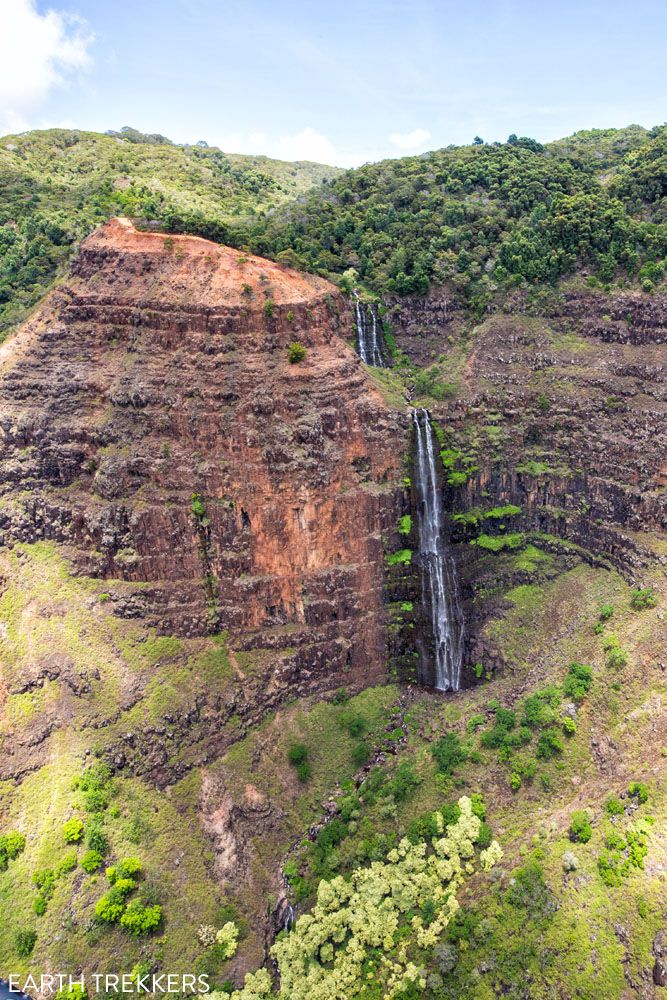 Waipo'o Falls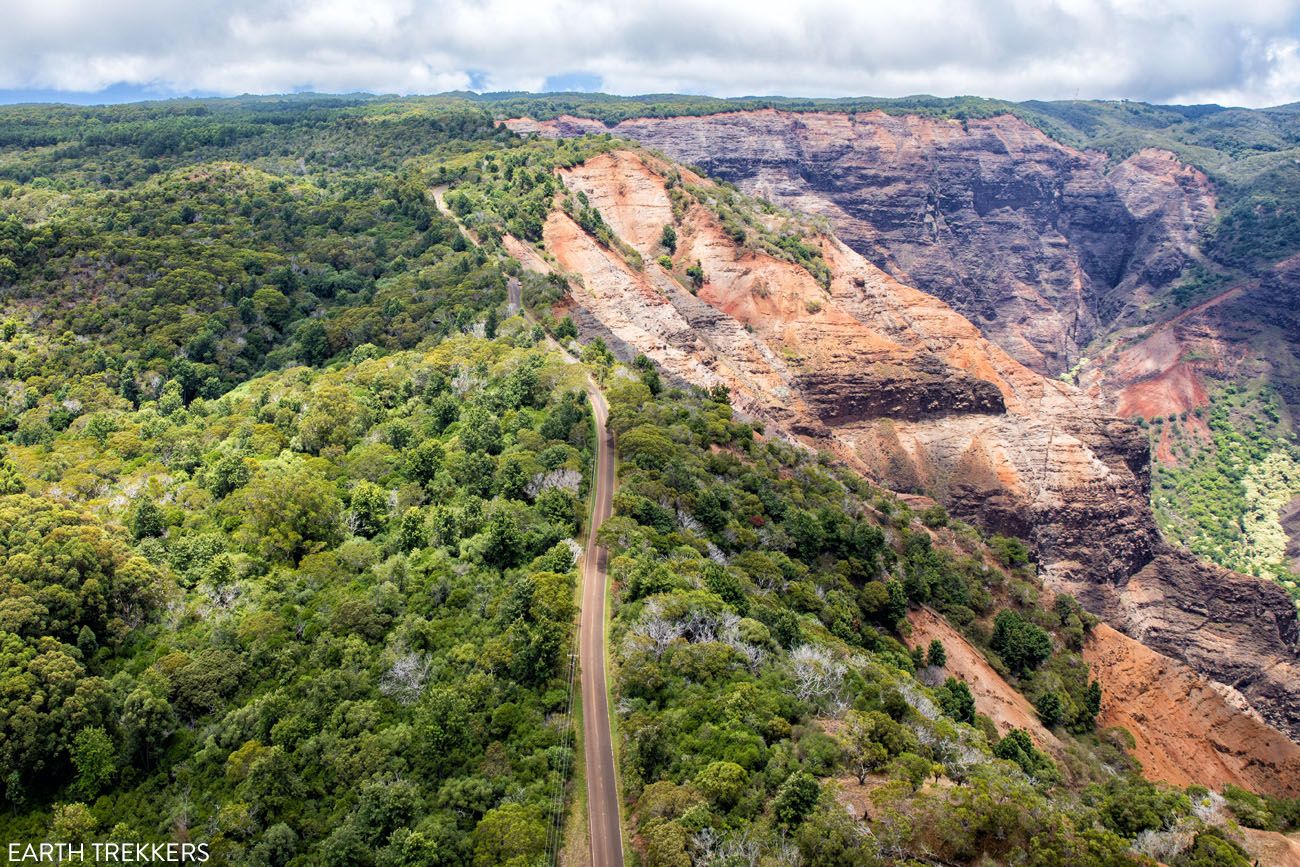 Kokee Road in Waimea Canyon State Park
The Na Pali Coast
For us, and most people who take a helicopter tour of Kauai, the Na Pali Coast is the highlight.
The Na Pali Coast is 15 miles long, stretching from Polihale Beach in the south to Haena State Park in the north. Some of these cliffs rise 4,000 feet from the ocean.
This stretch of coastline is jaw-dropping, with its canyons, pristine beaches, sea caves, and waterfalls. Our pilot flew in and out of some of the canyons and the views are awesome.
The legendary Kalalau Trail heads right along these cliffs. This hike is typically done as a two to three day backpacking trip.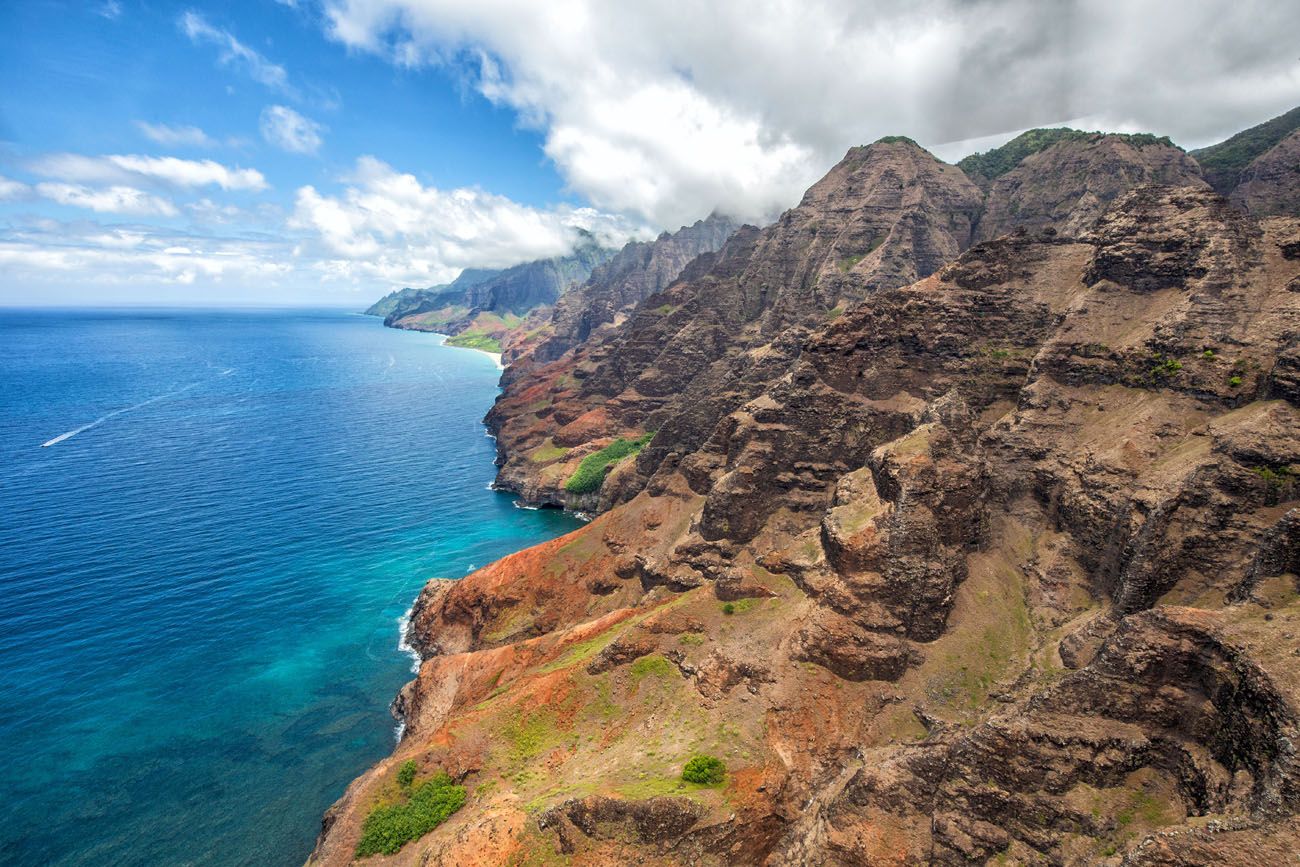 Na Pali Coast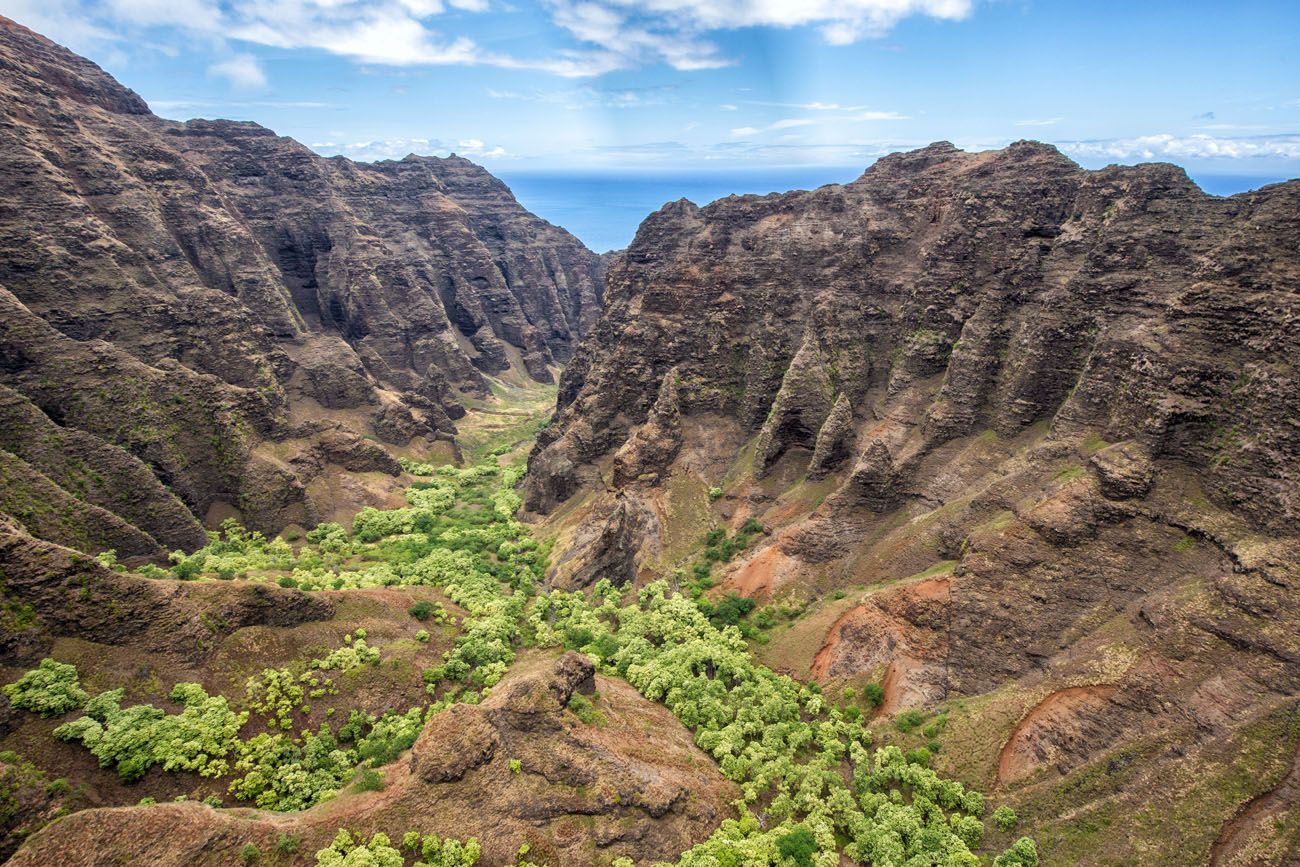 Nualolo Valley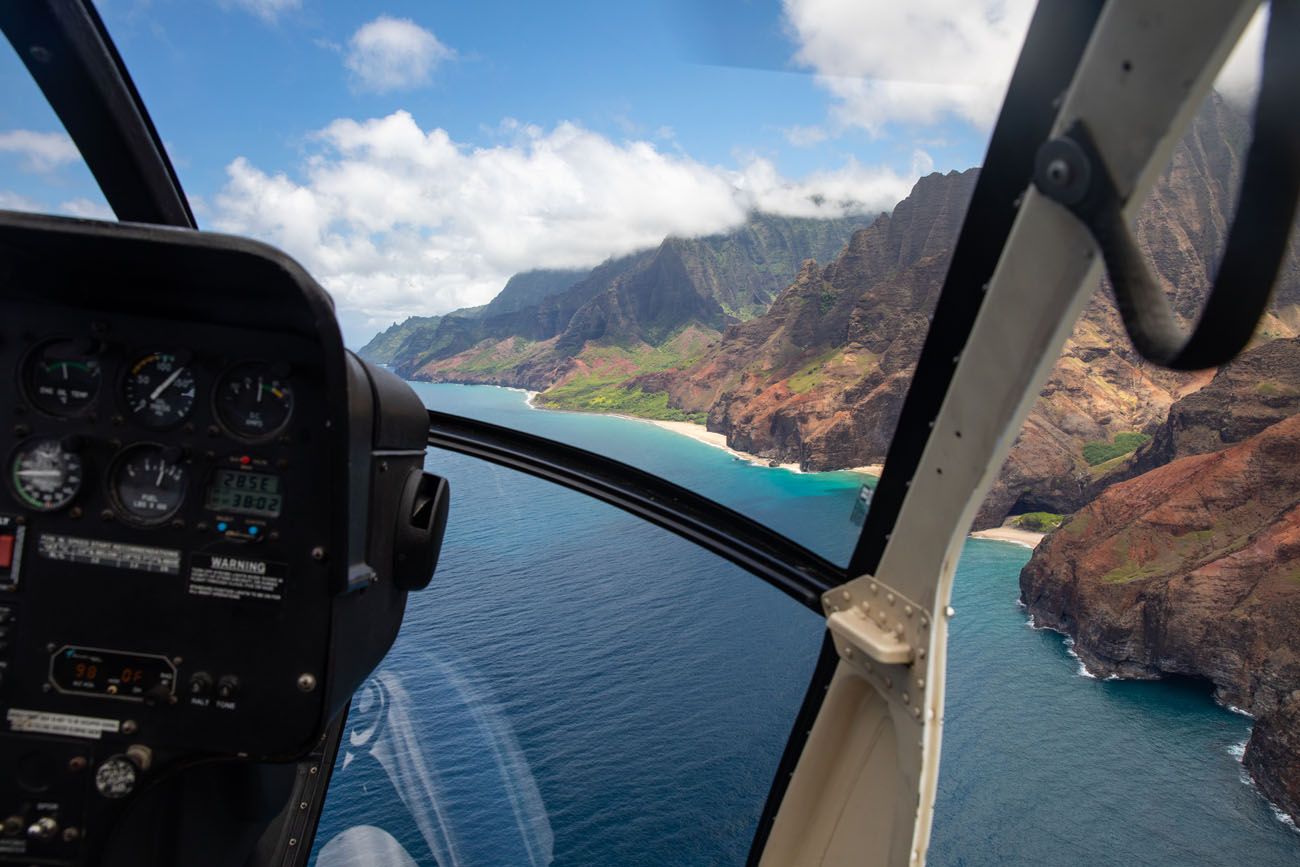 View through the front of the helicopter from the front right seat.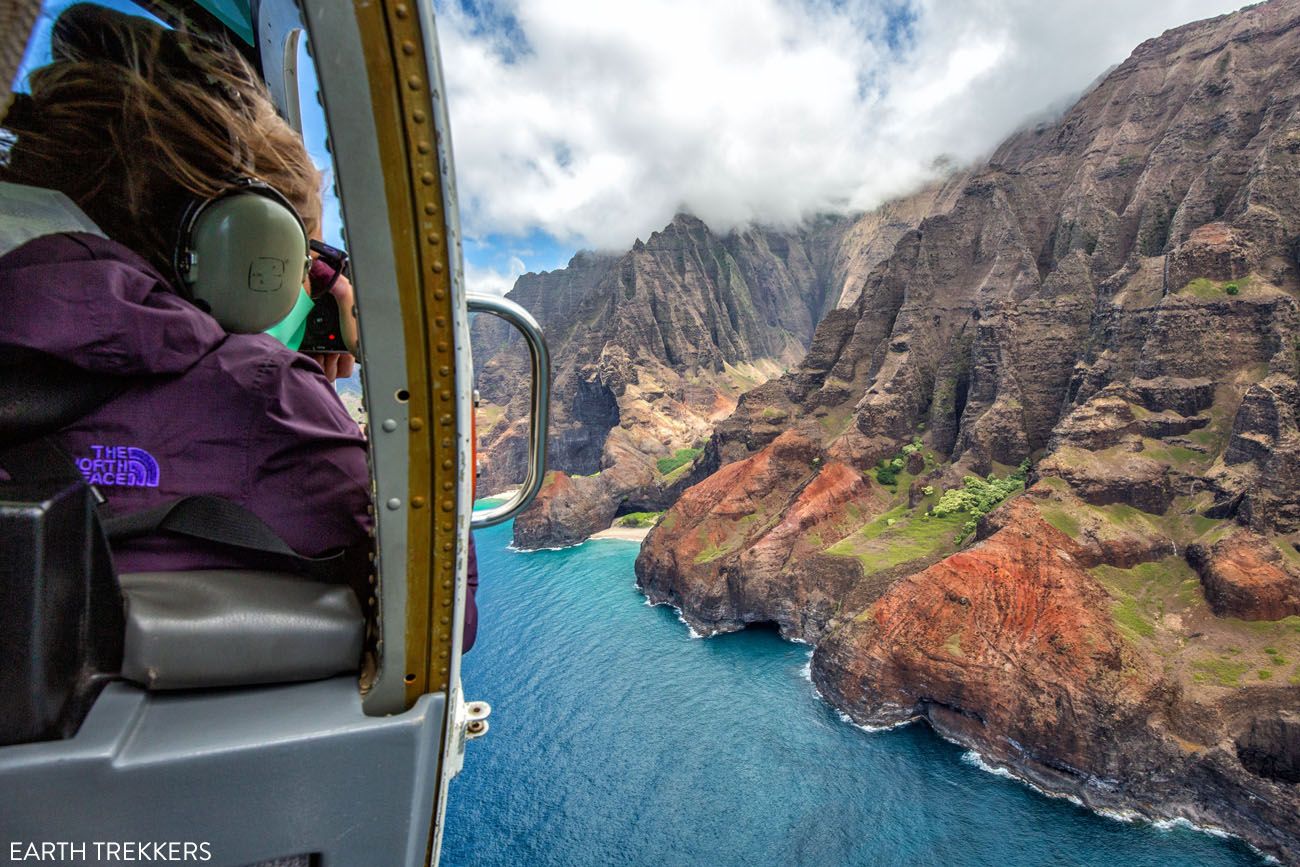 View from the back right seat of the helicopter.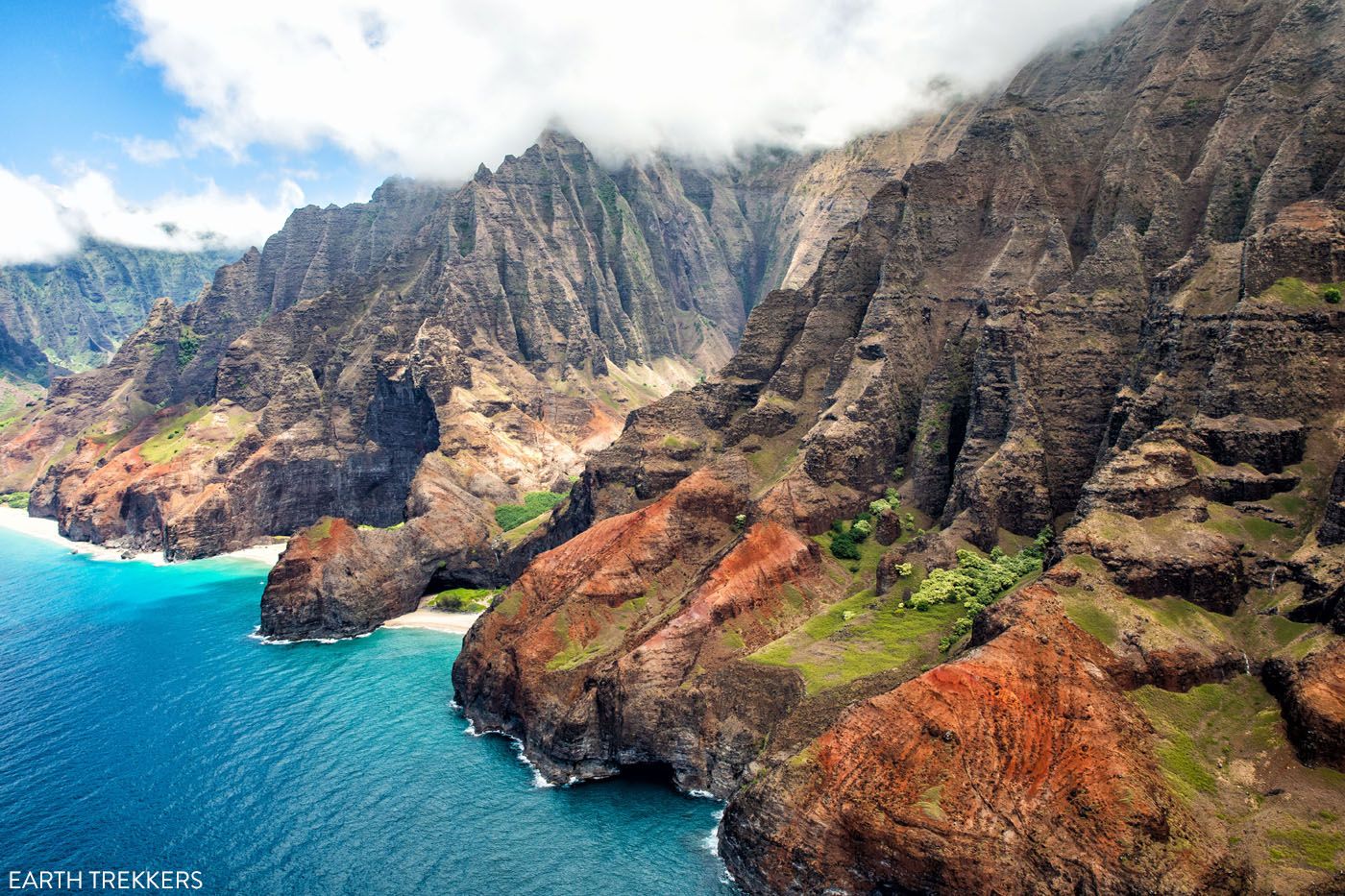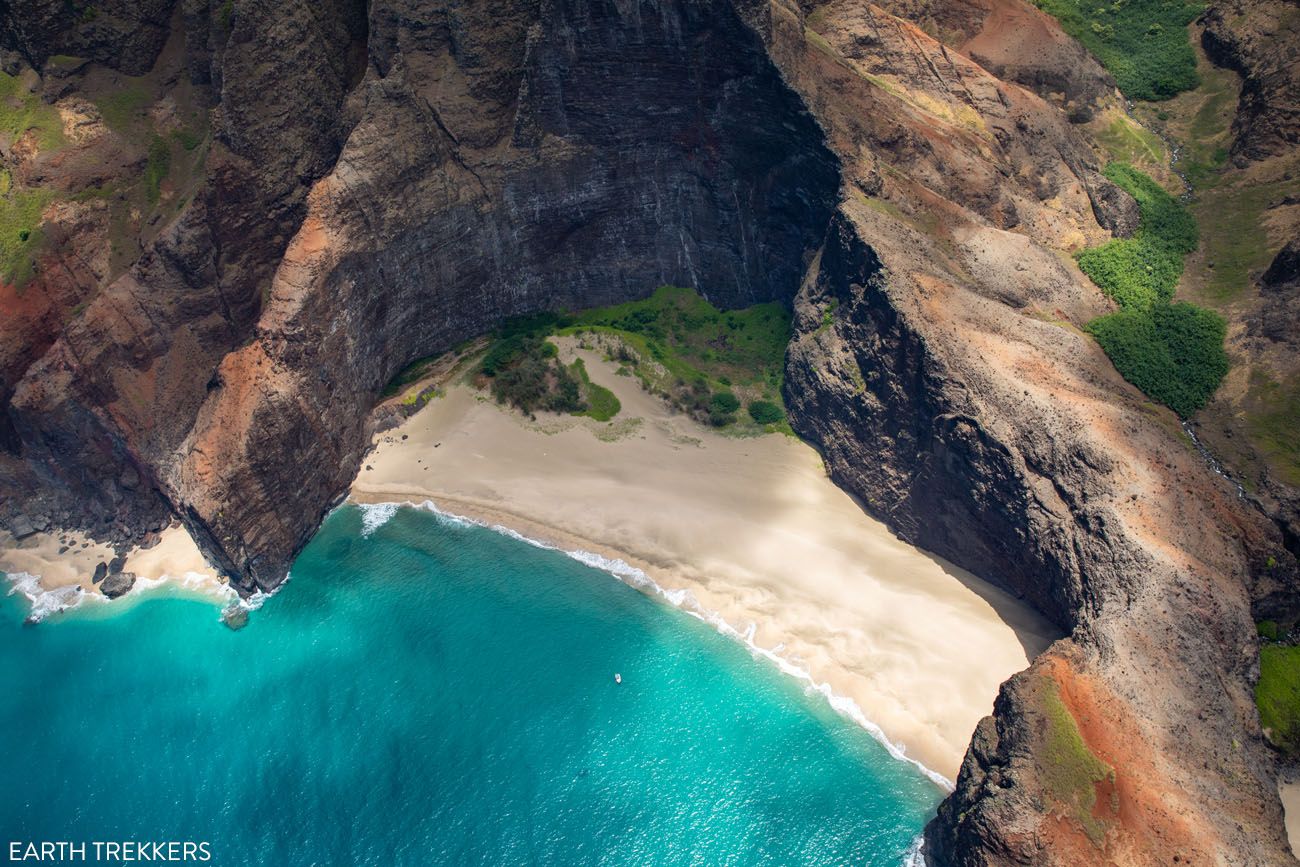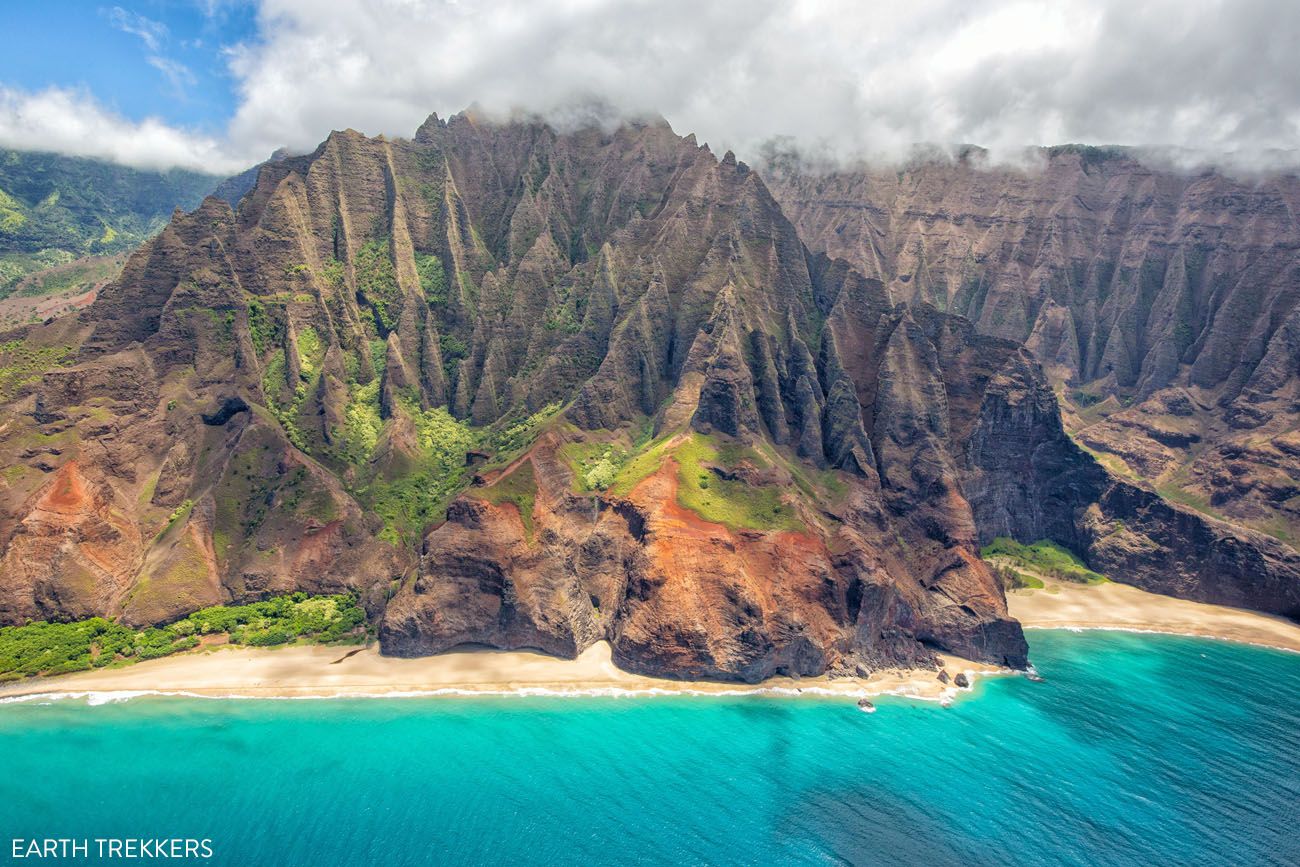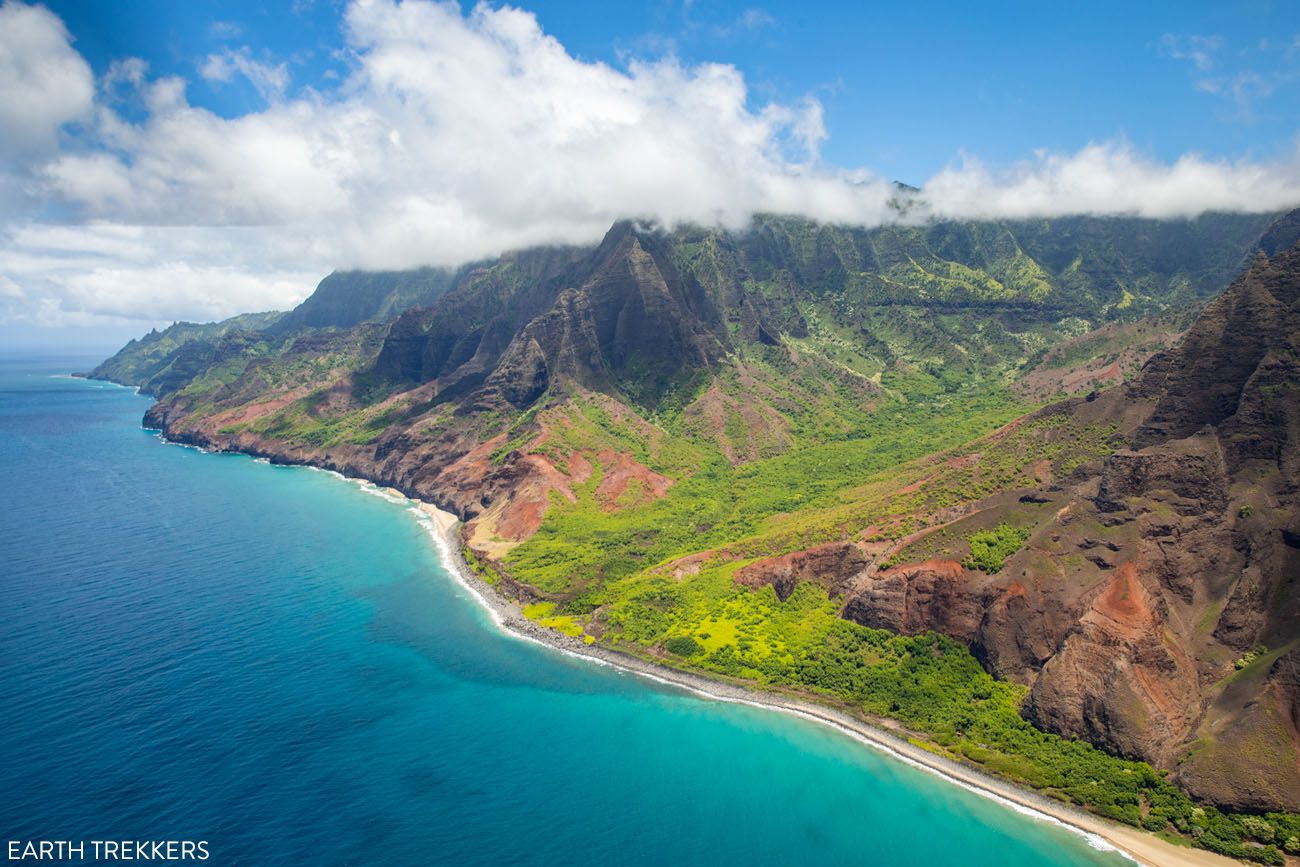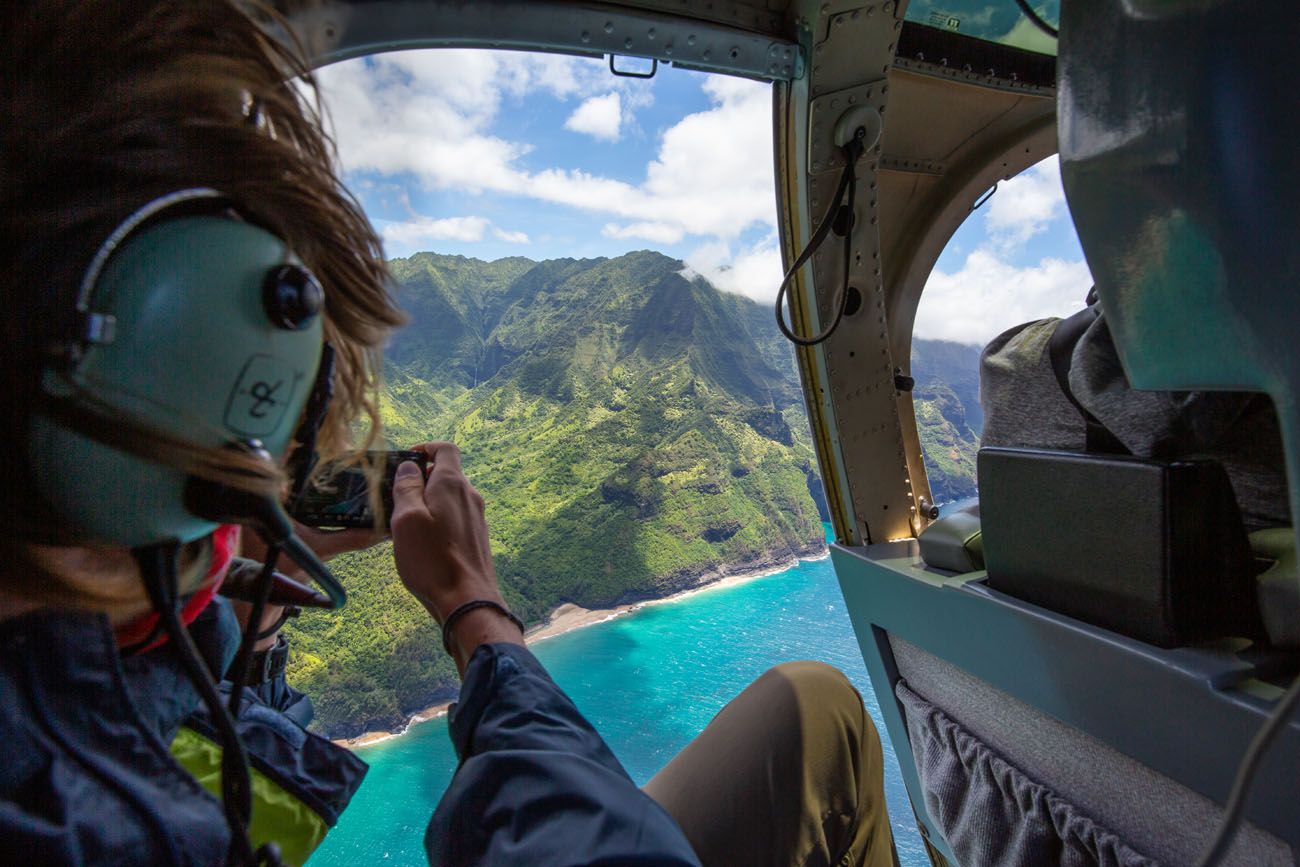 North Shore of Kauai
From the Na Pali Coast, we flew north and then east along the north coast of Kauai. Below us were the beautiful beaches that line the north coast (Ke'e Beach, Tunnels Beach, and Wainiha Beach) as well as Hanalei Bay and the town of Princeville.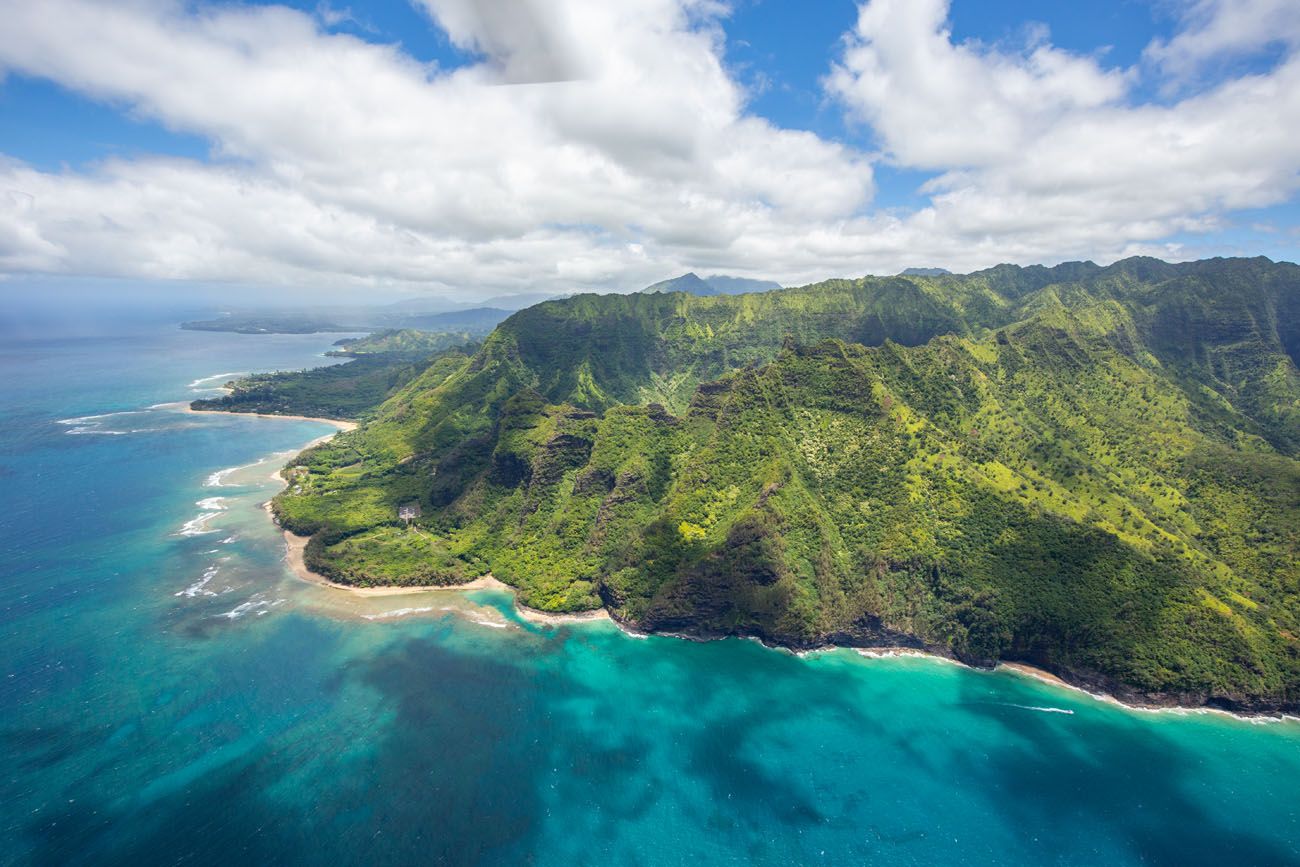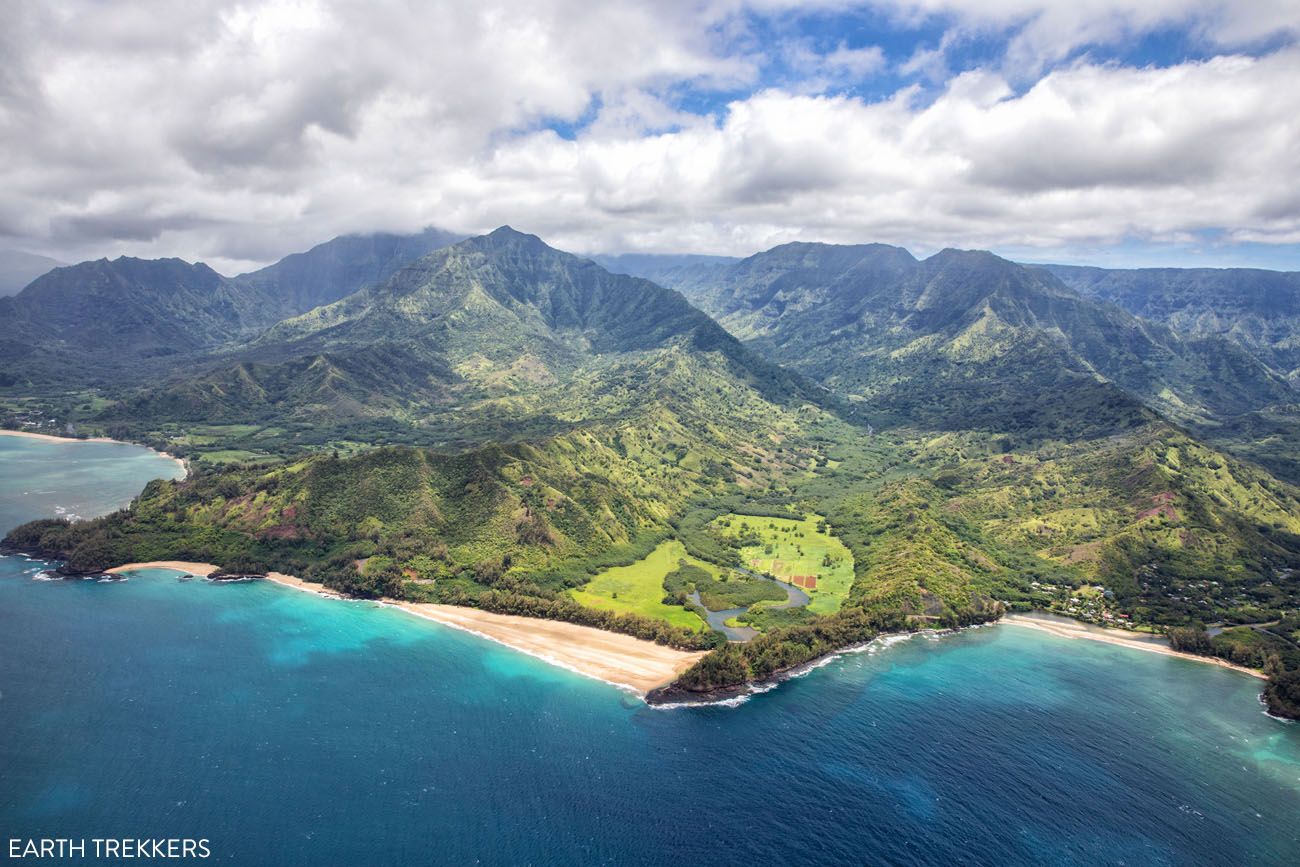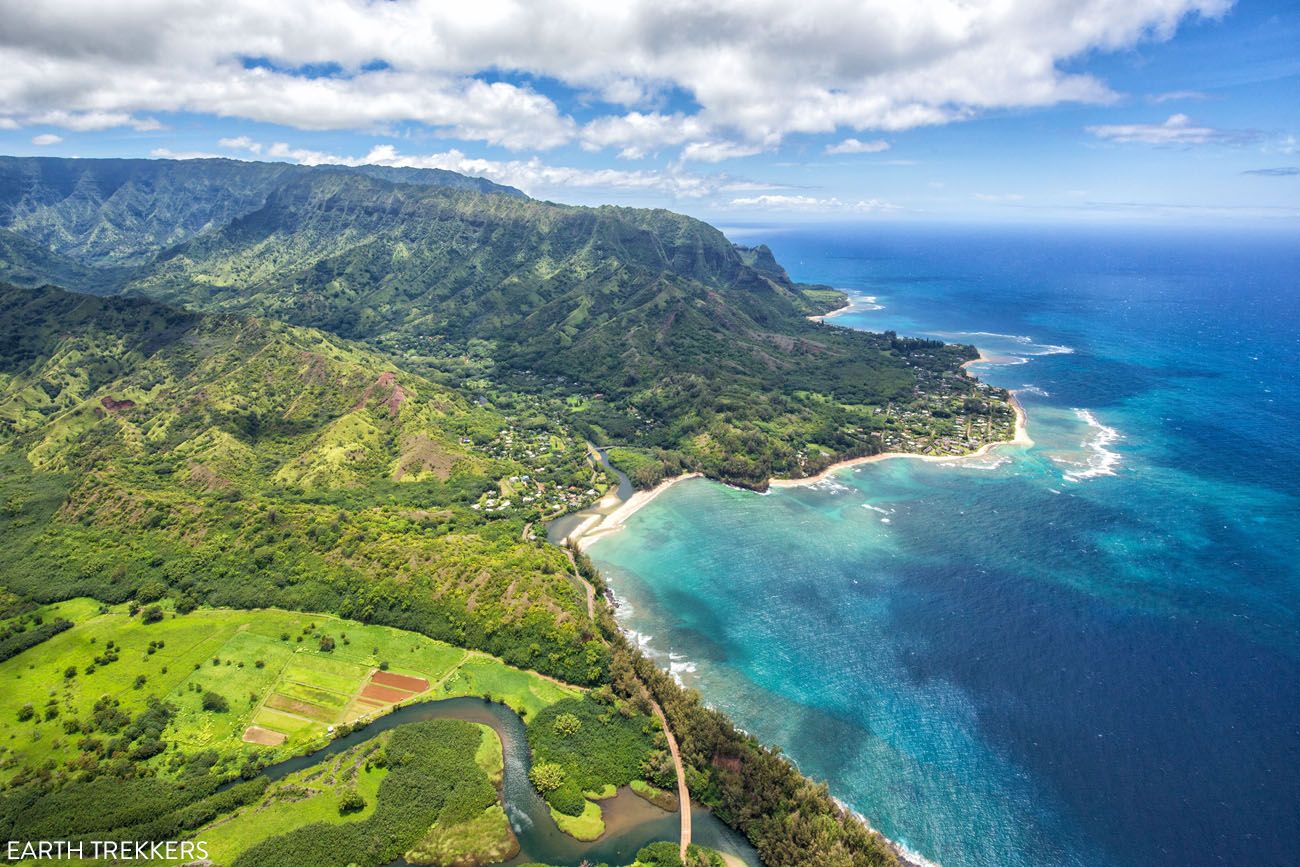 Lumaha'i Beach
Mount Wai'ale'ale
Next up was Mount Wai'ale'ale. Mount Wai'ale'ale is a shield volcano and one of the wettest spots on Earth. Depending on the source, it gets somewhere around 400 inches of rain per year. There's a very good chance that it will be rainy and cloudy during your tour.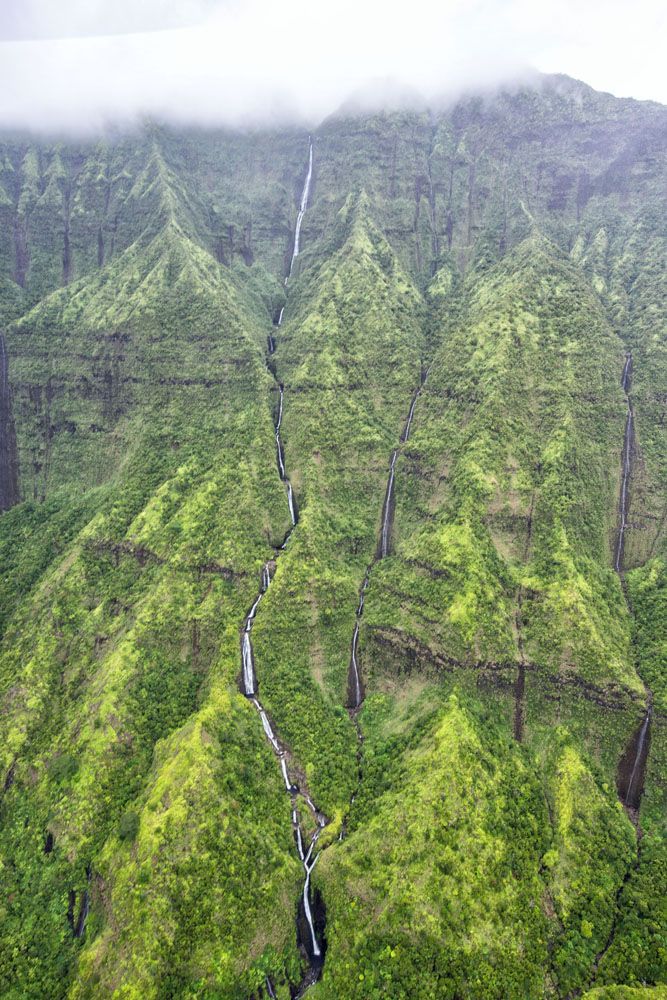 It was raining quite a bit here during our ride, as you can see from our photos. In general, it's relatively warm on the helicopter, even with the wind. But once we were under cloud cover, it got noticeably cooler. I recommend wearing a rain jacket as one of your layers.
Back to Lihue
On the way back to Lihue, we flew past Wailua Falls and the Kalepa Mountain Forest Preserve.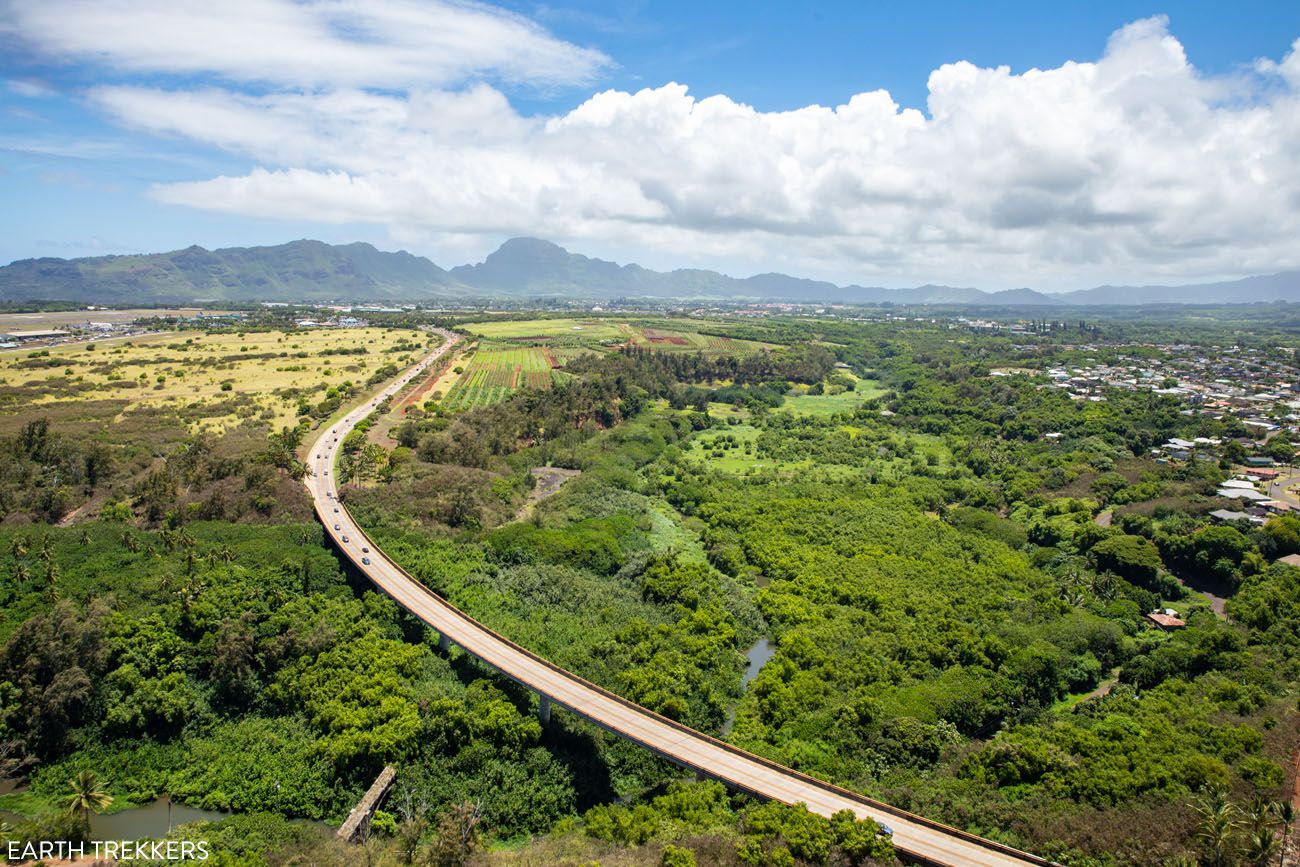 Landing, just like take-off, was very smooth. Staff members helped us out of our harnesses, we exited the helicopter, and then were driven back to the Jack Harter office, where our tour concluded.
It was an exhilarating experience. All four of us loved it, especially Tyler and Tim. This was something we would talk about for days and it was one of our favorite travel experiences in Hawaii.
Is a Doors Off Helicopter Tour of Kauai Worth It?
Absolutely.
This is one of the best ways to see the landscapes of Kauai. By helicopter, you can get to places that you can't see by car or by foot.
Having done both a doors on and a doors off tour of Kauai, the doors off experience was the winner. With the doors off, you get to see a lot more from the helicopter. Without the door, you can look down below the helicopter, giving you a lot more visibility.
And as for photography, a doors off tour is unbeatable. The more expansive views and the lack of glass is perfect if you want to walk away with better photos.
Plus, a doors off helicopter ride is simply more thrilling.
There are two minor downsides to a doors off tour. A doors off helicopter ride is louder than a doors on tour, since there is more air rushing in through the open doors. But the noise cancelling headphones really help. Plus, if it is raining, you might get wet. We had rain, and we did get a little wet, but it was minimal.
But if you want a thrilling experience and stunning photos of Kauai, you can't beat a doors off tour.
Frequently Asked Questions
What Happens if My Tour Gets Cancelled Due to Bad Weather?
Unfortunately, it happens. Rain and wind can cancel a helicopter tour. Both Jack Harter and Mauna Loa will give you a full refund in this event. If there is time in their schedule later in the day, or in the following days, they can rebook you on another tour.
PRO TRAVEL TIP: Book your doors off helicopter tour of Kauai on your first day in Kauai. If it gets cancelled, you can reschedule the tour later in the week.
What Should I Bring (and not Bring) on the Tour?
On a doors off tour, temperatures inside of the helicopter will be cooler than those on the ground, due to the elevation and the wind. We did this in the summer and we wore long pants, a T-shirt, and a rain jacket. You cannot wear flip flops (they could blow off your feet) so hiking shoes or walking shoes are recommended. Leave your hat in your car, but you can wear your sunglasses.
Anything you bring on the helicopter must be attached to you. For our cameras, we used a Black Rapid cross body strap. Kara took photos and videos with her iPhone, and this was attached to her with a neck lanyard. If you plan to use your iPhone but you don't have a strap for it, you will not be permitted to take it on the helicopter, so purchase it before your trip to Kauai.
You are not permitted to bring bags, purses, selfie sticks, or iPads.
If you have long hair, tie it back before the flight.
What Camera Gear Do You Recommend?
The photos in this guide were taken with two cameras: a Canon 5D Mark IV with a 24 – 70 mm lens and a Canon 5D Mark III with a 16-35 mm lens.
Both lenses are great. The 16 – 35 mm lens gave us some great, wide shots, but with this wider lens, we also occasionally got the propeller blades in the photo. Despite the propeller blades showing up, our best photos were with the 16 – 35 mm lens.
Having some kind of cloth available to dry off your lens is helpful, for times when rain can blow into the helicopter. I used my shirt, not the best thing to use, but it worked. Since a lens cloth won't be attached to you, I don't think you should plan on bringing this aboard the helicopter.
---
If you have any questions about taking a doors off helicopter tour in Kauai, or if you would like to share your experience, let us know in the comment section below.
More Information about Hawaii
KAUAI: Plan your visit to Kauai with our guide to the Best Things to Do in Kauai. Learn how to hike the Maha'ulepu Heritage Trail and how to hike the Nu'alolo and Awa'awapuhi Trails in Kokee State Park.
MAUI: In Maui, visit Haleakala National Park, drive the Road to Hana, go surfing and snorkeling, and visit the beaches. Get the full list in our article Best Things to Do in Maui.
OAHU: Top experiences on Oahu include a visit to Pearl Harbor and hiking the Diamond Head Summit Trail.
NATIONAL PARKS IN HAWAII: There are two national parks in Hawaii. Haleakala National Park is located on Maui and Volcanoes National Park is located on the Big Island of Hawai'i.
USA TRAVEL INSPIRATION: For more great ideas on where to go in the United States, check out our article Best USA Road Trips, which has 18 sample itineraries for your next big adventure. You can also see more travel itineraries on our Travel Itineraries page and our National Park Itineraries.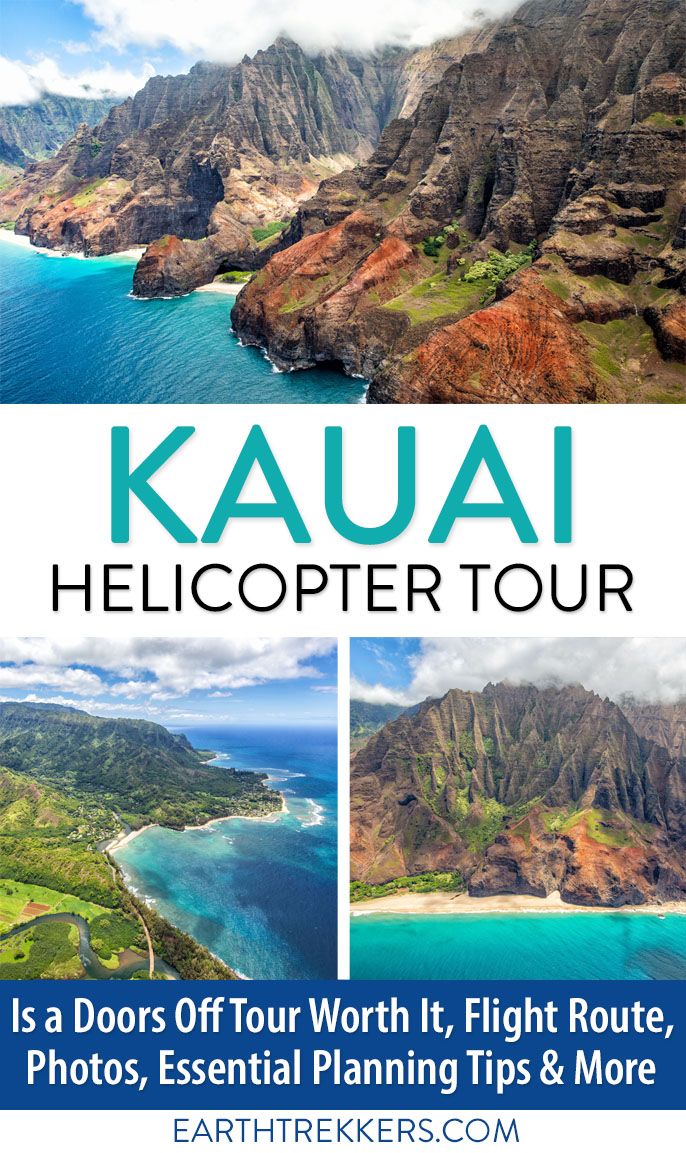 Note: This post contains affiliate links. When you make a purchase using one of these affiliate links, we get paid a small commission at no extra cost to you.
All rights reserved © Earth Trekkers. Republishing this article and/or any of its contents (text, photography, etc.), in whole or in part, is strictly prohibited.