The Enchantments is a slice of hiking paradise. Located in the Alpine Lakes Wilderness of Washington state, this is a wonderland of alpine lakes, jagged mountains, and waterfalls.
The only way to visit the Enchantments is by hiking and it is no easy task. There are two trailheads and from both of these starting points it is a long, difficult, and strenuous hike to get to the core region of the Enchantments.
There are two ways to visit the Enchantments. You can either thru-hike the Enchantments as one massive day hike or you can backpack the Enchantments, spending several nights here. However, to camp in the Enchantments, you must have a permit. Getting a permit takes extremely good luck, which is why most people will visit the Enchantments on a day hike.
Hiking the Enchantments in one day is a beast of a hike and it is not to be underestimated. For the best experience, you will have to do a little advance planning and maybe even a little training, depending on your level of fitness.
But it is absolutely worth it. This is one of the most challenging day hikes we have done (it's right up there with Half Dome and the Grand Canyon rim-to-rim) but what an unforgettable experience.
In this article, we share with you everything you need to know to thru-hike the Enchantments in one day, from what to expect, how to arrange your transportation, what to pack, where to stay, and more.
Please practice the seven principles of Leave No Trace: plan ahead, stay on the trail, pack out what you bring to the hiking trail, properly dispose of waste, leave areas as you found them, minimize campfire impacts, be considerate of other hikers, and do not approach or feed wildlife.
This article is part 2 in our two-part series about hiking the Enchantments. For a full breakdown of the trail, with maps, photos, and hiking tips, read part 1: How to Hike the Enchantments in One Day.
Quick Overview of the Trail
The Enchantments are located in the Alpine Lakes Wilderness in Washington.
There are two points of entry into the Enchantments: the Stuart/Colchuck Lake Trailhead and the Snow Lakes Trailhead.
As a thru-hike, most people start at the Stuart/Colchuck Lake Trailhead, for several reasons. The Stuart/Colchuck Trailhead sits at about 3,225 feet elevation and the Snow Lakes Trailhead sits at about 1,400 feet elevation (there is almost 2,000 feet less elevation gain during the hike if you start at Stuart Lake Trailhead). Also, the hike up and over the Aasgard Pass comes much earlier in the hike, when your legs are still fresh and temperatures are still cool.
The Aasgard Pass is the highest point of the hike. From Stuart Lake Trailhead, you start this climb at about mile 5 of the hike. It's a 1.5 mile climb with roughly 2,000 feet of elevation gain. It is exhausting but what is waiting for you on the other side is the amazing core Enchantments region. From the Snow Lakes Trailhead, you will steadily hike up almost 7,000 feet to reach the Aasgard Pass and then it is a very steep trail down the other side, which can be very hard on your legs.
The core Enchantments is the region of lakes, mountain peaks, and meadows, from Colchuck Lake to the Snow Lake. This section of the hike is jaw-dropping and one of the prettiest areas that we have ever seen on a hike.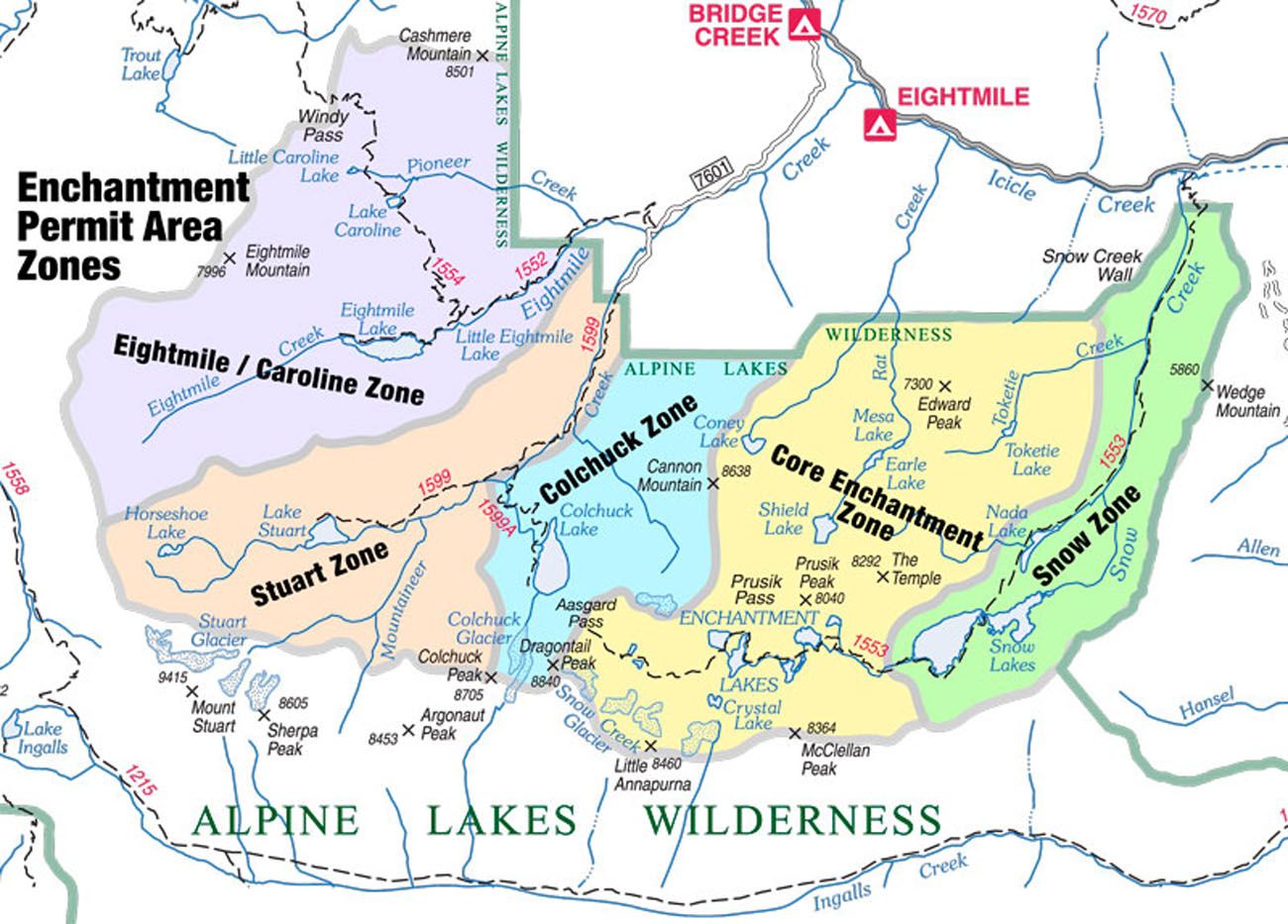 Map of the Enchantment area of the Alpine Lakes Wilderness (source: fs.usda.gov). This is an overview of the permit zones but it shows the hiking trail, the location of the Core Enchantments, as well as Colchuck Lake and the Snow Lakes.

Elevation profile
Enchantments Hiking Stats
These statistics are for the thru-hike from Stuart/Colchuck Lake Trailhead to the Snow Lakes Trailhead.
Distance: 19.25 miles (31 km)
Difficulty: Extremely strenuous
Total Elevation Gain: 5,500 feet (1.675 meters)
Total Elevation Loss: 7,000 feet (2,133 meters)
Starting Elevation (Stuart Lake TH): 3,225 feet (980 meters)
Ending Elevation (Snow Lakes TH): 1,400 feet (425 meters)
Highest Elevation (Aasgard Pass): 7,841 feet (2,390 meters)
Length of time: 8 to 15 hours
About the length of time. 8 to 15 hours is a huge range, but we asked a number of people about their experience, and did a lot of research online, and that's how we came up with these numbers. Those at the lower range are for those people who trail run at least a small portion of the trail (usually the last 6 miles to the Snow Lakes trailhead). Those at the longer end tend to linger at the lakes. The median length of time is 10 to 12 hours.
We did this in 10 hours and 30 minutes and we are fast hikers. We stopped several times at the lakes, for snacks and lunch and photos. Honestly, we thought that we would do this faster. However, this is a hard trail to hike at a fast pace. The lakes and the views are incredibly beautiful, and it is the main reason why you are on this trail, so take your time through the core Enchantments. But in general, the trail is rocky, steep, with lots of obstacles, so it can be difficult to keep up a fast pace on most of the trail.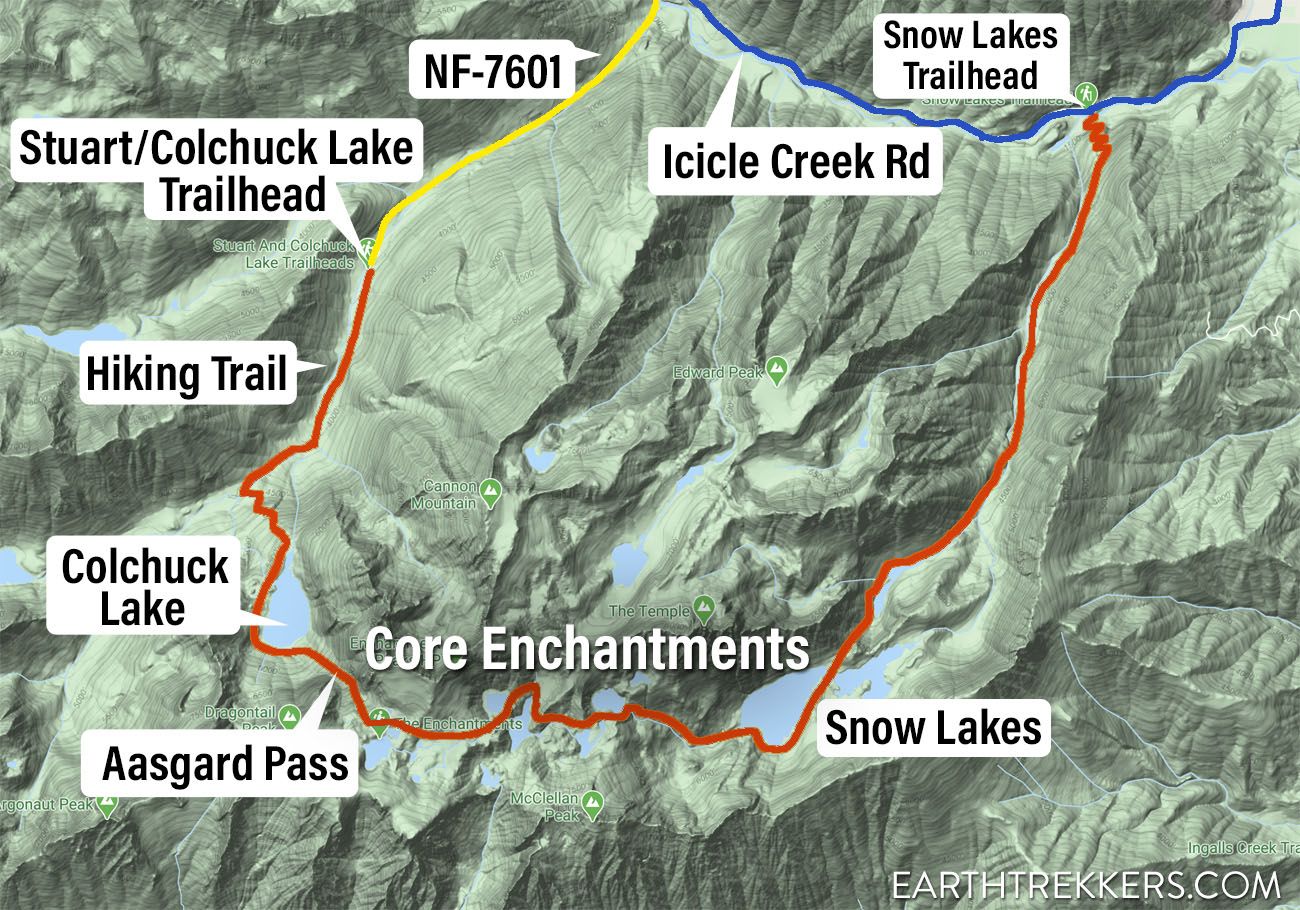 Map of the hiking trail. The red line is the hiking trail. The yellow line is NF-7601, the gravel road to the Stuart and Colchuck Lakes Trailhead. The blue line is Icicle Creek Road.
Transportation
Since the day hike is done point-to-point, you will need to arrange some sort of transportation to get you back to your starting point. There are several ways to do this.
A second car. If you are lucky enough to live in Washington, and you are hiking with at least one other person, you can drop a car at each trailhead. Once finished the hike, drive back to your starting point to pick up your second car.
PRO TRAVEL TIP: It takes approximately 30 minutes to drive from one trailhead to the other one.
Rent a second car. This is what we did (we did this hike in July 2020 during COVID-19 and the shuttles were not running on the day of our hike). The closest place to rent a car is in Wenatchee. We rented a car from Enterprise (located at 1153 S Wenatchee Avenue) and had a great experience. We picked up the rental car the day before our hike and returned it after the hike. So, in order to do this, you will need to have spare time before and after your hike to pick up and drop off the rental car. Note: you will need two National Forest Recreation Passes (for a total of $10…more on this below).
PRO TRAVEL TIP: The road to the Stuart/Colchuck Lake Trailhead is compacted dirt and loose gravel road. Cars were driving on this road without any issues. We recommend a vehicle with tires suitable for an unpaved road, such as you would find with a typical SUV. And make sure you know how to change a flat tire, just in case.
Use the Leavenworth shuttle. If you don't want the hassle or expense of picking up a rental car, this is a great option. However, the shuttle was not running the day of our hike, leaving us to rent a car. Drop your car at the end of the hike and take the shuttle to your starting point. For full details, click here.
Loop Connector Shuttle. This is another shuttle service that will drop you off at the start of your hike, so you only need to leave a car at your exit point. Click here for more information.
Hitch a Ride. After finishing your hike, hitch a ride back to your car at your starting trailhead. It's a bit risky, but it works, according to the locals we talked to.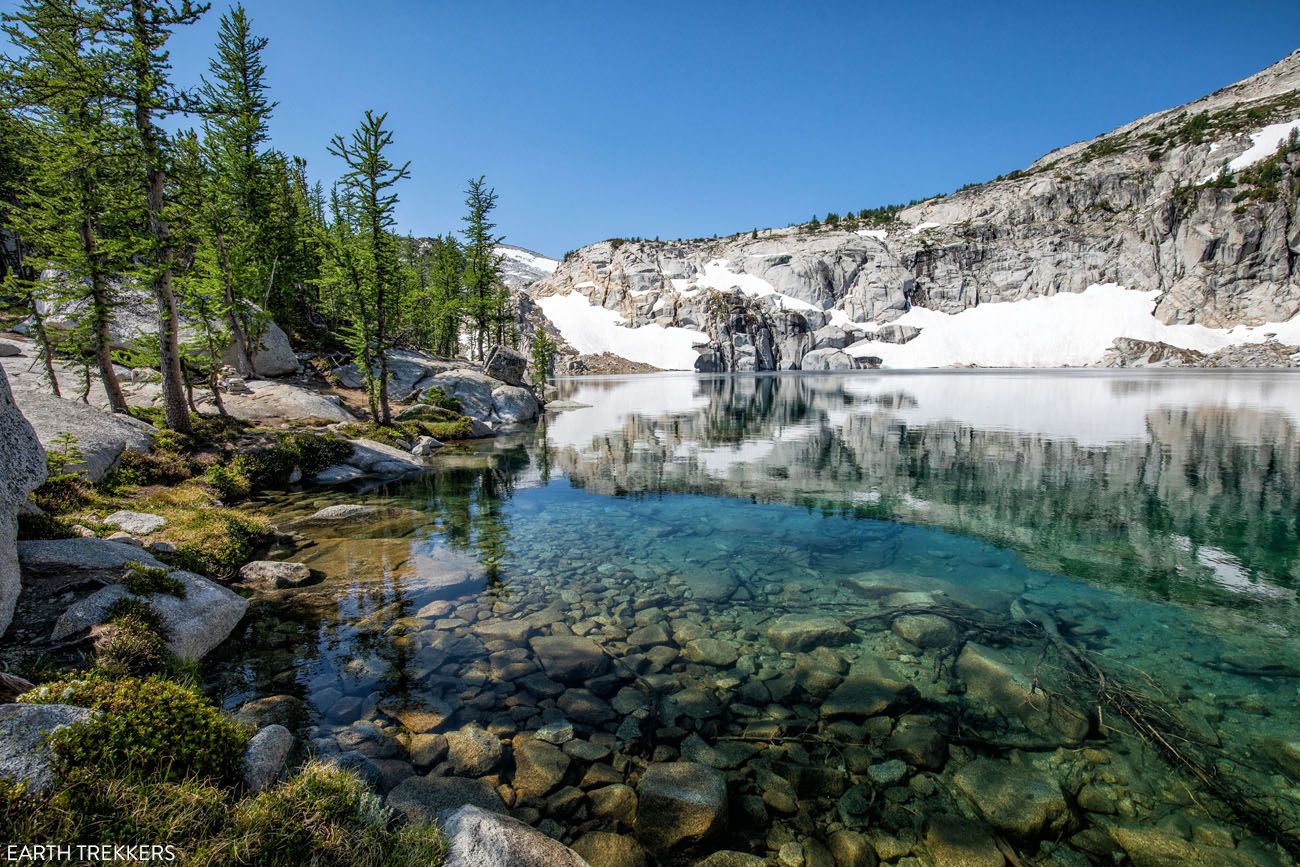 Inspiration Lake
What Permits Do You Need?
You can thru-hike the Enchantments (as a day hike) without a wilderness permit.
For any day hikes into the Enchantments, you will need a National Forest Recreation Pass. The day pass, which is essentially a parking pass, costs $5 per vehicle. If you drop a car at each trailhead you will need two of these passes. You can purchase the pass at the trailhead or in sporting goods stores in the Alpine Lakes region. We purchased our passes from Der Sportsman in Leavenworth the day before our hike. Display your pass in your vehicle (do not take it with you on the hike). Der Sportsman is also a great place to visit the day before your hike if you need any gear, such as a water filter.
If you have an America the Beautiful Pass, you can use this instead of purchasing a National Forest Recreation Pass. On the National Forest Recreation website, the America the Beautiful Pass is called the Interagency Annual Pass. Learn how to display your America the Beautiful Pass here.
Before hiking the trail, you will also have to fill out a Day Use Permit at the trailhead (bring a pen!). One half of the permit gets deposited in the box at your starting point. When you finish your hike, deposit the other half of your permit at the other trailhead. The day use permit is free.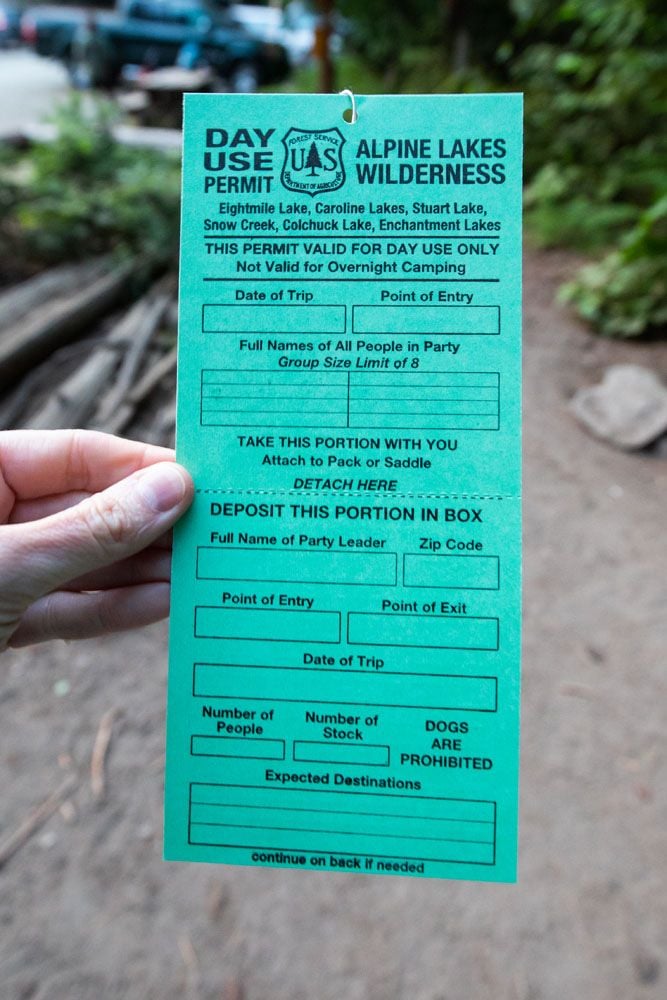 We saw rangers checking hikers for day use permits and overnight permits while we were on the trail.
If you plan to camp overnight in the Enchantments, you must have an Enchantment Area Wilderness Permit. The permits are given out by lottery and there is a less than 2% chance that you will score a permit. This is why so many people thru-hike the Enchantments. To learn more about the permit process, click here.
Isolation Lake
When to Hike the Enchantments
The best time to hike the Enchantments is from July through October.
In the mid to late summer, the snow has melted. This makes hiking easier and you will be able to see the alpine lakes. However, expect hot temperatures, and on some days temperatures at the lower elevations can climb above 100°F (we know because we hiked the trail on one of these 100° days). For thru-hikers, the longer summer days give you more daylight to complete the hike.
In September, the temperatures begin to cool, although you also have shorter days. In October, the larches turn yellow, adding to beauty of this area, making this a great time to hike the Enchantments.
Before July (depending on weather conditions), the core Enchantments can still be snow covered, making hiking difficult and dangerous in spots. Plus, the lakes will also be snow covered, so this area will look much different from the photos in our post.
We hiked the Enchantments on July 31. The high temperature reached 101 degrees in Leavenworth so it was a very hot day. Temperatures were very pleasant in the Enchantments, but the final hike down from the Snow Lakes to the Snow Lakes parking lot was extremely hot.
How Hard Is This Hike?
We have hiked a lot of trails around the world and this is one of the hardest day hikes we have done.
The distance you travel, the massive amount of elevation gain and loss, combined with the rocky, uneven terrain of the trails, makes this a very challenging day hike.
We spent five straight weeks hiking the national parks in Colorado and Washington before tackling this trail, and it still took a lot out of us.
The most challenging day hike we have done (so far) is the Grand Canyon rim-to-rim. The Enchantments thru-hike is only slightly easier than hiking the Grand Canyon rim-to-rim as a day hike. For the Enchantments hike, there is more elevation gain and loss, but it is a bit shorter in distance. The thing that makes the Grand Canyon rim-to-rim hike more difficult is that all of the elevation gain comes at the end of the hike. And temperatures can soar during the summer months.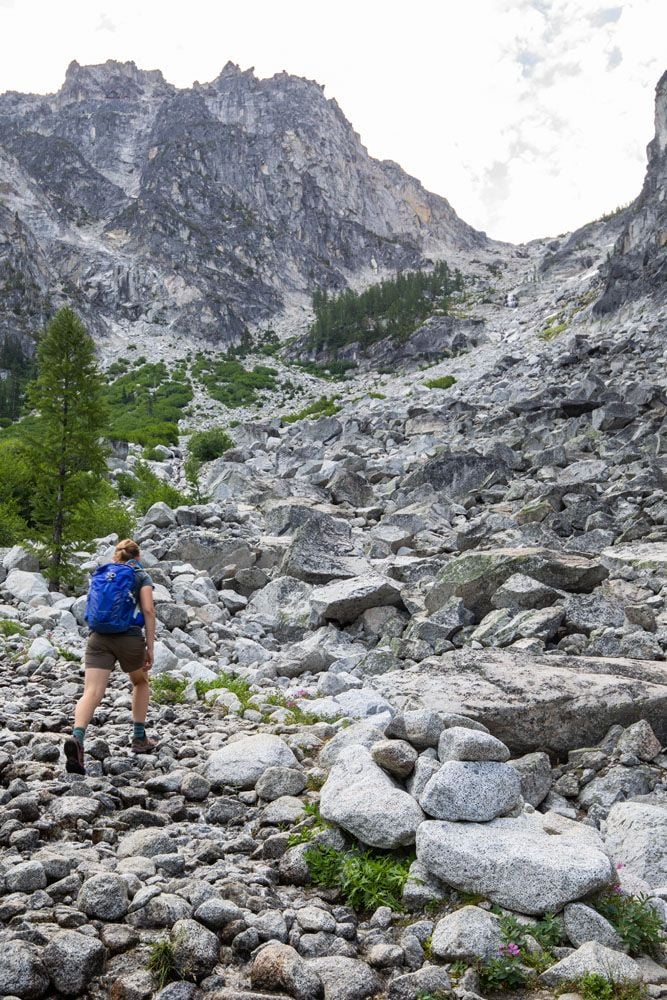 At the start of the climb up and over the Aasgard Pass.
How Fit Do You Need to Be?
If you plan to thru-hike the Enchantments in one day, you need to be extremely fit, fast, and well-prepared.
If you are doing this as a backpacking trip, you also need to be fit, since you will be hiking with more weight on your back, if you plan to camp along the way.
Before doing this hike, we spent five straight weeks hiking in Colorado and Washington. If you can't rack up a lot of miles on hiking trail, I recommend going on long distance runs or walks, with distances at least 10 miles, preferably in hilly terrain.
This hike is HARD and you need to make sure you can hike 20 miles through tough terrain.
You also need to have hiking experience. There are no technical sections but it helps to have experience doing big climbs and big descents. This is not a good hike for beginners since it covers such a long distance with so much elevation change.
If you plan to do this hike, you need to be in great physical shape. You should be able to walk at least 10 miles while wearing a backpack with little difficulty. You need to be prepared for lots of elevation change and you also need to be prepared to hike in many different weather conditions, even during the summer months.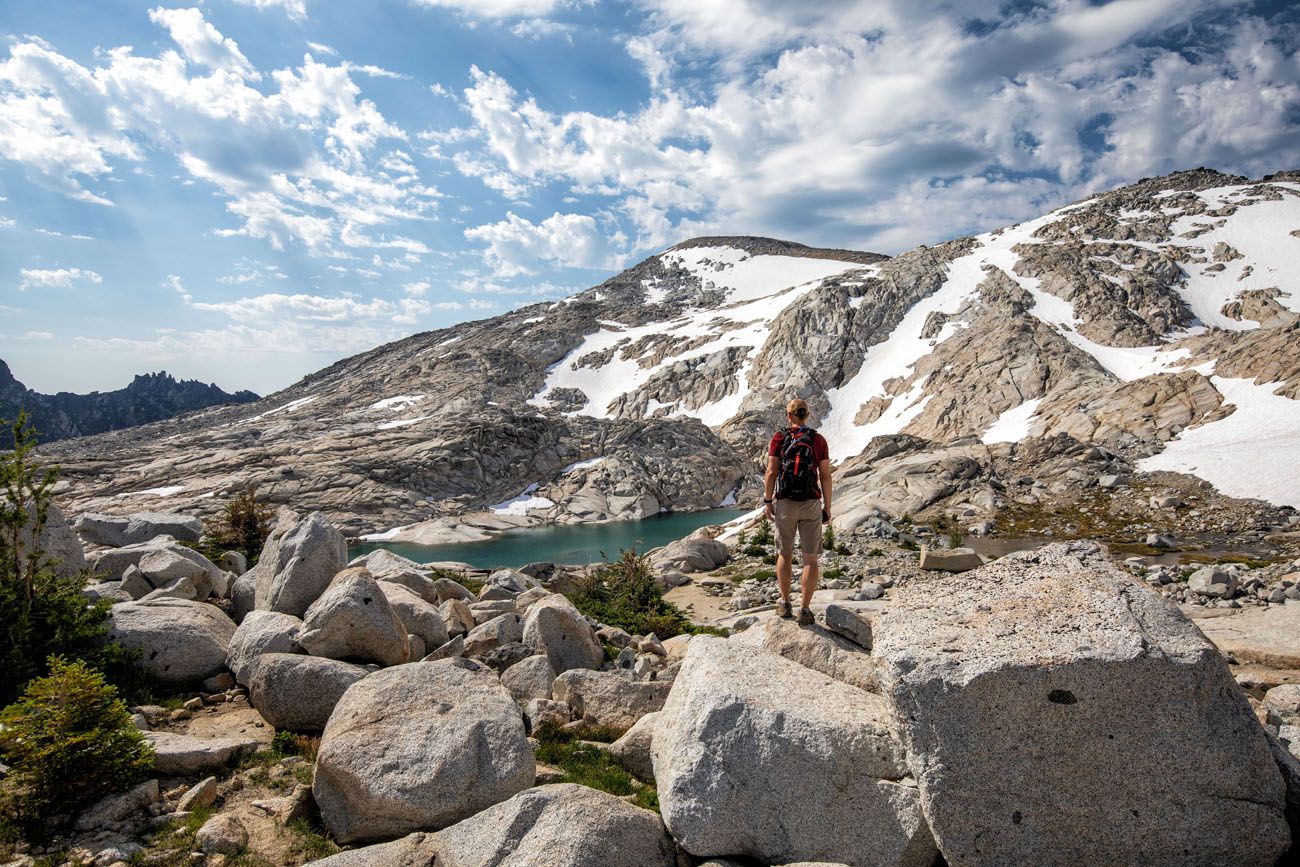 How to Stay Hydrated
During the summer months, you will most likely drink a minimum of 3 liters of water during the hike. That's a lot of weight to carry up the Aasgard Pass.
To minimize how much weight you carry, consider bringing a water filter and filtering water directly from the creeks along the trail, of which there are many.
We each have a camelback that we filled with 1.5 liters of water. Once over the Aasgard Pass, we topped off our water, using a water filter, from one of the creeks that we passed.
We used the MSR Trailshot filter, which worked fine for us. It takes some time to hand pump the water from the creek into your water container. The Sawyer One Gallon Gravity Filter and the Katadyn Be Free filters also get good reviews.
Nutrition on the Trail
In addition to drinking lots of water, you will also need to take in a lot of calories over the course of the day. It's better to eat small, frequent snacks than a big meal every few hours. While exercising, it is hard for your body to process a full stomach of food.
Since we hiked during hot conditions, we packed a lot of foods that are high in salt, to prevent us from getting hyponatremia. Hyponatremia is just a fancy word for being low on sodium (salt).
If you take in large amounts of water without replacing your electrolytes, you can suffer from hyponatremia. Plus, in the heat of the day, you will also be losing a lot of your salt in your sweat.
You can replace your electrolytes by frequently eating salty foods as you hike. Once an hour we would take a quick break to eat some salty food…pretzels, beef jerky, and salty potato chips. For lunch we ate peanut butter and jelly sandwiches. We also ate several energy bars along the hike (Rx Bars, Kind bars, and Larabars are our favorites).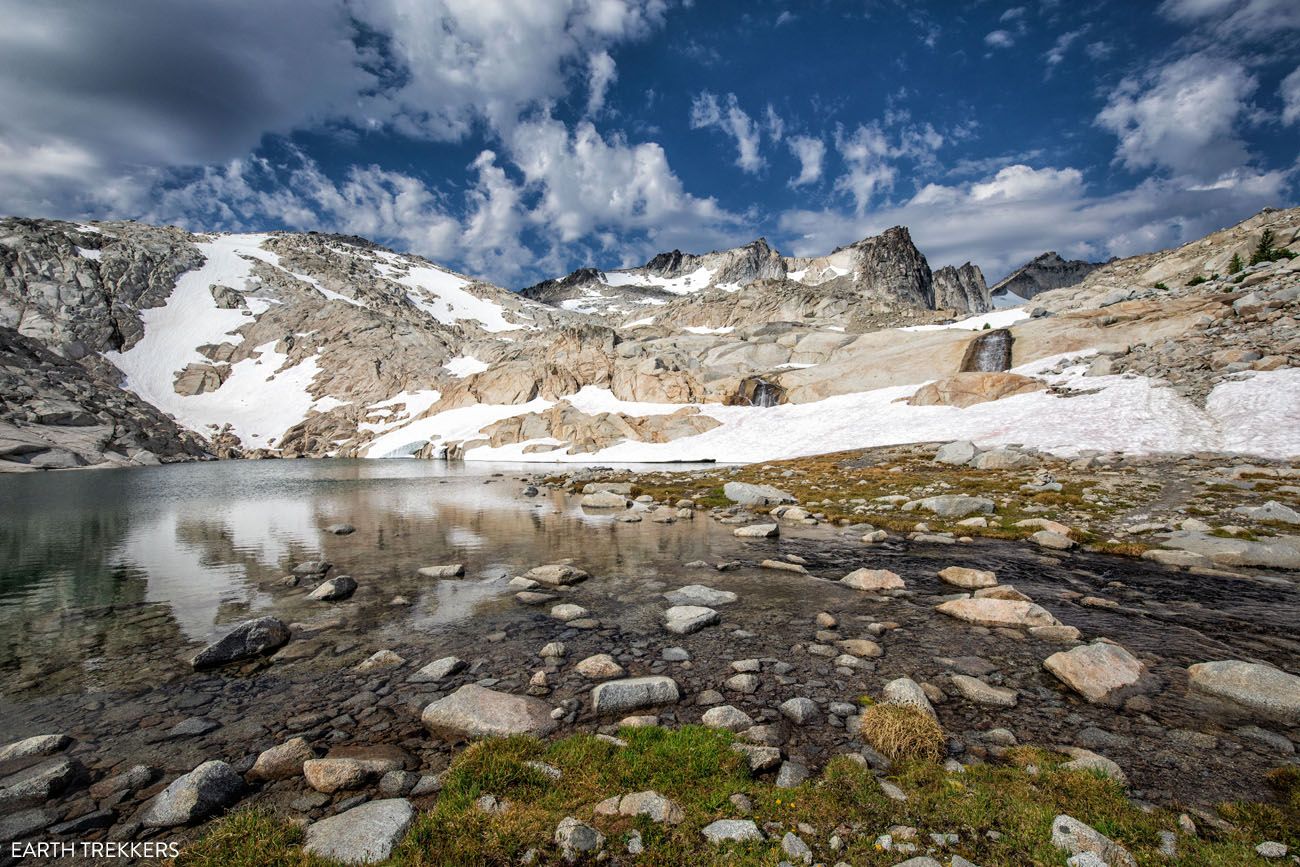 Packing List
Food: energy bars, beef jerky, pretzels, chips, trail mix, raisins
Water in a 3 liter Camelback reservoir
First Aid Kit
Cell phones (we only had service on the last mile of the hike, just before arriving at the Snow Lakes trailhead)
Hiking Poles
Bug repellent (Very important!! The mosquitos are vicious around the alpine lakes and on the climb up to the Aasgard Pass)
Sunscreen
Sunglasses
Hat/Visor
Lightweight Jacket in the summer; extra layers in spring and fall
Camera
Pen (to fill out the permit)
America the Beautiful Pass, National Forest Recreation Pass or $5 cash to purchase one at the trailhead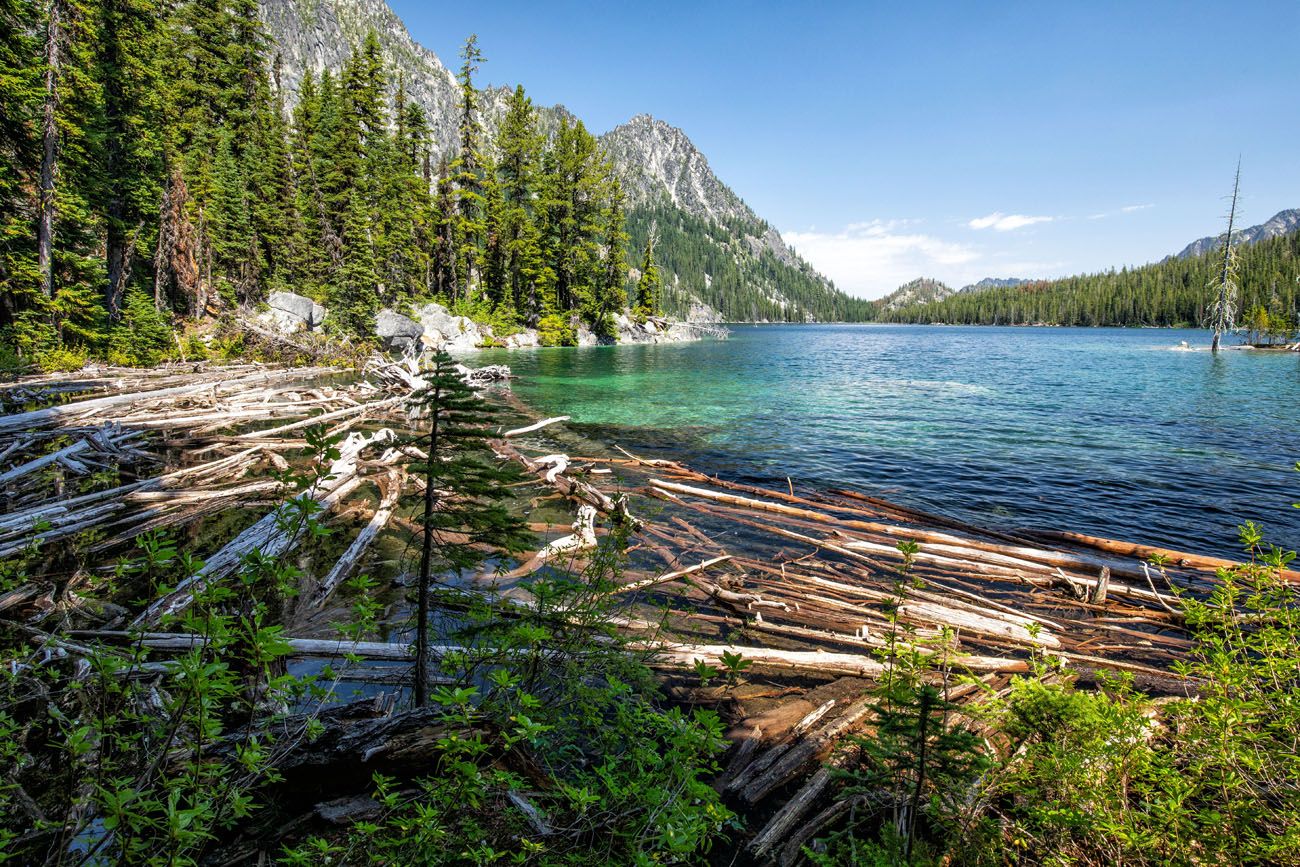 Upper Snow Lake
Where to Stay
We stayed in the lovely Bavarian town of Leavenworth. This town sits just outside of the Enchantments and from here it is less than a 10-minute drive to the Snow Lakes Trailhead.
It has a wide range of hotels and restaurants as well as small shops. This is a great place to relax, before and after your hike. Plus, you can visit Der Sportsman, the sporting goods store, for any gear that you might need before your hike.
As for where to eat, Visconti's serves good Italian food, perfect for carb loading the night before a big hike. Andreas Keller is a Bavarian restaurant that serves sausages, schnitzel and has a wide selection of German beer. Mozart's Steakhouse also serves very good food and we are a big fan of their cocktails.
In Leavenworth, we stayed at the Bavarian Lodge and it was amazing. It is centrally located so you can walk to the shops and restaurants. Rooms are large, quiet, and comfortable and some offer views over the town. We will stay here again on a future visit to Leavenworth.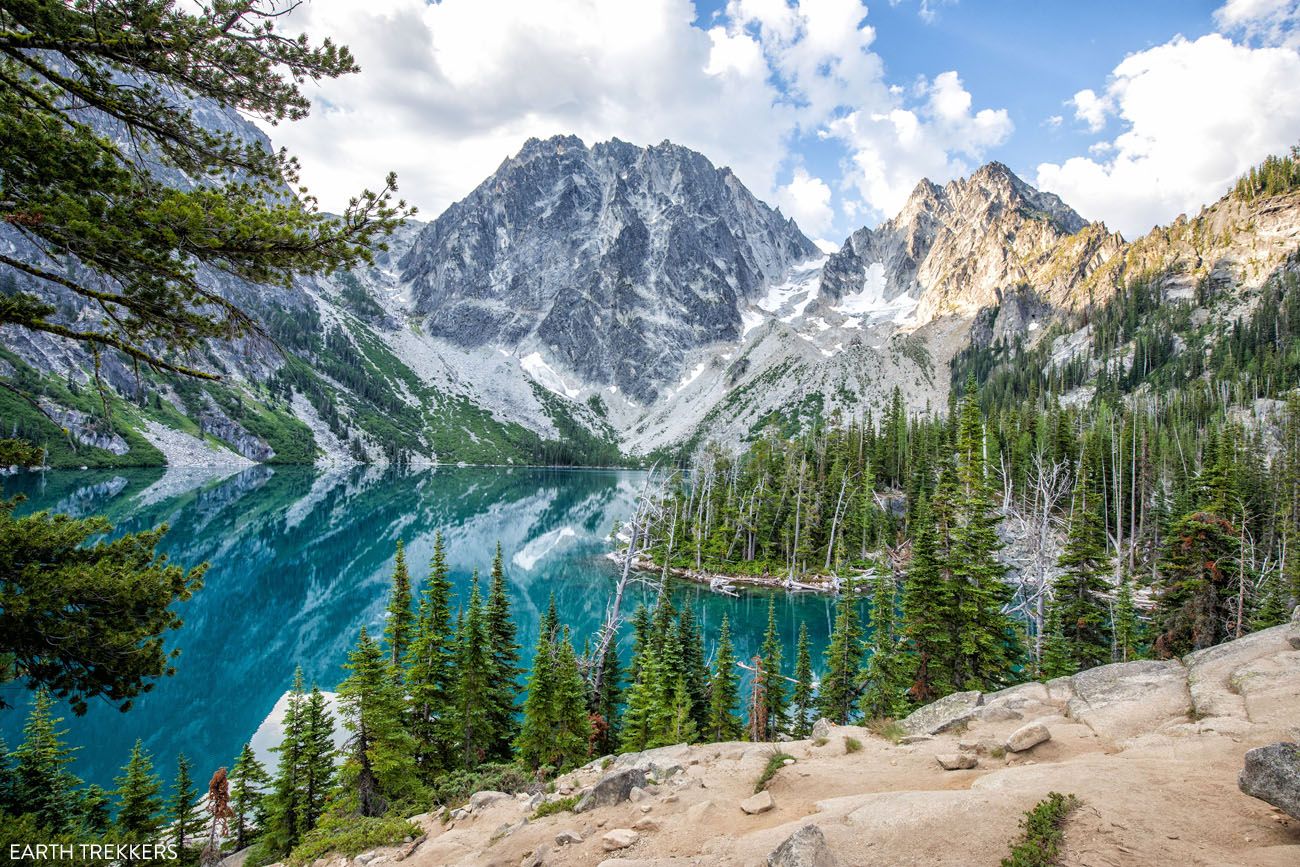 Colchuck Lake
Tips to Have the Best Experience
Hydrate the day before. It's very important that you start this hike fully hydrated.
Start at sunrise or earlier. This will give you the maximum amount of daylight and let you hike a nice chunk of the trail before it heats up (very important in the summer). Also, parking at both trailheads is extremely limited. We got the last parking space at the Snow Lakes Trailhead at 5 am.
Eat frequently. We ate a snack roughly every hour while hiking. This steady supply of calories kept us fueled up for the duration of the hike.
Don't forget insect repellent. For us, the mosquitoes were the worst on the climb up the Aasgard Pass and around the alpine lakes. Even with repellent, I ended the hike with lots of bites (mostly on my arms and shoulders…they will bite you through your clothing).
If you dropped a car at your exit point, stock it with snacks and water (either in a cooler or in an insulated water bottle). This is great to have just in case you run out of water towards the end of the hike.
---
If you have any questions about hiking the Enchantments, or if you would like to share your experience, let us know in the comment section below.
More Information for Your Trip to Washington
WASHINGTON ITINERARY: Take the guesswork out of planning your trip to Washington with our Washington Road Trip Itinerary.
MOUNT RAINIER NATIONAL PARK: Check out our Mount Rainier National Park Travel Guide for important travel planning tips, sample itineraries, advice on when to go, where to stay, and more.
BEST OF THE NORTH CASCADES: Don't miss the beautiful Maple Pass Loop and hiking to Sahale Arm for stunning views across the park. Get the full list in our article Best Things to do in North Cascades National Park.
HIKES IN OLYMPIC NATIONAL PARK: Take your pick from 17 awesome hikes in Olympic National Park. We also have detailed trail guides for Mt. Storm King, the hike to the peak of Mount Angeles, and the underrated Staircase Rapids Loop.
MORE GREAT HIKES: From hikes to the tallest peaks to beautiful coastal trails, read our Guide to the Best Day Hikes in the US National Parks. We also have an article listing 20 amazing day hikes from around the world.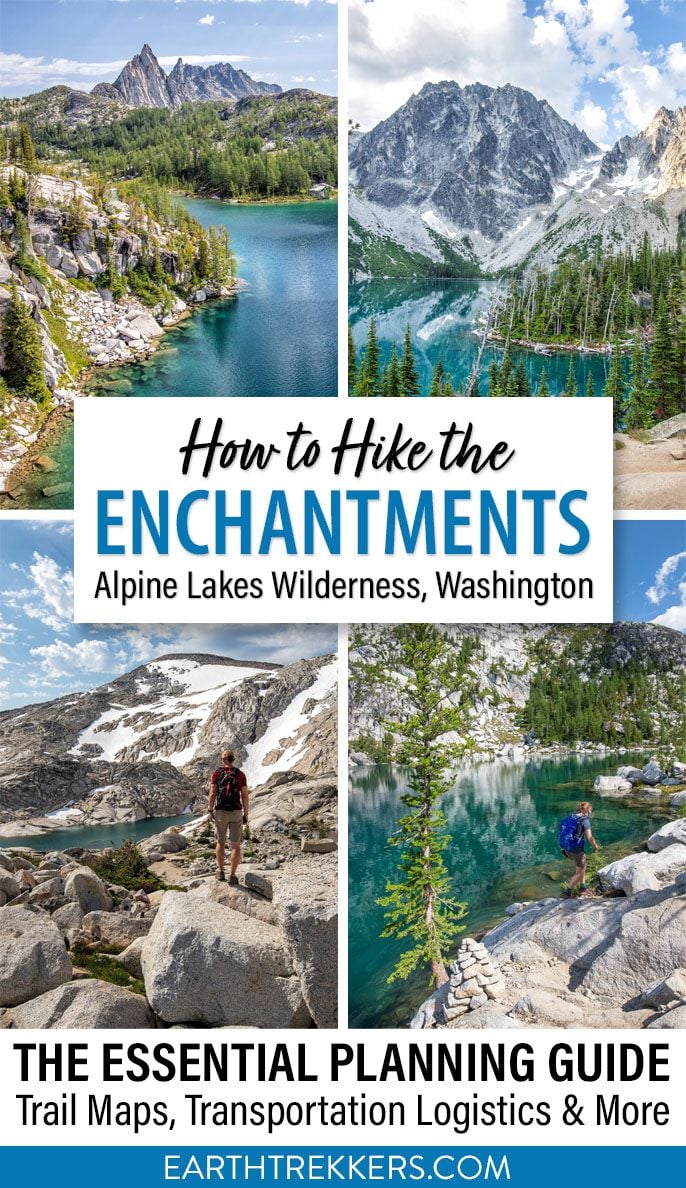 Note: This post contains affiliate links. When you make a purchase using one of these affiliate links, we get paid a small commission at no extra cost to you.
All rights reserved © Earth Trekkers. Republishing this article and/or any of its contents (text, photography, etc.), in whole or in part, is strictly prohibited.