If you are a hiker, the Enchantments is a destination that belongs at the top of your list. Turquoise, emerald, and aquamarine alpine lakes are scattered through the jagged, snow-capped mountain peaks. Wildflowers bloom along the edges of the trail, mountain goats graze on the grasses, and the larches turn brilliantly yellow in the fall months.
On this hike, the landmarks make it sound like you are in a fairytale. It definitely looks like something from another world. You'll climb over Aasgard Pass, gaze up at Dragontail Peak, and hike past Leprechaun Lake and Sprite Lake.
It is an absolutely gorgeous hike, but it is also extremely difficult, when done as a day hike. Over the course of almost 20 miles, you will ascend one mile and then drop down another 7,000 feet to finish the hike. It is a long, hard day but one that you will never forget.
In this article, get a detailed look at the hike through the core Enchantments, starting at the Stuart/Colchuck Lakes trailhead and ending at the Snow Lakes trailhead.
Overview of the Enchantments Hike
These statistics are for the thru-hike from Stuart/Colchuck Lake Trailhead to the Snow Lakes Trailhead.
Distance: 19.25 miles (31 km)
Difficulty: Extremely strenuous
Total Elevation Gain: 5,500 feet (1,675 meters)
Total Elevation Loss: 7,000 feet (2,133 meters)
Starting Elevation (Stuart/Colchuck TH): 3,225 feet (980 meters)
Ending Elevation (Snow Lakes TH): 1,400 feet (425 meters)
Highest Elevation (Aasgard Pass): 7,841 feet (2,390 meters)
Length of Time: 8 to 15 hours. Those on the shorter end trail run a portion of the trail. Those on the longer end tend to linger longer at the lakes. The median time is 10 to 12 hours.
Location: Alpine Lakes Wilderness, Washington
Permits: If you do this as a day hike, you will need a Day Use Permit. The Day Use Permit is available at the trailhead and it is free. For more info, read our guide to the Enchantments. To camp overnight, you need to be one of the lucky 2% who get a permit awarded by lottery. You will need a National Forest Recreation Pass which can be purchased at the trailhead or at local sporting goods shops for $5. If you have an America the Beautiful Pass, you can use this in place of a National Forest Recreation Pass. Learn how to display your America the Beautiful Pass here.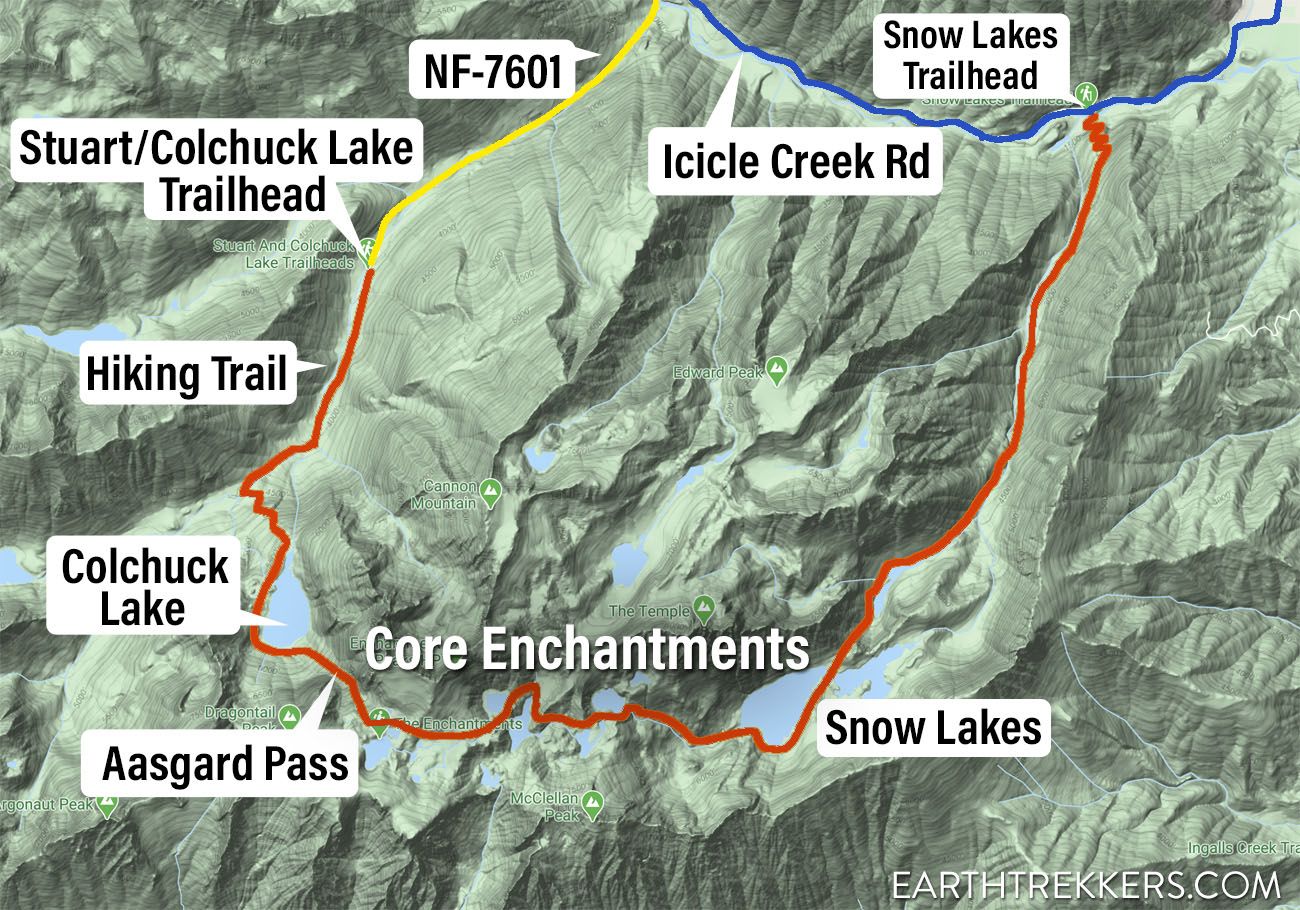 Map of the hiking trail. The red line is the hiking trail. The yellow line is NF-7601, the gravel road to the Stuart and Colchuck Lakes Trailhead. The blue line is Icicle Creek Road.

Elevation profile
Please practice the seven principles of Leave No Trace: plan ahead, stay on the trail, pack out what you bring to the hiking trail, properly dispose of waste, leave areas as you found them, minimize campfire impacts, be considerate of other hikers, and do not approach or feed wildlife.
How to Hike the Enchantments
A Step-By-Step Guide
Since this is a point-to-point hike, you can do this hike in either direction. Most people chose to start at the Stuart/Colchuck Lakes trailhead for two reasons. For one thing, it sits almost 2,000 feet higher than the Snow Lakes trailhead, so you will have 2,000 less feet to climb on the hike. Also, you will hike up and over the Aasgard Pass early in the hike, when your legs are still fresh.
Stuart/Colchuck Lakes Trailhead
The Stuart/Colchuck Lakes trailhead is located at the very end of NF-7601. This is a compacted dirt and gravel road that is suitable for standard cars. However, an SUV will make this drive easier, since it is rutted in some places.
The parking lot is located at the very end of the gravel road. It is a relatively large parking lot and we had no problems finding a spot the morning we did this hike (it's significantly larger than the Snow Lakes parking lot). However, if no spaces are available, you can park on the right side of NF-7601. There are toilets located near the trailhead.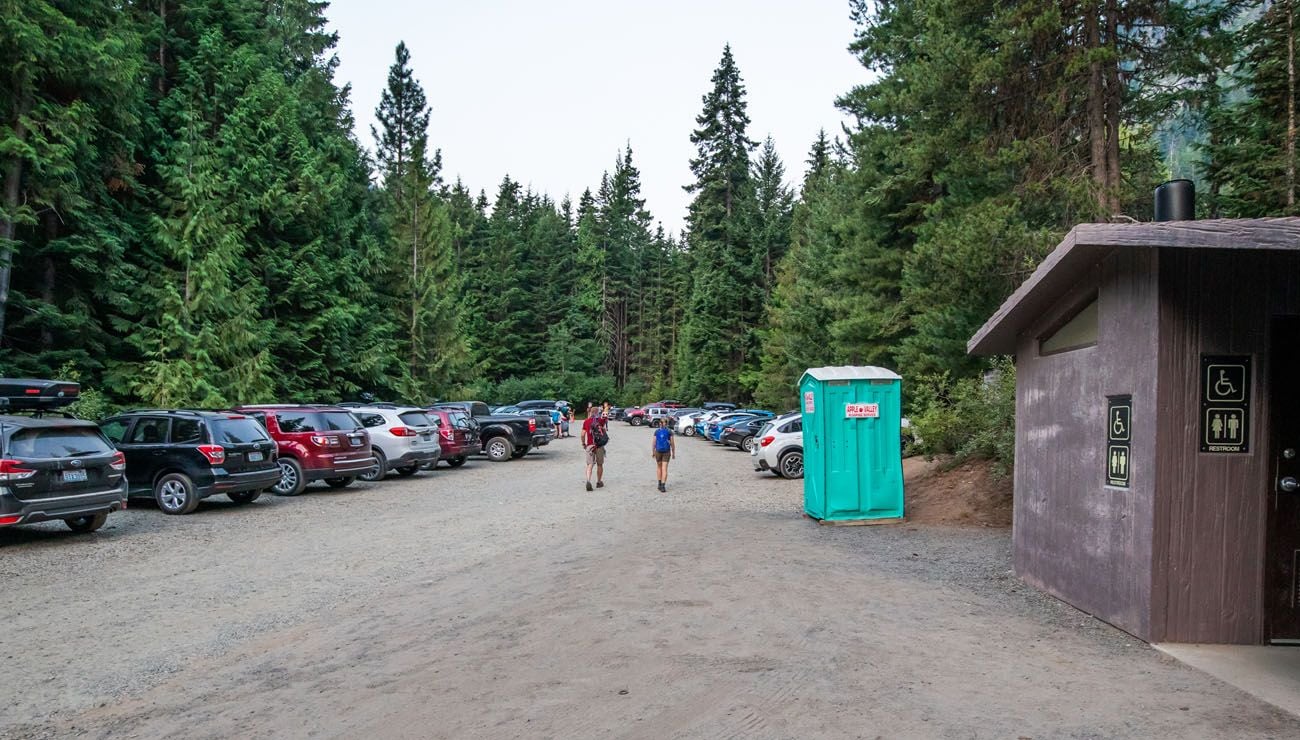 Make sure you display your National Forest Recreation Pass or your America the Beautiful Pass in your car. If you do not have a National Forest Pass, you can purchase one at the trailhead. Look for the box of white envelopes. Fill one out and include your $5 fee.
Before setting foot on the trail, you must also fill out a wilderness permit. These are also located at the trailhead. Fill it out (bring a pen!), deposit the bottom section in the box, and take the top part of the permit with you. A ranger might check to see if you have this during your hike (ours was checked). You will deposit the top section in the box at the end of your hike.
Now that you got all of the paperwork out of the way, it's time to start the hike.
Trailhead to Colchuck Lake
Distance: 4.25 miles
Elevation Gain: 2,200 feet
Average Time: 2 to 3 hours
Even though it is a steady uphill climb to Colchuck Lake, this felt like one of the easiest and fastest sections of the hike. For the most part, you are hiking through a forest. There's not a whole lot to look at, other than a few cool bridges along the way and maybe some wildlife. We were lucky to see two deer cross the trail right in front of us.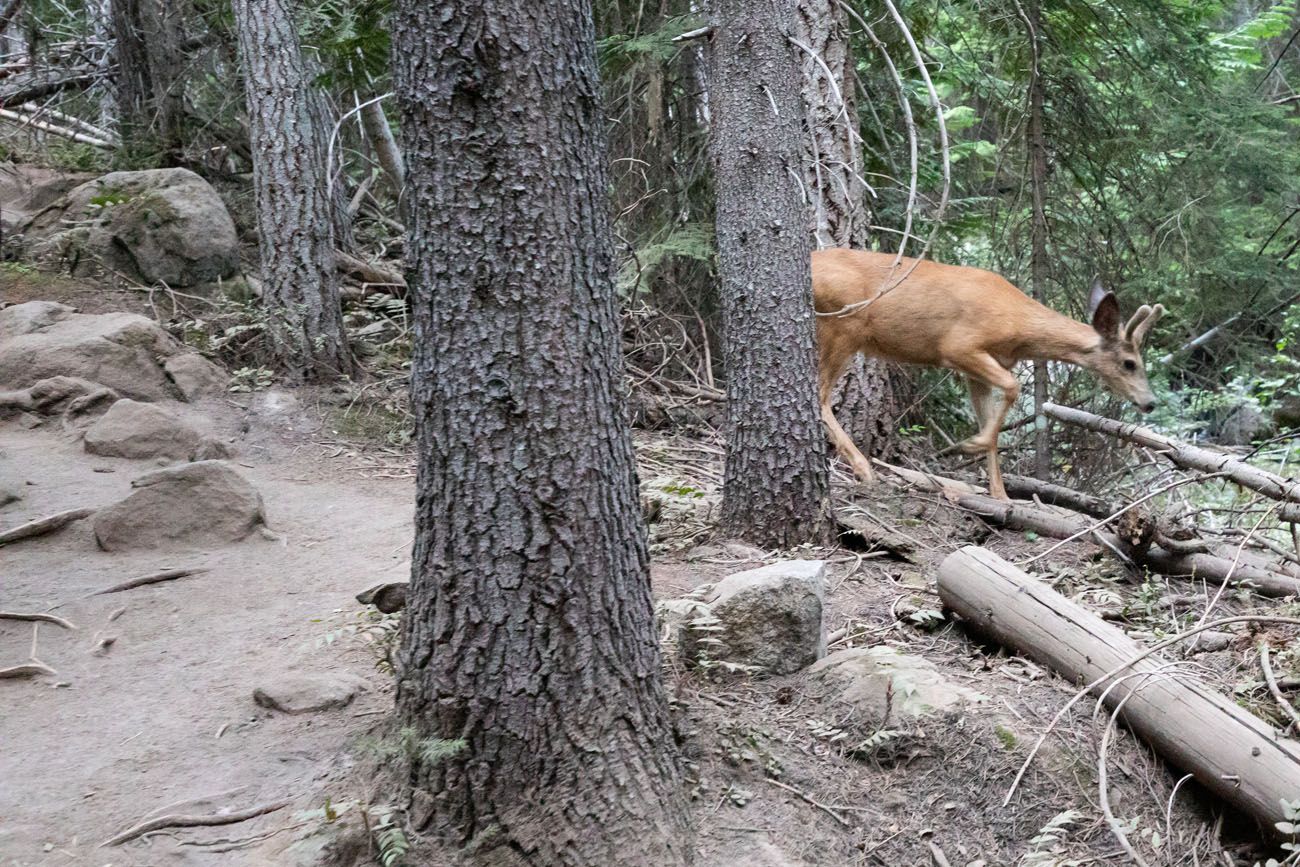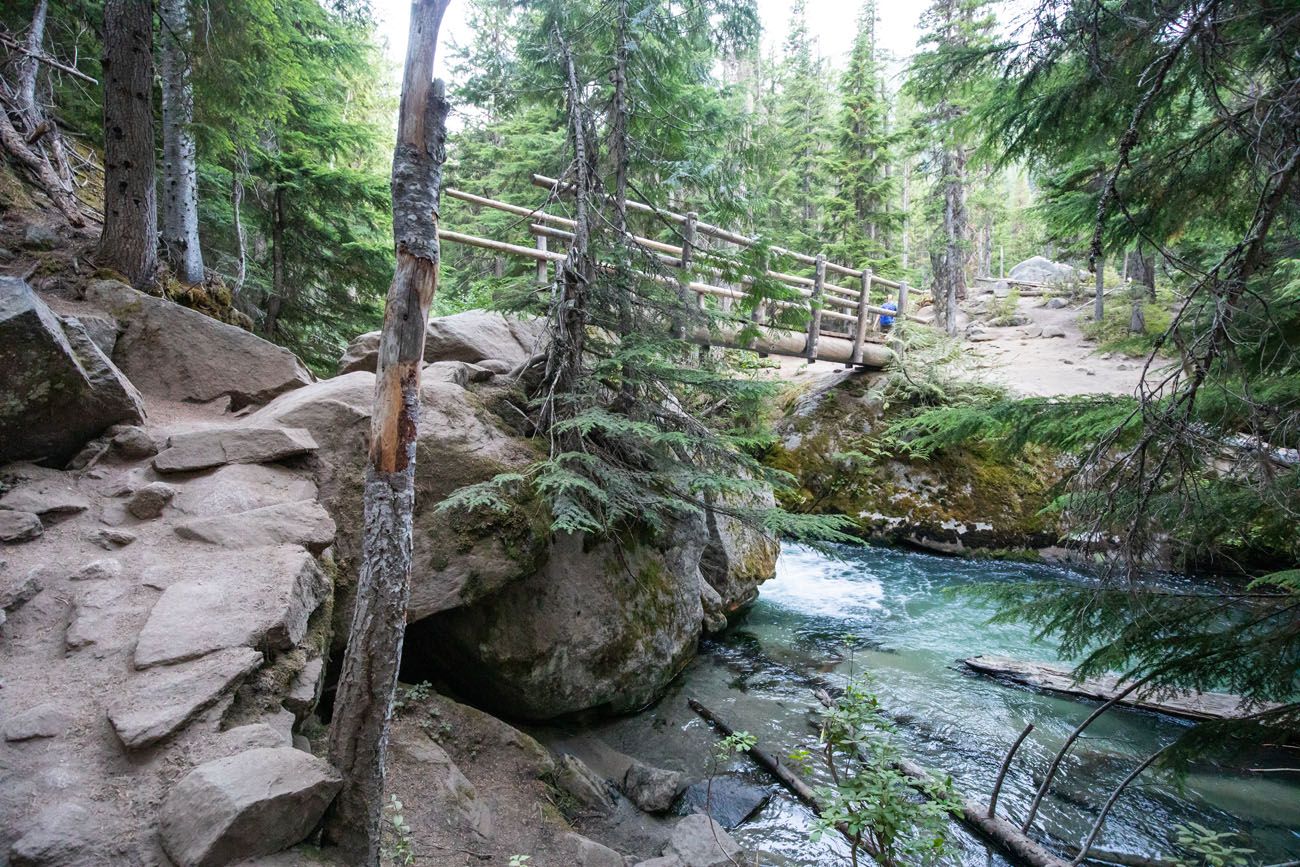 At about 2.4 miles into the hike (and roughly 1,000 feet of total ascent) you'll reach a noticeable split in the trail. There is a sign on a tree directing you to turn left to go towards Colchuck Lake, which is what you want to do. Going straight at the split will take you to Stuart Lake which you don't want to do today.
After turning left at the split you'll reach a wooden bridge that ends at a boulder area. There is no need to climb the boulders here. Just turn right when you step off the bridge and keep following the dirt trail. Now you will alternate between easy and moderate ascents a few times until you reach Colchuck Lake.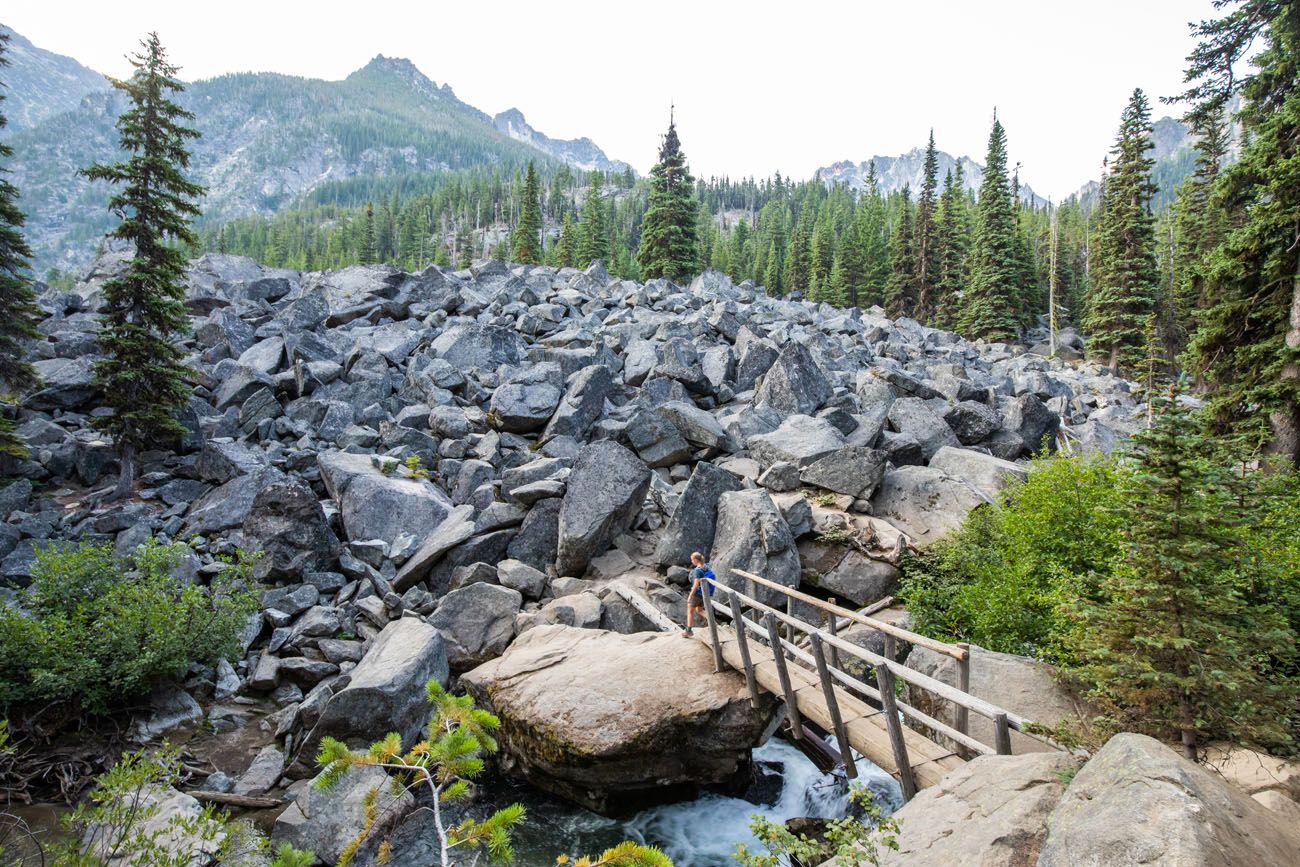 Turn right once you reach this boulder field. Once you get to this point, it's not too much farther until you reach Colchuck Lake.
Around Colchuck Lake to the Start of the Aasgard Pass
Distance: 1.25 miles
Average Time: 45 minutes to one hour (this includes time for a quick break or snack)
Elevation Gain: Minimal. There are a few ups and downs here but for the most part, the trail is flat as you walk around the lake.
Colchuck Lake is a beautiful, aquamarine lake. It's also the perfect place to take a short break and have a snack. If you look across the lake to the other side, you can see the Aasgard Pass and Dragontail Peak.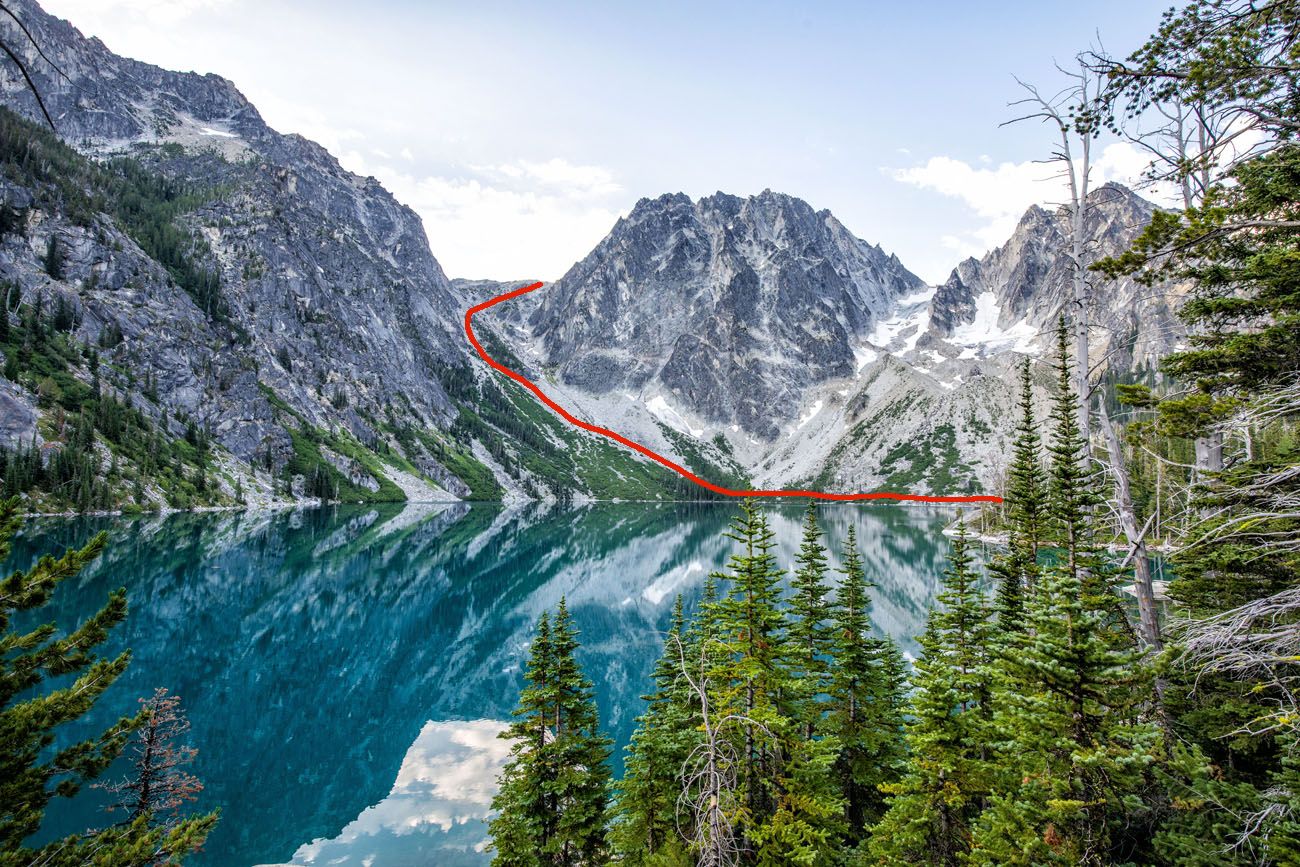 The red line indicates the hiking trail. You will hike counter-clockwise around Colchuck Lake. Once on the opposite side you start the hike up and over the Aasgard Pass.
It takes 45 minutes to one hour to walk around the lake to start of the climb up Aasgard Pass. When you get to the far end of the lake, you'll come out of the trees and enter a boulder area. Follow the cairns across this boulder area. Keep in mind that you are not looking to make any significant elevation gains here, you are just crossing the boulder area while keeping Colchuck Lake to your left.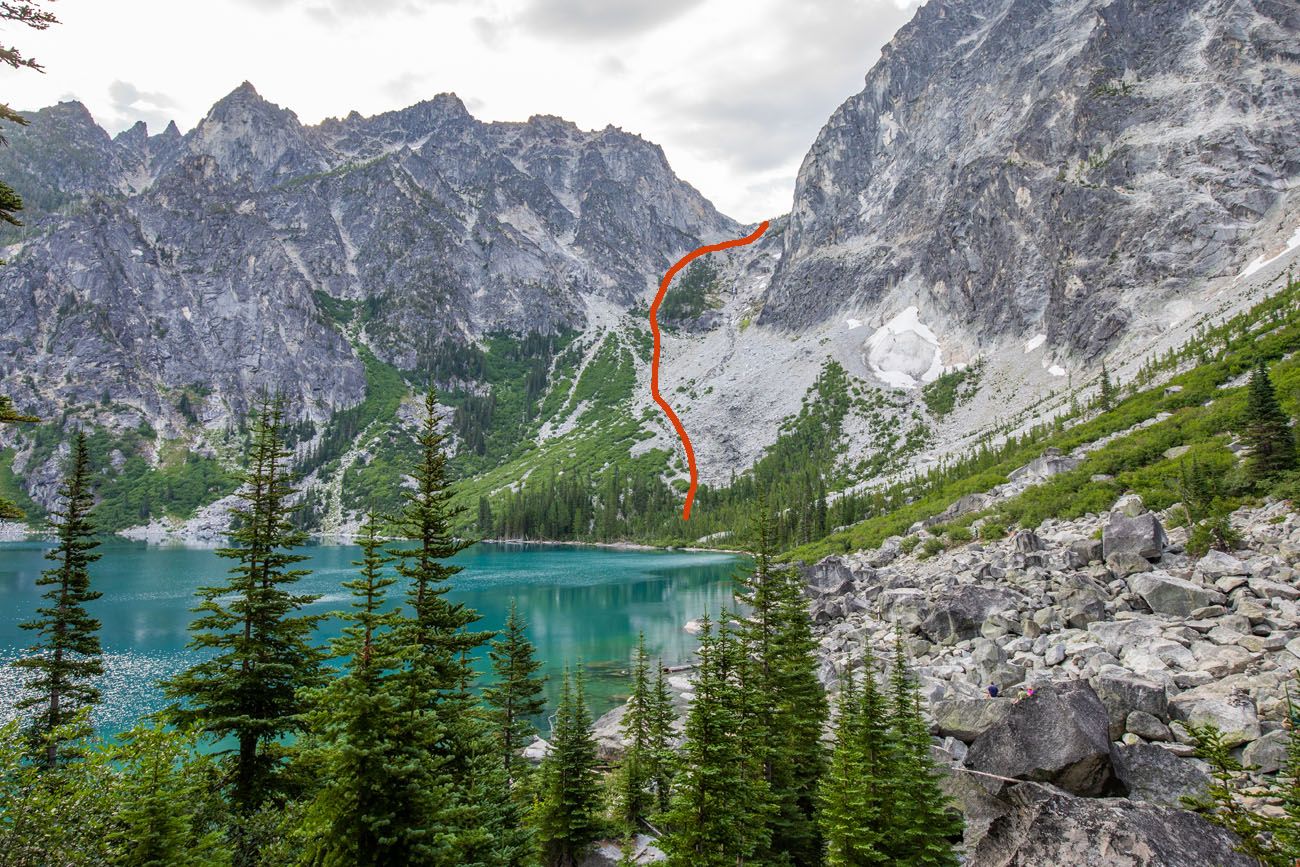 Another view of the hiking trail.
You will hike through this boulder field to reach the base of Aasgard Pass.
By the time you are standing at the base of the Aasgard Pass, you have hiked 5.5 miles with roughly 2,500 feet of ascent.
Aasgard Pass
Distance: 1.25 miles
Elevation Gain: 2,000 feet
Average Time: 1.5 to 2.5 hours
When you stare up at the Aasgard Pass, it looks hard. And let me tell you, it's even harder than it looks. Not only is it steep, but loose dirt and scree make it slippery and even more exhausting.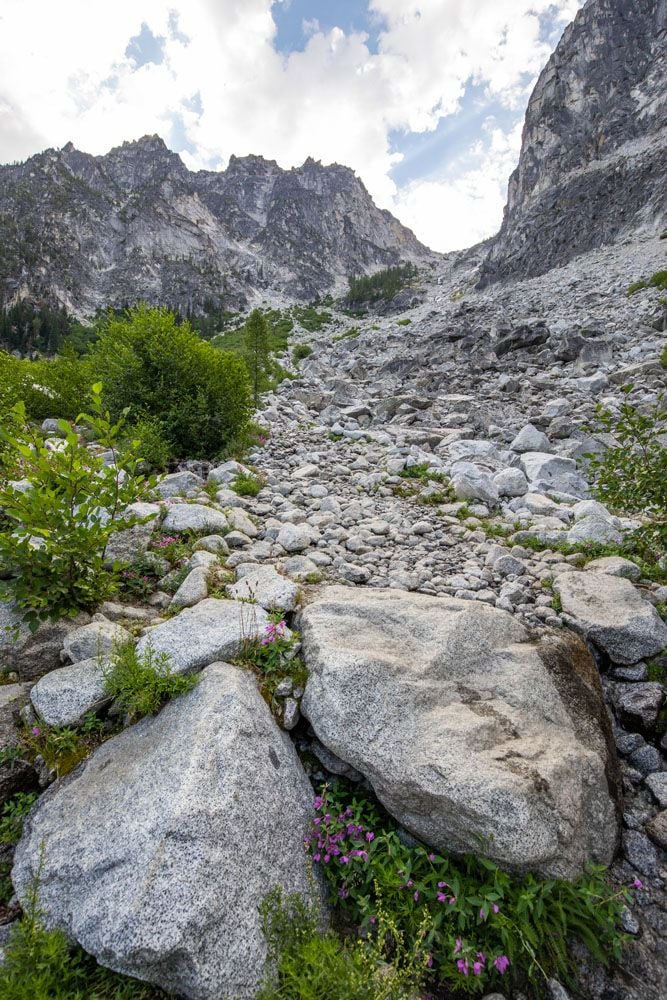 At first, it's not so bad. The trail is easy to walk up and we made good time here. But as you approach the grove of trees, the loose dirt and rock will have you slipping and sliding in some spots. Plus, you will step up and over large rocks and boulders.
We would hike up 50 feet, pause to catch our breath, then continue on. It's a good thing that you have a nice view of Colchuck Lake as you tackle this beast of a climb.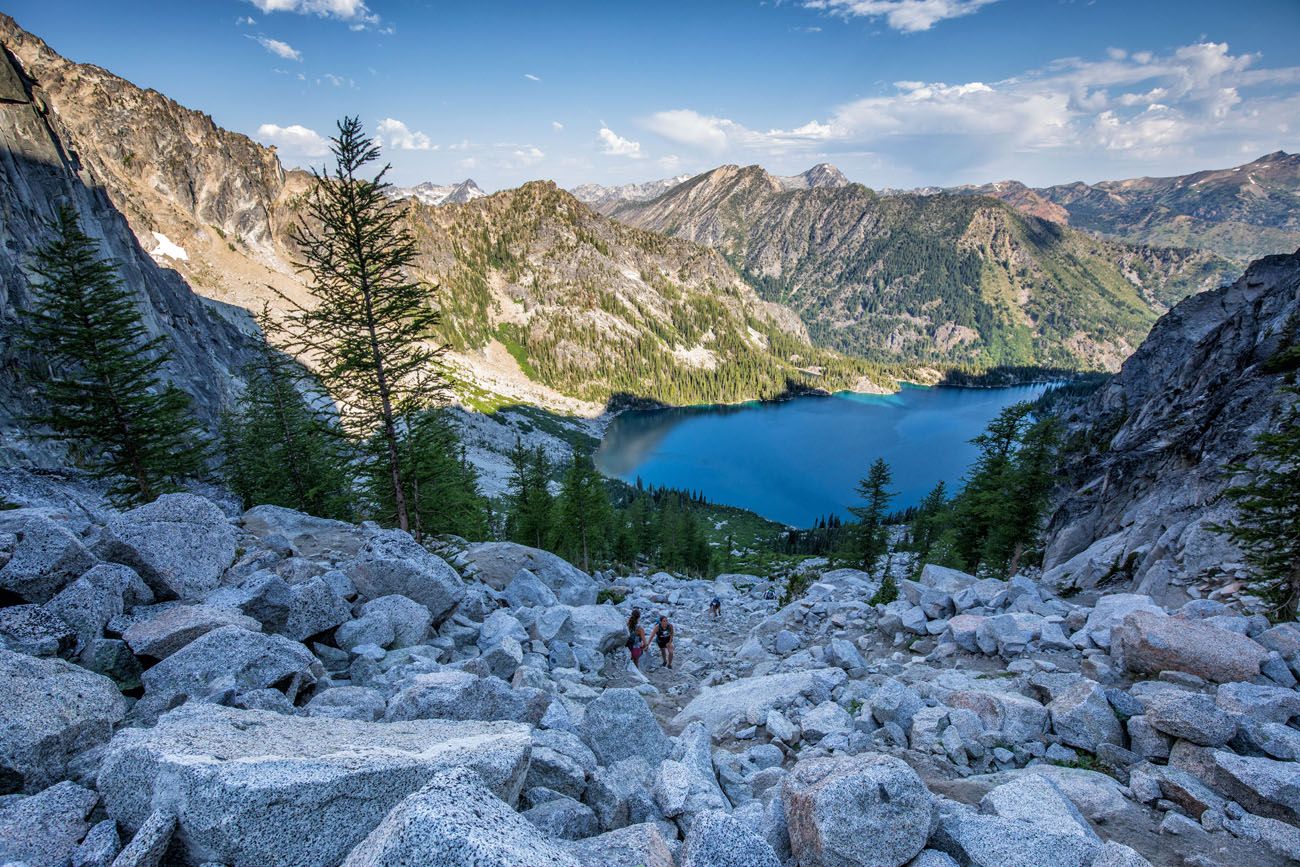 There are multiple trails up this mountain. Keep following the rock cairns, of which there are many. Just make sure that you pass to the left side of the grove of evergreen trees. If you go right, you head into dangerous territory, with a waterfall and steep terrain.
There are a lot of false summits on this climb. Just when you think you made it to the top, there's still a little more to go. But let me tell you, it's worth it. The pain and the fatigue will fade once you get to the Upper Enchantments.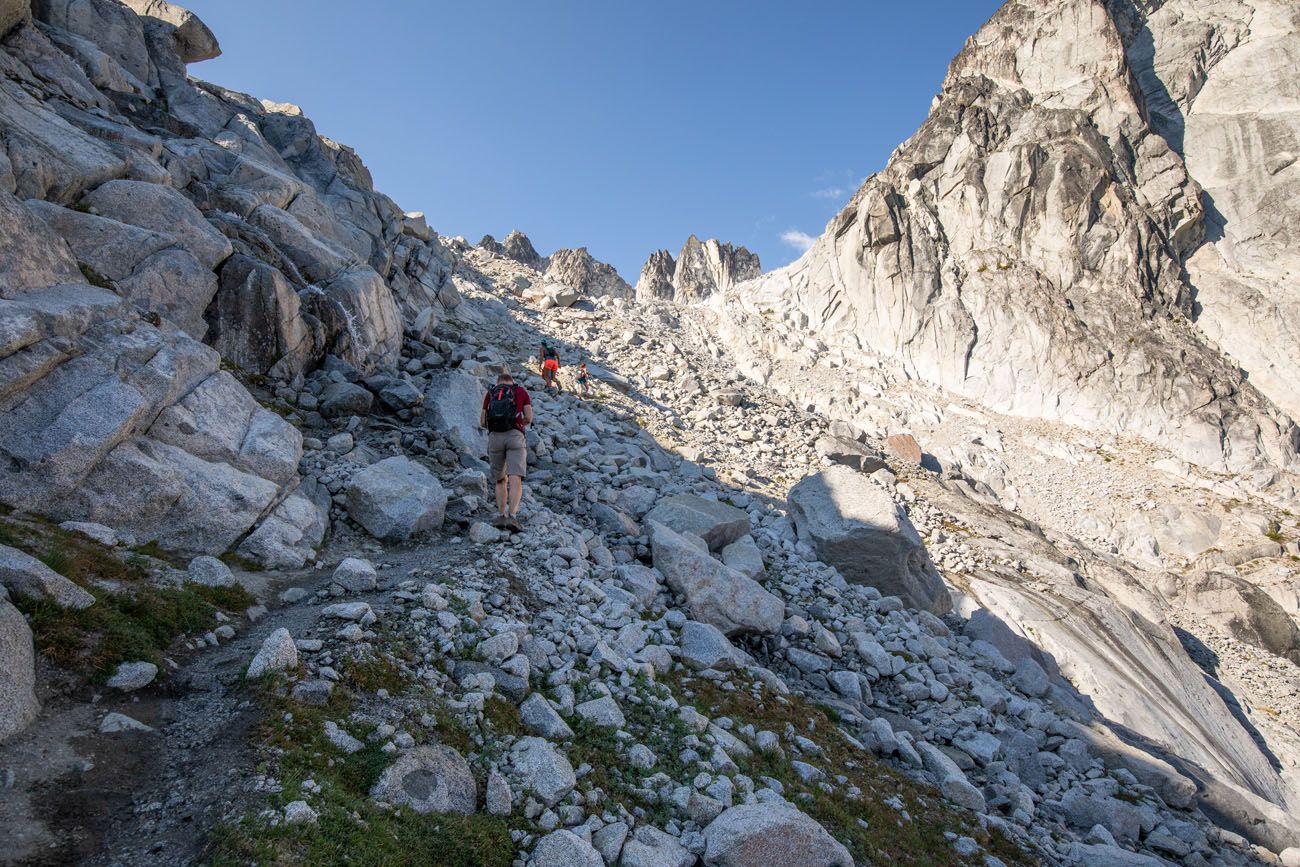 Once you see this small but gorgeous lake, it's just a short uphill walk up and over the Aasgard Pass.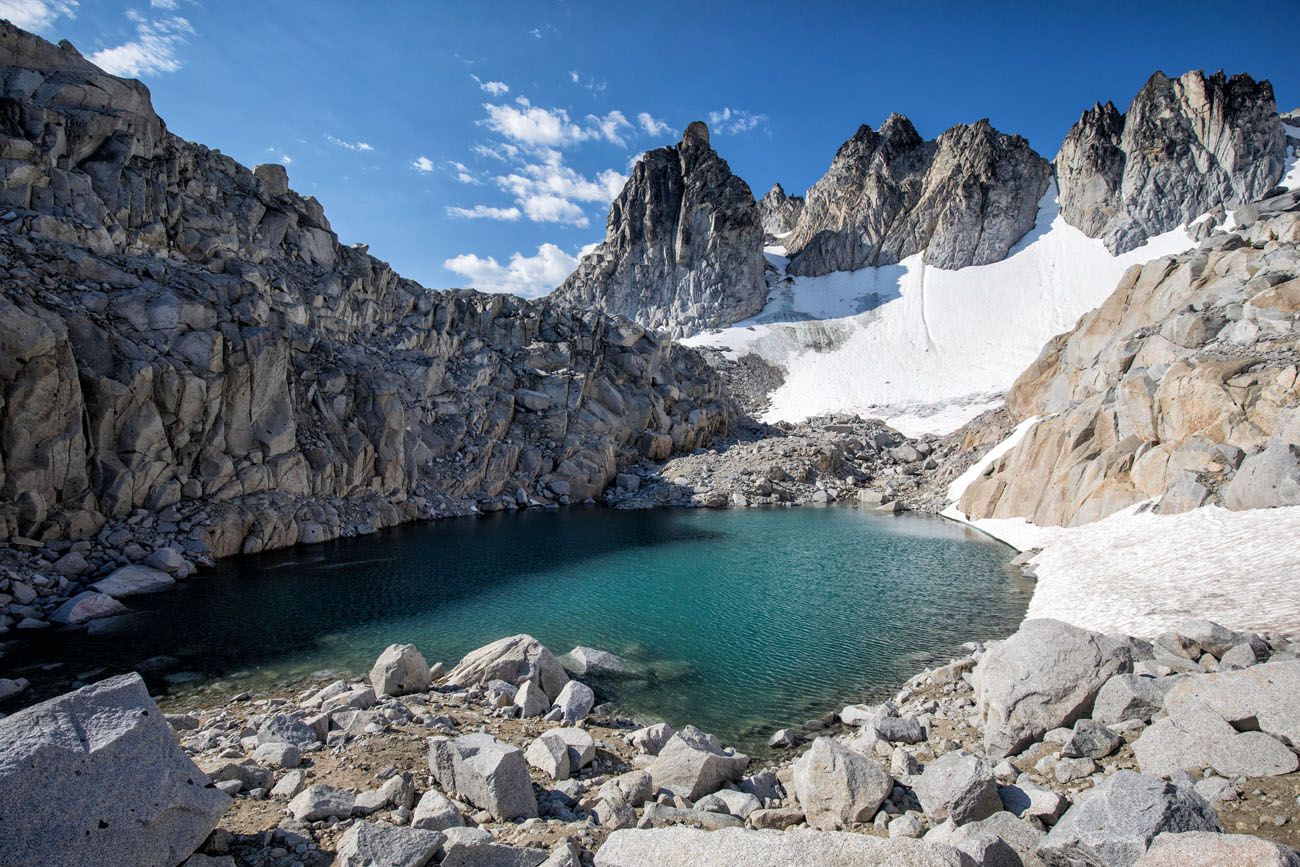 Follow the trail past the lake. Congrats! You have now gone about 6.75 miles with roughly 4,500 feet of total ascent. The giant climb is behind you and it is mostly downhill from here. It is an overall descent to Snow Lakes, but with a few ups and downs, you still have about 1,000 feet of elevation gain sprinkled into the remaining hike.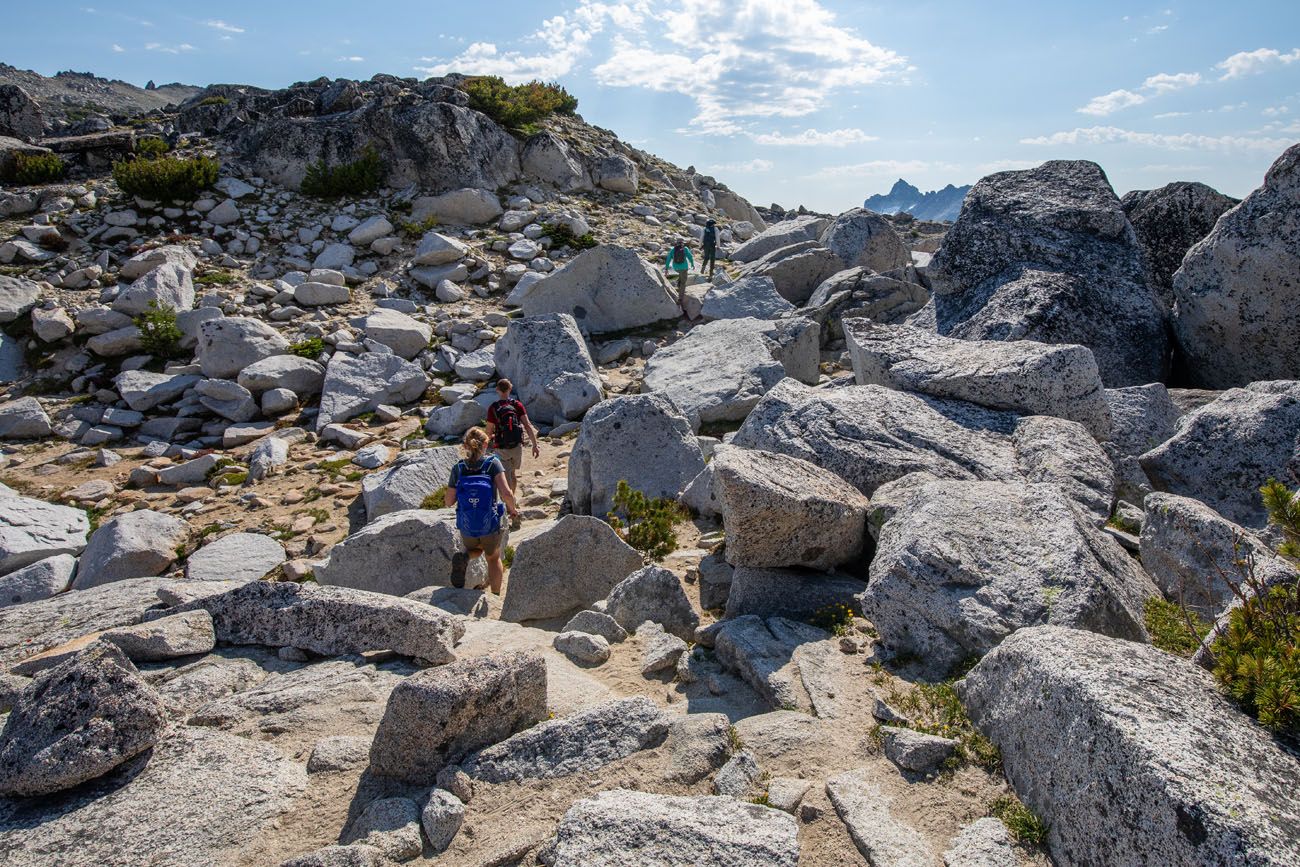 Just past the lake, it's one last small climb to reach to the top of Aasgard Pass.
The Core Enchantments
Distance: 3 miles
Elevation Loss: 1,000 feet
Average Time: 1.5 to 3 hours
The Core Enchantments…this is the whole reason why you are here. This is an extraordinarily beautiful area. It might be hard to manage your time here, especially if you are a day hiker. It is so tempting to relax and linger at these lakes, but you still have very far to go before your day is over.
So enjoy it and take lots of photos, but be mindful of the time.
The Upper Enchantments almost look like something from another planet. This rocky, mountainous terrain is dotted with small, colorful lakes.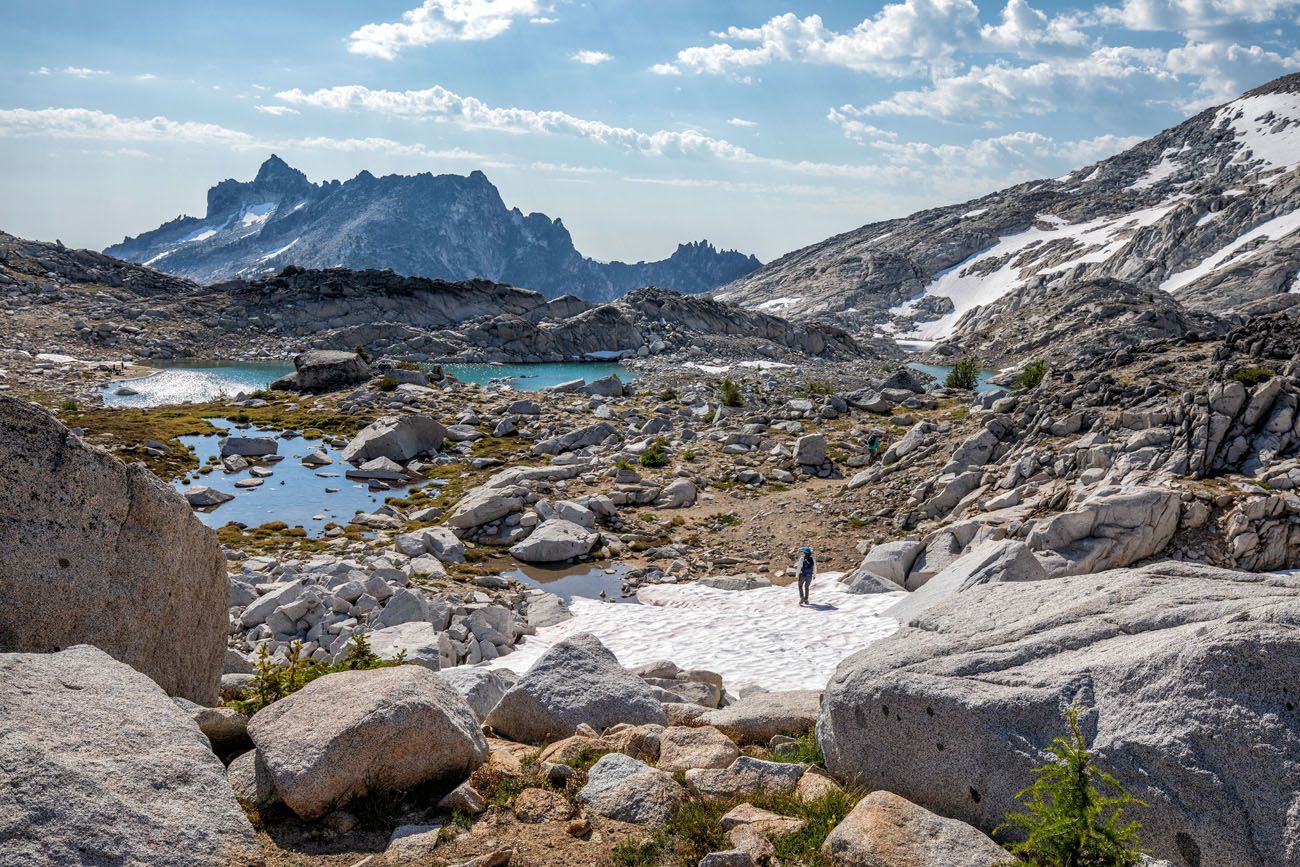 PRO TRAVEL TIP: There are very few trail signs along the trail. Instead, look for the rock cairns. They are spaced close together and are easy to follow.
Isolation Lake is one of the larger lakes that you will come to first. This makes another great spot to relax and have a bite to eat.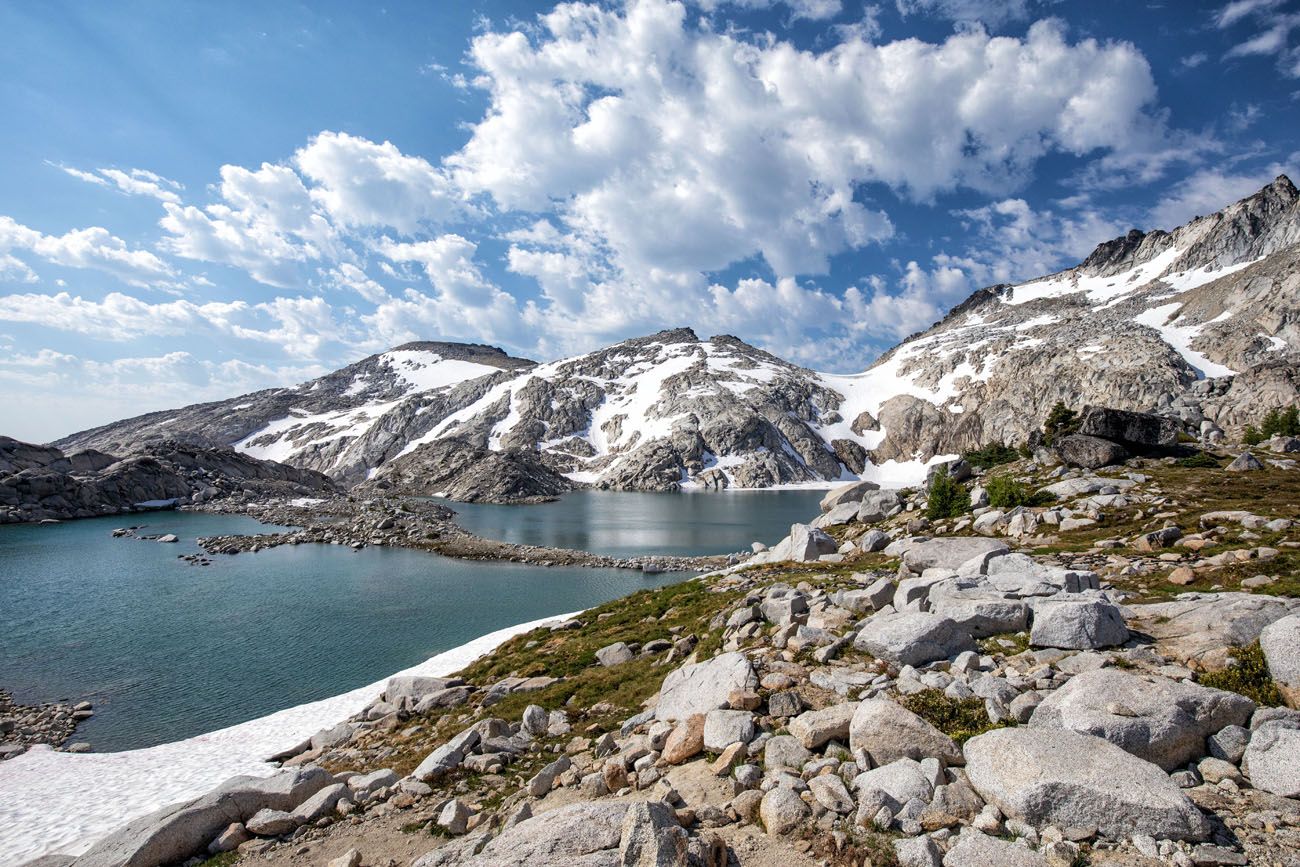 Isolation Lake
Continue across the barren but beautiful terrain, passing smaller ponds and hiking across small streams and creeks.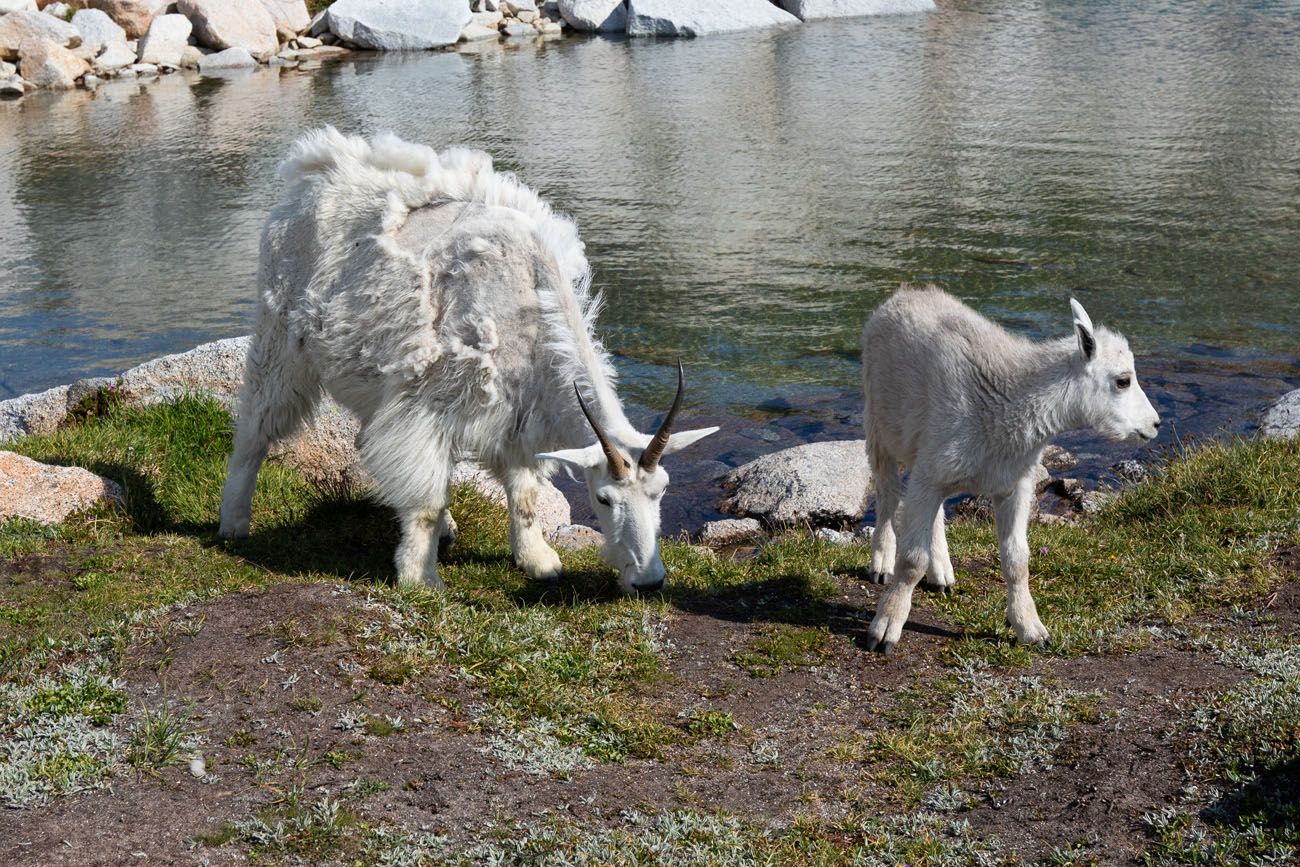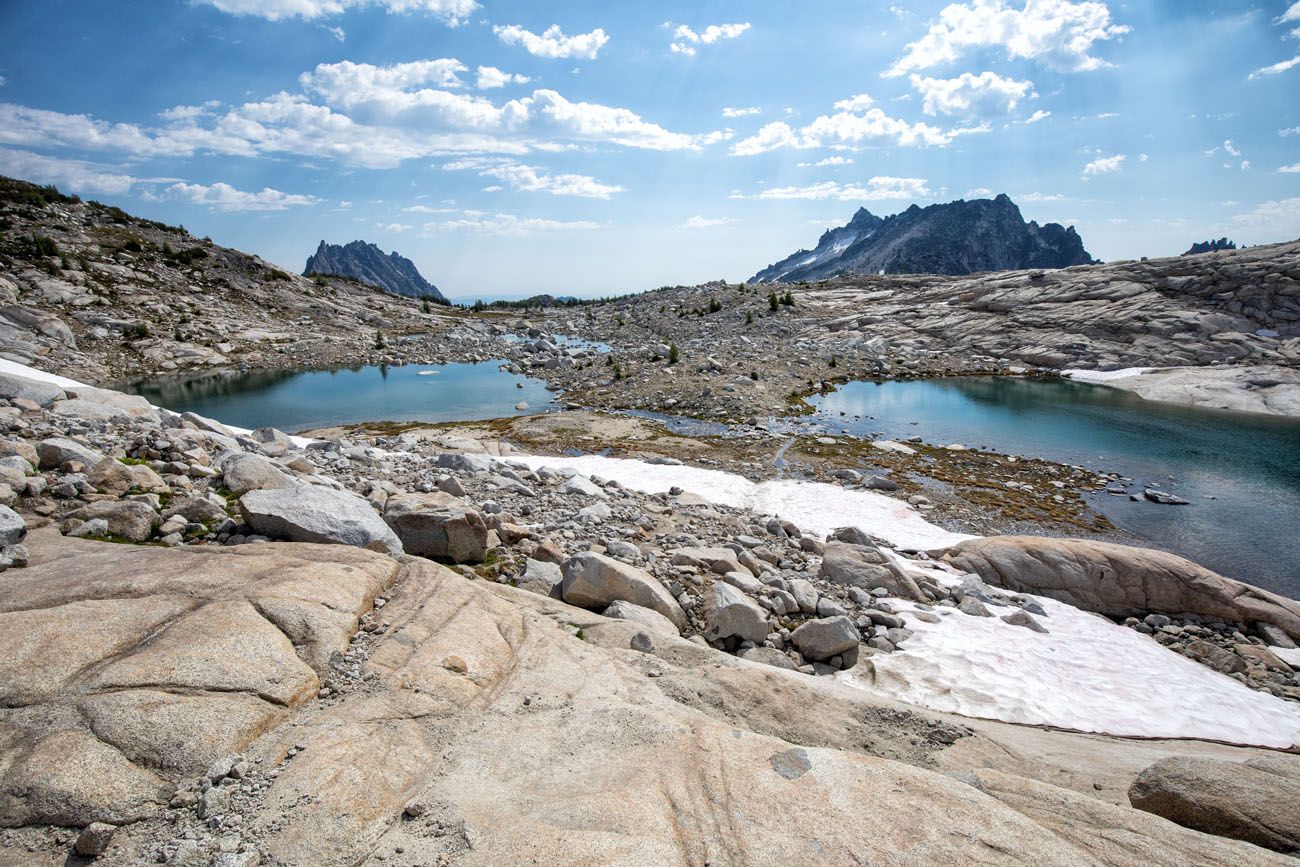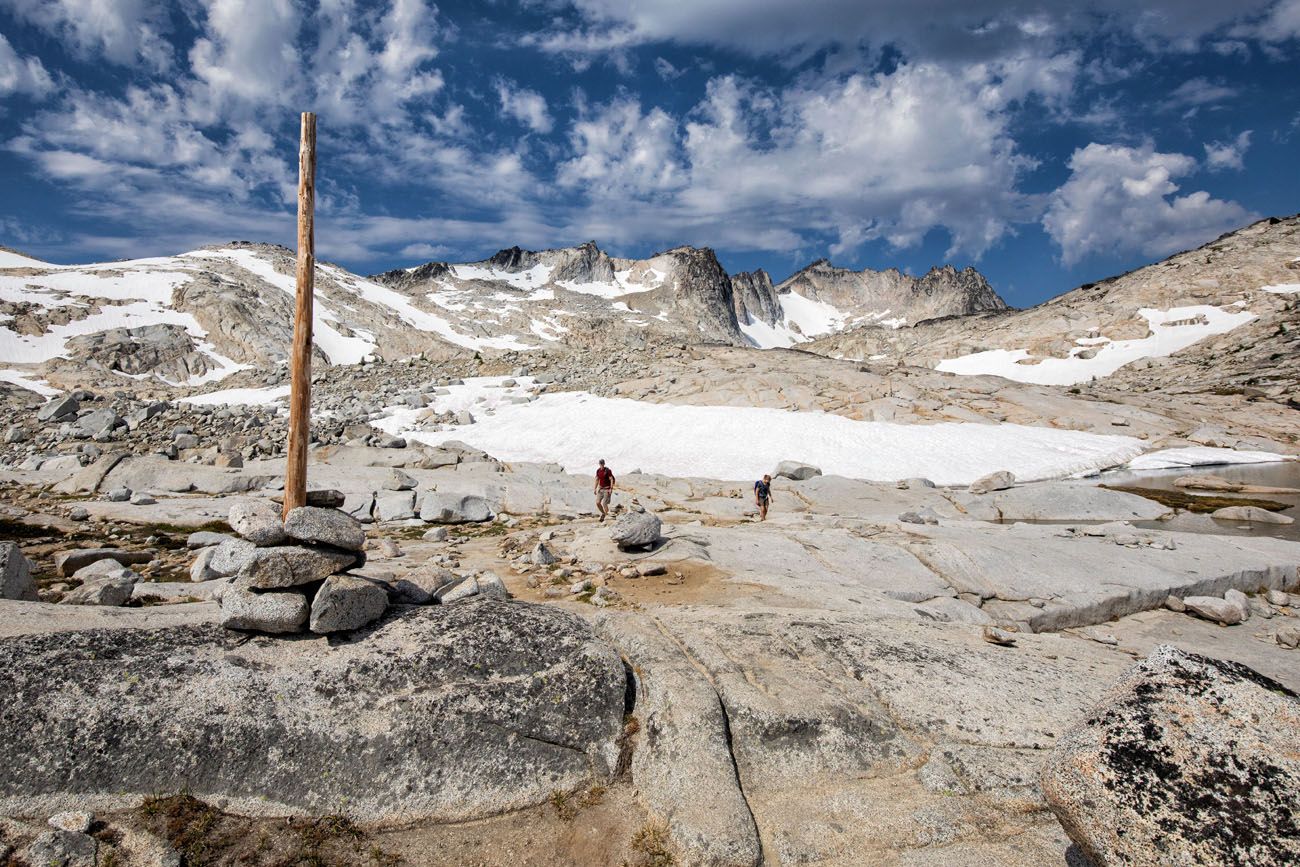 As you slowly descend through the Core Enchantments, more plant life makes an appearance. Wildflowers, small shrubs, and eventually larches and evergreen trees appear. Mosquitoes might also be a problem for the remainder of the hike.
Further along the trail, you will pass Inspiration Lake, Perfection Lake, and Sprite Lake.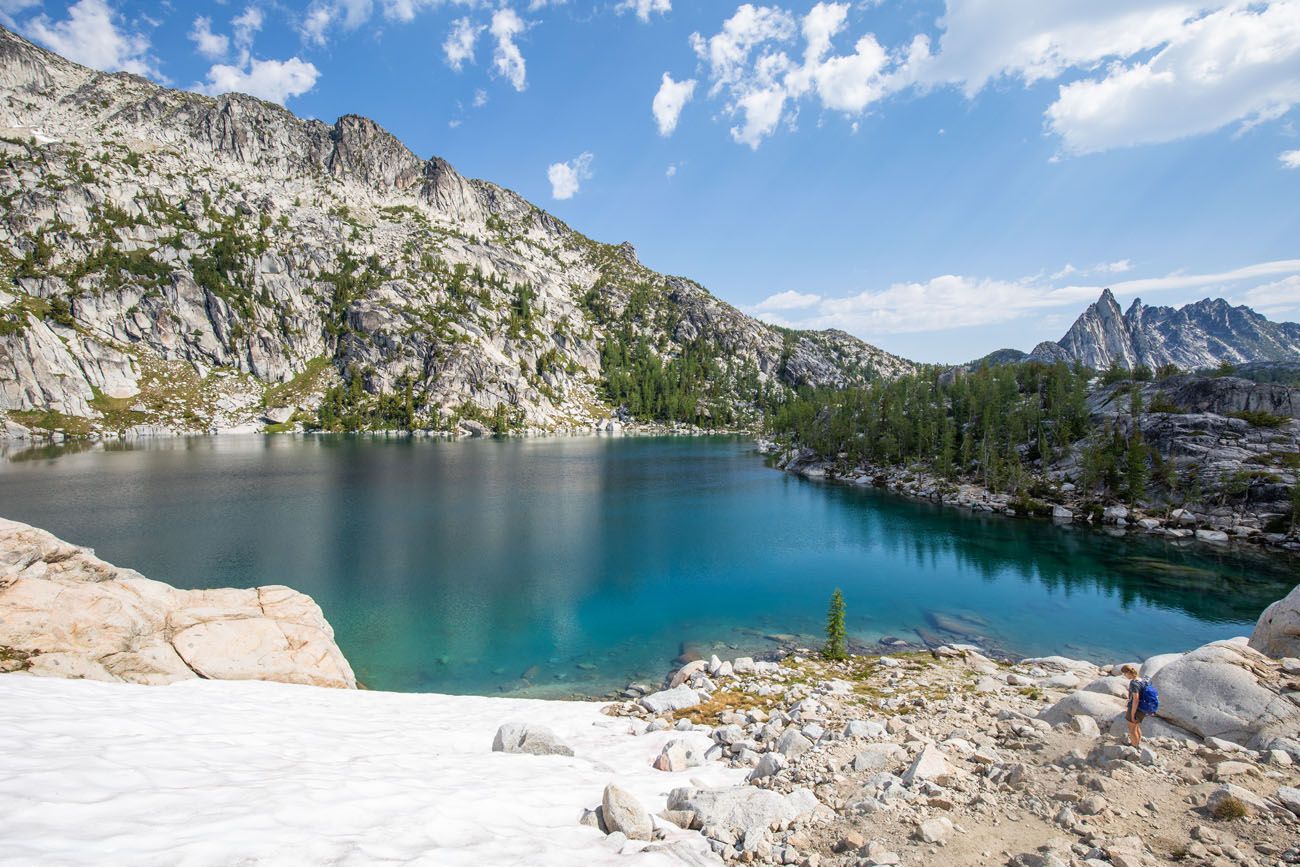 Inspiration Lake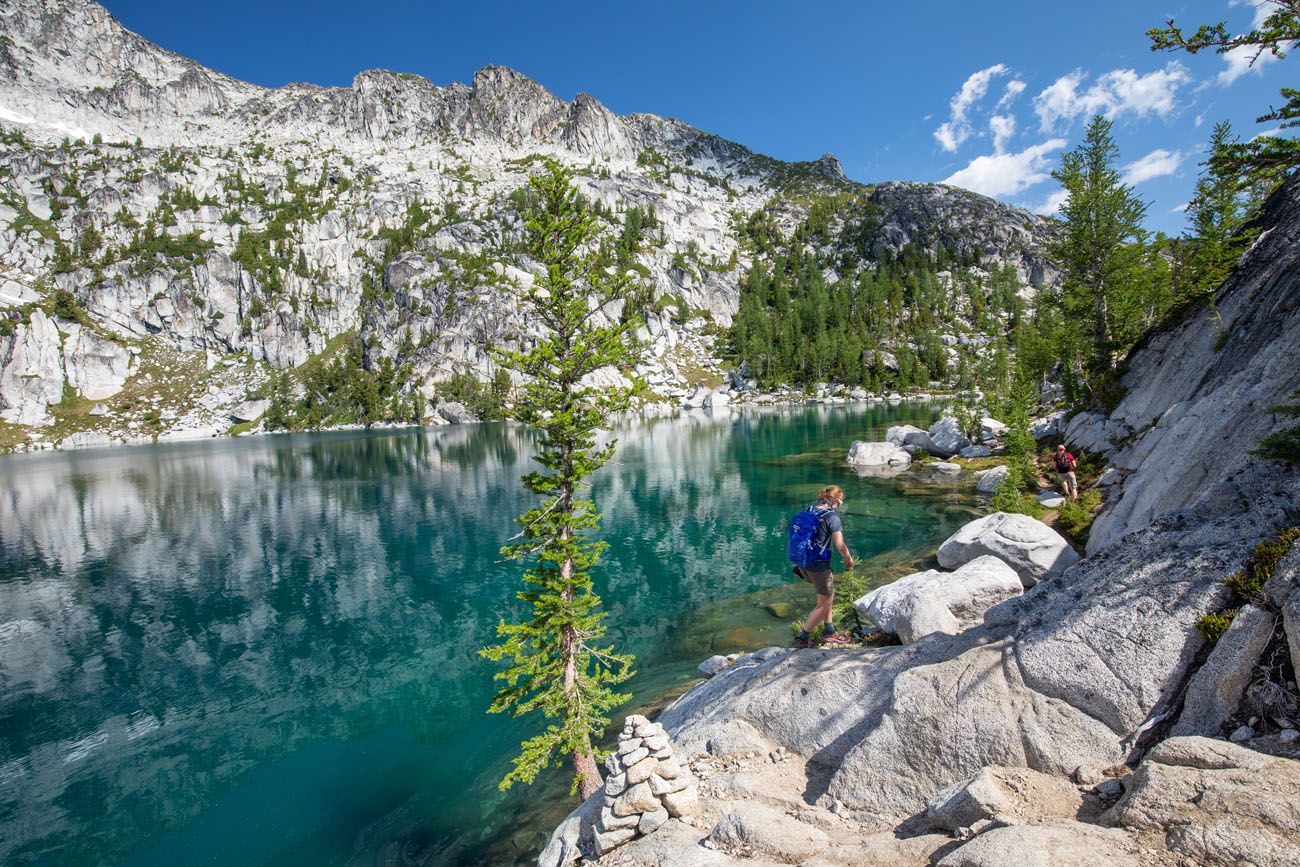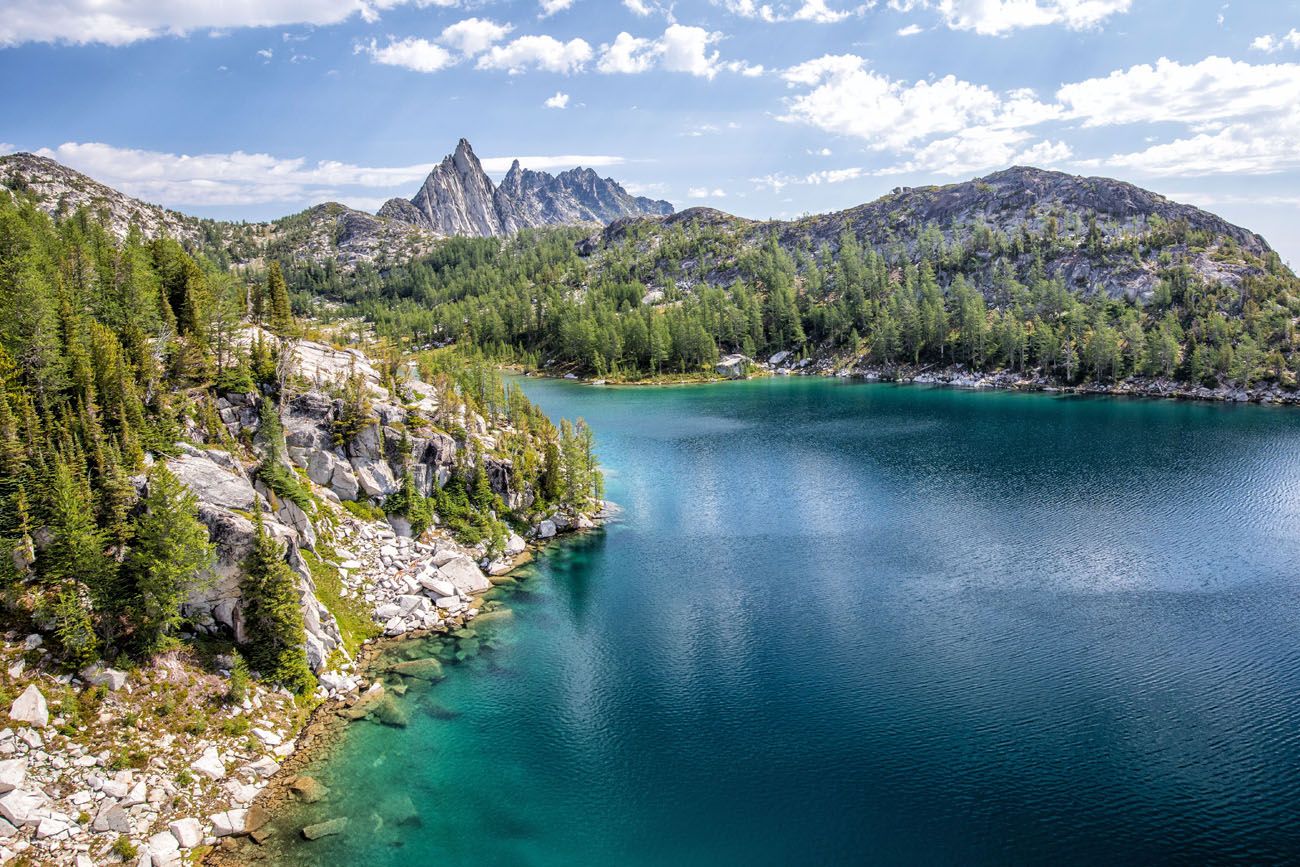 Perfection Lake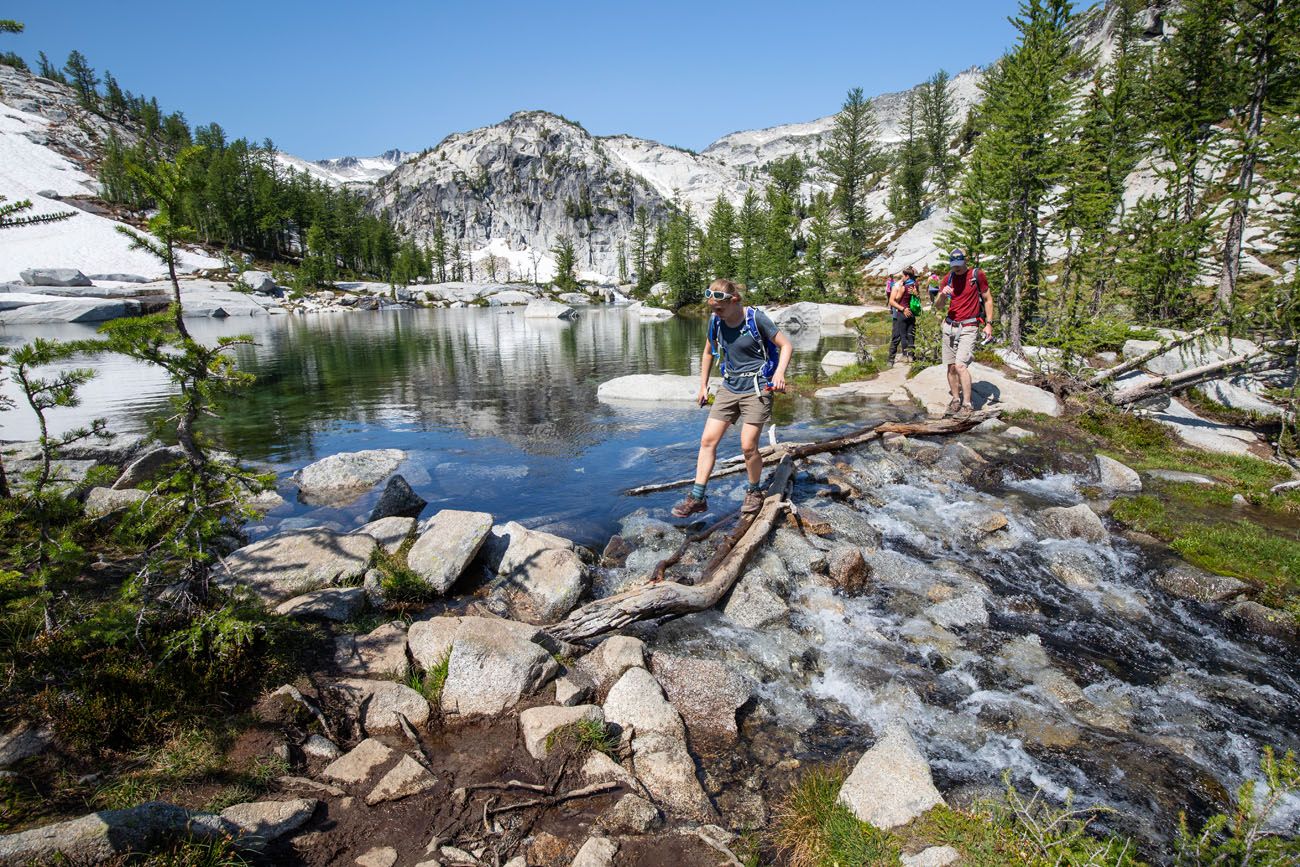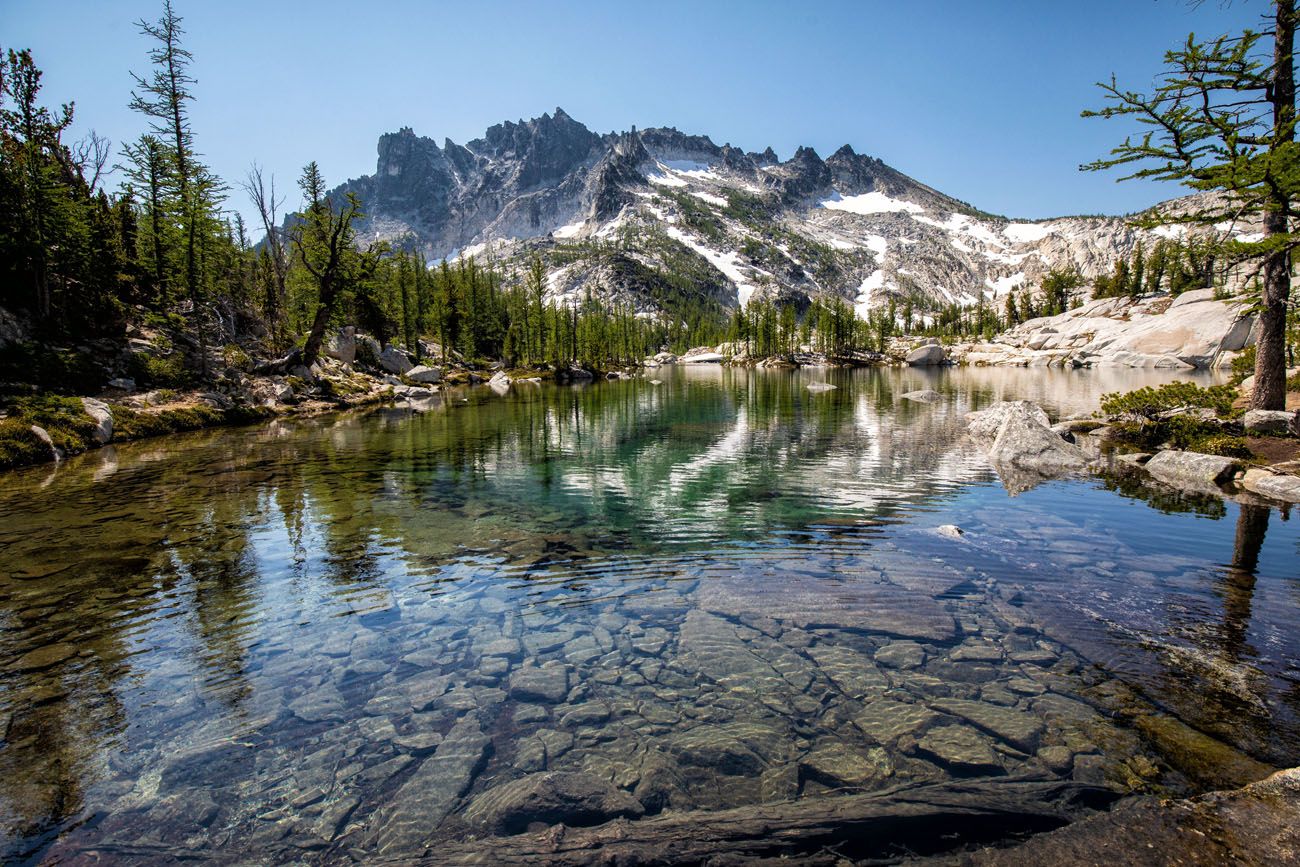 Leprechaun Lake
Once you pass Viviane Lake and reach this rocky cliff (photo below) with a view out over the Snow Lakes, you will say goodbye to the Core Enchantments and begin the long descent to the Snow Lakes parking lot.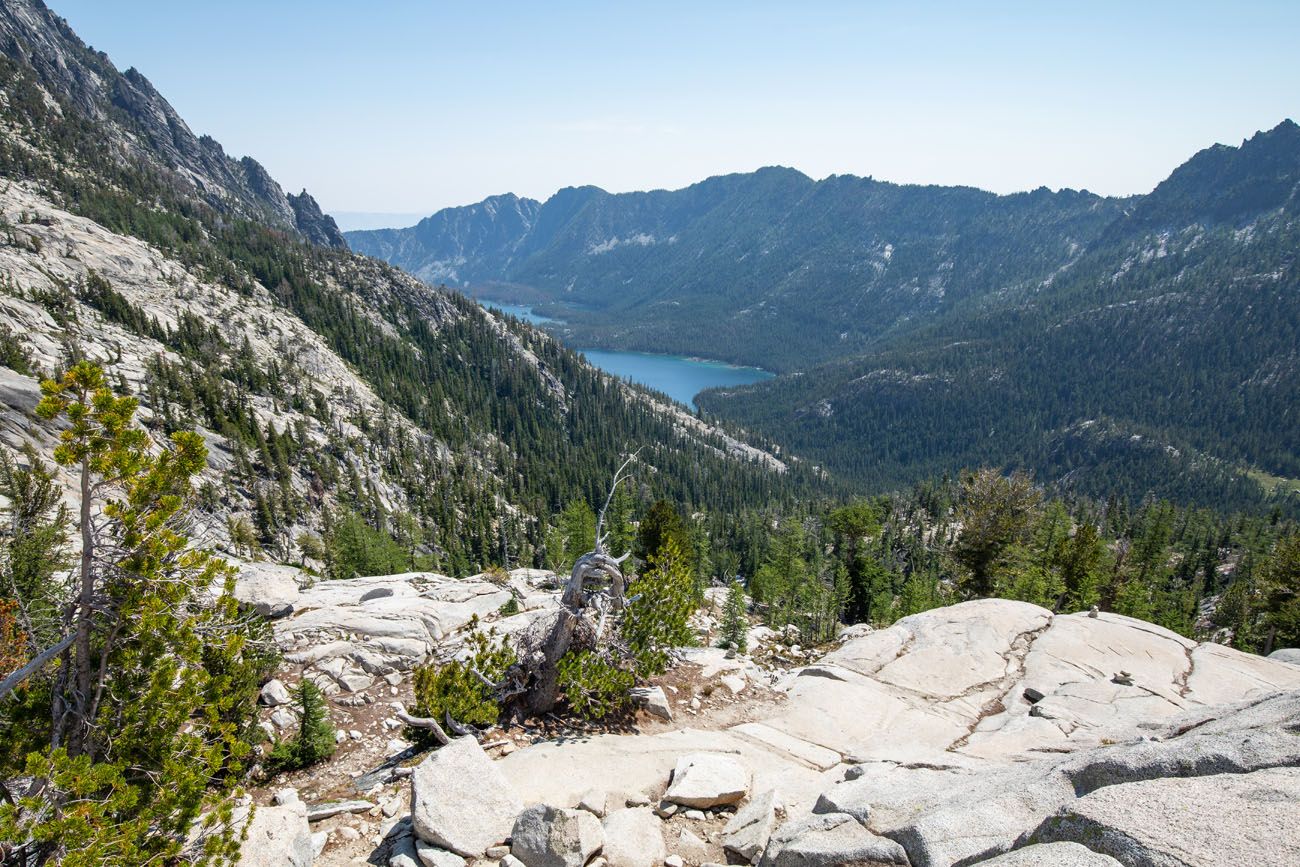 Descent to the Snow Lakes
Distance: 1.5 miles
Elevation Loss: 1,400 feet
Average Time: roughly 1 hour
Even though it is an overall downhill, hiking from the the Core Enchantments to Snow Lake, this part of the trail is still challenging. And it's very difficult to move quickly.
For 1.5 miles, you will descend down steep dirt trails, stepping and scrambling over large rocks and tangled tree roots. You will also hike down bald, granite rock. It's slow going, simply because there are so many obstacles along the trail. We got frustrated here because we wanted to pick up the pace a little bit, but we also didn't want to move too fast and get injured.
Snow Lakes and Nada Lake
Distance: 2.5 miles
Elevation Loss: 600 feet
Average Time: 1.5 to 2 hours
It's a flat, easy walk around the southern side of Snow Lake.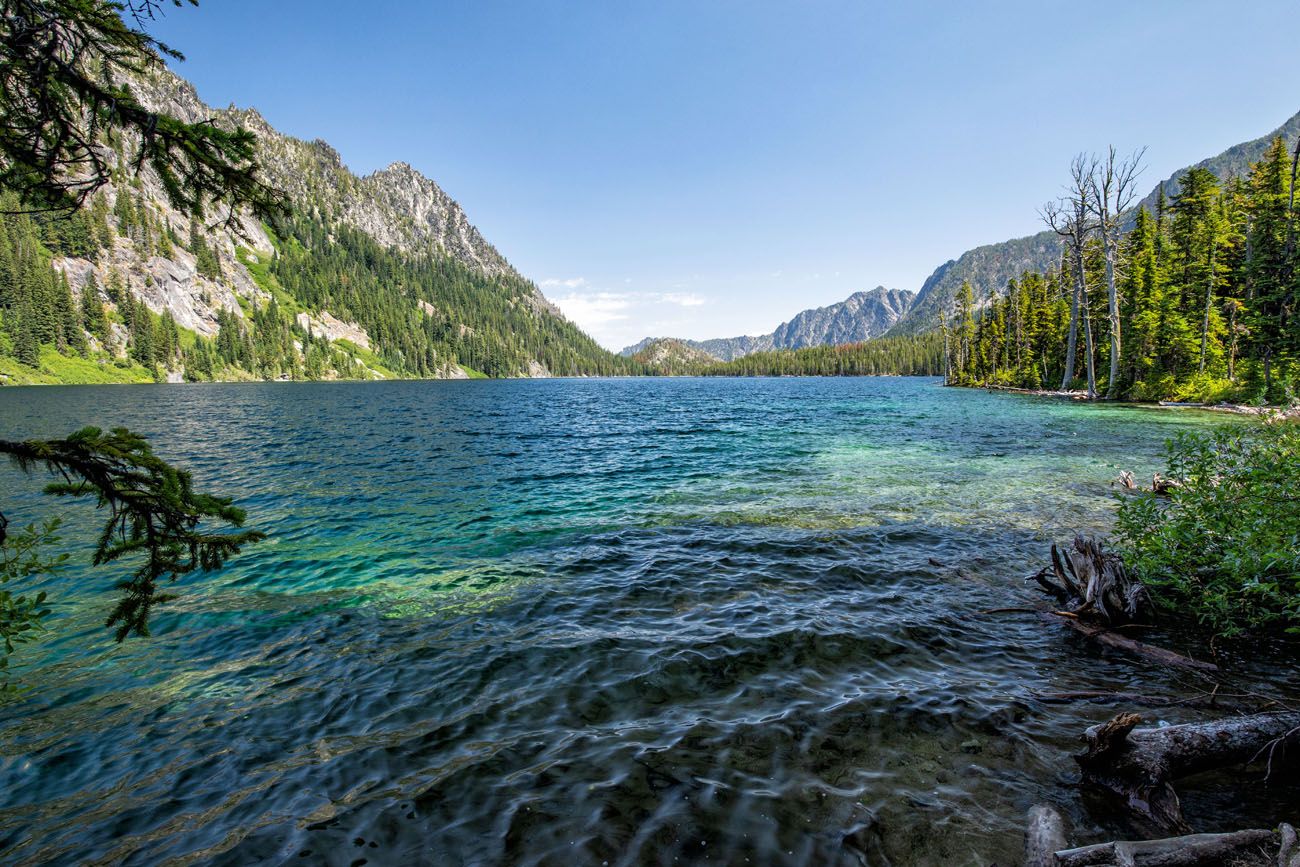 You will cross a dam. When we did this, the water was just a few inches deep, so we left our shoes on. If you are concerned about getting wet feet, or you don't have waterproof hiking shoes or boots, you can cross this barefoot.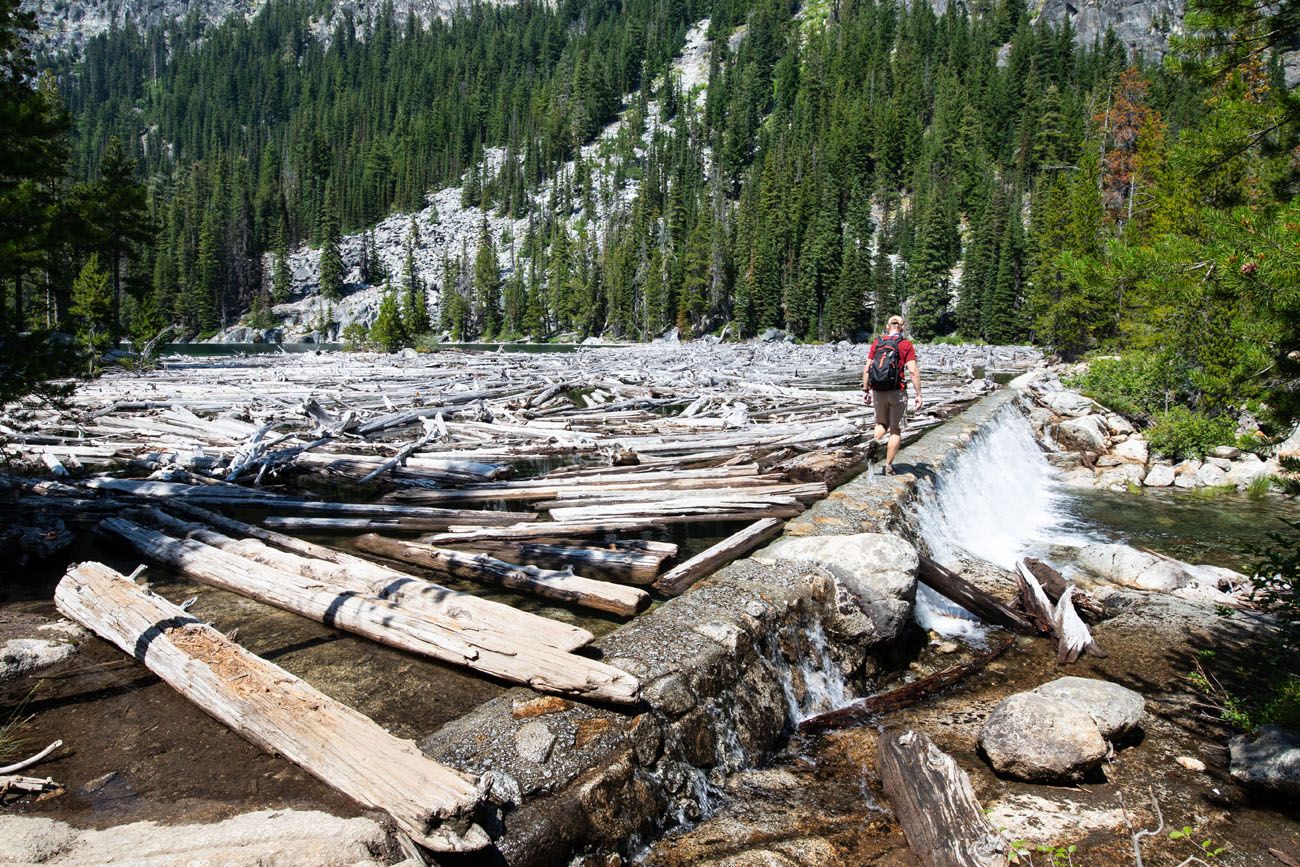 To get to Nada Lake, it's a steep descent through a boulder field and a forest. If you are doing this on a hot day, you will really start to feel the heat here.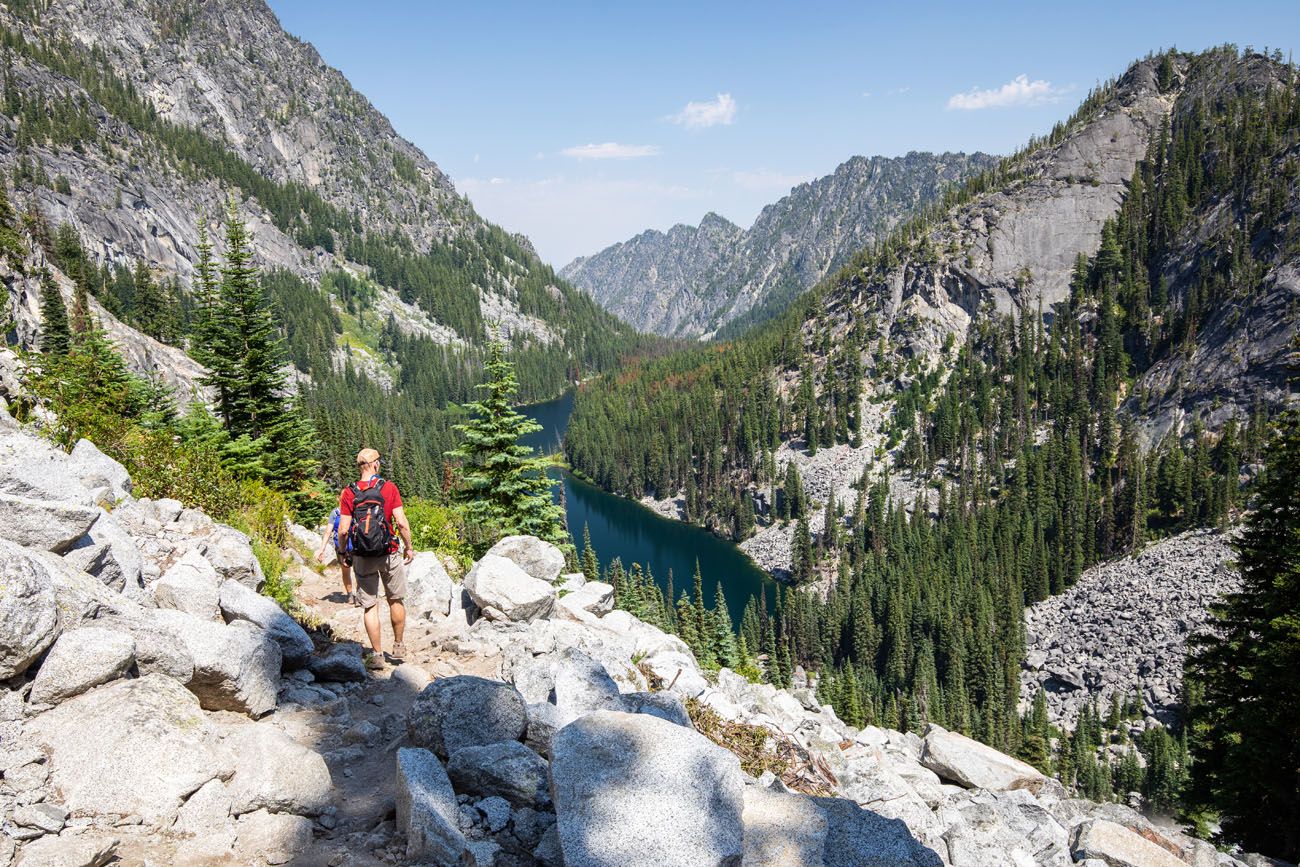 It's a short, flat easy walk around Nada Lake.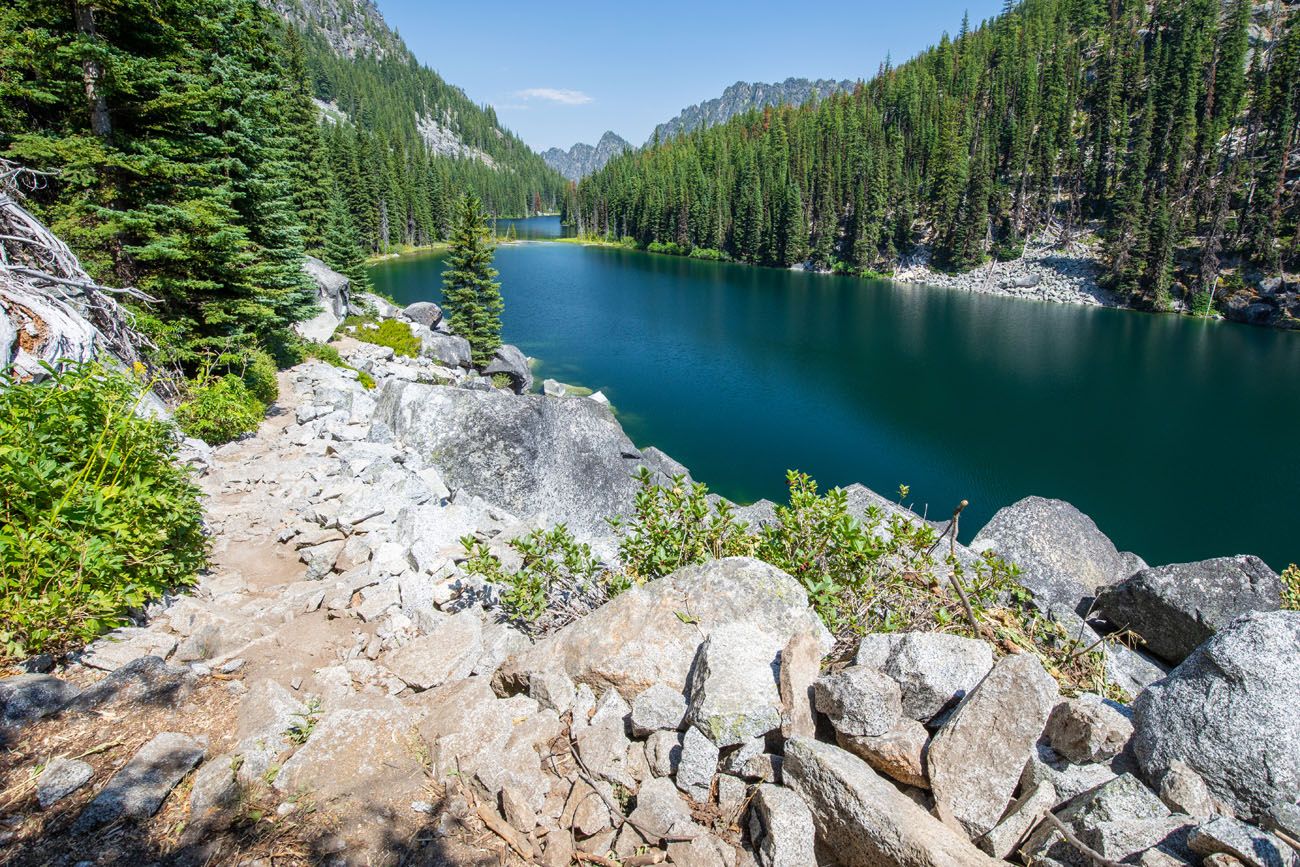 Nada Lake
Nada Lake to the Snow Lakes Trailhead
Distance: 5.5 miles
Elevation Loss: 4,000 feet
Average Time: 2.5 to 3.5 hours
For us, it felt like a never-ending hike to get from Snow Lakes to the Snow Lakes parking lot. By now, we were exhausted, sore, and very hot (we did this on a day where the high temperature reached 101°F). And there is nothing fun or interesting about this last section of the hike. It feels like an endless walk through overgrown shrubbery with very little shade. And on a hot day, it feels like you are walking through a furnace.
There is very little shade, so make sure you reapply your sunscreen at Nada Lake.
Not to alarm you, but I'm going to say it again, this part of the hike feels like it takes forever.
At first the trail slowly descends through the forest, so it is easy to hike fast here. Then, the trees disappear, and you switch back many times through shrubs. The trail straightens out but keeps up with its rapid descent, briefly passing in and out of the trees, but most of this time you are exposed to the sun.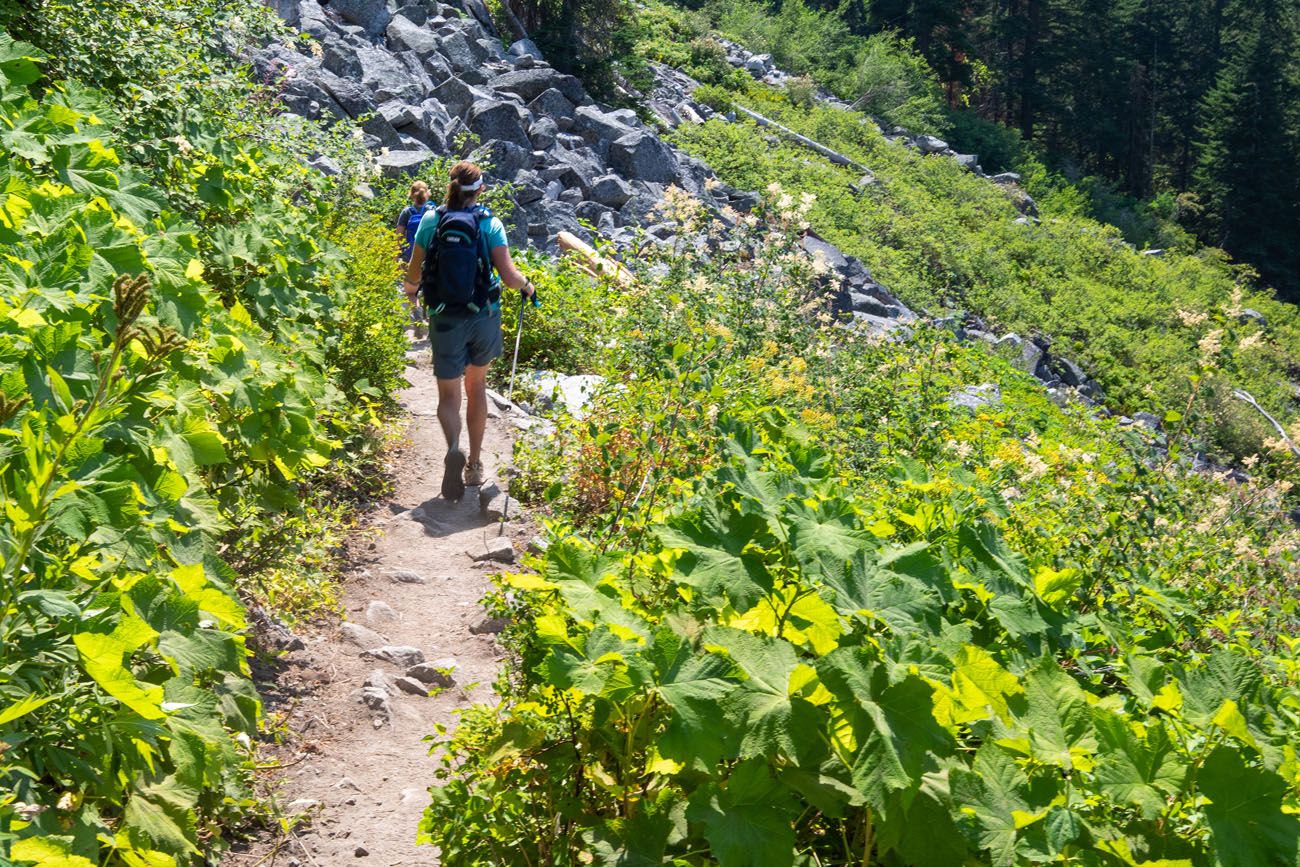 Once you get to the last section of switchbacks, you can look out and see the Snow Lakes parking lot. You're so close, but this last bit of trail (a little over a mile to go at this point) still seems to take a long time.
Once you get down the river, cross the bridge and follow the trail up to the parking lot. Turn in your wilderness permit and give yourself and your group members a big high five! Congrats!!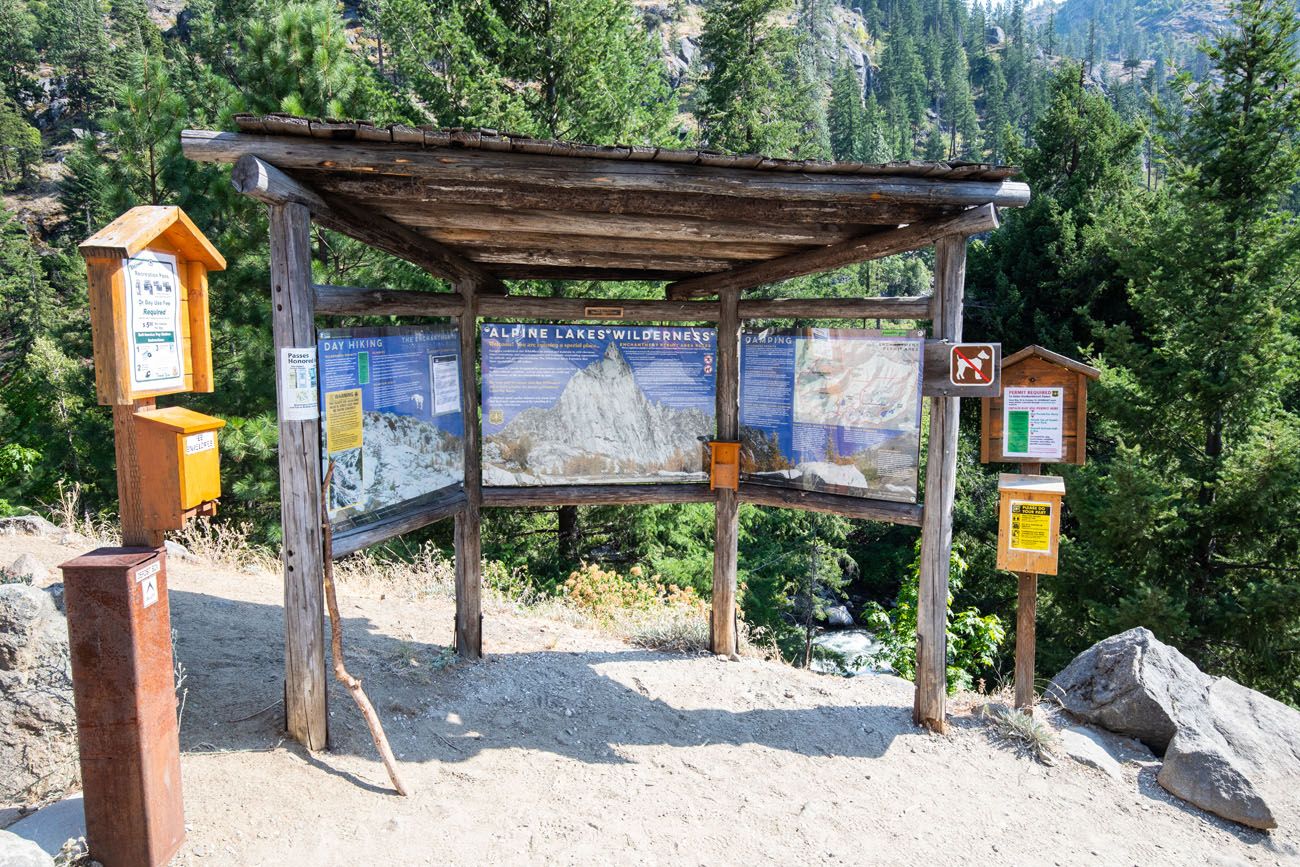 Snow Lakes Trailhead
About Our Experience
Tim, Kara, and I did the Enchantments hike on July 31, 2020. It's an awesome hike and we highly recommend it, but it is not to be underestimated. We are fast hikers, but the trail conditions (steep descents, obstacles on the trail, and hot conditions) slowed us down. Plus, the alpine lakes are so gorgeous that it is nearly impossible to not want to spend some time at each one of them. That's the whole reason for doing this hike, right?
We did this hike in 10 hours and 30 minutes, including time for rest, snacks, and photos. Our fastest sections were at the very beginning and the very end of the trail, where the terrain was smooth enough that we could keep up a fast pace.
The hardest section is the Aasgard Pass. The trail down from the Core Enchantments to the Snow Lakes is difficult, simply because of the number of obstacles along the trail. And that final five mile stretch to the car is a beast. Yes, you are going downhill but it can be painful. Hopefully I am talking it up so much that it won't seem so bad once you get there. 😉
In case you missed it, here is the link to Part 2 of our guide to hiking the Enchantments. Part 2 covers transportation, permits, training advice, and the logistics to have a successful hike.
---
Did we miss anything? If you have any questions about hiking the Enchantments or if you want to share your experience, let us know in the comment section below. Happy hiking!
More Great Hikes from Around the World
More Information for Your Trip to Washington
NATIONAL PARKS IN WASHINGTON: In our guide to the Washington National Parks, we give an overview on all three parks, Mount Rainier, Olympic, and the North Cascades. Learn how to visit all three national parks in our Washington Road Trip Itinerary.
BEST OF MOUNT RAINIER: While in Mount Rainier, top experiences include hiking the top trails in the park and visiting Paradise and Sunrise. Get the full list in our article Best Things to Do in Mount Rainier.
NORTH CASCADES: Take a look at our North Cascades National Park Travel Guide for important travel planning tips, sample itineraries, advice on when to go, where to stay, and more.
THINGS TO DO IN OLYMPIC NATIONAL PARK: Hiking one or more of the trails is one of the best things to do in Olympic National Park. See the full list of must-have experiences in our guide to the Best Things to Do in Olympic National Park.
All rights reserved © Earth Trekkers. Republishing this article and/or any of its contents (text, photography, etc.), in whole or in part, is strictly prohibited.