The Staircase Rapids Loop is an underrated trail in Olympic National Park. On this short, easy hike, you will walk along the North Fork of the Skokomish River, through a temperate rainforest, with views of waterfalls and rapids.
Just under 3 miles long, this trail loops up and around Staircase Rapids. With waterfalls, dense forests, and fallen trees, this is a beautiful place to explore. What makes it even better is that we saw a total of three people on the 2 hours it took for us to do this hike.
Yes, it took us 2 hours to walk 3 miles. It was so much fun to take our time, take photos, and enjoy this beautiful place.
This is a great hike for all ages and ability levels and it's a great place to bring the kids.
Staircase Rapids Loop Hiking Stats
Distance: 2.8 miles
Difficulty: Easy
Total Elevation Gain: 285 feet
Length of Time: 1.5 to 2 hours
Please practice the seven principles of Leave No Trace: plan ahead, stay on the trail, pack out what you bring to the hiking trail, properly dispose of waste, leave areas as you found them, minimize campfire impacts, be considerate of other hikers, and do not approach or feed wildlife.
Staircase Rapids Loop
Step-By-Step Trail Guide
Since this is a loop, you can do this hike in either direction. Most people hike the Staircase Rapids Loop in a clockwise direction and that is what we did, too.
For the first part of the hike, you head upstream along the North Fork of the Skokomish River. In our opinion, the west bank of the river is more scenic and this is where we spent a lot of our time. However, there are a few cool spots to see on the east bank, so it is worth doing this hike as a loop.
Getting to the Trailhead
Park in the parking lot at the end of Forest Road NF-24. There is a parking lot for day use across the street from the Staircase Campground.
Walk to the end of the road and cross the bridge over the Skokomish River to get to the trailhead. There is a sign marking the start of the trail.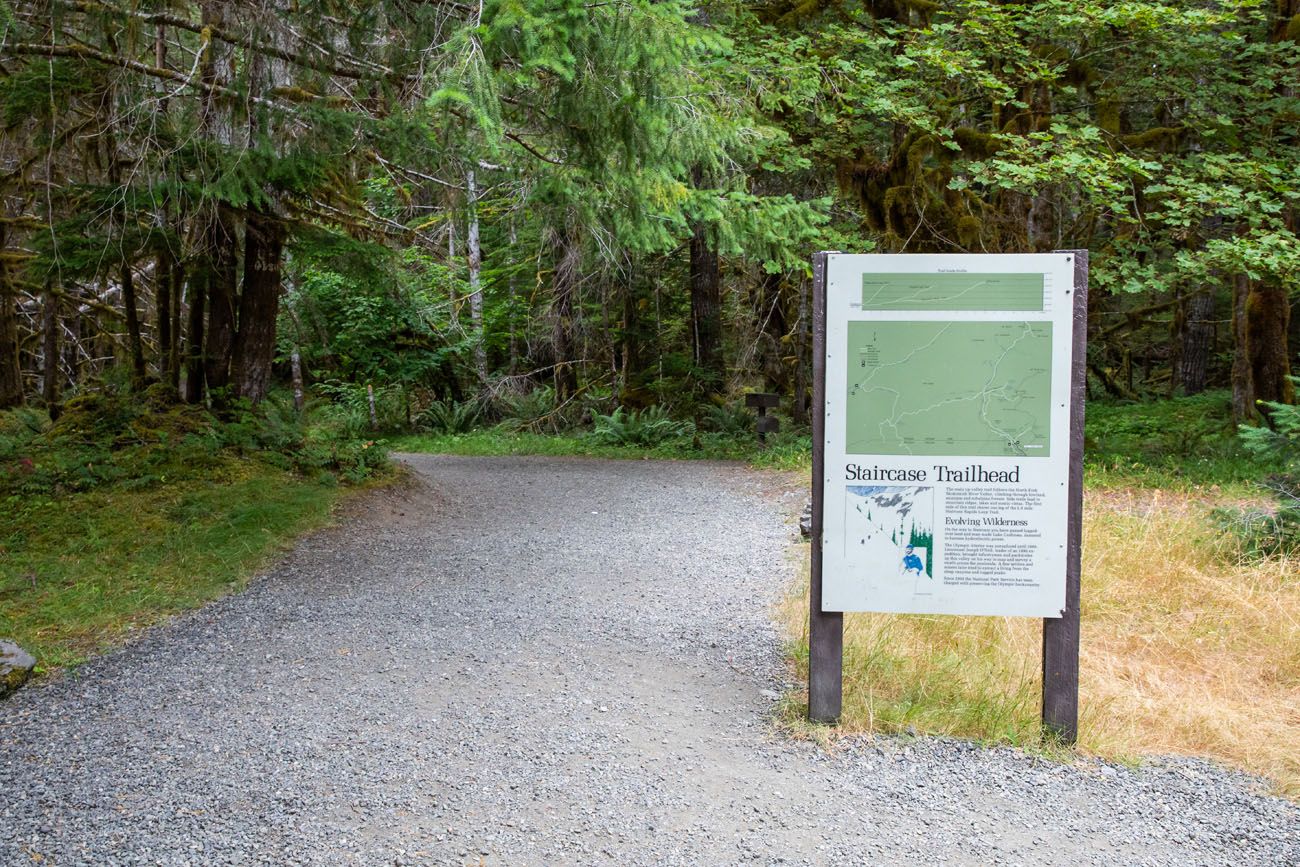 Hiking the Staircase Rapids Loop
The trail is very easy to follow. You simply walk upriver on the wide trail. Occasionally, there will be breaks in the trees for views over the river, or small trails where you can hike down to the river's edge.
For most of the walk along the west bank, the trail runs very close to the river, so this is the best part of the hike to get views of the Skokomish River.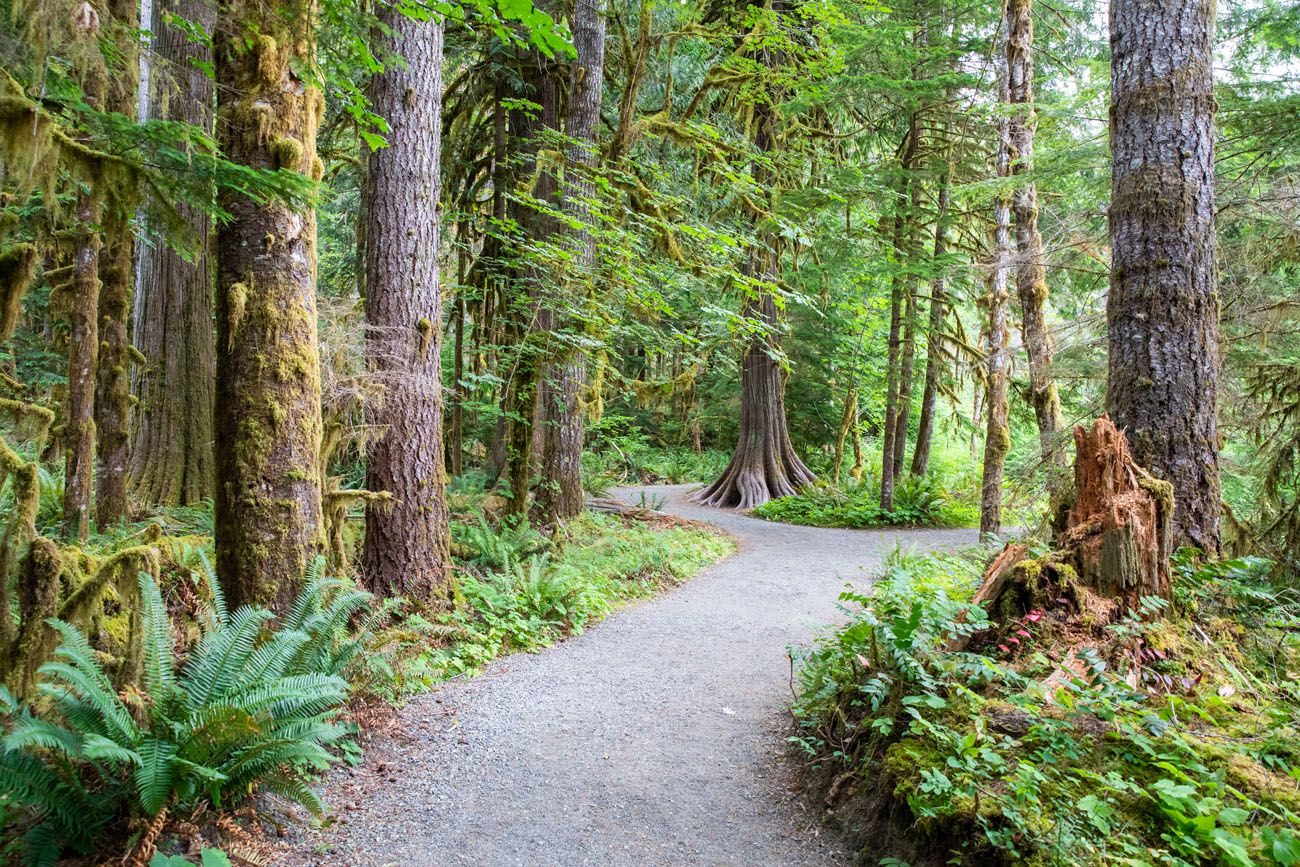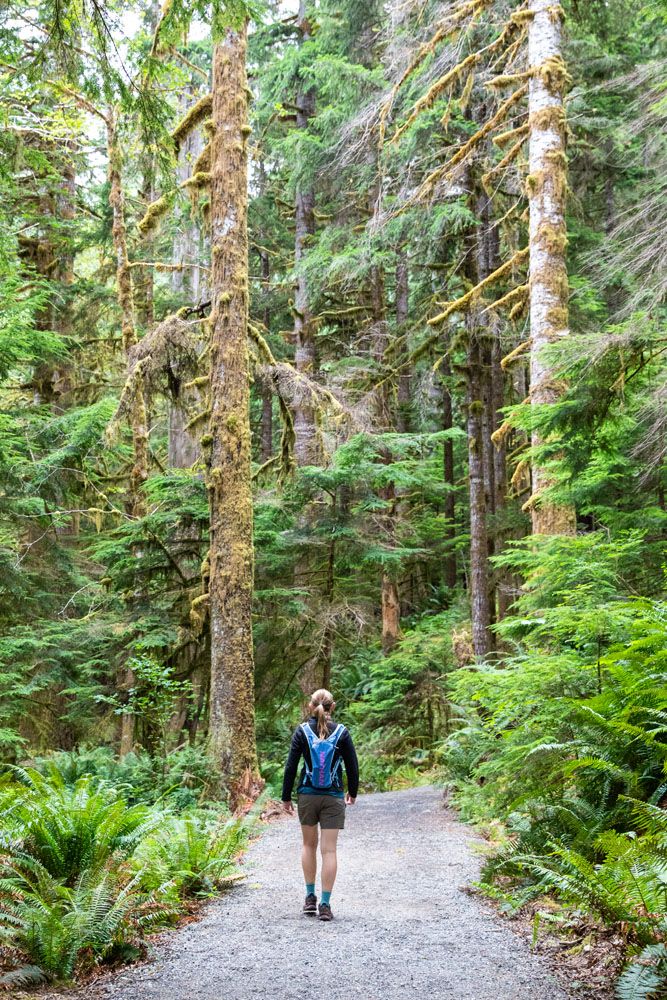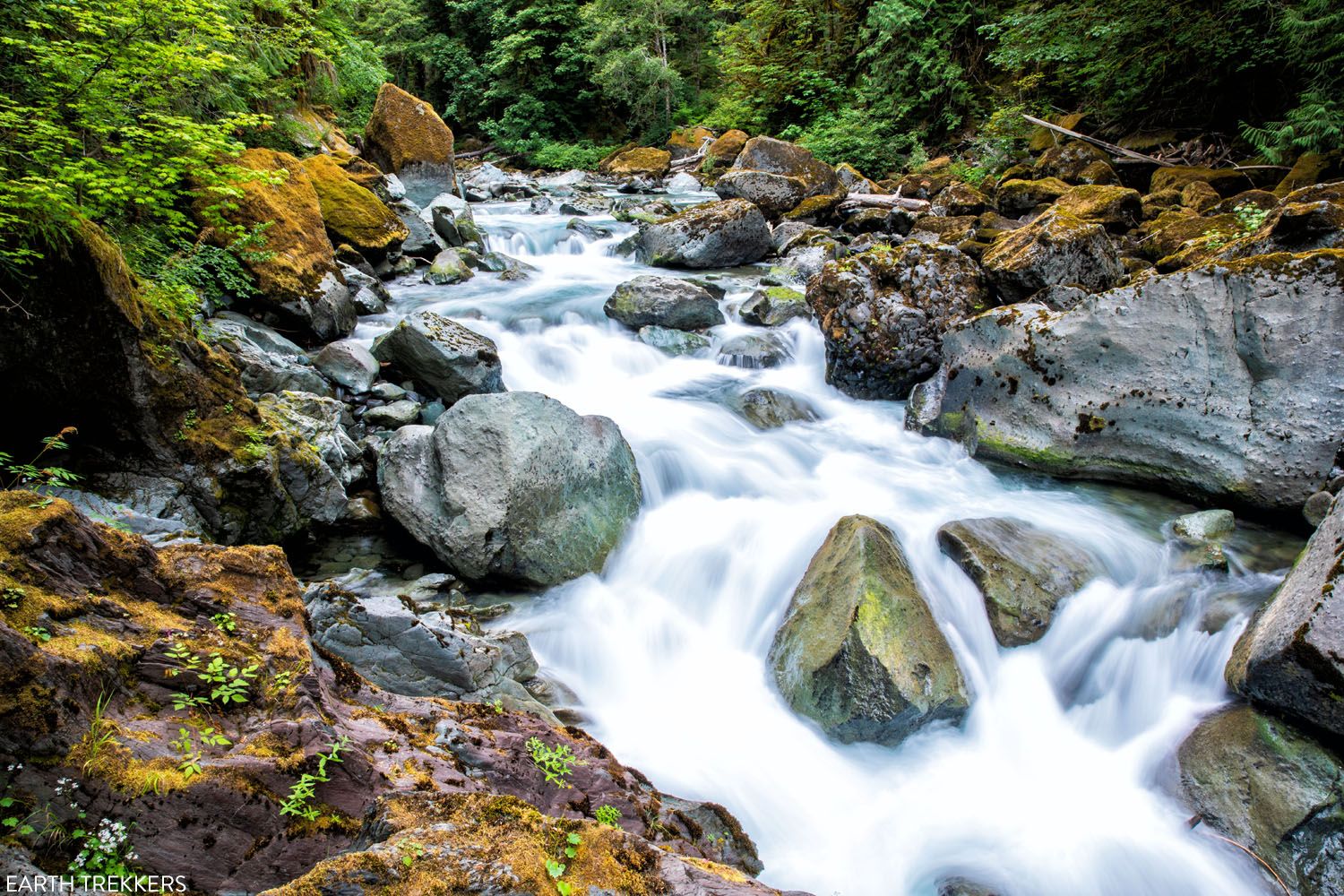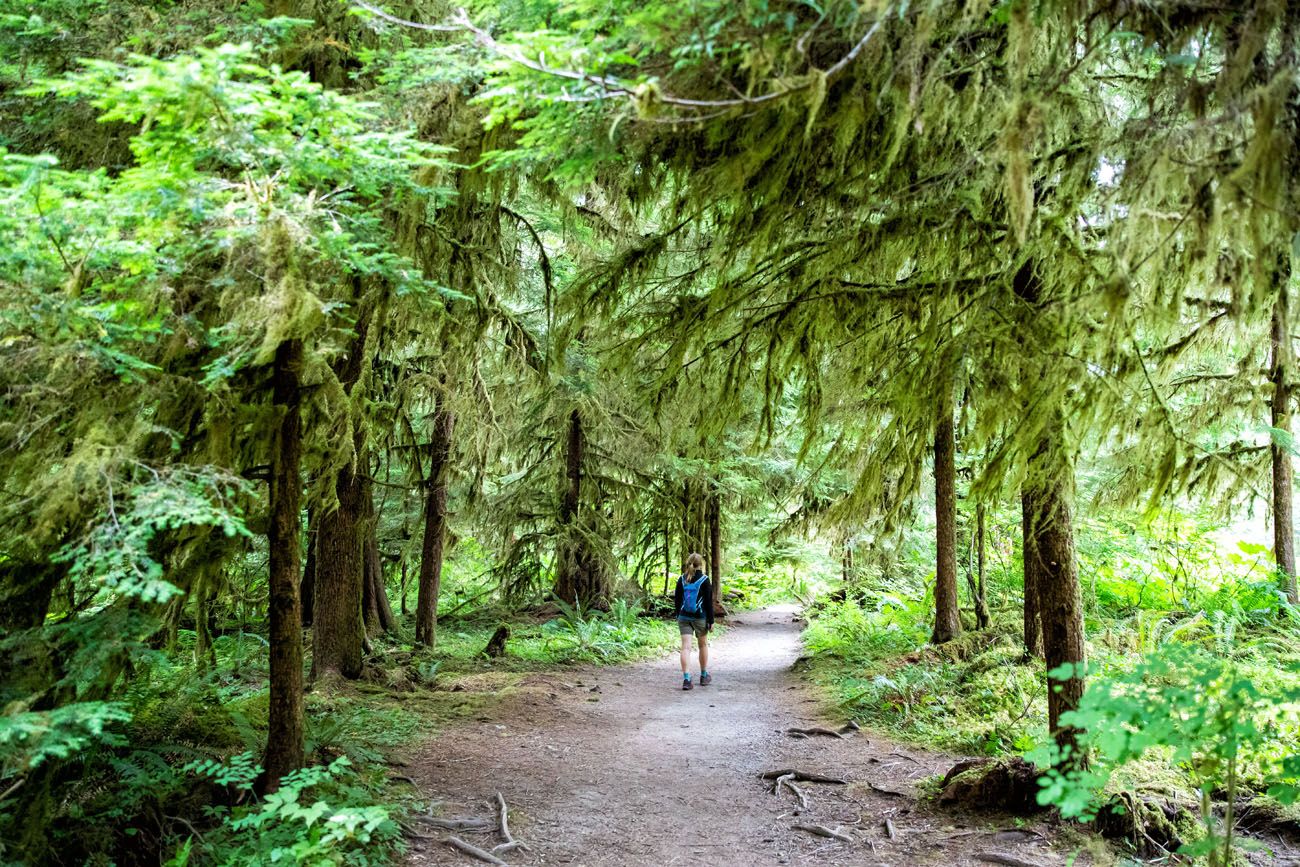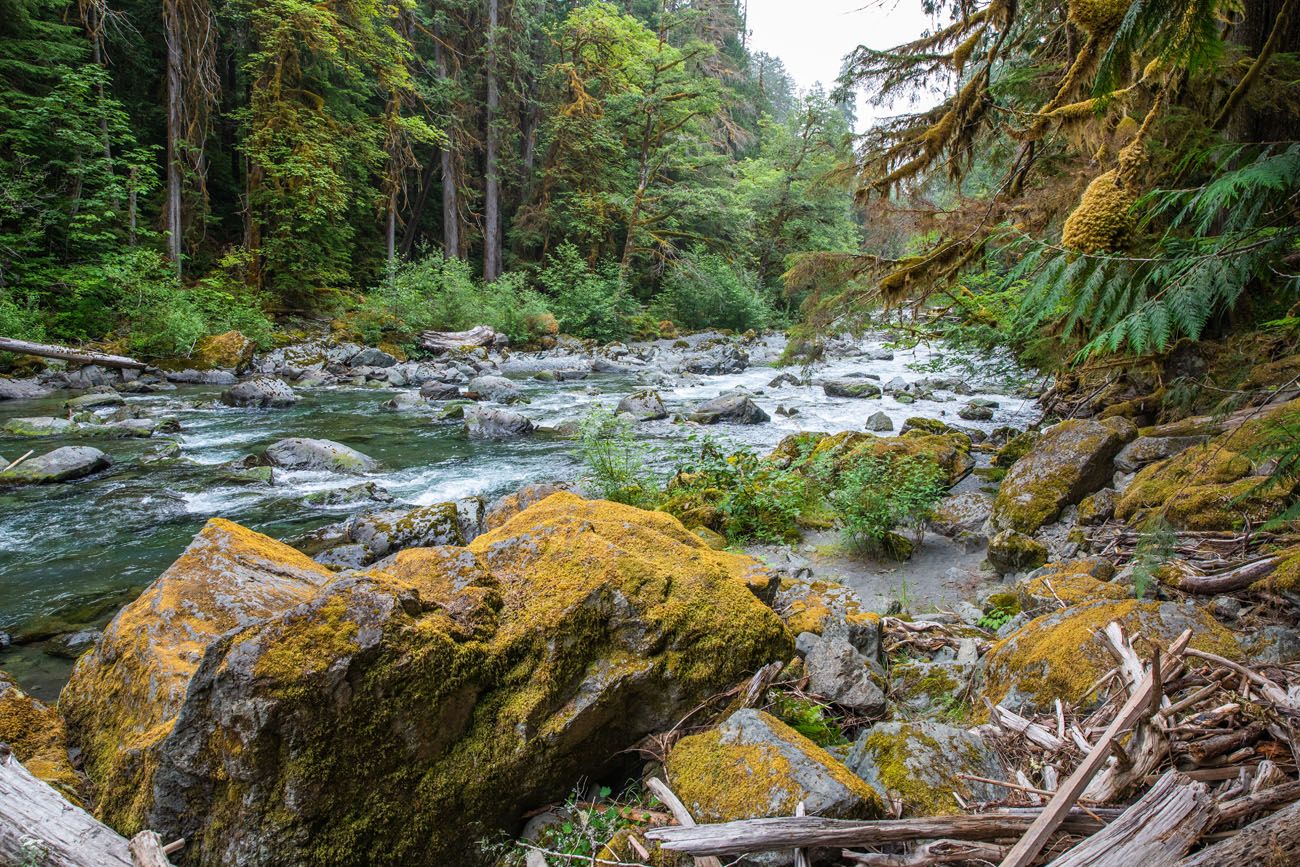 To stay on the trail, cross the bridge over the Skokomish River. There will be a trail sign pointing you in the correct direction.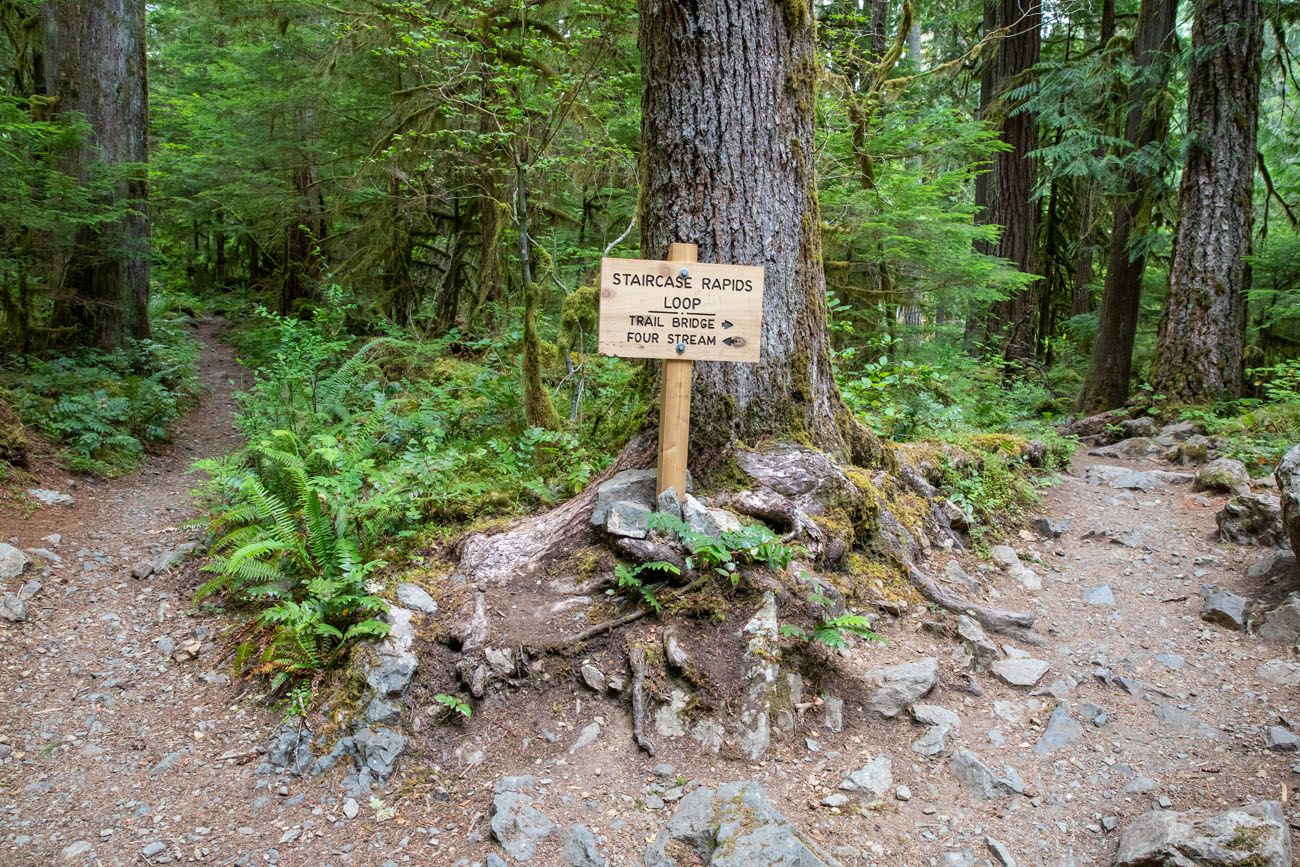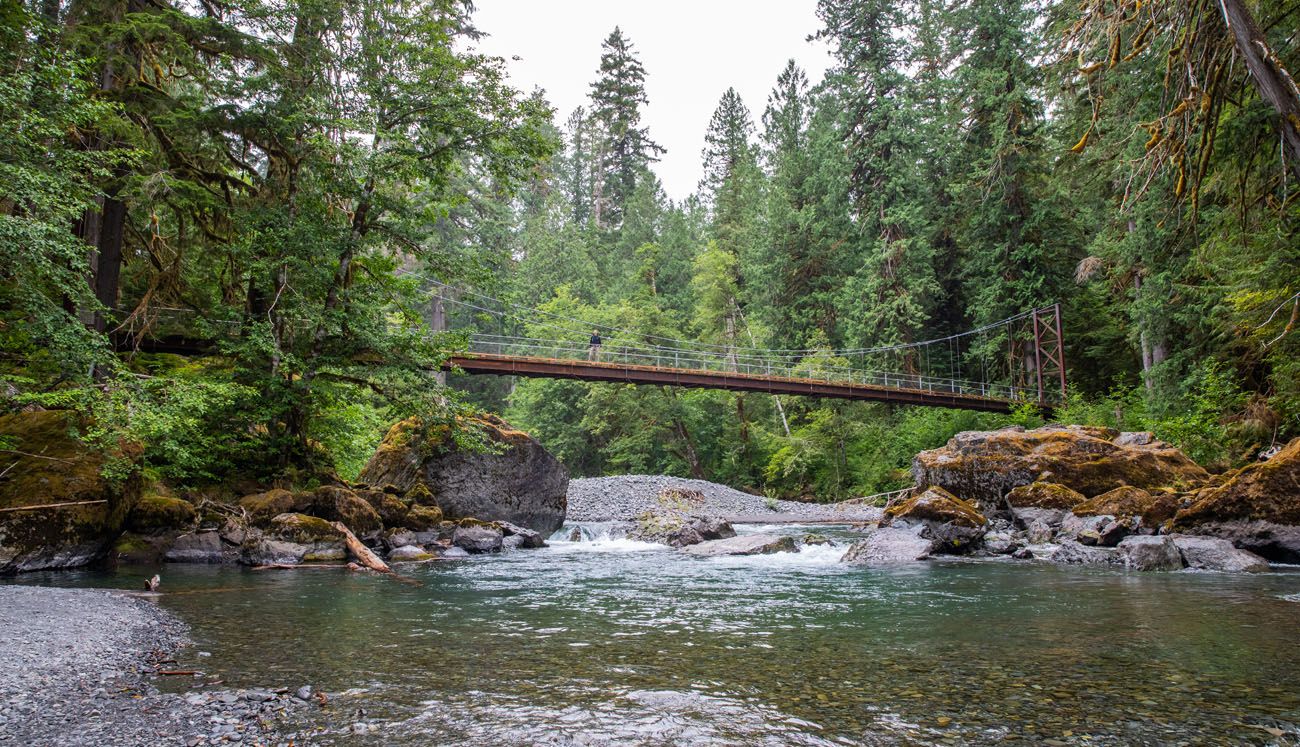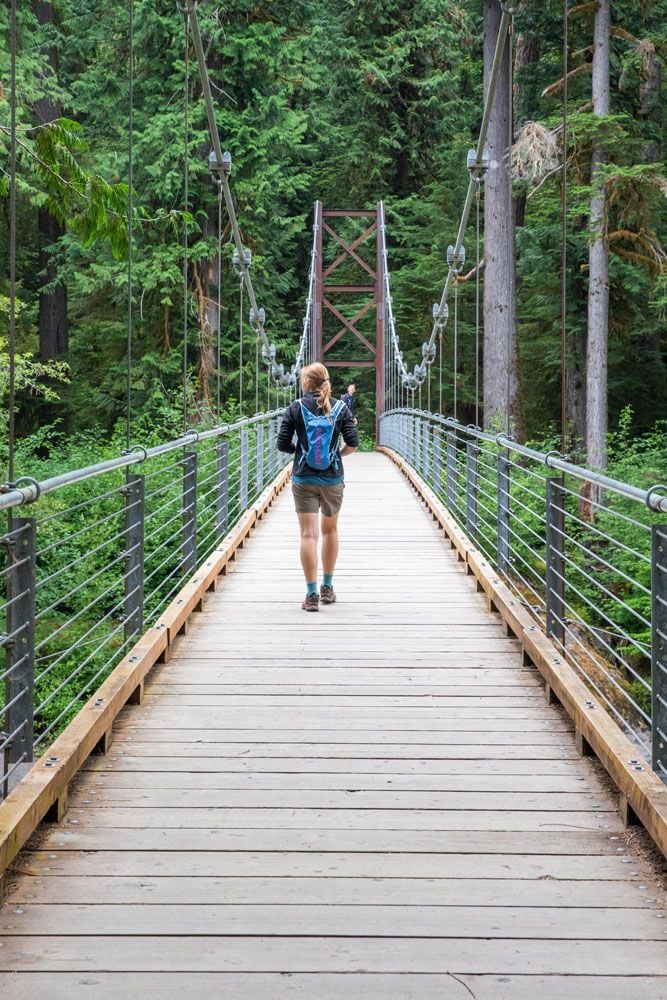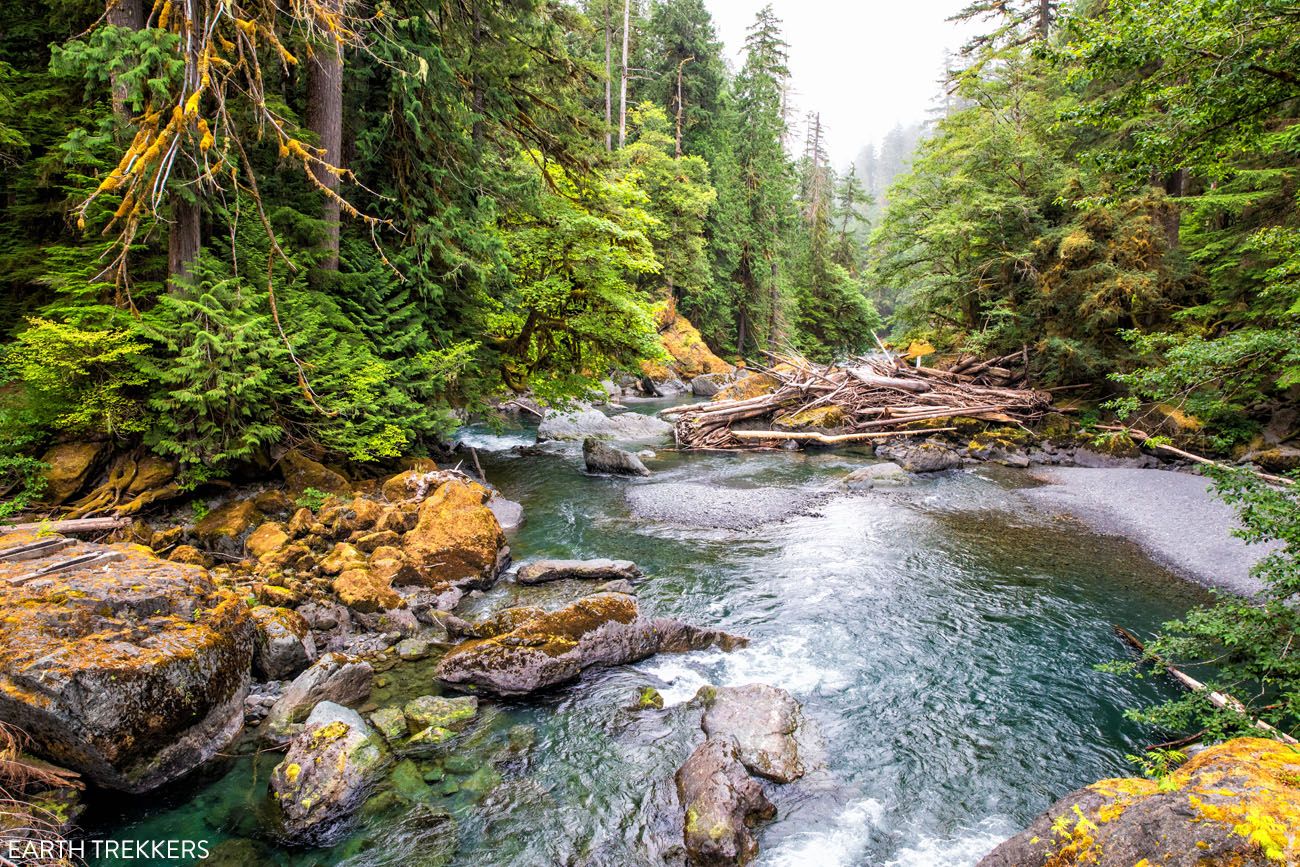 Once on the east bank, the trail meanders away from the river and heads through the forest. Now, the main attractions are trees covered in moss, small waterfalls, and the silent forest.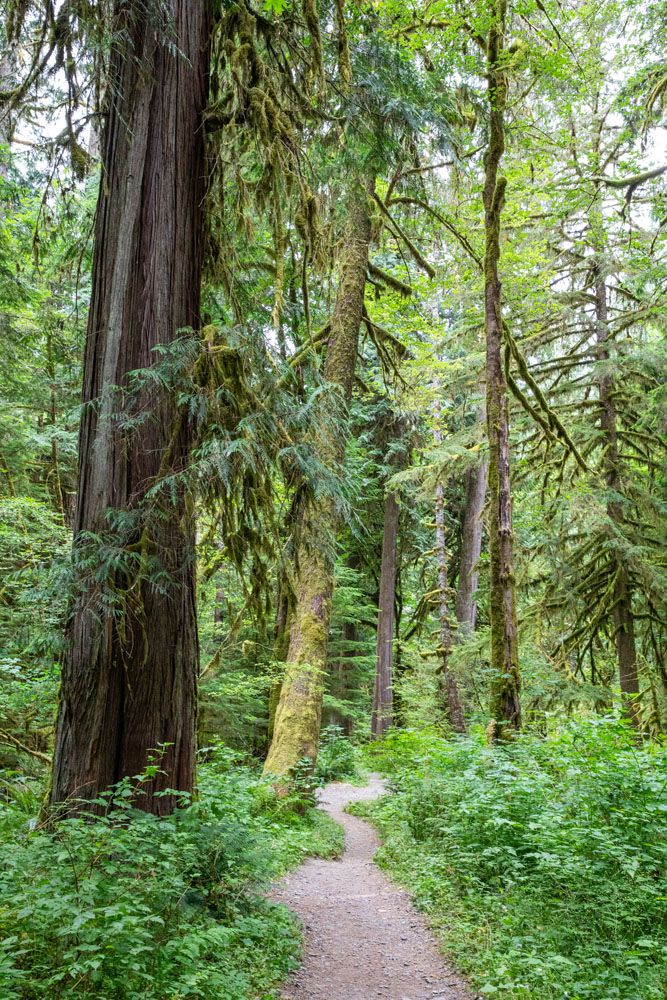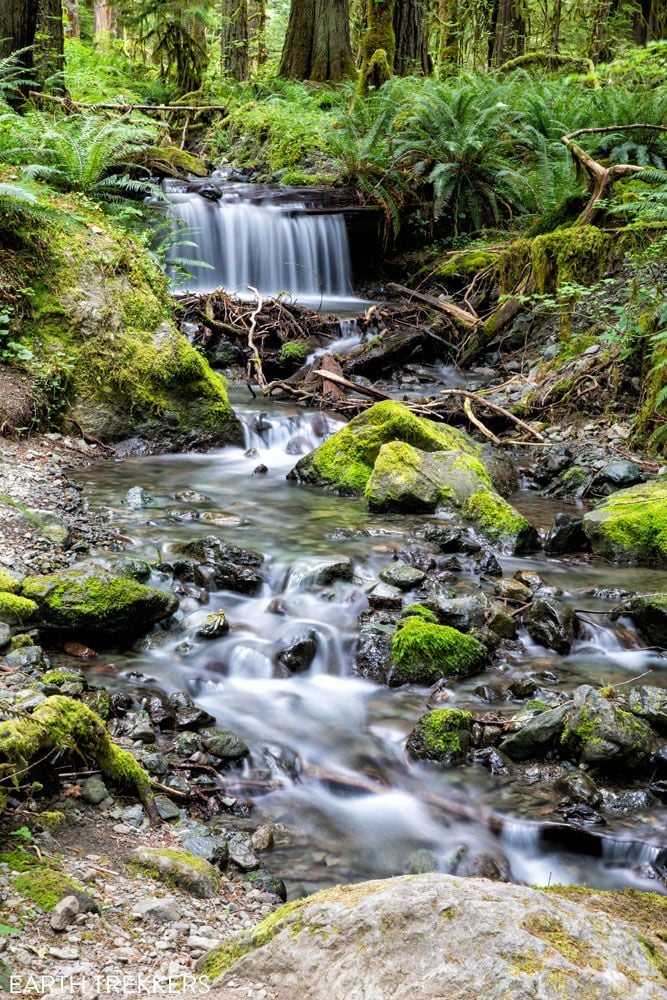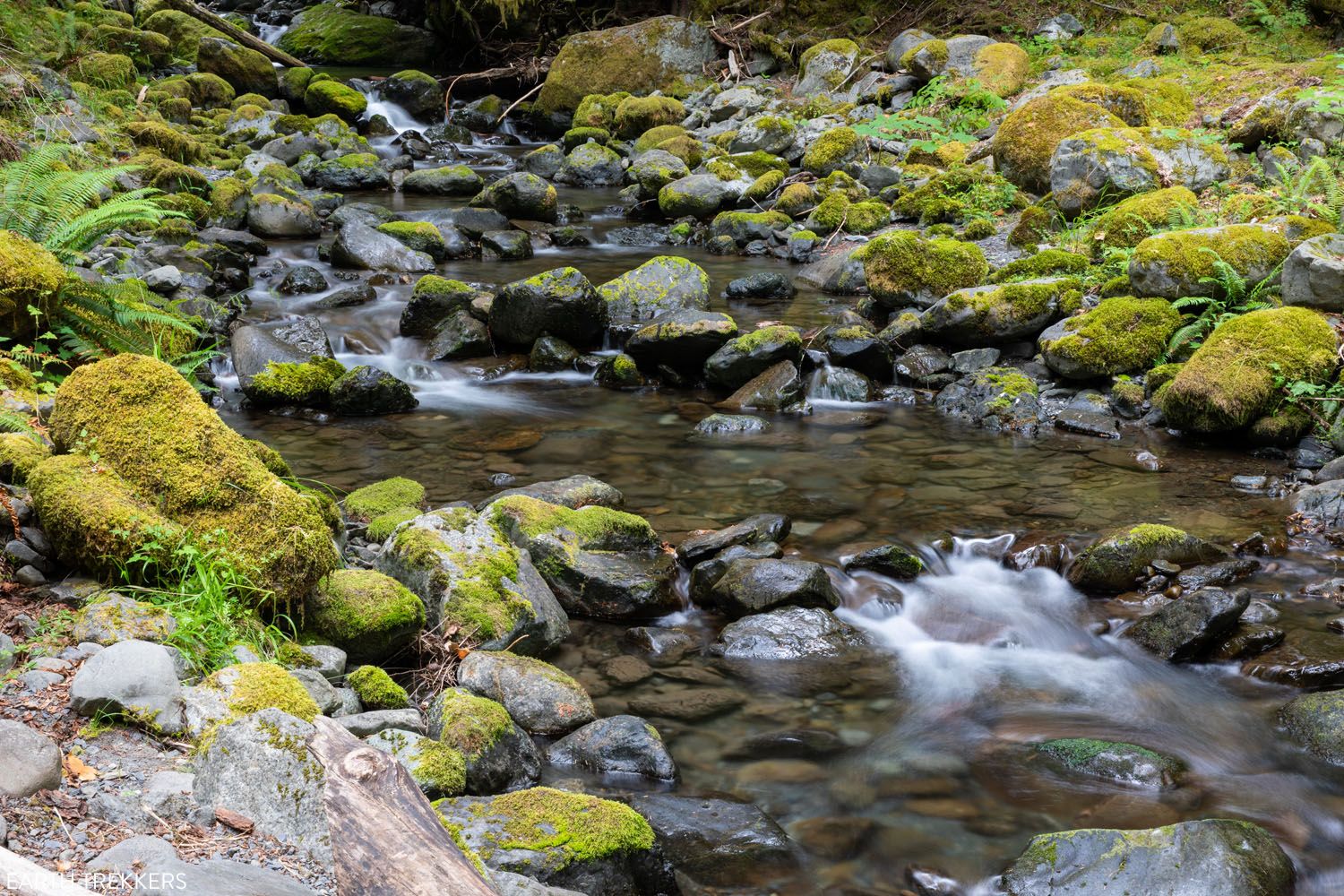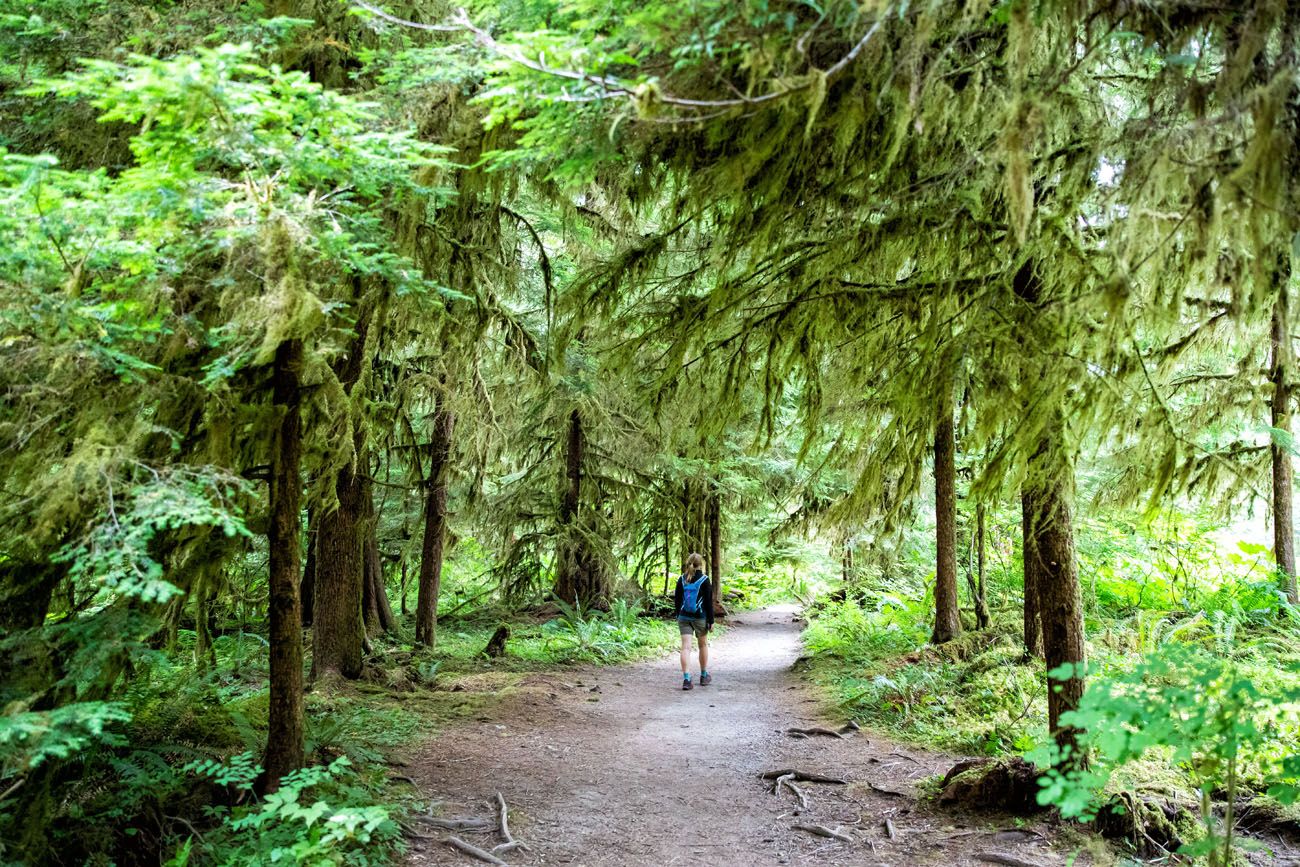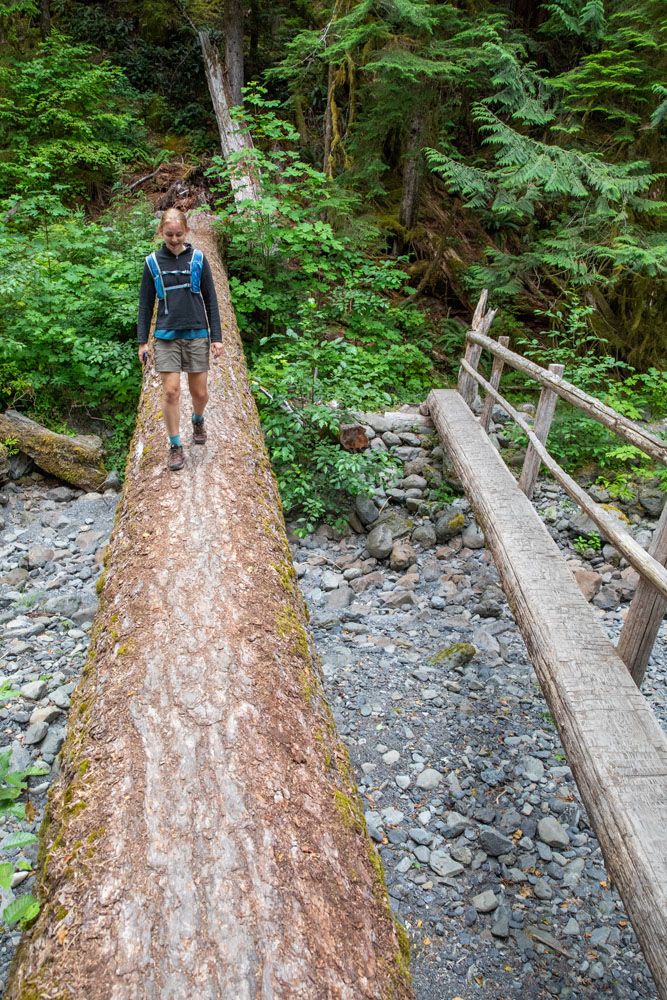 Before arriving back at the parking area, you will come to a fork in the trail. Turn right to return to your car. If you turn left, you will be on the steep, strenuous trail to Wagonwheel Lake.
The hike ends once you arrive back at the Staircase Rapids parking area.
About Our Experience
We did this hike in July 2020.
The Staircase Rapids Loop wasn't even on our to-do list for Olympic National Park. We planned to hike Mt. Ellinor, but rain and low-lying clouds forced us to change our plans. So, we ended up here, and I am so glad we did.
Tim, Kara, and I loved this little hike and we hope you do, too. Mt. Ellinor is still on our list for a future visit to Olympic National Park, and when we return, we will be tempted to repeat the Staircase Rapids Loop as well.
Tips to Have the Best Experience
This is a good hike to do on a day with less-than-perfect weather. In fact, clouds and a little drizzle almost seem to make this hike better, since you are at a low elevation and hiking through a rainforest. It's better to save Hurricane Ridge or Mt. Ellinor for days when the skies are clear.
For this hike, a good pair of walking shoes is sufficient. Since this trail is so flat and well-graded, there is no need for hiking shoes.
Leave no trace. When you are in the park, practice the seven principles of Leave No Trace. This includes packing out what you bring into the park, be considerate of other hikers, stay on the trail, and do not remove anything from the park.
Check road and trail conditions on the official National Park Service website before you go.
---
If you have any questions about hiking the Staircase Rapids Loop, let us know in the comment section below.
More Information for Your Trip to Washington
HIKES IN OLYMPIC NATIONAL PARK: Take your pick from 17 awesome hikes in Olympic National Park. We also have detailed trail guides for Mt. Storm King and the hike to the peak of Mount Angeles.
THINGS TO DO IN OLYMPIC NATIONAL PARK: See the full list of must-have experiences in our guide to the Best Things to Do in Olympic National Park.
NATIONAL PARKS IN WASHINGTON: In our guide to the Washington National Parks, we give an overview on all three parks, Mount Rainier, Olympic, and the North Cascades. Learn how to visit all three national parks in our Washington Road Trip Itinerary.
NATIONAL PARKS: In our Guide to the US National Parks, get the full list of national parks with important travel planning information, such as things to do in the parks and sample itineraries. You can also learn more about the national parks and get a FREE printable checklist in our US National Parks Checklist.
USA TRAVEL INSPIRATION: For more great ideas on where to go in the United States, check out our article Best USA Road Trips, which has 18 sample itineraries for your next big adventure. You can also see more travel itineraries on our Travel Itineraries page and our National Park Itineraries.
If this is part of a bigger road trip through the USA, visit our United States Travel Guide for more inspiration and travel planning tips.
All rights reserved © Earth Trekkers. Republishing this article and/or any of its contents (text, photography, etc.), in whole or in part, is strictly prohibited.