Katmai National Park is one of the best national parks in the United States for wildlife viewing. Every summer, brown bears head to the rivers to feed on salmon. Brooks Falls is one of the best spots to watch as brown bear catch and feed on these salmon.
What you might not know is that Katmai National Park and Preserve is also home to Novarupta and the largest volcanic eruption in the 20th century. The eruption left behind a valley of ash and wasteland, called the Valley of Ten Thousand Smokes.
Katmai is one of our favorite national parks. The sheer number of bears you can see is astonishing, and combined with the remote, rugged feel of this park, and the opportunity to tour the Valley of Ten Thousand Smokes, this is one of the best national park experiences in the USA.
Founded: December 2, 1980
Annual Visitors: 34,000 in 2022, making Katmai the 7th least visited park that year
Size: 4 million acres
Location: Alaska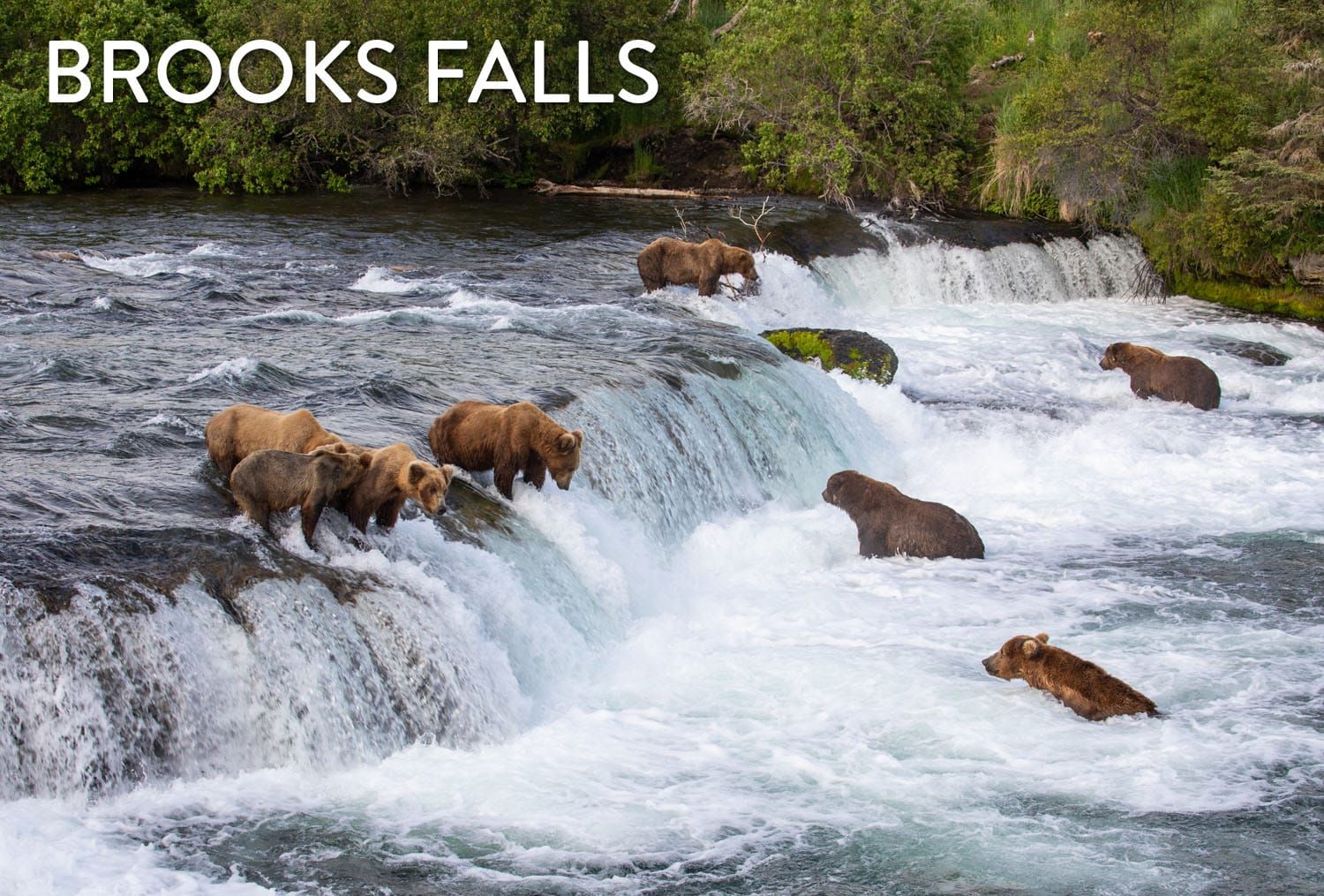 Top Experiences in Katmai
Bear Watching. The #1 reason to visit Katmai is to see the brown bears fishing for salmon. Brooks Falls is the most accessible and popular spot to see brown bears in Katmai.
Go Fishing. This is the second most popular reason to visit Katmai National Park. Rainbow trout, arctic char, lake trout, dolly varden, arctic grayling, and five species of Pacific Salmon can all be fished from the lakes and rivers in Katmai National Park.
Valley of Ten Thousand Smokes. On June 6, 1912, Novarupta began to erupt. Over three days, it sent 13 cubic kilometers of magma into the sky, making it the largest volcanic eruption in the 20th century, as well as one of the five largest in recorded history. From Brooks Camp, you can take a day tour to this area to see the mountains of ash that still remain.
Naknek Lake. This is the largest lake to be completely located within a park. It is a great place to go fishing and kayaking and you will fly over or cruise on this lake if you have plans to visit Brooks Camp.
Take a Flightseeing Tour. One of the best ways to appreciate the size and grandeur of Katmai National Park is to see it from the sky. You will fly over the coast and river valleys and see the Aleutian Range, a string of mountain peaks and volcanoes, including massive Mount Katmai.
Dumpling Mountain. This 3-mile out-and-back hike takes you up to a viewpoint over Brooks Camp and Naknek Lake.
How Many Days Should You Spend in Katmai?
Ideally, plan on spending three days at Katmai National Park. This gives you plenty of bear viewing time and also gives you enough time to journey out to the Valley of Ten Thousand Smokes, or go fishing, hiking, or kayaking.
Most people visit Katmai on a day trip. This gives you a few hours to hike the Brooks Falls Trail to the viewing platforms. There is a limit to how much time you can spend on the platforms, so you will be spending a lot of your time waiting for a spot.
Best Time to Visit Katmai
July is the best month to visit Katmai, if you want to see the brown bears feeding on salmon at Brooks Falls.
In August, the salmon have made it upriver, so the feeding ends. After the salmon spawn, they die and then they float downriver. As they drift back over Brooks Falls, the brown bears feed on the dead salmon. It's not quite as spectacular, since you don't see the salmon jumping up the falls, but you will still be able to see a lot of bear.
Brooks Camp is open from early June through mid-September.
Katmai National Park appears in our Best US National Parks Month-By-Month series as a great park to visit in July.
Over 2,000 brown bears call Katmai home. The prime time to see these bears are the months of July and September, when they feed on the salmon at Brooks Falls.
This national park also preserves the Valley of Ten Thousand Smokes. In 1912, Novarupta erupted. It was the largest eruption of the 20th century and one of the top five largest eruptions in recorded history.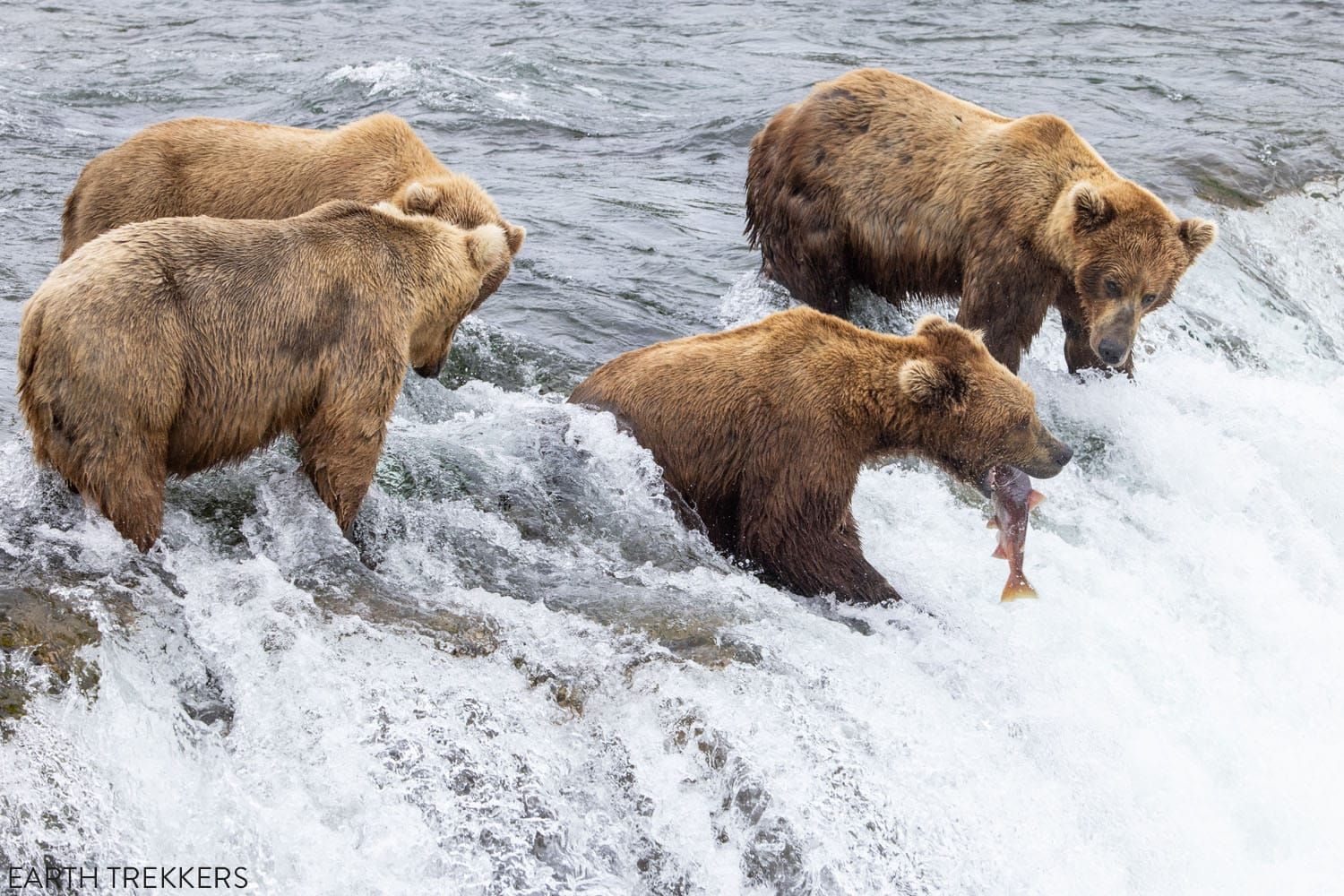 Places to Visit near Katmai
Alaska Road Trip Itinerary
There are many ways to plan your "perfect Alaska itinerary," depending on your interests. Cruise the fjords, go glacier hiking or ice climbing, soar over the snow-capped mountains on a flightseeing tour, see Denali in all her glory, watch brown bears feeding on salmon, and drive through some of the most beautiful landscapes in the USA.
In this guide, we list three different ways to spend 10 days in Alaska.
Katmai National Park Map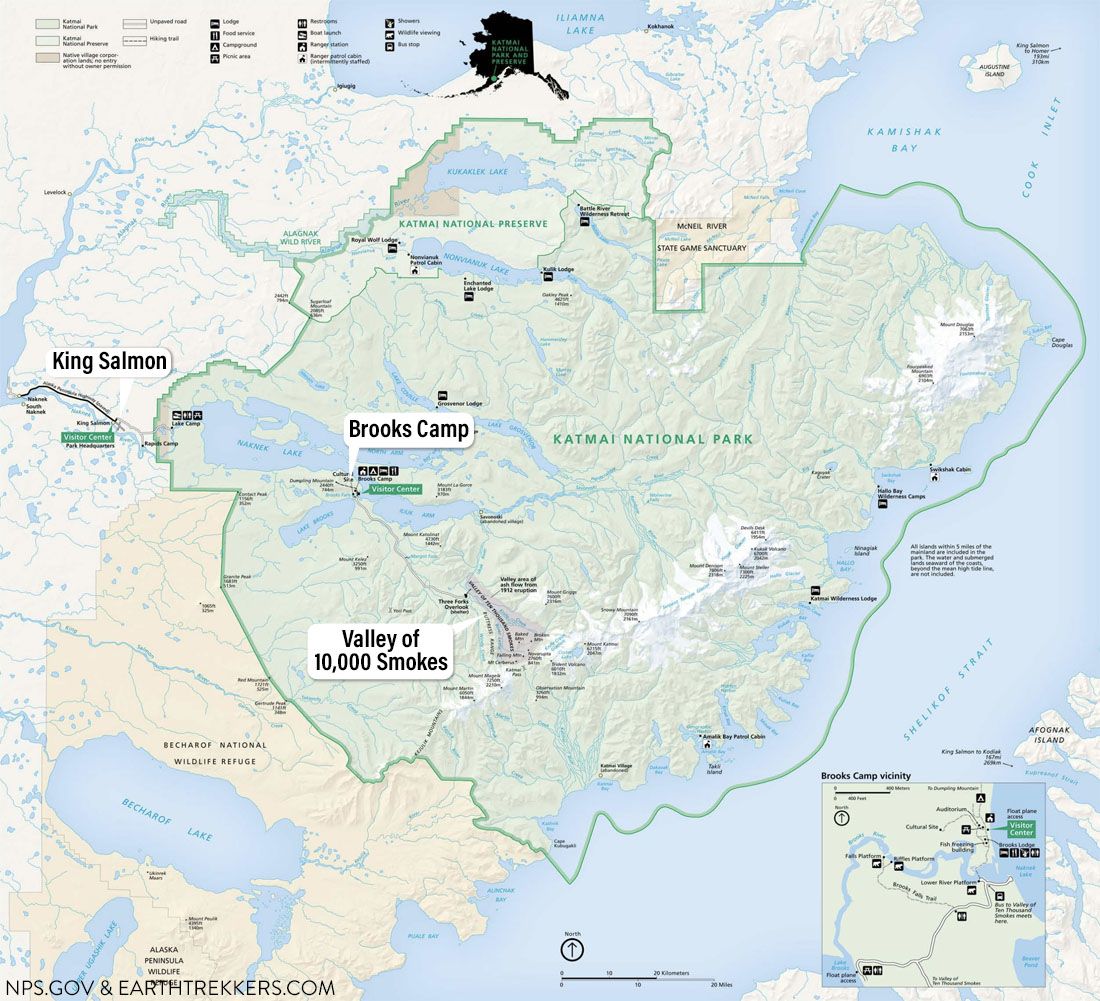 In our US National Parks List, get information on all of the US national parks, including interesting facts, the most and least visited national parks, and a FREE printable national parks checklist with map.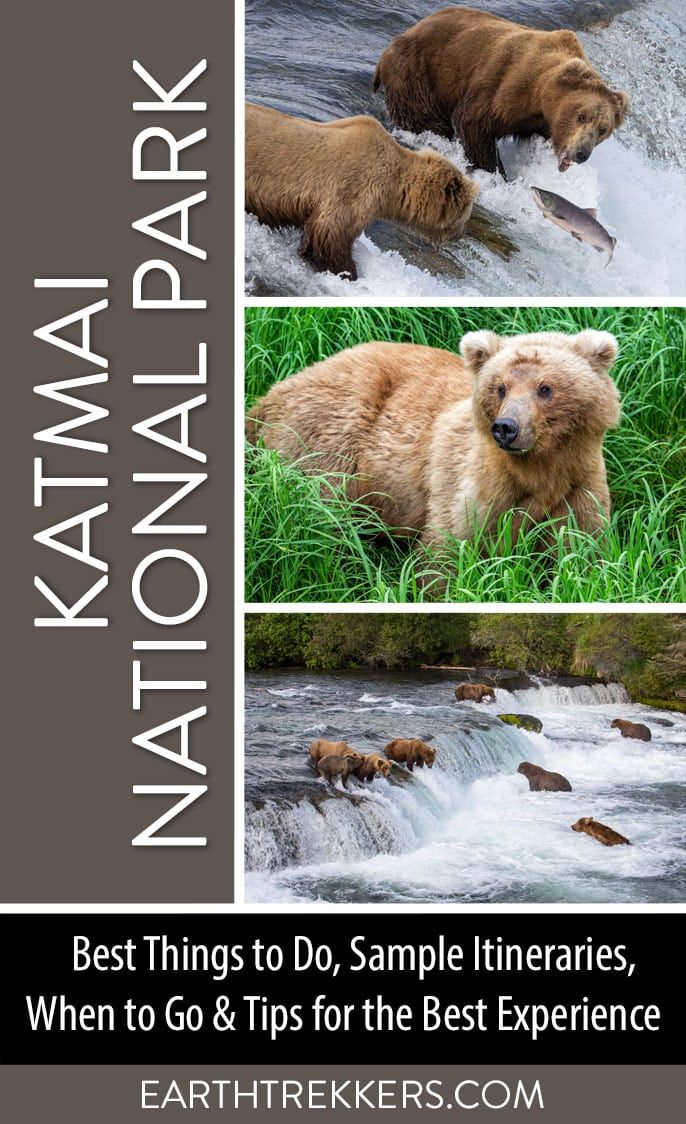 Visit More National Parks