Katmai National Park & Preserve is a land of brown bears and volcanoes. It is wild, rugged, and remote and one of our favorite national parks.
This national park is one of the best in the US for wildlife viewing. Every summer, brown bears head to the rivers, to feed on salmon. Brooks Falls is one of the best spots to watch as brown bear catch and feed on these salmon.
What you might not know is that Katmai National Park and Preserve is also home to Novarupta and the largest volcanic eruption in the 20th century. The eruption left behind a valley of ash and wasteland, called the Valley of Ten Thousand Smokes.
We loved our time at Katmai. Even though the salmon were late to arrive during our visit, we still enjoyed every minute we spent here. Katmai is a beautiful park, journeying out here by float plan and hiking around the Valley of Ten Thousand Smokes felt like an adventure, and seeing the bears was truly amazing.
In this guide, we cover the best things to do in Katmai National Park & Preserve, with tips to help you have the best experience.
Interesting Facts about Katmai National Park
Katmai National Park & Preserve is located on the Alaska Peninsula, near Kodiak Island. Nearby King Salmon is the main transportation hub for the park.
At 4 million acres, Katmai is the fourth largest US national park. It's a bit larger than the state of Connecticut. The three larger national parks are also located in Alaska. Denali comes in third, Gates of the Arctic takes second place, and the behemoth Wrangell – St. Elias, at 8.3 million acres, is the largest US national park.
Over 2,000 brown bears call Katmai home. The prime time to see these bears are the months of July and September, when they feed on the salmon at Brooks Falls.
This national park also preserves the Valley of Ten Thousand Smokes. In 1912, Novarupta erupted. It was the largest eruption of the 20th century and one of the top five largest eruptions in recorded history. The Valley of Ten Thousand Smokes is easily visited from Brooks Lodge.
Katmai officially became a national park on December 2, 1980. In 2019, it had 84,000 visitors, making the 9th least visited park in the USA.
Map of Katmai National Park
Below is a map of Katmai National Park and Preserve from the National Park Service. I highlighted the more popular areas to visit.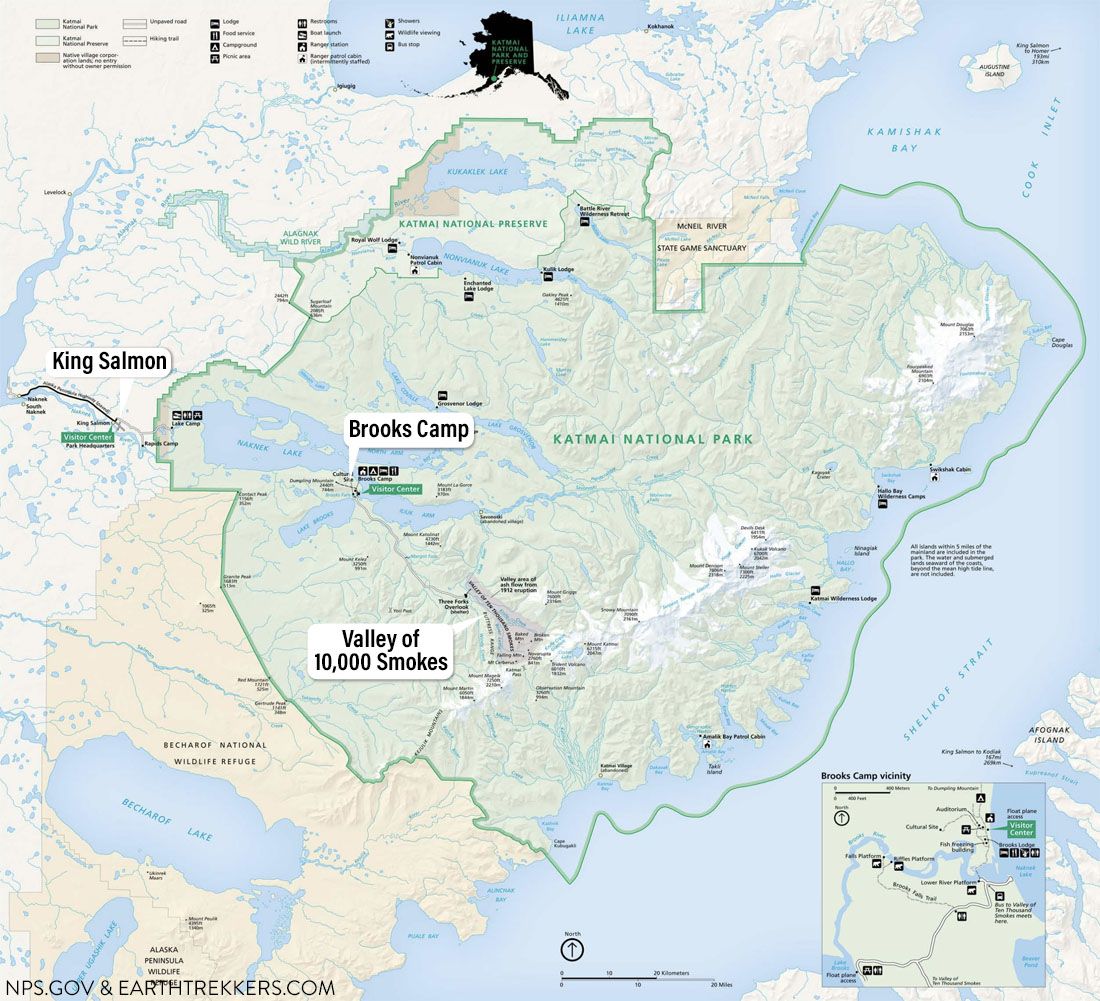 Best Things to Do in Katmai National Park & Preserve
1. Bear Watching
Katmai National Park is one of the best bear-viewing places in the world. Each July, as the salmon make their annual run, the brown bears flock to the rivers to feast on salmon.
Brooks Falls is the easiest and most popular place to see bear in Katmai. A short, easy-to-walk trail connects Brooks Camp with several viewing platforms that are perched next to Brooks Falls. From here, you are literally just a few feet away from the bears.
At Brooks Falls, there are two viewing platforms. The Brooks Falls Viewing Platform is the main platform. This is located right next to the falls and it gives you the best view of the bears catching the salmon.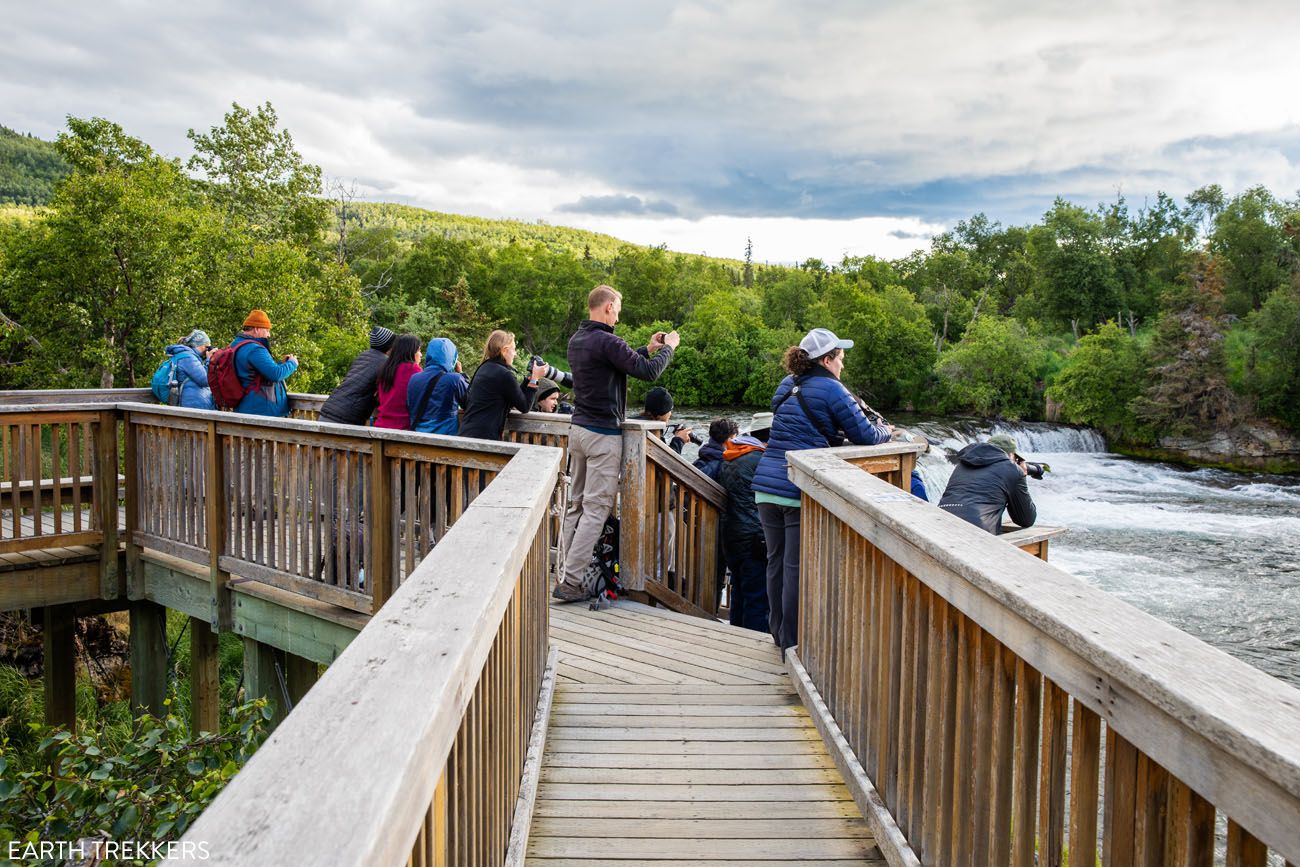 Brooks Falls Viewing Platform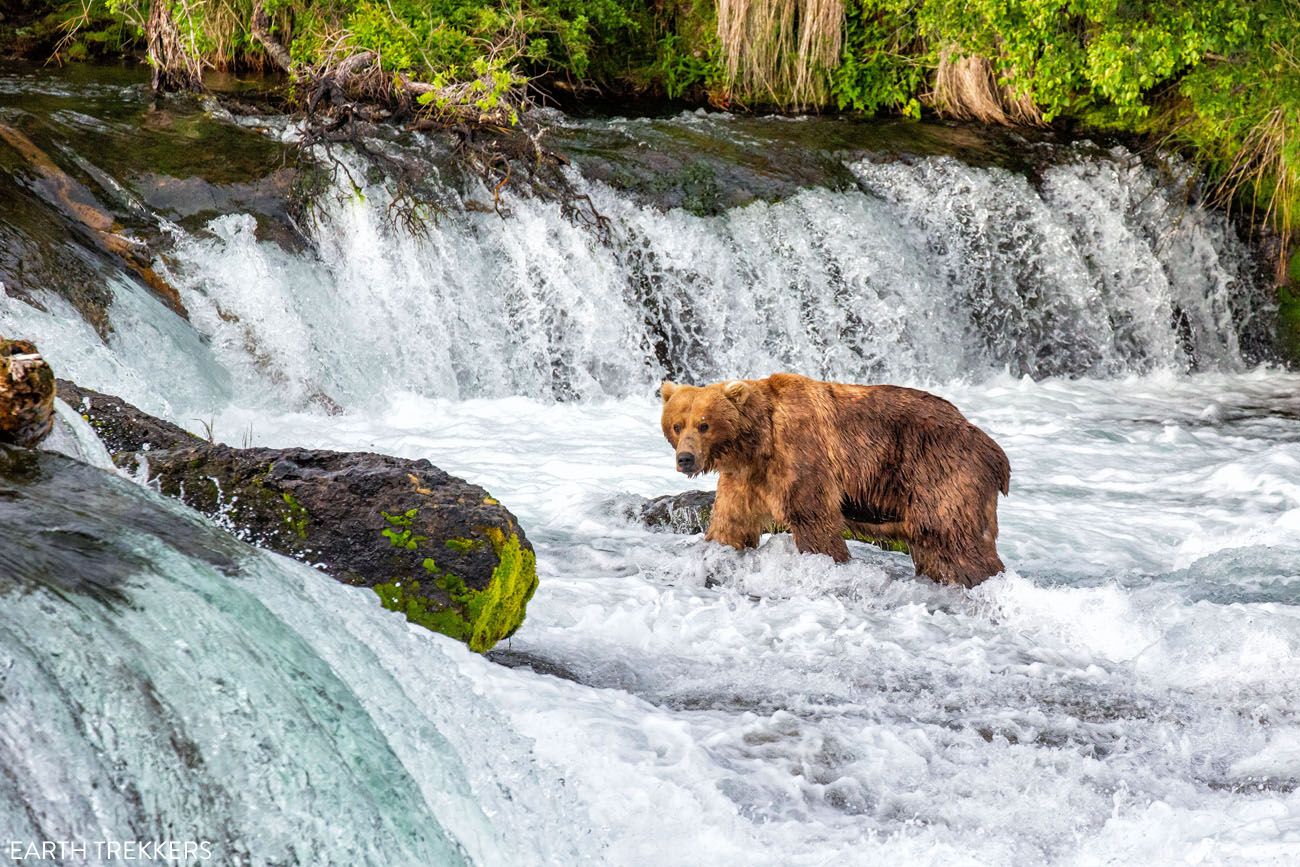 Just downriver is Riffles Platform. From here, you can look upriver to see Brooks Falls. It's harder to see the bears catching the fish at the falls from here, but when there are a lot of bear in the river, this is still a great place to be. For a lot more photos and information about the Brooks Falls platforms, read our Guide to Brooks Falls.
Want to see the bear in action? Check out the live webcams (between June and September, when the bears are active).
From June 15th to August 15th, the platforms are closed from 10 pm to 7 am, to allow the bears to have full access to the falls. The bears don't get on the viewing platforms, of course, but they do use the same trail as people. This gives them use of the trail without having to share it with us.
PRO TRAVEL TIP: The Brooks Falls Platform has a 40 person maximum capacity. Once this is reached, the park rangers put you on a wait list. Those with a spot are limited to one hour before you will have to give up your spot to someone else. Wait times can reach almost 2 hours during peak season. The Brooks Falls Platform is busiest from 10 am to 4 pm, when the day trippers are here.
You can also see bear throughout Katmai National Park. The Pacific coast of the park holds one of the highest concentrations of bears ever documented. However, getting here and viewing the bears can be difficult, since the vegetation is so thick.
In general, the best time to see bear at Brooks Falls is in July and September, when the bear fish for salmon in Brooks River. During the other months, they find the food at other sources in the park.
Did You Know? Brown bears and grizzlies are the same species. Inland brown bears are called "grizzlies." "Brown bear" refers to coastal bears that feed on salmon. The bears at Katmai are "brown bears."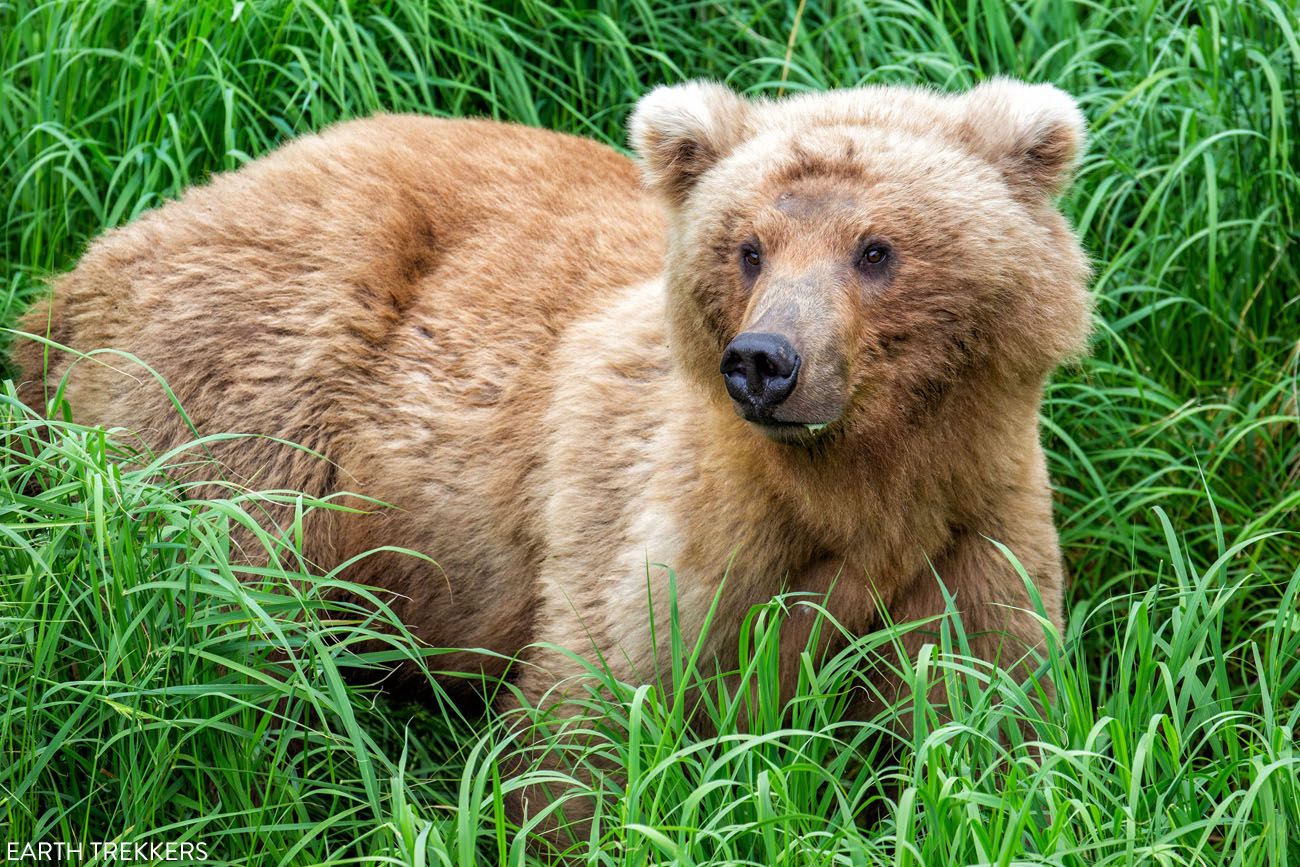 From the Brooks Falls Viewing Platform, not only can you see bear at Brooks Falls, but it's also possible to spot bear in the grass next to the platform.
2. Walk the Brooks Falls Trail
The Brooks Falls Trail is what connects Brooks Camp to the Brooks Falls Viewing Platform. It is a flat, easy-to-walk, 1.2 mile round trip trail.
This trail is used by both people and bear. The brown bears use this same trail to get to Brooks Falls.
We actually had one of our most memorable bear sightings on this trail.
Tim, Kara, and I had been in the park for less than an hour. As we walked up this trail, not far from the viewing platforms, we rounded a bend and came upon a mom and her cub. They were munching on the plants along the trail, and heading our way. We slowly backed up and calmly kept talking to each other, and the two bears.
We quickly realized that they were heading down the trail towards us and had no plans to change their route. So, the three of us left the trail and hiked into the thick brush, to let the bears pass.
And this was our introduction to Katmai National Park.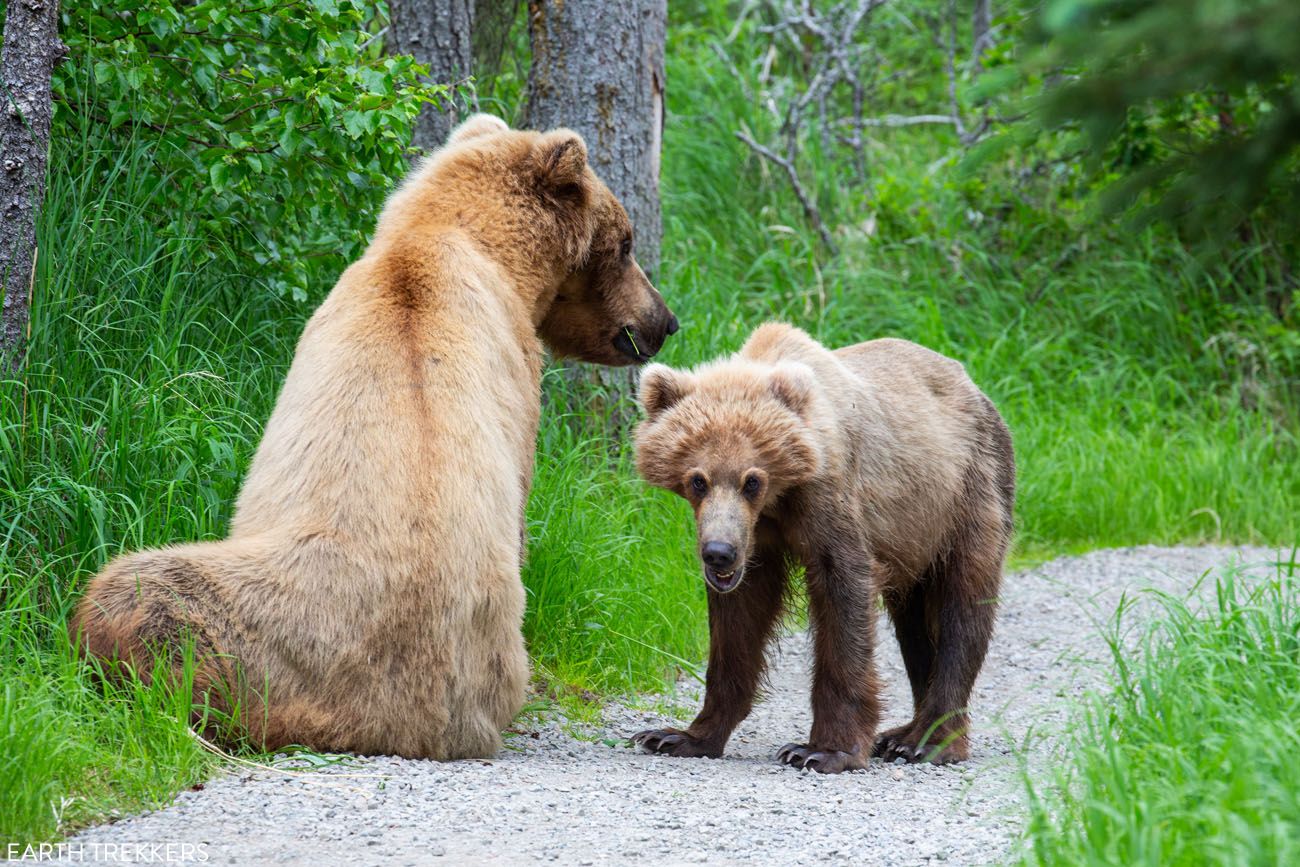 In our three days in Katmai, this was our only bear sighting on the Brooks Falls Trail, but we frequently saw bear around camp and on Lake Brooks Road, the road that connects Brooks Camp to the Brooks Falls Trail.
As you walk along this trail, and anywhere else in Brooks Camp, travel in groups, do not approach the bears, and make noise. For more on bear safety, here are tips from the National Park Service.
For more information on how to walk the Brooks Falls Trail, what to expect at both viewing platforms, with a lot more photos and tips, read our Guide to Brooks Falls.
3. Go Fishing
Katmai National Park is a world-class sport fishing destination. In fact, many of the facilities, including Brooks Camp, were first built for fisherman. It wasn't until later that people began flocking to Katmai to view the bear from the viewing platforms.
Rainbow trout, arctic char, lake trout, dolly varden, arctic grayling, and five species of Pacific Salmon can all be fished from the lakes and rivers in Katmai National Park.
During the month of July, it is not uncommon to see people fishing just a short distance away from bear near Brooks Falls.
If you plan to fish here, there are numerous regulations enforced by the Alaska Department of Fish and Game and Katmai National Park & Preserve. For more information, click here.
Brooks River is fly fishing only. You must have an Alaska state fishing license. You are not permitted to fish within 50 feet of a bear. And fishing at Brooks River is catch and release only.
If you want to go fishing, Brooks Lodge operates guided sport fishing experiences.
4. Naknek Lake
In the United States, Naknek Lake is the largest lake to be completely located within a park.
Brooks Lodge is located on the shore of this lake. From King Salmon, you will sail by boat on this lake to get to Brooks Camp and if you are arriving by plane, most of the time (weather permitting) your plane will land on the beach. There is another smaller beach on Lake Brooks which serves as an alternate landing spot. We landed on Lake Brooks when we arrived at Brooks Camp.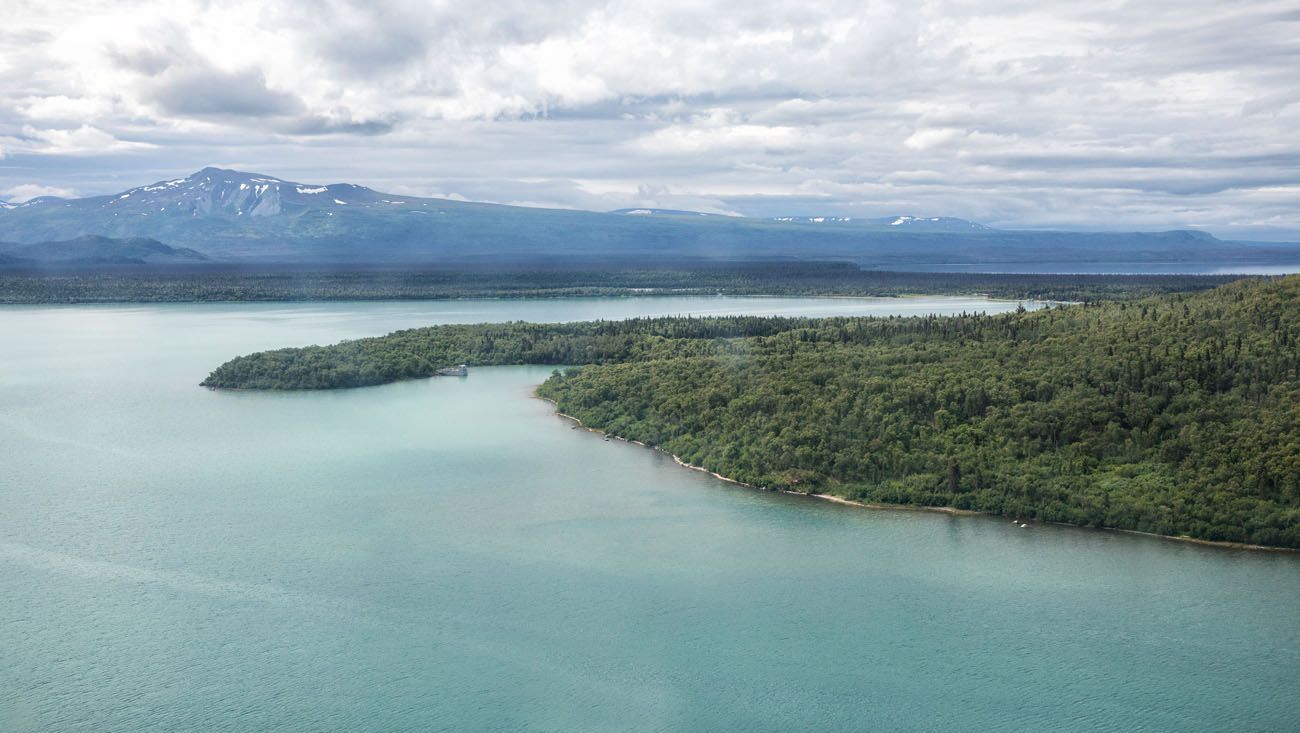 Naknek Lake is a great place to go both fishing and kayaking. You can rent kayaks at Brooks Camp.
As you walk the boardwalk trail that connects Brooks Camp with Lake Brooks Road, the only road in the park, you have a nice view of Naknek Lake. We frequently saw bear from this boardwalk trail, as they walked along the lake shore and crossed the Brooks River.
On the beach next to Brooks Camp, it's common to see bear here, either napping or moseying along the shore.
On the beach of Naknek Lake, next to Brooks Camp.
5. Dumpling Mountain
Dumpling Mountain is a 3-mile out-and-back hike that takes you up to a viewpoint over Brooks Camp and Naknek Lake. It's moderately difficult and worth it on a clear day and if you want a view of the surrounding area.
The trail starts next to Brooks Lake Campground.
If you want to see the live view, you can do so with this webcam.
Please practice the seven principles of Leave No Trace: plan ahead, stay on the trail, pack out what you bring to the hiking trail, properly dispose of waste, leave areas as you found them, minimize campfire impacts, be considerate of other hikers, and do not approach or feed wildlife.
6. Valley of Ten Thousand Smokes
On June 6, 1912, Novarupta began to erupt. Over three days, it sent 13 cubic kilometers of magma into the sky, making it the largest volcanic eruption in the 20th century, as well as one of the five largest in recorded history.
Ash filled the sky around Katmai National Park and then drifted east to Kodiak Island. Kodiak Island was in total darkness for three days. The ash spread across the planet, acid rain fell in Canada, and earthquakes rocked the ground for several months following the eruption.
Since this eruption occurred in such a remote area, and since earthquakes leading up the eruption prompted people to leave nearby villages, the death toll was zero.
In 1916, Robert Griggs and a team of explorers with the National Geographic Society were exploring the region that was devastated by the eruption. The smoking, steaming, ash covered landscape made an unforgettable impression on him, and he referred to it as The Valley of Ten Thousand Smokes.
The land is no longer smoking or steaming but the name remains.
This is one of the most studied volcanic eruptions in the world. This region was also used by NASA to train the Apollo astronauts on how to recognize volcanic features.
To get to the Valley of Ten Thousand Smokes, there is a 23-mile road that connects Brooks Lodge to the valley. With Brooks Lodge, you can day trip out to the valley with a National Park Service guide, visit some overlooks, and go on a short hike. It's well worth it, to see another part of Katmai, but I do understand that it can be tough to pull yourself away from the bears at Brooks Falls.
We took the one day tour, on the tour organized by Brooks Lodge. We didn't have the best weather…it was overcast and rained frequently…but it was still very interesting to see this unique, desolate landscape.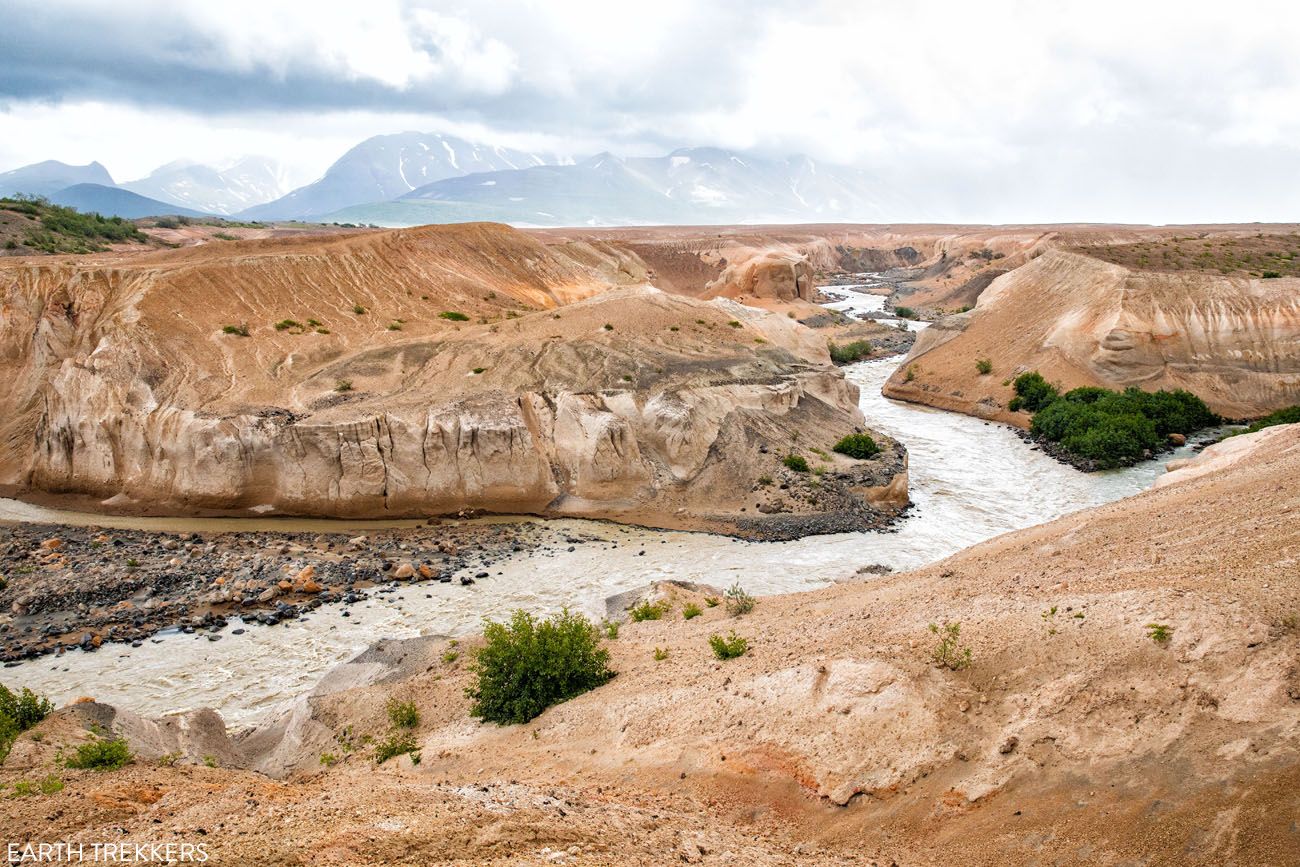 7. Take a Flightseeing Tour
One of the best ways to appreciate the size and grandeur of Katmai National Park is to see it from the sky. You will fly over the coast and river valleys and see the Aleutian Range, a string of mountain peaks and volcanoes, including massive Mount Katmai.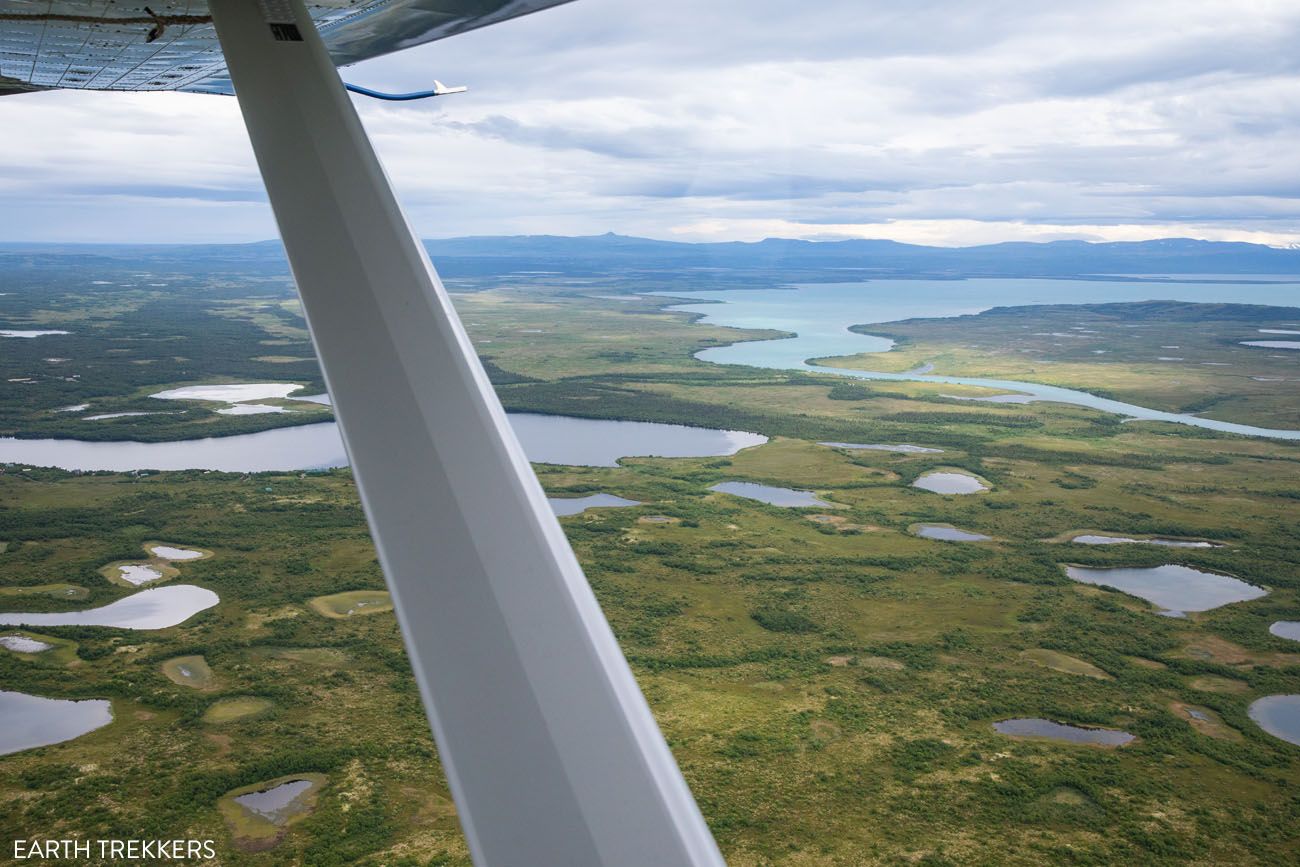 Katmai from the air. This photo was taken on our flight from King Salmon to Brooks Lodge.
There are many companies that offer flightseeing tours of Katmai National Park & Preserve, and this can be done from Anchorage, Homer, King Salmon, and Kodiak. If you are staying at Brooks Lodge or campground, Katmai Air runs one hour tours.
8. Vote in the Fat Bear Contest
The Katmai bears pack on some serious pounds between July and September, all to fatten up for the upcoming colder months.
At the end of September, the National Park Service holds a Fat Bear Contest. Twelve of the fattest bears are selected and then people can vote on which one gained the most weight. Similar to March Madness in college basketball, the bears are organized on a bracket and the votes determine who continues to the next round.
On the National Park Service website are photos of each bear, with photos comparing their early summer and late summer physiques. Some of these bears get seriously chunky.
Here are the results, the bracket, and photos from the 2020 season. And here is the link for National Park Service's fat bear page. You can also follow along on Instagram with the hashtag #FatBearWeek.
If you visited Katmai in the summer or have been watching them through the webcam, this is a fun online event to participate in. Plus, you can do this from the comfort of your own home.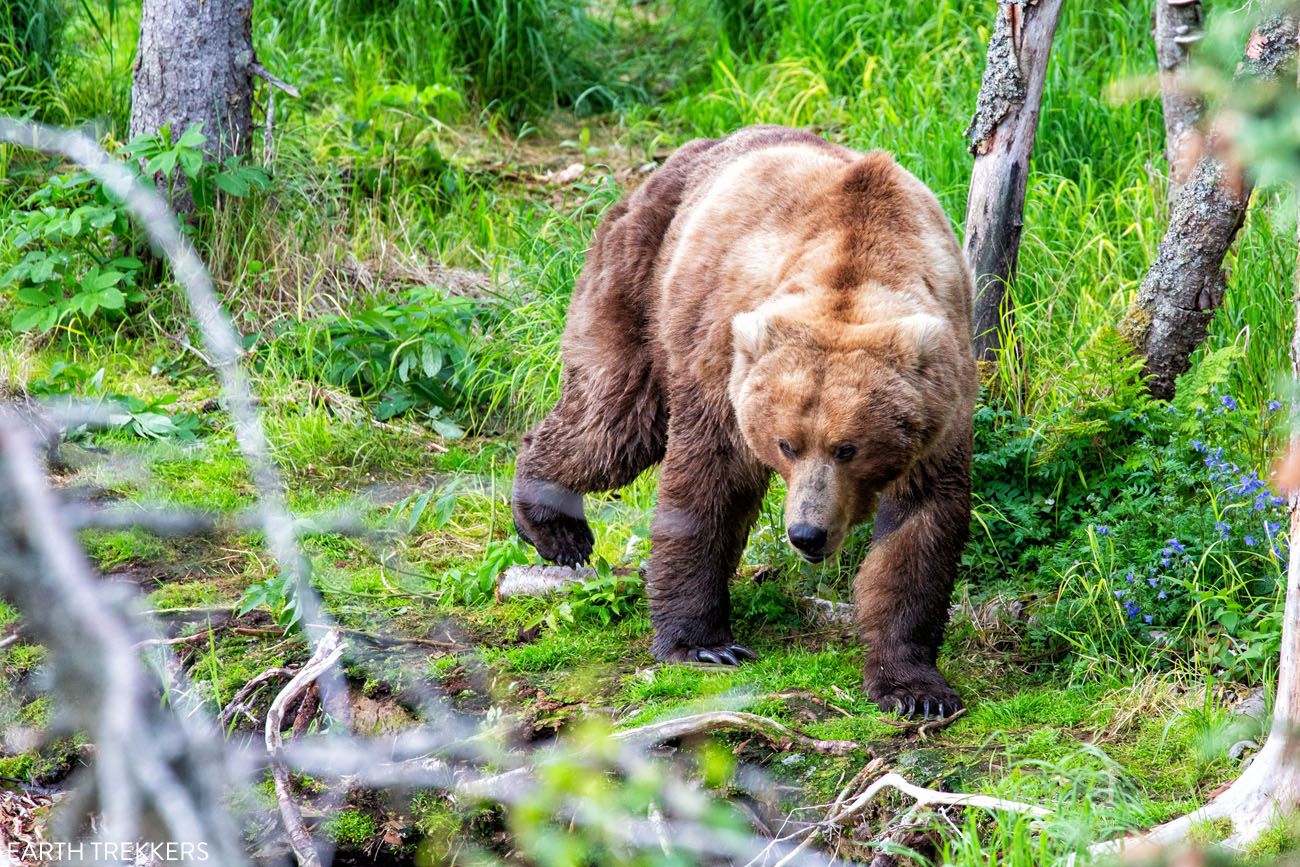 Did You Know? The Katmai bears hibernate from October/November through spring. During this time, their body temperature drops slightly but their heart rate and breath slows down dramatically. By the time they emerge from hibernation, most bears have lost around a third of their body weight. The sockeye salmon are crucial for the bears to gain back their weight in the summer, and have enough fat to get them through hibernation. One salmon is 2,000 to 5,000 calories and a bear can eat 30 to 40 of these per day.
How Much Time Do You Need at Katmai National Park?
Ideally, plan on spending three days at Katmai National Park. This gives you plenty of bear viewing time and also gives you enough time to journey out to the Valley of Ten Thousand Smokes, or go fishing, hiking, or kayaking.
Most people visit Katmai on a day trip. This gives you a few hours to hike the Brooks Falls Trail to the viewing platforms. There is a limit to how much time you can spend on the platforms, so you will be spending a lot of your time waiting for a spot.
If you can, plan on spending at least one night at Katmai. In the early morning and late evening, once the day trippers leave, there is usually no wait for the platforms and you can sit and watch the bears as long as you like. Plus, in July, the days are long, and you can hang out until 10 pm, filling your camera's memory card with photos.
What We Did: We spent three days and two nights at Katmai, staying at Brooks Lodge. This gave us an afternoon, one full day (which we used to day trip to the Valley of Ten Thousand Smokes), and the morning of day 3. For us, this was the perfect amount of time. We still were able to visit the Brooks Falls viewing platforms the morning and evening of the 10,000 Smokes tour, so we had plenty of bear viewing opportunities.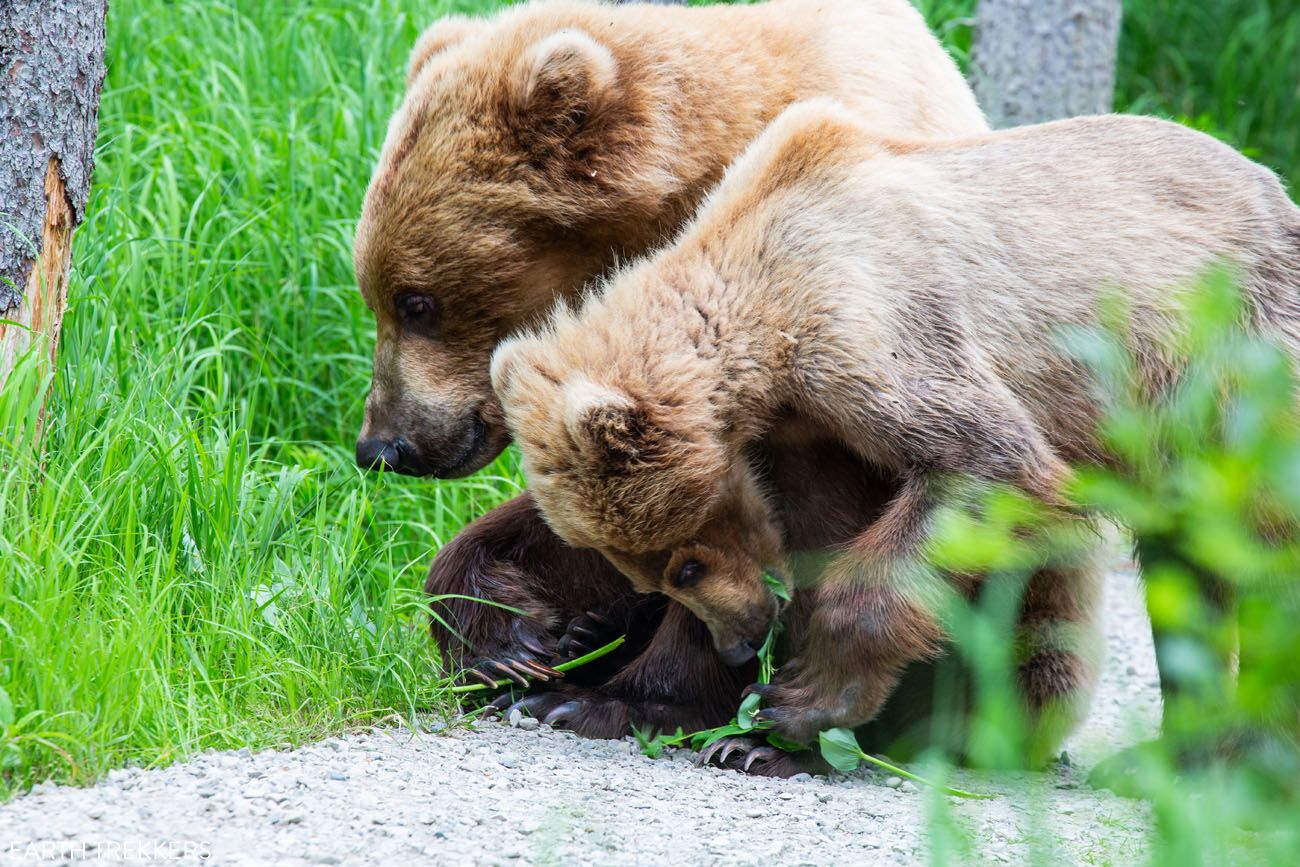 Best Time to Visit Katmai National Park
July is the best month to visit Katmai, if you want to see the brown bears feeding on salmon at Brooks Falls.
We talked to a lot of people about when exactly is the best time to be here…park rangers, guides, pilots, other guests, and the staff at Brooks Lodge, both before and during our visit. Plus, we kept an eye on the bear cam after our visit, which shows exactly what bear viewing conditions are like at Brooks Falls.
We were told that the bear start arriving in at Brooks Falls at the end of June. The salmon start arriving sometime between the end of June and very early July. It's possible to see bear and salmon at the end of June, but I think it's best to wait until the first or second week of July, just to be certain that the salmon will be there.
When we did this, on July 1, 2, and 3, 2021, the salmon were unusually late arriving. A late spring snowstorm, lots of rain, and cooler than average temperatures in June delayed the arrival of the salmon. We saw lots of hungry, skinny bears, but no feeding action at Brooks Falls. That started the second week of July. In "normal" years, we would have been able to see the salmon run at the beginning of July, we were just unlucky.
If I did it again (and I really hope I do), I would plan my visit for somewhere between July 7 and July 31. From watching the bear cam, and seeing photos on Instagram, the numbers of bear and salmon at this time were incredible.
In August, the salmon have made it upriver, so the feeding ends.
After the salmon spawn, they die and then they float downriver. As they drift back over Brooks Falls, the brown bears feed on the dead salmon. It's not quite as spectacular, since you don't see the salmon jumping up the falls, but you will still be able to see a lot of bear.
Brooks Lodge is open from June 1 through September 17.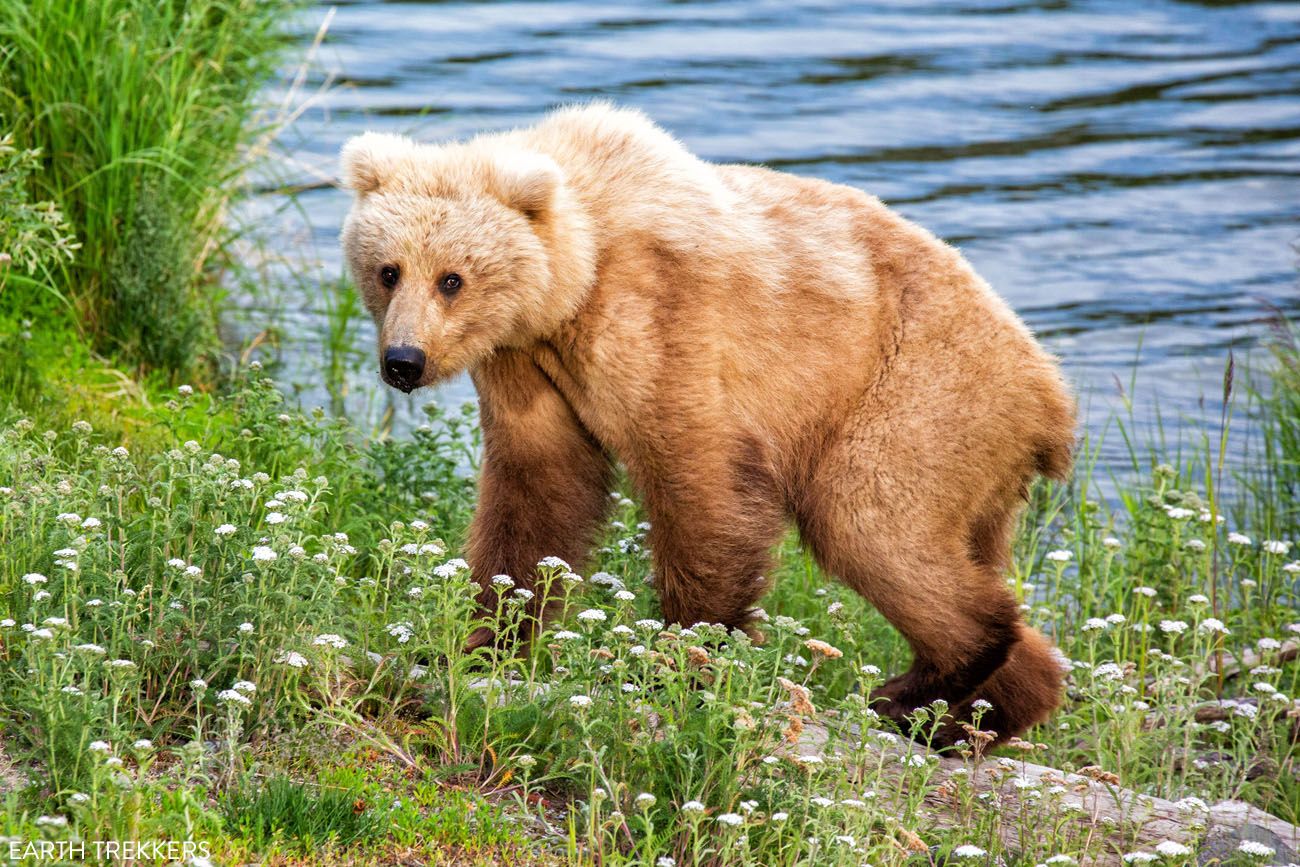 How to Get to Katmai National Park
Katmai is one of the most remote national parks in the USA. You cannot drive here. You can only get here by plane or by boat.
The quickest and easiest way to get to Katmai is by plane. There are numerous taxi flights that leave from Anchorage, King Salmon, Homer, Kodiak, and other towns.
You can either book a direct flight right into Brooks Camp or you can fly into King Salmon first, then take a quick, 20 minute float plane into Brooks Camp.
We flew from Anchorage to King Salmon (about 1 hour) on ACE Air Cargo. From King Salmon, we flew on a float plane (about 20 minutes) that was operated by Katmai Air to get to Brooks Lodge.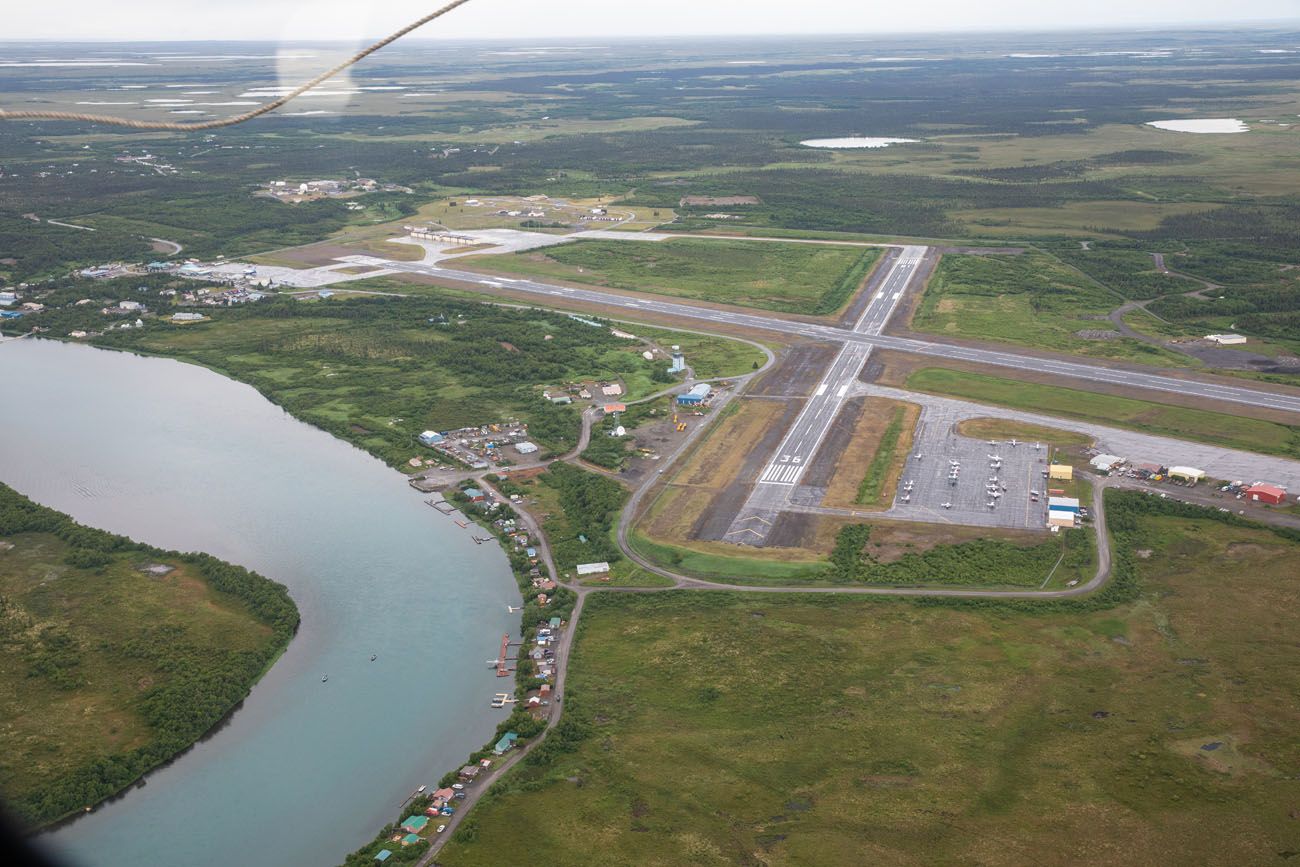 King Salmon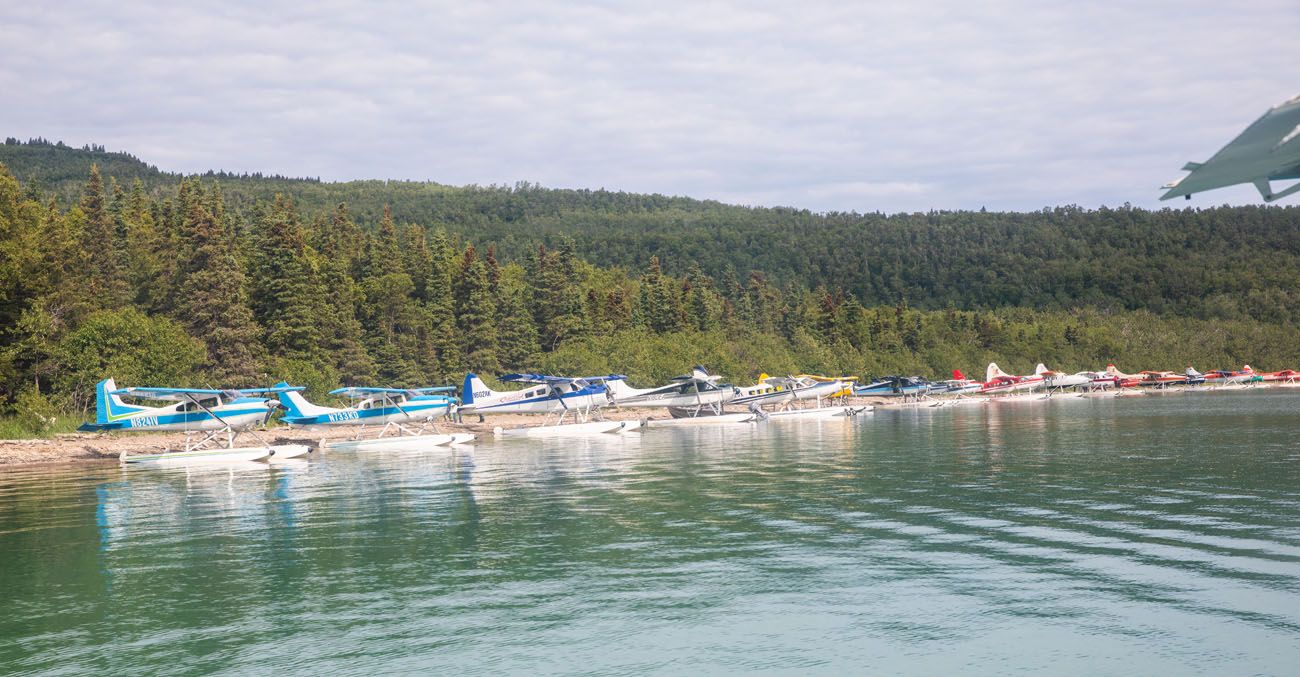 The line of planes used to bring day trippers to Brooks Camp. This is the shoreline of Naknek Lake, which is right next to Brooks Camp.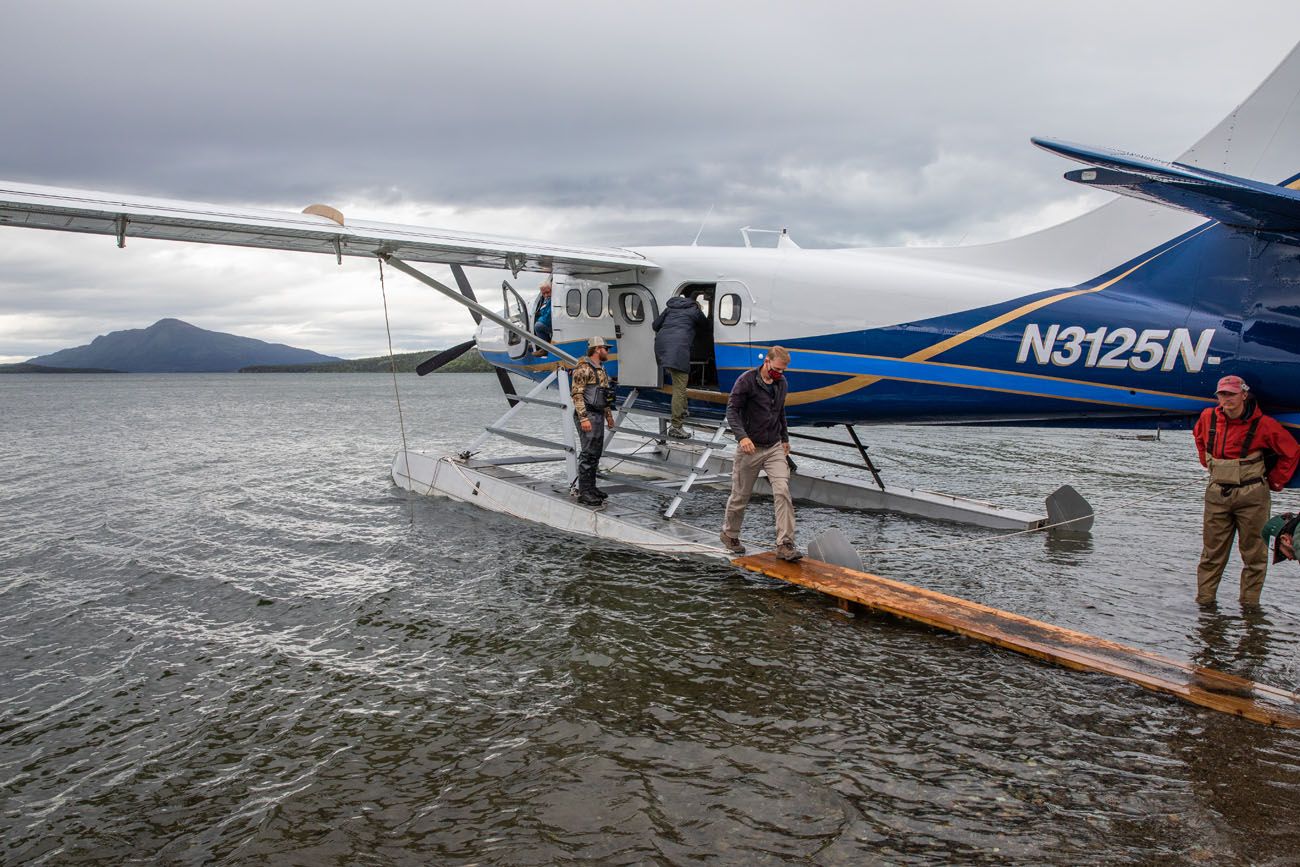 It's also possible to land at Lake Brooks. This is where our plane landed. From here, a quick shuttle ride takes you into camp.
If you plan to visit Katmai as a day trip, it is best to schedule a direct flight to Brooks Camp from Anchorage, Kodiak, Homer, or another Alaskan town, rather than using your valuable time to change planes in King Salmon. When we did this, ACE Air Cargo was running about an hour late when we flew into Brooks Lodge.
And just be aware that flights can be cancelled in the event that there is bad weather.
You can also get from King Salmon to Brooks Camp by boat. This takes longer but it is cheaper than going by plane.
Where to Stay in Katmai National Park
Brooks Lodge
Brooks Lodge is the main lodge in Katmai National Park. Located at Brooks Camp, there are cabins here, as well as a dining hall and gift shop. This is where we stayed on our visit to Katmai.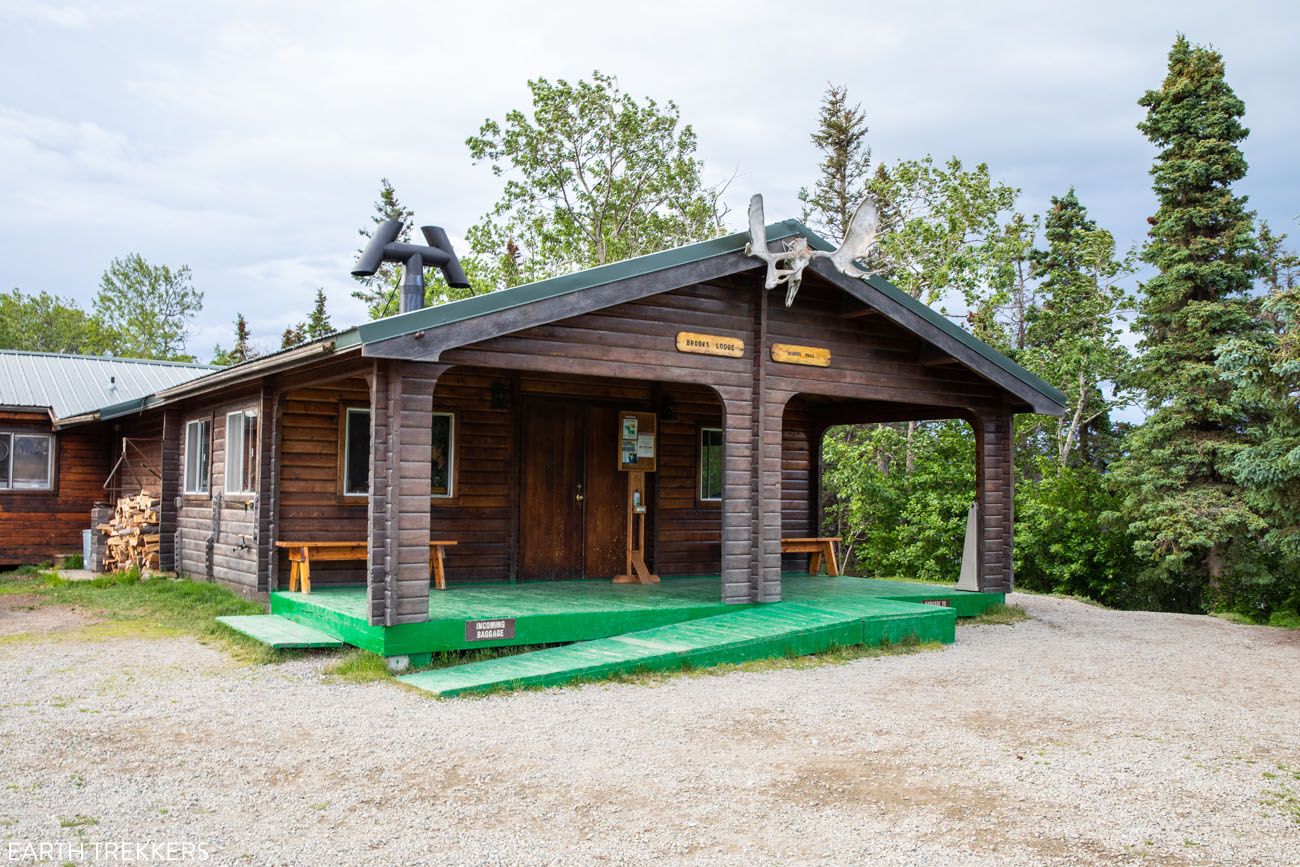 Brooks Lodge Dining Hall
The demand to stay at Brooks Lodge is so great that there is a lottery to book overnight accommodations. The 2023 lottery has already ended but you can enter the lottery for 2024. Applications are available online from December 1 through December 31, 2022.
If you don't get a space in the lottery, don't despair. It's still possible to get a reservation. As people cancel their trips, rooms open up. This is how we got our reservation. We called in the spring, as we were planning our trip to Alaska, and a two night reservation was available in early July. We booked our room right away and designed our entire Alaska itinerary around these three days in Katmai. So, I recommend calling frequently to check on cancellations.
There is also a campground at Brooks Camp. Demand is high so make your reservations in advance.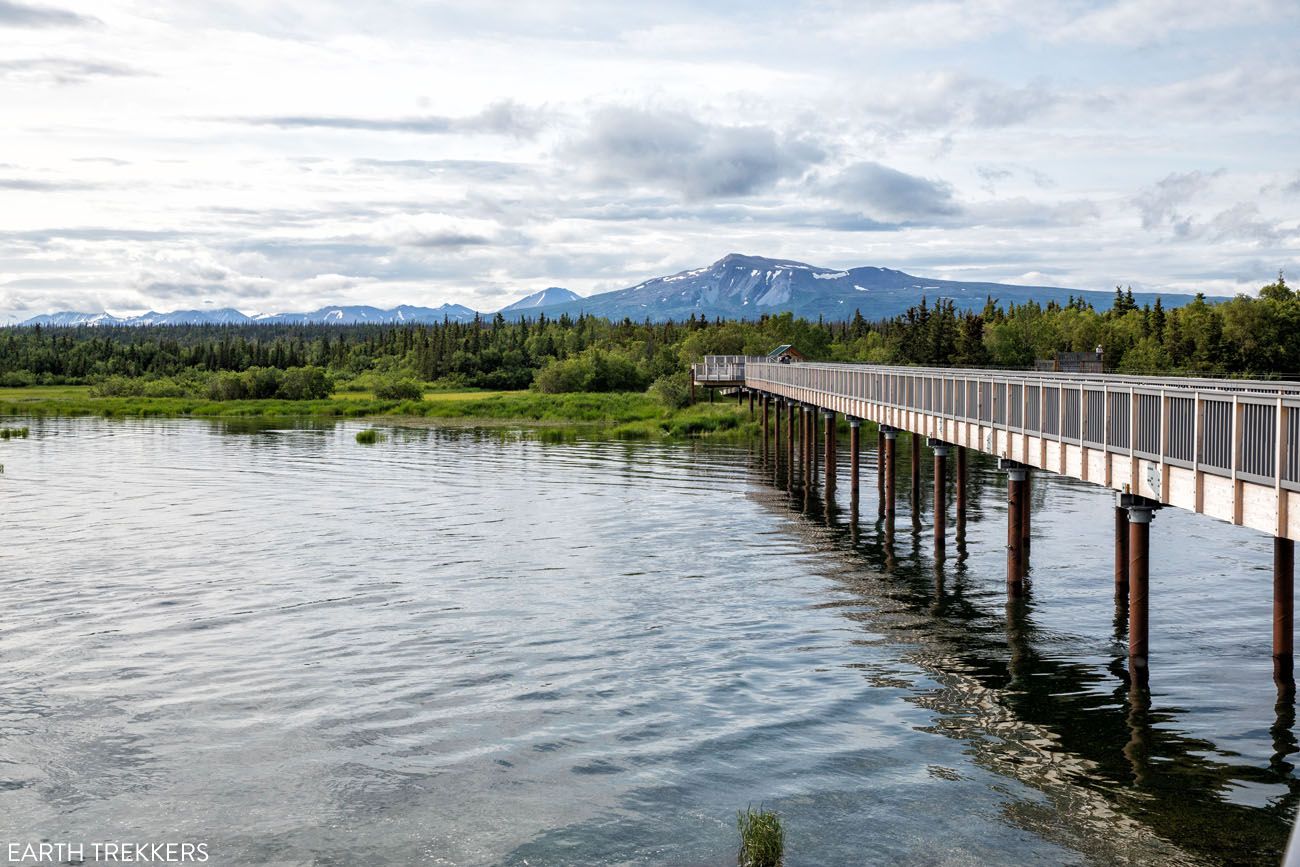 To get from Brooks Camp to Brooks Falls, you will cross this long boardwalk. This is another great place to spot bear and bald eagles.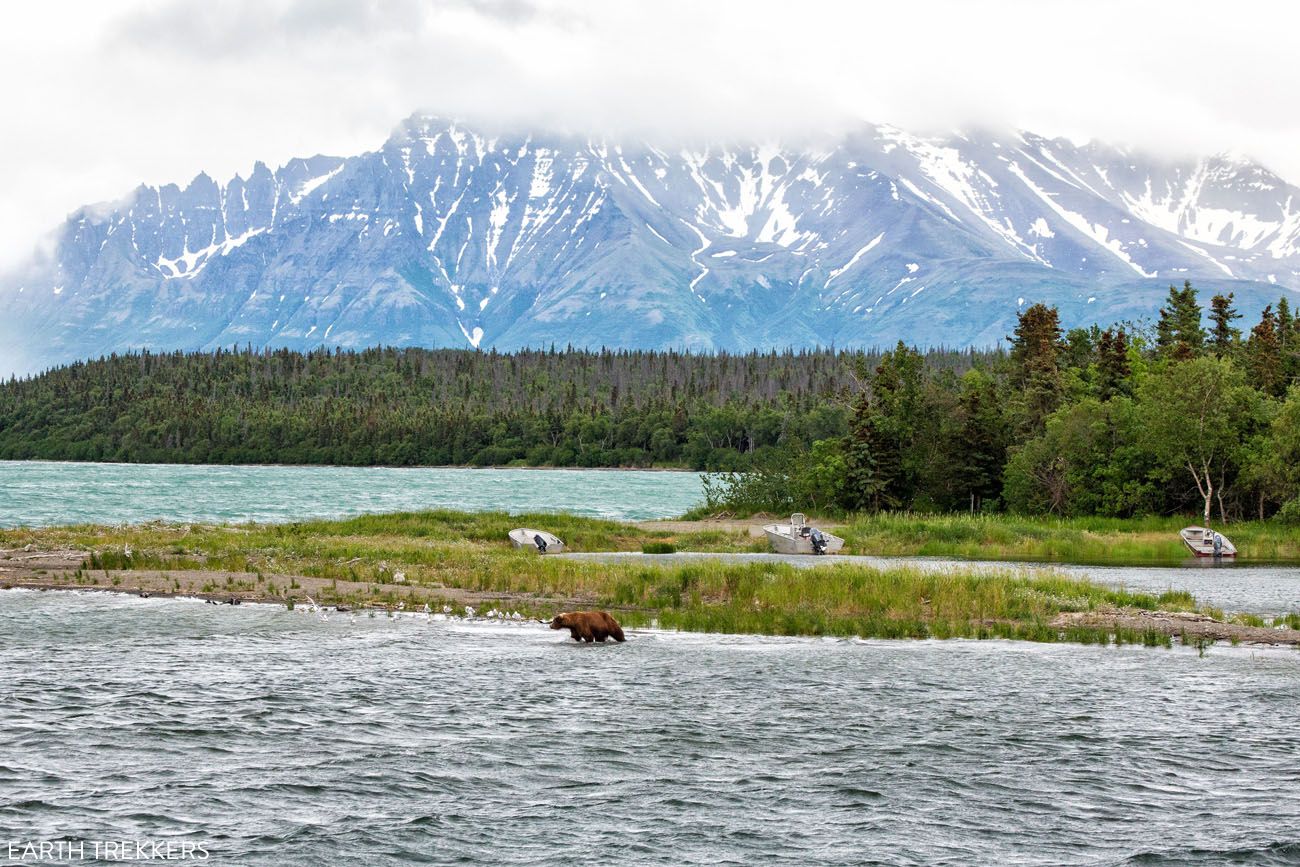 The view from the boardwalk.
Other Lodging Options in Katmai
There are more lodges in other parts of Katmai. These include Kulik Lodge, Battle River Wilderness Retreat, Enchanted Lake Lodge, Royal Wolf Lodge, and Katmai Wilderness Lodge. Click here to learn more.
Frequently Asked Questions
Brooks Lodge is expensive. Is it worth staying here?
At $850 per night, for a 4 person cabin, Brooks Lodge is expensive. But what you are getting is a lot more time at the viewing platforms. And not just more time, but more quality time.
From 10 am to 4 pm, the viewing platforms are swamped with day trippers. Most of this time is spent waiting for a spot on the Brooks Falls Viewing Platform.
But before 10 am and after 4 pm, the viewing platforms are delightfully uncrowded. Our favorite times to be on the platforms were around 7:30 am and 5 pm, when very few people were here.
If you can afford the $850 per night, are able to get a reservation through the lottery, and really want the best experience at Katmai, it's worth it. To save money, you could camp, rather that stay in the lodge.
What should I pack for Katmai National Park?
It can be very chilly here during the summer months. During our visit, daytime temperatures peaked in the low 60's and in the evenings, it got down into the 40's. We wore long pants, a long-sleeved shirt, a sweatshirt, and sometimes a rain jacket, depending on the time of day. Early and late in the day, it was cold enough that we needed gloves. I recommend bringing lots of layers and a rain jacket. It rained a lot of our second day in Katmai.
Bring mosquito repellent. We never had an issue with mosquitoes while we were here, but maybe we just got lucky. But you will be spending a lot of time next to a river so it is possible that mosquitoes could make an appearance.
And of course, bring your camera gear. Make sure you have lots of space on your memory cards and your batteries are charged and ready to go.
What is it like staying at Brooks Lodge?
The rooms are four person rooms. Some are free standing cabins and others are cabin-like rooms that sit side-by-side. In each room are two bunk beds and a private bathroom. There is a heater in the room as well.
The rooms are basic, and if you are in the strip of rooms that sit side-by-side, the sound proofing isn't great, so you could hear your neighbors next door. For the big price, the accommodations are very basic, but you aren't coming here for a posh, luxurious experience. You are here for the bears, the views, and probably the fishing, and you won't be spending much time in your room.
There is a dining hall where you will eat all of your meals. Near the entrance is a bar and a seating area around a fireplace, which is a great place to hang out if it's rainy or chilly. The meals are served buffet-style and all you can eat, and the food is decent.
Bear do wander into camp so you always need to be alert.
Is there cellular service or WiFi?
There is no cellular service or WiFi in Katmai National Park. You will not be able to call, text, or send photos to family and friends. You are out in the wilderness so this is a great place to digital detox.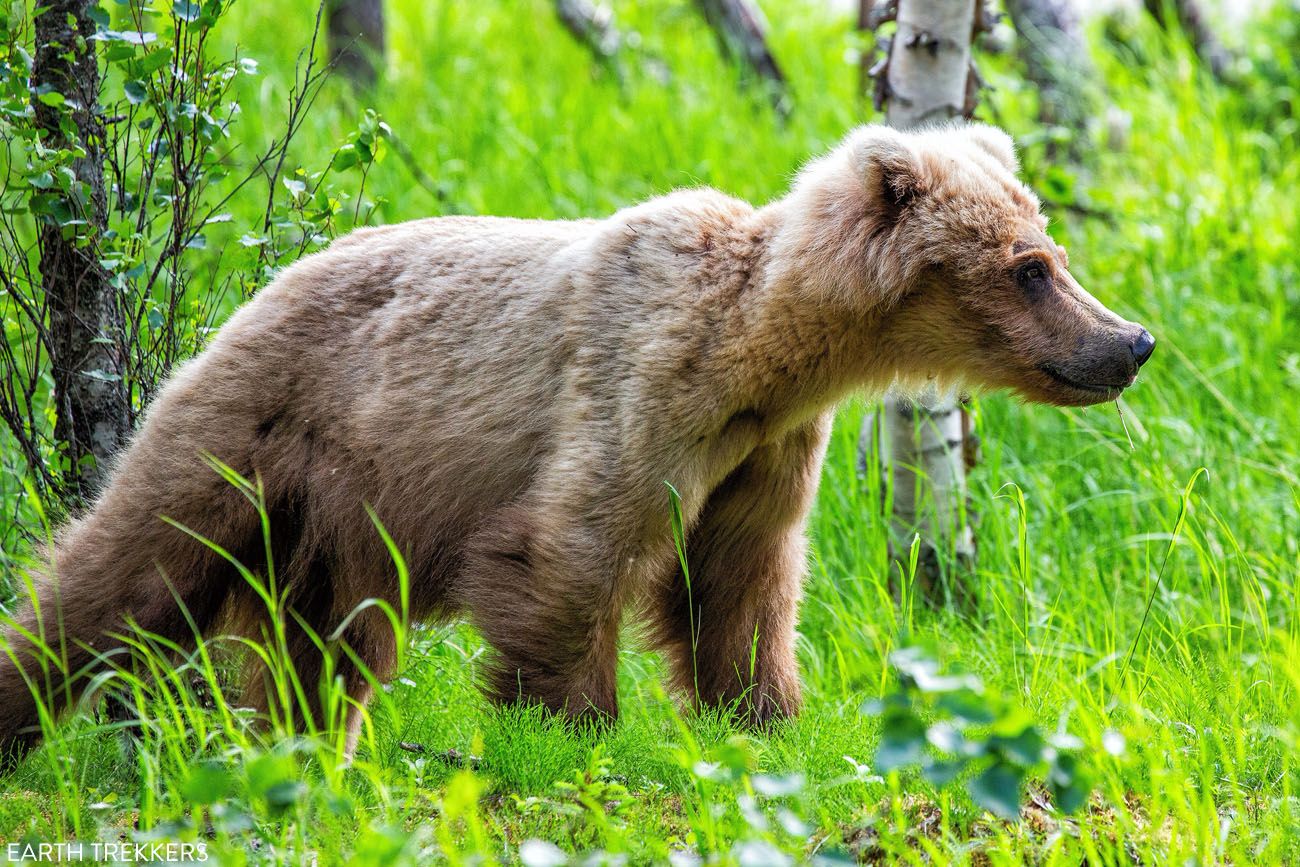 Plan Your Visit
Hours of Operation: Katmai National Park & Preserve is open 24 hours a day, 365 days per year. Brooks Lodge is open from June 1 through September 17.
Park Entrance Fee: There is no entrance fee for Katmai National Park.
---
If you have any questions about things to do in Katmai National Park & Preserve, or if you want to share your experience, let us know in the comment section below.
More Information about Alaska
ALASKA: To read all of our articles about Alaska, check out our Alaska Travel Guide.
ALASKA ITINERARY: Take the guesswork out of planning your trip to Alaska with our Alaska road trip itineraries.
BEST OF DENALI: Eielson is one of the most spectacular areas in Denali to visit since it offers some of the best views of Denali. Taking a Denali flight seeing trip is also a great thing to do, as are hiking one of the many trails in the park. Get the full list in our article Best Things to Do in Denali.
DRIVING IN ALASKA: The Seward Highway connects Anchorage and Seward is one of the most popular scenic drives in Alaska. We also have a detailed guide to driving from Anchorage to Valdez, yet another amazing road trip.
KENAI FJORDS NATIONAL PARK: Check out our Kenai Fjords National Park Travel Guide for important travel planning tips, sample itineraries, advice on when to go, where to stay, and more.
NATIONAL PARKS: In our Guide to the US National Parks, get the full list of national parks with important travel planning information, such as things to do in the parks and sample itineraries. You can also learn more about the national parks and get a FREE printable checklist in our US National Parks Checklist.
Visit More National Parks: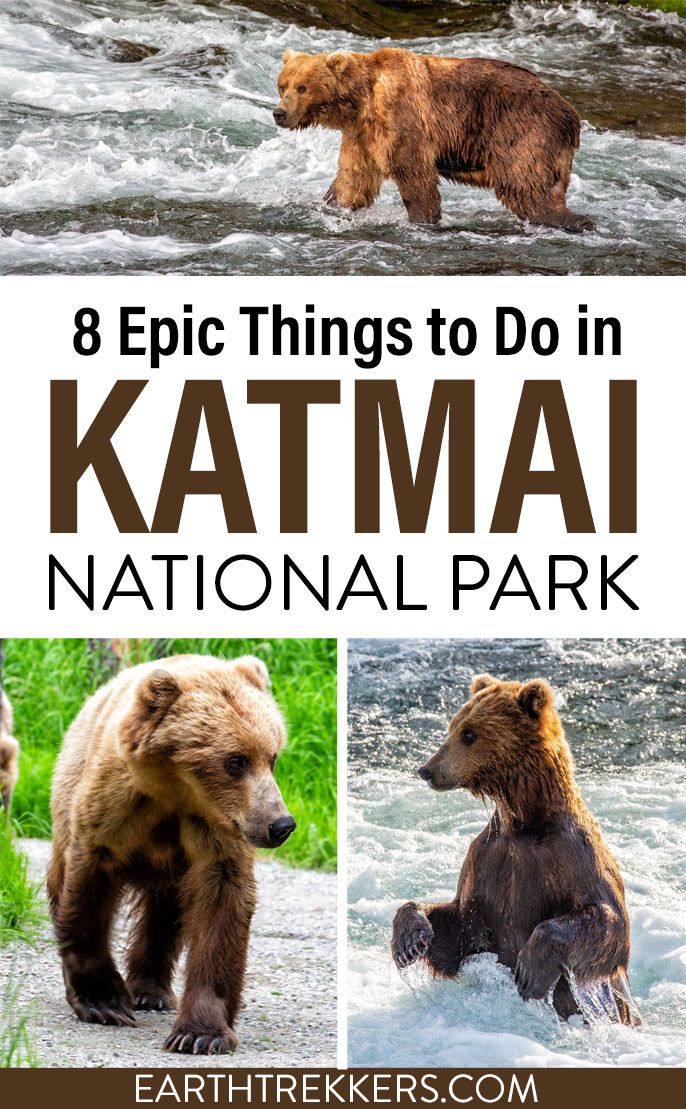 All rights reserved © Earth Trekkers. Republishing this article and/or any of its contents (text, photography, etc.), in whole or in part, is strictly prohibited.