Brooks Falls is one of the best places in Katmai National Park to view brown bears. Every July, when the salmon make their annual run, this part of the Brooks River is packed with bears, making it one of the best wildlife viewing experiences in the US national parks.
In this guide, learn how to visit Brooks Falls, how to get here, the best time to see the bears in action, and tips to have the best experience.
What is Brooks Falls?
Brooks Falls is a waterfall that is located on Brooks River.
Every summer, the sockeye salmon swim up the Brooks River to their spawning point. By the time they get to the Brooks River, they are already fatigued from the long journey.
Now, they have to swim upriver and cross several more hurdles, to make it to their spawning location.
Just leaping up out of the water, to get up and over the Brooks Falls, is a huge task. But add in a hungry brown bear, perched on top of the waterfall. A bear on a mission to fatten up as much as possible before winter arrives.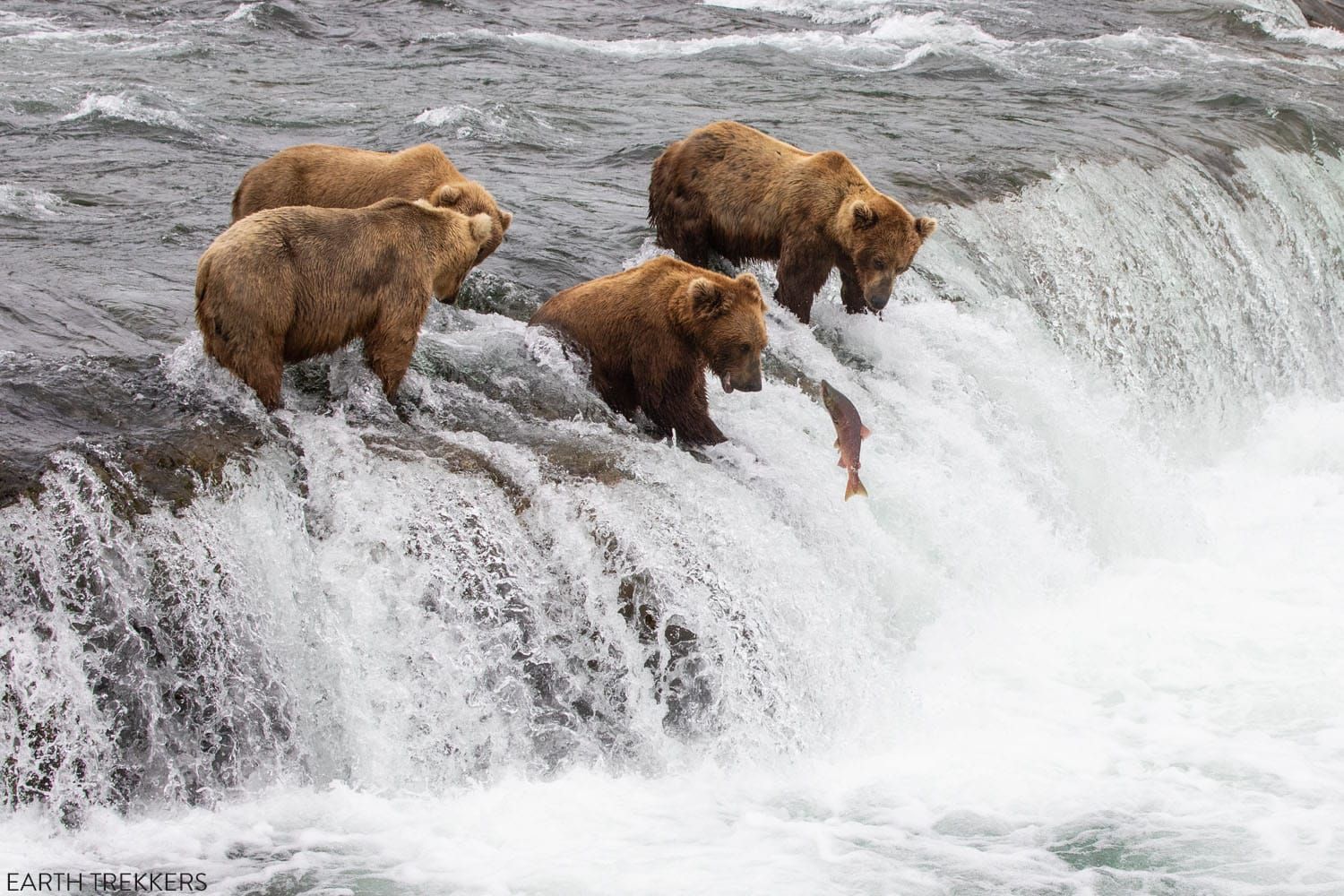 The lucky salmon are able to get past both the falls and the bears. Those that aren't so lucky help the bears put on pounds before heading into winter. I read that between 200,000 and 400,000 salmon successfully make it upriver each year!
The brown bears aren't the only ones who go fishing for salmon in the Brooks River. This river was, and still is, a very popular fly fishing destination. In fact, Brooks Lodge was originally built to accommodate people on fly fishing trips.
Later, people caught on that this is also a phenomenal wildlife viewing spot. Viewing platforms were erected and now thousands of people visit Katmai in the summer months to see brown bears.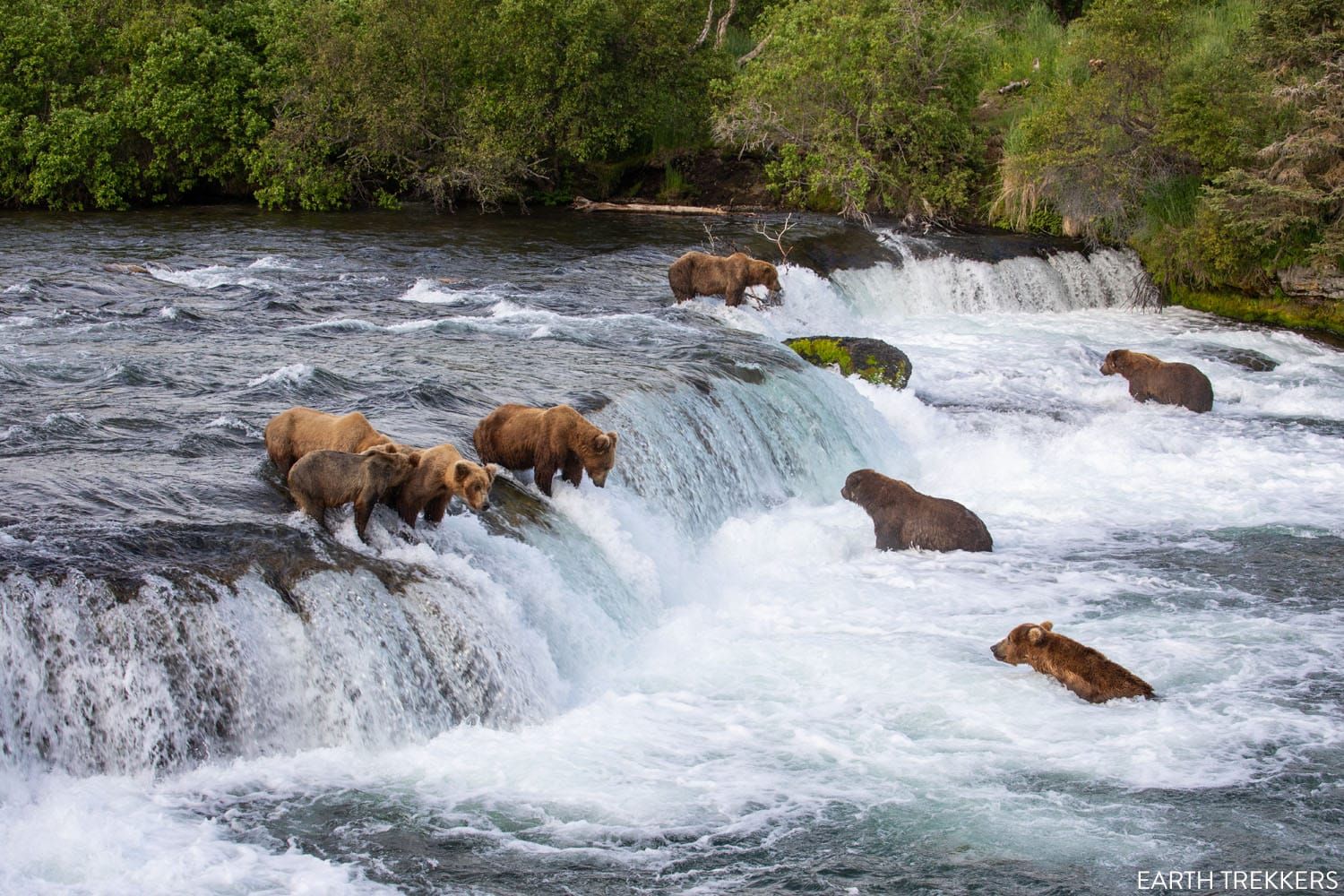 Brooks Falls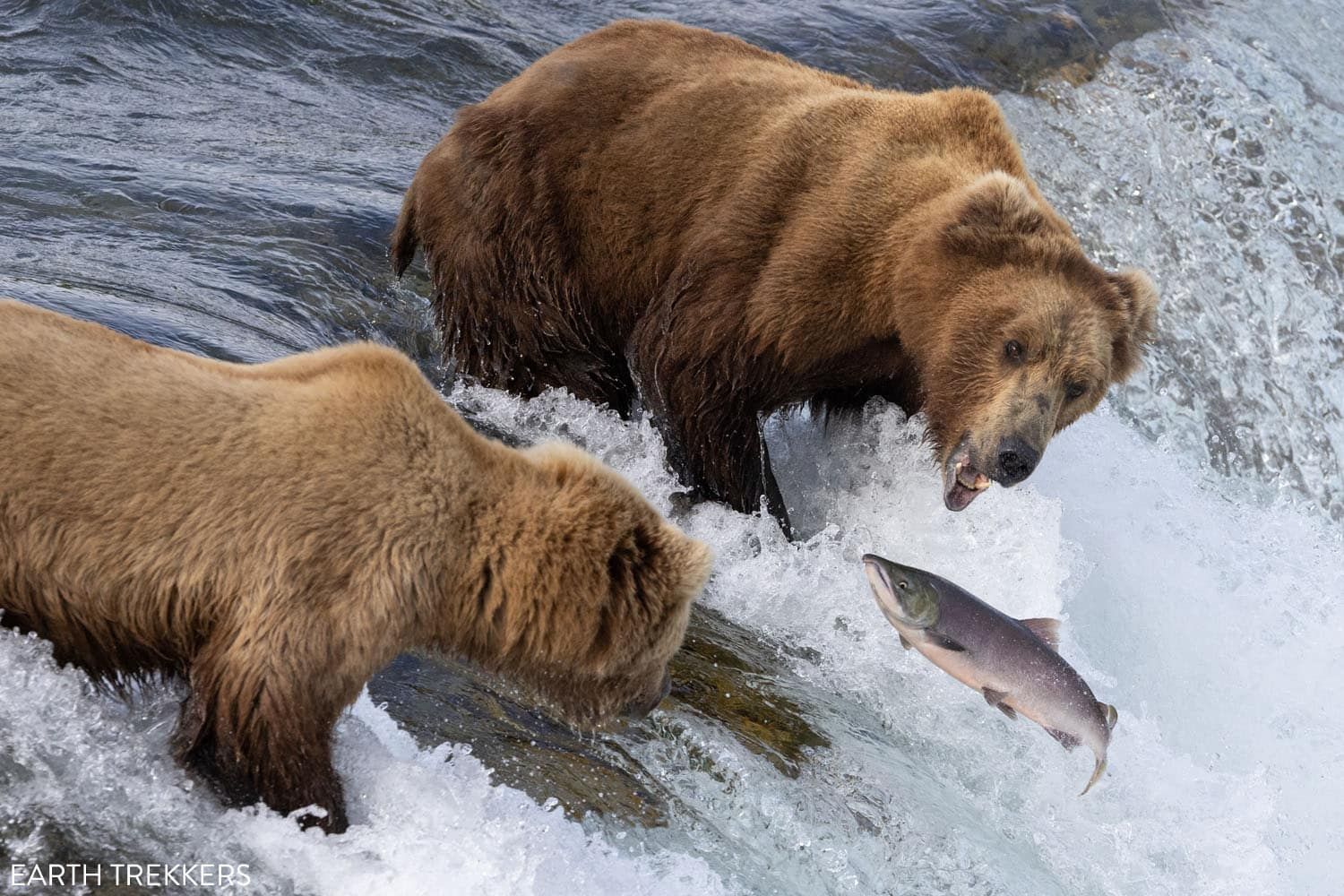 Where is Brooks Falls?
Brooks Falls is located in Katmai National Park & Preserve. It is located near Brooks Camp and Naknek Lake.
How Do You Get to Brooks Falls?
The only way to get to Brooks Falls and Brooks Camp is by plane and by boat.
The fastest way to get here is by plane. You can hire a taxi that takes you directly to Katmai National Park from Anchorage, Homer, or other towns in Alaska, or fly through King Salmon, which is the main transportation hub for Katmai. For more details on how to get to Brooks Falls, read our Things to Do in Katmai article.
Once you are at Brooks Camp, it's an easy walk to get to the Brooks Falls viewing platforms.
The Brooks Falls Trail is a 0.6 mile one-way trail to the Brooks Falls viewing platforms. This trail is flat and easy to walk. Just keep an eye out for bear. They use the trail too, to get to Brooks Falls, and bear sightings here are very common.
The Brooks Falls Trail starts on Lake Brooks Road. From the visitor center and Brooks Lodge, it is a 0.5 mile walk one-way to get to the Brooks Falls trailhead.
So, from Brooks Lodge, it is a 2.2 mile round trip walk to get to and from the viewing platforms.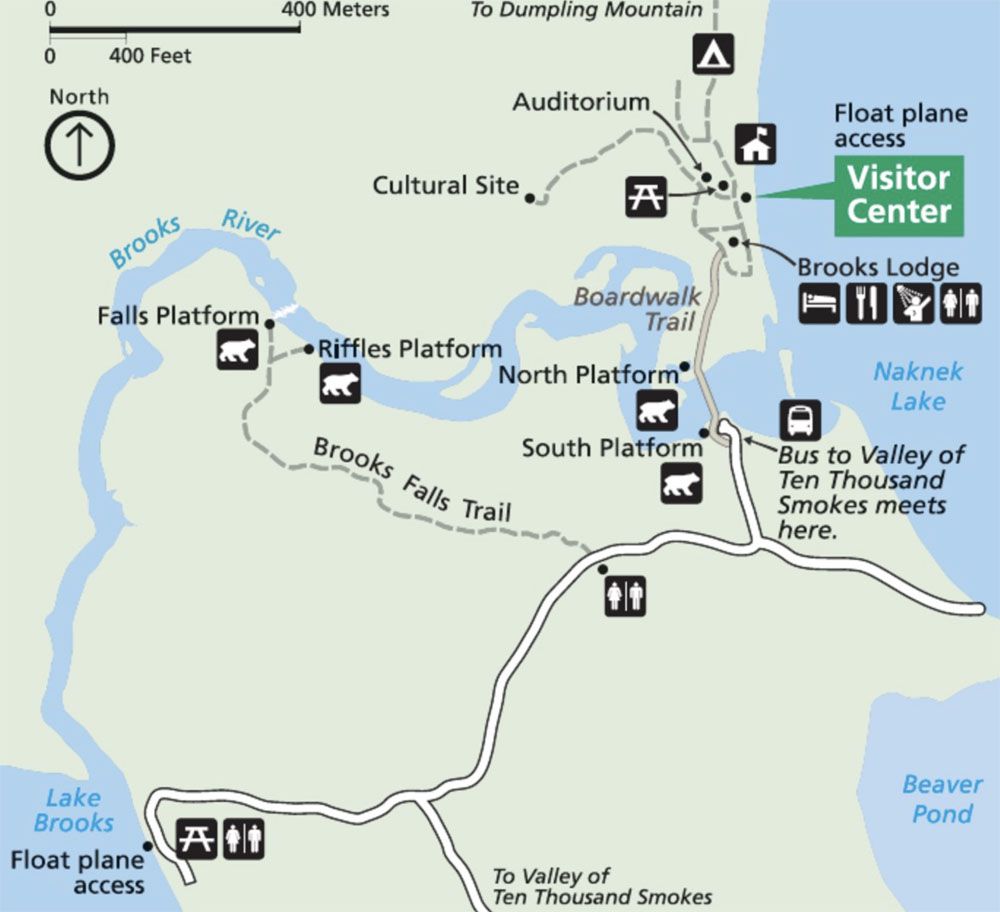 Map of Brooks Camp and Brooks Falls, courtesy of NPS.org.
Getting to the Brooks Falls Trail Trailhead
From Brooks Lodge, cross the very long Brooks River Elevated Boardwalk to the other side. On this walk, keep an eye out for Bald Eagles and brown bears. In the river, you might be able to spot fish. If the salmon are running, you can see sockeye salmon in the Brooks River.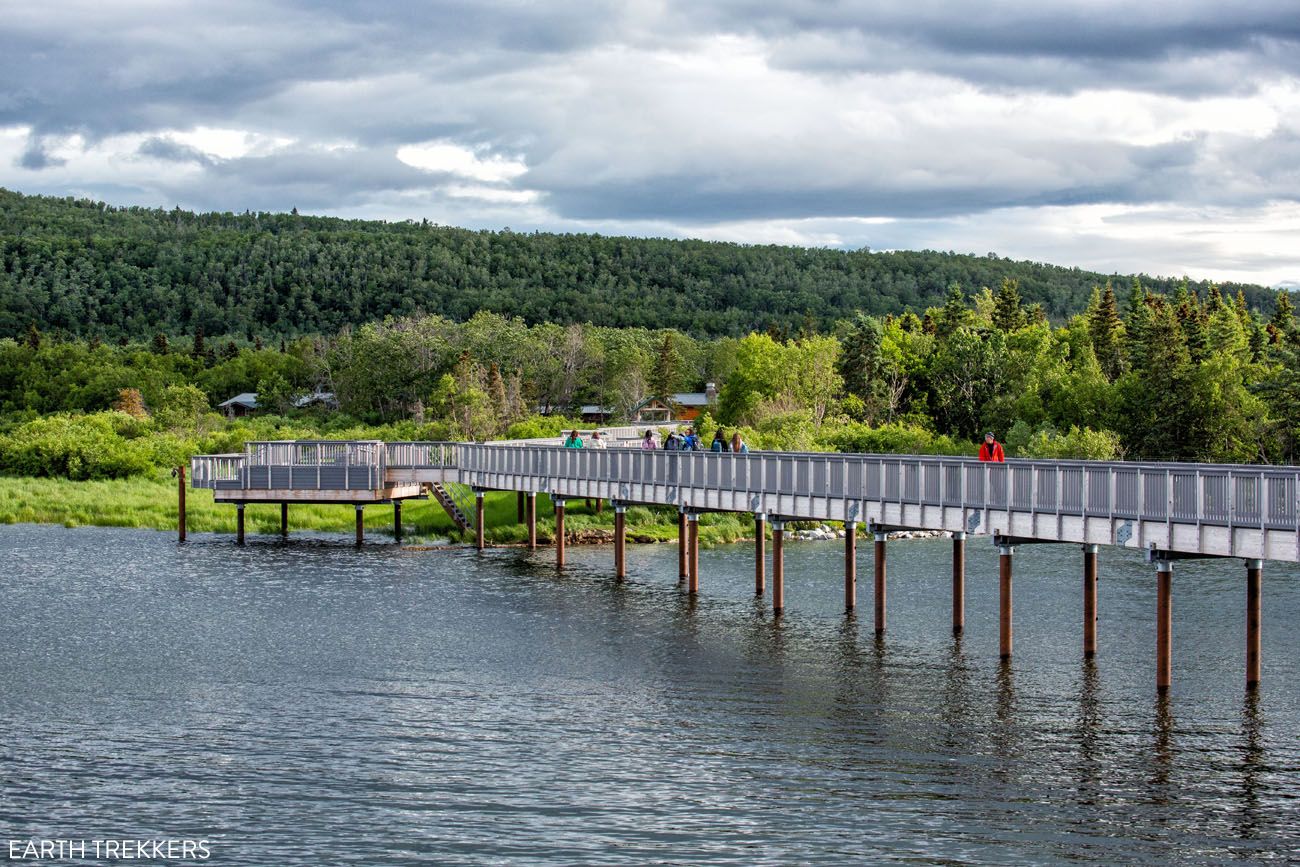 The elevated boardwalk and Brooks Camp.
On the far side of the bridge, follow Lake Brooks Road. It only goes in one direction at this point. You will be walking through a forest and bear sightings are frequent here.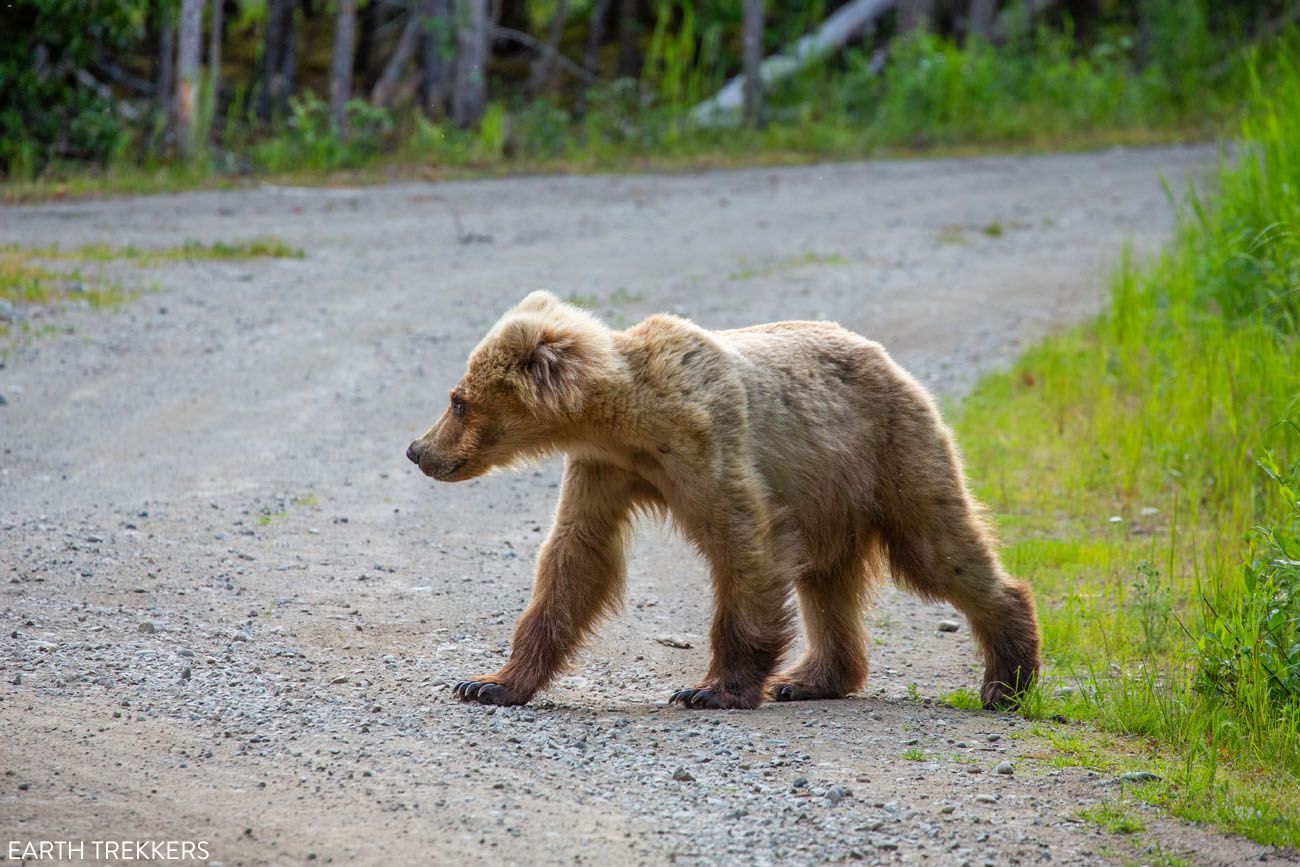 A young bear on Lake Brooks Road.
Keep a lookout for the Brooks Falls Trailhead, which will be on the right, and the toilets, which will be on the left.
It is a 0.5 mile walk from the visitor center and Brooks Lodge to get to the Brooks Falls Trail trailhead.
Brooks Falls Trail
Distance: 1.2 miles out-and-back
Difficulty: Easy
Length of Time: 30 minutes average. This is just the walking time on the trail. It does not account for any time spent at the viewing platforms. It also doesn't take into account bear jams.
The trailhead is marked with the sign below. See the scratch marks on the bear's nose? A park ranger told us that the bears get confused and think that the bear is real and scratch at the face.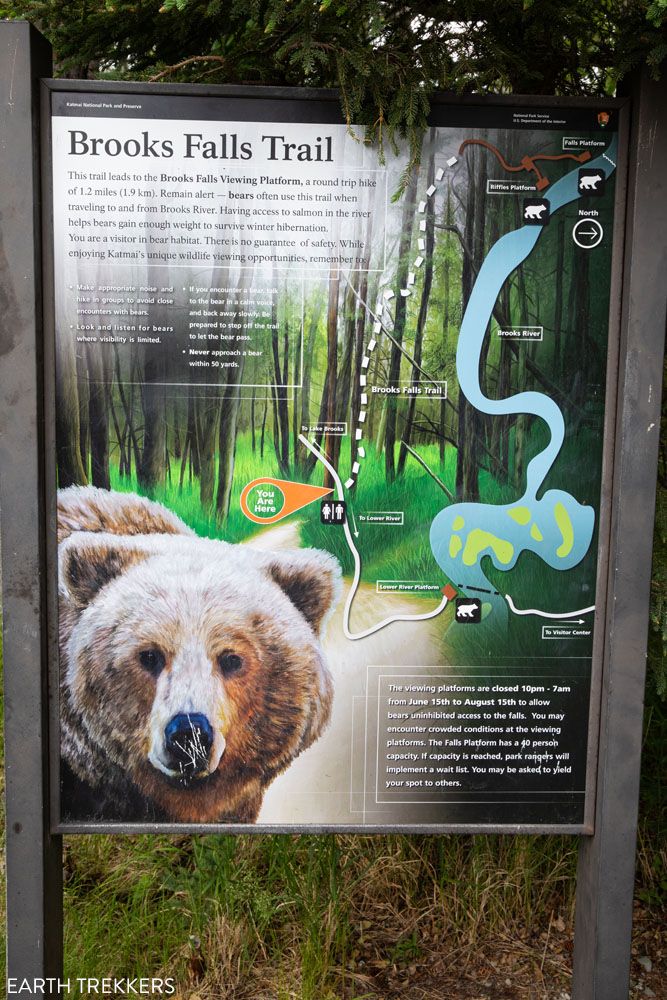 From here, it is a flat, gravel path through the woods to the viewing platforms.
Bear sightings are common. The first time we hiked this trail, we met a sow and cub right on the trail. As we rounded a bend, the two bears were on the side of the trail, munching on the plants. We were probably 30 yards away from them, so we kept talking and backed down the trail a safe distance. The bears were slowly browsing on the plants and moving towards us, so we had to hike off trail, into the brush, to allow them to pass.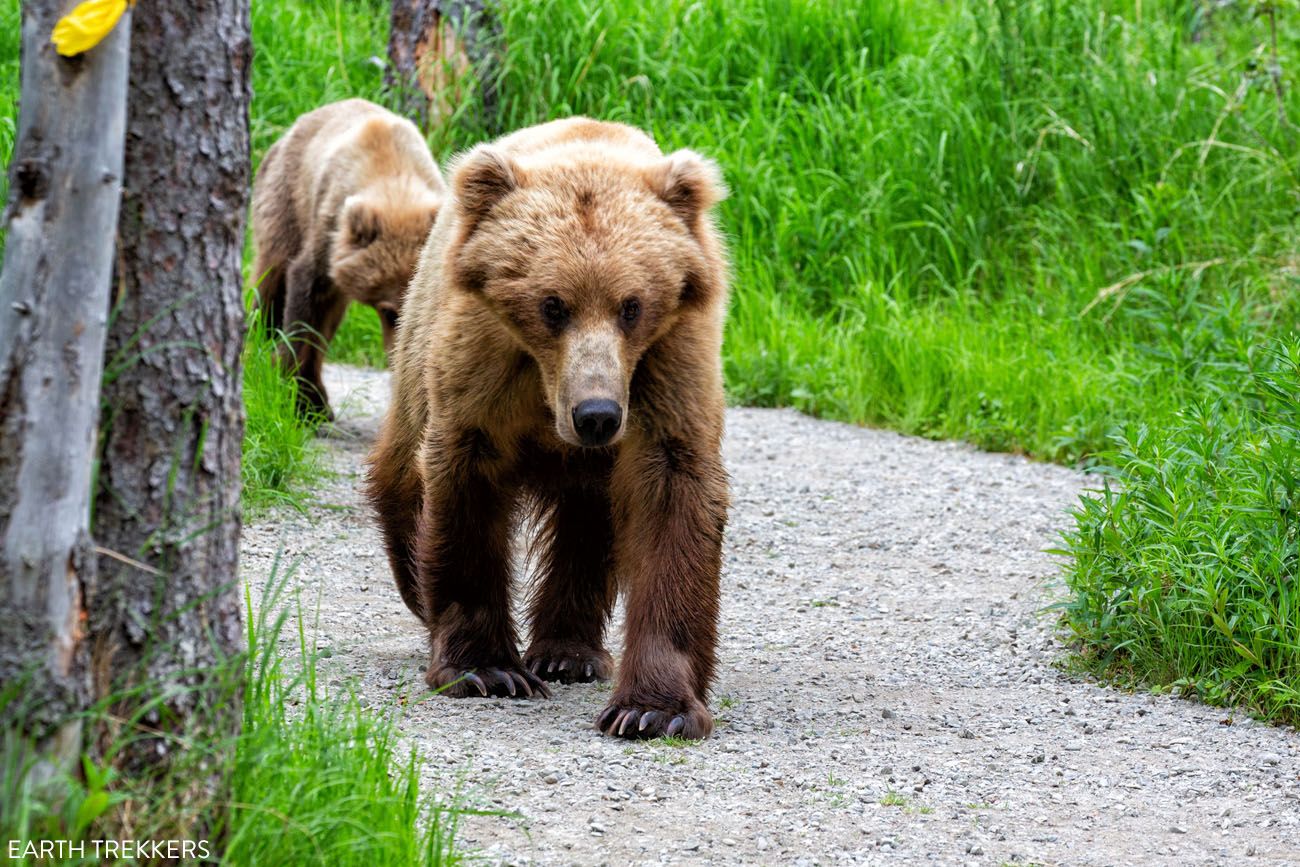 A sow and her cub on the Brooks Falls Trail.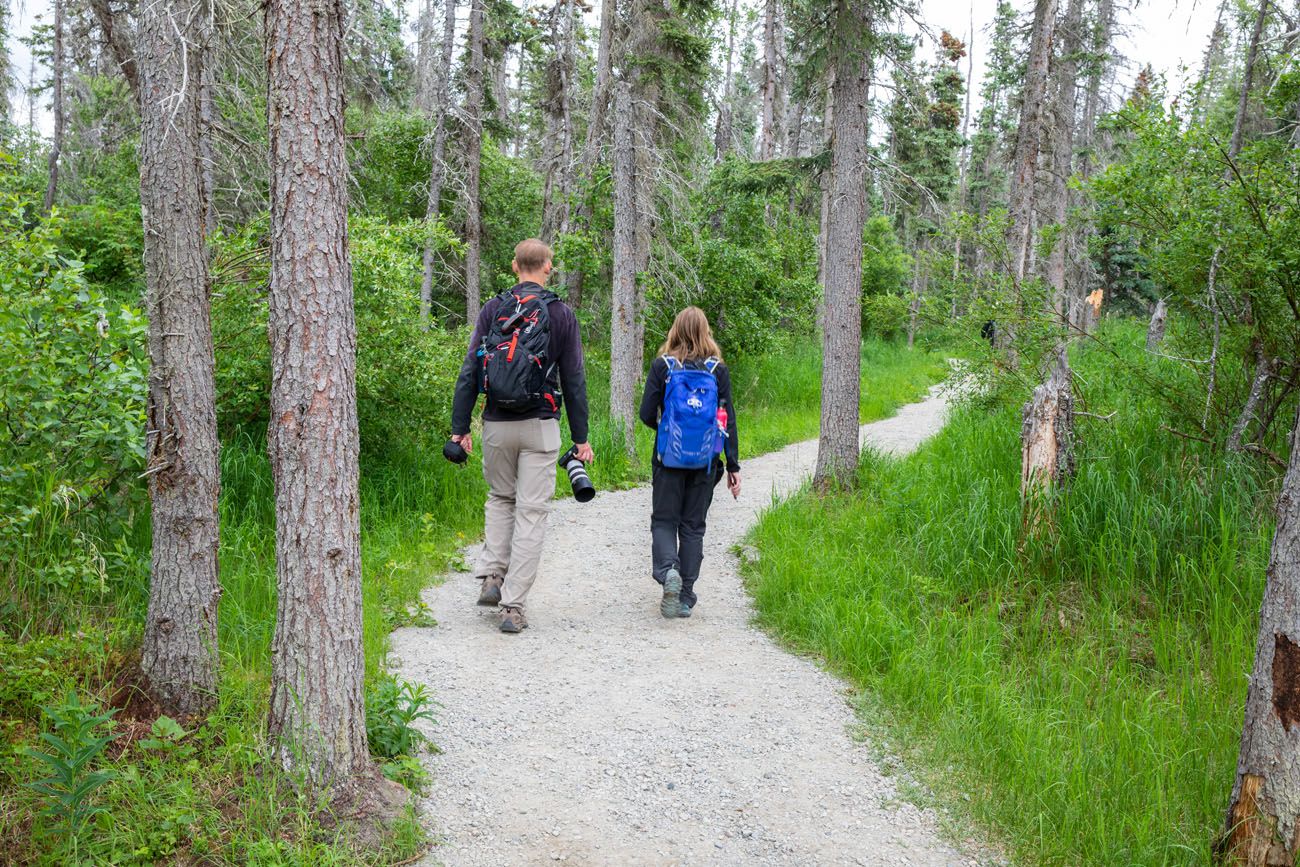 Another view of the Brooks Falls Trail.
The last tenth of a mile is on a boardwalk trail. This boardwalk has several gates. The gates keep the bear from entering the boardwalk, so it's very important that you shut the gate behind you.
The boardwalk is elevated and it is possible to see brown bear below you. The National Park Service has signs posted to speak in a quiet voice and keep moving so you don't disturb the shier bears.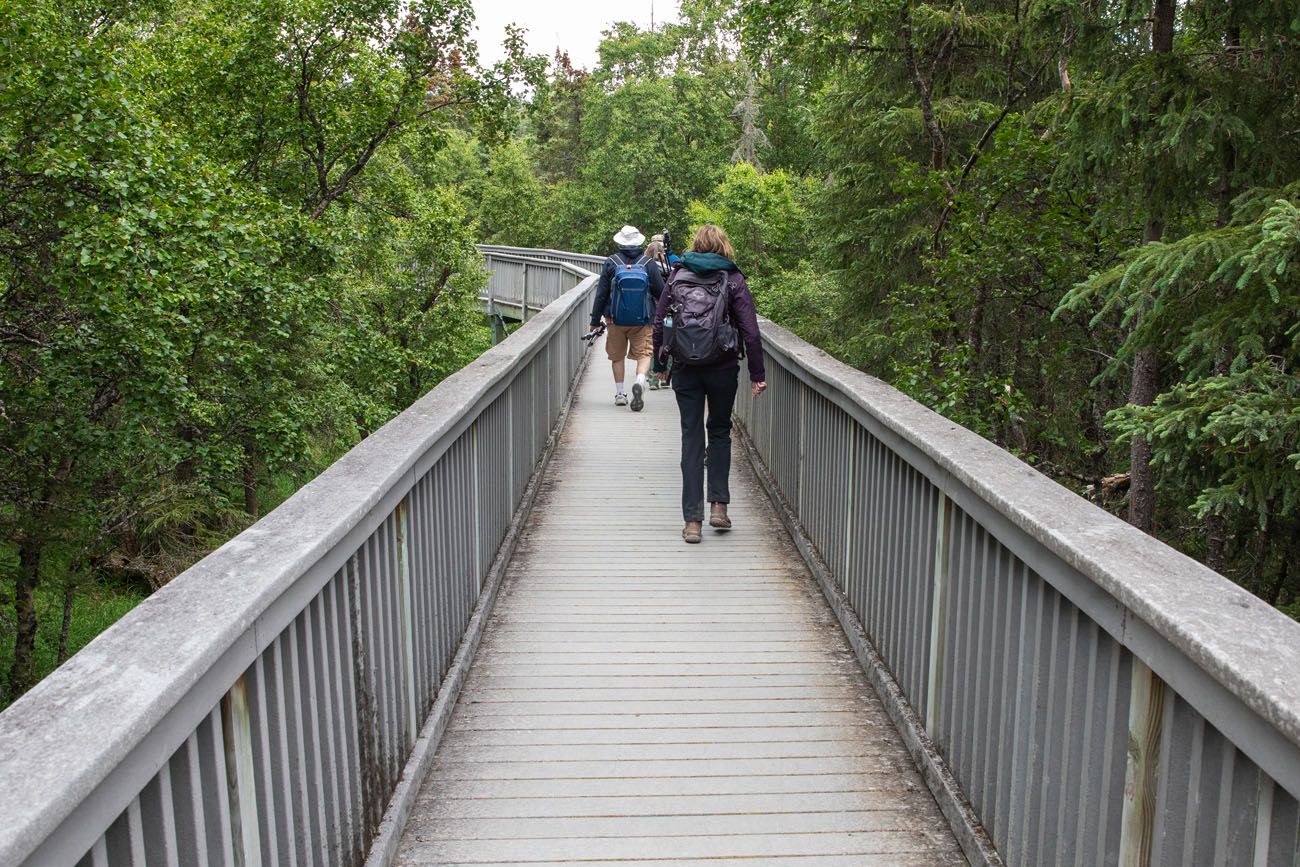 Final boardwalk trail to the two viewing platforms.
At the end of the boardwalk, there are two viewing platforms: the Brooks Falls Viewing Platform and Riffles Platform (discussed next).
Once you are finished at the viewing platforms, to get back to Brooks Lodge, you will retrace your steps and keep an eye out for bear on the trail.
Brooks Falls Viewing Platform
With its very close proximity to Brooks Falls, this is the prime location to see brown bears catching the salmon. From here, you are really just a few feet away from the river. It's not uncommon for brown bears to walk right below the platform. At times, it almost seems like you could reach out and touch them.
The viewing platform has an upper and lower level. The lower level is the best for photography in my opinion. But if it's crowded, it's best to just get a spot up against the railing, in order to get the best photos.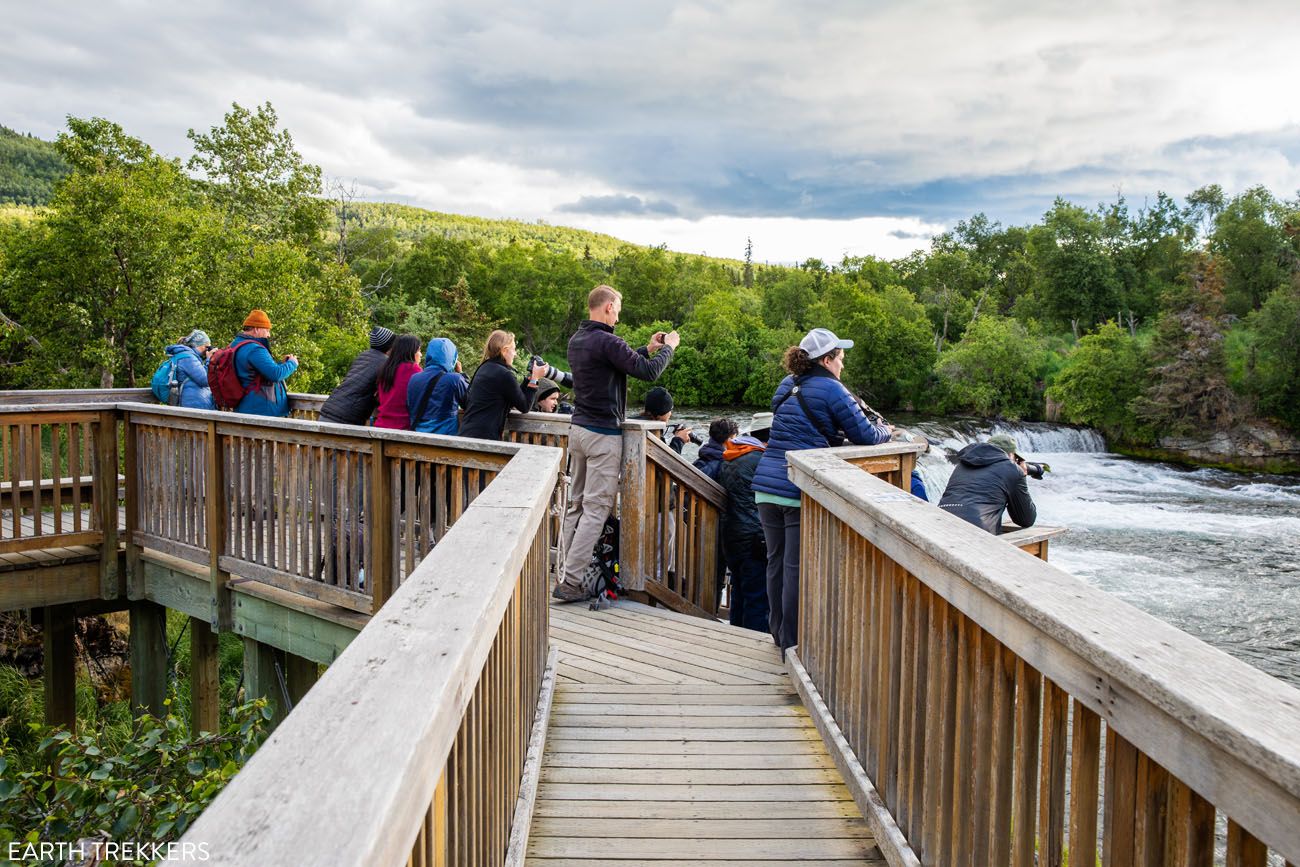 Want to see the bear at Brooks Falls? The National Park Service has several webcams set up. Watch the brown bears in real time as they fish for salmon in the Brooks River.
There is a 40 person maximum for the Brooks Falls Viewing Platform. This is enforced by the National Park Service rangers. Once the number hits 40, a waitlist is formed. Those on the platform have 30 minutes to photograph and watch the bears. Then, they are asked to leave and the next people take their place.
During peak season (midday in July), wait times can be as long as 2 hours. The busiest time of day to be here is between 10 am and 4 pm, when the day trippers are here.
While you are waiting, you can hang out at the Riffles Platform.
Here are photos from the Brooks Falls Viewing Platform.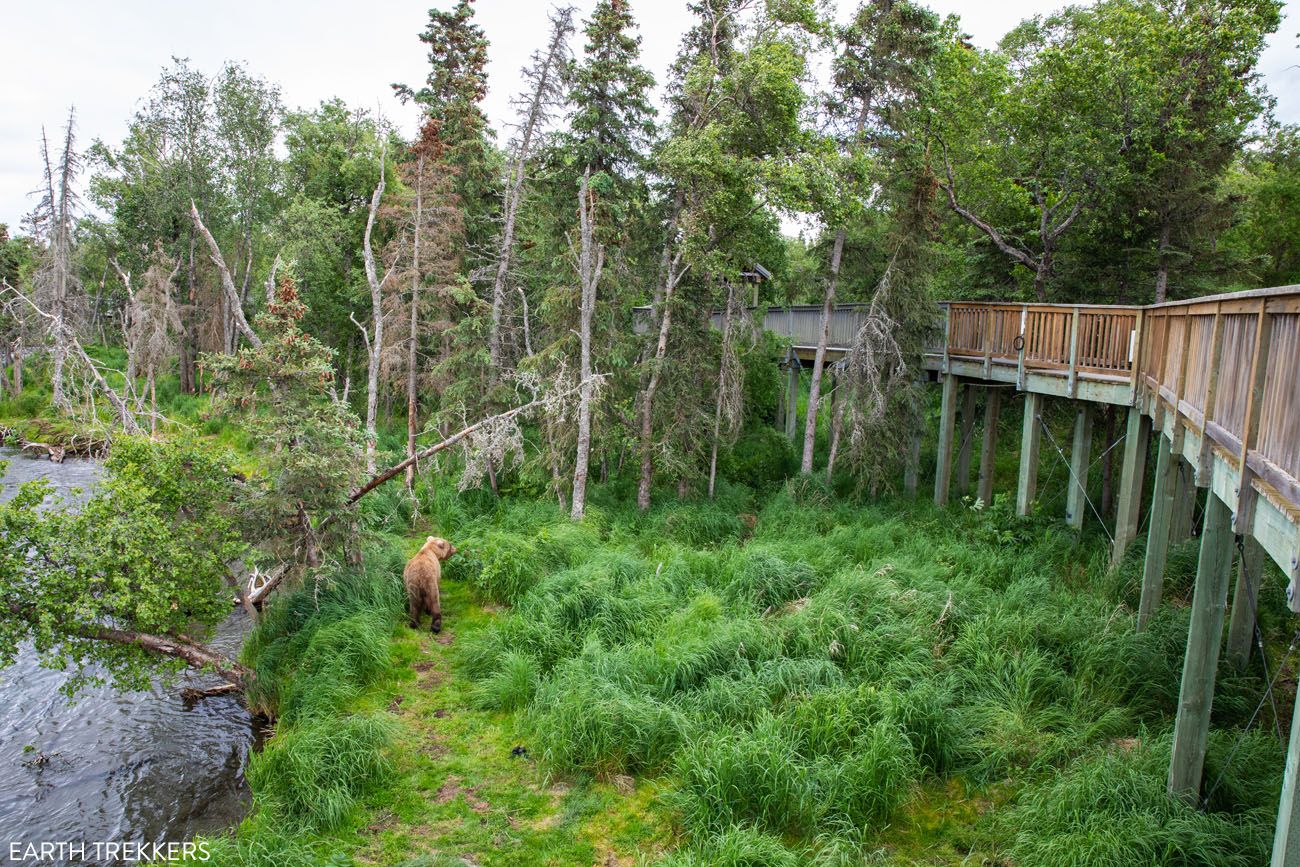 Photo from the Brooks Falls Viewing Platform. Not only will you see bear at the falls but they also walk along the shoreline and under the boardwalk trail.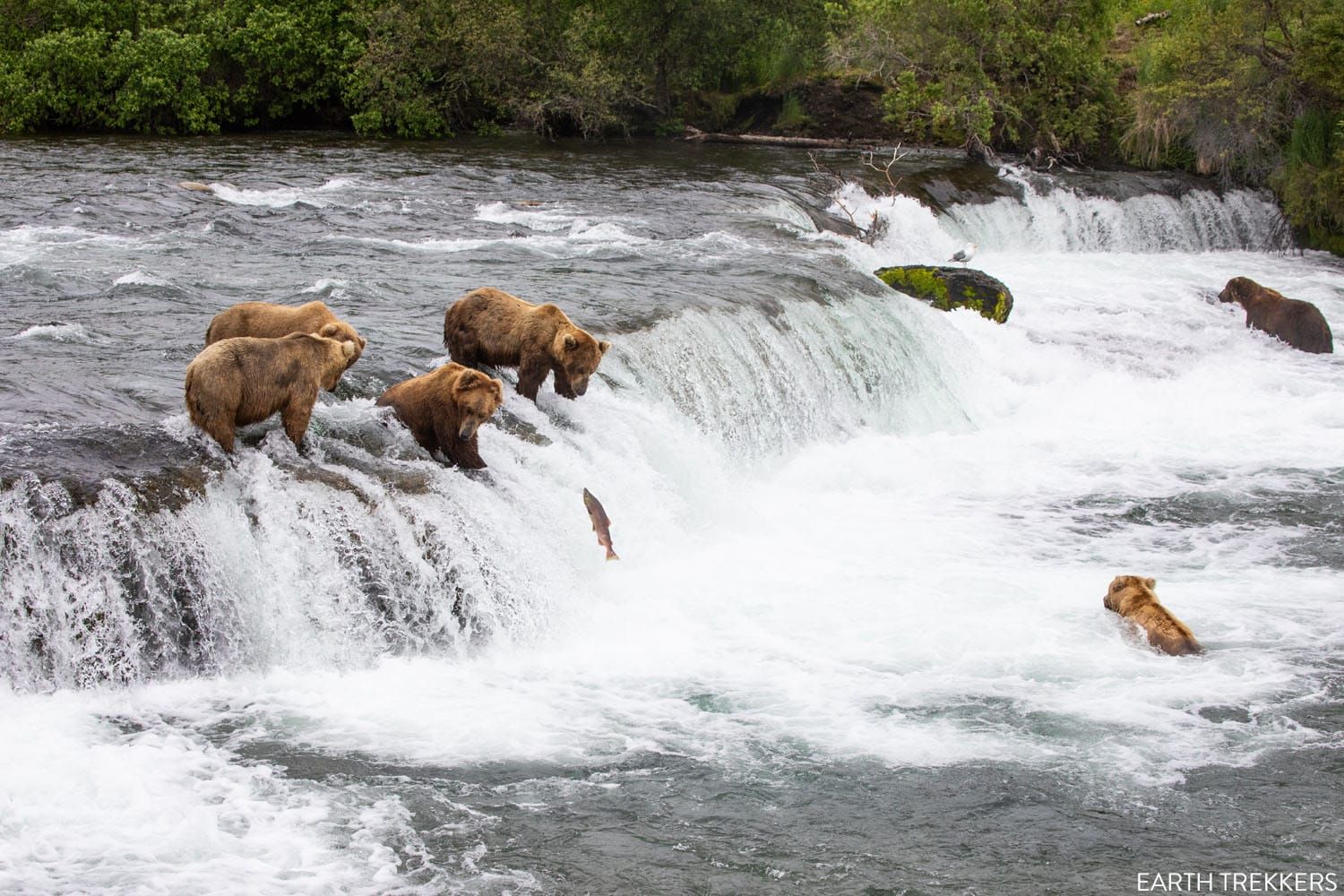 A salmon making a leap up Brooks Falls.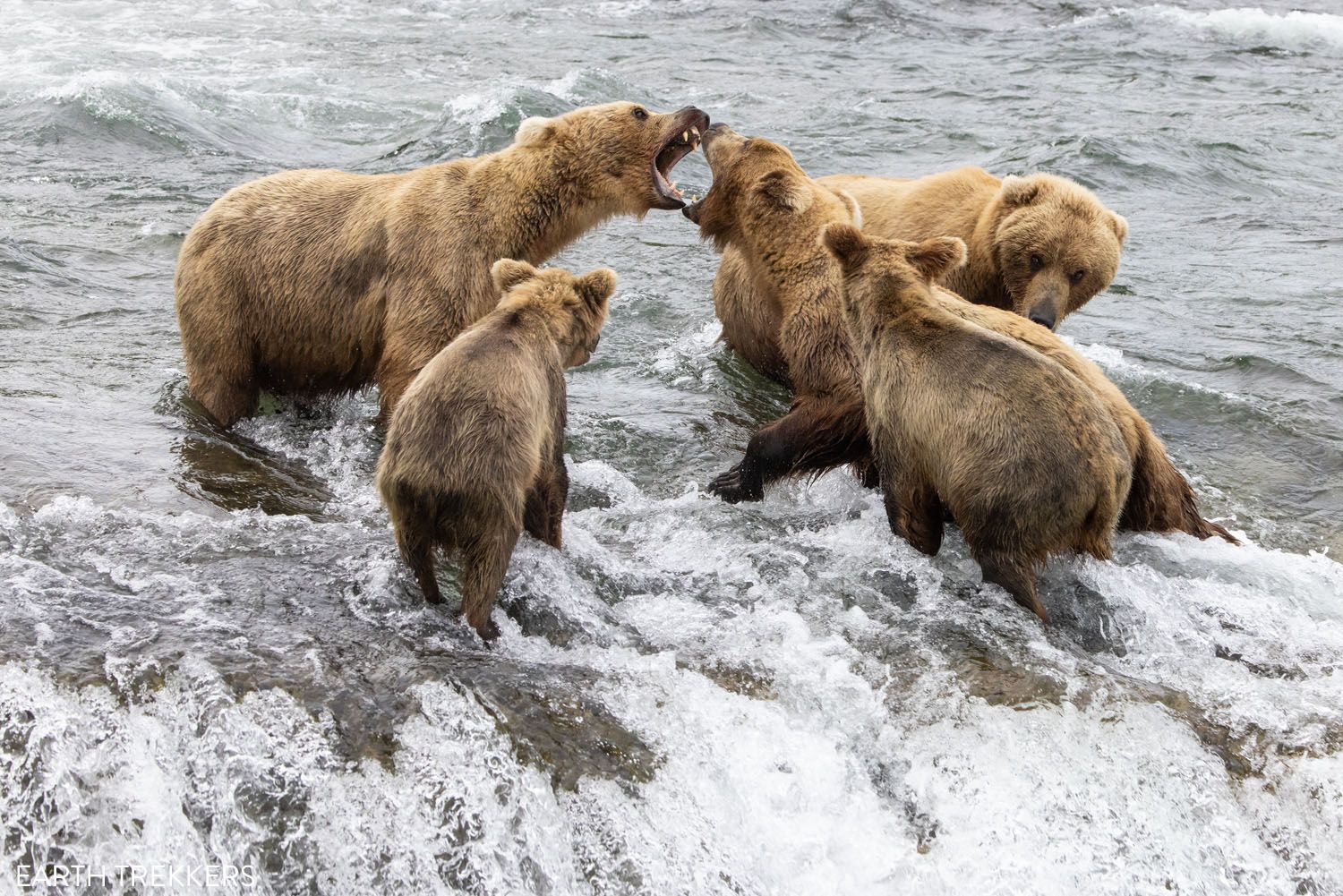 This can be a common sight, two bears challenging each other for a prime spot on top of the falls.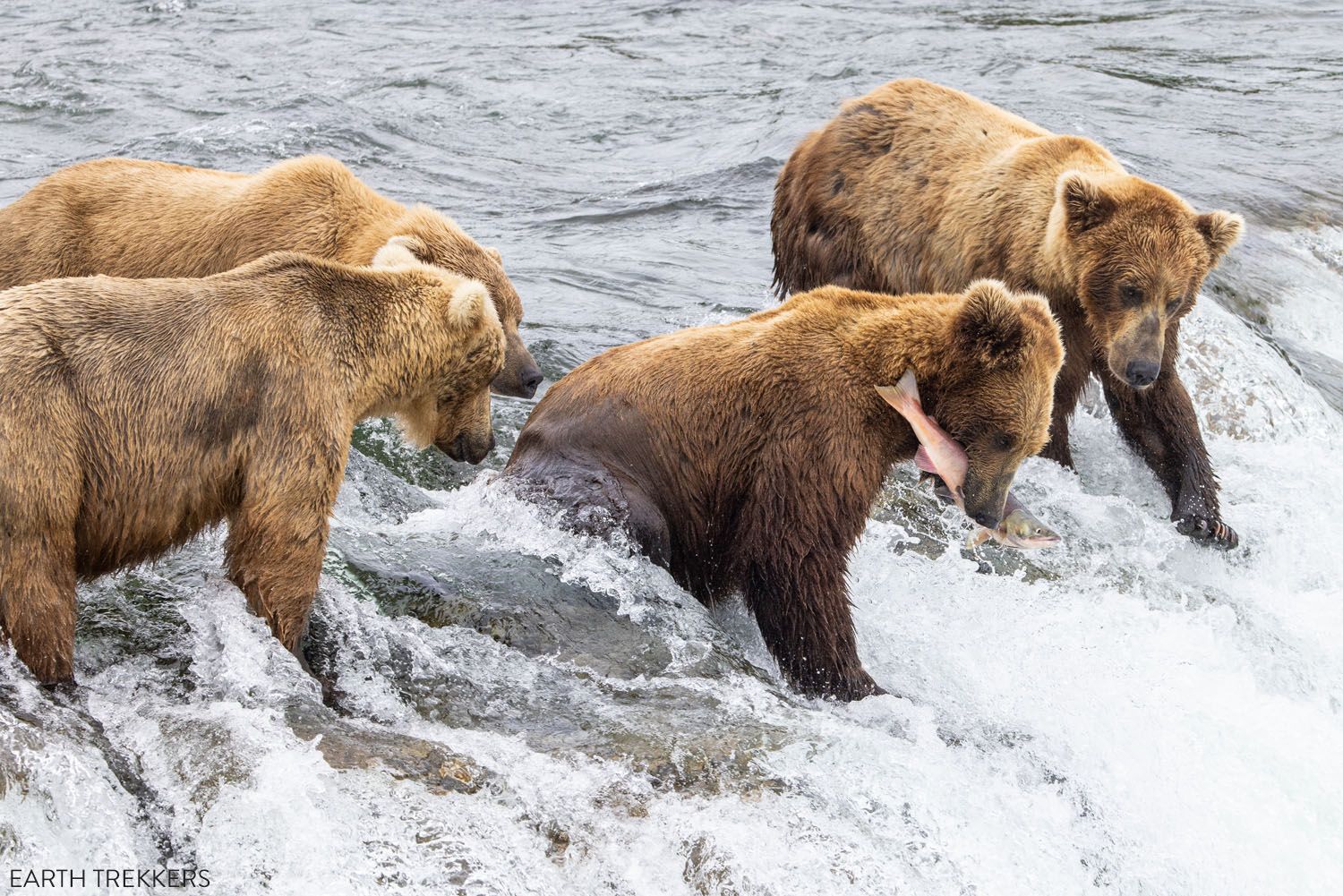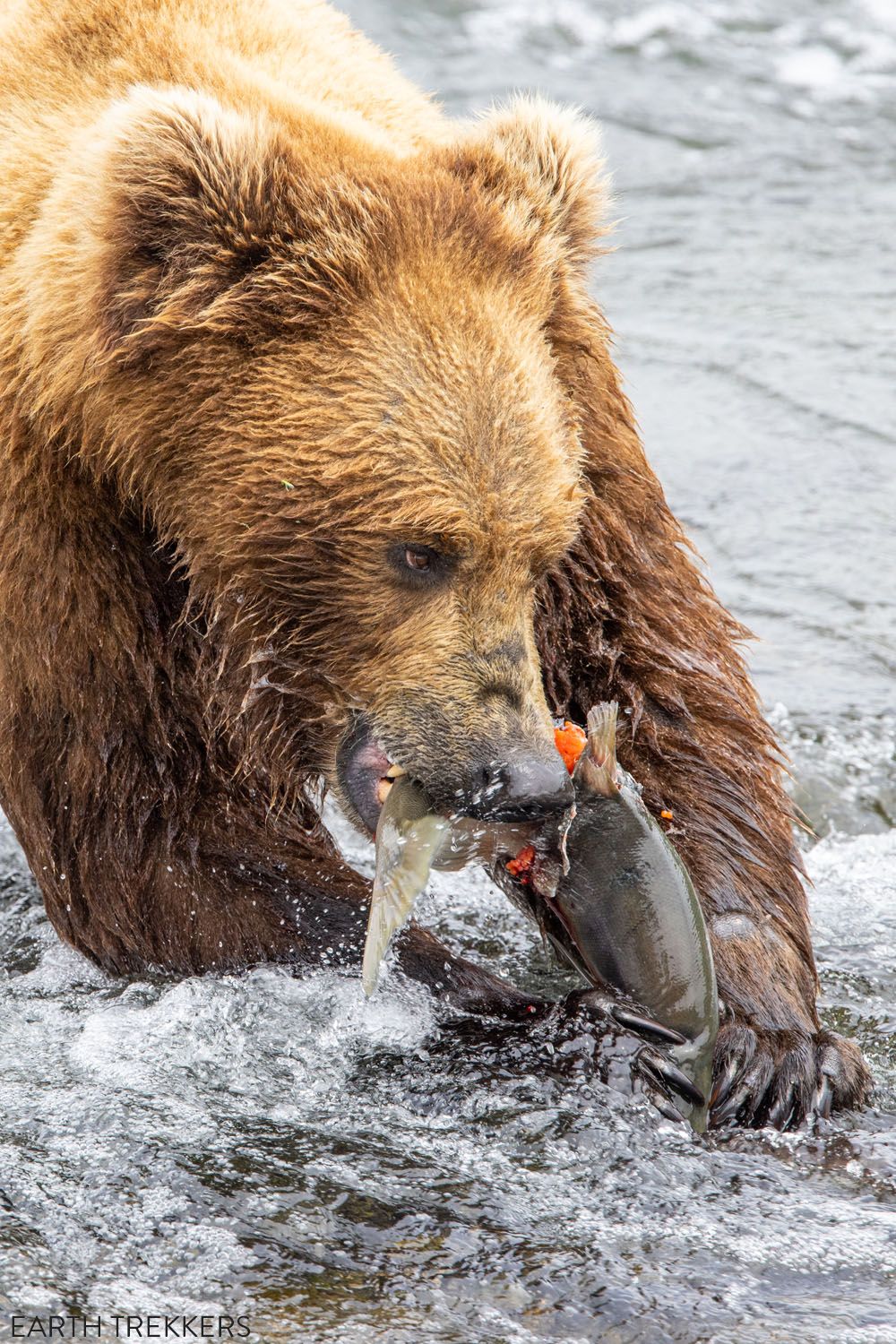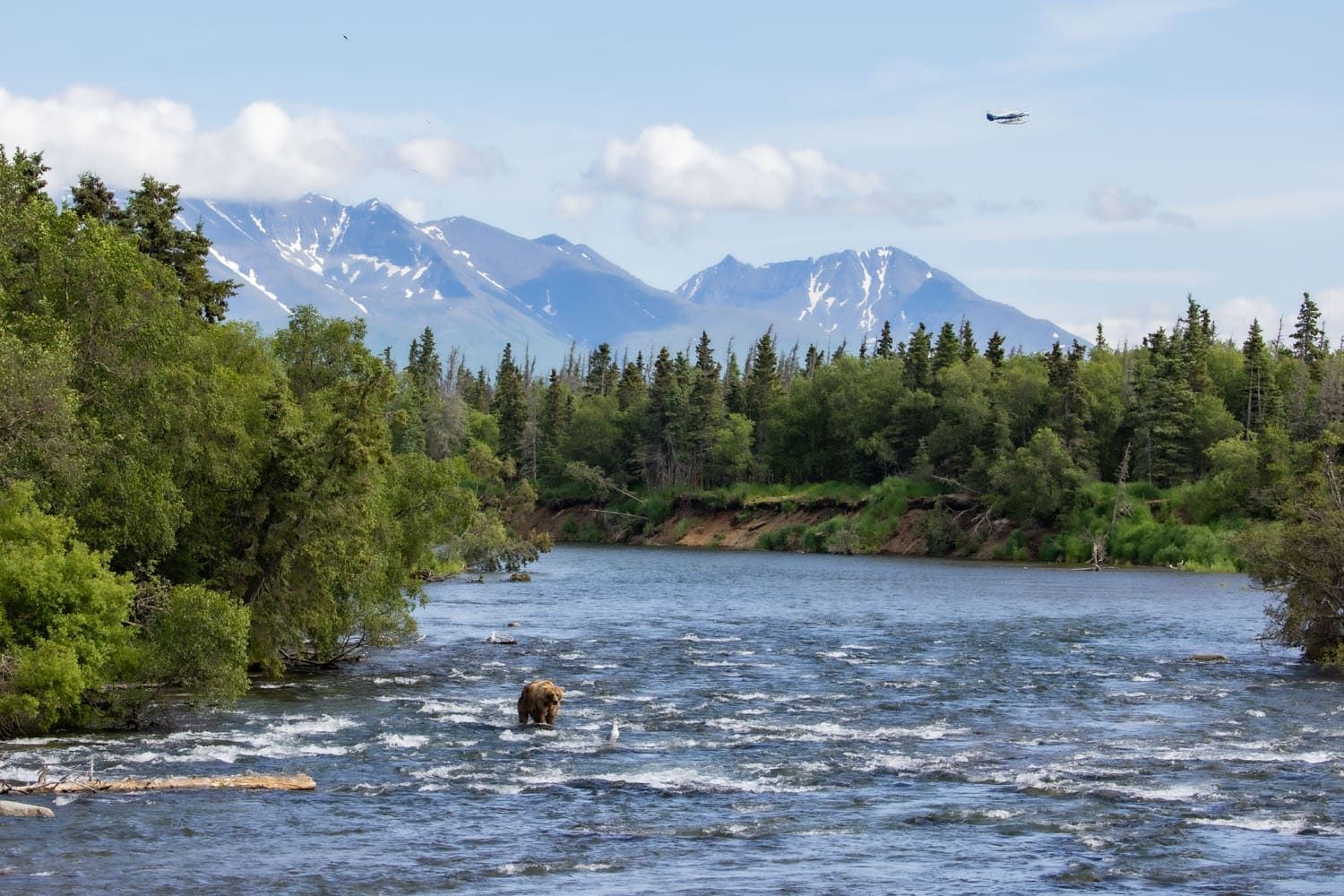 Looking down Brooks River.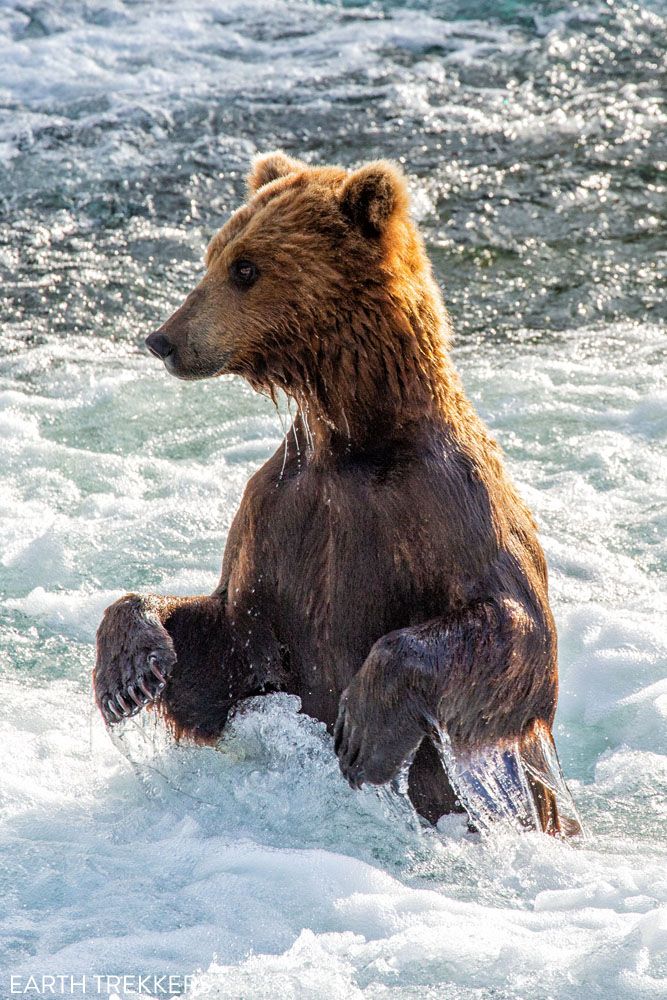 Riffles Platform
The Riffles Platform is located a short distance down river from Brooks Falls. The view of the falls is not as impressive from here, since you are farther away, but it can still be a great place to view bear.
From here, you look up and down Brooks River. During peak feeding times, there can still be quite a few bears right out in front of the platform.
This is the view of Brooks Falls from the Riffles Platform using a 70 mm lens.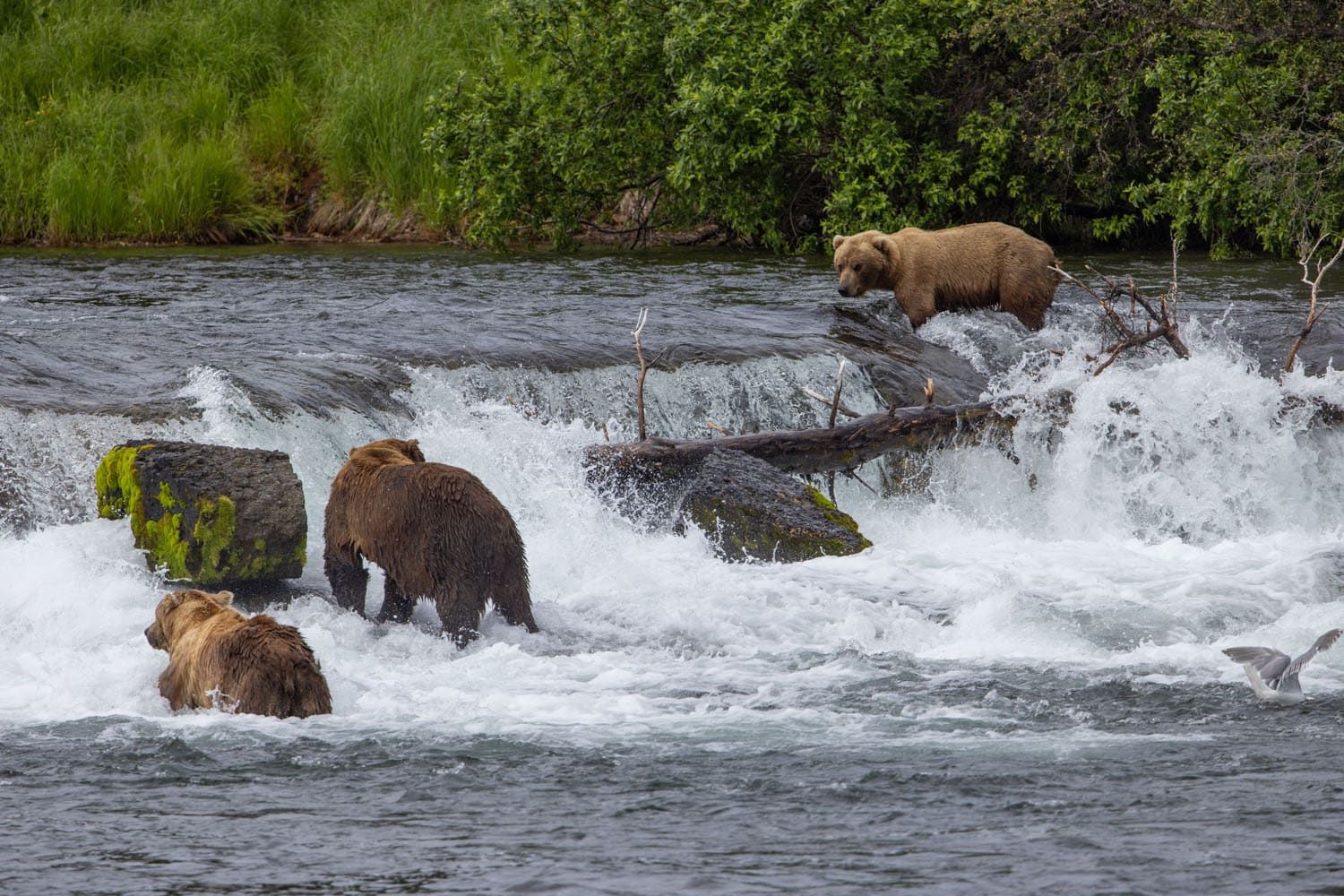 This is the view of Brooks Falls from the Riffles Platform using a 500 mm lens.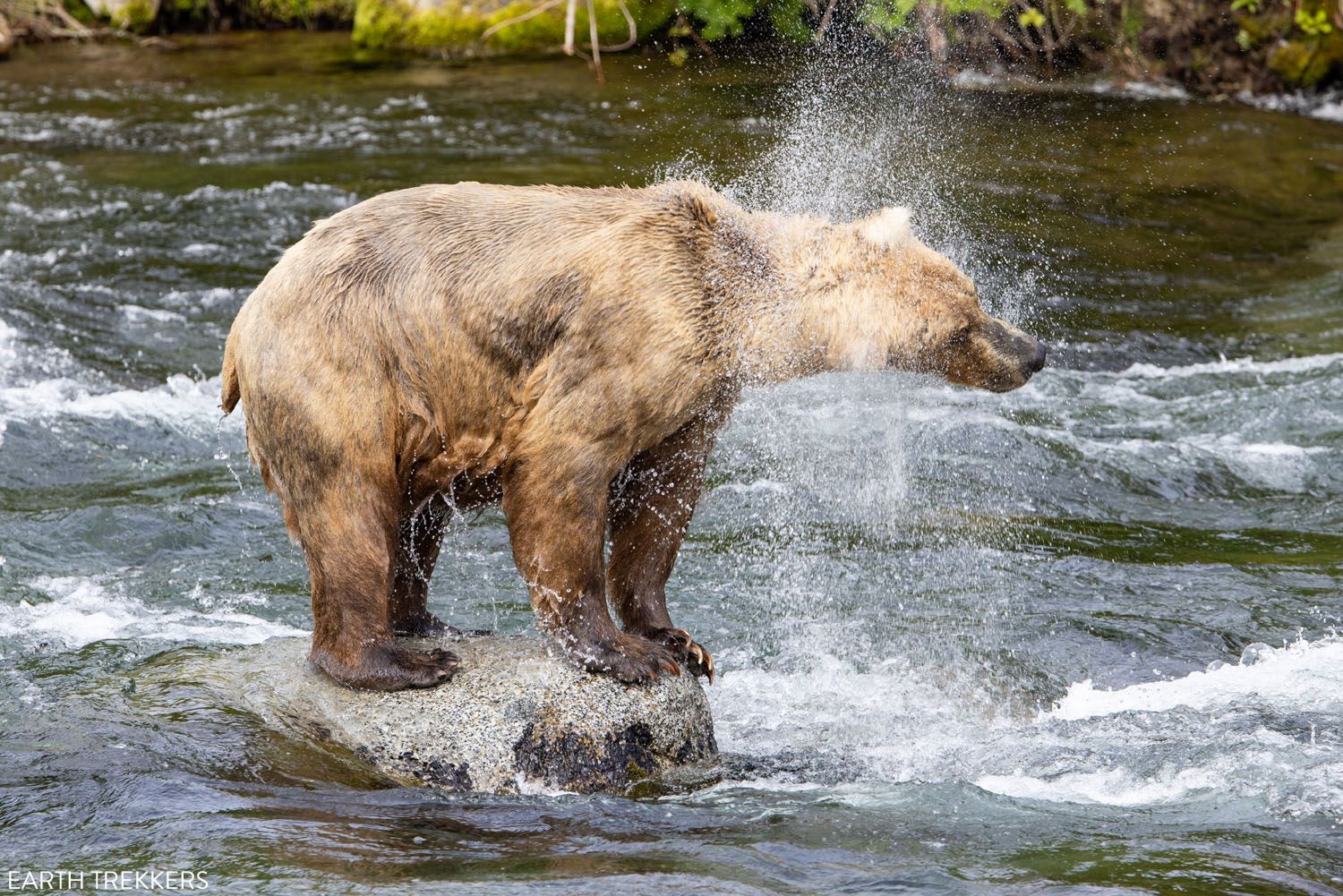 There is no maximum number of guests for Riffles Platform.
IMPORTANT: Both viewing platforms are closed from 10 pm through 7 am, June 15 to August 15. This is to give the bears easy access to the trail to Brooks Falls during this time.
Photography Gear
Bring your best camera gear, including the largest zoom lens in your arsenal.
The majority of our photos were taken with a Canon R5 and a 100 – 500 mm lens and a Canon 5D Mark IV with a 70 – 300 mm lens. We used a Canon 5D Mark III with a 24 – 70 mm lens for back up.
It is not at all unusual to see people walking around Brooks Camp with multiple cameras hanging from their necks. And you will see people with some massive telephoto lenses.
Expandable and rail-mounted tripods are not permitted on the Brooks Falls Viewing Platform from June 15 through August 15. Monopods are allowed.
For more on our photography gear, take a look at our Travel Photography Gear Guide.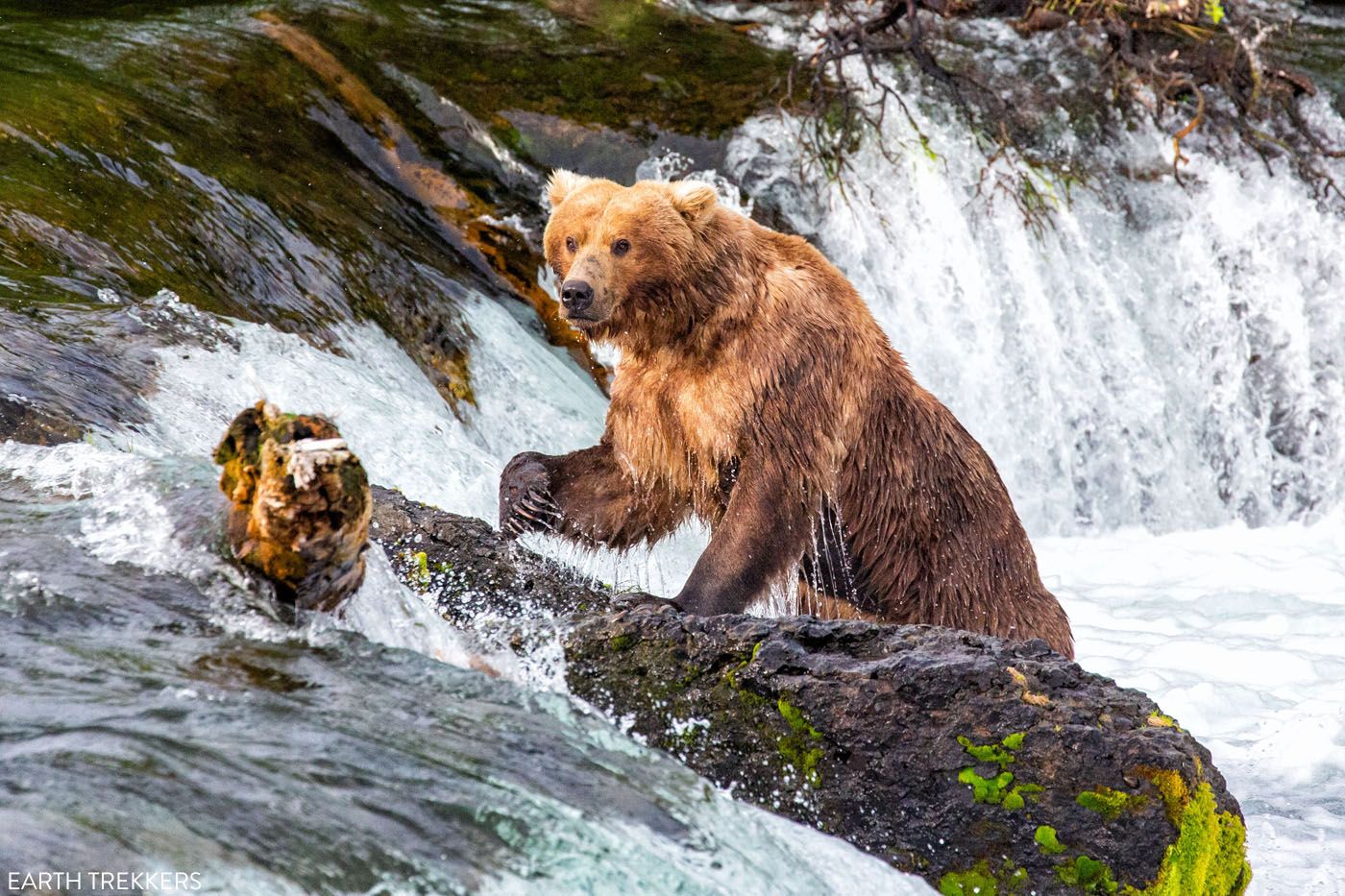 Photo from the Brooks Falls Viewing Platform with a 300 mm lens. I cropped this photo in Lightroom, just a small amount, to get this final result.
When is the Best Time to See Brown Bears at Brooks Falls?
July is the best month to visit Katmai, if you want to see the brown bears feeding on salmon at Brooks Falls.
We talked to a lot of people about when exactly is the best time to be here…park rangers, guides, pilots, other guests, and the staff at Brooks Lodge, both before and during our visit. Plus, we kept an eye on the bear cam after our visit, which shows exactly what bear viewing conditions are like at Brooks Falls.
We were told that the bear start arriving in at Brooks Falls at the end of June. The salmon start arriving sometime between the end of June and very early July. It's possible to see bear and salmon at the end of June, but I think it's best to wait until the first or second week of July, just to be certain that the salmon will be there.
On both of our visits, the salmon were late in arriving. A late spring snowstorm, lots of rain, and cooler then average temperatures in June delayed the arrival of the salmon.
2023 was very atypical, one of the latest arrivals of salmon in recent history. Talking to one of the Brooks Camp staff members who has been working here for over 10 years, she said that the latest arrival she's seen was July 15. But she has also seen it where the salmon stopped running by July 15.
So, there's never a guarantee, but the second and third weeks of July are usually the best time to see the bears and the salmon.
In August, the salmon have made it upriver, so the feeding ends.
After the salmon spawn, they die and then they float downriver. As they drift back over Brooks Falls, the brown bears feed on the dead salmon. It's not quite as spectacular, since you don't see the salmon jumping up the falls, but you will still be able to see a lot of bear.
Brooks Lodge is open from June 1 through September 18.
The photo below was taken by Mark Gniewyk. Mark shared his awesome photos with us prior to our trip to Alaska. On our first trip to Katmai, when we did not get to see the bear feeding on salmon that typically occurs in July, he very kindly agreed to allow us to share his photos on our website. This photo was taken July 8, 2018. Thank you, Mark!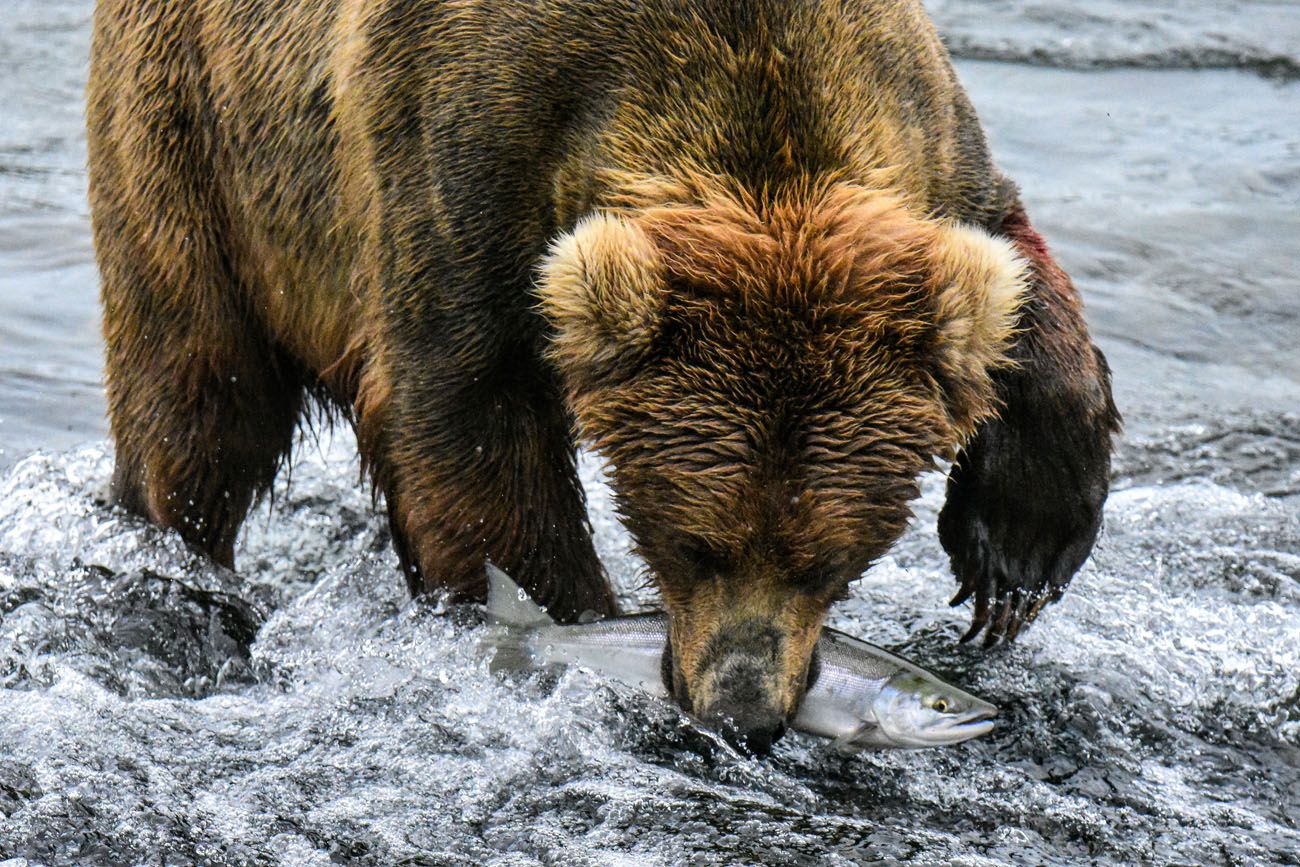 Photo credit: Mark Gniewyk
Where Can I Stay at Brooks Falls?
You can stay at either Brooks Lodge or Brooks Camp Campground. Brooks Lodge is expensive (it's roughly $950 per night for a room that accommodates 4 people) and, due to its popularity, you have to enter a lottery to get a reservation. The lottery opens up in December, about 18 months before the summer season. For example, in December 2023, you can enter the lottery for the summer season of 2025.
If you don't get a reservation in the lottery, you might be able to get a space from someone who cancels. This is how we got our two night reservation for July 2021. We called Brooks Lodge in April, just checking to see if they had any availability in the summer. They did and we then designed our entire Alaska itinerary around our 3-day stay in Katmai.
Near the lodge is a campground. This is operated by the National Park Service and reservations need to be made in advance.
Bear Safety
When you first arrive at Brooks Camp, a National Park Service Ranger will give you a 15 minute lesson on bear safety. Travel in groups, make noise, leave all of your food in your cabin, do not approach the bears, stay at least 50 yards from the bears, and other rules and tips are discussed.
I also recommend that you read the National Park Service website for bear safety tips before your visit.
Do not carry any food around Brooks Camp. You will hear this again when you take your bear safety class upon arrival at Katmai, but do not carry any food on you. The bear can smell the food, even if it is in an airtight container in your backpack. You will be sharing the same trails as the bear and it's possible you could cross paths with a bear. If they smell the food, they could get curious and want to check it out, leading to an unnecessary encounter with a bear.
While in Katmai National Park, please practice the seven principles of Leave No Trace: plan ahead, stay on the trail, pack out what you bring to the hiking trail, properly dispose of waste, leave areas as you found them, minimize campfire impacts, be considerate of other hikers, and do not approach or feed wildlife.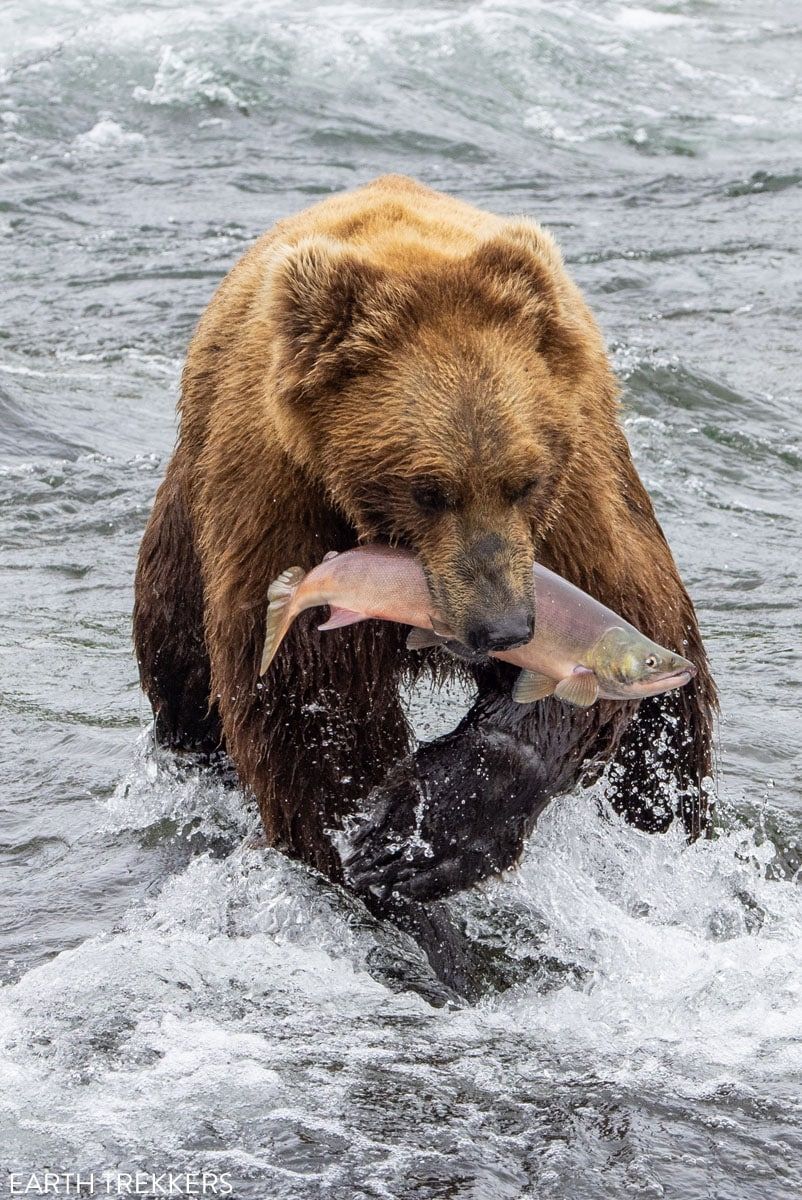 ---
If you have any questions about how to visit the Brooks Falls viewing platforms or walk the Brooks Falls Trail, or if you want to share your experience, let us know in the comment section below.
More Information about Alaska
KATMAI NATIONAL PARK: In our article Best Things to Do in Katmai, we cover the top experiences in the park. For a unique experience, take a photography tour to capture the action at Brooks Falls from Brooks River. You can also visit the Valley of 10,000 Smokes, the site of one of the world's largest volcanic eruptions in recent history.
LAKE CLARK NATIONAL PARK: Learn how to plan your visit in our Lake Clark National Park Travel Guide. We also have a article about the Best Things to Do in Lake Clark and photos from Lake Clark National Park.
BEST OF DENALI: Eielson is one of the most spectacular areas in Denali to visit since it offers some of the best views of Denali. Taking a Denali flight seeing tour is also a great thing to do, as are hiking one of the many trails in the park. Get the full list in our article Best Things to Do in Denali.
KENAI FJORDS NATIONAL PARK: Check out our Kenai Fjords National Park Travel Guide for important travel planning tips, sample itineraries, advice on when to go, where to stay, and more.
BEST OF WRANGELL-ST. ELIAS: Top experiences in Wrangell-St. Elias include hiking the Root Glacier Trail, taking a flightseeing tour, and hiking to Bonanza Mine. For the full list, read our article Best Things to Do in Wrangell-St. Elias.
ALASKA ITINERARY: Take the guesswork out of planning your trip to Alaska with our Alaska road trip itineraries.
NATIONAL PARKS: In our Guide to the US National Parks, get the full list of national parks with important travel planning information, such as things to do in the parks and sample itineraries. You can also learn more about the national parks and get a FREE printable checklist in our US National Parks Checklist.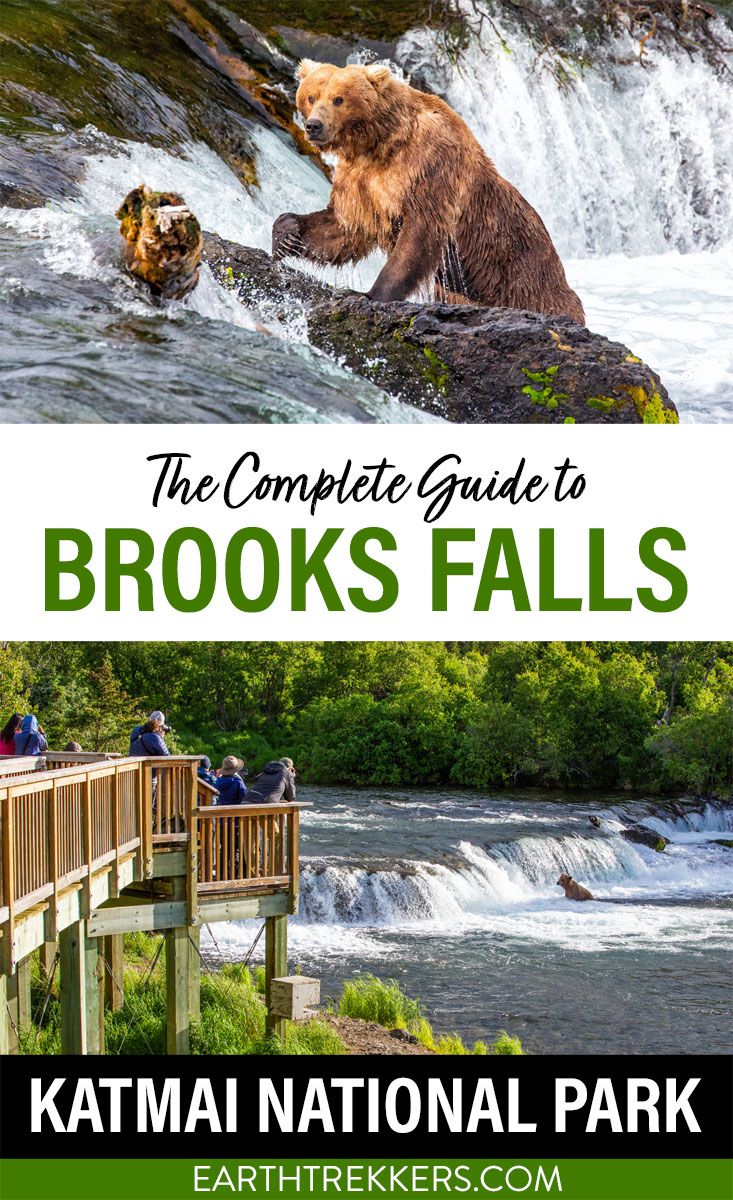 All rights reserved © Earth Trekkers. Republishing this article and/or any of its contents (text, photography, etc.), in whole or in part, is strictly prohibited.