One of the best ways to experience Denali National Park is on a flightseeing tour.
Denali is the tallest mountain in North America. It's vertical relief, which is the visible difference from base to peak, is 18,000 feet (5,500 meters), which is the highest of any mountain in the world.
On a Denali flightseeing tour, you get an up-close experience with this mighty mountain, and on some tours, you will even circle around Denali. Adding on a glacier landing is icing on the cake.
In this guide, we cover the Denali flightseeing options, photos from the flightseeing tour that we took, and whether or not it is worth it.
Denali Flightseeing Tour Companies
There are four main companies that offer Denali flightseeing tours. Three are located in Talkeetna and one is located near the Denali National Park entrance.
Fly Denali is located near the park entrance of Denali National Park. They offer flightseeing tours with glacier landings. A big advantage of using this company is their location. It's easier to add on a flightseeing tour with them, if you plan to be in Denali for a few days, since you don't have to drive to Talkeetna. Plus, for most of the flight, you will be over the national park.
K2 Aviation, Sheldon Air Service, and Talkeetna Air Taxi are all located in Talkeetna. Talkeetna is located south of Denali National Park and from here, it is a 2.5-hour drive to the entrance of the park.
Below are links to the official websites for these three companies, so you can learn more about their flightseeing tours, pricing and hours.
Tour Options with K2 Aviation
K2 Aviation is the tour company that we used. They offer several different flight options and they are located in Talkeetna.
Here is a brief overview of their flightseeing tours, but I also recommend that you take a look at their website, because their map does a great job showing where you will go on each tour. Each tour company offers very similar options, just with different names.
Denali Experience: This tour is the cheapest option. It lasts one hour and flies along the south side of Denali. On this tour, you get to see the peaks of the Alaska Range and get within 6 miles of the Denali Summit.
Denali Flyer: This tour is their most popular option. It lasts an hour and fifteen minutes, flies near Little Switzerland, past the face of Mount Foraker, and then past the south side of Denali.
Denali Grand Tour: On this tour, you get to see Denali from all sides, plus Mount Foraker, Little Switzerland, the Muldrow Glacier, and the Wickersham Wall. It lasts an hour and a half.
Summit Tour: On the summit tour, you make a loop around the top of Denali, as well as flying over Mount Foraker and the Wickersham Wall.
Adding a Glacier Landing Tour: A glacier landing can be added to any of the flightseeing tours above for an additional $100. Glacier landings add 30 minutes onto the tour time.
WHICH ONE SHOULD YOU CHOOSE? Tim spoke to multiple staff members at K2 Aviation about which tour they recommended. It was unanimous that the Denali Flyer was their most recommended tour. Two employees said there is so much "great stuff" to see on the sound side of Denali and this flightseeing tour spends the most time here. Another staff member said that they don't think it's worth spending the 10 to 15 minutes to fly around to the north side of Denali (as you do in the Denali Grand Tour), because it is not as interesting.
WHAT WE DID: We booked the Denali Flyer with a glacier landing. Because of weather conditions, the glacier landing was cancelled but we were still able to do the Denali Flyer tour. We were given the option for a full refund and to reschedule our flight. Because of our itinerary through Alaska, we chose to take the flightseeing tour without the glacier landing rather than rescheduling the flight later on our trip.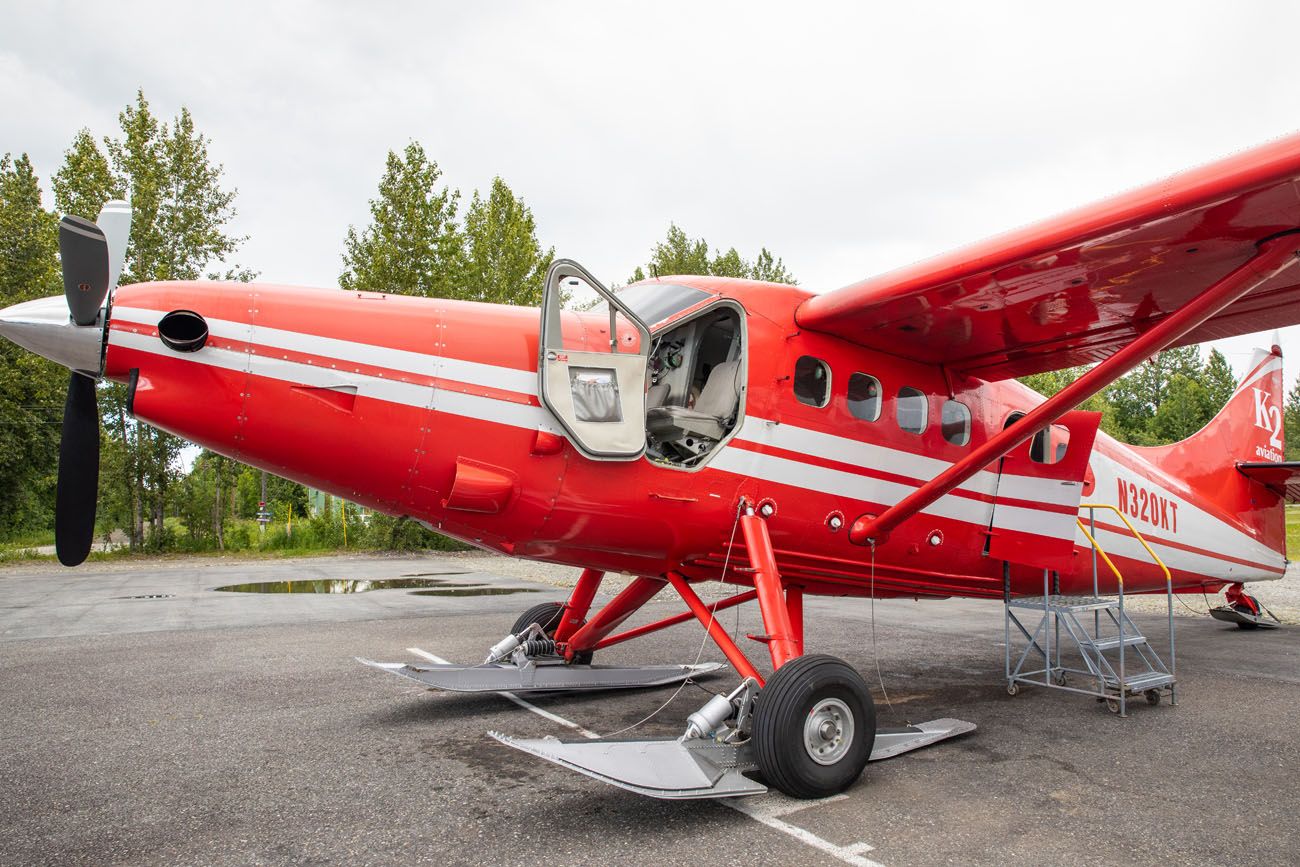 K2 Aviation Plane
Should You Book a Flightseeing Tour with a Glacier Landing?
Yes.
From everyone we spoke to who did this, they said it was awesome. To stand on a remote glacier, with the mountains of the Alaska Range and Denali looming over you, is an incredible experience.
I am bummed we missed out on this, and even though I can't speak from experience, it sounds like the glacier landing is worth every penny.
How to Add on a Denali Flightseeing Tour to Your Alaska Itinerary
If you plan to use one of the companies that fly out of Talkeetna, the best way to add on a flightseeing tour is to do it on a day when you are traveling between Denali National Park and Anchorage.
Talkeetna is located roughly halfway between Anchorage and Denali National Park. You can leave Anchorage in the morning, have lunch in Talkeetna (we highly recommend lunch at Talkeetna Spinach Bread), go on the flightseeing tour, and in the afternoon, drive to Denali National Park.
If you are traveling in the opposite direction, you can do the above in the reverse order.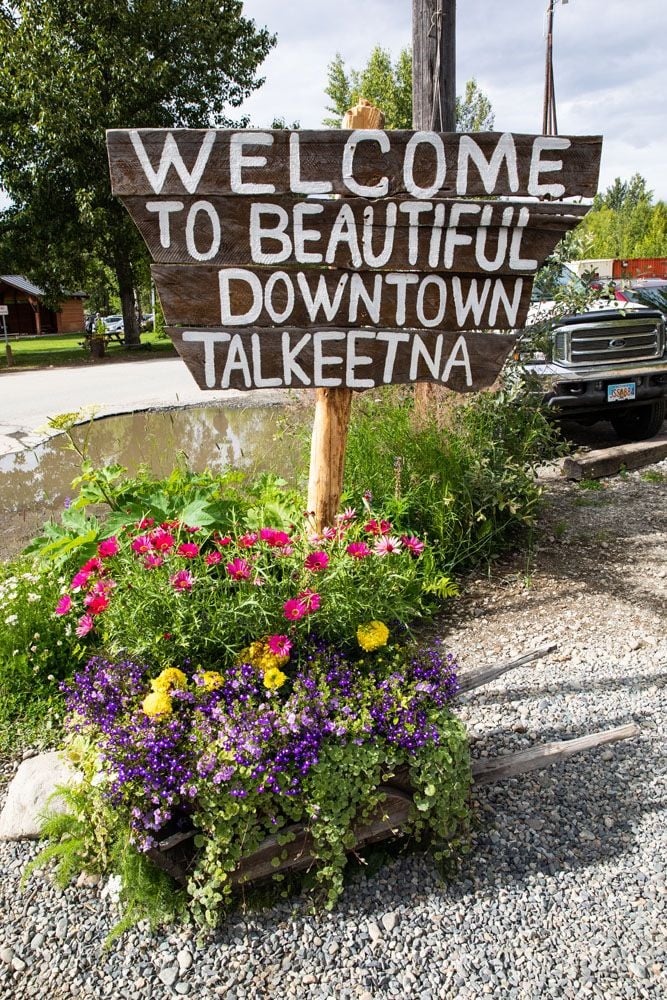 PRO TRAVEL TIP: Between Talkeetna and Denali National Park, there are two great viewpoints of Denali from AK-3: Denali Viewpoint South and Denali Viewpoint North. If skies are clear, you can see Denali from each of these.
If you plan to use Fly Denali, which is located right outside of Denali National Park, the flightseeing tour can be added to one of your days in the park.
What Happens if the Weather is Bad?
If weather conditions cause your flight to be cancelled, the tour companies will offer you a full refund and the option to reschedule.
This happened to us.
Weather conditions cancelled our Denali Flyer flight with glacier landing but K2 Aviation was still offering the flight without the glacier landing. They offered us a full refund and the option to reschedule, but we decided to take the flight. One week later we would be back in Talkeetna, but we didn't want to take the risk that that flight could be cancelled.
But we got lucky. Earlier in the day, and the day before, all flights were cancelled due to weather conditions, so we were fortunate that we even had the chance to take the flight on the afternoon that it was scheduled.
And it is important to know that there is no guarantee that you will see Denali on your flightseeing tour. On our tour, Denali was hidden behind the clouds but it was still a worthwhile experience, as you will see in our photos below.
PRO TRAVEL TIP: Schedule your Denali flightseeing tour as early in your itinerary as you can. If it gets cancelled, you might be able to squeeze in a flight a day or two later, so you don't miss out on this experience.
Denali Flightseeing Tour Photos
Here are photos from our Denali flightseeing tour with K2 Aviation. These are from the Denali Flyer flight.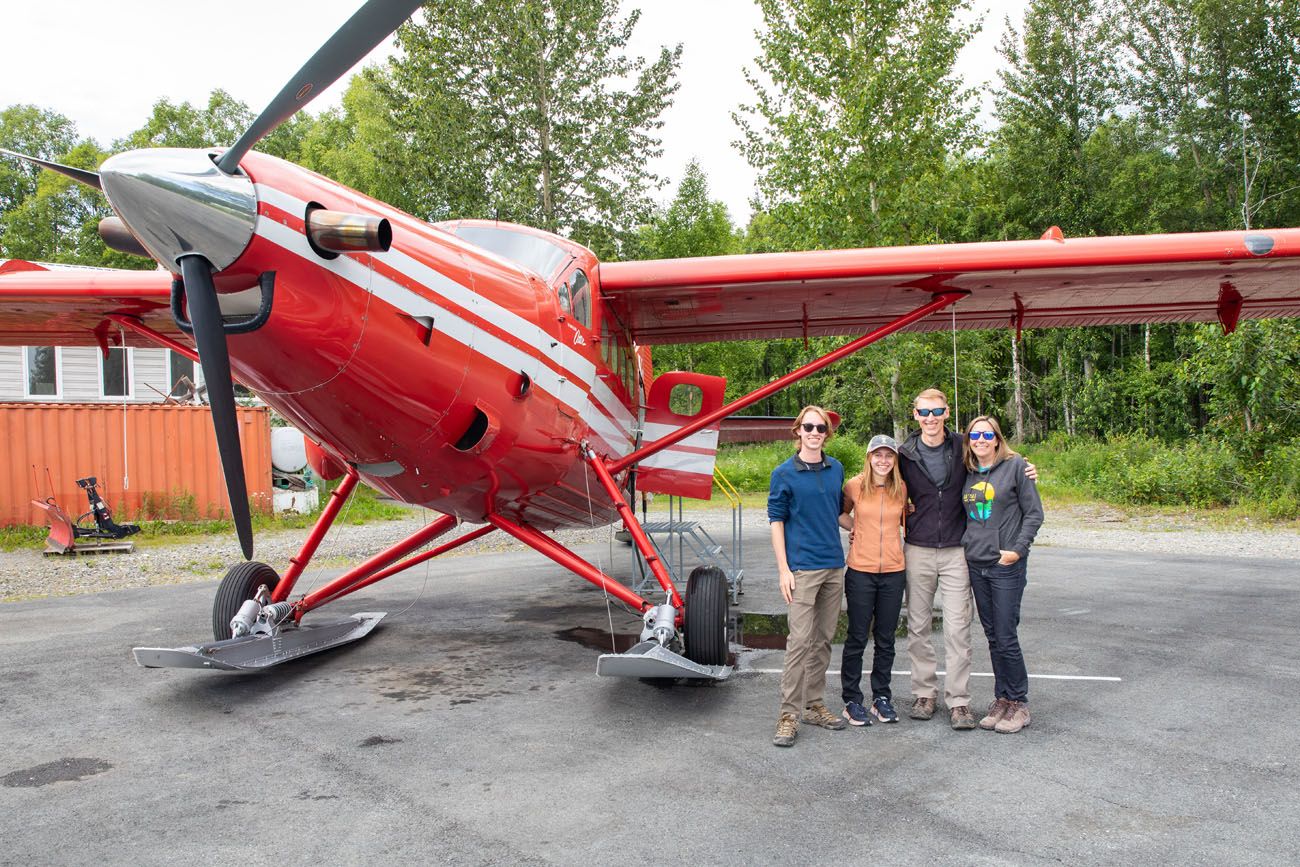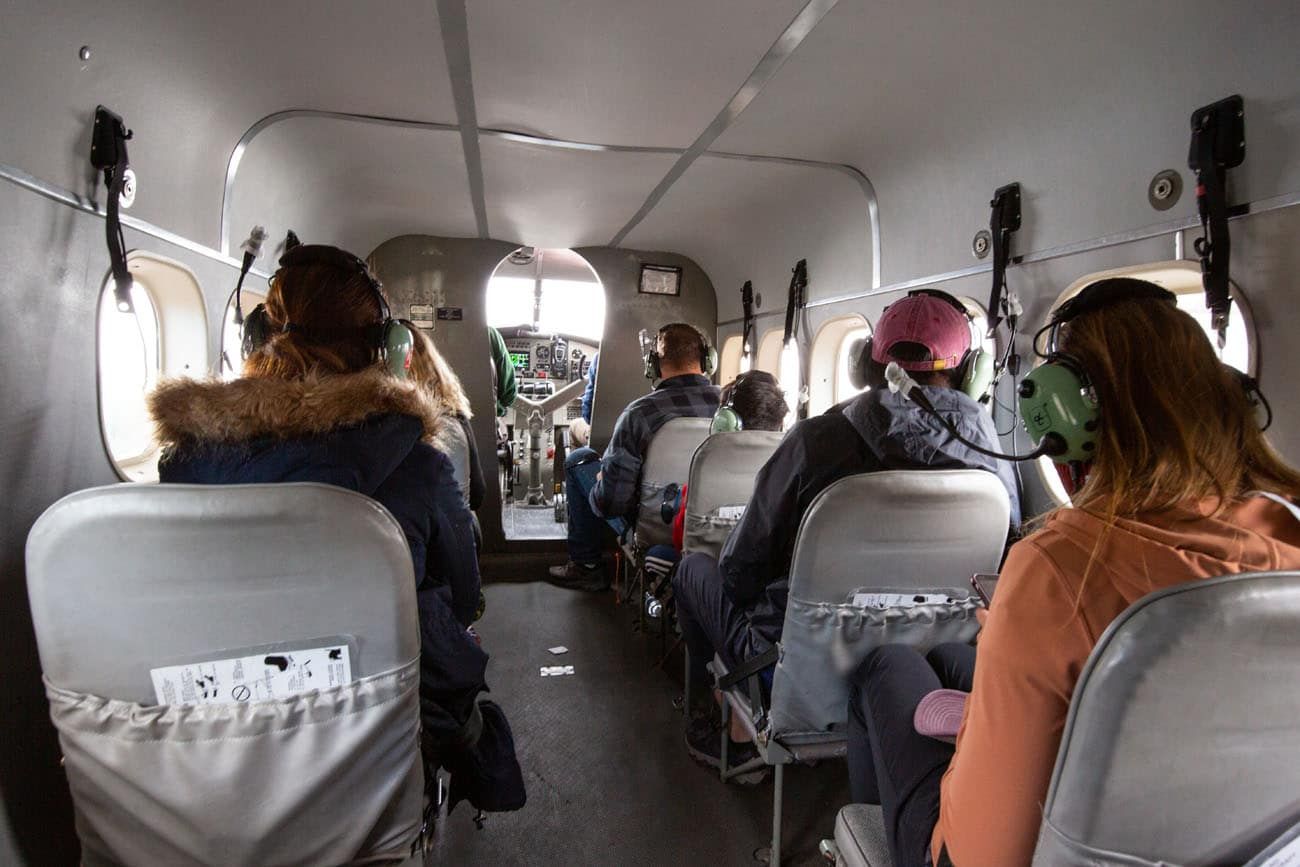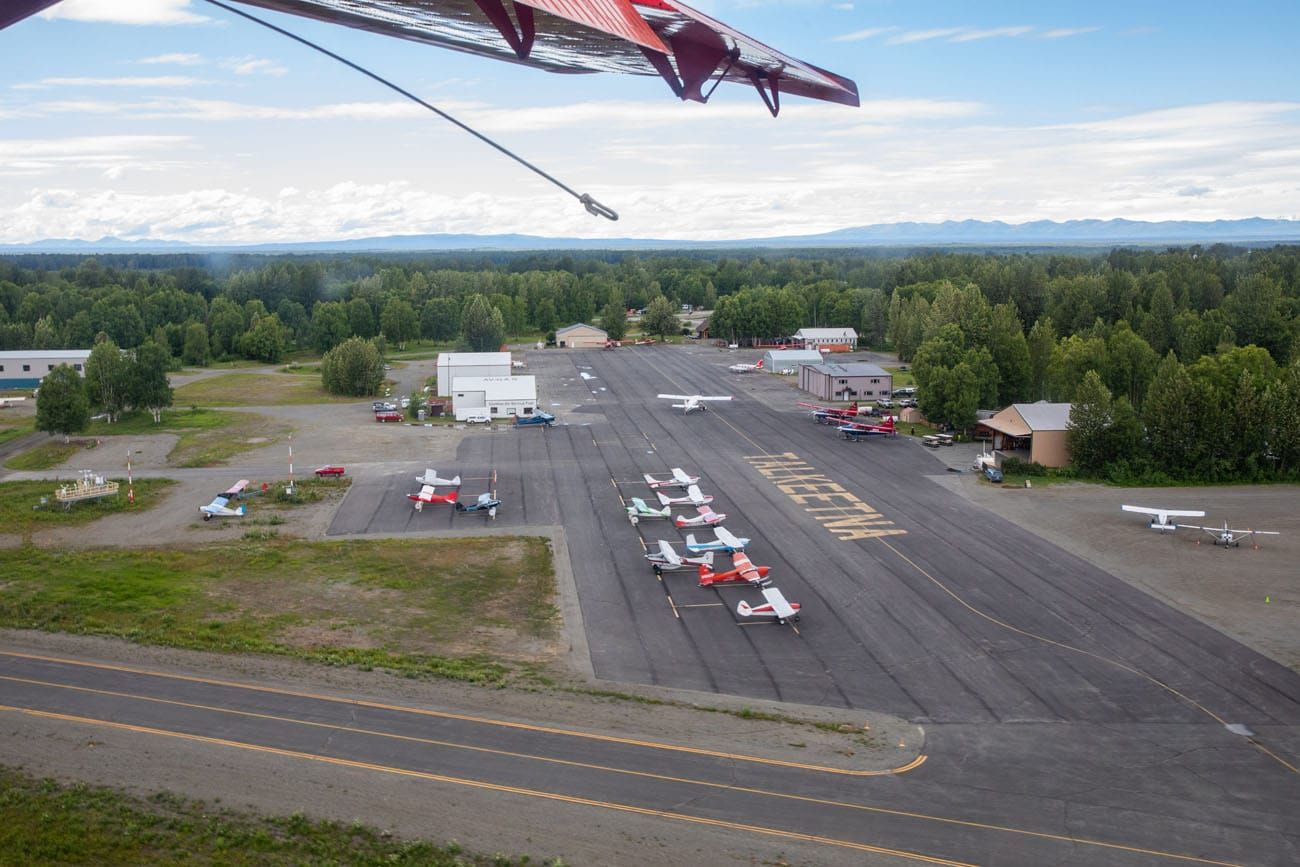 Talkeetna Airport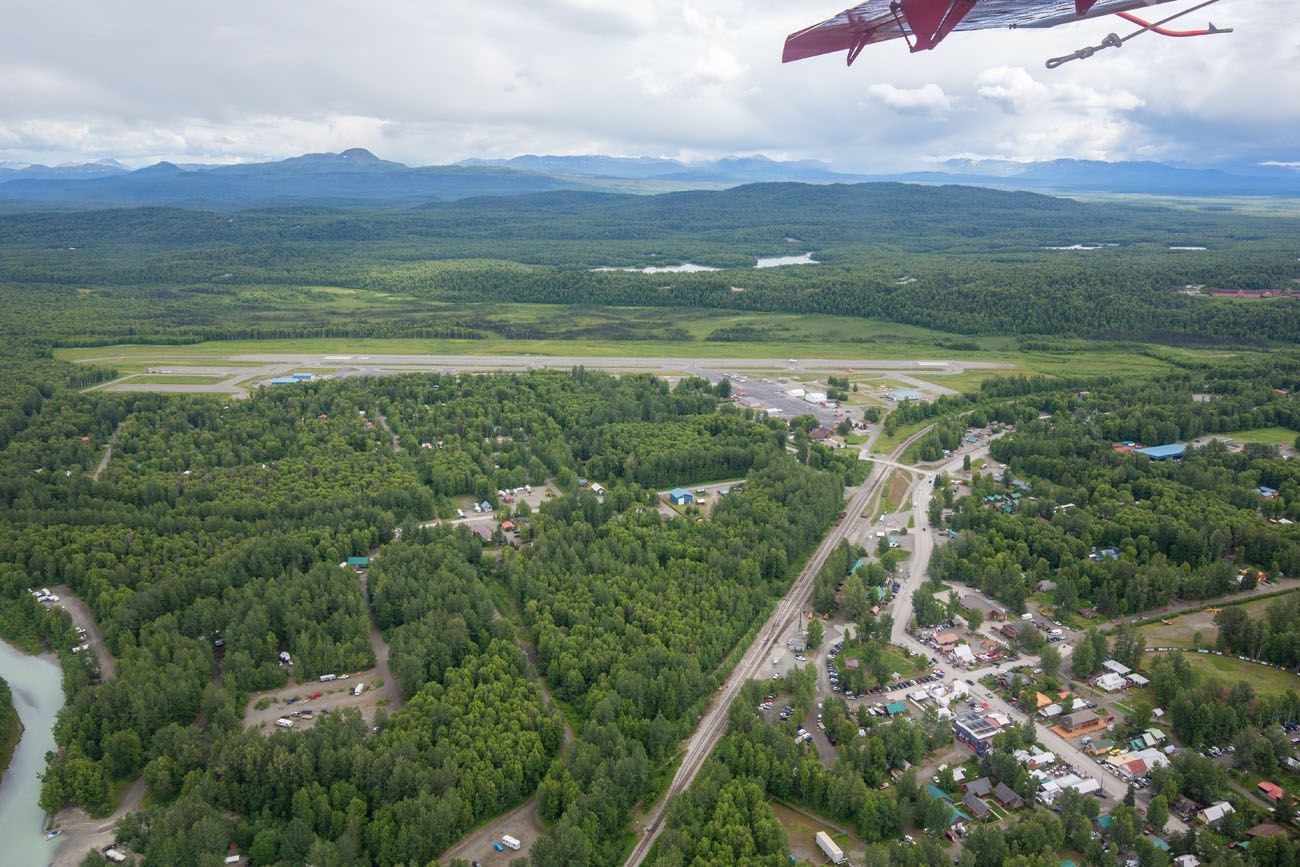 Flying Over Talkeetna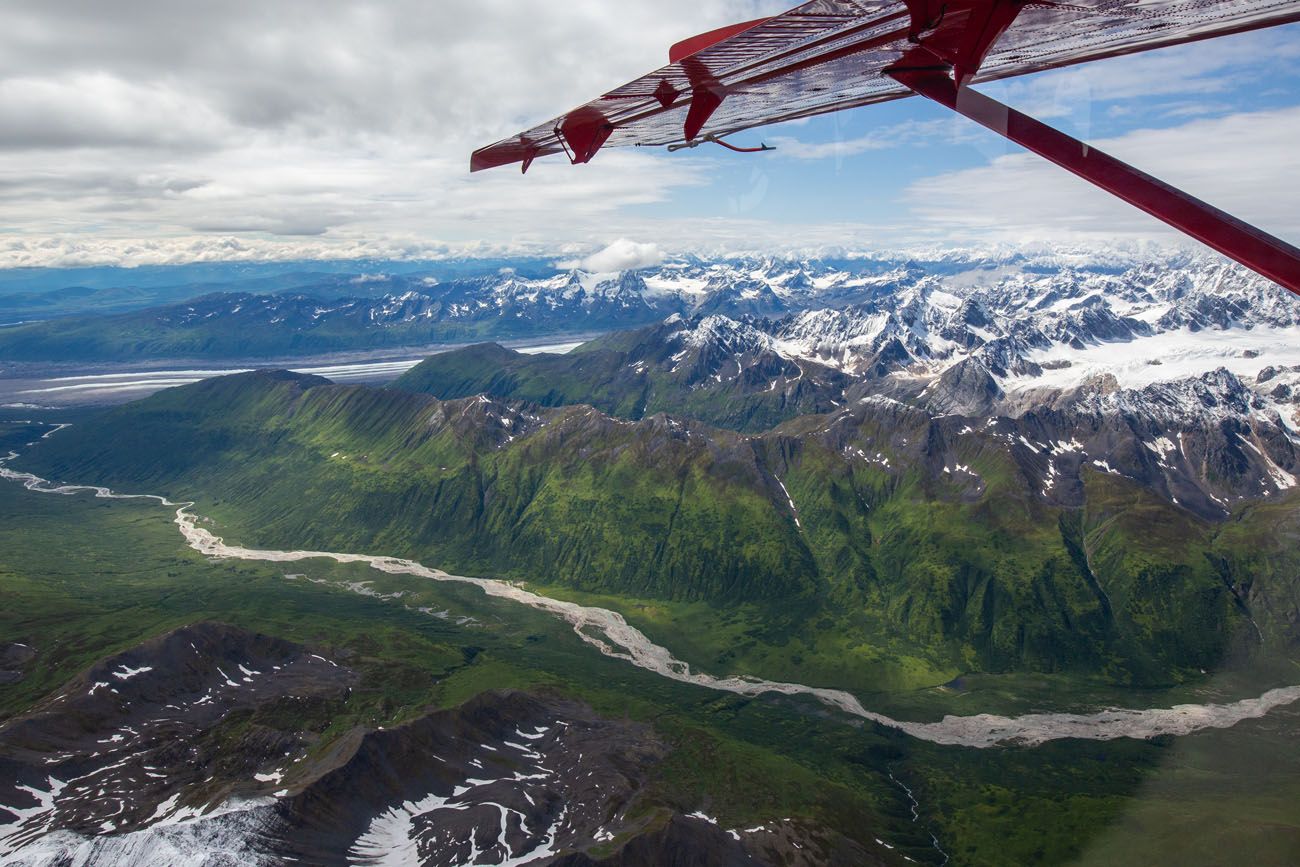 Beginning of the Alaska Range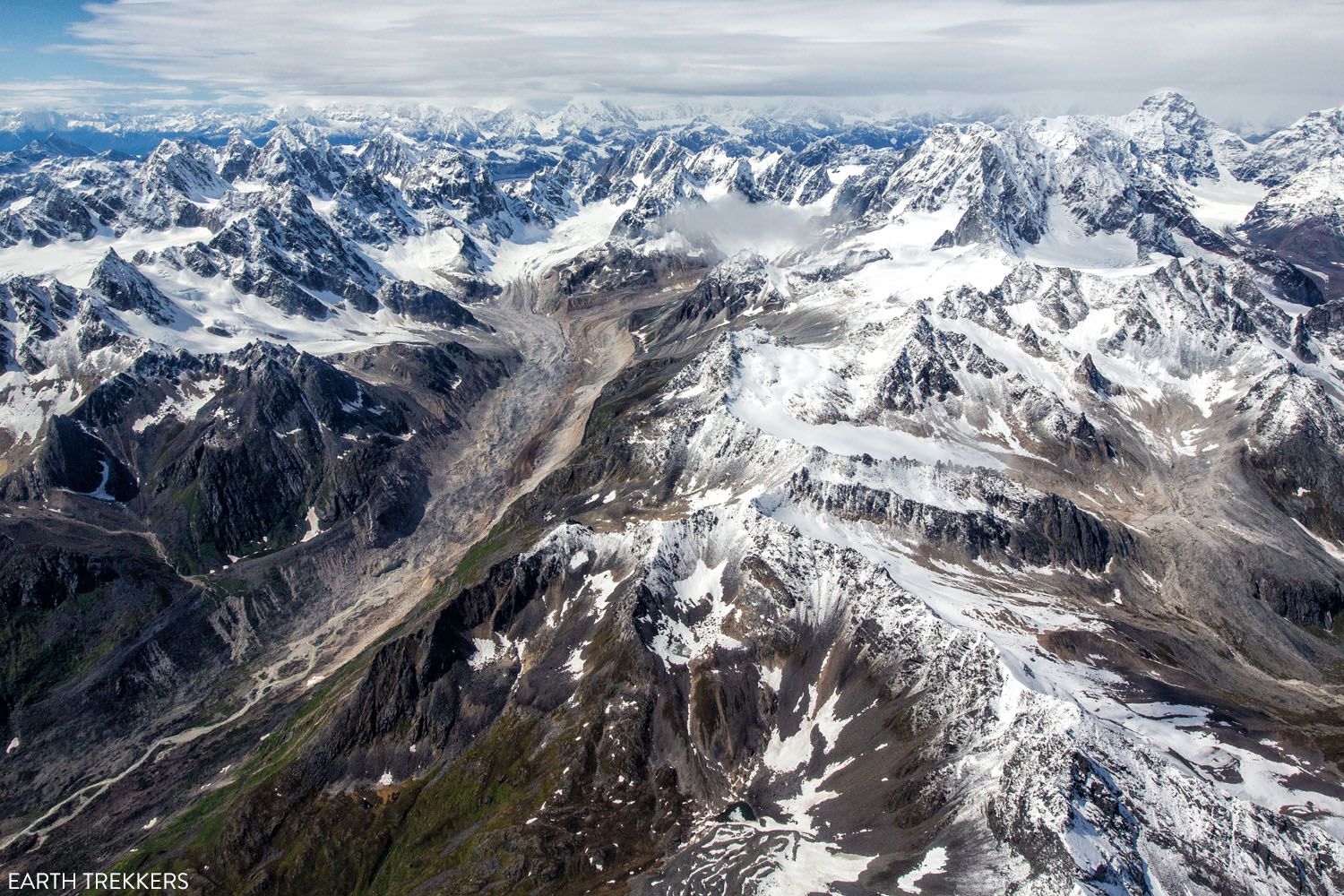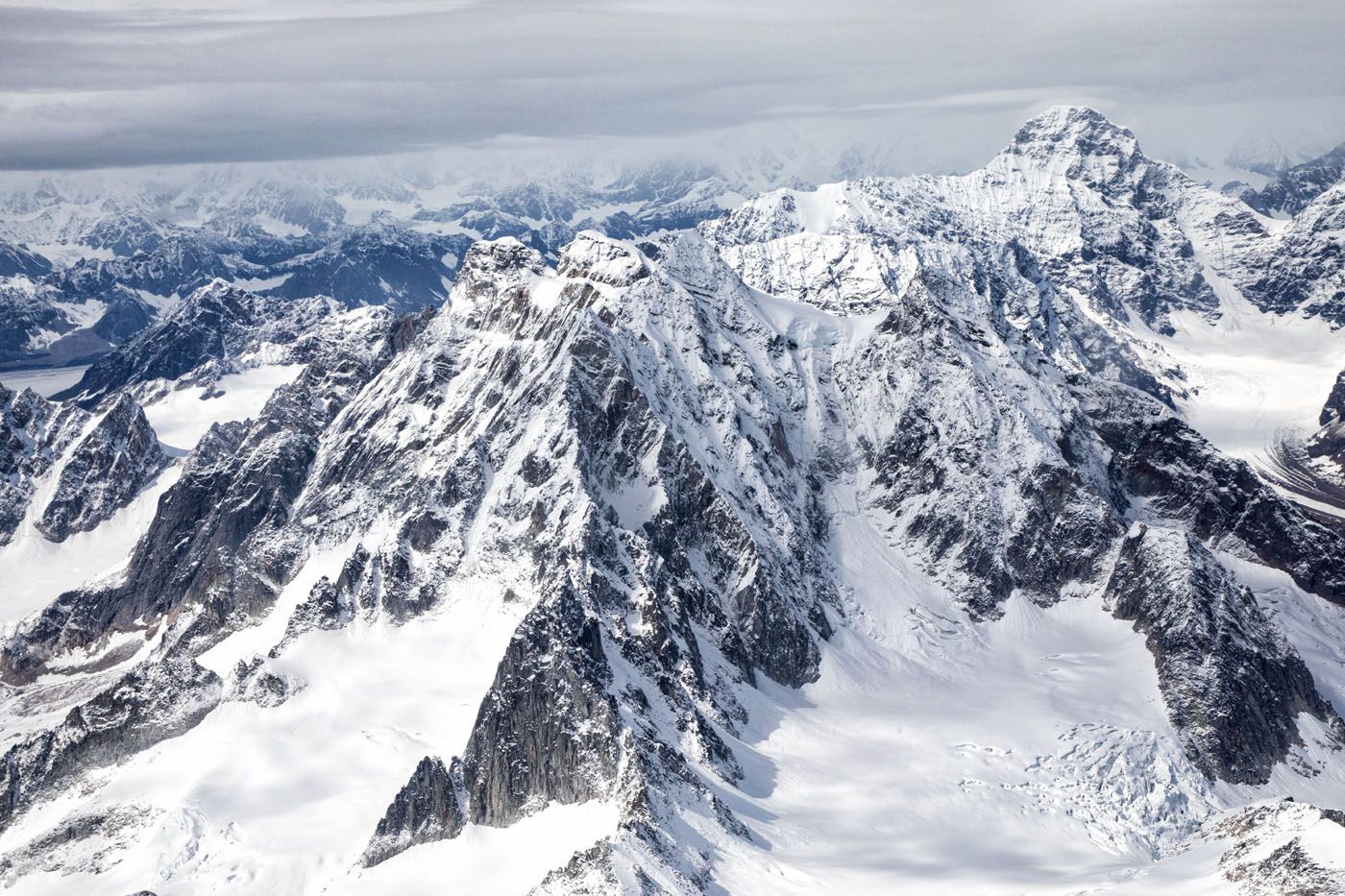 Denali is hidden somewhere behind those clouds.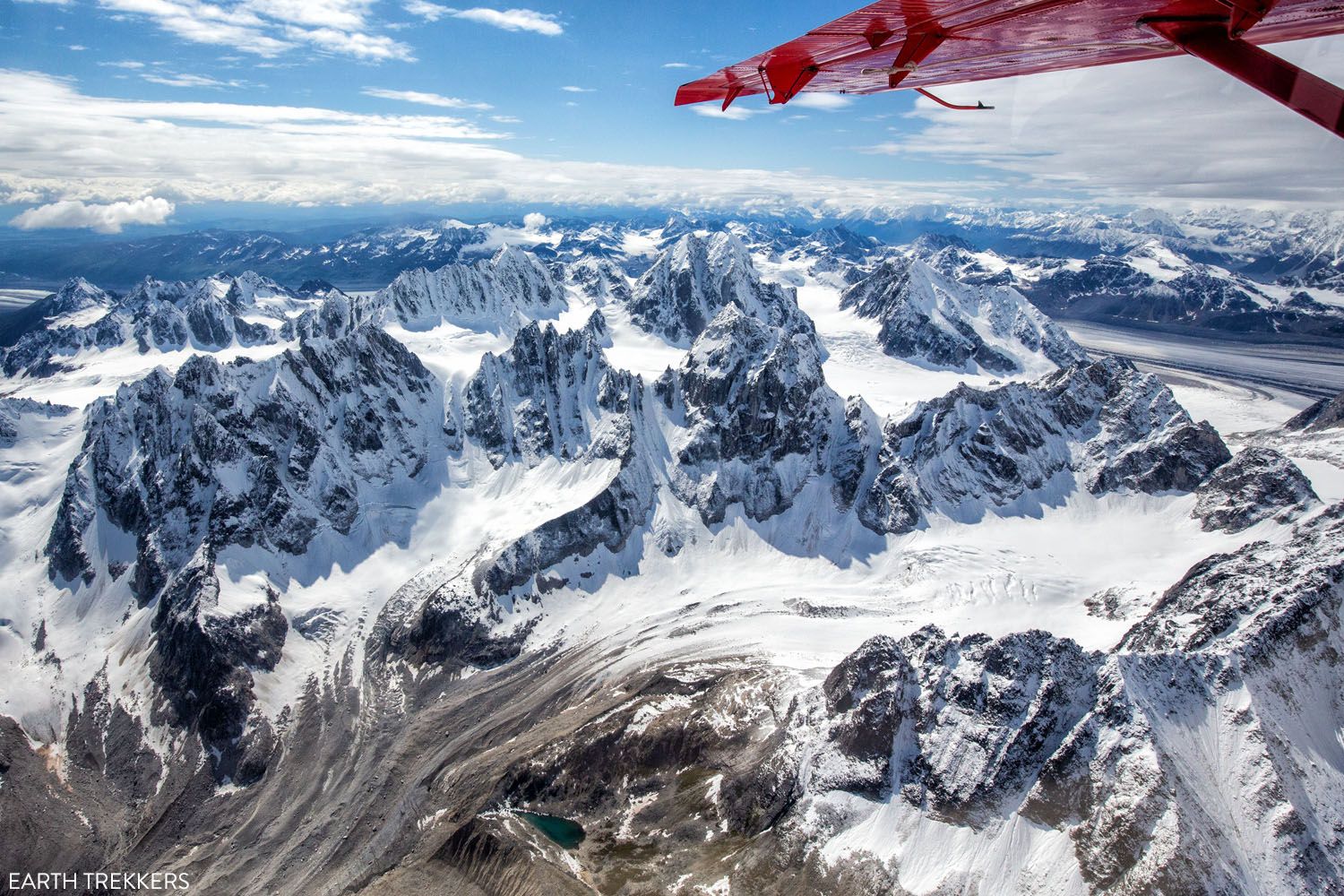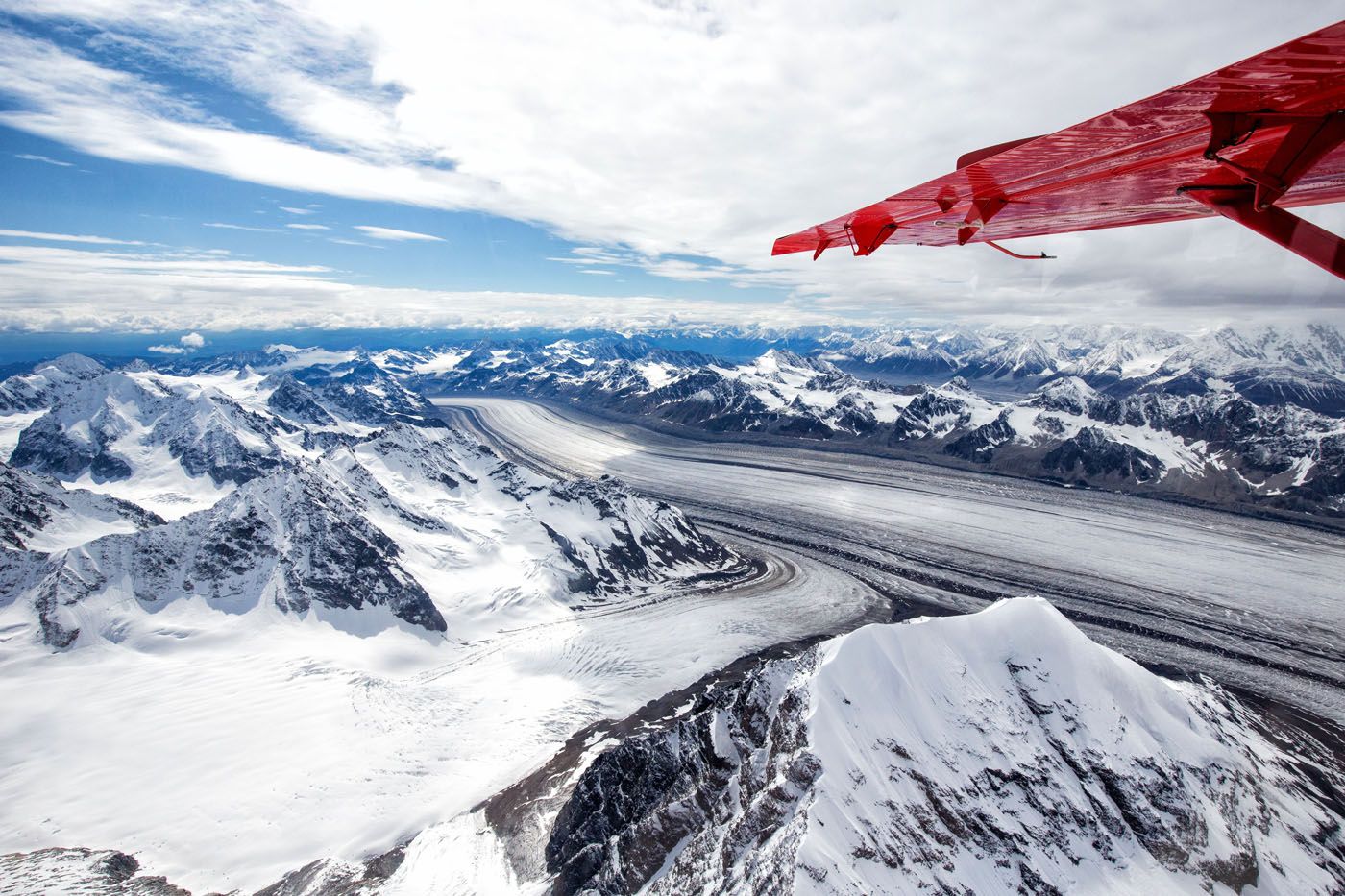 Kahiltna Glacier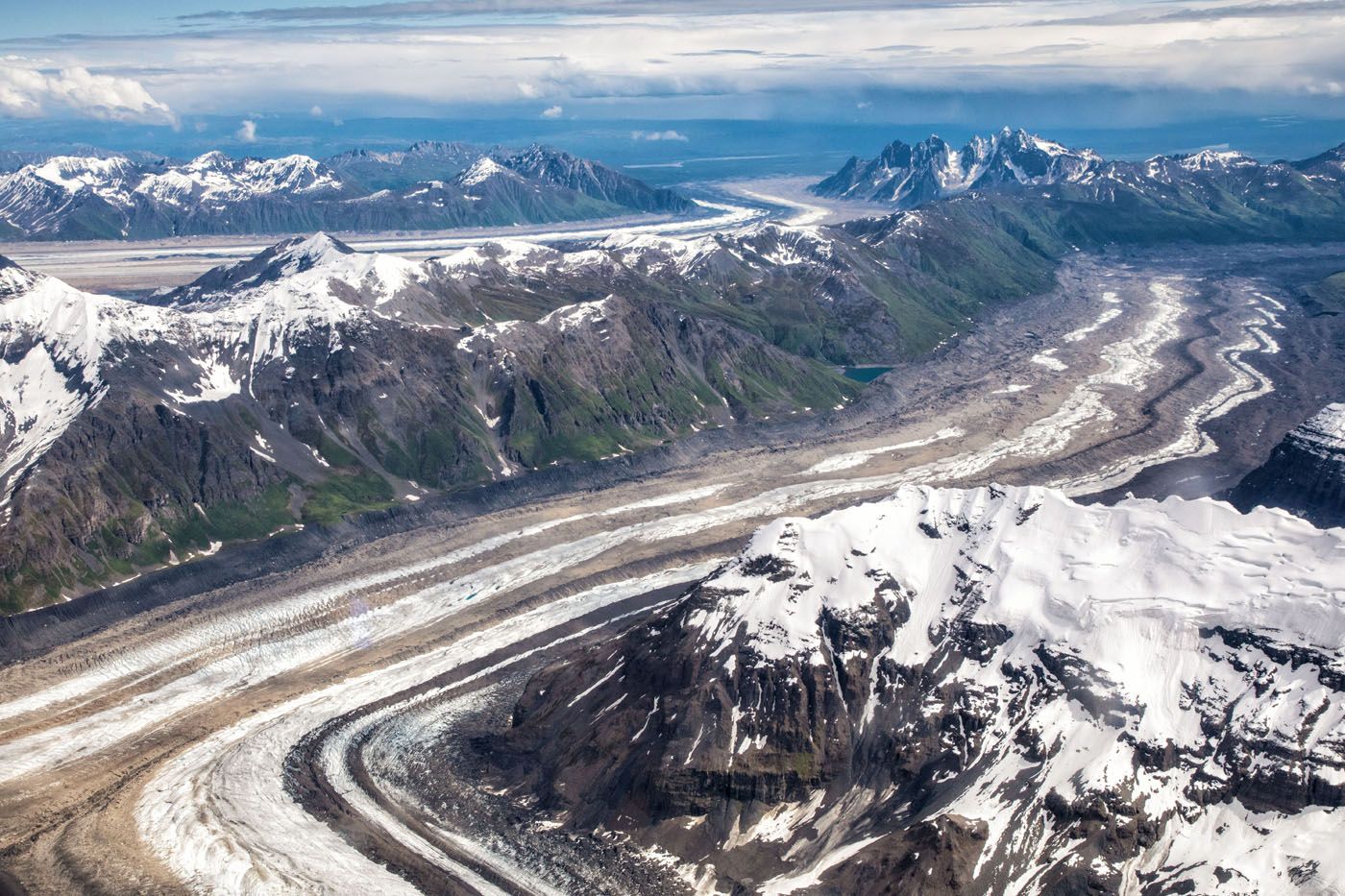 Tokositna Glacier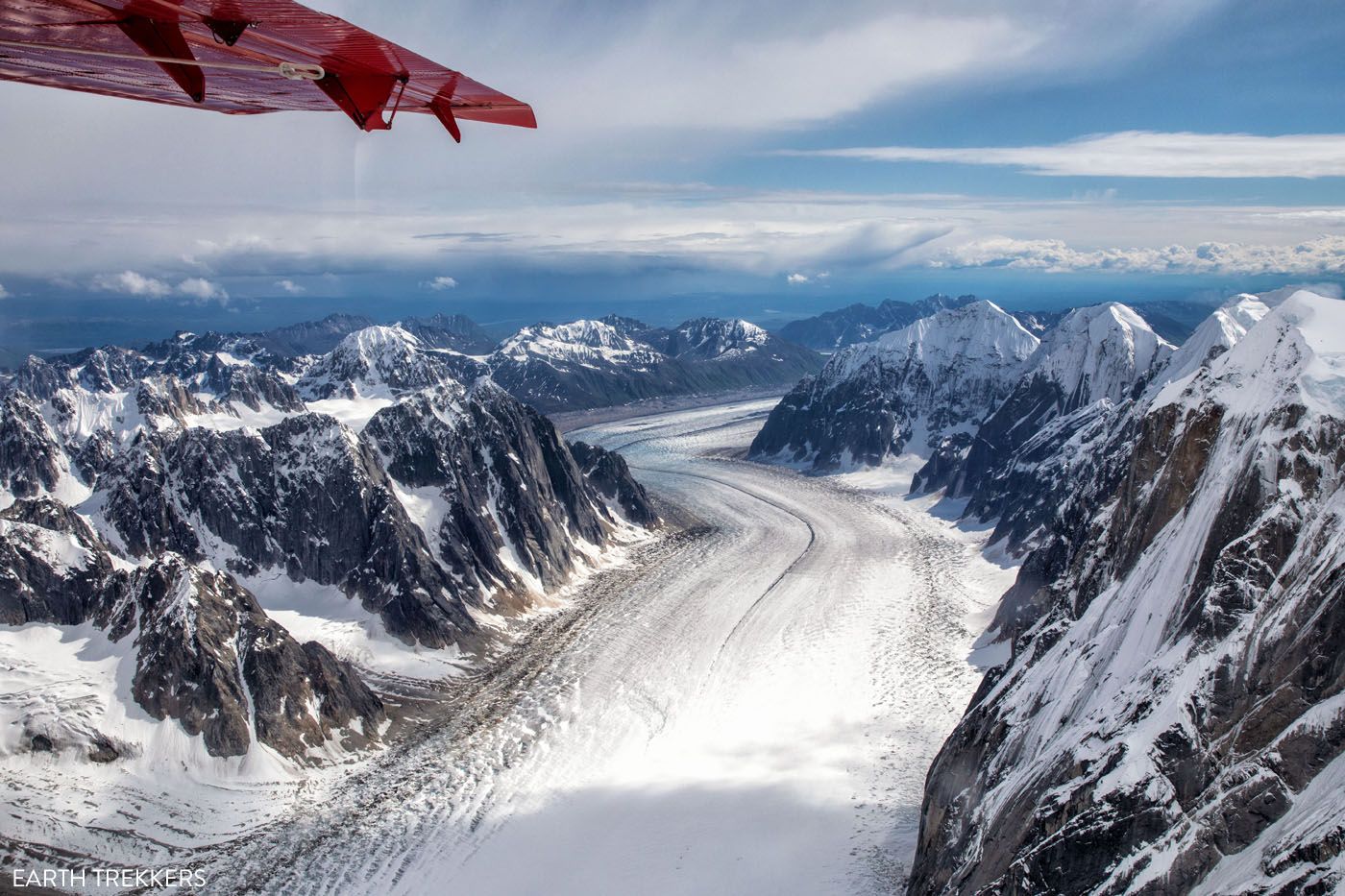 Ruth Glacier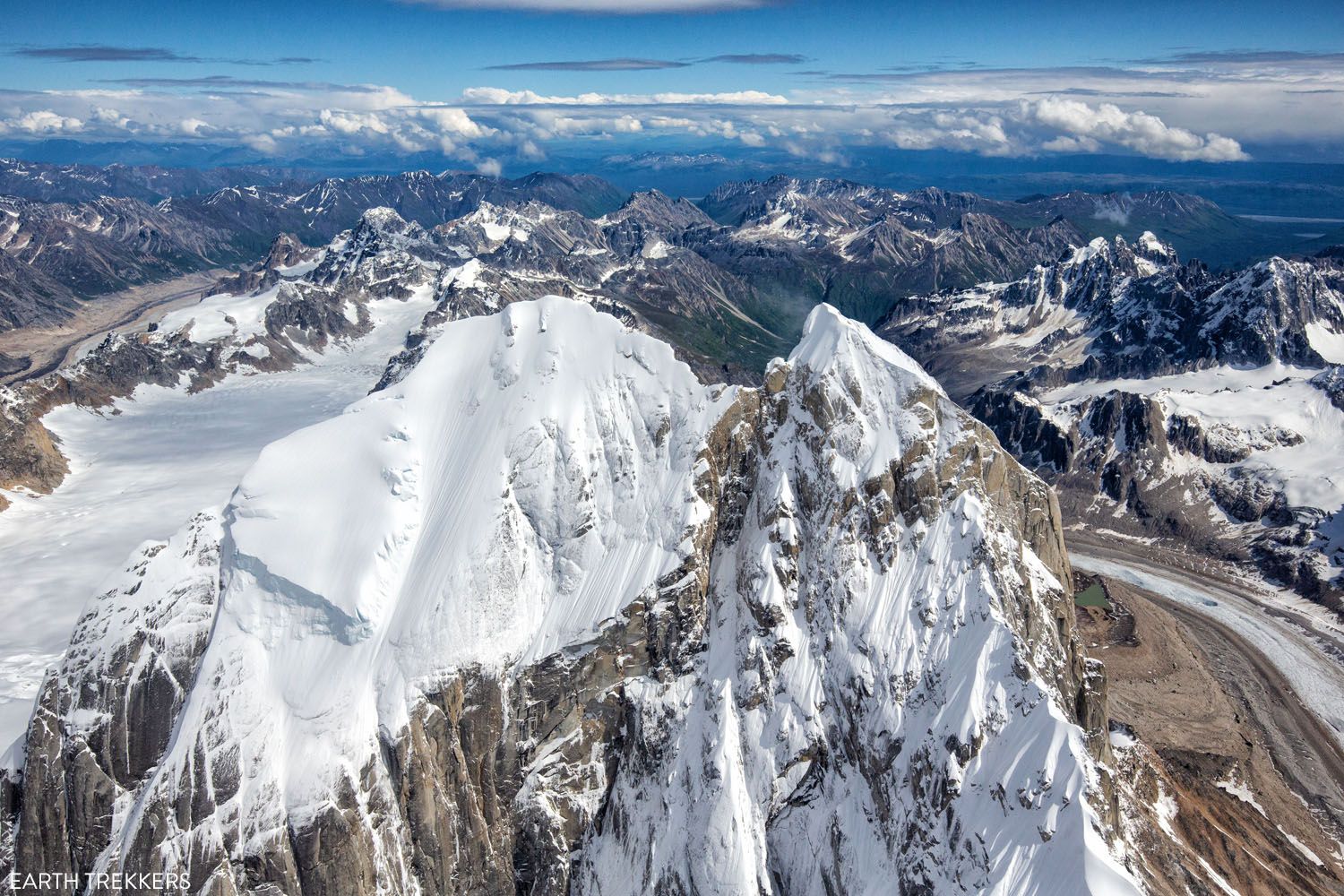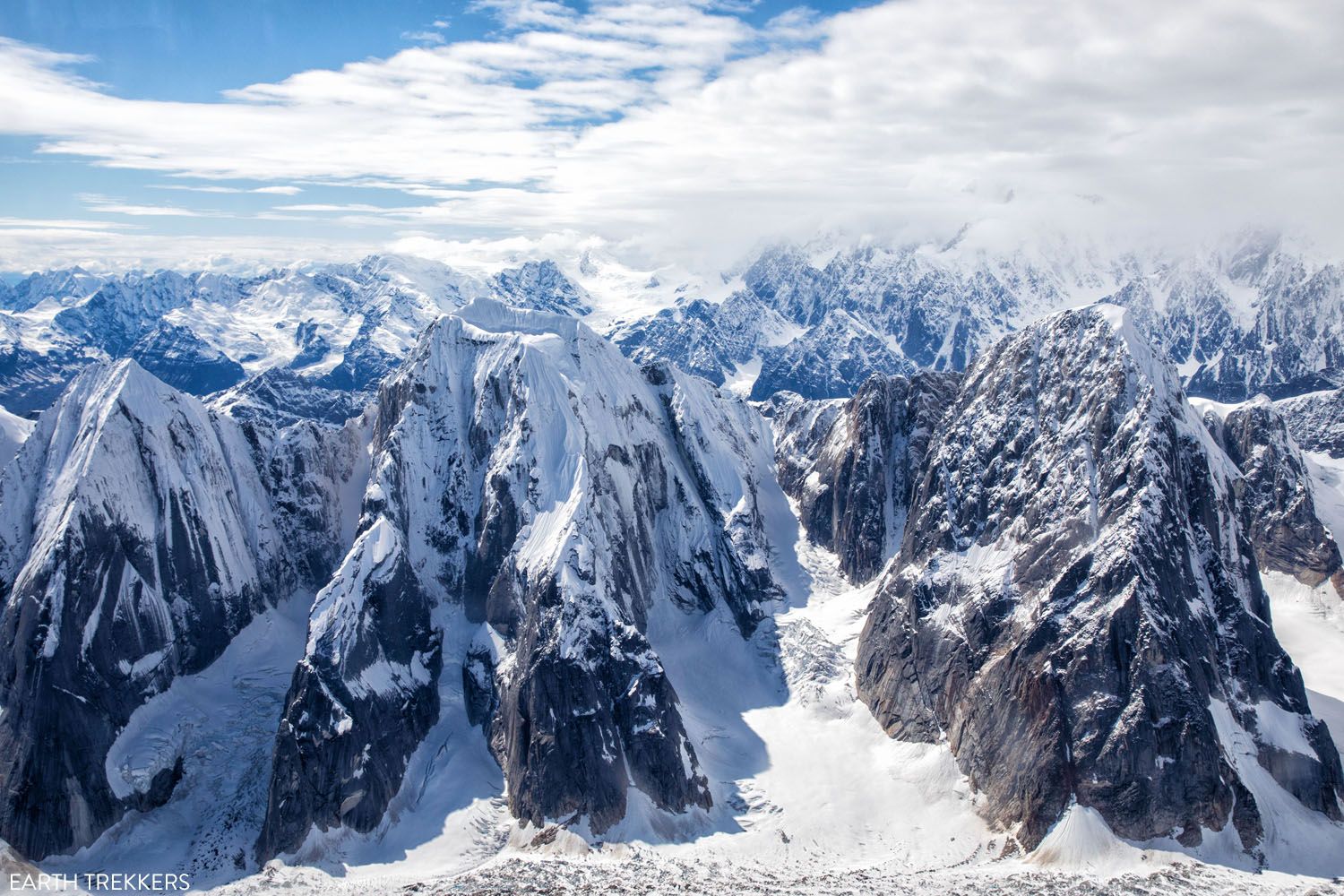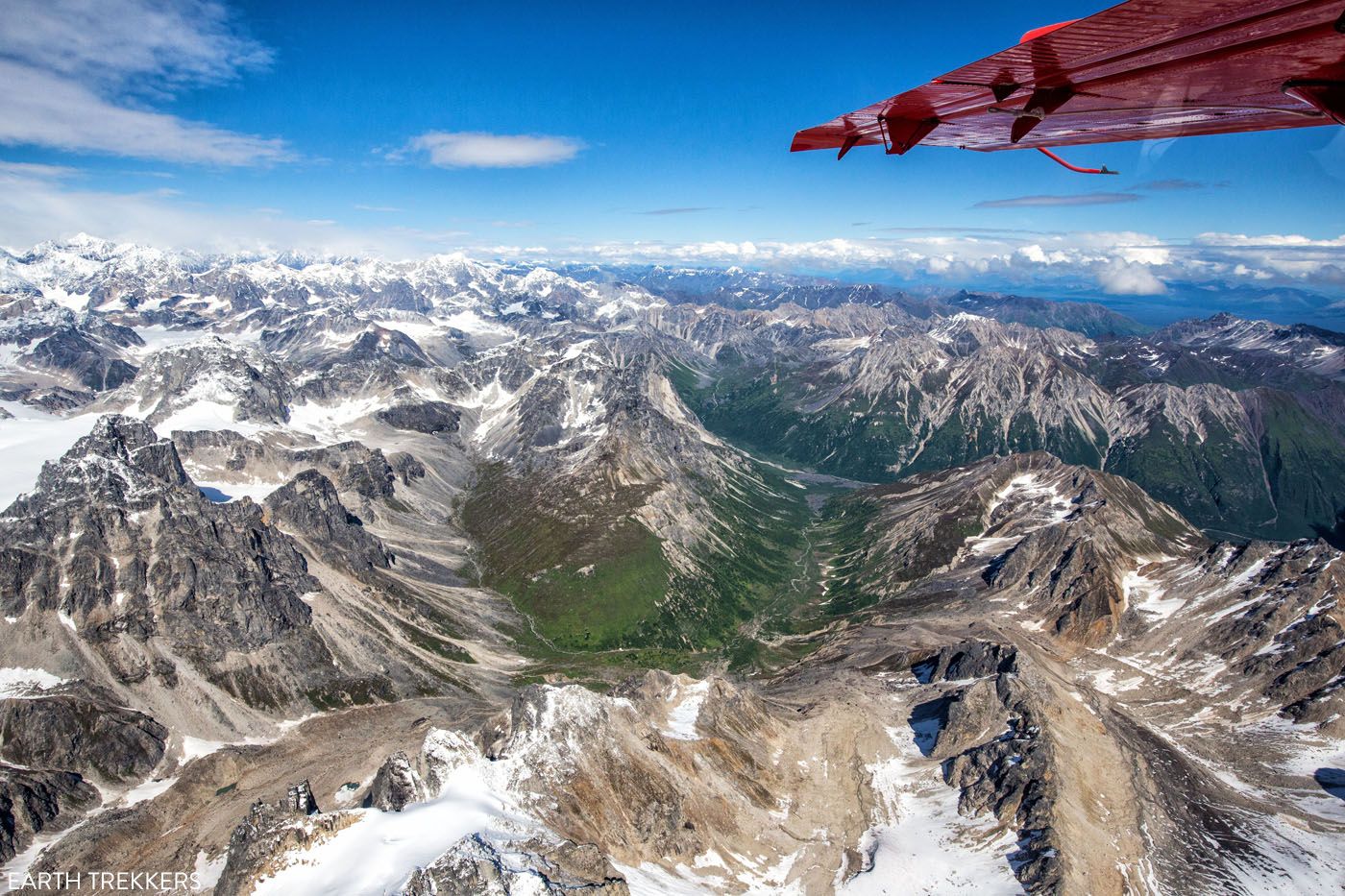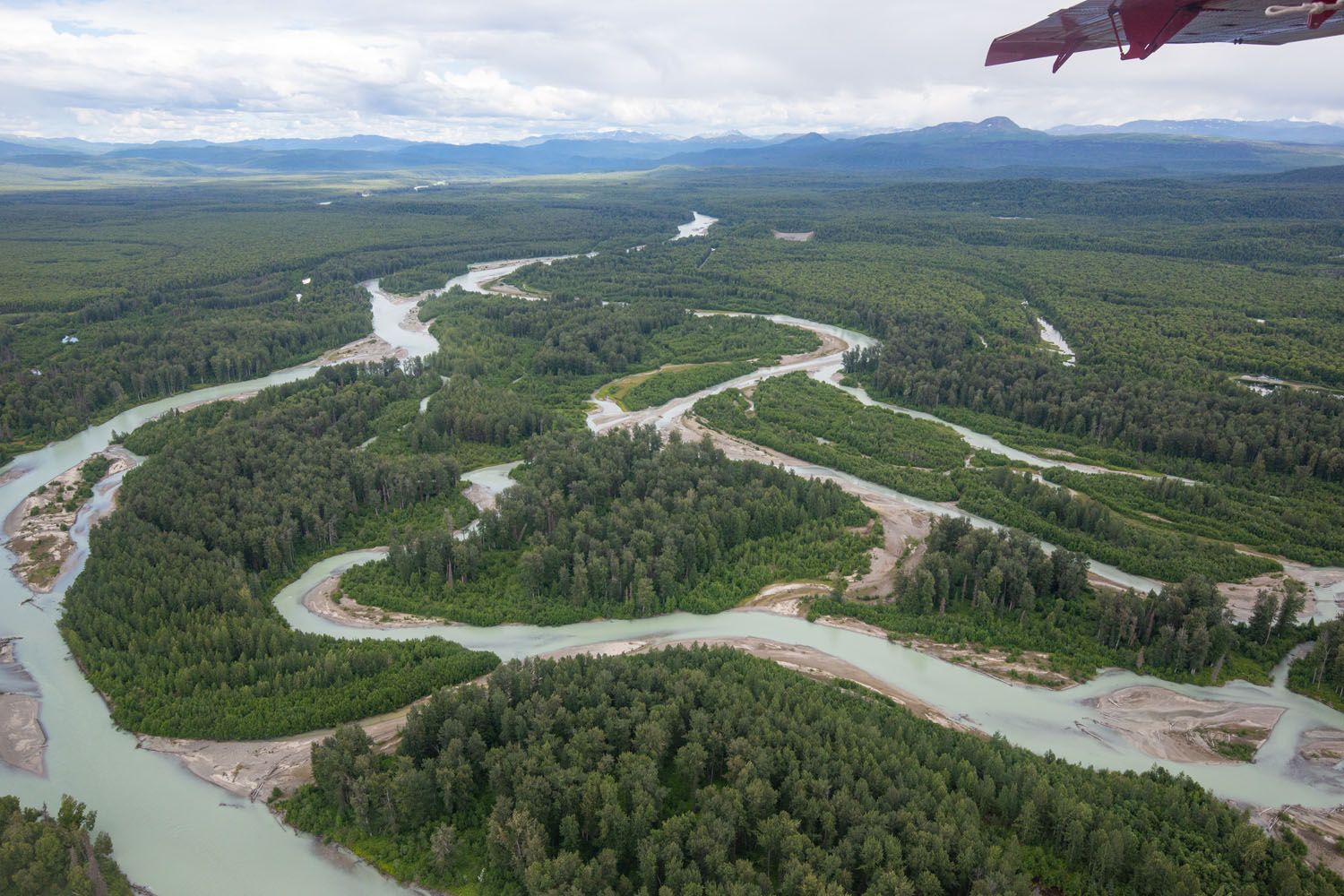 Talkeetna River | Denali Flightseeing Tour
Is a Denali Flightseeing Tour Worth It?
Absolutely!
There is no better way to appreciate the grandeur and beauty of Denali and the Alaska Range than from a flightseeing tour. By plane, you can get within several miles of Denali. You won't get that kind of view from the ground while in Denali National Park.
There is a statistic that only 30% of people get to see Denali when they visit the national park. On a flightseeing tour, you get to fly around Denali and see it from all sides, depending on the flight you choose (and weather conditions). Note: We did not see Denali from the flightseeing tour that we took, so even by plane, a view of Denali is not a guarantee.
Until 2025 or later, Denali Park Road is closed at mile 43. Some of the best views of Denali lie beyond this road closure. If you have plans to visit Denali this year (or even 2023, since the road may not be repaired by that point), I think a flightseeing tour is worth it, and maybe even more so.
Visiting Denali National Park is a once in a lifetime experience for many people and seeing Denali from the sky just may be the highlight of your trip to Alaska.
When to Go
K2 Aviation, Talkeetna Air, and Sheldon Air Service offer flightseeing tours all year. Fly Denali offers tours May through September.
As far as time of day, there is "no best time." Denali creates its own weather and it can be cloudy at any time of day. When booking our flight, the staff said that at mid-afternoon, "the sun tends to pop out at this time." We booked our flight for 3 pm and at this time, Denali was still stuck behind the clouds. But later in the day, the skies cleared, and we could see Denali as we drove north to Denali National Park.

Tips to Have the Best Experience
Arrange your flightseeing tour in advance because they can sell out. We arranged our flightseeing trip two months in advance and had no issue getting the date and time we wanted.
Flightseeing trips can be cancelled during bad weather. If your flight is cancelled, there is a chance that it can be rescheduled later in the day or the following day, depending on availability.
If you book a flight with a glacier landing, you will need to pay the Denali National Park entrance fee since you will be on national park land. This costs $15 per person ages 16 years and older and is valid for 7 days. If you have an America the Beautiful Pass, you do not need to pay the park fee.
Pick a seat in the back of the airplane. You are less likely to get the propeller blades in your photos.
Wear long pants and a long-sleeved shirt. It gets chilly inside the plane once you get up to 7,000 feet.
Denali Flightseeing Tours
Below are Denali flightseeing tours through GetYourGuide. These tours are offered by K2 Aviation and Talkeetna Air Taxi. The advantage of booking your flight through GetYourGuide is that you can cancel your reservation up to 24 hours in advance and get a full refund (as of August 2023).
---
If you have any questions about taking a Denali Flightseeing Tour, of if you want to share your experience, let us know in the comment section below.
More Information for Your Trip to Denali & Alaska:
BEST OF DENALI NATIONAL PARK: For a list of top experiences, read our article Best things to do in Denali National Park. We also have a guide to the best hikes in Denali.
DENALI PARK ROAD: Taking a park shuttle on Denali Park Road is one of the top experiences in the park. In our Guide to Denali Park Road, learn what there is to see and do along the road. It's also important to know that currently there is a road closure on Denali Park Road, which will impact your experience.
LAKE CLARK NATIONAL PARK: Learn how to plan your visit in our Lake Clark National Park Travel Guide. We also have a article about the Best Things to Do in Lake Clark and photos from Lake Clark National Park.
DRIVING IN ALASKA: The Seward Highway connects Anchorage and Seward is one of the most popular scenic drives in Alaska. We also have a detailed guide to driving from Anchorage to Valdez, yet another amazing road trip.
WRANGELL-ST. ELIAS FLIGHTSEEING: Taking a flightseeing tour of Wrangell-St. Elias is one of the best ways to see the park. Two popular tours include the Thirteen Glacier Tour and the Bagley Icefield Tour.
KENAI FJORDS NATIONAL PARK: Check out our Kenai Fjords National Park Travel Guide for important travel planning tips, sample itineraries, advice on when to go, where to stay, and more.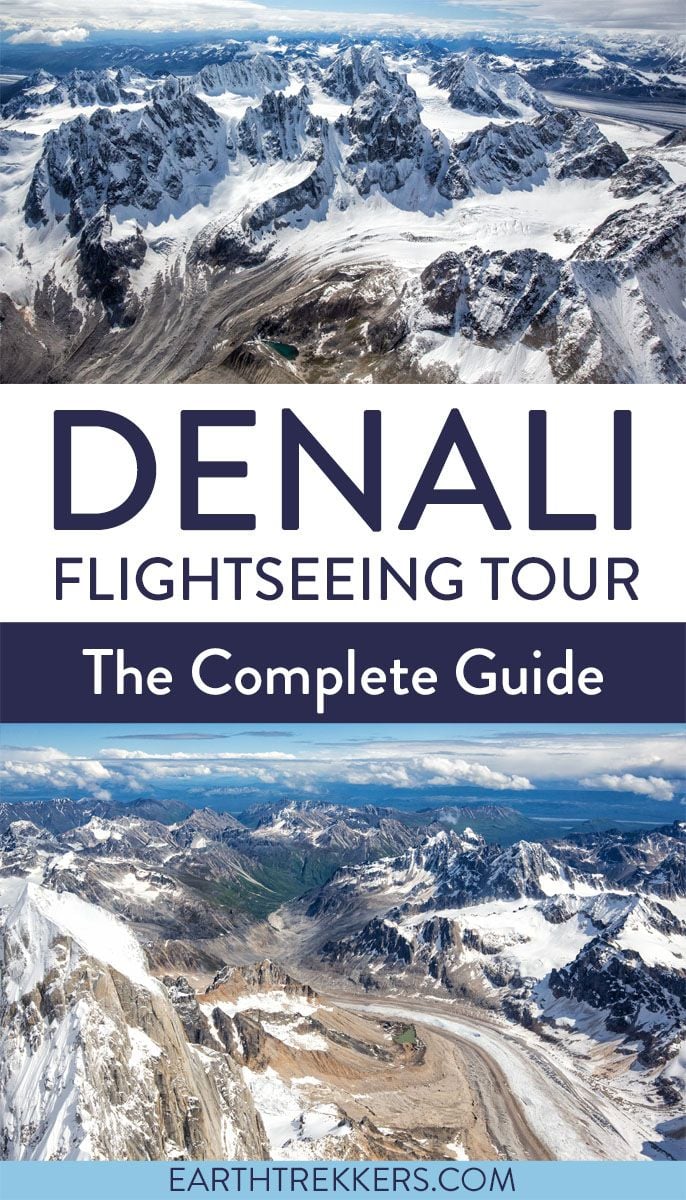 Note: This post contains affiliate links. When you make a purchase using one of these affiliate links, we get paid a small commission at no extra cost to you.
All rights reserved © Earth Trekkers. Republishing this article and/or any of its contents (text, photography, etc.), in whole or in part, is strictly prohibited.