The Road to Hana is often listed as one of the best things to do in Maui. This scenic drive attracts hundreds of visitors a day…but is the Road to Hana really worth it?
As you plan your trip to Hawaii, you will read other posts and guides that rave about how wonderful the Road to Hana is. This is not going to be one of these posts.
We liked the experience, but we did not love it. There are some important things you need to know before doing this, to set your expectations but to also have the best experience.
The Road to Hana is one of the most popular things to do in Maui. And because of this, the increased congestion on the roads, combined with visitors disobeying posted no parking signs, creates traffic jams and slow moving traffic. The locals who live along the road are rightfully frustrated. So, if you are not even sure if you want to drive the Road to Hana, skip the experience. There are many other things to do in Maui that are better (in my opinion) than driving the Road to Hana.
But if the Road to Hana is something that you plan to do, keep reading. In this guide, we cover rules and regulations you need to be aware of before doing this drive, different driving routes (yes, there is more than one way to drive the Road to Hana), what to see along the way, reservations that need to be made in advance, and if the Road to Hana is worth it.
What is the Road to Hana?
The Road to Hana is a 64 mile stretch of road that starts in Kahului and ends at Kīpahulu. Along this road, there are 620 curves (who counted all of those?) and 59 bridges, 46 of which are one lane.
For most of the drive, a very narrow road winds through lush, green forests. There are no straight sections to this drive…the curves are constant.
Due to traffic, the narrow winding roads, and the one lane bridges, it can take almost 3 hours to drive from Kahului to Hana, without stops.
If you or someone in your group suffers from motion sickness, you might want to skip this drive.
The Hana Highway was listed on the National Register of Historic Places in 2001.
The Road to Hana Code of Conduct
There are rules and regulations that you need to be aware of before doing this drive.
The Road to Hana is not a tourist route…it is a road that locals live and work along. Visitors need to be respectful, stay on the roads, obey street and road signs, park in designated areas only, and more. There are 29 rules, and below I listed a few of them, but you can see the full list here.
Pull over for local traffic.
Before entering east Maui, dust and decontaminate footwear, hiking gear, and vehicle to deter invasive species.
If no welcoming signage is visible, consider the area private property and do not intrude.
Do not remove or displace soil, rocks or sand from beaches, mountain, or roadsides.
Contain all rubbish and waste brought into Hana with you, do not leave anything behind.
Absolutely no stopping or stalling on bridges, under rock fall and landslide prone areas.
No walking on Hana Highway.
In addition to these rules, there is also a $200 parking fine for stopping illegally on a state highway. To ease congestion on the roads, the HTA is urging visitors to travel with a tour company.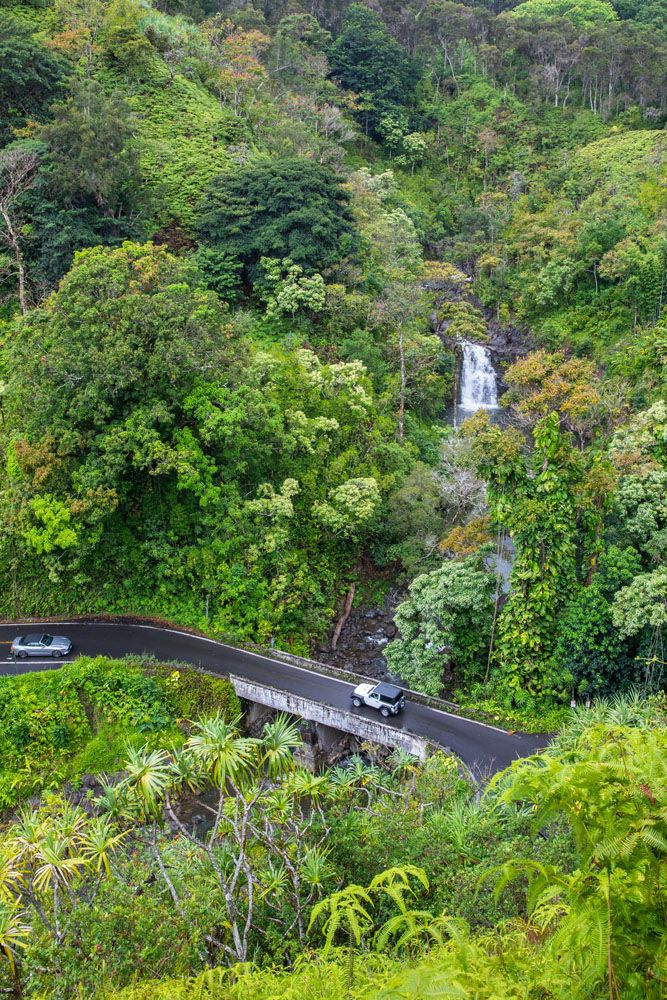 View of the Road to Hana from the Garden of Eden Arboretum
Road to Hana: Driving Routes
There are two different ways to drive the Road to Hana.
Out-and-Back on Hana Highway: The most common way to do this drive is out-and-back. Starting near Kahului, drive Hana Highway to Hana and continue to Kīpahulu (the location of 'Oheo Gulch and the Pīpīwai Trail). To finish the drive, turn around and drive Hana Highway back to Kahului. This drive is 124 miles and takes 5.5 hours without stops.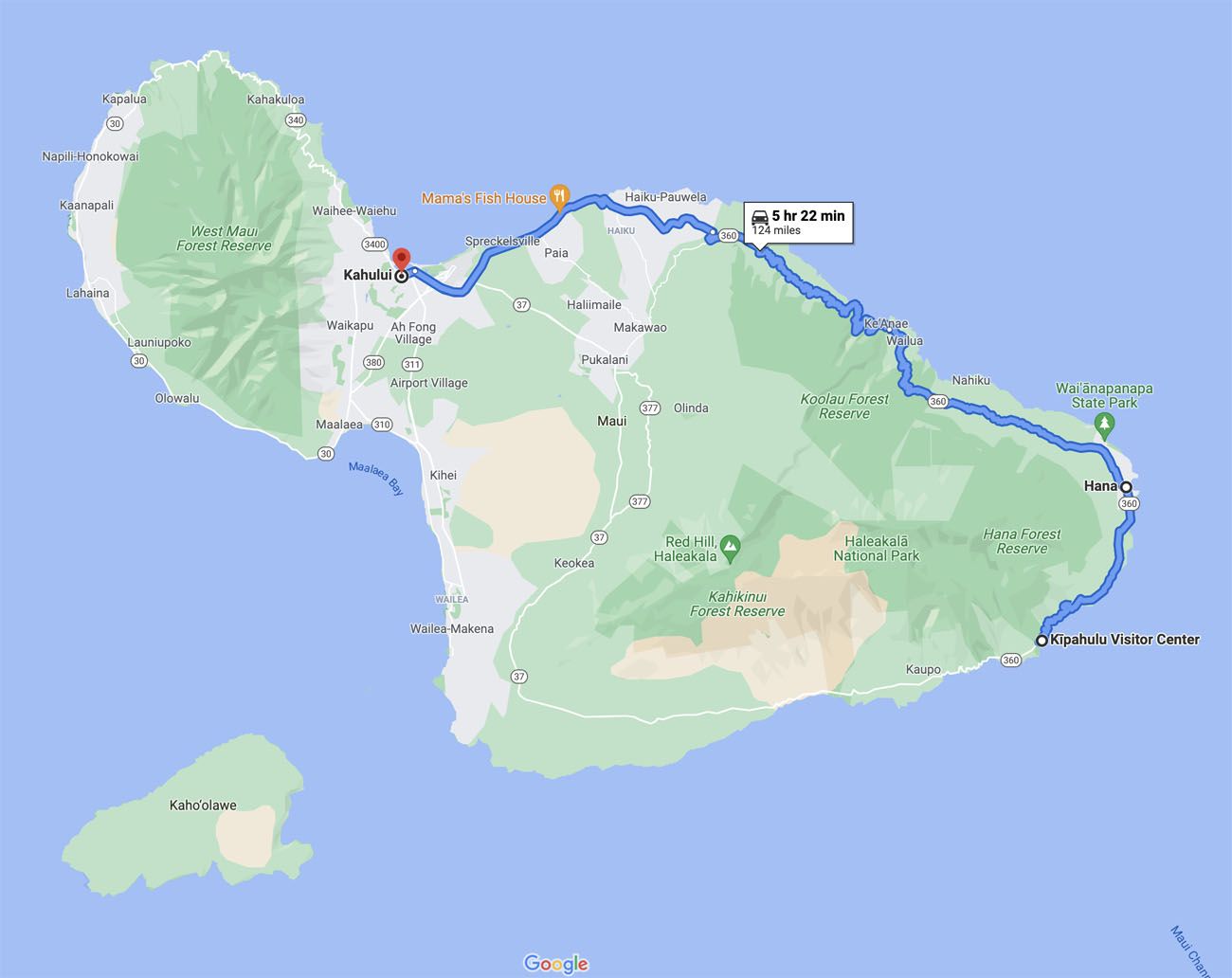 Out-and-back Road to Hana driving route
As a Loop: Due to the rough, remote nature of Highway 31 on the south coast of Maui, many people avoid this stretch of road. But the advantage is that you never repeat any part of the drive and you get to see more of Maui. There are some gravel sections on Highway 31, which might violate rental car terms and conditions. This drive is 116 miles and takes about 5 hours without stops.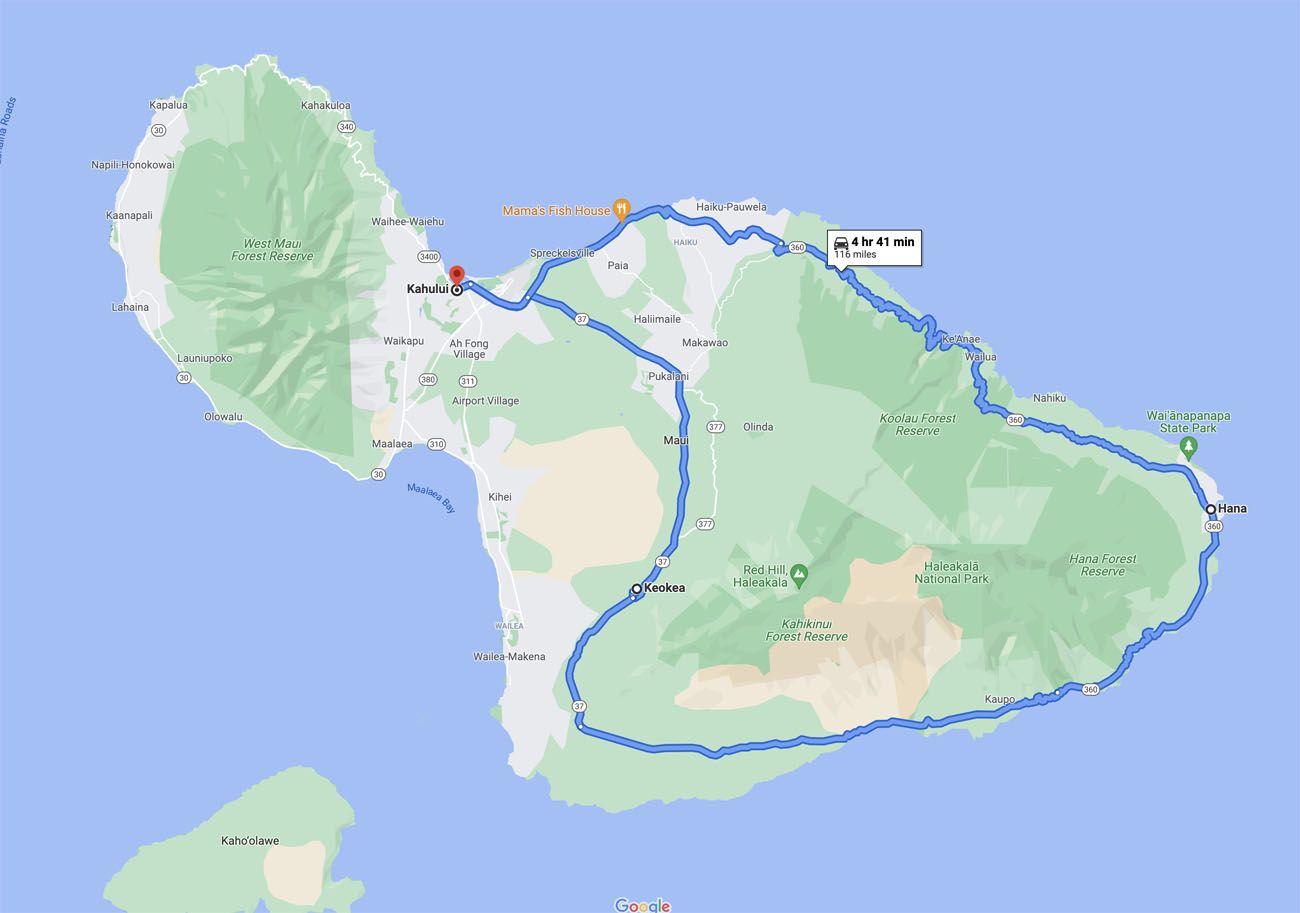 Road to Hana as a loop
We have driven the Road to Hana both ways. On our recent visit to Maui, we did the drive as a loop and it was wonderful. Highway 31 is not as rough and rugged as other sources make it out to be. We measured a grand total of 2.5 miles of unpaved road. The remainder of the road was paved, albeit rough in spots, but it was paved. Highway 31 is narrow with some one-way bridges, but it is no different than Hana Highway in this respect.
Driving the Road to Hana as a Loop
If you drive the Road to Hana as a loop, should you go clockwise or counter-clockwise?
If hiking the Pīpīwai Trail and visiting the Kīpahulu District of Haleakala National Park is at the top of your list, do this drive counter-clockwise so you can get here early, before it gets crowded. This district closes at 5 pm. If you do this drive in a clockwise direction, you risk getting here too late in the day to do this hike.
If you prefer to stop off at Aunty Sandy's for banana bread or visit one or both of the arboretums, drive the Road to Hana loop in a clockwise direction. Both of these stops close in the mid-afternoon, so if you do the drive in the opposite direction, you risk these being closed when you get here. But you might not make it the Kīpahulu District to hike the Pīpīwai Trail before it closes at 5 pm.
We did the Road to Hana loop in the counter-clockwise direction because hiking the Pīpīwai Trail was the most important thing we wanted to do. This driving loop is written in a counter-clockwise direction.
How to Use This Map: Click the tab in the top left hand corner of the map to view the layers (points of interest and the driving route). You can click the check marks to hide or show layers. If you click the icons on the map, you can get more information about each point of interest.

If you click the star next to the title of the map, this map will be added to your Google Maps account. To view it on your phone or computer, open Google Maps, click the menu button, go to "Your Places," click Maps, and you will see this map on your list.
Best Sights along the Road to Hana
Below I describe how to drive the Road to Hana as a loop. If you read other guides, you will see that they list more things to do than what I have listed below. There is only so much you can do if you only have one day on the Road to Hana and with the stops I mention below, this will take you between 12 and 14 hours. It's going to be tough to add on more sights.
The top four sights to see on the Road to Hana are the Pīpīwai Trail, 'Ohe'o Gulch, Wai'anapanapa State Park, and Ho'okipa Beach. These are all included below.
Start: Kahului
Starting at or near Kahului, depending on the location of your hotel, you will take Highway 37 south. This first part of the drive takes you into upcountry Maui. From here, you will drive past farms, a winery, and have very nice views of the west coast of Maui.
Piilani Highway/Highway 31: The Back Road to Hana
Just past MauiWine (about 43 miles and 1 hour into the drive) the road name changes to Highway 31, which is also called Piilani Highway. This is the point where the road heads east and you start the drive along the south coast of Maui.
This part of the drive is referred to as the backside of Haleakala, the Back Road to Hana, or the Reverse Road to Hana.
At first, the road is a wide, paved, two lane road, pictured below.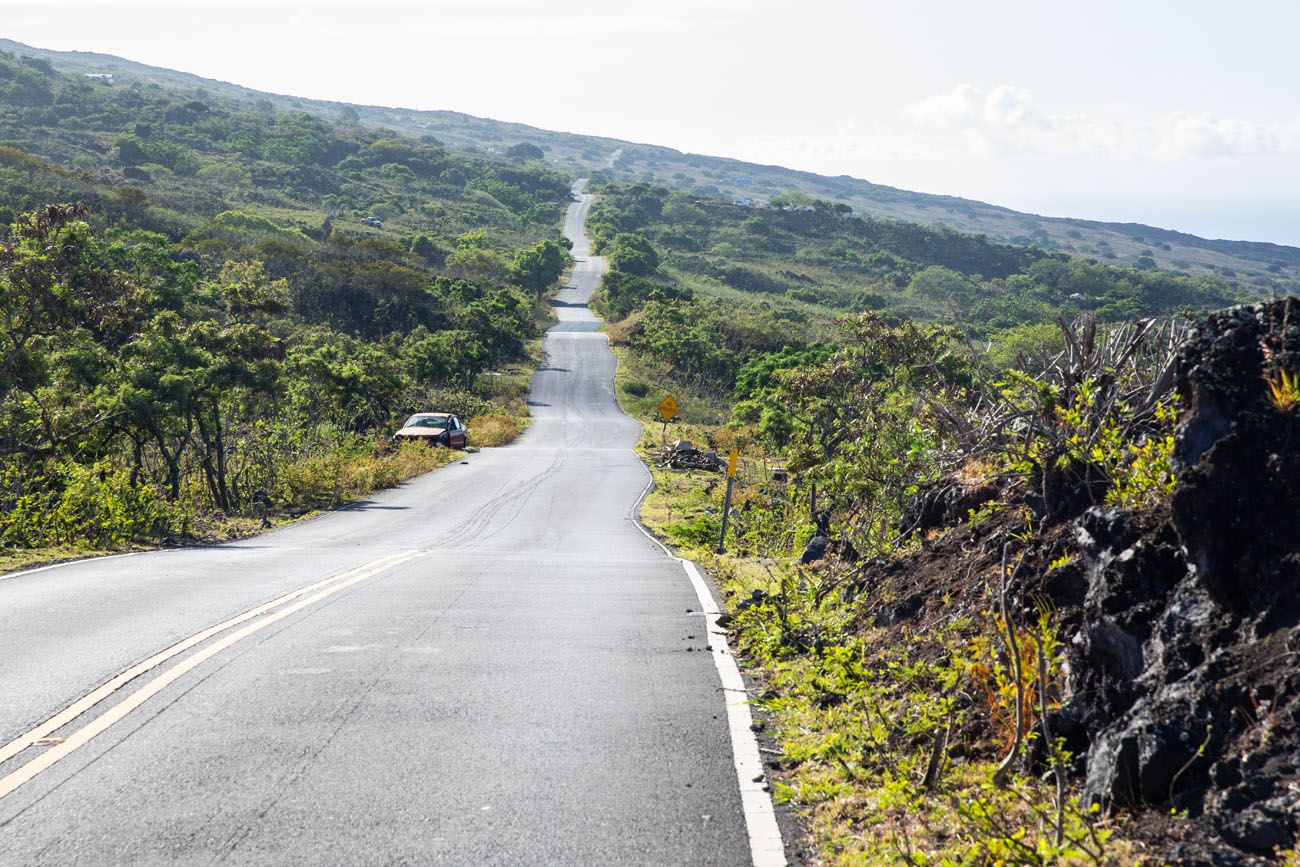 Further down Highway 31, the road narrows a bit and loses the middle yellow line, but it is still wide enough to pass oncoming traffic. To your right are lava fields and to your left is Haleakala.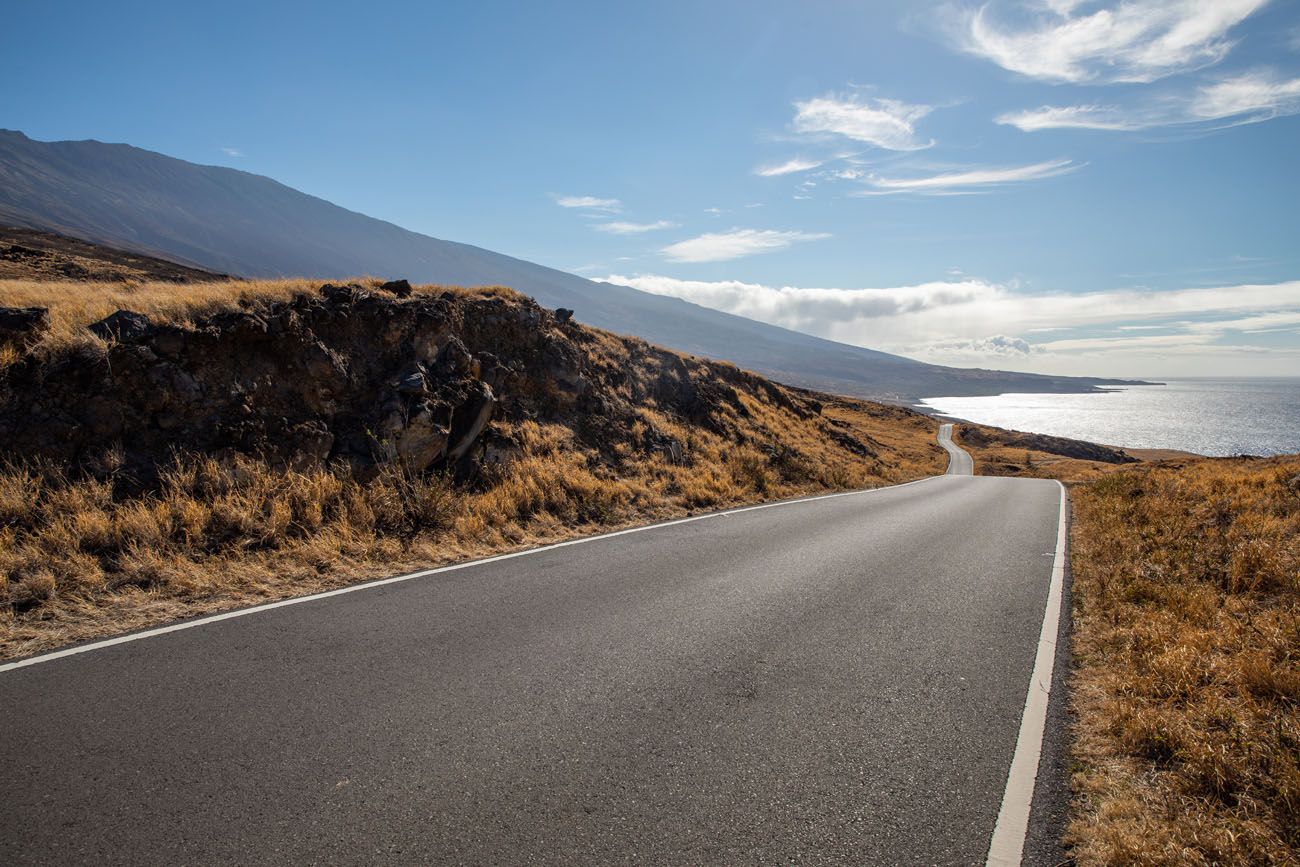 Once the road starts winding along the coast, this drive really gets interesting. Now, you have great views of this rugged coastline. There are frequent pull-offs where you can safely get out and snap a photo. If you look down at some of the ravines or beaches, you might see an unfortunate vehicle that veered off the road and has been left to rust and disintegrate.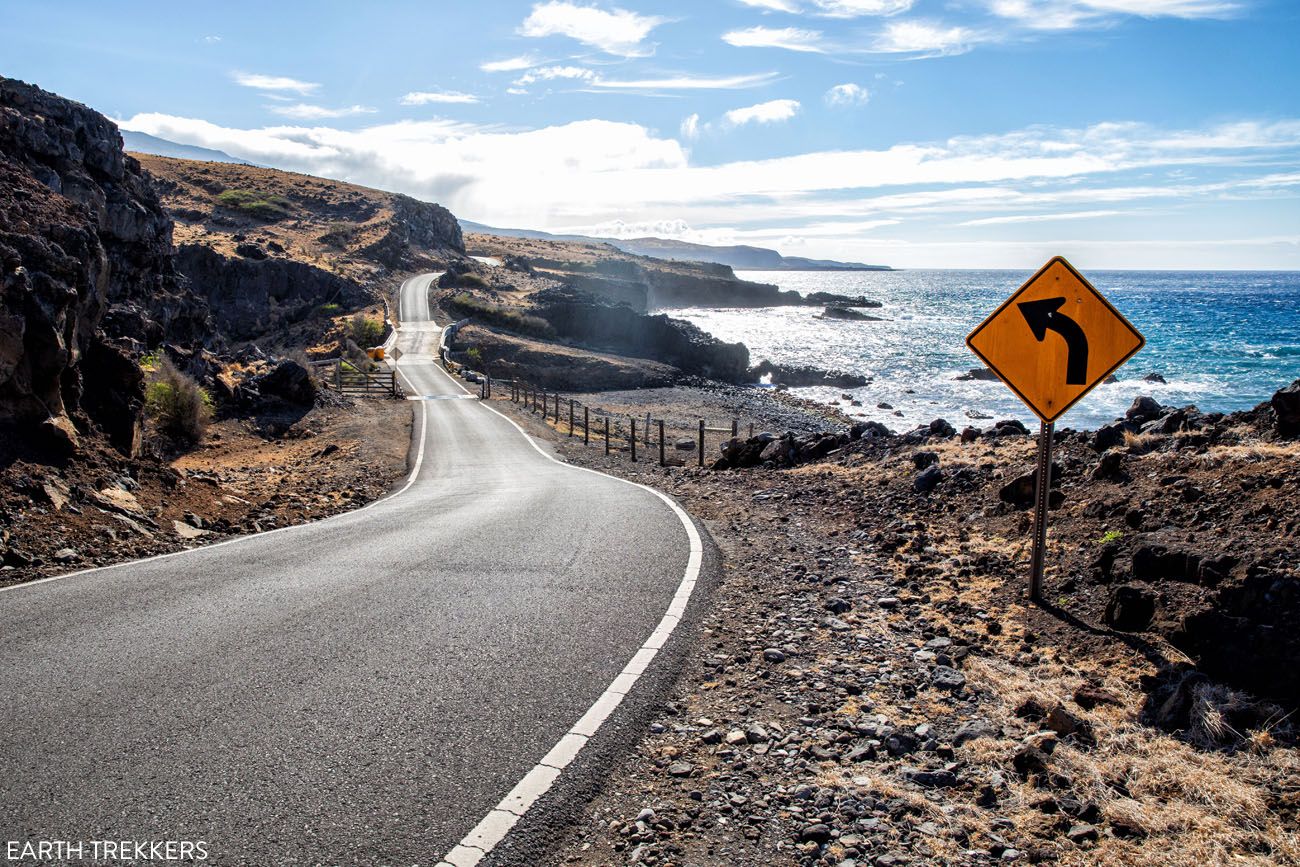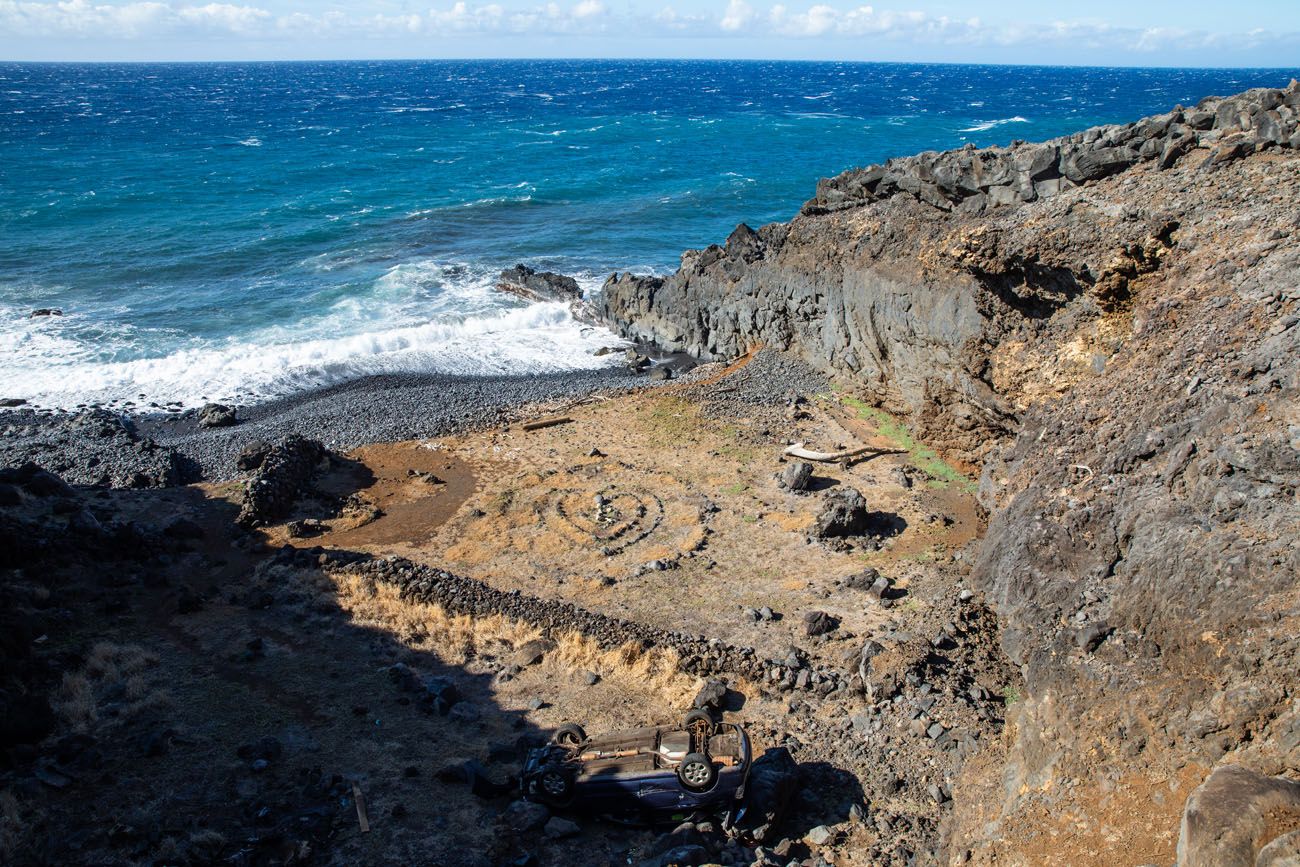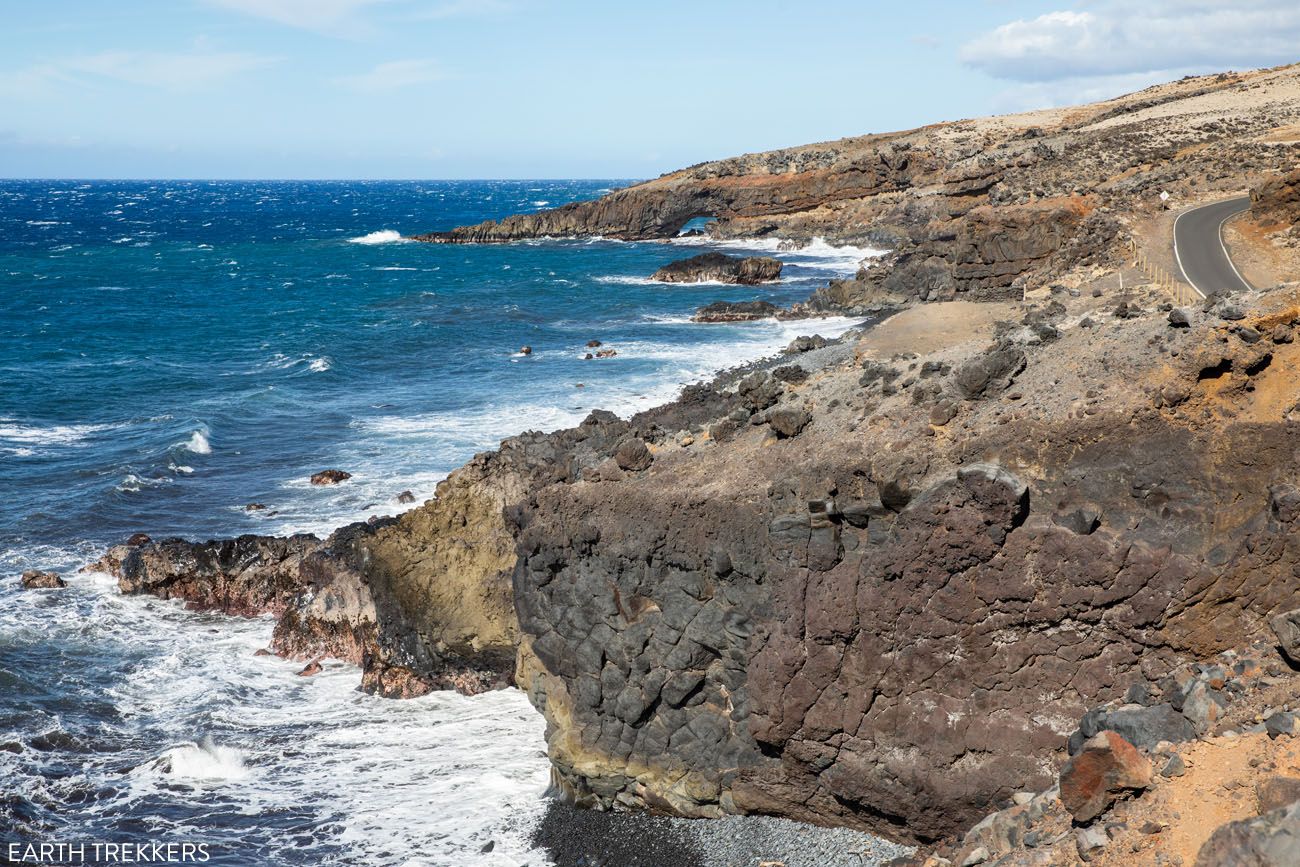 Can you see the Sea Arch?
The stretch of road between the Nu'u Refuge and Kaupo Town is the roughest. For about 8 miles, the road alternates between a very rough, paved road and a short stretch of smoother, gravel road. Yes, the gravel road was smoother than some of the paved roads on this section of the drive. It's almost like someone threw globs of asphalt onto the road, making it very lumpy and rough to drive.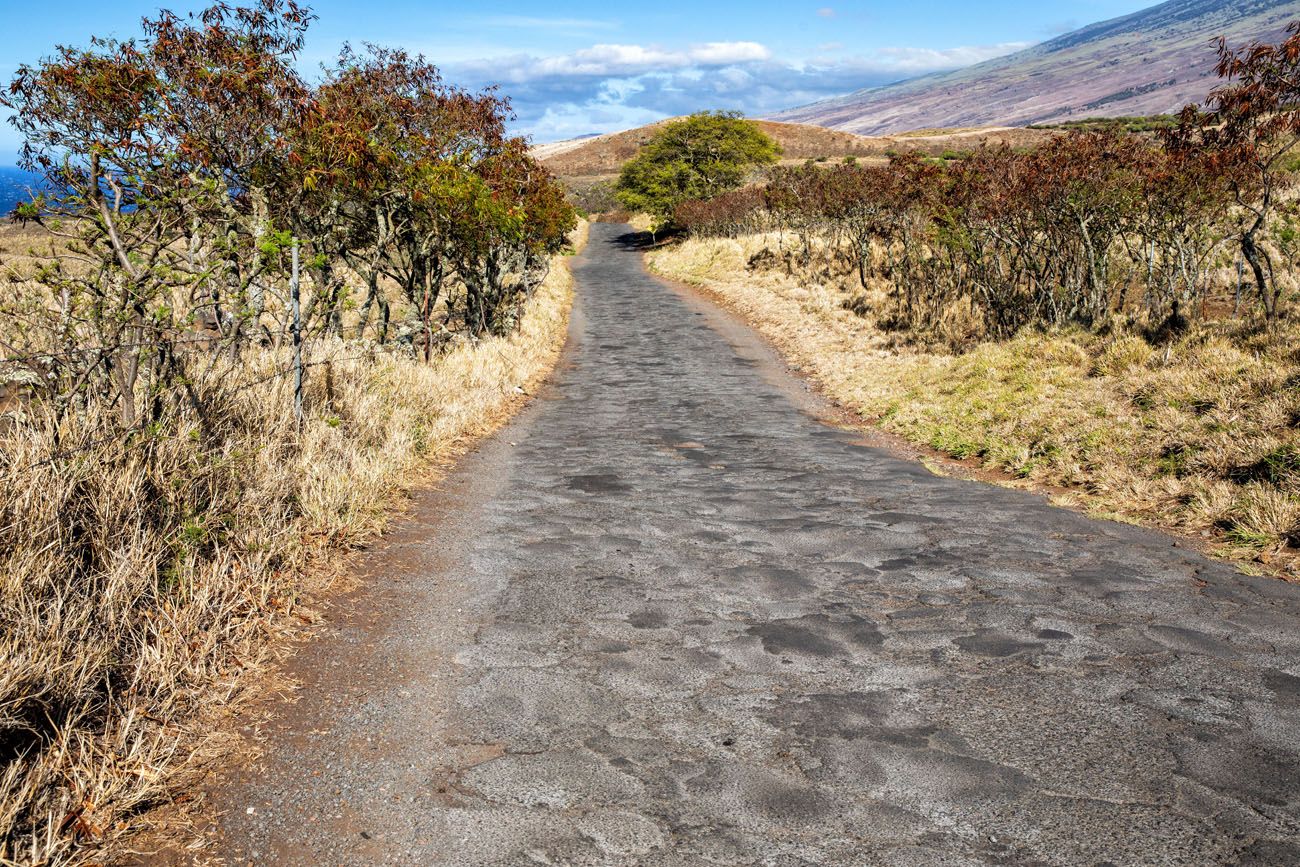 Beyond Kaupo, the road gets smoother but extremely curvy, as it winds along the coast. There will be some narrow, blind turns here, so keep your eyes on the road and take your time, to keep an eye out for oncoming traffic.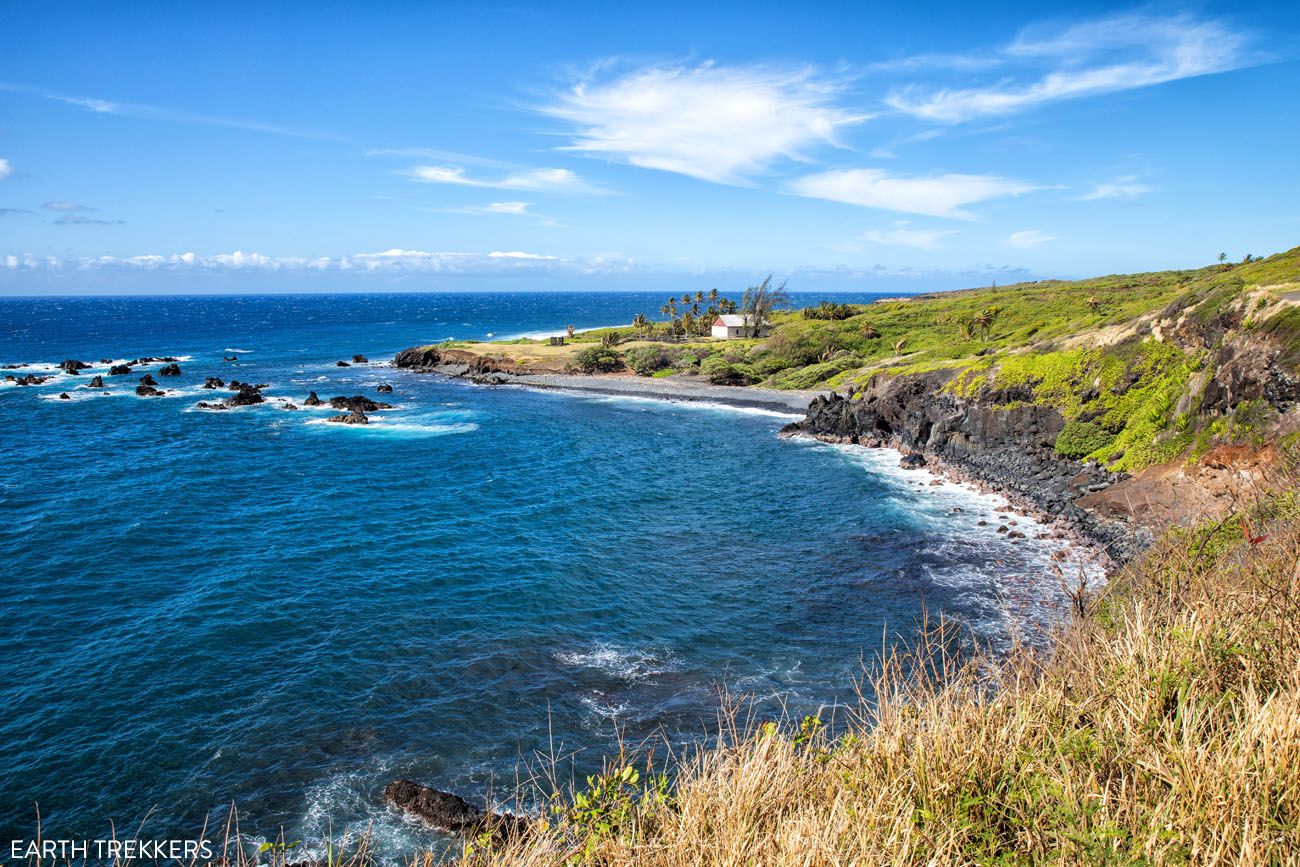 Hana Highway
At the Kalepa Bridge, the name of the road changes from Piilani Highway/Route 31 to Hana Highway/360. Now, you are on the official Road to Hana.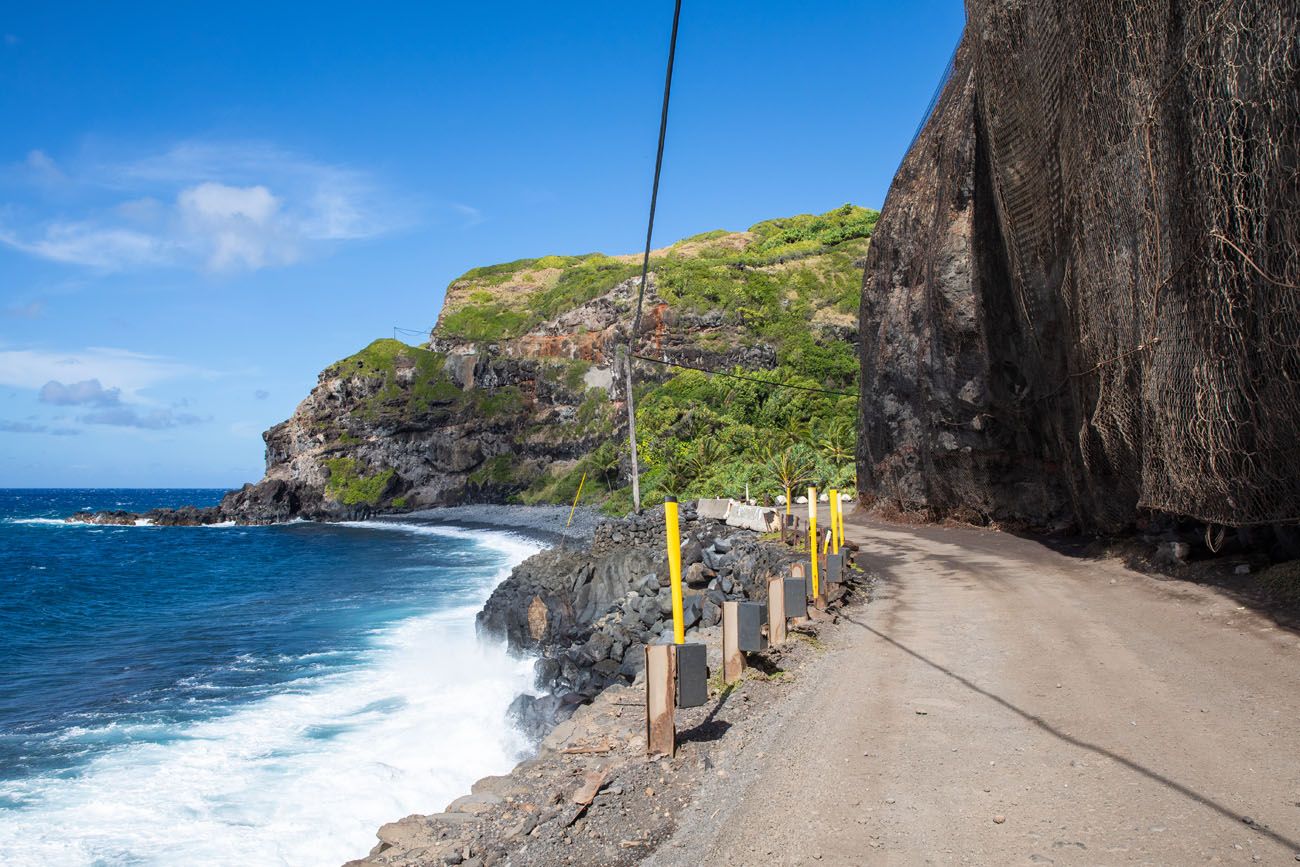 Charles Lindbergh's Grave
2.5 miles past Kalepa Bridge (about a 10 minute drive) you will reach the turn for Charles Lindbergh's grave. To get here, turn right on a narrow road with a sign directing you to Palapala Ho'omau Church.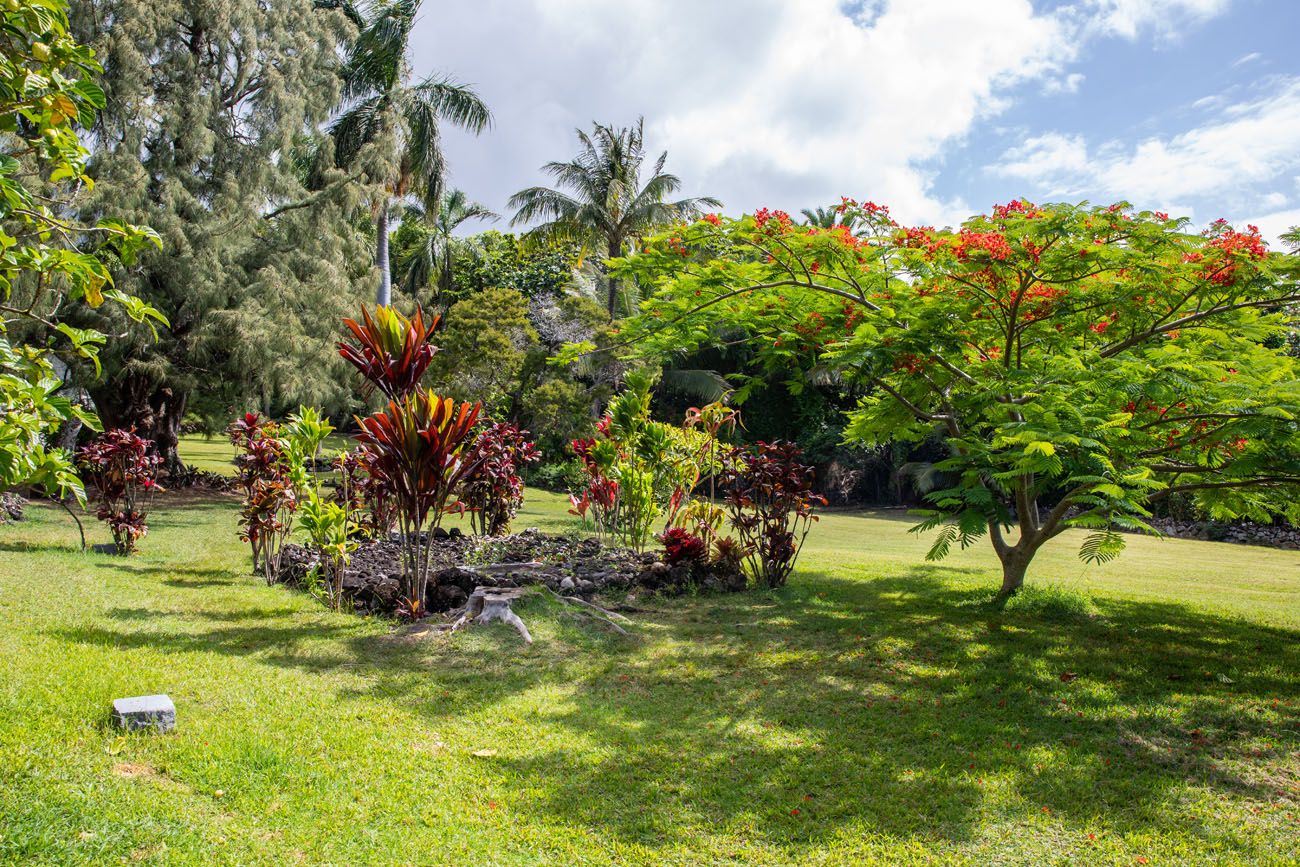 In the 1960's, Charles Lindbergh settled in Kipahulu. He lived out his final days here, passing away in 1975.
Palapala Church was built in 1857 and it is one of the first places in Maui to see the sunrise.
Kīpahulu District of Haleakala National Park
The Kīpahulu District is home to two of the Road to Hana's best things to do: the Pipiwai Trail and 'Ohe'o Gulch.
Pīpīwai Trail
The Pīpīwai Trail is a 4 mile out-and-back hike where you get to see several waterfalls, an enormous Banyan tree, and hike through a bamboo forest.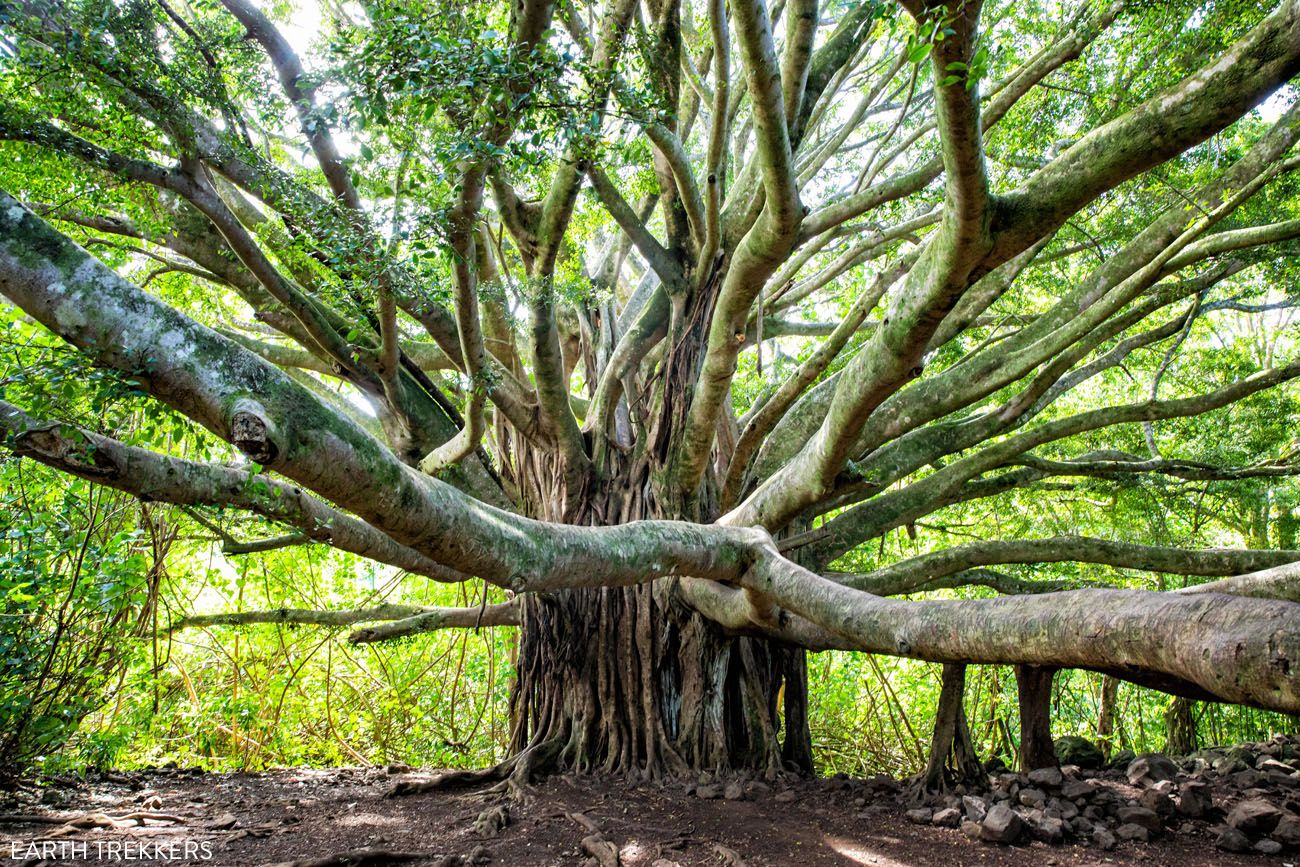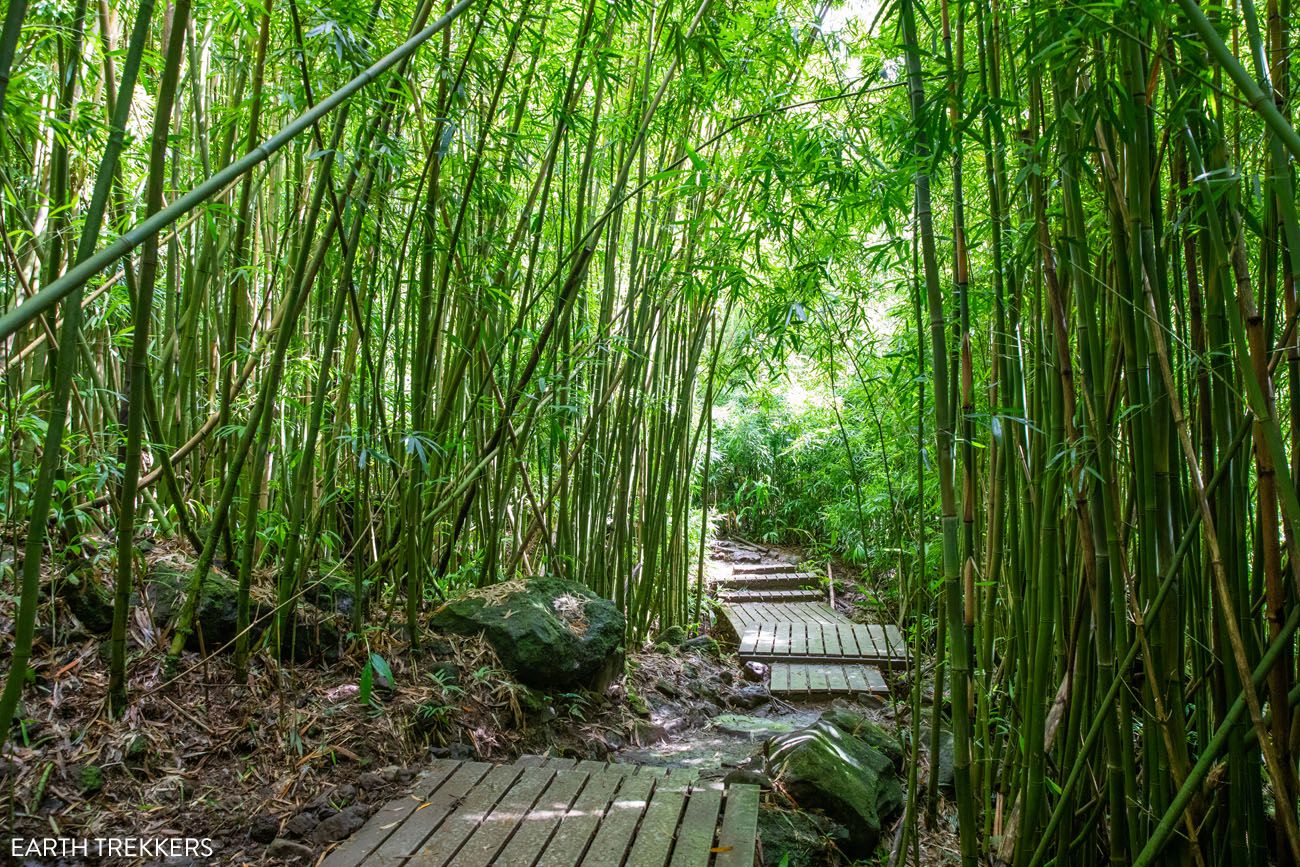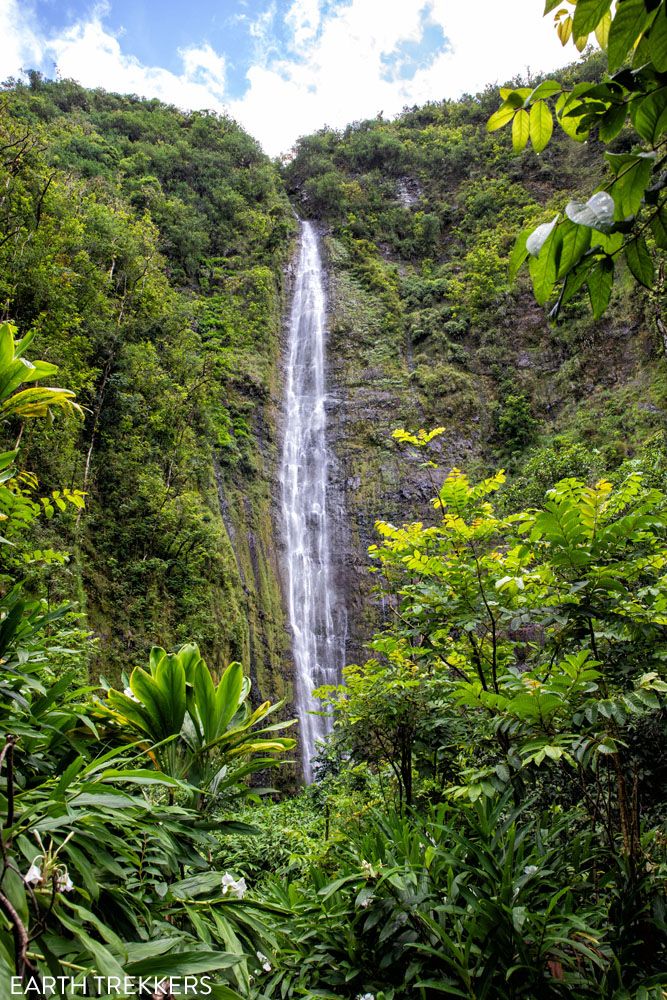 Waimoku Falls
'Ohe'o Gulch
The Seven Sacred Pools of 'Ohe'o, also referred to as 'Ohe'o Gulch, is a collection of cascading waterfalls and pools.
Swimming in these pools is a popular thing to do, but Ohe'o Gulch is frequently closed to swimming by the National Park Service. Rain at higher elevations can trigger flash floods, which can be very dangerous. The water can rise as much as 4 feet in a matter of minutes, washing people out to sea.
You can see 'Ohe'o Gulch from the Kuloa Trail. This easy hike is 0.5 miles round trip and takes you to a few viewpoints of the pools.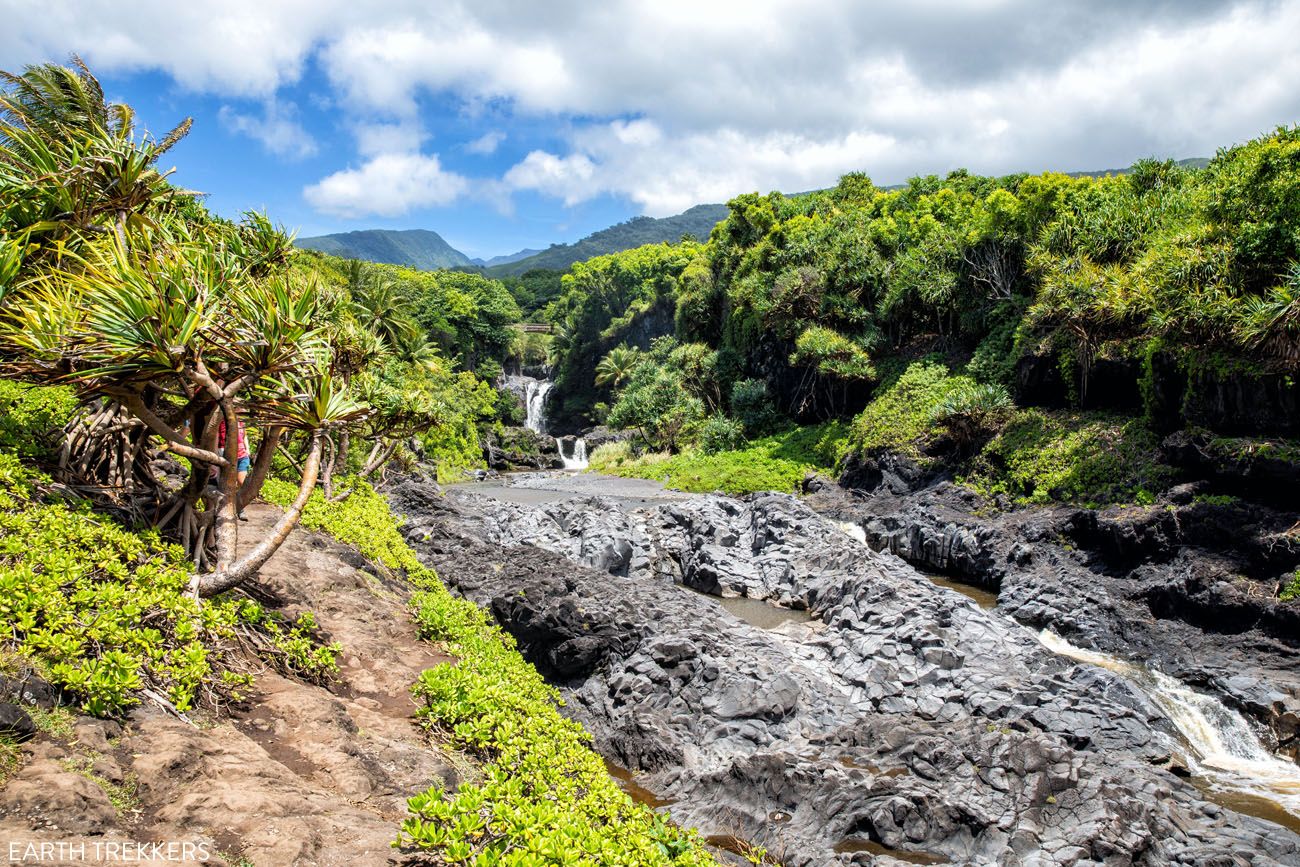 You can get updates on whether or not the pools are open for swimming on the National Park Service website.
PLANNING YOUR TIME: If you plan to hike both the Pīpīwai Trail and the Kuloa Trail, your visit will last between 2 to 4 hours, depending on how fast you hike.
Wailua Falls
3 miles east of the Kīpahulu District is Wailua Falls, one of the prettiest waterfalls along the Road to Hana. There is a parking area and from here you can see it from the bridge.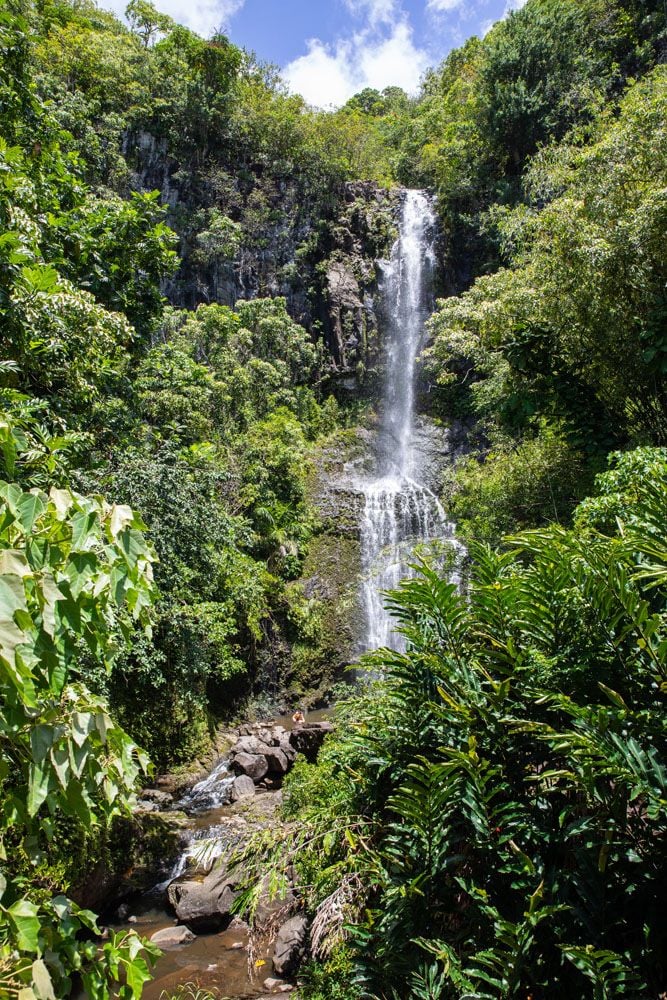 Hamoa Beach
As you head north on Hana Highway, you can turn right on Haneoo Road to see two beaches: Hamoa Beach and Koki Beach Park(mentioned next). Hamoa Beach is a popular spot for surfing and boogie boarding.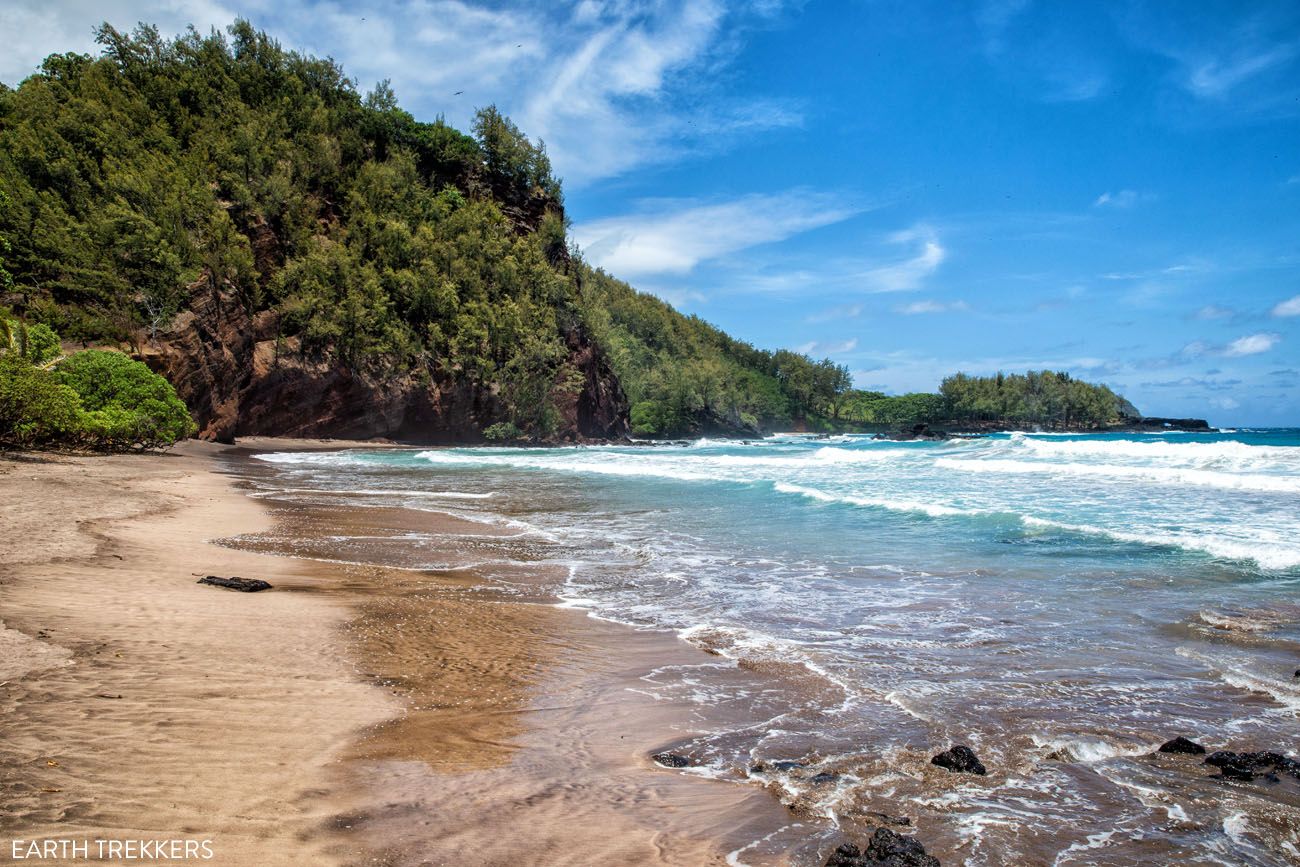 Hamoa Beach
Koki Beach Park
Just up the road from Hamoa Beach, Koki Beach looks dramatically different…a reddish sand beach littered with cinders and lava rock.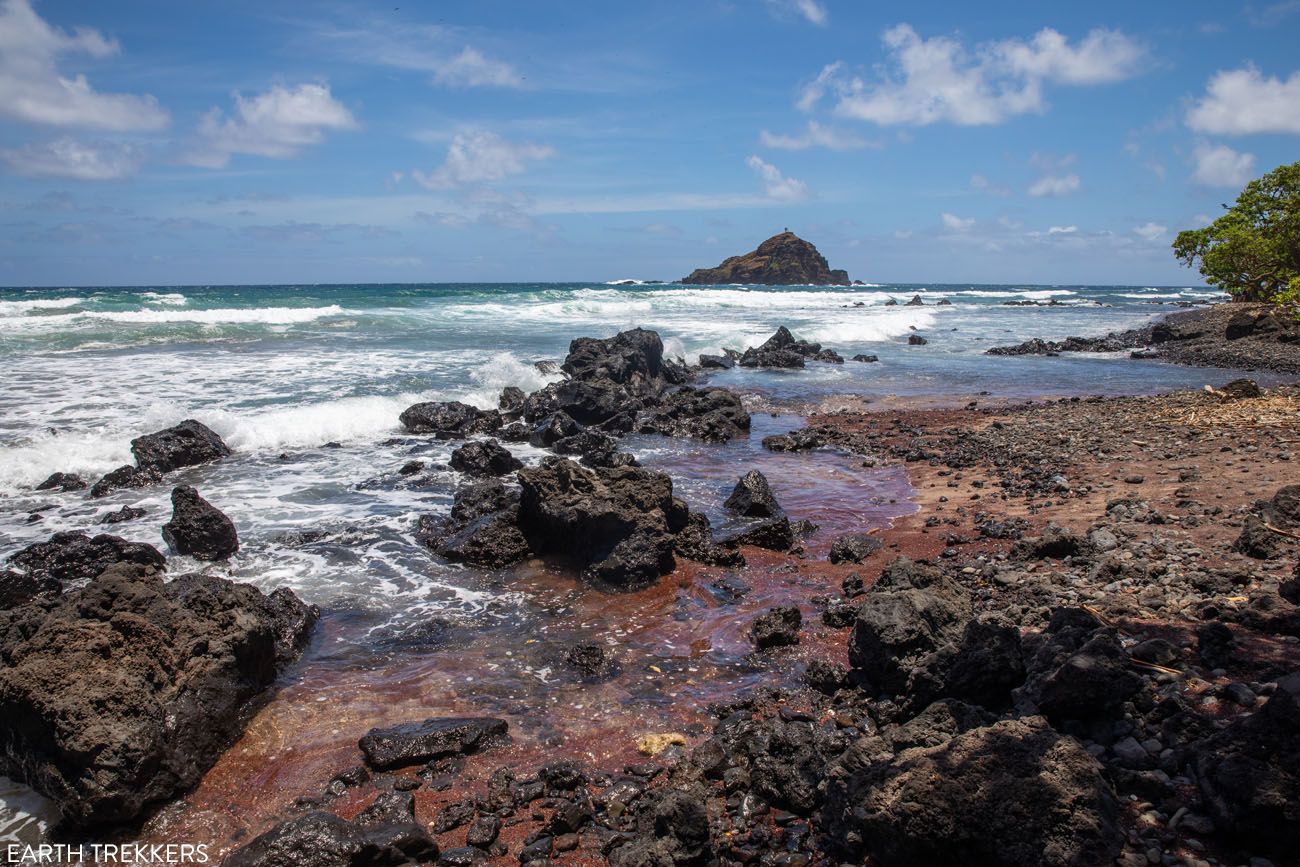 Koki Beach
Hana Town
2 miles (about a 5 minute drive) north of Koki Beach Park you reach Hana Town. This very small town is a good spot to grab a bite to eat and refuel your car with gas (the Texaco on the south side of town is the only gas station that I know of on the Road to Hana). Thai food by Pranee and Ae's Thai Kitchen food truck both get great reviews. If you want something sweet, try the coconut ice cream at Coconut Glen's.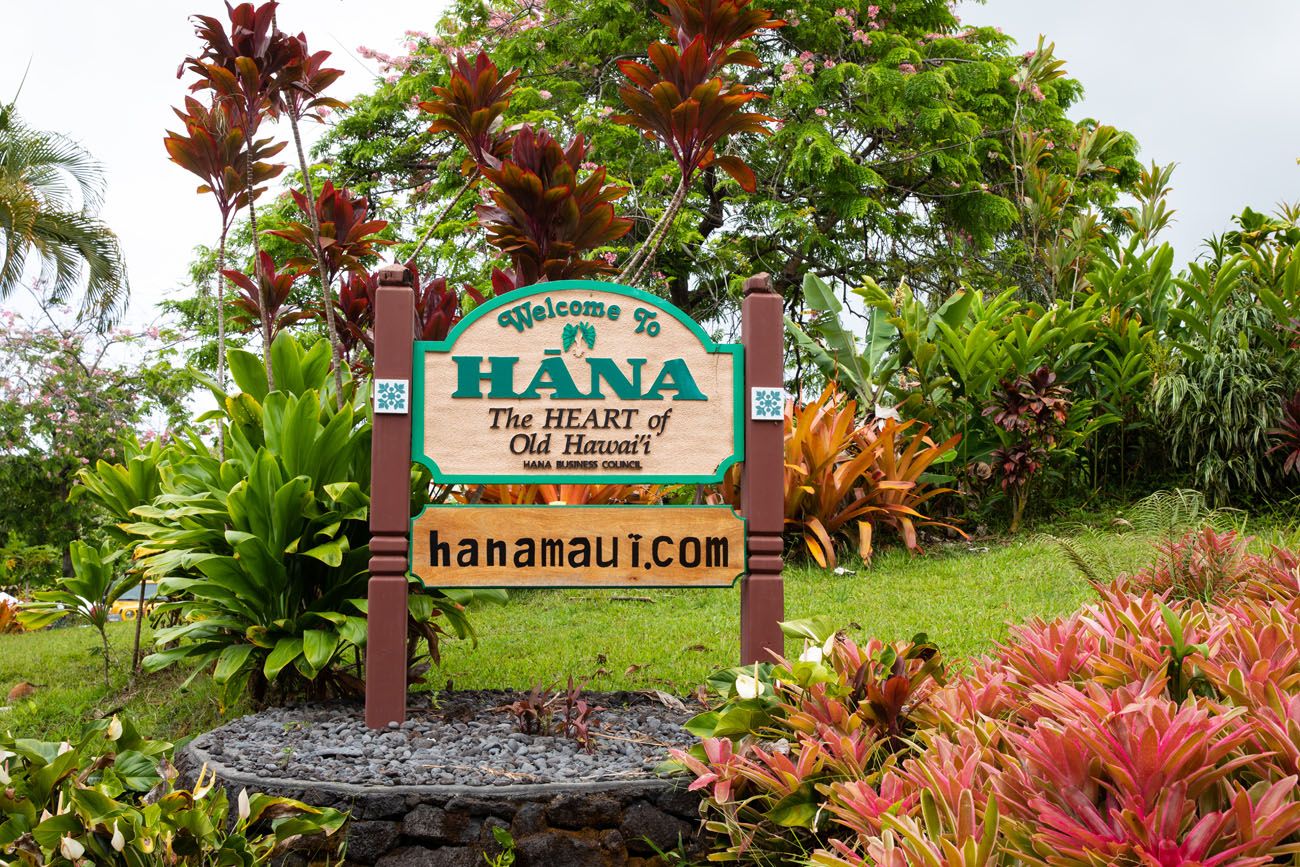 In some sources, you might read about the Kaihalulu Red Sand Beach. This culturally sensitive area is on private property and is off limits to visitors. Please respect the posted signs and do not visit the Red Sand Beach.
Wai'napanapa State Park
Wai'napanapa State Park is one of the best things to do along the Road to Hana. Most people come here to see the black sand beach, but you can also crawl into a sea cave, hike along the dramatic coastline, and see if you can spot the sea arch.
In order to visit Wai'anapanapa State Park, you must make a reservation in advance. Tickets sell out in advance, so I recommend making your reservation when the reservation system opens. At the time that I am writing this, you can reserve your tickets 2 weeks in advance. You will pay a $10 parking fee plus $5 per person for those over the age of 3. The park is free for Hawaii residents. Learn more here.
The jet black sand beach is the highlight of a visit here. Be aware that the water is rough and numerous signs urge visitors to stay out of the water for safety reasons.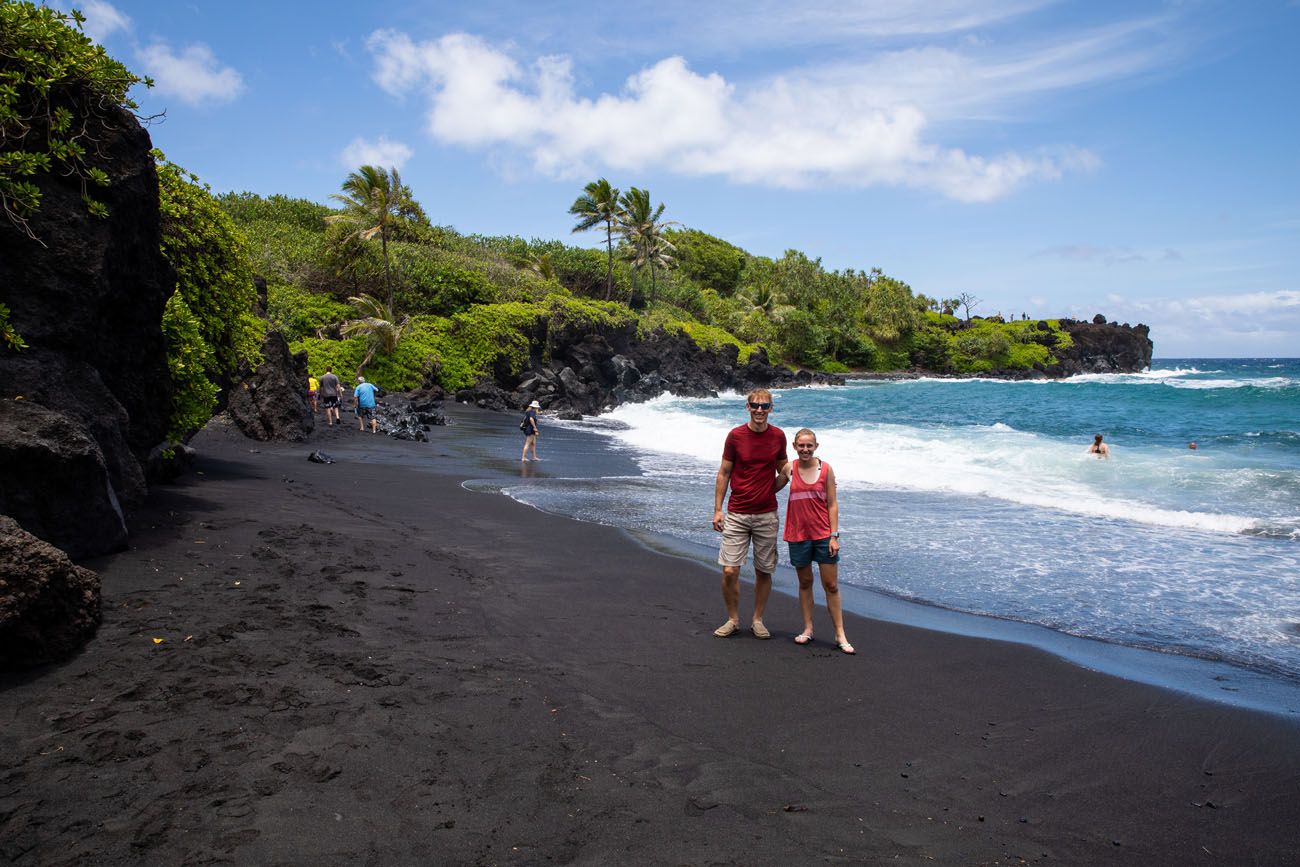 The sea cave is located on the right side of the beach. Look for a small opening in the rock wall at ground level. You will have to crouch quite low to get into the cave, but once inside, there is plenty of room to stand up and enjoy the view.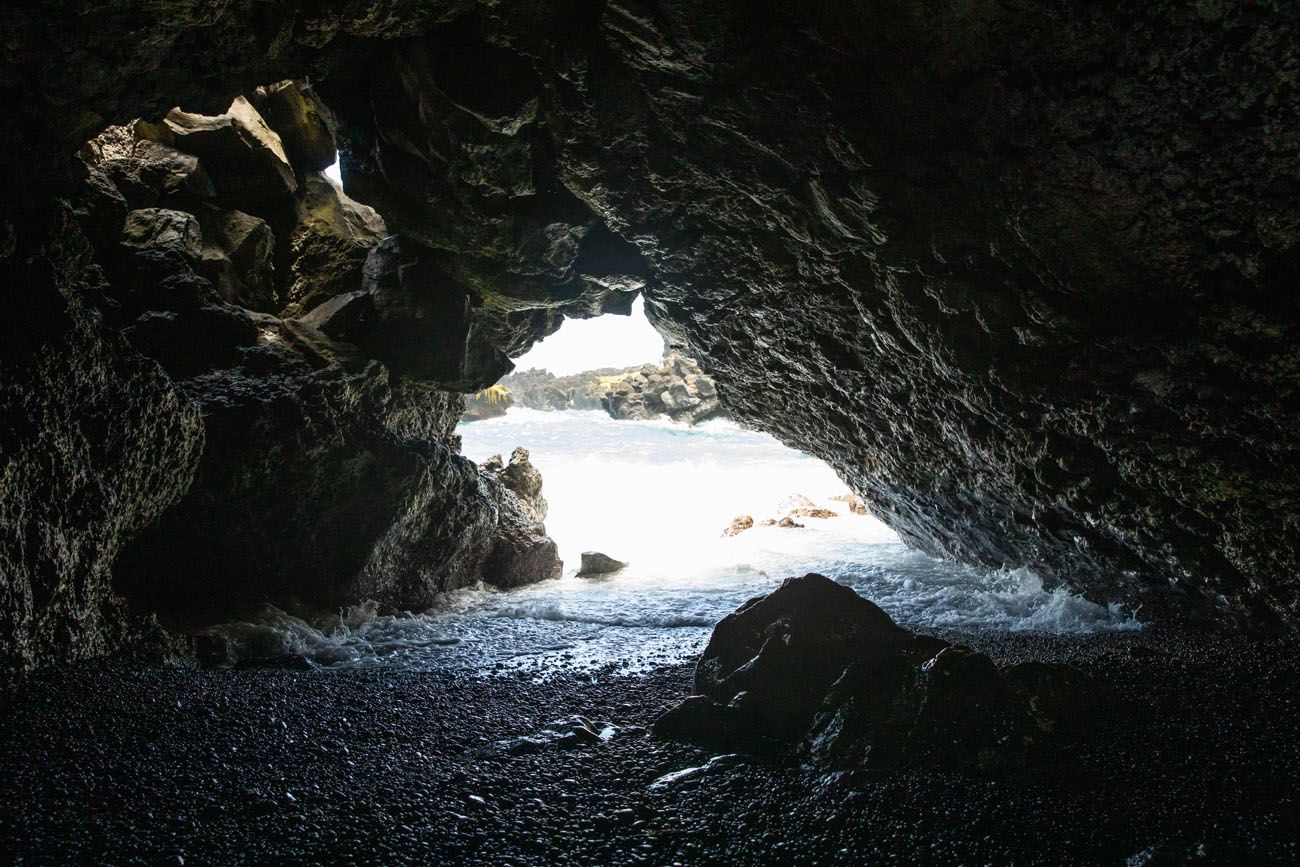 On the left side of the beach, you can take the trail along the coastline. It has some ups and downs and even a little bit of rock scrambling, but once you make it to the top of the cliffs you get a great view of the park.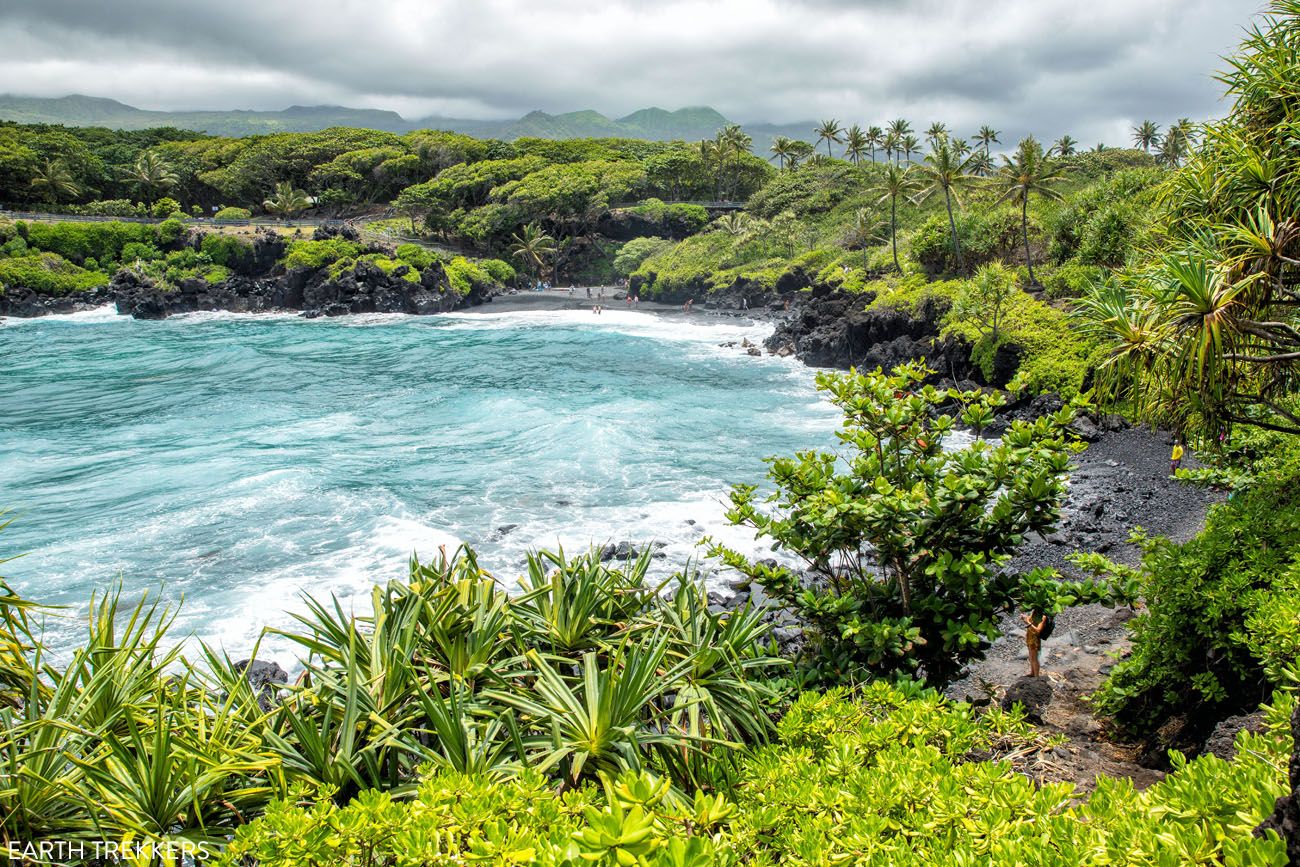 If you want to go farther, you can continue along the trail. It takes just 2 minutes to get the viewpoint of the beach below.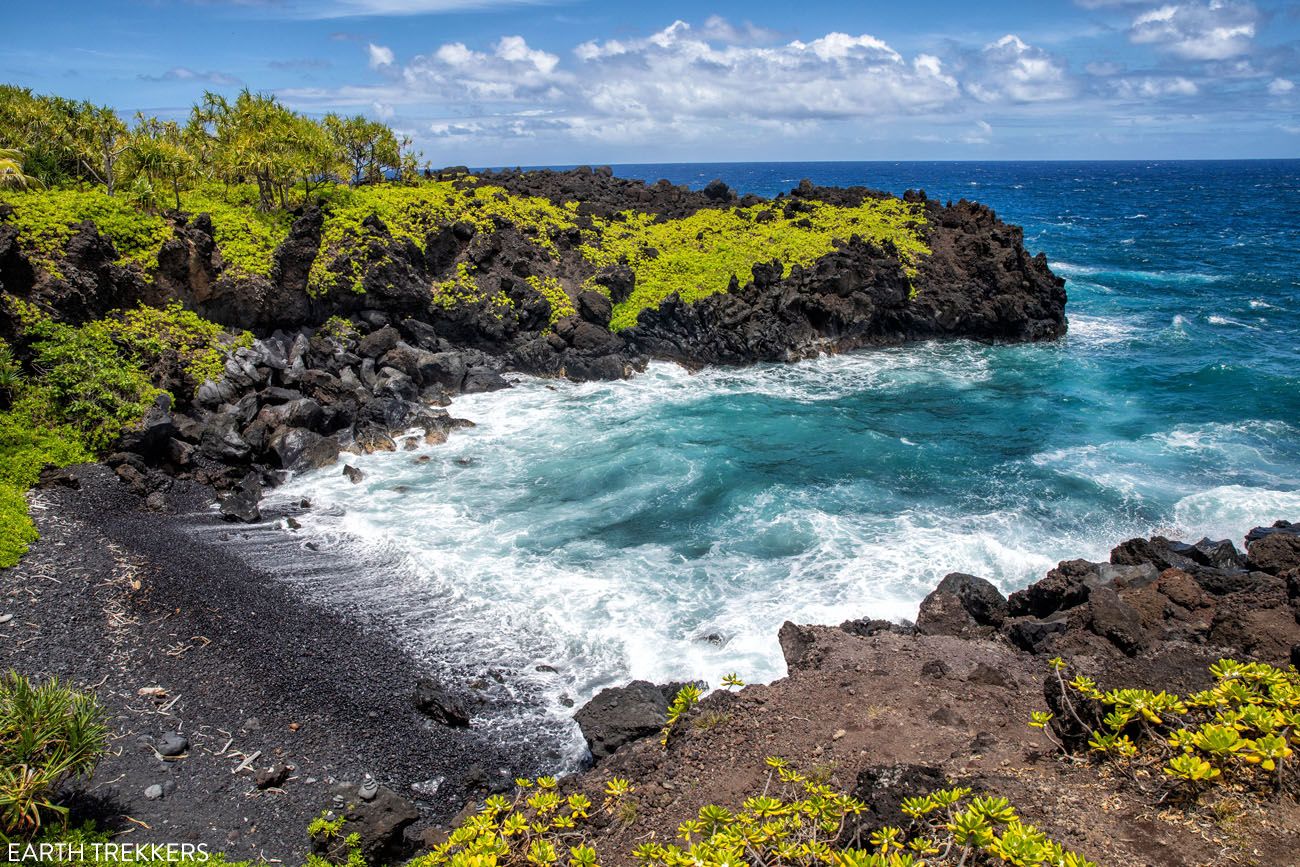 The sea arch is located on the cliffs to the right hand side of the black sand beach. From the beach, head back up the steps and follow the sidewalk out towards the cliffs. To get a view of the arch, you will have walk out onto the rocks.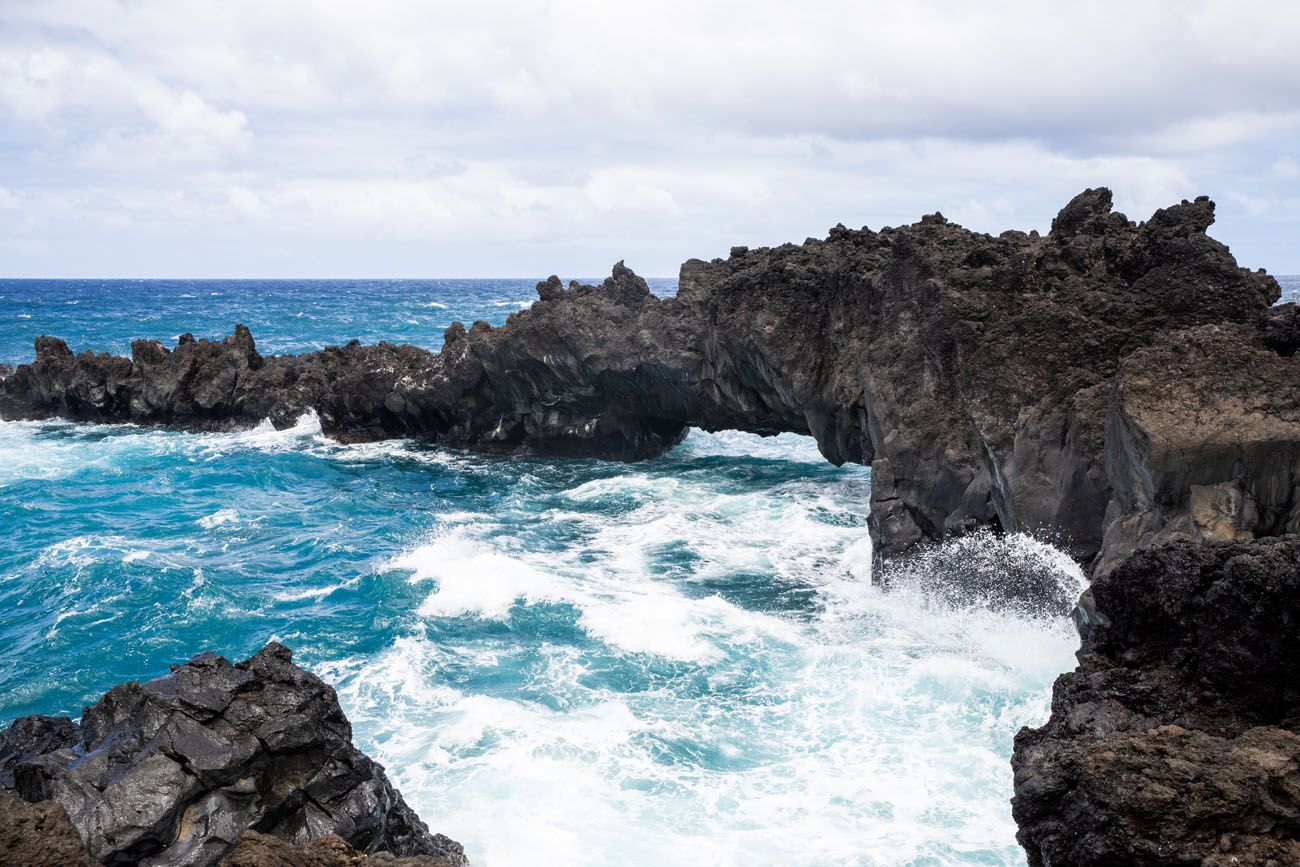 PLANNING YOUR TIME: A visit to the state park can take an hour, if you just quickly want to see the highlights, or you could spend a lot more time here. There are picnic tables and restrooms, making this a great spot for a picnic lunch as you drive the Road to Hana.
Hana Farms
This is one of the best places on the Road to Hana to stop for a bite to eat. Hana Farms is located just north of Wai'anapanapa State Park.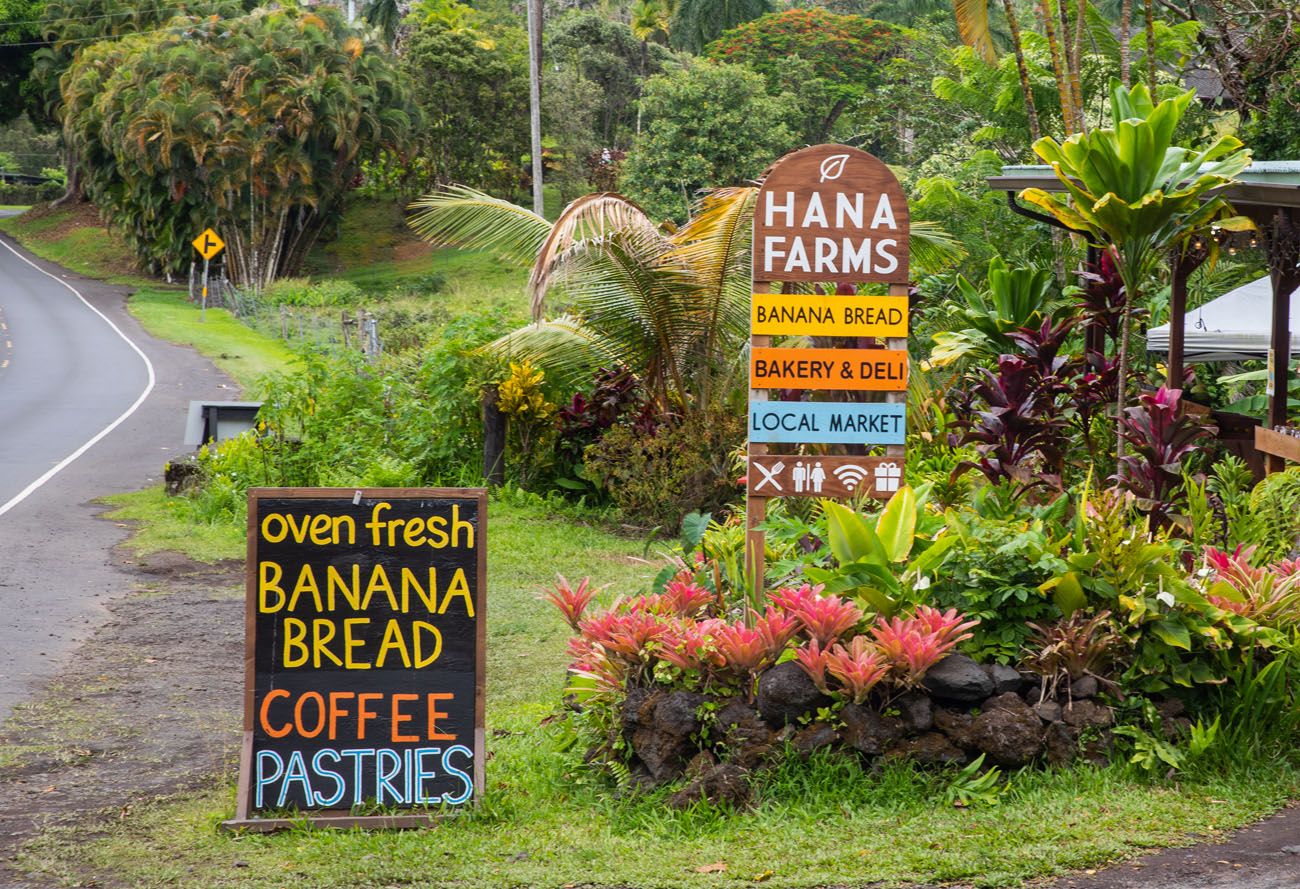 Dine on wood-fired pizzas, BBQ brisket, and salads at Bamboo Hale (Tuesday through Thursday from 11 to 3 and Friday and Saturday from noon to 8 pm).
The road side stand serves banana bread, cookies, and other desserts and is open 7 days a week from 8 am to 6 pm.
Hana Lava Tube
Lava tubes form when a lava flow forms a roof and walls, a hard crust that cools around the still-flowing lava. This resulting tube serves as a conduit for the continuing flow of lava.
The Hana Lava Tube is the largest and most easily accessible lava tube on Maui. It costs $15 per person, which is quite expensive. You will be given a flashlight and a map that identifies sights along the lava tube. Out-and-back you will walk a half of a mile.
Worth It? In my opinion, it's not worth the expense, since the cost really adds up if you are doing this as a group. But if you like caves, this could be worth it for you.
Upper Waikani Falls
Also called the Three Bear Falls, this waterfall gets listed as a thing to do in many guides and posts. However, there is no parking at the waterfall so you will have to see it as you drive by.
Wailua Valley State Wayside Park
Park in the small parking lot and walk up the path to the overlook. From here, you can look out over Wailua Town.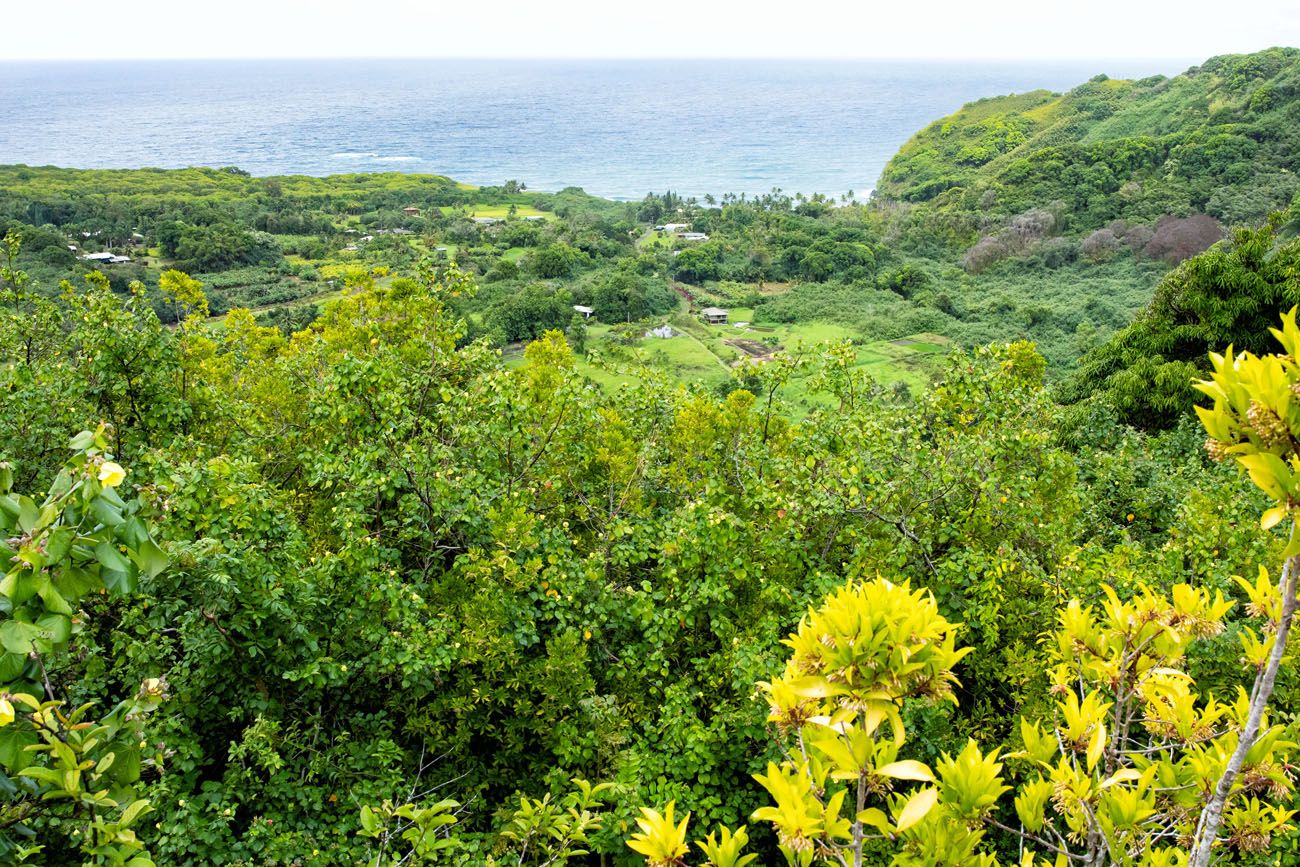 Wailua Valley
Ke'anae Peninsula
From Hana Highway, turn right onto Ke'anae Road to make a detour out onto the Ke'anae Peninsula.
Aunty Sandy's Banana Bread is touted as being the best banana bread on the drive. Unfortunately, they were closed when we got here. Aunty Sandy's is open daily from 8:30 am to 2:30 am.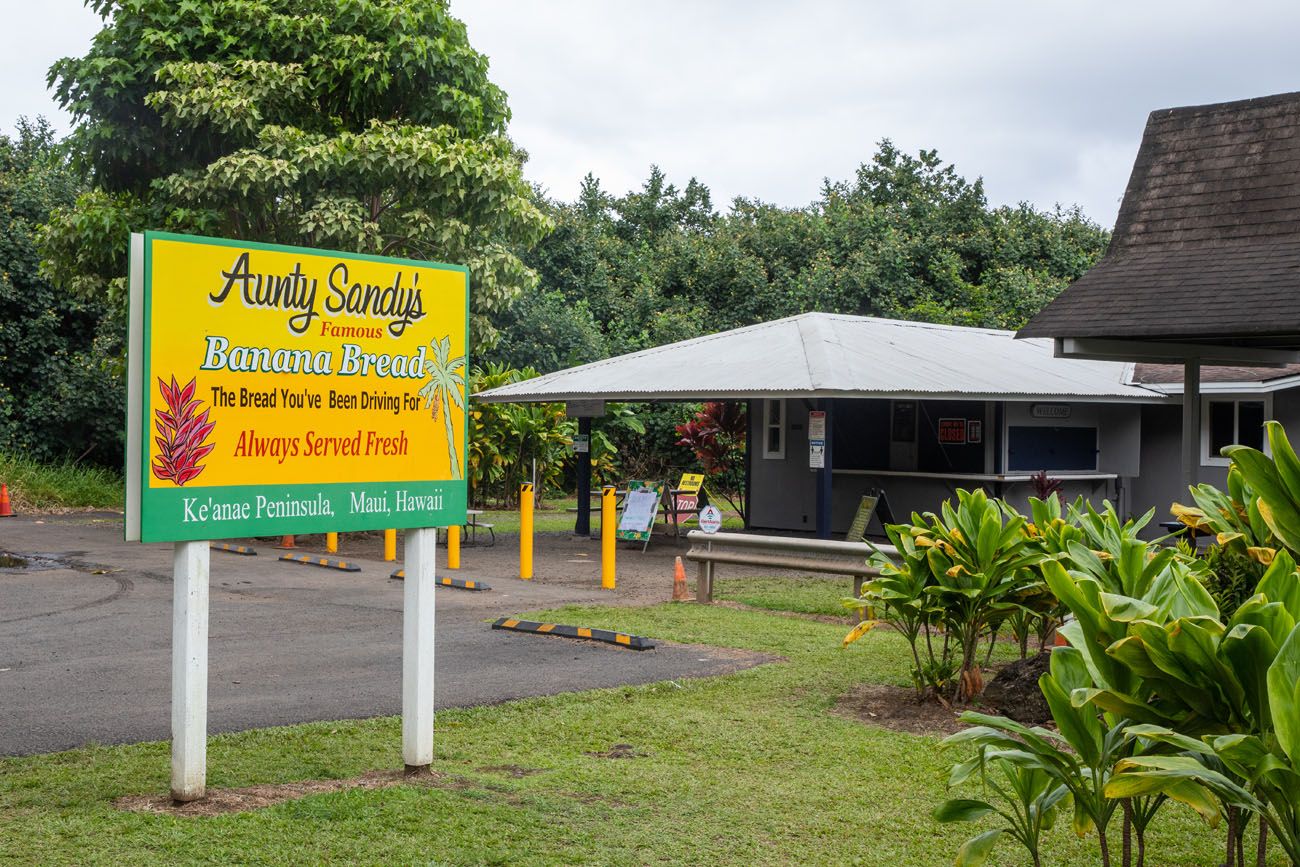 Continue along Ke'anae Road for views of the coastline and the surf pounding the rocky beach.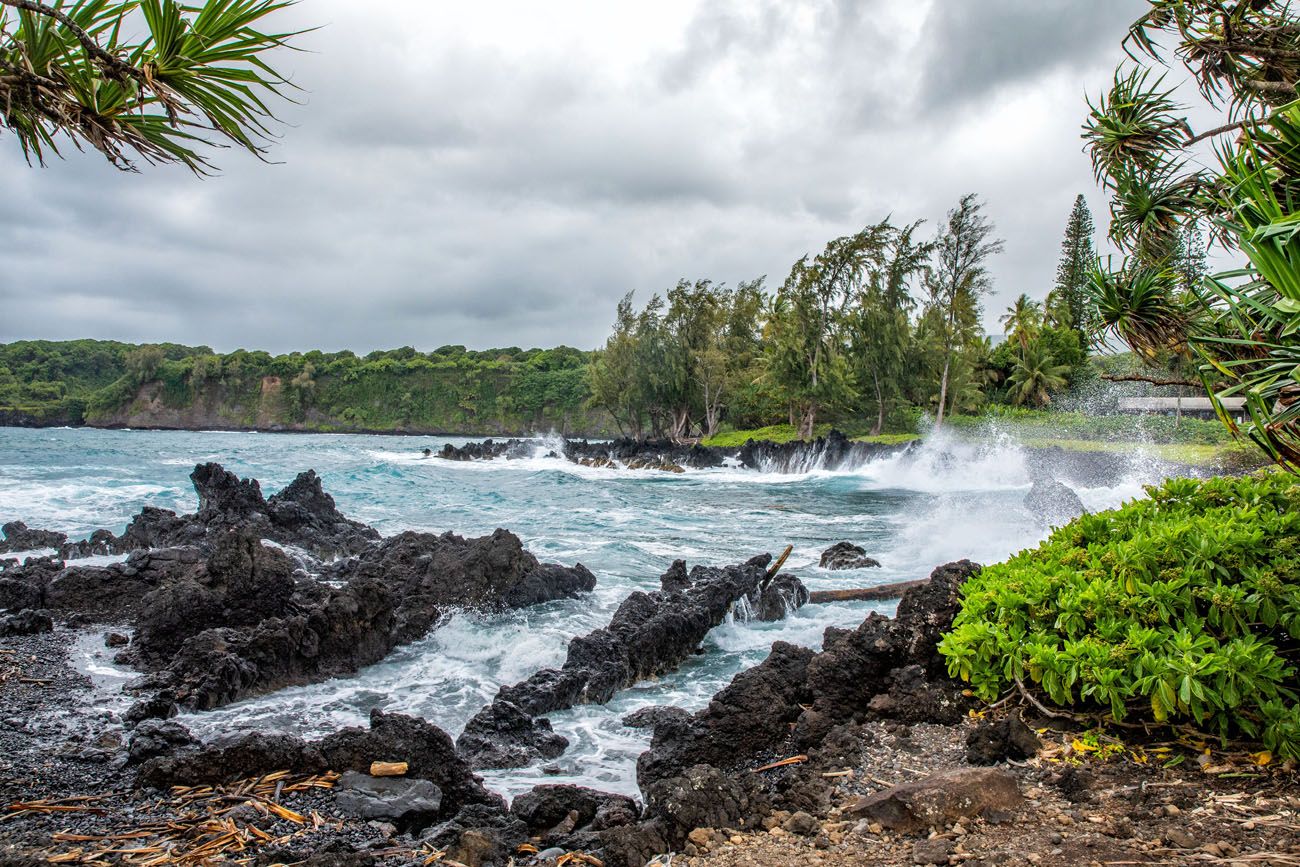 Ke'anae Arboretum
This arboretum is located on the Road to Hana next to the Ke'anae Peninsula. It is free to visit and one of the highlights is seeing the rainbow eucalyptus trees.
Garden of Eden Arboretum
Between the Ke'anae Arboretum and the Garden of Eden Arboretum, Hana Highway continues to twist and turn along the coast. There are several viewpoints, where you can overlook Nua'ailua Bay and Honomanu Bay.
The Garden of Eden Arboretum takes about an hour of your time. This 26-acre park is filled with exotic tropical plants, nature trails, a few peacocks, and a movie filming location. The Keopuka Rock was used in the opening scene of the movie Jurassic Park.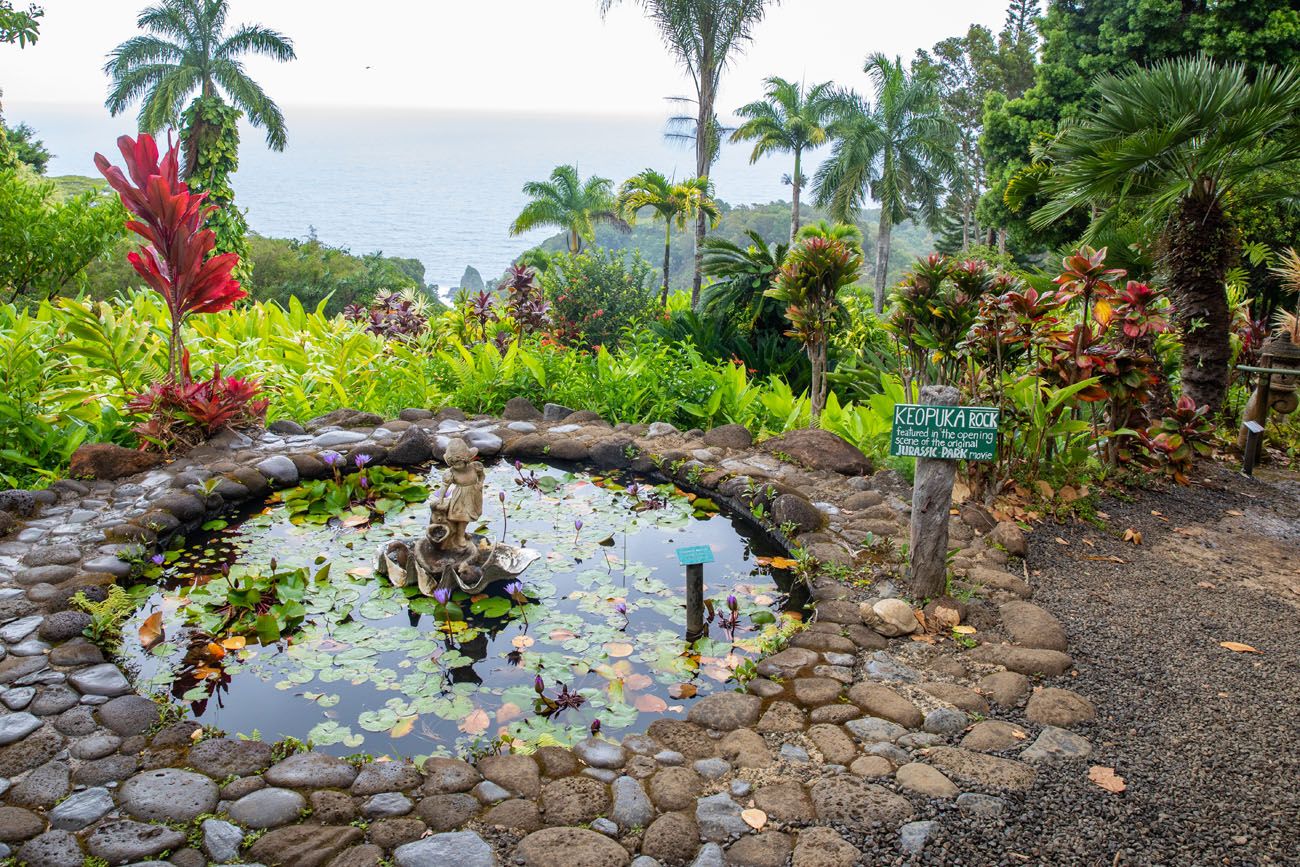 Admission fees are $20 for adults and $10 for children ages 5 to 16. The park is open daily from 8 am to 4 pm. We arrived here at 3:30 pm and the park was almost completely empty.
Ho'okipa Beach Park
Ho'okipa Beach Park is a great spot for surfing and to see sea turtles.
First stop off at the Ho'okipa Lookout, for a view over the beach and to watch the surfers.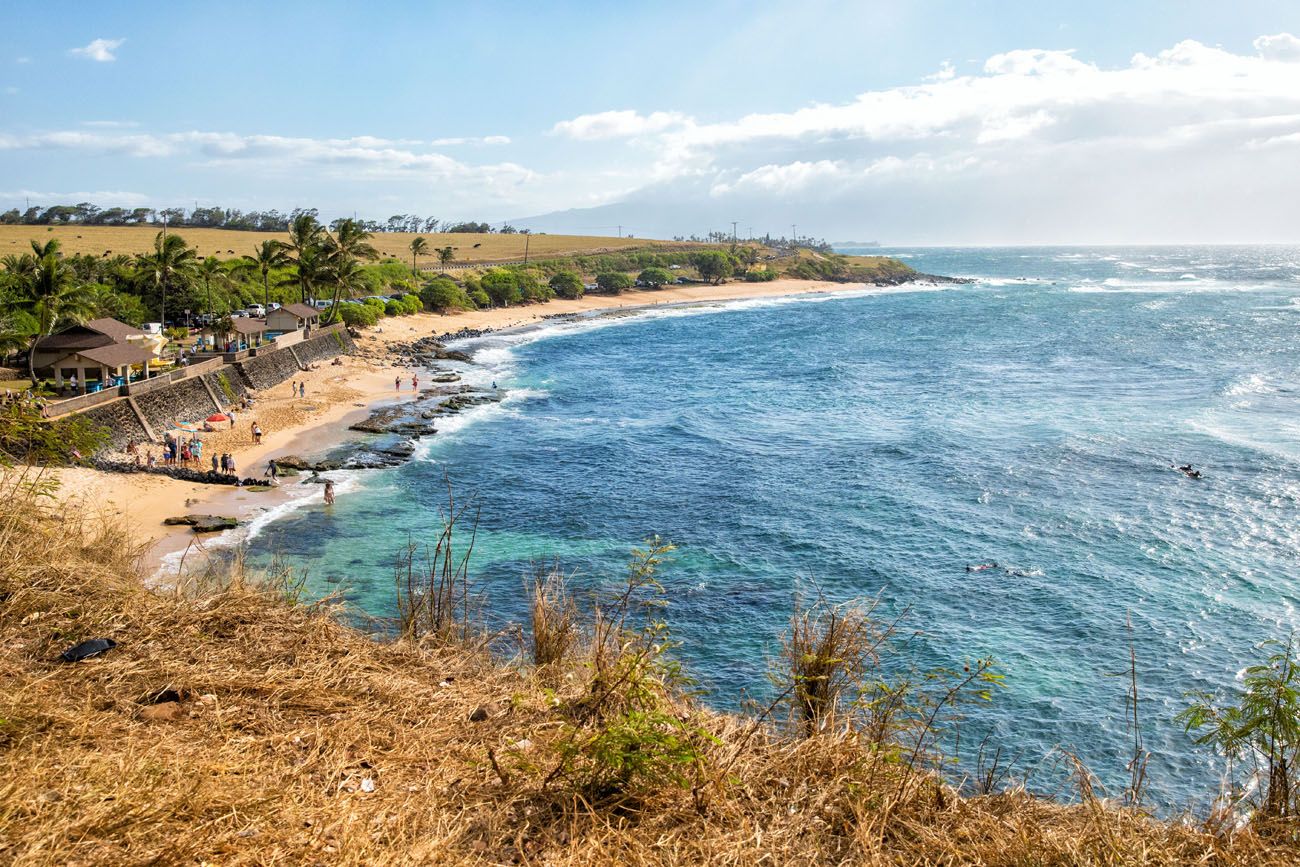 If you want to see the sea turtles, park in the Ho'okipa Beach Park parking lot and walk out to the beach. The sea turtles are usually clustered on the east side of the beach. Do not approach the sea turtles.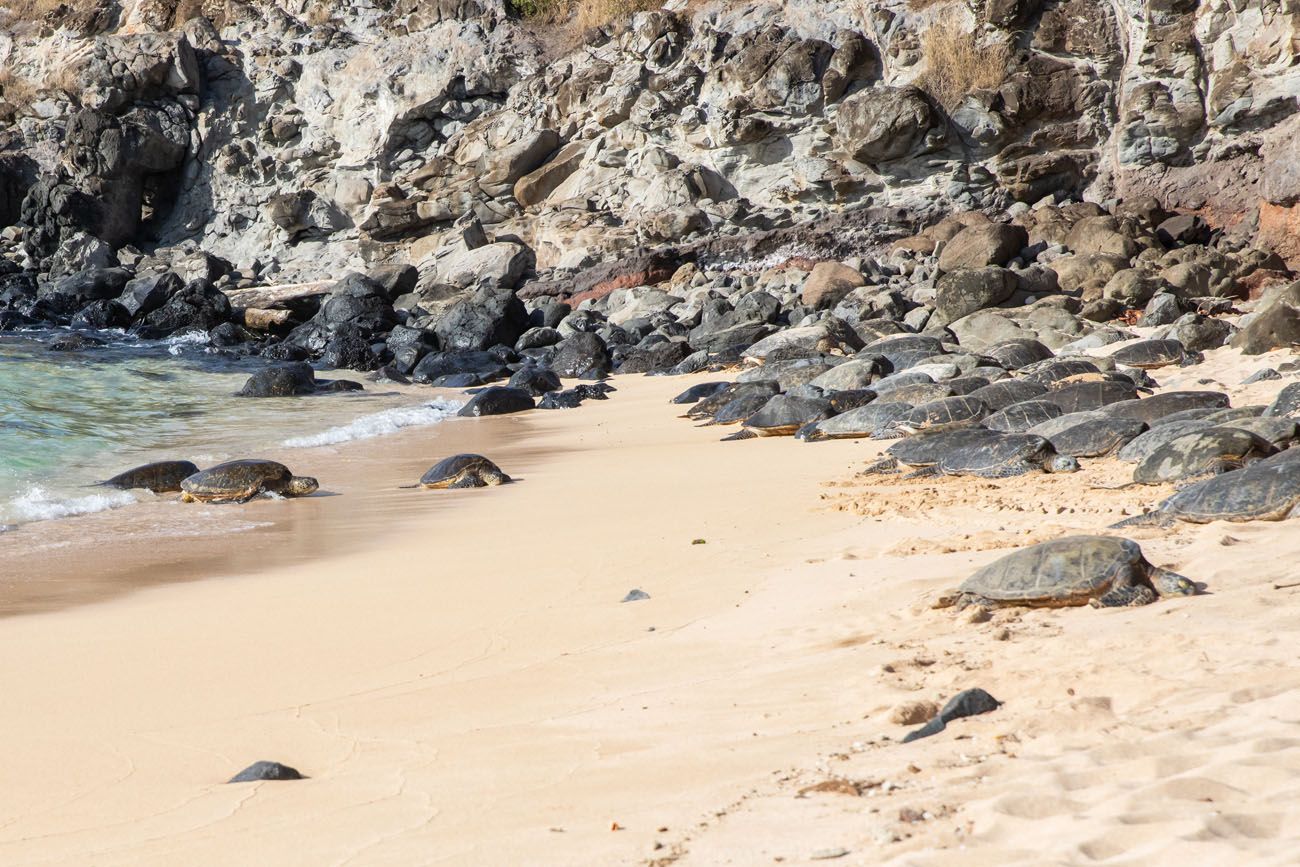 Paia Town
Now, it is most likely dinner time. You can grab a bite to eat at Mama's Fish House, which is one of the highest rated restaurants in Maui. Make your reservation in advance (during our visit they were completely booked for 3 months). Paia Town is a charming town to stroll through and have dinner.
Is the Road to Hana Worth It?
I know that some of you will disagree, but I think the Road to Hana doesn't live up to the hype that it gets.
Yes, it's a pretty drive. You get to see waterfalls, lush coastlines, a bamboo forest, and tropical flowers, and dine on banana bread. But it's a LONG day.
Most of the time, you will be navigating very windy, narrow roads and sitting in back-ups, which can be frustrating and rather boring.
The locals are tired of dealing with the influx of tourists and the increased traffic on the road, which is understandable. You will see numerous signs telling tourists to go home and you may even see frustrated locals speeding down the road, honking, and yelling at the long line of cars.
If you want to do this drive, be prepared to set aside a full day. Start early, be patient, and bring your Dramamine if you are prone to car sickness. If there was ever a road to turn you green, this would be the one.
In my opinion, the Road to Hana is not as thrilling as most guidebooks and blogs make it out to be. It's also the type of thing where you might feel like you have to do it, since you will hear so many wonderful things about it.
At the end of this drive, Tyler, Kara and I were happy it was over and honestly wished that we had done something else with this day in Maui. Tim liked the experience the most, but he enjoys driving winding roads. With that being said, we all really liked hiking in the Kīpahulu section of Haleakala National Park and visiting Wai'anapanapa State Park, and the only way to get to these two places is by driving the Road to Hana.
As long as you have the time in your itinerary and you like the idea of spending an entire day driving a narrow, twisting road to see a few sights, driving the Road to Hana is worth it. But before doing the Road to Hana, make sure you get in your beach time, your surfing and snorkeling time, and a trip to the crater of Haleakala National Park before adding this on to your Maui itinerary.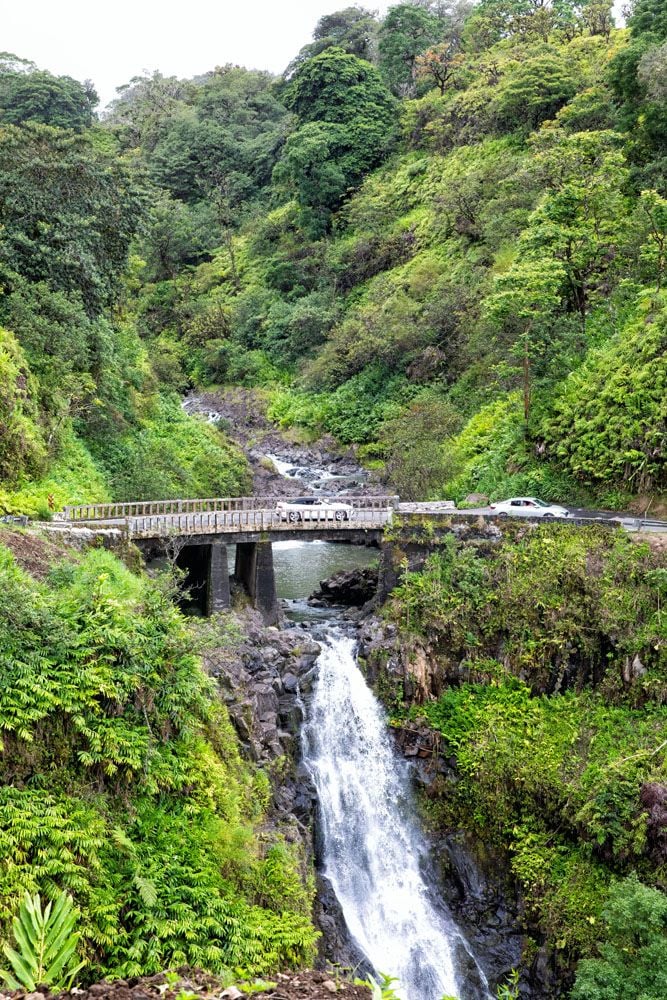 One lane bridge on the Road to Hana
Doing this with a Guide
If you like the idea of doing the Road to Hana but want to sit back and enjoy the ride, rather than driving it yourself, consider taking a tour. Not only does this eliminate the hassle of doing it on your own (parking, entrance fees, navigating the winding roads), but it helps cut down on the number of vehicles on the Road to Hana.
This tour does the full loop around the Road to Hana in a clockwise direction. You will get to see Ho'okipa Beach, Wai'anapanapa State Park, 'Ohe'o Gulch, and drive along the south coast of Maui.
Tips to Have the Best Experience
Don't forget to make your reservation to Wai'anapanapa State Park in advance. Screenshot your entrance reservation information because there is very limited cellular service here.
There is minimal cellular service along the drive. Don't expect to be able to access the internet, call, text, or email while on the Road to Hana.
Fill your tank with gas before you go. Before heading off to Hana Highway, make sure you have a full tank of gas. Gas stations are sparse along the Road to Hana.
Be considerate of local drivers.
Get an early start. This gives you a head start on crowds and makes the drive less congested. Ideally, get started by 7 am.
Be prepared for traffic jams. With winding roads, one-lane bridges, and lots of visitors, traffic jams are common on the Road to Hana.
If you are prone to motion sickness, take some Dramamine or skip this drive. With 620 curves, this road is constantly winding, so if you tend to get car sick, this could be a rough drive for you.
Pack some snacks. There are small restaurants and food stands along the drive, but it's nice to have some food and water stashed in your car, just in case you get hungry in between stops. Plus, there are limited markets along the drive, and the locals who live on the Road to Hana also need to use these. If tourists come through and buy up all of the snacks, nothing is left for the locals who live here.
Stay in Hana. One of the best ways to experience the Road to Hana is to split it up into two or more days. Doing the Road to Hana is a long and very busy day, but if you have the time in your itinerary, slowing down and doing this drive over the course of two days can make it a much more enjoyable experience.
Take a tour. This reduces congestion on the Road to Hana and you get to sit back and enjoy the experience.
---
If you have any questions about driving the Road to Hana or the Back Road to Hana, or if you want to share your experience, let us know in the comment section below.
More Information about Hawaii
BEST OF MAUI: We have a list about the top experiences in Maui and how to put it all together in our Maui Itinerary.
HALEAKALA NATIONAL PARK: Get a list of the best things to do in Haleakala National Park, how to hike the Pipiwai Trail, and how to hike the amazing Sliding Sands Trail and Halemau'u Loop.
KAUAI: Plan your visit to Kauai with our guide to the Best Things to Do in Kauai. Learn about how to take a doors off helicopter ride, how to hike the Maha'ulepu Heritage Trail, and how to hike the Nu'alolo and Awa'awapuhi Trails in Kokee State Park.
USA ROAD TRIPS: Planning your next big adventure in the USA? Check our our USA Road Trip Guide for travel ideas and sample itineraries.
TRAVEL INSPIRATION: For more travel ideas, here are 10 unique destinations to put on your travel wish list and 10 bucket list destinations from around the world.
Note: This post contains affiliate links. When you make a purchase using one of these affiliate links, we get paid a small commission at no extra cost to you.
All rights reserved © Earth Trekkers. Republishing this article and/or any of its contents (text, photography, etc.), in whole or in part, is strictly prohibited.