While in Barcelona, there is a lot to see and do. Of course, you must visit the Sagrada Familia, walk through the Gothic Quarter, and stroll down La Rambla. But dining is another important part of getting the entire "Barcelona" experience. Tapas, vermouth, and cava are the rage here. It's almost impossible to walk down the street without passing what seems to be an endless supply of tapas restaurants.
The choices for dining at tapas restaurants in Barcelona is overwhelming. It's hard to go wrong in this city when it comes to having a good meal. Tim and I spent one week in Barcelona and while we were here, we made it our mission to sample as many tapas restaurants as possible, without breaking the bank and widening our waistbands. We got recommendations from friends, fellow travelers, Trip Advisor, and other travel bloggers.
After one week of eating (and drinking) our way through Barcelona, here are our recommended spots. The list is long…11 tapas restaurants, 2 rooftop bars, and one chocolate shop.
What are Tapas?
Tapas are small, savory dishes. They can be eaten alone or several can be ordered together as a meal. Patatas bravas, fried potatoes served with mayonnaise and spicy tomato puree, is the most commonly ordered tapas in Barcelona (and it's delicious!). One of these small plates cost between €3-€7, although some seafood or fish dishes can cost considerably more.
Drinks are usually ordered along with the meal. Popular drinks include cava, Spain's sparkling white wine, or vermouth. Wine is cheap here, averaging €4 per glass.
Tim and I typically ordered cava or wine along with three to four tapas per meal. This was more than enough for the two of us and these small plates filled us up much more than we were expecting them to. On average, one of these meals cost €30.
Part of Spanish culture is to go tapas hopping, also called tapear. If you plan on doing this, order only one or two tapas per restaurant, as these small dishes are deceptive…they can fill you up fast!
Dining in Barcelona
Barcelonans operate on a later schedule than most places we visited. Breakfast can be served as late as 12:30 pm, lunch does not start until 1 pm, and many dinner restaurants do not open until at least 7 pm. Peak hours for dinner are 8 pm to 10 pm.
It took Tim and I several days to get adjusted to this schedule. The trick is taking a short siesta midday, in between lunch and dinner.
Tapas Restaurants in Barcelona
El Nacional
This was the first tapas restaurant we tried. Located on Passeig de Gràcia, one block north of Plaça Catalunya, El Nacional is huge. This one large restaurant houses several smaller restaurants, each offering a different culinary adventure. We ate at La Taperia, dining on patatas bravas, calamari, and Bomba de la Barconeta. Everything was fantastic. Tim and I also drank vermouth for the first time. It's good but we quickly developed a preference for cava.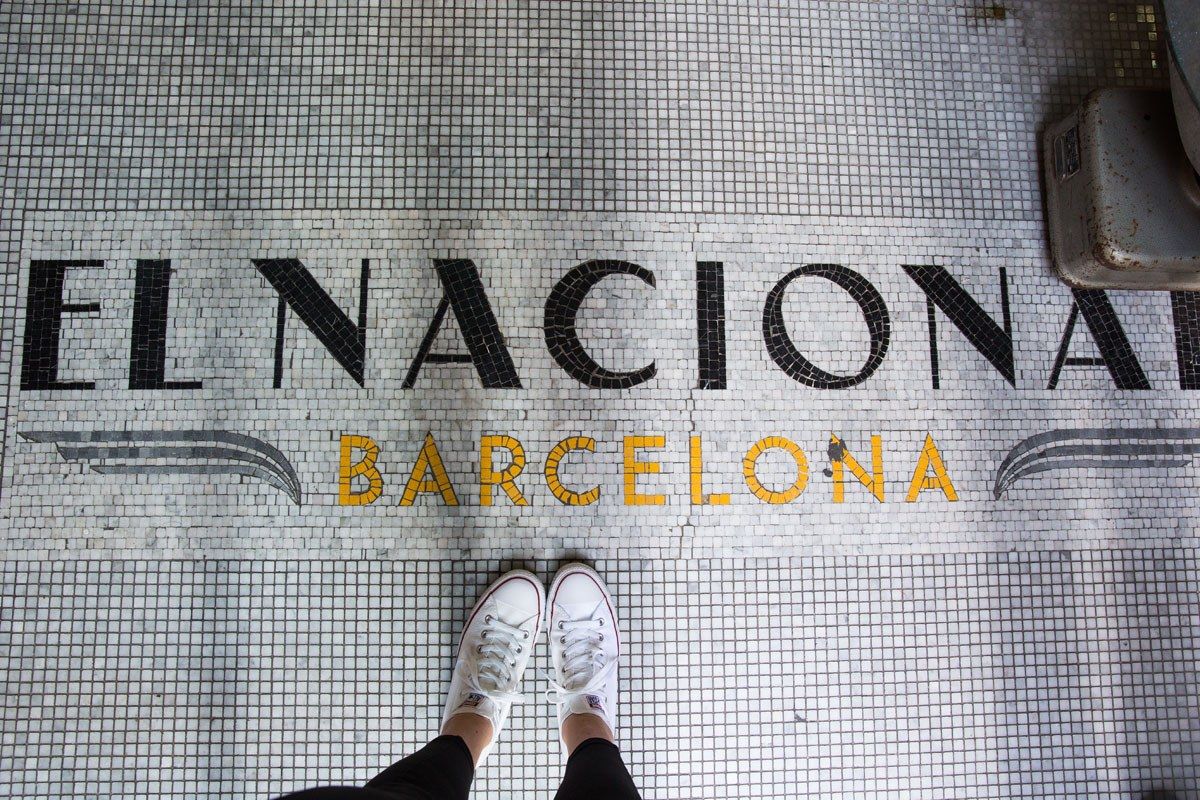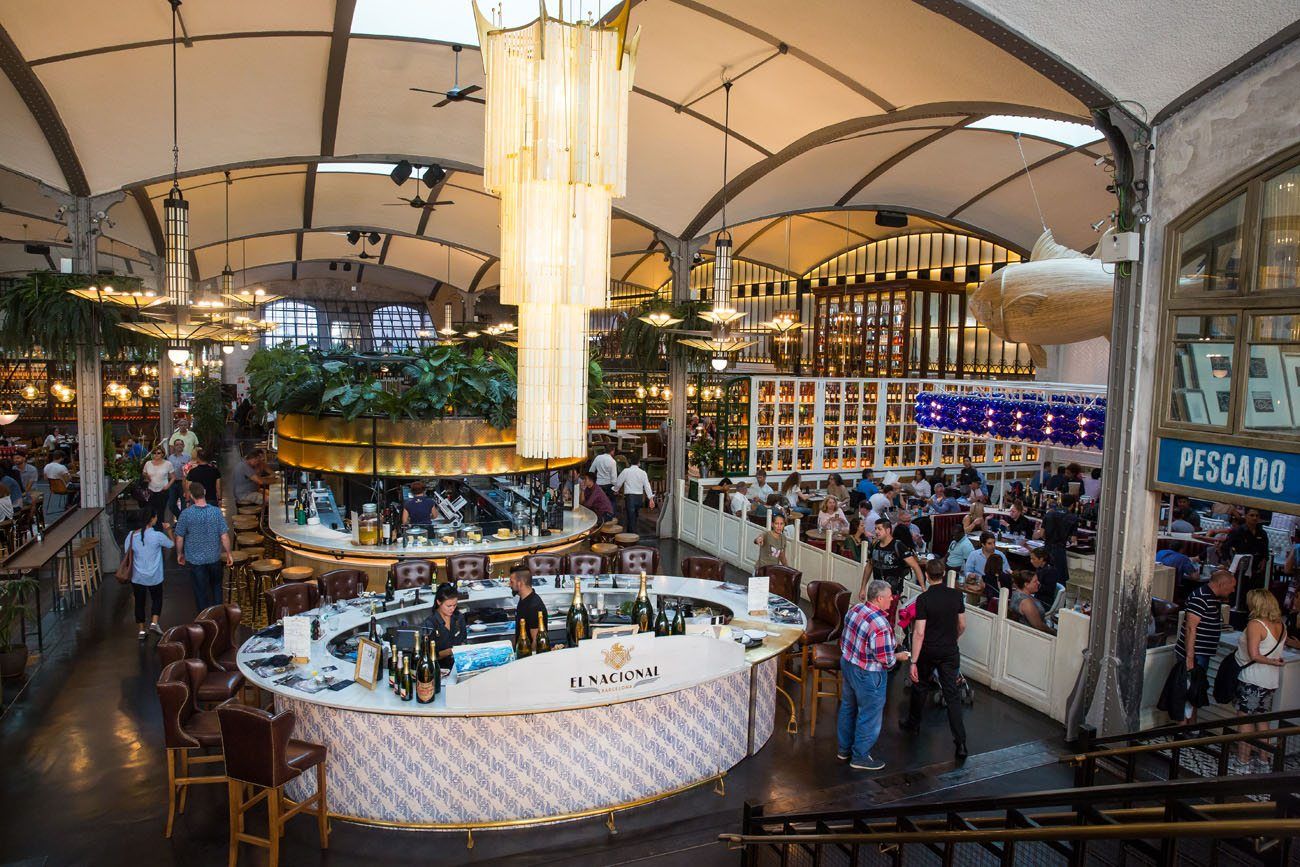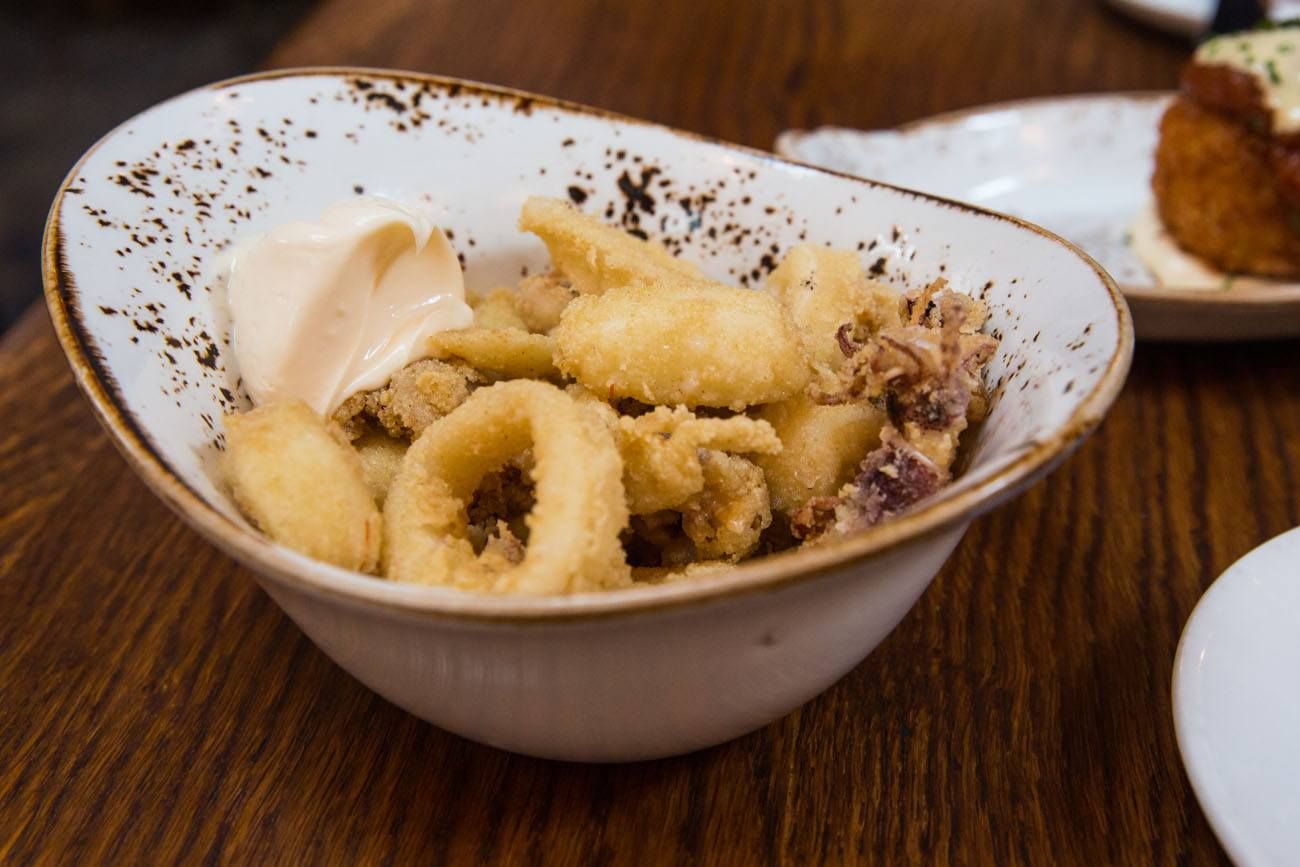 Nearest Metro: Passeig de Gràcia
Visit the El Nacional website here.
Pinotxo Bar
Pinotxo Bar is legendary in Barcelona. It is located in Mercat de la Boqueria, the main market in central Barcelona. This tapas bar is the most popular in the market and always busy from open to close.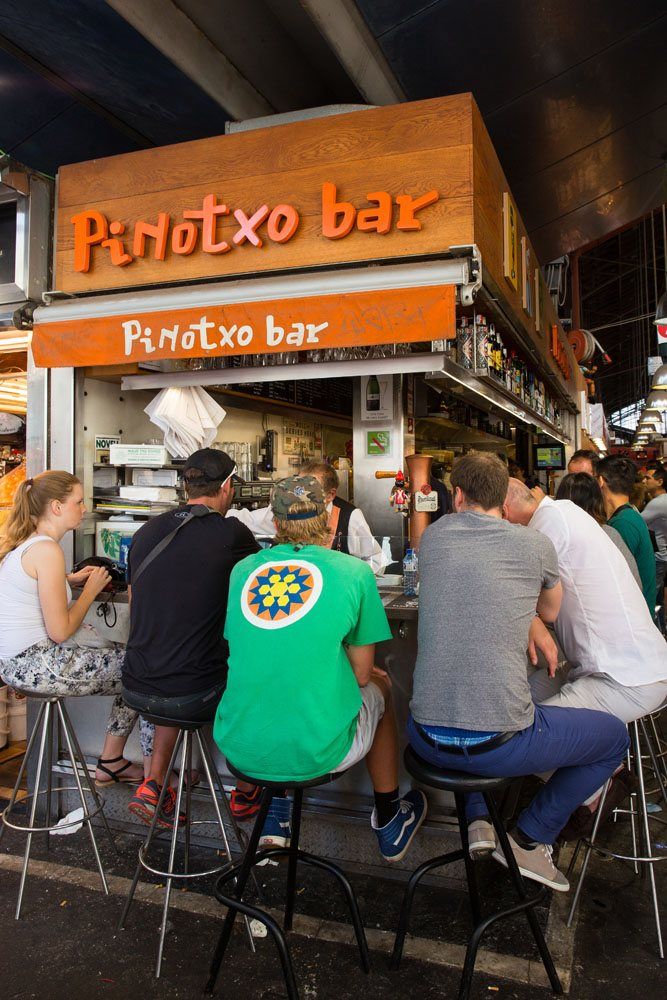 With only 14 seats at the bar, be prepared to wait, sometimes for quite awhile. There is no menu but the staff will make recommendations. We dined on seafood, clams, anchovies, and fresh fish, washing it all down with cava. It's quite an experience, elbowing your way into this small bar, eating some of the best food we had in Barcelona, all to the smiles of Juanito, the man who owns the restaurant. If you want a unique, tasty experience while in Barcelona, put Pinotxo Bar at the top of your list.
Nearest metro: Liceu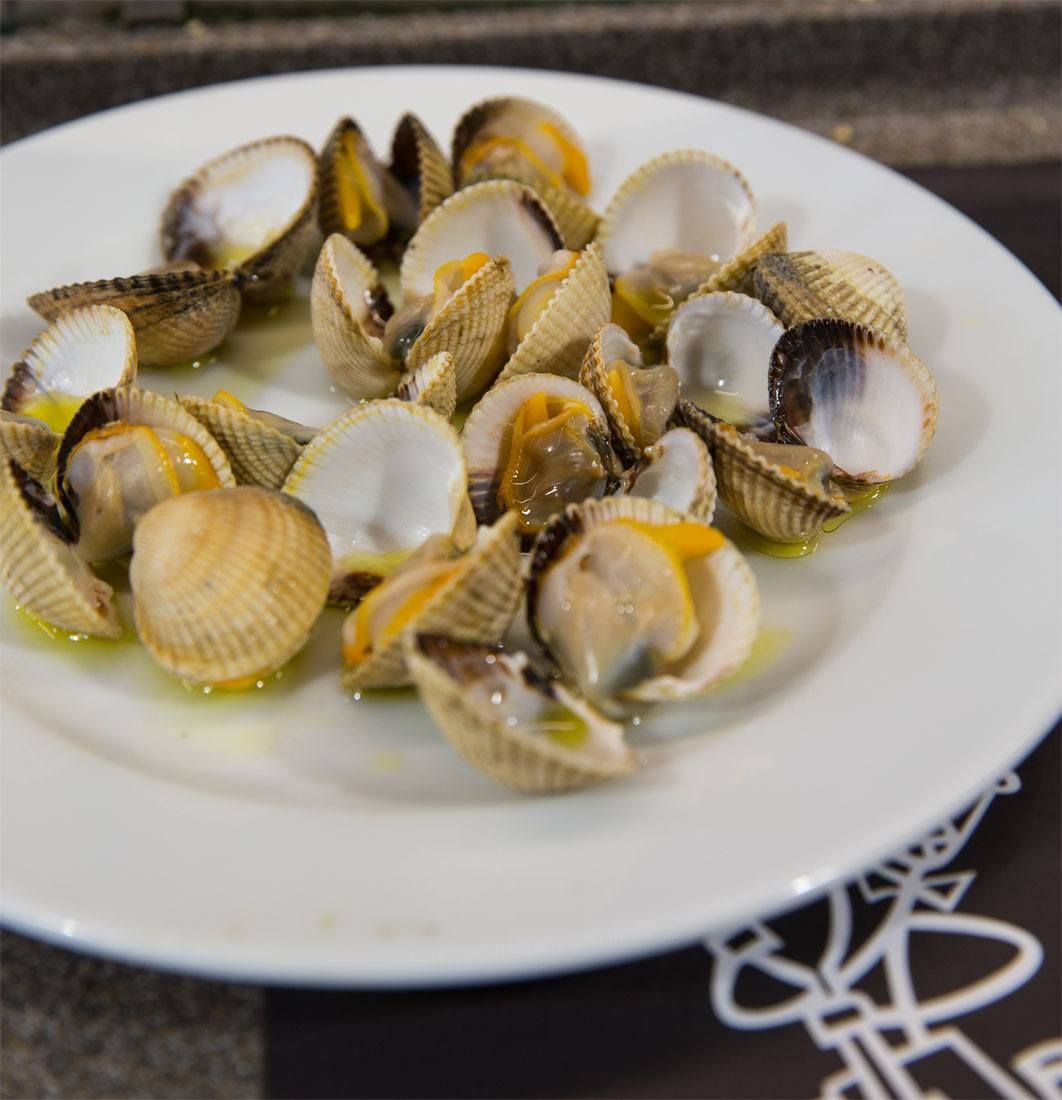 El Quim de la Boqueria
This small tapas bar is also located inside of Mercat de la Boqueria. El Quim is located in the center of the market, just look for the colorful chairs. On the menu was more seafood…the sardines were delicious as was the sautéed asparagus.
Nearest metro: Liceu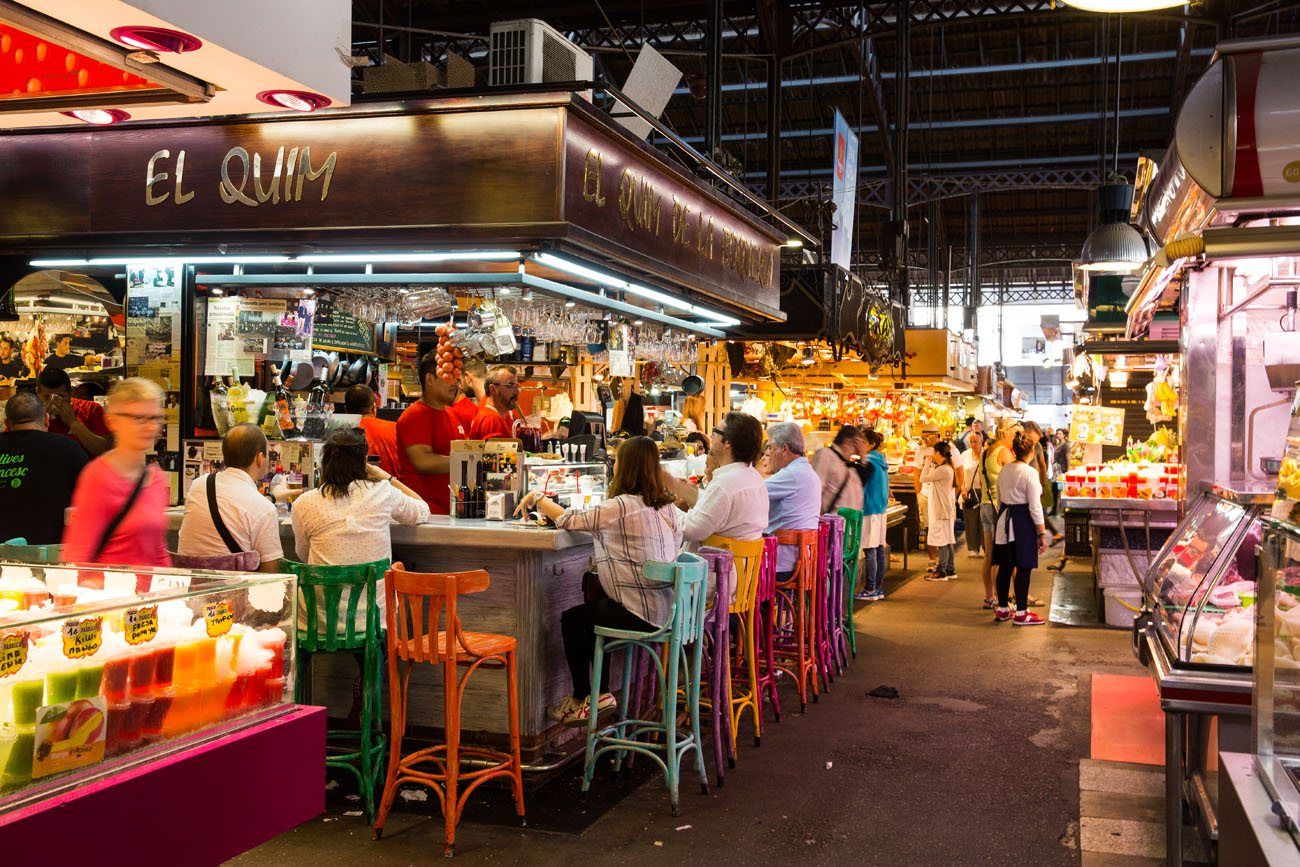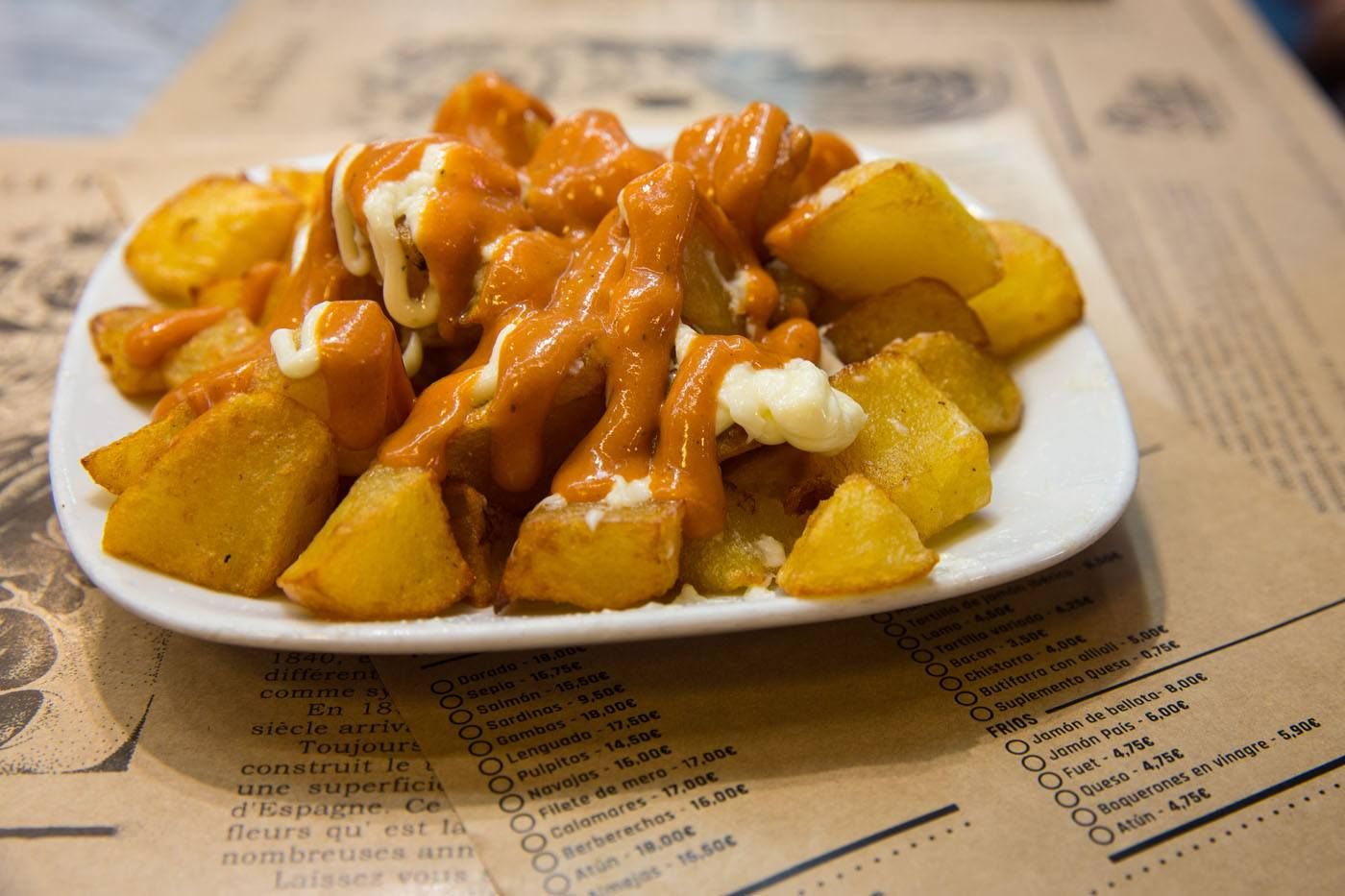 Cerveseria Catalana
The food here is so good that we ate here twice. At one time, this restaurant was a favorite of the locals. Now it seems that travelers have gotten the word, as there were lots of tourists lined up outside, waiting for seats. They do not take reservations here at Cerveseria Catalana, so expect to wait. If you are here during the busiest time of the day, from 8 pm – 10 pm, expect to wait up to 2 hours for a table. Don't feel like waiting that long? Come earlier in the day. But make sure you try this place…this is another great spot for seafood.
Nearest metro: Diagonal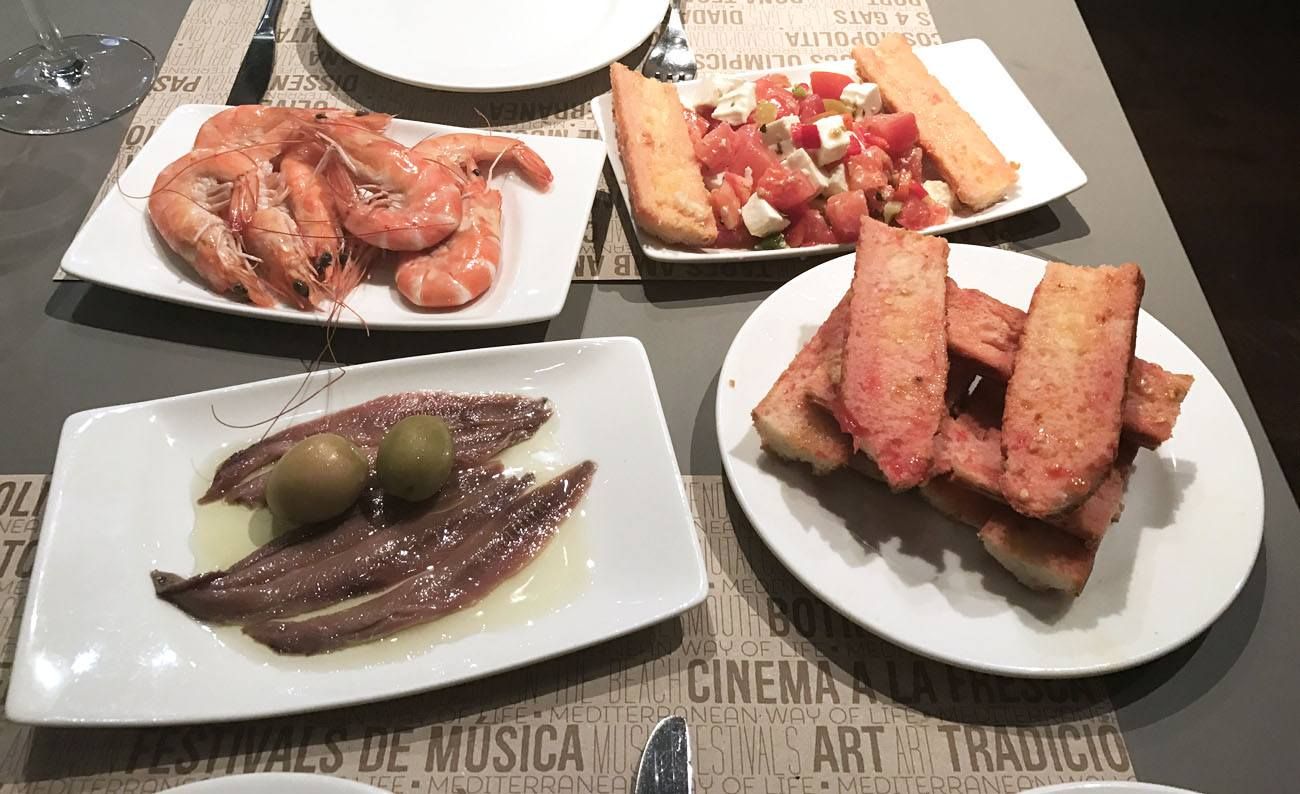 Sol Soler
Sol Soler is my favorite tapas bar in Barcelona. This was recommended to us by a fellow traveler. Sol Soler is located in Vila de Gràcia, a neighborhood off of the tourist trail. The menu is small, the food is superb, and they serve the best carrot cake, EVER!
Nearest metro: Fontana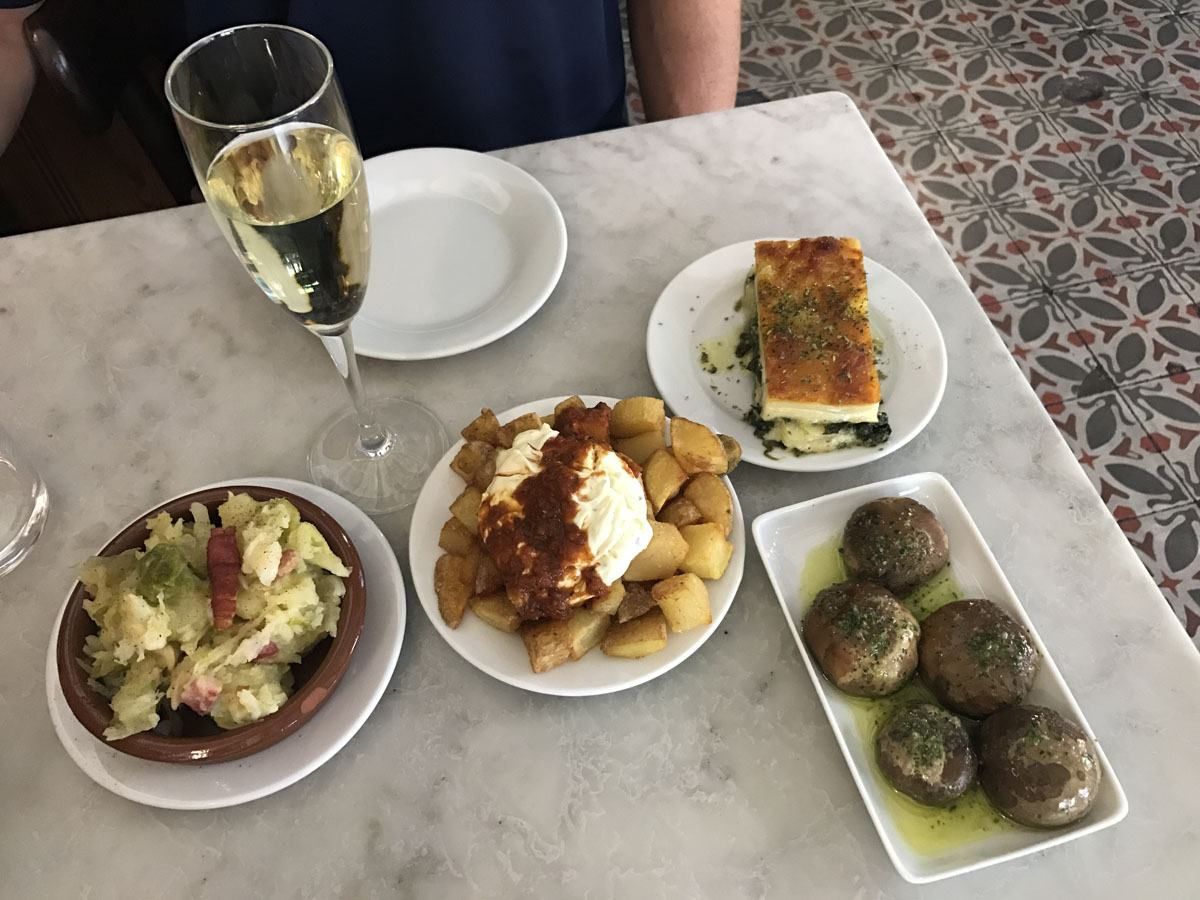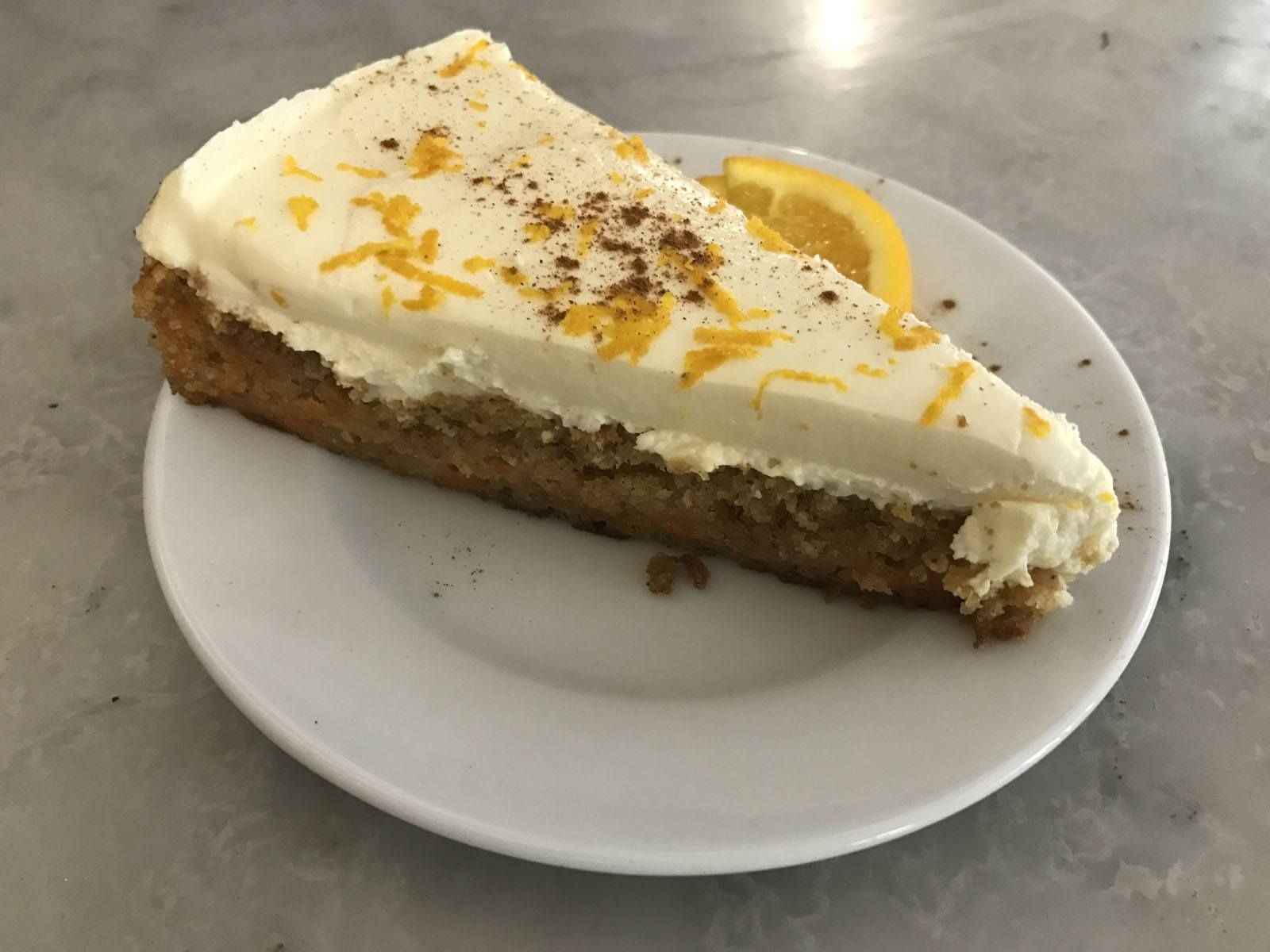 Bodega Biarritz 1881
For tapas heavy on meat and cheese, this is your place. It's heavier fare than most other tapas restaurants we visited, but we loved it here. Small, warm, and very cozy, this is a popular spot in Barcelona. This is another tapas restaurant without a menu. When it is your turn to order, you will walk down the bar, picking out the tapas that look good, and they will be brought to your table. Our favorite was the spinach and cheese pastry…it was so good we went back for seconds.
Bodega Biarritz 1881 is located in the Gothic Quarter of Barcelona. Opening time is 5:30 pm. After 7 pm, expect to wait for a table.
Nearest metro: Liceu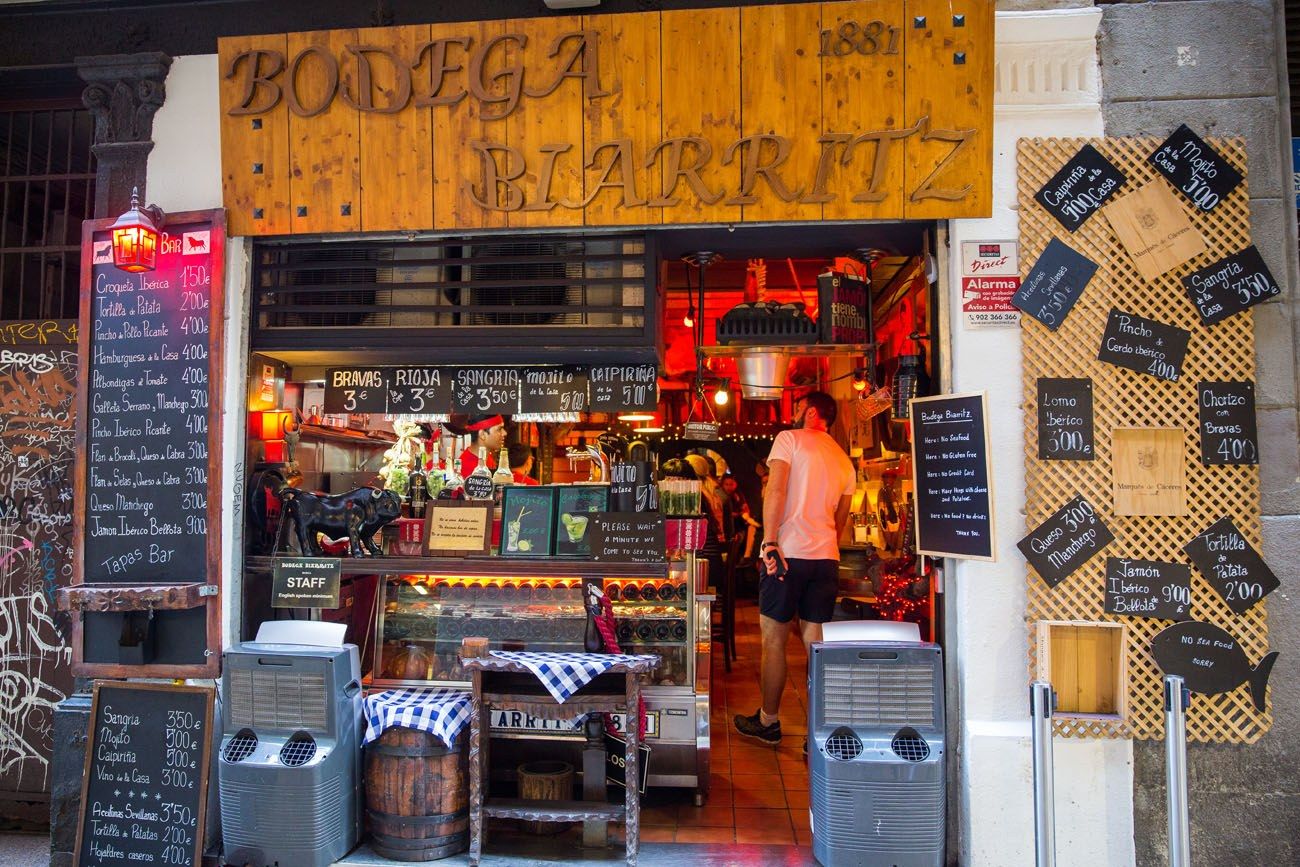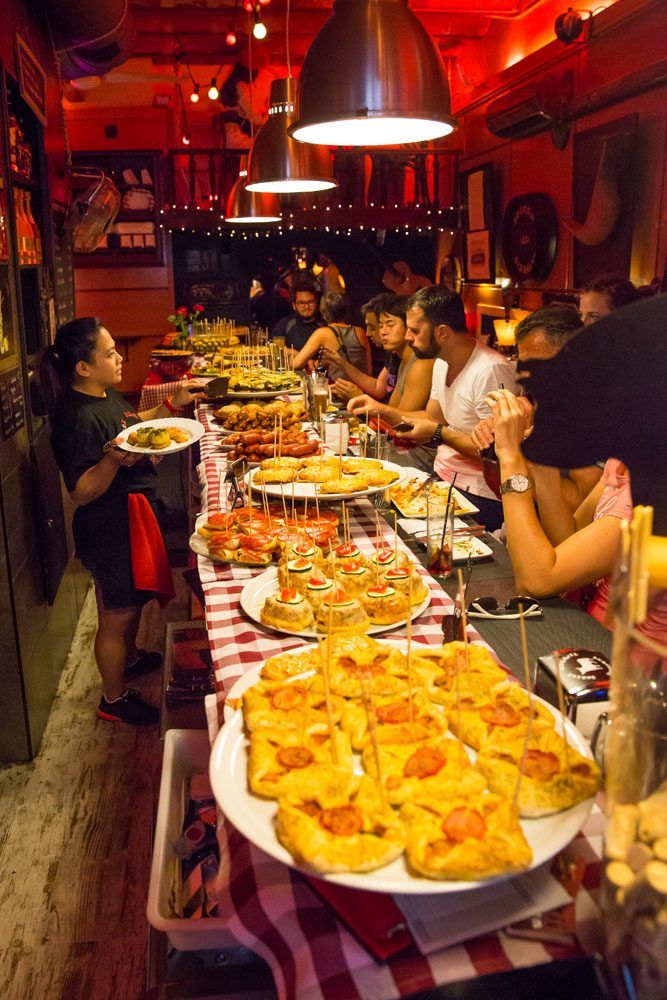 Ziryab Fusion Tapas Bar
For something a little bit different, consider Ziryab. This fusion tapas bar blends typical Spanish tapas with Middle Eastern flavors. We dined on the combo-mezze platter, which came with hummus, Halloumi cheese, olives, bacon dates, and an assortment of dips. If you want to order the most unique looking tapas they offer, try the marinated hanging brochette.
Ziryab Fusion Tapas Bar is located in the Gothic Quarter very close to Santa Maria del Mar.
Nearest metro: Jaume I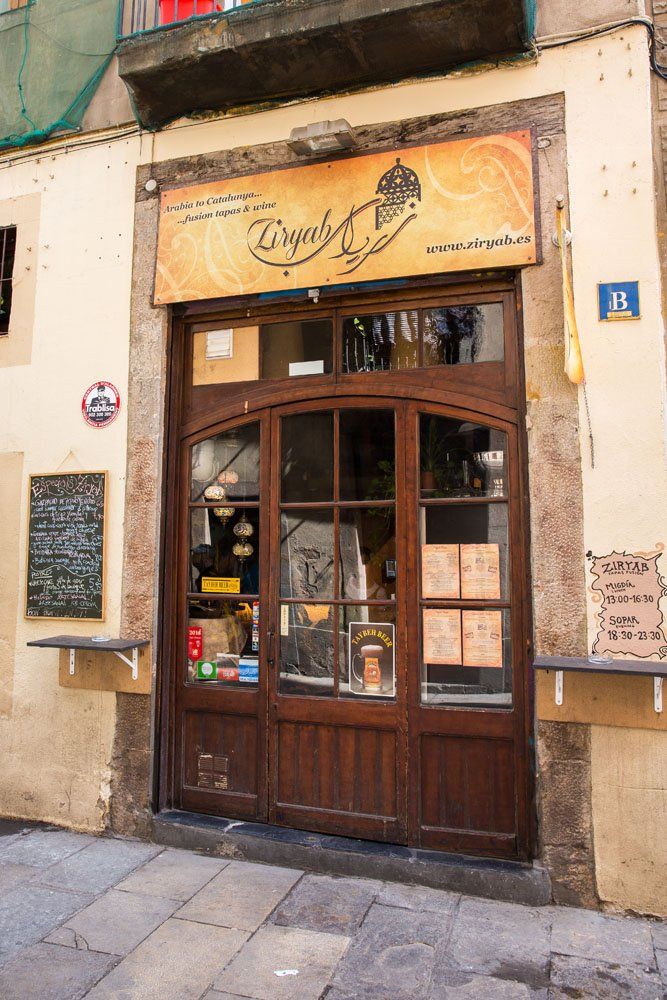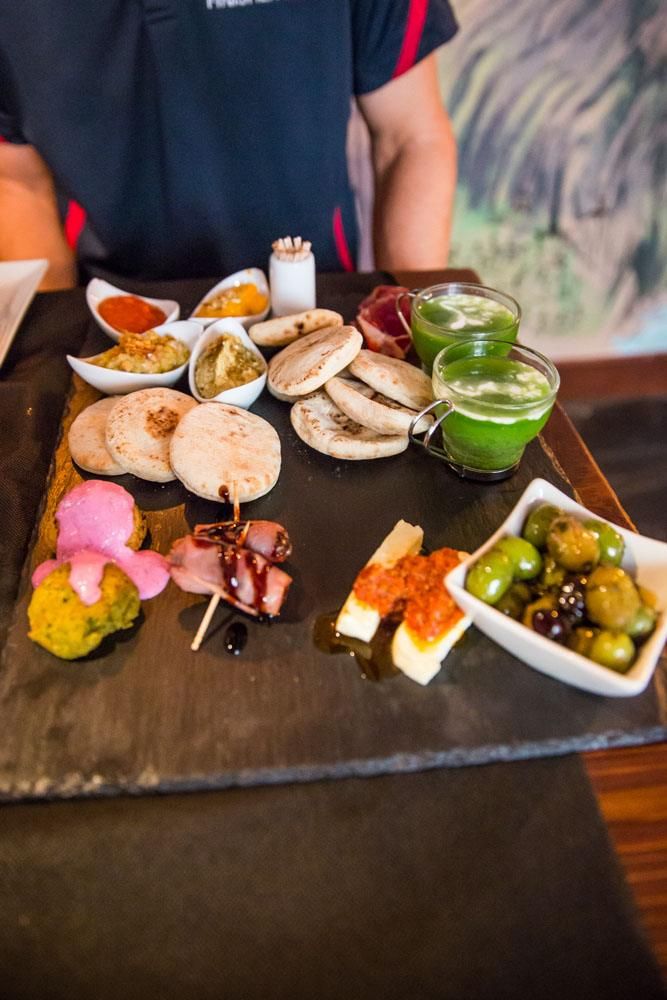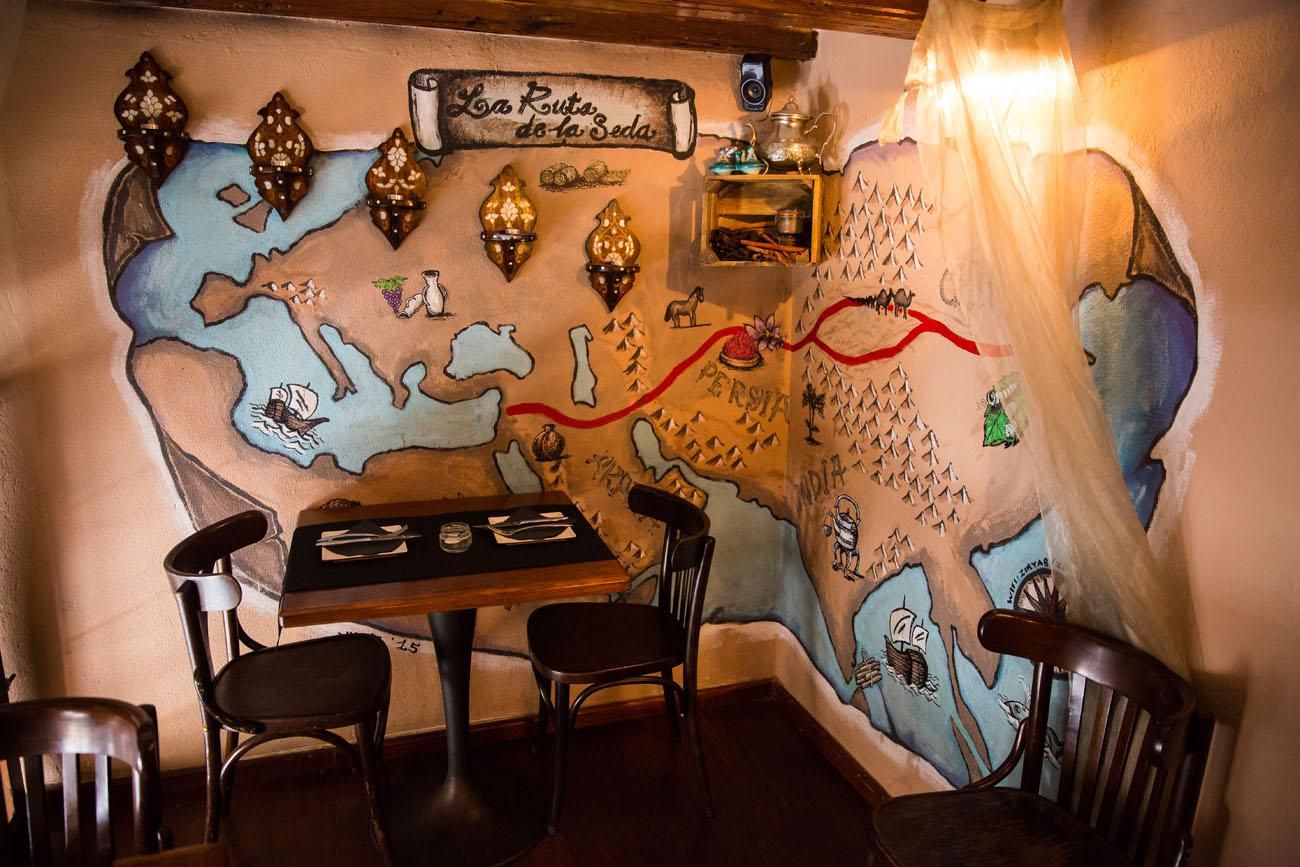 Cera 23
Cera 23 offers not only tapas but also full course meals. It is located in the El Raval neighborhood, so it is a bit off the main tourist trail, probably a good thing. Cera 23 specializes in fusion Mediterranean cuisine, with dishes of octopus, ceviche, black rice and seafood, beef cheeks, and slow cooked lamb.
A reservation is recommended, although if you get here right at opening time, you may be able to squeeze into a spot at the bar.
Nearest Metro: Sant Antoni
Visit their website here.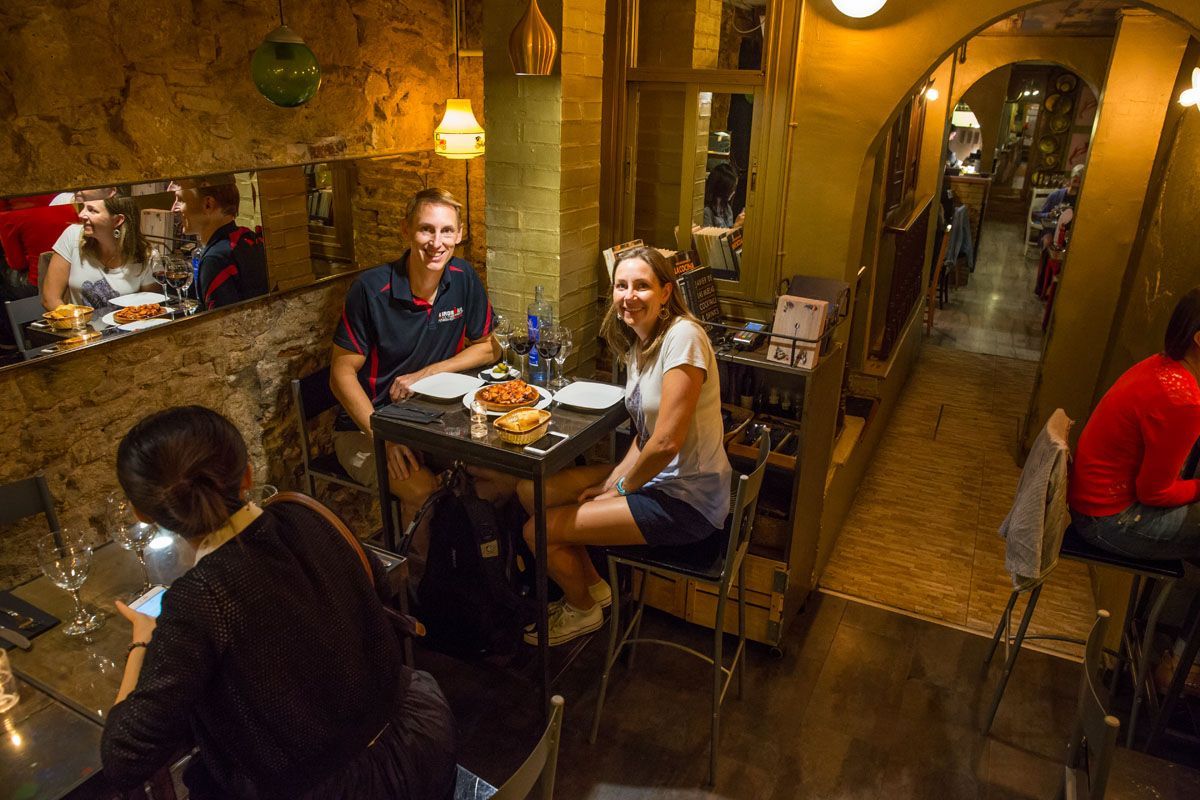 Restaurante Arume
Arume is located right around the corner from Cera 23. This restaurant specializes in contemporary Galician cuisine and has a menu similar to Cera 23.
It was here that we had the best cocktails while in Barcelona. Yes, we broke out of our cava kick and tried the gourmet cocktails here. It is worth visiting Arume if cocktails are your thing.
Reservations are highly recommended. We were able to get a seat at the bar since we arrived just before opening time.
Nearest Metro: Sant Antoni
Visit their website here.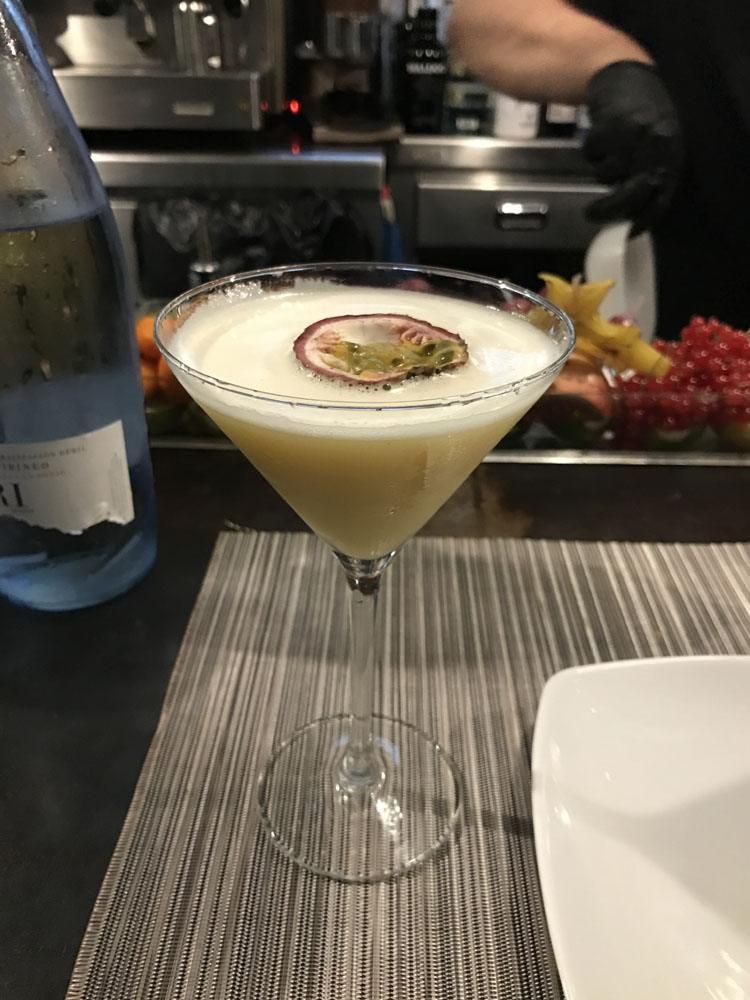 Bosc de les Fades Café
This slightly cheesy restaurant is worth it if you are visiting Barcelona with kids. This restaurant is similar to Rainforest Café in the USA on a much smaller scale with a better drink menu.
Nearest Metro: Drassanes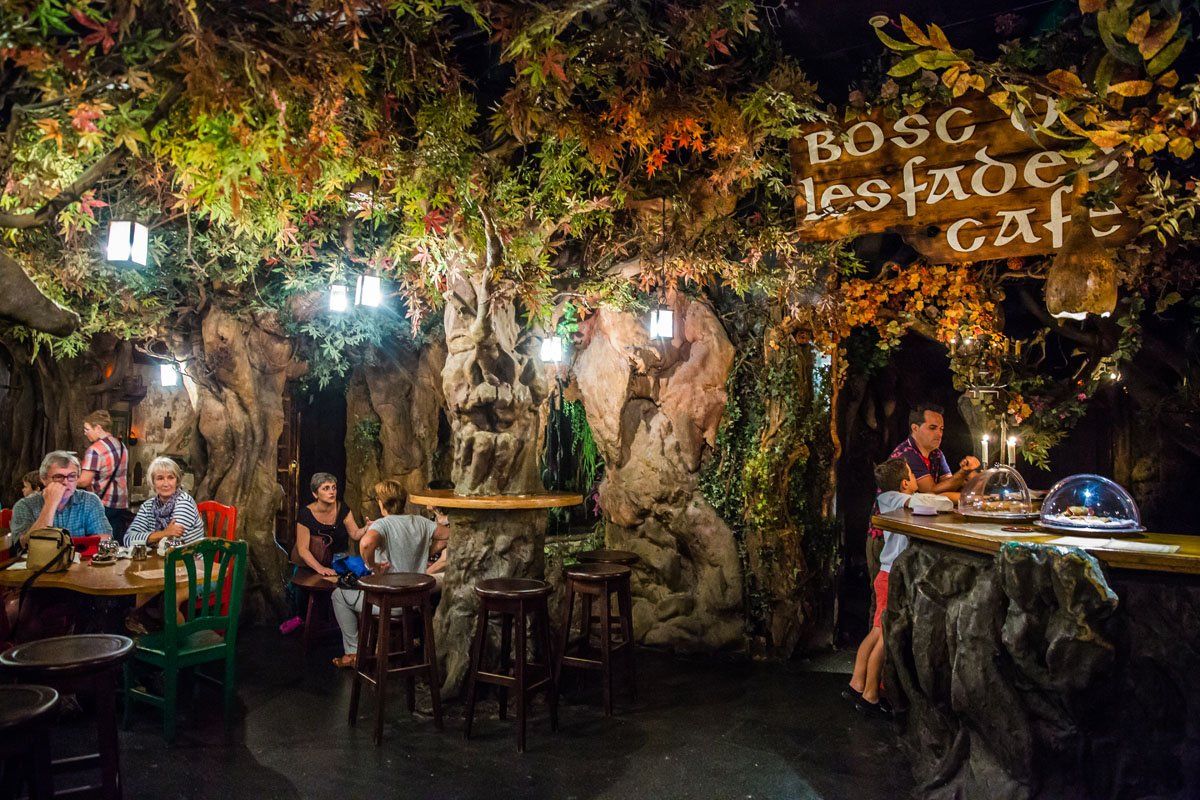 Blavis
Unfortunately, we never had a meal here. A week prior to traveling to Barcelona, I contacted the restaurant and learned that they were booked solid for four weeks!
This tiny restaurant gets rave reviews. Delicious food at a low cost in a friendly, intimate atmosphere is what attracts people here. We are sorry we missed it, but we have something to look forward to on a future visit to Barcelona.
Nearest Metro: Pl. Molina
Rooftop Bars in Barcelona
Alaire Terrace Bar
For views over Passieg de Gràcia and La Pedrera (Casa Milà) this is your place. Alaire Terrace Bar is located on the rooftop of Hotel Condes de Barcelona. This is a great place to unwind after a day of sightseeing with some of the best views of Casa Milà.
Nearest Metro: Diagonal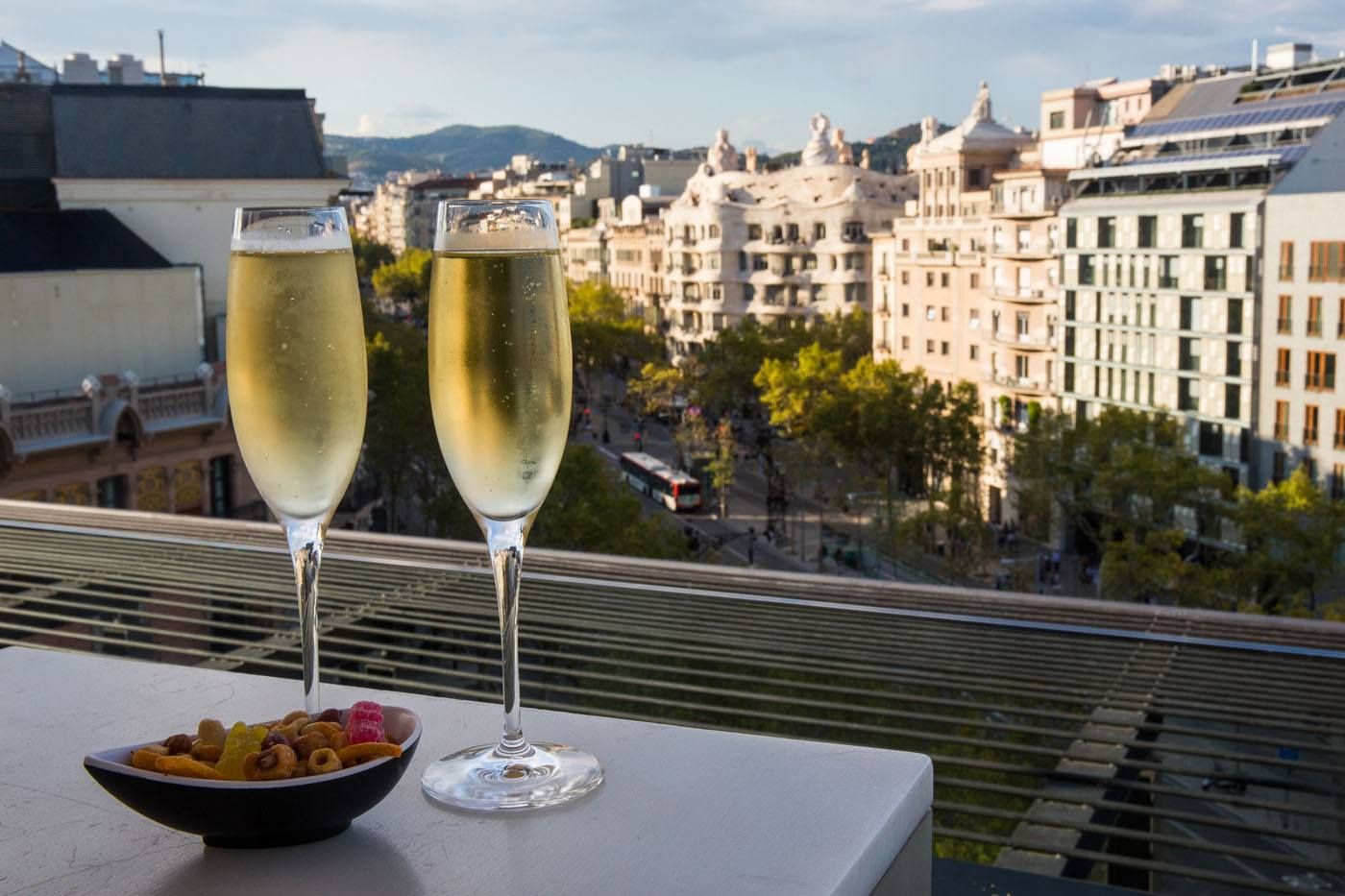 360 Terrace
For panoramic views over Barcelona, this bar has got you covered. From here, you can look out over all the major sites, including Sagrada Familia, the church spires dotting the horizon, and Sagrat Cor located up on Mount Tibidabo. While we were here, we had excellent views of the approaching thunderstorm. When it rains, there is very little shelter, which had us fleeing back inside of the hotel. On a dry night 360 Terrace is awesome.
360 Terrace is located on the top of Hotel Barcelo in the El Raval neighborhood.
Nearest Metro: Liceu or Sant Antoni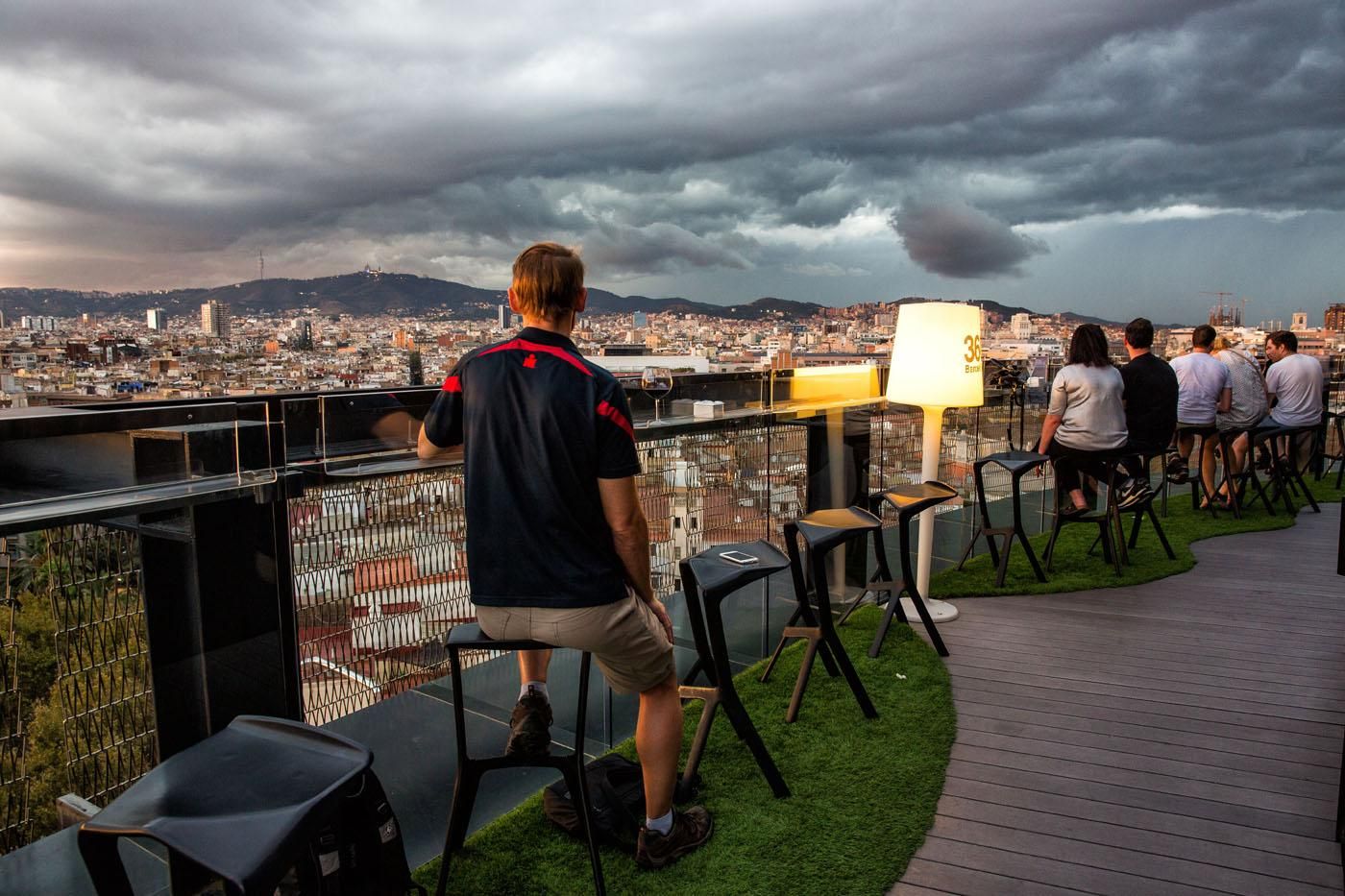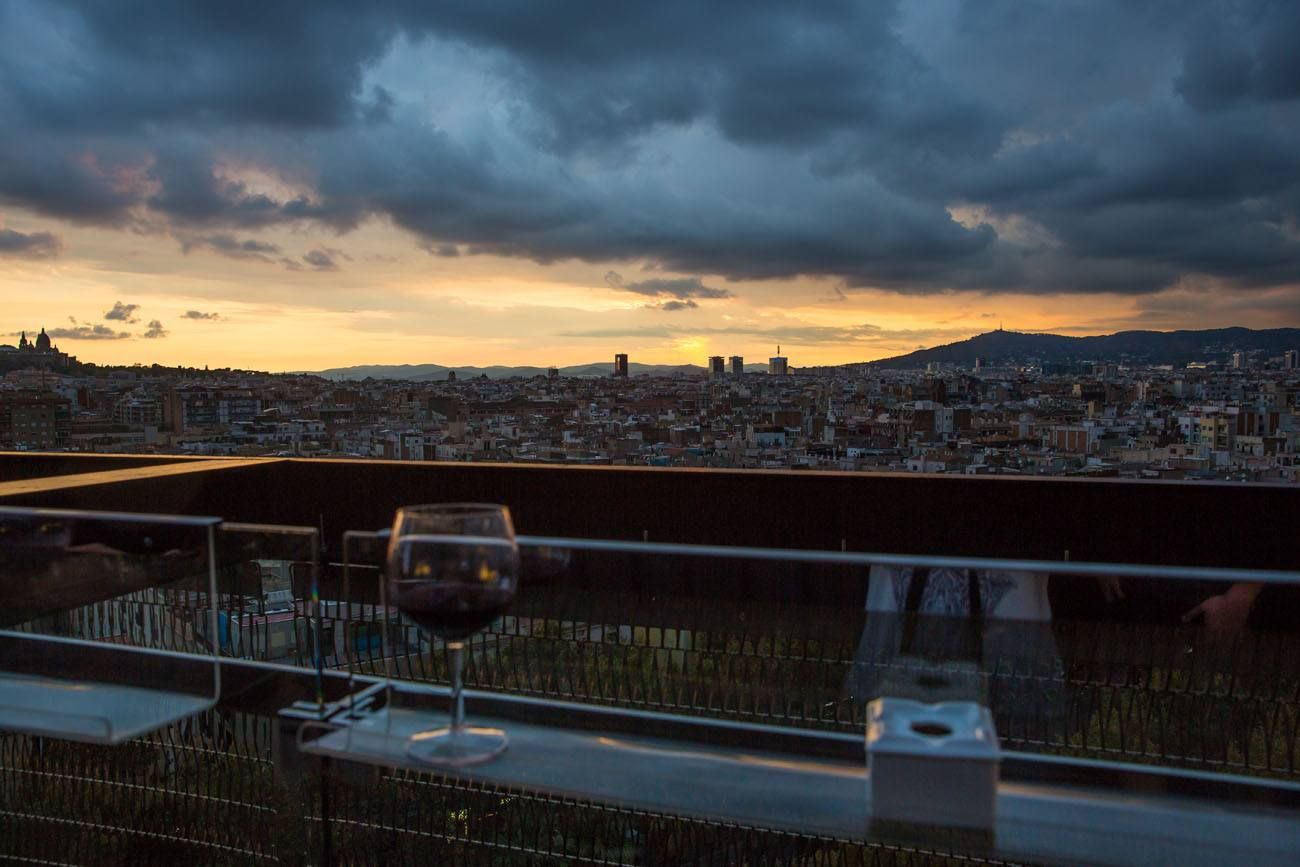 Finally, Dessert
Our final recommendation is for Casa Amatller, the place to buy the best chocolate in Barcelona. Inside of Casa Amatller, next to Casa Batlló, is the Chocolate Amatller shop. Buy some chocolate to bring home or order from the small café. Tim and I loved the melted chocolate served with bread for dipping. So, so good!!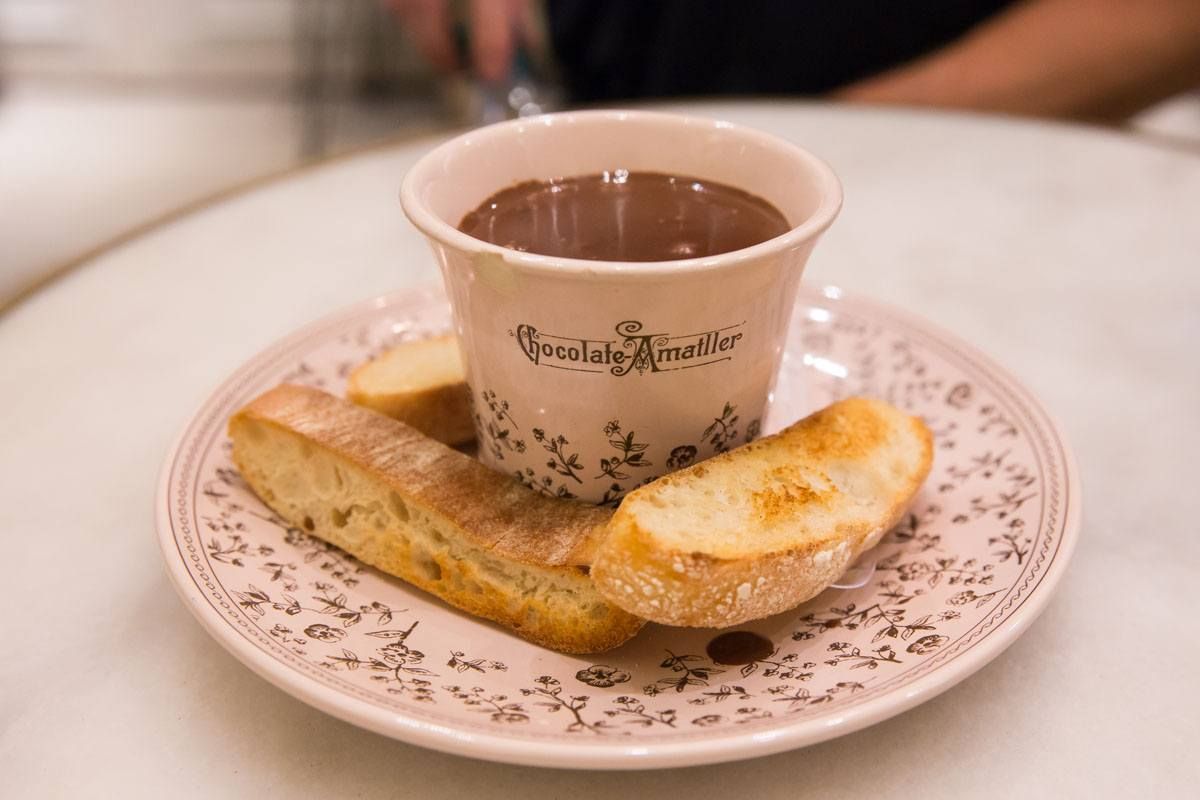 ---
So, have you been to Barcelona? What are your favorite tapas restaurants? Let our readers know by commenting below.
More Information for Your Trip to Barcelona:
BARCELONA, SPAIN: Start with our guide to the best things to do in Barcelona. Plan your visit with our 3 Day Barcelona Itinerary and get hotel recommendations in our guide on Where to Stay in Barcelona.
BARCELONA DAY TRIPS: From Barcelona, spend the day in Girona or day trip to Montserrat to visit the Monastery and hike to spectacular viewpoints.
FRENCH RIVIERA: Plan your visit to the French Riviera and Provence in our 10 Day French Riviera Itinerary.
EUROPE ITINERARIES: Check out our article 10 Days in Europe: 10 Amazing Itineraries for 10 different ways to visit the best places in Europe. And if you have less time, check out our guide to 25 Ways to Spend One Week in Europe.
All rights reserved © Earth Trekkers. Republishing this article and/or any of its contents (text, photography, etc.), in whole or in part, is strictly prohibited.