What is the first thing you think of when you hear the name "Yellowstone?" For many people, that answer would be Old Faithful.
Old Faithful is one of the most popular sights in Yellowstone National Park. If this is your first time in Yellowstone, then most likely, Old Faithful is at the top of your to-do list.
In this article, we cover everything you need to know in order to have the best experience…eruption times, how to avoid the crowds, where to get the best view, and if it is even worth it.
Interesting Facts About Old Faithful
Old Faithful is the world's most famous geyser. For decades, this geyser has been erupting on a very reliable schedule. So reliable, in fact, that you can even get predicted eruption times online to help you plan your visit.
Most of Yellowstone sits atop a supervolcano. This supervolcano powers the geothermal activity in the park, including the regular eruption of Old Faithful. In fact, Old Faithful sites right over a giant pool of magma. This magma chamber is massive, containing enough magma to fill the Grand Canyon 11 times!
Old Faithful is not the largest geyser in Yellowstone. The largest geyser is Steamboat Geyser in the Norris Geyser Basin, but since it erupts less than 50 times per year, you will have to be extremely lucky to see this geyser in action.
Eruptions of Old Faithful last between 1.5 and 5 minutes. During this time, the water reaches a height of 106 to 184 feet (32 to 56 meters), with an average height of 130 feet. Between 3,700 and 8,400 gallons of water are expelled from the geyser.
In earlier times, visitors would throw their dirty clothes into the geyser. When Old Faithful erupted, it would spit the clothes back out, steam cleaning them in the process. Wool clothes disintegrated from the hot steam but other fabrics fared much better.
Old Faithful Eruption Times
Old Faithful erupts every 60 to 110 minutes, which is about 16 to 17 times per day. On rare occasions, it can take up to two hours for the next eruption.
There is a correlation between the interval of time between eruptions and the duration and magnitude of the previous eruption. Following a short eruption, there will be a shorter interval of time until the next eruption. After a long eruption of Old Faithful, expect to wait longer for next eruption.
Old Faithful erupts on such a reliable basis that the National Park Service posts predicted eruption times on their website. You can even download an app onto your phone that you will give you the predicted times.
Prediction times are also posted at the Old Faithful Visitor Center and at a Junior Ranger station, as you walk from the parking lot to Old Faithful.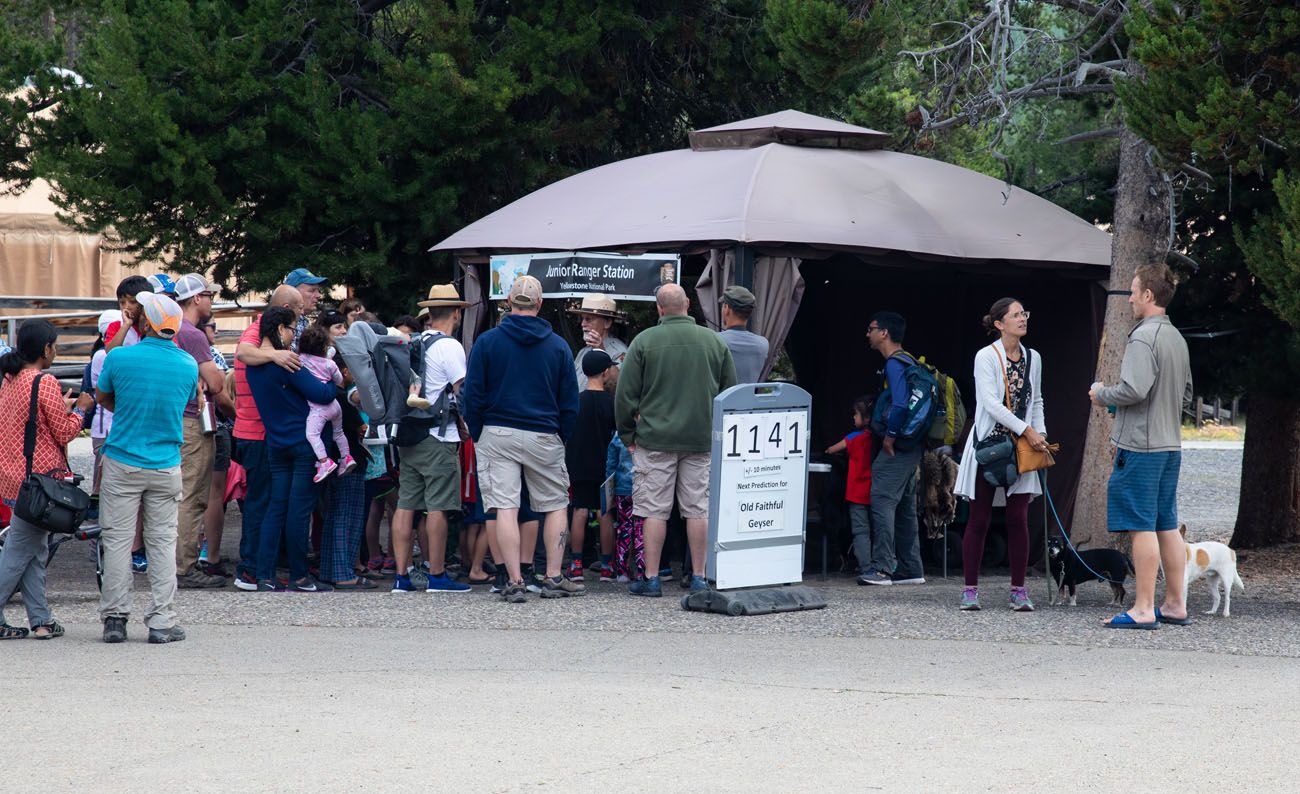 As you walk from the parking lot to Old Faithful, you will pass by this ranger station and the sign with the next predicted eruption.
Where to Get the Best View of Old Faithful
There are three different ways to watch an eruption of Old Faithful:
Grab a seat on the boardwalk
Observation Point
From the Old Faithful Inn
From the Boardwalk
The boardwalk is the most popular spot to watch Old Faithful erupt. The photo below was taken midday during August, so you can get an idea of the popularity of Old Faithful.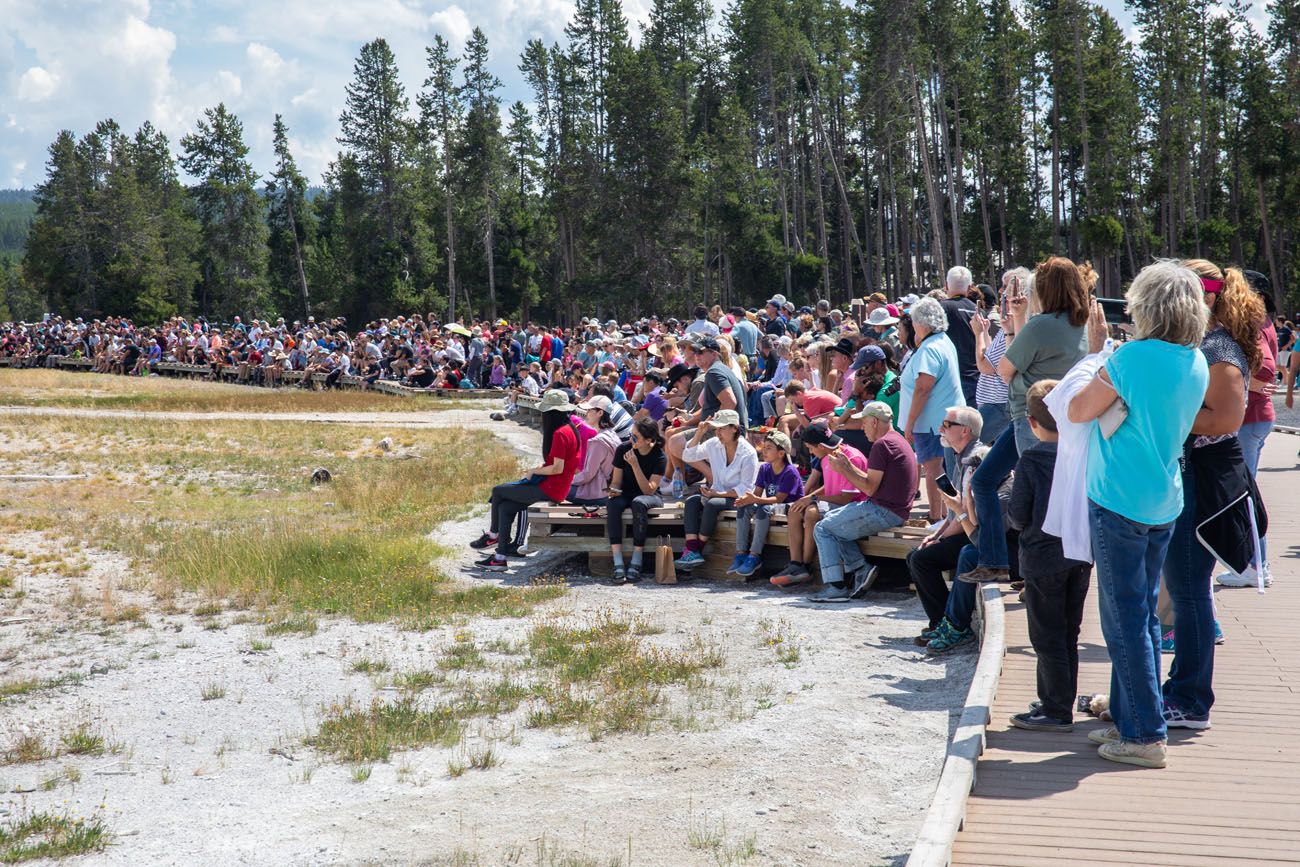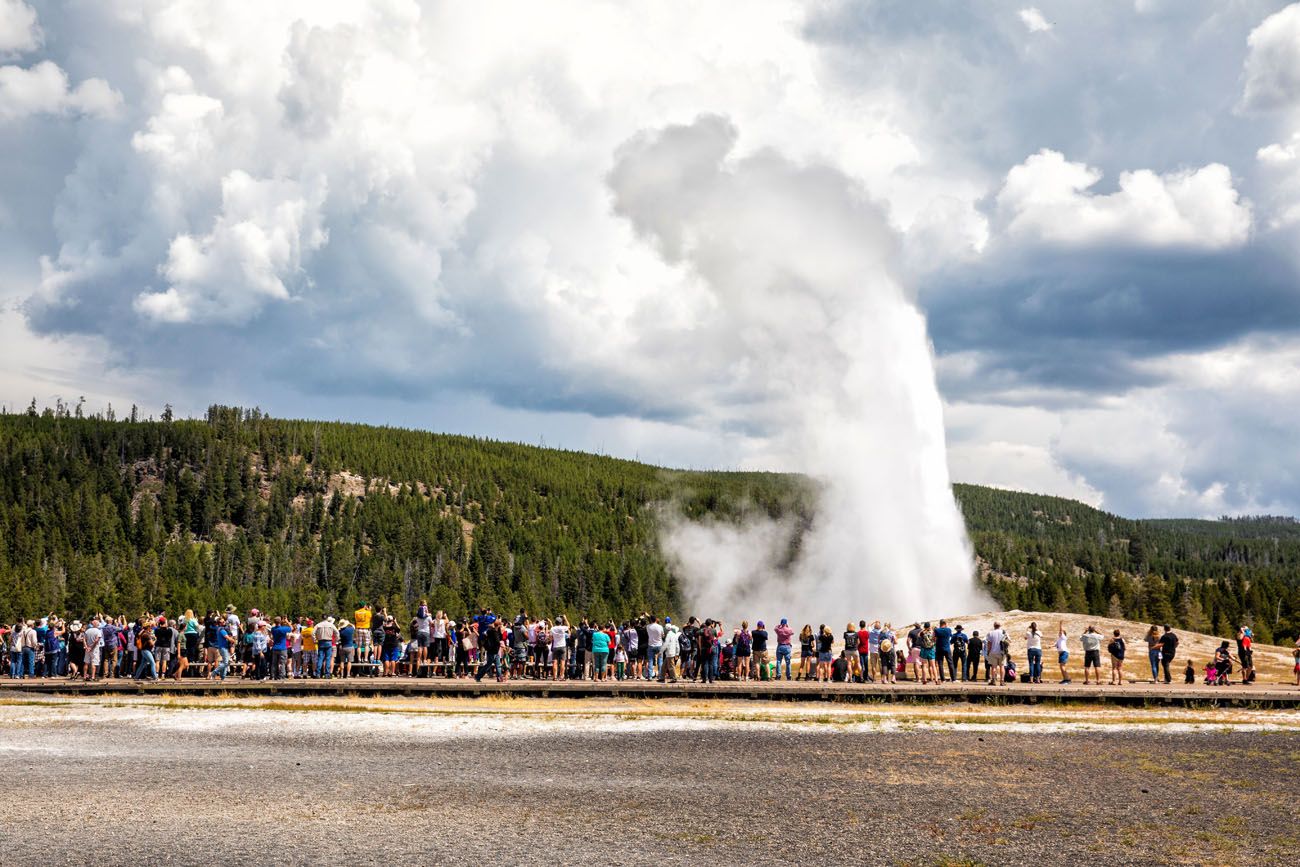 PRO TRAVEL TIP: Plan to get here at least 20 to 30 minutes early if you want to score a seat on the boardwalk.
From Observation Point
With just a handful of people, this is a great place to escape the crowds and still get a great view of the eruption.
To get here, it is a 1.1-mile round trip hike. It's a short, strenuous uphill walk to get the viewing area. We got here 30 minutes before the predicted eruption time and had a picnic lunch while waiting.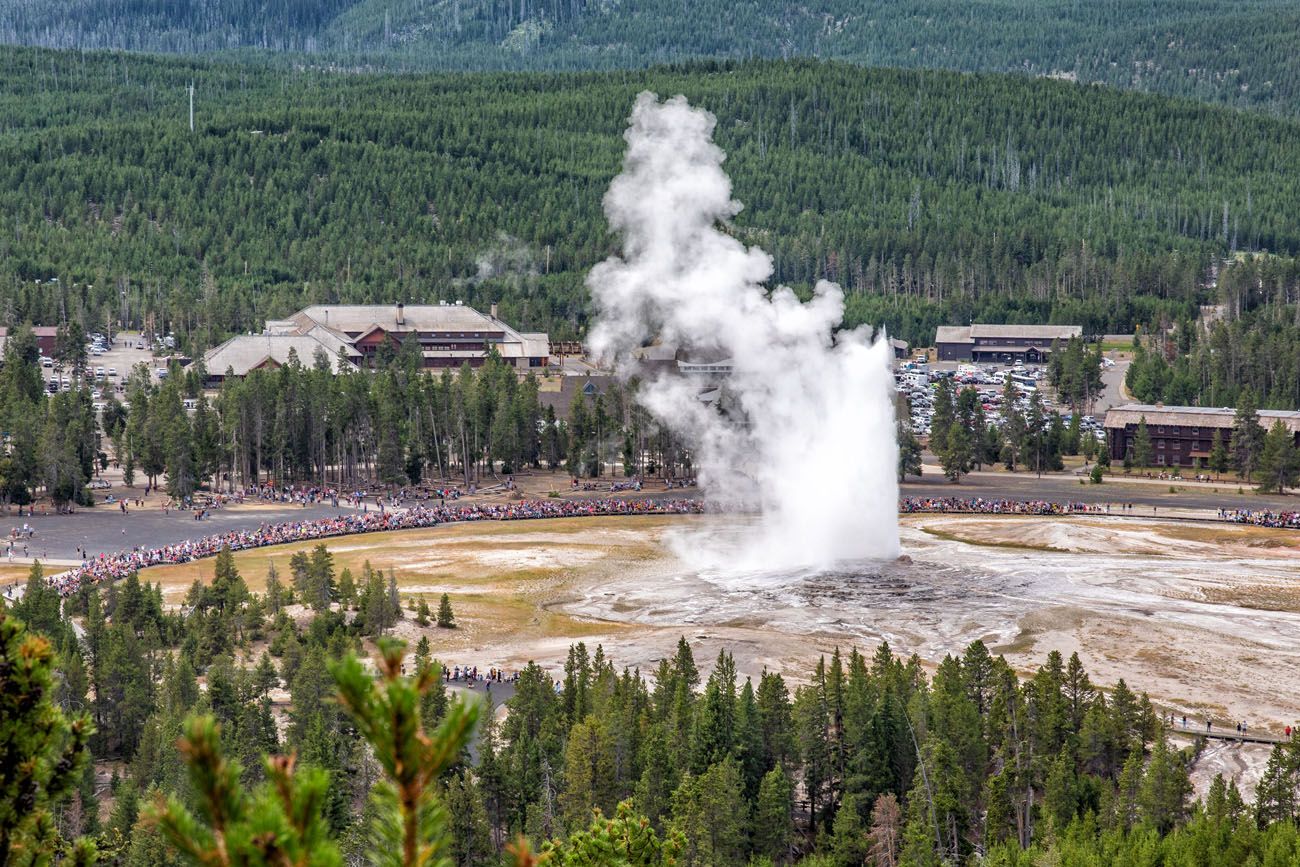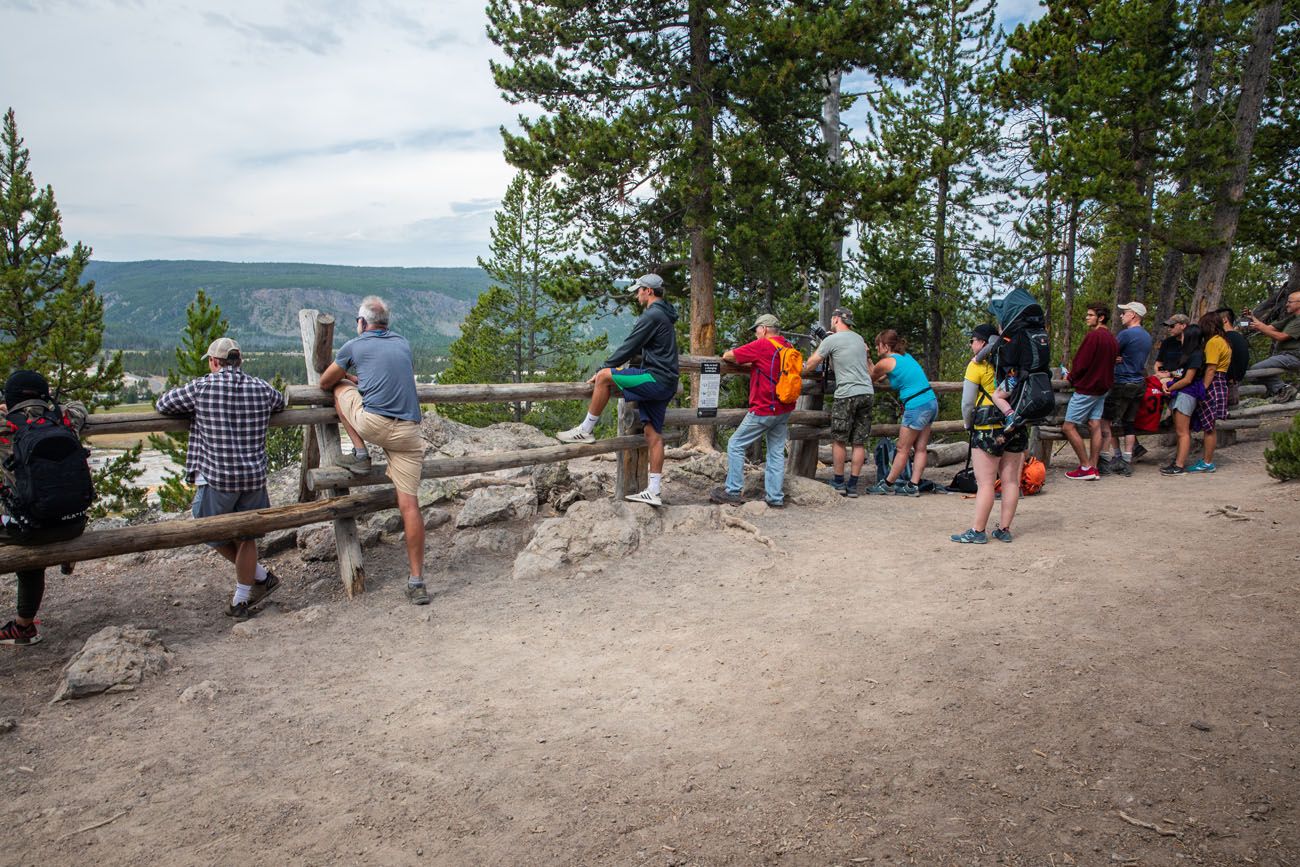 From the Old Faithful Inn
One of the best places to watch the eruption of Old Faithful is from the viewing deck at the Old Faithful Inn. Get a drink at the bar, have a seat, and enjoy the view. I recommend getting here at least 30 minutes before the predicted eruption time if you want a front row seat.
What Else Can You Do in the Area?
Upper Geyser Basin
Within 1 square mile, there are over 150 geothermal features, making this one of best places in the park to see hot springs, geysers, and thermal pools. Old Faithful is the main attraction but there are more great things to see and do here.
There are several notable geothermal features to visit, including Morning Glory Pool, Castle Geyser, Solitary Geyser, and Grotto Geyser. For full details about what to see and do in the Upper Geyser Basin, read our Guide to the Geyser Basins in Yellowstone.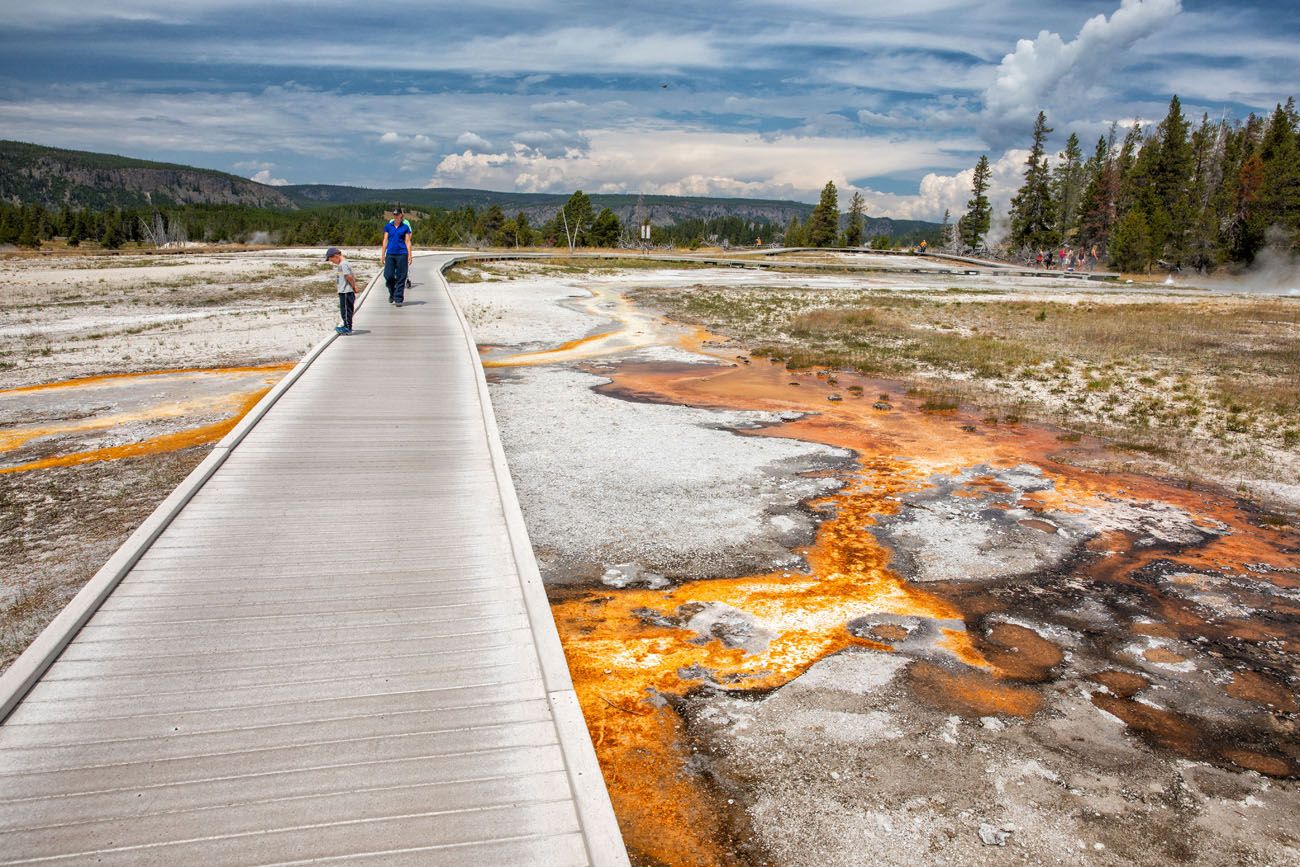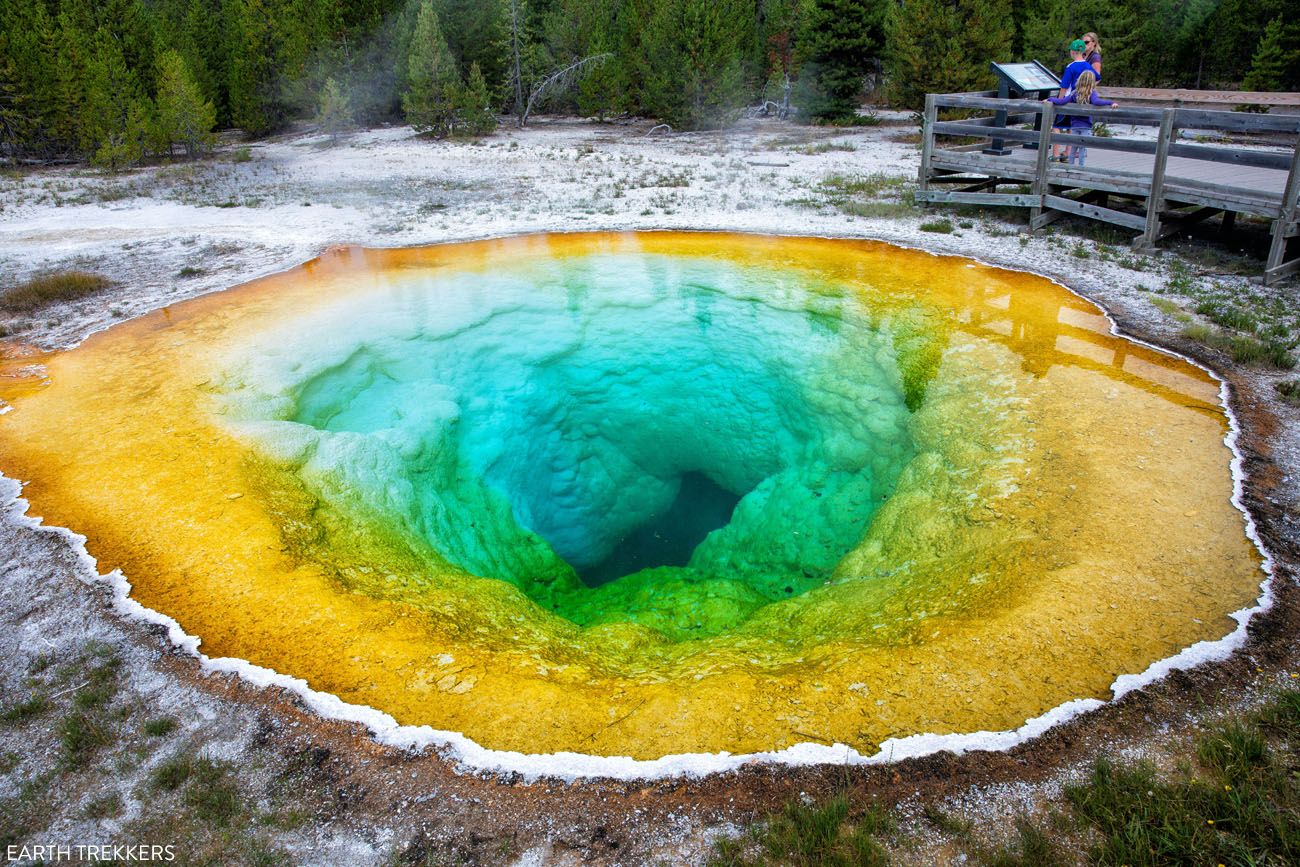 Morning Glory Pool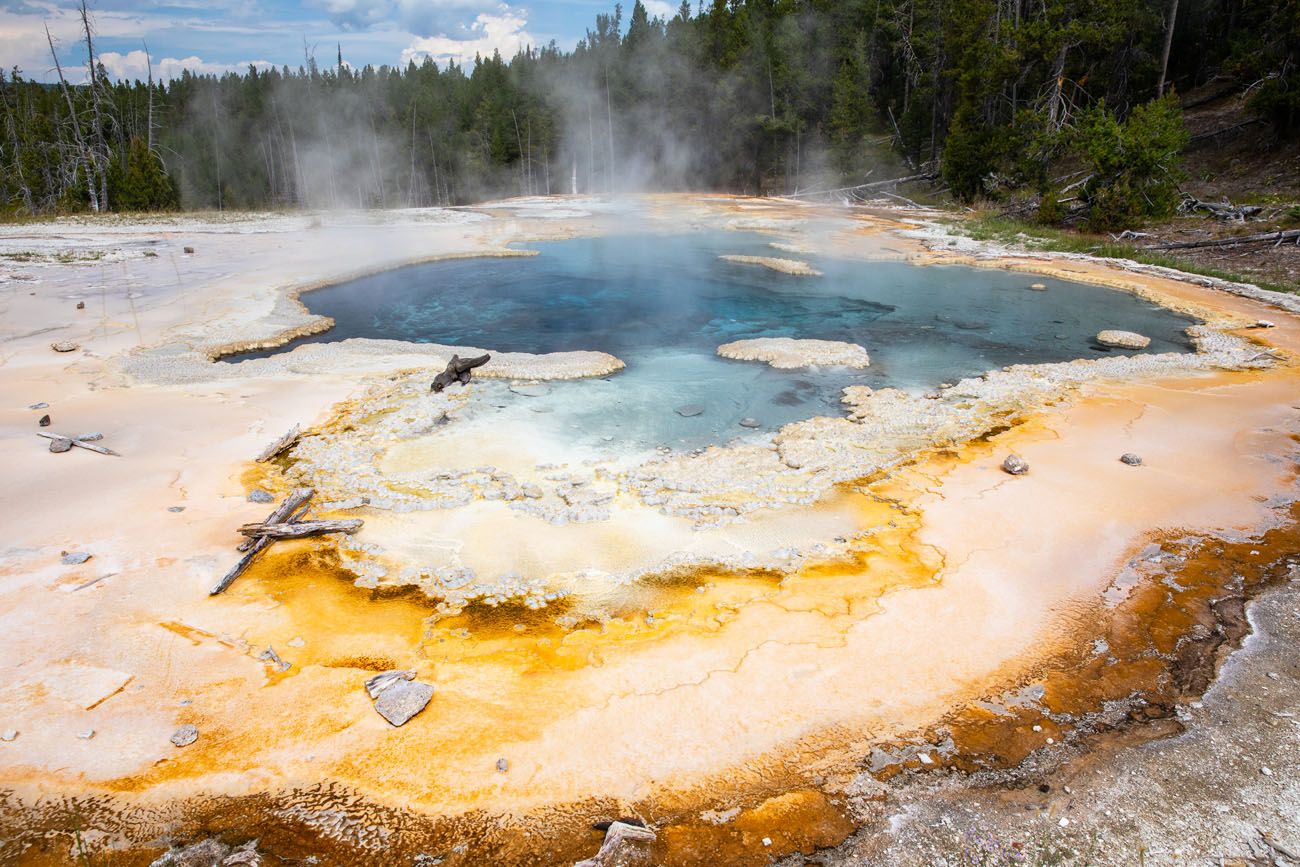 Solitary Geyser
PRO TRAVEL TIP: It takes about two hours to walk the boardwalk trails in the Upper Geyser Basin and hike to Geyser Hill, if you thoroughly explore the area. A visit here, combined with watching Old Faithful erupt, can last from two to four hours.
Old Faithful Inn
The Old Faithful Inn is a National Historic Landmark. Built between 1903 and 1904, it is one of the last remaining log hotels in the United States.
The lobby is beautiful, with its massive stone fireplace, dim lighting, and multiple levels of balconies.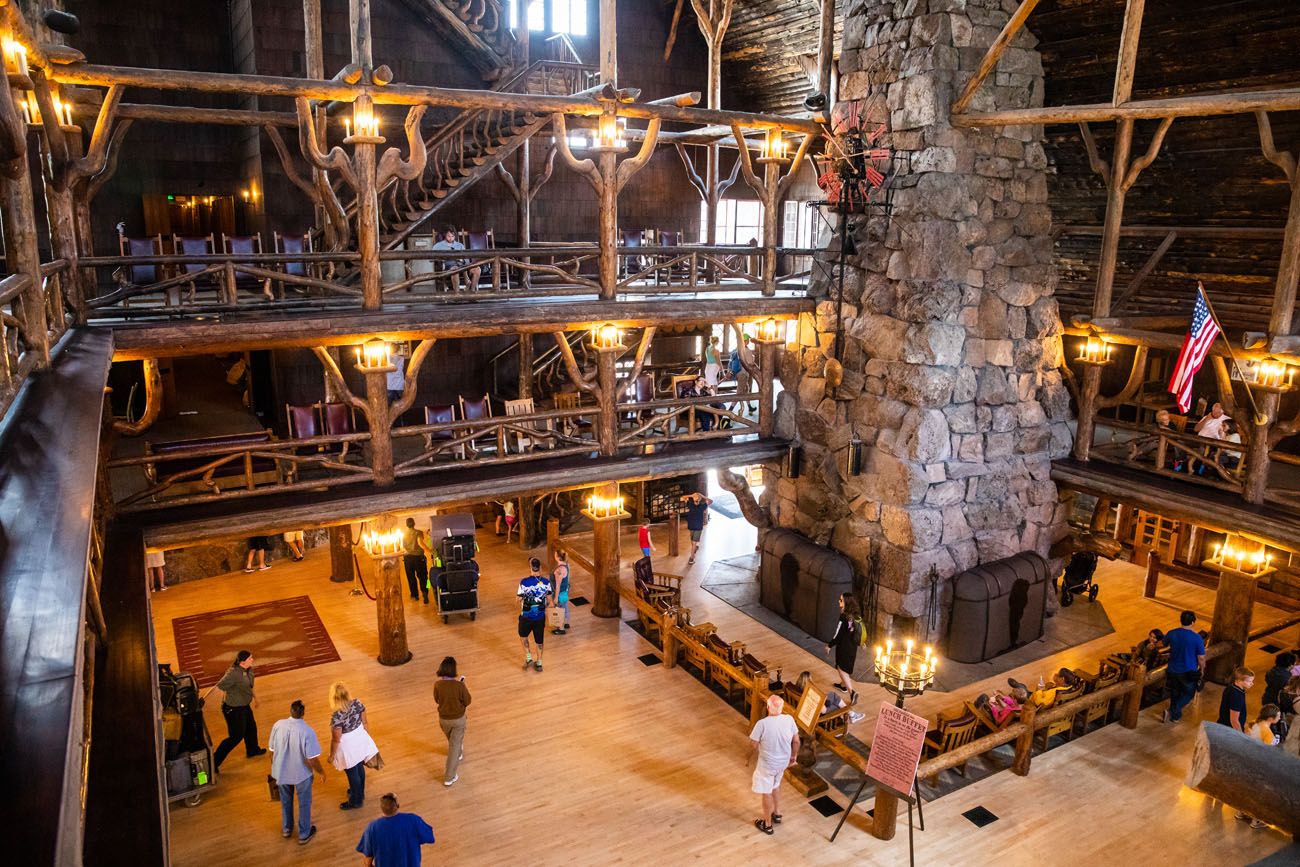 PRO TRAVEL TIP: Walk upstairs to the second level. Get a drink at the bar and grab a seat on the covered deck. Even midday, there were very few people here, and this is a great place to escape the crowds and the hot summer sun (and watch Old Faithful in action).
Old Faithful Visitor Education Center
Learn more about Old Faithful and the park's geothermal features at this visitor center. A theater shows informative movies about the park. Kids can join ranger-led programs and learn more about Yellowstone with the interactive exhibits.
The Visitor Center is closed for two months of the year, for one month between mid-March and mid-April, and for six weeks between early November and mid-December. It is also closed during holidays. Standard hours are between 8 am and 8 pm 7 days a week. Click here for updated hours.

How Much Time Do You Need at Old Faithful?
If you get lucky, Old Faithful could erupt right when you get here (this is what happened on our first visit to Yellowstone 20 years ago). Or, you could get here just minutes after an eruption (which has happened to us too).
So, a visit could last as little as 20 minutes or it could last much longer.
A visit to Old Faithful and the Upper Geyser Basin will last between two to four hours, depending on your luck getting your timing right to watch an eruption. If you hike to Solitary Geyser, Observation Point, and walk out to Morning Glory Pool, expect your visit to last up to three to four hours. But during this time, you could also see not one, but two eruptions of Old Faithful.
How to Plan Your Time
How much time you spend at Old Faithful depends on your timing on watching an eruption and how much time you want to spend exploring the Upper Geyser Basin.
If you get lucky and get here right before an eruption, watch the eruption and take note of the time. Spend an hour to an hour and a half walking the trails around the Upper Geyser Basin and Geyser Hill. Plan to be at Observation Point or on the boardwalks surrounding Old Faithful for a second eruption.
If you get here just after an eruption, explore the Upper Geyser Basin and watch the eruption from the boardwalk or Observation Point.
What We Did: We arrived just after an eruption. Kara and I assembled a picnic lunch at the Old Faithful General Store, hiked to Observation Point, and had lunch while awaiting the eruption. Then, we hiked out to Solitary Geyser, walked through the Upper Geyser Basin, and visited the Old Faithful Inn. Kara and I watched a second eruption before leaving the Old Faithful area.
Walking from the parking lot to Old Faithful
How to Avoid the Crowds at Old Faithful
Visit early or late in the day
Watch the eruption from Observation Point
Visit Yellowstone during the off season
Since this is one of Yellowstone's most popular spots, expect enormous crowds.
Peak time is between noon and 6 pm. During this time, keep your fingers crossed that you will find a parking spot. Not only will you be elbowing for a view on the boardwalk, but exiting the area right after the eruption can be a nightmare.
To avoid the crowds at Old Faithful, plan on arriving early, ideally before 10 am, although getting here by 8 am is even better. If you start early, you will get to watch an eruption without the crowds, walk the boardwalk trails through the Upper Geyser Basin with very few people, and exit the Old Faithful parking lot before crowd levels get to be insane.
Observation Point is a great spot to watch Old Faithful erupt, without the crowds. We shared this viewpoint with just a handful of people. Even from here, you can hear the oohs and ahhs of the crowd and the water hissing from Old Faithful as it erupts.
Finally, if you visit Old Faithful during the off-season months (October through April) crowds in the park will be low.
PRO TRAVEL TIP: Immediately following an eruption, most people head right to their cars. The parking lot becomes gridlocked with the number of visitors trying to exit at the same time. To avoid this, plan to stick around for 20 to 30 minutes after an eruption. You can visit the Visitor Center or grab a bite to eat at the General Store or in one of the dining rooms in the lodges near Old Faithful.
Is Old Faithful Worth It?
Absolutely! Watching an eruption of Old Faithful is one of the most popular and iconic National Park experiences in the United States. This is not to be missed on a visit to Yellowstone National Park.
Practical Information
Yellowstone Entrance Fee: $35 for a 7-day pass
Visiting in Winter: In early November, most park roads close to automobile traffic, including the roads to Old Faithful. From mid-December through mid-March, the only way to get to Old Faithful is by guided snowmobile or snowcoach. Winter travel ends in mid-March. The roads are plowed and start reopening to cars in mid-April. Click here for more information.
For updates on conditions in the park, including road closures and construction projects, visit the National Park Service website.
More Information about Yellowstone
For more information about Yellowstone National Park and ideas on how to plan a road trip in this part of the United States, check out these articles on our website:
YELLOWSTONE TRAVEL GUIDE: Read our Yellowstone National Park Travel Guide for important travel information, sample itineraries, and links to all of our articles about Yellowstone.
BEST OF YELLOWSTONE: For a list of the top experiences in Yellowstone, don't miss our article Best Things to Do in Yellowstone. We also have guides to the top sights in Yellowstone, Grand Canyon of the Yellowstone, how to visit Grand Prismatic Spring, and a Guide to the Geyser Basins.
WHERE TO STAY: Choosing where to stay in Yellowstone can feel overwhelming, but it doesn't have to. In our Where to Stay in Yellowstone Guide, we cover the best hotels, the best lodges, and the best locations, based on your travel itinerary.
ROAD TRIP ITINERARY: Learn how to put together Grand Teton, Yellowstone, and Glacier National Parks into one amazing 10 day road trip. For more great travel ideas, check out our article Best Road Trips in the USA.
NATIONAL PARKS BY SEASON: Yellowstone National Park appears in our Best US National Parks in June, Best US National Parks in August, Best US National Parks in September, and Best National Parks in October articles. For more information about the best times to visit the national parks, check out our Best National Parks Month-by-Month Guide.
---
If you have any questions about how to visit Old Faithful, let us know in the comment section below.
Visit More National Parks:
All rights reserved © Earth Trekkers. Republishing this article and/or any of its contents (text, photography, etc.), in whole or in part, is strictly prohibited.