Yellowstone National Park is a wonderland of geothermal activity, stunning landscapes, and abundant wildlife. Steam hisses out of the ground along walking trails, bison stop cars in their tracks on the main park road, and technicolor hot springs never fail to amaze even the most seasoned traveler. Here are the best things to do in Yellowstone National Park.
Interesting Facts About Yellowstone National Park
Yellowstone is not only the first national park in the United States, it is the first national park in the world. Established March 1, 1872 by president Ulysses S. Grant, this land was set aside for the enjoyment of the people and to preserve these natural wonders. This started a worldwide movement. Now, there are 61 national parks in the United States.
In terms of land mass, Yellowstone is the largest national park in the United States, outside of Alaska. It sits in three states: Wyoming, Idaho, and Montana, with most of its land located in Wyoming.
Yellowstone is one of the most visited national parks in the United States. It received 4.1 million visitors in 2018, putting it 5th on the list of "most visited parks." However, if you are here in July or August, it's hard to imagine another park being even more crowded.
Crowds are huge in the summer months. Expect major difficulties finding a parking space midday and be prepared to share walking trails with many other visitors. However, there are places to escape some of these crowds, which you can read about later in this post.
Most of Yellowstone sits atop a supervolcano. It last erupted over 640,000 years ago and is overdue for its next eruption. When that inevitably happens, it could be cataclysmic for the human race.
This supervolcano powers the geothermal activity in the park. Yellowstone has the highest concentration of geothermal features of anywhere else on earth. The land literally smokes, bubbles, and hisses. Numerous geysers erupt on a daily basis, including the most famous geyser in the world, Old Faithful.
Important Update for 2020: There are planned road closures on Grand Loop Road between Tower Fall and Chittenden Road. This section of road will be completely closed until April 2022. Get the full details on the national park service website.
Best Things to do in Yellowstone National Park
With over 2 million acres of land and 5 park entrances, there is A LOT to do in Yellowstone National Park. 18 things to do may sound like a lot, and it is, but this is narrowed down from an enormous list of things to do. For the first time visitor to Yellowstone, this is a great starting point to see the best of the park.
18 Things to do in Yellowstone
1. Old Faithful
What is the first thing you think of when you hear the name "Yellowstone?" For many people, that answer would be Old Faithful.
Old Faithful is the world's most famous geyser. For decades, this geyser has been erupting on a very reliable schedule. So reliable, in fact, that you can even get expected eruption times online to help you plan your visit.
Old Faithful Eruption Schedule: Old Faithful erupts roughly every hour and thirty minutes, give or take 10 minutes (although on rare occasions, it can take up to 2 hours for the next eruption). The eruption typically lasts 3 to 4 minutes. Get the next predicted eruption time here.
There are three different ways to view the eruption of Old Faithful.
Grab a seat on the boardwalk that surrounds the geyser. Plan to get here 20 to 30 minutes early because the boardwalk gets packed with visitors.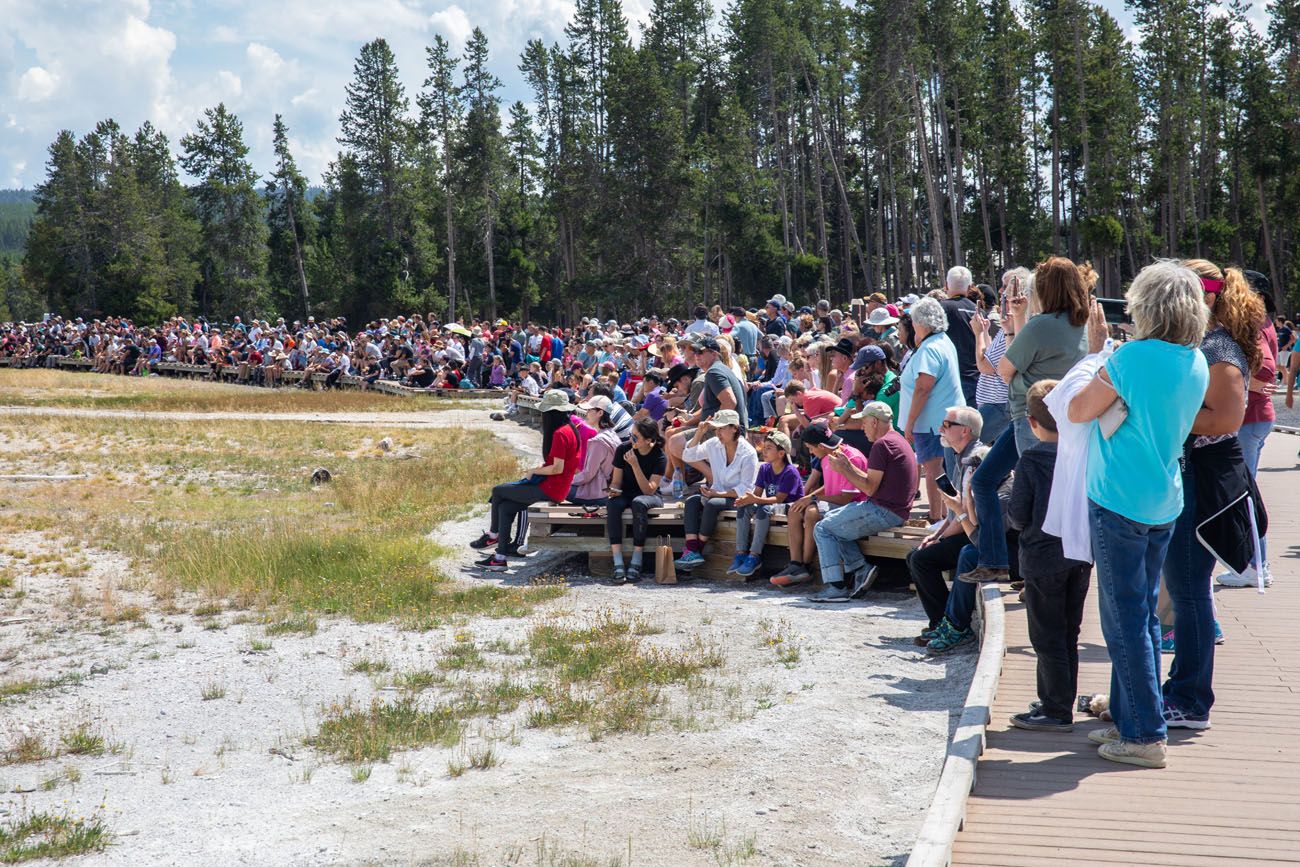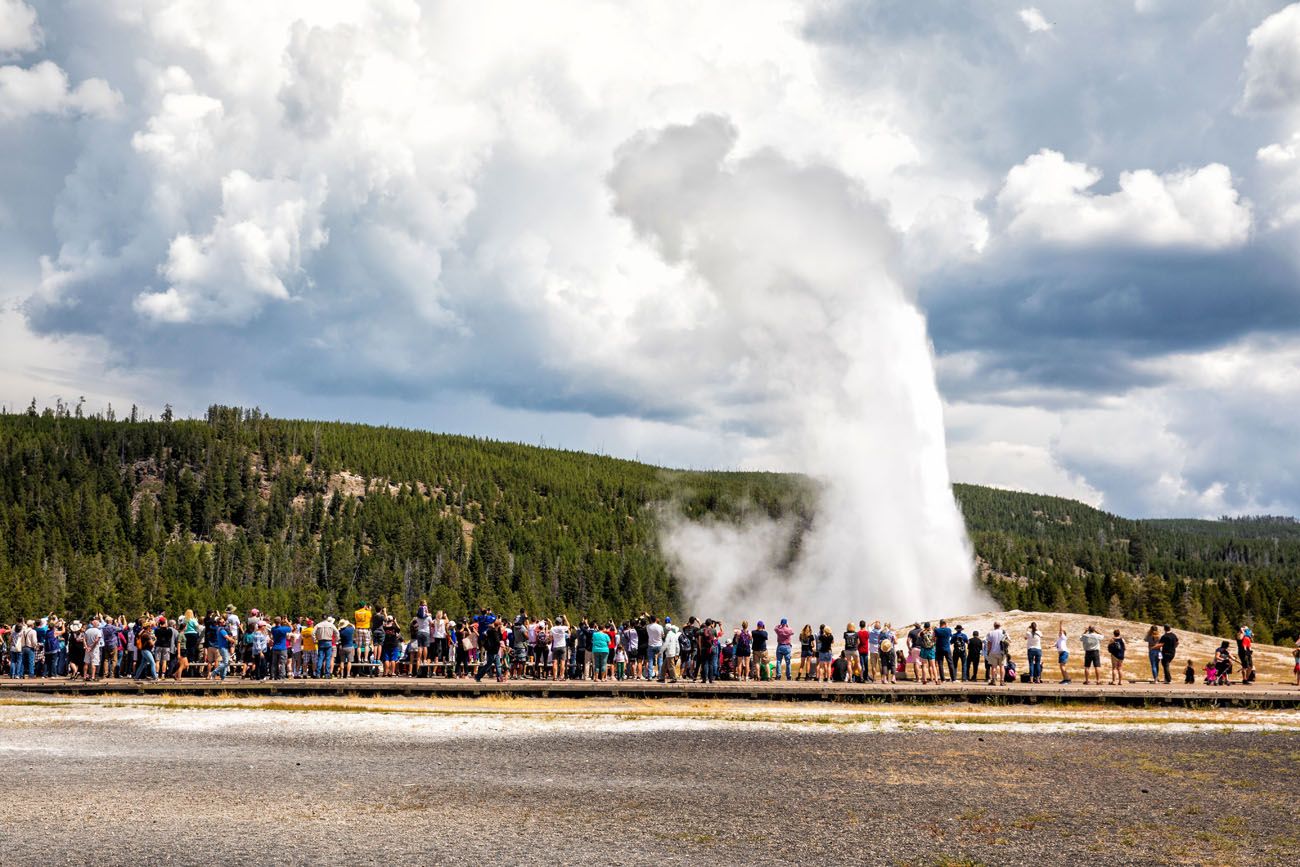 Hike to Observation Point for a bird's eye view of Old Faithful. With just a handful of people, this is a great place to escape the crowds and still get a stunning view of the eruption. To get here, it is a 1.1 mile round trip hike. It's a short, strenuous uphill walk to get the viewing area. We got here 30 minutes before the predicted eruption time and had a picnic lunch while waiting.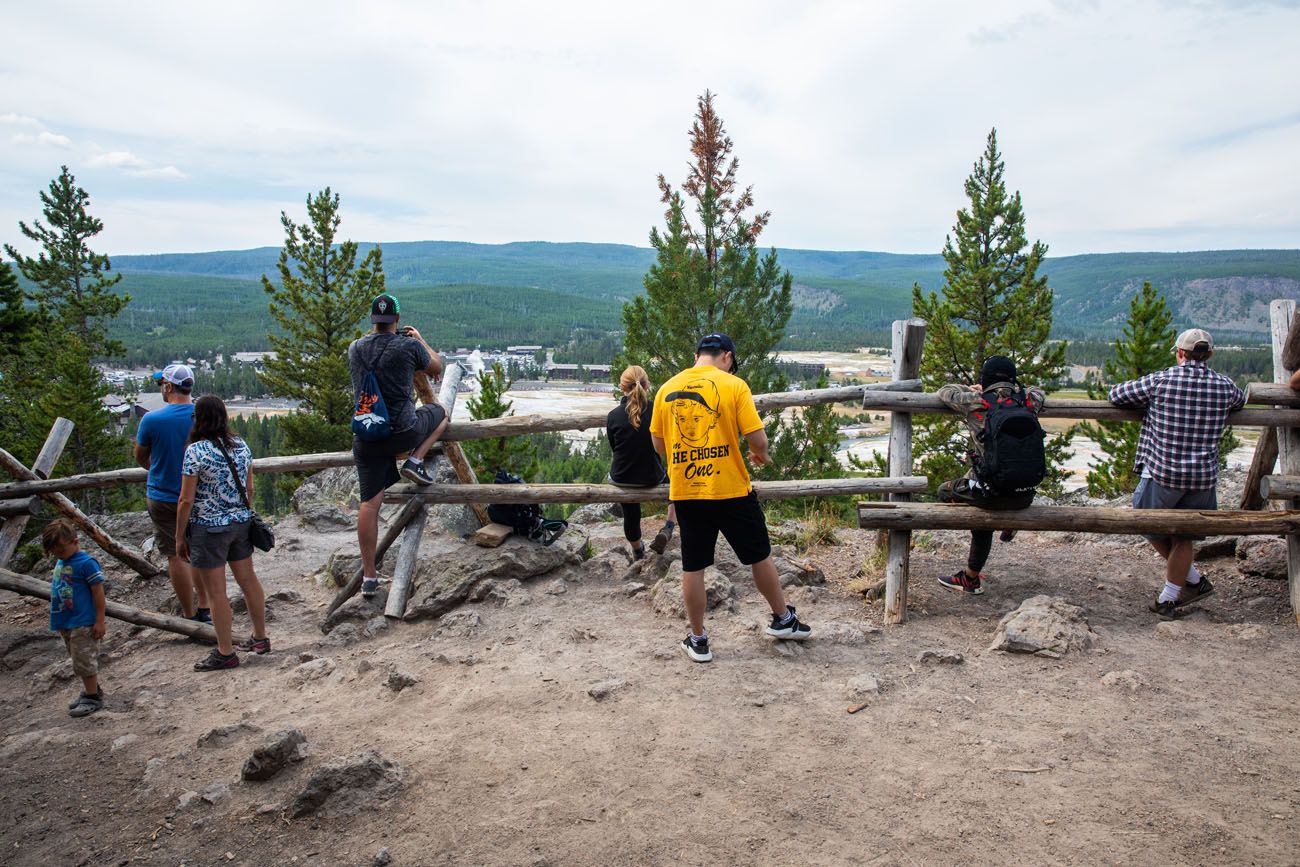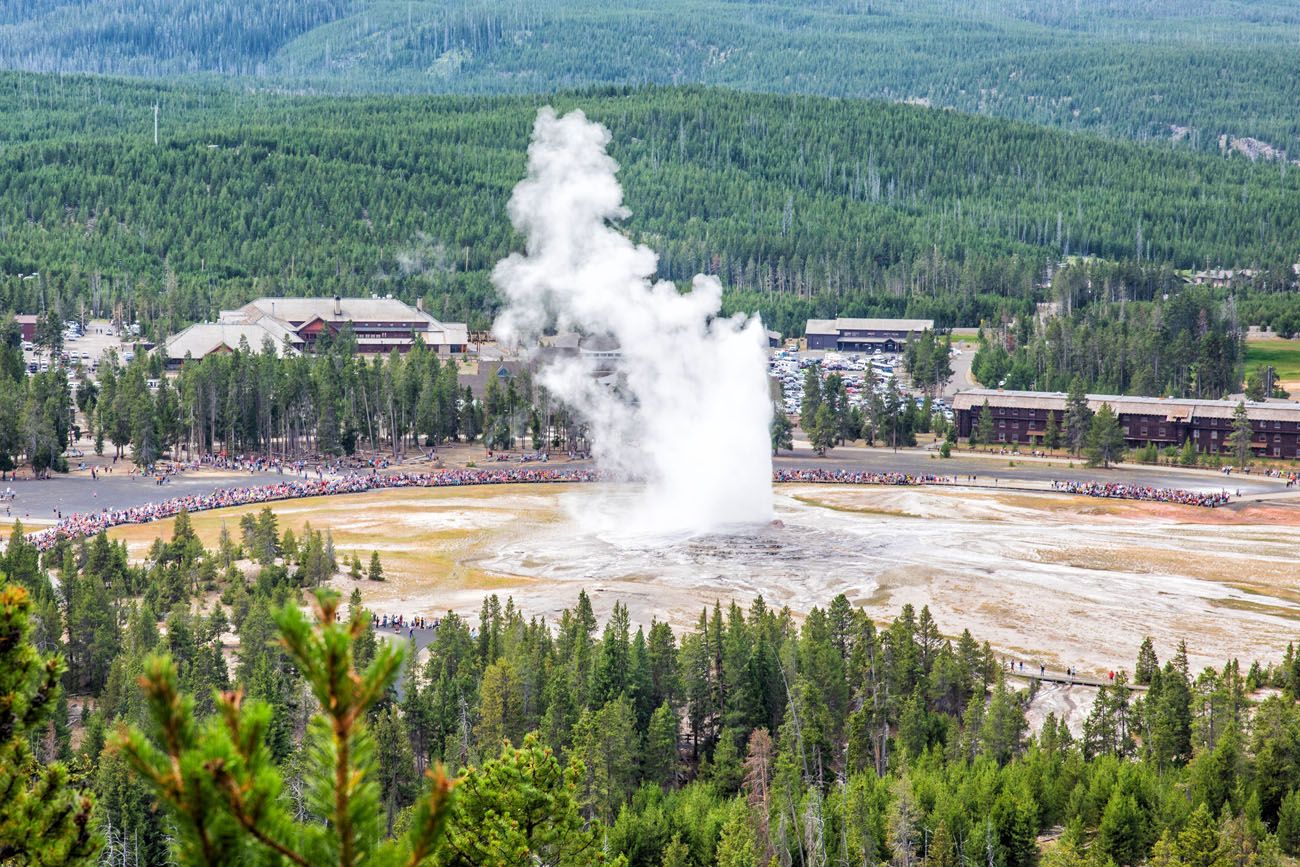 Take a seat at the viewing deck at the Old Faithful Inn. Get a drink at the bar, have a seat, and enjoy the view.
For full details on how to visit Old Faithful, with tips on how to avoid the crowds and how to plan your time, read our Guide to Old Faithful.
How Much Time Do You Need?
If you get lucky, Old Faithful could erupt right when you get here (this is what happened on our first visit to Yellowstone 20 years ago). Or, you could get here within minutes of an eruption (which is what happened on our most recent visit). So, a visit could last as little as 20 minutes or as long as two hours.
However, there is more to do here than just watch the eruption of Old Faithful. Check out the historic Old Faithful Inn, get lunch or a snack at one of several restaurants and general stores nearby, go to the visitor center, or explore the Upper Geyser Basin (mentioned next).
What We Did: We assembled a picnic lunch at the Old Faithful General Store, hiked to Observation Point, and had lunch while awaiting the eruption. Then, we hiked out to Solitary Geyser, walked through the Upper Geyser Basin, and visited the Old Faithful Inn. Kara and I watched a second eruption before leaving the Old Faithful area.
By the way, it's a nightmare trying to exit the parking lot immediately after an eruption, especially midday. We sat in a horrible back up trying to get out of the parking lot onto the park road.
---
2. Upper Geyser Basin & Geyser Hill
Within 1 square mile, there are over 150 geothermal features, making this one of best places in the park to see hot springs, geysers, and thermal pools. Old Faithful is the main attraction but there are more great things to see and do here.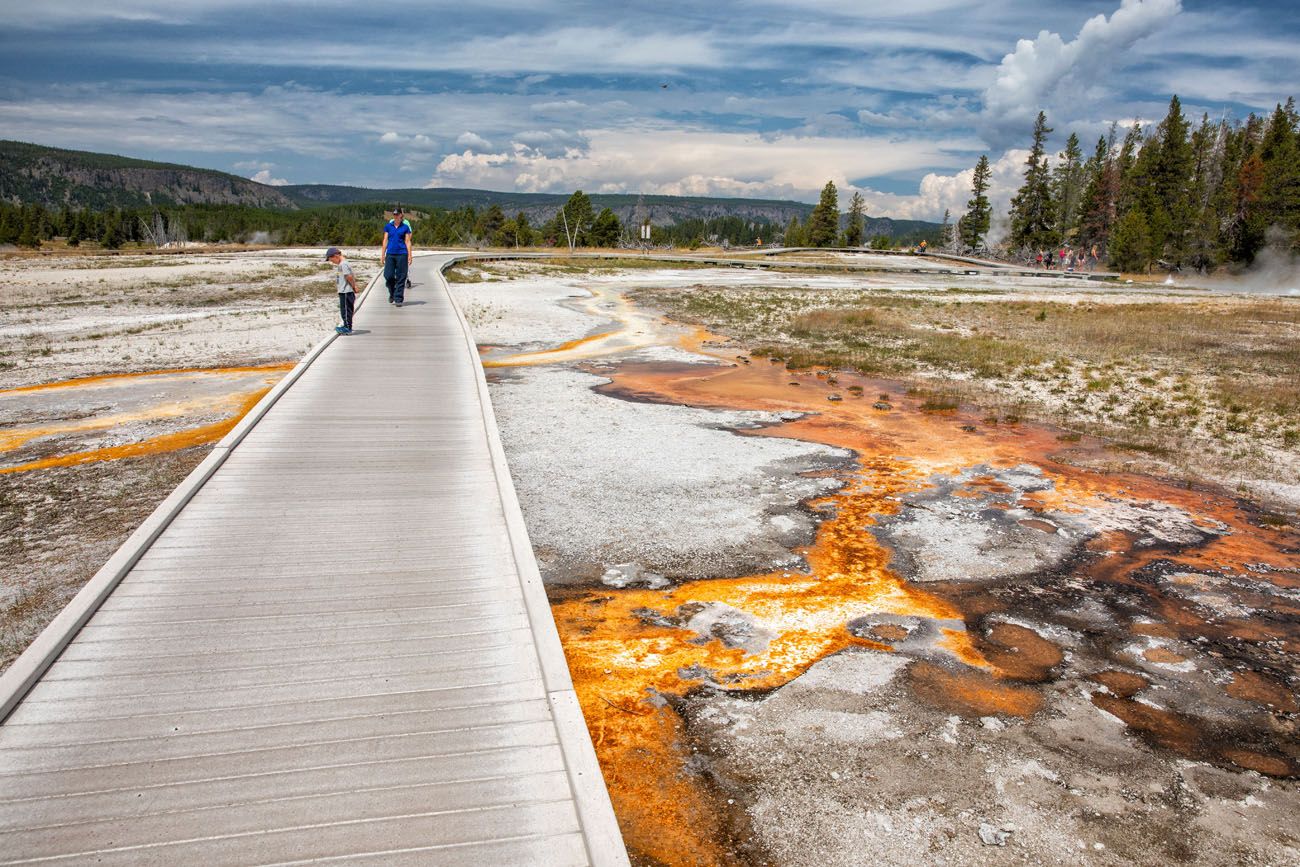 It takes about two hours to walk the boardwalk trails in the Upper Geyser Basin and the hiking trail to Geyser Hill, if you thoroughly explore the area. A visit here, combined with watching Old Faithful erupt, can last from two to three hours.
Notable Geothermal Features:
Solitary Geyser. To get here, it is an uphill walk on a dirt trail from Old Faithful, or a short walk from Observation Point. Most eruptions occur 4 to 8 minutes apart and last 1 minute.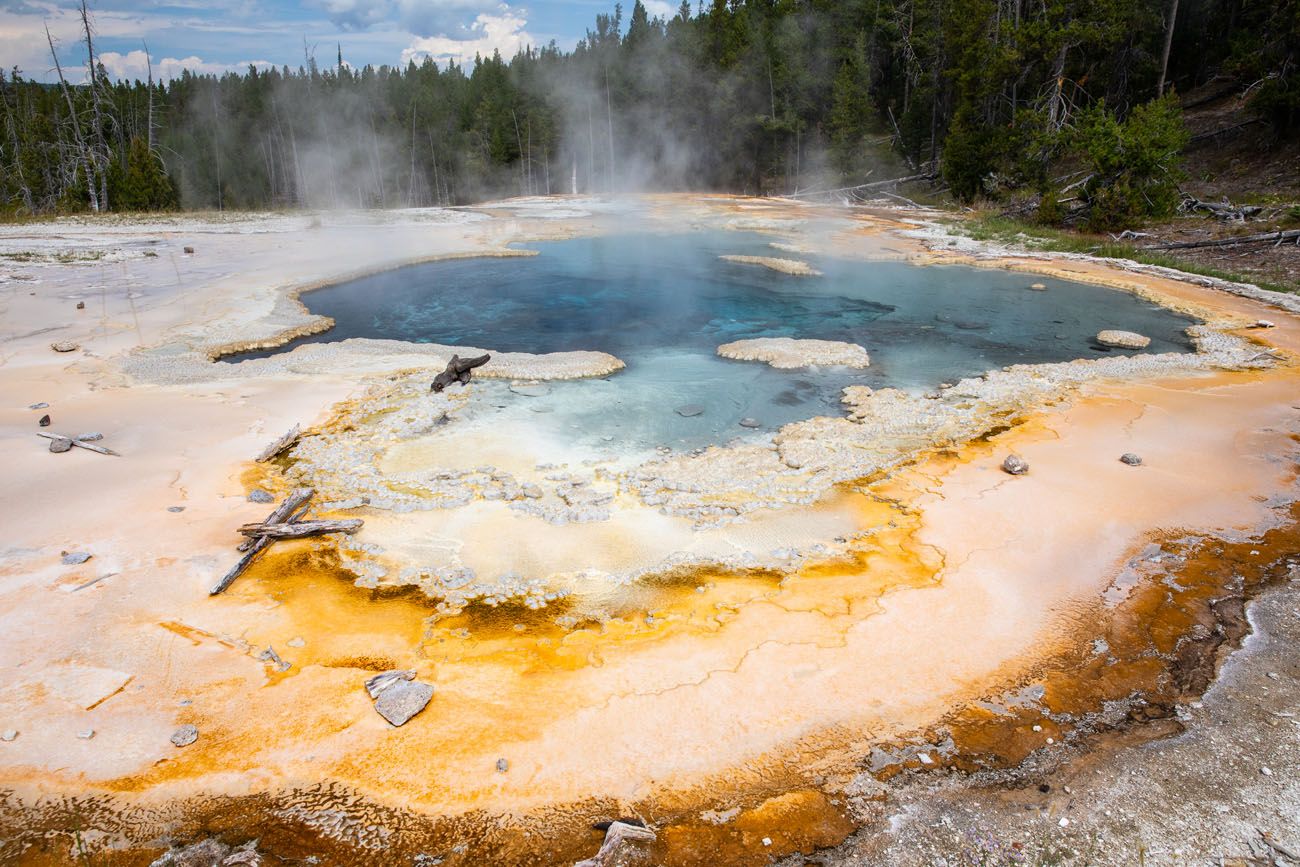 Castle Geyser. This is a cone geyser that erupts every 10 to 12 hours and lasts about 20 minutes. We got very lucky and saw the eruption from a distance.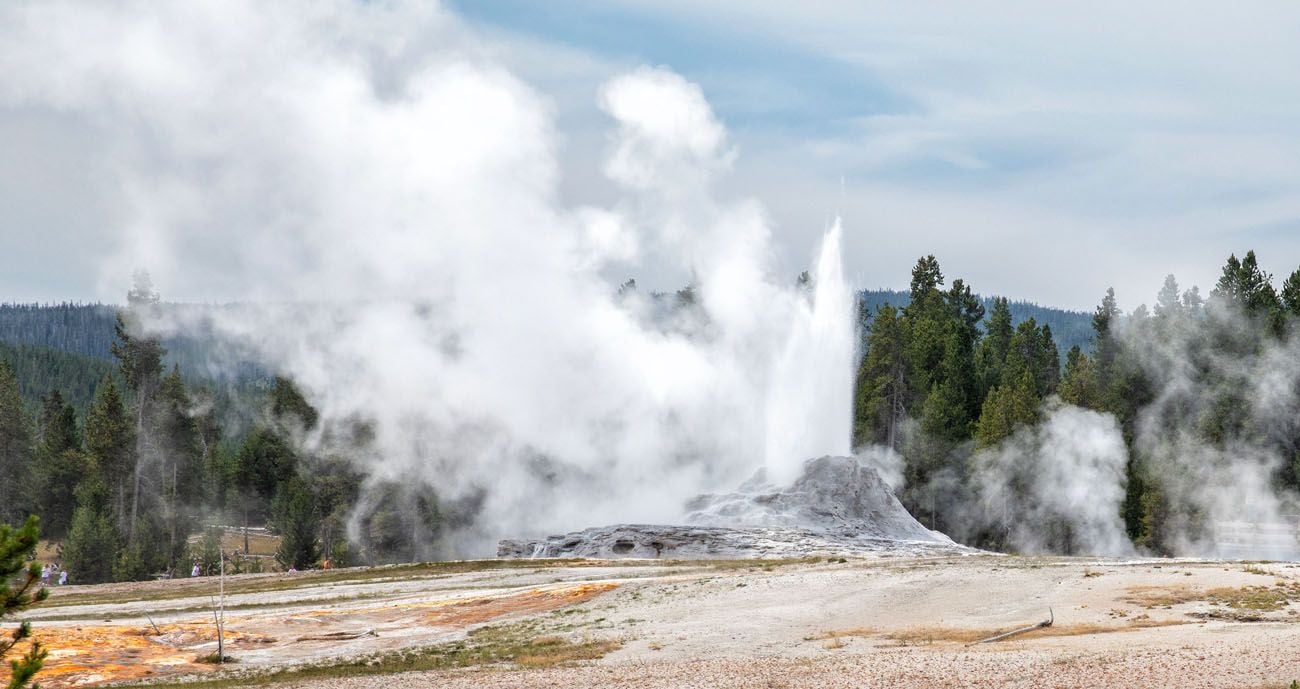 Morning Glory Pool. It's a long walk to get here but worth it. This colorful pool is one of the prettiest features in the Upper Geyser Basin.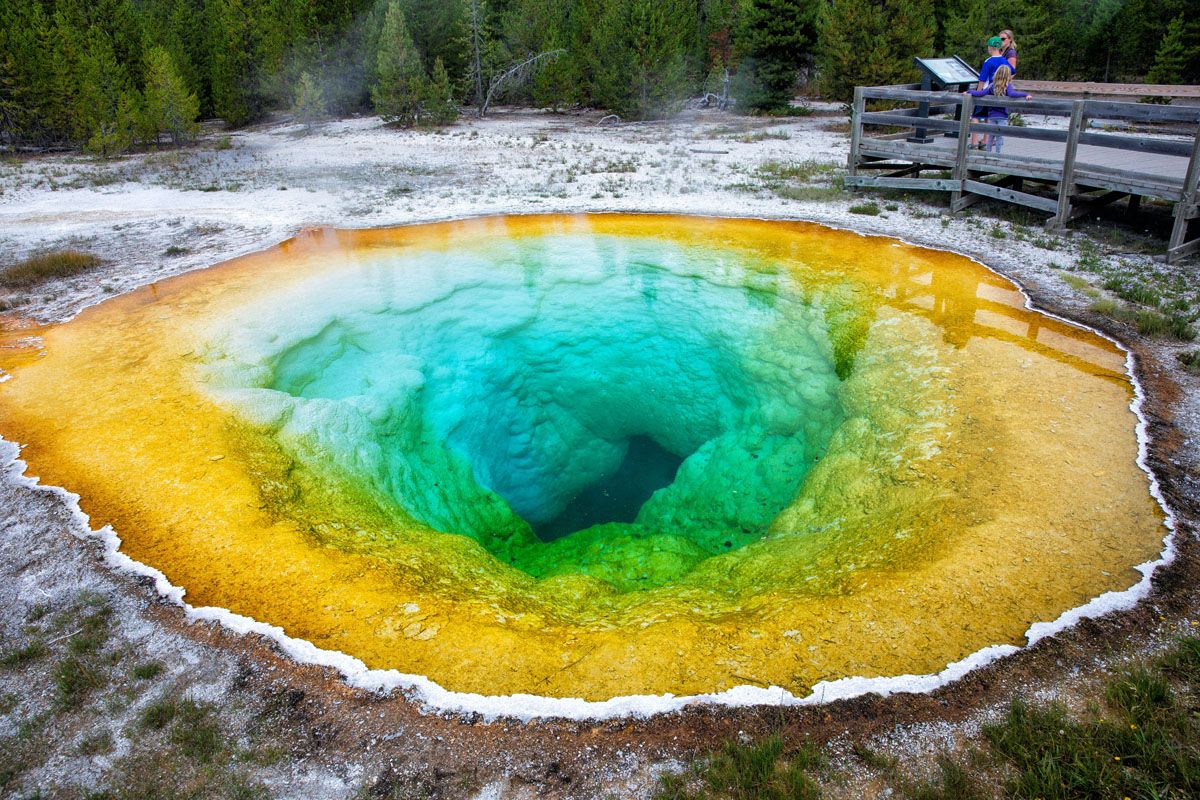 Grotto Geyser. Grotto Geyser only erupts every 8 hours, but once it gets going, the eruption can last anywhere from 10 minutes to several hours.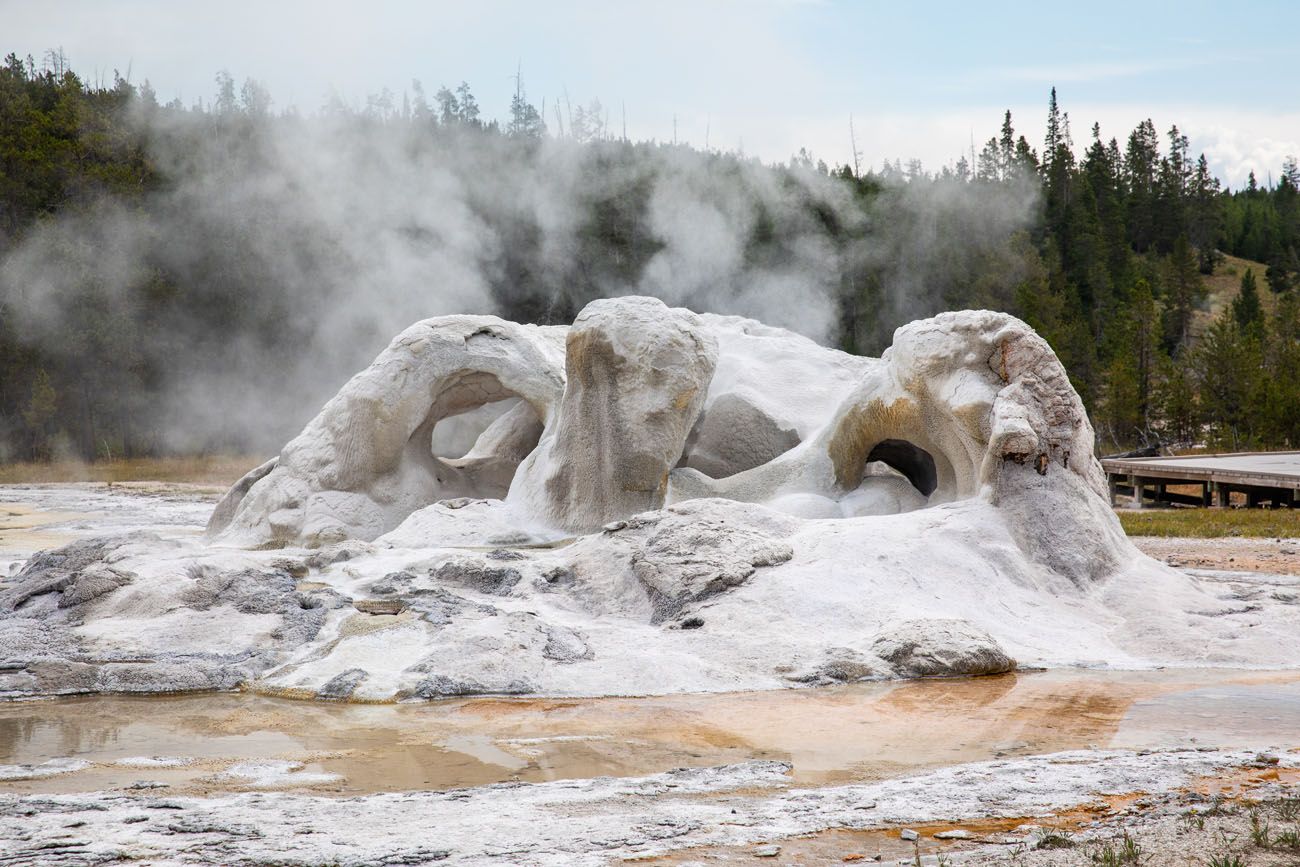 ---
3. Grand Prismatic Spring & Midway Geyser Basin
The Grand Prismatic Spring is Yellowstone's most colorful, vibrant hot spring. A visit to this rainbow-colored thermal pool is without a doubt one of the best things to do in Yellowstone National Park.
This is the largest hot spring in the United States. The vibrant colors are the result of microbial life along the edges of the hot spring. The colors can change depending upon the presence of different microbes and the temperature of the water.
The Grand Prismatic Spring has a different appearance in the summer and winter. In the summer, it tends to be orange and in the winter the edges tend to be dark green.
There are two ways to experience the Grand Prismatic Spring. You can get up close by walking the boardwalk trails through the Midway Geyser Basin or you can get a bird's eye view from the Grand Prismatic Spring Overlook.
Midway Geyser Basin
Walk the 0.8-mile boardwalk trail to get up close to the Grand Prismatic Spring. Along the way, you will also get to see a few smaller hot springs, such as Excelsior Geyser Crater, Opal Pool, and Turquoise Pool. The boardwalk trail is one-way only.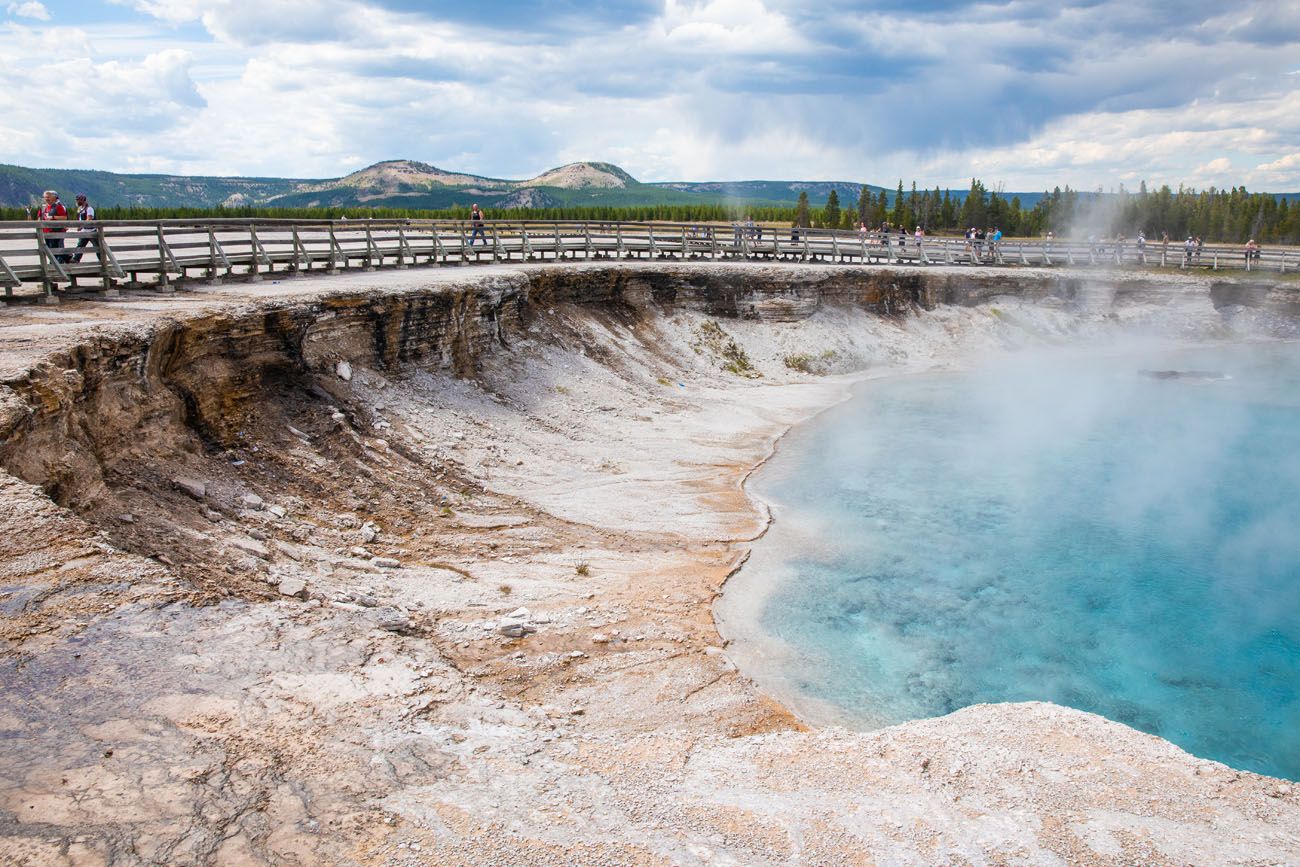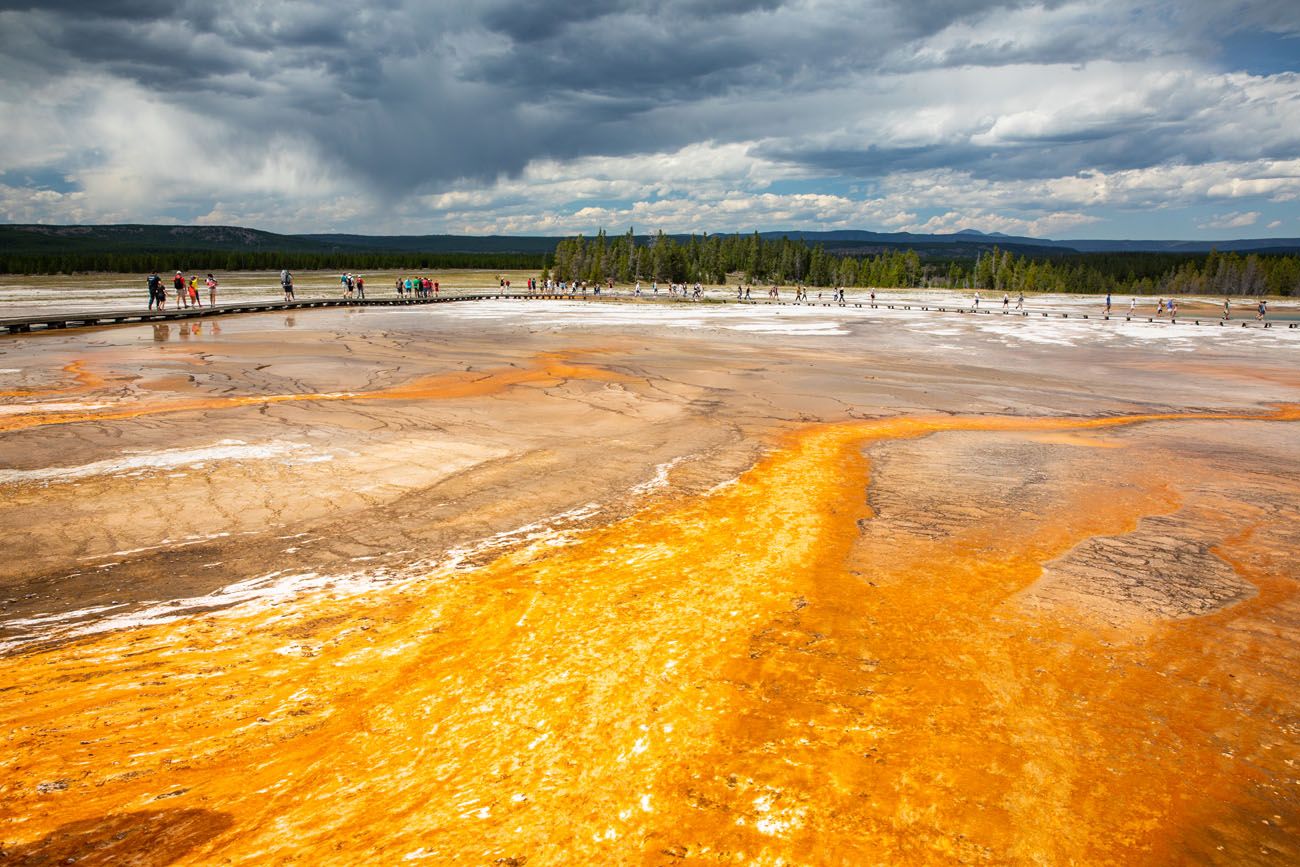 Parking: Good luck finding a parking space if you arrive here between 9 am and 6 pm. The parking lot is ridiculously small for the number of visitors that the Grand Prismatic Spring gets. Most of the parking spills out onto the park road. Normally, I would recommend waiting for a space in the parking lot, but if everyone did this, it would create stand-still traffic on the park road. There are large turn outs on the park road very close to Midway Geyser Basin. If the parking lot is full, park in one of these turn outs.
Parking in Yellowstone. Parking at the most popular sites has become a big issue due to high crowds. There is just not enough parking for the number of visitors. You can get real time updates on parking availability and traffic conditions on the Yellowstone National Park website.
Grand Prismatic Spring Overlook
For a jaw-dropping view of the Grand Prismatic Spring, don't miss the view from the overlook. On a sunny day, the colors are spectacular.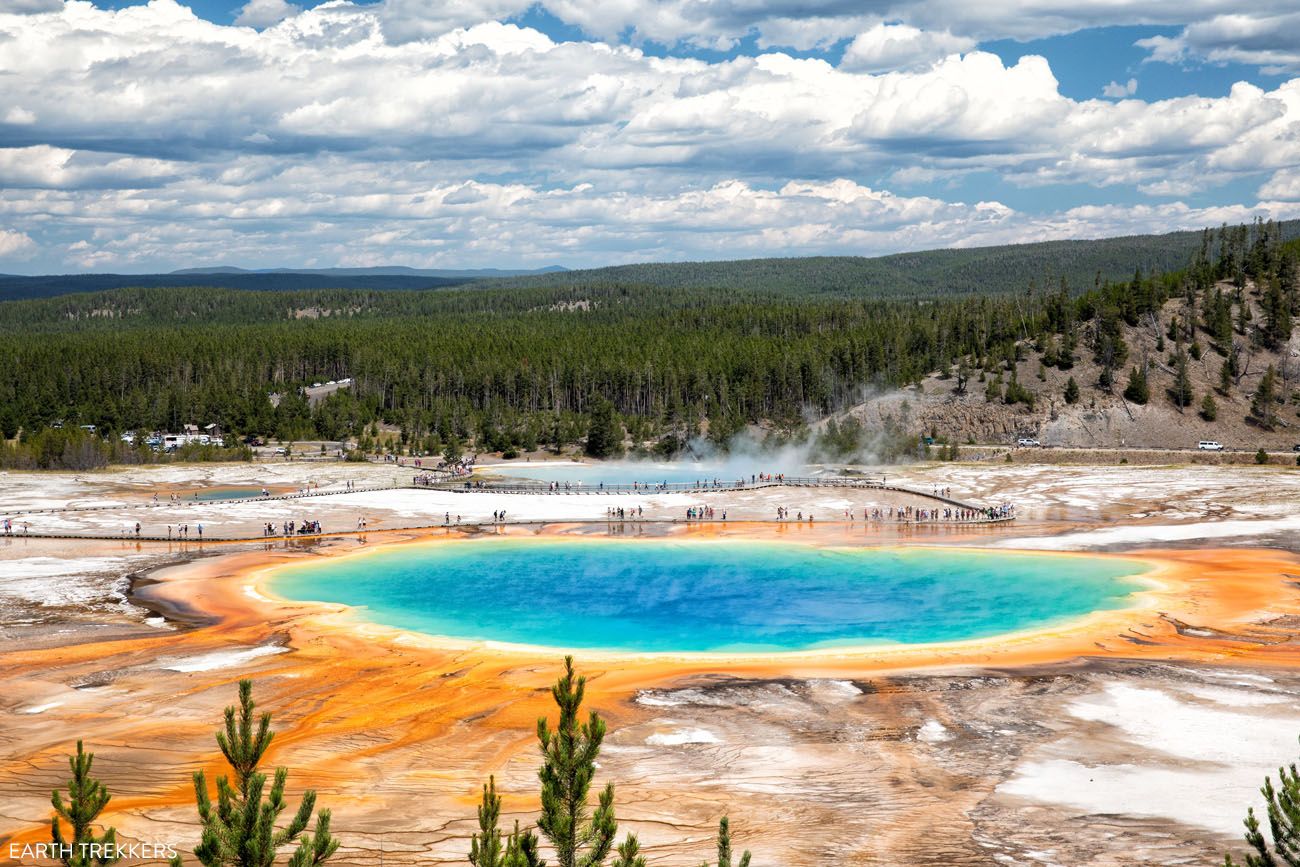 Getting Here: It's a 0.8-mile walk to get to the overlook (1.6 miles round trip). Everything I read online lists this distance as 0.6 miles, but I walked the trail two days in a row with two different GPS devices and both gave the distance as 0.8 miles. It took us 15 minutes to walk here and we were walking fast, so I doubt that it is really 0.6 miles.
The trail starts off wide and relatively flat. The final 0.2 miles is more strenuous, an uphill walk on a dirt trail.
It takes 15 to 20 minutes to walk to the overlook from the Fairy Falls parking lot, so plan on spending about 45 minutes to visit the overlook.
Park at the large Fairy Falls parking lot. RV's, buses, and cars pulling trailers are not permitted to park in this parking lot.
Best Time to Visit the Grand Prismatic Spring
Midday, on a sunny day, is the best time to visit the Grand Prismatic Spring. The colors are brilliant and the morning steam has lifted. Just be aware that this is also the most crowded time to visit the spring.
In the morning, a mist covers the spring, hiding the bright colors. In my opinion, it's worth battling for a parking space midday to see the Grand Prismatic Spring in all of its glory.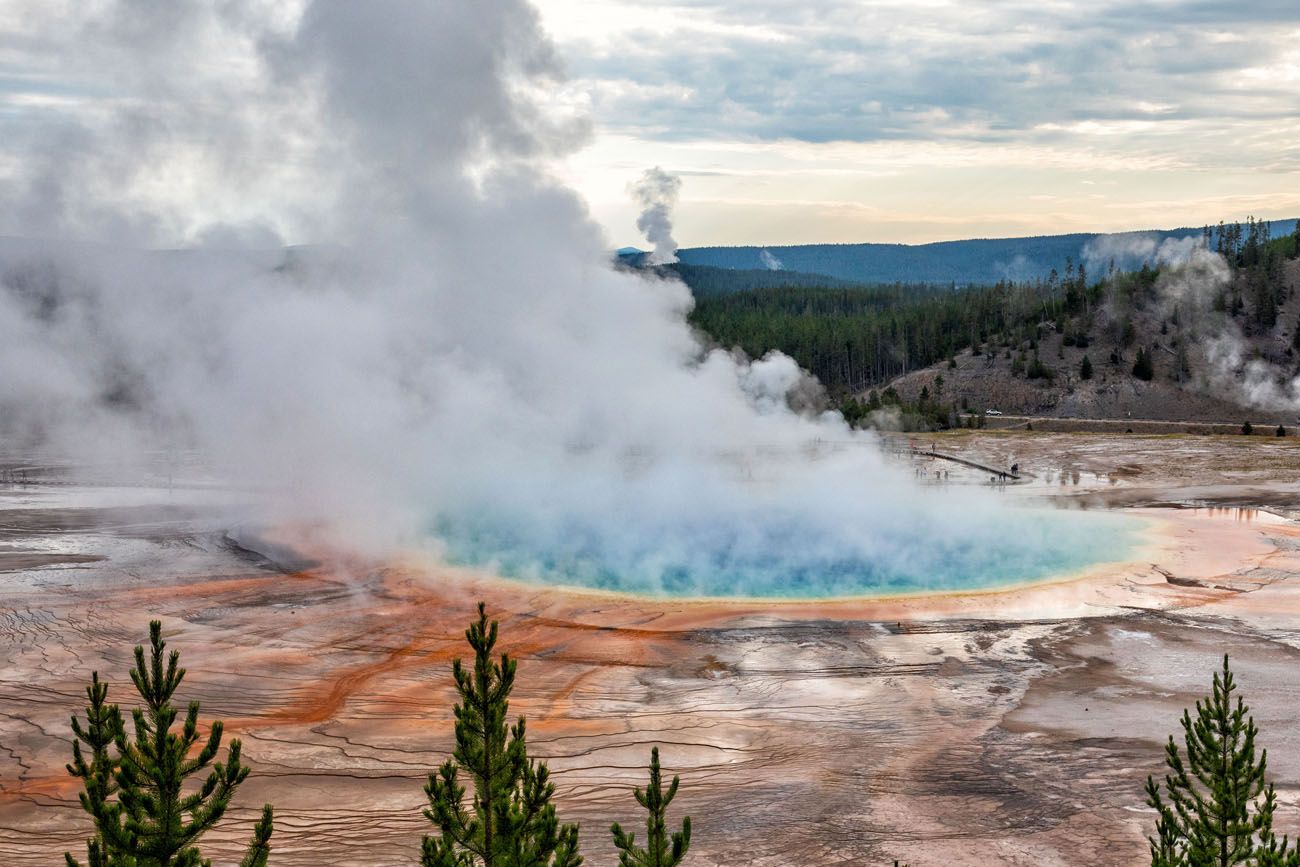 Grand Prismatic Spring in the morning.
---
4. Fairy Falls
Fairy Falls is one of Yellowstone's tallest waterfalls. You can only get here by hiking and it is easy to combine a visit to Fairy Falls with the Grand Prismatic Spring Overlook.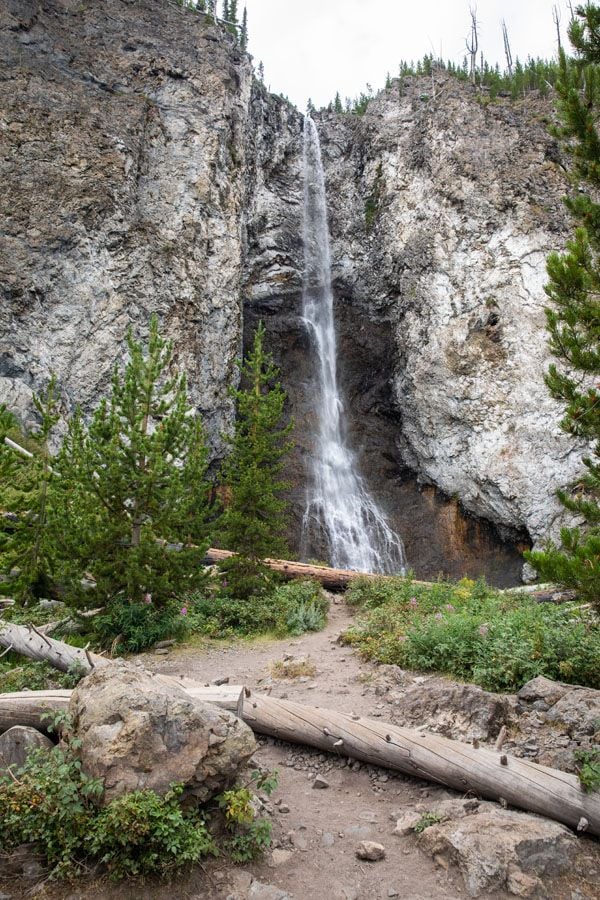 There are two ways to get here. From the Fairy Falls parking lot (the same parking lot used to visit the Grand Prismatic Spring Overlook) it is a 5.4 mile round trip, easy hike. You can also park at the end of Fountain Flat Drive for a 10-mile round trip hike.
Most of the hike is through a lodgepole forest. It is possible to encounter bear and other wildlife on the trail.
Fairy Falls is worth the visit if you are looking for an easy hike and want to see one of Yellowstone's tallest waterfalls.
Read more about visiting the Grand Prismatic Spring and hiking to Fairy Falls:
---
5. Grand Canyon of the Yellowstone
For thousands of years, the Yellowstone River has been carving out this canyon. With numerous overlooks and hiking trails, it's easy to spend a half of a day here.
Stretching along each side of the river are scenic overlooks. You can either walk the rim trails or drive to each overlook. It's definitely worth visiting both sides of the canyon in order to get the full experience.
North Rim
North Rim Drive is a one-way road along the north rim of the Yellowstone River. Here is what you can see along the way.
Brink of the Lower Falls. To get to this viewpoint, it's nearly a half mile walk, and all of that will be downhill. It's a strenuous walk back up (with 600 feet of elevation gain) to the parking lot, but it's worth it for an up close view of the Lower Falls as it thunders over the edge.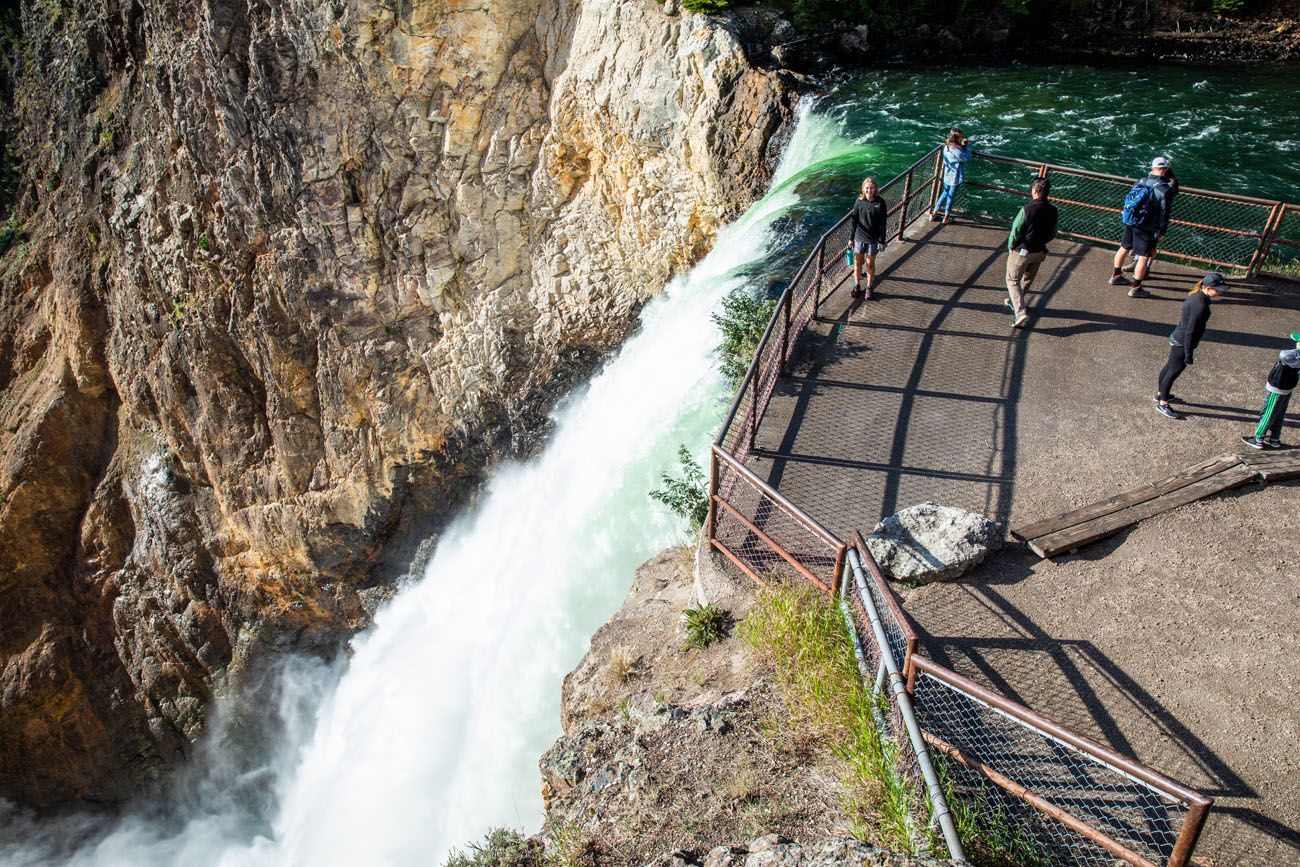 Lookout Point. From the North Rim, this overlook offers the best view of the Lower Falls.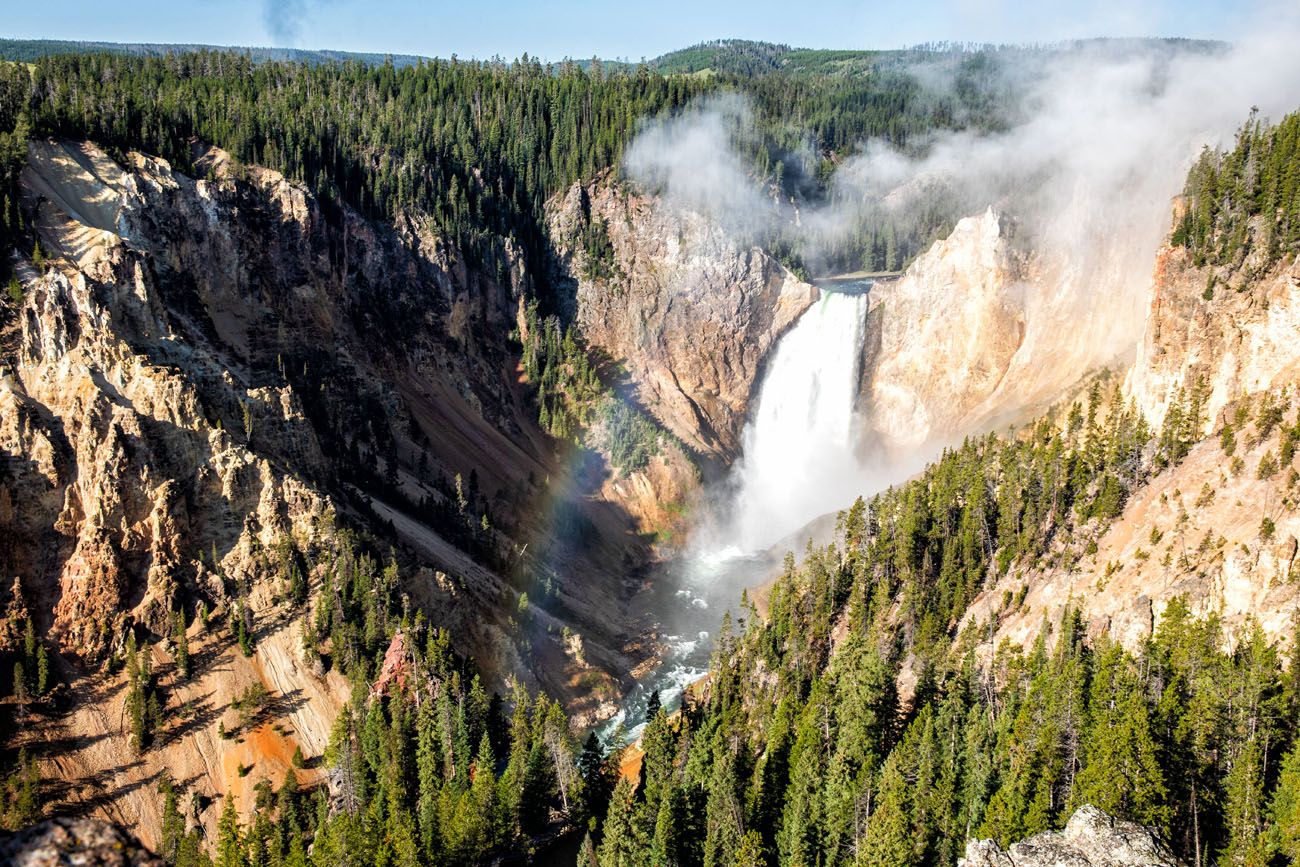 Grand View Point. In my opinion, this viewpoint really is not all that grand. You cannot see the Lower Falls from here, just an OK view of the canyon.
Inspiration Point. From here, Lower Falls is far off in the distance.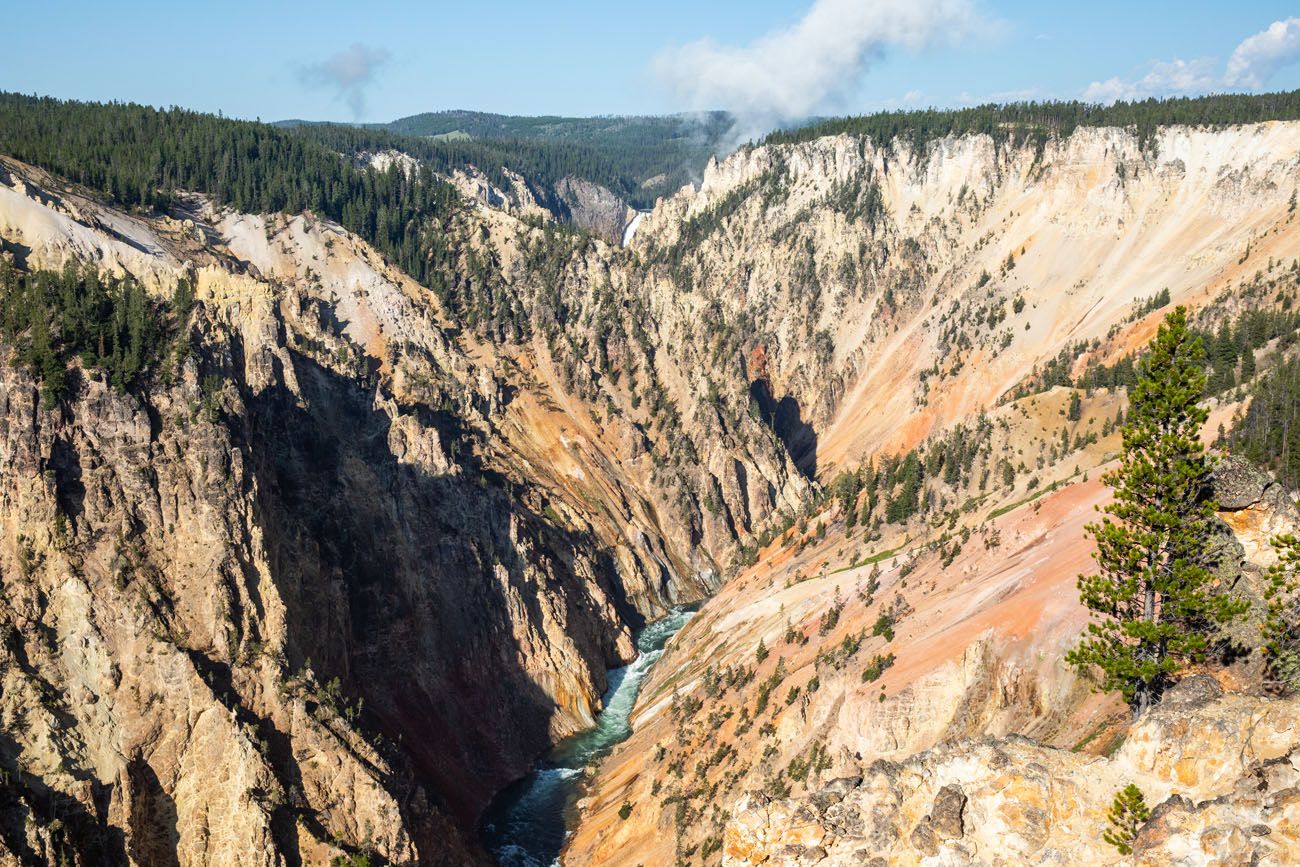 Pro Travel Tip: If you are short on time, skip Grand View Point and Inspiration Point. Brink of the Lower Falls is awesome and the view from Lookout Point is worthwhile.
South Rim
If you only have time to visit Grand Canyon of the Yellowstone from one rim, I recommend the South Rim. From here, you get the iconic view from Artist Point and the fun but tiring walk on Uncle Tom's Trail.
Brink of the Upper Falls. To see the Yellowstone River spill over the top of Upper Falls, visit this overlook, located on the Brink of the Upper Falls access road.
Uncle Tom's Trail. It's 328 steps down to the base of Lower Falls. This trail was closed for renovation during our visit in 2019 (so I don't have any photos), but Tim and I did this on our visit to Yellowstone in 2000. It was one of my favorite experiences in the park.
Artist Point. A view of the canyon from Artist Point is one of the best things to do in Yellowstone. This is the place to take the iconic photograph of Lower Falls. Park in the large parking lot and it is a short walk to the overlook.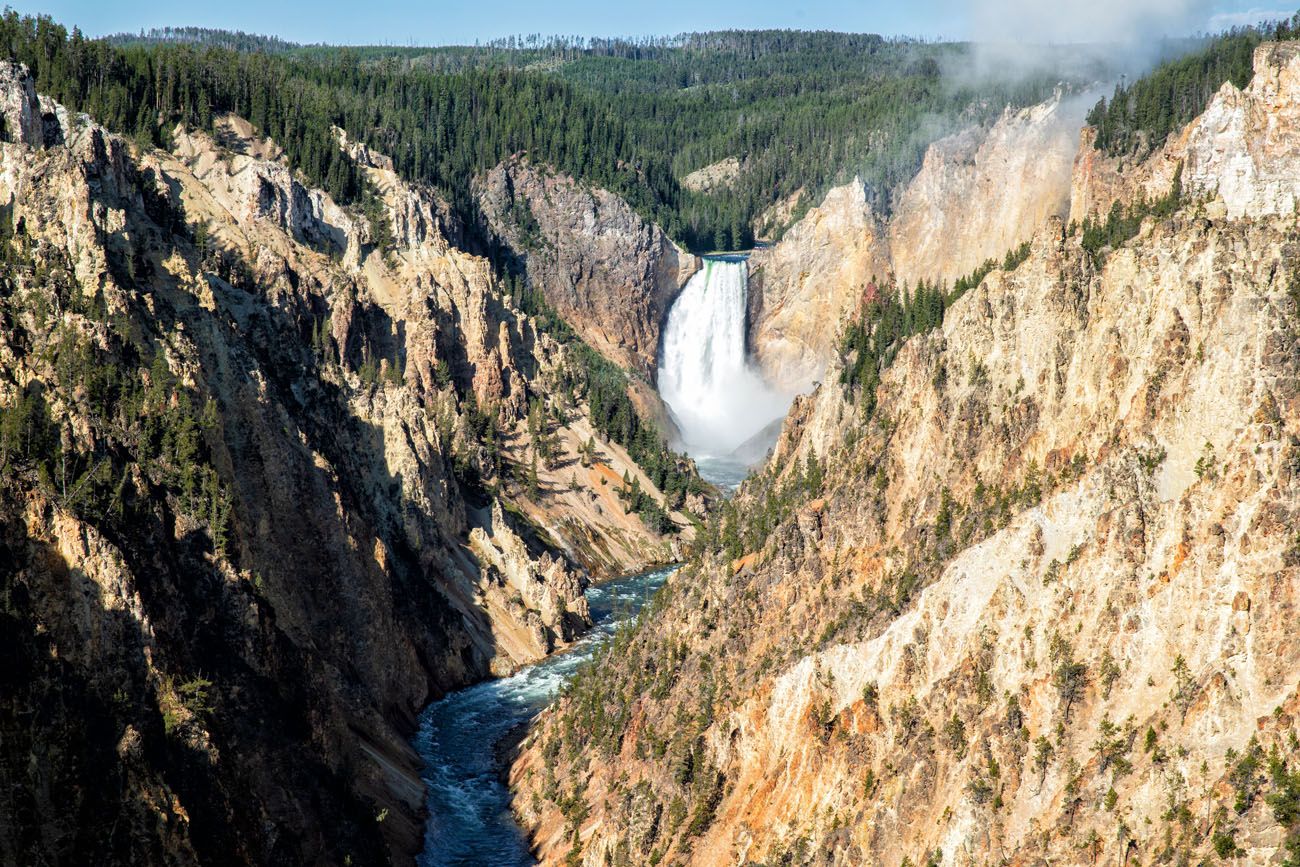 Pro Travel Tip: If parking is insane, or if you want a scenic walk, you can walk the rim trails on both sides of the river.
---
6. Lamar Valley
Lamar Valley is hailed as being the best spot to view wildlife in Yellowstone. What can you see here? Bison, elk, pronghorn, bear, coyotes, and wolves are all known to make appearances.
The best times for wildlife viewing are in the morning and evening.
Kara and I visited Lamar Valley one evening and we saw herds of bison. It was an incredible experience. We also saw bear and deer.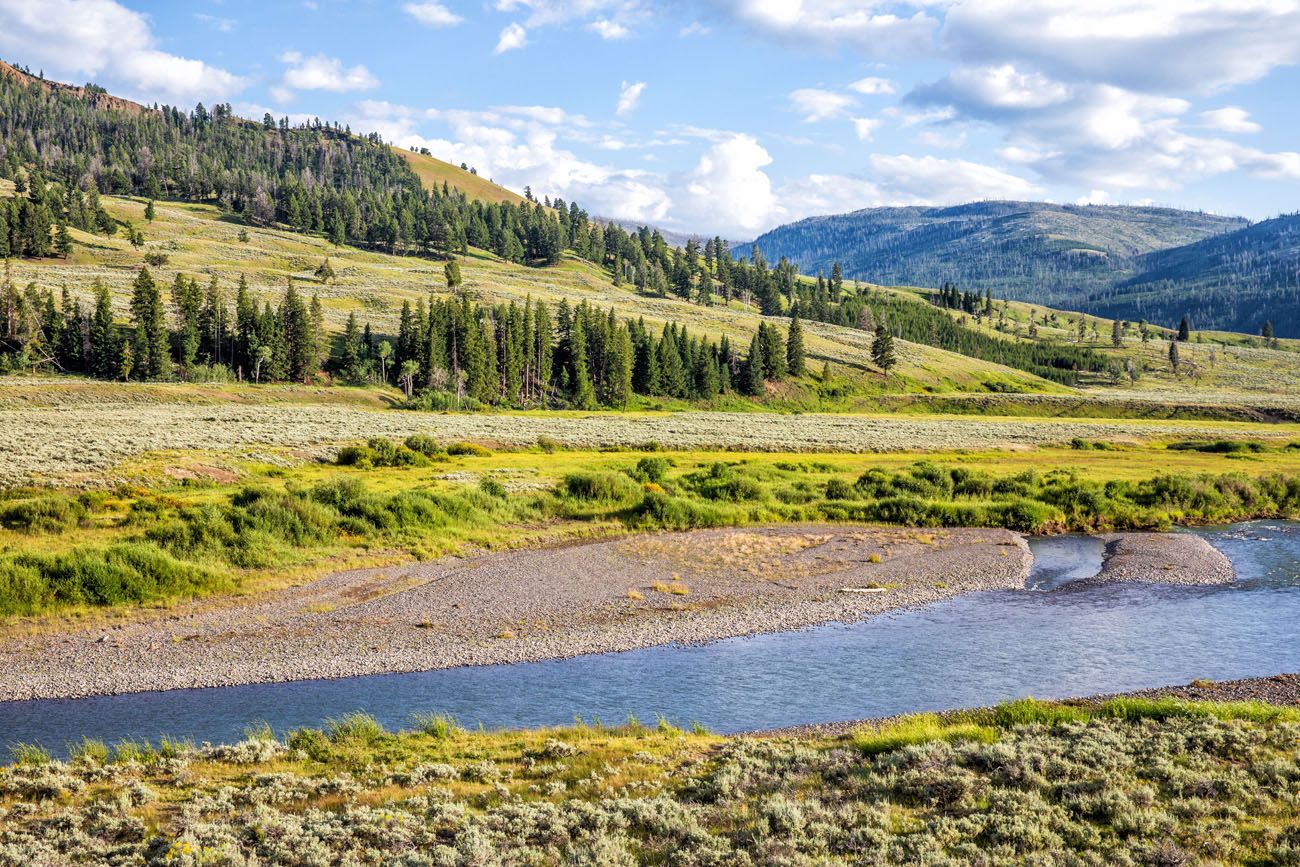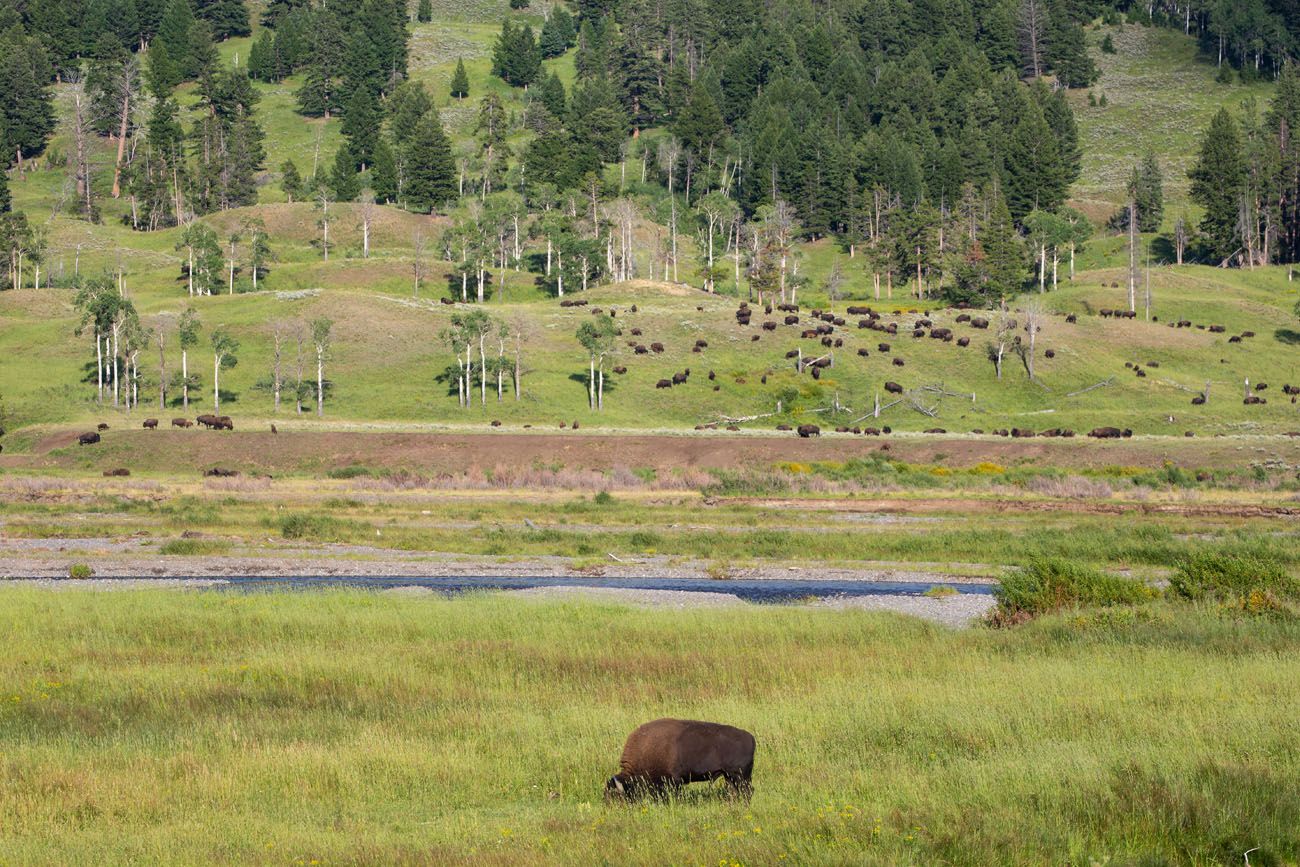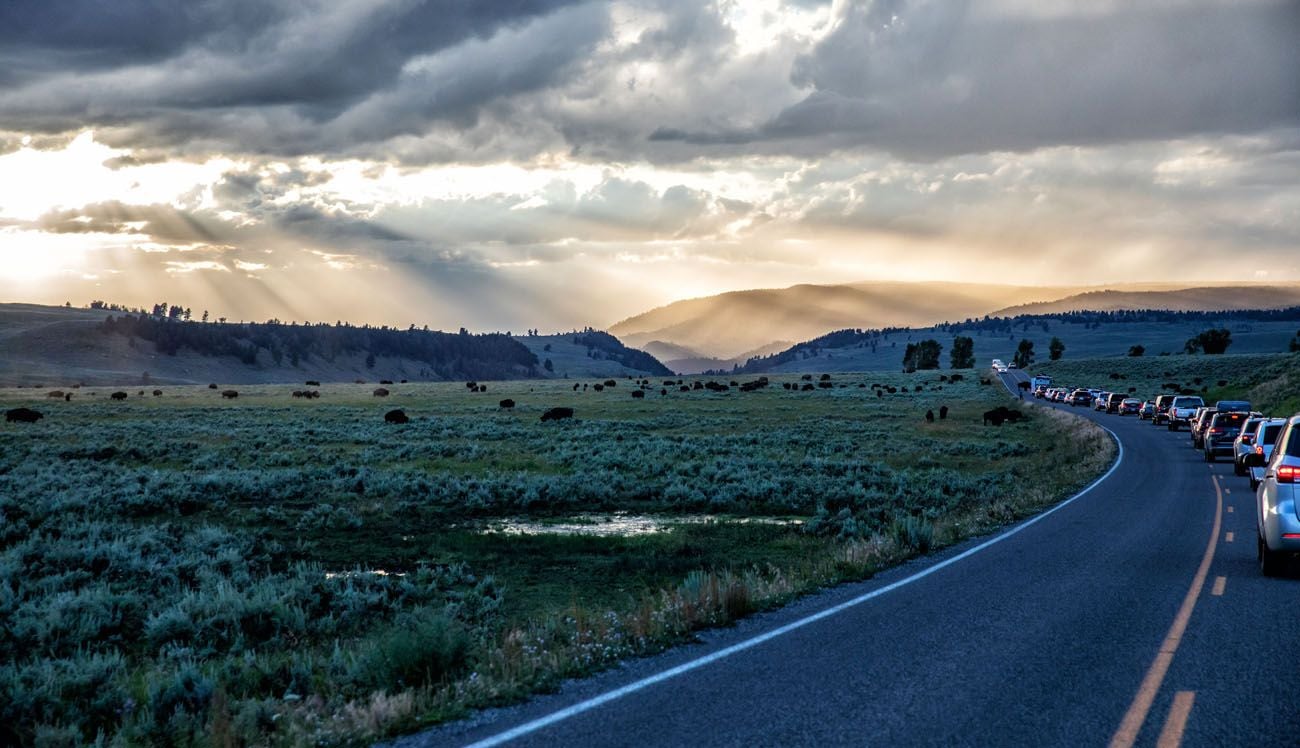 Be prepared to drive slowly and to get stuck in "animal traffic jams." Bison tend to stop smack in the middle of the road, blocking traffic in both directions, creating traffic jams.
Getting Here: Lamar Valley is located in north Yellowstone. It's a long drive to get here (one hour from Mammoth Hot Springs and one hour from the Grand Canyon of the Yellowstone) but worth it for the best opportunity to spot wildlife in the park.
Bonus: Hike to Trout Lake
While you are in Lamar Valley, consider hiking to Trout Lake. It's a very pretty lake and to get here it's a short, uphill hike through a forest. Since this is in bear country, hike in groups and bring your bear spray. We did this hike hoping to see wildlife but weren't that lucky. However, it was still very nice seeing this lake.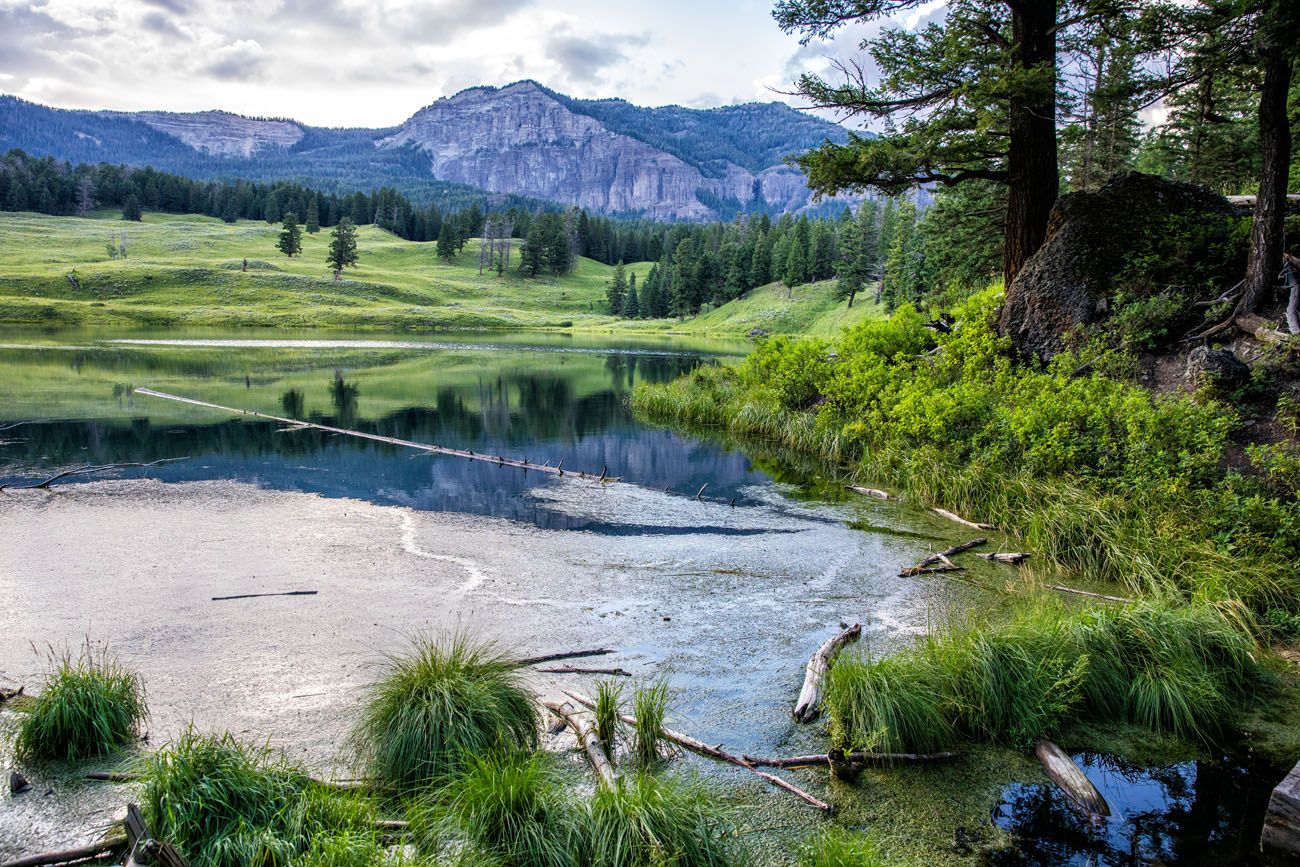 ---
7. Hayden Valley
Hayden Valley is another very popular place to see bison. Since it is located between the Grand Canyon of the Yellowstone and Yellowstone Lake, it is easier to get here. But it will also be more crowded.
During our most recent visit to Yellowstone, we drove through Hayden Valley twice. On our first day, we saw two bison and a small herd very, very far away from the road. On day two we hit the jackpot. A huge herd was just hanging out along the roadside. We spent at least an hour here, watching the bison from our car.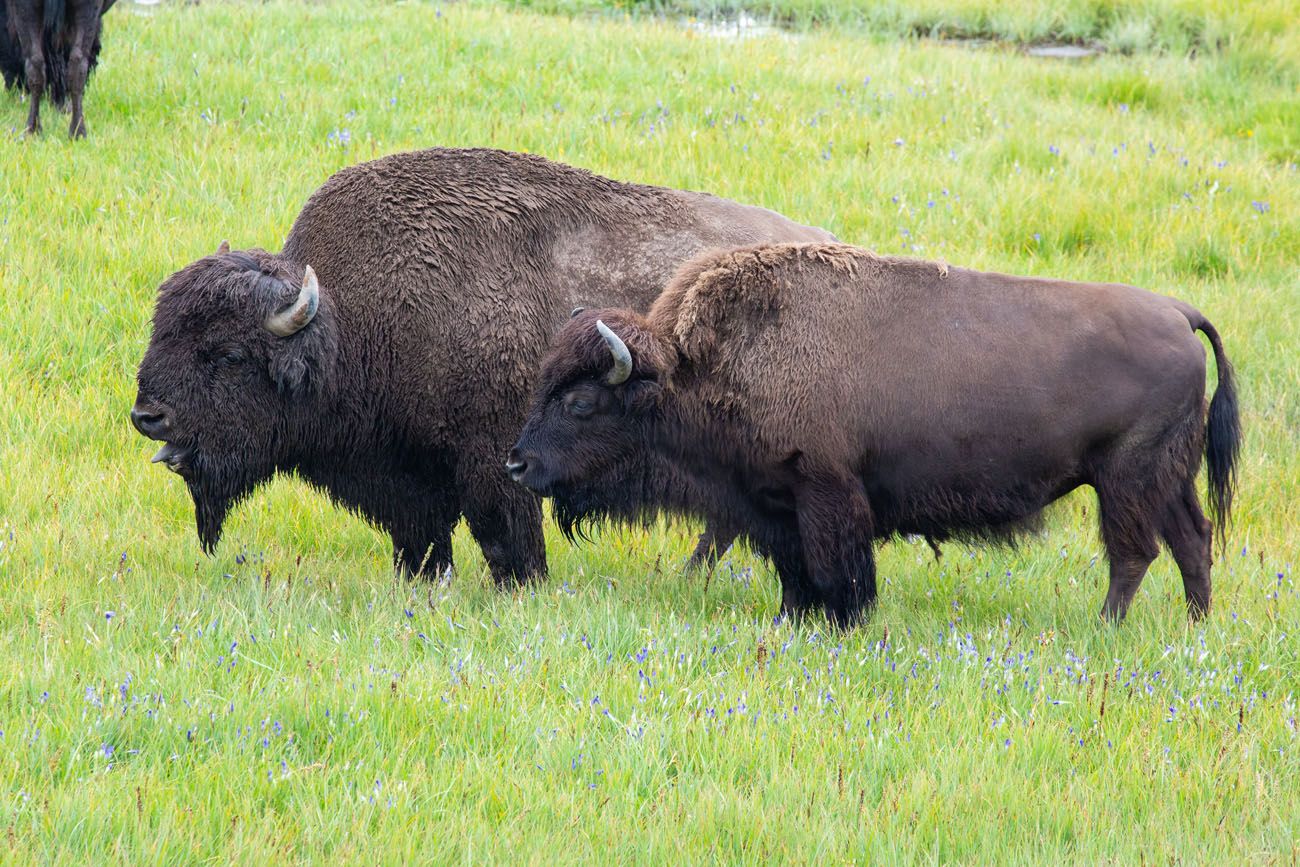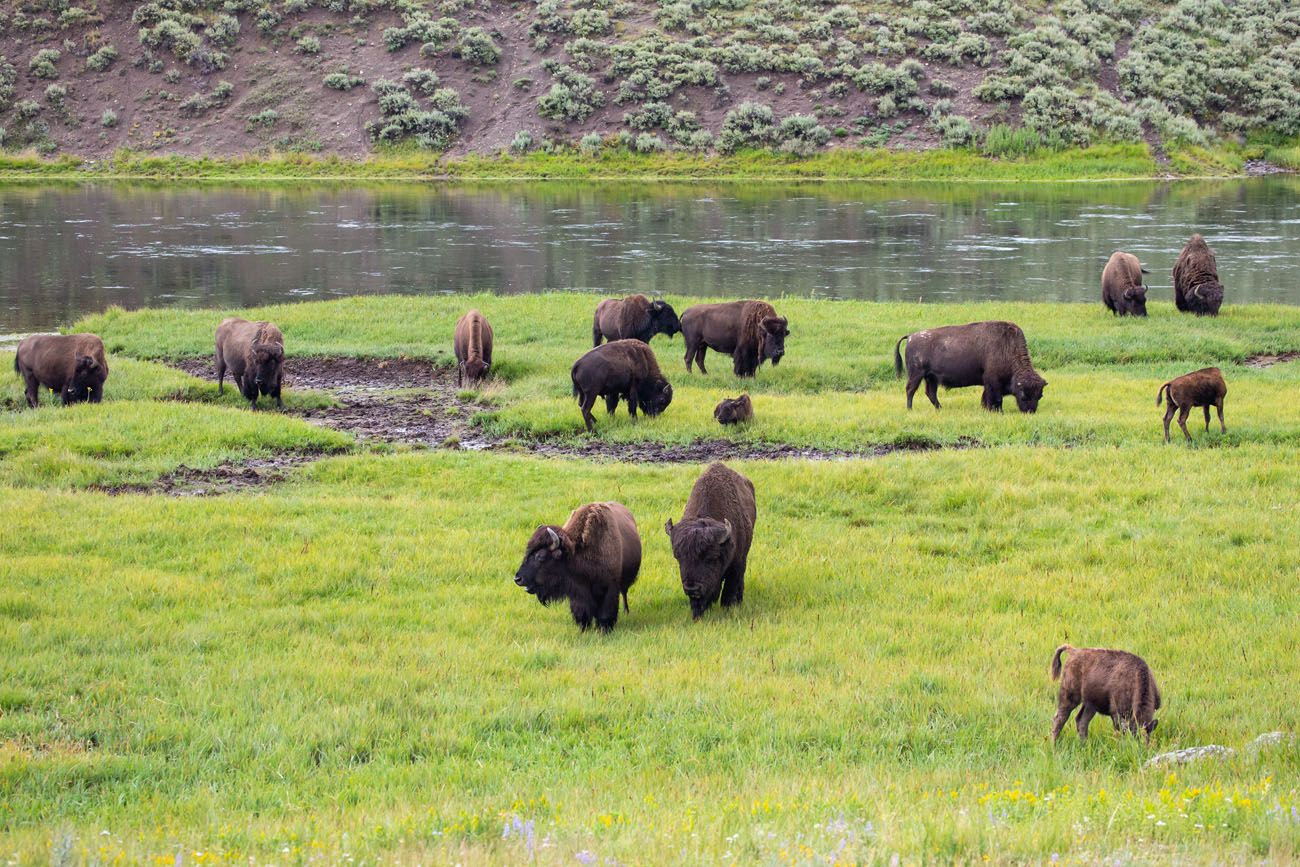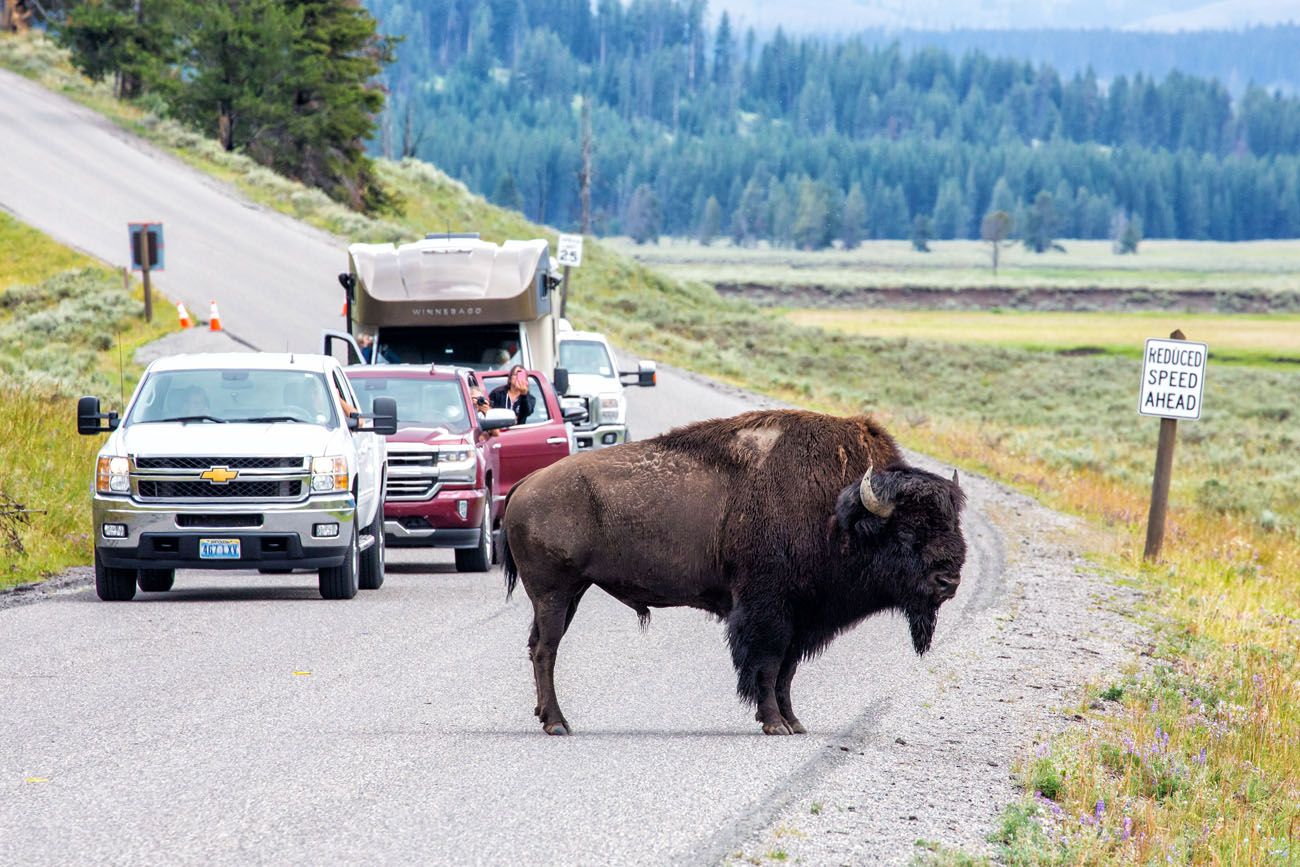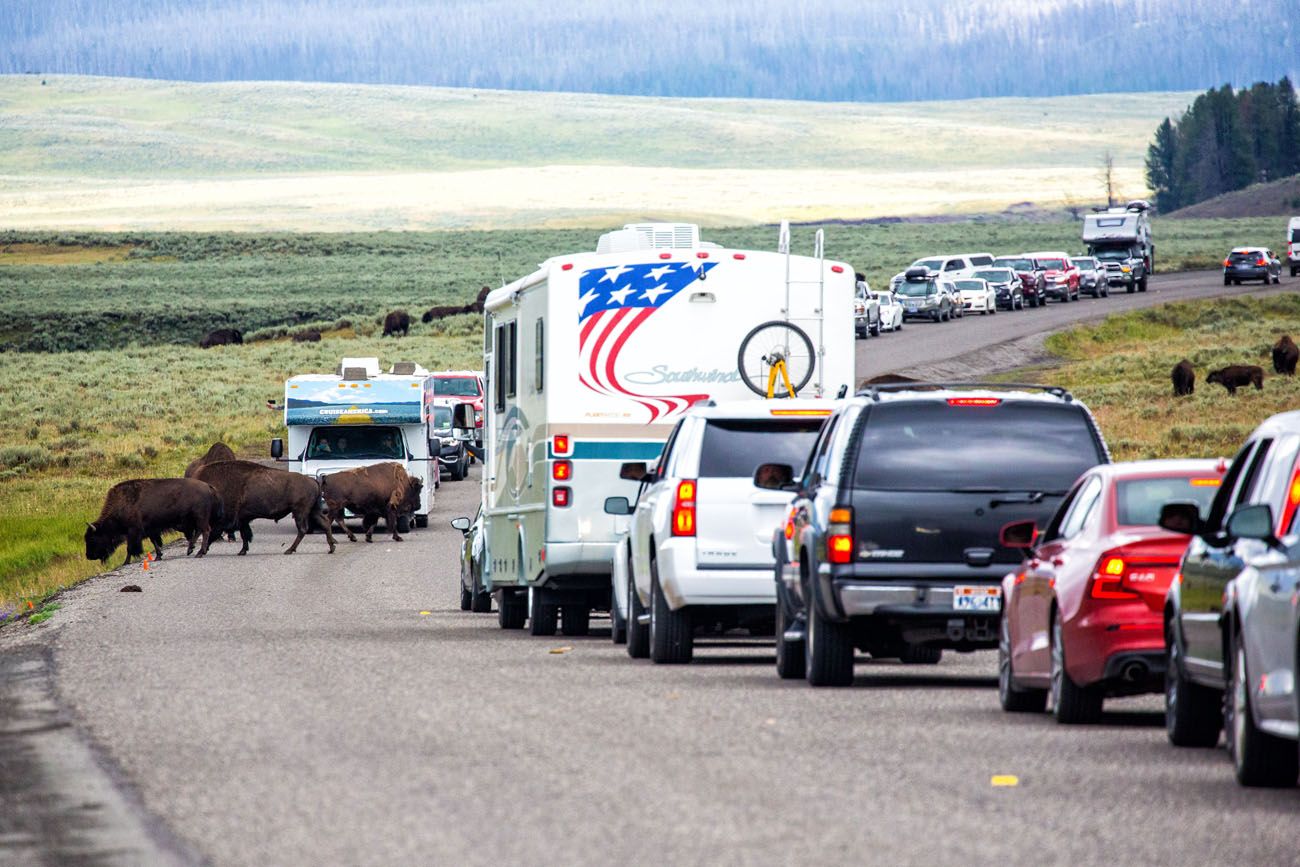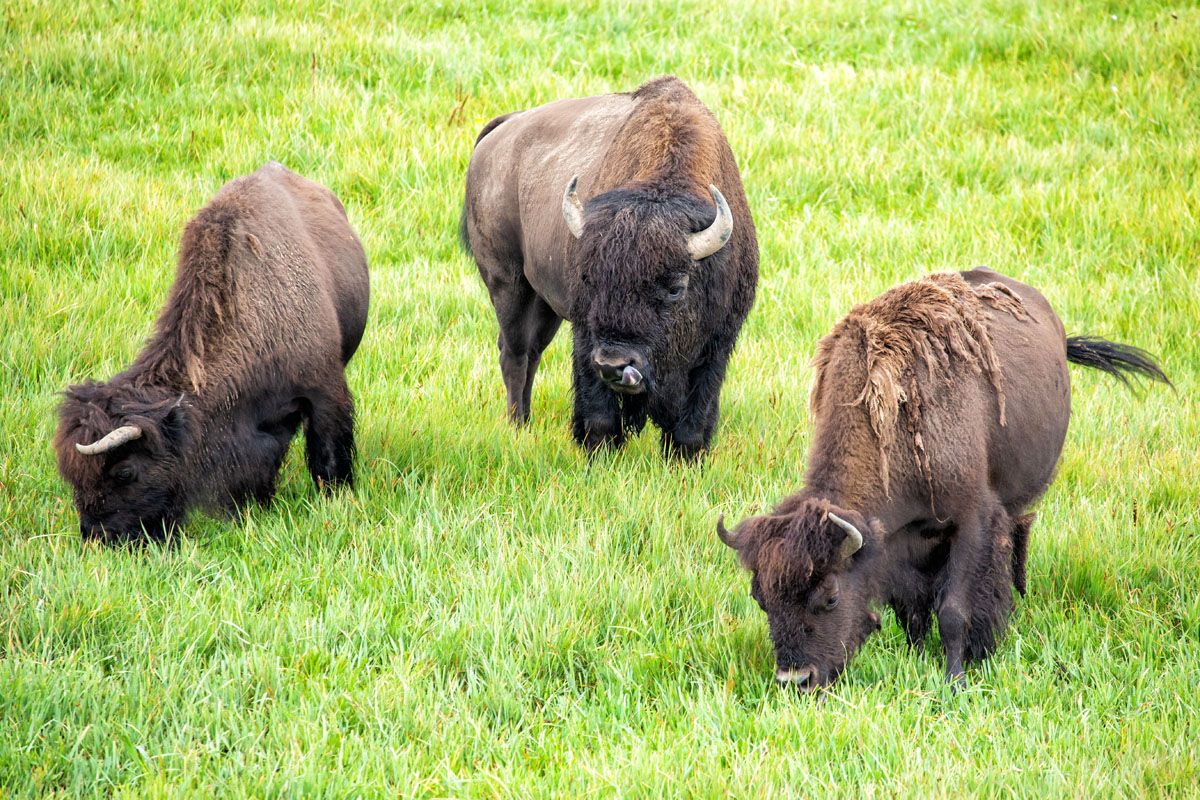 Stay Safe: Do not get out of your car to get a closer view of the bison. These animals look slow but they can move fast and have been known to charge at people. Pull into a turnout and view the bison from your car. Not only are you staying safe but you are also not blocking traffic. If you have an SUV with a sunroof, pop your head out of the sunroof and enjoy the view.
Traffic back-ups in Hayden Valley are very common. It could take 30 to 60 minutes to drive through the valley, especially if the bison are hanging out along the roadside.
---
8. Dunraven Pass
For gorgeous views of the park, drive over Dunraven Pass. There are many overlooks and turn outs where you can stop and enjoy the view.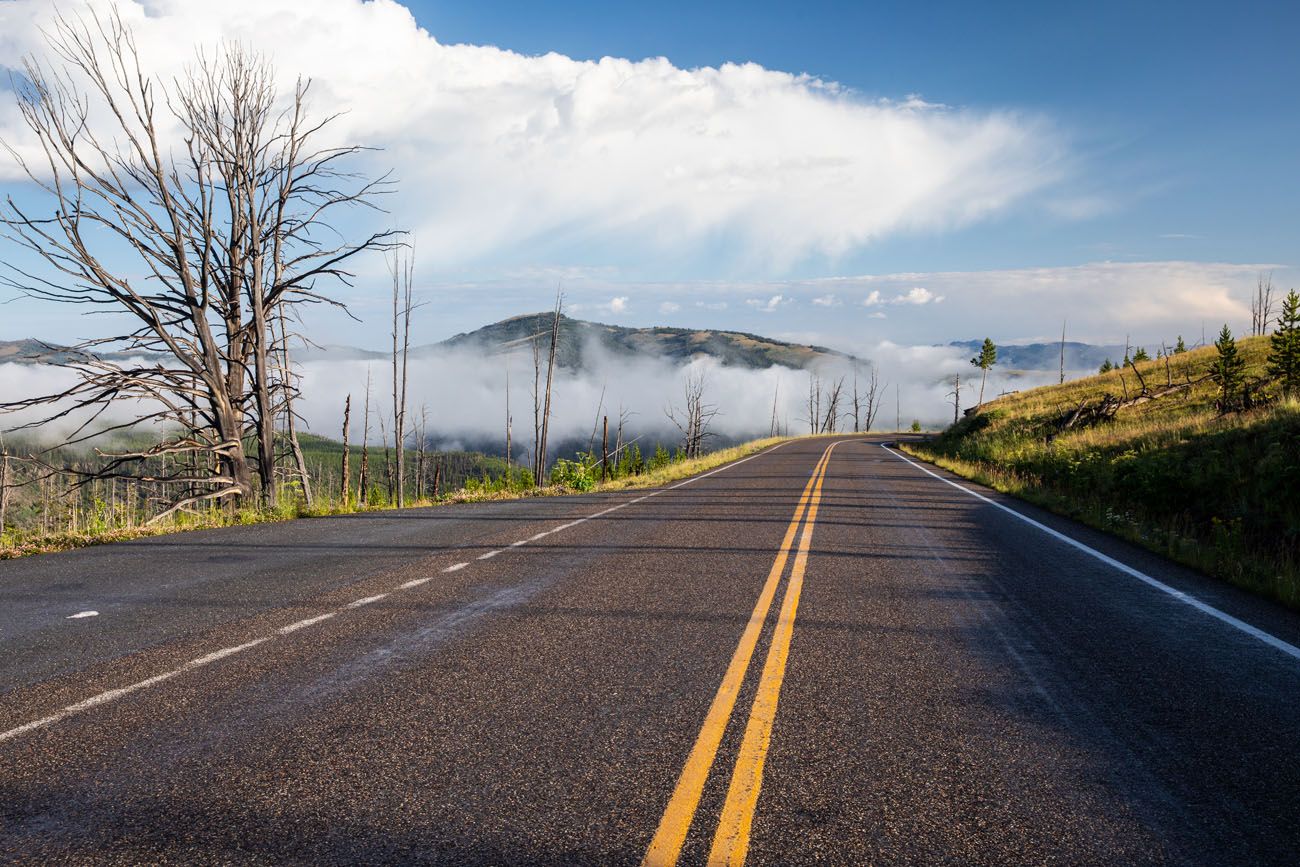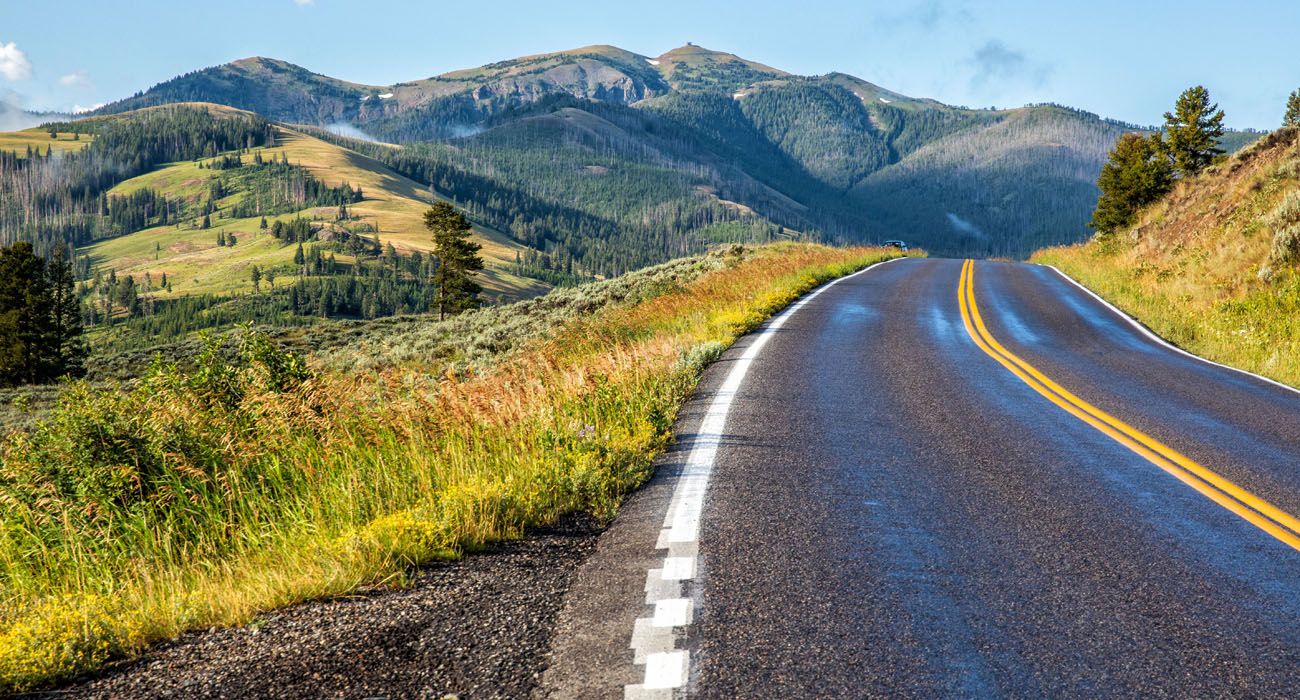 ---
9. Hike to the Peak of Mt. Washburn
For panoramic views of Yellowstone National Park, hike to the peak of Mt. Washburn. This is one of the most popular day hikes in the park.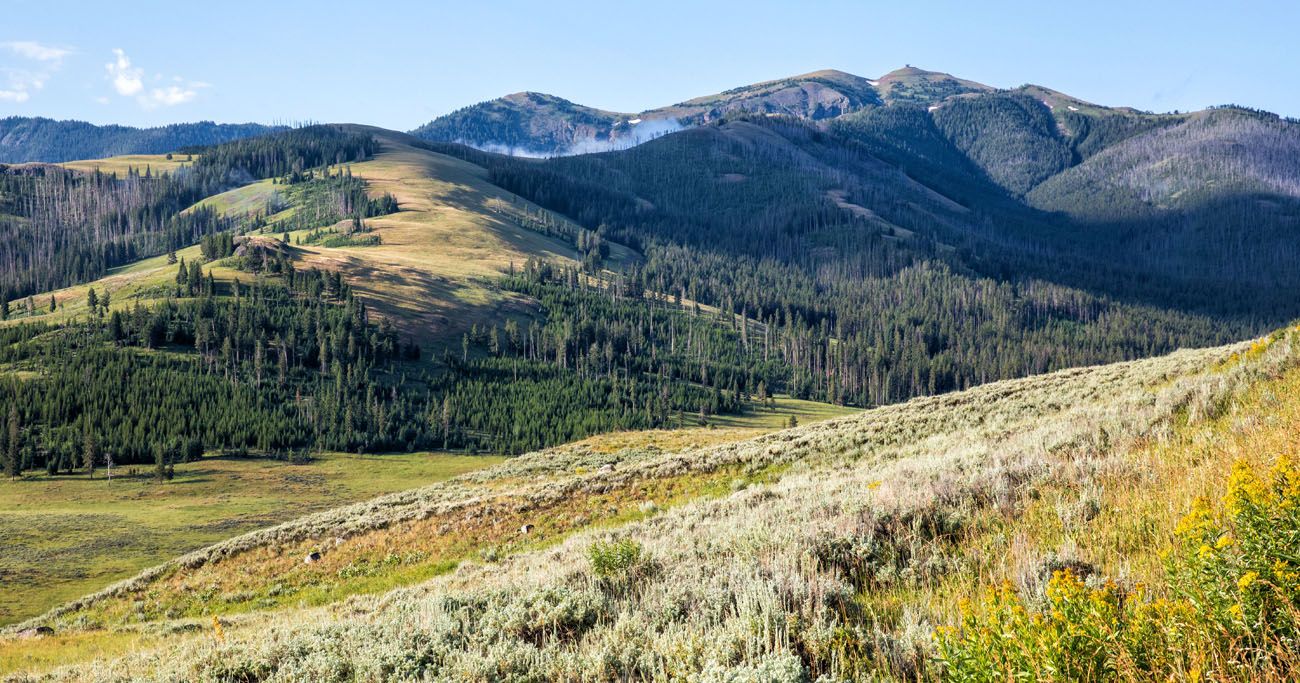 There are two ways to get here. The more scenic trail starts at the Dunraven Pass Trailhead on Grand Loop Road. It is a 6.2-mile round trip hike. This was closed during our visit for renovation.
You can also hike to the top of Mt. Washburn from Chittendon Road. Chittendon Road is a narrow, dirt road that ends at a car park. From here, it is a 5-mile round trip hike.
This is best done on a clear day. When we did this, a storm was moving in so the peak of Mt. Washburn was stuck in the clouds.
---
10. Mammoth Hot Springs
Mammoth Hot Springs is a large complex of hot springs that is located in north Yellowstone. Hot, steaming water spills out over travertine terraces, making this one of the most unique geothermal areas in the park.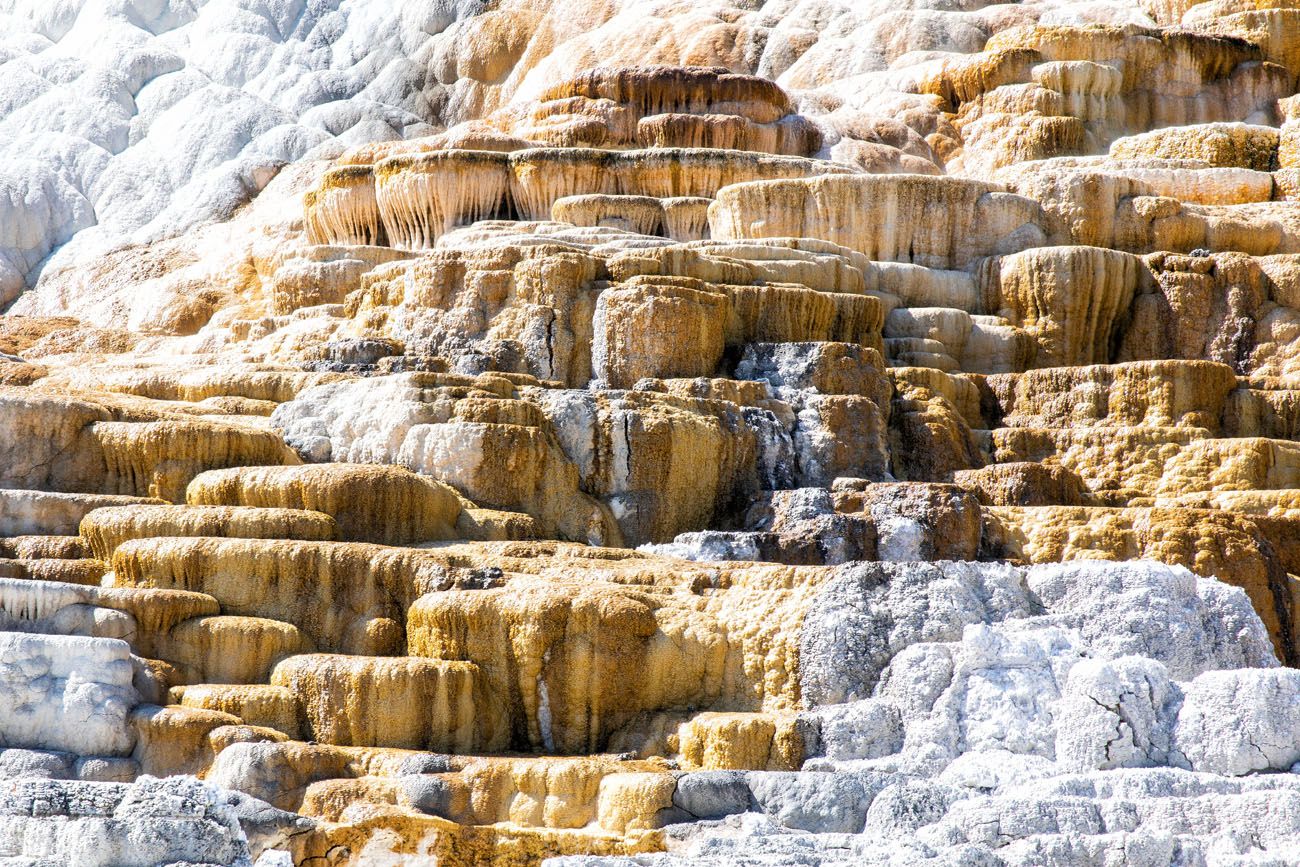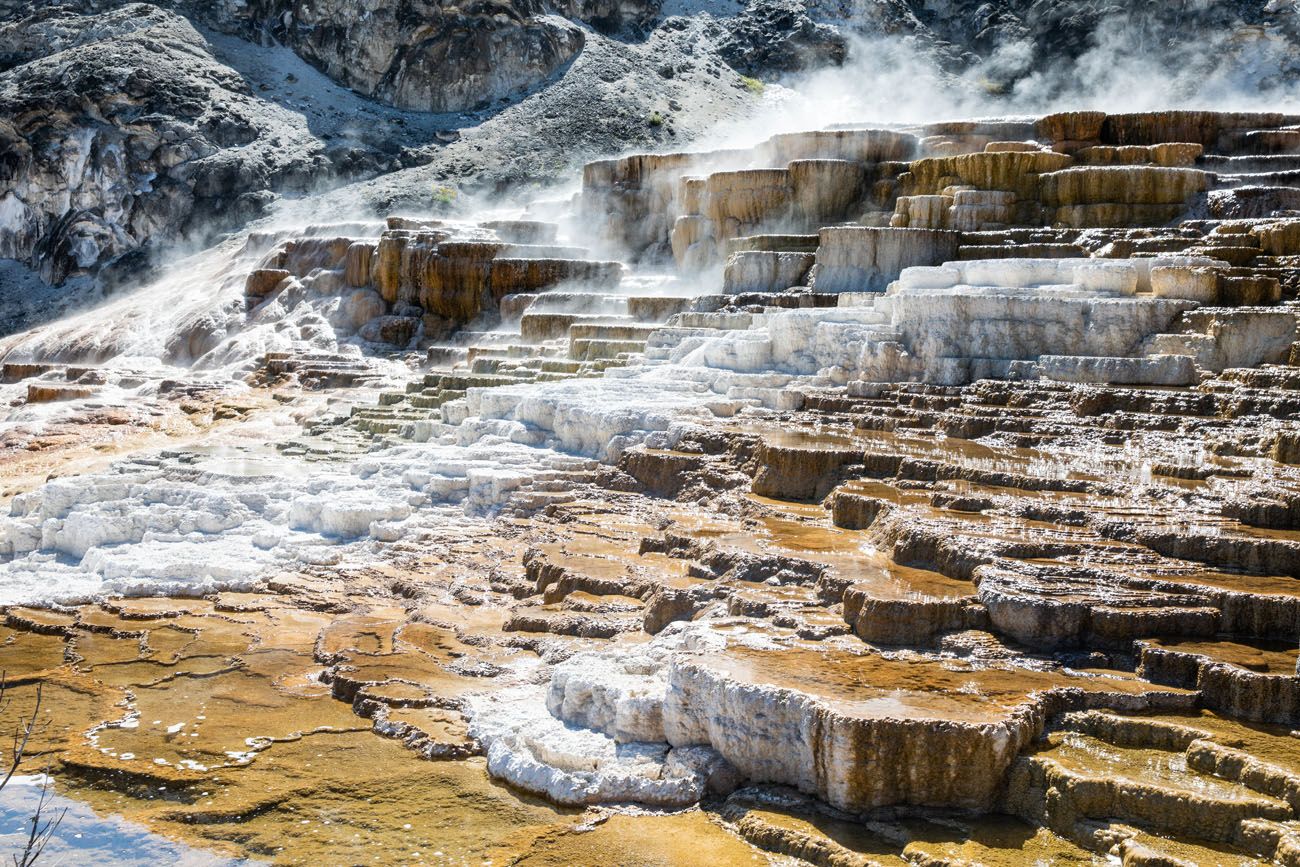 A visit here can be quick, with a short walk to one or two viewpoints. Or, you can spend an hour or two walking the boardwalk trails past each of the viewpoints.
---
11. Roosevelt Arch
When Yellowstone first opened, the north entrance was the main entrance into the park. In 1903, this stone arch was erected. People would travel to Gardiner by train and then take horse-drawn carriages into the park.
The cornerstone of the arch was laid down by President Theodore Roosevelt. The inscription at the top of the arch reads "For the Benefit and Enjoyment of the People."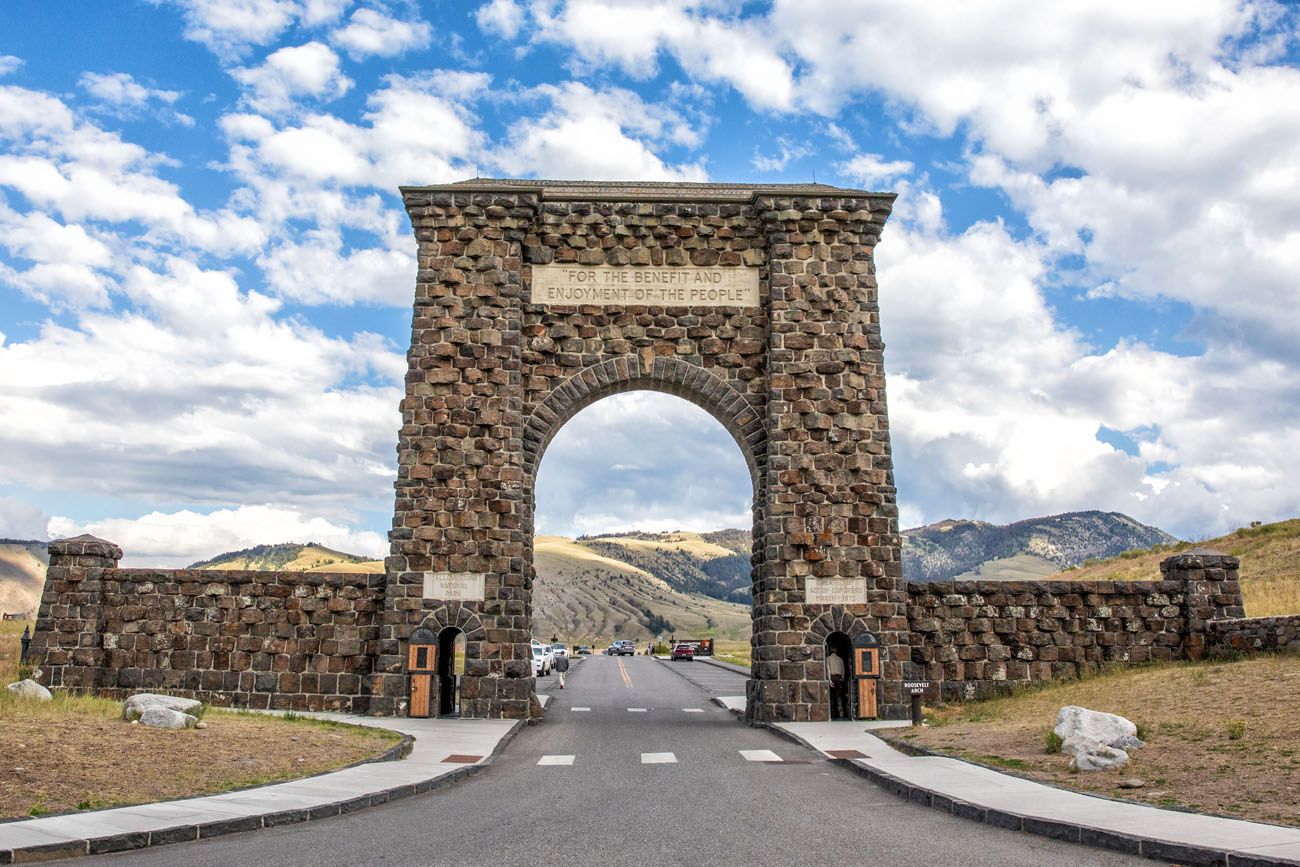 A visit here is very quick and you can walk or drive through the arch. Right around the corner is Gardiner, a great place to get a bite to eat or use as a home base to visit the park.
---
12. Boiling River Hot Spring
Located between Mammoth Hot Springs and the Roosevelt Arch is a naturally occurring hot spring where you can go swimming. Not far from Mammoth, a hot spring enters the Gardner River. This natural hot tub is a popular swimming hole.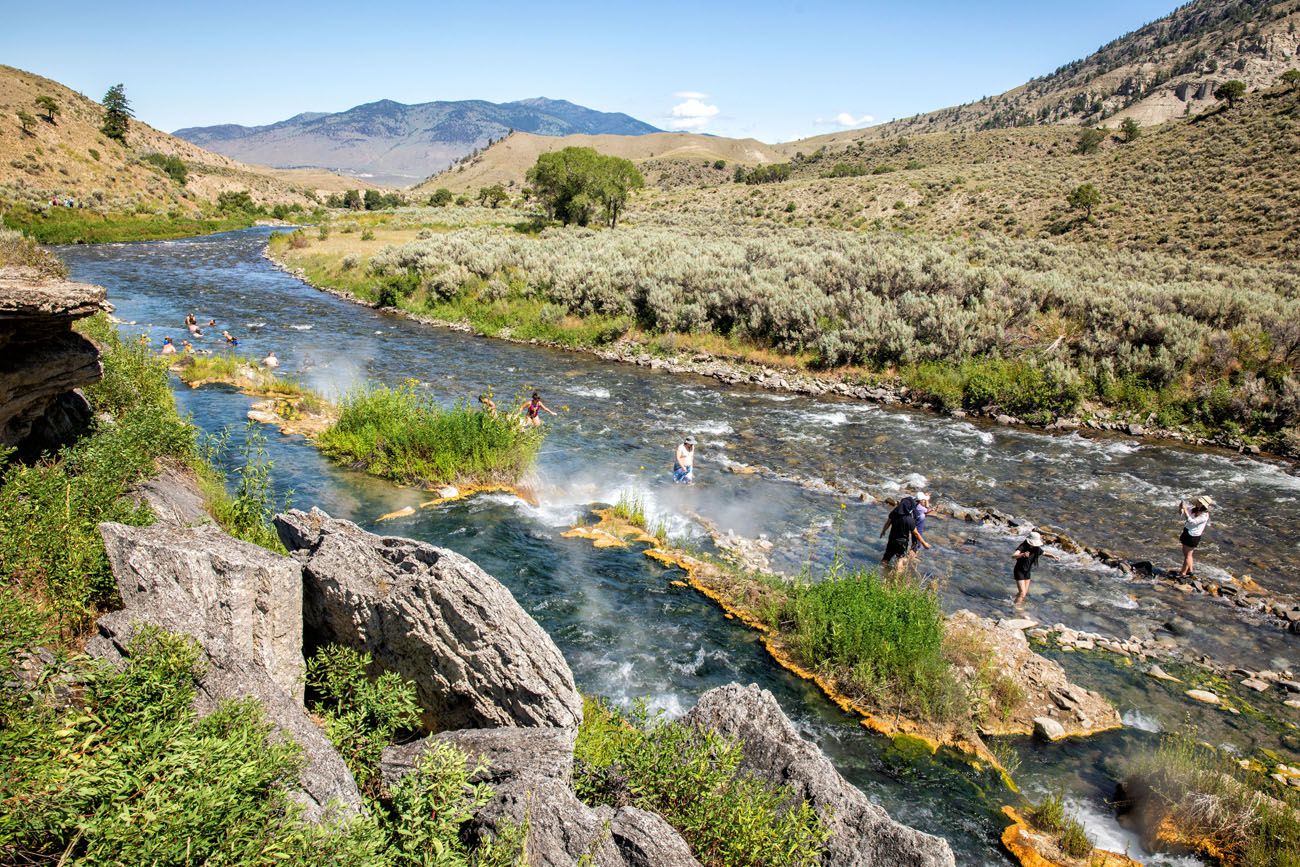 To get here, park at one of two parking lots on North Entrance Road. To get to the hot spring, it is a flat, half-mile walk.
---
13. Blacktail Plateau Drive
Blacktail Plateau Drive is lightly-trafficked scenic drive. This 7-mile, one-way dirt road heads parallel along the Grand Loop Road between Mammoth and Tower. If you get lucky, you can spot bison, elk, and bear (we were not so lucky). Even so, it's a fun, enjoyable ride with beautiful scenery.
It takes about 30 minutes to do this drive. A 4×4 is not necessary but it does make the drive easier. We saw minivans and sedans on this road. I drove a Jeep Compass. RV's, buses, and trailers are not permitted on this road.
Blacktail Plateau Drive is open from June through September.
---
14. Norris Geyser Basin
Similar to the Upper Geyser Basin, this is another fairly large collection of geothermal features. It's also one of the most rapidly changing basins in the park.
A visit here consists of seeing two basins: Back Basin and Porcelain Basin.
Back Basin is the larger basin.
It is here that you can see Steamboat Geyser, the world's tallest active geyser. Major eruptions are very unpredictable but the geyser can spew hot, steaming water more than 300 feet in the air (for reference, Old Faithful eruptions are somewhere between 100 and 185 feet high).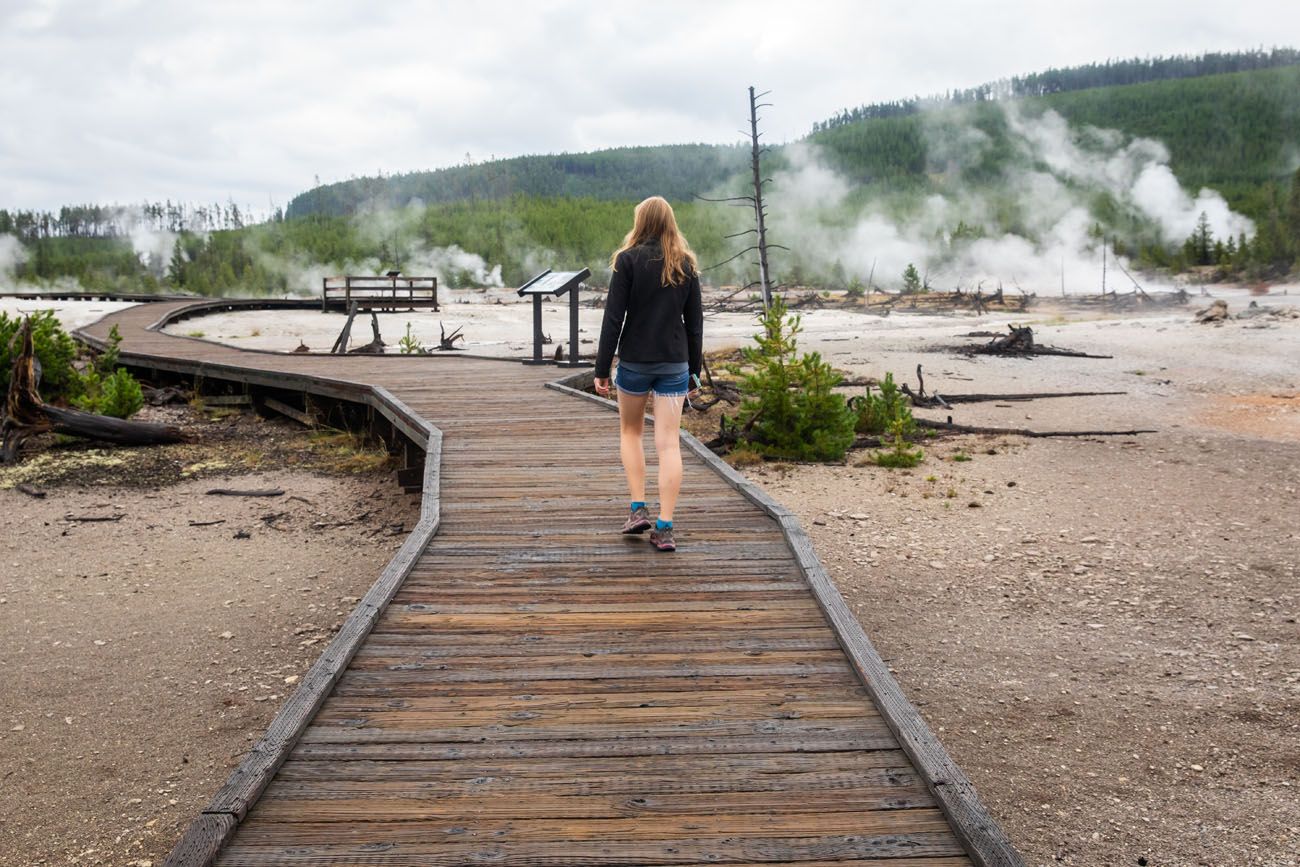 There are numerous other hot springs and geysers in Back Basin, including Emerald Spring, Green Dragon Spring, Porkchop Geyser, and Puff 'N Stuff Geyser (our favorite named geyser).
Unless you catch Steamboat Geyser in action, Porcelain Basin is more thrilling. There is a lot of activity here. Steaming hot springs, light blue thermal pools, and noisy fumaroles that really get your attention.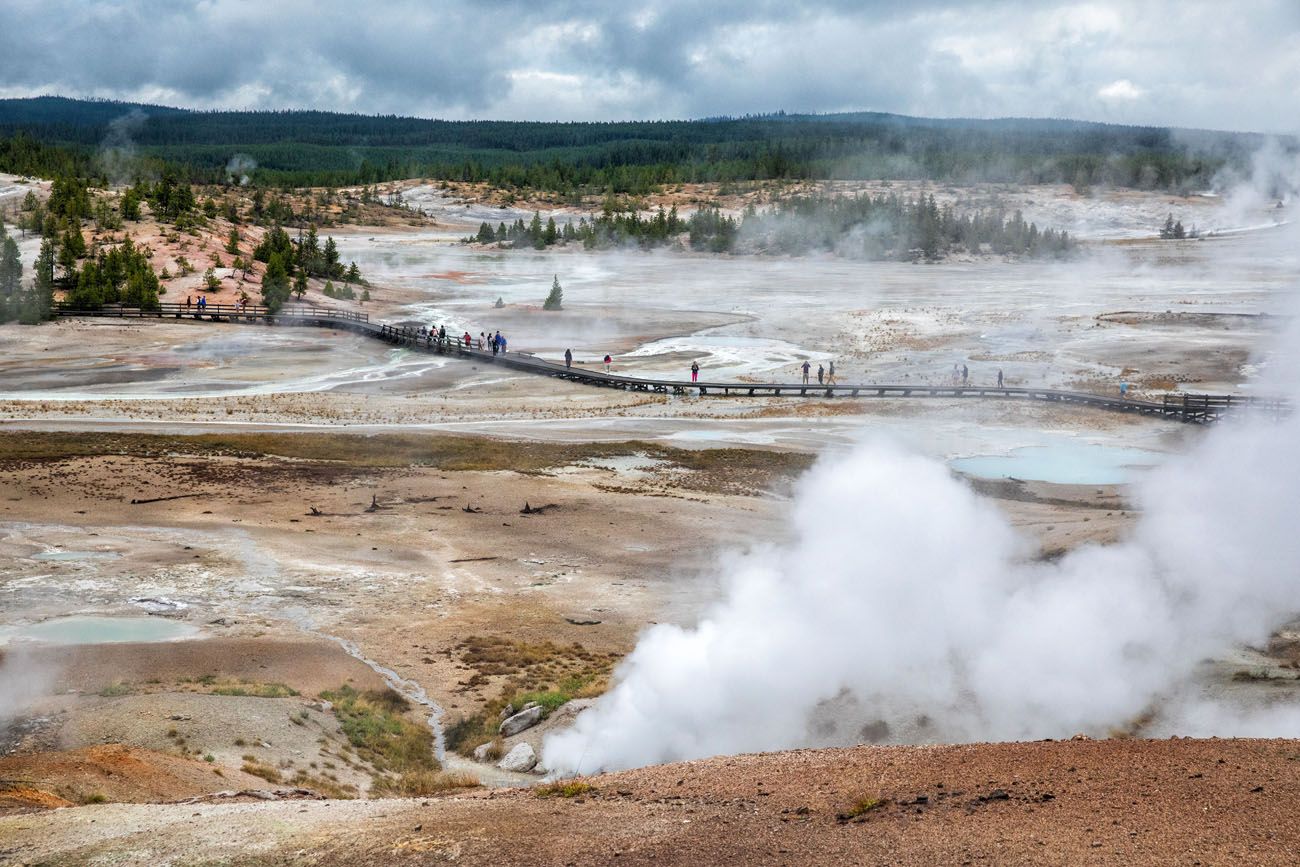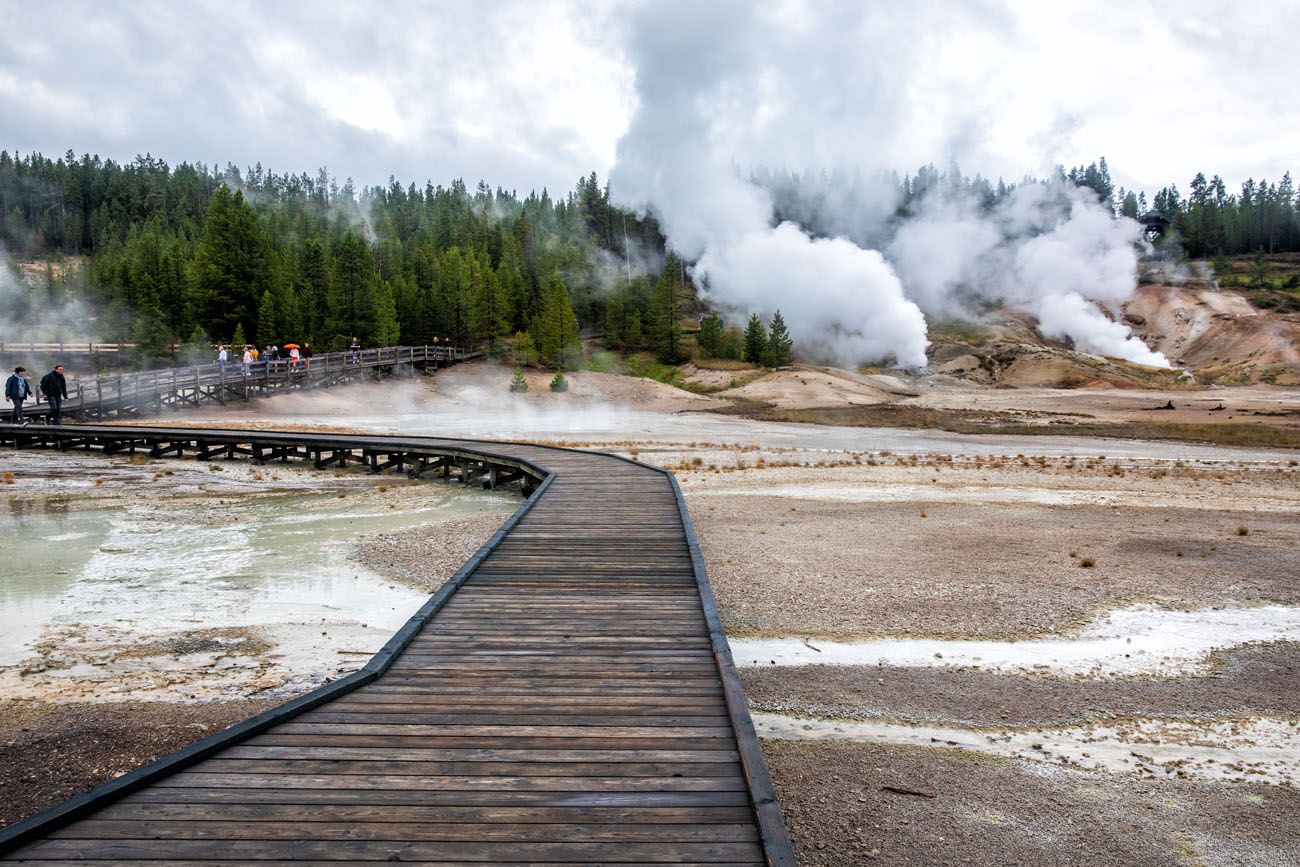 ---
15. West Thumb Geyser Basin
Kara and I really liked this geyser basin. It's quick to visit (about 30 minutes) and you get to see not only Yellowstone Lake but some brilliantly blue hot springs.
Abyss Pool is the highlight but it is also very cool to see geothermal activity right along the edge of Yellowstone Lake.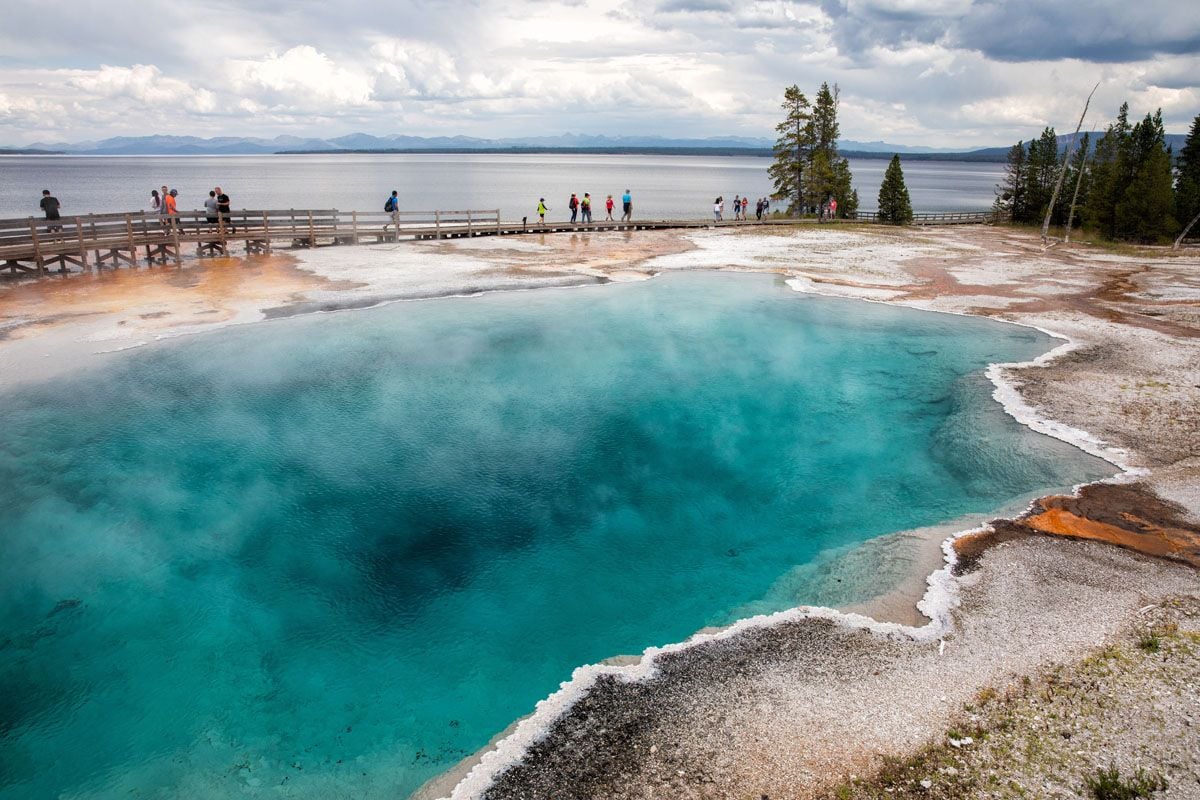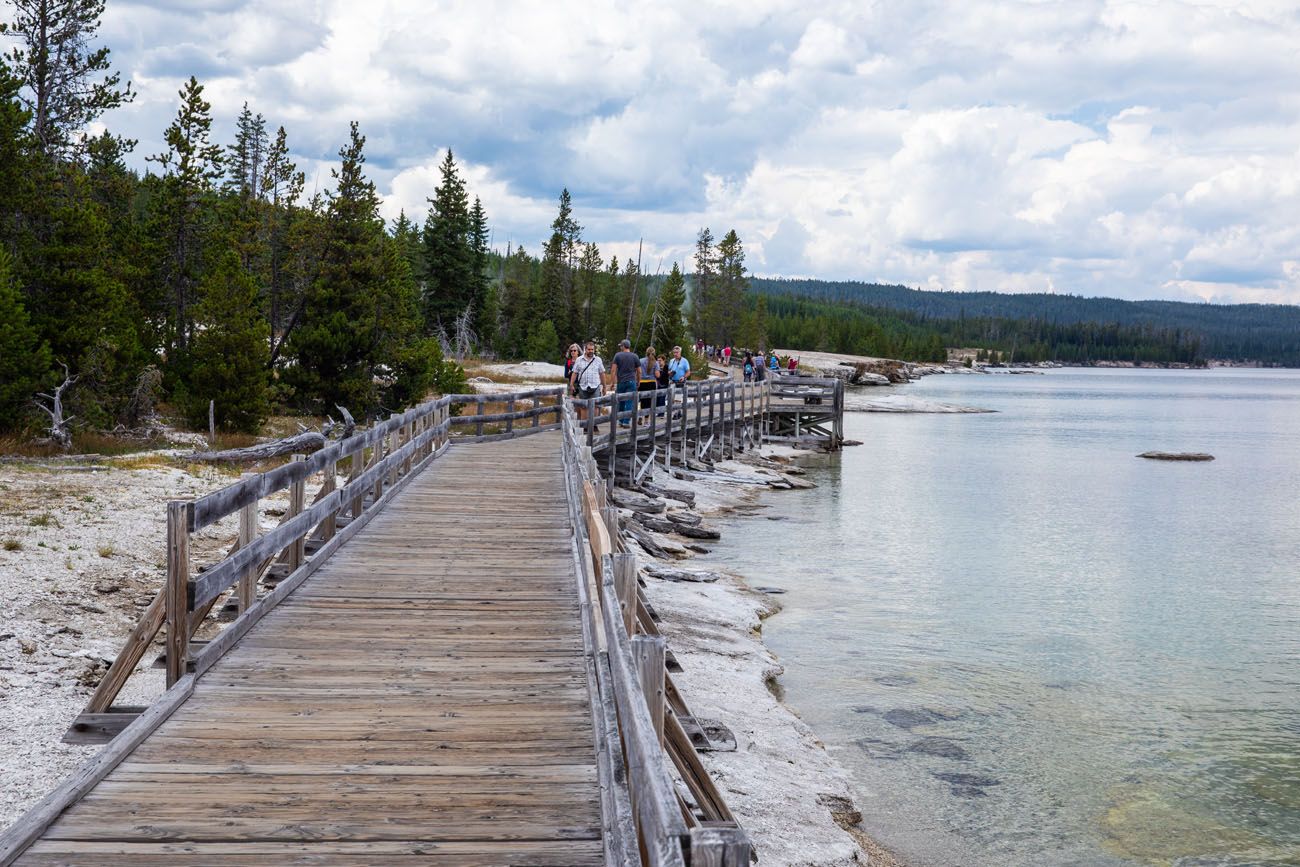 ---
16. Biscuit Basin
Biscuit Basin is another small basin that is worth a quick visit. The highlight here is Sapphire Pool, aptly named for its deep blue color.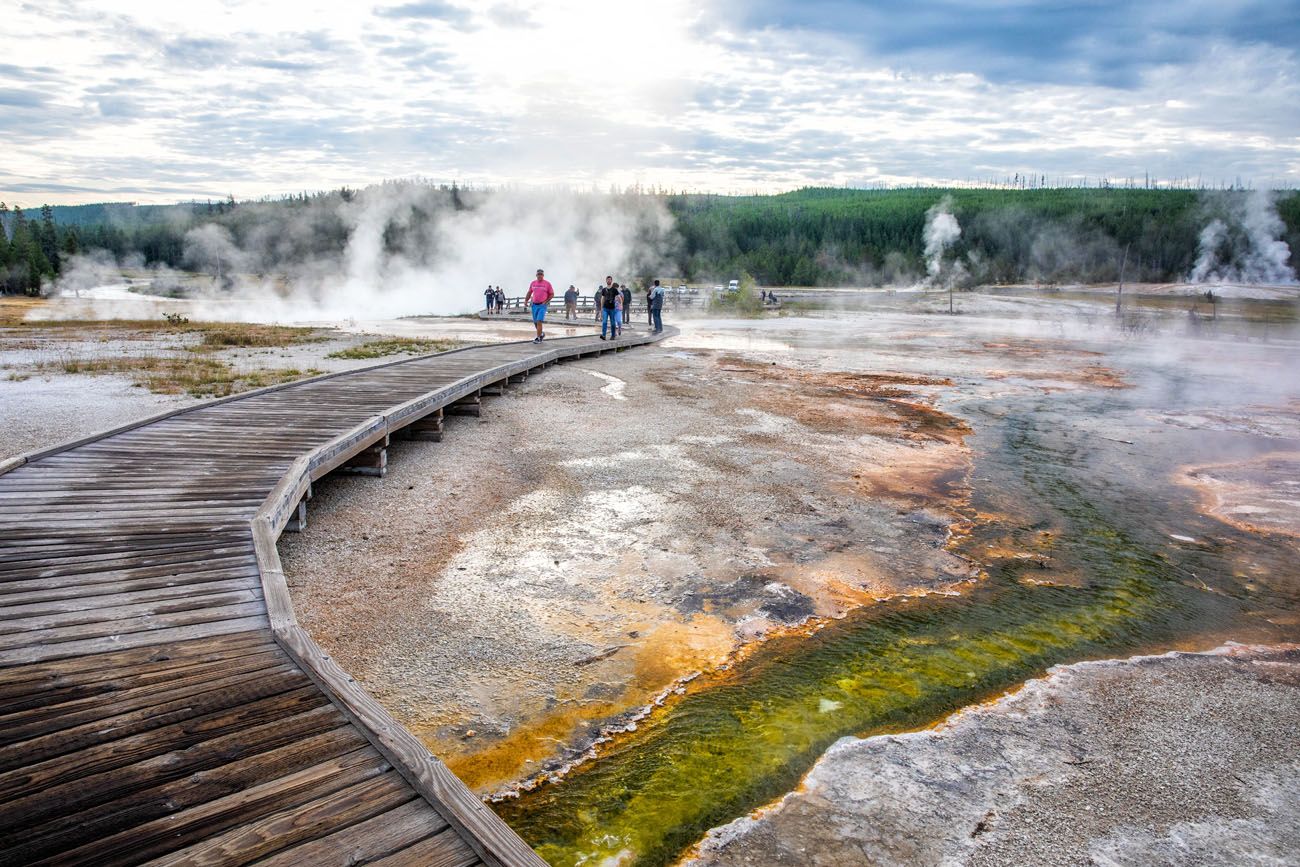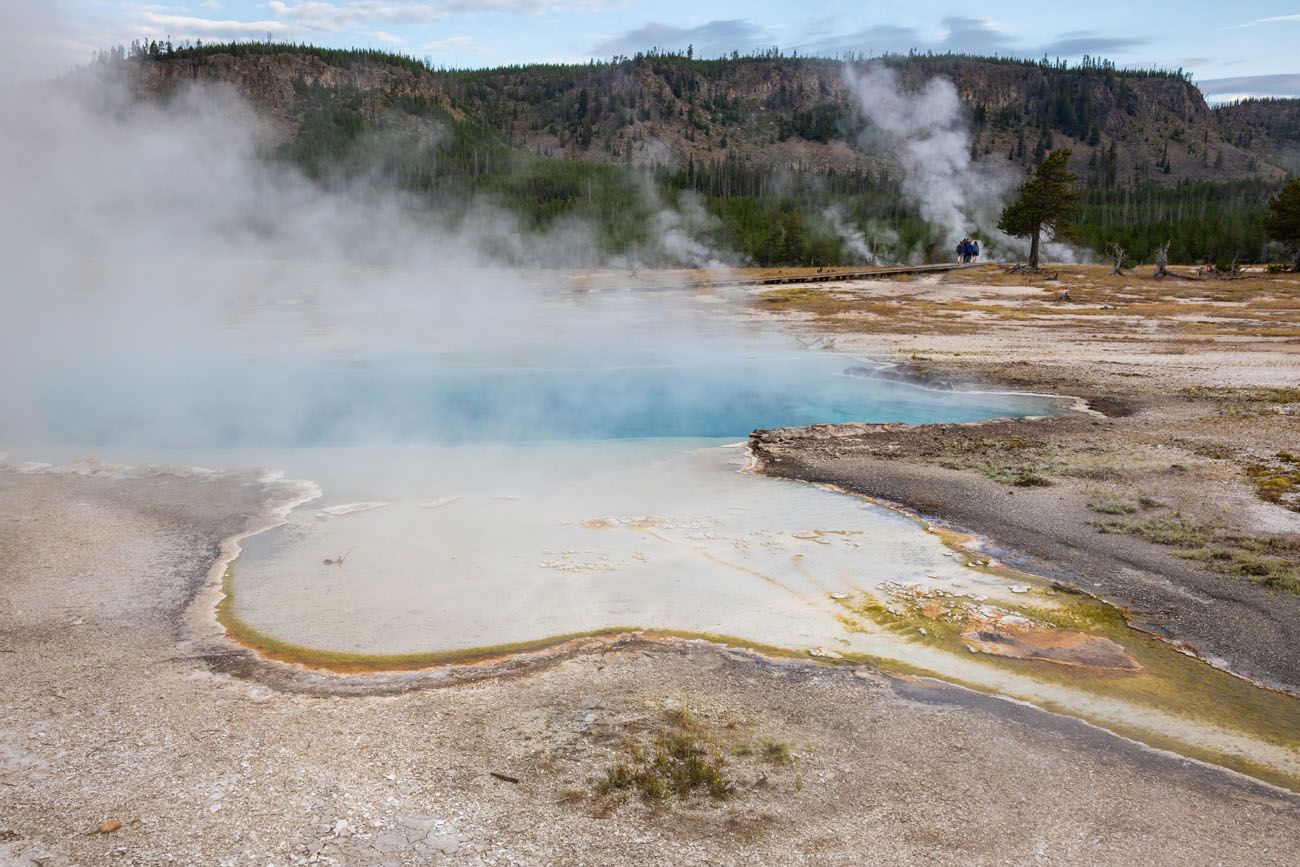 We were here in the morning, when the hot springs are still covered in mist. It's a quiet, peaceful time to visit the basins, but it is impossible to capture the brilliant colors of the hot springs when they are still mist covered.
---
17. Fountain Paint Pot Trail
From this short trail, see all four of the major hydrothermal features found in the park: hot springs, geysers, mud pots, and fumaroles. It's only a half-mile walk on a boardwalk trail past these features.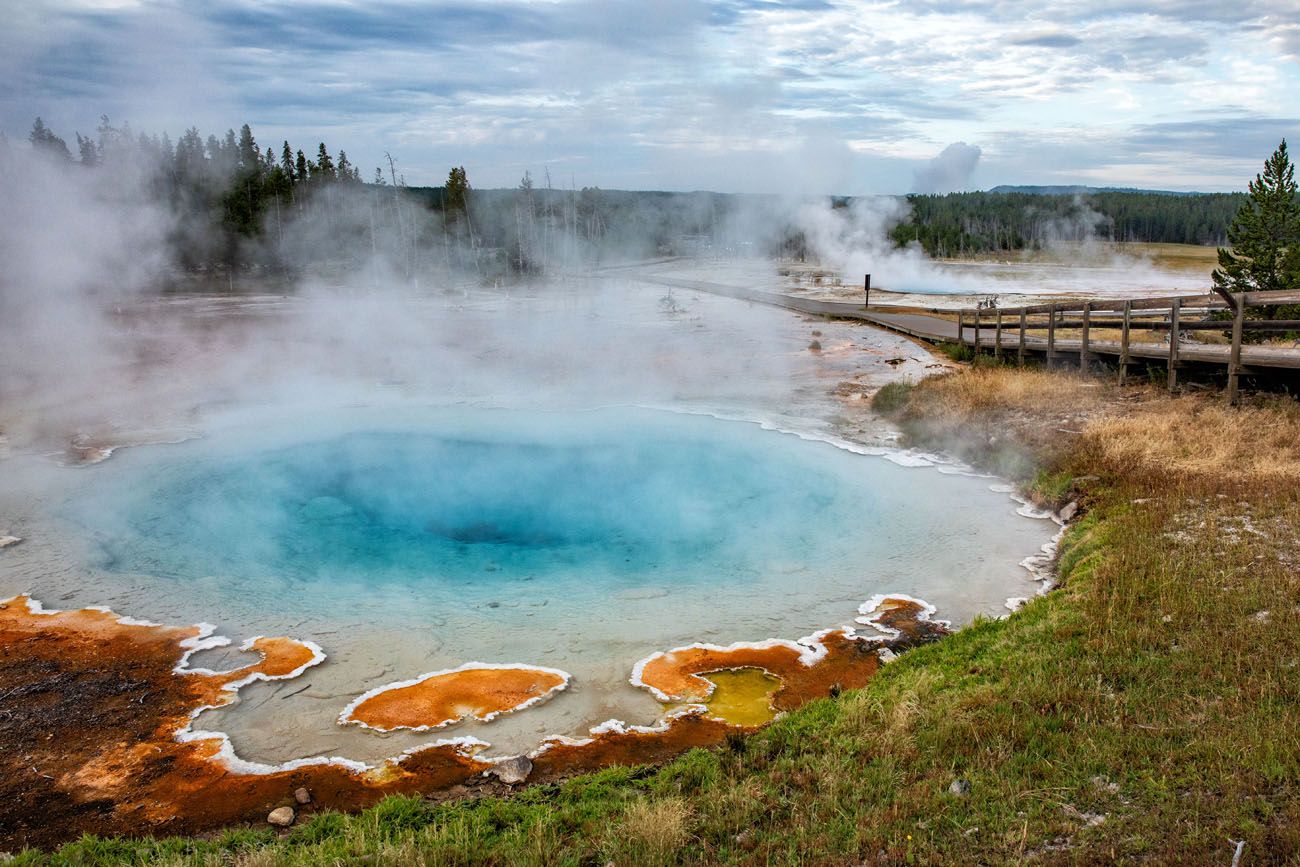 ---
18. Tower Fall
This is a popular waterfall to visit since it is located almost right along the roadside. From the Tower parking lot, it is a short walk to the overlook.
A lot of people visit this waterfall and it's not all that thrilling, in our opinion. However, since it is so popular, I felt like I should at least mention it. If you will be driving through the area, it might be worth a quick look.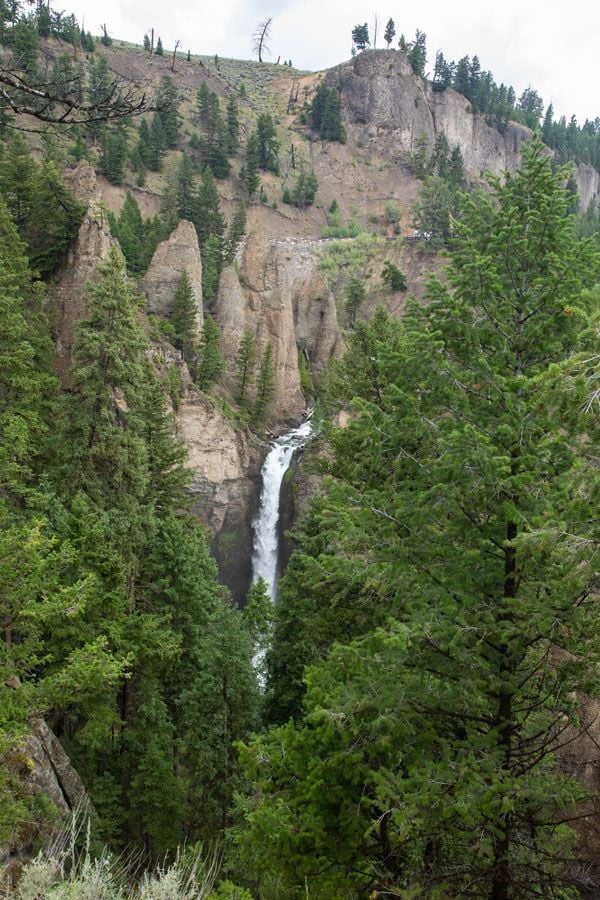 ---
Best of Yellowstone on a Map
How to Use This Map: Click the icons on the map to get more information about each point of interest. Click the star next to the title of the map to add this map to your Google Maps account. To view it on your phone or computer, open Google Maps, click the menu button, go to "Your Places," click Maps, and you will see this map on your list.
How Much Time Do You Need in Yellowstone?
To see everything on this list, it takes three very busy days or four to five leisurely days. Yellowstone is enormous and with a max speed limit of 45 miles per hour, it can take a while to get from place to place. In peak season months of July and August, traffic jams and extra time waiting for a parking space can eat up more of your time. Learn how to plan your trip:
Yellowstone Itinerary: How to Spend 1 to 5 Days in Yellowstone
If you only have one day to spend in Yellowstone, what should you do? Read our one day Yellowstone itinerary here.
Yellowstone in the Summer
During the summer months of June, July, and August, expect enormous crowds in Yellowstone. In fact, this was by far our most crowded national park experience yet (we were here in early August).
To avoid the worst of the crowds, we avoided sightseeing midday (on all but one of our days in Yellowstone). Kara and I would wake up very early and tour the park from 7 am to 11 am. We spent the middle part of the day at our hotel and then we would go back out at 5 pm. It worked very well, we were able to see most of what is one this list with low crowds, plus, we had a better chance to spot wildlife. The only downside is that we did a lot of driving.
More Information for Your Trip to Yellowstone:
---
If you have questions about the best things to do in Yellowstone or if you want to share your experience, comment below!
Read About More National Parks in the USA: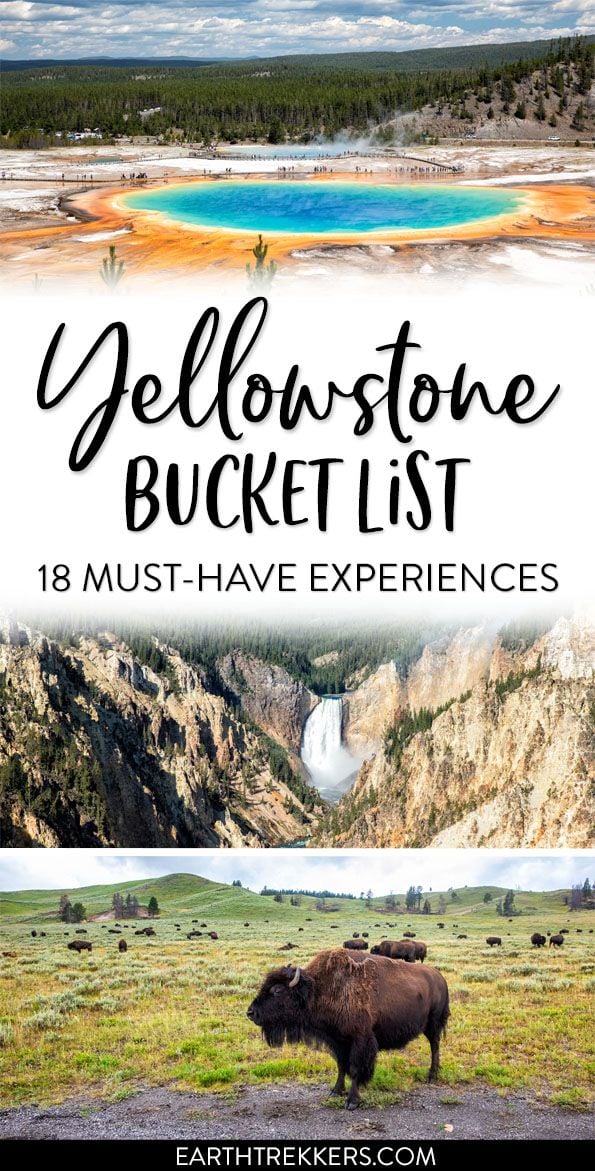 All rights reserved © Earth Trekkers. Republishing this article and/or any of its contents (text, photography, etc.), in whole or in part, is strictly prohibited.