Yellowstone National Park is a wonderland of geothermal activity, stunning landscapes, and abundant wildlife. Steam hisses out of the ground along walking trails, bison stop cars in their tracks on the main park road, and technicolor hot springs never fail to amaze even the most seasoned traveler. 
Yellowstone is the second largest national park outside of Alaska. With over two million acres of land, five park entrances, numerous geyser basins to visit, scenic drives, and miles of hiking trails, there is a lot to do here.
Every time we visit Yellowstone, it amazes us even more. The sheer size of this park, with the landscapes and the animals that it protects, is astonishing. Colorful hot springs, herds of bison and elk, geysers and bubbling mud pits, waterfalls and canyons…this is a spectacular park. 
Founded: March 1, 1872
Annual Visitors: 4.9 million in 2021, making it the 3rd most visited park this year.
Entrance Fee: $35
Size: 2.2 million acres. This is the second largest national park in the United States outside of Alaska.
Location: Wyoming, Idaho, and Montana, with most of its land located in Wyoming.
Notable Facts:  Yellowstone is not only the first national park in the United States, it is the first national park in the world. It is a UNESCO World Heritage Site and a Biosphere Reserve.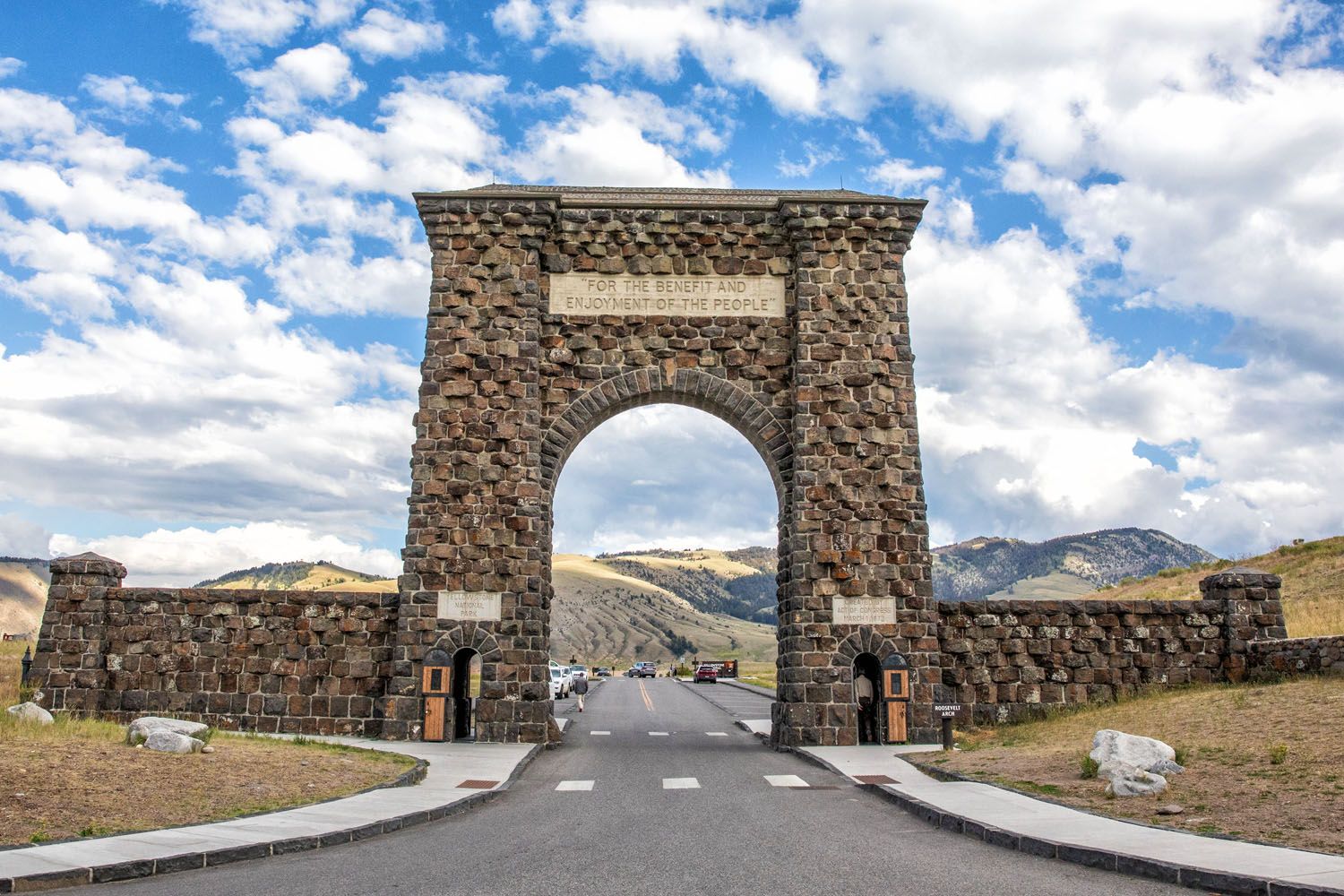 Old Faithful. Old Faithful is the world's most famous geyser. Grab a front-row seat on the boardwalk, climb Observation Hill, or go to the upper terrace at the Old Faithful Inn to watch the eruption.
Grand Prismatic Spring. This is the largest hot spring in the United States. The vibrant colors are the result of microbial life along the edges of the hot spring. Get up close to the Grand Prismatic Spring from the boardwalk trail at Midway Geyser Basin. For the best view, visit the Grand Prismatic Spring Overlook. 
Grand Canyon of the Yellowstone. This is one of Yellowstone's iconic sights. You can drive or walk to the viewpoints on both the north and south rims. Go to Artist Point for the best view. For a little more adventure, and exercise, hike to the Brink of the Lower Falls and Uncle Tom's Trail.
Wildlife Sightings. Bison, elk, black bear, grizzly bear, moose, pronghorn antelope, bighorn sheep and wolves all call Yellowstone home. Hayden Valley and Lamar Valley are the best spots for wildlife sightings.
Upper Geyser Basin. Within 1 square mile, there are over 150 geothermal features, making this one of best places in the park to see hot springs, geysers, and thermal pools. Old Faithful is the main attraction but there are more great things to see and do here.
Mt. Washburn. For panoramic views of Yellowstone National Park, hike to the peak of Mt. Washburn. This is one of the most popular day hikes in the park.
Mammoth Hot Springs. Mammoth Hot Springs is a large complex of hot springs that is located in north Yellowstone. Hot, steaming water spills out over travertine terraces, making this one of the most unique geothermal areas in the park.
Norris Geyser Basin. This is another fairly large collection of geothermal features. A visit here consists of seeing two basins: Back Basin and Porcelain Basin. If you are lucky, you can watch an eruption of Steamboat Geyser, the world's tallest active geyser.
Learn More about Yellowstone
When to Visit Yellowstone
The best time to visit Yellowstone is from June through October. From early November through mid-May, many of the park roads will be closed due to snowfall. It's still possible to visit the park in the winter, but you will get around by snowmobile or snow coach, which of course will be a much different experience than the summer months.
With that being said, you should know that crowds are huge during the summer months (especially July and August). In 2021, Yellowstone was the 3rd most visited park in the USA, receiving almost 5 million visitors. Expect major difficulties finding a parking space midday and be prepared to share walking trails with many other visitors.
Early autumn is a gorgeous time to visit Yellowstone. The days are shorter and the temperatures are cooler, but the lower crowds and beautiful fall colors make this a great time to visit Yellowstone. Mid-September through early October is a great time to visit Yellowstone if you want to see fall colors and have a less crowded experience.
Yellowstone National Park appears in our Best US National Parks Month-By-Month series as a great park to visit in June, August, September, and October.
How Many Days Should You Spend in Yellowstone?
You need a minimum of three full days to visit the top sights in Yellowstone. Even then, you won't get to everything. For the best experience, plan on spending four to five days in the park.
We have sample itineraries for Yellowstone, whether you have just a day or two, or much longer. Click here to read them.
ONE DAY IN YELLOWSTONE
With one day in Yellowstone, you have just enough time to visit the highlights: Old Faithful, Grand Prismatic Spring, Grand Canyon of the Yellowstone, and the wildlife in Hayden or Lamar Valleys. Read our One Day Itinerary post for more information.
Where to Stay
Choosing where to stay in Yellowstone depends on several factors: how many days you plan to visit Yellowstone, how far in advance you are making your reservations, and where you plan to go, both before and after your visit.
The lodges inside of Yellowstone National Park sell out ridiculously far in advance. We are talking 12 months in advance! If you plan to visit Yellowstone in the summer of 2023, you need to make your reservations in May of 2022.
The best location to stay within the park is Canyon Village, although Old Faithful is also a very handy location. If you are struggling to find a lodge inside the park, there are plenty of options just outside of Yellowstone.
We have a detailed guide on the best places to stay in and around Yellowstone National Park. Click here to read it. 
Most of Yellowstone sits atop a supervolcano. This supervolcano powers the geothermal activity in the park. A supervolcano is a volcanic field that can produce a massive eruption. 
Yellowstone has the highest concentration of geothermal features of anywhere else on earth. The land literally smokes, bubbles, and hisses. Numerous geysers erupt on a daily basis, including the most famous geyser in the world, Old Faithful.
Yellowstone Park Map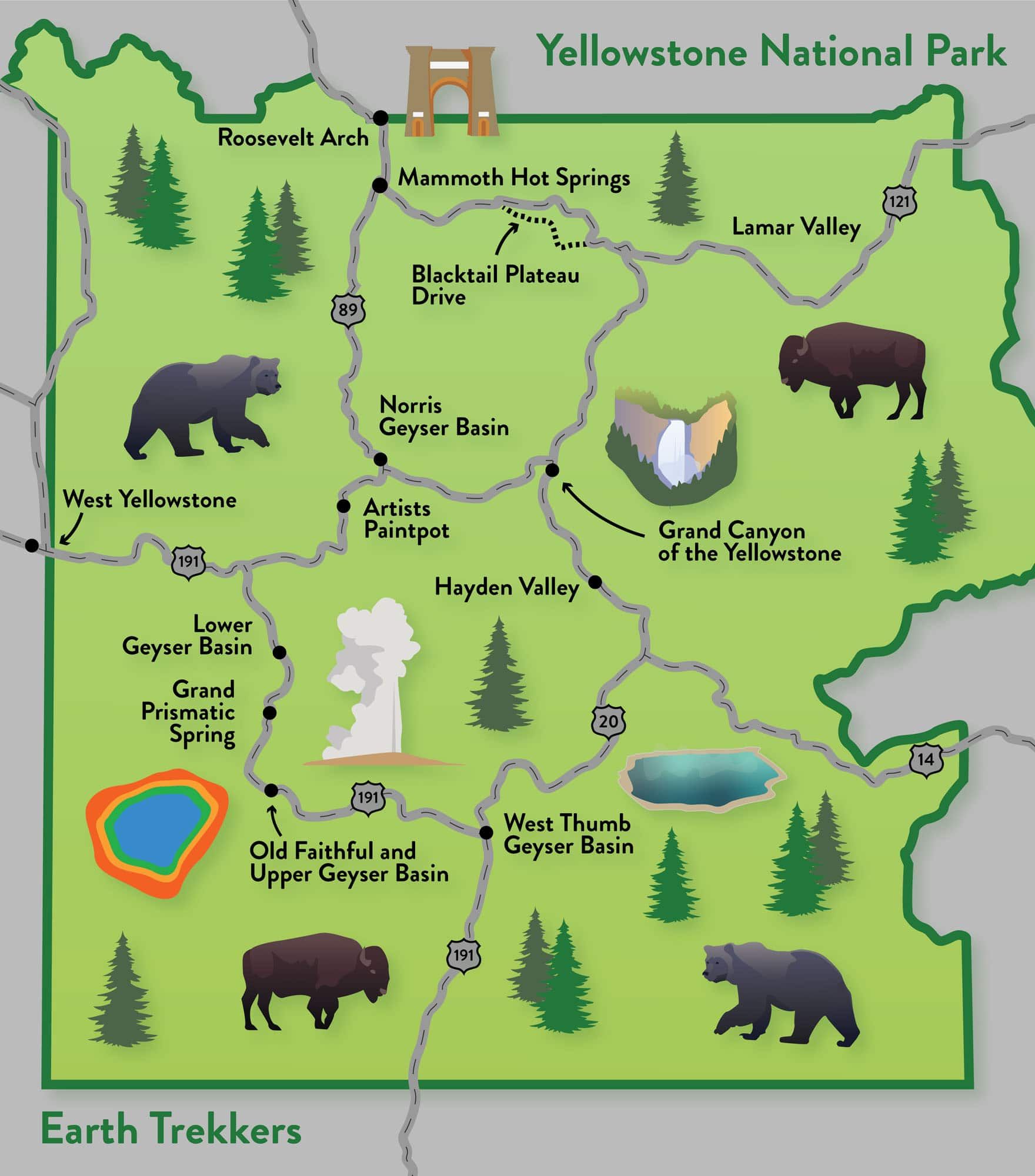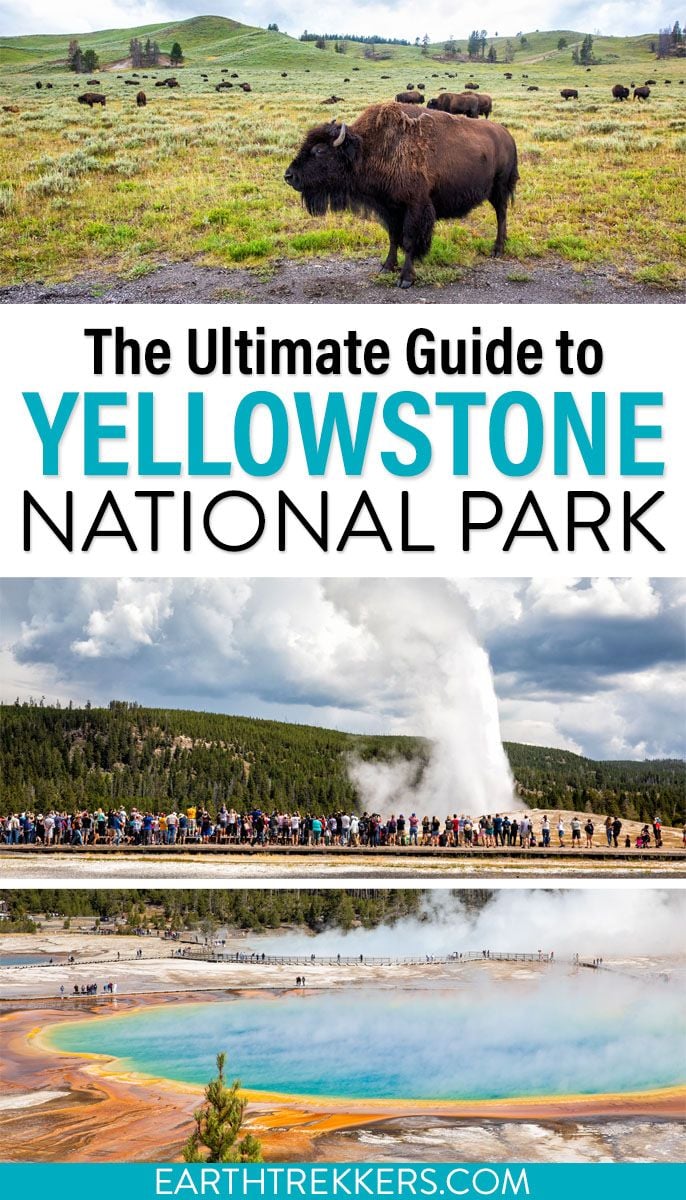 In our US National Parks List, get information on all of the US national parks, including interesting facts, the most and least visited national parks, and a FREE printable national parks checklist with map.
Visit More National Parks