Jagged mountain peaks, lush meadows, scenic lakes, the winding Snake River, historical sites, and miles of hiking trails…this is Grand Teton National Park. If you are looking for the best things to do in Grand Teton National Park, we have lots of great information to share with you.
There is something here for everyone. Families will love the short, easy, scenic hiking trails, a boat ride across Jenny Lake, plus the possibility to see elk, moose, and bison. Photographers will have a blast capturing the reflections of the mountain range in the lakes and rivers. Active, adventurous travelers can take their pick from hundreds of miles of hiking trails that journey into the Teton range. If you enjoy fishing, this park is world-renowned for its trout fishing.
We have visited Grand Teton National Park numerous times, our most recent visits being in August 2019 and September 2020. With epic hiking trails, wildlife encounters, and gorgeous views of the Teton range, this is one of our favorite national parks.
I hope you enjoy this extraordinary place as much as we do.
About Grand Teton National Park
Grand Teton National Park officially became a national park in 1929, making it the 20th national park in the United States. Yellowstone National Park, which sits just 10 miles to the north, was the first national park in the United States (and the world).
This mountain range gets its name from early 19th-century French trappers. They called the mountain range les trois tetons, which means "the three teats."
Of the large mammals, elk is the most common species that you will see here. During the spring and fall months, they migrate through the park between the National Elk Refuge (just outside of Jackson) to Yellowstone National Park. It is also possible to see bison, moose, black bear and grizzlies.
There are numerous lakes that sit at the base of the Teton range. Jenny Lake is the most famous and most commonly visited, but other notable lakes include Jackson, Phelps, Taggart, Bradley, and Leigh Lakes.
Best Things to do in Grand Teton National Park
Here are the best things to do in Grand Teton National Park on a map.
How to Use This Map: Click the icons on the map to get more information about each point of interest. Click the star next to the title of the map to add this map to your Google Maps account. To view it on your phone or computer, open Google Maps, click the menu button, go to "Your Places," click Maps, and you will see this map on your list.
1. Drive the 42-Mile Scenic Drive
This 42-mile loop takes you through the heart of Grand Teton National Park. Drive down the length of the Teton mountain range, along Jenny and Jackson Lakes, and past numerous scenic overlooks. Along the way, you have the option to detour to Signal Mountain, Jenny Lake Scenic Drive, or numerous hiking trails in the park.
How to do it
Two roads form this loop: Highway 26/89/191 and Teton Park Road.
Teton Park Road follows the base of the Teton range between Moose and Jackson Lake. This road is closed from November 1 to April 30.
Highway 26/89/191 is open year-round.
You can do this drive clockwise or counterclockwise. I recommend doing this drive counterclockwise. Start at Moose, visit Mormon Row at sunrise, and then drive north along Highway 26/89/191 to visit Schwabacher Landing and the Snake River Overlook in the morning hours, the best time for photography. Continue on to Oxbow Bend and from here, visit the sites along Jackson Lake or take Teton Road South to Signal Mountain and Jenny Lake.
2. Signal Mountain
A road trip through Grand Teton National Park would not be complete without a drive up Signal Mountain. From the summit, you get panoramic views over the park, the Teton range, and Jackson Lake.
Don't miss Jackson Lake Overlook. This scenic viewpoint is located near Signal Mountain Summit and it's just a 2-minute walk to a viewpoint over Jackson Lake.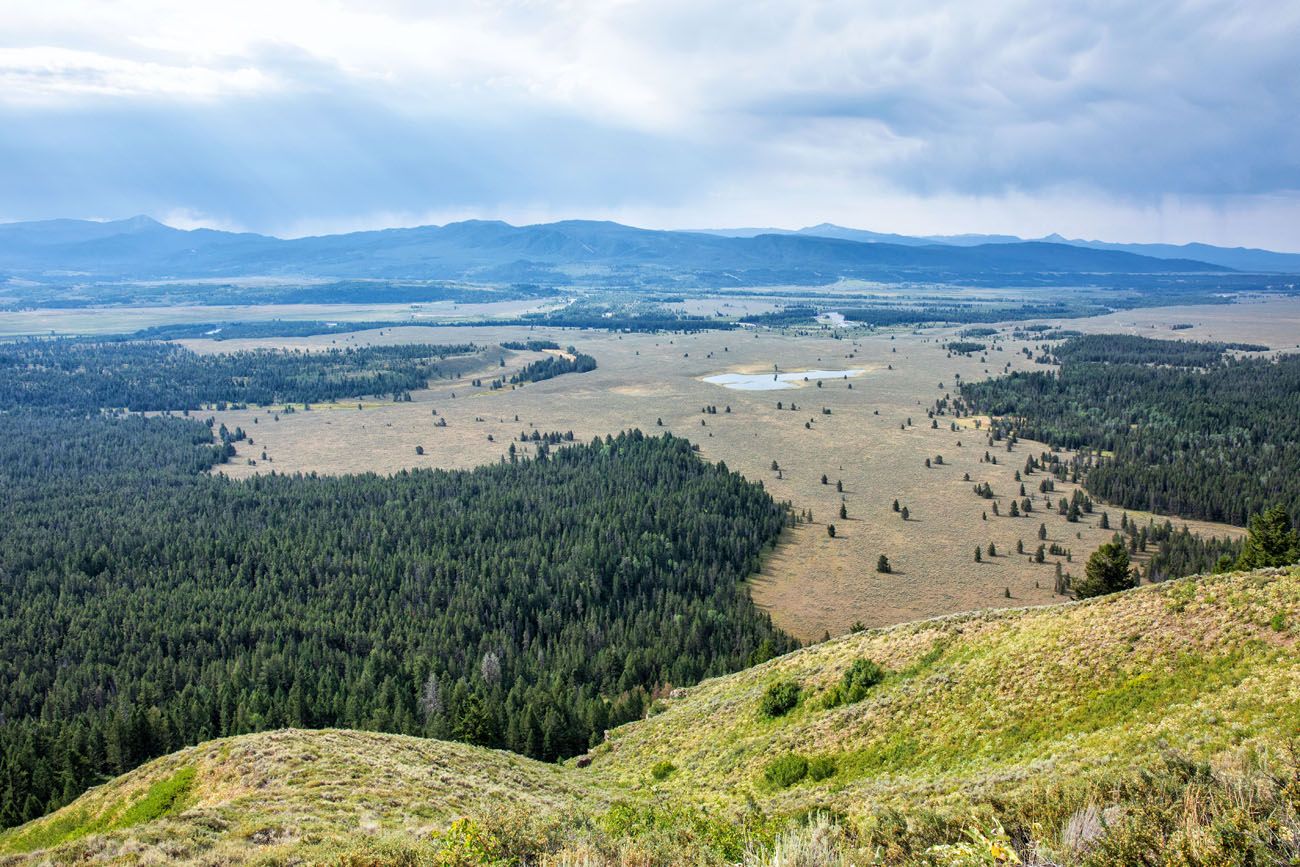 The view from Signal Mountain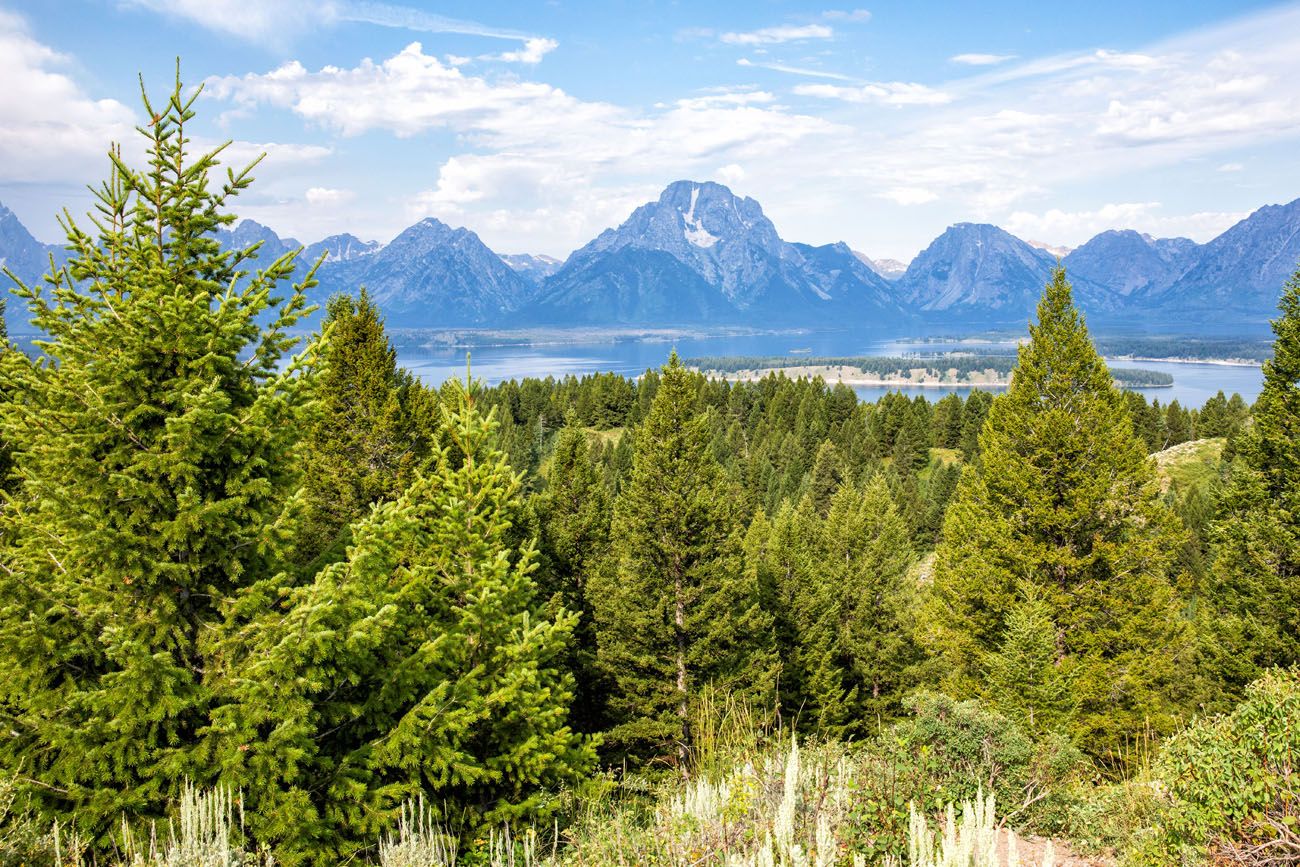 Jackson Lake Overlook
How To Do It
Signal Mountain Road is 4.4 miles long and it takes 15 minutes to drive it one way. It's just wide enough for two cars and there are many bends and switchbacks. At the summit and at Jackson Lake Overlook, there is a parking lot. This road is closed from November 1 to mid-May.
3. Jenny Lake Scenic Drive
Jenny Lake Scenic Drive is a one-way road that follows along the eastern edge of Jenny Lake. Along the way, stop at the Jenny Lake overlook for one of the best views of the lake.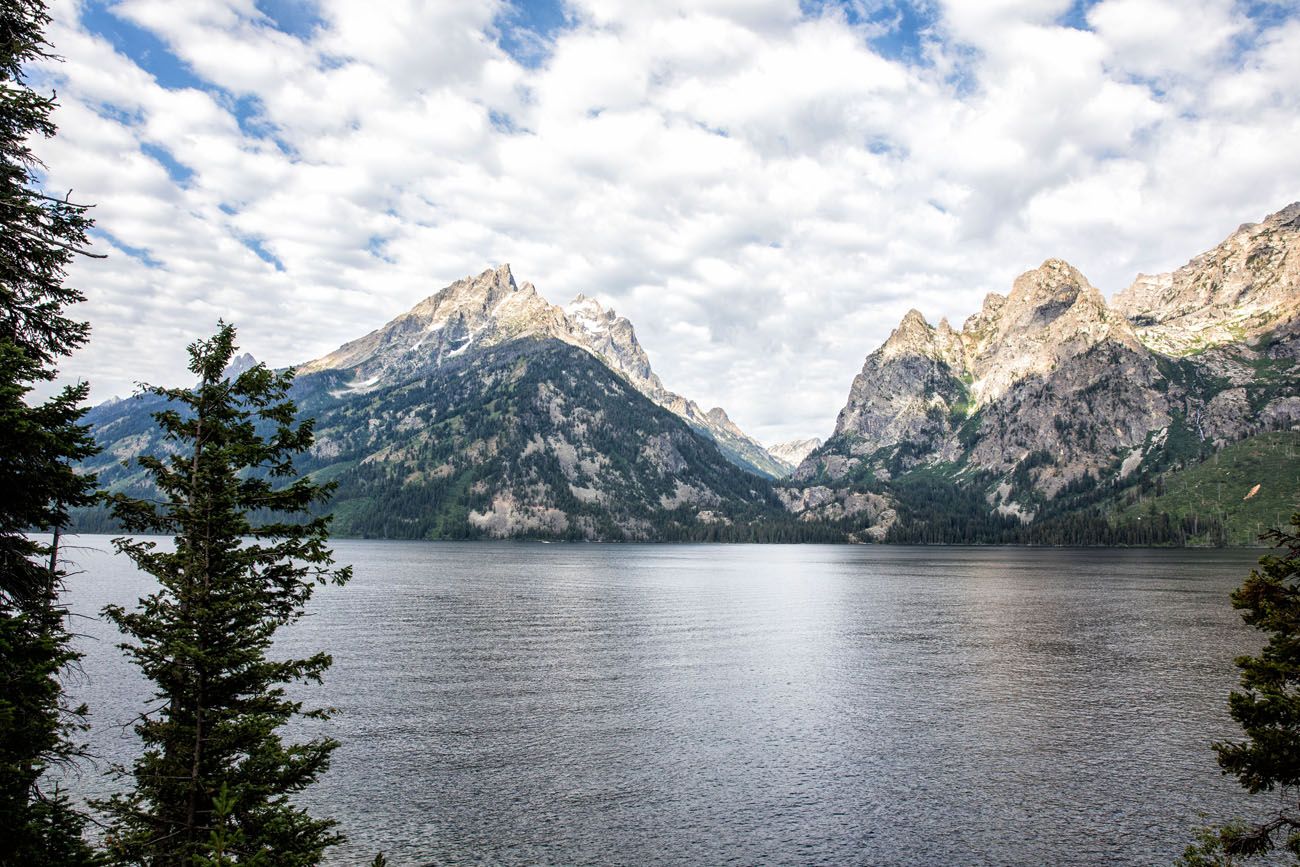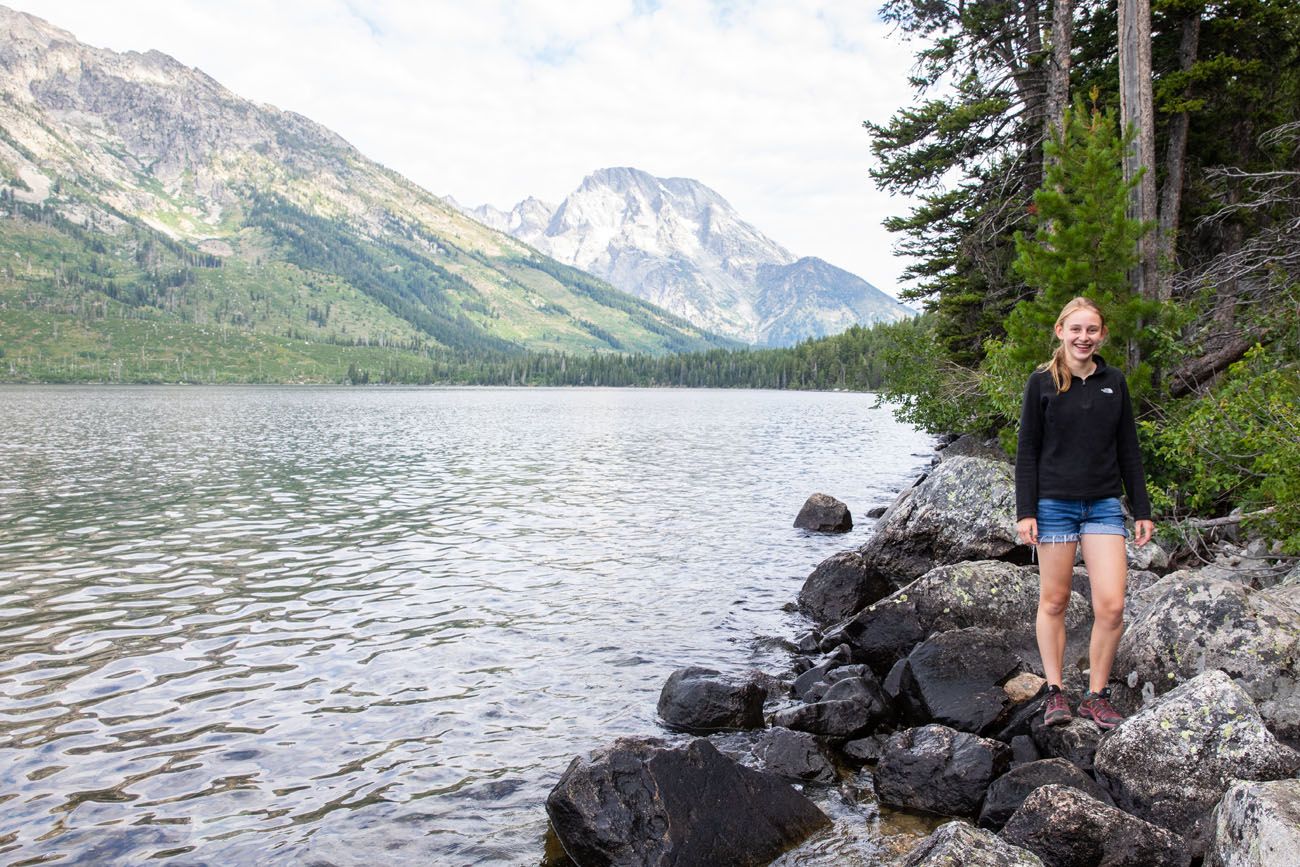 This road starts near String Lake and the Jenny Lake Lodge and ends near the southern end of Jenny Lake.
4. Inspiration Point and Hidden Falls
Hidden Falls is a waterfall located in the Teton range next to Jenny Lake.
Inspiration Point is a viewpoint over Jenny Lake.
Since these two spots are located on the same hiking trail, it's easy to combine both of these into one very scenic hike.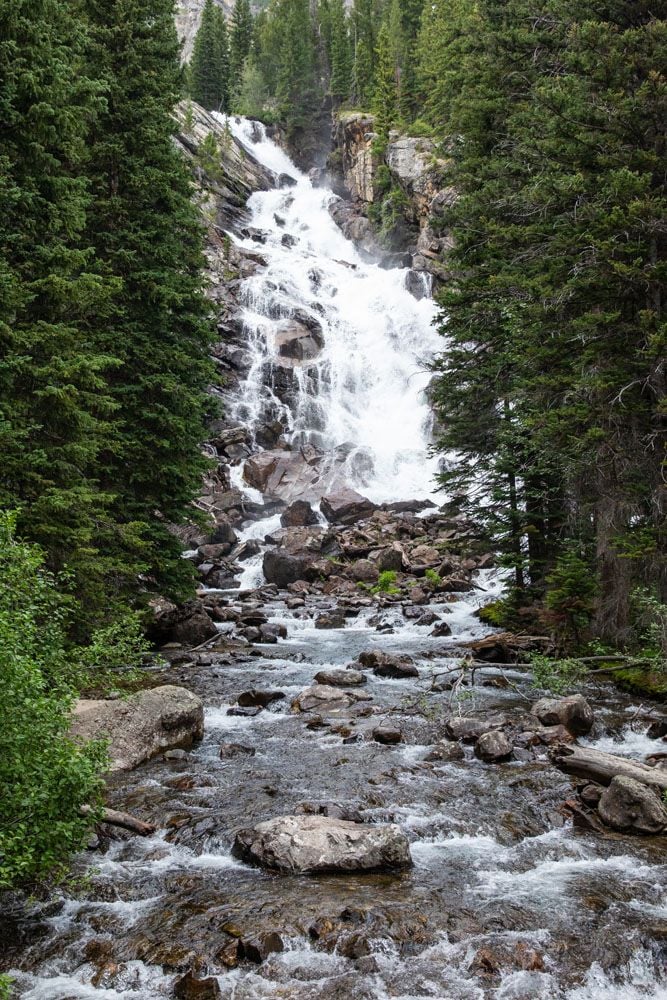 Hidden Falls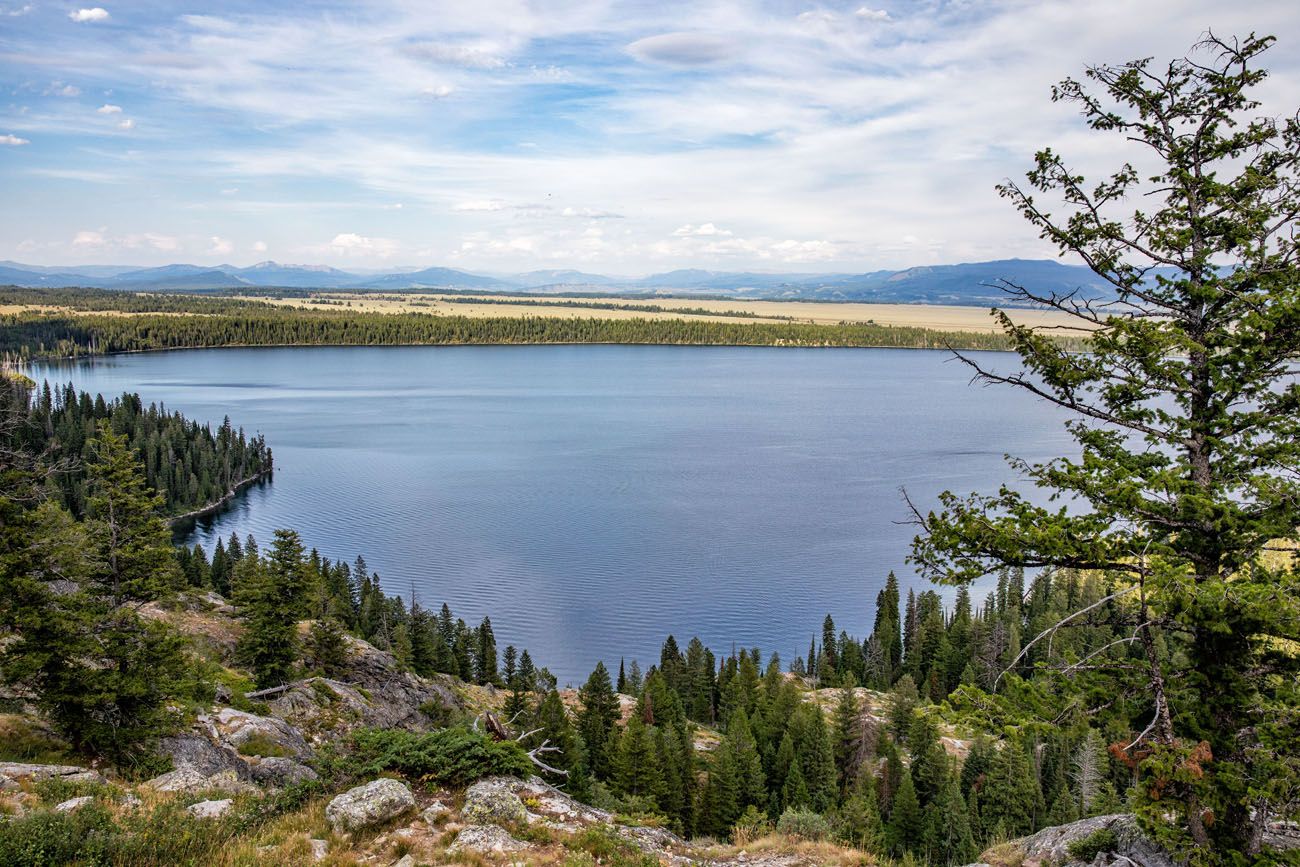 Inspiration Point
There are two ways to get to the trailhead: by boat or by hiking trail. The trail to Hidden Falls and Inspiration Point starts on the western side of Jenny Lake. You cannot drive to this side of Jenny Lake. To get here, you can take a shuttle boat from the Jenny Lake parking area or hike 2.4 miles around the southern end of the lake to this trailhead.
Jenny Lake Boating offers a shuttle service across Jenny Lake. Shuttles run every 10 to 15 minutes and cost $18 round trip, $10 one-way for adults. Click here for updated pricing and hours of operation.
From the boat dock on the western side of Jenny Lake, it is a 0.5 mile uphill walk to Hidden Falls. To continue on to Inspiration Point, it is another 0.5 mile hike, only this time the trail is steeper and more difficult.
With the shuttle boat, the hike to Hidden Falls and Inspiration Point is 2 miles round trip.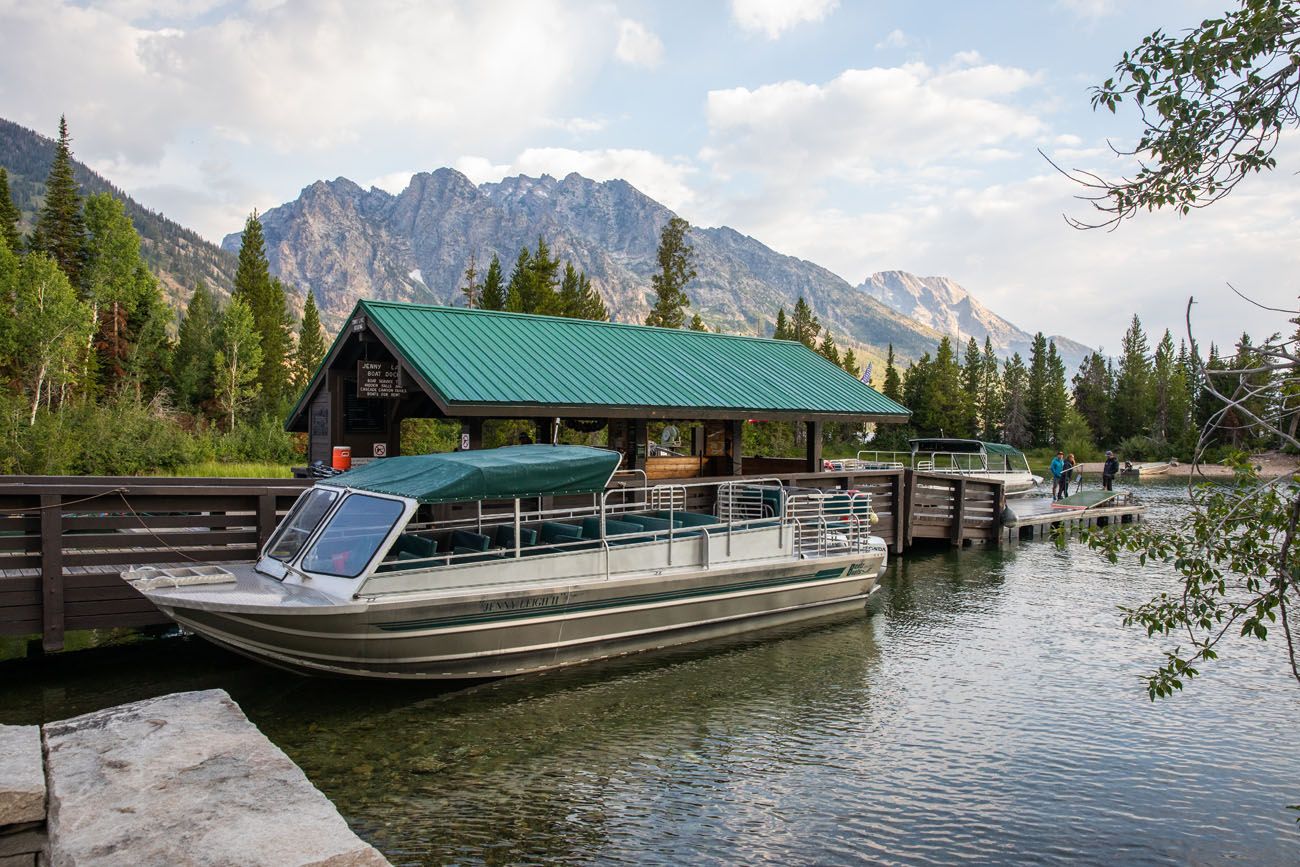 Jenny Lake boat dock
PRO TRAVEL TIP: Expect big crowds between 10 am and 4 pm in the summer months. This is an extremely popular thing to do. If you want a quieter experience, and good lighting for photographs, save this experience for the end of the day. Catch the 5:30 pm shuttle boat across Lake Jenny, hike up to Inspiration Point and enjoy the view, and take one of the last boats of the day back to the parking lot. Just confirm with Jenny Lake Boating when the final shuttle of the day makes its run across Jenny Lake. When we did this (August 2019) the last boat was at 7 pm.
5. Go Canoeing or Kayaking on Jenny Lake
Solitude, mountain views, peace and quiet…this was one of our favorite experiences at Grand Teton National Park.
For over an hour, Kara and I paddled around Jenny Lake in a canoe. It was a Wednesday morning in August and we felt like we had the lake to ourselves. Yes, there was the occasional shuttle boat, but other than that, it was just the two of us on the lake.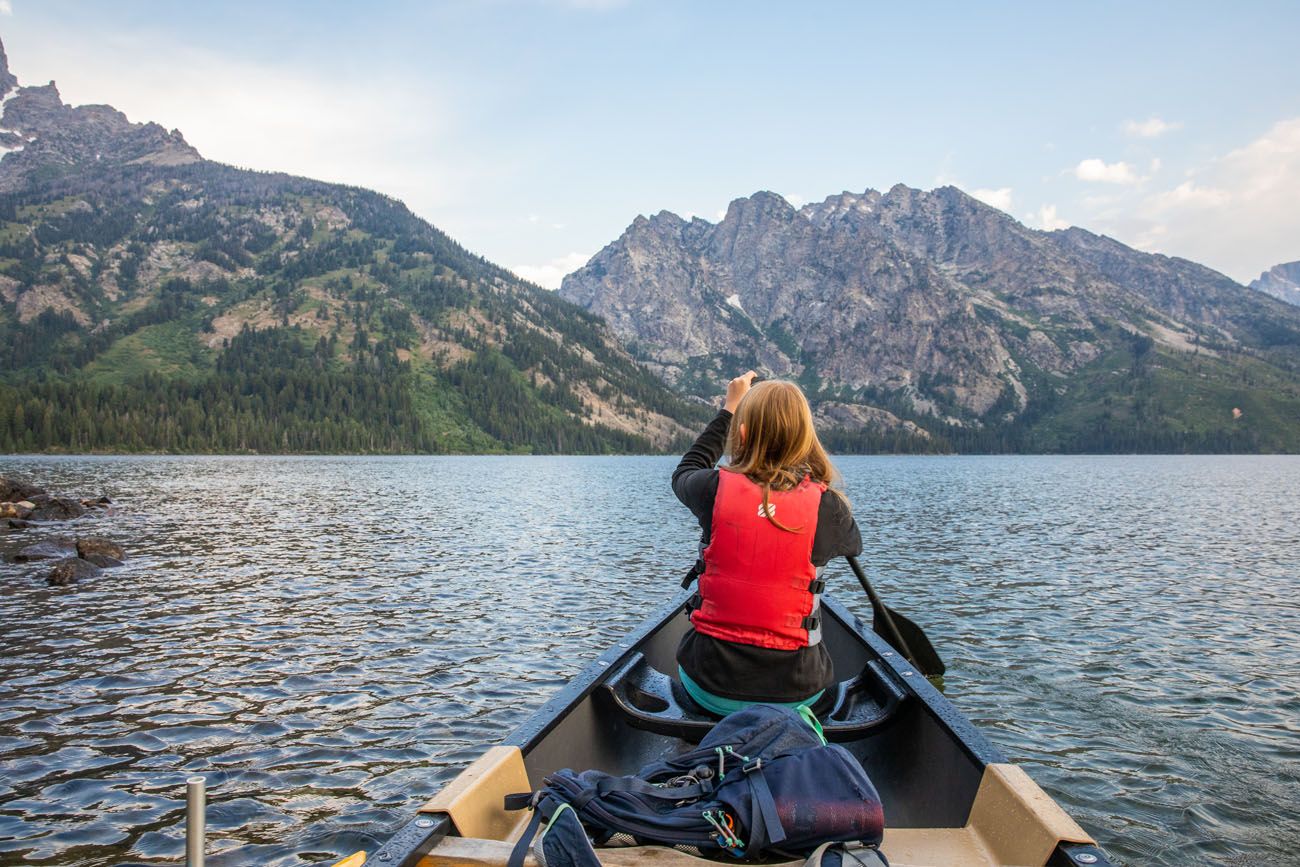 If you are looking for a great way to avoid the crowds, consider putting this on your list. We rented a canoe from Jenny Lake Boating for an hour and a half (from 7:45 am to 9:15 am) and during this time, we were their only rental customers.
You can also rent a canoe or kayak and paddle to the west dock of Jenny Lake to start your hike to Hidden Falls and Inspiration Point. You pay for the canoe and kayak by the hour. Click here for pricing.
6. Mormon Row Historic District
In 1890, Mormons from Salt Lake City settled here, establishing 27 homesteads. Mormon Row was added to the National Register of Historic Places in 1997.
This is one of the best sunrise spots in Grand Teton National Park. This iconic shot of the historic barn with the Tetons in the background attracts photographers from around the world.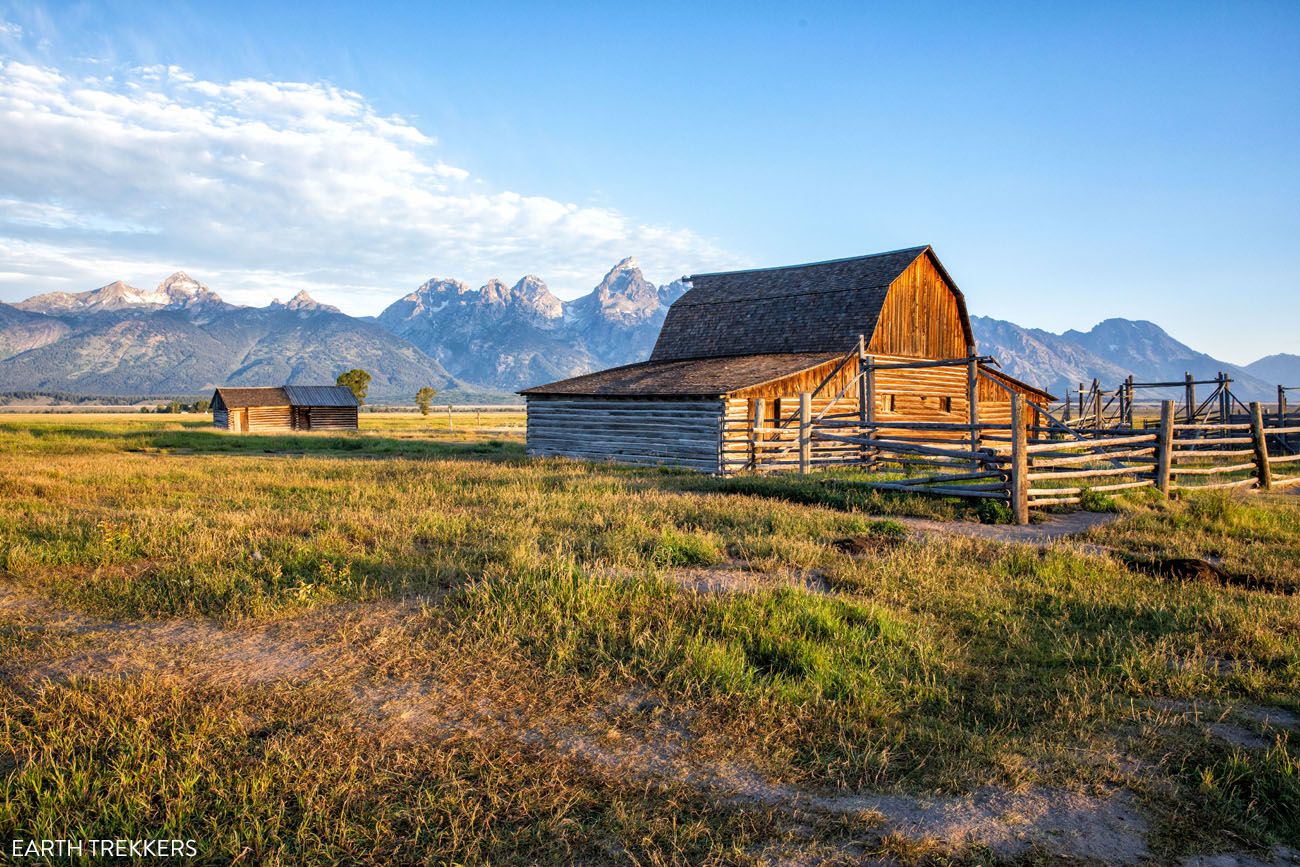 There are two barns to visit, and photograph, if you are interested. There is the historic barn on Mormon Row (the above photograph) and the T. A. Moulton Barn (below) located on Gros Ventre Road, across Antelope Flats Road.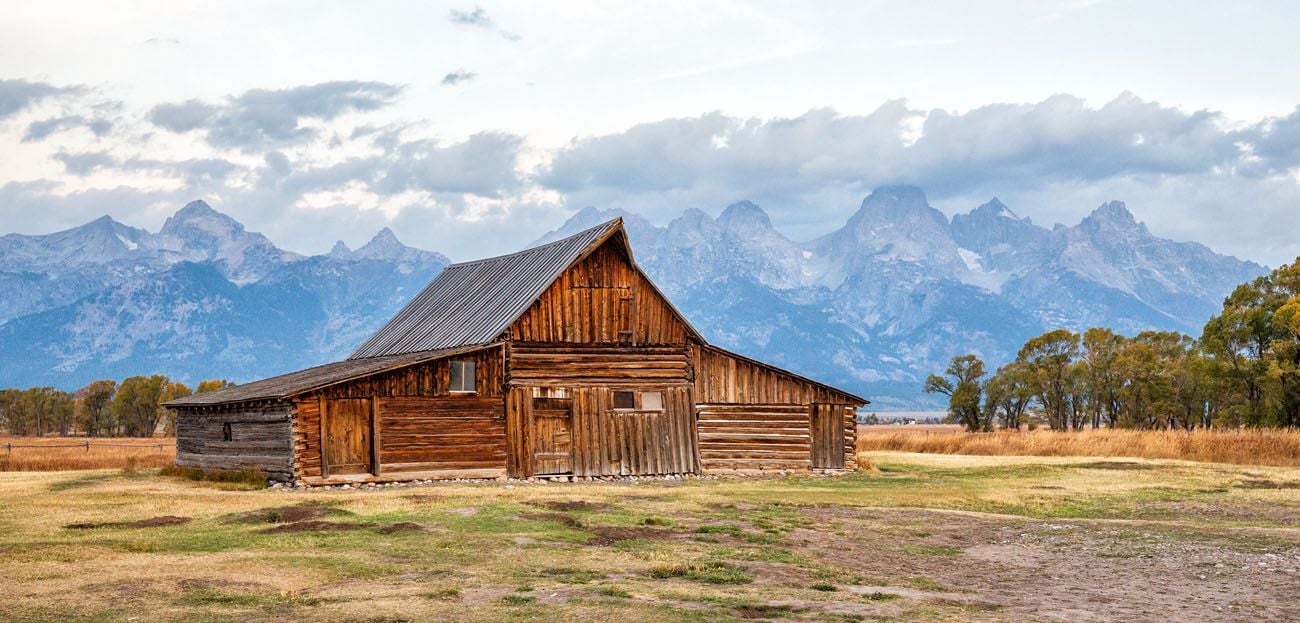 Watch your step! There are many prairie dogs here that make large holes (burrows) along the dirt road.
Location: Antelope Flats Road, 1.6 miles from Highway 89.
7. Chapel of the Transfiguration
This is another historic site in Grand Teton National Park and just a short drive from Mormon Row. This small log chapel was built in 1925. During the summer season, St. John's Episcopal Church offers services on Sunday mornings.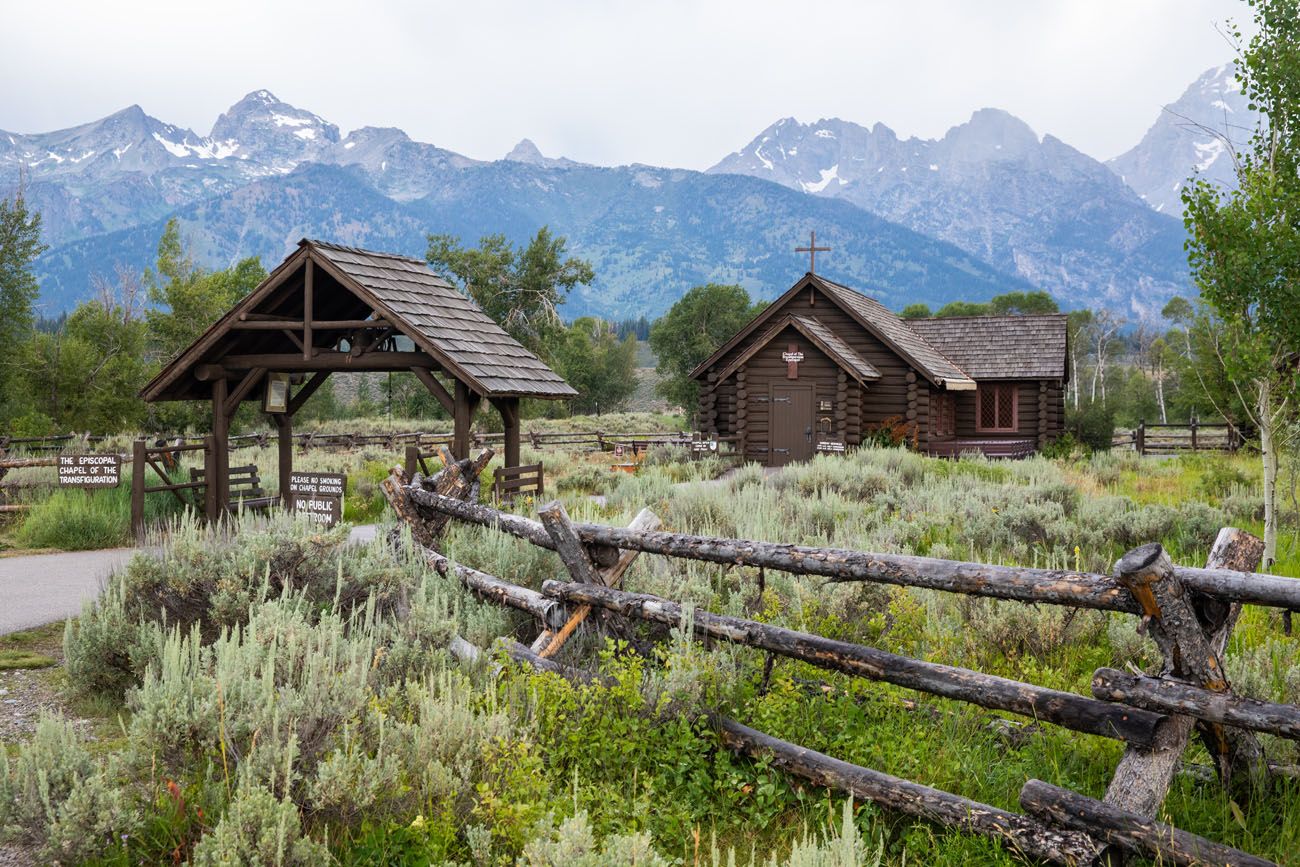 8. Schwabacher Landing
For one of the most scenic views of the Teton mountain range, don't miss Schwabacher Landing. This is a great place to capture the reflection of the mountain range in the Snake River.
You can walk from the parking lot to the river and snap a photo, or continue farther down the trail for slightly different views of the Teton range.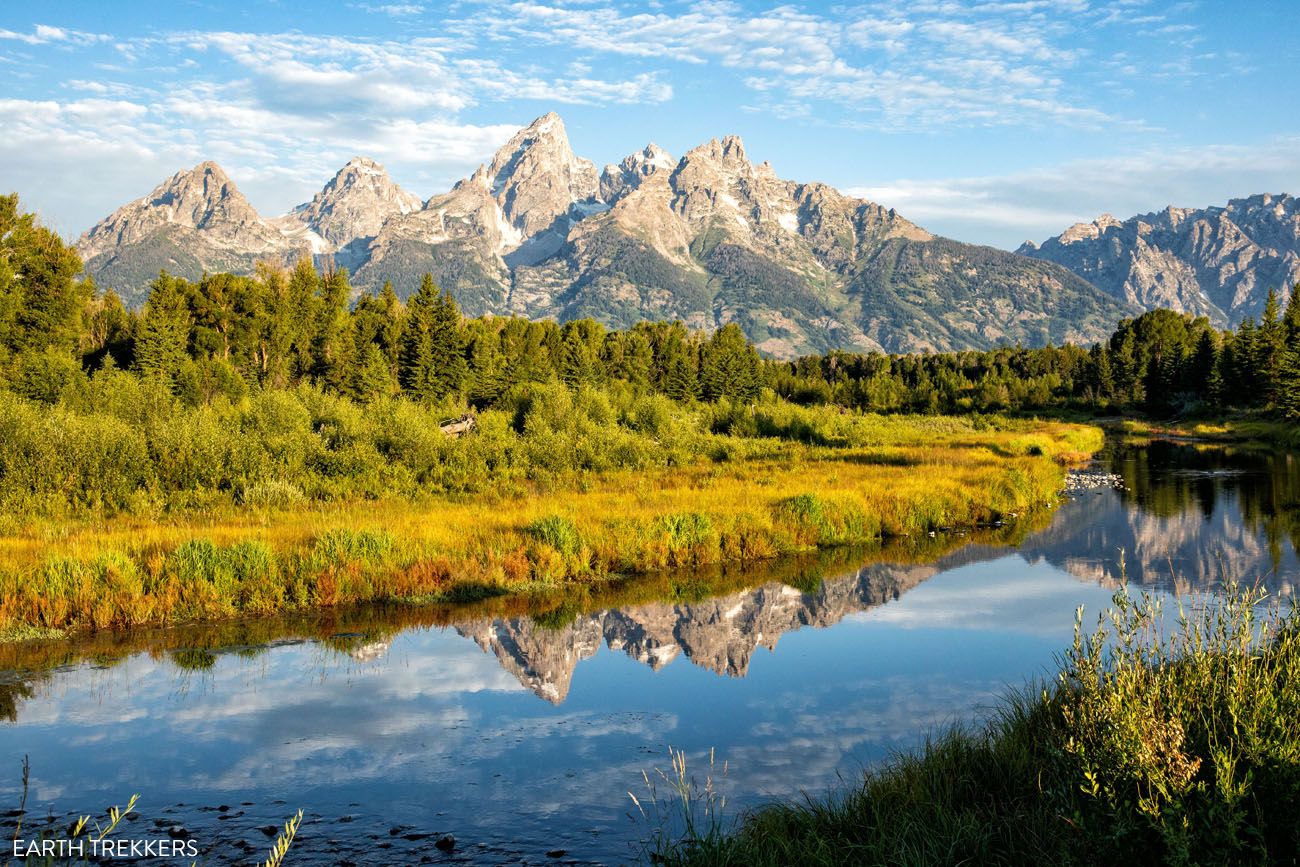 Getting Here: This viewpoint is located off of Highway 26/89/191. Turn onto the gravel access road. It's a one-mile drive on this gravel road to the parking lot and viewpoint.
9. Snake River Overlook
Channel your inner Ansel Adams and photograph the Tetons from the Snake River overlook. This photography location was made famous when Ansel Adams snapped a photograph here in 1942, while working for the United States government.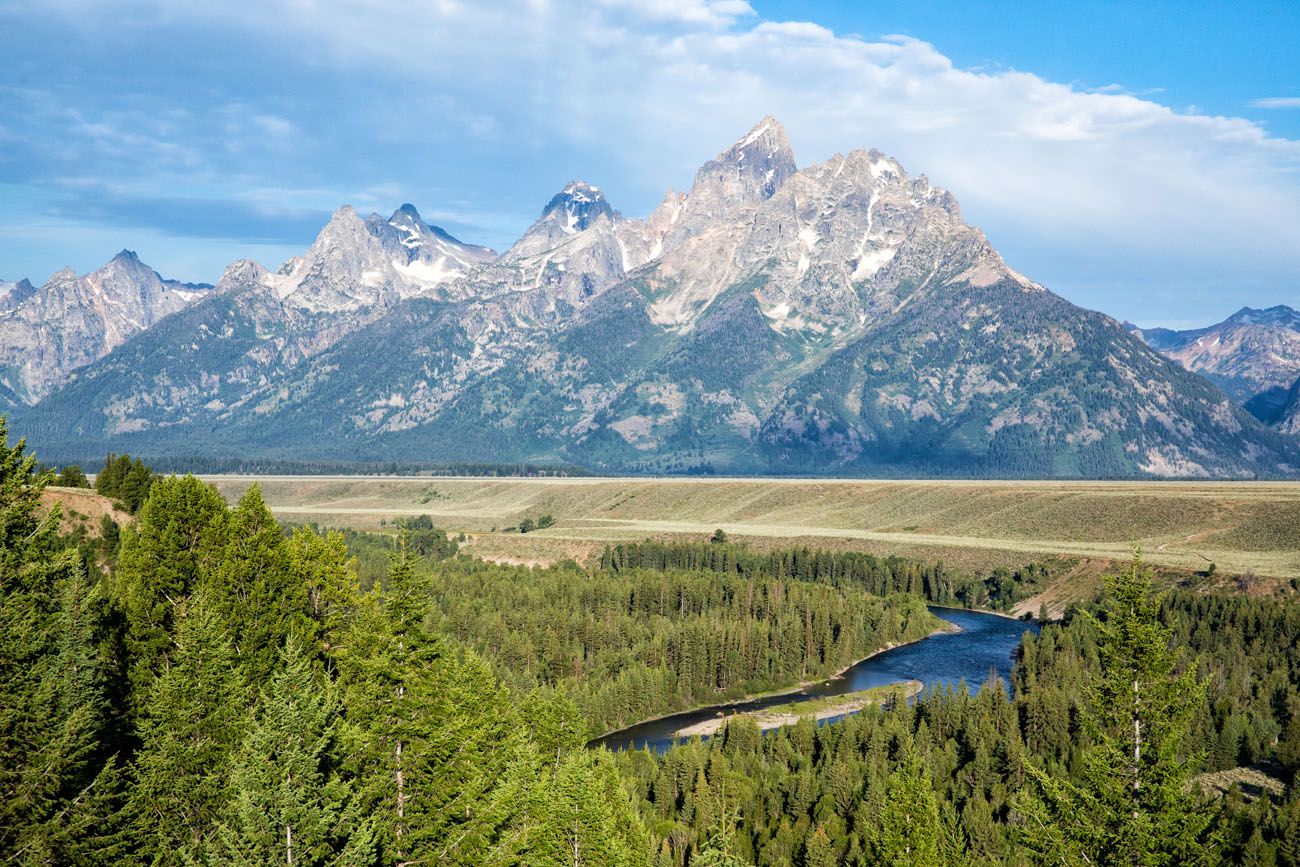 Location: On Highway 26/89/191 4.5 miles north of Schwabacher Landing.
10. Oxbow Bend of the Snake River
This is the place to get the iconic view of Mt. Moran's reflection in the Snake River.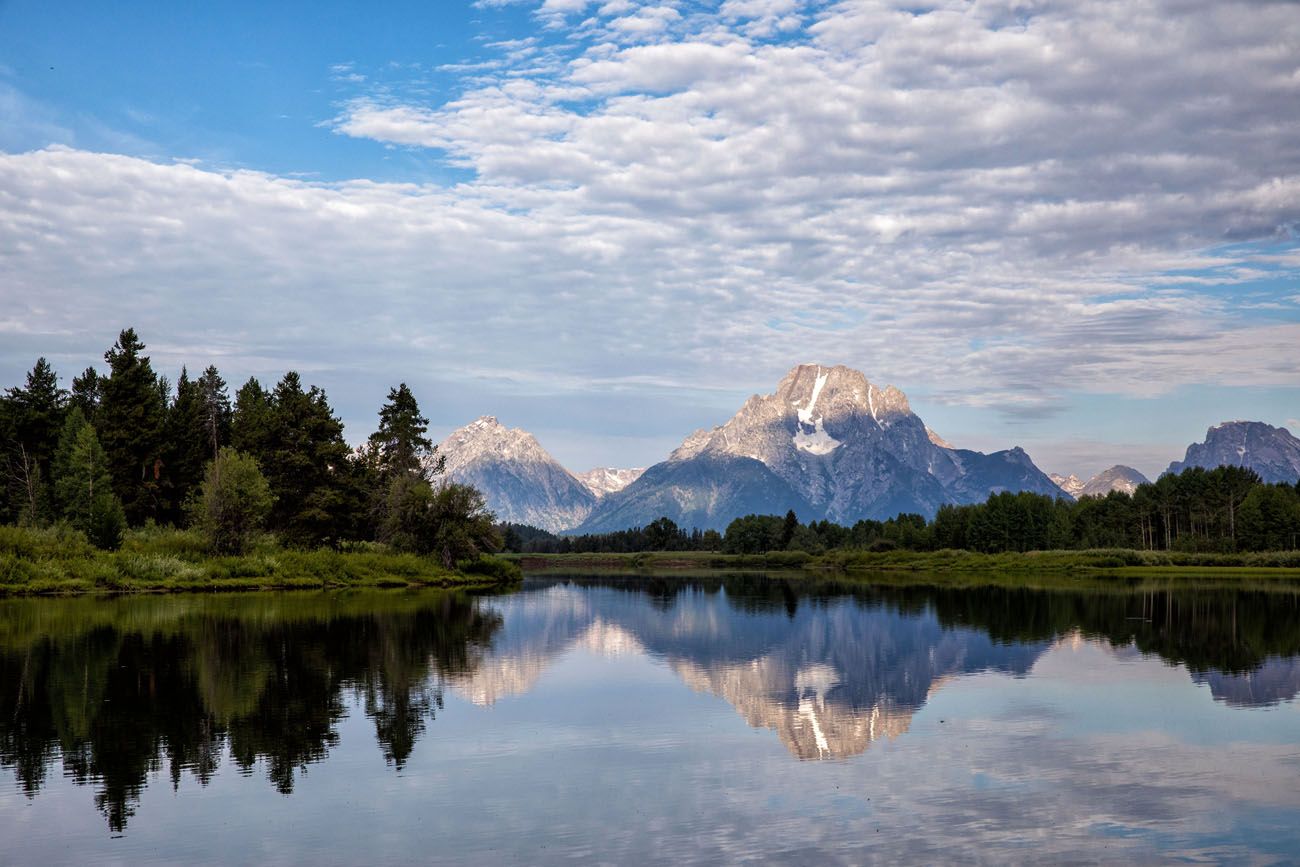 Oxbow Bend is a popular spot for photographers. Sunrise is the most popular time to visit Oxbow Bend, not only to capture the Teton range but also to photograph wildlife that may be in the area.
11. Taggart Lake
This relatively short, easy trail is one of the most popular hikes in Grand Teton National Park. Once you reach Taggart Lake, you get amazing views of the Teton mountain range.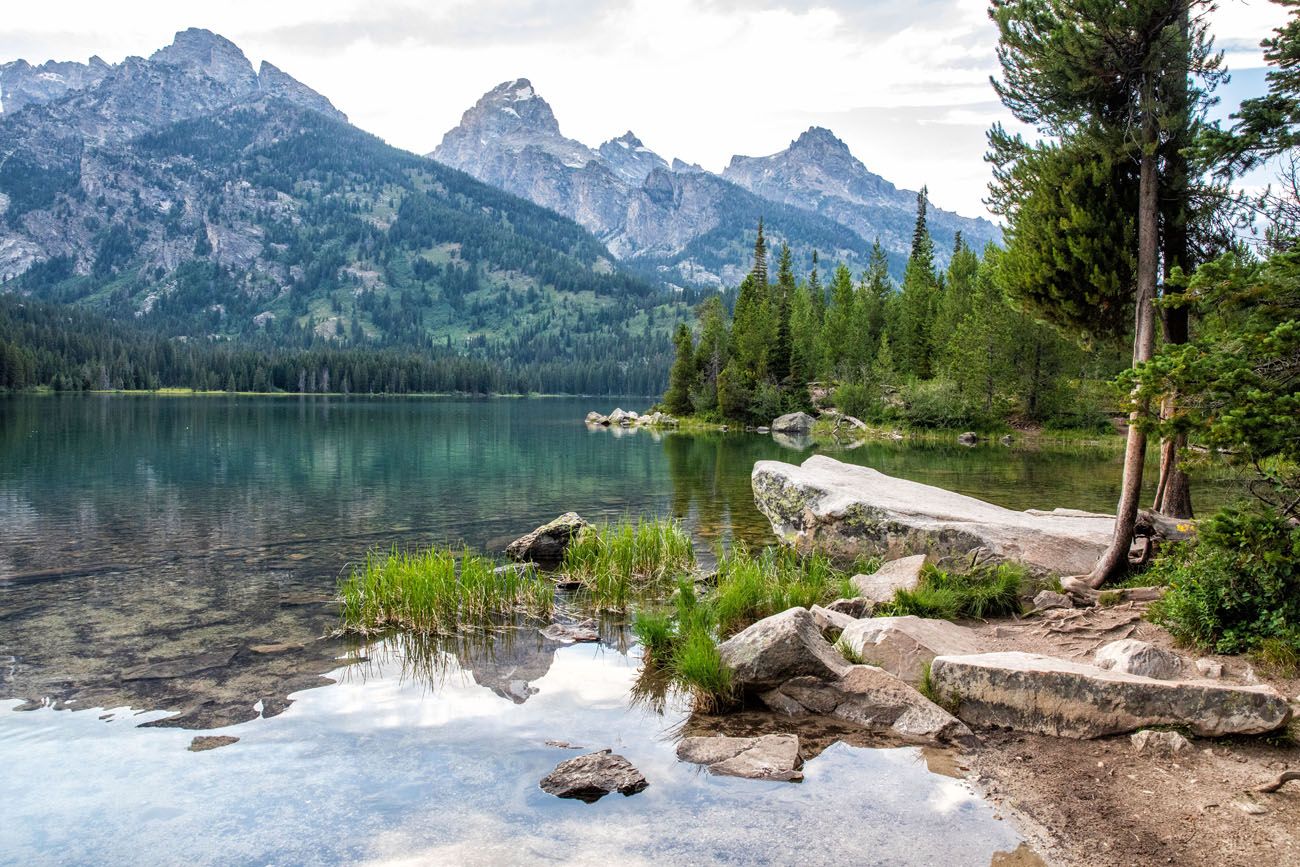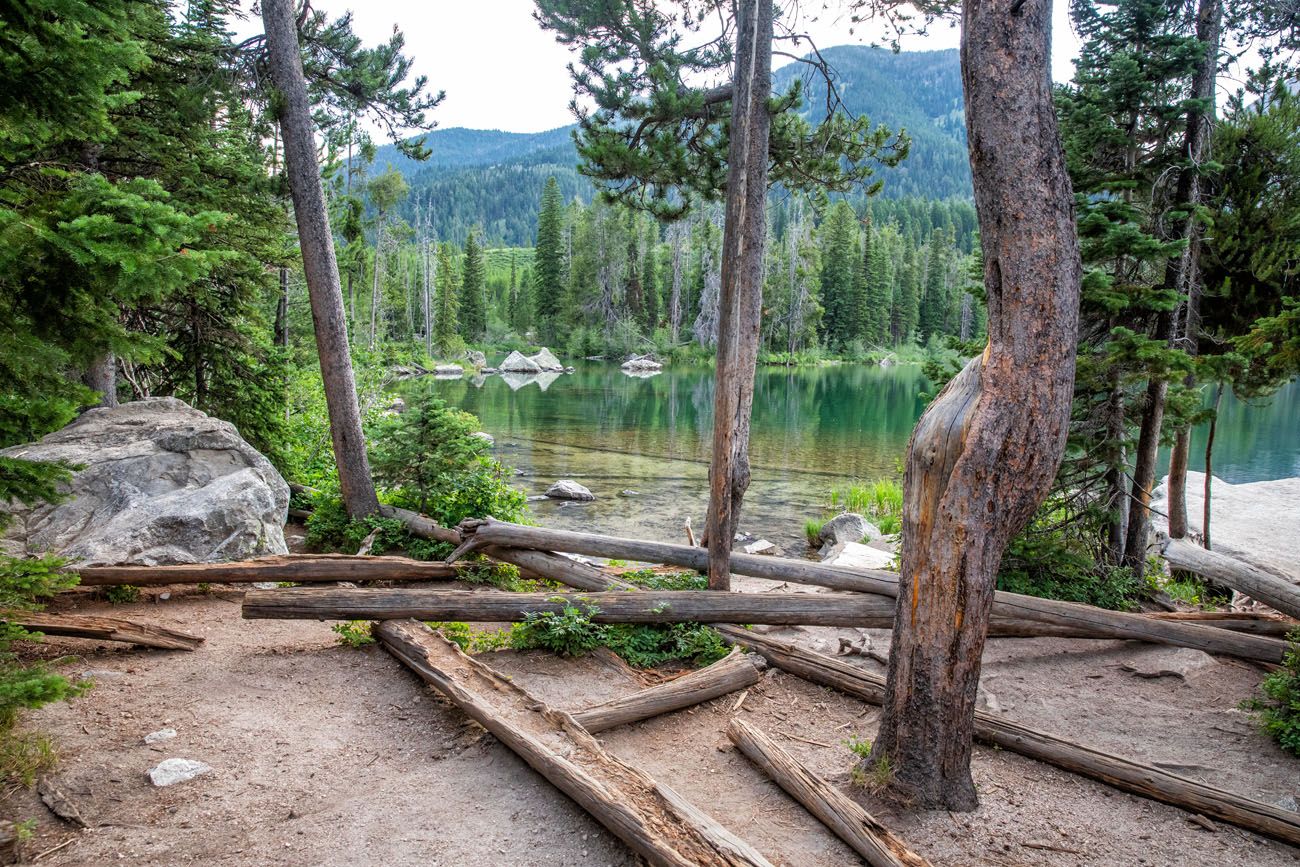 This hike is 3 miles round trip. To get to Taggart Lake, it is an uphill walk through an aspen, spruce, and lodgepole pine forest. Be alert for bear. From Taggart Lake, you can continue farther to Bradley Lake, but this adds another 2.5 miles onto the total distance.
Getting Here: The trailhead is located on Teton Park Road south of Jenny Lake. There is a fairly large parking lot here. Midday, this parking lot was completely full. Consider doing this hike early or late in the day to avoid the crowds.
12. Hike to Leigh Lake
This pretty little hike takes you along String Lake to Leigh Lake. It's flat, it's easy, and it's great for all ages and ability levels.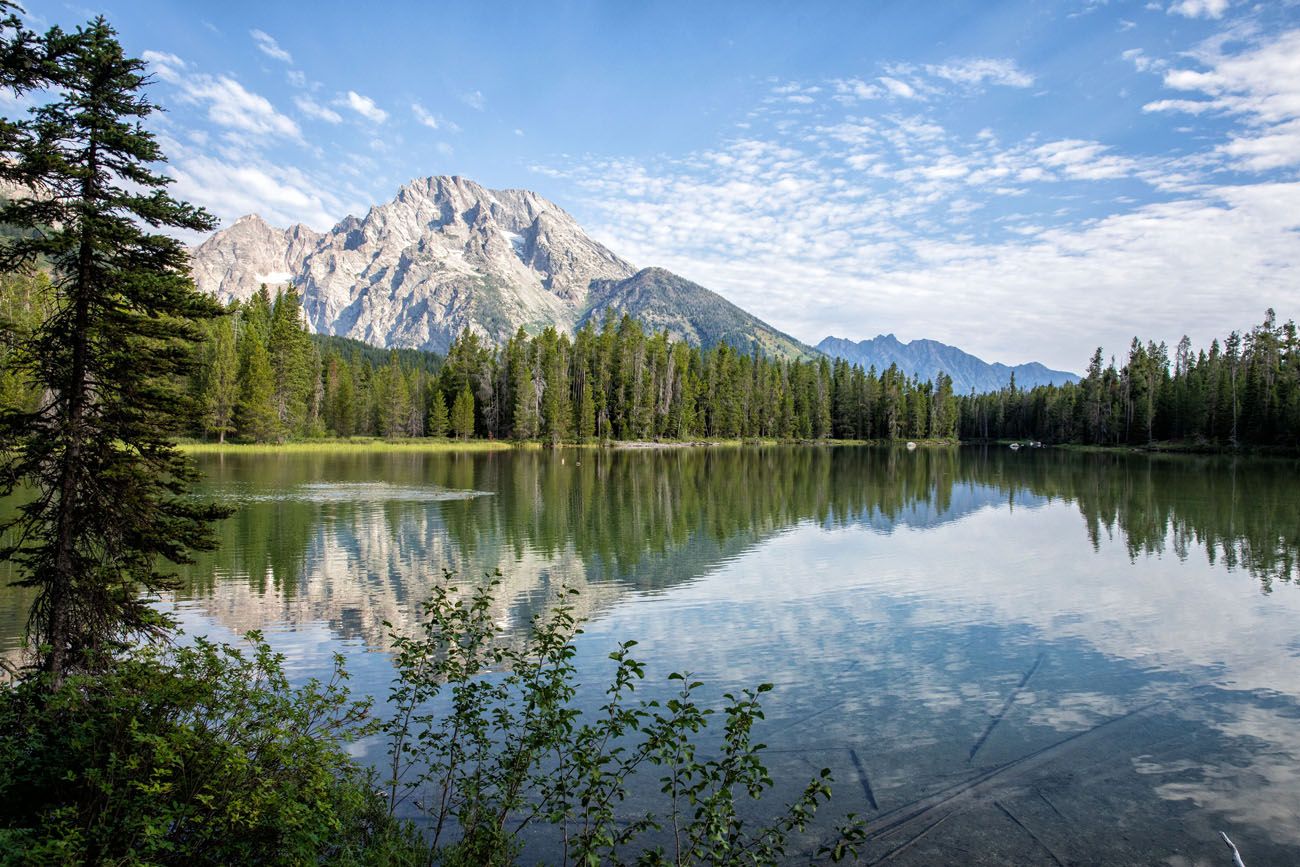 If you simply hike to Leigh Lake, it's just 1.8 miles round trip. If you go farther, walking along the eastern shore of Leigh Lake, the hike becomes 3.7 miles round trip.
We loved this hike. The views across String Lake, especially with the reflections of the mountains, was beautiful. It also didn't feel that busy, with just a few groups of hikers on the trail.
Location: The trailhead, named Leigh Lake Trailhead, is located just north of Jenny Lake. Take String Lake Road to the large parking lot and you will see the sign marking the trailhead.
13. Visit the Laurance S. Rockefeller Preserve and Visitor Center
The Rockefeller family played a huge role in preserving the land of Grand Teton National Park. This reserve is an 1,100 acre refuge located within Grand Teton National Park and was donated by the Rockefeller family in 2001.
In 2008, the visitor center was built on this parcel of land. The visitor center is beautiful and it was the first property in Wyoming to be certified in Leadership in Energy and Environmental Design, the highest accolade for environmentally friendly building practices.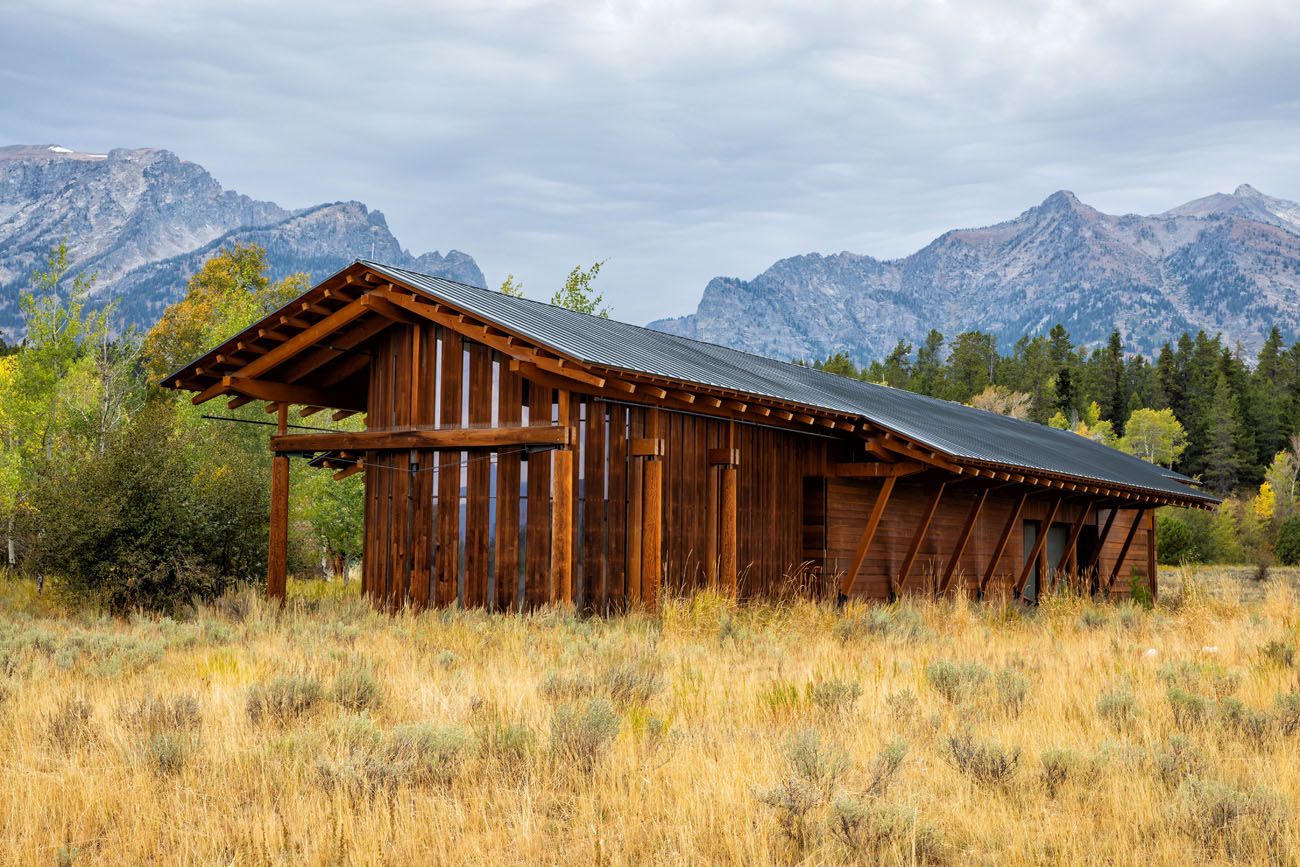 Hiking to Phelps Lake is a very popular hike to do from the preserve. The loop around Phelps Lake is 7 miles long and moderately difficult. It starts and ends at the Laurance S. Rockefeller Visitor Center and takes approximately 3 to 4 hours.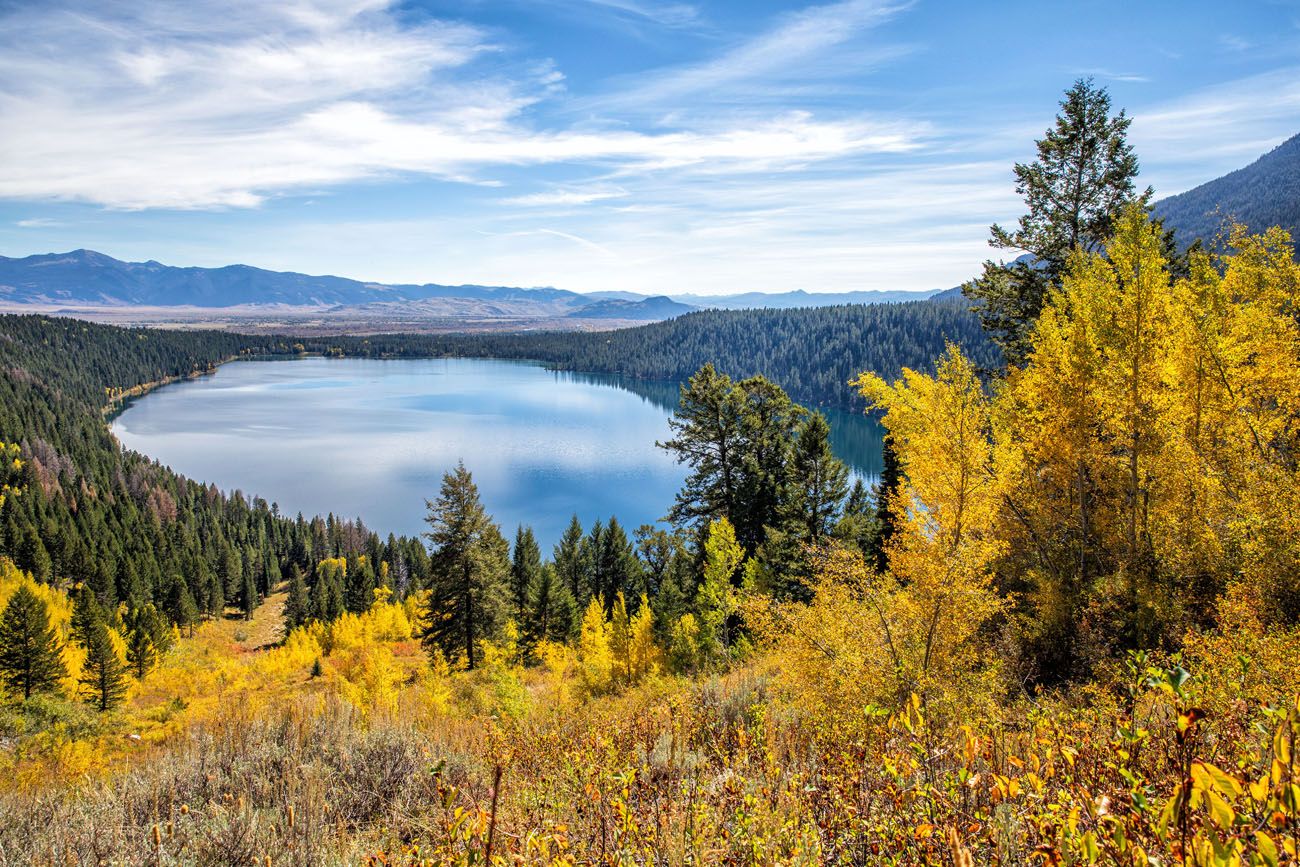 Phelps Lake (seen from the overlook on Death Canyon Trail)
With a parking lot that can only accommodate a small number of cars, this preserve is meant to be quiet, serene, and meditative. It's estimated that only 300 people per day visit the reserve, which is just a tiny fraction of the number of people that visit Grand Teton National Park per day.
Parking at the reserve can be a challenge. Plan to get here before 9 am to get a parking space. After 9 am, expect to wait for a spot, and depending on the day and the time that you get here, your wait could be several hours long.
Getting Here: The Laurance S. Rockefeller Preserve is located on Moose Wilson Road.
14. Drive Moose Wilson Road
Moose Wilson Road is an 8-mile paved and dirt road that connects Jackson with Grand Teton National Park. Rough in some spots, it is acceptable for cars but having an SUV or 4×4 makes the drive easier. Expect lots of potholes and slow speeds for the portion that is unpaved.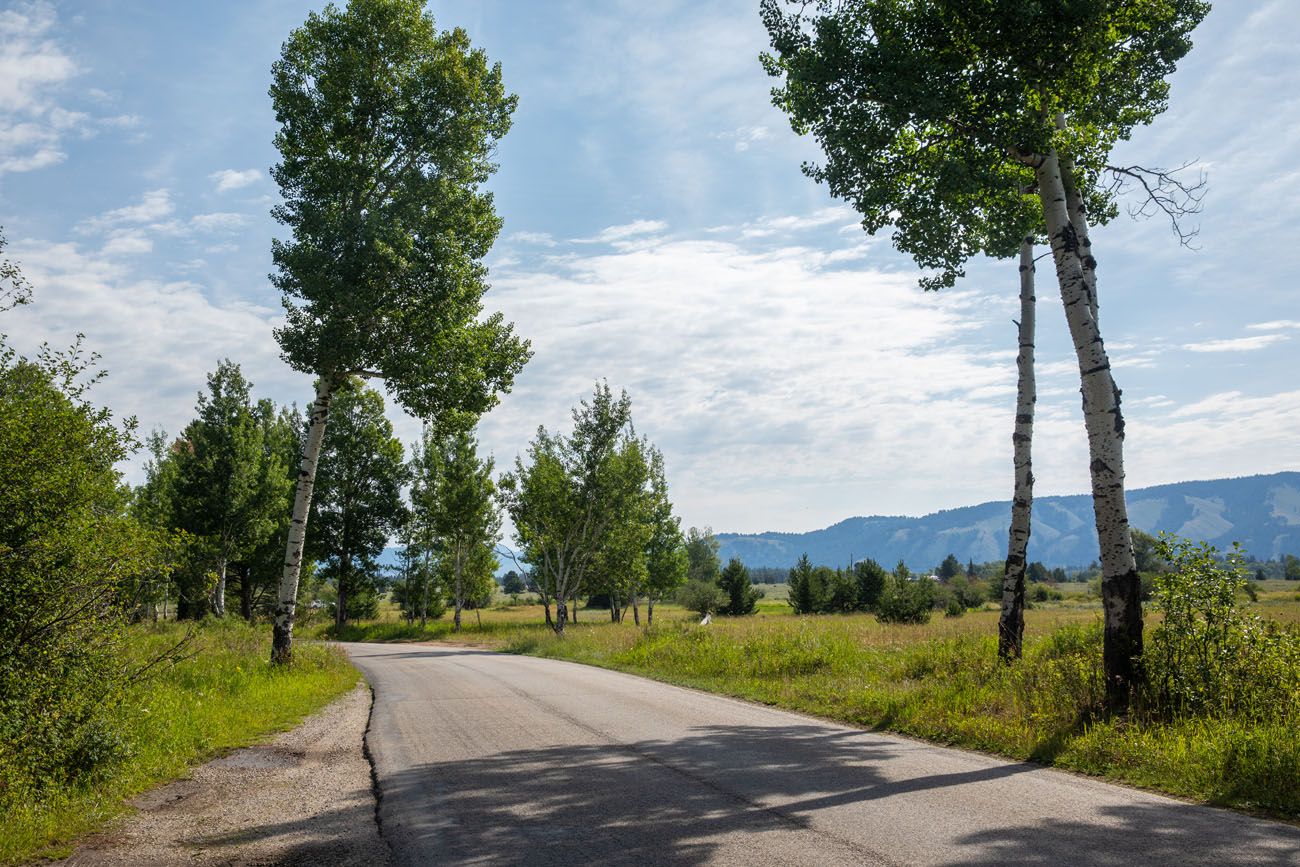 Along the way you have a decent chance of spotting wildlife. At the northern end of Moose Wilson Road, near where it meets Teton Park Road, we spotted a momma moose and two calves.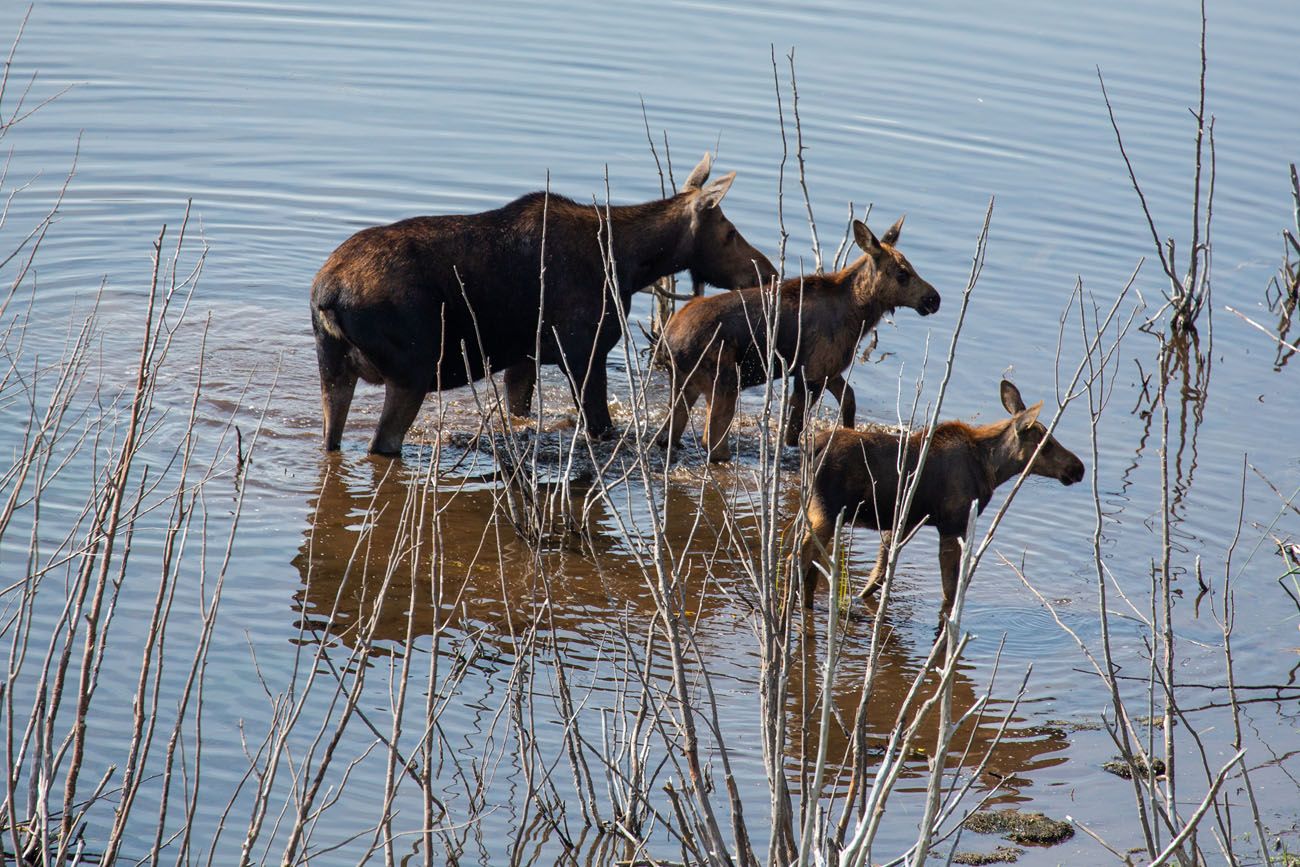 This road is closed from November 1 to mid-May. RV's and trailers are not permitted on Moose Wilson Road. It is also subject to closure from grizzly bear activity and weather conditions. Check the road status here before you go.
15. Take Your Pick from Longer Day Hikes
Journey into the Tetons on one of these longer, more challenging day hikes.
Cascade Canyon: This hike starts at the west dock on Jenny Lake. Hike up to Inspiration Point and continue to follow the trail into the Teton mountain range. This hike is 10 miles long with roughly 1000 feet of elevation gain.
Paintbrush Canyon – Cascade Canyon Loop: This is a beast of a day hike (20 miles long with 4500 feet of elevation gain) but it is our favorite hike in the park. On this hike, you cover a lot of ground, but you also get to see many of Grand Teton's highlights in one day: Jenny Lake, Inspiration Point, Hidden Falls, Cascade Canyon, Lake Solitude, and Paintbrush Canyon. Click here to learn more.
Lake Solitude: This hike starts at Jenny Lake, goes through Cascade Canyon, and continues on to Lake Solitude. It's 15 miles in length and physically demanding.
Static Peak Divide: With gorgeous alpine scenery, this tough, 16-mile trail is a big day hike. But if you want epic views of the Tetons without going on a multi-day backpacking trip, this is a great one to consider. Click here to learn more.

Bonus! Don't Miss Teton Village at Jackson Hole
This is not located inside of Grand Teton National Park, but it's just a short drive away. If you want stunning alpine views, a chance to ride a gondola or cable car, and to take your pick from numerous hiking trails, Jackson Hole is worth the visit.
Kara and I rode the Aerial Tram up to Corbet's Cabin on Rendezvous Peak. At an altitude of 10,450 feet, it's one of the highest views in the area. From here, you can ride the tram back down to Jackson Hole or hike to one of the other chairlifts or gondolas on the mountains. We hiked the Cirque Trail, a 1.8 mile mostly downhill trail to Bridger Gondola and then rode this back into town.
IMPORTANT! Unfortunately, the Aerial Tram will be closed in 2021 during the summer months and early fall for maintenance. You have the option to ride the Bridger Gondola and then hike round trip to Rendezvous Peak, a 3.6 mile out-and-back hike that is moderately strenuous. If you don't like the idea of doing a 4-mile hike in the mountains, I recommend visiting Jackson midday or staying in Grand Teton National Park, while the tram is undergoing maintenance.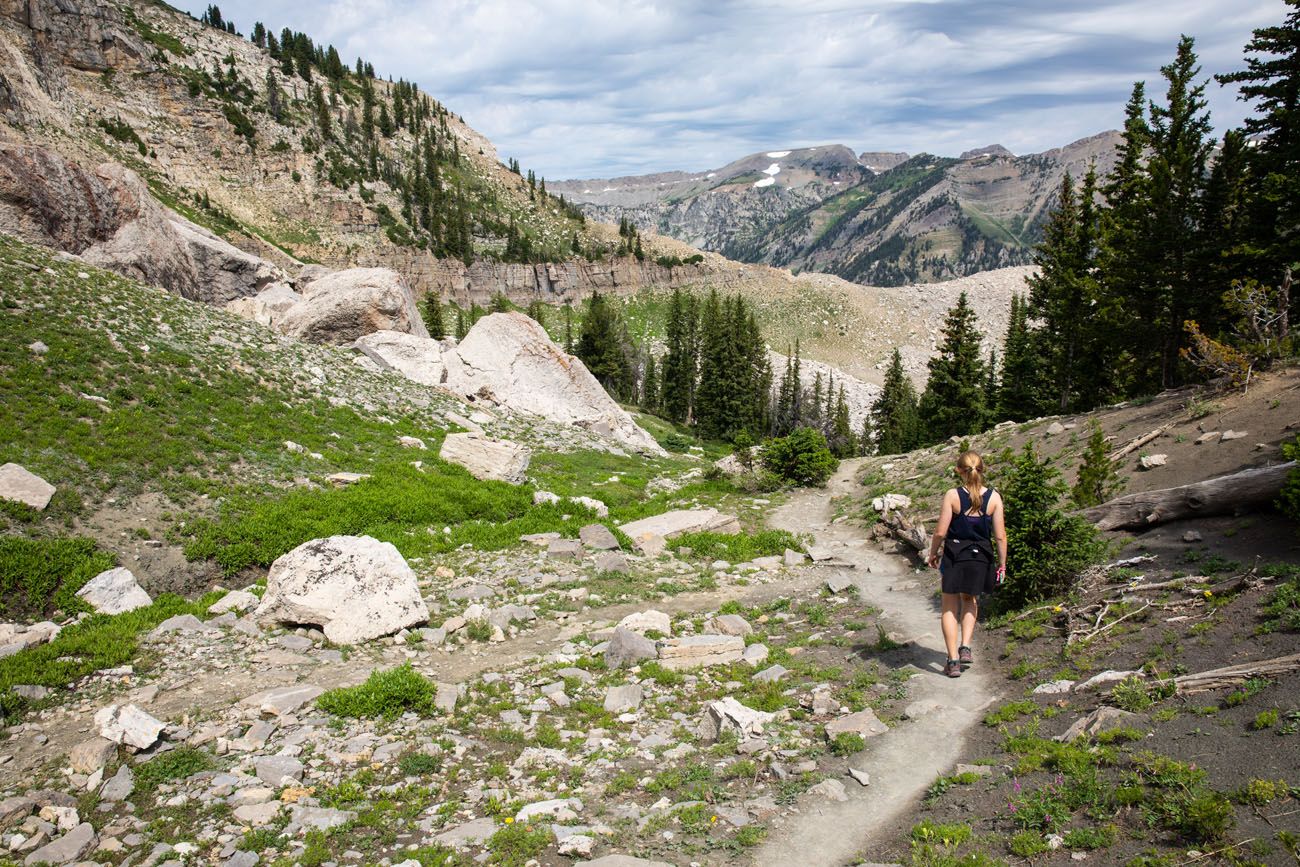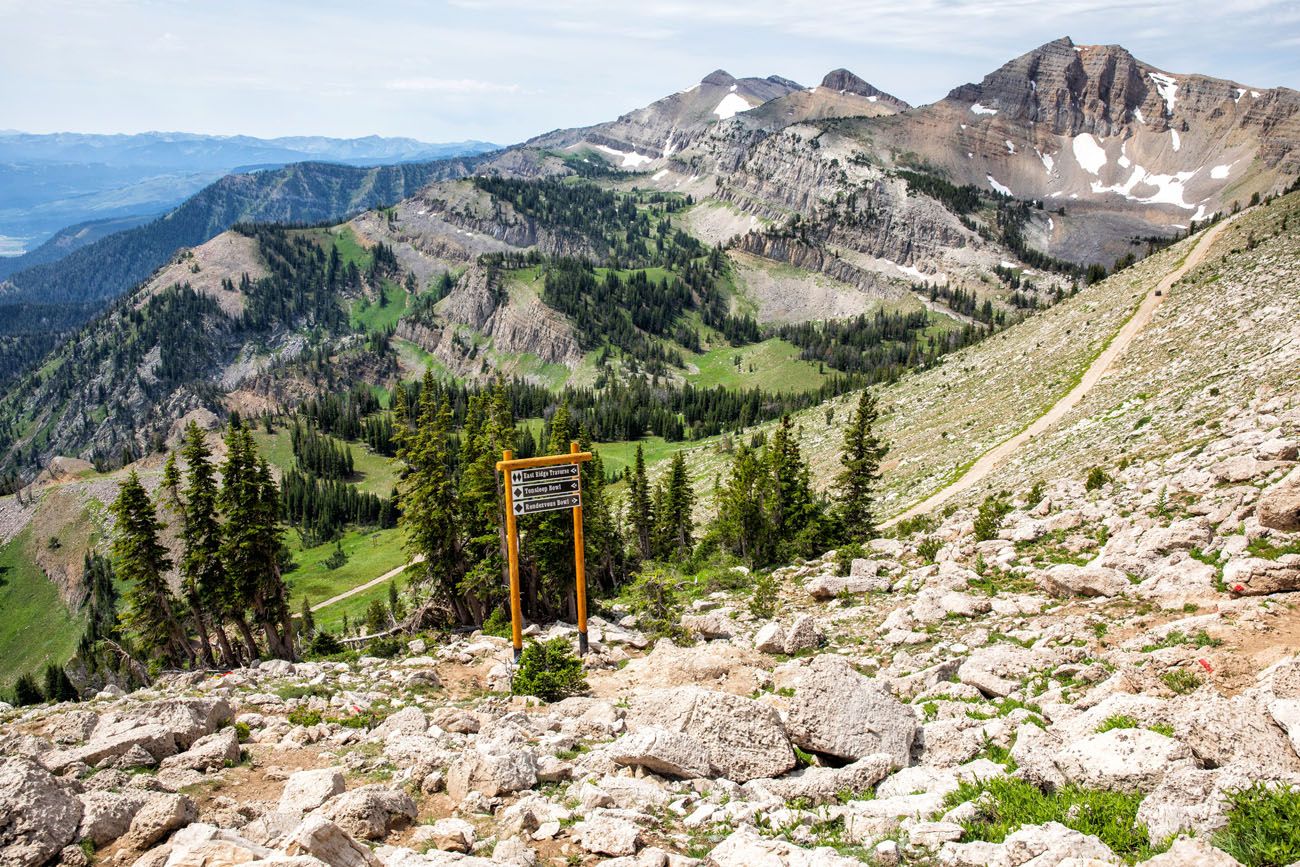 If you want to take a break from hiking, you can also visit the Adventure Park, go shopping, dine at one of the restaurants, or go horseback riding.
Learn more here.
Plan Your Visit
Entry Fee for Grand Teton National Park:$35 per vehicle, valid for 7 days
Hours: Grand Teton National Park is open 24 hours a day, year-round. For opening hours of the visitor centers and current conditions, click here.
While in Grand Teton National Park, please practice the seven principles of Leave No Trace: plan ahead, stay on the trail, pack out what you bring to the hiking trail, properly dispose of waste, leave areas as you found them, minimize campfire impacts, be considerate of other hikers, and do not approach or feed wildlife.
Planning Your Time
One Day: With one day, visit Mormon Row at sunrise, drive the 42-mile scenic loop drive, visit the overlooks along the drive, and hike to Hidden Falls and Inspiration Point. Consider driving to the summit of Signal Mountain for views over the park. Learn more in our post One Perfect Day in Grand Teton National Park.
Two Days: On day two, visit the Laurance S. Rockefeller Preserve and hike to Phelps Lake or consider doing a longer day hike. In the afternoon/evening, go canoeing or kayaking on Jenny Lake or visit Jackson Lake and walk the Lakeshore Trail.
We have a separate post on how to spend your time if you have 1 or more days in Grand Teton National Park. Get recommendations on how many days you should spend in the park with detailed itineraries for 1 day to 1 week.
Road Trip Itinerary: With 7 to 10 days, you can also visit Yellowstone and Glacier National Parks. Get all of the details in our road trip itinerary.
When To Go
The best time to visit Grand Teton National Park is from mid-May through October, when all of the roads and visitor centers are open.
June, July and August are the busiest months in the park. Expect big crowds on the hiking trails, difficulty finding a parking space midday, and sold out lodges inside of the park.
The best time for wildlife sightings are at dawn and dusk.
If you want to see the park ablaze in fall colors, the end of September into very early October is best time to visit.
From November through mid-May, Teton Park Road is closed, along with several other scenic roads, such as Moose Wilson Road and the road to the summit of Signal Mountain.
In recent years, we have visited Grand Teton National Park twice. In 2019, Kara and I visited the park in mid-August. It was busy, but it's easy to avoid the crowds, if you don't mind taking a break in the middle of the day. To avoid the crowds, the best time to visit the park is between 6:30 am and 11 am, and 5 pm to 9 pm in the summer months.
We returned to Grand Teton National Park in September 2020, both to catch the fall colors and to hike some of the longer trails. The end of September is a gorgeous time to be here. Daily temperatures were in the 60's and 70's with sunny skies. There was a brief cool down with some rain in Jackson Hole and snow up on the mountain peaks. For fall colors, beautiful weather, and a great chance to see wildlife, consider visiting at the very end of September.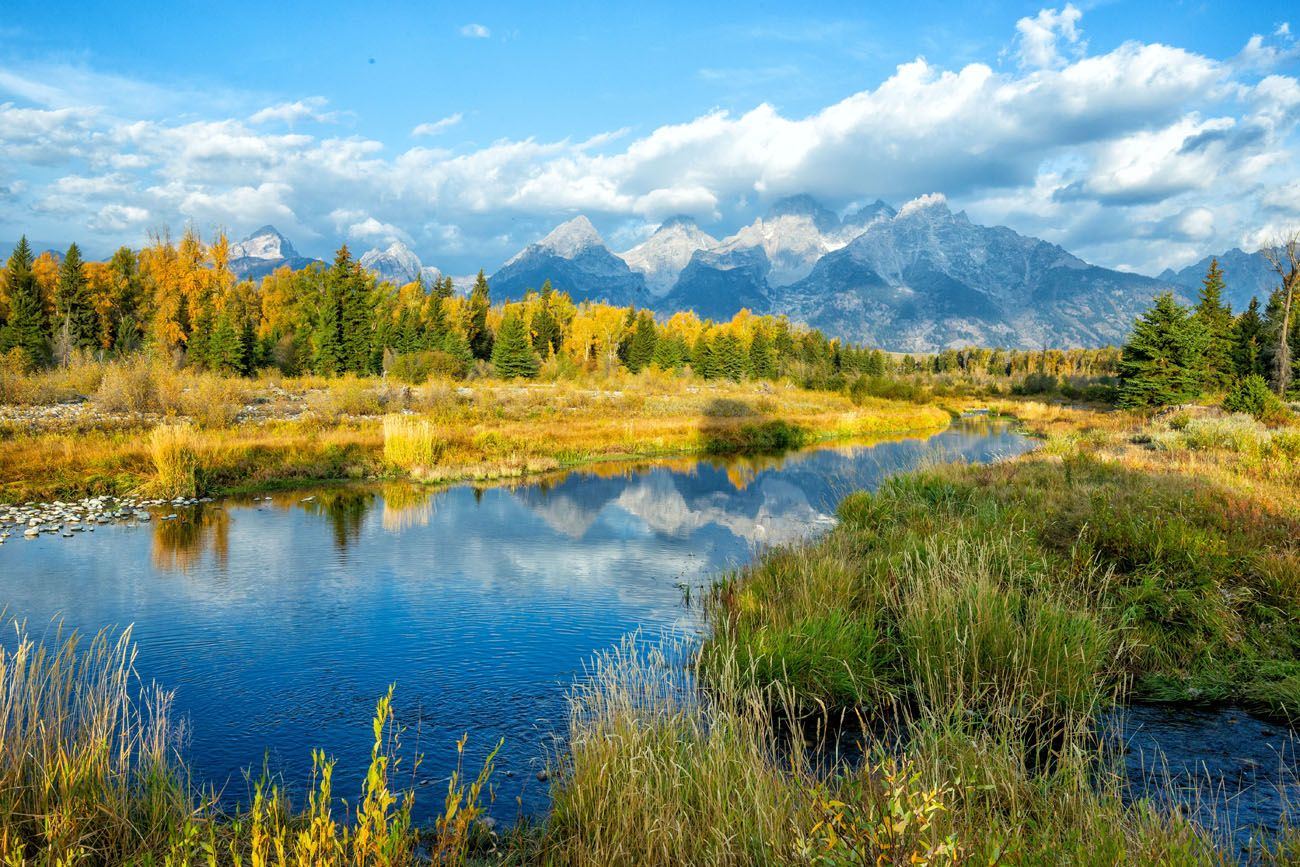 Schwabacher Landing in September
How to Get Here
The closest airport is Jackson Hole Airport, which is located in the park. In fact, Jackson Hole Airport is the only commercial airport located within a national park.
Other nearby airports include Idaho Falls Regional Airport (94 miles, 2 hour drive) and Salt Lake City International Airport (280 miles, 4.75 hour drive).
Where to Stay
Grand Teton National Park
There are numerous lodges and campgrounds available inside of the park. Click here to learn more about your options.
Teton Village at Jackson Hole
Ski resort by winter, outdoor playground by summer. This resort offers hotels and restaurants, plus gondolas, chair lifts, and a cable car that will whisk you up to Rendezvous Peak for stunning views over the Tetons.
If you like the idea of staying in a resort town just outside of the park, this is a great place to consider.
Jackson
From Jackson, it takes just 15 minutes to drive to Moose (the southern end of Grand Teton National Park) and 30 minutes to drive to Jenny Lake. With a large number of accommodations and restaurants, this is a great place to base yourself for visiting the park.
This is where we stay when we visit Grand Teton National Park.
Wyoming Inn at Jackson Hole. This is one of the highest rated hotels in Jackson. It is not located in the city center, so you will have to drive to the town square and park your car if you want to visit the heart of Jackson. But we loved the spacious room, excellent Wi-Fi, and comfy beds.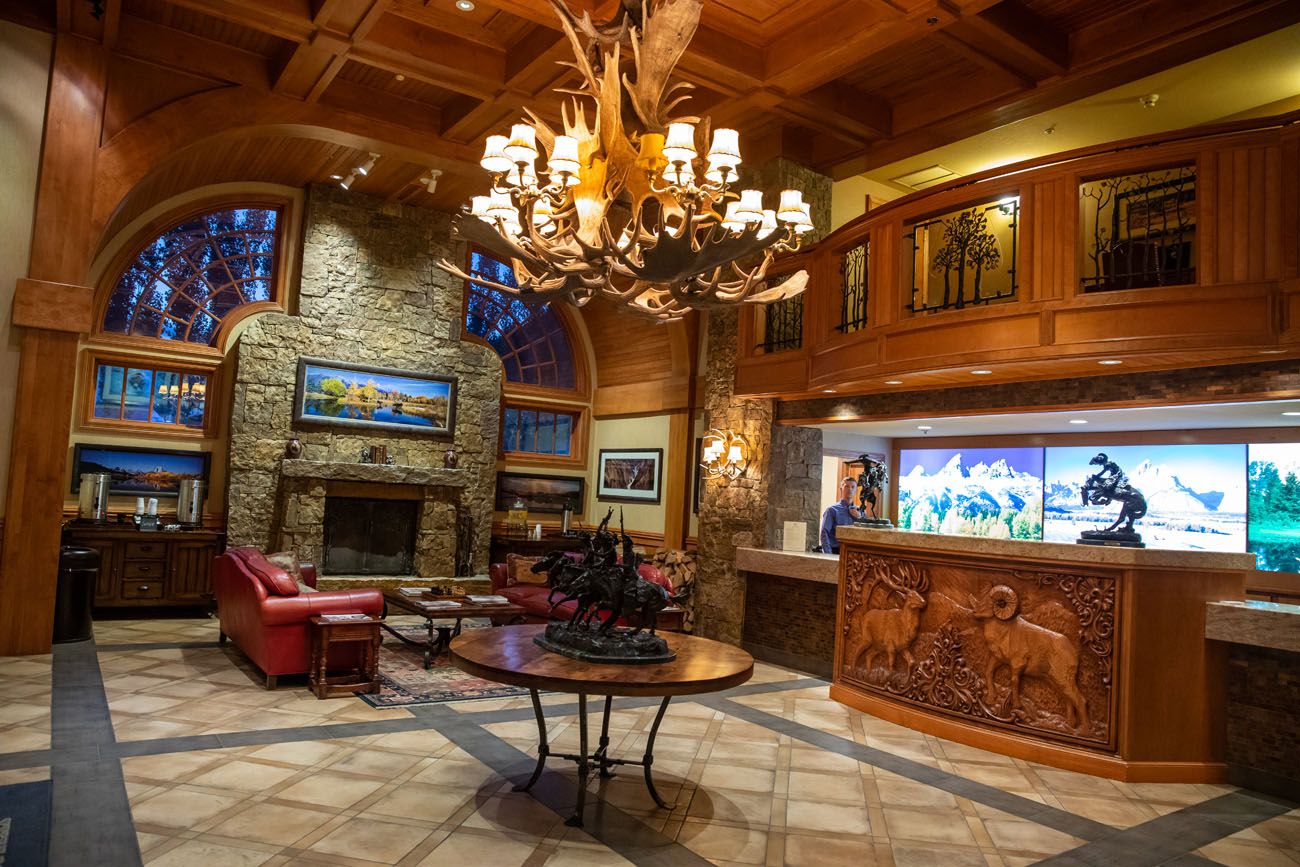 The Lodge at Jackson Hole. This hotel is located next door to the Wyoming Inn, mentioned above. We stayed here on our most recent visit. We had a great stay…the room was clean, very quiet, and comfortable. We liked the Wyoming Inn a little bit better but we wouldn't hesitate to stay here again, especially since prices are a little lower. To get into the heart of Jackson, it is a short drive or a 20-minute walk.
Hotel Jackson. This boutique hotel looks amazing. Just five minutes from the town square, rooms are beautifully decorated. All rooms have a gas fireplace and the hotel has two onsite restaurants and a hot tub.
Cowboy Village Resort. On our first visit to Grand Teton National Park, this is where Tim and I stayed. Western-style cabins come equipped with a private bathroom and a kitchenette.
The Wort Hotel. If you want an upscale experience in the city center of Jackson, the Wort Hotel gets great reviews.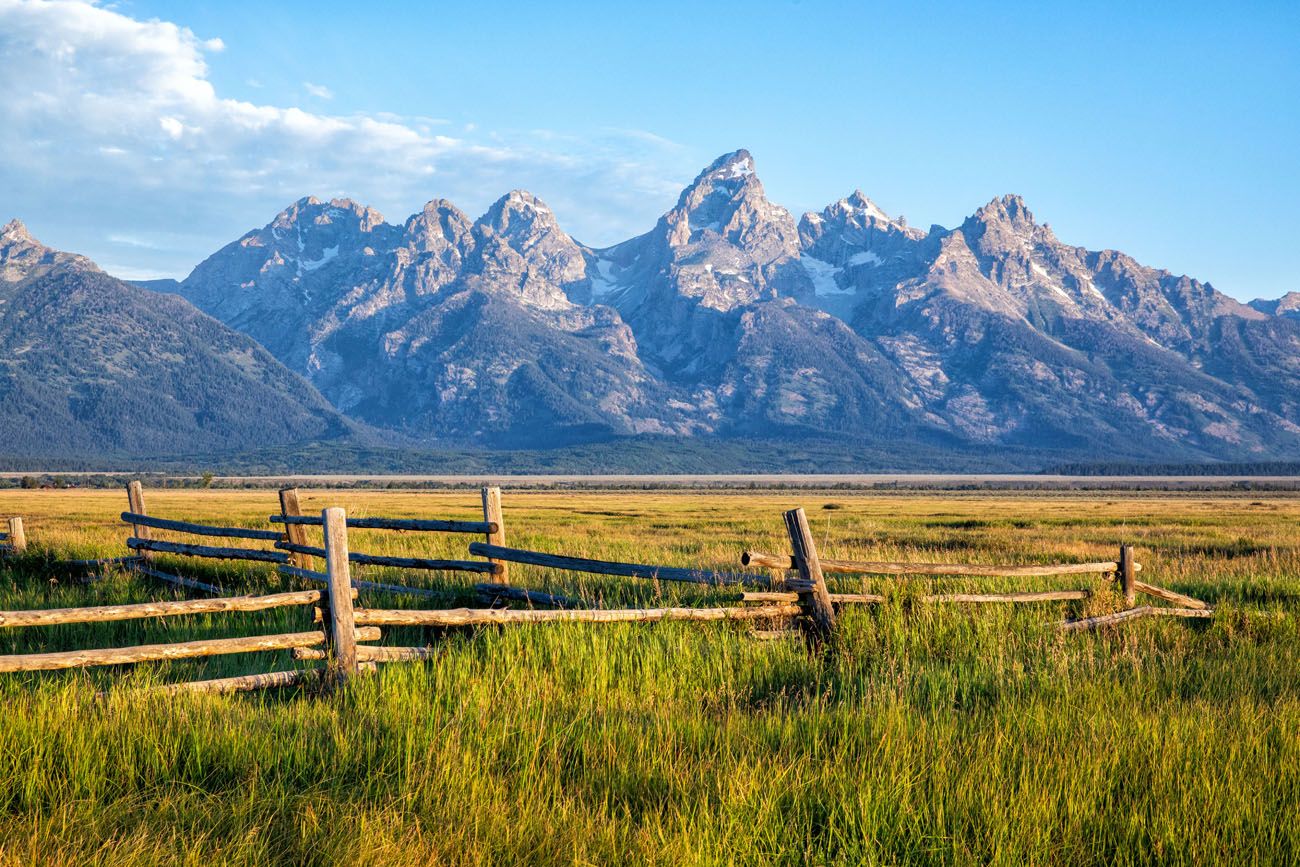 ---
If you have any questions about the best things to do in Grand Teton National Park, let us know in the comment section below!
More Information for Your Trip to Grand Teton NP:
You Might Also Like: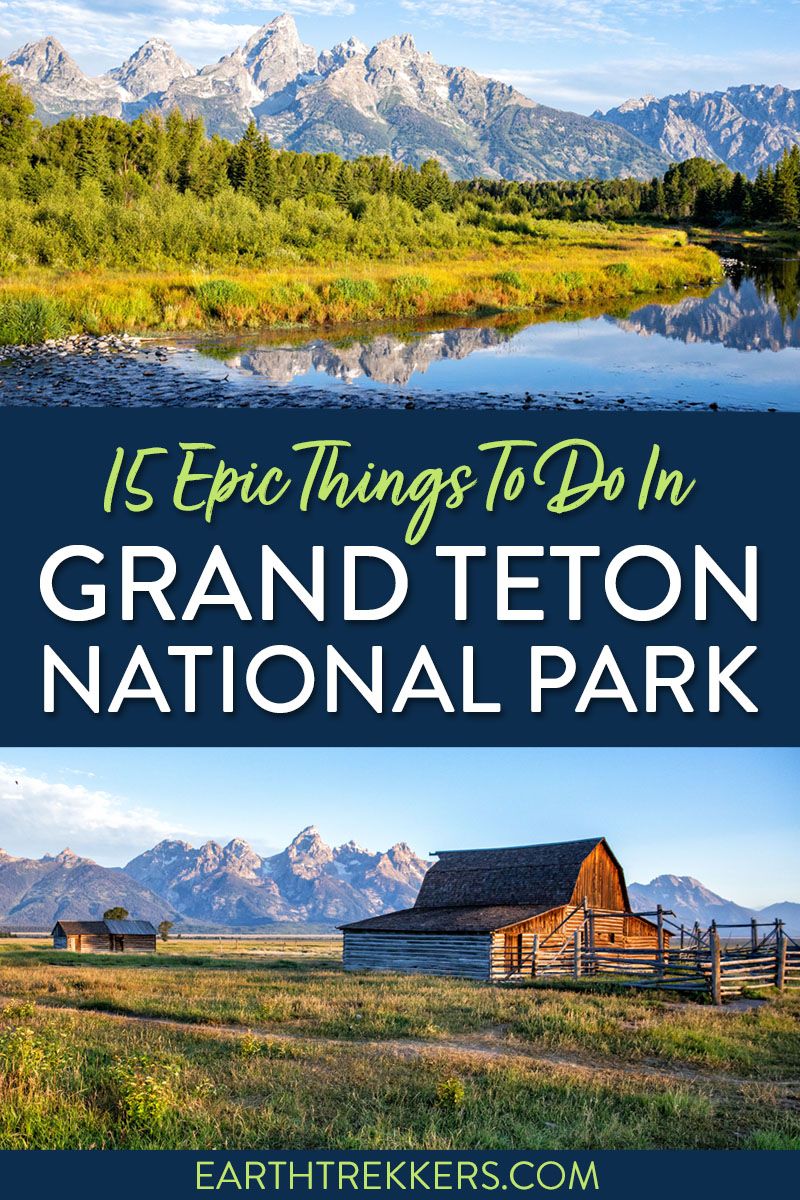 Note: This post contains affiliate links. When you make a purchase using one of these affiliate links, we get paid a small commission at no extra cost to you.
All rights reserved © Earth Trekkers. Republishing this article and/or any of its contents (text, photography, etc.), in whole or in part, is strictly prohibited.