A visit to London and Paris is a classic European trip. Climb the Eiffel Tower, stroll up the Champs-Elysees, visit the world-class museums of the Louvre and the British Museum, and even take a day trip to Stonehenge. With this London Paris itinerary, visit two of Europe's grandest cities and make some lifelong memories.
This London Paris Itinerary is Good for:
Those who love exploring cities
Families
Museum Lovers
Visiting Some of Europe's most iconic sites
Café Culture
Day 1
Arrive in London
Depending on your flight, most likely you will arrive in London in the morning. Check into your hotel and get settled. Only take a nap if you desperately need one. It's better to drink some coffee and stay awake so you can adjust to the time change as quickly as possible. It's amazing what getting out into the sunshine can do to revive tired travelers. However, it is London, so there is the chance that the sun will be hidden behind the clouds.
Hop-On Hop-Off Bus Tour
Normally, we do not recommend bus tours. Unless you are in London. This city is huge and the list of sites to see is long. Taking a bus tour is a great way to get an overview of this amazing city. Plus, it's the perfect, low-key activity for jet-lagged travelers.
To get an overview of the city, I recommend the Red Route with Big Bus. This route takes you past the main sites without going too far out of the way. Enjoy the journey as you glide by Big Ben, Westminster Abbey, St. Paul's Cathedral, Buckingham Palace, and the River Thames.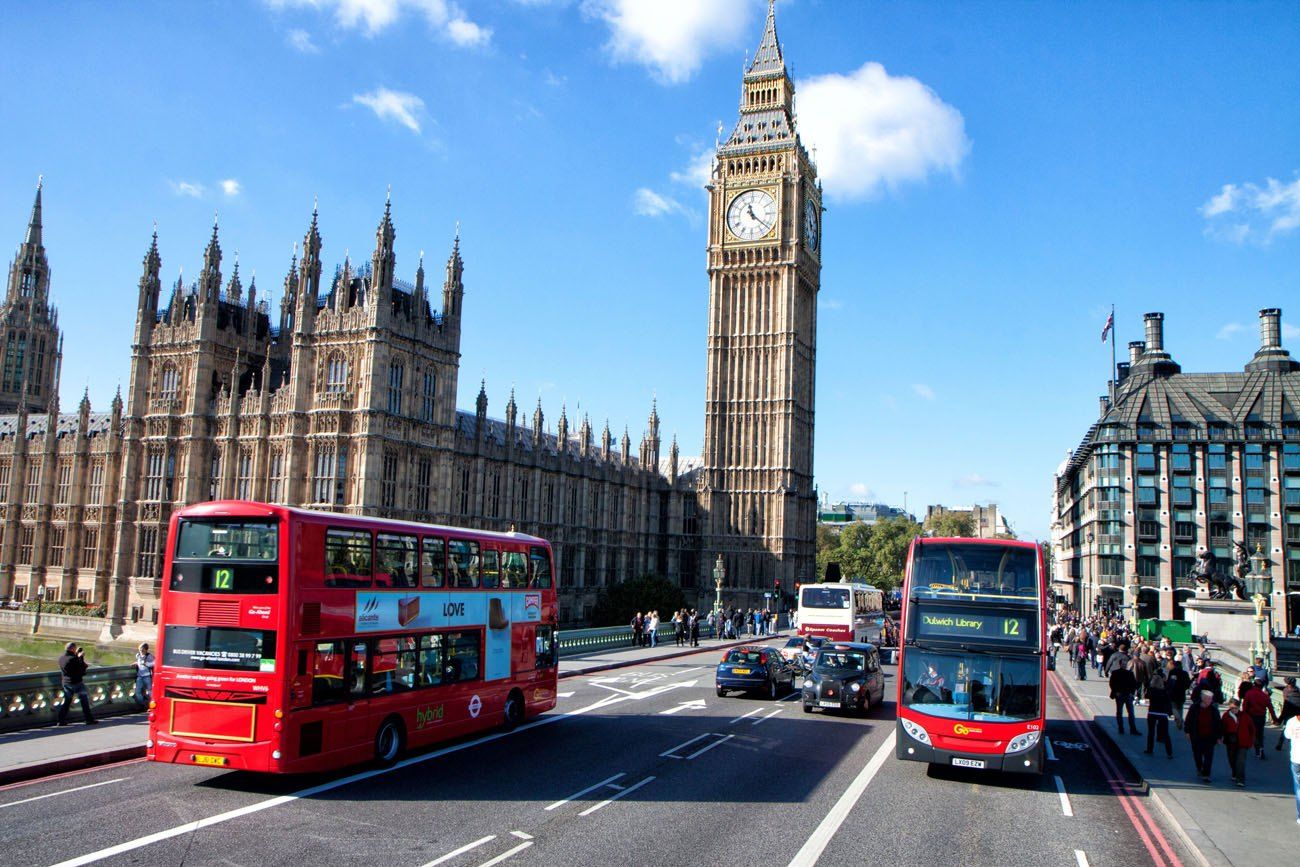 Take a Ride on the London Eye
A ride on the London Eye is another ultra-touristy thing to do in London, but if this is your first time in the city, it's thrilling to look down on the River Thames, Parliament, and out at the London skyline.
Have dinner and go to bed early to get that much needed sleep.
For full details on visiting London, I highly recommend you read our 5 Day London Itinerary post, which provides a similar but more in-depth itinerary, with trip costs, opening hours of attractions, money saving tips, maps, and links to buy all of your tickets online.
Day 2
Westminster Abbey, Buckingham Palace, Big Ben, Whitehall, Covent Garden
Westminster Abbey
Westminster Abbey is the site of the coronation of the monarchs of England, royal weddings, and the funeral of Princess Diana. Hundreds of people are buried in tombs and in the floor of the Abbey, including Charles Darwin and Sir Isaac Newton. Included with your entry fee is an audio guide that explains the history of this amazing place.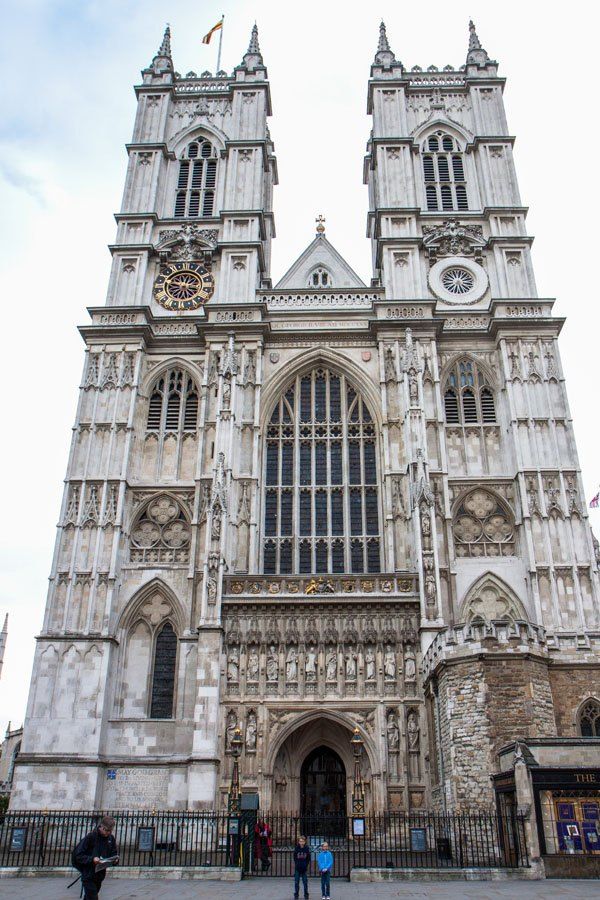 To avoid waiting in line, it helps to pre-purchase your tickets online and arrive at Westminster Abbey 15 minutes before opening time.
Buckingham Palace
From Westminster Abbey, walk through St. James Park to The Mall to Buckingham Palace. Most visits here are quick, with just a view of the Palace through the fence, but if you get your timing right, you can watch the Changing of the Guard.
The Changing of the Guard occurs every other day at 11 am (usually Monday, Wednesday, Friday and Sunday). In the summer, the Changing of the Guard may occur daily. This schedule can change and the ceremony will not occur in inclement weather. Click here for the up-to-date schedule.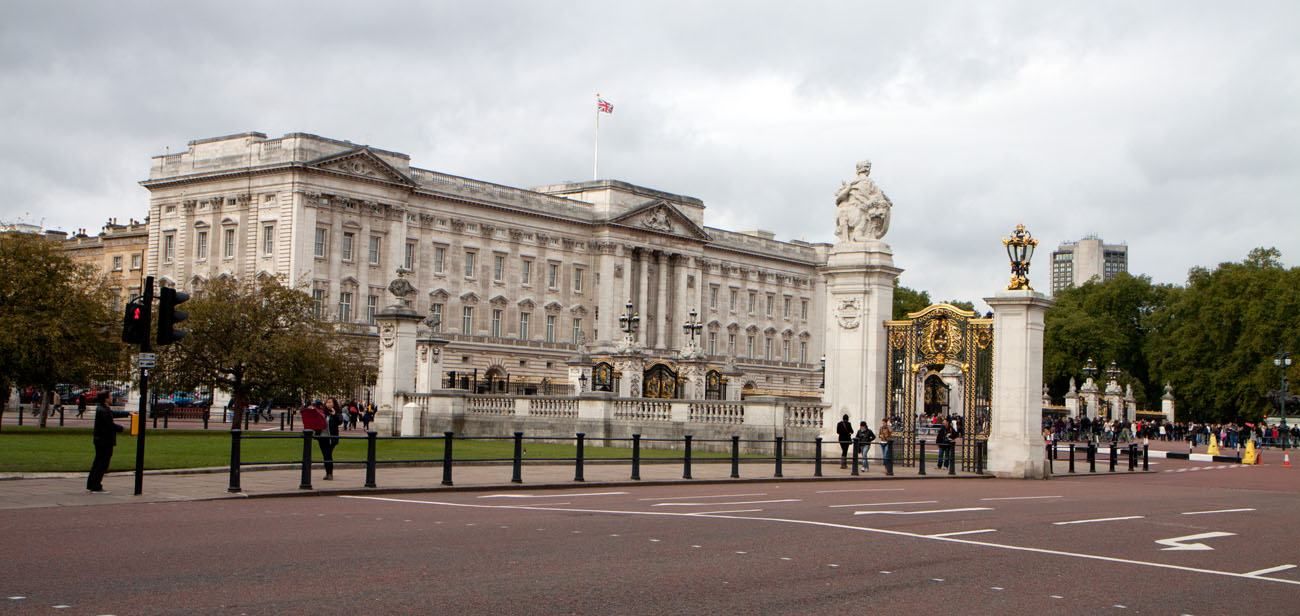 Lunch
Next we will be walking over to Whitehall. Restaurants on Whitehall either mediocre or expensive (your best bet on Whitehall is The Red Lion). There are numerous restaurants to try just south of Buckingham Palace, including Bon Gusto (Italian), Quilon (Indian and Asian), or Buckingham Arms (bar/pub located on at 62 Petty France).
Churchill War Rooms
After lunch, walk to the Churchill War Rooms. This museum has two parts to it. At the Churchill Museum you learn about the life and legacy of Winston Churchill. Then you enter the Cabinet War Rooms. This is the underground bunker where Churchill and his staff ran their operations during World War II.
You do not need to be a history buff to appreciate this visit. We all found this fascinating, even Tyler and Kara.
Parliament
From the Churchill War Rooms, continue the walk towards Big Ben. Before long, you will be able to see some of London's most iconic sites: Big Ben, Westminster Abbey, and Parliament.
Big Ben
Of course, while you are here, it's hard to miss Big Ben, one of London's most famous symbols. Currently, all visits to Big Ben are suspended due to renovation work. Tours are expected to resume in 2021.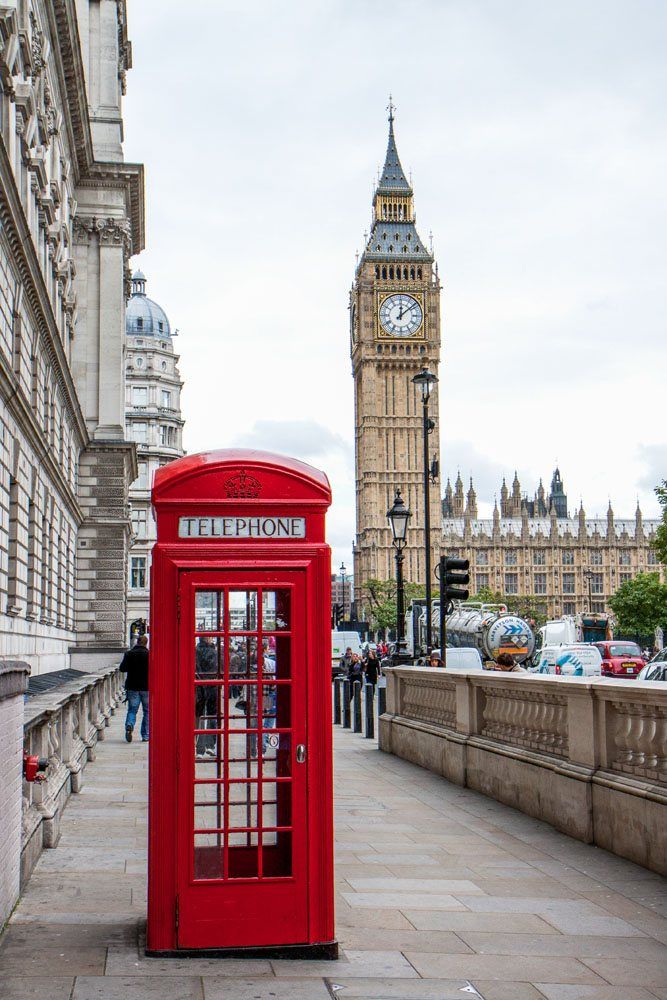 #10 Downing Street
From Parliament, walk up Whitehall. You will first come to #10 Downing Street, the official home of the British Prime Minister. The entrance is protected behind a fence with armed guards, but you will be able see the residence from a distance.
Horse Guards Parade
Walk one more block north on Whitehall to Horse Guards Parade. This is a large, gravel area used for parades and a daily changing of the guard (at 11 am).
Trafalgar Square
Continue the walk north to Trafalgar Square. This is one of London's most popular public squares. It has been the site for anti-war demonstrations, New Year's Eve celebrations, and victory parades.
Covent Garden
Covent Garden is a district in the West End that is now a popular shopping and dining area. Spend the rest of the afternoon and evening exploring this neighborhood.
There are numerous restaurants in this area, including a cluster of restaurants and shops in Apple Market.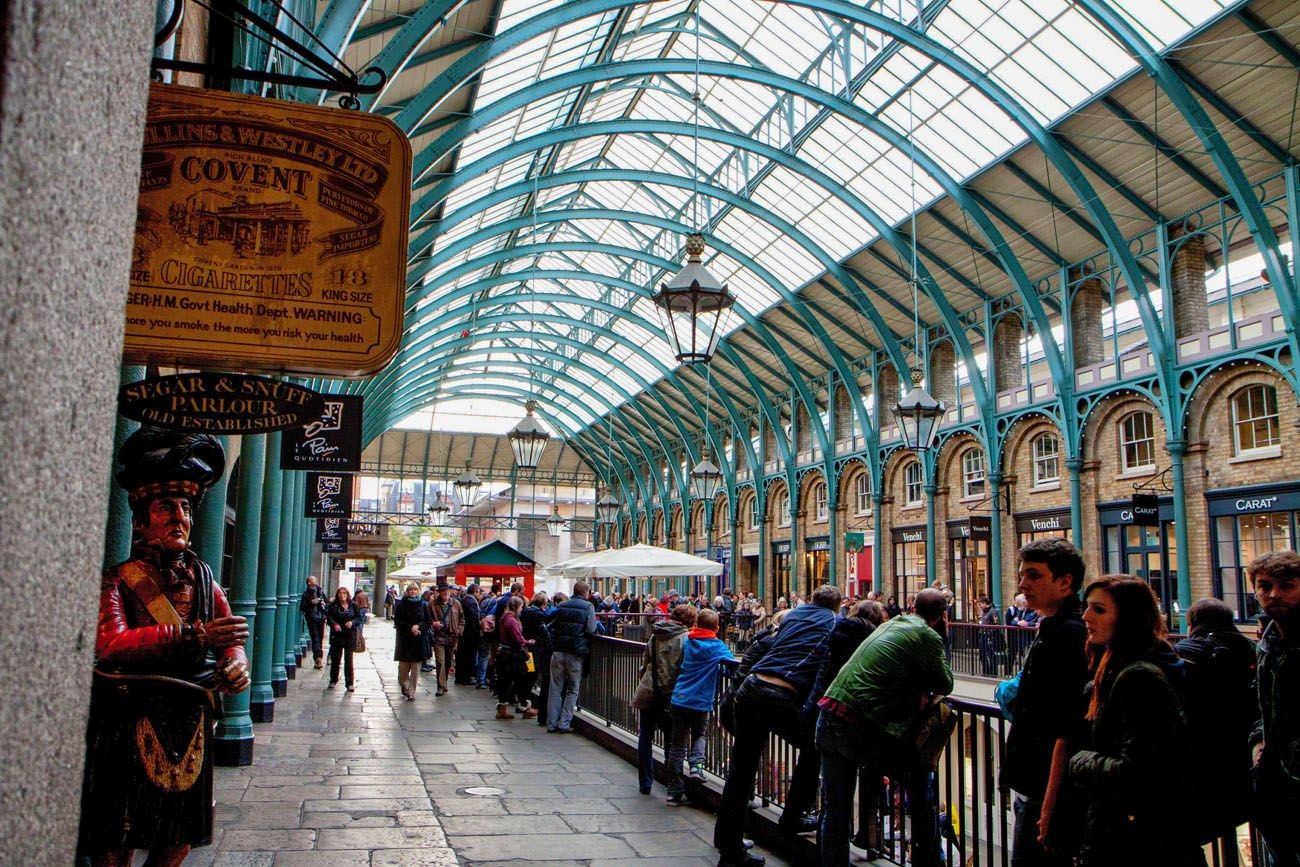 Neal's Yard is a colorful alley in Covent Garden. It's worth the quick visit just to take a photo. Just around the corner is Neal's Yard Dairy, one of the best spots in the city to sample artisanal cheese.
---
Day 3
Tower of London, Tower Bridge, Borough Market, Tate Modern, St. Paul's Cathedral, Sky Garden
Tower of London
For nearly 1000 years, the Tower of London has served as a royal palace, prison, place of execution, stronghold for riches, and the symbol of the monarchy in England. This is absolutely a must-visit destination in London. This was our favorite history lesson in London, plus the crown jewels are stunning, and probably the best in all of Europe.
The one-hour Yeoman Warder tour is not only educational but also entertaining (even for kids!). It's a fascinating lesson about the history of London and the events that occurred at the Tower of London.
Tower Bridge
Stroll across the bridge and take in the view down the River Thames.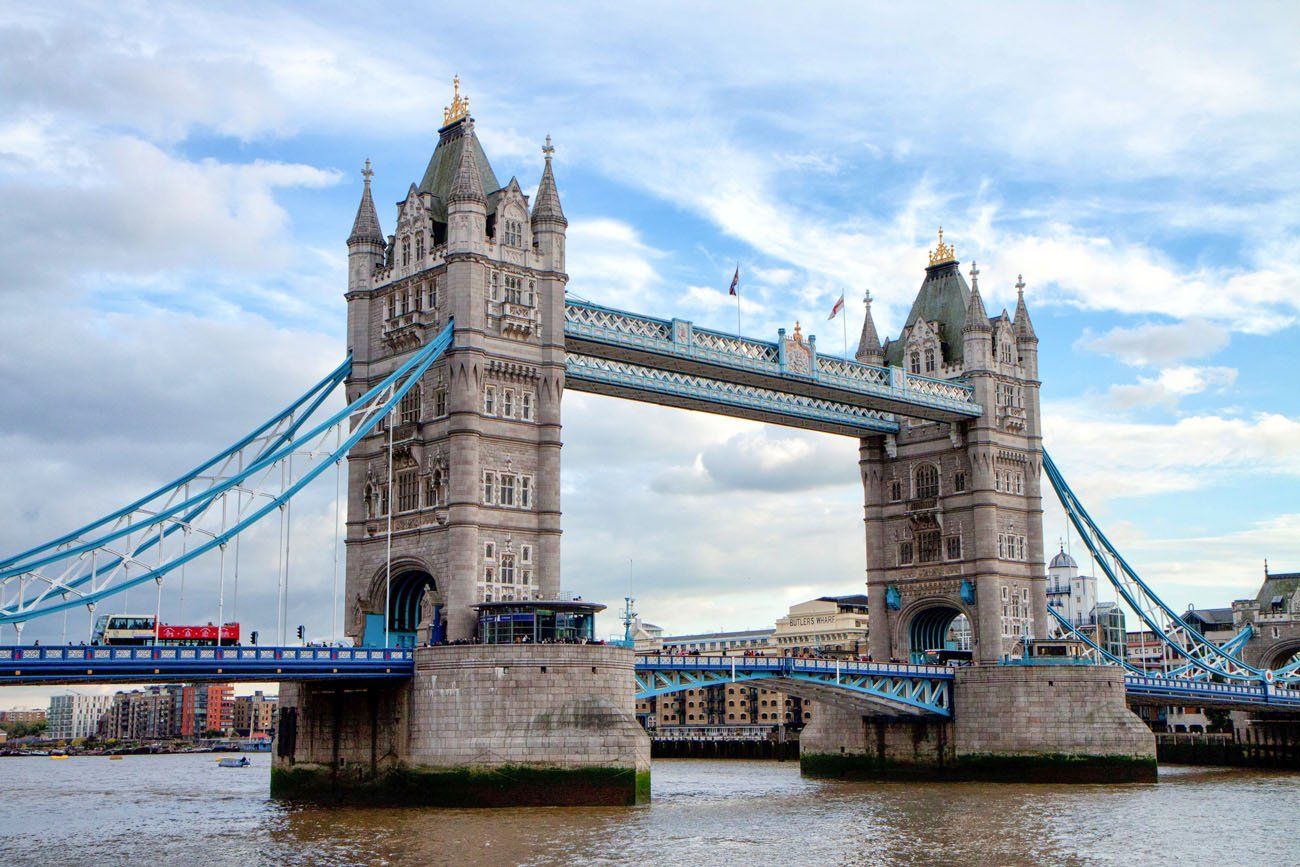 You can also climb the tower to an elevated glass floor (click here to learn more). From here, it's a thrilling look down at the pedestrians, cars, and buses traveling over London Bridge.
The View from The Shard
From Tower Bridge, walk west along the Thames River to The Shard. You know you are heading in the right direction if you see a building that looks like a giant piece of broken glass pointing up to the sky. This is The Shard, one of London's newest editions to its skyline.
At the View from The Shard, you will have the highest view over London. It's pricey, but it may be worth it on a day with clear weather.
Lunch at Borough Market
From The Shard, walk a few blocks to Borough Market. The food options are endless at this market. Stalls specialize in different cuisines from around the world, so this is a great place to sample some new foods or assemble a picnic lunch to enjoy back on the banks of the River Thames.
Note: Borough Market is closed on Sundays. However, there are numerous restaurants nearby if you are here when the market is closed.
Shakespeare's Globe Theater
Continue your walk along the River Thames to the Globe Theater. The original Globe Theatre was built in 1599 and hosted plays written by Shakespeare. A modern version of the Globe Theatre was built in 1997 on the site of the original theatre. Visitors can take a tour of the theatre or watch a performance.
Tate Modern
Sitting next door to the Globe Theatre is Tate Modern, a museum that is home to modern art. This is a place that most people seem to either love or hate. Either you will think the art is rubbish or you'll think that it's brilliant. Personally, we found it to be bizarre, which is exactly why we liked it. We kept our visit quick (about an hour) and were still able to tour most of the museum.
Millenium Bridge
Built in 2000, Millennium Bridge is a pedestrian bridge that crosses the Thames River. It has been featured in several movies, including Harry Potter and Guardians of the Galaxy. Walk across Millennium Bridge and continue on to St. Paul's Cathedral.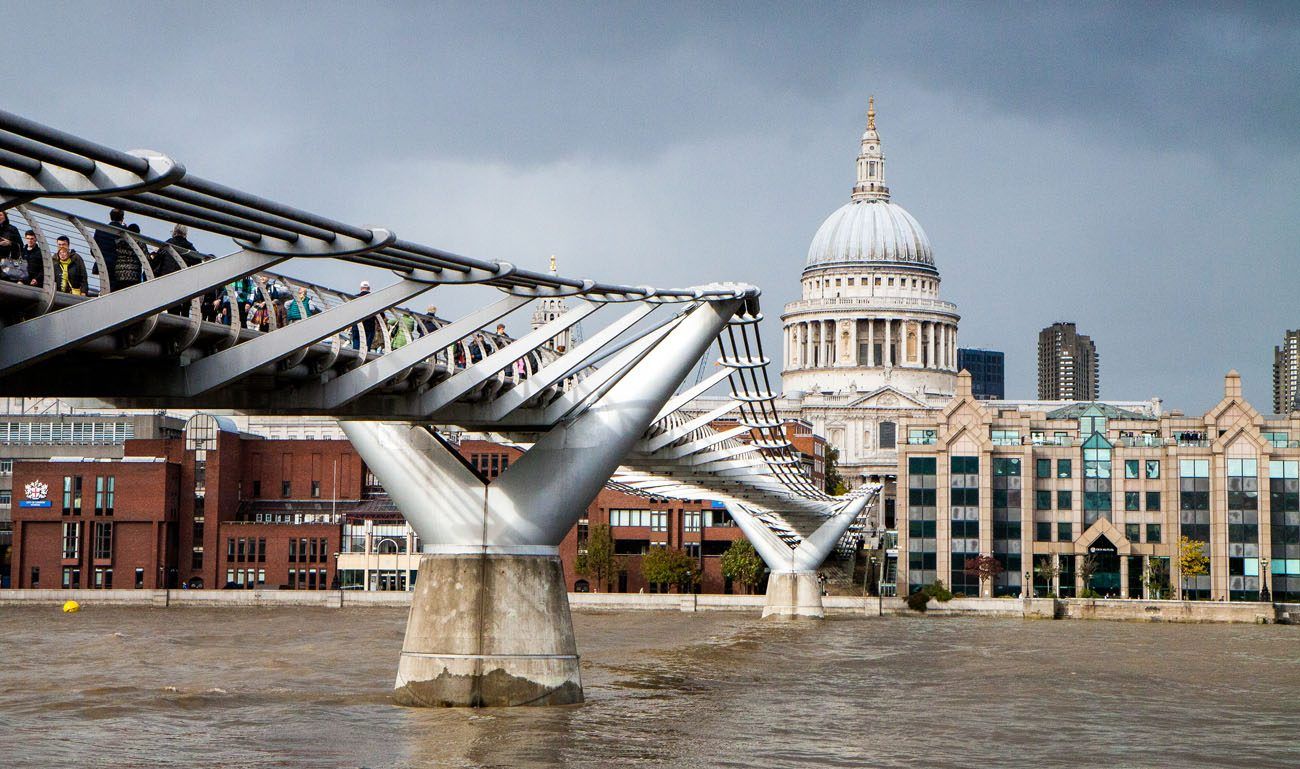 St. Paul's Cathedral
St. Paul's Cathedral dates back to the late 17th century. It was designed by Sir Christopher Wren after the Great Fire of London of 1666. Recent historical events that have taken place here include the wedding of Prince Charles and Lady Diana, the Diamond Jubilee of Queen Elizabeth II, and the funeral of Winston Churchill.
For us, the highlight was climbing the steps to the Whispering Gallery and to the rooftop for views over London.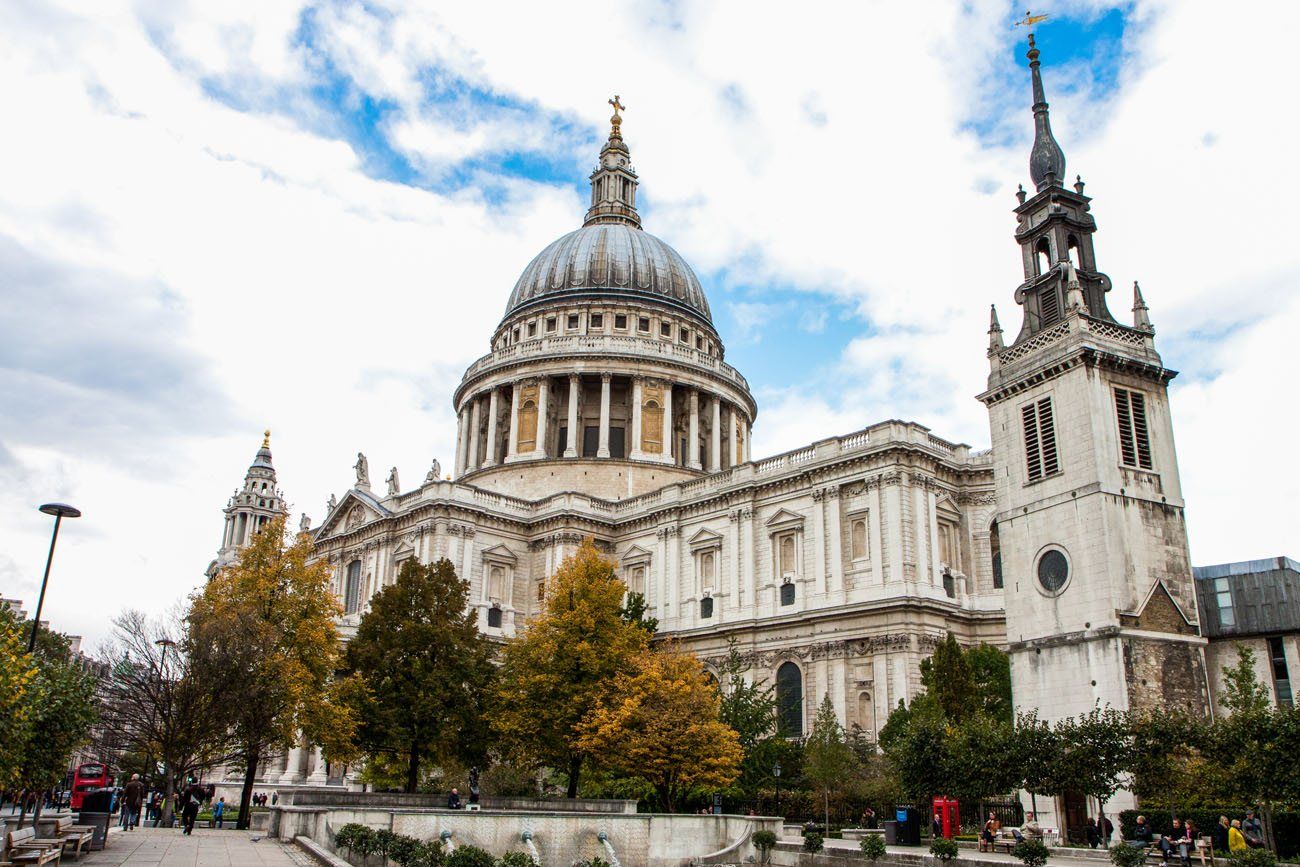 Monument to the Great Fire of London
After your visit to St. Paul's Cathedral, walk east to the Monument of the Great Fire of London. This is a permanent reminder of the Great Fire of 1666 that destroyed the city of London. Christopher Wren was also the architect for this monument. If you still have energy, you can climb its 311 steps for another view over London.
Sky Garden
Some people say that this is the best view of London. What's even better is that a visit here is free. From its large observation deck, you can look out over the River Thames and see many of the places you walked to today.
You need to book your visit online in advance (do so on the Sky Garden website). This is a great spot to enjoy dinner with a view or find a nearby restaurant or pub.
---
Day 4
British Museum and Greenwich
British Museum
The British Museum is one of the world's greatest museums. This museum contains a massive collection of historical artifacts that were amassed while Great Britain was a major world super power. See the Rosetta Stone, a portion of the Parthenon, Egyptian mummies, and hieroglyphics. As you wander through these rooms you will be amazed at how much stuff the British Empire gobbled up during their world rule.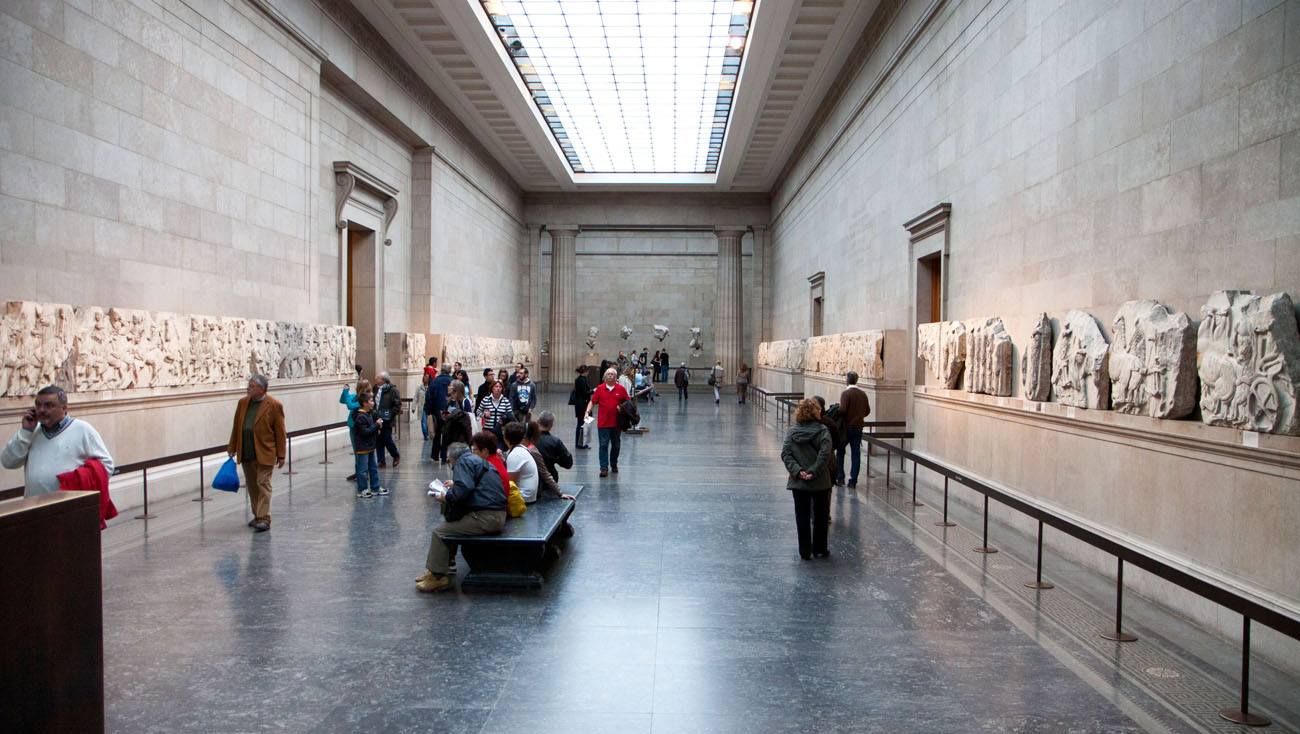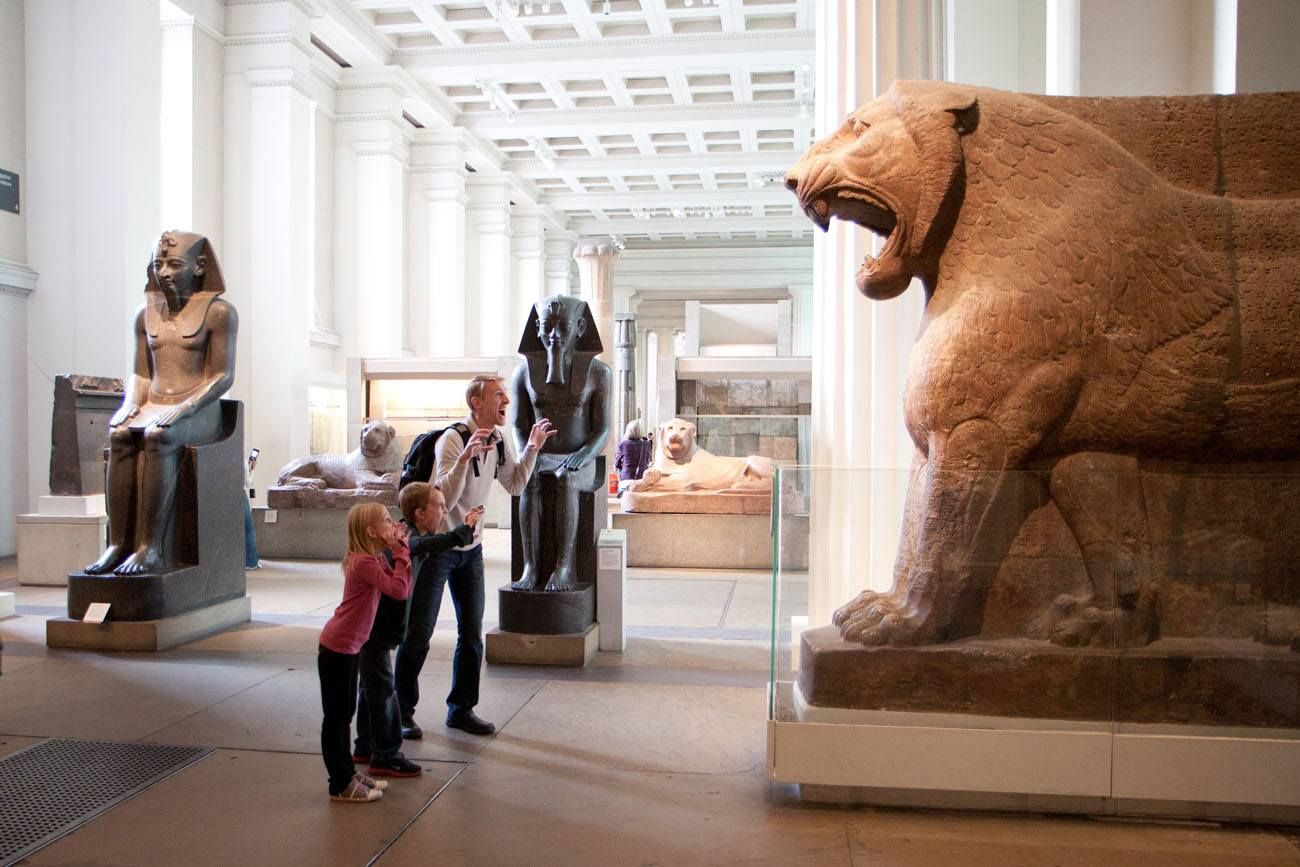 The British Museum website has lots of great information on how to organize your time and how to keep kids interested. To have the best experience, check out their recommendations.
Greenwich
There are several great things to do in Greenwich and this is a great place to spend an afternoon.
Old Royal Navy College
This is a UNESCO World Heritage Site located in Greenwich. It once served as a naval hospital and later as a naval college. Now, this site is being used as a filming location for many famous movies such as The King's Speech, Patriot Games, Pirates of the Caribbean: On Stranger Tides, Four Weddings and a Funeral, The Avengers, and The Dark Knight Rises.
Currently (until 2019), the Painted Hall is undergoing major restoration work. Visitors have a chance to see the ceiling up close on a tour. Click here to learn more.
Royal Observatory and the Prime Meridian
Here is your chance to stand over 0° longitude, placing one foot in the eastern hemisphere and one foot in the western hemisphere. You can also visit the planetarium museum. Since this observatory sits on top of a hill, you have a great view over Greenwich and the River Thames from here.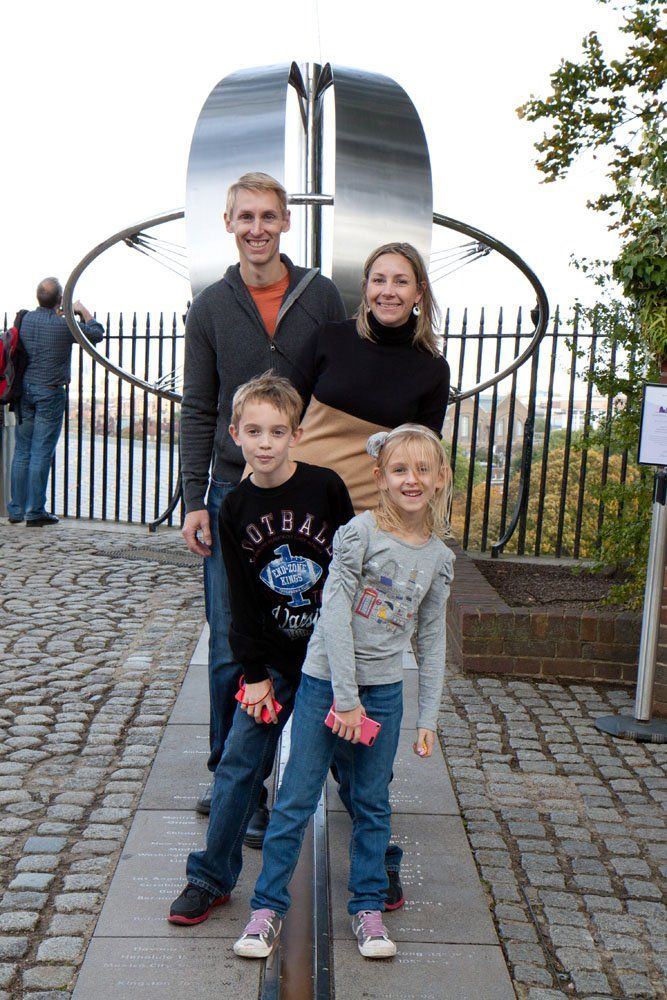 Cutty Sark
The Cutty Sark was the fastest ship of her time, the world's sole surviving tea clipper ship. Tours are available daily.
Up at the O2
The O2 is an entertainment district with an arena, music club, cinema, and restaurants. Up at the O2 is a 90-minute experience where you get to climb onto the O2 roof. The views over London from the top are spectacular.
You can do the climb during the daytime, at sunset, and at twilight.
Visit the Up at the O2 website for full details, hours, cost, and how to schedule your visit.
End the day with dinner and drinks.
---
Day 5
Day Trip to Windsor Castle, Stonehenge, & Bath
One of the best day trips to take from London is to Windsor Castle, Stonehenge, and the lovely city of Bath. It's a long but memorable day.
You can do this on your own if you rent a car for the day. There are also tour companies that you can hire. Going by tour is good for those who don't feel comfortable driving (you will have to drive on the left side of the road!) and for those who like the ease of joining a tour group.
Windsor Castle
Windsor Castle is the longest occupied castle in Europe. It is a royal residence of the Royal Family.
A visit to Windsor Castle generally lasts 1.5 to 2 hours. During this time, you tour the state apartments and St. George's Chapel. The Changing of the Guard occurs at 11 am daily throughout the summer and on alternate days the remainder of the year.
During the summer months, expect a queue to enter the castle, so it helps to get here before opening time to avoid waiting in line.
Hours: March 1 to October 31 9:30 am to 5:15 pm, last admission 4:00 pm; November 1 to February 28 9:45 am to 4:15 pm, last admission 3:00 pm
Cost: Adult £21.20, under 17 £12.30, under 5 free, family £54.70
Check the official website for closure dates which occur throughout the year.
Stonehenge
Stonehenge, this mysterious ring of standing stones, is one of the UK's most famous icons. These stones may have been standing here for 5000 years!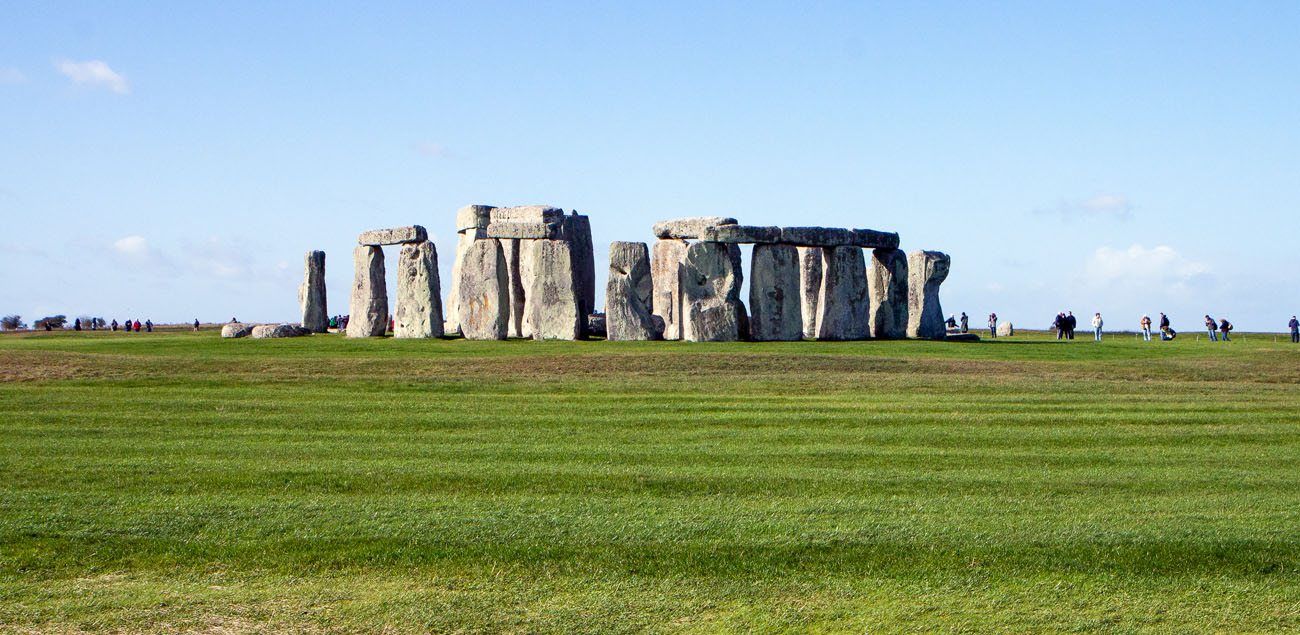 At Stonehenge, you can walk around the circle of standing stones, learn more about the history of this place in the visitor center, and even tour Neolithic houses, located near the visitor center.
Tickets need to be booked in advance in order to guarantee entry into Stonehenge. Learn more about this process and book your tickets here.
Getting Here: By car from Windsor Castle, it is a 75-minute drive (70 miles). From downtown London, it takes 2.5 hours (90 miles).
You can get to Stonehenge from London by bus or train (but you will have to skip Windsor Castle). Click here to learn more.
Bath
Bath is a city located in Somerset, England. This city is known for its Roman-style Baths, beautiful Bath Abbey, and the Royal Crescent. This is a great spot to spend an afternoon. Wander the streets, dine in the cafes, and go shopping.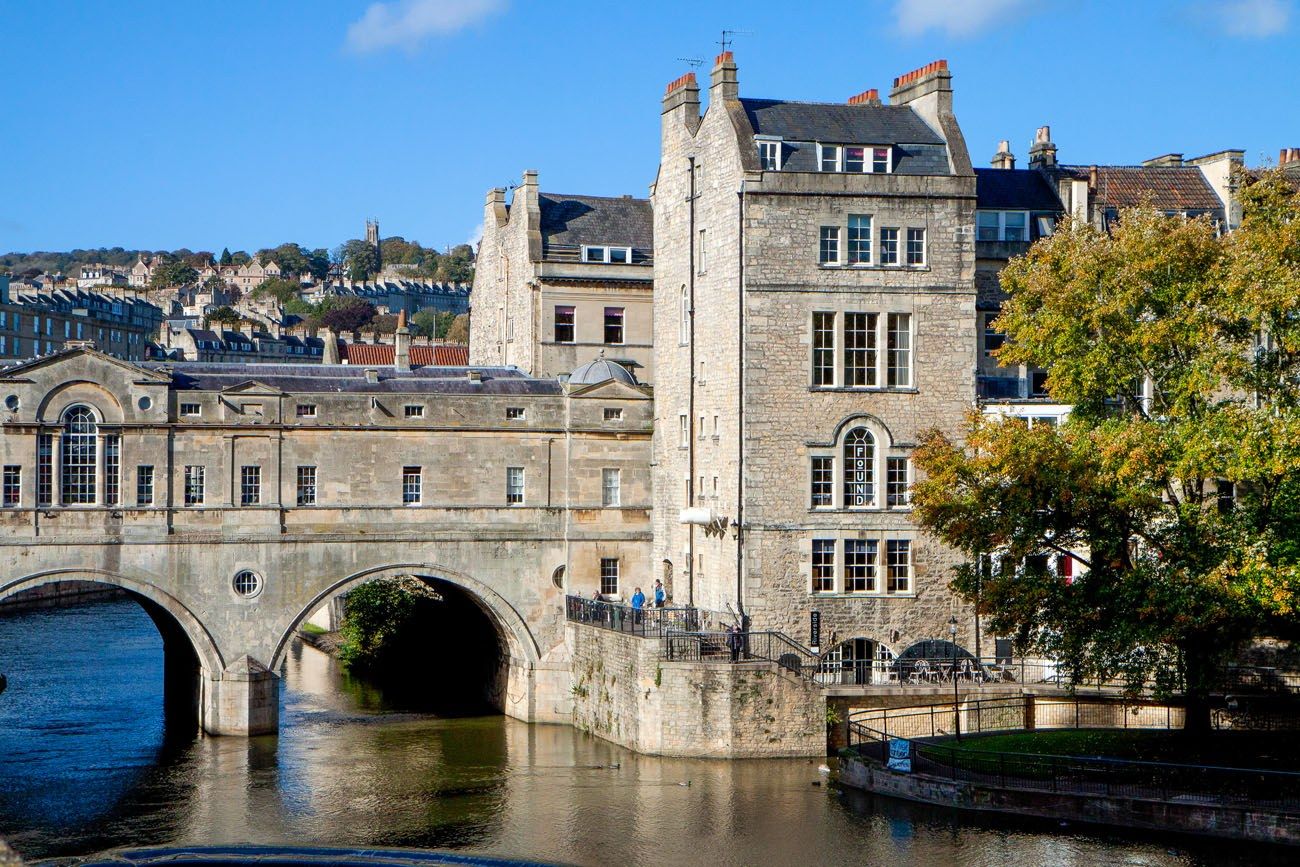 Getting Here: By car, from Stonehenge it is a one-hour drive (33 miles). To get back to London, it is a 3-hour drive (115 miles).
This is a long day and you do not have to visit all three places, of course. We skipped Windsor Castle, only visiting Stonehenge and Bath. We loved Stonehenge. Bath was nice, but it is a long way to go to visit a small but pretty city. If you don't want a mega day of sightseeing (or you are traveling with kids), you can shorten the day by visiting only visiting Windsor Castle and Stonehenge. We arrived at Windsor Castle just past closing time and it is something that I still regret not visiting.
---
Day 6
Travel to Paris
The easiest way to travel between London and Paris is by train. Eurostar trains leave St. Pancras Station in London, travel underneath the English Channel via the Channel Tunnel (or Chunnel for short), and arrive in the center of Paris. The journey takes approximately 2.5 hours and costs as little as £44. You will arrive in Paris at Gare du Nord.
Book your train as early in the day as you feel comfortable doing so, in order to maximize how much time you have in Paris. I would recommend arriving in Paris no later than noon so that you have the full afternoon to see the city.
From Gare du Nord, take the metro or a taxi to your hotel and get settled. Have lunch near your hotel.
Eiffel Tower
What better place to start in Paris than at the Eiffel Tower?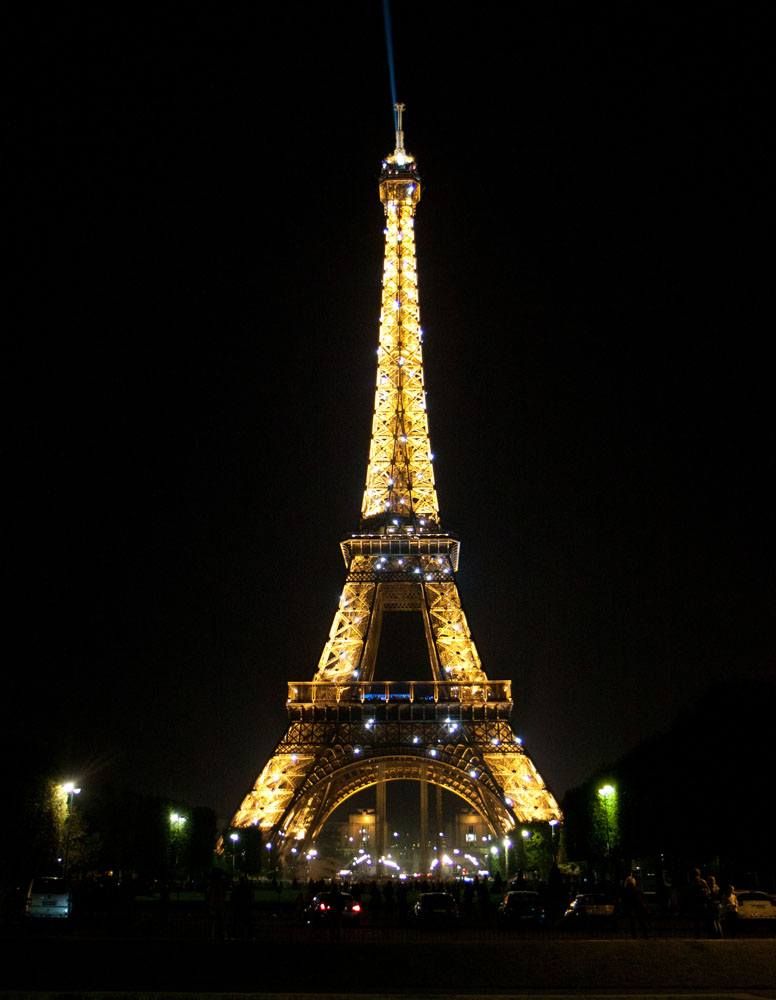 There are two ways up the Eiffel Tower. You can take an elevator or you can walk up the stairs. The queues for the elevators are very long and the queue for the stairs is much shorter. The choice is yours. If you take the stairs, you get to eat more chocolate and crepes later!
If you plan to take the elevator, I highly recommend that you book your tickets in advance.
You cannot book the stairs in advance. You can only purchase these tickets at the Eiffel Tower.
There are three levels on the Eiffel Tower. It's roughly 300 steps to the first level, 300 steps to the second level, and an elevator to the very top. If you take the steps to the second level, on this level you can buy a ticket to take you to the top of the Eiffel Tower.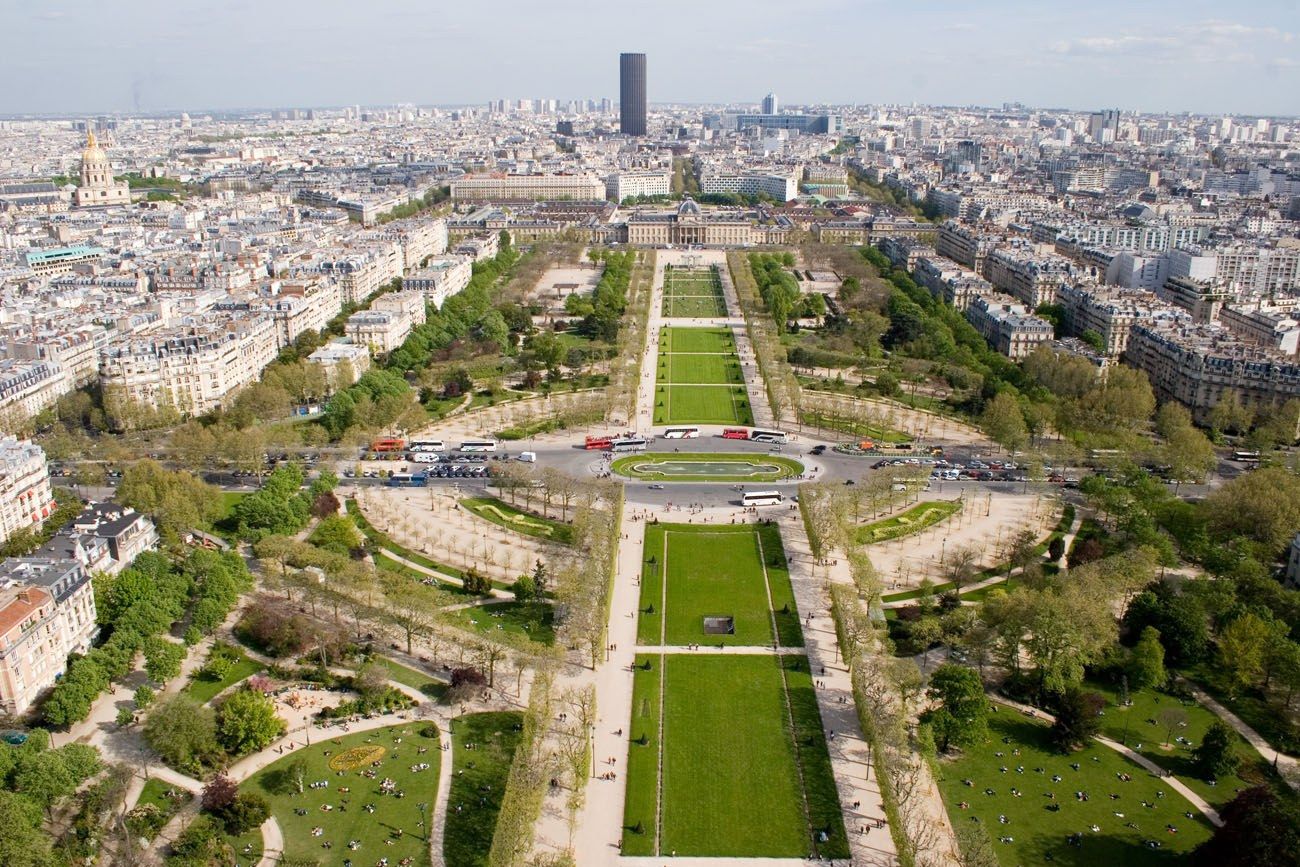 View from the Eiffel Tower
Place de la Concorde
This famous square is full of French history. This was the spot during the French Revolution where King Louis XVI, Marie Antoinette and Robespierre were executed by guillotine.
From mid-November to early May a giant Ferris wheel sits in Place de la Concorde. If the line is short and you want a nice view of Paris, consider taking a ride.
Go for a Stroll on the Champs-Elysees
The Champs-Elysees is one of the most recognizable streets in the world. It is famous as being the finish of the Tour de France and the location of the Bastille Day military parade. Restaurants, shops, the theaters line the Champs-Elysees. It has a touristy feel but it's still worth the stroll.
Along the way, if you want another French treat, consider stopping into Laduree for macarons.
Arc de Triomphe
It's time to take in the view from the mighty Arc de Triomphe. This is my favorite view of Paris. There's just something about looking down the Champs-Elysees to the Louvre, out to La Defense, and of course, having the wonderful view of the Eiffel Tower.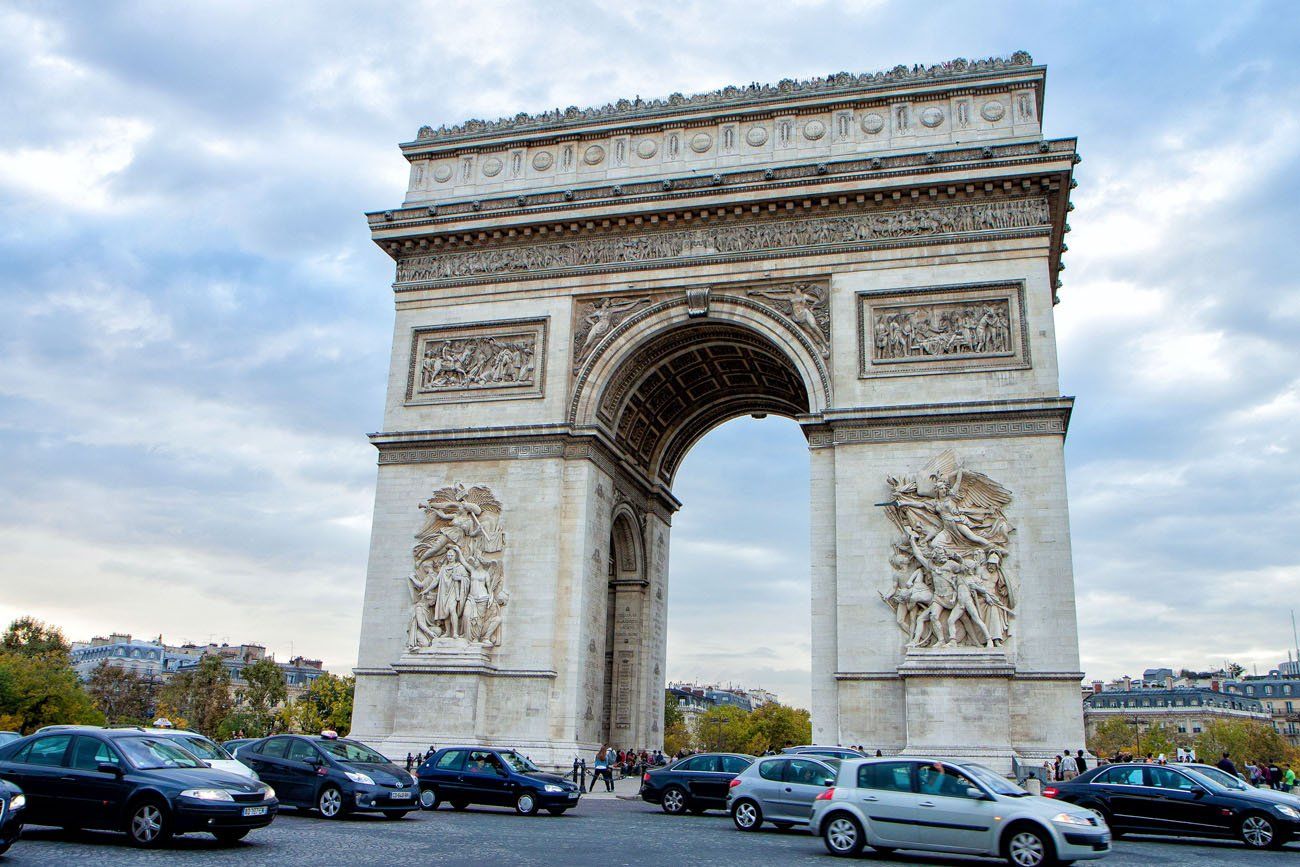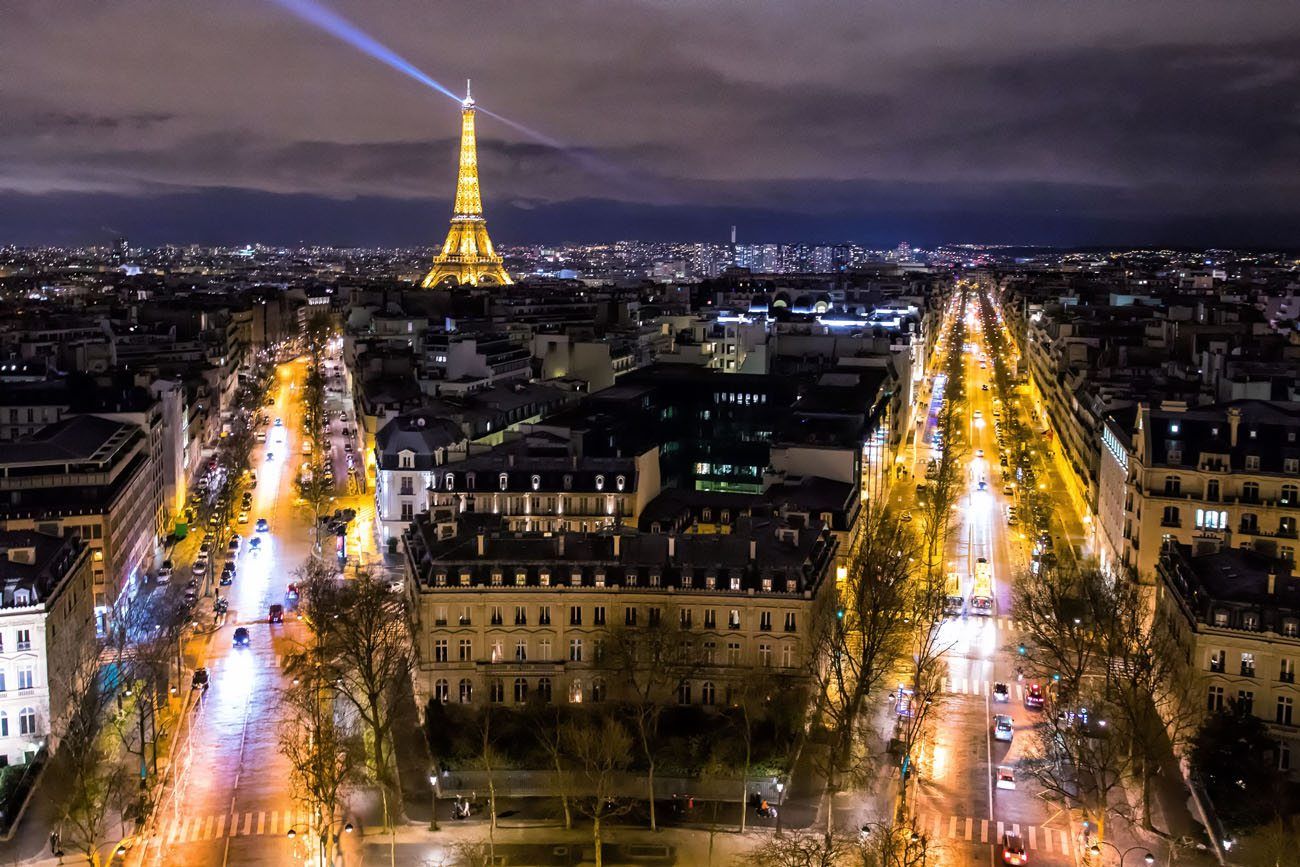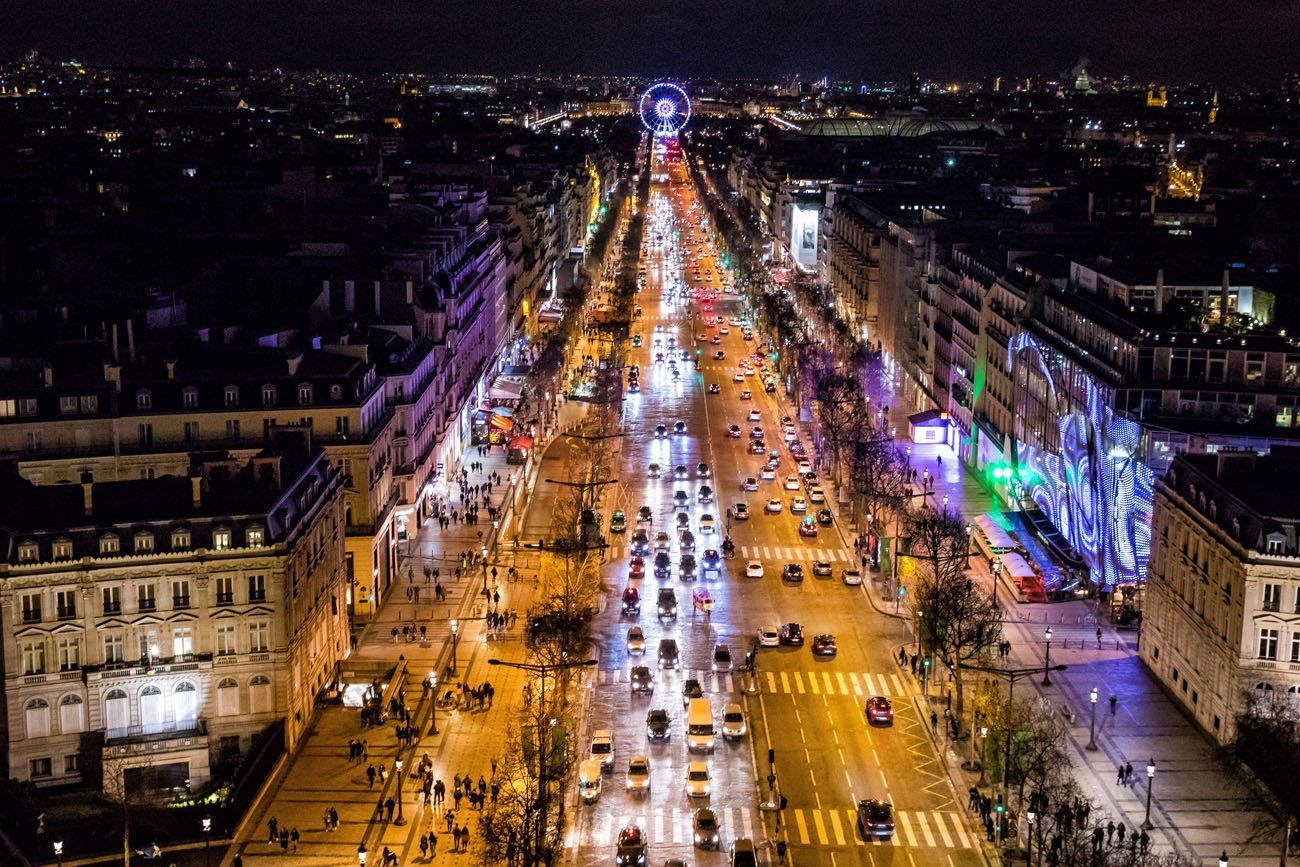 Dinner and Drinks
End the day with dinner and drinks. If you are looking for a very cool dinner/drink spot, go to the Buddha Bar. We loved it here. The lower level is a restaurant and along the second level are lounge areas with views over the restaurant. It feels like you have left Paris and entered Asia.
There are two locations of the Buddha Bar. We visited both and by far the best location is 8-12 Rue Boissy d'Anglas. From the Arc de Triomphe, take the metro back to Concorde and then it is just a 5-minute walk to the Buddha Bar.
For full details on visiting Paris, I highly recommend you read our 3 Day Paris Itinerary post, which provides a similar but more in-depth itinerary, with trip costs, opening hours of attractions, and how to get around the city.
Day 7
The Historic Center of Paris, Musee d'Orsay, & Montmartre
Sainte-Chapelle
Sainte-Chapelle is home to one of the world's best displays of stained glass. It is gorgeous inside, much prettier than the inside of Notre Dame Cathedral.
The Conciergerie
This is optional, but for those with an interest in French history, you can visit the Conciergerie. This is where people were imprisoned before being taken to Place de la Concorde to be executed. Marie Antoinette is the most famous prisoner.
The Conciergerie is located next to Sainte-Chapelle.
Notre Dame Cathedral
From Sainte-Chapelle it's a very short walk to Notre Dame Cathedral.
The highlight of Notre Dame is getting that gargoyle view of Paris. The view from the tower is amazing and one of the best in the city. This is worth the wait in line. Fortunately, things have changed in recent years. Now you can reserve a time slot, which eliminates the long, painfully slow line that once stretched down the side of Notre Dame.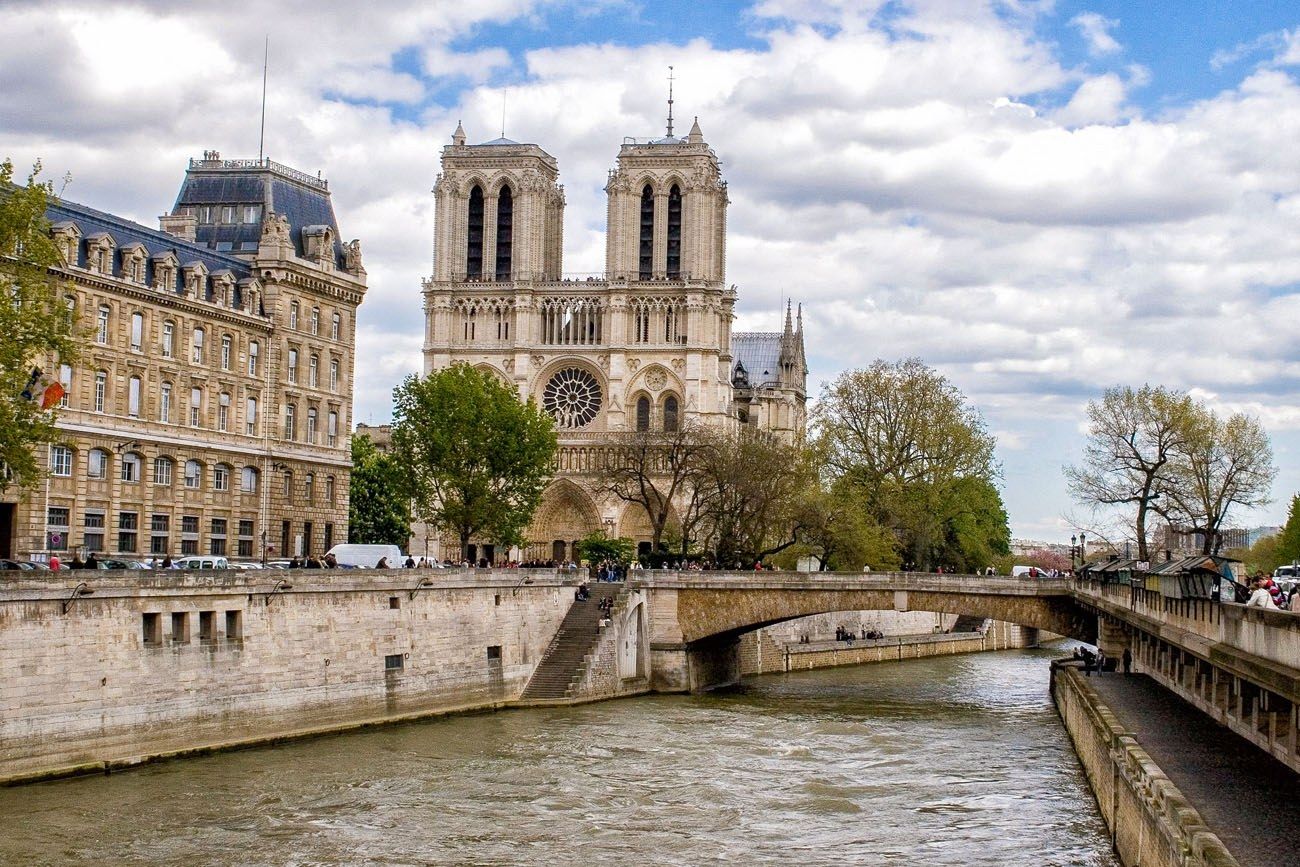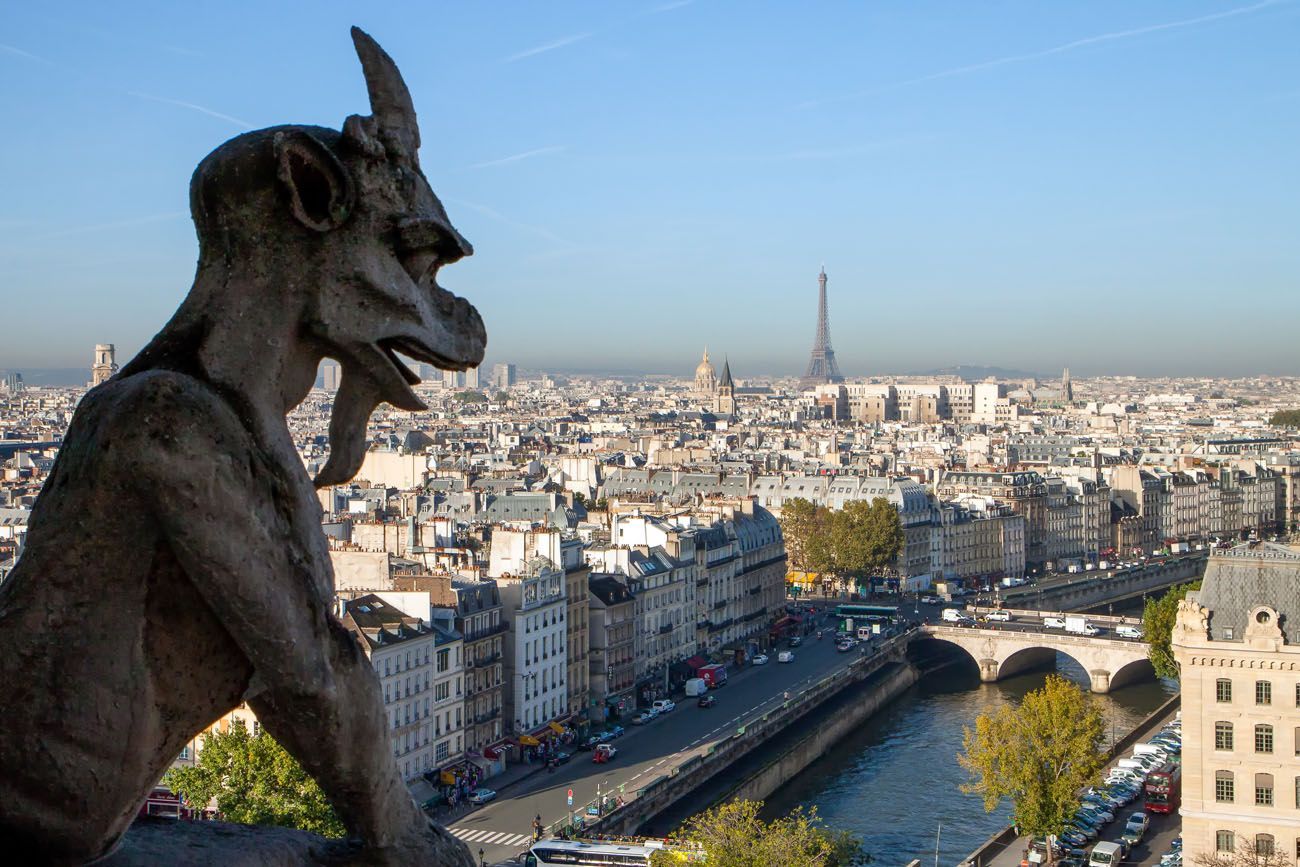 Lunch
Before leaving Ile de la Cite, it's a quick walk to one of the prettiest storefronts in Paris, Au Vieux Paris d'Arcole. This is a small café so you can eat lunch here.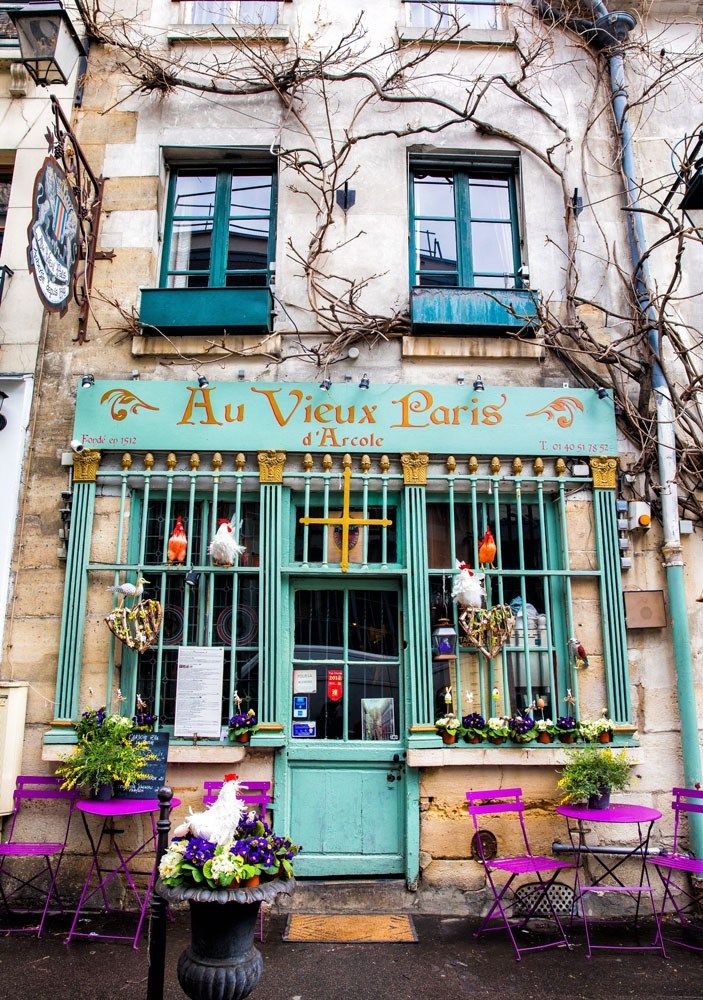 Another good lunch spot is Pom' Canelle, a restaurant that serves French and European food at reasonable prices. From Ile de la Cite, cross Pont Saint-Louis to Ile Saint-Louis. This island gets fewer visitors than Ile de la Cite and it's a good spot for lunch and to go shopping. Pom' Canelle is located here, at 27 Rue des 2 Ponts.
For an amazing ice cream shop, walk just one minute to Bertillon Glacier. This place is world famous for its ice cream and sorbet. In fact, you could skip lunch and just eat here instead (we did!).
Walk Along the Seine
Cross Pont de la Tournelle to the Left Bank. Walk along the Seine. As you approach Pont de l'Archeveche you get a beautiful view of Notre Dame. Pont de l'Archeveche makes a great photo spot of the cathedral.
Continue the stroll along the Seine until you reach Musee d'Orsay.
Musee d'Orsay
Musee d'Orsay houses the largest collection of Impressionist art in the world. It is here that you can see Monet, Manet, Degas, Cezanne, Renoir, Van Gogh, Gaugin and more. It's literally a collection of the who's who in the Impressionist art world.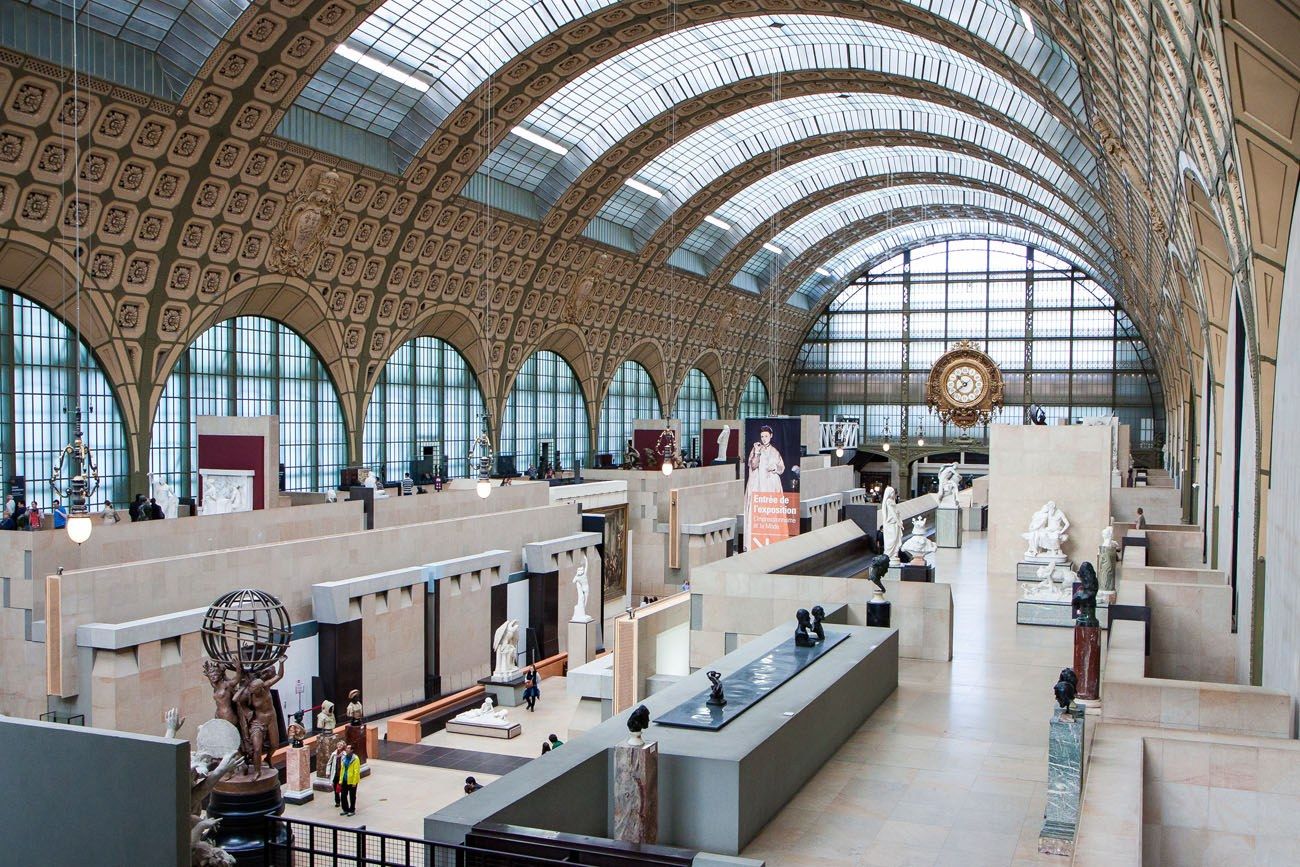 Sacre Coeur and Montmartre
Spend the rest of the afternoon and evening exploring Montmartre. This maze of hilly streets is one of Paris' prettiest neighborhoods to visit.
I recommend getting off at the Lamarck metro station and walking towards the Sacre-Coeur Basilica. This is a very nice walk that takes you past photogenic spots such as La Maison Rose and Le Consulat Restaurant.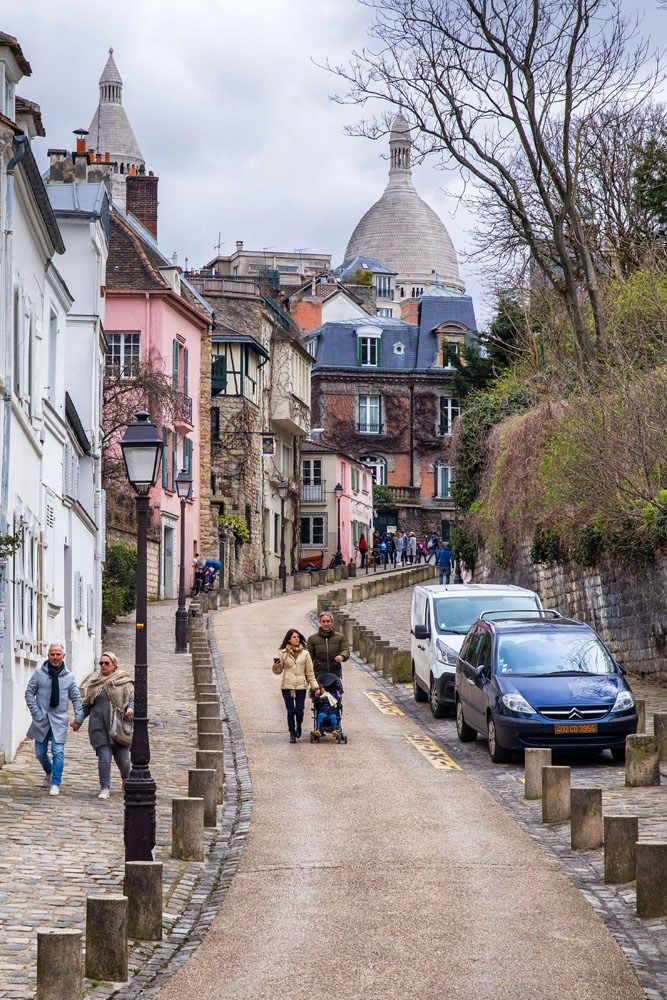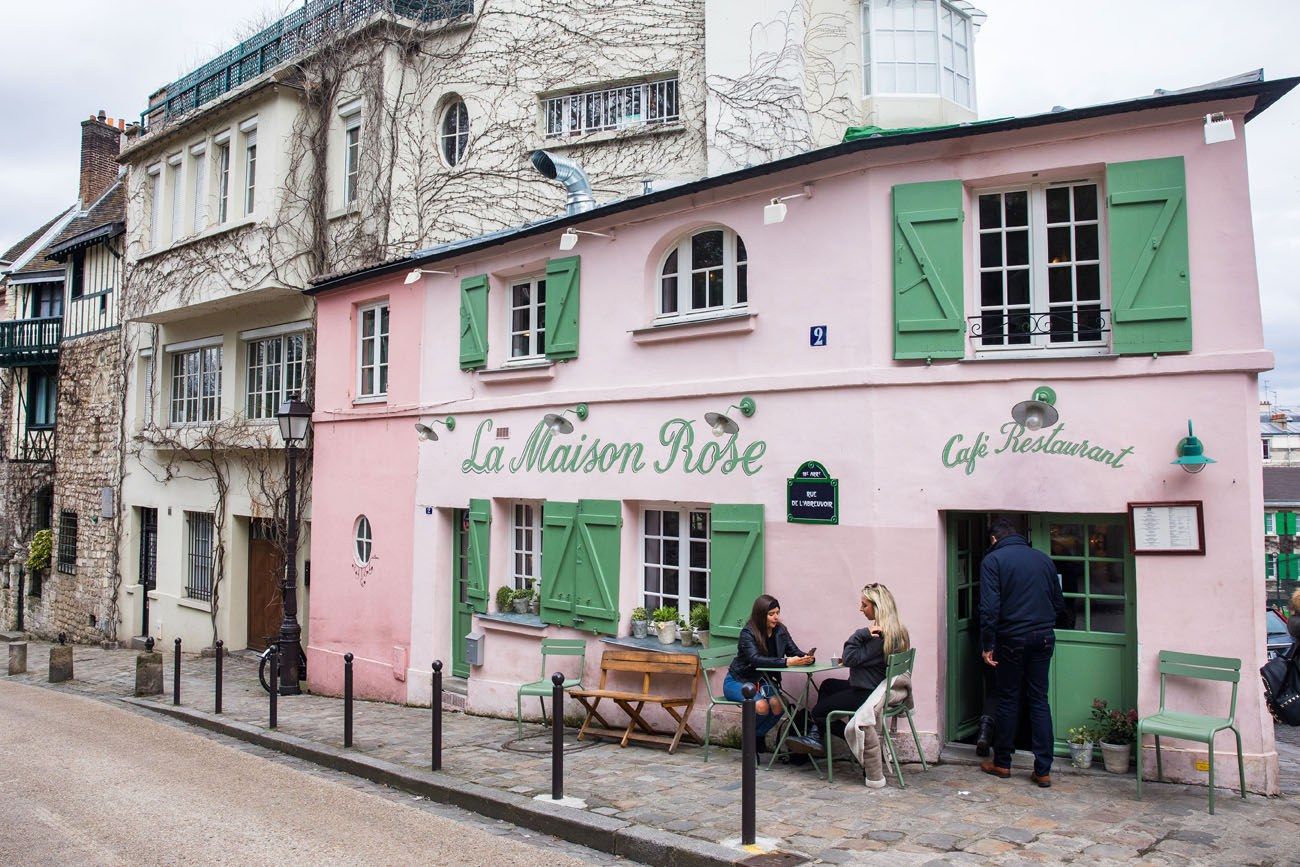 Before arriving at the basilica you will walk through Place du Tertre. This small square is filled with artists. Go shopping, grab a drink at a café, or have your portrait drawn.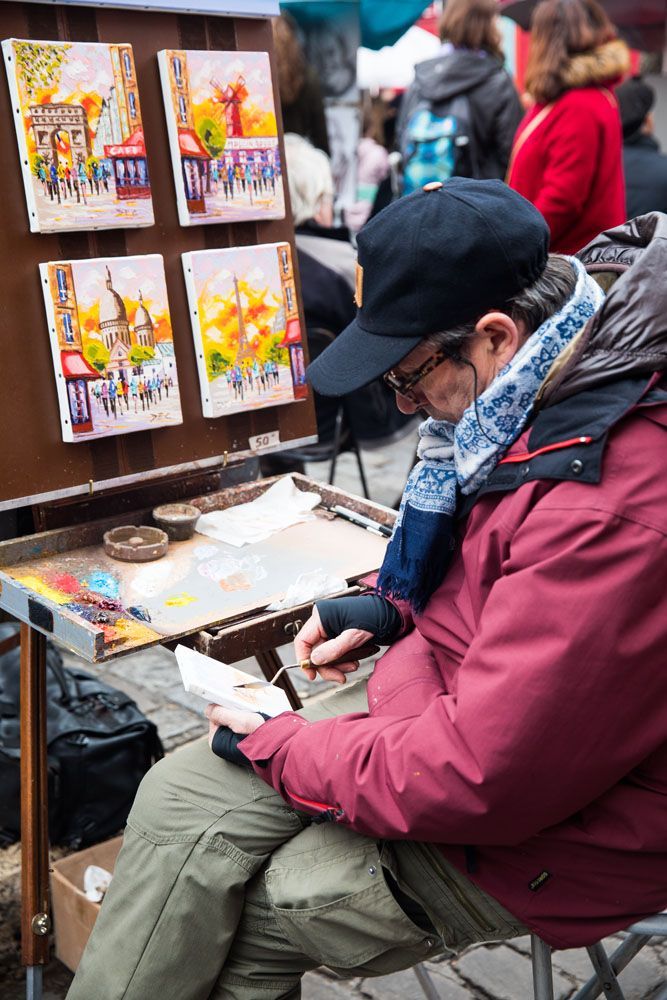 The Sacre-Coeur Basilica sits atop the highest hill in Paris. The steps in front of the Basilica are a popular spot to watch the sunset. You also have the option to climb the 300 steps to the top of the Dome for an even better view.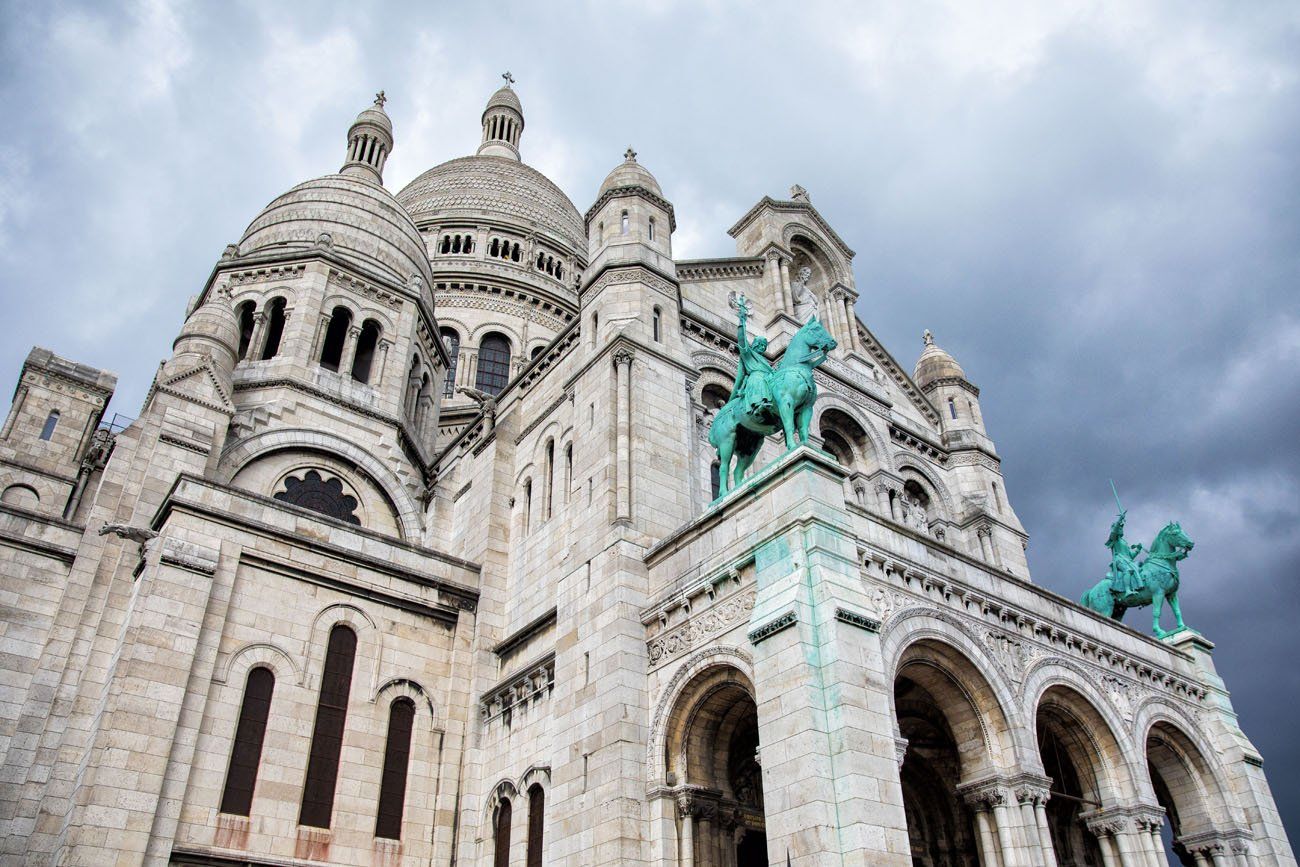 For dinner, take your pick from restaurants in the area. We ate at Le Relais Gascon, a wonderful little place that prepares French food.
---
Day 8
The Catacombs, Montparnasse Tower, and the Louvre
The Catacombs
Descend under the streets of Paris to walk along hallways filled with bones. It sounds morbid but it is one of the neatest things to do in Paris, in our opinion. It's also notorious for having long lines throughout the day.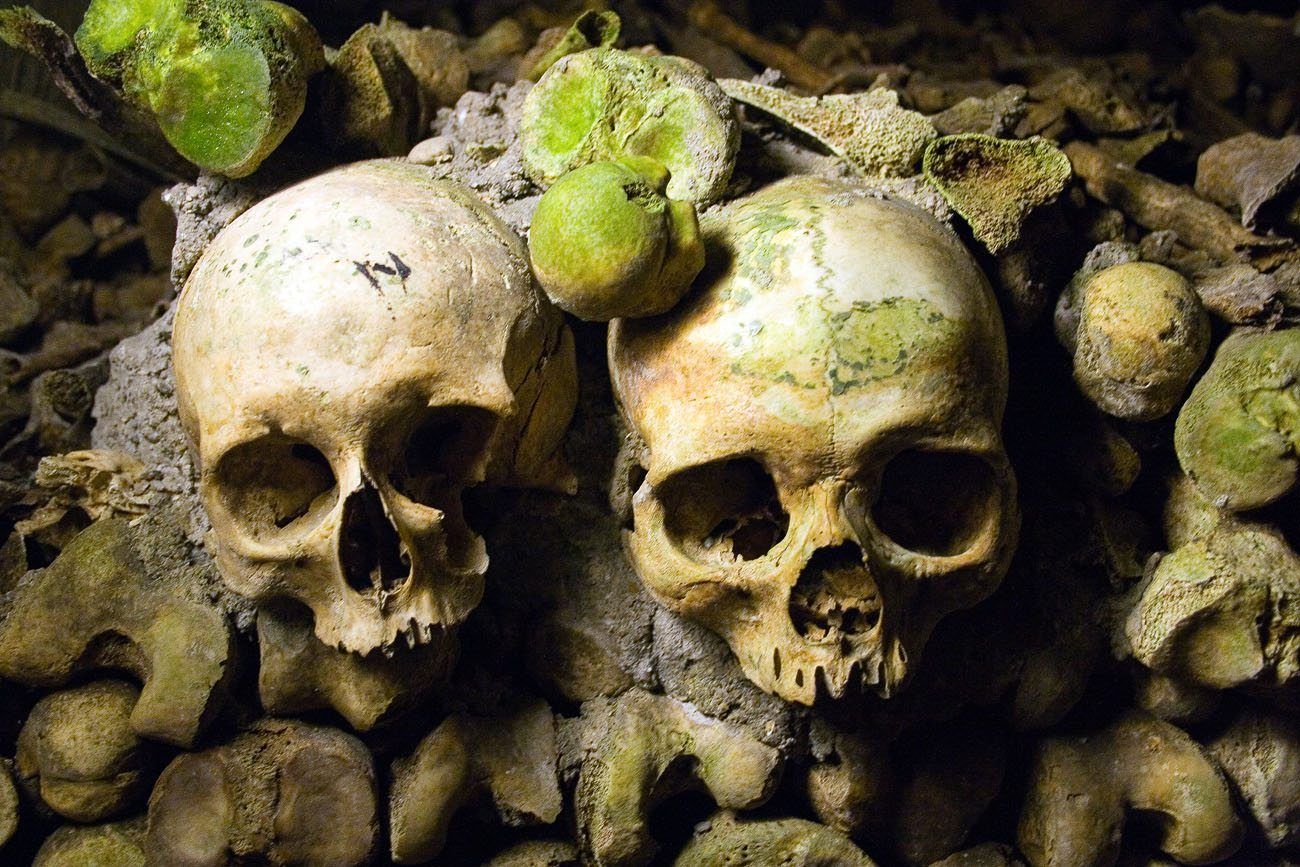 People wait hours to enter the Catacombs. To avoid this, make sure you have the Museum Pass, so you can wait in the much shorter line. Even with the Museum Pass, it helps to show up at least a half hour before opening time. Only 200 people are allowed to enter the Catacombs every 45 minutes, so it's important to get here early.
Take in the View from Montparnasse Tower
For one of the best views of Paris, visit the observation deck of Montparnasse Tower. There are two levels to visit, the 56th floor, which is completely enclosed by windows, and the observation terrace on the roof. This is also completely enclosed by glass panels but there are a few strategic openings in the glass for your camera.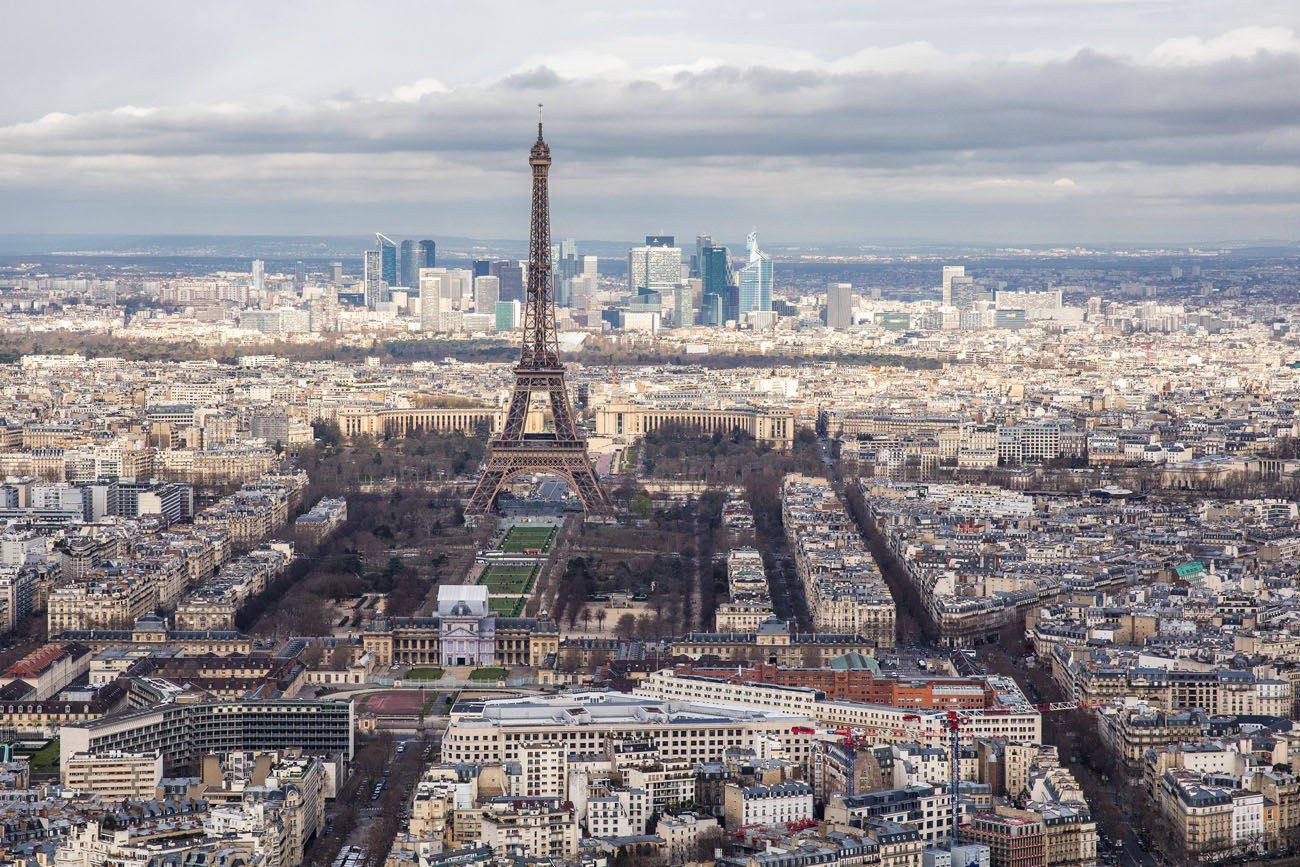 For some of the best crepes in Paris, walk about five minutes to Le Petit Josselin (closed Mondays and Tuesdays).
Afternoon at the Louvre
The Louvre is the world's largest art museum. This building was once the home to French Kings, including Louis XIV. During the French Revolution in the 18th century, the Louvre was converted to a museum.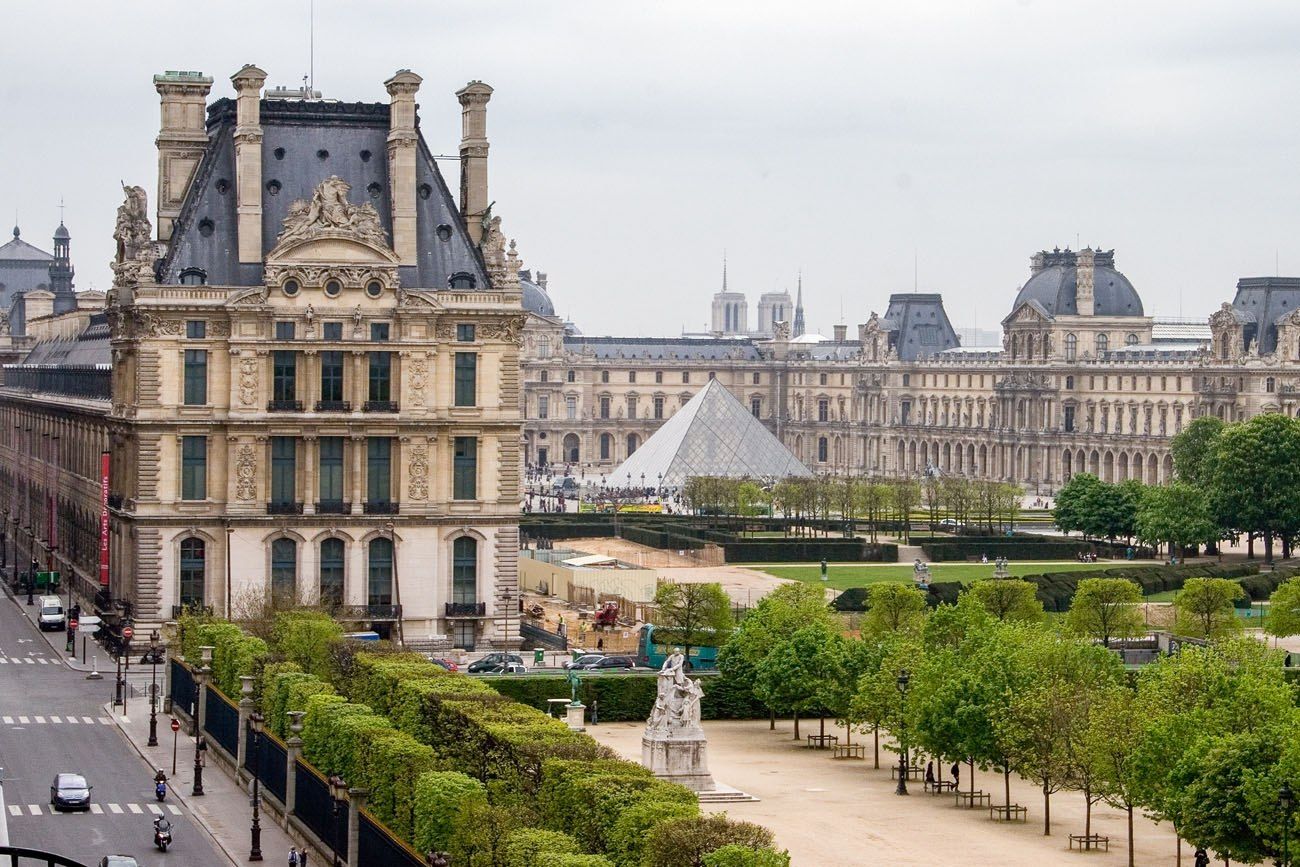 If you are an art lover, take several hours and enjoy this spectacular place. However, if you just want to visit the highlights, you can do so in about an hour.
The main sites to visit in the Louvre are the Mona Lisa, Venus de Milo, and the Winged Victory.
This evening, you have several options. Have dinner in a French restaurant, take a dinner cruise on the Seine, or go shopping at Place de la Madeleine and at the luxurious department stores Printemps and Galeries Lafayette.
---
Day 9
Versailles
The Palace of Versailles
Versailles is a royal chateau located on the outskirts of Paris. In 1682, King Louis XIV moved the Royal Court from the Louvre to the Palace of Versailles. For a little more than 100 years, this was the seat of government for France. That ended in 1789 with the French Revolution. The monarchy moved back to Paris and since then, the city of Paris has remained the seat of government for France.
During your visit to Versailles you will tour the palace and get to stroll through the gorgeous gardens. We visited on a rainy day, not the best weather for photography, but on a sunny day this place looks stunning.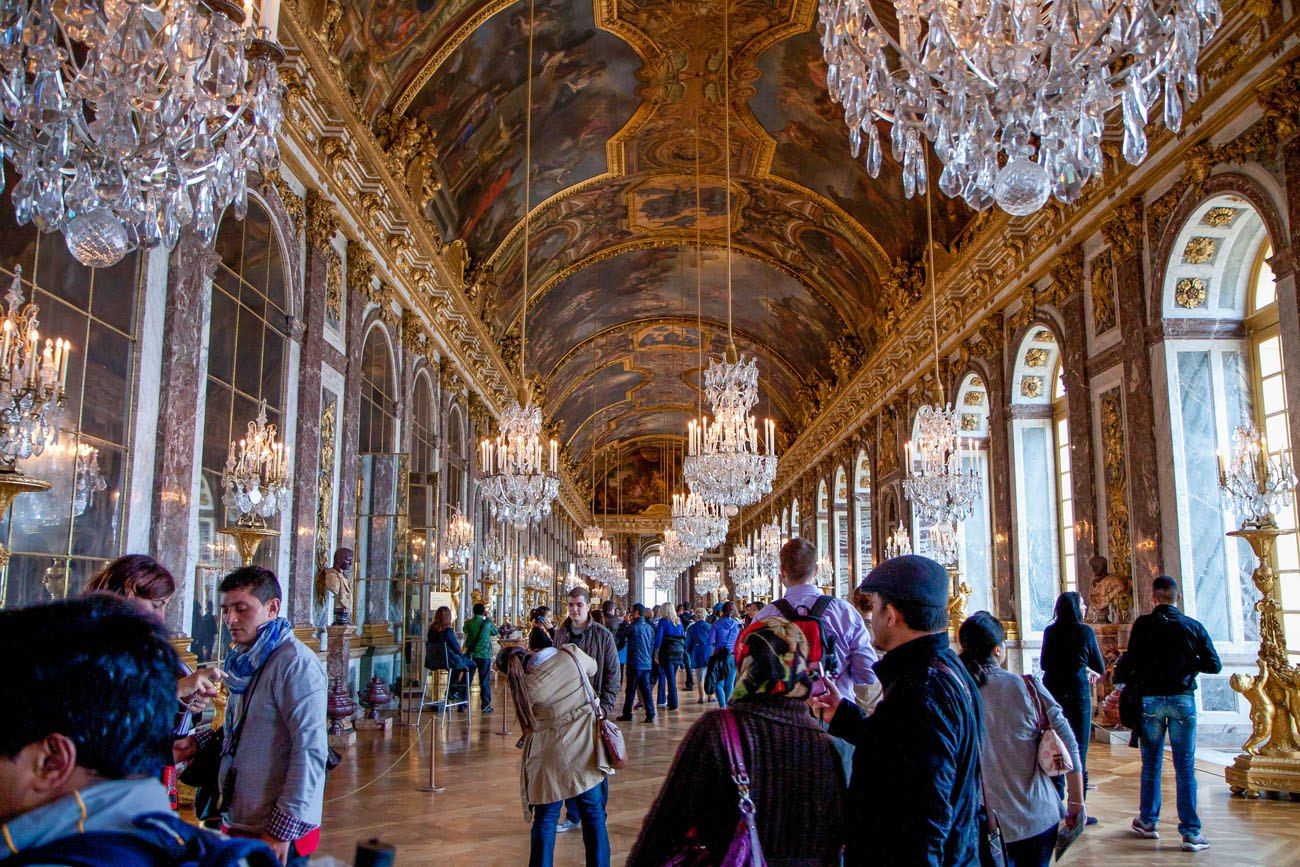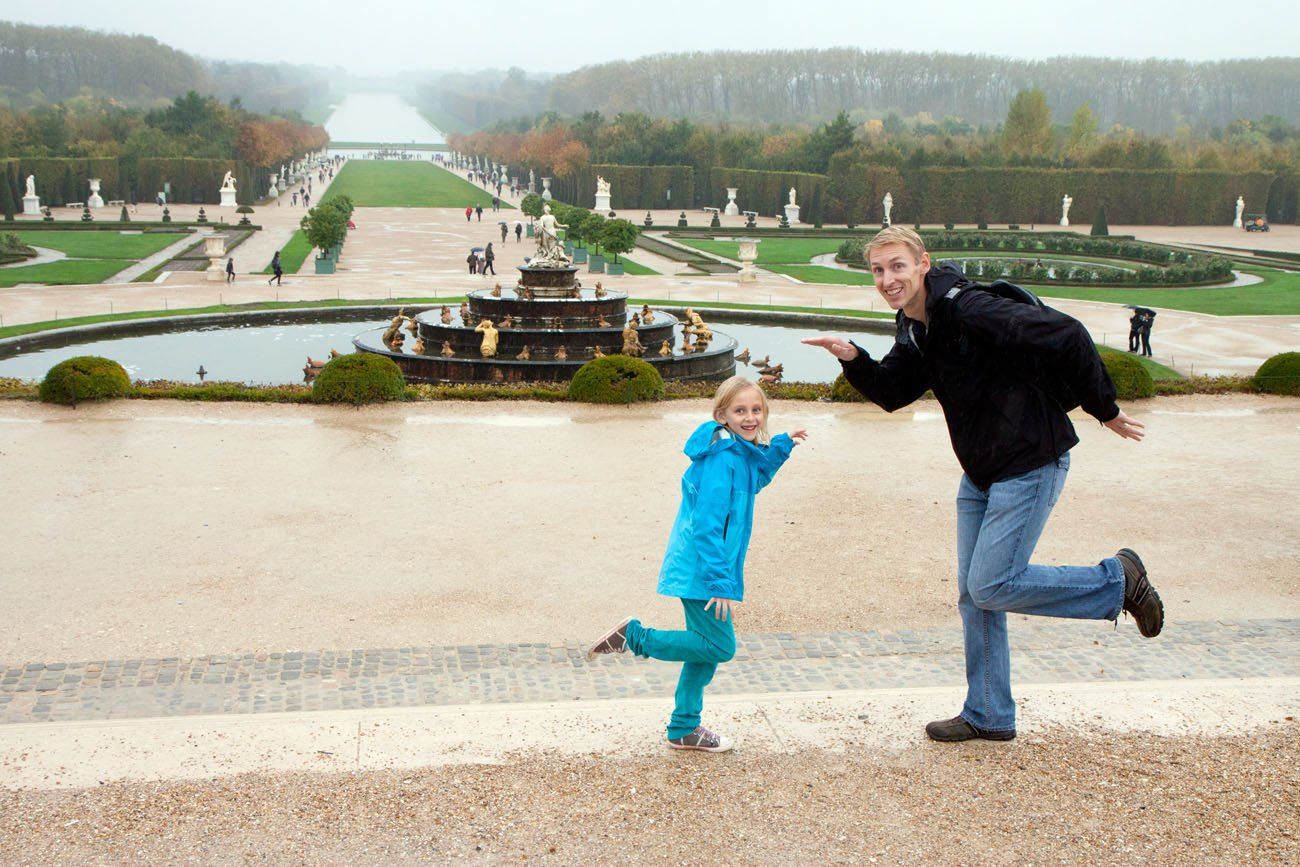 How to have fun with kids on a rainy day in Versailles.
How long does a visit last? If you're fast, it takes 3 to 4 hours to zip through the palace and walk a part of the gardens. Some people spend all day here, touring the entire gardens as well as the estate of Trianon.
Learn more about everything you can see and do in Versailles on the official website.
Afternoon in Paris
If you do not spend all day in Versailles and get back to Paris during the afternoon, there are several spots to try. Take your pick from one of three museums, the Rodin Museum, the Pompidou Center, or Musee de l'Orangerie, or visit Pere Lachaise Cemetery.
See our Paris itinerary post for full details.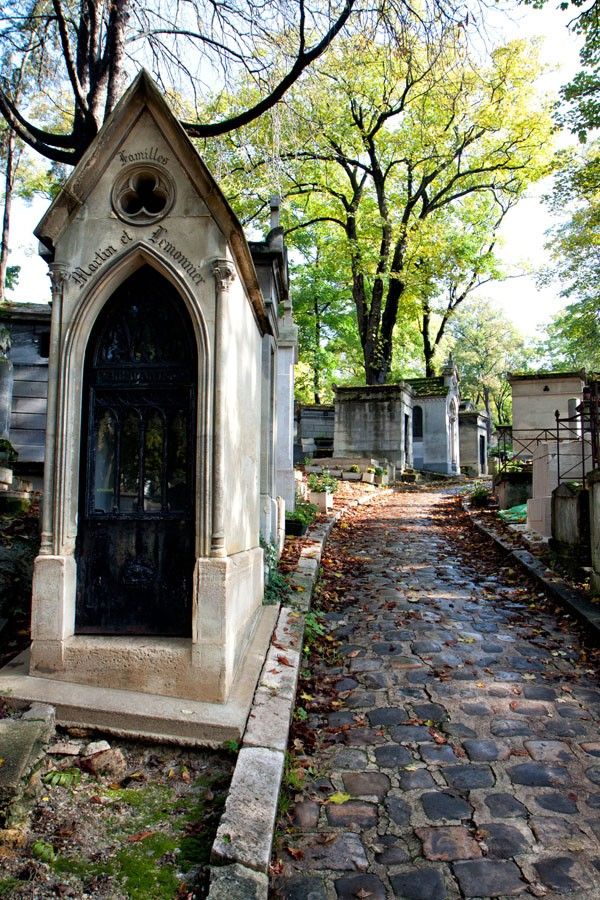 Pere Lachaise Cemetery
Dinner and Drinks in Le Marais
End the day with a visit to Le Marais, one of Paris' most interesting neighborhoods.
If you are looking for a budget meal, consider trying one of the falafel restaurants along Rue de Rosiers. The most famous spot is L'As du Falafel. We ate at Mi-Va-Mi, another popular spot, simply because it was the only one open during our visit.
If you don't feel like eating falafel on your last night in Paris, there are many great cafes and restaurants in the area.
---
Day 10
Depart Paris
Fly home or continue onto your next destination.
---
Where to Stay in London
London is enormous. To maximize your time, either stay in the city center or pick a hotel within walking distance of convenient Tube station. We use Booking.com to find our hotels when we travel.
During our trip to London we stayed at the Crowne Plaza in Kensington. We could easily walk to the Gloucester station, but usually had to change lines at least one time to get to most spots in London. I can't tell you how many times we heard "You're on the Piccadilly line to Cockfosters" and "Mind the Gap." Spend a few days riding the London underground and you'll know what I'm talking about.
Where to Stay in Paris
We have visited Paris three times and here is where we stayed.
Hotel Brighton. This is the most expensive hotel on this list but it's worth it if you want an awesome view over Paris. Located on Rue de Rivoli right across from Tuileries Garden, you will be able to see the Louvre, Notre Dame Cathedral, the Eiffel Tower, and the Arc de Triomphe from your room. Request a high floor, preferably one with a balcony, for the best experience.
Hotel de La Bourdonnais. This hotel is located near the Eiffel Tower. From our room, if we hung our head out of the window, we could see the top of the Eiffel Tower. This hotel is under new management since our visit and it looks like things have changed for the better. We liked here, but not as much as the other two hotels in this list.
Le Relais Saint Honore. On our most recent visit to Paris we stayed at Hotel Le Relais Saint Honore. Our favorite thing about this small, boutique hotel is its excellent location. The Louvre, Tuileries Garden, Place de la Concorde, and Palais-Garnier are all within a 10-minute walk. The Tuileries and Pyramides metro stations are less than 5 minutes away. The rooms are small but tastefully decorated and the staff is friendly and speaks English. You don't get the awesome view in this hotel but we loved the friendly staff and the location.
Best Time to Visit London and Paris
London and Paris are very popular destinations and they can be crowded almost all year. The largest crowds occur between May and September and during the holidays of Easter and Christmas.
The best times to visit London and Paris are late April into May and the month of October. Temperatures are pleasant and crowds are manageable.
Important Links to Help You Plan Your Trip
London
Paris
Buy the Guide: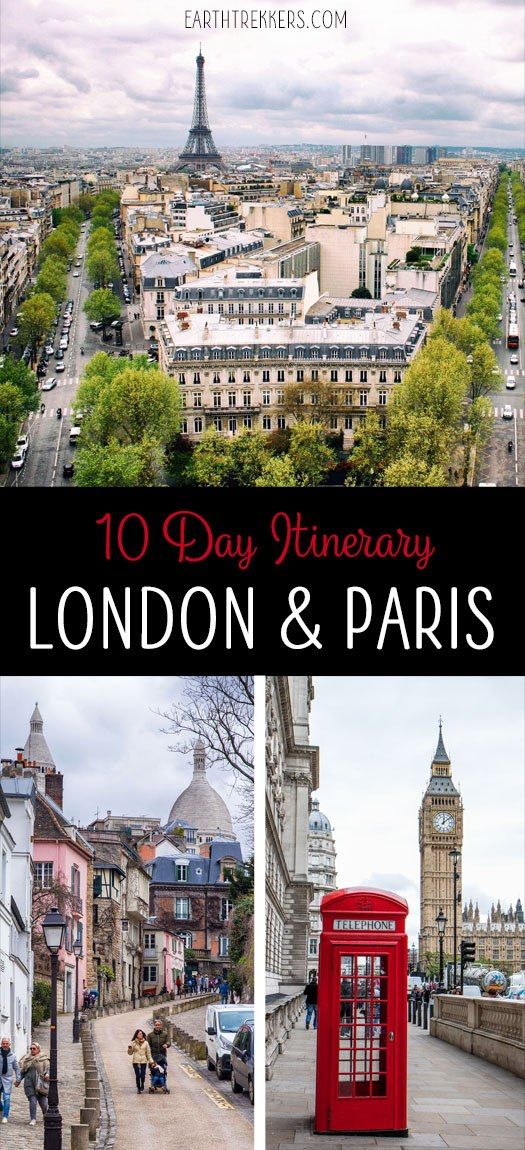 Note: This post contains affiliate links. When you make a purchase using one of these affiliate links, we get paid a small commission at no extra cost to you.