On a beautiful weekend in September, Tim and I visited my brother Thomas and his family in Atlanta, Georgia. Tim and I were making this short trip without Tyler and Kara (much to their dismay) and Thomas and Caroline had a babysitter lined up for Saturday. What to do in Atlanta without kids…? Sure, we could go to the Georgia Aquarium or Olympic Park or the World of Coca-Cola, but honestly, none of this sounded very interesting. Thomas had a brilliant idea…why not take a tour of Atlanta's best bars?
Muss and Turner's/Eleanor's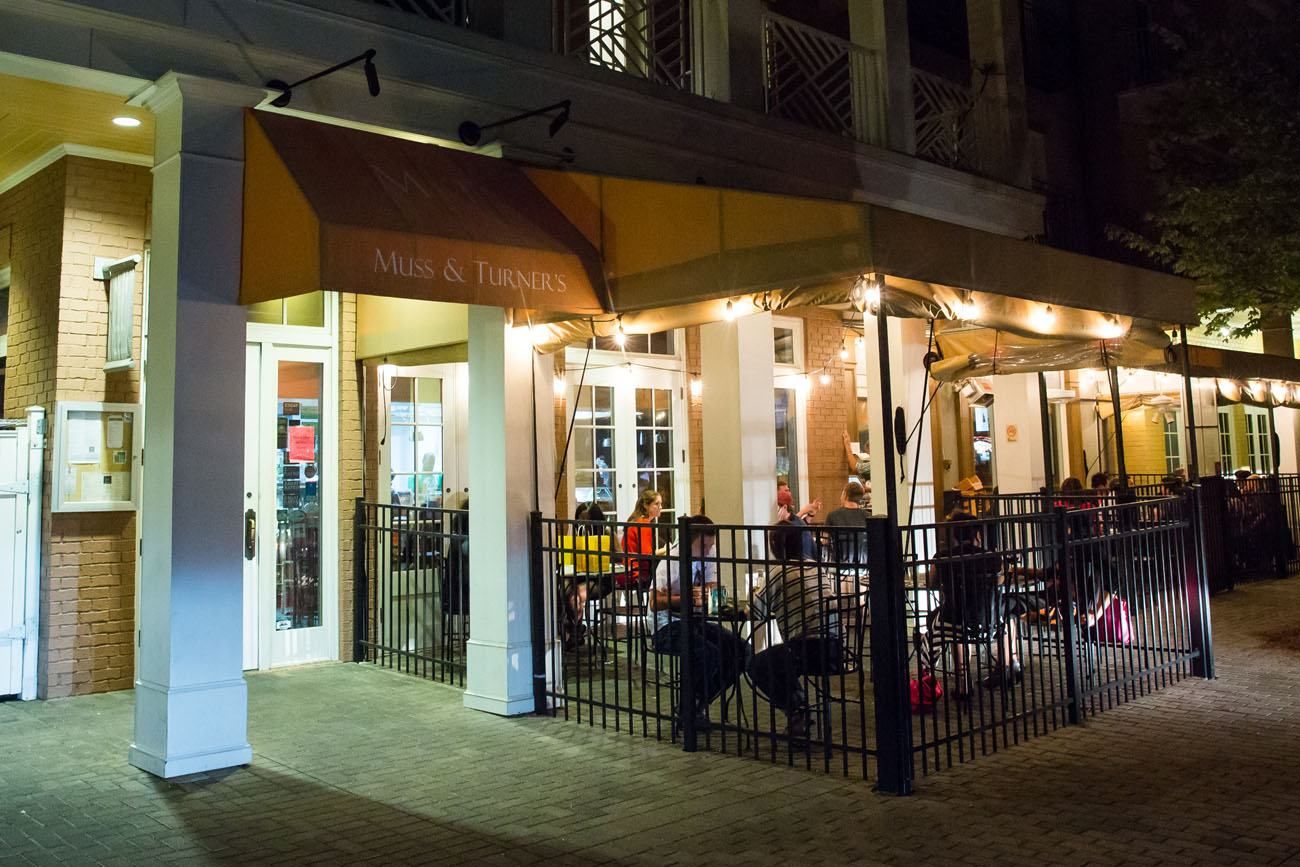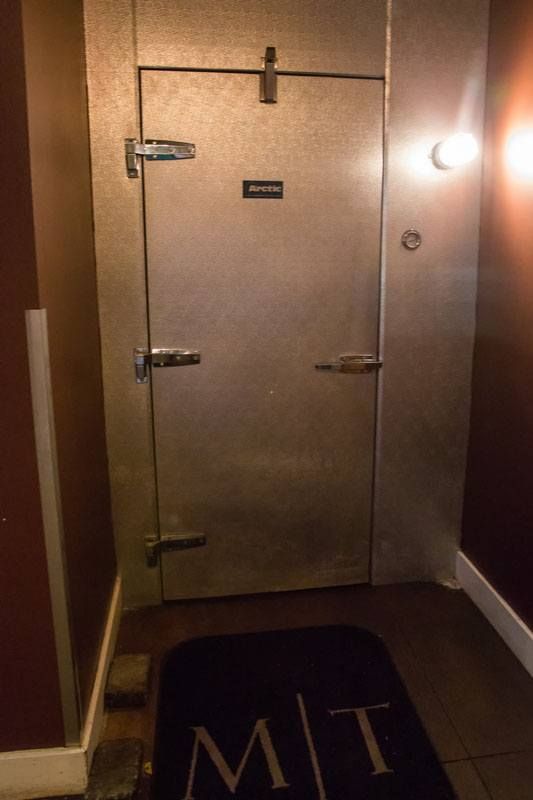 Our journey through Atlanta's best bars began on Friday night at Muss and Turner's, located in Smyrna. Thomas, Tim and I walked into a warmly lit space, filled with patrons munching on salads and sandwiches. What's so special about Muss and Turner's is not the main eating area but the hidden bar that only visitors in-the-know get to access. Thomas pointed the way to the hidden door, an unassuming refrigerator style door. Behind this door was Eleanor's, the hidden bar of Muss and Turners.
We found a small table, were greeted with true southern hospitality (I was called "doll" by our waitress and the three of us were constantly being referred to as "y'all), and took a look at the menu.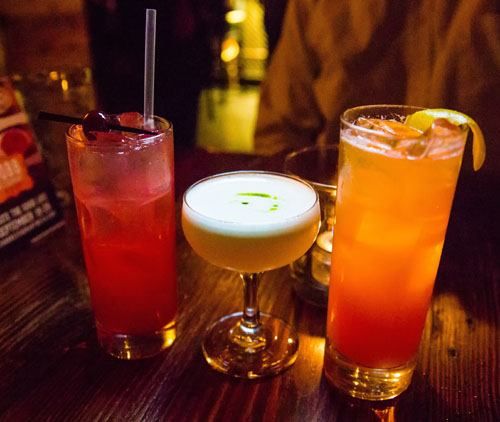 Eleanor's is a great place for cocktails, with many sophisticated selections, especially if you do not have a taste for sweet cocktails. What did we order? The Mook Jong, tasting like a less intense version of a Red Bull, the Phantom Punch, tasting like juice fresh from a juicer (Tim said he'd want to drink this after a P90X workout), and the Mockingbird, tasting like grapefruit juice and was collectively our favorite drink of the three.
We ordered appetizers as well, dining on Prince Edward Island Mussels and the Mercier Orchard Apple Salad. Both were delicious and maybe, dare I say, even better than the cocktails.
The Georgia Chapter Room, aka The Fred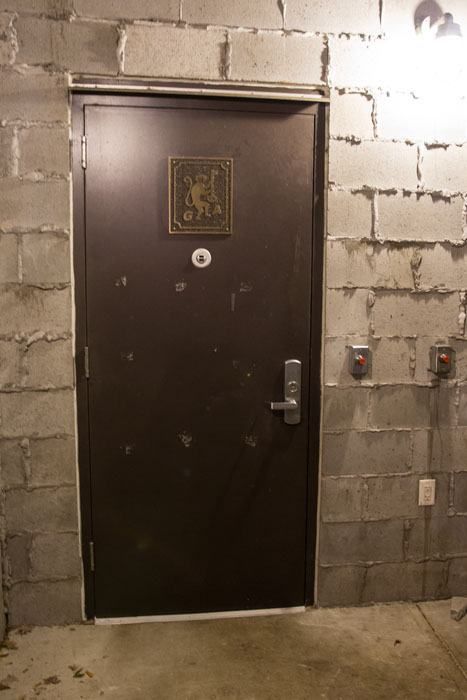 Next up was a favorite of Thomas' and a bar that he visits quite frequently. The Georgia Chapter Room is referred to as "The Fred" by its regular customers. The Fred is associated with Taco Mac, a larger chain of restaurants/bars in Atlanta. This was another bar for those "in-the-know," as Thomas had us searching for the second hidden door of the night. As Tim and I would learn, Atlanta is fond of these secret bars.
Tim and I followed Thomas down a small alleyway to what looked like the back door into a restaurant. We pressed the red panic button and within seconds were whisked into the bar.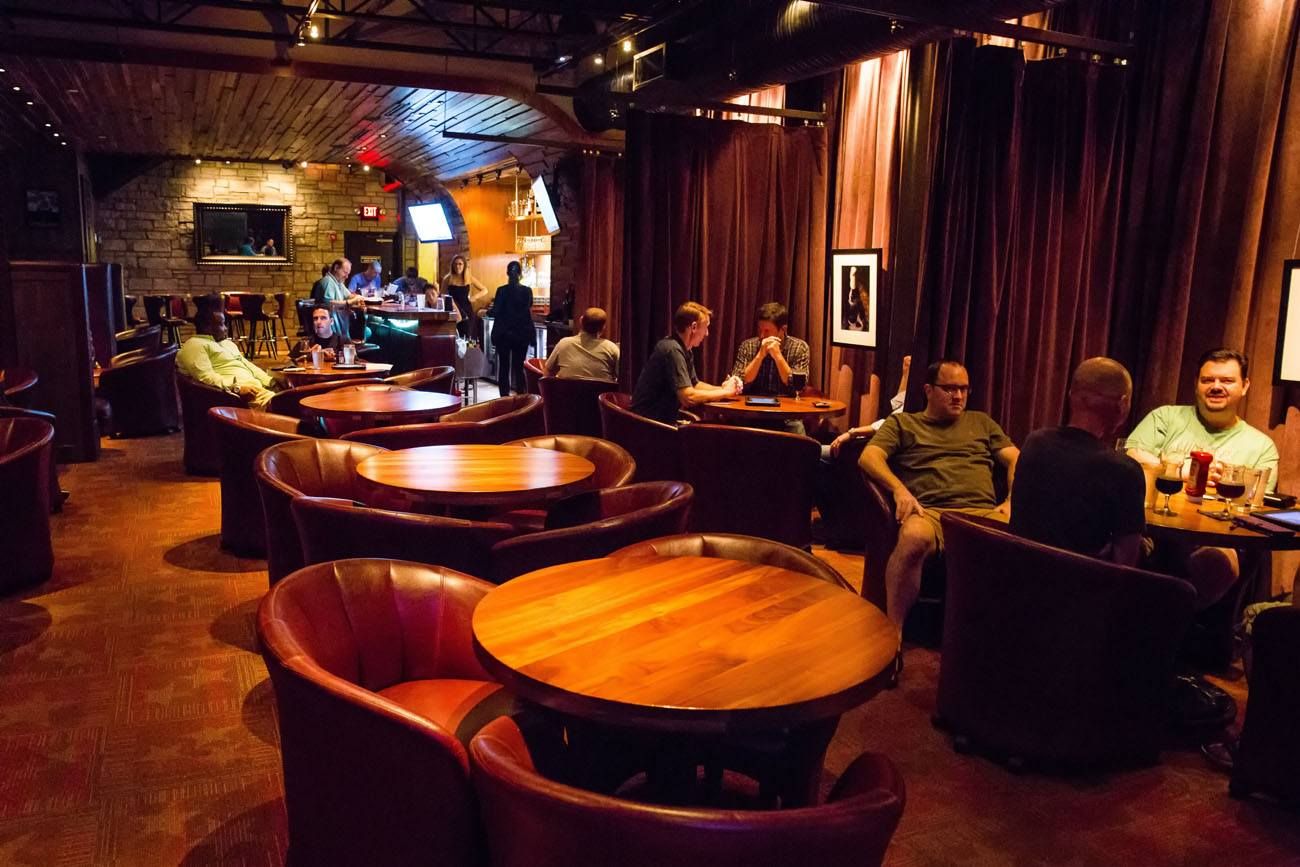 The bar was quiet, cozy, and very comfortable. Here we met Thomas' friend, Robert, and settled in. The menu is an iPad (points for a cool idea) but you still order via the wait staff (cool points lost). The Fred offers cocktails, beer, and a long list of draft and bottled beer.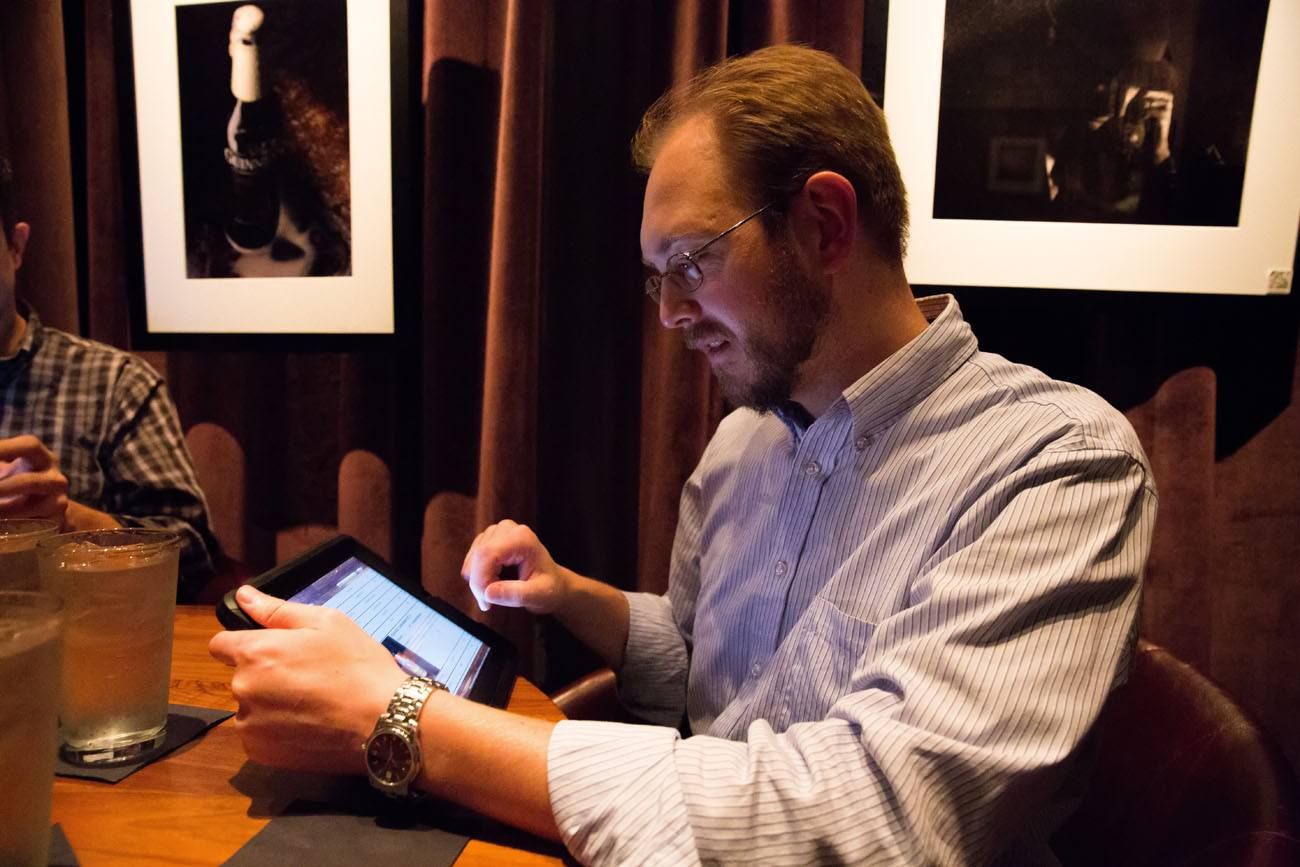 It was here that I drank the best glass of beer that I have ever had.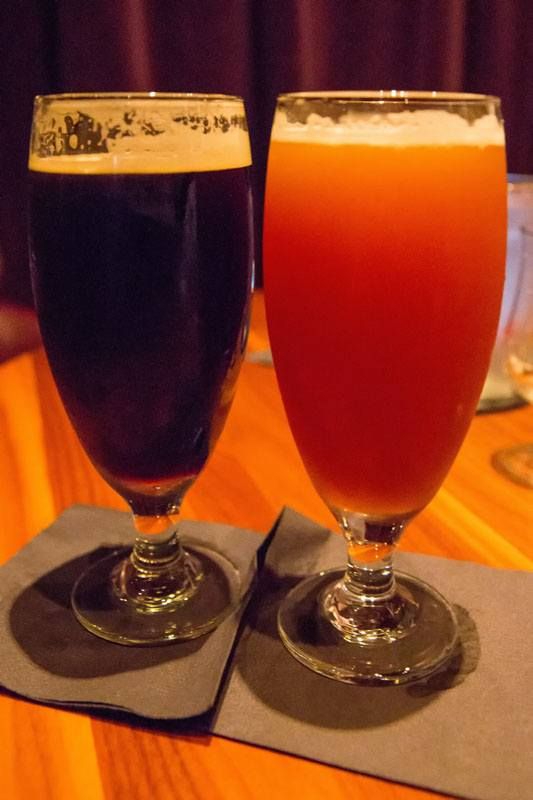 The Boulevard Chocolate Ale is amazing. Breathing it in, it smells just like Hershey's cocoa powder. The taste…smooth, chocolatey, like your tongue is floating down the Willy Wonka chocolate river while Tim is nearby, singing "oompa loompa." I had no idea that beer could fuse so well with a rich, chocolatey taste.
Both Tim and Thomas ordered the Speechwriter Black Bavarian, a light bodied lager with a lot of roasted flavor. A taste of Bavaria brewed in Wisconsin…who would have thought of that?
The Fred and Taco Mac have points cards, where regular customers can keep track of all of the beers they have tried. Thomas has tried 190 different beers. At number 125 he got his photo on the wall and now qualifies for 20 oz beers at a 16 oz price.
For beer connesieurs, The Fred is an excellent bar to visit.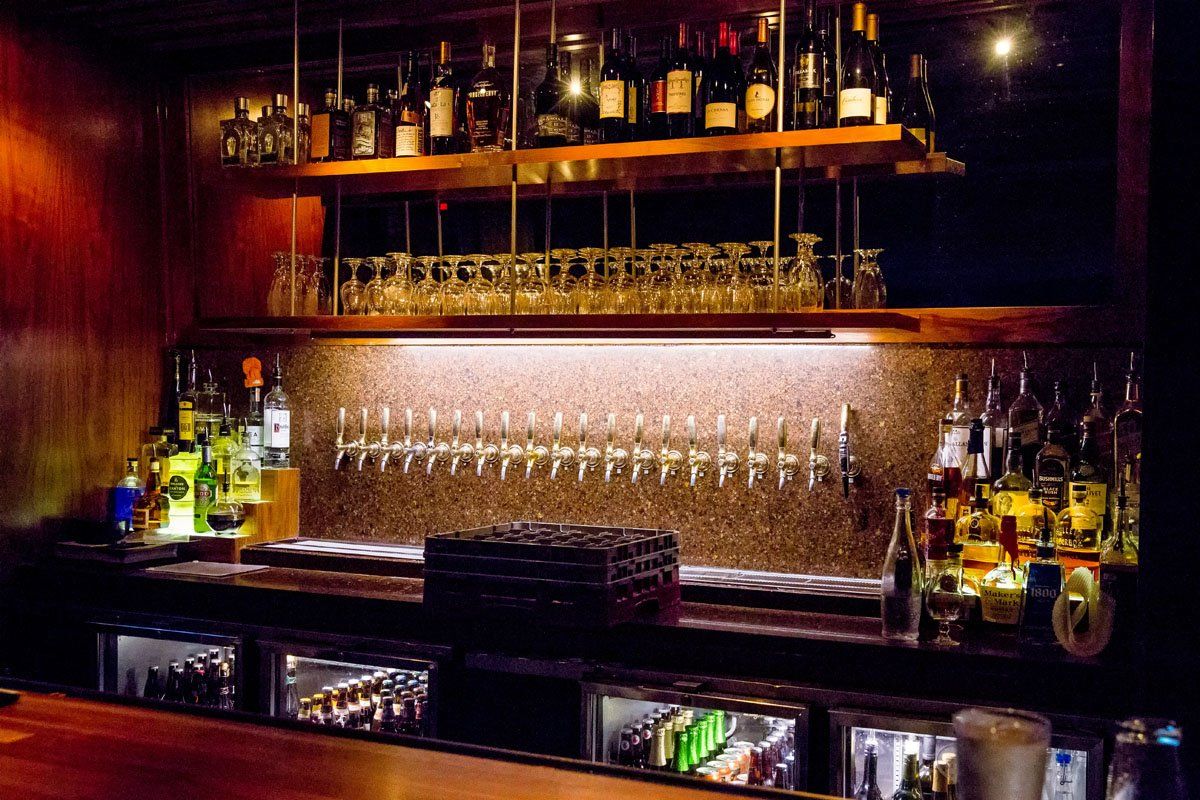 North River Tavern
Our final stop on Friday night was the North River Tavern, located in Sandy Springs. We arrived at midnight, the main bar was loud and hopping with action. We chose to sit in the non-smoking section, where we could relax and talk to each other. Dane, our waiter, knew everything about the 54 beers on tap and made great recommendations based on our preferences.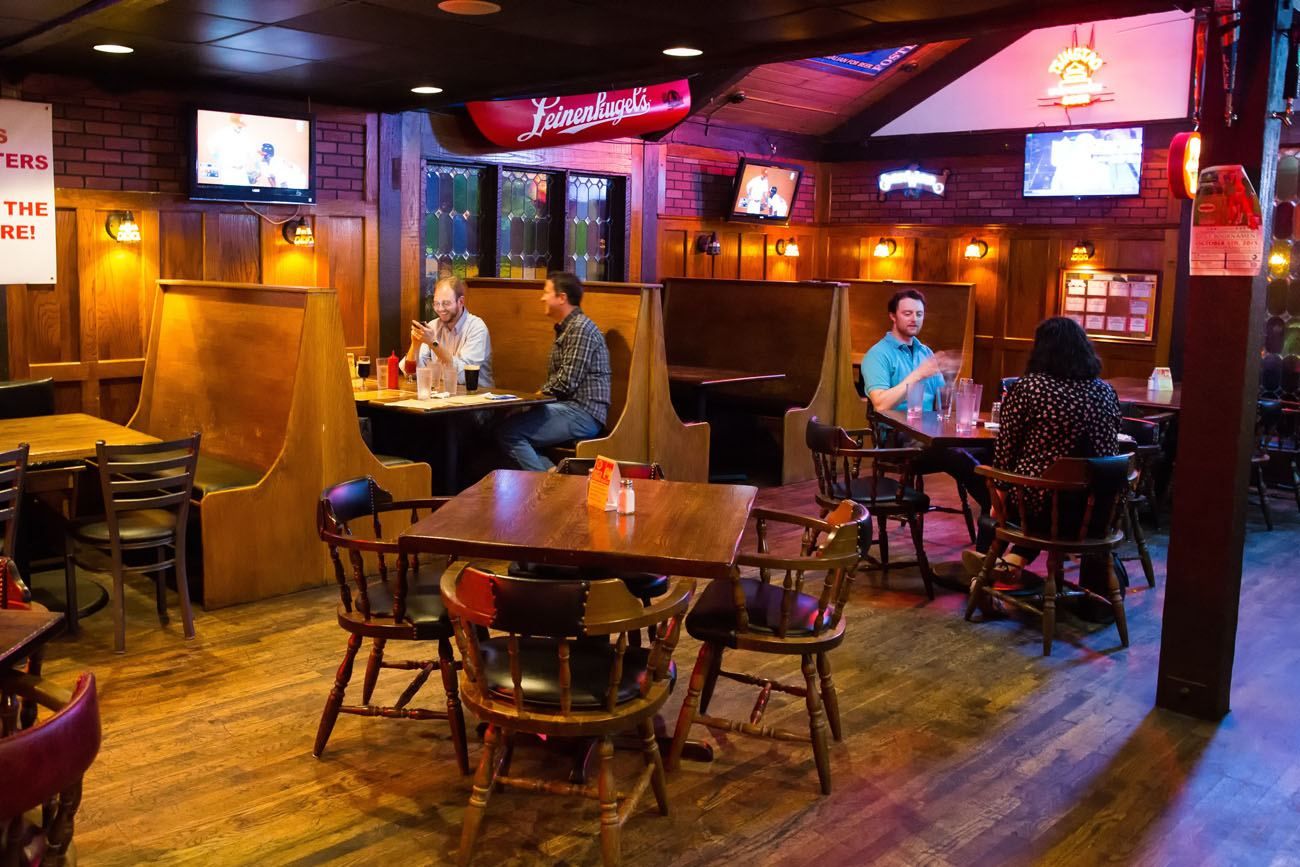 Thomas drank Imperial Pumpkin Ale, which smells like a Yankee Candle in the fall (good if that is your kind of thing) and Tim drank Cherry Street Chief Sawnee's Stash Coconut Porter, which was quite good. I munched on French fries, and they were delicious!
And this is where our night ended…we were looking forward to many more places tomorrow.
---
Day #2
We started early on Saturday at 5 pm. Caroline was joining us now as we toured more of Atlanta's best bars.
Brick Store Pub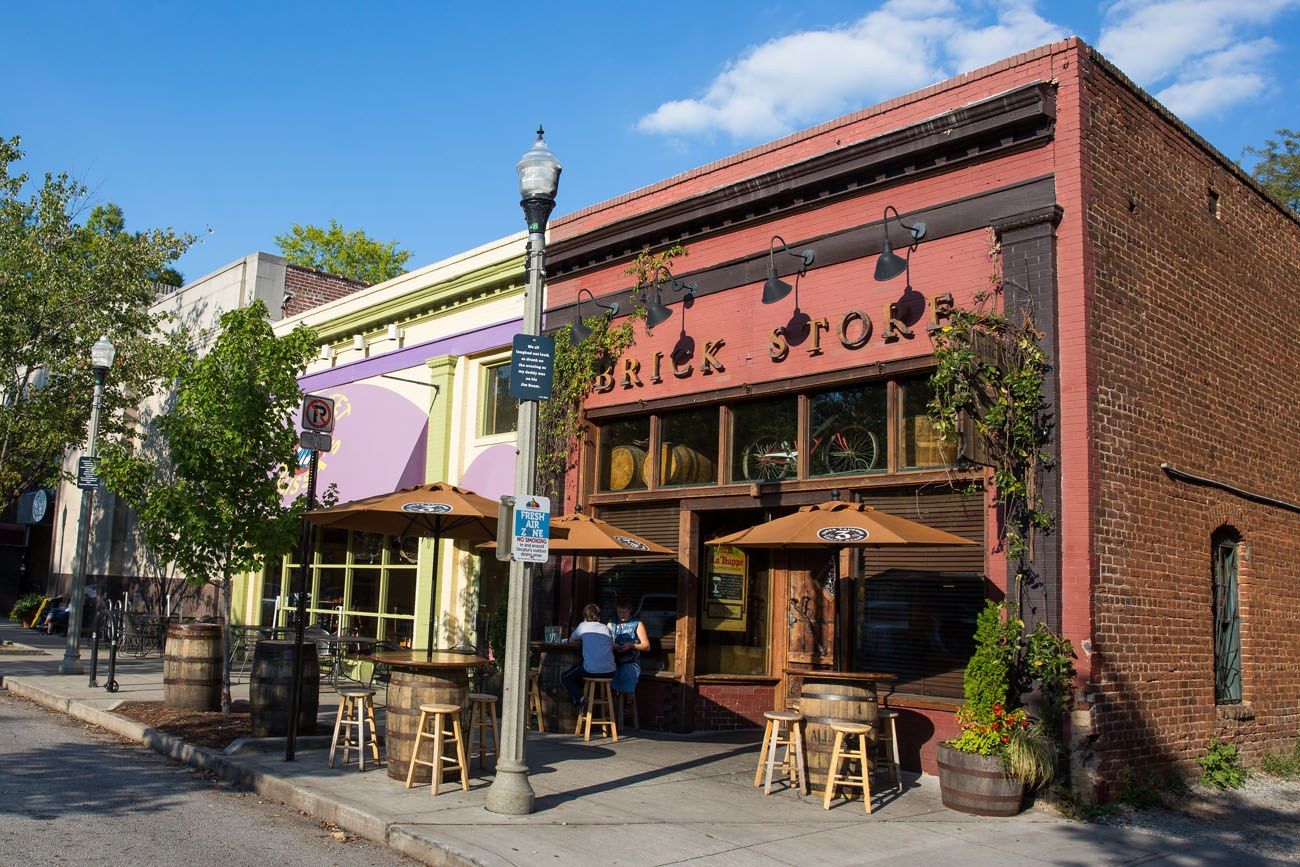 The Brick Store Pub, a Belgian bar located in Decatur, was one of our favorites. We walked into a rustic-style pub with old brick walls, Belgian flags hanging from the ceiling, and bars on the first and second levels. The main bar serves a collection of American, German, and English beer. The bar called "Upstairs and to the left," the name identifying its location, has an emphasis on Belgian beers.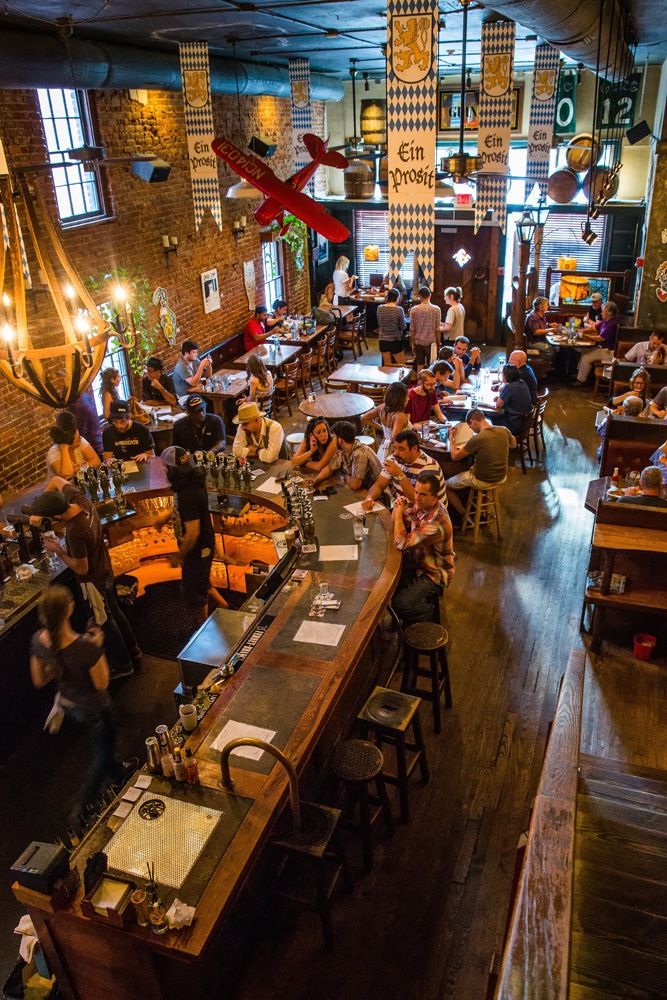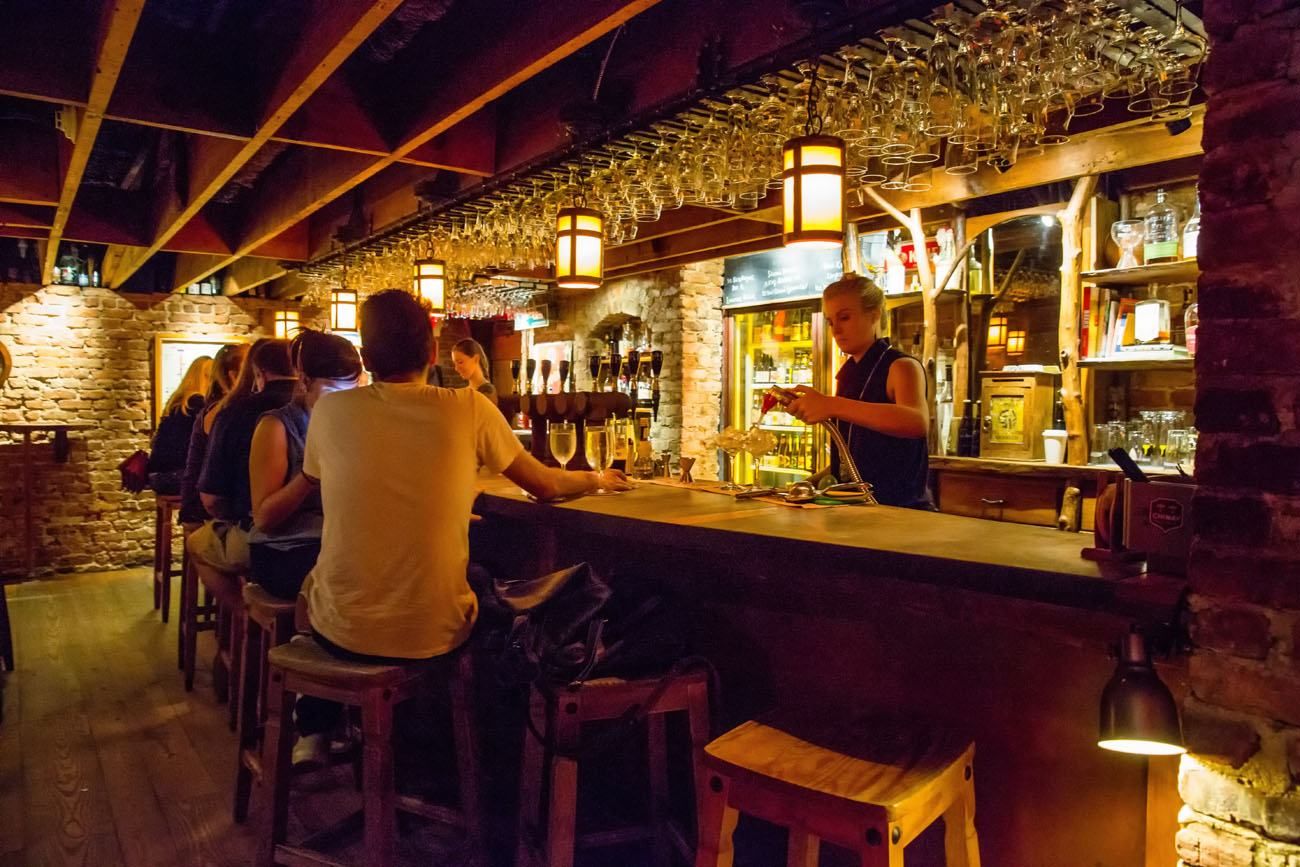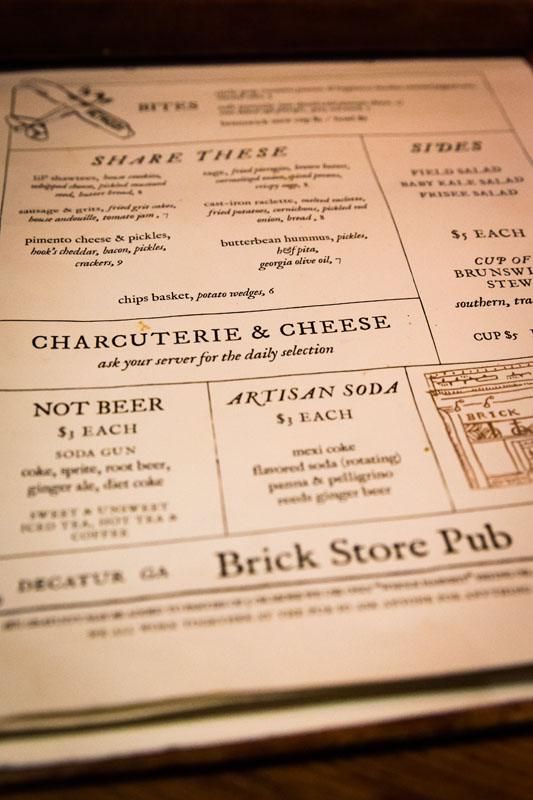 Even though we were at a Belgian bar, we sampled American beer. As we munched on the charcuterie board we sampled three different beers. Call me a wimp but I was sharing a beer with Tim…we had seven bars lined up for the day and I was pacing myself. I felt like a marathon runner at the start of a race!
The Stone Smoked Porter with Vanilla was tastebud heaven. The saltiness of the charcuterie board really brought out the smoky vanilla taste of the beer. The Orpheus Chickataur was fruity and sour, like drinking a grapefruit with zero after taste. Thomas drank the North Coast Old Rasputin Nitro, which goes from sweet to bitter with a slight coffee aftertaste.
Tim and I loved this place. The ambience was excellent…cozy, lively without being too loud, and very comfortable. This is bar we would return to over and over again.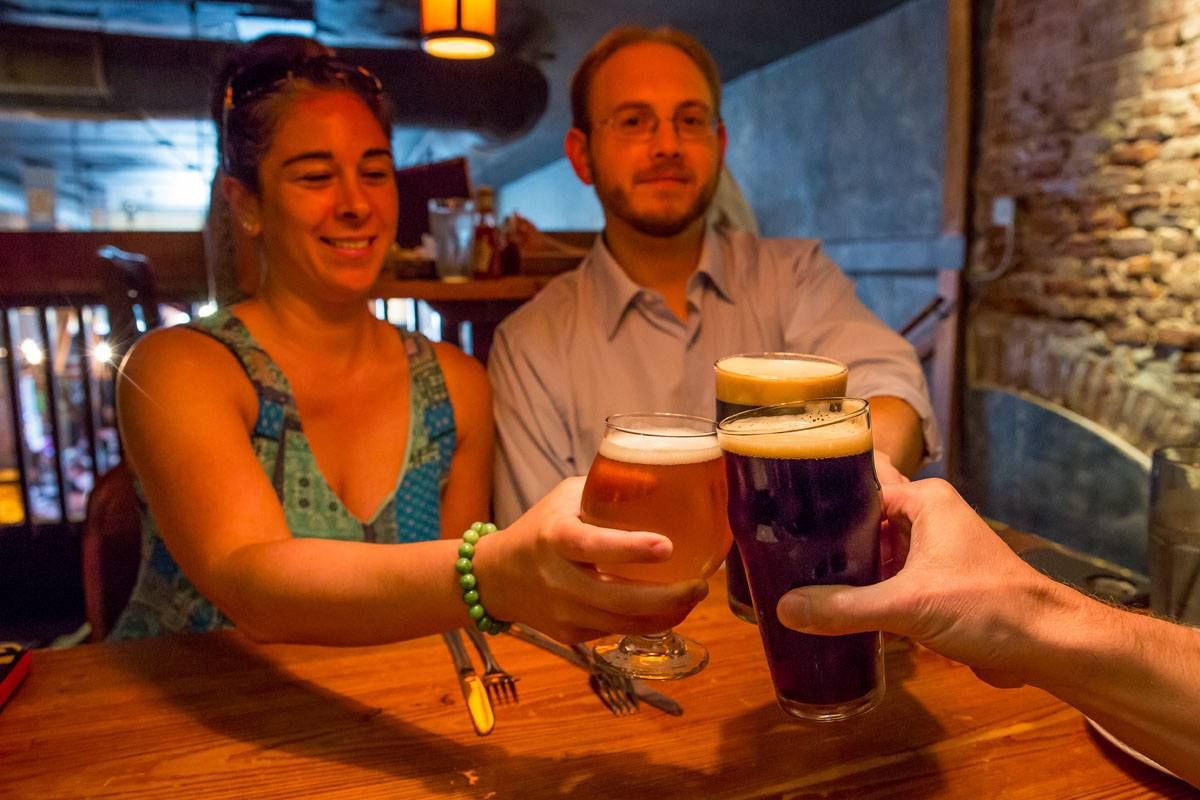 Victory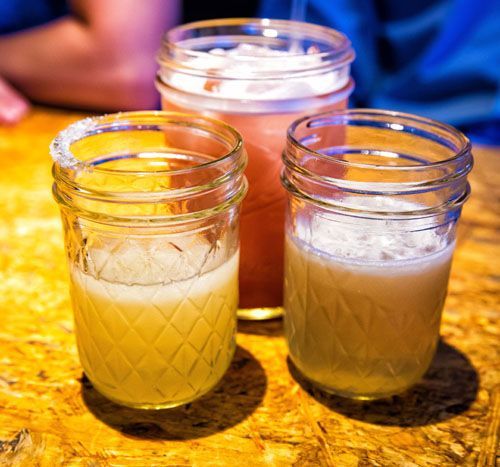 Just around the corner from Brick Store Pub in Decatur was Victory, a smaller, not quite as cozy bar. This was a simple place with wood tables, metal chairs, and 1950's style décor.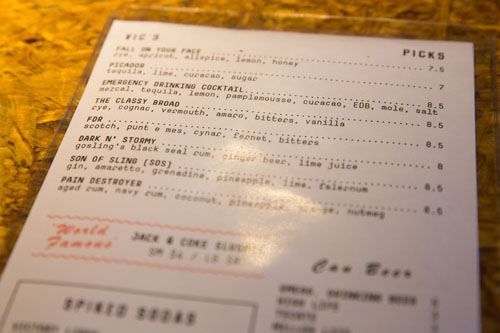 The cheddar popcorn hit the spot.
The cocktails here were awesome. The Son of Sling tasted like vacation; Caroline said it tasted like liquid gummy bears. I had the Picador, which tasted like an amazing margarita, but was so small that I renamed it the piccolo. The Emergency Drinking Cocktail tasted like a tequila campfire, in a good way.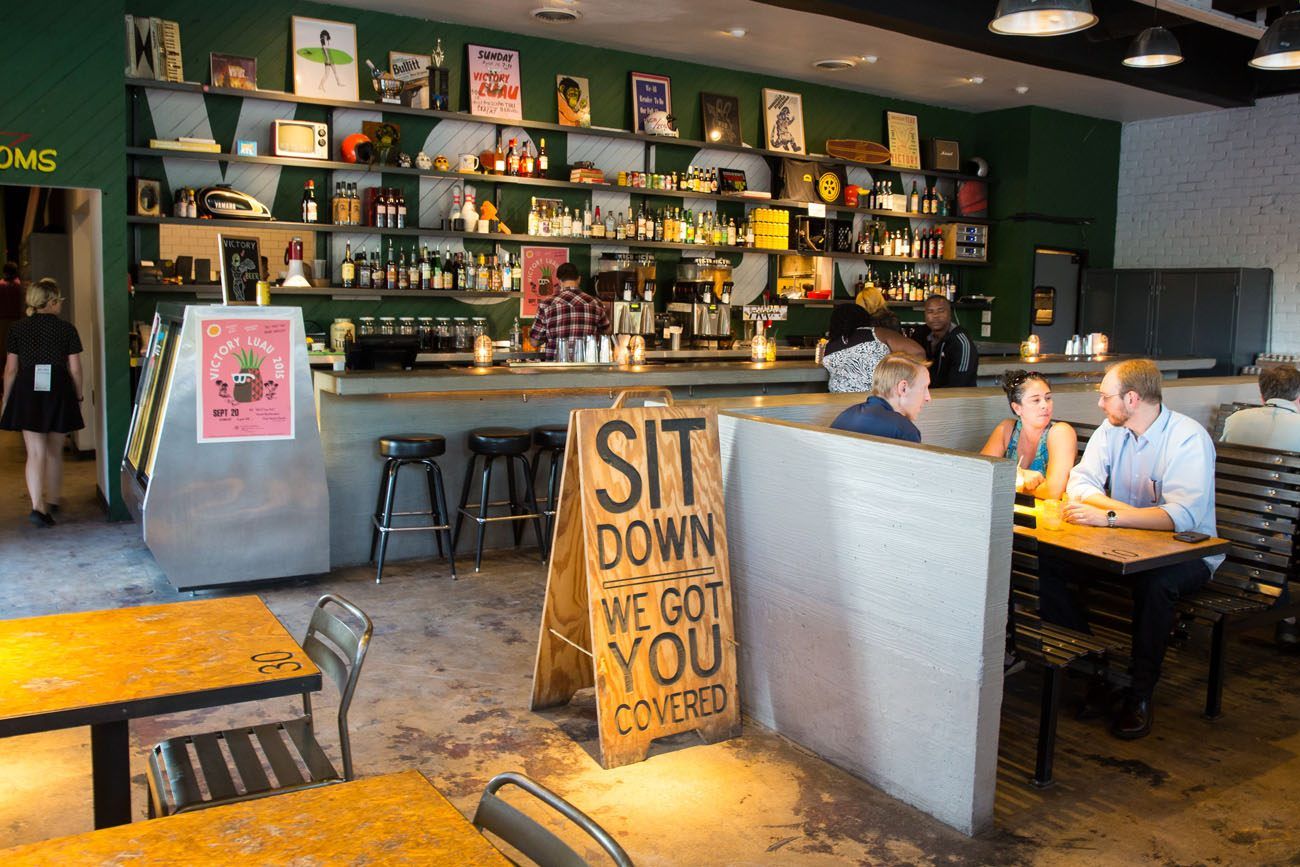 Wrecking Bar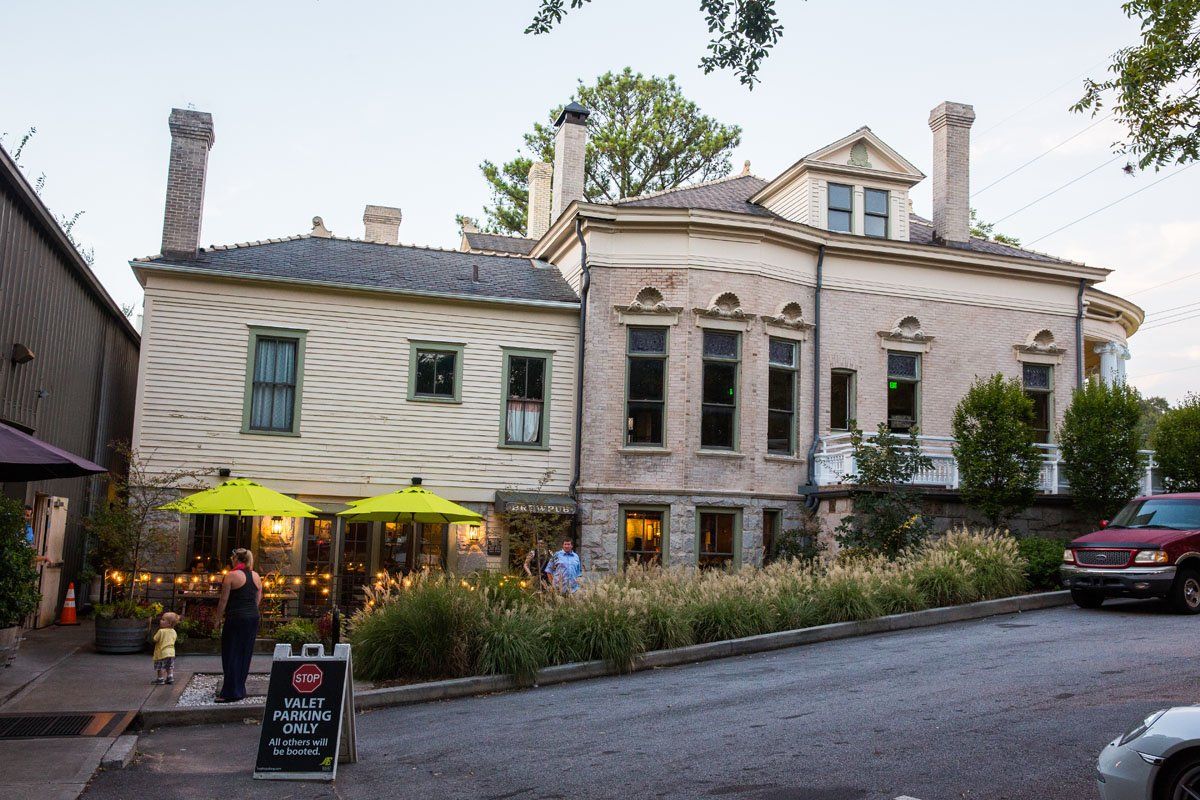 Our third stop of the night was the Wrecking Bar Brewpub, located in the Little Five Points neighborhood of Atlanta. This bar has an excellent reputation for good food and drinks and came up as a top result on various Google searches we conducted. We were all looking forward to this place.
Maybe our expectations were too high…the Wrecking Bar was far from making it onto our list of favorites.
The Wrecking Bar had a classier feel to it than the other bars we had visited. We entered through the "Brew Pub" door but ultimately decided to sit outside in order to enjoy the perfect Atlanta end of summer weather.
We ordered dinner and drinks here. My drink, the Testarossa, was a mix of Italian liqueurs, making it very strong, but I loved the one, large ice cube in my glass. Caroline's drink, the Jambler, was too minty, but Thomas loved his beer, Prichard's Scotch Barrel Aged Son of a Beech Imperial Rauchbier.
We have mixed feelings about Wrecking Bar. Thomas loved his burger and beer, but we left with two unfinished cocktails (too strong) and an uneaten portion of a pastrami sandwich (too salty for our liking).
The Porter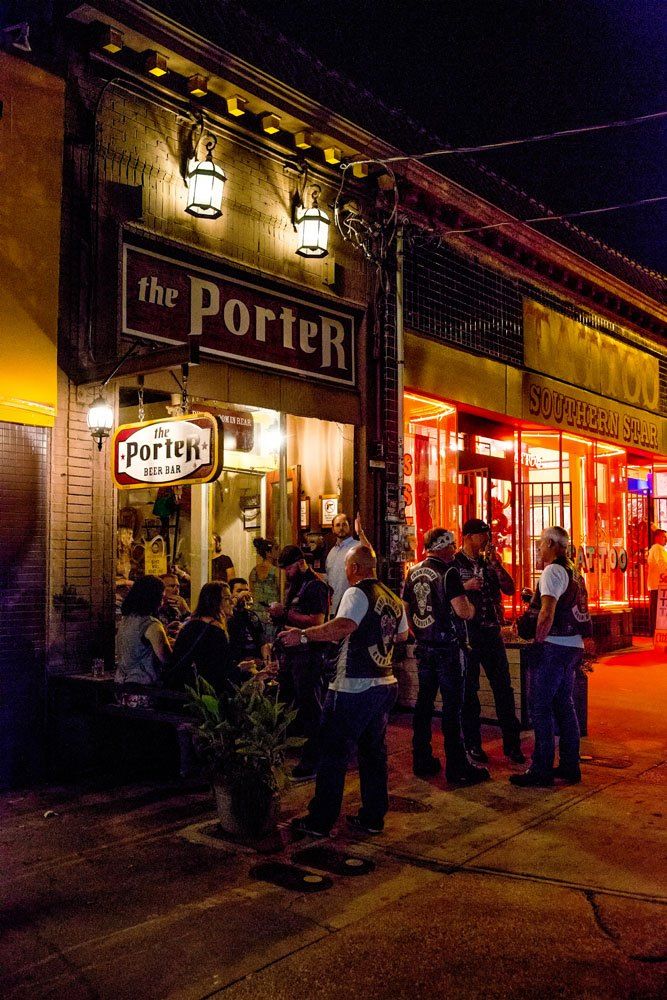 Just a five minute walk from the Wrecking Bar is The Porter. In that five minutes, the streets became dirtier and we had to navigate around the homeless people to get to the entrance, so that was a downer. But once inside, The Porter has an unpretentious, European atmosphere to it. The Porter is long and narrow. We walked past the long, narrow bar, entering the back half of the establishment, and found seats at one of the oversized wooden booths. Huge storage racks sat on the walls, holding kegs of beer and wooden barrels. This place was cool.
Our waitress brought us huge mason jars filled with water so we could hydrate as we browsed the twenty-one page double-sided menu of beer. If you would rather have a cocktail, there is an additional six page double-sided menu of mixed drinks. There is something for everyone at The Porter.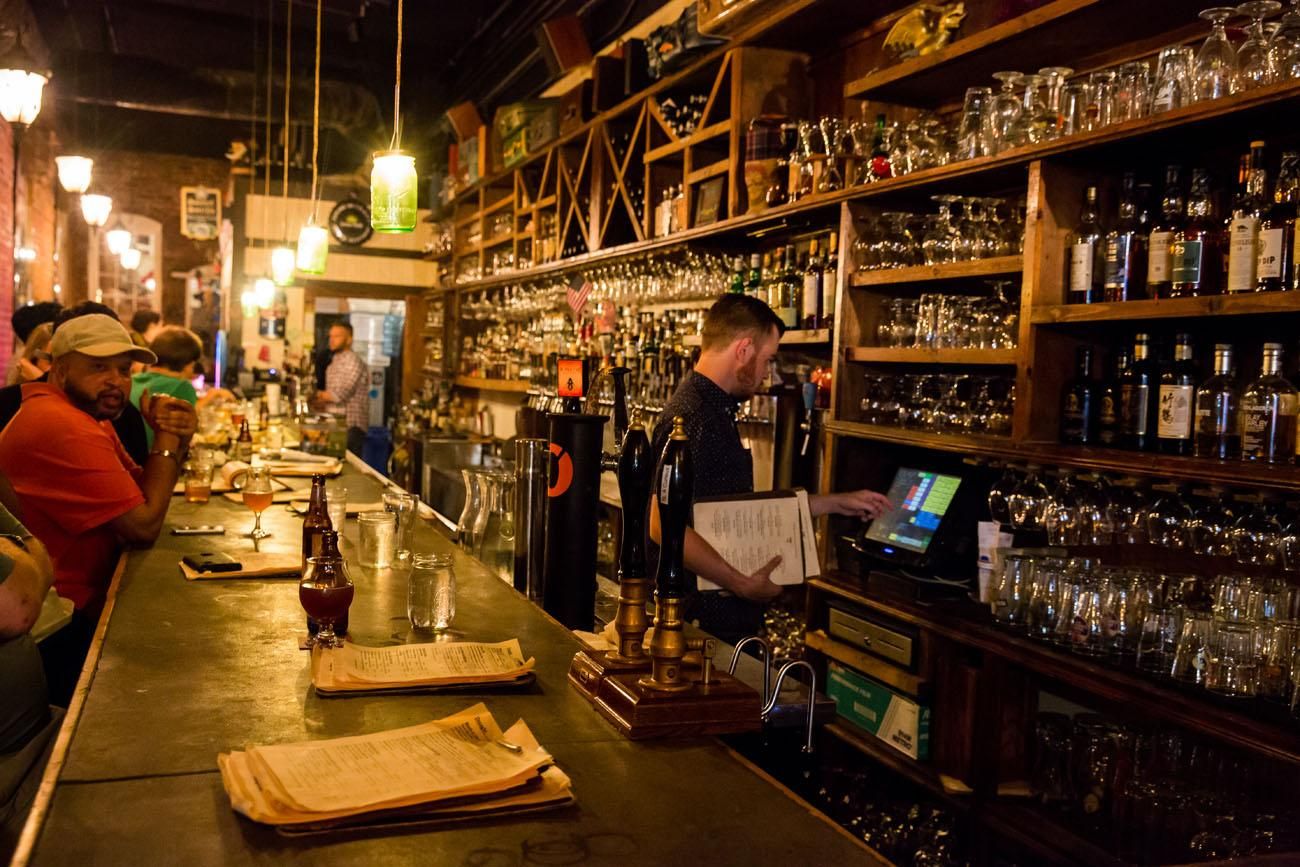 Some of the more interesting named beers include Monday Night Bed Head, Evil Twin Imperial Doughnut Break, Monday Night Drafty Kilt, Founders Backwoods Bastard, and Brasserie de Silly Stupid Sour.
We made our selections, toasted our mason jars with a clang, and slammed them to the wooden table like Vikings.
Tim and I split a beer (Tim had taken over as designated driver for the night) and ours was brought out in two tiny-sized glasses. How cute!
Czar Ice Bar
Now we were off to Buckhead, a wealthier part of town judging by the huge estates we passed on the way.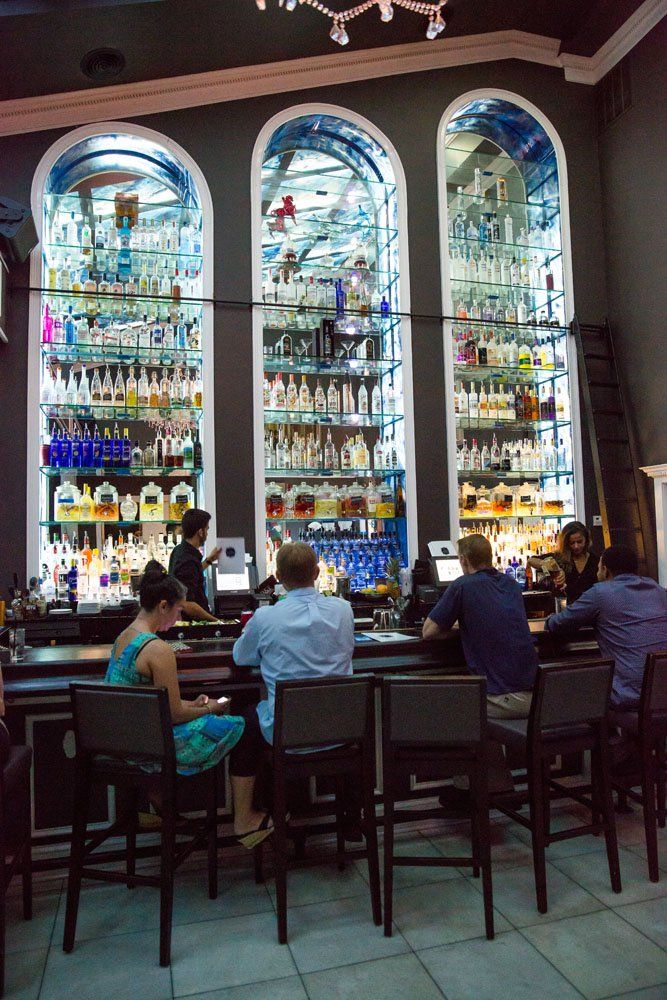 Here we took our seats at the almost empty bar (there was a huge concert going on in Atlanta this weekend, making the bars emptier than normal). On the walls and in the menu was an extensive selection of vodkas from around the world.
Unfortunately, there was no ice on top of the bar tonight, so it was one round of vodka martini's and goodbye to the Czar "No Ice" Bar.
We weren't too impressed with this place. There was no ice on the bar, the bartender made an extra effort to remember our names and still got them wrong seconds later, it was a hassle to pay the bill (the bartender disappeared for several minutes, leaving the bar completely unattended), and the drinks were not worth the $12 each we paid for them.
Prohibition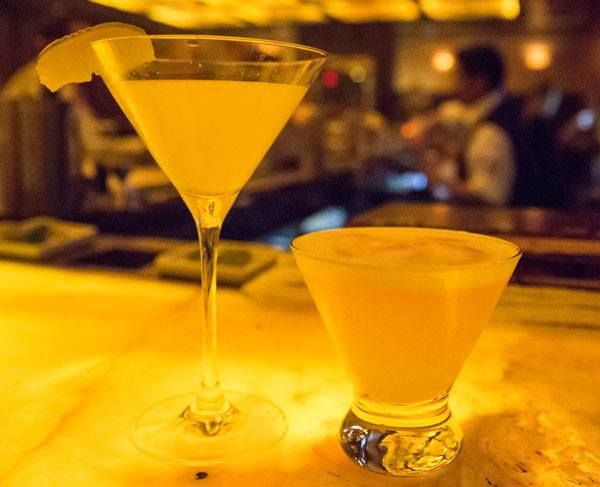 Want to go to a bar in Atlanta and feel like you are stepping back into the 1920's? Then Prohibition is the place for you. There's just one catch…you need the secret code.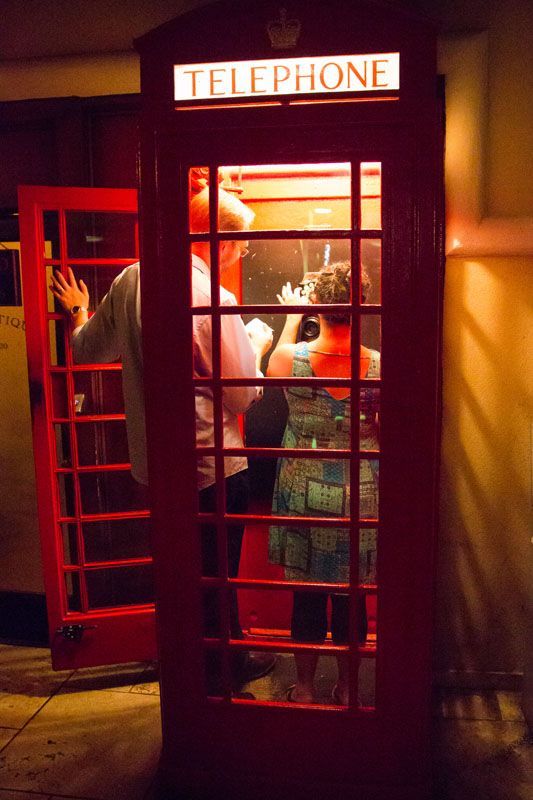 Located just downstairs from Czar Ice Bar is the entrance to Prohibition, a red London-style telephone booth. Here, Thomas entered the secret code (which he got from the bartender at Czar Bar) into the rotary phone. The back wall of the phone booth opened up and we had gained access to our third "secret bar" in Atlanta.
Stepping inside Prohibition is like stepping back into the 1920's. The room is furnished with leather sofas and cozy seating areas, a long bar worked by bartenders in white shirts, black ties, and black vests, a humidor, smokey air, and a menu with "craft cocktails, fine cigars, and exceptional cuisine."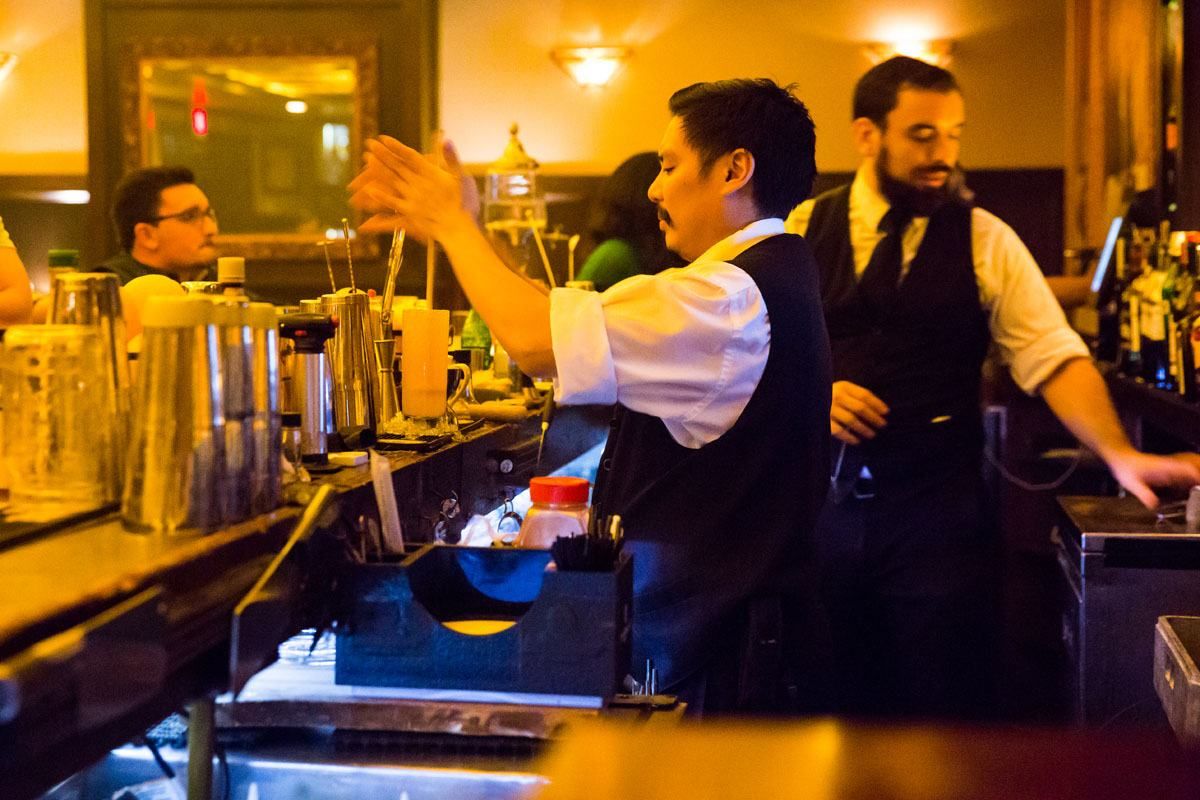 The place was lively and had a great vibe. Tim and I loved it here. Thomas, Caroline, and I ordered some drinks while Tim perused the cigar menu. Prohibition is not only known for being a secret, speakeasy establishment, but also for its extensive cigar list.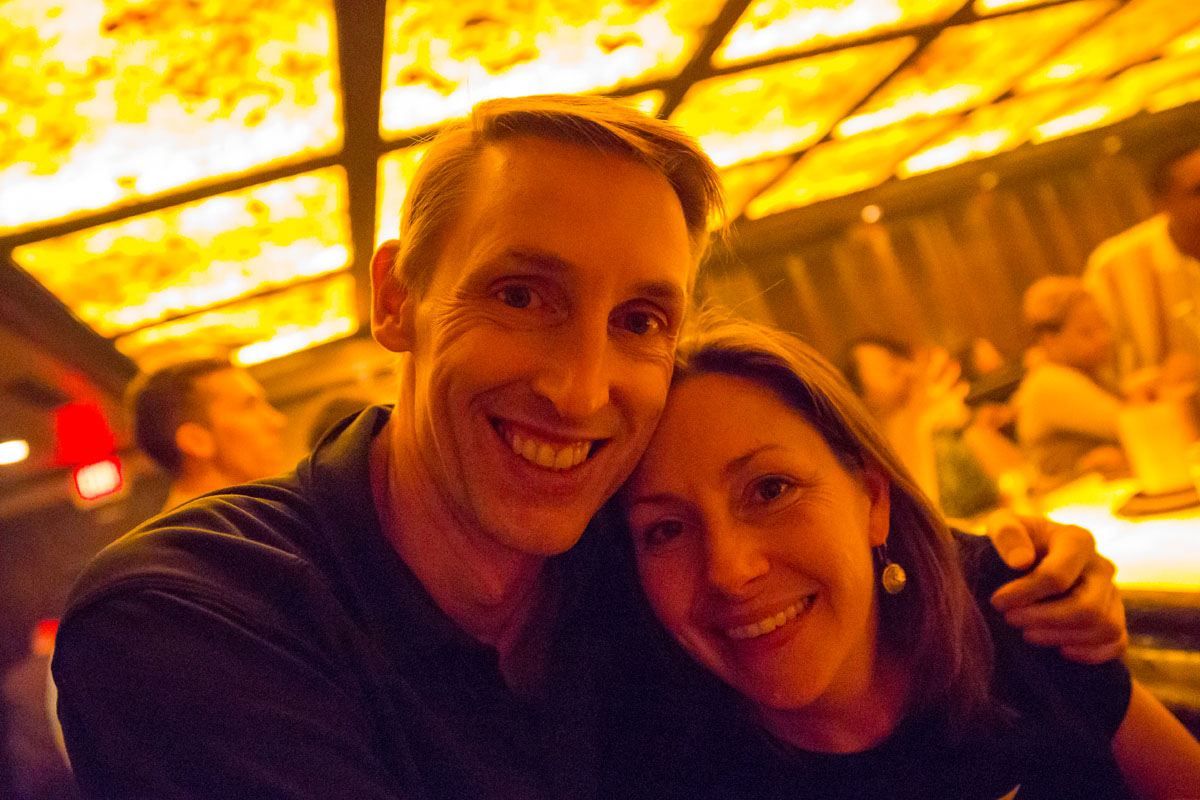 Taco Mac
By now it was past midnight. We had visited six bars in seven hours. I almost paced myself too well…instead of getting a nice buzz going I was just walking around in some beer/cocktail stupor for the past few hours. Thomas and Caroline, who were drinking more heavily than Tim and me, were definitely having "a better time."
Our final Atlanta bar on our grand tour was Taco Mac, a place Thomas visits quite frequently and is conveniently located near his house. We dropped Caroline off at home to relieve the babysitter and then Tim, Thomas, and I took our seats at one final bar.
Taco Mac is a popular chain bar/restaurant in Atlanta. It is a large sports bar filled with large, flat screen TVs and a very extensive beer list. Thomas showed us the plaque on the wall with his name on it for drinking more than 125 different beers here and then we ordered our final drinks of the night.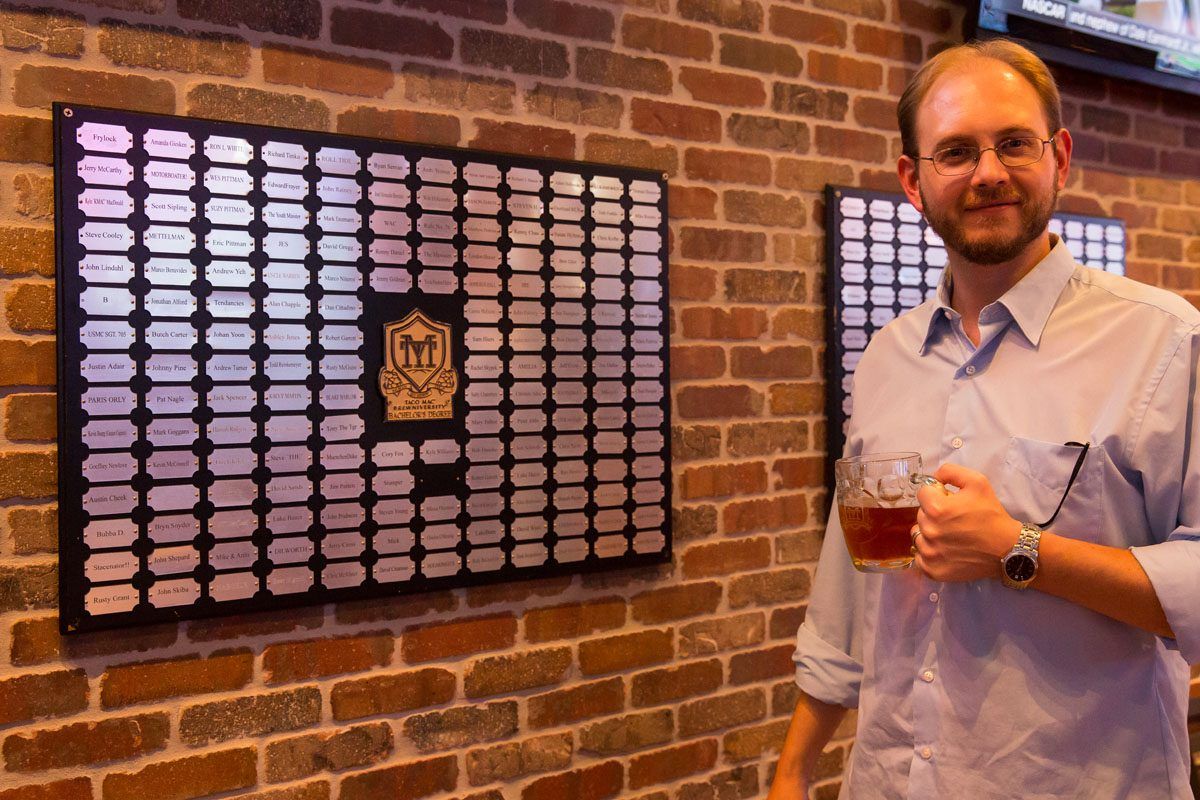 For anyone interested, Taco Mac has a rewards program called Brewniversity. For every different beer a person drinks, they get one credit. 190 beers may sound like a lot, but Thomas only has a bachelor's degree so far. In order to get a Ph.D., 325 different beers need to be bought and drank. But it doesn't stop there, oh no. The highest level is the Platinum Chancellor, coming in at a whopping 3000 beers! Let's do the math…at $5 per beer, it would cost $15,000 to drink 3000 beers, and if you drank one beer per day, it would take over 8 years to become Platinum Chancellor. Has anyone done this? Is anyone even close?
Do they have something like this for wine? If they do, I'm in!!
At 1 am our tour of Atlanta's best bars had come to an end. It is a common thing in Atlanta to hit Waffle House as a late night snack, but we were all too tired (but Tim and I would have breakfast here the next morning).
So, ten bars in just over 24 hours. We did it.
Our favorites were The Fred for it's quiet, cozy atmosphere, Prohibition because it was like stepping back in time, The Porter for its European atmosphere and excellent beer menu, and Brick Store Pub, just an all-around cool place.
When we return to Atlanta to visit Thomas and Caroline, we have some places we'd want to go to again, but we know that there are still many more to try.
---
You Might Also Like: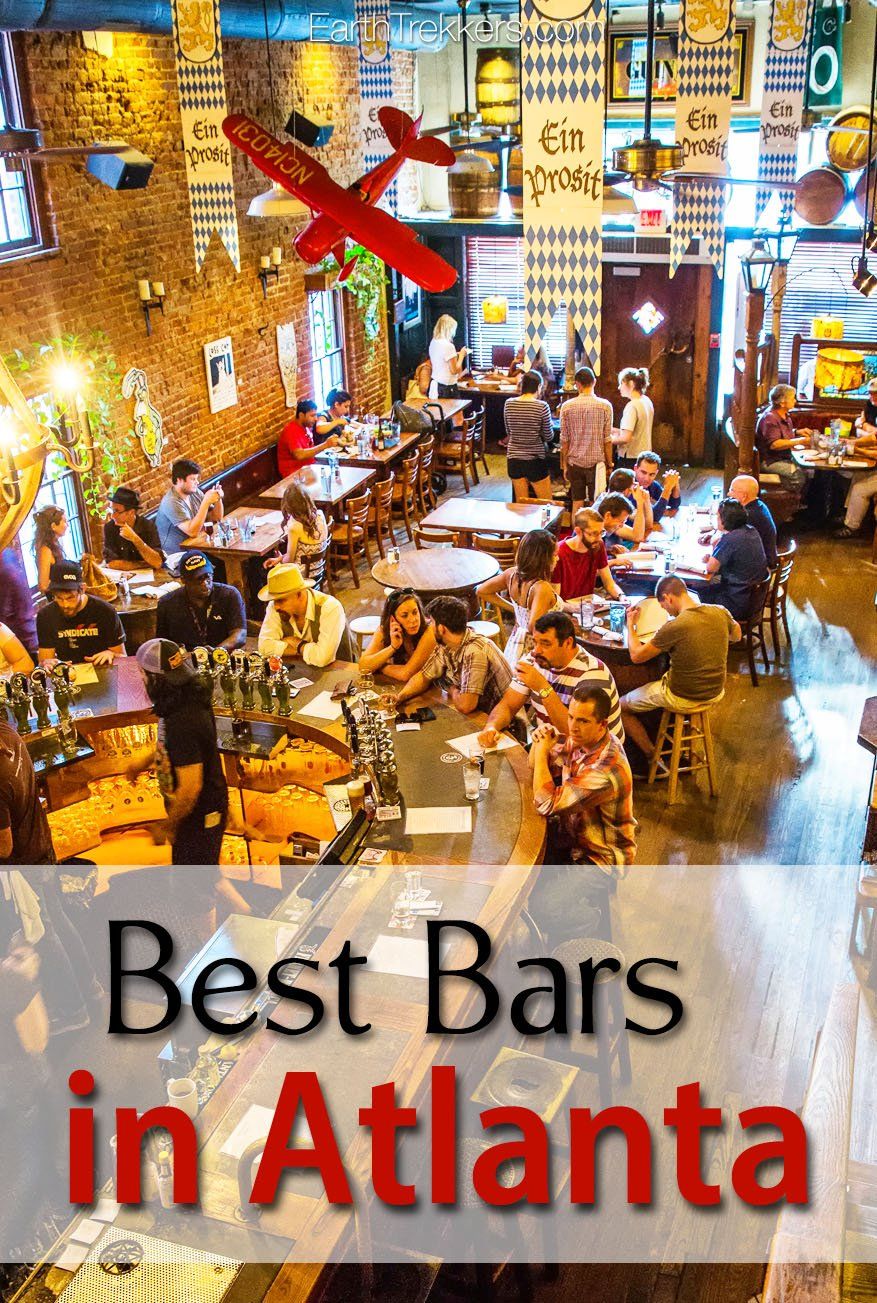 All rights reserved © Earth Trekkers. Republishing this article and/or any of its contents (text, photography, etc.), in whole or in part, is strictly prohibited.