Nestled in the Blue Ridge Mountains, Asheville makes the perfect weekend getaway. There is something here for everyone, whether you are a foodie, a family, a beer aficionado, or an outdoor adventurer. In this guide, we cover the best things to do in Asheville, organized by travel style.
Must-Do Activities in Asheville
The Biltmore Estate
The Biltmore Estate draws thousands of visitors per year. A trip to Asheville would not be complete without a visit to the Biltmore Estate.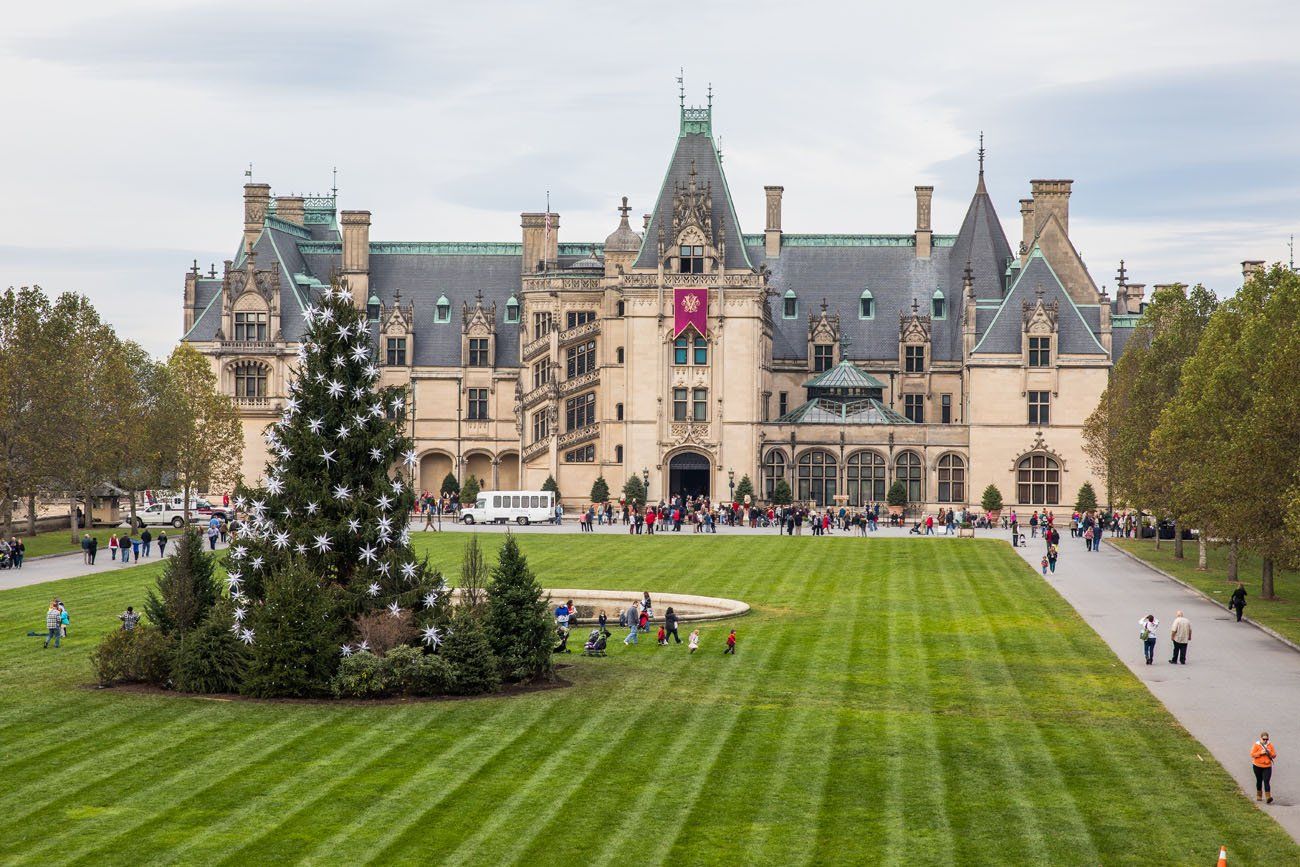 The Biltmore Estate was built over one hundred years ago by George Washington Vanderbilt. The mansion is the largest privately owned home in the United States. It sits on a huge estate, 11 square miles in size (8,000 acres), just outside of Asheville.
There is a lot to do here, enough that you could actually spend an entire day at the Biltmore. Tour the 250 room chateau, go shopping at the Antler Hill Village, and go wine tasting at the Biltmore winery. There is an Outdoor Adventure Center, offering activities like horseback riding, biking, and carriage rides. Or, dine at one of several restaurants on the property. There are even hotels so you can spend the night right on the Biltmore property.
If you plan on visiting the chateau, strolling through the botanical gardens, and wine tasting at Antler Village, expect your visit to last between two to four hours.
Ticket prices range from $66 to $339 for adults, depending on the day and season you visit.
Go early or go late. To avoid the worst of the crowds, especially during weekends and peak season days, arrive right at opening time or late in the day. I made a huge mistake, arriving one hour past opening. It took one hour to inch my way from the main entrance to a parking lot, in a long line of cars. And, of course, the chateau was packed with people. Not the best experience.
Tim met me in Asheville a few days later and he toured the Biltmore at the very end of the day. Tim drove right in and while walking through the chateau he almost felt like he had the place to himself. He loved it.
If you go early, head straight to the chateau, tour the mansion and the gardens, and then move on to Antler Village and any other activities you have planned for the day.
One of the best times to visit the Biltmore is during November and December. This is the Biltmore's "most magical season." The entire chateau is filled with Christmas trees and kids are lined up to see Santa.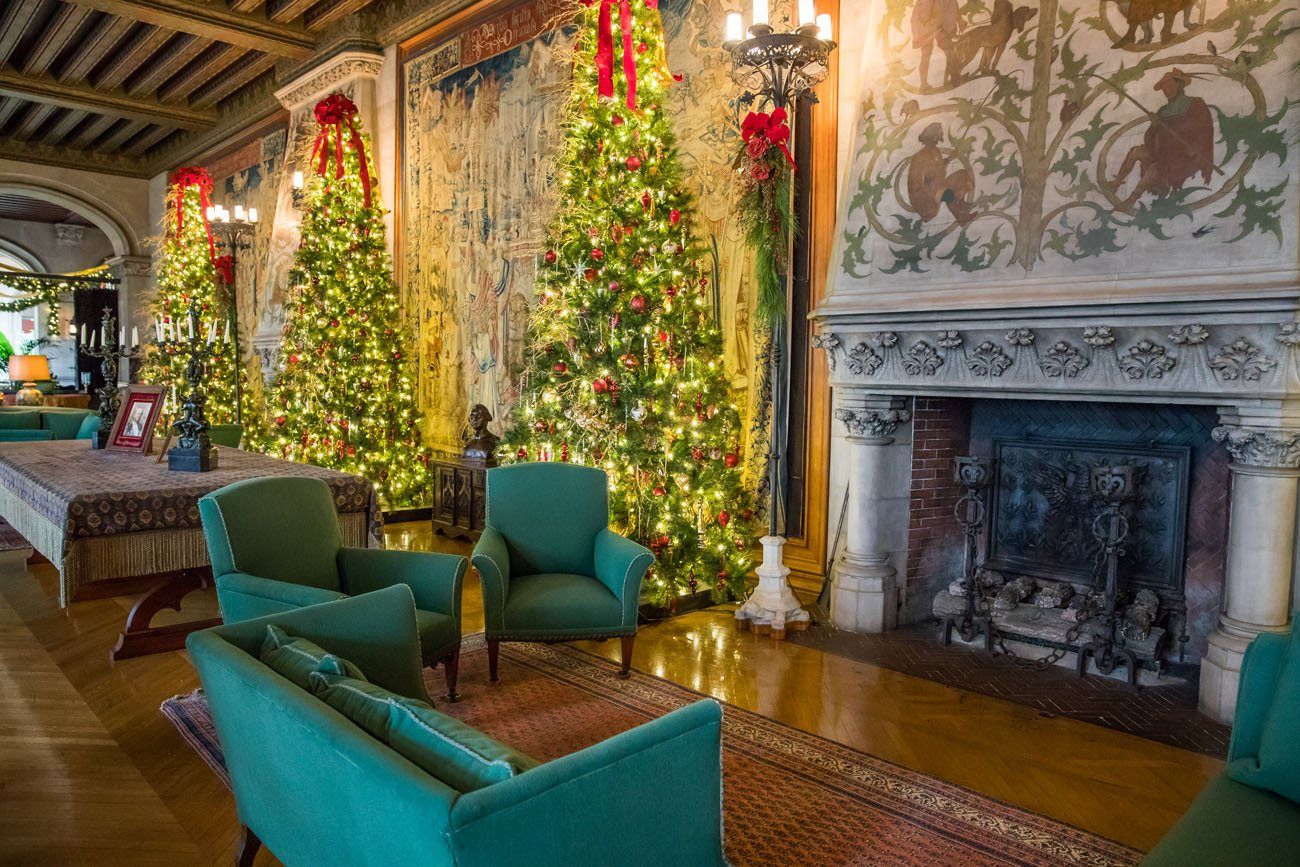 To purchase tickets in advance and learn more about the Biltmore, visit the official Biltmore Estate website.
If you want to read an excellent post about how to plan your visit, check out How to Make the Most of Your Visit to the Biltmore Estate by Amanda Williams from A Dangerous Business.
Explore the Outdoors
Go for a scenic drive, strap on your hiking shoes and hit the trails, take in the view from Chimney Rock, or have a picnic alongside one of the many waterfalls in the area.
Asheville is located in the Blue Ridge Mountains. In as little as ten minutes, you can be on the Blue Ridge Parkway, one of the best roads in the US for a scenic drive.
Just a short drive from town are other outdoor hotspots, such as Pisgah National Forest, DuPont State Forest, and Lake Lure. One hour to the west is the entrance to Great Smoky Mountains National Park.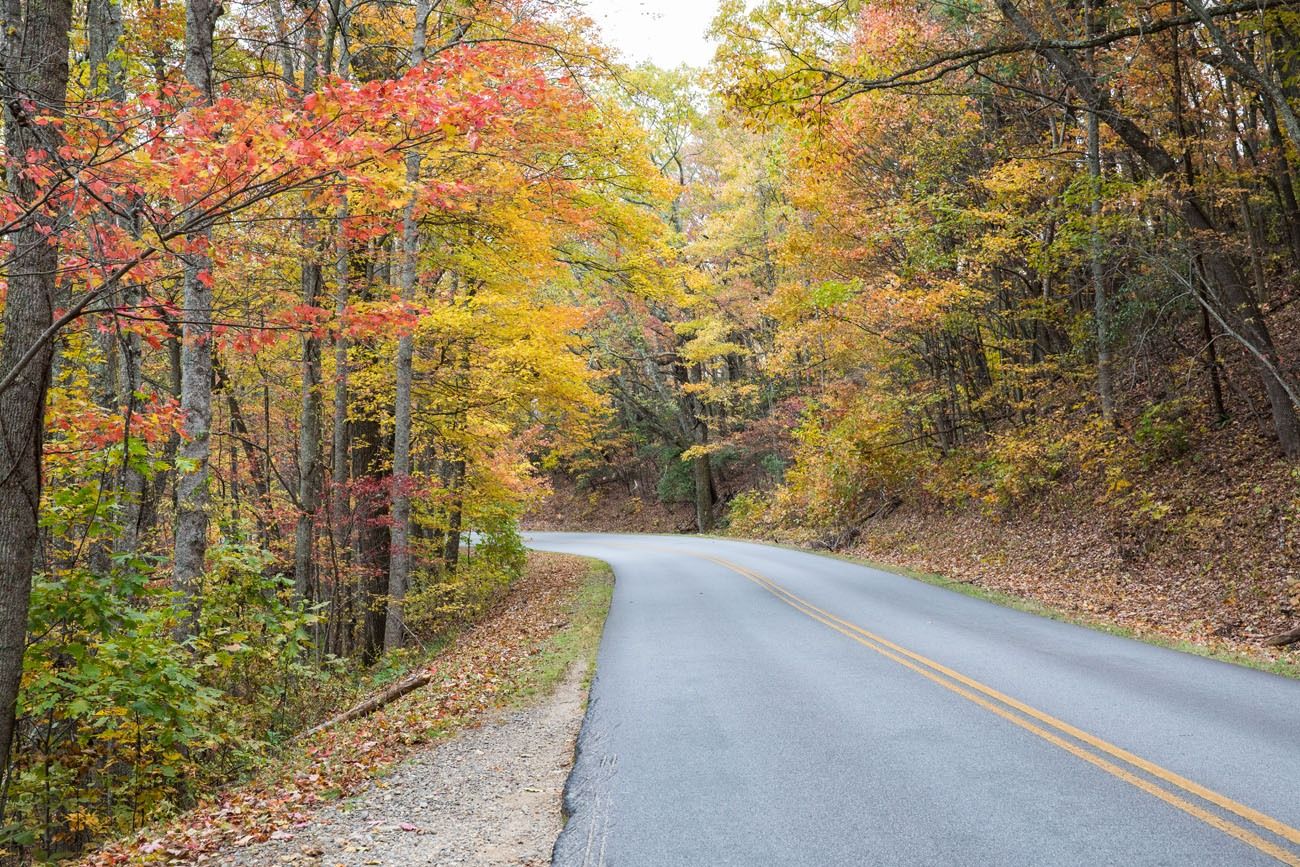 Blue Ridge Parkway
What Kind of Traveler Are You?
Asheville for Foodies
In Asheville, farm to table dining is the rage. The countryside around Asheville is filled with farms. From these farms come the ingredients featured in many restaurants' menus, and you can also shop for these same ingredients at the local farmer's markets.
Restaurants in Asheville
There are lots of great restaurants to try in downtown Asheville. Here are a few of our favorites.
Curate. This was our favorite spot in town. It was so good that we ate here twice. Curate is a Spanish tapas restaurant with dishes that rival the quality of food we had in Spain.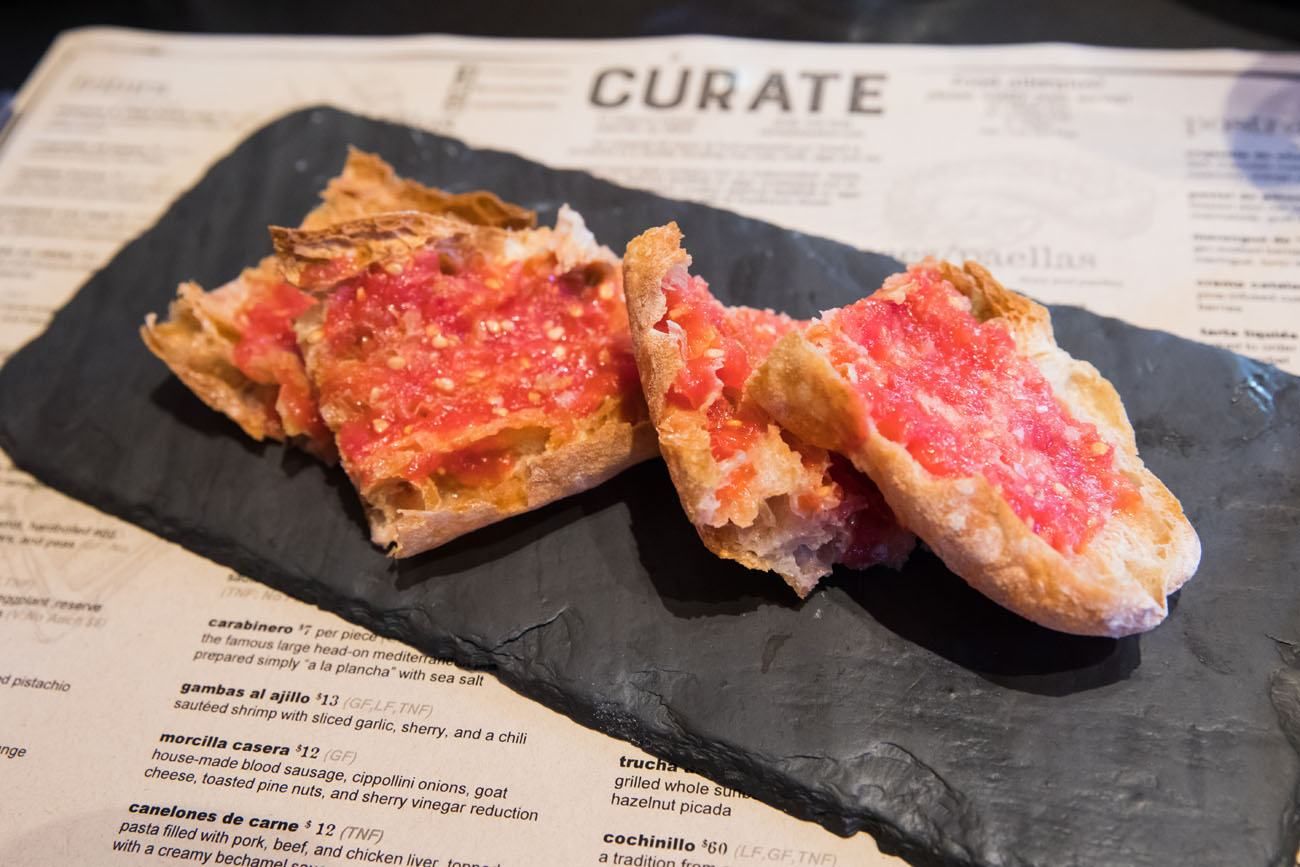 Corner Kitchen. This busy restaurant serves breakfast, lunch, and dinner and is located in the Biltmore Village. The Obamas ate here in 2010.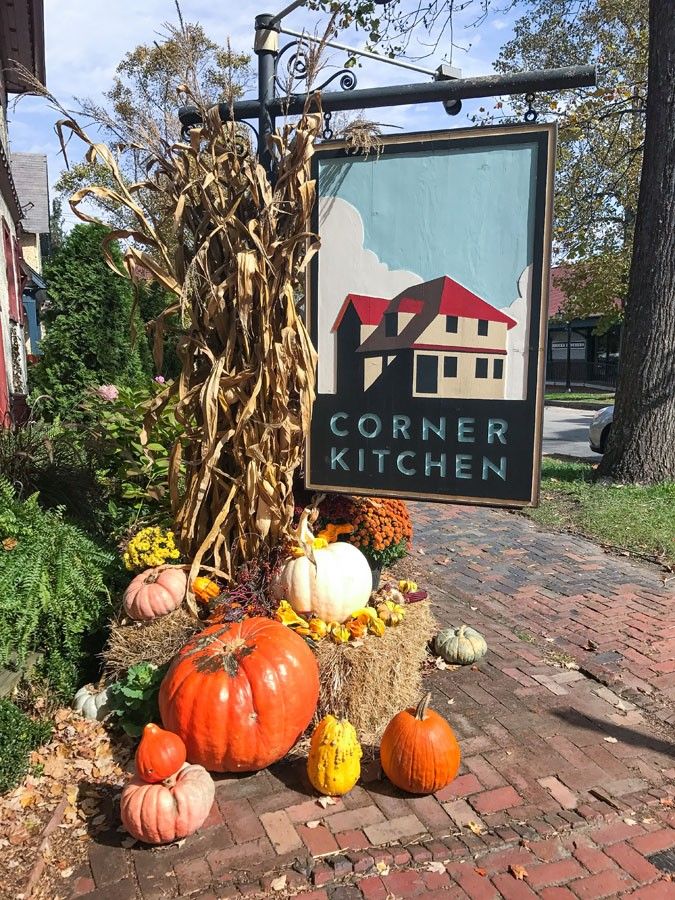 Biscuit Head. One of the best spots in town for breakfast and brunch. Huge biscuits are served with all kinds of creative toppings. Expect to wait in line during peak hours.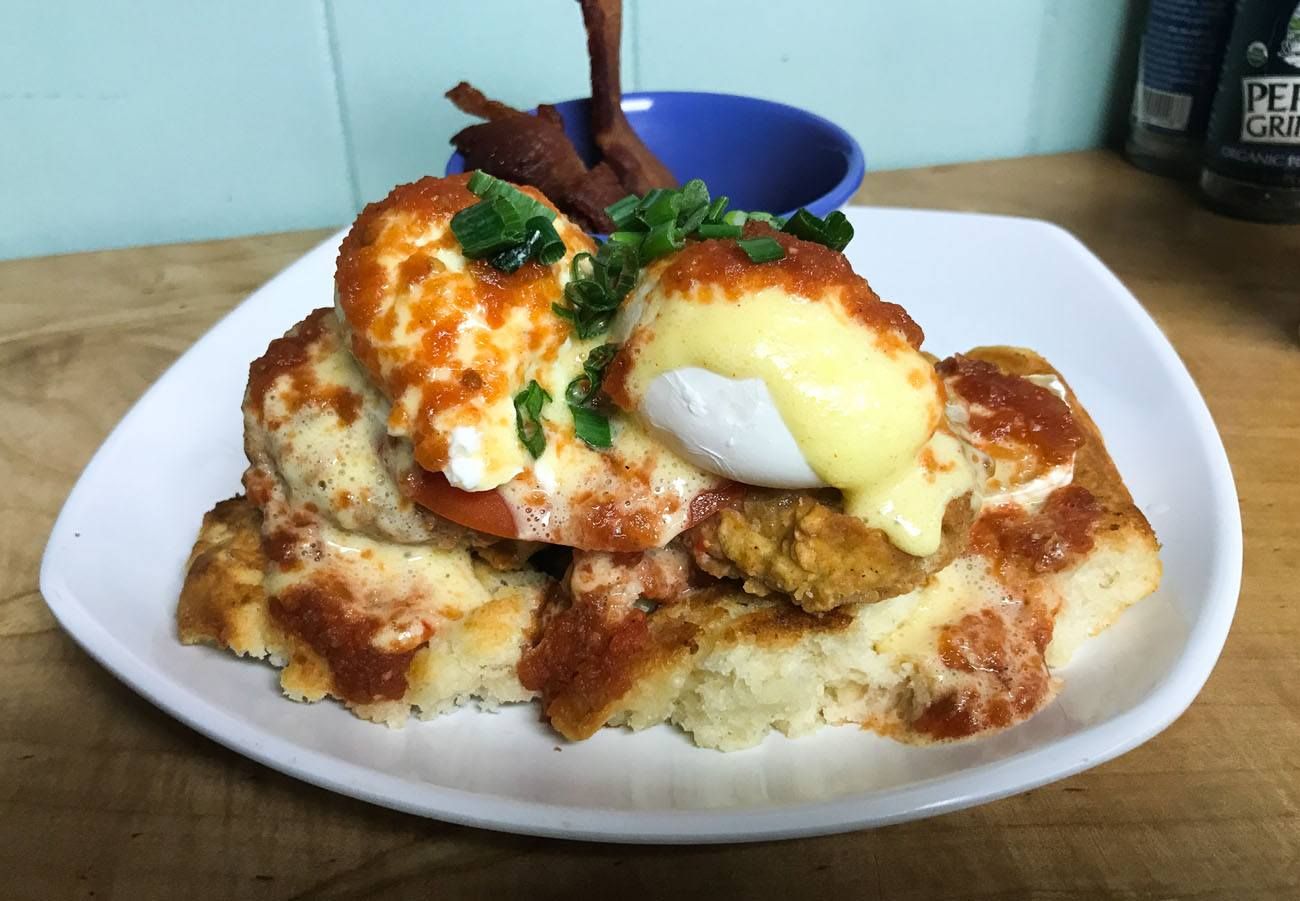 Other notable restaurants include Bouchon, Nine Mile, Tupelo Honey, and the White Duck Taco Shop.
For dessert, head over to the French Broad Chocolate Lounge.
Go Cheese Tasting on the WNC Cheese Trail
There are eleven cheese makers producing craft cheese on the WNC Cheese Trail. One of the most popular is Looking Glass Creamery, a cheesemaker that sells their cheeses to Williams Sonoma. They also have a wonderful mix of associate members such as restaurants and shops. Learn more here.
Asheville For Outdoor Lovers
Craggy Gardens
Go for a scenic drive on the Blue Ridge Parkway to Craggy Gardens. The view from the Craggy Pinnacle Summit is one of the best in the area. Park at the Craggy Dome Overlook and hike 1.4 miles round trip to this viewpoint for 360° views of the Blue Ridge Mountains.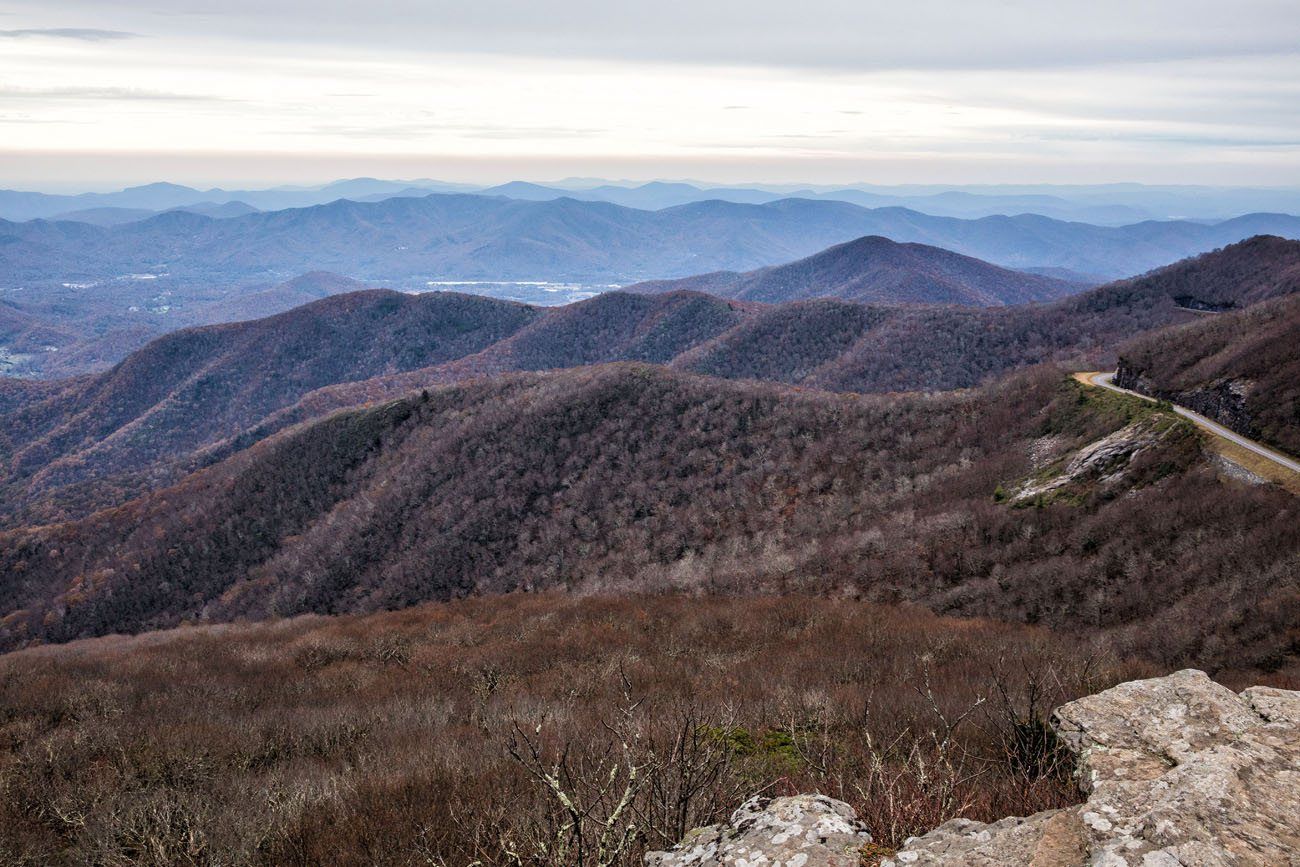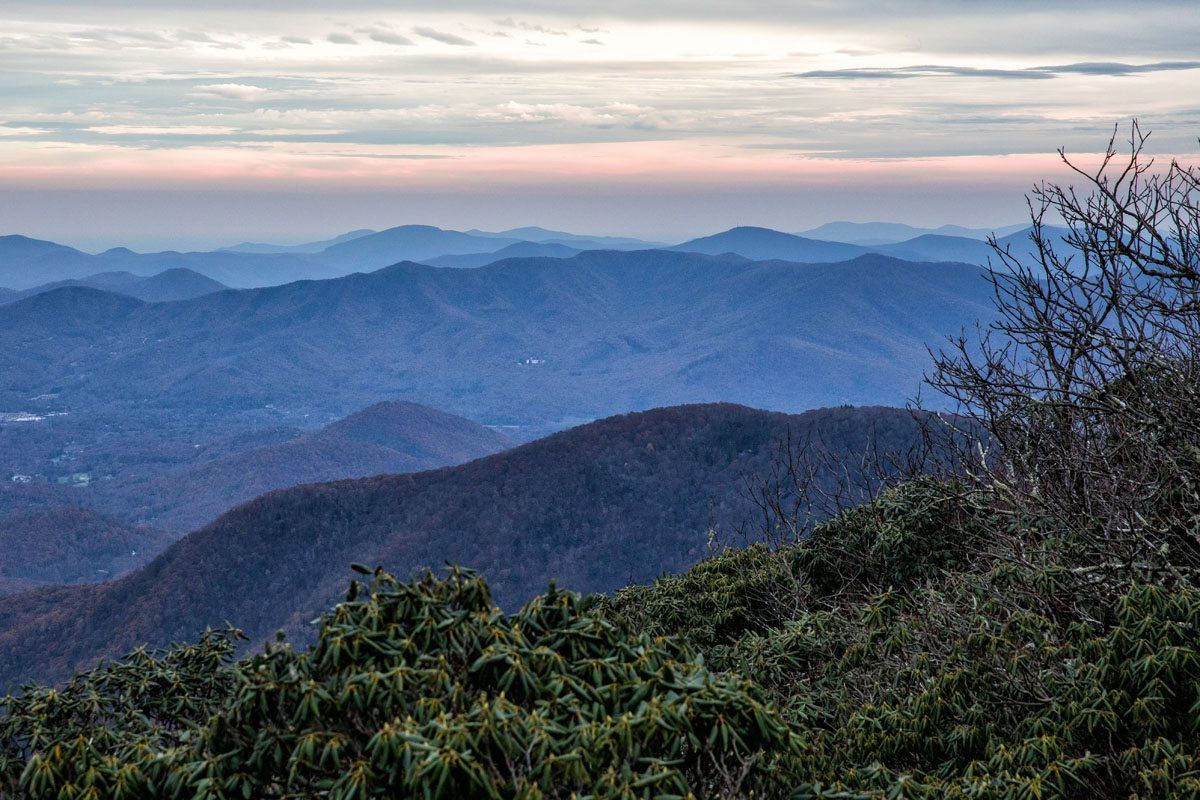 I do not recommend the nearby hike to the Craggy Gardens picnic area. It's not nearly as scenic as the view from Craggy Pinnacle.
Chimney Rock
This is a very popular spot to visit, located 25 miles (45 minutes) east of Asheville. Chimney Rock is a granite monolith, a recognizable icon of the area. Tickets cost $17 for adults and $8 for children.
During my visit, I was not able to visit Chimney Rock. It closed the week before when rain showers washed away a portion of the parking lot.
DuPont State Forest
This recreational area is located south of Asheville and contains over 10,000 acres of forest, hiking trails, and waterfalls. It is also famous for being a Hunger Games filming location. Both Triple Falls and Bridal Veil Falls were featured in the movie series.
Looking Glass Rock
Looking Glass Rock is an almost completely bare monolith that rises up from the forested, rolling hills along the Blue Ridge Parkway. To get to the top it's a strenuous hike, 6.5 miles round trip and takes 4 to 5 hours. Click here to learn more about the hike.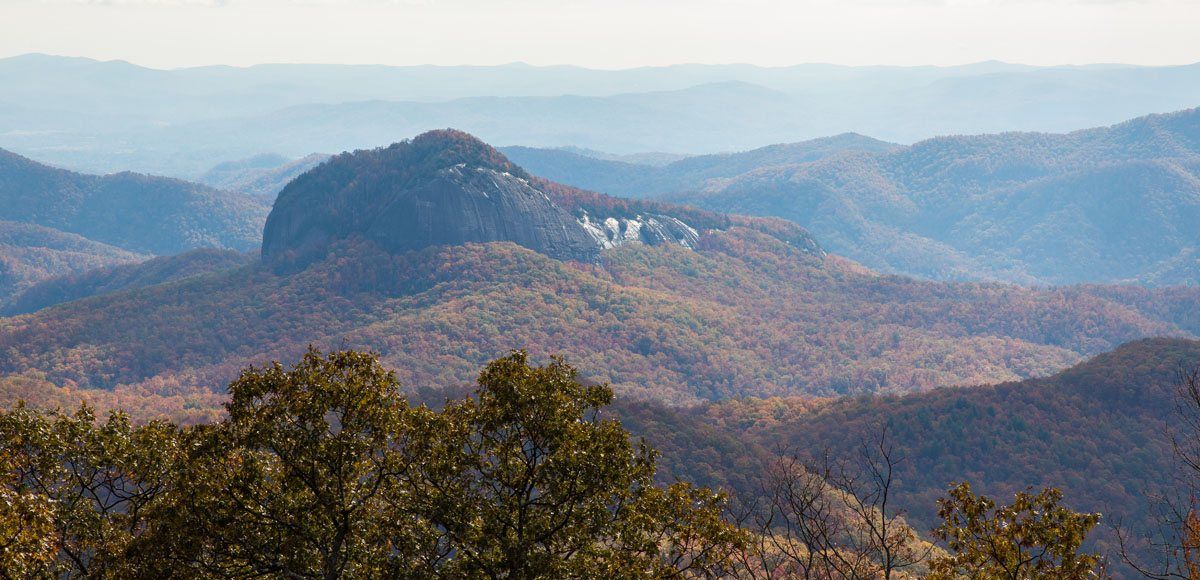 Go for Scenic Drive
The Blue Ridge Parkway runs for 469 miles through Virginia and North Carolina. From Asheville, you can explore the southern part of the Parkway, driving to numerous overlooks and short hiking trails.
Route 276 through Mt. Pisgah National Forest also makes a great drive. Wind among forests and waterfalls just 40 minutes from Asheville.
The French Broad River
During the summer months, go tubing, kayaking, bellyaking, or paddleboarding on the French Broad River.
Explore the Waterfalls around Asheville
There are dozens of waterfalls to visit near Asheville. Some are located right off of main roads and others are just a short hike through the woods. Catawba Falls, Looking Glass Falls, and Bridal Veil Falls are some of the most popular waterfalls to visit.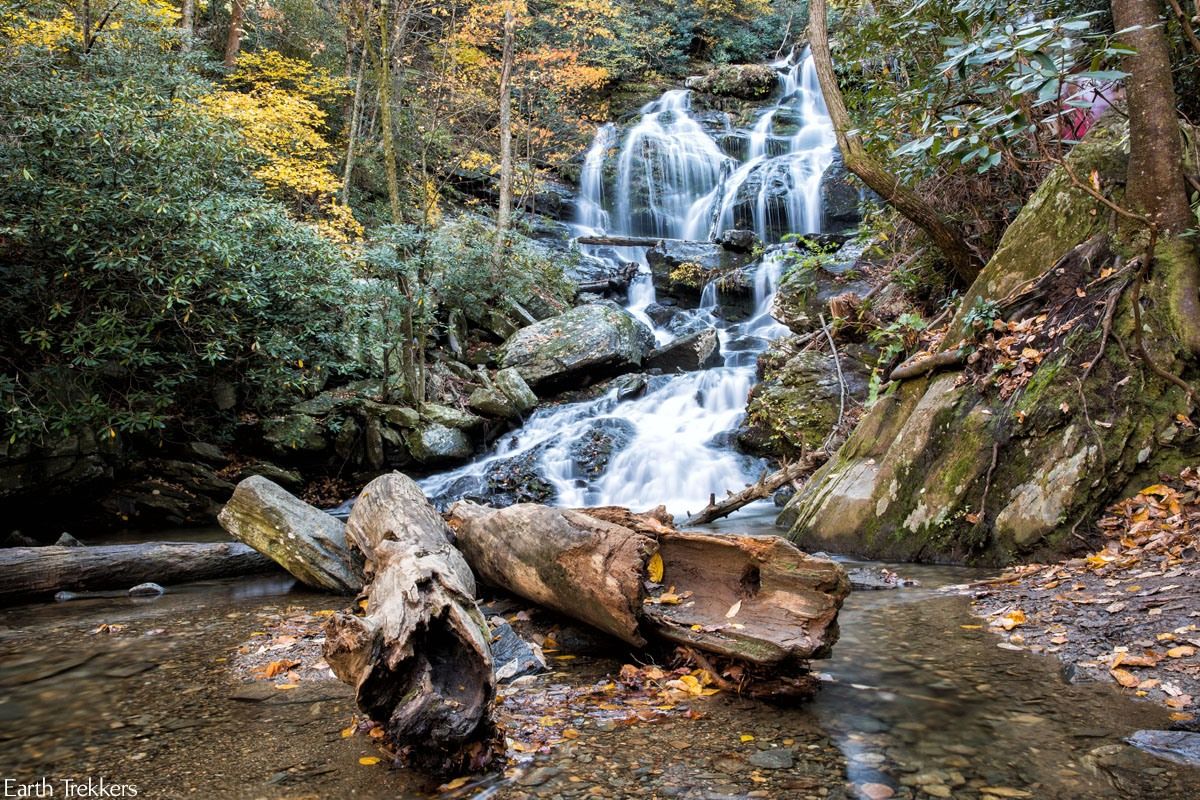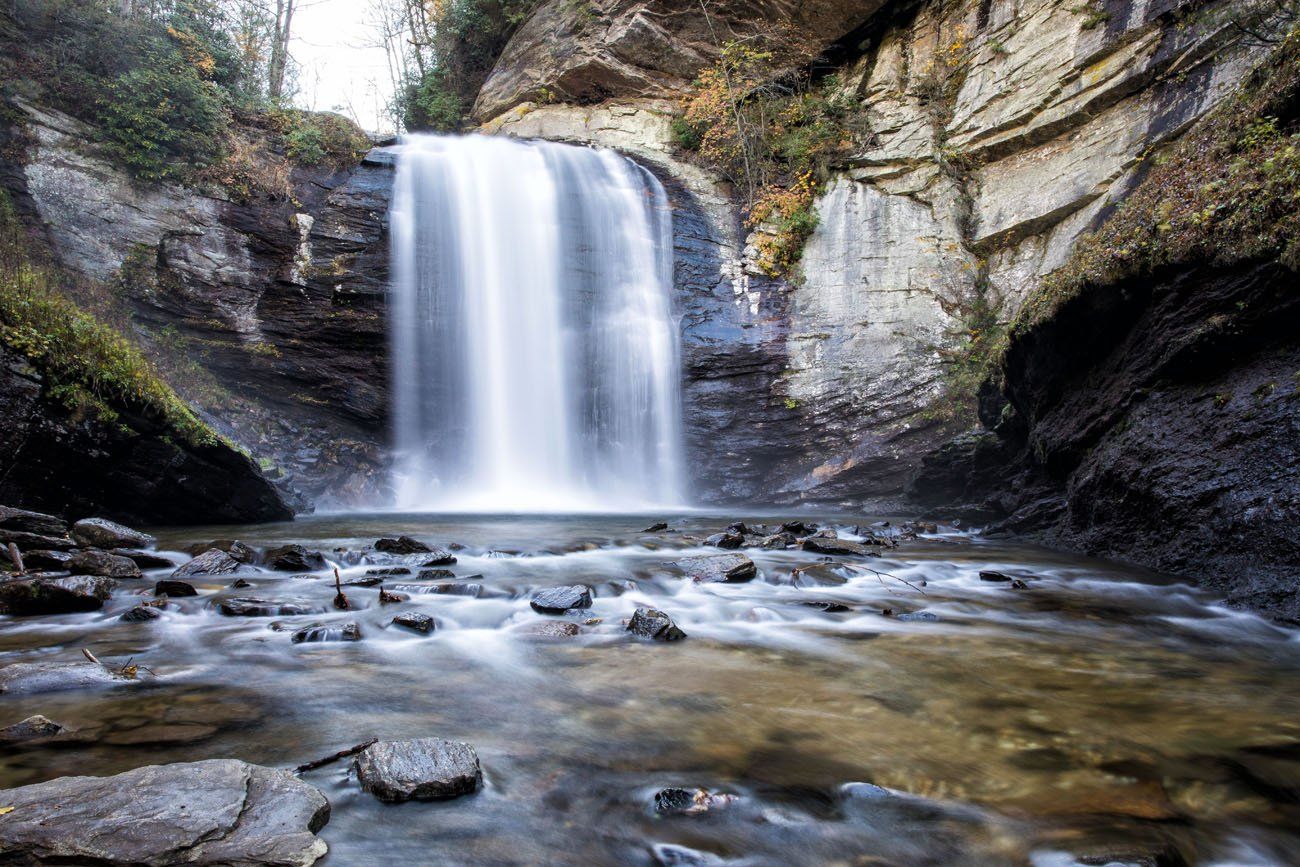 Go Hiking in the Great Smoky Mountains
In about one hour you can drive from Asheville to the Great Smoky Mountains. Take in the view from Newfound Gap or Clingman's Dome or hike one of the many trails here. We hiked the Alum Cave Trail to Mt. LeConte, one of the most popular hikes in the park.
Asheville for Families
Keep the kids happy with these family friendly activities.
Pinball Museum
Play over 75 pinball and classic video games at the most fun-filled museum in Asheville.
Slide down a waterfall
Sliding Rock Falls is a 60-foot water slide that ends in a pool of water. Younger kids can slide down with an adult.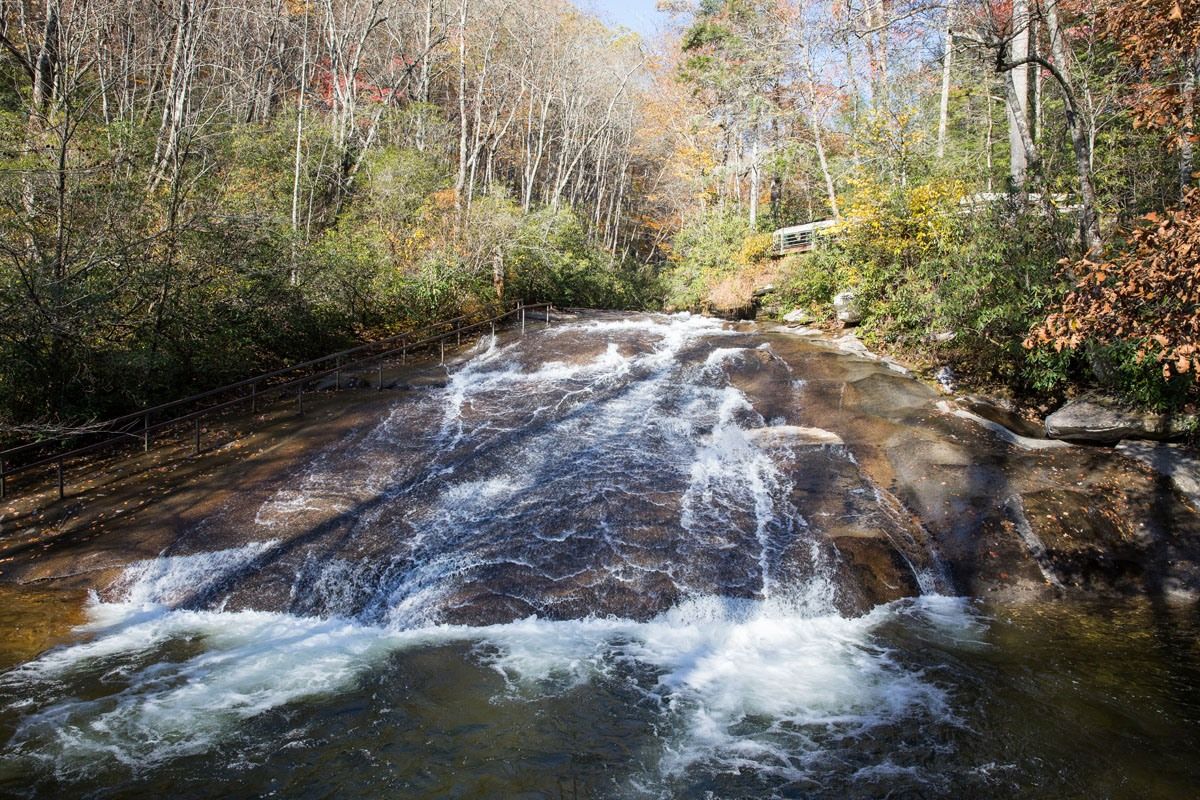 Asheville Drum Circle
Every Friday night, musicians and people of all ages gather in Pritchard Park for music and dancing.
Christmas at the Biltmore
Say hello to Santa Claus and count the Christmas trees at the Biltmore Estate.
Asheville for Beer Lovers
Asheville calls itself "Beer City USA" and has more breweries per capita than any other US city. Go in search of the perfect craft beer at one of many nearby breweries.
Some of the most popular breweries are:
Want to get some exercise with your beer? Consider the Pubcycle, a 13-person bicycle/pub contraption that you and your newest friends can pedal around downtown Asheville.
Asheville for Shoppers
Southern Highland Craft Guild Folk Art Center
This art center sells high quality Appalachian art: pottery, jewelry, wood work, quilts and more. Located on the Blue Ridge Parkway, combine a visit here with a scenic drive.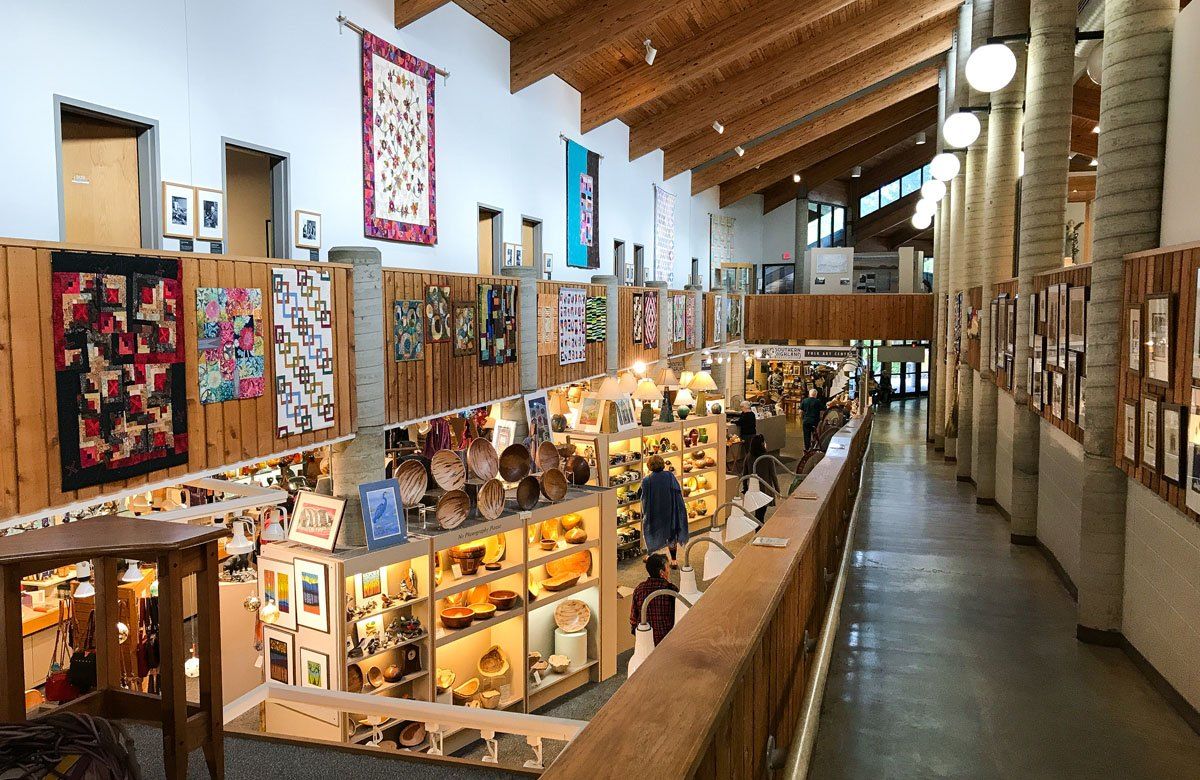 Lexington Glassworks
Go for the live glass blowing demonstrations, taproom, and the gift shop.
Biltmore Village
This small, outdoor village features some popular chain stores as well as boutique shopping.
Downtown Asheville Arts District
Located in the heart of Asheville are more than 25 galleries featuring boutique shops filled with antiques, crafts, photography, and folk art.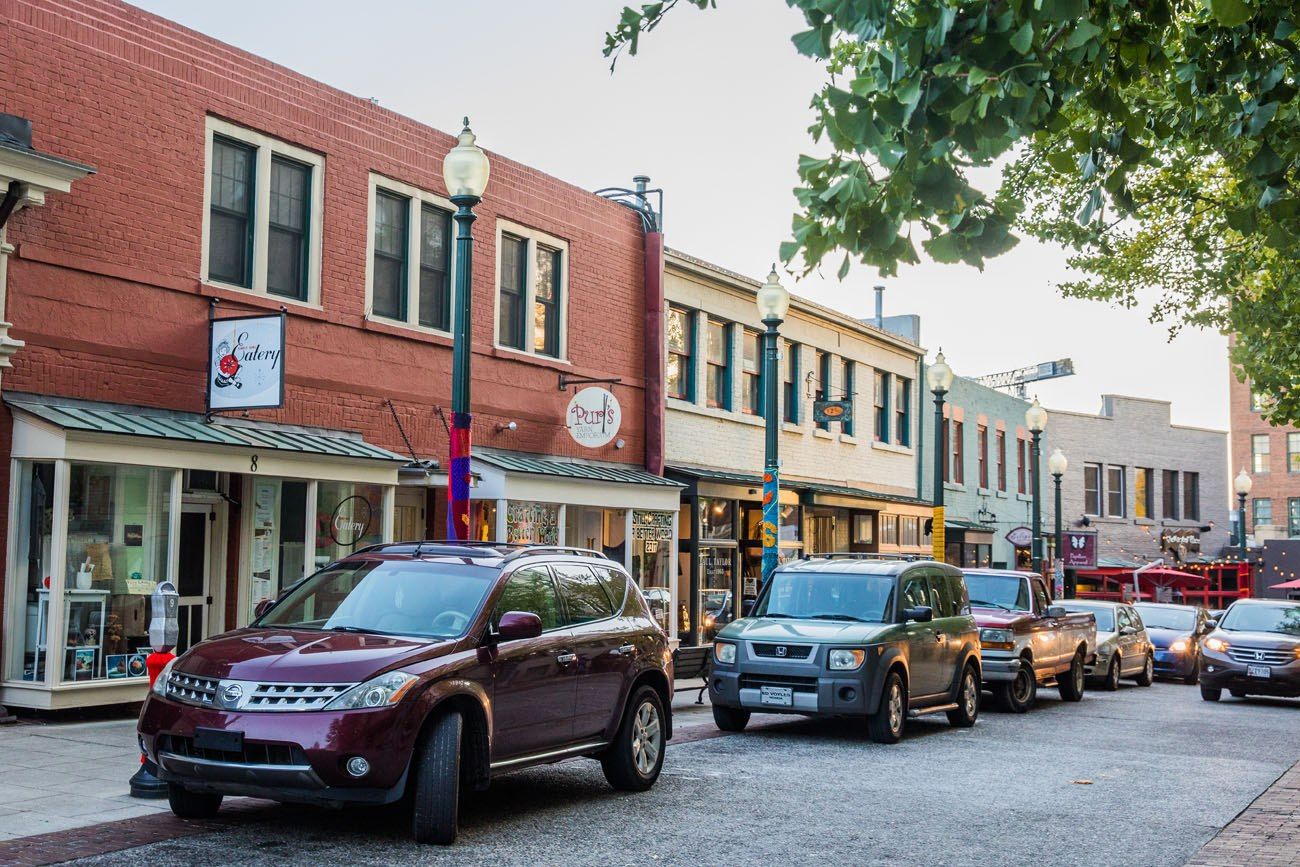 Best Time to go to Asheville
Asheville is glorious in autumn. Fall color is at its peak from mid to late October. Late spring can also be a great time to visit, when wildflowers and rhododendrons bloom.
Where to Stay
LUXURY: The Omni Grove Park Inn. This historic hotel is one of the most popular places to stay in Asheville. With luxurious guest rooms, a golf course, restaurants, a spa, and a sports complex, you may never want to leave.
MID-RANGE: Hotel Indigo in Downtown Asheville. Located just a few blocks from downtown Asheville, Hotel Indigo features large, updated rooms and excellent service.
BUDGET: Holiday Inn Hotel & Suites Biltmore Village. It's nothing fancy but it's brand new, clean, and quiet. This is where we stayed. It's within walking distance of the Biltmore Village but to get anywhere else in town you will need to drive or use Uber.
---
Are you planning a weekend getaway to Asheville? If you have any questions or suggestions, comment below!
You Might Also Like: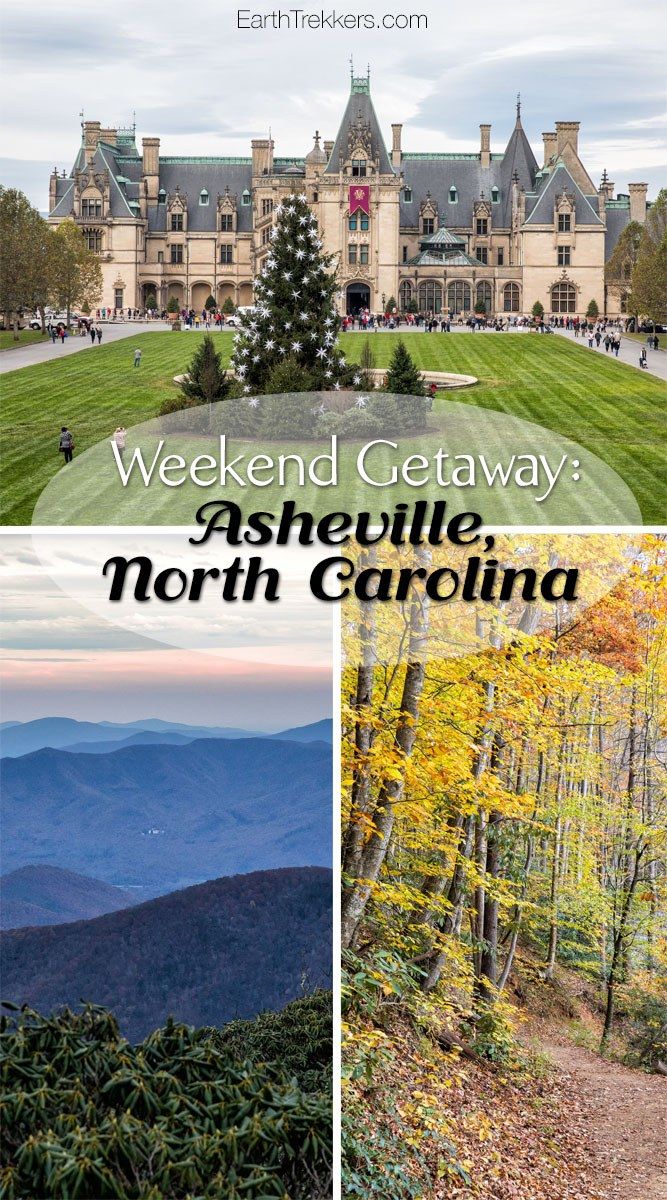 Note: This post contains affiliate links. When you make a purchase using one of these affiliate links, we get paid a small commission at no extra cost to you.
All rights reserved © Earth Trekkers. Republishing this article and/or any of its contents (text, photography, etc.), in whole or in part, is strictly prohibited.