Go for a scenic drive, take a hike, feed an alpaca, take a wildlife cruise to see the smallest dolphins in the world, and dine on fresh seafood…these are all things to do in Akaroa and Banks Peninsula.
Banks Peninsula is a small, volcanic peninsula located on the east coast of the South Island of New Zealand. Sitting in the center of this mountainous landscape is Akaroa Harbour and the small town of Akaroa.
It is a beautiful spot to visit and often overlooked on the fastest of road trips through New Zealand. But we think it is well worth it to spend a day or two here, particularly for those who like scenic drives, wildlife experiences, and the charm of a small, coastal town.
Overview of Akaroa & Banks Peninsula
As stated earlier, Banks Peninsula is located on the South Island of New Zealand. It is made up of two shield volcanoes that have slowly eroded over the millennia. Now, the island is mountainous, lush, and green. The harbors and coves form sanctuaries for animals such as the Hector Dolphin (the smallest dolphin species in the world) and the Pōhatu penguins.
Akaroa is a small town that sits on Akaroa Harbour, the largest body of water on Banks Peninsula. This small town is home to some fantastic restaurants, a museum and memorial, a movie cinema, grocery stores, restaurants, and houses. This is a great place to visit and spend the night if you want to have plenty of time to explore Banks Peninsula.
Christchurch sits just north of the Banks Peninsula. From Christchurch, it is possible to day trip to Akaroa and see the sights on Banks Peninsula.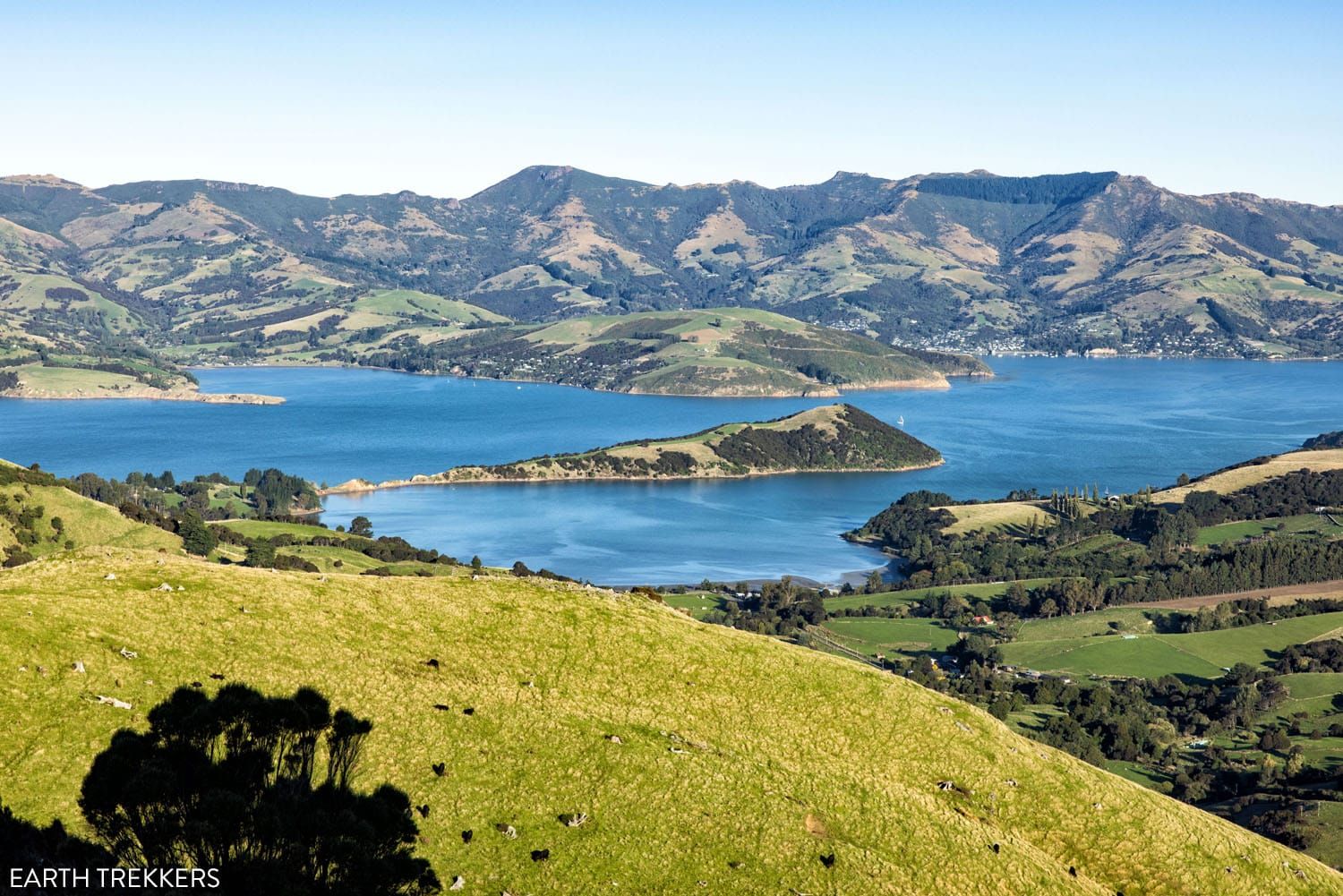 Akaroa Harbour, the Ōnawe Peninsula, and Akaroa
About Our Experiences
We have visited Akaroa and Banks Peninsula twice. The first time was in 2015, when we spent the afternoon here. We had dinner in Akaroa, went on a scenic drive, and it was just enough time to know that we had to return to this gorgeous place again.
Tim and I returned in 2023. We spent two nights here with big plans to meet the Shamarra alpacas, take a wildlife cruise to see the Hector dolphins, and thoroughly explore Banks Peninsula.
Well, our visit coincided with a massive storm. Wind and torrential rain kept us indoors for 36 hours. Almost everything we planned to do was cancelled. On our final morning, the skies cleared, so we were able to do a few outdoorsy things, but didn't have enough time to squeeze in the dolphin cruise, unfortunately.
This guide is a combination of our experiences and our research from planning our 48 hours on the Banks Peninsula.
Best Things to Do in Akaroa and Banks Peninsula
1. Drive Summit Road
Summit Road is one of the best scenic drives to do on the Banks Peninsula. This road twists and turns through the mountains, offering stunning views of the Akaroa Harbour. This road starts near the Montgomery Park Scenic Reserve and ends at Long Bay Road, in the hills just above Akaroa.
As you drive onto the Banks Peninsula, you will do so on State Highway 75, also named Christchurch Akaroa Road. This itself is a beautiful drive, but you can extend the views by taking Summit Road to Akaroa, rather than taking State Highway 75 directly to town.
We have driven both roads and both are worthwhile drives, but Summit Road is more scenic. It is a paved road its entire distance.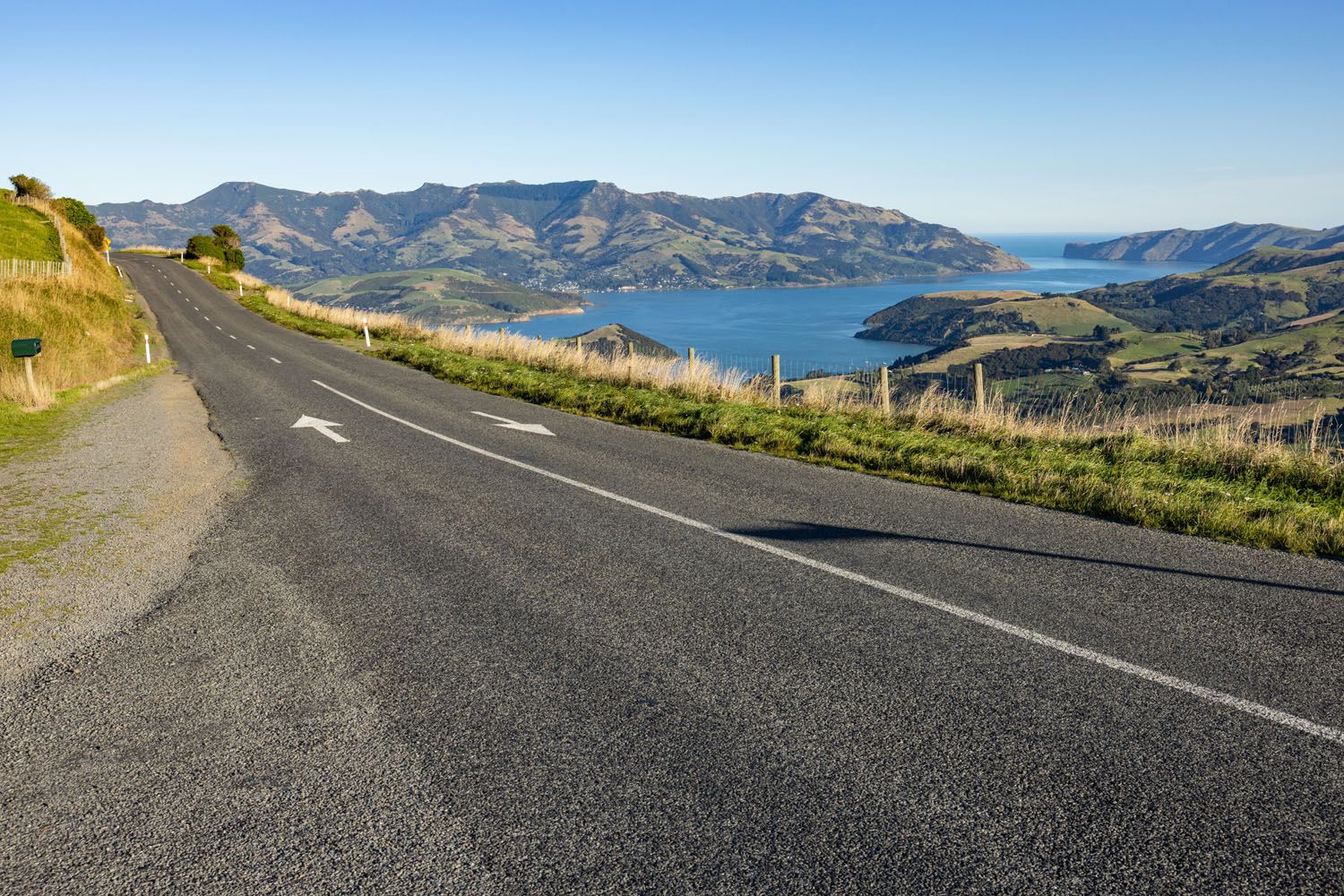 Summit Road | Best Things to Do in Akaroa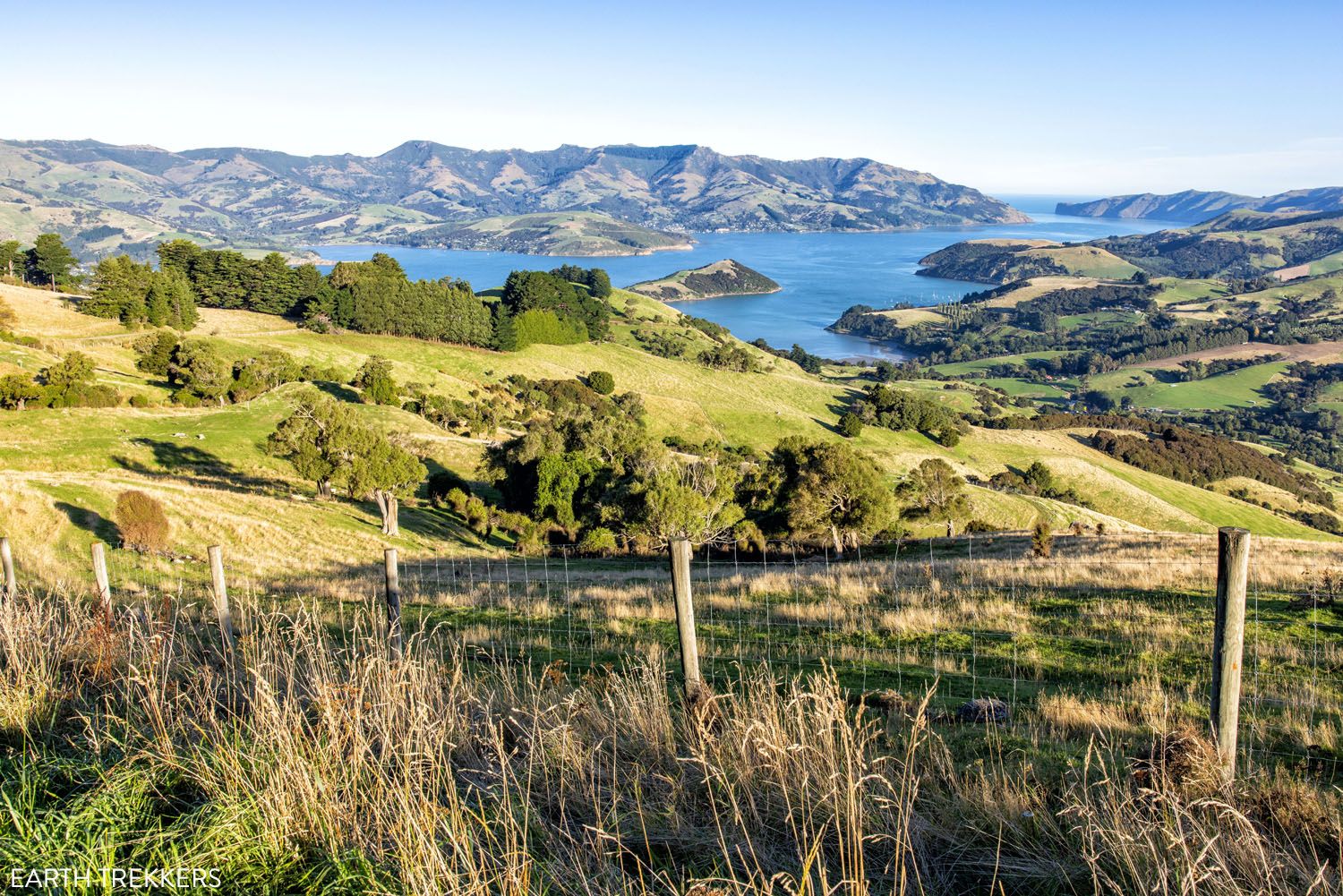 The view from Summit Road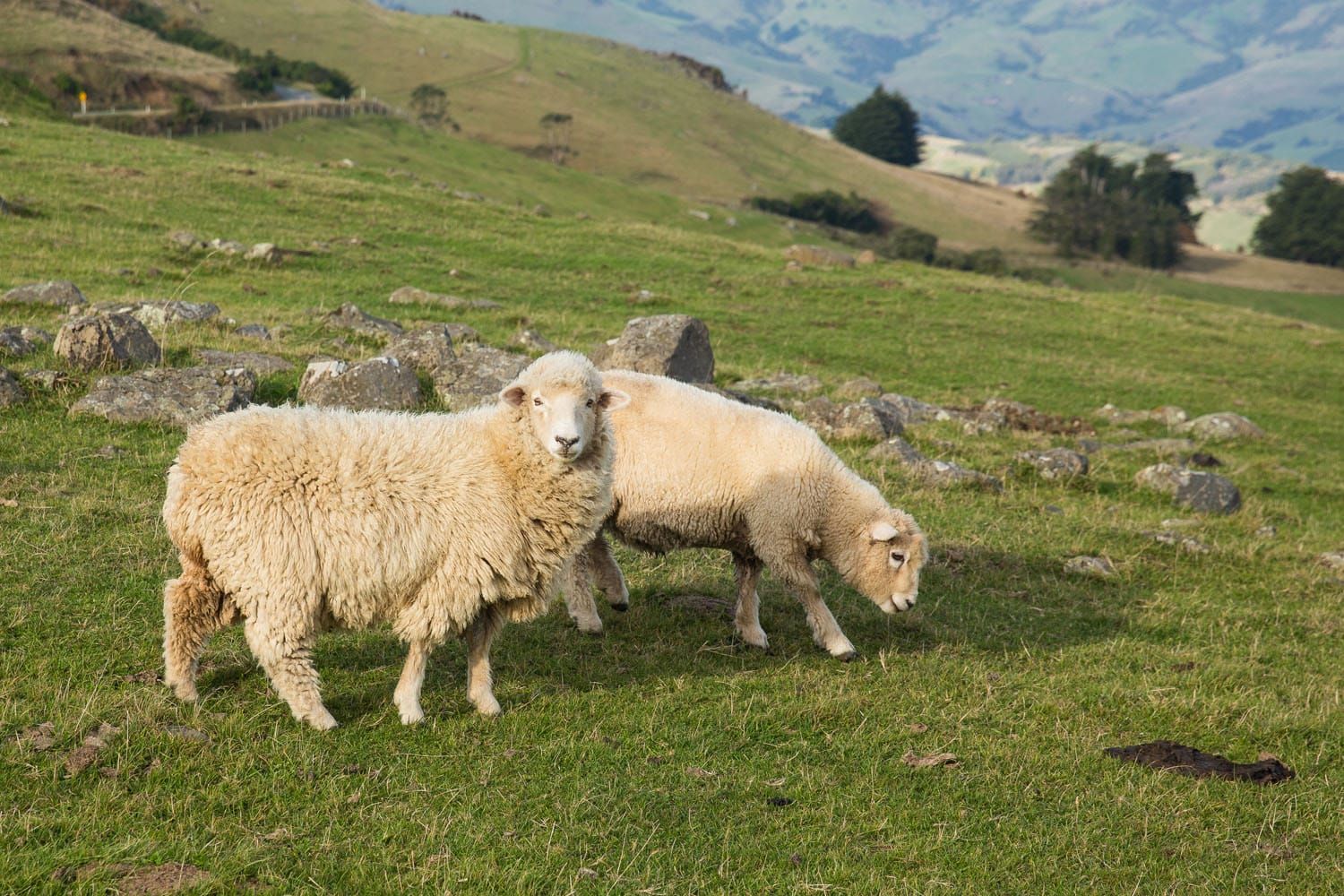 2. Hike out onto the Ōnawe Peninsula
Ōnawe Peninsula is the small peninsula that juts out into Akaroa Harbour. This peninsula was once the site of a Maōri village.
You can simply admire it from a distance or hike out onto it.
To reach the hiking trail, drive Ōnawe Flat Road. This is a narrow dirt road with a drop off into the harbor on one side. Next to the peninsula, there is a small parking area for just a few cars. When we did this, we were the only ones here.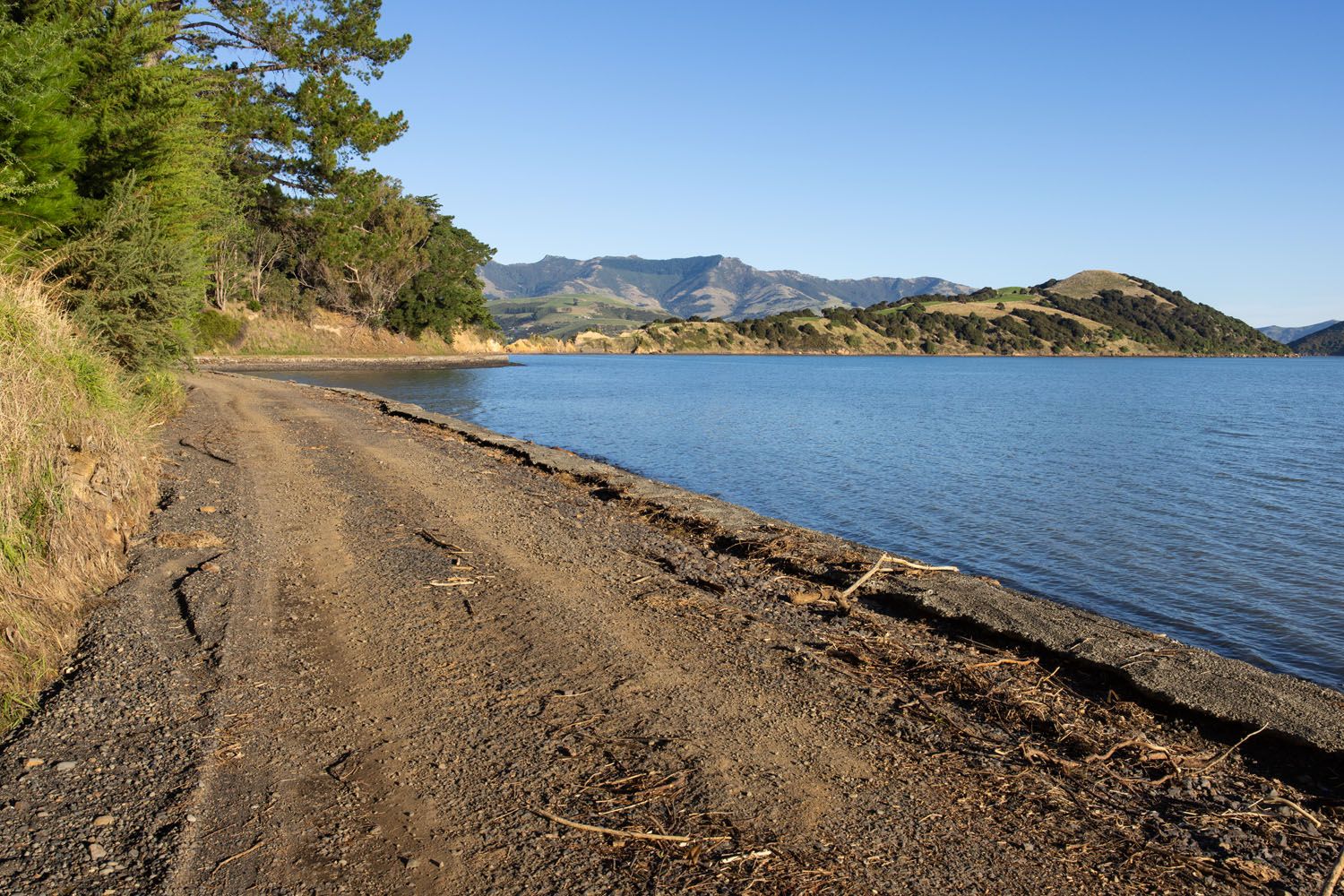 Ōnawe Flat Road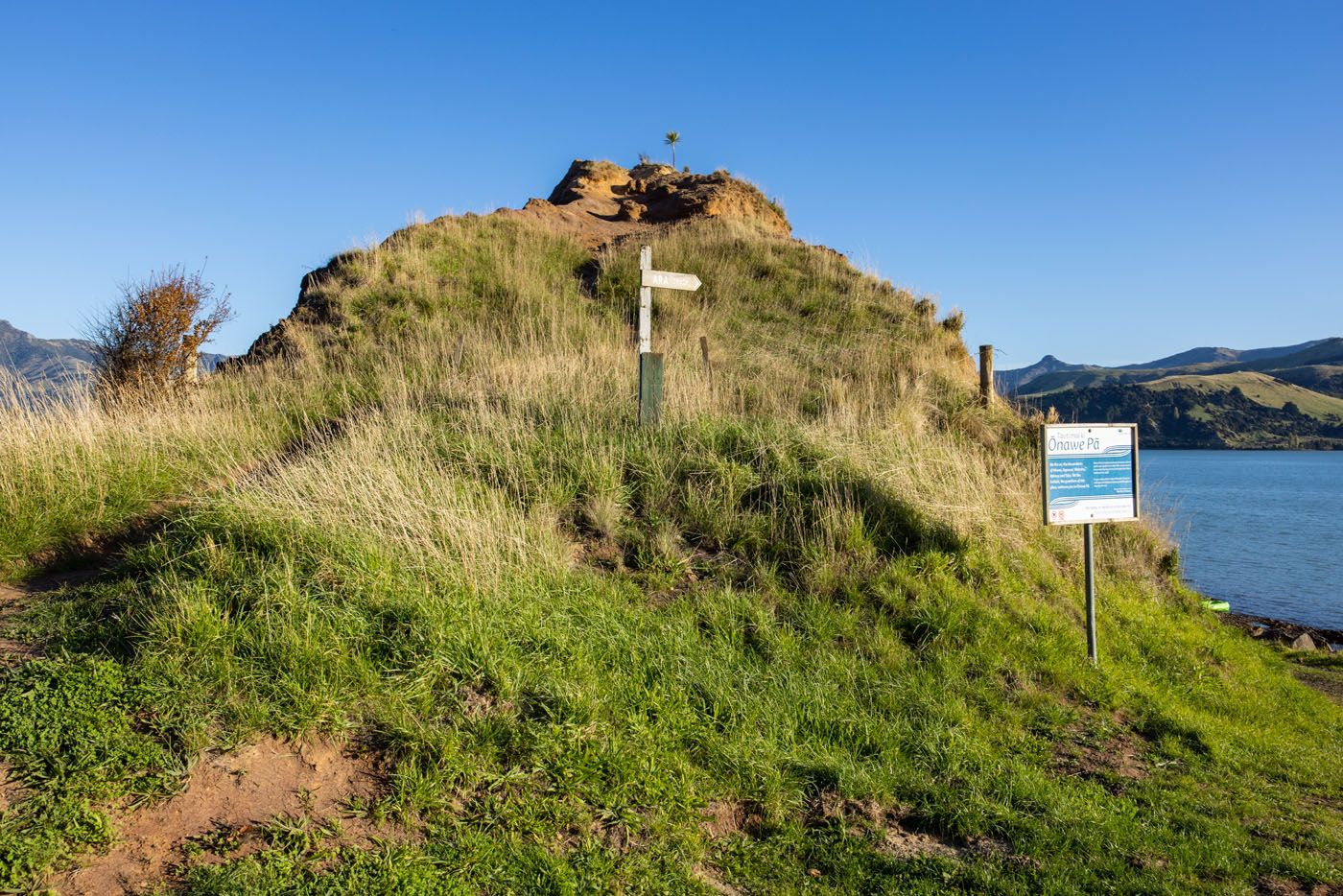 The trail immediately climbs the hilly peninsula. At times, it is a very narrow track with a drop off on either side. If you have a fear of heights or have small kids with you, we recommend skipping this walk.
We only hiked to the top of the first hill view (which took just a few minutes). From this point, it becomes a very sketchy trail to continue farther.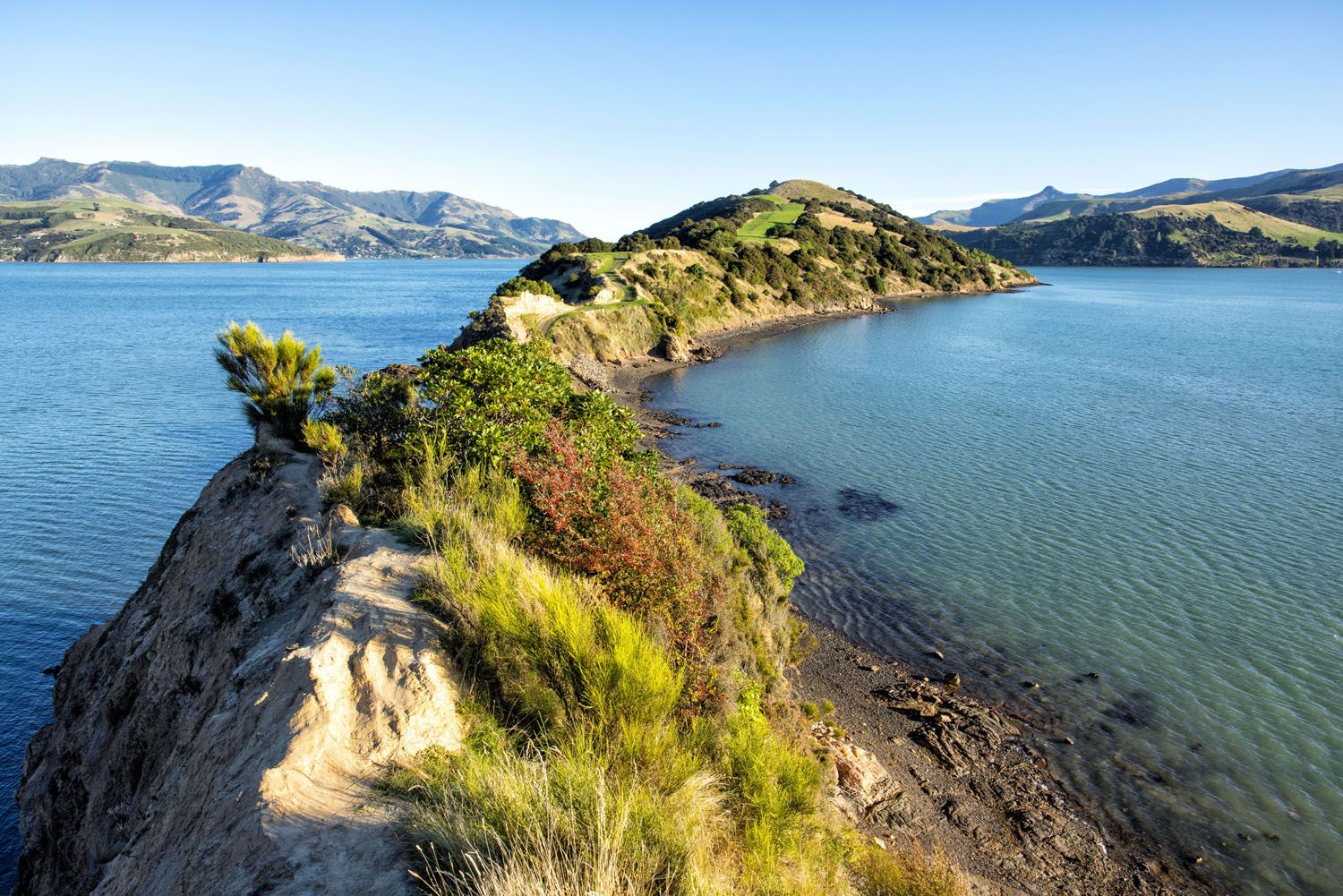 Ōnawe Peninsula | Best Things to Do in Akaroa
To get to Akaroa, drive Ōnawe Flat Road around the other side of the peninsula. Again, it is a narrow gravel road with a drop off into the harbor on one side.
3. Stroll along the Akaroa Waterfront
Akaroa is the very small town that sits on Akaroa Harbour. Restaurants and shops line the waterfront. Going for a stroll here is a wonderful thing to do, as is having lunch or dinner in town.
On our first visit we ate fish and chips at Akaroa Fish & Chips and had a good experience. More recently, we had dinner at Bully Hayes Restaurant, which sits next to Akaroa Fish & Chips. I ate green tipped mussels which are a must-have at least one time while in New Zealand.
Along the waterfront, you can also visit the Akaroa Visitor Center, go shopping, or try one of the other restaurants here. Harbar Beachbar & Kitchen is a cocktail bar that has a prime location on the waterfront.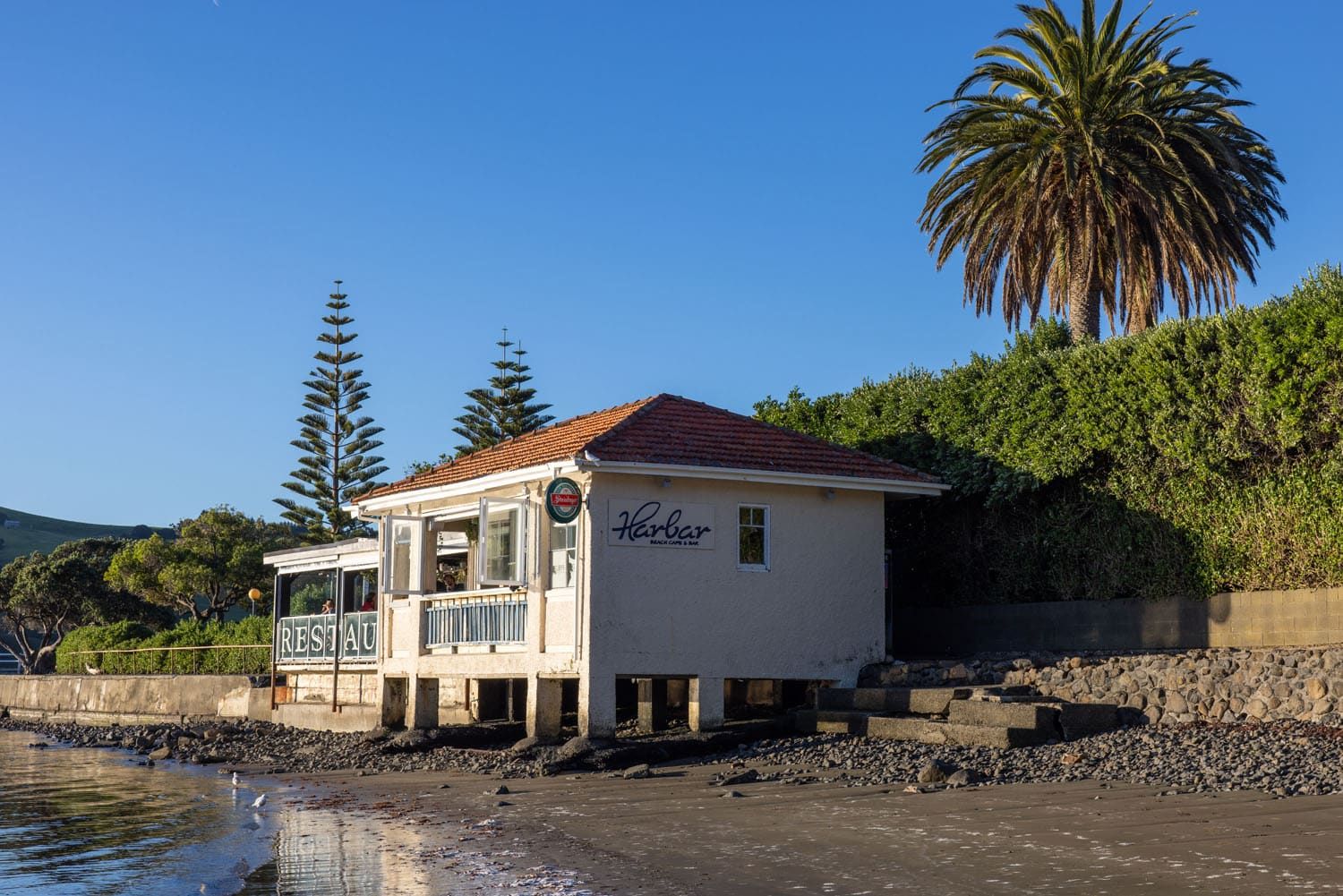 Harbar Beachbar & Kitchen | Best Things to Do in Akaroa
4. Visit the Akaroa Lighthouse
For a great view of Akaroa and the harbor, put the Akaroa Lighthouse on your to do list. There is a terrace here with a great of viewpoint of town. It is free to visit with plenty of parking. The lighthouse is open for very limited hours a few days per week, so unless you are extremely lucky in your timing, you'll just have to enjoy the view from next to the lighthouse.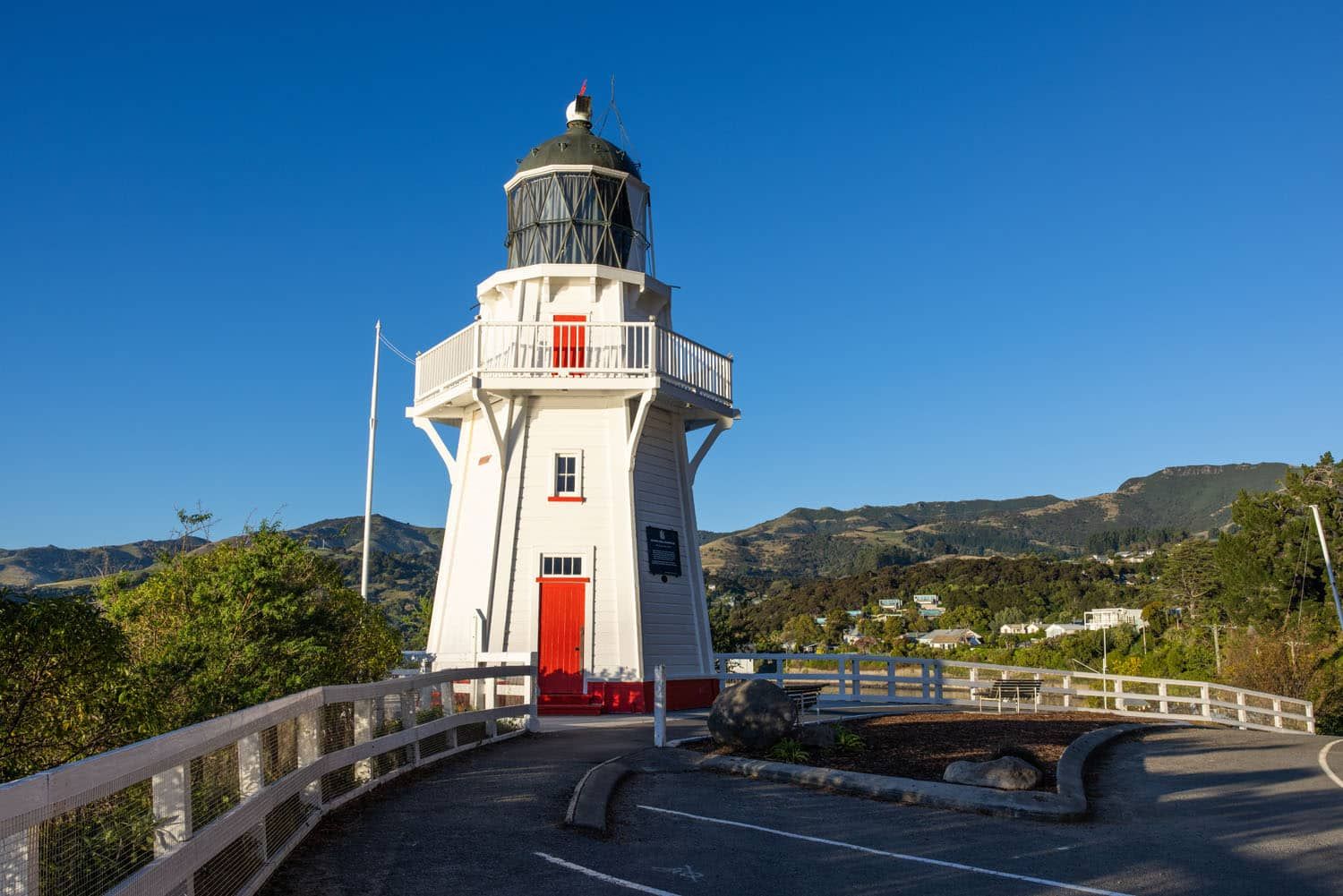 Akaroa Lighthouse | Best Things to Do in Akaroa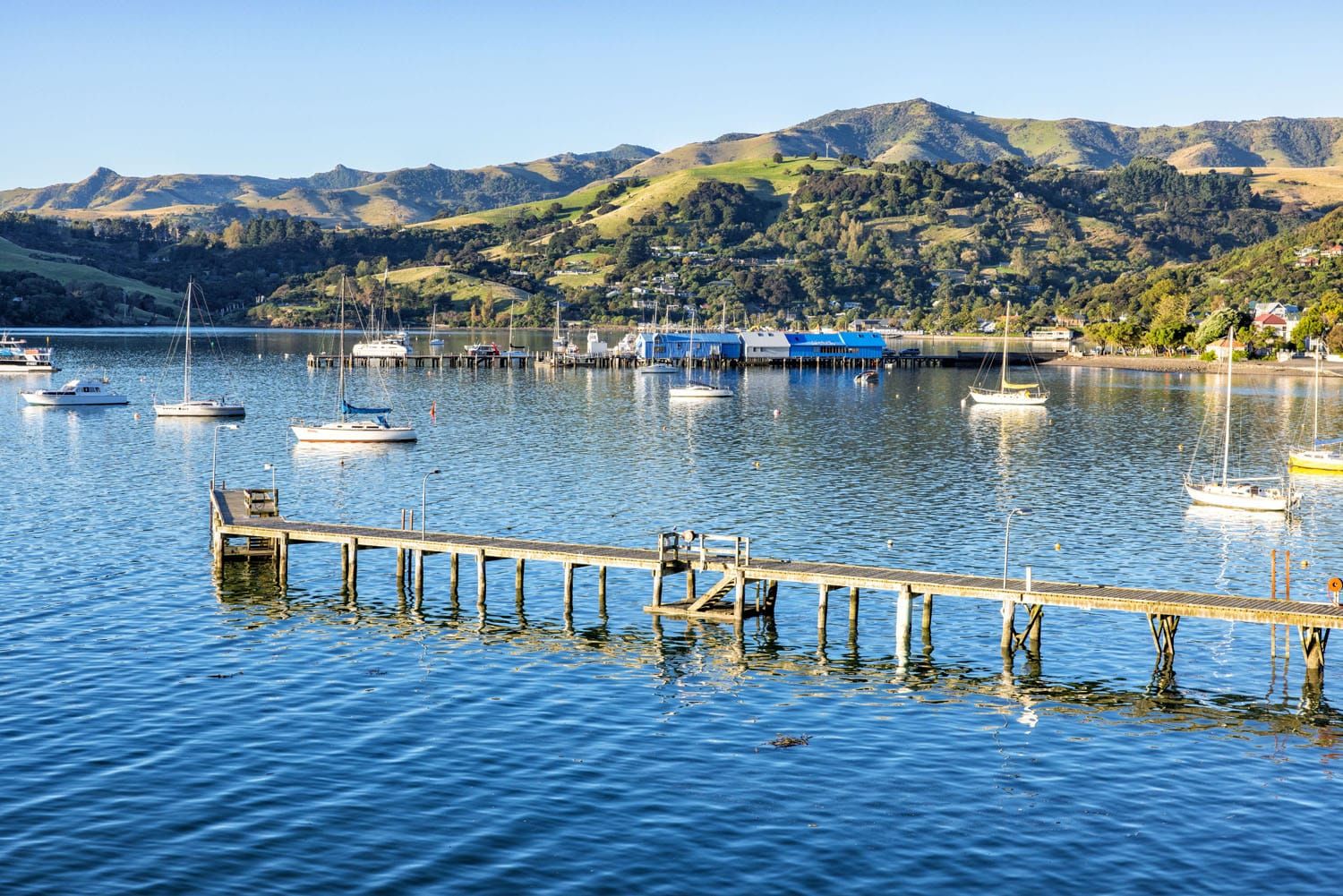 The view of the harbour from next to the lighthouse | Best Things to Do in Akaroa
5. Banks Peninsula War Memorial
The Banks Peninsula War Memorial was built to memorialize those who died during the Great War in 1914 to 1919. There are also memorials to those who died during the South African War and World War II.
The war memorial is located in Akaroa, on the waterfront. It is free to visit.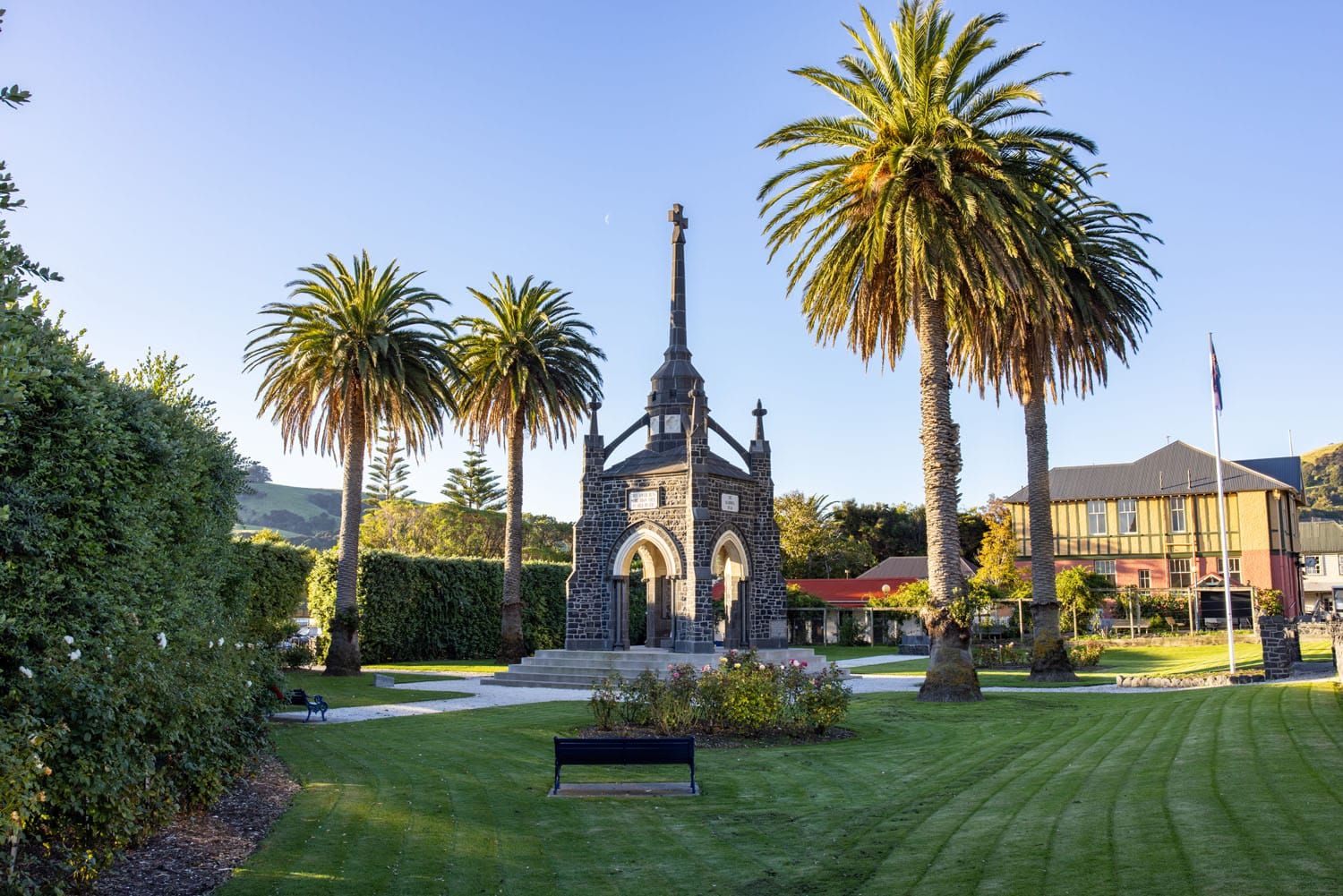 Banks Peninsula War Memorial | Best Things to Do in Akaroa
6. Get a History Lesson at the Akaroa Museum
The Akaroa Museum contains exhibits about the history of Banks Peninsula. It is located inside of the historic Langlois-Eteveneaux cottage, the Akaroa Court House, and the Custom House.
It is free to visit and takes about 30 minutes. Get more information on the official website.
7. The Giant's House
For art lovers, visiting the Giant's House is one of the best things to do in Akaroa.
The terraced gardens that surround this historic house have become the artistic brainchild of Josie Martin. Since 1993, she has been adding colorful mosaic sculptures to the garden and the interior of the house. If you have visited Barcelona, the sculptures look similar to those at Park Guell, just on a smaller scale.
It's quirky, it's colorful, and it's a fun place to visit.
A visit here lasts about 30 minutes. For prices and hours, visit the official website.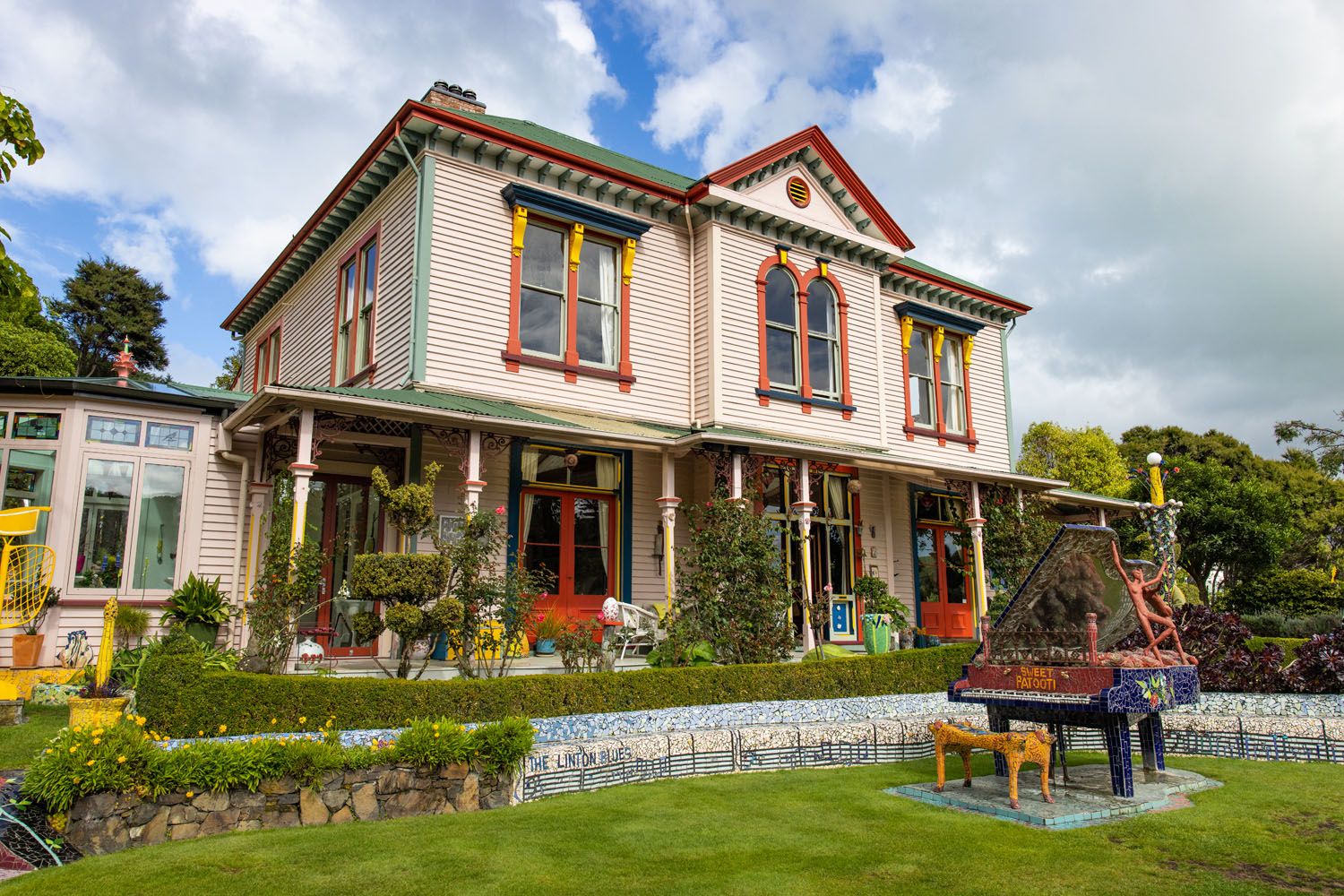 Giant's House | Best Things to Do in Akaroa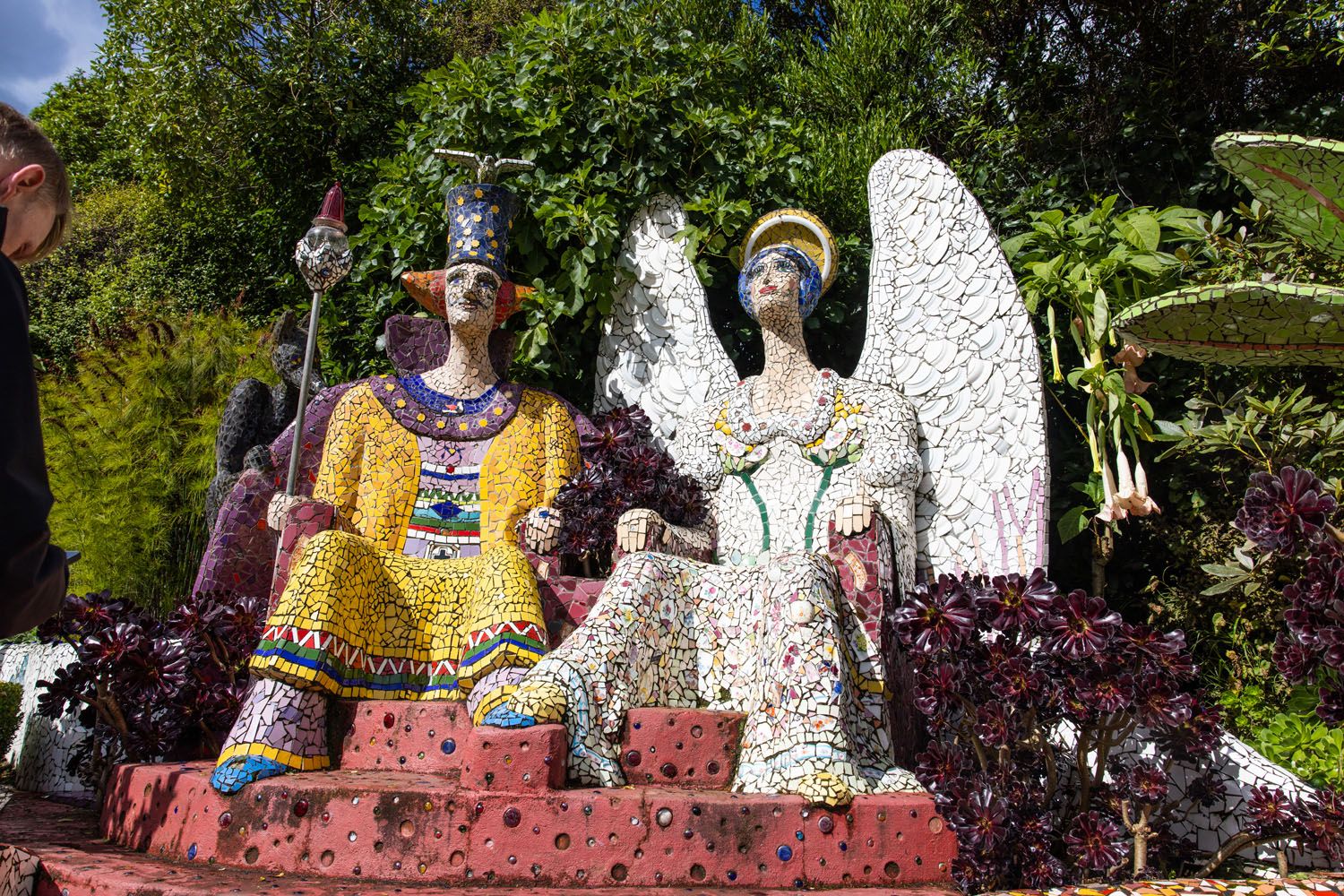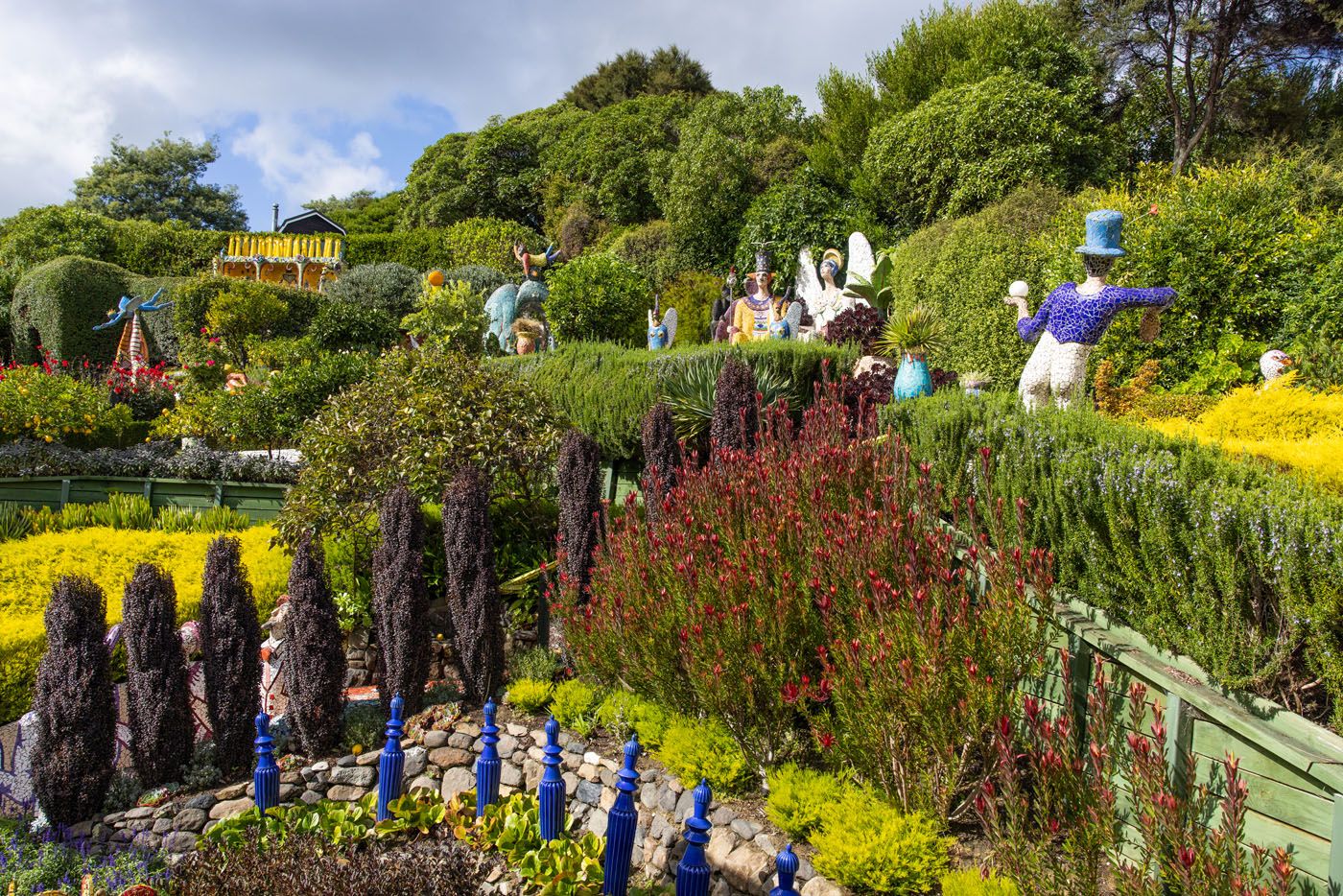 Two things to know before you go: Parking is on the residential street. It is a very steep uphill walk on the driveway to get to the entrance. If you are in a wheelchair, this is not wheelchair accessible and those who have difficulty climbing steep inclines could have a hard time here. We also think it is a bit pricey for what you get, but what you are supporting is Josie Martin's ability to continue to add art to the Giant's House.
8. Ethels Cinema, Café & Bar
It may seem odd that I am recommending a movie cinema, but the cinemas in New Zealand are something special. They're small, they serve really good food (like warm chocolate brownies with ice cream and hot sandwiches), the chairs are comfy, and you can drink beer or wine during the movie.
And if you're in Akaroa on a rainy day, this is one of the best things to do.
Get the movie listing and see the menu on the official website.
9. See Hector's Dolphins
Hector's dolphins are the smallest dolphins in the world and Akaroa is one of the only places you can see them.
On a nature cruise from Akaroa, you'll get to see the dolphins plus penguins, seals, sea birds, and get unique views of the volcanic crater.
There are two companies that offer these cruises.
We booked our cruise with Black Cat Cruises, since they get rave reviews. The nature cruise is 2 hours long and leaves from Akaroa. They are so confident that you'll see Hector's dolphins that your cruise is free if you don't see any.
Black Cat Cruises also offers a 3-hour cruise where you can swim with Hector's dolphins.
Akaroa Dolphins also offers a 2-hour nature cruise that is just about identical to the Black Cat cruise. They also get very good reviews.

10. Meet the Shamarra Alpacas
Welcome to the "Land of Cute."
On a farm tour of Shamarra Alpacas, you get up close with these fluffy, furry animals. What makes the visit even better is that you get one of the best views of Akaroa Harbour from this setting.
Imagine having a photo session with these adorable alpacas, against the breathtaking harbor as a backdrop.
This experience looks amazing. It was at the top of our to do list but unfortunately was cancelled with the rainy weather we had.
Learn more on the official website and make your farm tour reservation in advance.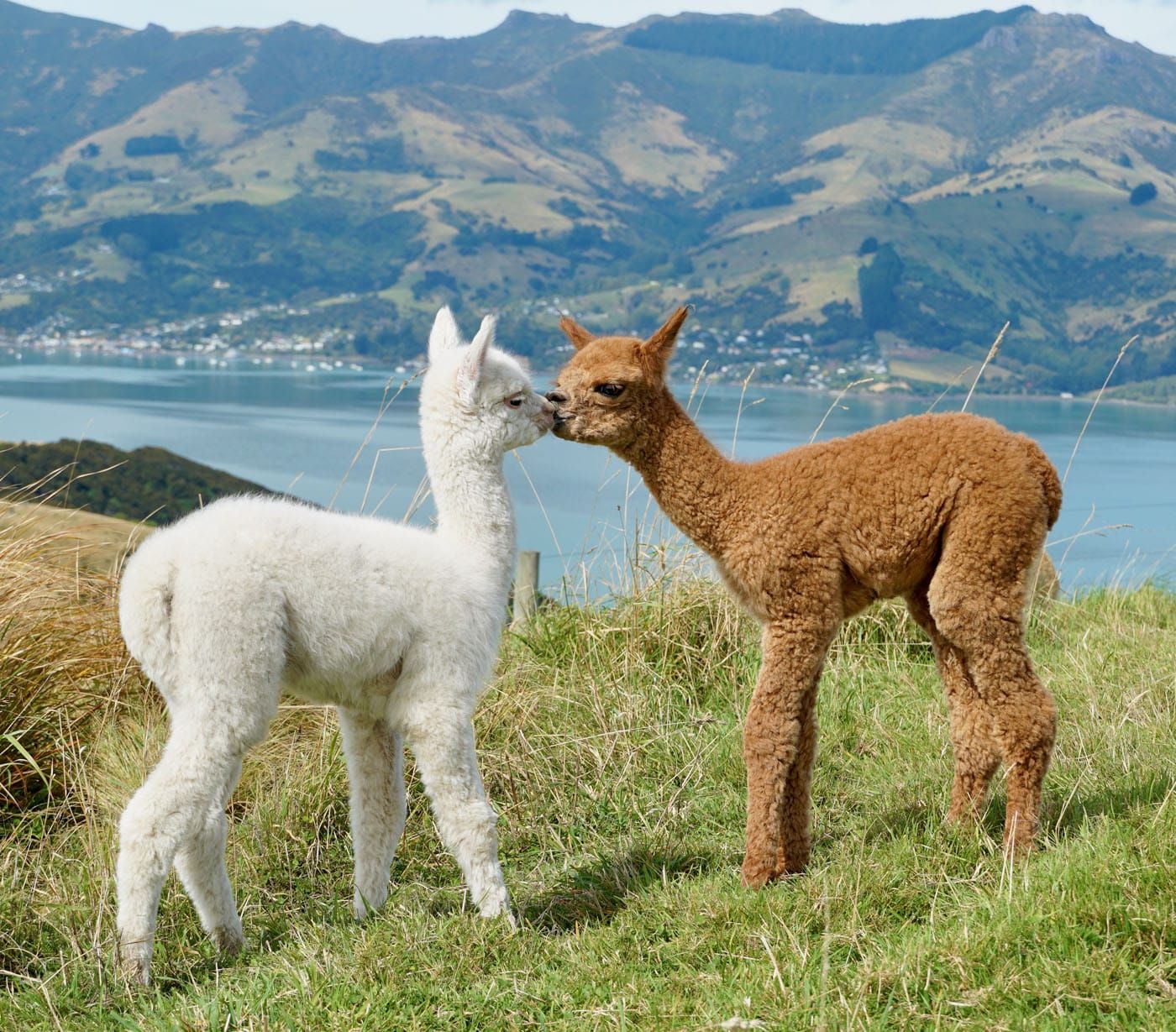 photo credit: Shamarra Alpacas
photo credit: Shamarra Alpacas
11. See the Pōhatu Little Penguins
Located on Flea Bay, not far from Akaroa, is the largest Australasian little penguin colony on mainland New Zealand.
To see these penguins, you have several tours to choose from. The quickest tour is a 3-hour 4WD scenic tour. In the evening, you get to see the penguins returning to shore after a day of feeding in the ocean.
You can also take a sea kayaking tour to spot the penguins or stay overnight at the Pōhatu Bay farmstay.
The best time to see little penguins in Pōhatu Bay is from September through mid-December, with good chances of seeing them from mid-December through mid-February. From mid-February to mid-April, there is almost no chance of seeing the penguins, since they stay at sea at this time. They return again in mid-April.
Our visit was in late March, the worst time of the year to see little penguins at Pōhatu Bay, so we skipped this experience. However, just a few days later, we watched little penguins return to their nesting sites at the Royal Albatross Center, near Dunedin. It was a nice experience and worth doing one time, particularly for wildlife enthusiasts.
12. Visit the Hinewai Reserve
The Hinewai Reserve is a nature reserve on the Banks Peninsula. When Europeans first settled on Banks Peninsula, most of the forests were cut down for firewood, building materials, and to make room for farming. This nature reserve was started to allow the native trees to regenerate on the land.
On the reserve are several walking tracks as well as part of the Banks Peninsula Track, a 31 km walking track. This is a great place to go for a day hike. Not only are the views spectacular but the trails and nature reserve are very well kept.
13. The Misty Peaks Reserve
Also sitting high on the hills above Akaroa is the Misty Peaks Reserve. It's a stunning drive to get here, with fantastic views of Akaroa and the Akaroa Harbour.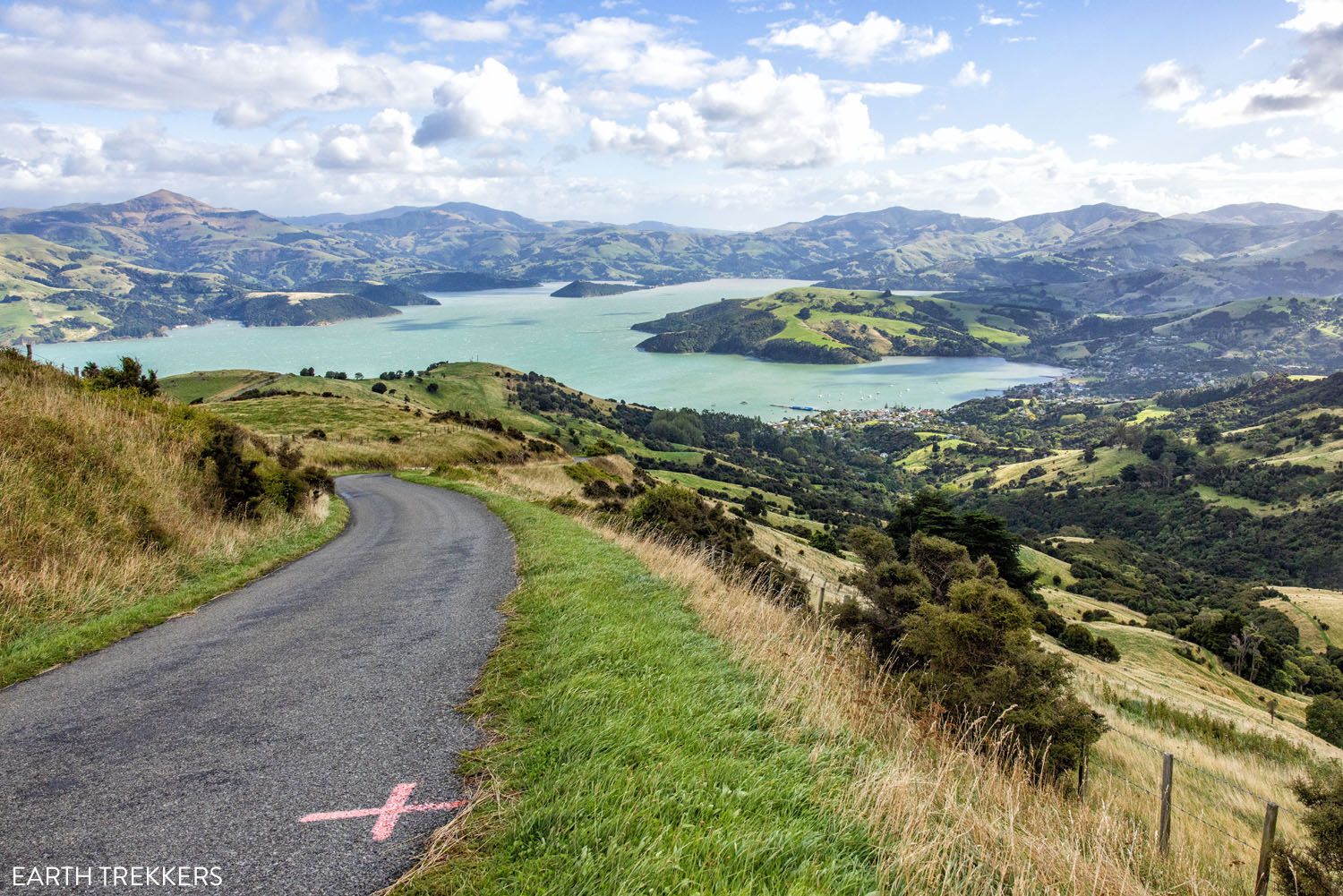 Driving Lighthouse Road to Misty Peaks Reserve
To get here, drive Lighthouse Road from Akaroa. About halfway up the road, it changes from a paved road to a gravel road. When we did this, the gravel road was well graded, but there were a few potholes and rough spots here and there. We had an AWD SUV that handled the road fine.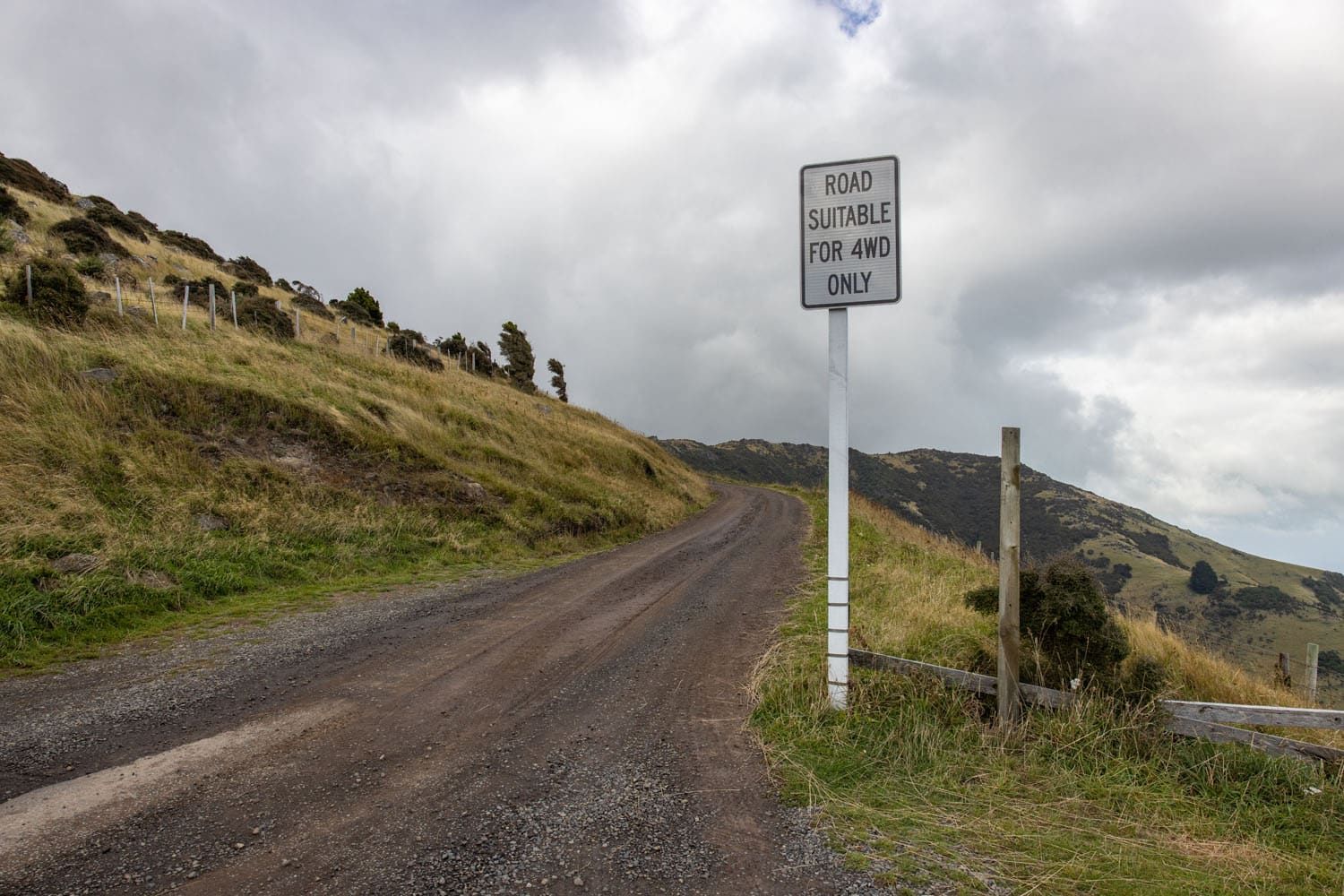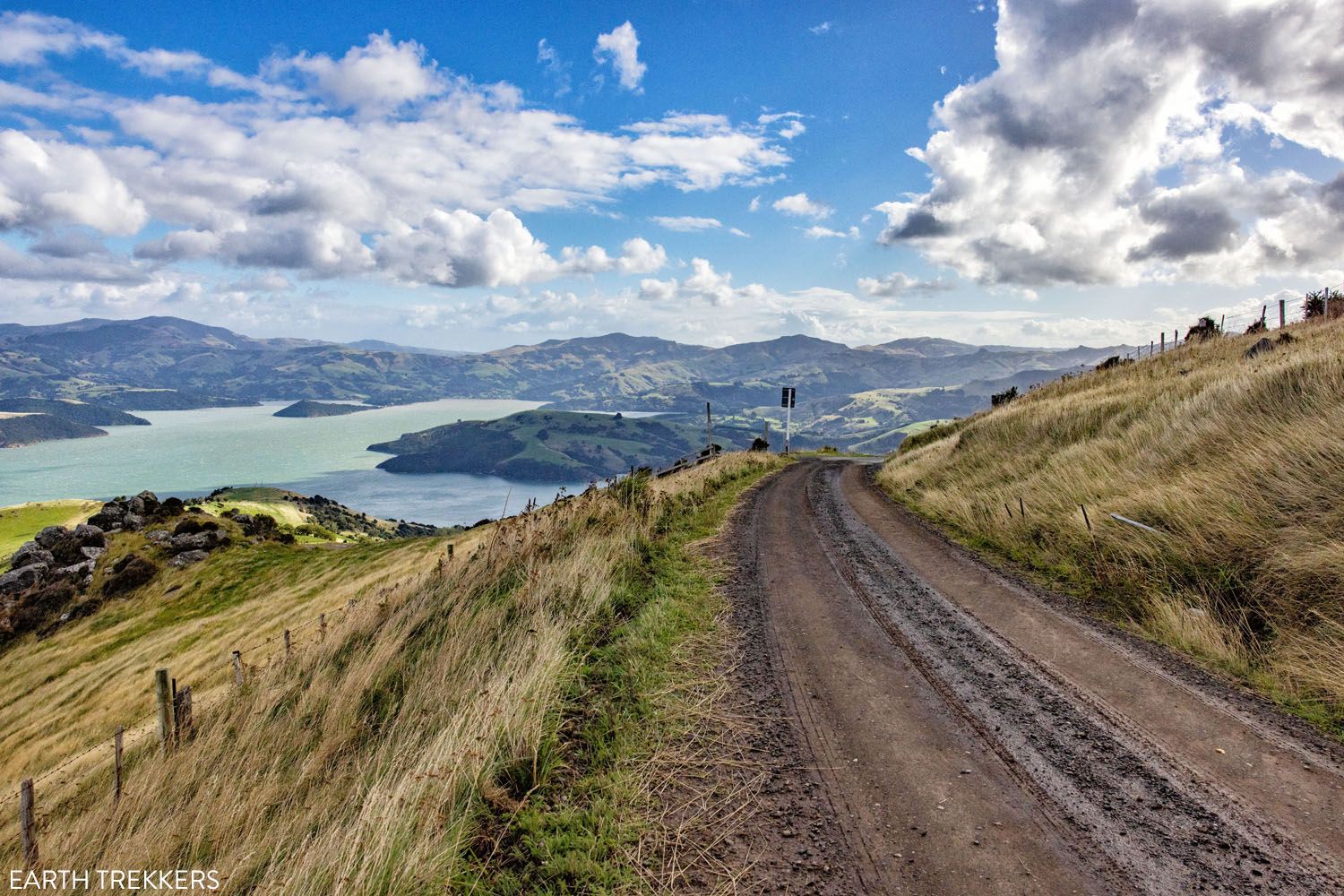 You reach the highest point at the intersection of Lighthouse Road and Flea Bay Road. From this point, you get 360° views of the Banks Peninsula. From this point, you can continue the drive out to Flea Bay or hike the Misty Peaks Reserve Track.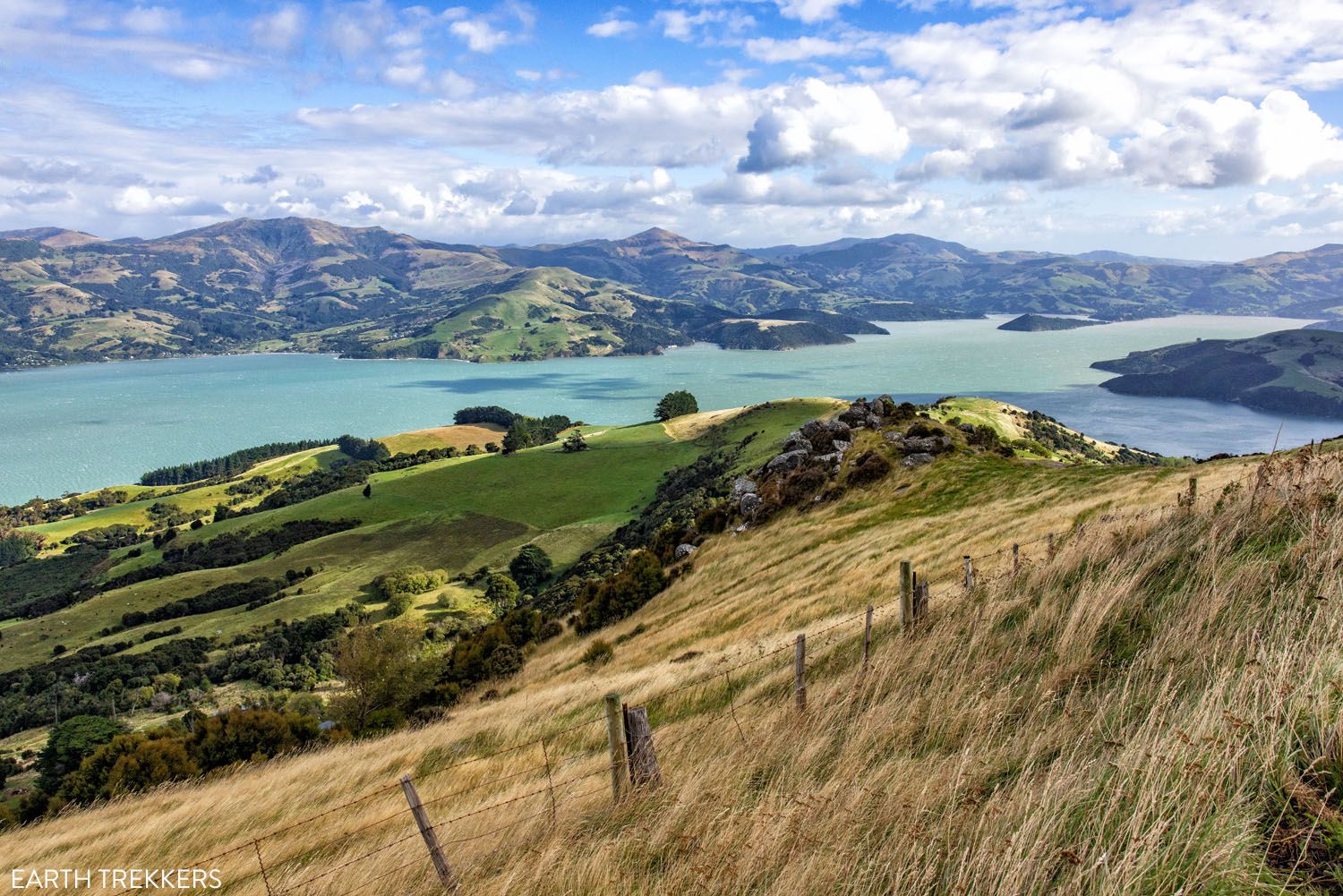 The view from Misty Peaks Reserve | Best Things to Do in Akaroa
14. Try Barrys Bay Cheese
Barrys Bay Cheese has been producing traditional, handcrafted cheeses since 1895. They offer flavored Cheddar cheeses, cold smoked cheeses, Havarti cheese, and English cheeses, as well as an assortment of gourmet crackers. Come in for a free tasting and put together a snack or picnic lunch.
Get hours and learn more about Barrys Bay Cheese on the official website.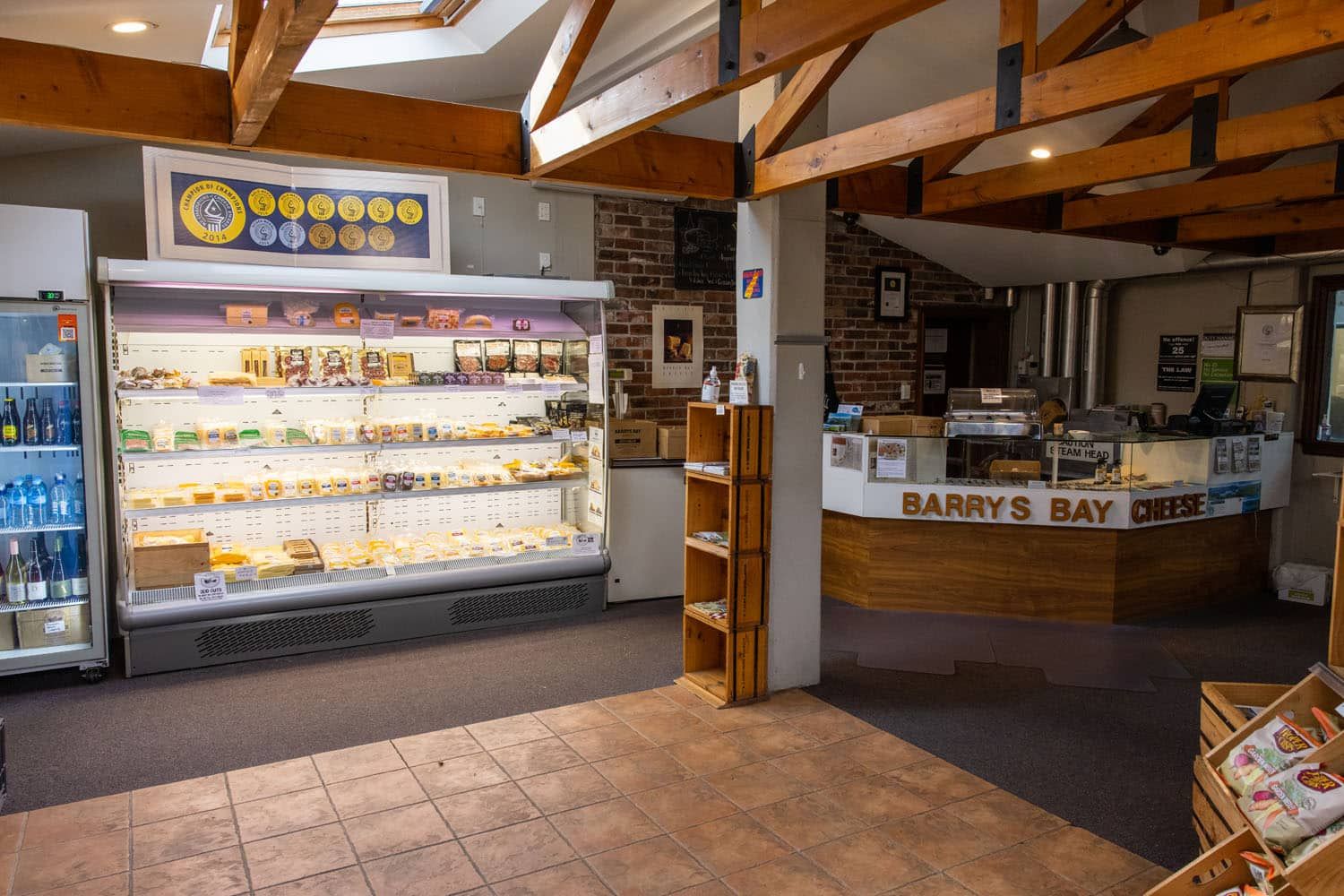 15. That Damn Square
This is a quirky recommendation, but it's something to keep an eye out for as you drive to Akaroa.
That Damn Square is a perfectly square area of trees growing on a hillside near Motukarara, on State Highway 75. You'll most likely pass in on the drive to Akaroa.
I don't think it's worth going out of your way to see it, but it's an odd, unusual sight to break up a drive. You can see it right from the road and take a pause for a photo, if you're in the mood.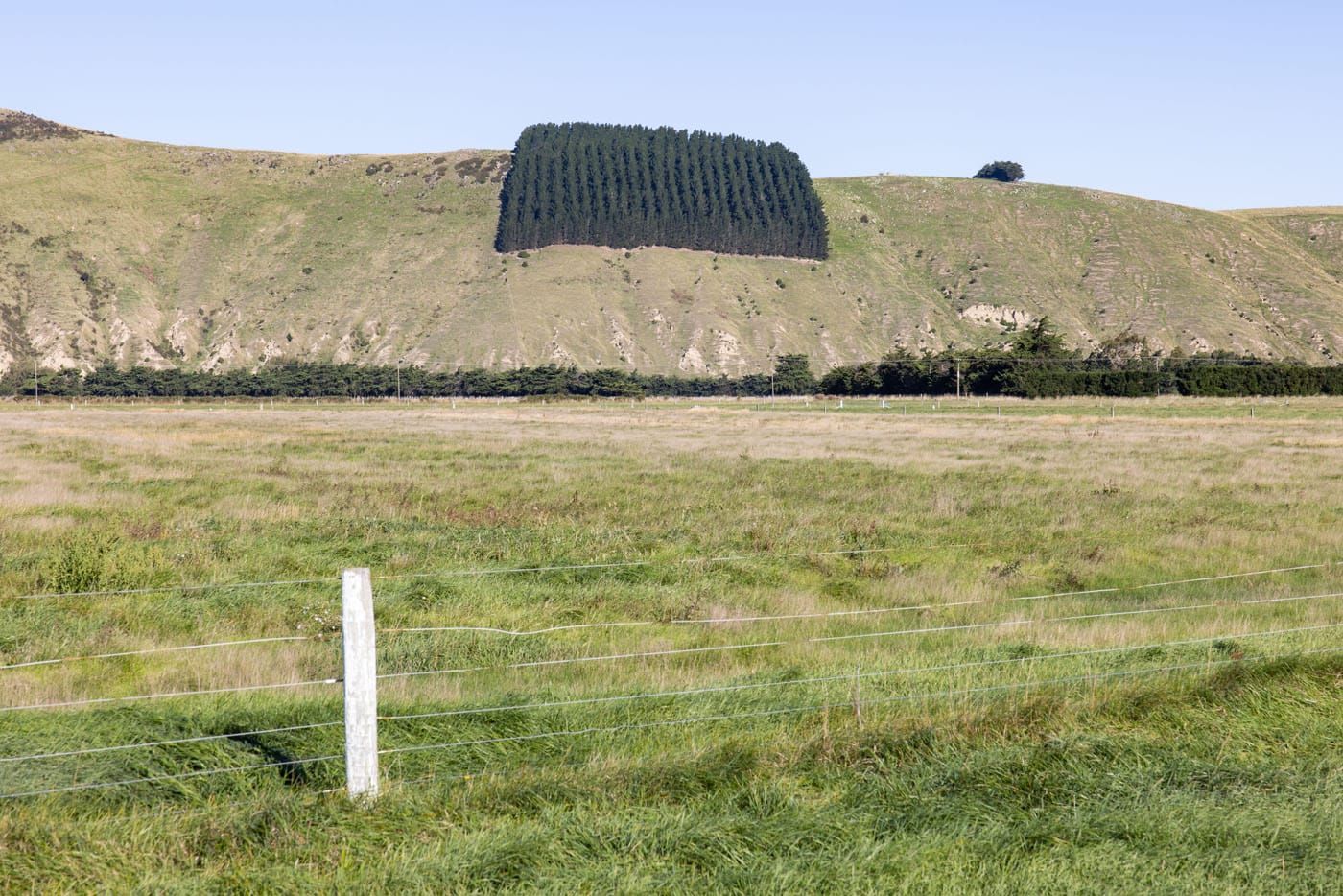 That Damn Square
16. Ride the Christchurch Gondola
This is an activity that is best done while in Christchurch, but the gondola takes you up to a viewpoint over Lyttelton Harbour, which is the second largest harbor on the Banks Peninsula. That's why it is getting a mention in this list.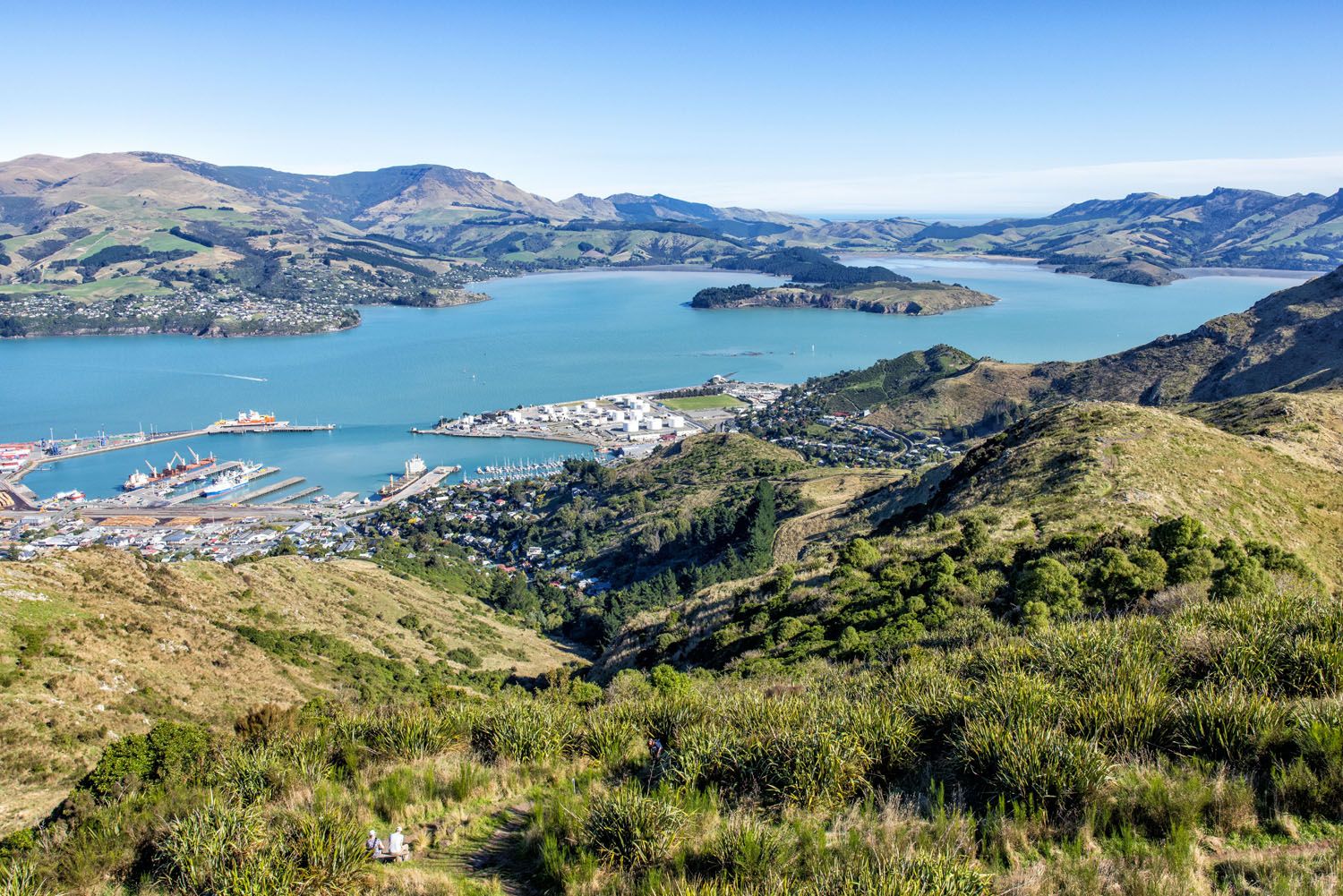 Lyttelton Harbour
The Christchurch Gondola is located on the south side of Christchurch. From the summit station, you get 360° views of Lyttelton Harbour on the Banks Peninsula, the Southern Alps, Christchurch, the Pacific Ocean, and the Canterbury Plains.
A visit here lasts an hour or two. The gondola runs daily. Get hours and pricing here.
Best Things to Do in Akaroa and Banks Peninsula: On a Map
How to Use This Map: Click the icons on the map to get more information about each point of interest. Click the star next to the title of the map to add this map to your Google Maps account. To view it on your phone or computer, open Google Maps, click the menu button, go to "Your Places," click Maps, and you will see this map on your list.
How Much Time do You Need in Akaroa & Banks Peninsula?
On the quickest of visits, you can drive to Akaroa, have lunch or dinner in town, and visit a few attractions, such as the Giant's House or Akaroa Museum.
One to two days on the Banks Peninsula is ideal.
With one day, take a wildlife cruise to see Hector's dolphins, go on a scenic drive on Summit Road and/or to Misty Peaks Reserve, meet the Shamarra Alpacas, and have lunch and/or dinner in Akaroa.
On your second day, go hiking in the Hinewai Reserve, visit the Giant's House and Akaroa Museum, sample cheese at Barrys Bay Cheese, and if your timing works well with when the little penguins are in the area, see the little penguins at Pohatu Bay.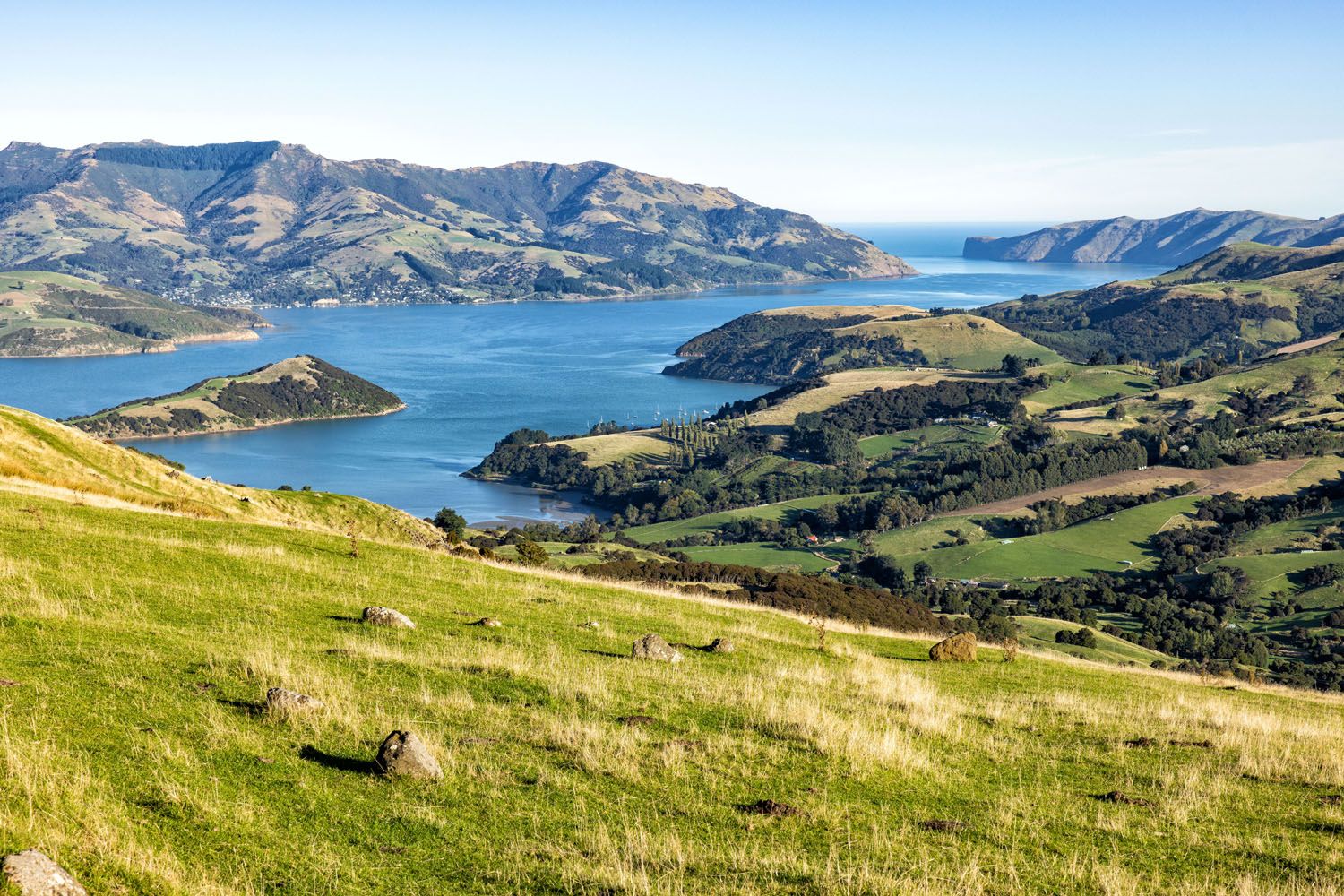 Akaroa Harbour | Best Things to Do in Akaroa
Where to Eat in Akaroa
Our favorite restaurant in Akaroa is The Common. We had both an amazing breakfast and lunch here and highly recommend it. This is a small café located in the center of Akaroa. They serve breakfast, lunch, and dinner. It's a great pick if you want really good food at really good prices.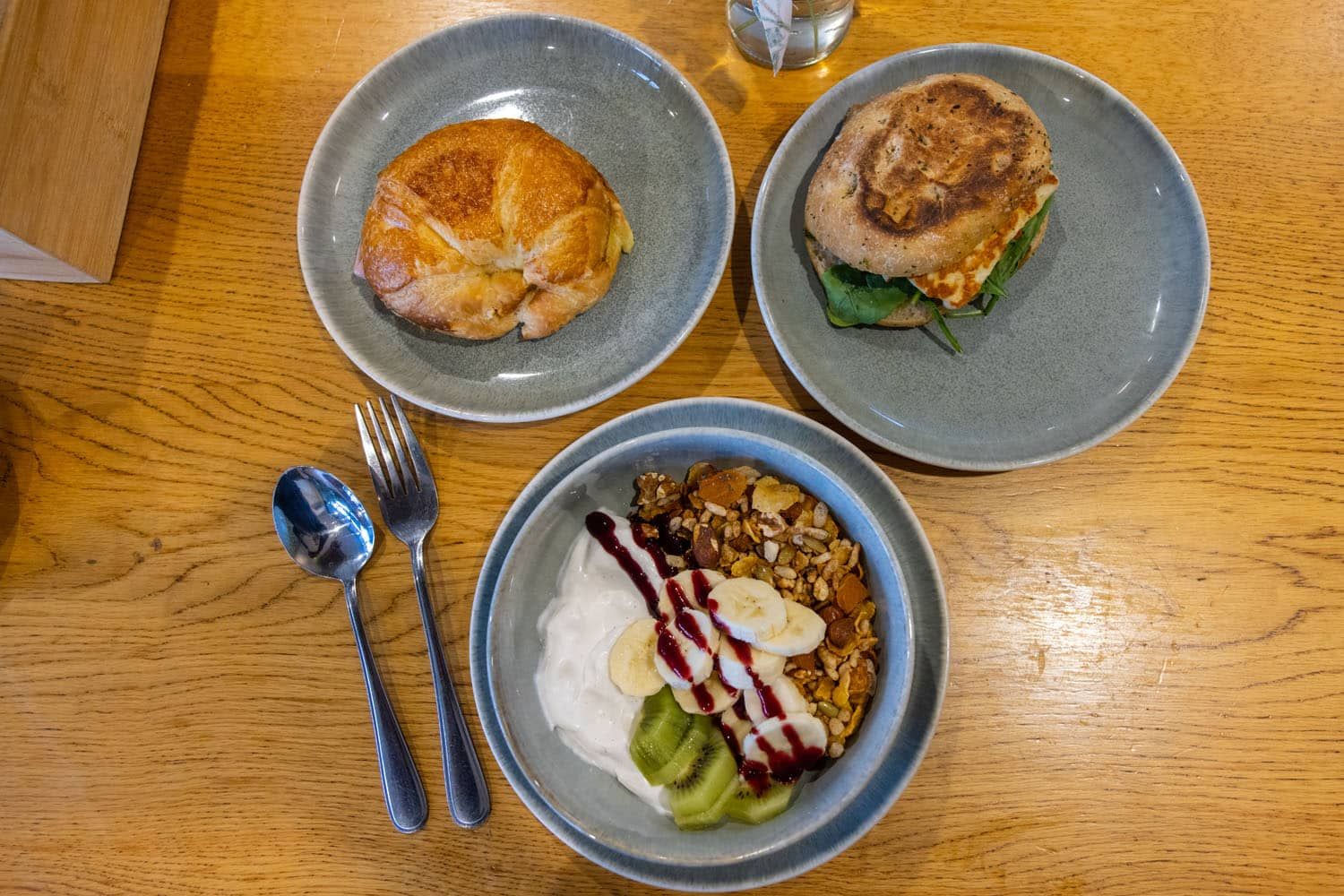 Breakfast at The Common
Ma Maison gets great reviews for its food, but some reviewers say that it is overpriced for what you get. We only had a cocktail here so we can't comment on the food. But the service is great and the restaurant has a very nice setting.
The Little Bistro is one of the highest rated restaurants in Akaroa. However, we did not have a good experience here. Maybe we were just here at an off time, but every single glass we used and saw in the restaurant was filthy and covered with fingerprints. One wine glass even had food stuck to it. Our hotel hosts stated they recently had a similar experience. It may seem like a minor complaint but it really turned us off. The food was good but nothing special. I recommend checking recent reviews before you decide to make a reservation.
We had very good experiences at Akaroa Fish & Chips and Bully Hayes. Mandala Restaurant also gets very good reviews.
Where to Stay in Akaroa/Banks Peninsula
On our most recent visit, we stayed at Mumford's. This small, rustic house is tucked away in the trees just outside of Akaroa. From its wide deck, you get a stunning view of Akaroa Harbour. It's clean, it's quiet, you have tons of space, plus a kitchen, and it is one of the highest reviewed properties on Booking.com.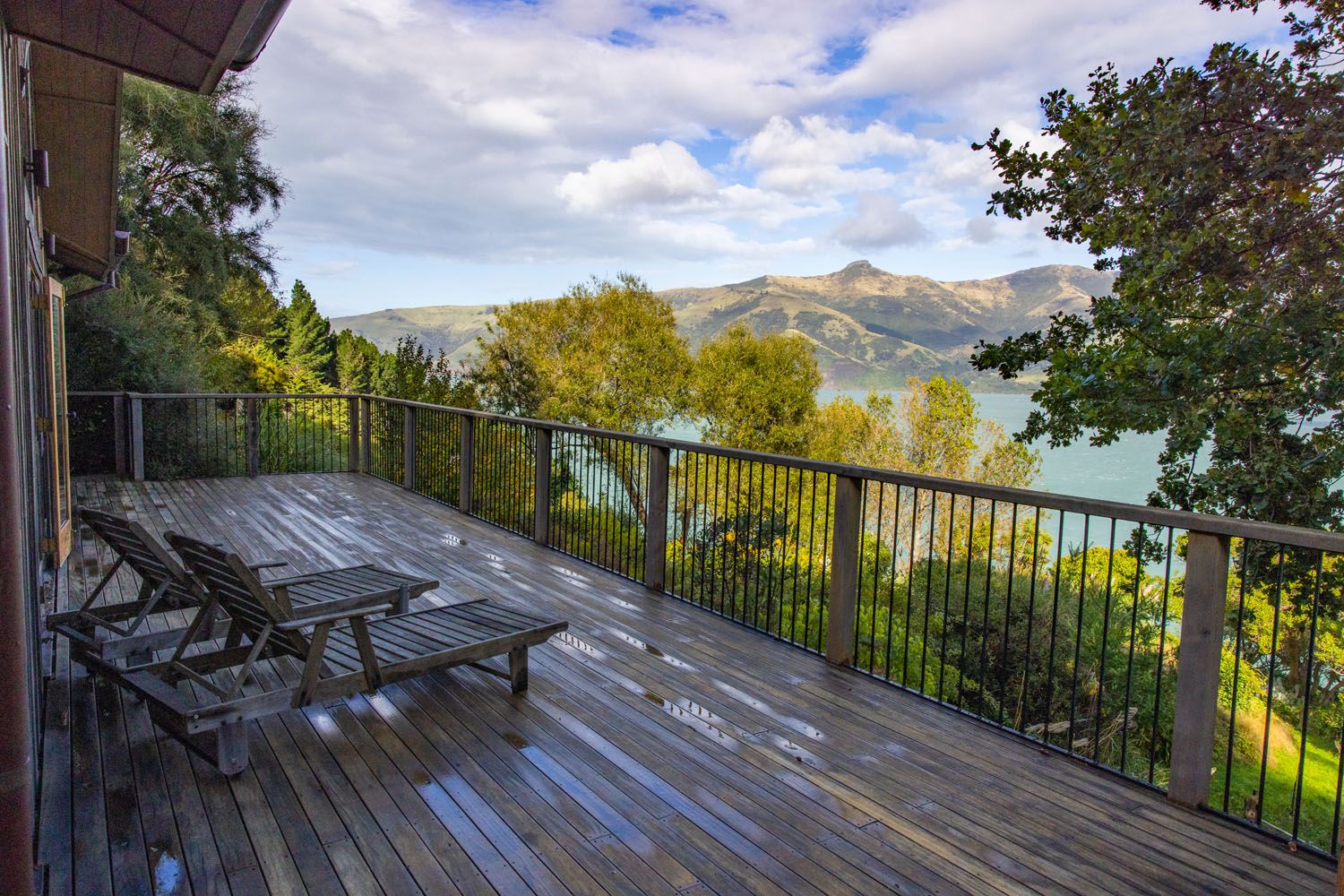 Mumford's
On our first visit to the area, we stayed at Silo Stay, which is located in Little River, on the west side of the Banks Peninsula. This is a very unique place to stay. Your "room" is a silo. It has a small kitchen, bedroom, and bathroom. It's about a 50-minute drive to Christchurch and a 30-minute drive to Akaroa. Check it out on the official website.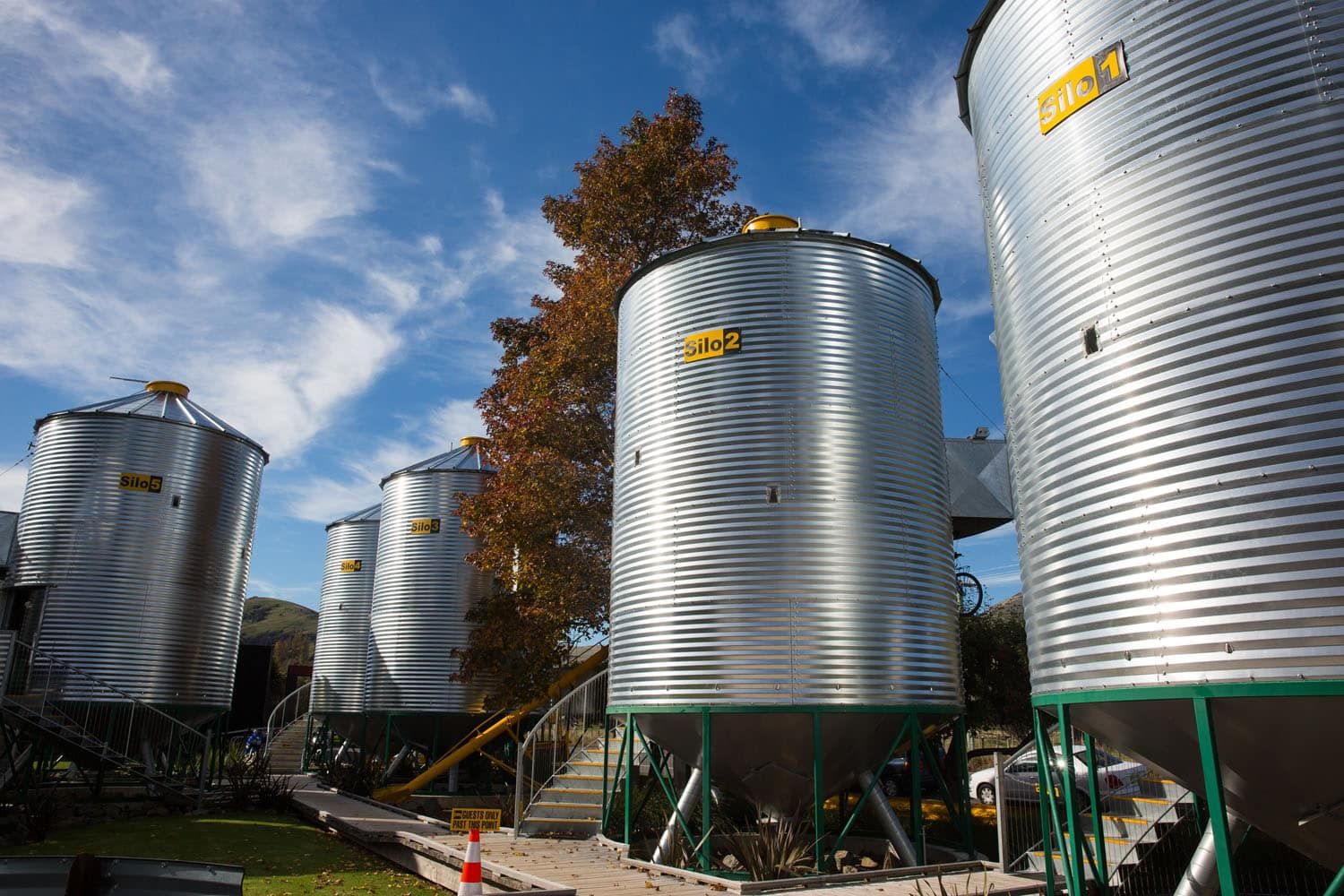 Silo Stay
In Akaroa, Newton Heights gets near perfect reviews, as do the French Bay House, Mill Cottage, and Beaufort House.
---
If you have any questions about the best things to do in Akaroa and Banks Peninsula, let us know in the comment section below.
More Information for Your Trip to New Zealand
NEW ZEALAND ROAD TRIP: With 3 weeks in New Zealand, visit the highlights on a road trip to the North Island and South Island. If you have less time, you can shorten this itinerary by spending 2 weeks on the South Island.
SOUTH ISLAND: On the South Island of New Zealand, visit Milford Sound and Doubtful Sound, spend a few days in Wanaka, hike the Routeburn Track, drive the Southern Scenic Route, visit the Marlborough Wine Region, and visit Franz Josef and Glacier Country.
NORTH ISLAND: Top experiences on the North Island include the Tongariro Alpine Crossing (one of the best day hikes in the world), spending a day or two in Auckland, visiting Waiheke Island on a day trip from Auckland, touring Hobbiton, a visit to Taupō, and seeing the glowworms and blackwater rafting in the Waitomo Caves. For the full list, read our article about the Best Things to Do on the North Island.
TRAVEL PHOTOGRAPHY: For more information about the camera gear we carry, check out our Travel Photography Gear Guide. And tips and tricks for taking great photos in our article How to Take Better Photos while Traveling.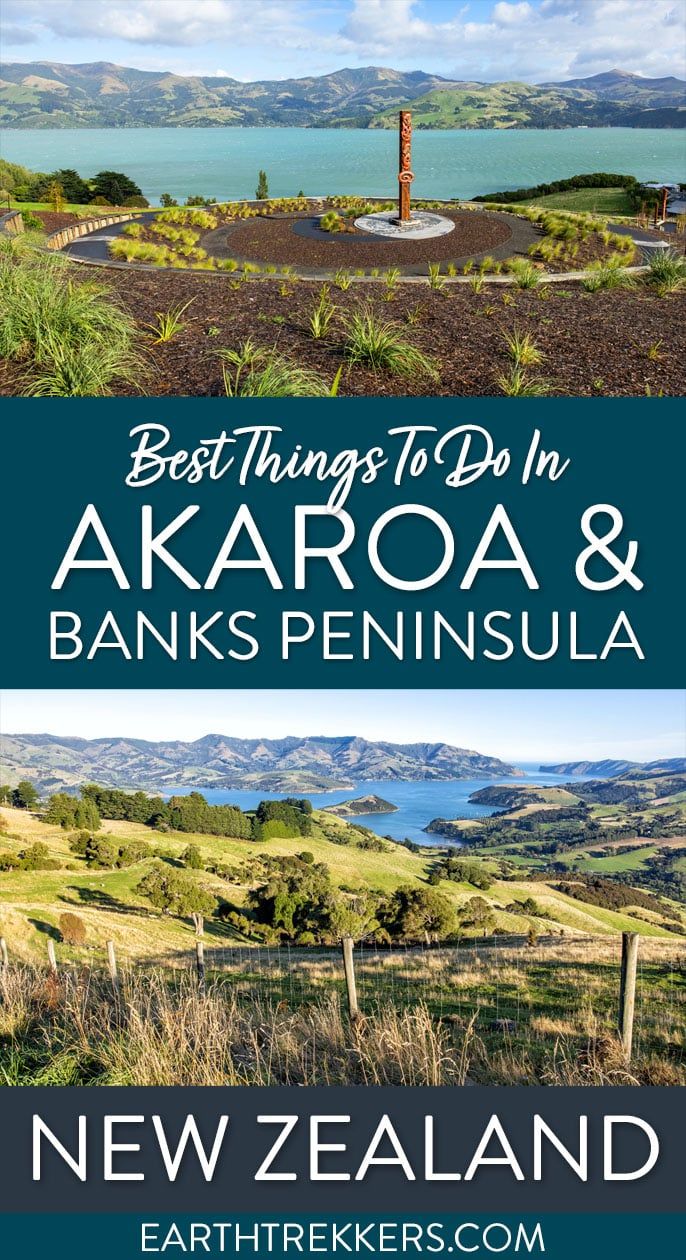 Note: This post contains affiliate links. When you make a purchase using one of these affiliate links, we get paid a small commission at no extra cost to you.
All rights reserved © Earth Trekkers. Republishing this article and/or any of its contents (text, photography, etc.), in whole or in part, is strictly prohibited.