Doubtful Sound is a fiord in southwest New Zealand. It's a neighbor of the more popular Milford Sound. A visit to Doubtful Sound, with its more remote location and less touristy vibe, is a much different experience than a visit to the Milford Sound.
A Doubtful Sound day trip takes one full day. To get here, you first have to cross Lake Manapouri, then take a bus ride over a mountain pass, to just get to the fiord. Then, for several hours, you cruise through Doubtful Sound and several arms that come off of the fiord, before repeating the journey across the mountain pass and Lake Manapouri.
In this guide, we cover what to expect on a Doubtful Sound day trip, including photos, a map, tour options, tips to have the best experience, and whether or not it is worth it.
Let's get started.
What is Doubtful Sound?
Doubtful Sound is not a sound, it's a fiord. It was mistakenly named as a sound by the whalers and sealers that first lived here, and the name stuck.
So, what's the difference between a fiord and a sound?
A fiord is a narrow inlet of the sea that runs between steep cliffs. A fiord was carved out by a glacier and then filled with water from the sea. In New Zealand, fiord is the correct spelling. Norway is also famous for its fjords, which are the same geographical structure, just with a slightly different spelling.
A sound is a small body of water attached to the sea. It is generally wider than a fiord but it can also be an ocean channel between two bodies of land or a lagoon between an island and the mainland.
Doubtful Sound was first "discovered" by Captain Cook (although the Maori had already lived here for hundreds of years), who cruised around New Zealand in 1770. While he was at the inlet to the fiord, Captain Cook was doubtful that he would be able to sail out of the fiord because of the wind patterns, so he never entered it. The fiord was later named Doubtful Sound by the sealers and whalers who lived here.
Doubtful Sound also goes by the name Patea, the Maori name for the fiord. Patea translates to 'place of silence,' and sometimes Doubtful Sound is referred to as the Sound of Silence.
Doubtful Sound is the second largest fiord in New Zealand. It is 40 km long, much longer than the Milford Sound, which clocks in at 17.5 kilometers. Doubtful Sound is also the deepest of all of the fiords in New Zealand.
This fiord is located in Fiordland National Park, an immense national park covering more than 1.2 million hectares. This national park is a UNESCO World Heritage Site.
Fiordland is the rainiest spot in New Zealand, getting more than 5 meters of rain a year. With more rainy days than sunny days, there is a good chance you'll have some rain during your visit. If you are lucky enough to see the sun, you are very fortunate!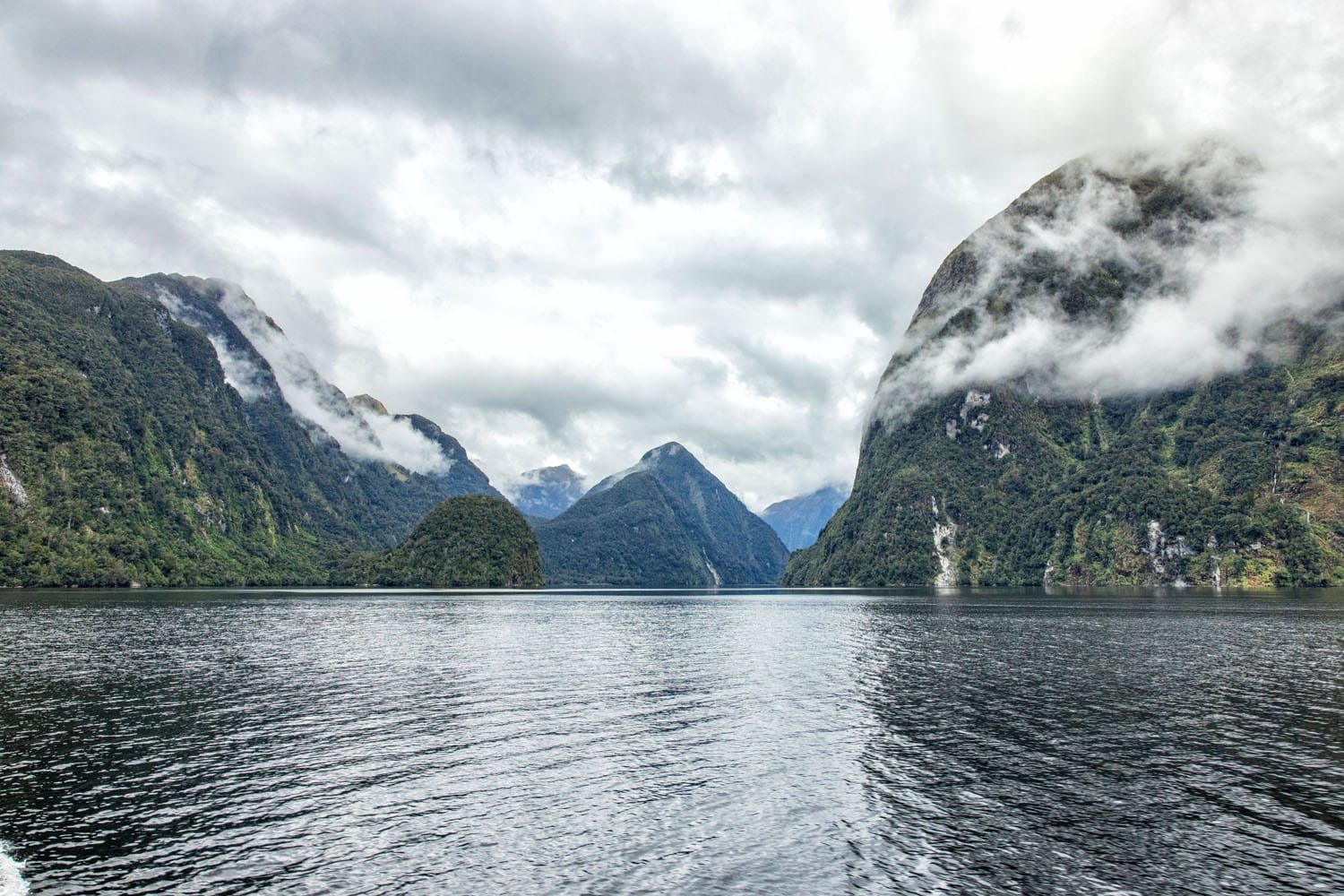 Doubtful Sound
How Do You Get to Doubtful Sound?
The only way to get to Doubtful Sound is on a tour. There are no roads to Doubtful Sound. Its remote location is one of the things that makes this place so special, since a limited number of people can visit it each day.
To get to Doubtful Sound, first you will cross Lake Manapouri by boat and then board a bus to cross Wilmot Pass. This gets you to the far eastern end of Doubtful Sound, where your cruise will begin.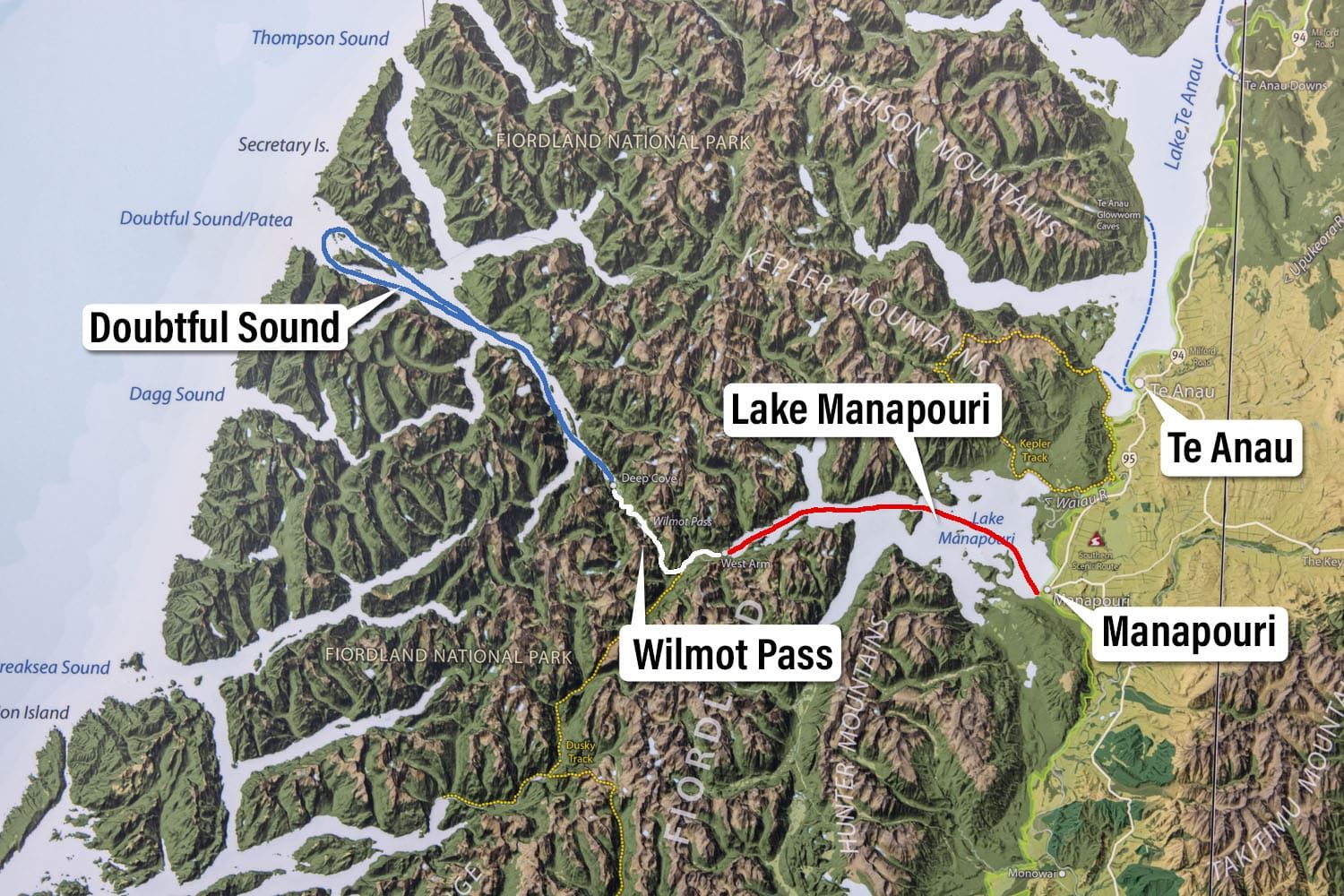 This is a photo of the map on the wall of the Real NZ office in Manapouri showing the Doubtful Sound day trip (I added the labels). The boat trip across Lake Manapouri is the red line, the bus ride over the Wilmot Pass is the white line, and the cruise on the Doubtful Sound is the blue line.
Doubtful Sound Day Trip
The most popular way to visit Doubtful Sound is on a day trip. This day trip starts at Lake Manapouri.
The best place to stay for a Doubtful Sound day trip is either in the very small town of Manapouri or in Te Anau (a 20-minute drive from Manapouri). You can also do a Doubtful Sound day trip from Queenstown, but with an additional 2 hours of driving each way (for a total of 4 hours), this becomes a very long day.
Here is an overview of the Doubtful Sound day trip with Real NZ. We go into this in more detail below.
Overall, this day trip takes 7 hours, starting and ending in Manapouri.
10:00 am: Cruise across Lake Manapouri
11:00 am: Bus ride over Wilmot Pass
12:00 pm: Cruise on Doubtful Sound
3:00 pm: Bus ride over Wilmot Pass
4:00 pm: Cruise across Lake Manapouri
5:00 pm: Arrive in Manapouri
Te Anau to Manapouri
We awoke to clear skies and lots of sunshine in Te Anau the day we took this cruise (we did this April 4). Tim and I were hopeful that we would also get to see the sun in Doubtful Sound.
It is a 15 to 20-minute drive from Te Anau to Manapouri. Real NZ is the company that runs the Doubtful Sound day trip. They have a visitor center and large parking lot on the Waiau River, the starting point for this journey.
Check-in was 30 minutes before the start of the excursion. There is a small café here selling coffee and pastries and the place to pick up your lunch, if you ordered one as part of the excursion. You also have the option to pack a picnic lunch and bring this instead of the provided lunch.
Lake Manapouri Cruise
The cruise across Lake Manapouri began right at 10 am. It took 50 minutes to cross the lake.
The longer you cruise across the lake, the more beautiful the views become. As you leave Manapouri behind and cruise to the west side of the lake, the mountains grow taller and the scenery gets to be more dramatic. This is just a taste of what you will see once you get to Doubtful Sound.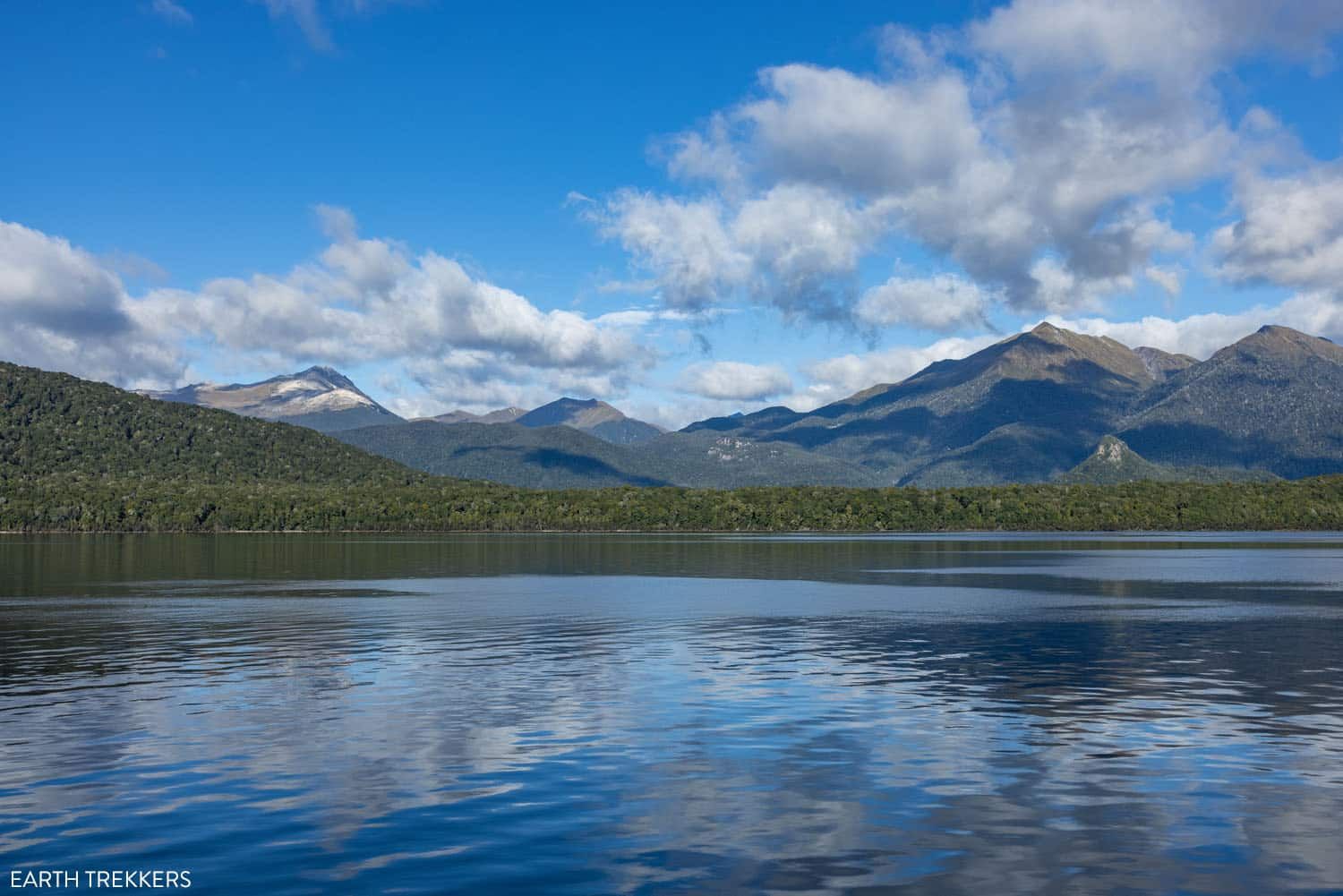 Lake Manapouri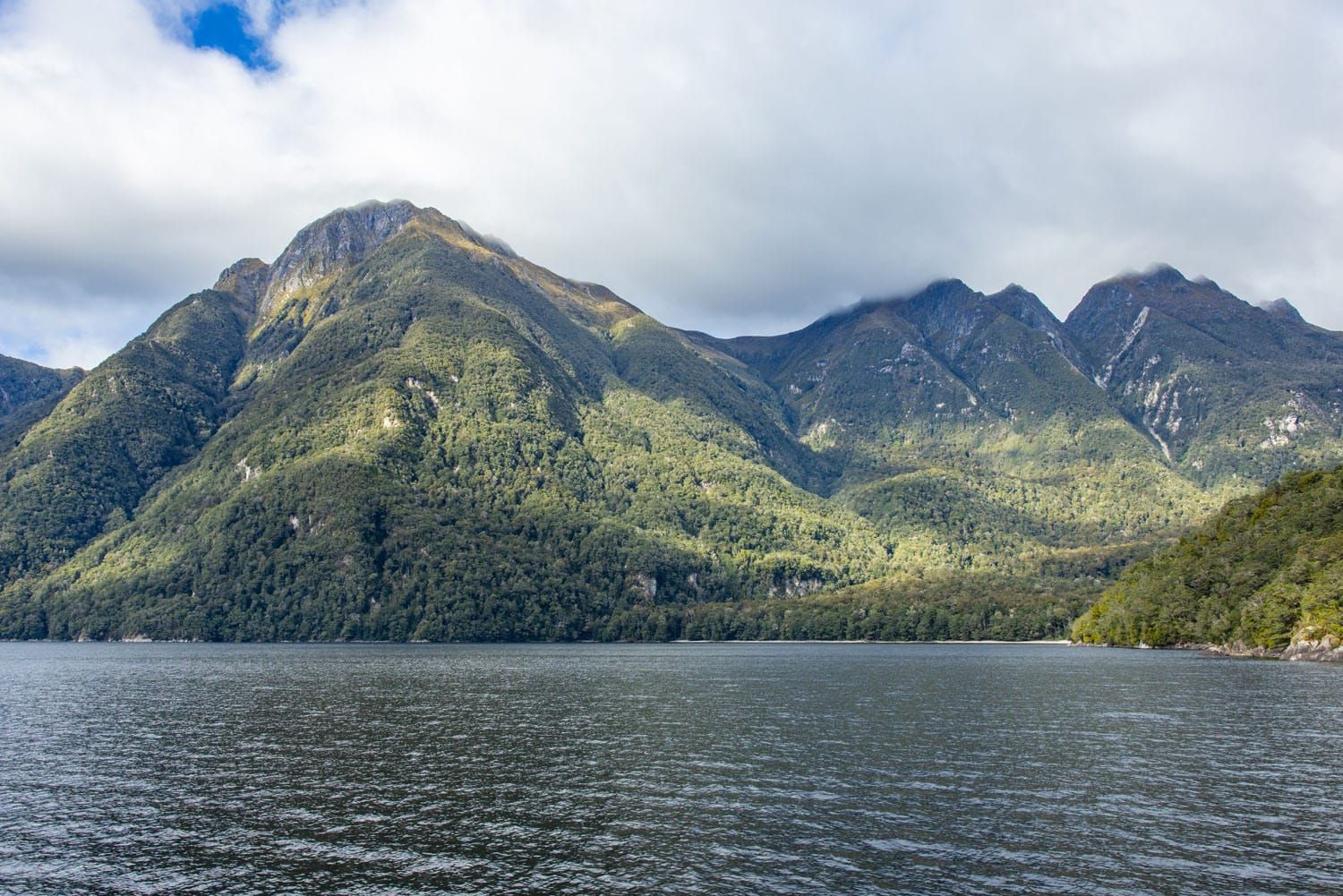 Lake Manapouri
The cruise ends at the West Arm Visitor Centre, next to the Manapouri hydroelectric station. You have a few minutes here to use the bathrooms before boarding the bus.
There were three large buses transporting passengers on the day we did this.
We had decent cellular service here, the best service of the day until you get back to this point later in the day.
Bus over Wilmot Pass
This is where we lost the clear skies and get our first rain showers of the day.
For 50 minutes, the bus twists and turns up and over the Wilmot Pass. We were told by our bus driver that this was the most expensive road to construct in New Zealand.
At the highest point, you can get out of the bus and take photos of the Doubtful Sound. On the day we did this, the rain and clouds took away from the view, but on a clearer day, the view is beautiful.
Our photo of Doubtful Sound from Wilmot Pass (what to expect if it rains).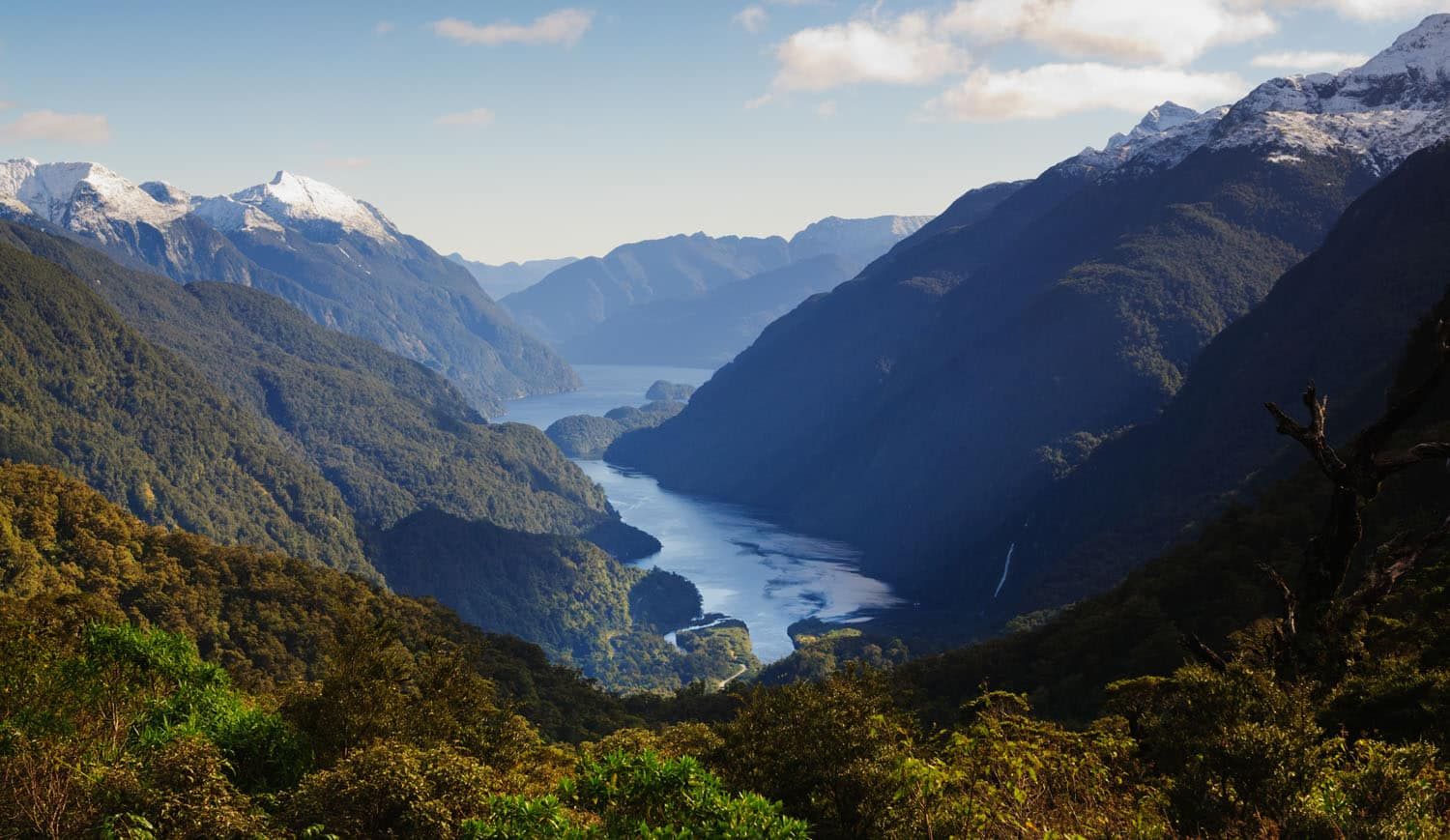 The view of Doubtful Sound on a clear day (photo credit: Jeffrey B. Banke/shutterstock.com)
What is most notable about this bus journey is the rainforest you travel through. Moss-covered trees and rocks, New Zealand ferns, and a long list of waterfalls keep the views along the drive interesting.
PRO TRAVEL TIP: Sit on the left hand side of the bus for the best views.
Doubtful Sound Cruise
The Lake Manapouri cruise and the trip over the Wilmot Pass are beautiful, but this is the moment you've been waiting for. For the next 3 hours, you will cruise on the Doubtful Sound, with a few side trips on the arms that lead off of the fiord.
PRO TRAVEL TIP: Immediately after boarding the Doubtful Sound catamaran, pick out some seats such where your group can sit together. There is indoor seating and outdoor seating. We preferred the indoor seating because it was warmer and drier and we had a table where we could put our things.

Stay in your seat until everyone else is settled and the cruise starts. Then get up and walk around the boat to enjoy the views. You will have seats indoors with a table when you want to take a break, warm up, or eat. It doesn't matter which side of the boat you sit on, since both sides have good views and you have the flexibility to walk around the outside of the boat. For those who prefer to stay indoors, what you don't see outbound you will see on the return.
On the day we did this, we cruised out to the Tasman Sea, where we could see seals lounging on the rocks. We also cruised down Crooked Arm and Hall Arm.
Doubtful Sound is gorgeous, with its steep mountains, waterfalls, and vegetation. But it was the arms that were the highlight for us. These are narrower bodies of water with steeper mountain faces and more dramatic scenery.
And as you will see from our photos, even though we had a brilliantly sunny morning in Te Anau, it was quite cloudy at Doubtful Sound.
Here is the Doubtful Sound cruise in photos.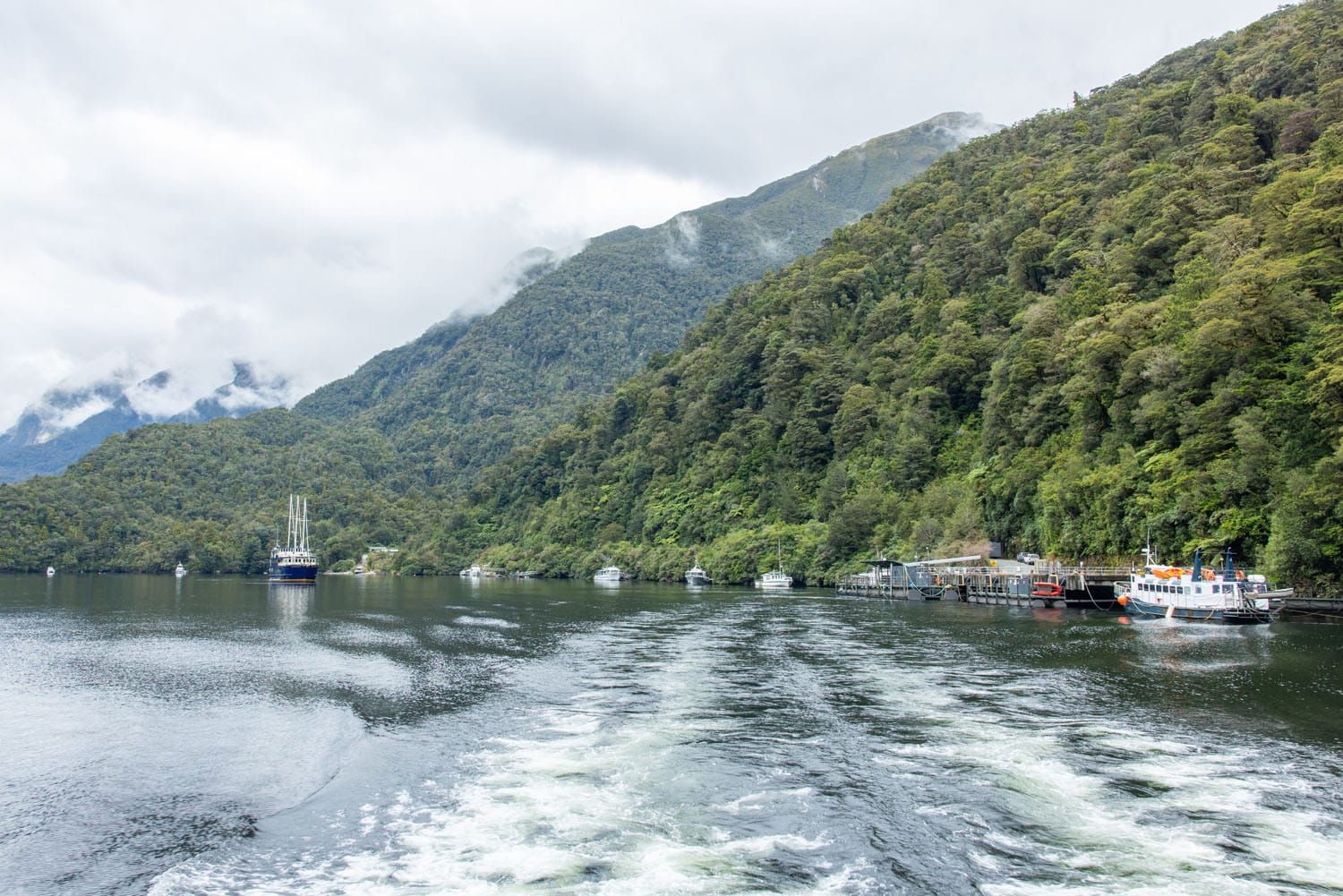 Deep Cove, the start of the Doubtful Sound cruise.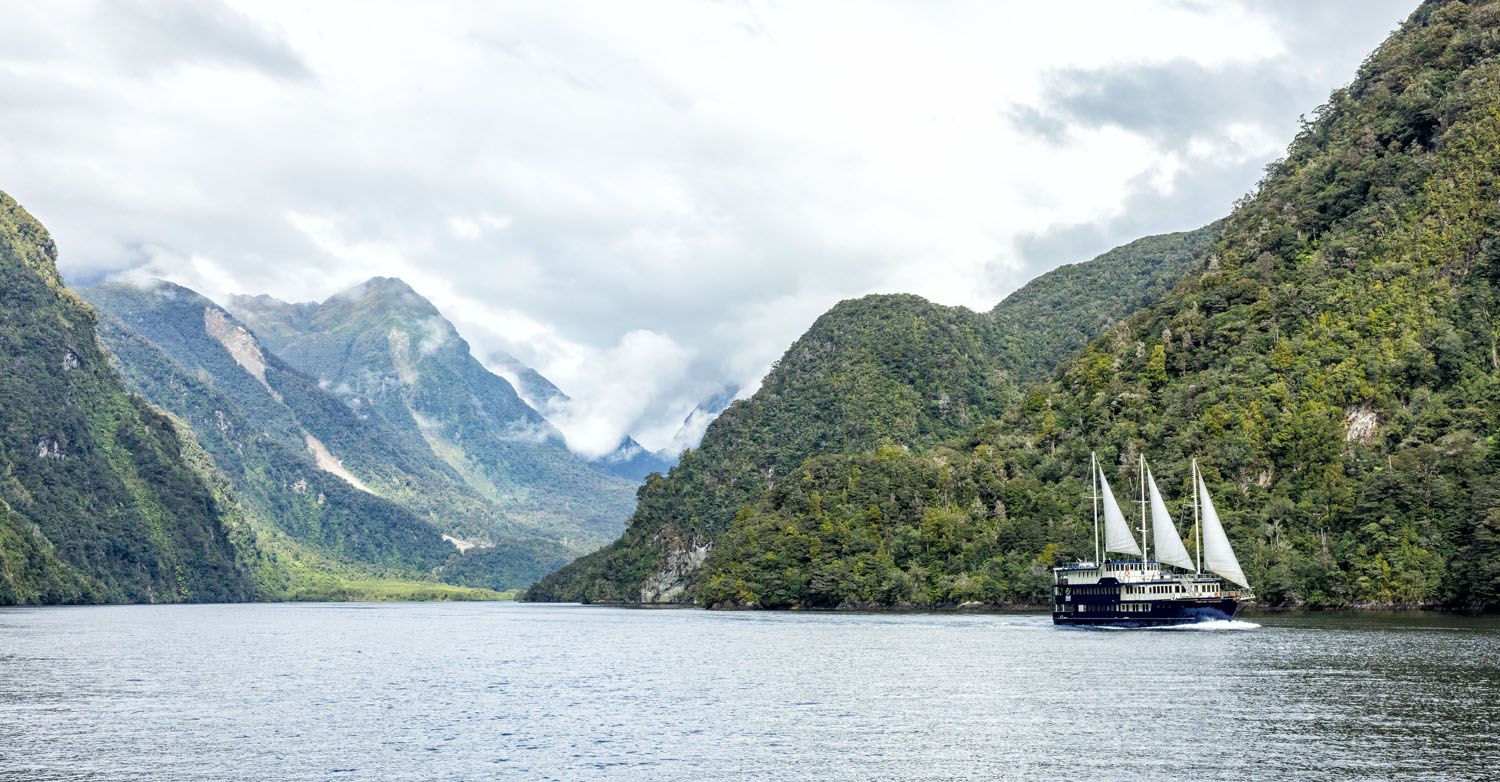 Doubtful Sound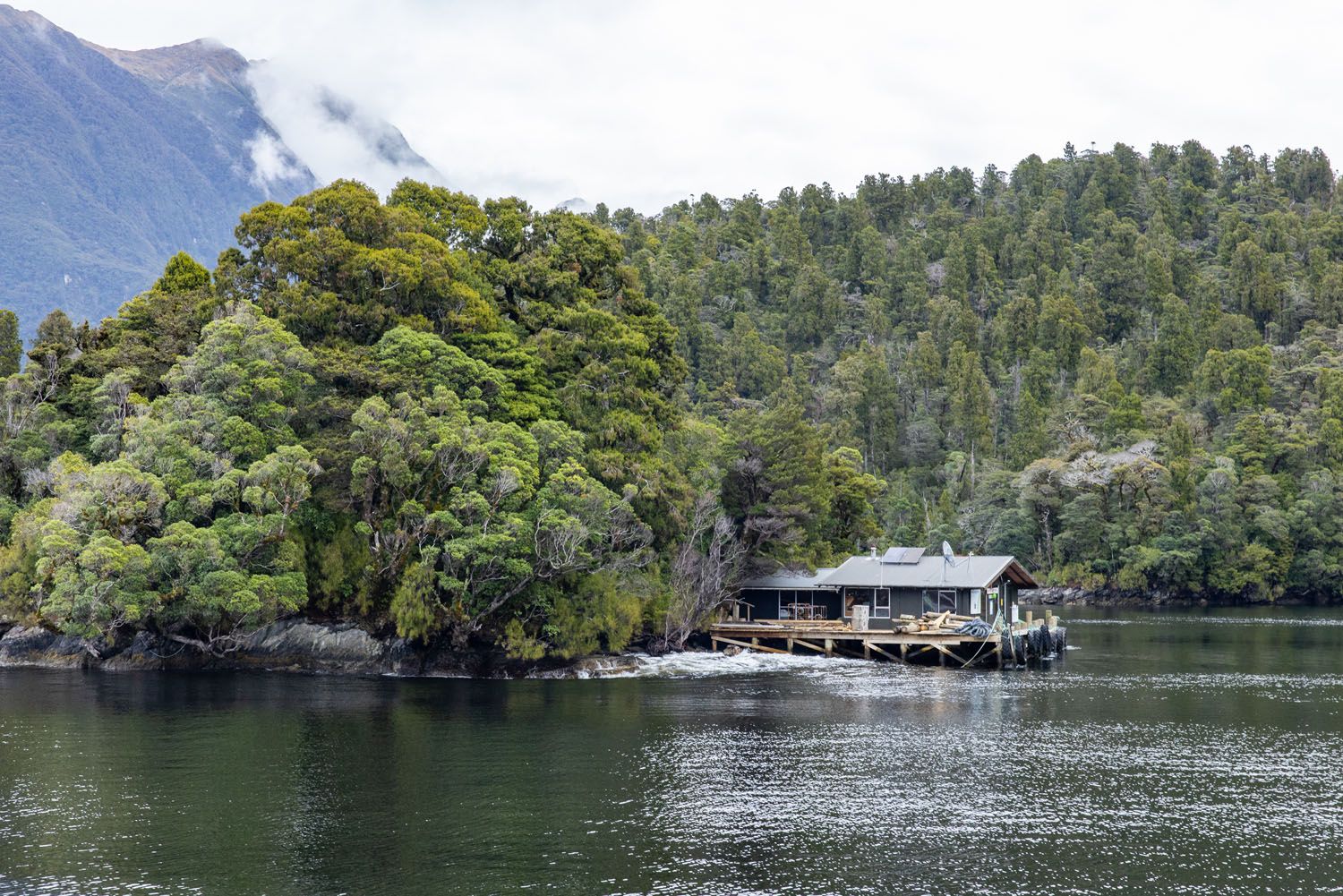 Blanket Bay Hotel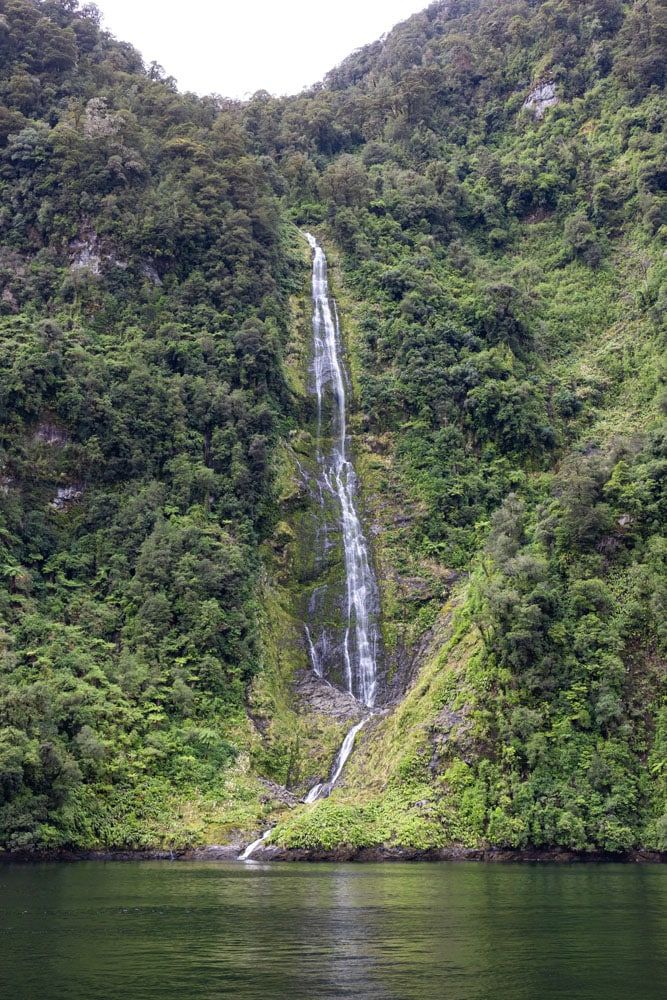 Lady Ellis Falls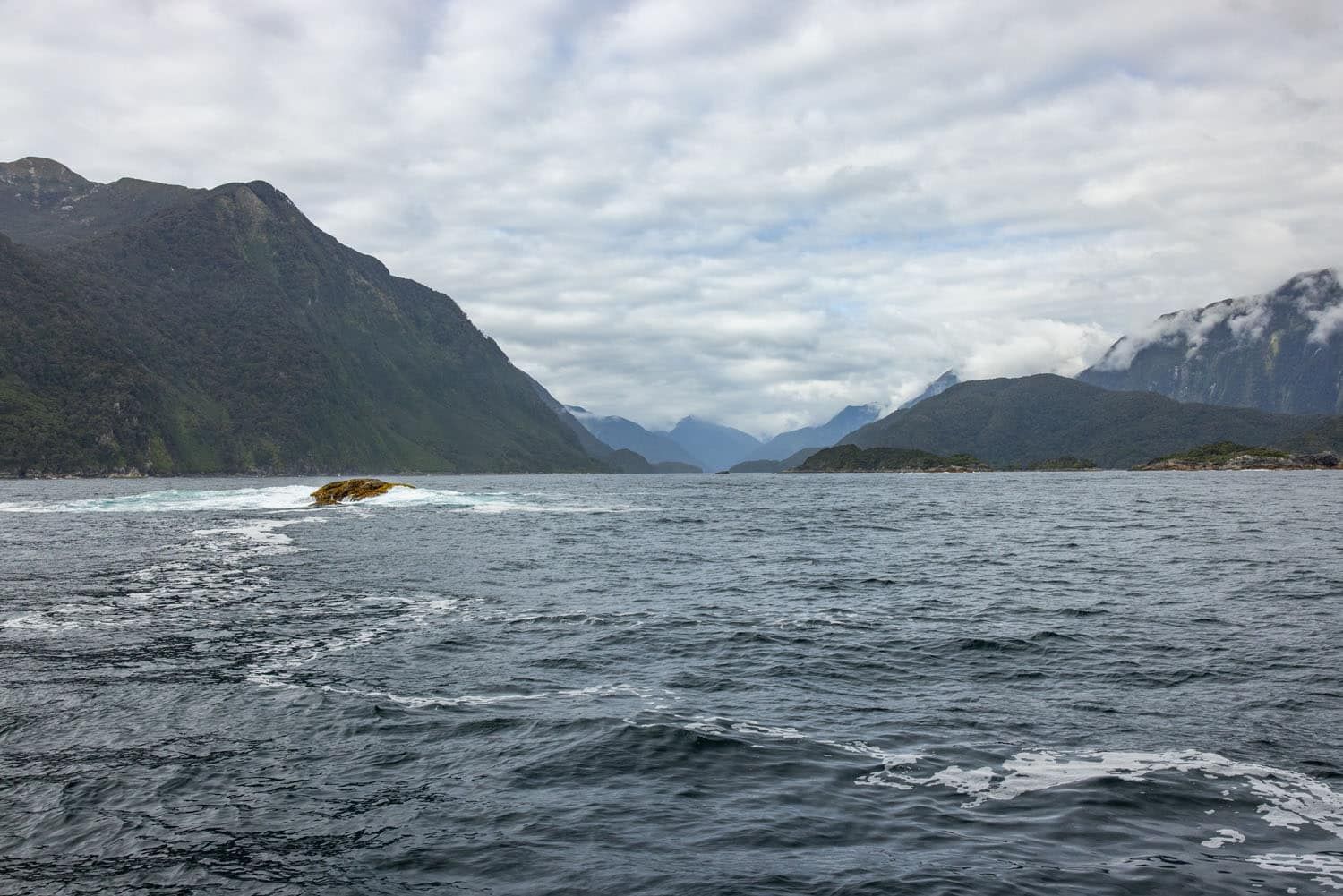 Looking at Doubtful Sound from the Tasman Sea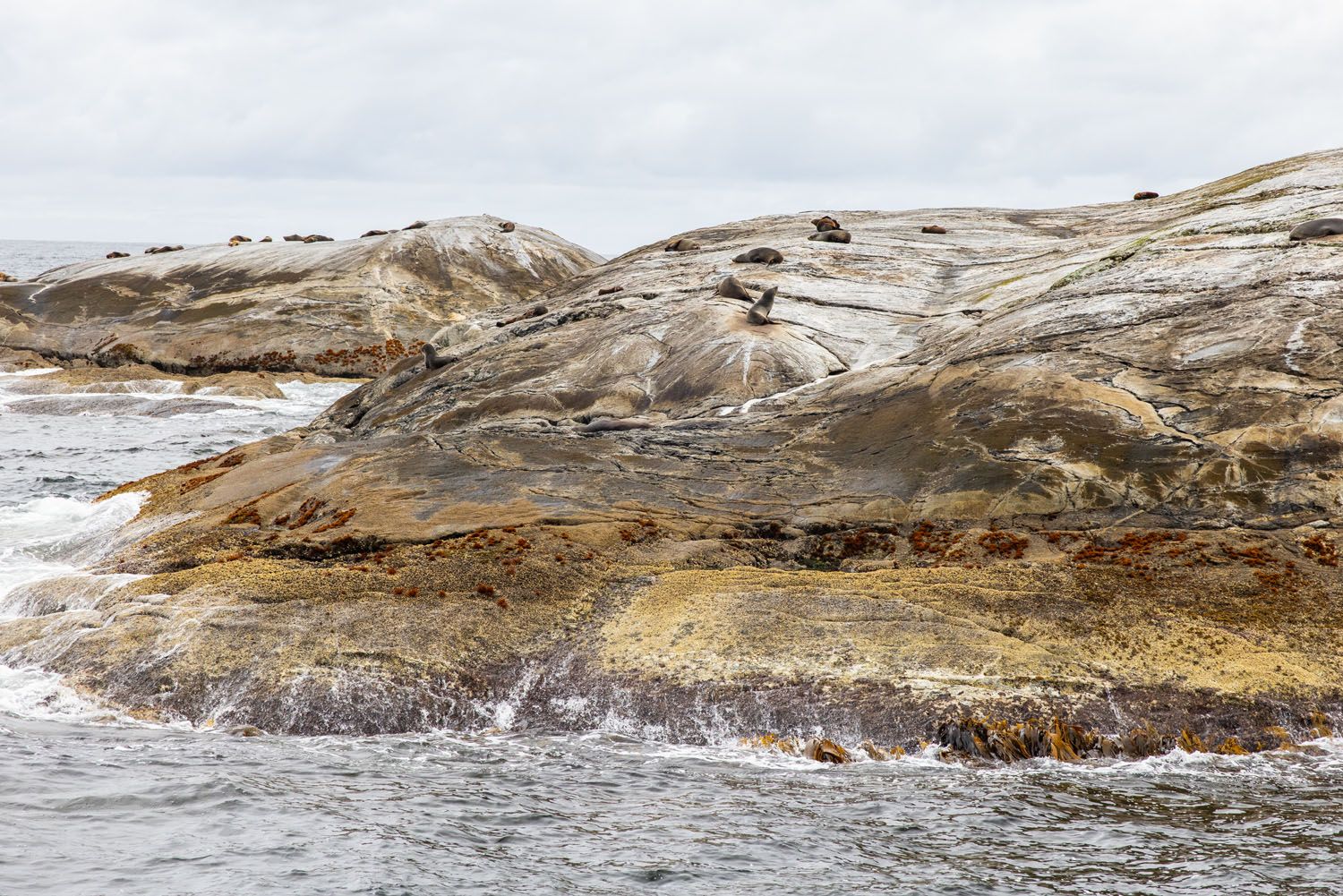 Sea lions lounging on the rocks next to the Tasman Sea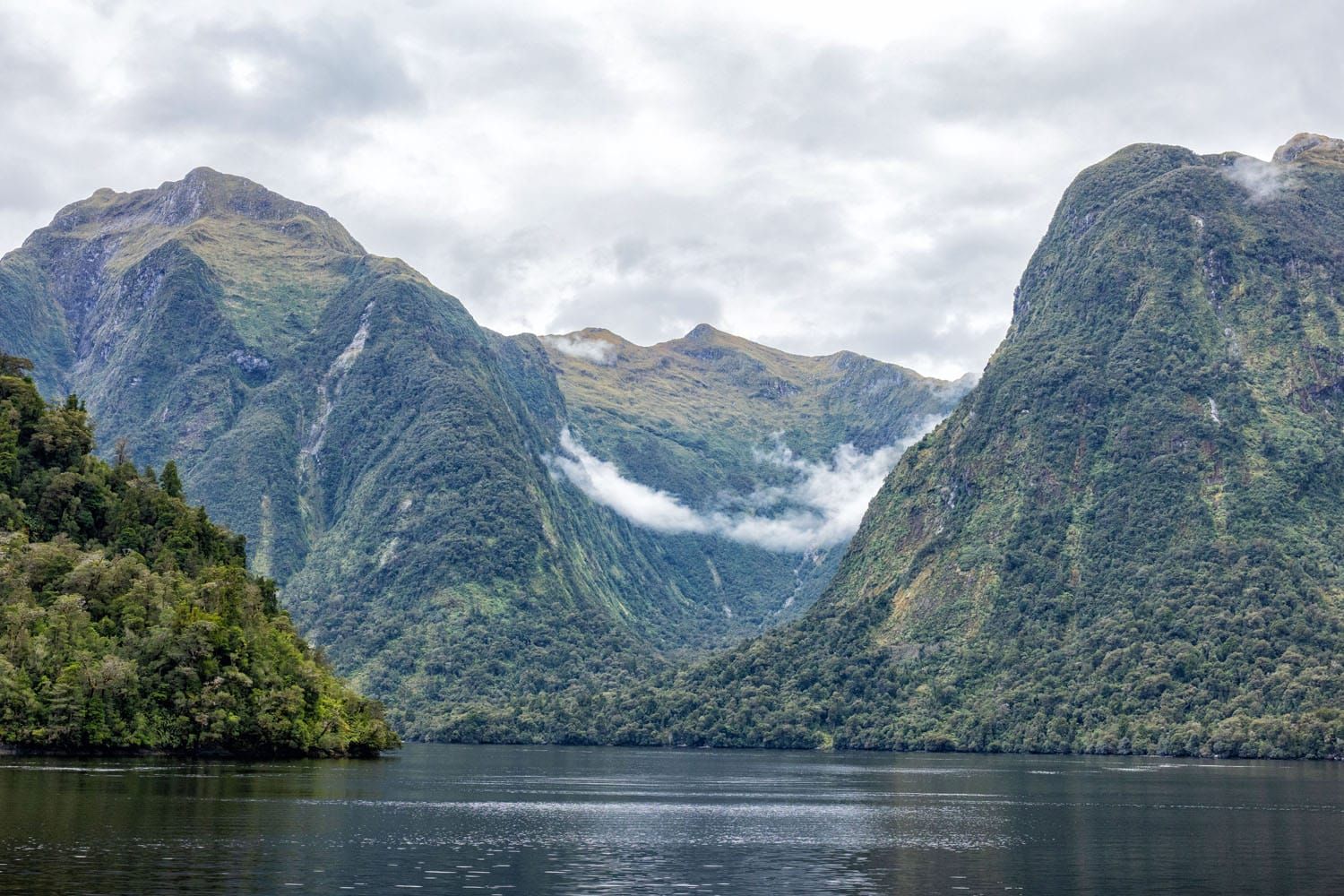 Crooked Arm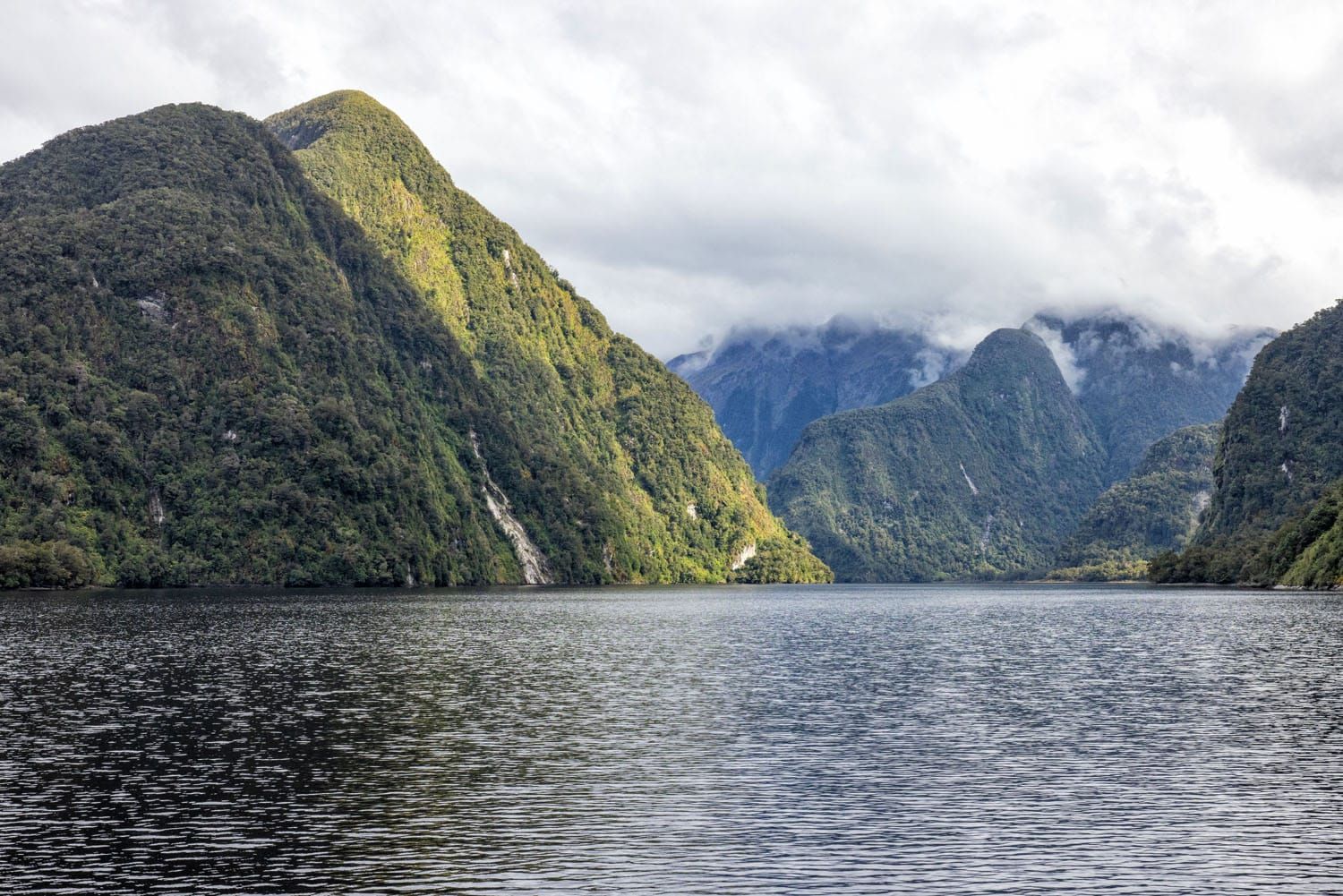 Hall Arm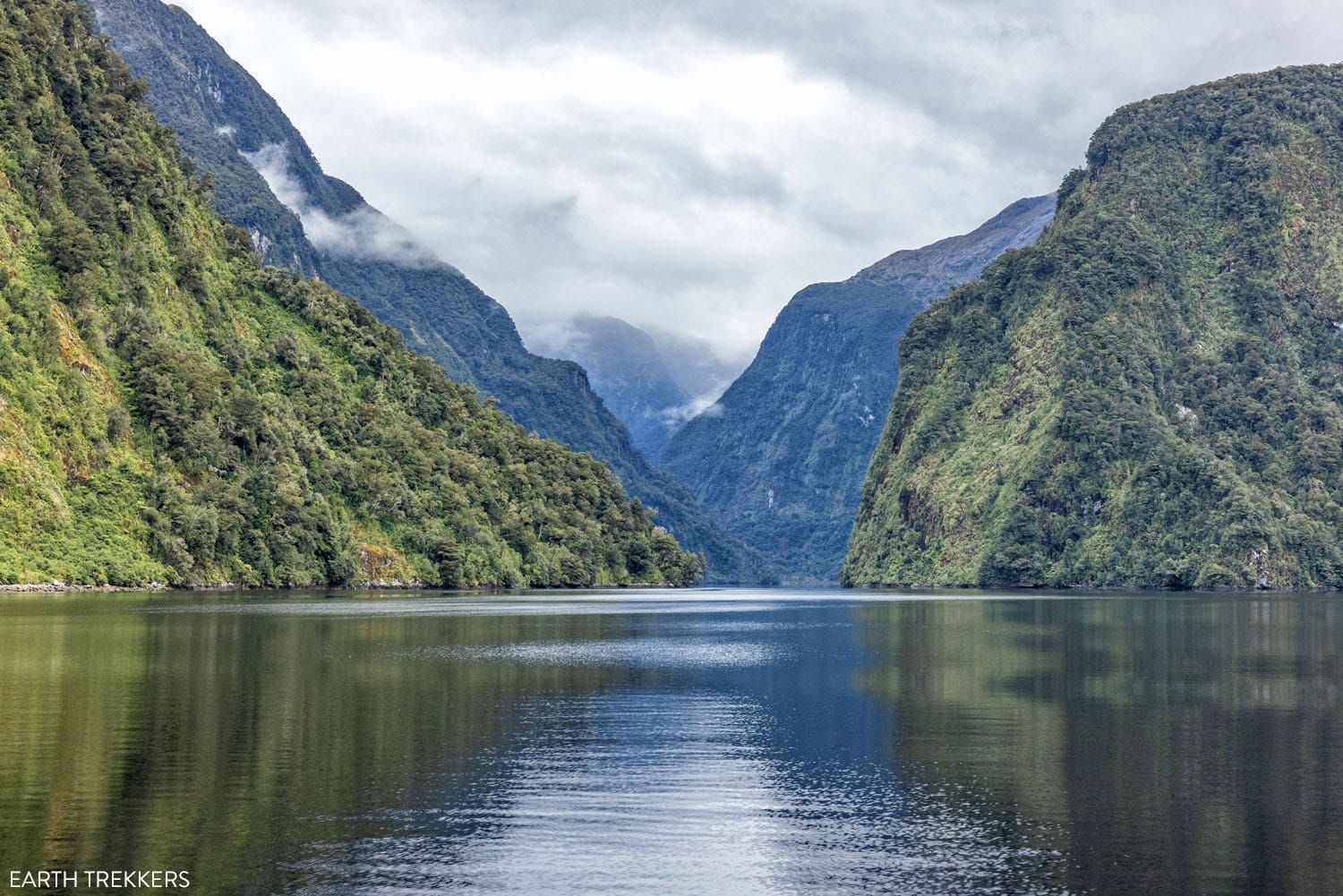 Hall Arm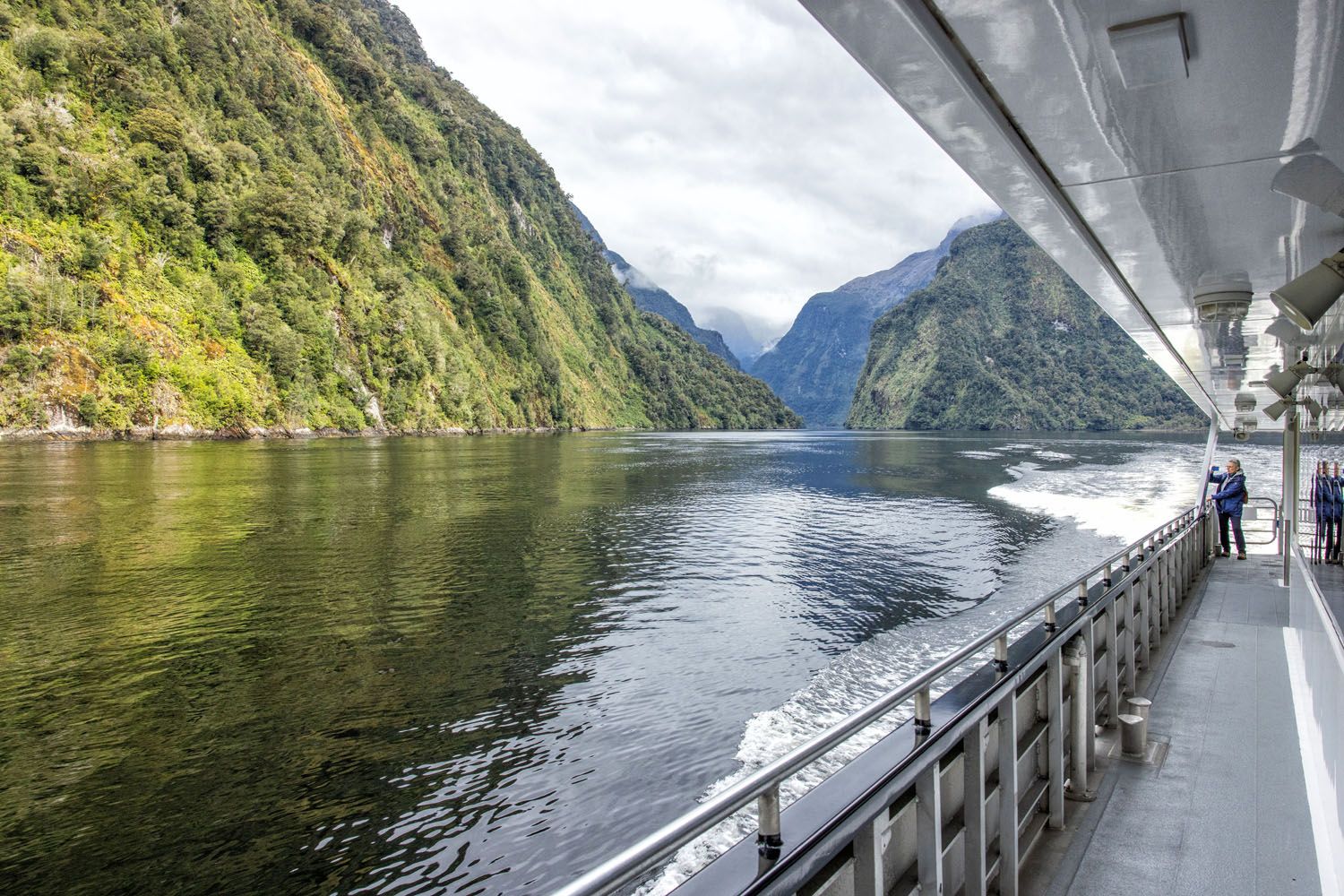 View from the boat
Returning to Manapouri
To return to Manapouri, you will repeat the bus ride over the Wilmot Pass and the cruise across Lake Manapouri. We arrived in Manapouri just before 5 pm.
Overall, it is a long day. Tim and I have mixed reviews on the day. Tim loved it from start to finish, saying that the entire journey was beautiful, with the arms of the Doubtful Sound as the highlight. I am not a fan of a full day spent on boats and buses, even in remarkable scenery such as Doubtful Sound. I thought it was worthwhile, but I enjoyed Milford Sound a little more, since it is a shorter cruise and can be done more independently.
Doubtful Sound or Milford Sound?
If you only have the time for one, which is better, the Doubtful Sound or the Milford Sound?
We did both and here is what we think.
The Doubtful Sound is larger and more remote than the Milford Sound. You have to commit a full day to the Doubtful Sound, because of its remote location. But that remoteness and the fact that less people visit Doubtful Sound is a big plus for some people.
The Milford Sound is easier to get to (you can drive here in two hours from Te Anau and there are a lot of tour options from Te Anau and Queenstown). Cruises last an hour and a half to three hours. The scenery is more dramatic, with steeper mountains and waterfalls (we didn't really notice a difference in mountain height when we did these). And since the Milford Sound is so popular, the marketing makes you think that this is something you must do on a visit to New Zealand.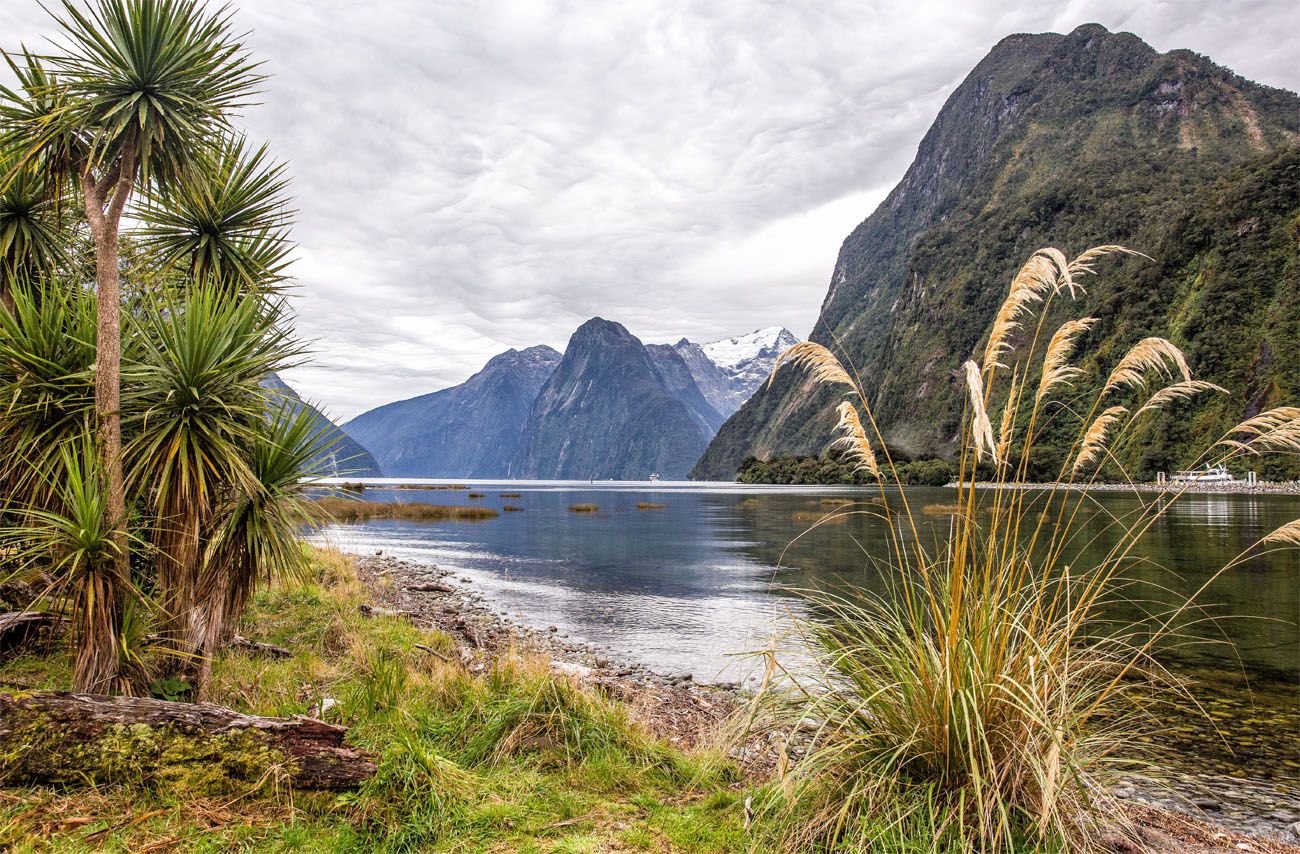 Milford Sound
Tim and I have different opinions. Tim liked Doubtful Sound more. He liked that it was more remote, less visited, and he loved cruising the smaller arms off of the fiord, an experience you don't get at the Milford Sound.
I preferred the Milford Sound over Doubtful Sound. It's a shorter cruise and a shorter day trip (a big advantage if you are traveling with kids). On the drive to and from the Milford Sound, there are viewpoints and short hiking trails where you can get out and stretch your legs, so you have the opportunity for a more active day.
If a full day of travel by boat and bus doesn't deter you, and you like the idea of visiting one of New Zealand's most remote and beautiful places, put Doubtful Sound on your list. But if you want a shorter day, a shorter cruise, are traveling with kids, or want to see what the famous Milford Sound is all about, then schedule a cruise on the Milford Sound.
How Much Does a Doubtful Sound Day Trip Cost?
The Doubtful Sound day trip with Real NZ costs $229 NZD per person. This includes the boat cruise across Lake Manapouri, the bus ride, and the 3-hour cruise on Doubtful Sound.
You can book your cruise directly through Real NZ or with GetYourGuide. GetYourGuide does not have the option to add on the lunch box, so you have to book using the RealNZ website if you want to add that option. RealNZ takes payment upon making the reservation and in NZ currency. GYG will take payment 72 hours before your departure and offers various currencies. Both the RealNZ website and GetYourGuide have 24 hour notice for full refund.
PRO TRAVEL TIP: Cash is required to purchase snacks/drinks on the cruise, so make sure you get cash out in Te Anau or Queenstown before heading to Lake Manapouri. Tim tested this by seeing if he could use a credit card on-board. They have a credit card machine and the transaction went through but it took a while. The attendant almost gave up right before it processed. So, it is better to bring cash.
More Ways to Visit the Doubtful Sound
If you want to thoroughly immerse yourself in the beauty of the Doubtful Sound, you have the option to take an overnight cruise of the fiord. Learn more and make your booking on the official website.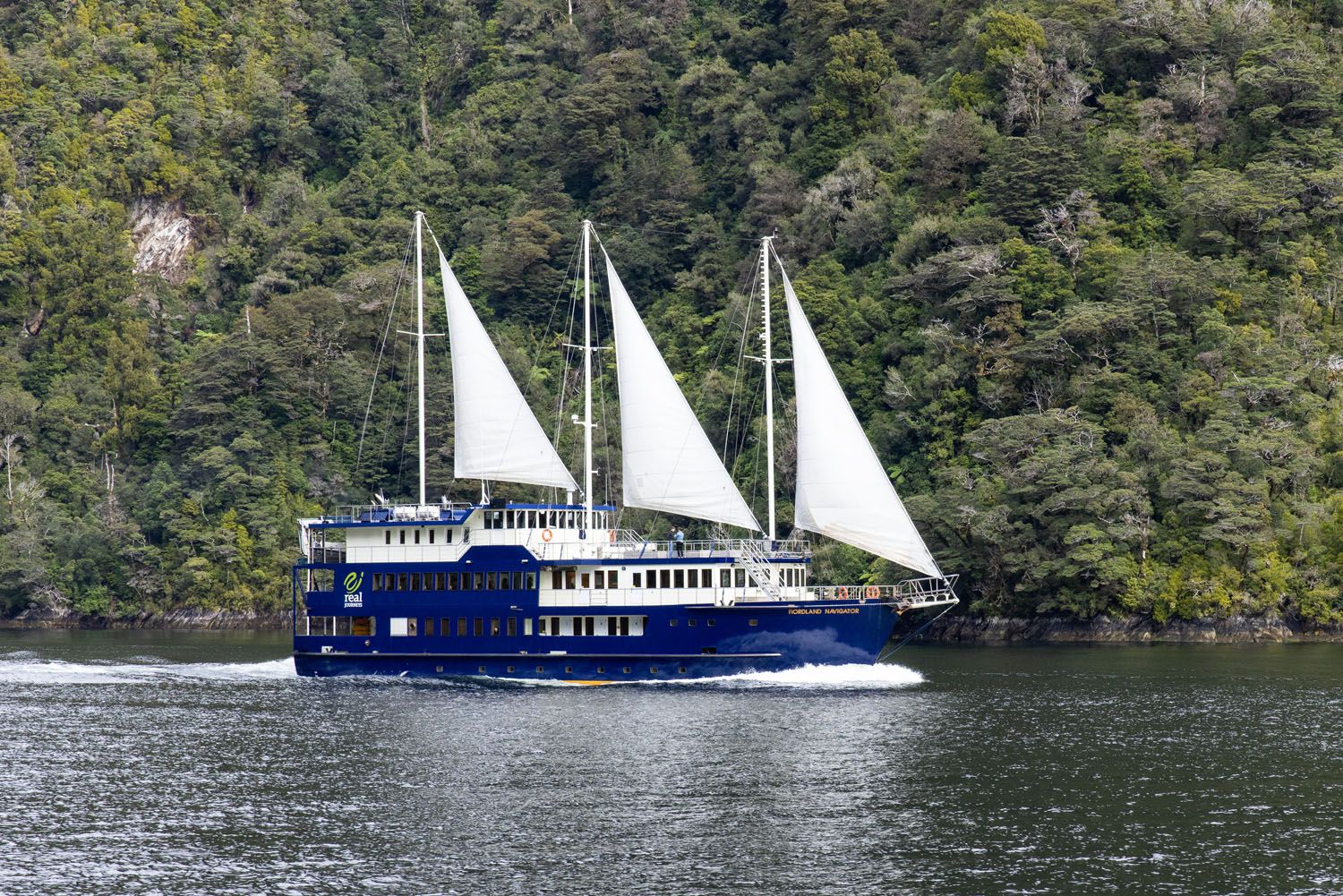 The overnight cruise boat
You can also take a helicopter flight. The cheapest option is a 40-minute flight over Doubtful Sound from Te Anau. This scenic flight over Doubtful Sound includes two landings. Or you do a scenic helicopter flight over both Doubtful Sound and Milford Sound.
Frequently Asked Questions
Can you drive to Doubtful Sound?
No, there are no roads to Doubtful Sound. To get to Doubtful Sound, you will have to take a boat across Lake Manapouri and a bus over the Wilmot Pass.
What is the closest town to Doubtful Sound?
Manapouri is the closest town to Doubtful Sound, followed by Te Anau.
How long does it take to visit Doubtful Sound?
A Doubtful Sound day trip takes 7 hours. This includes the time to cross Lake Manapouri and Wilmot Pass.
Which is better, Doubtful Sound or Milford Sound?
Milford Sound is more popular with more dramatic scenery. Cruises are shorter and you can drive to the Milford Sound or get here on a tour. If you want a shorter day trip, a shorter cruise, are traveling with kids, or want to see want the famous Milford Sound is all about, then put the Milford Sound on your list.
A visit to the Doubtful Sound takes a full day. A day trip here takes 7 hours from Manapouri. Doubtful Sound is more remote, harder to get to, and less visited than the Milford Sound. If you like the idea of visiting a less touristy place and cruising through one of New Zealand's most remote destinations, put Doubtful Sound on your list.
---
If you have any questions about a Doubtful Sound day trip, or if you want to share your experience, let us know in the comment section below.
More Information for Your Trip to New Zealand
NEW ZEALAND ROAD TRIP: With 3 weeks in New Zealand, visit the highlights on a road trip to the North Island and South Island. If you have less time, you can shorten this itinerary by spending 2 weeks on the South Island.
MILFORD SOUND: The Milford Sound is one of the most beautiful places to visit in New Zealand. Learn how to visit it, and hike to Key Summit, in our article How Day Trip from Te Anau to the Milford Sound.
SOUTH ISLAND: On the South Island of New Zealand, spend a few days in Wanaka, hike the Routeburn Track, drive the Southern Scenic Route, visit the Marlborough Wine Region, and visit Franz Josef and Glacier Country.
HIKES IN NEW ZEALAND: The Tongariro Alpine Crossing is often labeled as the best day hike in the world. The Hooker Valley Track offers awesome views of Mt. Cook, Roy's Peak and the Rocky Mountain Track are two gorgeous hikes in Wanaka, and Abel Tasman National Park also makes a great spot to go hiking. The Routeburn Track is another fantastic hike and can be done as a big day hike or multi-day trek.
WANAKA: Get started with our article Best Things to Do in Wanaka. We also have hiking guides for Roy's Peak Track and the Diamond Lake and Rocky Mountain Track.
All rights reserved © Earth Trekkers. Republishing this article and/or any of its contents (text, photography, etc.), in whole or in part, is strictly prohibited.