The Marlborough wine region is the largest wine region in New Zealand. This region produces some of the best Sauvignon Blanc in the world, along with Riesling, Gewürtztraminer, Chardonnay, and Pinot Gris. For wine aficionados, spending a day or two wine tasting in Marlborough is one of New Zealand's best experiences.
We have visited the Marlborough wine region twice, touring the vineyards in two very different styles.
Our first visit was in 2015. Tyler and Kara were 10 and 12 and came along with us. To get around, we rented bikes and cycled from vineyard to vineyard. It was a great day and even our kids had lots of fun, even though this activity is obviously more geared towards adults.
Tim and I returned to the Marlborough wine region in 2023. This time, we were without kids (although by now, both Tyler and Kara are old enough to go wine tasting). We toured the vineyards independently, driving between each one of them.
Another popular way to tour the Marlborough wine region is on a tour, of which there are lots of options.
In this guide, we give an overview about your different ways to go wine tasting in the Marlborough wine region and how to choose which wineries to visit. We'll let you know our favorite spots but also provide links to where you can learn more about the wineries. Let's face it…we spent limited time here and couldn't even come close to sampling all that this region has to offer.
Interesting Facts about the Marlborough Wine Region
The Marlborough Wine Region is the largest wine region in New Zealand. This region contains about two-thirds of the vineyards in New Zealand, with Hawke's Bay taking second place.
In 2018, Marlborough was established as a New Zealand geographical indication. Wines must be made from grapes from the Marlborough region and be bottled in New Zealand.
There are several subregions in Marlborough. The Wairau Valley is located around the town of Blenheim, the Southern Valleys sit to the south of Wairau Valley and climb into Wither Hills, and Awatere Valley is located around the town of Seddon, along the Awatere River.
With its long, cool growing season, Marlborough produces some of the best Sauvingnon Blanc wines in the world. Other varietals grown in this region include Pinot Gris, Chardonnay, Riesling and sparkling wines. You will also see some Pinot Noir and an occasional Montepulciano, Syrah, Grüner Veltliner, and Tempranillo.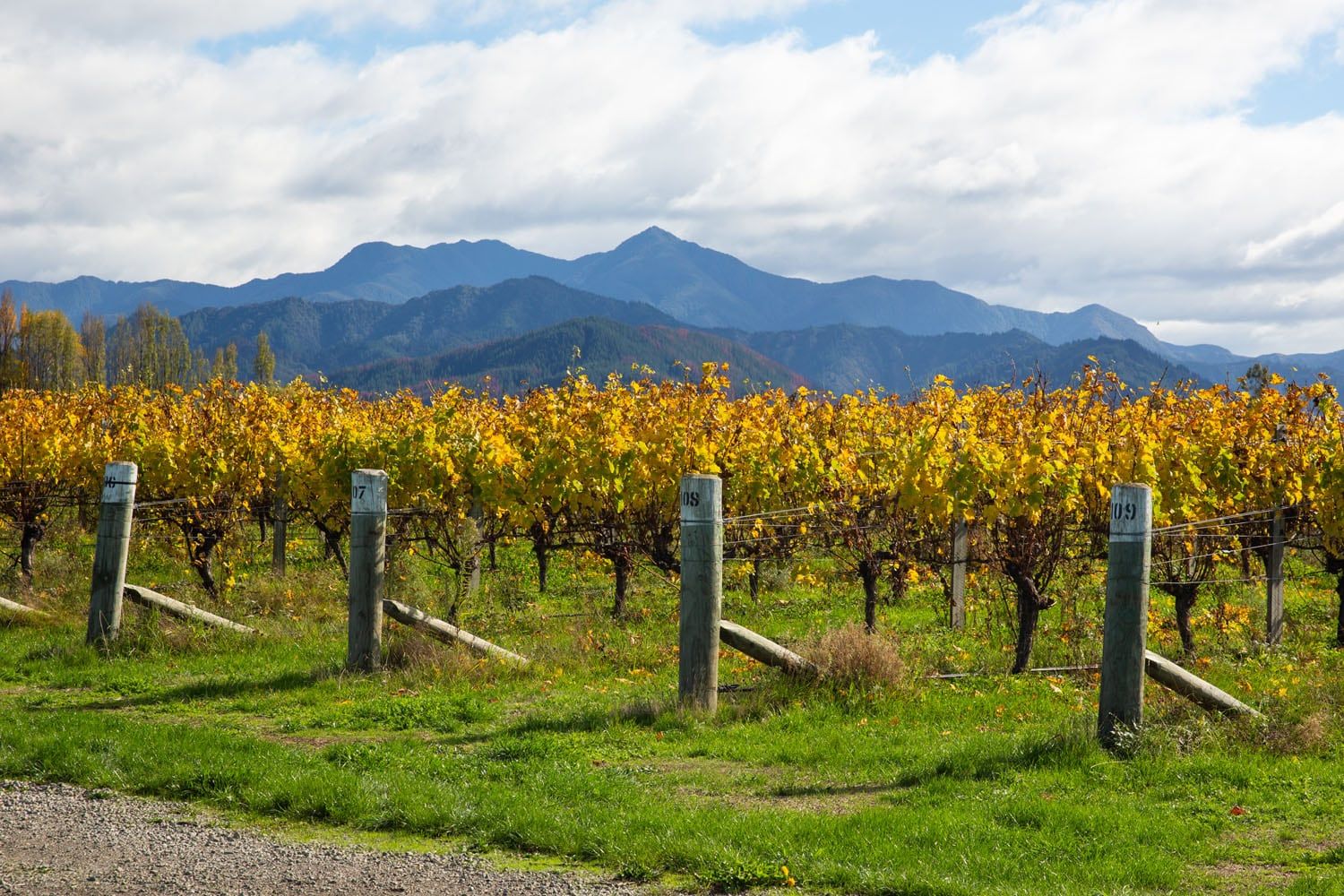 Marlborough Wine Region in April
How Much Time Should You Spend in the Marlborough Wine Region?
The answer to this question depends on how much time you want to devote to tasting Sauvignon Blancs, Rieslings, and Pinot Noirs.
For most visitors, one full day is just enough time to visit a few vineyards and have lunch or dinner. If you are a wine aficionado and like white wines, you could easily spend several days in the Marlborough wine region, to visit the subregions and the long list of vineyards.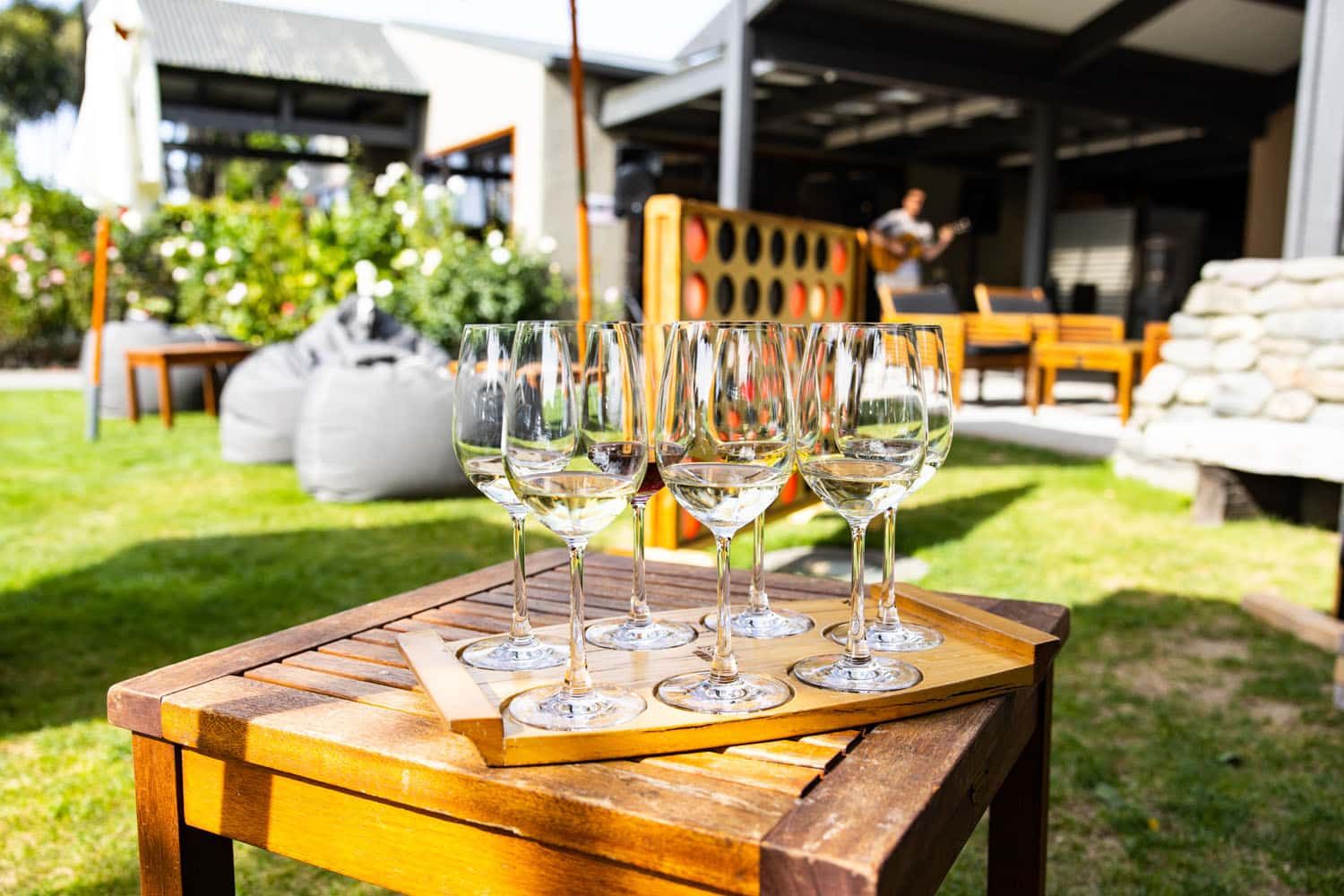 Wine tasting at Forrest Wines
Where is the Best Place to Stay?
On both of our visits, we stayed in Blenheim, which is centrally located in the Marlborough wine region. From Blenheim, it is a 15-minute drive to some of the best vineyards in the region.
During our most recent visit, we stayed at 14th Lane Urban Hotel, a highly rated hotel that offers king rooms and studios, that is located centrally in Blenheim.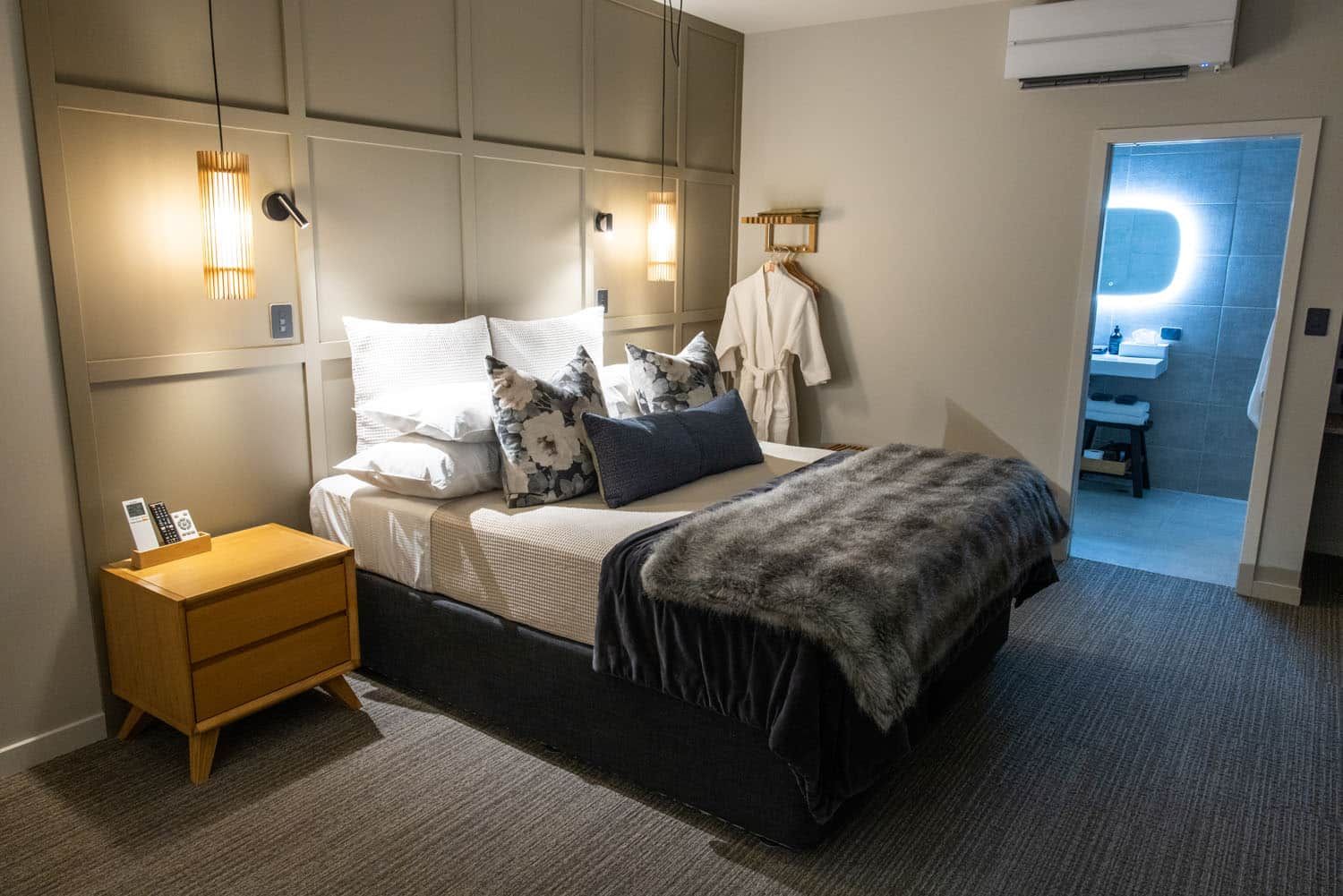 14th Lane Urban Hotel
Also in Blenheim, Two Tree Lodge and Ellena Court Motel (we stayed here in 2015 and had a very good experience…it's also good if you are traveling on a budget) get good reviews.
You can also stay outside of town, closer to the vineyards. Vineyard Cottage on the Golden Mile is a small cottage with an outdoor patio and kitchenette that has views of vineyards. Vintner's Retreat is a 5-star property that offers several two- and three-bedroom apartments with views of the surrounding vineyards.
For a unique place to stay, check out Wine Barrel Cabins, which is located about 12 km outside of Blenheim.
Where to Go Wine Tasting in Marlborough
The most popular place to go wine tasting in Marlborough is between Blenheim and Renwick, in the Wairau Valley. There are a lot of cellar doors here to visit, plus some very good restaurants and even a few breweries.
If you want to visit three or four vineyards in one day, either by car or by bike, this is the best area to visit, as it is only a 5-minute drive (or 10-minute bike) between most vineyards.
Getting Around: Bike, Car, or Tour?
What is the best way to get around the Marlborough wine region? You can rent bikes, use your rental car, or join a tour of some sort. Each have their advantages and disadvantages.
By Bike
The first time we toured Marlborough, we rented bikes with Wine Tours by Bike, which is located in Renwick. Bike options range from standard adult and child bikes to multi-person roadsters. Bikes come with a basket on the front, for collecting the bottles of wine you are sure to accumulate over the course of the day. They also have shuttle options and can pick up your purchased wine at the vineyards, if you don't want to cycle around with it all day.
The advantages of getting around by bike include getting a little more exercise, it's more fun for kids, it's easier to appreciate the gorgeous views of the vineyards (and easier to hop off your bike for photos), and everyone can taste wine, since you aren't getting behind a wheel of a car (take advantage of Wine Tours by Bike's shuttle to get you back to your hotel without driving).
The disadvantages include rain or bad weather, it's more difficult to bring your purchases with you, and it will take longer to get between vineyards, so you'll have some additional travel time.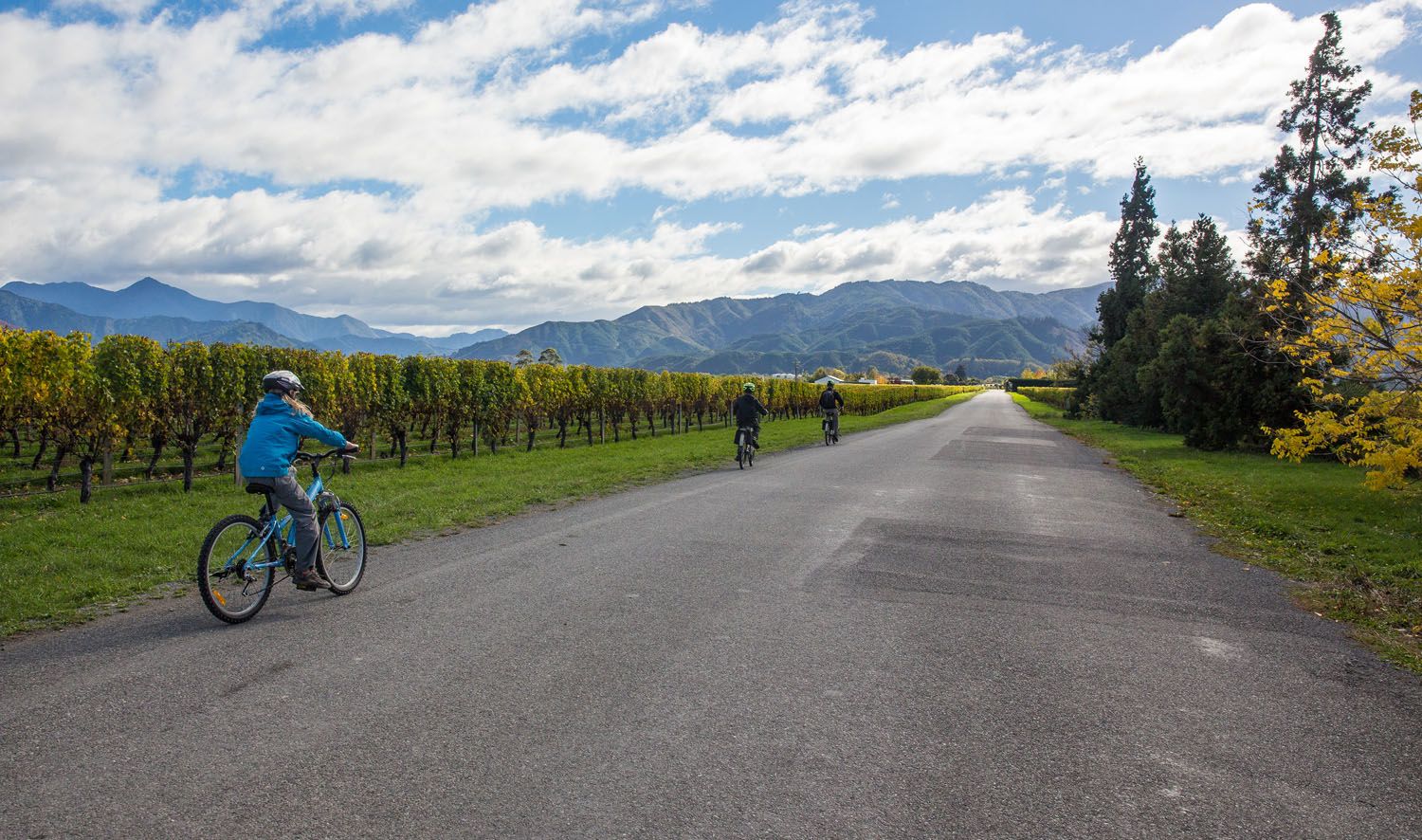 Marlborough Wine Region by bike
By Car
We did this on our second visit to Marlborough. We were able to zip from cellar door to cellar door and anything we purchased could be thrown into our car. Tim and I chose this rather than a tour because we prefer to travel independently. However, Tim had to skip some tastings, since he was the driver.
By Tour
There are a lot of tour options. These range from guided bike tours to small group tours and private tours.
The advantages include sampling as much wine as you like (since you won't have to drive) and leaving the day up to your experienced guide. The disadvantages include having less control over which cellar doors you visit and how long you spend there.
Here are several highly rated tours of the Marlborough wine region.
Vineyards, Cellar Doors & Restaurants in the Marlborough Wine Region
The Marlborough Wine website has a database of over 100 vineyards to visit. That can be an overwhelming number of places to choose from.
Below is a list of our favorite vineyards plus a few that were on our list but didn't have time for. These are all in the Wairau Valley or a short drive from Blenheim.
At the end of this list, we will narrow it down to our three favorite vineyards and favorite lunch spot.
Note: For most cellar doors, you do not need to make a reservation in advance for a wine tasting (although most places will recommend making a booking to avoid disappointment). However, if you want to do something more time intensive, like a lunch or a tour of the estate, this should be reserved in advance.
Hans Herzog Estate
This was the very first winery we visited in Marlborough.
Hans Herzog grew up in Switzerland, working on a vineyard in the Rhine Valley. He traveled to New Zealand in search of a place to grow Bordeaux grapes, purchasing the land in Marlborough in 1994 and planting the vines in 1996.
The Hans Herzog Estate offers tours of the estate and wine tastings. On their website, they recommend making a reservation in advance. Learn more about their wines, tours, and experiences on the official website.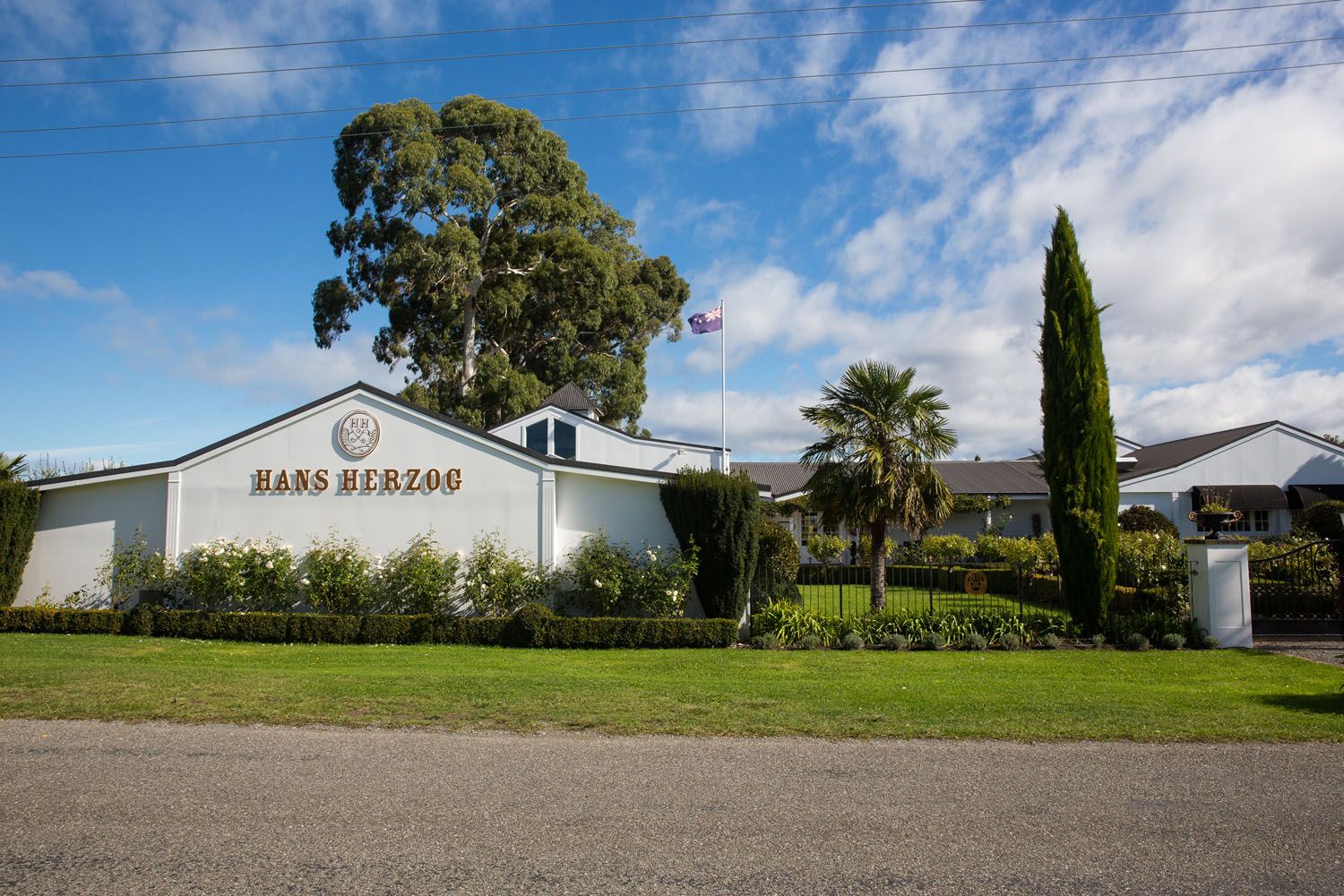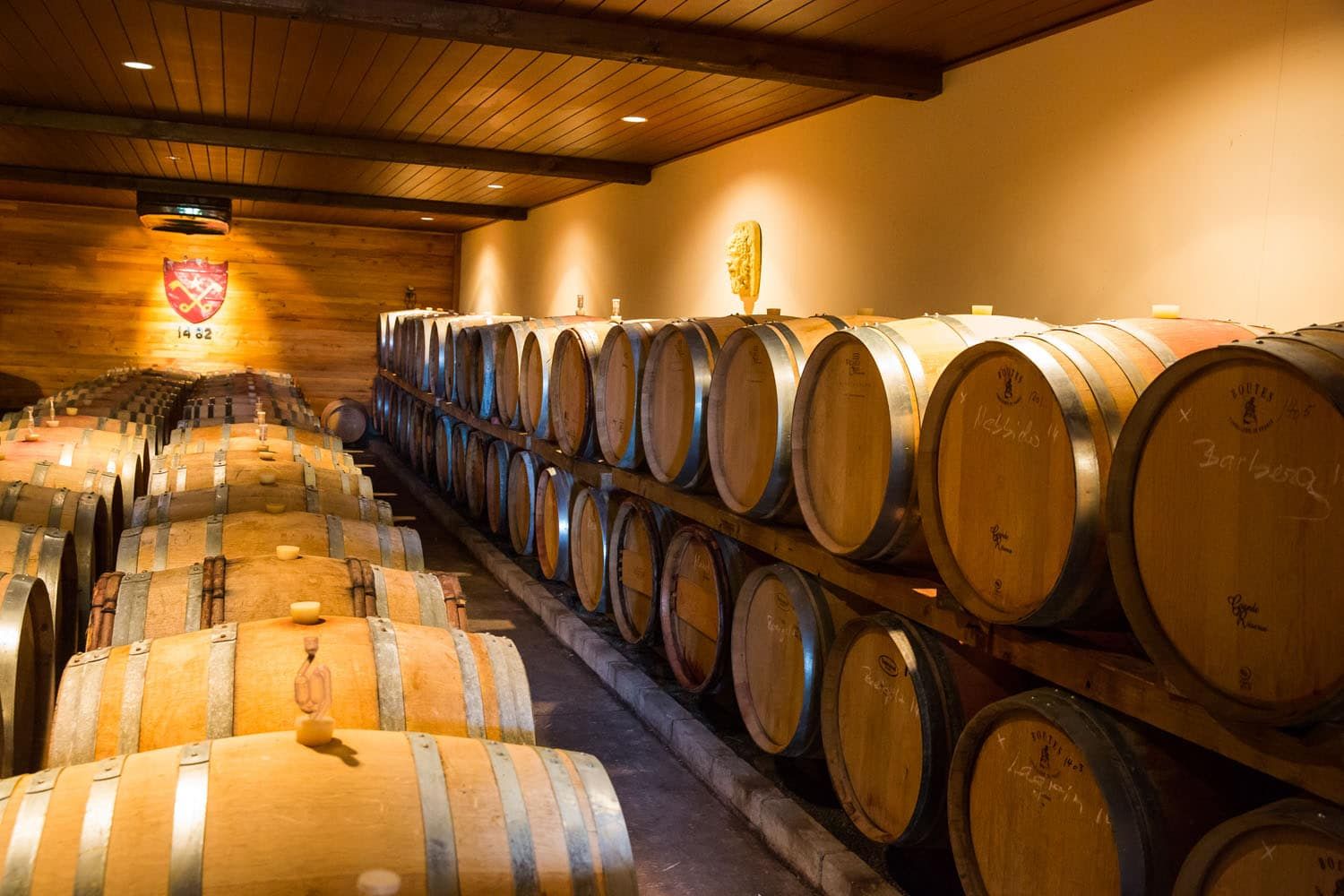 Hans Herzog
Cloudy Bay
Cloudy Bay got its start in 1985 when this vineyard began growing Sauvignon Blanc. Their Sauvignon Blanc is acclaimed throughout the world, and according to the Cloudy Bay website, their Sauvignon Blanc put New Zealand wine on the map.
Cloudy Bay also grows grapes in the Central Otago region, on the South Island.
We visited both Cloudy Bay locations in New Zealand. Their vineyard in Marlborough was one of the prettiest we visited.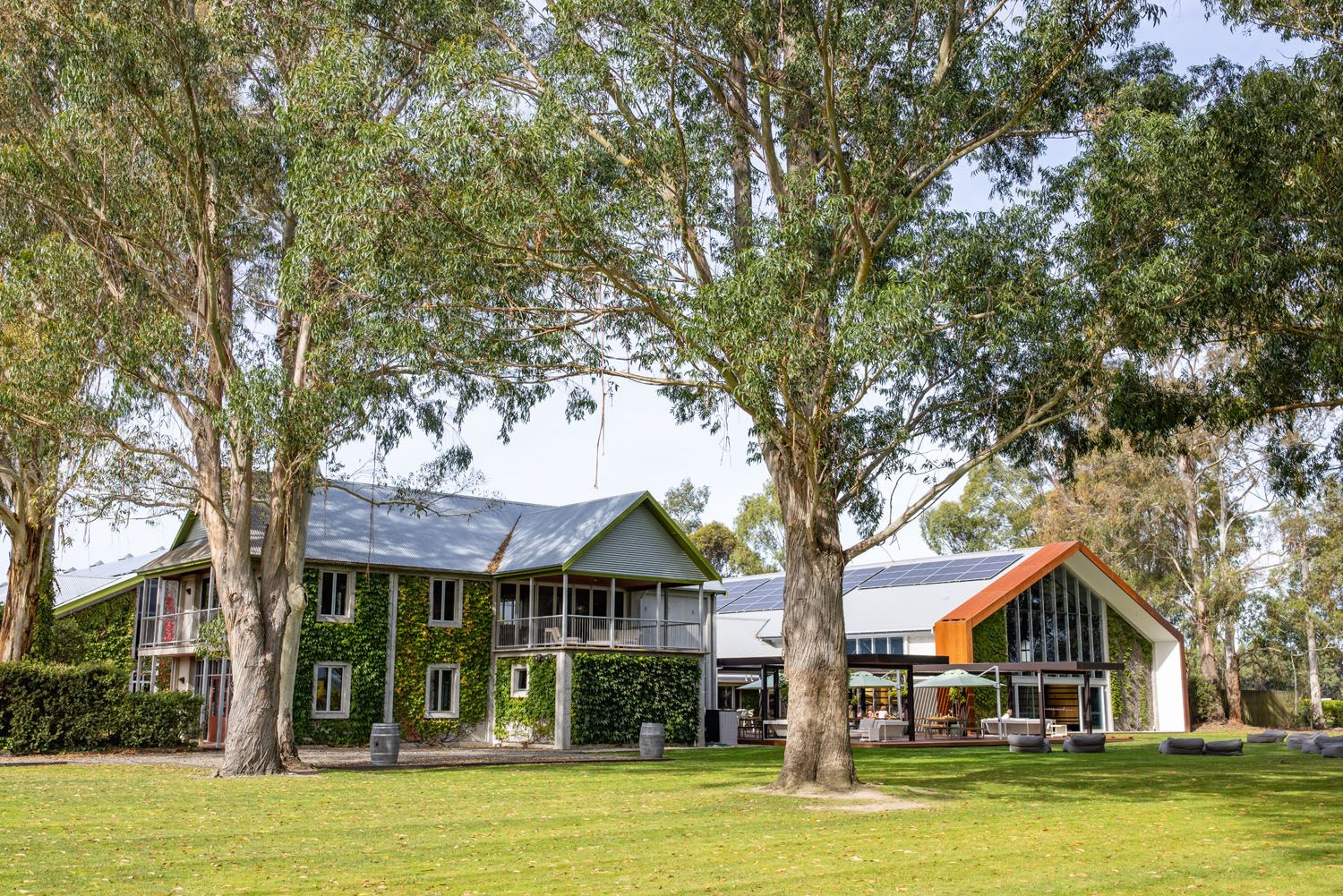 Cloudy Bay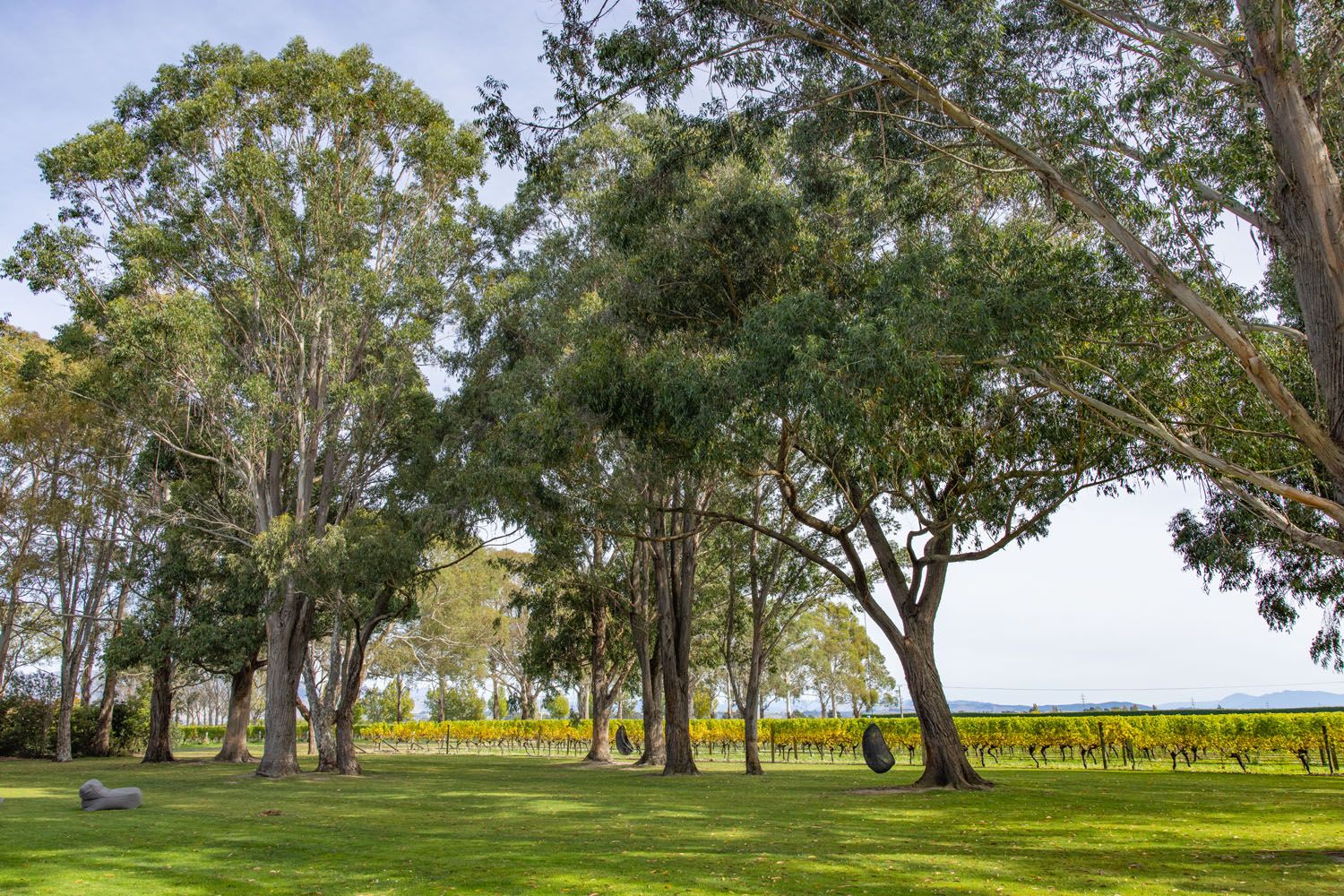 This is a beautiful vineyard to visit. Enormous Eucalyptus trees shade the lawn. You can dine indoors or on the backyard patio with views of this shady lawn and the vineyards that surround it.
On a visit here, you can have a wine tasting, dine at Jack's Raw Bar, or take a private tour.
Get hours, pricing, and learn more on the official website.
Forrest Wines
We visited Forrest Wines on both visits to the Marlborough wine region. On our second visit, which was on a Sunday in April, live music was playing. Tim and I relaxed outside in their beanbag chairs, sharing a wine flight. The Chenin Blanc is my personal favorite of their wines.
Learn more on the official website.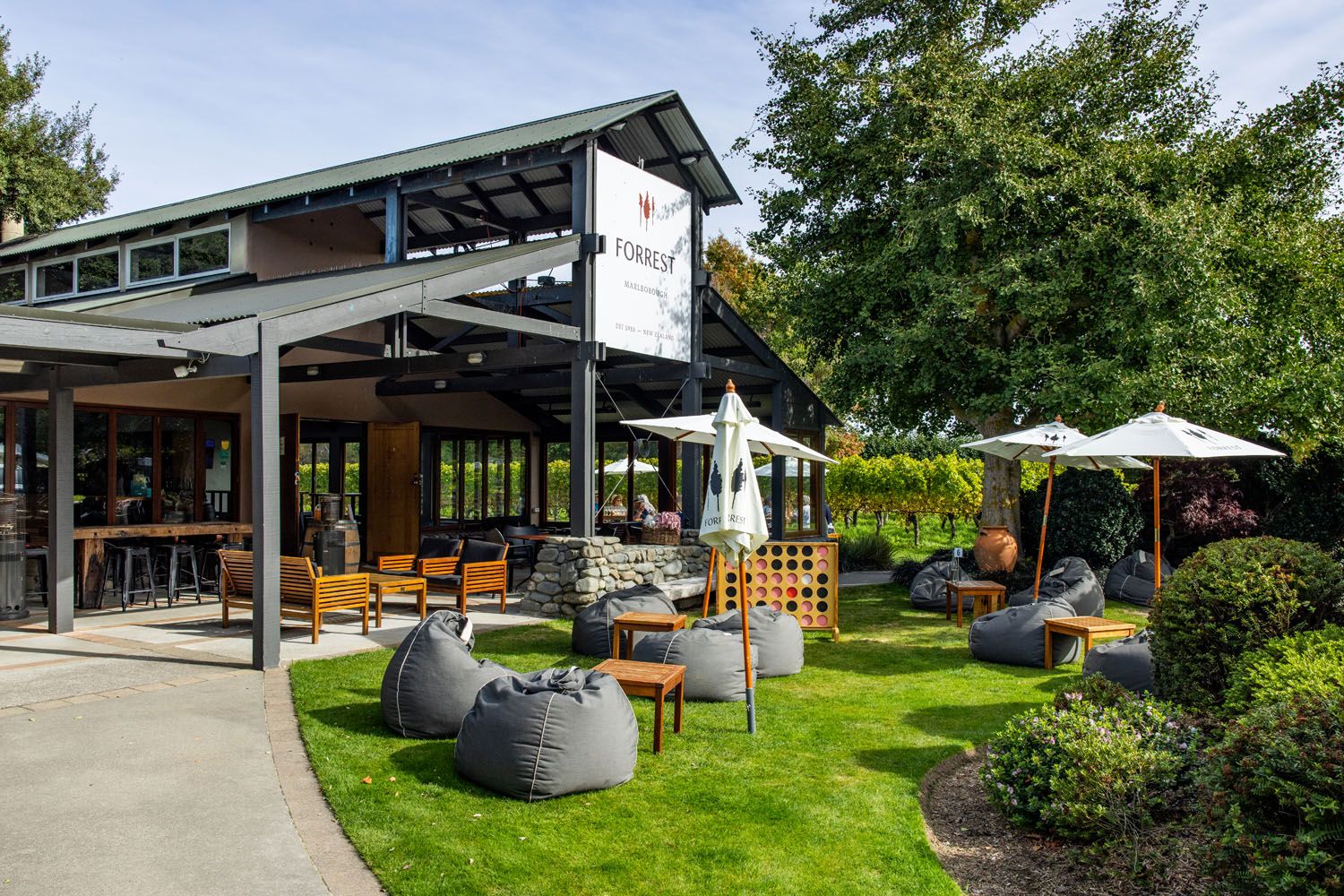 Forrest Wines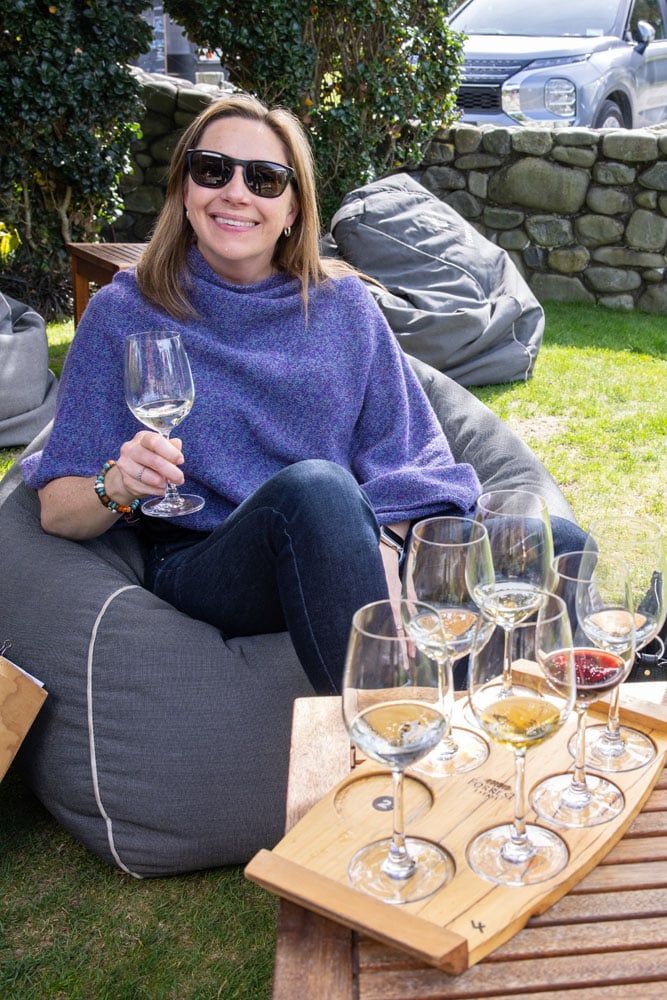 Framingham Wines
Framingham Wines may not have a wide terrace overlooking the vineyards or a fancy restaurant where you can dine on fresh oysters or locally sourced food, but what they do have is very good wine.
Like Forrest Wines, we visited Framingham Wines on both of our visits to Marlborough. And both times, both Tim and I preferred Framingham's wines over anything else we tasted in the Marlborough wine region.
On our second visit, Tim and I shared a charcuterie board and tasted some of Framingham's top wines. The classic and select Rieslings were our favorite wines on our second visit.
Framingham Wines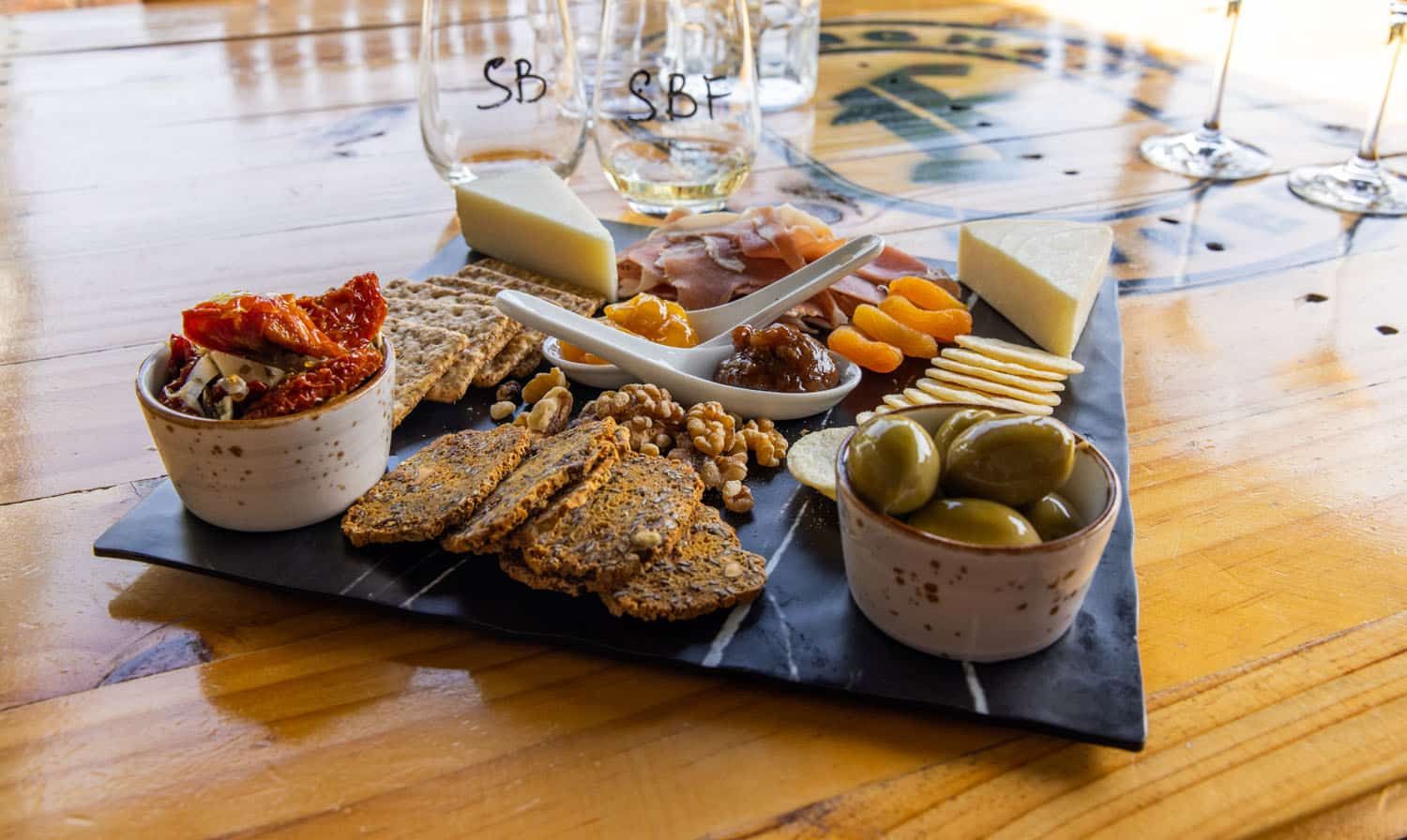 Framingham Wines charcuterie board and wine tasting
While you are here, ask to see their basement, where you can see their wine cellar and a venue space where live bands play.
Learn more on the official website.
Nautilus Estate
We visited Nautilus Estate on our first visit and it was the coziest spot of the day. A warm fire, a cheese platter, and a wine tasting all blended perfectly for a memorable hour at this estate. The wines taste wonderful and are reasonably priced.
Get more information on the official website.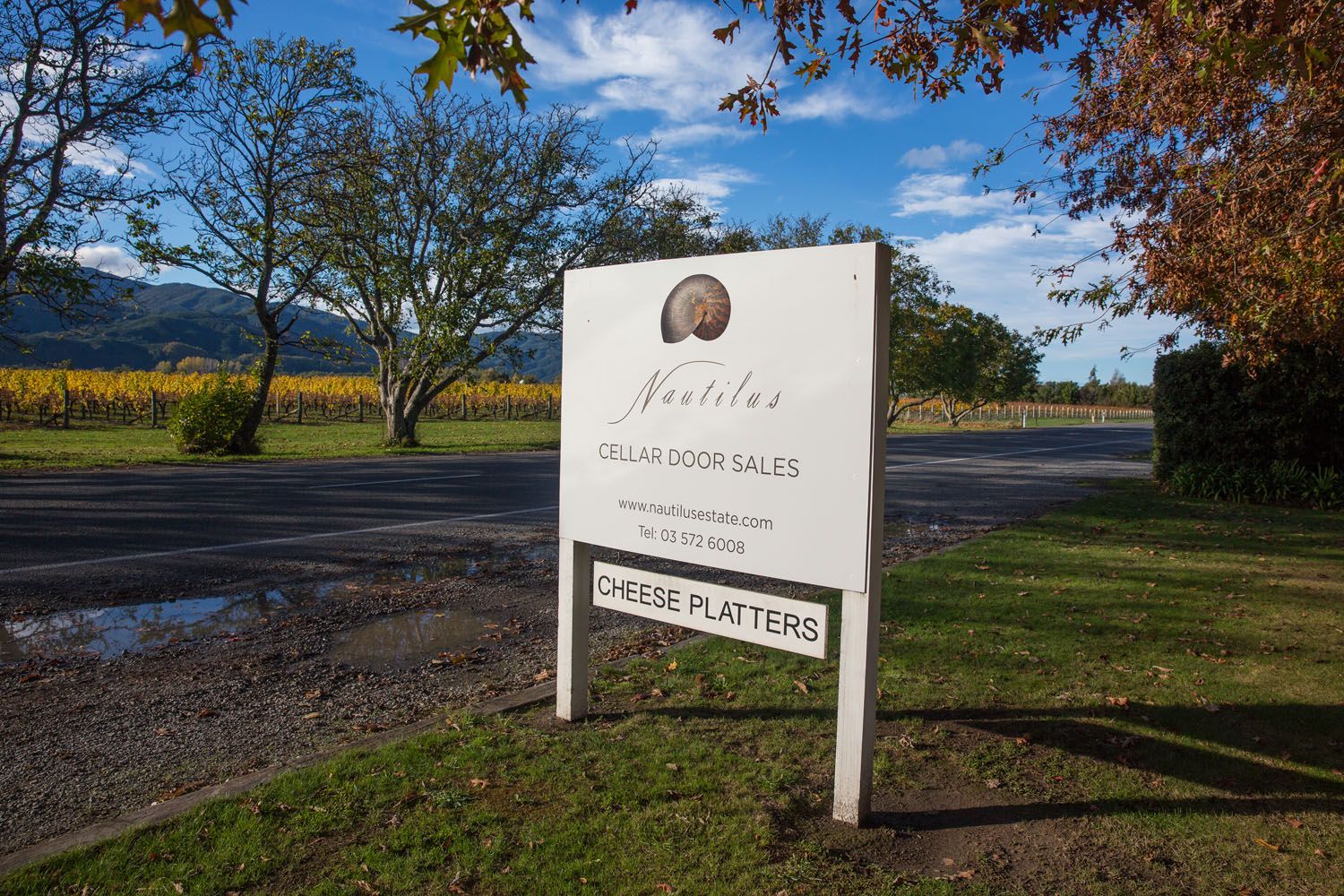 Saint Clair Family Estate
This is a busy place…the busiest we saw on our most recent visit.
What brings visitors to Saint Clair is the Saint Clair Family Estate Vineyard Kitchen, one of the best places to eat in the Marlborough wine region. The setting is unforgettable, with some tables sitting right next to the vines. There are also larger tables for big groups and high-top tables on their outdoor patio.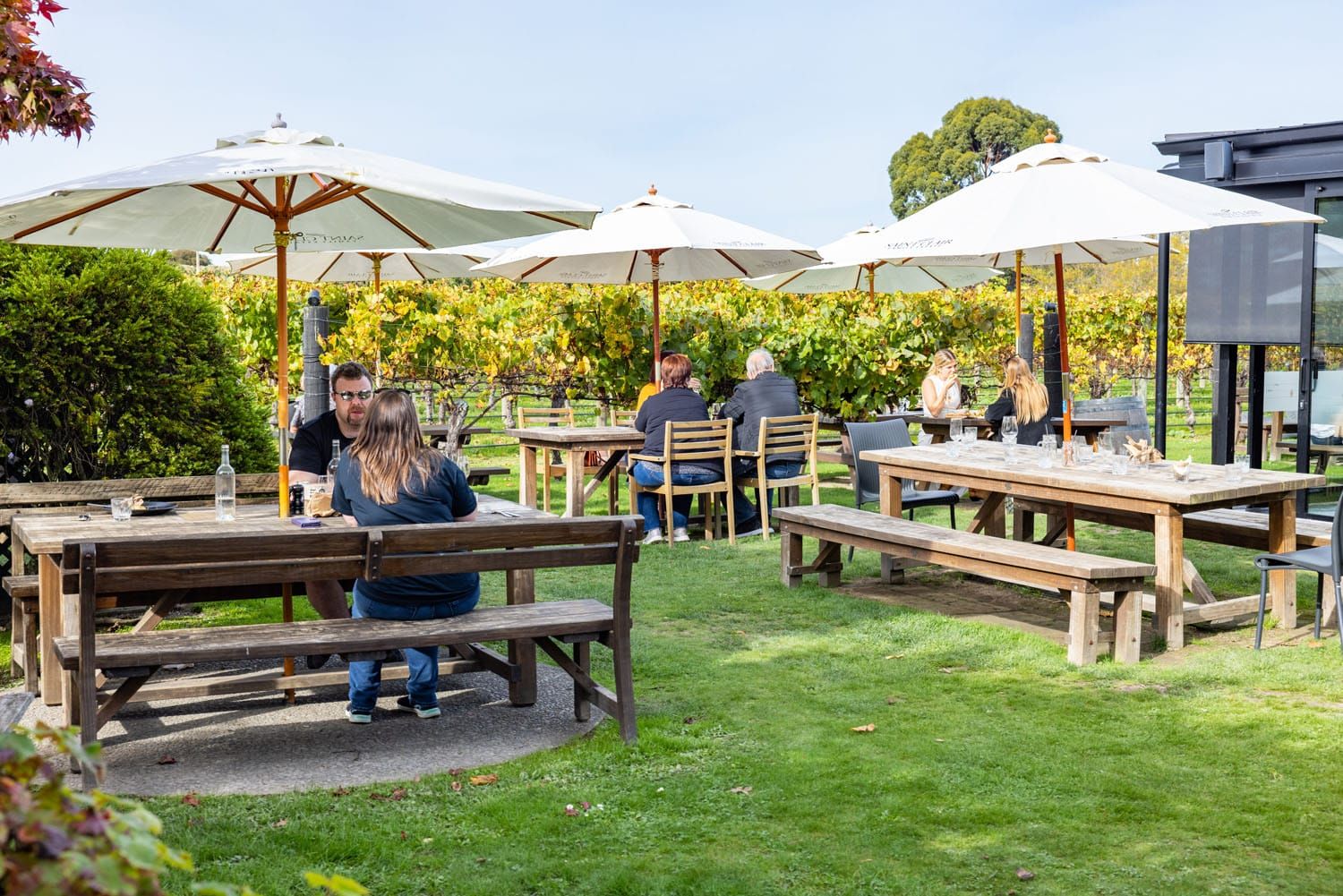 Saint Clair Family Estate
You can come for lunch like we did (definitely make a reservation in advance because they were completely booked when we were here) or simply have a wine tasting. There is also a boutique art gallery on the property.
Learn more, and make your reservation in advance, on the official website.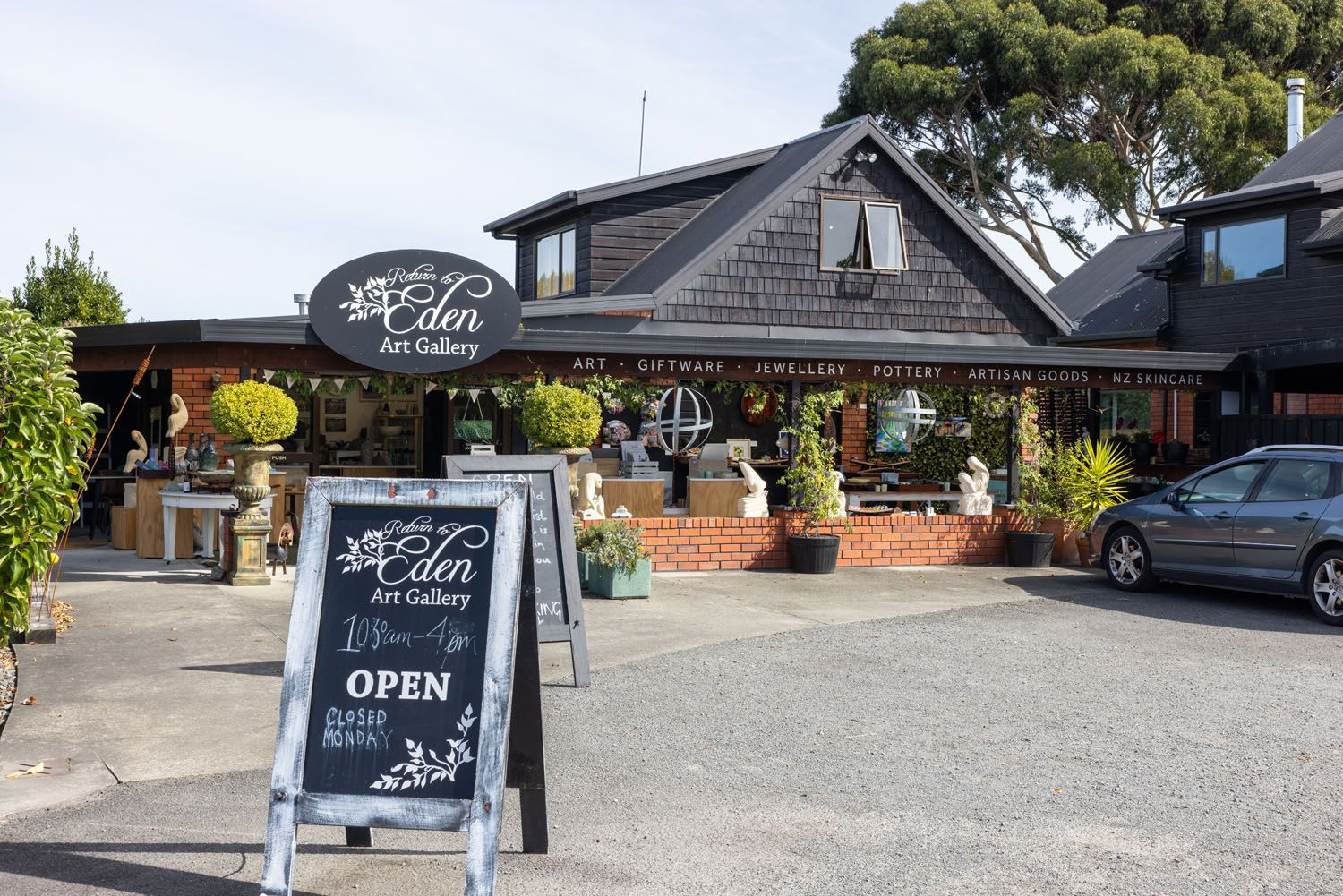 Return to Eden Art Gallery at Saint Clair Estate
Wither Hills
Wither Hills owns several vineyards in Marlborough as well as two vineyards in Hawkes Bay. In the Marlborough region, very close to Blenheim, they have a restaurant that is open for lunch and midday wine tastings.
The Wither Hills restaurant also has one of the most beautiful views in the Marlborough wine region. Be sure to climb the stairs to its main entrance to gaze out across the vines.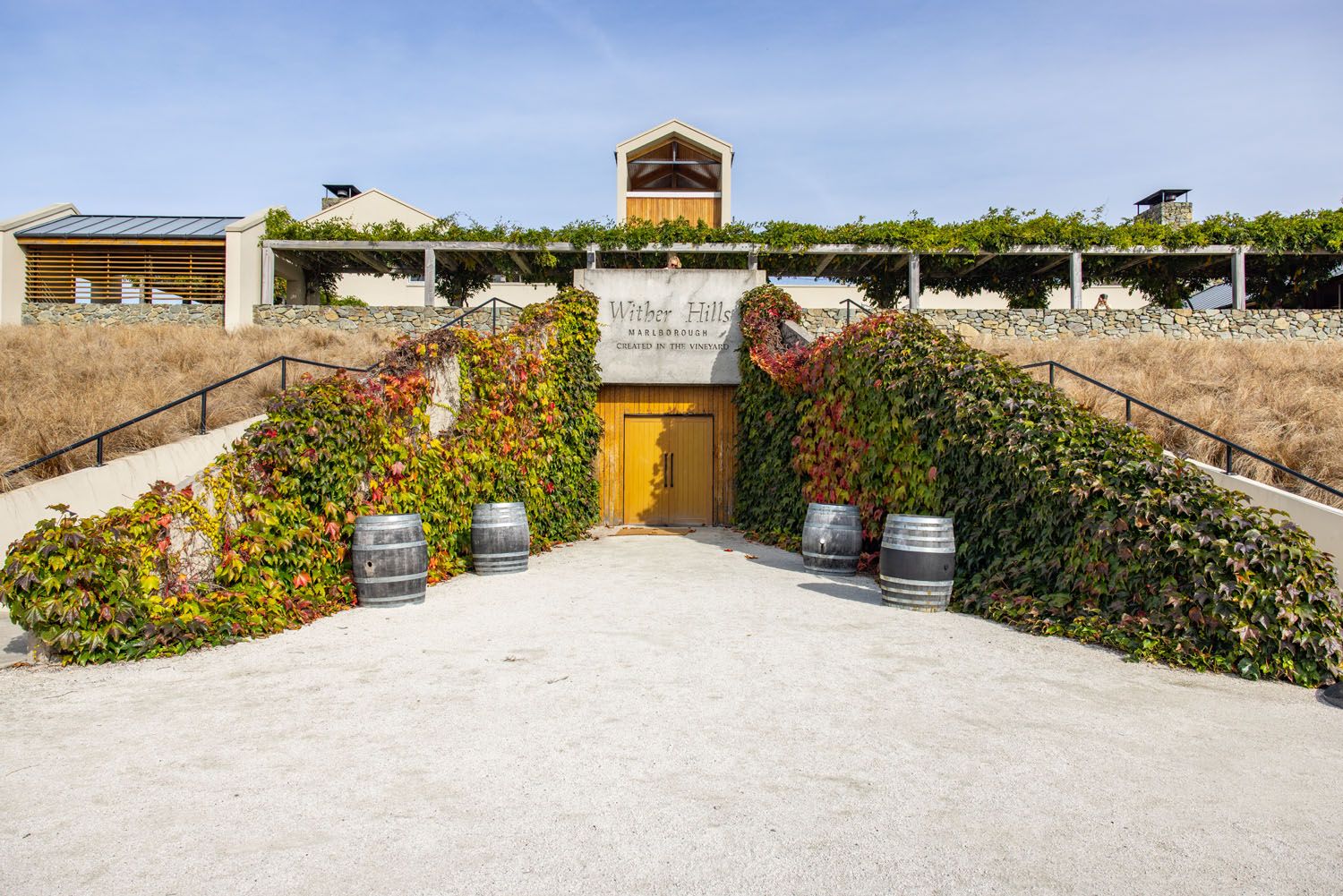 Wither Hills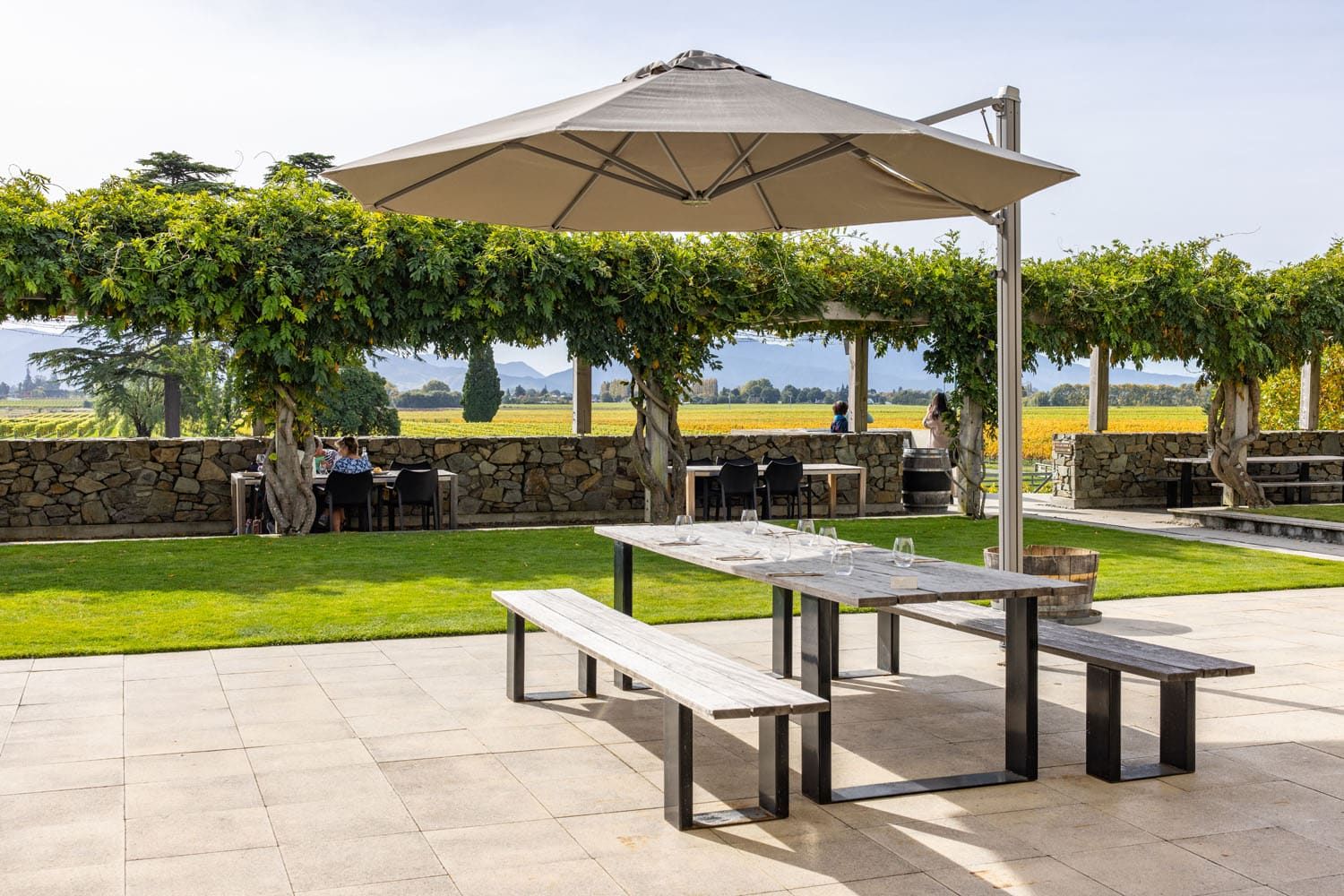 Wither Hills Restaurant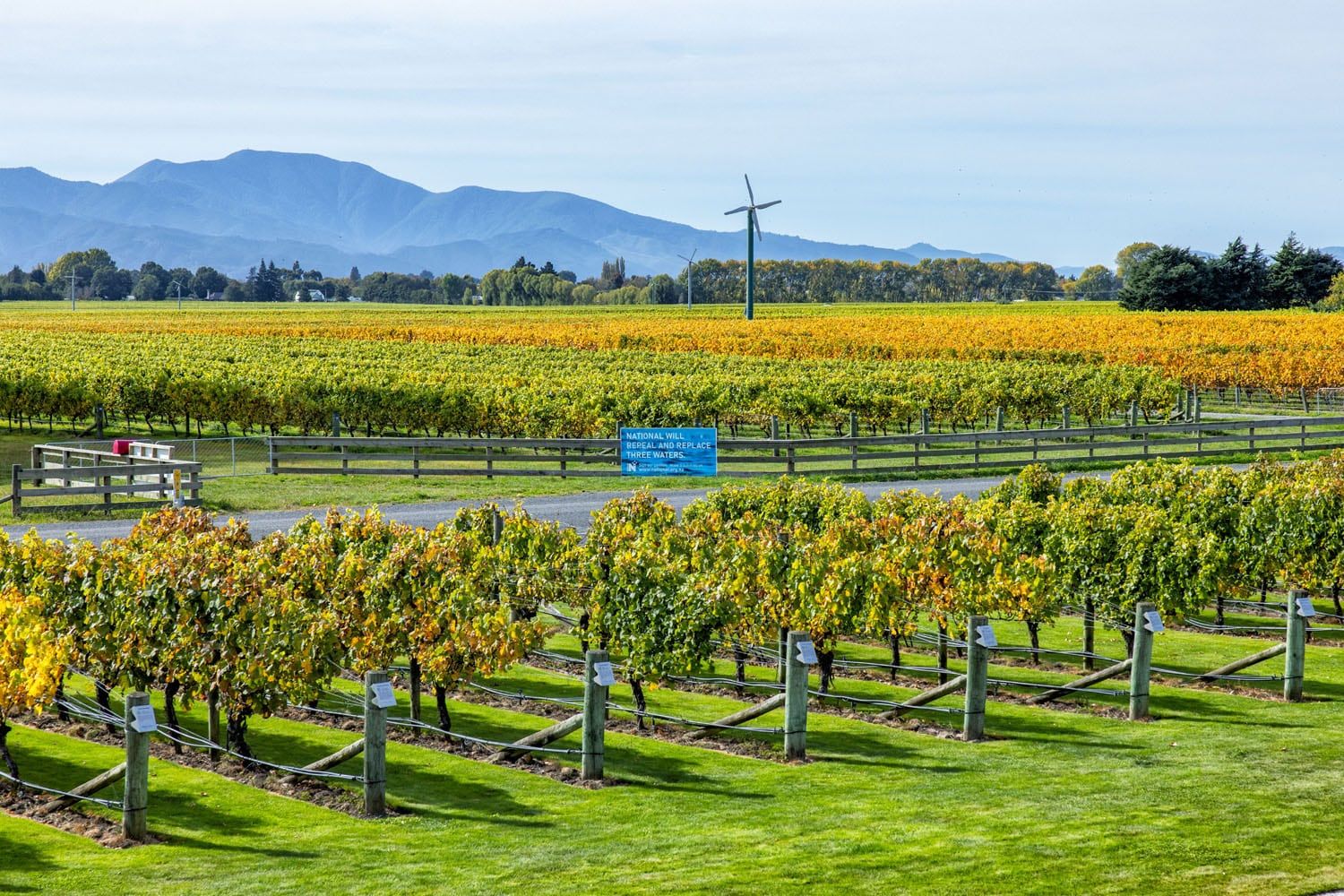 The view from Wither Hills
Get hours of operation and make your reservation in advance on the official website.
Clos Henri Vineyards
Clos Henri Vineyards was a place we had hoped to visit but they are closed on Sunday. Known for producing excellent wines, they also have a very photogenic vineyard. Nestled among the vines is a small, wooden church that makes a great photography spot.
Clos Henri produces Sauvignon Blanc and Pinot Noir. Learn more about Clos Henri, including their story, hours, and wines, on the official website.
Yealands Valley Estate
We had Yealands Valley Estate on our list for its unique coastal setting. It's known as being one of the most beautiful vineyards in Marlborough. It is also a younger winery, opening on 08/08/08.
Yealands Valley Estate is located southeast of Blenheim, about a 30-minute drive from town.
The drive on White Road through the vineyard is a 40-minute self-guided tour through the vineyard that takes you up to Lookout Point for stunning views of the North Island.
For hours of operation and to learn more, visit the official website.
Wairau Valley Wines
Wairua Valley Wines was established in 1978 by Phil and Chris Rose. Their restaurant and cellar door opened in 1998 and their restaurant is one of the best in the region.
This was another place we hoped to visit but they are closed while we were in Marlborough.
Come for a wine tasting or lunch. Learn more and make your lunch reservation in advance on the official website.
Our Favorite Experiences
We just listed ten wineries and restaurants to try. In a typical day, it is possible to visit about three to four vineyards and have a leisurely lunch.
For lunch, we loved the experience at Saint Clair Family Estate but Wairau Valley Wines would be our second pick, even though we haven't eaten there. Wairau Valley gets rave reviews on multiple sources and comes recommended by Wine Tours by Bike (we used their recommendations for our bicycle tour of the area and they were fantastic).
Our three favorite vineyards are Framingham (our favorite wine in the region), Cloudy Bay (very good Sauvignon Blancs and the cellar door has a beautiful setting), Forrest Wines (casual setting and live music some days of the week), and Wither Hills (gorgeous views from the cellar door and the option to have lunch).
If you are visiting when Clos Henri and Yealands are open, these are also worth considering (I love the idea of driving White Road through the Yealands Valley Estate for the views).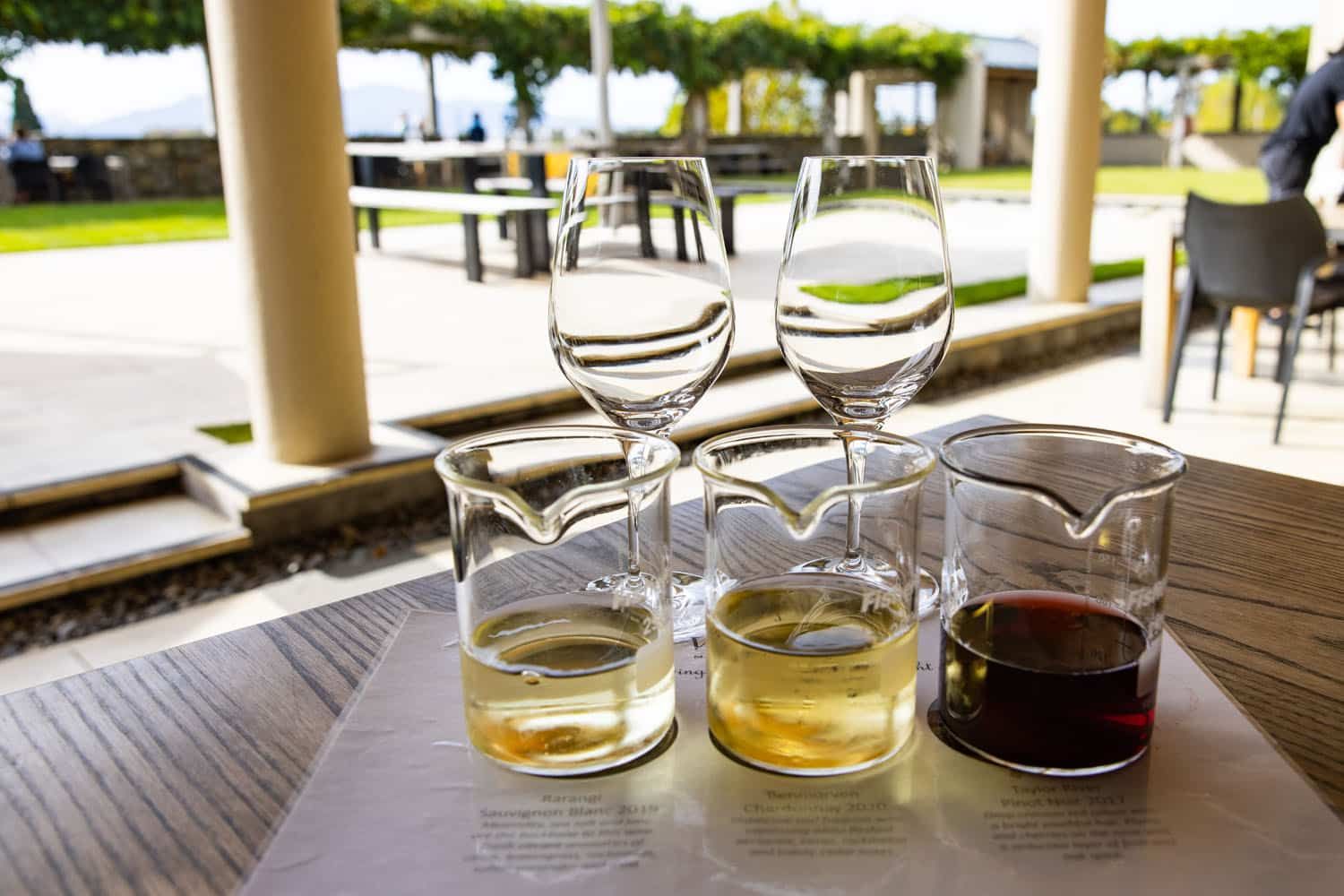 Wine tasting at Wither Hills
Marlborough Wine Region Itinerary
Most cellar doors open at 10:00 or 10:30 am and close at 4:30 or 5:00 pm. Most vineyards are not open seven days a week. Many close for two days, but these days vary quite a bit, so when planning your schedule, you will have to get updated hours of operation on the official websites.
One day wine tasting in the Marlborough wine region looks something like this:
10:00 am: Tour of vineyard #1 with a wine tasting
12:00 pm: Lunch
2:00 pm: Vineyard #2 wine tasting
3:00 pm: Vineyard #3 wine tasting
4:00 pm: Vineyard #4 wine tasting
A cheese board or snack at 3 or 4 pm is a nice addition. We typically eat a very light dinner in the evening, since the wine tastings, cheese, and chocolate (keep reading!), really fill you up.
Things to Do In and Around Blenheim
Here are a few more things to do near Blenheim, that can be added on to your day after wine tasting in Marlborough or done the next day.
Makana Confections is a chocolate shop. You can watch as chocolates and chocolate-dipped cookies are being made. This shop is located across the street from Saint Clair Family Estate.
The Omaka Aviation Heritage Centre has two hangers that are filled with WWI and WWII airplanes and memorabilia. The airplanes of The Great War are from Sir Peter Jackson's collection (Sir Peter Jackson is a New Zealand film director and he directed the Lord of the Rings trilogy and The Hobbit trilogy). You can also fly in a biplane. We did not know about this until our visit and could not squeeze it in. But how awesome would that be!
There are also a few breweries sprinkled in around the wineries. On this list are the Moa Tap Room, DNA Brewery & Taproom, Renaissance, and the Boon Town Beer Garden.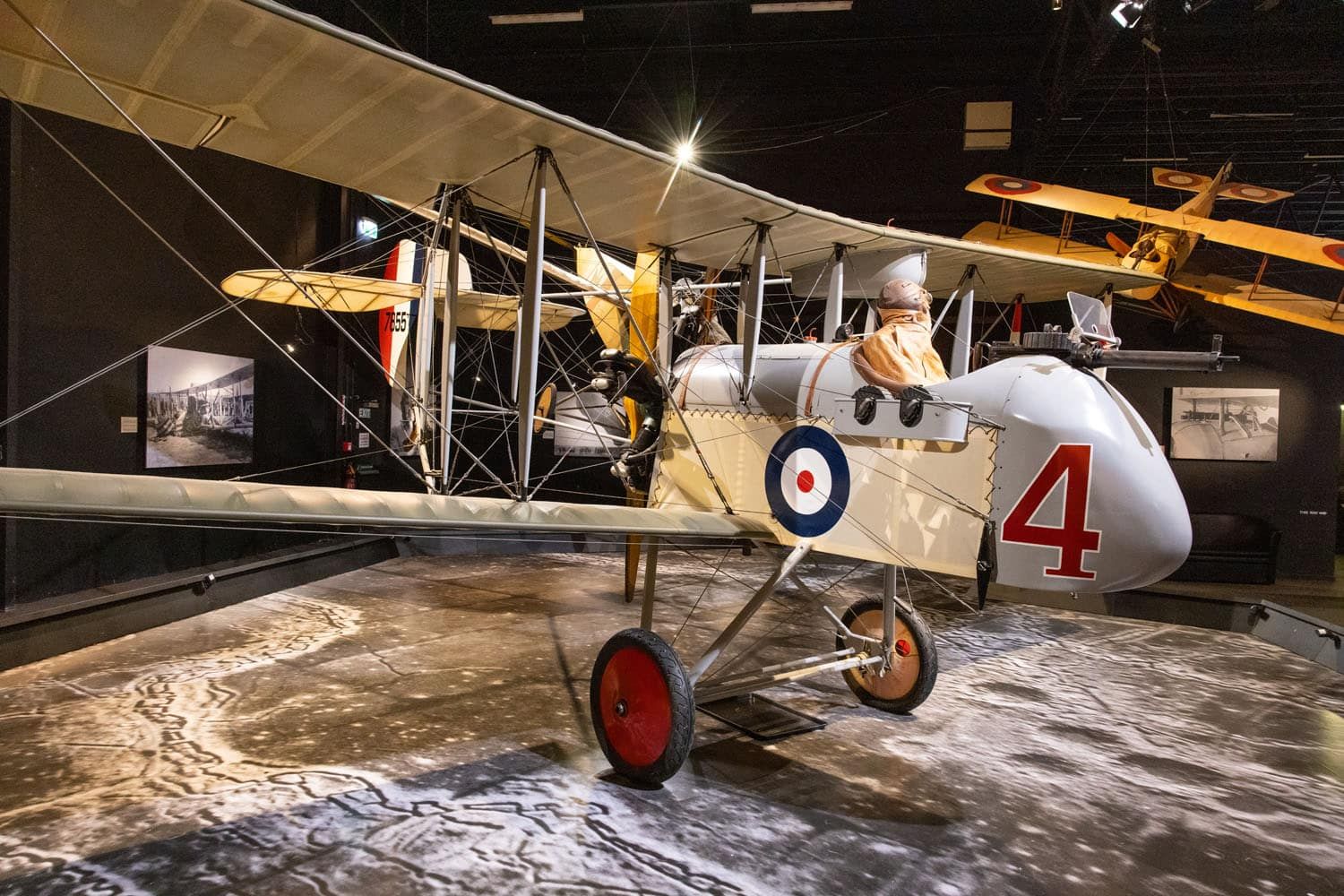 Omaka Aviation Heritage Centre
Purchasing Wine
When visiting the vineyards, you can purchase a bottle or two and take them with you (either to drink later or carry home in your luggage), order a shipment from the winery, or use Wine Collective Direct.
If you visit a winery and fall in love with their wines, you can order as much as you like and have the winery ship it to your house. We did this with Cloudy Bay and have done it multiple times from around the world and haven't had any issues.
But what if you like a bottle or two from Framingham, a bottle from Saint Clair Family Estate, and a few bottles from Yealands? You might not want to carry all of that around for the rest of your trip, or try to ship them home yourself.
That's where Wine Collective Direct comes in.
On the Wine Collective Direct website, you can put together a shipment of 6, 12, or more wines, each bottle from a different vineyard, and have that shipped to your house. It's the perfect solution for those who want to take home 6 to 12 bottles of wine, but not necessarily all from one vineyard.
As you taste wines, ask the staff if they are part of Wine Collective Direct and you can even go on the website and search for the wine to confirm it is offered. At the end of the day, place your order.
In a few weeks to a month, your New Zealand wine will be delivered to your doorstep.
Frequently Asked Questions
How much does wine tasting cost in New Zealand?
A wine tasting costs $10 to $20 NZD, depending on the winery. Some wineries will credit you the cost of the tasting if you buy some of their wine.
What is the best way to go wine tasting in Marlborough, New Zealand?
If you and the rest of your group want to taste wine at multiple vineyards, taking a private or small group tour, or cycling between vineyards, is the best way to get around.
If you like the freedom of picking out which vineyards you want to visit, and how long you get to stay at each of them, either self-drive or cycle between the vineyards.
If you want to eliminate the hassles of driving, parking, deciding which cellar doors to visit, and how to come up with a schedule, a guided tour is your best option.
What is special about the Marlborough wine region in New Zealand?
The long summers and autumn, abundance of sunlight, and cool temperatures make New Zealand an excellent place to grow Sauvignon Blanc and other white wines. In fact, some of the best Sauvignon Blanc in the world comes from this wine region.
---
If you have any questions about wine tasting in Marlborough, New Zealand, or if you want to share your experience, let us know in the comment section below.
More Information for Your Trip to New Zealand
NEW ZEALAND ROAD TRIP: With 3 weeks in New Zealand, visit the highlights on a road trip to the North Island and South Island. If you have less time, you can shorten this itinerary by spending 2 weeks on the South Island.
SOUTH ISLAND: On the South Island of New Zealand, visit Milford Sound and Doubtful Sound, go bungy jumping in Queenstown, hike the Hooker Valley Track, visit Akaroa and Banks Peninsula, and go on a helicopter flight to see Franz Josef and Fox Glaciers from the sky.
NORTH ISLAND: Top experiences on the North Island include the Tongariro Alpine Crossing (one of the best day hikes in the world), spending a day or two in Auckland, visiting Waiheke Island on a day trip from Auckland, touring Hobbiton, a visit to Taupō, and seeing the glowworms and blackwater rafting in the Waitomo Caves. For the full list, read our article about the Best Things to Do on the North Island.
MORE WINE REGIONS TO VISIT: Visit more wine regions around the world, including Barossa Valley and McLaren Vale in Australia, the Alsace Wine Region in France, Tuscany, Italy, and the wine regions around Santiago, Chile and Mendoza, Argentina.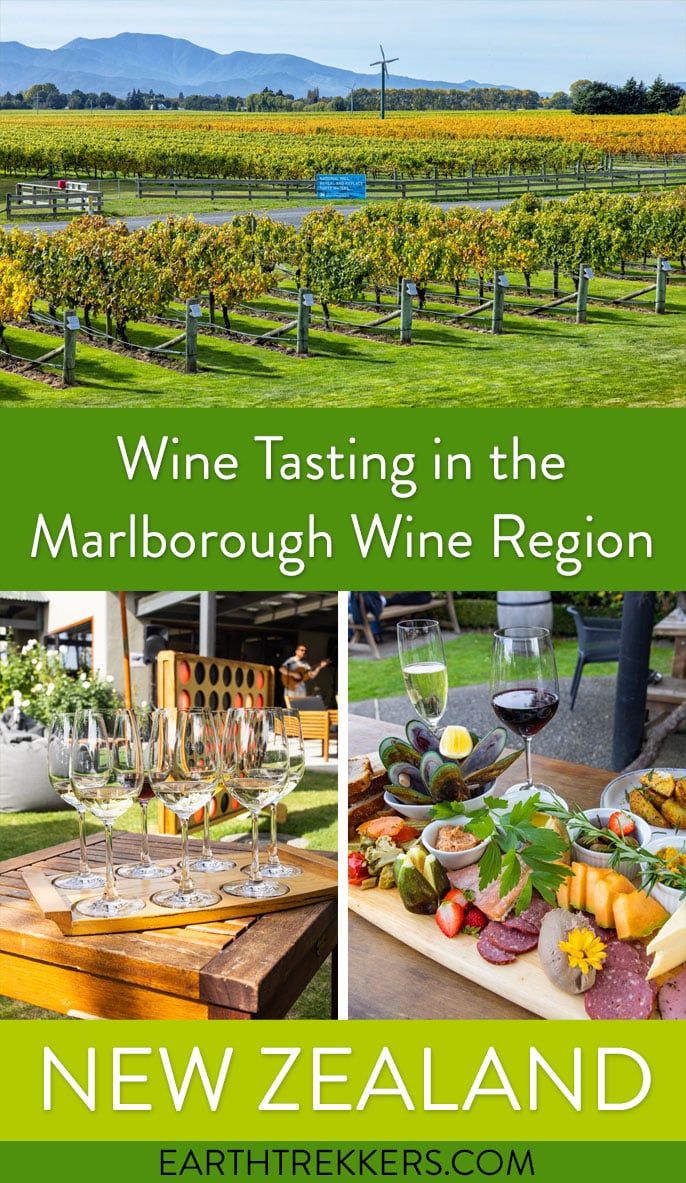 Note: This post contains affiliate links. When you make a purchase using one of these affiliate links, we get paid a small commission at no extra cost to you.
All rights reserved © Earth Trekkers. Republishing this article and/or any of its contents (text, photography, etc.), in whole or in part, is strictly prohibited.