Have you ever seen photos of a place and think "that can't be real." Well, that's what we thought when we first saw photos of Alberobello. This tiny town looks like it has been plucked from the pages of a fairytale.
Alberobello is famous for its trulli, small round buildings with conical roofs made of stone. Stroll the hilly maze of streets, shop for souvenirs, enjoy the view across the rooftop terraces, and fill your camera's memory card with photos of this enchanting town…these are just a few of the wonderful things to do in Alberobello.
What is a Trullo?
A trullo (trullo is singular, trulli is plural) is a round building topped with a conical roof made of limestone tiles. Trulli can be found throughout the Itrian Valley in Italy, but the densest population of trulli is in Alberobello.
Trulli were originally constructed as temporary field sheds. They could be dismantled quickly, to avoid taxation when the tax inspectors came to the area. In the 19th century, the trulli were no longer being dismantled and most of the trulli we see today date back to the 19th and 20th century.
To build a trulli, the rock on the floor of the house is excavated, forming a cistern. A limestone floor is constructed over the cistern. The masonry walls are made of limestone blocks and builit as a circular structure. This is topped by the conical roof, which is made of large limestone bricks (cannele) and an outer layer of smaller, gray-colored, limestone tiles (chiancarelle).
On top of the trullo sits a pinnacle, the white ornament that sits on top of the conical roof. Some trullo have shapes drawn on the roof, which can be a primitive symbol, a Christian symbol, or a magical symbol.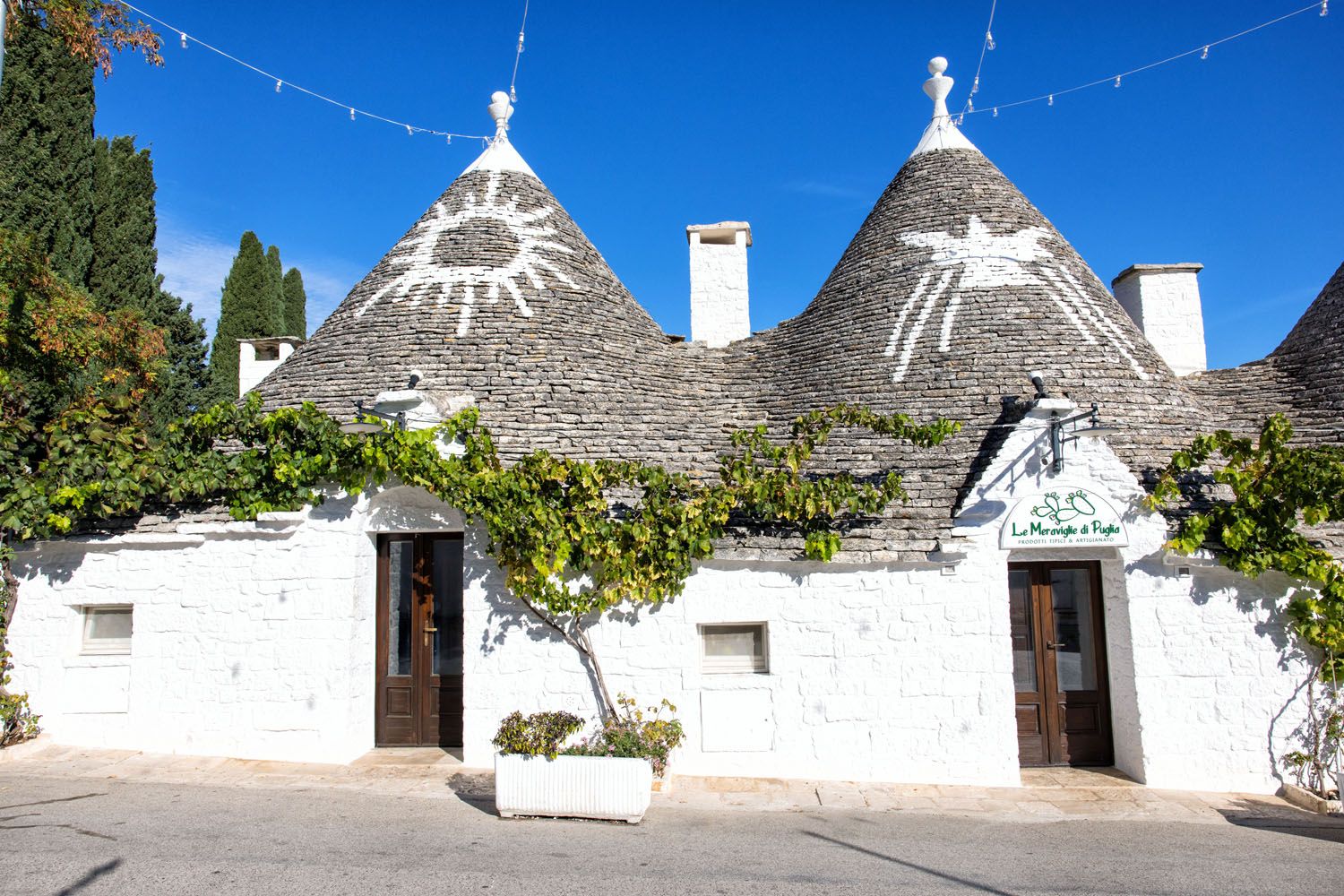 Within Alberobello, there are two main groupings of trulli. Rione Monti is the larger, more touristy area where you can see more than a thousand trulli. Rione Aia Piccola is a smaller area that is quieter, less touristy, and gives you a sense of what Alberobello was like before it became this tourist mecca.
Alberobello was added to the UNESCO World Heritage Site list in 1996.
Best Things to Do in Alberobello
1. Explore the Rione Monti
In Rione Monti, more than a thousand trulli line the hilly streets and alleyways. Even so, it is a small area and it only takes an hour or so to wander the streets.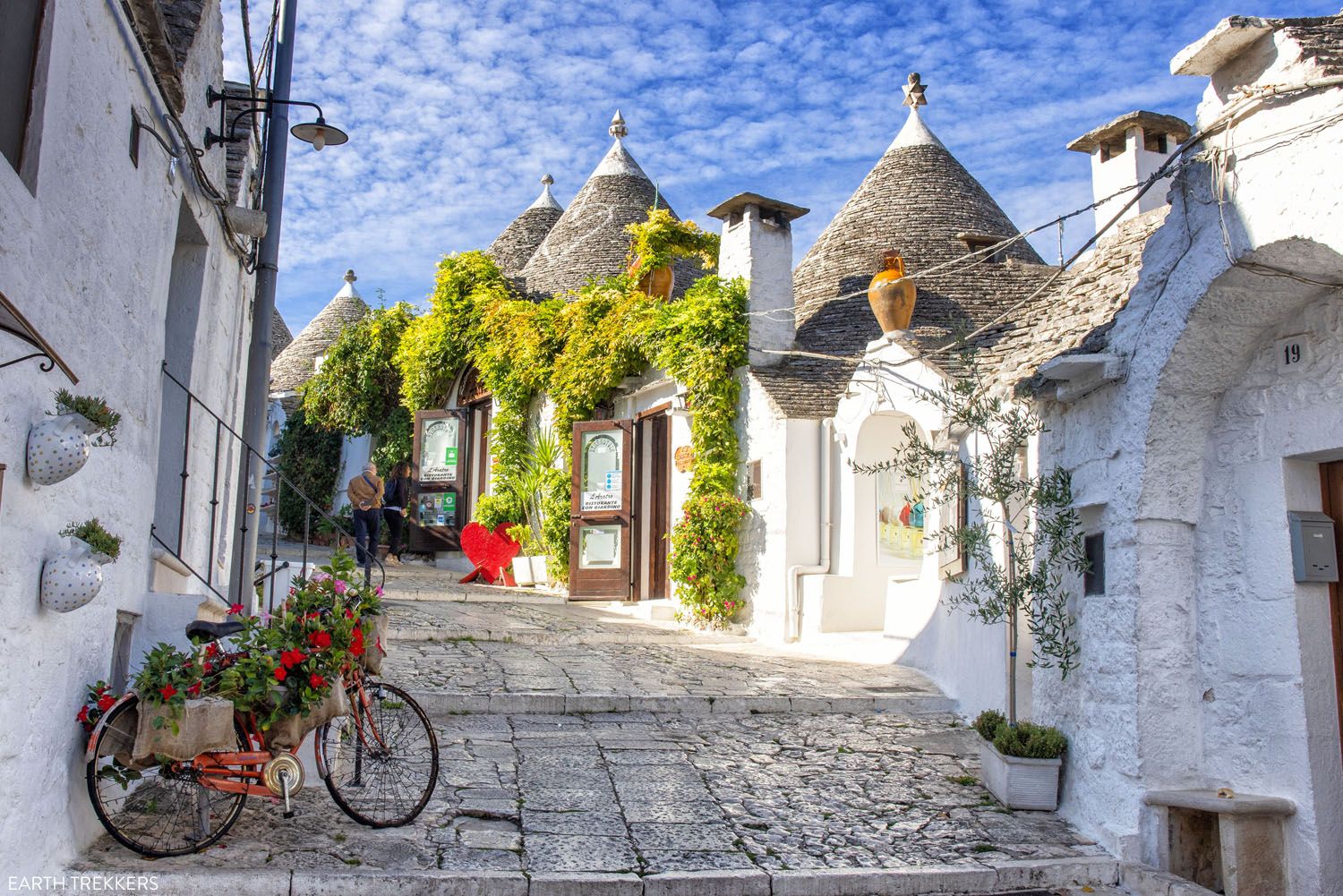 Street in Rione Monti | Best Things to Do in Alberobello
This part of Alberobello is very touristy, with large group tours lining the streets and tons of souvenir shops.
Most of the souvenir shops sell the same things…postcards, magnets, and small replicas of the trulli. We saw a few stores selling more interesting goods, such as olive wood carved into cutting boards and bowls, and woven placemats and table runners, that are made in and around Alberobello.
Within Rione Monti, there are a few notable places to visit, which we mention next.
2. Trullo Siamese
Trullo Siamese is the only trullo that has two joined domes, and two entrances, hence the name. It sits on Via Monte Nero.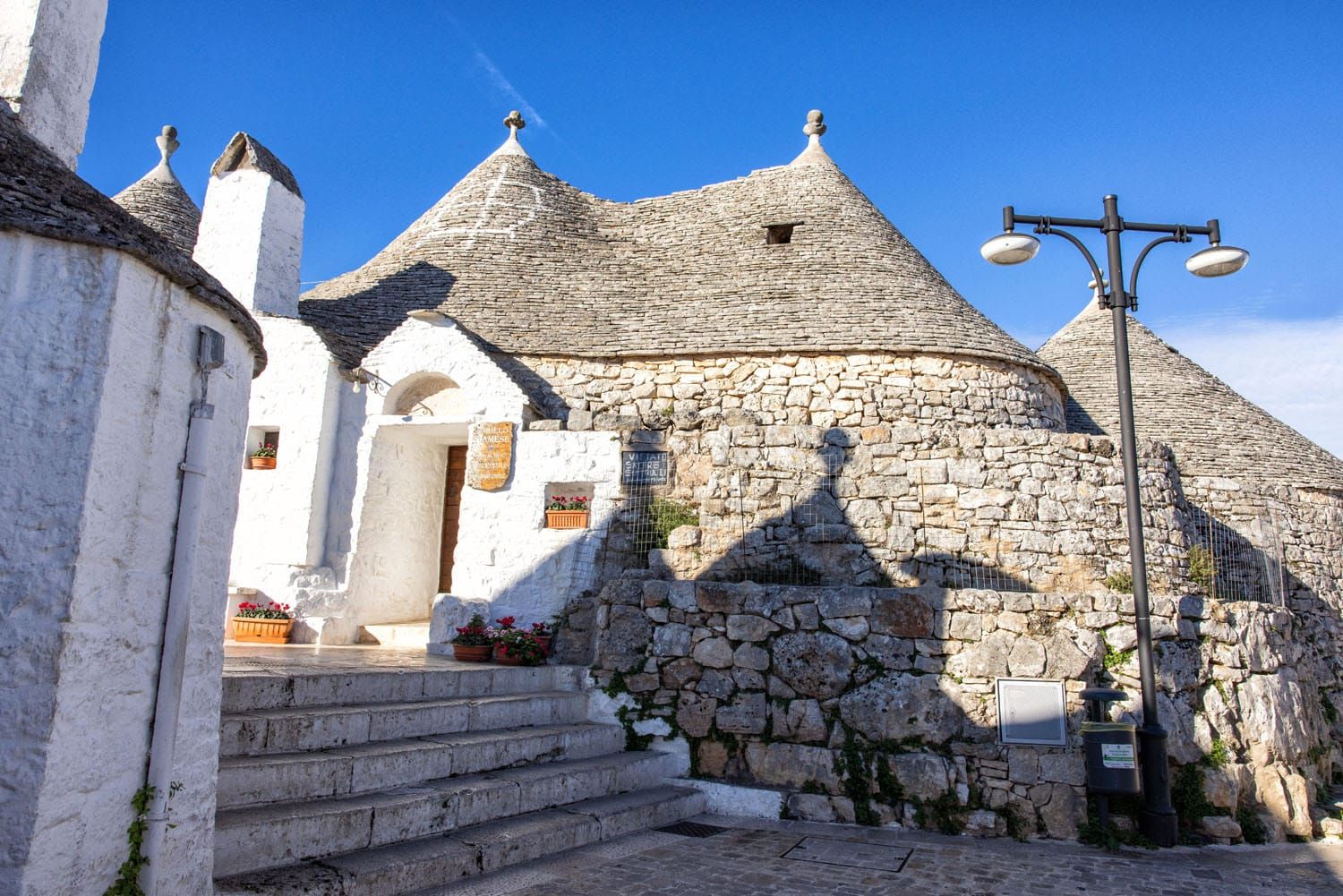 Trullo Siamese | Best Things to Do in Alberobello
Legend has it that two brothers lived in this trullo. They both fell in love with the same woman. She chose the younger brother, moved in with him, and then the trullo was divided in half by constructing a wall through the center of the building.
3. The Smallest Trullo
The smallest trullo in Alberobello, aka Il Trullo Pia Piccolo di Alberobello, sits on the corner of Via Duca D'Aosta and via Monte S. Michele. It is now a souvenir shop and one of the busiest places in town to visit.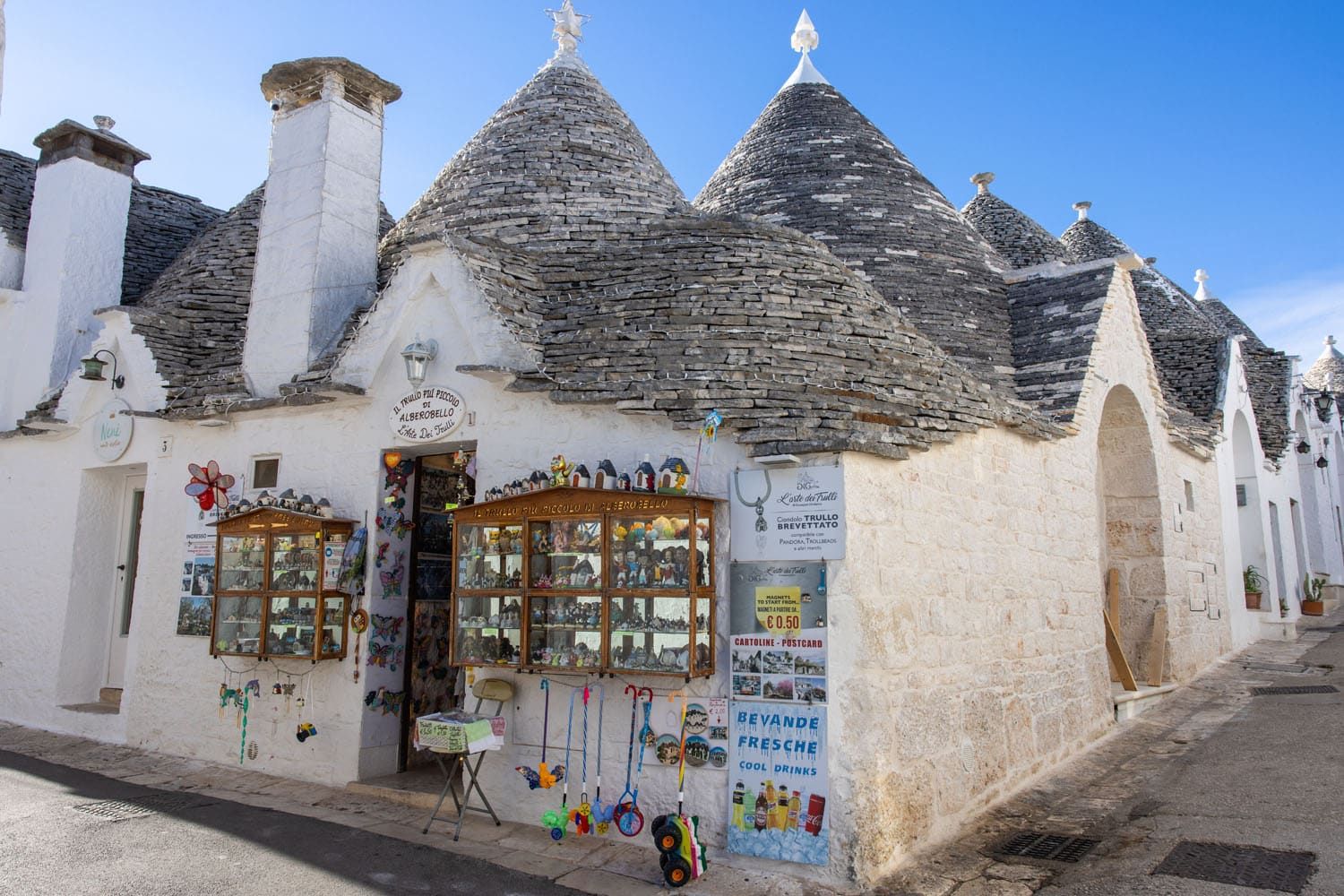 The Smallest Trullo | Best Things to Do in Alberobello
4. Enjoy the View from a Panoramic Terrace
Several shops in town have an upper-level terrace. From here, you can look across the rooftops of the trulli.
While walking through Rione Monti, look for a sign that says "terrazza panoramica" or "vista panoramica da fotografare." To be invited onto the terrace, you have to purchase something in the shop, but it doesn't have to be much. We would buy a bottle of water or small souvenir.
Tim and I visited three panoramic terraces. Here they are in order of our favorite to least favorite.
Maffei Sgobba Group Souvenir Store
This was our favorite rooftop terrace in Alberobello because we could look across so many of the rooftops.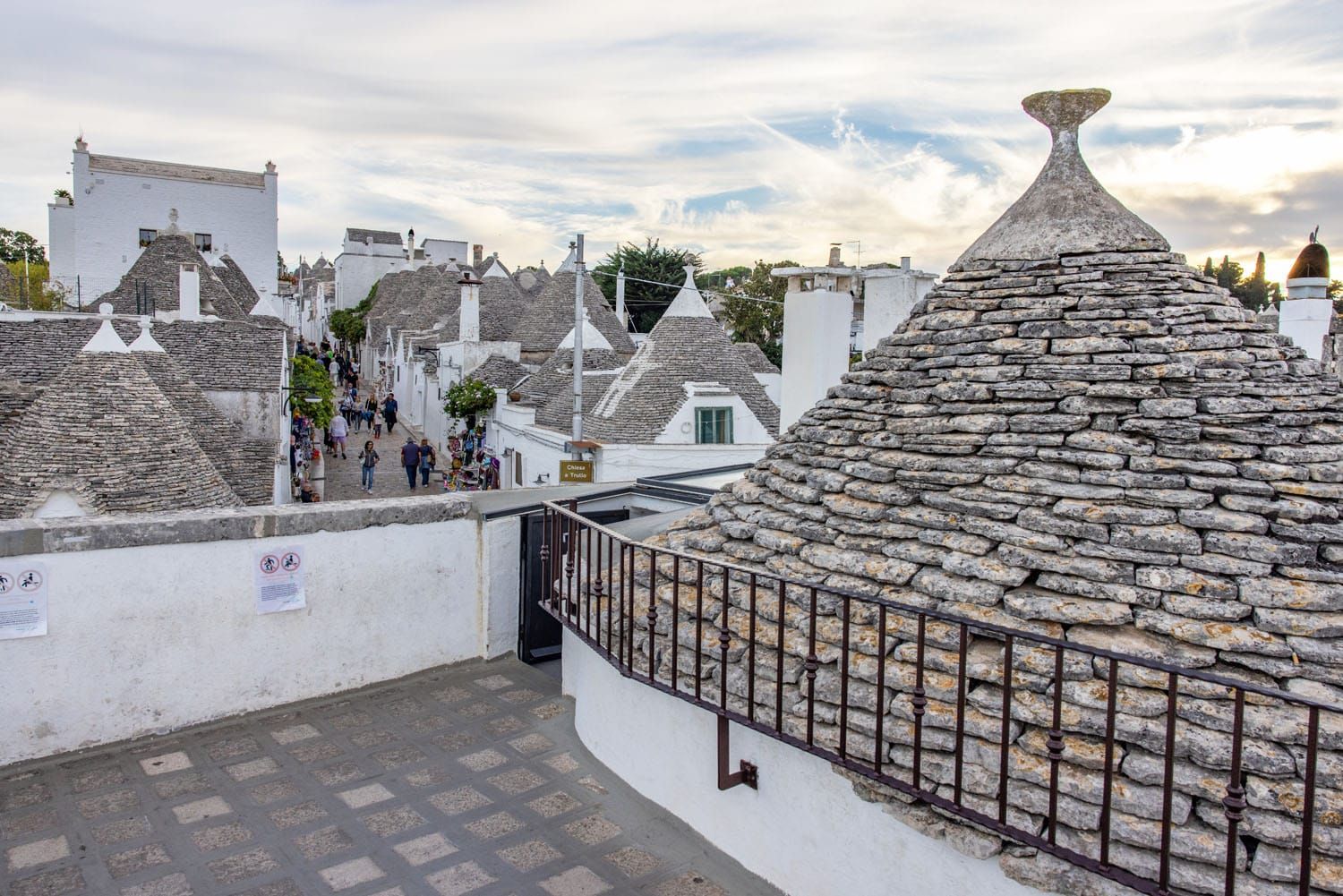 Rooftop Terrace | Best Things to Do in Alberobello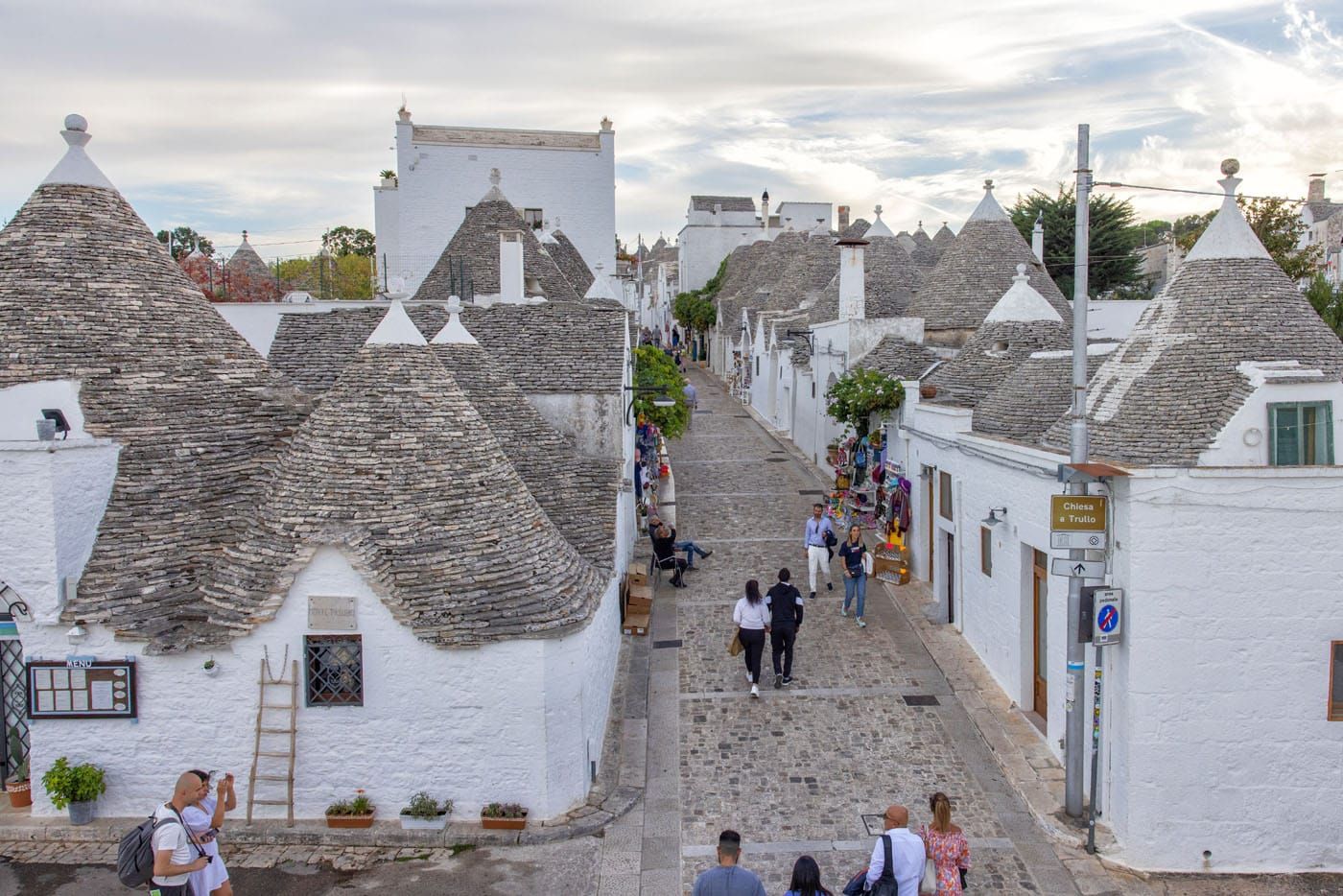 #32 Via Monte S. Michele
At 32 Via Monte S. Michele, enter the small shop, purchase a magnet or small Alberobello souvenir, and walk up the steps for a view across the rooftops of this part of Rione Monti.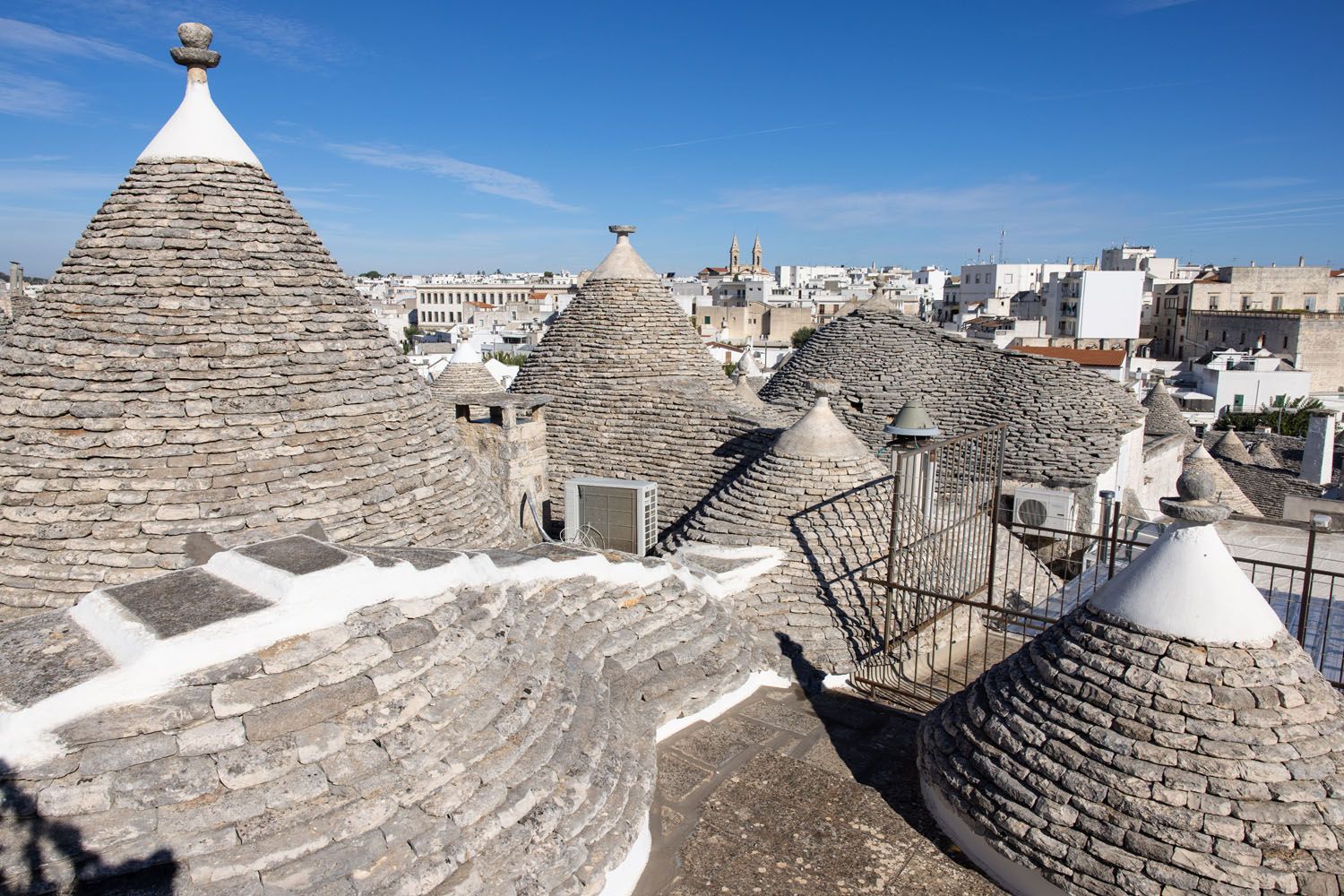 The view from 32 Via Monte S. Michele | Best Things to Do in Alberobello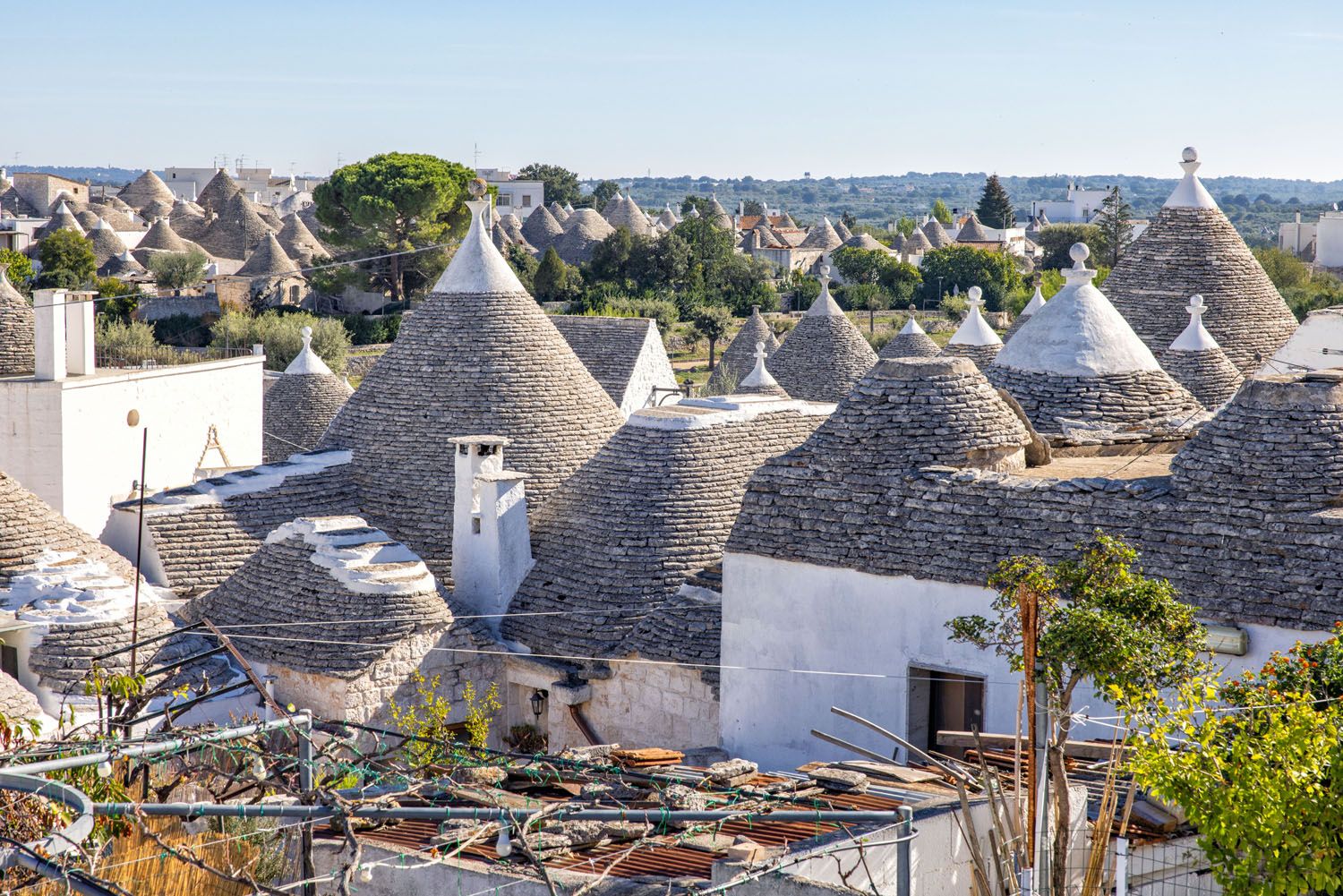 Another view from 32 Via Monte S. Michele
Bar "Rione Monti" di Palmisano Caterina
This shop and terrace is located on Via Monte S. Michele. It has a wide terrace with views of the southern end of Rione Monti. Here is the view.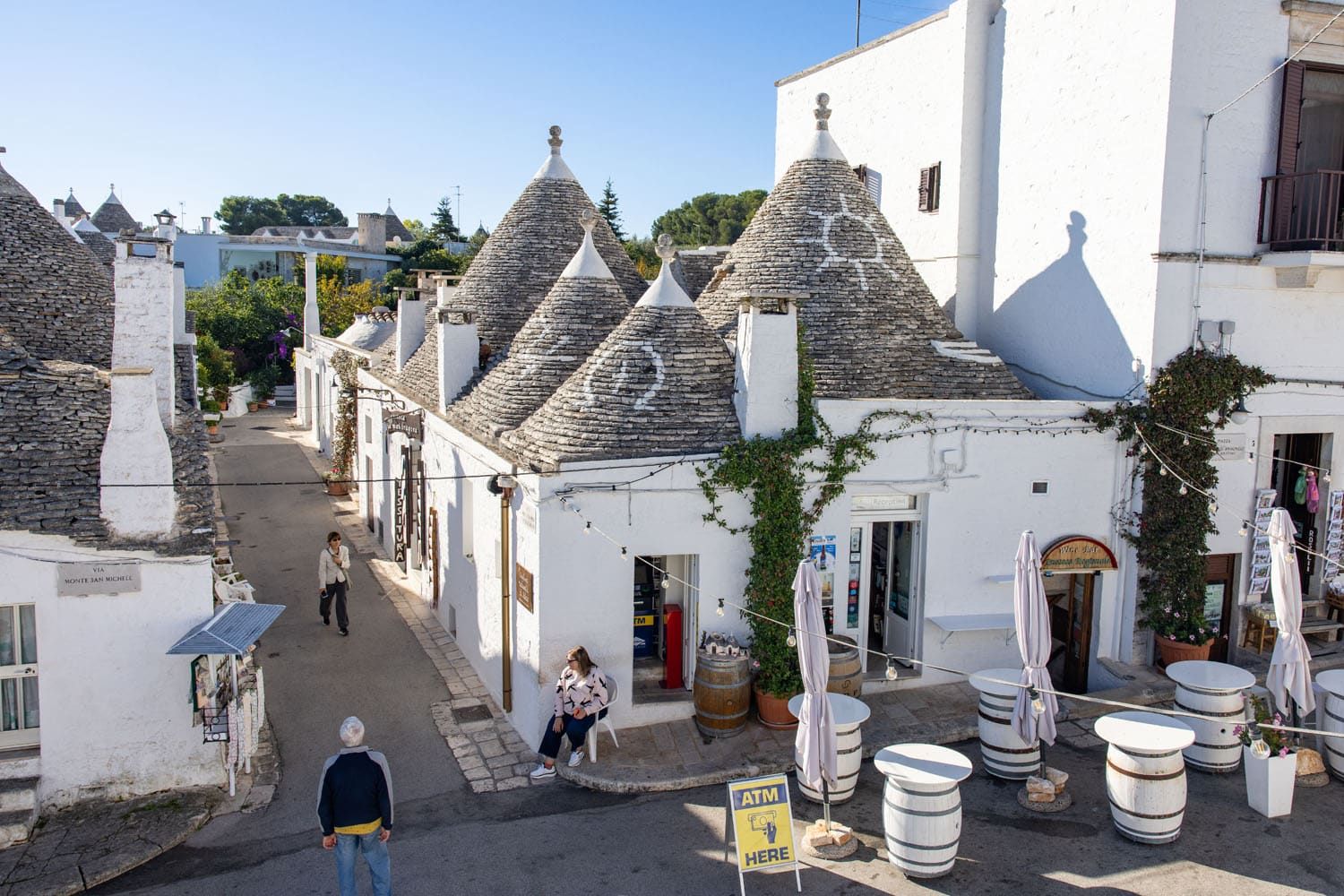 The view from the rooftop of Bar Rione Monti | Best Things to Do in Alberobello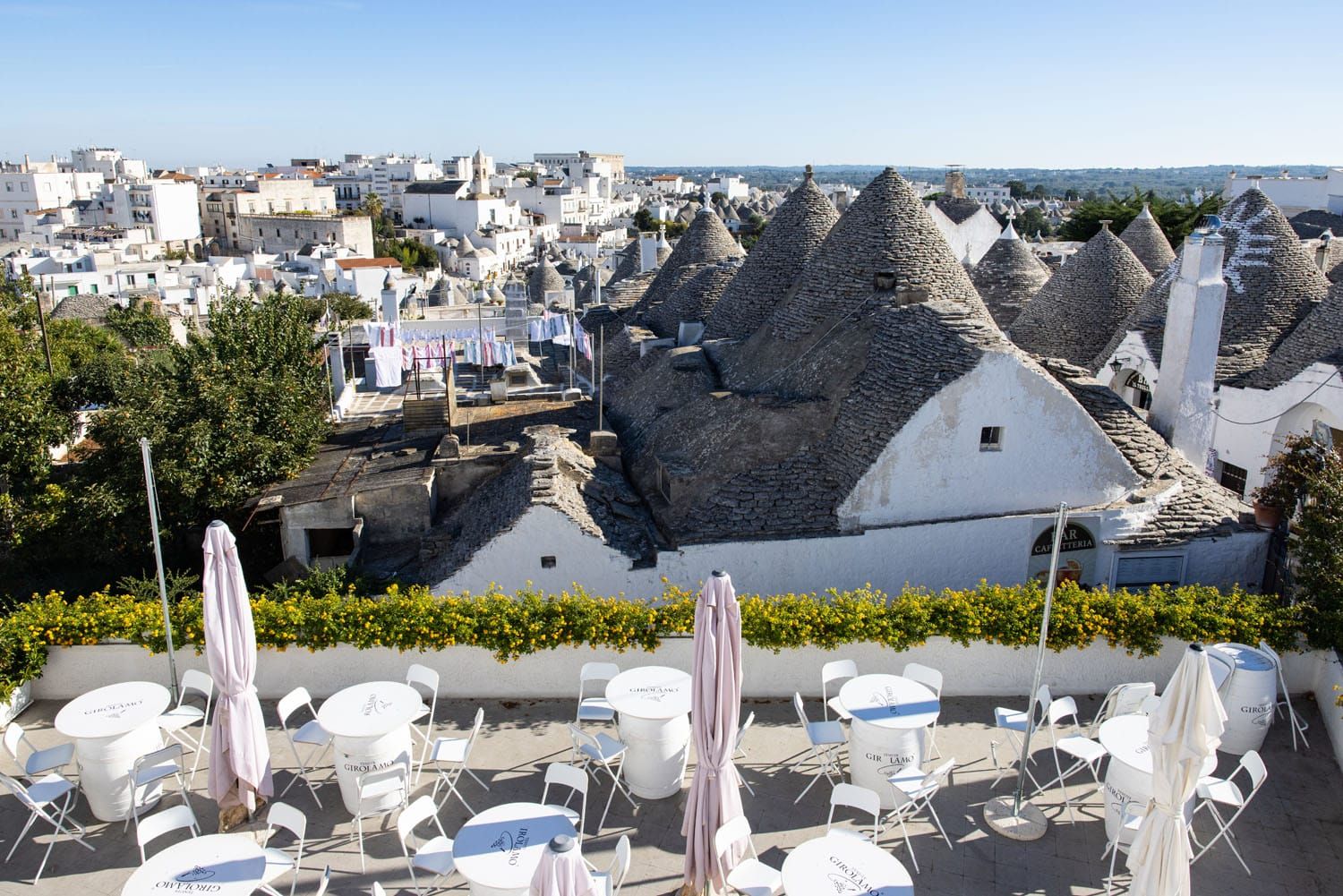 Another view from the rooftop of Bar Rione Monti
5. Alberobello in Miniature
To see a miniature recreation of Rione Monti, spend a few minutes at Alberobello in Miniature. It is free to visit but donations are appreciated. It is located on Via Monte S. Michele, next to the shop and rooftop terrace listed above.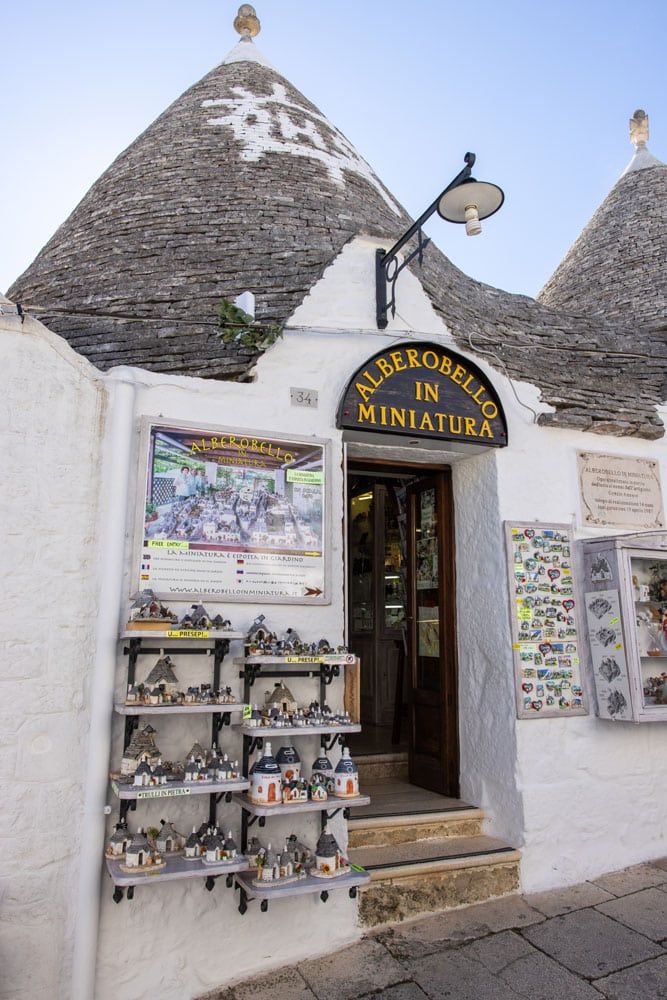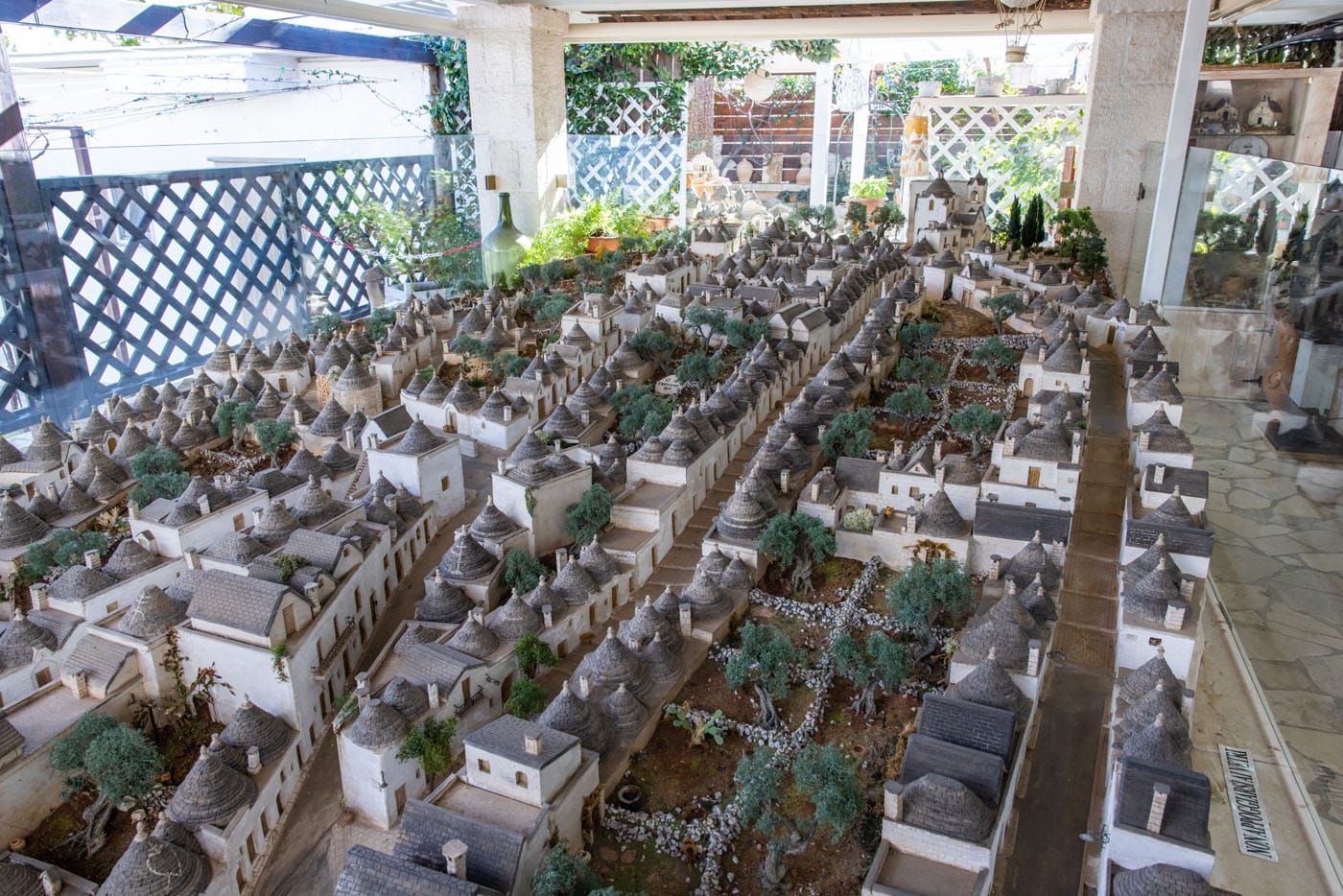 Alberobello in Miniature | Best Things to Do in Alberobello
6. Church of Saint Anthony of Padua
Standing on the highest point of Rione Monti is a trullo-topped church. For a European church, it is rather young, dating back to 1927. The façade of the church is very unique, with its conical domes and white-washed exterior. Inside, the church follows a Greek cross floor plan, has stone arches and walls, and is adorned with frescoes by artist Adolfo Rollo.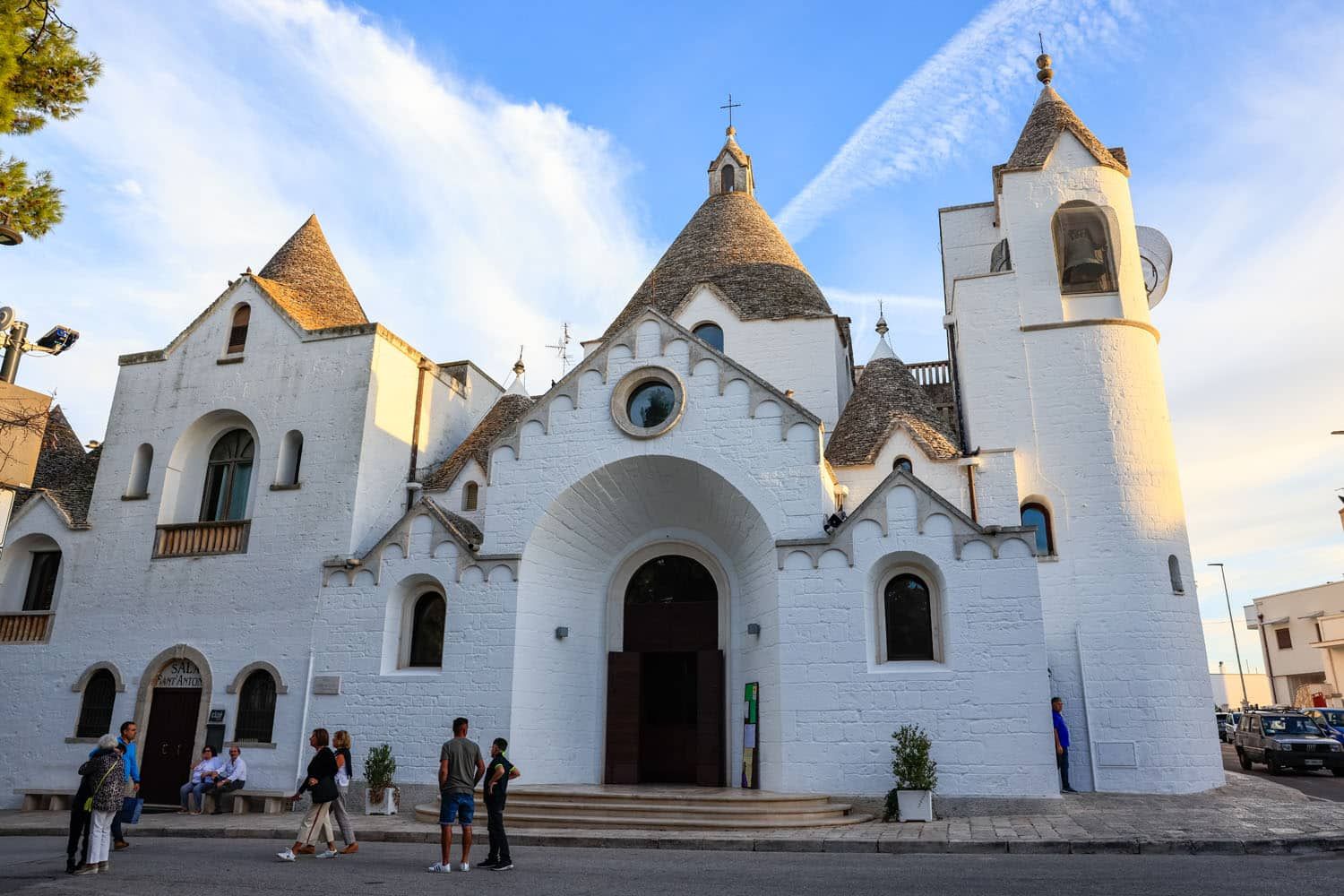 Church of Saint Anthony | Best Things to Do in Alberobello
7. Go Shopping
The streets of Rione Monti are filled with souvenir shops. Things to buy in Alberobello include local foods, olive wood carvings, magnets, woven placemats and table runners, hats, and tiny versions of the trulli.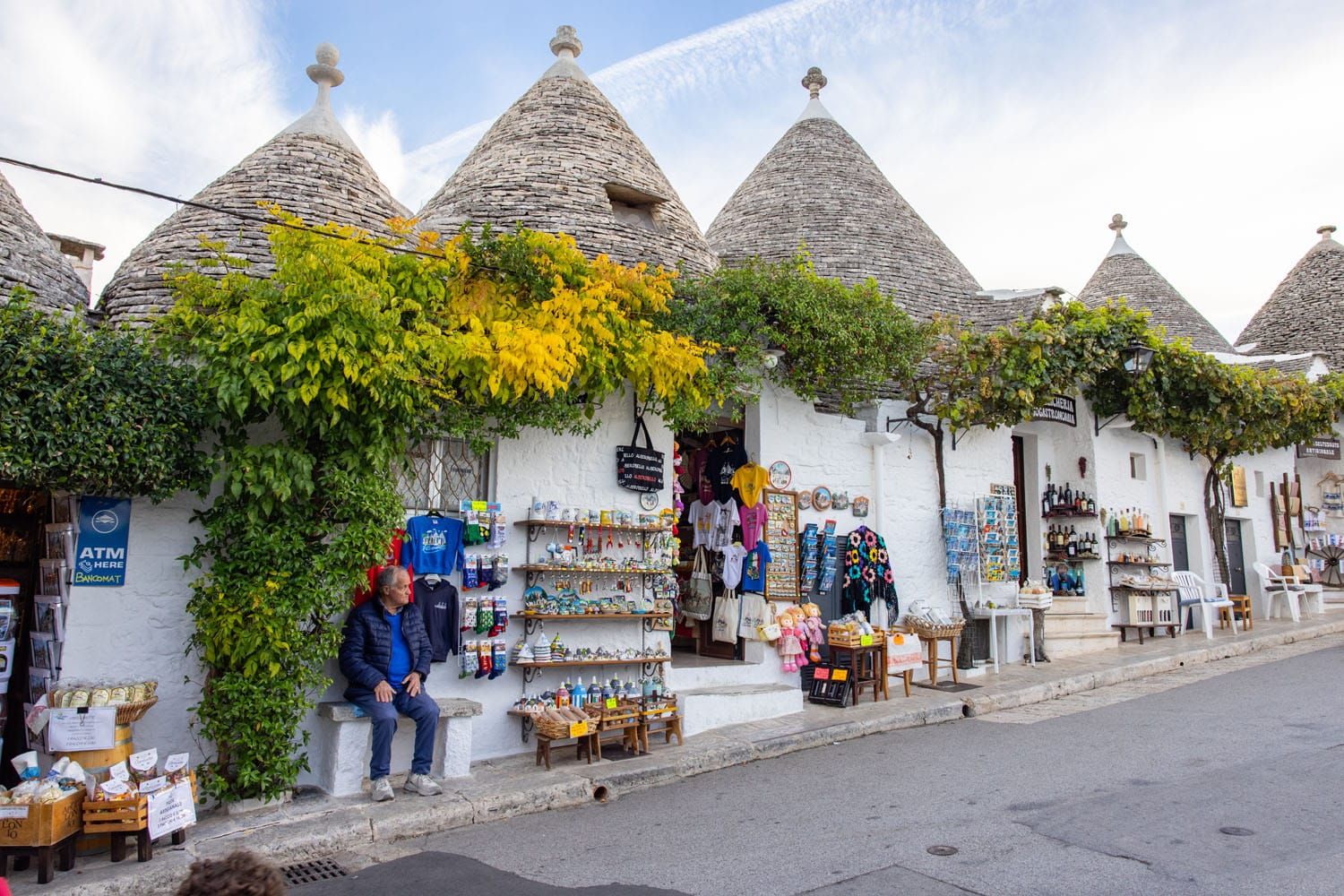 Alberobello Souvenir Shops | Best Things to Do in Alberobello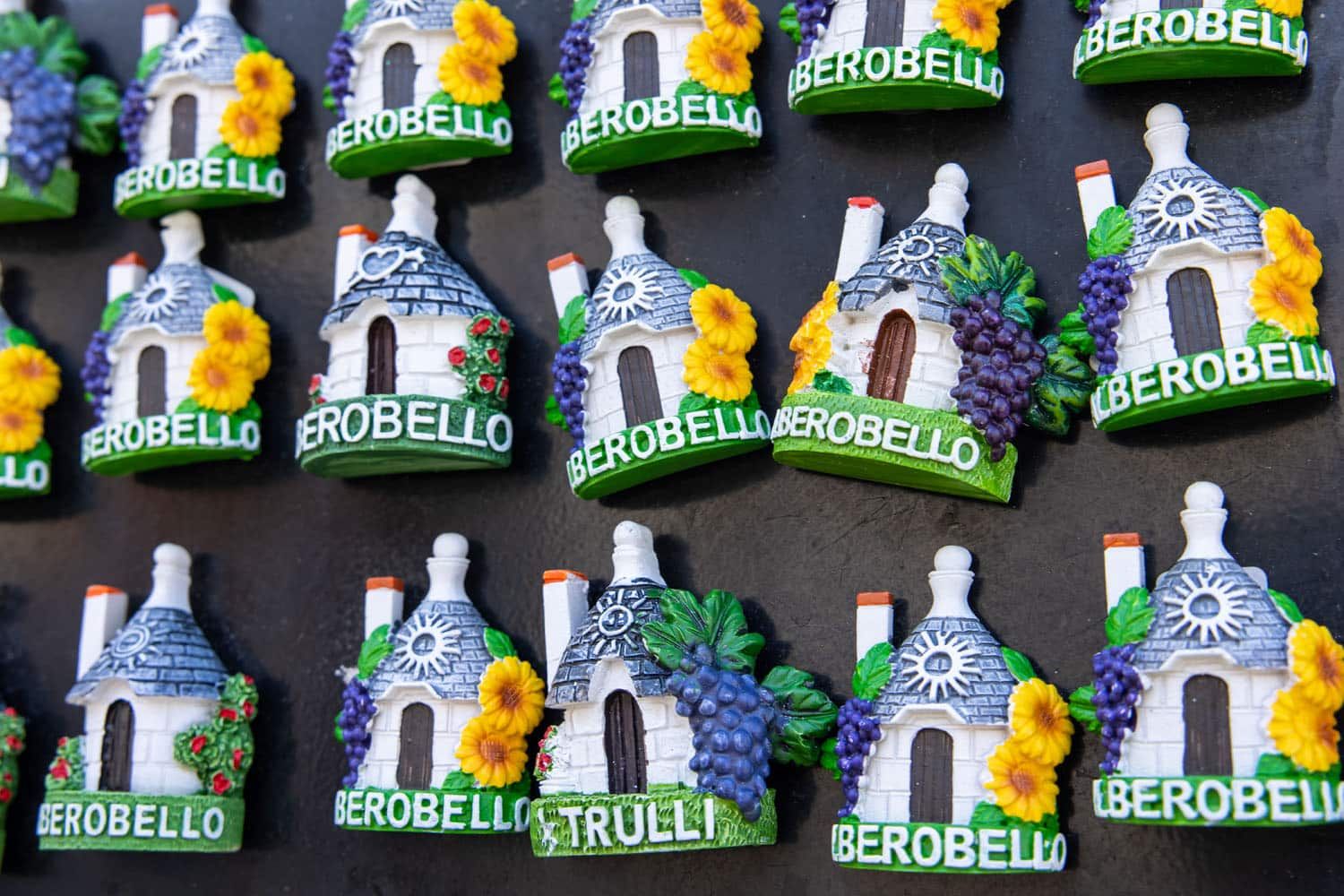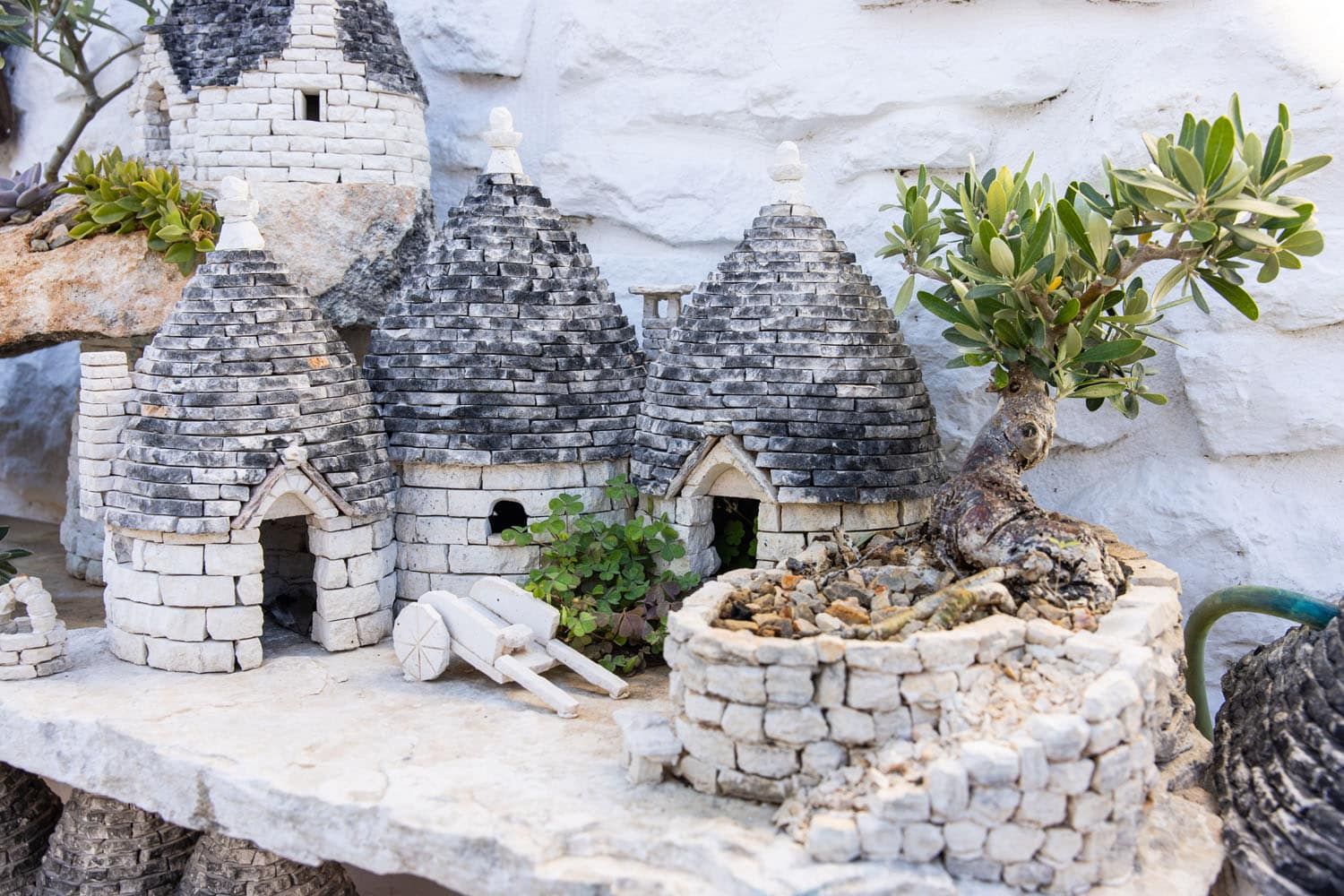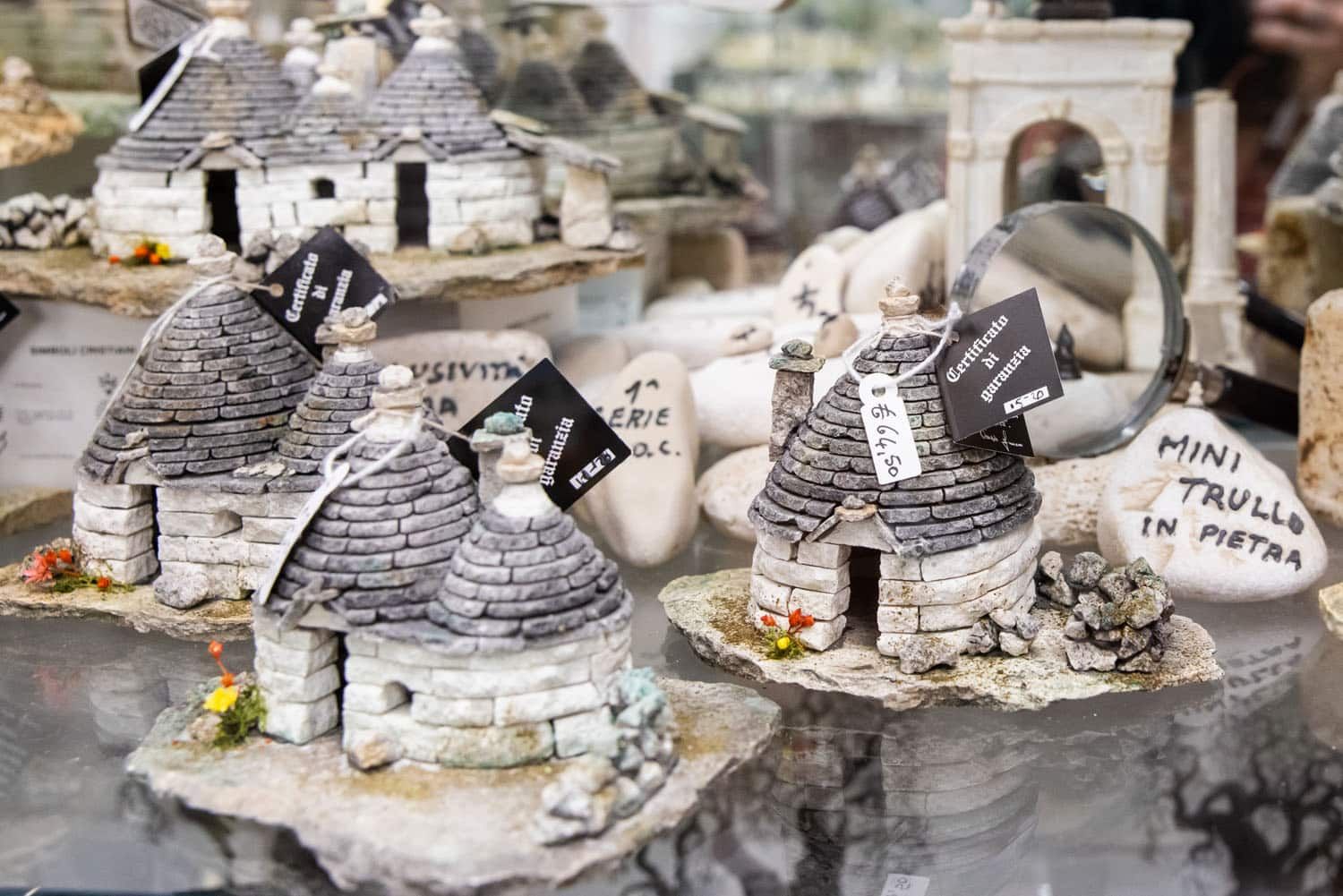 8. Rione Aia Piccola
If you want to explore a quieter area of Alberobello, and visit a more authentic area of town, visit Rione Aia Piccola. This area is much smaller than Rione Monti and lacks the souvenir shops and hustle bustle from the other side of town.
We liked this area a lot more and it is delightful to stroll through, especially at the end of the day, when the sun is setting.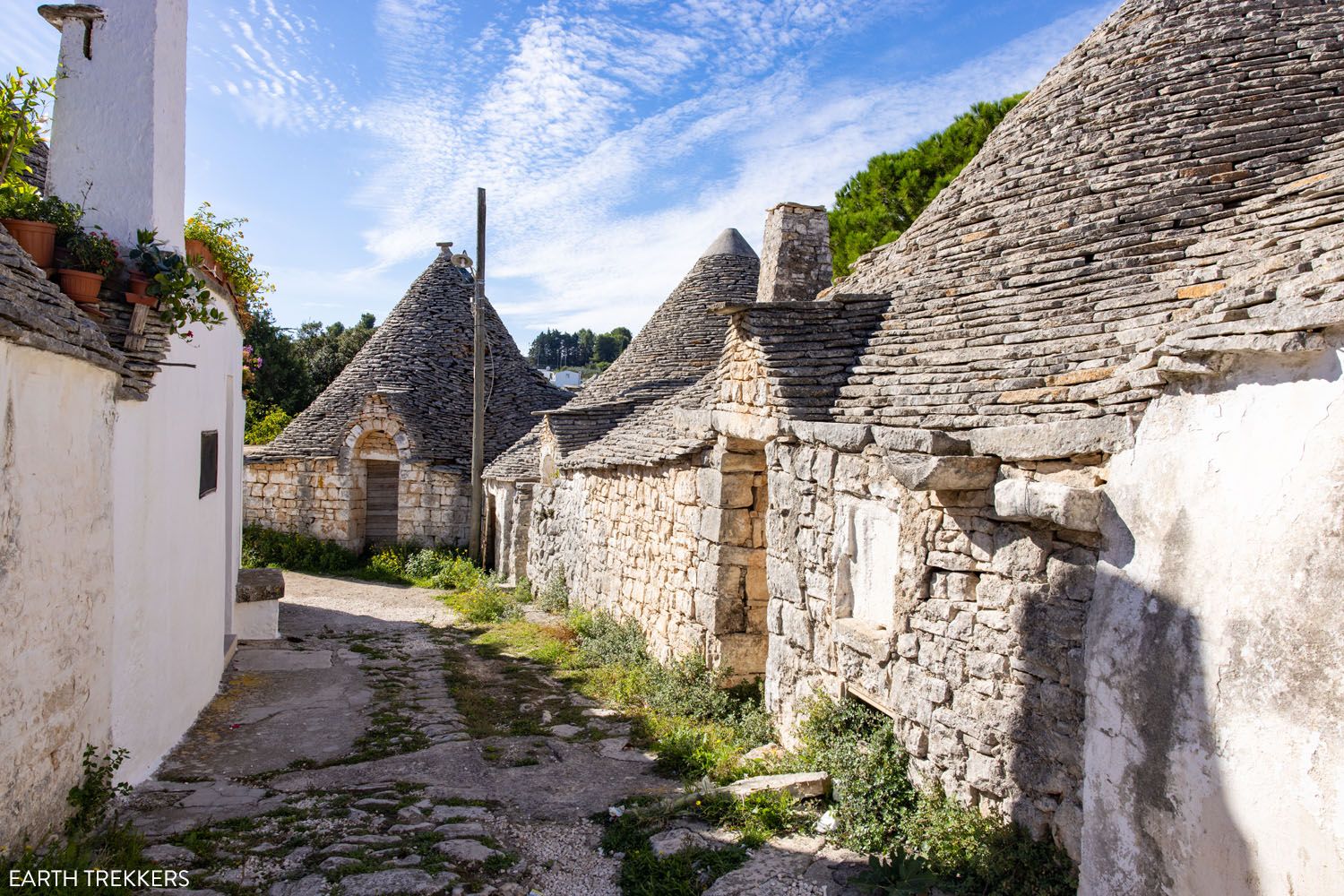 Rione Aia Piccola | Best Things to Do in Alberobello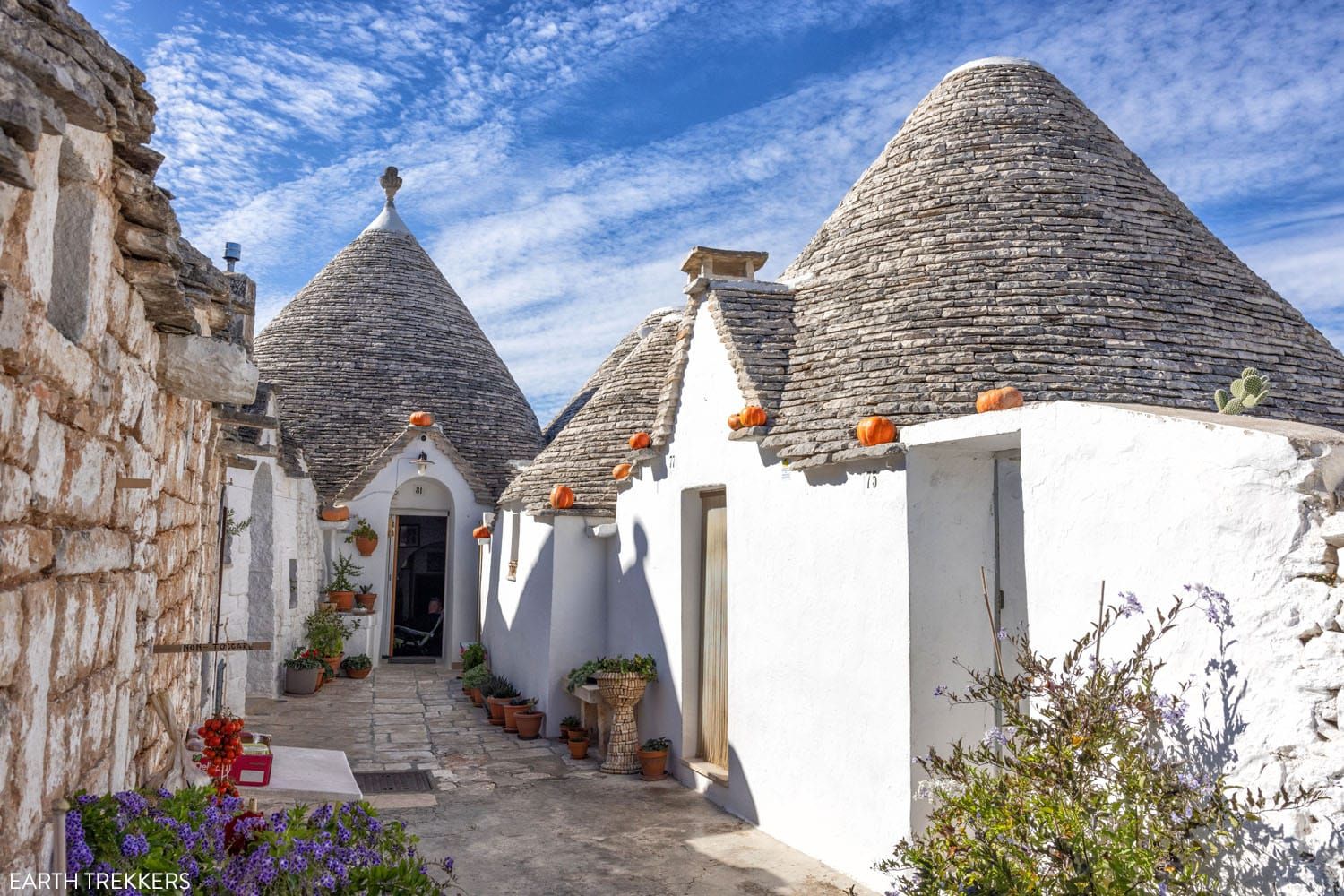 Rione Aia Piccola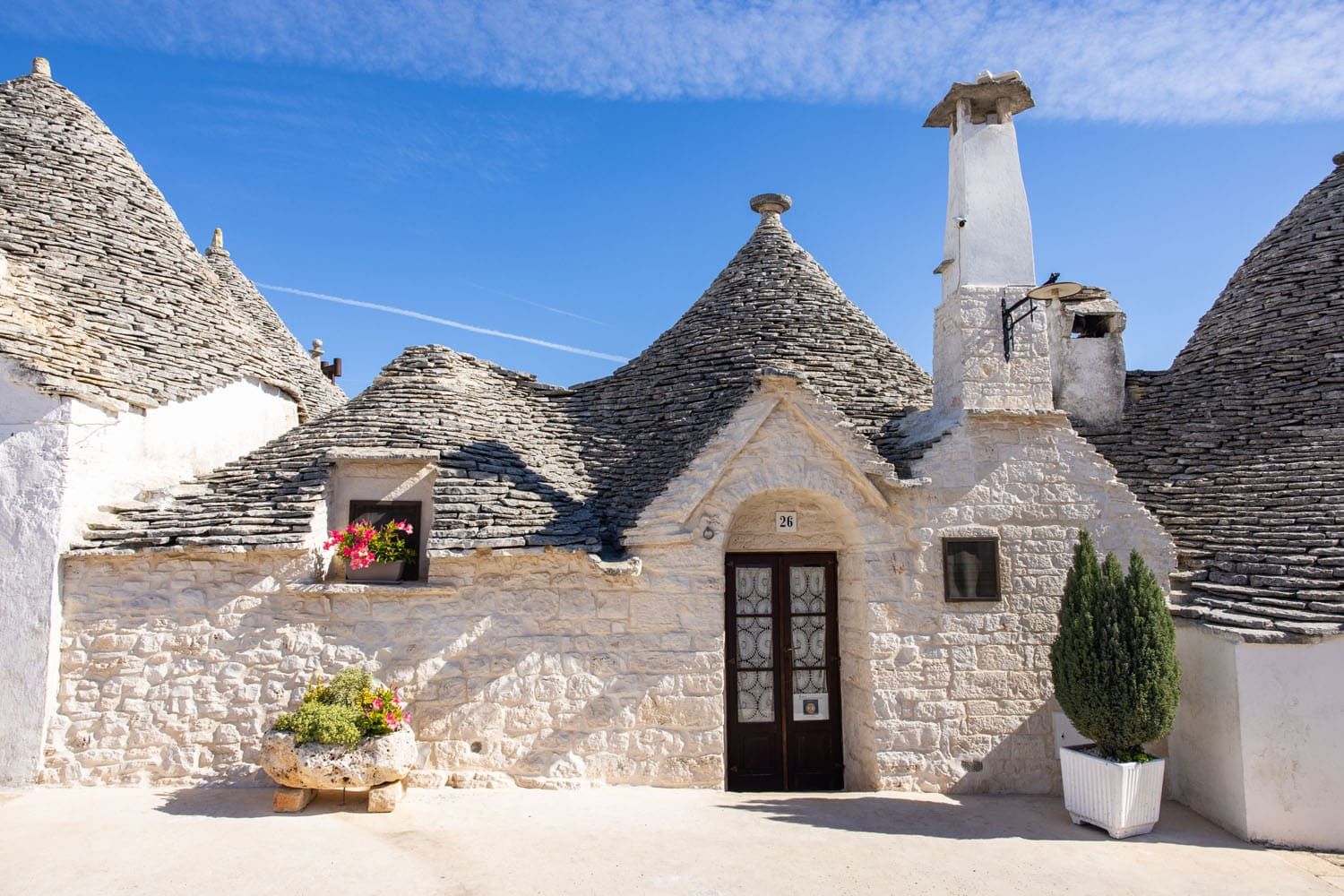 House in Rione Aia Piccola
9. View from the Belvedere
At Rione Aia Piccola, there is a wonderful viewpoint of Rione Monti. From this tiny park, with its one big tree and maze of low stone walls, you get a panoramic view of Alberobello. It is free to visit.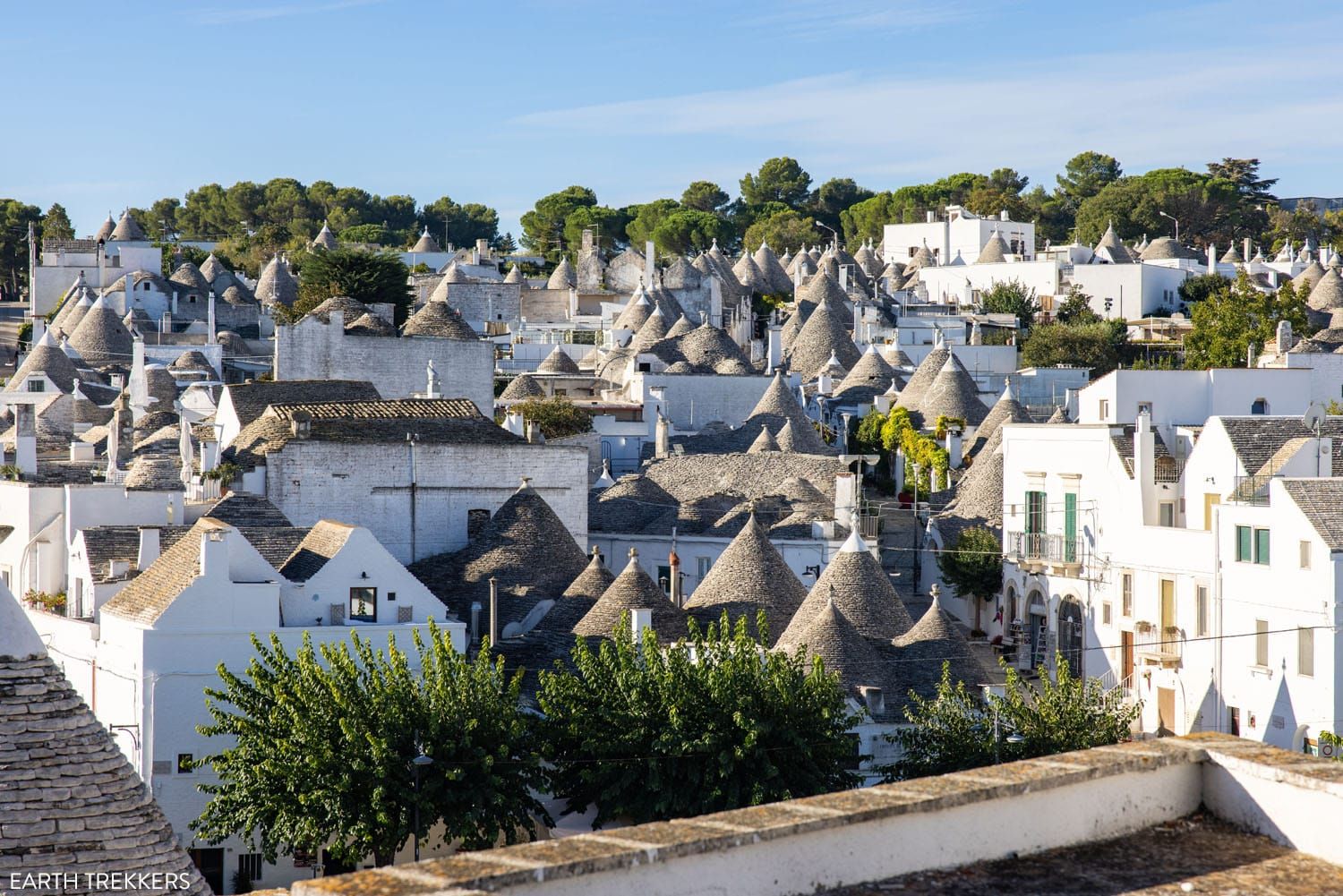 View of Rione Monti from the Belvedere | Best Things to Do in Alberobello
10. Casa D'Amore
This historic home, which was built in 1797, is important in that it was the first in the area to be built "in cotto," or using mortar. Before this, trullo were constructed by dry stacking stones, so they could be quickly and easily dismantled in order to avoid taxation.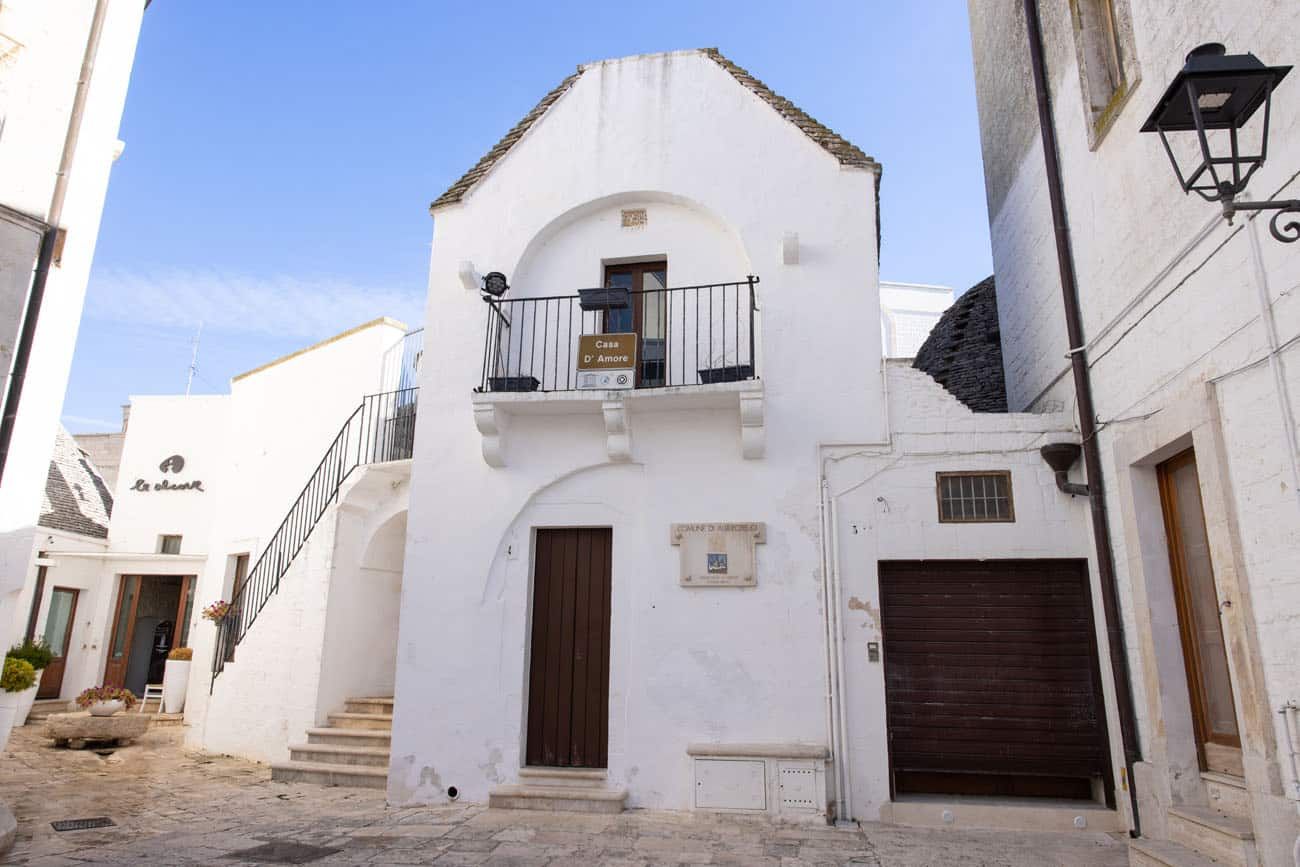 Casa d'Amore | Best Things to Do in Alberobello
11. Trullo Sovrano
This very large trullo dates back to the early 1700's. It was the family home of a wealthy priest named Cataldo Perta. It is the only trullo to have an elevated floor (a second level) and masonry staircase.
It is a National Monument and on the UNESCO World Heritage Site list. For hours and pricing, visit the official website.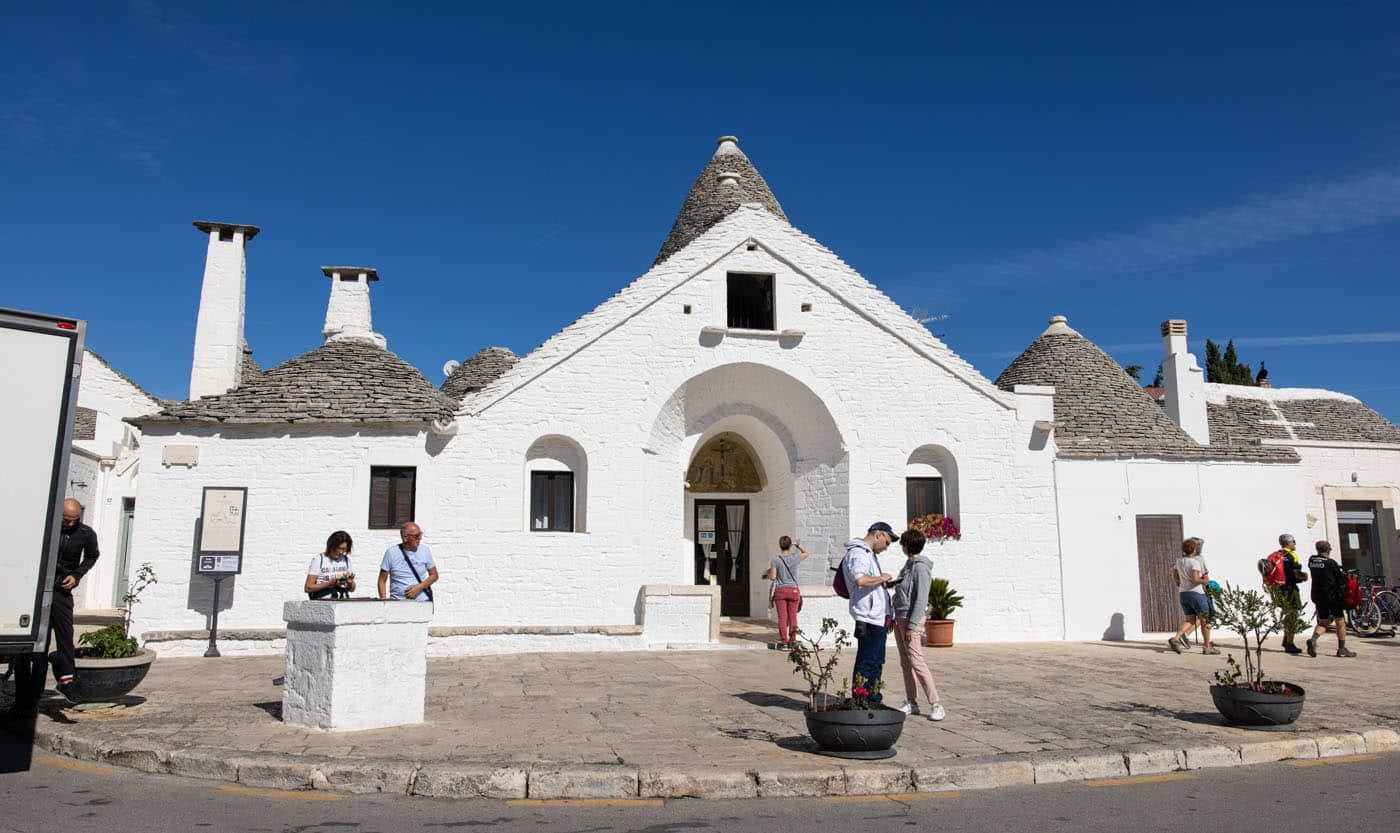 Trullo Sovrano | Best Things to Do in Alberobello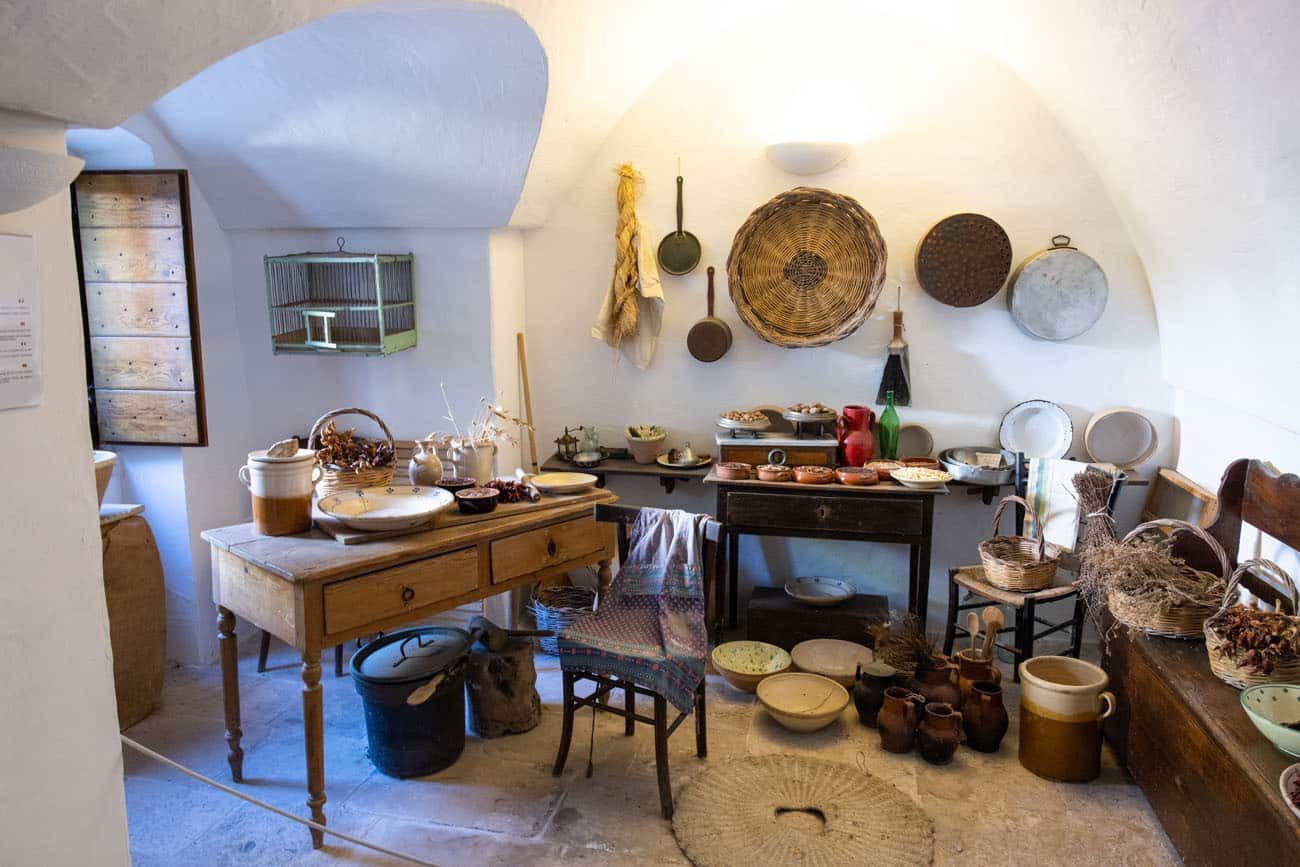 Inside Trullo Sovrano
12. Basilica of Saints Cosmas and Damian
This grand basilica, with its twin bell towers and neo-Renaissance interior, is located on Corso Vittorio Emanuele. It can be seen from throughout Alberobello.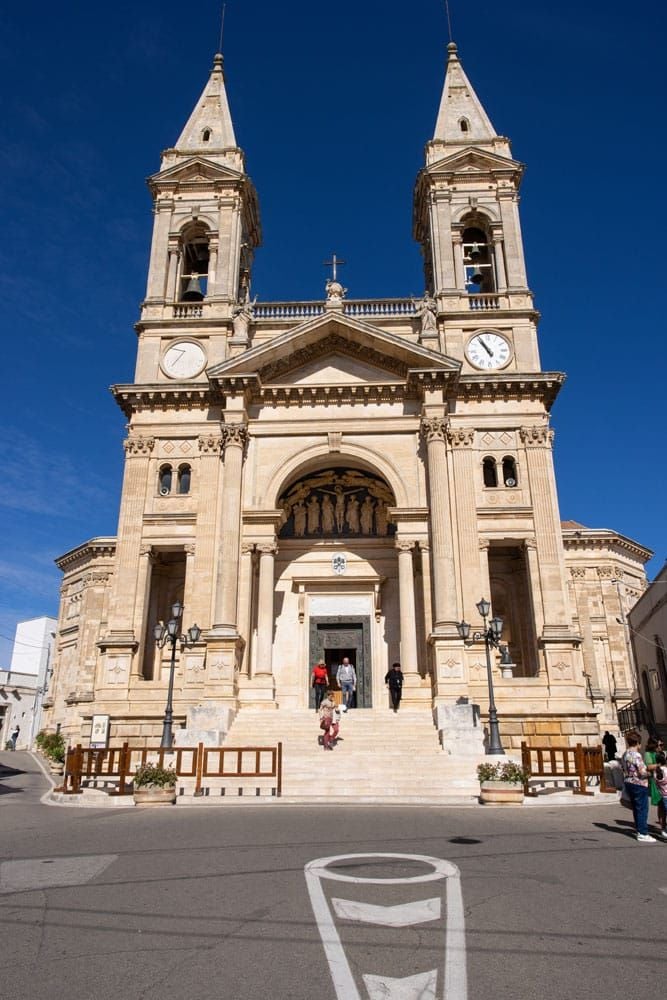 Basilica of Saints Cosmas and Damian
13. Try a Pasqualino
If you want to give a local food a try, a pasqualino can be found throughout Alberobello. Tuna fish, capers, salami, and cheese are served on bread. The sandwich was "invented" by Pasquale Dell'Erba in 1966.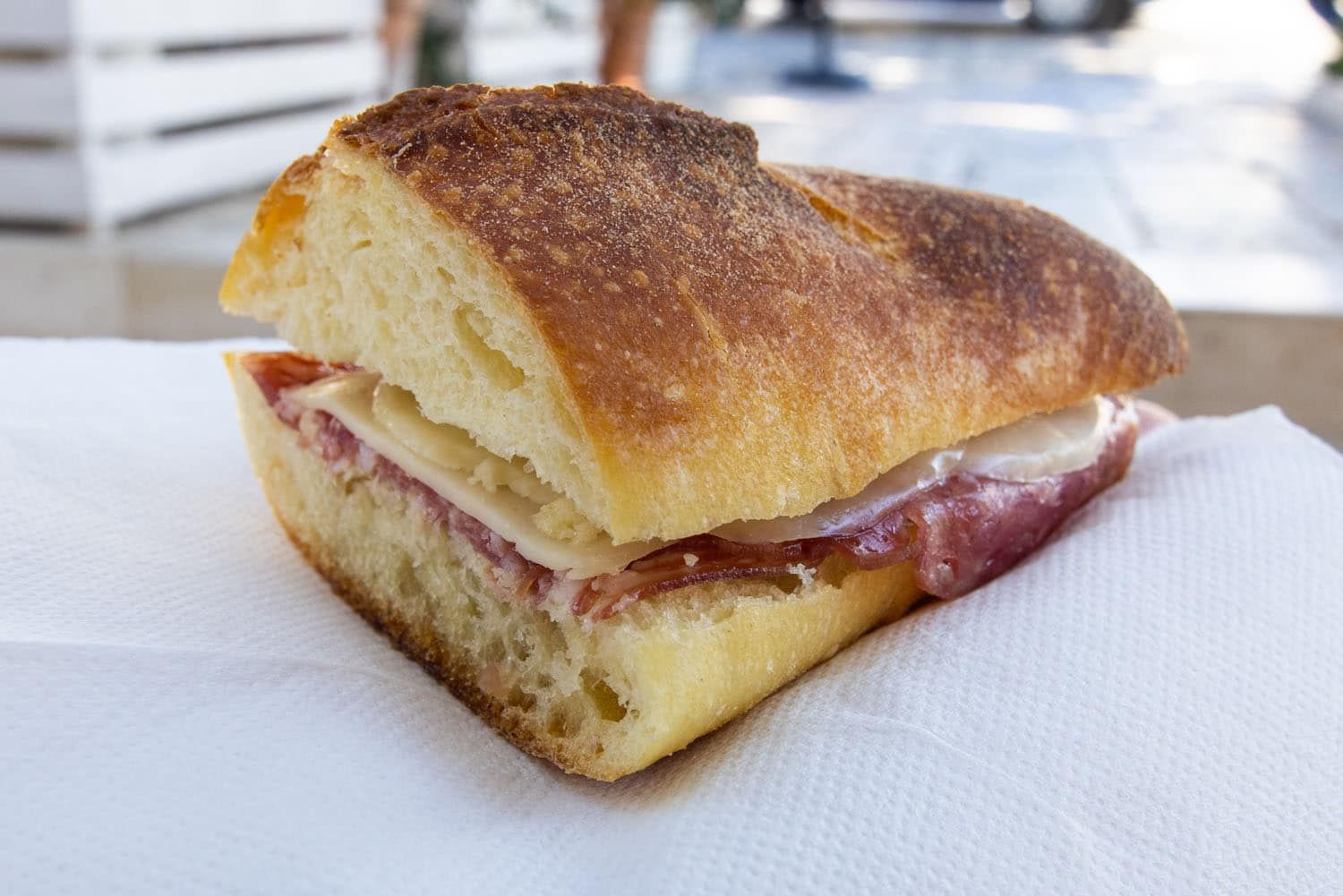 We had one at La Lira Focacceria, which is in Rione Monti. La Pagnotella is a sandwich shop near Rione Aia Piccola that also makes a good Pasqualino.
For more information on where to try a Pasqualino, click here.
14. Sleep in a Trullo
One of the best things to do in Alberobello is to sleep in a trullo. Many of the trulli in Alberobello have been converted into small apartments and lodging for visitors to Alberobello.
We spent two nights in Chiancole Trulli Experience and loved it! In fact, it was one of our favorite places we have stayed in, in all of Italy.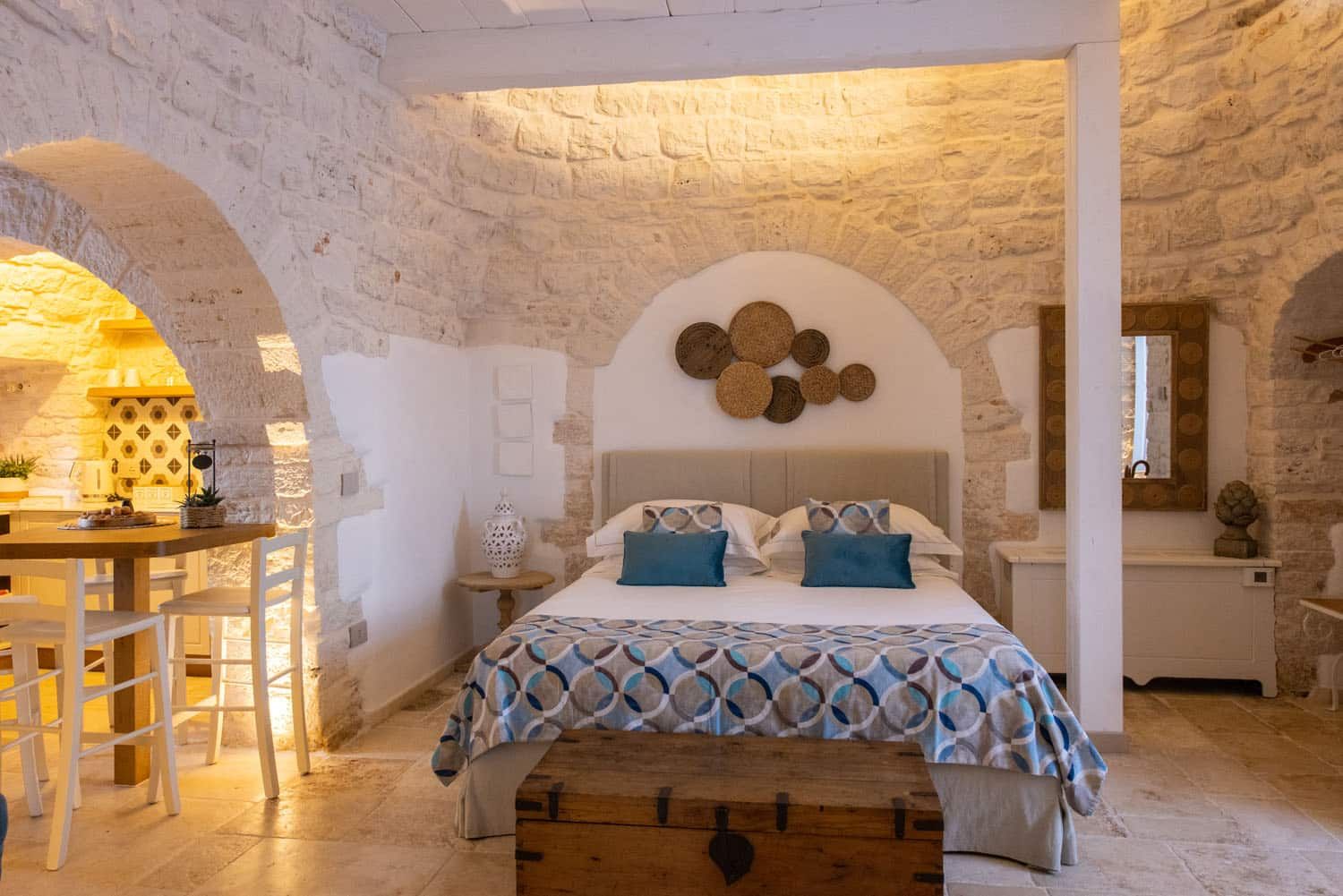 Chiancole Trulli Experience | Best Things to Do in Alberobello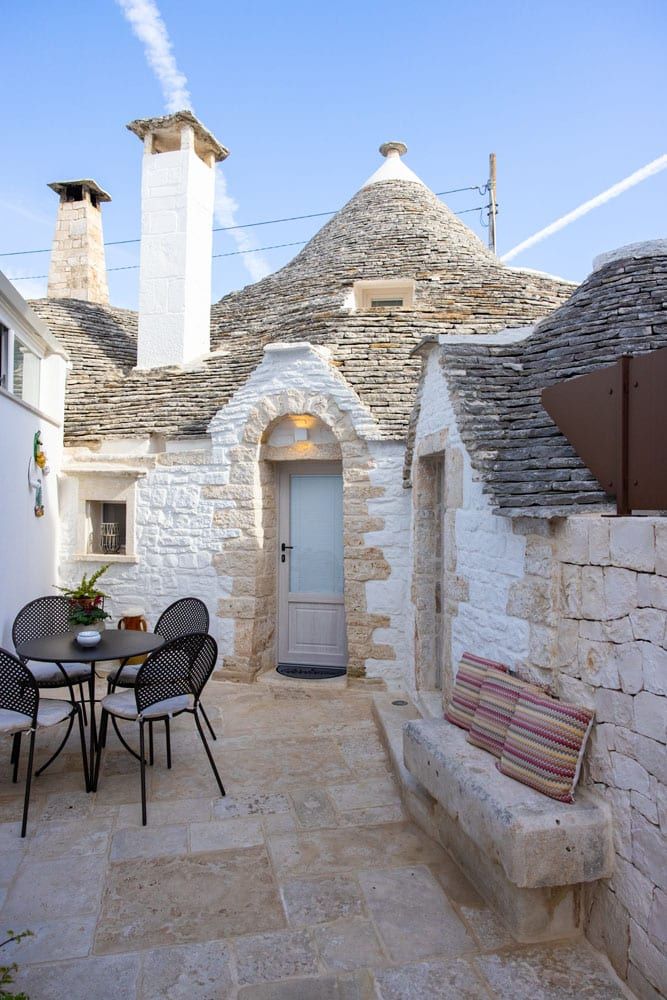 Entrance into our trulli
This small two-bedroom apartment is located near the Basilica of Saints Cosmas and Damian in a residential area of Alberobello. This is a great area to stay in since it is quiet and located away from the more touristy suites.
We had a small, private outdoor patio with a table and sofa. Inside, we had a tiny kitchen, two beds, and a beautiful bathroom. The shower was inside of a trullo, with a conical roof and stone walls.
If we ever return to Alberobello, Chiancole Trulli Experience will be #1 on our list, our experience was that great. We highly recommend it, but if you like the idea of staying in a trulli, two more that get rave reviews that came up in our search are Romantic Trulli (located in Rione Monti) and Trulli D'Angio.
15. Walking Tour of Alberobello
If you like the idea of visiting Alberobello with an experienced guide, there are several highly rated walking tours to choose from. Some of these include visits to local's homes, olive oil tastings, or cooking classes.
Alternatively, we also have walking tour of Alberobello, where you visit the sights listed above. In this guide, we have detailed directions and you can see the walking route on the map below.
Best Things to Do in Alberobello: On a Map
How to Use This Map: Click the tab in the top left hand corner of the map to view the layers (places to go, hotels, and restaurants). You can click the check marks to hide or show layers. If you click the icons on the map, you can get more information about each point of interest.

If you click the star next to the title of the map, this map will be added to your Google Maps account. To view it on your phone or computer, open Google Maps, click the menu button, go to "Your Places," click Maps, and you will see this map on your list.
Where to Eat in Alberobello
We had dinner at Trulli e Puglia Wine Bar. The outdoor seating for this restaurant is a cluster of wine barrels that sit along the side of Via Monte Pertica. On the menu are local wines, cocktails, local meat and cheeses, and a local pasta dish.
Have a pasqualino sandwich at La Lira Focacceria or at La Pagnotella.
Other highly rated restaurants include Paco Wines Eno-Winery, Trattoria Amatulli, and La Cantina.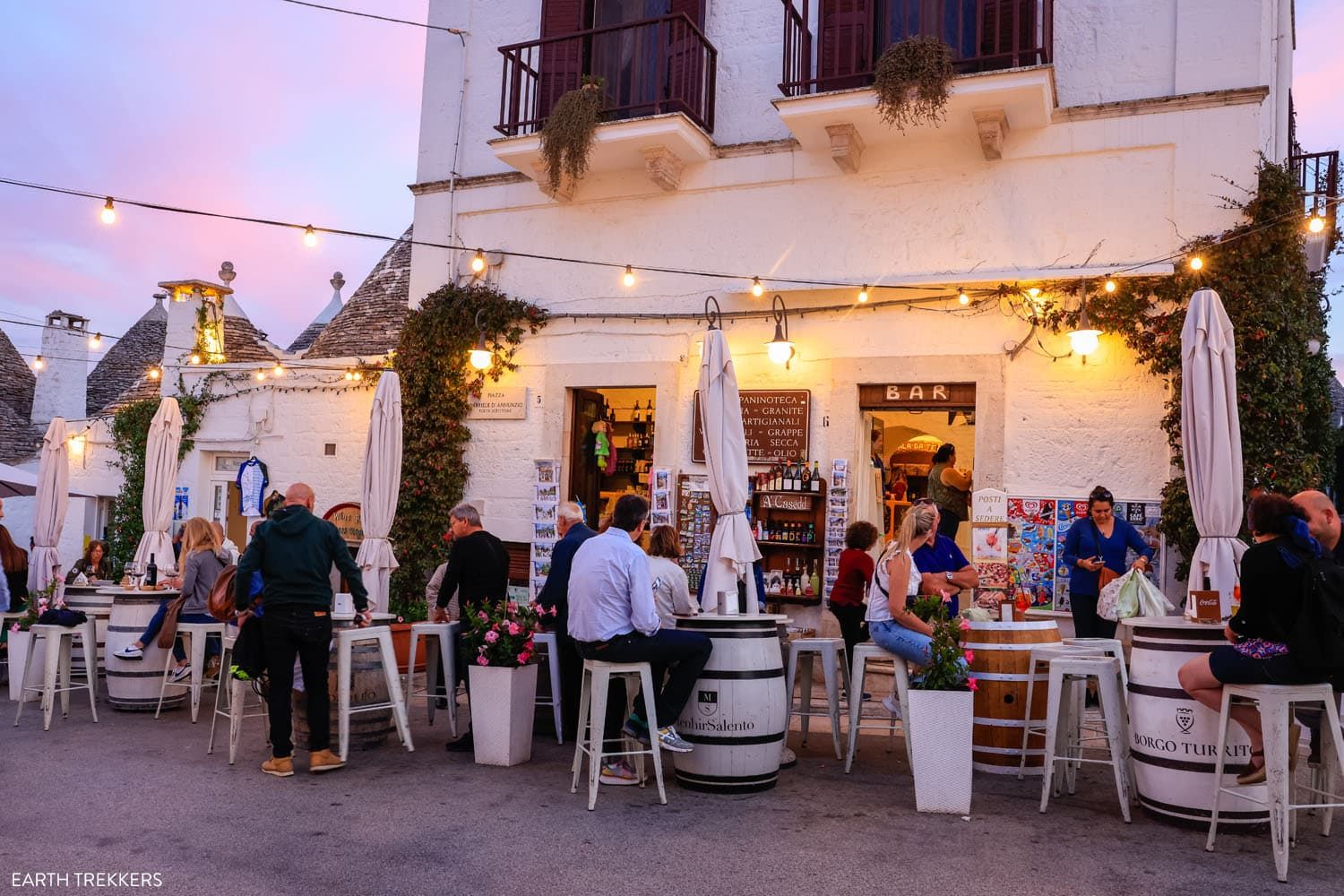 Trulli e Puglia Wine Bar
How Much Time Do You Need in Alberobello?
Two to three hours is all the time you need if you want to stroll through Rione Monti and Rione Aia Piccola, visit a rootop terrace or two, do a little shopping, and have a bite to eat. If you are road tripping through Valle D'Itria, you can visit Alberobello, Locorotondo, and Ostuni in one very busy day.
With more time in Alberobello, you can thoroughly explore the city streets and have lunch and dinner in town. For the best experience, consider spending at least one night here.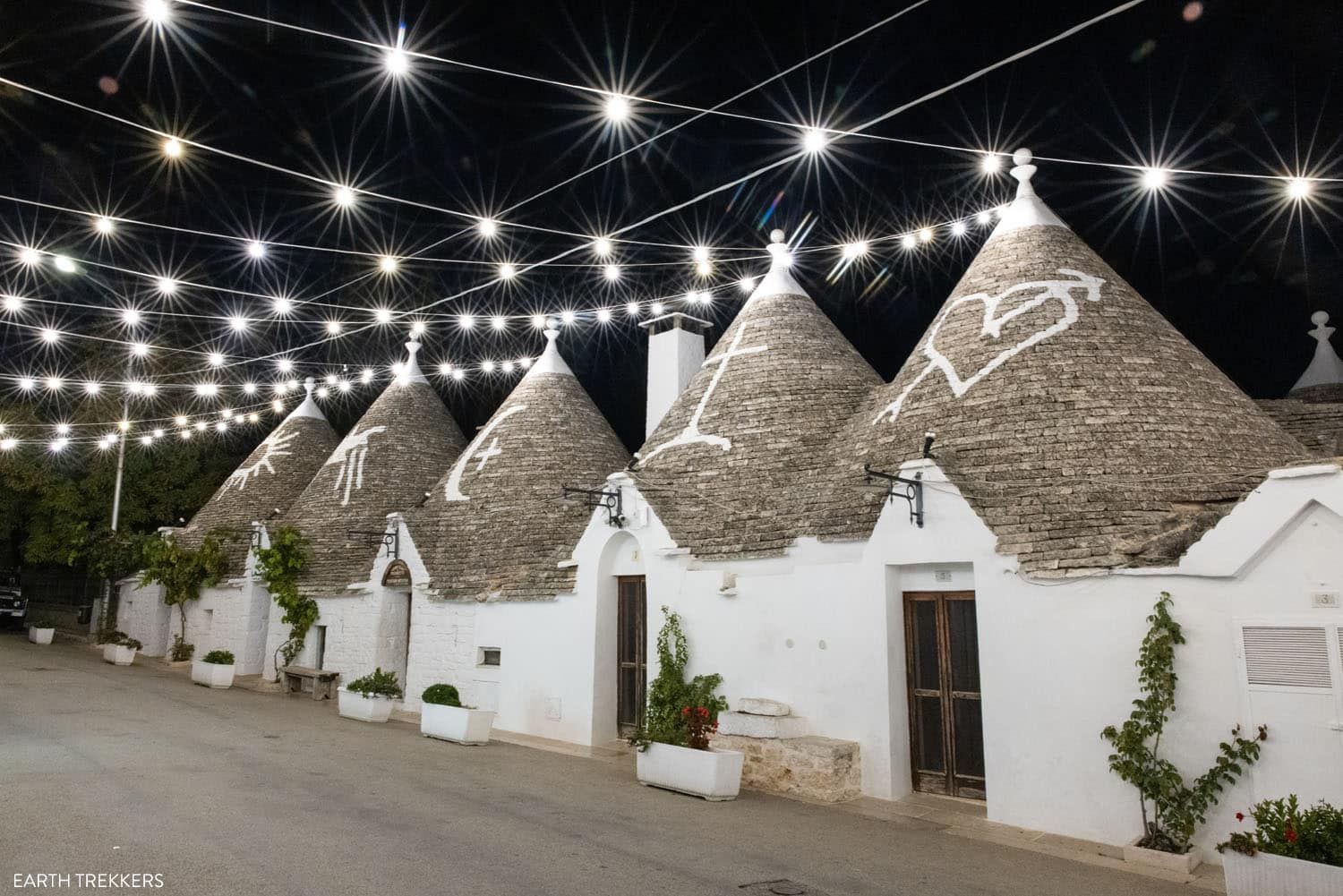 Alberobello at night
What We Did
We spent two nights and one day in Alberobello. Tim and I loved the idea of sleeping in a trullo and being able to see Alberobello in the morning and the evening.
On day one, we drove from Vieste to Alberobello, visiting Trani and Polignano a Mare on the drive, arriving in Alberobello around 5 pm.
We spent a full day in Alberobello. Since it's such a small place, we had a lot of free time, which we spent in our trullo.
The following morning, we checked out of Chiancole Trull Experience and drove south towards Lecce.
How to Get to Alberobello
The best way to get to Alberobello is by car. The region of Puglia is a great place to go on an Italian road trip, since there is a long list of small towns to visit that aren't easily accessible by public transportation.
Driving distances and times from nearby destinations:
Locorotondo: 9 km, 15 minutes
Ostuni: 30 km, 45 minutes
Polignano a Mare: 30 km, 35 minutes
Monopoli: 20 km, 30 minutes
Bari: 55 km, 1 hour
Lecce: 115 km, 1.5 hours
Vieste: 245 km, 3 hours
Matera: 70 km, 1 hour 15 minutes
In Alberobello, the best place to park is Parcheggio Viale Indipendenza 6 and 4 on Via Indipendenza. There is a small fee for parking and from here it is a less than 5-minute walk to Rione Monti and Rione Aia Piccola.
If you are traveling through Italy on public transportation, there is a train station on the northeast side of Alberobello. From here, it is a 10-minute walk to the town center.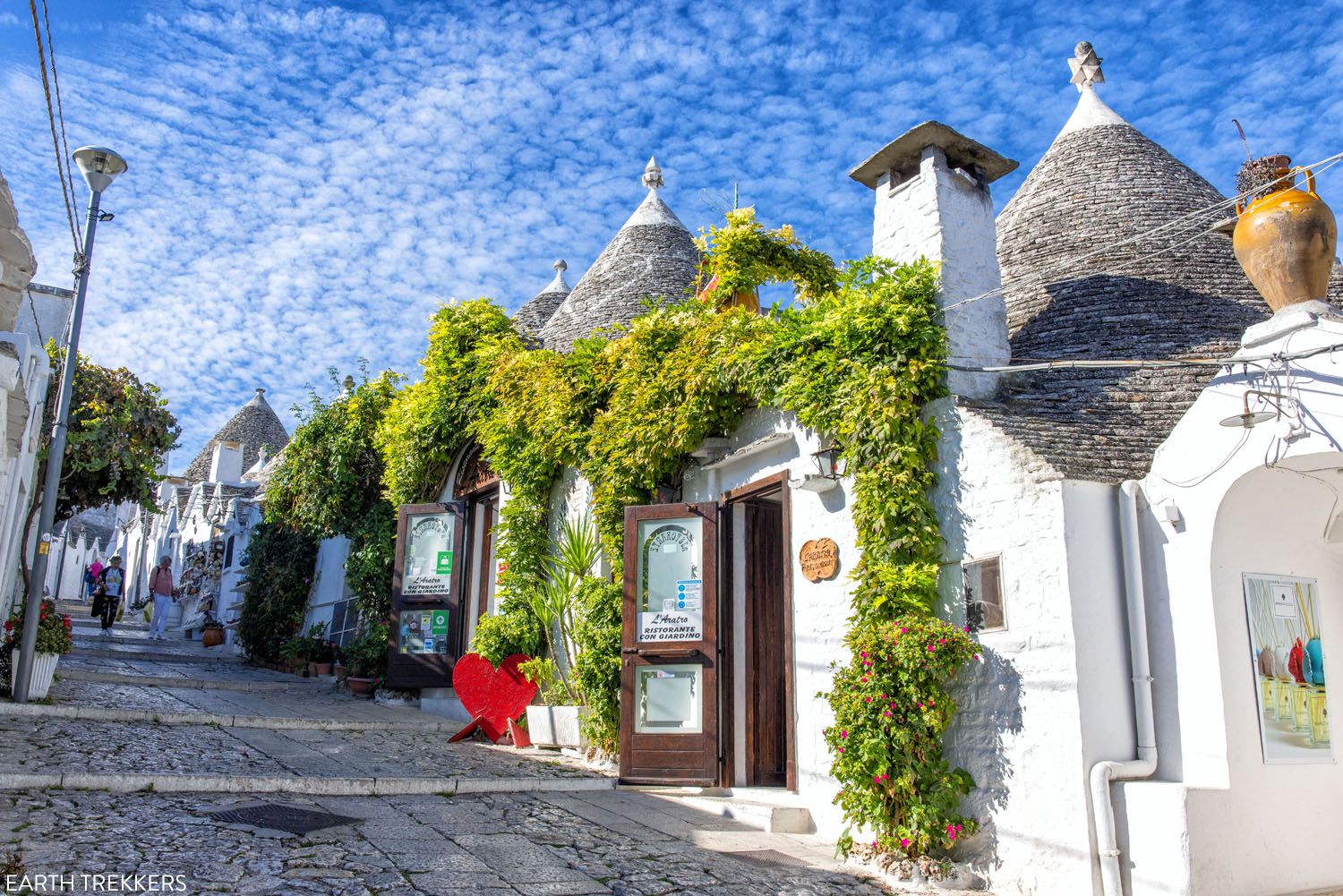 Where to Stay in Alberobello
The best place to stay in Alberobello is in a trullo. It's such a unique experience, sleeping in one of these cozy stone buildings, and there are quite a few to choose from.
We had a fantastic experience at Chiancole Trulli Experience, but we also recommend Trulli D'Angio, Romantic Trulli (located in Rione Monti and just a short walk to a lot of great restaurants), Trulli Resort Aia Piccola (a 3-bedroom apartment that is a great pick for families), and La Mandorla Luxury Trullo (a gorgeous, luxury trullo with hot tub).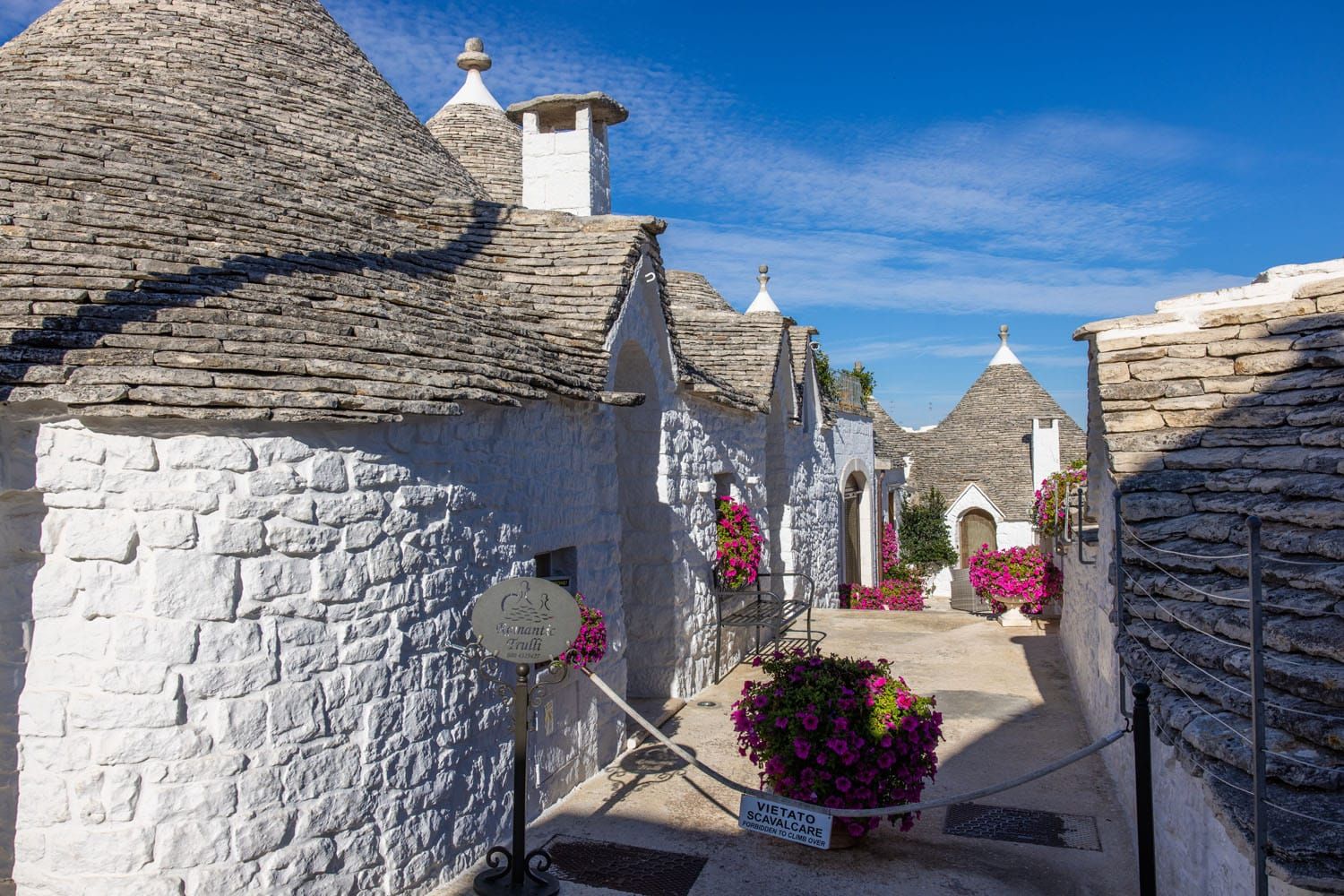 Frequently Asked Questions
Is Alberobello worth it?
Alberobello, with its small size, thousands of trulli, and maze of walking streets that are a delight to explore, is well worth it. This is one of our favorite towns in Puglia, Italy and worth at least a few hours of your time, on even the fastest road trips through this region. It just might become one of your favorite places in Italy.
What is Alberobello famous for?
Alberobello is famous for its trulli, which are small, round houses topped with conical roofs made of stone. Thousands of trulli dot the streets in Aberobello, creating a fairytale-like town to wander and explore.
How much time do you need in Alberobello?
Two to three hours is all you need to stroll through the two main areas of Alberobello, Rione Monti and Rione Aia Piccola. With more time, you can visit a few museums and see and photograph Alberobello at different times of the day.
Is it worth spending the night in Alberobello?
If you want to experience Alberobello with fewer crowds, then early morning is the best time to be here. An overnight stay allows you to explore the town before 9 am, before the day trippers arrive. Sunset and evening are also a quieter time to be here and the lighting is wonderful, if you want to capture the pastels of the sunset sky in your photos.
Plus, if you spend the night here, you can sleep in a trullo, which is one of the best things to do in Alberobello.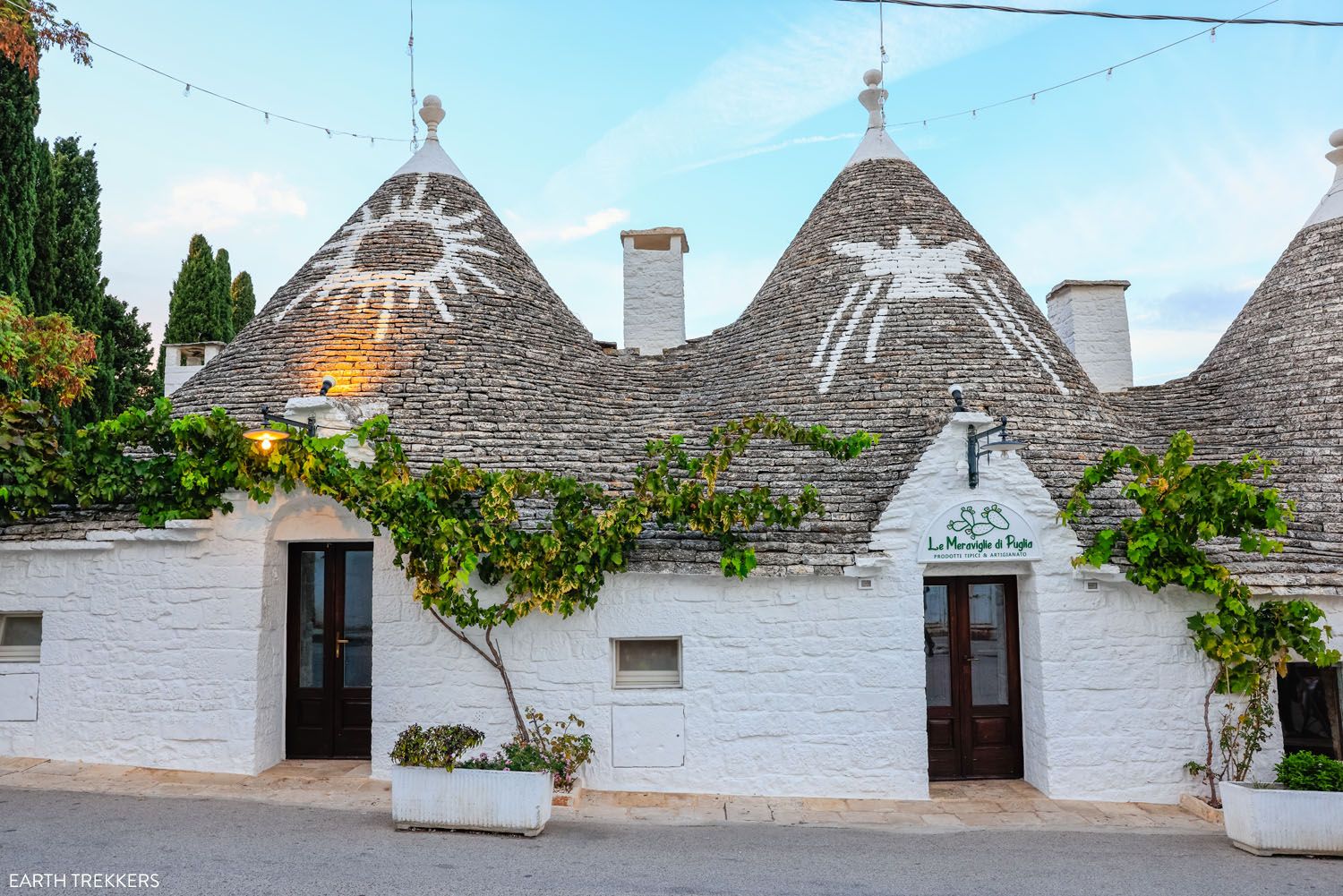 ---
If you have any questions about the best things to do in Alberobello, or if you want to share your experience, let us know in the comment section below.
More Information for Your Trip to Italy
ALBEROBELLO: Visit the highlights and hidden gems on our walking tour of Alberobello, which is a walking route through Rione Monti and Rione Aia Piccola.
PUGLIA: Read about 15 beautiful places to visit in Puglia. We also have a guide to the best things to do on the Gargano Peninsula, how to spend one day in Vieste, and about how to take a boat tour to visit the Gargano sea caves.
ITALY ITINERARY: On this 10 day southern Italy itinerary, visit the Amalfi Coast, Castelmezzano, Matera, Alberobello, and more towns in Puglia.
BASILICATA: Basilicata is a region in southern Italy. Read our guide on the best things to do in Matera and how to visit Castelmezzano and Pietrapertosa and do the Angel's Flight zipline.
BEST OF ITALY: In our Guide to the Best Places to Visit in Italy, we list 25 beautiful destinations to consider for your next trip to Italy.
ASSISI: In our article Best Things to Do in Assisi, we cover the top experiences to have, plus where to eat and where to stay. In our One Day in Assisi Itinerary, we have a detailed walking tour of the historic city center.
SAN MARINO: San Marino is a tiny country located entirely within Italy. It is gorgeous to explore and one of the most underrated places to visit in Europe.
We have TONS more information about Italy in our Italy Travel Guide, including Rome, Florence, Venice, Tuscany, the Dolomites, the Amalfi Coast, and the Cinque Terre.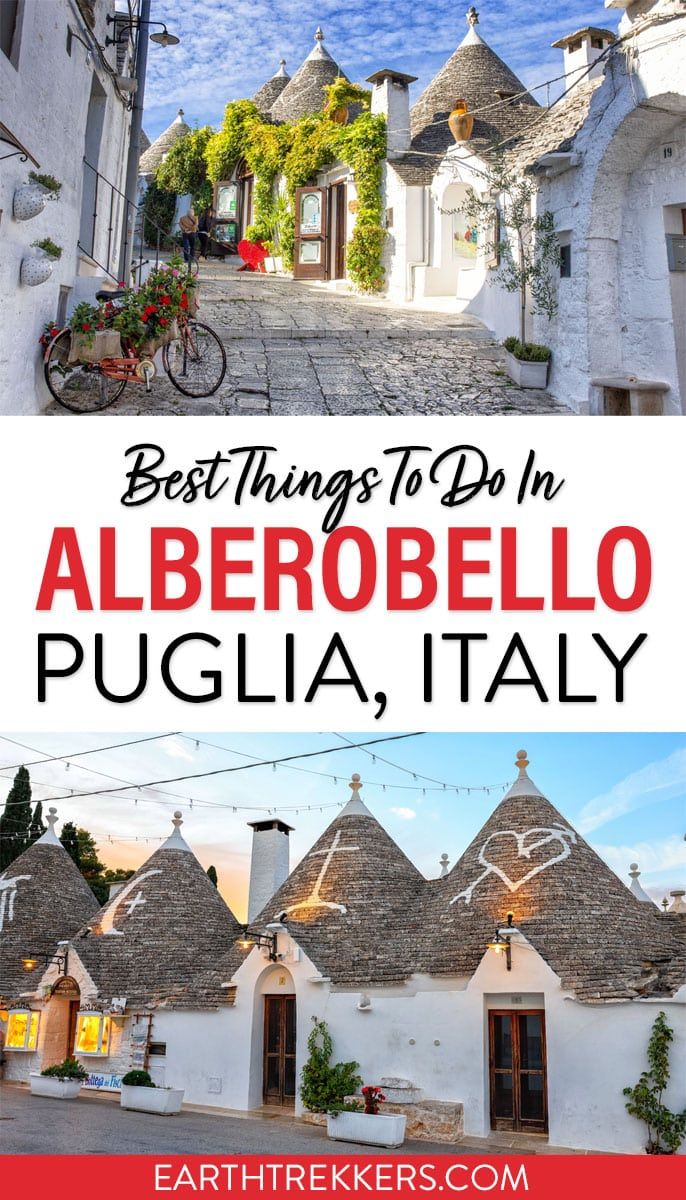 Note: This post contains affiliate links. When you make a purchase using one of these affiliate links, we get paid a small commission at no extra cost to you.
All rights reserved © Earth Trekkers. Republishing this article and/or any of its contents (text, photography, etc.), in whole or in part, is strictly prohibited.