San Marino is a tiny, independent nation completely surrounded by Italy. It has a spectacular location, nestled in the mountains near the Adriatic Sea. The capital city, also called San Marino, is a maze of hilly, medieval streets, dotted with cafes and small shops. From the guard towers and the piazzas, the views over the surrounding countryside are gorgeous. In this guide, we cover the best things to do in San Marino and how to plan your time here.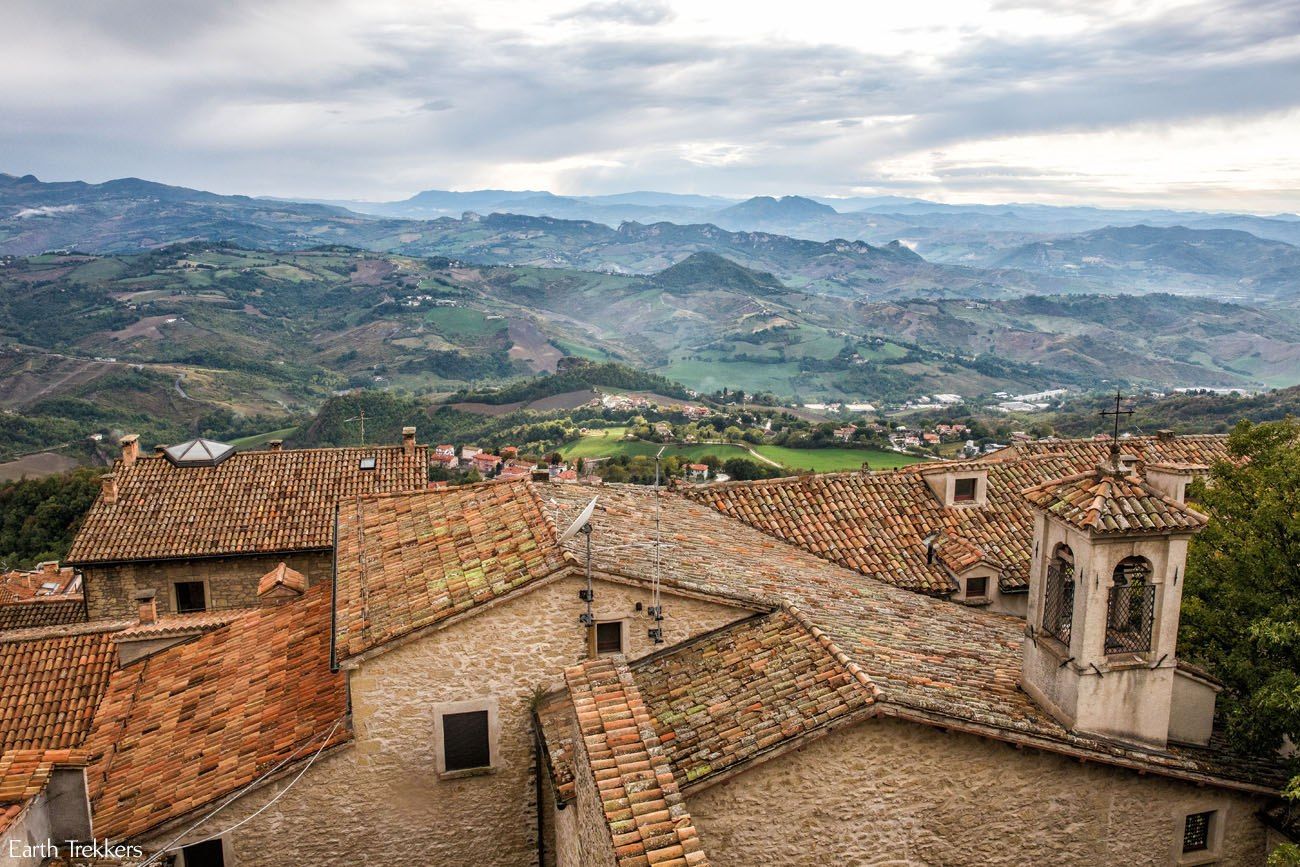 San Marino is a picture perfect town with a stunning setting. So, why don't more people travel here?
We are no different. In 2014, we spent almost one month in Italy and we didn't even consider a visit to San Marino. It just doesn't get the hype that other nearby destinations do (like Rome, Florence, and Venice).
Maybe this is a good thing. For those in the know, fewer visitors makes strolling the city streets and enjoying the views from the towers a less crowded experience.
In 2017, on our second visit to Italy, we spent one wonderful day in San Marino.
This is a country that exceeded our expectations. It's gorgeous, it's fun to explore, the views over the vineyards of nearby Italy are breathtaking, and the food is delicious.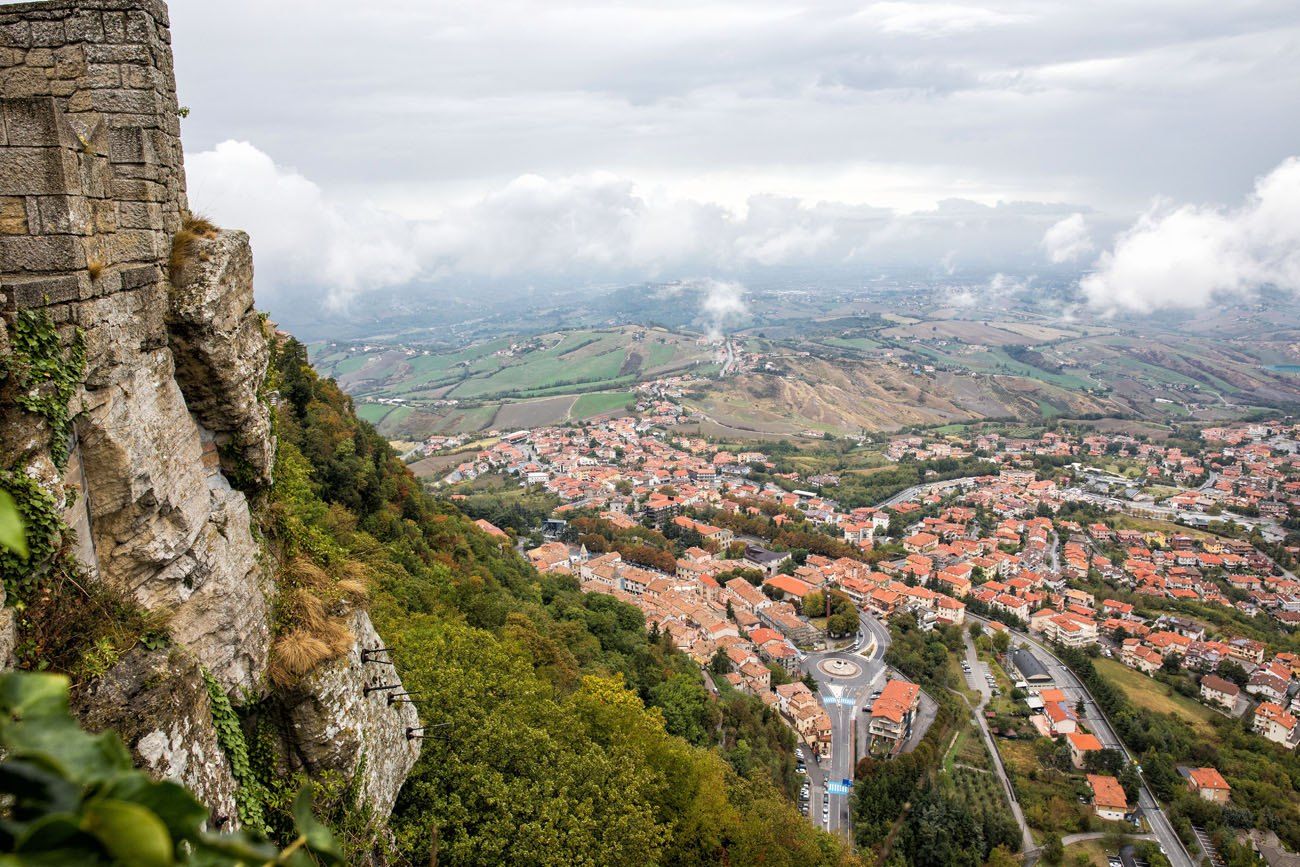 Interesting Facts About San Marino
San Marino is Europe's third smallest state, with only the Vatican and Monaco being smaller. It is also the world's oldest republic, having been founded in 301 by a stonemason named Marinus.
The city of San Marino sits upon Monte Titano. This ancient city is a UNESCO World Heritage Site.
San Marino is not part of the European Union although they do use the euro as currency.
San Marino made Abraham Lincoln an honorary citizen.
Do not call the people who live here Italians (they are referred to as Sammarinese). They are very proud of their independence from Italy.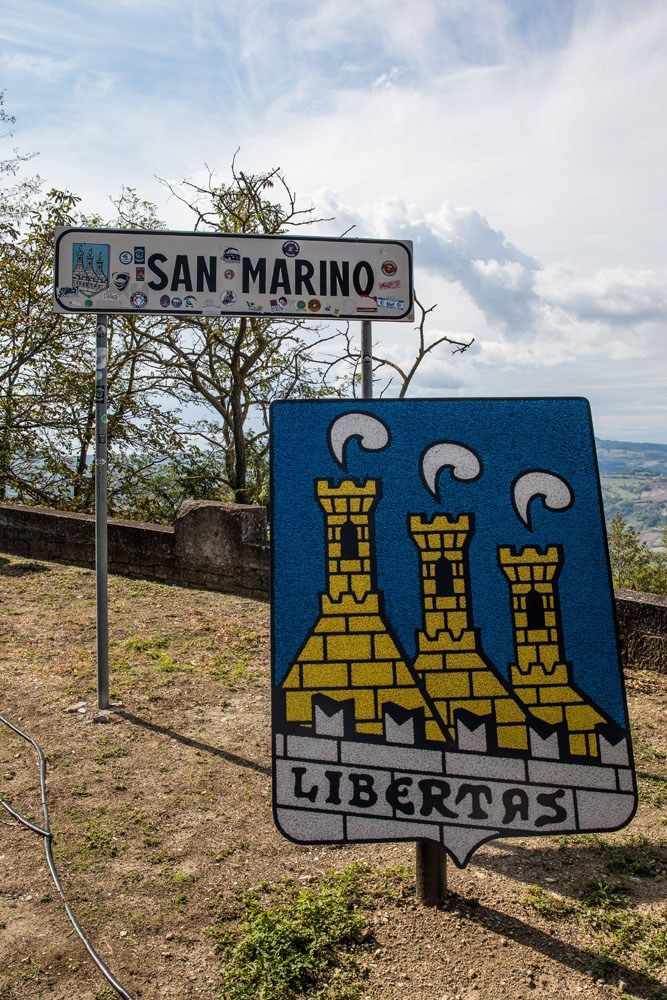 About Our Experience
We were based in the Italian seaside town of Cervia for Ironman Italy. Our close proximity to San Marino made it much more convenient for Tim and I to get to San Marino during this visit to Italy. From Cervia, it was just an hour drive to get to San Marino.
The day before our visit here I raced Ironman Italy. We could not have picked a hillier destination to walk around right after a big race. San Marino has tons of steps and some seriously steep hills to walk up and down, and my legs were very sore and tired. It was slow going for me today.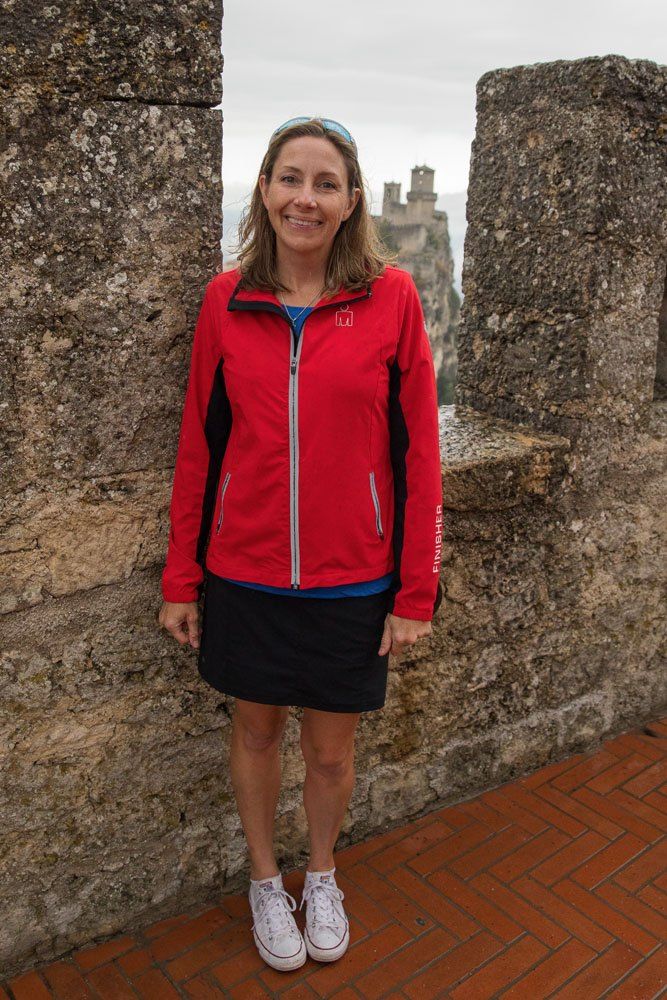 When we arrived in San Marino, the skies were bright and sunny. The views over the countryside are simply amazing. Why did we wait so long to see this?!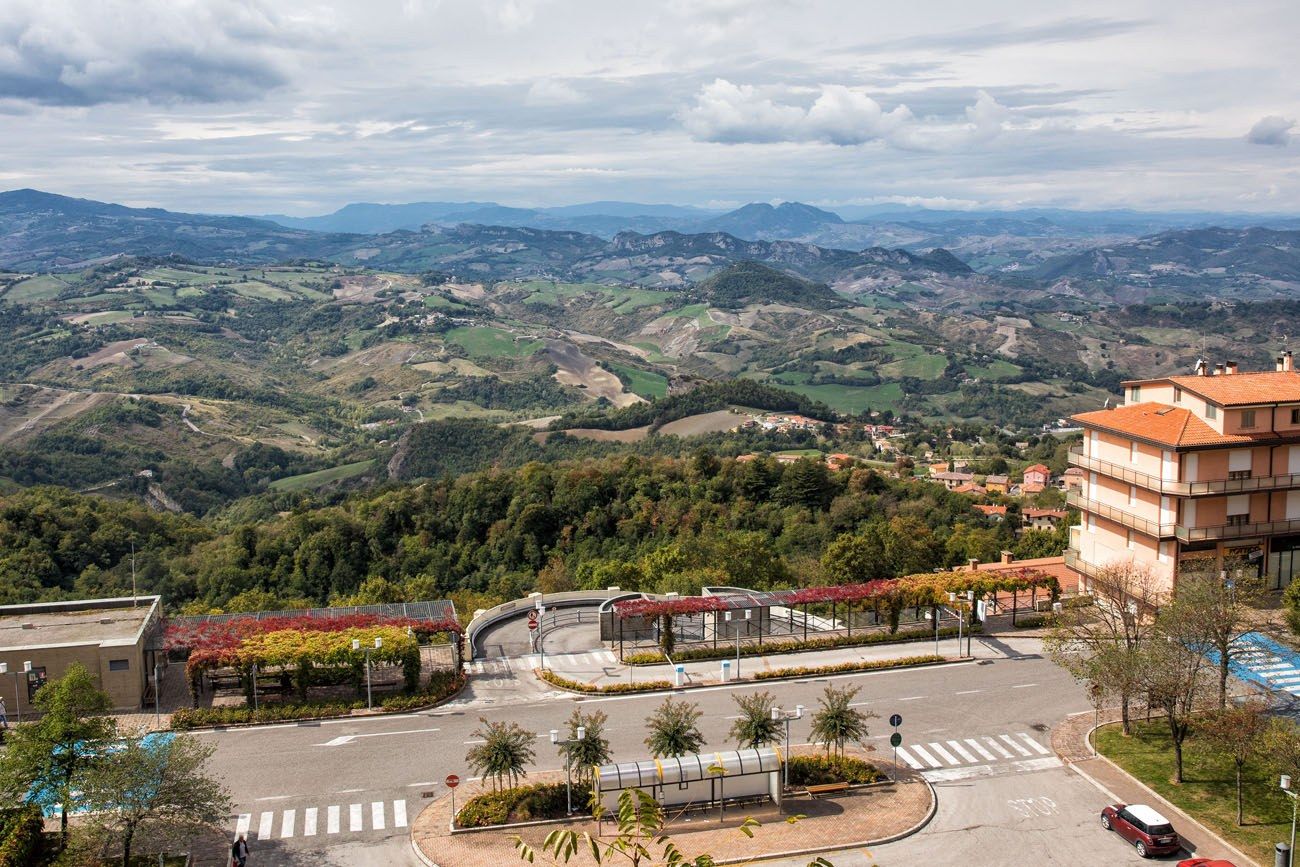 Another side effect of racing is a huge appetite the next day. Before walking the city streets, Tim and I sat down to a big Italian meal. Like many meals in Europe, it's a long, leisurely experience, which would not be to our benefit today. As we dined on pasta and drank wine, rain clouds moved in.
Just as we hit the streets to start exploring, the skies opened up, and it thundered and poured buckets of rain for an hour and a half. Those gorgeous views…gone behind rain clouds and fog. It was so disappointing (and chillier now!!).
Despite the wet, foggy conditions, Tim and I walked through the town, climbed the towers, and took photos. Even in the rainy weather this is a gorgeous spot.
But trust me, if you are lucky enough to be here on a sunny day, San Marino is jaw dropping, and maybe one of the prettiest spots in Europe.
Best Things to Do in San Marino
Wander the Streets
Simply strolling the city streets is one of the best things to do in San Marino.
The city of San Marino is small and it is possible to walk most of it in just a few hours. It is so clean and so picturesque that Tim and I felt like we were walking through a movie set.
Small shops are found throughout the city. There were a surprising number of perfume shops, sunglasses shops, and shops selling an assortment of weapons.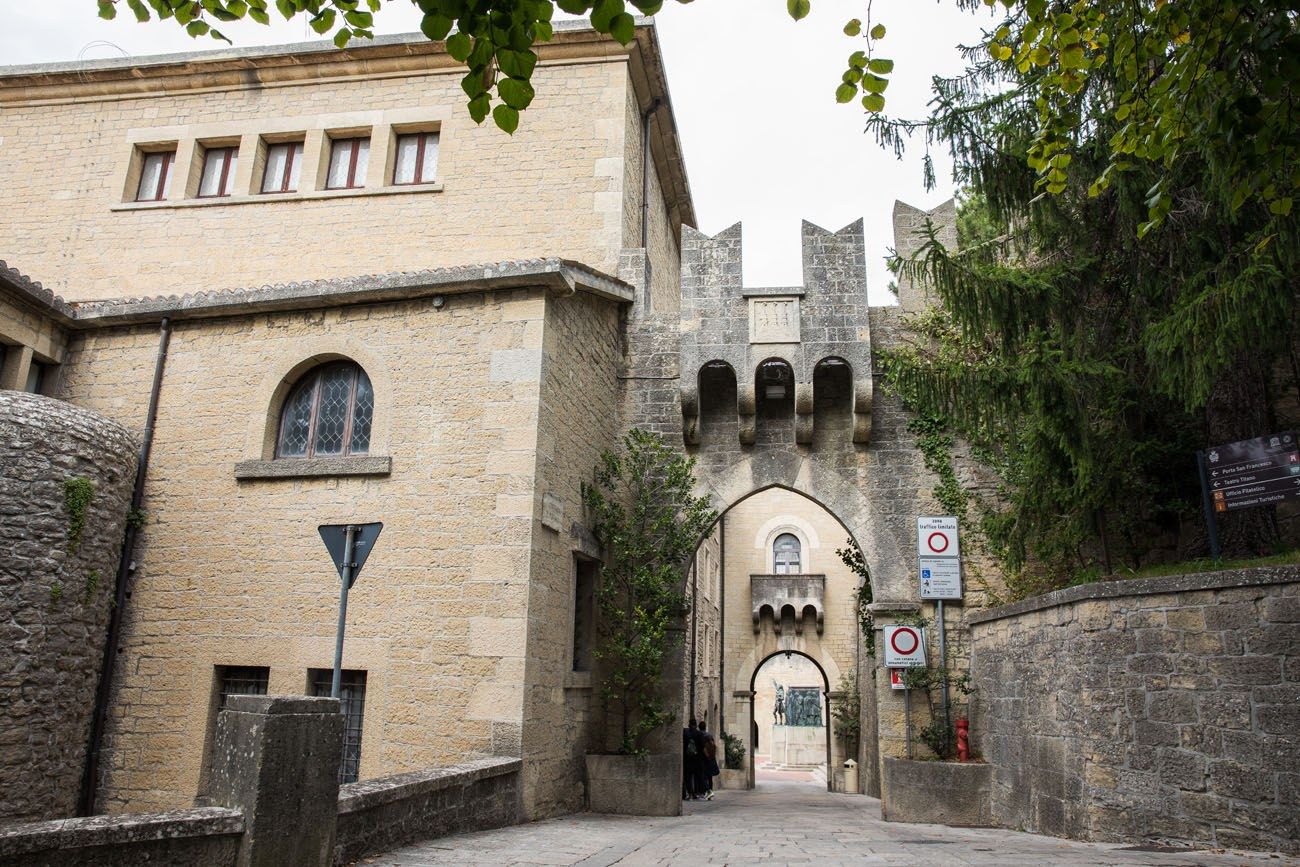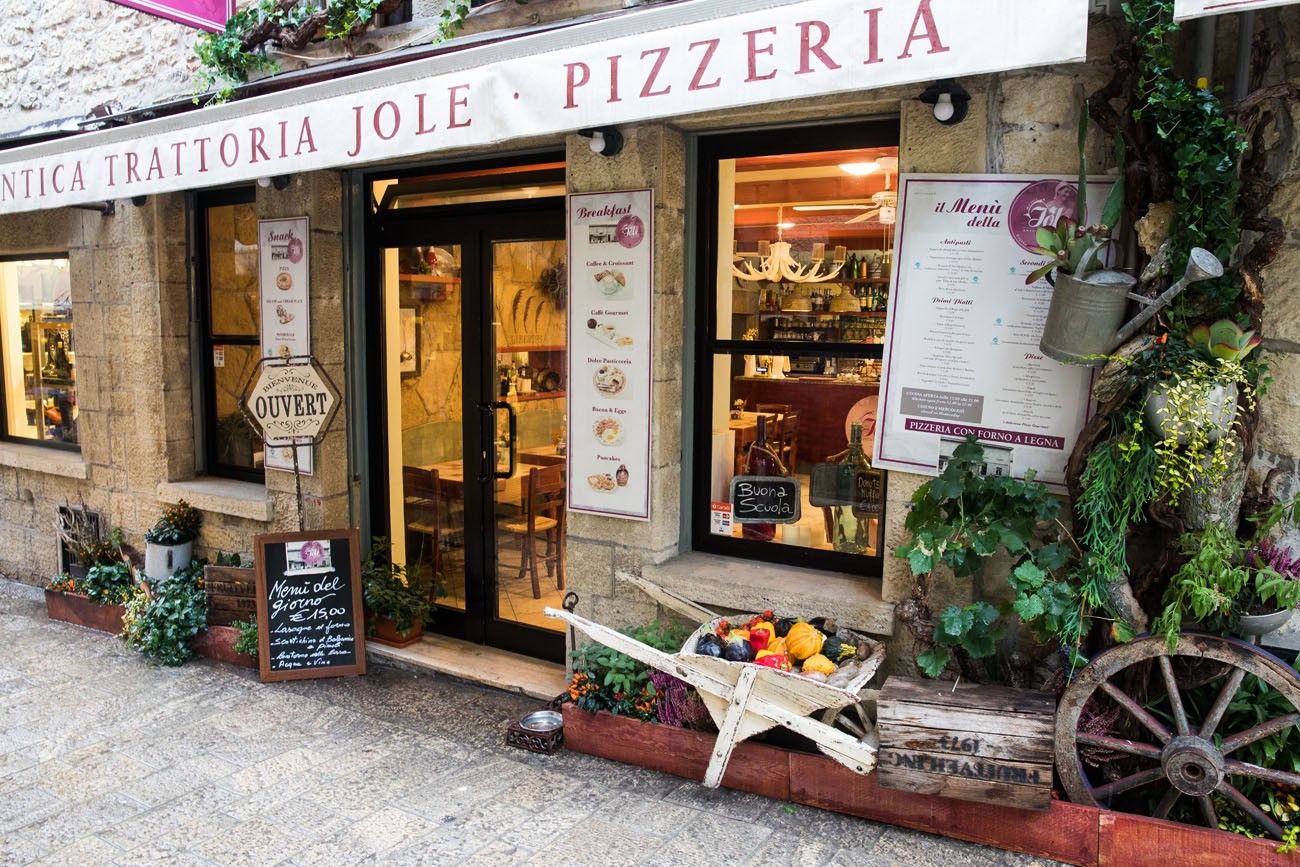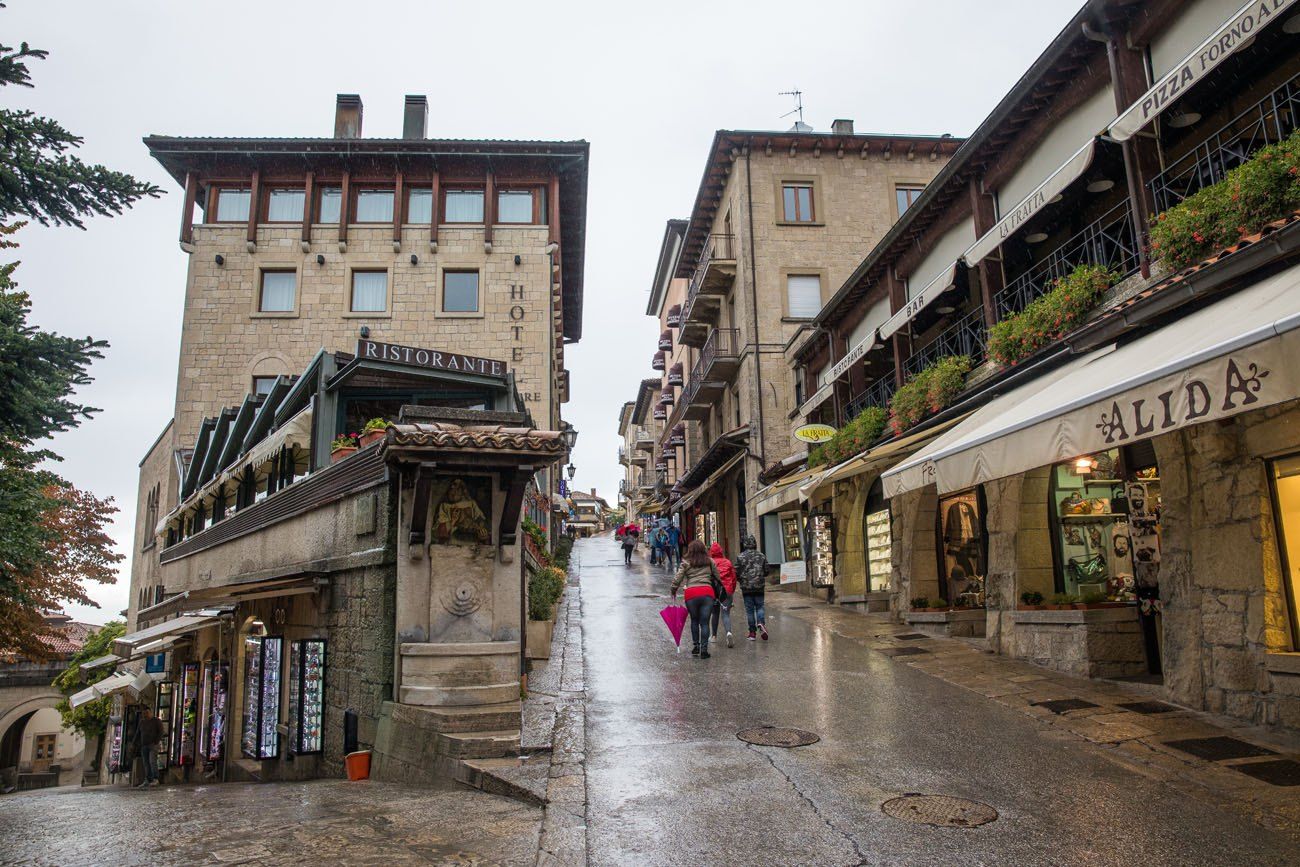 Piazza della Liberta
This is San Marino's most popular public square. From here, enjoy the view over the countryside, watch the changing of the guard, and see the Palazzo Pubblico, San Marino's town hall and its most iconic building.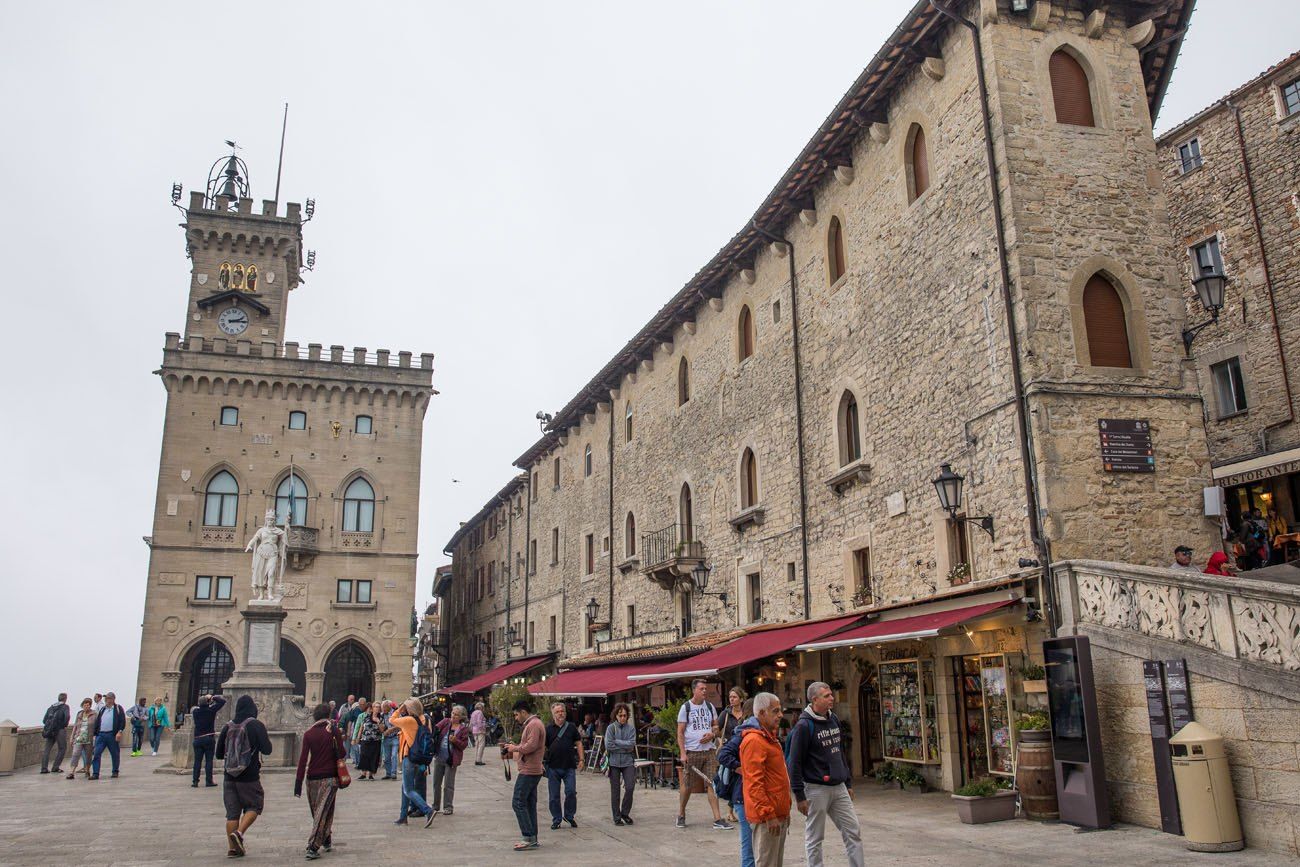 Piazza della Liberta | Things to Do in San Marino
You can enter the Palazzo Pubblico on the days the council is not working. Once inside, see the chambers and the letter from Abraham Lincoln to San Marino honoring the country.
Climb the Towers
This was our favorite thing to do in San Marino. Three towers and lengths of fortress walls can be climbed and explored. They offer fabulous views, even on a rainy day like we had.
Guaita
This is the oldest and the grandest of the three towers. It was built in the 11th century. Not only can you take in the view from the tower but you can also walk along the ramparts.
Be prepared for lots of steps. There is one challenging, steep staircase that is more like a ladder to get to the top of the tower.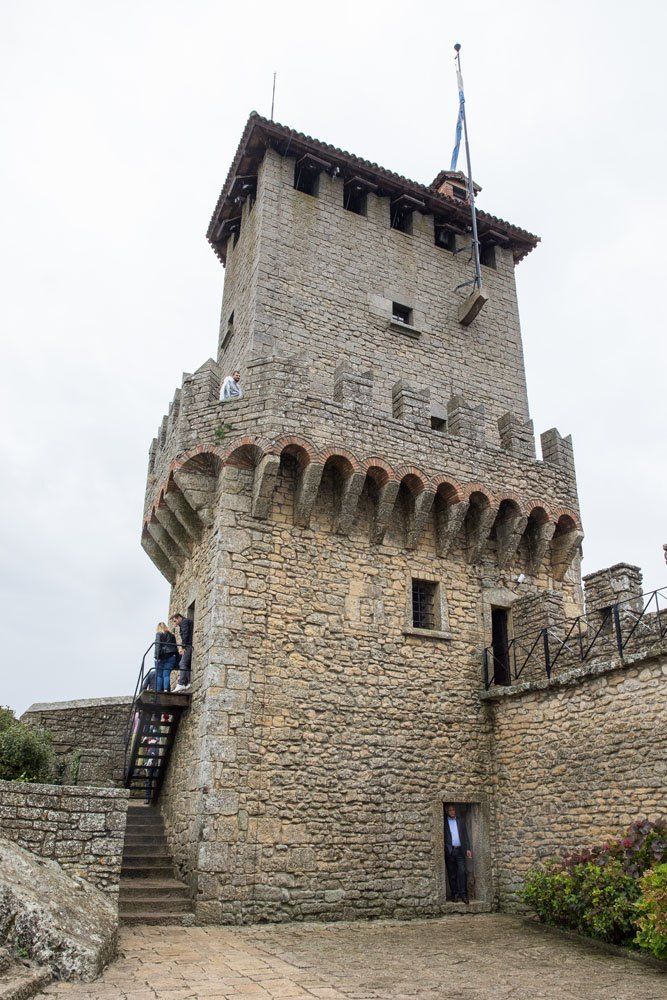 Guaita Tower | Things to Do in San Marino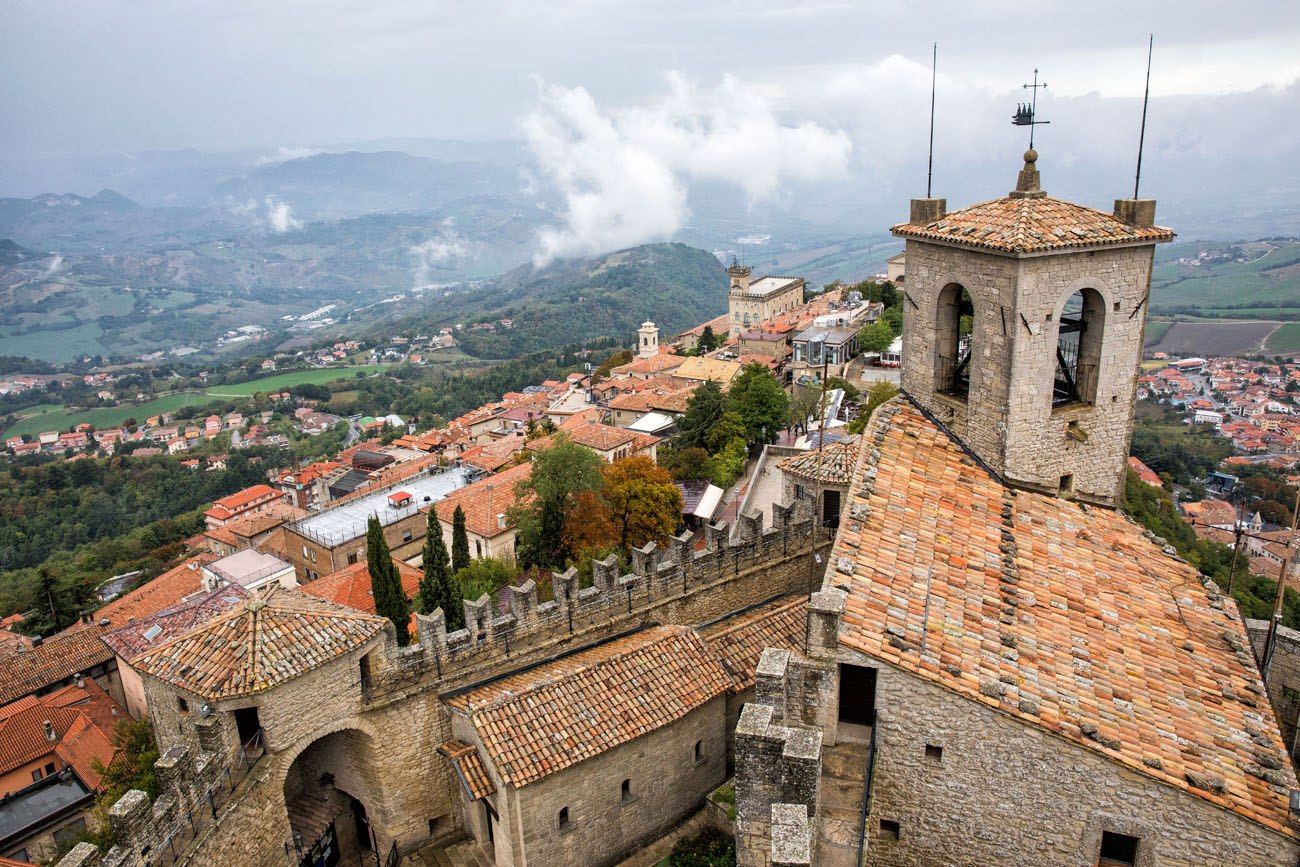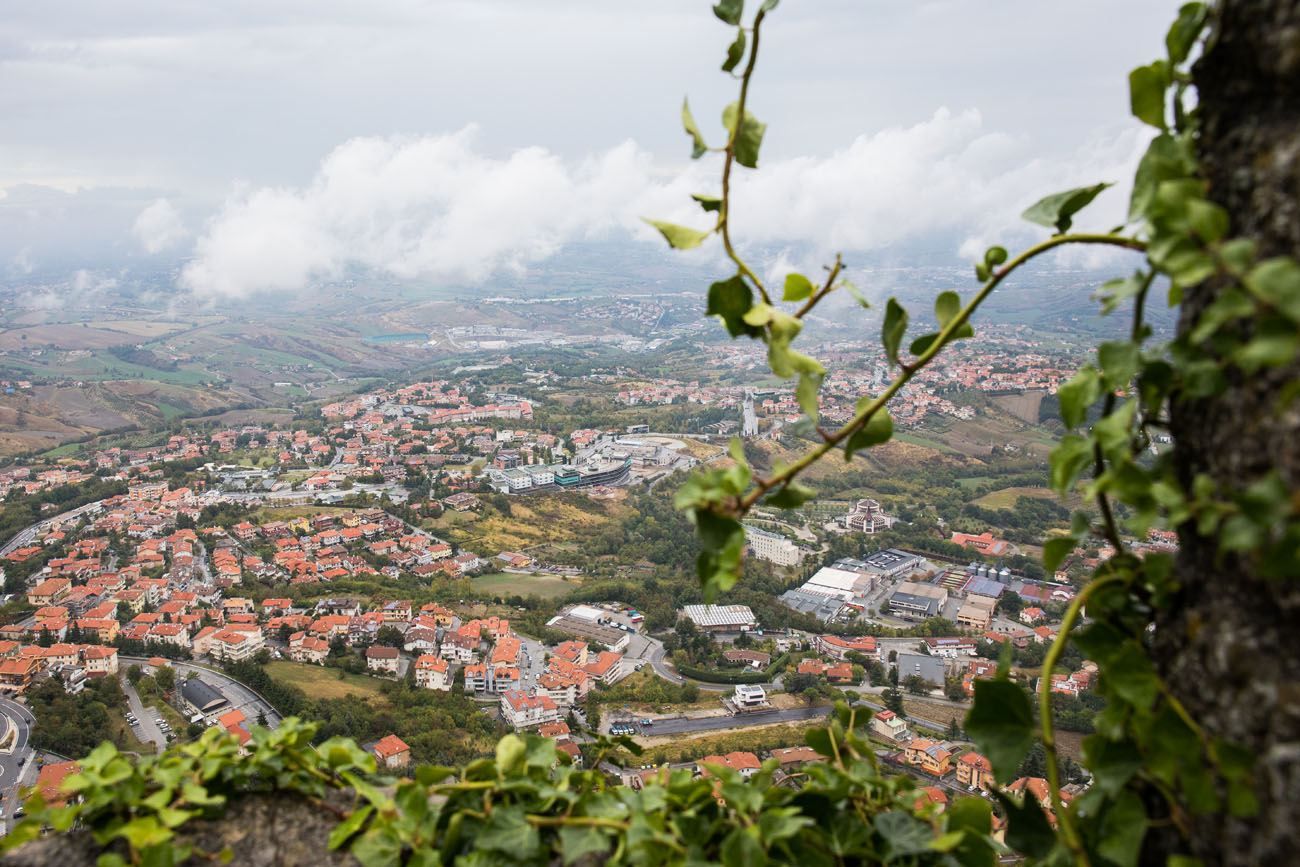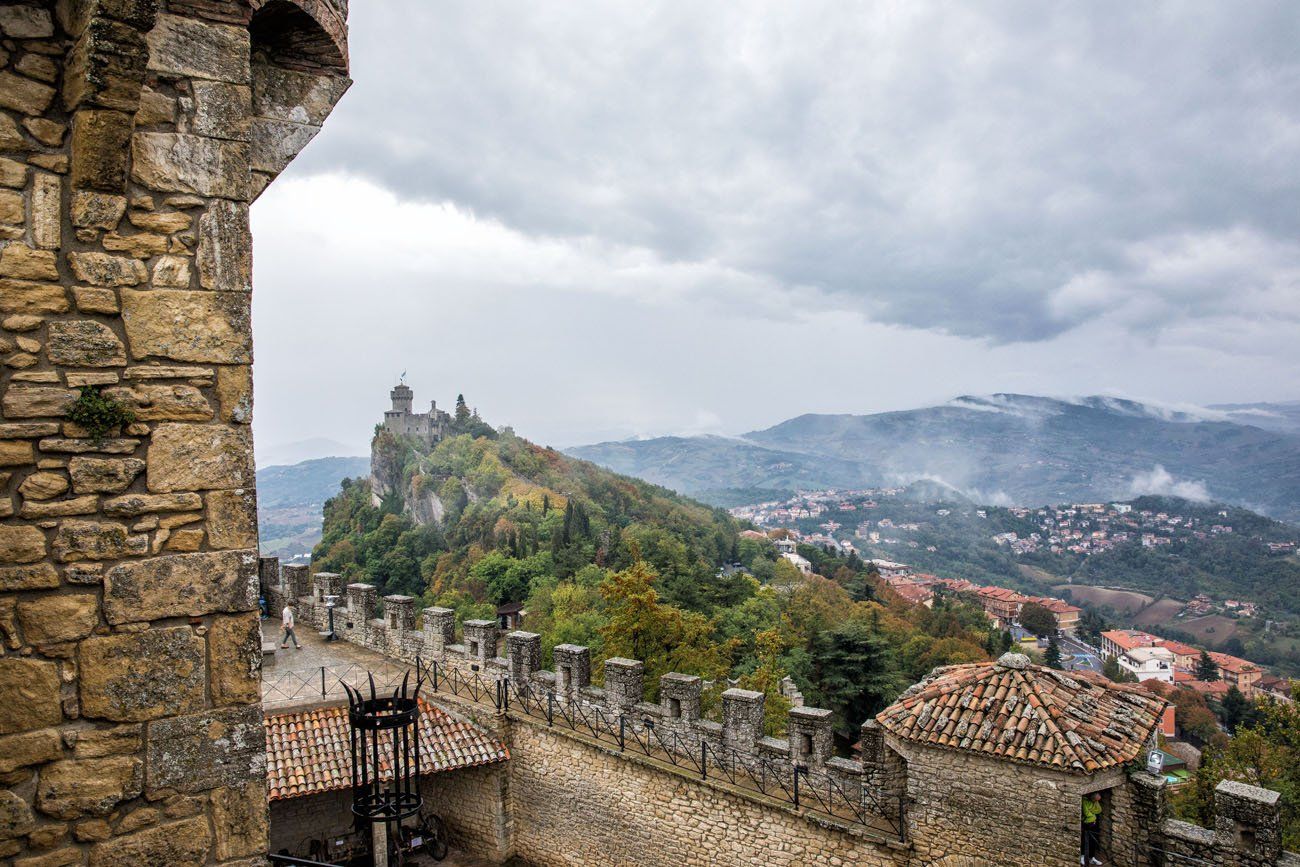 The photo below is the view of Cesta Tower seen from Guaita Tower.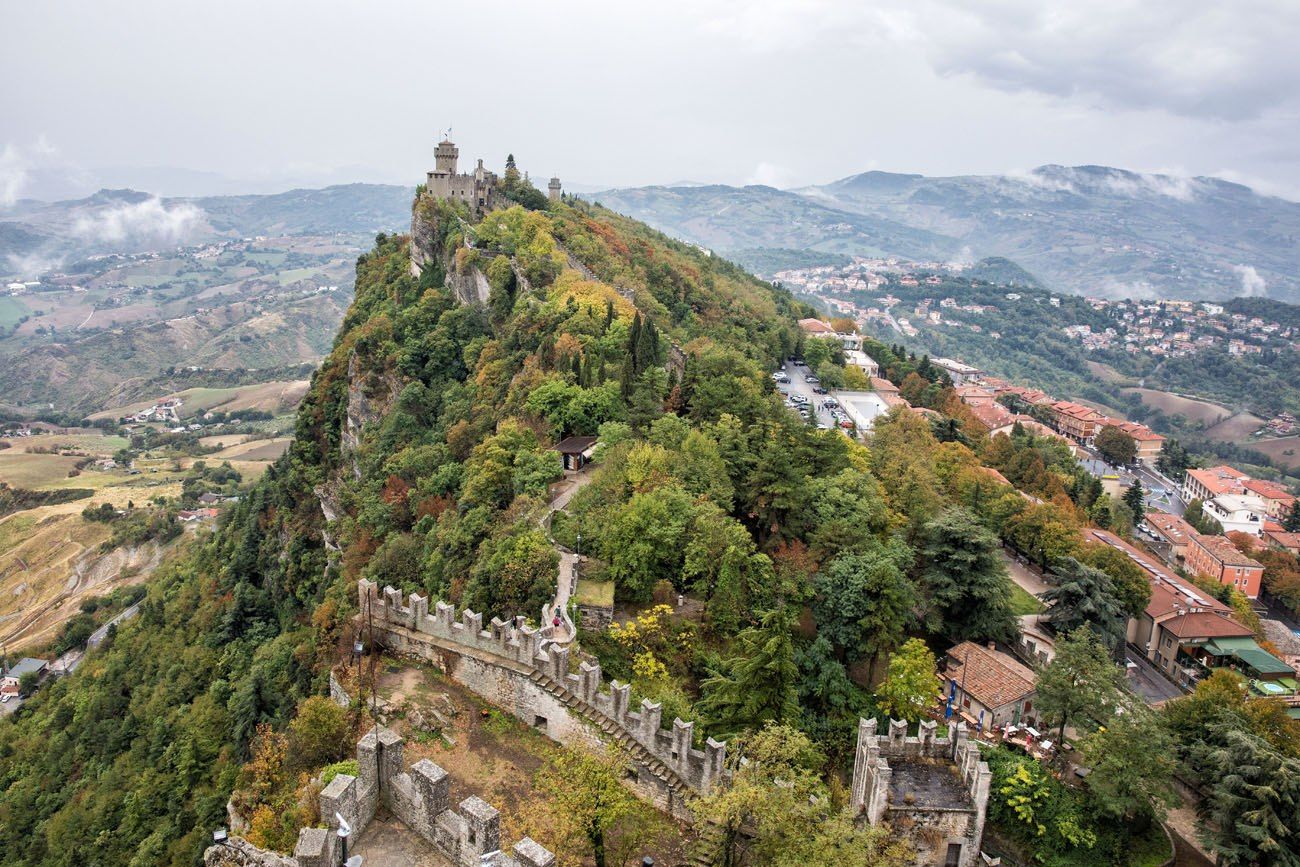 Cesta
This tower sits on the highest peak of Monte Titano. You can climb the tower and visit the museum displaying weapons from the medieval times to present day.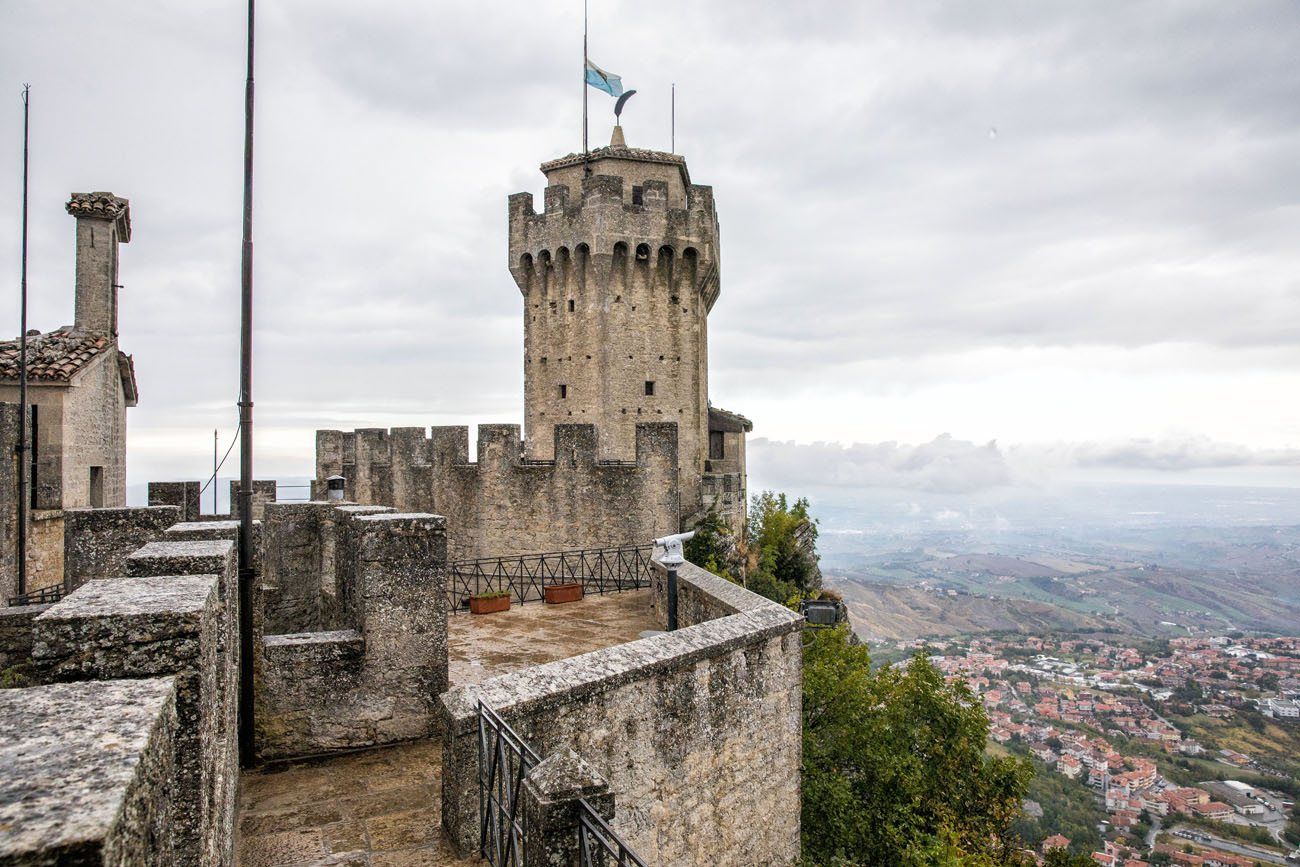 Cesta Tower | Things to Do in San Marino
The photo below is the view back to Guaita Tower.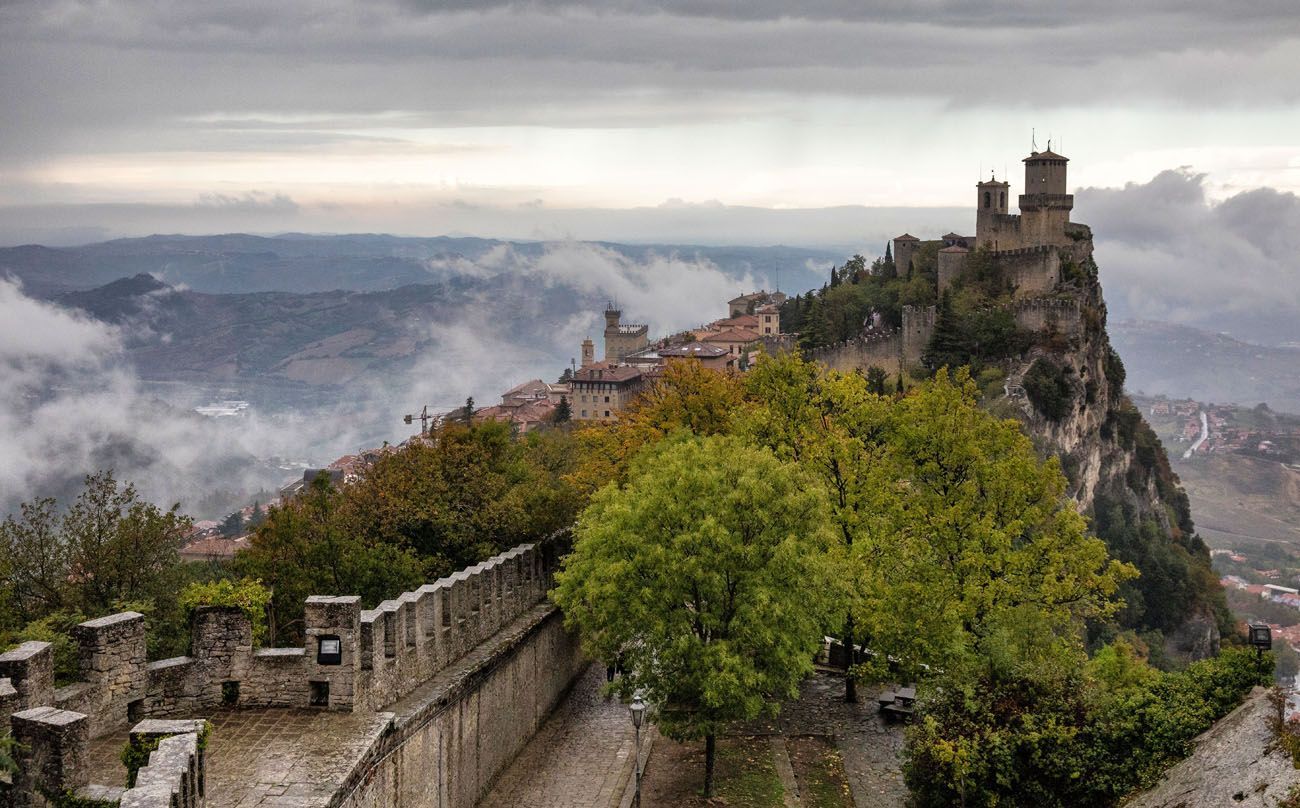 Montale
This is the third tower and not worth visiting, in our opinion. There is no entrance into the tower and it is a 10-minute walk down stairs and through the woods to get here. The views from Guaita and Cesta are much better.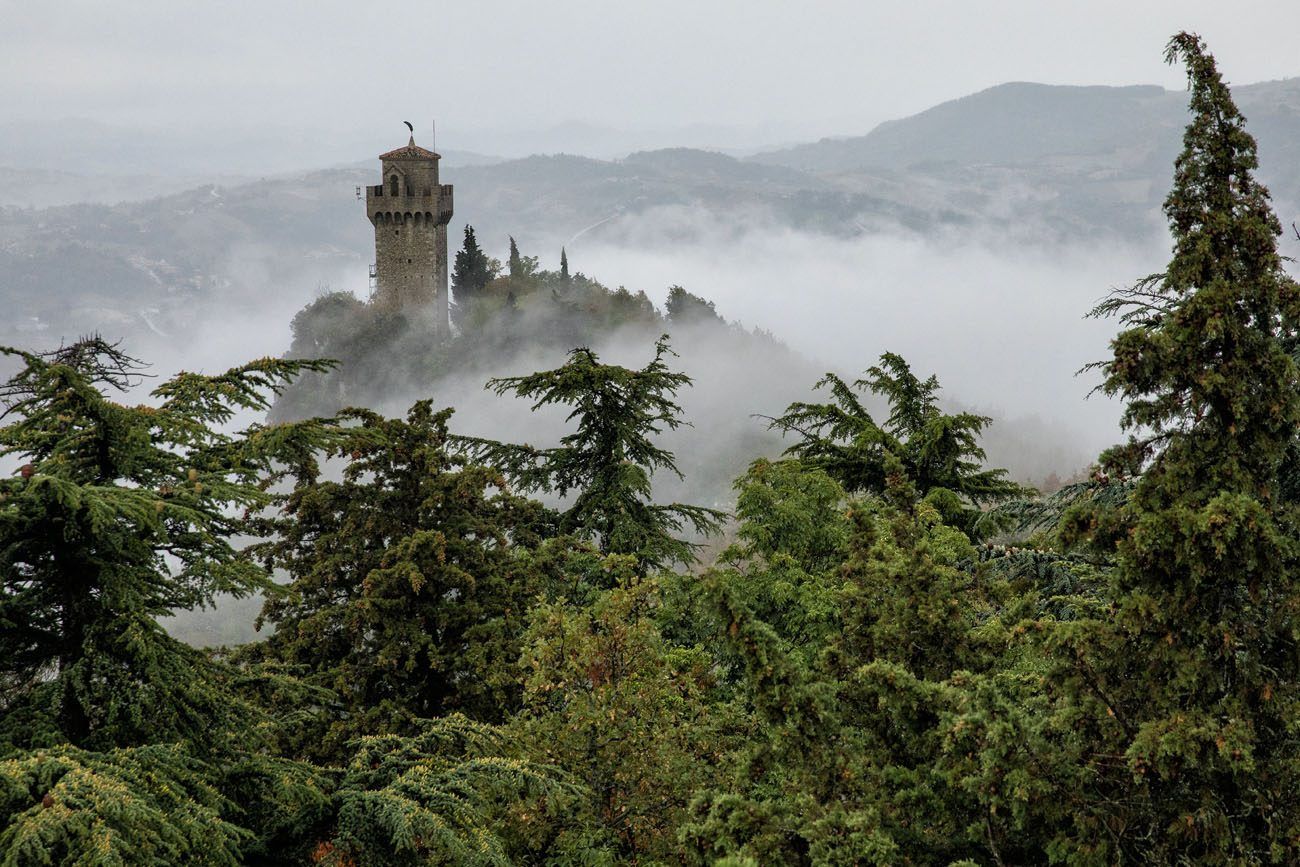 Montale | Things to Do in San Marino
Cava dei Balestrieri
If you get lucky with your timing, you may be able to watch as the crossbow shooters put on a show.
Cava dei Balestrieri | Things to Do in San Marino
Weird Museums
There are several small, unique museums you can visit while in San Marino. These include the Torture Museum, the Museum of Curiosity, and the World of Leonardo.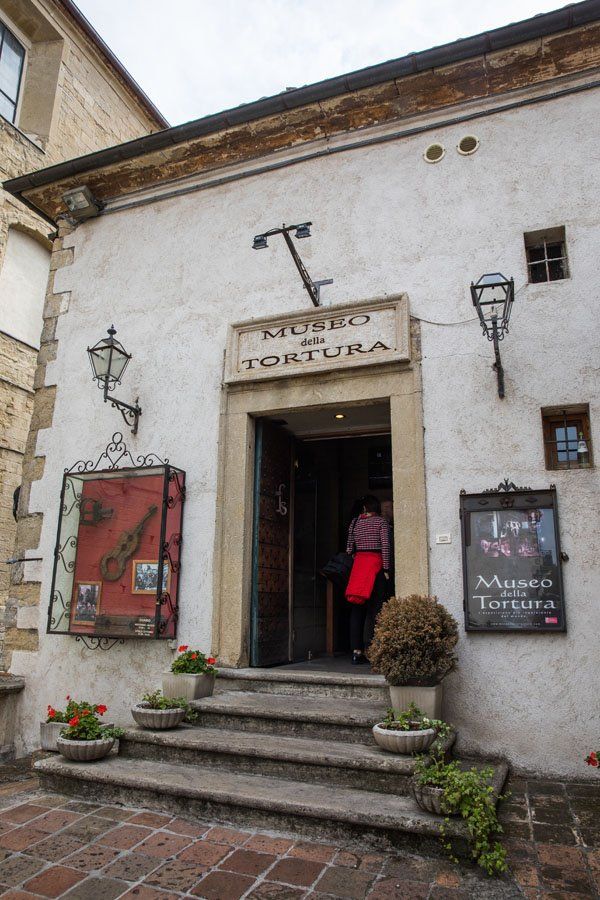 How to Get to San Marino
The most convenient way to get to San Marino is by car. You can drive right up to the city and there are numerous parking garages to park your car.
Here are the driving distances and times from other locations in Italy:
RIMINI:

22 km, 30 minutes

RAVENNA:

82 km, 1 hour 15 minutes
BOLOGNA: 130 km, 1 hour 45 minutes
FLORENCE: 250 km, 3 hours

ROME:

330 km, 4 hours 30 minutes

VENICE:

280 km, 3 hours
San Marino does not have an airport and no trains go to San Marino.
If you are dependent upon public transportation, you can take a bus from Rimini to the city center. Buses run frequently throughout the day and cost €5 one way, €10 round trip. Here is a link to the bus schedule.
How Much Time Do You Need in San Marino?
On the quickest of visits, a few hours is all you need to stroll the city streets, climb the towers, and visit Piazza della Liberta.
The city of San Marino is small so a day is all that you need. You could visit San Marino as a day trip from Bologna (2 hour drive one way). From Florence and Tuscany it is also possible to do this as a day trip, but at 3 hours one way, expect to spend a lot of time in your car.
Although we did not do this, I think an overnight stay in San Marino would be a wonderful experience. Have a leisurely dinner, watch the sunset, and enjoy the quiet city streets after the day-trippers go home.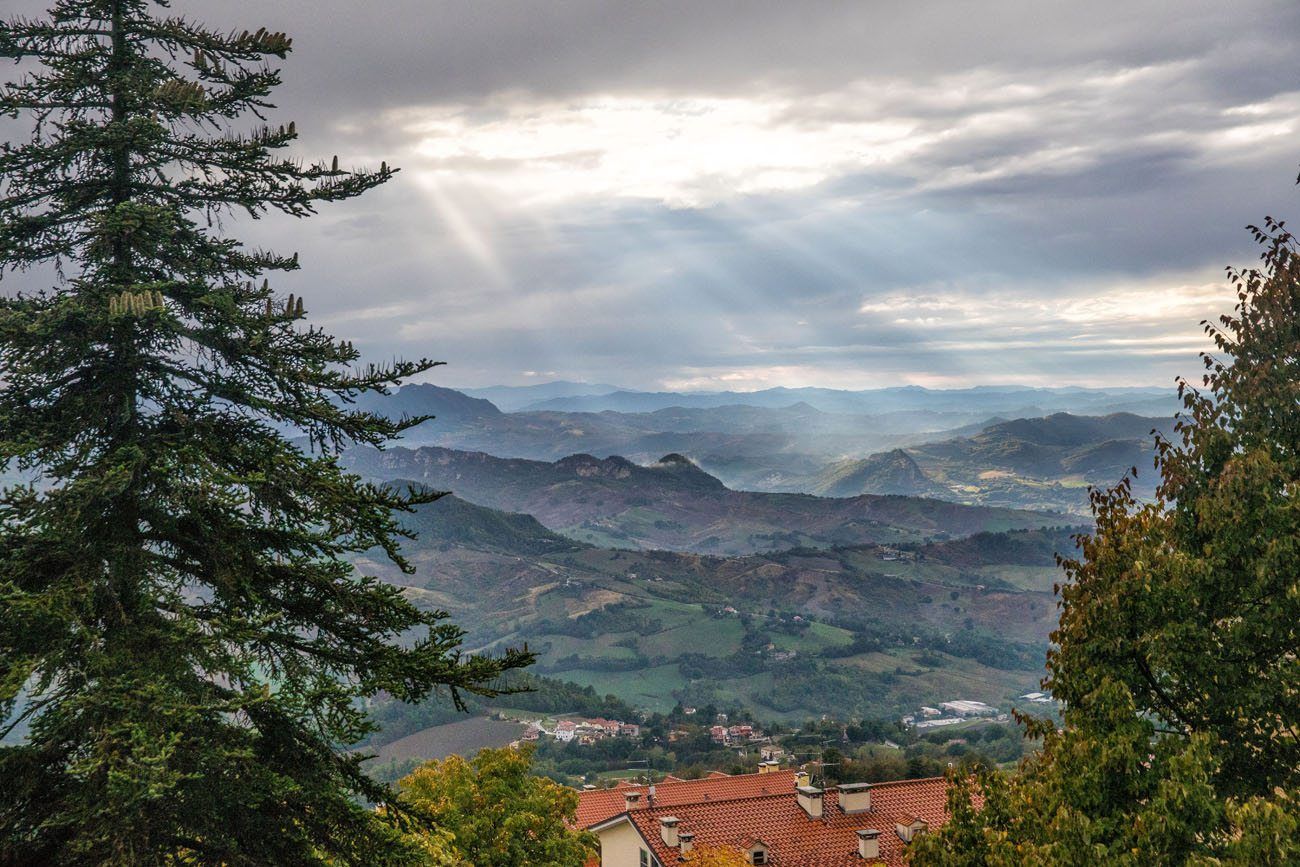 ---
Does San Marino look like a place you would like to visit? Comment below if you have any questions or advice for our readers.
More Information for Your Trip to San Marino
ITALY ITINERARIES: If you are just beginning to plan your Italy itinerary, take a look at our 10 Days in Italy Itinerary for five different ways to spend 10 days in Italy. We also have a detailed 10 day itinerary that includes Rome, Florence, the Cinque Terre, and Venice. For those with more time, check out our 14 day Italy itinerary, which covers the highlights of Italy.
PUGLIA: Read about 15 beautiful places to visit in Puglia and the best things to do in Alberobello. We also have a guide to the best things to do on the Gargano Peninsula, how to spend one day in Vieste, and about how to take a boat tour to visit the Gargano sea caves.
MATERA: Matera is one of the most beautiful places to visit in Italy. Here is a list of the best things to do in Matera.
FLORENCE: If you are planning your first visit to Florence, don't miss our guide to the 10 Best Things to Do in Florence and how to spend two days in Florence. We also have guides about the best rooftop bars in Florence, the best viewpoints in Florence, and how to visit the Florence Cathedral.
ROME: For a list of the top experiences in Rome, read our article Best Things to Do in Rome. Learn how to put these together in our 2 Day Rome Itinerary, where to eat in our Rome Restaurant Guide, how to visit the Colosseum, and where to stay in our Rome Hotel Guide. And don't miss our guide to the Best Rooftop Bars in Rome.
Are you planning a trip to San Marino as part of your tour through Italy? Read all about Italy in our Italy Travel Guide.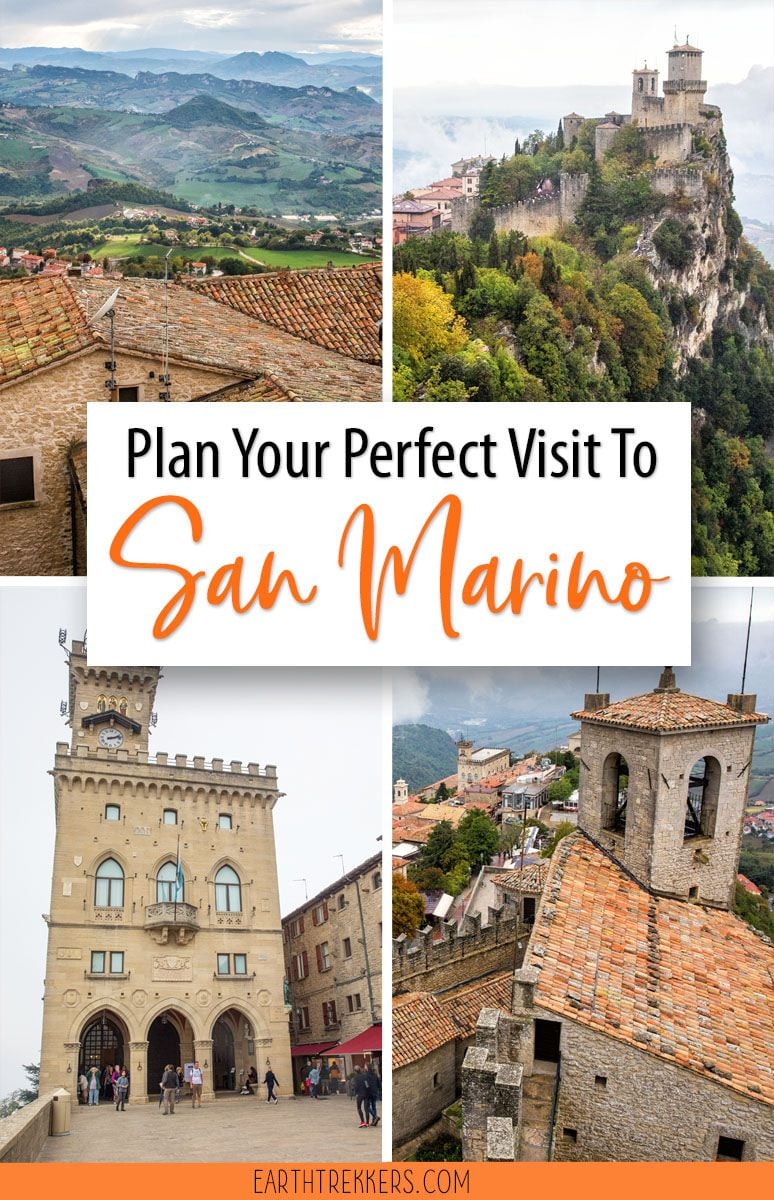 All rights reserved © Earth Trekkers. Republishing this article and/or any of its contents (text, photography, etc.), in whole or in part, is strictly prohibited.