On a visit to Detroit, tour the Ford Rouge Factory, learn how Motown got its start, visit one of the best art museums in the USA, and enjoy Detroit's trendy food scene. Detroit is an underrated city with a tumultuous past, but it is on the up and up. Here are the best things to do in Detroit.
The Best Things to Do in Detroit
Motown Museum
Journey back in time to the 1960's when Motown got its start in the music business. The history is fascinating, with the vision of Berry Gordy and the cultivation and stardom of The Four Tops, the Supremes, the Temptations, Martha and the Vandellas, and many more.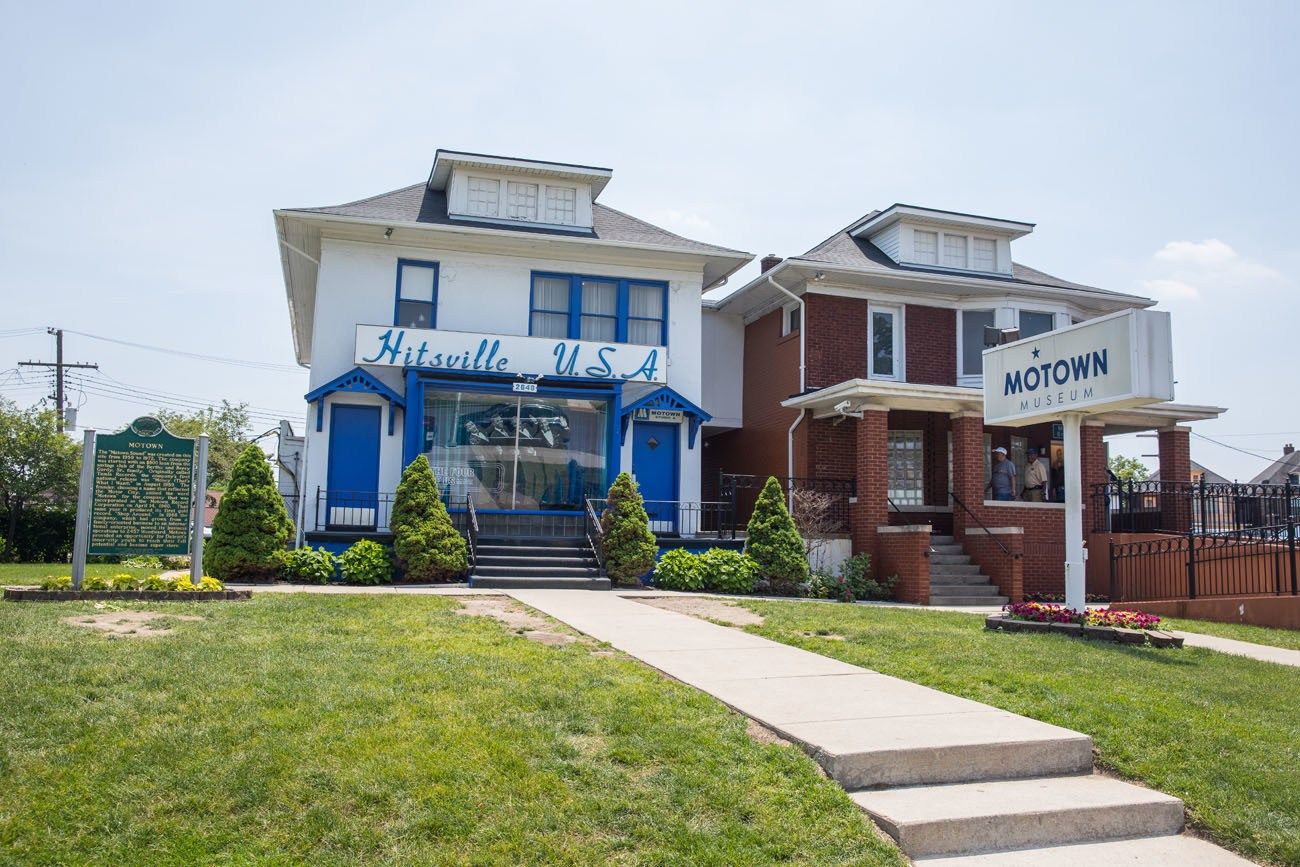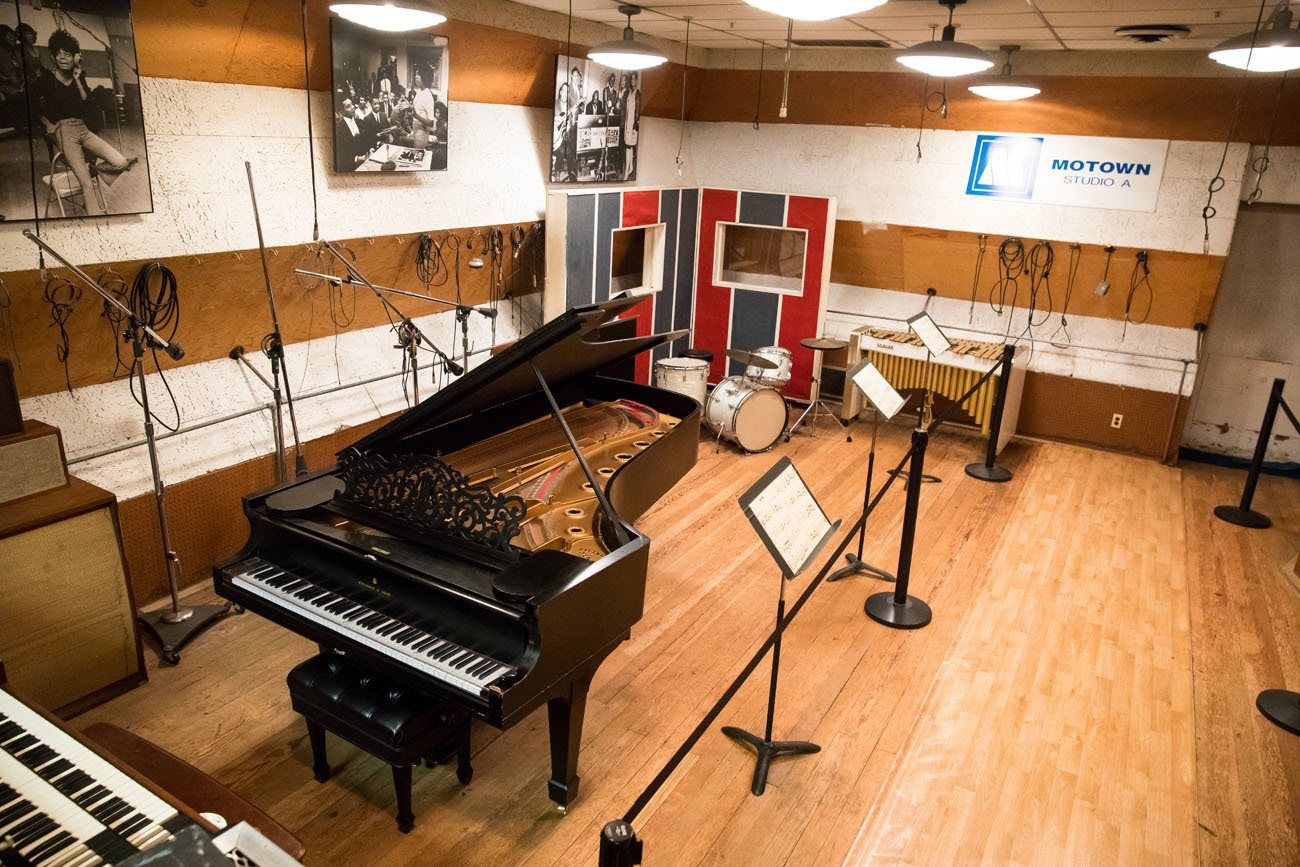 Your visit ends in the recording studio. This is the spot where Motown's world famous songs were recorded. Songs like "My Girl," "Reach Out I'll Be There," and "Ain't No Mountain High Enough." Even Michael Jackson got his start right in this room. It's simply amazing.
Motown can only be visited on a tour. Tours last one hour and start with a 20 minute video about Motown and then you tour the museum, the apartment of Berry Gordy, and the recording studio.
I got lucky in that they let people take photographs of the recording studio. Normally, photographs are not allowed but they said that they were trying something new. Hopefully it continues!
For updated hours and pricing, visit the official website.
Detroit Institute of Arts
The Detroit Institute of the Arts (known as the DIA to locals) is one of the best art museums in the United States. Highlights include the murals by Diego Rivera, ancient art collected from Egypt, Asia, Europe, and the Middle East, as well as modern art.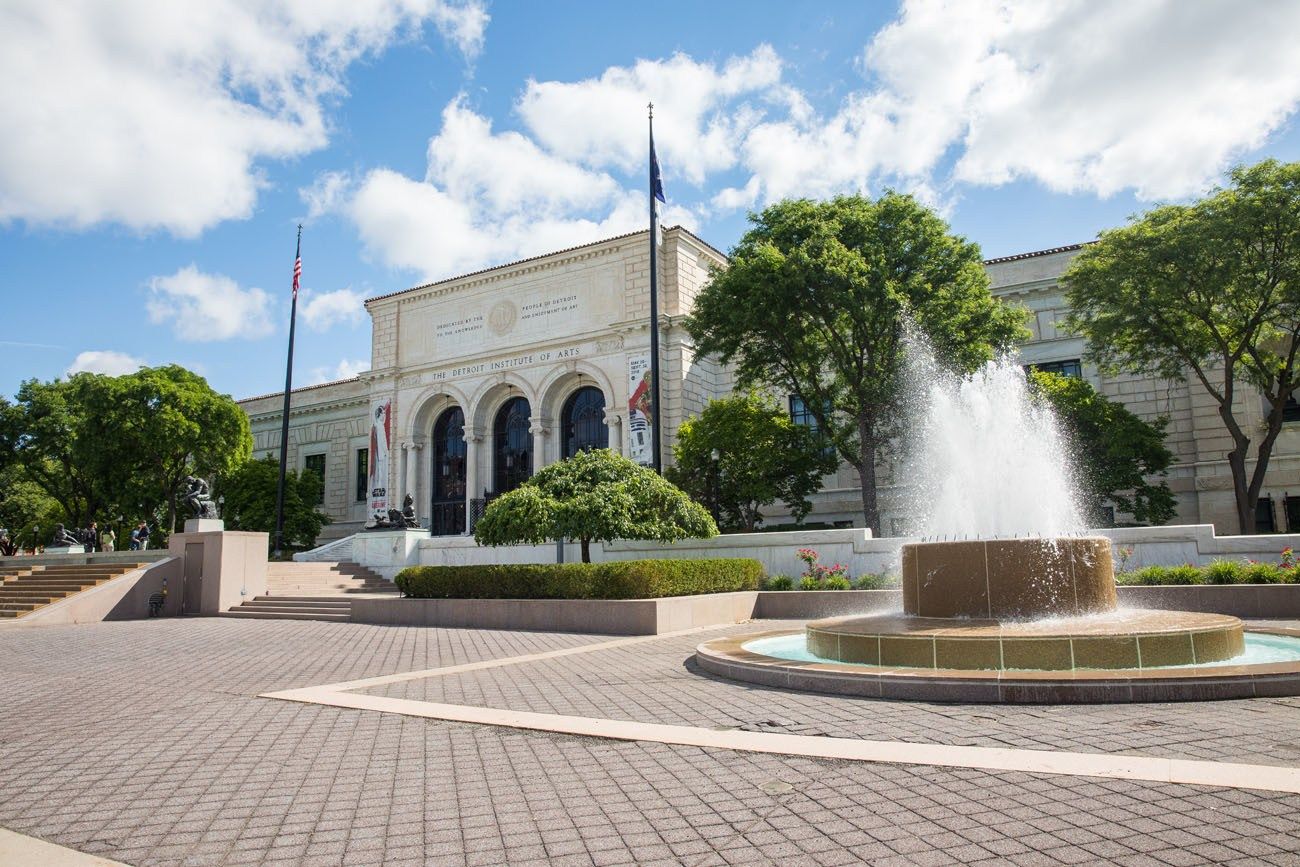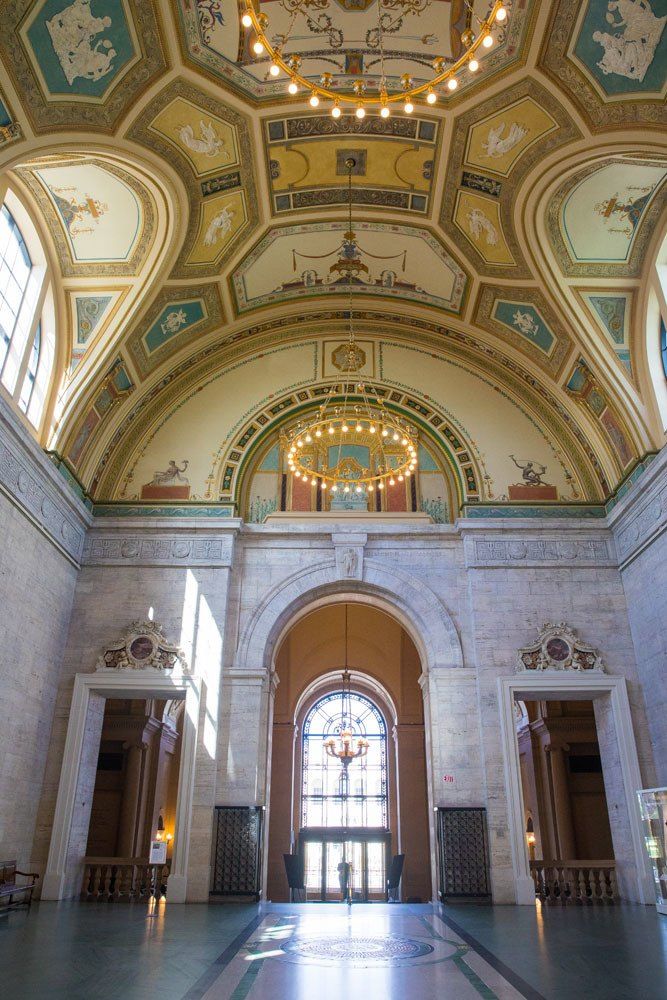 For me, the highlight was a 16th century chapel that was relocated to the DIA from Chateau de Lannoy in France. After World War I, art collectors from around the world bought the remnants of damaged buildings in Europe. In 1923, this chapel was taken apart, stone by stone, shipped to the DIA, and painstakingly pieced back together. Even the stained-glass windows were preserved. Stepping into this chapel was like stepping into Europe. What a wonderful surprise!
I also toured the temporary Star Wars exhibit, which contained costumes from Star Wars, from the 1970's to present day.
For updated pricing and hours, visit the official website.
Detroit Historical Museum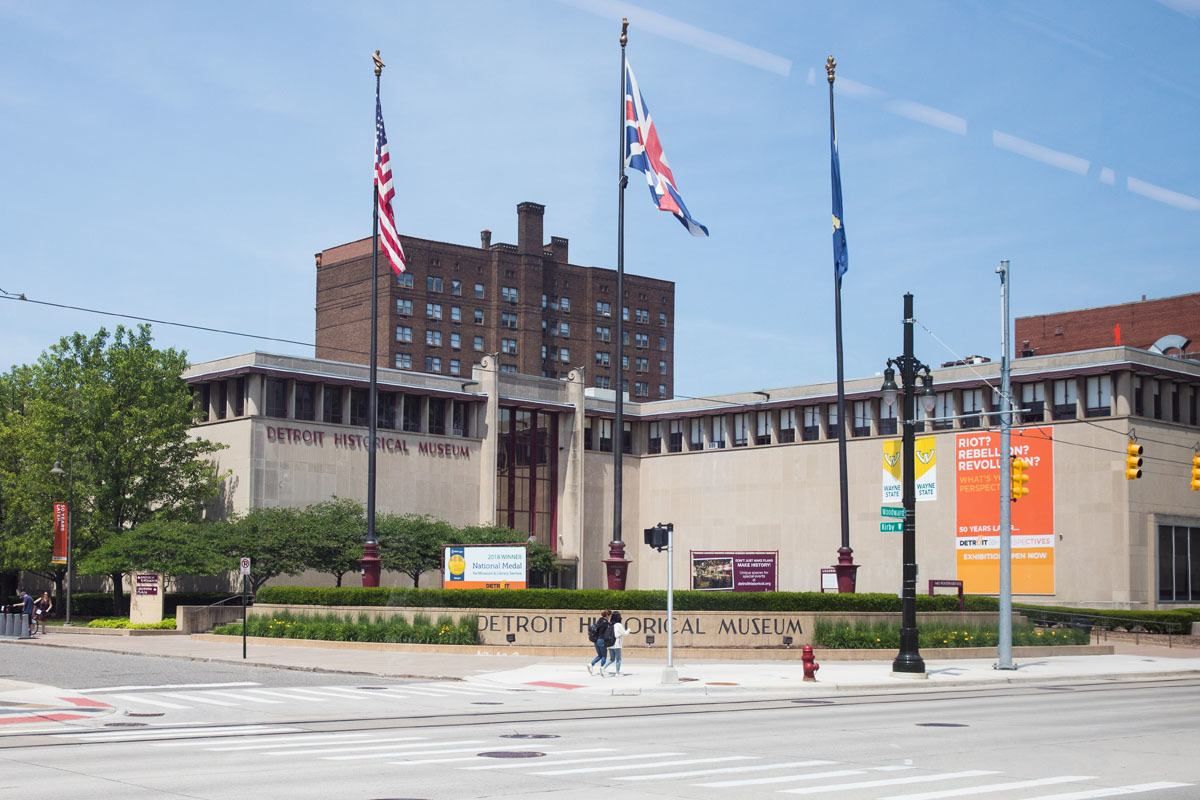 Across the street from the DIA is the Detroit Historical Museum. This museum covers the history of Detroit, from the first settlements to present day. This is the best place to learn about the bright beginnings of Detroit, its role in the Underground Railroad, and the events that occurred in the 20th century.
The Henry Ford Experience
This is an all day event. Made up of three parts, you learn about the history of Henry Ford's American dream, tour a working Ford factory, and step back in time to a historic village. It's not cheap (tickets cost $50 to $75 depending on how much you choose to do) but I think it's worth it. Just make sure you have enough time to enjoy all of the attractions.
The Ford Rouge Factory Tour
This was the highlight of our visit. You get to tour a working assembly line (no photos allowed). When you watch workers from the catwalks, you get a sense of how repetitive their job is. It is impressive how technological this assembly line is. Not only do cars need to be designed with the latest and greatest technology, but the assembly lines also have to be part of the design. This was much more interesting than I thought it would be.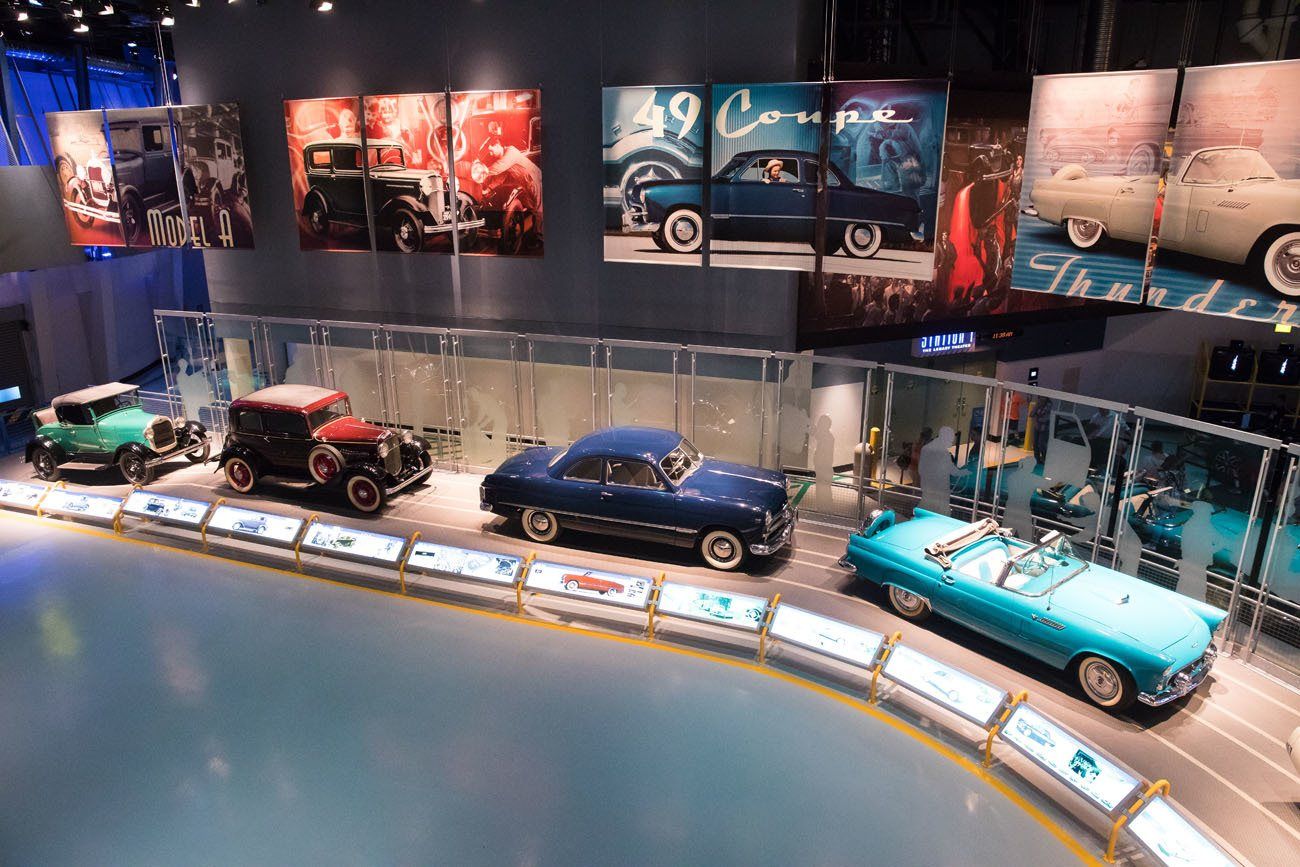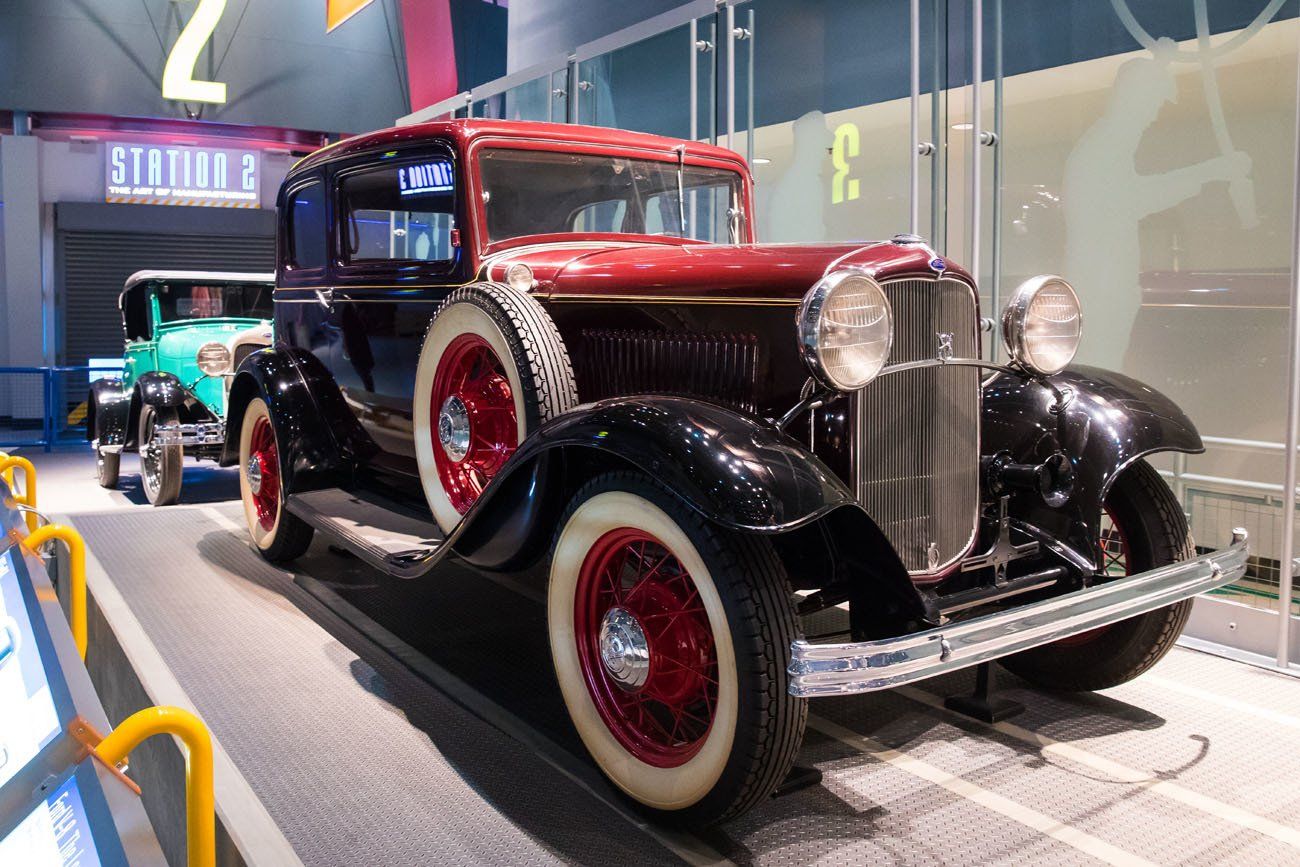 If you only picked on piece of the Henry Ford Experience, I recommend the Rouge Factory Tour. You also get to watch videos about the history of Henry Ford and the assembly line. It's an important piece of American history.
Henry Ford Museum of American Innovation
The factory is great, and so is this museum. Sit on the Rosa Parks bus, see the Abraham Lincoln chair and the Kennedy Presidential limousine (yes, the same one that he was assassinated in), and tour the enormous exhibit that contains the first cars of America to present day. This is a great collection of American artifacts.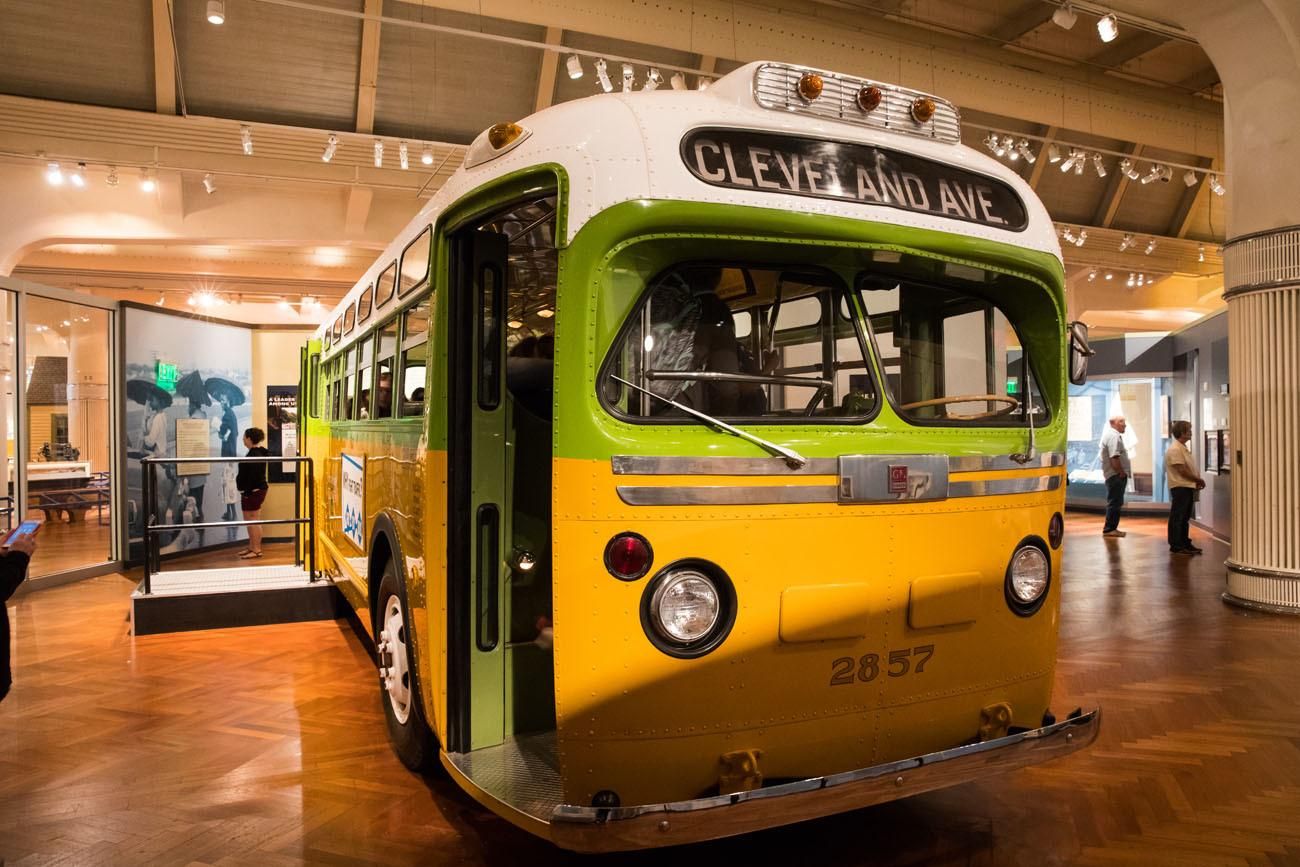 Greenfield Village
Greenfield Village felt like Disney World meets Williamsburg, Virginia. This recreation of an early American town contains historic attractions and working farms. For many people the highlight is a 3-minute ride in a Ford Model T.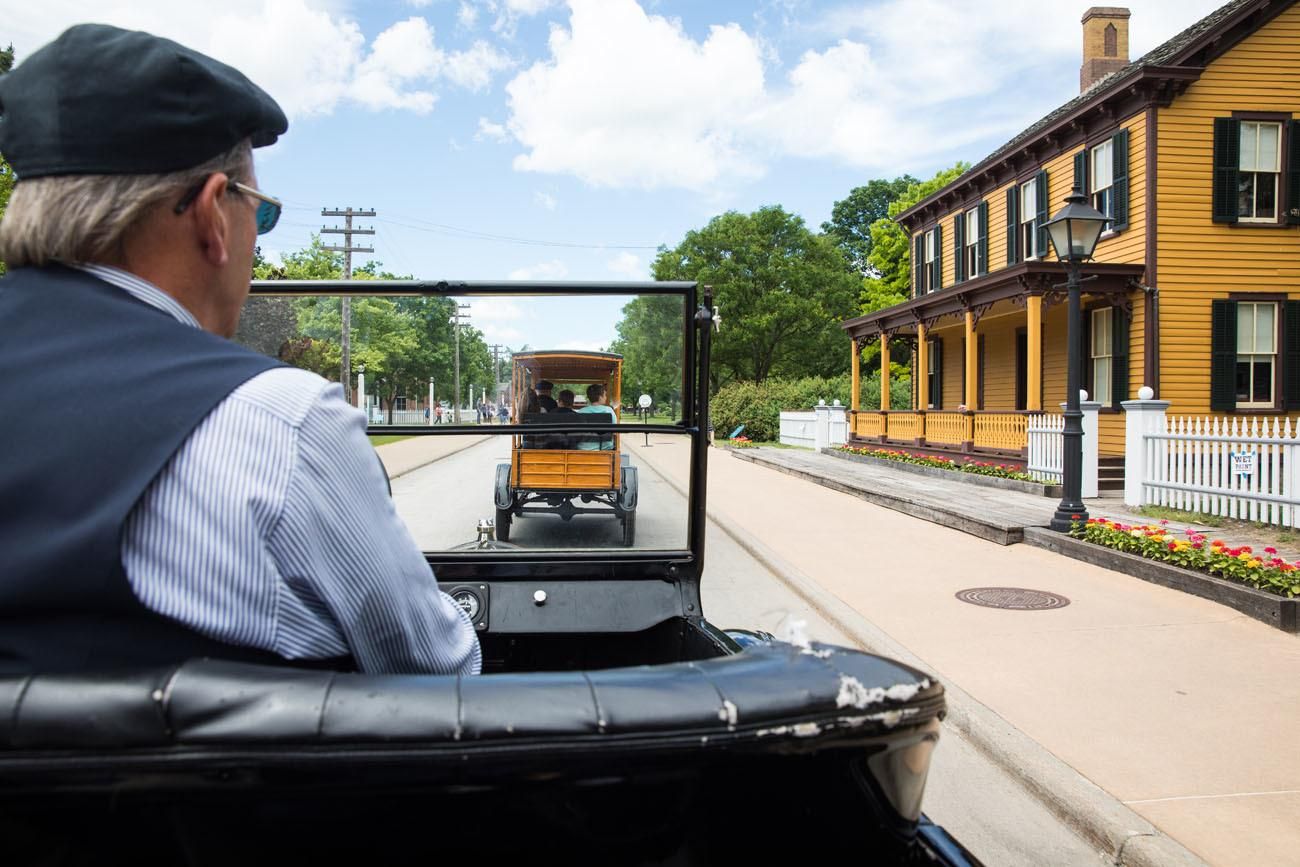 The Henry Ford Experience is located in Dearborn, Michigan, which is a 20 – 30 minute drive from downtown Detroit. We had a rental car so it was easy to get here. If you are relying on public transport, the easiest way to get here from downtown may be with Uber.
For hours, updated pricing, and tips on how to get here, visit the Henry Ford website.
PRO TRAVEL TIP: The Henry Ford Experience is located between the city of Detroit and the airport. If you are arriving or departing by plane, consider visiting the Henry Ford Experience in transit between the airport and the city.
Ford Piquette Avenue Plant
The Ford Piquette Avenue Plant is the birthplace of the Ford Model T. The plant was built in 1904 and from 1908 to 1910, the first 12,000 Model T's were built here. This building is now a US National Historic Landmark.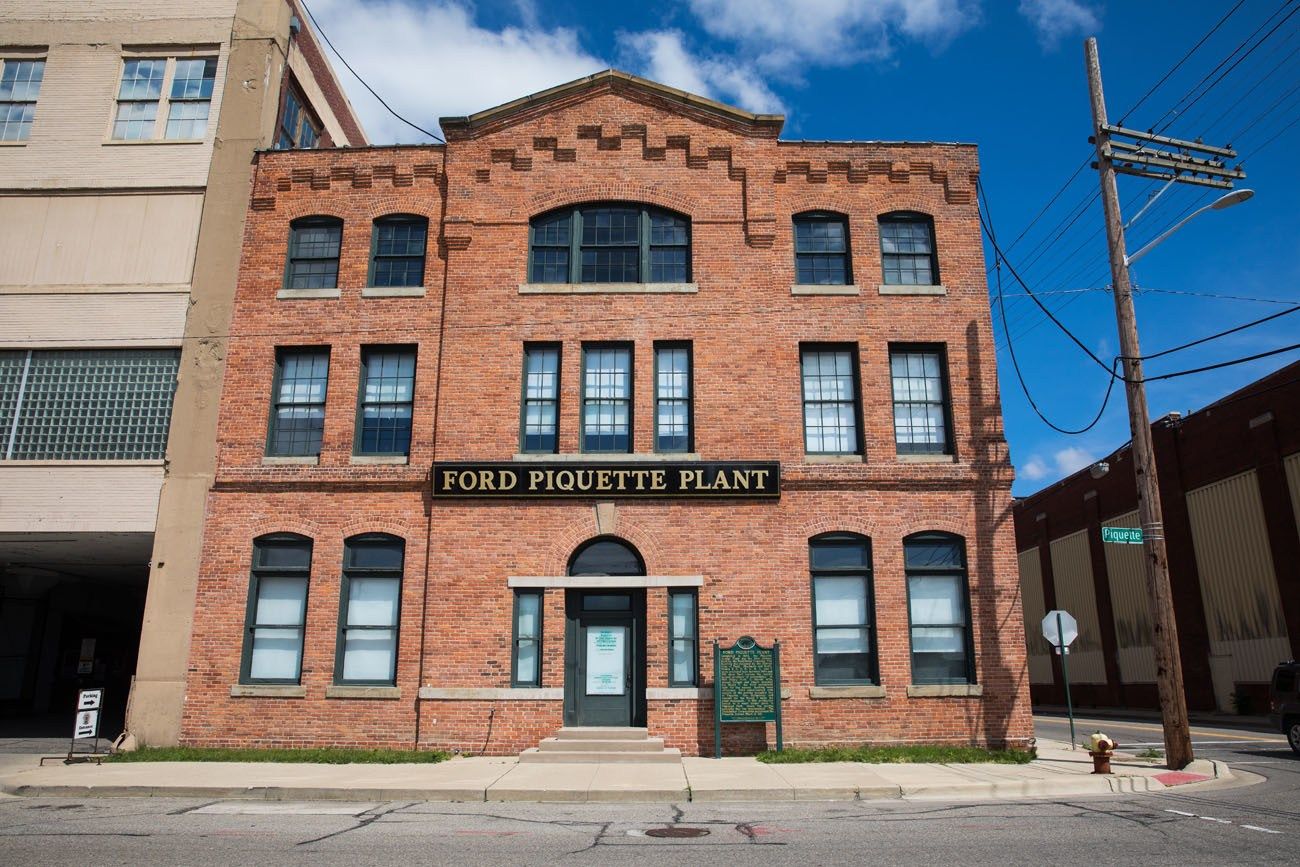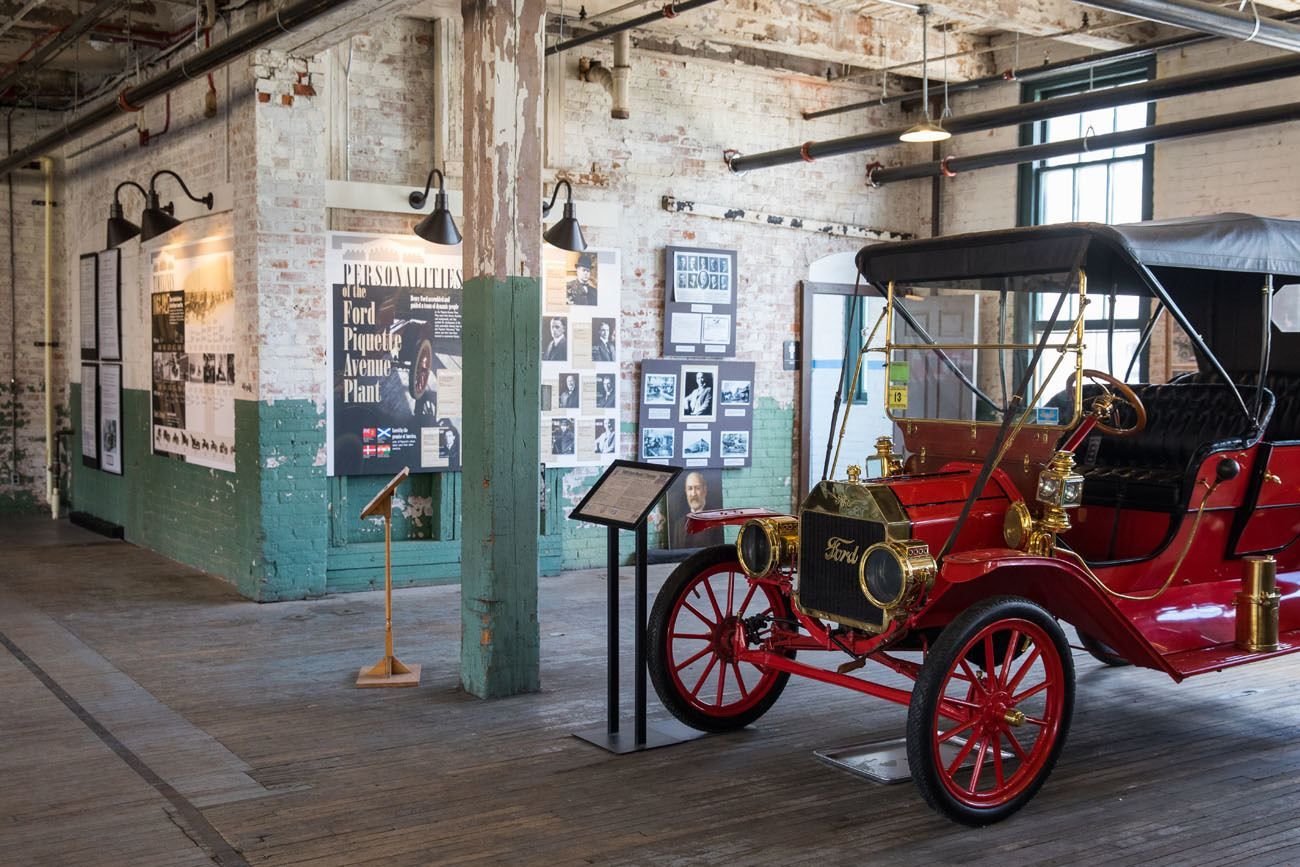 You can tour the rooms of Model T cars on your own or join a tour at 10 am, noon, and 2 pm.
For update hours and pricing visit the official website.
Fisher Building
The Fisher Building is one of Detroit's iconic buildings. Built in 1928, this Art Deco building is home to offices and the Fisher Theater. For free, you can wander in and enjoy the grandeur of the building. Take the steps to the second and third levels and enjoy even better views from the balconies.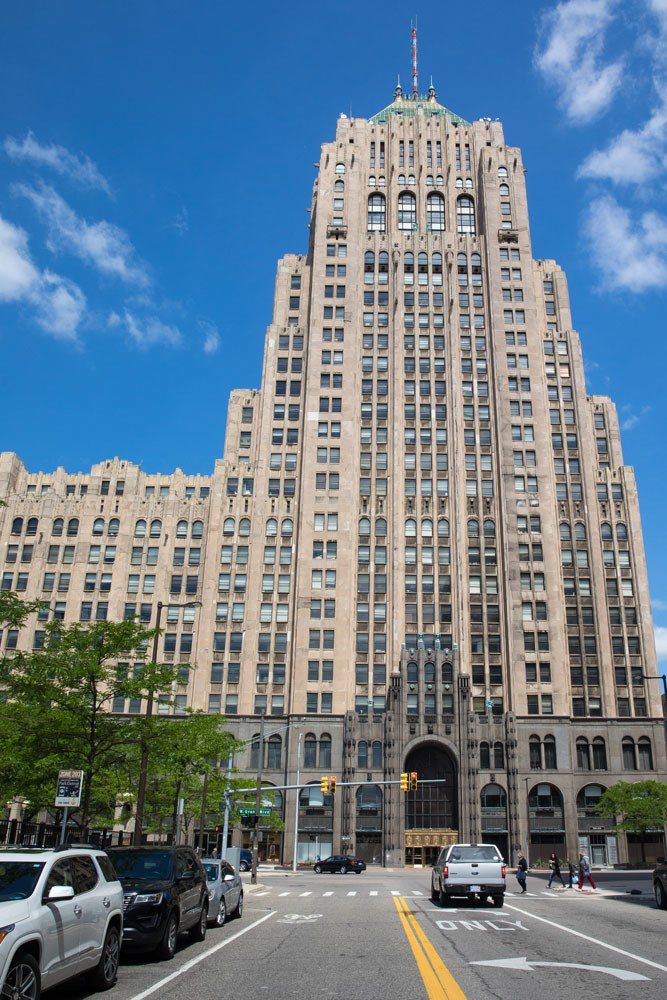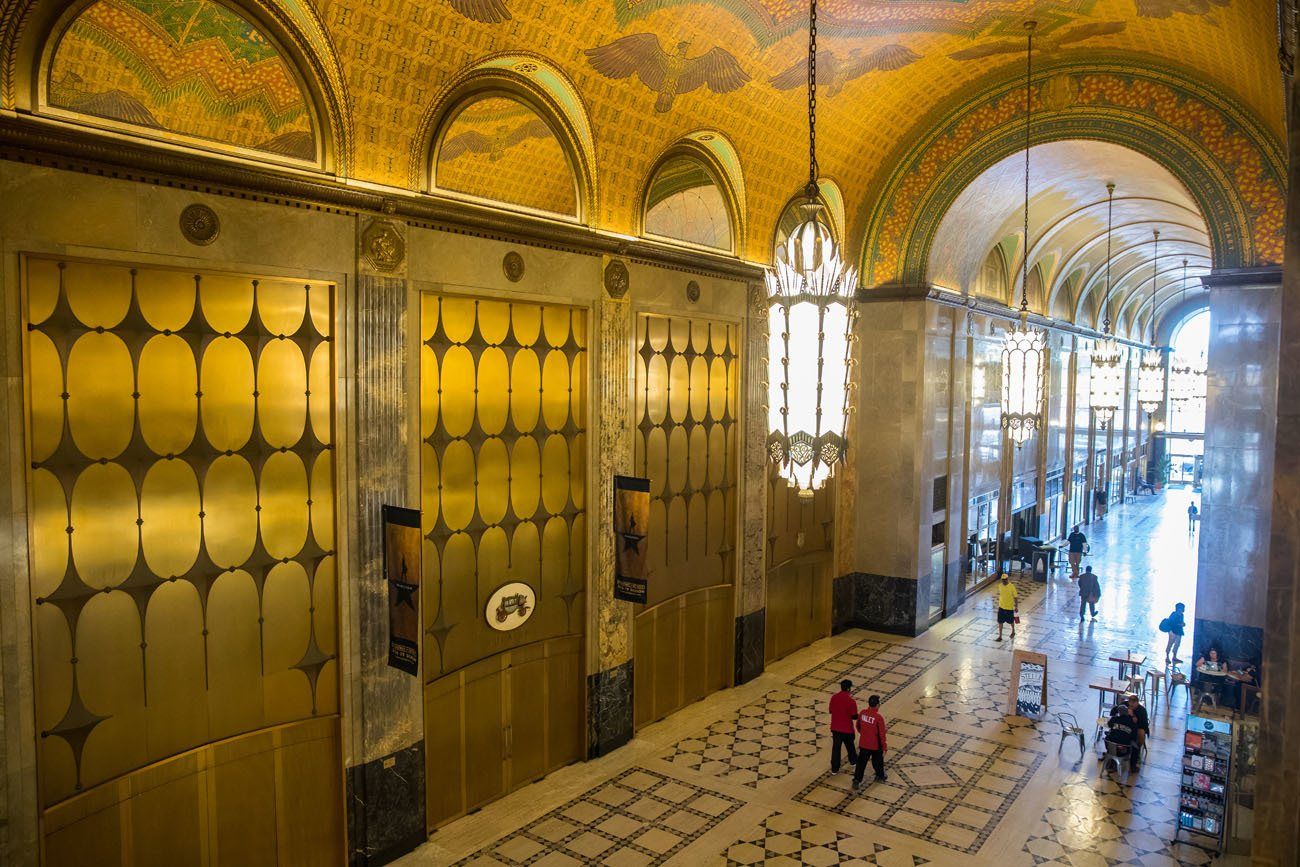 The Guardian Building
The Guardian Building is another Detroit landmark and a great example of Art Deco design. I was blown away by this building. It's gorgeous inside (and free to visit). If you only had time to tour one of Detroit's Art Deco buildings, this is the one to visit.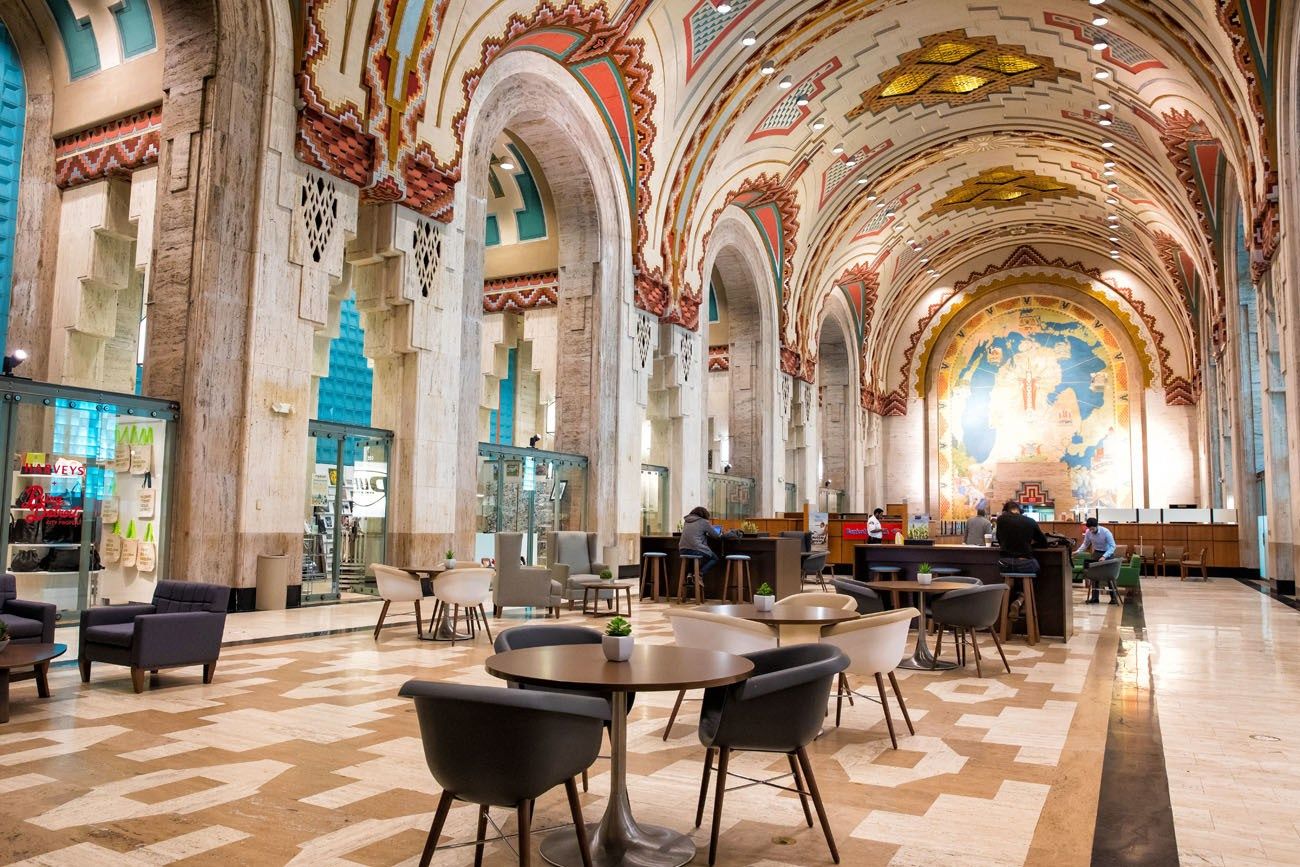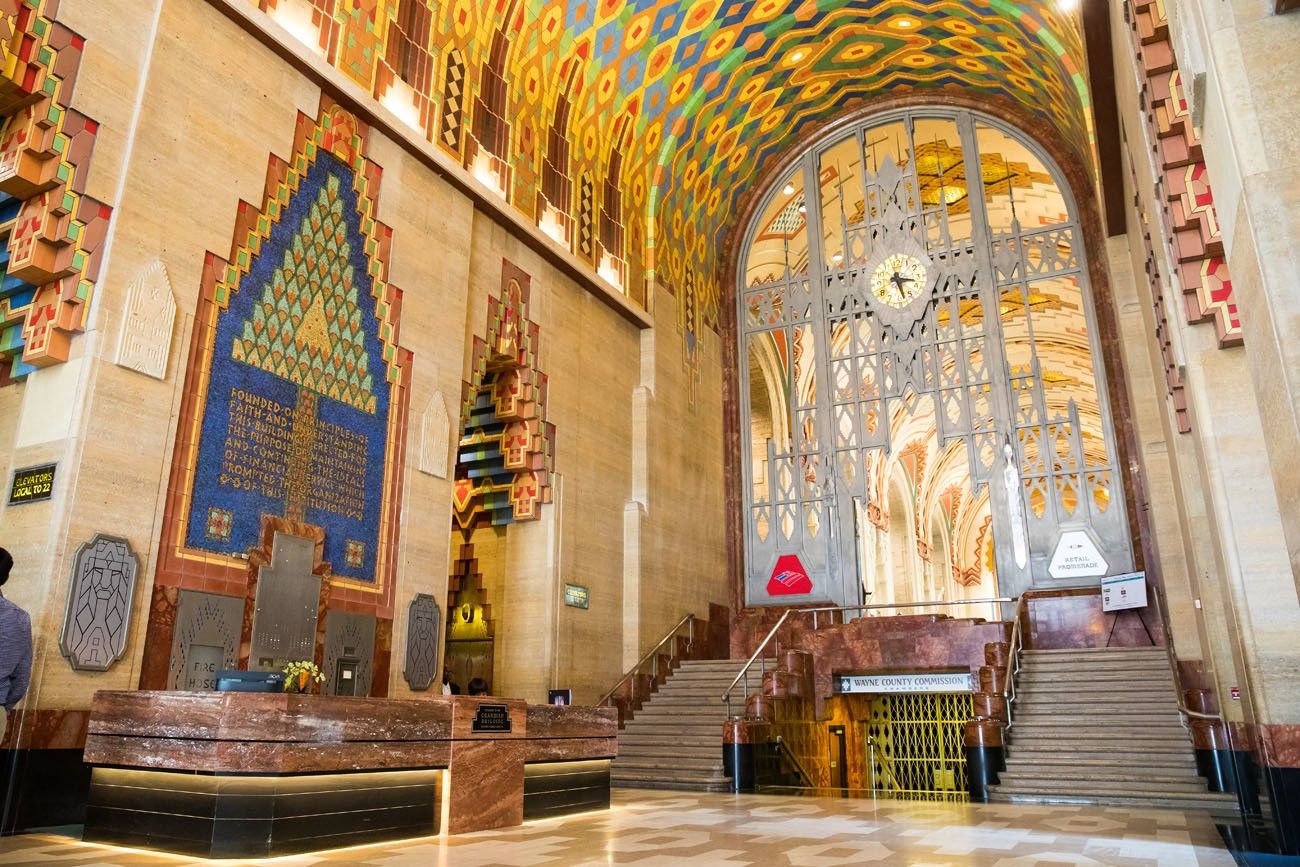 The Guardian Building was constructed in 1929, right before the Stock Market crash.
Fox Theater
The Fox Theater opened in 1928 (Detroit was booming in the 1920's!!) as a movie palace. Since its opening, Shirley Temple, Elvis Presley, Frank Sinatra, Motown artists, and David Copperfield have performed here. Live performances are still held here. Click here for the upcoming schedule.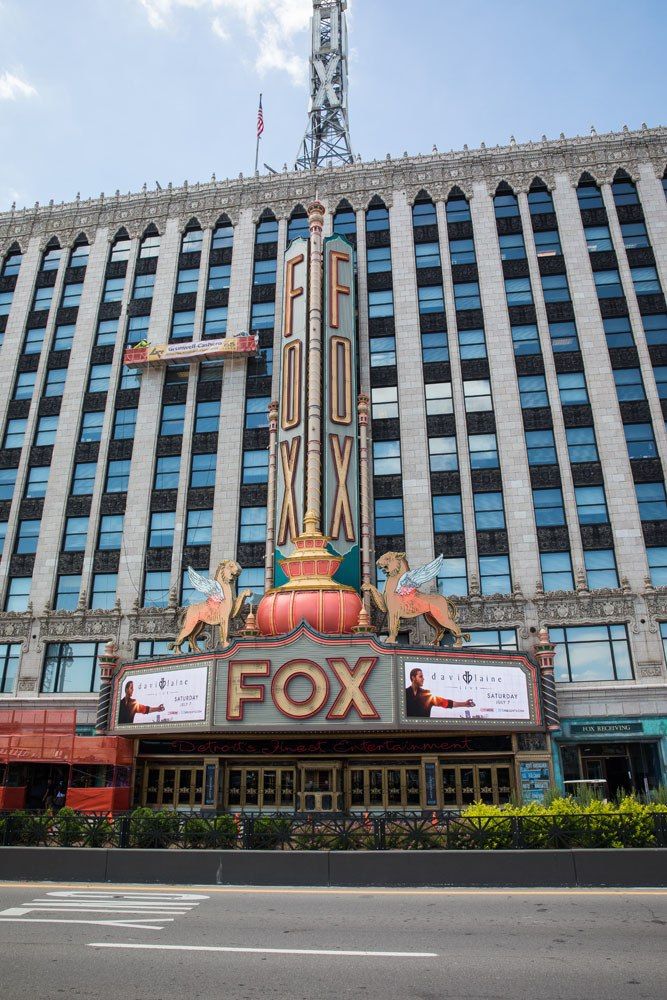 Eastern Market
This is a favorite of many visitors (and locals) in Detroit. I missed out on this, since the market was not held during my visit.
There are several market days, and the best ones are on Saturdays and Sundays. 225 vendors sell produce, food, arts and crafts, clothing, and more. There's music and entertainment and it makes a great day out and a great way to experience the local Detroit scene.
A "scaled-down" market is held on Tuesdays and on select Thursday evenings in the summer a market is also held.
Visit the Eastern Market official website for full details.
Belle Isle Park
Belle Isle is a small island that sits in the Detroit River. It is home to an aquarium, sports fields, and small beaches.
I did not get the best impression of this island. I used Uber to get here. The Grand Prix was just held, so parts of the island where still blocked off by concrete dividers and cones. The parts of the island I did see were overgrown with weeds and there were a number of buildings in disrepair. Maybe the part of the island I didn't get to see was nicer?
Since my visit, people have written in to say that the island has been cleaned up and it is a great place to visit. On a return visit to Detroit, I look forward to checking it out again.
Detroit Waterfront
A paved path runs along the Detroit River. This is a nice spot to go for a walk or a jog. Sitting across the river from Detroit is Canada.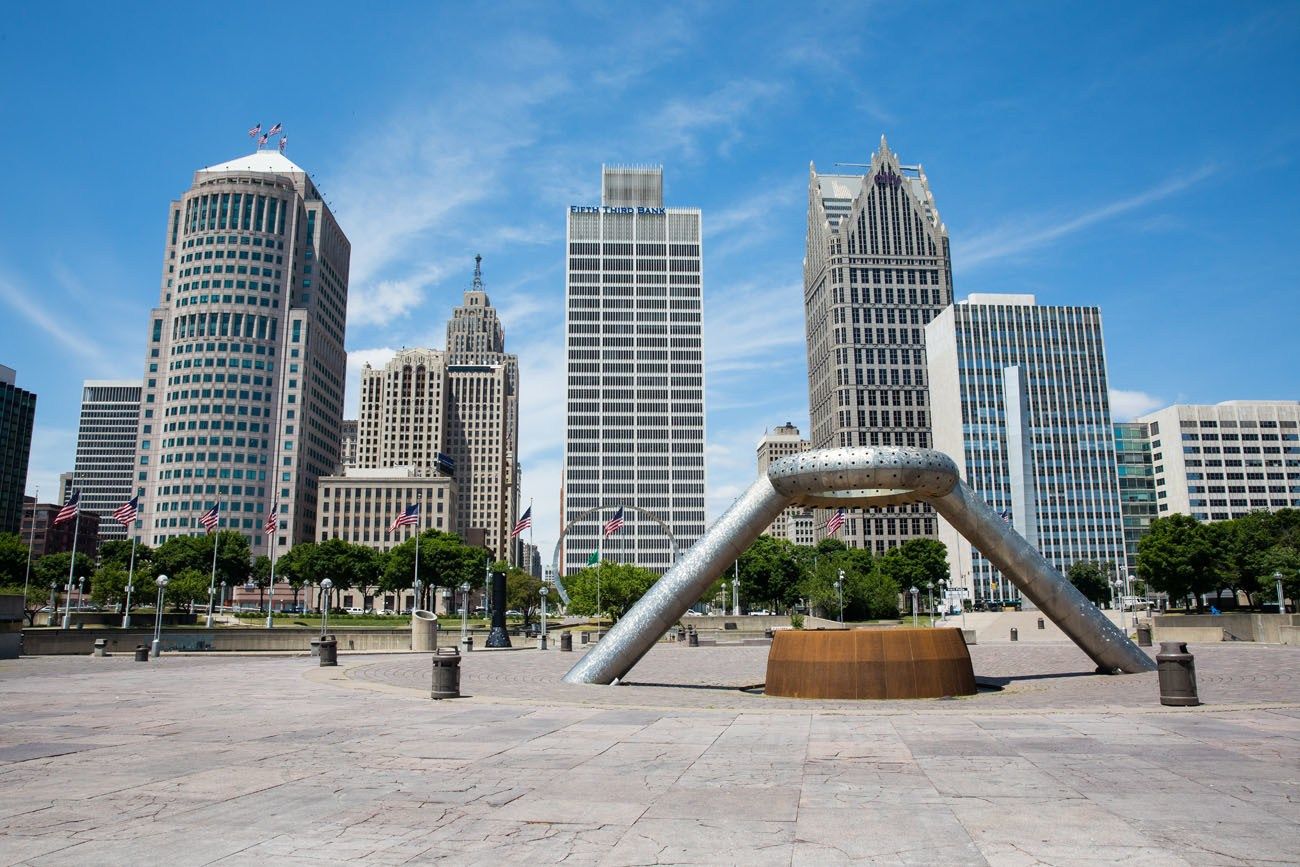 Hart Plaza
Near Hart Plaza is the International Memorial to the Underground Railroad. Detroit played a very important role in the Underground Railroad. This was the last stop in the US before slaves were sailed across the Detroit River to freedom in Canada. If you are in the area, it's worth a quick visit to see the memorial and the view to Canada.
Campus Martius Park
This very small park sits in the heart of Detroit. In the summertime, it's a cool hangout spot. Part of the park is filled with sand and people come here to lay out and soak up the sun. During the day, food trucks sell food and in the evening people gather to watch movies on a temporary movie screen.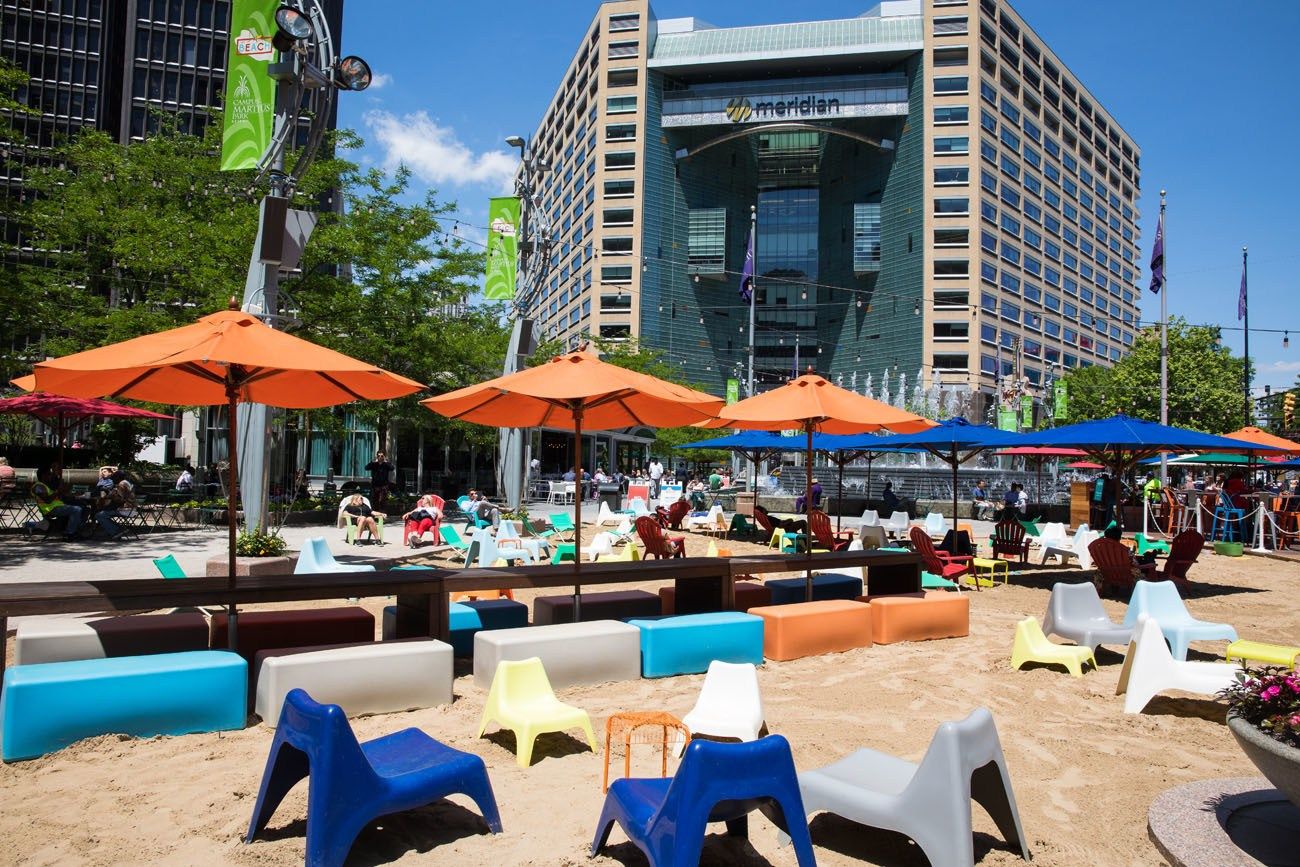 This is an example of one of the many cool things Detroit is doing to bring people back to the city.
Play Corn Hole on Woodward Avenue
And this is another example of how Detroit is recreating its image. At several locations on Woodward Avenue you can play corn hole. I would play with Tim after dinner and with my aunt and uncle, who spent one day touring the city with me. It's free, it's fun, and it's such a cool idea.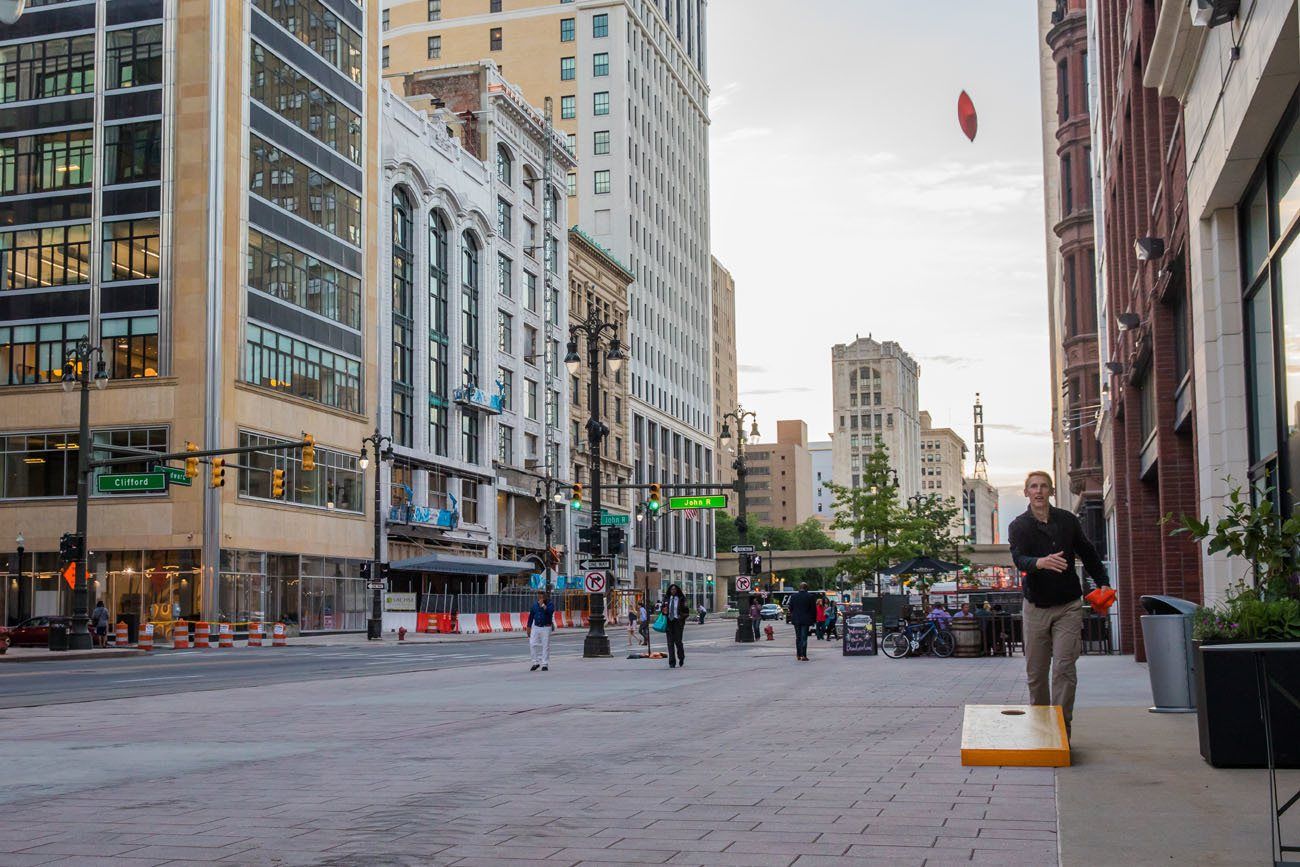 The Belt
The Belt is an alley that has been transformed into a work of art and collection of bars. I just happened to stumble upon this and again I loved the creativeness of it. Turn an alley into a work of art and attract people with food and drinks.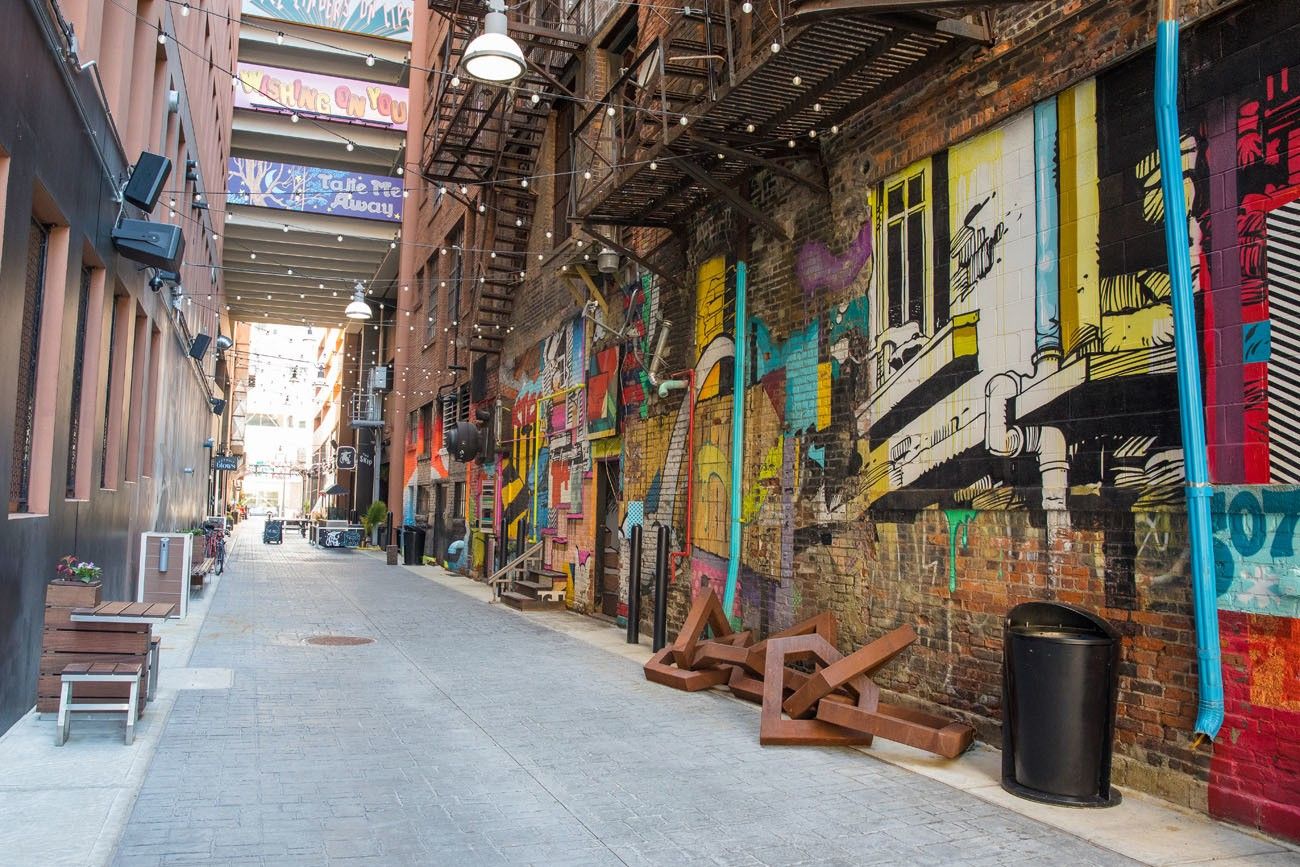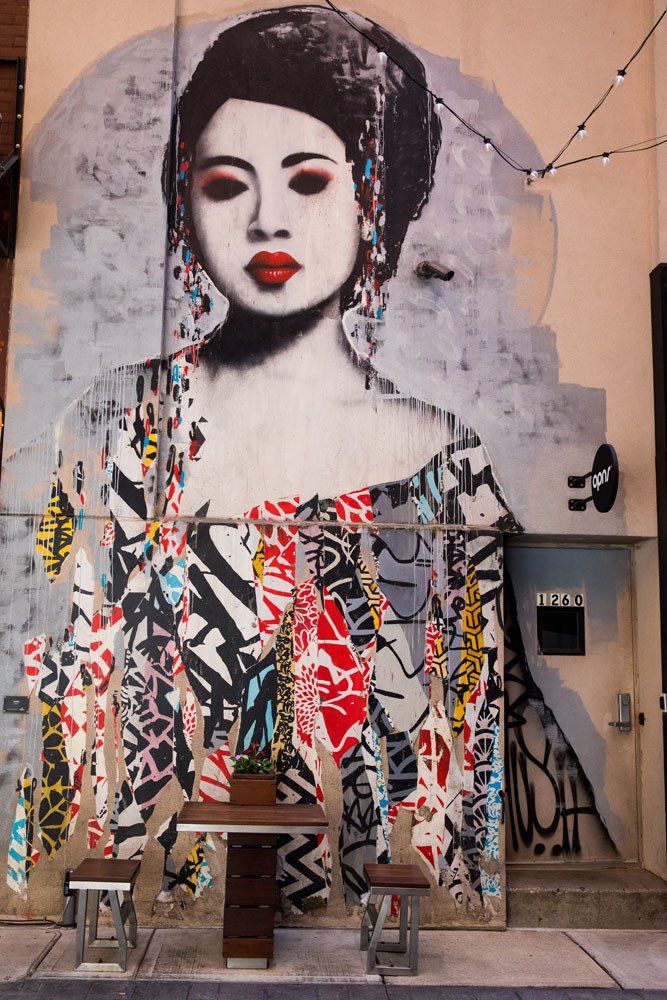 There are two great bars here, The Skip and Standby. Tim and I spent an evening at Standby, a bar that serves creative cocktails and food.
Enjoy Detroit's Food Scene
As people pour back into Detroit, the food scene is really taking off. All of these restaurants are within walking distance of downtown Detroit (or just a short ride on the Q Line).
For breakfast and brunch, don't miss Dime Store. I ate here twice and the food is outstanding!
For lunch, I recommend the Bucharest Grill, a restaurant that serves amazing shawarma and sandwiches at budget prices (thanks to my Uber driver for recommending this spot!).
If you really want to eat cheap, have a hot dog at legendary Lafayette Coney Island.
For dinner, Wright & Company serves gourmet tapas.
For drinks, we recommend Standby and Townhouse. And Astoria Pastry Shop is the place for cannoli's, baklava, and pastries.
Frida
Frida Kahlo fans may want to visit the shop Frida. This small shop, located near the DIA and Detroit Historical Museum, is where Frida lived and worked in Detroit. Now, this boutique shop sells clothing and accessories.
Watch a Tigers Game at Comerica Park
Comerica Park is the Detroit Tiger's baseball stadium. Come watch a game during the summer months or one of the rare concerts that are held here during the summer and fall months.
Click here for the game schedule.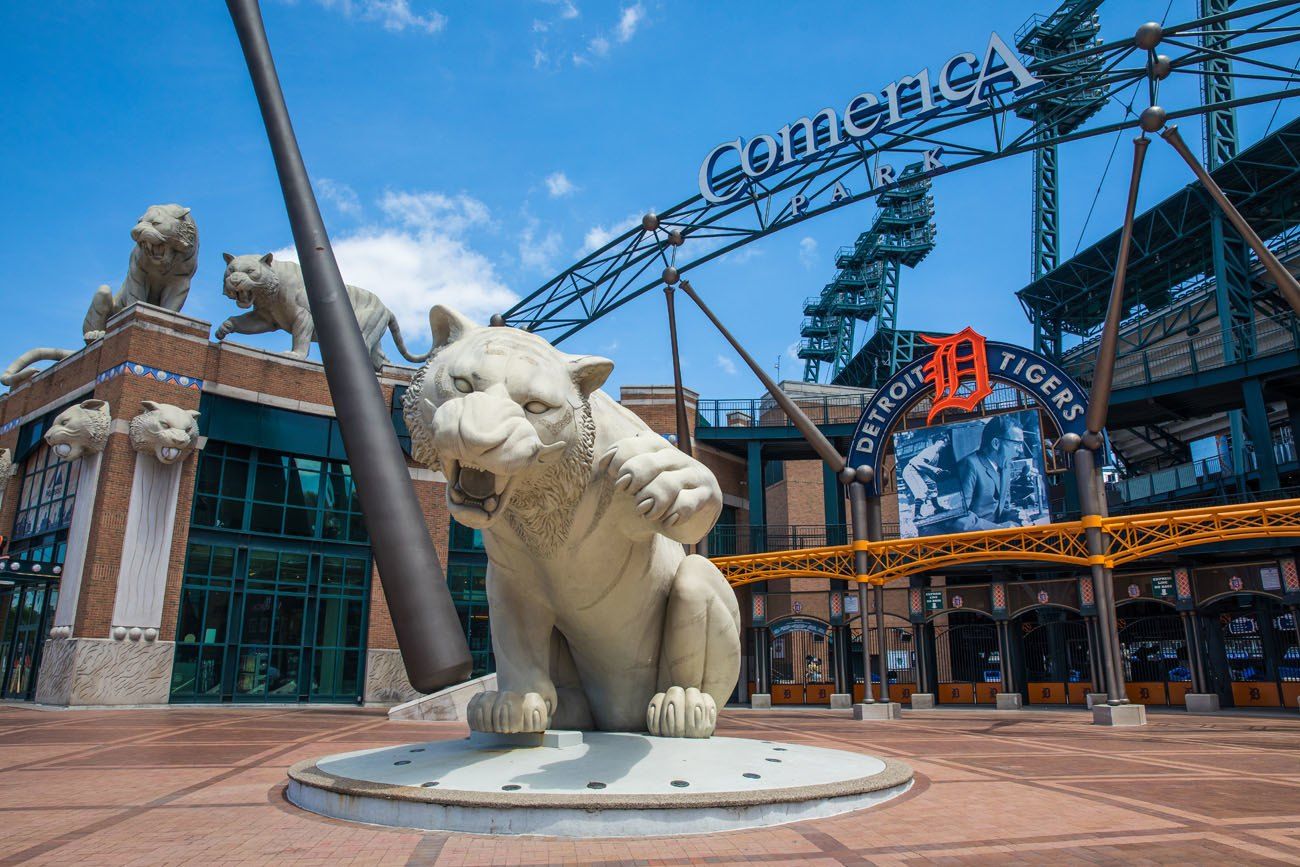 Learn how to put all of this together, and how to have the best experience in Detroit, with our Detroit Travel Guide.
Best Things to Do in Detroit: On a Map
How to Use This Map: Click the tab in the top left hand corner of the map to view the layers. You can click the check marks to hide or show layers. If you click the icons on the map, you can get more information about each point of interest. If you click the star next to the title of the map, this map will be added to your Google Maps account. To view it on your phone or computer, open Google Maps, click the menu button, go to "Your Places," click Maps, and you will see this map on your list.
---
If you have any questions about the best things to do in Detroit, let us know in the comment section below.
Visit More Cities in the USA
BEST OF NEW YORK CITY: For a list of the top experiences in New York City, read our article Best Things to Do in New York City.
BOSTON: For information about Boston, read our article Best Things to Do in Boston. We also have a detailed guide on how to day trip to Plymouth, Lexington, and Concord from Boston.
LAS VEGAS: For information on how to visit Las Vegas, read our article Best Things to Do in Las Vegas, which also has advice on where to stay, where to eat, and how to plan your time. If you are visiting with kids or teenagers, don't miss our article Best Things to Do in Las Vegas with Teenagers.
SAVANNAH, GEORGIA: Learn about the top experiences in our article Best Things to Do in Savannah, Georgia. We cover the top places to eat in our Savannah Restaurant Guide. Savannah also makes a great place to work remotely.
NASHVILLE: For recommendations on what to do in Nashville, check out our articles Best Things to Do in Nashville and Best Eats in Nashville.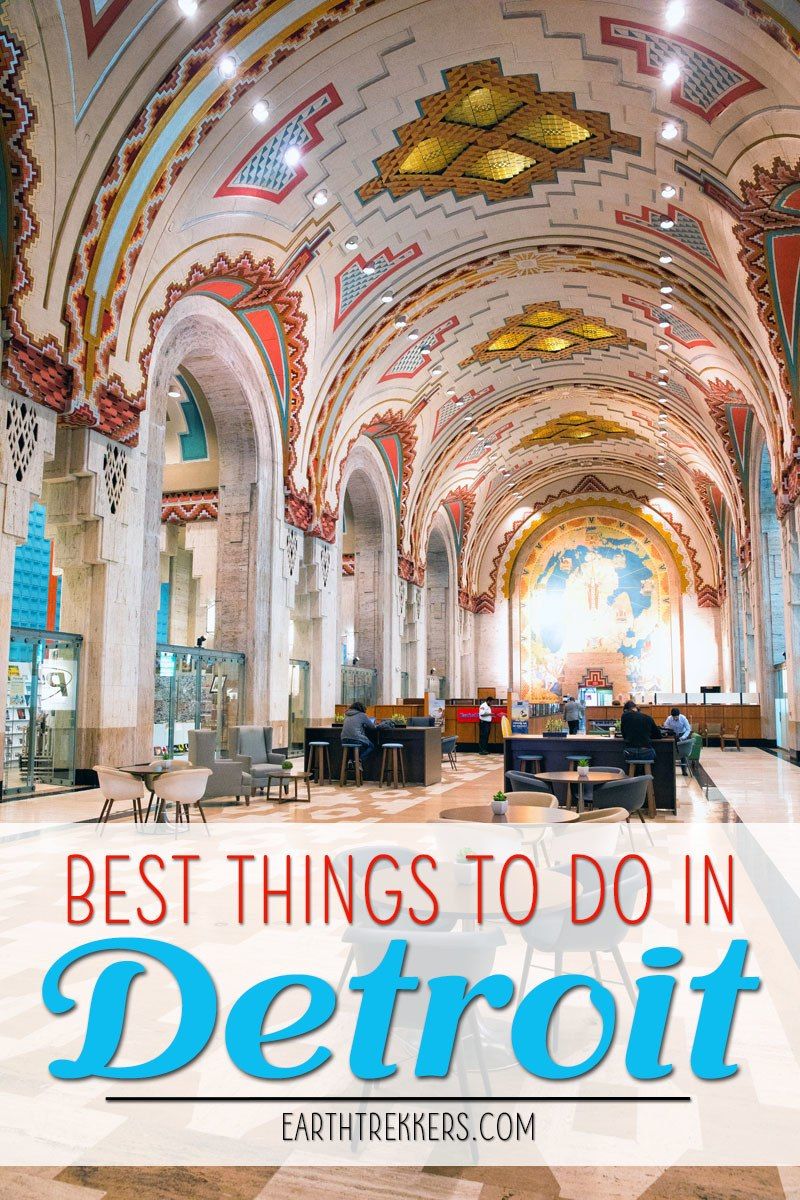 All rights reserved © Earth Trekkers. Republishing this article and/or any of its contents (text, photography, etc.), in whole or in part, is strictly prohibited.