Boston is famous for a lot of things: the Boston Red Sox, the Freedom Trail, Harvard and MIT, and the famous Boston Tea Party, the event that kicked off the American Revolutionary War.
We spent almost one full week touring Boston and the nearby towns and we were amazed by how much there is to do here. In just Boston alone, we came up with a list of 30 things to do!
If you are planning a trip to Boston, here is our long list of things to do in the city. At the end of this post we have recommendations as to how to plan your time here, whether you have 1, 2, or more days to spend in this historic city.
30 Things to Do in Boston
#1 Buy the Boston Go Card
The Boston Go Card is an all-inclusive pass that gets you into most attractions in the city and in nearby towns, like Plymouth, Lexington, and Concord. It is available for 1, 2, 3, 5, or 7 days.
We purchased the 5-day pass. During our visit to Boston, I added up the cost of all of the attractions we visited with the Go Card and we saved over $100 per person!
Plus, it is convenient showing your pass at the ticket booths, rather than paying by credit card or cash over and over again. And if lines are long, at some attractions you can bypass the lines by using the Go Card VIP lines or waiting in the shorter will-call lines.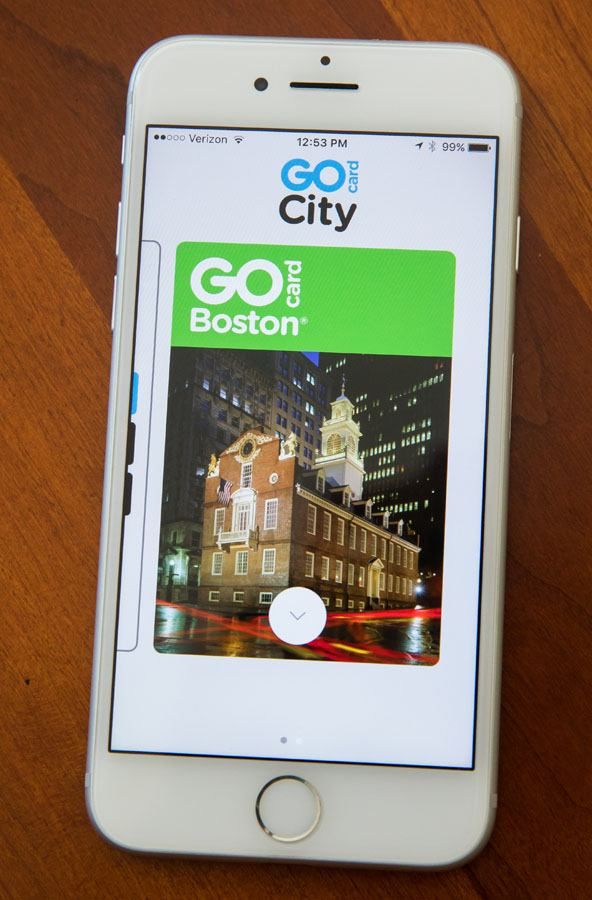 We ordered our pass online before arriving in Boston. Install their app on your smartphone. In this app you can access your Go Card pass and read about the 41 included attractions in the guide. At each attraction, just show the ticket attendant your pass via this app. It's so easy to use.
I recommend printing a copy of your Go Card pass just to have as a back up.
There are two versions of the Go Card. The All-Inclusive Pass, discussed above, gives you access to all of the sights on the pass. You can visit as many sights as you like during the period of time your pass is valid. The Explorer Pass is better for those who plan to only visit a few sights, since this pass gives you access to 2, 3, 4, or 5 attractions.
For more information or to order your Go Card, click here.
#2 The Freedom Trail
If you do one thing in Boston it should be a walk on the Freedom Trail.
The American Revolution began in Boston. The Freedom Trail is a 2.5-mile route that takes you to 16 historical sites that were important during this war. Take a walk back in time as you visit meetinghouses, burial grounds, Paul Revere's house, and the Old North Church.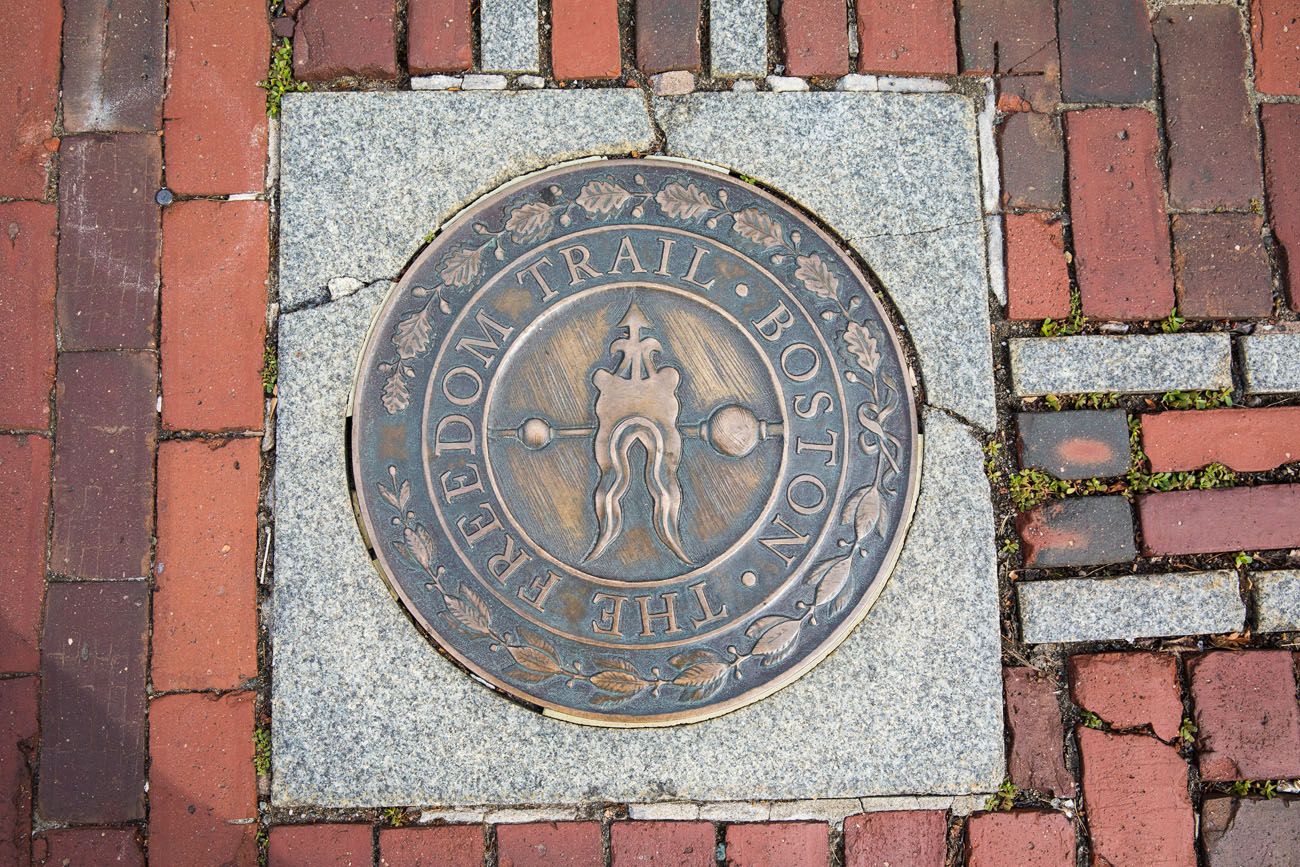 Faneuil Hall and the Samuel Adams statue | Best Things to Do in Boston
You can walk the Freedom Trail on your own or take a tour.
How to Walk the Freedom Trail without Taking a Tour
We chose to walk it on our own. I installed the Freedom Walk app on my phone so I had the route through Boston. We printed out the Freedom Walk Trail brochure, which provided information on each of the 16 sites. At each stop, we took turns reading about what we were visiting. Joining a tour probably would have provided more information, but for us, it was nice to explore the Freedom Trail at our own pace.
It took us about 4 hours to walk the entire Freedom Trail, including quick breaks along the way.
I would recommend taking a break halfway through the walk, just to recharge your batteries. Faneuil Hall and Quincy Markets are good places to grab a quick bite to eat and rest your feet for a little bit.
We started at Boston Common and ended at Bunker Hill. If you are looking for a place for lunch or dinner, consider Warren Tavern, a historic tavern located just a few blocks from Bunker Hill. It's the perfect end to a day on the Freedom Trail.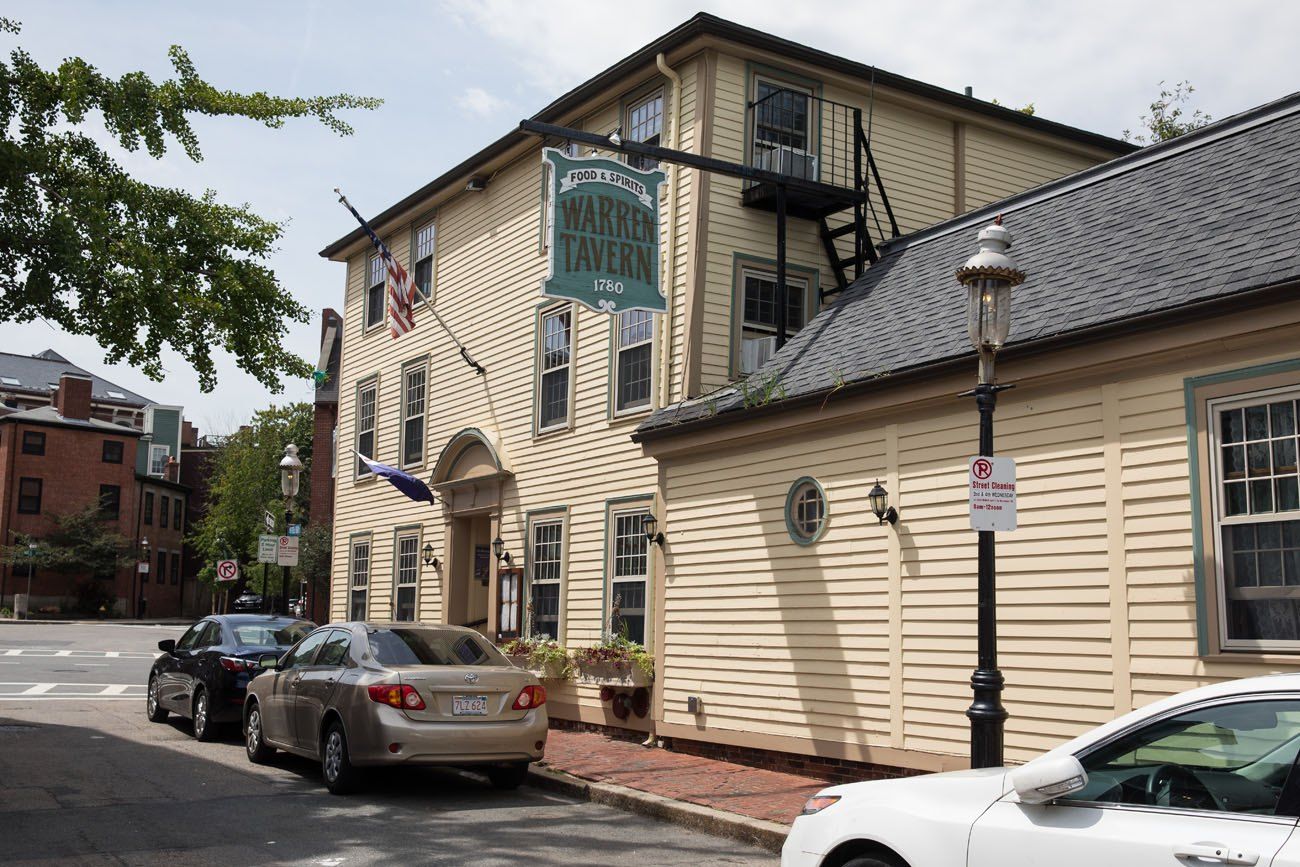 #3 Fenway Park
Fenway Park is another must-see site in Boston. If you are here during the summer months, consider watching a game here. Even if you are not a baseball fan, a visit to Fenway Park is still well worth your time.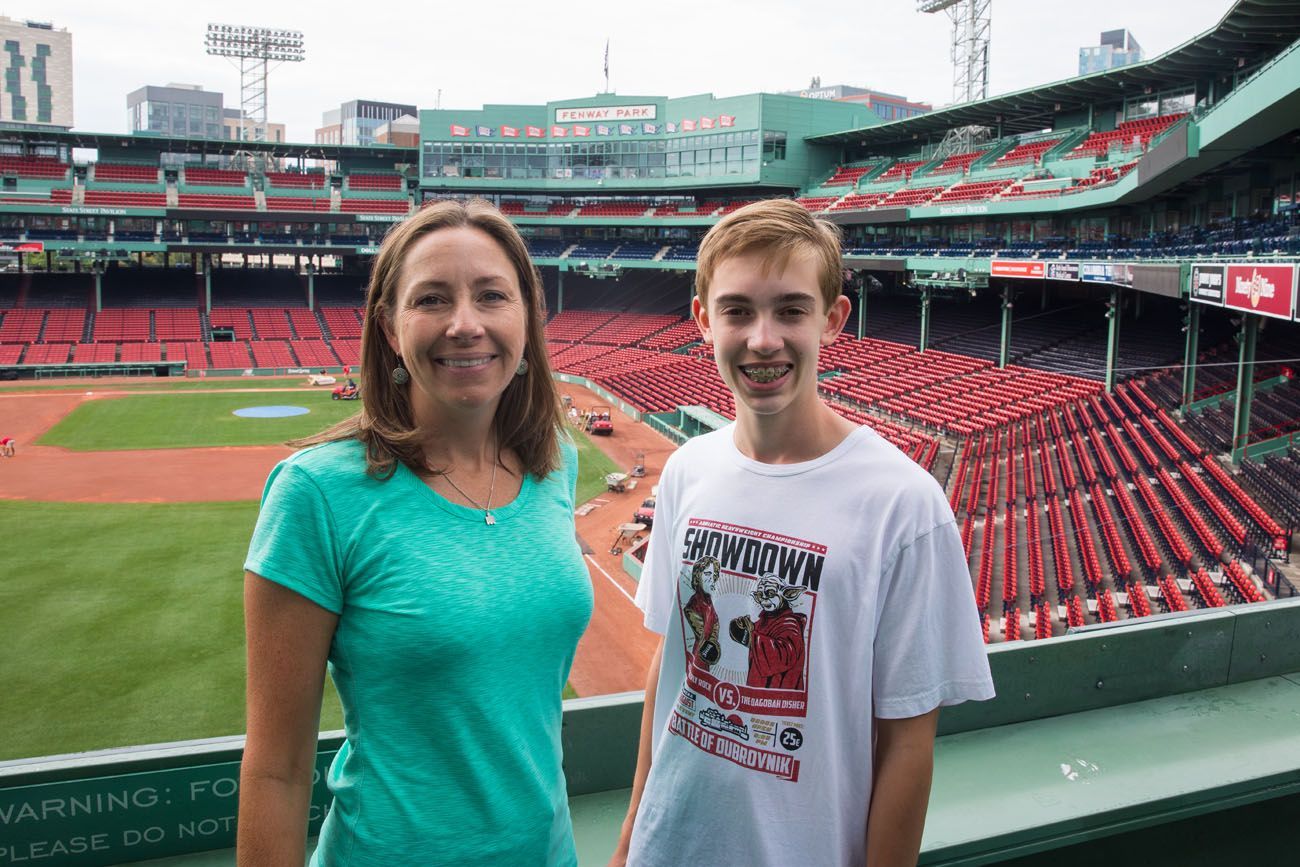 Originally, we wanted to watch a game at Fenway. However, the cheapest tickets I could find were over $70 per person. We are not baseball fans so instead we chose to take a tour (at a much more budget friendly price, and it is included on the Go Card!). This tour was one of the highlights during our visit to Boston.
Fenway Park is the oldest Major League baseball park that is still in use. It opened in 1912 and the first game took place just 5 days after the Titanic sunk. During a tour, stand atop the Green Monster, take in the view from the press box, and learn a lot of interesting facts about Fenway Park.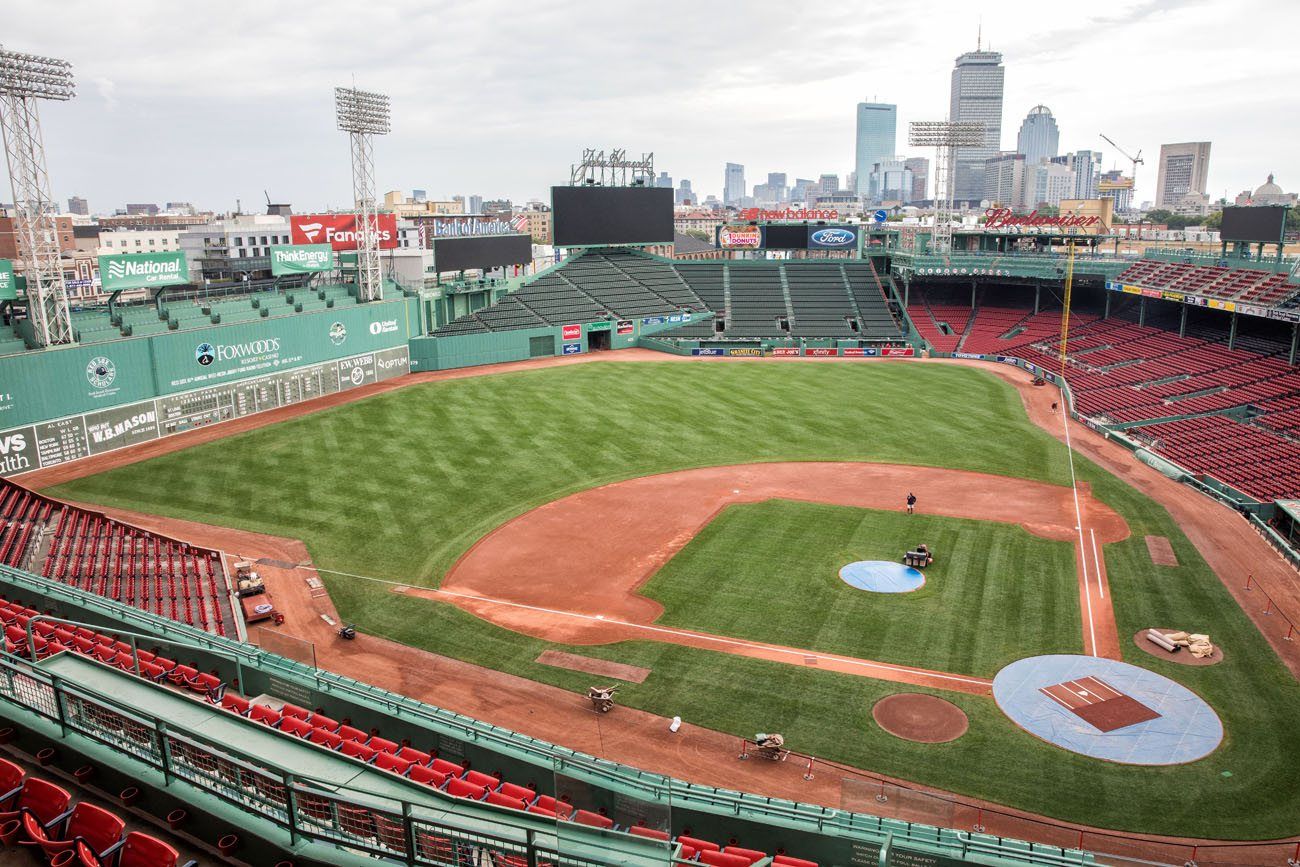 Fenway Park | Best Things to Do in Boston
#4 Take in the View from the Skywalk Observatory
For an aerial view over the city, visit the Skywalk Observatory. Get 360° views over Boston. There are lots of included exhibits about the history of Boston.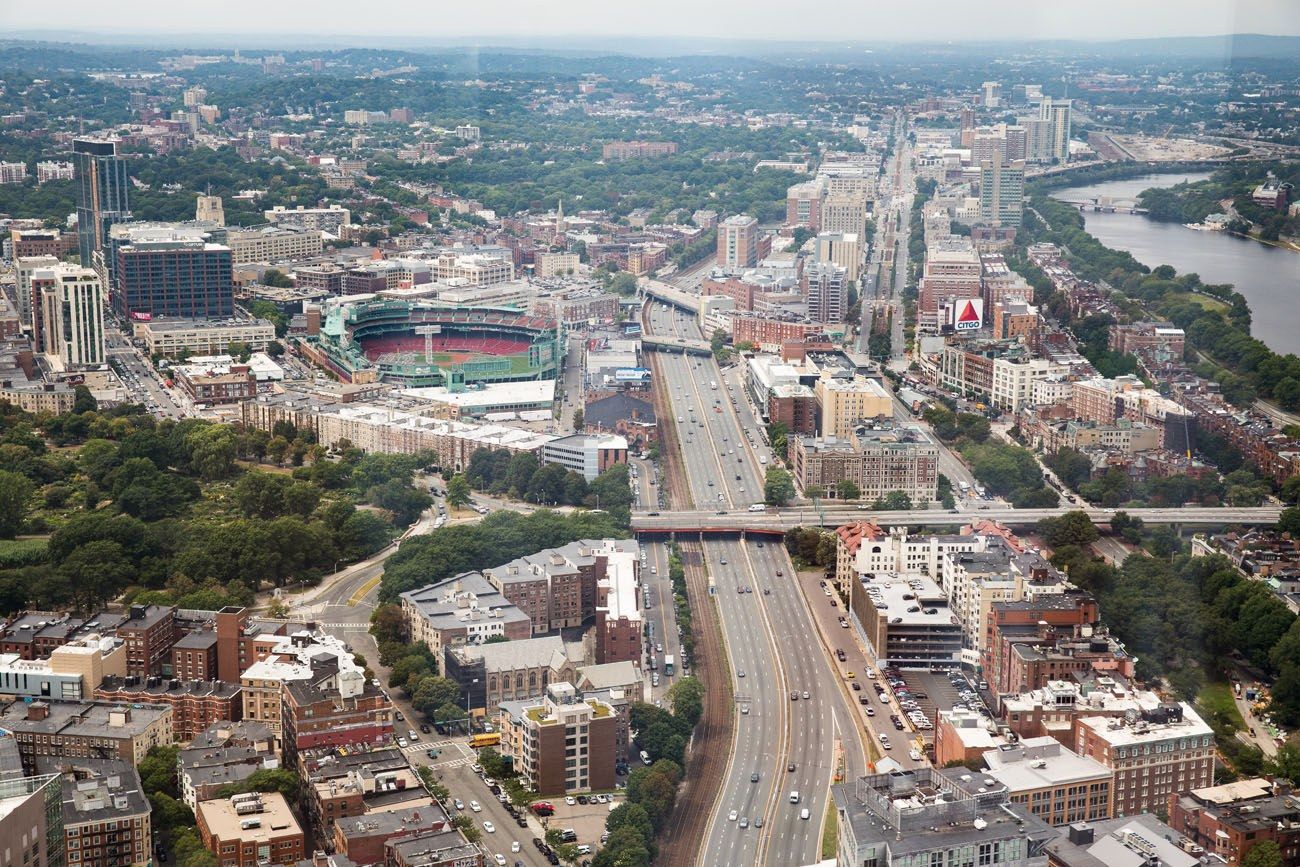 Location: 800 Boylston Street, in the Prudential Center Boston
#5 Boston Common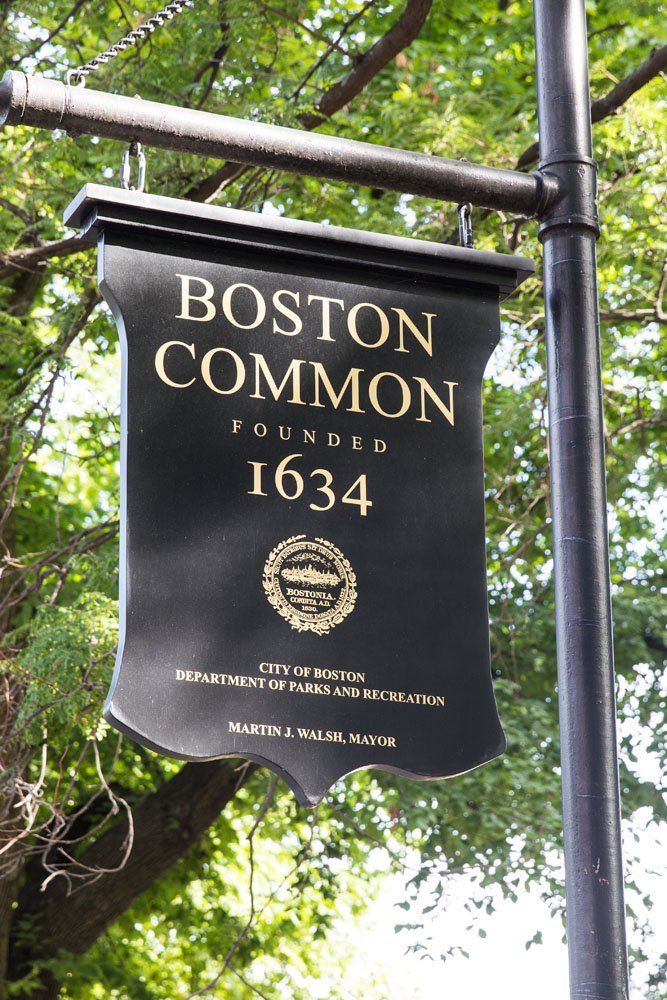 The Boston Common is the oldest public park in the USA. This was once a pasture for sheep, then became the training grounds for militia during the Revolutionary War, and more recently has been the site for public speeches by Martin Luther King JR and Pope John Paul II.
If you walk the Freedom Trail, you will start or end on the Boston Common.
#6 Eat your way through Boston
Boston is home to some excellent restaurants. The North End is Boston's "Little Italy." Dine on wonderful Italian food and definitely check out Regina Pizzeria, home to the best pizza in town.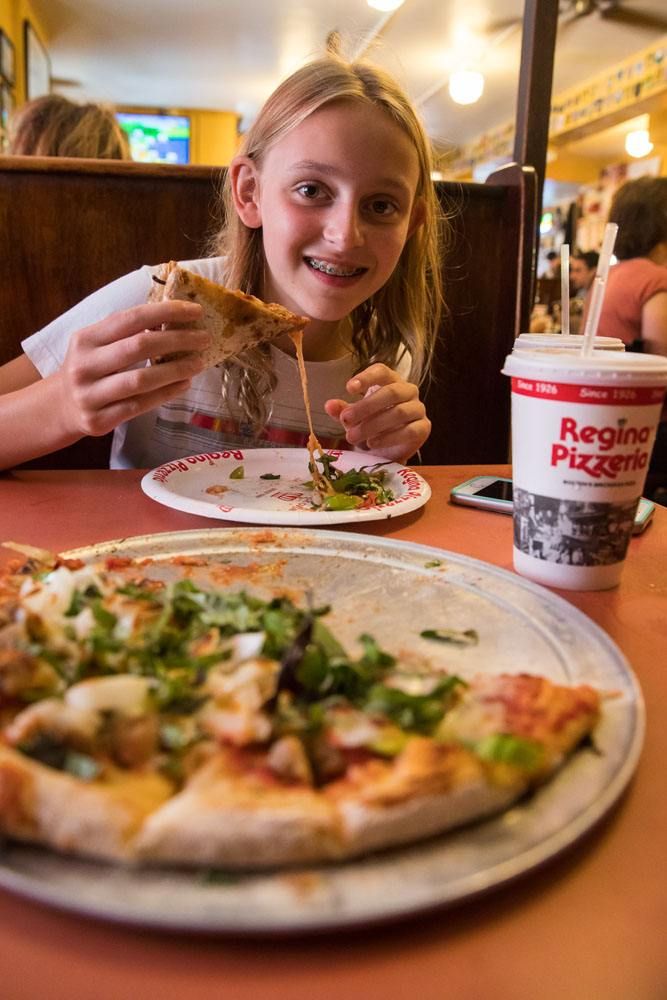 Lobster rolls are delicious and numerous restaurants claim to have the best in town. Our favorite spot was James Hook & Co.
Other restaurants we recommend are Neptune Oyster (amazing fresh seafood and oysters), JP Licks (best ice cream in town), and Toro (a tapas restaurant that reminded Tim and I of Barcelona).
#7 Harvard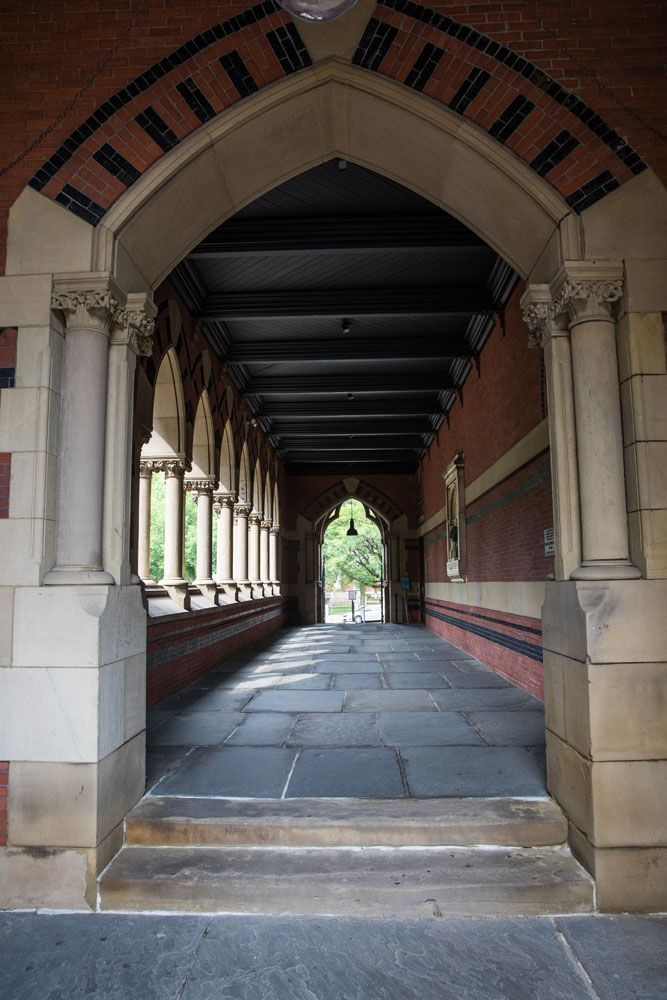 Harvard | Best Things to Do in Boston
Take a trip just across the Charles River to Harvard. Harvard was the first college founded in the US in 1636. Take a stroll through Harvard Yard and while you are here, you can tour the Peabody Museum of Archaeology or the Harvard Museum of Natural History (both are included on the Boston Go Card).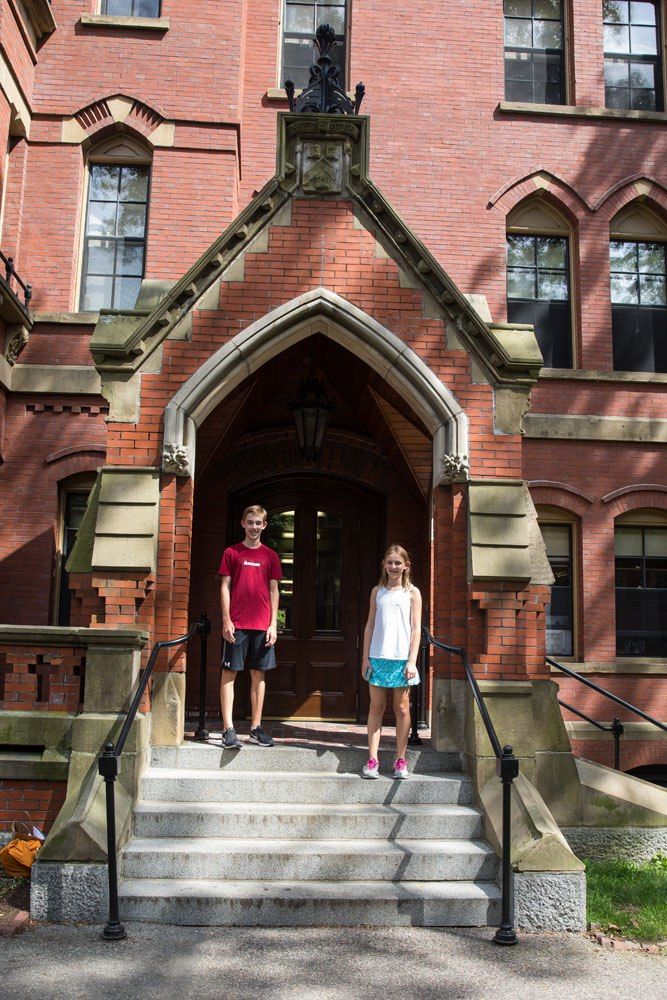 #8 MIT Museum
Sitting right next door to Harvard is MIT. We visited the MIT Museum, a must-see for Tyler, with his interest in robotics and technology.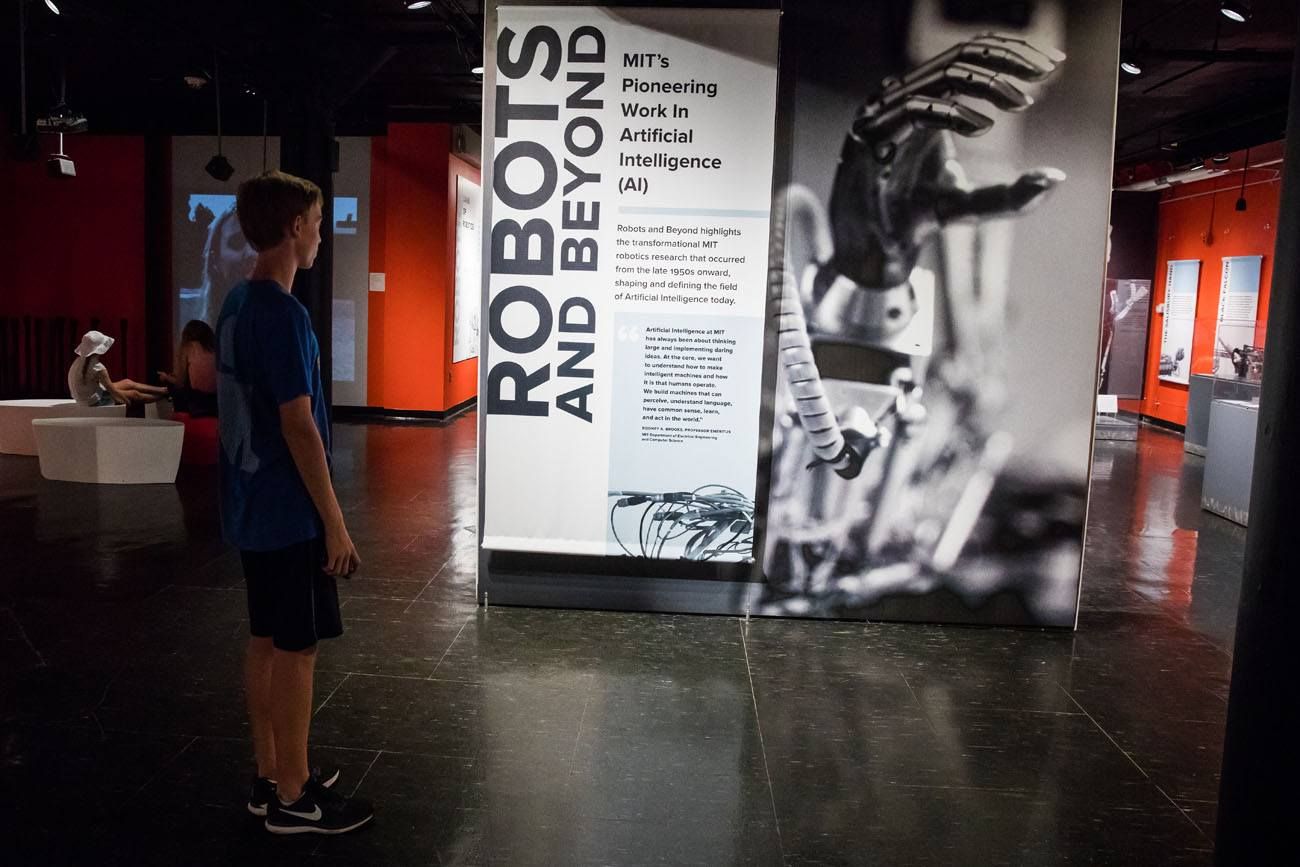 MIT Museum | Best Things to Do in Boston
This is a small museum and takes about an hour for a visit. Holograms, robots, and scientific prototypes fill this museum.
#9 Acorn Street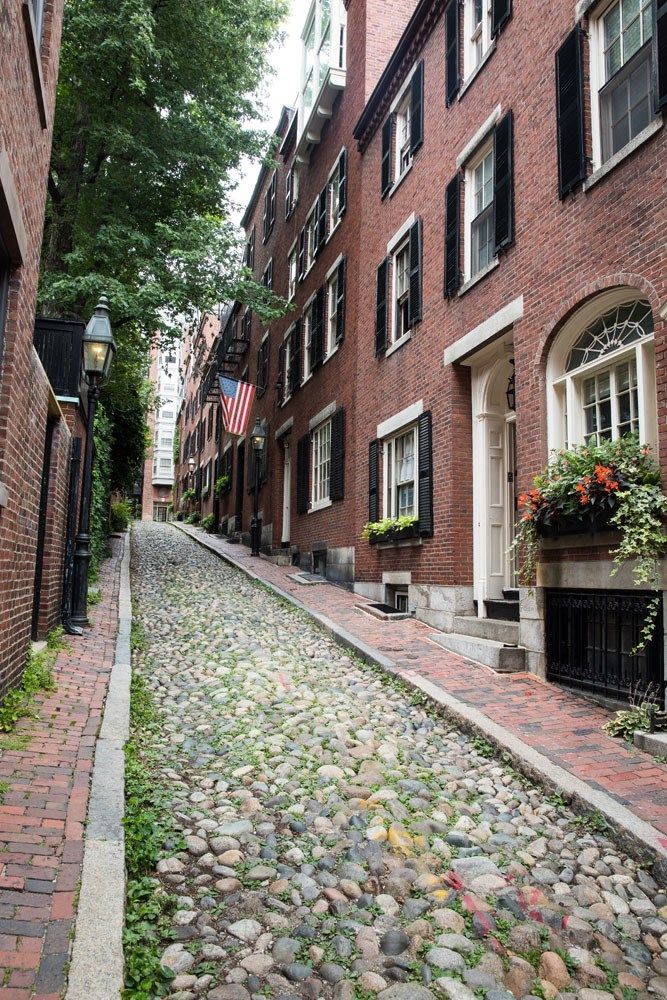 Acorn Street | Best Things to Do in Boston
Quick to visit, a walk on this narrow, cobblestoned street is like stepping back in time. Located in Beacon Hill, a walk on Acorn Street can be combined with visits to nearby Boston Public Garden and the Cheers bar.
#10 Boston Public Garden
The Boston Public Garden sits right next to Boston Common. The Boston Public Garden is gorgeous. Stroll around the lake, walk across the world's smallest suspension bridge, go for a jog, or ride one of the Swan Boats.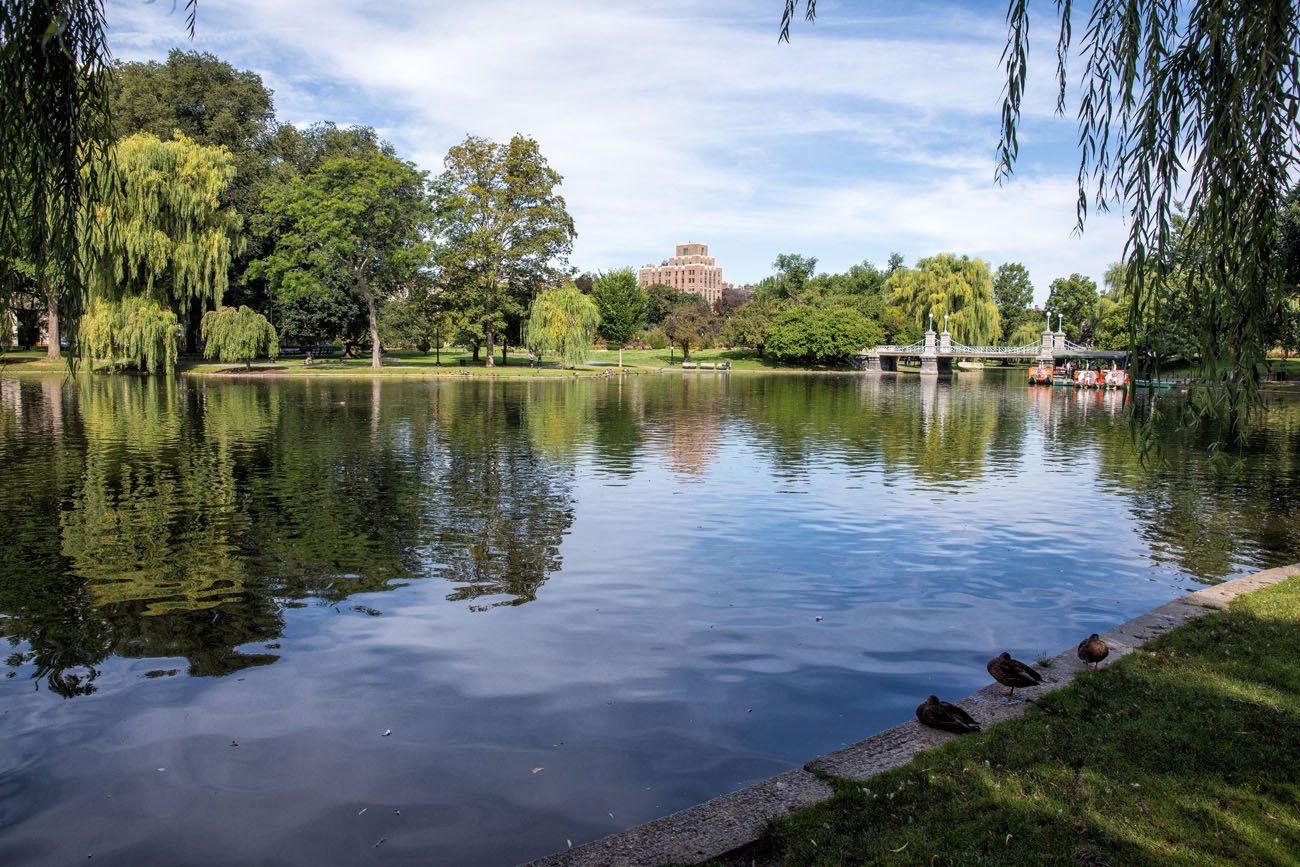 Boston Public Garden | Best Things to Do in Boston
#11 Cheers, Where Everybody Knows Your Name
OK, this one is a bit of a tourist trap. Located in Beacon Hill next to the Boston Public Garden is the Cheers bar. This is the bar that served as the inspiration for the setting of the TV show Cheers.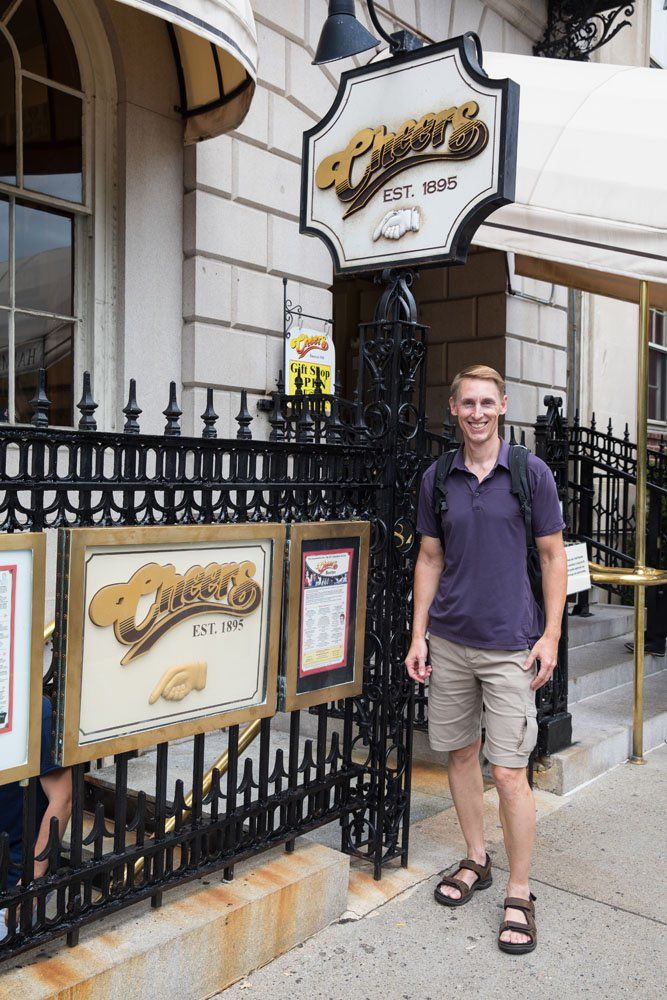 On our visit, we were a bit disappointed to walk in and feel like we were in a restaurant like TGI Fridays. This was not what we had in mind at all.
If you are looking for a bar with a more local vibe, this is not your place. But if you are a Cheers fan or want to check it out, pop in for a drink or take a photo.
There is a second Cheers location in Boston at the Faneuil Hall Marketplace. This bar opened in 2001 and is a replica of the TV set.
#12 Mapparium: See the World like it's 1935
We loved this!!
The Mapparium is a three-story stained glass globe that was constructed in 1935. The map has never been updated, so you can see the world with its political boundaries as it was before World War II.
From a glass catwalk that spans the globe, view the globe from the inside out. I felt like I could stare at this map forever; it was just so fascinating to see just how much the world has changed.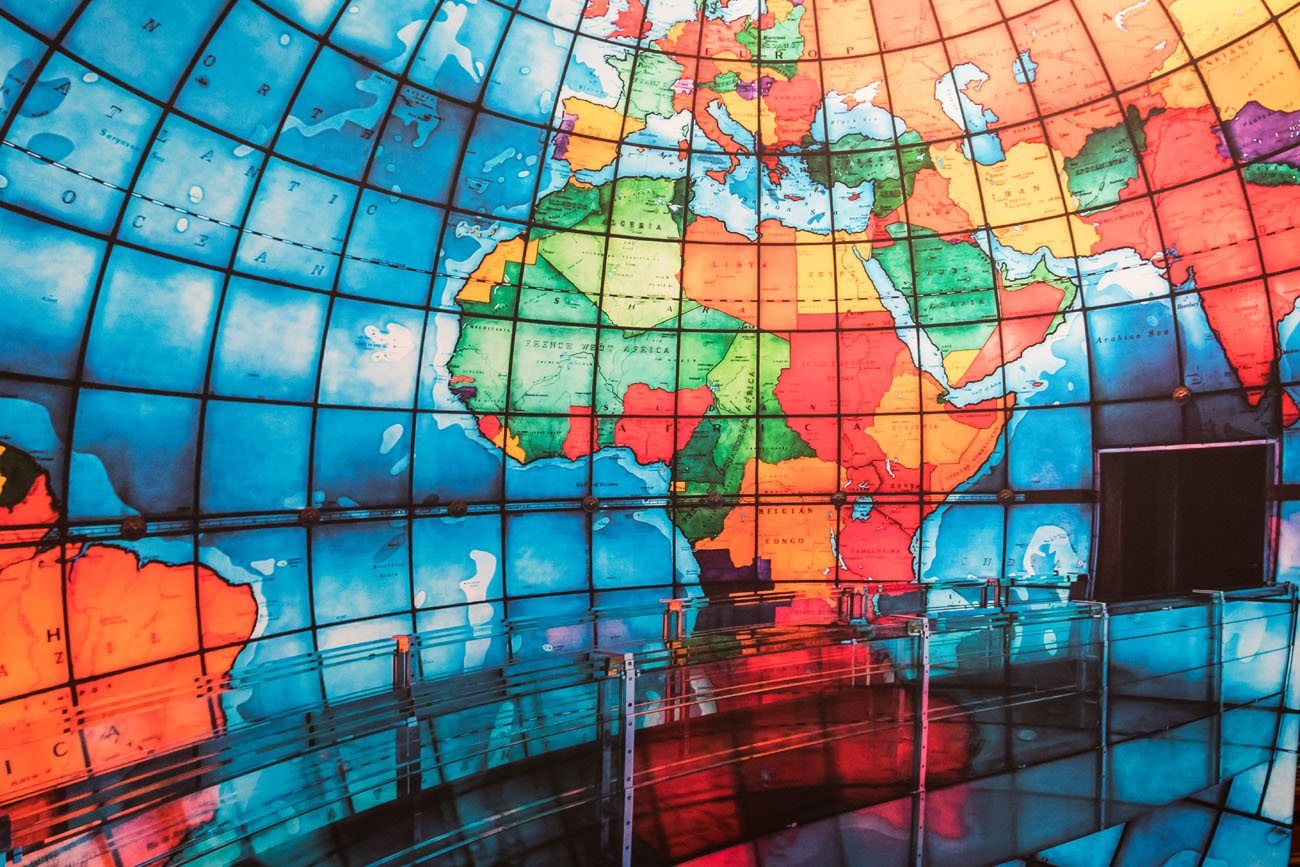 Mapparium | Best Things to Do in Boston
One of the coolest parts about the Mapparium is the acoustics. This is a "whispering gallery," where one person whispers and people at the other end of the bridge can hear what they are saying. It's wild and makes this visit even more fun.
Location: Mary Baker Eddy Library
#13 Go Whale Watching
Just off the coast of Cape Cod is the Stellwagen Bank Marine Sanctuary, a feeding site for humpback whales, right whales, dolphins, and other marine life. The New England Aquarium offers daily whale watching cruises between March and November.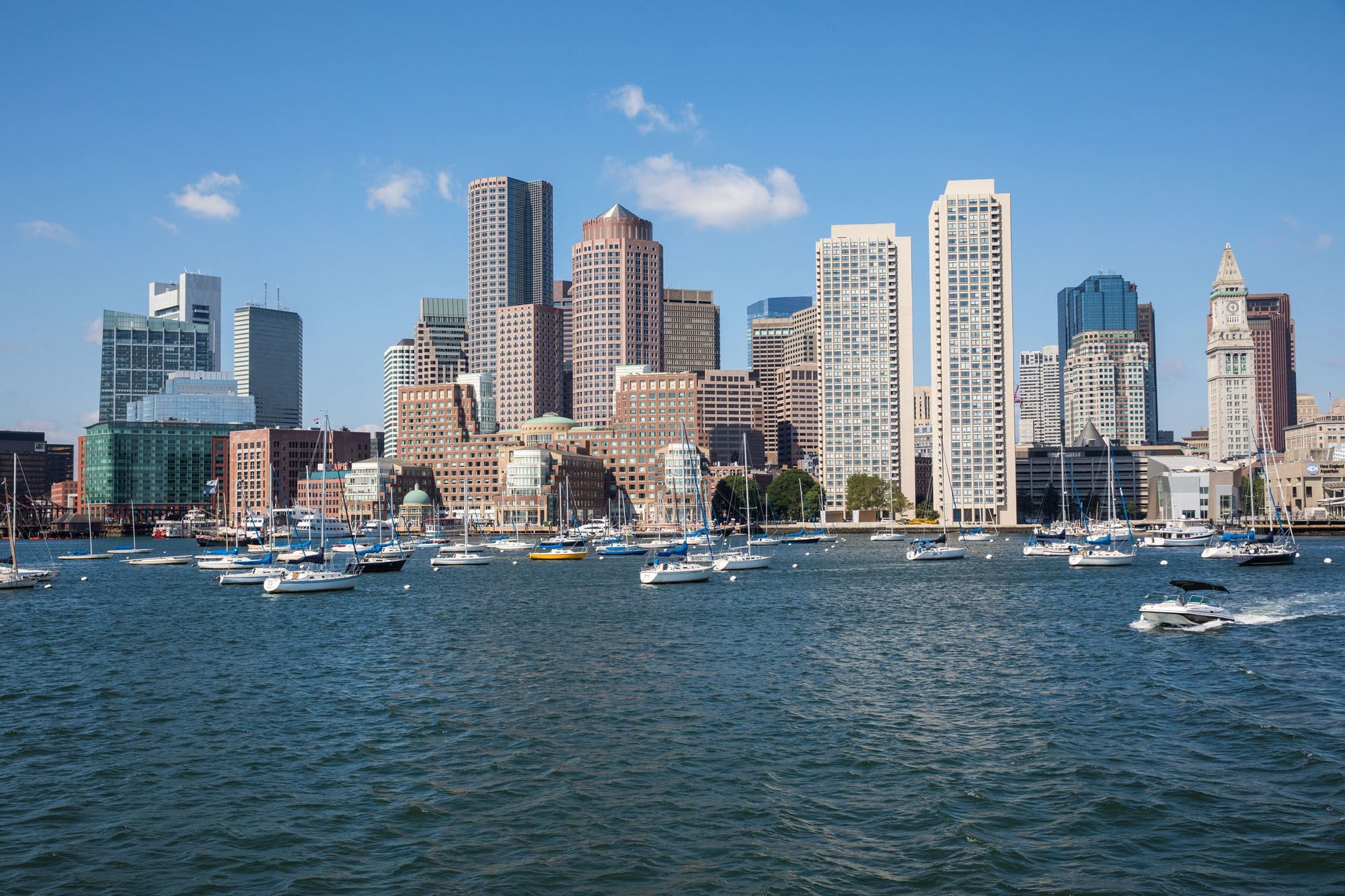 View of the Boston skyline during the cruise | Best Things to Do in Boston
This was an awesome experience. We boarded a catamaran and cruised for an hour and a half out to the tip of Cape Cod. We could see Provincetown just off in the distance. For one hour we watched with amazement as 20 different humpback whales made appearances near our boat, breaching, feeding, and swimming along the surface of the water. We saw so many whales that even the naturalist on board our boat was amazed.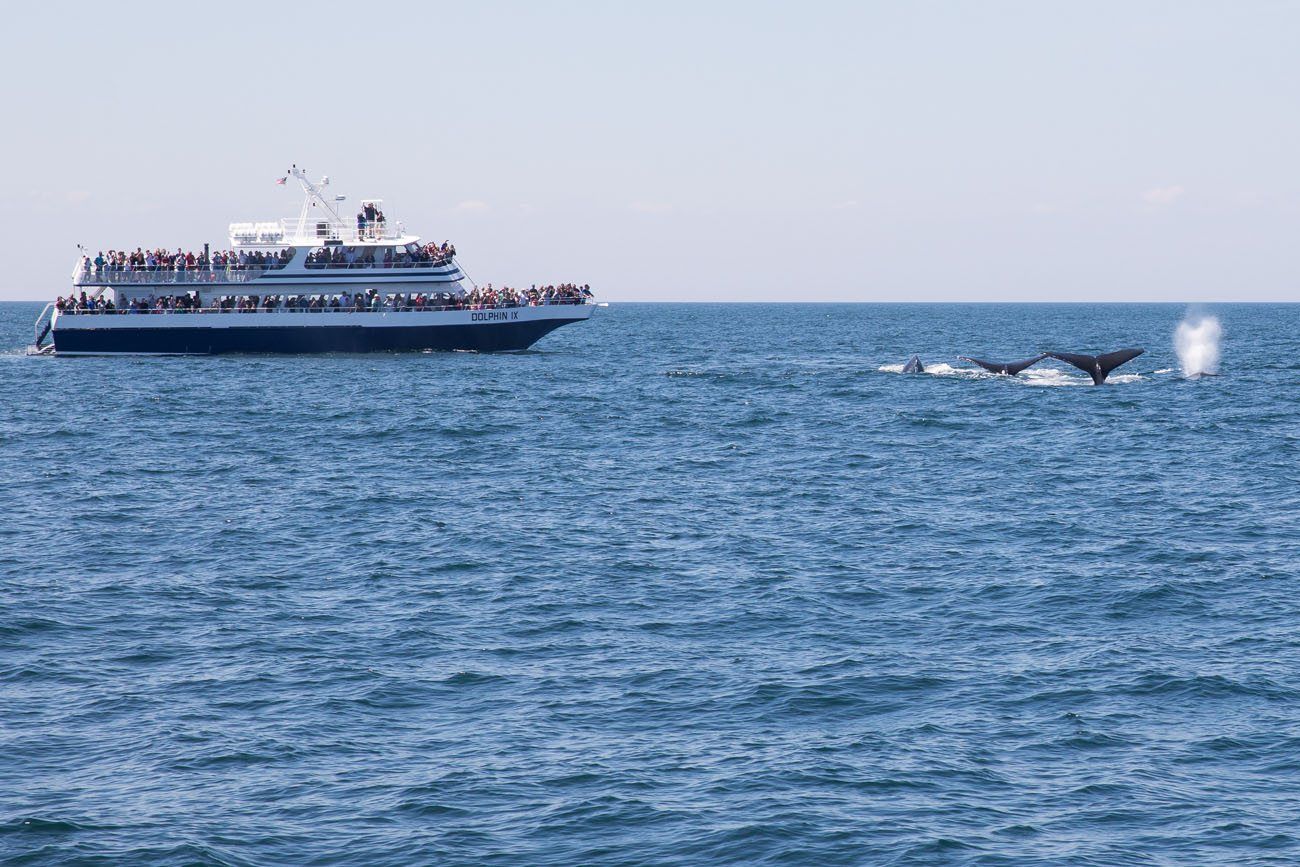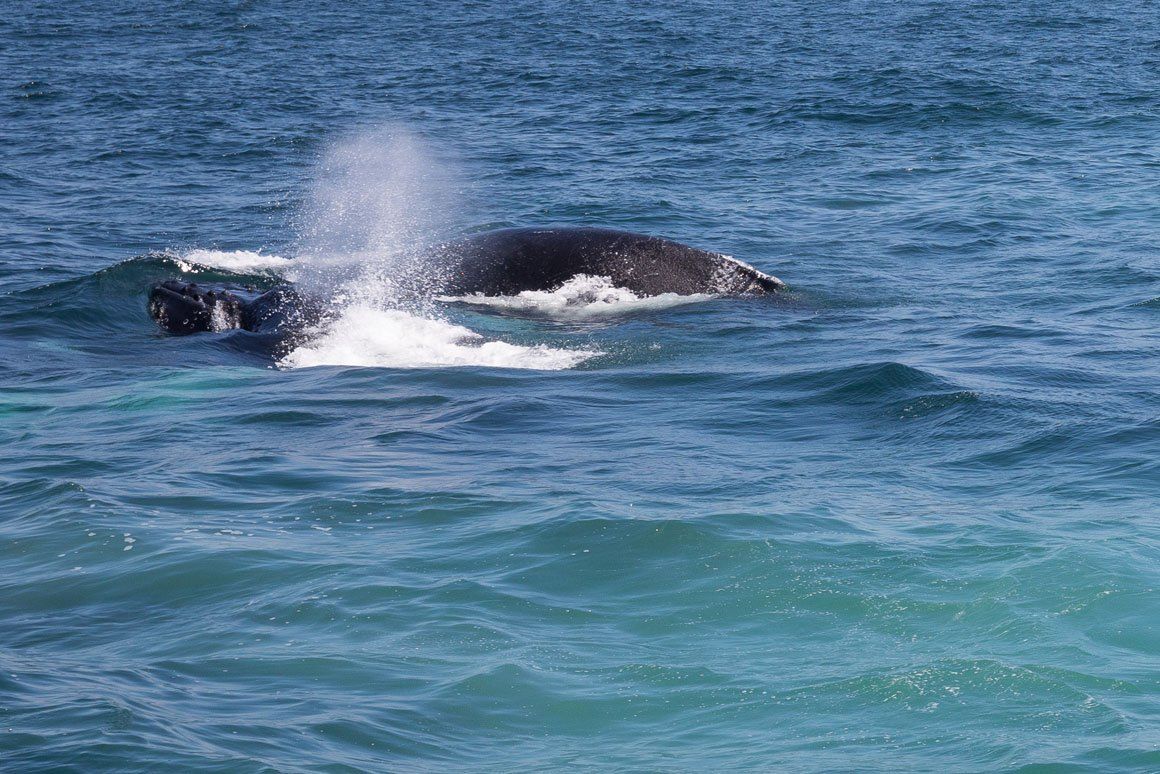 Length of time: 4 hours
When to go: March to November, peak season is August
#14 Rose Fitzgerald Kennedy Greenway
It's got a big name, but the Rose Fitzgerald Kennedy Greenway is a strip of gardens and walking trails through the heart of Boston. We walked on the Greenway almost every day we were in Boston, since it connects Seaport Boulevard with the harbor, Faneuil Hall, and the North End.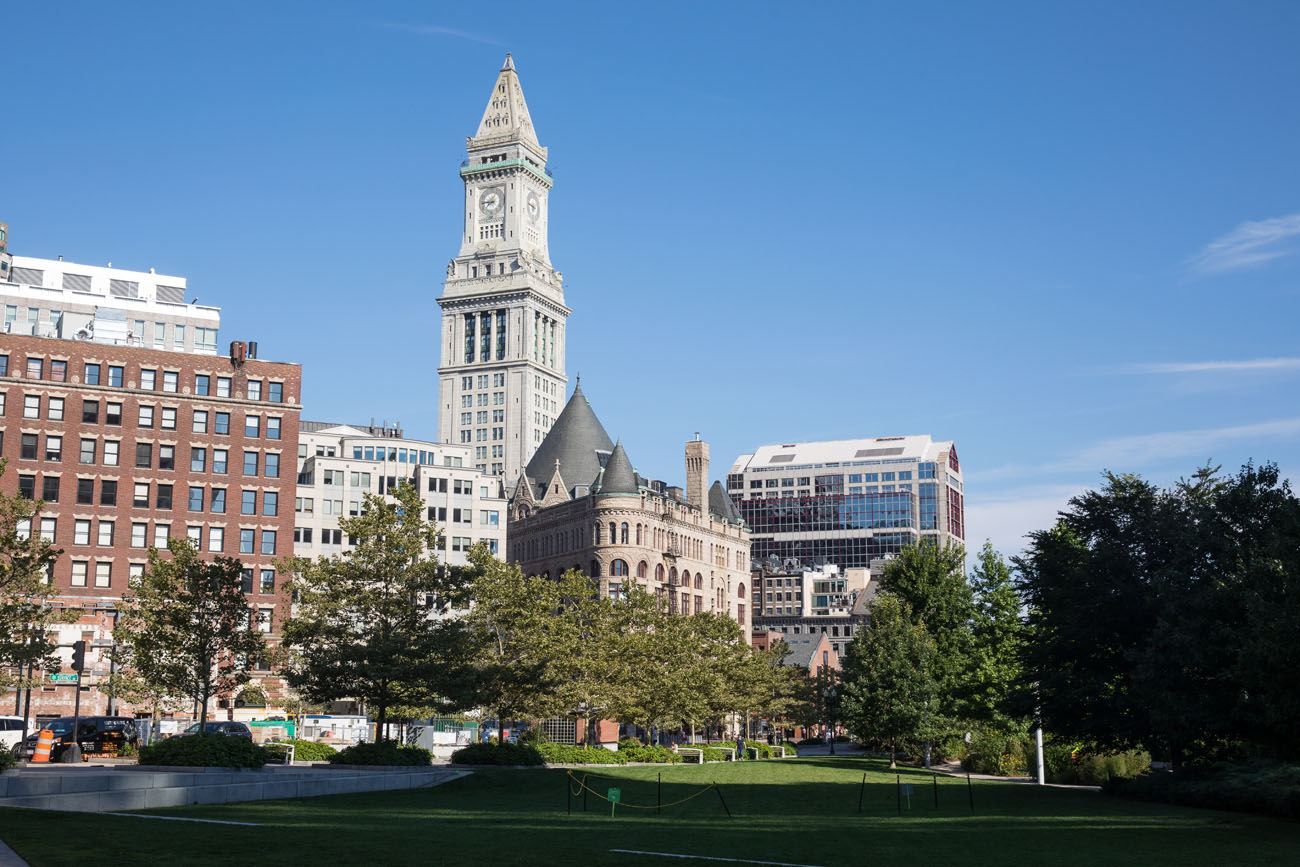 View from the Greenway | Best Things to Do in Boston
#15 Take a Duck Tour of Boston
The Duck Tour covers all of the major sites in Boston. Cruise past Boston Common, Faneuil Hall, the Old State House, the Boston Public Library, and Beacon Hill. The boats also enter the Charles River for views of the Cambridge and Boston skylines.
Tours last 80 minutes and this is a great way to get an overview of the city or see a lot of the most popular sites in a short period of time, perfect for those with just a day or two in Boston. We did not take the Duck Tour since we walked to most of the included sites on our own. But we did see the boats all over town.
Visit the Boston Duck Tours website for more information.
#16 Boston Public Library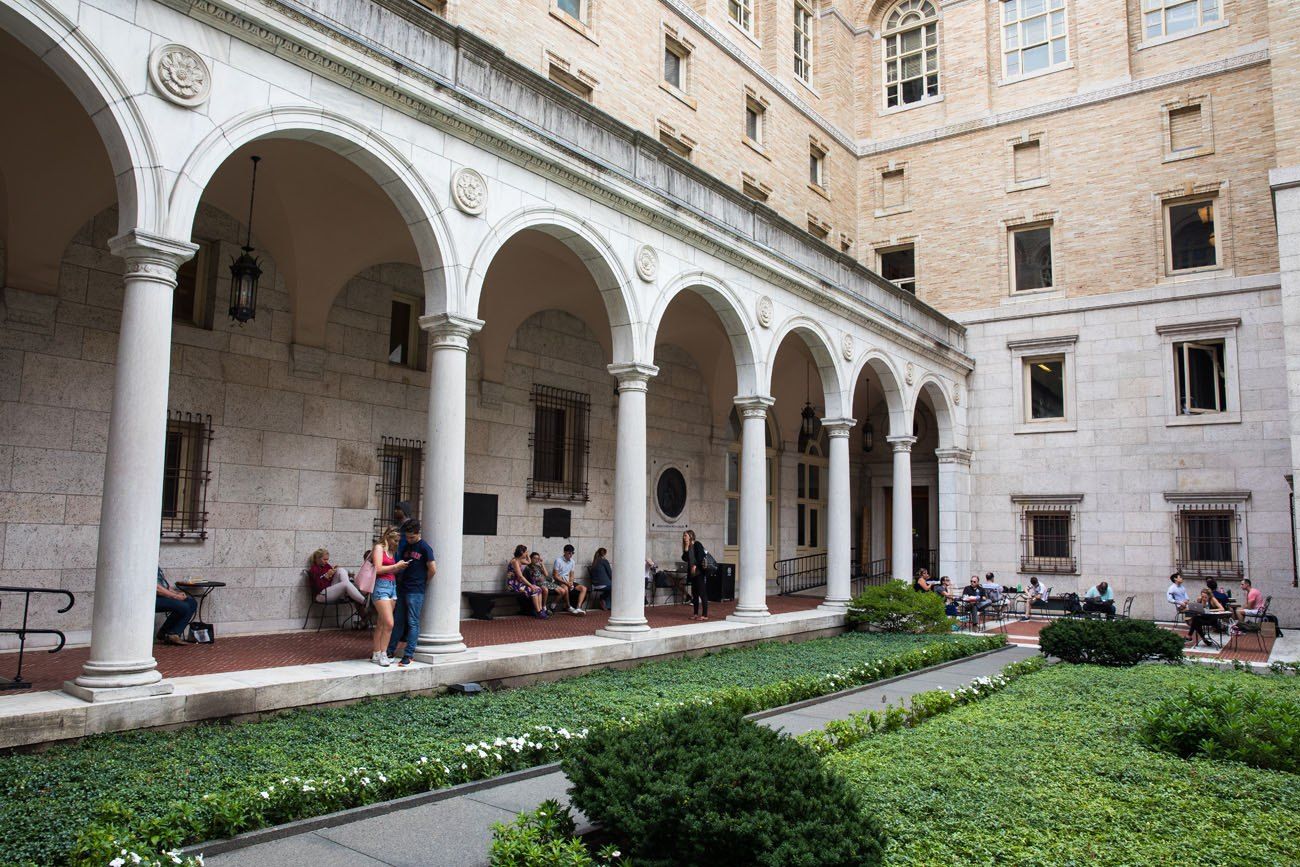 Boston Public Library | Best Things to Do in Boston
The Boston Public Library is located next to Copley Square in the Back Bay area of Boston. It is heralded as one of the best public libraries in the US. Highlights include the Roman style courtyard and art murals by John Singer Sargent. This can be a quick visit if you just wander through the library or you could spend hours here. They even offer guided tours.
Location: 700 Boylston Street
Cost: Free!
#17 New England Holocaust Memorial
The New England Holocaust Memorial is dedicated to the six million Jewish people who were killed in Nazi Germany during World War II. Visitors walk through six glass towers. Engraved on the glass panels of the towers are the identification numbers of those killed during the Holocaust.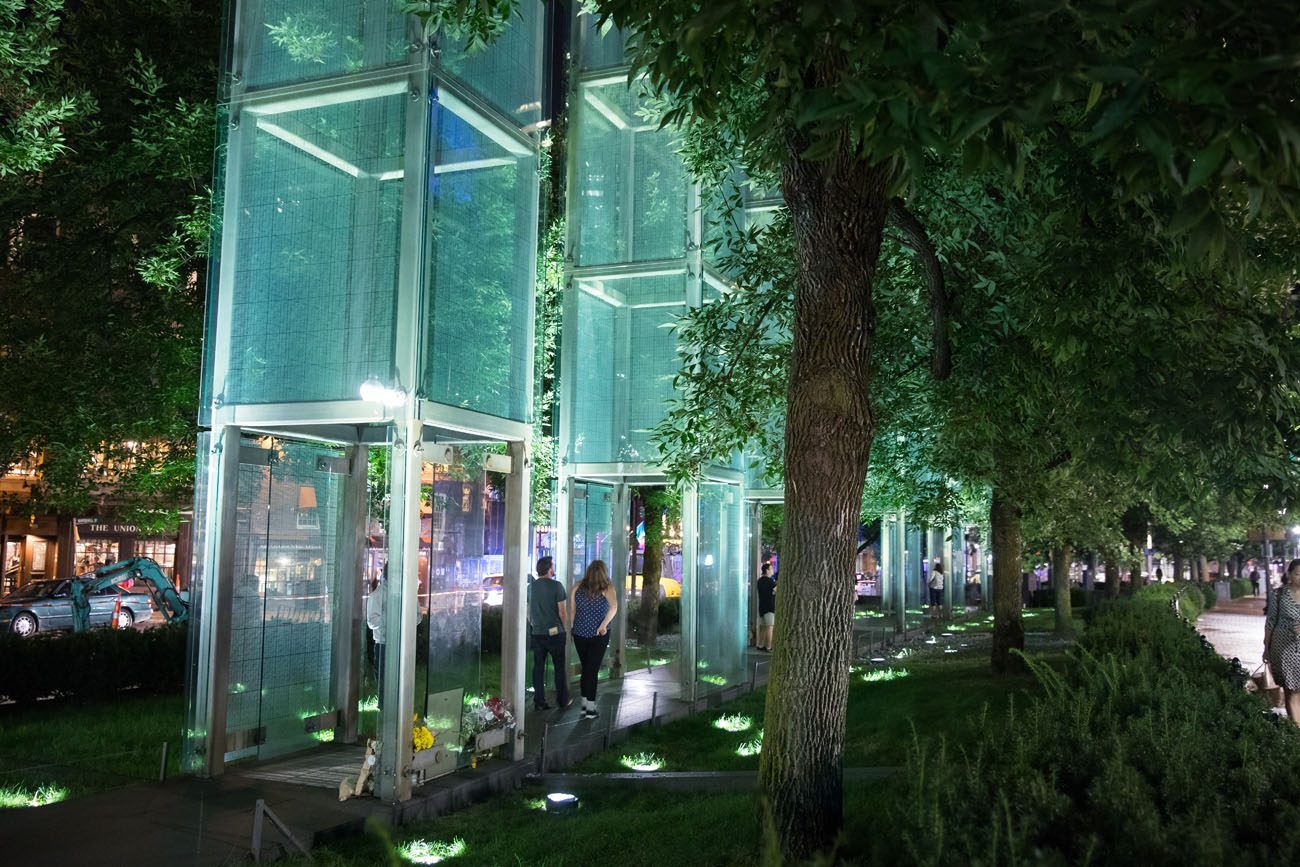 New England Holocaust Memorial | Best Things to Do in Boston
We visited the Holocaust Memorial during the afternoon of August 14. Just a few hours later the Memorial was vandalized. A 17-year-old man threw a rock at the Memorial, breaking one of the glass panels.
We returned the following day. Flowers and candles now stood in front of the missing glass panel and the Memorial was being guarded by police officers. This was the second time the Holocaust Memorial was vandalized that summer, and there have only been two such incidences since its construction in 1995.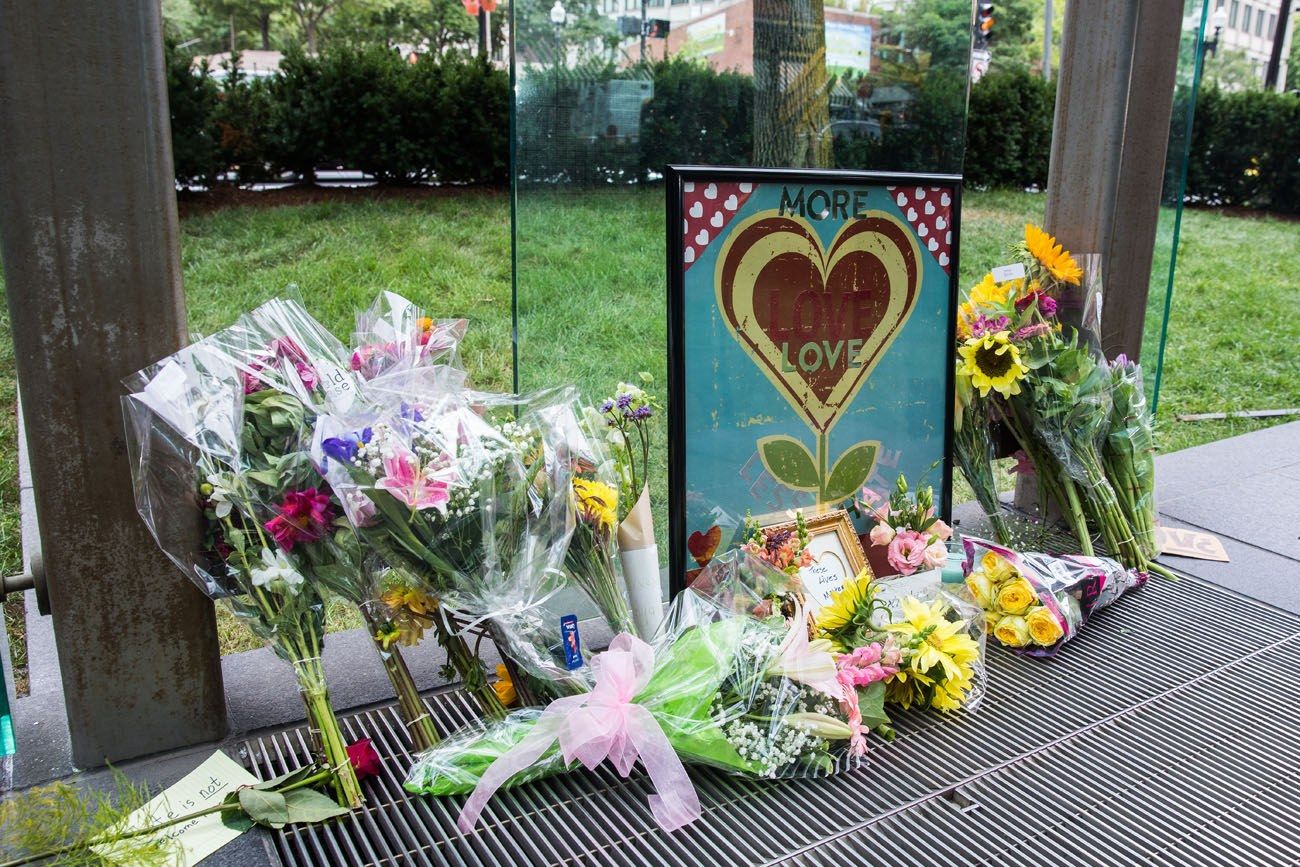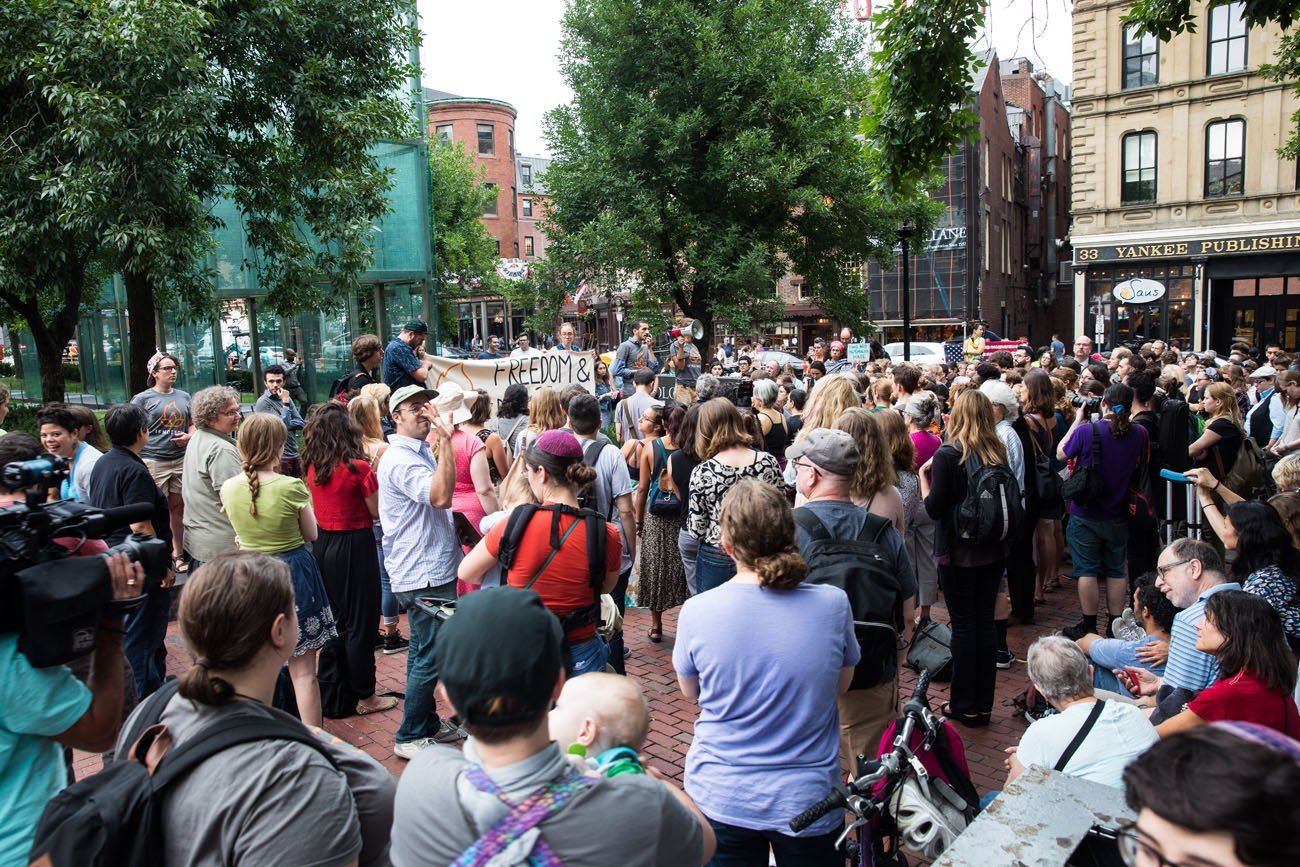 Peaceful demonstration held after the Holocaust Memorial vandalism
Location: 98 Union Street, near Faneuil Hall and just a few steps off of the Freedom Trail
Cost: Free
#18 The Greenway Carousel
If you are traveling with kids, add the Greenway Carousel to your list of places to visit. This is not your typical carousel. Animals indigenous to the area, such as lobsters, sea turtles, whales, squirrels, and owls, are found on this carousel. It's a fun, quick break for the whole family.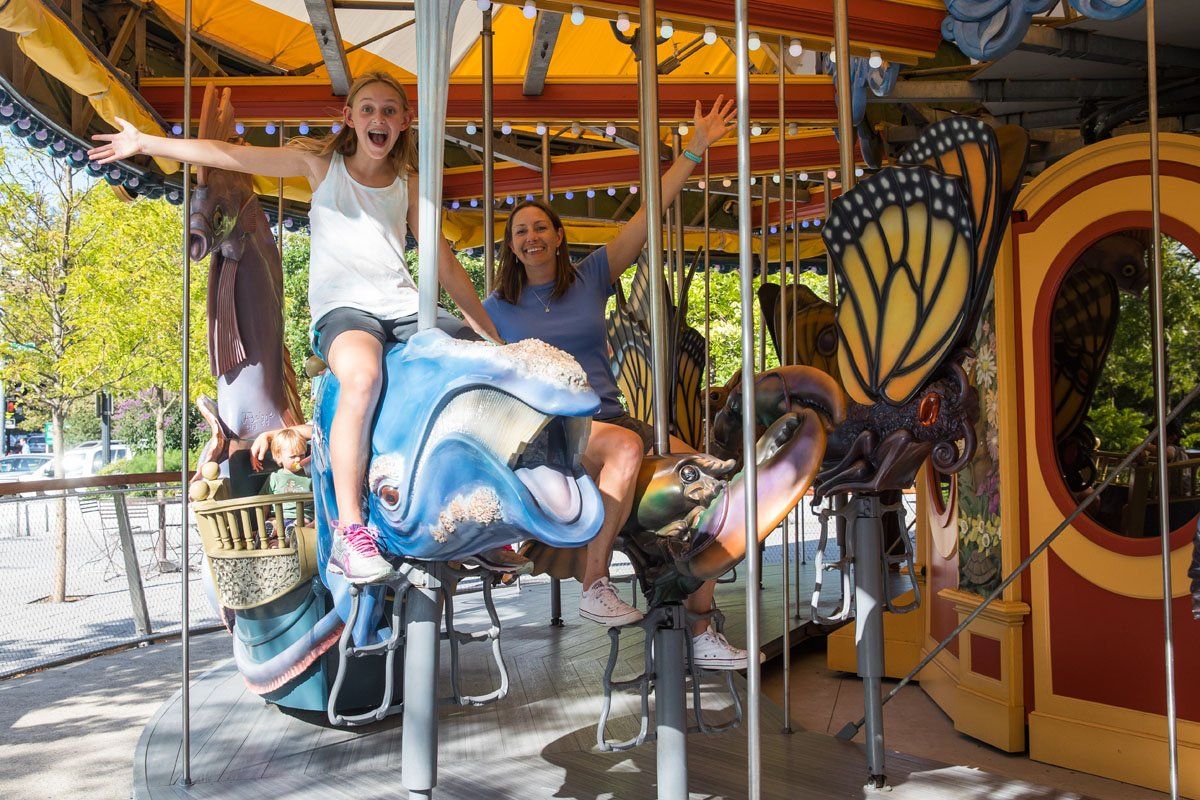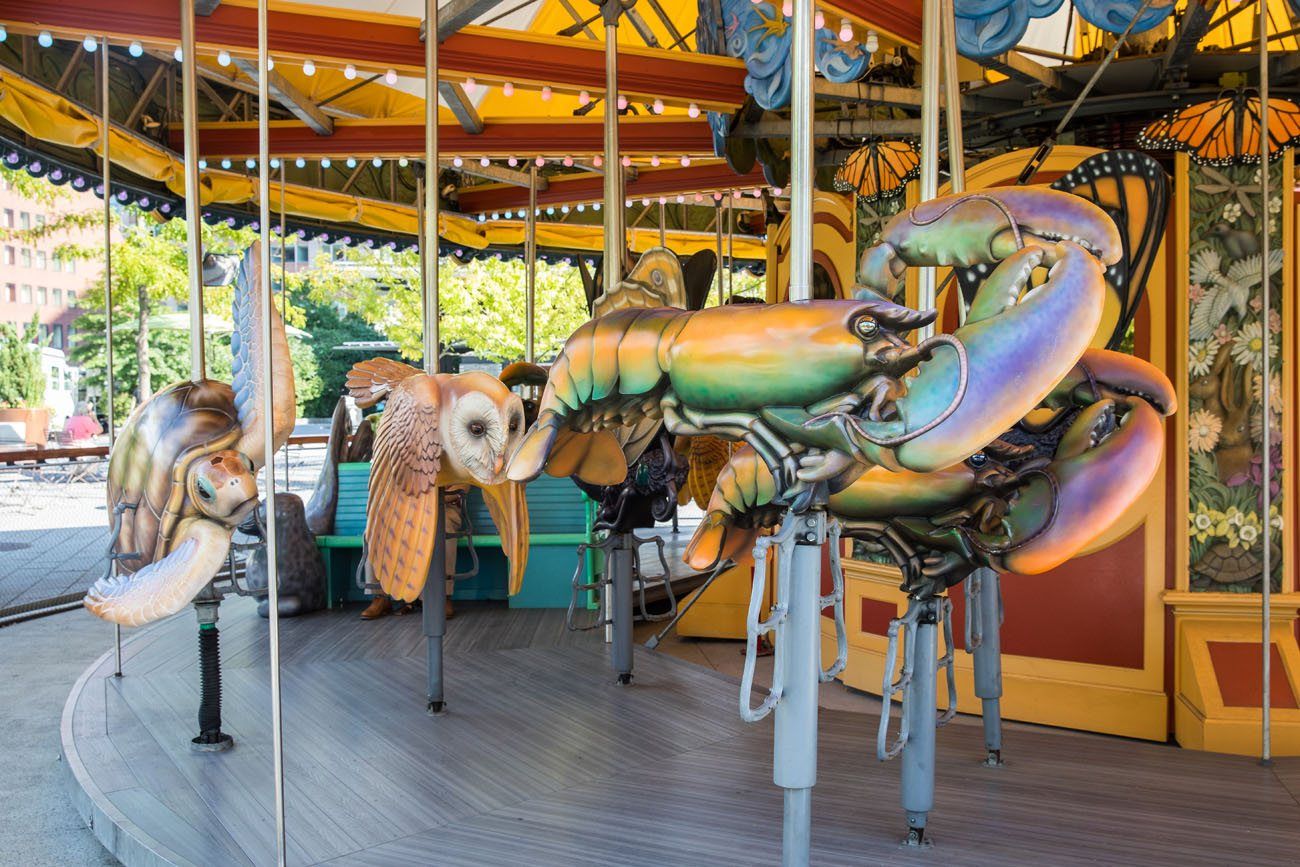 Location: The Rose Fitzgerald Kennedy Greenway, near Faneuil Hall and Christopher Columbus Waterfront Park
#19 The Isabella Stewart Gardner Museum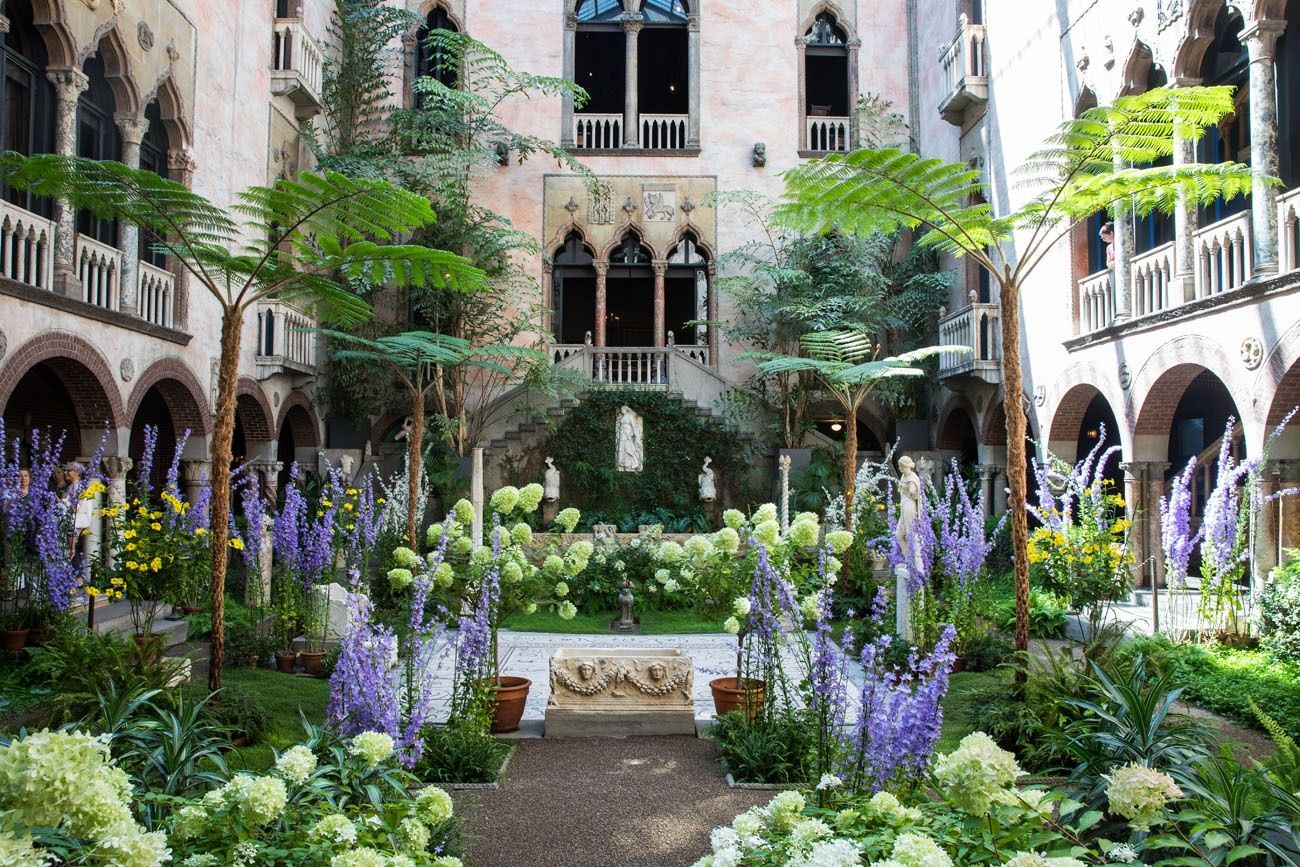 Isabella Steward Gardner Museum | Best Things to Do in Boston
Isabella Stewart Gardner was a unique woman, a woman ahead of her time. Born in a well-to-do family, Isabella became a world traveler. She collected art and artifacts from around the world and then built a home/museum to display this artwork. Now, the public can tour this gorgeous, eclectic museum.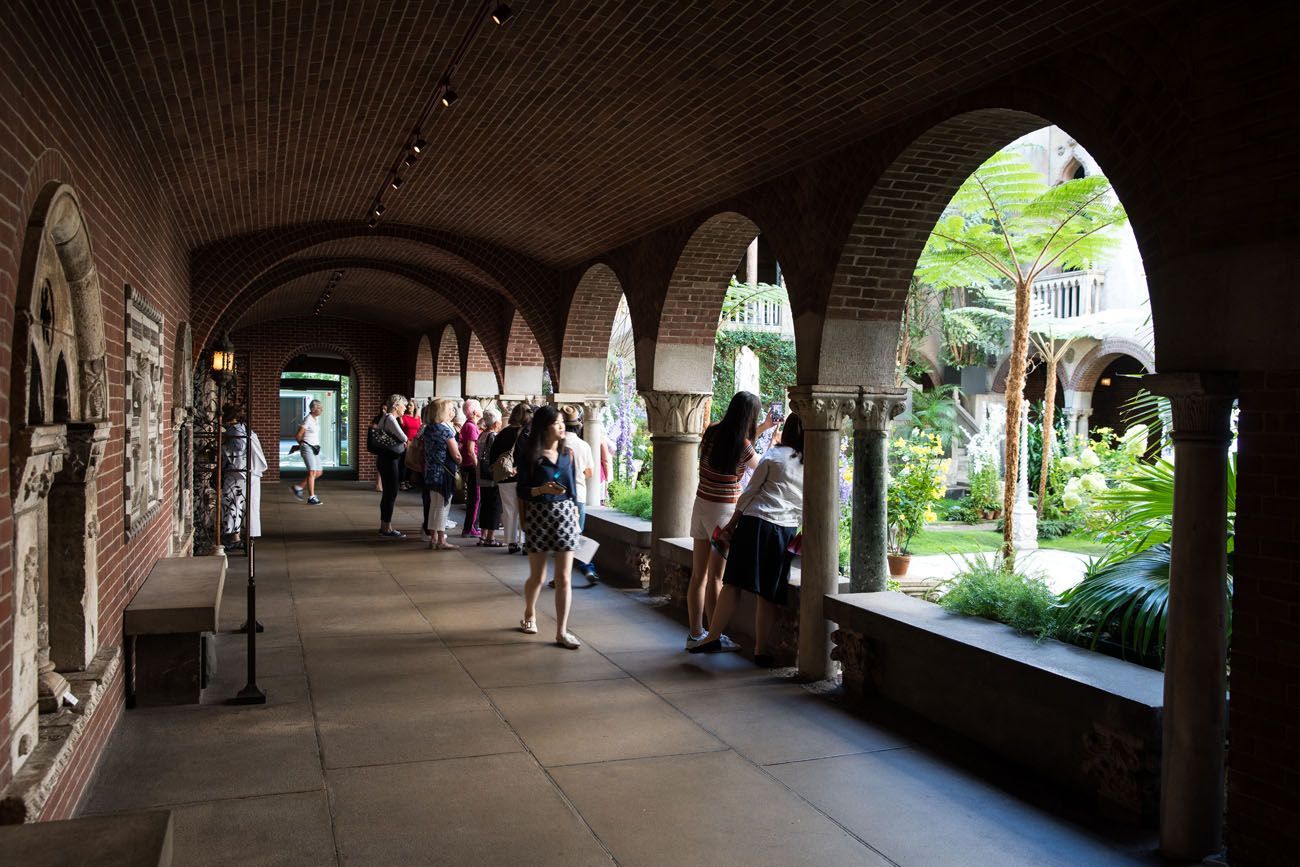 I will admit, art museums are not what we seek out when we travel. This one is different. Just the building itself is a joy to wander through. But the artifacts Isabella collected are astounding, including paintings by famous artists and ancient artifacts from around the world. We really enjoyed this art museum.
In 1990, more than $500 million worth of artwork was stolen from the museum, making it the biggest art heist in history. It still remains unsolved today.
Location: 25 Evans Way, near the Museum of Fine Arts and Fenway Park
#20 The Museum of Fine Arts
Again, we were pleasantly surprised. This art museum is amazing. It's also gigantic. It would take a day to tour the entire building.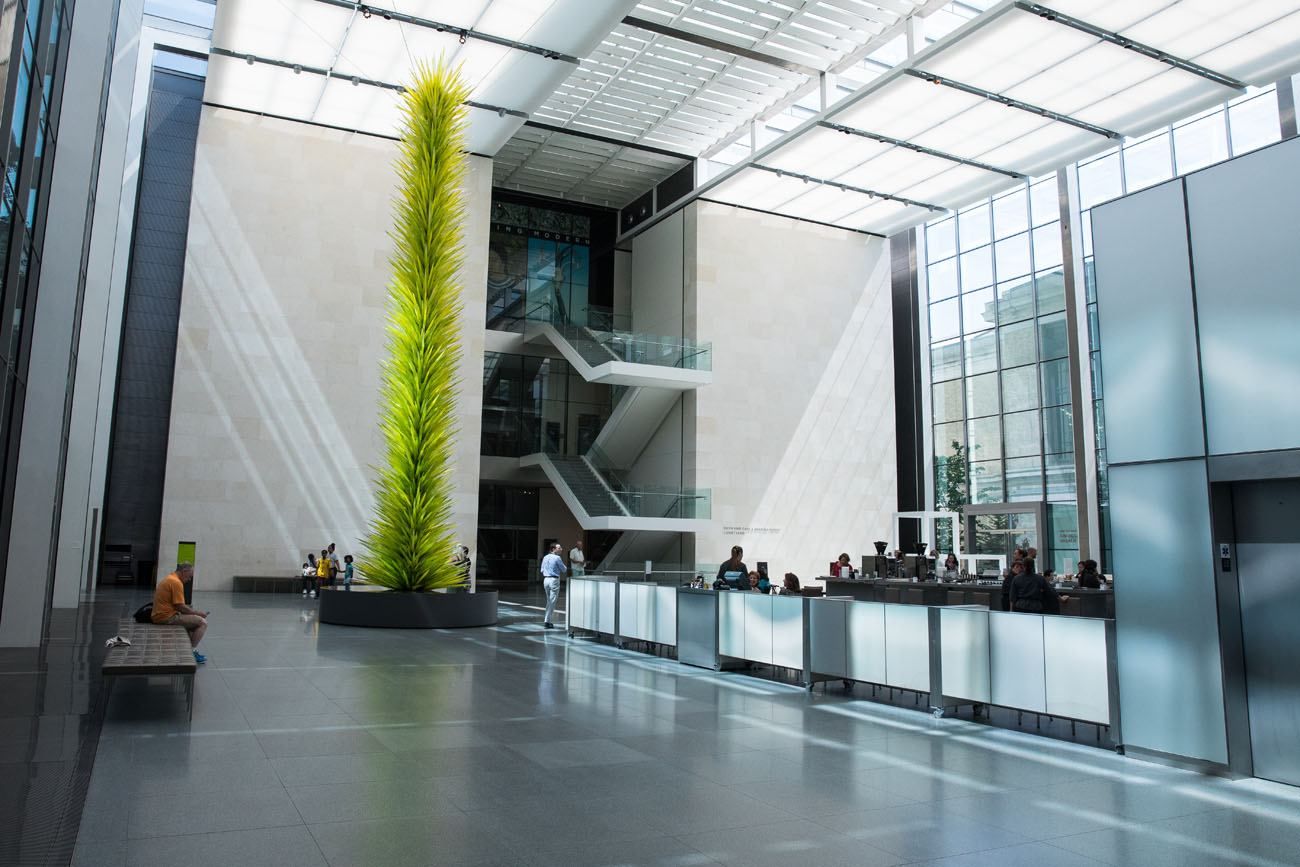 With ancient artwork and artifacts from Egypt (including panels of hieroglyphics from Giza), art from around the world, paintings, sculptures, and contemporary art, there is something here for everyone.
Location: 465 Huntington Avenue, within walking distance of the Isabella Stewart Gardner Museum
#21 The Quincy Market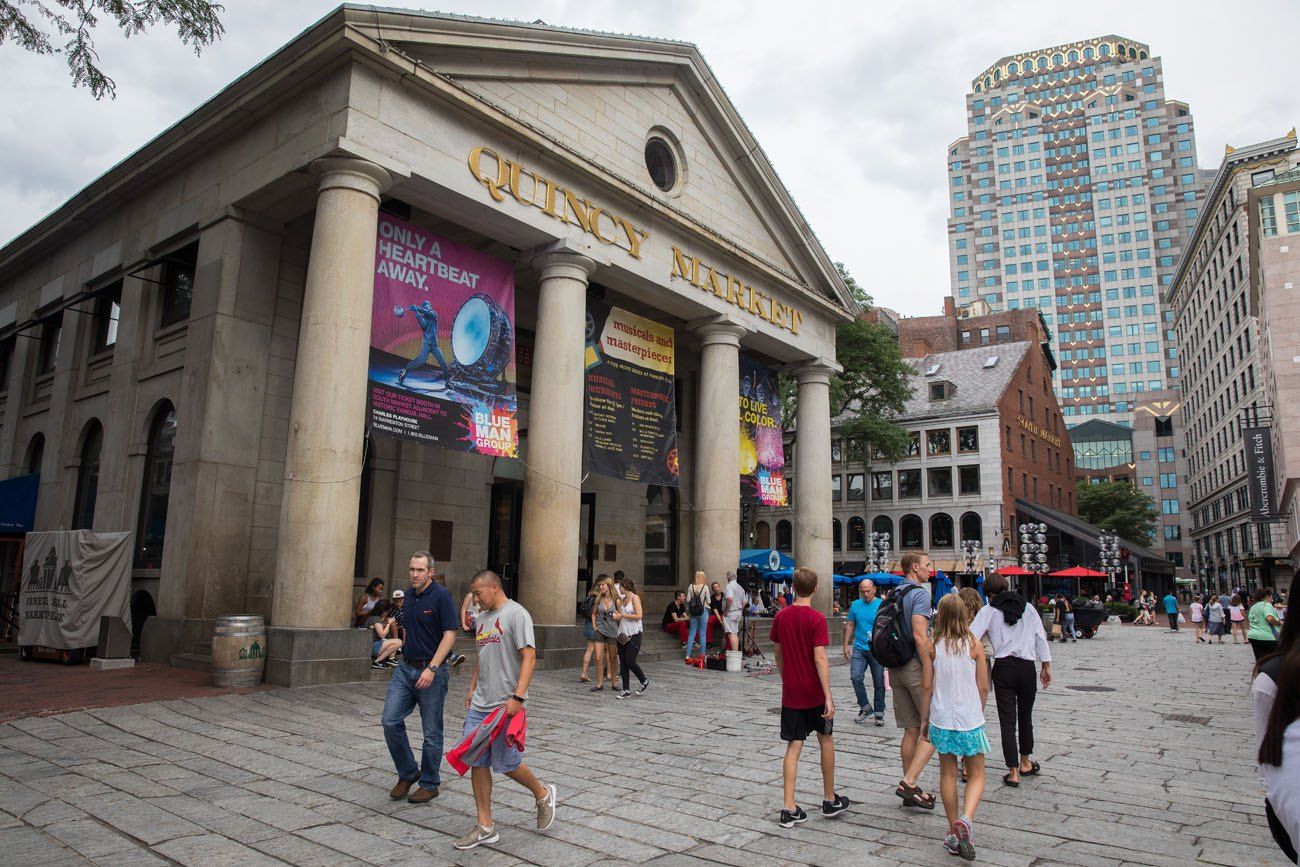 The Quincy Market is part of the Faneuil Hall Marketplace. Filled with food vendors and small shops, this is a bit touristy, but it is also a great place to get good, cheap food. With its central location in Boston, this makes a great spot to grab a bite to eat while you are touring the city.
#22 Walk or Jog along the Charles River Esplanade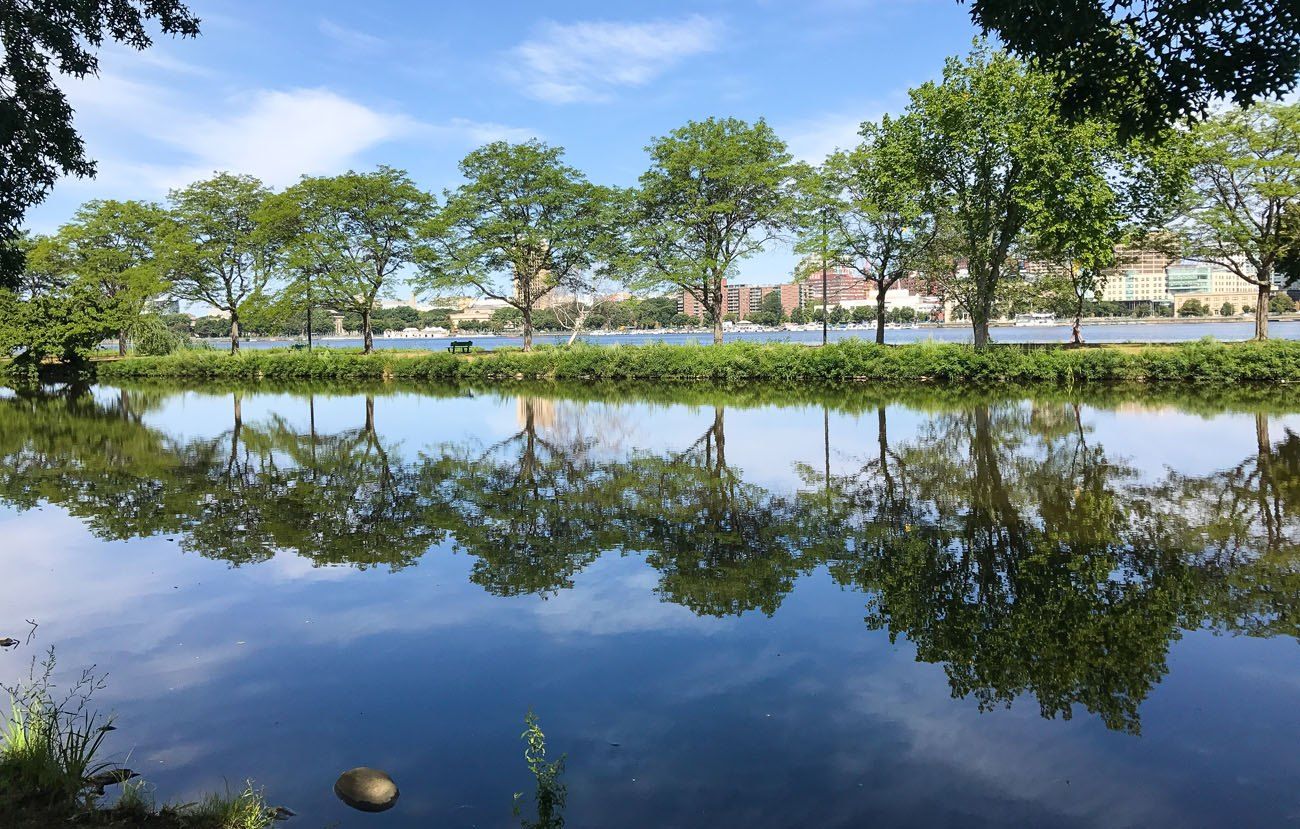 Charles River Esplanade | Best Things to Do in Boston
The Charles River Esplanade is a walking trail along the Charles River, located near the Back Bay region. From here, enjoy views across the Charles River to Cambridge.
#23 Take a Brewery Tour
While in Boston, you have the option to tour the Samuel Adams Brewery or the Harpoon Brewery. Both breweries are located a bit far from the city center of Boston, but you can get here by taxi or Uber. The Samuel Adams Brewery is located near the Stony Brook station on the MBTA orange line.
#24 The Boston Marathon Finish Line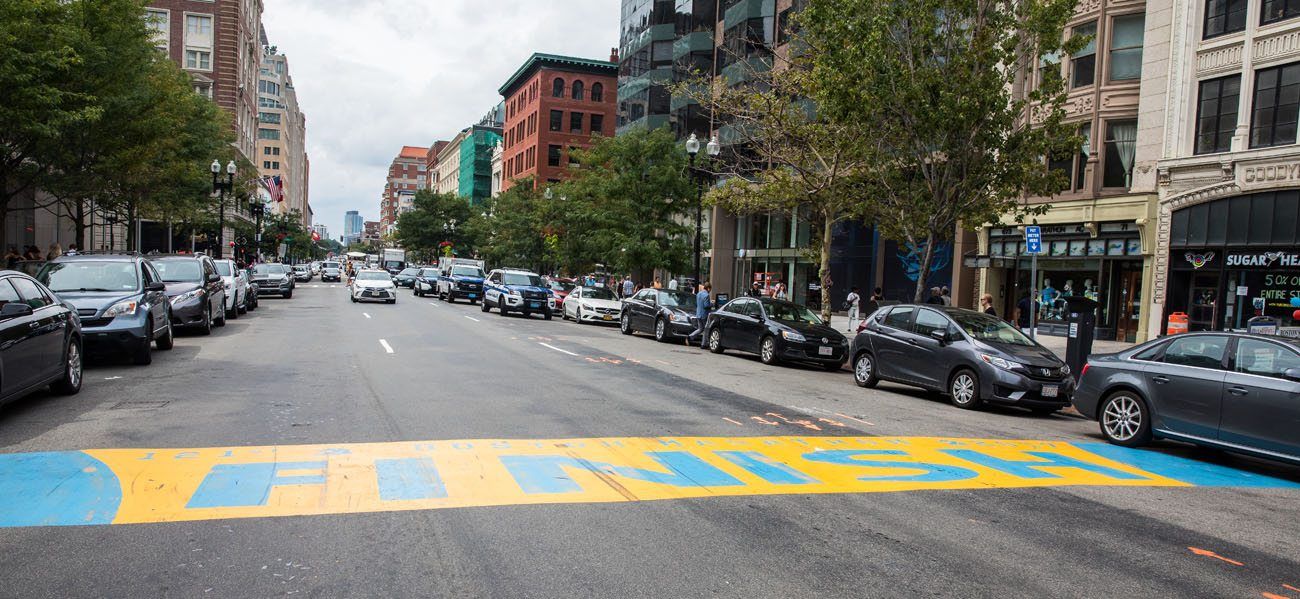 The Boston Marathon has always been a historic running event, but this site became even better known after the Boston bombing that occurred during the 2013 Boston Marathon. The finish line is permanently painted on Boylston Street, just outside of the Boston Public Library.
#25 Newbury and Marlborough Streets
In Back Bay, spend some time walking through the neighborhoods on Newbury Street, Marlborough Street, and Commonwealth Avenue. Townhouses line the streets and a tree-lined path runs through the center of Commonwealth Avenue. It's a beautiful area for a quick stroll or a leisurely afternoon of sightseeing.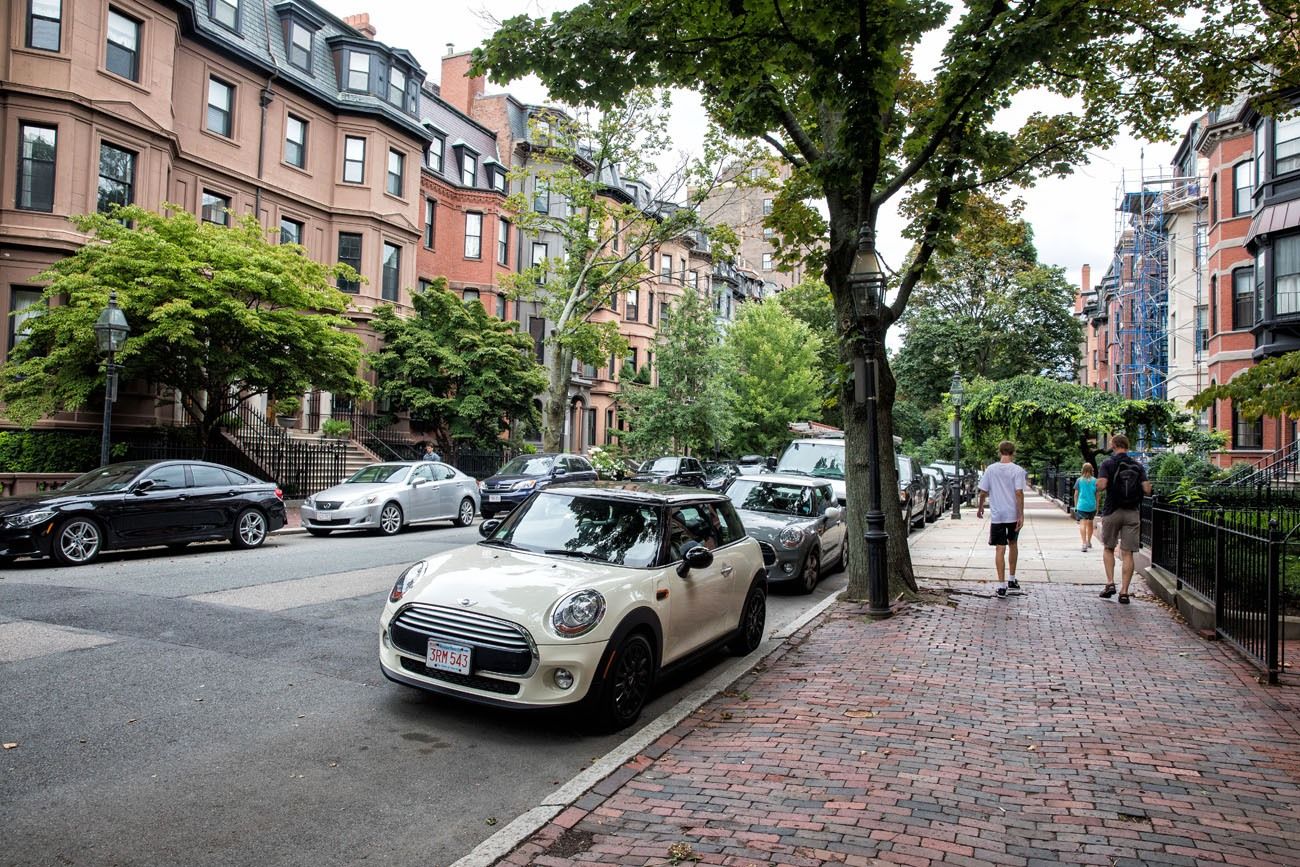 #26 Boston Tea Party Ships and Museum
The Boston Tea Party Ships and Museum is a 75-minute tour that takes visitors on an interactive learning experience about the Boston Tea Party. Learn about the events leading up to this historic night, tour a replica of one of the merchant vessels, and even throw the tea overboard. This is a tour that is great for kids and adults.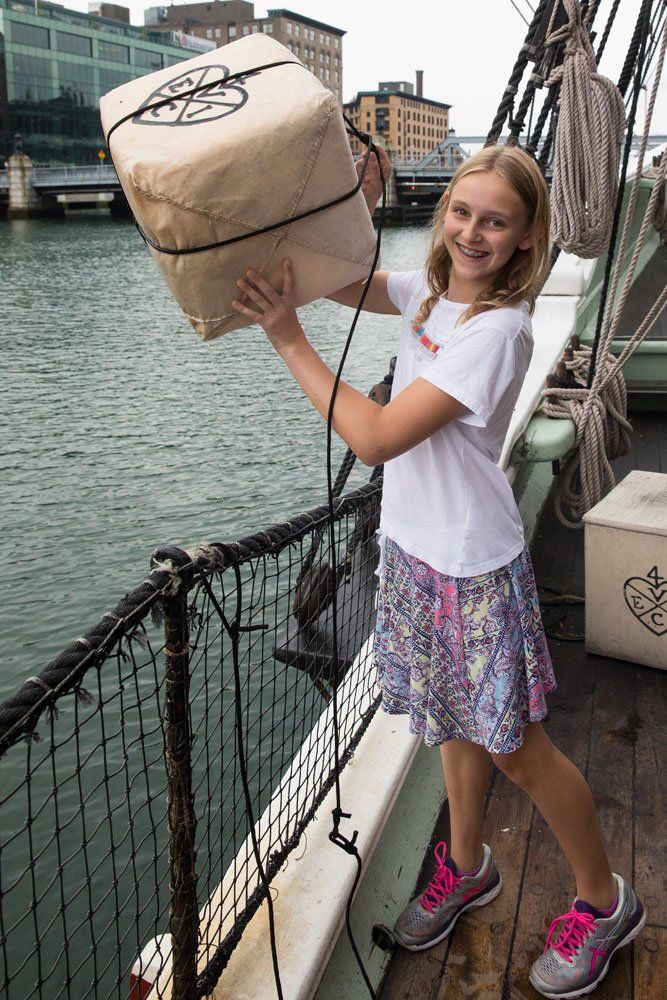 Location: Congress Street Bridge
#27 The JFK Presidential Library and Museum
This museum is a great place to learn about the life of President John F. Kennedy. It is filled with videos and artifacts from his life and the 1960's. This museum has a spectacular setting right on the waterfront.
Location: Columbia Point. Get here via the MBTA Red Line or by car
#28 The North End
The North End is Boston's "Little Italy." During the afternoons and evenings, this area gets very lively, as people flock to the numerous restaurants and bars. We were no different, and we ate here a lot. Some of our favorite places were Regina Pizzeria, Neptune Oyster, Mike's Pastry, and Giacomo's.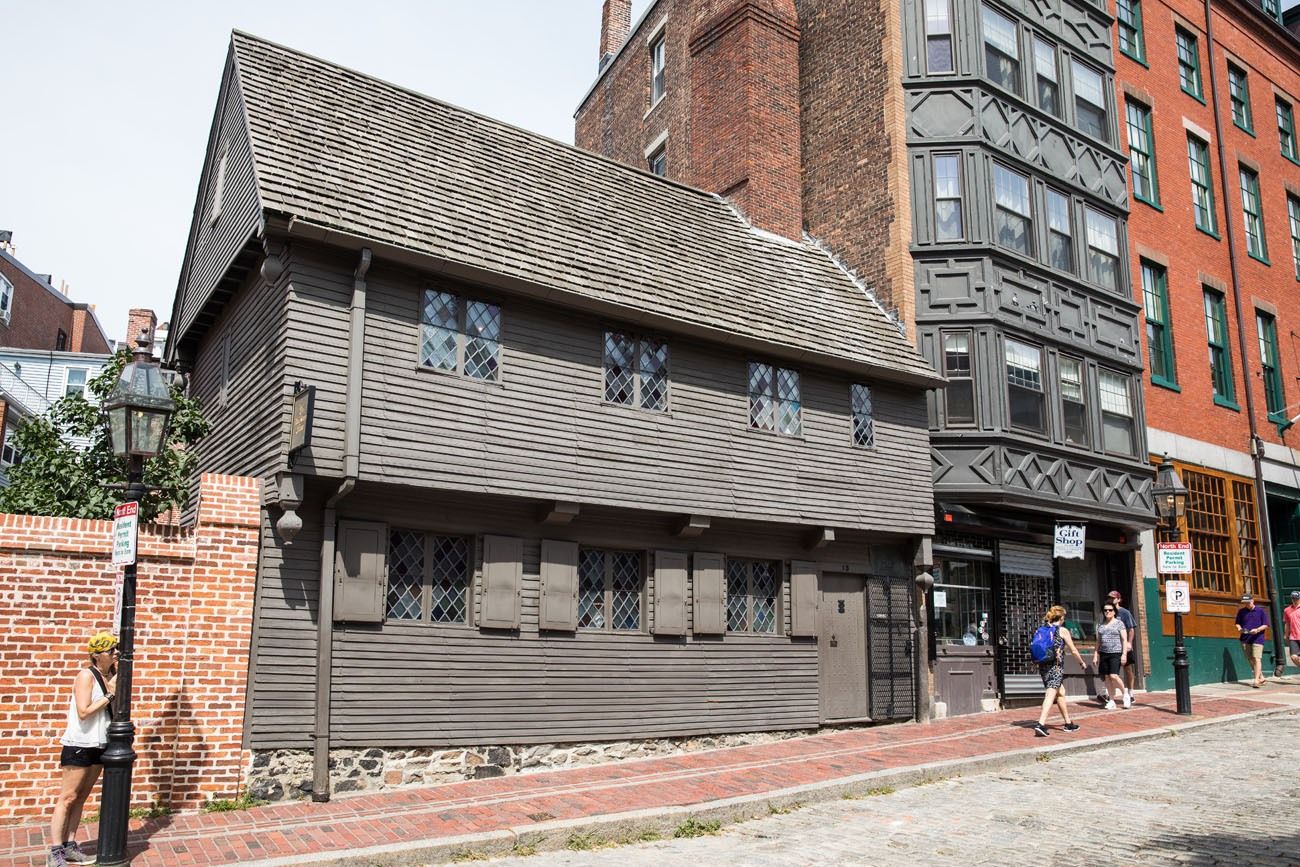 Paul Revere's House | Best Things to Do in Boston
Also in the North End are Paul Revere's house and the Old North Church. Both are located on the Freedom Trail and they are places definitely worth visiting because of their historical importance. The Old North Church is where the lanterns were hung on Paul Revere's famous midnight ride.
#29 The New England Aquarium
The Aquarium is a fun place to visit, especially if you are traveling with kids. Our favorite exhibits were the penguins and we were here right during feeding time. Various IMAX movies are offered throughout the day and you can participate in one of the animal encounter activities.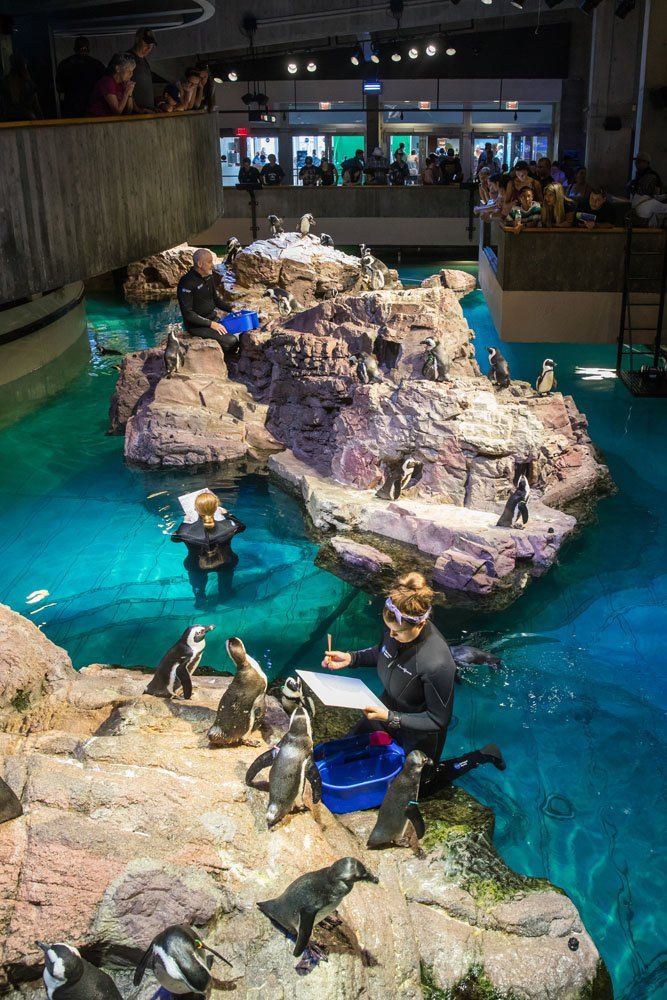 Location: 1 Central Wharf
#30 The Boston Public Market
Not to be confused with the Quincy Market and the Faneuil Hall Marketplace, the Boston Public Market is wonderful. This is the place to go for fresh produce, gourmet pastries, amazing donuts, and homemade bread. This market is quieter and has more of an upscale feel to it than Faneuil Hall Marketplace. I really liked it here and I will be back the next time I get to Boston.
Organizing Your Time
So, that's a lot to do in Boston, right? How should you organize your time?
One Day in Boston
With one day in Boston, I recommend walking the Freedom Trail. Along the way, you could make quick detours to the Holocaust Memorial or restaurants in the North End. Spend the second half of the day touring Fenway Park or watching a baseball game here. Then have dinner and spend the night out on the town.
Two Days in Boston
On your second day in Boston, visit the Back Bay area, starting at the Isabella Stewart Gardner and Fine Arts Museums. Then visit the Mapparium, Skywalk Observatory, and the Boston Public Library. Stroll through the Back Bay neighborhoods on Newbury and Marlborough Streets, visit Beacon Hill, and have a drink at the Cheers bar.
Three Days in Boston
Take your pick of what interests you the most, whether it is whale watching, the JFK Library, making the short trip over to Harvard and MIT, or taking a brewery tour.
Four Days in Boston
With more time in Boston, consider taking a day trip out to Plymouth (to see the famous Plymouth Rock and to tour the Plimoth Plantation) or to Lexington and Concord for more Revolutionary War history. You can even take a day trip to Cape Cod, a great way to spend the day during the summer months.
---
Have you been to Boston? What are your favorite things to do? Comment below!
Where Are You Going Next?
BOSTON: In Boston, we have a detailed guide on how to walk the Freedom Trail. We also have an article on how to day trip to Plymouth, Lexington, and Concord from Boston. Boston is also a great location for working remotely.
NEW YORK CITY: If you are planning a trip to New York City, take a look at our 5 Days in New York City Itinerary. We also have a New York City Hotel Guide and an article that covers the top sights in New York City.
MAINE: If your visit is part of a bigger road trip and you have plans to visit Maine, check out our Acadia National Park Travel Guide. We also have information on the best hikes in Acadia and how to plan your Acadia National Park Itinerary.
VISIT MORE CITIES IN THE USA: Explore more American cities in our guides to New Orleans, Key West, Savannah, Las Vegas, New York City, Nashville, and Washington DC.
USA TRAVEL INSPIRATION: For more great ideas on where to go in the United States, check out our article Best USA Road Trips, which has 18 sample itineraries for your next big adventure. You can also see more travel itineraries on our Travel Itineraries page.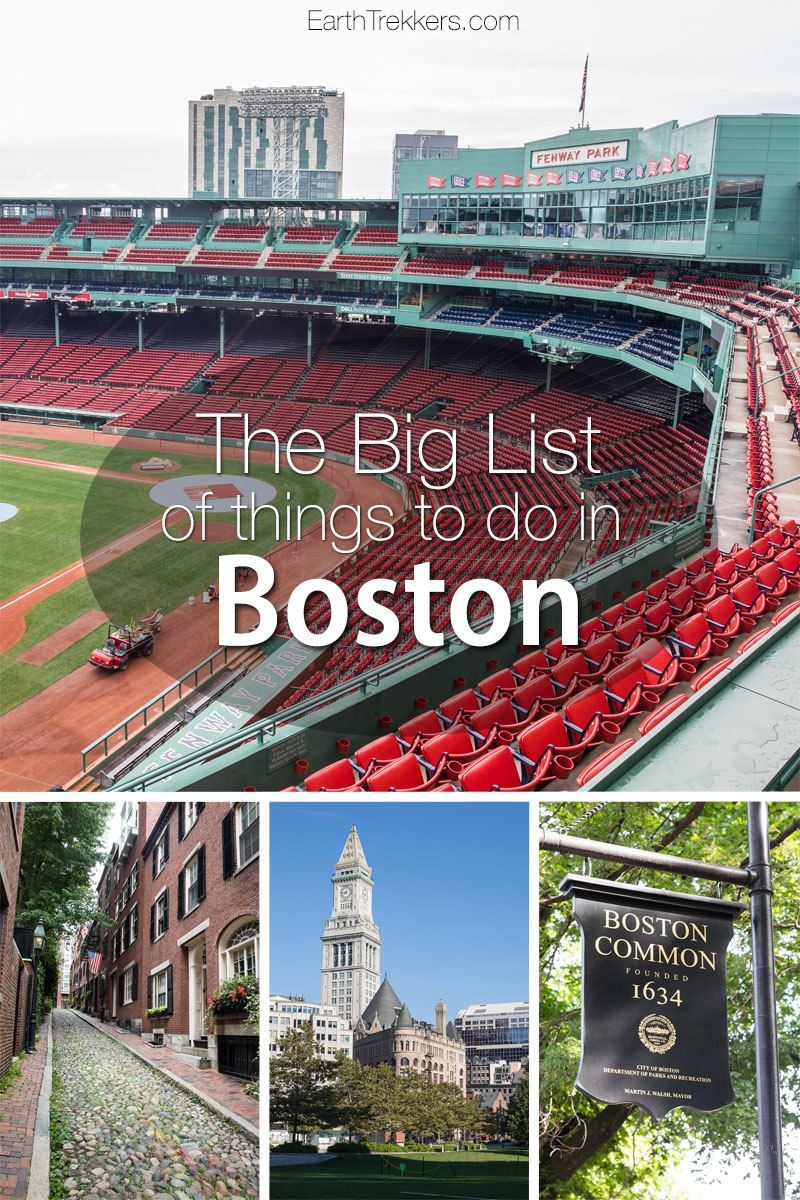 All rights reserved © Earth Trekkers. Republishing this article and/or any of its contents (text, photography, etc.), in whole or in part, is strictly prohibited.