If you have plans to visit Key West and you are looking for something unique to do, how about a ride on a tiki boat?
Imagine cruising around beautiful Key West, sipping tropical drinks, all while seated at a tiki bar.
Does this sound like something you would like to do?
What's a Tiki Boat?
A tiki boat is a floating tiki bar, equipped with barstools, speakers to play your own music, and a captain who will sail your boat in and around Key West. Because of its unique shape and small motor, you slowly drift and bounce over the crystal clear waters of Key West. It's a fun, relaxing way to spend an afternoon or to watch one of Key West's legendary sunsets.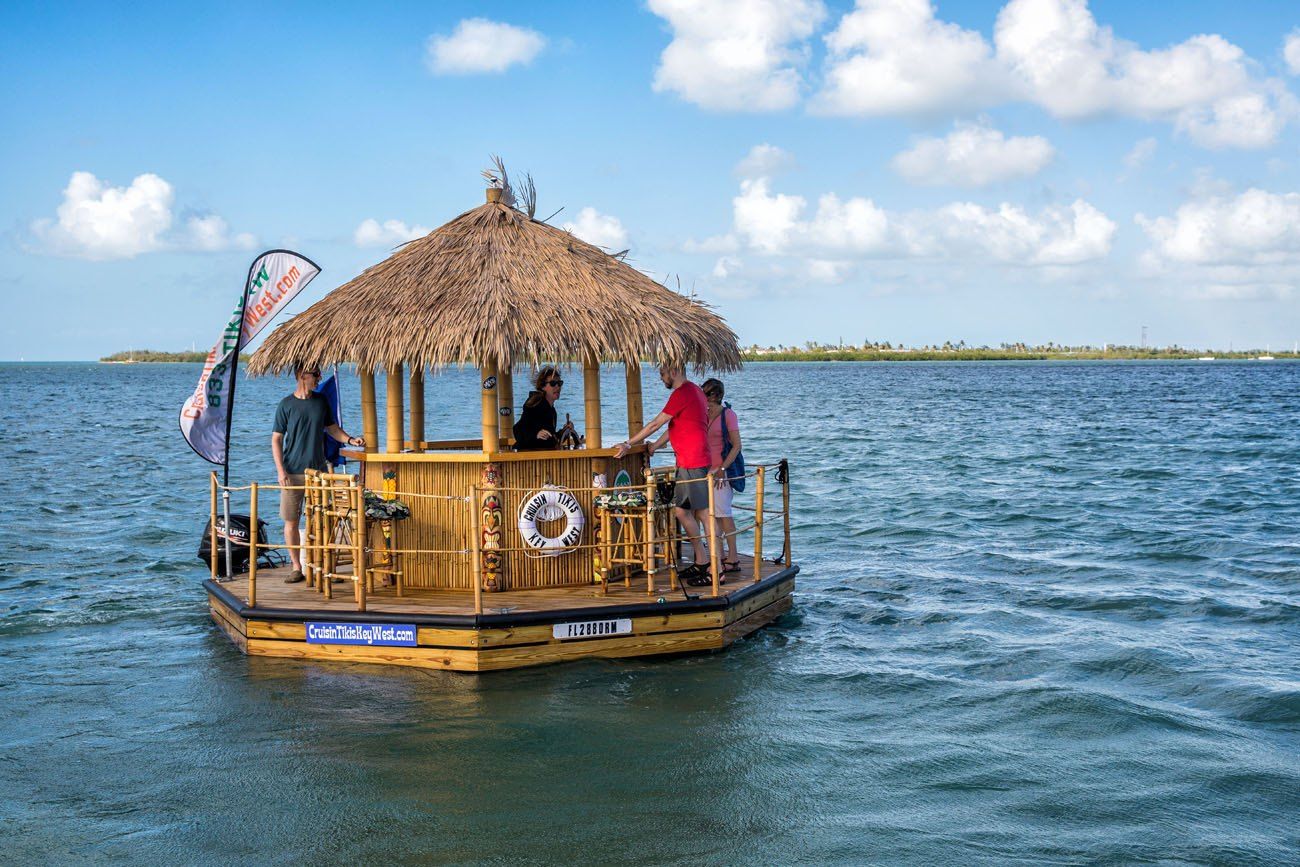 Our Experience
On a Saturday morning, Tim and I were wandering around the Key West harbor, looking for something fun to do. With perfect timing, a floating tiki boat pulled up to the dock.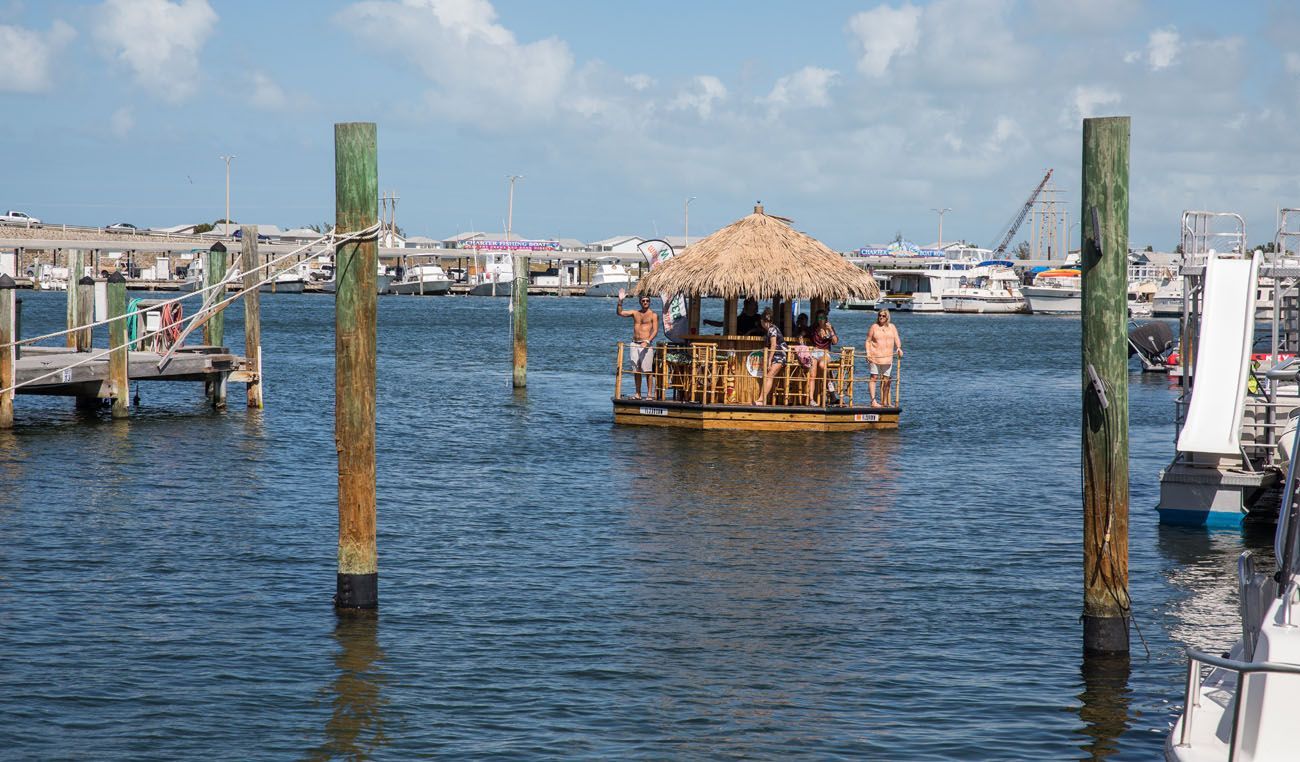 At first, we couldn't believe what we were seeing. A floating tiki bar? What a revolutionary idea!
It took us completely by surprise. We didn't even know that this was a "thing" you could do.
The boat just happened to be making a quick pit stop, giving us the chance to talk to the captain. Good luck was on our side and we were able to reserve the afternoon time slot.
My mother, Kathy, and my brother, Thomas, joined us for a 2-hour ride through the crystal clear waters around Key West. Cruisin' Tikis provides water, ice, cups, and soft drinks, but no food and no alcohol. We purchased Pilar rum in town, more soft drinks, and snacks.
At 2 pm, we boarded the tiki boat at Mellow Café and Gastropub, the docking point for the tiki boat.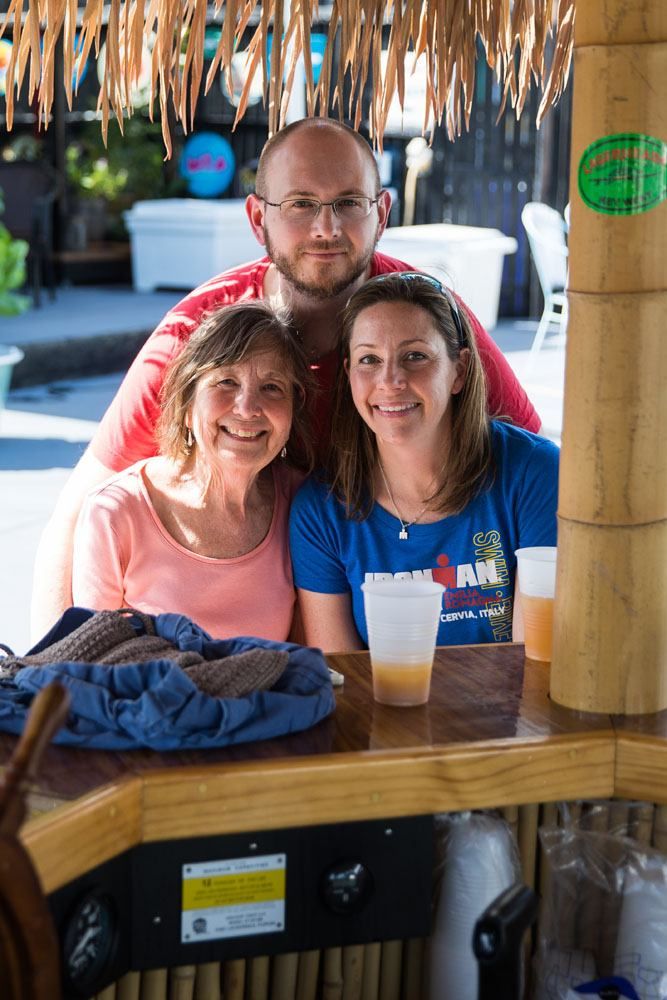 For two hours the four of us, and our captain Diana, cruised from Mellow Cafe to Mallory Square and back. It was a very windy day, which created choppy conditions, but the tiki boat just puttered along without any problems.
Along the way we searched for iguanas in the mangrove trees, enjoyed the views, and attracted a lot of stares from people on land. How often do you get to see a tiki boat drifting just offshore of Key West?
The entire excursion was a blast. In fact, it was our favorite thing to do in Key West.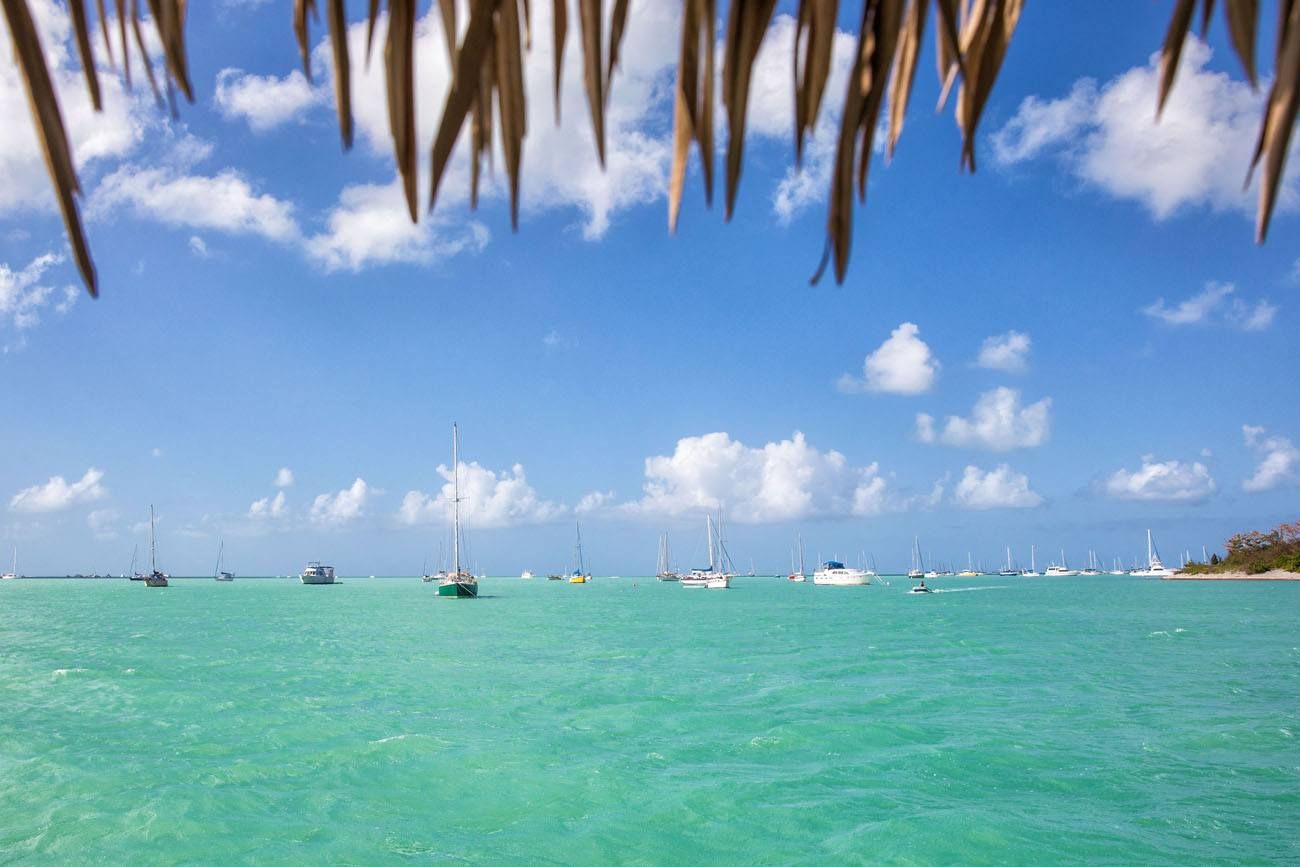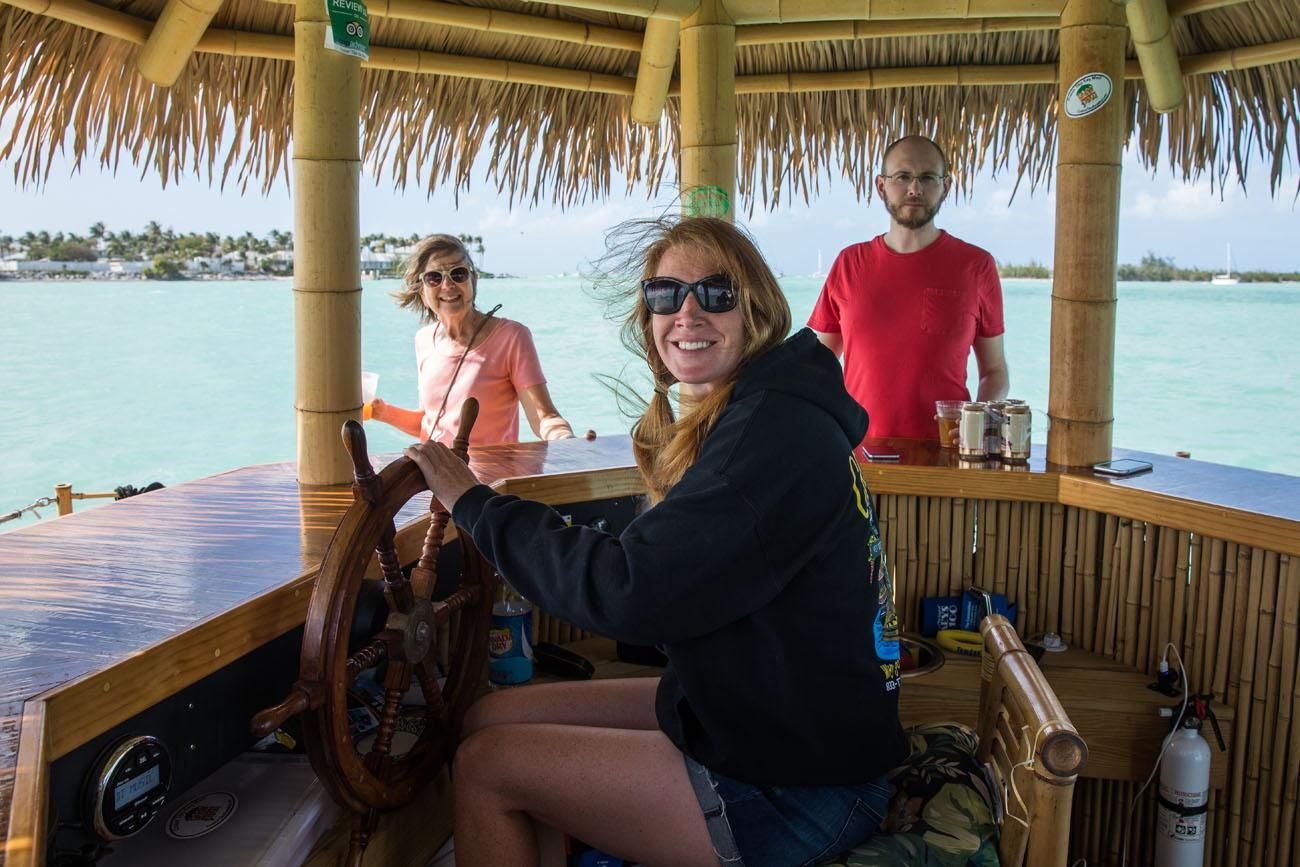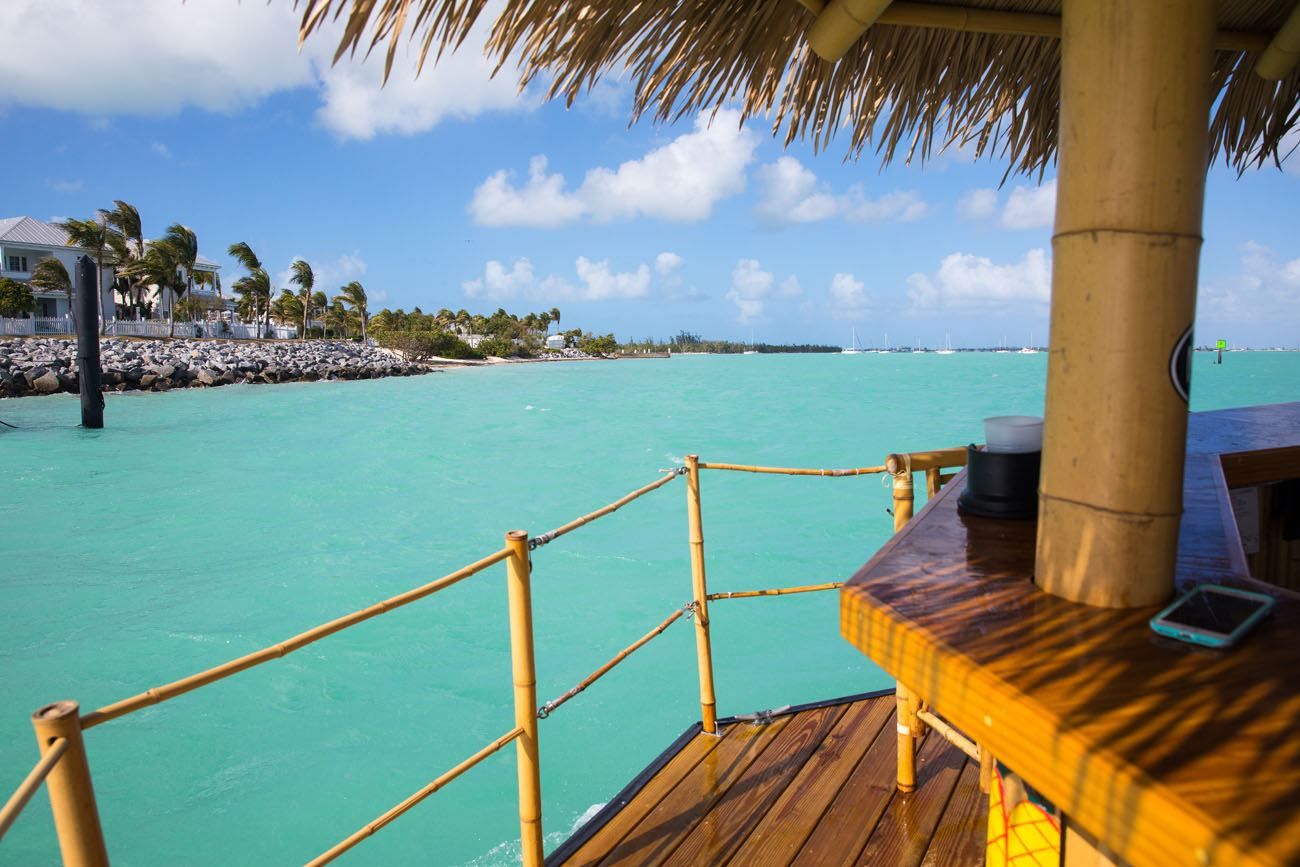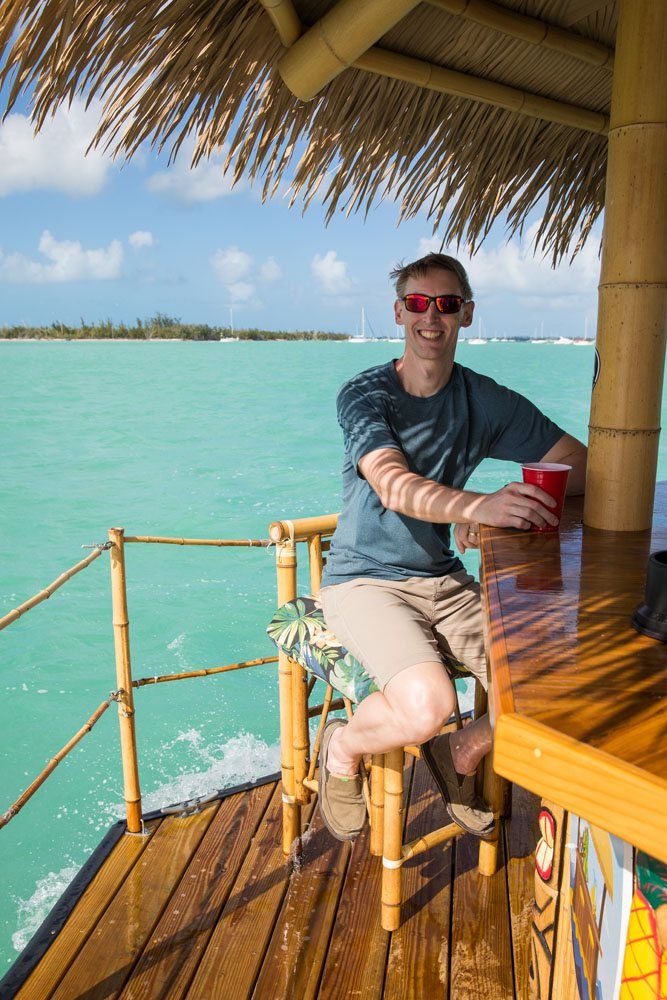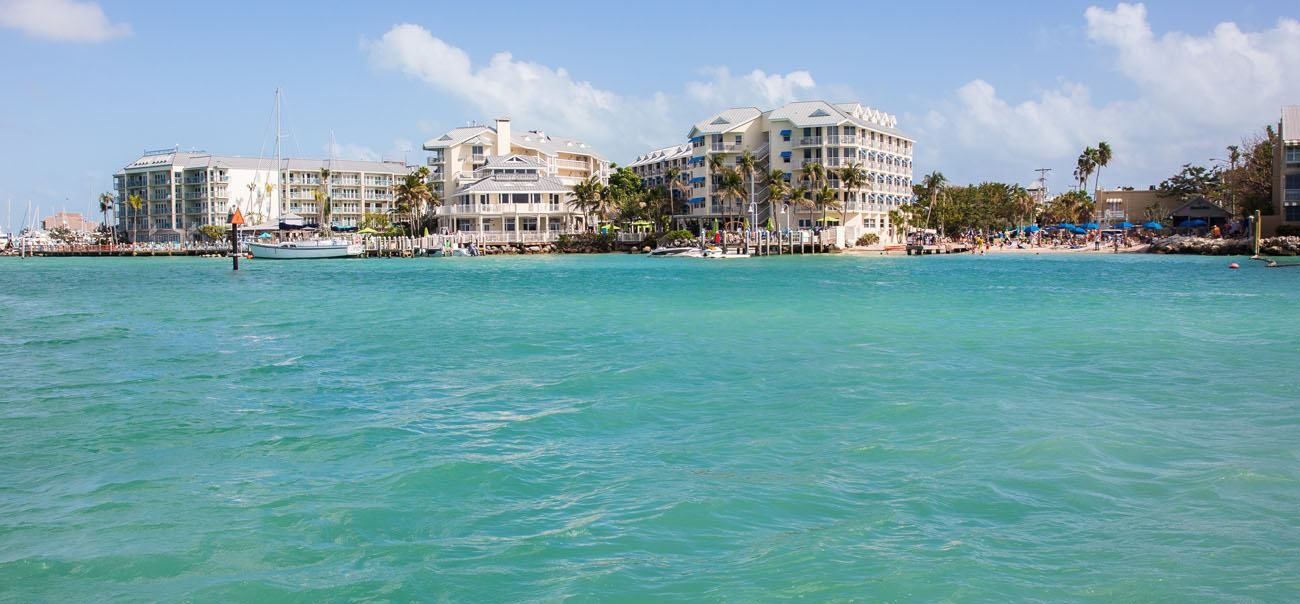 About Cruisin' Tikis Key West
Cruisin' Tikis Key West has been in business since January 2018 (we did this in February 2018). It was the new game in town, and not on many travelers' radars, at least not yet. Since our visit, the popularity of this experience has exploded and it's now one of Key West's best experiences. This idea has expanded to other cities in the USA.
The tiki boat holds 6 passengers. Cups, soft drinks, and ice are provided. You can bring your own alcohol, soft drinks, and snacks. They did not have a huge selection of soft drinks available, so if you want something special, make sure you bring it with you.
There are Bluetooth enabled JBL speakers so you can play your own music. When the tiki boat is at top speed, or if it's a windy day, it can be a little difficult to hear the music.
There is no bathroom on board the boat. Make sure you take care of business before you board the tiki boat.
Children are allowed on the boat. I know that Tyler and Kara would have loved this, but unfortunately we visited Key West without them.
Cruisin' Tikis offers eight different tour options, ranging from 90 minute tours to three hour tours. Take an eco cruise, watch the sunset from the Tiki boat, go swimming right from the boat, and more. It costs roughly $55 to $80 per person (and even higher) depending upon the tour you choose.
Visit the Cruisin' Tikis Key West website for more information on their tours, updated pricing, and to reserve your spot.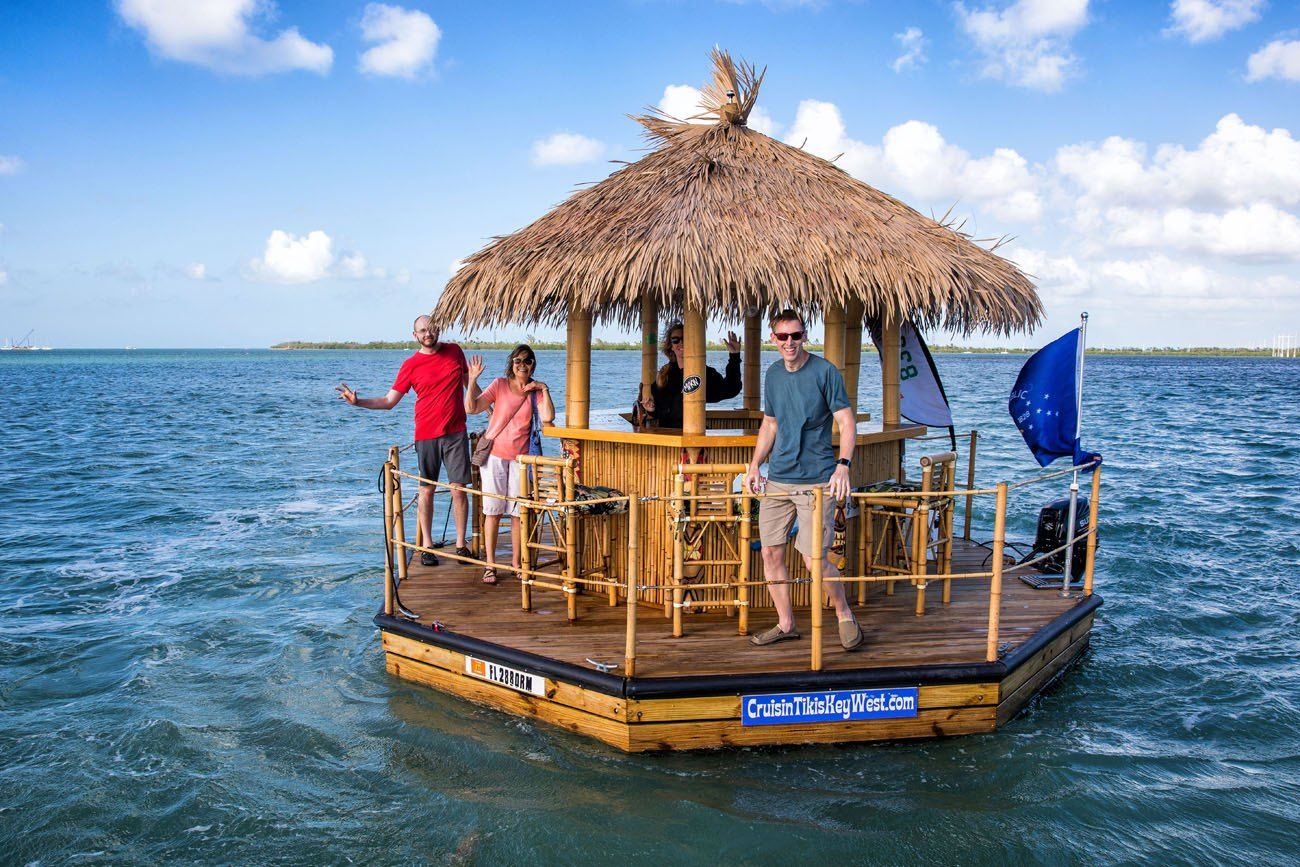 Cruisin' Tikis Locations
Cruisin' Tikis is a company that builds and franchises these tiki boats. You can hire one of these tiki boats at multiple locations across the US and in the Bahamas.
Visit the Cruisin' Tikis website to learn more about their locations and their franchise opportunities.
---
Does this look like something you want to do? Comment below if you have any questions or comments!
More Information for Your Trip to Florida:
You Might Also Like: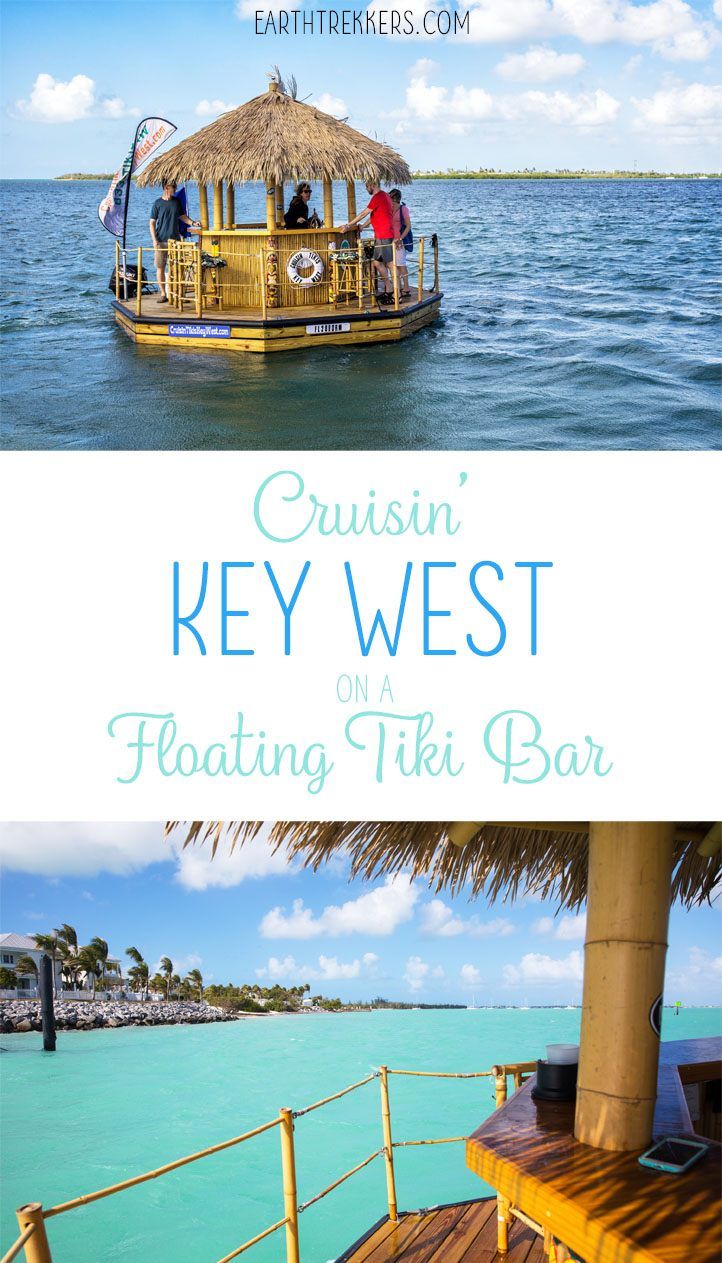 All rights reserved © Earth Trekkers. Republishing this article and/or any of its contents (text, photography, etc.), in whole or in part, is strictly prohibited.