Prague is one of the most photogenic cities in Europe. This was the only large Eastern European city to survive WWII without being destroyed by bombs. With gothic towers, ancient cathedrals, and the largest castle in the world, Prague is one of Europe's great cities to visit.
The list of sites to visit in Prague is long. So long, in fact, it would take days to see all of them. Here is our short list of essential experiences to have in Prague, a good starting point for having the best holiday here.
Best Things to Do in Prague
#1 Stroll Across Charles Bridge
Charles Bridge (Karlov Most) is one of the most famous pedestrian bridges in the world, connecting the Old Town to Mala Strana. It's gorgeous at sunset, it's crowded midday, and it is always a joy to stroll across.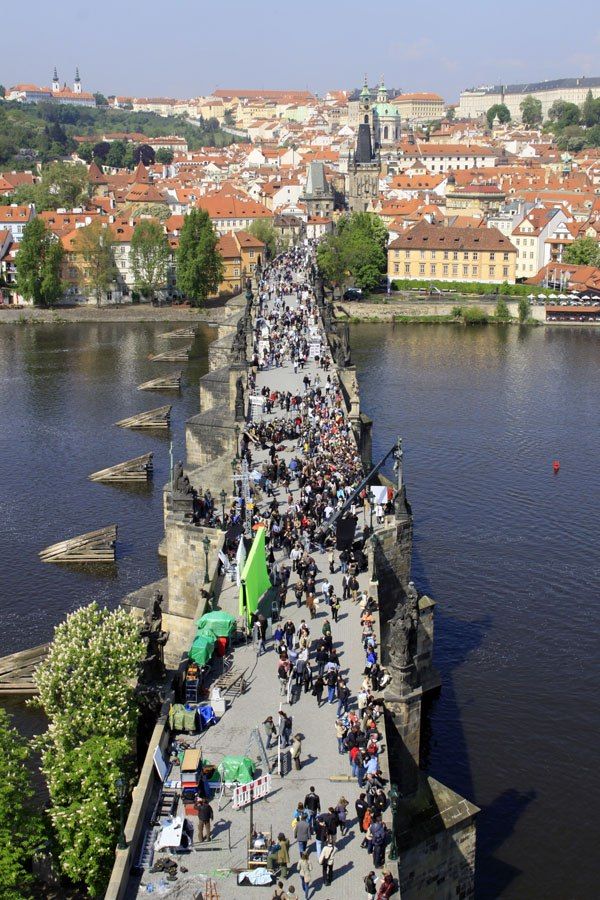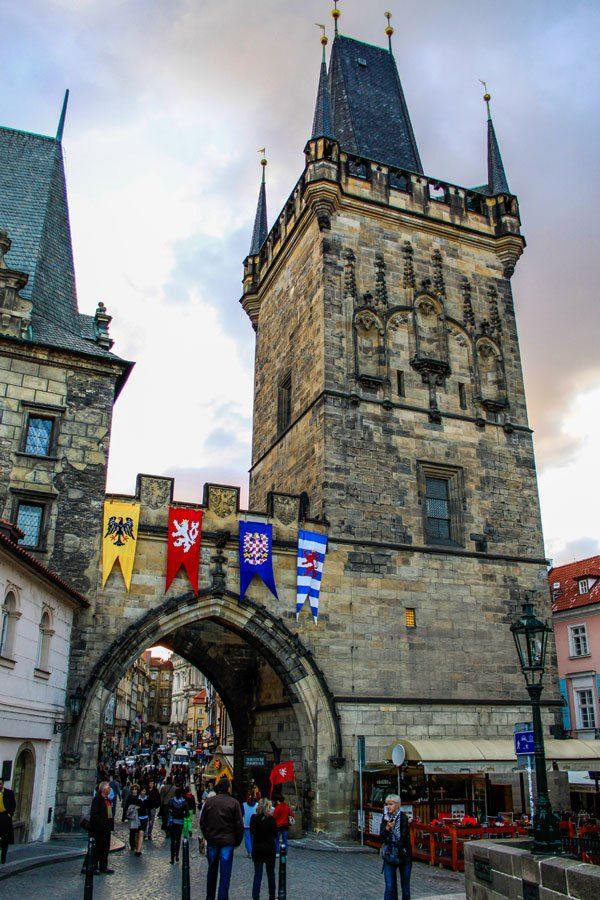 View of the Lesser Town Tower at the end of Charles Bridge
#2 Visit the Old Town Square
The Old Town Square (Staromestske Namesti) has been the market square for Prague since the 11th century. Now it is a landmark of the city and a popular tourist attraction.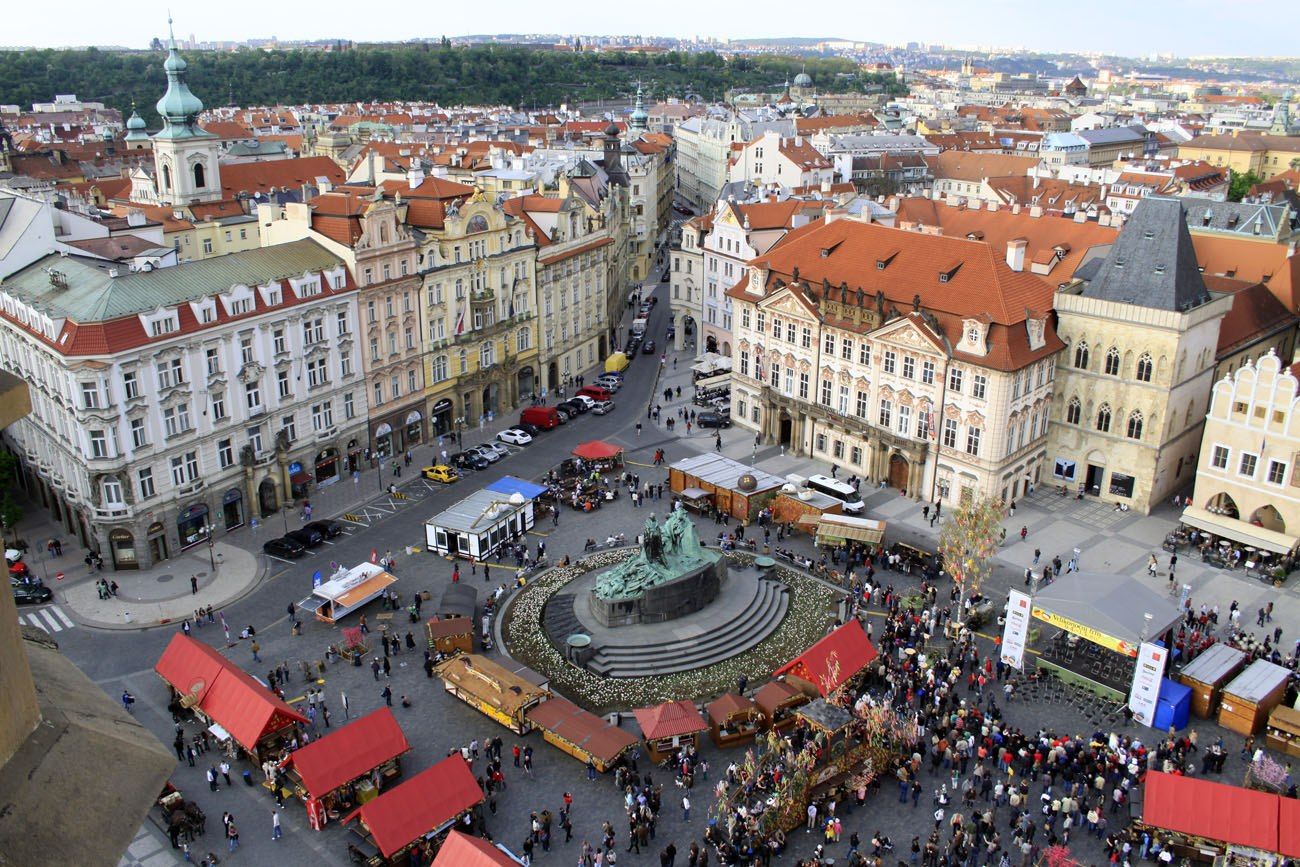 This is a colorful, vibrant, busy place, day and night. Go shopping at the market, visit the iconic Tyn Church, and ogle at our next must-have experience, the astronomical clock.
#3 Watch the Hourly Show at the Astronomical Clock
The astronomical clock is a complicated mechanism that shows several different versions of time. Every hour, the clock puts on a brief show: a skeleton rings his bell, twelve apostles walk by, a rooster crows, and then the clock chimes.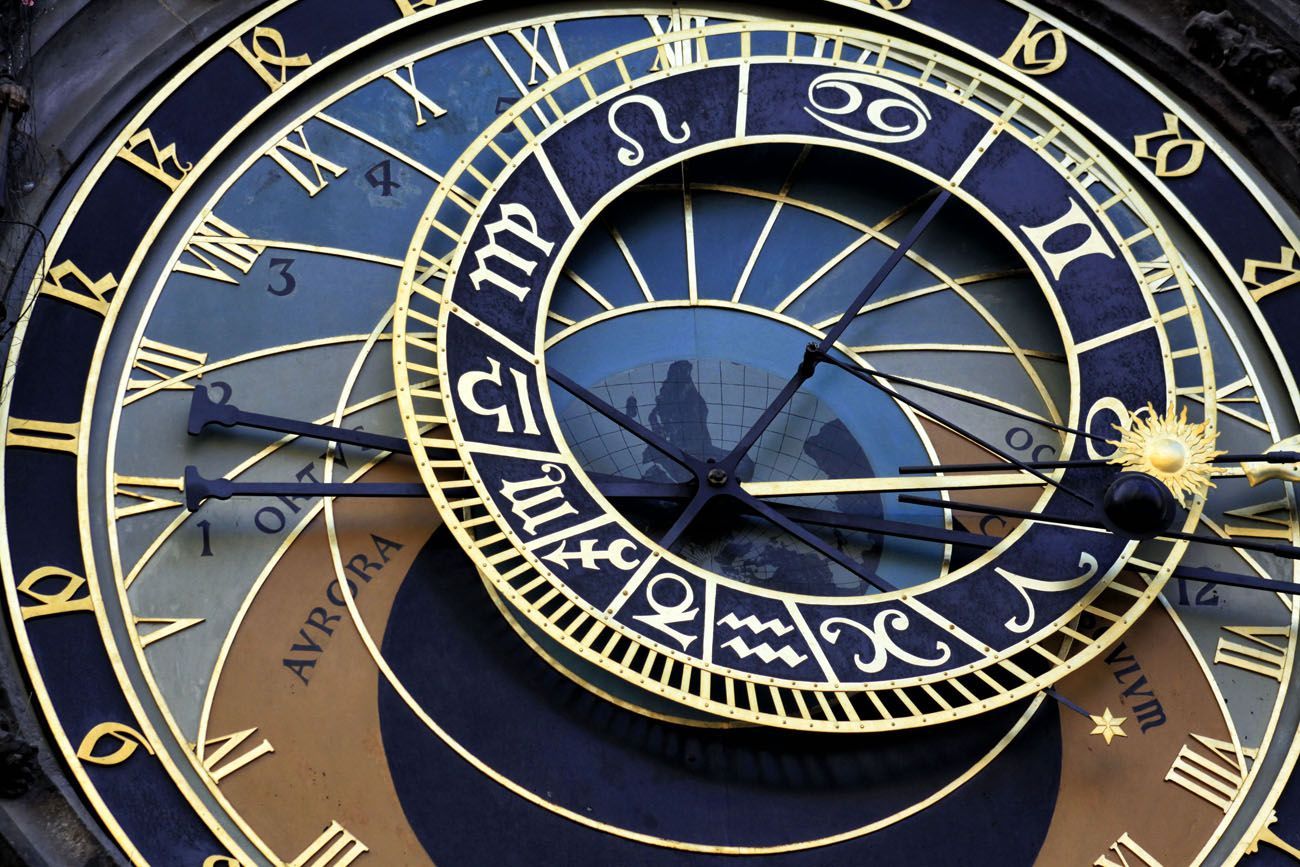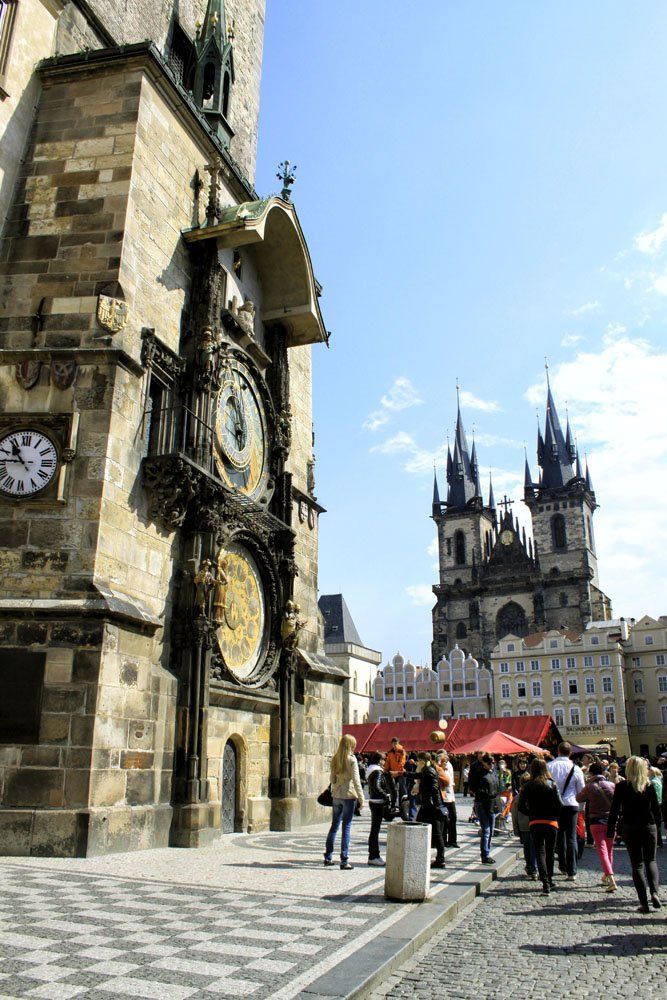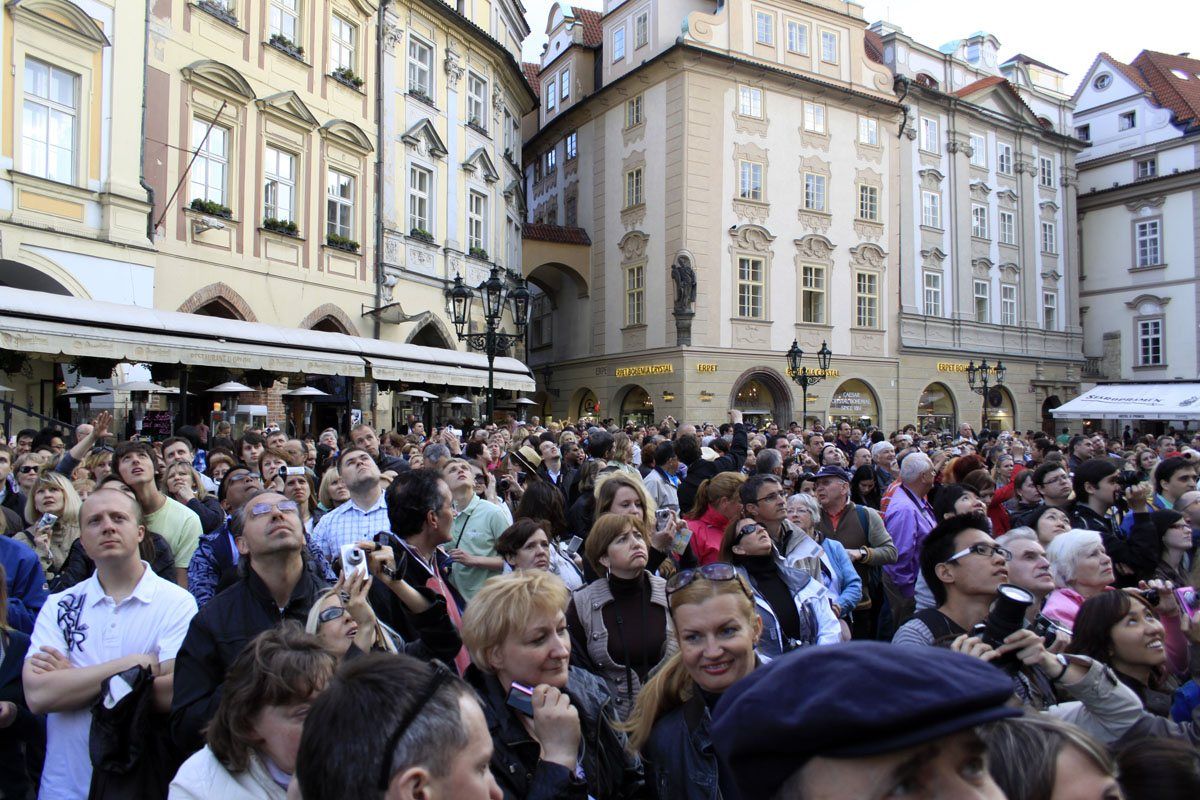 The astronomical clock draws quite the crowd of people!
We didn't think the show quite lived up to the hype, but even so, it is still one of those things that you must see while in Prague.
Enhance your experience with this Old Town Hall & Astronomical Clock Entrance Ticket. You will enter Old Town Hall, get a peek at the inner mechanism of the astronomical clock, see staterooms, the gothic chapel, the medieval underground, and more.
#4 Climb the Towers of Prague
Prague is called "The Golden City of A Hundred Spires" and there is no better way to view this cityscape than from the top of its many gothic towers.
The Old Town Hall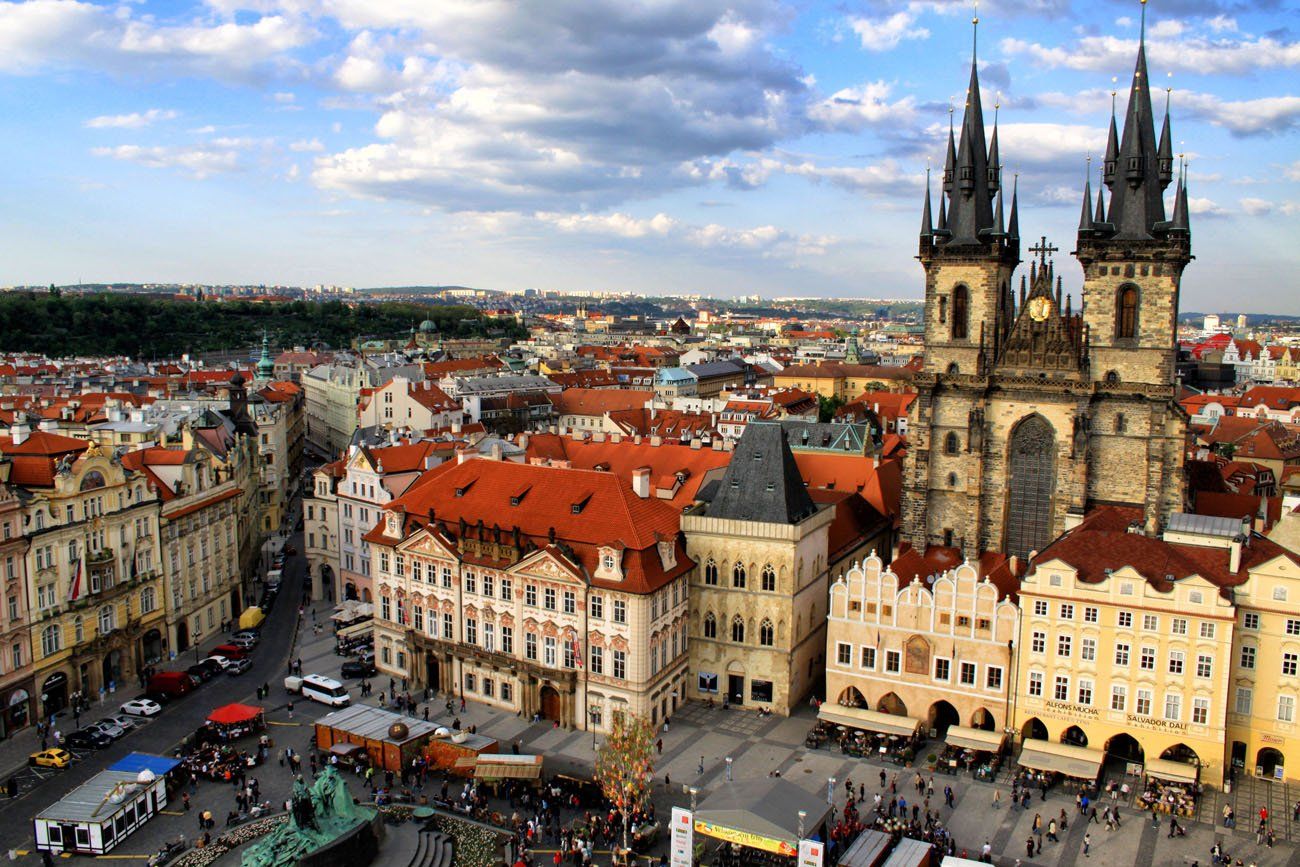 For the best view over the Old Town Square, climb to the top of the Old Town Hall Tower. The Old Town Hall is located next to the astronomical clock.
Old Town Tower Bridge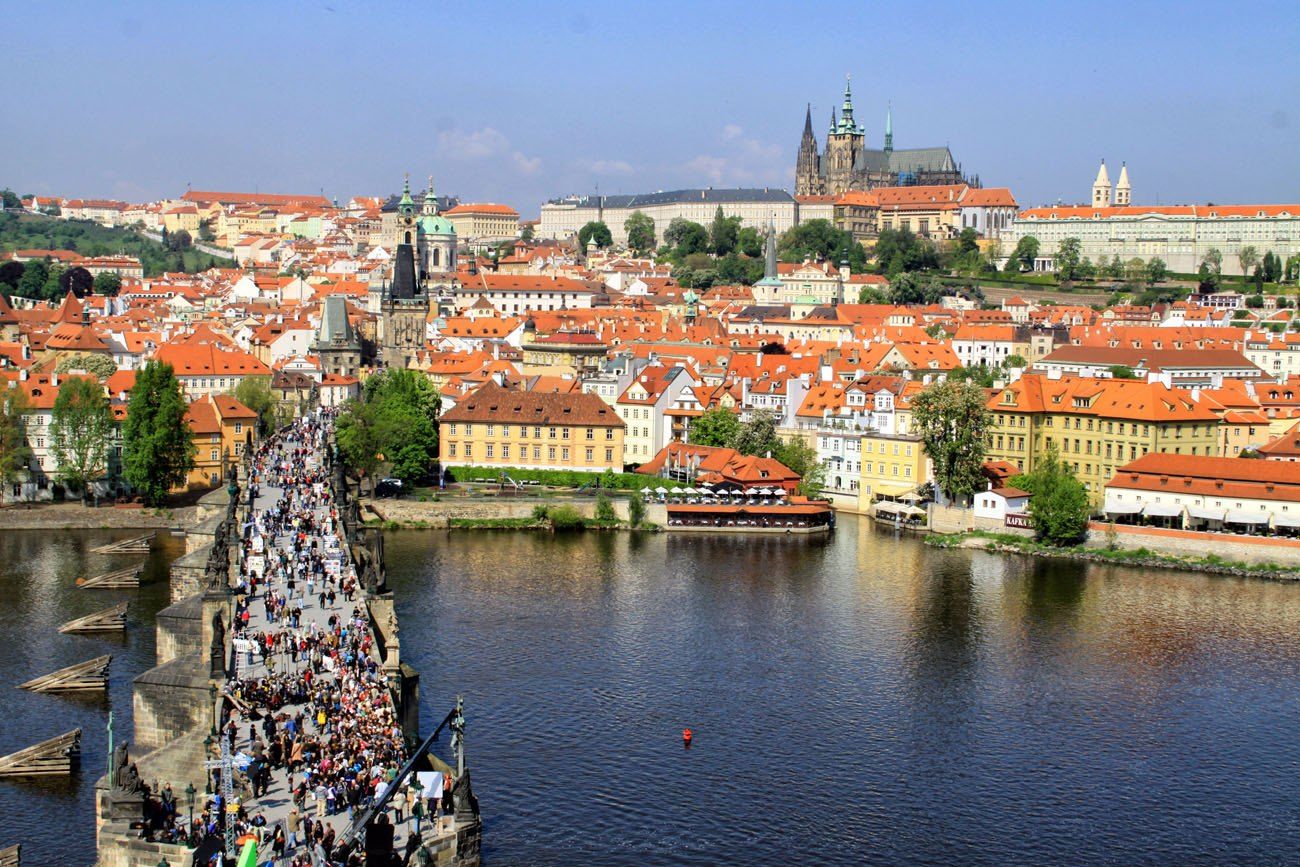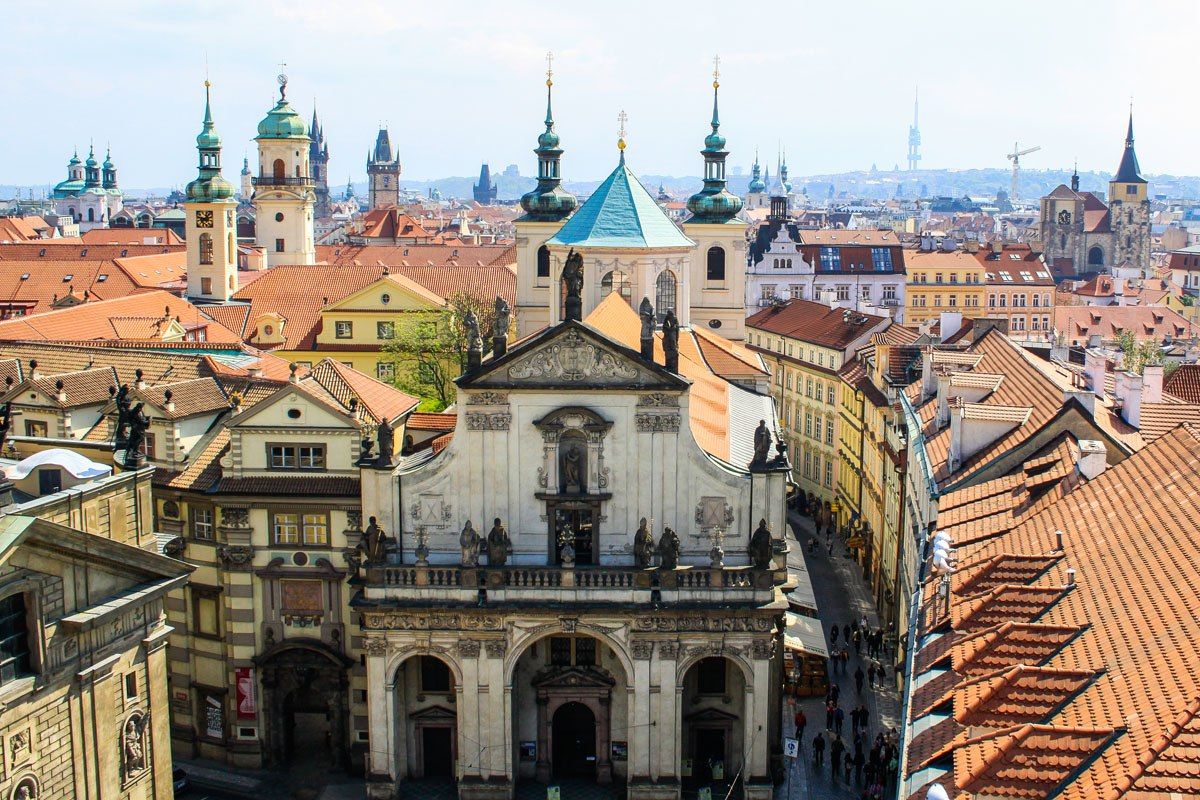 This tower is located at the end of the Charles Bridge closest to the Old Town Square. From the top of this tower, the views of Charles Bridge and Prague Castle are unbeatable.
Lesser Town Bridge Tower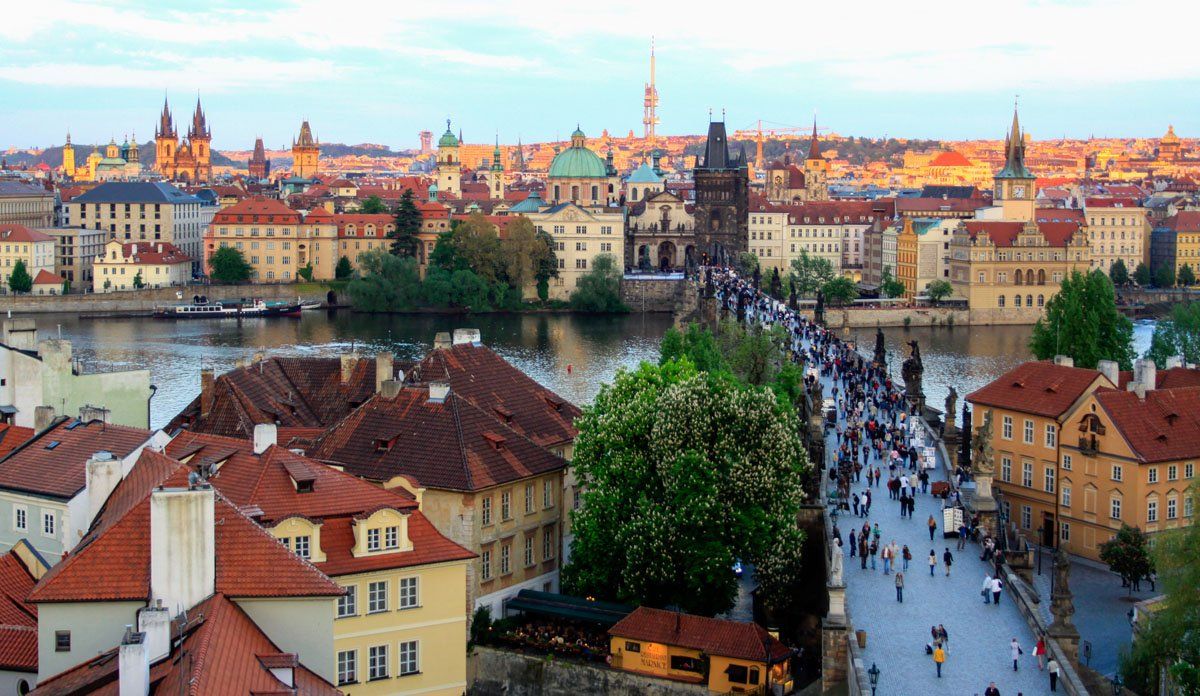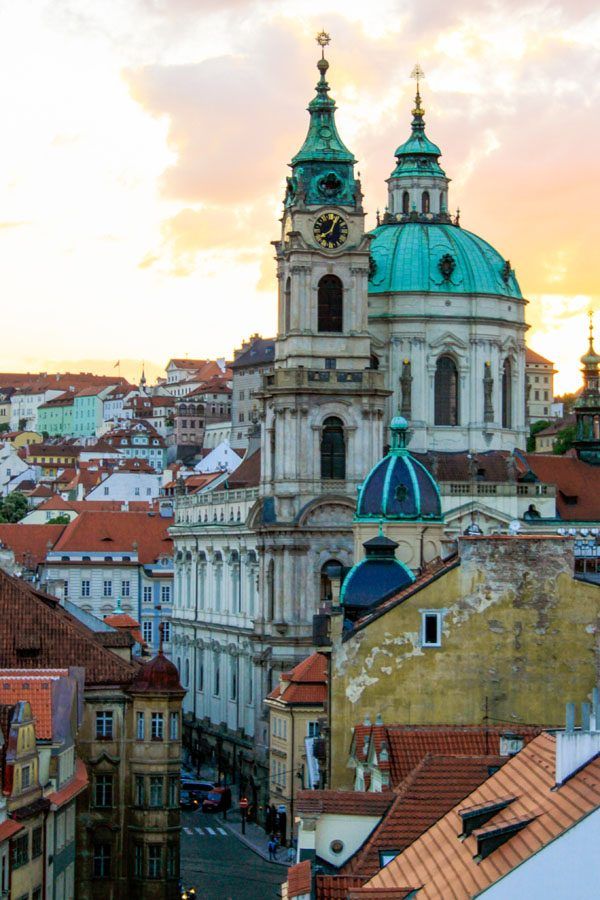 This tower is located at the other end of the Charles Bridge, closest to Mala Strana. It offers another unique perspective of the Charles Bridge.
Powder Tower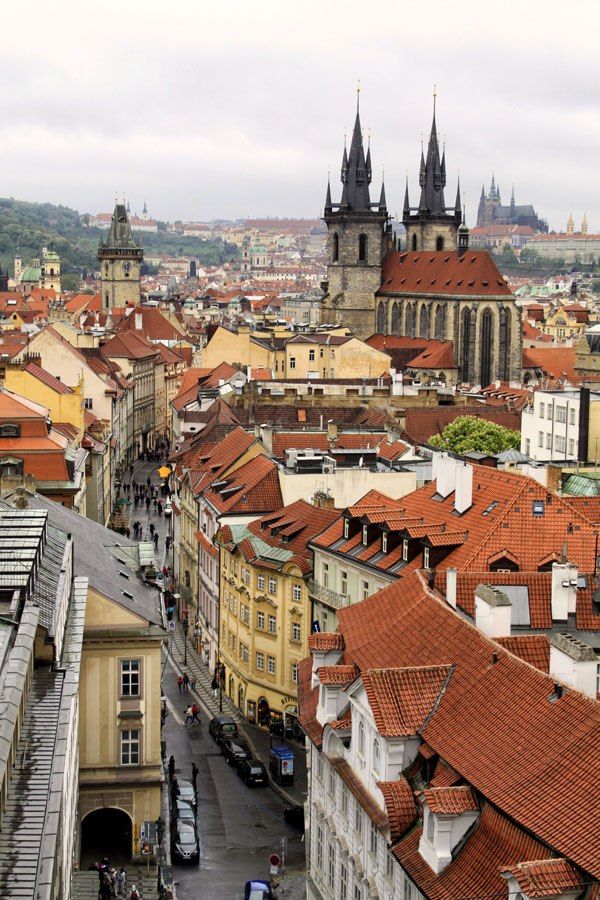 Of all of the towers we climbed, the Powder Tower was the least crowded. Located a short walk from the Old Town Square, this tower once served as an entrance gate in Prague's Old Town wall.
#5 Wander through Mala Strana
Mala Strana, also called the Lesser Town, is home to some of Prague's most famous sites, including the Prague Castle and St. Nicholas Church. This is a lovely place to go for a stroll, go window-shopping, and take more photos of this gorgeous city.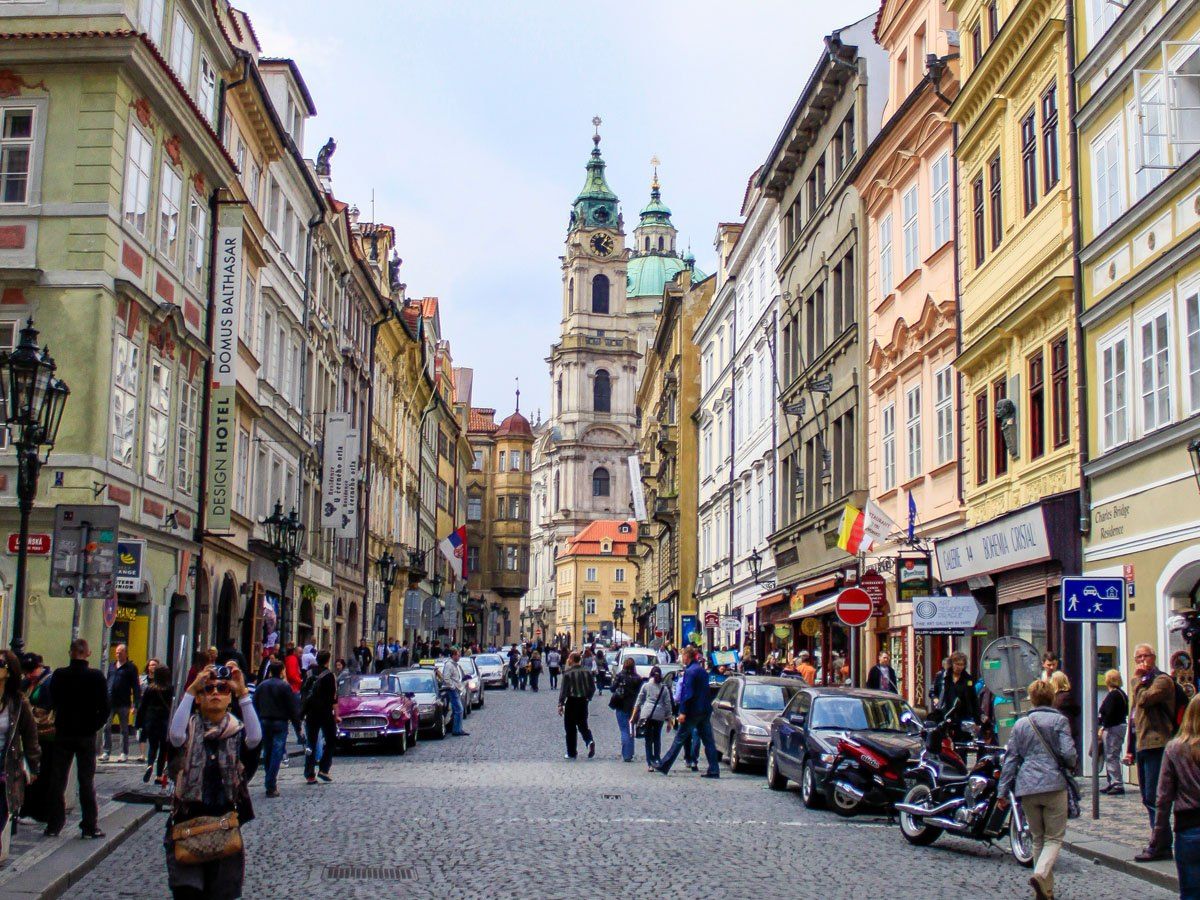 #6 The Lennon Wall
When John Lennon was killed in 1980, this wall was covered with memorial graffiti overnight. Every night the police would paint over the graffiti and the next day it would reappear. John Lennon's ideas gave the Czech people hope during communist rule, so this wall became a symbol of freedom.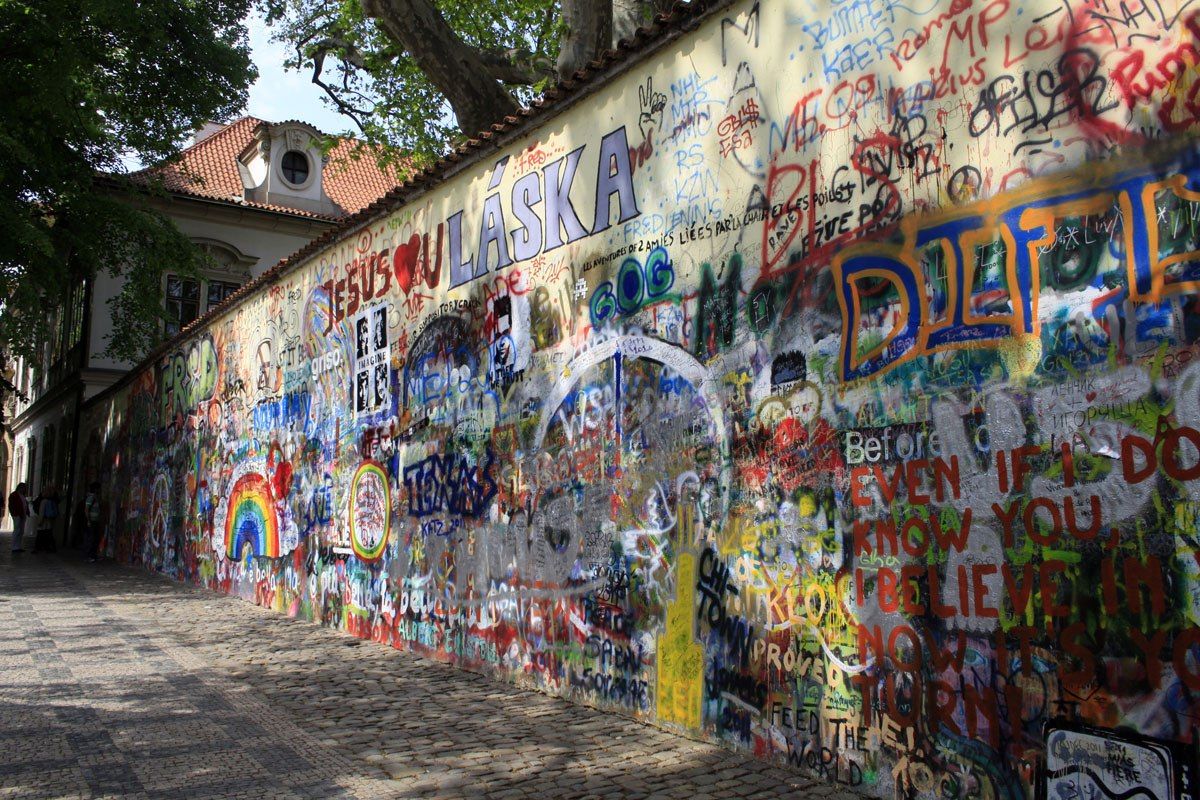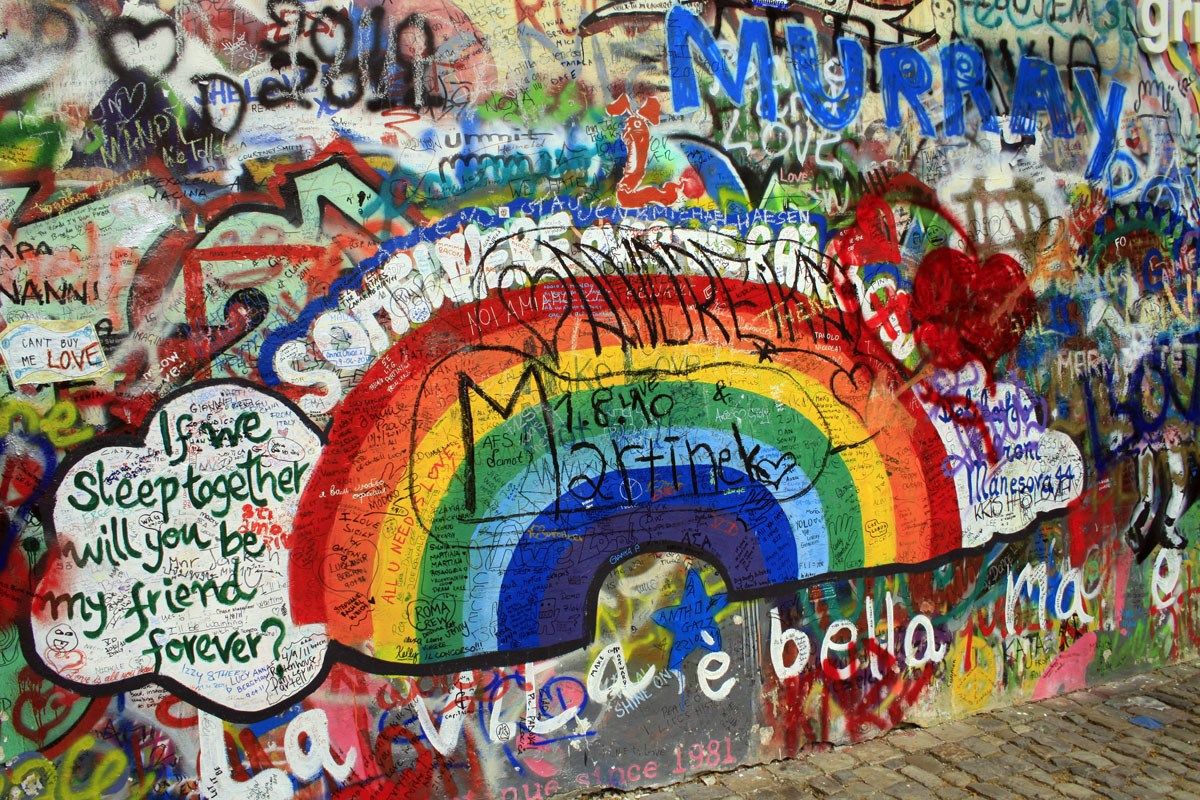 #7 Visit Prague Castle
Prague Castle dominates the skyline of the city. It looms over Charles Bridge and Mala Strana, forming one of the most recognizable views of Prague.
The Prague Castle complex is the largest castle in the world. It is still in use today and is one of Prague's most visited landmarks.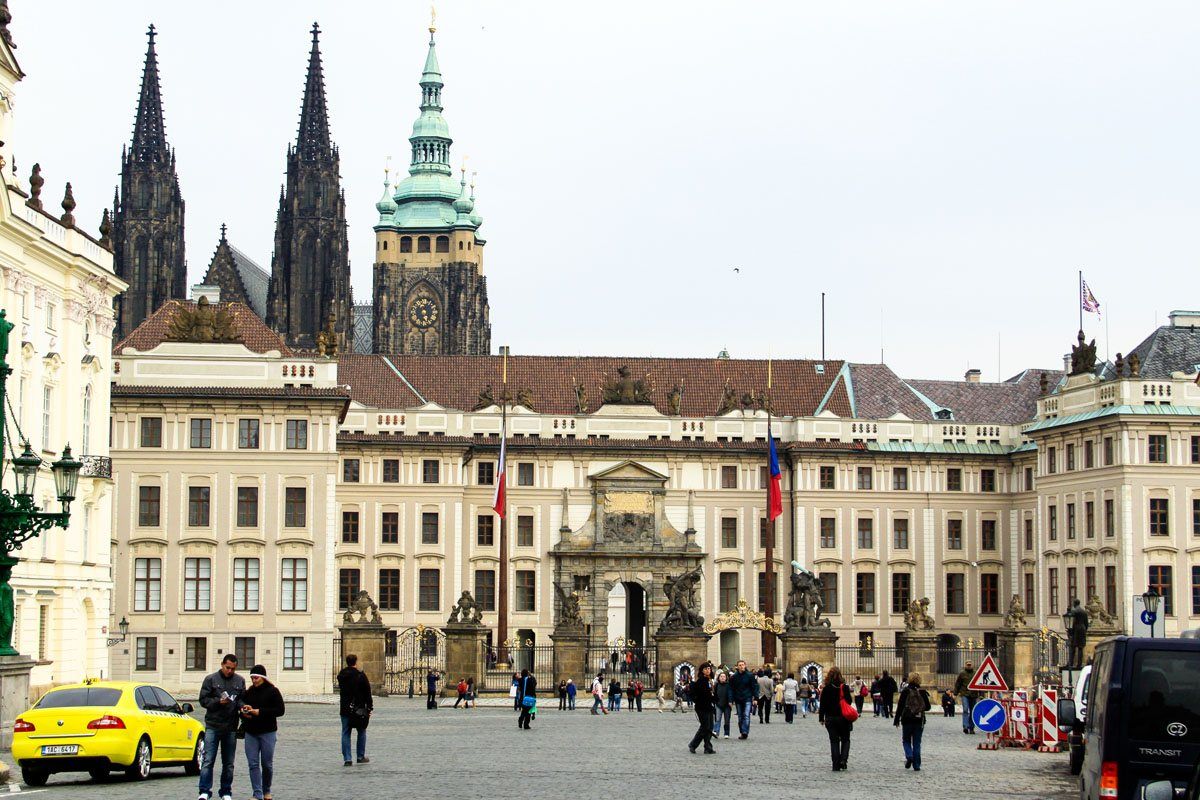 Hours: Castle: 6:00 – 22:00; Historical buildings: 9:00 – 17:00; reduced hours in winter
Cost: Prices vary depending on the type of ticket or tour you choose upon arrival. Visit the official website for full details.
Tour: Plan ahead by purchasing this guided tour in advance. Both the Small Group Tour option and the Private Tour option include your admission ticket and an experienced guide.
#8 St. Vitus Cathedral
Tucked away inside the Prague Castle is St. Vitus Cathedral. This gothic cathedral dates back to 1344 when construction first began. The St Vitus Cathedral is the site of coronation of Czech kings and queens and the place of burial for saints and noblemen.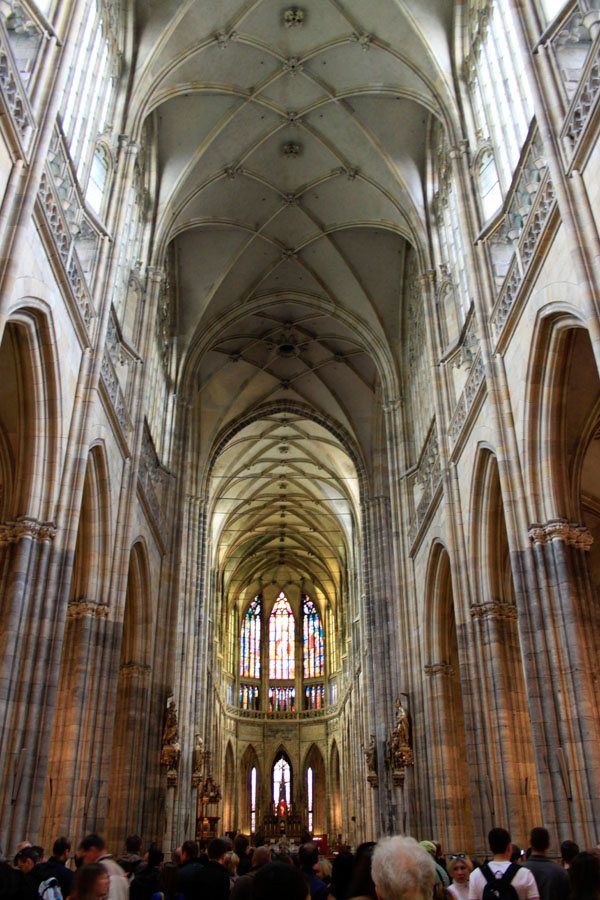 For those who want another bird's eye view over Prague, climb the 287 steps to the top of the spire of the cathedral.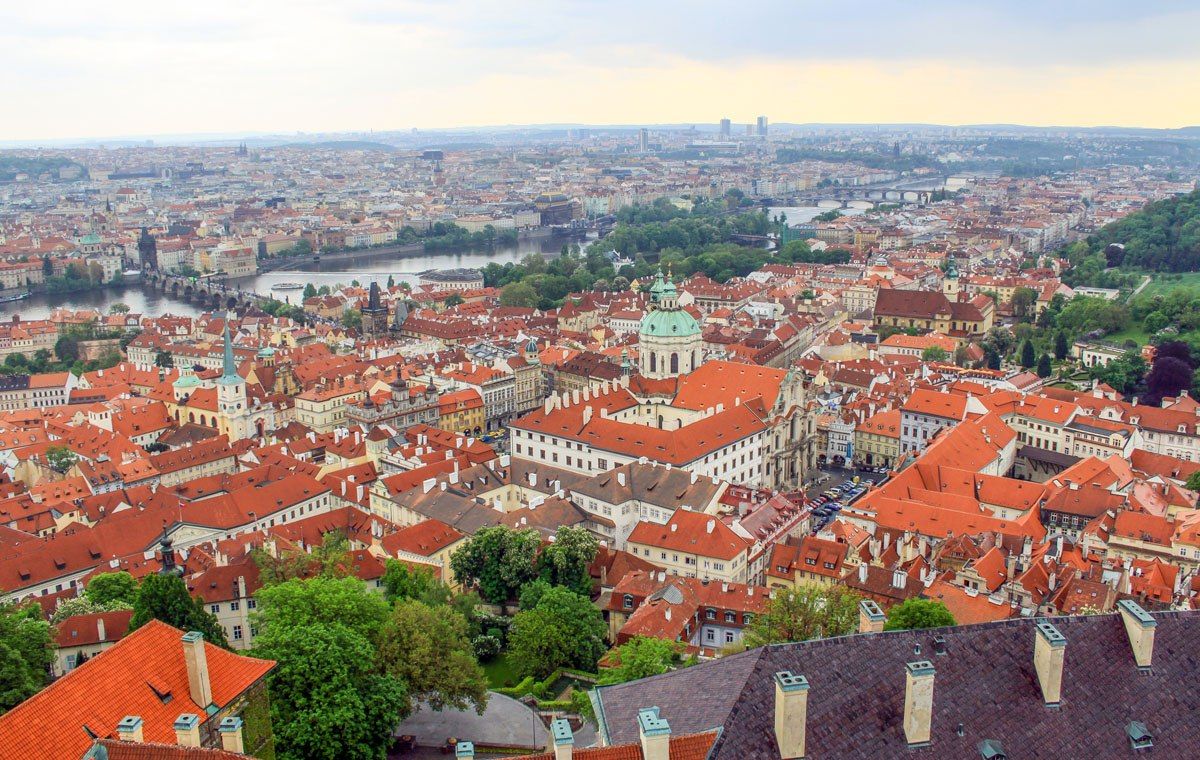 #9 St. Nicholas Church
St. Nicholas Church is a beautiful, Baroque church. It is located in Mala Strana just down the hill from Prague Castle.
For us, the highlight here was the view from the bell tower. In fact, this was one of our favorite viewpoints of the city. From here, you have an excellent view of the Prague Castle and St. Vitus Cathedral.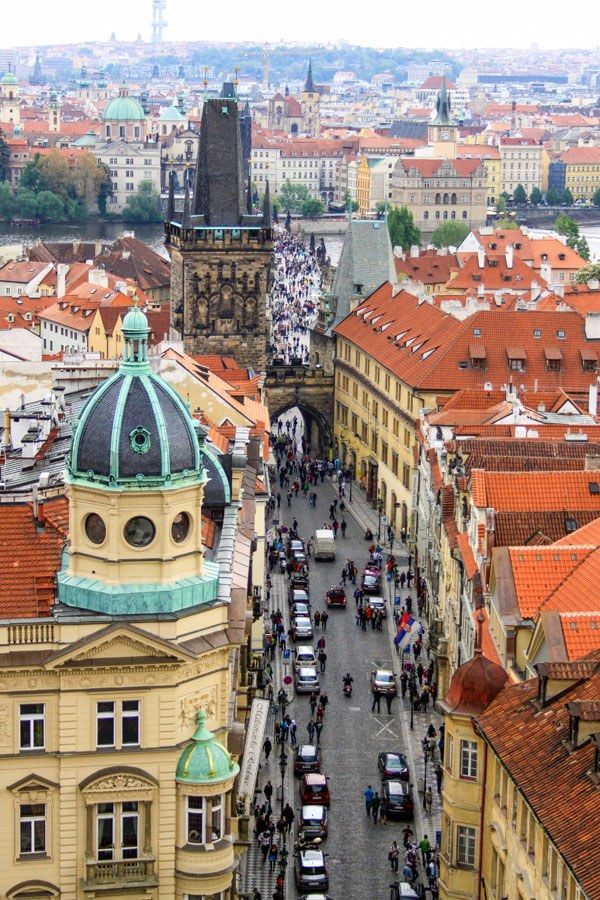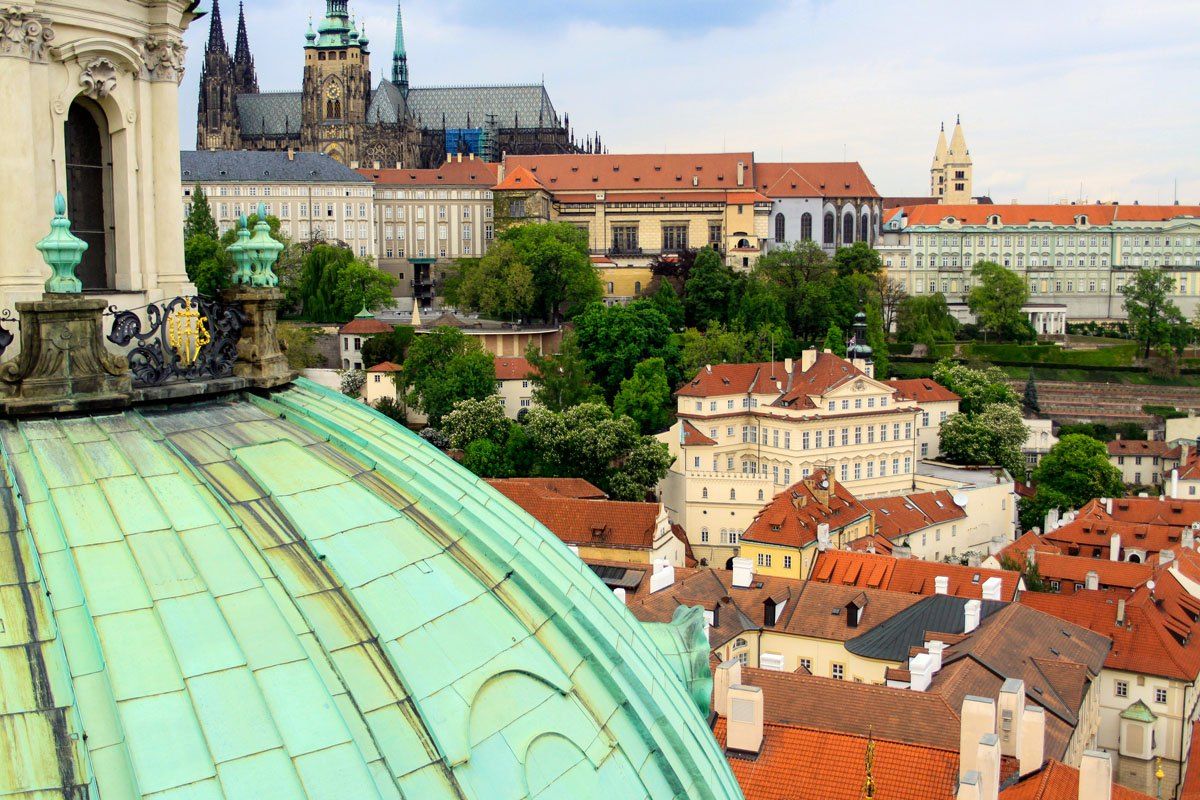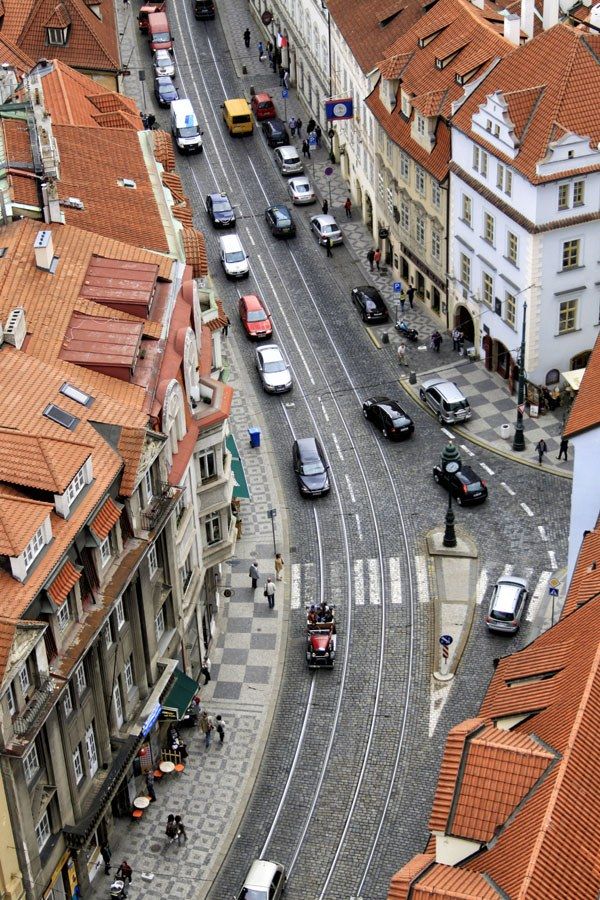 #10 Try a Trdelnik
This was our favorite snack in Prague. Similar to a cinnamon roll, a trdelnik is dough that is wrapped around a pole, grilled, and then topped with sugar. It's a delicious treat and it can be found all over Prague.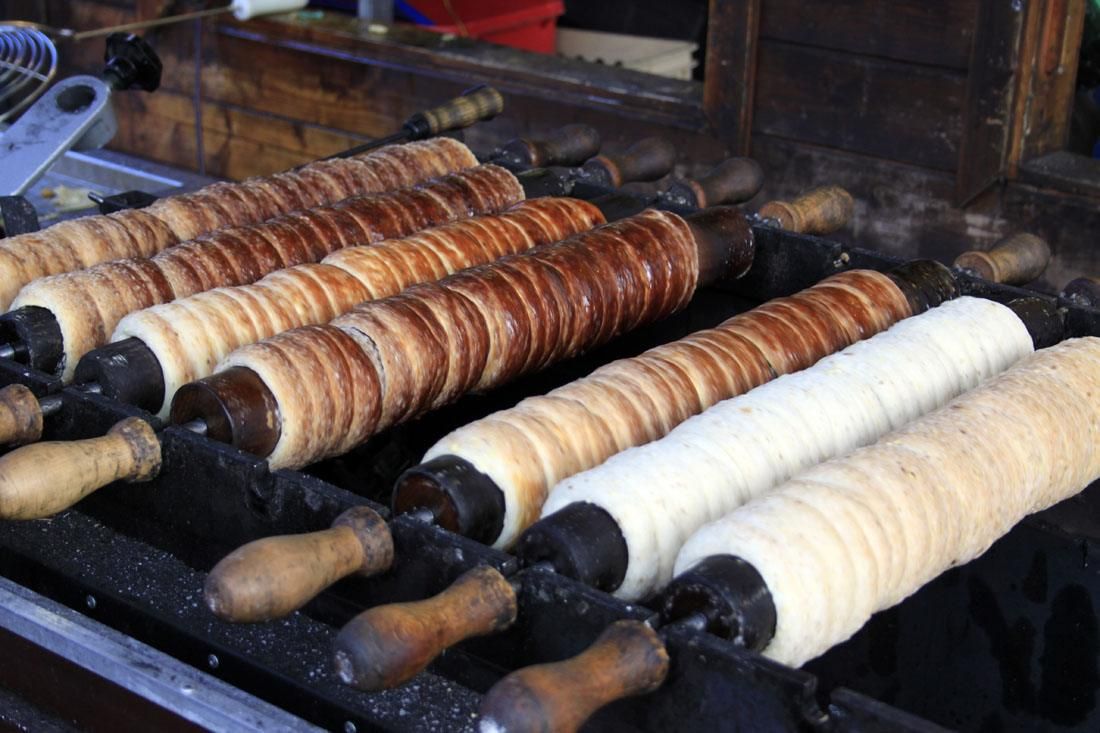 #11 Visit the Jewish Quarter
The Jewish Quarter, also called the Jewish Ghetto or Josefov, is a small area near the Old Town where Jewish people were permitted to live in Prague. At one time, it is estimated that over 18,000 people lived in this small area. Buildings, synagogues, and tombstones crowded together in this small space.
Now, the Jewish Quarter looks much different. Several of the old buildings stand among the more modern architecture. The best place to get an idea of just how crowded it was in the Jewish Quarter is at the Old Jewish Cemetery. Tombstones are literally stacked on top of one another.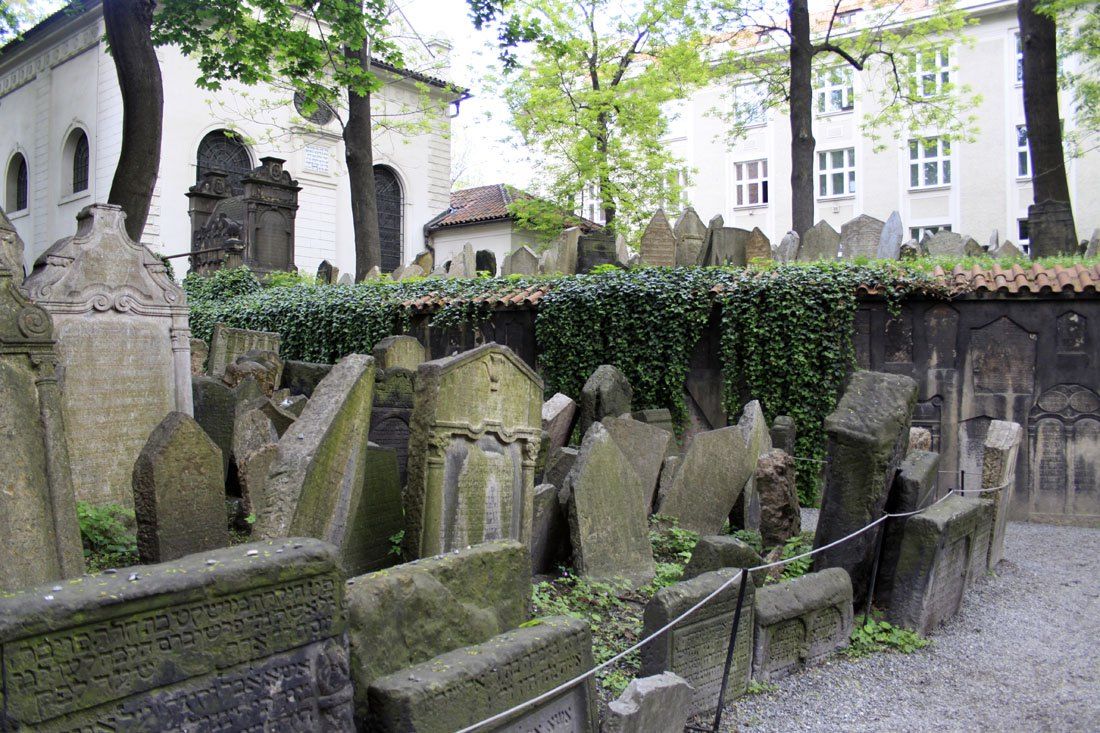 Don't miss the Old New Synagogue. Built in 1270, it is the oldest synagogue in Eastern Europe.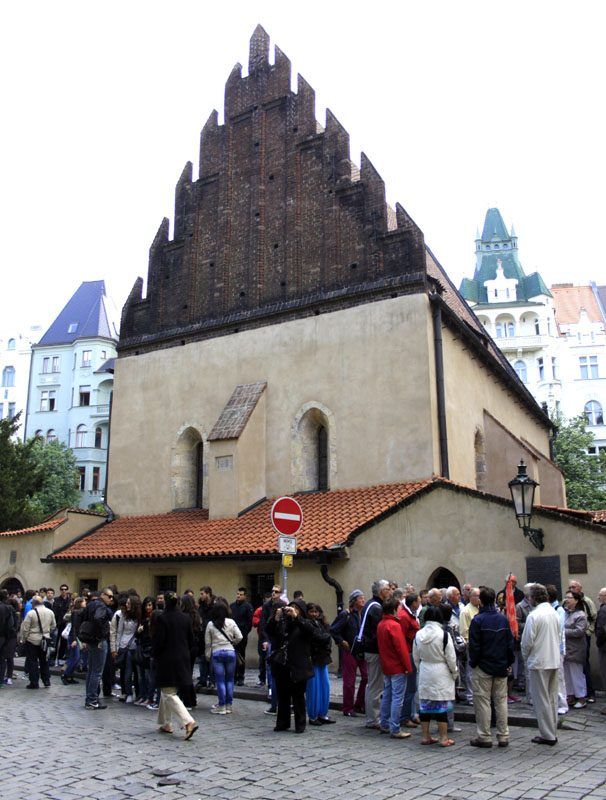 Enhance your experience with this highly rated guided tour of the Jewish Quarter.
#12 Enjoy a glass or three of Czech Beer
The Czech Republic is known for brewing some of the world's best beer. There are numerous pubs and beer halls to visit in Prague. We tried U Fleku and U Medvidku, but the list is endless.
For more recommendations, check out this list on the Prague Stay website.
Guided tours to local pubs are also available.
#13 One Final View of Prague at Petrin Tower
As you can tell by now, we are big fans of climbing towers for the best views over the city. There's just something about gazing out at a city skyline that excites us.
Petrin Tower looks like a miniature version of the Eiffel Tower. Climb the 299 steps to the top for another spectacular view of the city.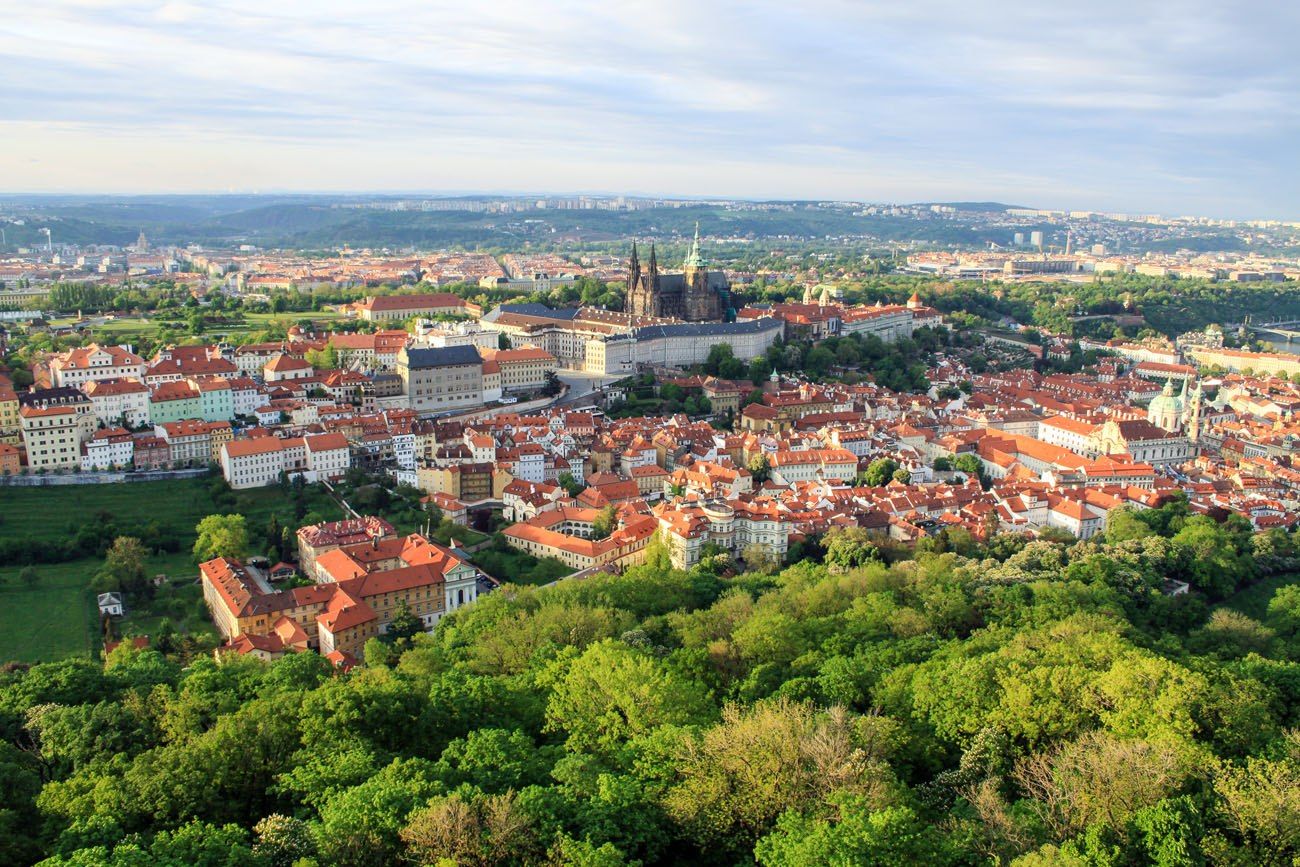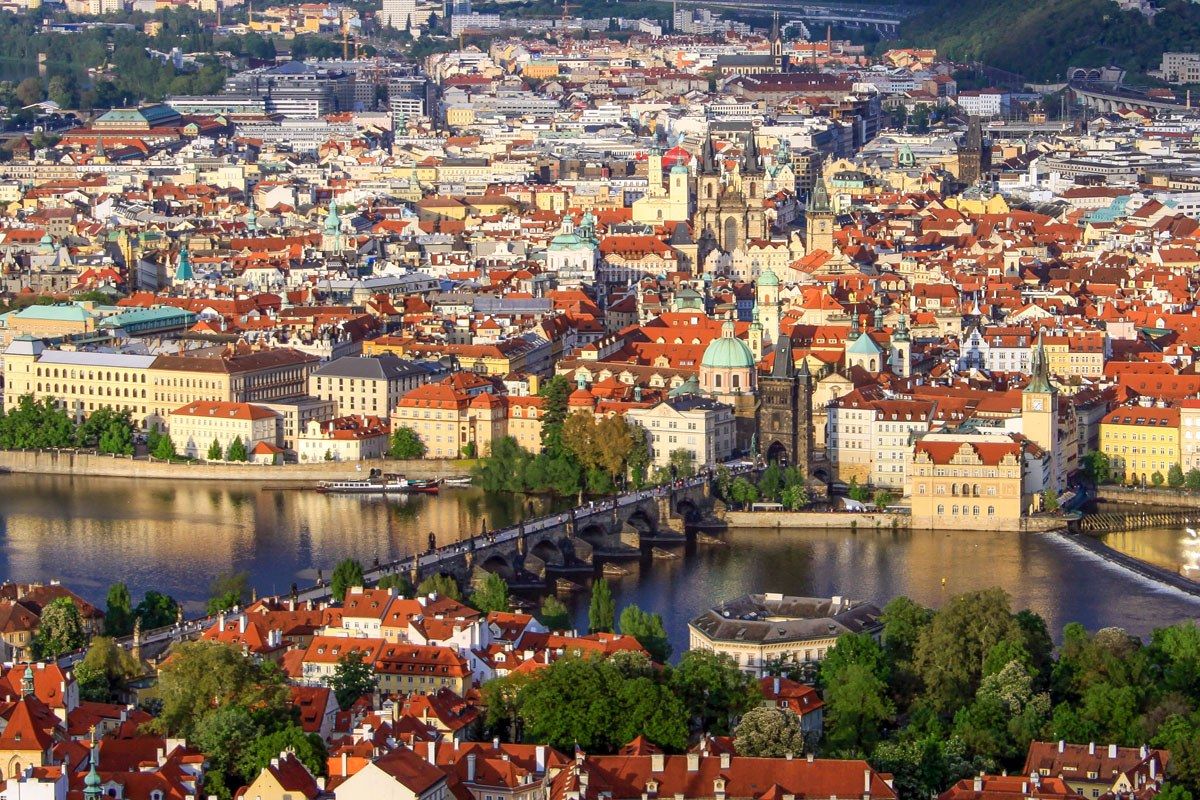 Do you want a fun way to get to Petrin Tower? This guided tour will add a little adventure to the journey.
Taking a Tour of Prague
If you prefer to explore Prague with an experienced guide, then here are several highly rated tours to consider:
With More Time
Take a break from exploring the historic sites of Prague in order to take a food tour or to take a day trip to picturesque places outside of Prague.
Take a Food Tour: During this guided food tour you will taste a variety of authentic foods at locally loved venues.
Visit the Bone Church in Kutna Hora: On this 5-hour day trip from Prague, visit the St. Barbara Cathedral and the Sedlec Ossuary and have a 3 course lunch at a local Czech restaurant.
Explore Cesky Krumlov: During this guided day trip you will visit the charming town of Cesky Krumlov.
Explore Bohemian and Saxon Switzerland: During this guided day trip you will visit the mysterious and unique Bastei Bridge and more!
Where We Stayed
We stayed at Hotel Paris, a beautiful, 5-star hotel located within walking distance of the Old Town Square. The hotel is a historical monument in Prague and filled with Art Nouveau accents.
---
If you have any questions about the best things to do in Prague, let us know in the comment section below.
More Information for Your Trip to Prague
CESKY KRUMLOV: In our Guide to Cesky Krumlov, learn how to plan your day trip from Prague.
CENTRAL EUROPE: Plan your visit to Central Europe with our 10 day Central Europe Itinerary, which includes Budapest, Vienna, and Prague.
GERMANY: The Bastei Bridge is a beautiful place to visit in Saxony, Germany. Learn about the best things to do in Berlin, how to day trip to Rakotzbrucke, and how to spend 10 days in Bavaria.
POLAND: Plan your trip to Poland with our 10 Day Poland Itinerary. We also have guides to Warsaw, Krakow, and Gdansk, and information on how to visit Auschwitz-Birkenau.
EUROPE TRAVEL INSPIRATION: For more great ideas on where to go in Europe, check out our article 30 Beautiful Places to Visit in Europe. You can also get more travel ideas in our One Week in Europe itinerary guide, which has lots of sample itineraries for your next trip to Europe.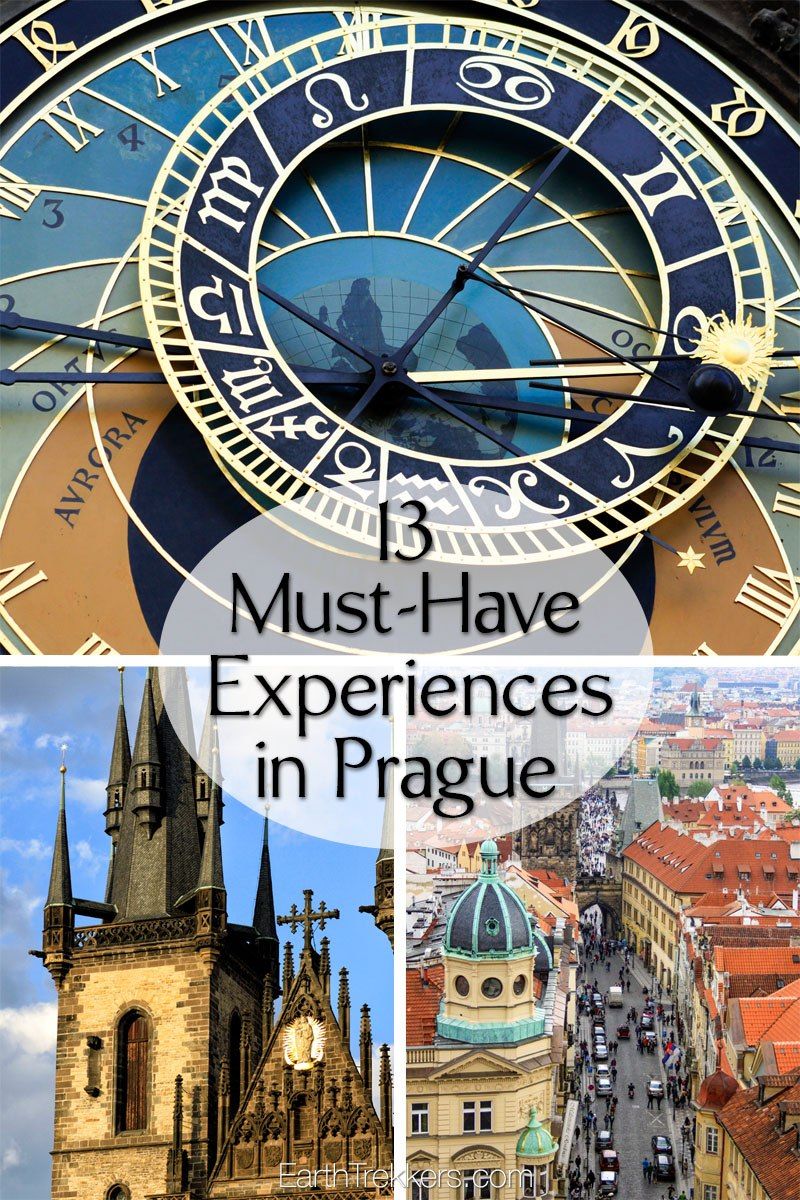 Note: This post contains affiliate links. When you make a purchase using one of these affiliate links, we get paid a small commission at no extra cost to you.
All rights reserved © Earth Trekkers. Republishing this article and/or any of its contents (text, photography, etc.), in whole or in part, is strictly prohibited.