Cesky Krumlov is a town in the Czech Republic that we love love love! The town is amazing and absolutely should not be missed on a trip to the Czech Republic.
Located in Bohemia, Cesky Krumlov is a UNESCO World Heritage Site. The town escaped the bombings in World War II, which is the reason why the old city is so well preserved.
This city is a delight to walk through. It is small and compact and very, very photogenic. It doesn't take very long to visit, just a few hours on the fastest of itineraries or worth an overnight stay on a longer visit. But Cesky Krumlov is worth the visit, even if it requires going out of your way.
Cesky Krumlov is one of our favorite small cities in Europe.
Tim and I visited Cesky Krumlov in April. On the day we visited Cesky Krumlov it was overcast and chilly, but at least it had stopped raining. We were here on a day trip, driving from Vienna to Prague.
In this article, visit Cesky Krumlov through our photo tour and then learn how you can visit this charming city.
Phototour of Cesky Krumlov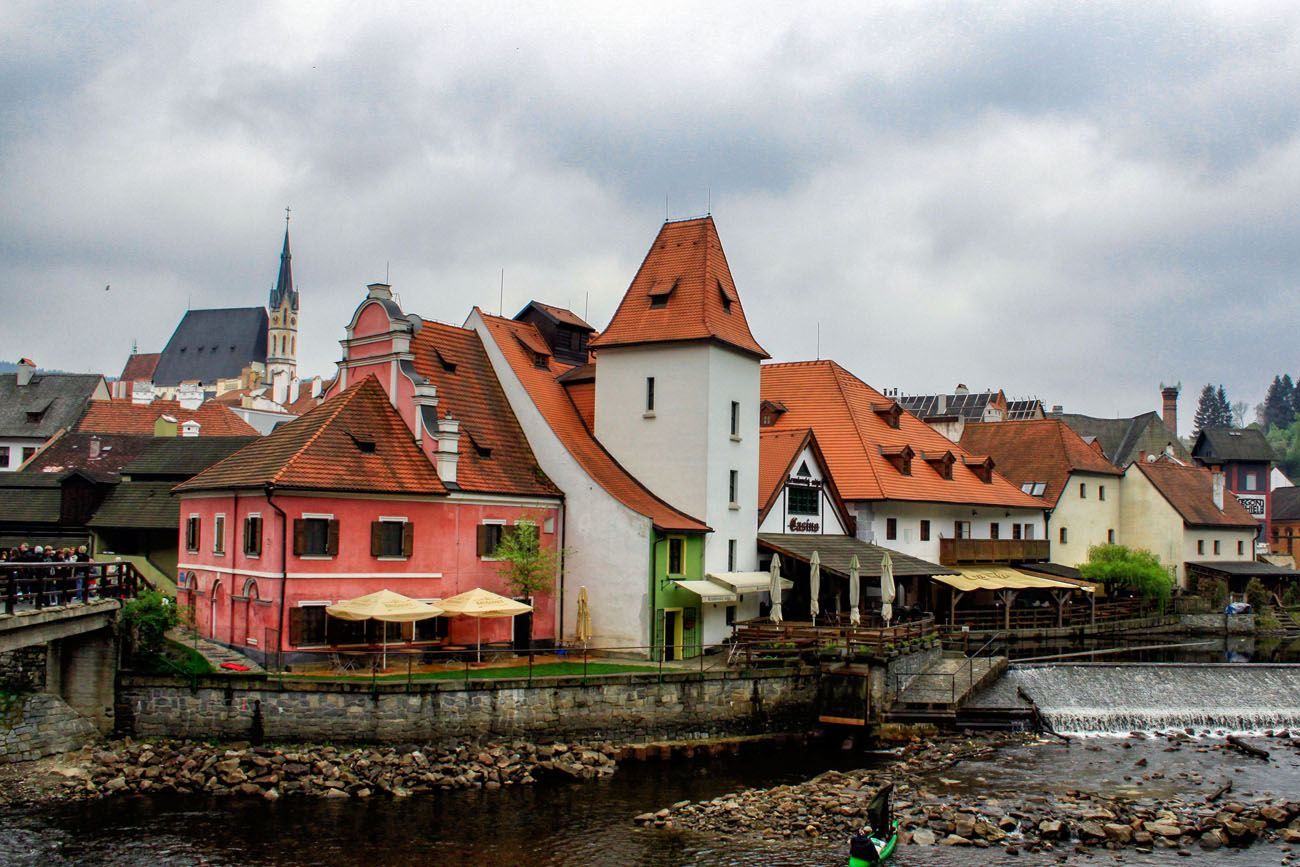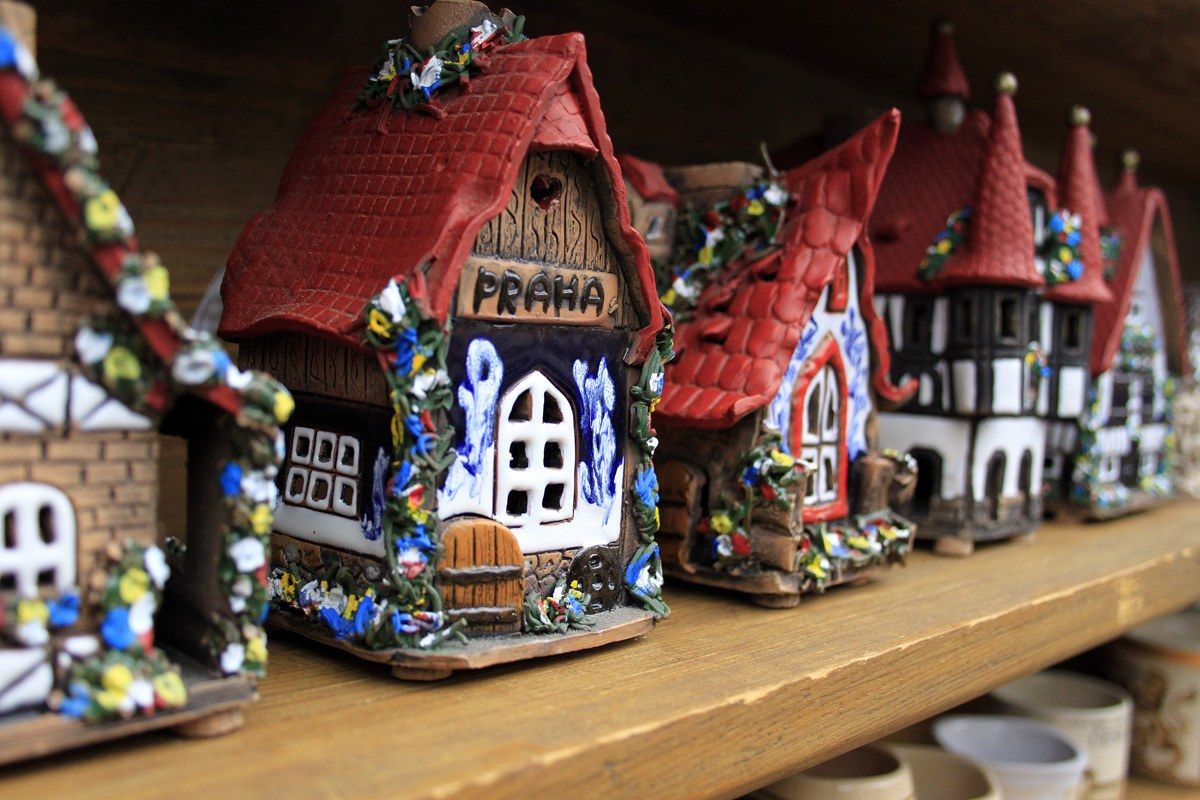 Souvenir houses for sale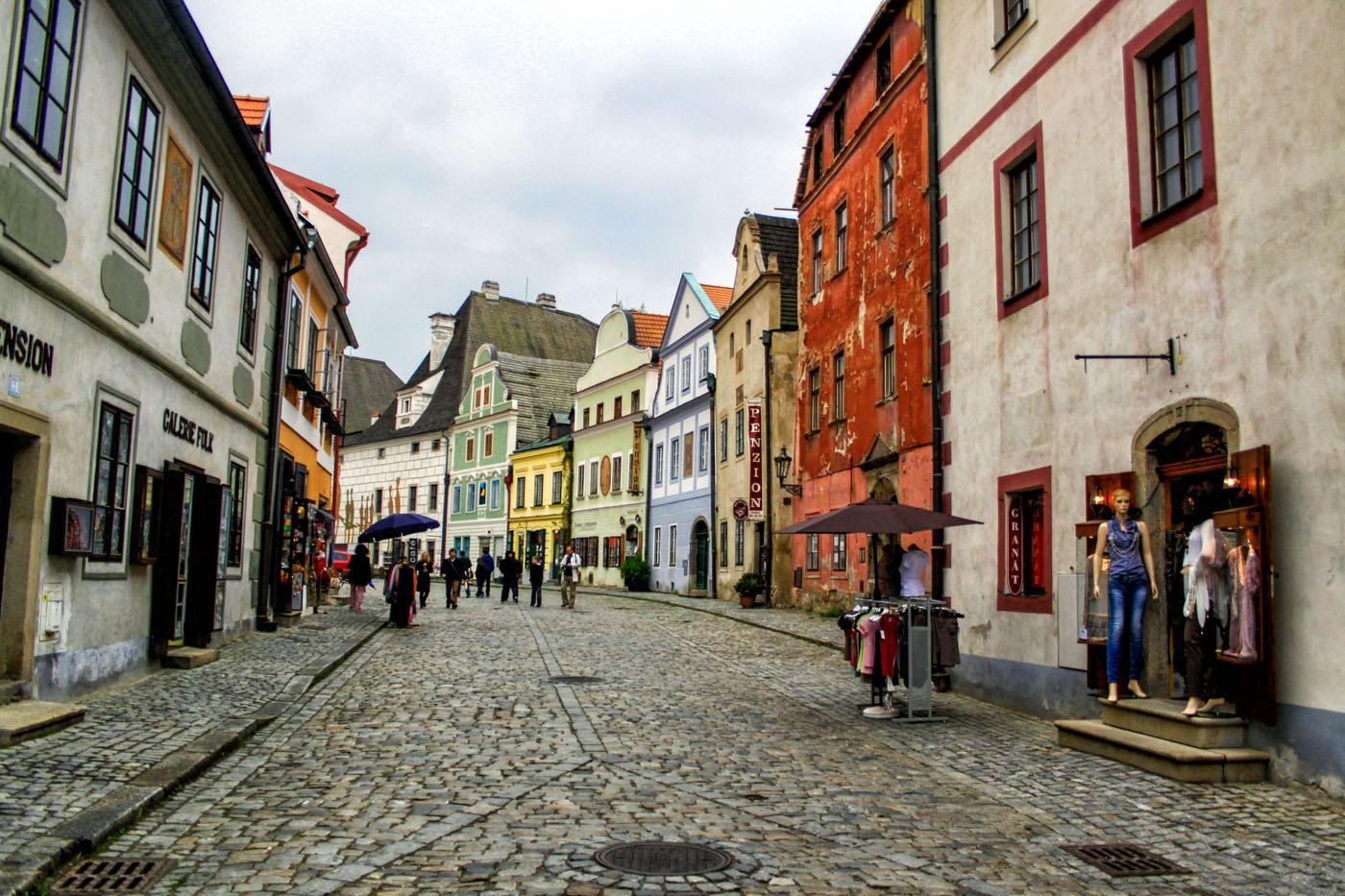 Walking through the city streets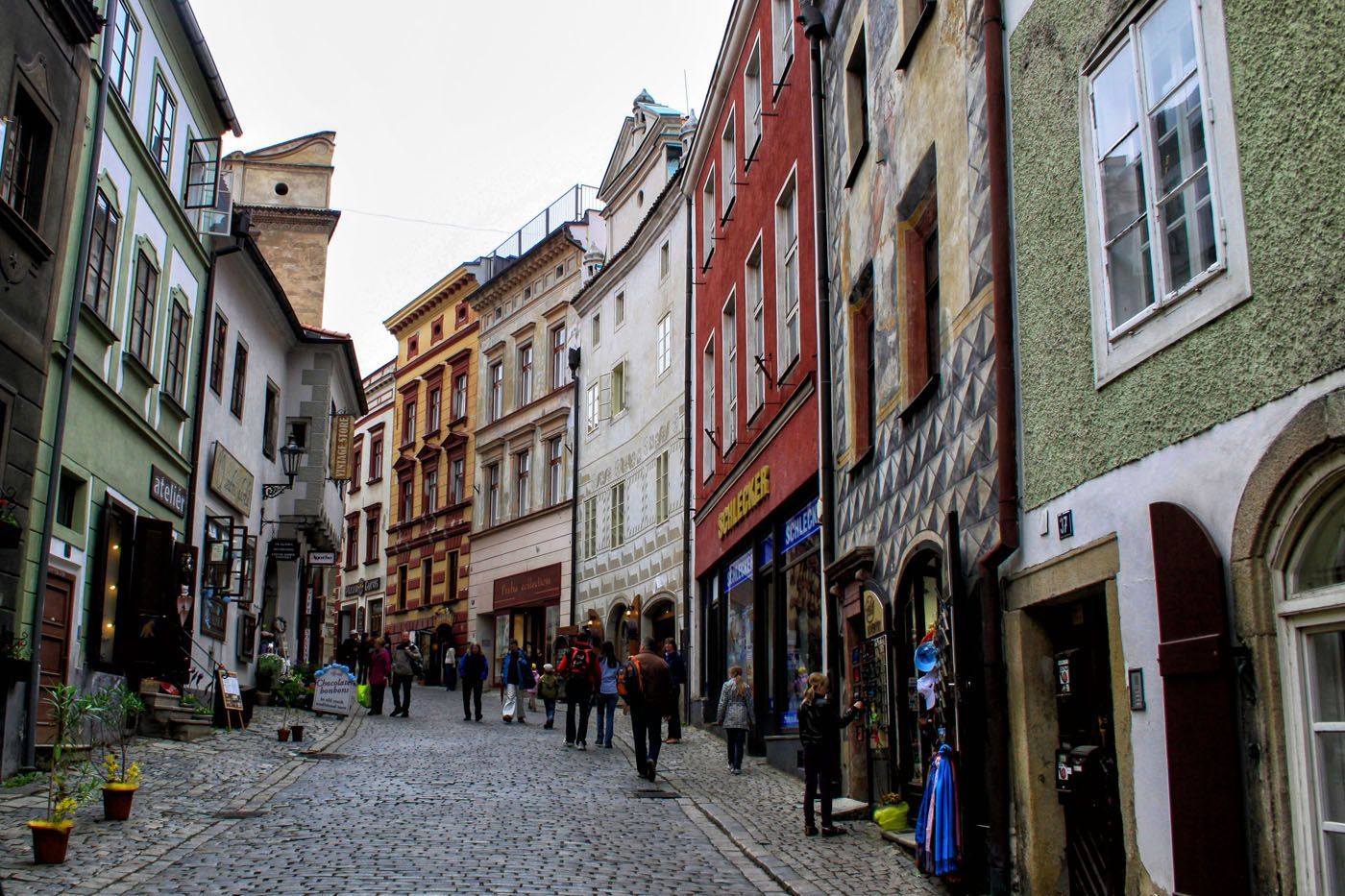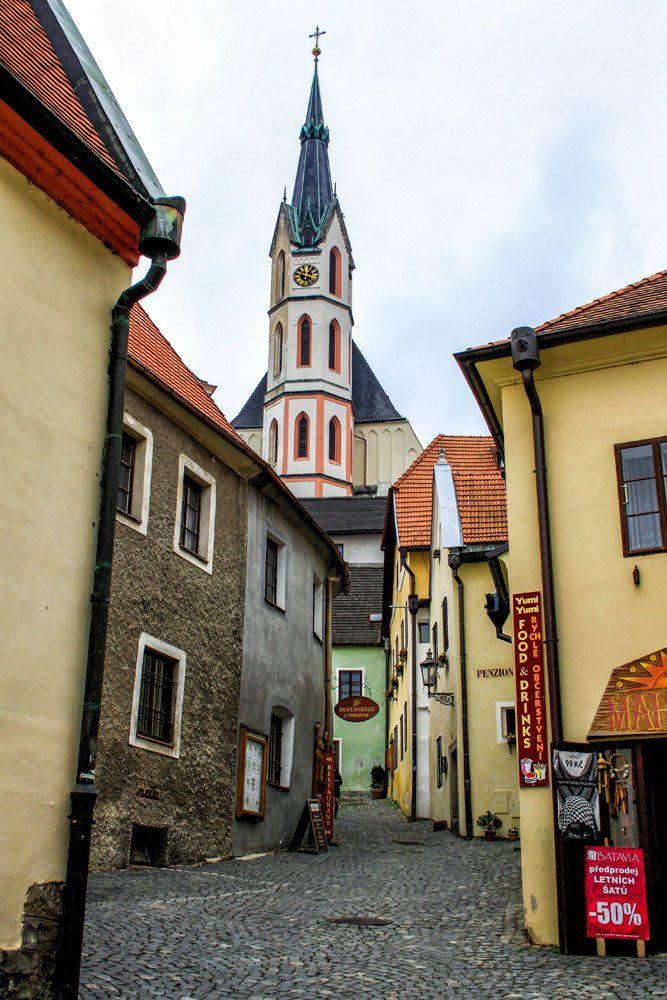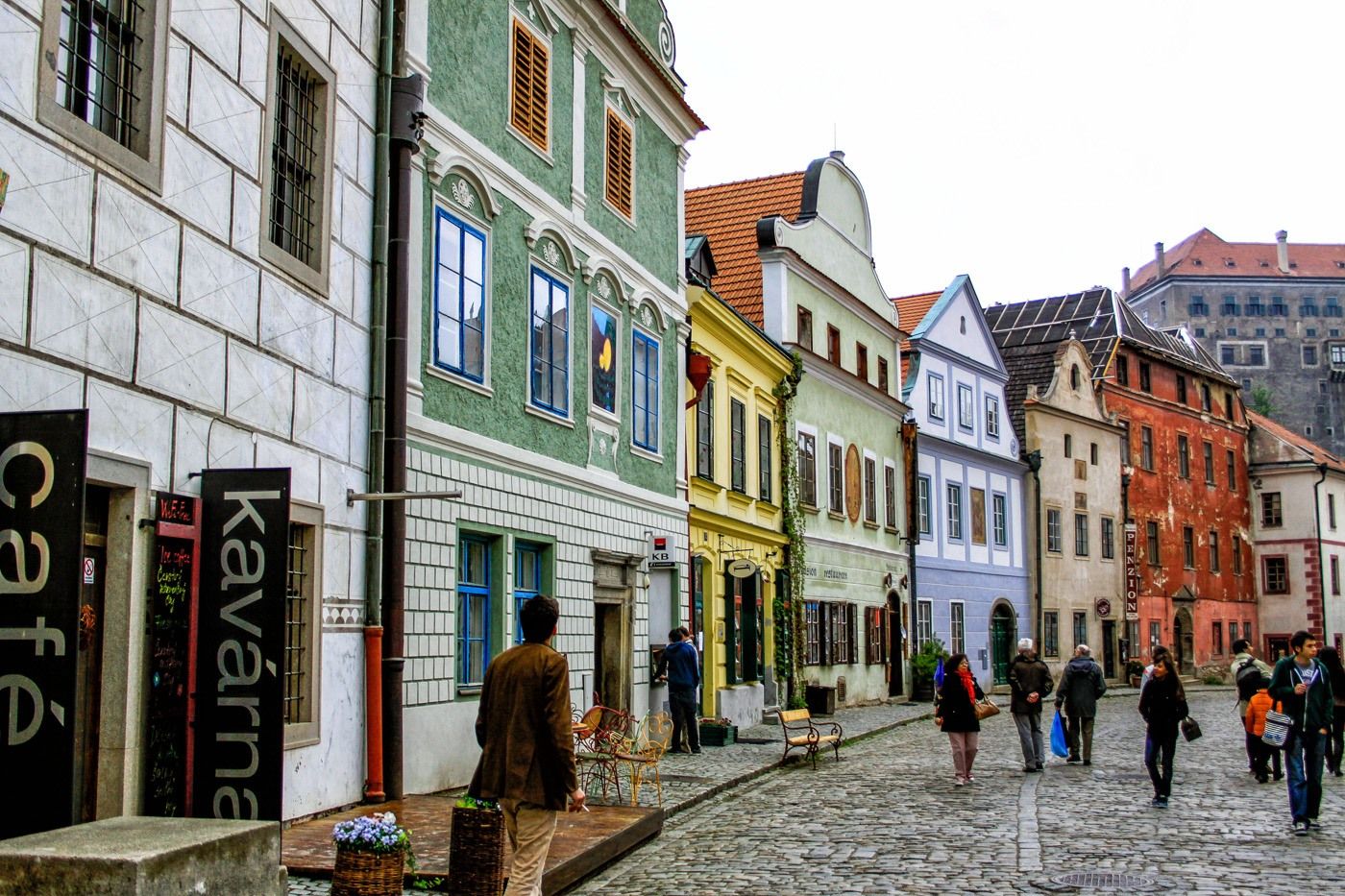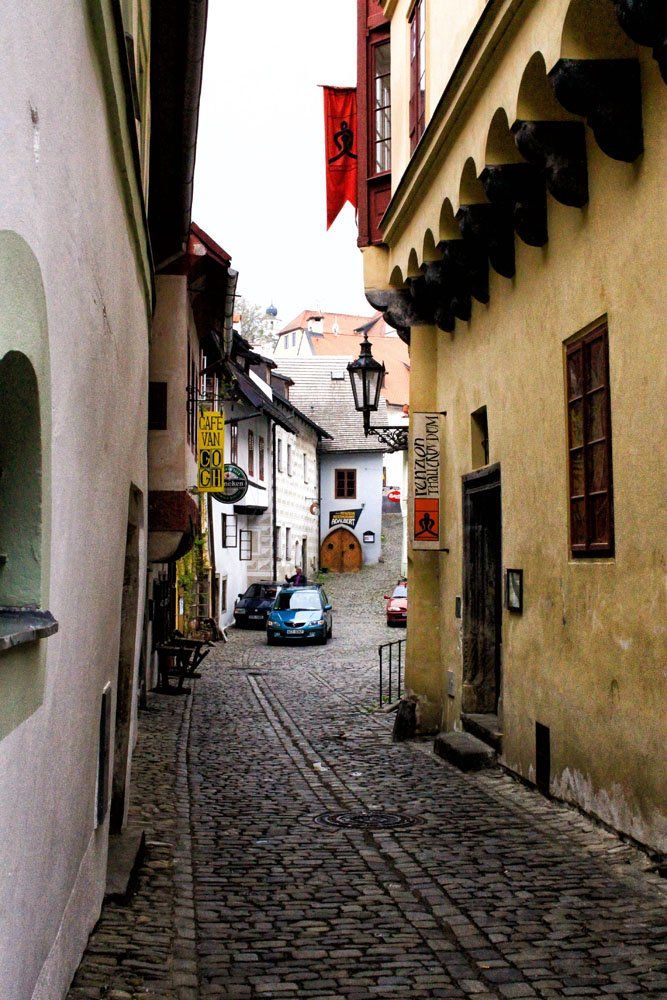 Tim picked out our restaurant for lunch, Bolero, which was a small place overlooking the Vltava River. The place was charming. The restaurant was tiny, rustic, and very cozy. From our table we could look out of the window for views over the river. We ate traditional Czech food…meat, potato pancakes, potato dumplings, sauerkraut, and pork, and drank the Czech beer Pilsner Urquell.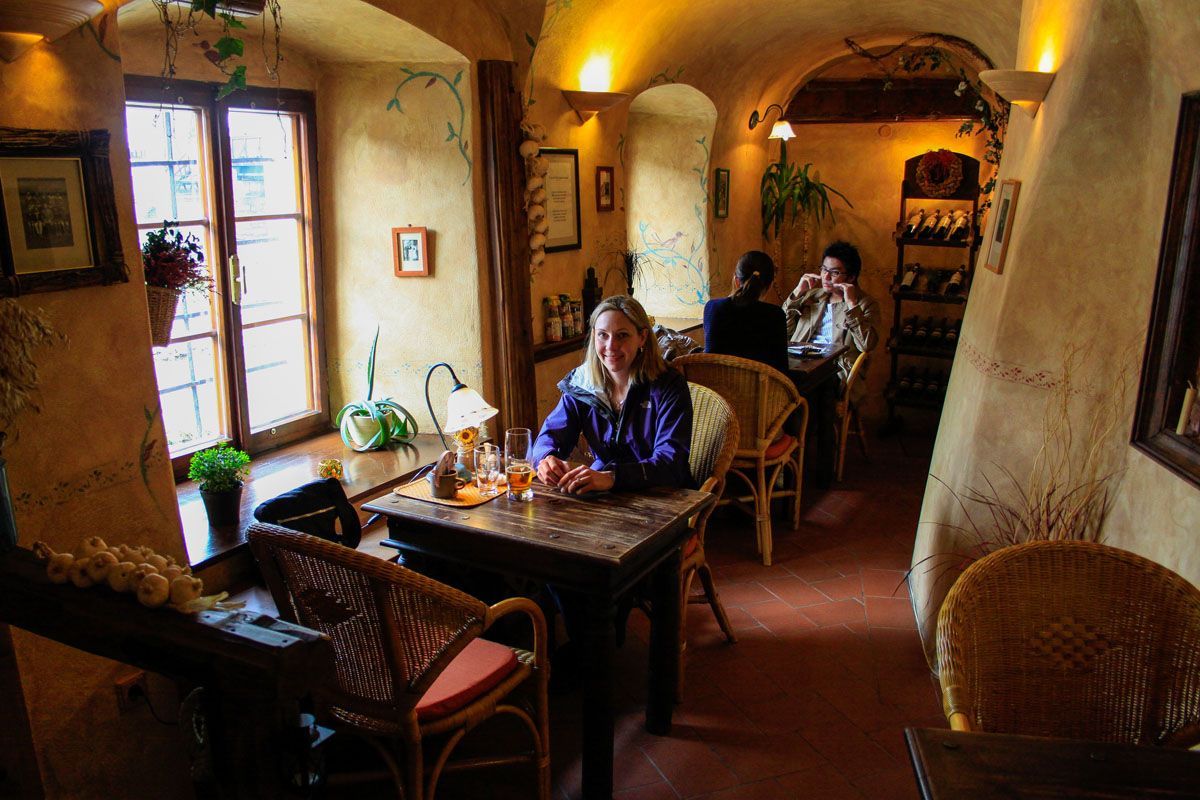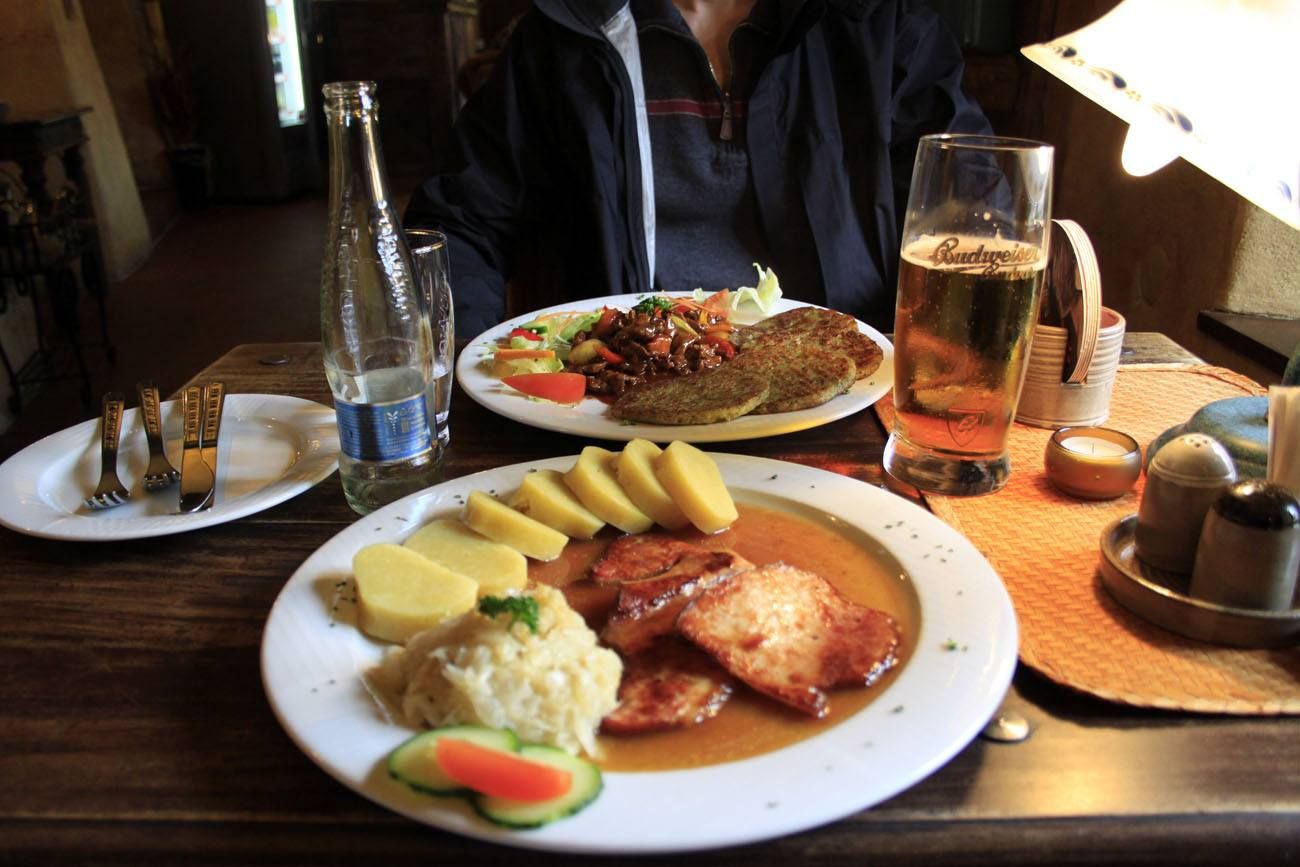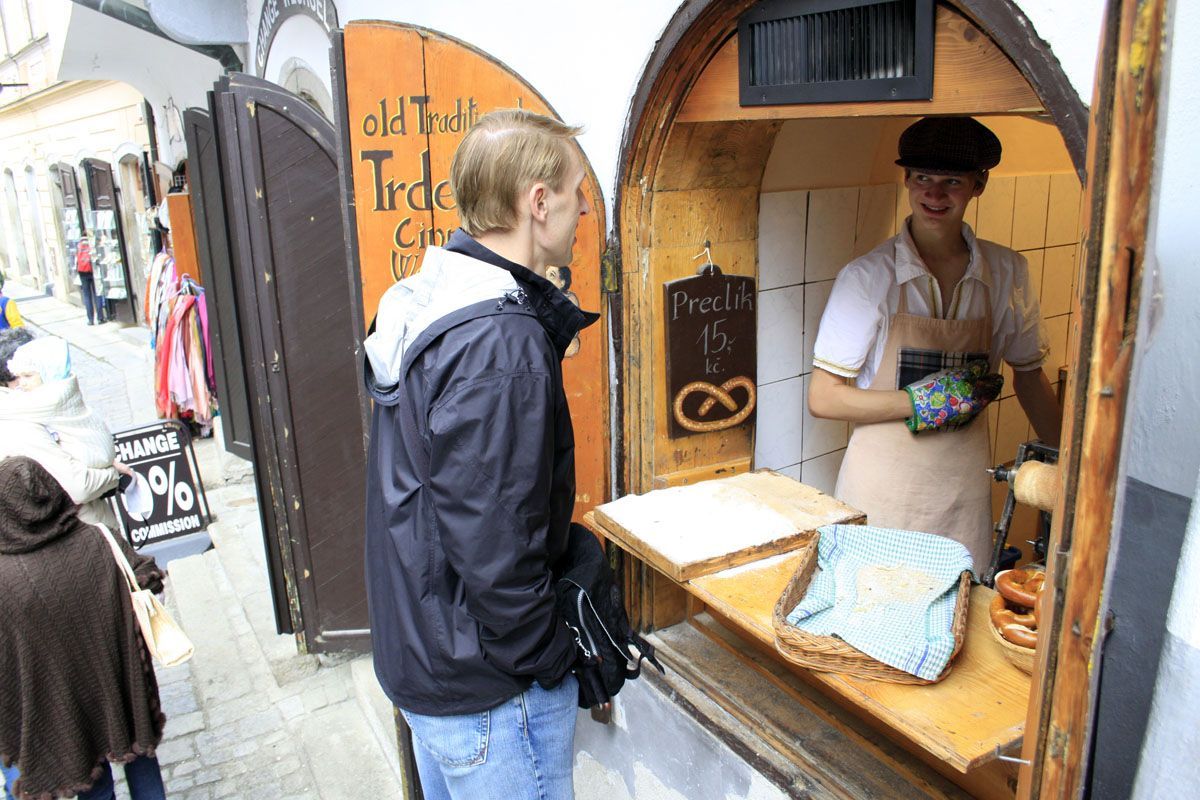 After lunch Tim bought a Trdelnik, a cinnamon pastry.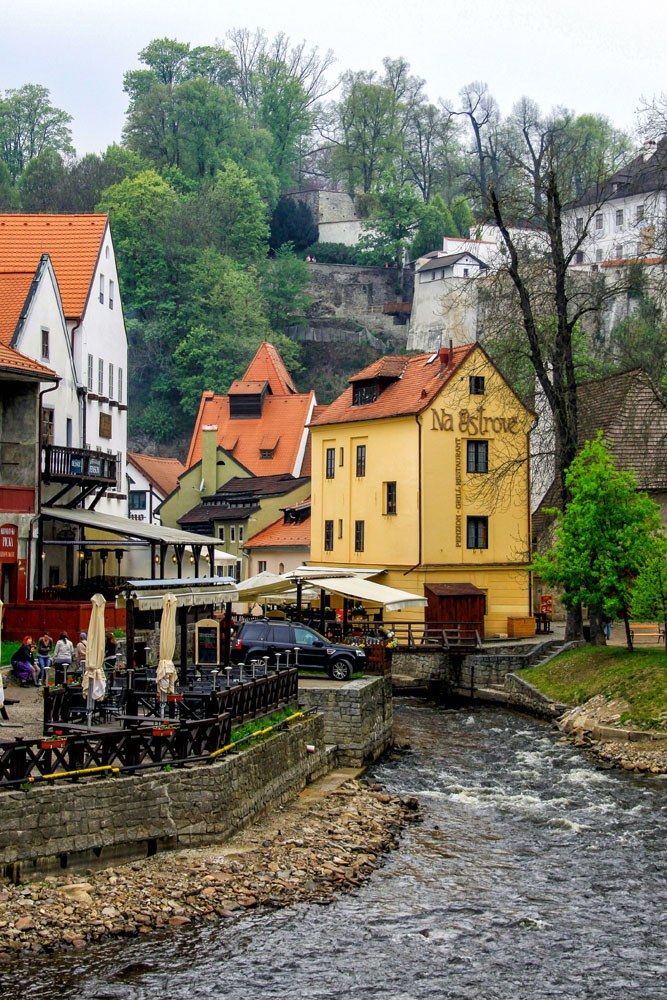 A view of the Vltava River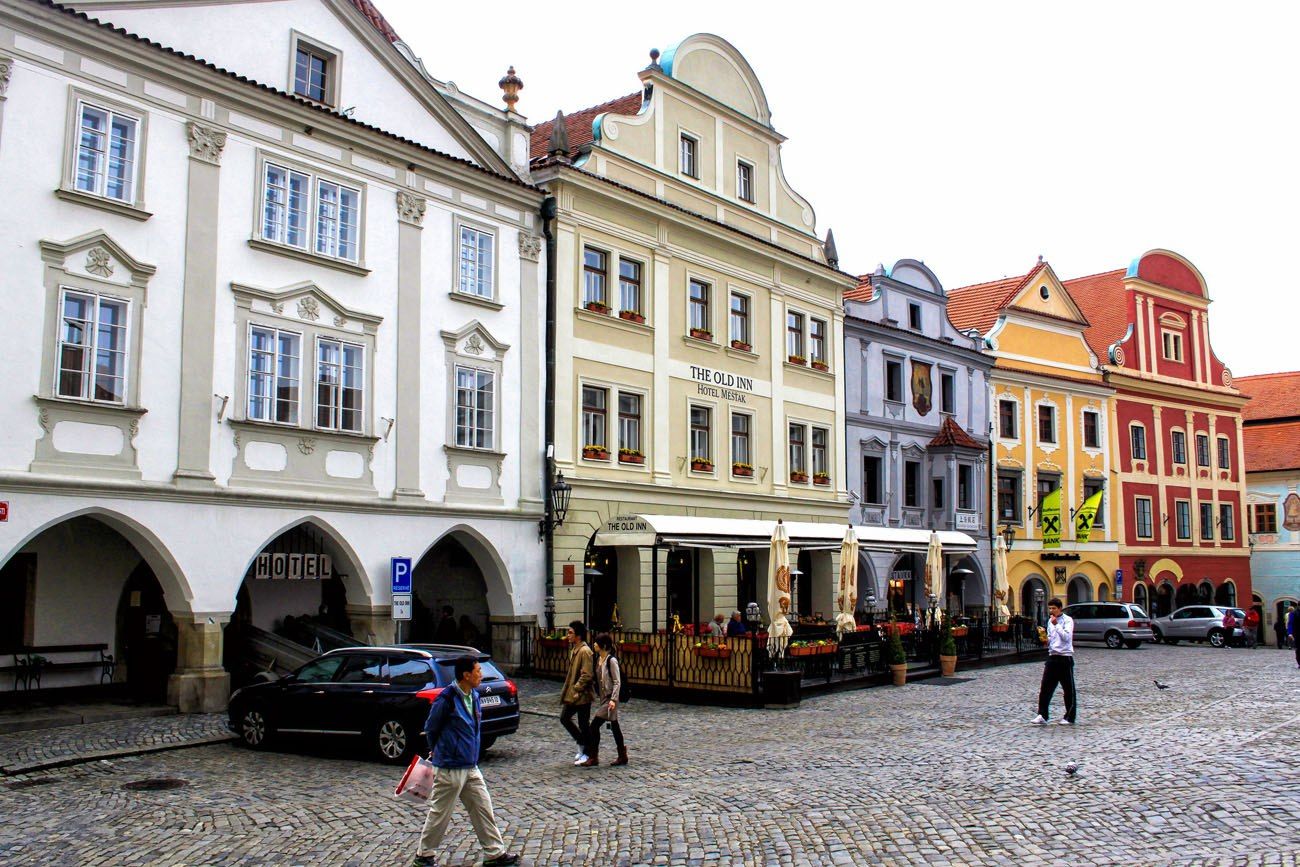 The Main Square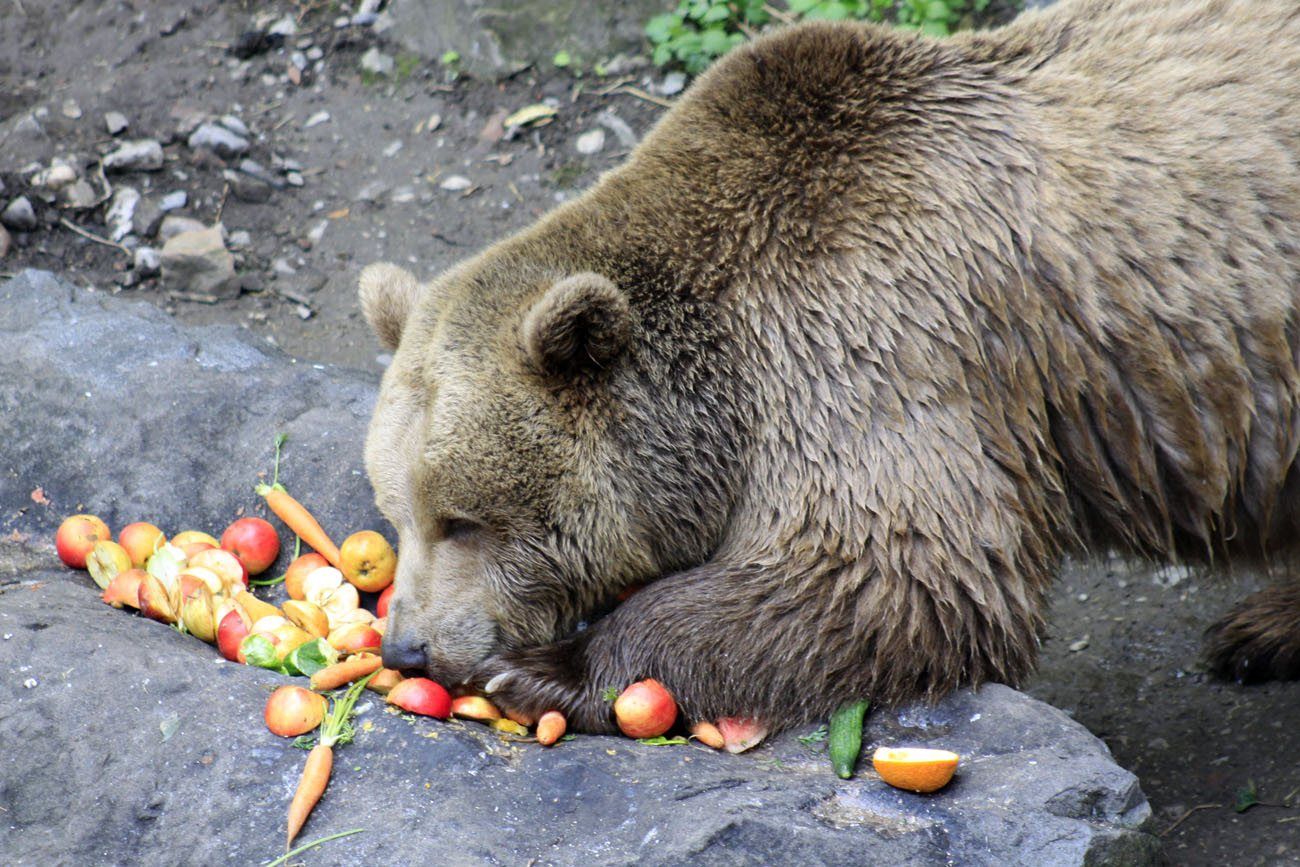 In Cesky Krumlov, bears guard the castle
We walked up to the castle for the best views over the city. It was here that we said good bye to Cesky Krumlov. Maybe we will return one day…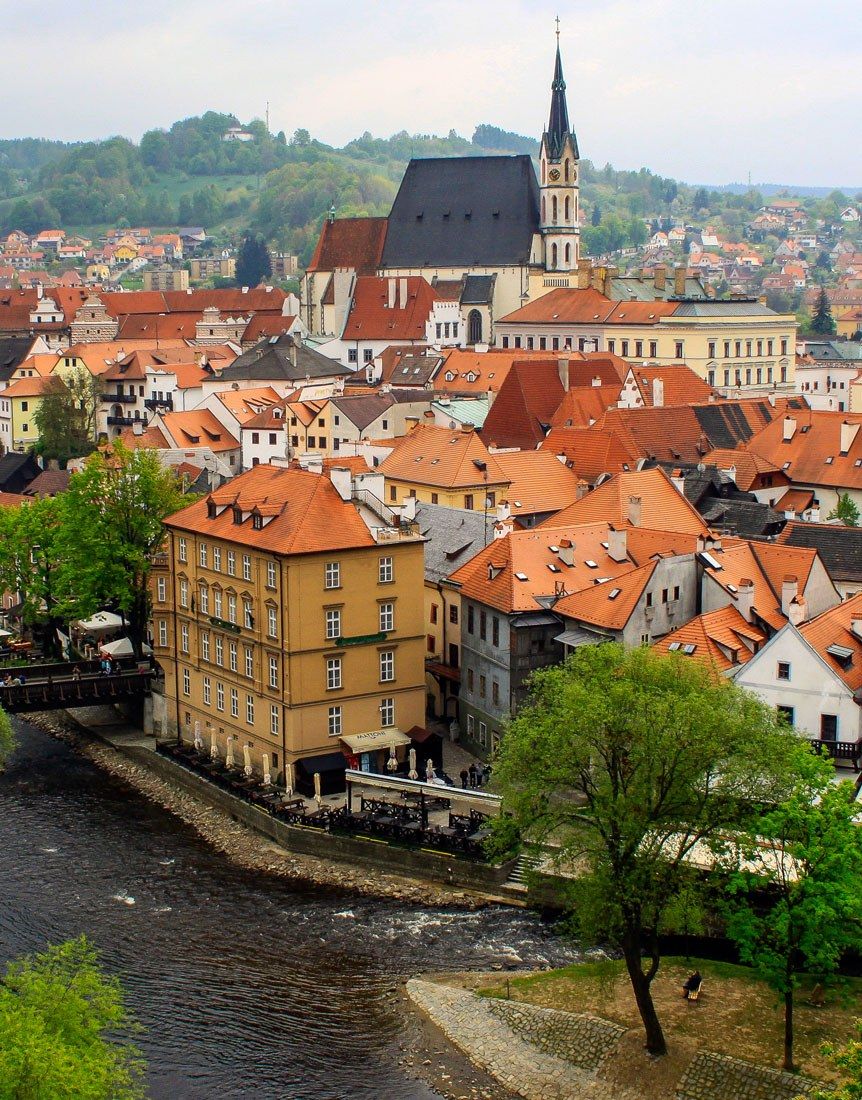 How to Get to Cesky Krumlov
From Prague
To get from Prague to Cesky Krumlov, you have multiple options.
Self-Drive
If you have a car, it takes approximately 2.5 hours (175 km) to drive from Prague to Cesky Krumlov. In Cesky Krumlov, there is parking near the city center.
Train
Taking a train is a great option if you do not have a car. Trains connect Prague and Cesky Krumlov throughout the day. Most journeys require a transfer in Ceske Budejovice although a direct train was recently added. The trains with transfers only take about 10 to 30 minutes longer than the direct train.
For a timetable and train tickets, visit the official website here. This is a good website to get the timetables and prices for the direct trains to and from Cesky Krumlov. If you want to get the timetables for the trains with connections, I had better luck with this website.
Important Note: The train station is located outside of the heart of Cesky Krumlov. To get into town, you can walk (30 minutes) or take the local bus. Click here to learn more.
By Bus
LEO Express runs two buses per day between Prague and Cesky Krumlov. The cost is €7.5 one way for economy class and €12 for business class. They get terrible reviews on Trip Advisor. I'd take the train instead.
By Shuttle
There are also numerous shuttle companies that connect Prague to Cesky Krumlov and other nearby cities such as Vienna, Salzburg, and Bratislava. These shuttles are more expensive but offer door-to-door service. They can pick you up right at your hotel and drop you off at the city center in Cesky Krumlov.
CK Shuttle connects Prague with Cesky Krumlov and Vienna, so if you are planning to visit Cesky Krumlov in transit between Prague and Vienna, this may be a convenient option.
From Vienna
Self-Drive
It takes approximately three hours (200 km) to drive from Vienna to Cesky Krumlov. To drive in the Czech Republic, you will need a special highway sticker that you place on your windshield. This sticker costs CZK 310 ($14 USD) and can be purchased at petrol stations and at the post office. We purchased our sticker at the first gas station we came to after crossing the border from Austria into the Czech Republic. For full details on this sticker, click here.
Note: You will also need a vignette for Austria. It costs €9 for a 10 day sticker and this is the cheapest option.
Shuttle Bus
From my research, both the train and the bus options take up a lot of your time. If you do not have a rental car, your next best option is to use a shuttle service. These services pick you up in Vienna and transfer you directly to Cesky Krumlov. CK Shuttle gets great reviews. To travel from Vienna to Cesky Krumlov it costs approximately $45 USD per person.
Visiting Cesky Krumlov when Traveling from Vienna to Prague
If you have plans to visit Cesky Krumlov while traveling between Vienna and Prague, what's the best way to do it?
The most convenient way to travel is by rental car. Pick up the car in the morning in Vienna, drive to Cesky Krumlov and tour the town, and in the afternoon or evening, drive to Prague and return the car. Of course, this can also be done in the other direction.
In recent years, the price to drop off a car at a different location than the pick up point has skyrocketed. It could cost several hundreds of dollars to do this (in addition to the rental car fee!!). If you like the idea of renting a car, check the prices, but you may get hit with a huge drop charge.
If that's the case, you have several options.
Skip the rental car and use the CK Shuttle. While you are visiting Cesky Krumlov, you can store your luggage in the tourist information office. Just be aware that CK Shuttle is not cheap. But if you are traveling solo or with one other person, this works well (since you pay per person). However, if you are a family or group of four or more people, the rental car could still be the cheaper option.
Using the train does not work well, since there are no direct trains between Vienna and Cesky Krumlov (that I could find).
You can also travel by bus, but this can be time consuming.
Your final option is to rent a car and day trip to Cesky Krumlov from one city. For example, rent the car in Prague, see Cesky Krumlov, and then return to car to Prague the same day. This takes additional time, since you are not conveniently visiting Cesky Krumlov as you travel past it, but this could save you a lot of money.
LUGGAGE STORAGE: If you are visiting Cesky Krumlov while traveling between two cities you will need to store your luggage if you do not have a rental car. The Cesky Krumlov Tourist Information Center advertises that they will store luggage while you explore the town. The Tourist Information Center is located in town whereas the train station is located outside of town. From the train station, you can walk or take the local bus to get from the train station to the TI office. Get updated hours and learn more on the Tourist Information Center website.
Tours to Cesky Krumlov from Prague
Finally, if you don't want to go through the hassle of arranging your own transportation, here are tours to Cesky Krumlov from Prague, plus a walking tour of Cesky Krumlov.
---
Are you making plans to visit Cesky Krumlov? If you have any questions (or advice for our readers) leave them in the comment section below.
More Information for Your Trip
PRAGUE: For a list of the top experiences, check out our article Best Things to Do in Prague.
CENTRAL EUROPE: Plan your visit to Central Europe with our 10 day Central Europe Itinerary, which includes Budapest, Vienna, and Prague.
AUSTRIA: Learn about the best things to do in Vienna, how to spend one day in Salzburg, and how to have the best experience in Hallstatt.
POLAND: Plan your trip to Poland with our 10 Day Poland Itinerary. We also have guides to Warsaw, Krakow, and Gdansk, and information on how to visit Auschwitz-Birkenau.
EUROPE TRAVEL INSPIRATION: For more great ideas on where to go in Europe, check out our article 30 Beautiful Places to Visit in Europe. You can also get more travel ideas in our 10 Days in Europe itinerary guide, which has 10 great itineraries for your next trip to Europe.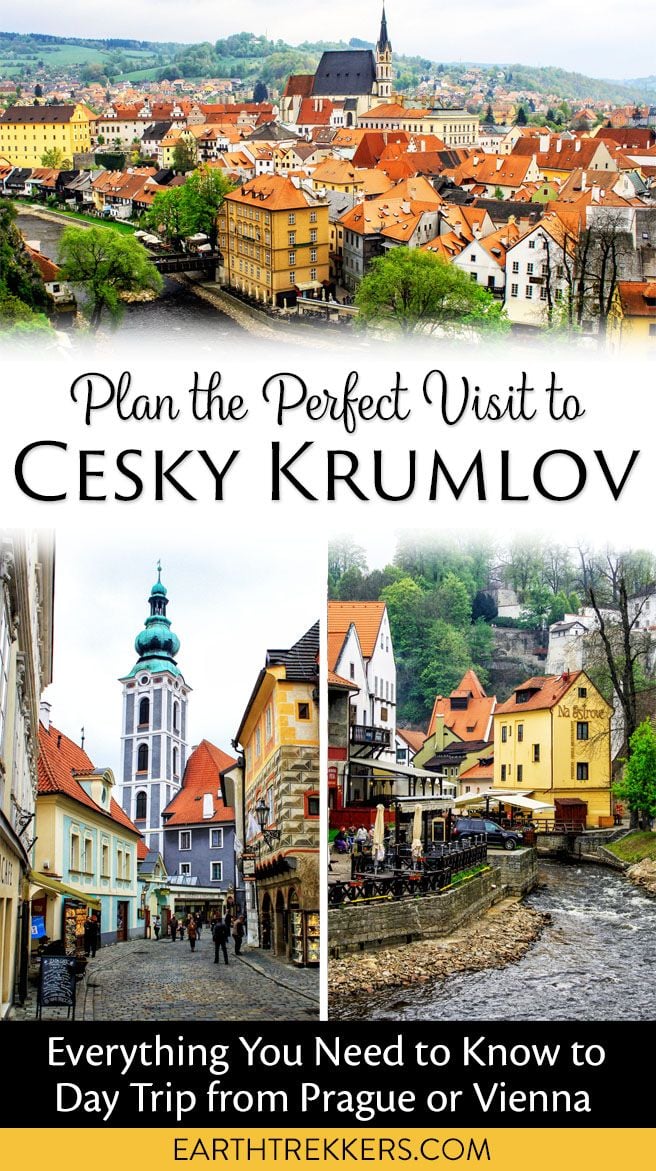 Note: This post contains affiliate links. When you make a purchase using one of these affiliate links, we get paid a small commission at no extra cost to you.
All rights reserved © Earth Trekkers. Republishing this article and/or any of its contents (text, photography, etc.), in whole or in part, is strictly prohibited.