Krakow, Poland…this is a city that deserves to be on every traveler's must-see list. It's a lot like Prague, only with fewer tourists and cheaper prices. With its large market square, colorful streets, historic sites, and abundance of amazing, budget friendly restaurants, Krakow is a favorite stop for many people on their tour through Poland.
We spent five days exploring Krakow and its surrounds, and here is our list of the best things to do in this fascinating city.
A Brief History of Krakow
Krakow dates back to the 7th century. It has always been one of Poland's most important cities and most important cultural and educational centers.
During Nazi occupation of Poland during World War II, Krakow became one of the most important administrative cities of the Third Reich. As the Nazis turned Krakow into a completely German city, the Jews were confined into overcrowded ghettos and were later deported to Auschwitz-Birkenau and other concentration camps.
In 1945, Soviet forces "liberated" Poland from Nazi rule. Krakow was one of the few eastern European cities to escape bombing in World War II, so many of the city streets and architecture remains like it was before the war.
Krakow, and Poland, remained under Soviet rule until the fall of communism in 1989.
In 1978, the entire old town of Krakow was named a UNESCO World Heritage Site. Now, Krakow is Poland's most popular city to visit.
Best Things to do in Krakow
Main Market Square (Rynek Glówny)
This square is enormous. In fact, it's the largest medieval market square in Europe. The Main Market Square was built in the 13th century after the city was demolished by the Tatars. Since that time, this has been one of the most important sites in the city for trade.
Now, the Main Market Square is filled with outdoor cafes, tourists, vendors, horse and carriages, and a crazy number of pigeons.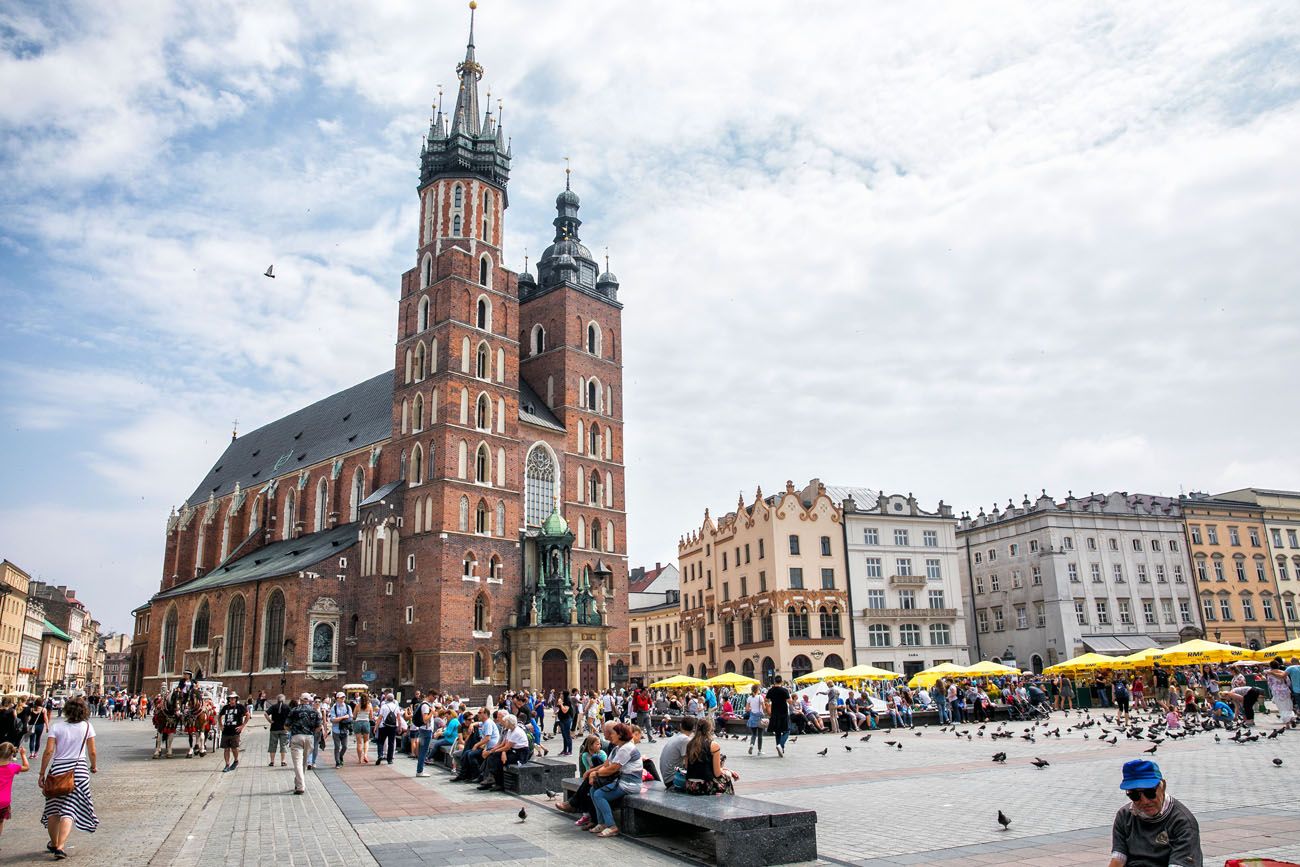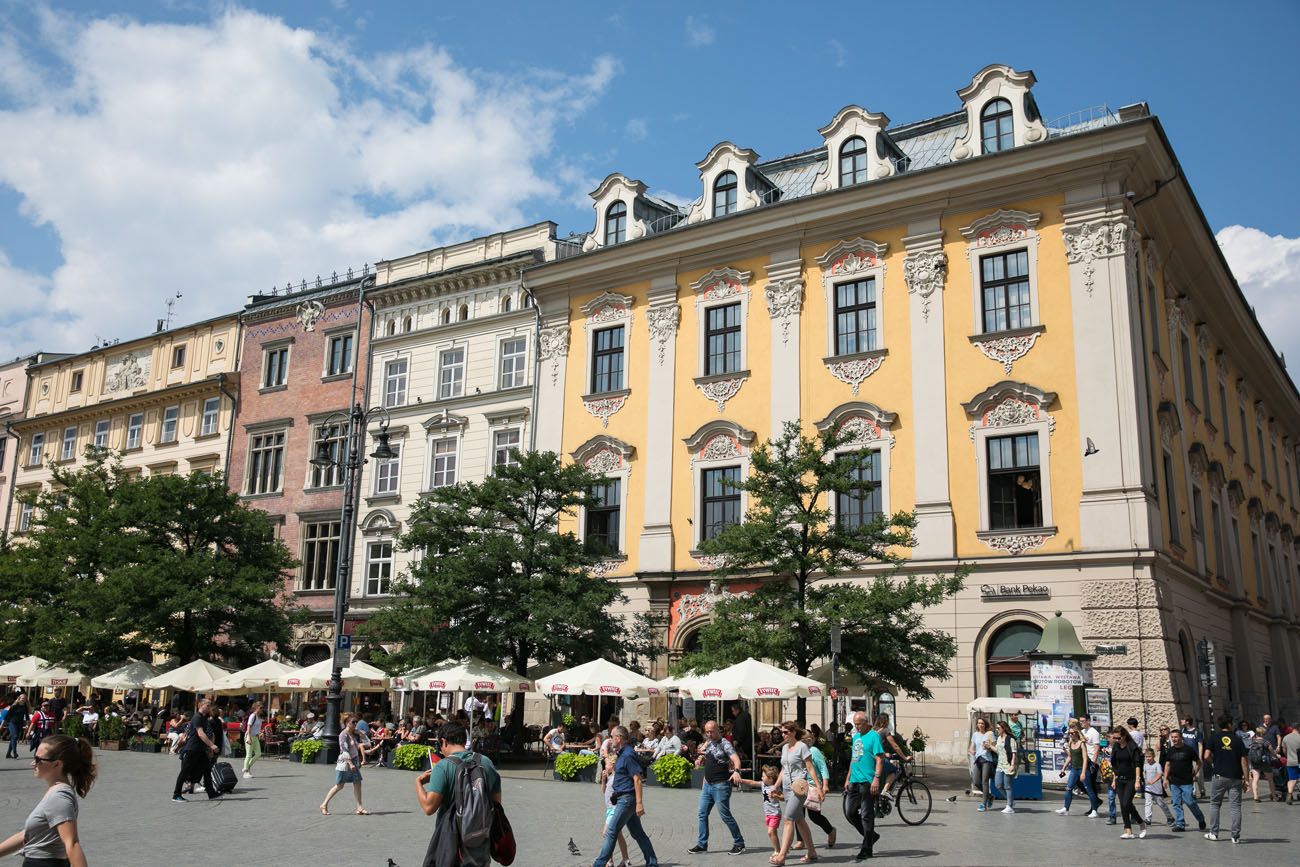 While you are here, it's a nice stroll around the square. If the weather is nice, have a drink or a meal at one of many outdoor cafes that line the square.
One of the most unique photo-ops in the square is with this gigantic head at the base of the Town Hall Tower.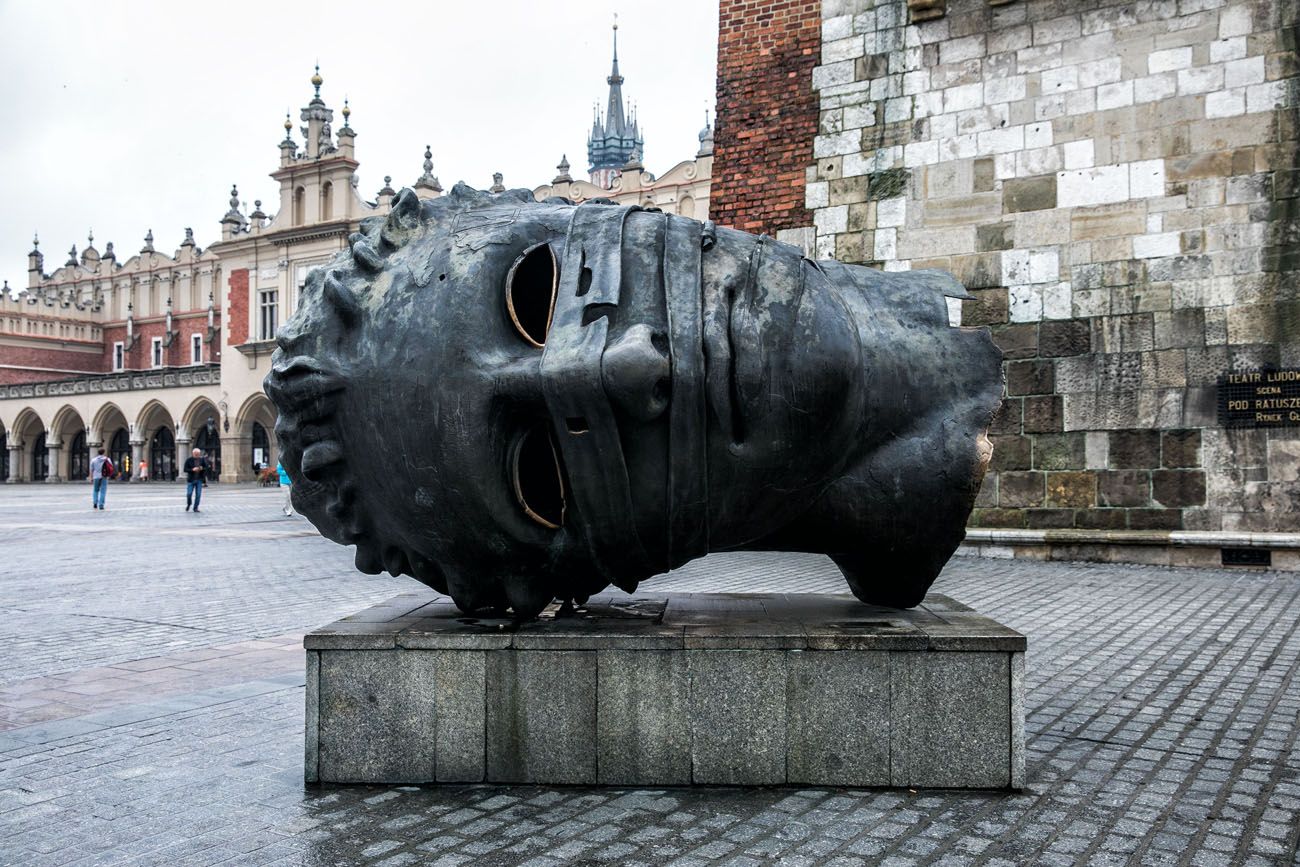 The Cloth Hall
The Cloth Hall is the centerpiece of the Main Market Square. During medieval times, this was a bustling market in the center of Krakow. It still is bustling and busy today, but now it's filled with tourists searching for the perfect souvenir.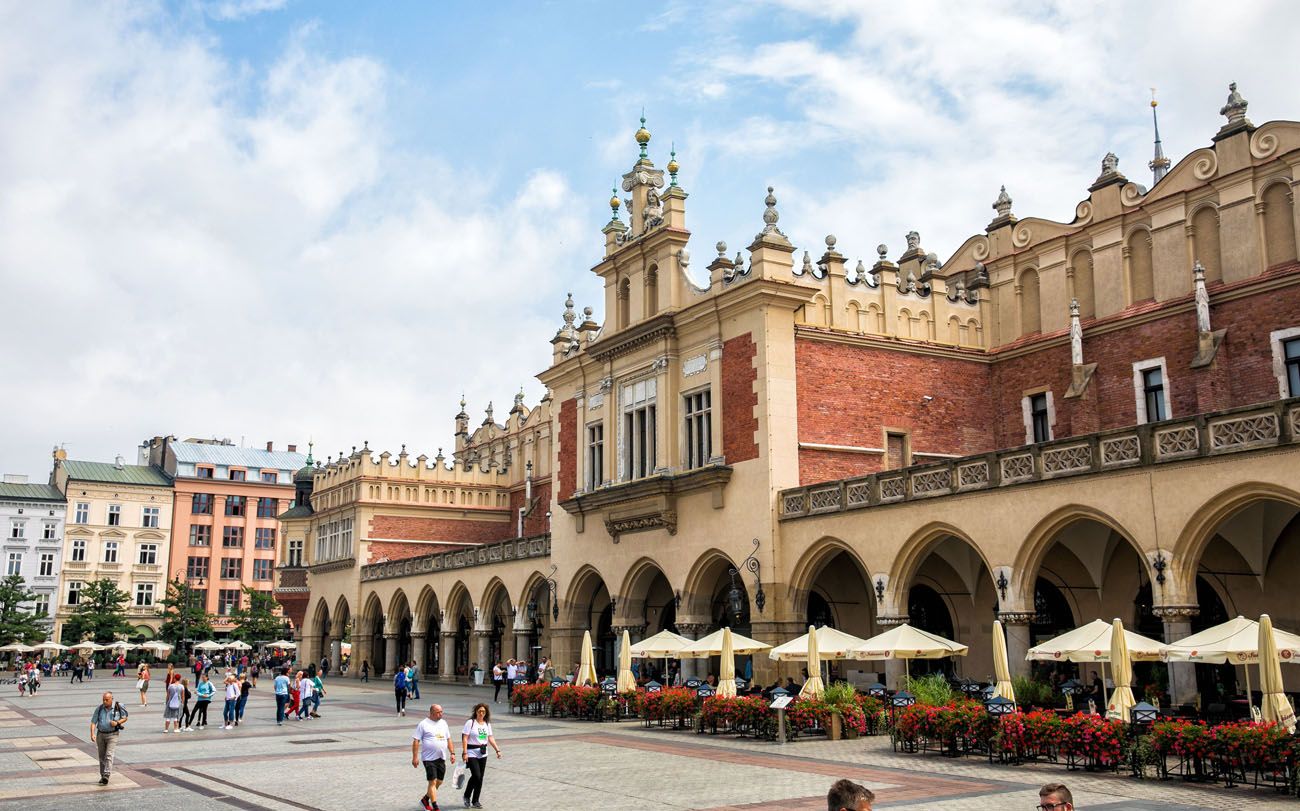 St. Mary's Basilica (Kosciol Mariacki)
The Cloth Hall may be the centerpiece of the Main Market Square, but St. Mary's Basilica is the the highlight of a visit here. It's this view of the church that you see so often on travel guides and blog posts, and there is more to do here than to just take a few photos.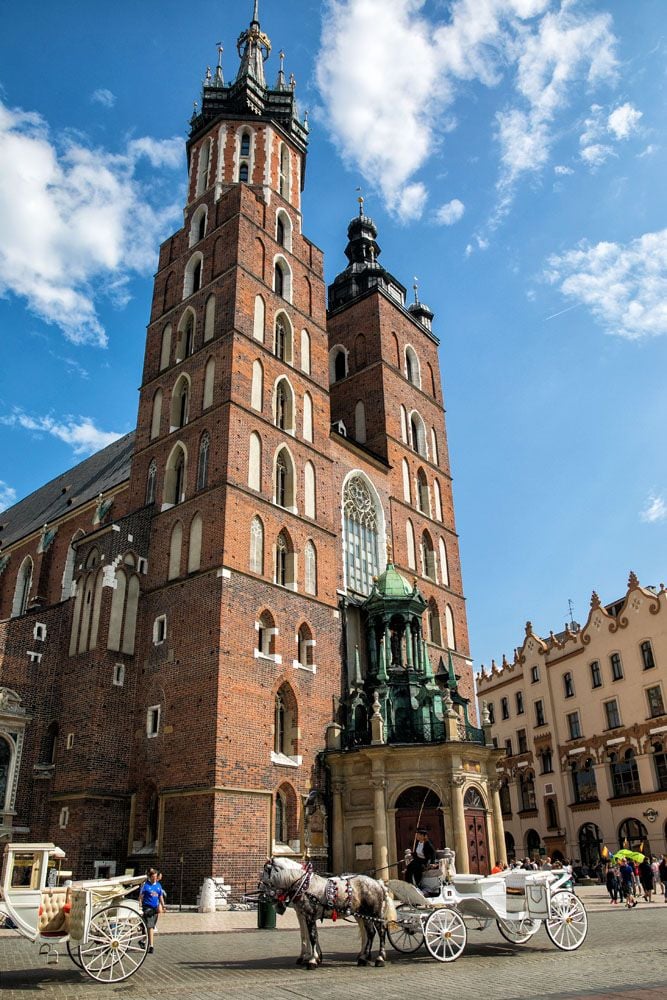 To enter the church you have to pay admission, but it's worth it in order to see one of the most elaborate Gothic altarpieces in Europe. The brilliant blue ceiling is quite eye-catching as well. If you want to take photos, it costs a few more zloty.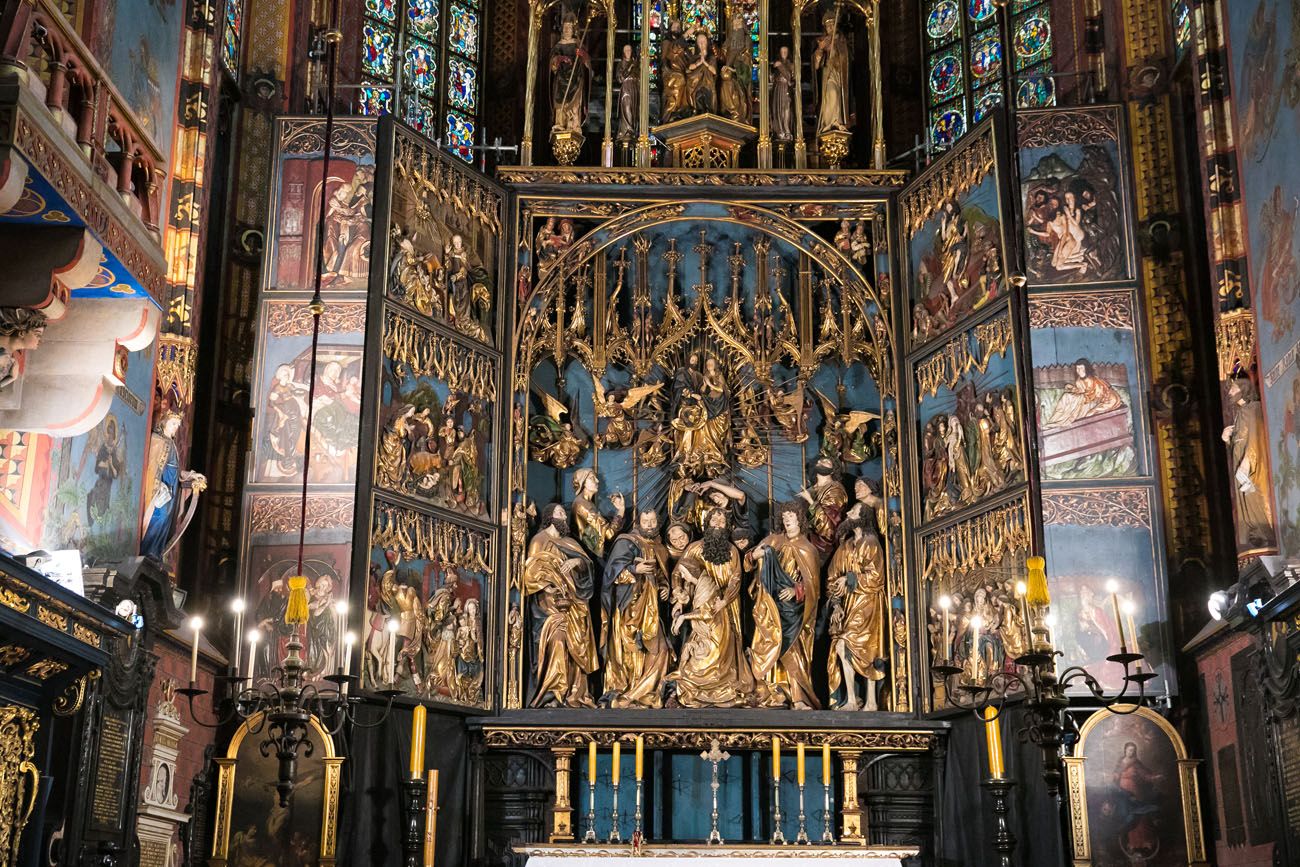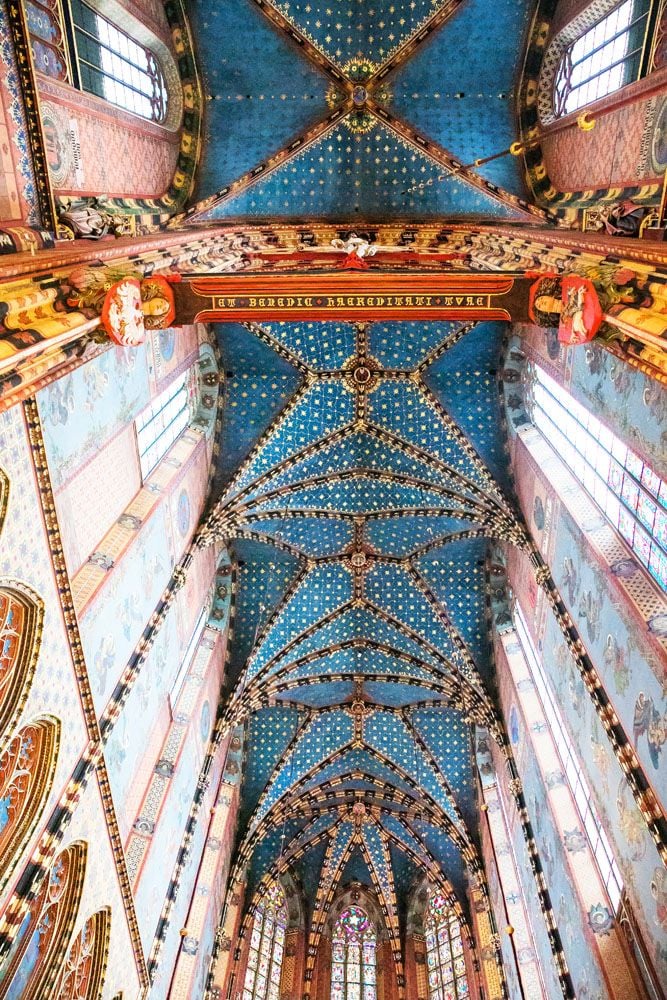 For the best view over Krakow, climb the tower of St. Mary's Basilica. It's 239 steps to the top, but it's worth it, especially if you get your timing right.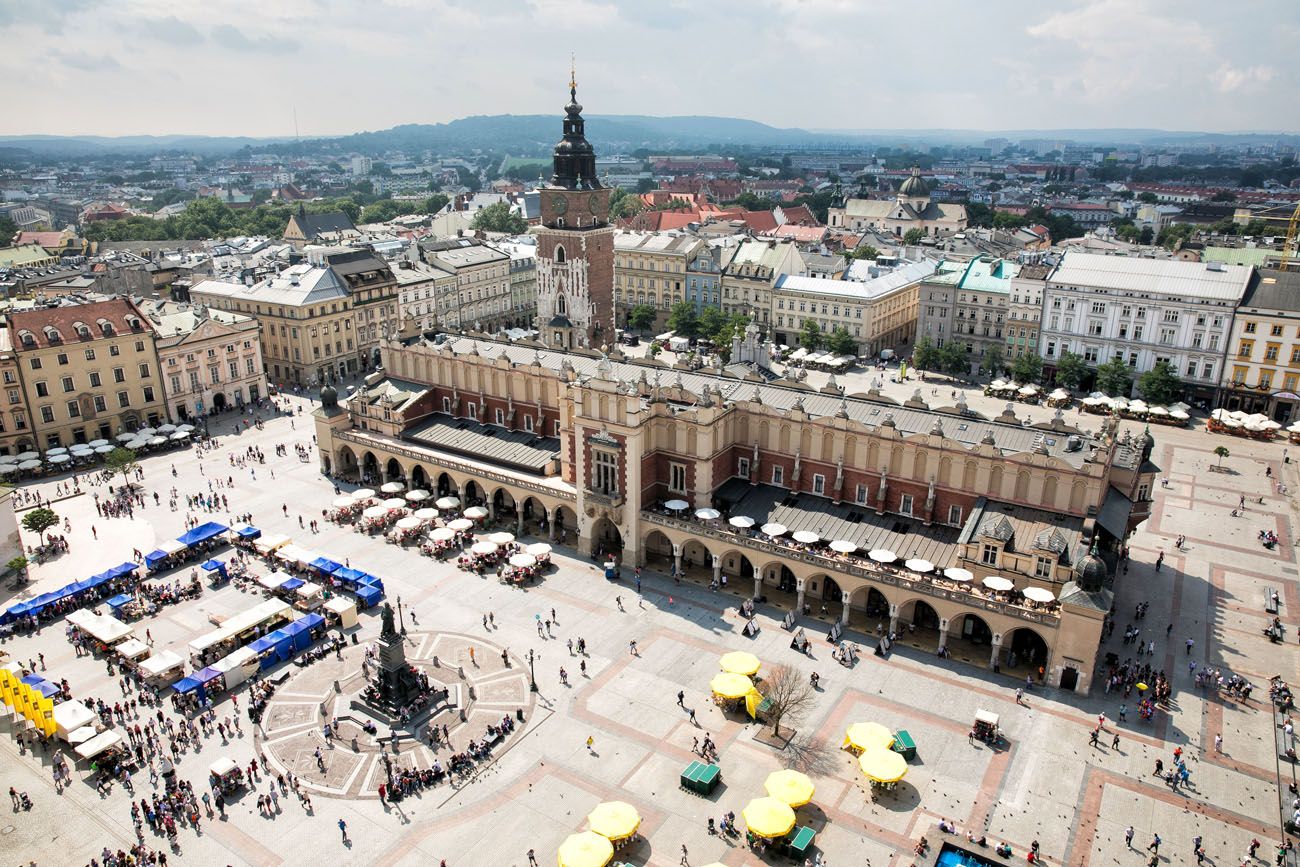 Every hour, a bugler plays the hejnal (a bugle call) from windows of St. Mary's Tower. There is a legend that hundreds of years ago, as Mongol troops approached Krakow, a bugler sounded the alarm by playing the hejnal. Midway through the song, the bugler was hit by an arrow, which killed him and abruptly ended the tune. However, the city gates were closed and the city was saved. Now, when the hejnal is played, it stops at this same point in the tune.
Every hour on the hour the hejnal is played from windows of St. Mary's Tower. If you can time your climb to be up here on the hour, you will get front row seating to watch the bugler play the hejnal.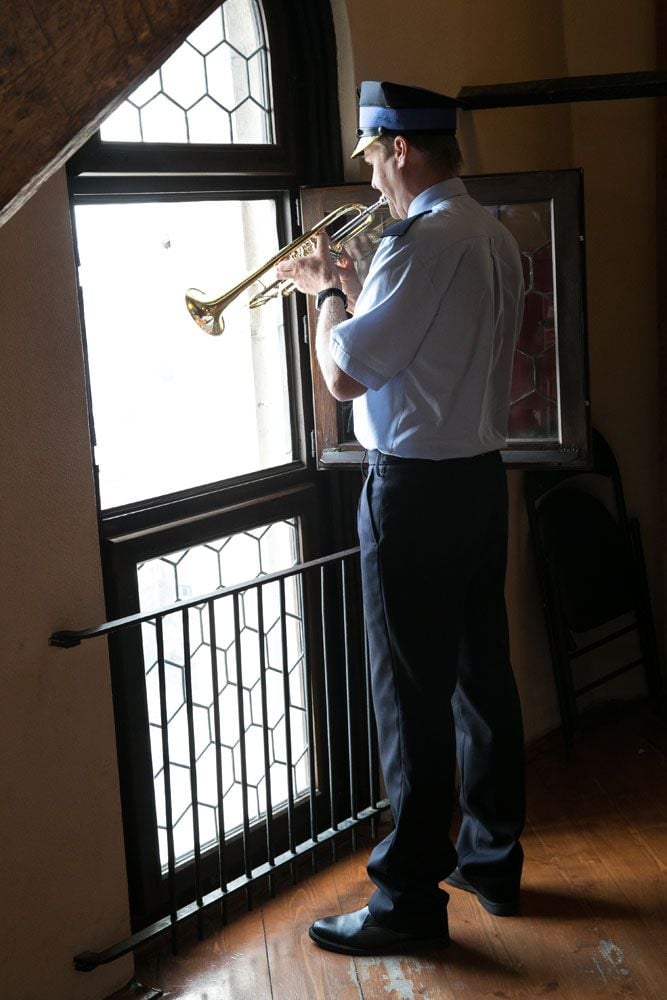 You can only climb the tower if you make a reservation in advance. Only 10 people are permitted to climb the tower every 30 minutes. To make your reservations, visit the ticket office located on Mariacki Place next to St. Mary's Basilica.
Cost: PLN 15
Hours: 9:10 – 11:30 am and 1:10 – 5:30 pm. Closed Monday, reduced hours on Sundays and during November, December, and March. Closed January and February. Visit the official website for updated hours.
Town Hall Tower
For another bird's eye view of the Main Market Square, climb to the top of the Town Hall Tower. During inclement weather, you are permitted to climb the tower but you are not allowed to step out onto the terrace. The view is nice but the view from St. Mary's Tower is definitely the winner.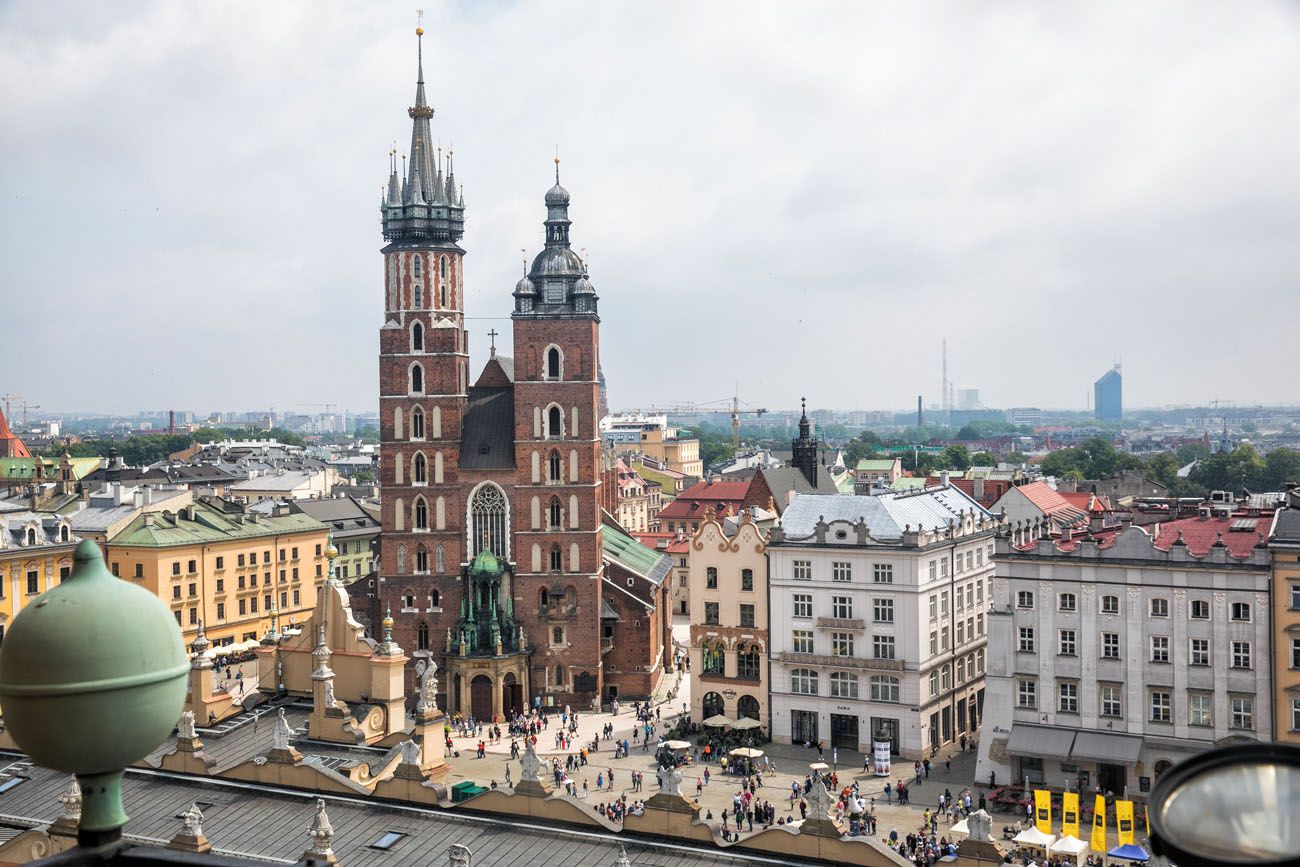 Rynek Underground Museum
Journey below the Main Market Square to a place where you can walk the medieval streets of ancient Krakow.
Roughly 10 years ago, portions of the Main Market Square were excavated, unearthing ancient market stalls, artifacts, and even a cemetery. In 2010, these archaeological treasures were transformed into a museum.
The Rynek Underground Museum is an interesting blend of medieval history and state-of-the-art technology. Touchscreens, video displays and digital reconstructions take you back to the middle ages in Krakow. And all the while, hundreds of tourists are walking across the Main Market Square, just over your head!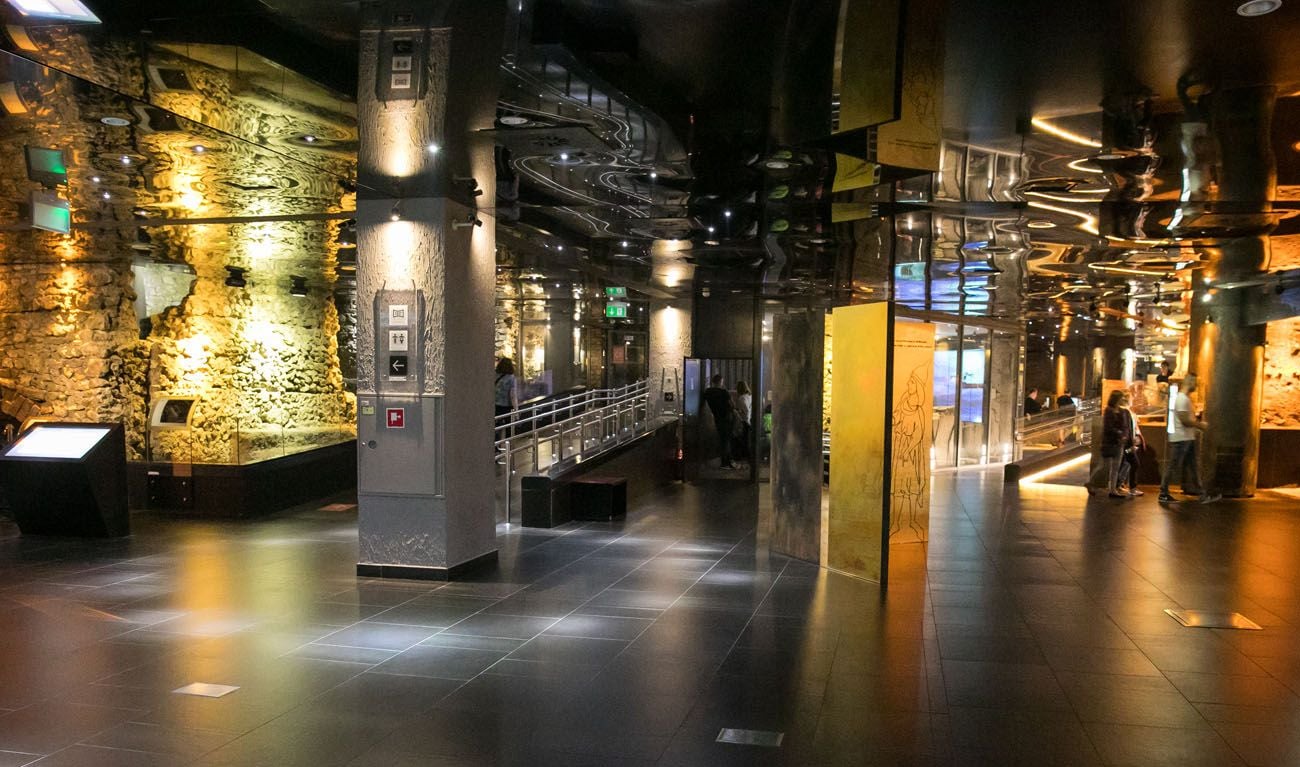 The entrance is on the outside of the Cloth Hall, on the same side as St. Mary's Basilica.
Planning Your Time: Admission is free on Tuesday, so expect larger crowds on this day. Up to 30 people are admitted every 15 minutes. You can reserve your time slot online in advance. For full hours and operating times, visit the official website.
Taking A Tour: You can also take a guided tour of the Rynek Underground Museum, which includes your entrance ticket and allows you to skip the line.
Florianska Street (Ulica Florianska)
Florianska Street is one of Krakow's most famous streets. It runs from Florian's Gate down to the Main Market Square. It's just three blocks long and filled with boutique shops, souvenir shops, convenience stores, and a few restaurants.
Florian's Gate and the Defence Trail
At the top of Florianska Street is Florian's Gate and the ancient medieval walls that line a portion of the old town.
You can walk along the top of the walls. It's quick, it's cheap, and it offers an interesting view down Florianska Street to St. Mary's Basilica.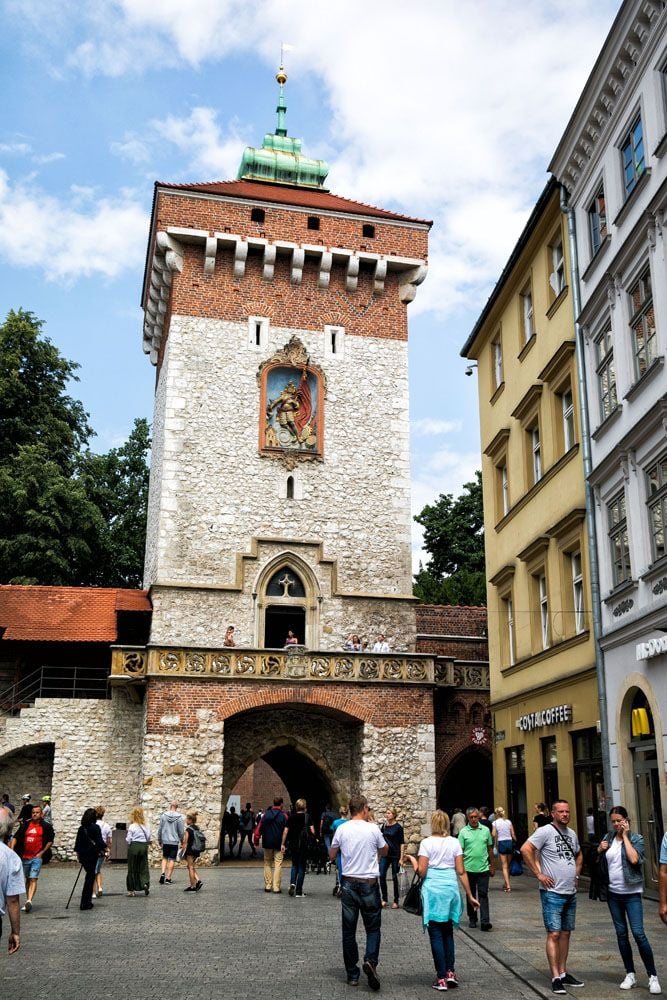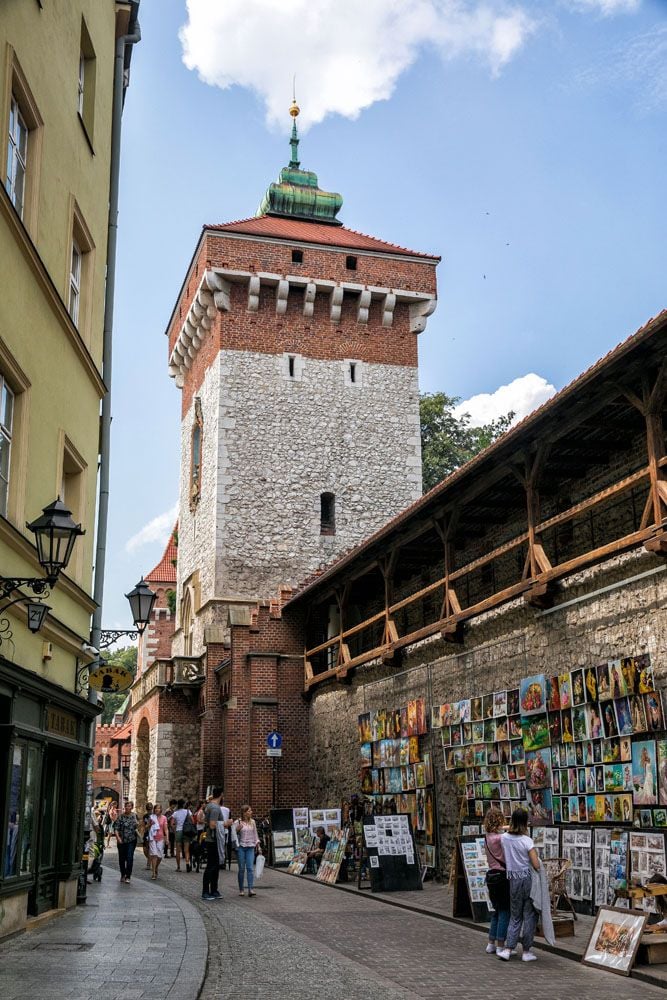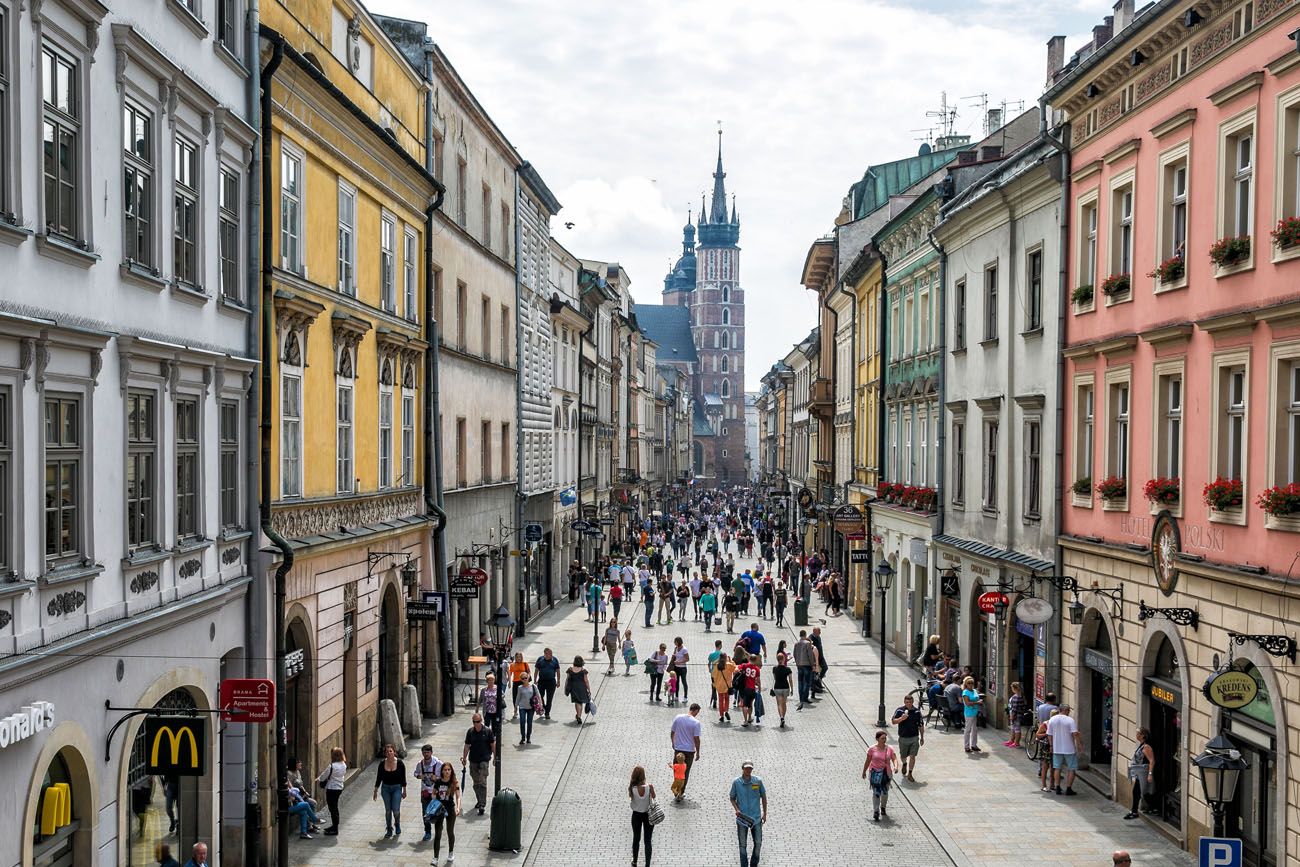 Barbican
Barbican is a round, defensive fort that sits just outside of the old town. It's really not all that exciting inside and skippable if you are low on time or energy. You simply walk a loop on the interior of the fort. Walking the walls at Florian's Gate is more interesting. However, both of these are covered in the same ticket.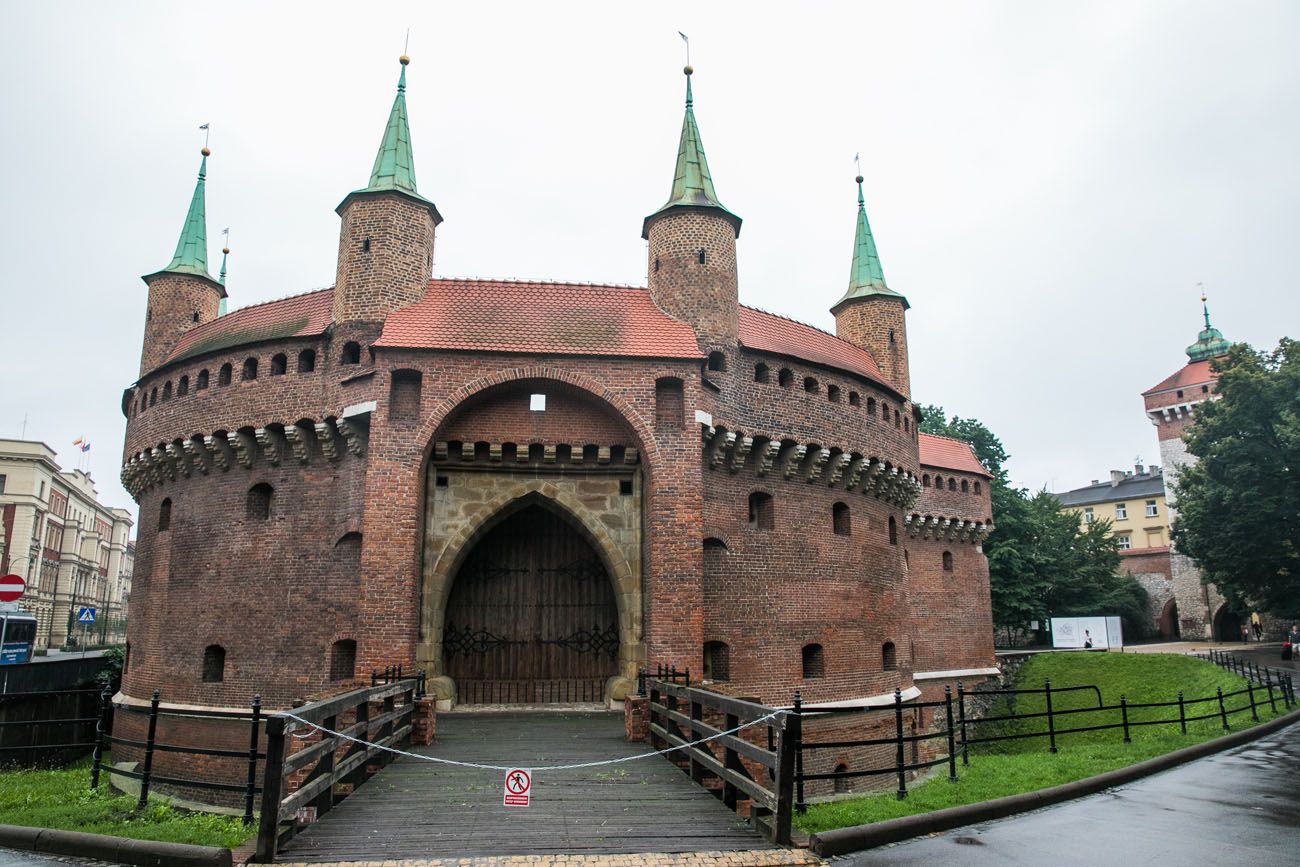 Grodzka Street
Grodzka Street is a wide, picturesque street that heads south from the Main Market Square towards Wawel Castle. Like Florianska Street, it is lined with boutique shops, souvenir shops, and restaurants.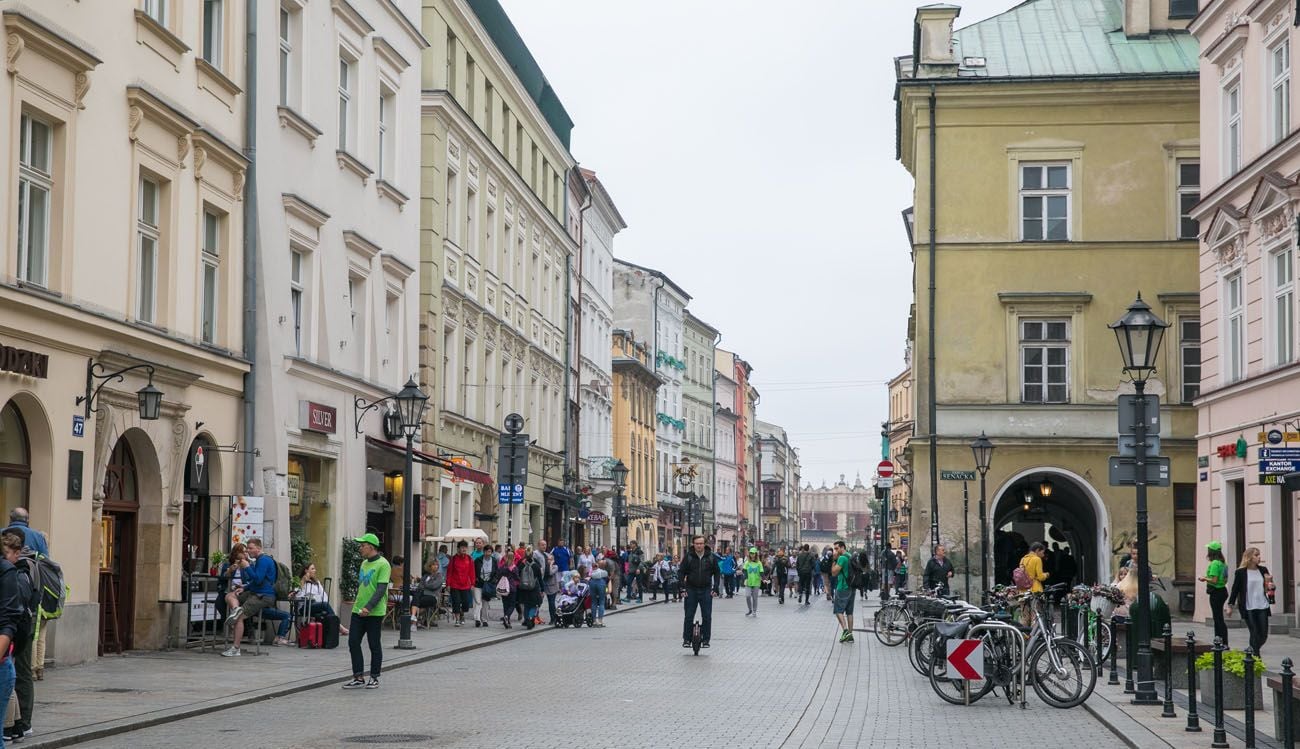 As you walk down Grodzka Street, you will pass two more famous churches in Krakow.
The gate in front of the Church of Saints Peter and Paul is lined with marble statues of 11 of the apostles (sans Judas).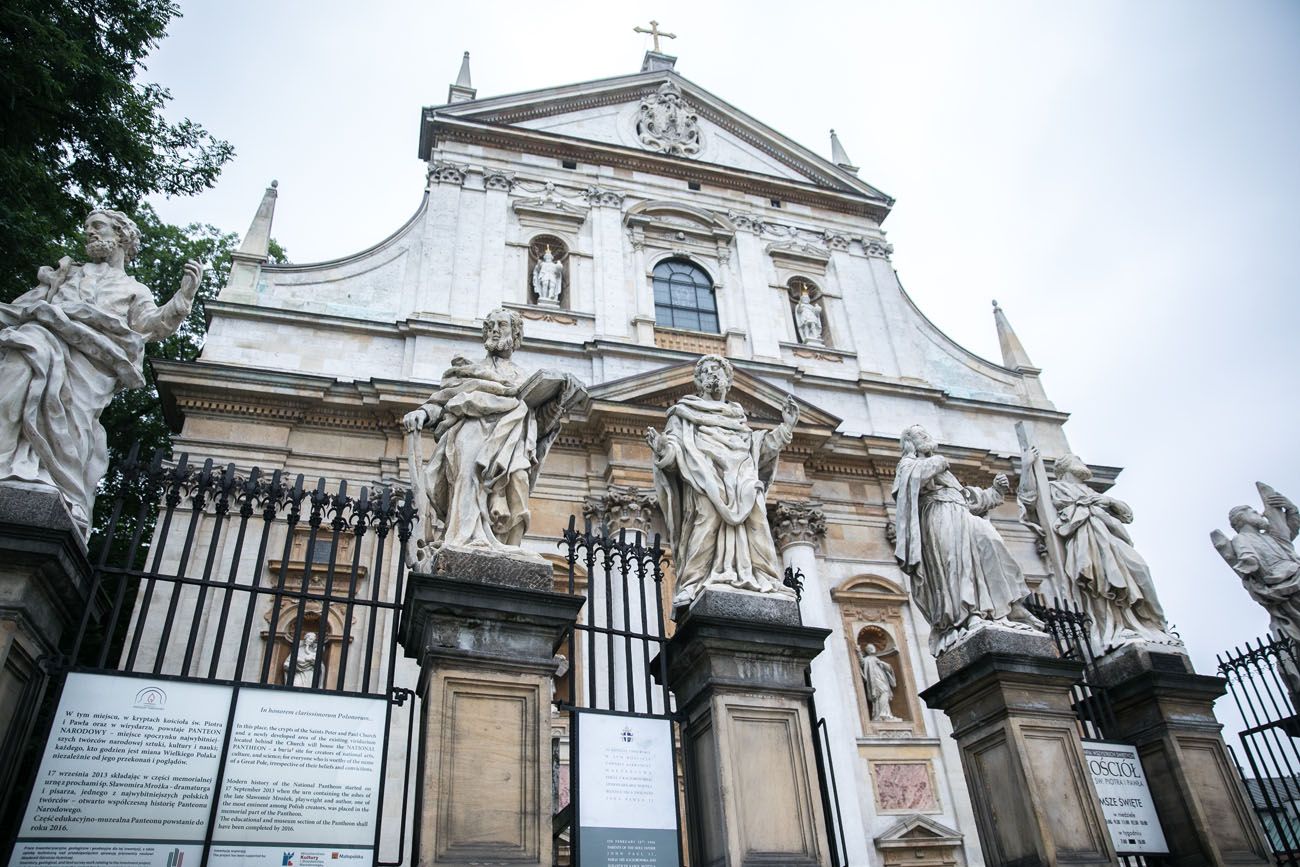 Next door is St. Andrew's Church, an ancient church that was built between 1079 and 1098. It is one of the oldest buildings in Krakow and it is the only church that survived the Mongol attack of 1241.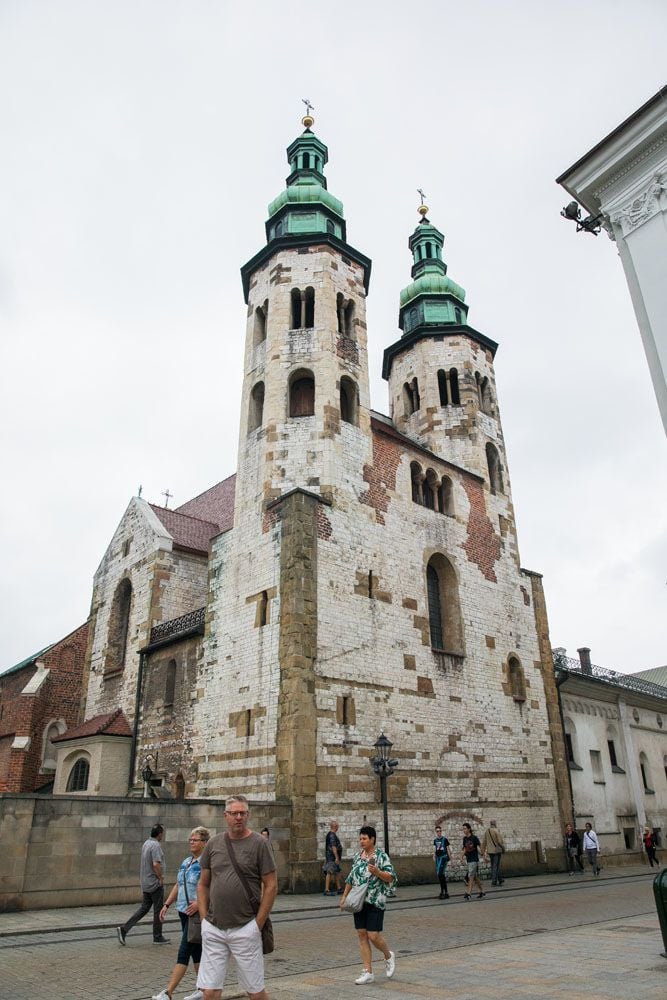 Kanonicza Street
Running almost parallel with Grodzka Street is Kanonicza Street. Touted as the oldest street in Krakow, this is another picturesque spot to go for a quick stroll.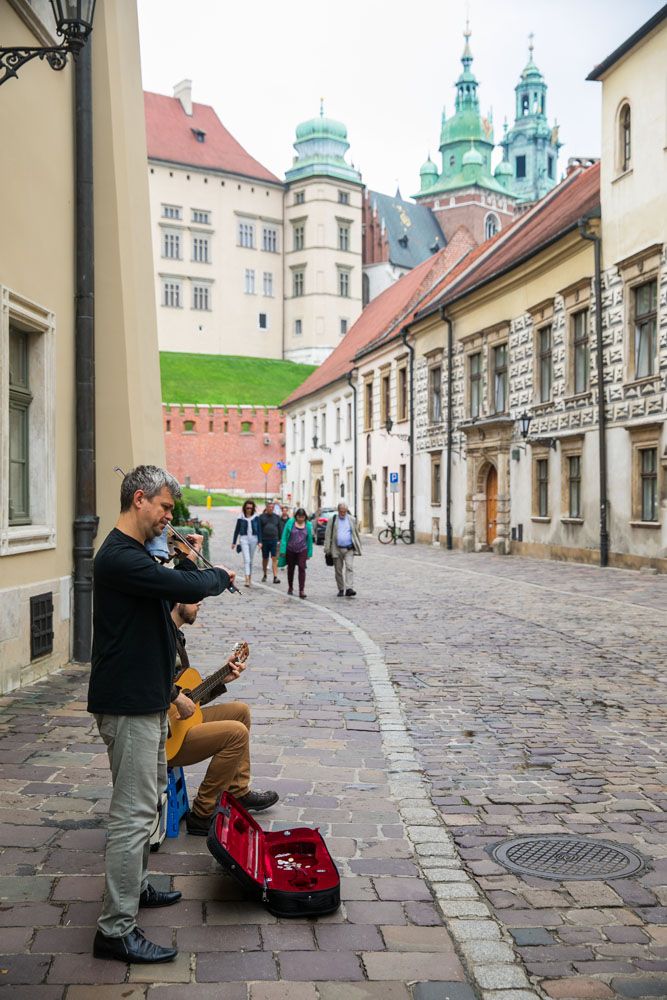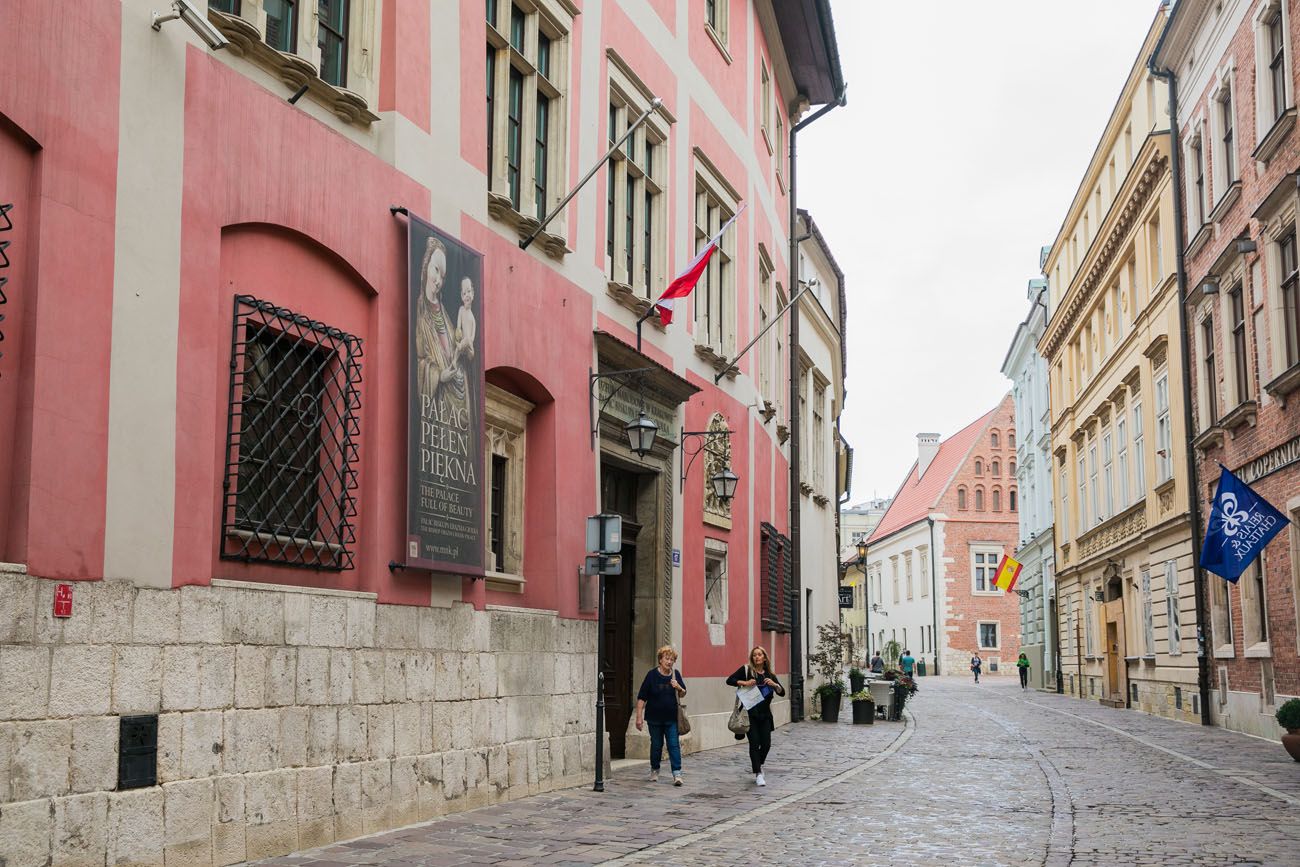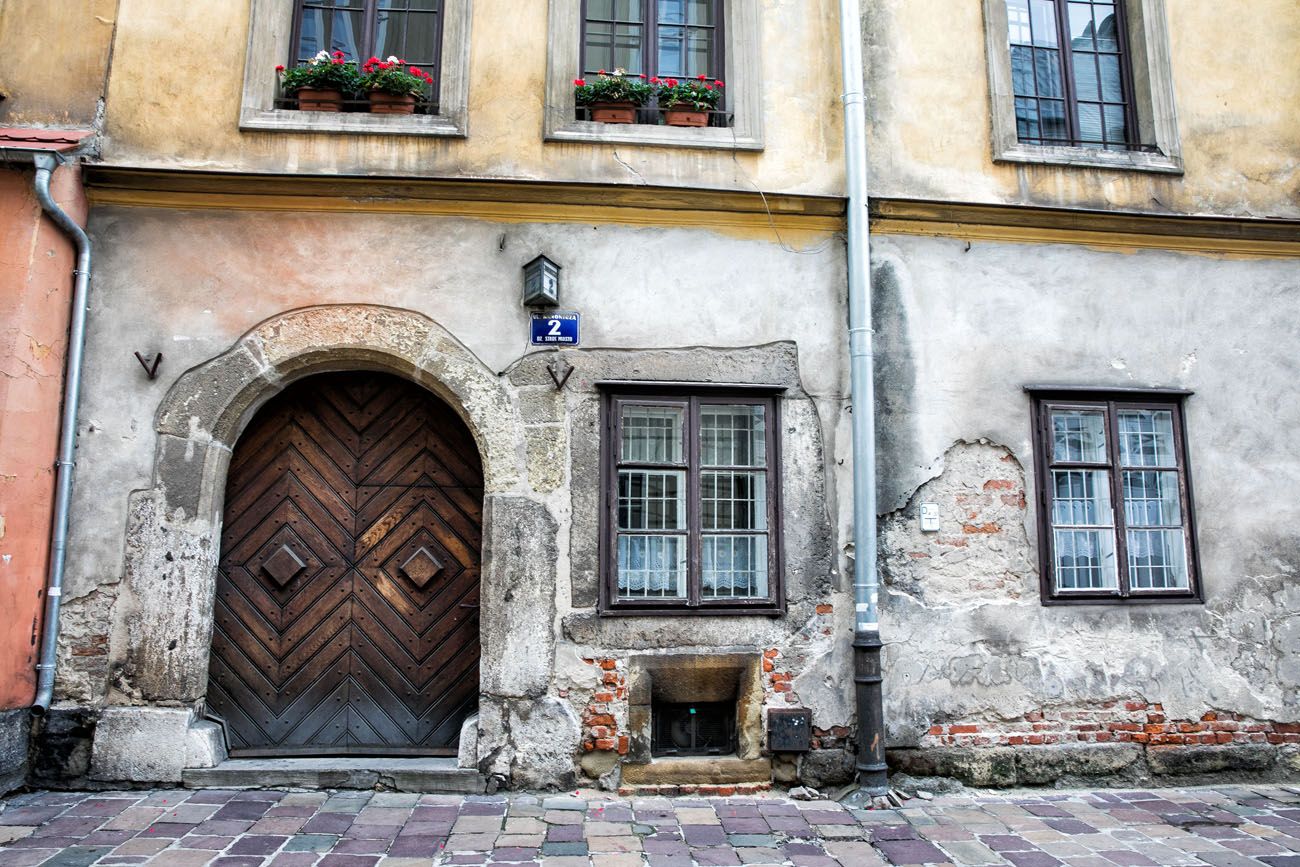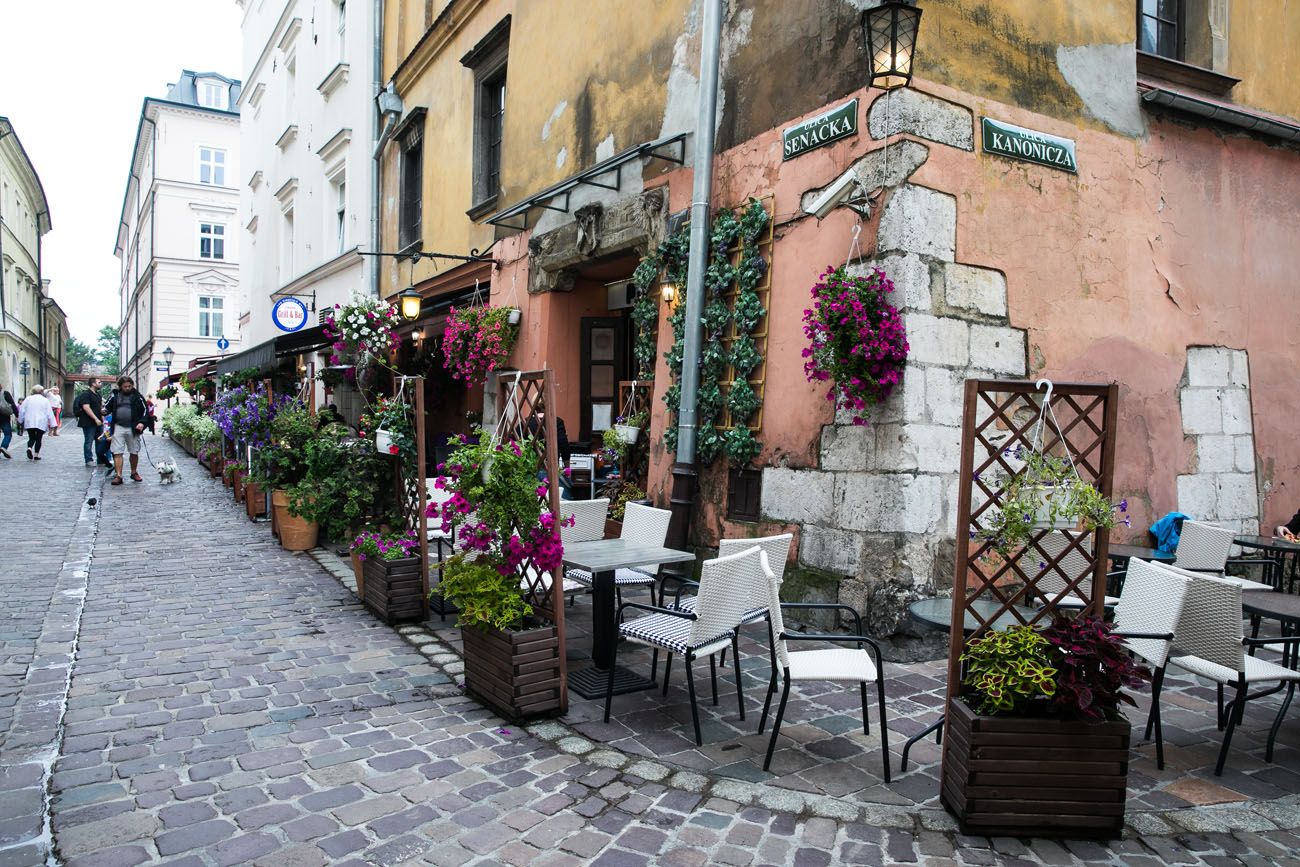 Krakow in 15 Minutes
Is 15 minutes too long for an overview on the history of Krakow? In this small, under visited museum, you can watch a 15-minute multimedia presentation about the history of Krakow. During our visit, we were the only visitors so we had the theater to ourselves.
This small museum is located on Kanonicza Street, so consider popping in here during your stroll.
Wawel Castle and Wawel Cathedral
Sitting atop a hill just south of the Old Town is Wawel Castle and Wawel Cathedral. There is a lot to see and do here and you could easily spend at least half of day visiting all of the sites. Fortunately, the way the ticket system is designed, you can pay for only the attractions you want to visit.
Wawel Castle Grounds
For free, you can stroll the Wawel Castle grounds. And for many people, this may be enough. This is a beautiful spot to visit, with a unique cathedral, manicured gardens, and an assortment of historic buildings. For the most "peaceful" experience, get here early or late to avoid the crowds of tourists. The castle grounds open at 6 am, so you can really get here early if you want.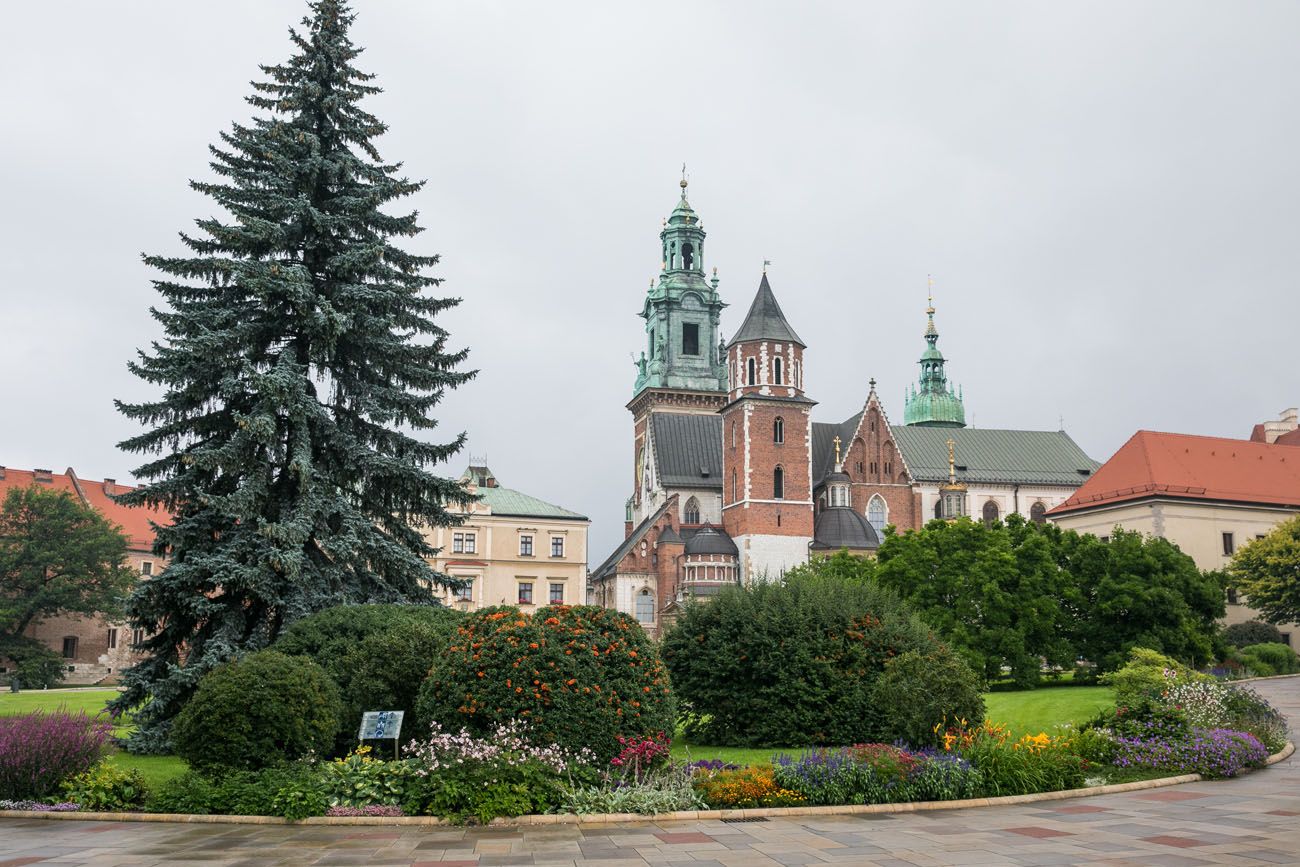 Wawel Cathedral
Wawel Cathedral is Poland's Westminster Abbey. Buried within the tombs of the church are some of Poland's most important people. You can enter the Wawel Cathedral for free, but without a ticket, you will not be able to visit the paid sites. The paid sites include the Pope John Paul II Museum, small chapels, the crypt, and the Sigismund Bell Tower. To get to the top of the Sigismund Bell Tower, it's 70 very steep, wooden steps for decent views over Krakow.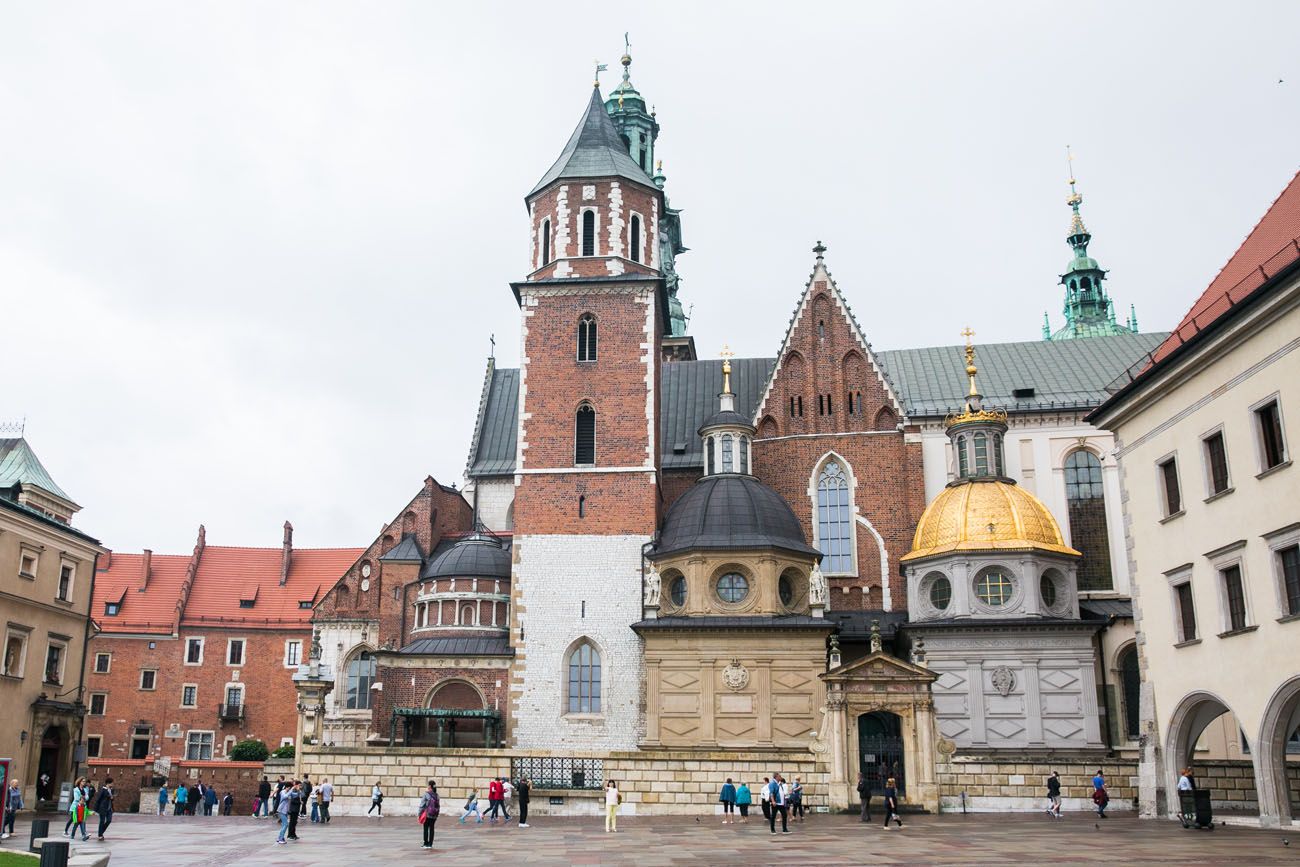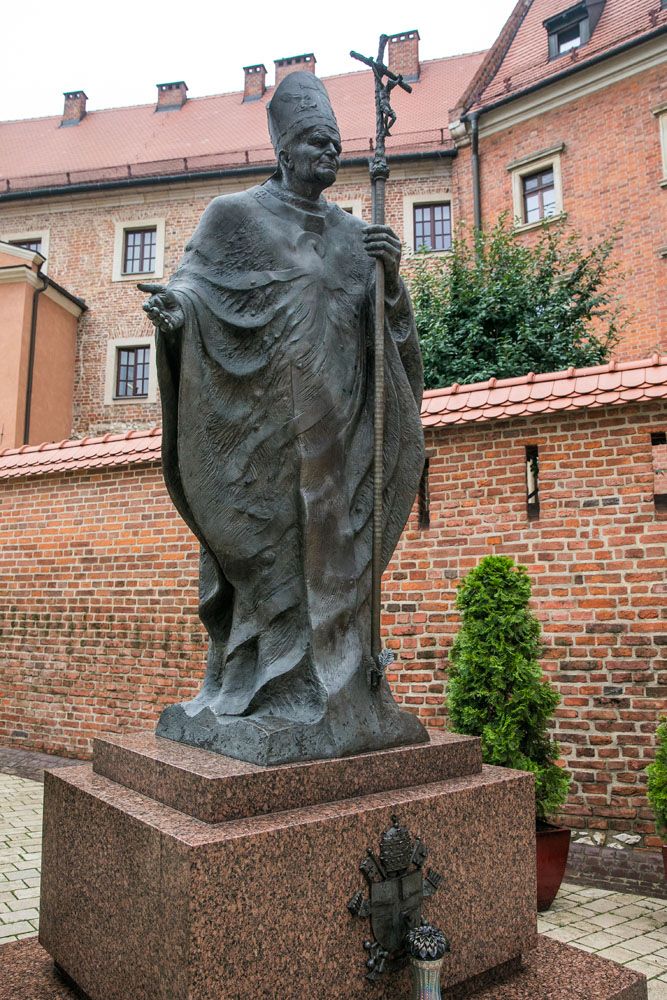 Cost: 14 PLN, includes an audio guide; purchase your tickets in the building directly across from the front of the cathedral.
Tour: You can also take a guided tour of the cathedral, which includes your entrance ticket.
Website: www.katedra-wawelska.pl
Wawel Castle Museums
For those who want to learn more, there are several museums sprinkled throughout Wawel Castle. These include the State Rooms, the Crown Treasury and Armory, the Royal Apartments, Sandomierska Tower, and more. To make the ticket process complicated, each of the sites has its own ticket. Only a limited number of tickets are sold per day so get here in the morning before tickets sell out.
Learn more on the official website.
PRO TRAVEL TIP: Skip the first ticket office you come to as you walk up the large ramp to the castle grounds (the Herbowa Gate entrance). Even early in the morning, lines can be long and they are very slow moving. Walk past the cathedral, into the castle grounds, and head to the visitor center on the far side. There is another ticket office here, and it is usually less crowded than the one on the ramp.
TAKING A TOUR: You can also take a guided tour of various portions of the castle, with the benefit of skip-the-line tickets for the State Rooms and Royal Apartments.
Wawel Dragon
Just down the hill from Wawel Castle, on the side closest to the Vistula River, there is a statue of a dragon that breathes fire.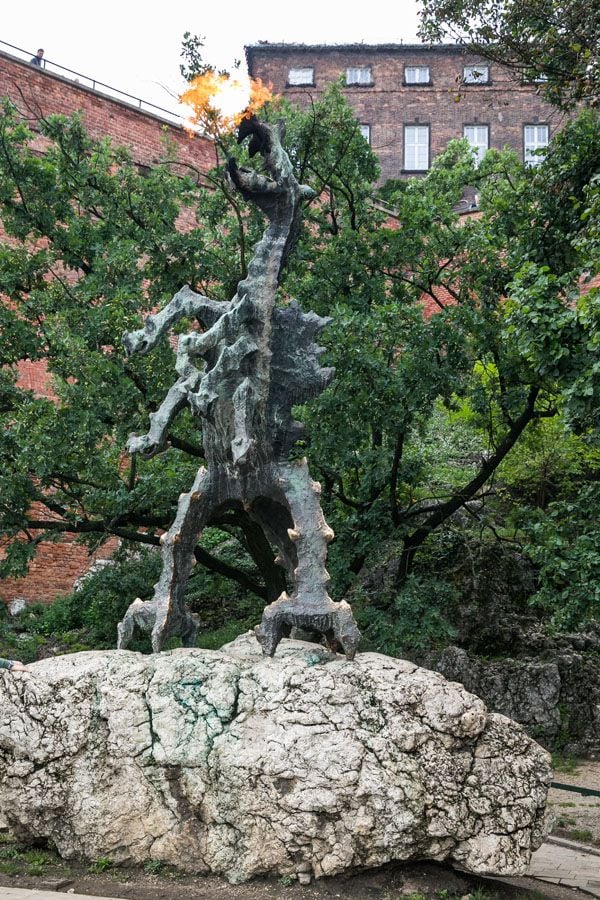 Archery
We stumbled across this cool little archery spot at the base of Wawel Hill as we were walking back towards Kanoniczwa Street. It only costs a few zloty to play and it's a nice break from museums and cathedrals for kids (and kids at heart).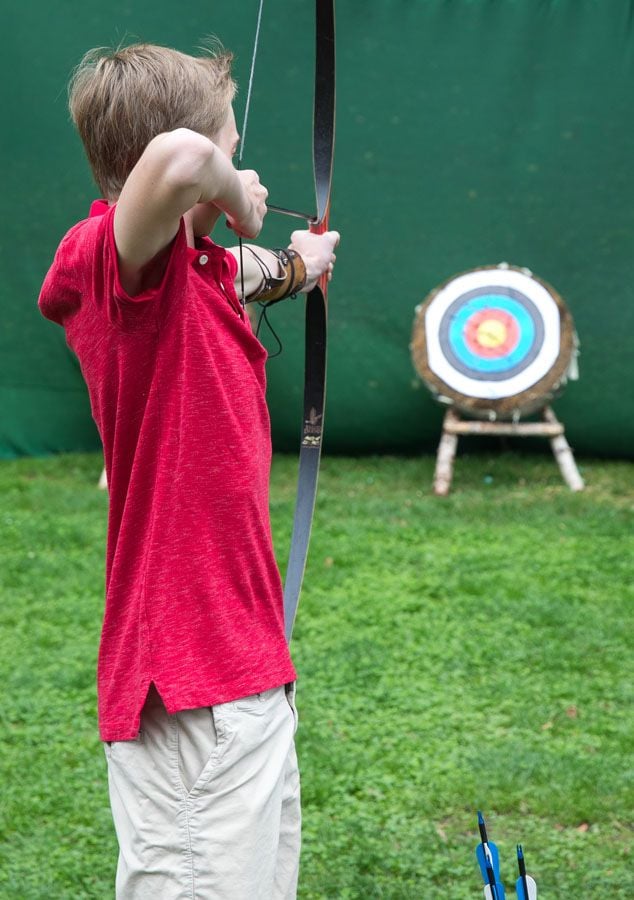 Pinball Museum
The Pinball Museum is another great place to just have some fun. This "museum" contains a collection of old and new pinball machines that you can play. The ticket you purchase includes unlimited games. If you purchase an all-day ticket then you can come and go as you like. See the official website for hours and prices. If your prefer to purchase an all-day ticket in advance then click here.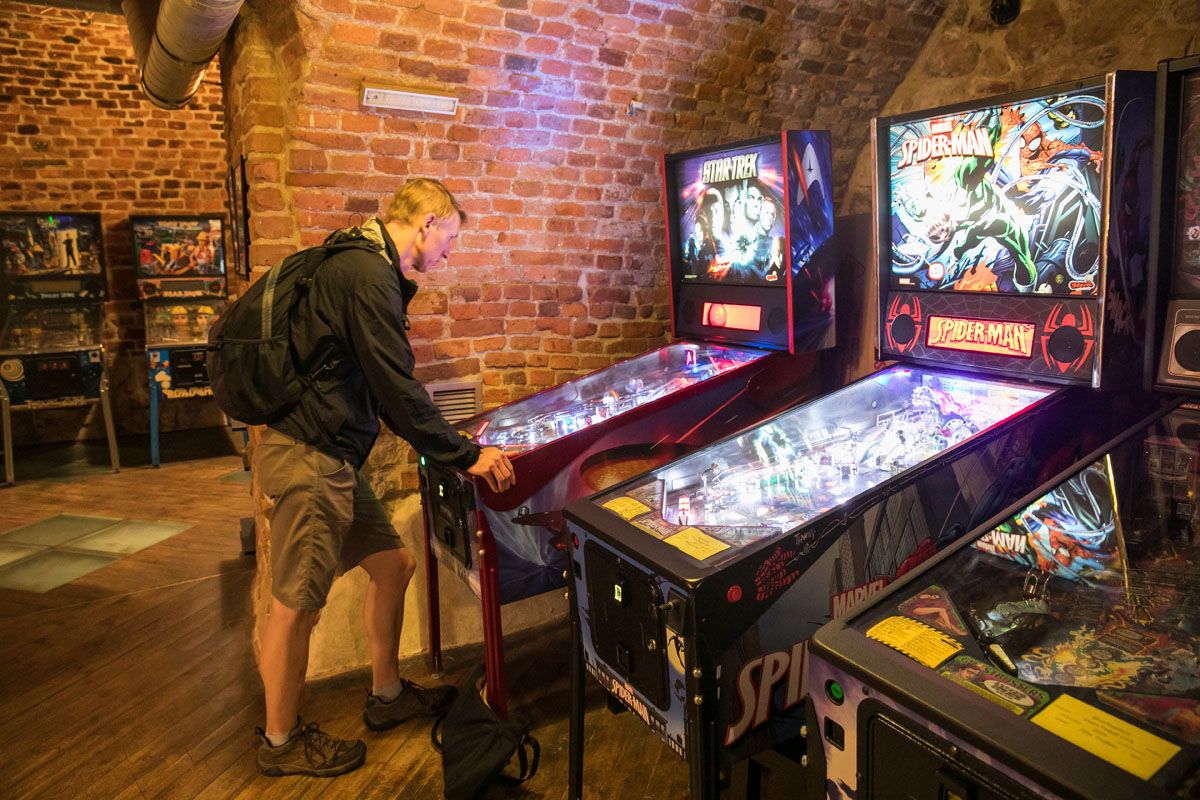 Kazimierz
This neighborhood was once the heart of the Jewish community in Krakow. During World War II, Jews were forcibly moved out of Kazimierz to the ghetto. This neighborhood remained abandoned and neglected for many years after the war. In 1993, Steven Spielberg filmed the movie Schindler's List here, and since then, people have come flooding back to the area, bringing with them shops, restaurants, and bars.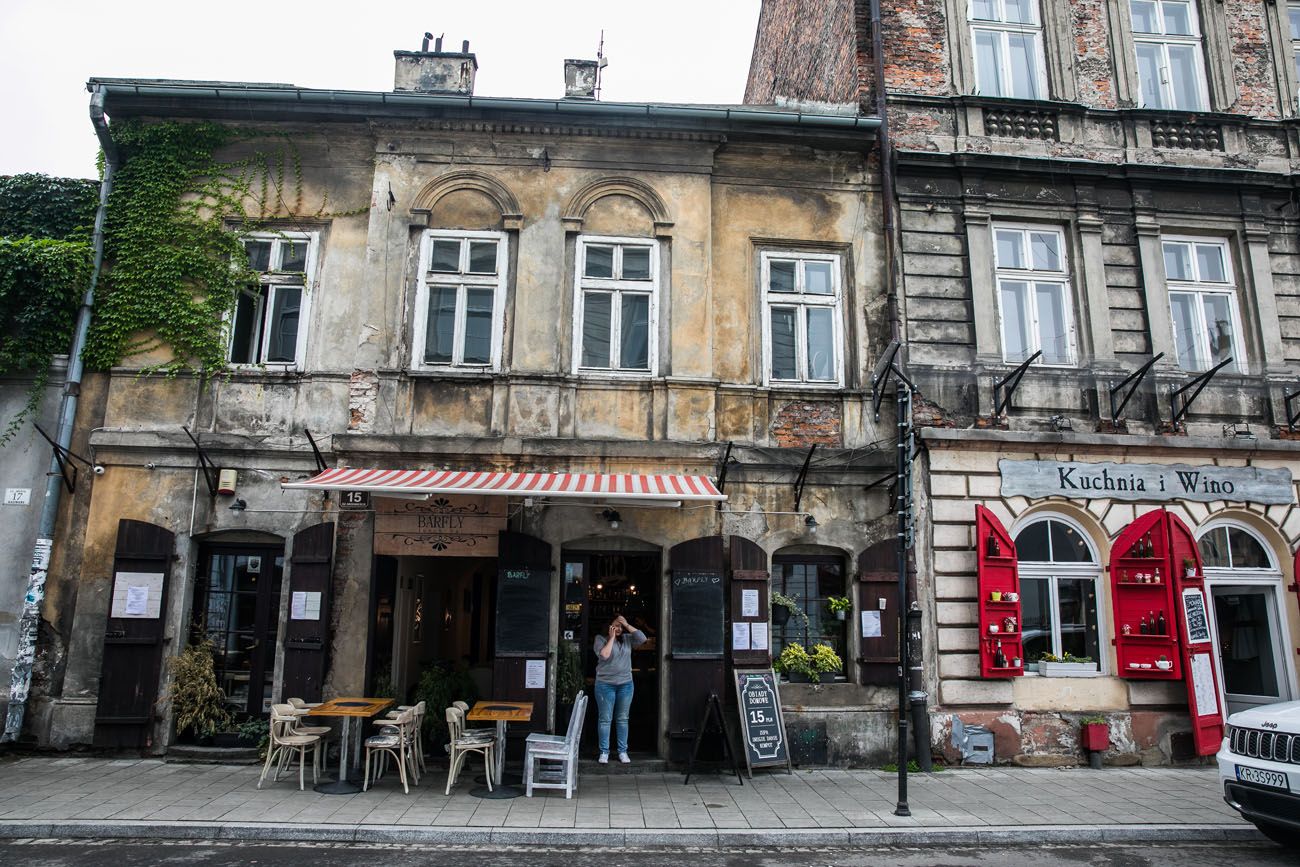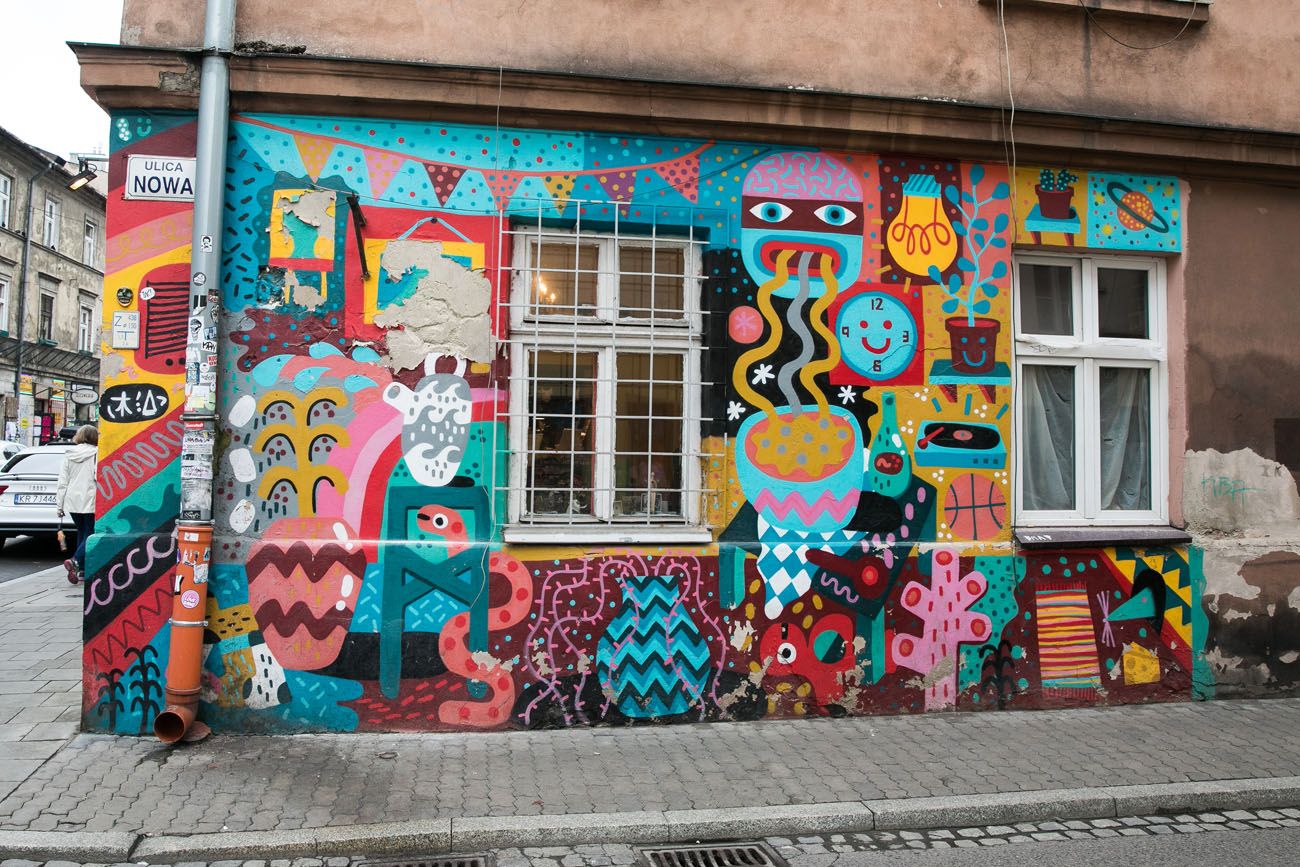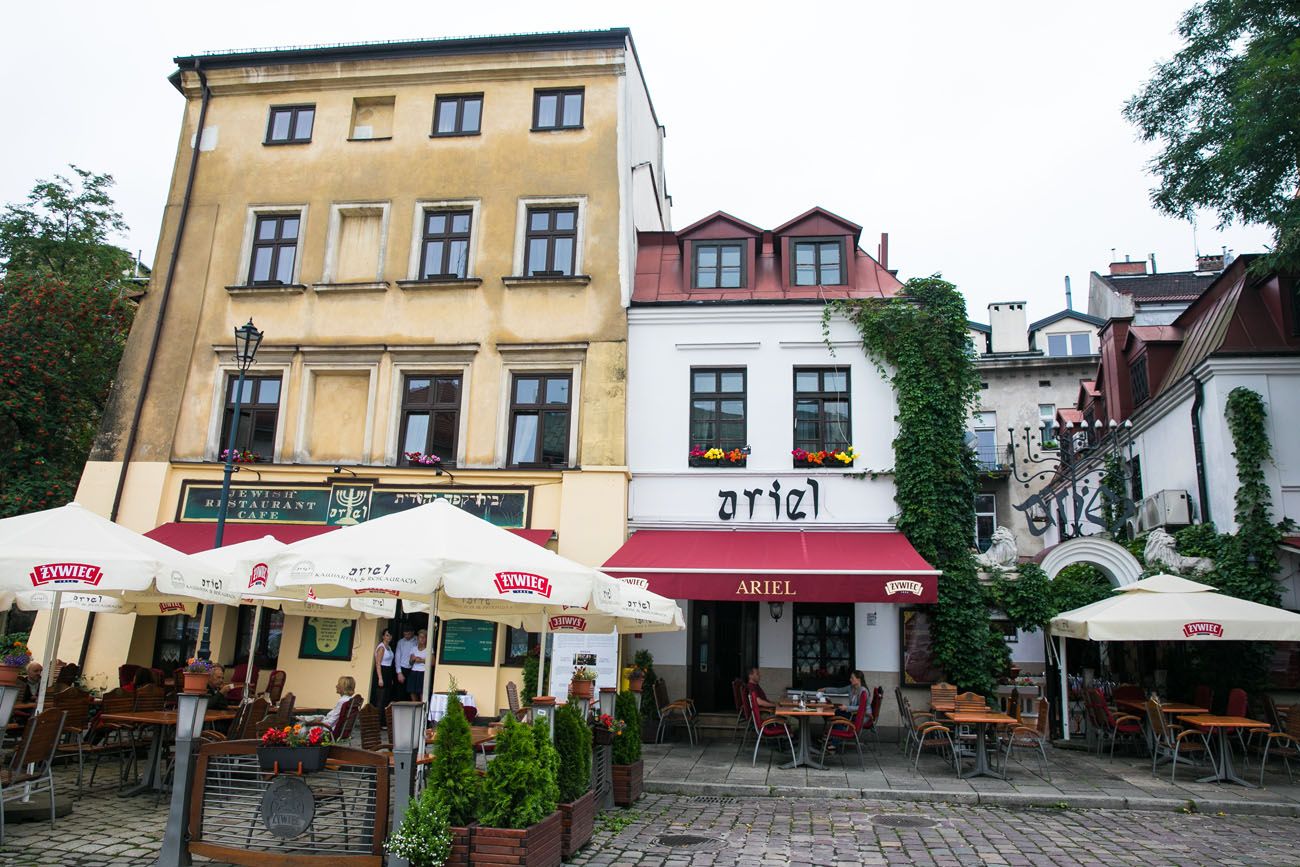 Now, Kazimierz is a funky mix of synagogues, souvenir shops, excellent restaurants, and small boutiques. This is a very cool area to spend a few hours or even an entire day. And with its grittier, edgier vibe, it feels a lot different here than walking through the old town of Krakow.
Taking A Tour: You can take a guided walking tour of Kazimierz to learn the history of this interesting neighborhood.
The Old Jewish Cemetery
Located at Remu'h Synagogue, this cemetery contains members of the Jewish community who died between 1552 and 1800.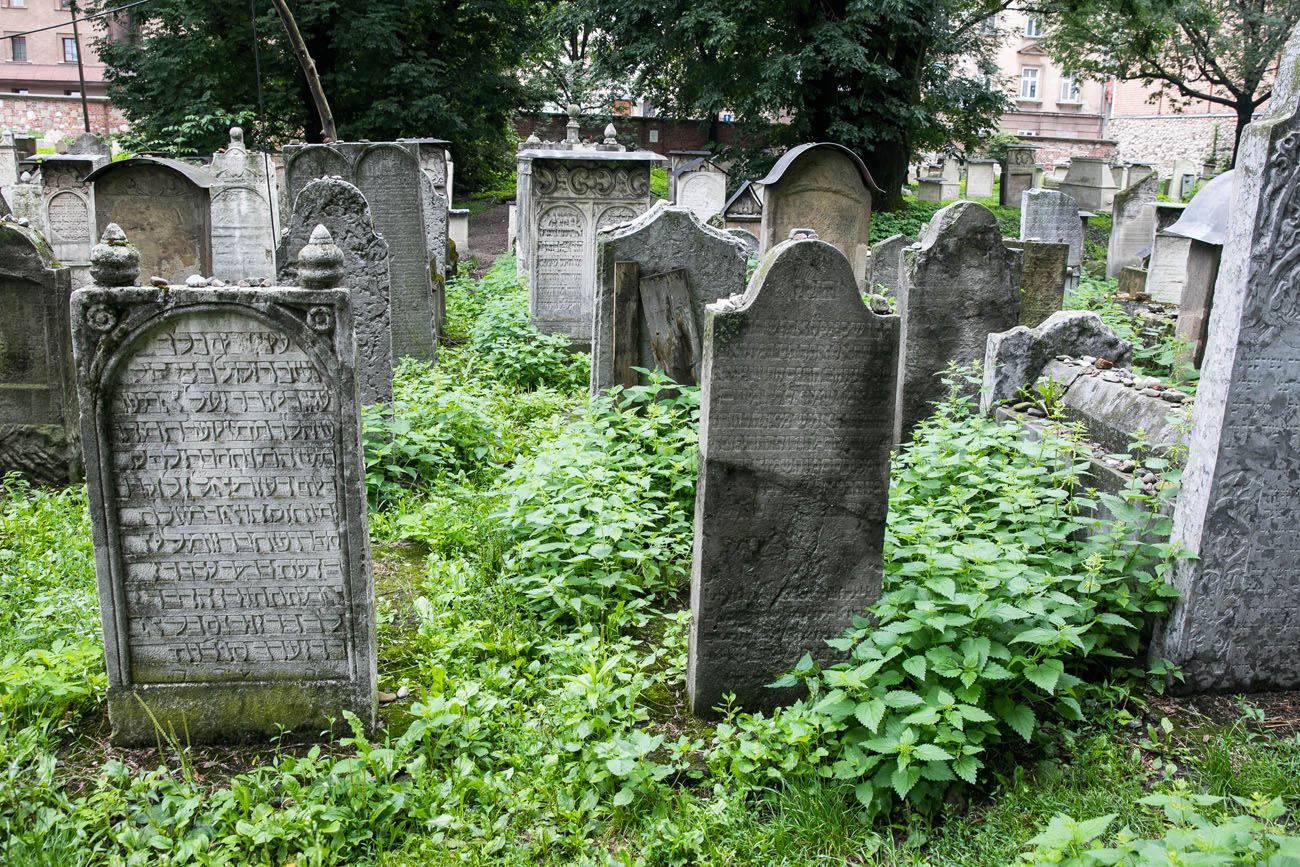 Schindler's List Passage
Located on Jozefa Street, there is a small passage that was used for the filming of Schindler's List (it is called Schindler's Stairs on Google Maps). Now, it is a quiet, underwhelming space, and it feels rather neglected, but it's worth it if you watched the movie and want to see one of the most recognizable filming locations.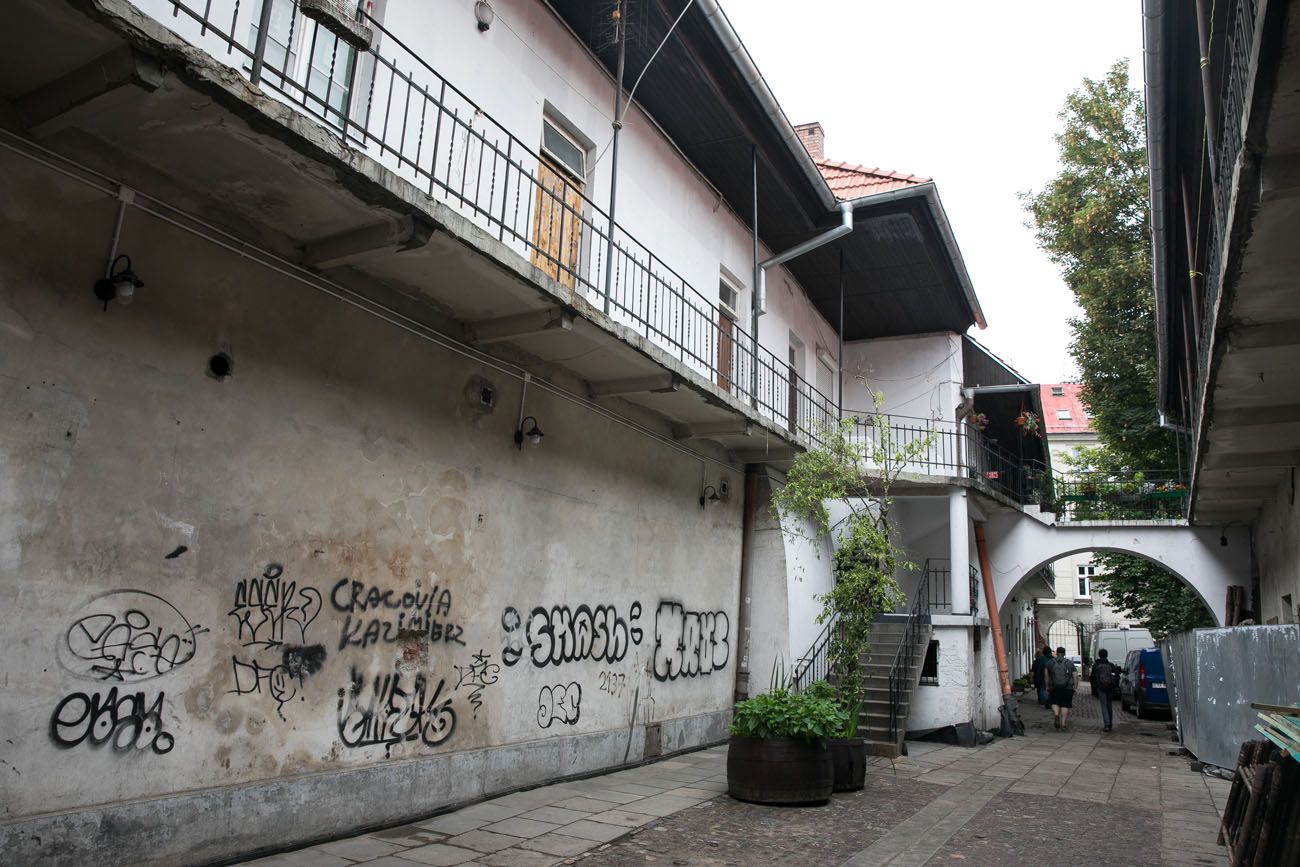 Right around the corner from Schindler's Passage is Starka Restaurant, a great restaurant that serves traditional Polish food and homemade Vodka.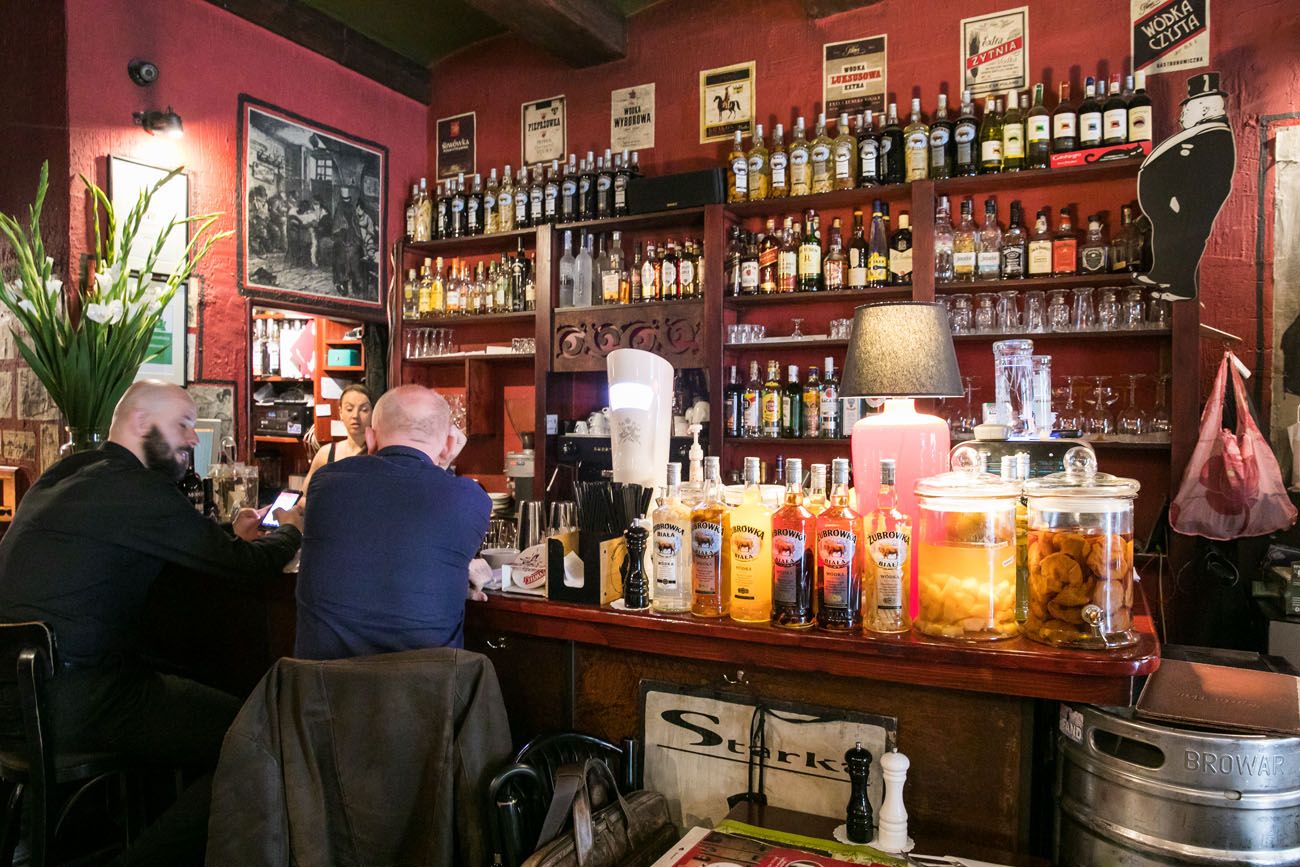 Oskar Schindler's Factory
Oskar Schindler is a German who is credited with saving 1,200 Jews during Nazi occupation of Krakow. You can learn all about his story at the original enamel factory, which is now a museum.
Cost: 26 PLN, free (and more crowded) on Mondays
Online Tickets: It's best to purchase your tickets online in advance. We got here right at opening time and just barely missed waiting in a very long line. Learn more here.
Tour: You can also take a guided tour of Oskar Schindler's Factory, which includes priority entrance so you can skip the line.
Ghetto Heroes' Square (Plac Bohaterow Getta)
During the time of the Krakow Ghetto, this was the largest open space in the ghetto, the spot where people could escape the overcrowded tenements. Later, this same space became the site of heartbreak, when families were torn apart during deportation.
In 2005, the square was renovated and laid out with large, metal chairs that represent the 68,000 people who were deported from here.
Sample some Polish Vodka
There are bunch of restaurants and bars in Krakow where you can sample some Polish vodka. At many places, the vodka is infused with flavors like cranberry, vanilla, pear, and even horseradish, so it can be a lot of fun sampling the different flavors.
Wodka Café Bar. Our favorite spot was Wodka Café Bar in the old town. This tiny bar is a hopping place. Have fun choosing your favorite from their long list of flavored vodkas.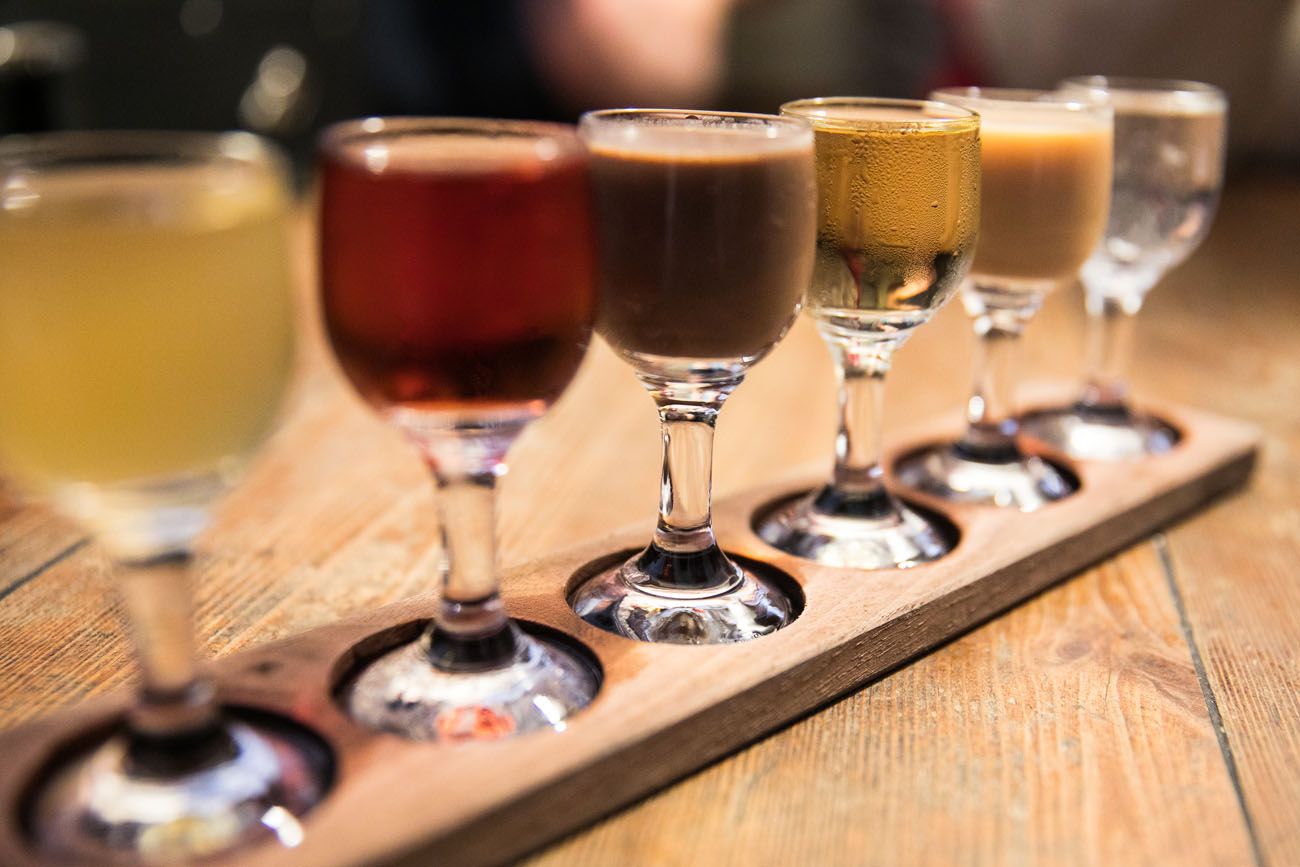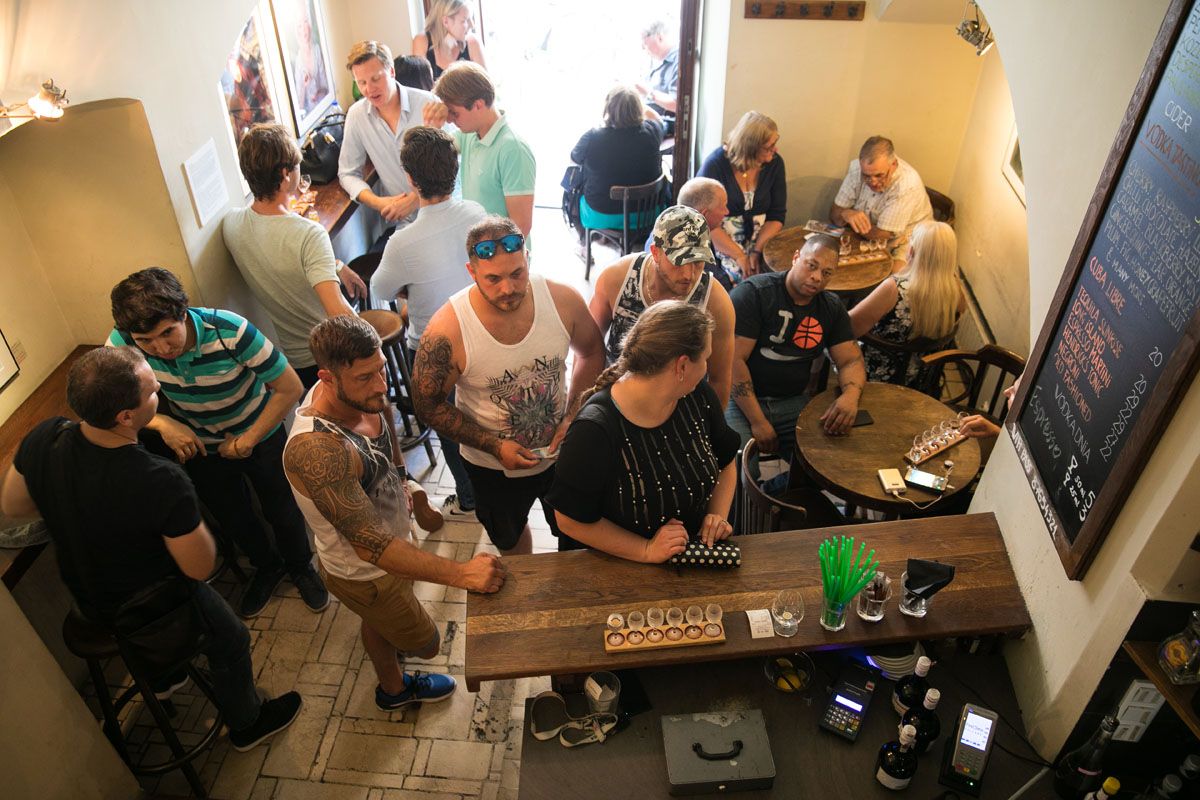 Starka Restaurant. Mentioned earlier, Starka Restaurant serves their own, homemade vodkas. They have traditional flavors and some rather adventurous picks. I tried the horseradish and was not a fan, but it's a popular flavor. I dare you to give it a try!
Staropolskie Trunki. Located on Florianska Street, this vodka bar has a more touristy feel to it, but they offer a lot of nice flavors and you can buy a bottle (or two or three) to take home as souvenirs.
Taking A Tour. You can take a private vodka tasting tour where you sample vodkas at multiple establishments and learn about the history, culture, and production of Polish vodka.
Aviation Museum
The Aviation Museum is located about 20 minutes outside of the old town, but it's worth it if you have an interest in aviation history or want to see one of the largest collections of MIG fighter jets. See the official website for hours and prices. If you prefer to purchase your ticket in advance then click here.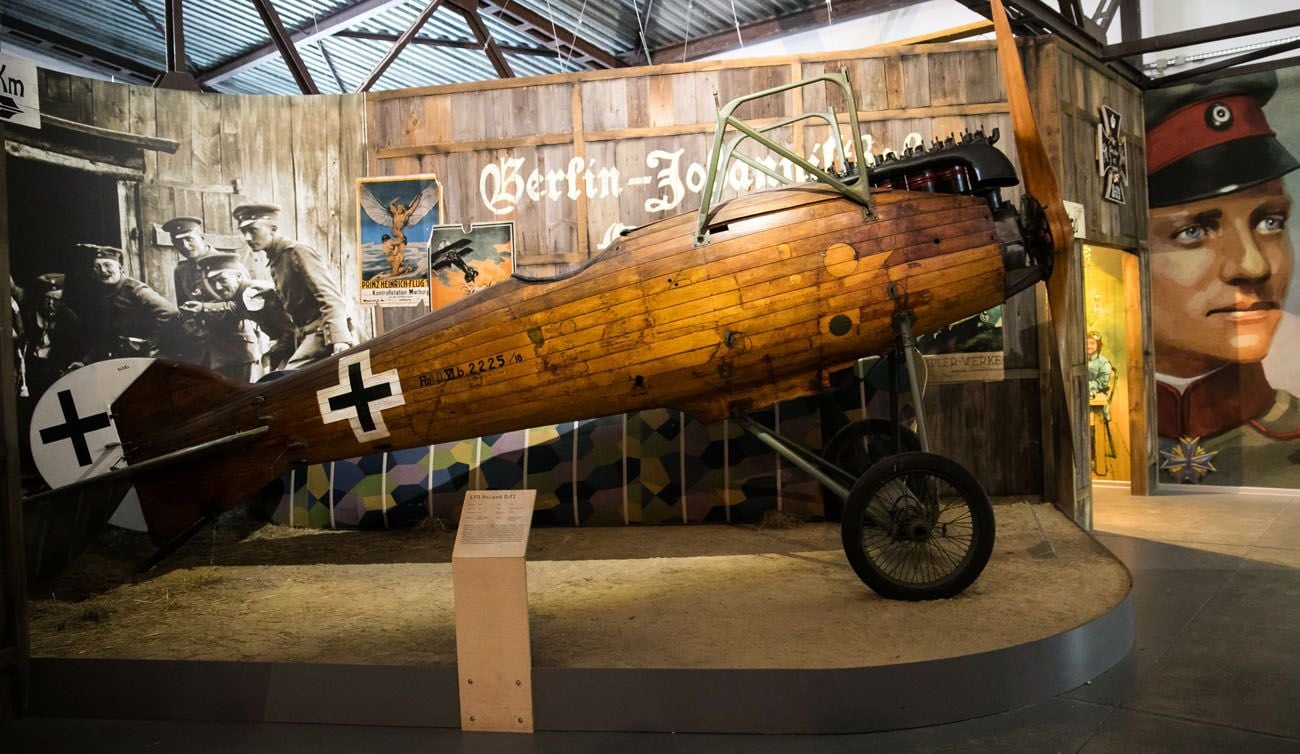 Enjoy some of Krakow's Best Restaurants
There are many great restaurants to choose from and new foods to try. Plus, food and alcohol is relatively cheap, so eating out doesn't cost a fortune. We even ate at our first Michelin-starred restaurant.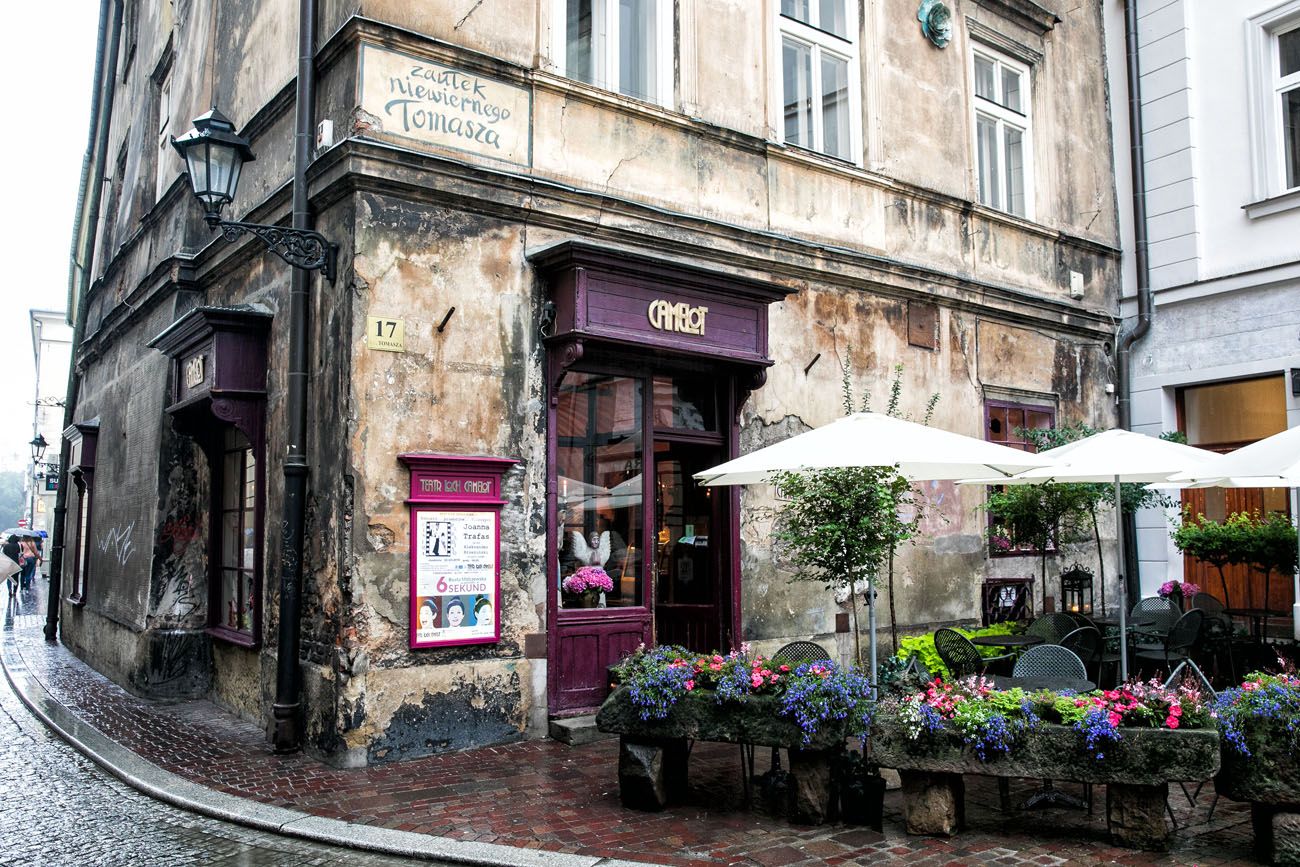 Café Camelot is a Krakow institution. This restaurant serves all day breakfast, pasta, and alcohol. This is a great spot to get your coffee fix.
We ate at three Italian restaurants (we ate a ton of Polish food the week before and my pasta-loving family was ready for some good Italian food) and all were very good: Boscaiola, Le Grand Mamma, and Aqua e Vino. Starka Restaurant in Kazimierz is one of the best spots in the city for authentic Polish food.
And finally, we dined at the Michelin-accredited Cyrano de Bergerac, a wonderful experience without breaking the bank.
Auschwitz-Birkenau
Without a doubt, one of the best things to do while in Krakow is to take a day trip out to Auschwitz-Birkenau. This is the largest of the Nazi concentration camps and a sobering memorial to all of those who died during the Holocaust.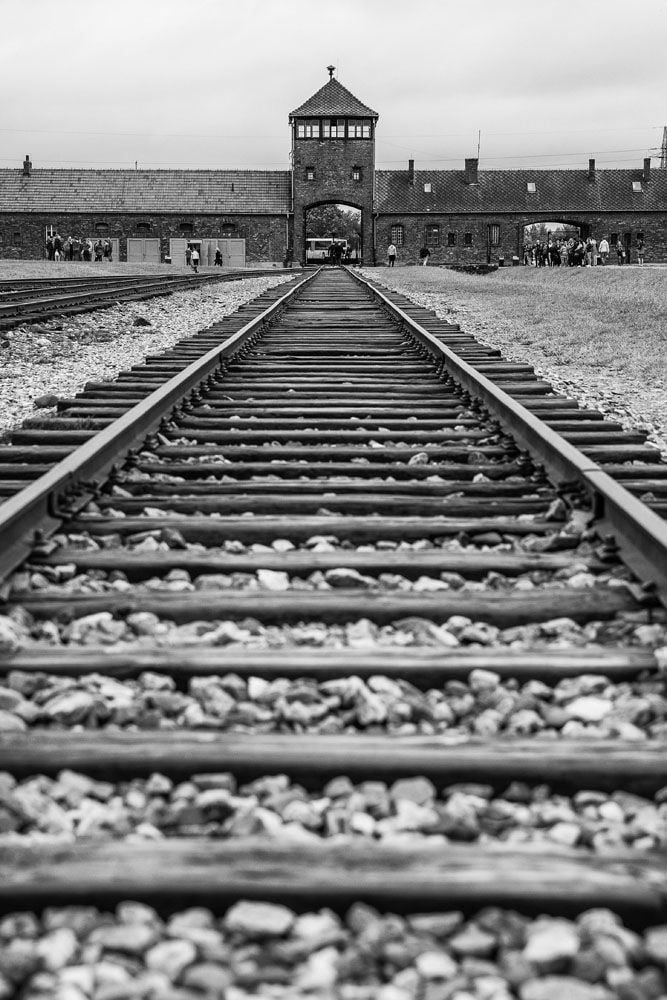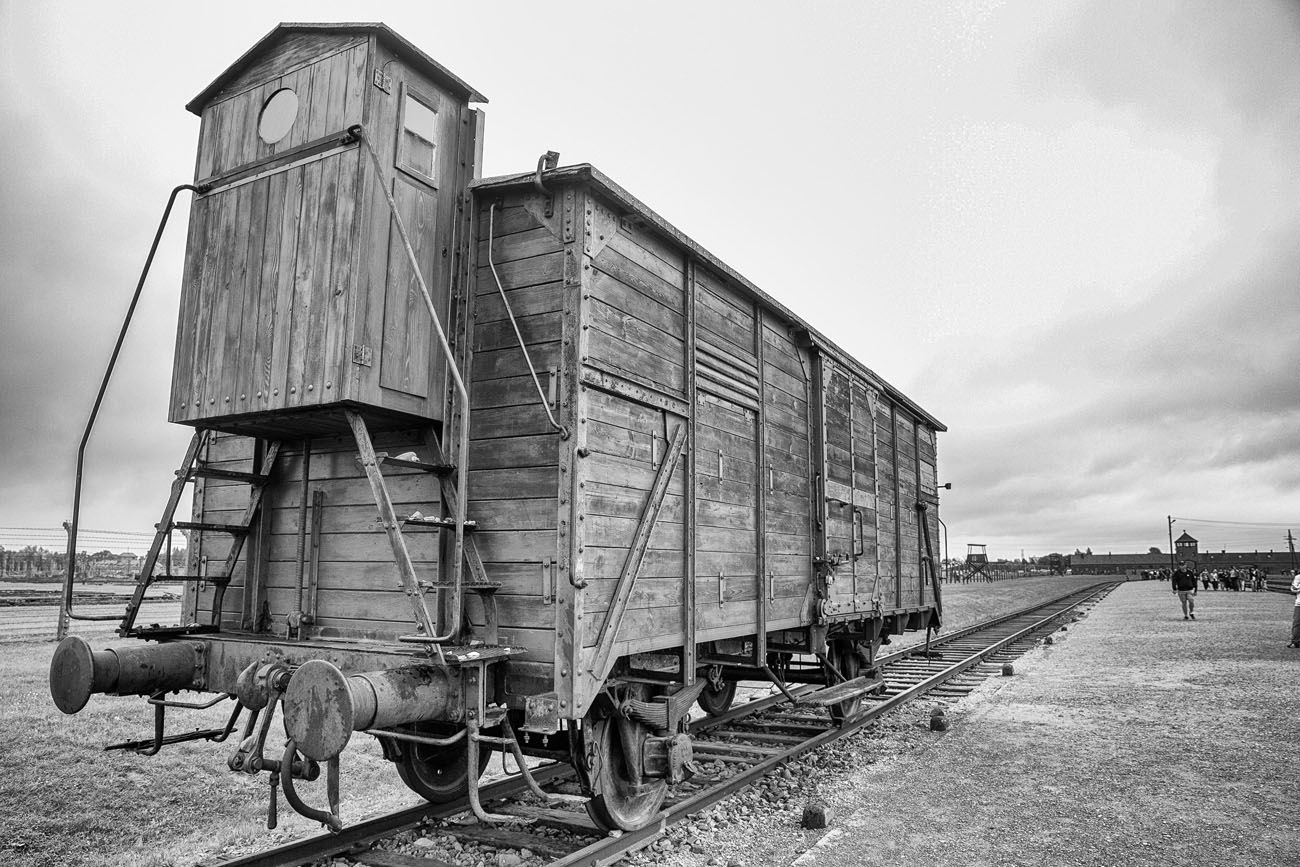 Located 75 kilometers outside of Krakow, a visit here takes the better part of a day.
For the full details on what to expect at Auschwitz-Birkenau and how to plan your visit, read our article:
Wieliczka Salt Mine
This underground salt mine is filled with sculptures carved from salt and it is a very popular day trip from Krakow. If you want to visit the Wieliczka Salt Mine, you can get here by bus or train or arrange a tour from Krakow.
Best Things to do in Krakow: On a Map
How to Use This Map: Click the tab in the top left hand corner of the map to view the layers (points of interest and the walking route). You can click the check marks to hide or show layers. If you click the icons on the map, you can get more information about each point of interest. If you click the star next to the title of the map, this map will be added to your Google Maps account. To view it on your phone or computer, open Google Maps, click the menu button, go to "Your Places," click Maps, and you will see this map on your list.
How to Organize Your Time
Krakow in One Day: Spend your time visiting the main sites in the old town.
Krakow in Two Days: Spend day 1 in the old town and day 2 at Auschwitz-Birkenau
Krakow in Three Days: Spend day 1 in the old town, day 2 at Auschwitz-Birkenau, and day 3 in Kazimierz and Oskar Schindler's Factory.
Taking a Tour of Krakow
If you prefer to explore Krakow with an experienced guide, then here are several highly rated tours to consider. These tours include many of the Best Things to do in Krakow and each one offers a different mode of transportation.
Where We Stayed
We stayed at the Mint Luxury Apartments in the old town. We had a two-bedroom apartment with a full kitchen, a washing machine, air conditioning, two bathrooms, and a living area. The second bedroom is actually a loft that has a queen bed, a twin bed, and its own bathroom. The soundproofing is awesome and we never heard street noise or our neighbors. This apartment is located just one block away from the Main Market Square so it's hard to beat this location. I highly recommend these apartments if you are traveling as a family, and they offer apartments that can accommodate up to 11 people. On Booking.com, the apartment we stayed in is listed as the "Two-Bedroom Penthouse Apartment."
Our mothers visited Krakow with us. They stayed at the Venetian House Market Square Aparthotel and also had a great experience. Located right on the Main Market Square, their hotel had a small restaurant that served breakfast. They shared a twin room but the hotel also offers suites that can accommodate up to six people.
About Our Visit
We spent five days in Krakow in July. The first four days were very rainy and a bit chilly. Fortunately, on the last day, the clouds moved away and we got to see the sunshine again.
Before arriving in Krakow, we spent about one week in Gdansk and Warsaw. From Krakow, we headed south to Zakopane to go hiking in the Tatras.
---
Do you have any questions about visiting Krakow, Poland? Or, do you want to share your experience here? Let us know in the comment section below.
More Information about Poland
You Might Also Like: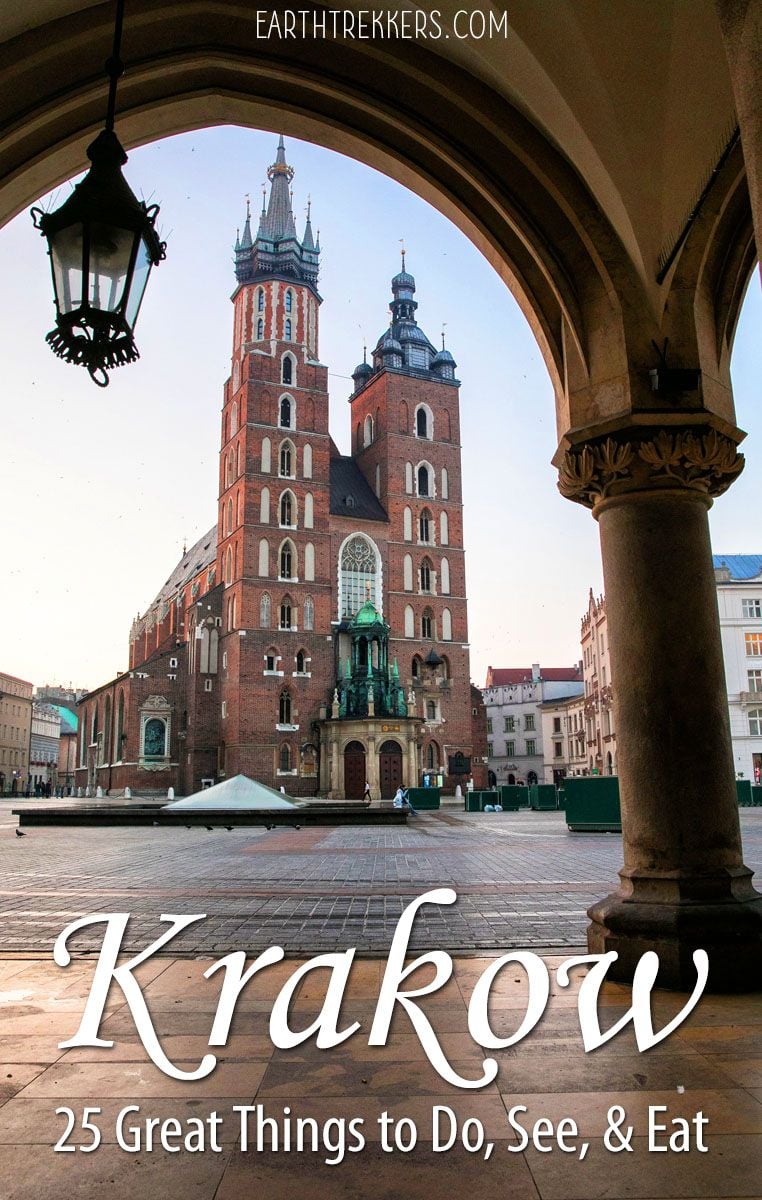 Note: This post contains affiliate links. When you make a purchase using one of these affiliate links, we get paid a small commission at no extra cost to you.
All rights reserved © Earth Trekkers. Republishing this article and/or any of its contents (text, photography, etc.), in whole or in part, is strictly prohibited.