Located in Kokee State Park in Kauai, the Nu'alolo Trail and the Awa'awapuhi Trail are two separate trails that head out along the ridgelines of the Na Pali Coast. From the endpoint of each of these trails, you get spectacular views of the coastline. You can hike each trail separately or combine them into one big day hike, by connecting them with the Nu'alolo Cliffs Trail.
This is a TOUGH day hike and for the average person, I would not recommend doing the full loop. It's a long hike, there is a lot of elevation gain, and it can get very hot. When we did this, the Nua'lolo Cliffs Trail was overgrown in many spots, making progress very slow.
You get a bigger bang for your buck if you only hike the Nua'lolo Trail OR the Awa'awapuhi Trail out-and-back. And out of the two, all four of us unanimously agree that the Nua'lolo Trail is the more thrilling and enjoyable of the two trails.
In this guide, we cover the full loop (the Nua'lolo Trail to the Nua'lolo Cliff Trail to the Awa'awapuhi Trail) and what we recommend doing instead, if you don't want to do the full loop.
About Our Experience
We have hiked this trail twice.
The first time was in 1999. Tim and I were visiting Hawaii on our honeymoon and this was the first real hike each of us had ever done.
This is not a hike that I would recommend for newbie hikers.
It's a long, challenging hike and we got through it, but it wasn't pretty. We were very unprepared for this hike…but we were young and fit and muddled through. Tim and I reached the end of the trail, exhausted and dehydrated, and learned the very valuable lesson of carrying enough water on a hike. We learned a lot, not just about the trail, but about hiking in general, which carried on through later experiences.
On our recent visit to Kauai, we wanted to hike this trail again. We are older and wiser and there was something very nostalgic about returning to a place where Tim and I first hit a hiking trail together. And this time around, we could share the experience with our kids.
How was it on our second hike? It was nice, but it didn't live up to our memories. Maybe that's just because we have done so many hikes around the world that our standards are a bit different now.
I'm glad we did it, I'm glad we got to share this with Tyler and Kara, and I am also glad that we can share with you what we learned.
Let's get started.
Hiking Stats
Nua'lolo Trail
Distance: 7.6 miles out-and-back
Total Ascent: 2,200 feet
Difficulty: Strenuous
Length of Time: 3 to 5 hours
Awa'awapuhi Trail
Distance: 6 miles out-and-back
Total Ascent: 1,800 feet
Difficulty: Moderate
Length of Time: 2 to 4 hours
Nua'lolo Trail + Nua'lolo Cliffs Trail + Awa'awapuhi Trail (the Full Loop)
Distance: 11.9 miles
Total Ascent: 3,200 feet
Starting Elevation: 3,700 feet
Highest Elevation: 4,100 feet
Lowest Elevation: 2,300 feet
Difficulty: Strenuous
Length of Time: 5 to 7 hours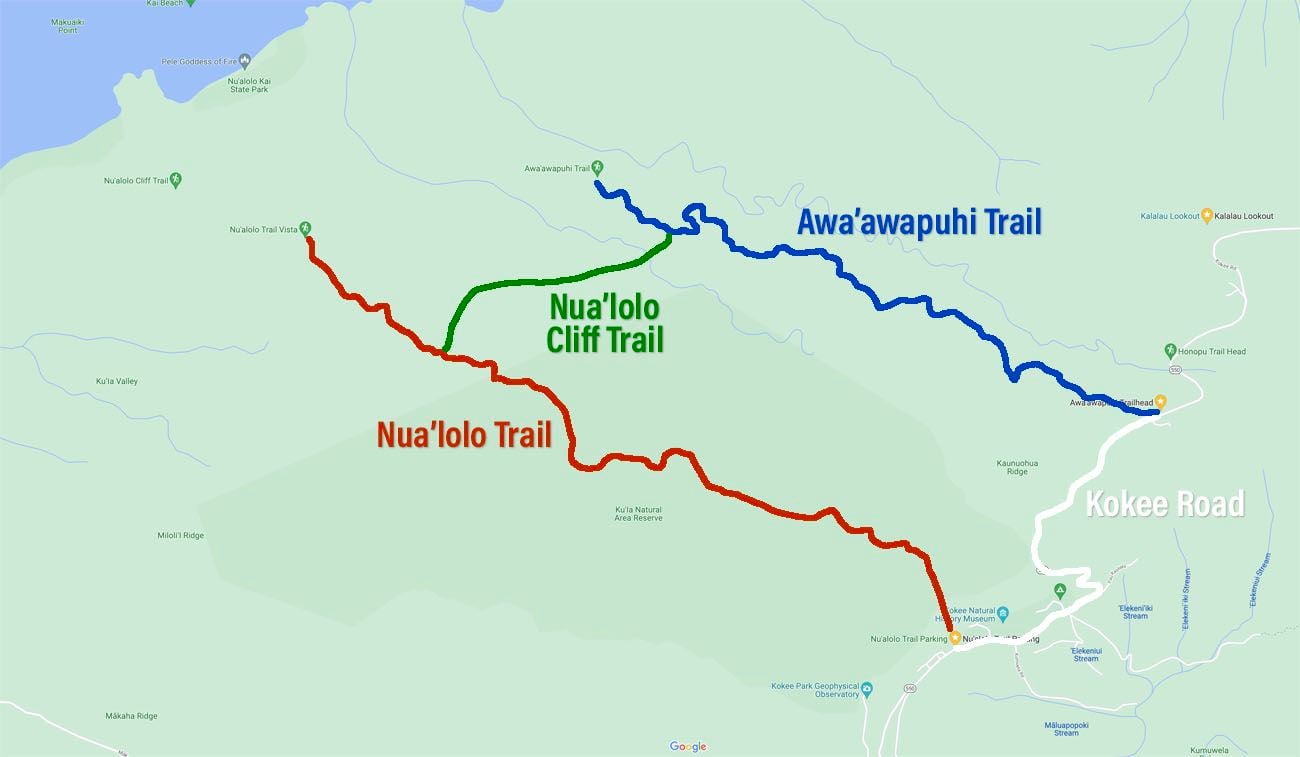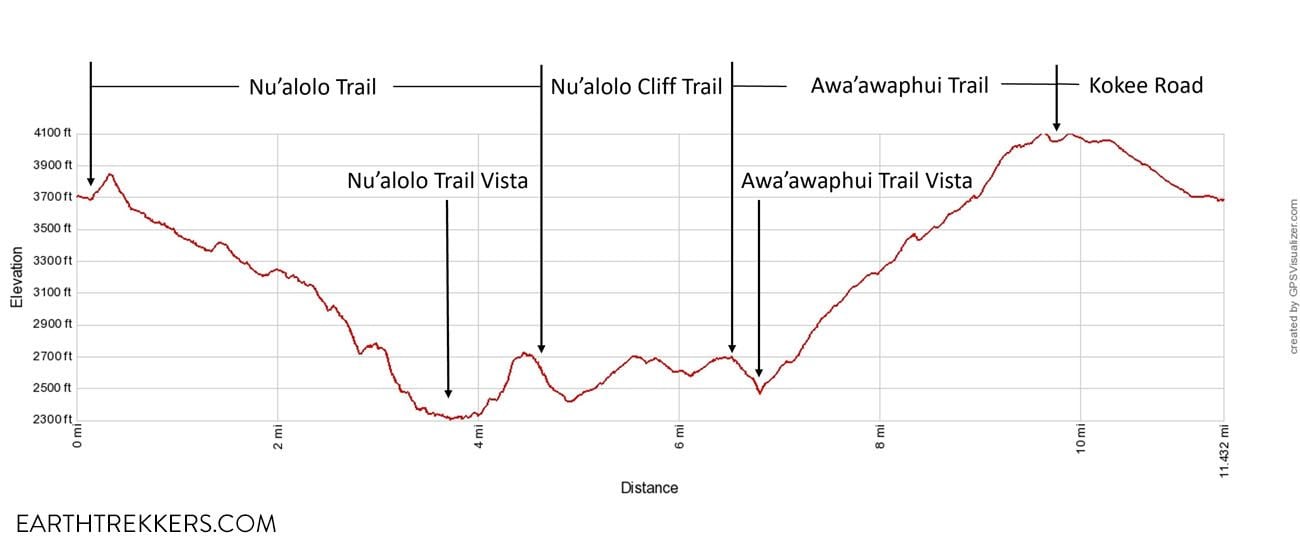 Elevation profile
Please practice the seven principles of Leave No Trace: plan ahead, stay on the trail, pack out what you bring to the hiking trail, properly dispose of waste, leave areas as you found them, minimize campfire impacts, be considerate of other hikers, and do not approach or feed wildlife.
Aerial Photos of the Trail
These photos were taken on the helicopter ride we did two days before this hike. Below is a photo of the end of the Nua'lolo Trail and vista point.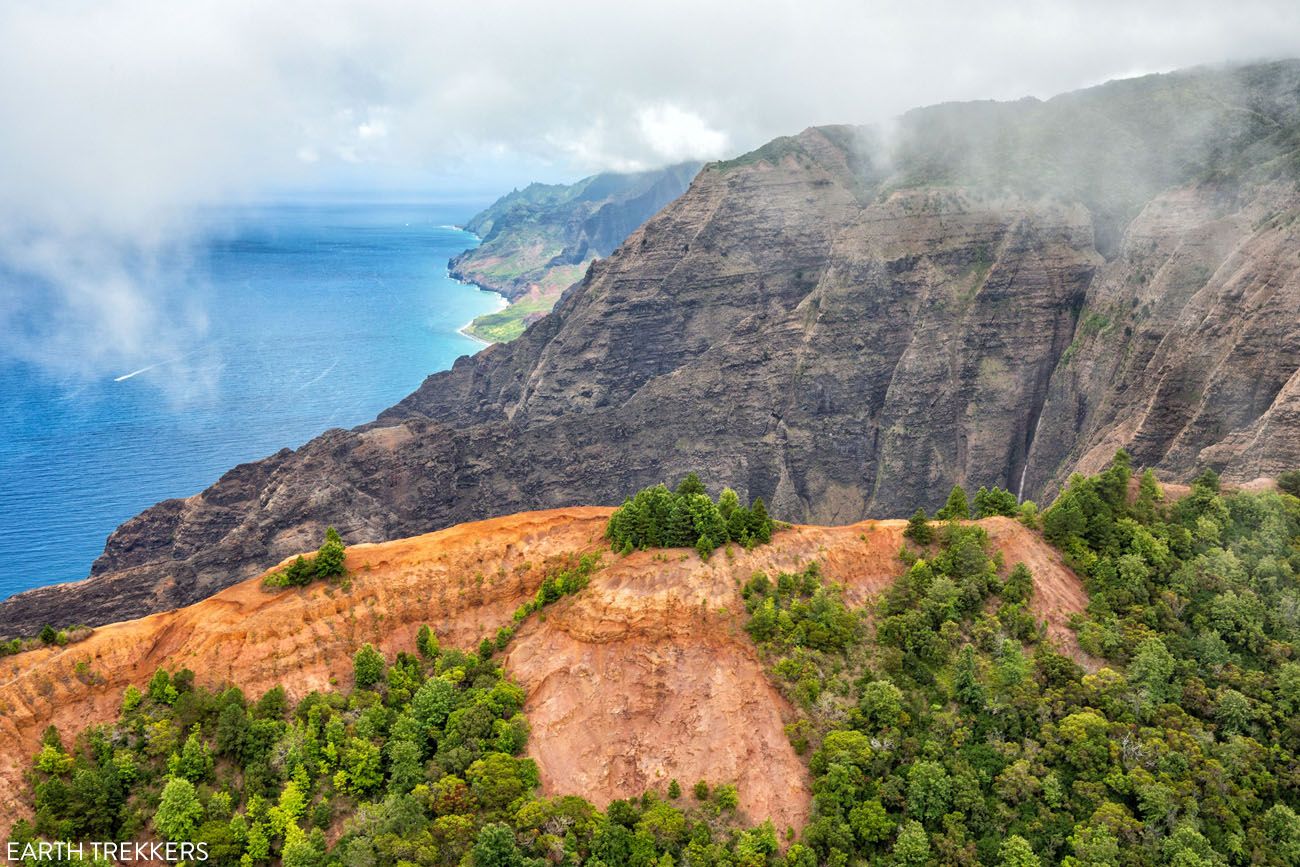 The photo below shows the location of the Awa'awapuhi Trail vista point.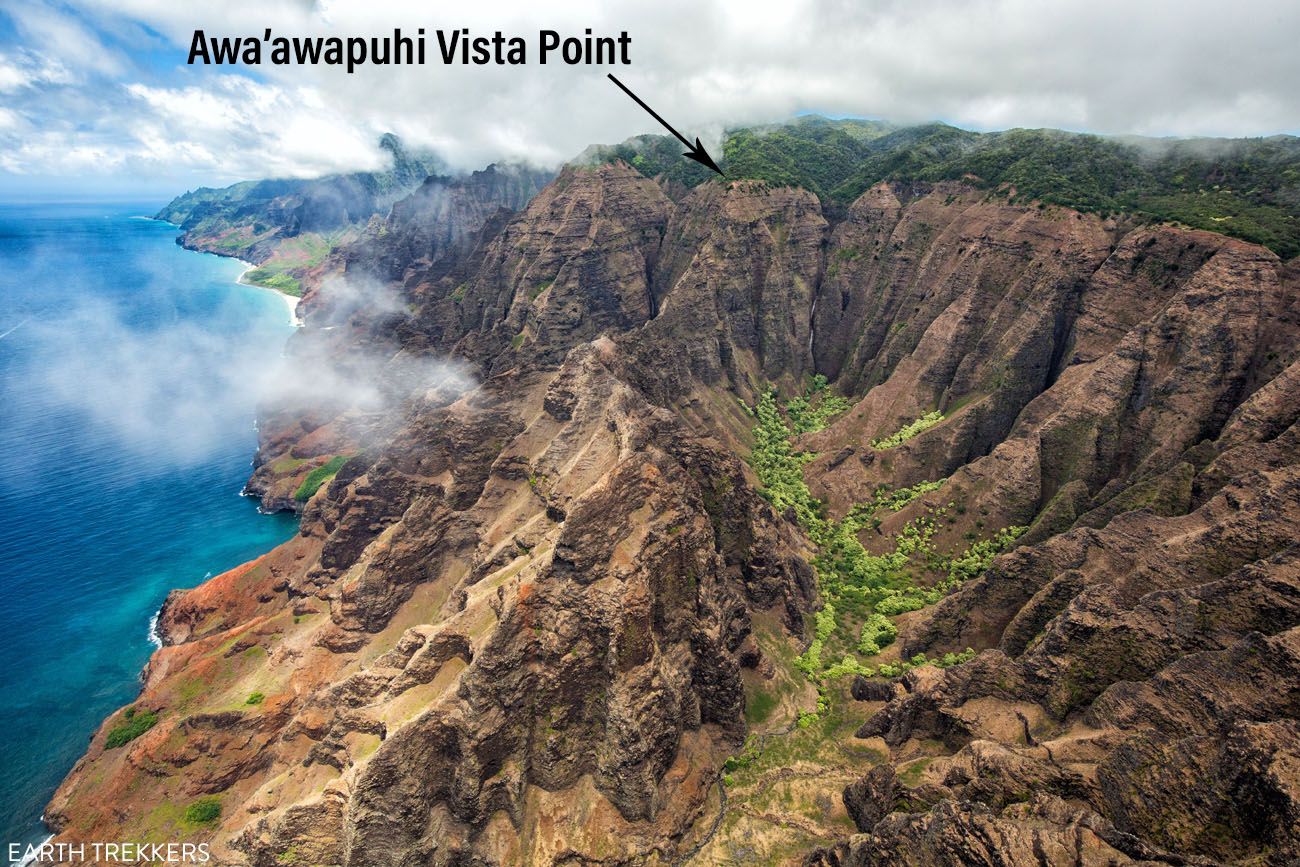 The Nua'lolo Trail + Awa'awapuhi Trail Loop
Step-By-Step Trail Guide
Since this is a loop, you can hike these trails clockwise or counterclockwise. Both will require walking along Kokee Road at some point.
We chose to do this loop in a clockwise direction, starting at the Nua'lolo Trail trailhead. Just a short distance from here is a large parking lot for the Koke'e Museum, restrooms, and the Koke'e Lodge (a great place for cold drinks and food once finished the hike).
You can also start at the Awa'awapuhi Trail trailhead, but this parking lot is small (it can hold about 15 cars) and there are no facilities.
Nua'lolo Trailhead
I recommend parking in the large lot for the Koke'e Museum, which is 0.2 miles from the trailhead. That way, you can use the restroom before and after the hike, and grab a bite to eat once finished the hike.
Walk 0.2 miles south on Kokee Road to the trailhead. This is a small parking lot and there are no restrooms.
Clean your shoes off with the brushes and spray provided at the trailhead. This is done to help stop Rapid 'Ohi'a Death, a disease that is killing 'Ohi'a trees in Hawaii, and to help prevent the spread of seeds that could still be on your shoes from other hikes.
On the Nua'lolo Trail
The trail starts off with a short, steep climb through the woods but it doesn't last long. For the majority of the first part of this hike, you will be descending as you hike out towards the coast.
Most of the trail is in a forest, so it's shady most of the way. For the first 2 miles, you will be hiking downhill, either through a forest or through dense brush and grass. The plant life growing along the trail was very overgrown in spots when we did this, so expect to push your way through if it hasn't recently been bushwhacked.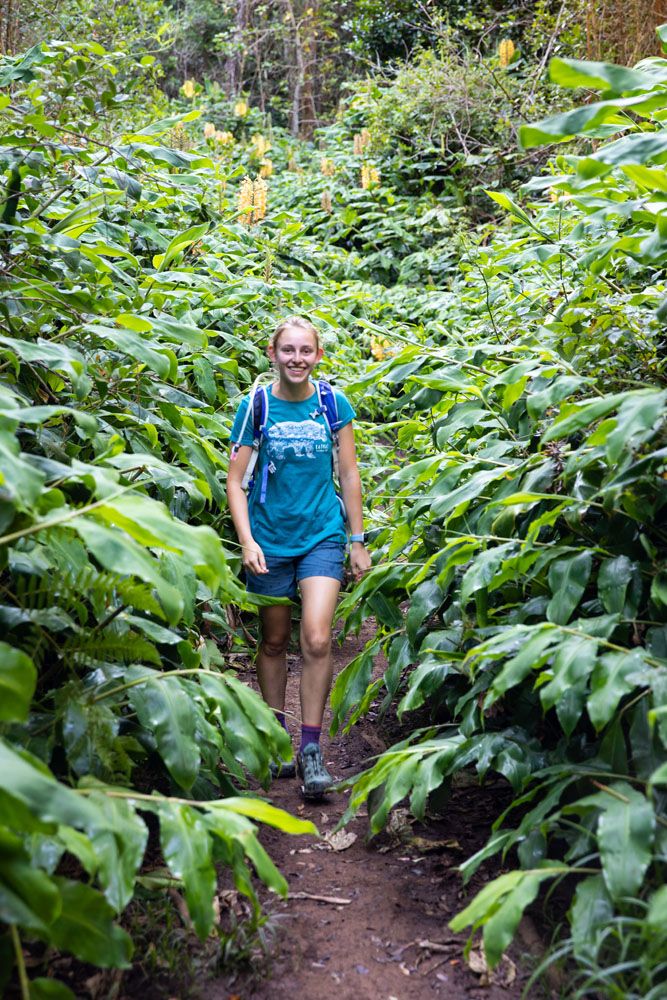 PRO HIKING TIP: If you are allergic to grass or sensitive to coming into contact with plants, consider wearing or bringing long pants and a long-sleeved shirt. We wore shorts and short-sleeved shirts and were fine, but I did have a bumpy, itchy rash on my legs for the next 24 hours.
At 2.25 miles, the vegetation begins to thin out and you start to get your first views of the coast. It also begins to get noticeably warmer.
There will still be many steep descents, sometimes on a sandy trail and at other times on muddy dark red clay. If it has recently rained, the descents on the clay can be very slippery. You can get by with running shoes (I did the first time I did this but I slipped a lot) but hiking or trail running shoes with good traction will make your life a lot easier.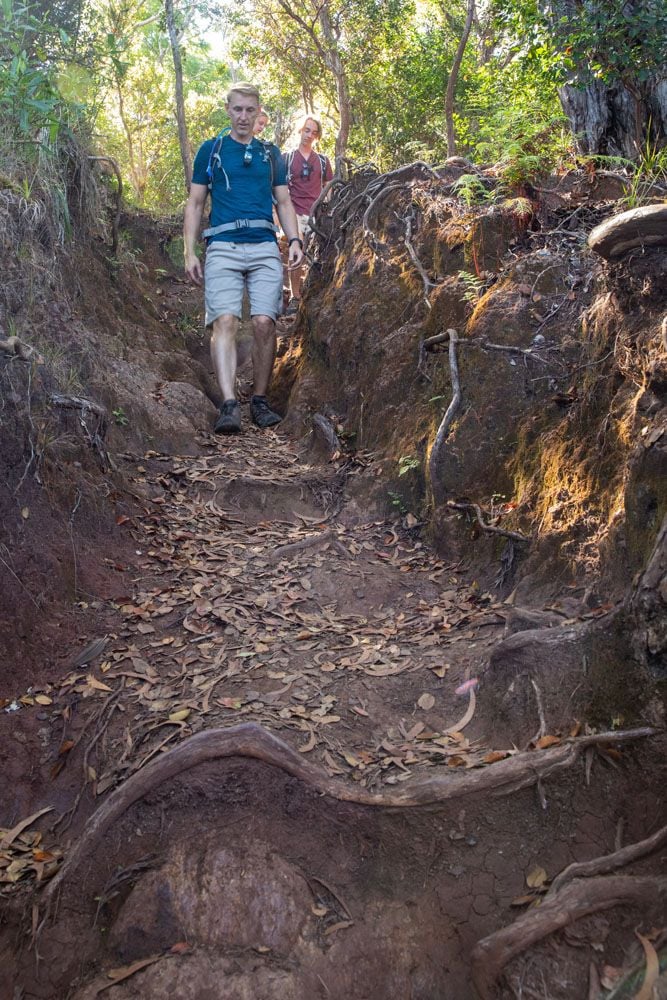 Views of the Na Pali Coast
3 miles into the hike, the views really start to get good. The farther you go, the more exposure you get and the better the view.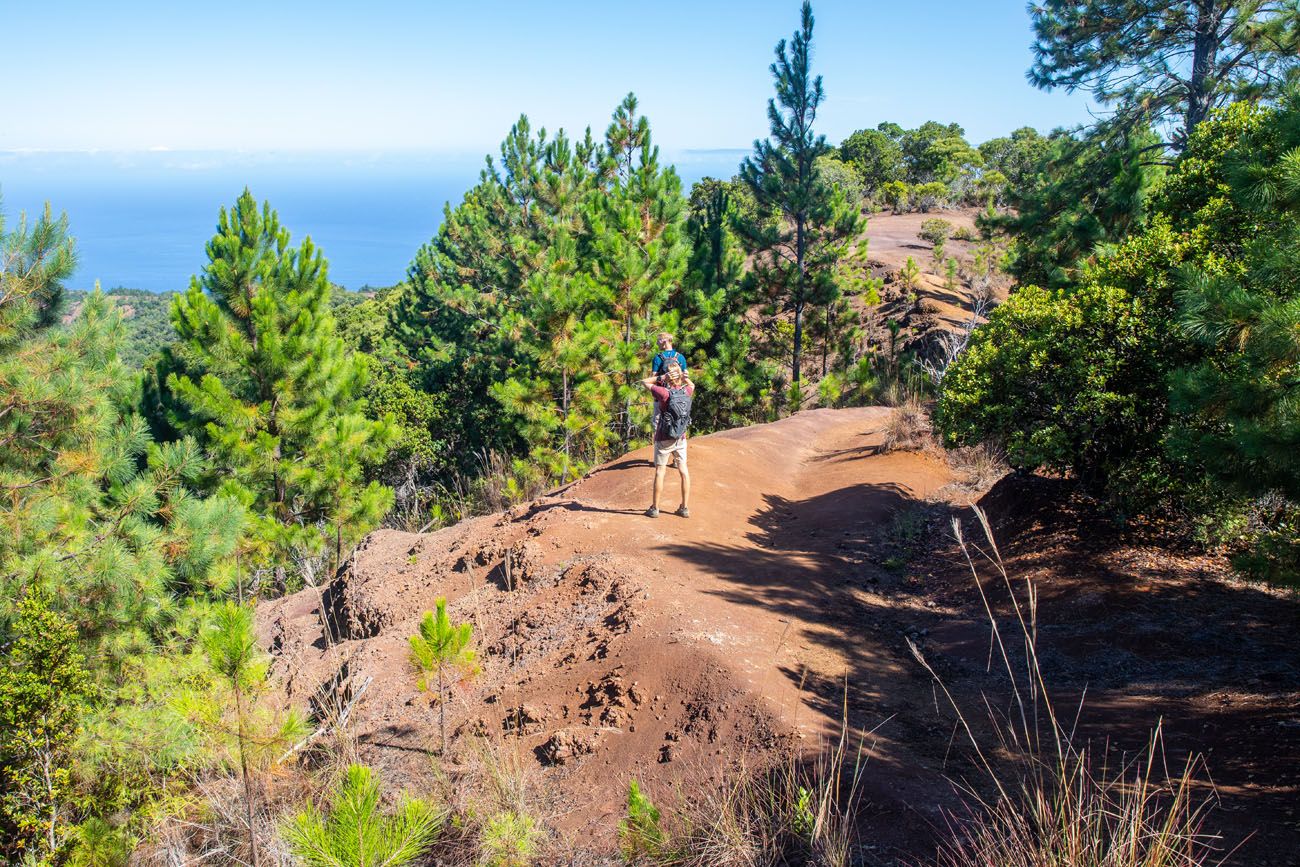 First break in the trees
The final 0.25 miles is the best, when you are walking on a trail along the cliff, with awesome views north along the Na Pali Coast.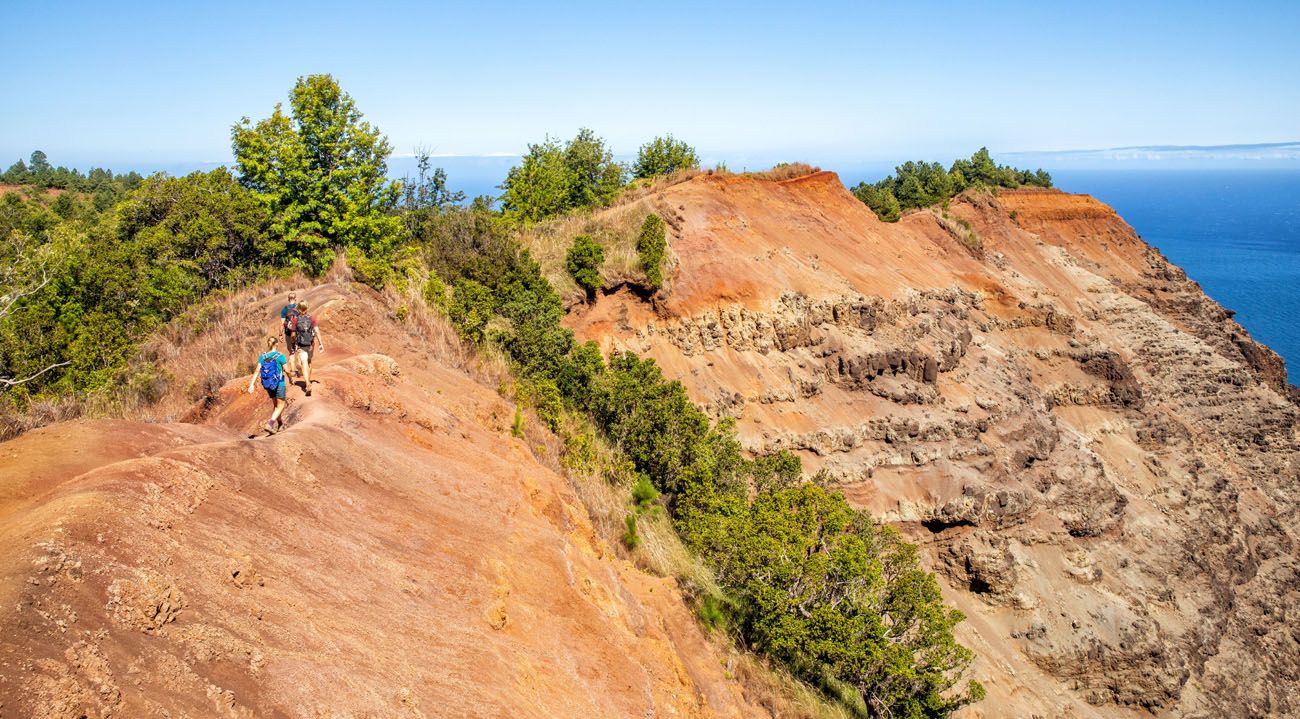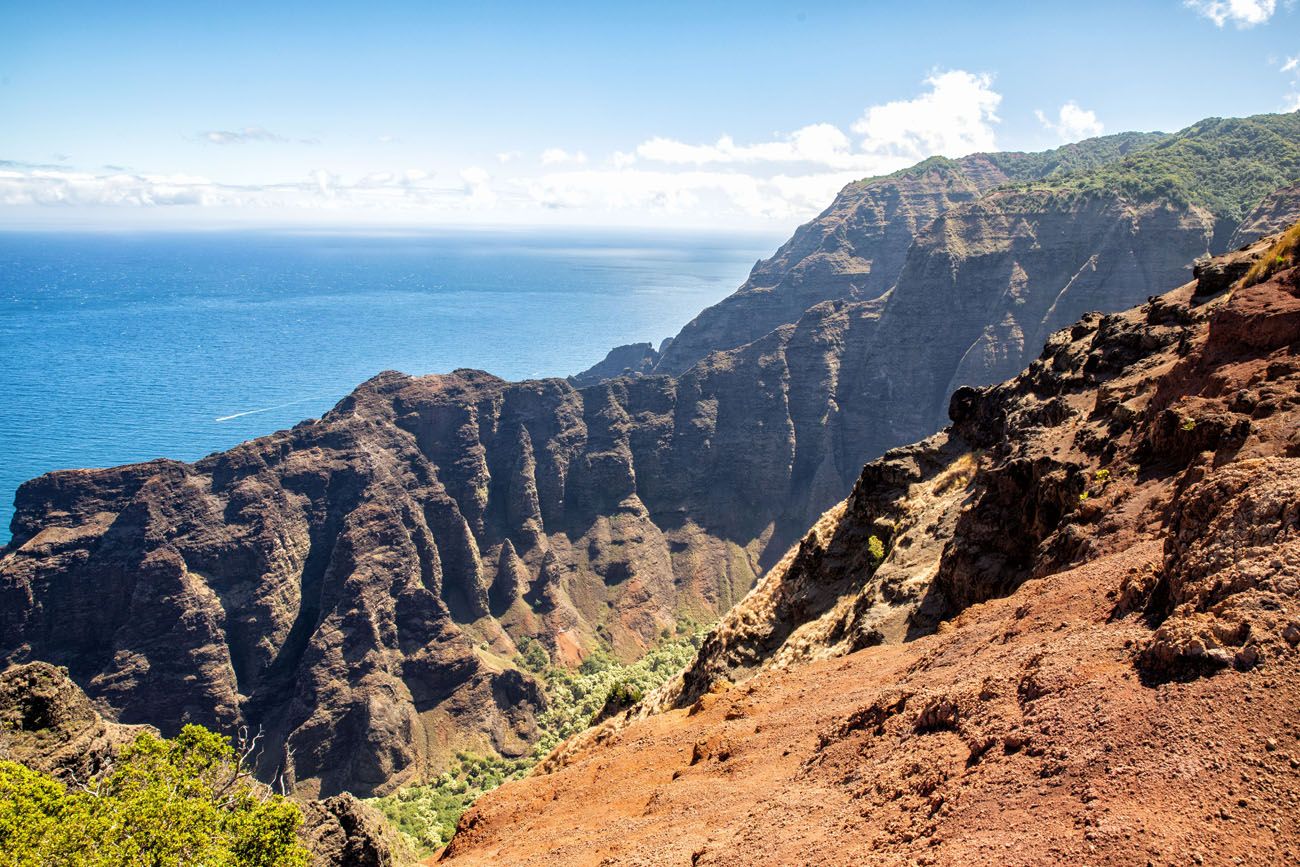 First view of the Na Pali Coast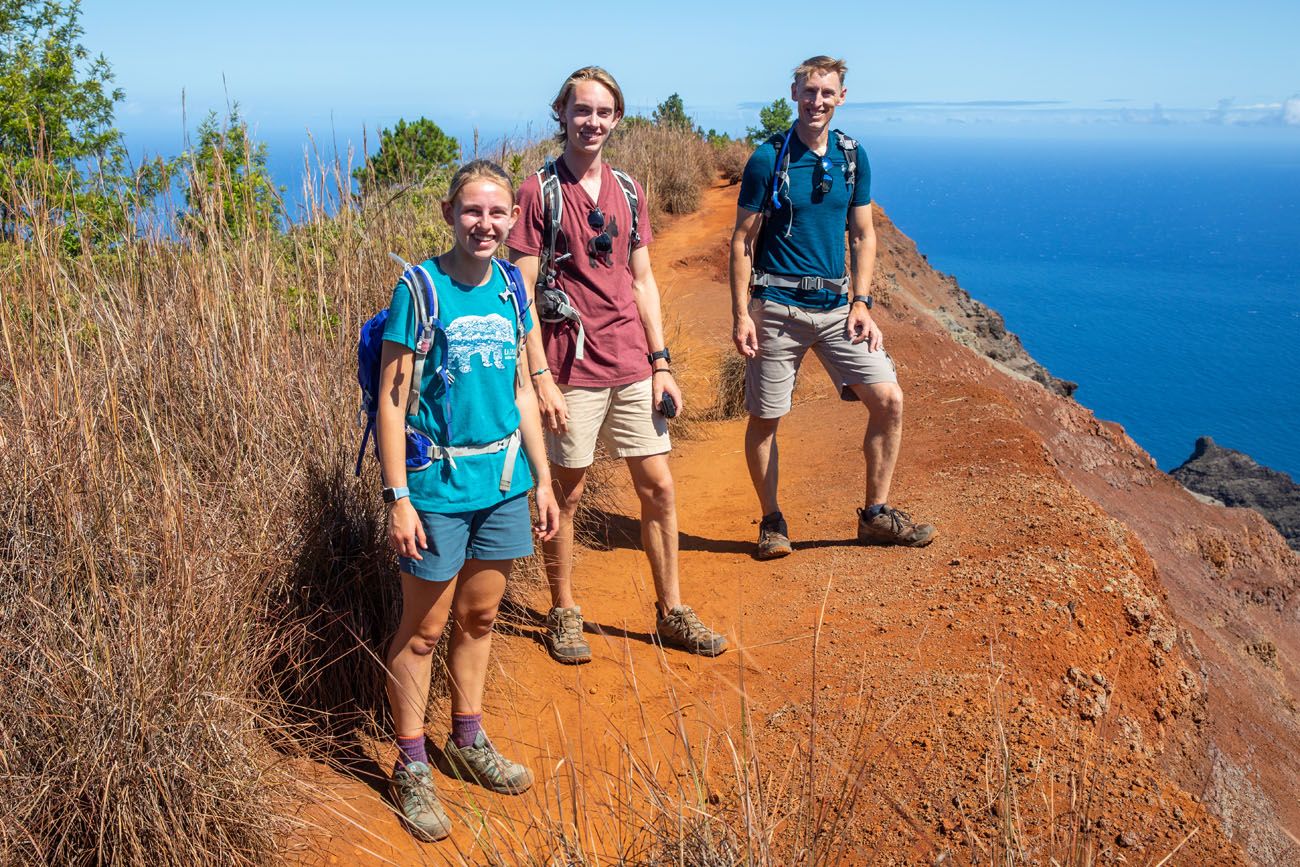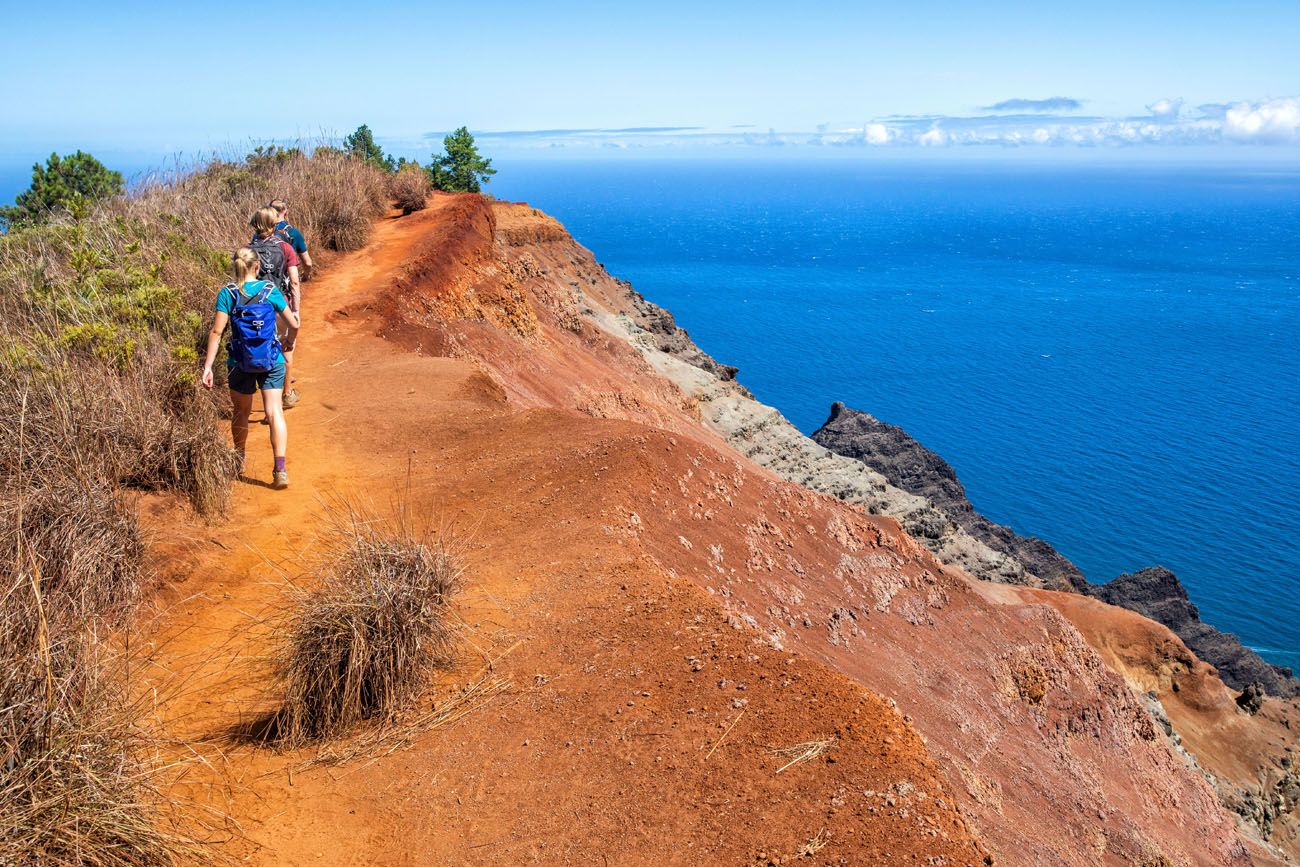 At 3.75 miles, you reach the end of the trail. Enjoy the awesome views from here.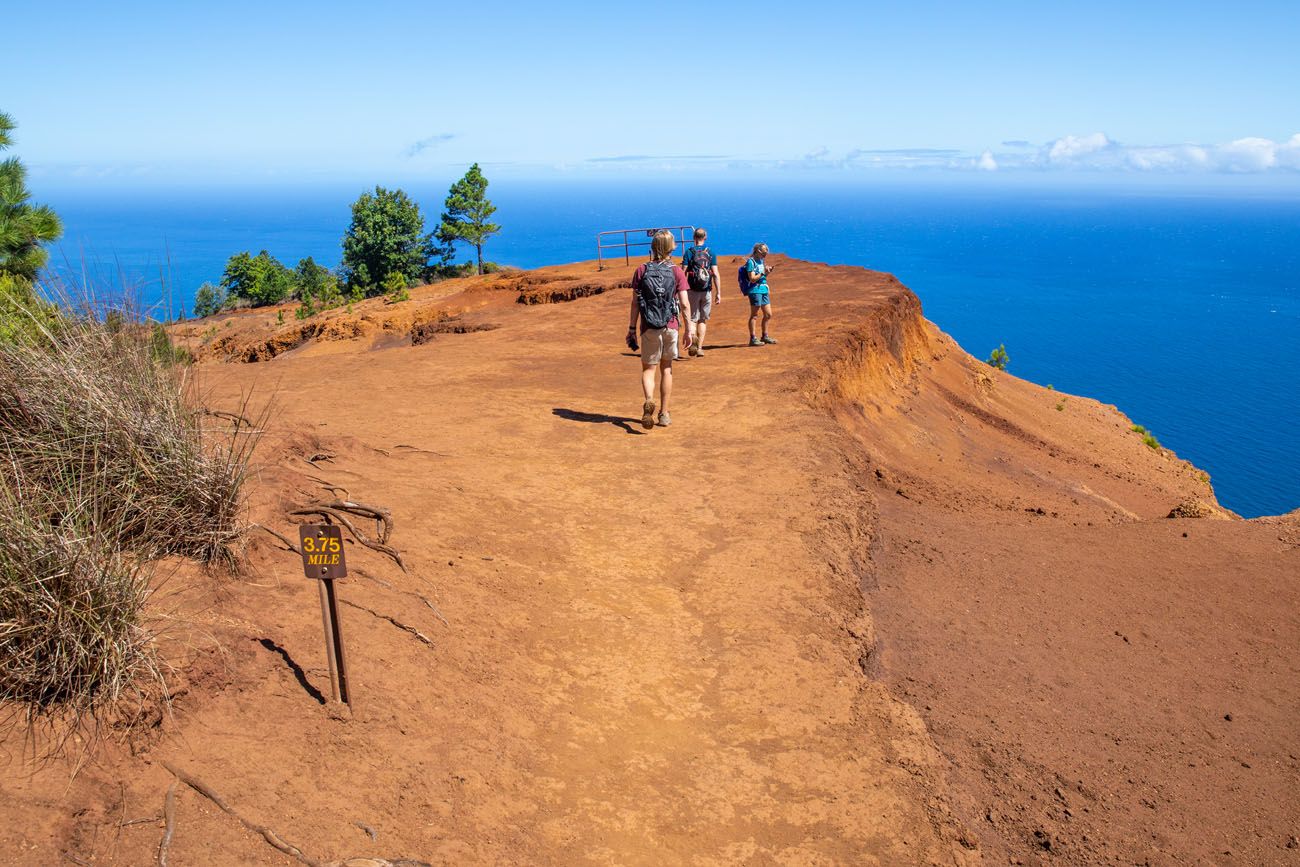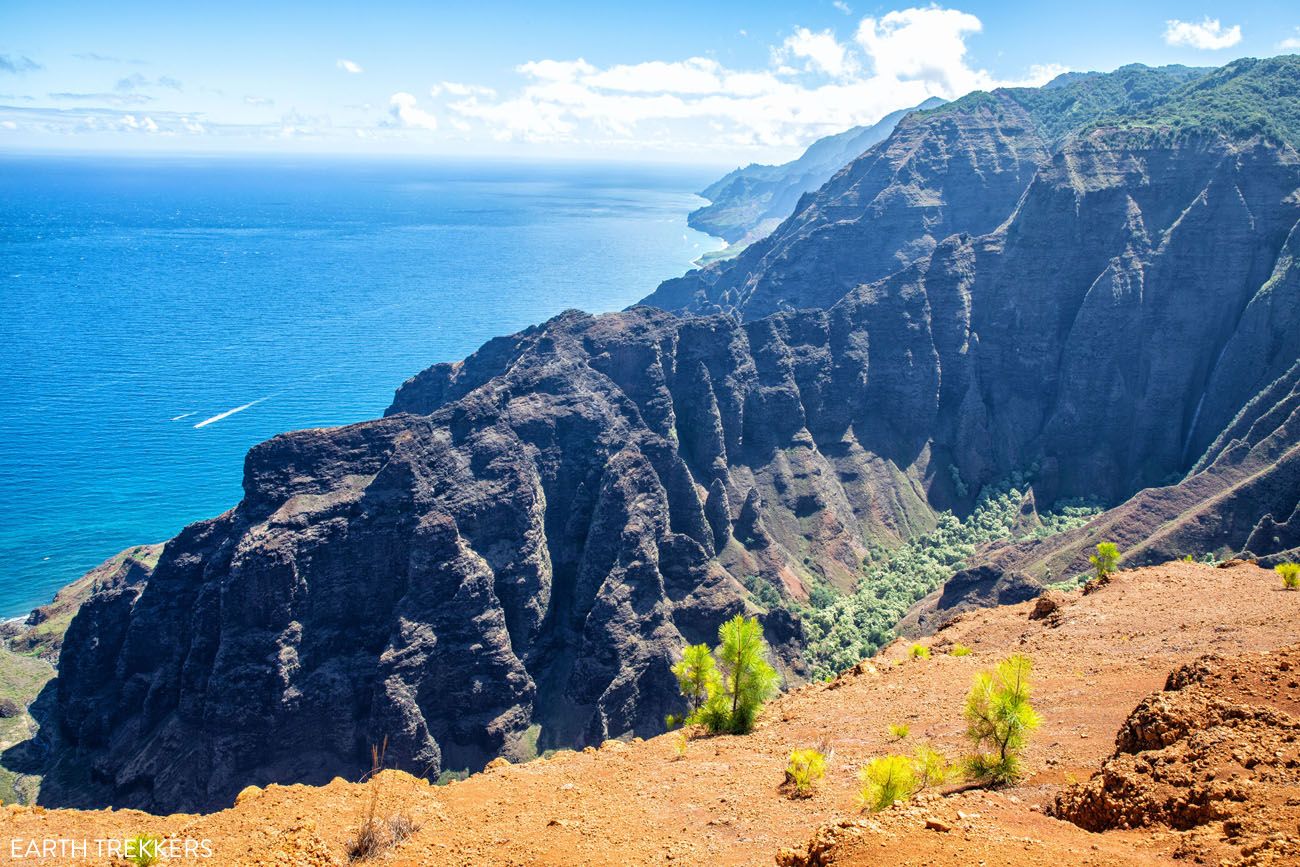 View from the Nua'lolo Trail Vista
PRO HIKING TIP: If you are afraid of heights, this trail could be very challenging.

The final 0.75 miles are mostly along a cliff. From the edge of the trail, there are drop-offs to the canyon below. The trail is only 2 to 3 feet wide in some spots.

If you think you will have trouble with this, it's not worth hiking the Nua'lolo Trail in my opinion, since you need to hike this narrow trail to get to the best views. Consider hiking the Awa'awapuhi Trail instead.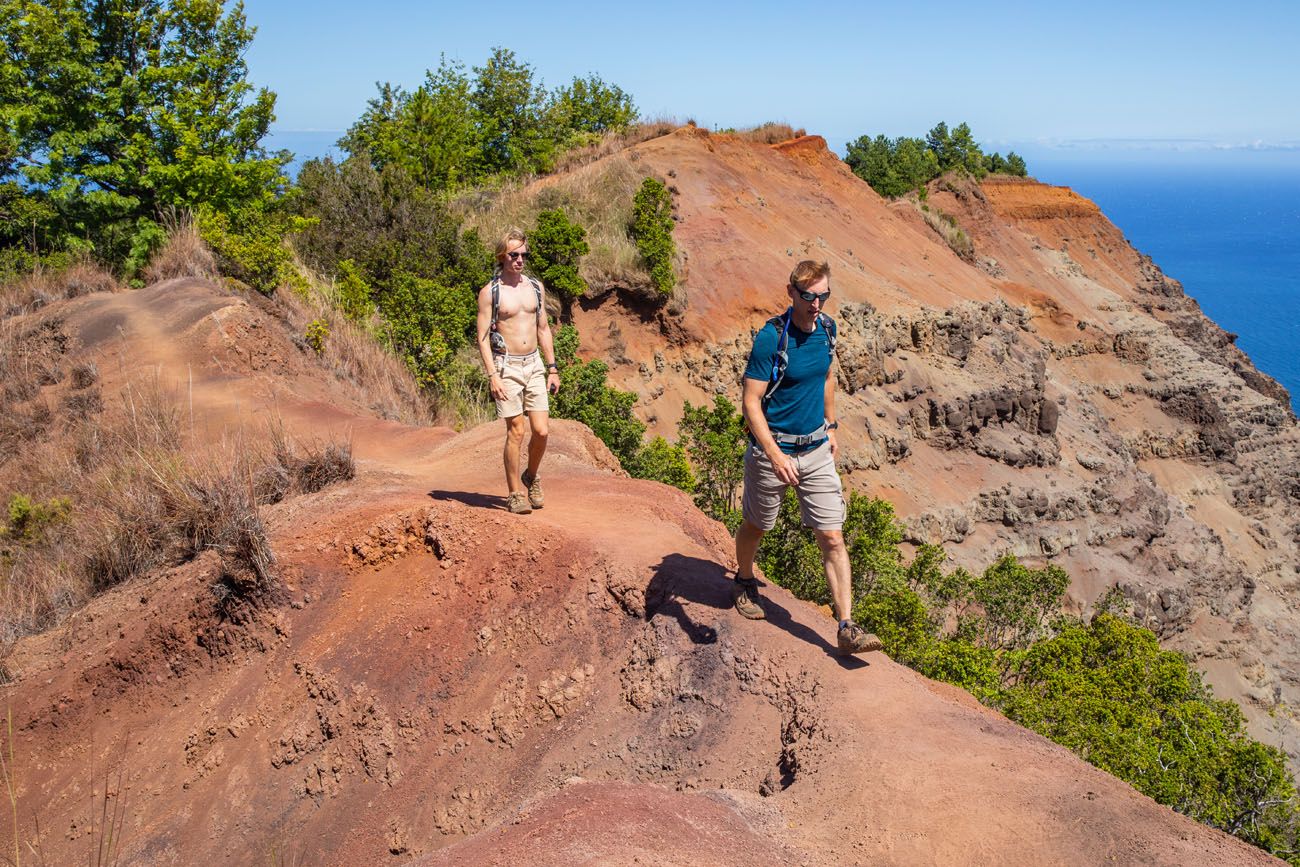 This photo gives you an idea of how narrow the trail can be in some sections.
If you only plan to hike the Nua'lolo Trail, you will retrace your steps back to the car from here. It's a mostly uphill, challenging walk back to the trailhead.
Getting to the Nua'lolo Cliffs Trail
If you are doing this hike as a loop, you will need to backtrack up the trail for 0.9 miles until you get to the Nua'lolo Cliffs Trail. It's a tough, uphill hike in spots to get to this trail.
As you are heading back, you might notice a spur trail to the left about 0.3 miles from the endpoint. This once joined the official Nua'lolo Cliffs Trail but it is now closed. You will have to hike the full distance (0.9 miles) to the trail junction.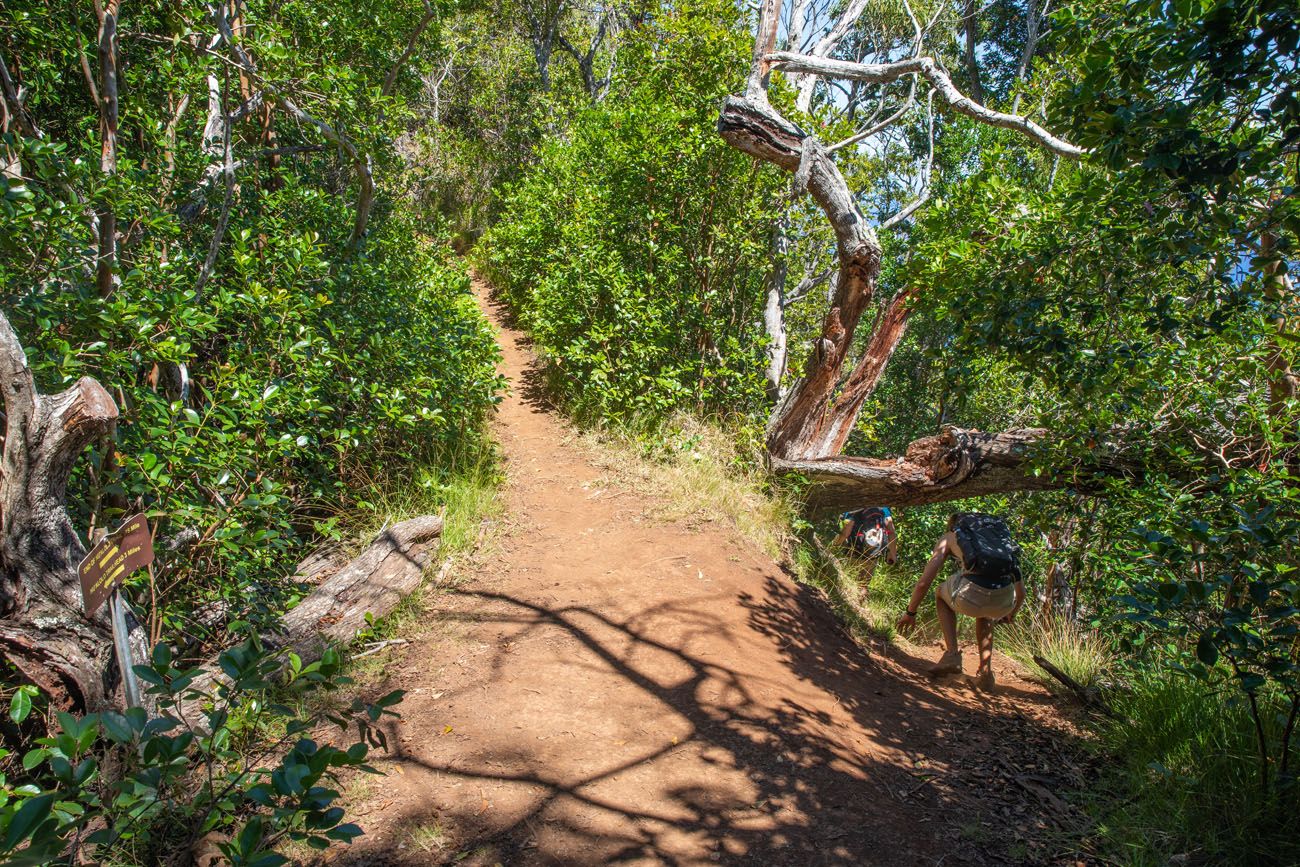 This is a view looking down the Nua'lolo Trail (towards the coast) and the junction with the Nua'lolo Cliff Trail (which branches off to the right where Tyler is crouching under the fallen tree). There is a sign on either side of the trail at this point marking the start of the Nua'lolo Cliff Trail.
Nua'lolo Cliffs Trail
I'm not going to sugar coat it…this next two miles is a slog on an overgrown trail. You will hike in and out of forests, through fields of grass that were taller than Tim, and on sketchy forest trails that are overgrown with thorny bushes and small trees. There honestly is nothing fun about this trail, but it definitely feels like an adventure.
It really helps to have a GPS device here that has the trail map on it, whether it is a Garmin GPS device, a hiking watch, or All Trails. We briefly stumbled off the trail twice and I have heard of others doing it too. Having a map will help keep you from getting lost or walking farther than you have to.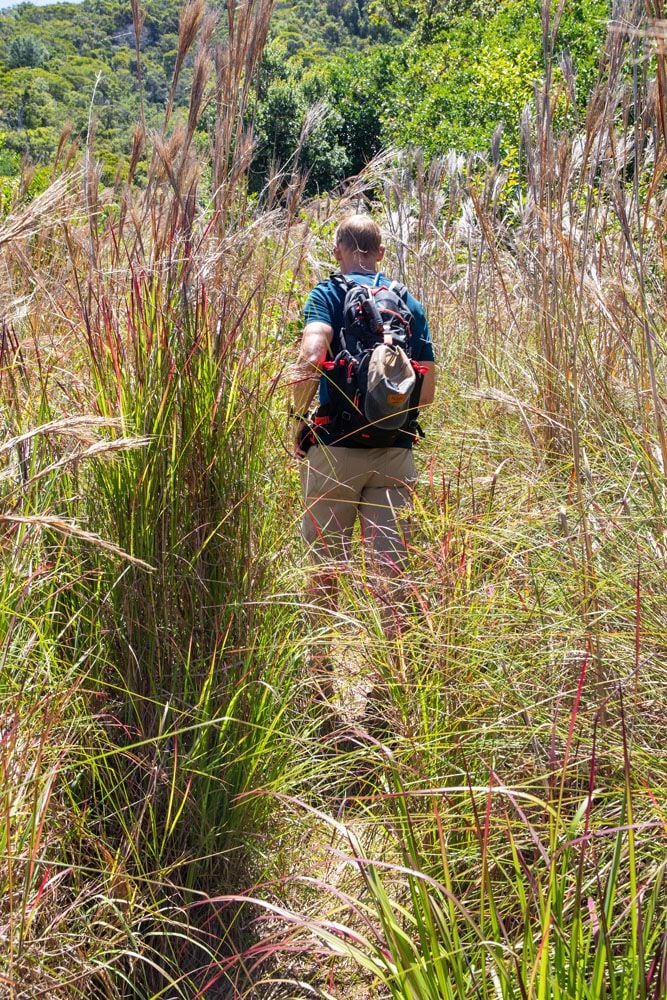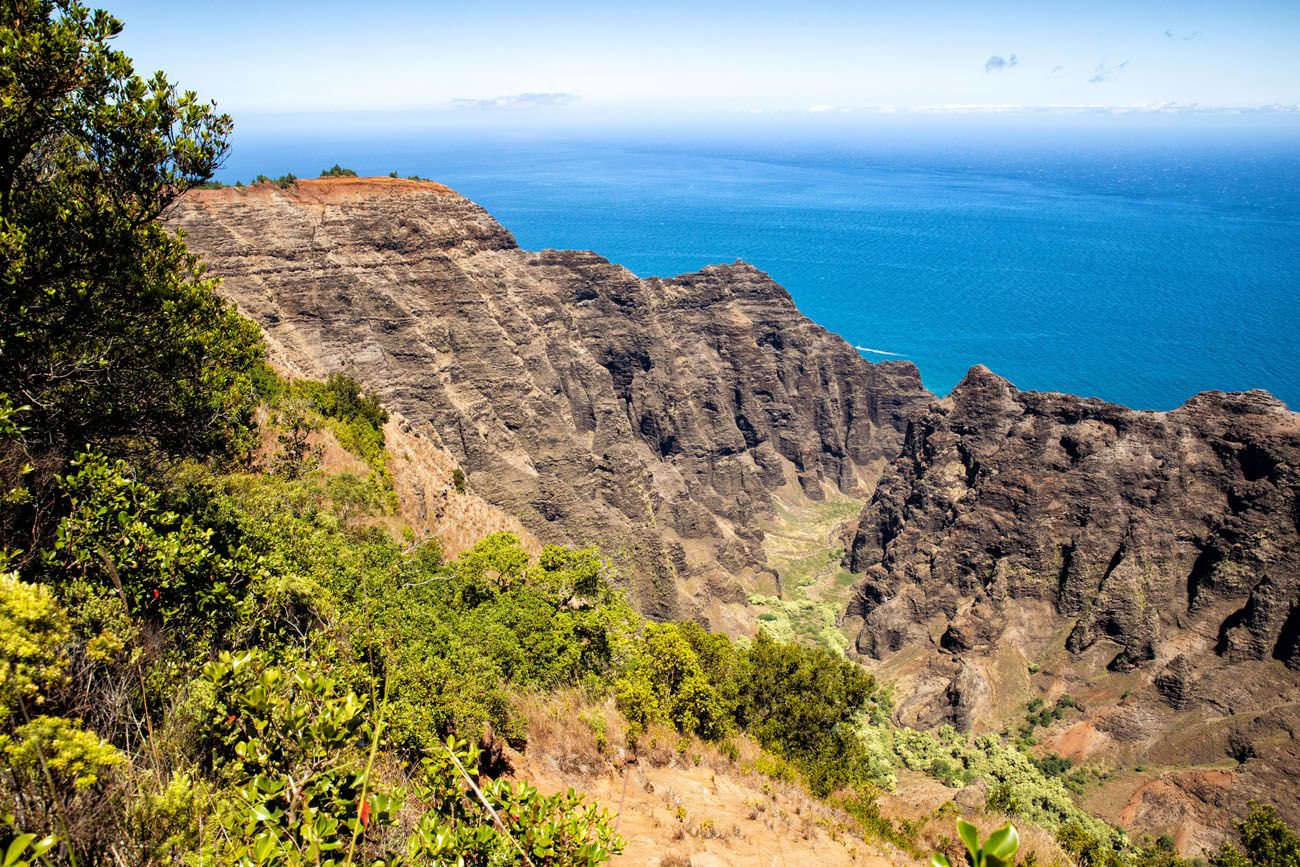 This is the one good view along the Nua'lolo Cliff Trail…most of the time you are in the trees, brush, or tall grass.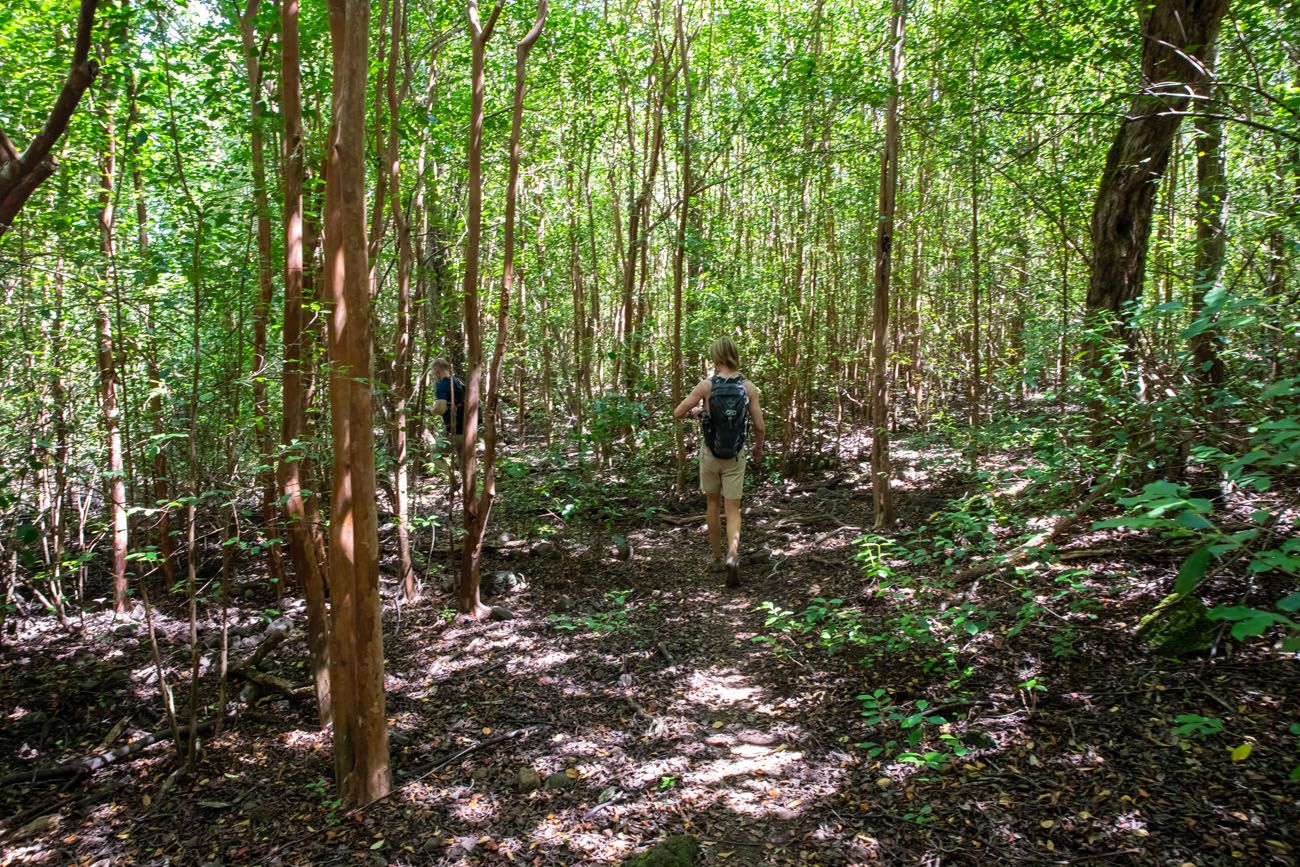 This trail also heads along the cliffs. It is narrow in spots and can be slippery. Take your time and watch your step; in some of the narrower sections you could slip and fall off of the trail.
The Nua'lolo Cliff Trail ends at the much wider and better maintained Awa'awapuhi Trail. Turn left here to head out to the vista point.
Awa'awapuhi Vista Point
At this point, you have hiked 6.6 miles. It's a short, easy, downhill walk to the viewpoint at the end of the Awa'awapuhi Trail.
The view from here is very nice, but it's not nearly as good as that from the Nua'lolo Trail. This is a good spot to take a break, drink some water, and refuel before hiking up the trail. A long climb awaits.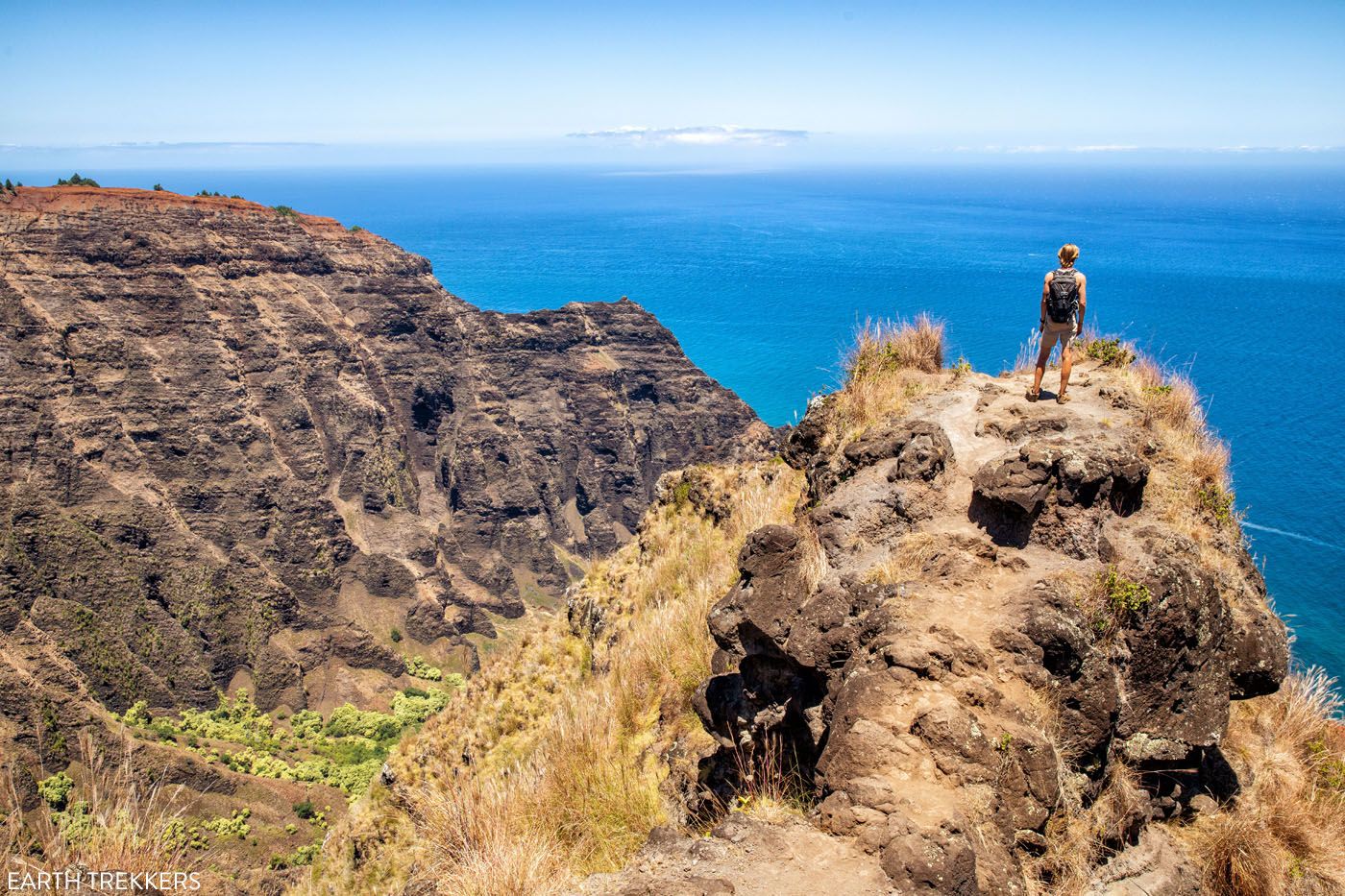 On the Awa'awapuhi Trail
To get to the end of the Awa'awapuhi Trail (and Kokee Road), it is a 3 mile hike and the majority of this will be uphill. There are a few steep sections but for the most part, it's a gradual climb.
The trail is much wider than the Nua'lolo Trail and the Nua'lolo Cliff Trail, so no more thorny bushes on your legs or tree branches whacking you in the face. But you will hike up and over hundreds of tree roots.
On this trail, you will hike in and out of the trees, and by midday, this part of the hike can feel very warm. It's important that you carry enough water because this part of the trail is hot and can be challenging. The first time we did this hike, Tim and I had run out of water long before this point, and doing this part of the trail hot and dehydrated is torture, not to mention dangerous.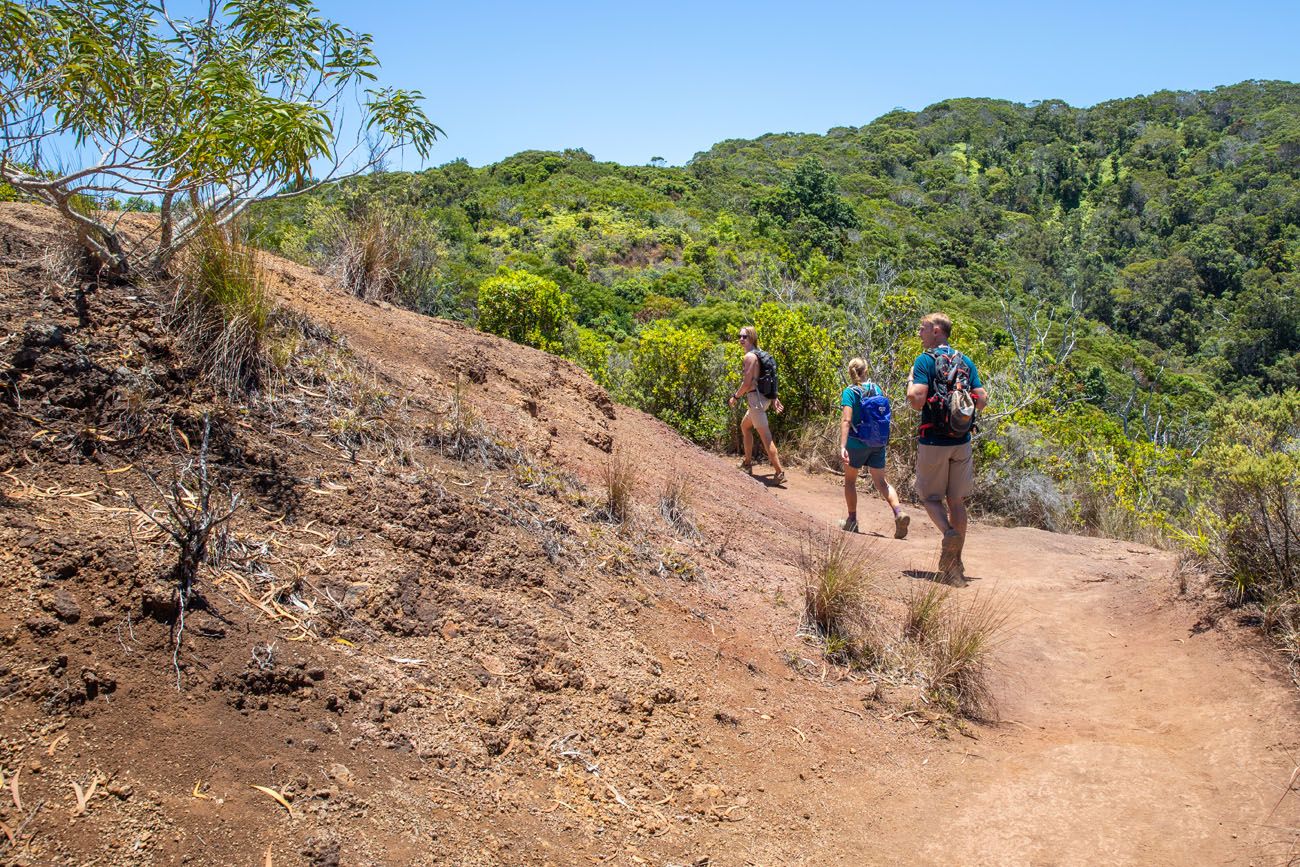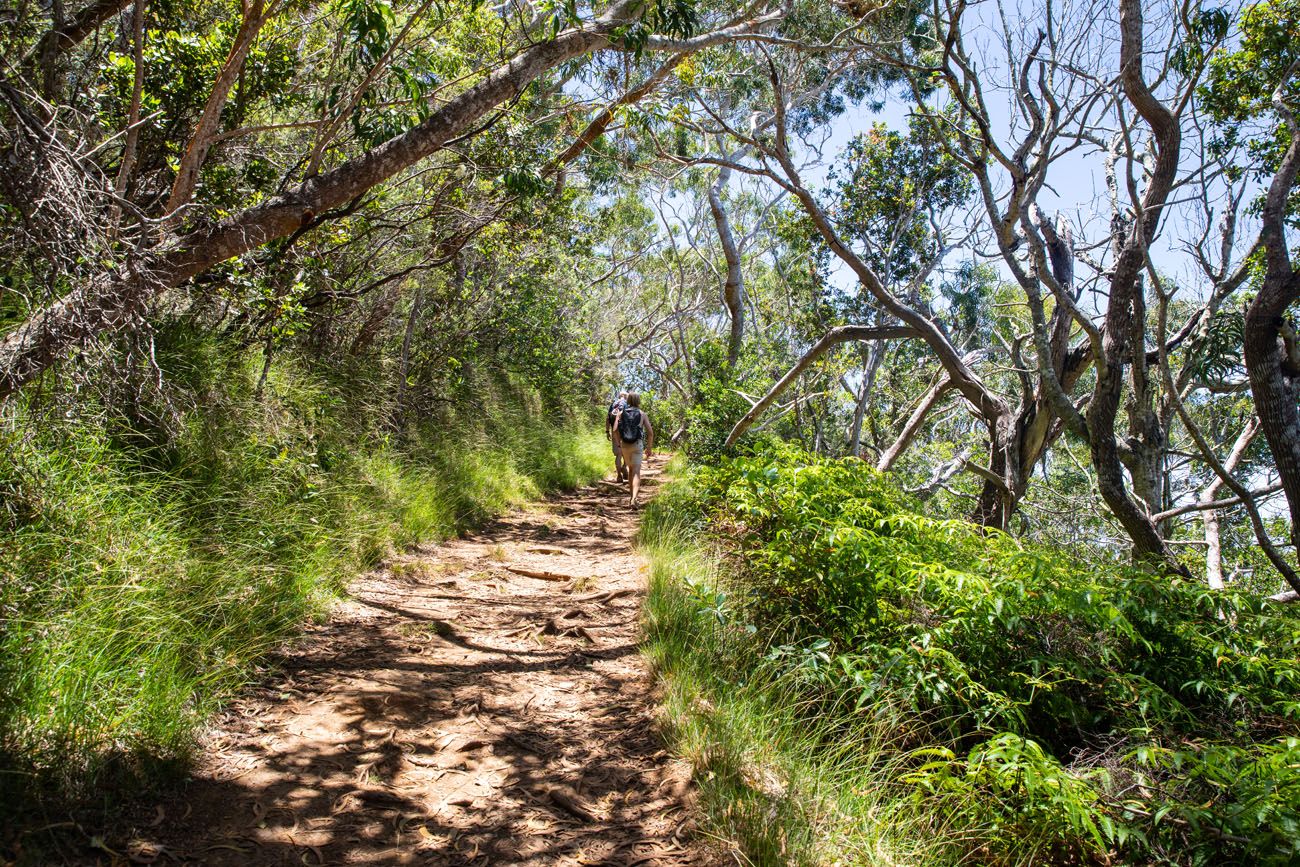 At the 10 mile point, you reach the trailhead for the Awa'awapuhi Trail and Kokee Road. Congrats! The hardest part of the hike is over.
On Kokee Road
Now, it's a 1.8 mile walk along Kokee Road back to your car and it's mostly downhill from here. It's a boring walk and dangerous, so stay close to the shoulder of the road.
If you get lucky, maybe some nice person will drive you back to the Koke'e Museum parking lot.
Alternate Route Option
Another way to do this hike is to park in the Awa'awapuhi Trail parking lot. Hike down the road first, then do the loop. Once you get to the end of the Awa'awapuhi Trail, you will be at your car and you do not have to end with the hike down the road.
We didn't mind ending with the walk along the road. It felt good to stretch out our legs and since it was downhill, it went by fast. Plus, the parking lot was completely full at the Koke'e Museum so we did not have to wait for a parking space, since our car was already here.
After the Hike
We had lunch at the Koke'e Lodge. You can buy snacks, cold drinks, and ice cream from the general store here. There is also a restaurant that serves burgers, salads, sandwiches, smoothies, cocktails, and beer. They had live music playing and this was a great spot to unwind, refuel, and cool off before visiting more sights along in Koke'e and Waimea State Parks.
Is the Nua'lolo Trail and Awa'awapuhi Trail Loop Worth It?
For most people, my answer would be no.
This is a long, tough, hot day hike. Most of the time, you are in the trees with very little view. You'll hike through tall brush, slip and slide on wet, muddy ground, and be a hot, sweaty mess at the end of this hike. Without a GPS, you risk stumbling off the trail on the Nua'lolo Cliff Trail, where it is very overgrown.
If all that sounds like fun, then by all means go for it. But I wouldn't do it again.
I recommend choosing between the Awa'awapuhi Trail OR the Nua'lolo Trail. Of the two, I think the Nua'lolo Trail is the better choice.
The Nua'lolo Trail is the tougher of the two. It's longer, it's steeper, it can be muddy after it rains, and the trail is overgrown in spots. But the views are much better than those from the Awa'awapuhi Trail. The Nua'lolo Trail is worth the extra effort to have this view.
The Awa'awapuhi Trail is shorter, less steep, and better maintained. It's also more crowded than the Nua'lolo Trail. And the views are nice, but not nearly as stunning as those from the Nua'lolo Trail.
If you are traveling with kids, are looking for an easier hike with views of the Napali Coast, or have a fear of heights, I recommend the Awa'awapuhi Trail over the Nua'lolo Trail.
For the Best Experience
If I did it again, here's what I would do:
Park at the Koke'e Museum and hike the Nua'lolo Trail out-and-back. Have lunch at the Koke'e Museum. Then I would visit the sights along Koke'e Road. Visit the Kalalau Lookout, the Pu'o O Kila Lookout (walk a tenth of a mile down the Pihea Vista Trail for a GREAT view of Kalalau Valley), the Pu'u Hinihina Lookout, the Waimea Canyon Lookout, and the Waipo'o Falls Lookout.
If you are looking for another hike to do, consider hiking the Waipo'o Falls Trail.
This itinerary gives you great views of both Waimea Canyon and the Na Pali Coast and can easily be done in 8 hours, without doing a massive day hike.
What to Bring on the Hike
We wore shorts and short-sleeved shirts. If you are allergic to grass, wear or bring long pants.
Hiking shoes. You can get by with a good pair of walking shoes or running shoes but I recommend wearing hiking shoes if you have them. These will give you extra traction, which is very important if it has recently rained and the trail is muddy.
Water and snacks. Bring a minimum of 3 liters of water per person, although 4 liters is better. It's a hot hike and you will sweat a lot.
Sunscreen, hat, and sunglasses. There is shade on this trail but you will spend enough time in and out of the sun that you will need sunscreen.
GPS Device. A GPS device that has trail maps makes it a lot easier to hike the Nua'lolo Cliff Trail. It's easy to wander off the trail here and you can double check your position with the GPS. And just note that there is no cell service along the trail, so don't expect to text, send photos, or be able to contact friends or family by phone while hiking this trail.
Camera. Even a smartphone will do.
If you are new to hiking or are curious about what you should bring on a hike, check out our Hiking Gear Guide. Find out what we carry in our day packs and what we wear on the trails.
---
If you have any questions about how to hike the Nua'lolo Trail and Awa'awapuhi Trail Loop, or if you want to share your experience, let us know in the comment section below.
More Information about Hawaii
KAUAI: Plan your visit to Kauai with our guide to the Best Things to Do in Kauai. Learn about how to take a doors off helicopter ride and how to hike the Maha'ulepu Heritage Trail.
BEST OF MAUI: We have a list about the top experiences in Maui and how to put it all together in our Maui Itinerary.
HAWAI'I VOLCANOES: In our article Best Things to Do in Hawai'i Volcanoes National Park, we cover the must-have experiences. And don't miss the Kilauea Iki Trail, one of the best hikes in the park.
GREAT HIKES FROM AROUND THE WORLD: For more great hikes, check out our article listing the 20 Best Day Hikes in the World. See our full list in our Hiking Guide.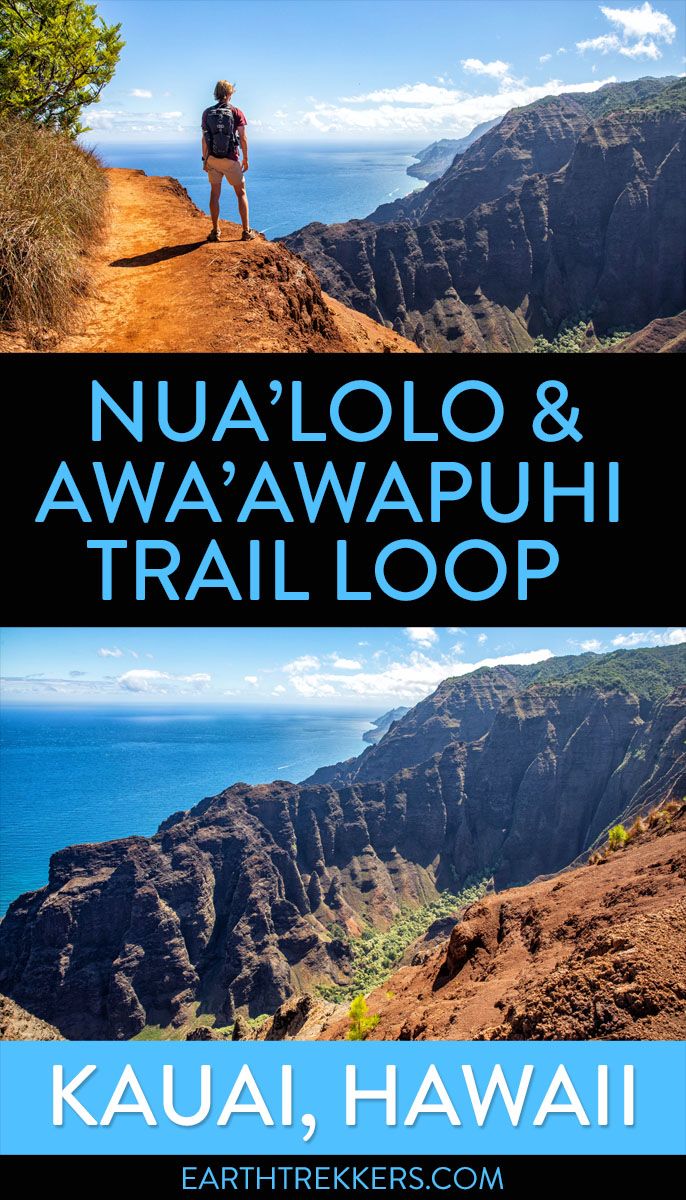 Note: This post contains affiliate links. When you make a purchase using one of these affiliate links, we get paid a small commission at no extra cost to you.
All rights reserved © Earth Trekkers. Republishing this article and/or any of its contents (text, photography, etc.), in whole or in part, is strictly prohibited.