If you are planning your first trip to Europe, it can be an overwhelming experience. Where should you go? How much will it cost? How many places can you visit?
Does this sound familiar?
We get emails every day from people who want advice planning their first trip to Europe. And we see the same questions over and over again. So we wrote this post to answer your questions and give you some things to think about as you plan your Europe itinerary.
How to Plan Your First Trip to Europe
Don't Try to See Everything on Your First Visit
I can't tell you how many times we get emails that go something like this: "I have 10 days in Europe and I am planning to visit Rome, Venice, Paris, London and Belgium. Do you think that's too rushed?"
It's just like saying "I have 10 days in the United States. I would like to visit Boston, New York City, Washington DC, Miami, and Los Angeles. Do you think that's too rushed?"
We get it. Europe is huge and it's loaded with "must-see" spots. Paris, Rome, Barcelona, London, Amsterdam, and Venice all make the must-see list for many first time travelers Europe. They are all amazing places to visit. And with so many fantastic sites to see, it can be very difficult to narrow your list down to just a few destinations.
You will have a much better time if you don't try to get to a new city every day. The longer you spend in each place, the more you get to know it. There are some cities, like London, Paris, and Rome, which literally could keep you very busy and very entertained for a good five or more days.
Here are some basic guidelines for how many places you can visit depending on how much time you have:
With 7 days:

2 cities OR one city with day trips

With 10 days:

3 cities OR 2 cities with day trips

With 14 days:

4 cities OR a road/train trip through one or two countries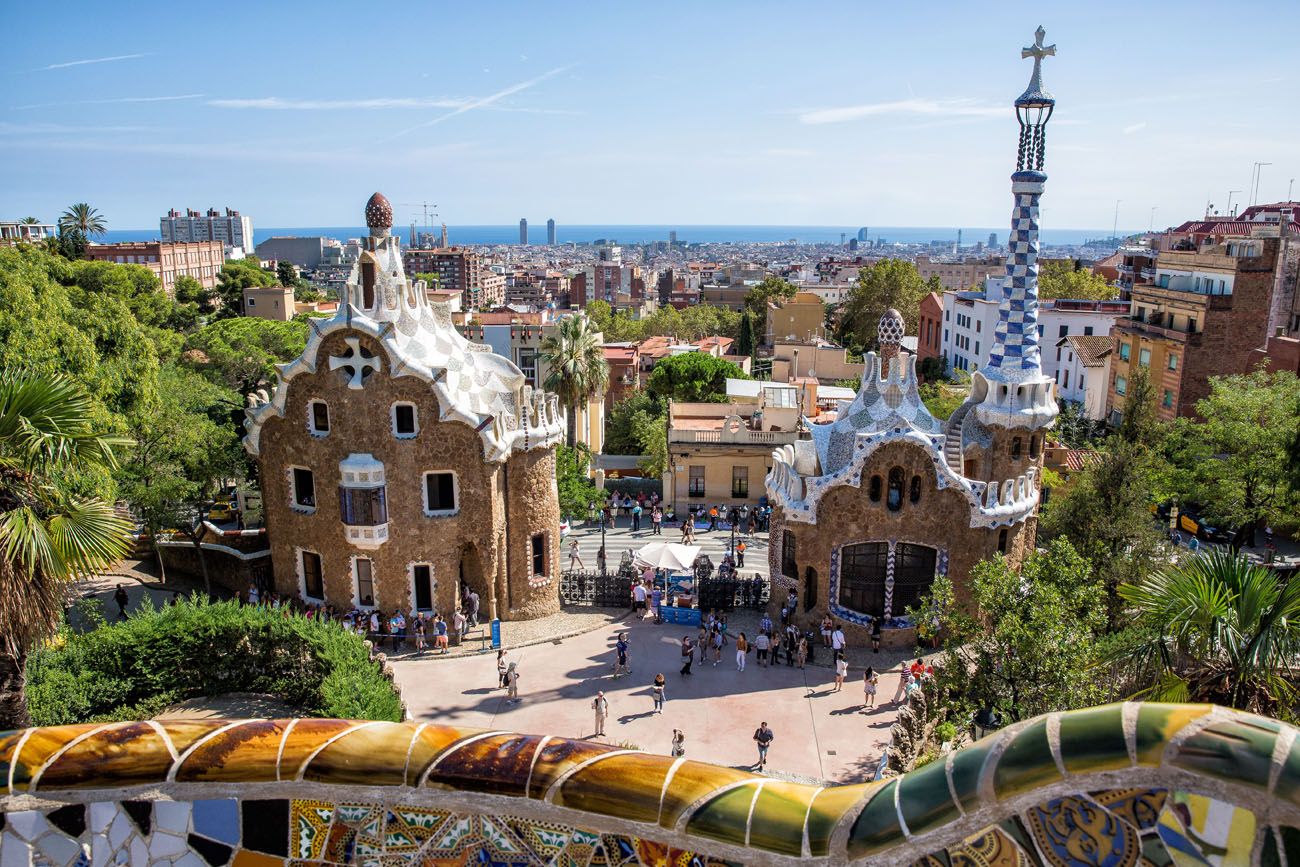 If you look at your itinerary and you wonder if you are moving too fast or you are trying to squeeze too much in, odds are, you probably are.
If you have 10 days and you plan to visit 4 major cities, it can be done, but it will be a rushed, exhausting experience. And you will be spending most of that time on trains and planes. Don't forget that you will have to spend time traveling between destinations as well as packing, unpacking, and checking into hotels.
Here is a sample itinerary through London, Amsterdam, and Paris:
Day 1:

Arrive in London

Day 2:

London

Day 3:

London
Day 4: London

Day 5:

Morning train to Amsterdam, sightseeing in the afternoon

Day 6:

Amsterdam

Day 7:

Morning train to Paris, sightseeing in the afternoon

Day 8:

Paris

Day 9:

Paris

Day 10:

Fly home
On this itinerary you get to three major cities. And even this itinerary is a bit rushed. You could really use an extra day in each city simply because there is so much to see and do in each of them.
For some more examples on how to plan 10 days in Europe, check out these itineraries:
Examples of visiting 3 cities:
Examples of exploring one region: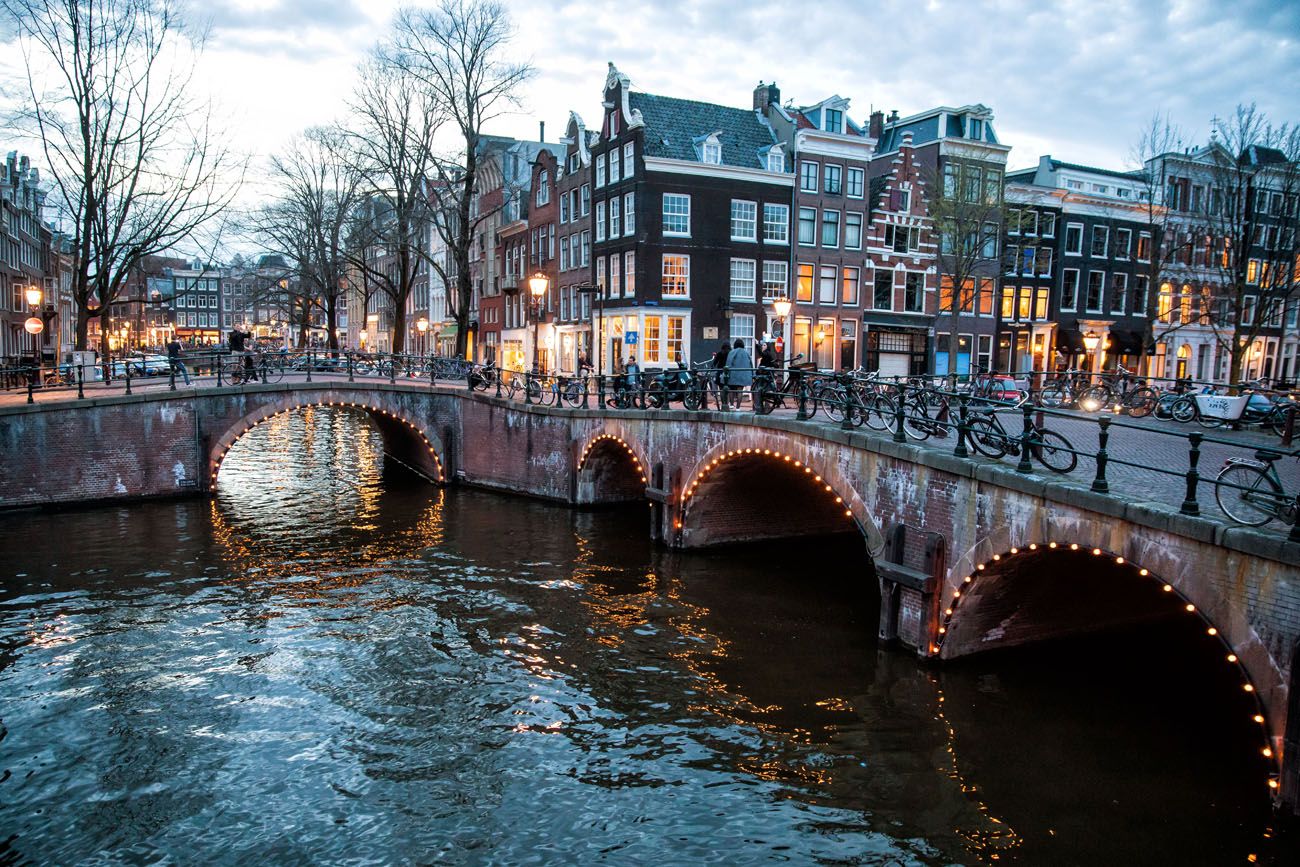 Amsterdam
Don't Forget to Factor in Travel Time
So let's say that you have 10 days in Europe and you've narrowed down your itinerary to 3 cities. How do you get around?
That depends on where you are going.
For cities that are close to one another, say Barcelona, Madrid, and Seville, the train would be your best option. If you are visiting Stockholm, Copenhagen, and Amsterdam, then you will use a combination of planes and trains to get around.
Getting from city to city takes time, of course. And you need to factor this in, not only when planning your itinerary but also choosing where to go.
Just as a rough estimate, it will take about 4 hours, or half of a day, to get between two cities. This time can go up if the cities are far apart. So, if you are visiting three cities, you will lose about one day in total just traveling from place to place.
We usually plan to transfer between cities first thing in the morning. By taking an early train, we can usually check into our hotel by noon and have the entire afternoon for sightseeing. Occasionally, we will take an evening train if we want to have a little extra time in our departure city.
PRO TRAVEL TIP: What about luggage? Let's say you arrive by train to Florence at 11 am. It's too early to check into your hotel, so what should you do with your luggage? You have two options. You can either store you luggage at the luggage storage area in the train station (and retrieve it at the end of the day) or have your hotel hold your luggage for you. We email our hotel ahead of time just to make sure they can hold our luggage for us (but so far no one has told us no).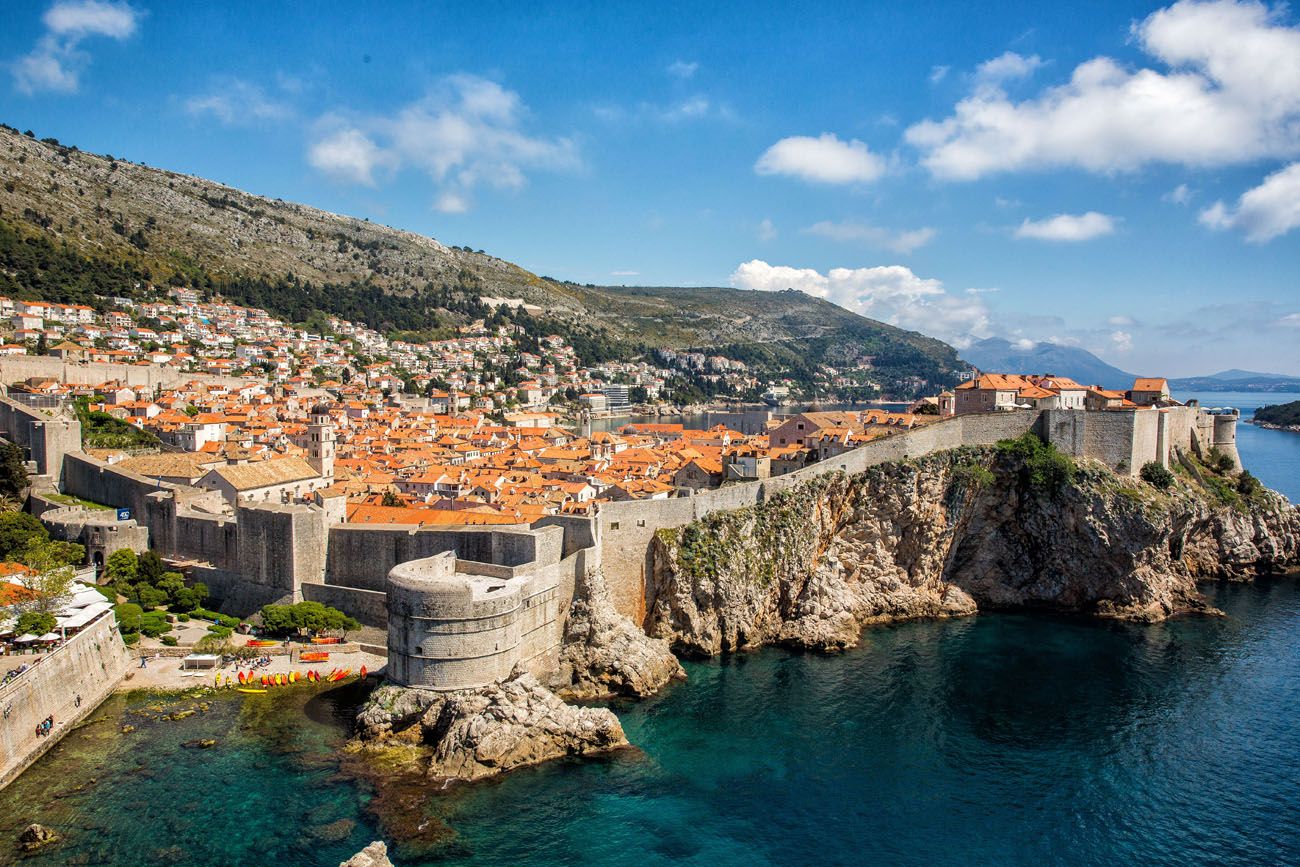 Using Trains versus Planes
In some scenarios, you might have the option to fly or to take a train to get from one city to another. When looking at travel times, a one hour flight may look a lot more time efficient than a 3 hour high speed train, but that is not always the case.
There is much longer check-in process for flights (we usually check in two hours before our flight). For train travel, in most cases you can arrive just before your departure time, although some high-speed trains request that you arrive 30 minutes before departure time.
Train stations are located in city centers. From the station, it might be just a short walk or metro ride to get you to your hotel. Airports are located outside of the cities and it can take 15 to 30 minutes (or even longer in some cities) to get into the city center. You'll have to do this twice and this could tack on another hour to your travel time if you plan to fly.
We tend to lean towards train travel whenever possible. It's fast, it's cheap, and it's much more eco-friendly than plane travel.
PRO TRAVEL TIP: You can save time (and money on a hotel room) by booking an overnight train. It might also be worth getting a rail pass if you plan to hop from city to city.
Use Open Jaw Flights to Maximize Your Time
Open jaw flights arrive in one city and depart from a different city (for example, you arrive in London and depart from Paris).
You can save a lot of time by booking different arrival and departure cities.
Let's say you want to visit Rome, Florence and Venice (who wouldn't?!). If you fly to Rome and then fly home from Venice, you save about half of a day, the time it would take to backtrack to Rome.
In many cases, it is not more expensive to do this. We have flown open jaw many times for the same price as a round trip flight.
In some cases, it may be more expensive to fly open jaw. If it is, then you have to decide if it is worth spending a little extra money to save some time. Maybe it's worth spending a little more money for extra time in Venice than to take the train back to Rome (and don't forget to figure that train cost into the decision to take an open jaw flight).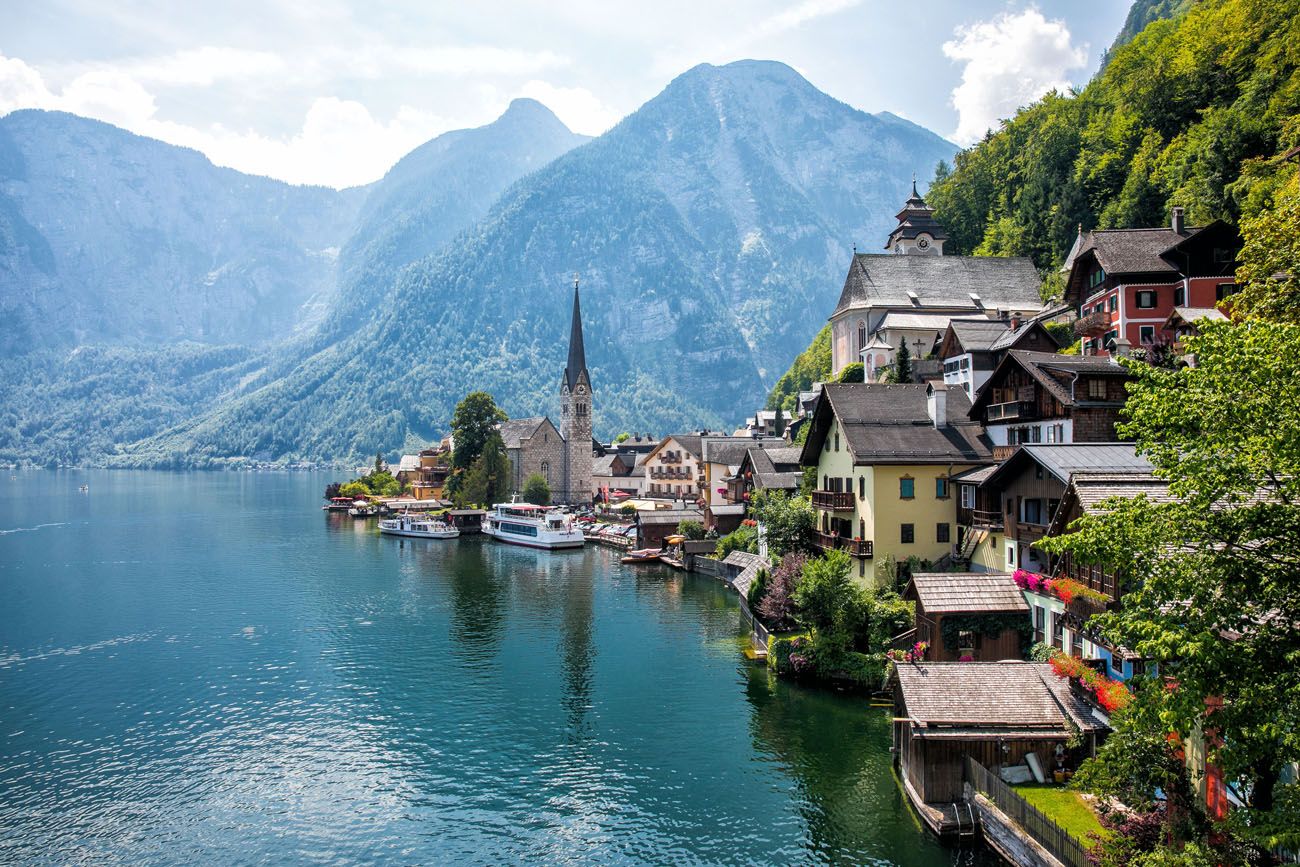 What about Jet Lag?
Jet lag is the feeling of fatigue you get from crossing multiple time zones. Some lucky people have minimal symptoms while others can feel exhausted for several days.
If you are flying to Europe from the USA, most likely you will be on an overnight flight, arriving in the morning or midday. There is a very good chance that you will feel tired on your first day but if you had trouble sleeping on the airplane, you may feel more like a zombie.
To get over jet lag quickly, it's usually best to stay awake that first day and go to bed early. I will admit that there have been a few times where we took a midday nap because we desperately needed it.
With this being said, it is usually best not to schedule a busy list of things to do on the first day of your itinerary. Sure, you will be excited to be in a new place and that can be energizing, but it will still be difficult for most people to function at 100% on that first day.
Should You Rent a Car?
There are some spots in Europe that are simply perfect for a road trip. Norway, Ireland, Slovenia and the Balkan Peninsula are all some of our favorite spots to explore with the freedom that a rental car provides. But before you rent a car there are some things you should know before you go.
If you are considering renting a car for your European trip, we have an article all about exciting things like International Drivers Licenses, how to choose a rental car company, vignettes and more. Read it here: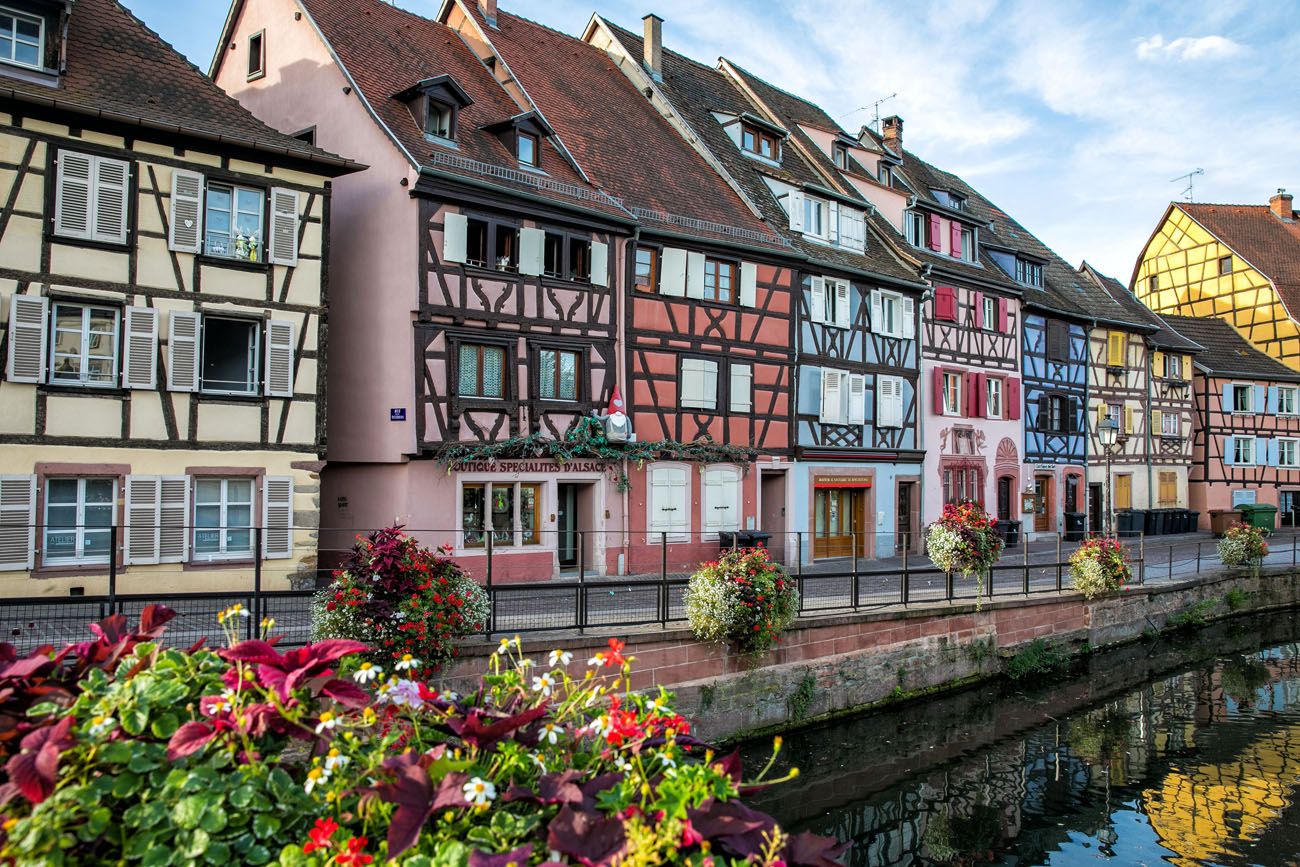 How Do We Plan Our Itineraries?
Before you plan out your itinerary you need to do some research first. Flight costs, time of year, hotel availability, and tour availability all need to be factored into your decision-making.
Let's say you decide to spend 10 days in Ireland. What do you need to know before you start making reservations?
We start off by researching flight costs. If you can be flexible with your dates you might be able to save money by flying mid-week versus the weekend.
Once we have our flight dates, we plan out our itinerary within those specific dates.
If you are planning a tour or a visit to a major attraction, make sure those dates align and work with your itinerary.
You can also do a quick hotel search to make sure that there are no surprises with hotel costs or availability. If you are booking your trip well in advance (4 months or earlier) this will be less of an issue. But at destinations like the Isle of Skye, the Lofoten Islands, the Cinque Terre, the islands in Croatia, and the south coast of Iceland, hotels can sell out many months in advance, leaving either no availability or dreadful places that you normally wouldn't consider.
Once everything looks like it works out, we book our flights and then book the hotels, the rental car (if necessary) and activities.
Nowadays, with the increase in tourism, it also helps to research the main sights you are visiting and then book your tickets in advance. We recently went to San Francisco and missed out on touring Alcatraz because tickets were sold out for three months!!
In our articles, we let you know what you need to reserve ahead of time to avoid disappointment (like our Alcatraz experience). It may be extra work to book your tickets ahead of time, but in today's world it has become a necessity in order to see some of the world's most popular sites.
---
Have fun planning your first trip to Europe! And if you still have questions about your itinerary, feel free to comment below.
For more travel ideas and inspiration, take a look at our Itineraries page. We have lots of sample itineraries for Europe as well as Asia, Africa, South America, and the USA.
More Information to Help You Plan your First Trip to Europe
EUROPE TRAVEL INSPIRATION: For more great ideas on where to go in Europe, check out our article 30 Beautiful Places to Visit in Europe and the 20 Best Hikes in Europe.
EUROPE ITINERARY IDEAS: Let us take the guesswork out of planning your next trip to Europe. Check out our articles 10 Ways to Spend 10 Days in Europe and One Week in Europe: 25 Amazing Itineraries.
TRAVEL GUIDES: For more travel inspiration, check out our travel guides for Italy, France, Norway, Switzerland, and Iceland. Visit our Destinations page for links to all of our content about Europe.
TRAVEL PHOTOGRAPHY: For more information about the camera gear we carry, check out our Travel Photography Gear Guide. And tips and tricks for taking great photos in our article How to Take Better Photos while Traveling.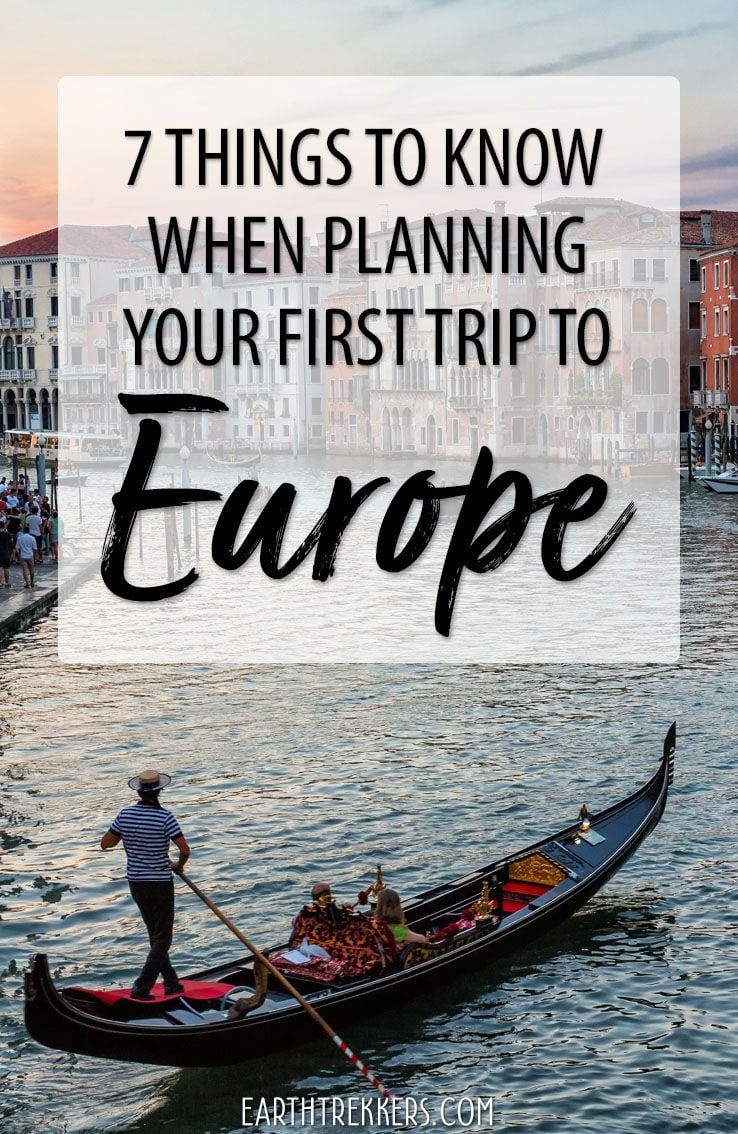 All rights reserved © Earth Trekkers. Republishing this article and/or any of its contents (text, photography, etc.), in whole or in part, is strictly prohibited.