IRONMAN 70.3 Eagleman is a big race for a small town. This half Ironman distance race is one of the longest running Ironman sanctioned 70.3 events, with triathletes competing since 1996.
This is a race that draws competitors from not just across the USA but from around the world. In 2016, athletes from 45 states and 53 countries were present. Not bad for a small town race in Maryland!
So, Why Race Eagleman?
What keeps attracting athletes to Eagleman? The swim in the warm waters of the Choptank River, the flat bike course through the Blackwater Refuge, and a flat run course through the residential areas around Cambridge, Maryland. It is a scenic course and triathletes love the fact that it is fast and flat.
One of the best things about Eagleman is the field of professional athletes that compete in this race. Craig Alexander, Mirinda Carfrae, TJ Tollackson, and Andy Potts are just a few of the legendary athletes who have raced here.
What is it Really Like?
Tim and I have been racing Eagleman since 2009. Here is what we have learned (and experienced).
The 1.2 mile swim in the Choptank River is warm, usually about 75°F (24°C). There have been several years in recent history when the water was so warm that it was not wetsuit legal. There is not much of a current on the swim, since it takes place in a somewhat protected cove in the river.
The bike course is notoriously windy. Yes, it is a flat 56 miles, but expect to have long stretches where the wind will be in your face. These winds make the bike course more challenging than many first time triathletes racing Eagleman expect it to be.
The run is 13.1 miles with very little shade. The normal temperature for Cambridge in mid-June is 85°F (29°C). I do not know what it is about race weekend, but temperatures almost always seem to spike into the low to mid 90's (34°C). Most athletes will be running at midday, during the worst heat of the day.
Takeaway: Expect Eagleman to be hot and windy. Because of these conditions, the race can be deceptively challenging.
Weekend Race Schedule
IRONMAN 70.3 Eagleman takes place during the second weekend in June. As early as Friday afternoon athletes can check-in for the race at Sailwinds Park. Mandatory bike check-in is on Saturday between the hours of 10 am to 4:30 pm at Great Marsh Park. The Eagleman race takes place on Sunday morning, with athletes dropping their gear off at transition during the early morning hours. The race officially begins at 6:40 am. You can see the full schedule here.
Both Sailwinds Park and Great Marsh Park are located on the Choptank River in Cambridge, Maryland.
Photos From Race Day
Sunrise on the Choptank River.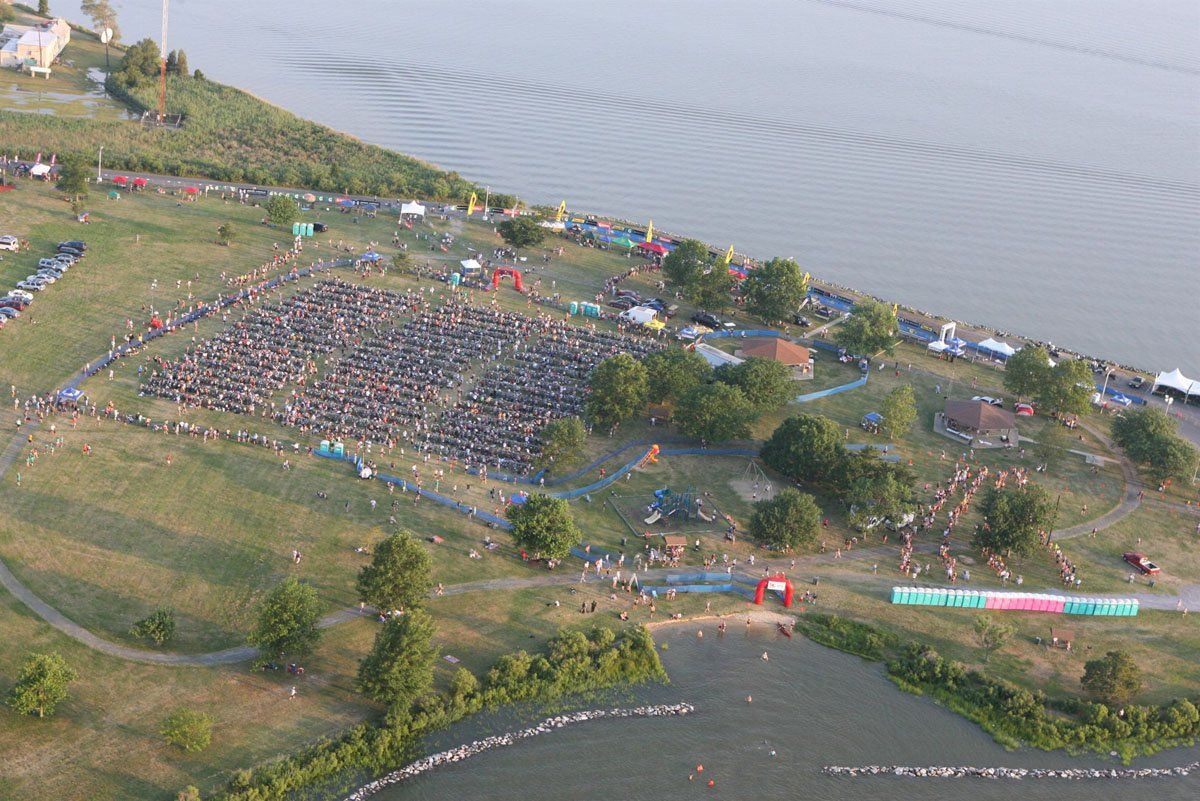 Aerial View of Transition (photo from 2010 although not much has changed since then).
Transition before the start of the race.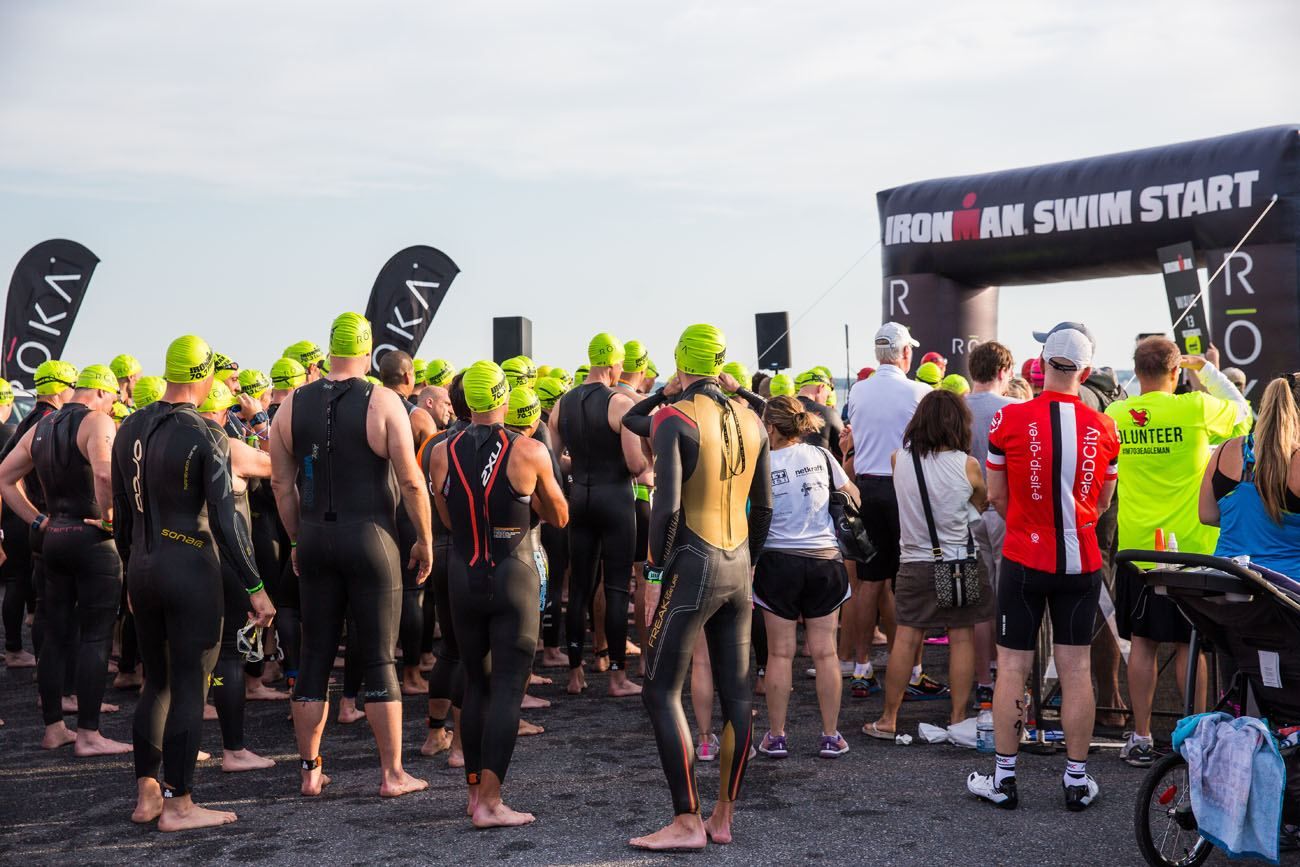 Awaiting the start of the race.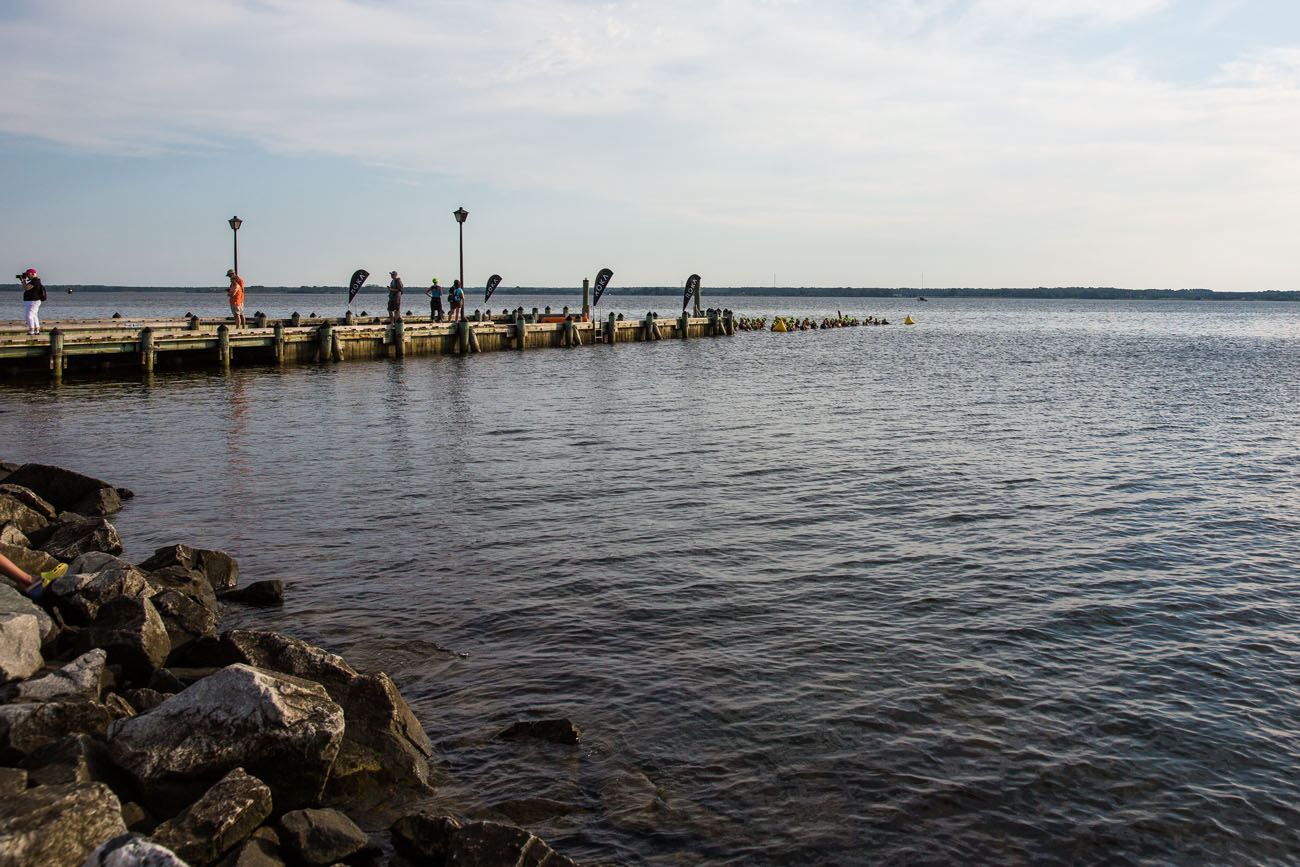 Swim start.
Final stretch of the swim.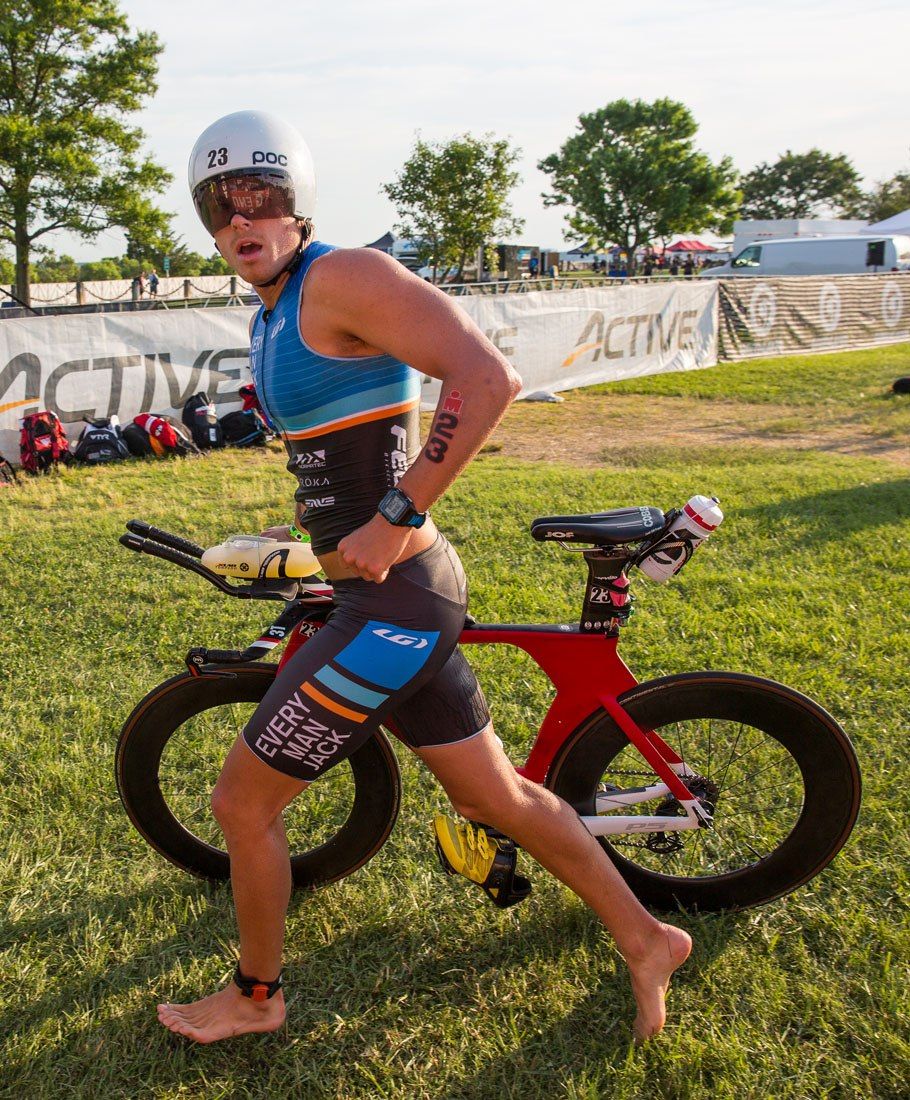 Patrick McKeon, professional triathlete, in transition.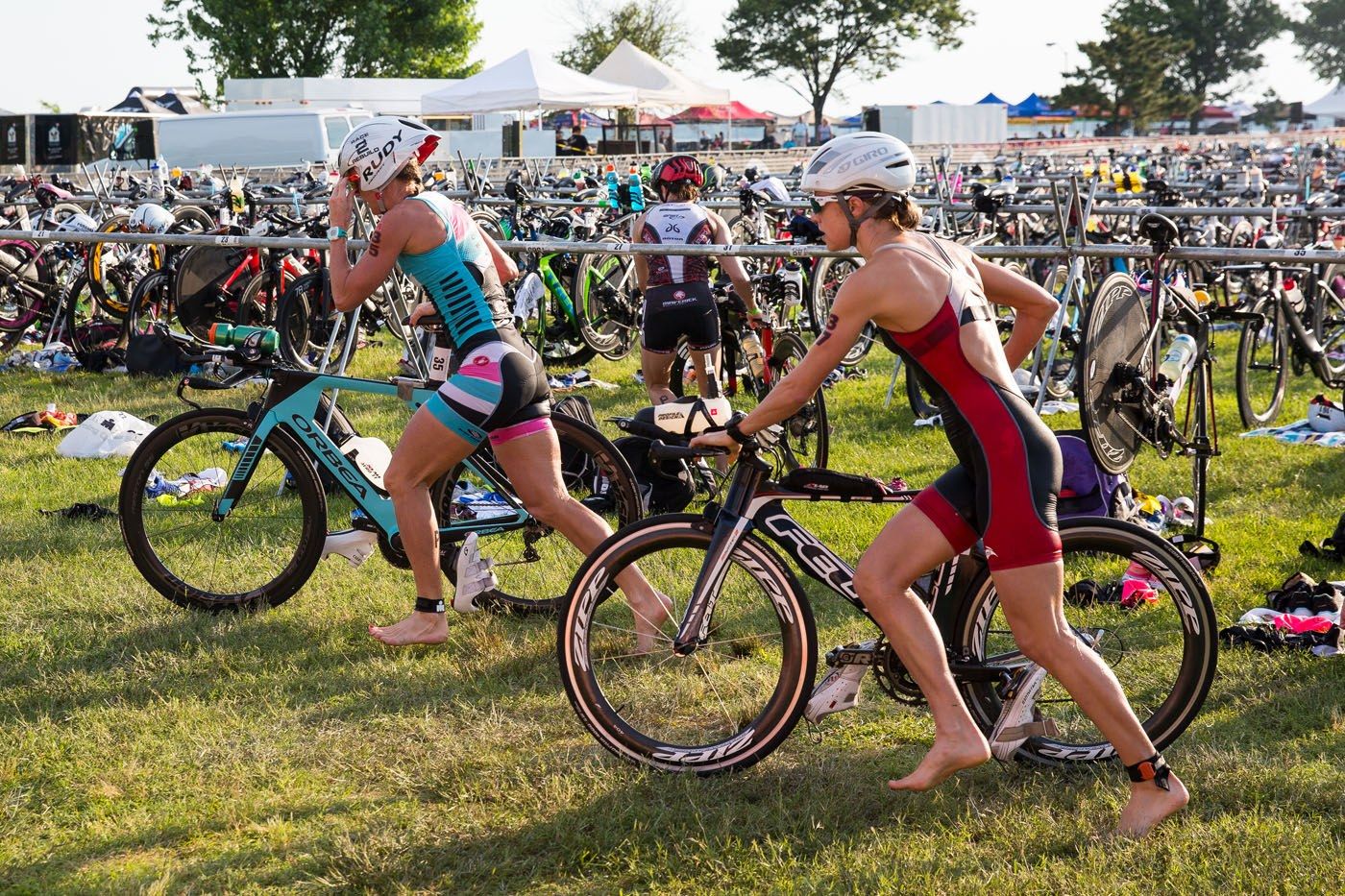 Female pro triathletes.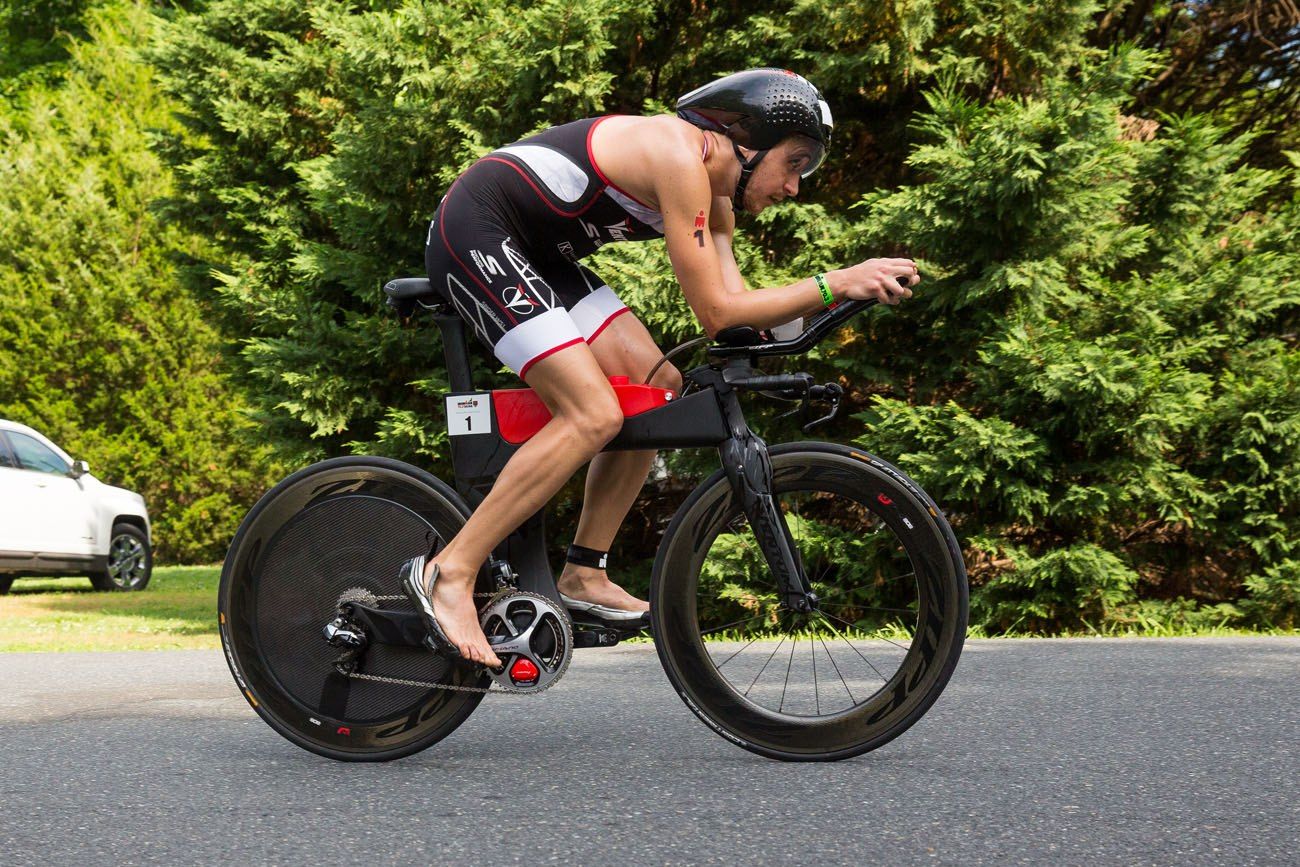 Cody Beals returning to transition. Cody was the winner of the 2016 IRONMAN 70.3 Eagleman.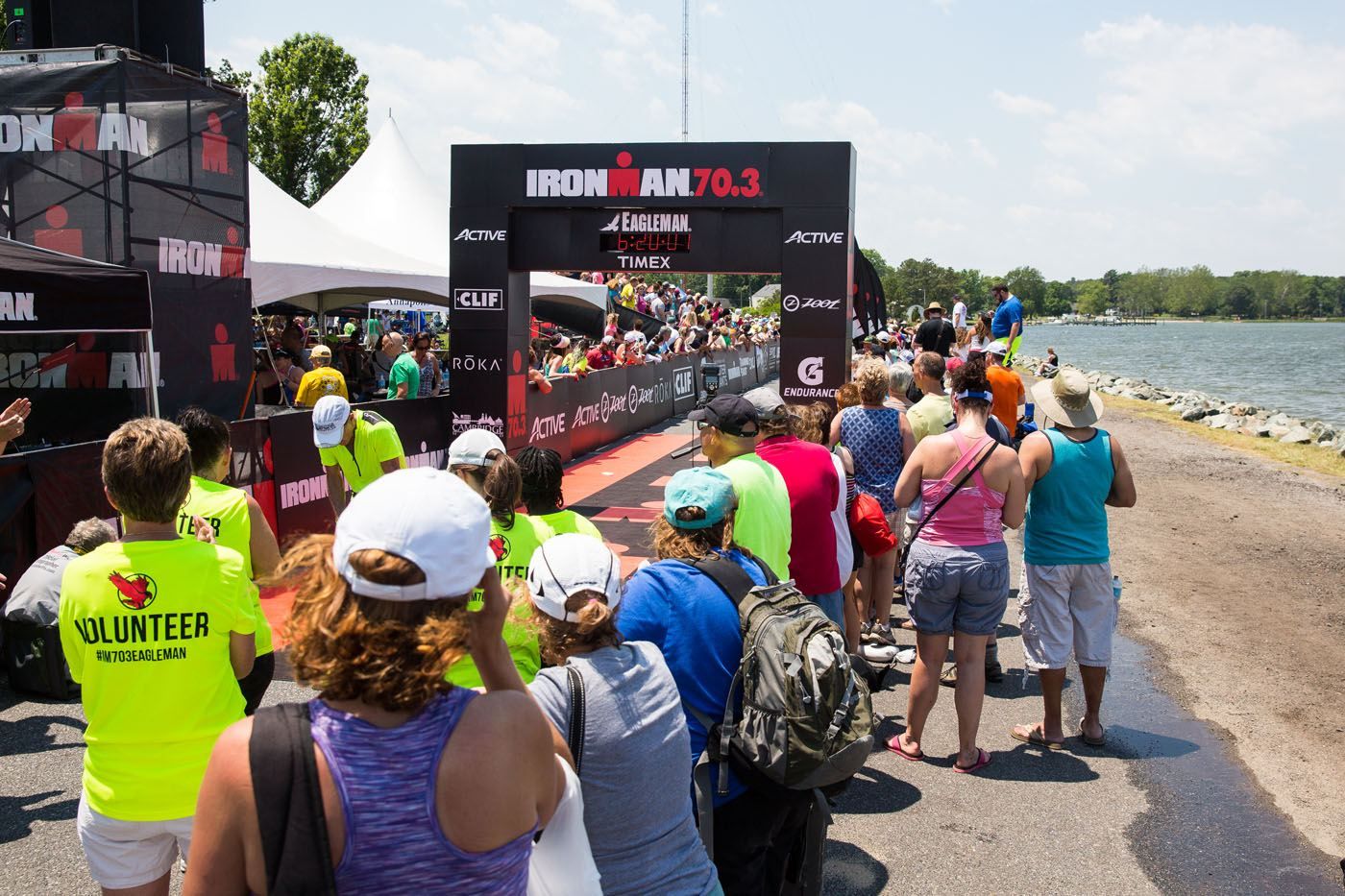 Finish line.
Professional Triathletes at Eagleman
These photos were taken in 2012. Tim was competing. I was registered for the race but had to sit out because one month prior I broke my left hand while mountain biking in Peru. Sitting on the sidelines had its advantages…I got to photograph the awesome field of professional triathletes in this year's race.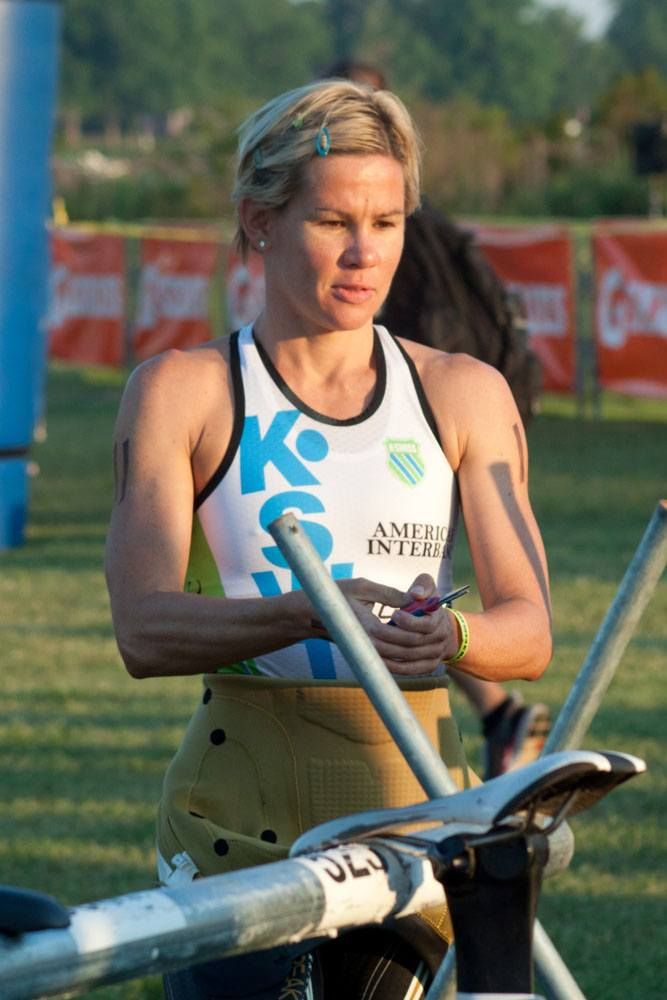 Mirinda Carfrae. She was the Ironman World Champion in 2013 and 2014.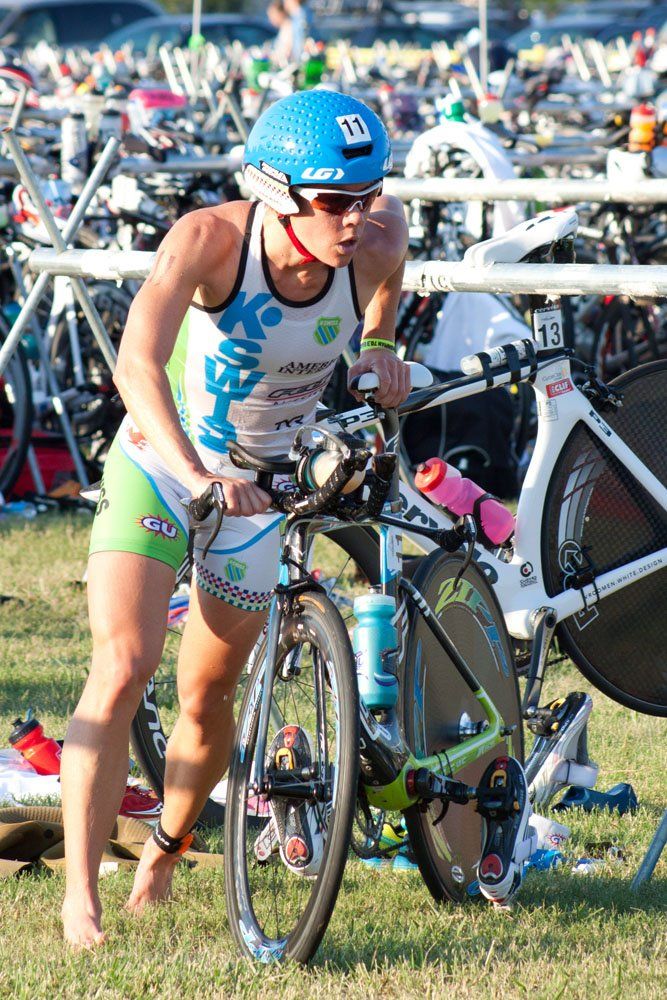 Mirinda in transition.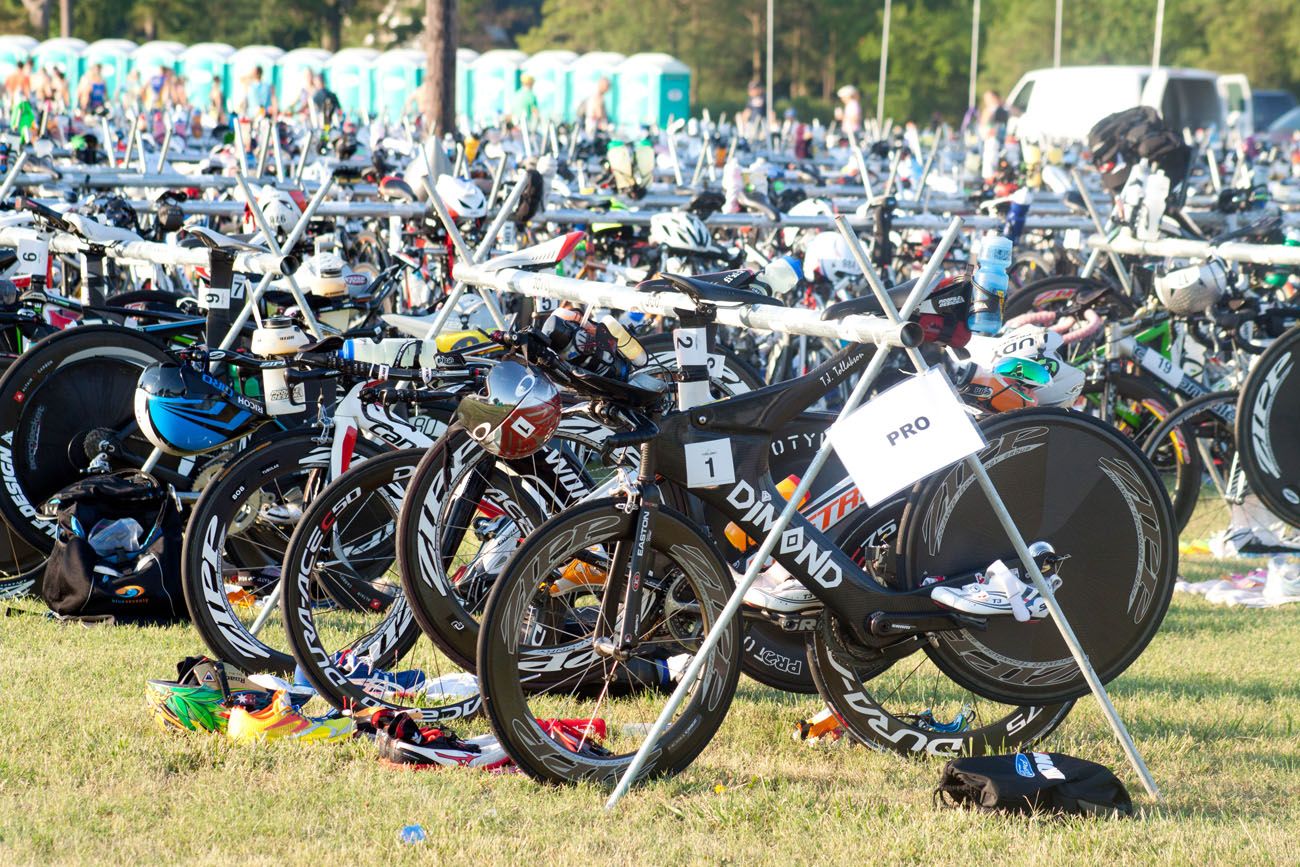 Pro bikes in transition.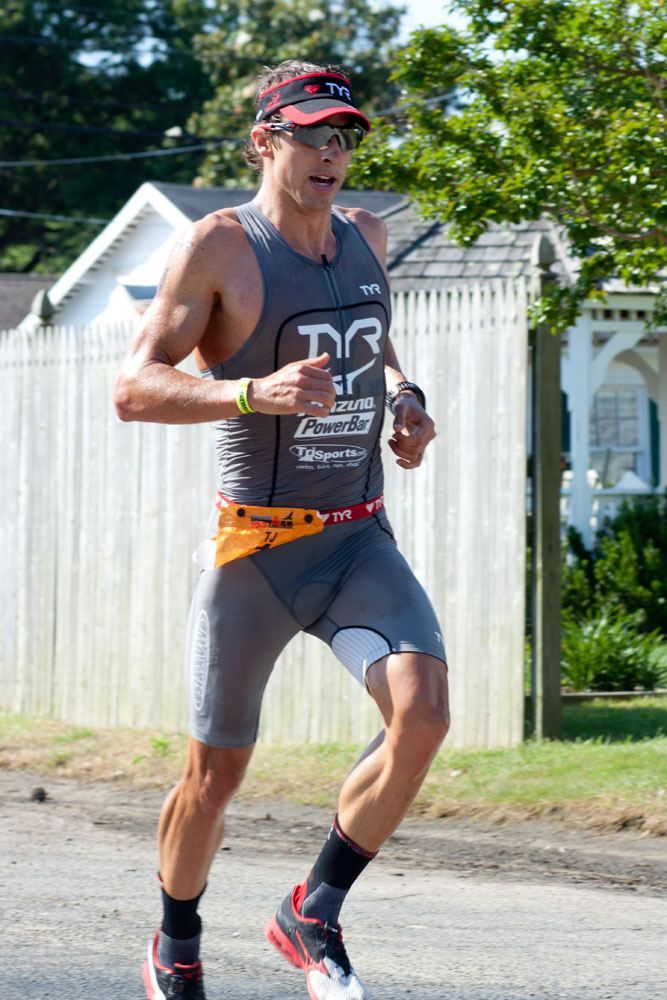 TJ Tollackson on the run course.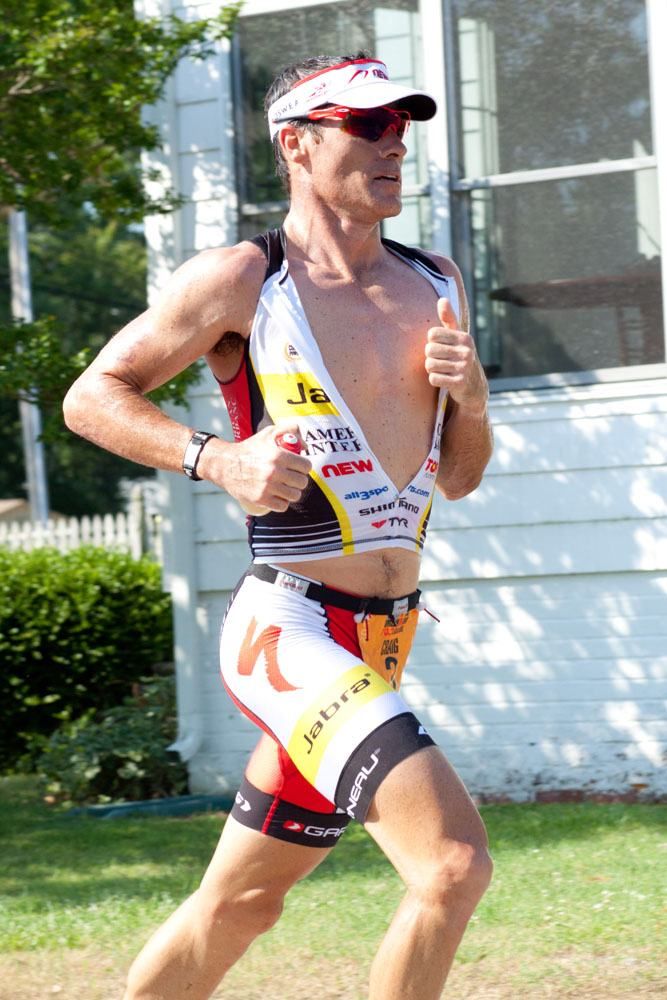 Craig Alexander on the run course. Craig was Ironman World Champion in 2008, 2009, and 2011.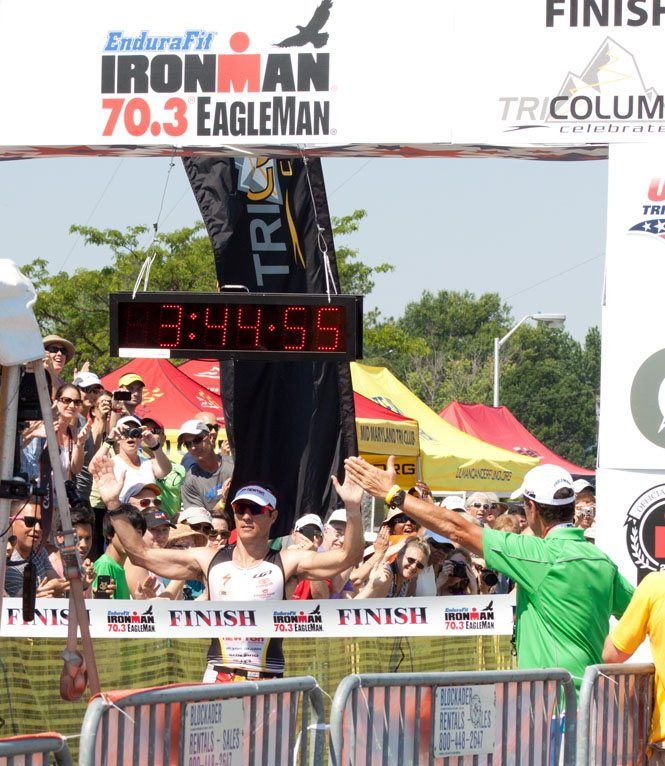 Craig Alexander, winner of Eagleman 2012.
Tim and Julie at Eagleman
We may not be professional triathletes, but we love the sport and we keep coming back to this race (even though it is always on the weekend of our wedding anniversary…what better way to celebrate?!)
Tim in 2012.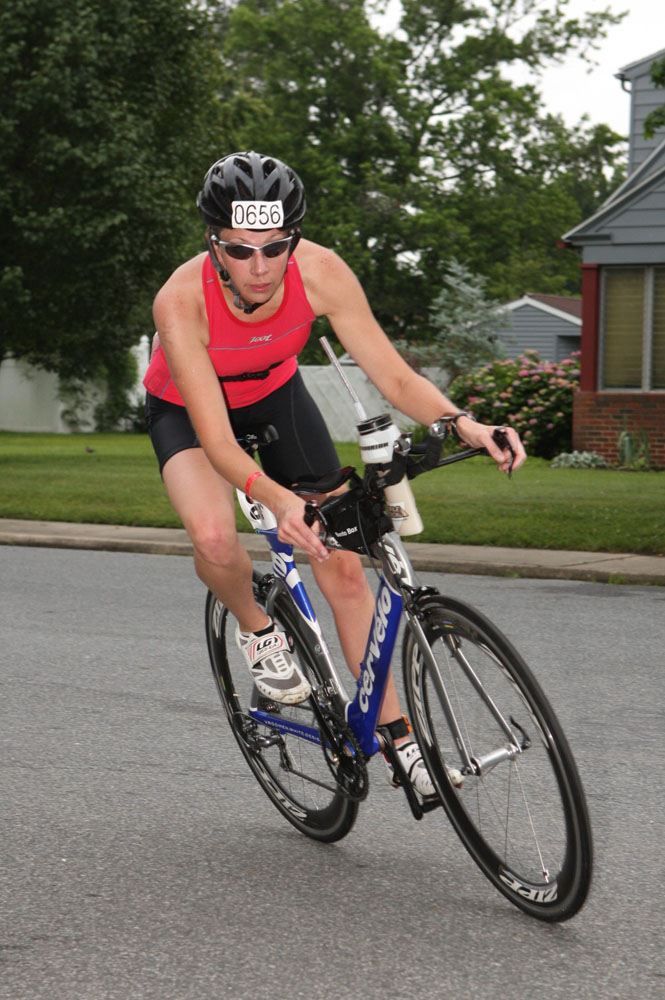 Julie in 2009.
Where to Stay
Cambridge, Maryland
Hyatt Regency Chesapeake Bay Golf Resort, Spa, and Marina. This is the nicest place to stay in the area. There are also restaurants on the property, making it easy to eat well during race weekend. For many people on a budget, this is not the most economical of places, but if you are looking for a nice place to stay, this is your best bet.
Comfort Inn and Suites. Budget friendly, highly rated hotel in Cambridge.
Mill Street Inn. This bed and breakfast gets fantastic reviews on Trip Advisor and is within walking distance of Great Marsh Park.
Easton, Maryland
Easton is 16 miles away (30 minute drive) from Cambridge. If you are late reserving a hotel for the race, there are still usually plenty of options here. Plus, Easton has the largest selection of restaurants in the area.
Best Western Plus Easton Inn and Suites. Highly rated hotel that serves breakfast at 4:15 am on race day for triathletes.
Hampton Inn Easton. Another highly rated, budget friendly hotel.
Holiday Inn Express Easton. This is where we stayed in 2016. We were able to reserve a room here just days before Eagleman. The hotel was clean, quiet, and comfortable and breakfast was served at 4 am on race day. They had tons of bananas, bottles of water, granola bars, bagels, and a large assortment of typical breakfast food. We would stay here again.
Oxford, Maryland
Sandaway Waterfront Lodging. Located in Oxford, Maryland, it is a 25 minute drive to Cambridge. Sandaway is a beautiful place to stay, located right on the Choptank River. We stayed here in 2012 and really enjoyed it here, although being in Easton was more convenient.
Combsberry Inn. This bed and breakfast is also located in Oxford. This is a beautiful property. We stayed in the Manor House in 2009 and loved it. They require a two night minimum stay.
Robert Morris Inn. We stayed here in 2010 and had a bad experience. In our room, the air conditioner barely worked and was incredibly loud. Due to the noise and the hot night, Tim and I had a very difficult time getting a good night's sleep.
St. Michaels, Maryland
St. Michaels is getting a bit far away from Cambridge, but for those who want to race but also see a beautiful part of Maryland and the Chesapeake Bay, it may be worth the extra distance to stay here. From St. Michaels, it is 26 miles (40 minutes) to get to Cambridge.
Where to Eat
Cambridge
Carmela's Cucina. This is a tiny, Italian restaurant that serves decent food. Reservations are highly recommended…we ate here Saturday afternoon and they were turning people away.
RAR Brewing. This is a popular artisan beer pub. This may not be the best pick for a pre-race meal but it may be worth a visit on Sunday afternoon!
Easton
Out of the Fire. A restaurant that serves a little bit of everything and gets awesome reviews.
Scossa Restaurant. The place to get your Italian fix.
IRONMAN 70.3 Eagleman Website
To register for the race, get detailed course information, and more, visit the official IRONMAN website.
---
Are you racing Eagleman? Tim and I have been racing in long course triathlons since 2008 and have competed in Eagleman a total of four times. Do you have any questions about traveling to Cambridge, how to prepare for Eagleman, or want to learn more about the race? If so, feel free to email us or comment below!
Looking for a cool destination triathlon? Try these: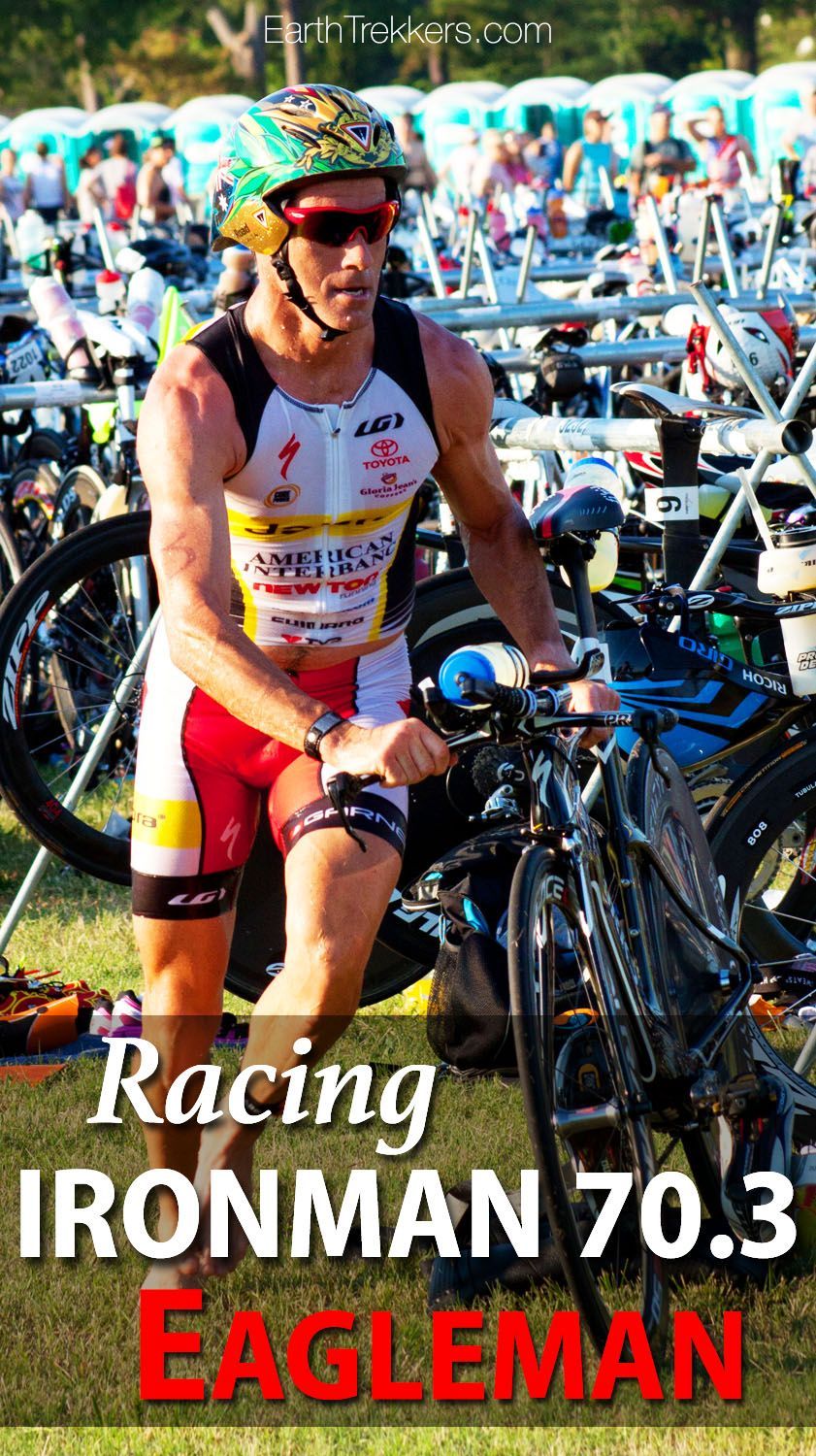 Note: This post contains affiliate links. When you make a purchase using one of these affiliate links, we get paid a small commission at no extra cost to you.
All rights reserved © Earth Trekkers. Republishing this article and/or any of its contents (text, photography, etc.), in whole or in part, is strictly prohibited.