Ironman Italy is destination racing at its finest. Swim in the Adriatic Sea, cycle past pink flamingoes and through Sangiovese vineyards, and then run through a charming coastal town. What a spectacular setting for a race! Add in its location near popular spots like Venice, San Marino, and Florence, and this makes a great destination to combine Ironman triathlon racing with a little post-race rest and recovery.
Tim raced Ironman Barcelona in 2016. Yes, this is another awesome destination for a race. Ironman Barcelona was also our first experience racing in Europe and Tim had a great experience. In 2017 it was my turn to race and what better place than Italy? Can you think of a better place to carb-load before a big race?
Getting to Cervia and Ironman Italy
The race takes place in the coastal town of Cervia, located in the Emilia-Romagna region of Italy. Cervia is just 25 km south of Ravenna.
We flew from New York to Venice and spent one day wandering the canals of Venice, before driving south to Cervia. From Venice, it is a 2.5-hour drive to get to Cervia.
This race takes place at the end of September, just after the summer season. Some restaurants and hotels are already closed for winter. However, many did stay open, just to take advantage of one more week of business that Ironman Italy brought to town.
We stayed at Villa del Mare and loved it. We had a family room, which gave us tons of space, much needed for assembling my bike. From our balcony, we could look right down on to transition and onto the long, wide beaches of Cervia. The location of this property is hard to beat if you have plans to race Ironman Italy.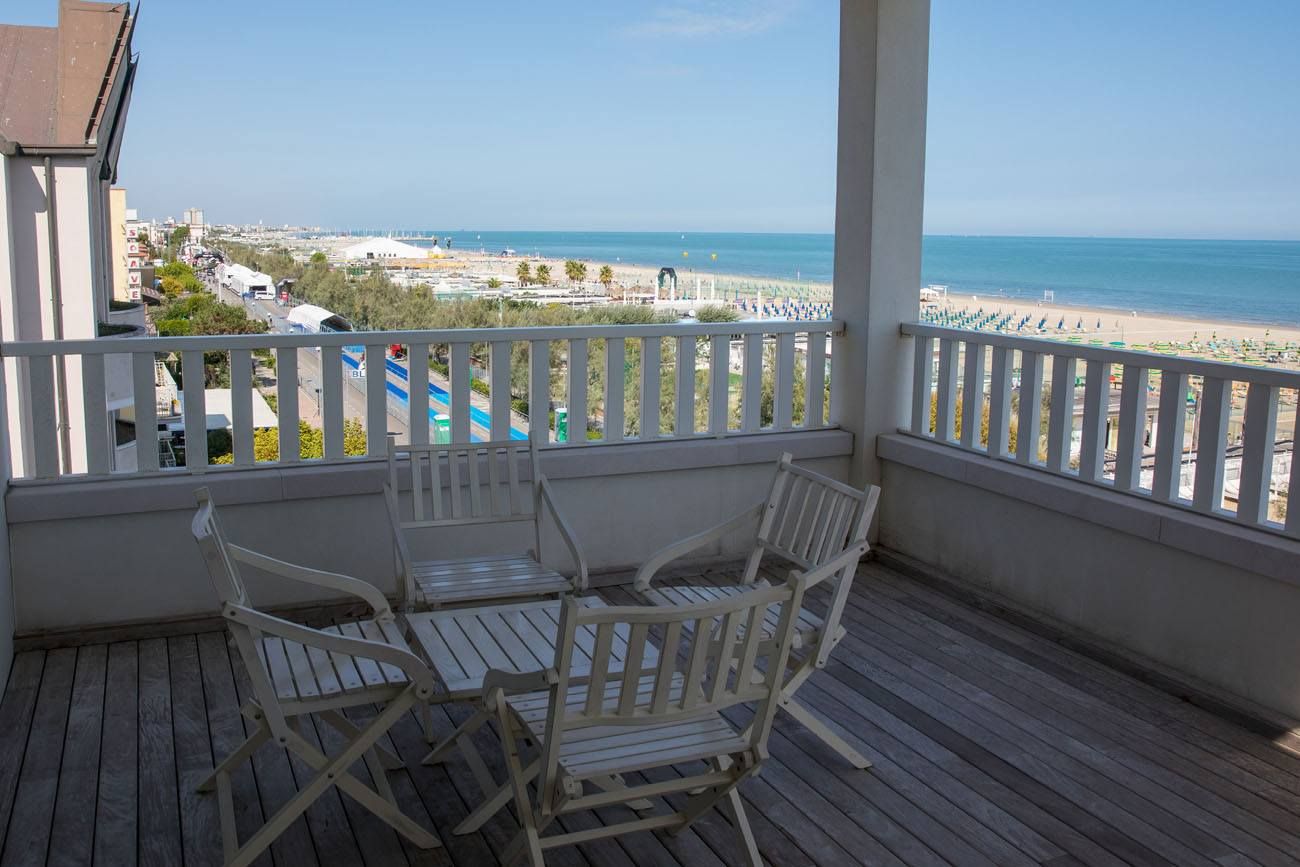 Prior to the race, we spent two days in Cervia, doing all of the typical pre-race activities, such as checking in, reassembling my bike, going on a practice swim and ride, and dropping off my gear for race day.
Since we had a car, Tim and I drove part of the bike course. The bike course is mostly flat but there is one climb up to the town of Bertinoro. I wanted to know what I was in for before race day.
The town of Bertinoro sits high on hill at the start of the Apennine Mountains. Fortunately, the bike course does not go all of the way up into town. After climbing several kilometers through the rolling hills and vineyards, the course enters Bertinoro for only 50 meters before beginning its descent back to Cervia.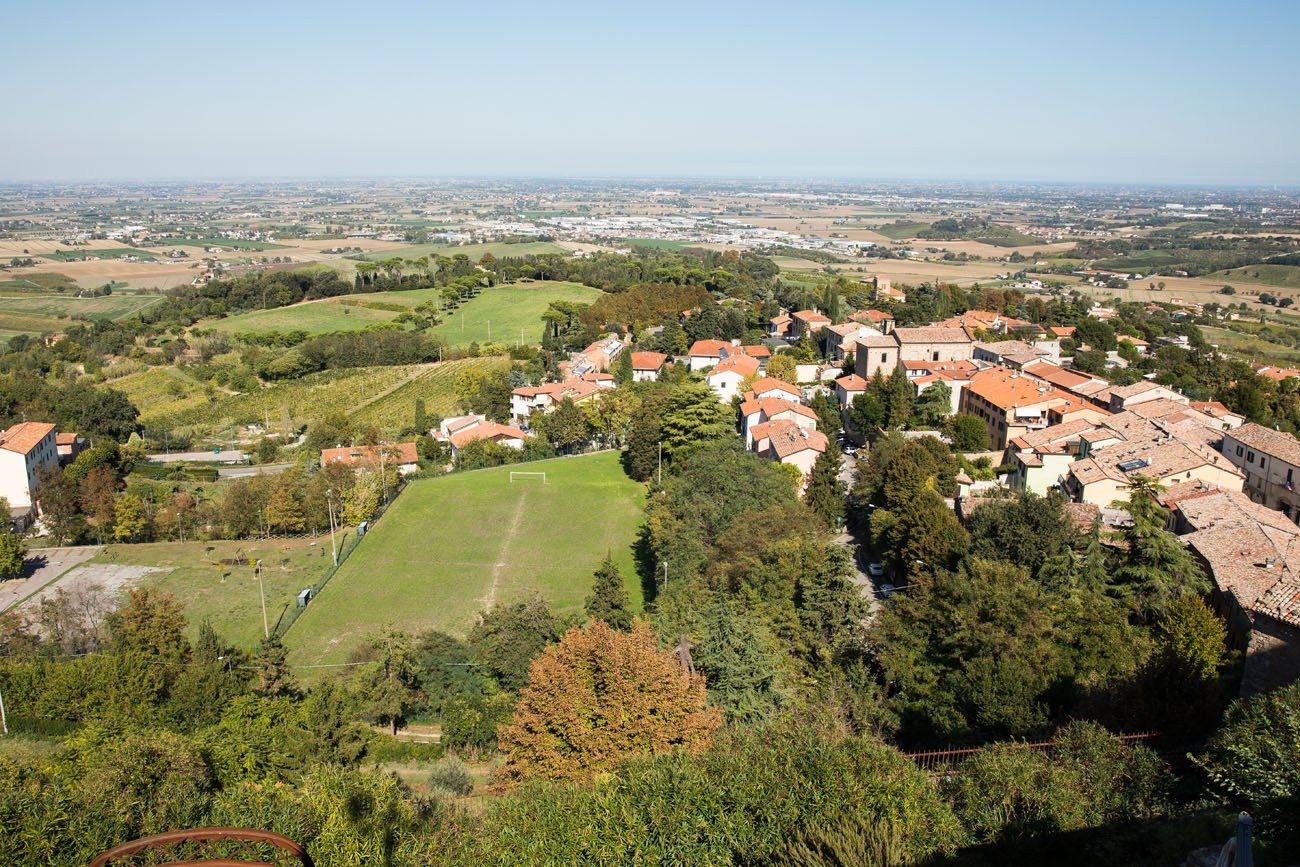 The view from Bertinoro towards Cervia.
Ironman Italy
The Swim (3.9 km, 2.4 miles)
Wow, was I nervous. The last time I raced an Ironman distance race was in 2009 (Ironman Florida) and the last time I raced a triathlon of any distance was 2011 (the Columbia Triathlon, an Olympic distance race in my hometown). It's been awhile since racing and I was a little nervous about the swim. What would it be like to swim in the open water with such a large group of people, considering it has been so long since I last did that?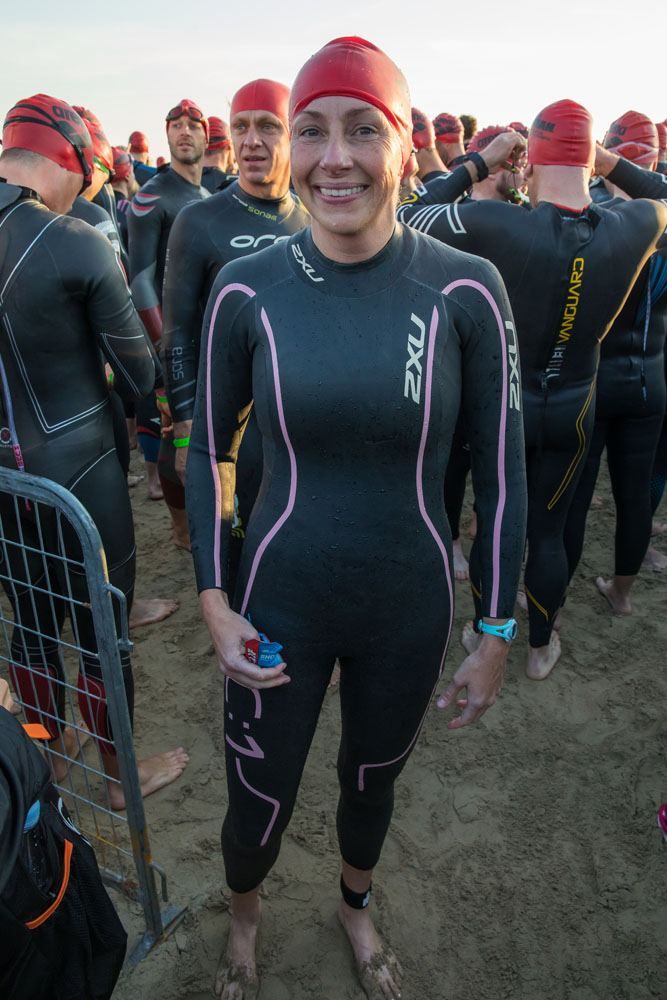 The official race start is 7:30 am, when the pro men and then the pro women start. At 7:45 the age-groupers start. Ironman Italy has a rolling swim start, so every 5 seconds 5 competitors step across the timing mat and enter the water.
Athletes join the corral with their predicted swim times. I joined the 1:10 – 1:20 corral and nervously awaited our start.
Race officials state that it only takes 15 minutes to get all of the athletes in the water. I did not start until 8:10, 25 minutes after the age group start, and there were still hundreds of athletes behind me in line.
The swim is two separate loops in the Adriatic Sea with a very short run on the beach connecting the two loops.
So, how was it?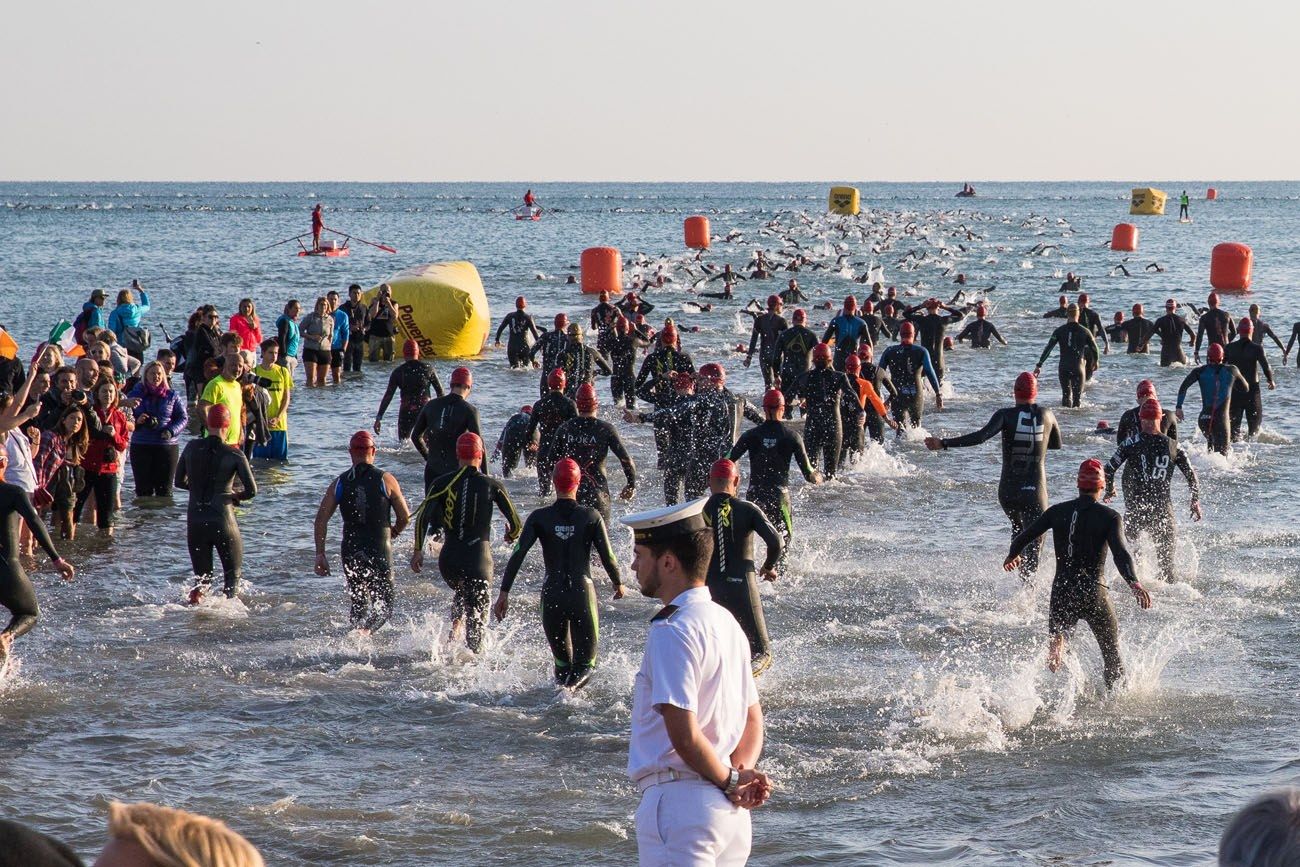 The water is rather murky with poor visibility. There was also a very intense glare from the sun. Consider bringing tinted goggles for this race. I struggled a little bit with my sighting, which added some extra time to my swim. But overall, it was a great swim and a great experience. I liked it that it was broken into two loops. When I exited the water after the first loop, I could check my time and it was nice to know that the majority of the swim was behind me.
I exited the water at 1:16:58, a faster time that I expected to have, and 19 minutes faster than my swim time at Ironman Florida. I was ecstatic!!
T1
I loved Ironman Italy but there is something you need to know about this course. This must be the longest transition area in any of the Ironman races. The transition area is long and thin, with only three rows of bikes. Tim and I estimated it to be almost 400 meters in length. It feels ridiculously long when you run down it.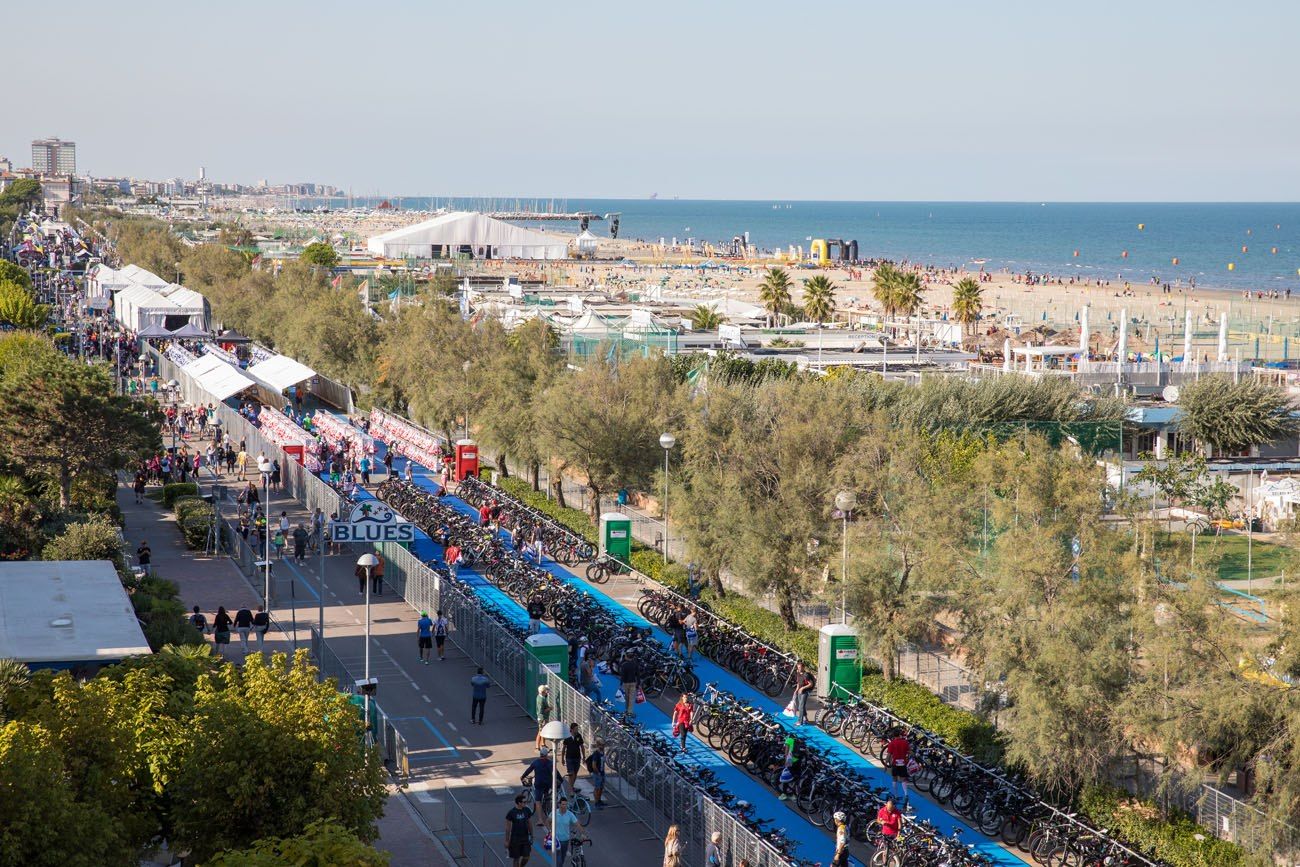 It's also a long run from the water's edge just to get to transition. This is not a race where people will have fast transition times.
The Bike (180.2 km, 112 miles)
The bike course is two loops. Athletes leave Cervia, cycle through the nearby salt flats that is home to pink flamingoes, and then cycle out towards the towns of Forlimpopoli and Bertinoro. Until reaching Forlimpopoli, the course is completely flat and fast. After exiting Forlimpopoli, the road slowly starts climbing towards Bertinoro. The area here is gorgeous. Rolling hills covered with Sangiovese vineyards and small stone houses…it's beautiful but it's hard to enjoy it, especially at the start of a big climb.
Photo of the road leading up to Bertinoro. This road is part of the bike course.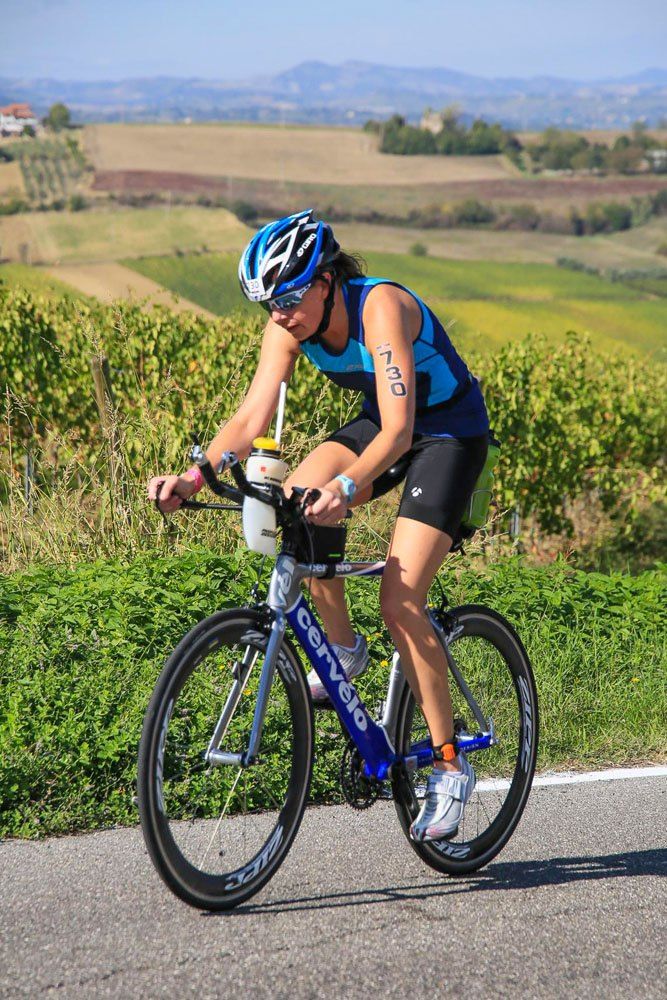 Just before reaching Bertinoro, the road gets much steeper, but it is manageable. The trick is to pace yourself correctly at the start of the climb so you don't burn out too fast.
In training, the bike was my strength. I worked very hard on my cycling speed and endurance. I expected to post a fast time on this part of the race. But things do not always go as planned.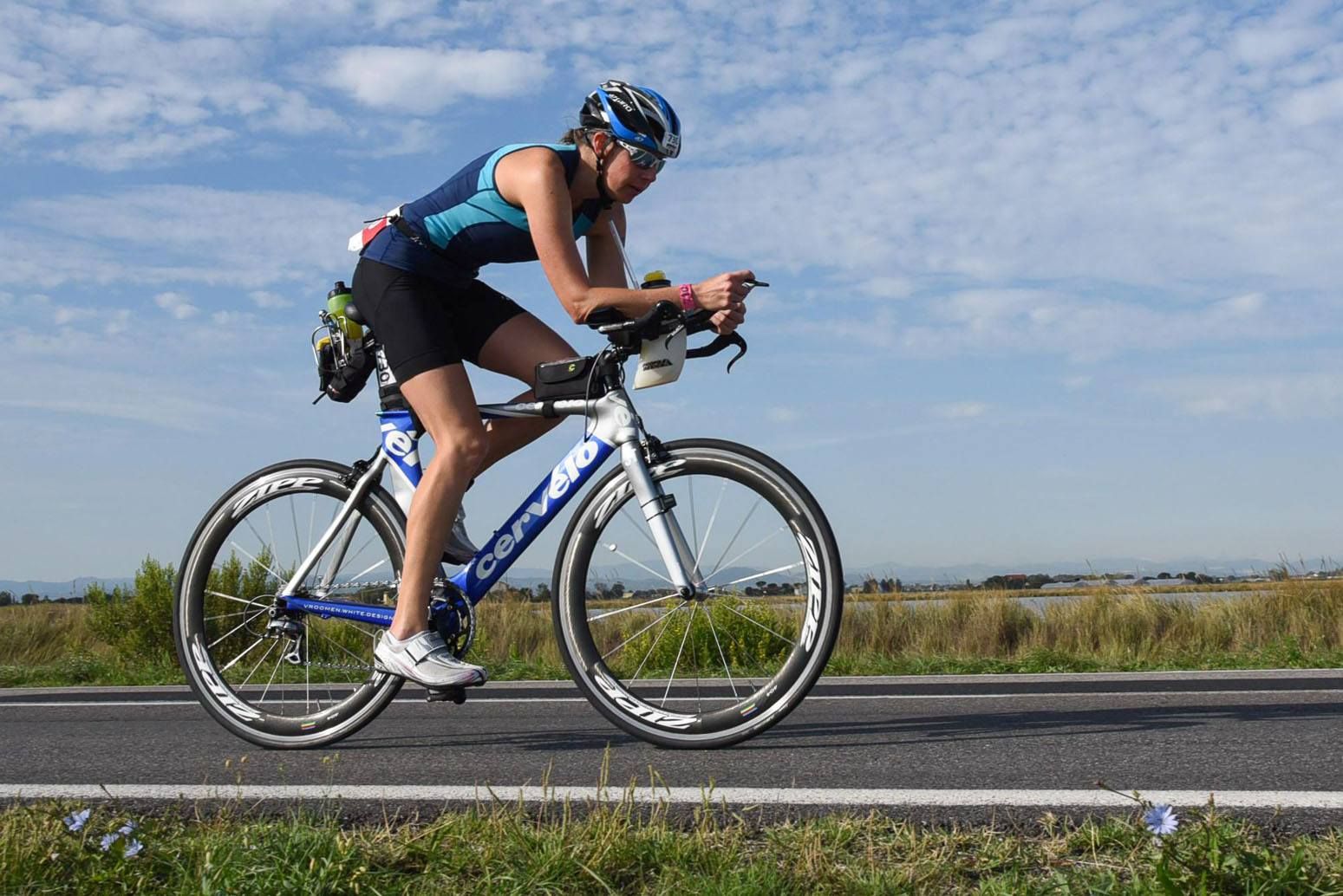 After the swim, my tongue felt numb, I am assuming from swelling from the salt water of the Adriatic Sea. I was also incredibly thirsty. I drank almost all of my liquids right away and the salt water really messed up my appetite. It was difficult to eat for much of the first loop of the bike, which set me up for a difficult second half of the race.
By the time I started my second loop on the bike, I began feeling the effects of not taking in enough calories. I really slowed down and felt terrible: exhausted and nauseated and in a bad place, mentally.
And by early afternoon, the winds really picked up, creating a strong headwind as I cycled back towards Cervia. This also did not help my mental state or my bike split.
T2
I dropped off my bike and made the long run through transition, stopping briefly to change out my shoes and cycle shorts.
Just a marathon to go!
The Run (42.2 km, 26.2 miles)
The run course is four loops through Cervia. It's completely flat and filled with spectators. The course winds past outdoor cafés, down a long street lined with huge pine trees, and even through a park where we ran on sandy trails.
I loved this run course. It took us through so many different sections of the city that it never got boring. And three times we had to run right past that Ironman finish line, giving us a brief boost of energy.
The run was my weakness going into this race. I expected to walk about half of it due to training injuries that limited my running earlier this year.
Things did not start off well for me. I felt terrible when I got off of the bike. I was dehydrated, nauseated, and running very low on fuel. Tim, who was now both my coach and cheerleader, urged me to start eating and drinking. I spent the first loop refueling myself, which was just what I needed. I felt so much better once I started the second loop of the run.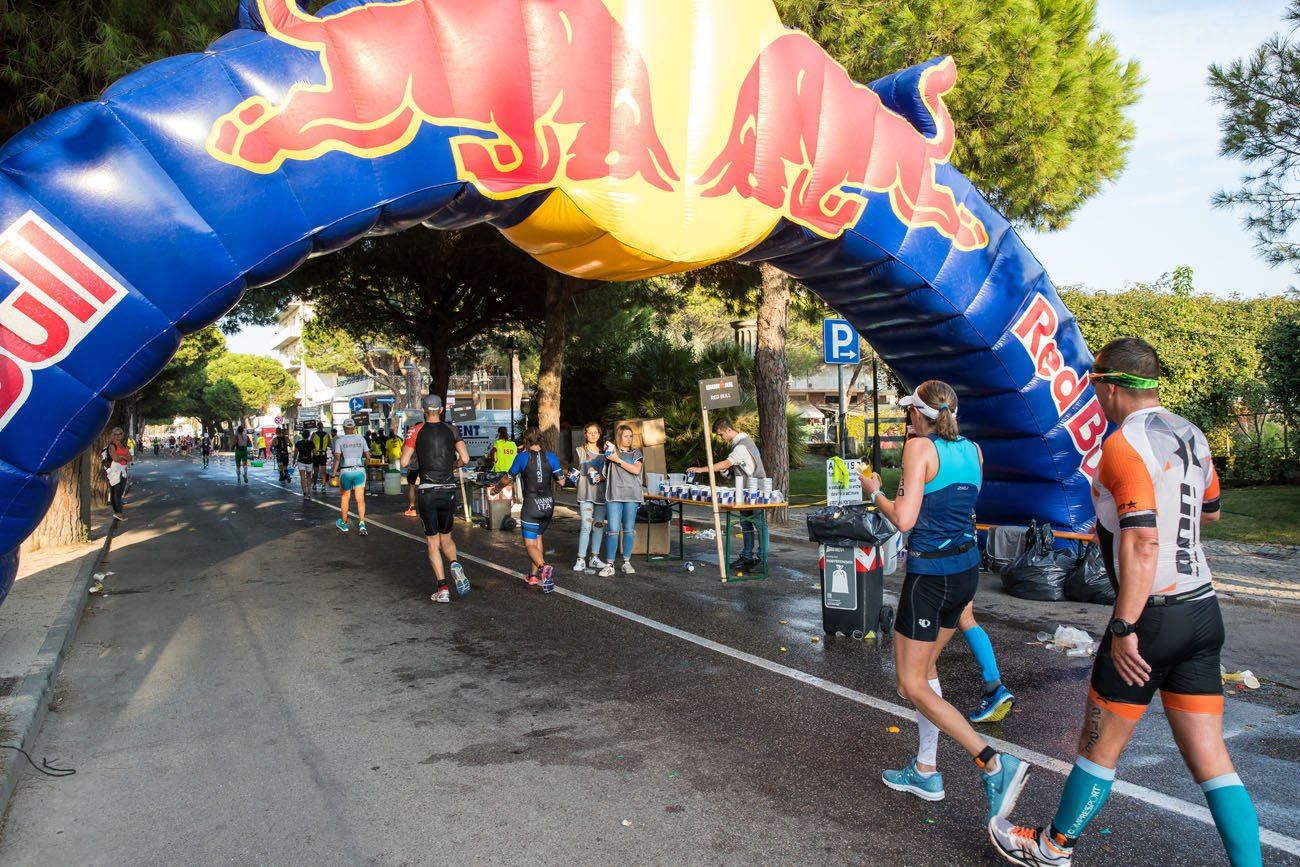 And sometimes you surprise yourself. I ran most of the marathon, somehow. It wasn't fast but I did run 21 of the 26 miles. Not bad for someone who only did two training runs longer than 10 miles this year. But at mile 21, I started walking more, and by mile 23 I was completely walking. By this point, with every step I tried to run, it felt like someone was shoving daggers into my thighs. But I could hear the finish line calling my name.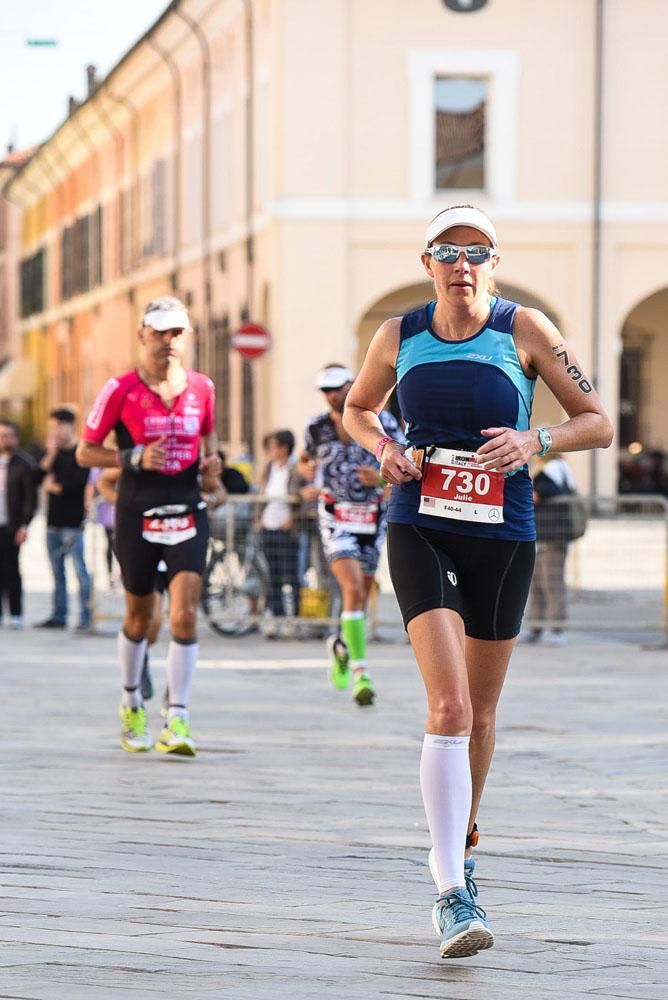 The Ironman Italy Finish Line
What a wonderful thing to see…looking down that long, carpeted chute to the Ironman finish. There's something so rejuvenating about running down that chute to the finish line. The fatigue and the aches and pains almost go away…at least enough to pick up the pace, put a big smile on your face, and try to enjoy this moment as much as possible.
It's hard to beat the thrill and the elation of crossing an Ironman finish line.
As I was running through the chute, I heard those words that we all longed to hear today, "Julie, you are an Ironman!" And just afterwards, I saw Tim, happy and smiling and cheering me on. I crossed the finish line with a big smile on my face. What an awesome moment!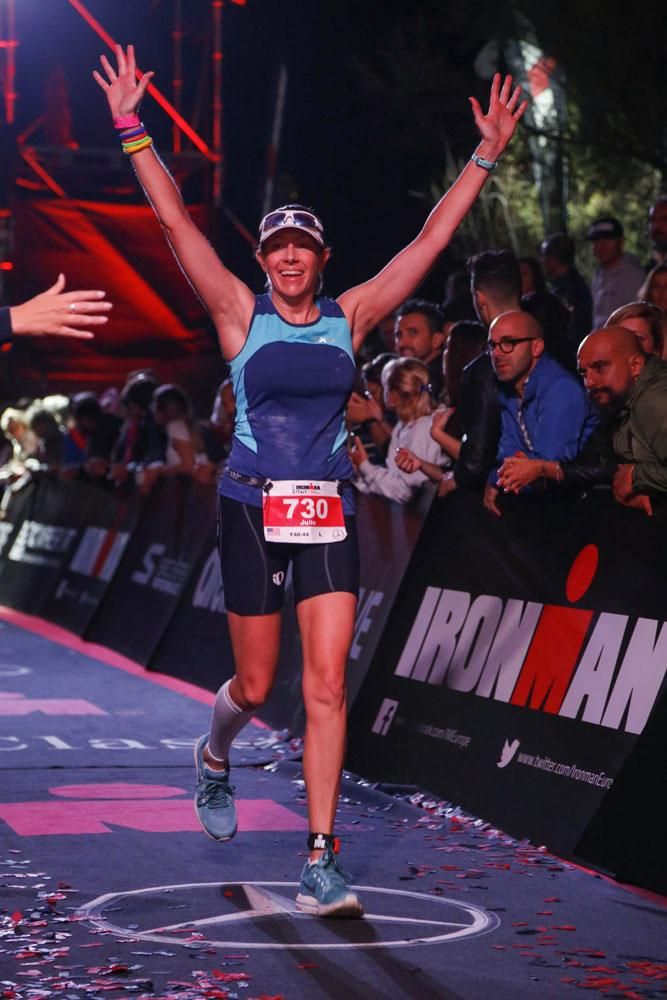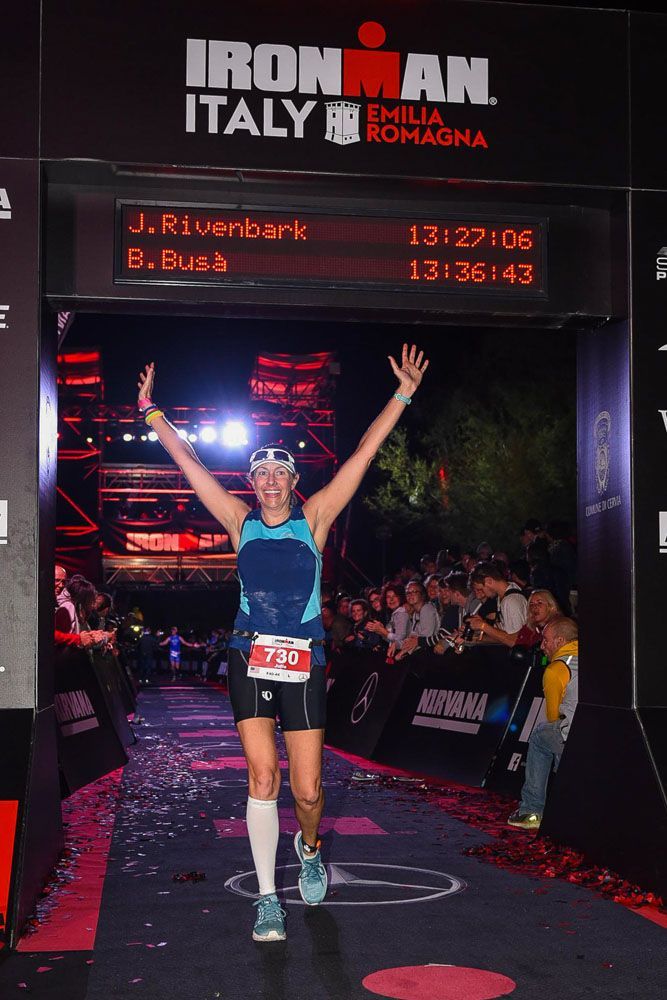 What To Do After the Race
Now that the race is over, hopefully you have some time to relax, drink some wine, indulge on Italian cuisine, and maybe visit some nearby destinations. Here are a few fabulous destinations in Italy that are near Cervia. You can get to many of these by car or by train via Ravenna.
San Marino: A gorgeous country completely surrounded by Italy. With towers to climb and amazing views to enjoy, this is the perfect day trip from Cervia. It's just 1 hour south of Cervia.
Venice: Canals, gondolas, and history. This picture perfect city is 2.5 hours north of Cervia.
Florence and Tuscany: Wouldn't it be nice to some time in Tuscany, touring the hill towns and dining at Italian restaurants? It's just 2.5 hours west of Cervia.
Verona: We spent a few hours in Verona just two days after Ironman Italy. This place is gorgeous and it just became one of our favorite spots in Italy. It's a 2.5 hour drive to get here from Cervia.
Cinque Terre: This may be a bit farther away (a 3.5 hours drive from Cervia), but the Cinque Terre would be a wonderful place to unwind for a few days.
Where We Stayed
We stayed at Villa del Mare Resort. This is a large property that has an assortment of rooms as well as a restaurant and spa. We stayed in a family suite, which had a king bed, two twin beds, two separate bedrooms, a bathroom, and a gigantic balcony. This gave us plenty of space to spread out and to have room to assemble and disassemble my bike.
Breakfast was delicious with an enormous variety of food.
The location for Ironman Italy is excellent. From our balcony we could look right down onto the insanely long transition area. From the hotel it was a five-minute walk to the Athlete Village and a ten-minute walk to the Ironman finish and swim start.
We did have issues with the Wi-Fi (slow speeds and difficulty connecting at times) and they turned the air-conditioning off the week before our arrival so our room got a little warm at night. But despite these minor inconveniences, we had a great stay here and I recommend this place if you plan on racing Ironman Italy.
Are You Inspired?
Are you considering racing Ironman Italy? For more details on the race, visit Ironman.com.
---
Comment below if you have any questions or if you have any advice for our readers.
TRIATHLON: Read about Tim's experience racing Ironman Barcelona and learn more about Ironman 70.3 Eagleman in Maryland, USA.
BEST OF ITALY: In our guide to the Best Places to Visit in Italy, we list 25 beautiful destinations to consider for your next trip to Italy.
ITALY ITINERARIES: If you are just beginning to plan your Italy itinerary, take a look at our 10 Days in Italy Itinerary for five different ways to spend 10 days in Italy. We also have a detailed 10 day itinerary that includes Rome, Florence, the Cinque Terre, and Venice and a 10 day northern Italy itinerary that includes the Dolomites and Venice.
ROME: For a list of the top experiences in Rome, read our article Best Things to Do in Rome. Learn how to put these together in our 2 Day Rome Itinerary, where to eat in our Rome Restaurant Guide, how to visit the Colosseum, and where to stay in our Rome Hotel Guide. And don't miss our guide to the Best Rooftop Bars in Rome.
We have TONS more information about Italy in our Italy Travel Guide, including Rome, Florence, Venice, Tuscany, the Dolomites, the Amalfi Coast, the Cinque Terre, and Puglia.
Note: This post contains affiliate links. When you make a purchase using one of these affiliate links, we get paid a small commission at no extra cost to you.
All rights reserved © Earth Trekkers. Republishing this article and/or any of its contents (text, photography, etc.), in whole or in part, is strictly prohibited.