Walking from Furi to Zermatt is a nice, easy hike to do while in Zermatt. This mostly downhill walk takes you through several Swiss hamlets, through the Gorner Gorge, and into Zermatt.
In this guide, we cover how to hike from Furi to Zermatt and add on the Gorner Gorge along the way.
Furi to Zermatt Hiking Stats
The stats below include the walk through the Gorner Gorge. The hike starts at the Furi station and ends at the Kirchbrücke (a bridge with a great view of the Matterhorn) in Zermatt.
Distance: 3.6 km (2.2 miles) point-to-point
Difficulty: Easy
Total Ascent: 50 meters (155 feet)
Total Descent: 300 meters (985 feet)
Lowest Elevation: 1,620 meters (5,315 feet)
Highest Elevation: 1,875 meters (6,150 feet)
Time: 1 to 2 hours, plus additional time if you stop for lunch

Furi to Zermatt elevation profile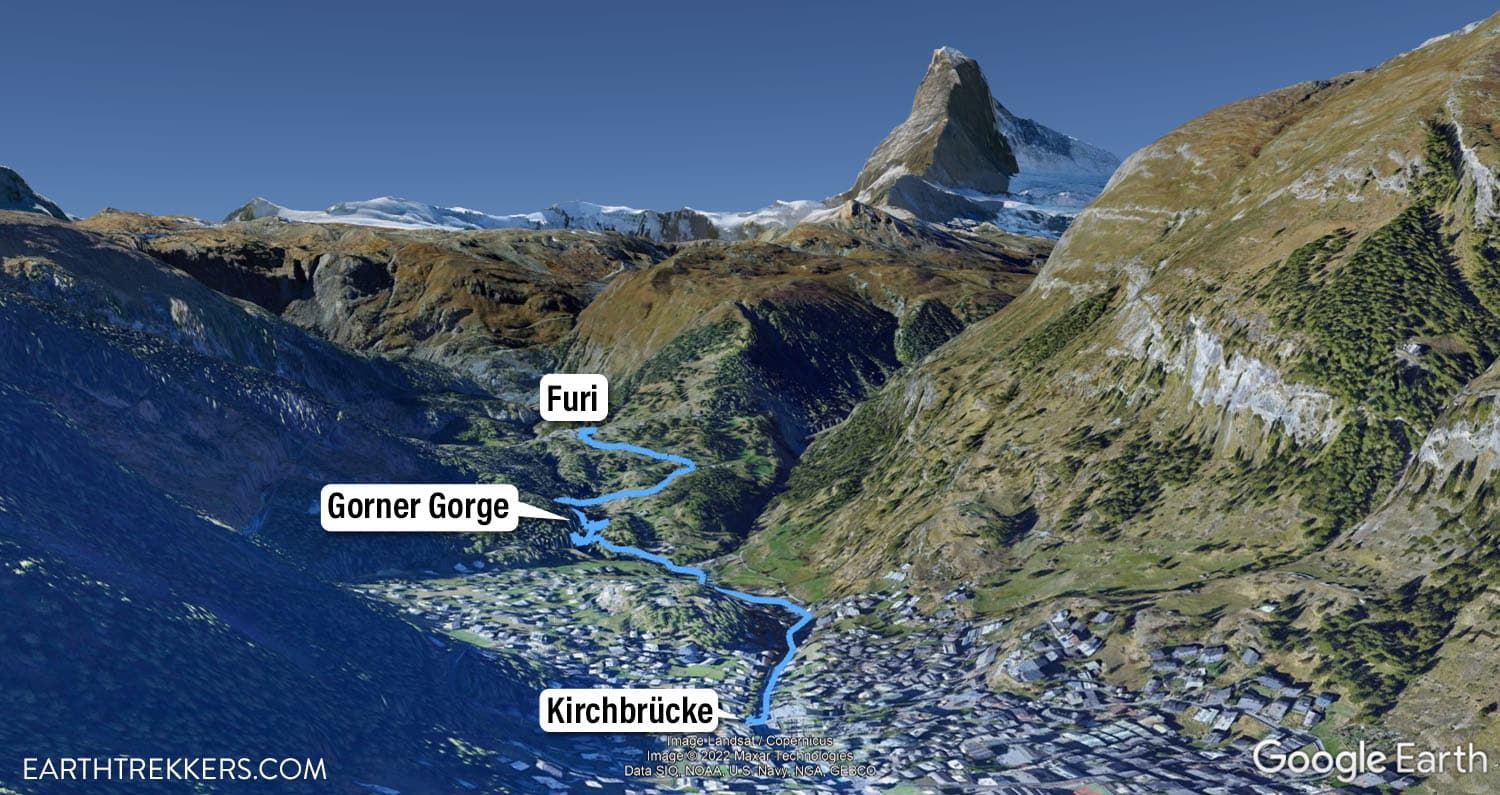 Furi to Zermatt map
Please practice the seven principles of Leave No Trace: plan ahead, stay on the trail, pack out what you bring to the hiking trail, properly dispose of waste, leave areas as you found them, minimize campfire impacts, be considerate of other hikers, and do not approach or feed wildlife.
Furi to Zermatt: Overview of the Hiking Route
This hiking route starts at the Furi cable car station. You can get here by riding the gondola from the Zermatt Bergbahnen to Furi.
From Furi, you will walk through Zum See and Blatten, then walk through the Gorner Gorge, emerging next to the Forest Fun Park. From the park, it's a short walk into town.
You can also do this hike after visiting Matterhorn Glacier Paradise or Schwarzsee. From Matterhorn Glacier Paradise and Schwarzsee, ride the cable car to Furi and then start this hike. With multiple restaurant options for lunch and the short, easy walk through Gorner Gorge, this hike is a nice addition to a morning at Matterhorn Glacier Paradise.
How to Hike from Furi to Zermatt
Step-By-Step Trail Guide
Furi to Blatten
Distance: 1 km/0.6 miles | Time: 15 minutes
From the gondola station in Furi, walk down the wide paved road and immediately turn right onto a road that runs next to the gondola station (as though you were going to go to Restaurant Farmerhaus). A short way down this road will be a trail sign. Follow signs for Blatten.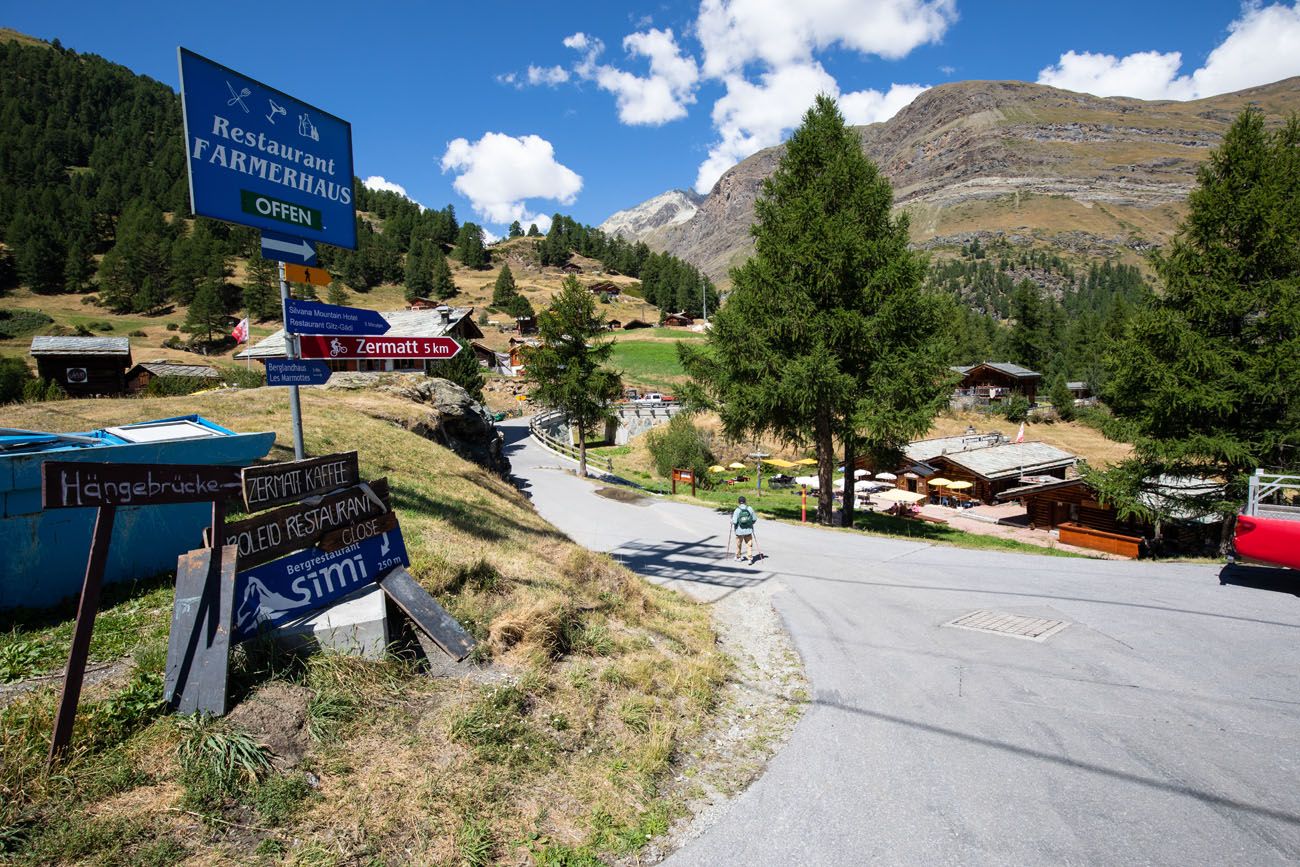 From the gondola station, walk this road towards Restaurant Farmerhaus.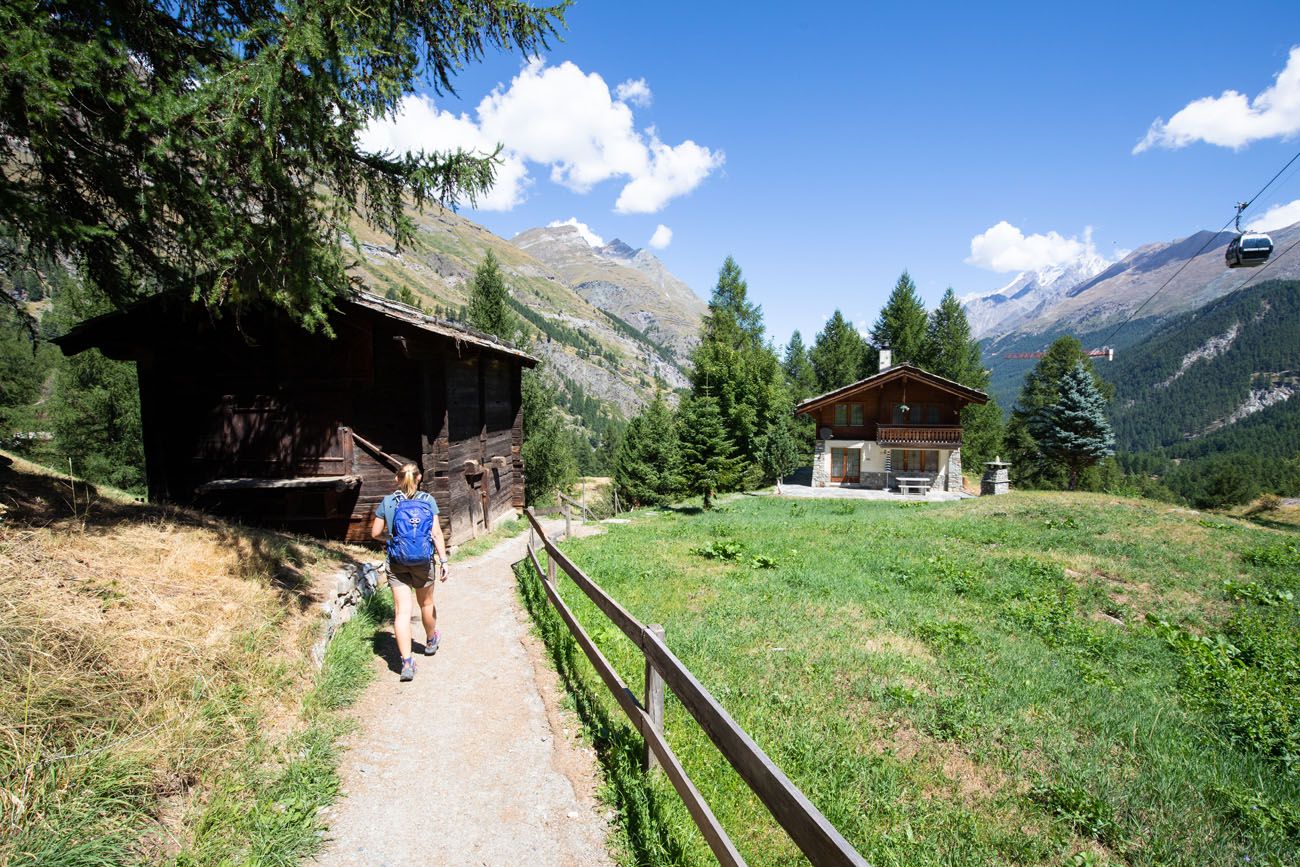 The trail from Furi to Zum See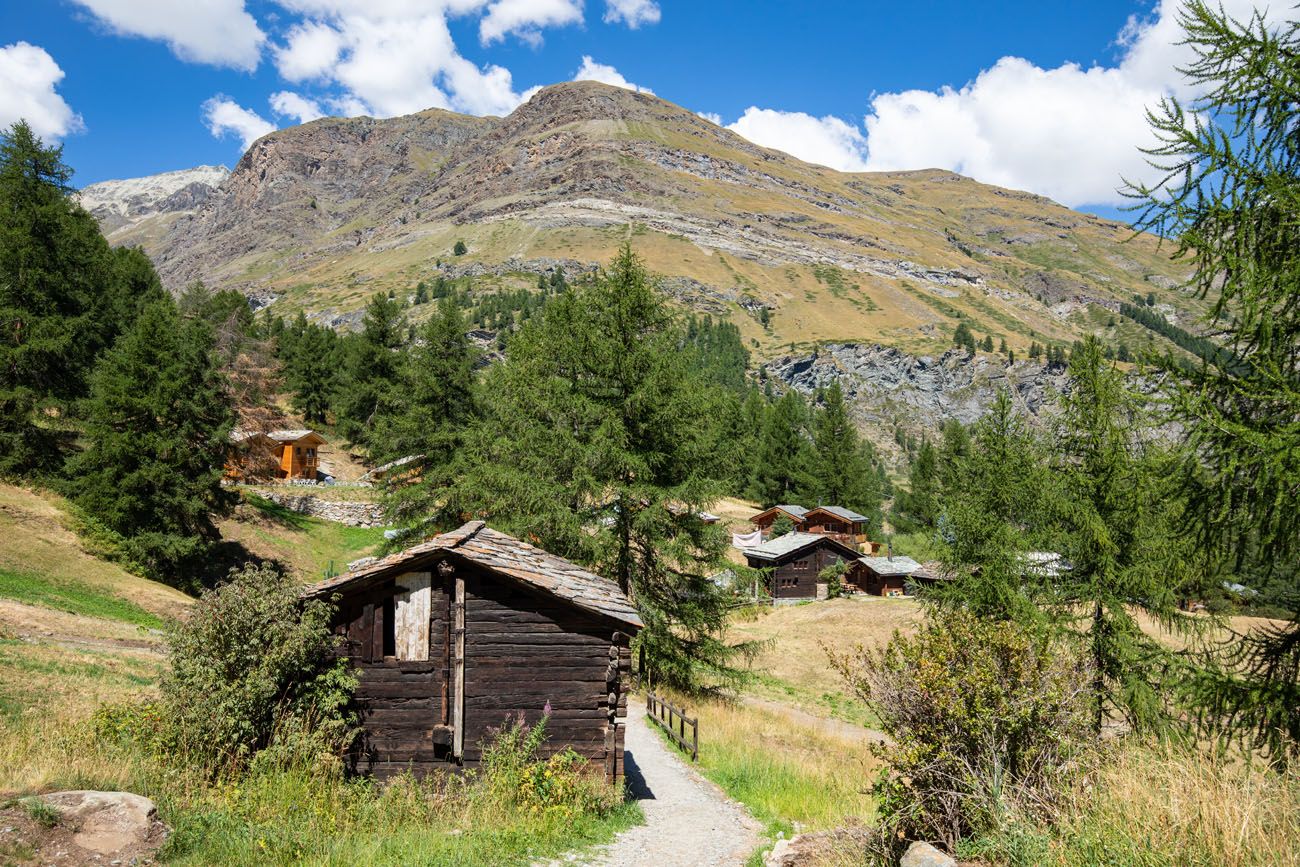 It is a relaxing 15-minute walk along a small trail to reach Blatten. You will be hiking next to homes and chalets but unfortunately you do not get a good view of the Matterhorn.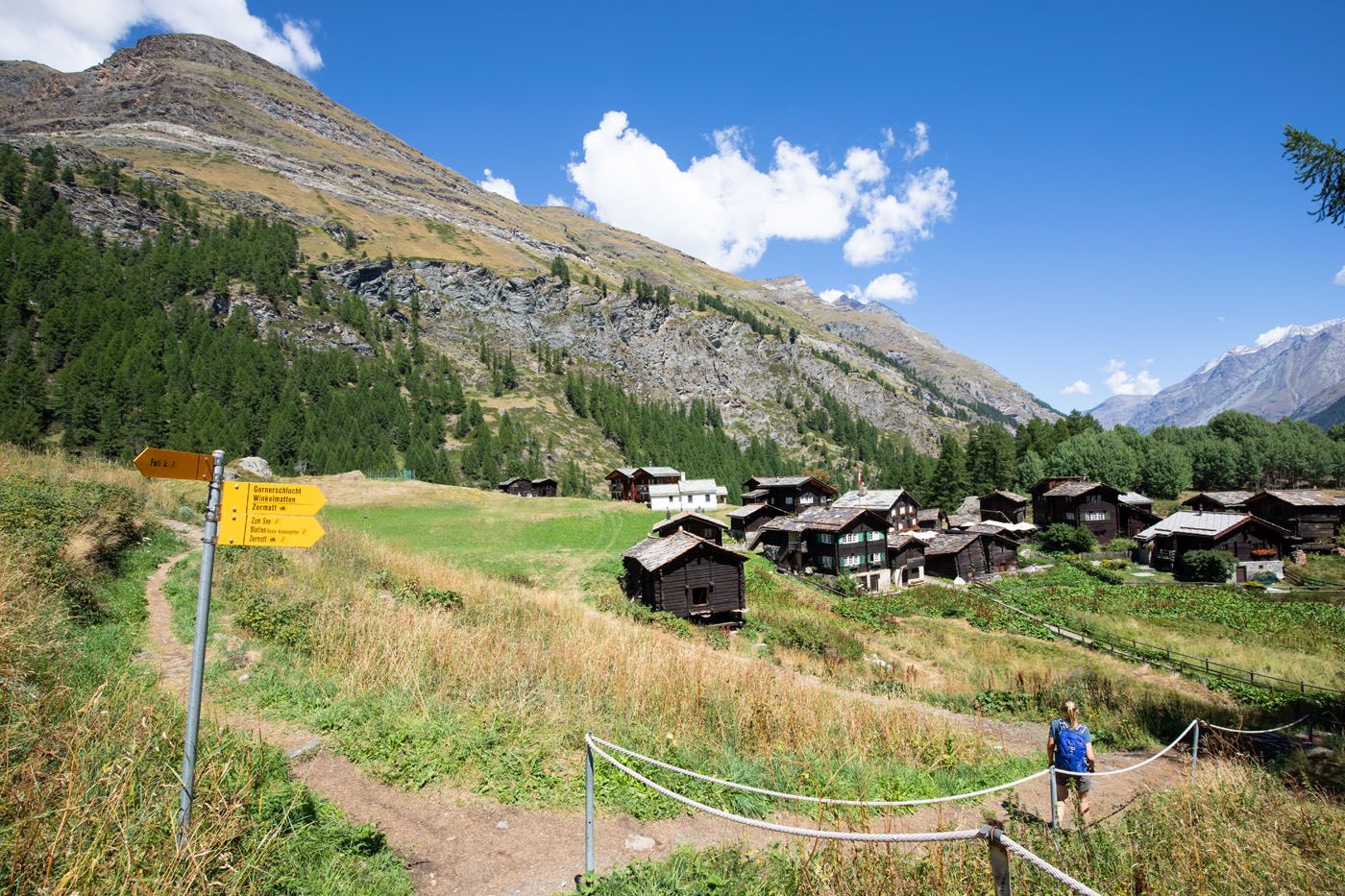 Trail to Zum See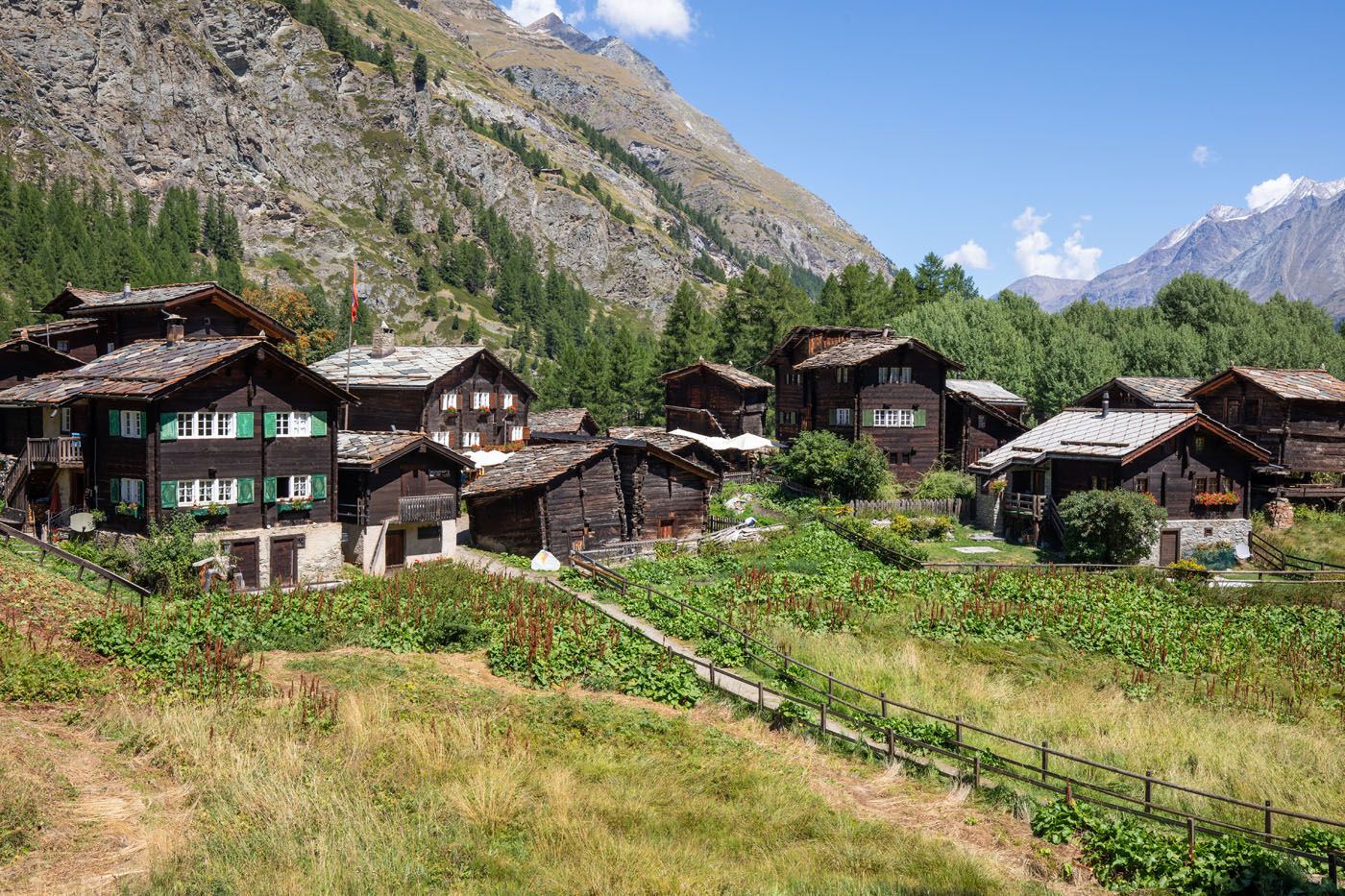 Zum See
Along the trail, you will walk past the hamlet of Zum See. You can have lunch here at a highly rated restaurant called Zum See Restaurant.
We stopped for lunch in Blatten at Bergrestaurant Blatten, which also gets rave reviews, and we have to agree with them. We enjoyed a delicious meal in this cozy spot.
We recommend that if you take the time to walk from Furi to the Gorner gorge, it is worth it to stop at one of the restaurants along the way.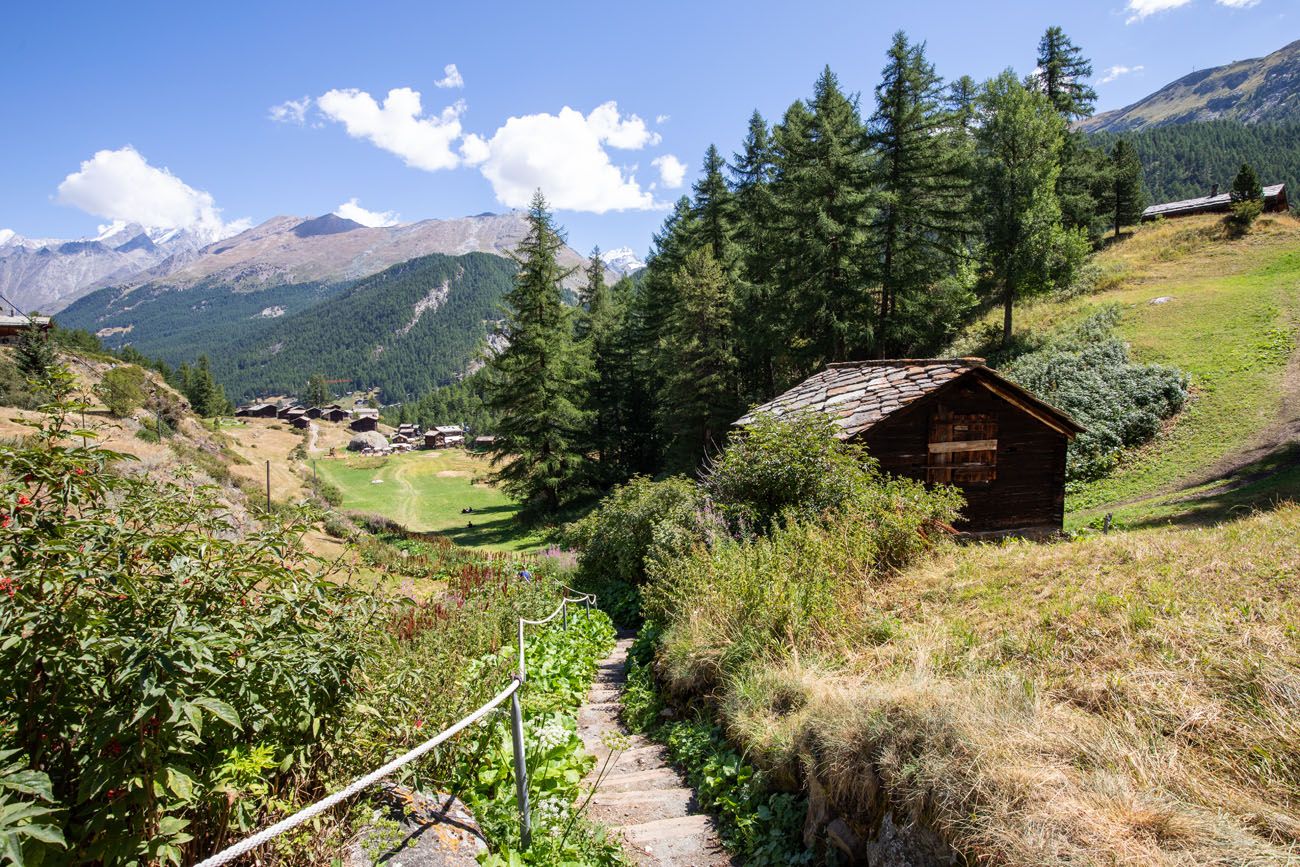 Walking from Zum See to Blatten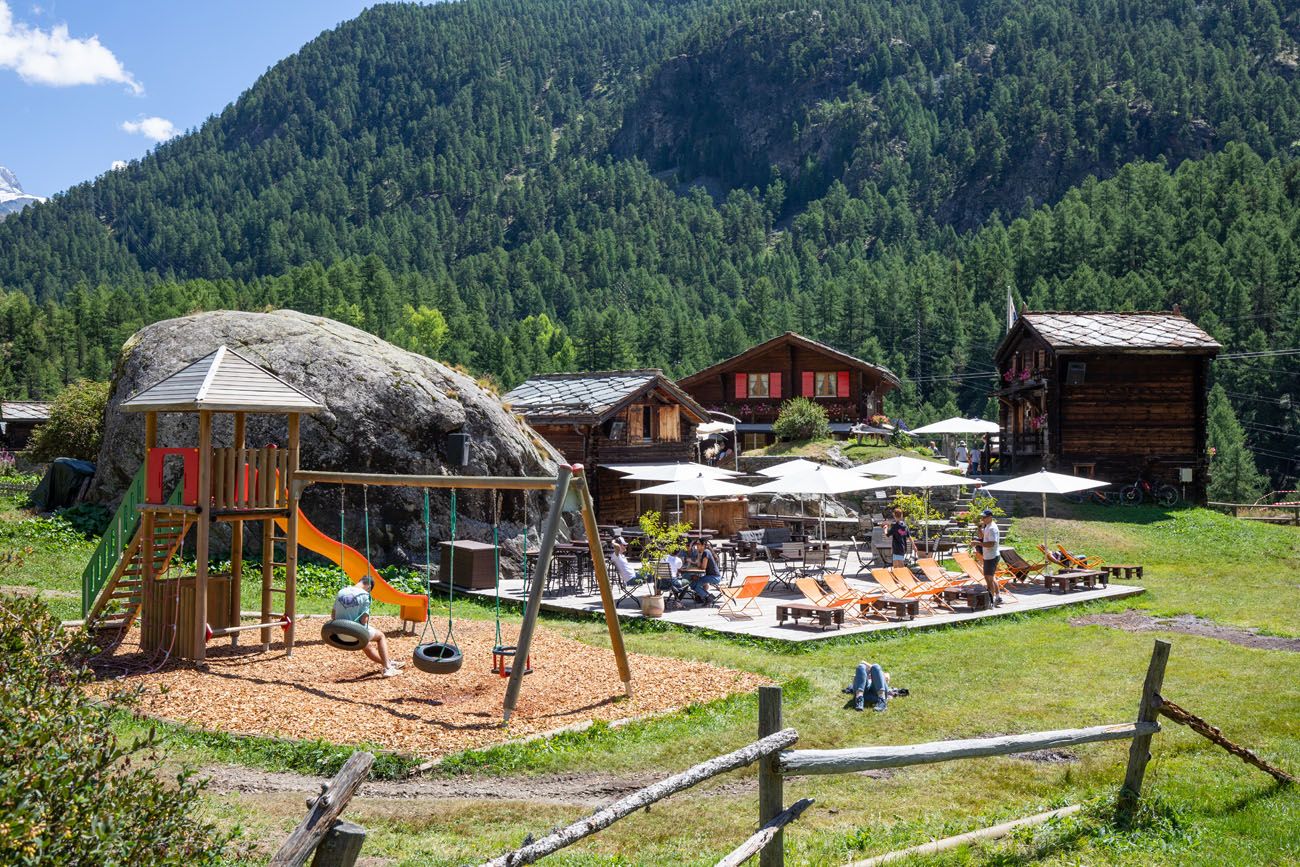 Blatten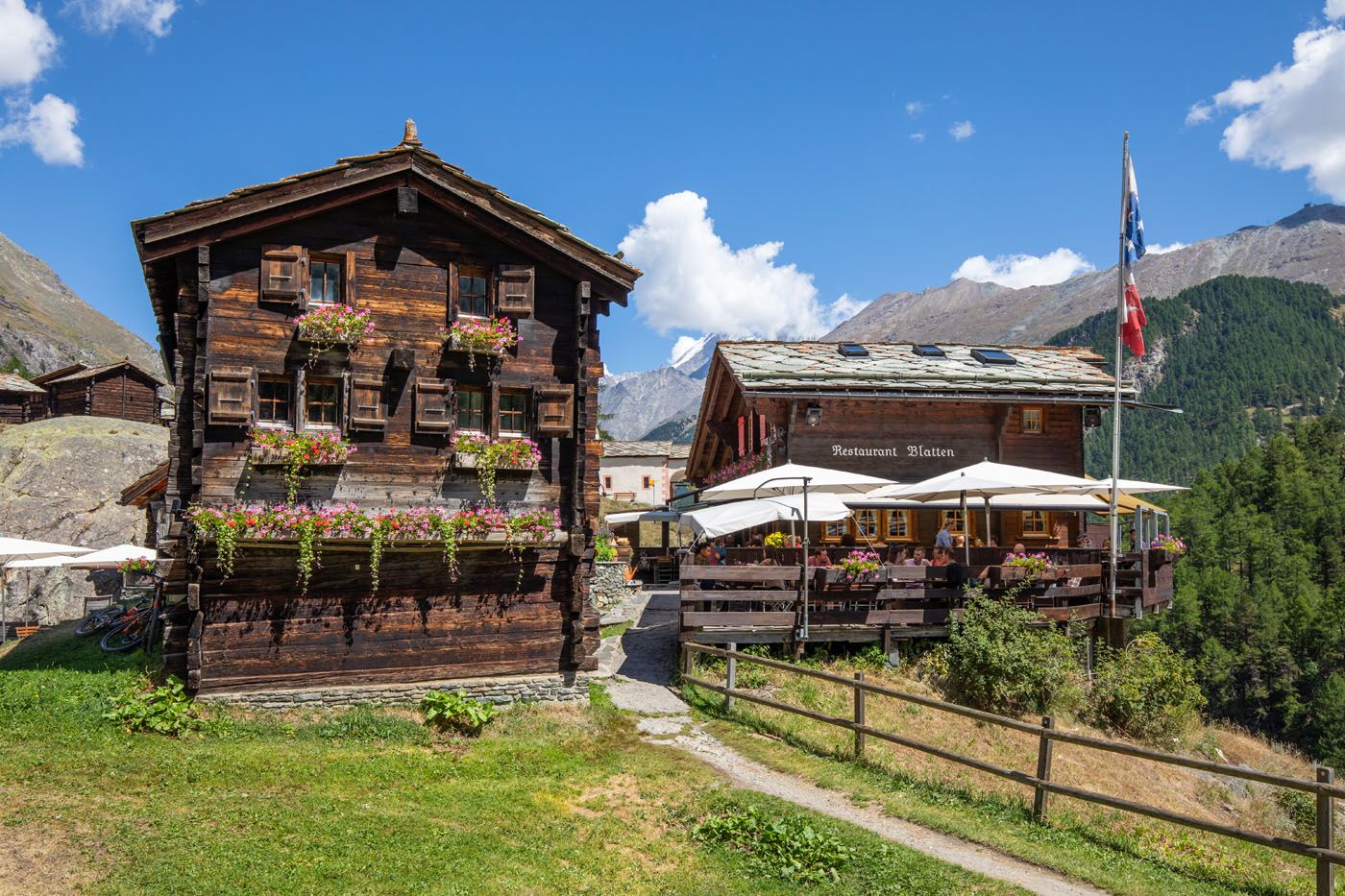 Restaurant Blatten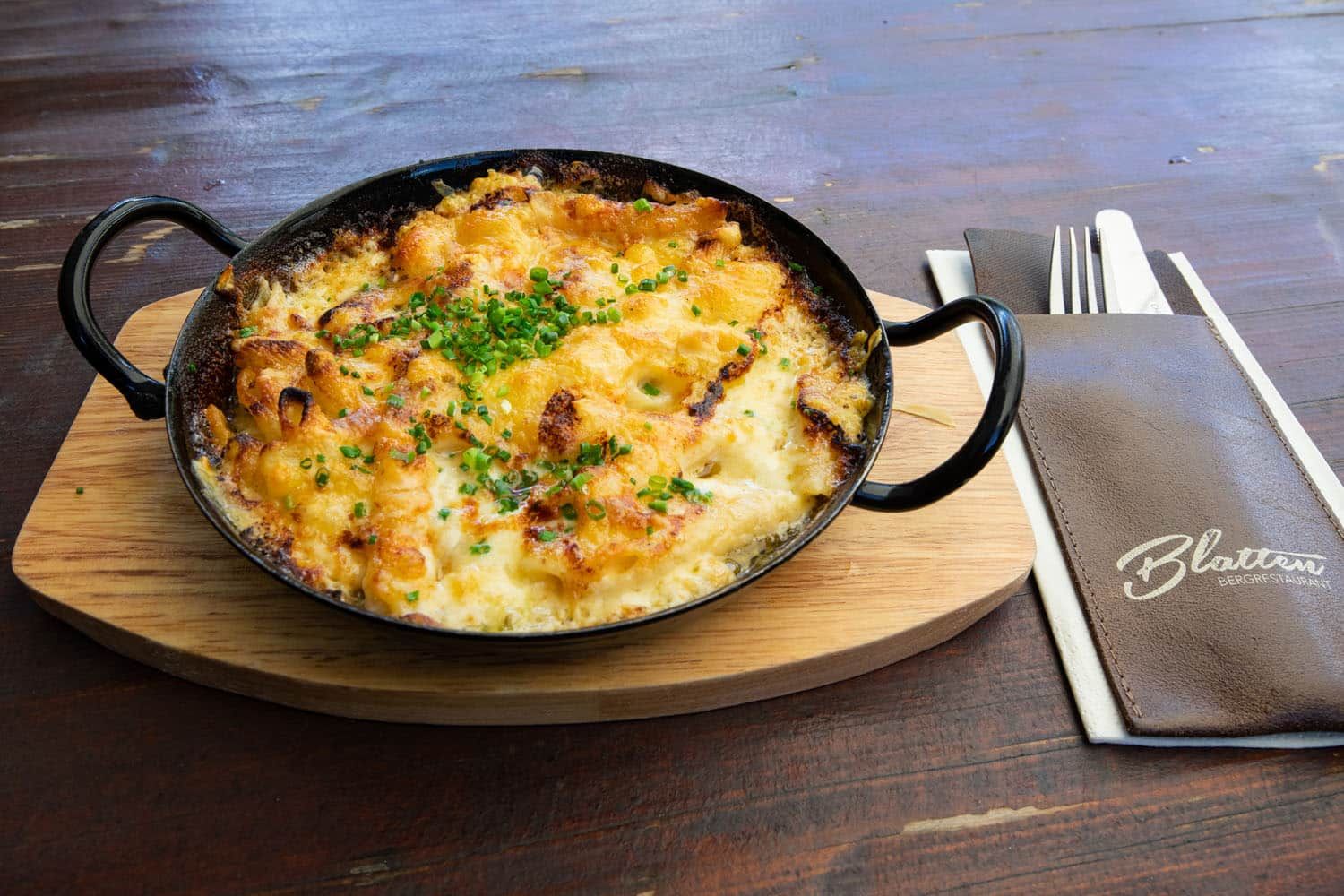 Lunch at Blatten
Blatten to the Gorner Gorge
Distance: 0.6km/0.4 miles | Time: 15 minutes
From Blatten, there is a trail that heads to the gorge, but it is hard to find as few signs identify the trail and the trail is not visible on Google Maps. At Bergrestaurant Blatten, however, there is a small sign pointing towards Gornerschlucht (Gorner Gorge). The sign points to a trail that runs right next to Bergrestaurant Blatten's main outdoor seating area. The trail heads downhill and into the woods, beneath the gondolas that soar overhead.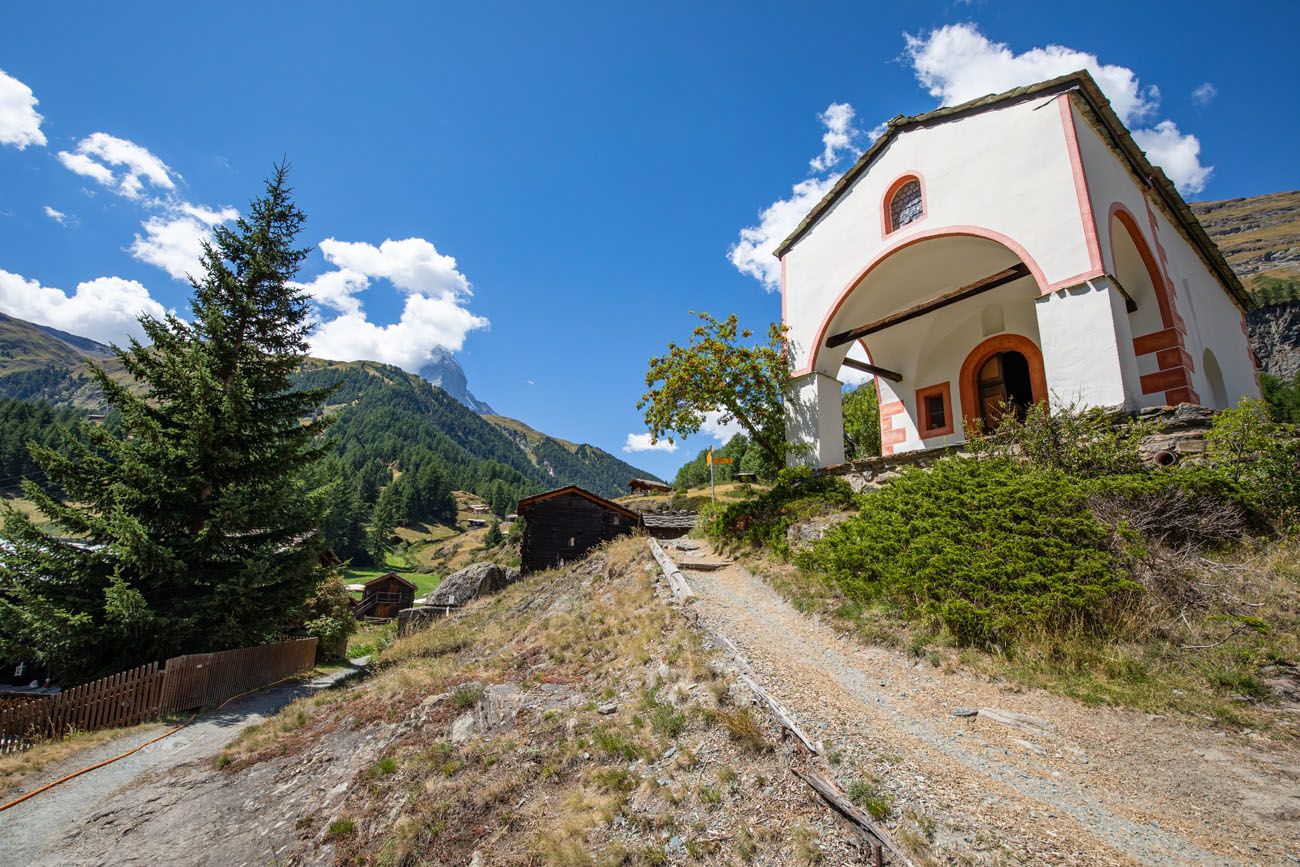 Trail from Blatten to Gorner Gorge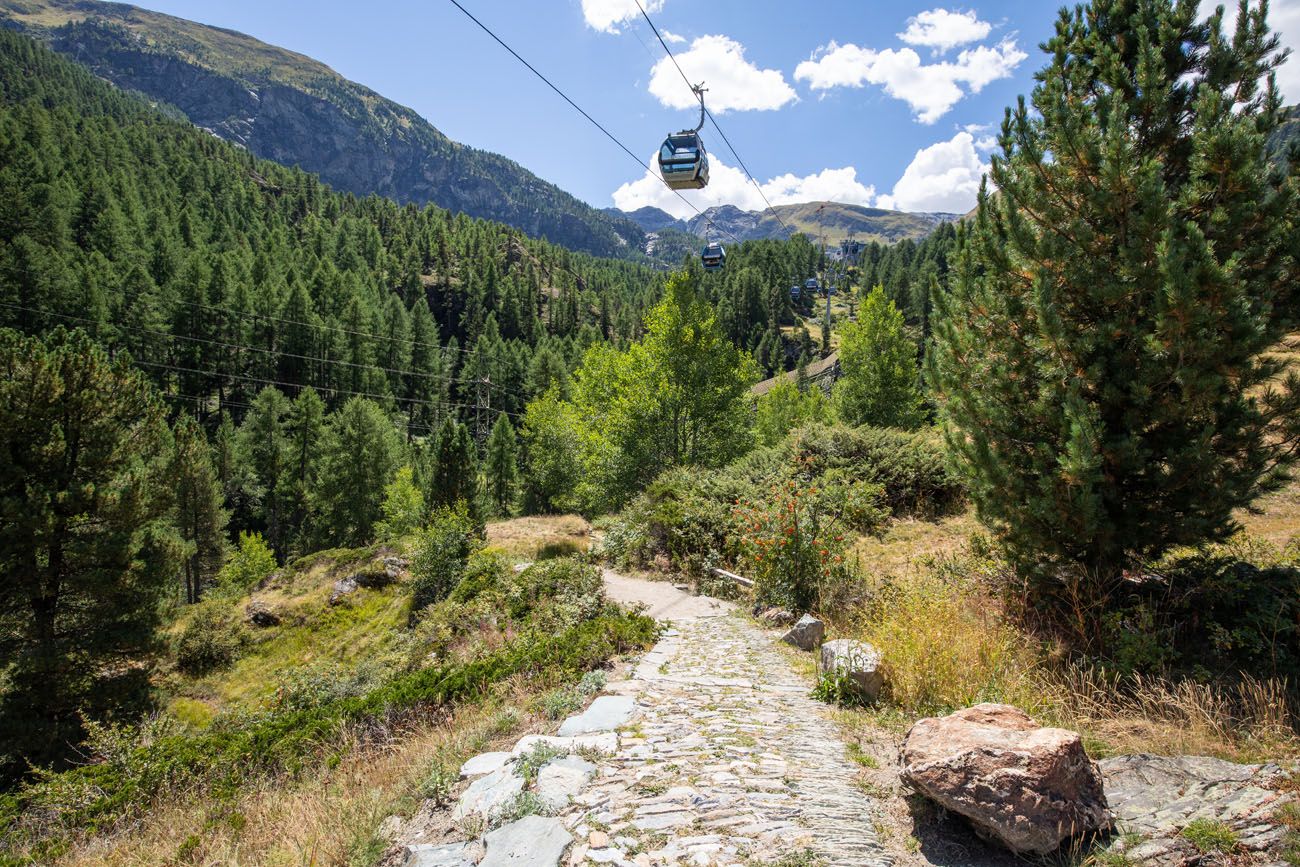 Trail from Blatten to Gorner Gorge
Soon you will reach a bridge overlooking the top of the gorge. Continue down the trail a short way, following signs for Gornerschlucht.
You will come upon a trail split. To the left will be a wooden sign marked Gornerschlucht. Head down the trail to reach the boardwalk.
You will pay the entrance fee later when exiting the gorge.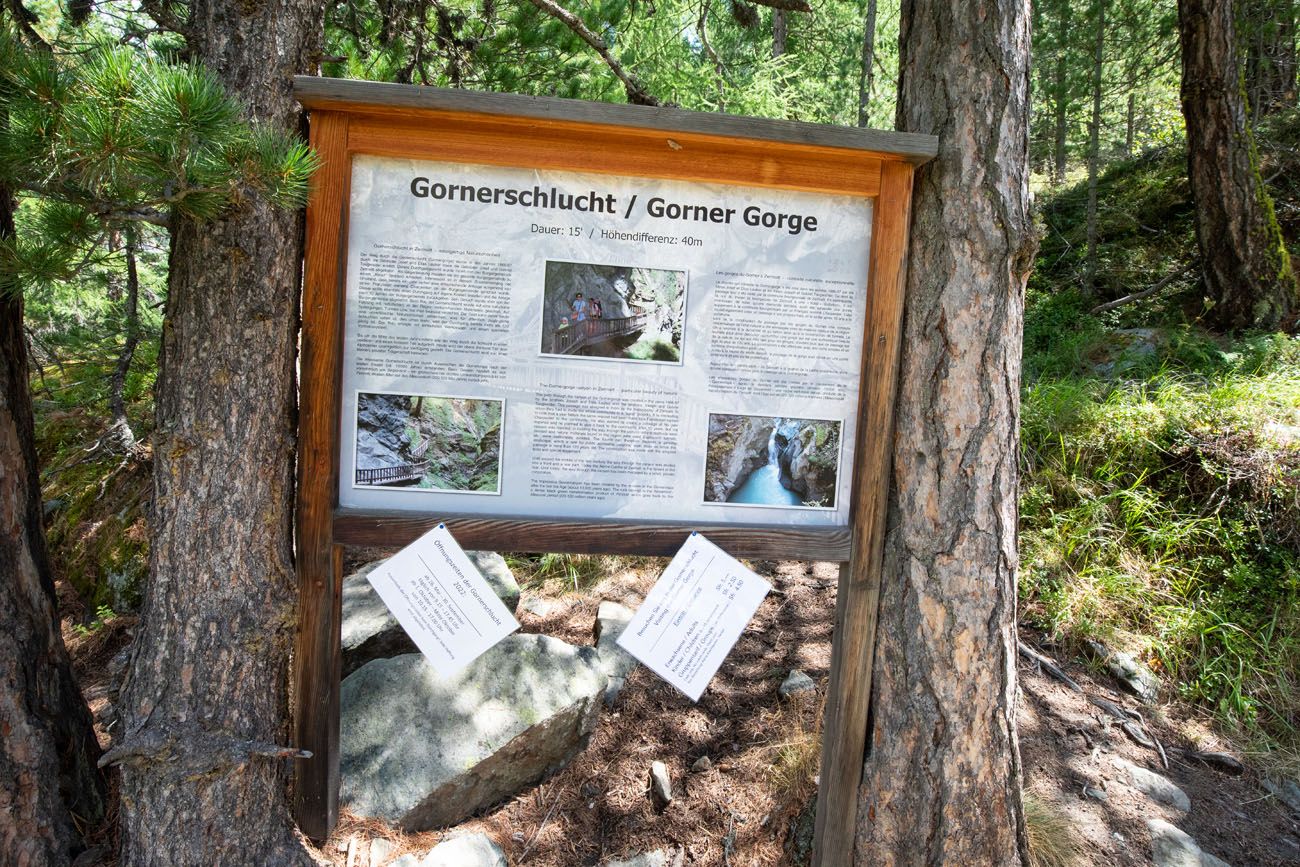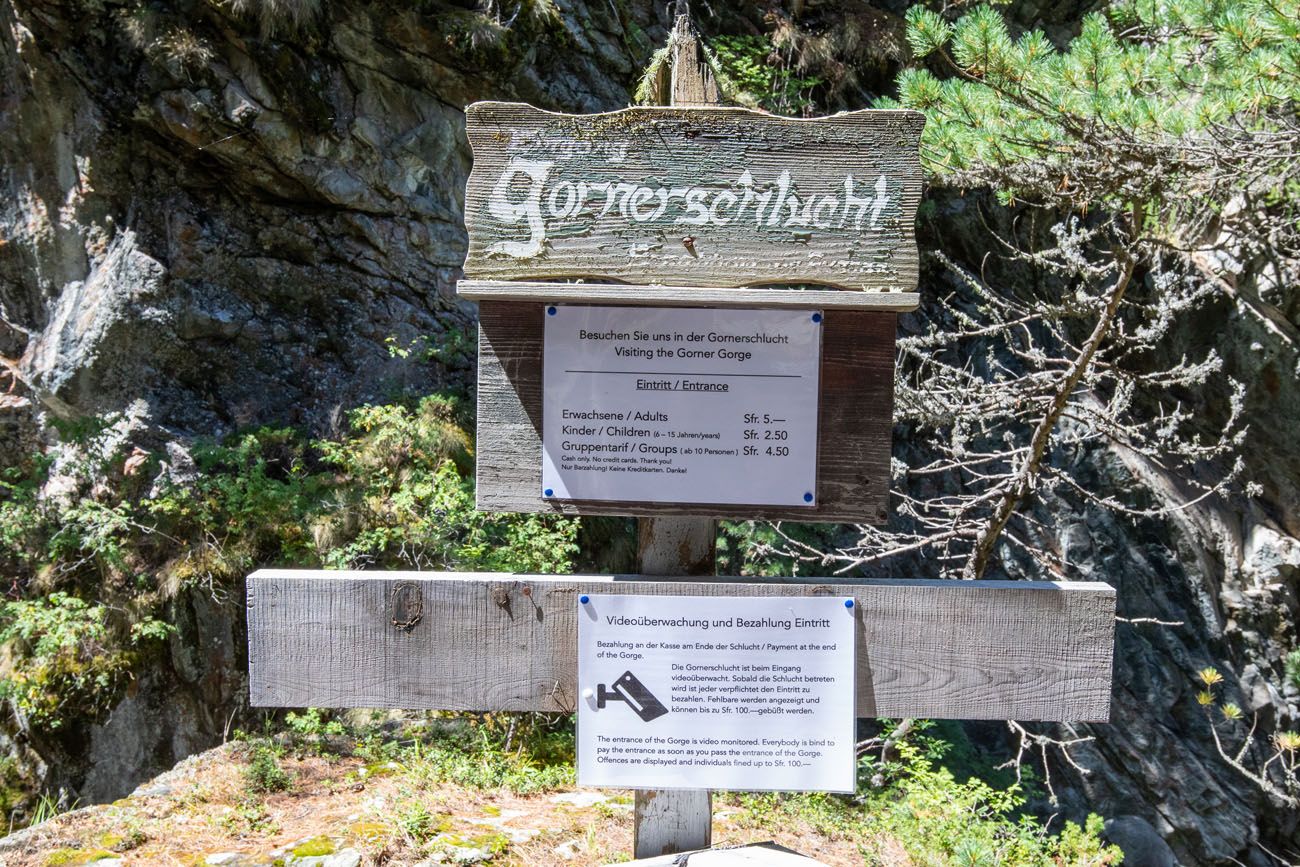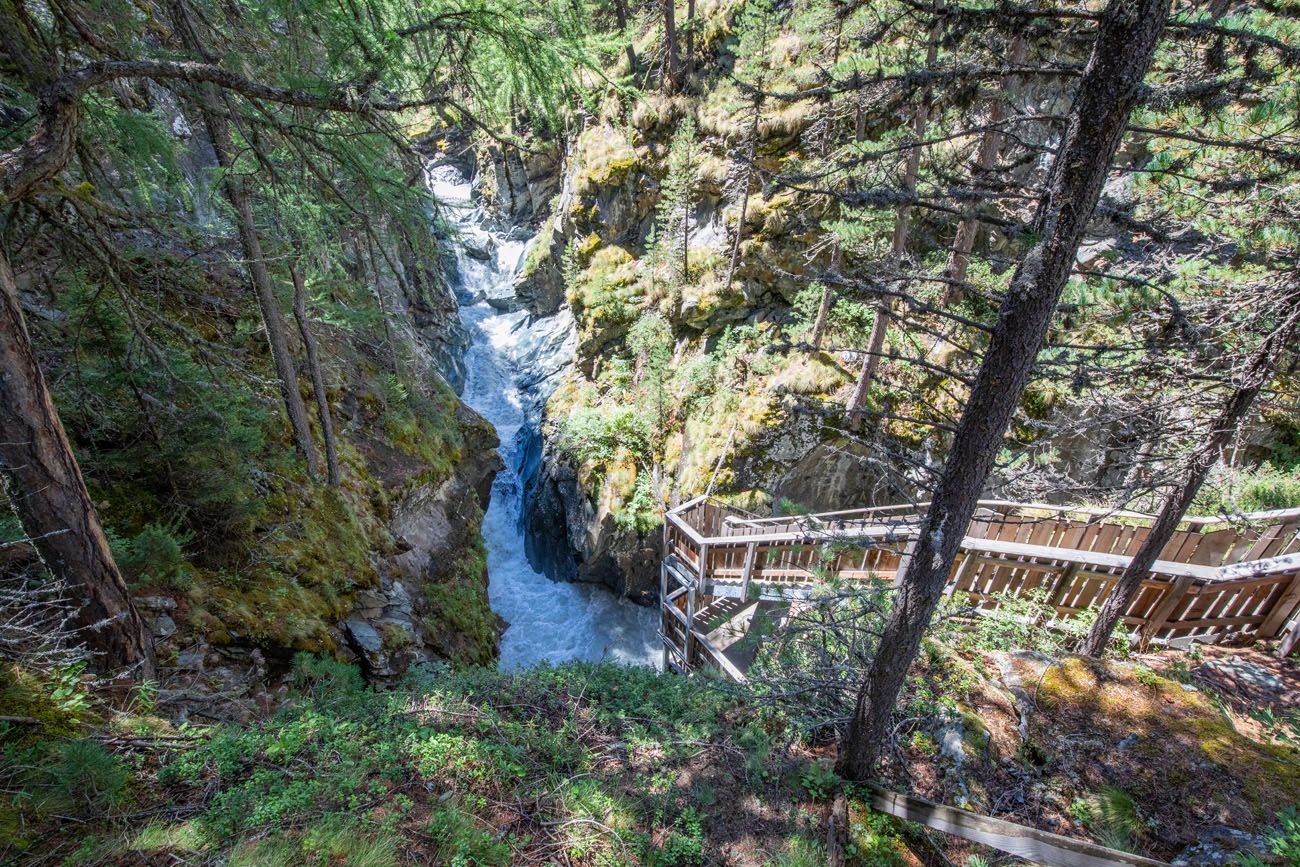 First view of Gorner Gorge
The Gorner Gorge
Distance: 0.4 km/0.25 miles | Time: 20 minutes
The Gorner Gorge is a deep passage carved out from the gushing waters of the Gornervispa. It is a gorge 220 million years in the making and today it has become a popular tourist destination.
Boardwalks and staircases run through a small section of the gorge for visitors to walk along. Below is water gushing down the gorge with incredible force.
For all of the effort it takes to reach the gorge, the gorge hike itself is a short walk. The whole hike is along a narrow boardwalk inside of the gorge and it takes about 15 minutes to walk through the gorge.
You will pay for your visit once you exit the gorge. In 2022, it was €5 per person, cash only.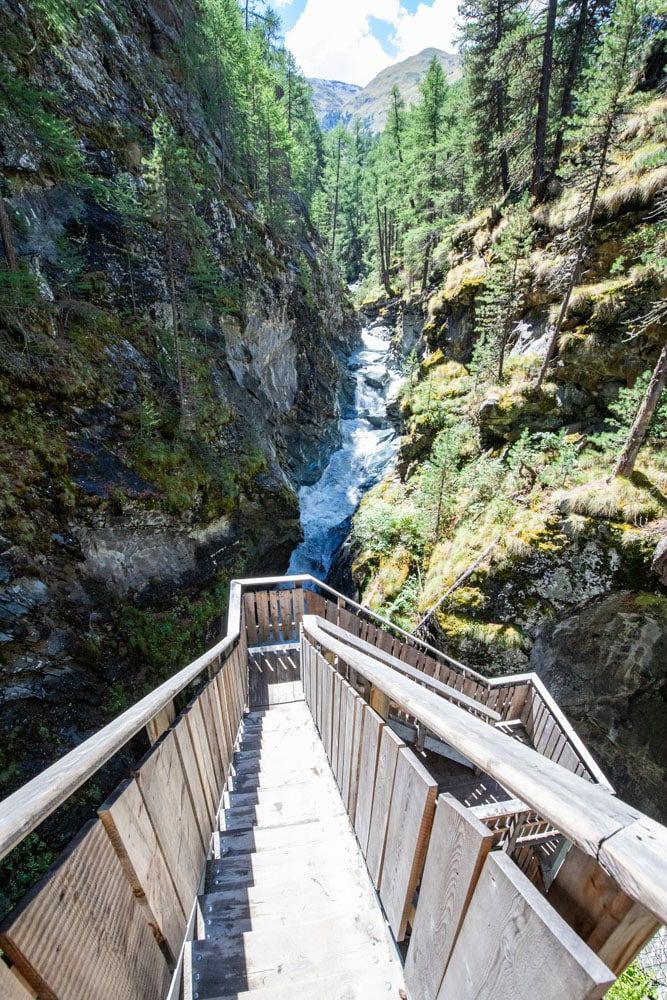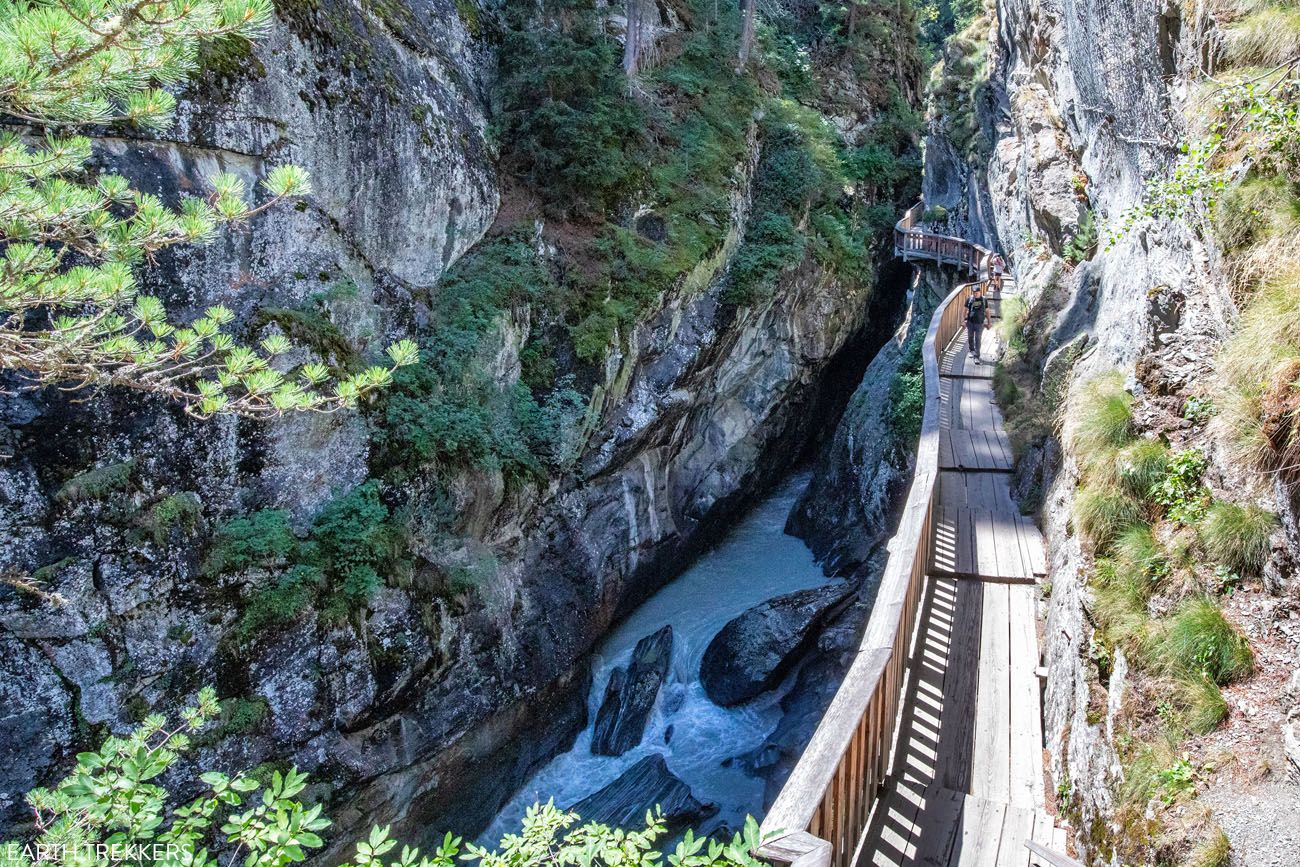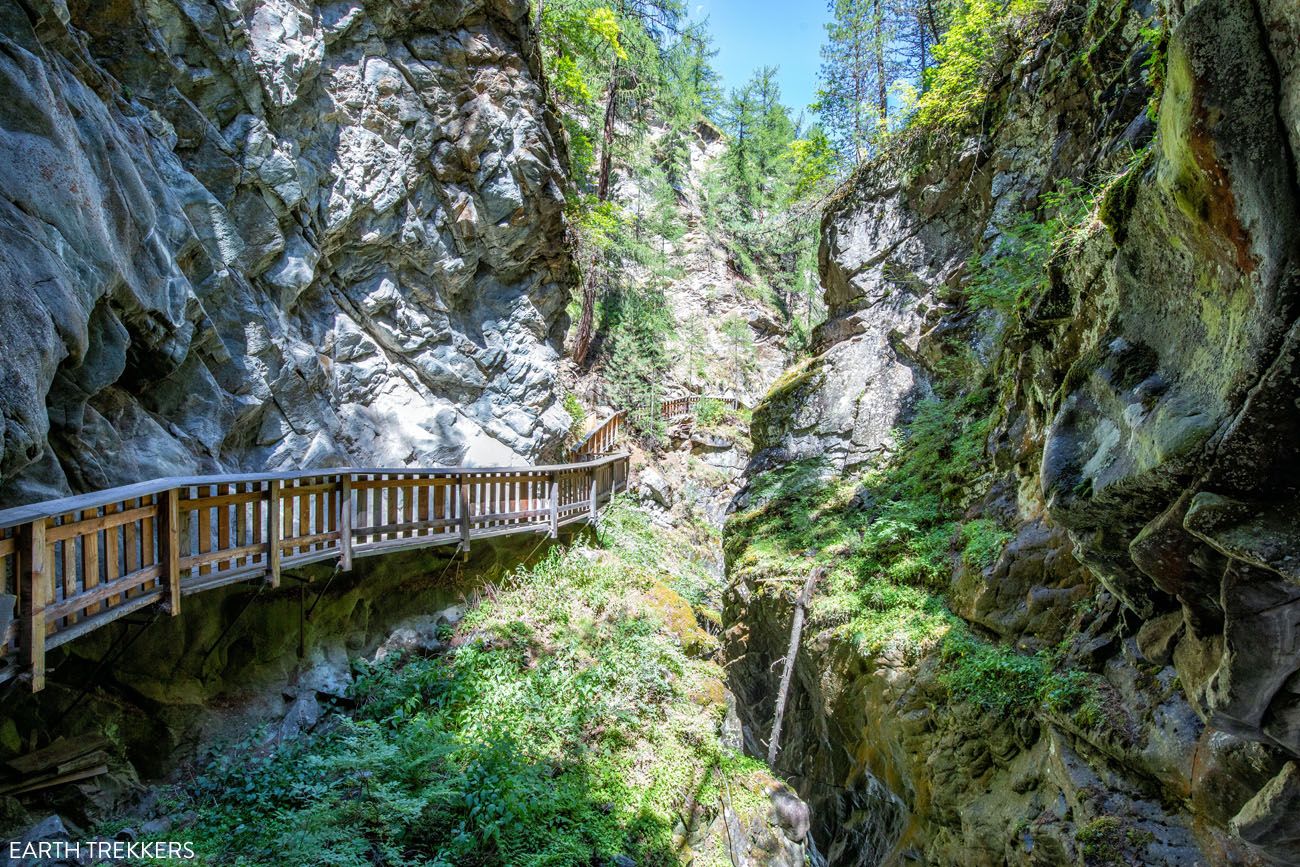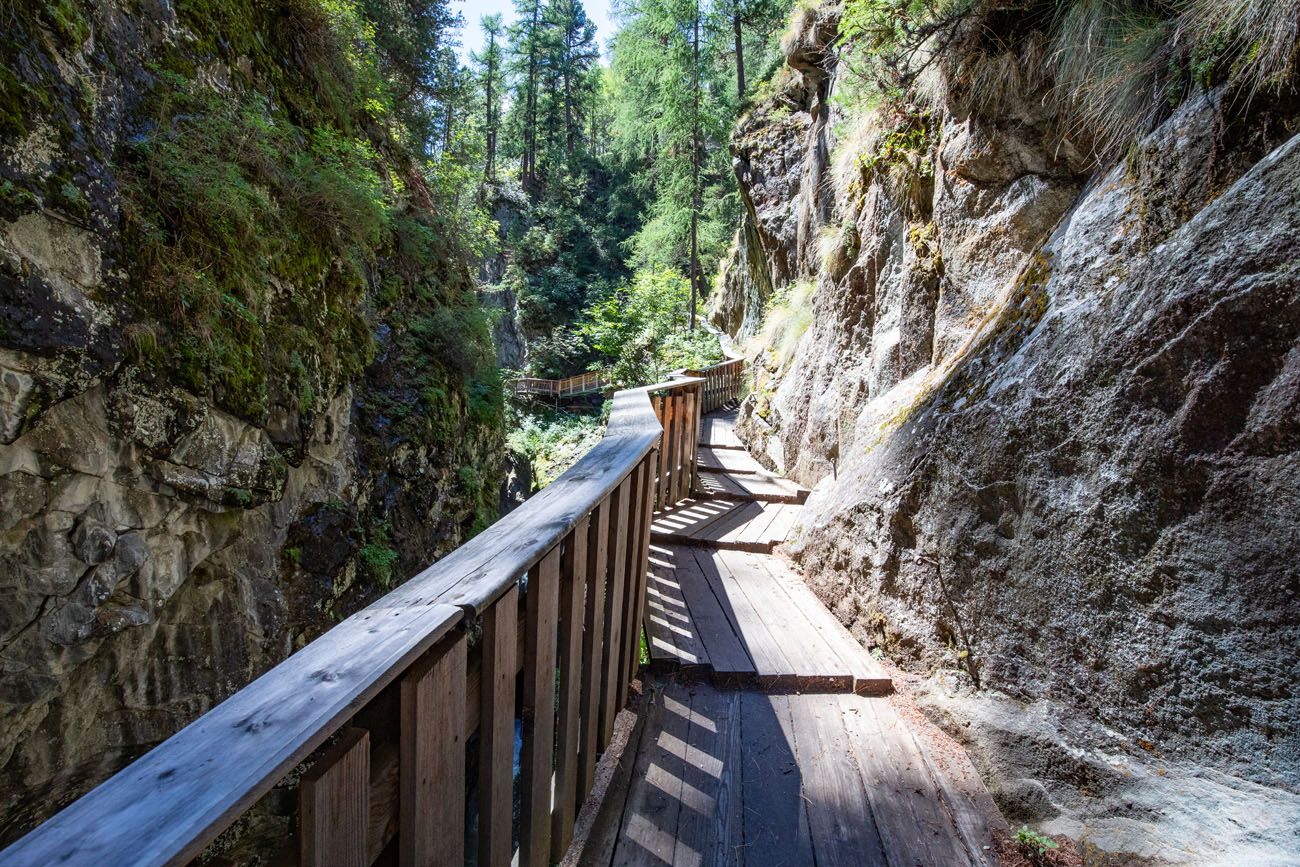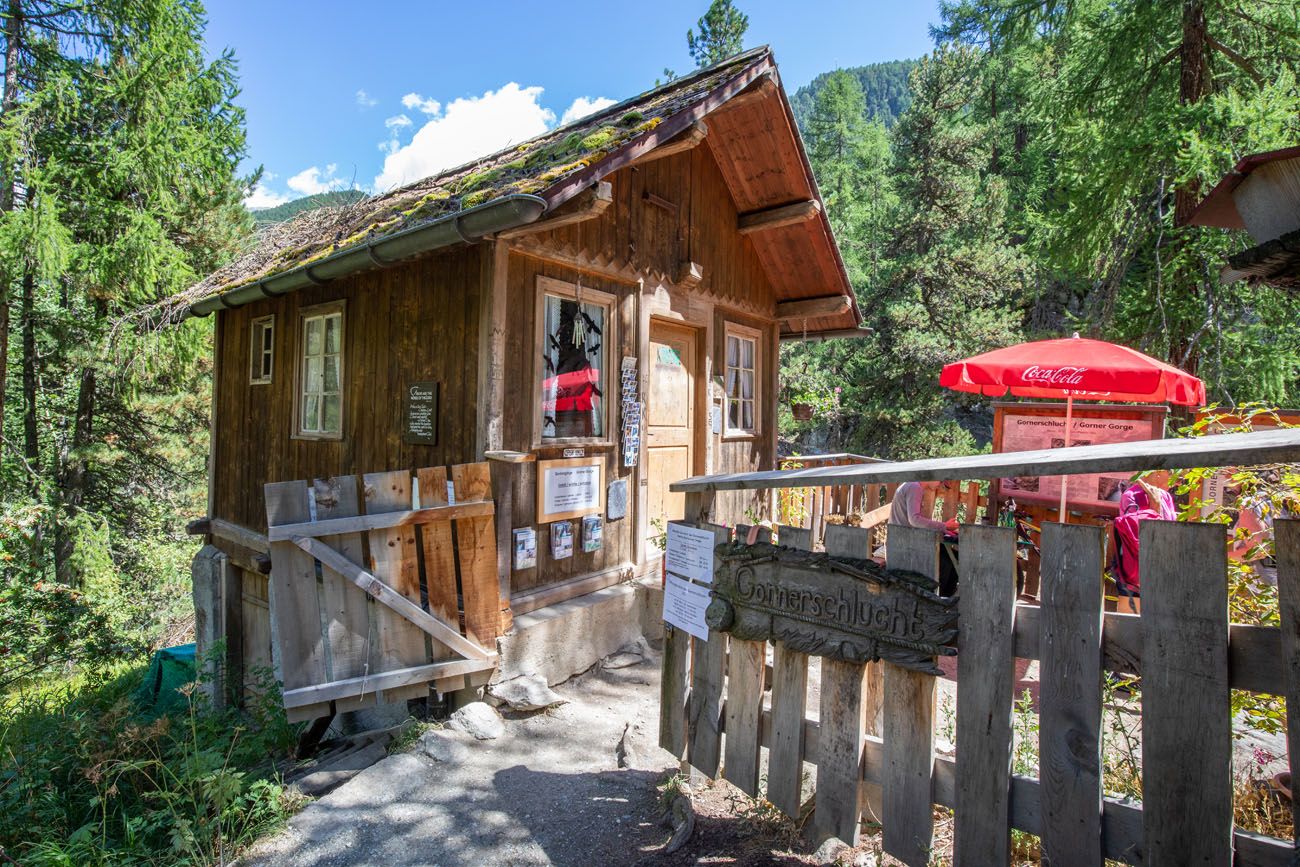 Gorner Gorge pay booth
The Gorner Gorge to Zermatt
After exiting the gorge stay to the right and follow a track that takes you to a bridge that crosses the Matter Vispa River (the main river that runs through Zermatt). After crossing this bridge follow the river downstream (it will be on your left) past Forest Fun Park Zermatt.
Shortly past Forest Fun Park Zermatt you will veer left, crossing another bridge over the Matter Vispa River. The river will now be to your right. A minute later you will come to the ZenStecken Bus Stop. From here you can follow the road alongside the river to Kirchbrücke (Church Bridge) located in the heart of Zermatt (0.6 km or 0.4 miles).
How to Get to the Gorner Gorge
If you only want to visit the Gorner Gorge and skip the hike from Furi to Zermatt, here is how to get to Gorner Gorge from Zermatt.
From Kirchbrücke (Church Bridge) in downtown Zermatt, walk upstream alongside the Matter Vispa River to the ZenStecken Bus Stop. For reference, the Klein Matterhorn Gondola Station (the Zermatt Bergbahnen) will be on the opposite side of the river, but it might be difficult to see. From the ZenStecken Bus Stop, walk another minute upstream and turn left to cross the bridge over the river.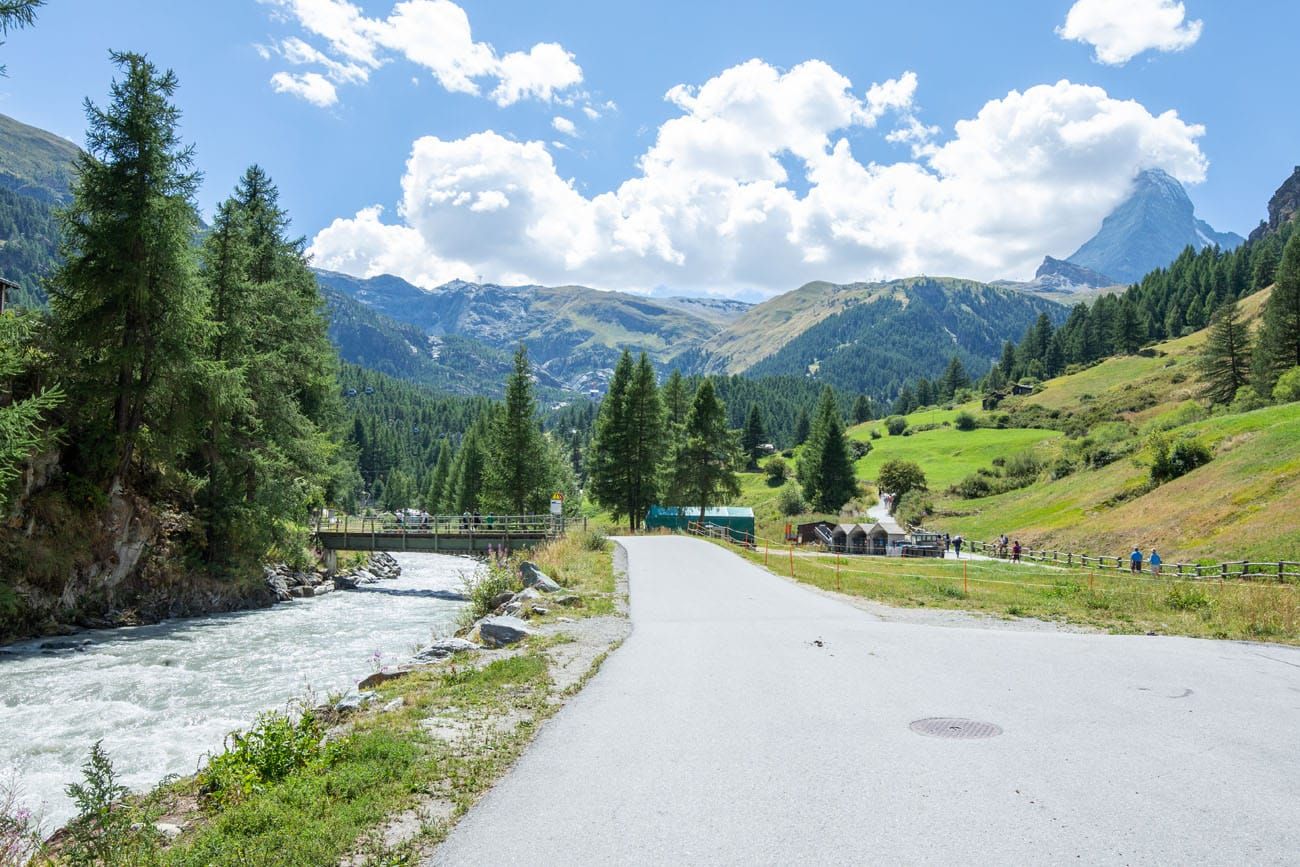 Walking path from Zermatt to the Forest Fun Park.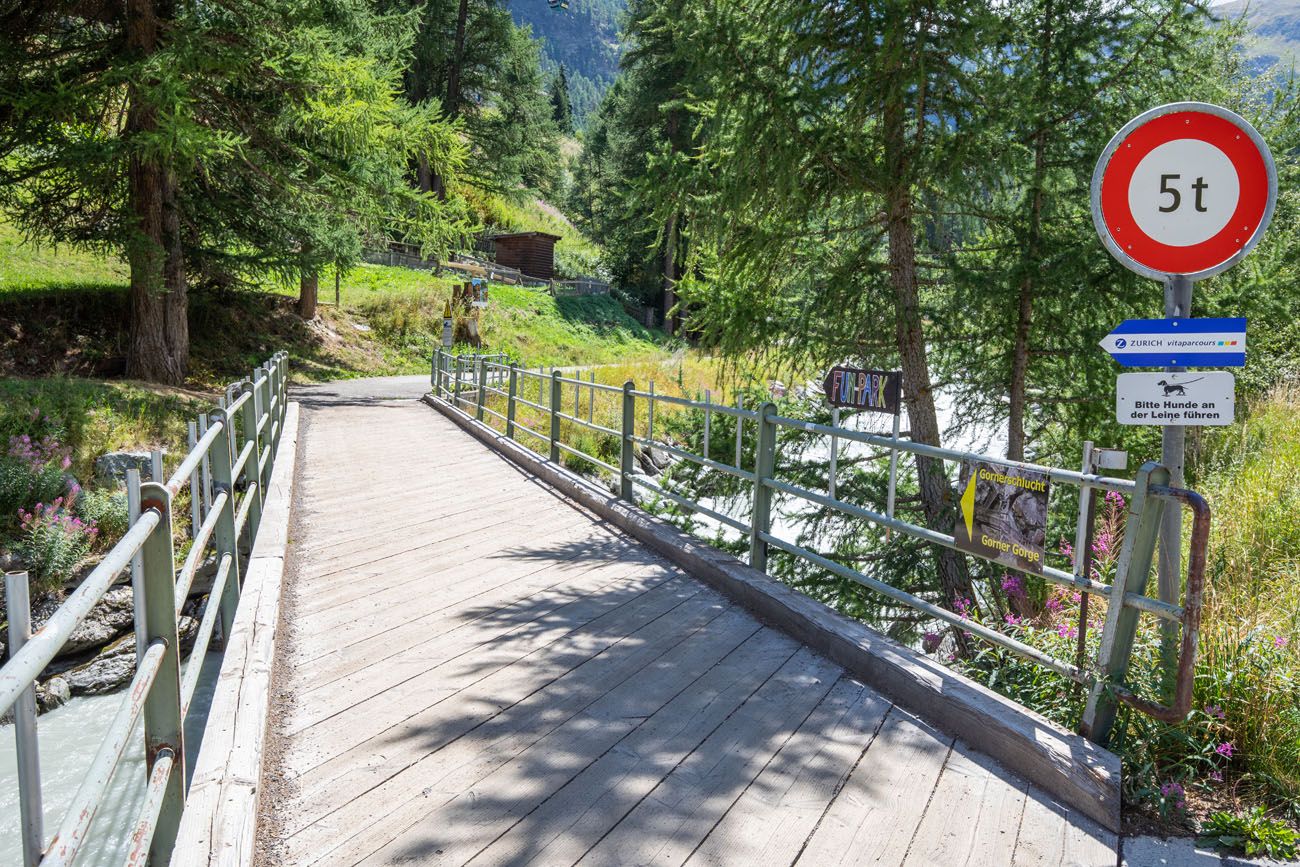 Bridge crossing the Matter Vispa River
Continue following the river. You will then come to Forest Fun Park Zermatt. A minute or two past Forest Fun Park Zermatt you will cross another bridge over the Matter Vispa River.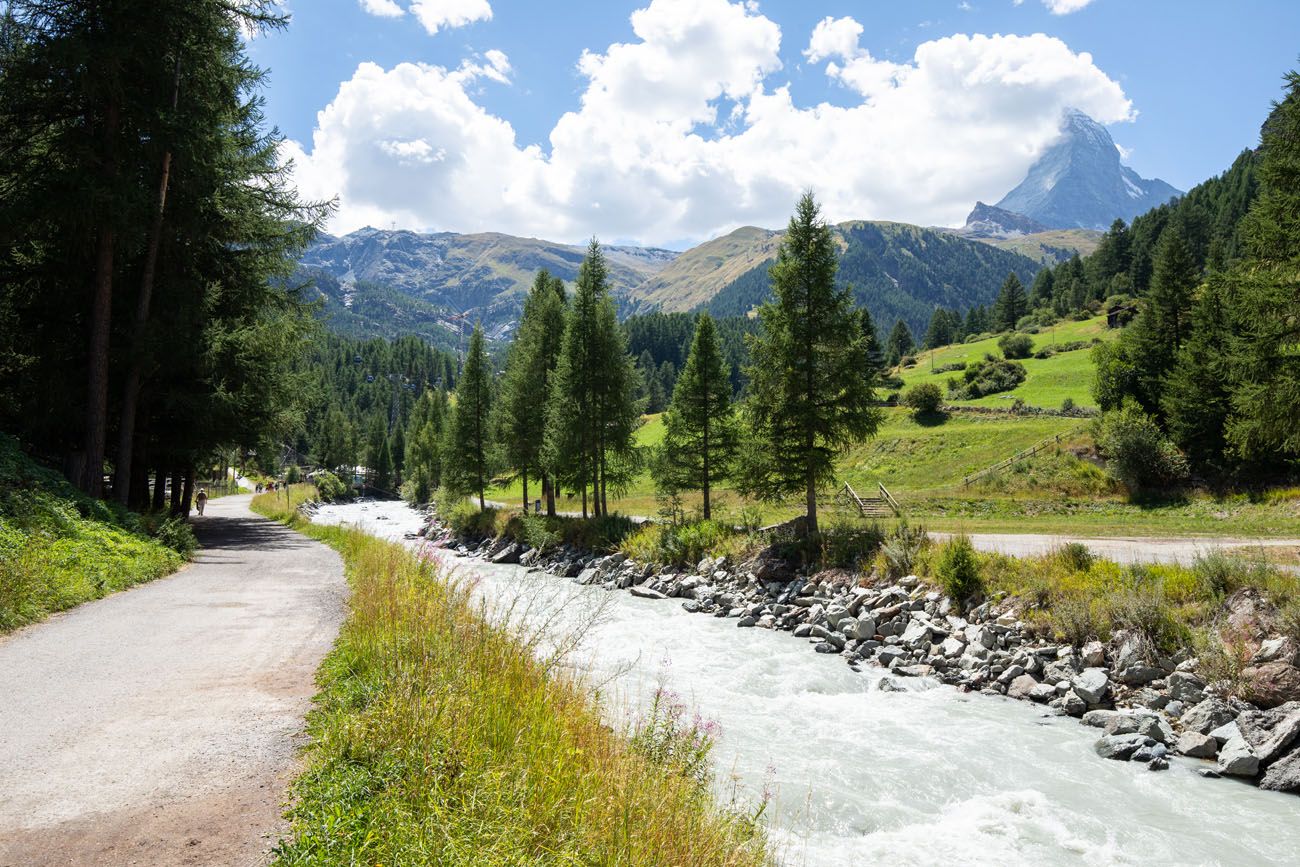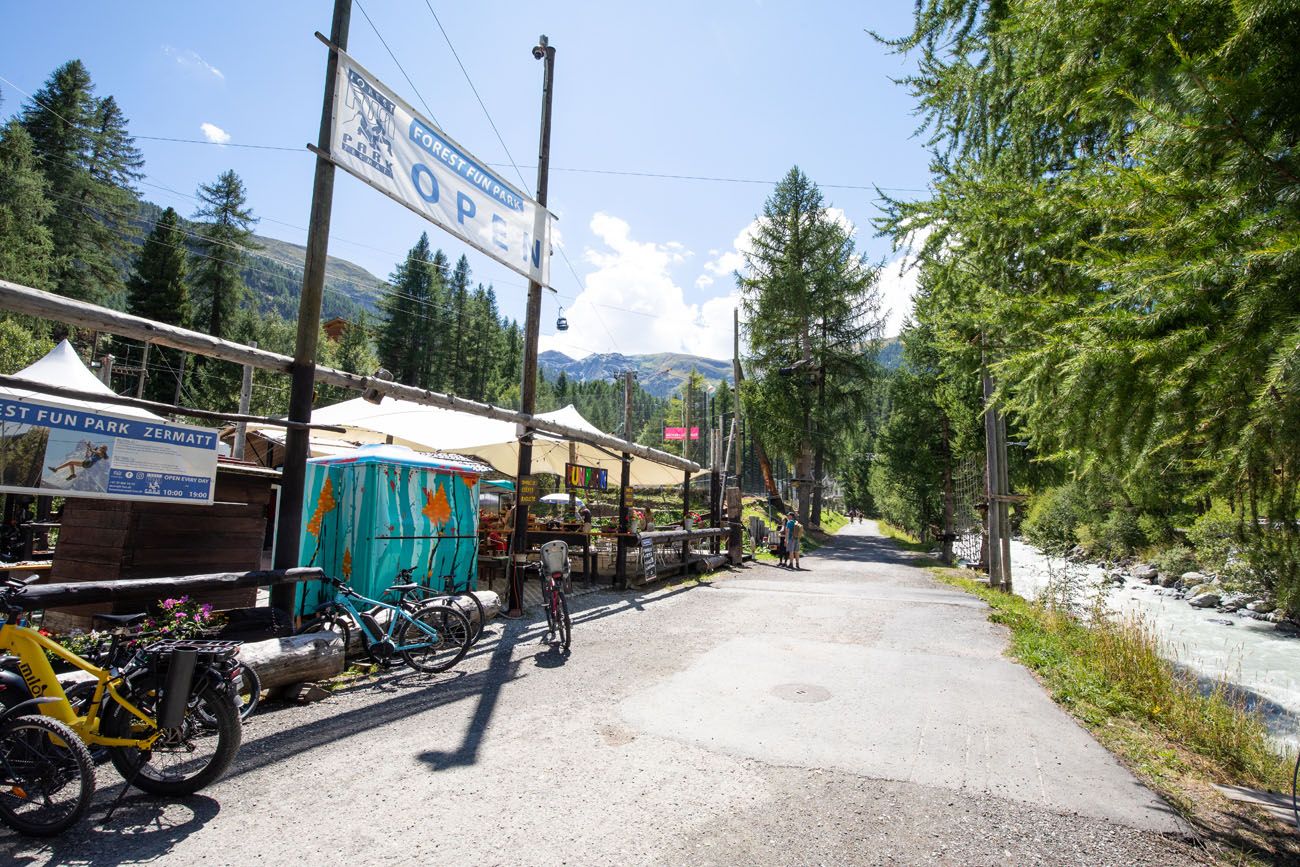 Forest Fun Park
After crossing this bridge stay to the left and there will be a sign for Gornerschlucht. Follow the sign onto a dirt trail and it is a 5-minute walk to the gorge.
Before entering the Gorner Gorge, you will pay the entrance fee.
Our Thoughts on Furi to Zermatt Hike
The Gorner Gorge is pretty and overall it is a nice walk from Furi to Zermatt, but if you only have a few days in Zermatt, we recommend that you spend your time exploring the mountains rather than visiting the Gorner Gorge. Hikes we recommend are Gornergrat to Riffelberg, the Matterhorn Glacier Trail, and the hike to Hornlihütte.
If you are new to hiking or are curious about what you should bring on a hike, check out our Hiking Gear Guide. Find out what we carry in our day packs and what we wear on the trails.
---
If you have any questions about how to hike from Furi to Zermatt or how to visit Gorner Gorge, let us know in the comment section below.
More Information for Your Trip to Switzerland
ZERMATT: In Zermatt, don't miss the hike from Gornergrat to Riffelberg. For more alpine views, learn how to visit Matterhorn Glacier Paradise (and find out if it is worth it) and how spend one day on Sunnegga, Blauherd, and Rothorn. In our Zermatt Hiking Guide, we list essential hikes to do in Zermatt. For more ideas on what to do, read our article Best Things to Do in Zermatt.
MORE GREAT HIKES IN SWITZERLAND: The Bernese Oberland is one of Switzerland's top hiking destinations. Hike the short, incredibly scenic trail from Männlichen to Kleine Scheidegg, walk the Northface Trail from Mürren, or hike from Schynige Platte to Faulhorn, a longer, more challenging, but awesome hike in this region. We also recommend hiking the Gastlosen Tour near Gruyères.
SWITZERLAND ITINERARY: If your visit to Zermatt is part of a bigger trip to Switzerland, check out our Switzerland Itinerary, which has suggestions on what to do if you have 7 days, 14 days, or even longer.
JUNGFRAU REGION: If you are planning a trip to the Jungfrau region, check out our Guide to the Jungfrau Region, which includes maps and important travel planning information. We also have a separate article about the best things to do in the Jungfrau region. Get more information on how to visit Jungfraujoch, where to stay in the Jungfrau region, and how to add on the thrilling Mürren Via Ferrata to your visit.
We have TONS more information about Switzerland in our Switzerland Travel Guide, including Zürich, Lucerne, the Bernese Oberland, Zermatt, Lugano, and Lausanne.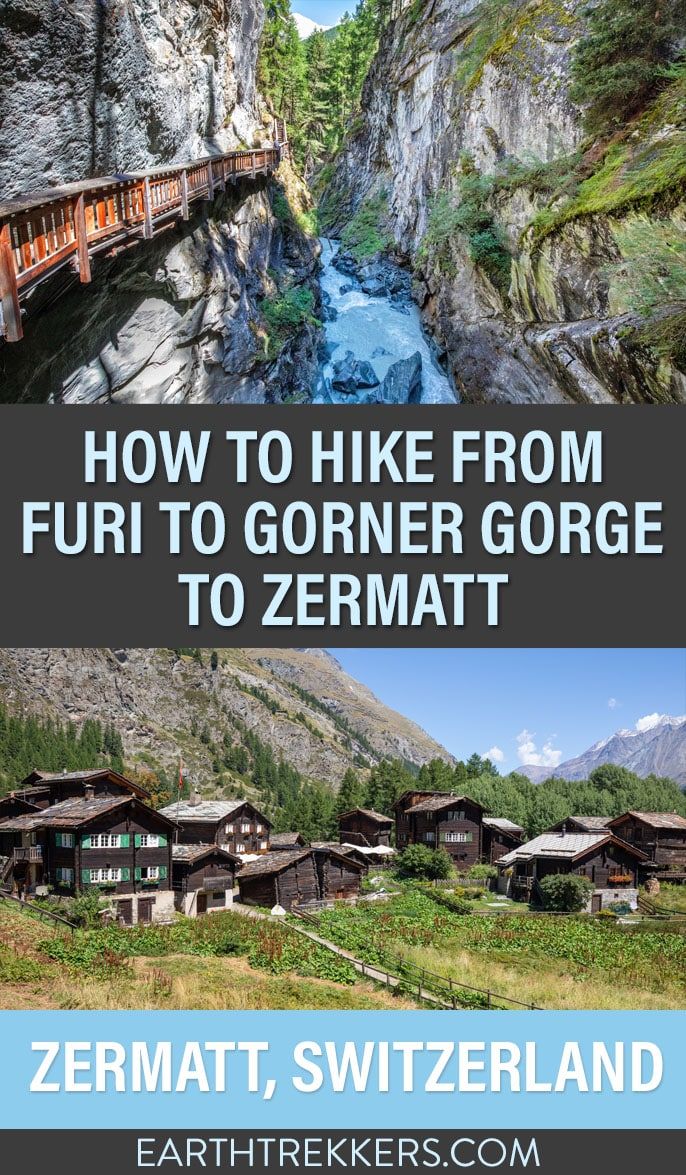 All rights reserved © Earth Trekkers. Republishing this article and/or any of its contents (text, photography, etc.), in whole or in part, is strictly prohibited.