Looking to hike some of the world's most beautiful mountain landscapes, stroll through colorful old towns, and dine on some fondue? Then Switzerland is the perfect place for you! Visit the Bernese Oberland, a hikers paradise filled with towering mountains, alpine meadows, historic cogwheel trains, and quaint villages. Or, relax at Switzerland's gorgeous cities and stock up on some famous Swiss chocolate.
Switzerland Stats
Official Languages: German, French, Italian, and Romansh
Population: 9 million
Capital City: Bern
Currency: Swiss franc
Power Outlet: Types C and J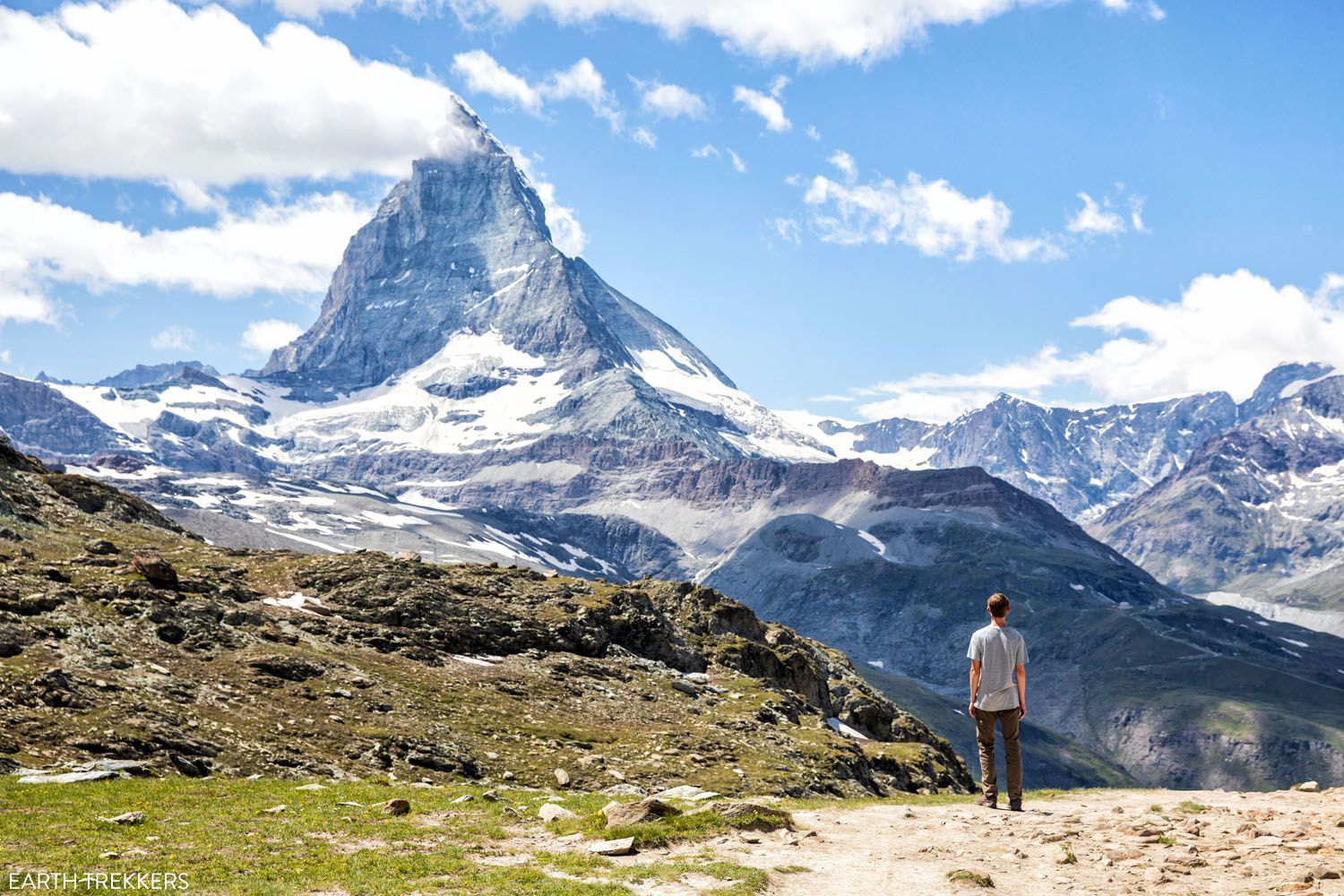 Whether you have one, two, or even three weeks, learn how to plan the perfect Swiss itinerary. In this article, we list five sample itineraries for Switzerland. These range from 7 to 21 days, with suggestions on how to use the Swiss Travel Pass and public transportation.
Located in central Switzerland, the Bernese Oberland is home to some of the most dramatic mountain scenery in all of Europe. For many visitors (ourselves included), this region is the highlight of a trip to Switzerland. The alpine views, the cozy, charming villages, and the soaring cable cars create a magical destination.
Lucerne and

Zürich are two neighboring cities in central Switzerland. They are a joy to visit and make a good home base for exploring the sights in this part of Switzerland.
Zermatt is an idyllic mountain village tucked away in the Swiss Alps. The mighty Matterhorn dominates the skyline, creating one of the most unique alpine landscapes in Europe.
The Walker's Haute Route is a 14-day trek from Chamonix, France to Zermatt, Switzerland. It's a challenging walk through the Swiss Alps. Along the way, you visit Swiss towns and hamlets, cross 10 mountain passes, and have extraordinary views of this part of Europe. It's a beautiful journey and one of our favorite travel experiences.
In our
Guide to the Walker's Haute Route,
we cover the logistics of planning and hiking the Haute Route. Learn how to plan your trek, get an overview of each stage, and get helpful tips.
Lake Geneva and the Fribourg canton are located in western Switzerland. Visit the picturesque city of Lausanne and day trip to Gruyères.
Lugano & the Ticino Canton
Located on the southern, sunny side of the Swiss Alps, it feels as if you left Switzerland and entered Italy. Visit beautiful Lake Lugano, visit the Bellinzona castles, and even day trip to Lake Como, Italy. 
Europe Travel Inspiration & Practical Info
Do you dream of visiting world-class cities like Paris, Barcelona, or Venice? Or would you rather hike the Alps, go on a scenic train ride, explore the beautiful beaches and coastal towns in southern Europe, visit fairytale towns and castles, island hop in Greece, or go on an unforgettable road trip in northern Europe?
In this article we list 25 ways to spend one week in Europe. 
Top Experiences in Switzerland
Bernese Oberland. For many visitors, the Bernese Oberland is the highlight of a trip to Switzerland. Towering mountains, alpine meadows, soaring cable cars, historic cogwheel trains, scenic walking trails, quaint villages and hamlets…this is what most people think of, when they think of Switzerland.
Jungfraujoch. A trip up to Jungfraujoch is one of the most popular things to do in the Bernese Oberland. Stand on one of the highest points in the Swiss Alps, walk through an ice cave, play in the snow, get panoramic views over the Alps, and hike out to Mönchsjochhütte.
Schilthorn. Schilthorn is one of the highest peaks in the Jungfrau region and it is one of the best places to go for panoramic views of the Swiss Alps. While you are here, enjoy the view as you dine at Piz Gloria, learn a little James Bond history at Bond World, and add on the thrilling Cliff Walk in Birg.
Spend some time in Bern. Enjoy the humble and medieval city of Bern! With its pretty river views, quaint streets, and cozy shops, this city is a delight to wander. Enjoy Bern's museums, see Einstein's home, and climb to the top of the 13th century Zytglogge tower to look out over the city.
Lucerne. Lucerne is a gorgeous Swiss city that sits at the foot of the Alps. The best things to do are to wander the old town, eat, drink, shop, and enjoy the views of the lake.
Mt. Pilatus. Mt. Pilatus is a jagged mountain that overlooks Lucerne. Cable cars and a cogwheel railway whisk visitors to the top, where you can go hiking, ride Switzerland's longest summer toboggan, and take in the view from a handful of viewpoints. 
Zürich. Zürich, with its colorful old town and handy public transportation network, is a great city to add on to your tour of Switzerland. Wander the picturesque old town, dine on fondue, go shopping, and take a boat tour of Lake Zürich.
Zermatt. Zermatt is an idyllic mountain village tucked away in the Swiss Alps. The mighty Matterhorn dominates the skyline, creating one of the most unique alpine landscapes in Europe. Explore the hiking trails, journey up higher into the mountains by cable car and train, stroll the scenic streets of Zermatt, and go skiing all year long. 
Visit St. Moritz. This small resort city surrounded by large mountains and gorgeous lakes. Enjoy the city's fine dining and exquisite shopping, paddle board on Lake St. Moritz, or look down on the city from the top of a mountain.
Lausanne. Sitting on the shore of Lake Geneva is Lausanne, a charming city that is located in French-speaking Switzerland. With a colorful old town and numerous world-class museums, this is a delightful city to add to your tour of Switzerland.
Gruyères. Located in the idyllic, rolling hills of French-speaking Switzerland sits Gruyères, a picture-perfect medieval town. Cheese, chocolate, and beautiful cobblestoned streets attract visitors all year round.
Geneva. Geneva is a common gateway into Switzerland for many travelers. It's a large and bustling city, yet ancient architecture, old cathedrals, and cobblestone streets still remain. Explore the city's old town, sail on Lake Geneva, and savor Swiss fondue at local restaurants. 
Visit the Appenzell District. Visit the quaint and historical villages in the Appenzell District, set amongst green pastures and soaring mountains. Here, you will be able to experience traditional Switzerland, taste freshly-made Appenzell cheese, and admire remnants of the Middle Ages.
How Many Days Do You Need in Switzerland?
At minimum, plan on spending 7 days in Switzerland. This gives you just enough time to visit Lucerne, Bern, or Zürich and then spend a few days in the Swiss Alps.
With 10 days in Switzerland, you have enough time to tour Lucerne, Zürich, the Bernese Oberland, and Zermatt.
With even more time, you can add on Lugano, Lausanne, St. Moritz, or spend more time in the Swiss Alps.
If you only have a few days in Switzerland, we recommend visiting Lucerne and day tripping into the Jungfrau region from here.
Best Time to Visit Switzerland
You can visit Switzerland all year round.
The best time to visit, in my opinion, is during the summer months, especially if you want to go hiking. Many of the hiking trails do not open until the end of May or early June, and then close in October, when the snow begins to fall. So, if you are a hiker, the best time to visit is during the summer months.
Summer is peak season, especially in the Bernese Oberland. It will be more crowded and expensive to visit at this time, so you will need to make your hotel reservations far in advance (ideally 4 to 6 months before your visit). But the weather is warm, the flowers are blooming, and the days are long.
If you want to hike the trails and have lower crowds, plan your visit for the end of September to early October.
But Switzerland certainly does not lose its charm during winter months! Swiss cities are filled with Christmas celebrations and markets, and Switzerland has some of the best snow sports in Europe. Meanwhile, the Bernese Oberland is a snow-covered wonderland. Ride the cable cars to Schilthorn and Jungfraujoch for spectacular views, go skiing, and spend the evenings in a cozy hotel with views of the snow-capped mountains.
Most of the trains and cable cars operate year round, although some will close for a short period of time for maintenance, either during the winter, spring, or fall months.