The hike from Schynige Platte to Faulhorn to First is a big day hike in the Jungfrau region of Switzerland, but what a spectacular day. A scenic ride on a cogwheel train, alpine lakes, rustic mountain huts, snow-covered trails, cows and their musical bells, and some of the best views of Swiss Alps…these are just a few highlights of this thrilling hike.
With views of the Jungfrau massif, Lake Brienz, and numerous alpine lakes, this is often labeled as one of the best day hikes to do in the Jungfrau region.
Schynige Platt to First Hiking Stats
Distance: 16 km (10 miles) point-to-point
Total Elevation Gain: 860 meters (2820 feet)
Total Elevation Loss: 690 meters (2260 feet)
Difficulty: Strenuous
Length of Time: 6 hours
When to Go: mid-June through mid-October
This is a point-to-point hike that can be done in either direction. If you start at Schynige Platte and end at First, it is slightly more difficult, since First sits at a higher elevation than Schynige Platte. By starting in Schynige Platte, you have better views of the Jungfrau mountain range.

Elevation profile starting at Schynige Platte and ending in First.
To do this hike, you will ride the Schynige Platte railway from Wilderswil to Schynige Platte and then the gondola from First to Grindelwald (or vice versa, if you do this hike in the opposite direction).
Mountain huts are located at the start, finish, and along the trail, and provide opportunities to stop, take a break, and refuel your batteries.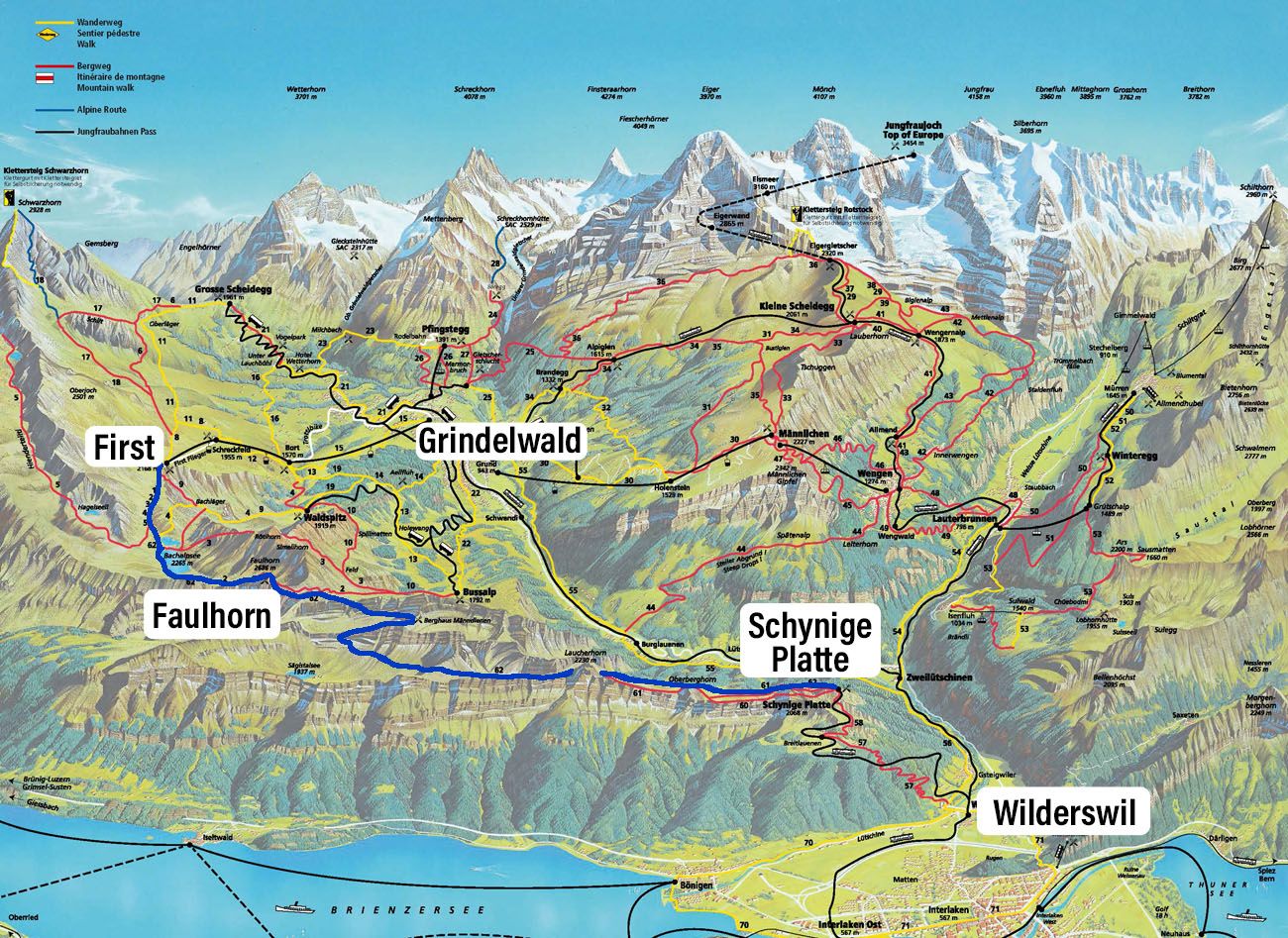 Map of Jungfrau region of Switzerland. The hiking trail is the blue line.
We did this hike from Schynige Platte to First (pronounced Fierst). We liked being able to catch the first train of the day and then ending in First. Once in First, there are restaurants, a cliff walk, and other activities that you can add on to your day.
Please practice the seven principles of Leave No Trace: plan ahead, stay on the trail, pack out what you bring to the hiking trail, properly dispose of waste, leave areas as you found them, be considerate of other hikers, and do not approach or feed wildlife.
Hiking Schynige Platte to Faulhorn to First
Riding the Schynige Platte Railway
To get to Schynige Platte, you will ride the cogwheel train from Wilderswil to Schynige Platte.
Not only is this a scenic ride, it's also historic. This railway was constructed in 1893. Originally, steam locomotives were used, but these were replaced by electric trains in 1914, which were high-tech at the time. These same trains are still in operation.
It is a 7.25 km journey to get to Schynige Platte. At times, the train chugs up a 25% gradient. It's a slow journey, but the higher you go, the better the view. Along the way, you will be able to look out over Lake Brienz and Interlaken as well as along the Lauterbrunnen Valley.
Facts about the Schynige Platte Railway:
Length of Time:

52 minutes to get from Wilderswil to Schynige Platte

Hours of Operation:

The train leaves every 40 minutes, from 7:20 am to 4:45 pm. If you are hiking to Schynige Platte from First, the last train of the day is between 5 pm and 6 pm (confirm this before you start your hike).

The train is in operation from July 1 to October 23 (2023)

Website: Get updated pricing and see the train schedule on the official website.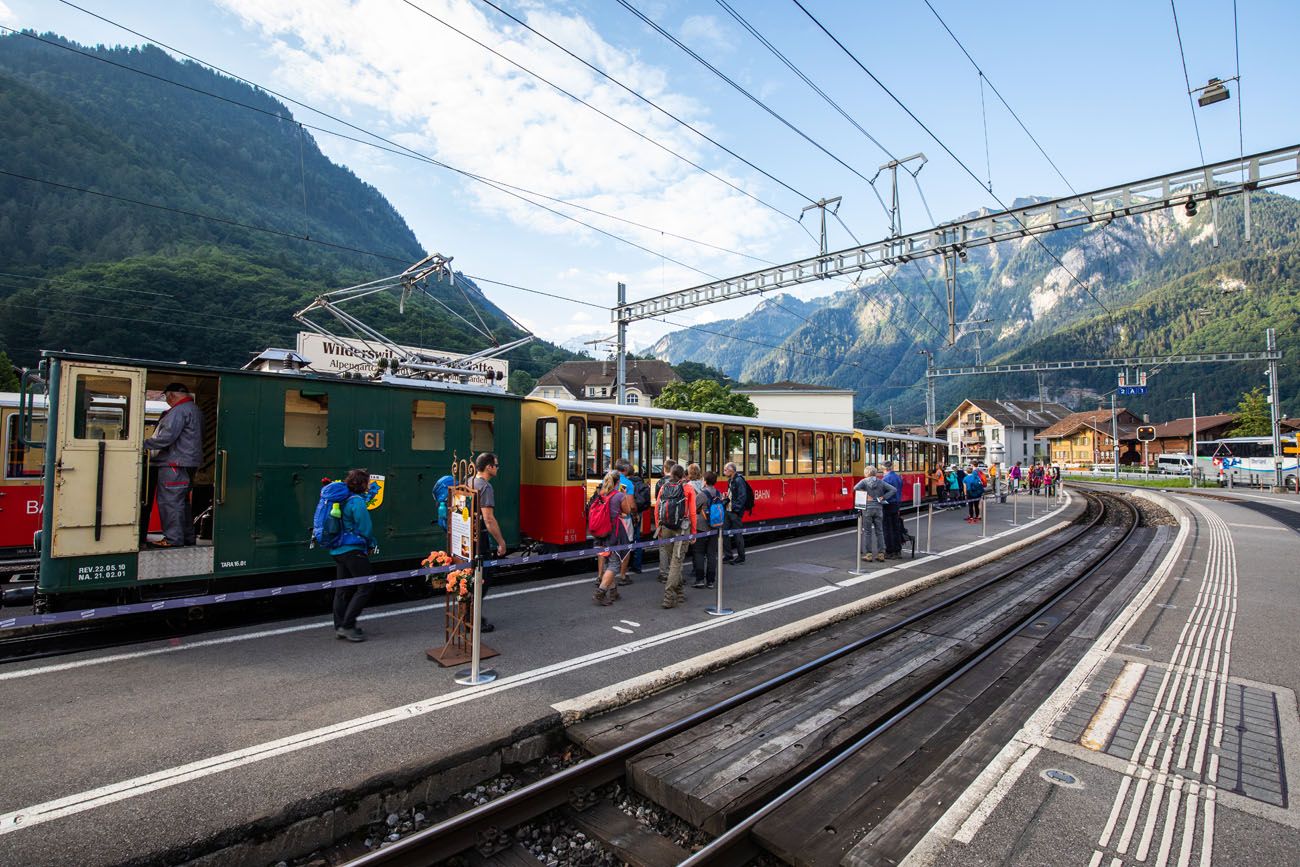 Wilderswil and the train to Schynige Platte
I recommend being on the first or second train of the day. Not only will this give you plenty of time to complete the hike, but this train ride is a very popular thing to do in the Jungfrau region, so trains will fill up early in the day.
We rode the first train of the day and purchased our tickets from the office in Wilderswil. You can also purchase your tickets online in advance or at one of the ticket offices in the area.
Here are the views from the train ride.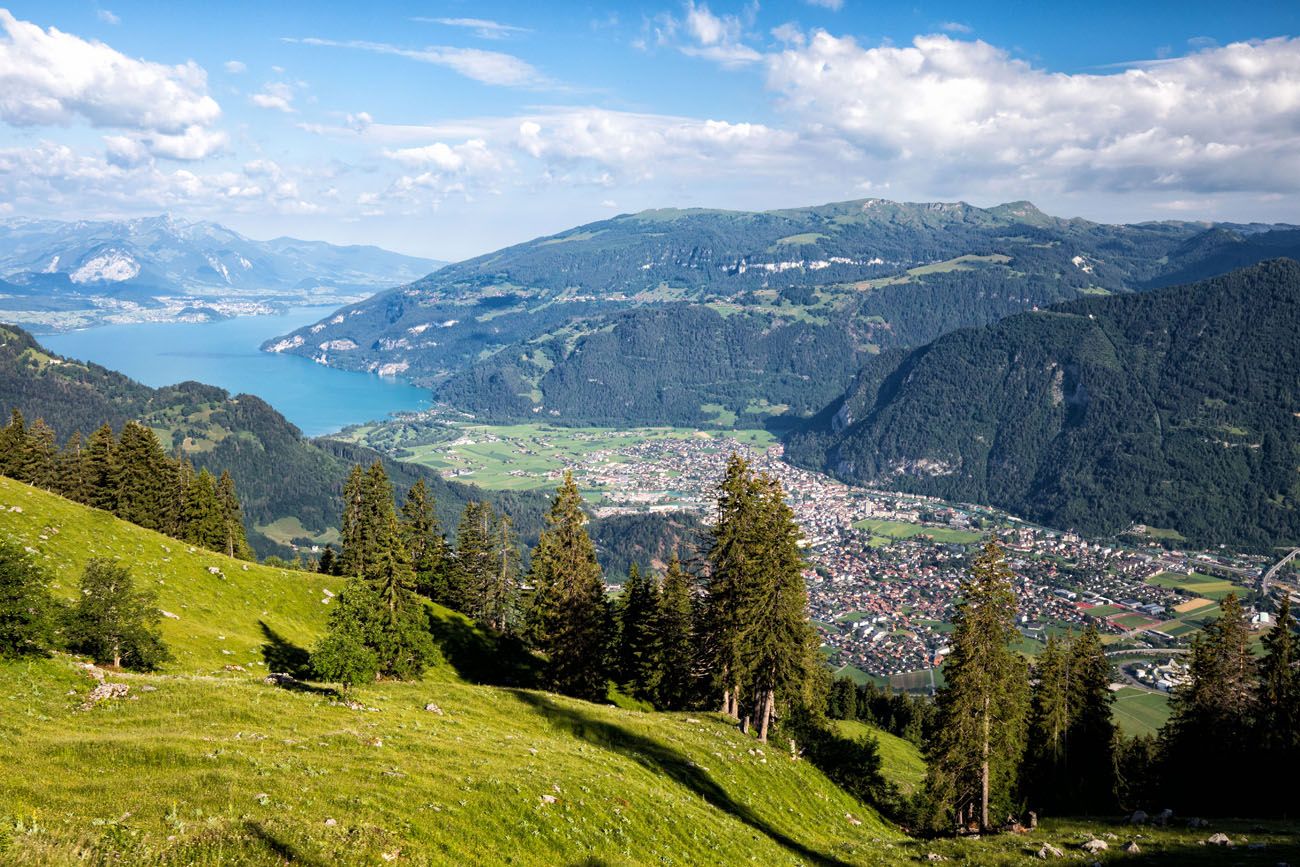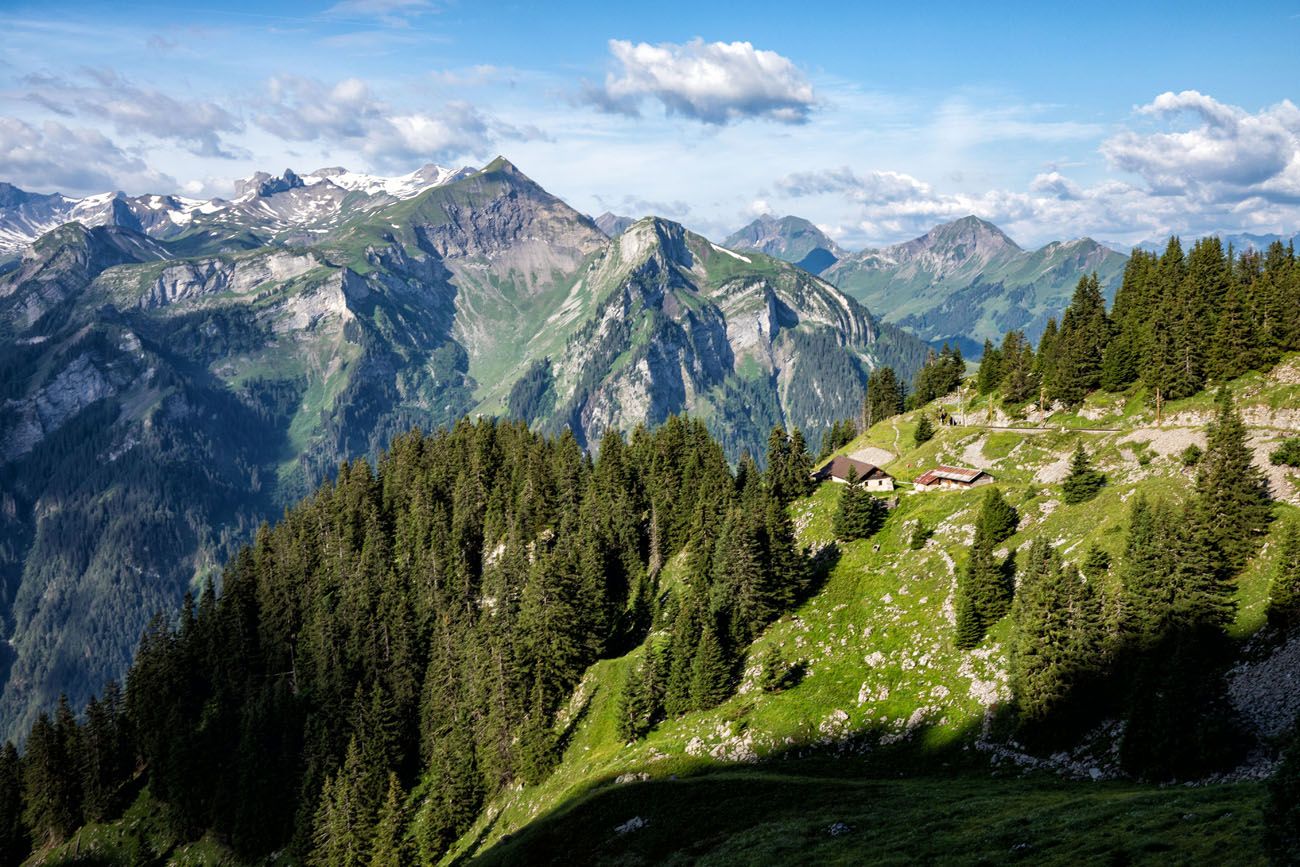 Schynige Platte
Once at Schynige Platte, you can hop right on the trail and start your day or do a little exploring.
It's worth the quick walk up to the hotel for a great view across the Lauterbrunnen Valley. The self-service part of the restaurant was open during our visit, so we ate a quick snack here before starting the hike. There is also a playground for kids and a botanical garden.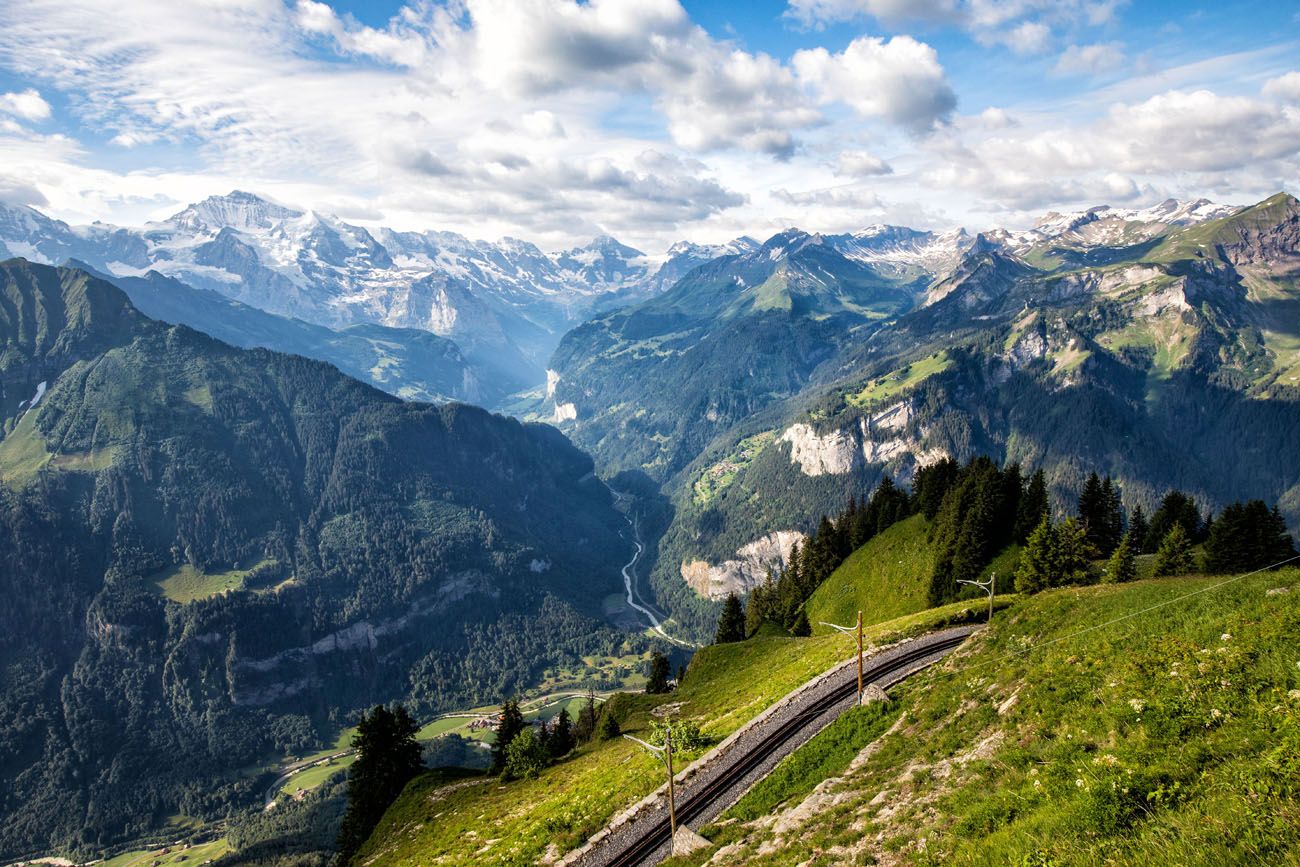 View from Schynige Platte | Schynige Platte to Faulhorn to First
The trail starts next to the train station. Cross the train tracks and look for the yellow trail sign pointing towards First. The cow that is in the photo below is gone (bummer, right?).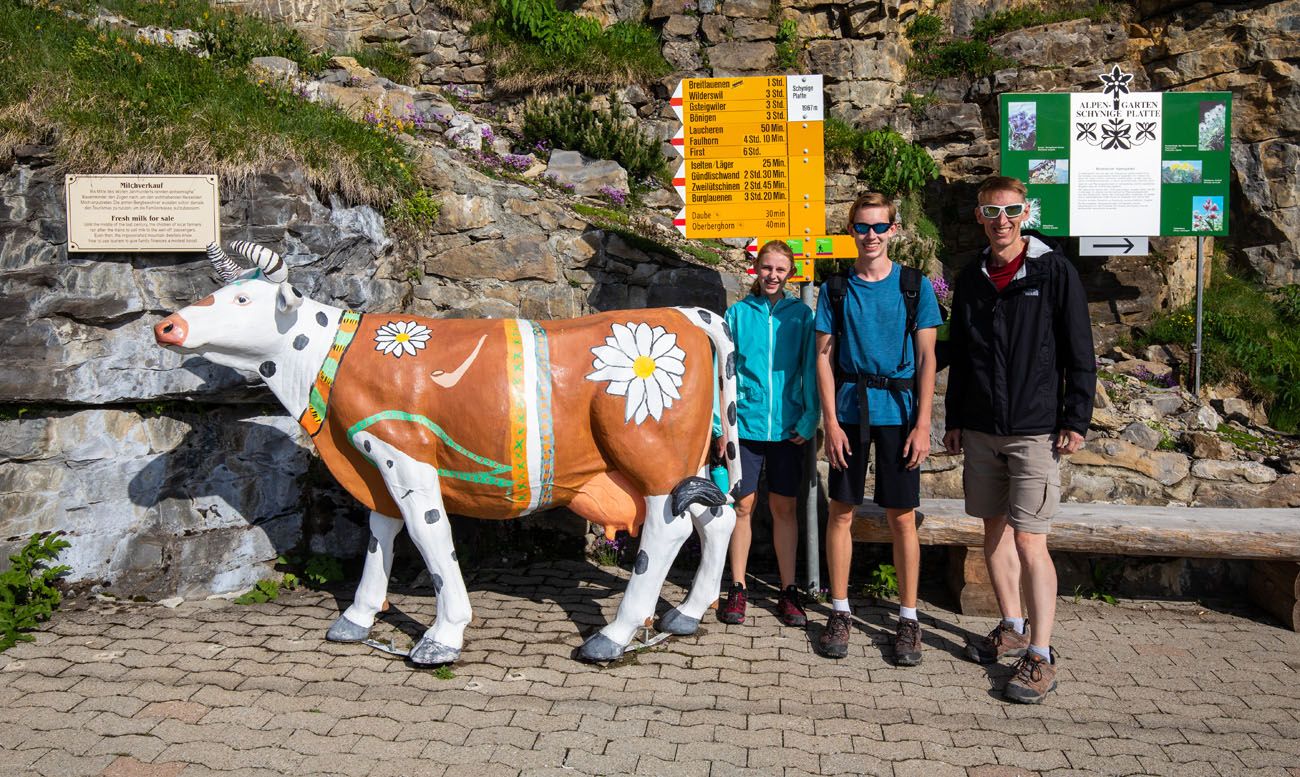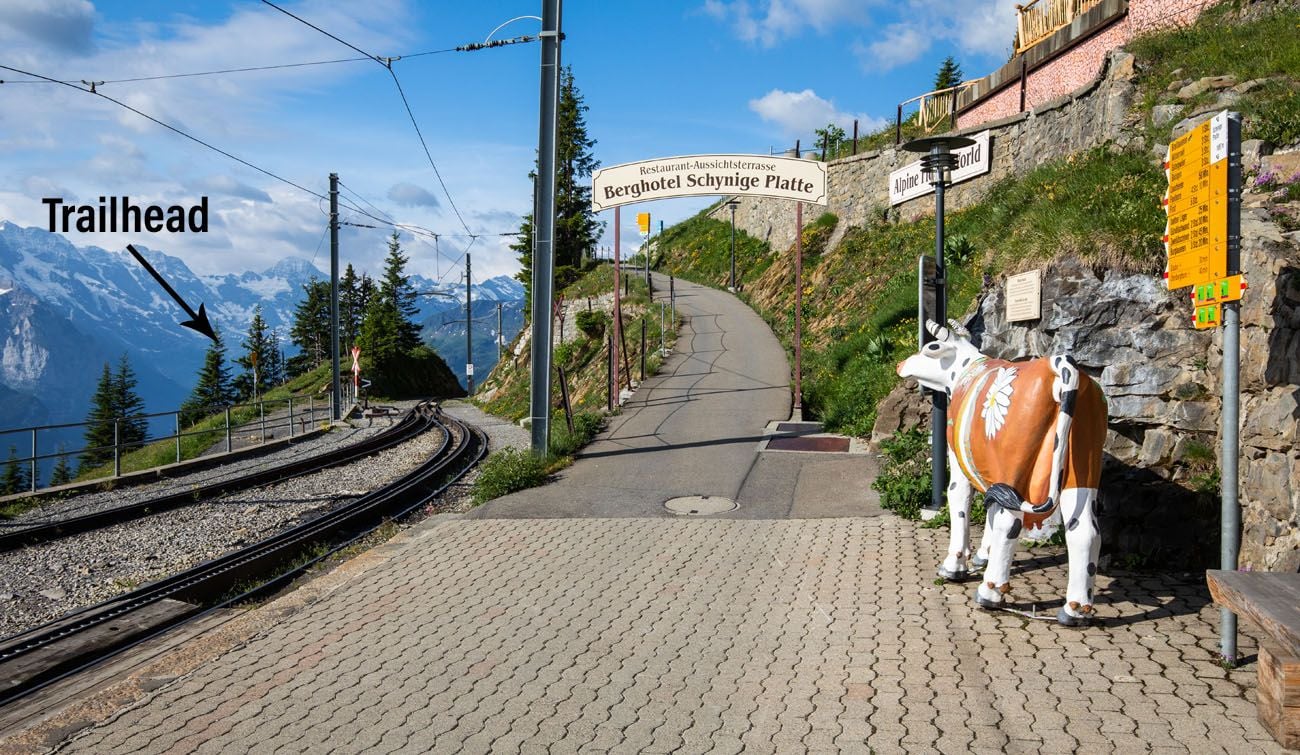 Schynige Platte | Schynige Platte to Faulhorn to First
At the trailhead, there should be a sign letting you know the time of the last gondola from First to Grindelwald. This is your deadline. If you get to First too late, you'll be adding on a long hike down to Grindelwald.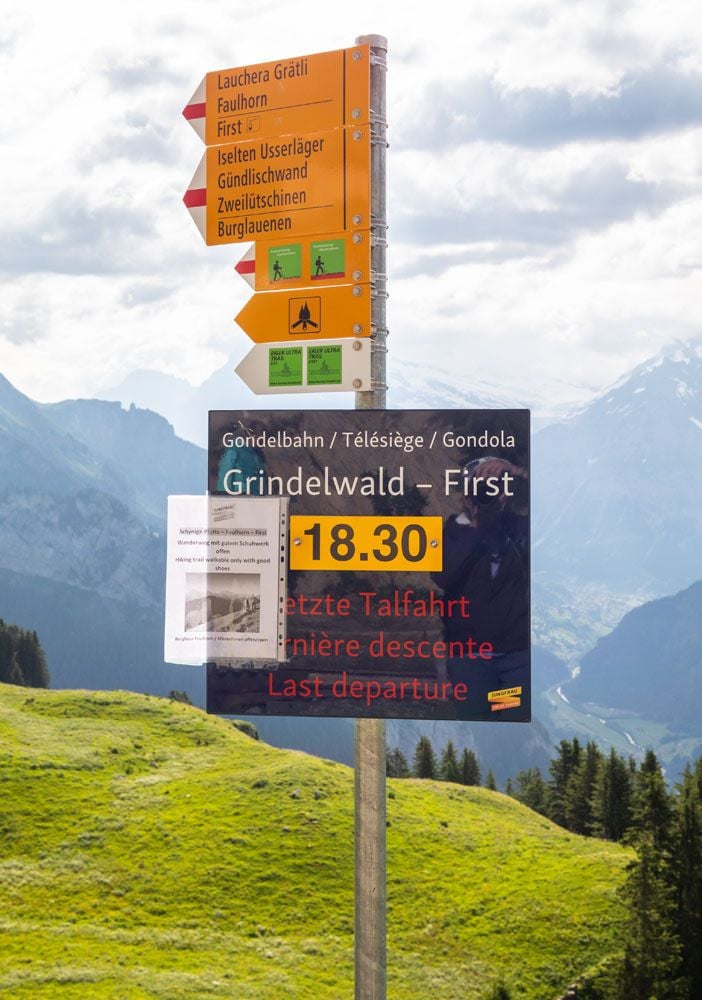 OPTIONAL DETOUR: If you have plenty of time and want to add on a scenic detour, you can hike the Schynige Platte Panorama Trail. This trail adds on several viewpoints over Lake Brienz that you won't see by hiking the direct trail to First. Adding on this detour adds roughly 30 minutes to this hike. Hike the Panoramaweg Loucherhorn trail and it will meet up with the trail to First near Loucherhorn (don't return to Schynige Platte).

We did not add on the Panorama Trail to our hike but I wish we had. We didn't know about it when we did this hike, but from what I have now seen online, the views from the trail are amazing and it's worth adding it if you don't mind a 6+ hour hike.
Schynige Platte to the Männdlenen Hut
From Schynige Platte to Faulhorn, it is a steady, uphill walk that is roughly 10 km long. There are just a few, brief sections where it is steep, so overall, it's not too challenging. However, the steady elevation gain can wear you down, and as you get closer to Faulhorn, you might start to feel fatigued.
If you choose not to take the detour on the Panorama Trail, you will first walk through a green valley with rocky mountains towering over you. It is a very pretty walk and this first part of the trail is relatively easy.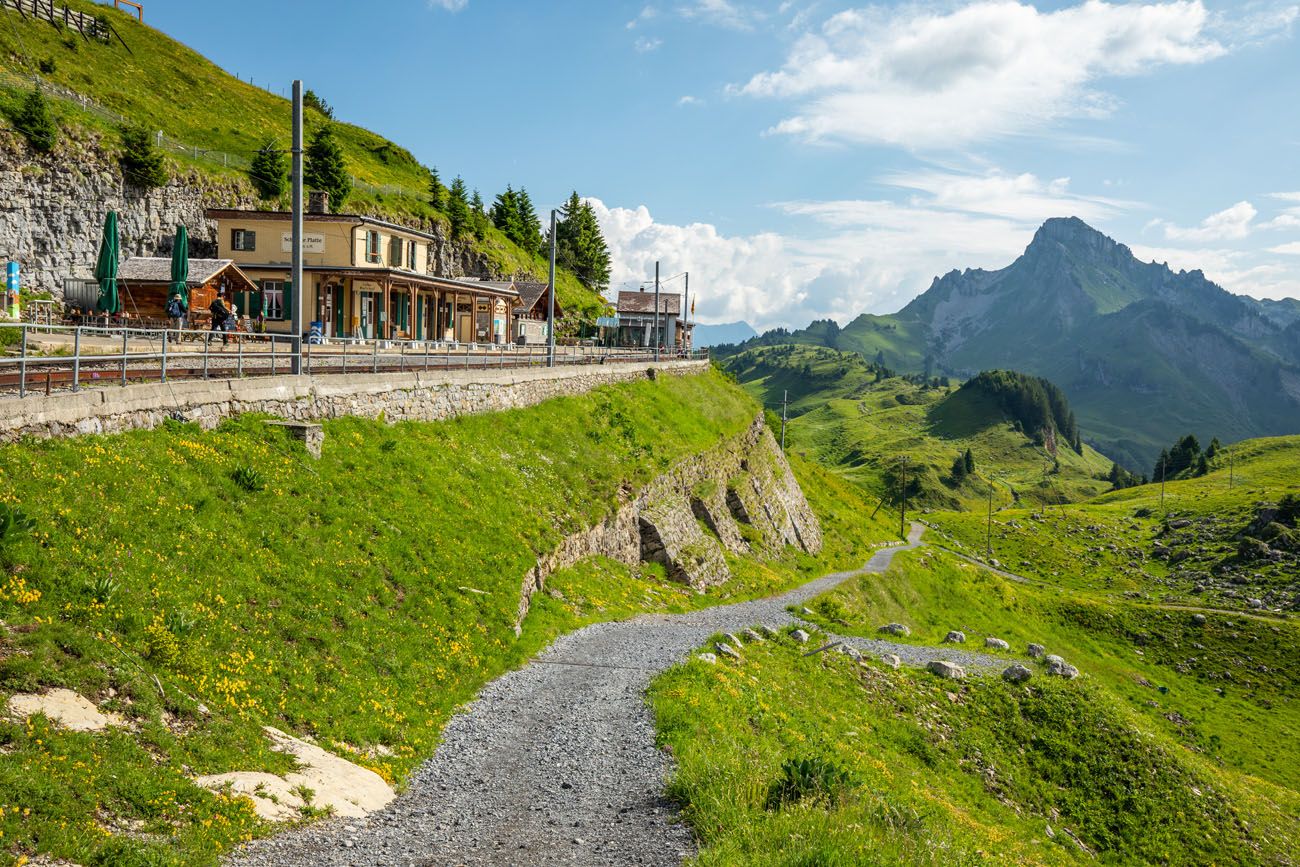 Trailhead at Schynige Platte | Schynige Platte to Faulhorn to First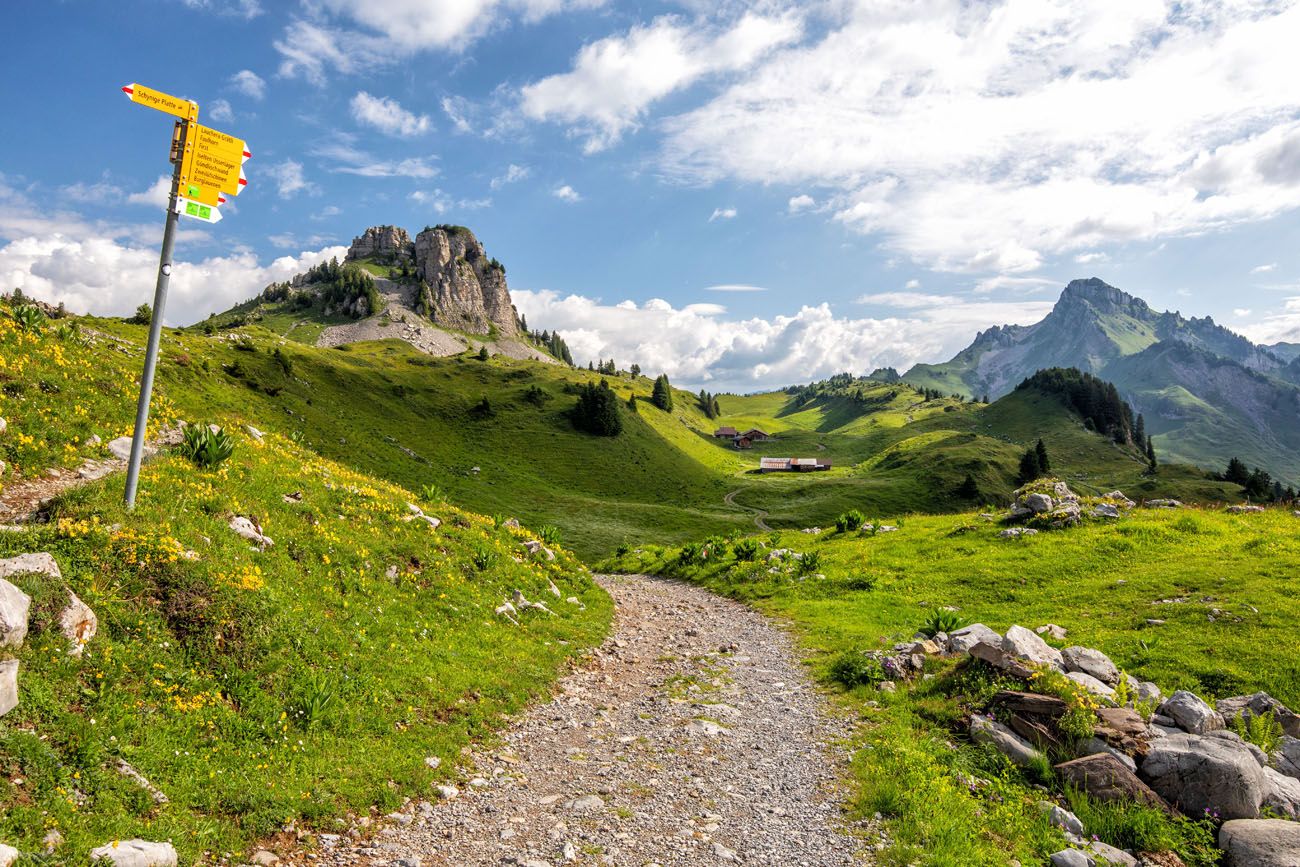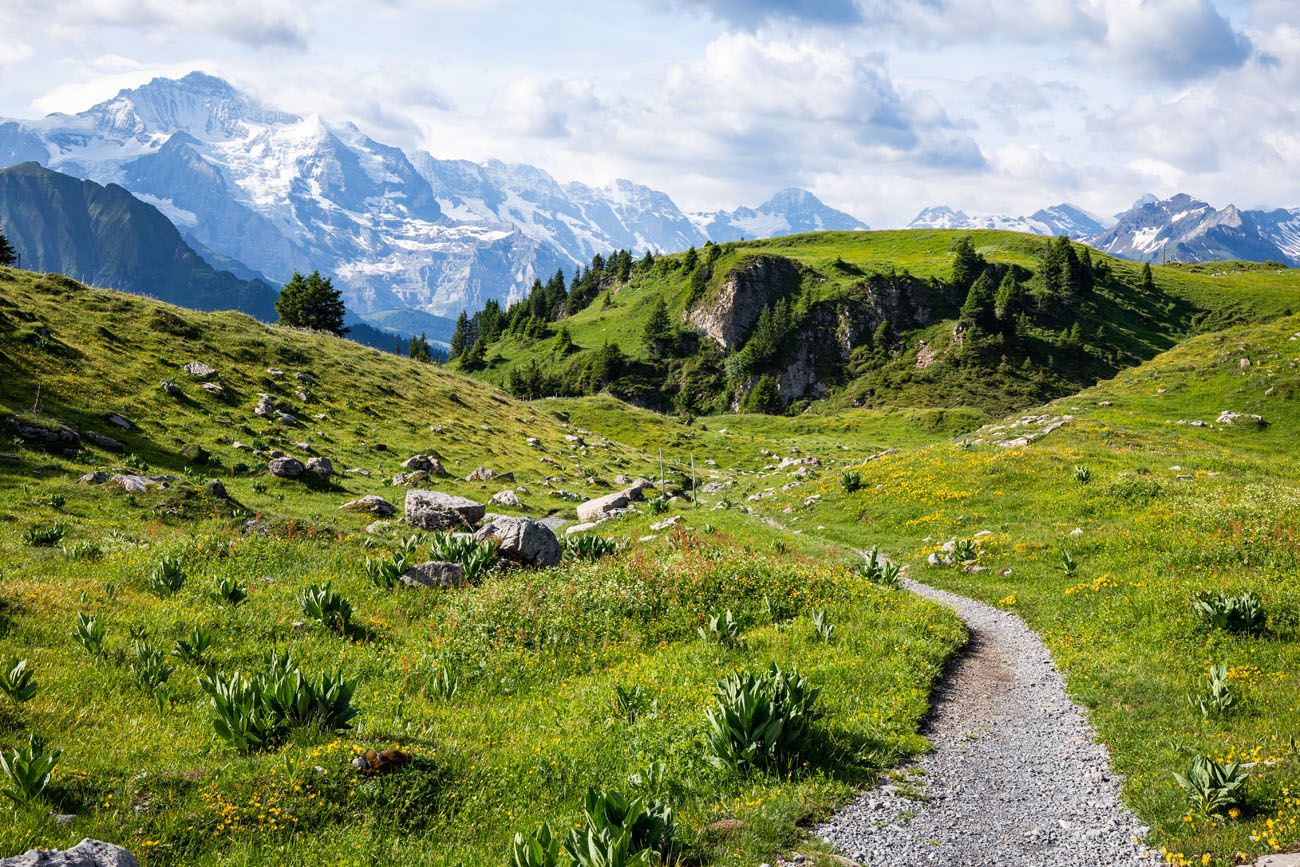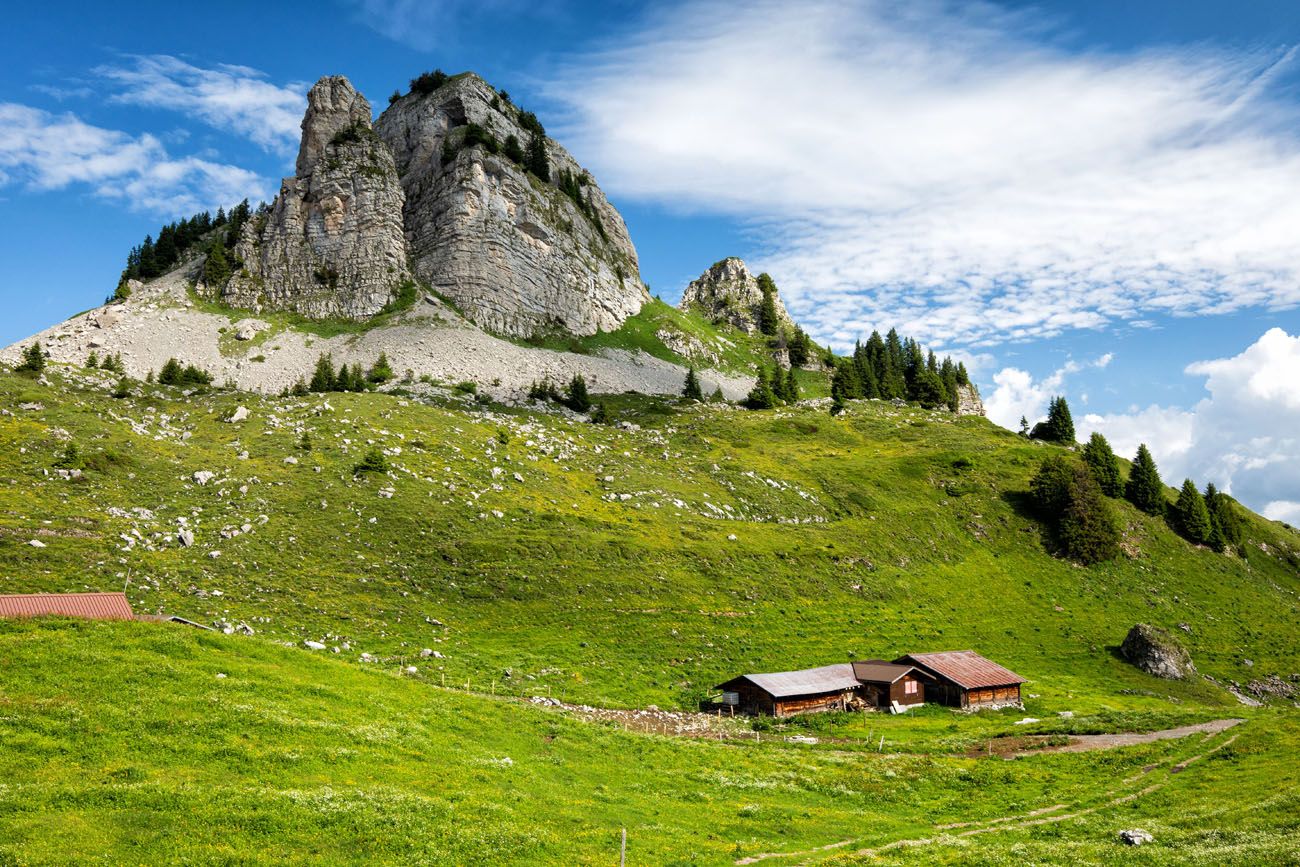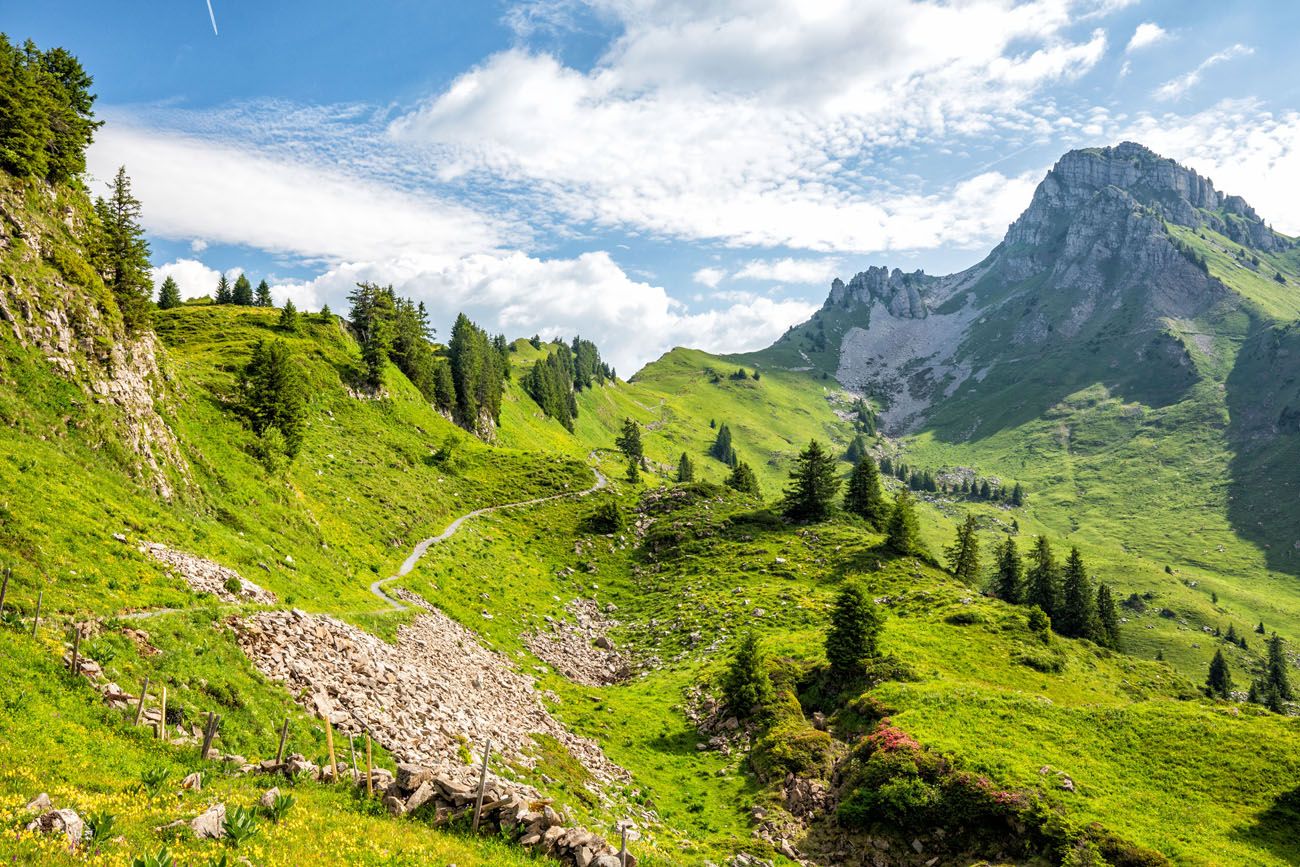 As you approach Loucherhorn, the climbing begins. Right before Loucherhorn, the trail to First joins up with the Panorama Trail.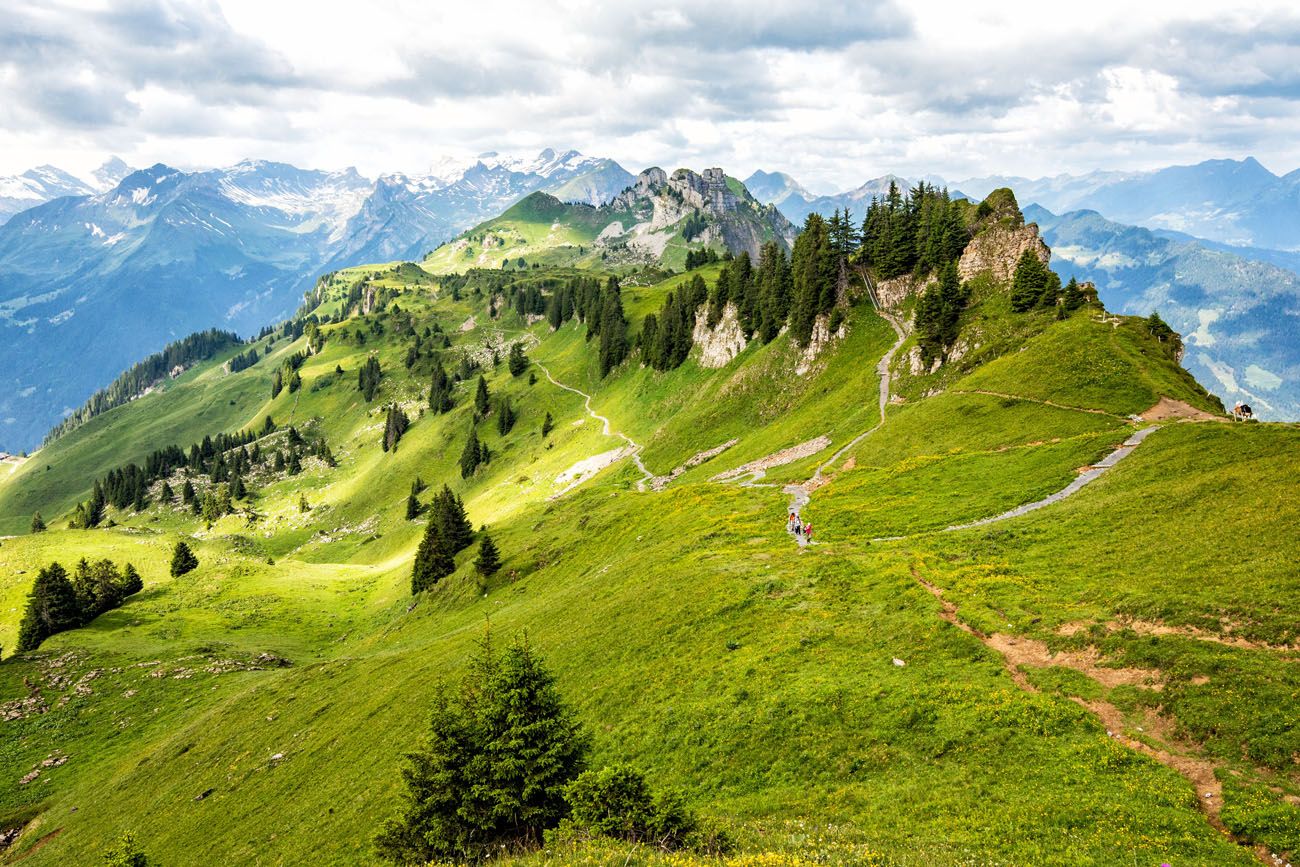 Looking back at the trail from Loucherhorn. The direct trail from Schynige Platte is the lower trail. The Panorama Trail goes from peak to peak and you can see a staircase on the trail in the small grove of trees.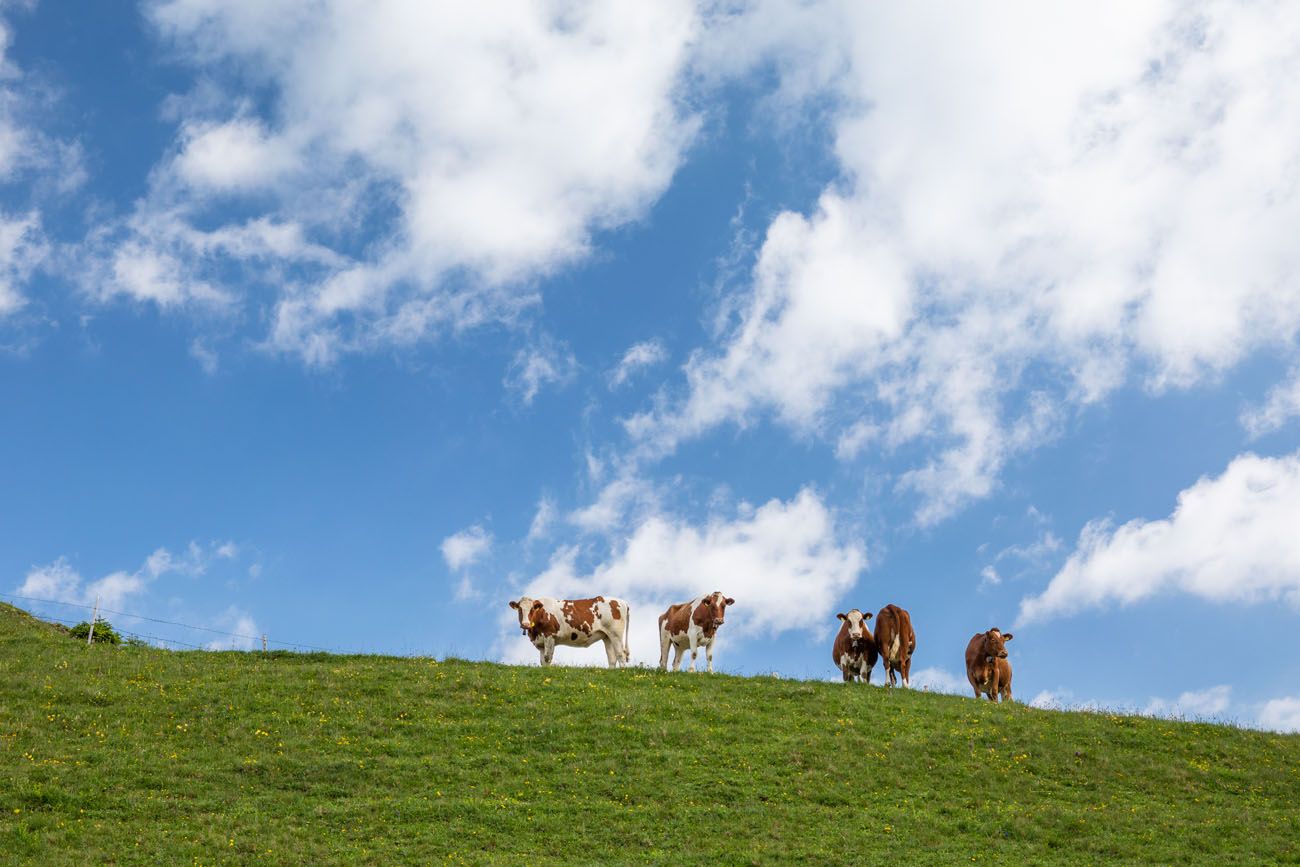 Cows along the trail | Schynige Platte to Faulhorn to First
Past Loucherhorn, the trail, and terrain, gets a lot rockier.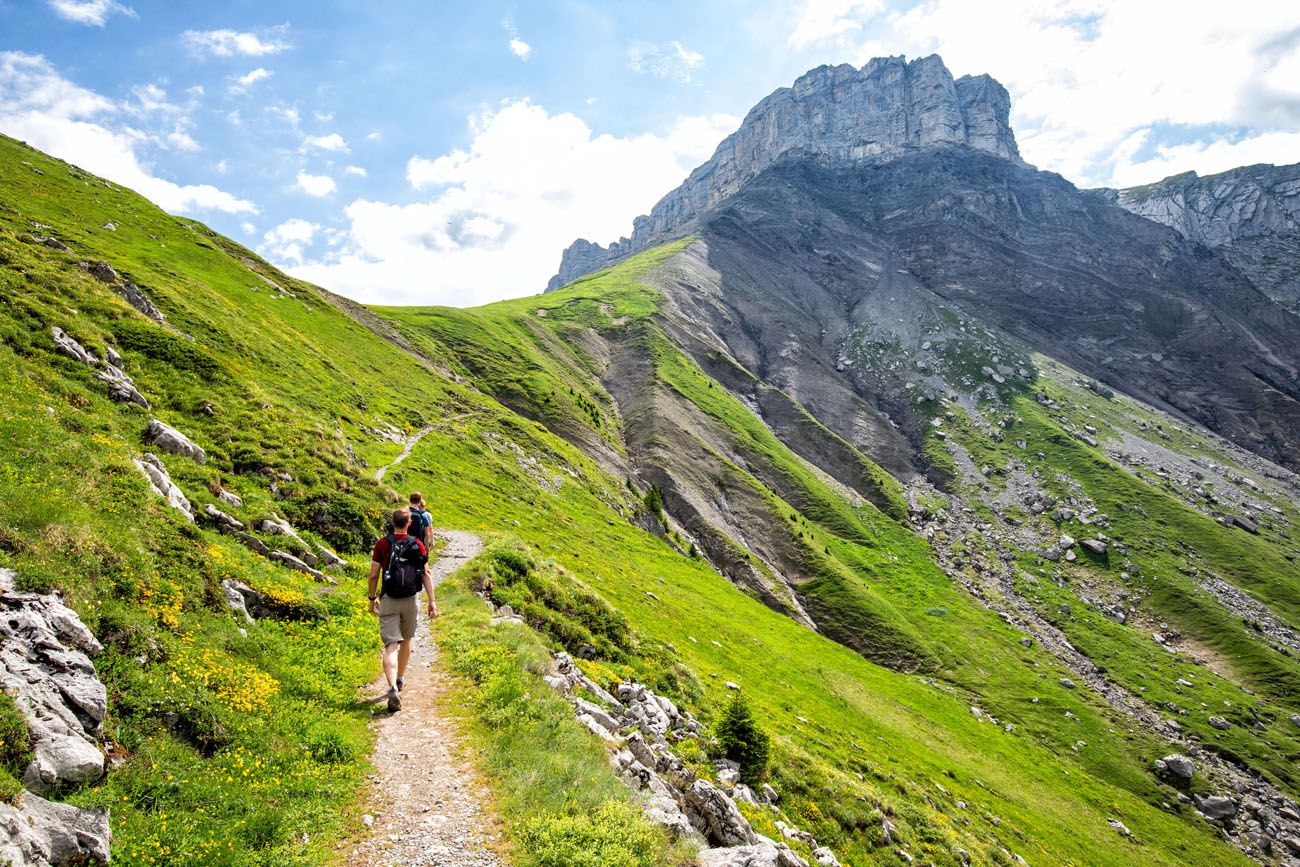 Then the trail almost flattens out as you approach Sägistalsee. We loved this part of the hike and thought it is one of the prettiest sections of the hike.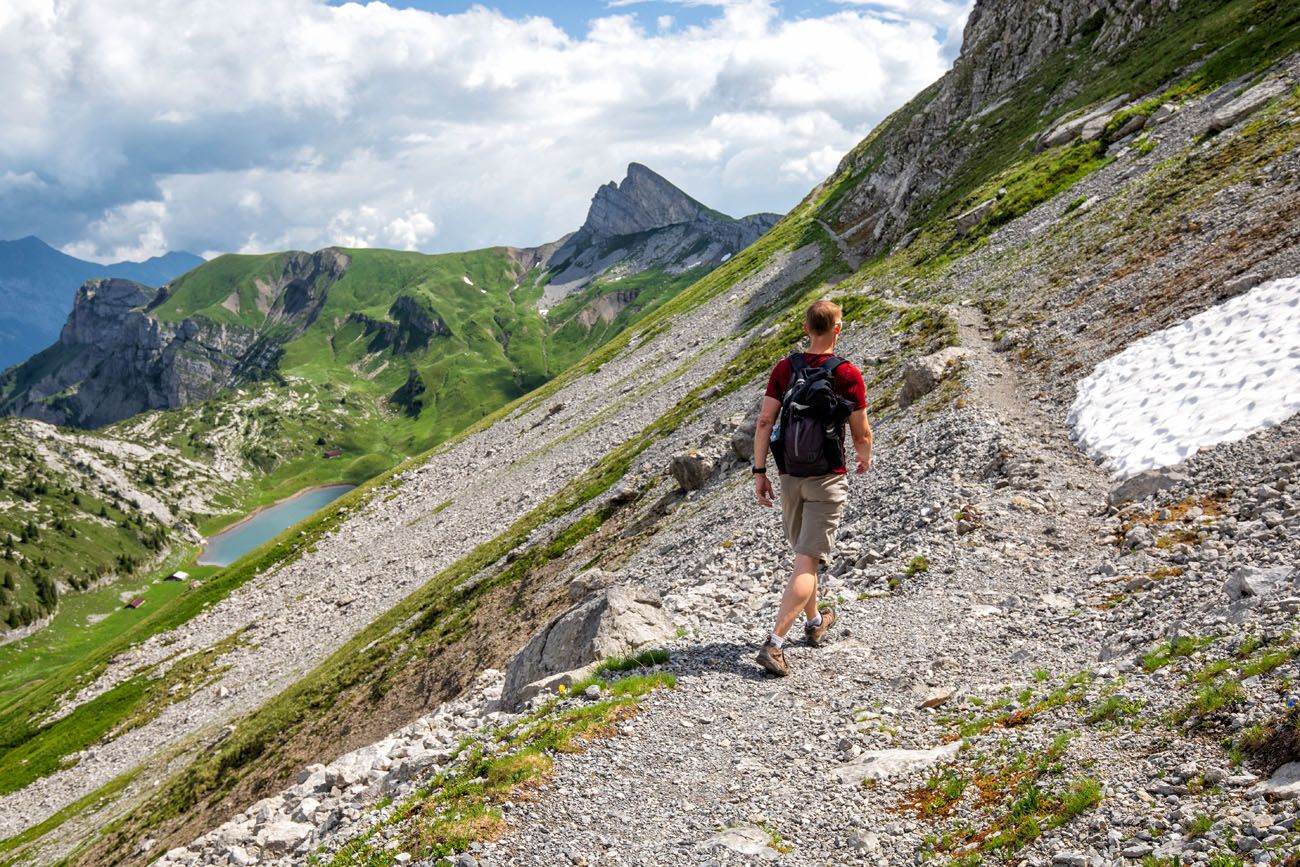 The trail makes a turn and gets more challenging. We did this in mid-July and lots of snow still covered the ground. For us, it was an uphill walk in the snow to the Männdlenen hut. It looks easy in the photos but it is deceptively challenging.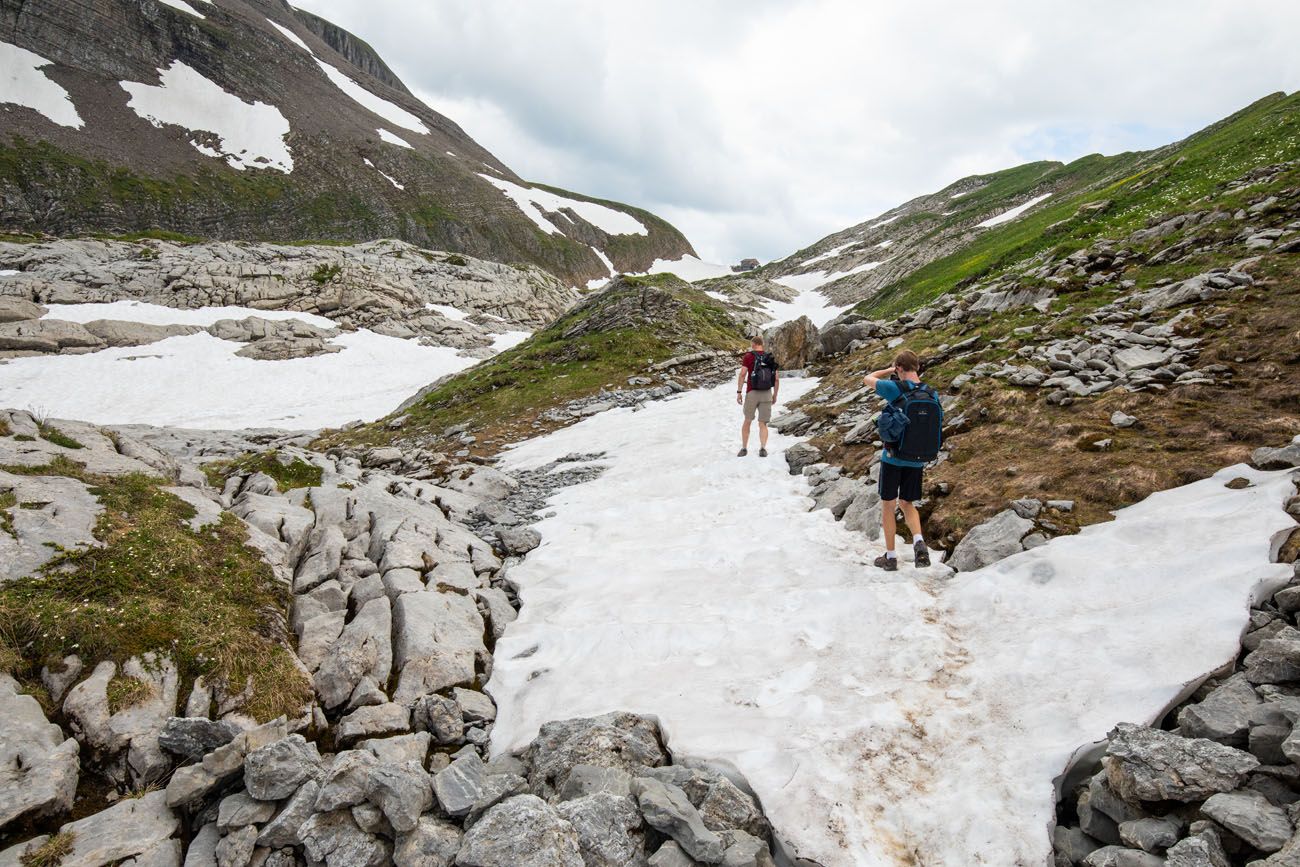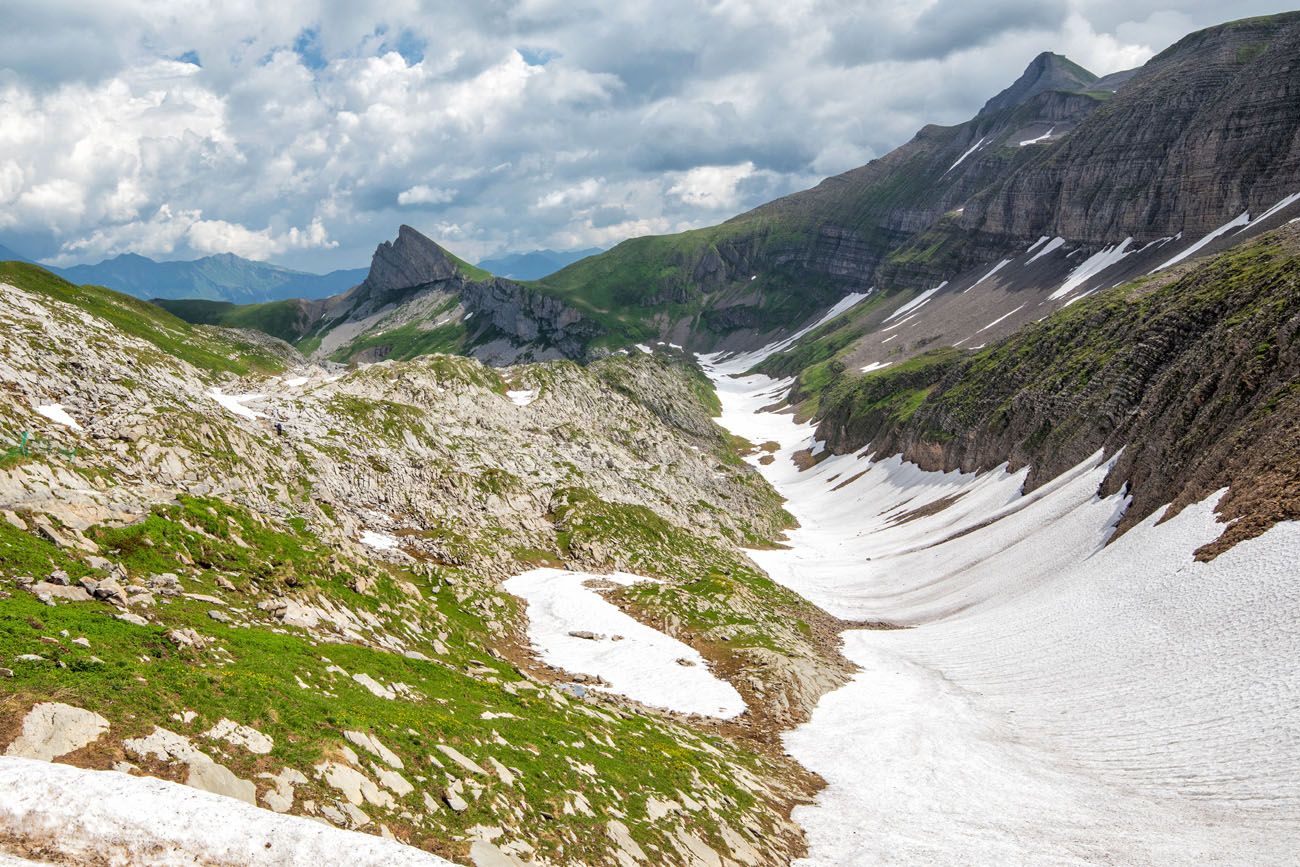 Looking back at the valley from the Männdlenen Hut | Schynige Platte to Faulhorn to First
Männdlenen Hut to Faulhorn
The Männdlenen hut is about the halfway point of this hike and it is a great place to stop and take a break. Have lunch, use the restroom, and recharge your batteries. It is chilly here, now that you are a higher elevation.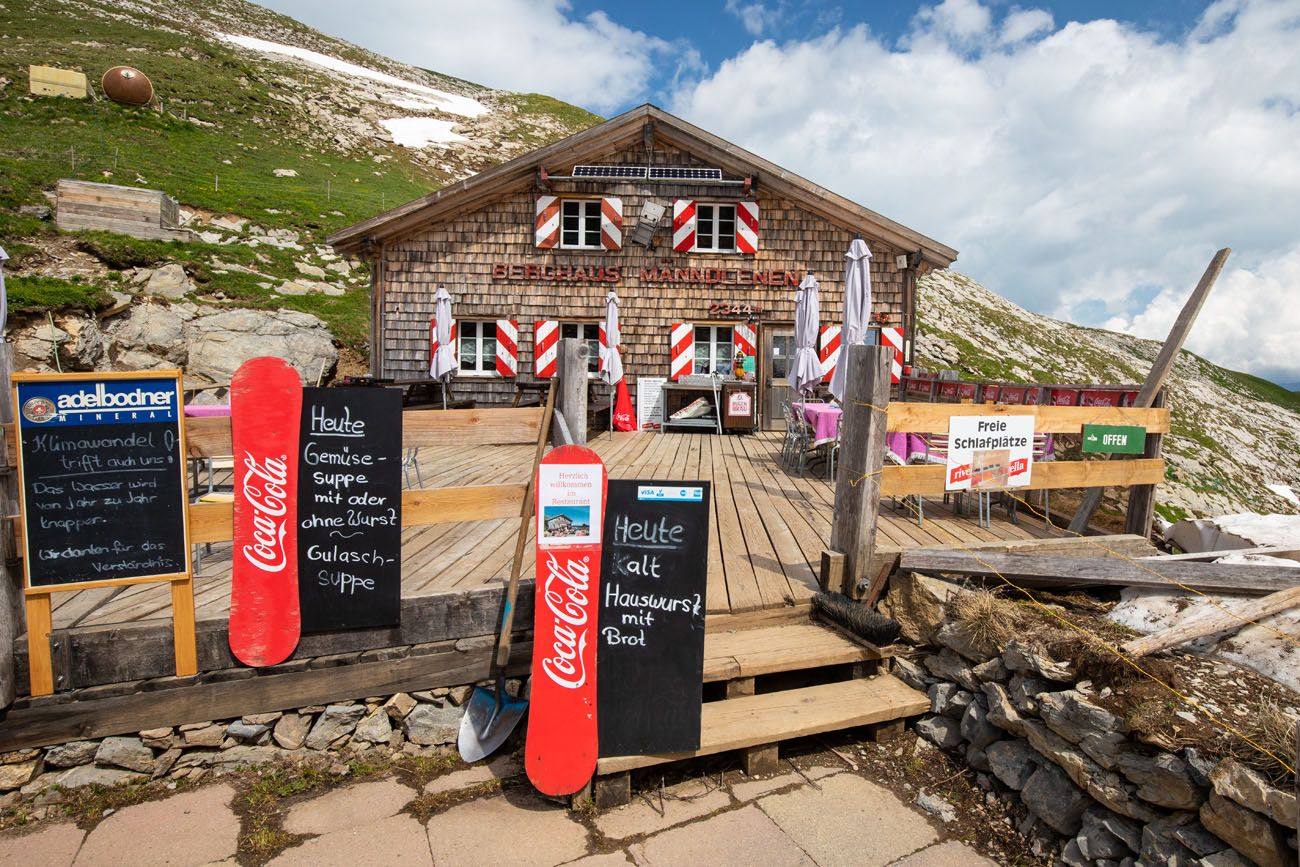 Männdlenen Hut | Schynige Platte to Faulhorn to First
From the Männdlenen hut, it is a tiring, uphill walk to get to Faulhorn. There's a good chance that you will cross several more fields of snow. During our hike, clouds moved in at this point, so we didn't have the best views of the Swiss Alps, but on a clear day, the views would be spectacular!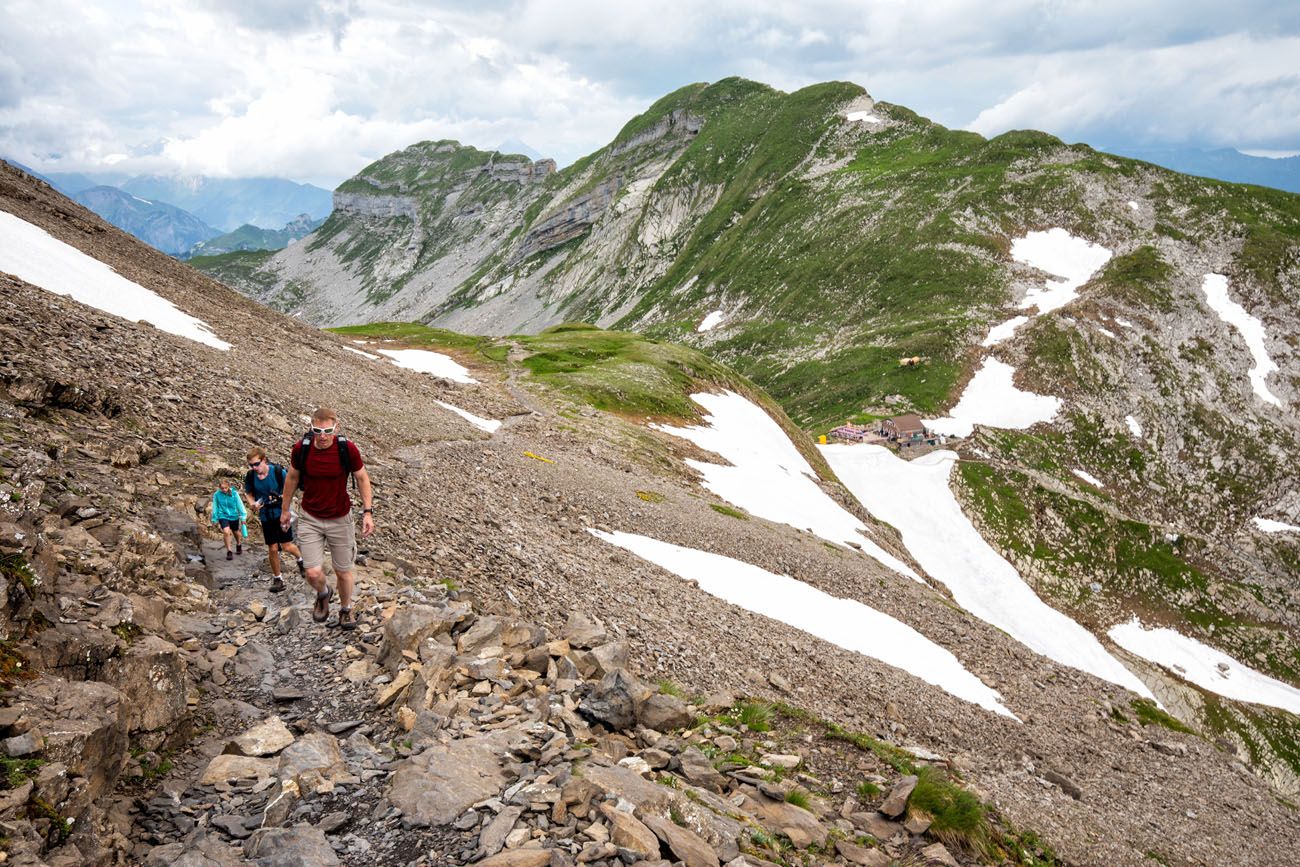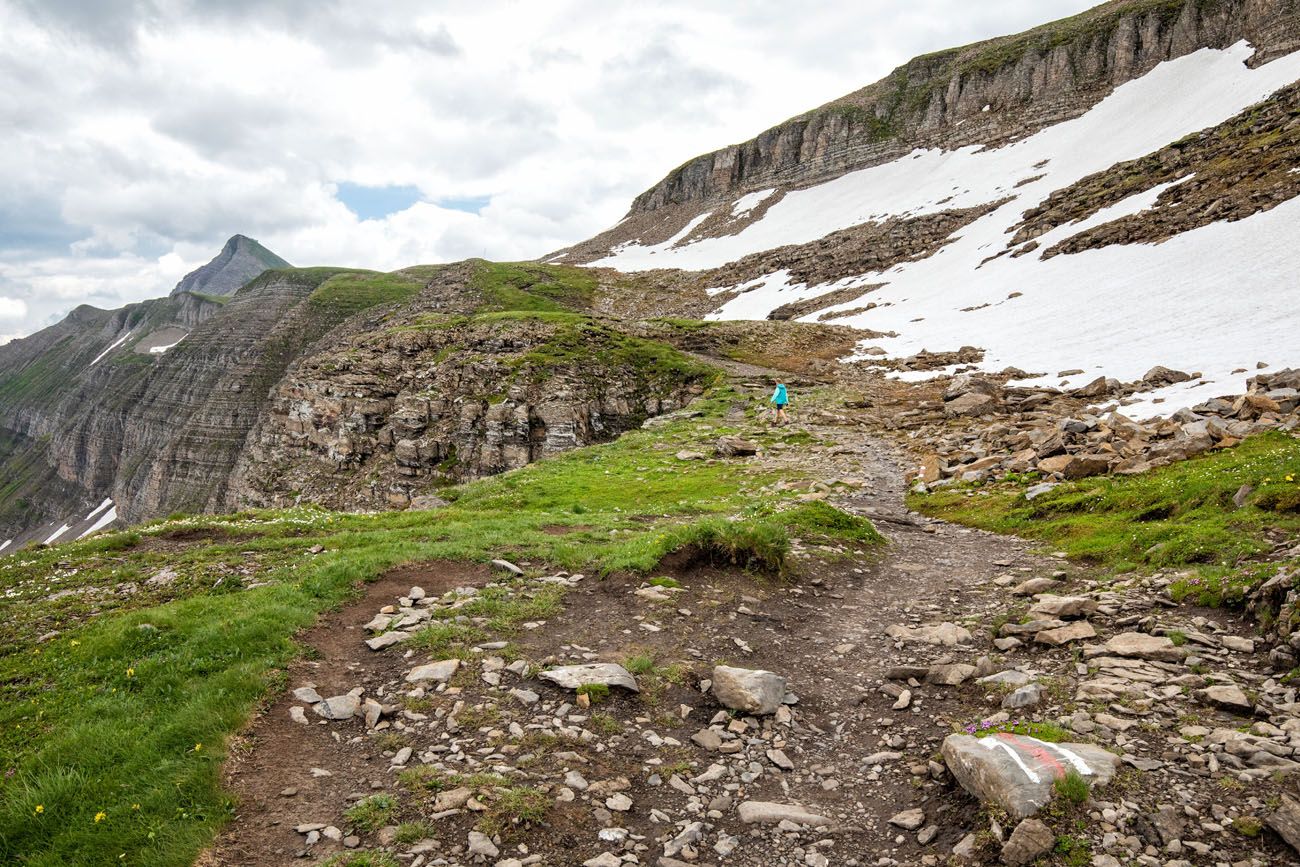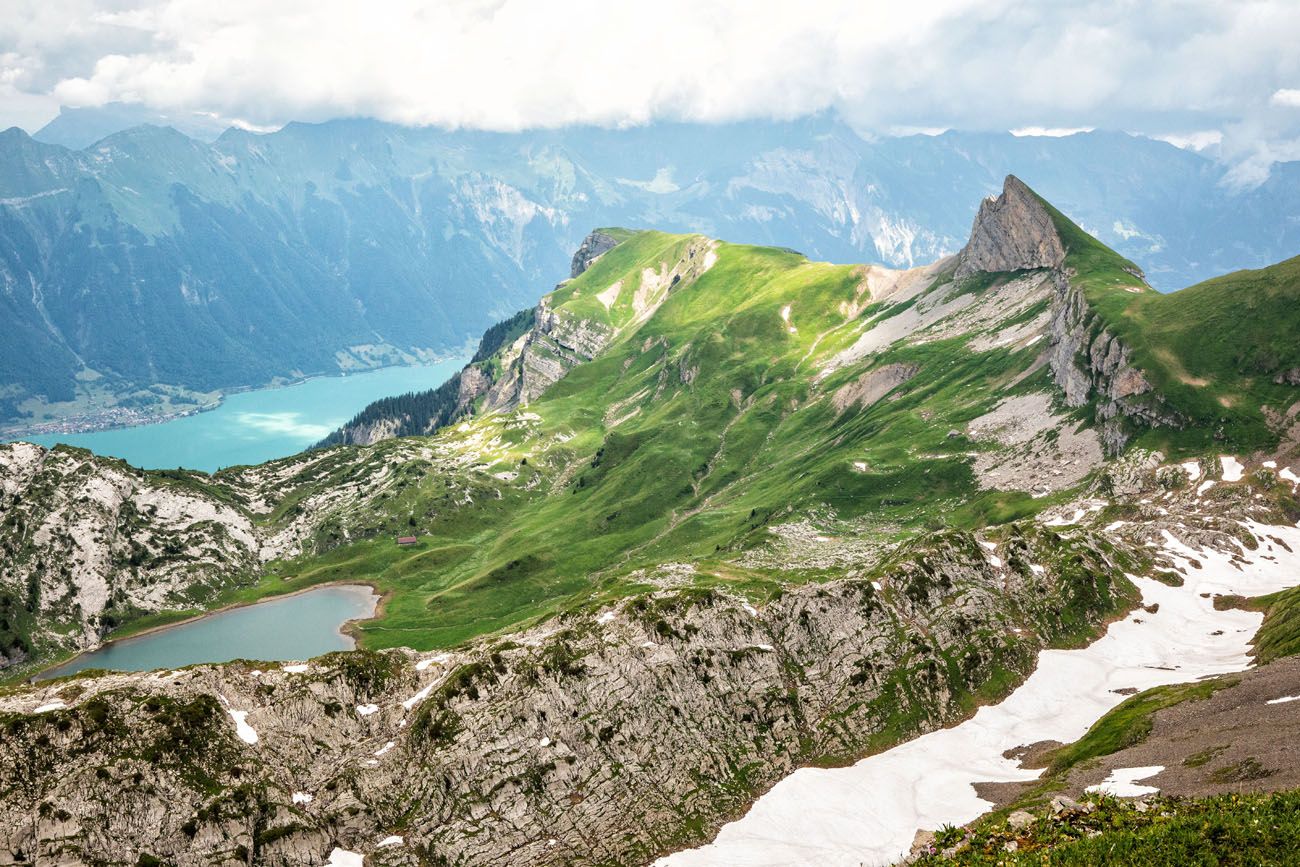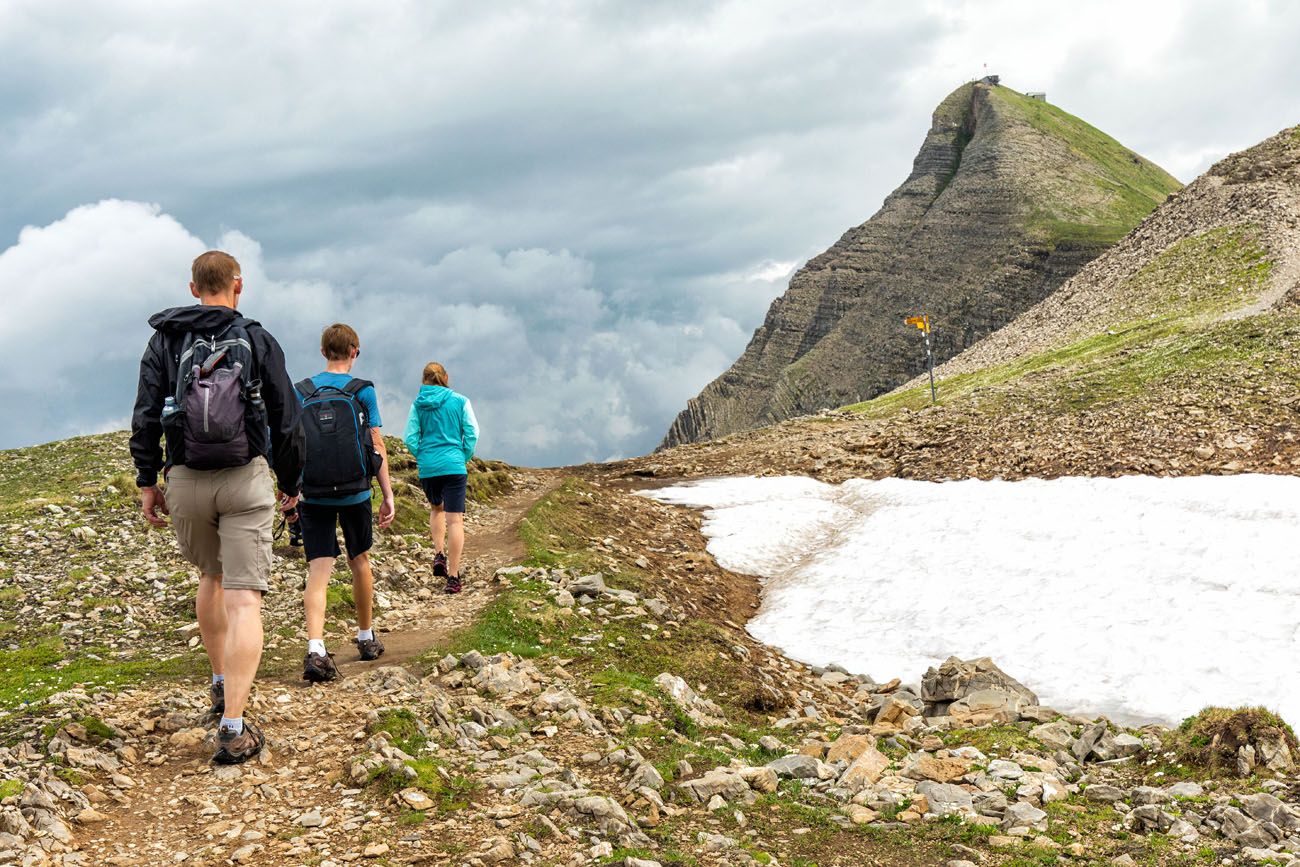 The peak in this photo is Faulhorn | Schynige Platte to Faulhorn to First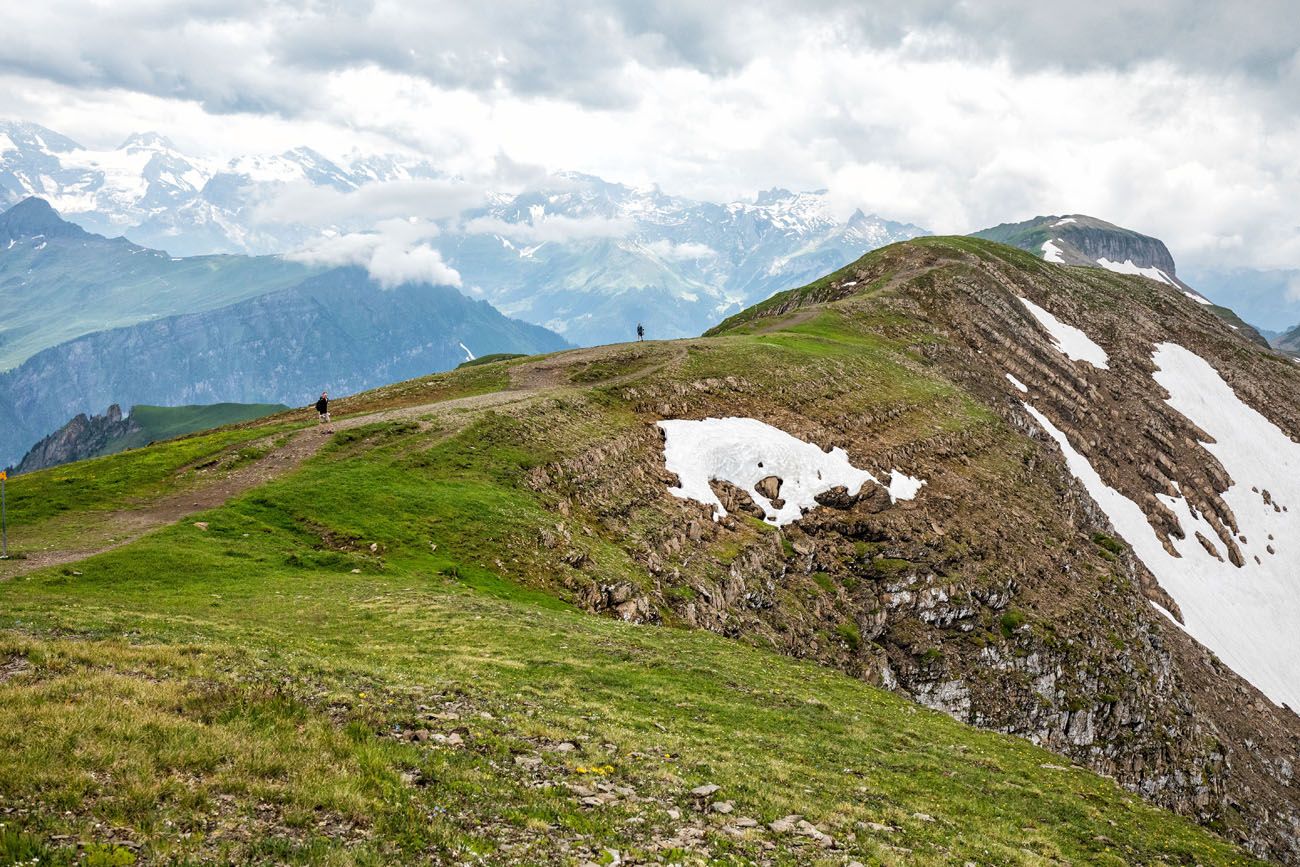 Looking back along the ridge | Schynige Platte to Faulhorn to First
The final climb up to Faulhorn is the most challenging part of the day. It's not a long climb but it is steep, and by now, most likely you will be feeling a bit worn out. To get to the summit, you'll hike up narrow trail with a bunch of switchbacks.
Once at the summit, enjoy the panoramic views. This is a mountain hut so you can grab a bite to eat or use the restrooms.
OPTIONAL DETOUR: You have the option to bypass the hike up to Faulhorn. There is a trail that skirts along the base of Faulhorn, joining up the with trail on the other side of the mountain. So, if you don't think you can handle one more big climb, you can skip Faulhorn.
Faulhorn to First
From Faulhorn, it's a 6 km downhill walk to First. The first part of the descent is the hardest, since it's steep, but it does level out later once you get to Bachalpsee.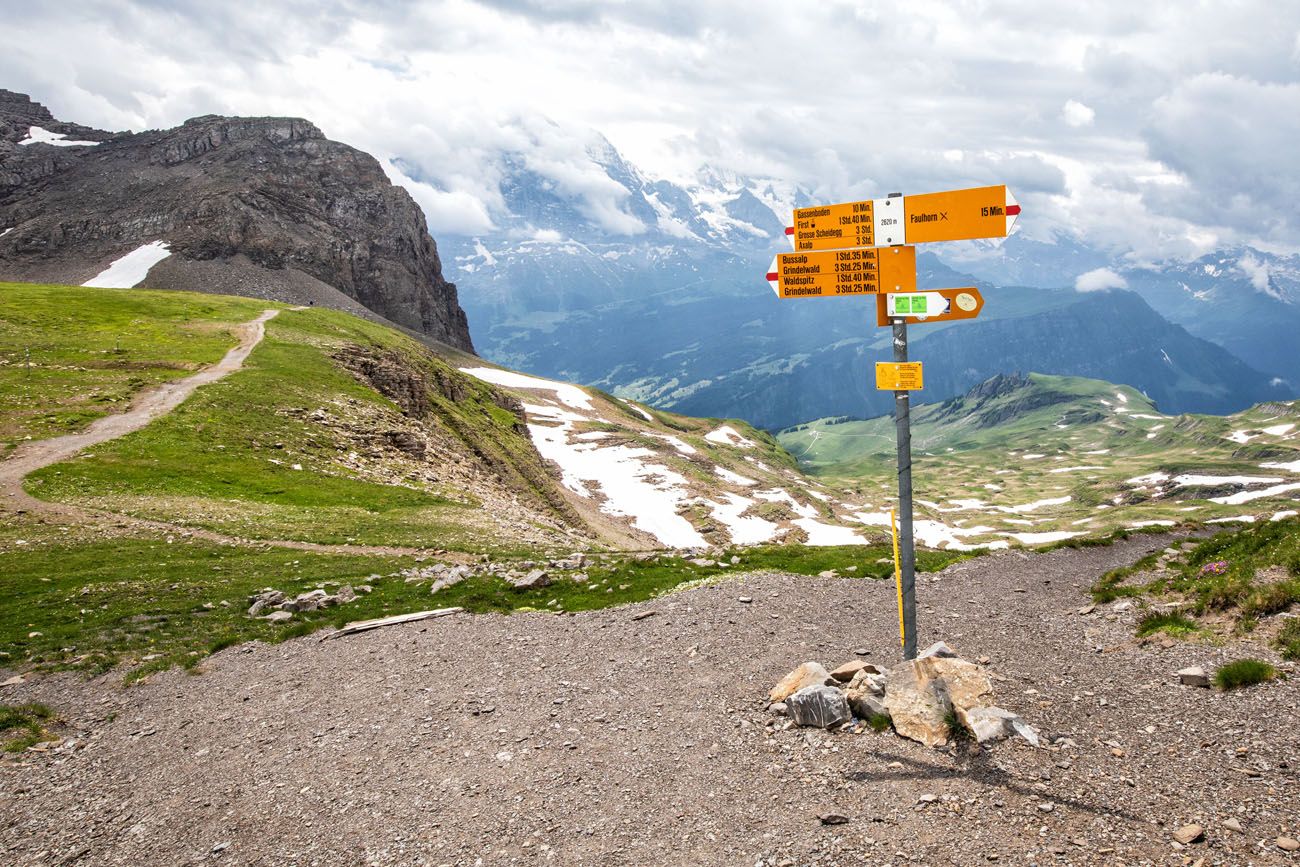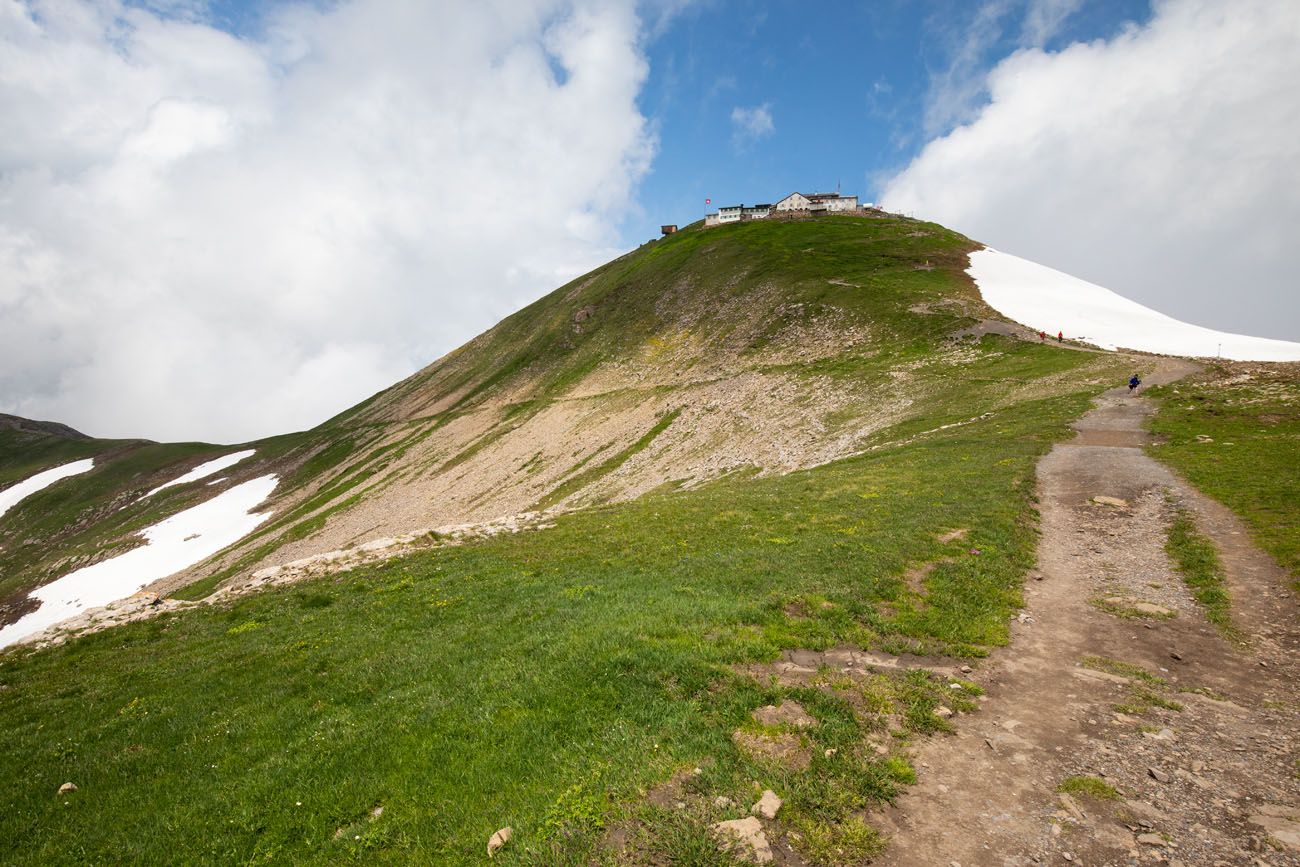 Looking up at Faulhorn | Schynige Platte to Faulhorn to First
Once you get to Bachalpsee, most likely you will start to see a lot more people on the trail. The hike to Bachalpsee is a popular day hike from First.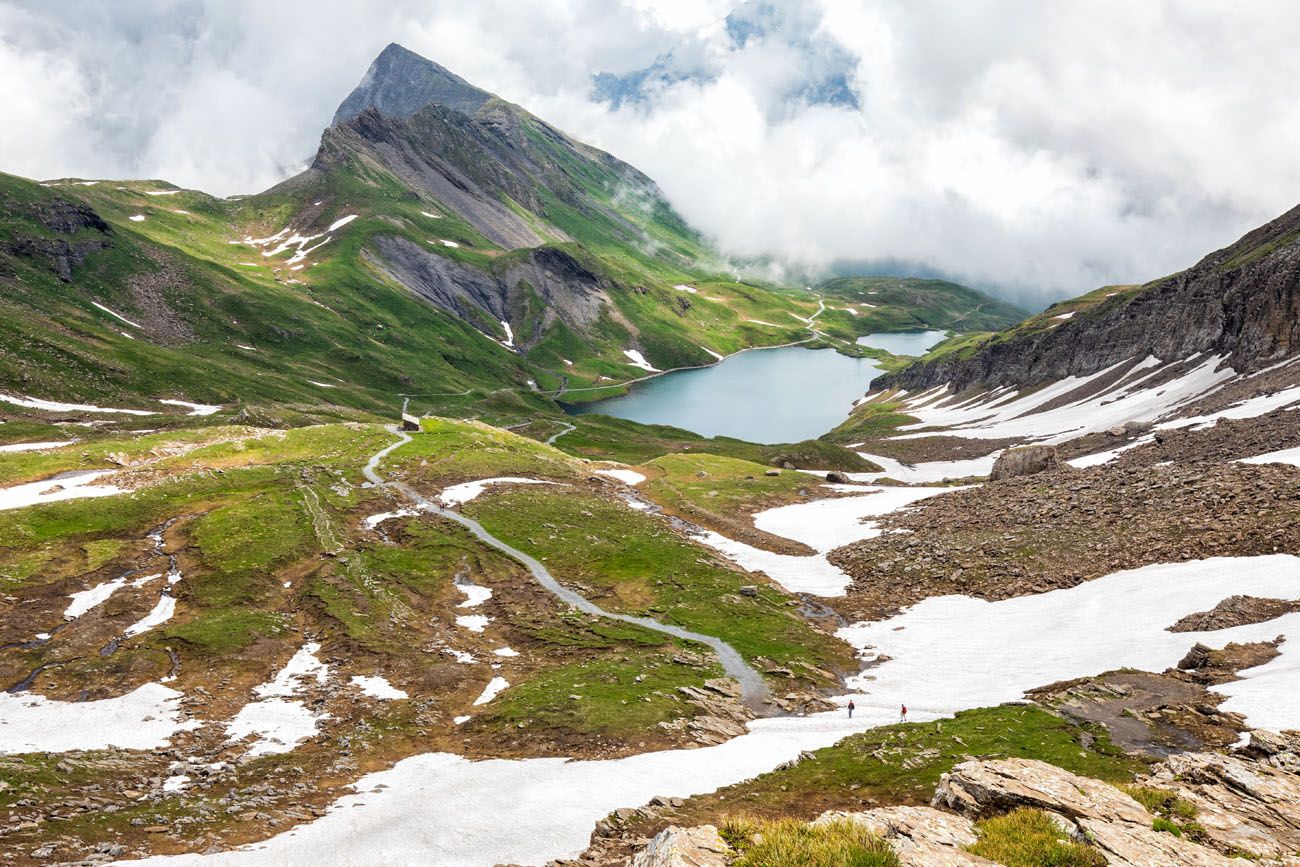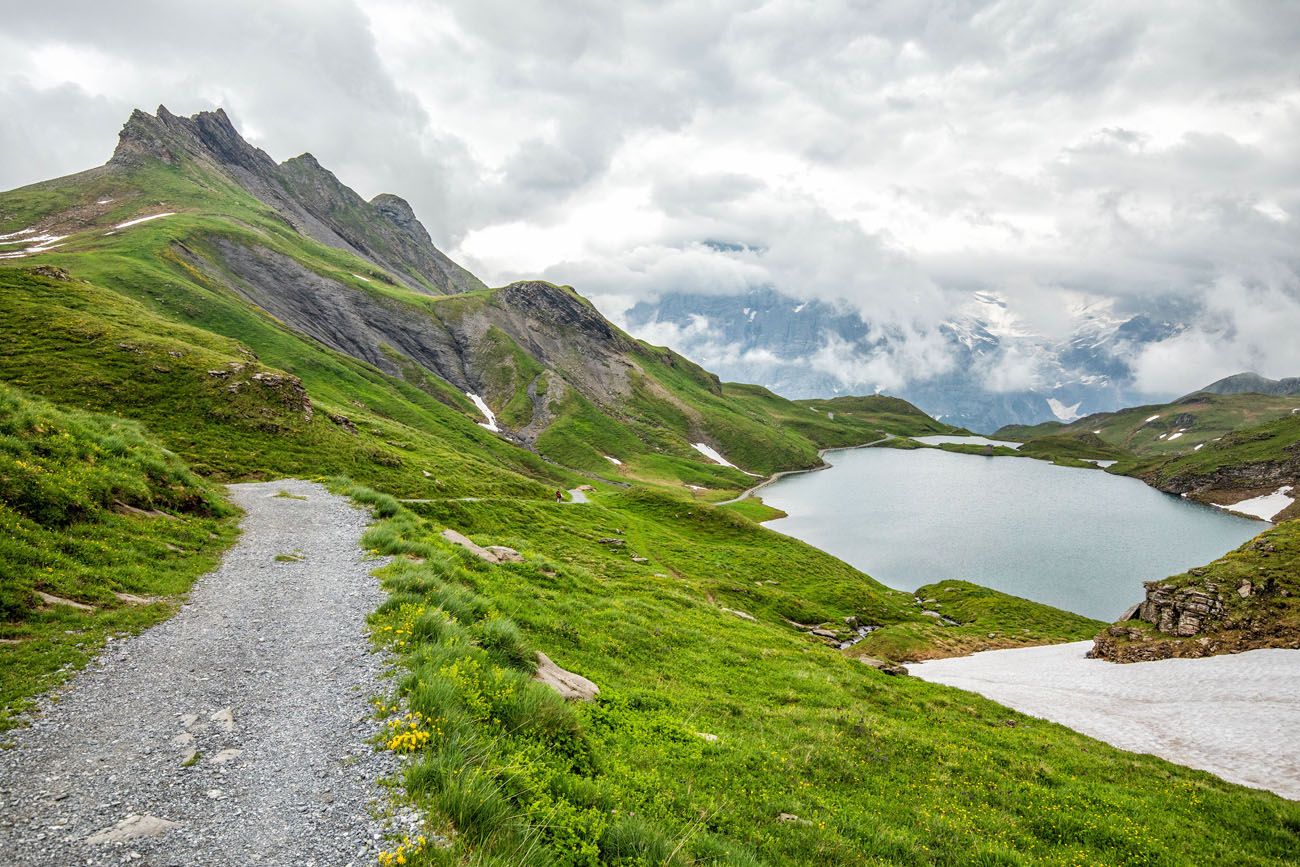 Bachalpsee | Schynige Platte to Faulhorn to First
From Bachalpsee, it's an easy walk to First.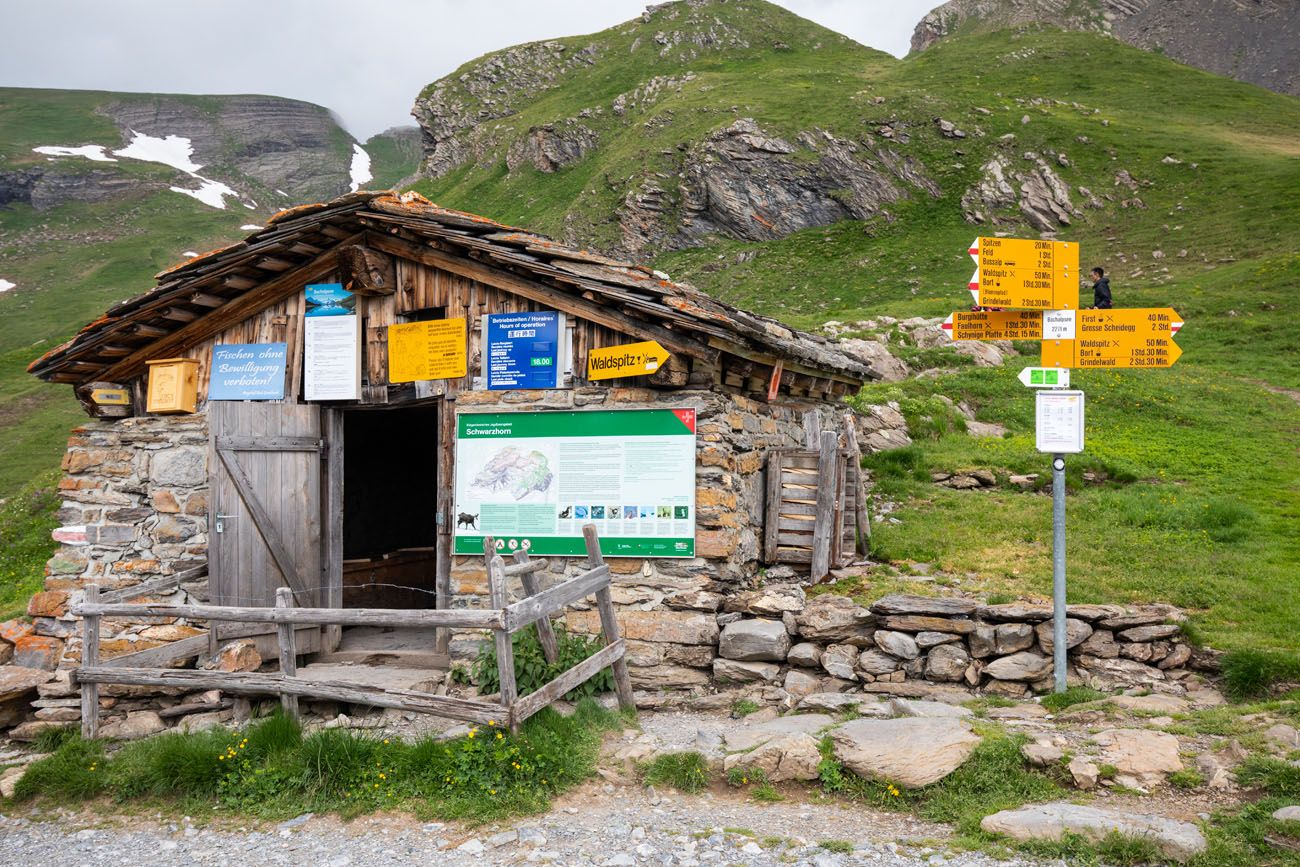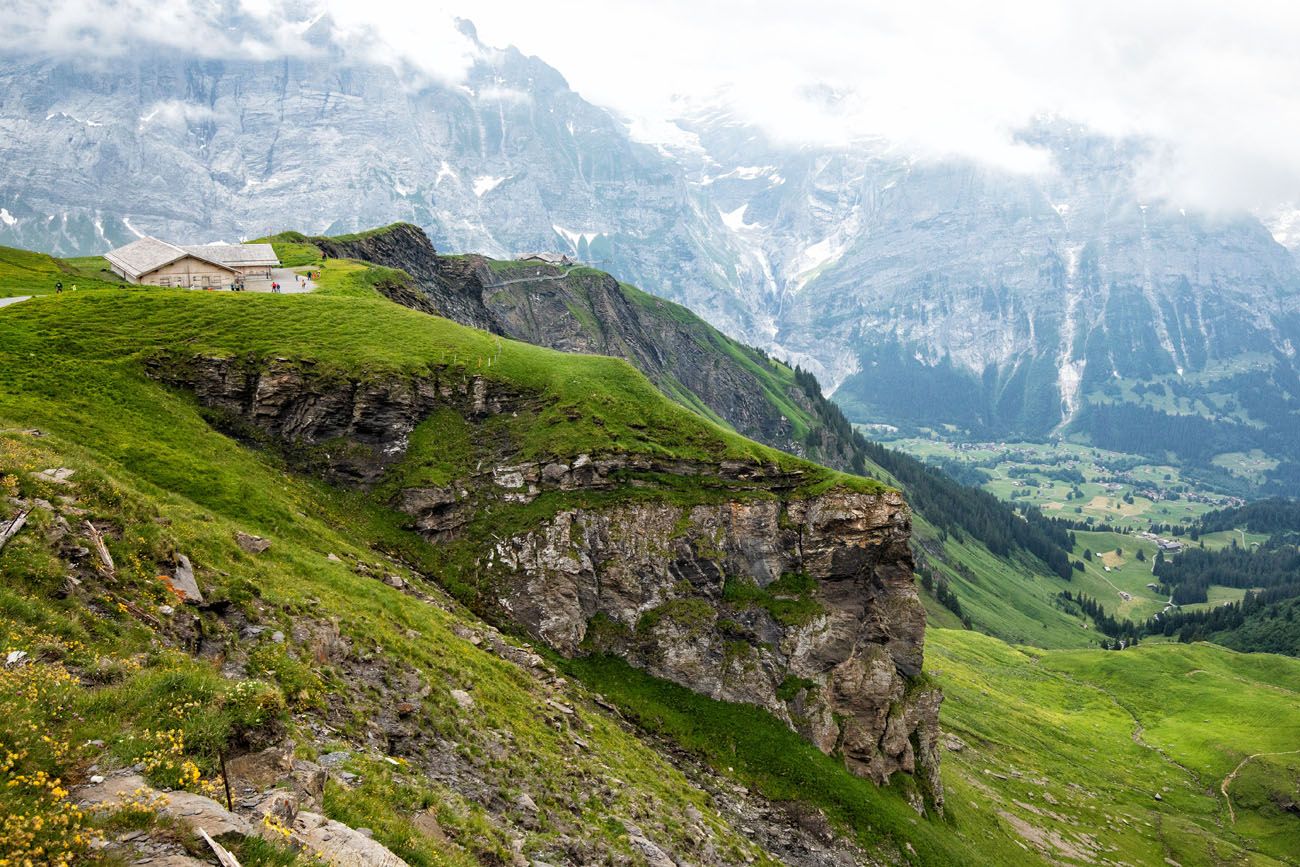 First
This hike ends in First. But before you ride the gondola to Grindelwald, there are a few action-packed activities you can add on to your day.
First Cliff Walk. Cling to the edge of the cliffs on metal walkways attached to the rocky mountain face. From here, you have a nice view over Grindelwald. On this hike, you will walk right past the Cliff Walk as you enter First, so it's quick and easy to add on this on. Plus, it's free!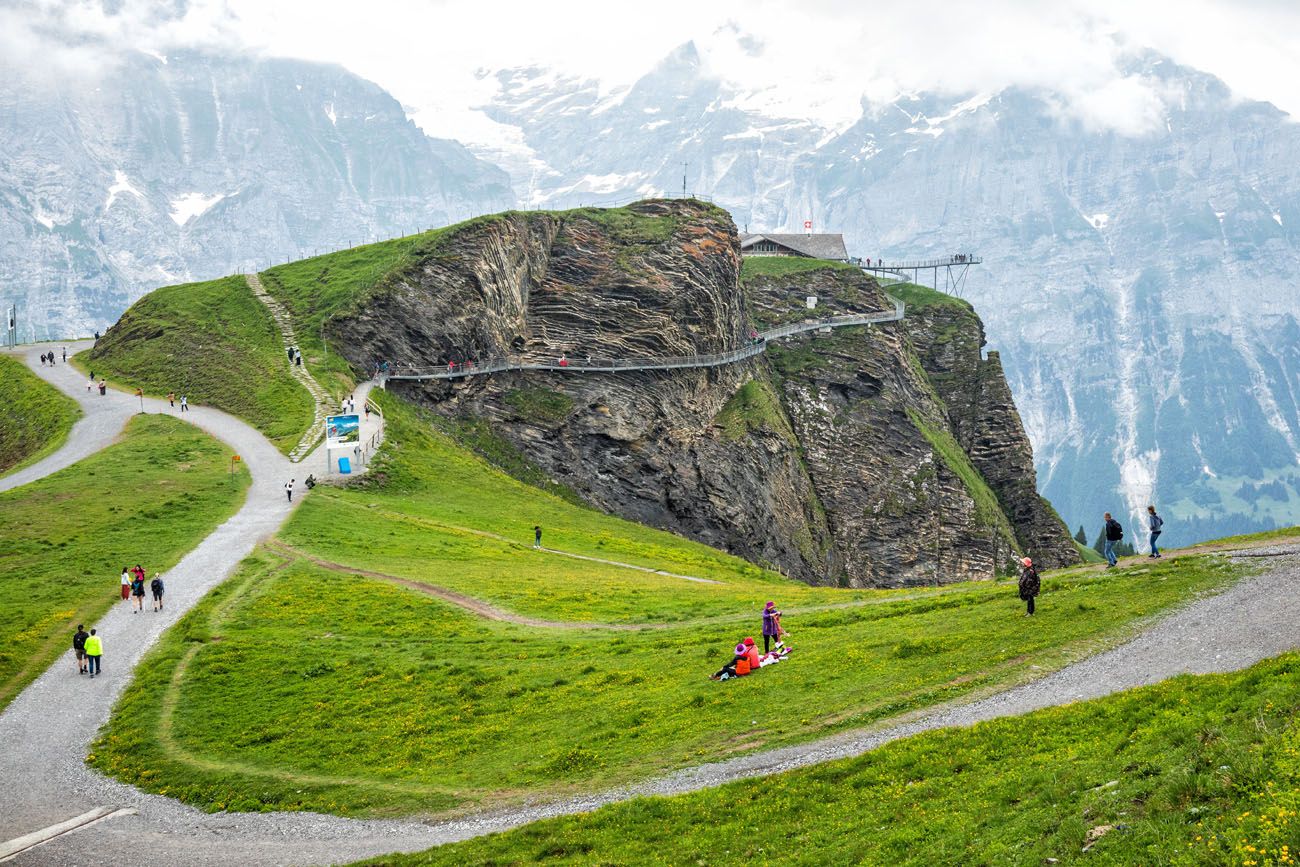 First Cliff Walk | Schynige Platte to Faulhorn to First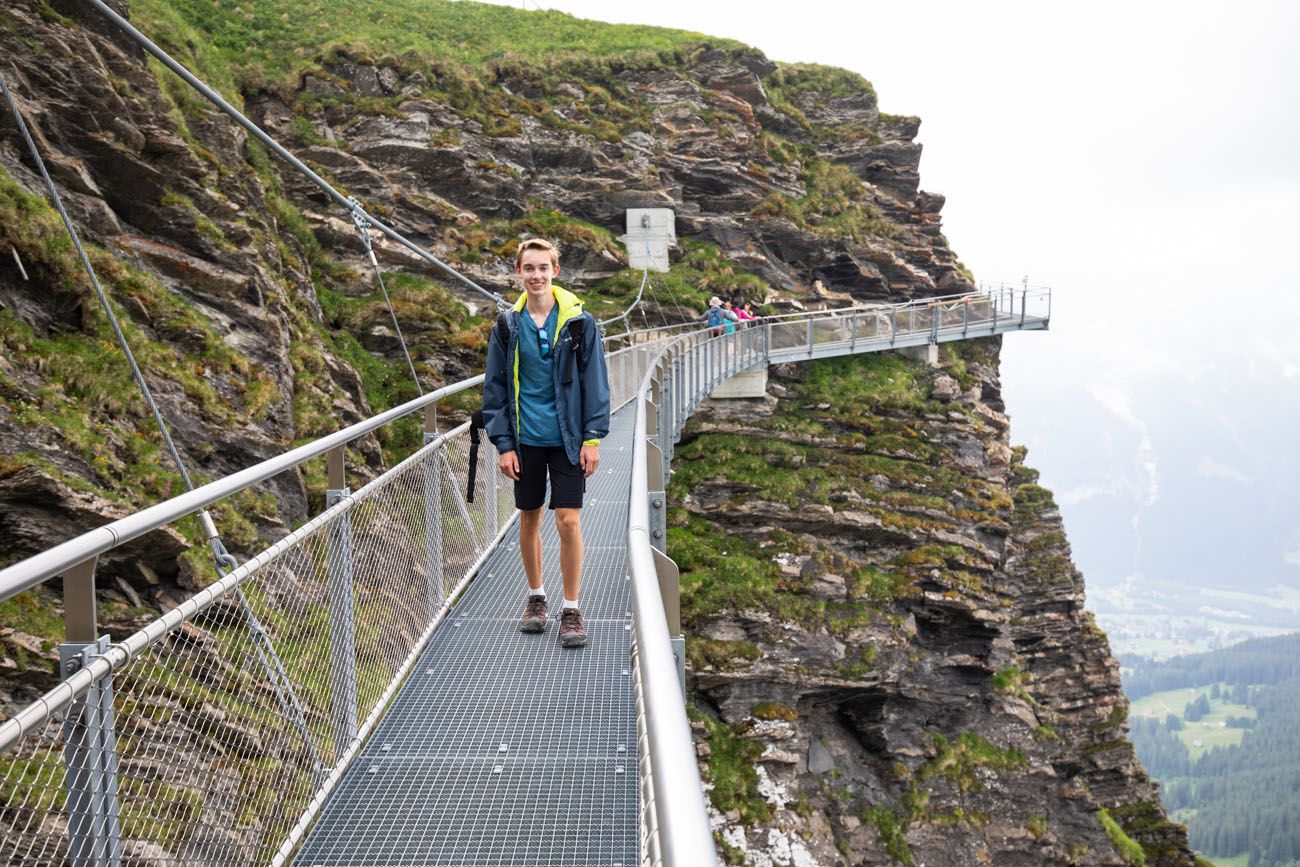 First Flyer and First Glider. Fly like a bird or zip-line for 800 meters for a quick thrill. Prices start at CHF 50.
First Mountain Carts. Ride go-karts downhill on a wide, gravel path from Schreckfeld to Bort. Prices start at CHF 50.
First to Grindelwald
To get to Grindelwald you will take the gondola from First. This journey takes 30 minutes and costs CHF 32 (50% discount with the Swiss Travel Pass).
In Summary
From Wilderswil, ride the cogwheel train to Schynige Platte (52 minutes, CHF 32). Hike to First (6 hours). Walk the Cliff Walk (15 minutes) and add on other activities that sound interesting. Ride the gondola to Grindelwald (30 minutes, CHF 32).
Transportation Cost: CHF 64 per person
Total Time: 8+ hours
Video of the Schynige Platte Hike
Check out this very cool video that Tyler put together, a combination of drone footage and footage from the hiking trail.
What to Bring on the Hike
Waterproof hiking shoes. These will give you good traction and keep your feet dry if there is still snow on the ground when you do this hike.
Hiking Poles. These are nice to have, especially for the downhill section from Faulhorn to First.
Food and water. You can buy food and water at the huts along the trail, but prices can be expensive. To save money, bring your own food and water.
Sunscreen. There is very little shade on the trail.
Extra Layers. Since you are hiking at a high elevation, it can be chilly, even mid-summer. Bring a rain jacket and extra layers to stay warm and dry.
Important Links
Sbb.ch: check train timetables and fares
---
If you are planning to do this hike and have any questions, comment below!
More Places to Go in Switzerland
MORE GREAT HIKES IN SWITZERLAND: The Bernese Oberland is one of Switzerland's top hiking destinations. Hike the short, incredibly scenic trail from Männlichen to Kleine Scheidegg, walk the Northface Trail from Mürren, or hike the Eiger Trail, our favorite short hiking train in the Jungfrau region. We also recommend hiking to Riffelberg in Zermatt (the views of the Matterhorn are unbeatable!) and hiking the Gastlosen Tour near Gruyères.
MORE GREAT HIKES IN EUROPE: From thrilling trails in the Alps to easy walks along the coast, read our article 20 Best Hikes in Europe for some beautiful hiking trails to put on your travel wish list.
JUNGFRAU REGION: What exactly is the Jungfrau region? Find out in our Guide to the Jungfrau Region, which includes maps and important travel planning information. We also have articles about the best things to do in the Jungfrau region as well as the top hikes in the Jungfrau region. A visit to Jungfraujoch is one of the most popular experiences in the Jungfrau region and you can combine it with the Eiger Trail for one amazing day in Switzerland. Riding to cable car to Schilthorn and the Mürren Via Ferrata were two of our favorite experiences in this part of Switzerland.
SWITZERLAND ITINERARY: If your visit to the Jungfrau region is part of a bigger trip to Switzerland, check out our Switzerland Itinerary, which has suggestions on what to do if you have 7 days, 14 days, or even longer.
LUCERNE: Learn how to spend one perfect day in Lucerne with a trip to Mt. Pilatus.
ZERMATT: In Zermatt, don't miss the hike from Gornergrat to Riffelberg. Another popular hike is the 5 Lakes Trail. For more ideas on what to do, read our article Best Things to Do in Zermatt.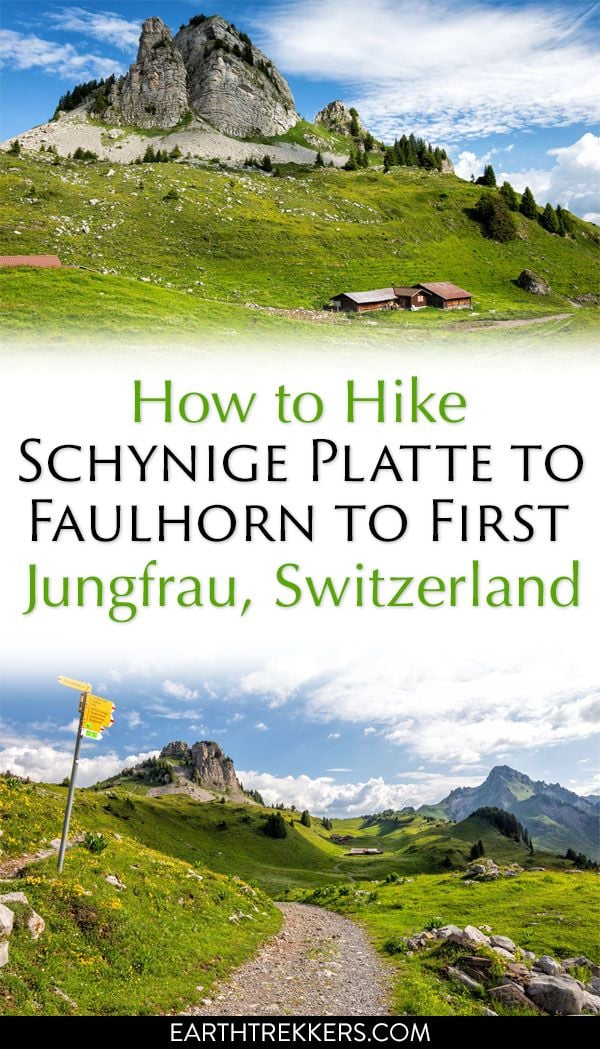 All rights reserved © Earth Trekkers. Republishing this article and/or any of its contents (text, photography, links, etc.), in whole or in part, is strictly prohibited.