While researching the best hikes in Zermatt, the Five Lakes Trail (5-Seenweg) kept popping up at the top of the list. Amazing Matterhorn views, five gorgeous lakes, a mostly downhill walk…it sounded perfect! So, we added it to our to-do list.
During our first visit to Zermatt, the cable car to Rothorn was closed for maintenance. As we stood at the Blauherd station, we had a choice to make: hike up to Rothorn for the view (which is spectacular…as we saw on our most recent visit to Zermatt) or walk the lovely Five Lakes Trail.
Well, the Five Lakes Trail won. And honestly, I think we made a bad decision.
I know that other blog posts and articles give rave reviews about the Five Lakes Trail. In our opinion, this hike is boring and monotonous.
Yes, the views of the Matterhorn are very nice. And yes, the first lake, Stellisee, truly is gorgeous.
But once we reached the second lake, we couldn't wait for this hike to be over.
For most of this hike, you are wide, gravel roads and walking through the woods, not the most exciting experience. And the other four lakes…after Stellisee, they are a let-down.
In this post, I'll give you the full details about the hike, so you can decide whether or not you want to do it while in Zermatt. Plus, I'll give a shorter variation of this hike (that is worth your time) and a second, spectacular hike with views of the Matterhorn that will blow your mind.
Hiking the Five Lakes Trail (5-Seenweg)
Five Lakes Trail Hiking Stats
Distance: 9.8 km (6.1 miles) point-to-point
Elevation Gain: 165 meters
Elevation Loss: 454 meters
Difficulty: Easy to moderate
Length of Time: 3 hours
Starting Point: Blauherd station
Ending Point: Sunnegga station
When to Go: June through September
This hike is a mostly downhill walk if you start at the Blauherd station and end at the Sunnegga station.
This hike gets its name from the five lakes you will hike past: Stellisee, Grindjisee, Grünsee, Moosjisee, and Leisee. On trail signs, it is labeled as 5-Seenweg.
Please practice the seven principles of Leave No Trace: plan ahead, stay on the trail, pack out what you bring to the hiking trail, properly dispose of waste, leave areas as you found them, be considerate of other hikers, and do not approach or feed wildlife.
Getting to Blauherd
The trail starts at Blauherd. To get here, take the funicular to Sunnegga and the gondola to Blauherd. For more information on the route, read our Sunnegga Blauherd Rothorn Guide.
In the town of Zermatt, the Sunnegga funicular station is located next to the Vispa River. On Google Maps, it is called Sunnegga Blauherd Rothorn Funicular. Ride the funicular to the Sunnegga station (about 8 minutes).
It's worth going to the viewpoint of the Matterhorn. This is an incredible view.
When you are finished, ride the gondola up to Blauherd.
Click here for the timetables and pricing for the funicular and gondola to Blauherd.
Blauherd to Stellisee
Once you exit the gondola, look for signs directing you to the Five Lakes Trail. On trail signs, it is labeled 5-Seenweg. You can also look for signs directing you to the next lake.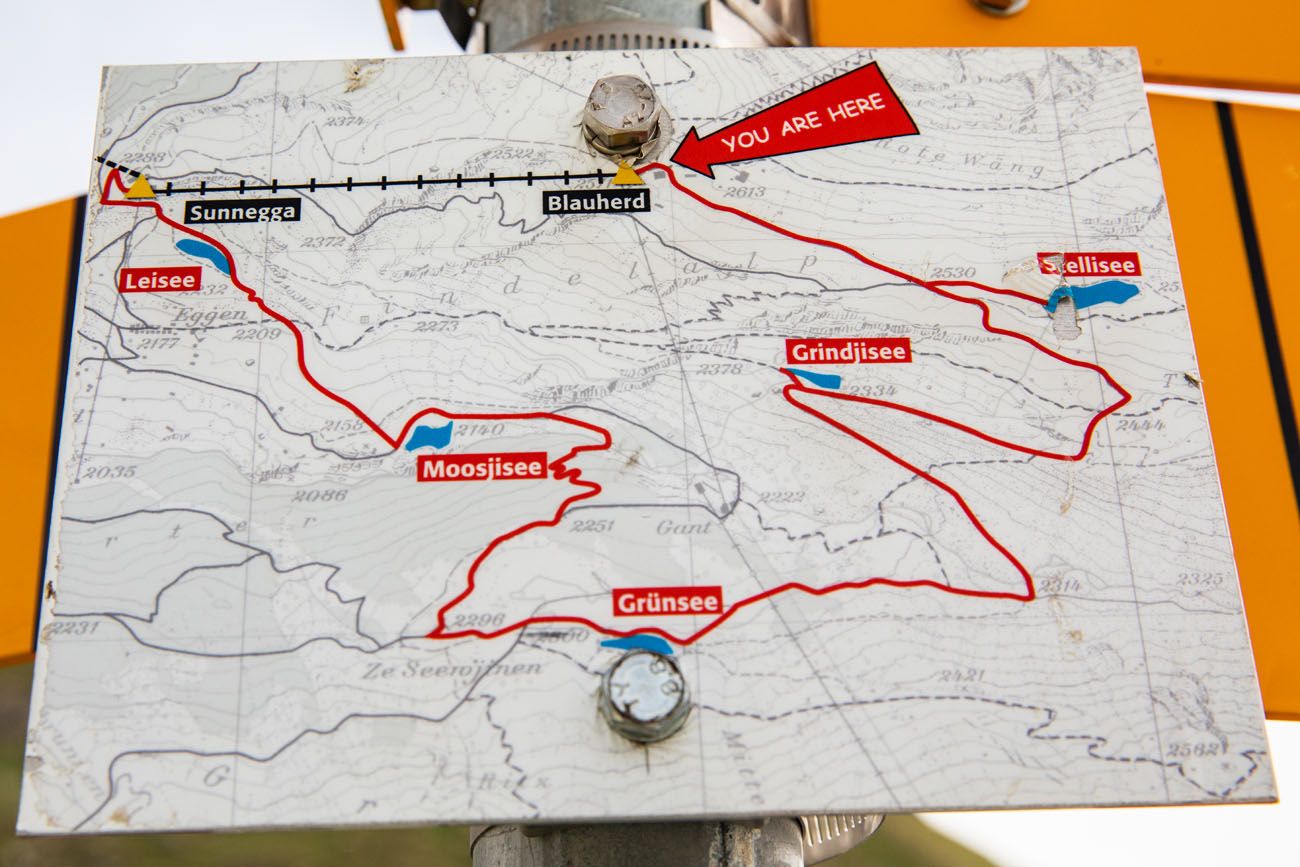 This is the Five Lakes Trail sign. This sign will be posted at each lake along with the yellow trail sign you see below.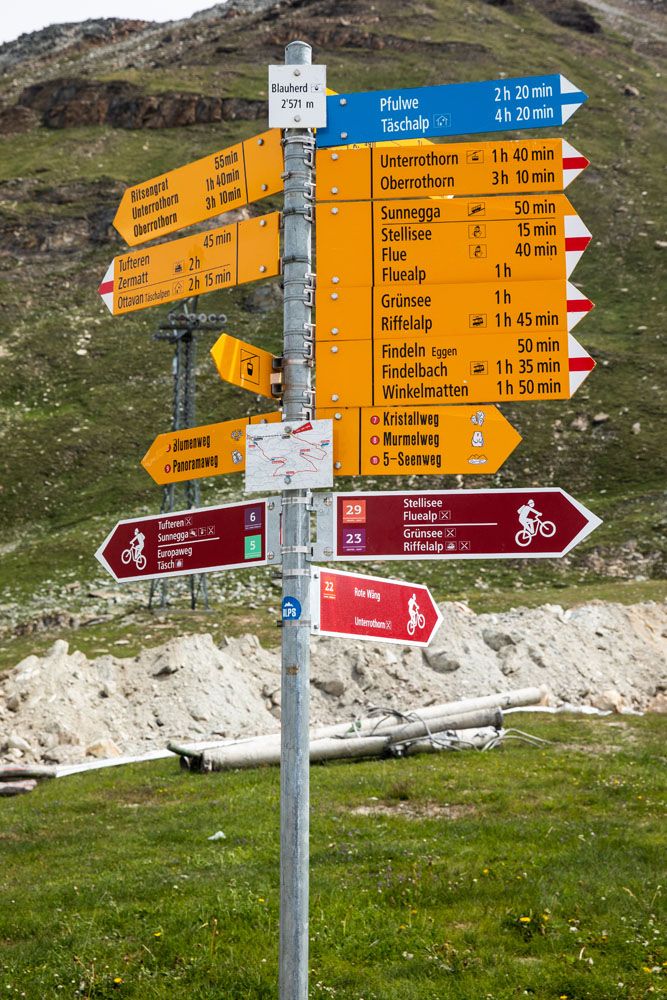 The walk to Stellisee is gorgeous. From here, you get a spectacular view of the Matterhorn. It's an easy, most downhill walk to Stellisee.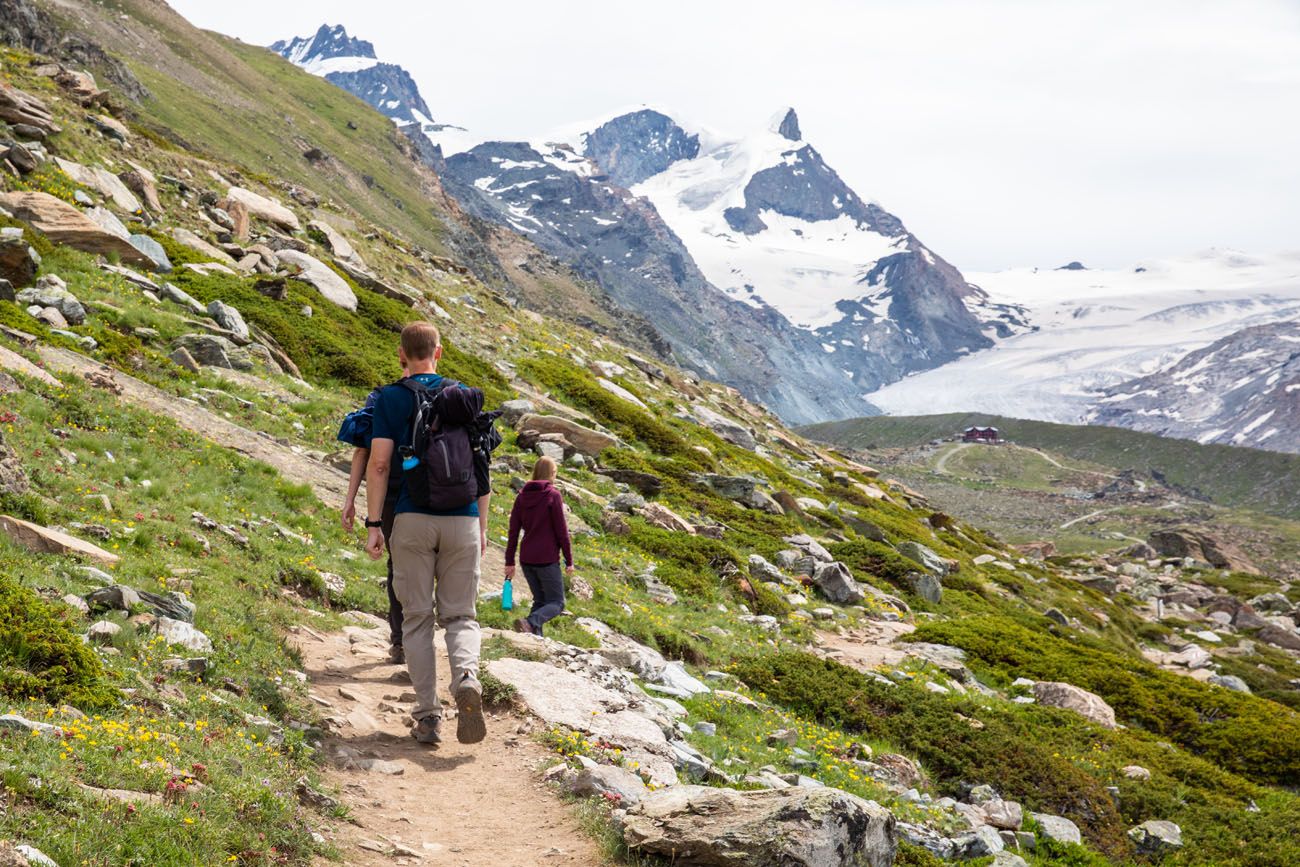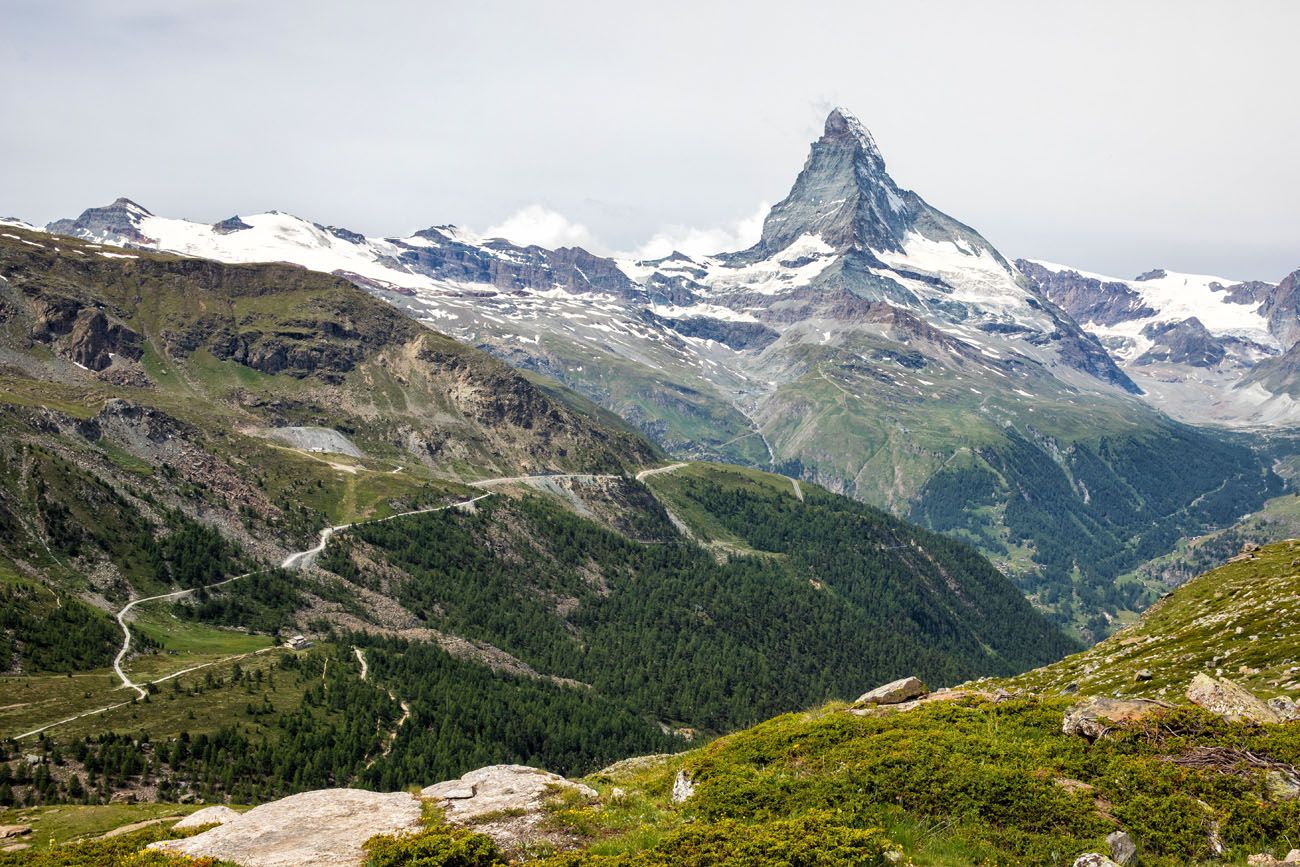 This is the view of the Matterhorn from the trail. If you look closely, you can see the Five Lakes Trail on the hillside in the distance.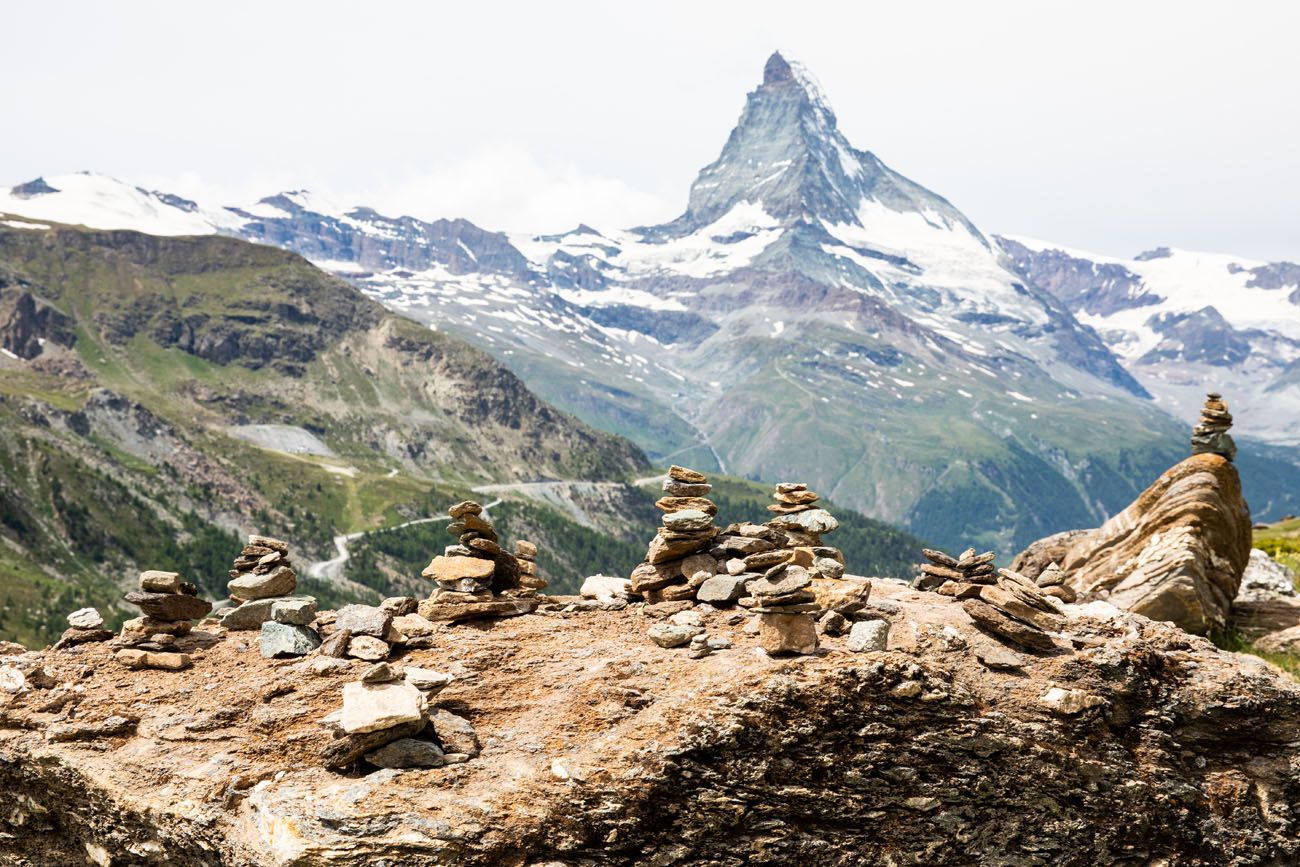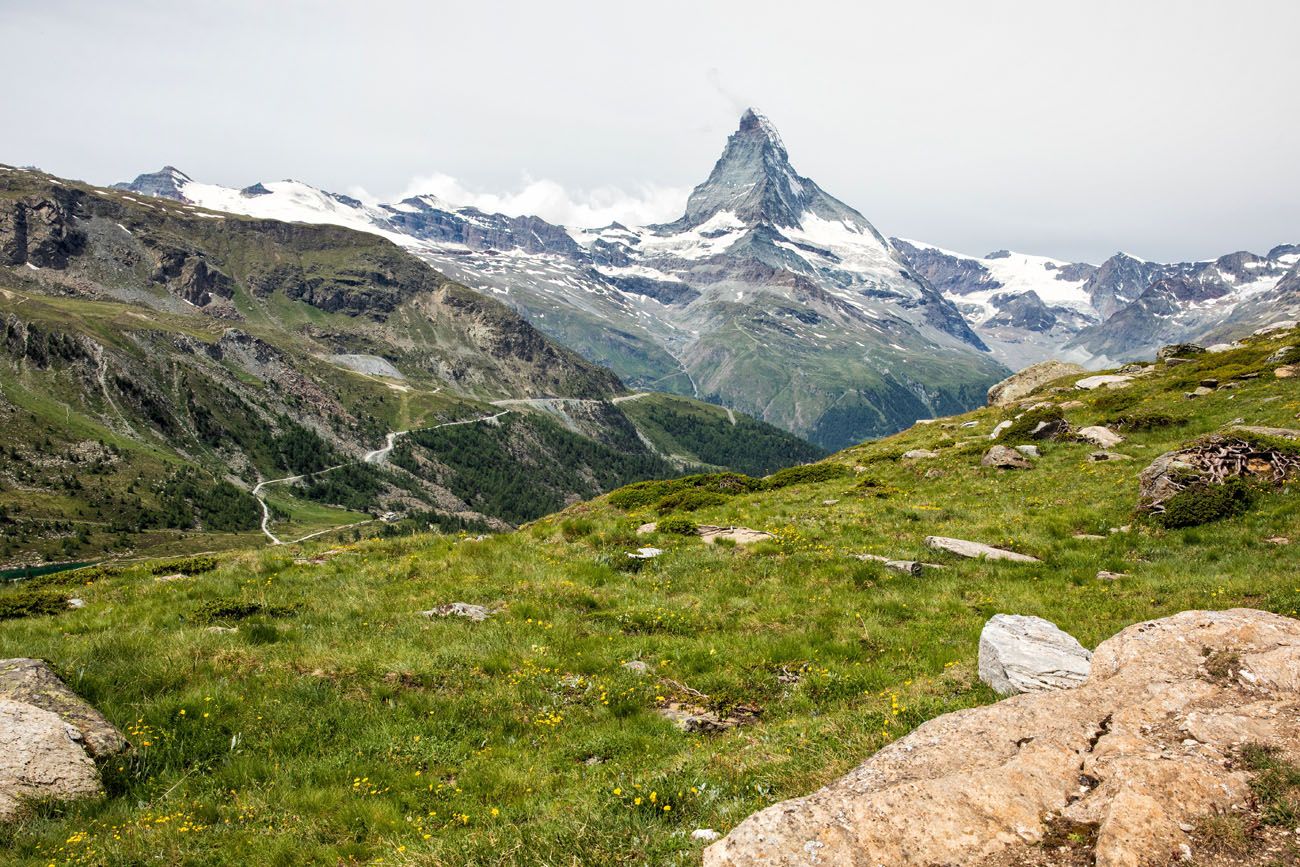 Once at Stellisee, walk around the far side of the lake for the best view of the Matterhorn. On a calm day, it is possible to capture the reflection of the Matterhorn on the lake (I was not so lucky).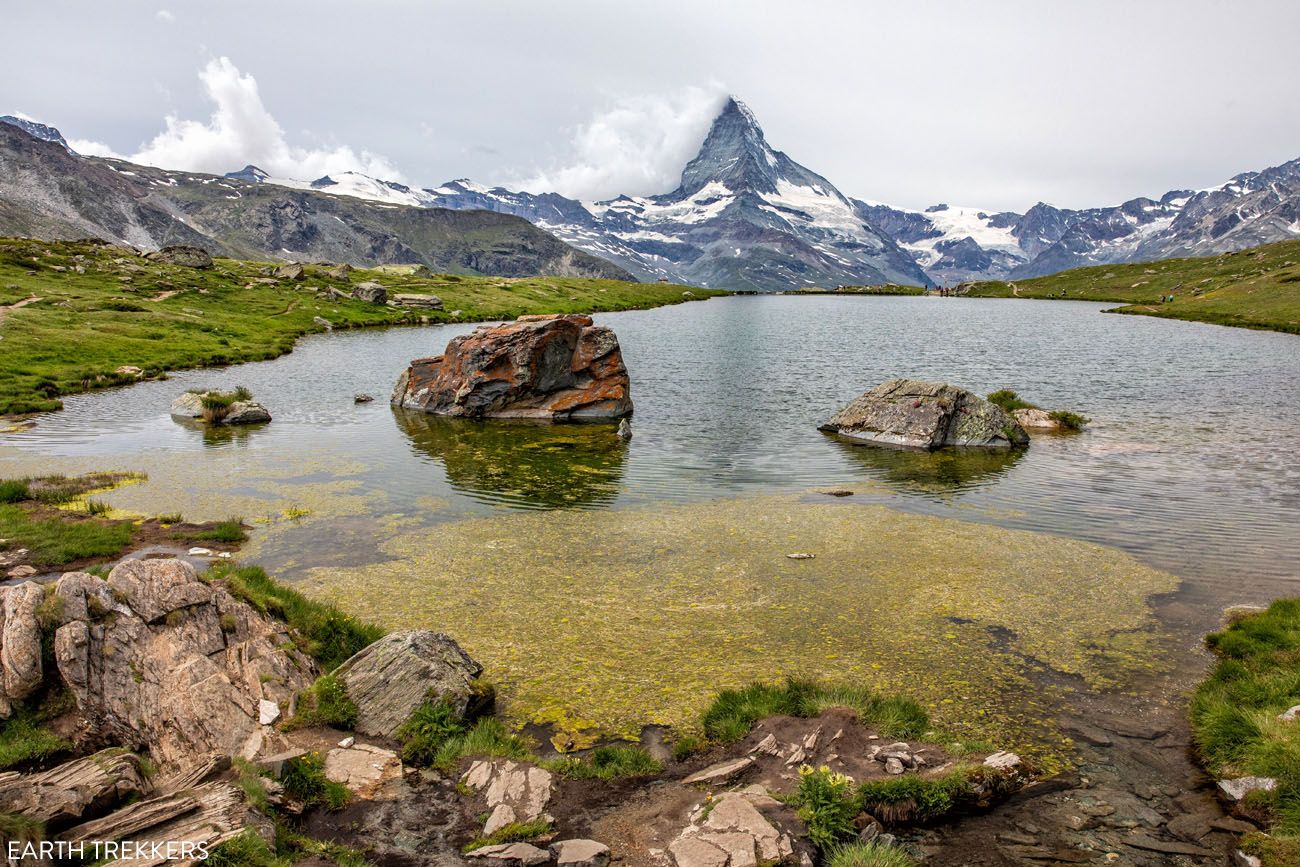 PRO TRAVEL TIP: You just hiked the best part of the Five Lakes Trail. My recommendation is to hike back to Blauherd and continue up to Rothorn on the cable car. On the Five Lakes Trail, once you hike past Stellisee, the trail is boring and the view from the other lakes doesn't compare to what you just saw.
Stellisee to Sunnegga
Now the trail changes into a wide, gravel road. It's a mostly downhill walk to Grindjisee.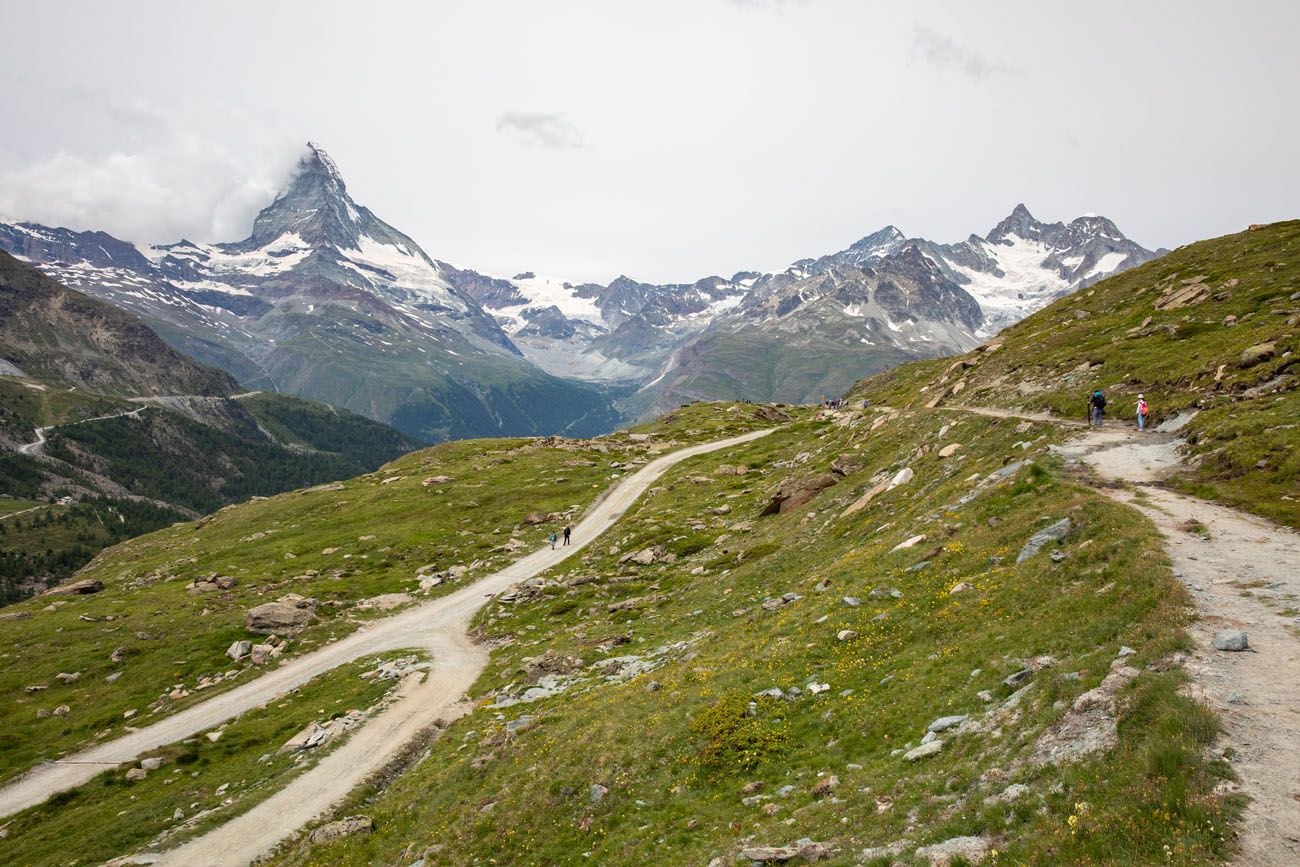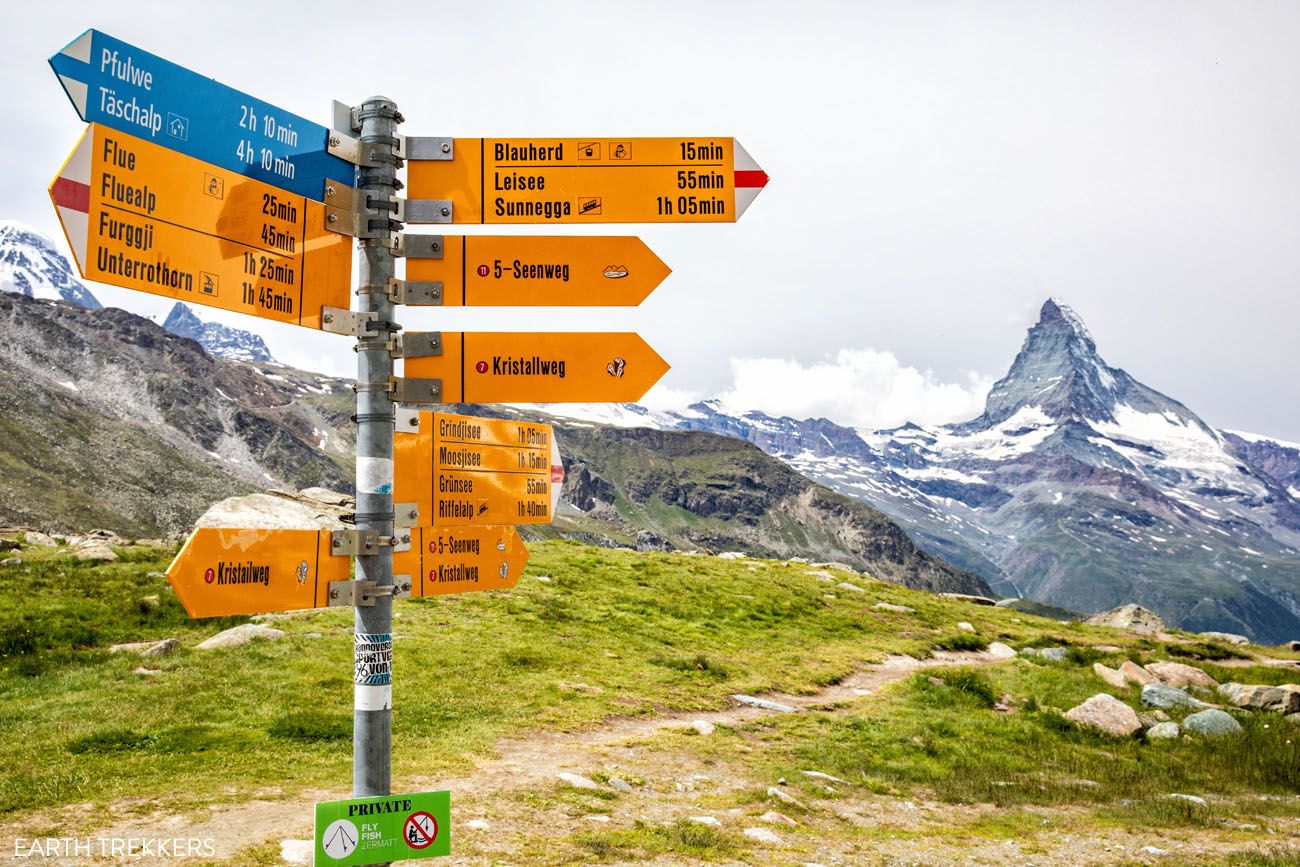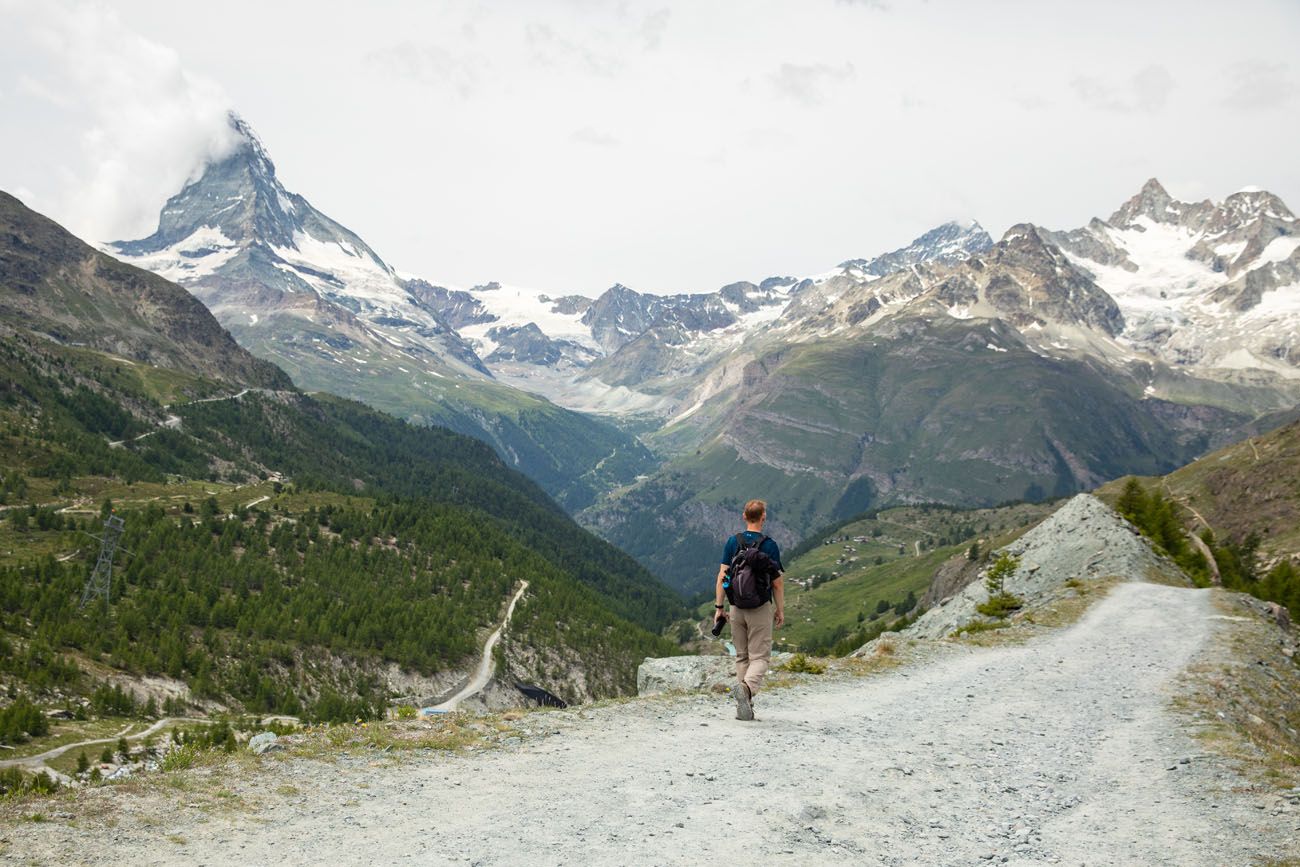 This small lake is surrounded by trees. Here is the view from Grindjisee.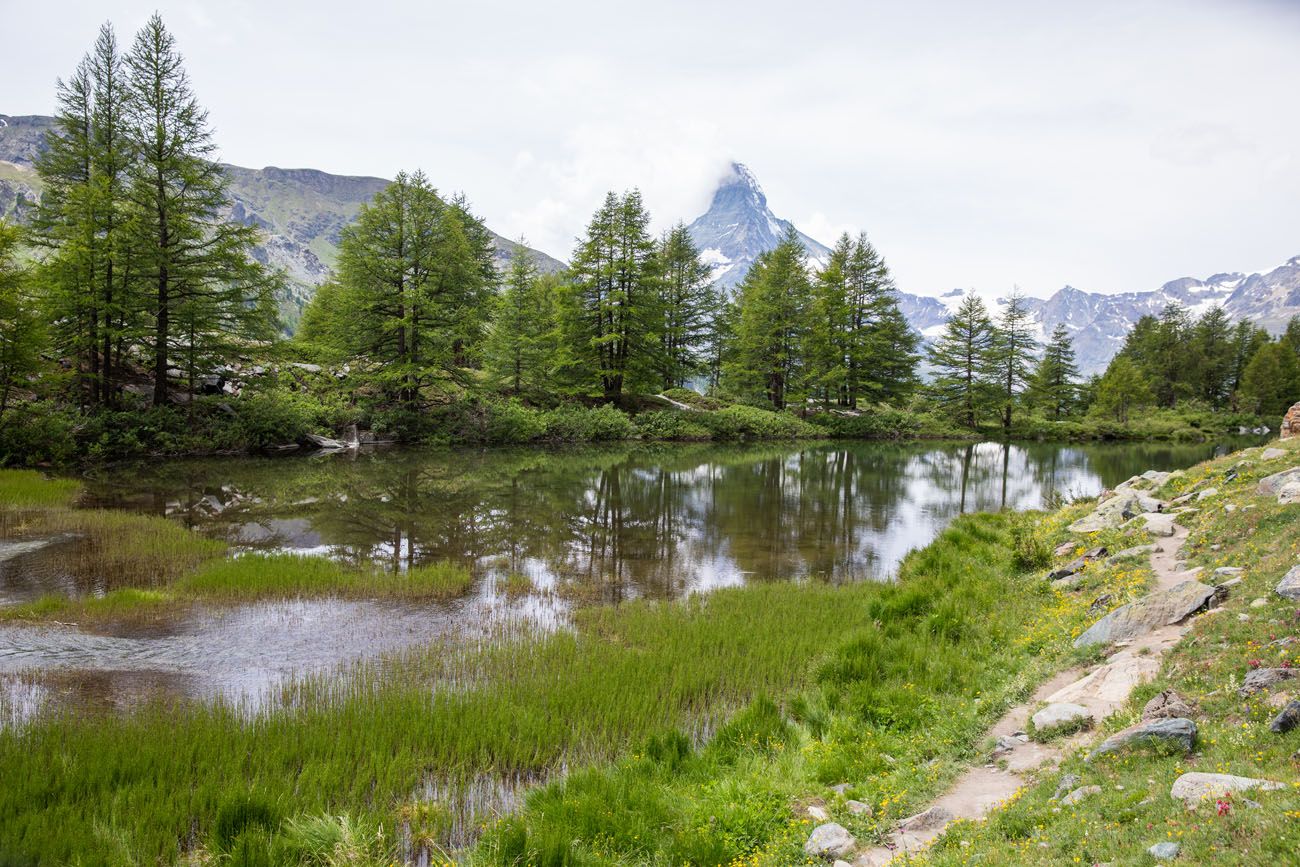 Grindjisee
Continue along the gravel road until you get to Grünsee. This is when we regretted our decision to hike this trail. Now that we were tucked away in the trees, we were only getting occasional glimpses of the tip of the Matterhorn. The views do open up again, later in the hike, but this part of the Five Lakes Trail is the most boring.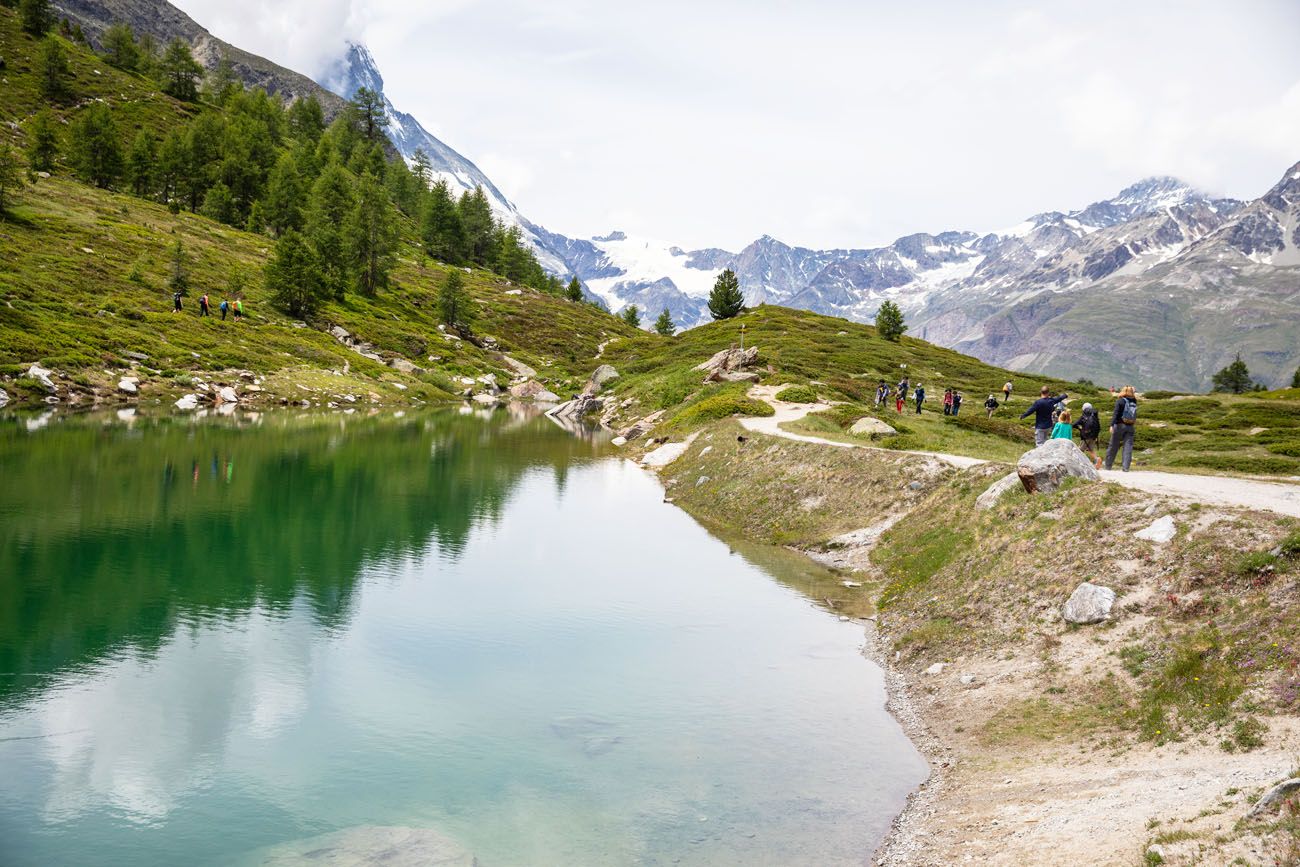 Grünsee
To hike from Grünsee to Moosjisee, you will hike down a series of switchbacks in the woods. Moosjisee is a lake that sits next to a hydro-power station. It has a unique, aquamarine color.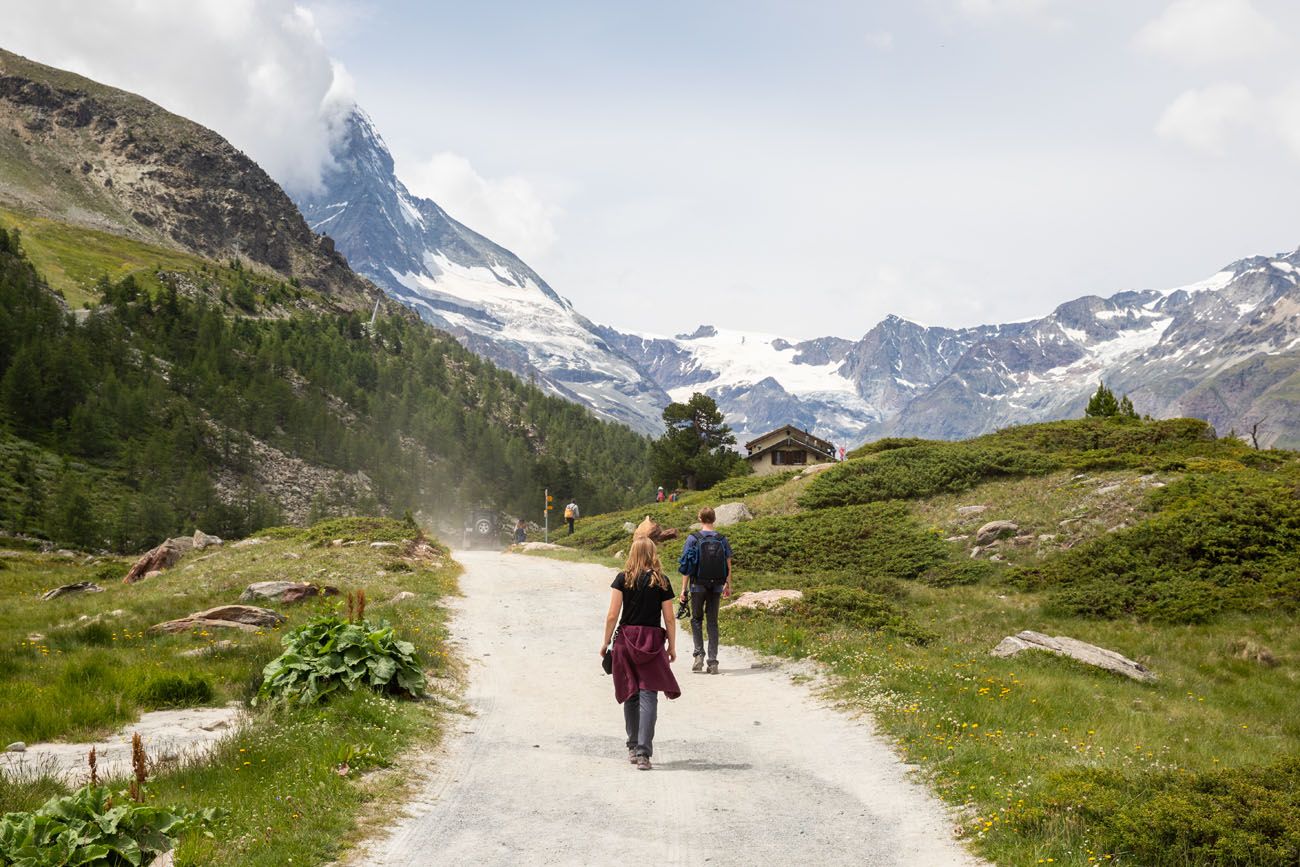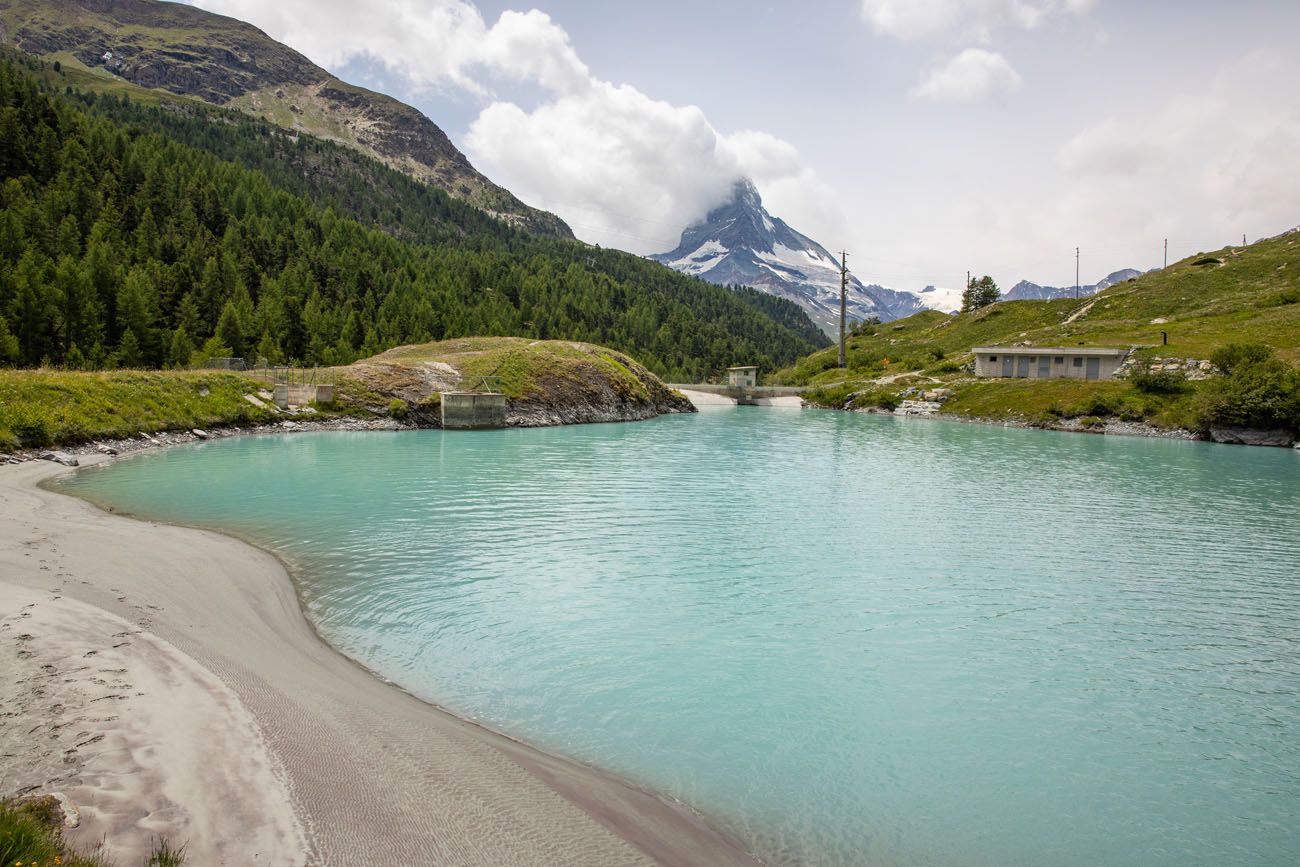 Moosjisee
The hike to Leisee is the toughest part of the hike. It's a short but steep walk up to the lake.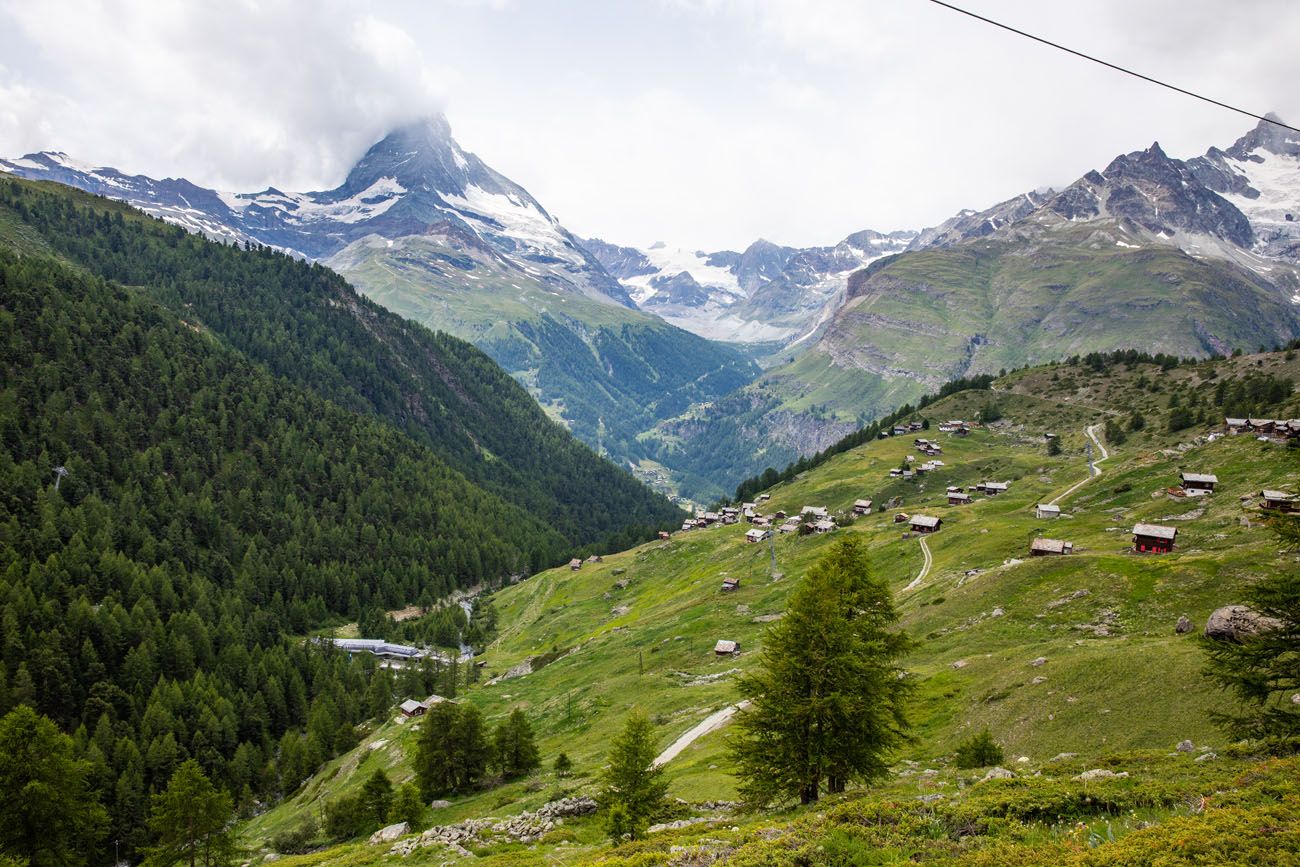 View from the trail before you get to Leisee.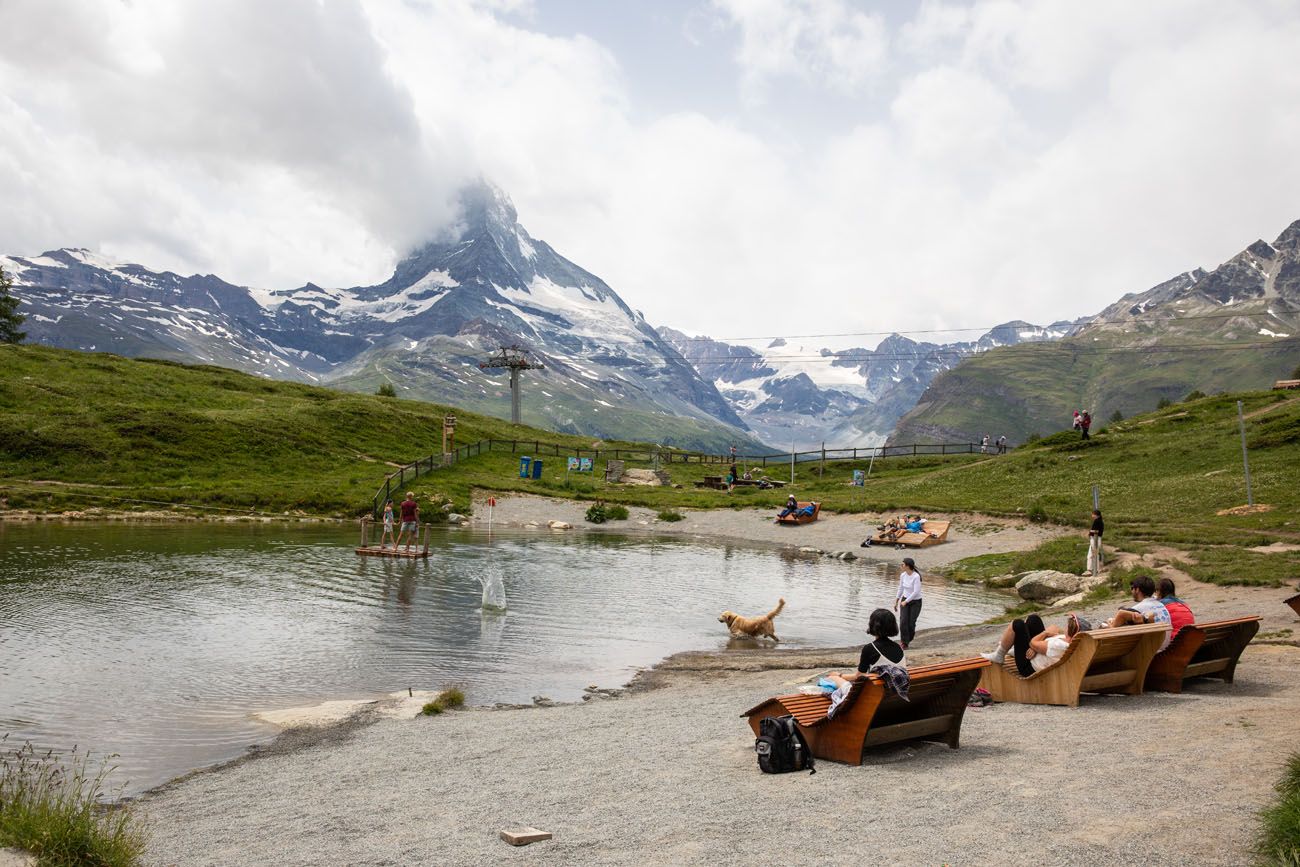 Leisee
From here, you can walk uphill to Sunnegga station or ride the elevator.
What to Do Instead of the Five Lakes Trail
The Five Lakes Trail is a nice hike. I'm not saying that you shouldn't do it. I just don't think it deserves all of the hype that it gets.
With the right expectations, this is a worthwhile experience. However, here are suggestions for what I recommend you do instead of the Five Lakes Trail.
Hike Round Trip to Stellisee
The section from Blauherd to Stellisee is the best part of the Five Lakes Trail. It's short, it's sweet, and you are treated to amazing Matterhorn views and a visit to a very pretty lake.
If you hike from Blauherd to Stellisee and return to Blauherd, it is only 3 km (2 miles) round trip and takes about an hour of your time.
Hike Gornergrat to Riffelberg
If you do one thing while in Zermatt, it should be this.
This short hike is simply amazing. The hike from Gornergrat to Riffelberg is packed with jaw-dropping views of the Matterhorn.
The thing that makes this hike so special is that you are always walking towards the Matterhorn. It's right there in front of you, and since Gornergrat is closer to the Matterhorn than the Five Lakes Trail, it almost looks like you can reach out and touch it.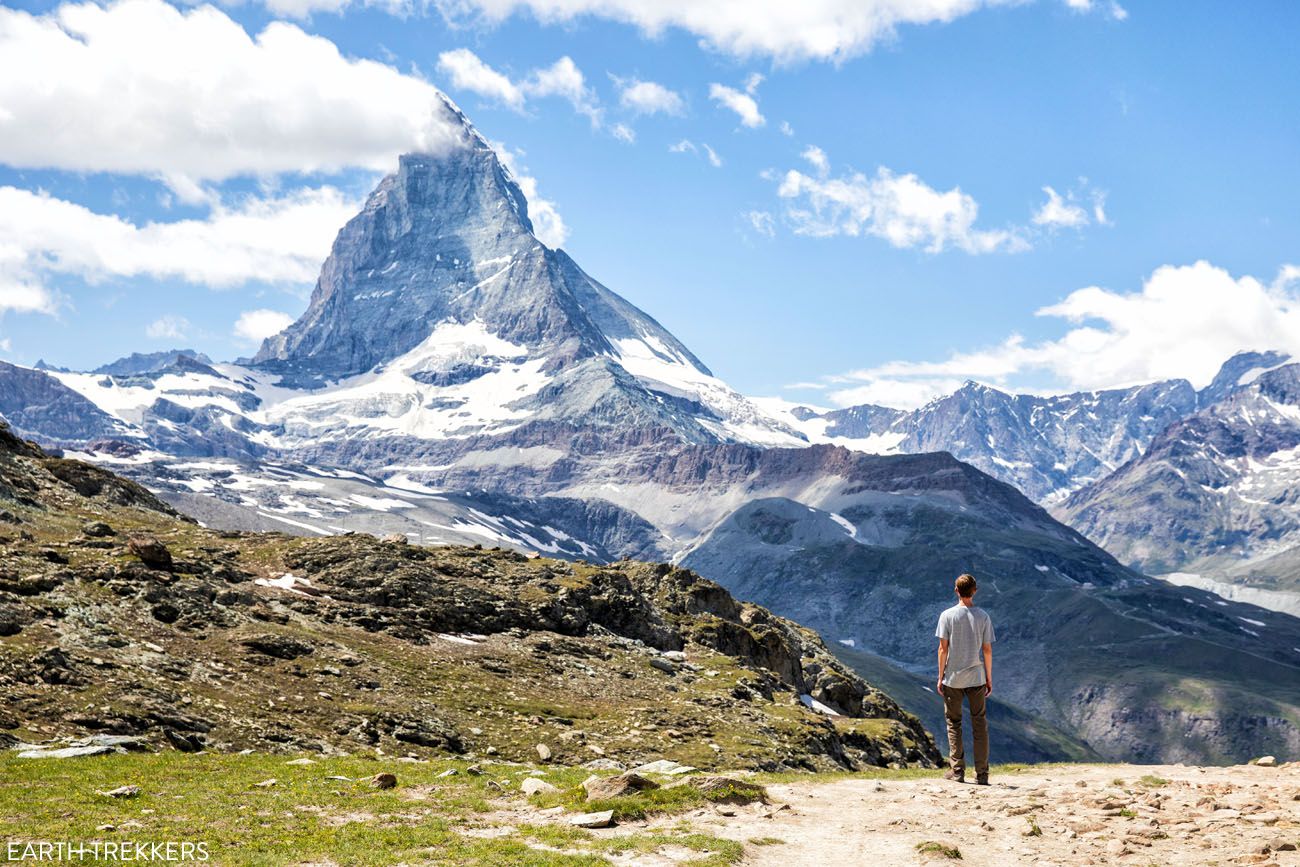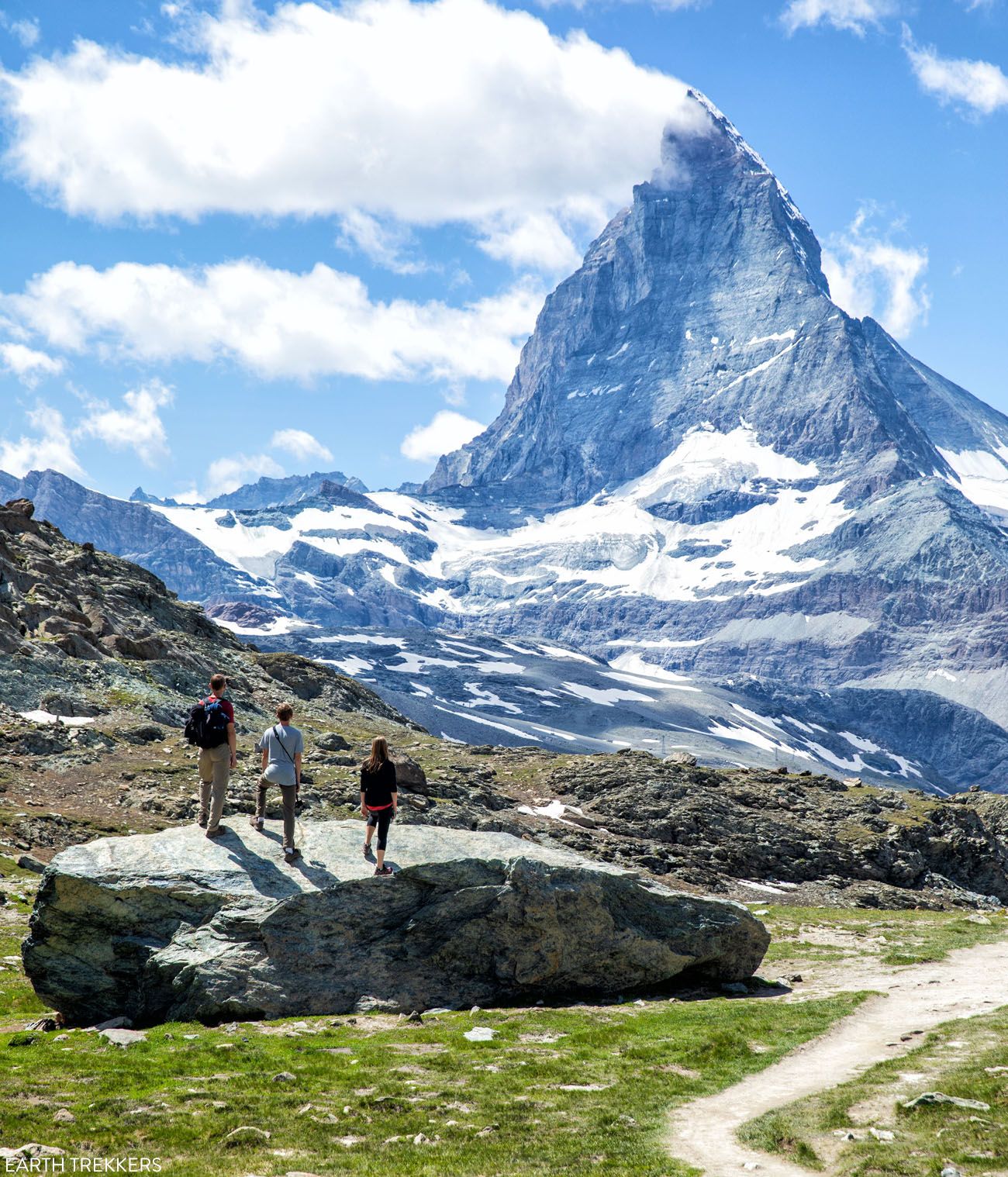 On this hike, you get to visit two alpine lakes. This hike is 5 km (3 miles) long and mostly downhill.
In Conclusion
If you are looking for a short, easy hike with spectacular views of the Matterhorn, skip the Five Lakes Trail and hike from Gornergrat to Riffelberg instead. You'll have loads of amazing photos of the Matterhorn.
The Five Lakes Trail is worth it if you have a lot of time in Zermatt (3 days or longer) and are looking for another scenic hike to do. Otherwise, save your time, and your steps, and just hike to Stellisee instead. You'll get awesome views of the Matterhorn and still have plenty of time and energy left over to do something else.
For more hiking recommendations in Zermatt, read our article 12 Best Day Hikes in Zermatt.
---
If you have any other questions about hiking the Five Lakes Trail, or if you want to share your experience, let us know in the comment section below.
More Places to Go in Switzerland:
ZERMATT: In Zermatt, don't miss the hike from Gornergrat to Riffelberg, the hike to Hörnlihütte, and the Matterhorn Glacier Trail. For more ideas on what to do, read our article Best Things to Do in Zermatt. For more alpine views, learn how to visit Matterhorn Glacier Paradise (and find out if it is worth it), how to walk from Furi to Zermatt, and how to visit Sunnegga, Blauherd, and Rothorn.
JUNGFRAU REGION: What exactly is the Jungfrau region? Find out in our Guide to the Jungfrau Region, which includes maps and important travel planning information. We also have articles about the best things to do in the Jungfrau region as well as the top hikes in the Jungfrau region. The Eiger Trail and Schynige Platt to First are our favorite hikes. A visit to Jungfraujoch is one of the most popular experiences in the Jungfrau region, but is it worth it?
SWITZERLAND ITINERARY: If your visit to Zermatt is part of a bigger trip to Switzerland, check out our Switzerland Itinerary, which has suggestions on what to do if you have 7 days, 14 days, or even longer.
LUCERNE: Learn how to spend one perfect day in Lucerne with a trip to Mt. Pilatus.
LAUSANNE: Lausanne is another beautiful Swiss city with lots of great things to do and it also is a great home base for day trips in the area, such as Gruyères and Chateau de Chillon.
We have TONS more information about Switzerland in our Switzerland Travel Guide, including Zürich, Lucerne, the Bernese Oberland, Zermatt, Lugano, and Lausanne.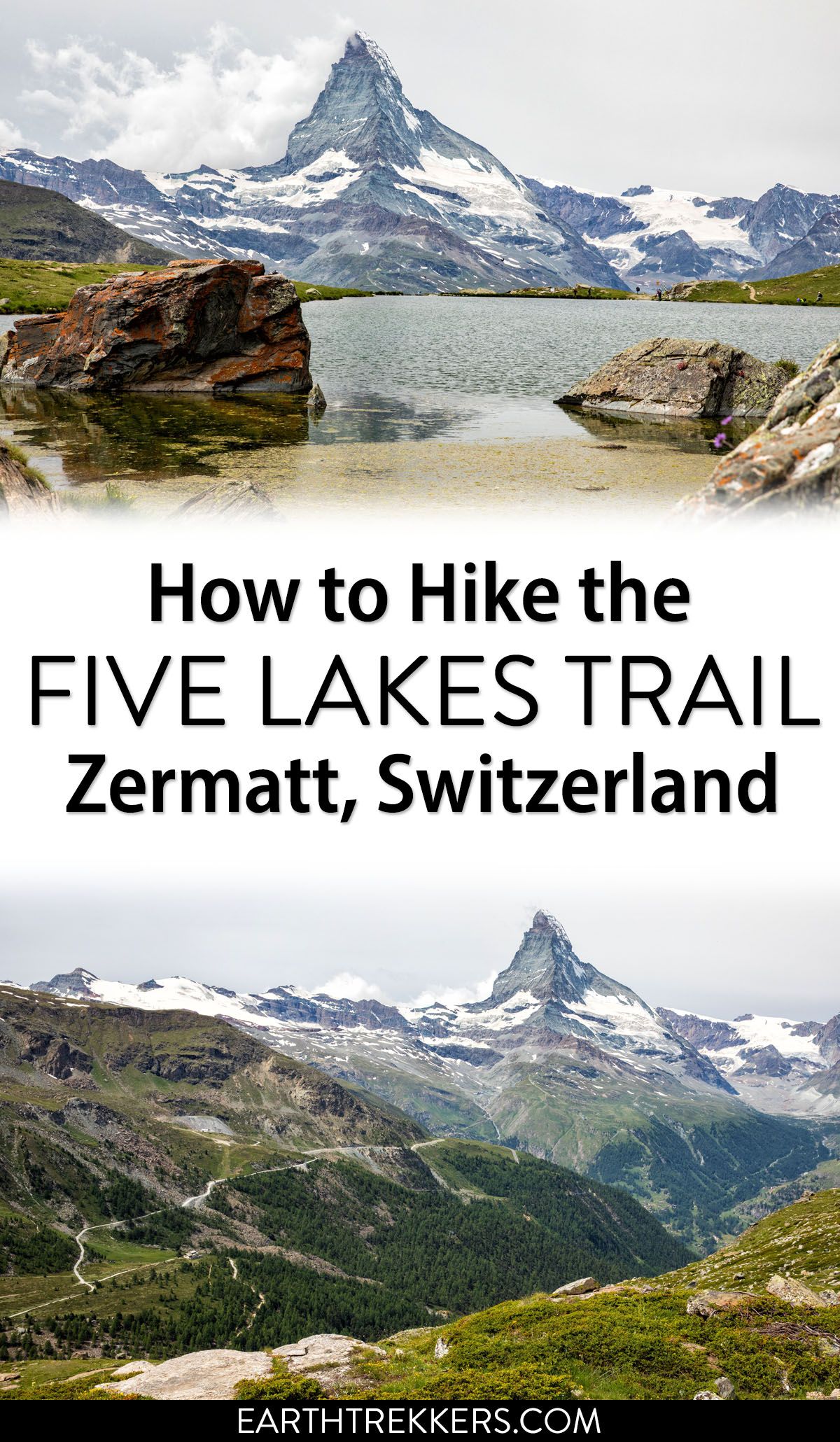 All rights reserved © Earth Trekkers. Republishing this article and/or any of its contents (text, photography, etc.), in whole or in part, is strictly prohibited.