Before the start of our year long trip, we all had an activity that was a "must do." For Kara, that "must do" activity was to go snorkeling on the Great Barrier Reef. We were all in agreement that we could not visit Australia without paying a visit to this natural wonder of the world, so our journey through Australia concluded in Queensland, getting our wildlife fix, as we would do more here than just swim with some fish.
What is the Great Barrier Reef?
The Great Barrier Reef is one the Natural Wonders of the World, joining the list with sites like Victoria Falls, Mount Everest, and the Grand Canyon. This is the world's largest single structure formed by living organisms and it can be seen from outer space.
This system of coral reefs and islands supports a wide range of wildlife, including fish, birds, sharks, sea turtles, and crocodiles. One sobering statistic is that since 1985, the Great Barrier Reef has lost half of its coral, according to the National Academy of Science. The biggest threats to the reef are climate change, pollution, and overfishing.
The Great Barrier Reef is enormous, stretching 2,300 kilometers along the coast of Australia. It may come as no surprise that we did a lot of research as to the best places to see the Great Barrier Reef. Cairns is the most popular base for touring the reef, since it is easy to get to and offers a wide range of tours. With hundreds of visitors everyday, we chose to avoid this section.
We chose Lady Musgrave Island, located at the southernmost point of the reef. Going to Lady Musgrave Island was getting off-the-beaten-path, seeing a section of the reef that very few choose to see. Since this area sees less tourists, the reefs are pristine, unspoiled territory, having avoided the damage that comes with humans and their flippers invading these fragile ecosystems. To get here, we took a flight into Brisbane and then drove six hours north, basing ourselves at Agnes Water Town. Just up the road was the Town of 1770, our takeoff point for getting to the Great Barrier Reef.
Cruising to the Great Barrier Reef
On a chilly Saturday morning we boarded the boat, starting our cruise with Lady Musgrave Barrier Reef Cruises that would take us on a day trip out to the reef.
Before leaving the marina, we received a safety briefing and a stern warning. With strong winds came huge swells in the ocean. Anyone with back or neck problems, those who were pregnant, or those with a history of seasickness were urged to get off of the boat, being offered a full refund.
Six people out of fifty left.
Then, we were all instructed on proper use of the seasickness bags, of which we each had at least four in the seat back pocket in front of us. The way the staff put it, seasickness was not an "if" but a "when."
Before we set off, Tim and I took bets on how many people would be using those seasickness bags. We were both too low on our estimates. I passed out chocolate chip cookies to our family, wondering which of us would toss their cookies first.
Once out of the calm waters of the marina, the waves had our boat rocking and rolling, making many on board queasy. Within twenty minutes of hitting open water, passengers were making use of those seasickness bags. Once used, they would hold it up overhead to be collected by staff on board the boat. How would you like to have that job?!
Further and further into our journey, more people were using those bags. Those poor souls who were ill were using two to three bags before we made it to our destination.
GBR doesn't only stand for Great Barrier Reef, it also stands for the Great Barf Ride, according to Tim. These are the things no one tells you about when you schedule your trip out to the Great Barrier Reef. Fortunately, Dramamine saved the day for our family once again, all of us making it to Lady Musgrave Island without tossing our cookies.
Lady Musgrave Island
It took an hour and a half to get to Lady Musgrave Island. Everyone on board was thrilled when we docked at the pontoon on the sheltered cove of Lady Musgrave Island.
Here we were split into two groups for the day. Our group was taken out to Lady Musgrave Island for a short walk across the island and along the beach. With the wind hitting us we were so cold, even with our fleeces, leaving us to wonder how the heck we would ever get warm enough to get in the water and snorkel later.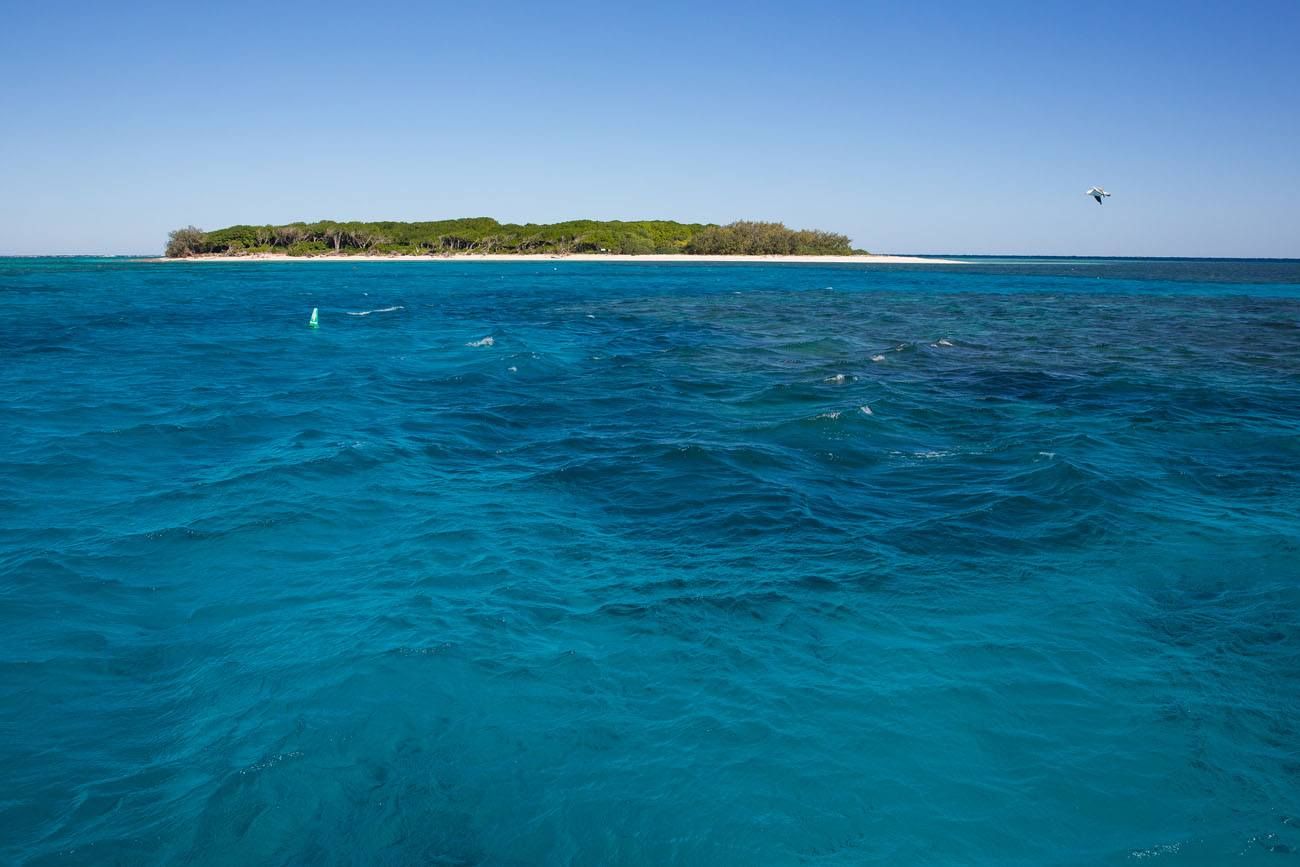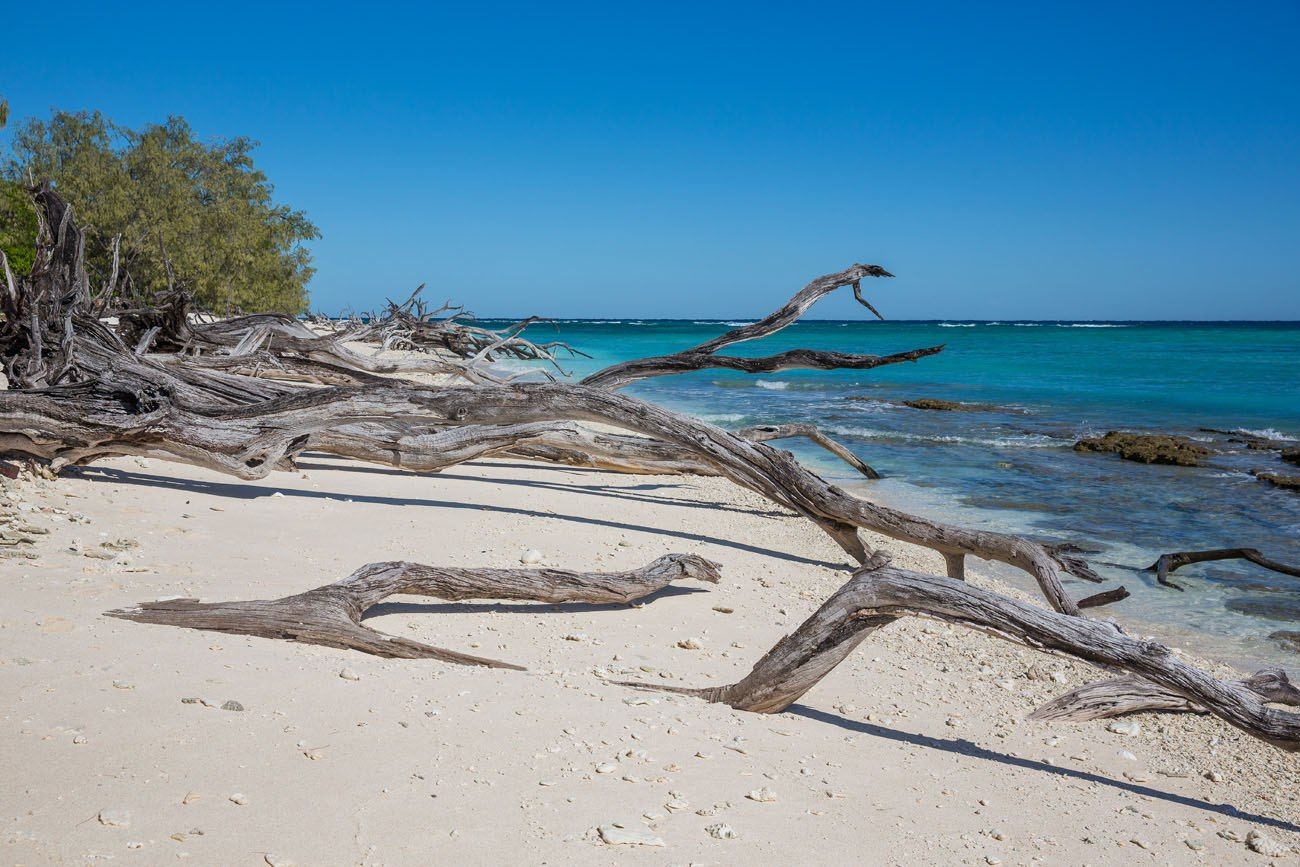 This island is completely formed from coral, pieces that have been massing together for thousands of years, held together by plant life. The ground is made up of bits of coral of all sizes. Somehow, life has found a way here, with trees growing and birds making this their home.
There is a species of bird that flies seven straight days here from Siberia, lay their eggs and then wait until they hatch, and then fly back to Siberia.
The trees are carnivorous. They exude a sap that sticks to bird feathers, weighing them down, causing them to fall to the forest floor and die. Their decomposing bodies provide the nutrients the trees need to grow. Nature is an amazing thing!
After our tour of the coolest little island ever, we had a glass bottom boat tour of the coral and marine life. We were freezing again. At least we could see sea turtles, coral as old as 10,000 years, and thousands of fish. Do we really have to go snorkeling?
Snorkeling the Great Barrier Reef
After a mediocre lunch it was snorkeling time. The four of us were not thrilled at all but we had not come all this way, risking seasickness, withstanding chilly temperatures, to view the Great Barrier Reef from a boat. We rented wetsuits and Tyler and I fit ourselves with snorkel gear. Tim and Kara prefer to swim around, just using their goggles. Getting into the water was cold to say the least but with the wetsuits the water was tolerable, at least for Tim and I.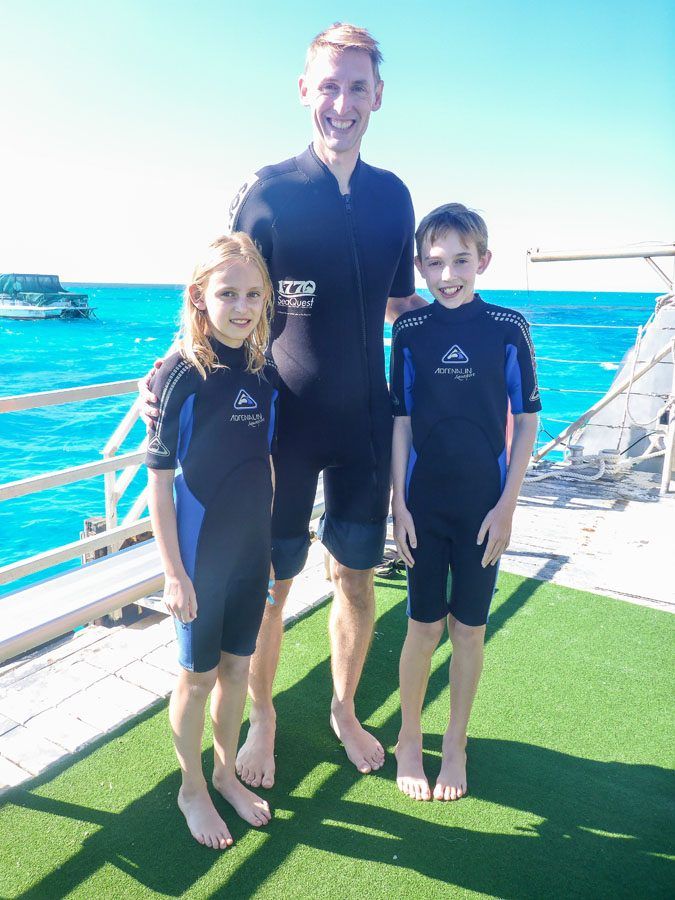 The strong winds made the water choppy and difficult for snorkeling. Tyler and Kara had a hard time with the adverse conditions. Neither of them adjusted very well to the cold water and the waves were making them uncomfortable. Even Kara, our good swimmer, was a little fearful of being out in this water. Plus, it was low tide, so hitting the coral with our feet a possibility. Within a half an hour Tyler and Kara were back on the boat and unfortunately did not get to see just how awesome the Great Barrier Reef is.
Tim and I swam around the reef, having an awesome time. Without a doubt, this was the best snorkeling of our lives. Just the coral alone was amazing…so many varieties, so many sizes. Add in the fish and it was like swimming in a tropical aquarium. There were thousands of fish of so many species! I loved floating on the surface, watching the fish below me, feeding, hiding in the coral, chasing each other, all seemingly oblivious to my presence. The best way to see the fish was to float in the shallower sections as this seemed to be where they would all congregate.
FYI…these photos in no way portray just how awesome the Great Barrier Reef is.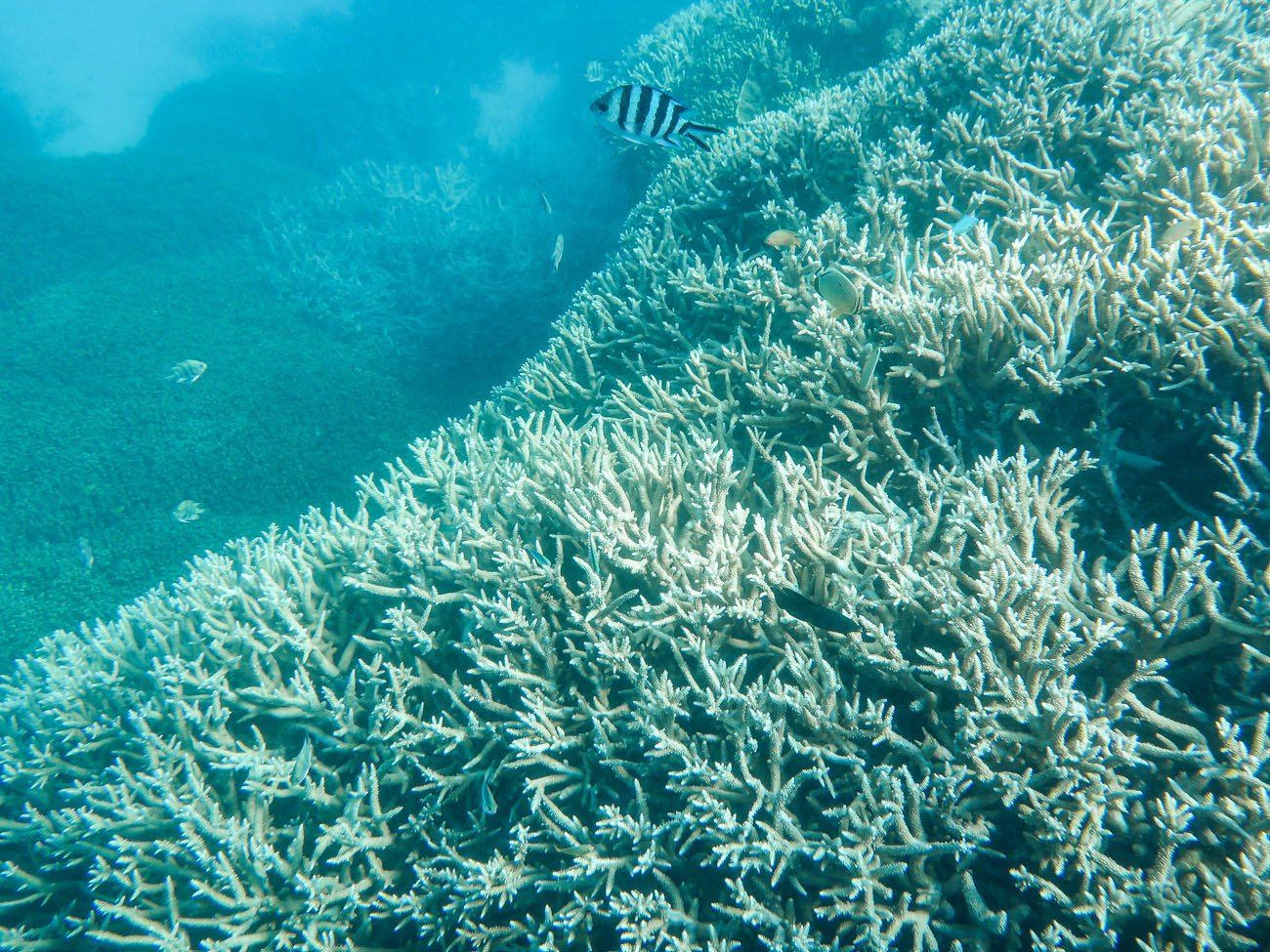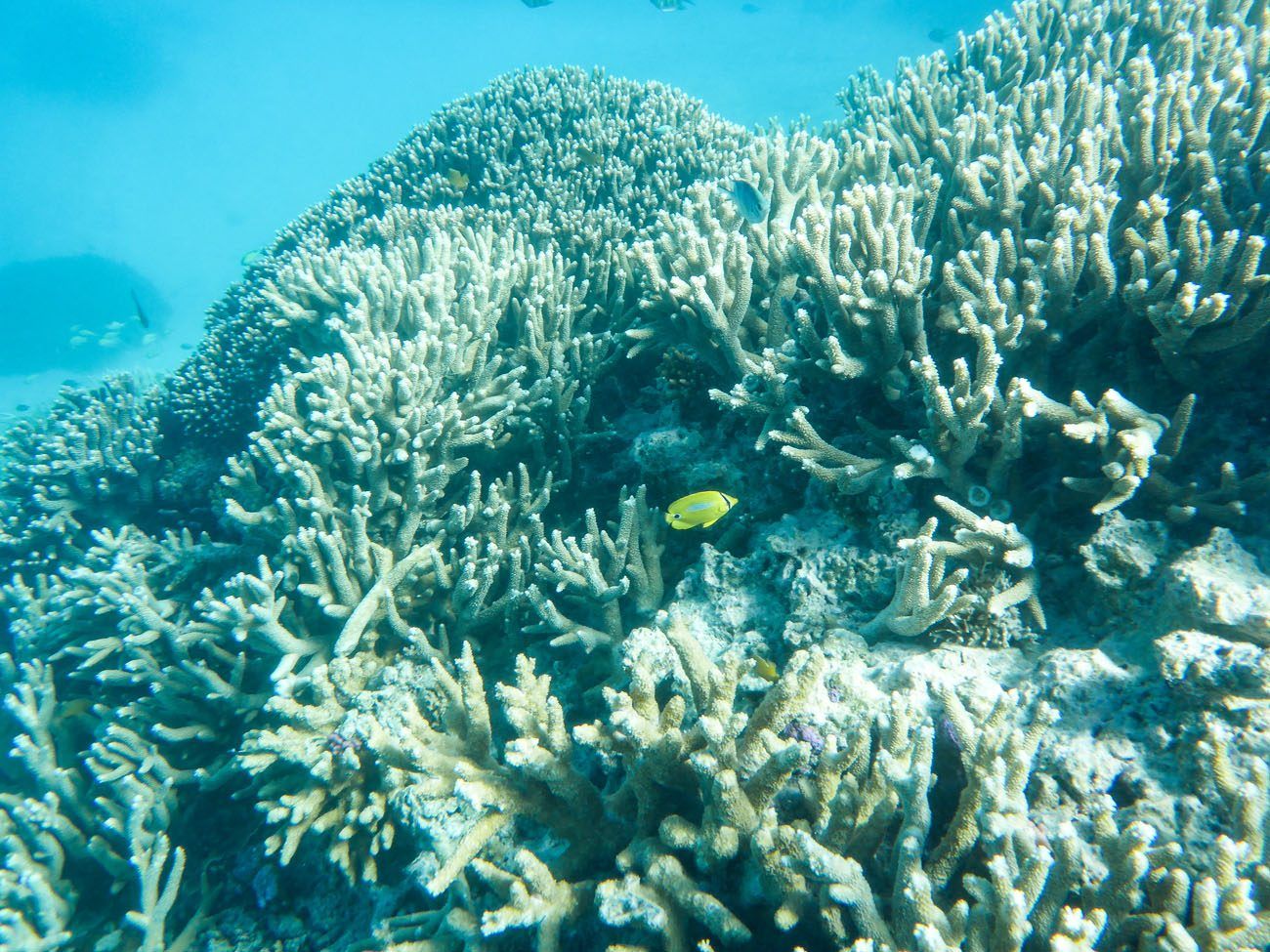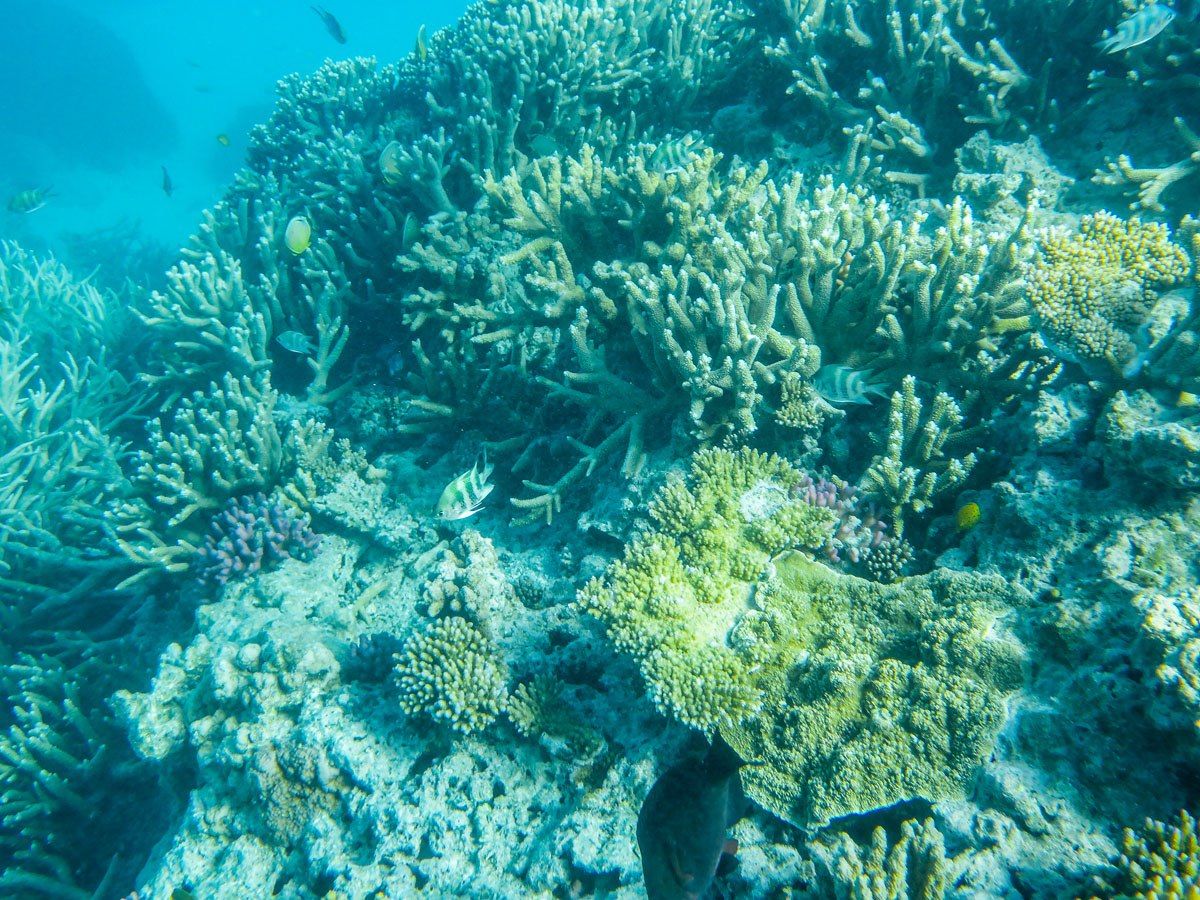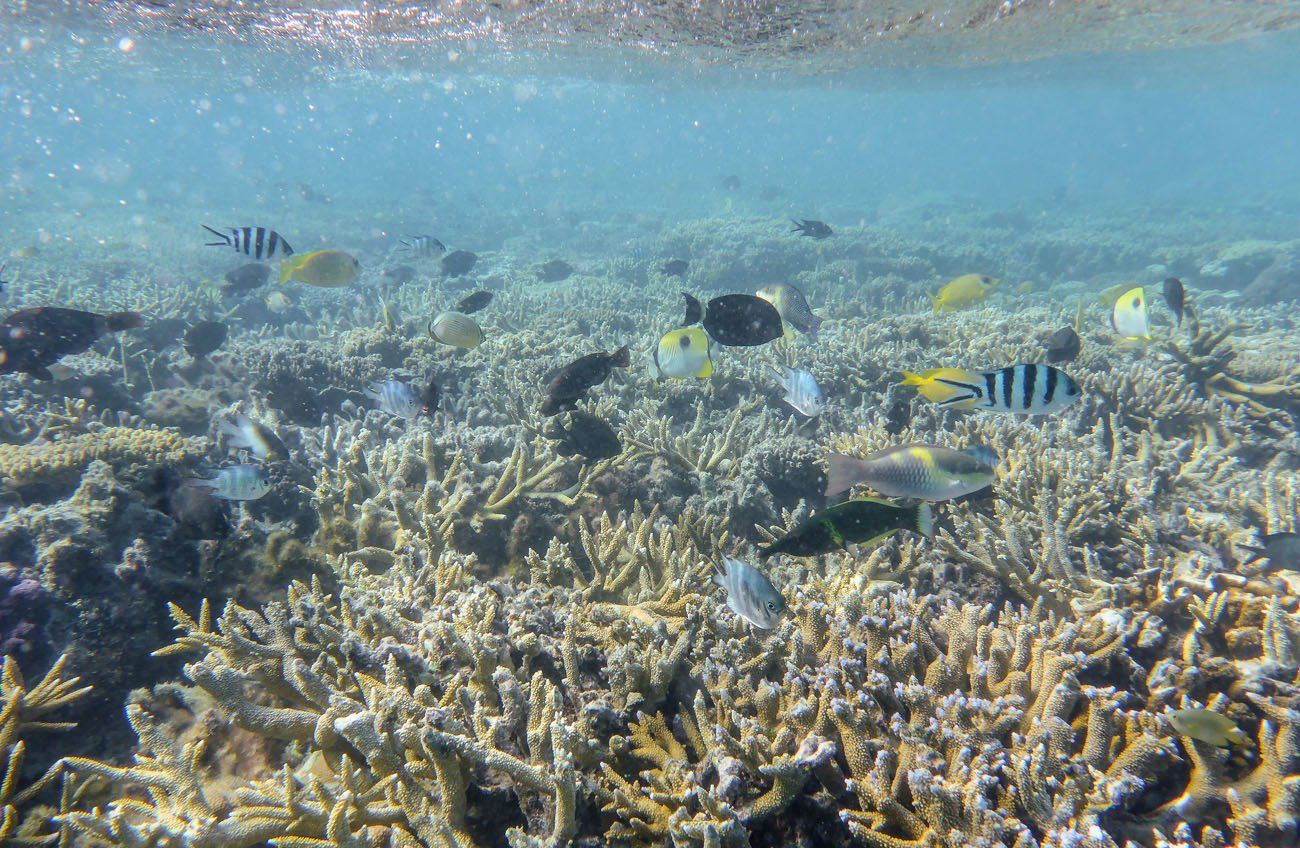 The highlight of snorkeling was our swim with a sea turtle. Out of the depths of the sea a turtle came swimming right towards Tim and I. He was drifting through the water, flapping his arms, having not a care in the world, or so it seemed. I had our underwater camera and followed him a ways, so thrilled to be here at the Great Barrier Reef, swimming with a sea turtle! Being here really is an amazing experience. After watching the sea turtle, Tim and I popped our heads out of the water, laughing and so happy to be here.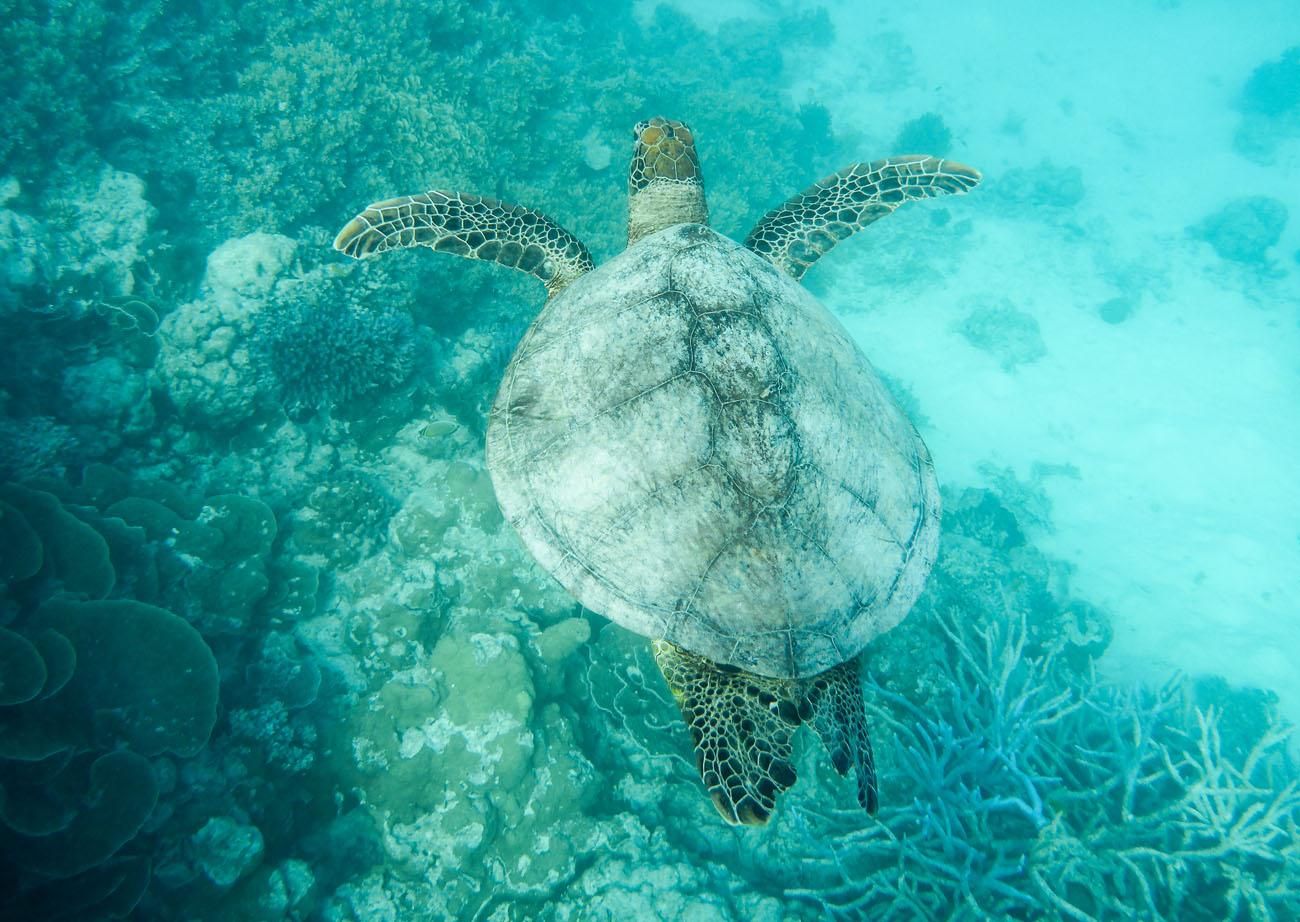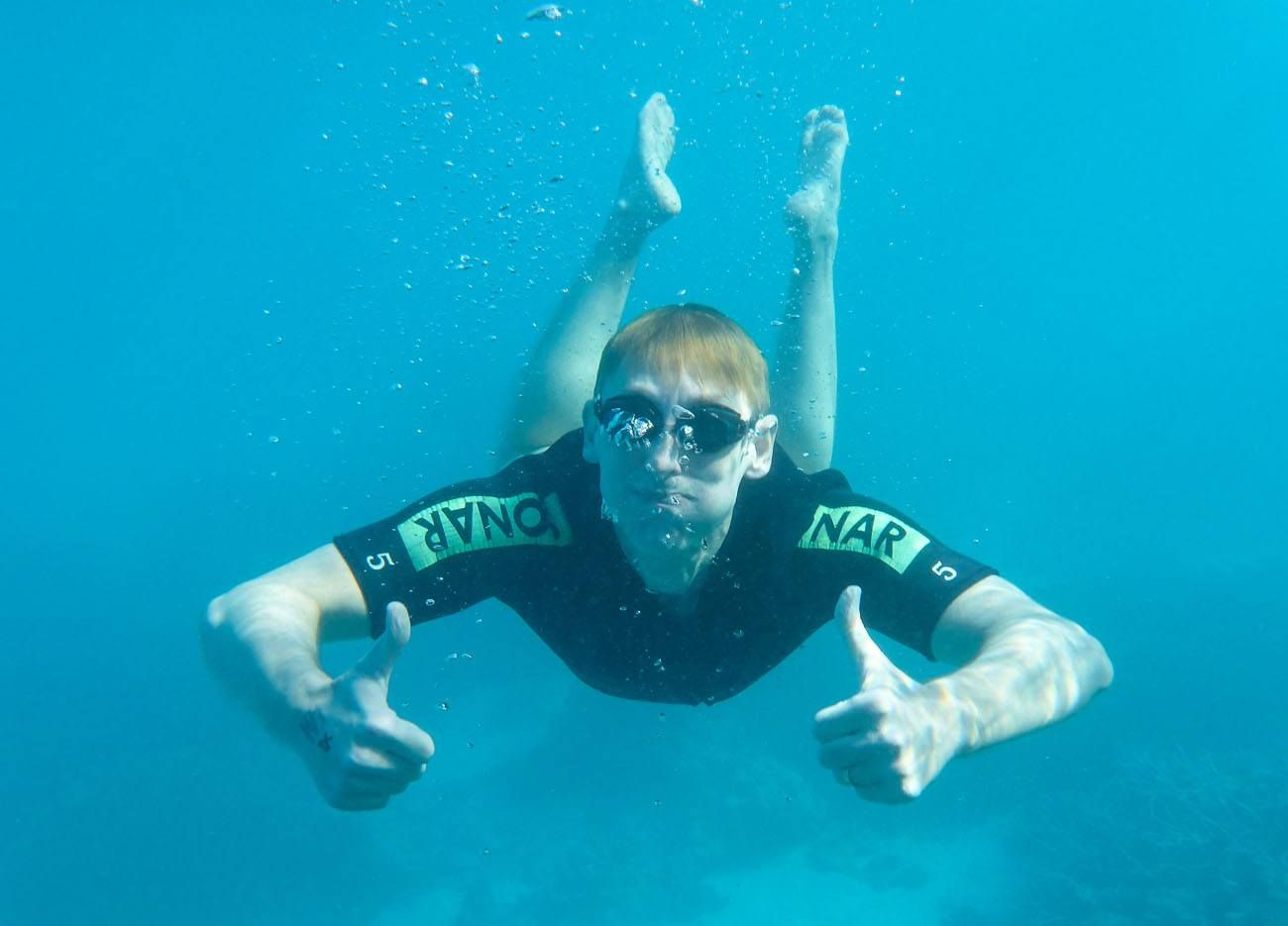 Eventually, when we couldn't take the cold anymore, Tim and I climbed back on board the boat, changed into our dry clothes, and took our seats once again. The hour and a half journey back to land was not as bad as this morning. No seasickness bags were needed this time. By 5 pm we were back on land and our Great Barrier Reef experience was over.
The experience turned out to be so much better than we were initially expecting. With the threats of seasickness and rough water I was very worried at first but getting in the water with the fish made it all worth it. For Tim and I, our years of triathlons and open water swimming prepared us well for today's conditions. The rough seas sent many people back on board the boat rather quickly. For Tim and I, the rough conditions made it all the more fun but at the same time, it was a disappointment that Tyler and Kara couldn't have enjoyed the snorkeling a little more.
Visiting the Great Barrier Reef from Town of 1770
The Great Barrier Reef is huge, spanning 2,300 kms. The less touristy areas of the reef are supposed to be more pristine and a better experience than those that see boatloads of tourists every year, or so I have read.
There is only one company in town that offers tours to the reef from Town of 1770, Lady Musgrave Barrier Reef Cruises. For our family of four we paid $540 AUD (in 2015) for our day trip out to the reef. This price included lunch, morning and afternoon tea, snorkel gear, guided tours, and those wonderful seasickness bags. Not included were wetsuit rentals, costing $10 per person, worth the cost when the weather is cool.
The staff are very knowledgeable about the reef and enthusiastic about their job, a good thing when dealing with seasick customers everyday. Getting a chance to see the reef from the island, the glass bottom boat, and then by snorkeling was a great mix of activities, letting those not quite adventurous enough to get into the water to still have a worthwhile experience. We snorkeled an area about 1000 square meters, a miniscule section of the Great Barrier Reef. After seeing this small area, it is amazing to imagine the amount of diversity of marine life and corals that stretches along the coastline of Australia.
Where We Stayed
We stayed at the awesome The Lovely Cottages at Lala-Land located in Agnes Water Town. For four nights we had a two bedroom cottage, equipped with a full kitchen, swimming pool, laundry facility, and a pond stocked with turtles. It was clean, quiet, and the cottages looked almost brand new. My only complaint was that it was difficult to see the wifi signal in our cottage. We could get the signal sitting poolside, nice during daylight hours, but at night, it was a little freaky sitting out in the dark, with mosquitos and the infamous Australian spiders we have heard so much about.
From Lalaland, it was a twenty minute drive north to the Town of 1770 marina. One day we took surf lessons at one of the nearby beaches. There are also national parks to explore, empty beaches to walk, and great spots to go fishing. You could easily spend a week here and not get bored.
---