Did you know that Australia is home to more species of animal than any other country in the world that can kill you? Did you know that there are people in Australia crazy enough to pick them up and show them to you?
Most people are familiar with Steve Irwin, aka the Crocodile Hunter, who wrestled crocodiles, captured poisonous snakes, and brought the dangerous Australian wildlife to a place where we could all see it, our TV's. Steve Irwin definitely is not the only Australian who got a little too close to crocodiles and other deadly animals. In Queensland, zoos allowing curious visitors like us to get up close with these animals is a big money maker.
We visited two of the most popular zoos in Queensland, the Australia Zoo, made famous by Steve Irwin, and the smaller Snakes Downunder. Both were incredible experiences for very different reasons. Here is our tale of two zoos.
Snakes Downunder Reptile Park and Zoo
We visited this park at the recommendation of the staff at LaLaLand Eco Resort in Agnes Water Town. Located in Childers, Australia, it was on the way as we drove back down south to Brisbane. This was the perfect place for us to take a break from driving, stretch our legs, and view some of Australia's most venomous snakes.
Snakes Downunder is a small zoo, showcasing Australian wildlife, including snakes and reptiles, kangaroos, emus, and koalas. For our family of four, we were charged a very affordable entrance fee ($66 AUD for our entire family in 2015). We were taken on a short, private tour, learned about some local lizards, turtles, and snakes, and even got to pat a few.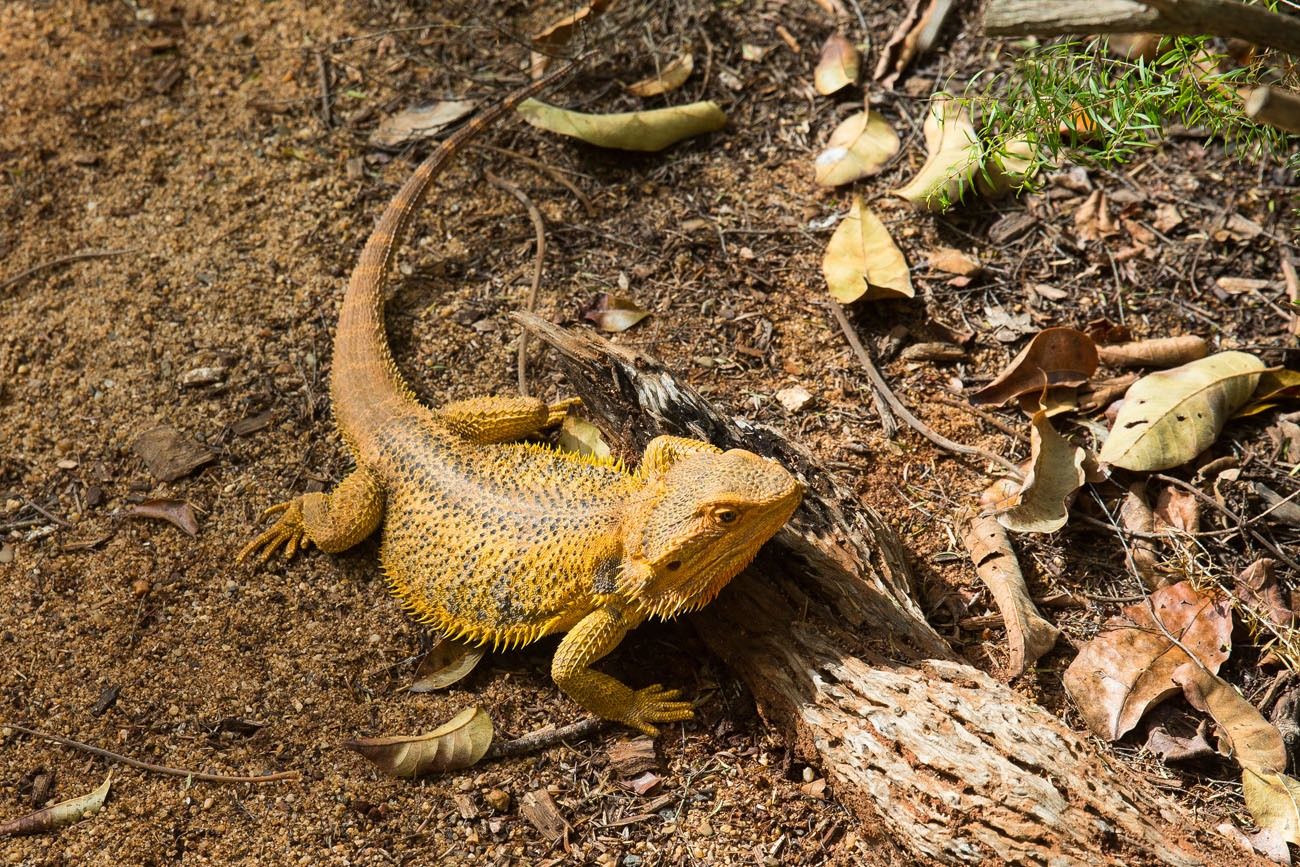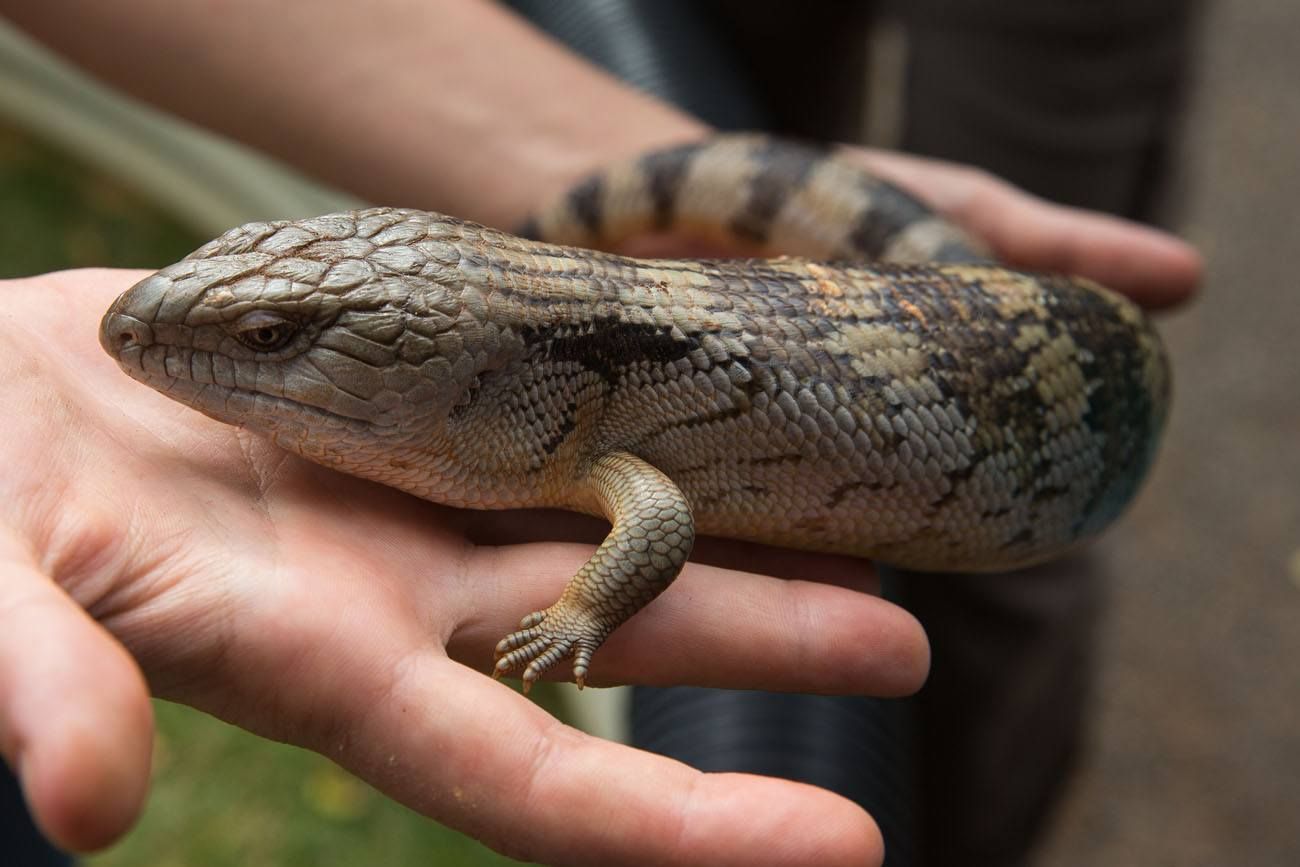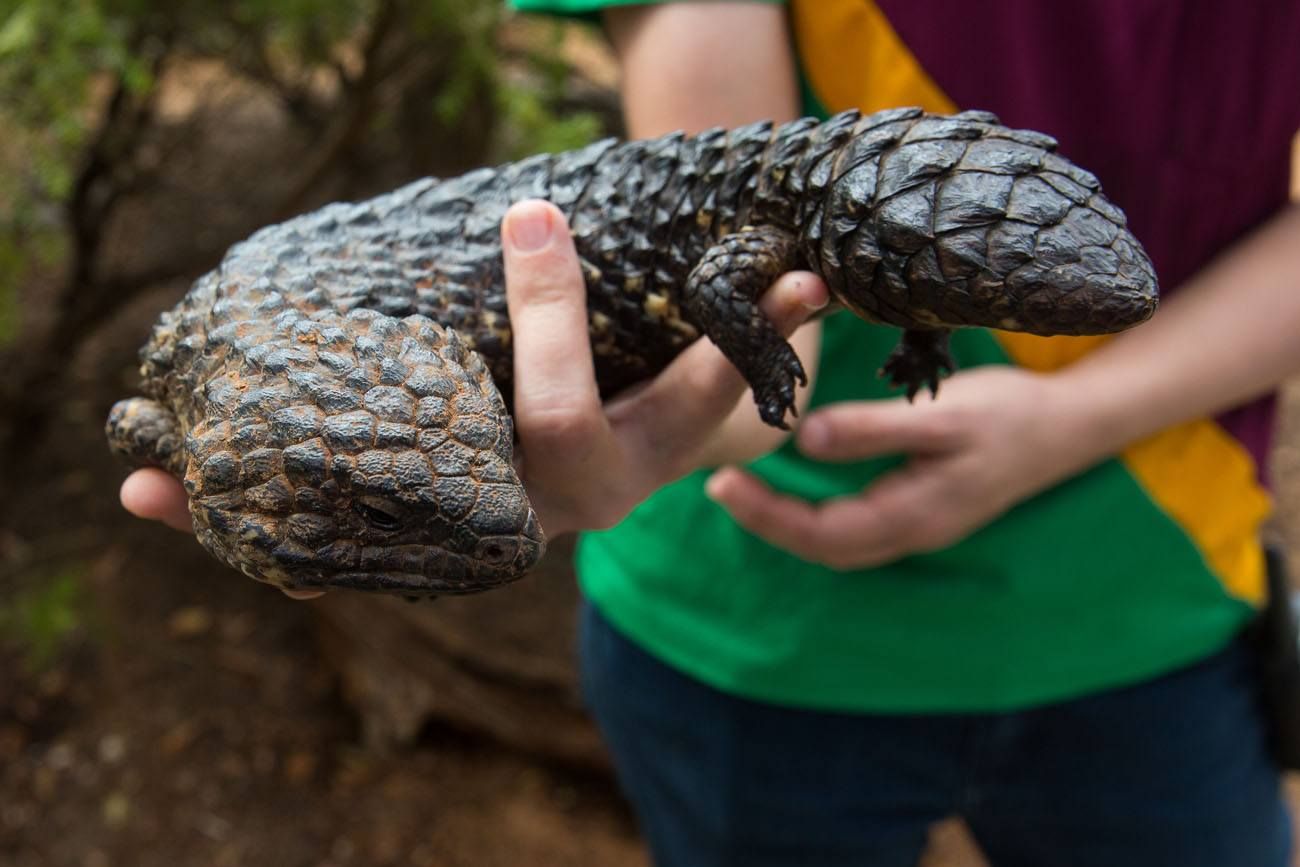 Venomous Snake Show
Then it was time for the venomous snake show. Australia has eleven of the top fifteen venomous snakes in the world (according to a sign we had read while at the Taronga Zoo in Sydney).
The world's most lethal snake, the inland taipan, was recently discovered in Australia and at the time of writing this there were only two in captivity (but not at this zoo). A snakebite from an inland taipan packs enough venom to kill over a million mice or 289 humans! We did not get a chance to see this snake, but were shown seven of Australia's most venomous snakes.
The owner of the park, Ian Jenkins, who is missing his left thumb from a recent feeding incident with one of the park's resident crocodiles (according to another park guest), educated us about these snakes, letting them slither around the enclosure, handling them like it was nothing. Ian showed us a king brown snake, a death adder, a coastal taipan, and more.
We learned that snakebites are a very rare thing in Australia, and when they do occur are very seldom fatal, due to the anti-venom that is widely available. Contrast that with the fact that in India, up to one million people a year are bitten by venomous snakes, resulting in 50,000 deaths.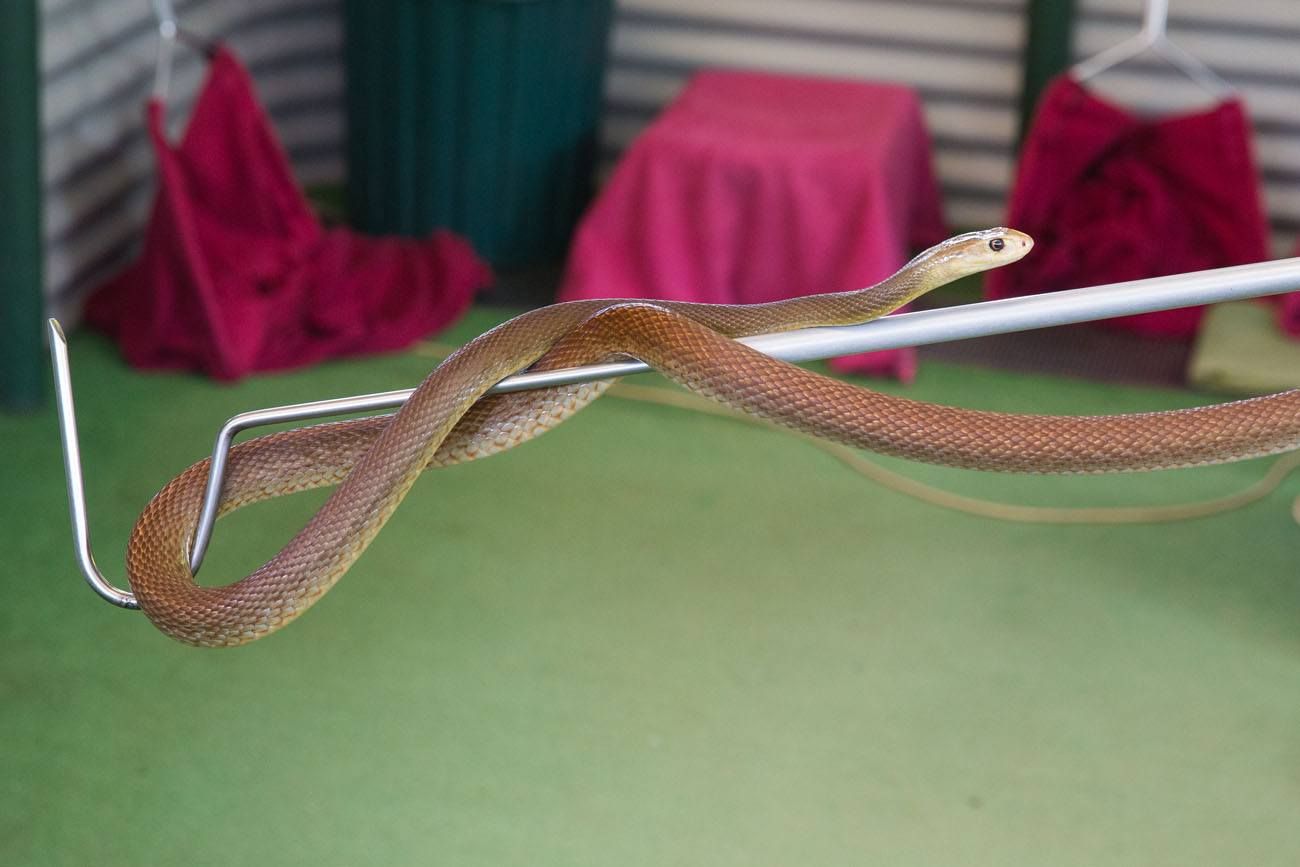 Coastal Taipan
Crocodile Feeding
Next up was the infamous crocodile feeding. Tim was so glad that we got to see this before leaving Australia.
Lying in the murky pond was a male crocodile, Macca. We could see him lurking beneath the surface, this reptile left over from the dinosaur age. Ian lured the crocodile out of the pond using a stick. Macca came charging out of the water, mouth wide open, splashing water up onto shore. He was incredibly fast!! There is no way a person could react quickly enough to escape the jaws of a hungry crocodile. Even Ian, who knew what was coming, leapt backwards, holding out the raw meat. The crocodile actually jumped off of the ground, at least a little bit, snatching that meat so fast that I almost missed it. It's amazing that Ian still has a left hand.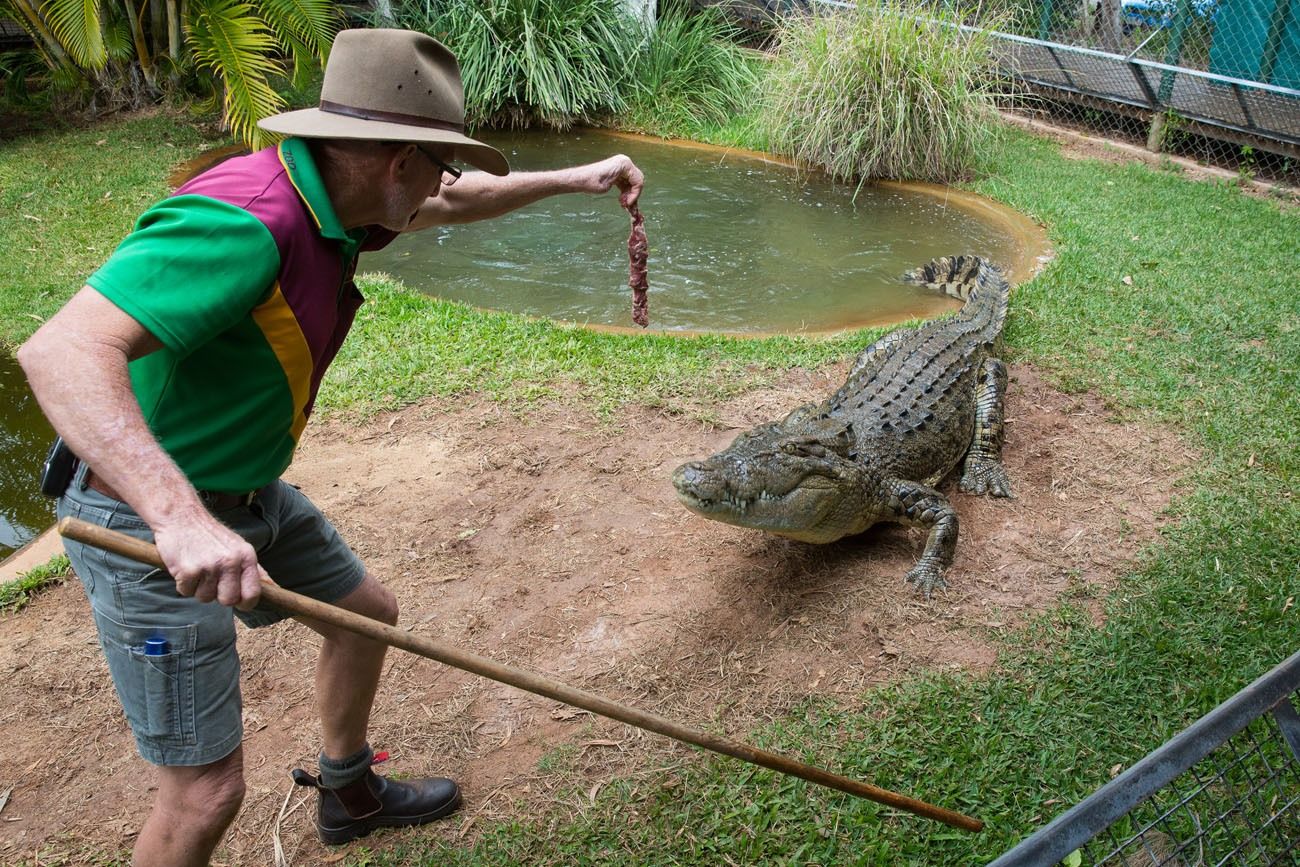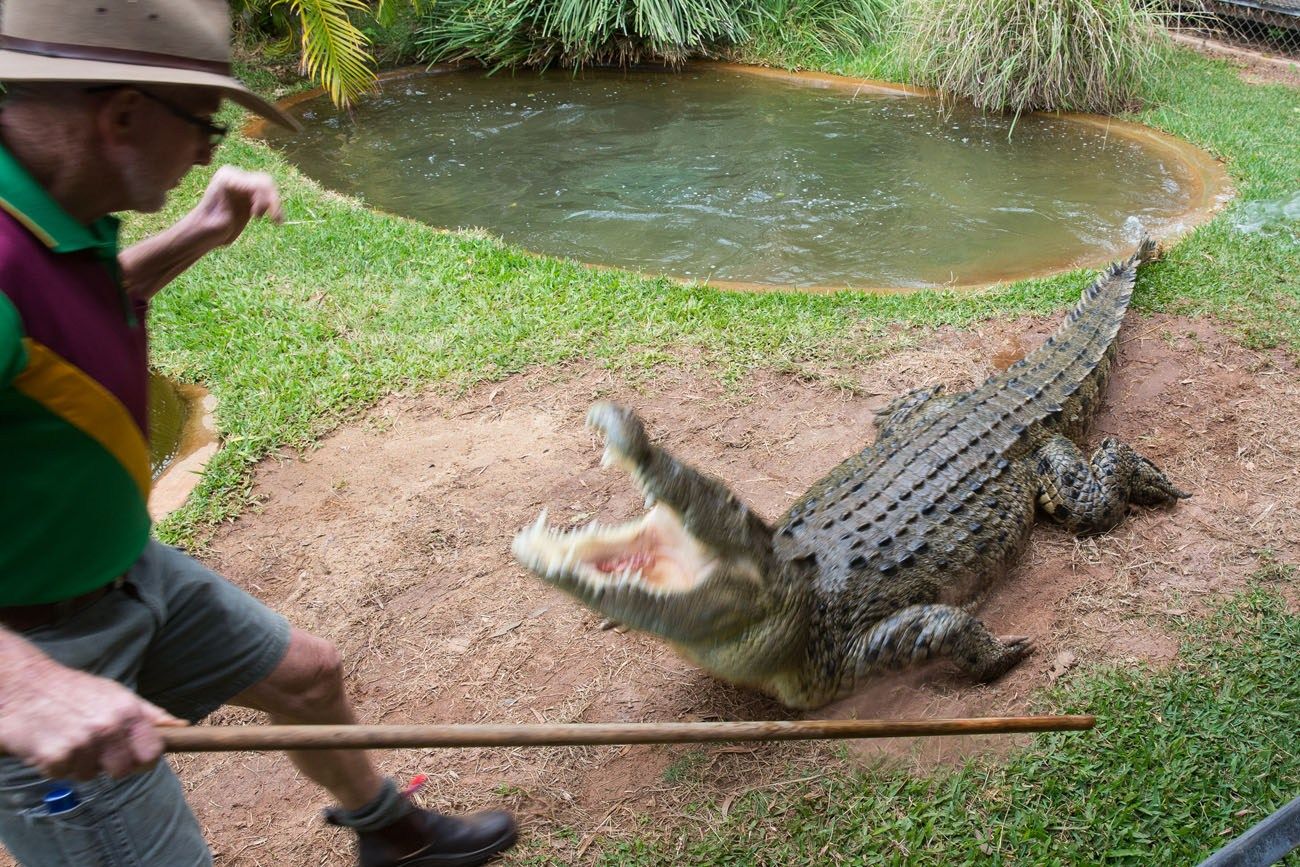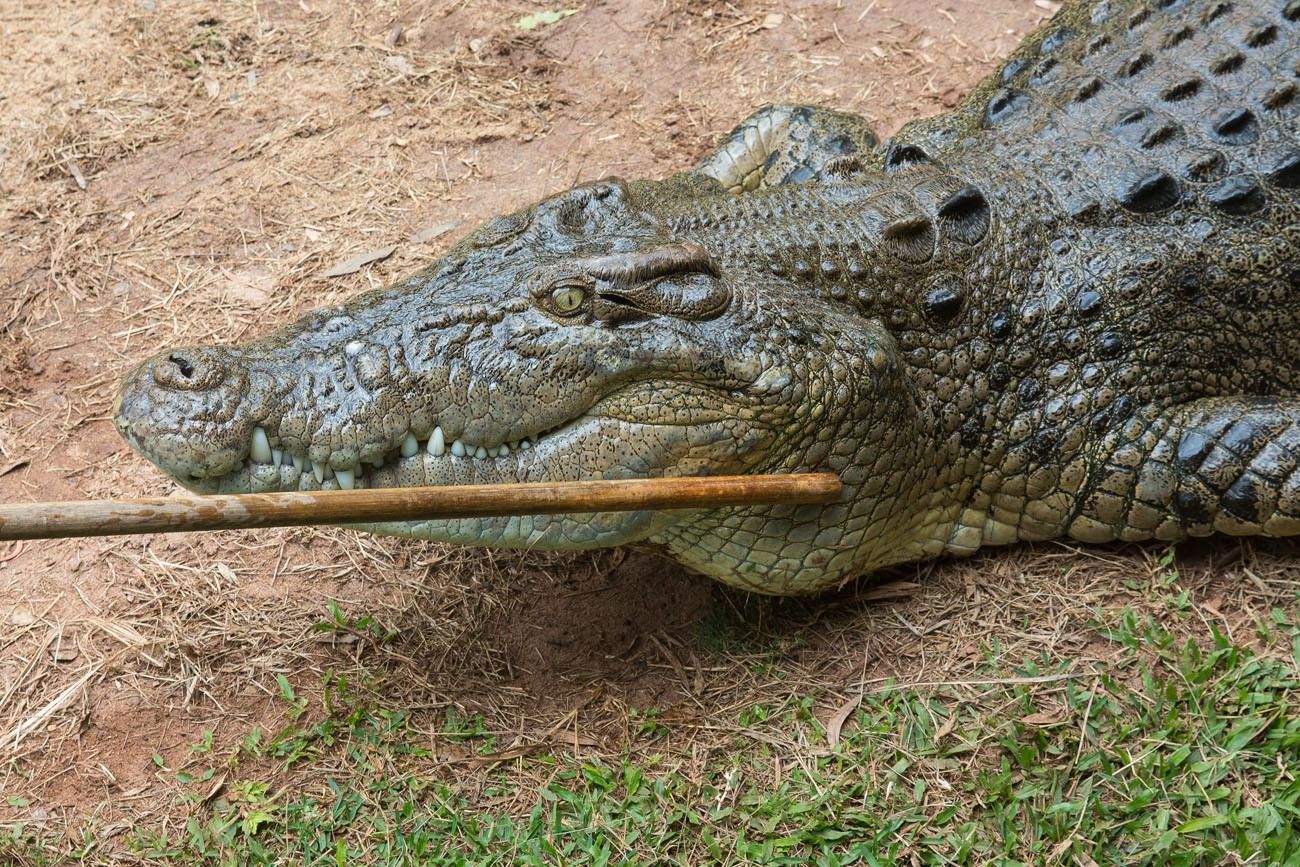 The show could have ended here and been spectacular, but it was not over yet. Ian brought out a rolled up yellow tarp, the crocodile's toy. Like playing tug of war with a dog, he was going to play tug of war with a crocodile, hopefully getting the crocodile to do a "death roll."
Well, Macca was not cooperating today. We never did get to see that death roll but did get another chance to see just how fast these beasts can be. While lying in the sun, their huge bodies look slow and lazy, but they are hiding just how fast and powerful they are. Crocodiles are vicious to say the least. They come charging out of the water, little legs flailing, mouth wide open, and then start snapping away. When their mouth slams shut it sounds like a rifle going off.
If I were on the other side of this fence it would have been terrifying. From our safe perspective it was fascinating. I now have much respect for crocodile handlers. Ian puts his life at risk multiple times every day, mostly for the enjoyment and education of zoo visitors like us.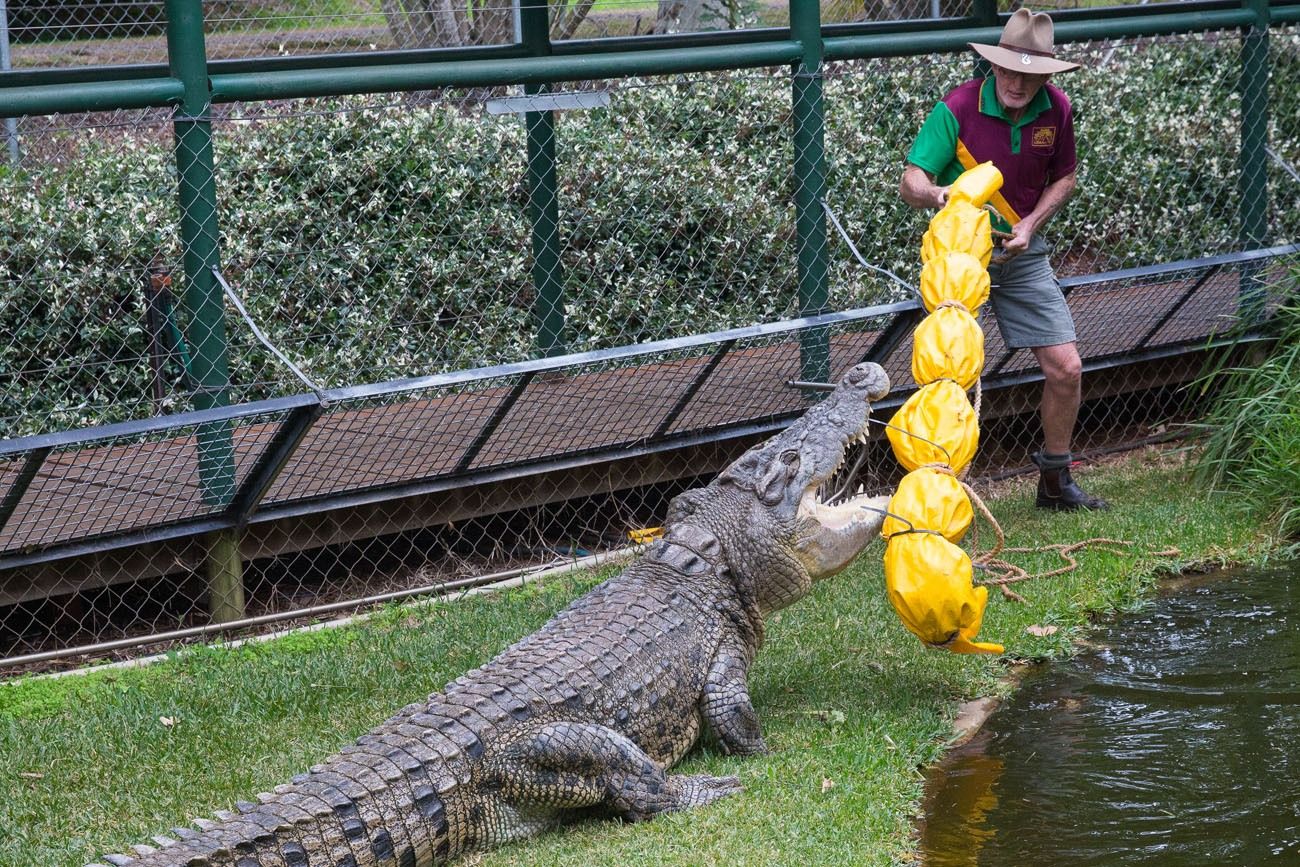 A Chance to Hold Crocodiles and Pythons
Next up was the highlight of our visit, at least for me. This was our chance to hold some of the animals. Tara and Ian brought out a black headed python and a juvenile freshwater crocodile. Awesome. All four of us took turns holding each of them, the crocodile being our favorite.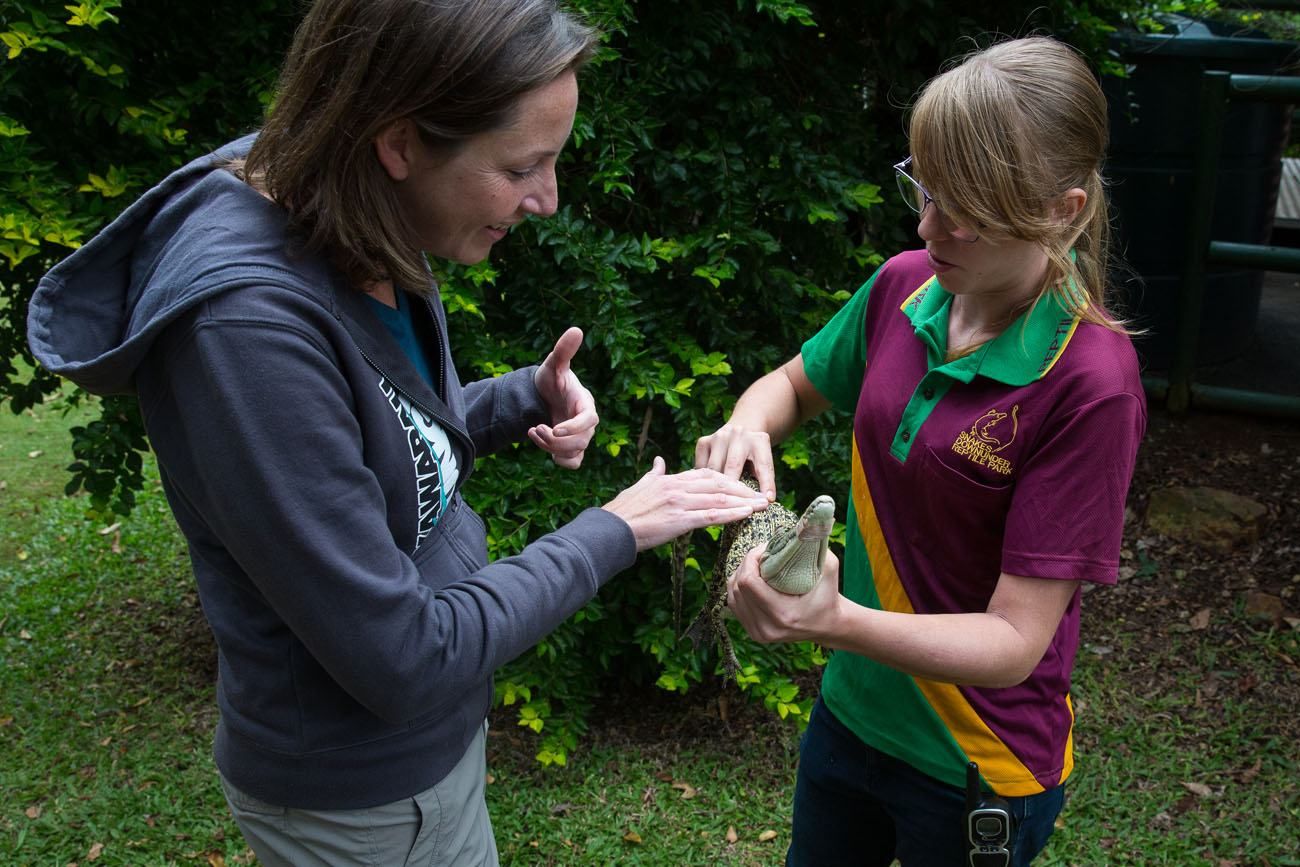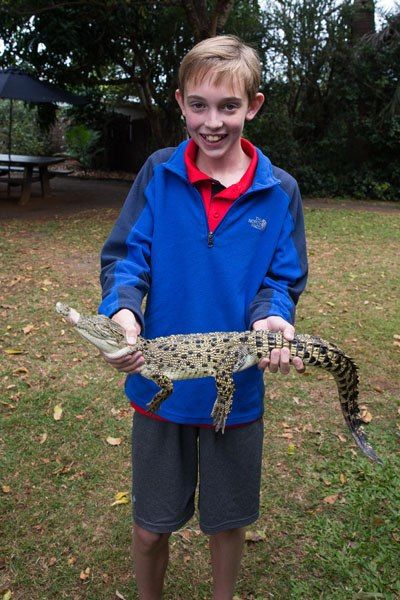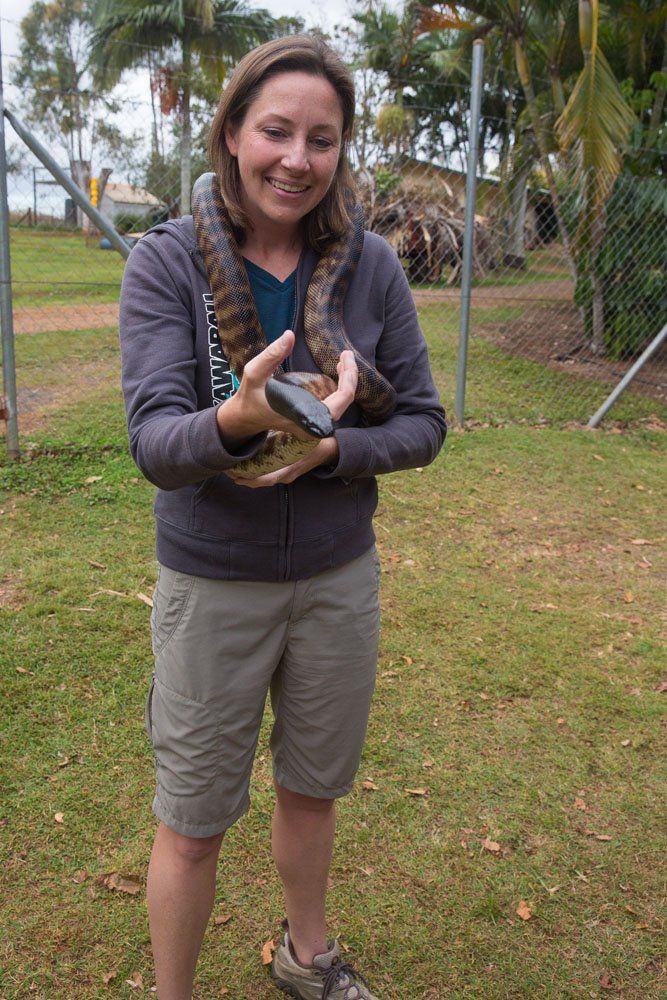 Feeding Kangaroos
Our tour ended with feeding kangaroos. Since it was midday, most of the kangaroos were more interested in lounging around than eating. Kara and I were able to find a few who were interested in a treat. The goofy emus were more interested in the kangaroo food than the kangaroos were.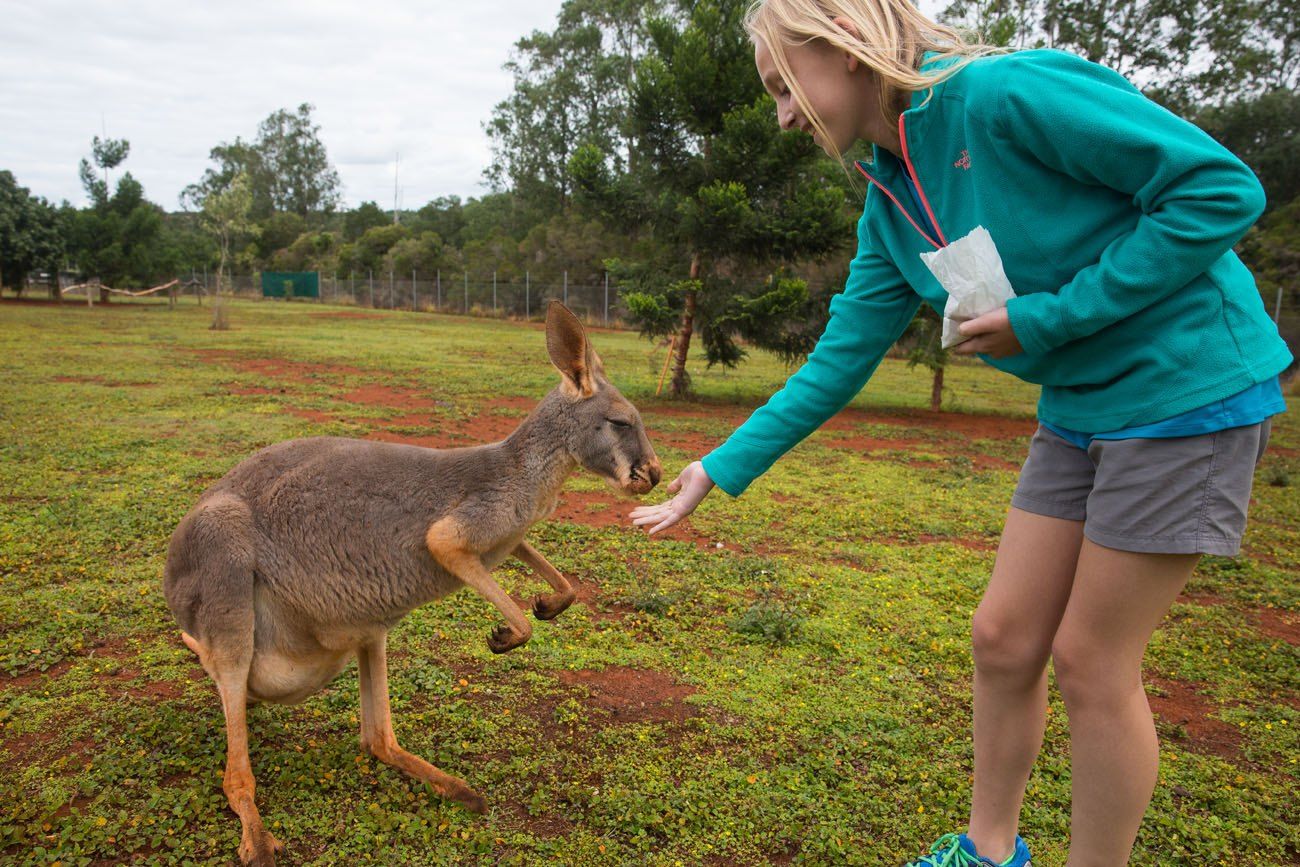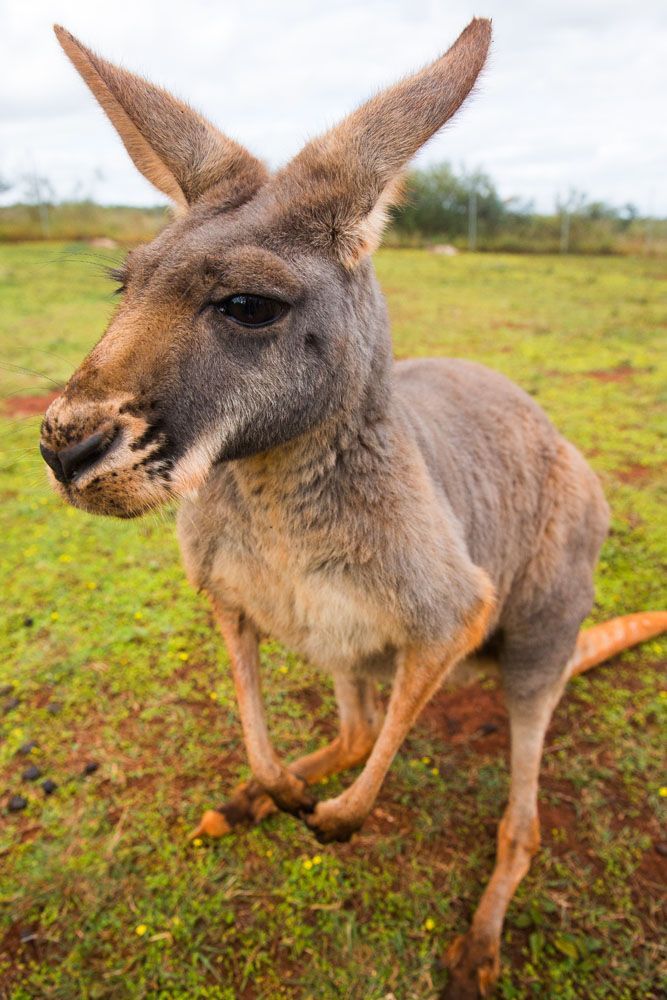 We loved our visit to Snakes Downunder. It was affordable, the crocodile feeding was spectacular, and we loved the chance to hold some of the animals. This is well worth the visit if traveling along the Queensland coastline.
Australia Zoo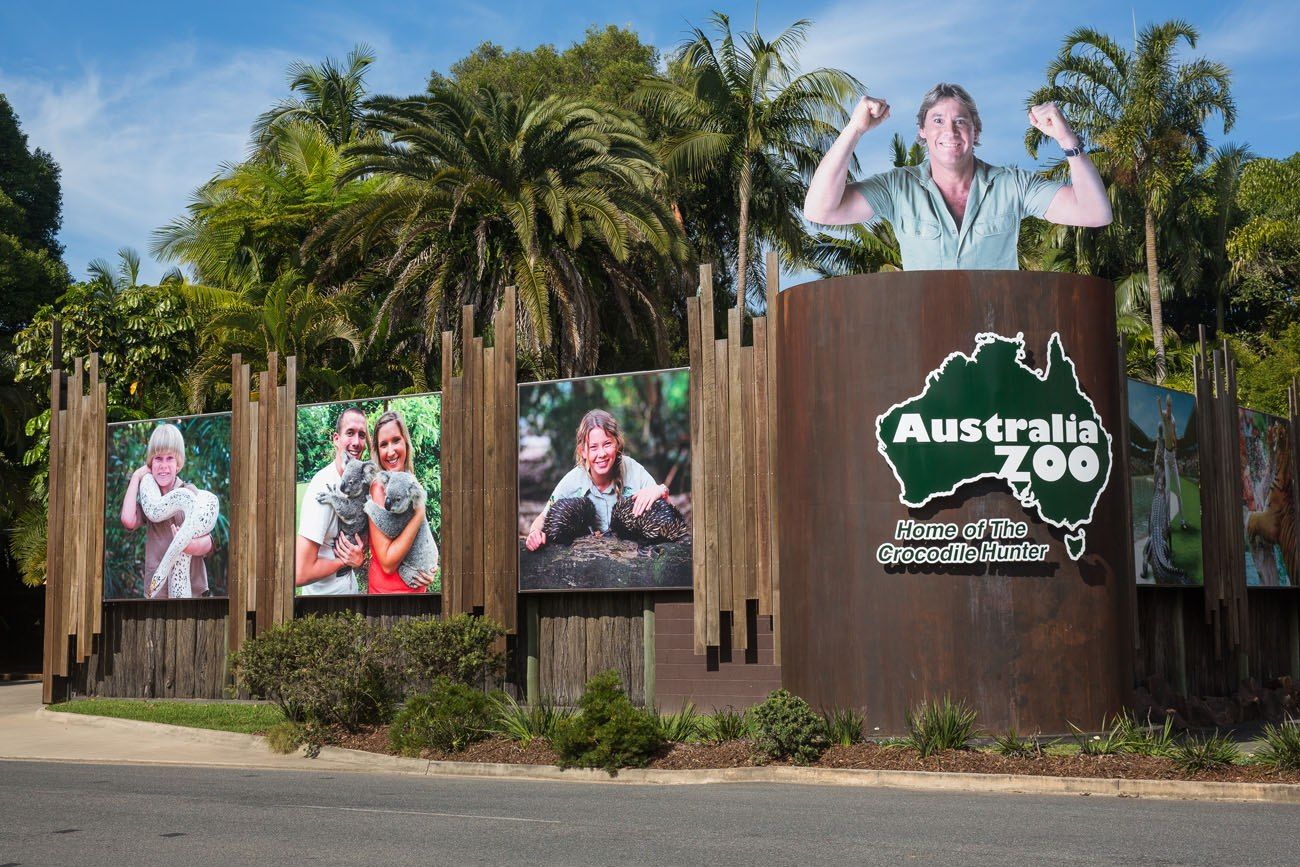 The Australia Zoo, located in Beerwah, one hour north of Brisbane, is the home of deceased Steve Irwin, the Crocodile Hunter. Tim and I were huge fans of his shows, which aired over ten years ago.
Steve Irwin's love of life and desire to show the world Aussie wildlife is inspiring. He seemed to be fearless, so fearless, in fact, that Tim and I began to worry about his safety, as he became more and more daring with dangerous animals. On September 4, 2006, Steve Irwin was killed by a stingray, being pierced in his chest multiple times by the ray's barb. It was shocking and expected at the same time. Gone were our days of watching the Crocodile Hunter, at least until now.
With the fame of the Crocodile Hunter show and Steve Irwin's personality, the Australia Zoo has received a huge amount of funding, mostly from Animal Planet, by the looks of it. This funding turned this mom and pop reptile park into one of Australia's largest zoos.
This zoo is fabulous. There are animal enclosures visitors can walk through, animals to hold and interact with, playgrounds for children, shows around the clock, and large, open fields for the animals to roam.
With these splendid animal enclosures and plastic crocodiles for kids (and adults) to climb on, there is a steep entry fee. Our family had to pay $180 AUD just to enter and on top of this was the 1.5% fee to pay with a credit card.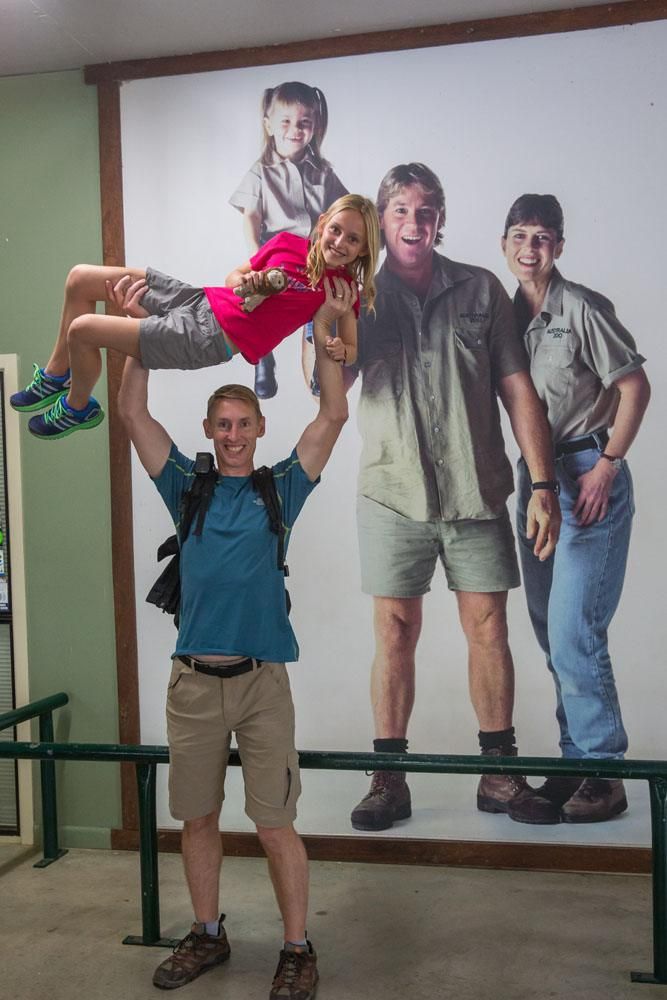 Meeting the Koalas
Like Snakes Downunder, there were multiple enclosures housing venomous snakes, crocodiles, and other lizards. For us, the star attraction here was the koalas. Sitting in the trees and feeding on eucalyptus were at least seven koalas. The four of us watched as these cute, cuddly animals ate their lunch, climbed from tree to tree, and even got into arguments with their neighbors.
For an animal that spends all of its time in the trees they sure were clumsy. Just in the span of five minutes two koalas almost fell from the tree, catching themselves at the last minute.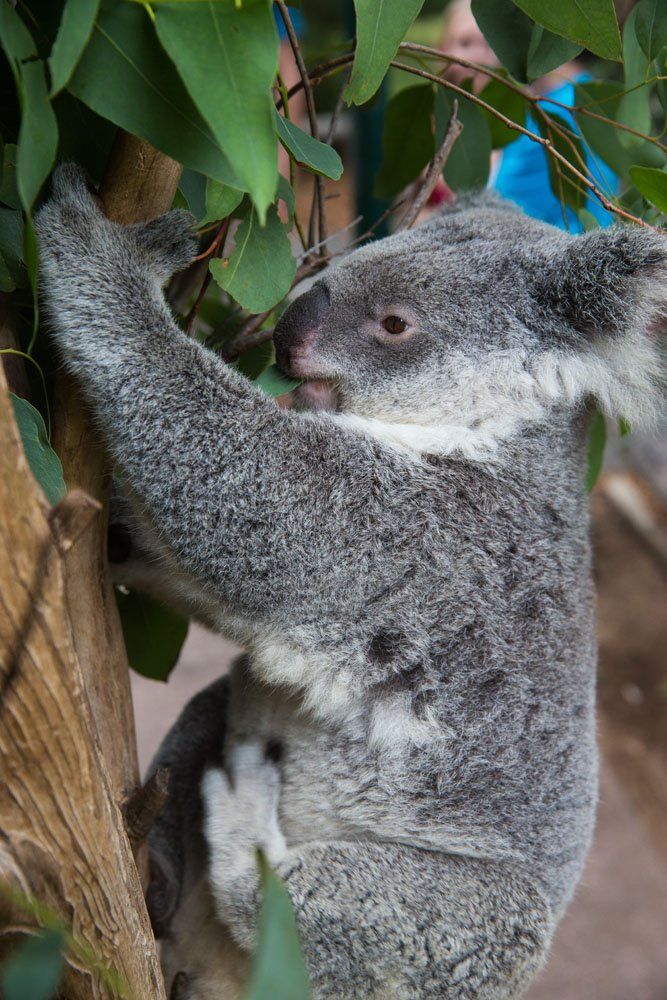 For a fee, we could hold the koalas. Queensland is the only Australian state where it is legal to hold a koala. For $50 AUD Tyler, Kara, and I each got a chance to hold a koala. It was worth the money. The koalas are so soft, smell like eucalyptus, and look adorable.


The Crocoseum
At the Crocoseum, a stadium that seats 5,500 spectators, we watched the bird and crocodile show. For fifteen minutes we watched as birds of all types and sizes flew around the stadium…macaw's, parrots, lorikeets, falcons, and even an Andean Condor. The best were the bright green lorikeets that went streaking around the Crocoseum, blazing fast, doing laps, coming within just a few feet of our faces. Unexpectedly amazing.
The crocodile portion of the show was a little disappointing. This crocodile just did not feel like participating. Yes, he lunged out of the water and was fed right from their hand, but Snakes Downunder put on a better croc show, no contest.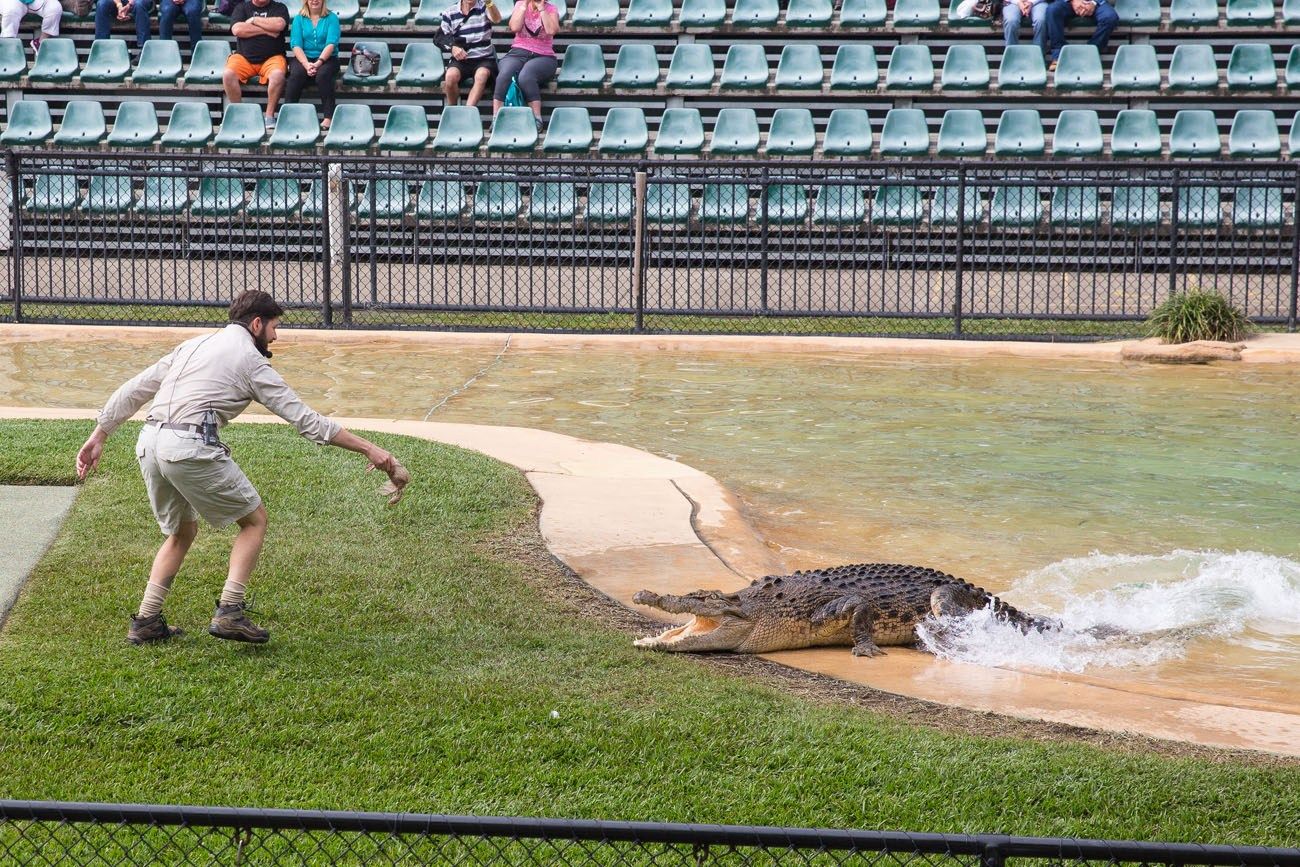 During the afternoon our visit continued, taking us past more koalas in the trees, aviaries, a kangaroo feeding area, a grassland with zebras and giraffes, and even a tiger show. It was a fabulous day and our last chance to see these amazing Australian animals before flying on to our next destination.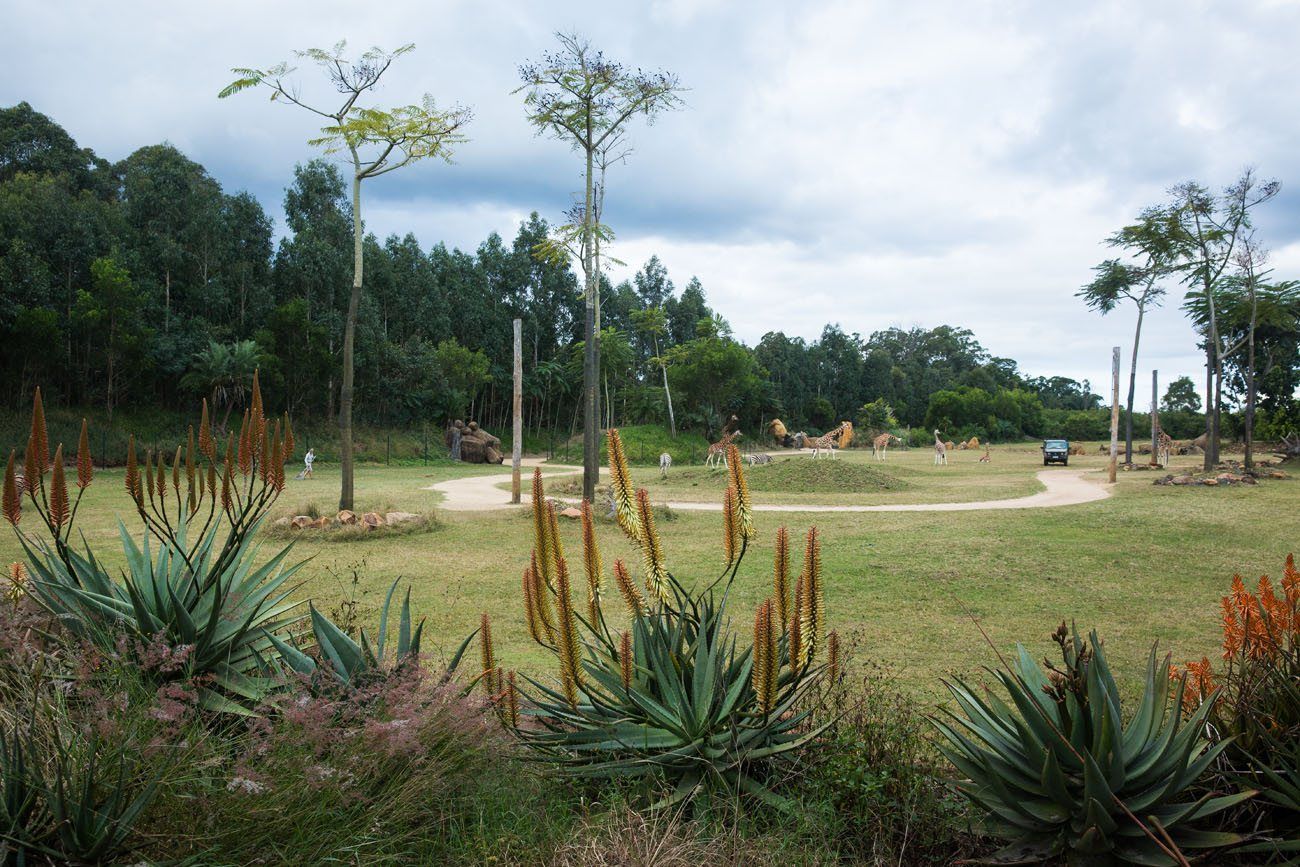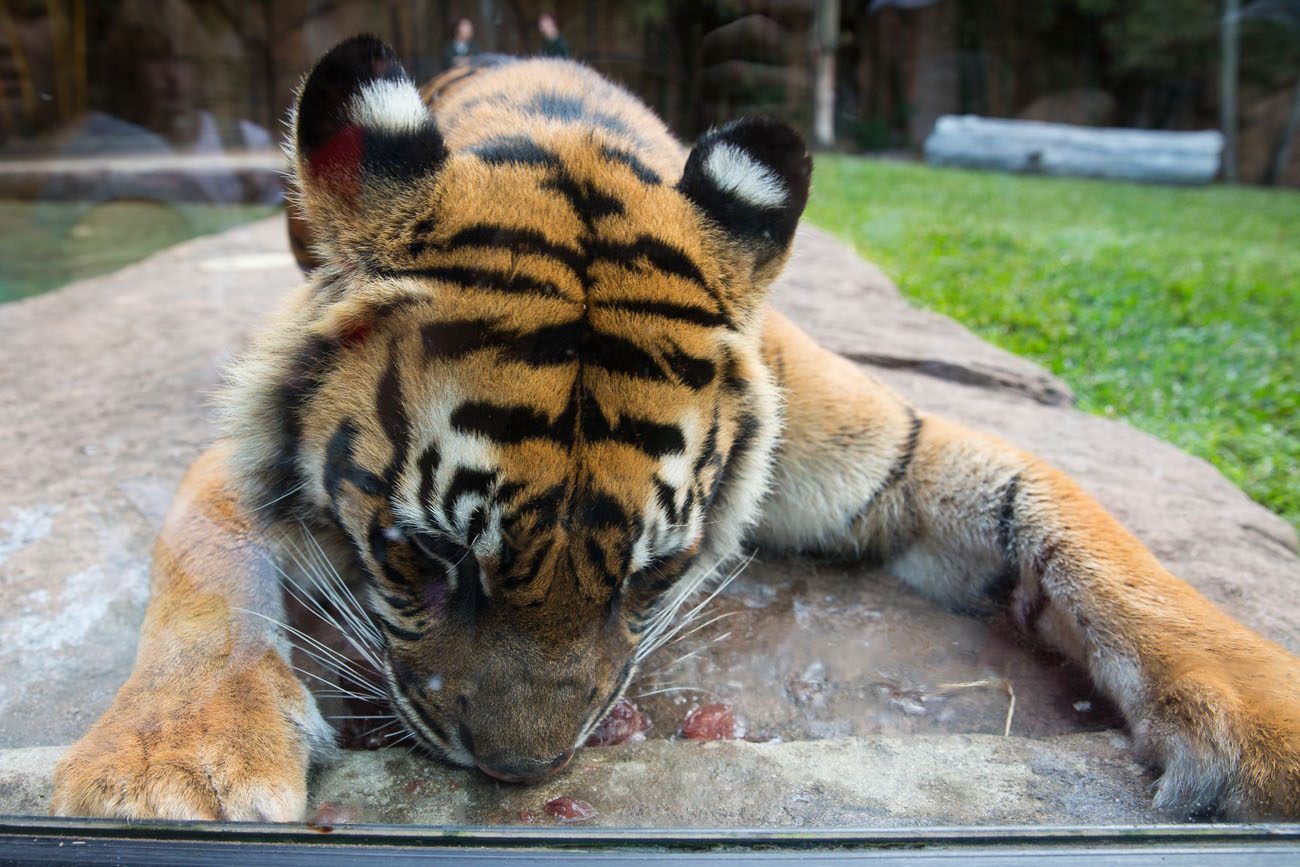 So, Which Queensland Zoo Do We Recommend?
We liked both zoos for very different reasons and it depends on what your preference is. If you like a smaller zoo, with a fabulous crocodile show, animals to hold, kangaroos to feed, and a chance to see Australia's venomous snakes out in the open, then Snakes Downunder is a great choice. Their entrance fee ($66 AUD) for a family of four is very affordable. We liked the smaller zoo, our private tour with Tara, and the laid back feel to this place. Snakes Downunder also put on a much better crocodile feeding show as we were standing just 2 meters away from the action. Watching Ian playing tug of war with a crocodile was awesome.
Australia Zoo is a shiny, oversized version of Snakes Downunder. We were surprised with the steep entrance fee ($180 AUD plus that 1.5% credit card fee), but with this comes a wider variety of animals, with tigers, giraffes, zebras and rhinos. The bird show in the Crocoseum was unexpectedly amazing but their crocodile show was a bit of a disappointment. If you want to see more than just Australian animals or are a Steve Irwin fan, then the Australia Zoo is a good choice. Or, you could do what we did…visit both!
---
More Information about Australia
PLACES TO GO IN AUSTRALIA: Spend some time in Sydney, go wine tasting in Barossa Valley and McLaren Vale, explore Uluru and the Red Centre of Australia, visit Melbourne, go snorkeling in the Great Barrier Reef, and don't miss Tasmania, one of our favorite places in Australia.
TRAVEL BLOGGING: This website started with a trip around the world and has become one of the most popular travel sites on the internet. Learn more about what it is like to run this website in our article My Life as a Travel Blogger…An Unexpected Journey.
DESTINATIONS AROUND THE WORLD: For more places to visit around the world, check out our Destinations page.
All rights reserved © Earth Trekkers. Republishing this article and/or any of its contents (text, photography, etc.), in whole or in part, is strictly prohibited.