Krabi, Thailand is one of the world's best places to learn how to rock climb. Our family has always had an interest in rock climbing but our only real experience so far was a few climbs up the rock wall at our local gym. While in Krabi, rock climbing was at the top of our list for things to do.
We signed up for lessons with a company called Real Rocks. This is the largest climbing company in the area, offering everything from beginner lessons to trips out to the local islands for deep water solo climbing. We signed up for the family lesson, giving us two hours of basic climbing instruction followed by a hike through a cave and abseiling down the face of the mountain.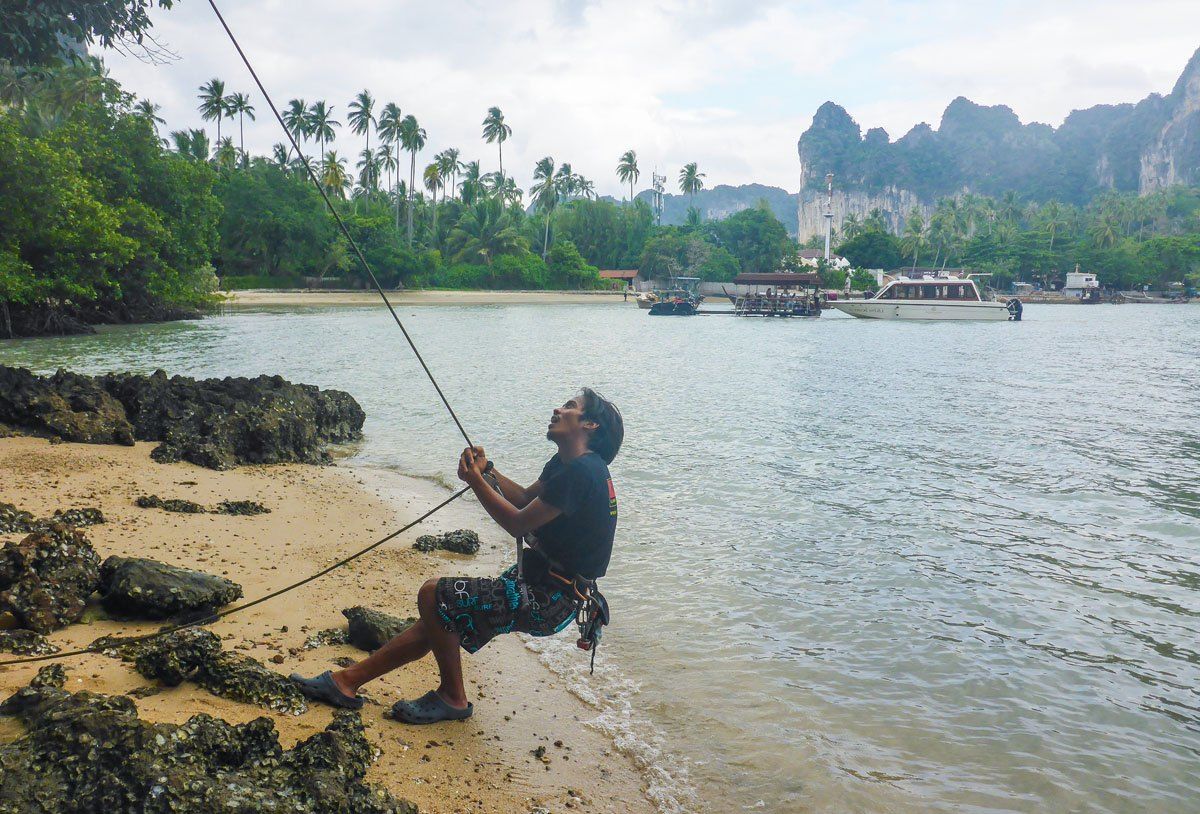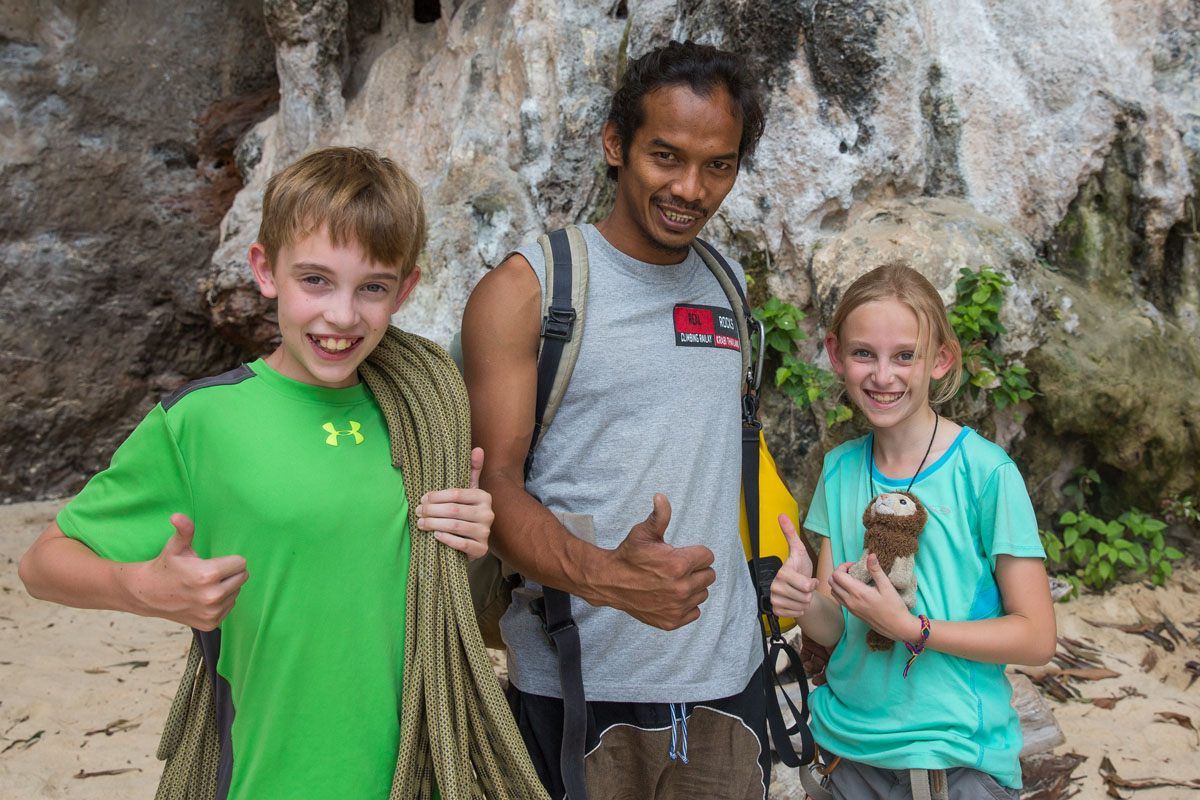 At Railay West beach, we met our climbing instructor, Wan, and we were fitted up with harnesses and shoes. We followed Wan to the beginner climbing area, a rock wall located right on the beach with views out to the bay. What a beautiful spot to learn how to climb!
Wan taught us the basics…knot tying, belaying, and basic climbing skills. For four hours, much longer than our scheduled time (but we weren't complaining!), all four of us took turns climbing the mountain. We had a blast! Each time we climbed, we were faced with new routes and new challenges. Reaching the top was exhilarating! What a sense of accomplishment to get to the top, with the reward of the awesome views of the beach and mountains of Railay West.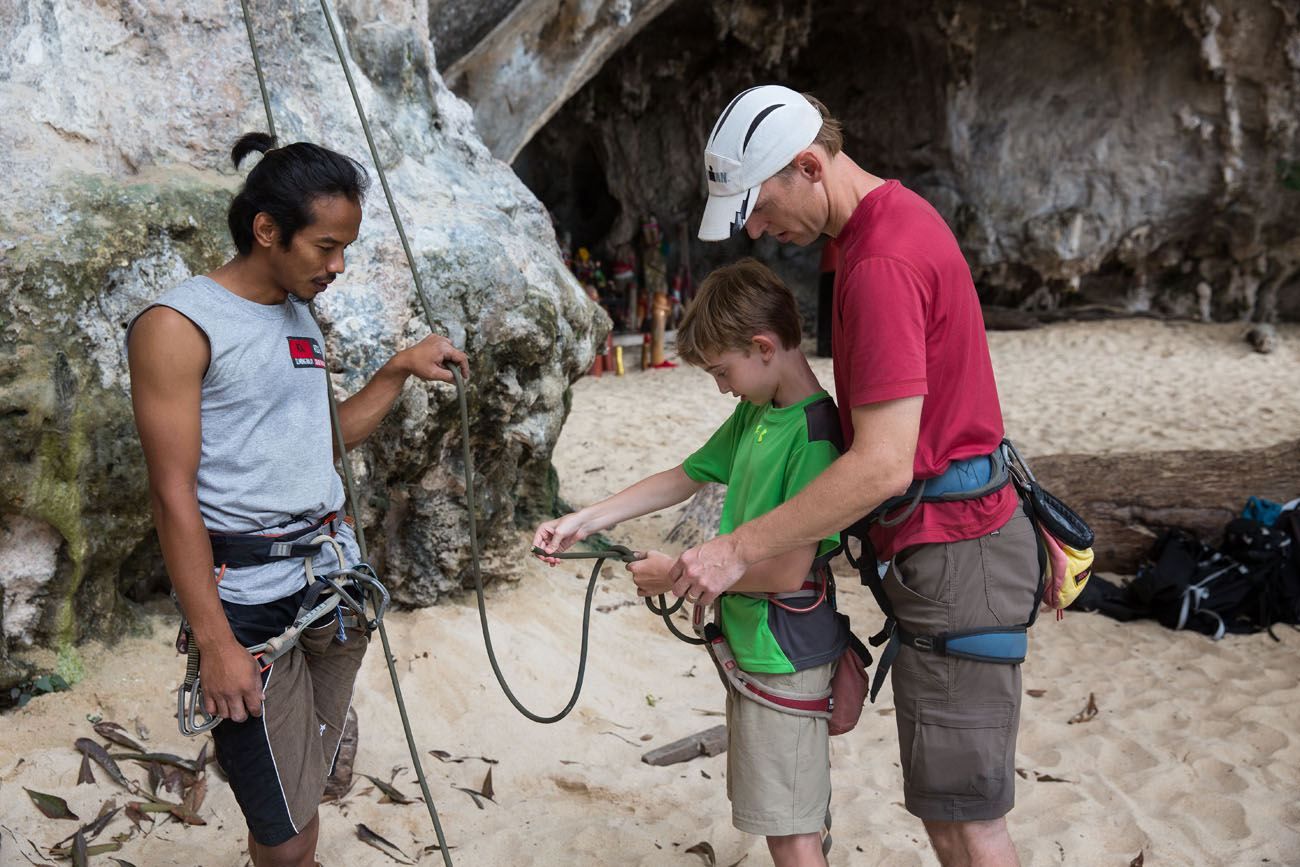 As we scaled the side of the mountain, we were held secure by the rope attached to our harness. If we slipped off of the mountain, which did happen occasionally, we didn't fall far…we'd dangle in the air until we could grab back onto the mountain. I don't think there ever was a time when any of us were actually afraid. We climbed a lot higher on our first day than I was expecting, and I was amazed at how well Tyler and Kara did.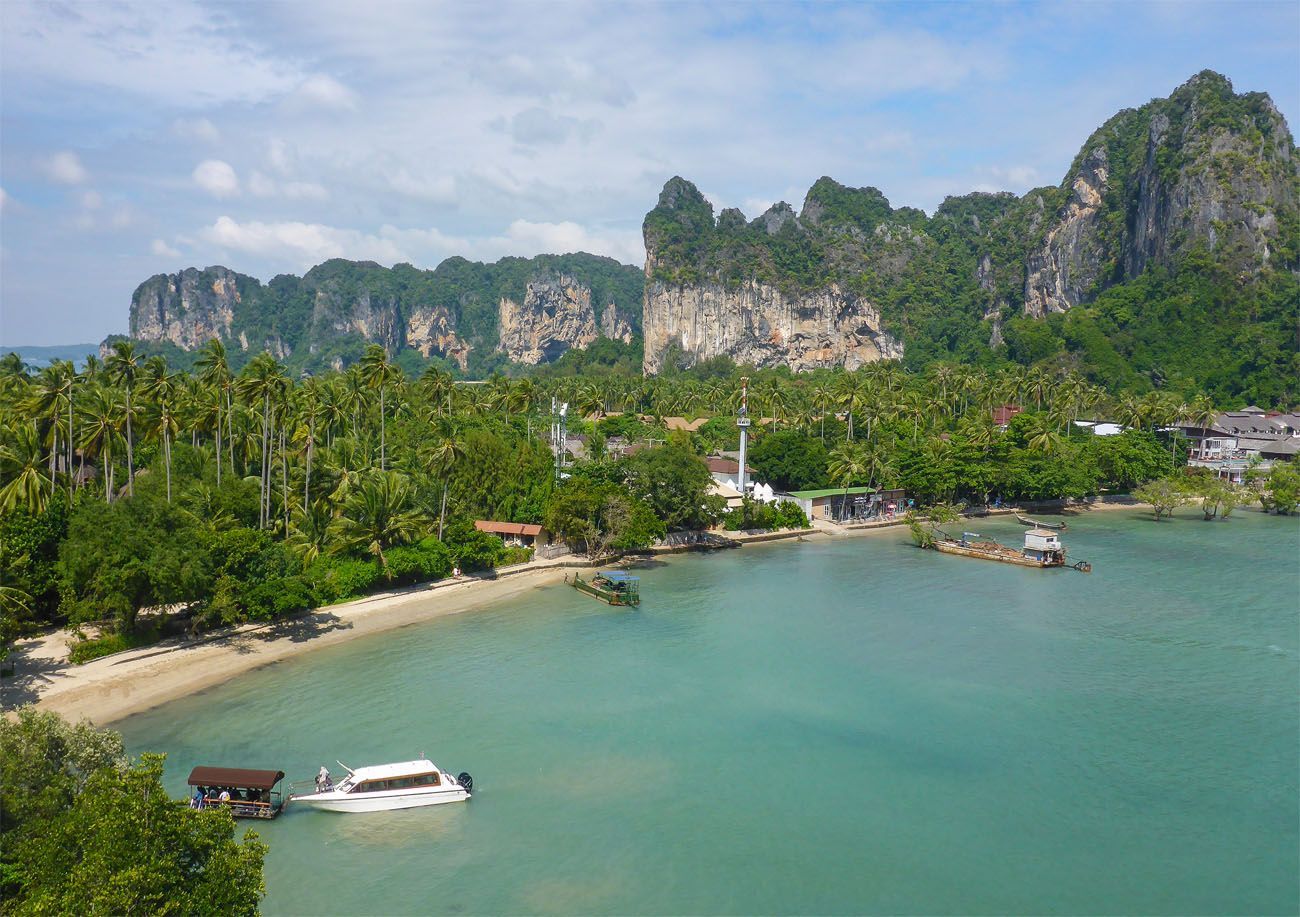 Our first day concluded with a hike through a pitch black cave. We were slipping and sliding in the dark, following Wan to our abseiling point. We reached the mouth of the cave, with views down onto the beach. We had 15 meters of rappelling to get us back down onto solid, sunny ground.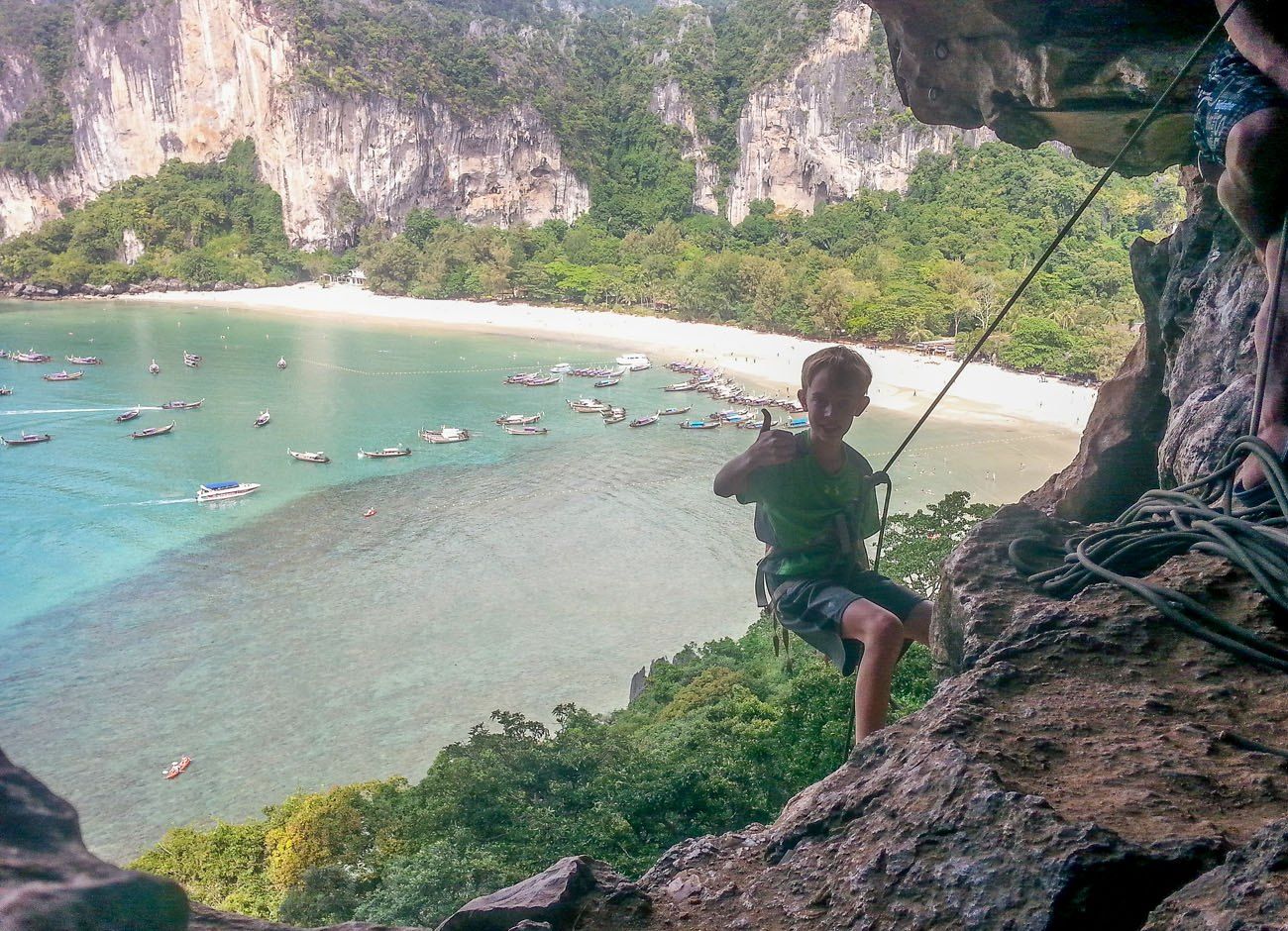 Rock climbing was so much fun that we returned for more lessons on Christmas Eve. This made for the most memorable Christmas Eve EVER! What better way to spend the holidays than on a beautiful beach while doing your new favorite sport?
This time we were climbing on Phranang Cave Beach, one of the most beautiful beaches in the area. This beach features a long expanse of white sand and turquoise water, capped on either end by towering limestone mountains. Our climbing spot for the day was at the mouth of one of these two mountains. This spot right here has become one of my favorite places in the world.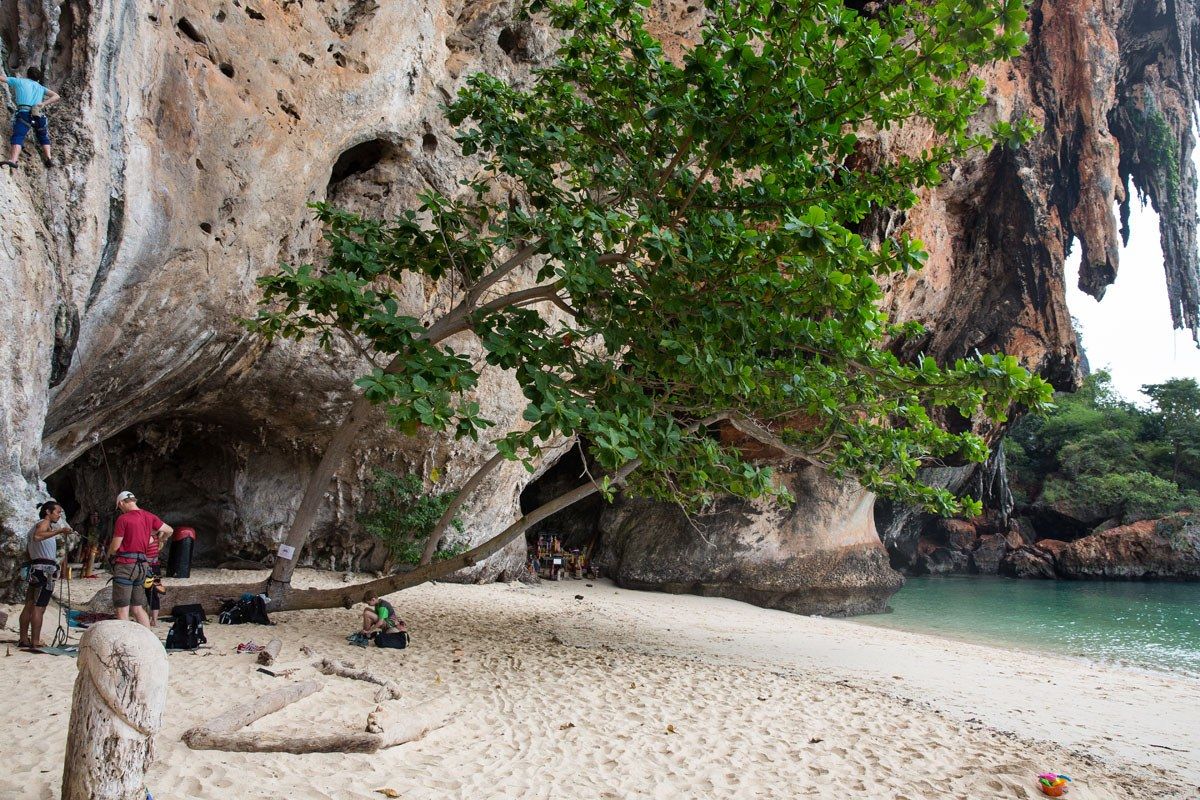 Now that we had some experience the climbing would be harder today. This climbing spot looked much more difficult than where we were just a few days ago. I was nervous, and almost a little scared, looking up at what we were about to climb.
Kara was eager to climb so she enthusiastically volunteered to go first. Good, our little spider monkey can show us the way.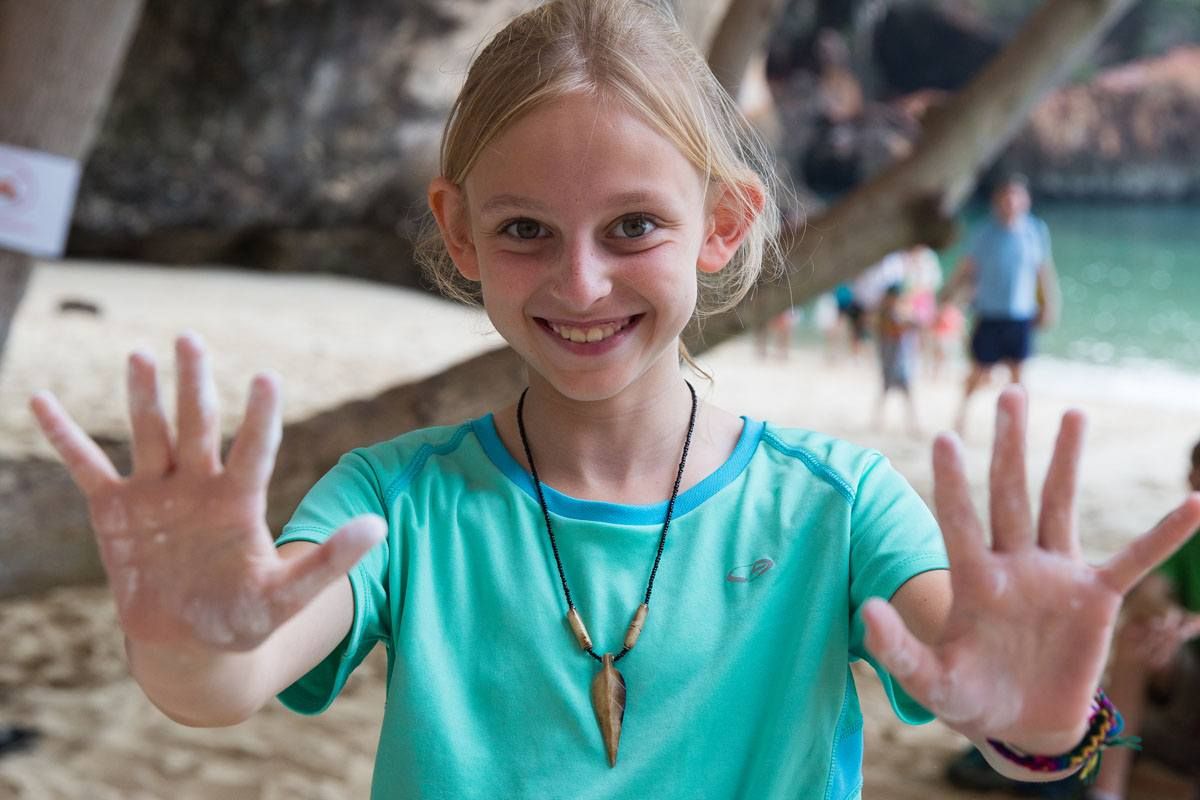 As Kara climbed the rock face, of course making it look very easy, more people began to arrive on the beach. Kara attracted quite the audience. How often do you see a small, ten year old girl climbing with ease to the top of a rock face?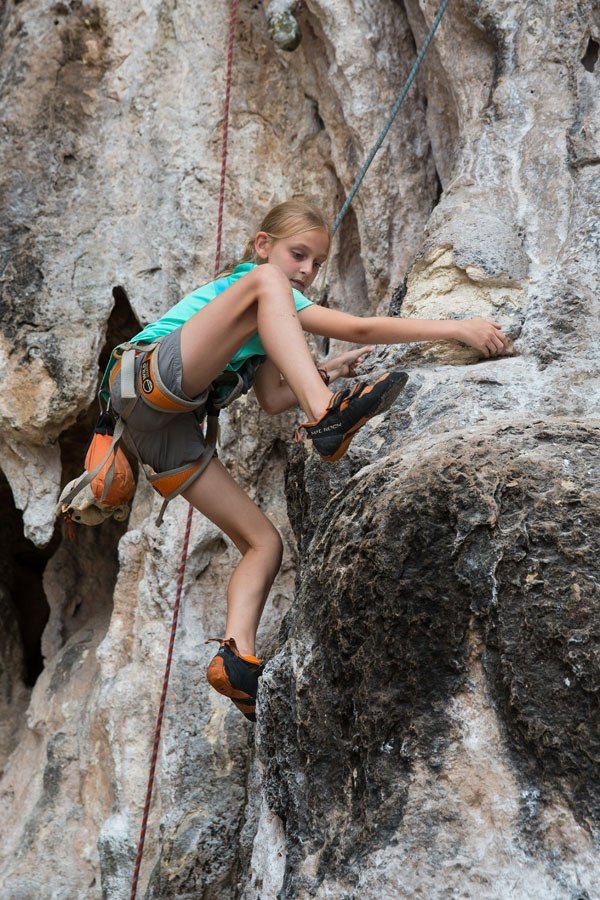 Once at the top, Kara took a break and enjoyed the view. Now for the best part, at least in Kara's opinion, rappelling back down the mountain. She always ended with a huge smile on her face.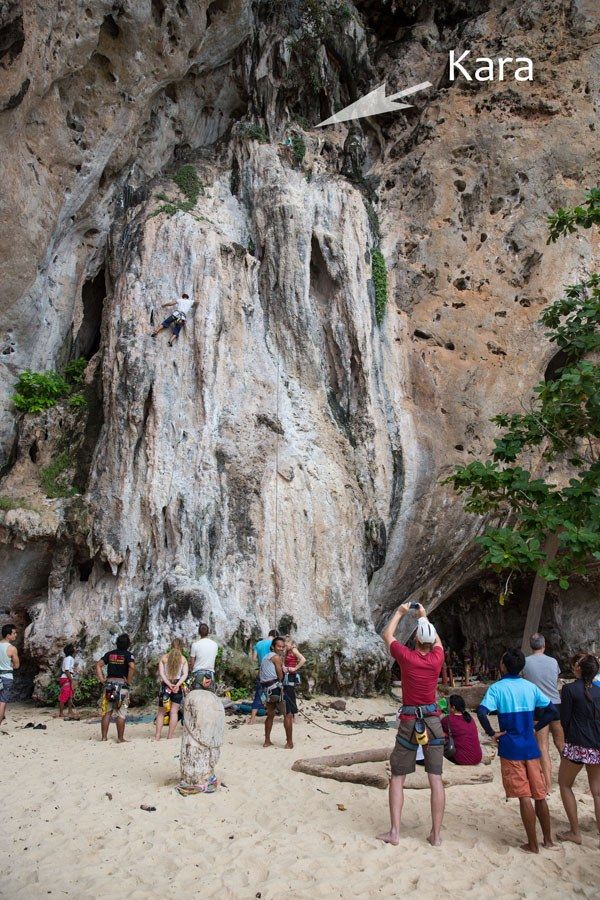 Tyler climbed as well, although he didn't fall in love with climbing as much as his sister. He made several climbs and then took a break from climbing for the day.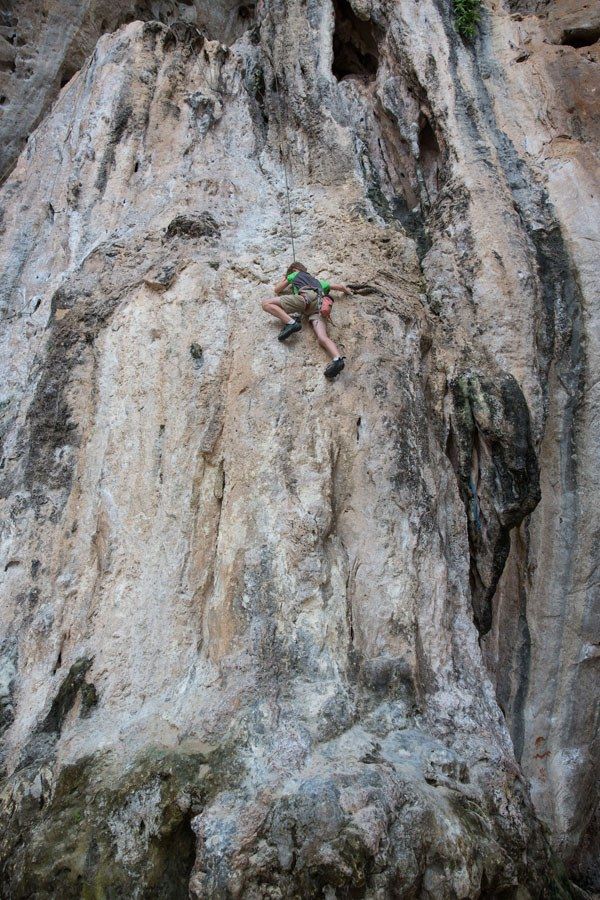 Tim and I did our best to follow in Kara's footsteps. We both really liked the challenges of climbing…and we were both amazed at how exhausting it was. We'd finish each climb sweaty, tired, and even out of breath. But it was worth it for the rewards of fabulous views and the sense of accomplishment of reaching our goals.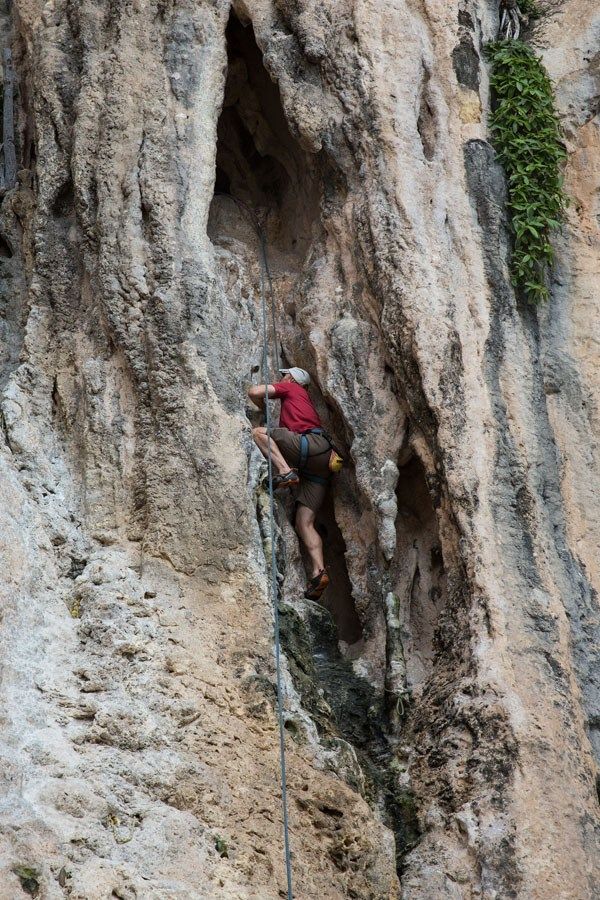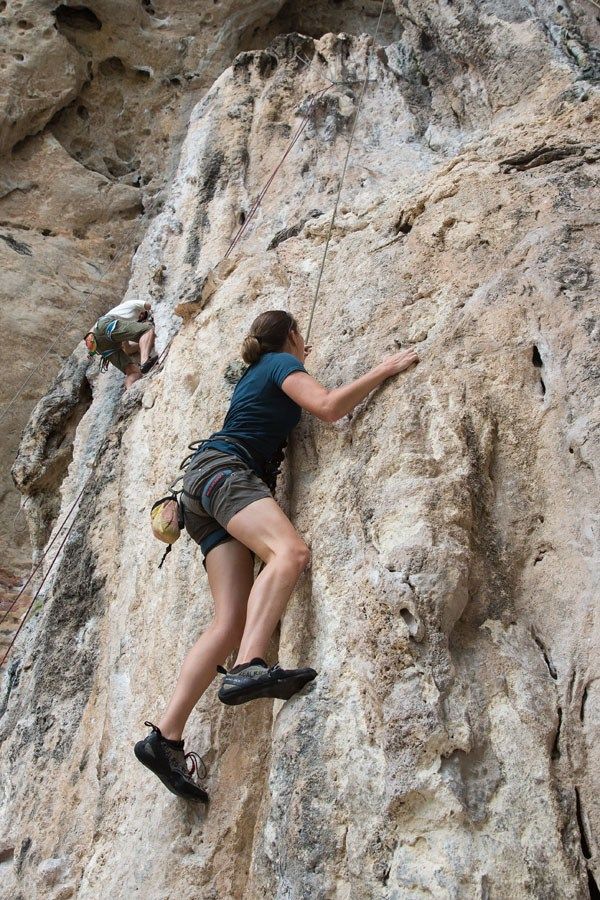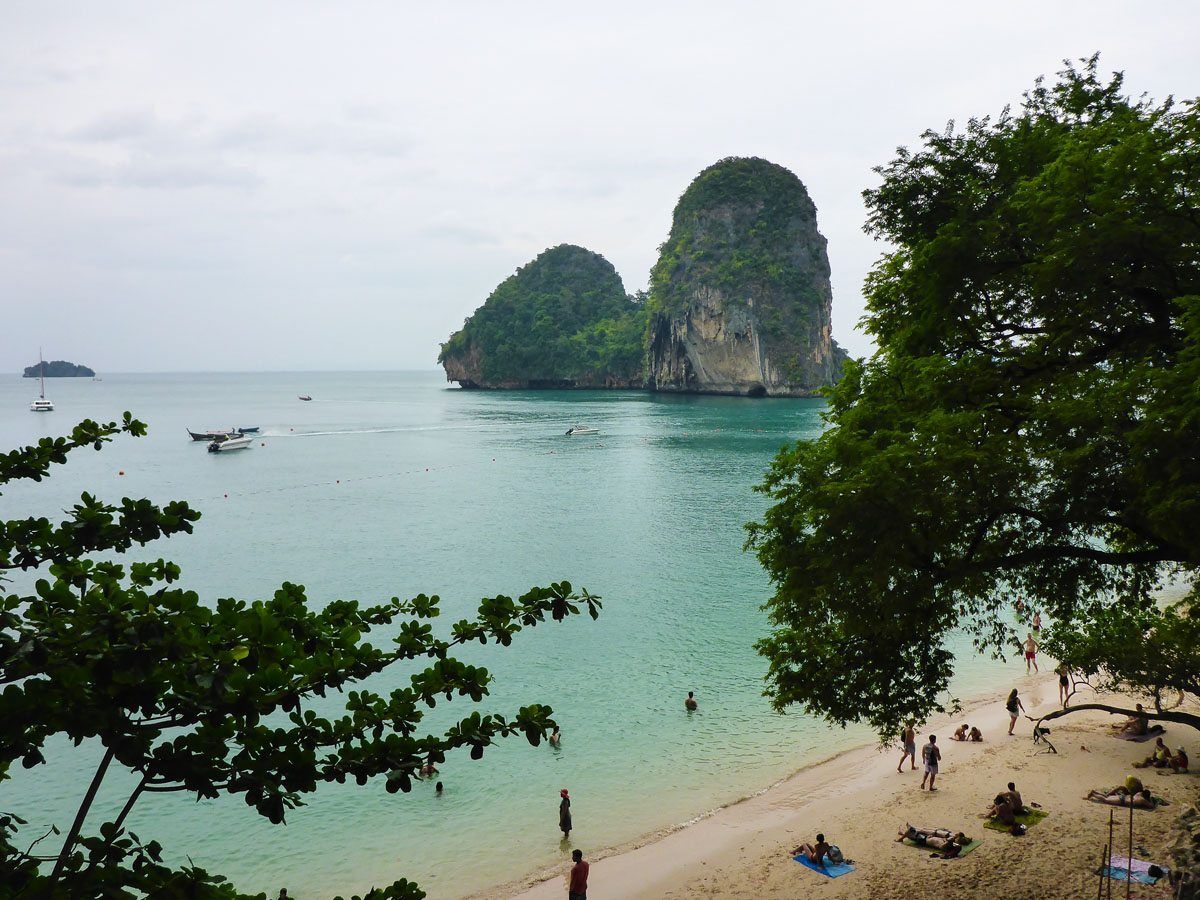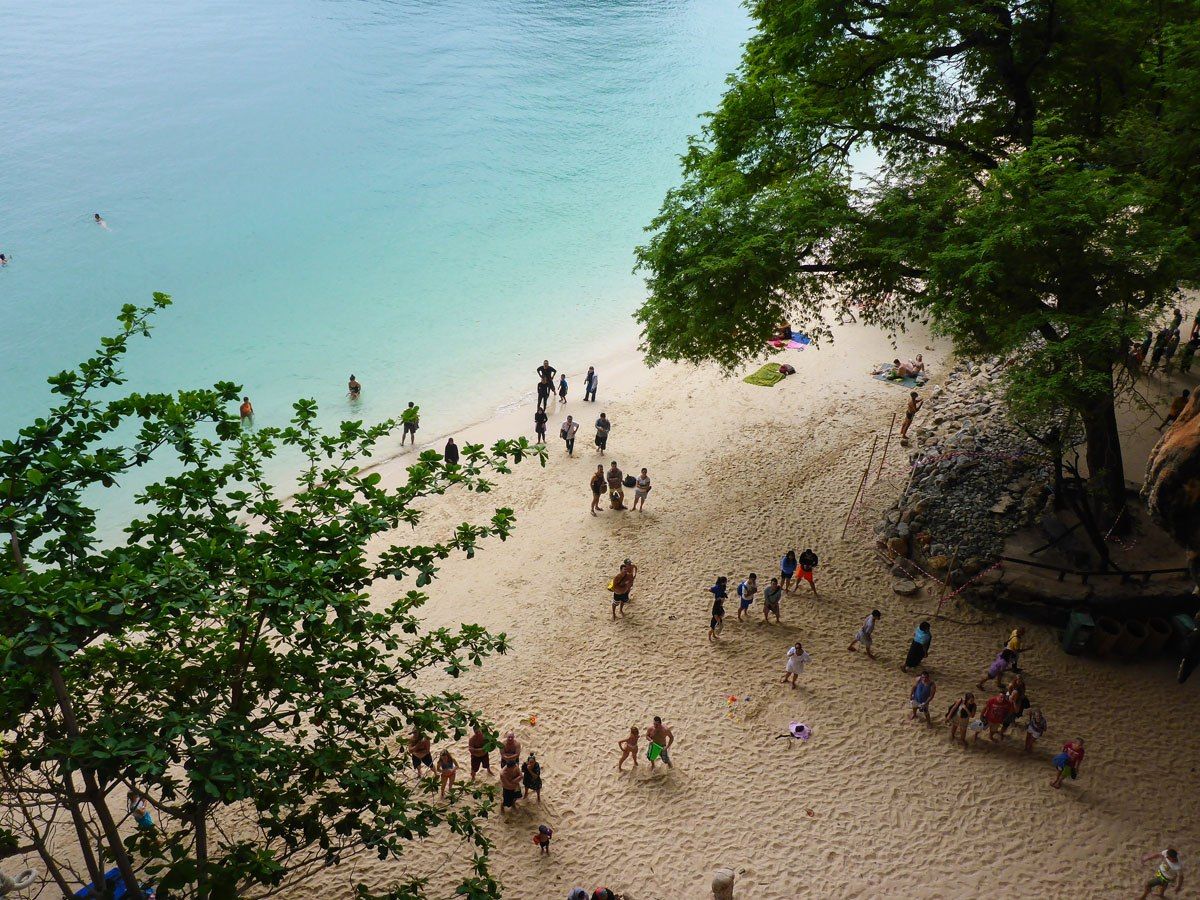 After almost five hours of climbing, we were done for the day. All four of us finished the day with raw fingertips and bruised and banged up knees. We have fallen in love with rock climbing and we hope we can continue our training later on during the trip. I have a very good feeling that we will be signing ourselves up for more lessons once we get back home.
About Real Rocks
Our experience with Real Rocks was fantastic. Our guide, Wan, was wonderful with Tyler and Kara. He kept things fun, always made us feel safe, and was great guiding us where to go. Somehow, even from 20 meters down below, Wan knew where every handhold and foothold was. Without Wan yelling at us "more left!" "reach up higher!" I don't know if we would have made it to the top of some of these climbs. He also gave us more time to climb than was scheduled by the company. The second day we actually had to tell him that it was time to stop; we just couldn't climb anymore.
Real Rocks also offers something called deep water solo climbing. Climbers are taken by boat out to a nearby island with cliffs just over the water. From here, people climb without harnesses, and once finished, just drop off the wall into the water below. We didn't do this while we were here, although we strongly considered it. Maybe on our next trip to Krabi…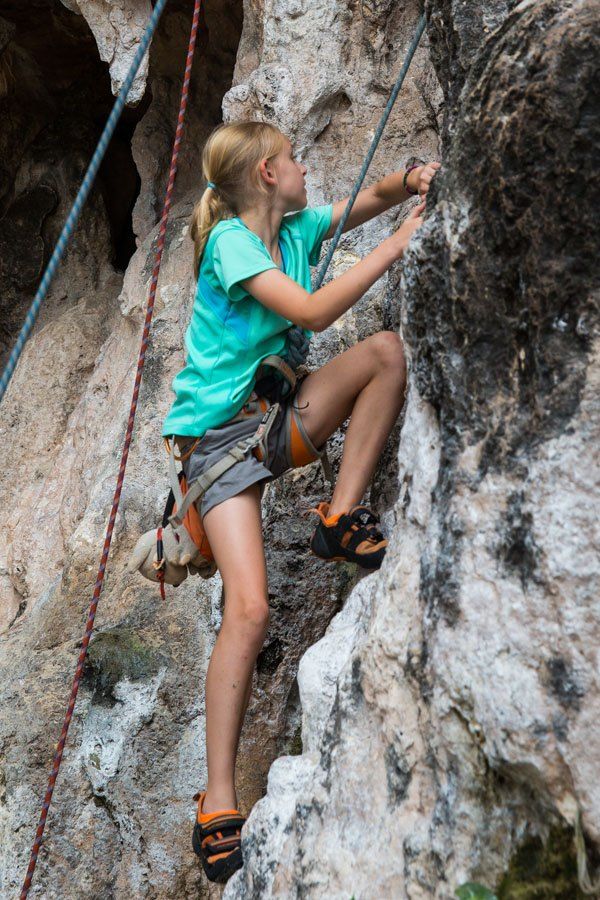 ---