Bangkok, Thailand…I have fallen in love with this city.
I have always wanted to travel to Thailand. Thai food is my favorite in the world, the beaches look incredible, there are ancient ruins all over the place, and to top it off, you can get up close with elephants.
Our introduction to Thailand came with a stay in Bangkok. This city was exactly what I was expecting and more…cosmopolitan, modern, filled with world class sights, and friendly people. But this city stole my heart with its street food on every corner. Eating truly was an adventure here, one of our highlights of our tour around the world.
Street Food in Bangkok
We have seen plenty of street food so far, particularly in India and Myanmar. For the most part, we avoided the open air food stands. Sanitary practices were very questionable in India and the idea of eating food sold in the dusty, dirty streets was not at all appetizing. In Myanmar, Tyler spent a day sick with food poisoning from the milk at breakfast so we weren't feeling very comfortable experimenting with the food there either.
And then comes Bangkok.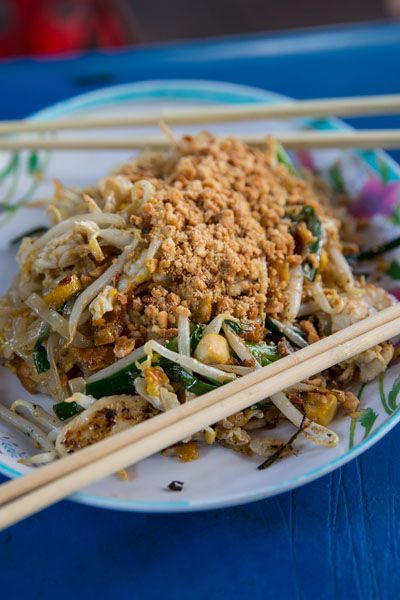 Our first night in the city we walked past food stall after food stall all lining the city sidewalks. People were eating all sorts of food, 90% which I did not recognize. We saw fried noodles, fried rice, meats, veggies, crabs, eggs, desserts, and it all smelled delicious. Many people were sitting at small folding tables, sitting on plastic stools, eating their dinner. These food joints took over the sidewalks, making it very difficult to walk, but it was wild seeing what everyone was eating.
My mother, Kathy, and my brother, Thomas, were staying in Bangkok with us. For several days we toured the city, seeing the main attractions, but it was the street food that was the highlight. As we got more comfortable experimenting with new foods (without getting sick) the street food almost became an addiction. By our last day here, it was the only thing that Tim and I wanted to eat. Why go to some fancy restaurant and pay way too much money for overpriced food?
We started off safe, eating fried dough filled with potatoes, cabbage, and taro, as well as steamed corn and pad thai. Everything was so cheap and so good. For $1 -$2 a person can eat a good sized lunch here. The six of us shared the food while sitting under Bangkok's Sky Train down by the river. I never thought I'd be eating street food pad thai with my brother and mother in Bangkok, Thailand. It was so fun!!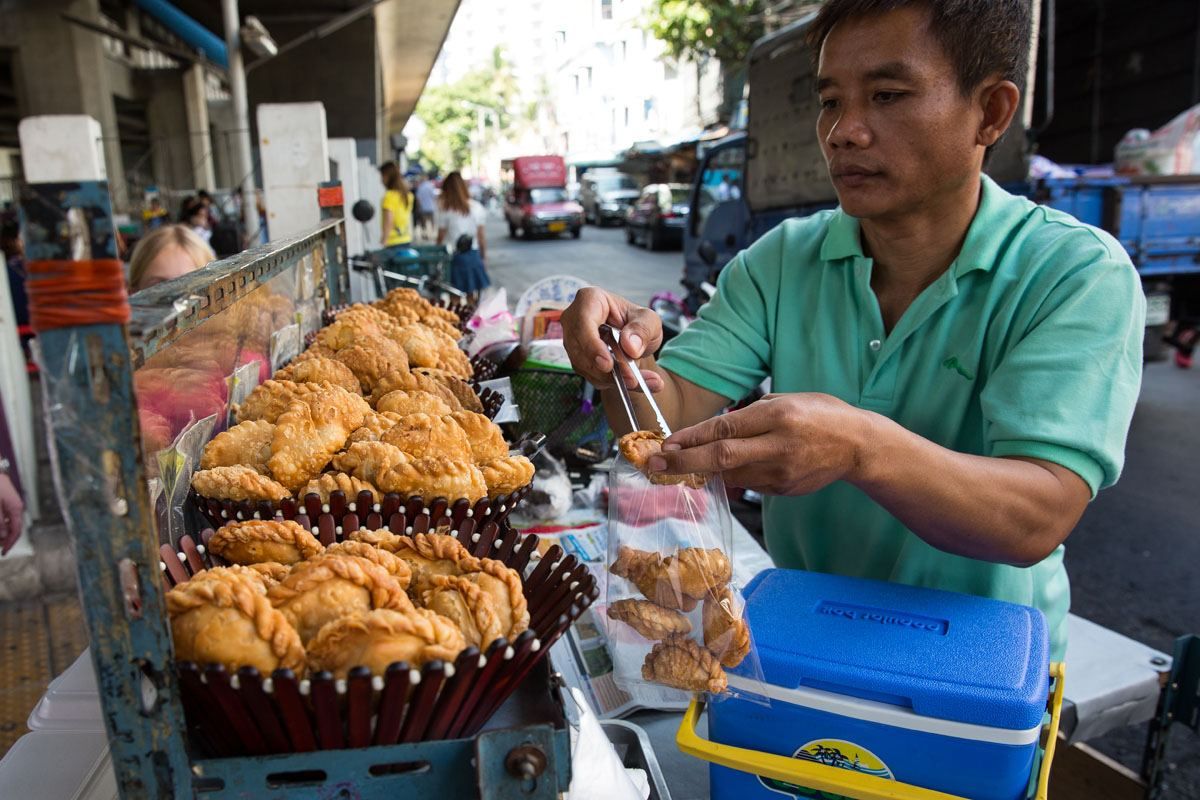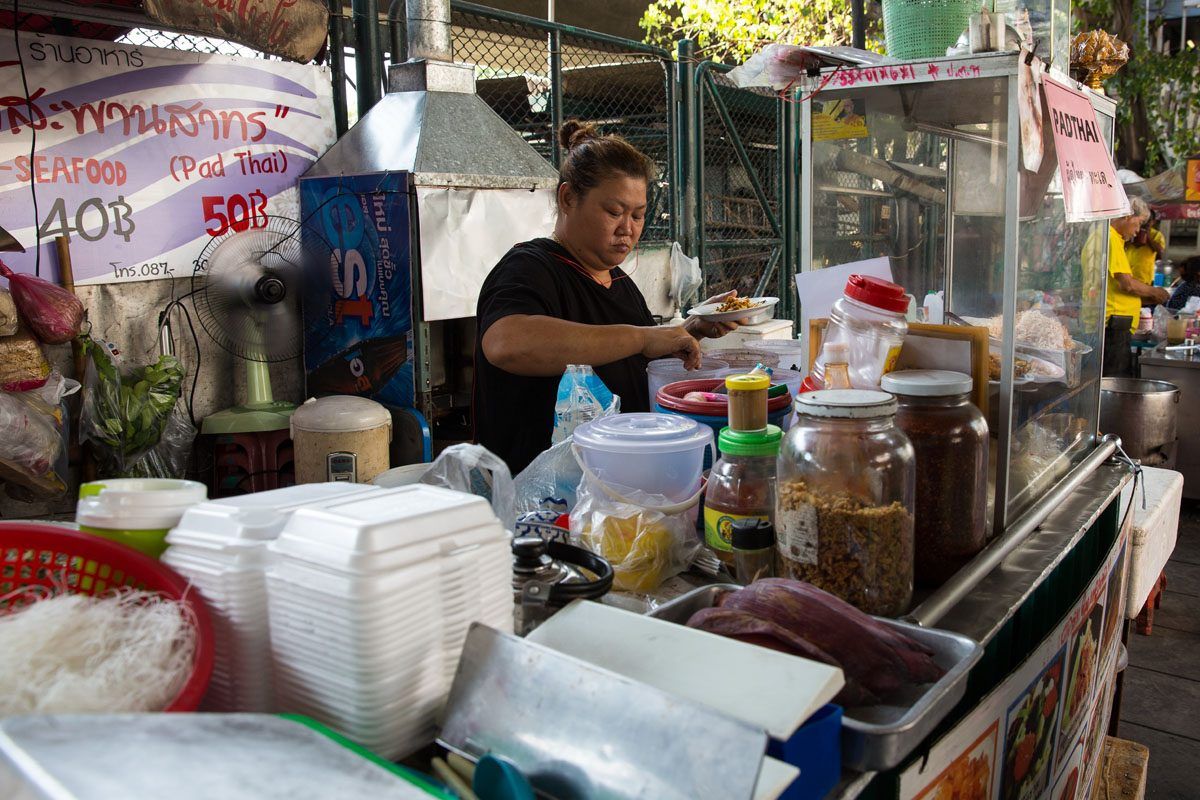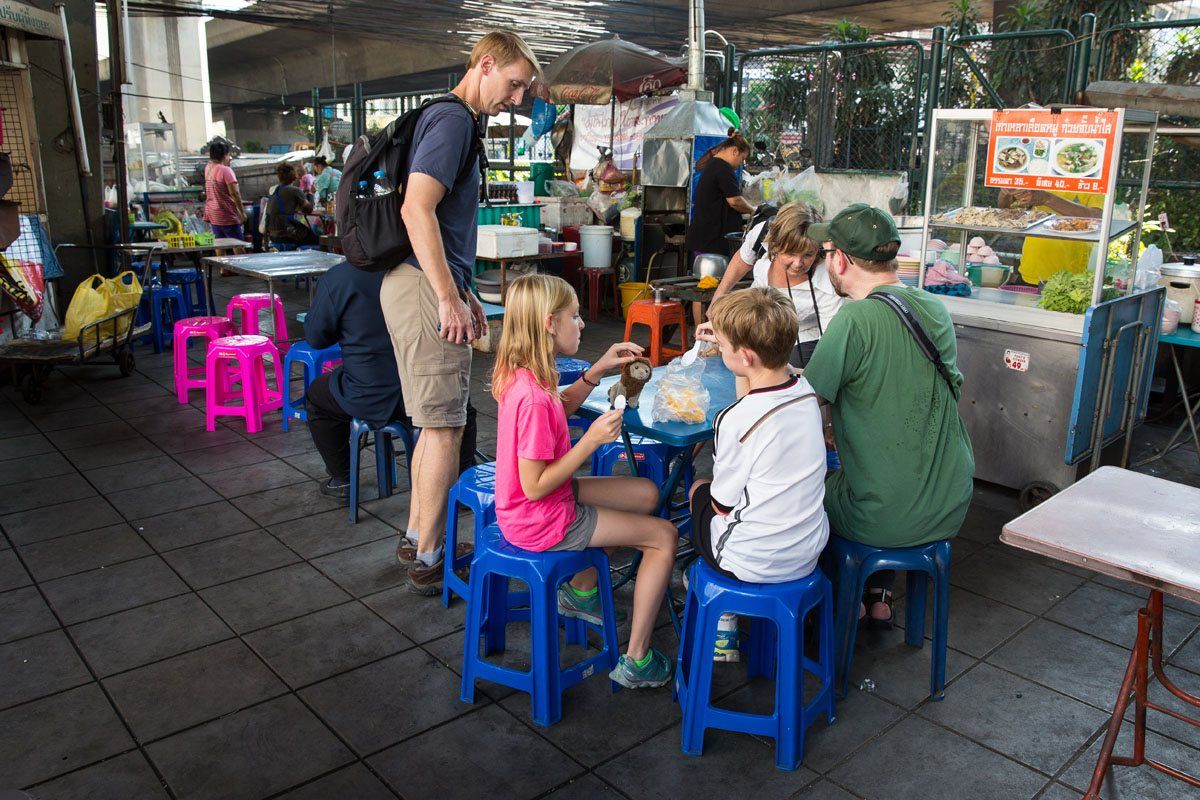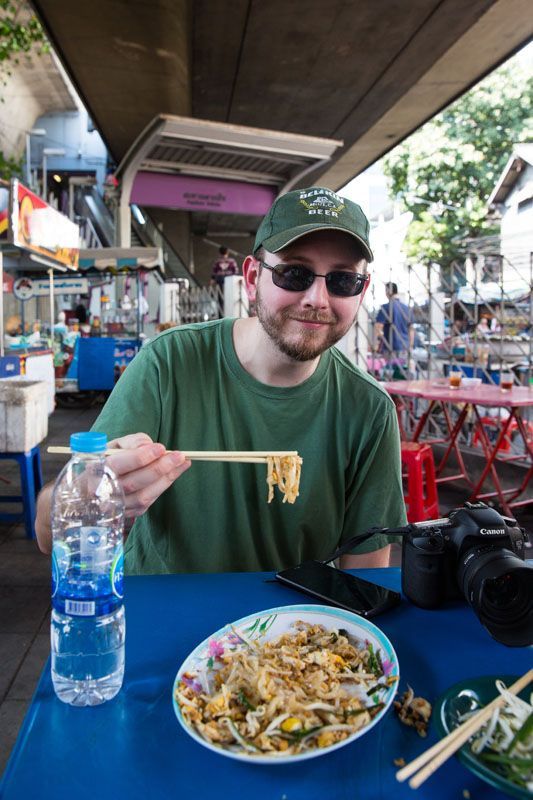 As we walked through the city we passed many more food stands. Some of the time the food was unrecognizable. Other times it looked so unique that we just had to give it a try. At one such food stand we ordered these "little tacos" which tasted nothing like Mexican food. These were dessert and oh, so good. Hot off the griddle we ate thin wafers of cookies filled with meringue. This was one of my favorites in Bangkok.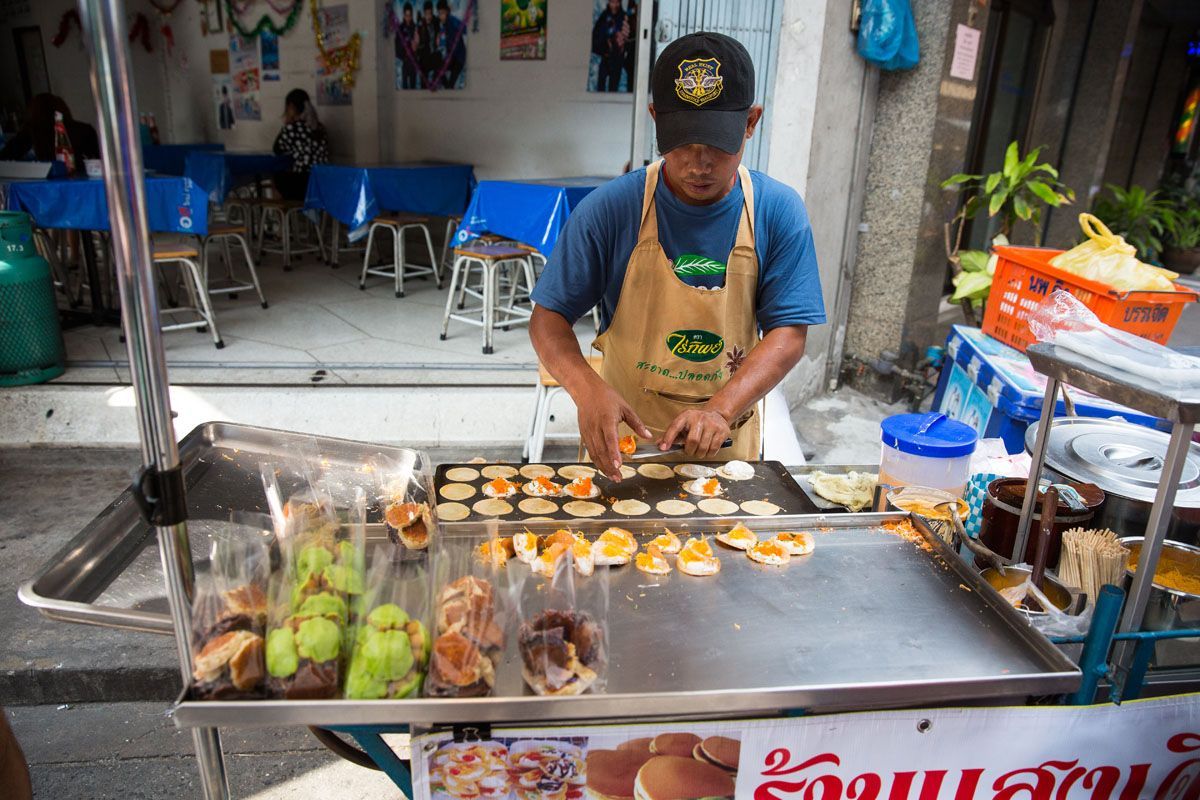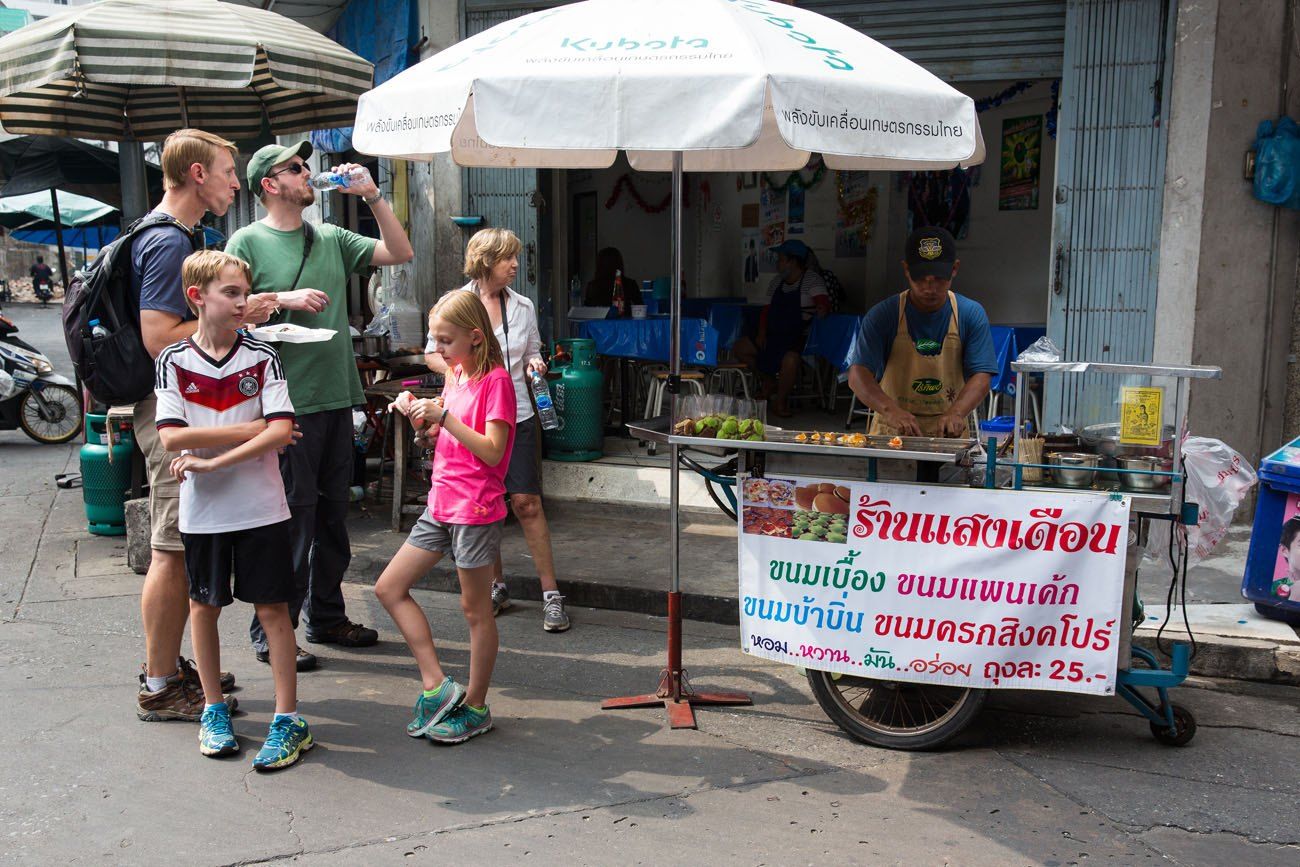 Scorpions on Khao San Road
The most fun came with our tour of Khao San Road. We bar hopped our way down the street but what was most exciting was snack time…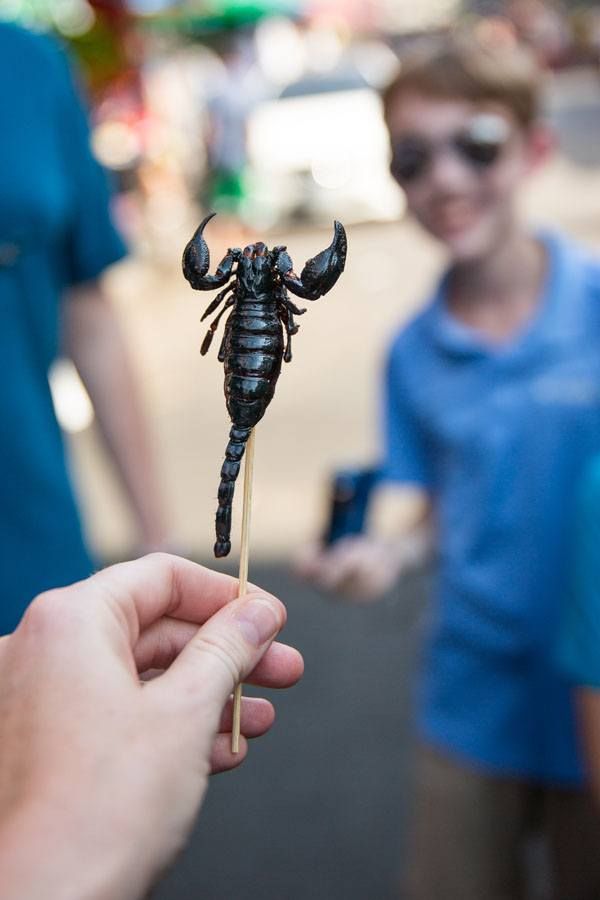 TJ, Tim, and I each bought a scorpion on a stick. I felt like I was on Fear Factor…honestly I was very apprehensive about taking that first bite. The scorpion was fried and very scary looking. TJ and I each ate a claw…it was crunchy, tasted a little like bacon, and was so much better than we were expecting. Mom and Kara each ate the other claw. The body of the scorpion was meatier, tasting like liver. Tim inhaled his whole scorpion in just three bites.
Later that day, when I brushed my teeth, I still had tiny pieces of scorpion shell stuck in between my teeth!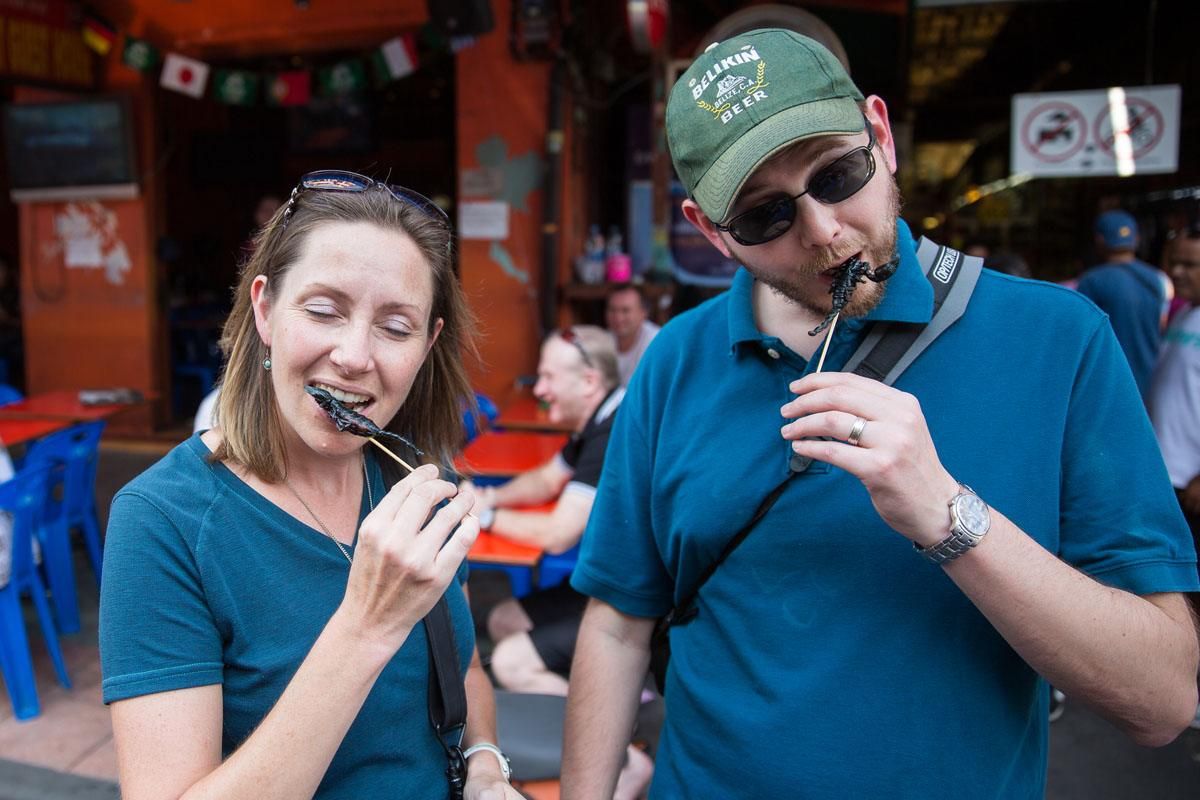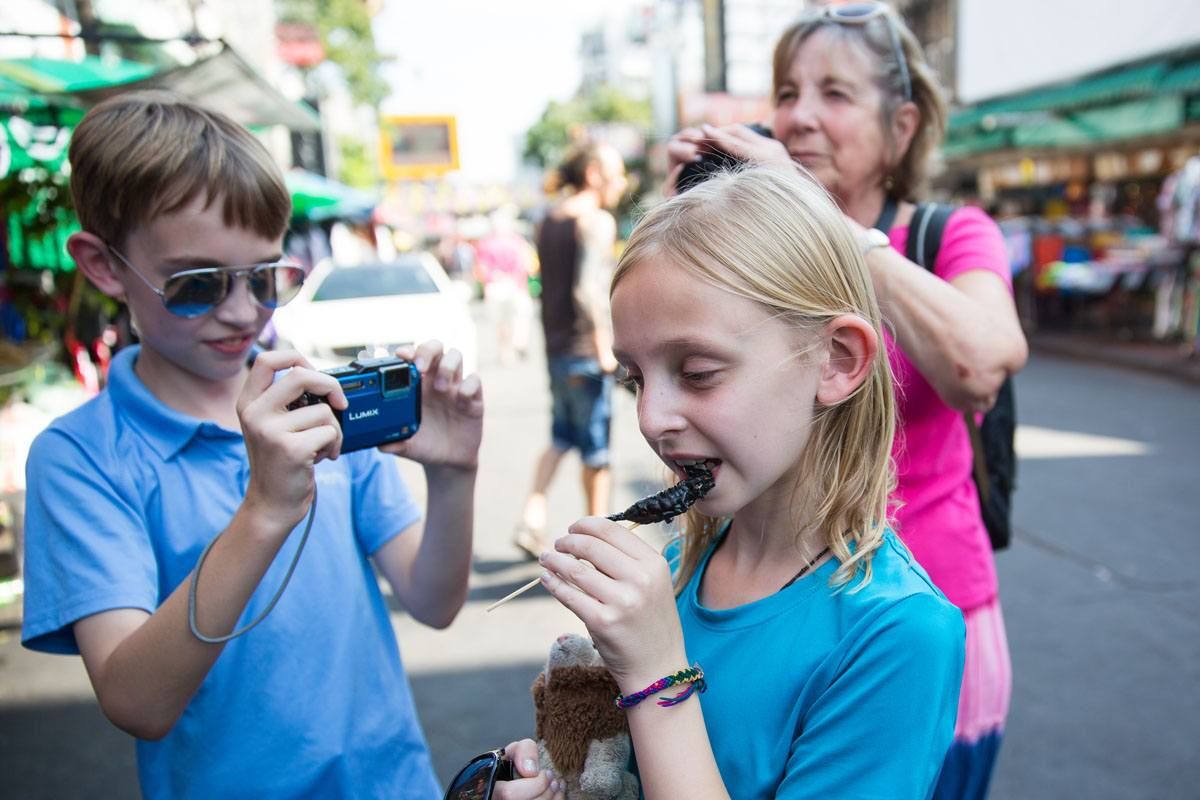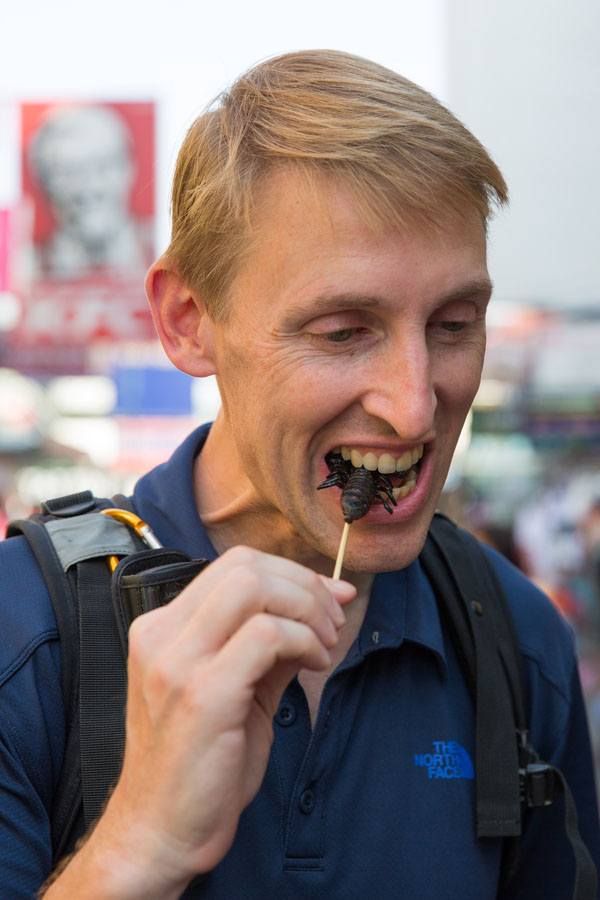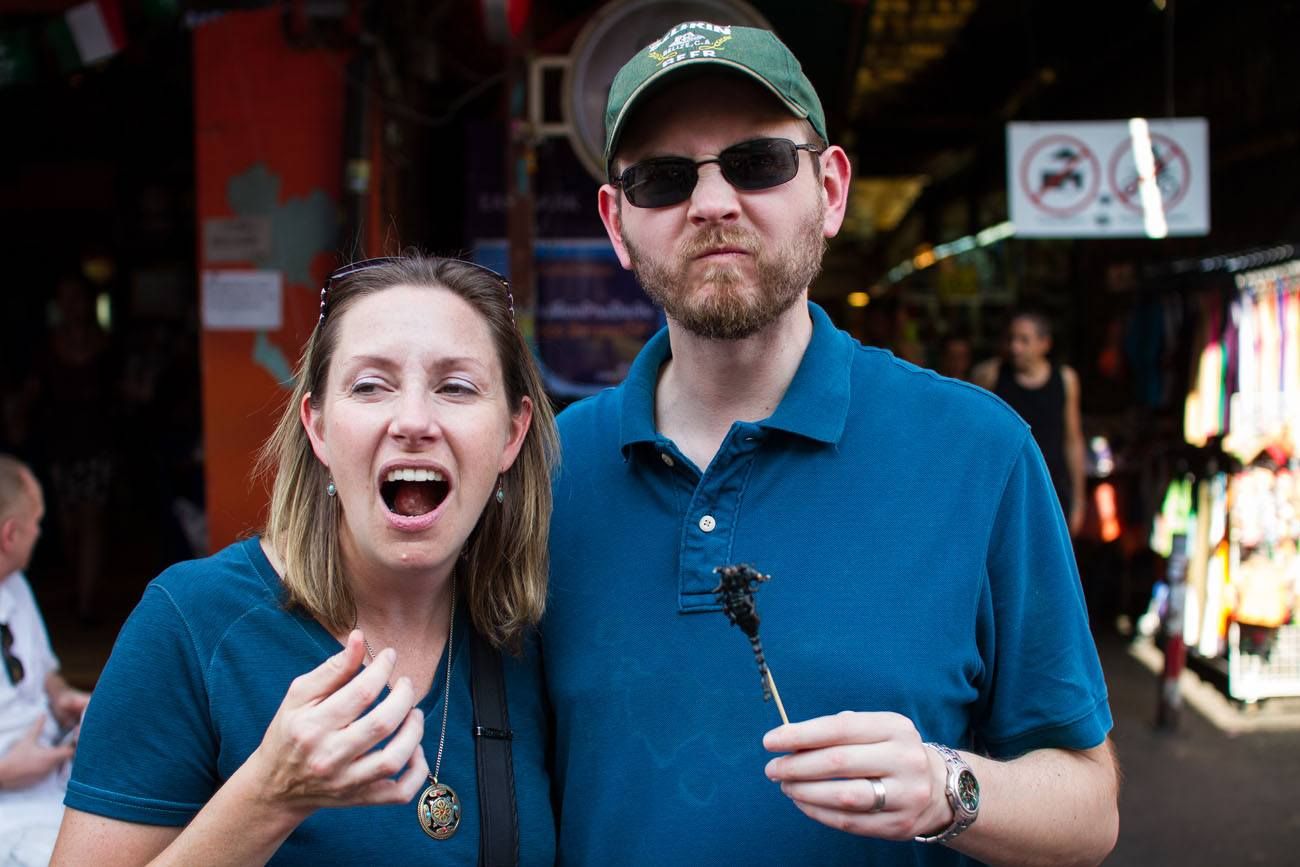 Here is Mom, Tyler, and Kara, on Khao San Road.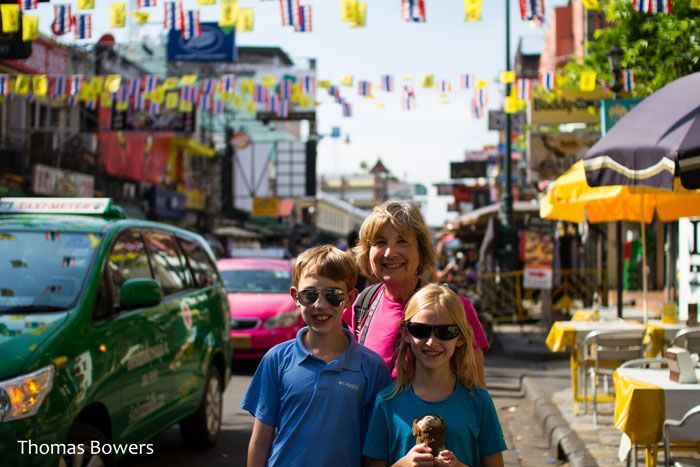 Khao San Road
Our food tour did not end here. We ate fried quail eggs, assorted types of sausages, chicken and fish, different types of noodles, and other desserts as well. Most of it was good, although some of it was terrible. I wish I knew the names of the things we ate, but everything was written in Thai and the the language barrier made communicating difficult.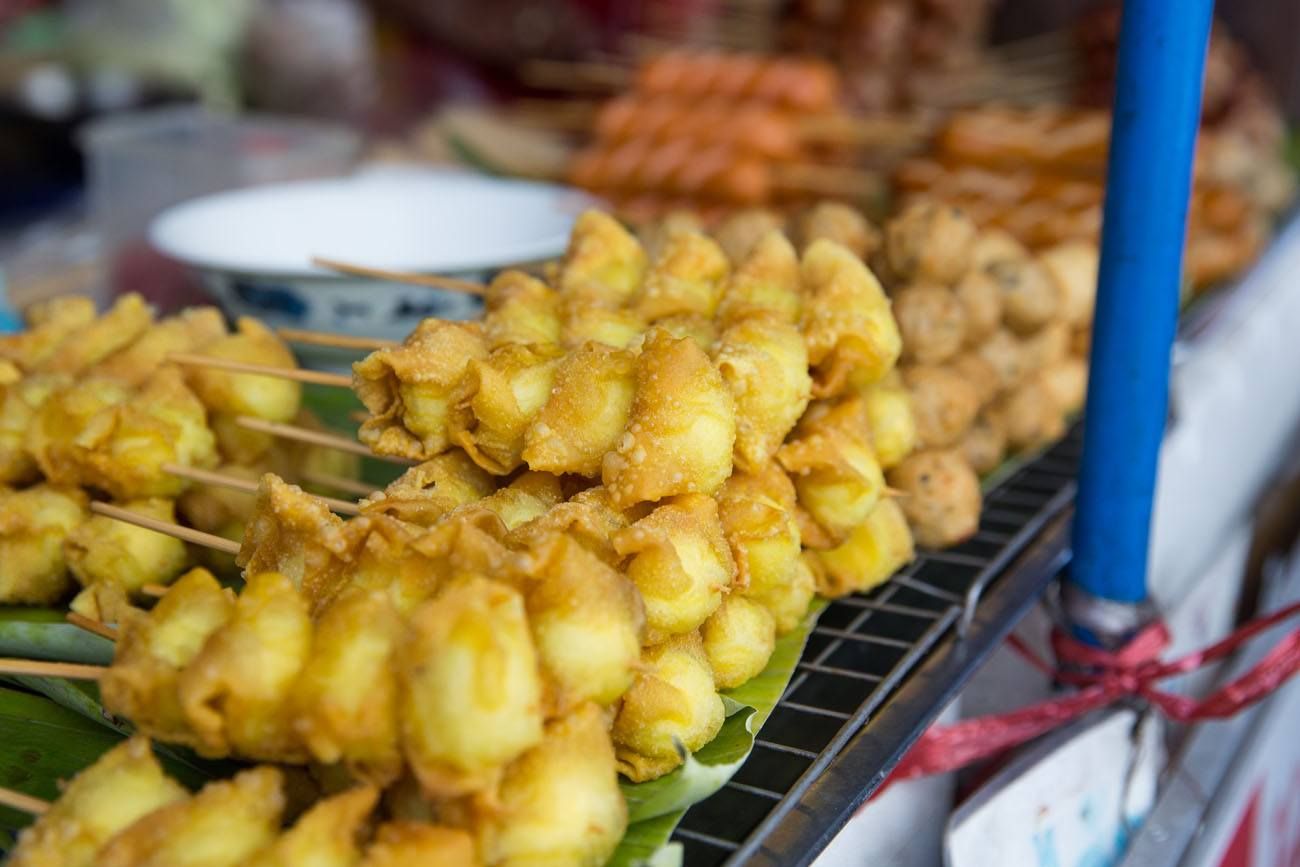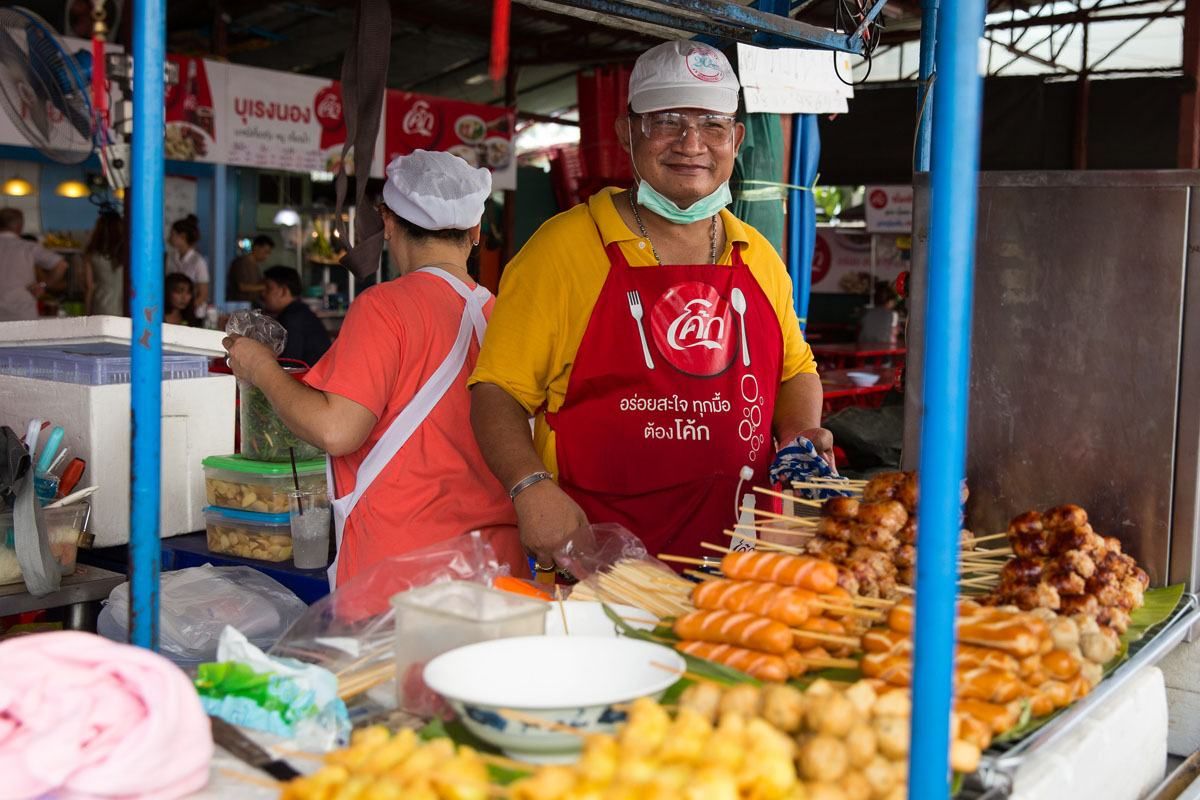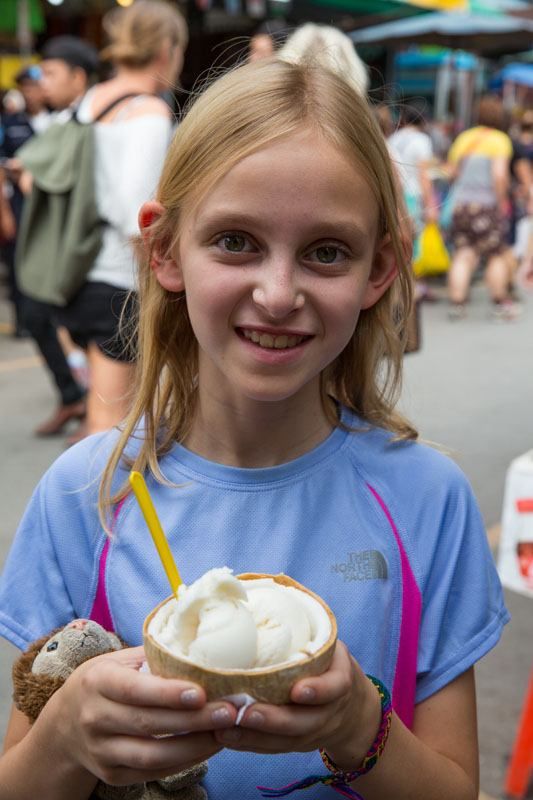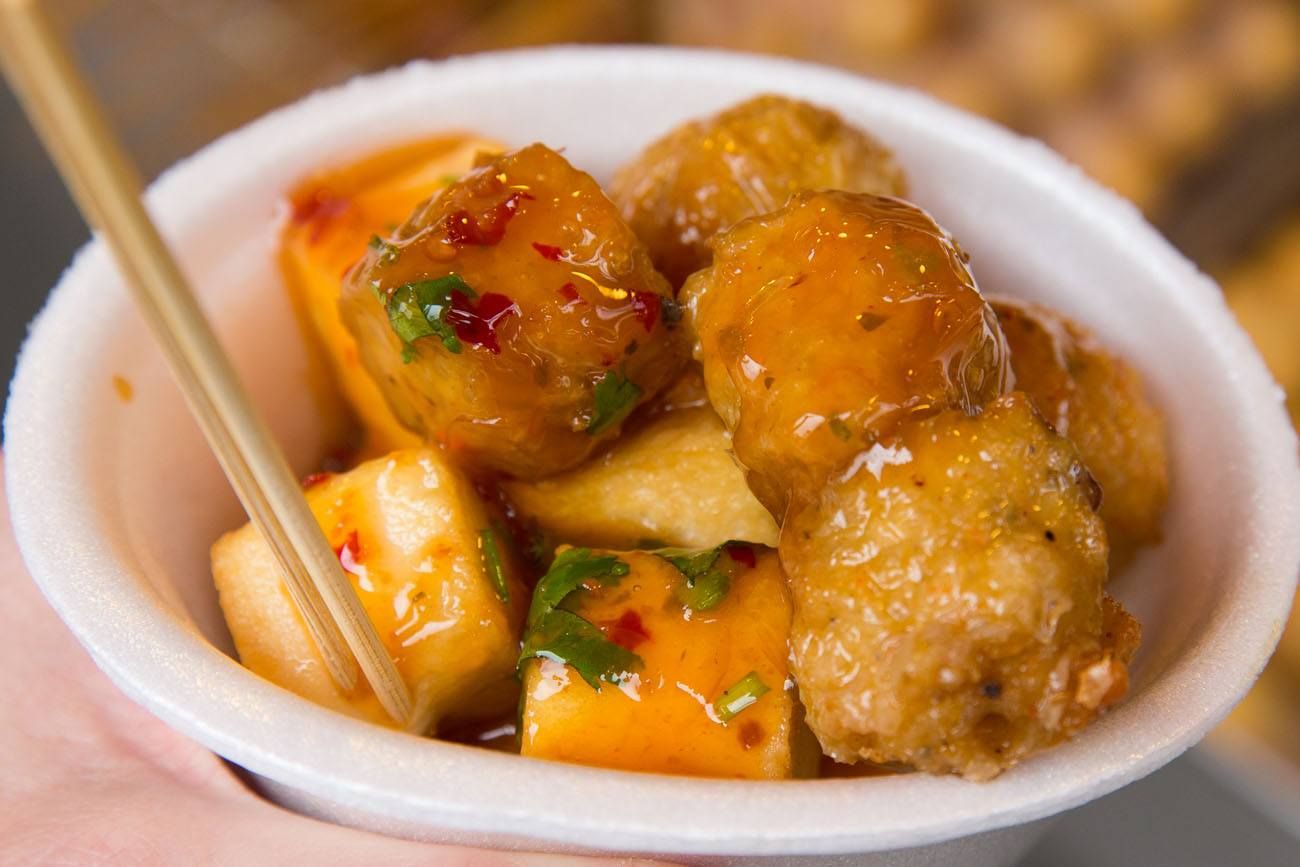 Chinatown, Bangkok
If you like the street food in Bangkok then you can't miss Chinatown. Touring the streets here and sampling the foods is a must do activity in Bangkok. It was here that we drank fresh pomegranate juice, ate spring rolls and donuts, and had our dinner cooked on the street by a frenchman.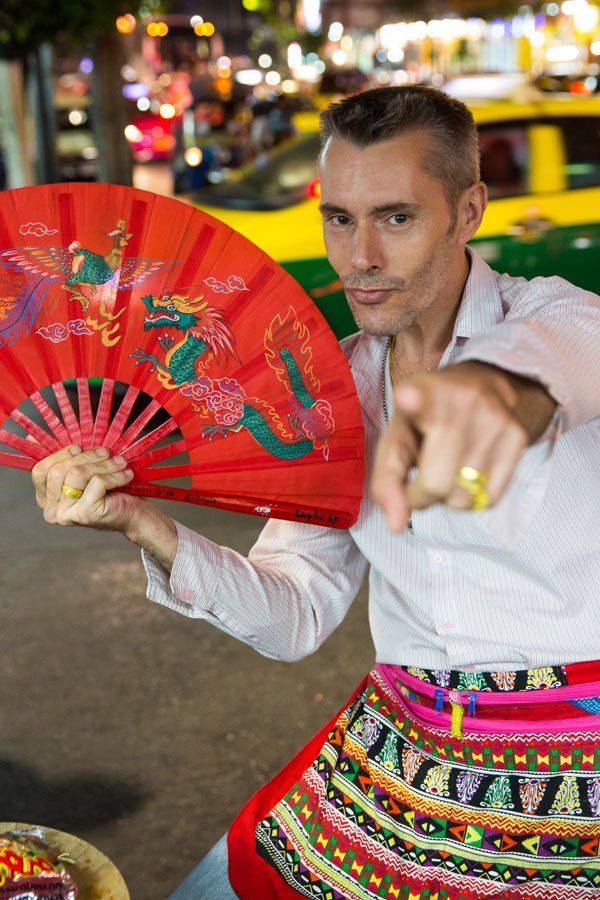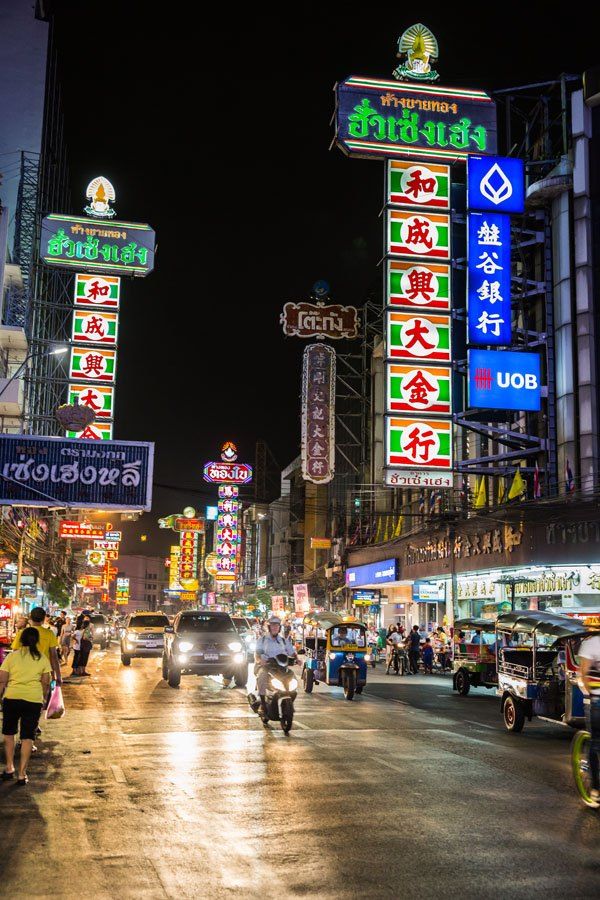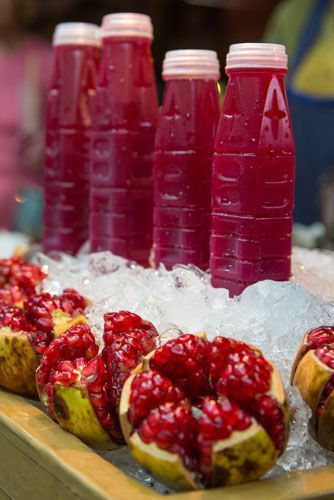 Our culinary tour did not end on the streets. There were plenty of fantastic and interesting foods to try in restaurants and even at our hotel. Check out this yogurt…instead of adding strawberries or blueberries there was yogurt containing corn and beans. I tried it; I am not a fan, but my Mom somehow ate it. I took one bite and that was more than enough for me. I'd much rather eat a scorpion than yogurt with corn in it!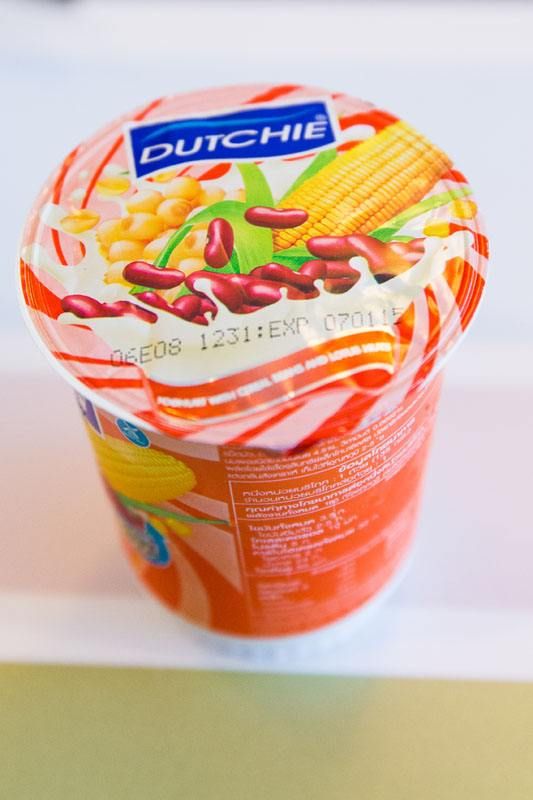 Bangkok with a Peanut Allergy
Tyler has a peanut allergy so eating in Thailand is an adventure for him, as well. Luckily for Tyler, there are plenty of fast food restaurants all throughout the city, so he got a pizza or cheeseburger while the rest of us enjoyed our Thai food. This way Tyler stayed safe but we could still eat what we wanted to.
For more on traveling with a peanut allergy, read: How to travel with peanut allergy and see the world.
Unexpectedly Awesome: German Food in Bangkok
Our favorite restaurant, surprisingly, was a German restaurant called "G's Bangkok." I learned about this place on Trip Advisor. My brother was happy here with the large selection of German beers, Tyler ordered peanut free German food, and the rest of us could still have our Thai food.
We received a hearty welcome from the owner, Guido, who quickly convinced us that we should all order German food. The six of us ate the best German meal I have ever had, the beer was awesome, and Tyler loved it here. We spent hours here and loved every minute of it. Delicious!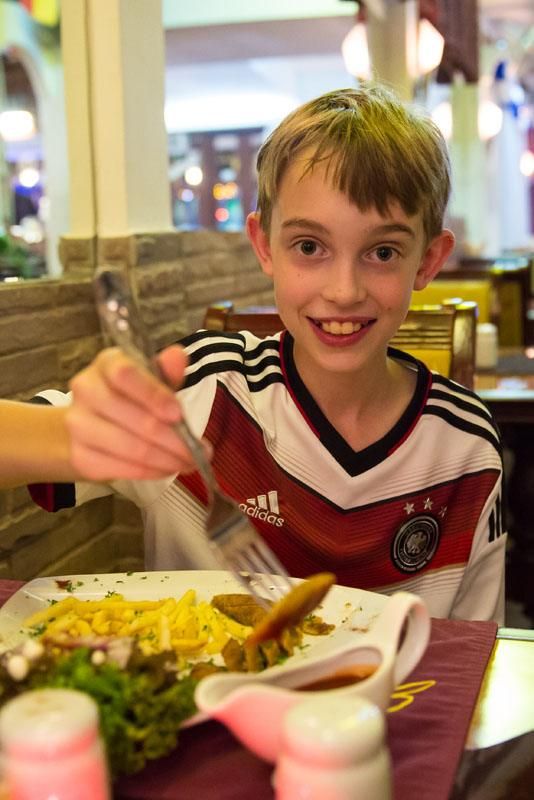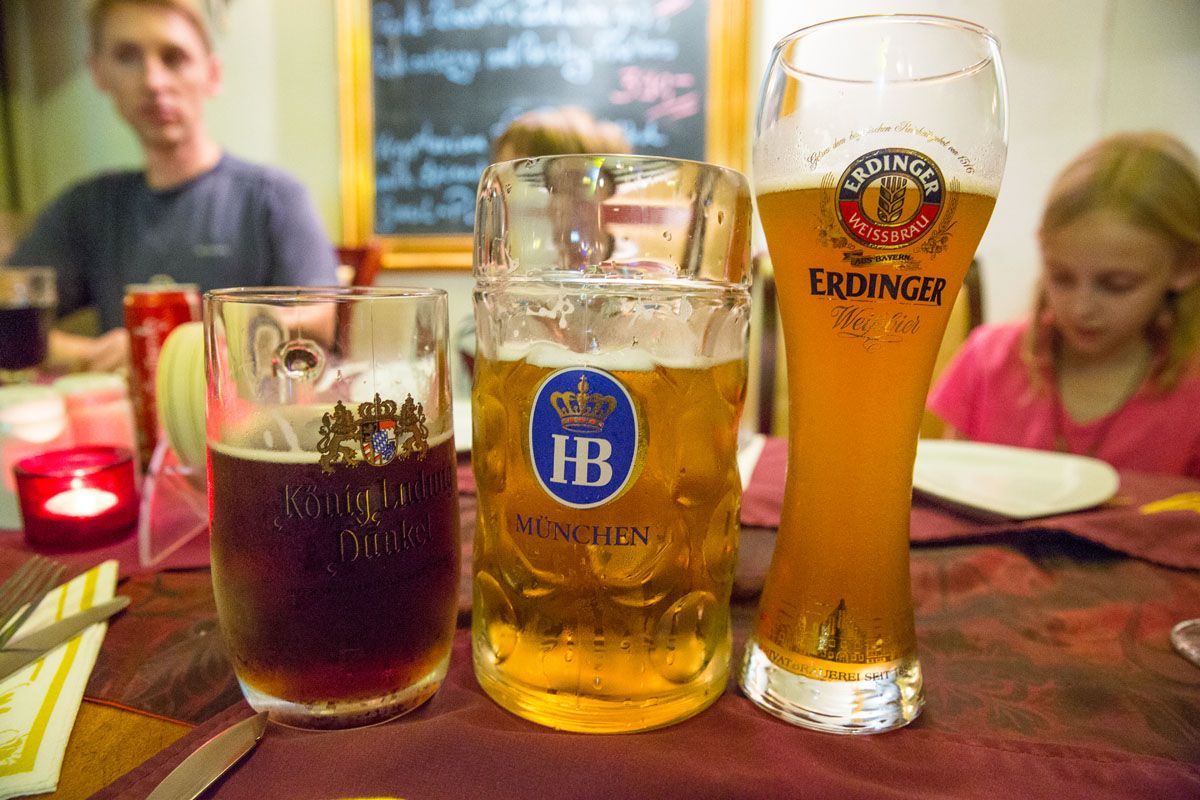 In Conclusion
Bangkok is an amazing city and is now one of my favorites in the world. I would love to return someday just to continue my culinary tour and to go shopping (there are a lot of fantastic places for shopping, as well).
Tyler and Kara also loved Bangkok, not so much for the food but for the Christmas decorations all over the city. They have both been missing the Christmas holidays at home so seeing Bangkok with Christmas trees in the shop windows and lights all over the city have really buoyed Tyler's and Kara's spirits. It is almost Christmas and we will be in the prettiest place yet!
Where We Stayed in Bangkok
If you are a budget traveler and want to stay in a great place in the heart of Bangkok, take a look at the Urban House. This small homestay-style place offers basic rooms and very affordable prices. There is nothing fancy about the rooms, but they are clean, quiet, and the wifi works very well. They also offer a cheap laundry service and our clothes came back clean (that doesn't happen everywhere, unfortunately). The Urban House is located in the Silom district of Bangkok, within walking distance of Lumphini Park, the Sky Train, and the metro.
---